Builds
Binjoau's 09 WRX MPS long rod-GTX35R Build Thread by binjoau
By diyauto
You must be logged in to rate content!
2 minute(s) of a 139 minute read
stage 3 raw shortblock arrived today, already removed the oil pan to fit a new performance oil pick up.
still waiting on parts and gaskets to come! Its getting annoying now, I could of started fitting the heads and headers etc today!
11-29-2010
Not too high for warranty but they could tell it had been modified... I was stage 2 at the time even though i went back to stock for the dealership inspection!
Thanks, I got the heads mated up just to get an idea of what it will look like and my tgv's all completed... il find a pic of it all resting together so you get the idea...
excuse the crappy cellphone, it will have a black inlet manifold and black headers.....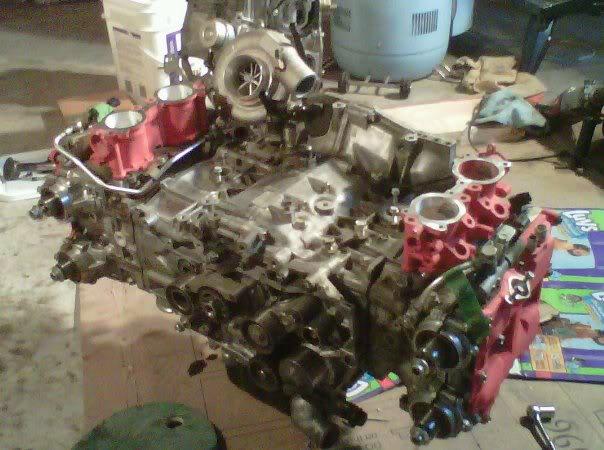 12-1-2010
new act clutch and process west intercooler have arrived! No gaskets yet though, should be here by the weekend and hopefully we can get building!
thanks, kinda annoyed my gaskets are not here, they really are slowing the entire build down.
Im hoping the curve will be smooth, although I want to try and get to full boost as quick as possible, hence the TMIC instead of FMIC. Even though the difference may only be 300 rpm thats still enough on a DD.
Plus the TMIC gives a stealth look, even though this one costs nearly as much as a front mount! It is silver at the moment but will be powdercoated black tomorrow to keep the theme. Il throw up some pics so you guys can see the difference
12-3-2010
just about to order the following...
Grimmspeed 3-Port Electronic Boost Control Solenoid
Gates Super Strong Alternator & Power Steering Belt
Gates Super Strong Timing Belt
Mishimoto Silicone Radiator Hoses in red
I think Josh at IIR owes me a beer after buying all these parts! hahaha