Builds
Project Death Kart by Goofydug
By stevegolf
You must be logged in to rate content!
8 minute(s) of a 63 minute read
Project Death Kart
Compliments of Goofydug @ michiganvw.org


hi hello and welcome to my new rabbit project.

The car is a rust free (southern) 1981 rabbit. I bought it in ohio after its last owner threw in the towel after collecting a bunch of parts for it. Included in the sale was a 16v swap from an '88 scirocco. This includes 1.8l 16v engine, transmission, disc brakes on all corners, wiring, ecu, and a bunch of drivetrain crap (by crap i mean parts I have yet to define). The motor is in the car, and thats about as far as he got. No wiring is hooked up, there is NO interior, etc.

hell yes.

The car also had a quick respray in dark metallic teal. The paint job itself leaves a little to be desired, though it shouldnt look too bad after I take the buffer to it.
You can see in some of the following pictures ALL the extra parts that came with it. When i towed it back from ohio, I had the bed of JohnnyB's truck (thank again john!) loaded up with parts, the rabbit was full of parts, and some even managed to make their way into the cab of the truck (dont worry John, they were clean). The superstar parts include TWO autopower 6 point rollcages, scirocco 1 seats, cabriolet dash, catalytic converter, rare zender side skirts, abd fiberglass front air dam thingie, about 5 ecu's, and a handful of calipers with a few extra disc brakes.

I plan to clean up the car, get it running (important?), drop it like its hot, and learn a ton of shit in the process. I basically know nothing about anything that lies ahead. Anything that I do will either be a result of tons of research, bugging you guys, drinking induced wrenching, or the helpful hands of some great miver friends. If you see me doing something stupid, please kindly suggest a better way to approach the task at hand.

No more words.
On to pictures =)

loading the bunny up on the tow dolly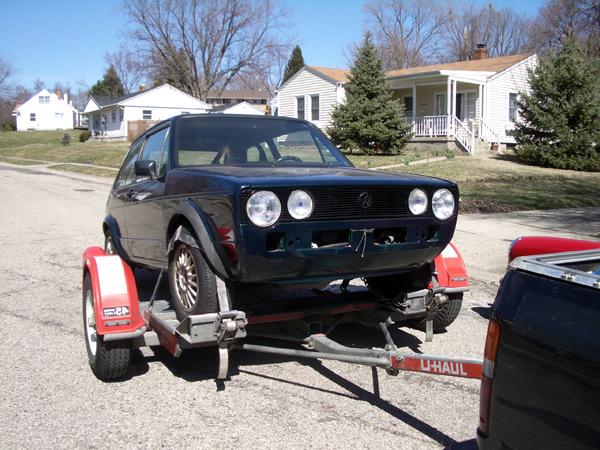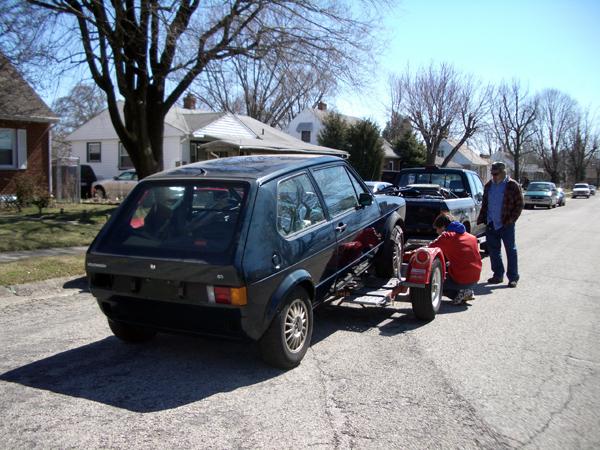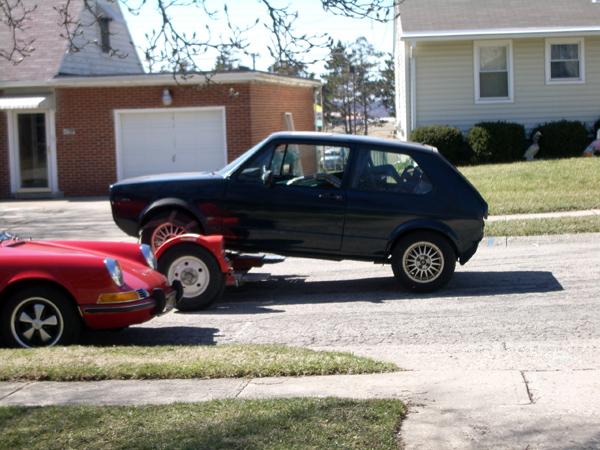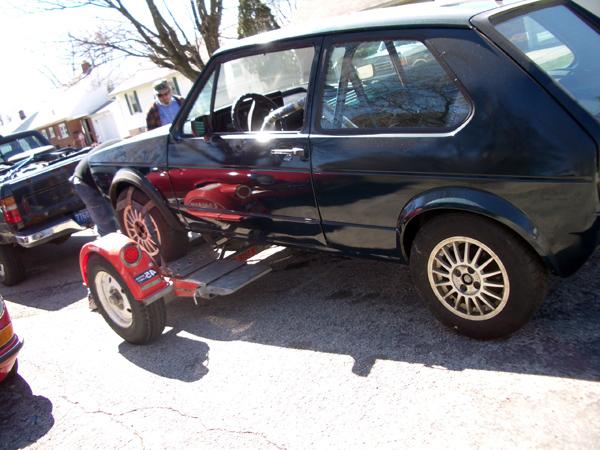 saying 'hi' everytime i looked in the rearview mirror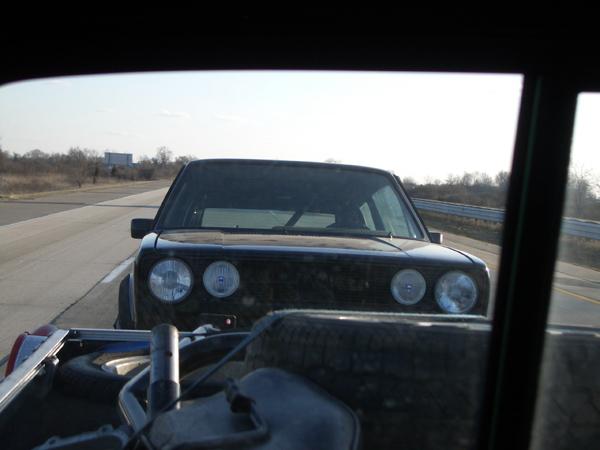 filling up the truck bed with goodies (extra transmissions, 2.75 sets of wheels, etc)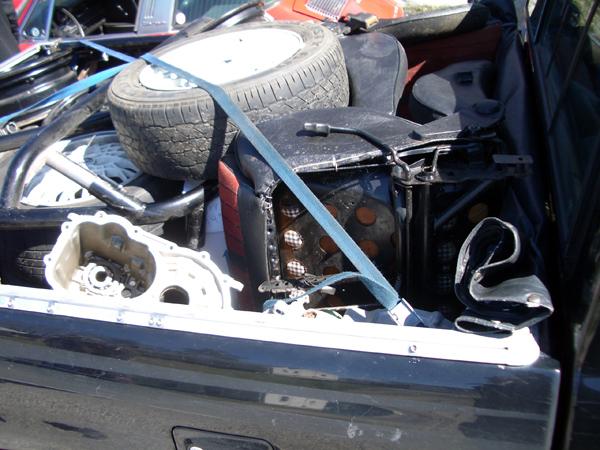 more extra parts (mmmm fiberglass)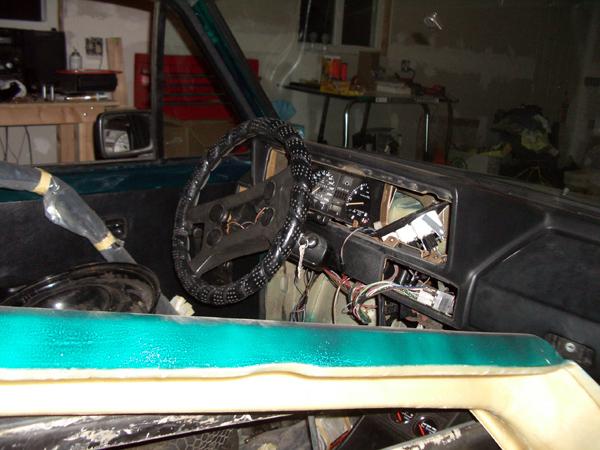 sitting at home in the garage, behind some of the parts. the other parts are to the left on that shelf, and scattered around other areas of the garage as well.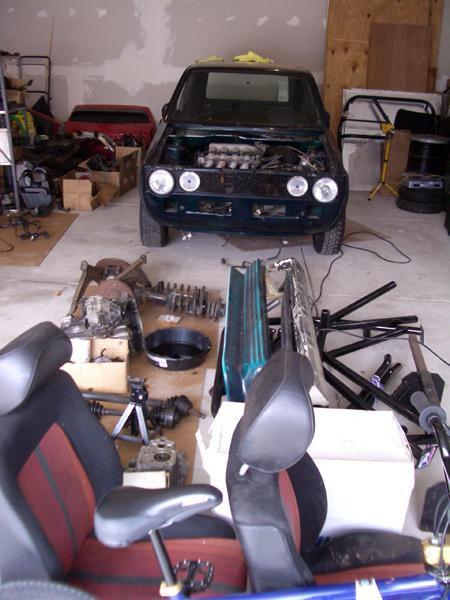 hell yes 16v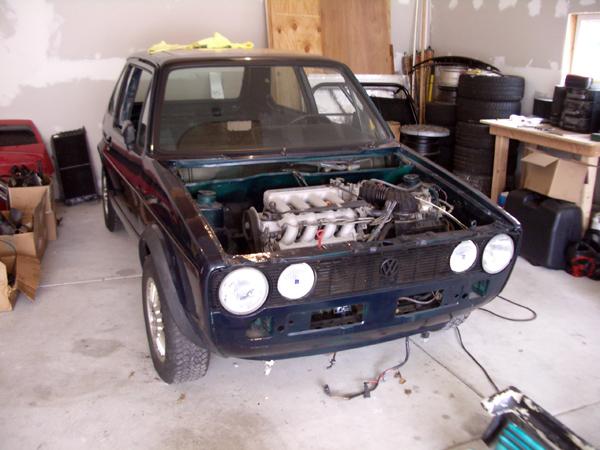 I finally took some initiative yesterday and started working on the floors. They are basically fine. The PO started stripping out the factory sound deading material, so i figured i'd finish, then coat the entire floor of the car from the firewall to the hatch with POR-15 to be clean and safe.

best spent $15 for the heatgun, this thing works wonders when removing the factory nasty tar material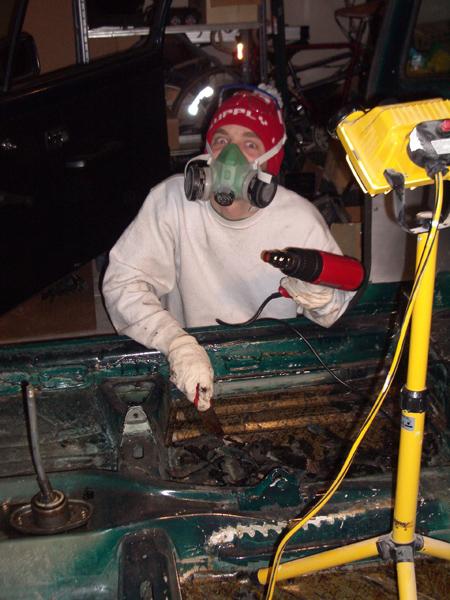 it looks brown and rusty, but its just glue leftovers I still have to clean up. I plan on ordering a kit from POR-15 to clean, treat, and coat my floors. Any input from POR-15 experts is greatly welcomed. I am also going to do the underside of the car, and maybe the wheel wells and the lower part of the engine bay. suggestions?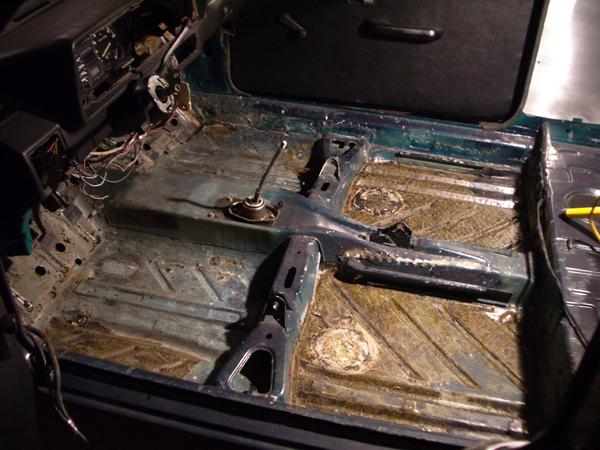 more to come* ;D


4/5/2006

i swear the UPS guy has a crush on me, he just brings me sweet gifts all the time.
Today he brought me a set of h&r coilovers, used but never driven on (installed but never driven).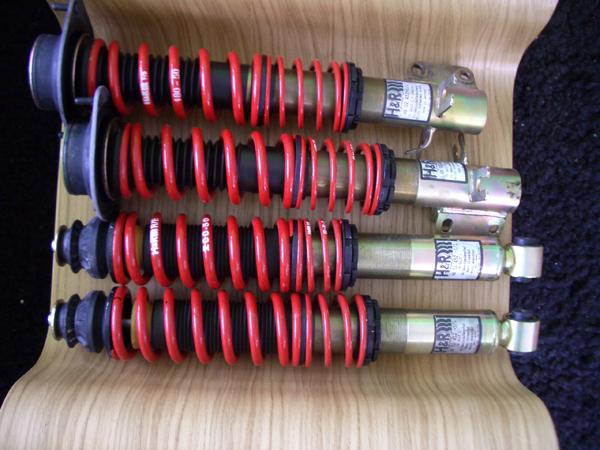 Rufus says "drop it like its hot!"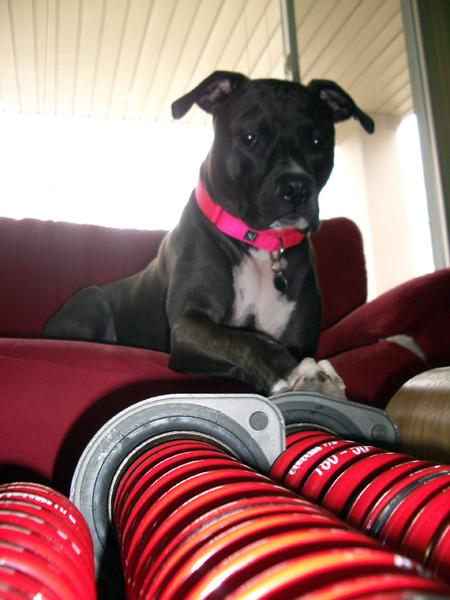 5/29/2006

more progess, finally...

I got the cage fully installed. I wanted to drill all the necessary holes and bolt it in, then take it out so I could por-15 all the holes and seal 'em up.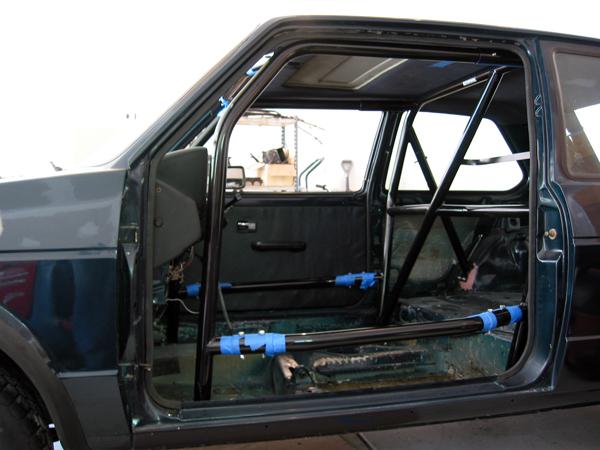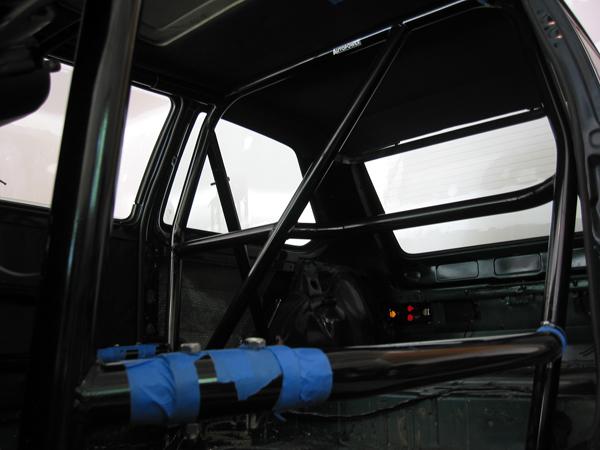 After removing the cage, I continued to strip the floors. I took a wire wheel to it for about an hour tonight, and got one floor panel done. I'm *hoping* the panels where passengers feet go are covered in more shit (thus harder to strip) than the cargo area etc. If not, this is going to take me ~10 hours.
I'm going to clean all this once its all stripped and then por-15 it right away, do you think it's ok until then? (bare metal/rust problems?)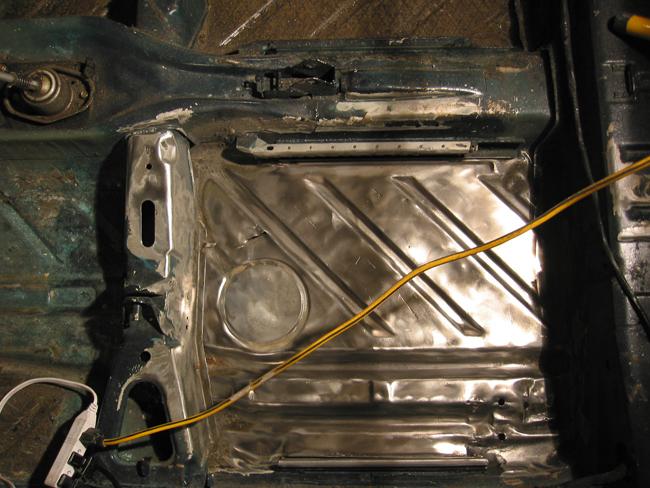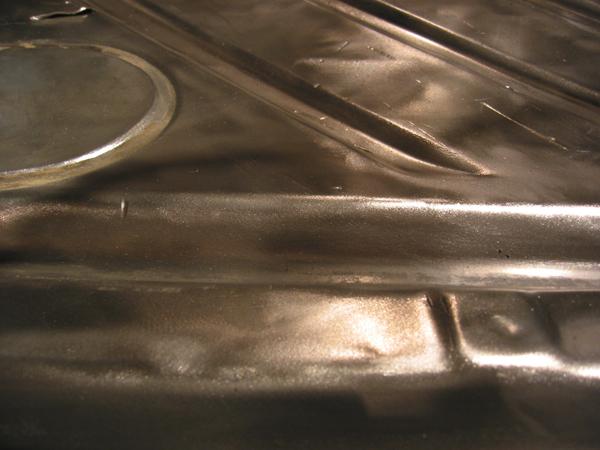 I am also in the process of selling whatever useless organs remain in my body, affording myself some new sweet car parts. Deal!

uber pimp 4-point lower subframe (cost: 1 kidney)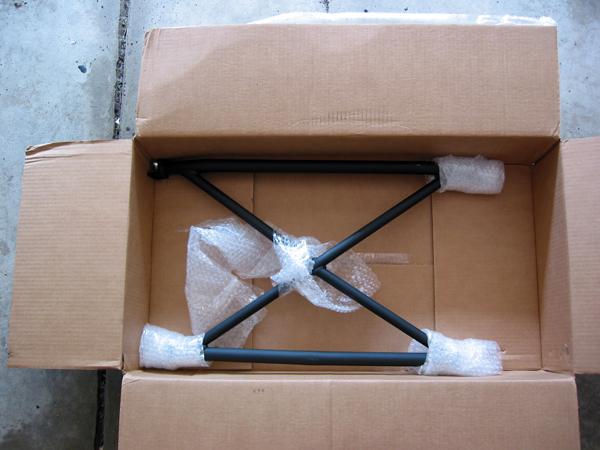 super bad techtonics 16v race downpipe, no cat (cost: both pinky toes)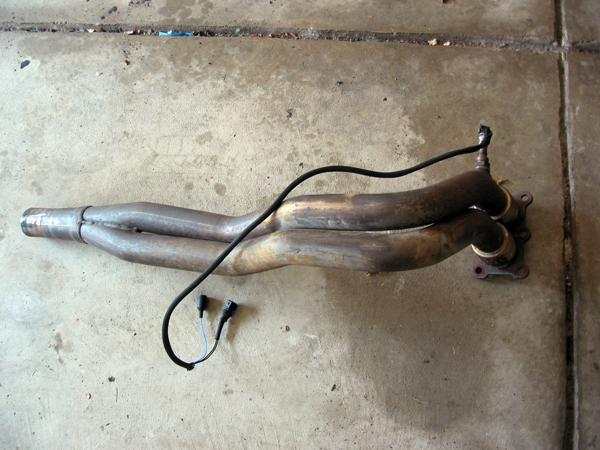 6/15/2006

update: grinding floors has been slow, but i'm getting better at the aircraft stripper/scraper/grinder combo, and its moving along.
i can't wait to finish the floors so i can get to something a little more fun and 'car-like'.

but with the bad comes the sweet, i've sold my firstborn to nike in thailand, and raised enough money for some badass parts.

i dunno, but i heard these roll...
13x7 revolution racing wheels, light as hell with slicks. bling.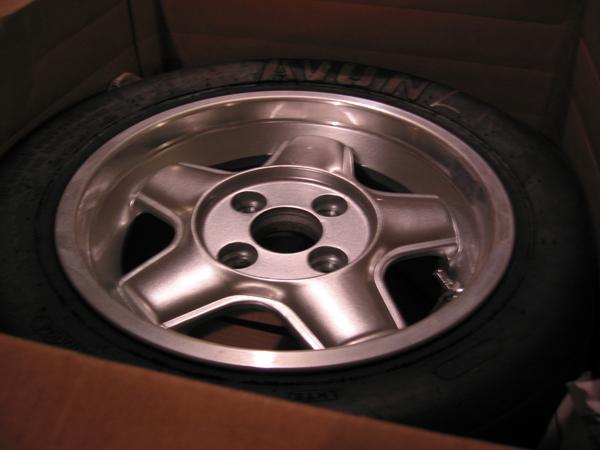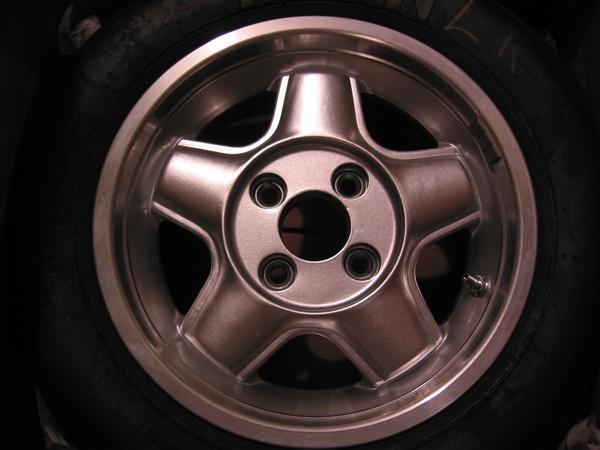 the following parts were bought from drew, hopefully my rabbit will provide a home half as nice as his.


a plastic bag! came free with a rebuilt 020 trans with one of those quaife thingy whatevers in it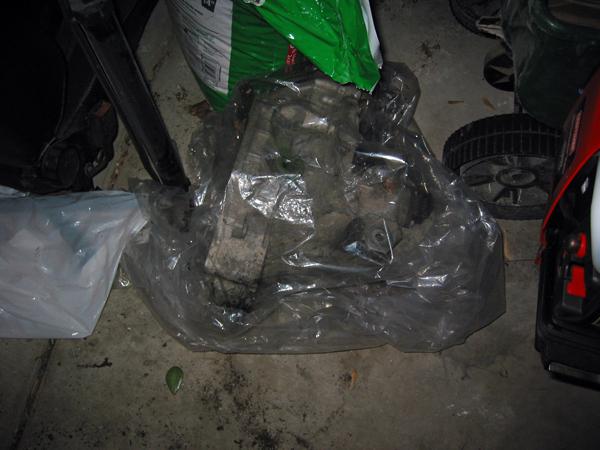 locking aluminum racing gas cap, +10whp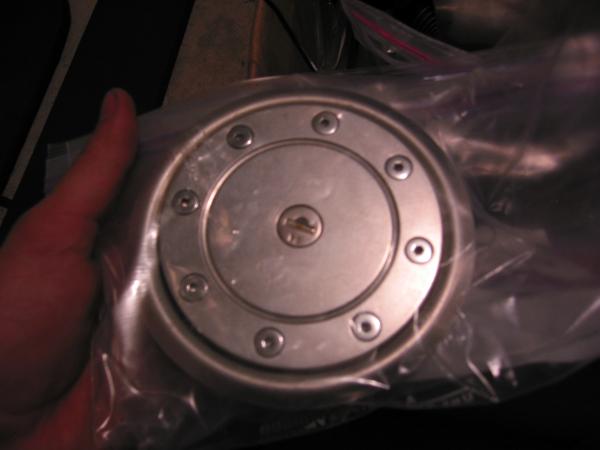 griffin aluminum radiator with fan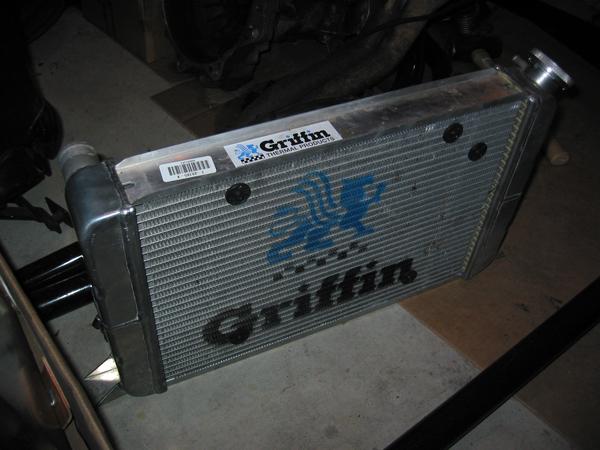 in the box is also a pair of harnesses, large duckbill spoiler, trunk relocation battery box with cables, small euro tails (sorry rich, ok not really), neuspeed short shift kit, and hoses for the radiator. thanks again drew.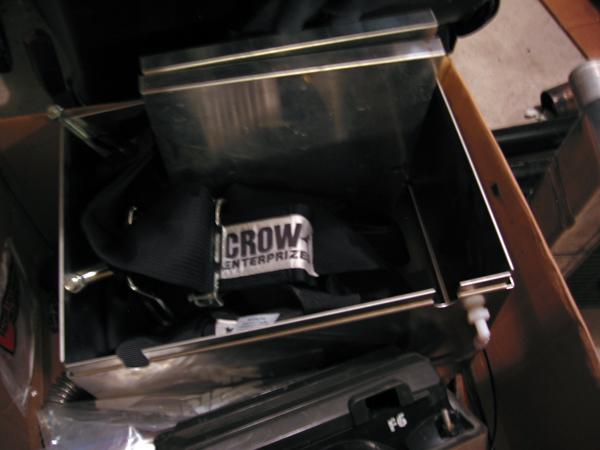 back to grinding...