Louie4's YJ by Louie4
By diyauto
You must be logged in to rate content!
Louie4's YJ
Compliments of Louie4 @ jeepforum.com
11-10-2009
Well, I figured I would make a "build" thread. I have had my YJ for nearly 10 years and have been doing mods here and there so I won't have a lot of pics of the entire process.
I got my '93 YJ when I turned 16. I paid $1500 at the time which was a steal. I can't find any stock pictures but I have some of the earlier versions.
Some specs as of today:
-3.5" Black Diamond lift springs
-Stock TJ alloy wheels
-Worn out Aurora 31" x 10.5" M/T's (cheap)
-Detroit EZ locker in the rear
-Lock-Right in the front
-Yukon 4.10's front and rear (Yes I still have the D35 and I regeared it

)
-Some kind of hack 'n' tap SYE and a Tom Woods rear driveshaft from a wrecked '95 YJ
-Currie boomerang shackles front and rear
-Herculined Tub
Here's some pics from Tellico when I had 2" double military wrapped springs (complete crap), Liberty all-terrain 30" x 9.5" cheapo tires. I can't remember if I had my rear locker in or not.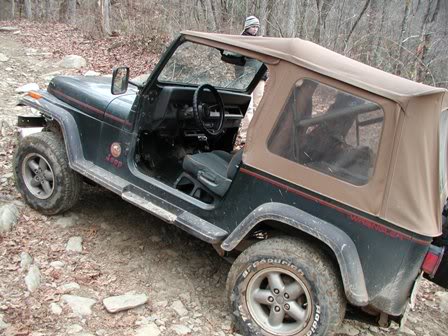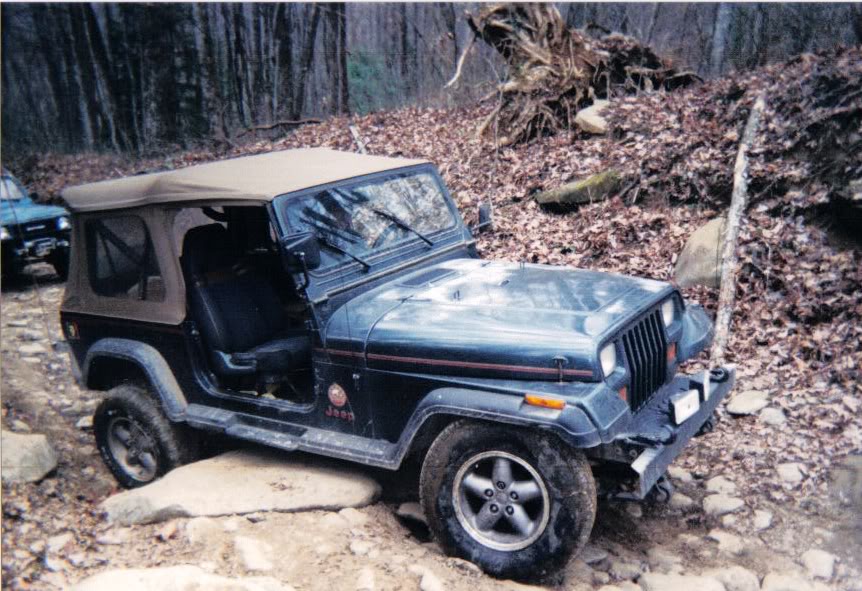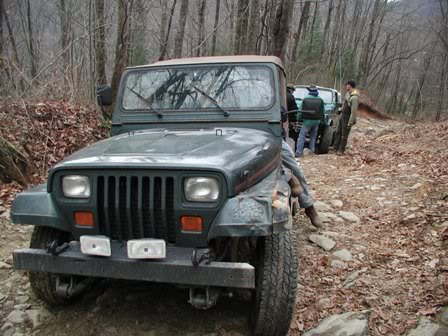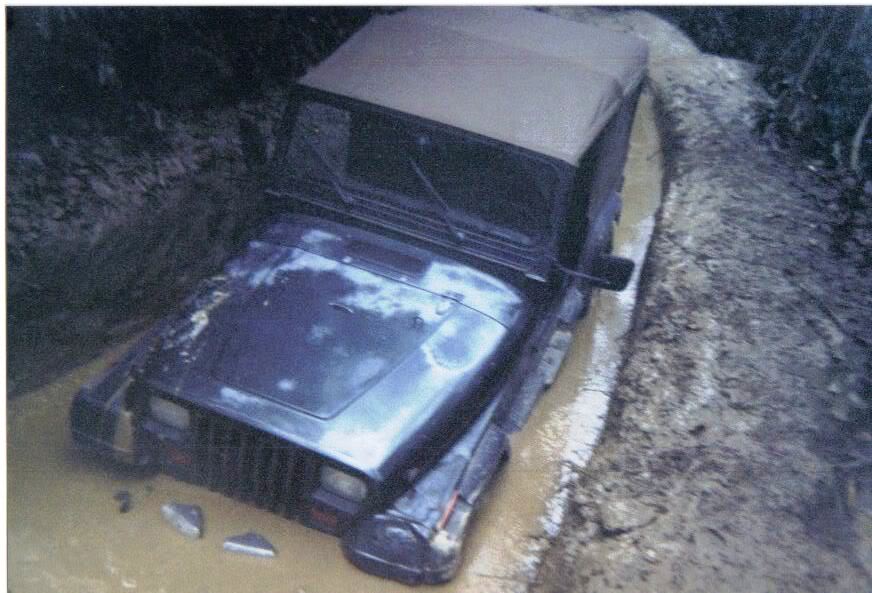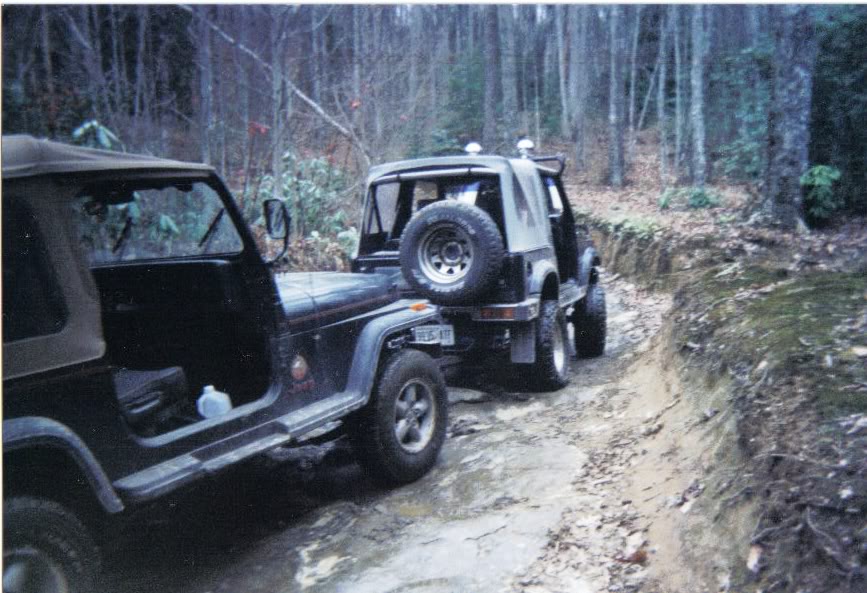 I got my SYE from a buddy that worked at the old shop I used to work for.
I had to get the driveshaft shortened because the '95 YJ it came off of was a SOA. Took about 2" out of the center section.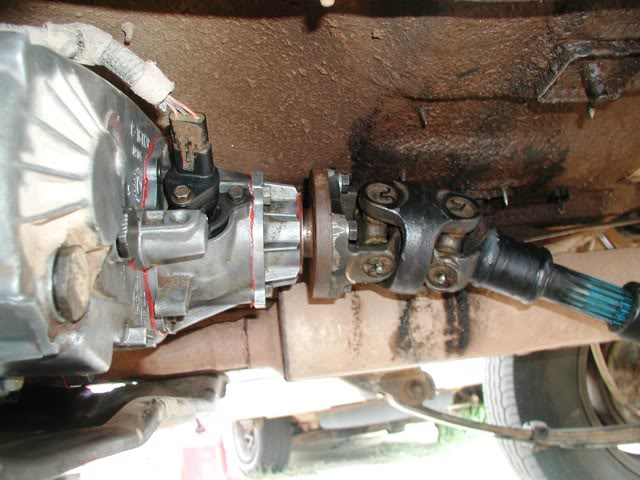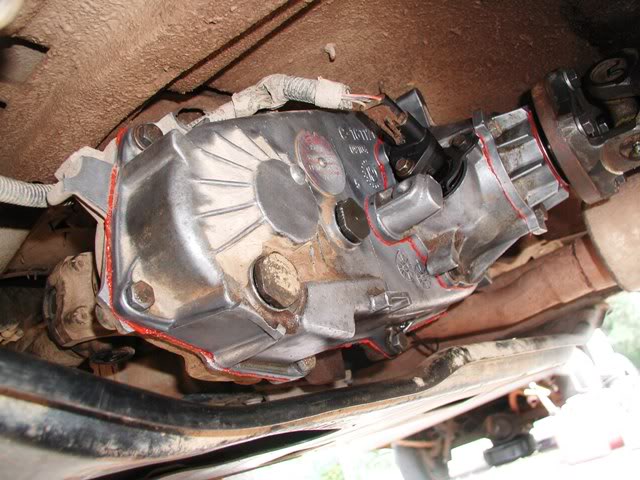 I'm sure a lot of you have had this problem with the rear shock mounts on your Dana 35. I backed into a rock and after a year of on road driving it finally gave out. I replaced them this past April with some generic ones I got from a 4WD shop I rode past. I'll post the new ones up later.
Also, this was the first break. I got my neighbor to weld the piece back on one time and it broke again another year later.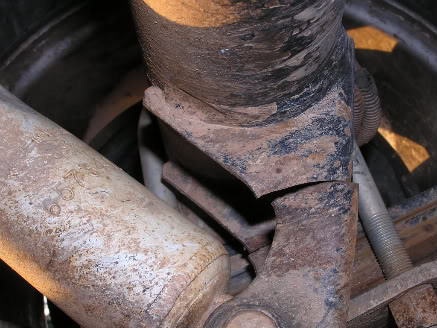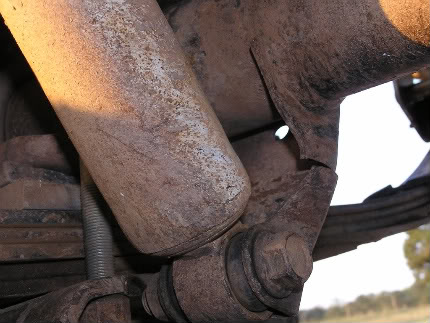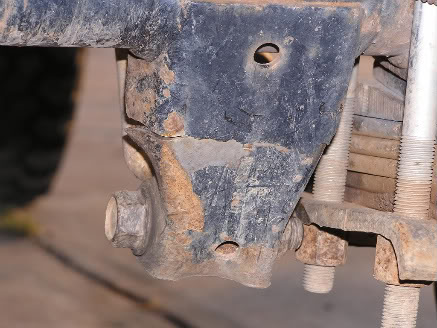 This doesn't show the entire process but it shows some of the gear pattern pics of when I was re-gearing my front and rear axle. I rebuilt both axles replacing all the bearings. I set everything up myself. It was my first gear install and they haven't torn up yet so that's a good sign. I don't know if I would do it again just because of the hassle factor. I don't have all the tools a machine shop has but I have more than the average backyard mechanic. The most important tool I bought was an in-lb torque wrench. I got it from Amazon from a bike shop.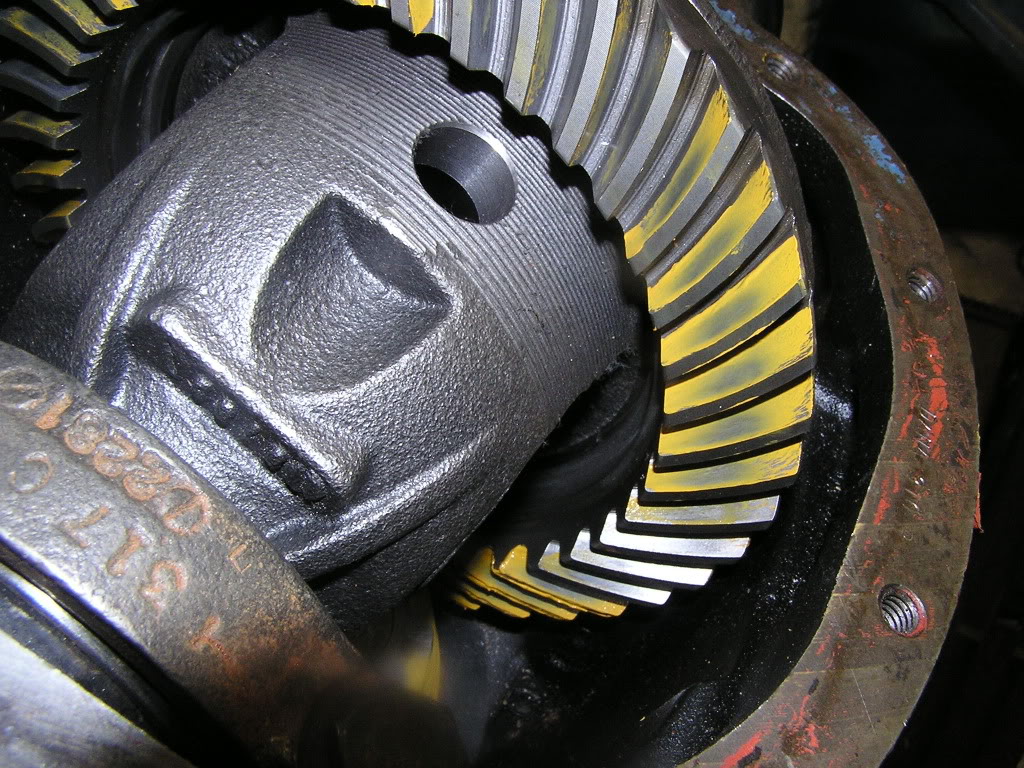 Some of the D30. I had to take the ring gear off to put the locker in. I wasn't thinking and forgot to put it in.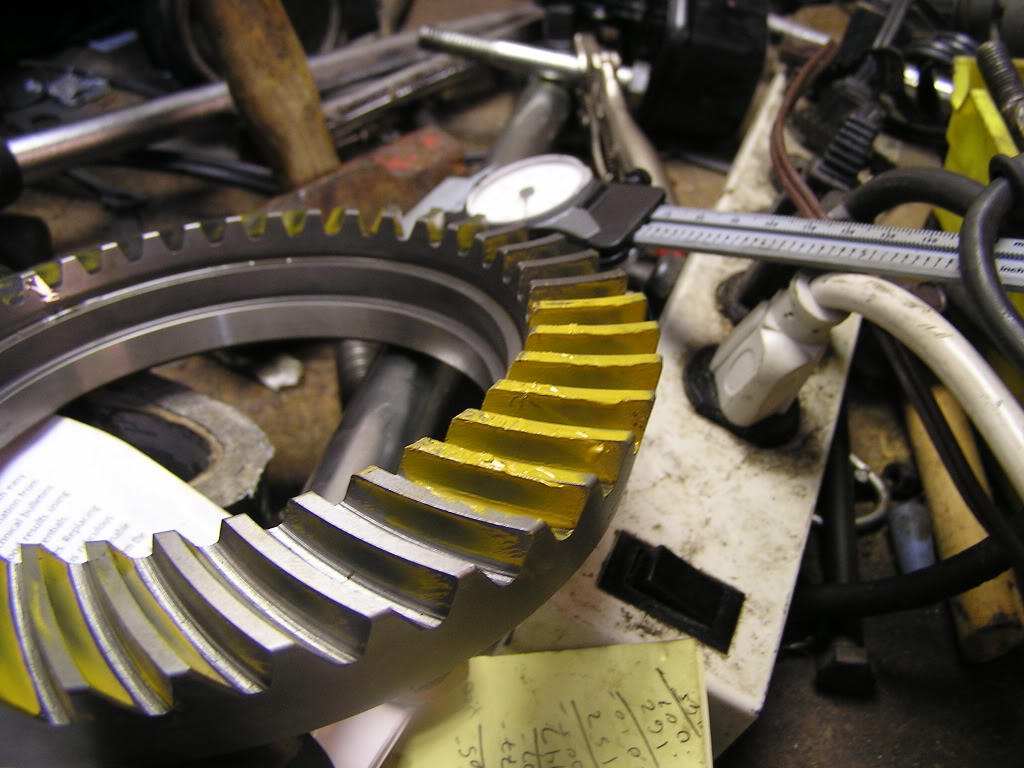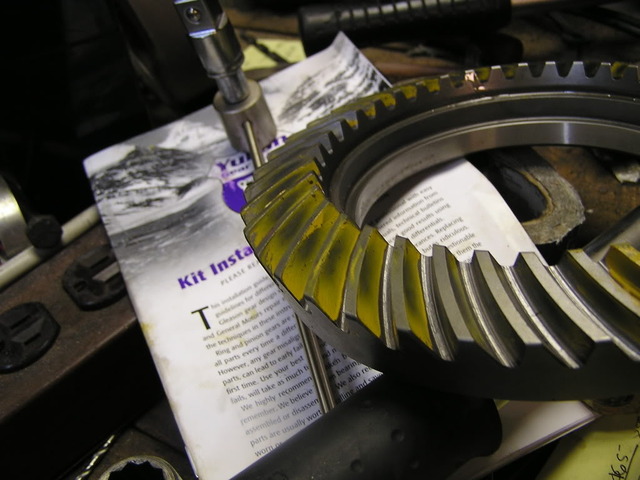 After I re-geared my rpm's went up and vibrations from my front driveshaftwere becoming very noticeable on the road. I had originally got a ZJ front driveshaft planning on putting that on the front. I took it to the driveshaftshop and the guy there wouldn't warranty the ZJ one because going to a length of 43" with an O.D. of 1.75" he said it would fail at 3000 rpm's. I was surprised because my stock front driveshaft was that length and I have been running it for a long time. He said he would have to go to a 3" O.D. to warranty it. Well, I ended up spending $50 to have my stock one straightened and balanced. I still have a few vibes but not as bad. Here's some pics of the ZJ front driveshaft and the one I put in.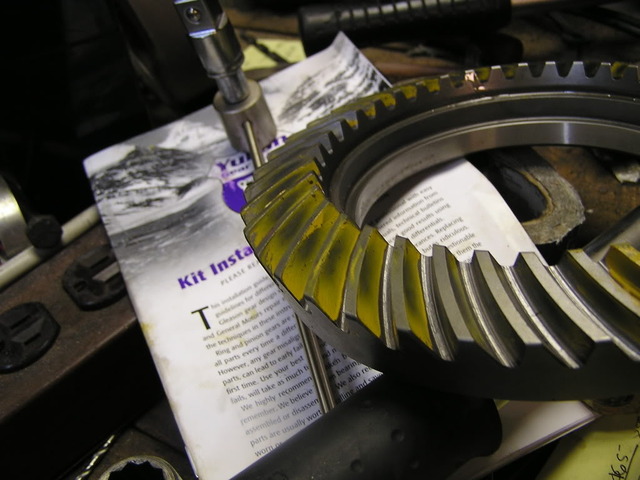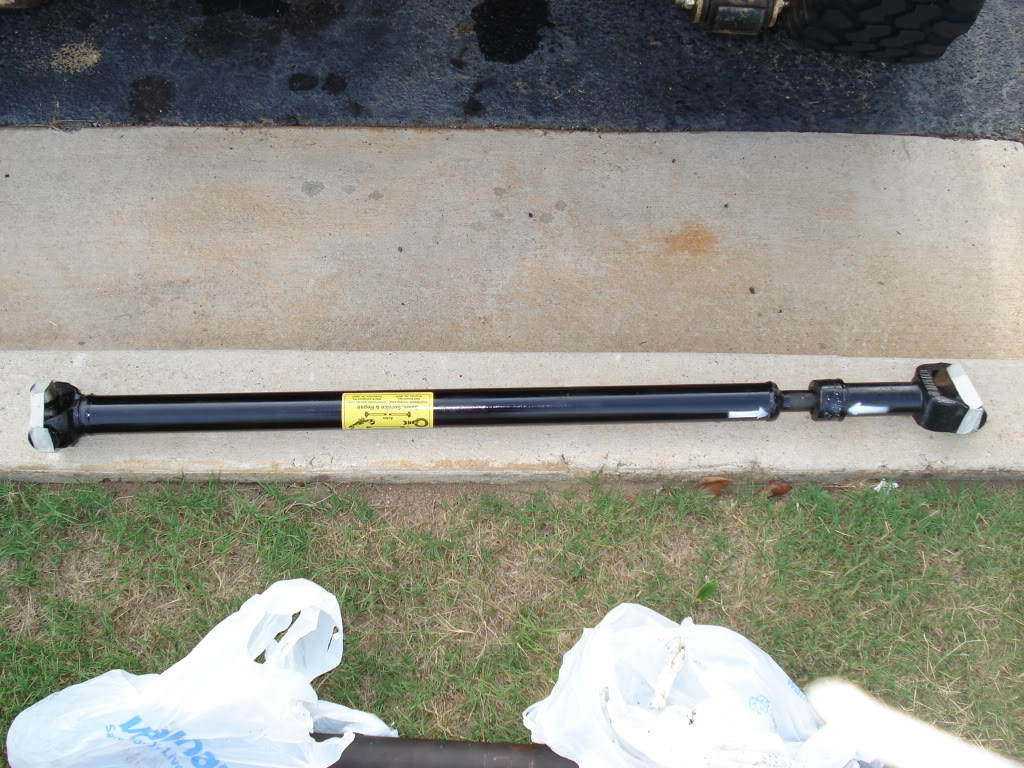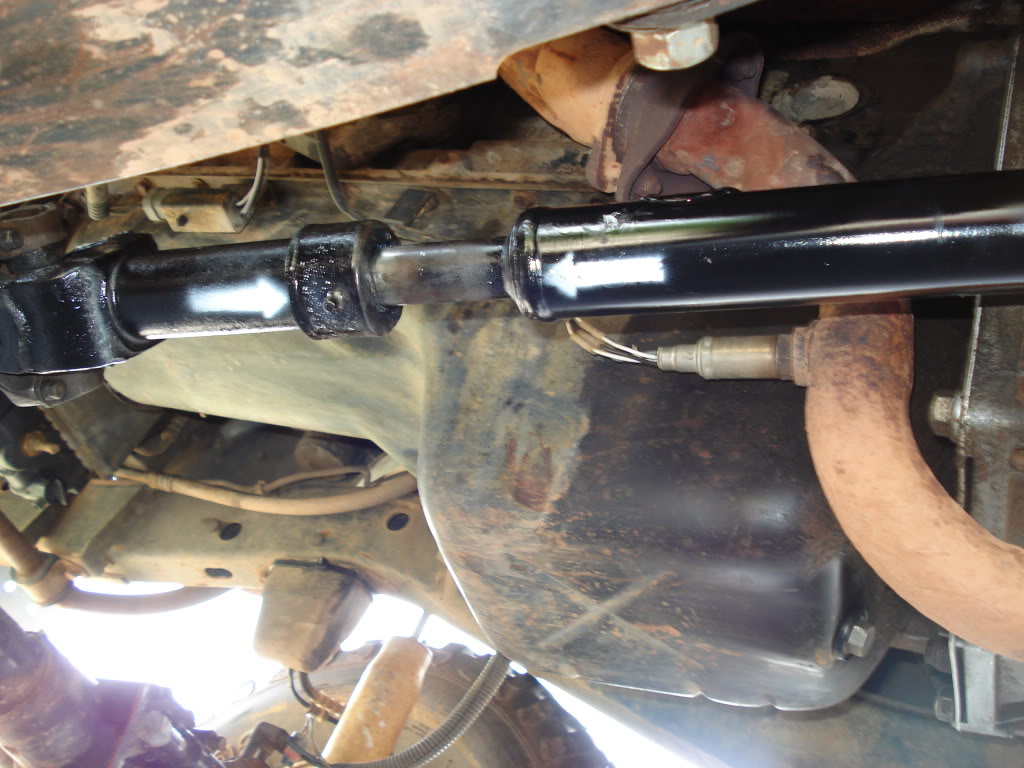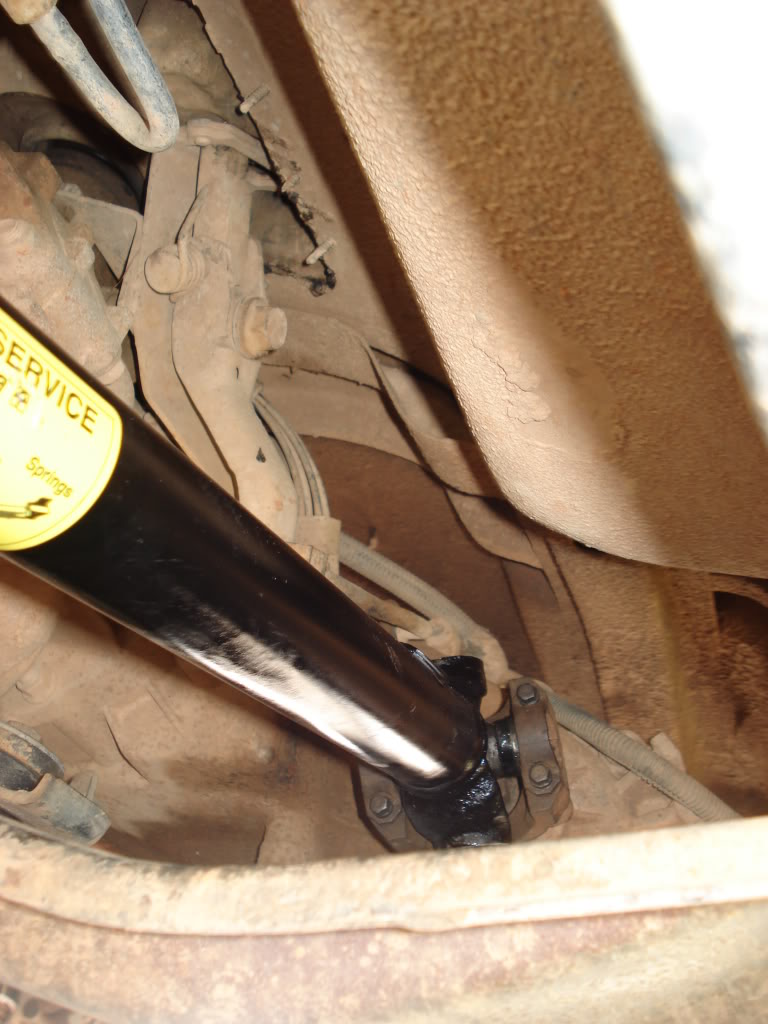 I put Currie boomerangs on front and rear. The rear to get more flex. The front to keep the shackle from inverting and they are greaseable. You can also see the Autozone steering stabilizer I put on a year or so ago, very classy.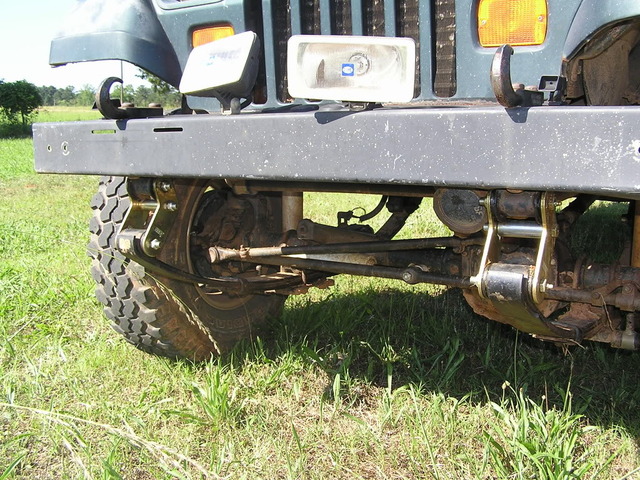 A few other things I've done more recently. Put my JeepForum sticker on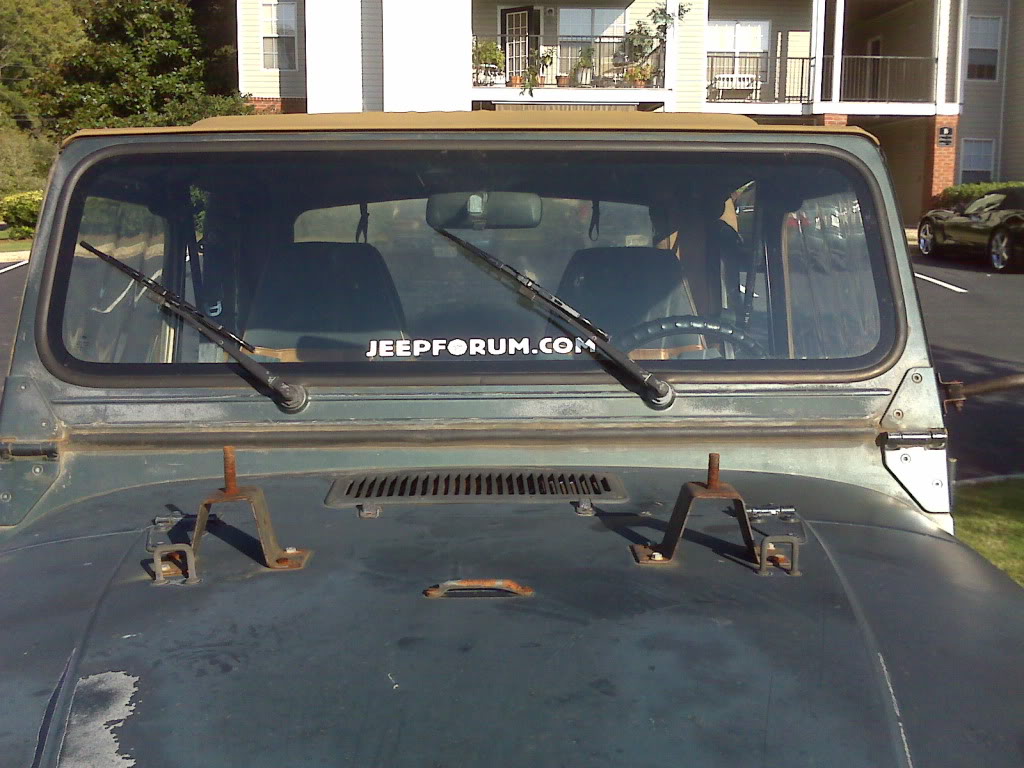 A common problem with YJ's is the water pouring out of the sides on to our feet. I use to put an old towel in between the windshield frame and the dash. It soaked up a lot of water but after 3 days of rain it became too saturated. I tried everything to seal my windshield up and this is the best option I've found. I drilled holes on both sides of the windshield frame to drain the water. It had a steady stream when I first put the 1/8" diameter hole in it.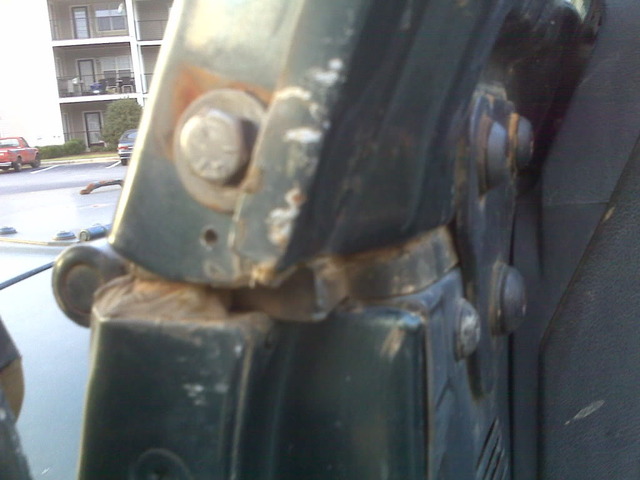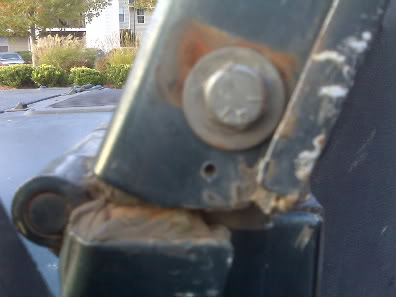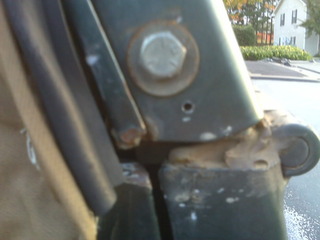 11-12-2009
I replaced my lower steering shaft bearing and greased the steering shaft itself. It was pretty nasty, I wish I had pictures of the before but only after its installed. The steering tightened up a good bit.


Got around to replacing the engine mounts. I believe the ones I took off were the originals. The drivers side was busted while the other wasn't. My dad had some extra mounts in his shop from an XJ that we tried to fix up but the oil pump went out and the engine was toast.

When ever I started from 1st gear the whole front end kind of lifted from the drivers to the pass. side and if I was cruising and took my foot off the gas it would kind of jerk a little. I put the new mounts in and it helped out a lot.

The first photo is the new next to the old. The last photo is the new installed. It looks like there is a gap in there.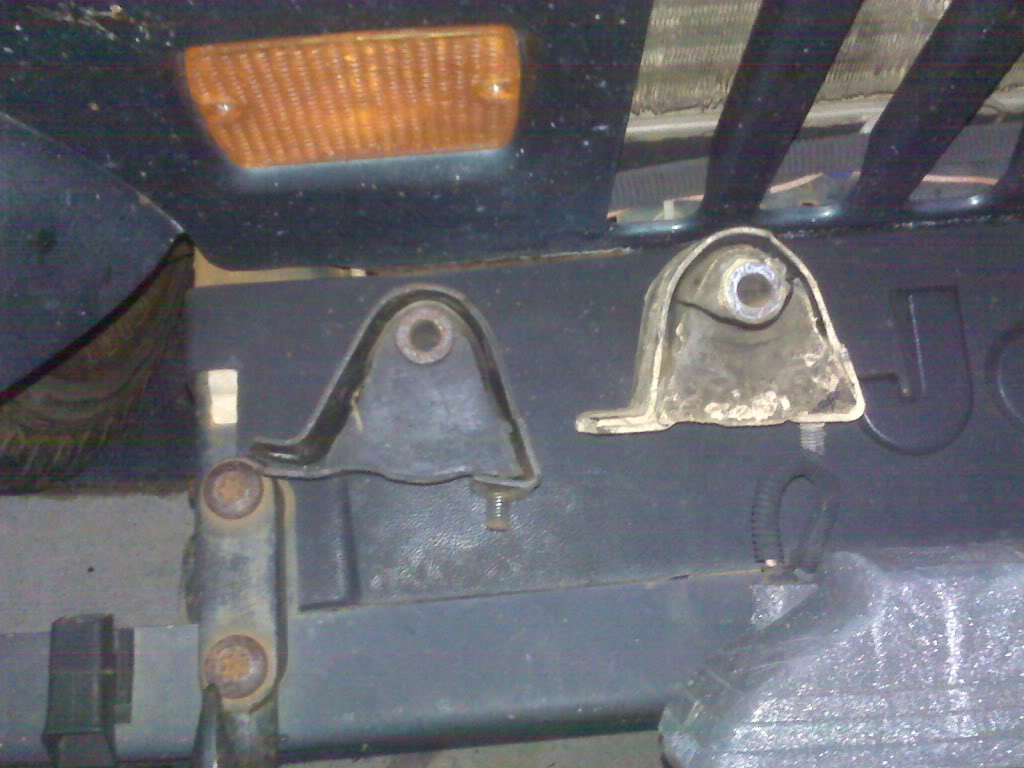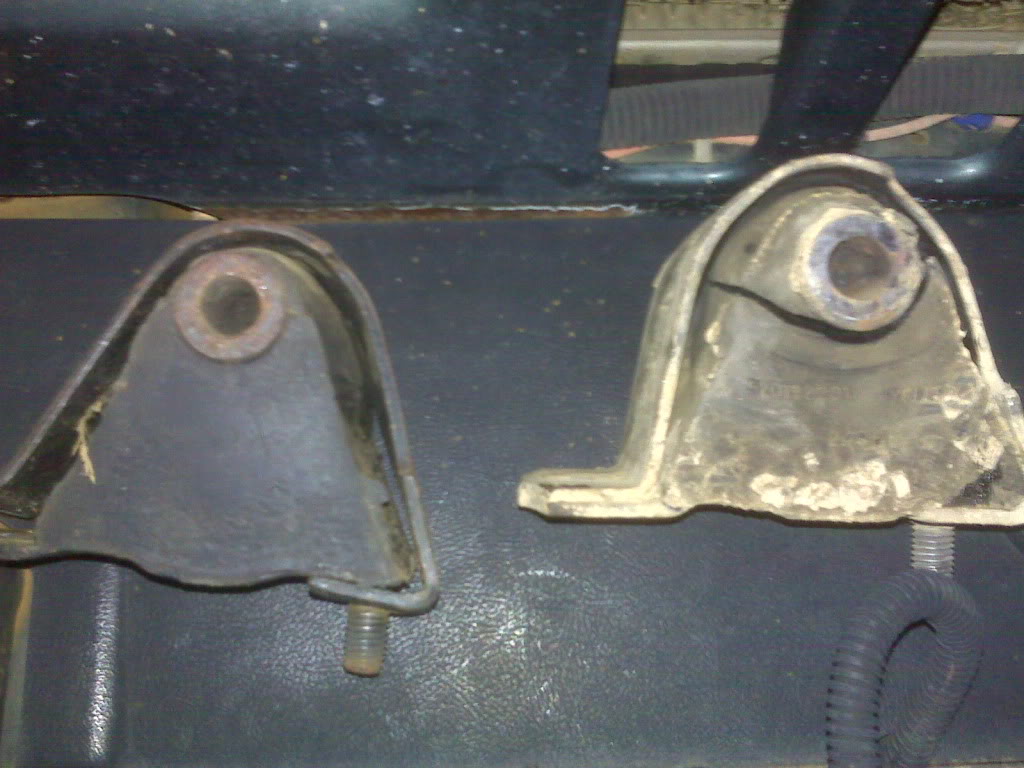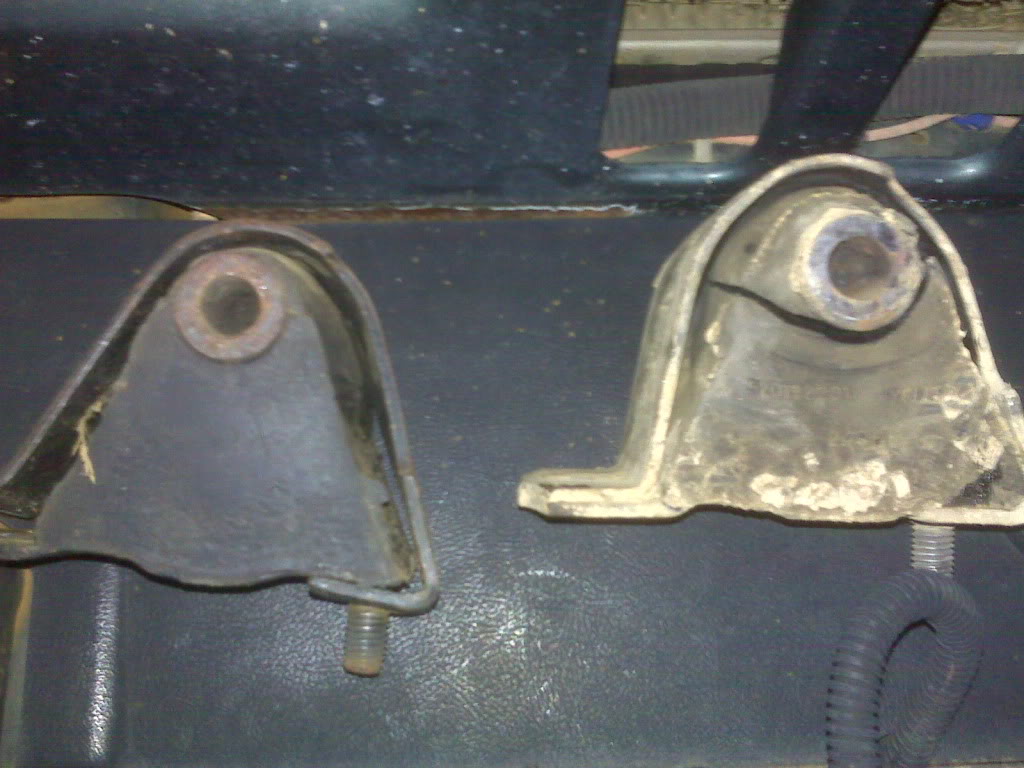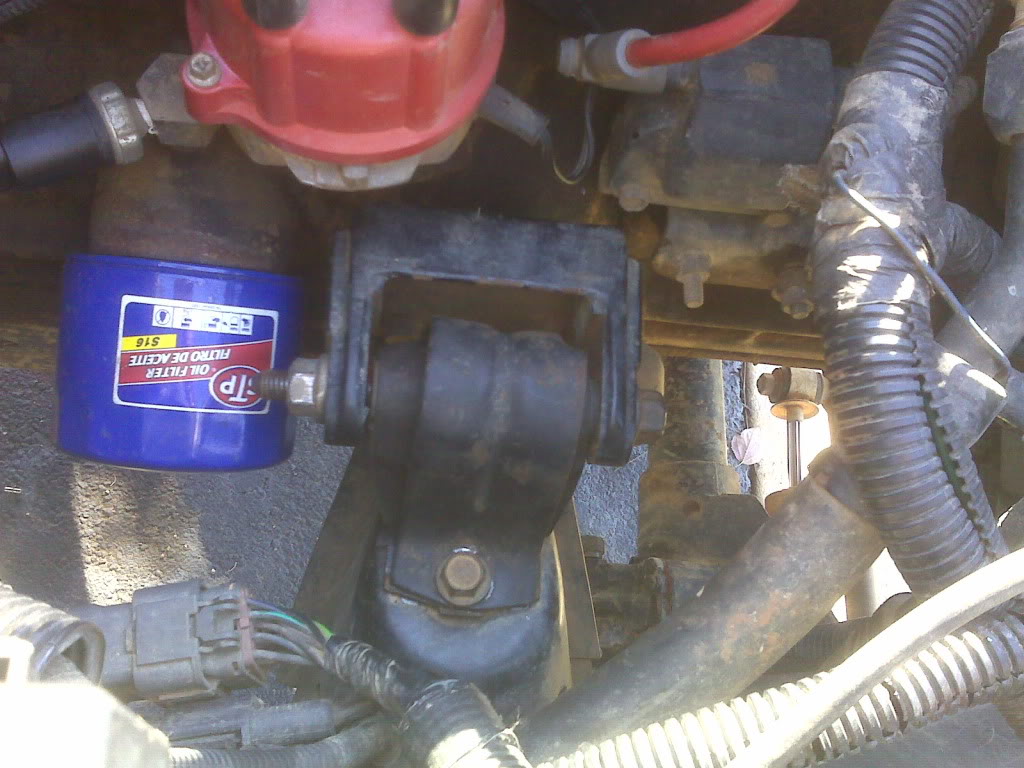 Sorry these pics are so big. Anyway, I have a Best top Supertop that's about 6 years old. I've been pretty rough on it and it has plenty of scratches but its still a good top. When I tried to put the top on the stitching just broke on the top seem where the zipper attaches to the top itself. The zipper was hanging off so I tied it to the roll bar all Summer until it started getting cold. Once it started getting cold I had to figure something out. I looked for some upholstery shops around my area and couldn't find any that would sew it up. So I asked my mom about it and she actually had a bunch of rolls of nylon upholstery thread. I decided to sew the zipper and restitch most of the top. I did a double stitch and just followed the existing holes and looped up one hole and back to the one before it. Turned out great. I put some seam sealer on it from Wal-Mart and I replaced the foam on the bow assembly.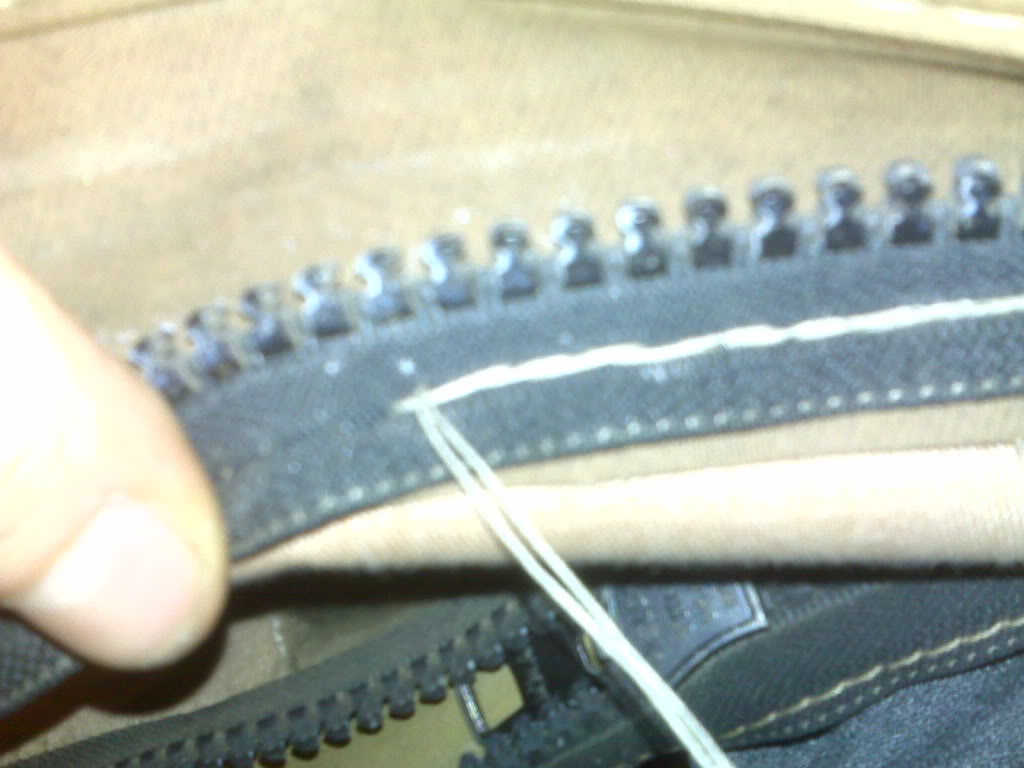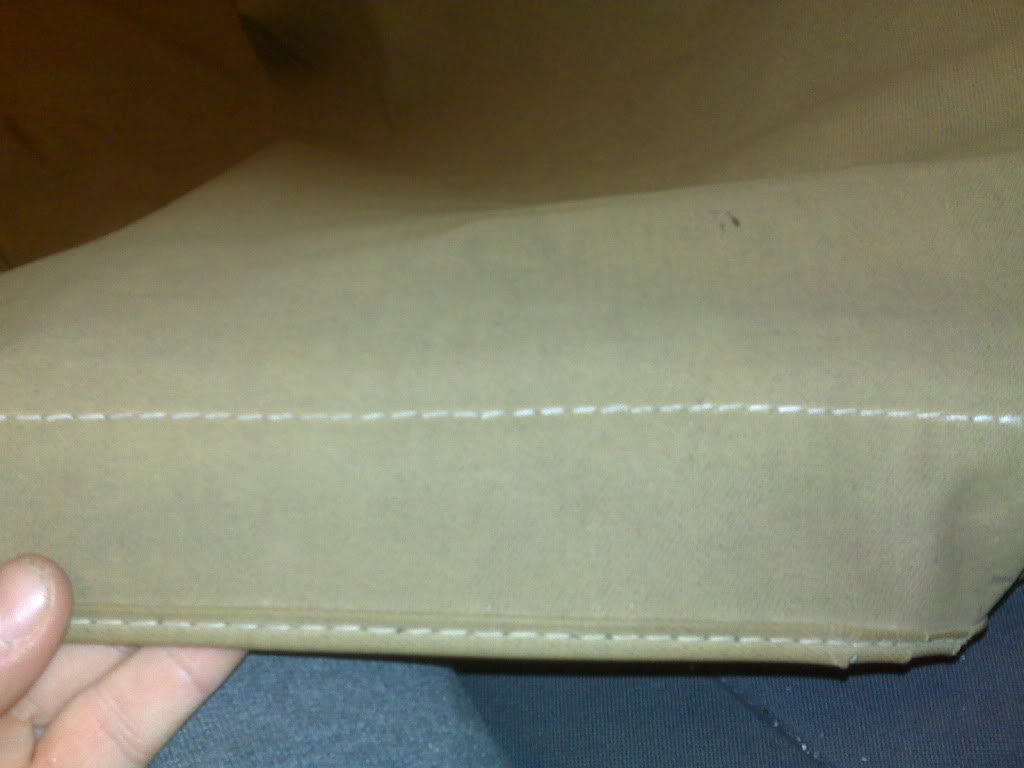 8-23-2010
It's been a while since I've actually updated this thing. I figured I would. A list of the mods and pics will follow.

(5) 33" x 10.5" BFG KM2's
(5) 15" x 8" Black Steelies
Ford 8.8 rear axle from a '98 Explorer
Impact Fabworks front bumper
Warn 8000# winch (CL)
M.O.R.E. upper shock mount extensions
1" Daystar body lift
TJ Flares
Herculined Tub
Balanced and straightened front drive shaft
Relocated front shock mounts
New front U-bolts and brake lines

My new tires and my gf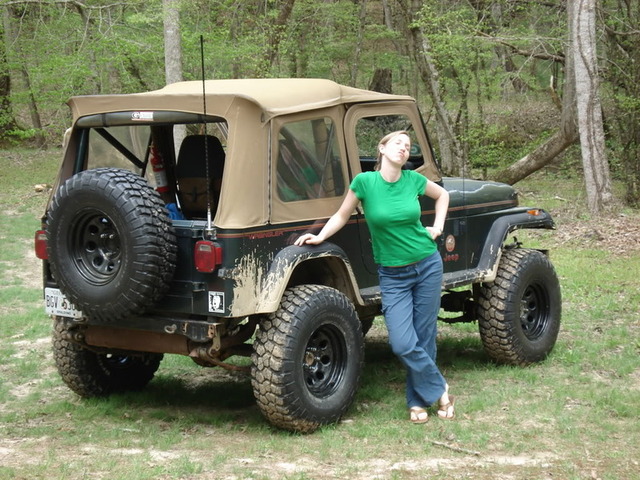 Flares (partially finished)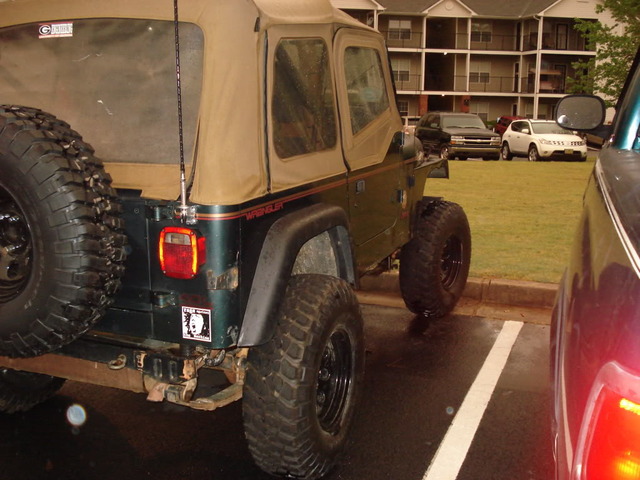 Front driveshaft straightened




Relocated front shock mounts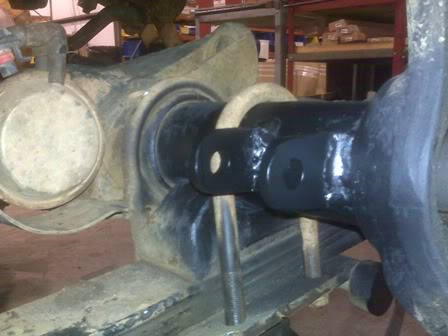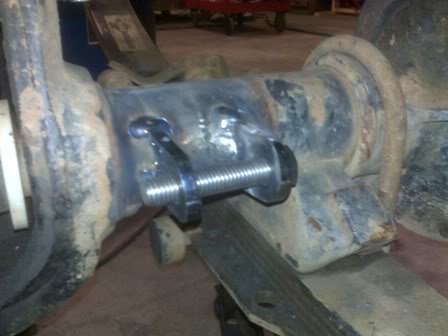 Front U-bolts and brake lines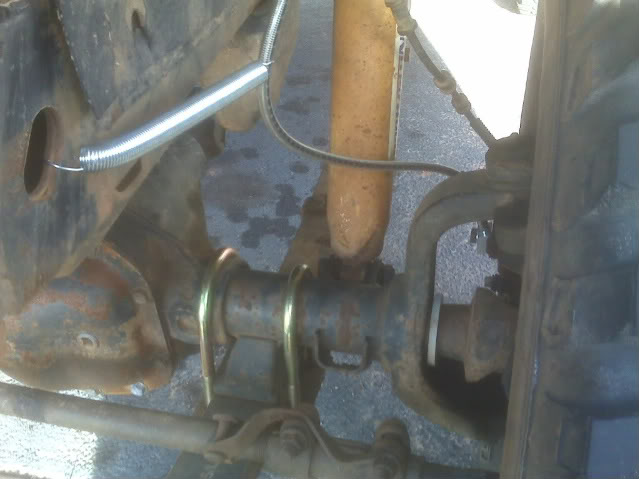 The 8.8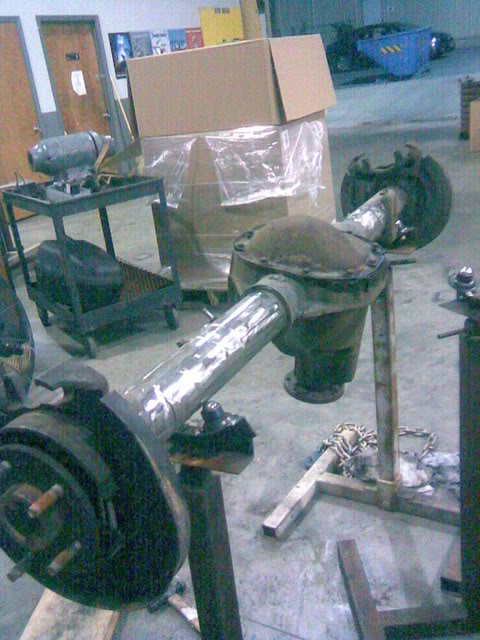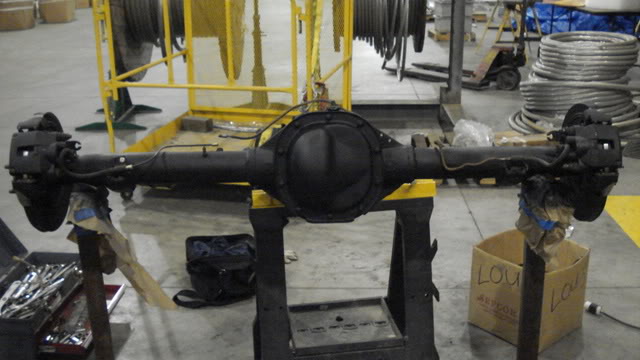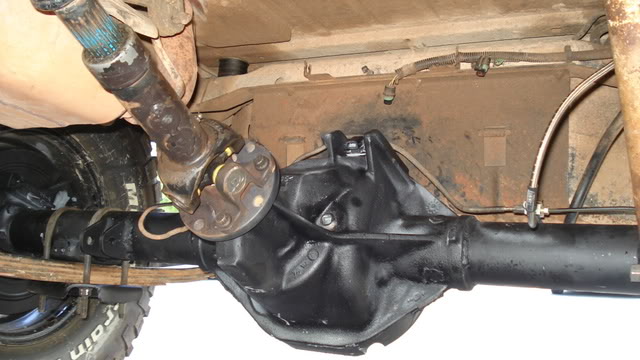 Hard to see relocated shock mounts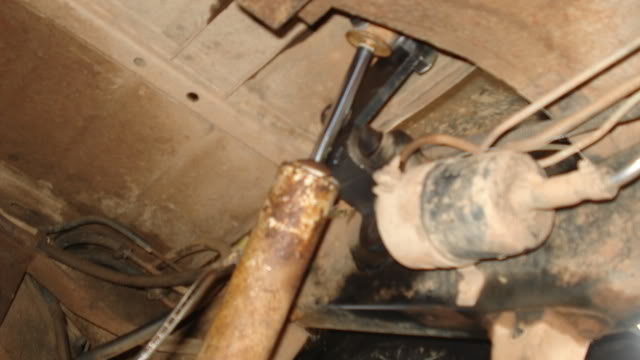 Impact Fabworks bumper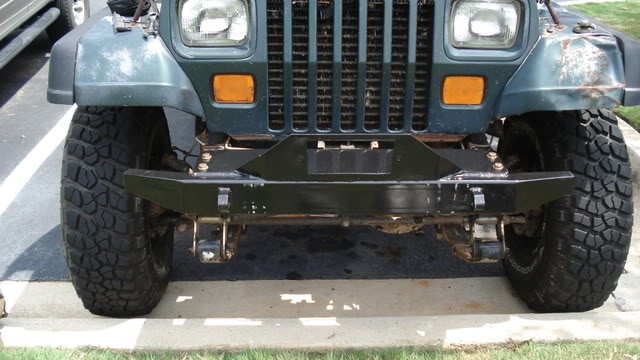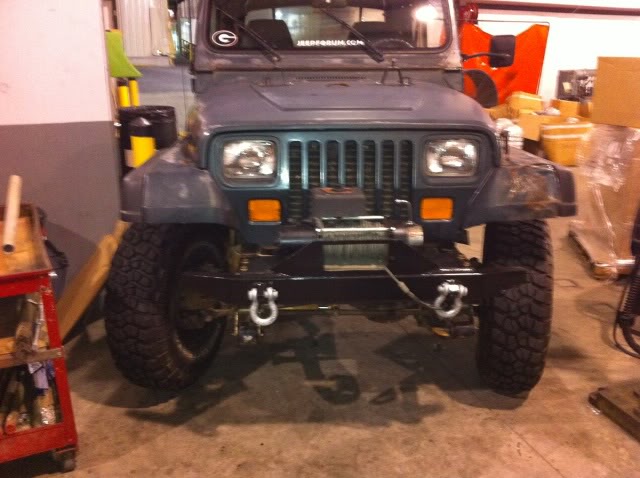 A day of fun, the next day was not so fun (cleaning)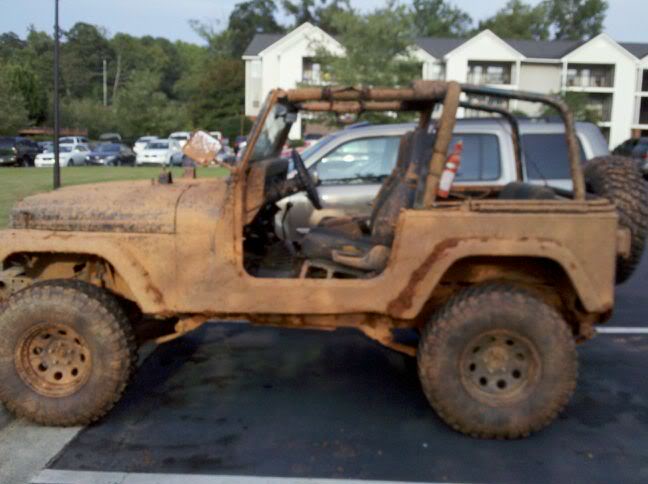 10-6-2010
I keep updating this thing intermittently. Well Since my last post I've been wheeling and now I'm finding out what needs to be fixed.

I should have put the M.O.R.E. rear upper shock extensions on before I put the shock tabs on the axle: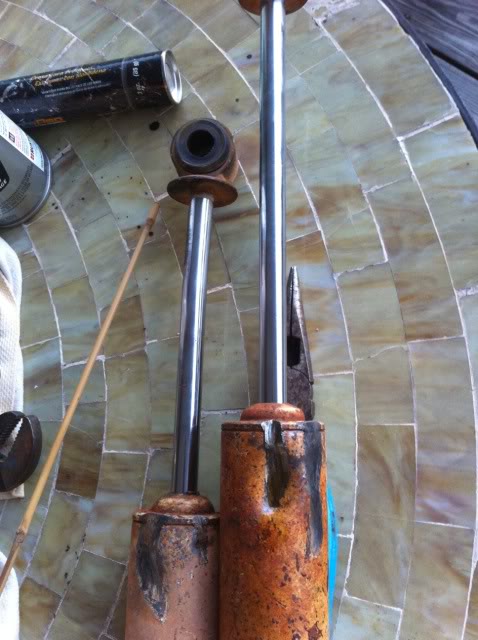 Here's some pics from the trip: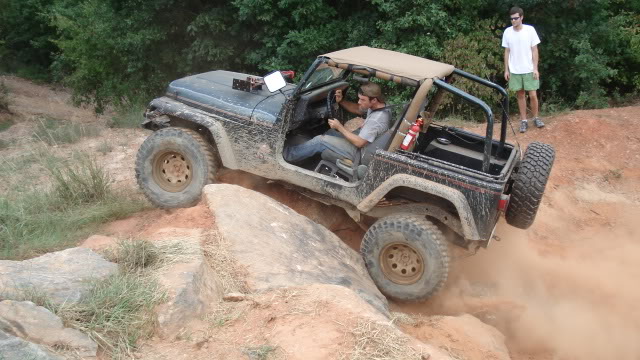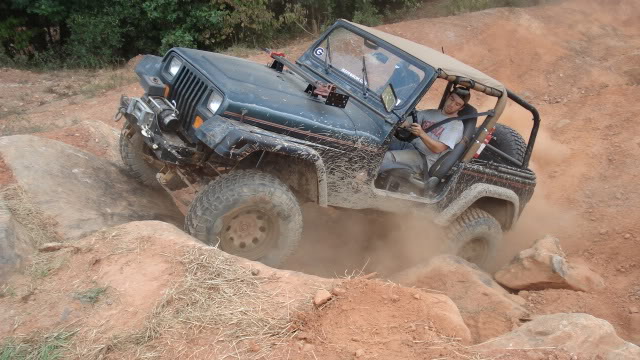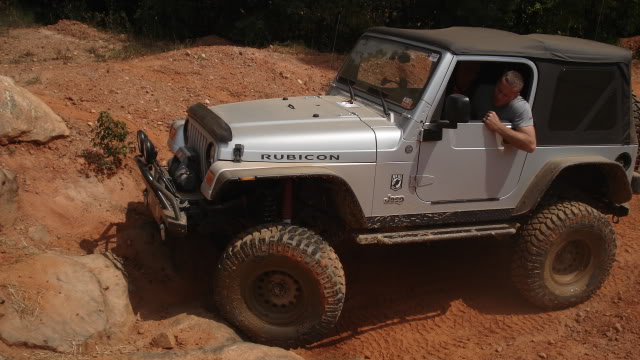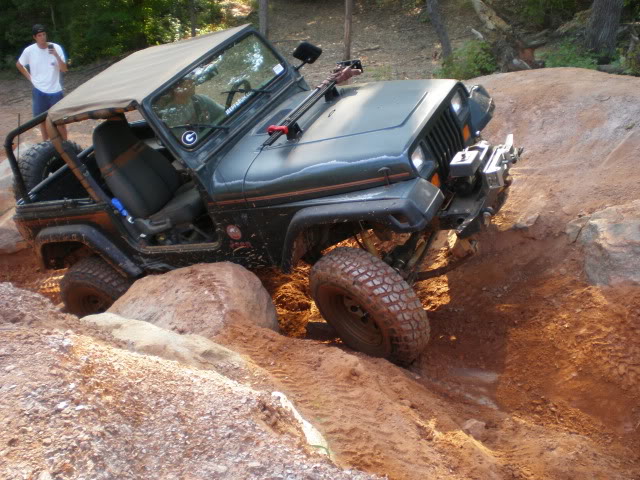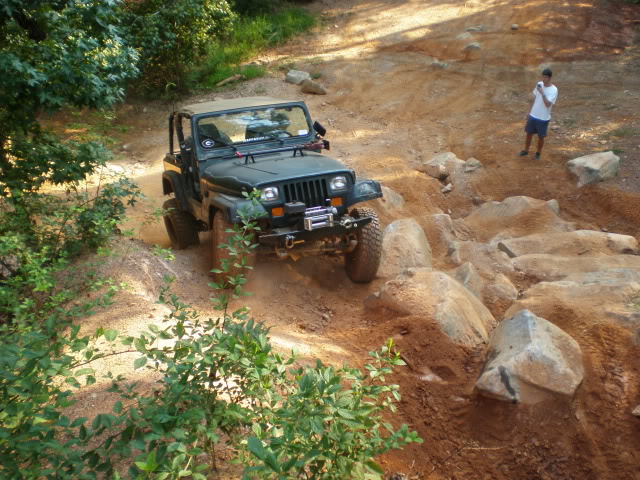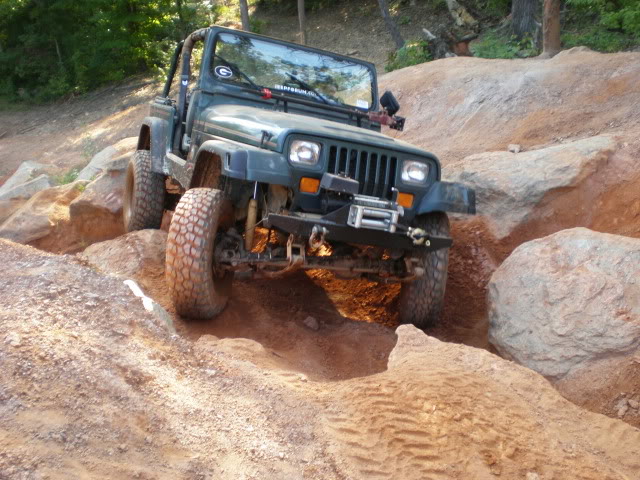 10-8-2010
I forgot to put the little bit of carnage I got from River Rock: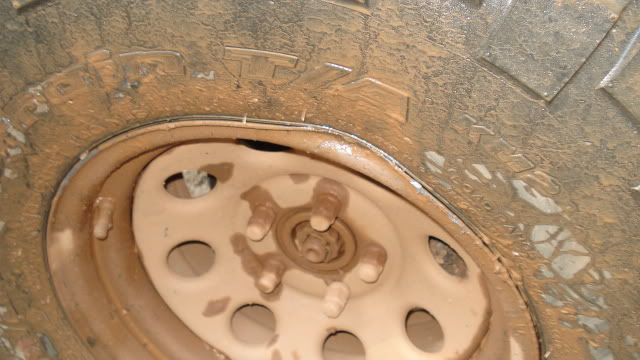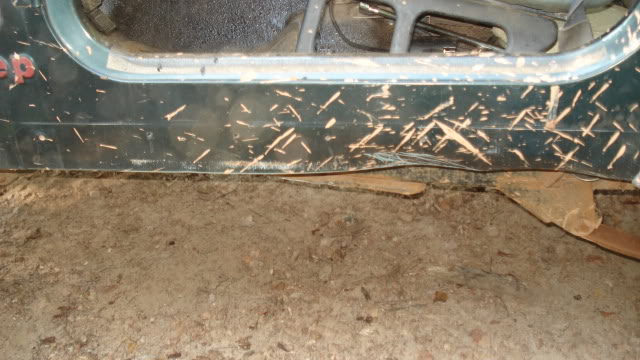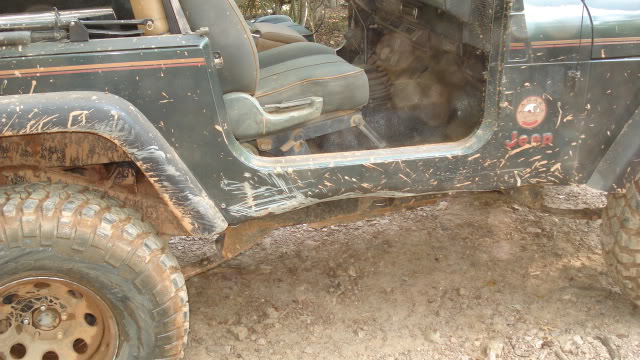 12-21-2010
I guess I'll keep throwing pics in and give an update. I replaced my timing chain and oil pump recently to celebrate the 300K mile mark. It sucked doing it in the parking lot of my apartment complex but you do what you got to do. I also painted my valve/timing chain covers in the process.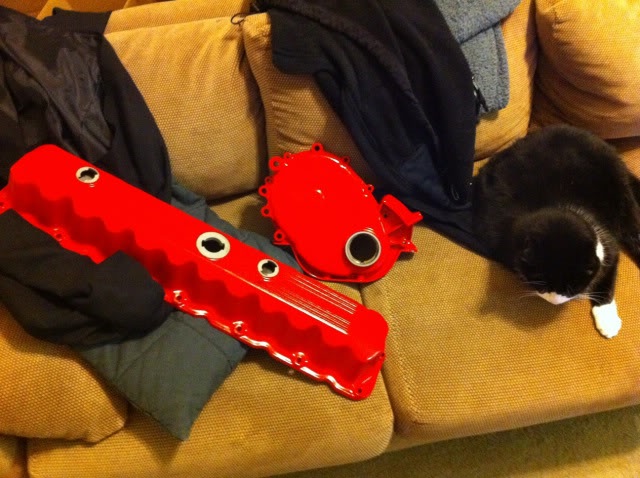 I also painted my front D30 diff cover with the leftover paint and installed my Rough Country diff guard that I got for free from a raffle during a local clubs wheeling trip. It looks tough but I don't like the fact that it covers the fill plug. So you have to install it, let the RTV cure a little, fill the diff up, then take out the bottom 5 bolts and put it on, hoping that you don't break the seal. But hey, I have no reason to complain because it was free. I'm glad I have this because my front diff was getting good and crushing rocks. I had to get a wrench for a few of the bottom bolts because the heads were mangled on some sides.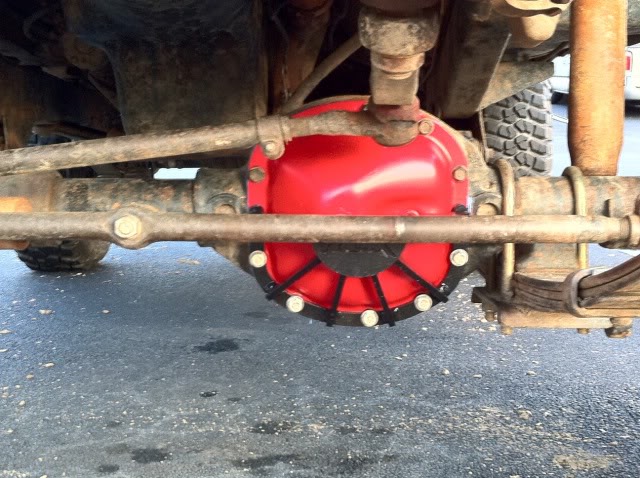 The only other excitement I've had is my top ripping from front to back down the highway during the Arctic blast here in Georgia. I need to mention that I had to drive home with no top that night. It was a 2 hour ride back.

The next day I drove up to Ballground, GA and picked up a CJ-7 hardtop.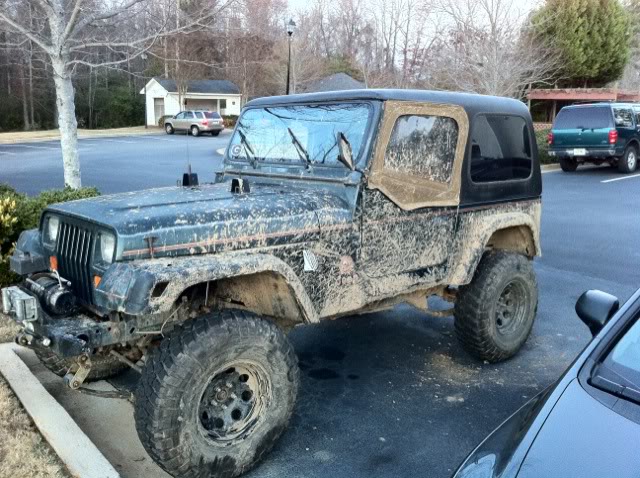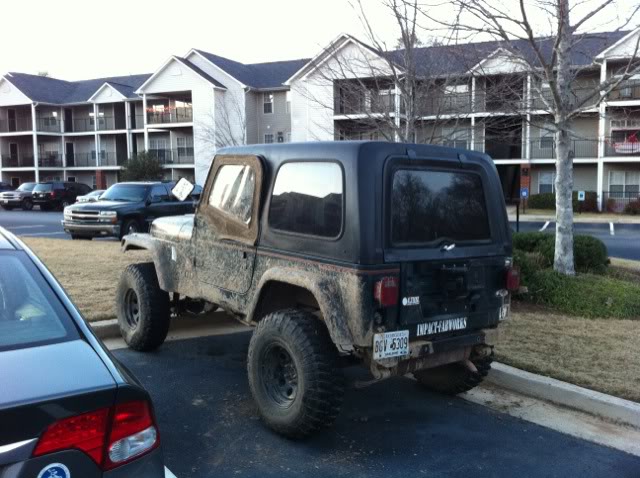 As you can see the supertop upper windows do not fit. So a week later I found a post on Craigslist for some TJ uppers. I cut the third pin and welded it back to fit. It's still not matching in color at all but it works well.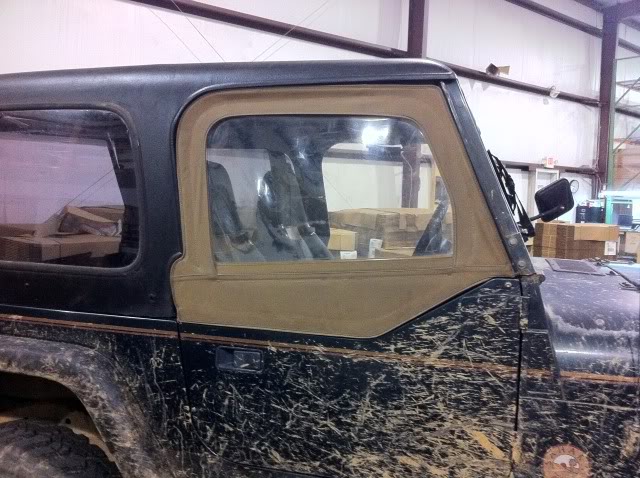 Next, I have some 4 x 4 x 1/4" angle I need to put on for rockers.

Yes I plan to wash the jeep since we'll be hitting close to 60 degrees this week.
3-10-2011
Not sure why I keep updating this thread since it's so sporadic. I guess so I can have some kind of record.

My buddy had about 6-8 sticks of these things in his garage he's getting ready to tear down. They are very stout too weighing approximately 35 lbs each and they are galvanized on top of that. I took a couple with me to my apartment and they stayed on my deck for several months during which I got some nice trail damage on the rockers.

Anyway I'm planning on a trip to Gulches ORV in Laurens, SC and I figure I would need them so here's how it turned out.

Here's a before shot after I had set up the rockers near the jeep. I put a 2.5" x 45* bevel on the top corners for aesthetics and I think it looks good. After looking closely I think these things are more like 5/16" thick.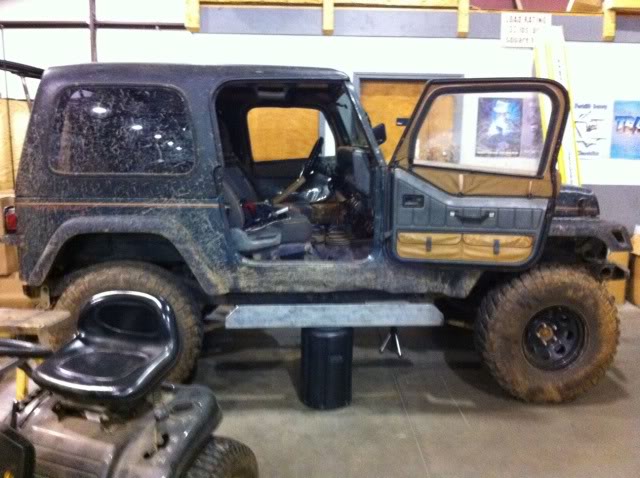 As you can see there is some good bent metal under there. For backing plates I used some 2"x3"x1/4" thick steel angle of my buddies also. I cut them to 2' long so they would fit inside the tub and rest against the support bradce on the front and be near the seatbelt in the back. I also cut some 2" x 2" 1/4" plates for the front since I couldn't get the angle length was limited by the support brace. Here's some pics of the angle after I flapdisc the galvanizing off the side facing out. I was told the primer would stick better.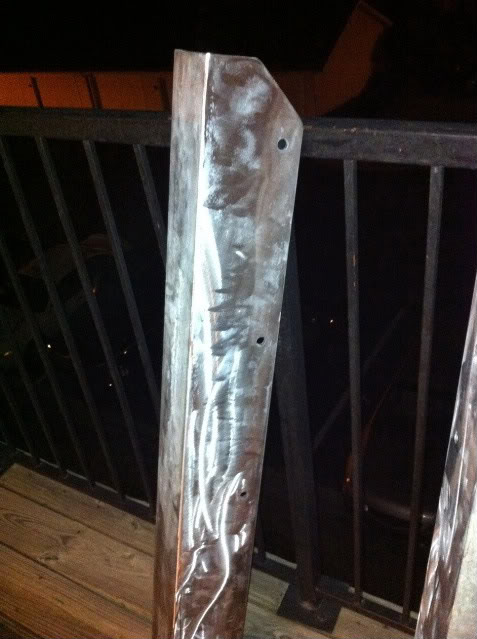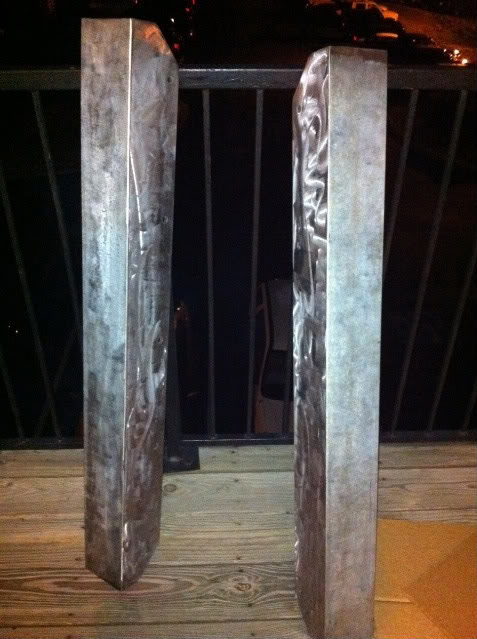 To get everything lined up I set the angle inside the tub and the angle on the outside (sorry no pics) clamped down with some panel style vise grips. I then drilled pilots holes with a 3/16" drill bit and I used some leftover engine assembly lube and it cut like butter.

I originally planned on putting 3/8" hardware but I found that the smallest punch and die set we had for the the punch machine at work was 17/32" so I decided on 1/2" hardware. The punch saved lots of effort in drilling the hardest part was moving the big 4' piece of angle around. I also removed the burrs on the hole edges. Then I painted it all up with flat black that my buddy had as extra.

Keep in mind I haven't spent any money thus far.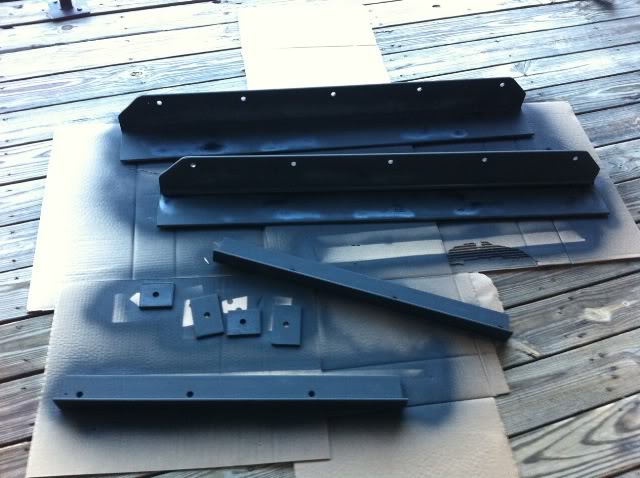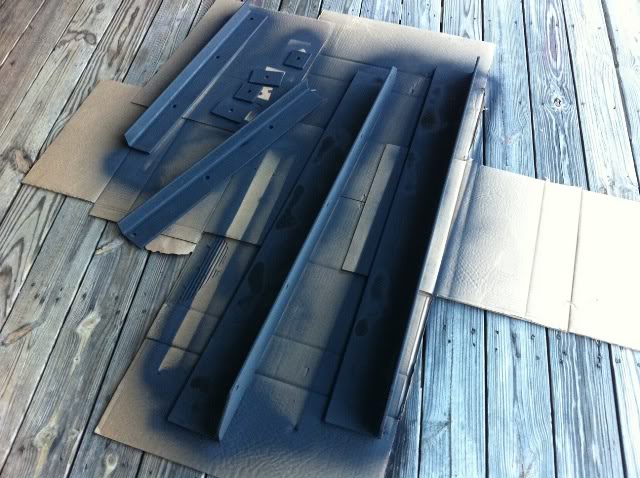 I got it all painted and was able to bolt it on last night. I used 1/2" x 1-1/2" long stainless steel bolts, flat washer, lock washer and silicon bronze nut that I borrowed from work. I also washed the jeep so I didn't have a bunch of dirt and crap in between when I bolted it down.

Here's the finished product. I think it looks great for the amount of money I have in it which is $0.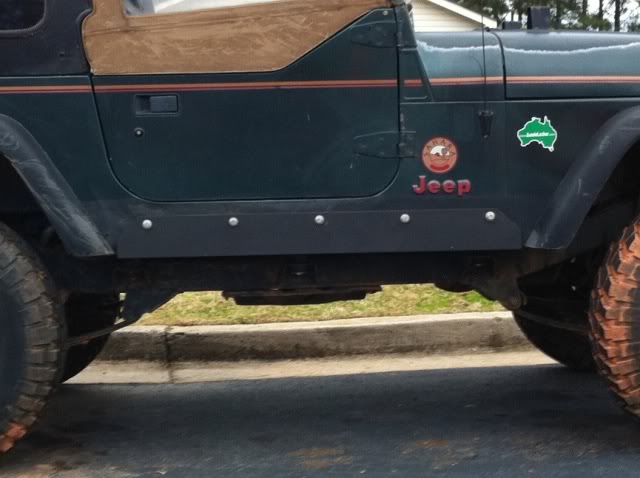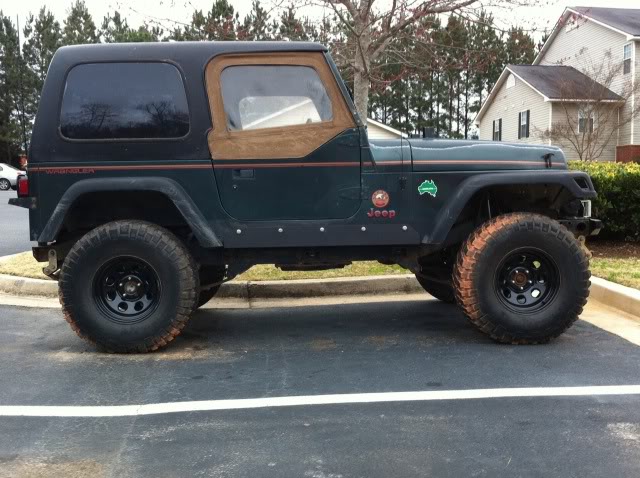 After my last wheeling trip I noticed my front shocks were spewing fluid out of the top seal. Upon inspection the seals were cracked and the piston shaft was pitted. I took the front shocks off and found they didn't have near the resistance going downward versus upward. Also one piston sank down by its own weight when I unbolted it from the upper mount. Not good. They also look like pure doo doo.

So I took my old shocks to the Summit Racing store and found out they had the same Skyjunkers for $45 each. I didn't want to put those back on so I tried to size up other ones but Summit wasn't able to do so. So I whipped out my phone and pulled up the Monroe shock catalog with all the mounting and length data and I found some Sensa Trac light truck shocks that matched what I needed. They were $25 a piece with a lifetime warranty from Autozone. I know you get what you pay for but I'm about to on a wheeling trip to SC, they are better than what I have and gas isn't getting any cheaper. On top of that Rancho, Monroe, Gabriel, etc are all made by the same company anyway. I just wasn't ready to throw down $80 a shock yet. Here it is.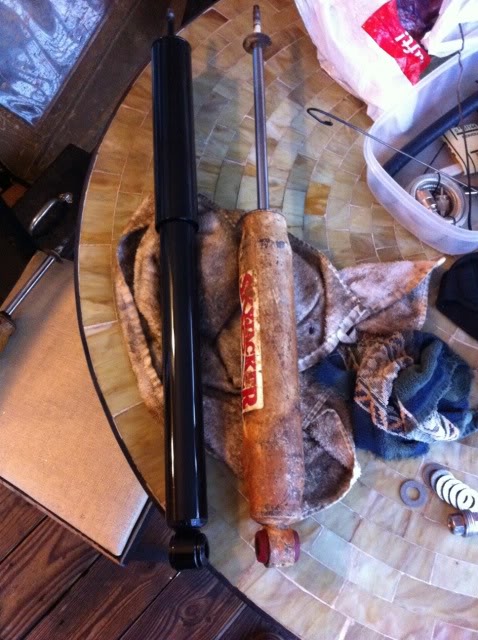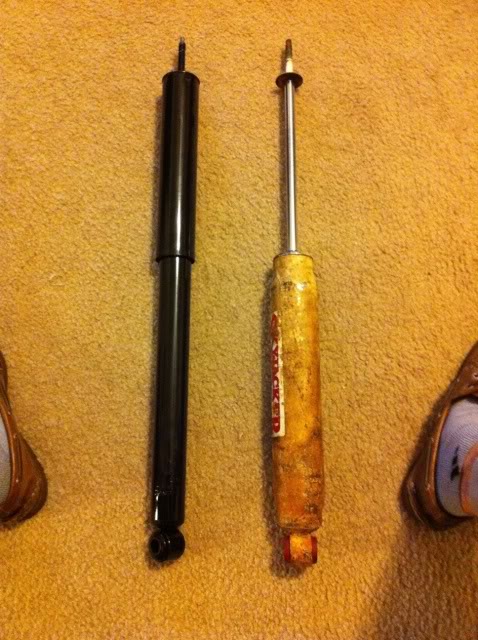 I'll have them mounted this evening.
Here's some carnage pics from my recent wheeling trip at Durhamtown Plantation. This is where I noticed my shocks had crapped out on me. Oh and just for reference the rockers were after this trip. Funny how that works.

Durhamtown is mainly a quad, dirt bike place with race tracks and rental stations for the bikes and quads. The have a 4x4 section that does not allow the bikes or quads and they are making an a new 4x4 section with more rocks. Cost for entry are $25 a day and $10 a night for primitive camping. I think passengers and spectators pay $5.

Overall I wasn't very impressed with the experience. The old section was mainly mud (even though it's been dry for 2 weeks) and some hill climbs. Very few rocks. There was a little rock garden area but I wasn't that impressed. I mainly just dirtied up my jeep with mud, I figured I should get my $25 worth.

Another thing that bothered me was the new section was closed off after 1pm the day we got there. It was the one with all the rocks. Anyway I went riding there around 11:30pm because that's why I wanted to go in the first place and the security manager (who is the club leader for the ride, former club for me atleast) was wasted at the lodge and wasn't about to go out on the trails. I went up the only difficult trail called Slippery Nipple. It was 3' rock stairs up an old creek bed.

Now for some carnage pics. Actual riding pics will follow at a later date.

Here she is after getting home:


Overall my jeep took some minor beating but nothing its not used to. Here's the shocks I will be replacing soon. The top seal is shot and the shaft is pitted plus it was spewing fluid with all the bumps. I took them off and pulled it in and had a lot of resistance. I pushed it in and it was noticeably less resistant.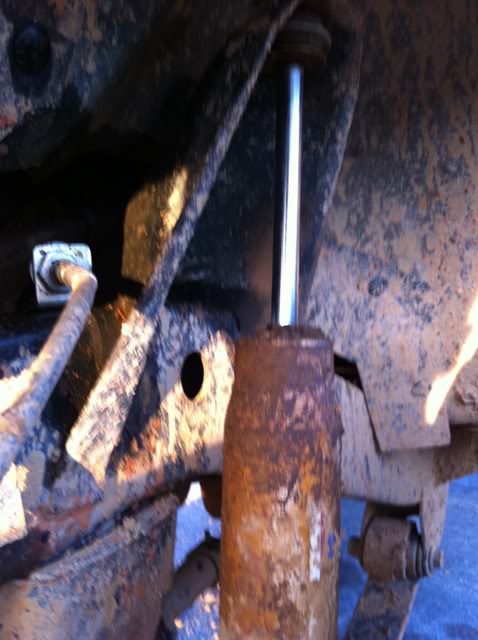 I overfilled my P/S reservoir and the heat spew the excess out. The levelis good now.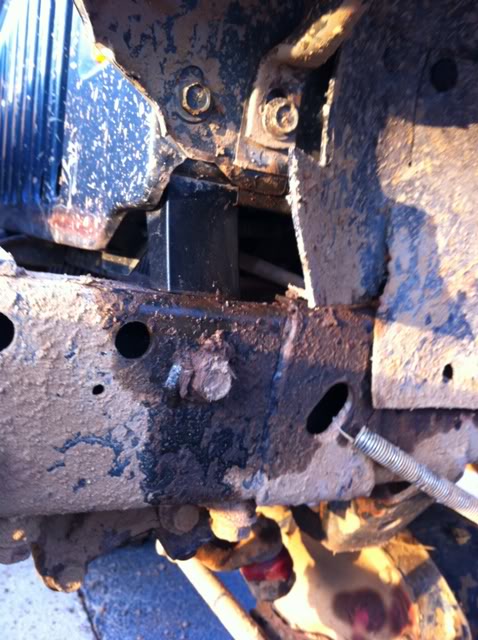 For some reason I thought it was a good idea to put the bolt in the tranny torque arm this way. It wasn't and as a result it was smashed. I had to cut it off and when I did the nut fell on my shoulder and burned a hole through my shirt and then my skin.




Here is a good reason to do a u-bolt flip on the back. I keep snapping these u-bolt studs off. I finally got off my butt and cut the other down to 1/8" of thread sticking out.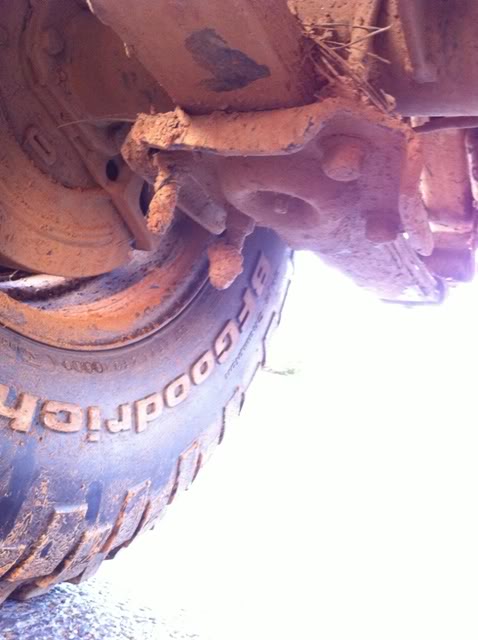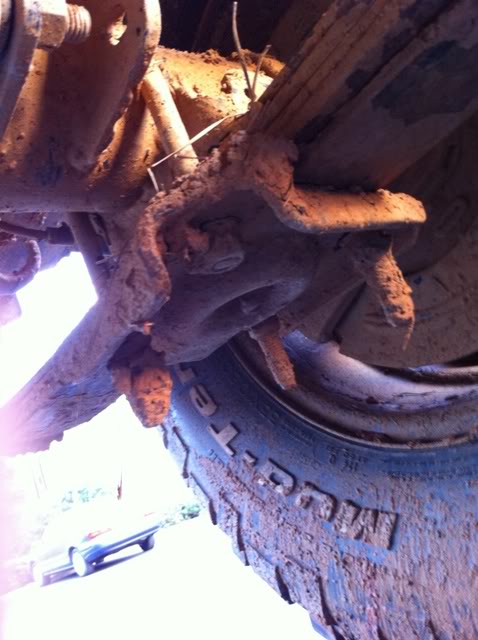 I'm sure this helped climb the 3' rock walls.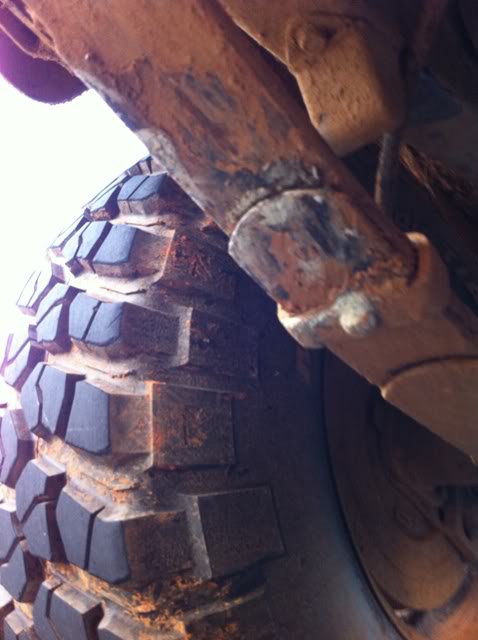 Found out my driveshaft yoke was hitting the exhaust hanger on the flow master. Need to get the hammer out.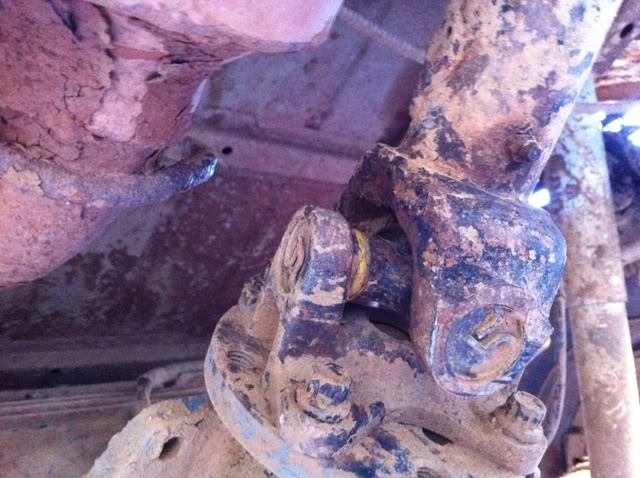 My SOLID 8.8 diff cover showed up. I didn't smash any big rocks with it though...yet.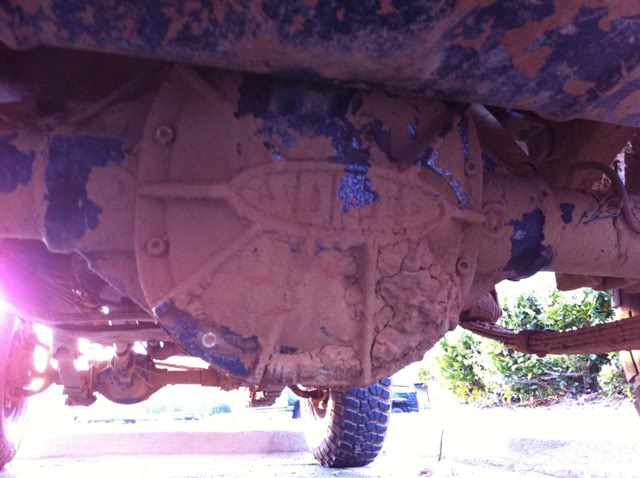 Tagged my gas tank.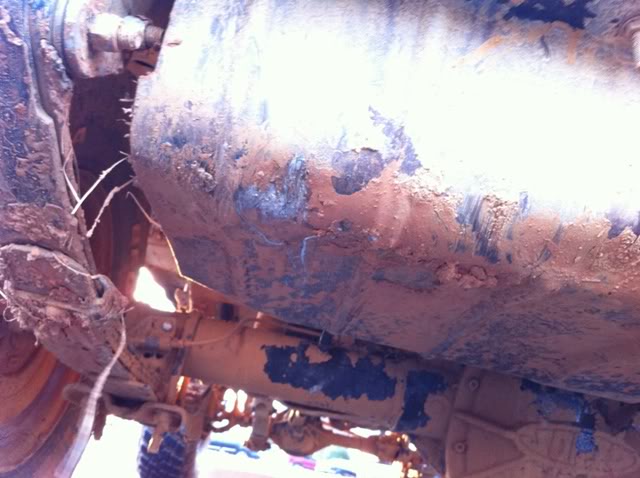 I also tested my free D30 diff guard I got from a club ride raffle. Worked great!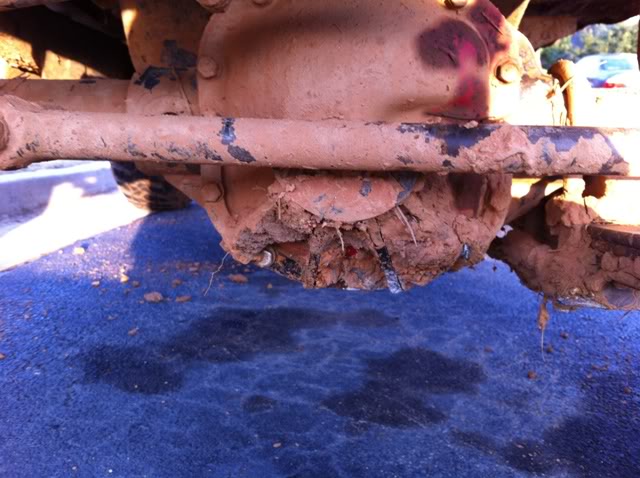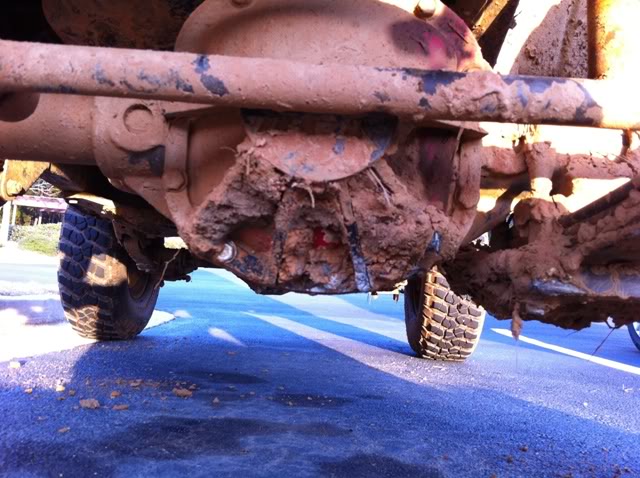 And finally this happened about 2 miles from my apartment.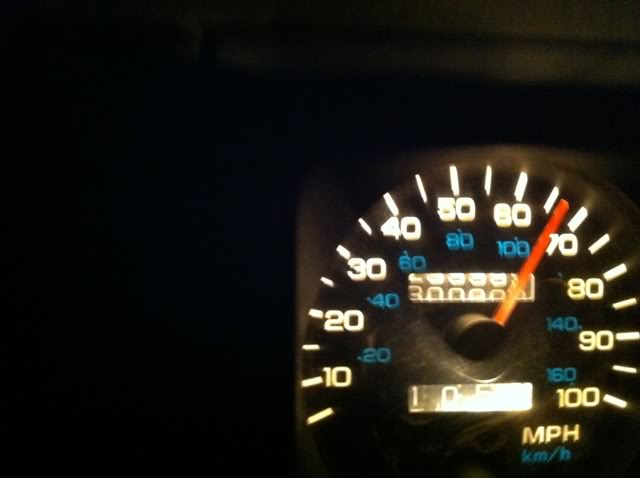 3-11-2011
Here's some old wheelin' pics. I found them deep within my photobucket so I figure I'd put them up. It was taken at Beasley Knob, one of the last ORV parks where 4x4 vehicles can ride and owned by the US Forest Service. It's located in Blairsville, GA. It cost $5 a night per vehicle for riding and camping. Can't beat that. It also includes pics of my good friend with a Sammy and his swampers that couldn't hold a bead. You'll see a pattern.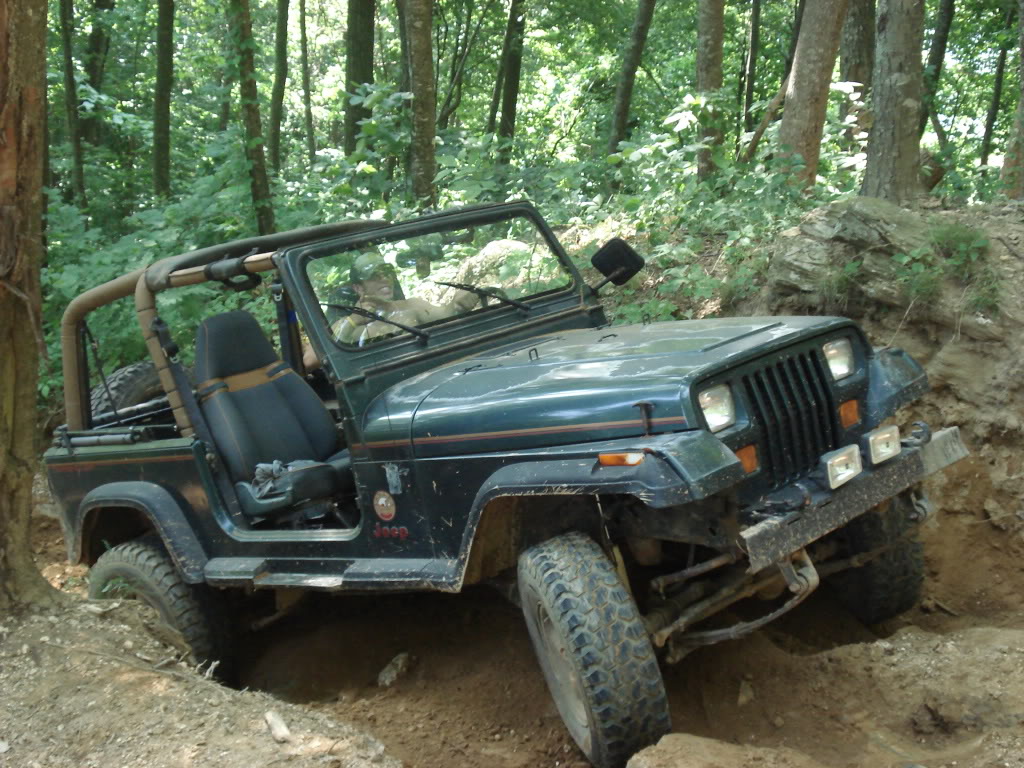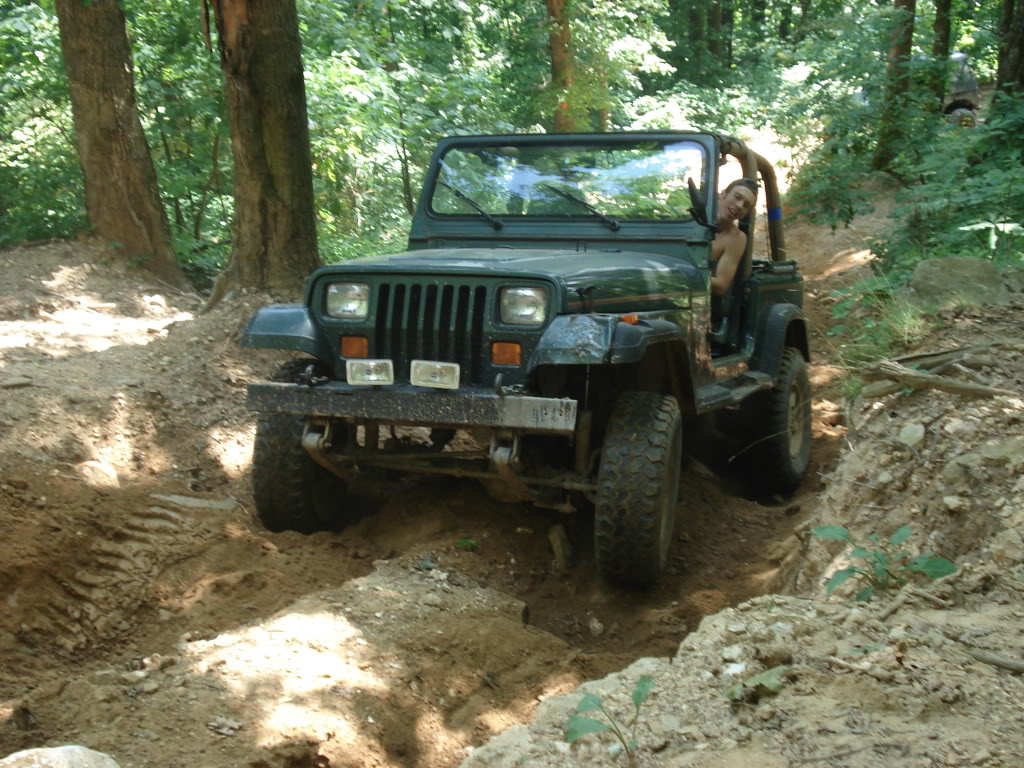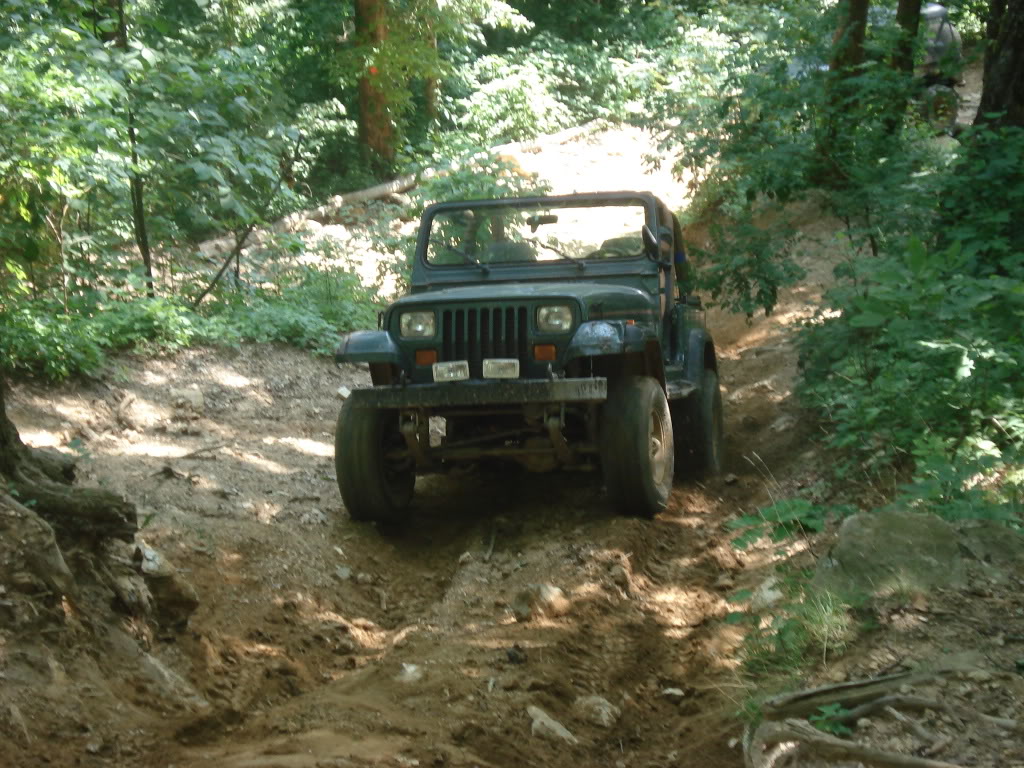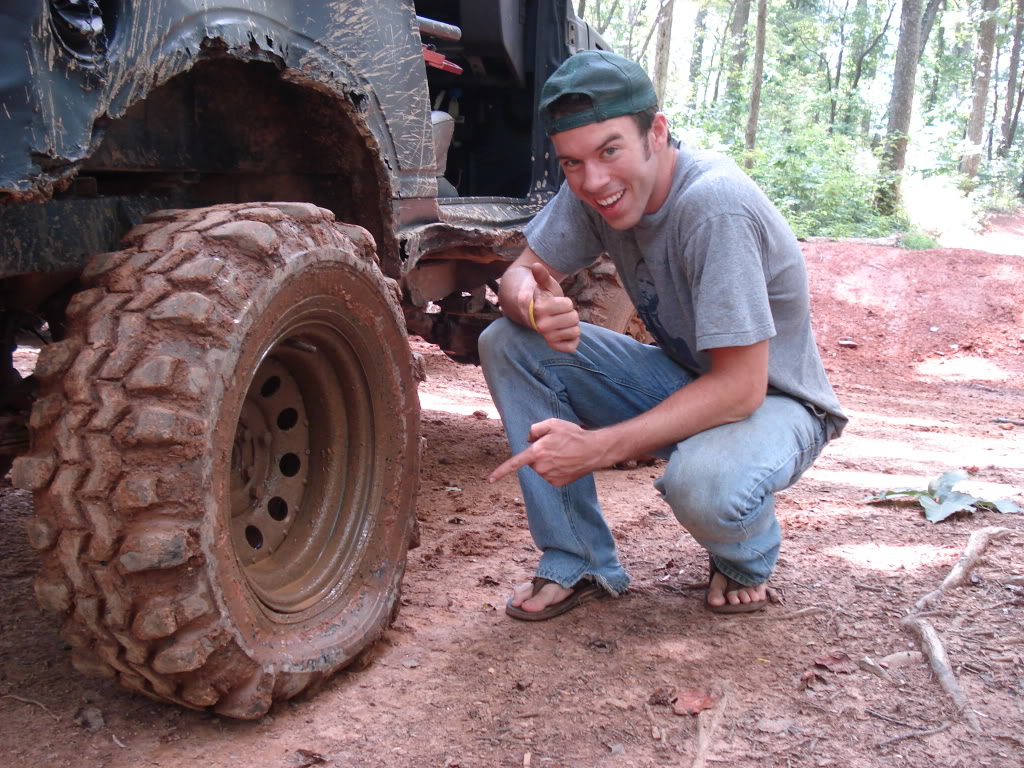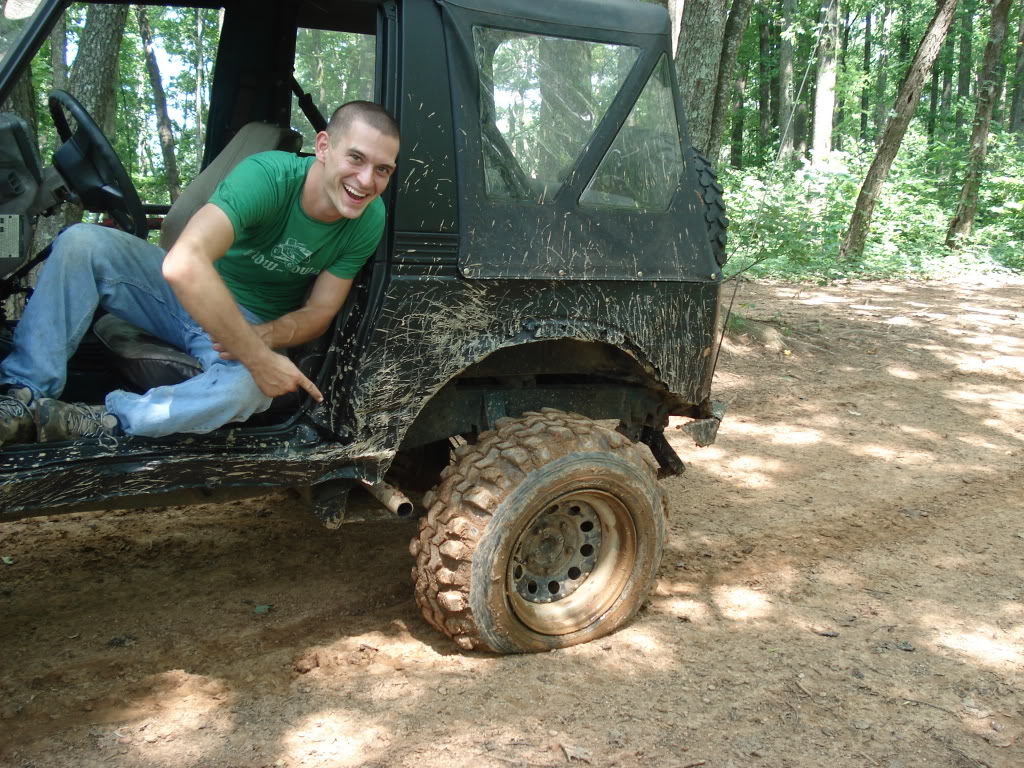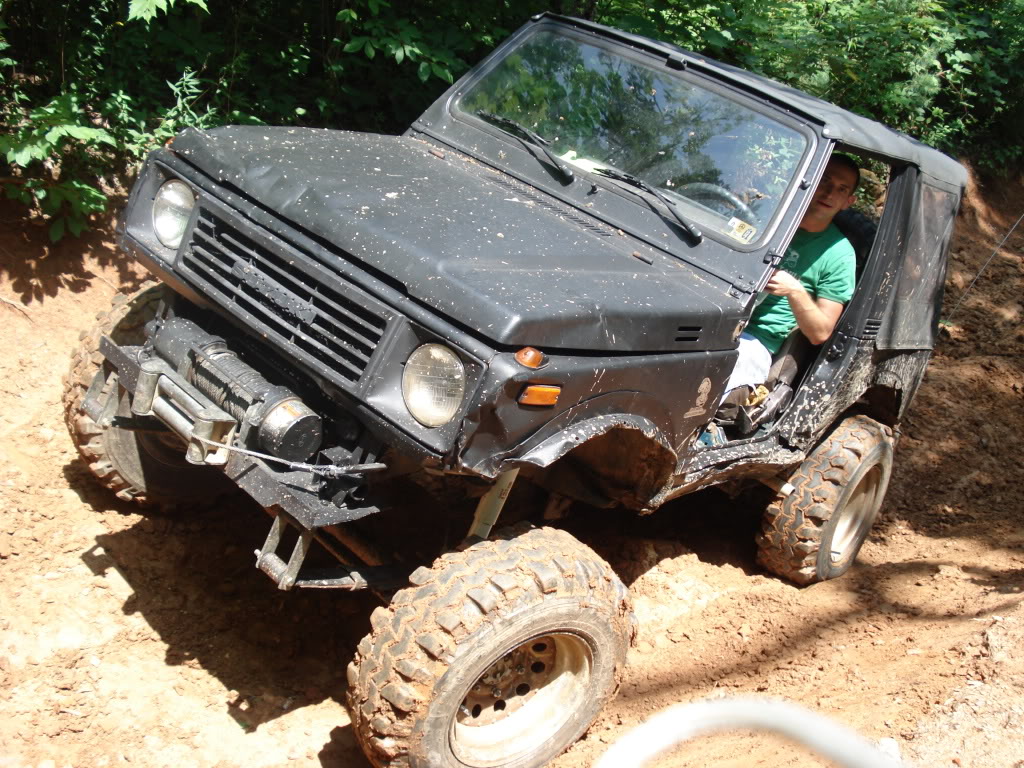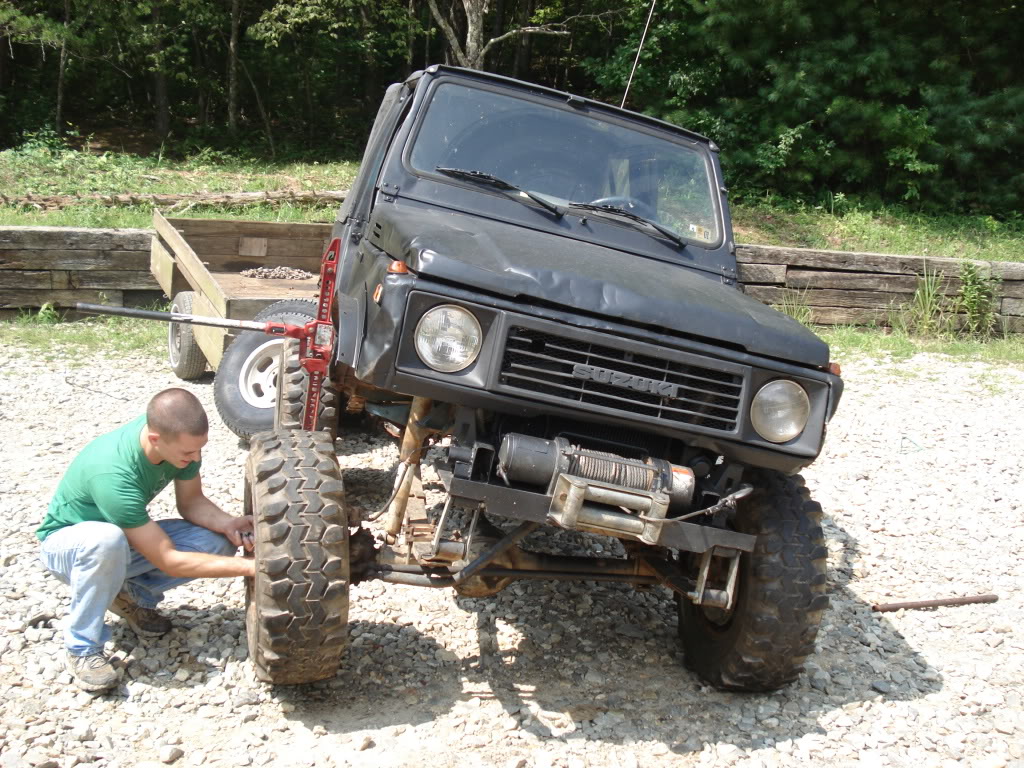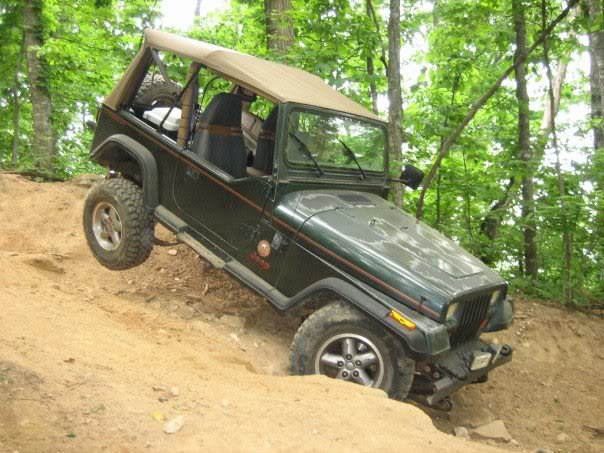 Thanks. I don't really mod for looks mainly function.

Oh yeah my buddy was searching youtube and came across some videos someone took of me wheeling! Crazy. I think it's the only time someone has actually taken a video. I had to yell at the spectators at the top to get out of the way because momentum is my friend.
This is also when my 8.8 was freshly installed and open. I should be able to walk up it now with the Aussie back there.
3-23-2011
Well I don't have any updates on my build. This is more of a trail report putting my work to the test. This past weekend me and 4 other buddies drove our jeeps from Atlanta to Laurens County, South Carolina where we camped and rode at Gulches ORV park. It was a 3 hour ride and though riding your junk to the trail is risky I generally think of it as part of the challenge.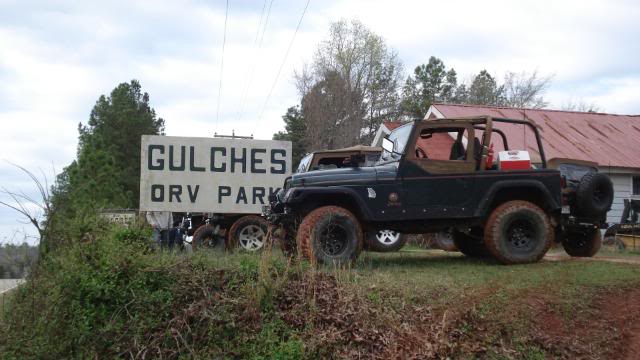 Skip, the owner, was a very awesome guy. He helped us out a good bit and took us on a tour the evening we arrived. He let us borrow some gas (sorry we didn't fill it back up Skip), directed us to a fab shop for repairs and he had a great park. We ended up reserving a riverside campsite. Here's some pics of me and my crew.

Here's my buddies YJ. He finally got it on the trail for the 3rd time. This was his first venture with the new 33" Mickey Thompson MTZ's.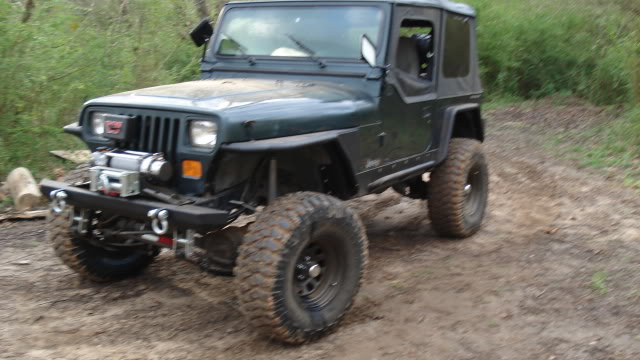 My buddy's CJ-7. We've been building this thing for 2 years. He just got the 35" KM2's and he had a tough weekend.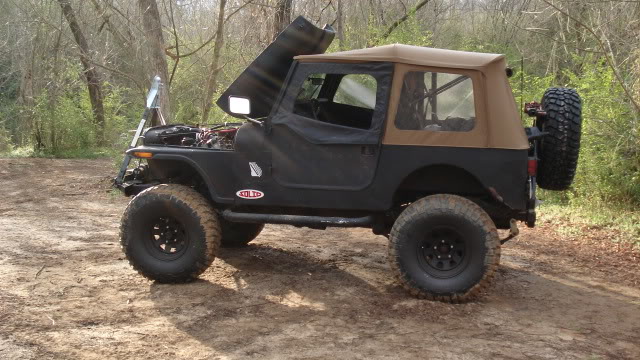 Other buddies YJ. He has a lot of money in this thing. Notice the Warn Power Plant winch. He only has 31's for now. He's new to the 4 wheeling world and I think his first lesson needs to be how to buckle his seat belt.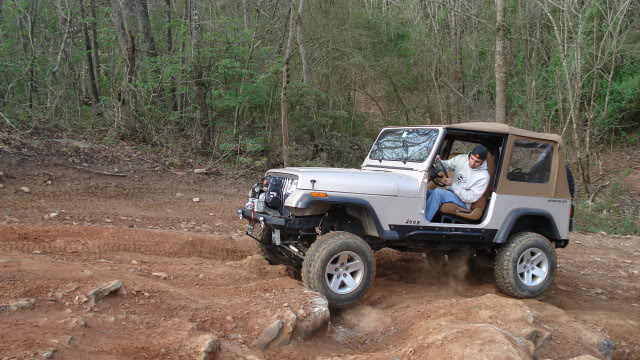 Here's the campsite. It was nice and we already had some firewood stacked up when we got there.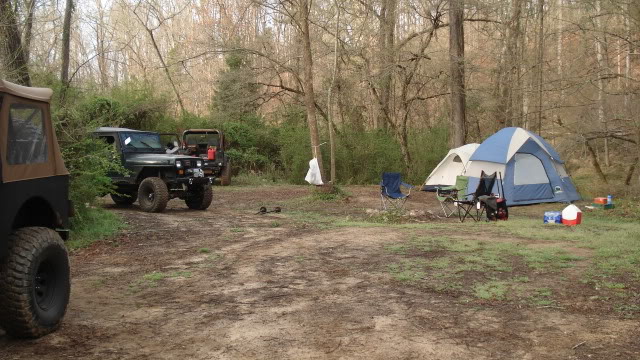 Here I am. Bi-winning.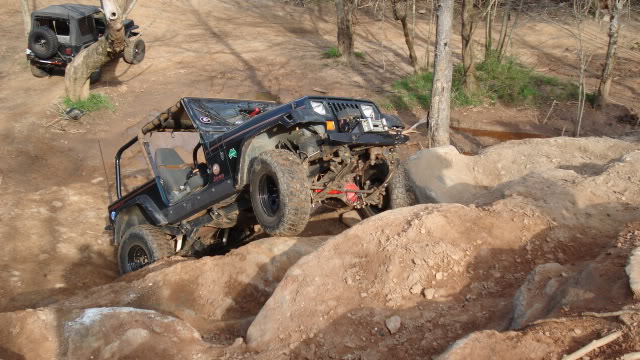 Here my other buddy he's got a 4Runner.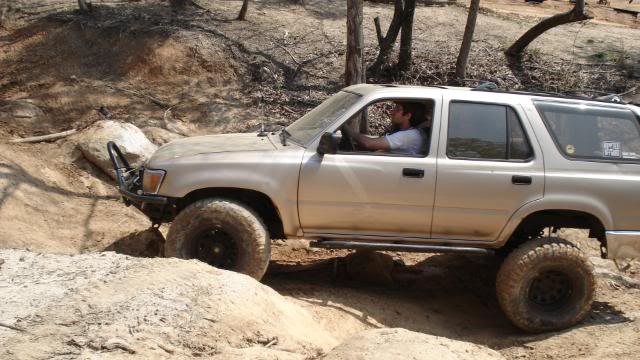 More to come.
Well the night we arrived Skip took us on a tour of the trails and near the end my CJ stopped running. Can you see what's missing in this photo?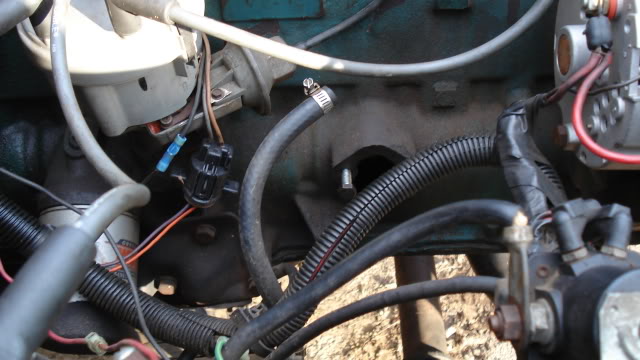 Luckily the 4Runner buddy was coming from Statesboro and was able to pick us up a new fuel pump. Once we got that on we were good to go. In the mean time me and the other guys did some riding.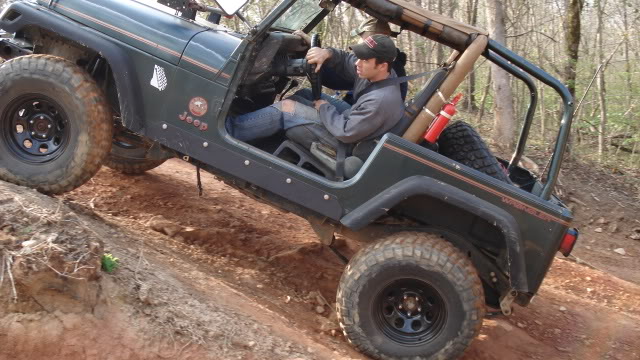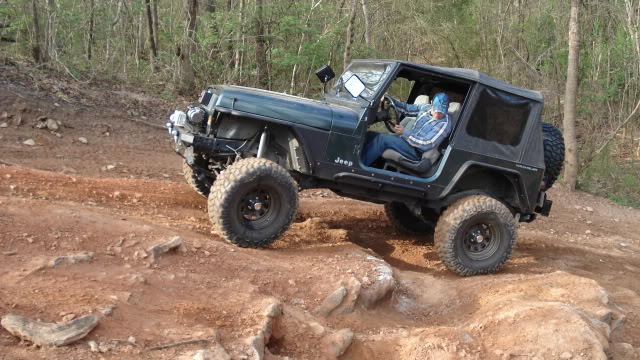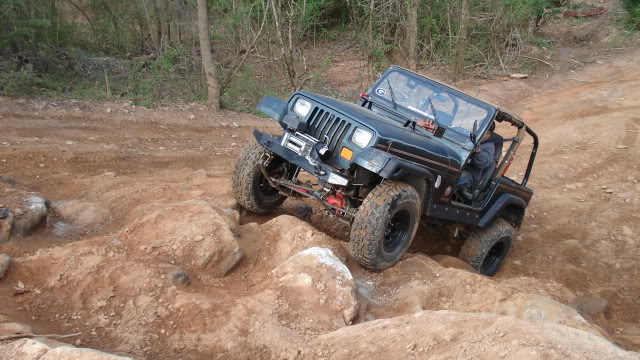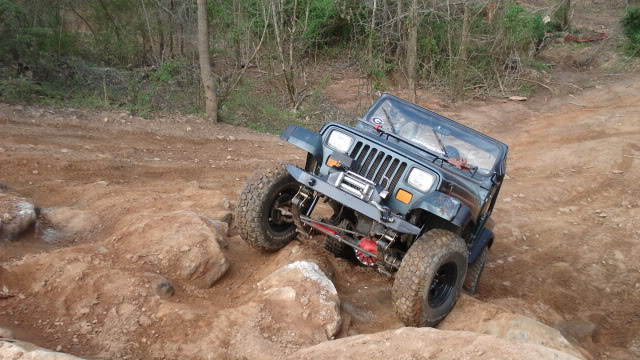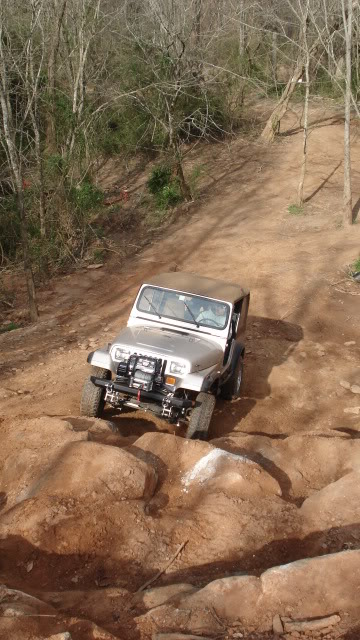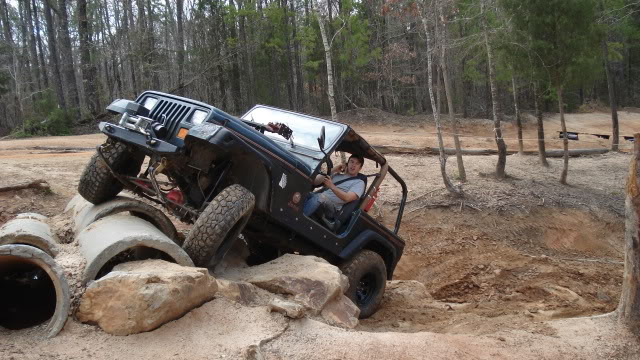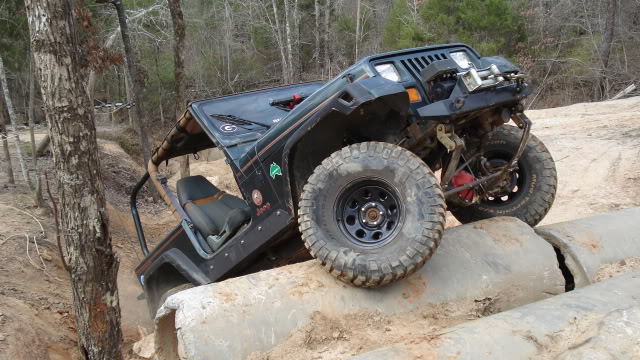 Both the other YJ's have fresh 4.5" RE lifts on theirs so they have a little bit of an edge on my worn crummy suspension.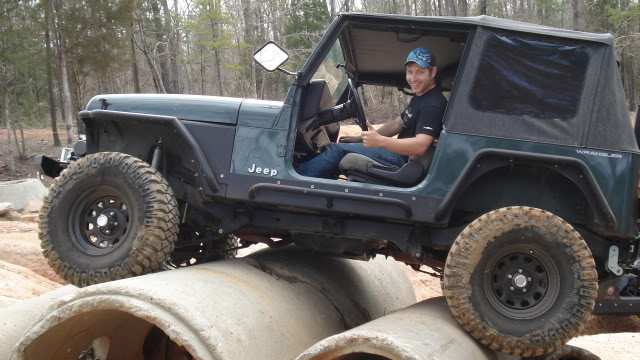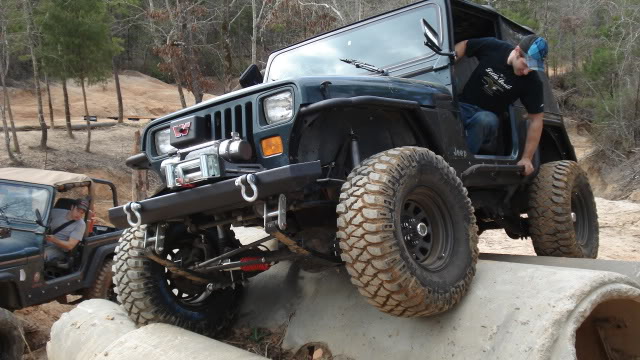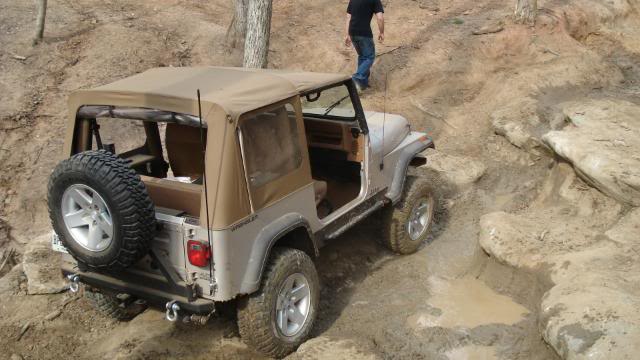 Here is where the day gets better. My buddy with the CJ was climbing a good size hill and then something snapped.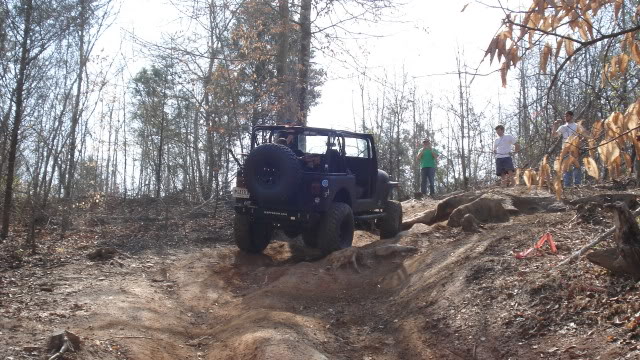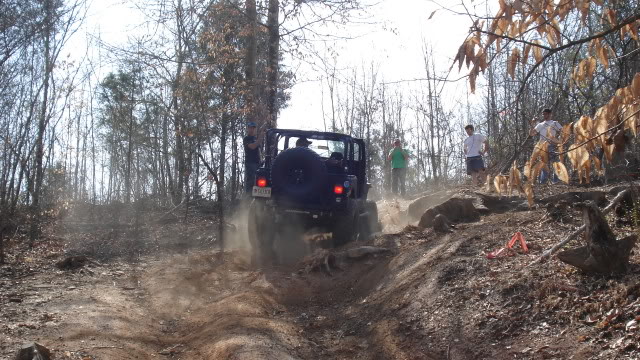 Ouch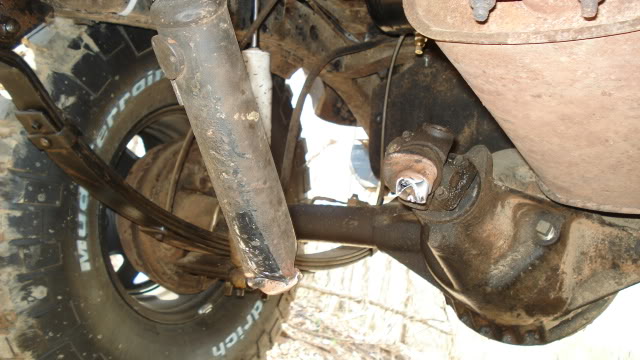 That was a little bit of set back and my buddy thought his weekend was done. But we went to see Skip since he deals with this stuff day in and out. He said to go to his friends shop about 3 miles down the road. He said he's a fabricator and might have some pipe laying around that we could sleeve the driveshaft with. Well we found the house and it had a lot of projects and parts all around his shop so we were sure we found the place. He also had an intense Great Dane named Titan.

My buddy who owns the CJ and Titan. Just to note my buddy is a relatively large guy.




Brad, the guy that helped us out was awesome. He had some 2.5" O.D. steel tubing with 1/4" wall. He got us straightened out.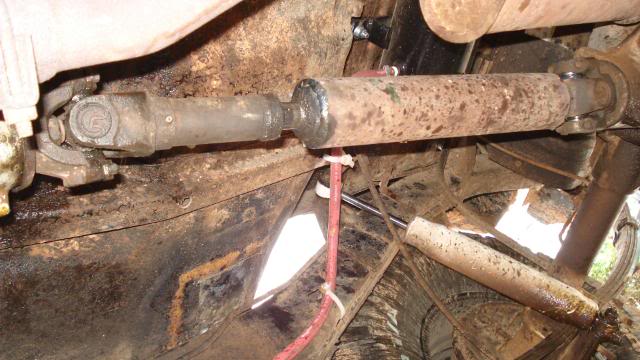 My buddy didn't get over this because he's open in the front and rear. We were also hitting our drivers rear spring mount big time.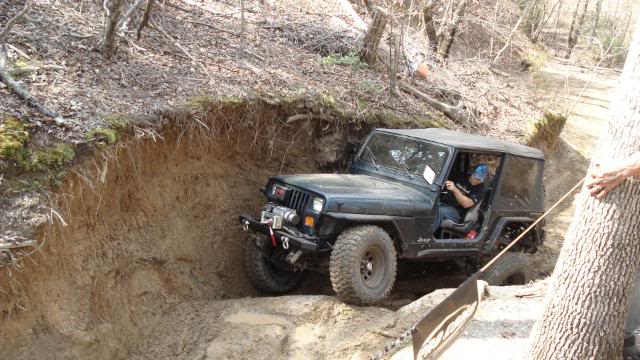 I got a little horizontal when I rode the side wall up. I have a video of it but I still need to load them.

Here's me with a strap on the front. I used it just to keep from rolling on one obstacle. This obstacle to be exact.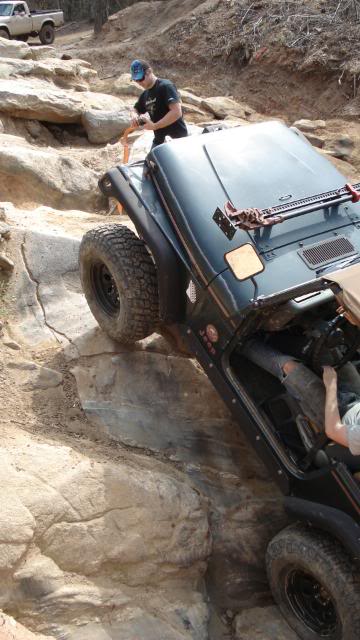 Better pic: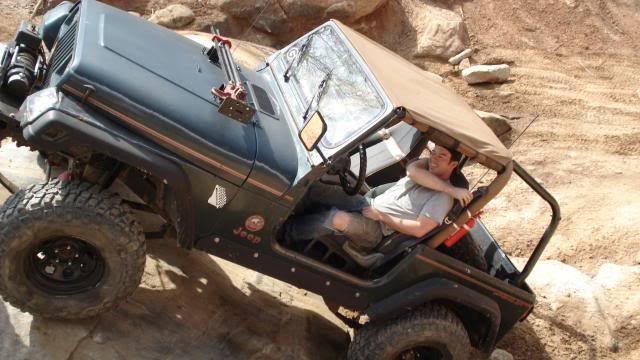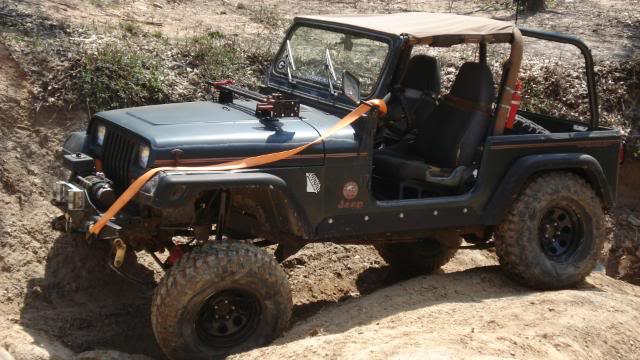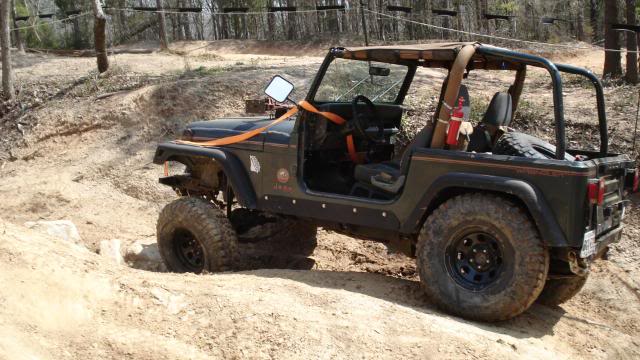 My CJ buddy just couldn't catch a break (pun intended). He was coming off these huge culverts and slammed down on the front end hard. Really hard. So hard his engine shifted forward enough for the fan to nip 7 rods in the radiator, then steam city.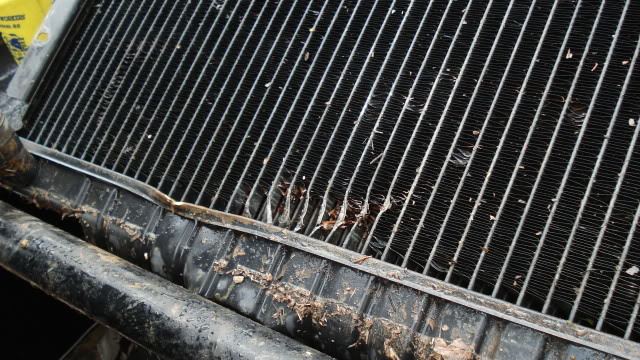 So we had to get creative. Luckily another buddy had some waterproof JB weld. We ripped out the copper fins in between the clipped rods then we squeezed the rods shut and rolled them up. The lower open ones we put JB weld on. Miraculously we made it home with zero leaks.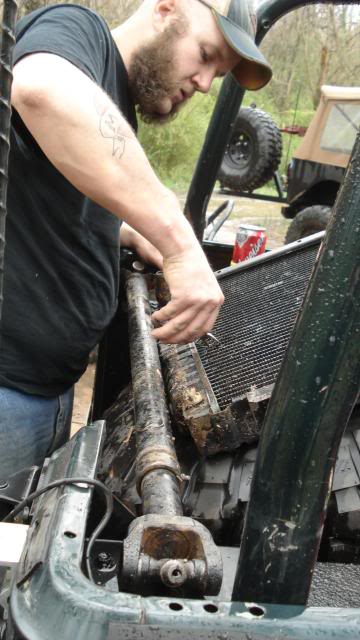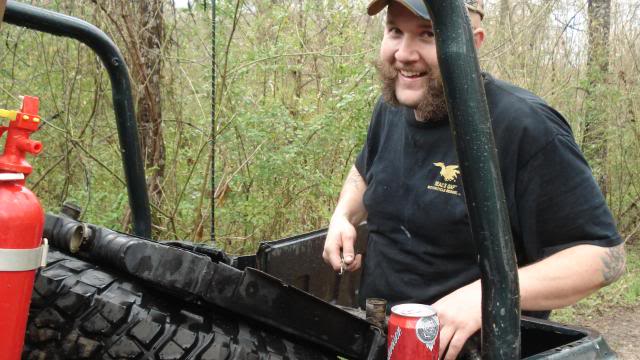 That's my front driveshaft. I lost a u-joint cap. Most likely because my 5/16" deep well 1/4" socket was cracked in 2 places. So when I tried to torque the bolt, it gave.
I have a ton of pics so I won't be able to post them all. I will get the videos uploaded though. Here's a couple more and some of us going down the road on the way back.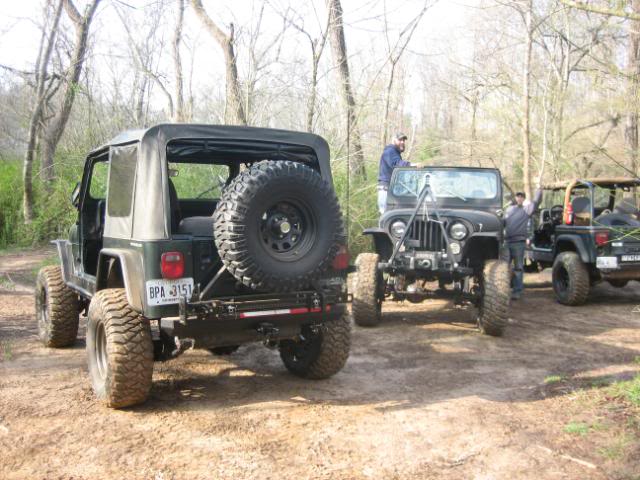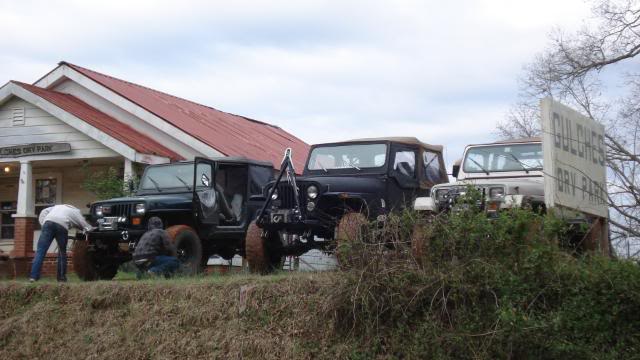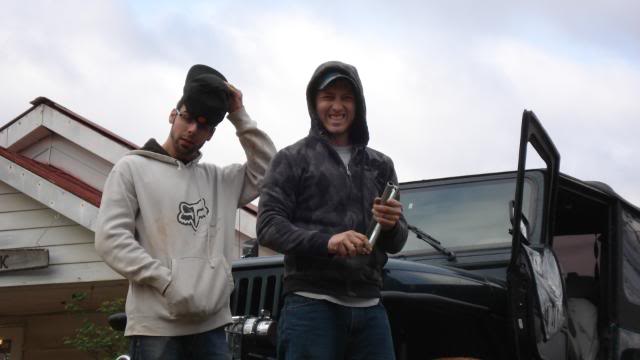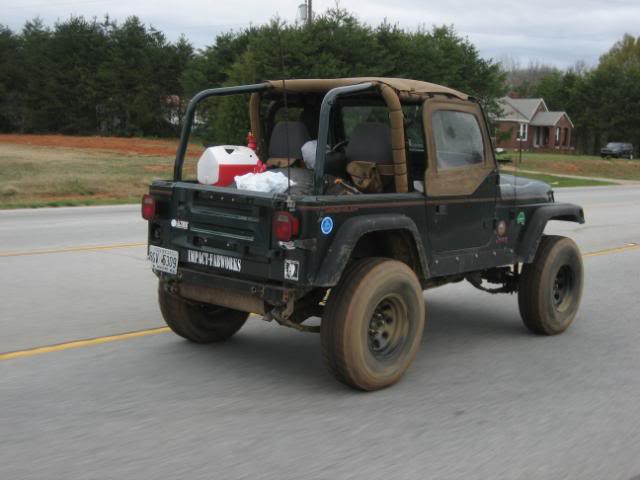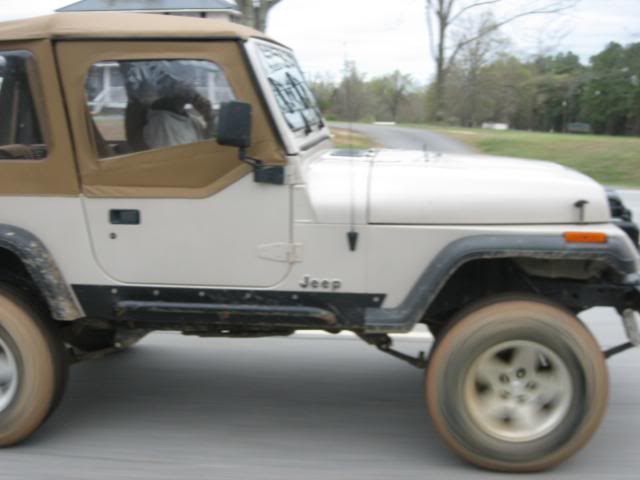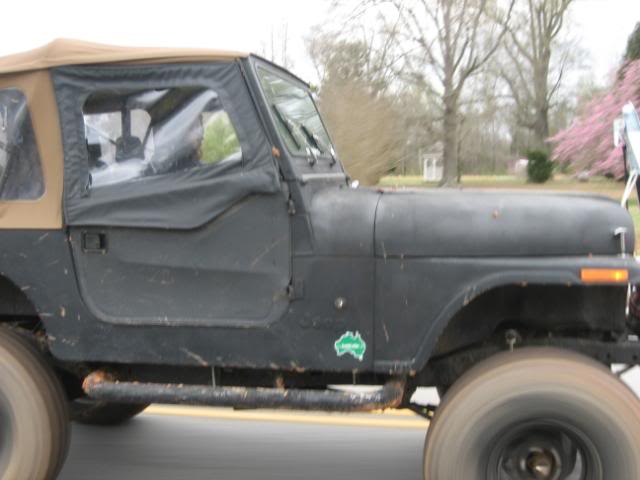 My buddy was stoked that he actually made it out. So he showed it.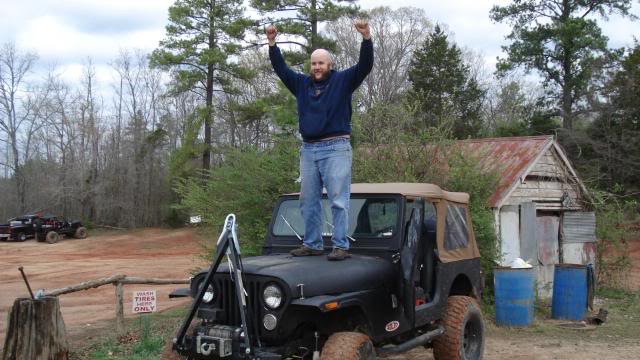 Here's me back in South ATL after spending all weekend in the woods. My hair didn't need any gel to stand straight up. Grossness.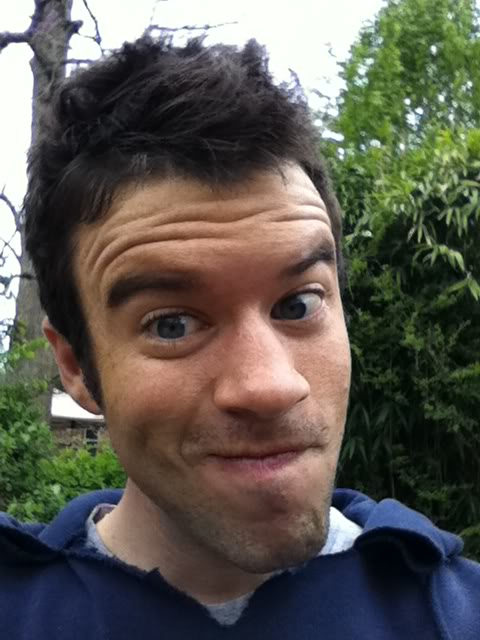 3-24-2011
As promised, videos. I have some more but I haven't uploaded all of them yet.
3-25-2011
Another one.
3-28-2011
Since I need to slow down on spending money, I think my next mods will be a hand throttle on the shifter and a tie rod flip kit. I'm thinking about using the go-fer-it inserts.

http://www.goferitoffroad.com/products.htm

I'll post pics of the install once I get the material together. I already have a stock pitman arm that can replace my dropped one.
5-28-2011
Well I've done a little to the jeep but not a whole lot. Right now it's just little stuff here and there until I rebound from recent purchases (ring) and an upcoming vacation (to give the ring). Anyway a month ago I found a hose sticking out of the gas tank skid. I looked at it and I remember putting it on the vent lines about 6 years ago. Well it fell off and cracked. It might be because it was a washer hose from an '89 Volvo.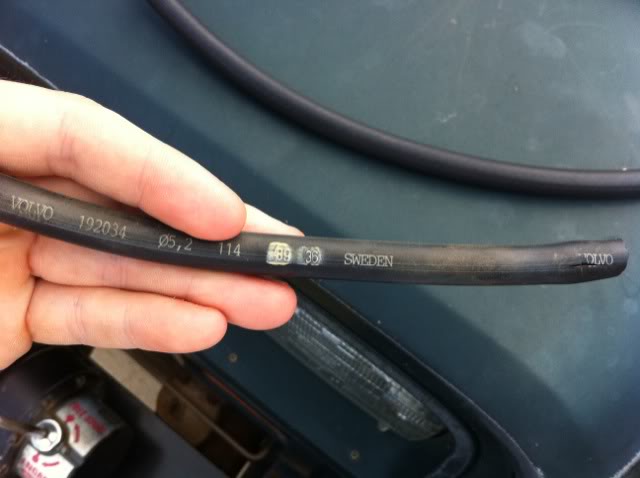 Anyway I got bored and decided to drop the tank. I also planned it pretty well because I was about to run out of gas and didn't want to get more (when it was pushing $4 a gal.) and I was almost home plus I knew I wanted to drop the tank. When I started taking the filler hose and vent hose off I found the vent hose was cracked and hard as a rock. So I got a new one from Q-tec since no dealership in my area had one.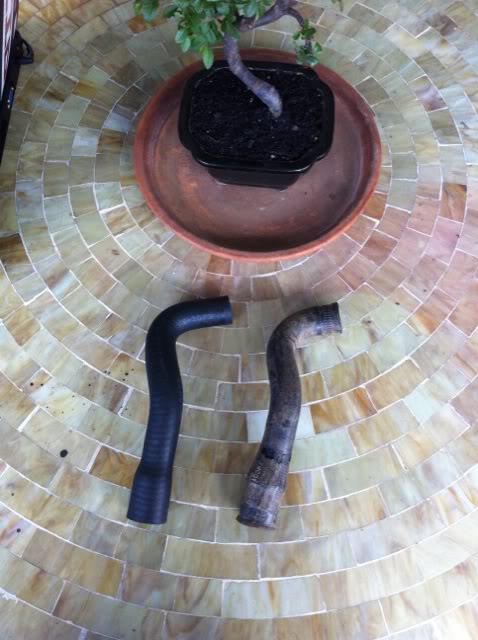 Here is the assortment of hoses I took off and the new 1/4" fuel hose for the vent line.




Here's the tank in the back of the jeep. I had to open up the back to vent the fumes out a little. The gas tank skid was also in rough shape. I scrapped about 3/8" thick build up of dirt and dust from the inside and found a little rust. I'm having the sandblasting guy we use at work clean it up then I'll prime it and put some decent paint on there.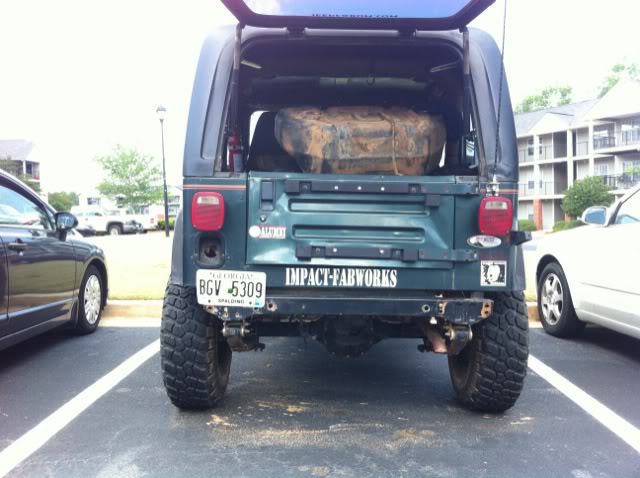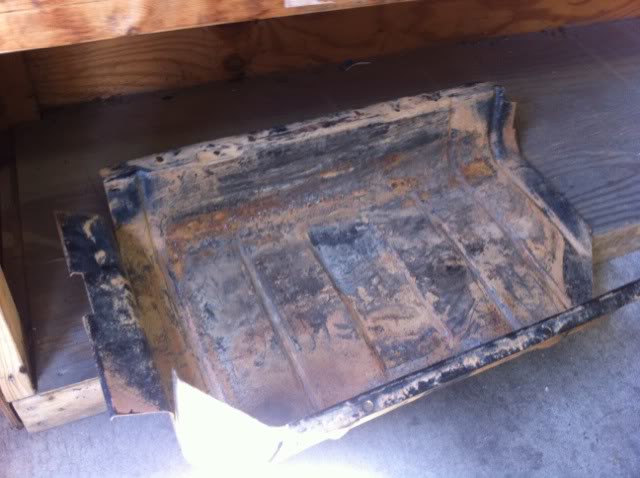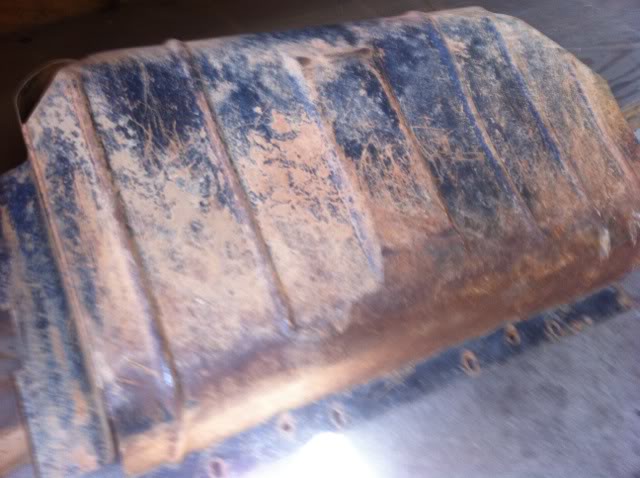 Once I get it back I'll take some more pics and show the finished product and the gas tank install. On a side note I acquired a 5L military jerry can for $5 from a retired welder at work. He was also a marine but he found it at a yard sale and sold it to me for the same price. Pretty sweet deal. I just need to find a filler neck and make a gasket for it. Here it is when I first got it and then after I had it sandblasted and primed. I think I'm going to paint it OD green like it was.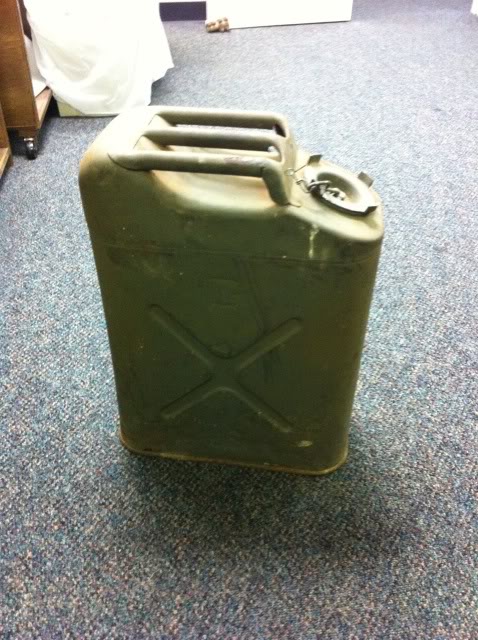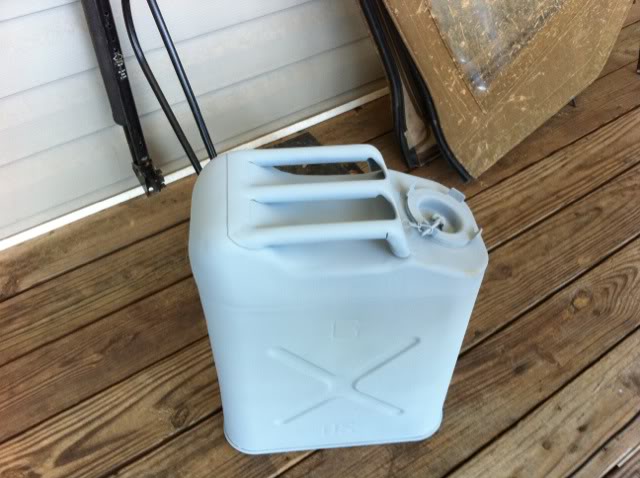 5-31-2011
I finally got my gas skid back and blasted. I also made a stop by Lowe's after my jog.

Here's the blasted skid.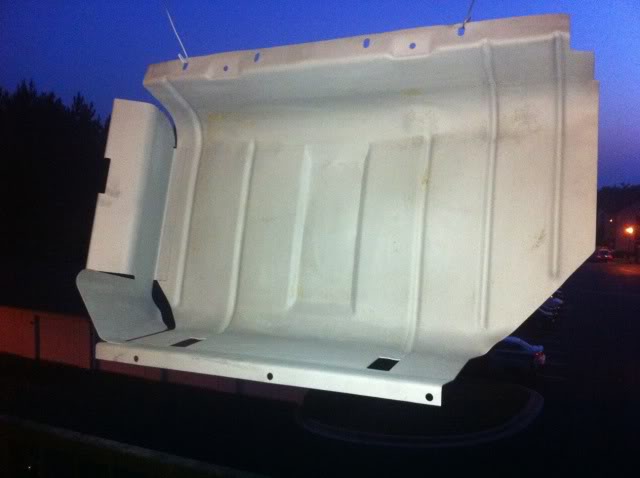 I wiped it down with a wet rag and after a couple minutes it started oxidizing.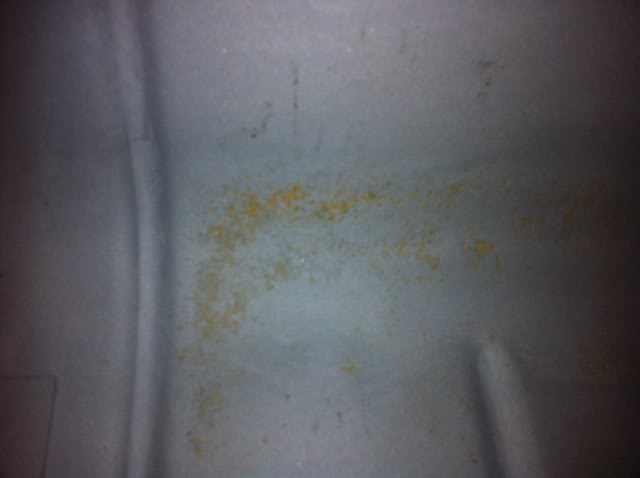 Primed: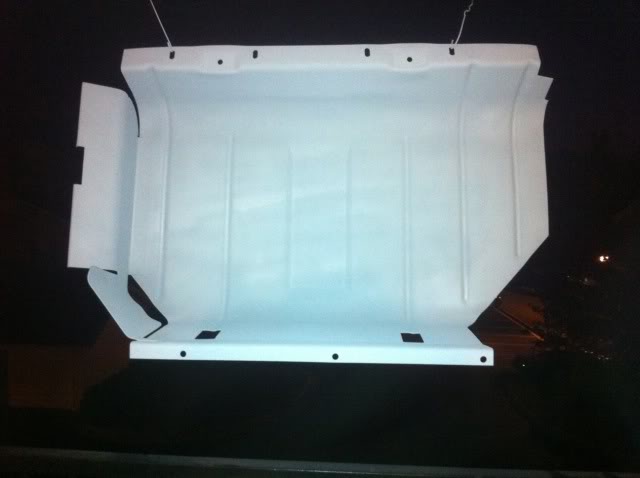 I also painted my jerry can with camo green. It was close enough to OD green to me: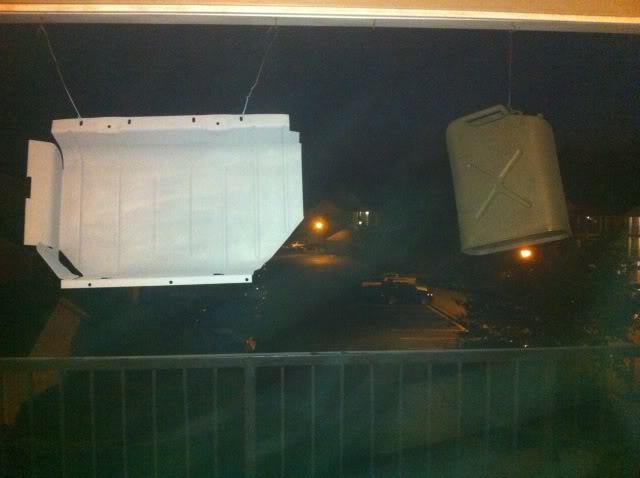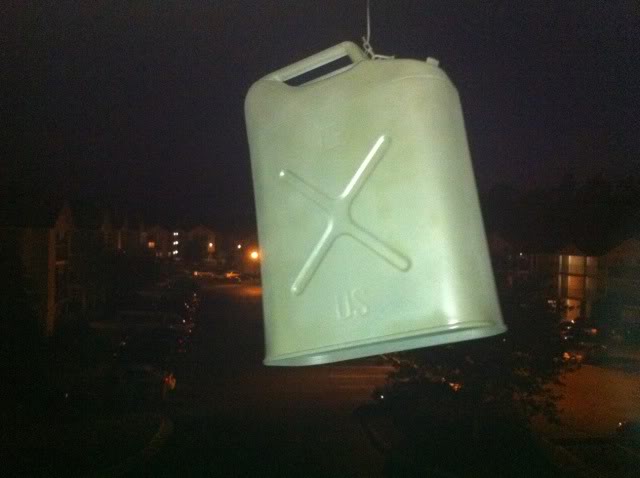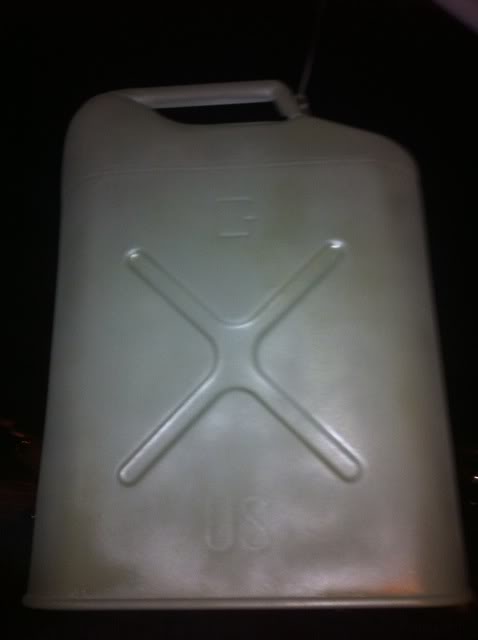 All painted off the back porch of my apartment. Yes I'm the guy with autoparts hanging off the hooks on the deck.

Tomorrow I'm going to smooth out the gas skid with some steel wool and wipe it down. Then I'm going to put some black gloss paint on it. I was torn between flat black and gloss. I figure it won't matter after a couple months plus I had some extra gloss black in case my one can wasn't enough.
6-14-2011
I just got back from my vacation with my new fiance. Went to San Francisco and drove up the coast, saw the Redwoods and swung by U of O and OSU. Finished up in Portland. It was awesome. Since I'm broke now I can continue doing cheap fixes to my jeep.

I painted my gas skid finally and put some pipe insulation tape as a cushion. I had some leftover from refurbishing the A/C.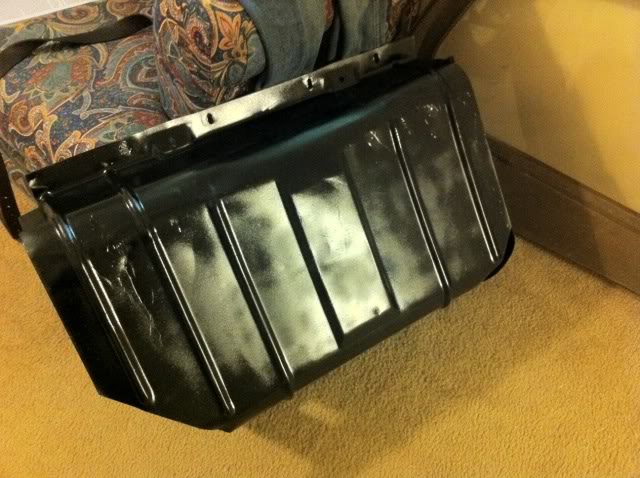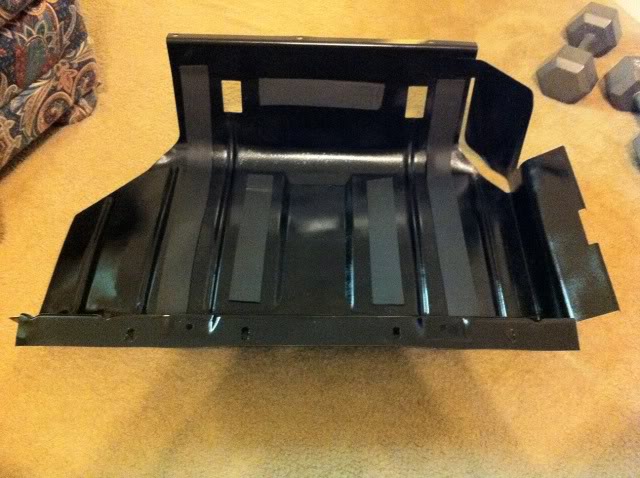 8-9-2011
Well I figured I'd make my standard 3 month update.

I've only done a few things to the jeep. They were relatively inexpensive also.

First I finally got around to installing an electric Taurus fan. I didn't do it for power gains, I did it because my motor was overheating on the trails. The new fan clutch was garbage and after the 5th one I'm tired of putting new ones in and having a moderate cooling system. So I went this route.

I went to Pull-a-part in South Atlanta and snagged a fan for $16. I also found a 50 amp relay from a Volvo but ended up not using it. The Taurus fan I found doesn't seem like the most ideal from others I've seen but it's working good so far. I had to do a little trimming on the shroud just to get it to fit.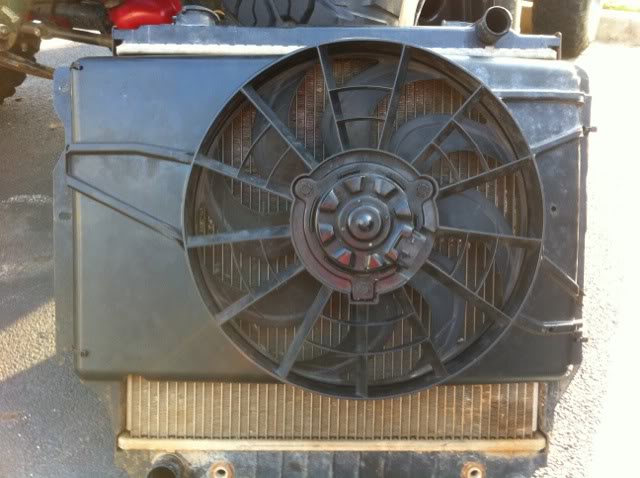 I installed it with a few hiccups but that was to be expected. The major concern was the clearance between the waterpump pulley and the fan motor. It's REALLY close but I was at my folks house Sunday and found a pulley from a '92 XJ. They have waterpump that doesn't stick out like my YJ's.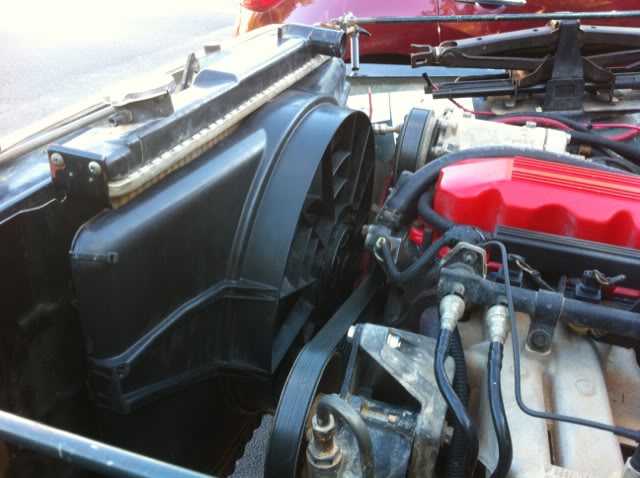 Here's the clearance.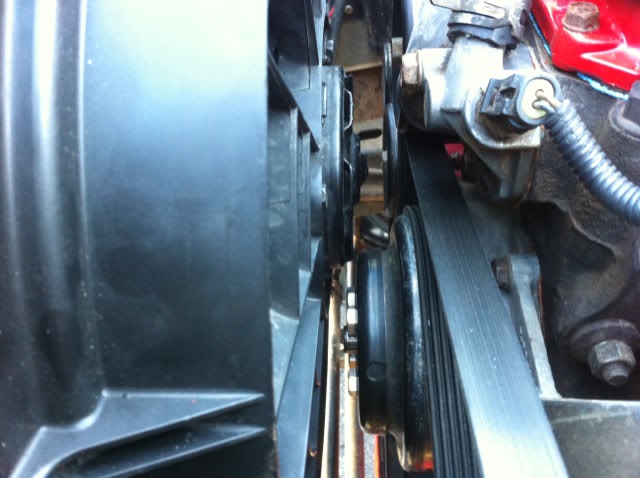 I used a Hayden's adjustable thermostat I got from O'Reilly's for $17.62. I also bought a 40 amp relay for $5 or so since I didn't used the Volvo one. I'll probably upgrade to a better one depending on how this one works. As of now I'm only using the low speed. If I use the high speed I'll need to get a heftier relay. I also already had a switch in the dash for some lights I had years ago that I no longer have. I am using it as a cutout switch in case I go in deep water.

Pics of some wiring.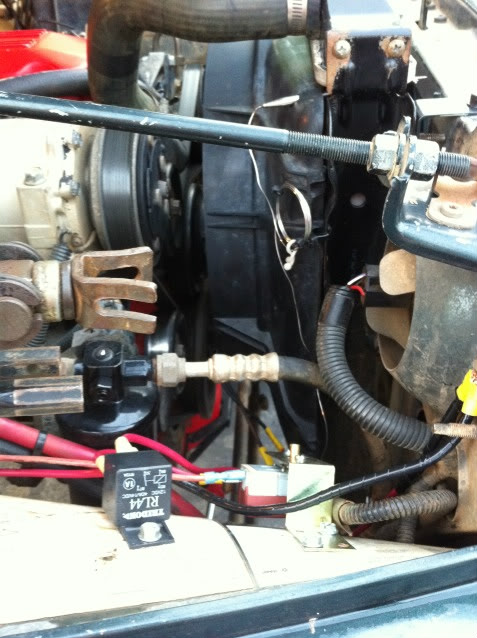 Another thing I realized when I was doing this swap was my lower radiatorhose. I replaced it at some point in the last 10 years. When I did I never swapped the coil out inside of it. This explained the overheating at high speeds. I believe the lower hose was collapsing from the high rpms. Anyway I took a stainless steel welding rod from work and bent it around my high-lift handle and worked it into the hose.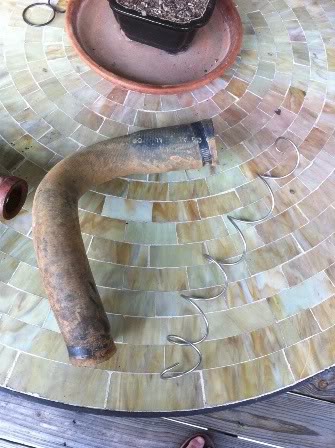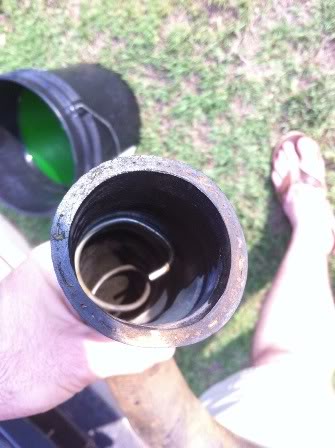 Today I finished up the latest mod. Well add-on I guess. I don't have any kind of rear bumper or recover except a tow hook through the frame. I also can't tow anything. A buddy gave me his old Curt trailer hitch. Since I don't have the dough to spend on a bumper/tire carrier (saving and there are other more important things I need for the jeep)this was the best option and it was free.

I put (10) Grade 8 bolts through the rear cross member and one in the tapped hole under each end of the frame. I also made some backing plates for the (8) bolts going through the rear cross member out of 3/8" steel plate.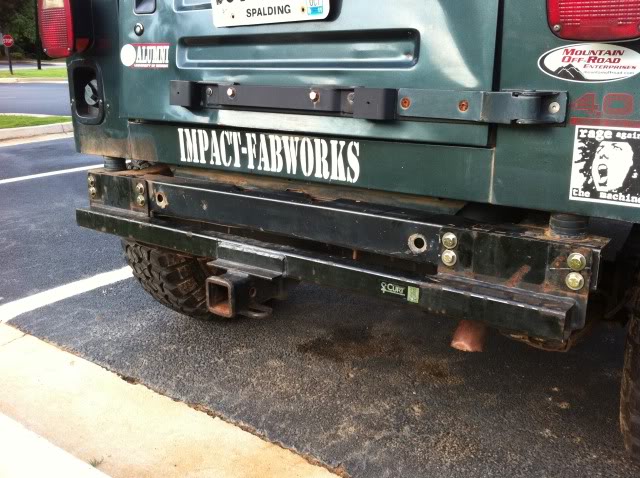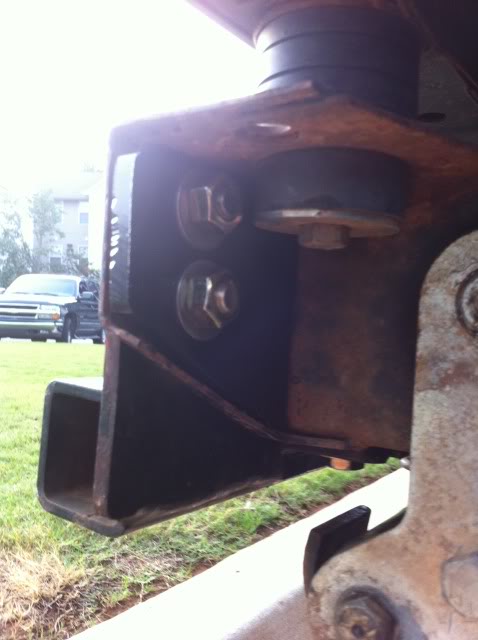 This is not really related to my jeep but while I was at my folks house my dad told me to come look at my sisters old Honda. I walked over and looked and I was dumbfounded. My sister never complained about the brakesthough.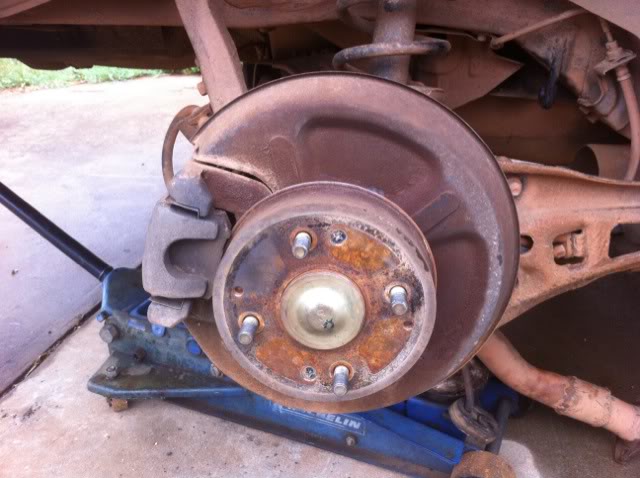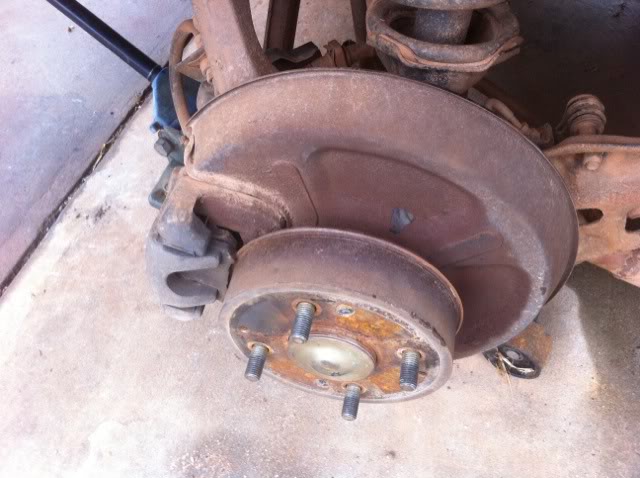 8-10-2011
I was looking through some of my photo albums on my computer and found some pics from Durhamtown on page 1 that I finally got from my buddy. I figured I'd post them just for kicks and giggles.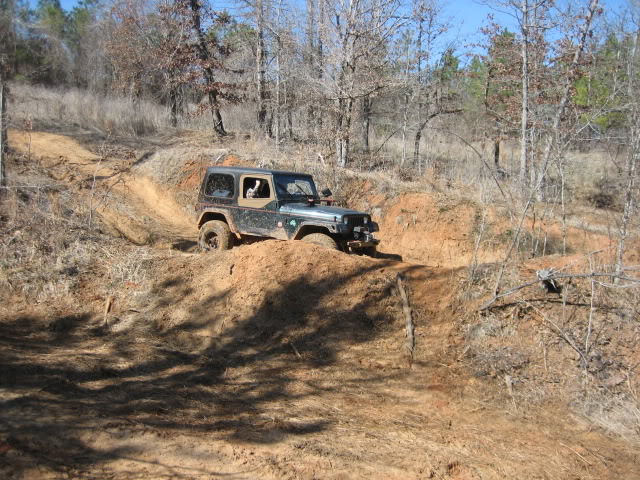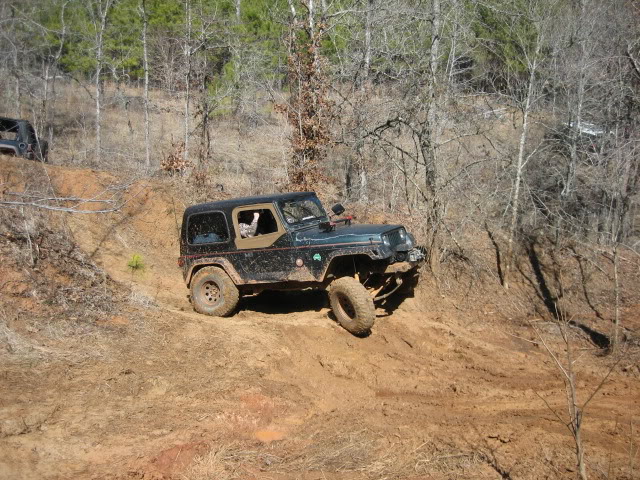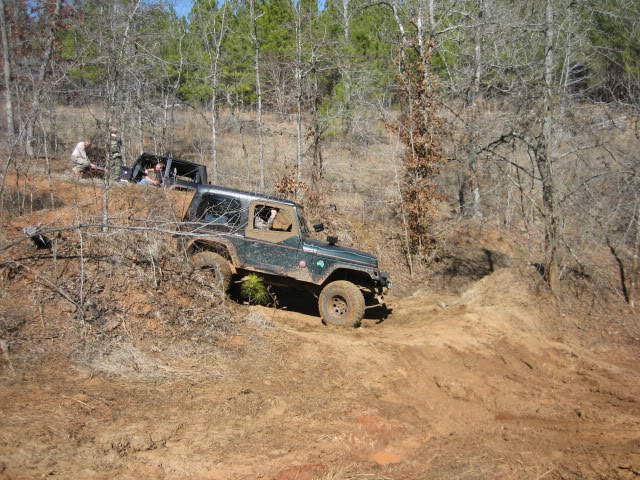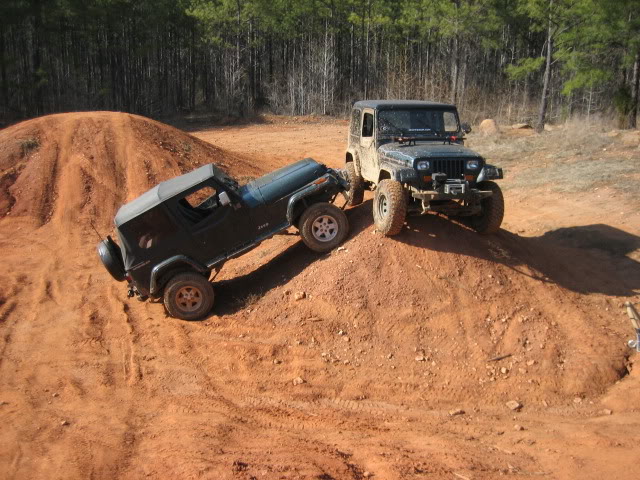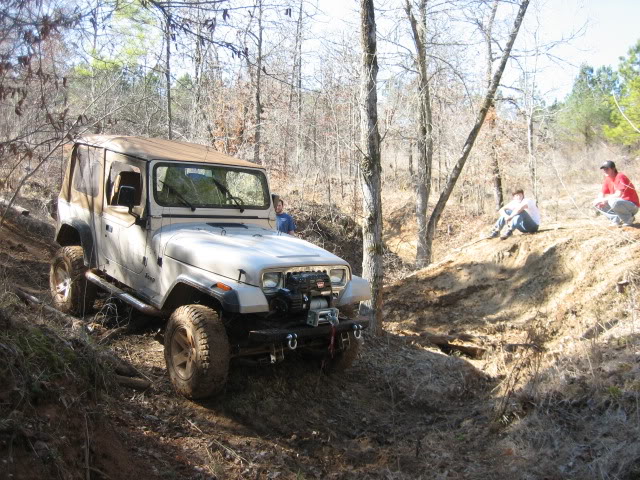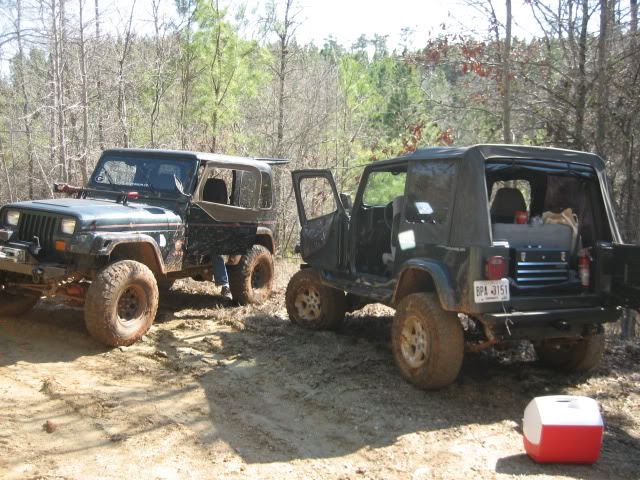 8-13-2011
Most definitely will do. Do the same if you're in my area. Hope the 37's are fun

.

I guess I'll put a few updates on here.

Well my driver's side female seat belt broke. It wouldn't stay latched so I unbolted it and pried it apart and found that the little tang on the spring plate was broke and it wasn't pushing the "Press" button to the top. So today I went to the junkyard and found a female seat belt out of a Ford Econoline van. I took a rear sear buckle to make sure it would work and it did. Most all the older Ford's worked but the Econoline van had the longest strap.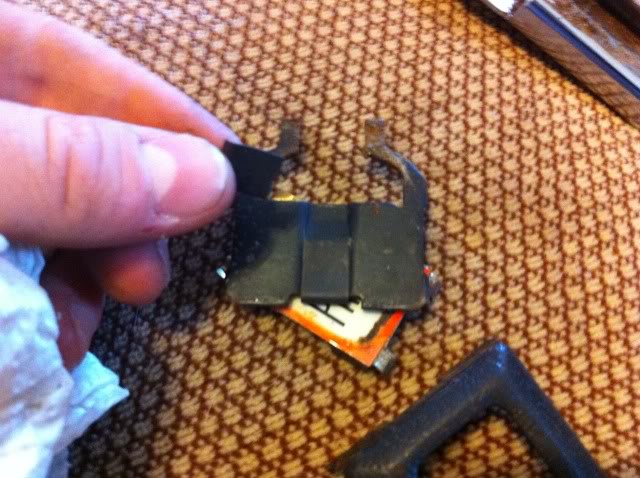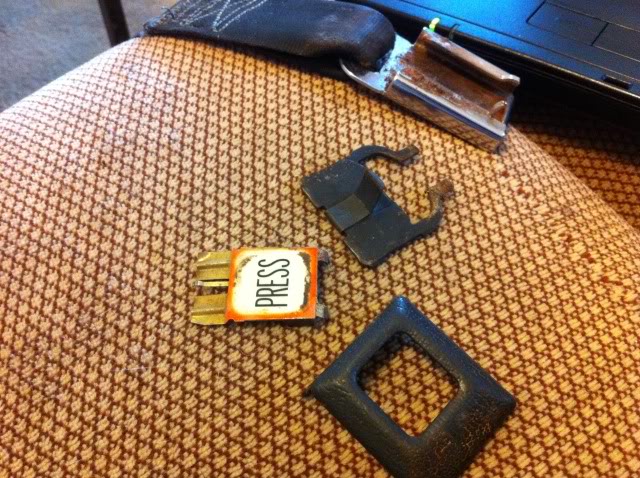 I thought this was really cool. I was leaving my favorite place for lunch going back to work and saw this right around the corner. It's a 1935 Chevy dumptruck. A family heirloom based on the laminated article inside.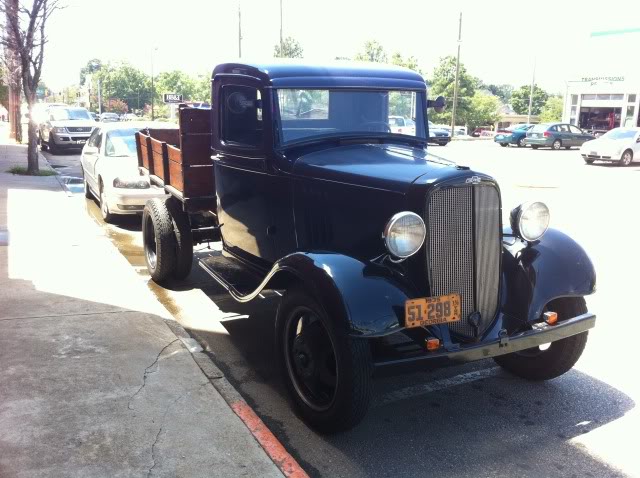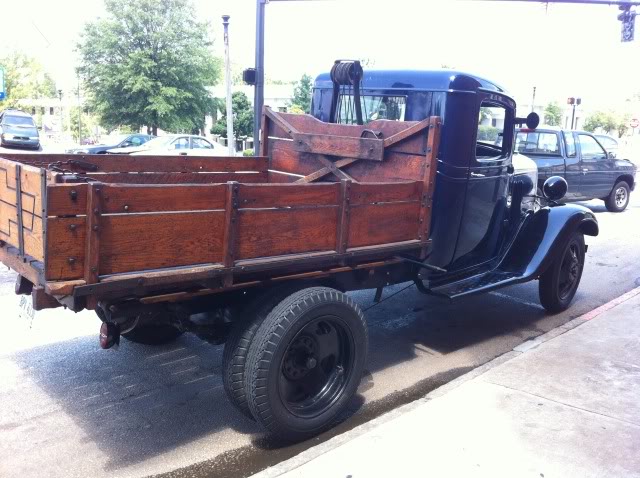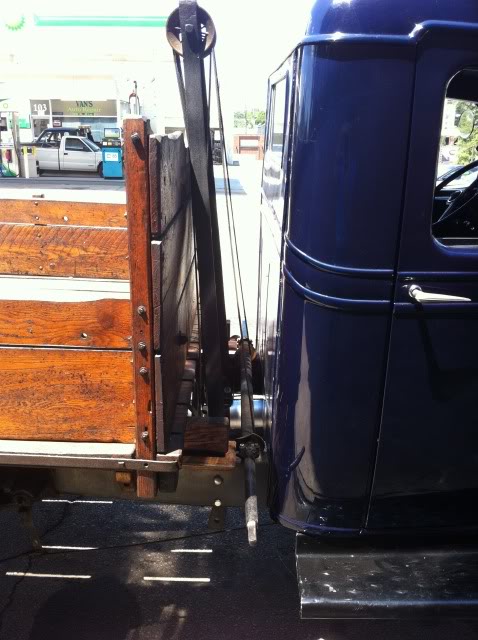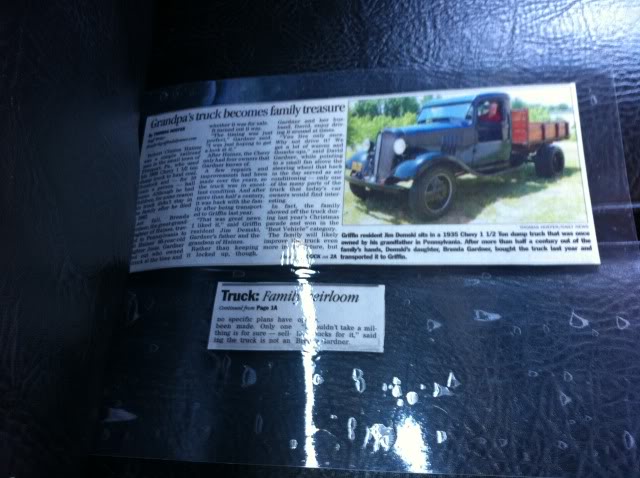 8-17-2011
Not much of an update but I figure I'd post it. I flattened the Ford Econoline van seat belt at the end and trimmed it, drilled it, and then re-bent it to make it long enough as the stock one. I also had to split the sheath about halfway down to get it back in then I wrapped it in electrical tape to keep it together.

So for $3.48 and a little time I have a replacement buckle. It beats the $45.99 for a replacement.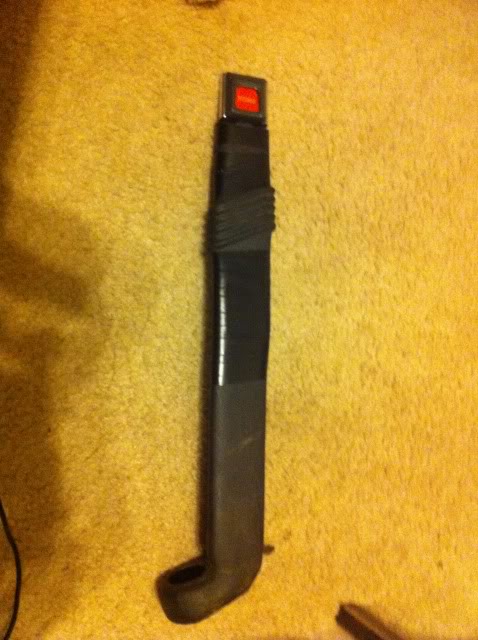 9-11-2011
Well I went to Morris Mountain ORV in Delta, AL this weekend. It was a lot of fun but my buddy kept breaking his CJ.

Here's a few pics. Most are of my buddy. He took a couple of me and there is one video of me but I don't have it yet.

Us at the campsite.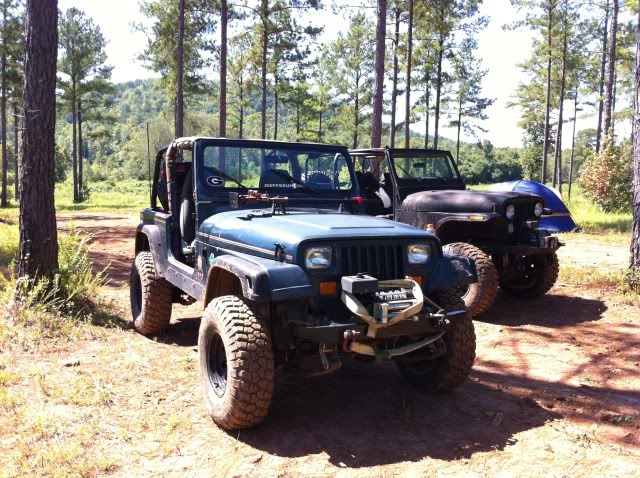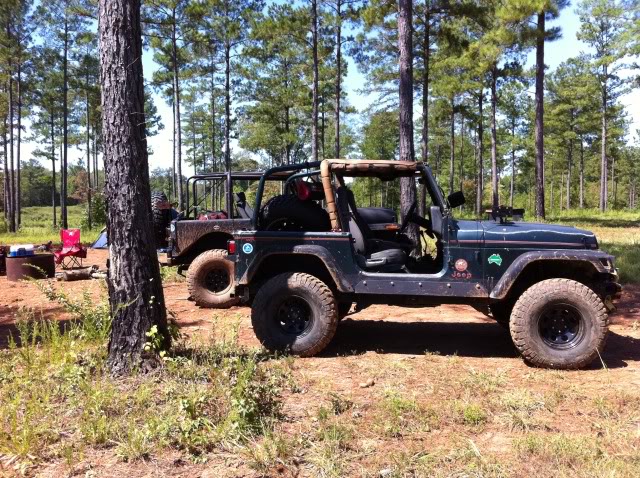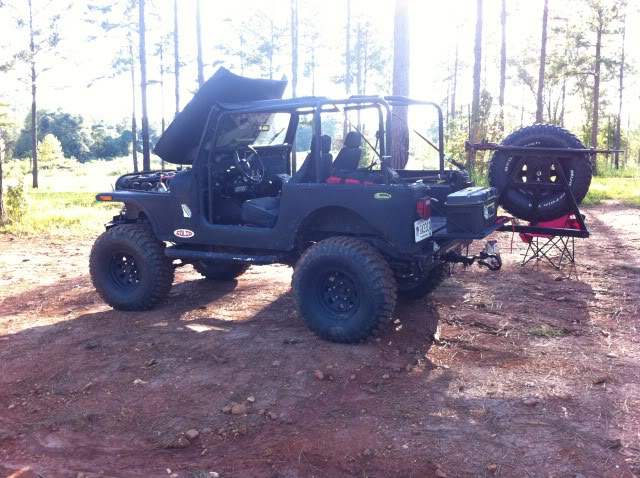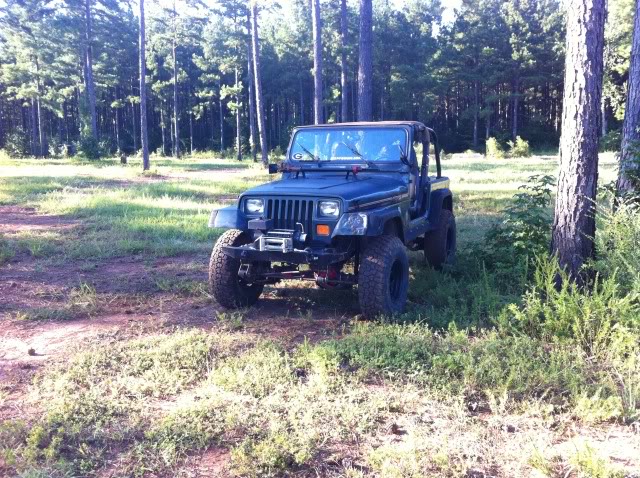 The not long after we got on the trail the first day my buddy slid down into this hole when he was trying to go around. His clutch linkage came loose so it made it interesting getting back to camp. It was also the second time that day his clutch linkage broke.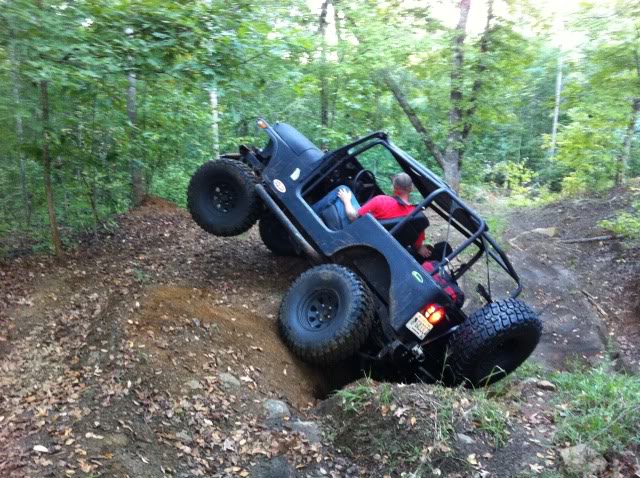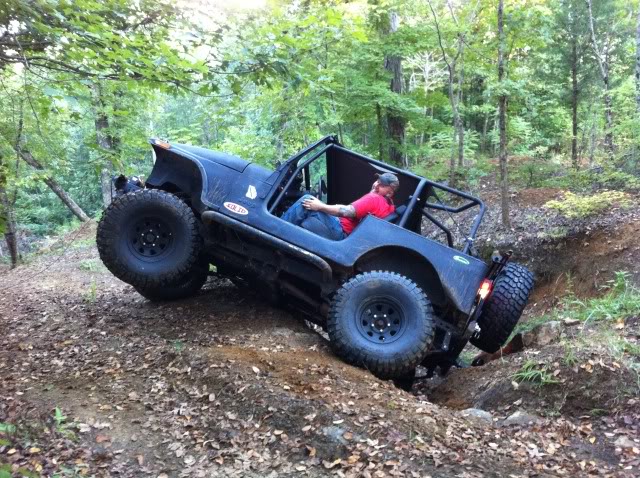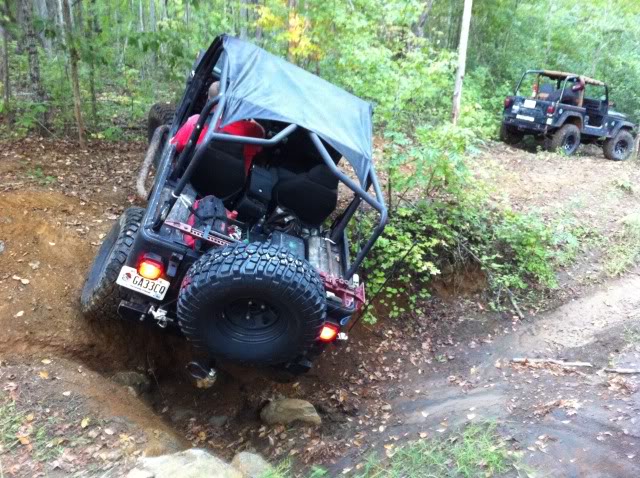 Here is me on a trail called the Gauntlet. I wasn't stuck but definitely in between a rock and a hard place...pun intended.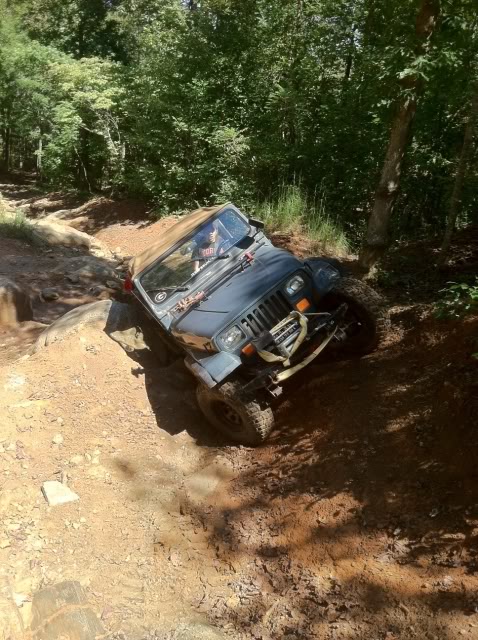 Then I came up to a couple of rocks. I went around after slamming into them.




My buddy had snapped one hub the next day. Here he is about to snap the other and it blew up.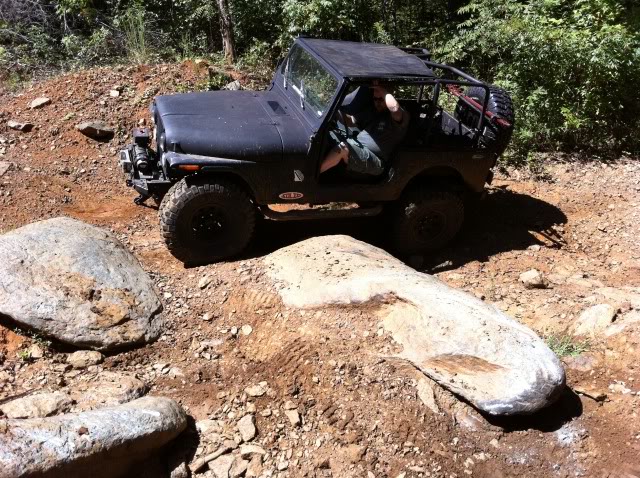 First hub.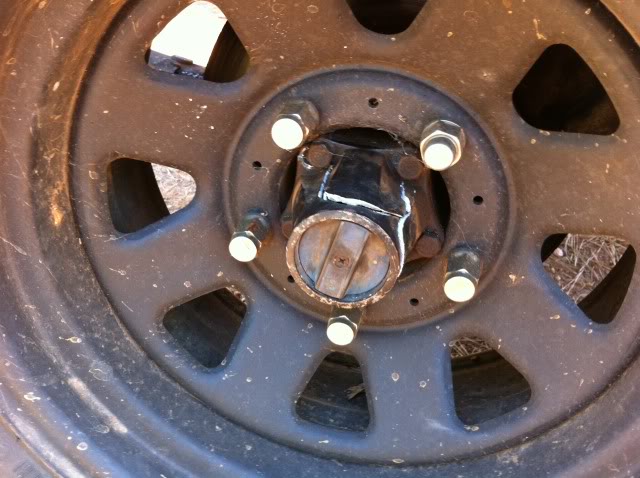 The other hub. This was done after my buddy blew the other hub. I unlocked it and we kept riding until this happened.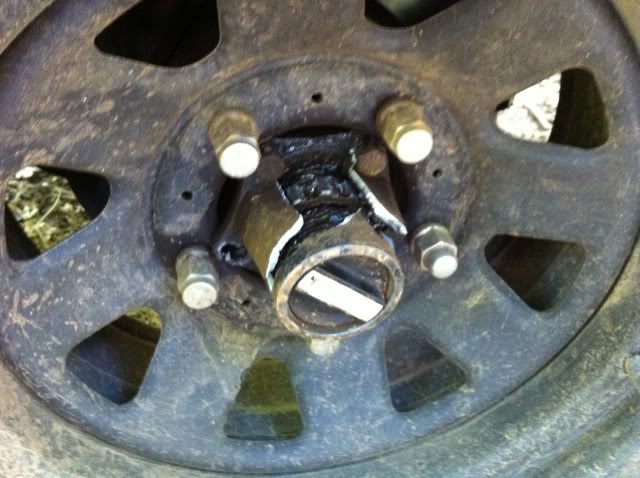 9-12-2011
Looks like I'll need to replace my front axle u-joints. The drivers side has play and I can see space between the cap and the axle shaft ear. I just hope the ears aren't egged out. I'm also considering replacing the ball jointssince they are the originals from '93 and they have 302K miles on them.

I'll post pics later. I also have a video I need to upload.
9-22-2011
Well I got a new Precision Super Strength u-joint from O'Reillys as well as a 36MM 1/2" drive socket. After using my high-lift jack handle as a cheater bar I ran into an issue. I'll be borrowing my buddies extension and breaker bar next week. That should also allow the PB to soak in.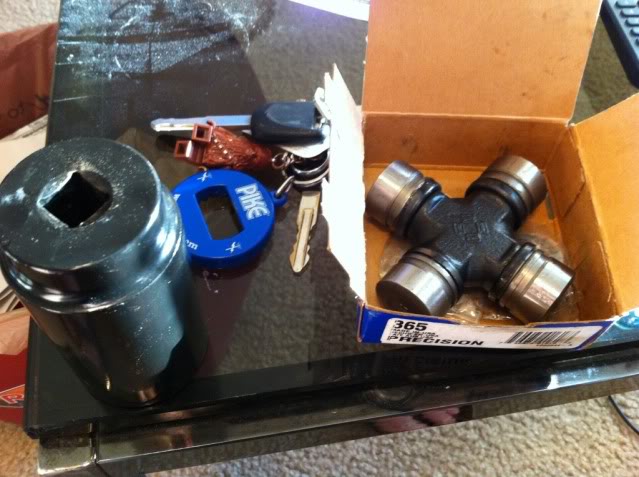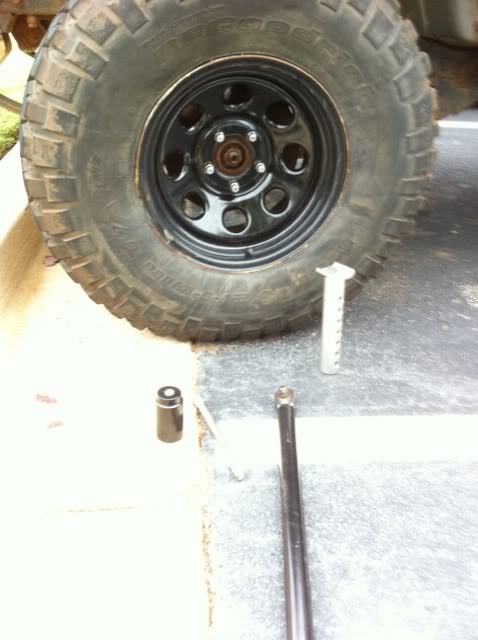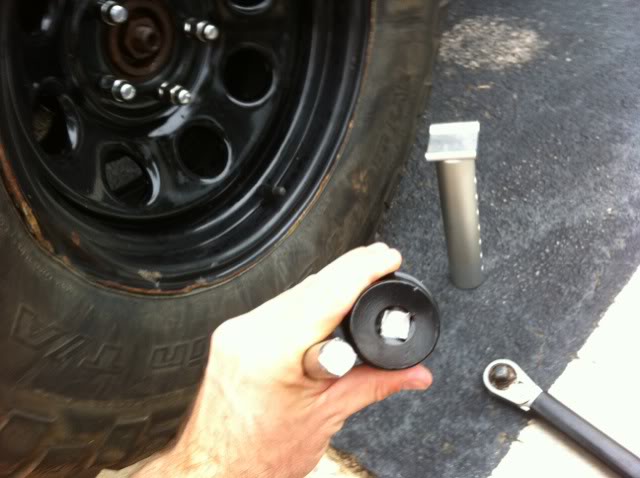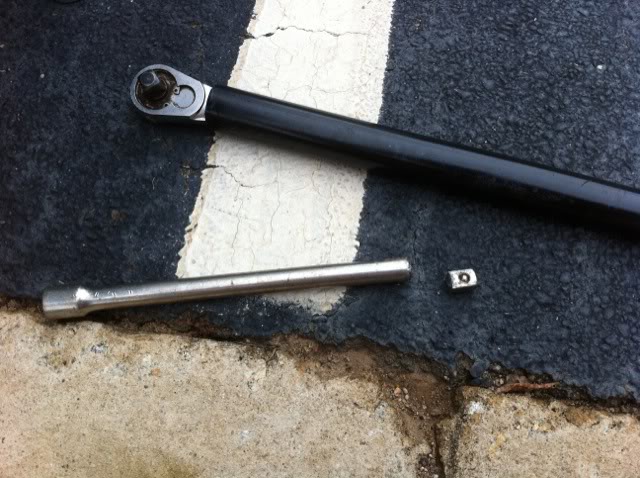 9-25-2011
Finally got some videos up. It's in three different ones because my buddy emailed them to me with his iphone and it split them up. Yes there is some school girl giggling.
10-2-2011
I guess I'll show what I finished up.

Here is my jeep in the apartment complex parking lot. They are lenient with me since I can get my jeep running in a couple days. This time it sat up for several days because I got sick after taking it a part.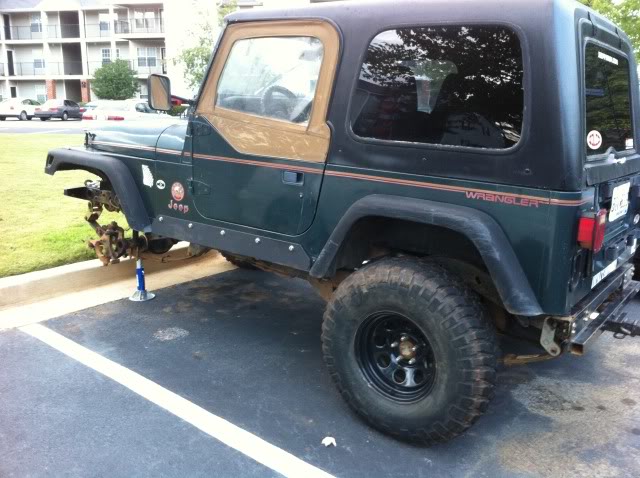 Taken a part. Also notice where my axle is in relation to my bumpstop. My axle is pushed forward, I guess because it's sagged and flattened out. This has caused my drag link TRE at the pitman arm to hit my tie rod upon full stuff on the drivers side. I'm wondering if it would help if I reverse my springs or swap them out with the rear ones. I don't think so but I'm going to look at a Black Diamond install manual.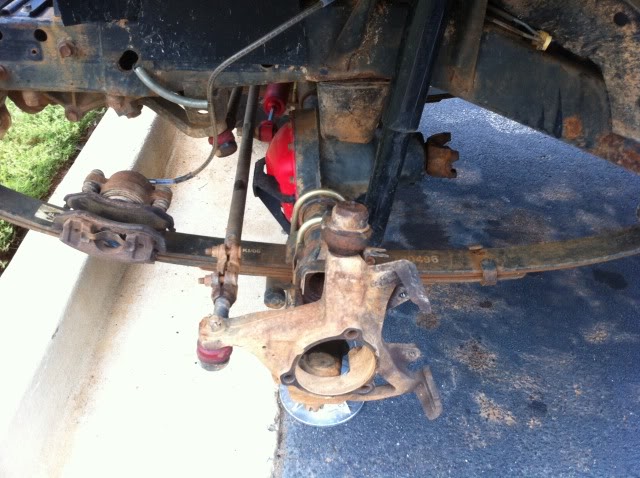 Here's the u-joint when I got it loose. There was one cap that was dried up but for the most part it was in OK shape.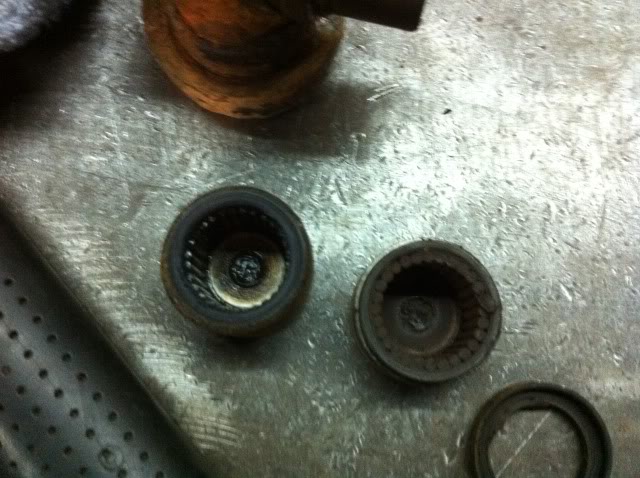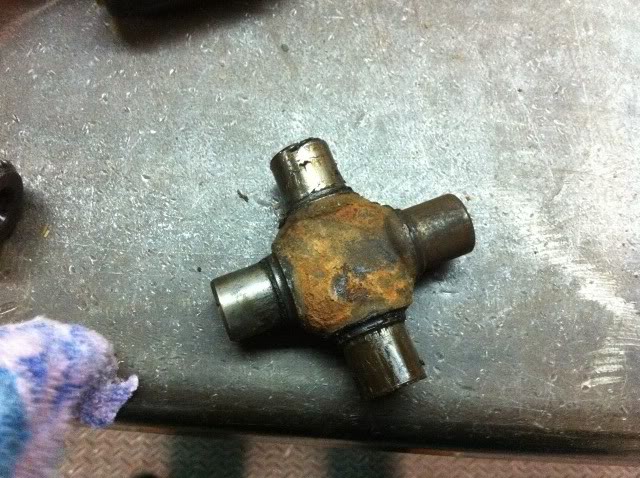 Oh and apparently since I have ABS I have the larger u-joint like the '94 &'95 models. The first u-joint I bought was way too small. When I took it back I mentioned I have ABS and it was like lightning struck them when I said that. So I got my new larger u-joint and packed it with hi-temp wheel bearing grease.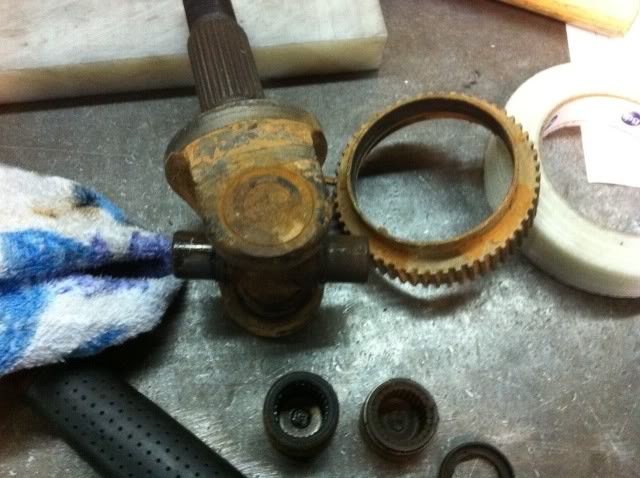 Here's the u-joint installed. Can you tell it was worked on?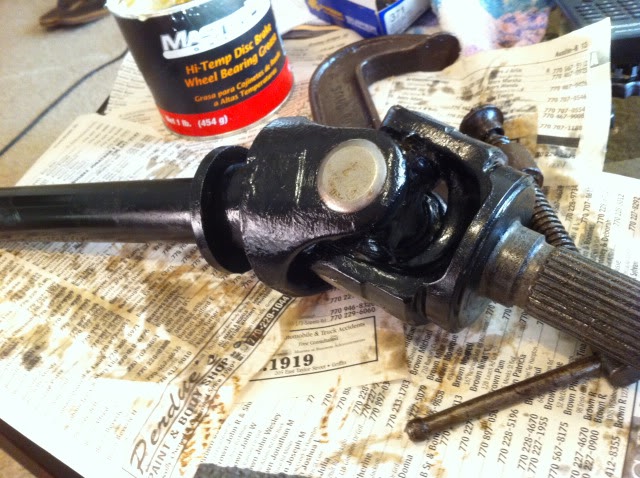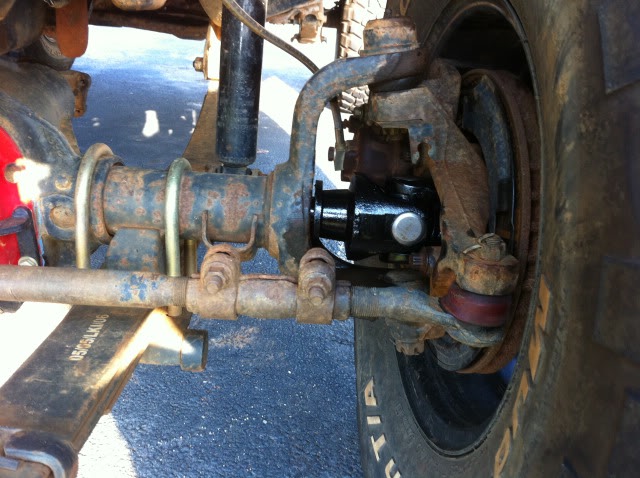 I think the next thing I'm going to do is grease the chassis and replace the TRE boots.

Oh and if I look up a couple post my buddy blew his CJ-7 hub on our last wheeling trip. Well we're going again this coming weekend and my buddy got off his duff and swapped out some 6 bolt premium Warn hubs. They shouldn't be the weak link this time.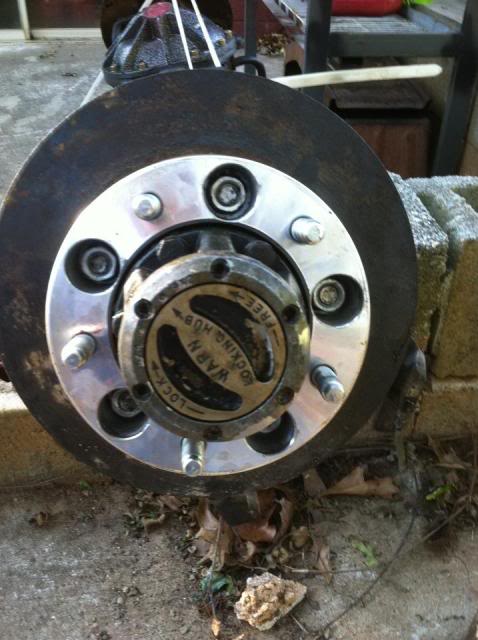 10-11-2011
Well I need to rebuild my Warn M8000 winch. This past weekend I'm pretty sure I burned it up. It started to smoke and stopped pulling. After it cooled it worked again but I have no idea how it will go under load.

When I cracked it open it looked pretty bad. I've already ordered some replacement parts like gaskets, drum bushings, thrust washer, aluminum tie rods and a decal. I had to take the bumper off first to get to it though.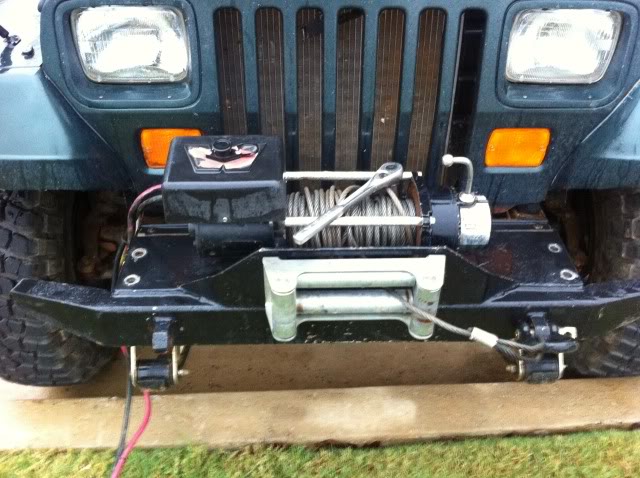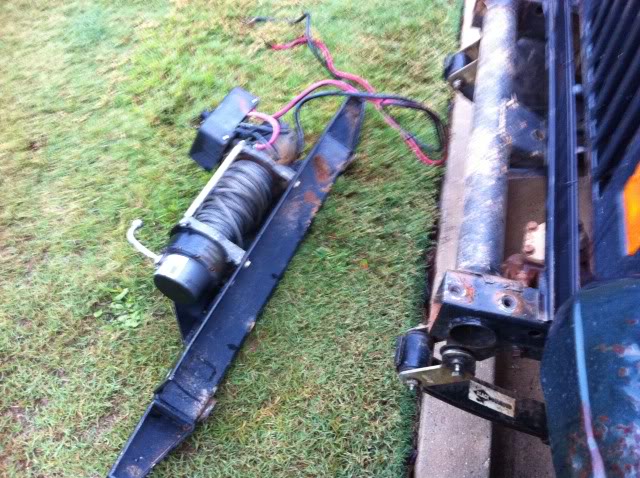 My works space: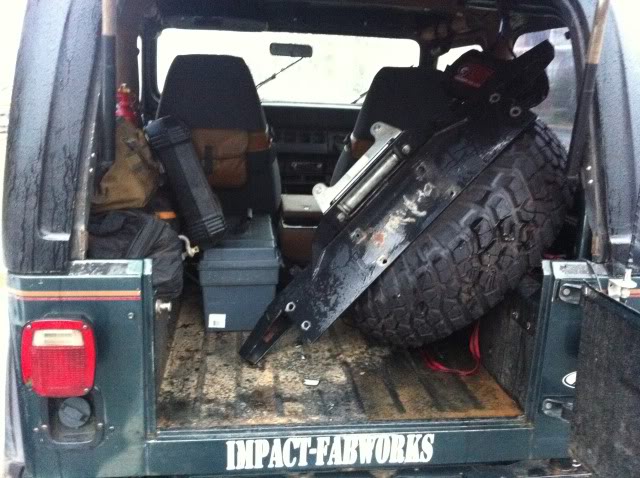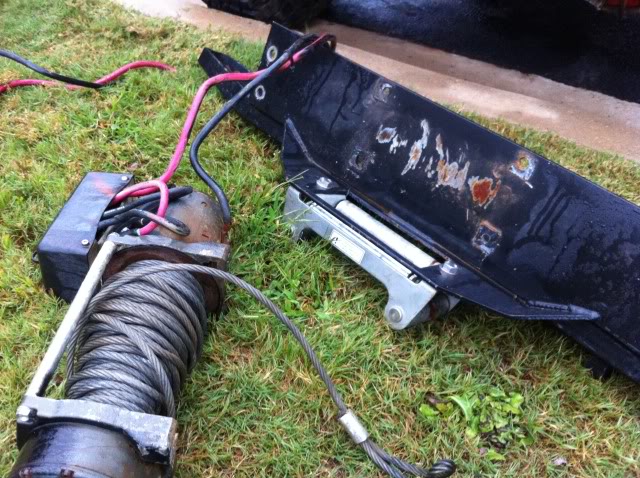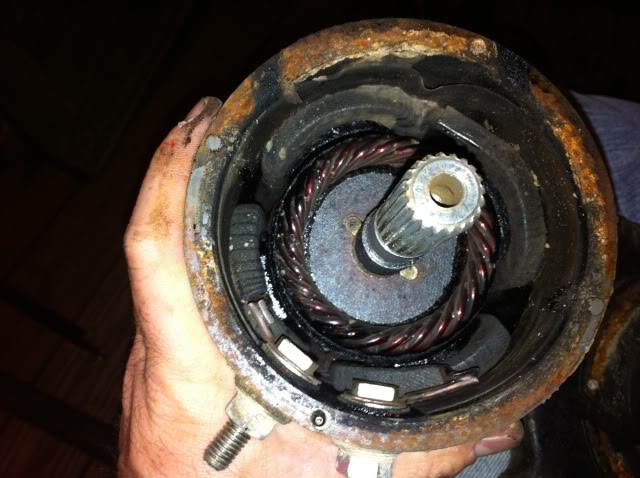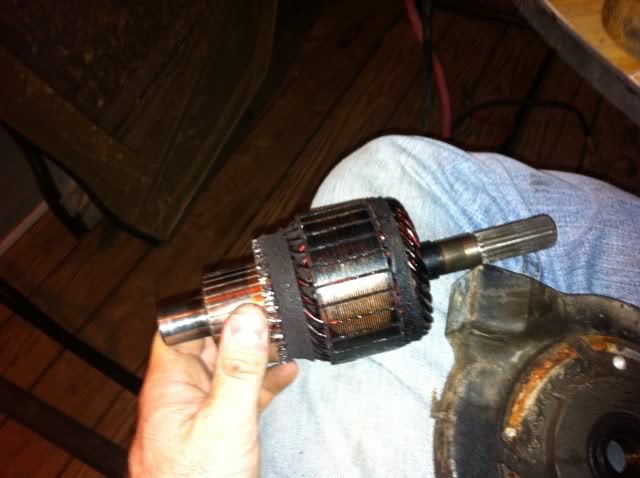 I'm planning on cleaning up the motor with brake cleaner and degreasing everything.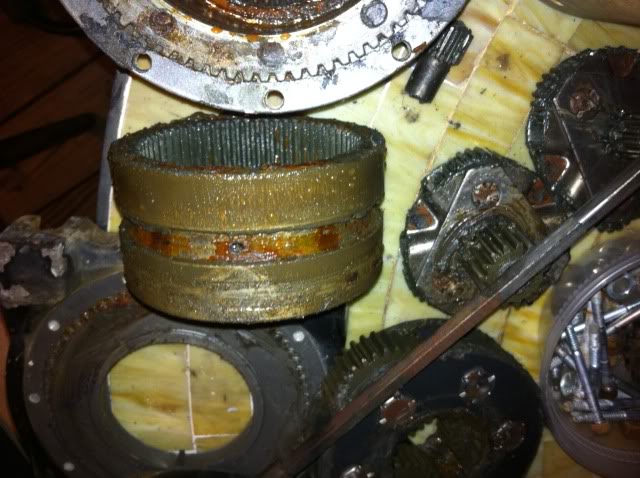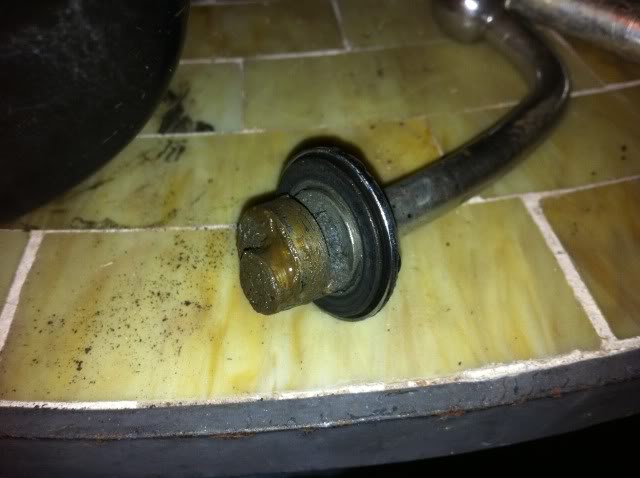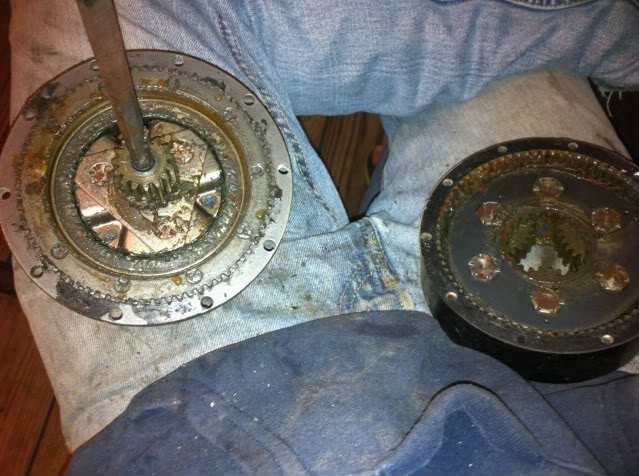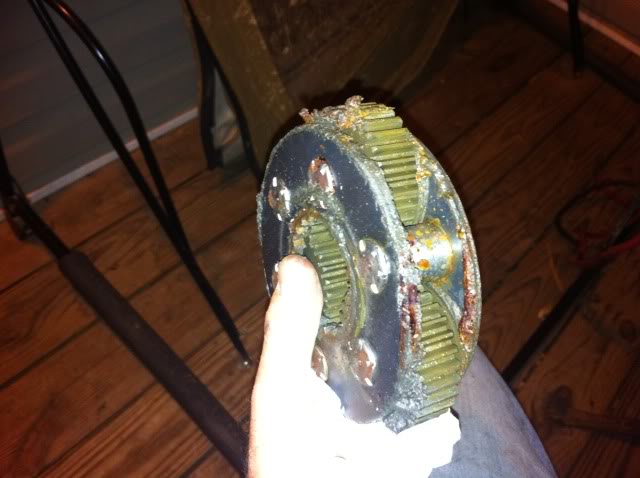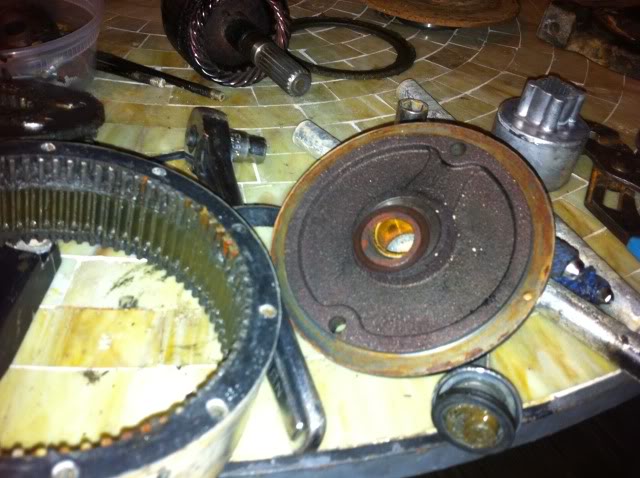 Thanks!

I'm going to ask around at work about a place that might rewind them. We'll see I guess. More pics.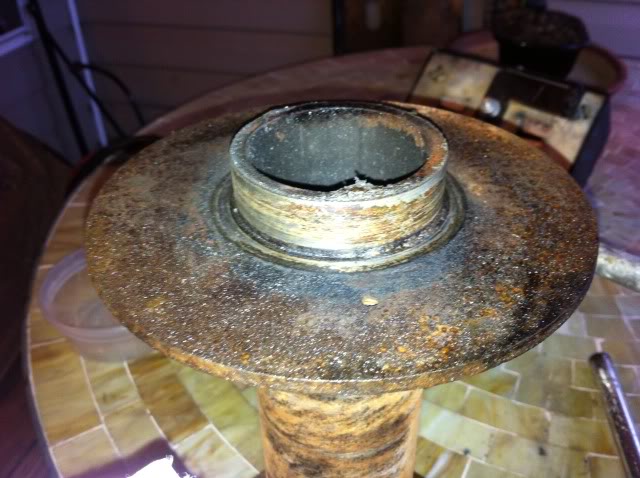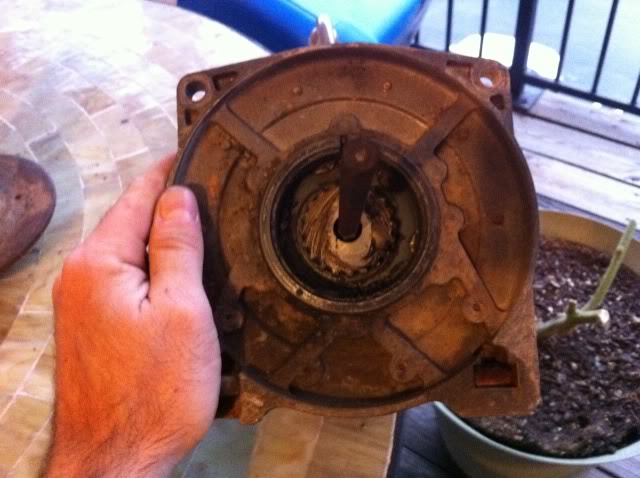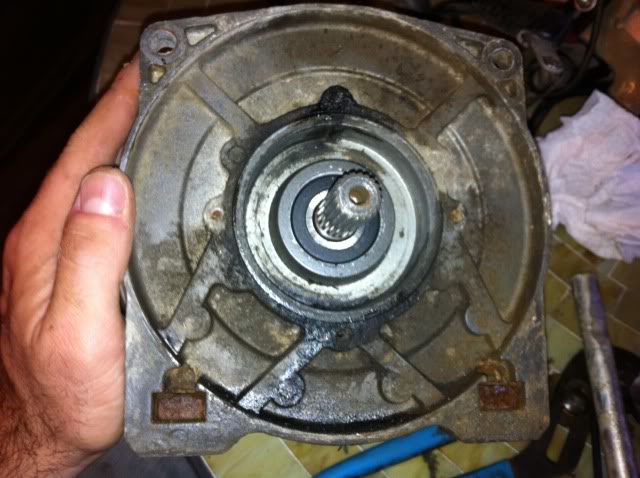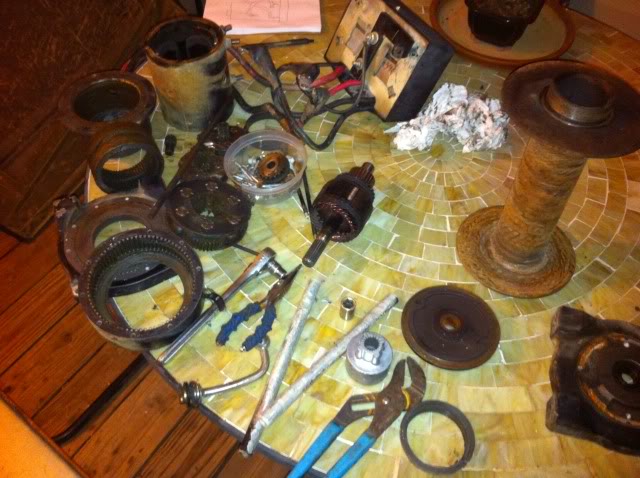 10-12-2011
Here's everything bead blasted and degreased. Everything was gross. I'm pretty sure the horrible smell was the burnt varnish from the windings.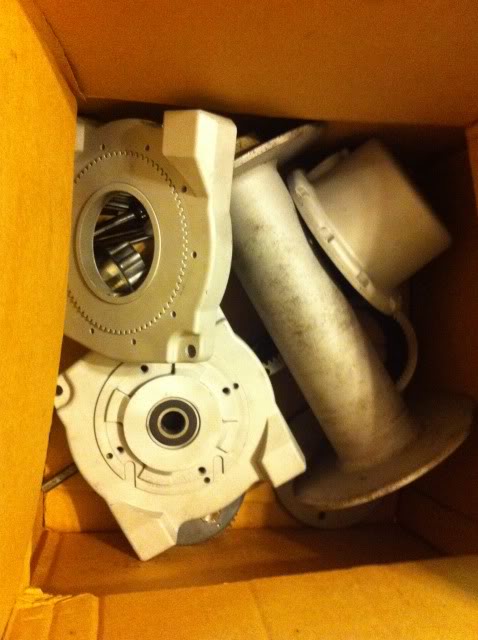 10-20-2011
Some pics of the progress. I have 2 threads right now on this winch rebuild but I figure my actual build thread needed them too.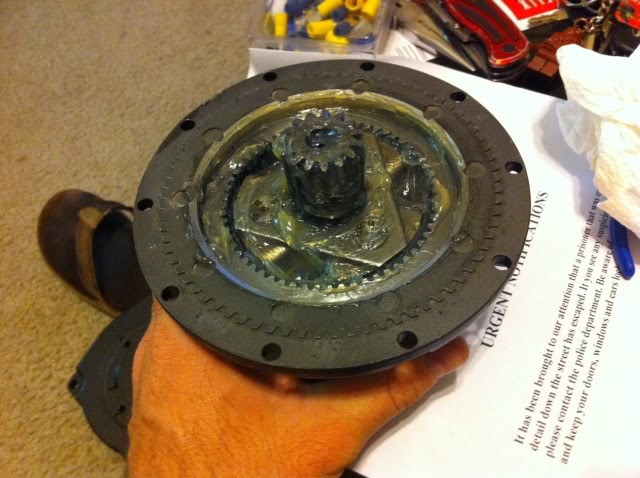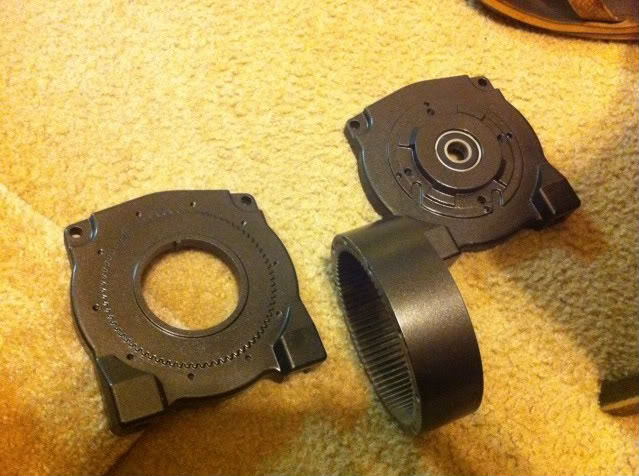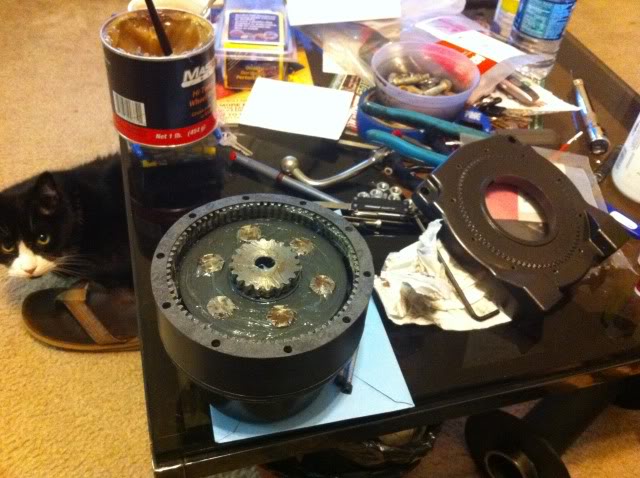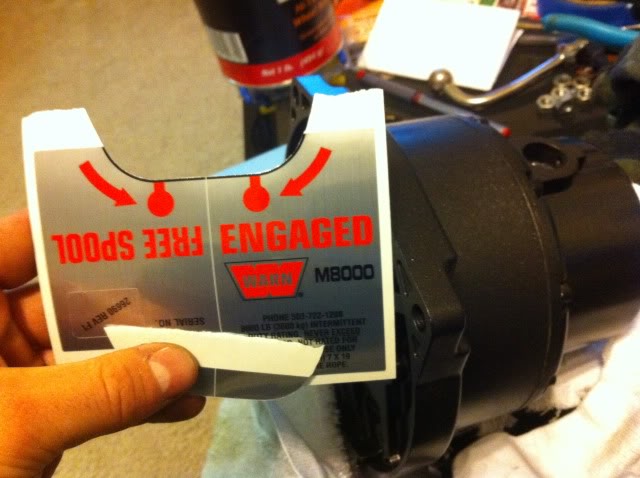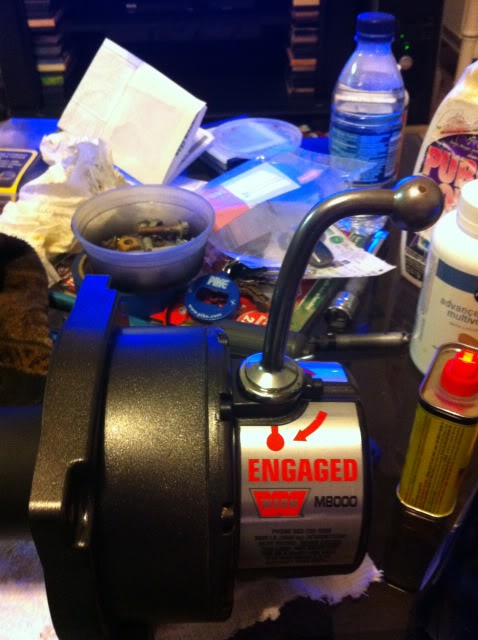 I threaded the aluminum rods but I need to get some shorter bolts. I'm going to ACE to get some 5/16-18 socket head cap screws.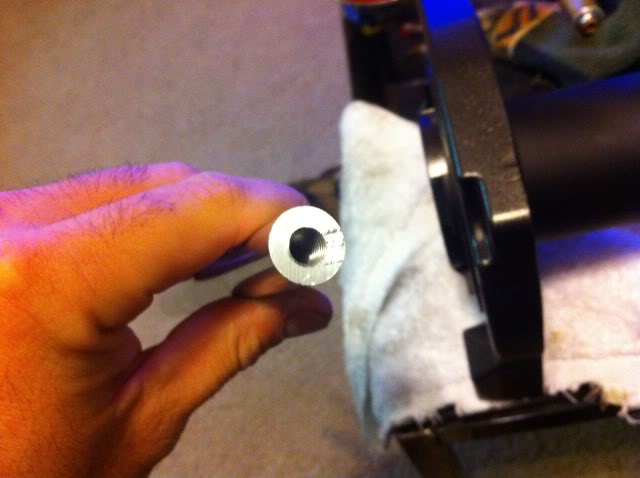 10-25-2011
A few more updates.

The weather this week has been amazing and I wanted to get a few things done to my jeep before it gets too cold. I recently acquired a new (to me) cross member from a '95 YJ that was in great shape for free from a buddy who did a tummy tuck. I figured why I was swapping it I might as well put a new transmission mount. I also need a new stabilizer stud and bushings as my home made one has seen better days. I got a poly transmission mount and I'm going to order the stabilizer bushings and stud today.

Can you tell which cross member was mine?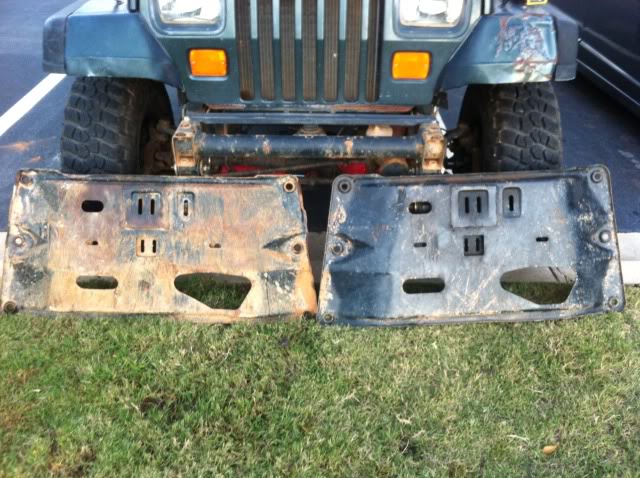 Notice the deformity in my old one.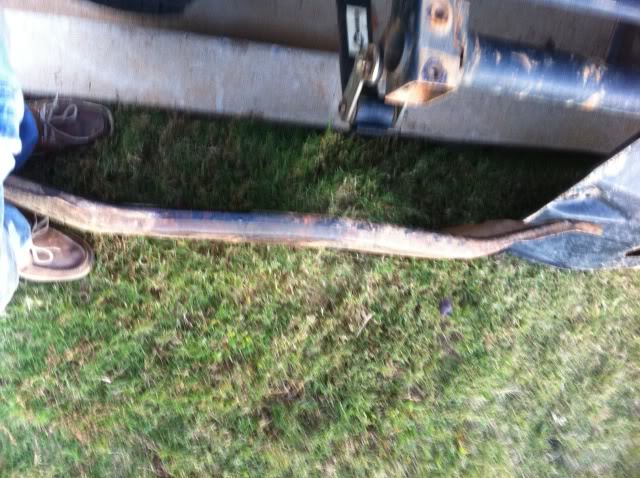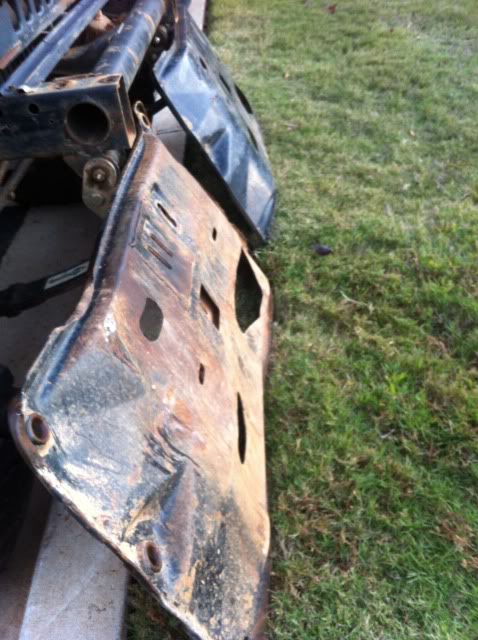 I was glad I went ahead and got a mount. It looks like I needed it. This is the one from 1993.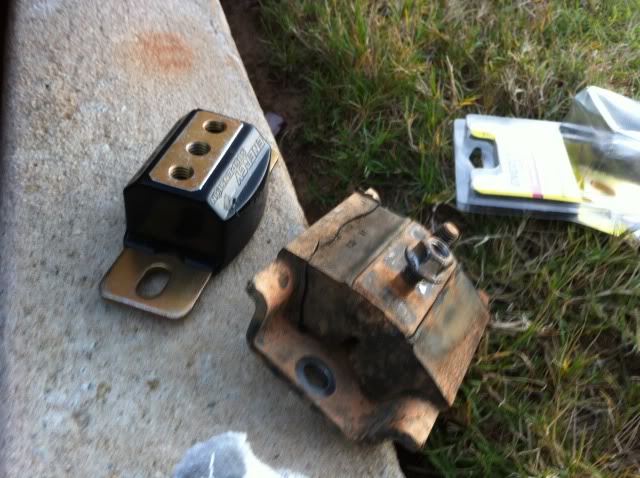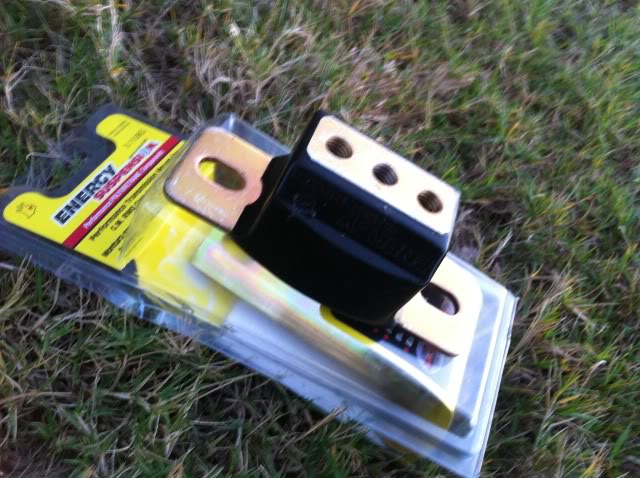 My stabilizer bushings.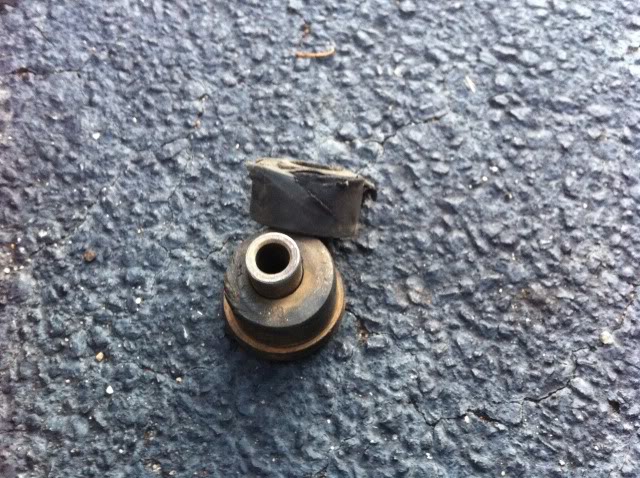 Mount installed. Pardon the exhaust. It will be getting replaced in the next month or two.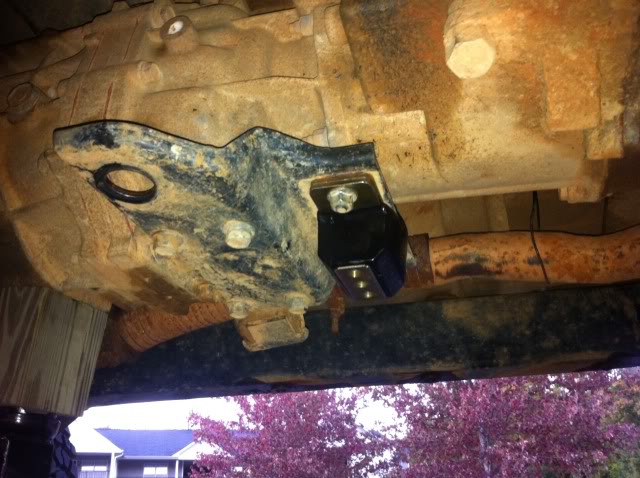 11-4-2011
Few more updates that will be coming soon. Last night I drove from Griffin, across Atlanta in the F'n rain, to Duluth to pickup a brand new never out of the box Smittybilt rear bumper/tire carrier with d-ring mounts. I know they are made in China and definitely not the best out there but the price was right. Thus far I've been toting my 33" spare in the back of the jeep with a ratchet strap. It's getting real old and a nuisance when I pack my tools in for a wheelin' trip. I also have a new winch cable (5/16" x 100') coming in Monday. After that I'll only need a new shear pin for the hook. My other one sheared when I burned my winch up. Now it's back from the dead and ready to be used again.

I'll post pics later this weekend of the new rear bumper/tire carrier and winch cable once it comes in.
11-5-2011
Well time to show my stupidity.

I picked up that Smittybilt rear bumper/tire carrier. I got it for $200 from a large distribution warehouse full of Amazon overstock and eBay stuff too. The box was unopened and everything seemed legitimate and it was. I took the box and went home. It was raining and just an overall crappy night. The place was closing and the guy was really nice and loaded everything up. I guess with the time and weather I didn't bother opening the box. Well the next day I opened up the box after I got off work and only found the tirecarrier part. Everything was there but it was only the tire carrier part. I looked at the box and it was the part number for the tire carrier only. The advertisement was for the whole assembly. Now I'm thinking, "Uh oh, I'm righteously f*****". So I call the guy and told him the situation and what he advertised. I asked him what are we going to do about the situation and I could tell he really didn't want to take the part back. He asked if I could find the bumper part and he'd give me a $100. I looked it up and found the bottom bumper so I called him back and said that I wanted $125 in cash back and we'll call it even. He agreed and so I'm on my way up this morning.

Lesson learned but it could have been more expensive.

I was pretty pissed but I was glad it was resolved, but still pissed. Then I went to put my winch cable on and found that it didn't have the lug pressed on the other end. That's not a big deal because I can get the lug from O'Reilly's and press it on at work.

I'll post pics later.
11-6-2011
I spoke with Warn and a motor repair shop and determined that it wouldn't hurt to just stick the motor back on and run it till it stops. The motor technician said to just keep an eye on it when winching to keep it from over-heating again. I told him what happened and he said if the brushes and armature look good to just clean it up and stick it back on, so I did.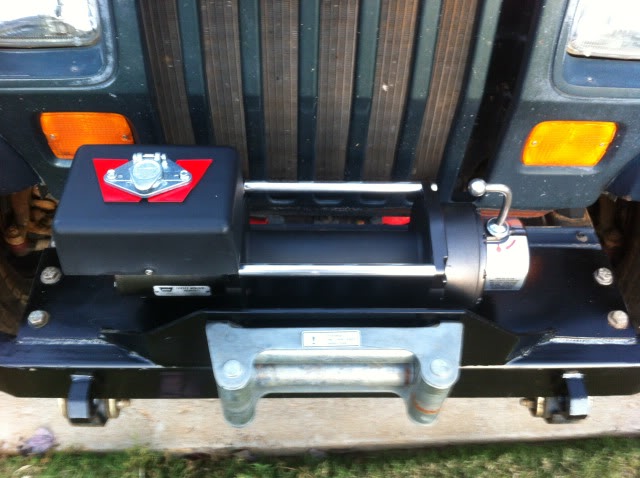 11-8-2011
Got my winch cable on. Now it's complete.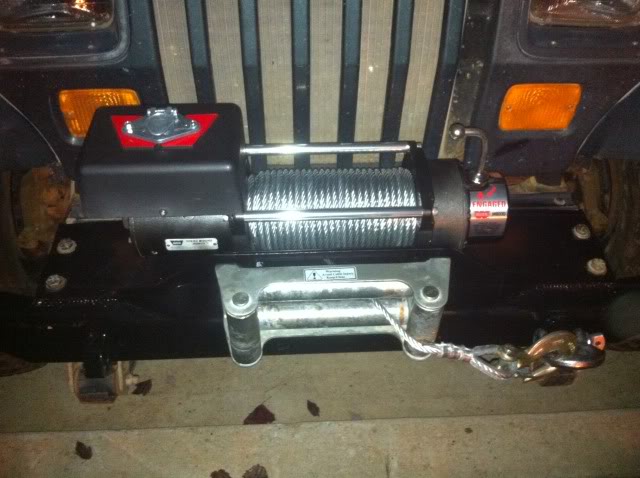 I was going to get my Smittybilt bumper on but found out the tapped holes on the backing plates are for M10 x 1.50. I didn't want to use the crappy bolts they gave with the kit so I went to Lowes to find some metric grade 8's but to no avail. The only place that can get them is Fastenal. Since I have the correct length grade 8 bolts in 7/16-20 I'm going to drill and tap the bumper for that size. Especially since my buddy just bought that drill and tap kit for his D44.
11-15-2011
Well once again I have ran into trouble but you get what pay for and I have no room to complain. I drilled and tapped my bumper to hold a 7/16-14 bolt. I did this because I didn't want to use the cheap metric bolts and I had a lot of 7/16 grade 8's at my disposal. I took the gas tank off and used my 3/8" thick backing plates (didn't use the ones supplied) and finally put the tire carrier on to find out its not lining up. I plan on extending the latch parts on the bumper. If any one else has an idea let me know.
11-19-2011
Well I plan on tackling the bumper Sunday and working on through the week at work where the welder is. I have an idea on how to do the latch it and I've already placed the order.

http://www.amazon.com/STA-CO-341-R-Action-Threaded-U-Bolt/dp/B0006NC6AI/ref=pd_ecc_rvi_cart_1
I also took my Solid cover off the 8.8 because it was leaking after my last rock bashing wheeling trip. So I need to fill it up and take the bumper off Sunday. The gas tank is sitting in the back of the jeep for now. Also my buddy brought me the Daystar extended bumpstops he got me for my birthday a month ago. Good thing too, I pushed on the front driver's side bumpstop and it fell off. Another thing I'm going to do is put the stockpitman arm on because the drag link is still close to the tie rod. I'll take some measurements of the pitman arm/drag link to the tie rod and extended bumpstops to the axle tube.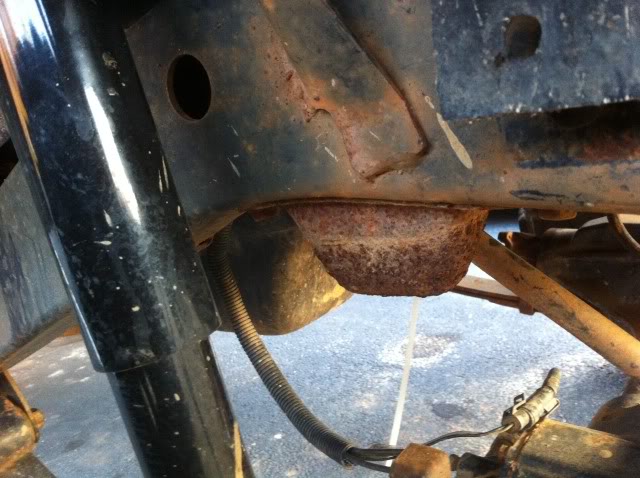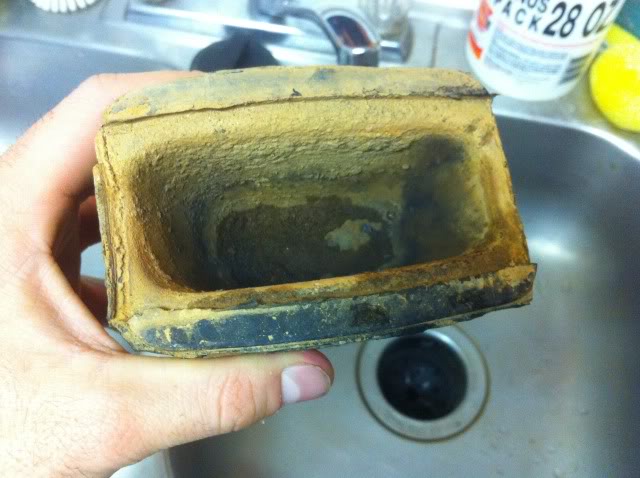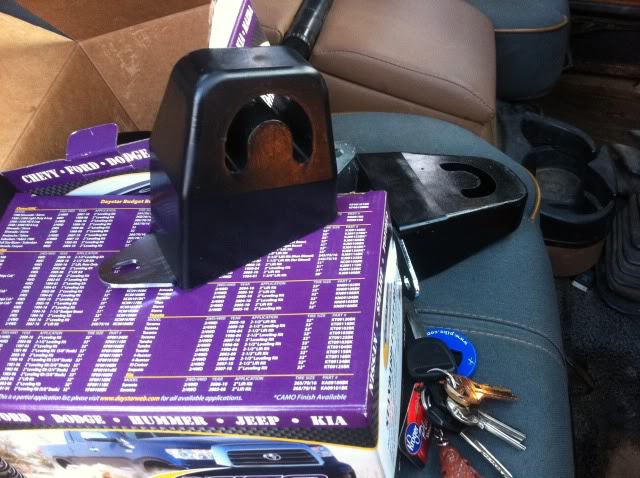 11-22-2011
Just a little update.

I got the 8.8 filled up, the bumper and tire carrier off, the new Daystar extended bumpstops on and the stock pitman arm back on. Here's a pic of my steering before and after. The angle on the drag link is a little steeper but I believe this will keep my drag link TRE at the pitman arm from acting as a bumpstop on the tie rod when I'm at full stuff on the driver's side.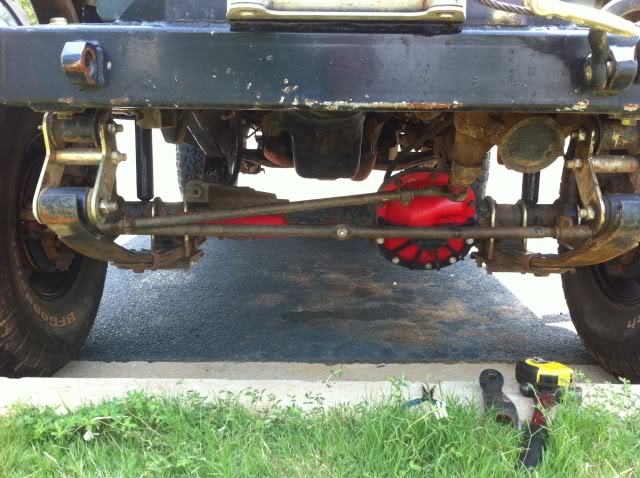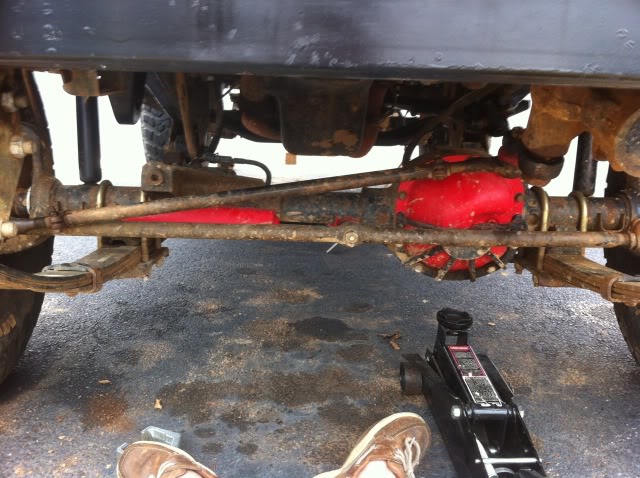 11-23-2011
Well last night I took my bumper to work and did a little fabbing. All I used was a piece of 2 x 2 angle iron and my Destaco latch 341R. The latch is beefy. Now for some pics.

Here's the Destaco latch: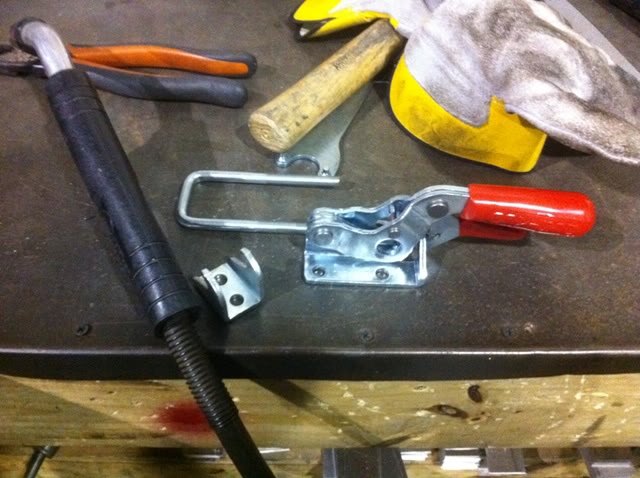 This is the standard Smittybilt tire carrier end. All that stuff was in the way to I cut it flush and put a plate over it.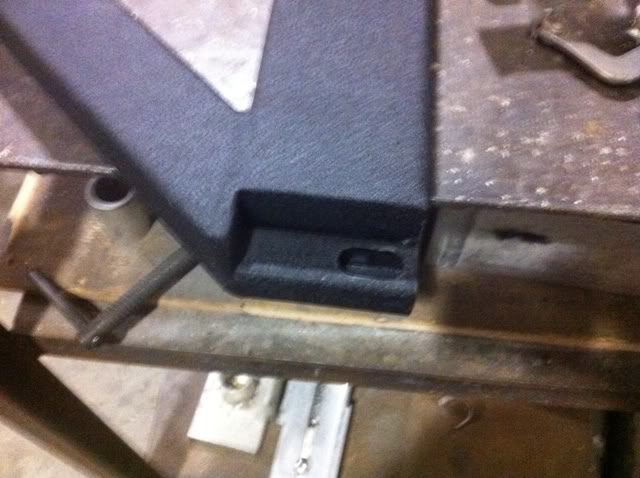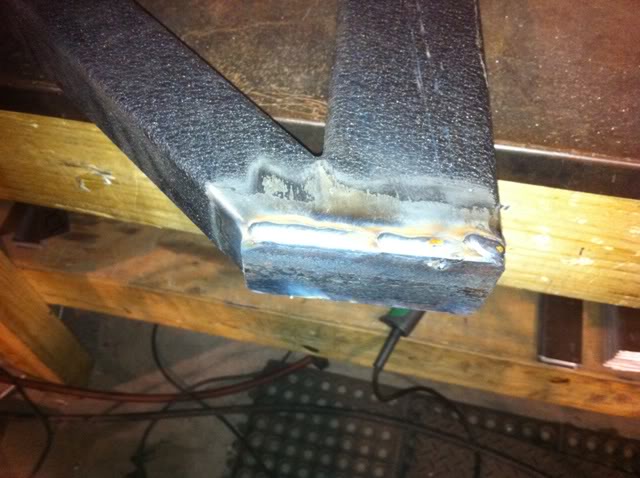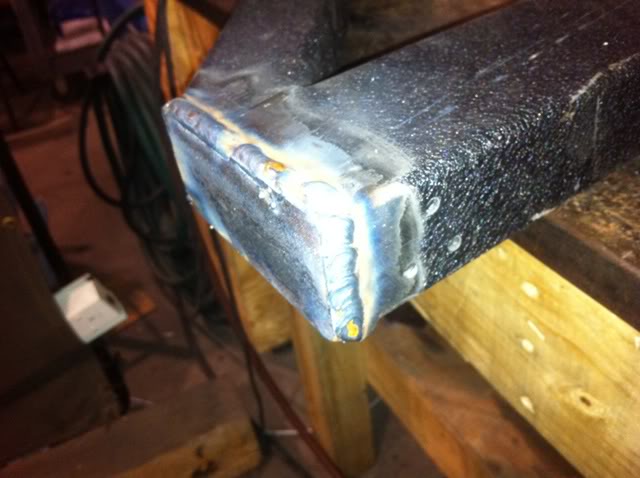 I had to clean off the bumper as well to make room for the new metal.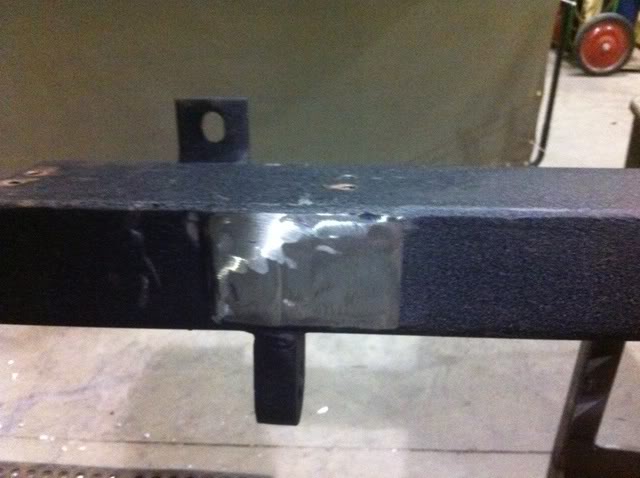 Then I made a backing plate for the tire carrier so it wouldn't go into the tailgate. I think I'm going to put some kind of rubber on it as well.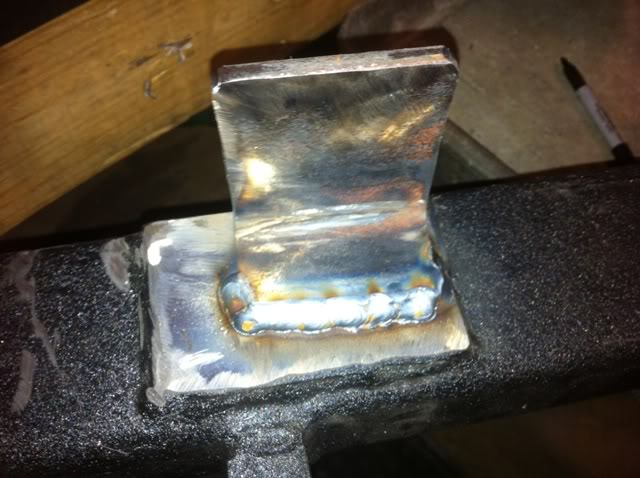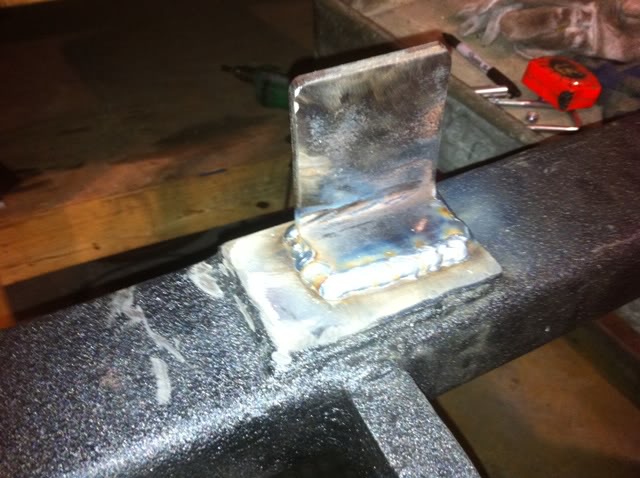 Next I welded the Destaco Latch onto the tire carrier. I didn't want to fool with drilling it and having to put bolts through it. Water might get in there and cause issues later down the line. I know my welds aren't the best but the last time I put a hood on was over a year ago.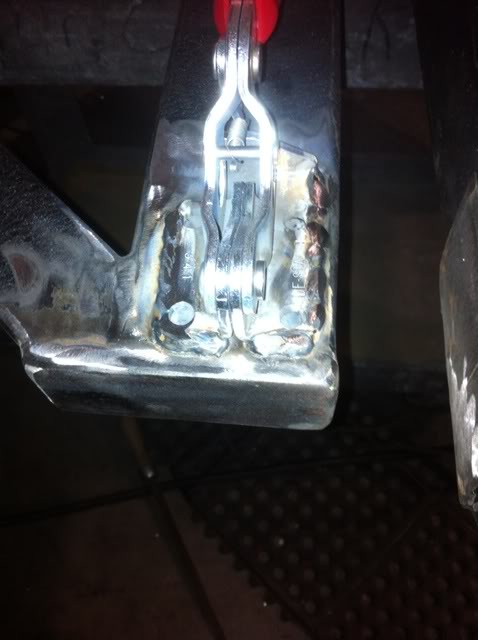 The progress thus far.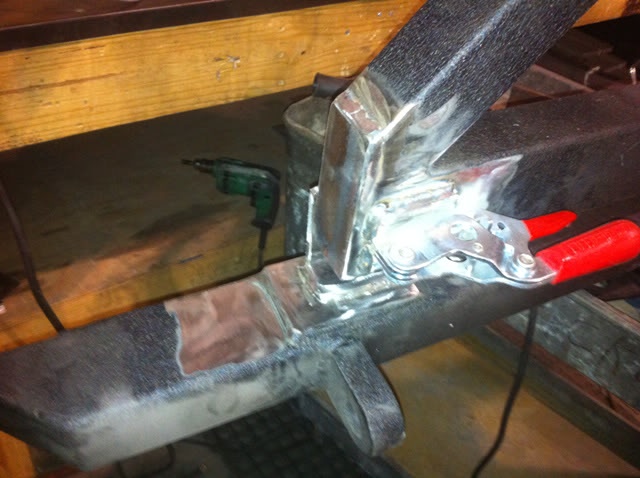 I also found out my shirt wasn't fireproof...huh.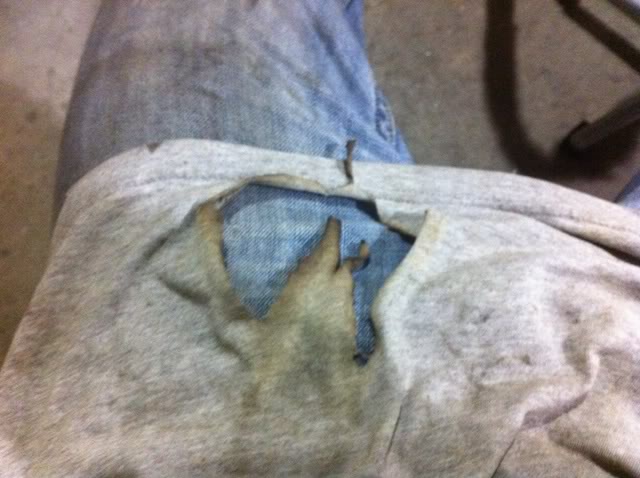 For the final part I cut a piece of angle to size to weld the hook on for the latch. None of this is very pretty but I'm going for function over fashion.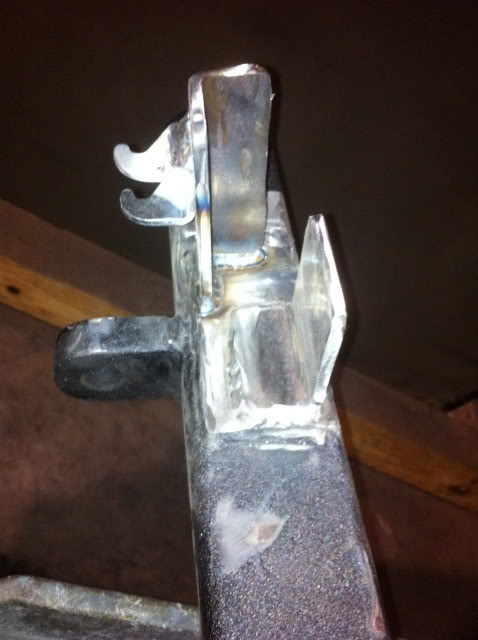 Finally the nearly completed product. I need to get some paint for it. I had to flap disc quite a bit of powdercoat off. I think I'm just going to slap some textured black on there. I don't want to strip the entire thing down. It's not pretty but its 100 times better than the stock setup and a lot stronger.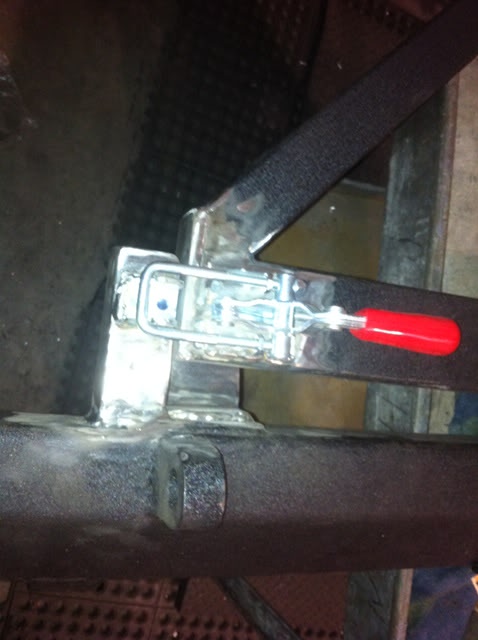 11-26-2011
Finally done with the tire carrier.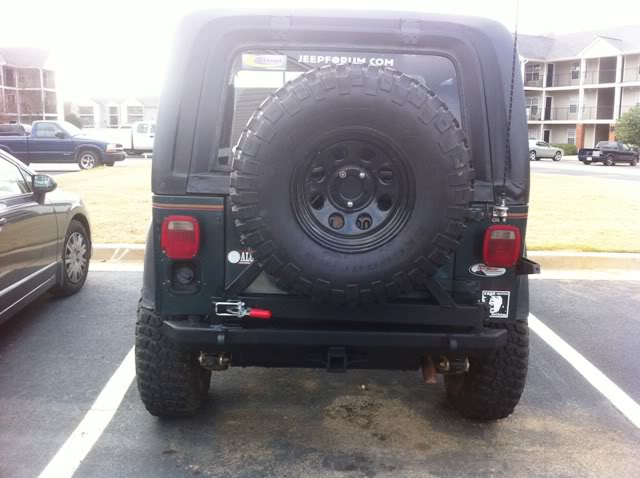 12-1-2011
Thanks!

Well I am going to put my dropped pitman arm back on as the extended bumpstops might not be of much help plus I have a little bit of room. I also put some eyelets on the side of the back fenderwells to hold down my toolboxes. My buddy picked them up for me and let me use his rivet gun.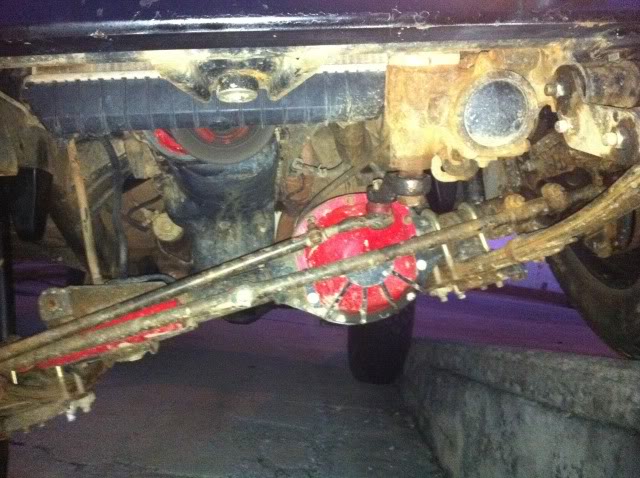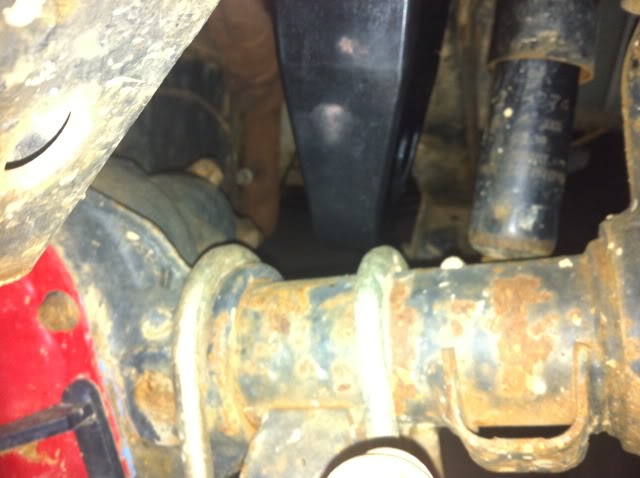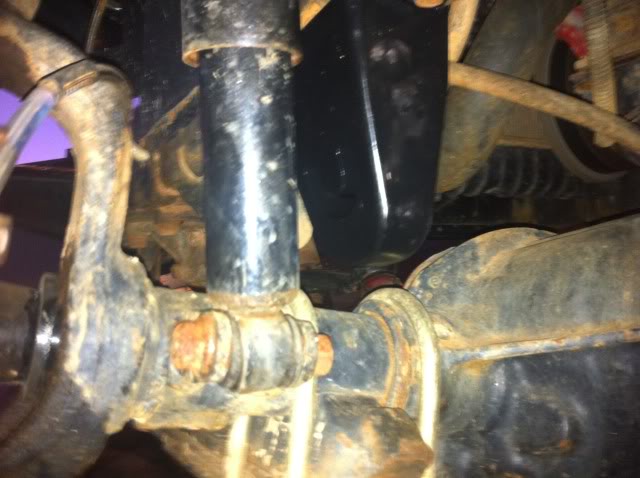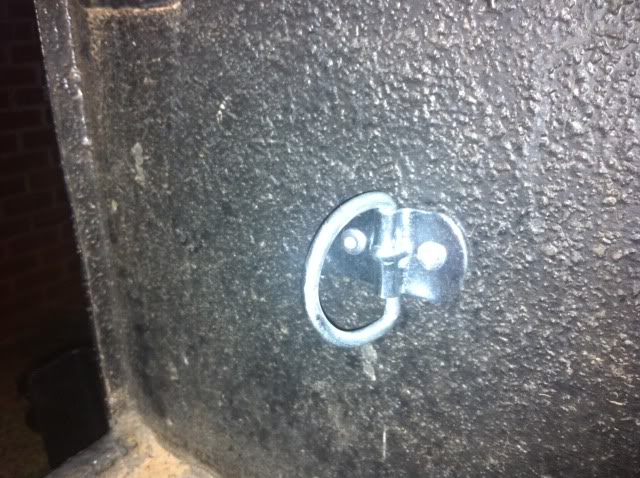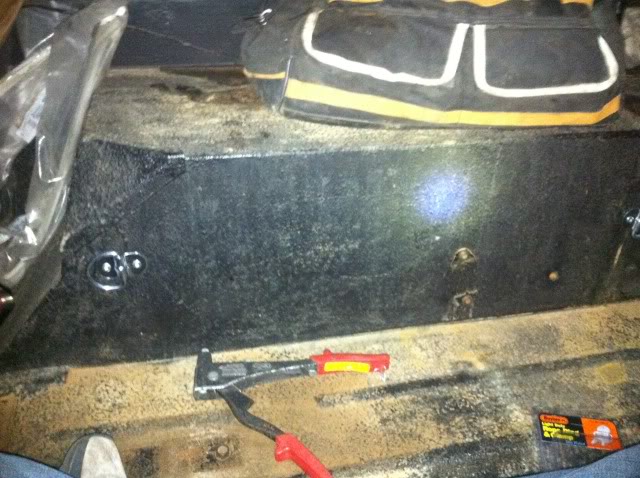 12-9-2011
Hoping I get my front driveshaft today and then I won't have to take it out and put it back in for every wheeling trip. Here is how far it's extended as of today. This is after I had it straightened and balanced. The vibes got better but the slip joint got more wore out and I couldn't drive it on the road after a while.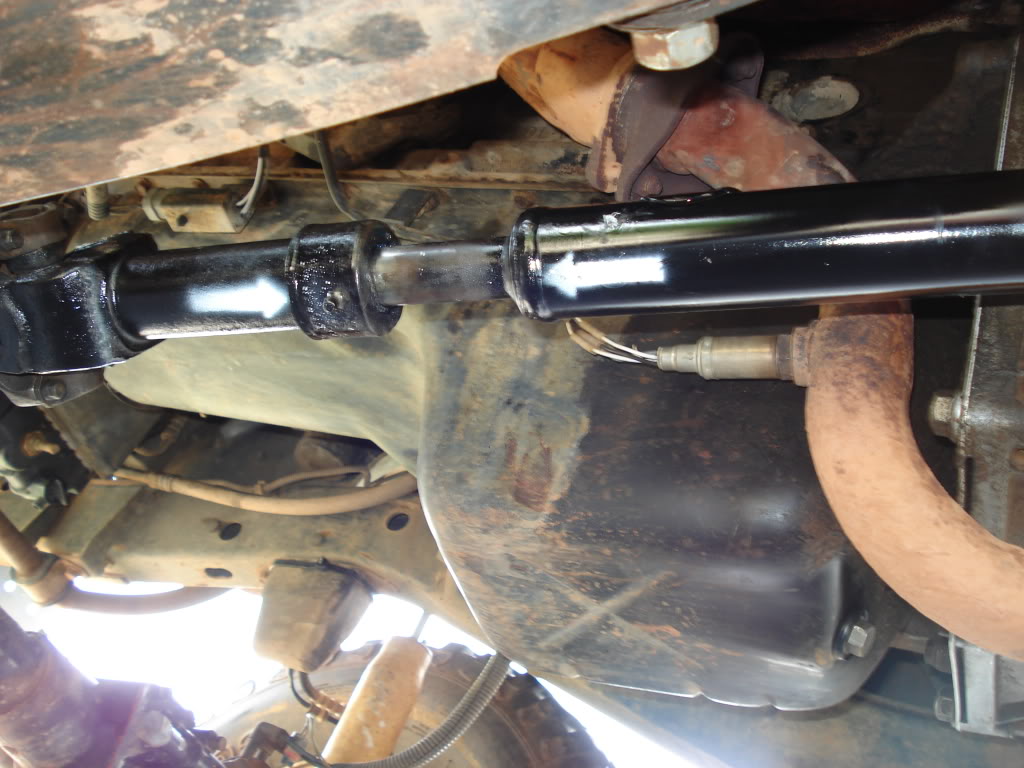 12-11-2011
It's finally here. Very beefy.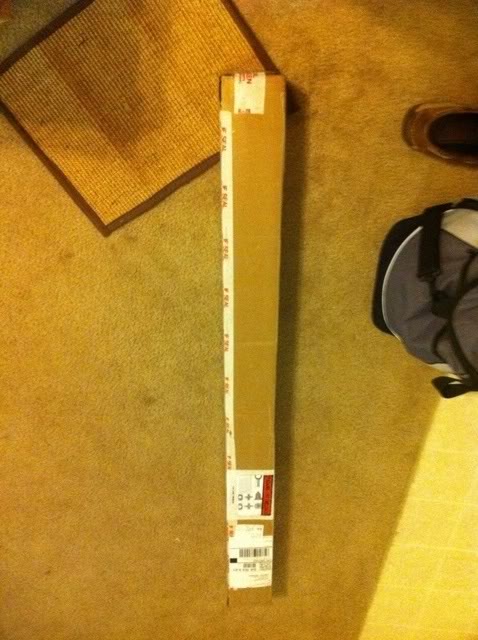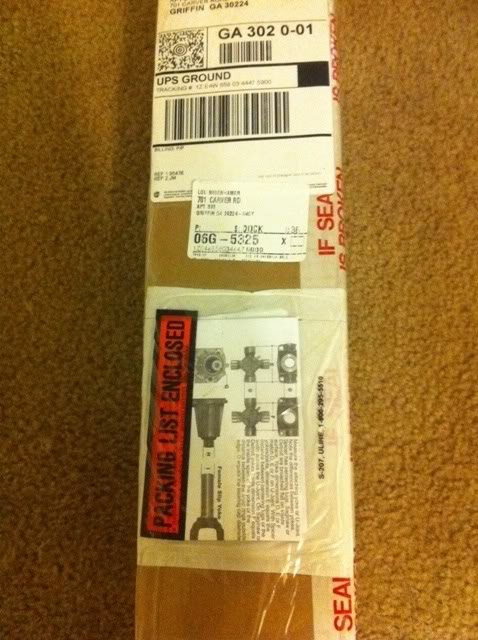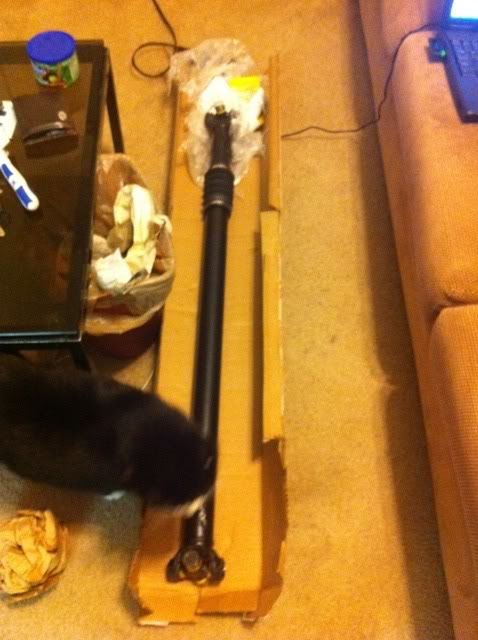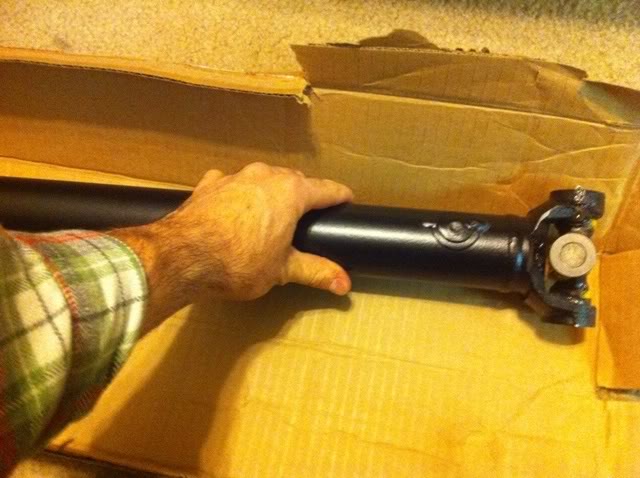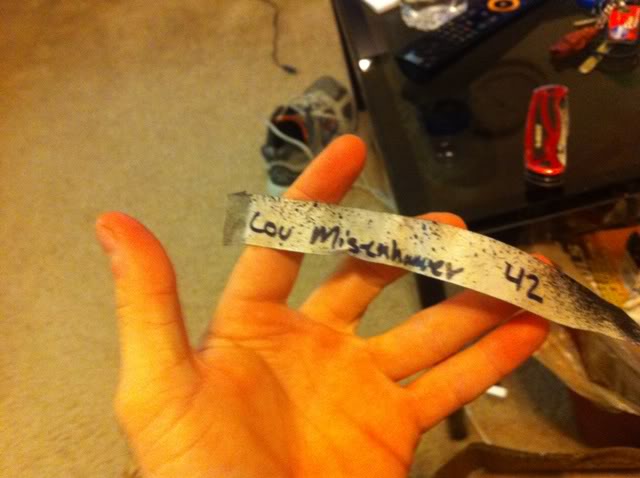 12-12-2011
Got the new driveshaft installed tonight and swapped out the stock pitman arm for the dropped. The TW is awesome. I can't even tell it's installed at highway speeds. Very impressive.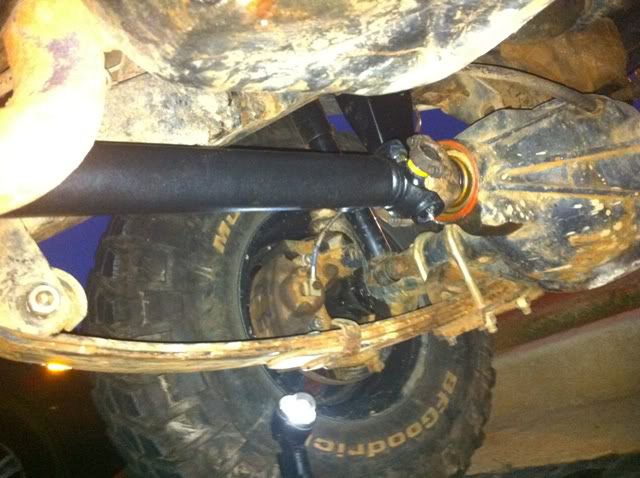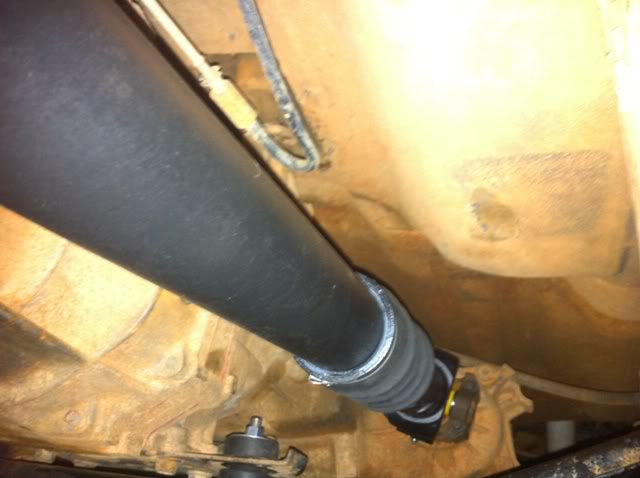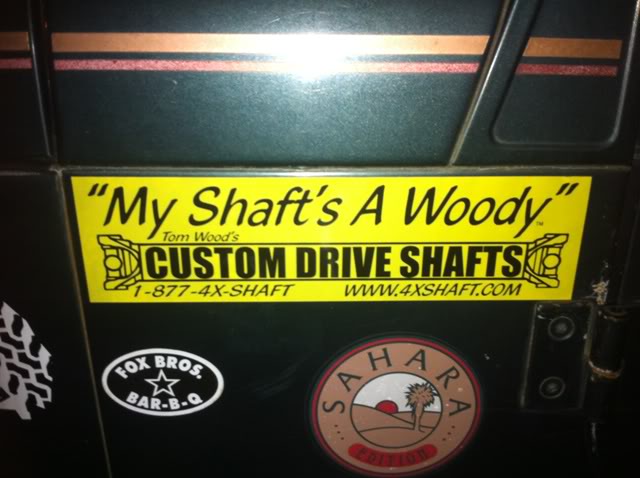 Since I'm throwing out random crap on my build thread...

I was at my fiance's apartment in Knoxville Friday night and woke up to some yelling around midnight in the apartment above us. I ended up dosing back to sleep. The next morning I took the dog out and saw this.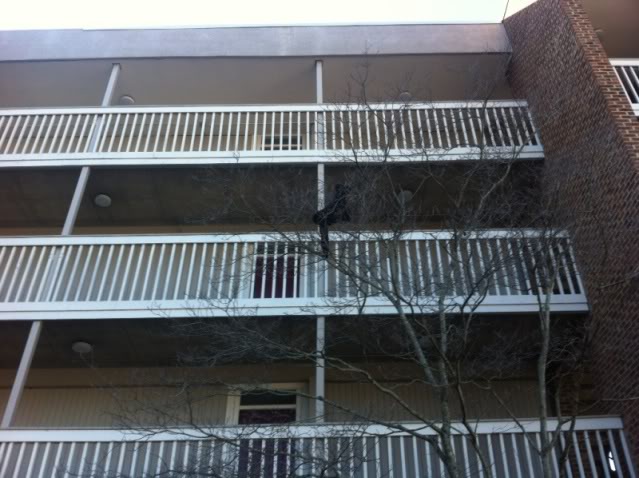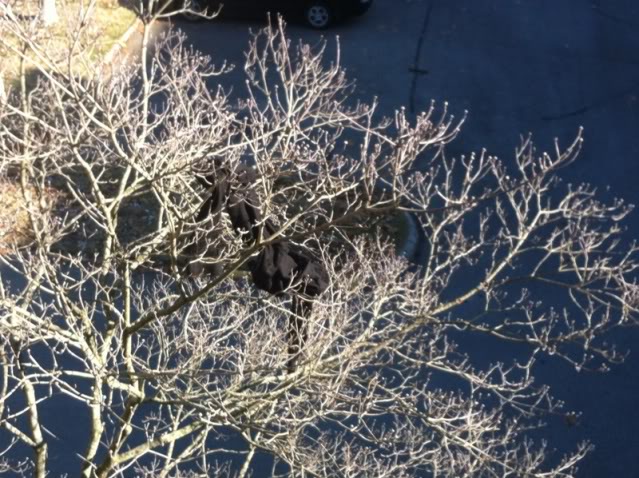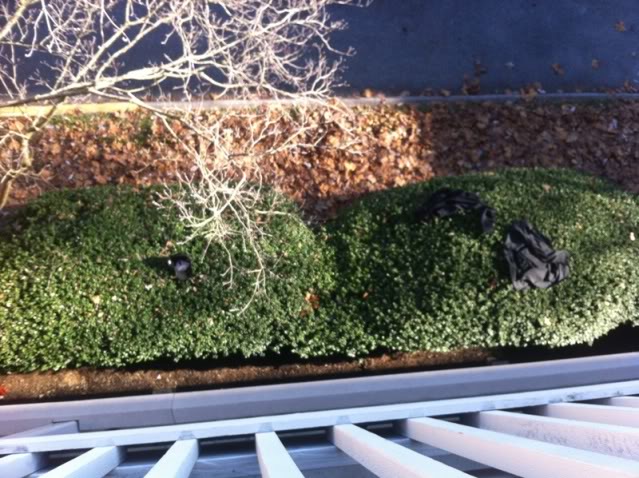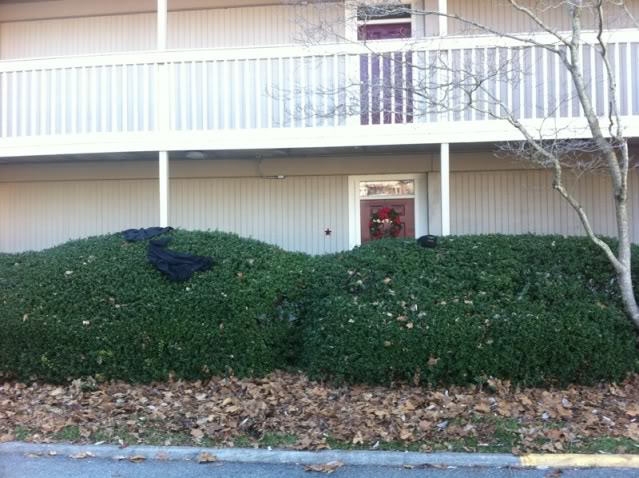 I saw another guy getting out of his car and he said he heard a guy begging to come back inside last night. Now he knew why. Some things you can't see in the bushes: Uns-moked cigs, leather belt and an un-opend pack of pistachios (I took those).
12-20-2011
Well I made it back from Choccolocco Mountain in Jacksonville, AL. It was a fun trip and I definitely wouldn't mind going back. Here's a couple pics but more will follow. I had some pretty good carnage. Busted windshield, dented the front pass. side where my radio antennae use to be. I also lost a bolt on my lower shock mount coming down the interstate at 70 mph. The new front driveshaft worked great, no vibes at all. I also got to use my rebuilt Warn M8000. It worked flawlessly.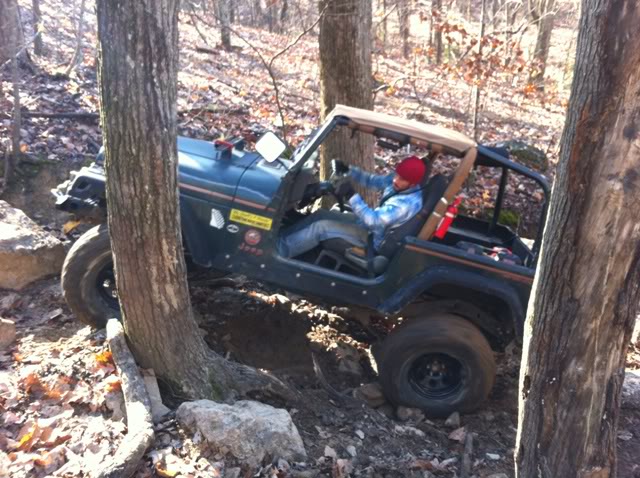 I busted the windshield after I got stuck and lodged between a fallen, rotting tree stump. My buddy tugged me backwards and I took a root with me.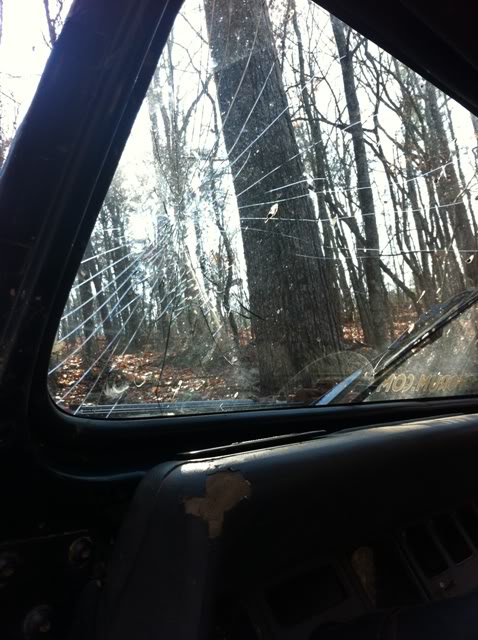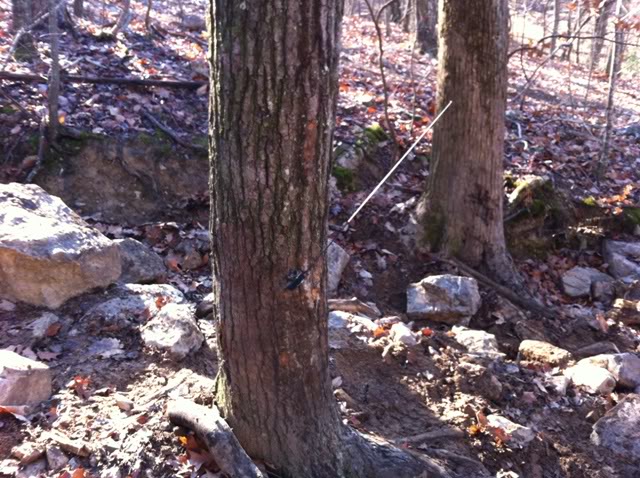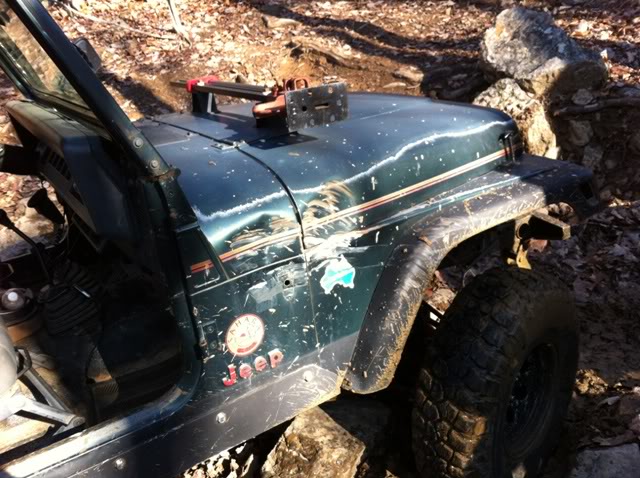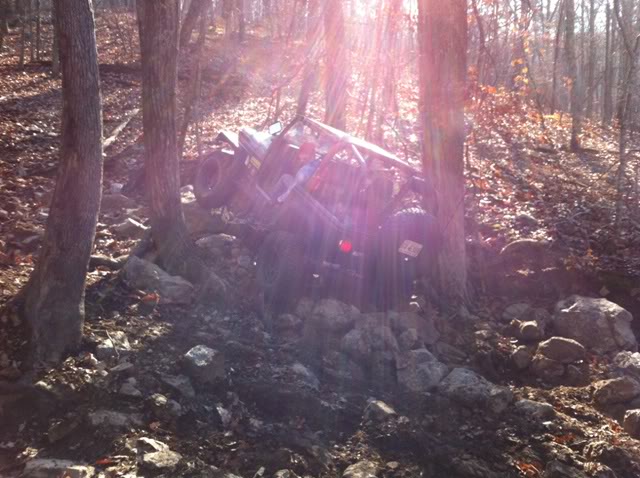 I was at the top of these rocks and then snagged a root. I found out it was a pretty big root.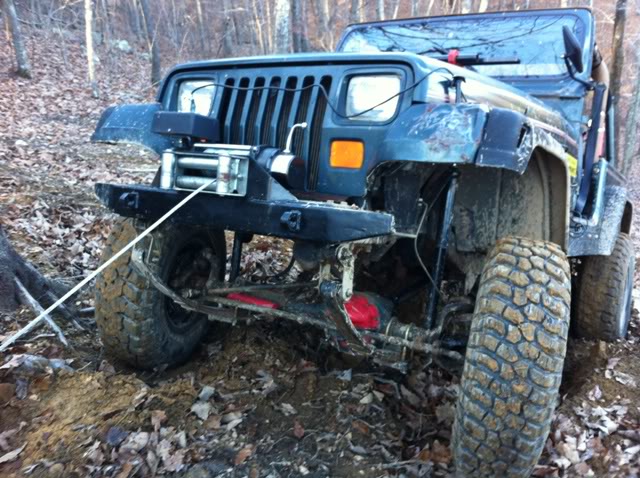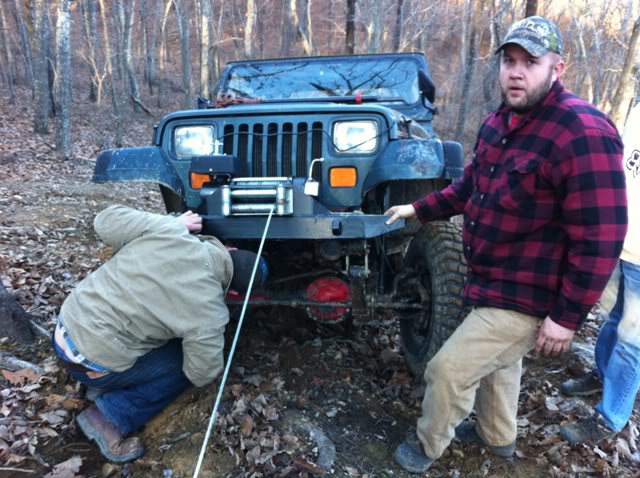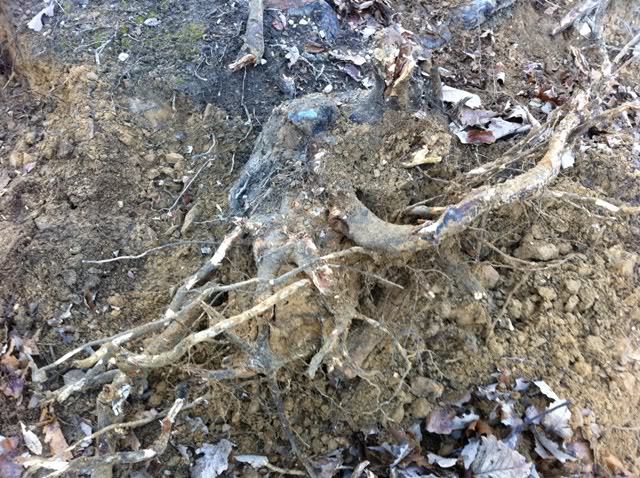 My buddy in his CJ-7 got to test out his new steering and built wide track D30 and Scout D44 with the 4.88 gears and Aussie lockers. He also got to test the Warn M8274 he got. He was pleased. Somehow he ended up driving up this tree. If you look in the second pic you can see my antennae still in stuck in the tree.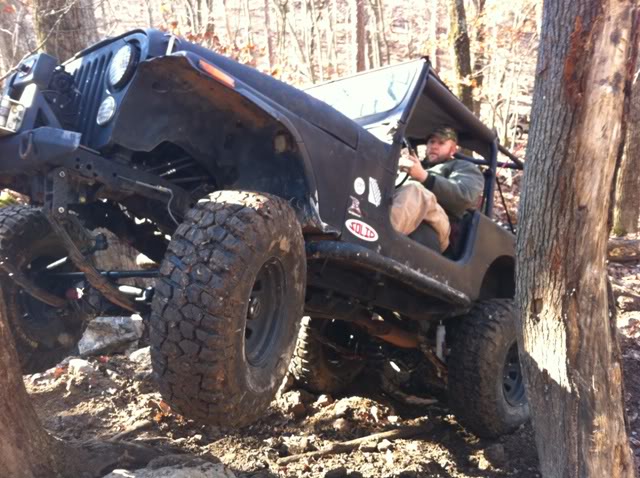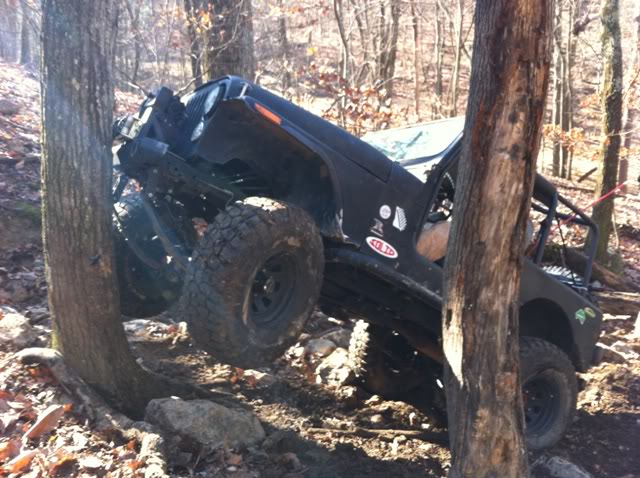 He also got a little squirrelly going up a rutted hill climb and well...this happened. I was looking to see if he was OK and how I was going to get it on it's feet again.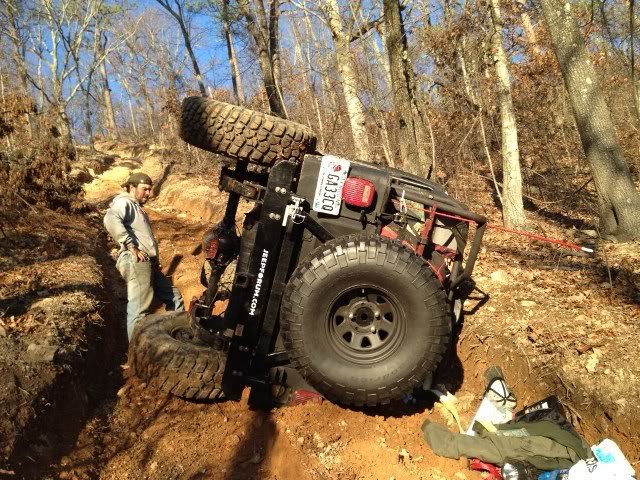 I hooked up his M8274 and it pulled it right side up with no issue. A little oil and ether and we were heading back to camp for a break.
Here's some more of me. Just breaking rocks with the underside of my jeep.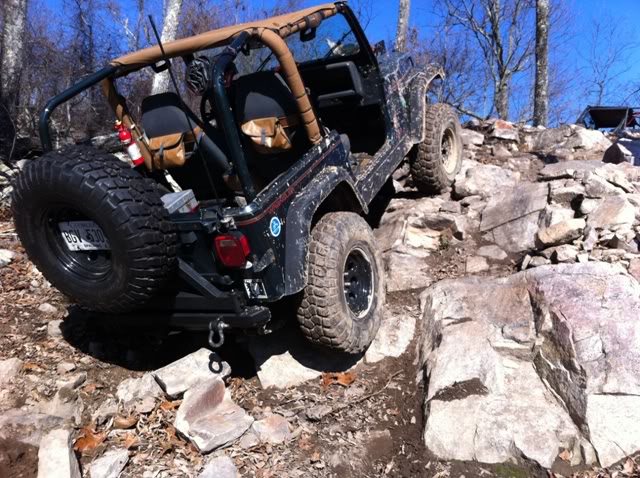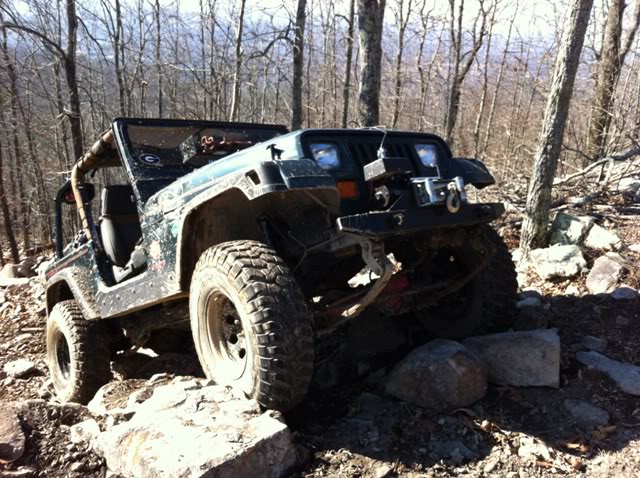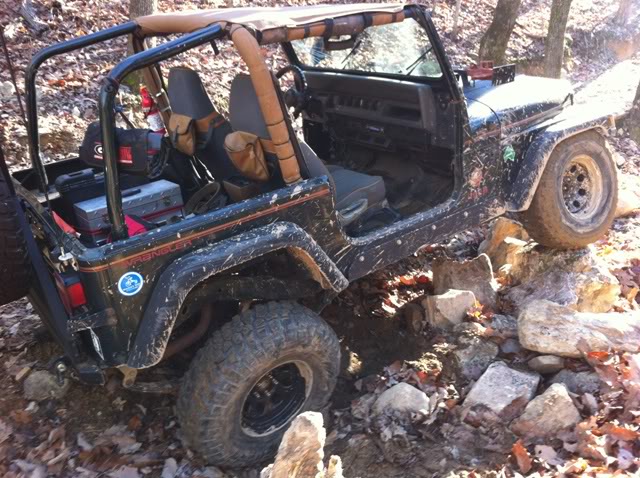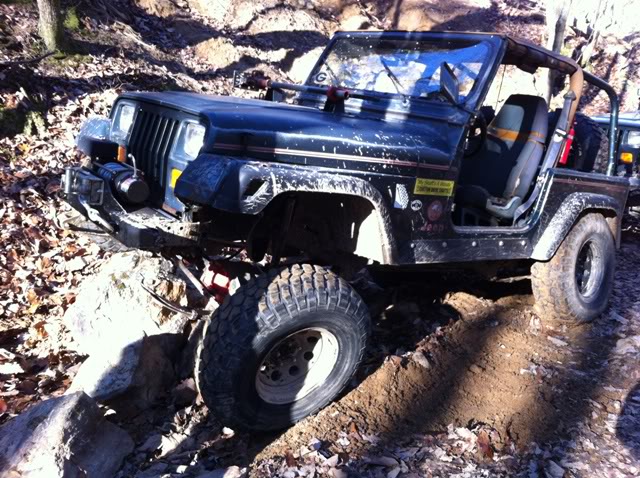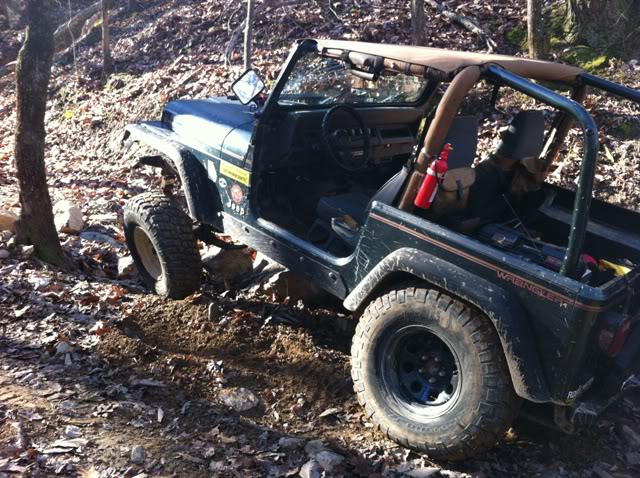 My buddie's CJ.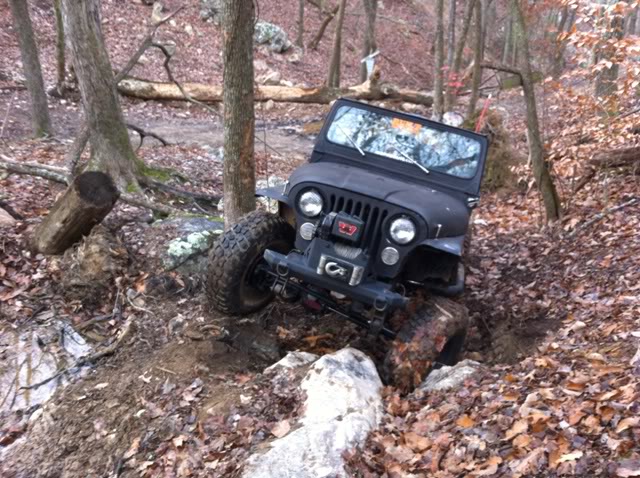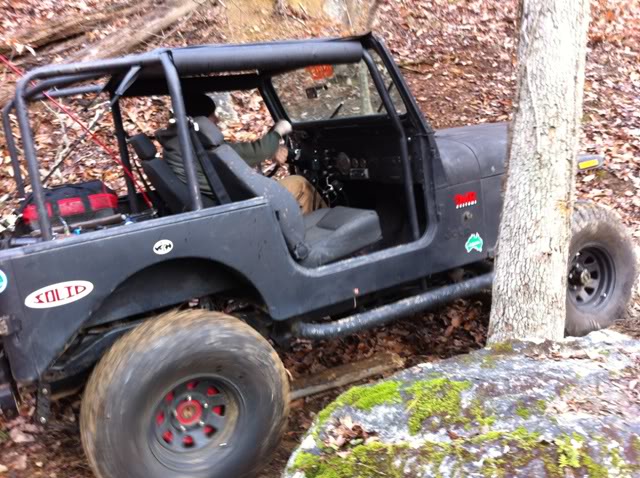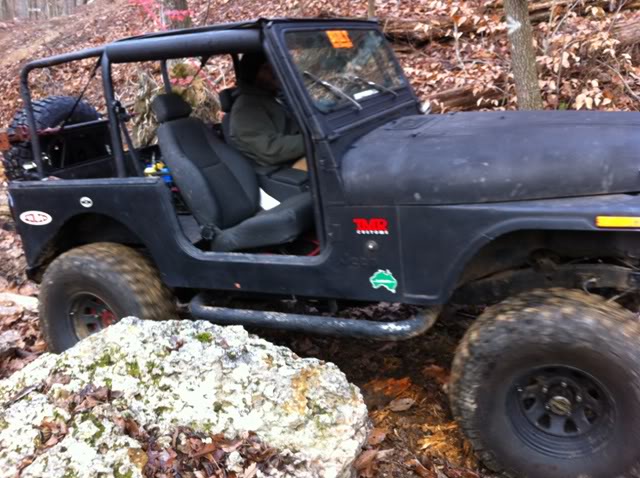 My other buddie's YJ. It's funny. I got all three of these guys into wheeling and jeeps and I've owned mine for 8 years and they have all had theirs just a couple and they have more built rigs than me. The funny thing is I usually go more places than they do!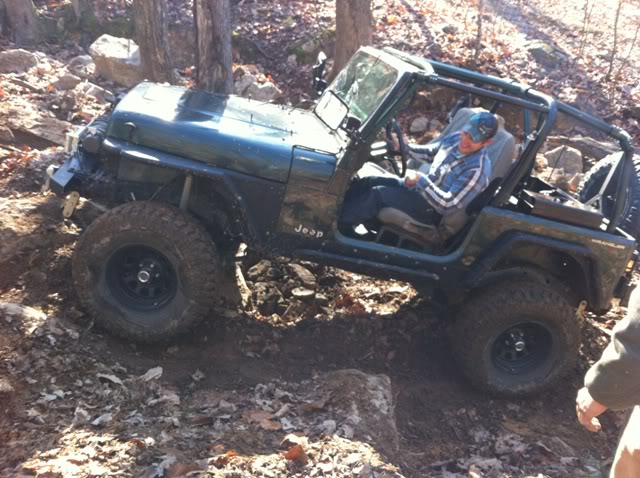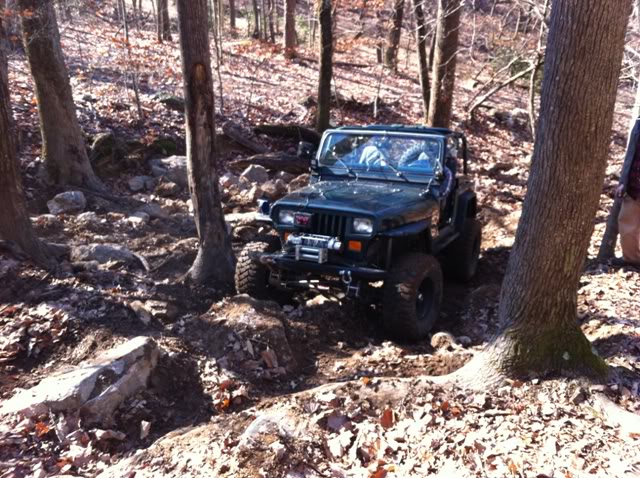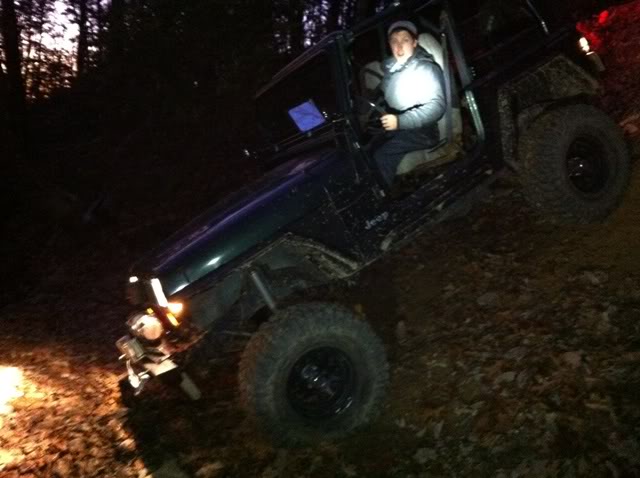 The other guys YJ. His is pretty sick but when you throw 30K into it, it better be.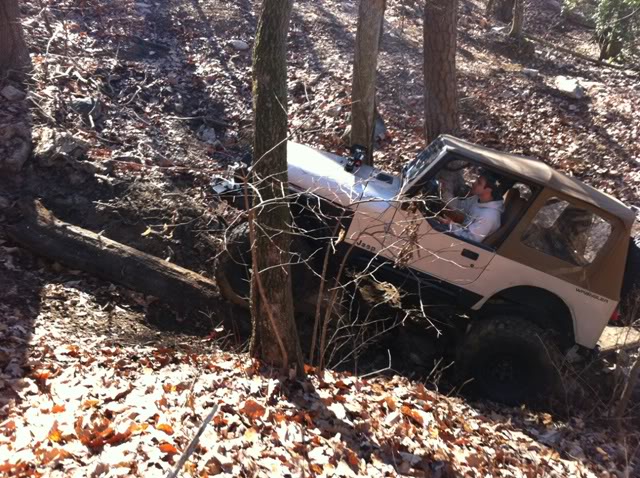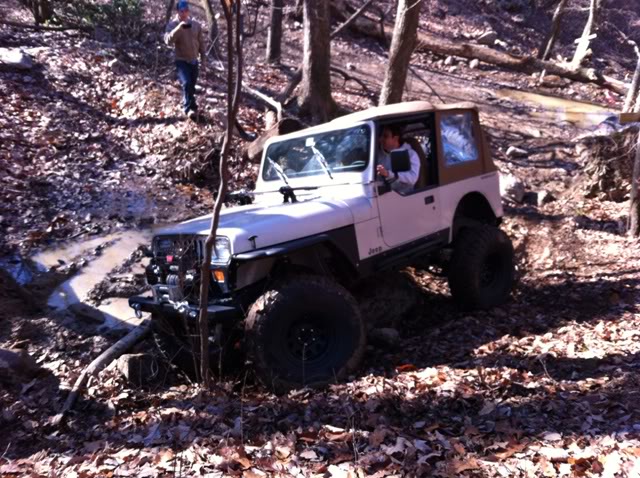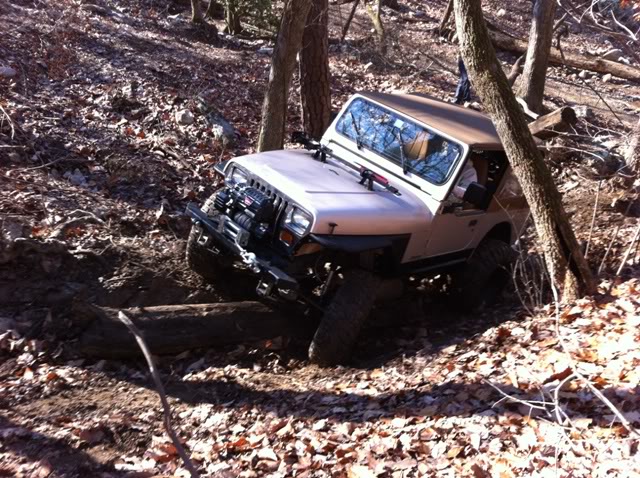 1-6-2012
Thanks man!

I found a deal from another forum member on new 3.5" Black Diamond springs. Rusty's Off-Road was selling them for $35 a spring. I have been running them for over 6 years and they have been abused heavily. I couldn't pass this deal up because they springs were cheap and they were all the rear springs with 5 leafs. The shipping was $83 but the total for all the springs was $224. I ordered them yesterday and guess what arrived today.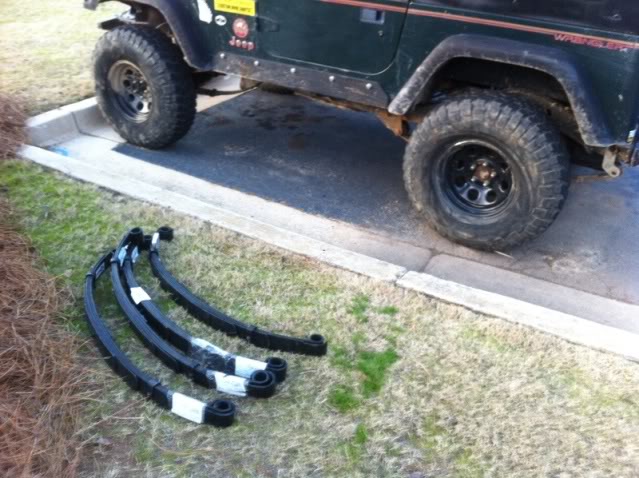 2-1-2012
My Federal tax return was deposited into my account today. My plans are to replace the entire exhaust and get a high flow cat from Summit racing (store is 30 min. from my apartment). My current exhaust is dangling by coat hangers and it has a splice with flexible tubing. Plus the manifold has a small crack at the collector as most do. I also want to replace my windshield.

I'm planning on getting a quote this weekend for the exhaust and see what I the damage is.
2-3-2012
I went by Summit Racing today and picked up a Magnaflow cat. I already have a Flowmaster the exhaust shop said they could reuse. I also bought a new exhaust manifold to replace my cracked one.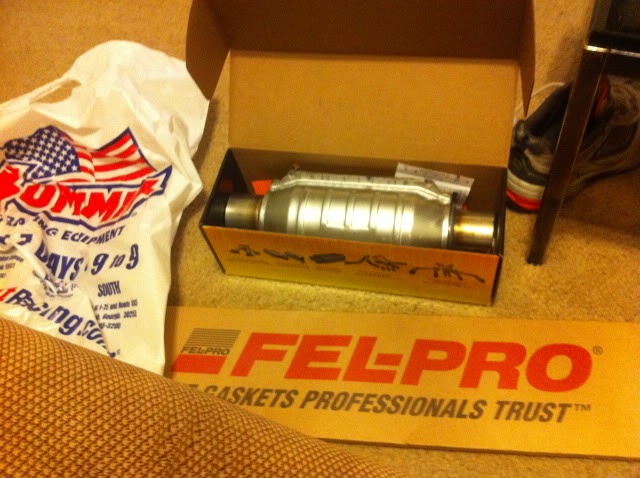 I'll post back the new exhaust next week when I get it put on.
2-5-2012
Thanks guys. I spent the weekend at my folks house and I helped my dad with his Toyota truck which I've yet to figure out the problem.

When I got home I figured I was still gross so I started tearing into the jeep. I took it to the exhaust shop Saturday morning and got a quote from the guy. I also said I was putting a new manifold on so I told him I'd bring it back after I got it on. So here I am.

My workspace...the parking lot. But with 70 degree weather I can't complain.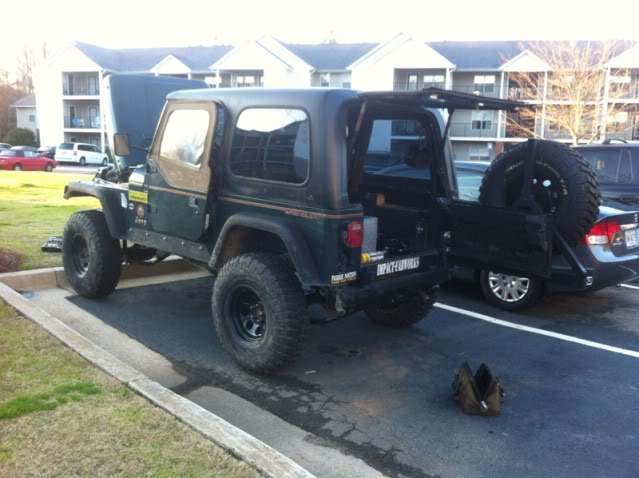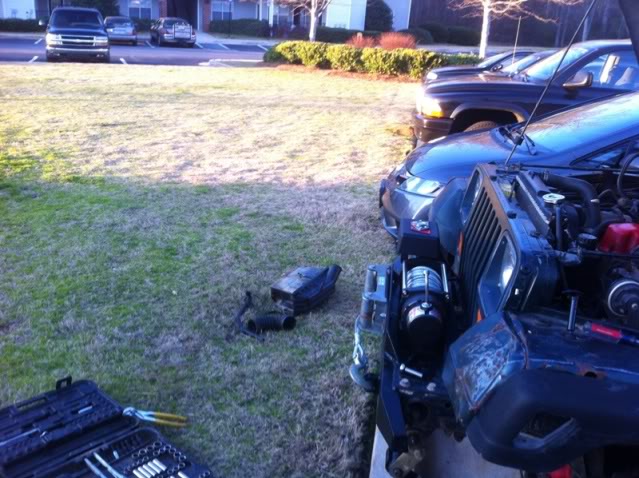 Disconnected everything.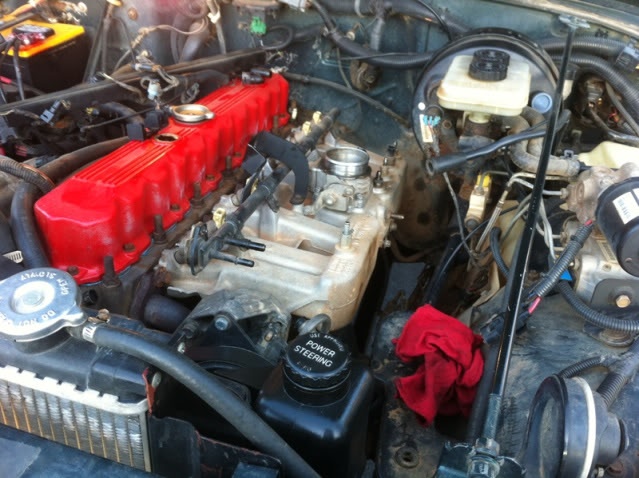 Got the intake off.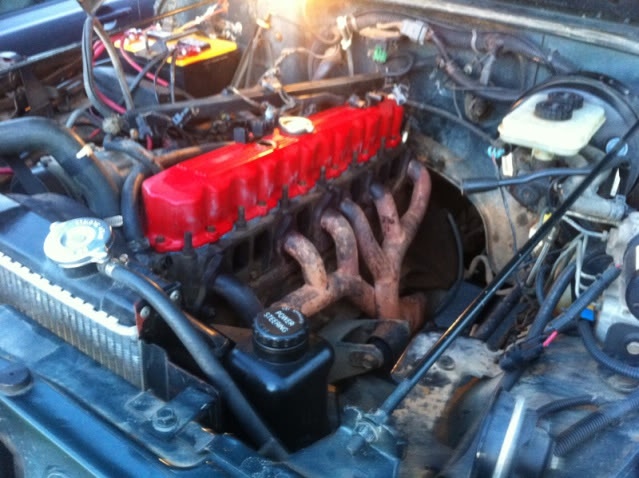 Manifold off.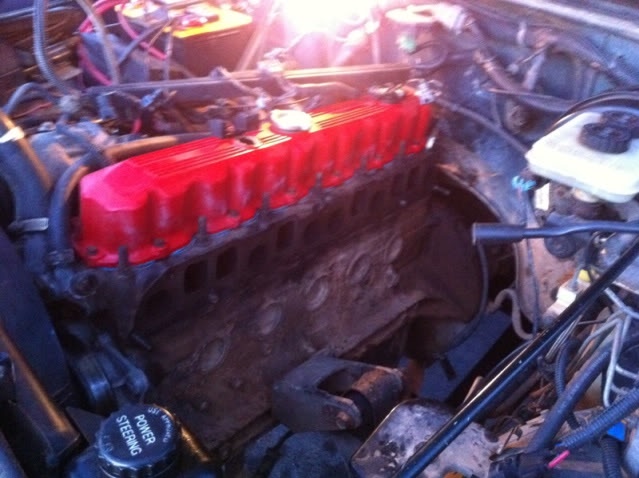 I thought it had a crack in it and it did but it was not as bad as I thought it was.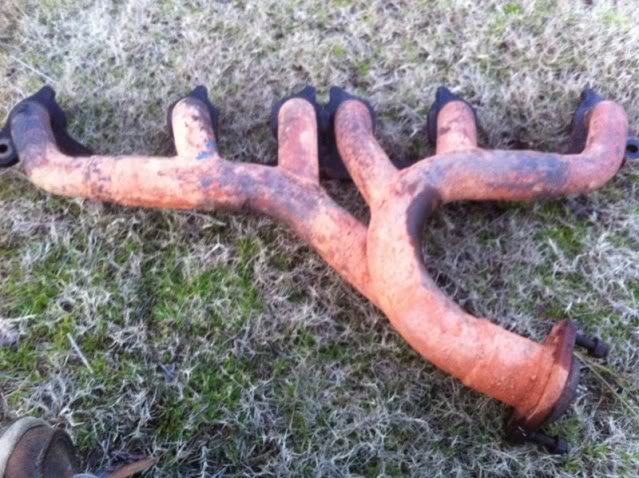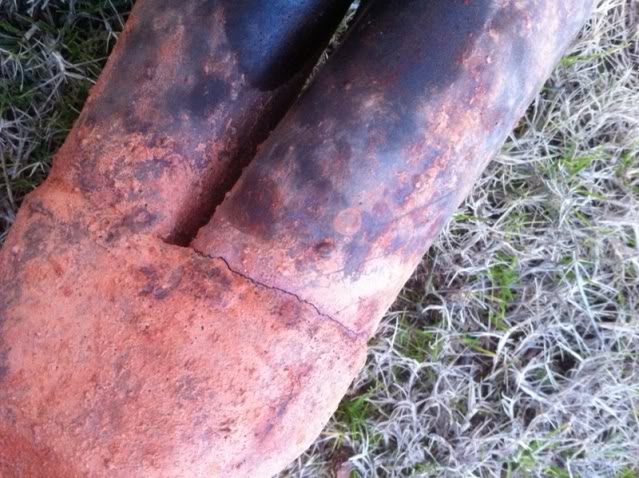 Now I sit at wait for the FedEx man.
2-6-2012
Here's how I spend my evenings in my apartment. With my 4.0L intake manifold.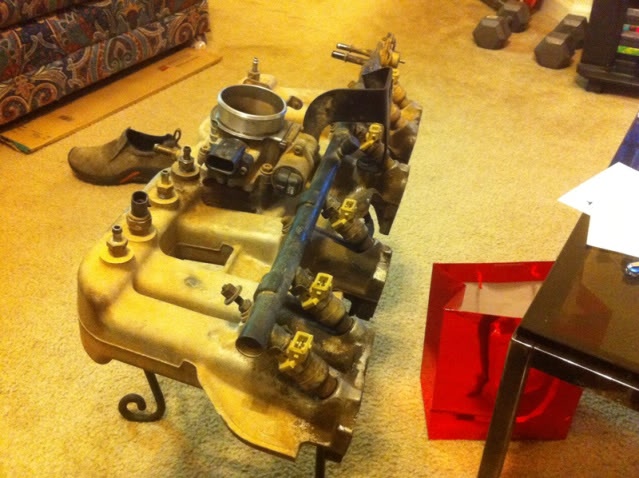 I'm going to wipe it down and clean out the inside. While I was pulling vacuum lines I noticed the elbow to the FPR was dry rotted and cracking so I went to Autozone and bought this box of elbows for $4.99 but I only needed one.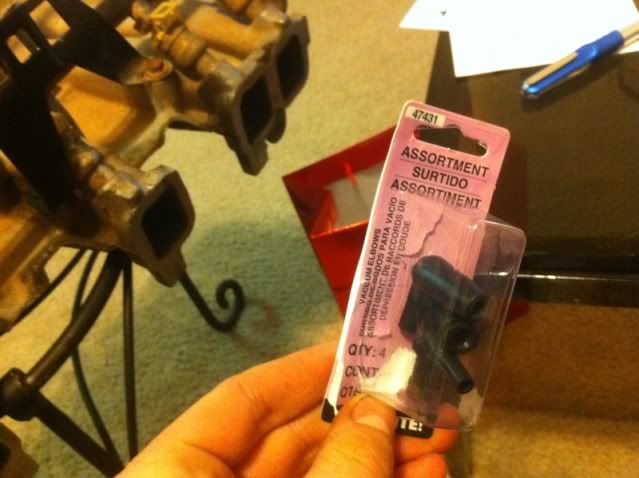 And the new $5 elbow.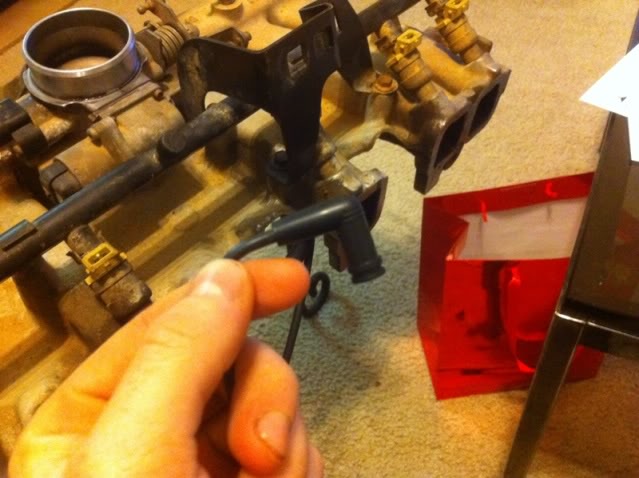 I should get my manifold tomorrow per FedEx.
2-9-2012
Well I was going to just clean the mating surface on the intake and throw it back on but I started looking more closely and it was full of sludge and crap from 1993. I don't believe I've ever cleaned it in the last 11 years I've owned it (on the inside). I was scrapping chunks out with a smallscrewdriver. It was really gunky near the injector tips so I ended up taking every thing apart on the intake. I cleaned the manifold, throttle body, fuel rail, and injectors. These pics suck but oh well.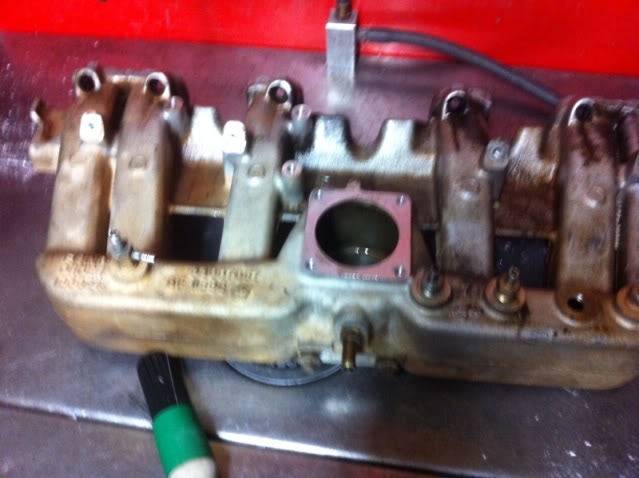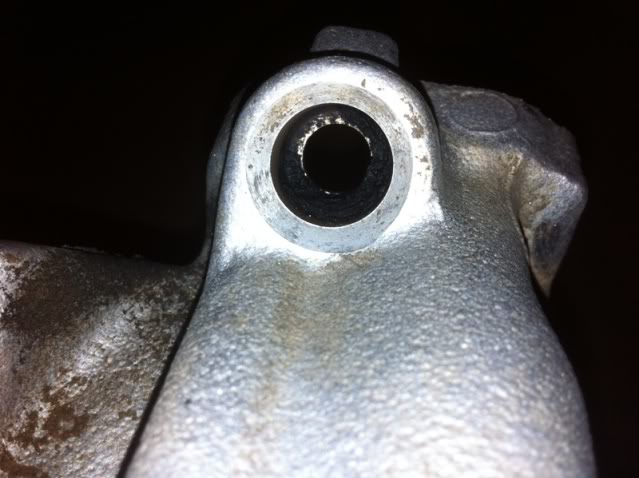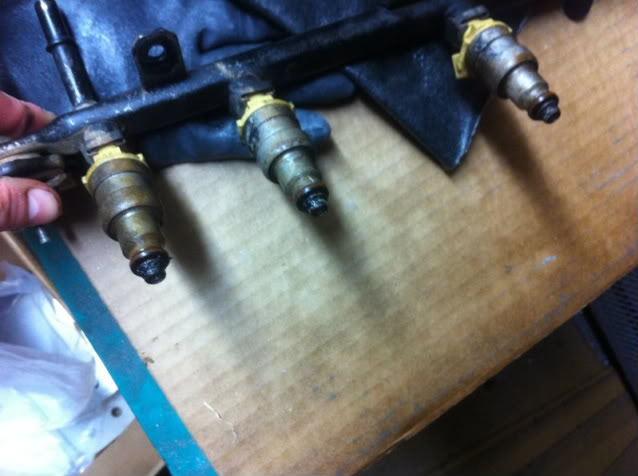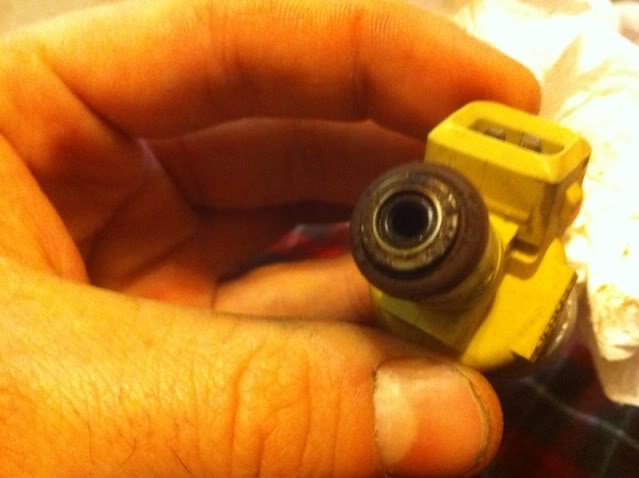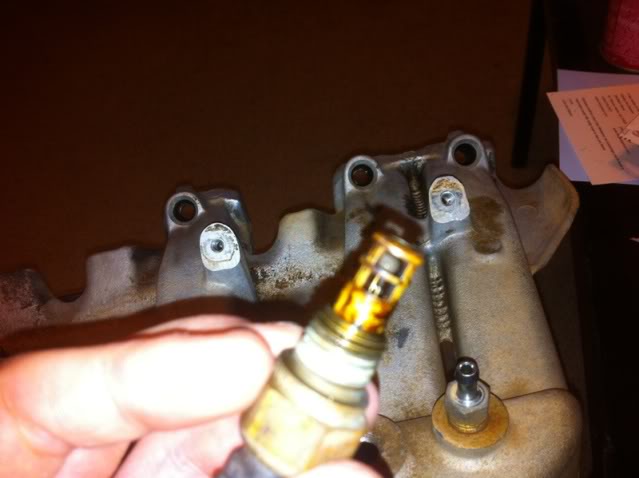 2-15-2012
Well I finally picked up my jeep up after work today. Apparently it was ready Monday but they did not type my phone number in correctly so they left a message to someone else. I finally called today and found out what was going on.

I was pleased with the work. They ran it the way I asked and it's actually quieter now which I don't mind. The price wasn't too bad either. Here's a break down of cost for my new exhaust.

Manifold = $73.81
Magnaflow Catalytic Converter = $72.26
Exhaust shop who put it all in = $227.11

Total = $373.18

Not too bad. Now for pics.

Here's the engine back together.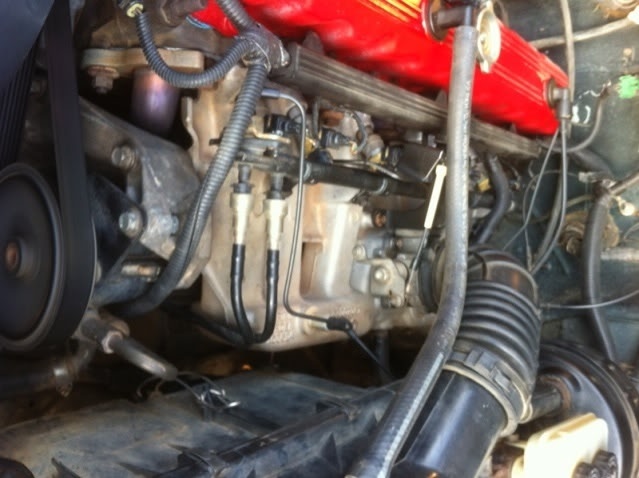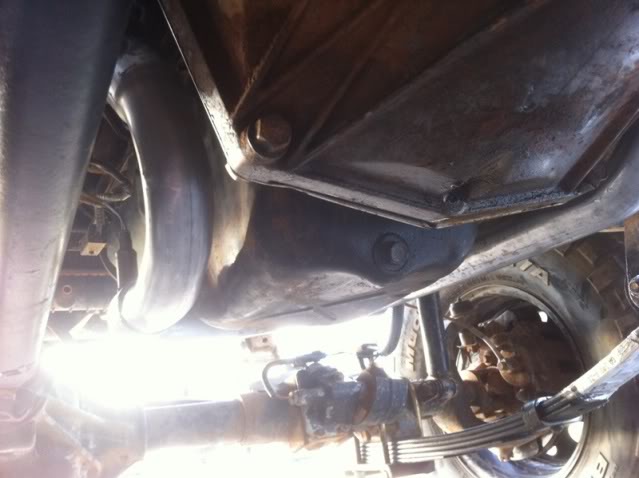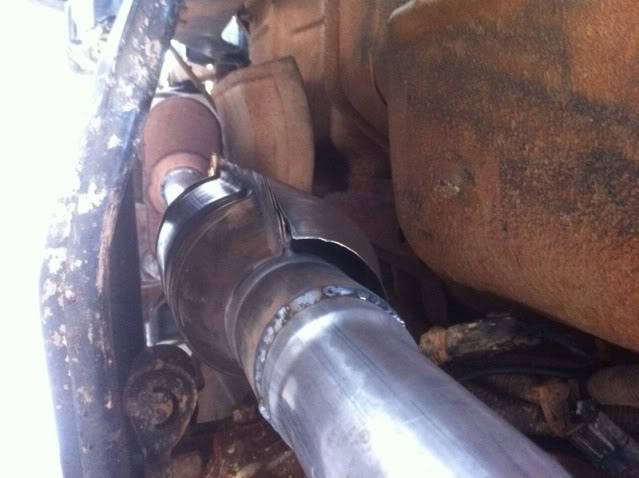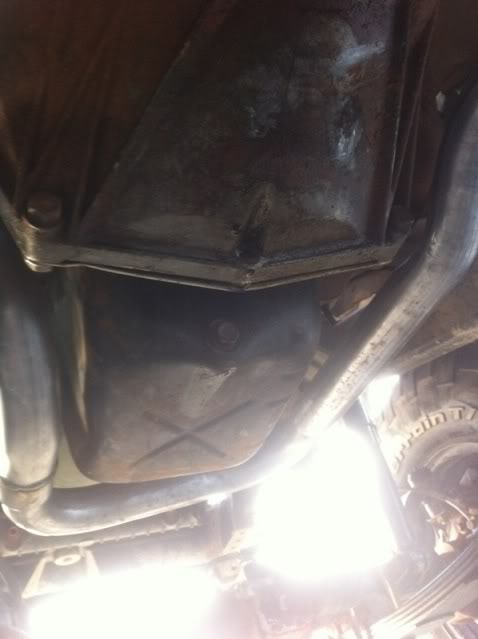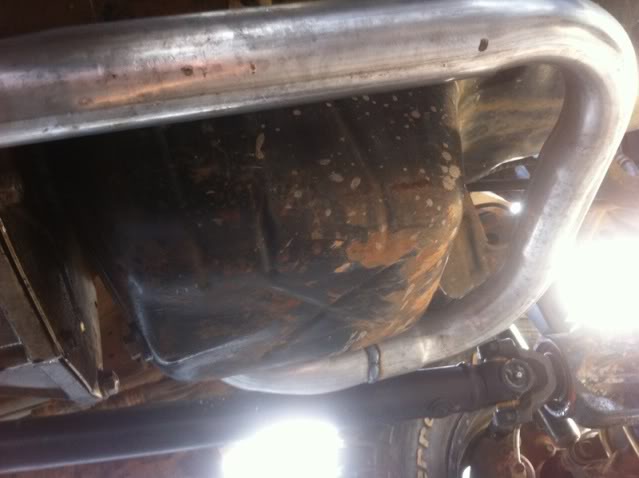 Finally, as she sits today.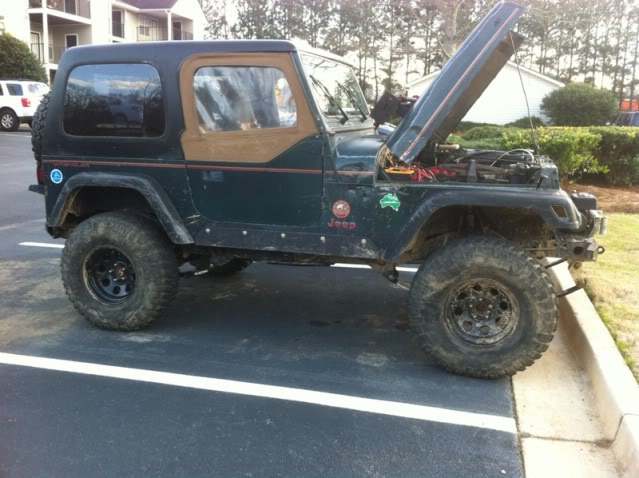 2-16-2012
Here's a little side topic to my build. Which is actually another build of a 1953 M38 Willys Jeep. It's coming along very nicely and their is a good story behind it. The guy restoring it is wanting another jeep to replace the first one he had when he was still in school years ago. He said it was a lot of fun, none of the gauges worked, the ride was rough but he really enjoyed it. He ended up selling it because him and his wife had just married and needed some money to start out. He doesn't regret the decision but always wanted another. Well decades later after being in the military and retiring from Delta he's got his project. He works on it at a shop about a mile from my work. He goes to church with the mechanic that runs the shop and is good friends with my co-worker and friend (how I found out about it). We stopped by today after lunch to see the progress. He has allotted Tuesdays and Thursdays to just his jeep and that works well with his wife.

So far he's had almost all the parts powder coated, replaced all the hardware, having engine rebuilt by the mechanic, put new brake lines, seals and basically has a very complete chassis. He's going for a complete restore and has been going around the Eastern part of the country getting parts. He does have a gas can that his dad owned that he will mounting in the back. I'll be honest, his build is a lot cooler than mine. Now for pics.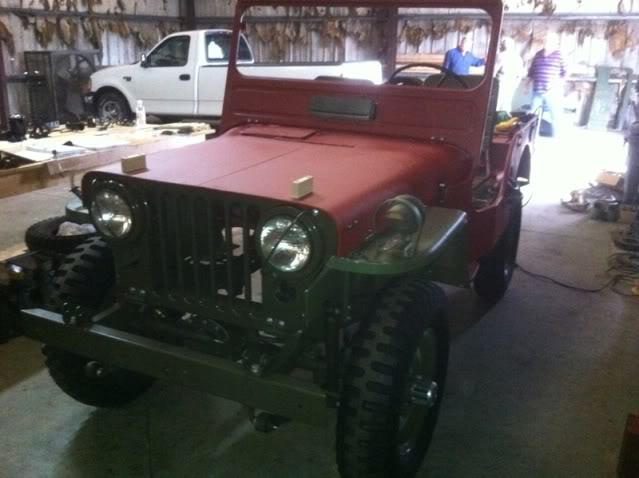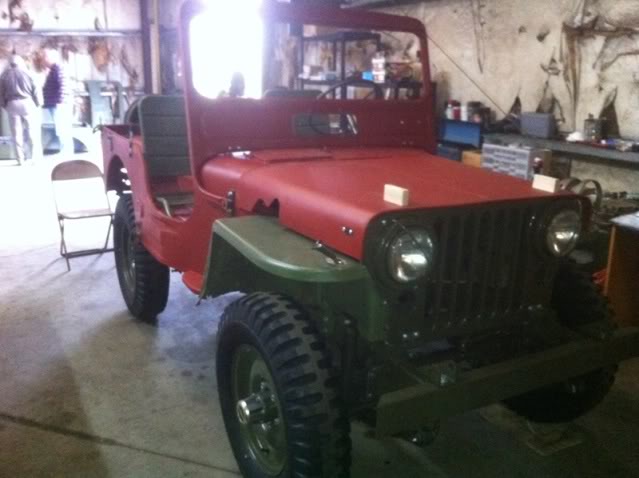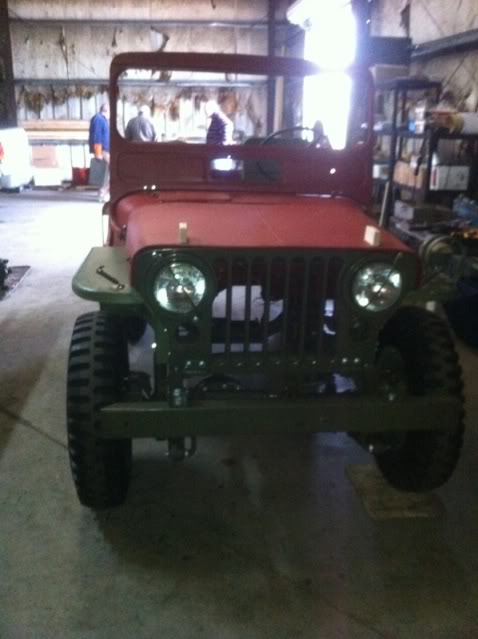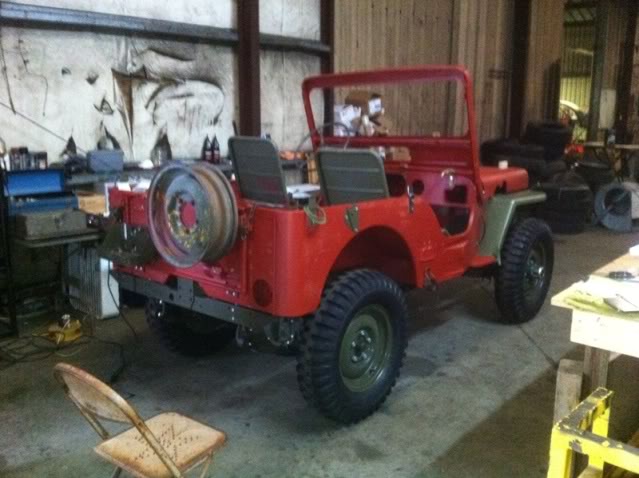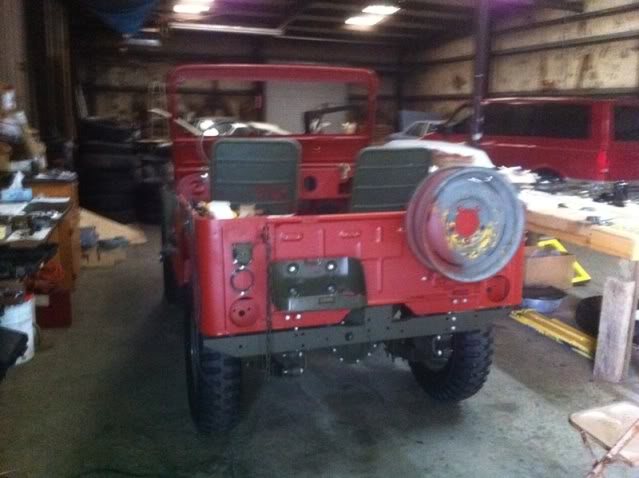 2-19-2012
I'm finally getting around to uploading my videos to Youtube. Here's me going up Cherry Bomb at Choccolocco Mountain. I have some more videos of my buddies I'll post later.
2-21-2012
I went to help my buddy with his 8.8 and Eaton E-locker last night. I didn't really do much. He wanted me to give my blessing over his gear setup. He reused the 4.10's but just put the E-locker in. He copied the pattern and backlash from the factory setup so I had no qualms with it. Well I didn't like the gear patterns but he showed me the factory ones and they matched up almost identical.

Anyway my buddy gave me a TJ sound bar. I already have the stock one for my YJ but the TJ one has a dome light and it was free.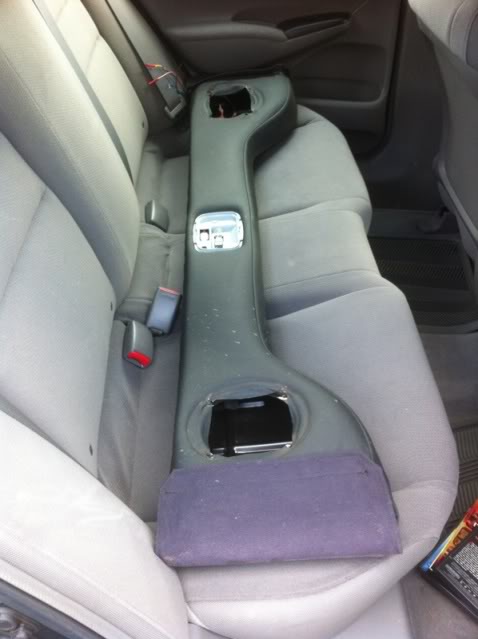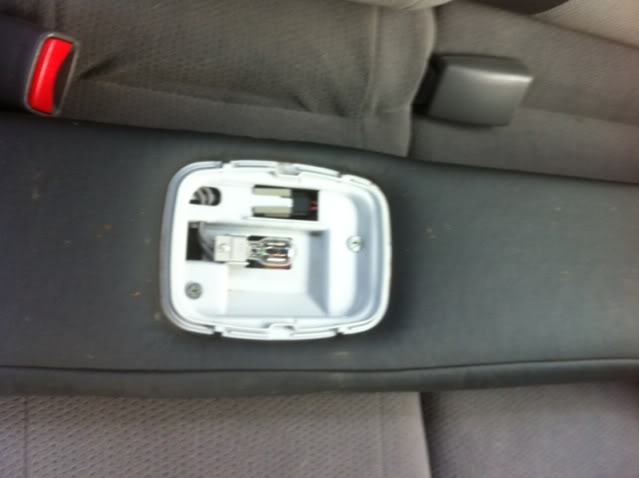 My jeep is getting a new windshield put in so it's at the glass shop. I was going to pick it up tomorrow but I have to go home and see my grandmother. She's not doing too well.
2-23-2012
Well I got my jeep back from the glass shop. I had them glue my inner glass seal up because it was hanging down. I remember it doing that last time I had the glass replaced but this was pretty bad.

Well I had intended on fixing my radio but of course I didn't. I ended up pulling the radiator out and bolting my Taurus fan to it. When I first did the swap I zip tied it to test it out and lo and behold I didn't fix it the right way. So a couple weeks ago one side broke and my fan motor was rubbing on the water pump pulley. It was making a knocking sound. When the motor kicked on it pushed back into the motor.

My workspace.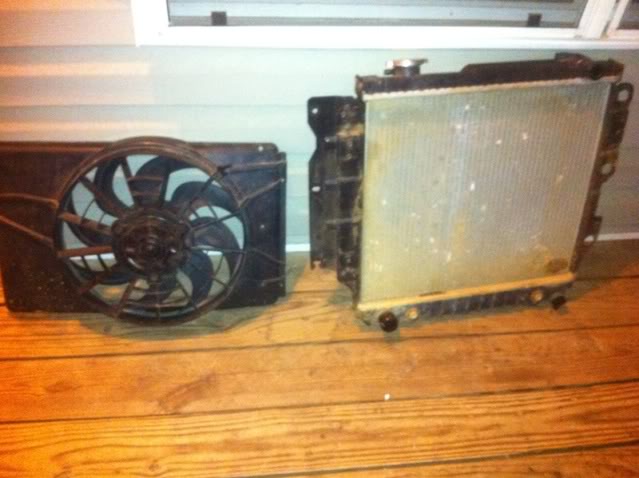 Wear mark.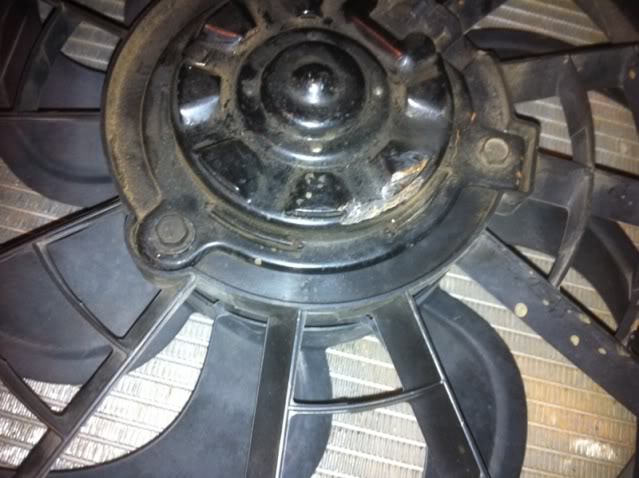 Installed with bolts I had lying around.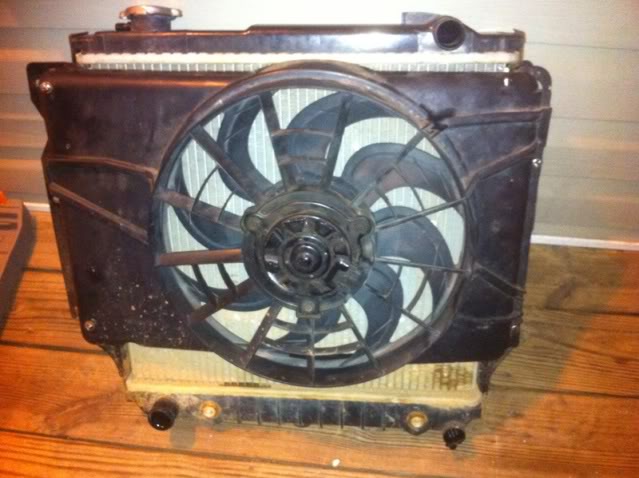 3-2-2012
Well the weather was amazing yesterday so I went ahead and took my water pump off and put the XJ one on. I picked up the new brand new pump (not reman'ed) and stopped for the day. It got dark and I went to sell my back seat and make a few bucks for future upgrades.

Now I'm trying to figure out what the bolt size is for the XJ water pumppulley. I found a metric bolt that screws in so I just need to identify it.

Here's a pic with the old water pump.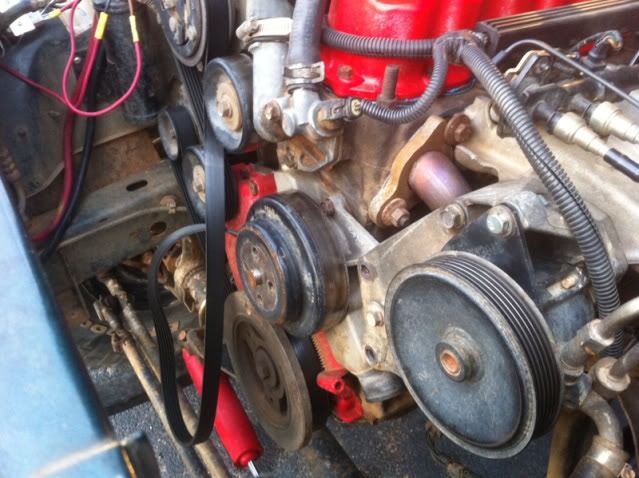 Here's the two pumps side by side with the pulleys.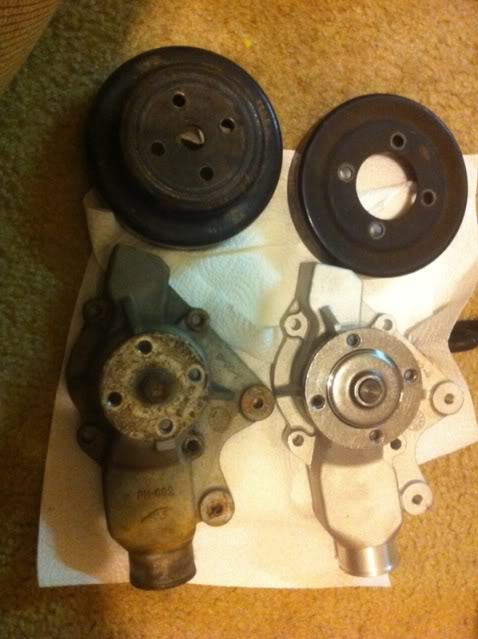 3-5-2012
I swung by and picked up a tailgate after work today. Not bad for $50. I initially spoke with the guy and he said he had a green one that actually matched my jeep very well, exact pretty much. The only thing was it had half the tail gate hinge, the arm to be exact. Well when I was there I saw a red one also that had hinges, the late YJ and TJ style that were beefy. I asked if I could see it and it matched up perfect to the YJ tailgate so I got it.

I went to Lowe's and picked up some semi flat black paint and found M8x1.25x12MM bolts for the XJ water pump. Any recommendations on how to prep this tailgate? I was thinking a scotch brite pad or just plain sand paper. What do y'all think?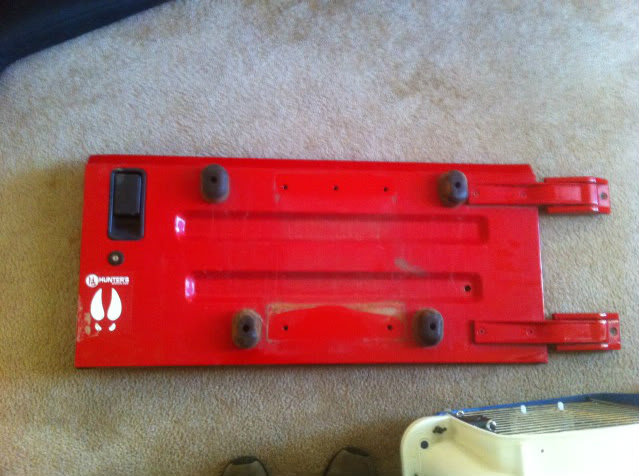 3-7-2012
Here's a pic of the new clearance I gained with the XJ waterpump. I'm pleased. I posted a before and after shot.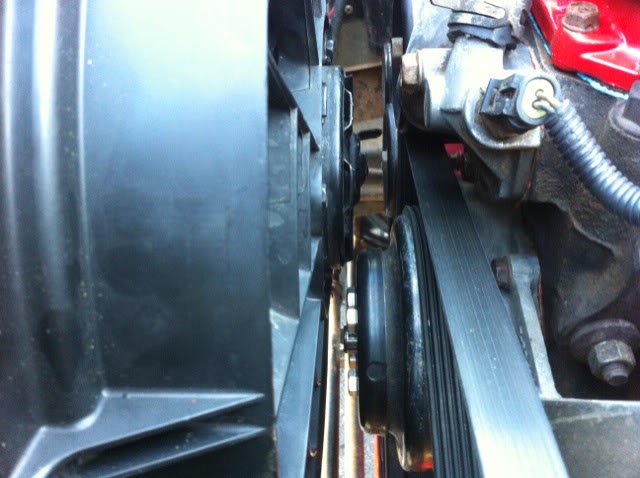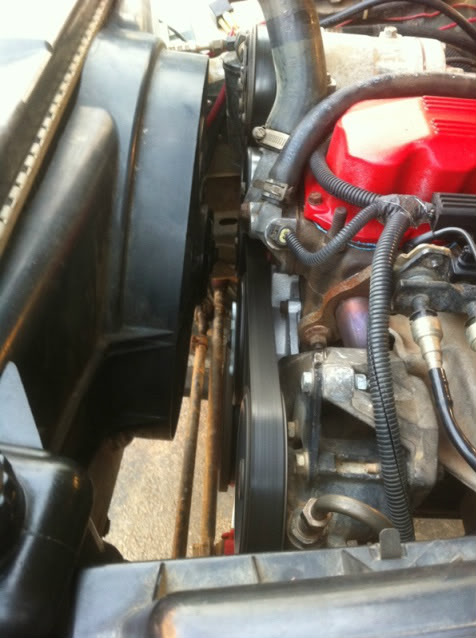 I prepped the tailgate for priming.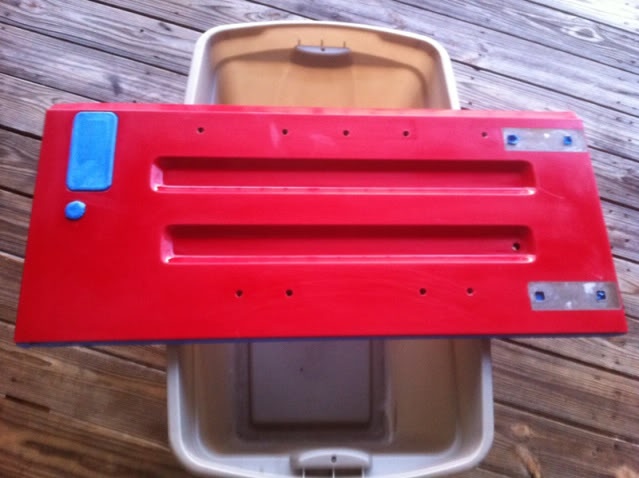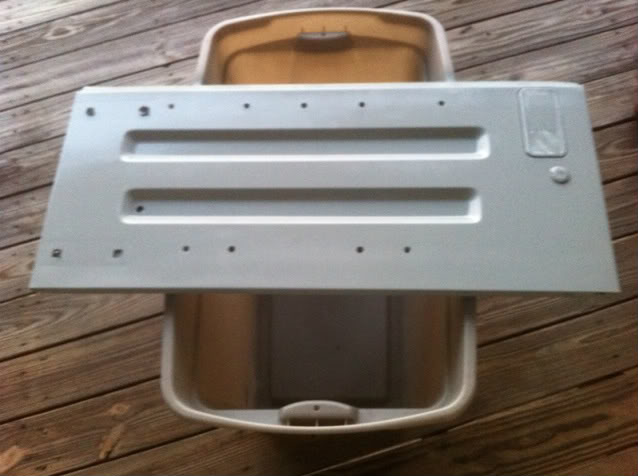 I also finally put my radio antenna mount back on the body where the tree sheared it off. I still need to wire wheel the rusty parts and put some paint back on.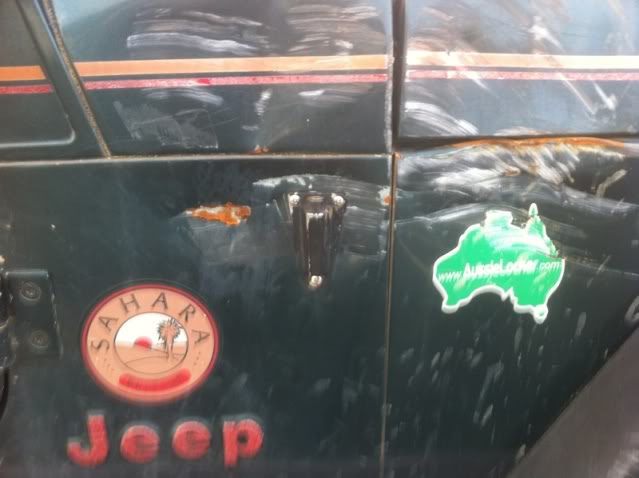 3-10-2012
Surprisingly they kind of do. Maybe not as much when I got the 4" angle grinder out but I don't use it in the parking lot often. I actually meet a lot of my neighbors because I'm working on my jeep. I even had a guy in the other building, who I've never met, asked me if I was rebuilding it. I said no I'm just fixing the broken stuff so I can break it again. He said he's been watching me work on it for a while now. A lot of them say they always wanted one and I say they should go for it.

Here's some of the major stuff I've done in the parking lot at my apartment:

Herculiner
Tailgate
Timing chain
Oil pump
Axle shaft u-joints
Brake lines
U-bolts
Front and rear bumper
Warn winch (rebuilt on my apartment deck, see sig)
Ford Taurus E-fan
Transmission mount & stabilizer bushings
Replaced crossmember
Exhaust manifold

I didn't do my 8.8 install at my apartment parking lot but I did do it at my workplace parking lot.