1968 XR7-G Hertz Restoration by XR7-Gry
By diyauto
You must be logged in to rate content!
1968 XR7-G Hertz Restoration
Compliments of XR7-Gry @ http://classiccougarcommunity.com
5-3-2012
The beginning

As some of you might know I had a story about the restoration of my XR7-G going on the other forum, but for several reasons I decided to stop posting there after the new ownership of the forum took place. My plan was to continue the story here and link to the other forum so readers could get the first part of the restoration there. Well, I changed my mind and decided to move all my posts to this forum to make it easier for readers to get the full story. Before I go on with the copy and paste I have decided to start with a short summary on how this unique car came into my hands.

The new posts will be at page 6 or 7.

My car started its life February 27 in Dearborn, Michigan. I assume it was built into a XR7G-Hertz car soon after that. According to the Marti report it was released from Mercury on April 10 as the 43rd Hertz car built and went to Van Nuys Motors INC in California. Since the car is a Hertz-car it is obvious that it served as a rental car for its first part of its life. After that I know little about the car until the mid seventies. Fast moving forward, I noticed the car being for sale on Craigslist, and it was also discussed on MC.net for being a true Hertz car or not since it had a 302 engine. to make a long story short, I called the owner, who had very little knowledge about the car, and after some negotiation we had a deal. It turned out that the car had been in his family since mid seventies and that his dad had restored the car back then and also replaced the 390 with the 302.

Here is the car at the port in Long Beach, CA, ready to be shipped to Norway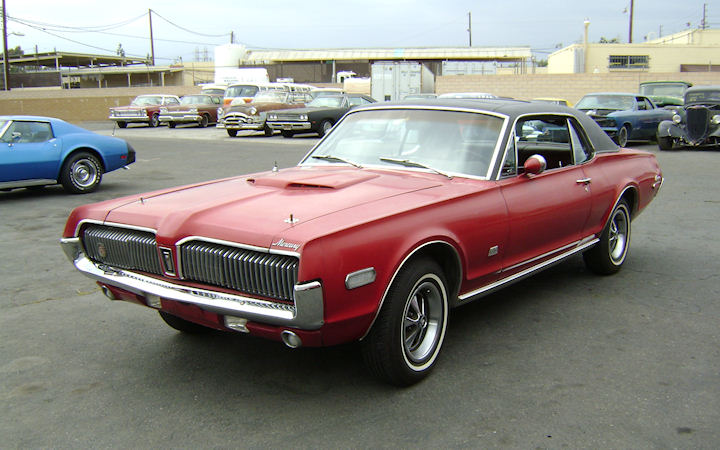 First year in Norway

After some time the Cougar finally arrived Oslo, Norway. After paying the taxes I was ready to drive my red dream the 40 miles home. It started right up and home I went. 40 miles does not seem to be a long drive, but with this car and all the problems it had it turned out to be a long trip.
Back home I started to look over the car and found that it would need new brakes and everything in the front end replaced to pass the inspection to get its Norwegian plates. I also made a few small fixes to it, like making the sun roof operational again this first summer. Then I drove the car and had a lot of fun with it. My plan was to keep it like this for a few years before I started to tear it apart for a full restoration



Here is a couple of pictures of the car from the first summer and fall I had it . The first picture is from when I fixed the sunroof. My green sun roof 68 XR7 had to donate some parts.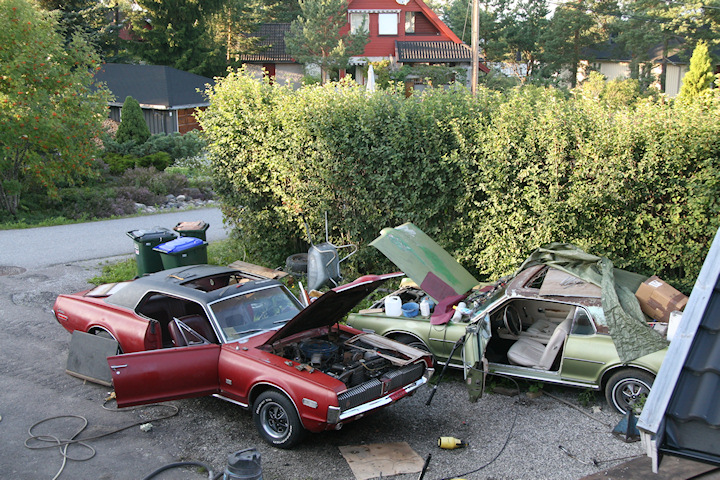 April 16th, 2010

The restoration

From now on it's a lot of copy and paste

Most of you have read this before so I guess you can just jump to the new post when I get time for those. I will just copy my own posts as I feel I have no right to copy what other people wrote in my tread. So here we go:


When I started to work on the car in November 2009 the intention was to have the engine and transmission replaced. So I got the 302 pulled, just to realize that I just could not put the 390 into a dirty bad looking engine compartment like this.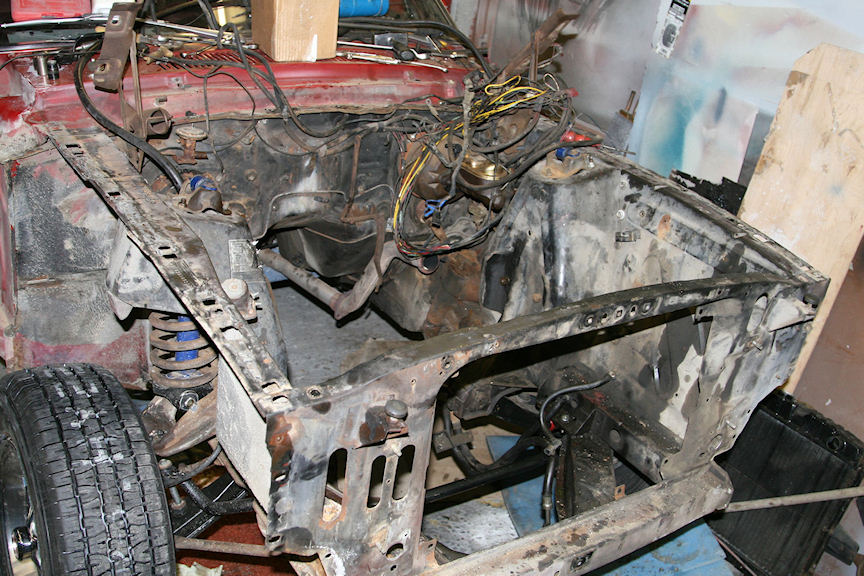 I also found some rust under the battery shelf and while I had the engine out I wanted to reinforce the shock towers to avoid them to crack. The steering gear was also worn out, so I decided it needed to be replaced at the same time. Then I discovered that the wiring system was junk too. OK, I still had a long winter ahead, so I figured I could just as well pull everything in front of the doors apart and have the engine bay done properly. So after a few more visits in the garage the front looked like this: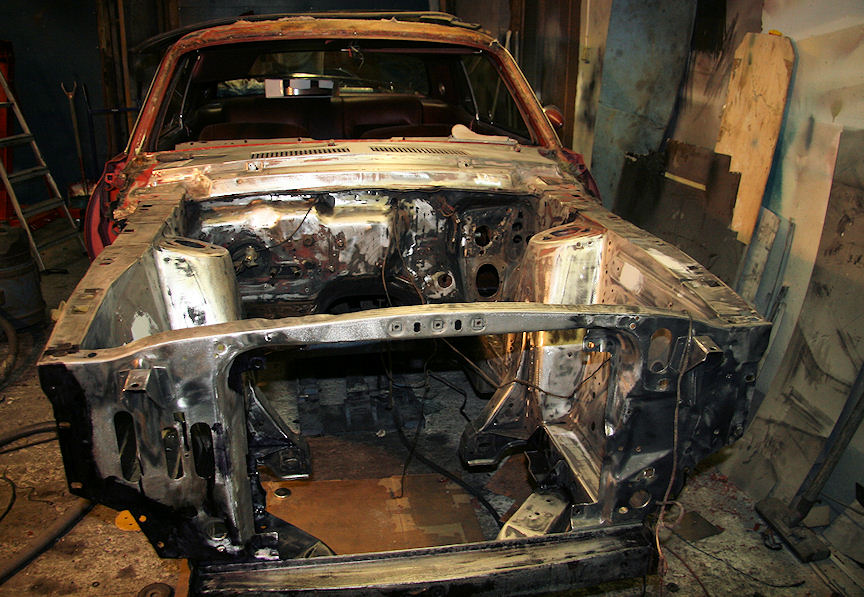 Of course I discovered that the front fenders had a few older dents that I wanted to straighten out, and the front valance was also no good and needed to be replaced. I could just as well take care of those problem now. Just because I was eager to see what the vinyl on the roof was hiding (there was a few bubbles) and how the car would look like without it I ripped it off. Suddenly the car looked like this.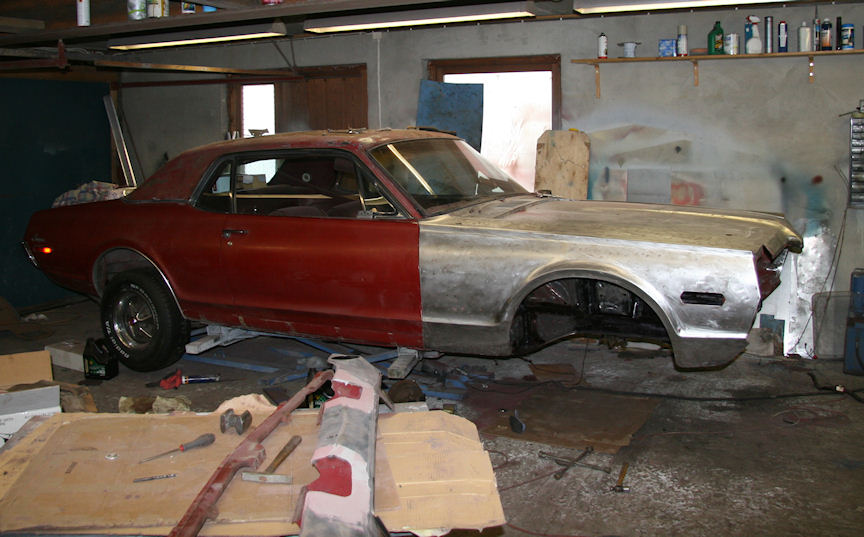 Removing the old vinyl top revealed some common rust problems in the lower parts and corners of the rear window frame. Otherwise the roof was rock solid :icon16: A couple of nights later that had been taken care off.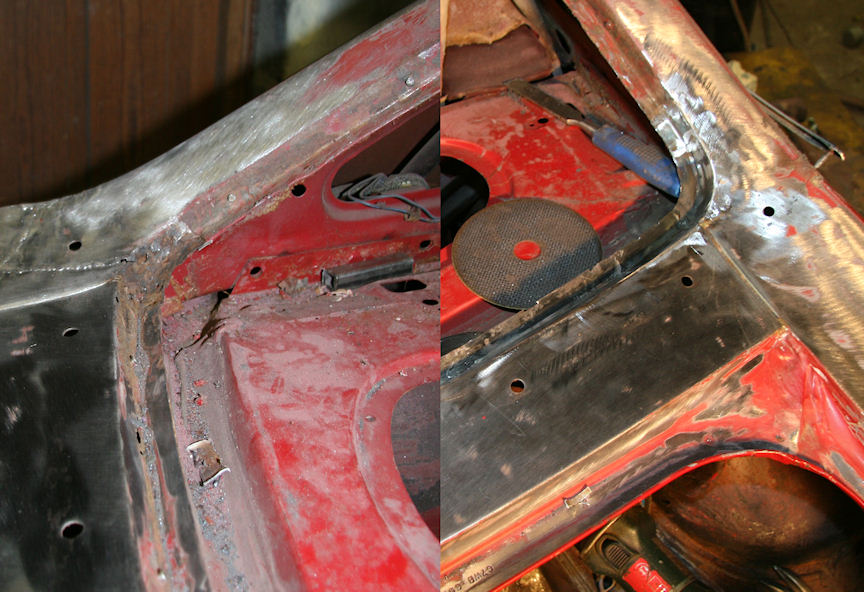 Then I started to look at the trunk floor. I had never been able to examine the work that had been done after the collision damage because the trunk mat was glued to the floor. I decided to pull it as well, just to realize that it covered less desirable work. First of all, everything under the trunk mat was covered with a sprayed on asphalt like goop that was really hard to get off. Then I found heavy layers of bondo and then 2 layers of trunk floor over the frame rails. Of course there was also some rust there. When they replaced the rear floor they did not cut away all the old floor and just had the now floor put on the top of some of the old. That is an interesting way to do it

but not recommended.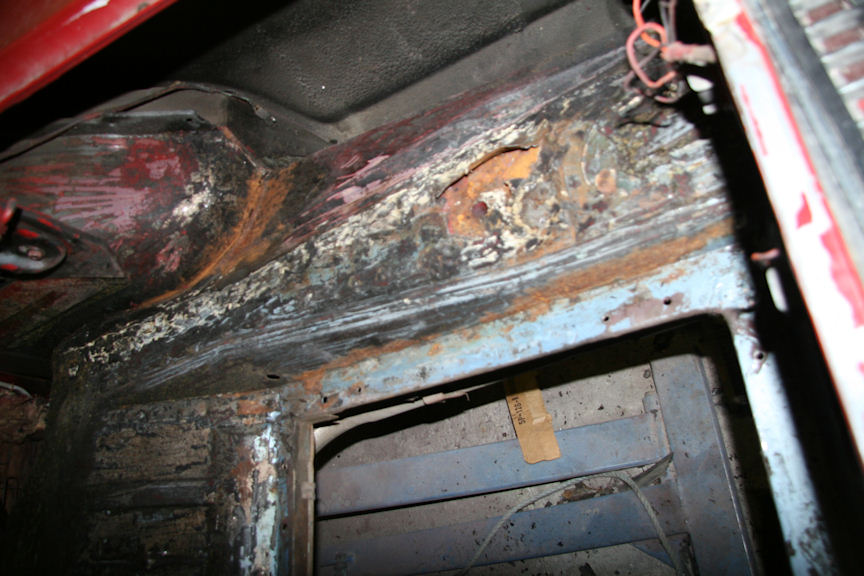 The trunk lid that was put on the car after it had been hit in the rear was rusty as well. Now I need a good one, so if you have a rust free 68 Trunk lid please send me a PM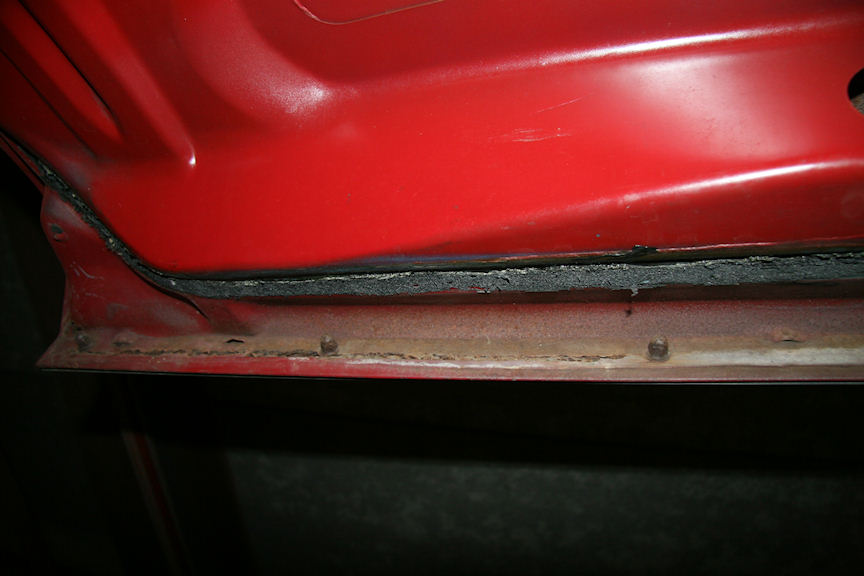 At this stage I decided I could just as well strip the whole car down to bare metal to see which other secrets the red paint was hiding. I can tell you that it was really exciting to take off all the bondo, which in places was almost 1 inch thick. The conclusion I have made is that bondo must be incredible cheap in the US, while a hammer to knock out the dents must be extremely expensive. I also found some patches welded on the top of the rust in the front and rear of the rear wheel openings. But otherwise it is a solid car.

Here you can see how it looked. Notice the front patch that covers the groove: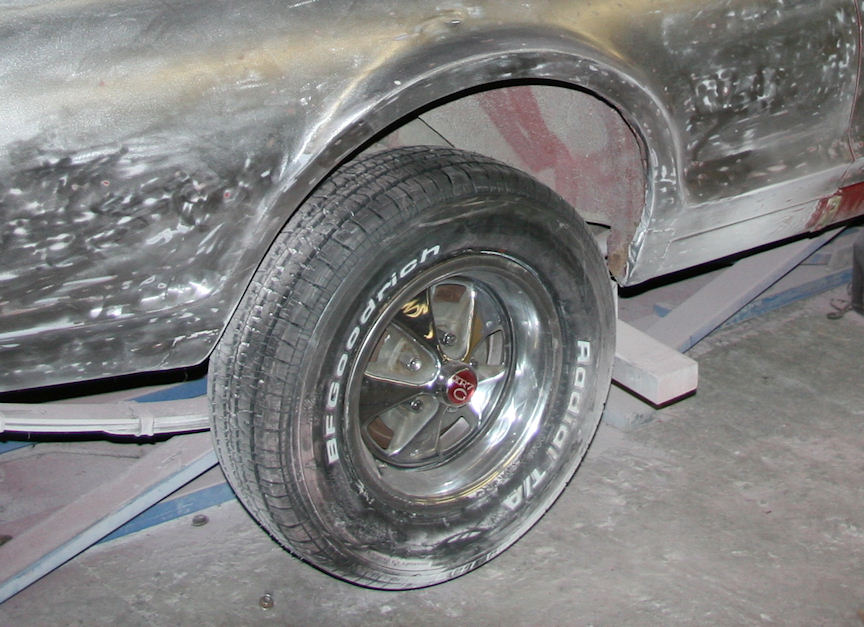 And here is how I like to do it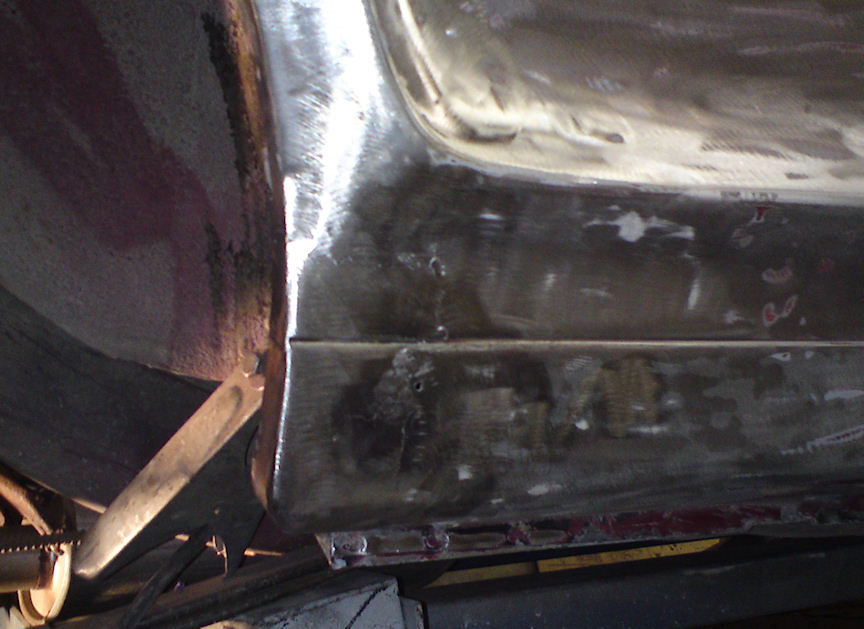 This is how the car looks today, April 17.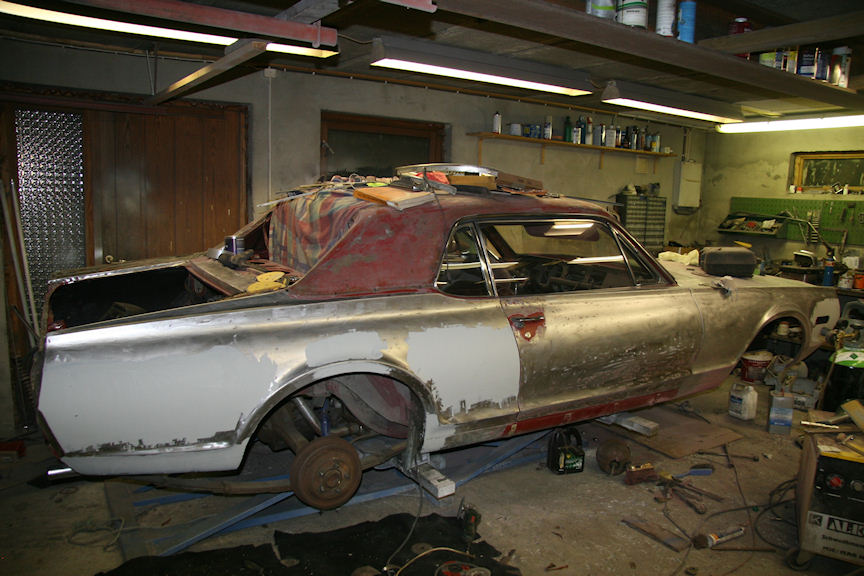 I did not do any major changes to the shock towers as I am not going to race this car. From the factory the heavy braces are just spot welded to the towers, and the cracks always starts out of these spot welds because of structural stress. This small modification will not really make the front suspension any stronger or add much to how the car drives, it will just prevent the shock tower from cracking. I will also put on the export brace instead of the cheap factory braces, which I think will add enough stability of the towers to make me pleased.

Another thing the sharp eyed reader will notice is that I've also done the Shelby drop.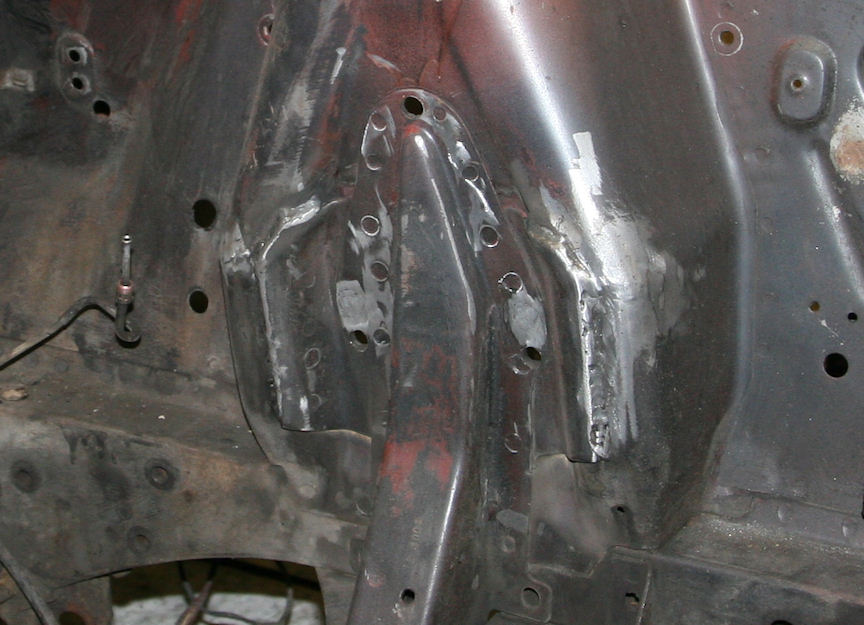 The left hand quarter panel did not line up good at all. It turned out that when it had been replaced years ago it was not done right, as they had the outer skin welded outside of the old skin at the door post and under the quarter window. I also found that the quarter panel was located about 1/4 inch too high on the car. As a result I decided to cut the panel off, cut out the old original panels where there was to layers and relocate the newer panel. There was also some common rust in the front of the wheel opening that I had to take care of.

When I started working on the car I was hoping to have it done before spring, now I hope to have the car painted in June and finished in July, but I am not sure if that will happen.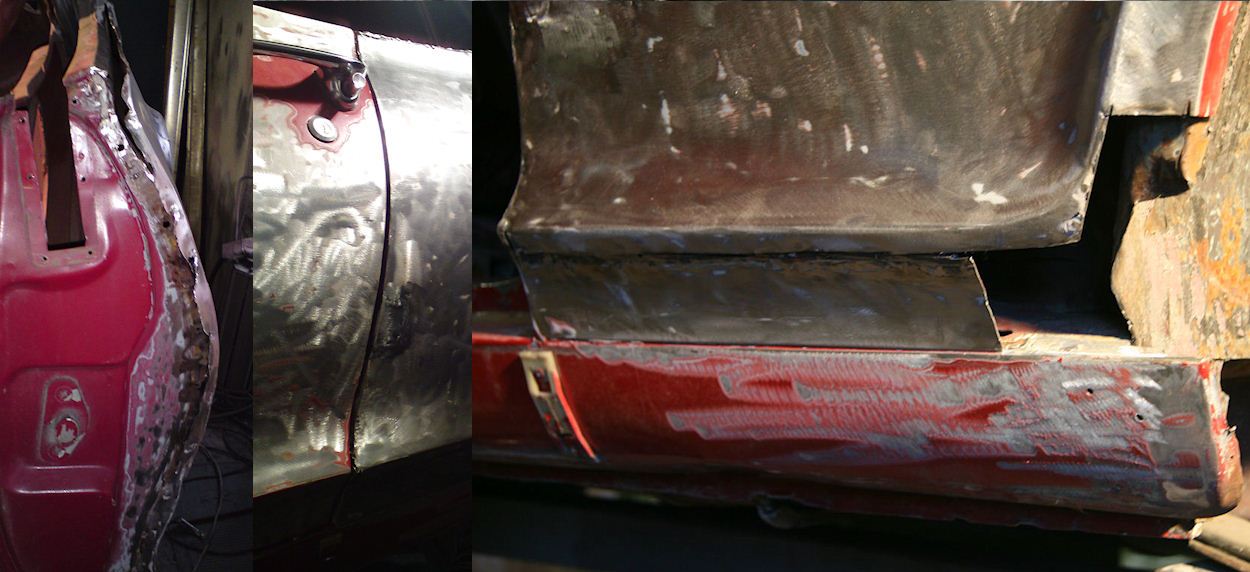 I am kind of picky when it comes to the bodywork, so even if I make plans for when I want to have the car done I take the time needed to become happy with the result in the end.
Anything else would be a waste of time and money.

Anyways, here are a couple of new pictures showing some finished areas.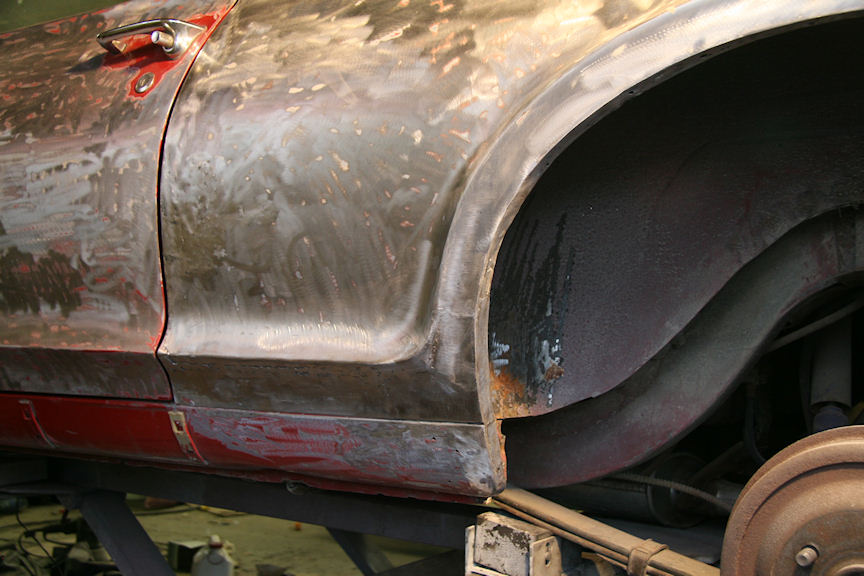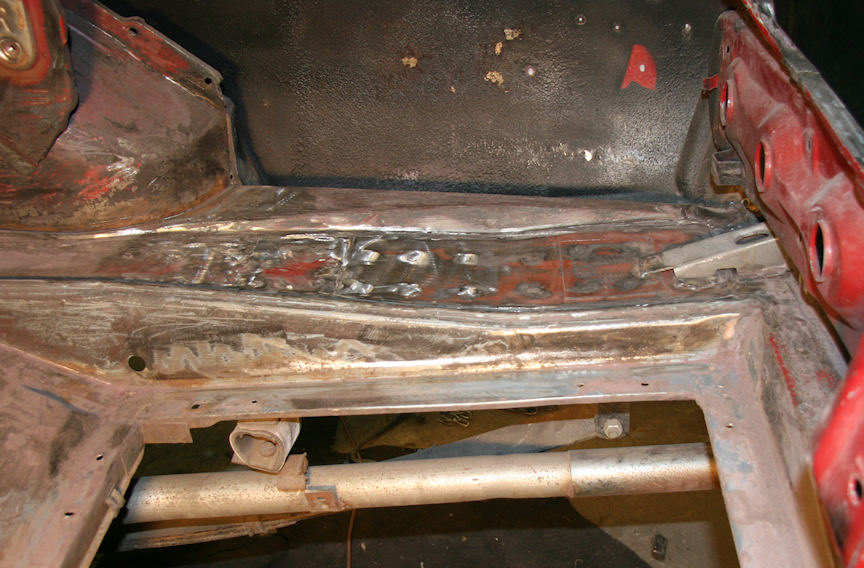 Since I found some common floor rust and a bent rear frame, I decided to do a total restoration job on the car. That means taking the car totally apart, have the underside sandblasted and to do all the detail work on the underside as well.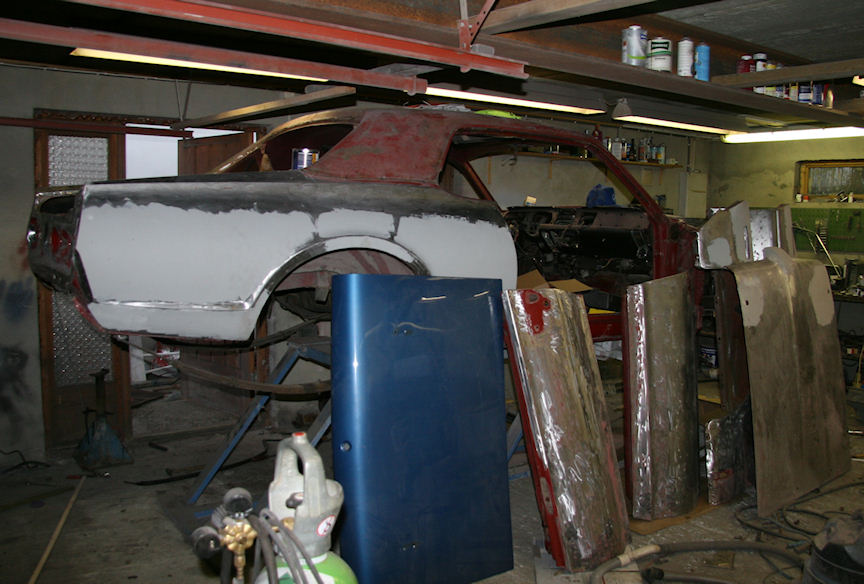 Here are some pictures showing some of the misery. RH front floor was rusty as a result of a leaking AC and most of the floor under the back seat was bad too, most likely caused by mice living in the back seat.
But the worst part was not the rust but a bent frame frame rail and lousy previous work in the trunk after the rear hit. Instead of trying to straighten out the bad floor sheet metal I decided to cut away everything that was bent and deformed and to make new parts . This also gave me the access to the frame rail from above so it could be straightened out properly.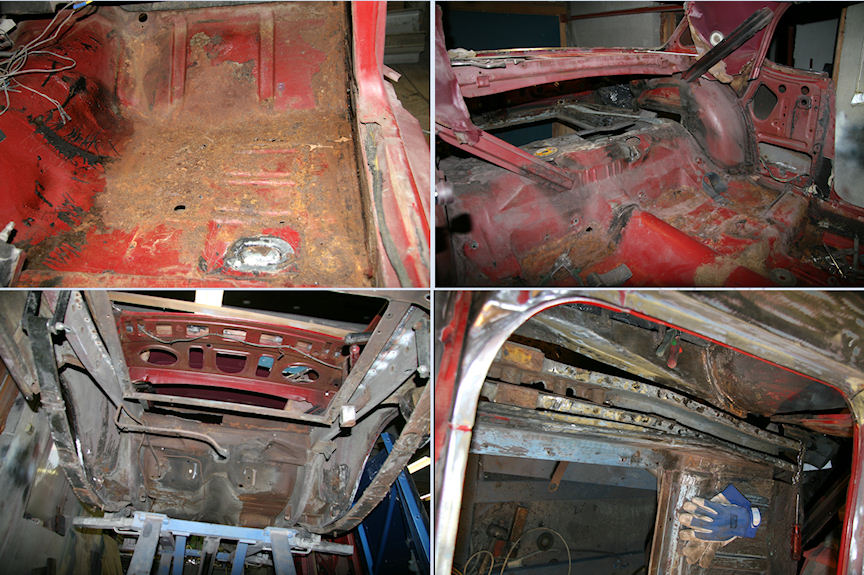 I bought the floor pan from WCCC and it is made out of nice and heavy sheet metal compared to some of the other floor pans you find out there. It still needed some massage in my hydraulic press to improve the profiles to look more like the original floor pan.



After I was done welding I had the body sandblasted.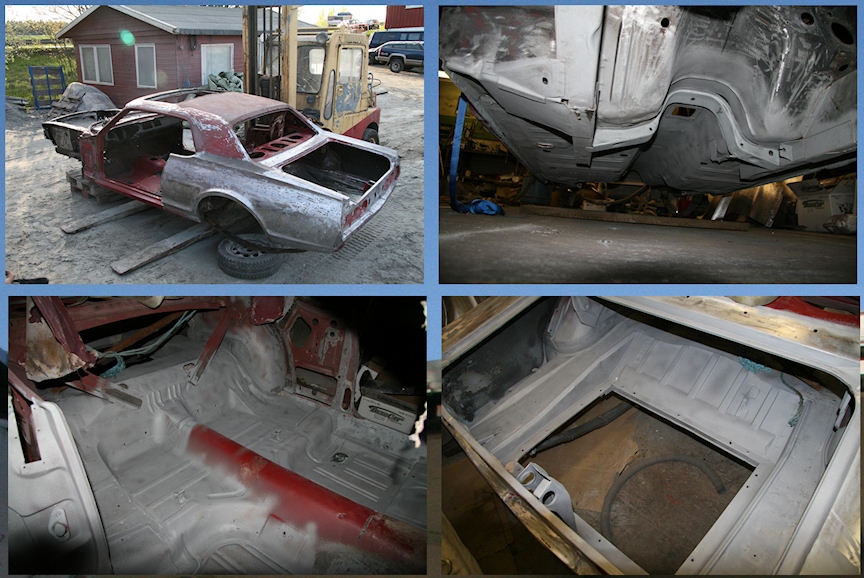 6-1-2010

I guess it is time for some updates again. As expected the sandblasting discovered a few more spots of rust rust, so I had to take care of that before anything else. When that was done I brushed on an epoxy sealer on all the welds to seal them 100%. The stuff I use was made for the off shore oil industry, and it is really good stuff

Then I painted the trunk floor, inside , and under the body with a good epoxy primer. After the epoxy primer had dried I used an acrylic sealer on all the body seams to prevent water to get into places where it can cause rust. Then it was time to paint the underside of the body with a red original looking primer.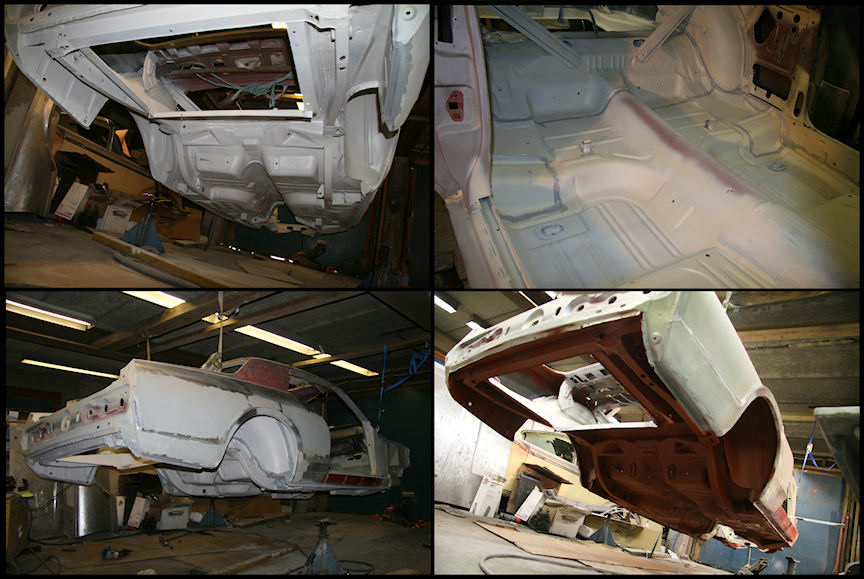 Both doors have been sandblasted here at home and while the drivers door was very solid, the passenger door had some common rust in the lower front corner. Both doors had lots of old dents that had to be taken care of and then I could start the paint prep work. I prefer to put the bondo directly on the steel and then paint the epoxy primer before the surfacer.
he trunk lid I found for my car is actually from a 69 Cougar that also had an Eliminator wing on it. As a result I had to relocate the key hole and wld the holes for the wing. Otherwise the lid was in good shape and just needed the regular paint prep work.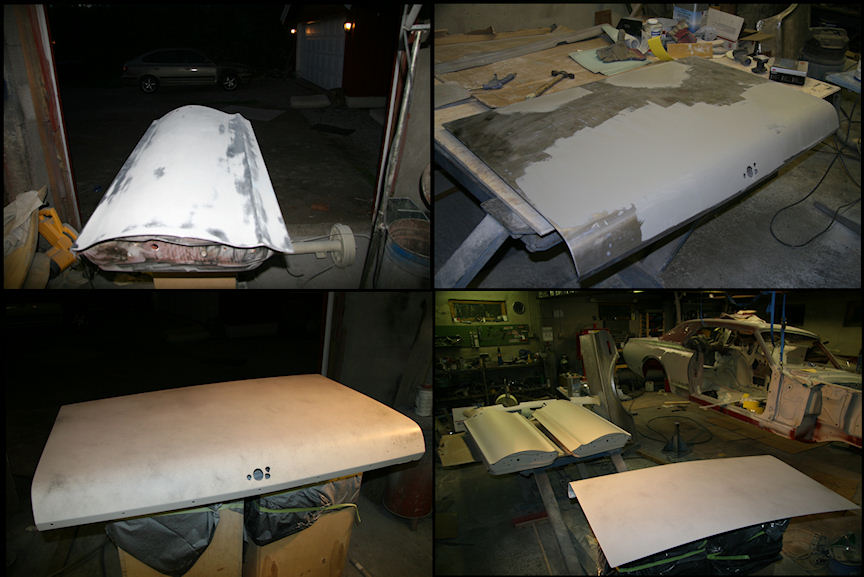 June 11th, 2010

Things are going fine on the project and at this point doors, fenders, hood, trunk lid and valances are ready for the paint shop. Unfortunately it seems like the car will have to wait until August before it is getting painted as the painter got trouble with his back and now he is way behind. At least I can paint the underside of some of the parts here in my garage, so that is what I did tonight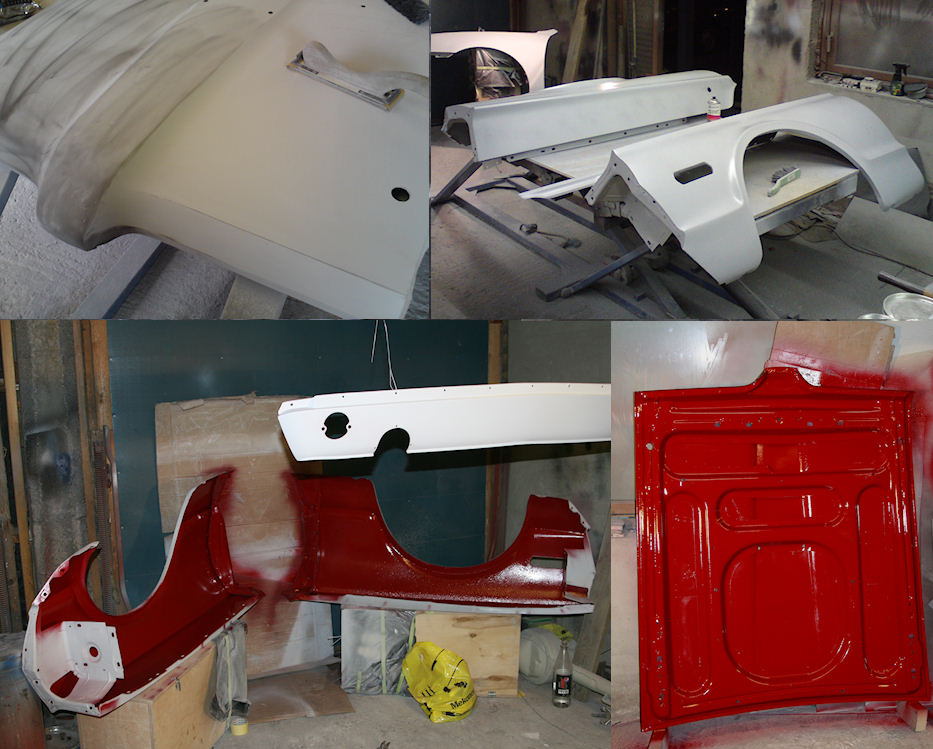 June 27th

I guess it is time for an update and a few new pictures of the restoration work on my cat. But first of all I would like to answer the question from my friend down the street; Finding another painter is easy. Finding a another painter as good as the one I use is impossible



Since I posted the last pictures I have finished the bondo work on the quarter panels. It took a lot of work to make them nice and straight again, but I think they came out pretty good.

The roof, and especially the sun roof lid and the area around the sun roof had some pitting. I don't like to sandblast the roof of a car, so I decided to remove all the deep rust with citrus acid. I made a mixture of acid and wall paper glue and got a pretty sticky goop that I brushed on the rust and then covered it with plastic to prevent it to dry up. I then left it there for about 12 hours before it was removed and I washed the steel with lukewarm water and could brush off the remaining rust. Not too surprising I found a few pits that were so deep that I needed to add some metal with my welder. Then I brushed the clean steel with the special epoxy before the roof and quarter panels got a nice layer of epoxy primer.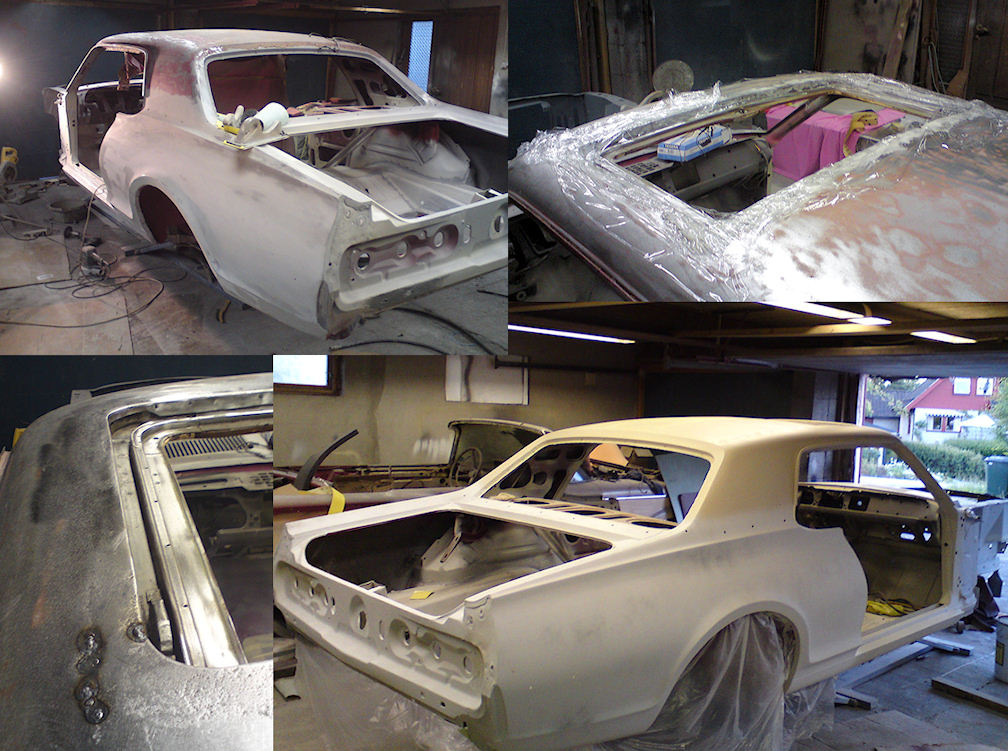 The hood scoop on my car was in miserable condition, and I have very little experience with fiberglass work. The problems was that it was heavily cracked and it was warped totally out of shape with most of the scoop sagging.
Some previous owners has tried to compensate for the sagging with a lot of bondo, which of course made the scoop more heavy and likely made it even worse in the end.
After a some thinking I decided to grind away most of the original fiber glass so the remains of the original scoop was a very thin shell of the scoop and the front simulated air intakes. Then I made some supports that I put inside of the scoop to press it back into shape and bolted the scoop to the hood. That way I had a perfect base for making an almost new scoop with fresh new fiberglass and resin. I used 4 layers of fiberglass mats and a quart of resin, and after it all cured (and a lot of sanding) I got a perfect looking scoop for my car


June 30th, 2010

Well, nobody is perfect, and tonight I realized that I had overlooked one mistake that has been made on the car by the person who replaced the left hand quarter panel a long time ago. The emblem on the quarter panel isn't located where it is supposed to be. Of course I found this out after I put on the final primer coats. . . Now my dilemma is, should I weld the holes and relocate the emblem to the correct position (which will be a lot of work at this stage), or should I just leave it as it is and pretend that this is the way my car was built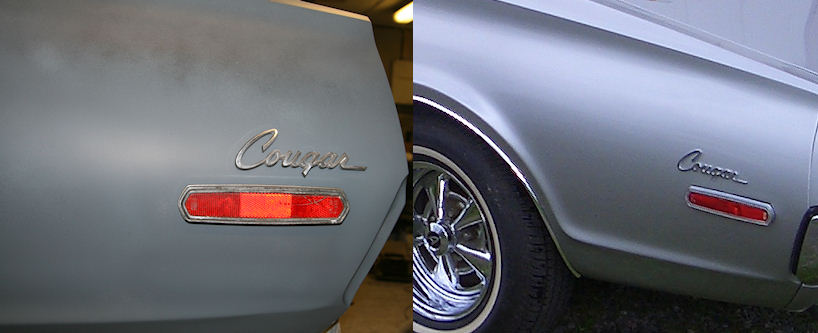 July 1st, 2010

The first thing I was thinking about when I woke up this morning was the Cougar emblem... And I immediately knew I didn't want to wake up another day thinking about it being in a wrong place. Well, it turned out that the reflector also was misplaced so I had to move it 1/2" up on the quarter panel and about 1/4 inch backward.
Now I am happy again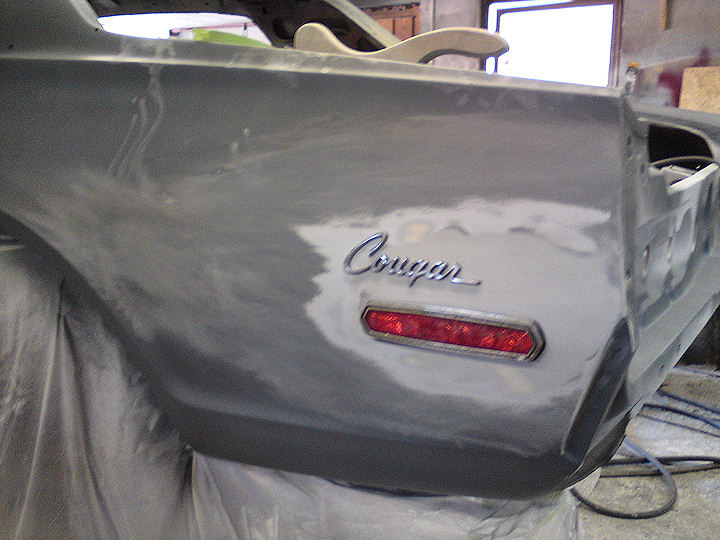 July 2nd, 2010

Finally time for some paint. Because I am so cheap I decided to paint the roof with some left over paint from my shelf, all the time it later will be covered by the vinyl anyways. Well, one thing often leads to another... Does anyone know if all the Hertz cars had a black top? Right now I am tempted to go for a white top as I think it looks a lot better than the black one. Unlike my other 68 Cougar where the Marty report says black vinyl top, the report says nothing about that on this one.



July 3rd, 2010

Here is the buck tag. I have a feeling that this car never came from the assembly line with a vinyl top as the drip rail moldings are the same as on cars without a vinyl top. My green 68 with sunroof has the other type moldings for cars with vinyl top. Or maybe the moldings something on cars from a specific date? :thinkuh: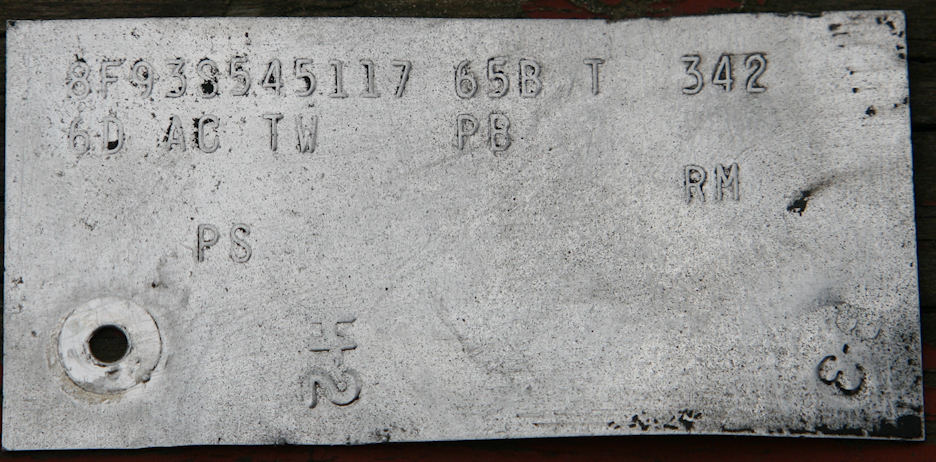 Painting is fun, and I started the day painting he underside of the trunk lid and to apply the red "overspray" under the car to kind of make it look like it did from the factory. Then I painted the front of the engine compartment semi gloss black. Finally I also had the rear axle painted, but before I did that I took it apart draining it from old oil and putting in new seals and gaskets. I believe that this is always needed as 40+ years old oil, seals and gaskets usually are no good and that it is just a matter of time before you get into problems which again might make some of you think your cat is cursed :1poke: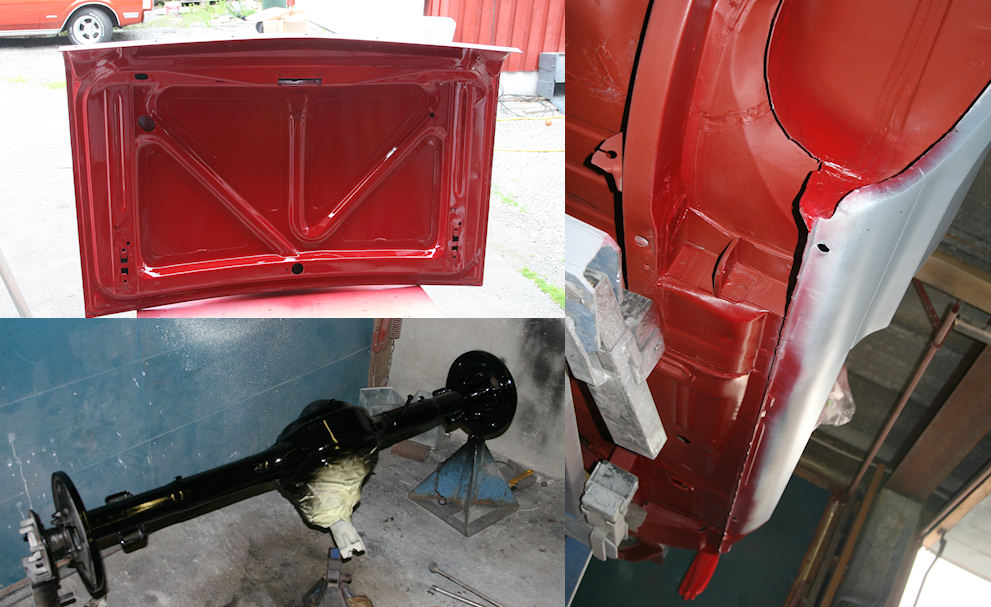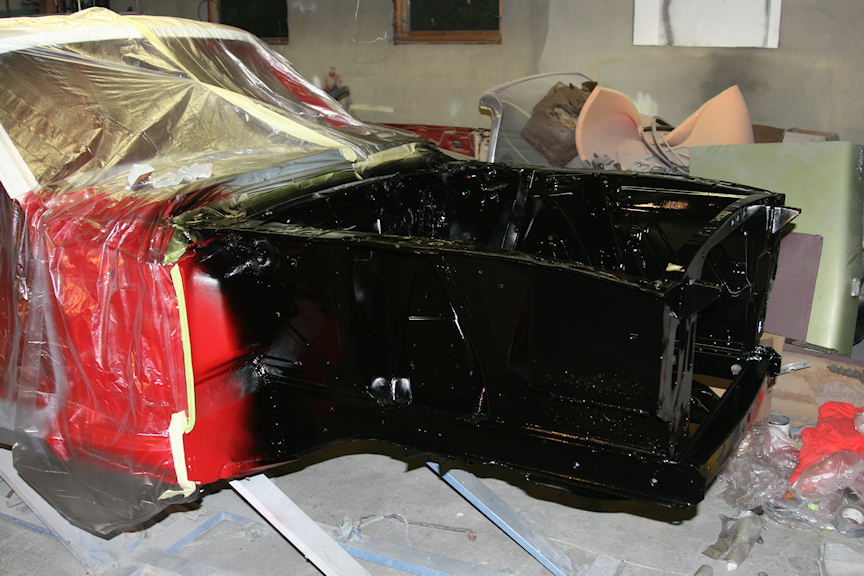 July 11th, 2010

As you might have guessed, the Cougar XR7-G is not my first restoration

I started to restore my first car, a 1961 Monterey convertible about 33 years ago. There has been a few since then, and this is my second Cougar.

Now for some updates. In the picture below you can see most of the suspension and steering parts with fresh paint and ready to be installed. The front suspension on the car was totally worn out when I bought the car, and everything is new except for the front springs. For the steering I have rebuilt the steering gear and the power steering. The tie rods are still the originals that were cleaned and painted before they got new grease and dust caps.

You can also see all the nuts and bolts on the pink sheet that I had restored and electro plated. This helps giving everything a more authentic new car look.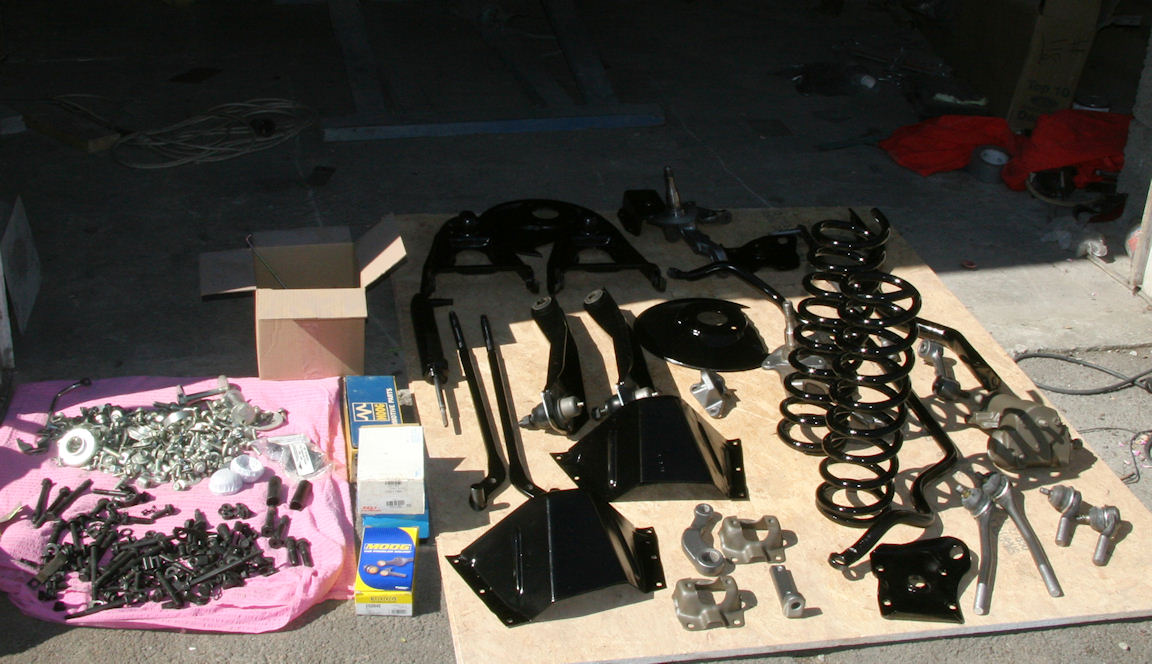 Here is the rear axle ready to be installed on the car.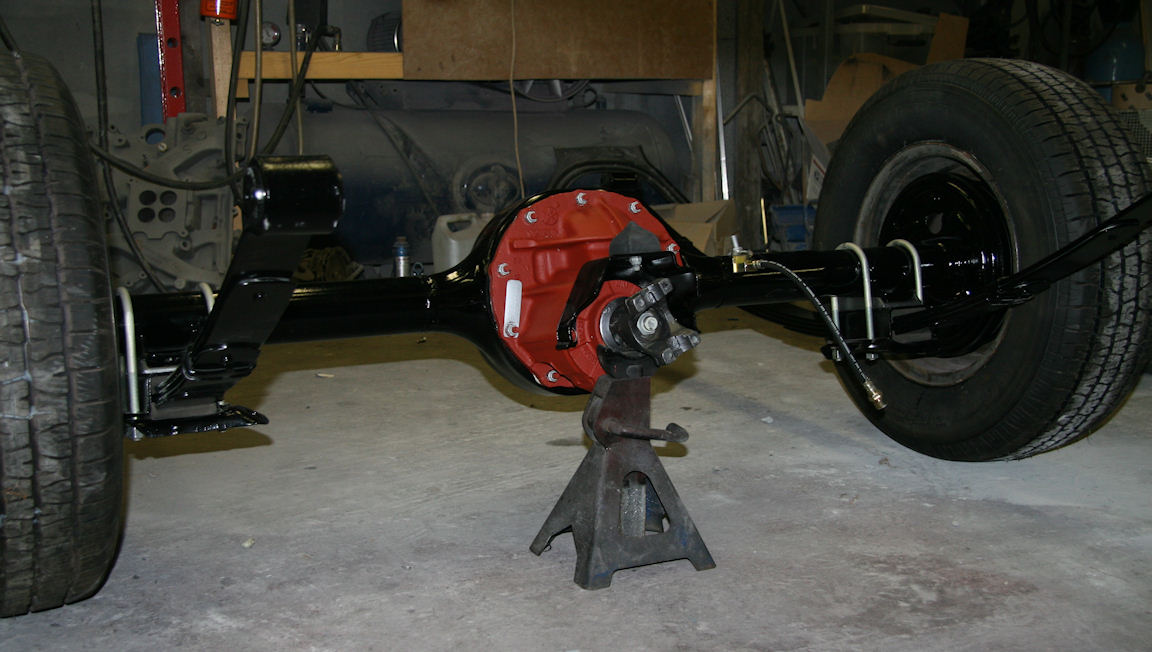 Here I am more or less done with the suspension, steering and front brakes.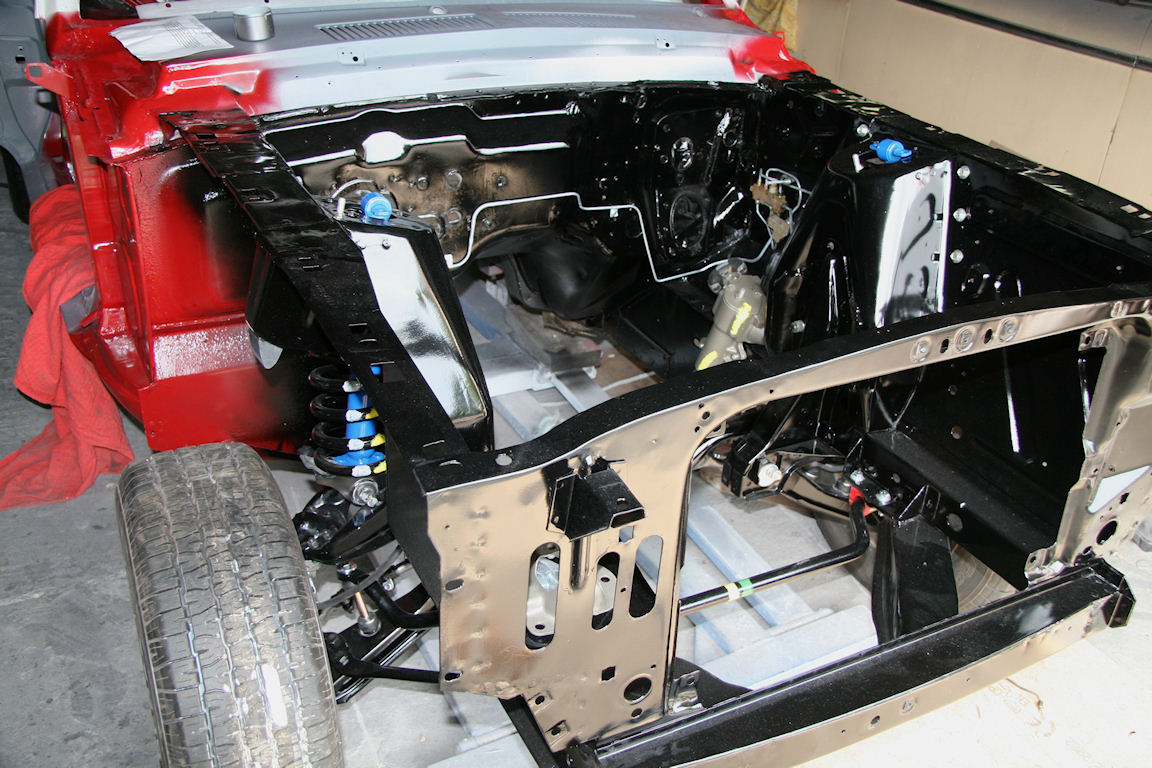 July 26th, 2010

Things are going rather slow on this project right now. I am waiting for the paint shop to get time to paint the Cougar and I am also waiting for parts like exhaust system, gas tank, side glass, fuel and brake lines, new parking brake cables and so on to arrive from the US. Here is a picture showing the boxes that is on their way to me by container freight. Living in Norway and restoring old cars takes a lot of patience as shipping of parts takes time.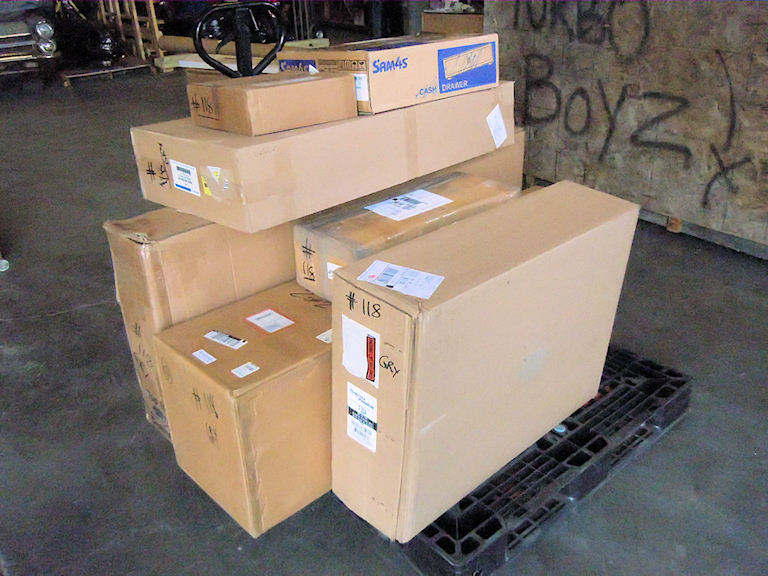 FFR428 asked what plans I have for the engine. Right now I am thinking about building a 428CJ for the Cougar. I will use the 390 GT heads, manifolds and probably also the original "light weight"

intake , so when I open the hood it will look almost original. That is with one exception, I will not put on the smog system as I don't like the look of it at all. Some years ago I restored a 67 Mustang with a similar engine, and it was very fast and a very fun car to drive!
To be honest, I am not really much into building engines, but I am trying to put something together based on advices and what I have read on the Internet. So far my plan looks like this:
TRW Speed Pro forged pistons.
Original rods with ARP High Performance Series Connecting Rod Bolt Kits
Clevite bearings
Melling HV oil pump
Cloyes timing chain.
So far I have not been able to figure out is what cam shaft to use. In fact I have found it extremely hard to find out what to go for, so maybe some of you guys have some great suggestions? I have been wondering about a Lunati Voodoo 62001 or something from Comp Cams. . . I need good vacuum and something that will work with the original converter, but I also want POWER... LOTS OF POWER :lolani:

So now you know pretty much what is going on here.
July 29th, 2010

I bought the 428 CJ block and crank yesterday. Royce suggested Comp Cams 268H or 260H. Unfortunately I don't have a ton of money right now as the restoration of the Cougar has become so much more than I planned in the beginning. Anyway, I am sure I will be able to build a nice engine that will bring the Cougar up to the speed limit in a timely manner. :lolani:
August 20th, 2010

Finally I can show you some new pictures. The car had now been resting since June and it was ready to be sanded until the surface is ready to be painted. Even if the Cougar is a rather small car, it takes some time to get it finished. I prefer to wet sand the primer using a block wherever it is possible. That gives me full control of the result and the perfect result a show condition paint job requires.
Here you can see the hood and the scoop done and ready to be painted.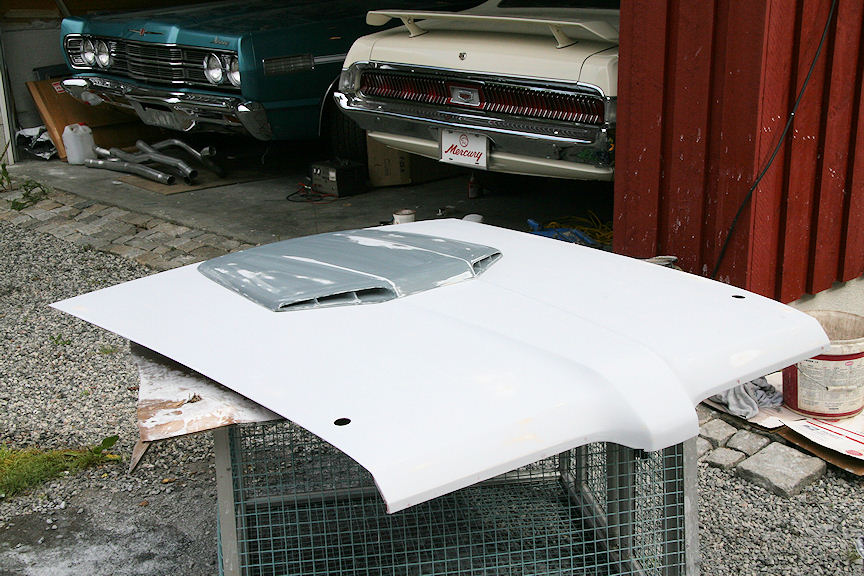 Then it was time for paint. For paint we decided to go for Dupont Centari 6000 base coat / clear coat system. Now the car and all the painted parts will be resting over the weekend before the clear coat will get block sanded and several new layers of clear will be sprayed to give it an even greater depth and shine.

So here is how it looks tonight (Norway time)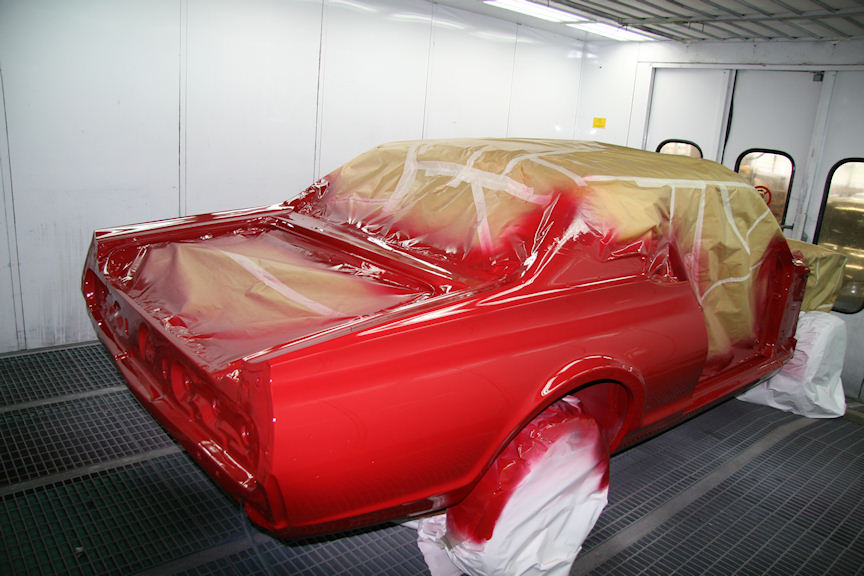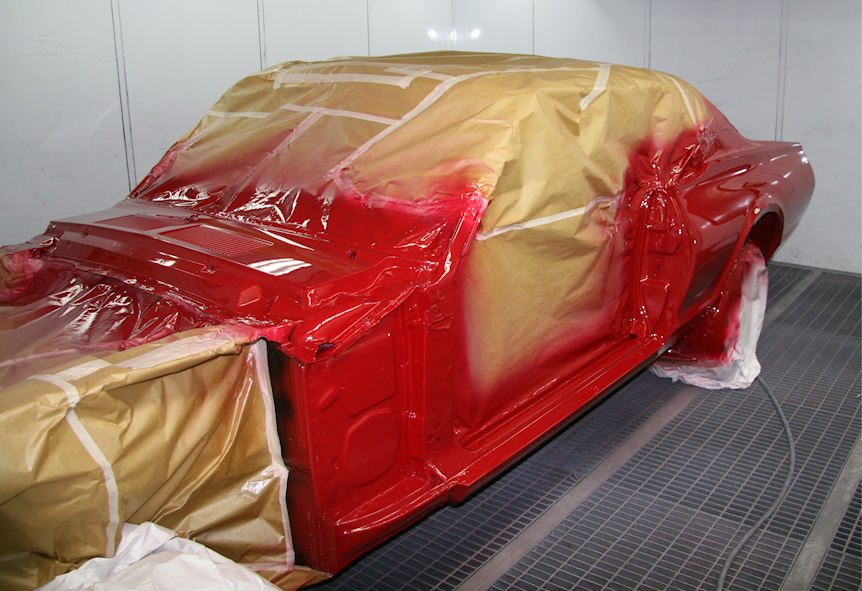 To see the cardinal red fresh and nice like this made me change my mind about the color. I was not too enthusiastic about in the beginning, but wow, it sure looks awesome.
I also forgot to mention that my 428 is being built at the engine shop right now. Now I will have to start to hunt some parts I am missing for the car. At least I need new wiring for the doors, new emblems, new front and rear side markers and also a far better looking grille. I think I also will have to find a set of NOS wheel opening moldings and new rocker panel moldings to match the shiny paint. Anyone here who can recommend a good place to print some fresh dollar bills?

November 17th, 2010

It has been a while since my last update, so I guess it is time to show you what I've done since August.
First of all, I went to the US for my much needed 3 weeks vacation together with a good friend and also Cougar owner. On our round-trip we visited Bill and Debbie Basore who has a nice collection of XR7-G's and a few other rare Cougars. It was extremely interesting to study these cars and I also want to say thank you to Bill for sharing of your vast knowledge and information about the 67/68 Cougars to me and the Cougar community in general.

The picture is showing, from left to right, XR7-G 428, Debbie , Bill, Me and finally the red Cougar GTE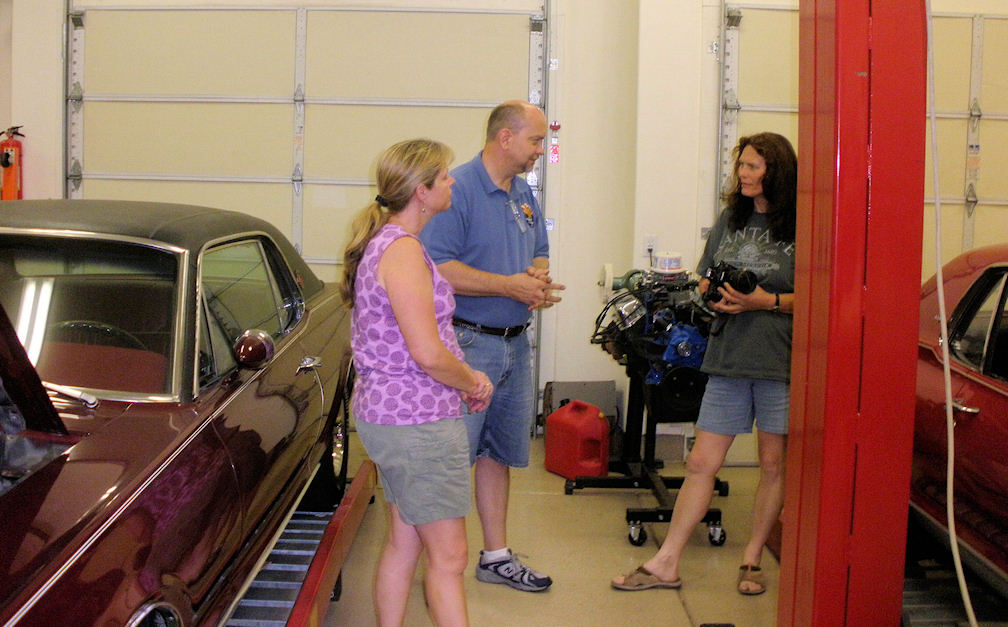 We also went to Kansas to see the shop that was building the 428 for my Cougar. At Walt's repair and Machine shop they were preparing to install the crank when I came there, and everything looked really good.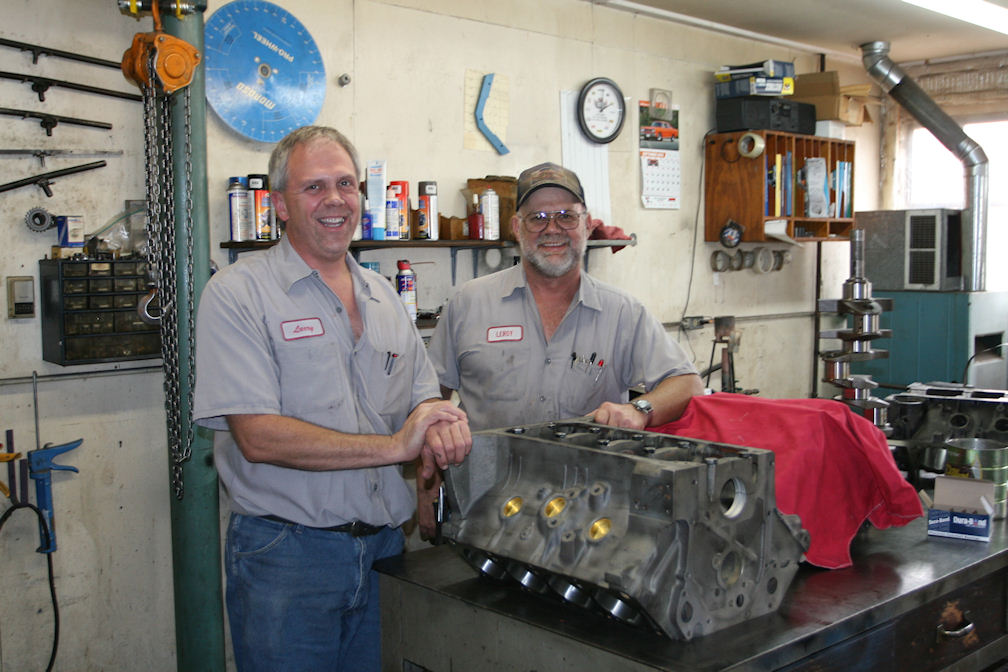 Back home again I decided to start with the heater and AC. After an inspection I found that it needed a new heater core and new gaskets before I could put it back in place under the dash.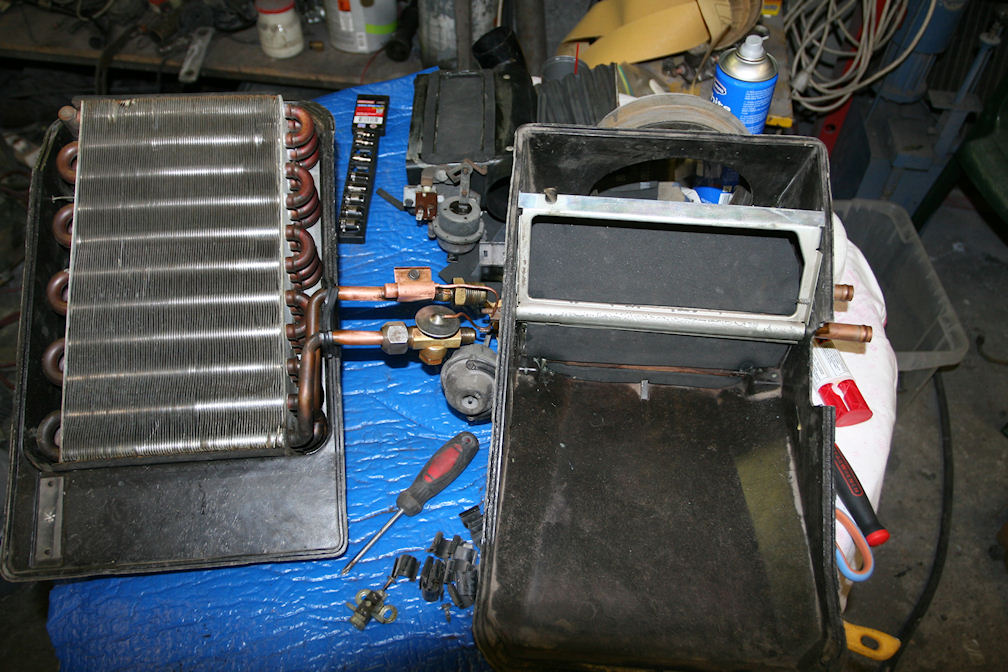 The under dash wiring was really dirty and greasy. In fact everything under the dash on the car looked like it had been covered with a thin coat of oil, probably oil damp from the engine coming through some holes in the fire wall. I decided the put the whole loom in my bath hub with hot water and detergent. Then I flushed it with warm water and dried it and it looked like brand new again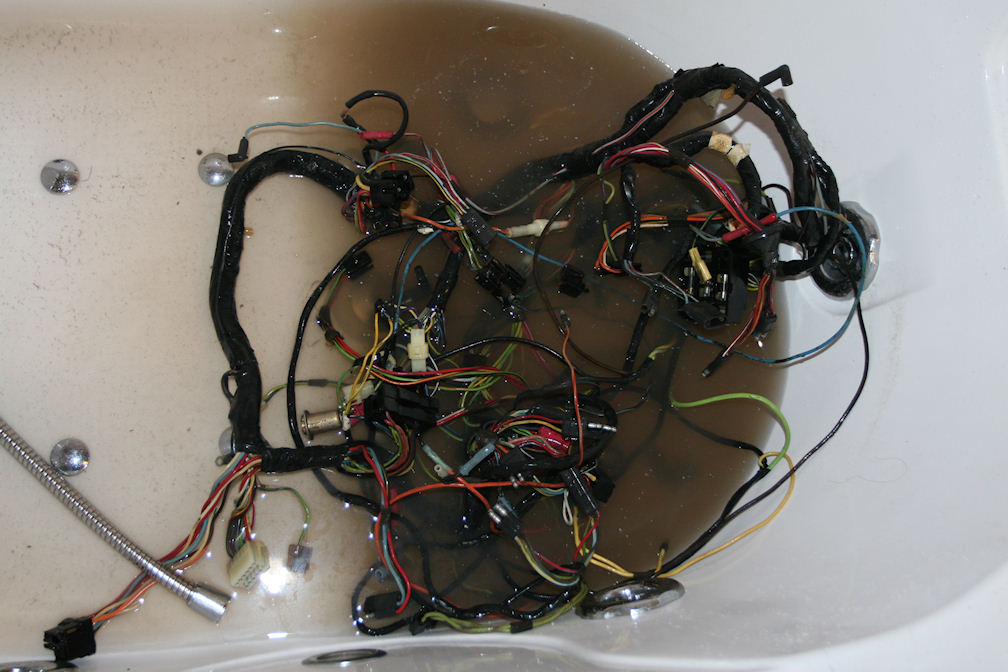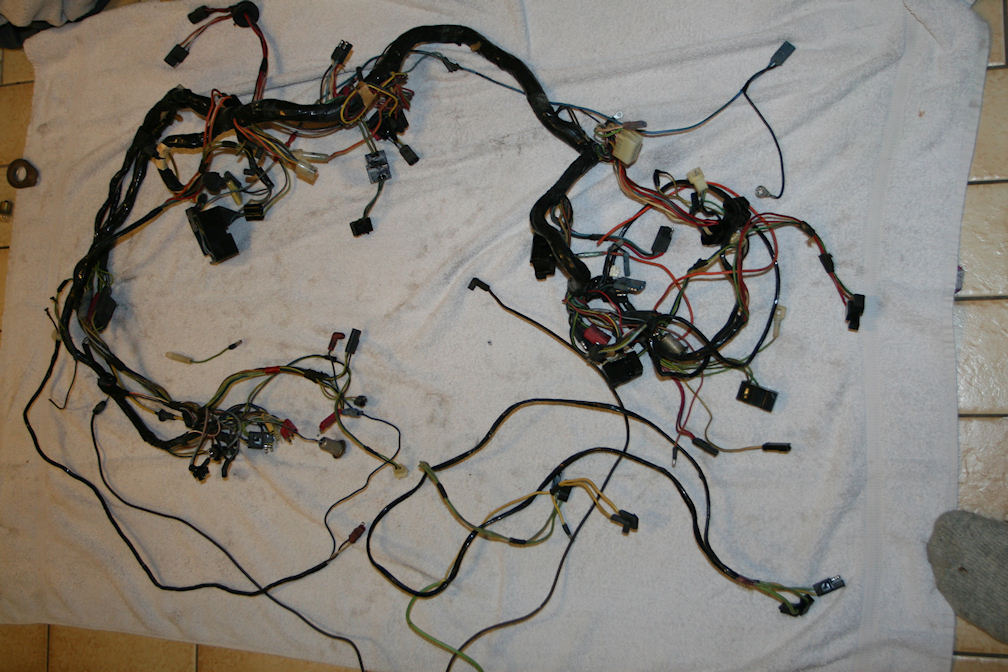 Here is the Heater and Air conditioner and the wiring back in the car. It sure takes some time to get everything right. BTW, I also had the dash painted the correct carcoal grey metallic before I installed everything.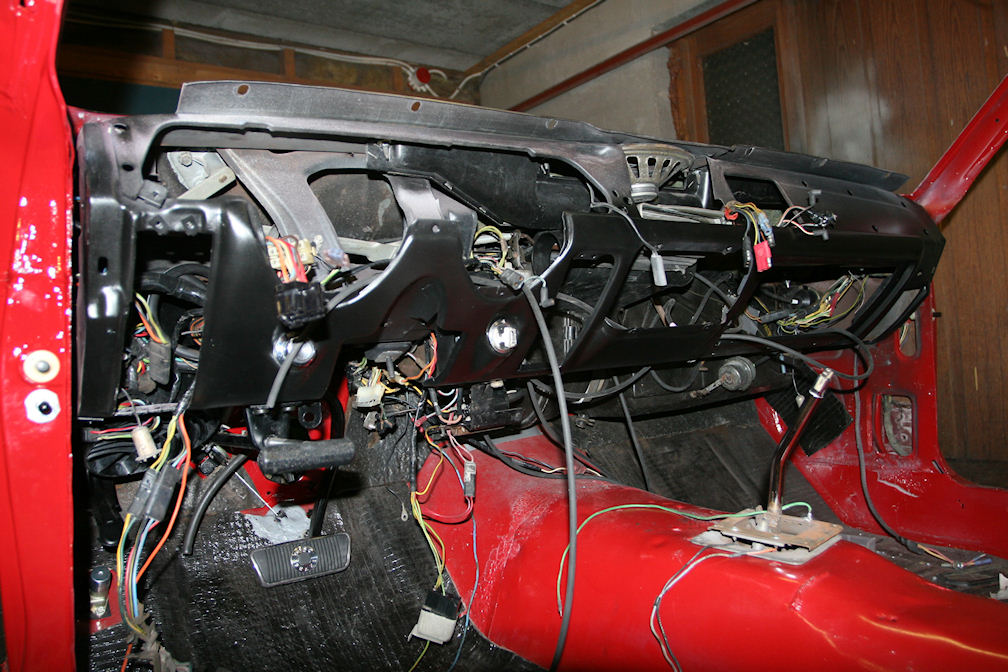 The head light switch turned out to be defective and I did not have any extra Cougar switches here. What I did have was a few new Mustang switches, so I just transplanted the switch part on to the Cougar switch plate with the vacuum switch. This is really easy and it is exactly the same (also waty cheaper than a Cougar switch

). All it takes is 3 small screws to replace the original rivets that I had to drill out.
The picture is showing the rebuilt cougar headlight switch and an original Mustang switch.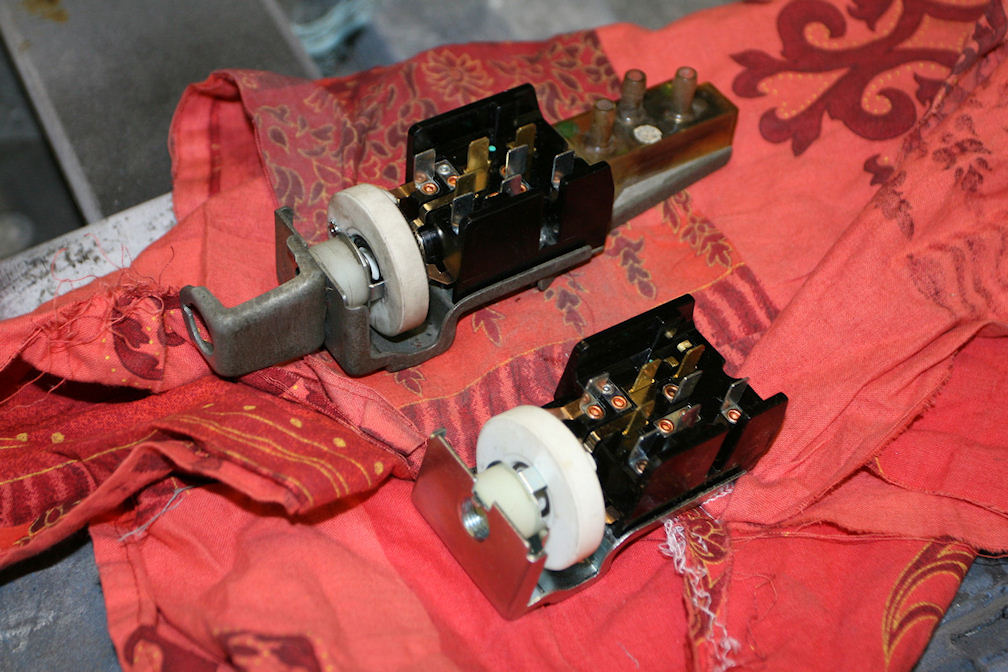 When I sent the car to the paint shop I had to put in a defective power steering valve to be able to steer the car. The original power steering valve housing was also worn out, so I bought a rebuild kit for it and had it rebuilt before it was installed.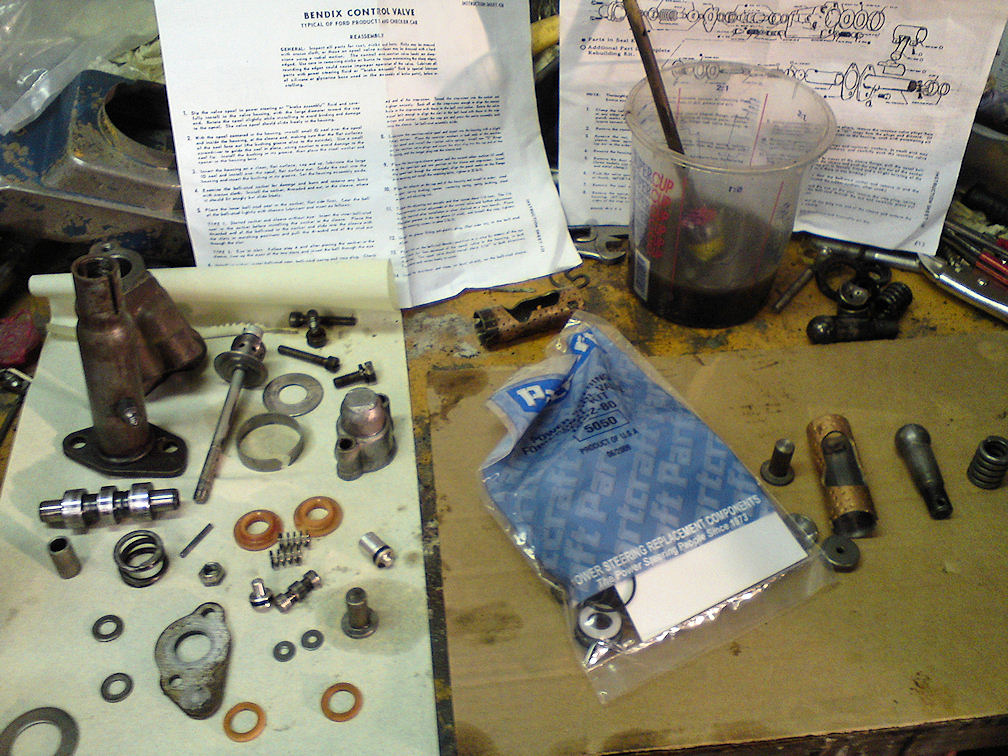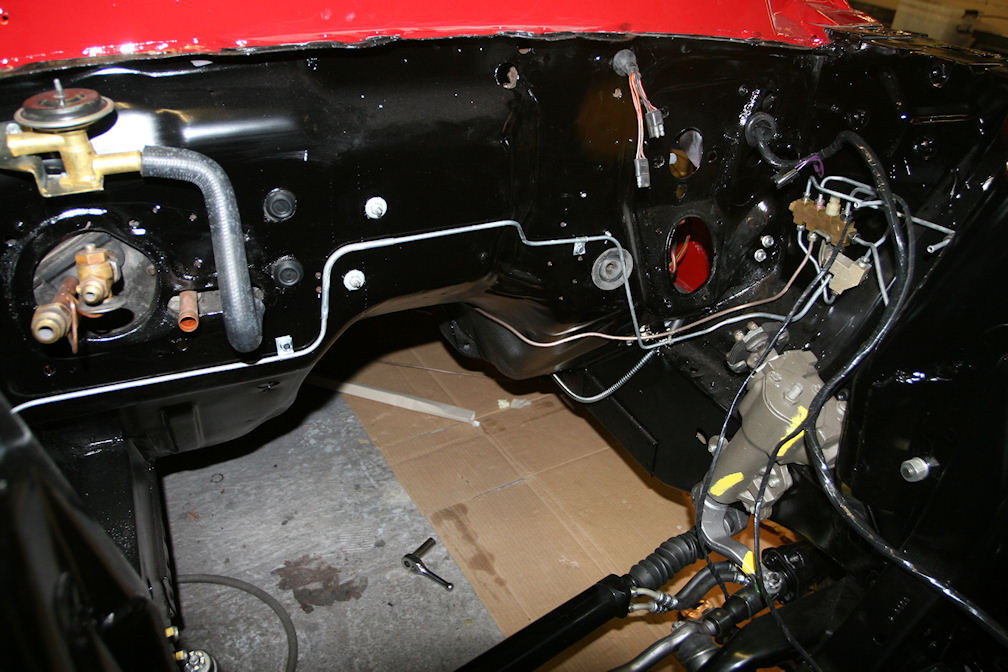 When I was playing with the wirings I decided to repaint the taillights and to polish the lenses. They came out good, but I will probably replace the lenses later. As you can see here I have also installed the deck lid and the lower valance. When I bought the car the original valance with the exhaust cut outs and chrome was missing. Now it is all there and it sure looks better this way

The emblems on the trunk and the chrome for the lower valance are new excellent reproductions from WCCC.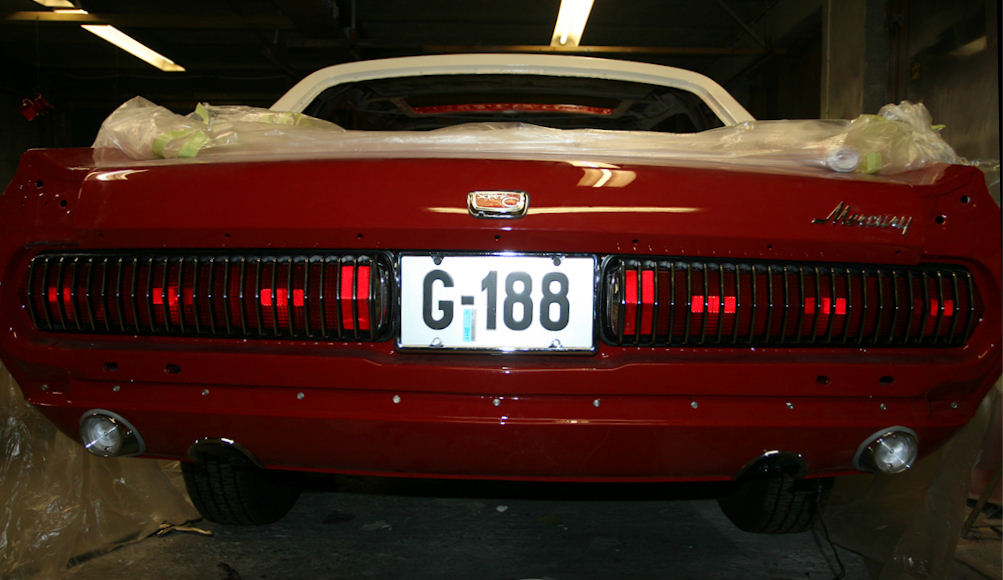 Under the car I have installed new original looking emergency brake wires. I really dislike the more common style with the black nylon housing and when I found a supplier for the original looking ones it made my day. The brake lines and new and made in stainless steel. Same thing with the fuel line. As you can see I also had a new gas tank installed.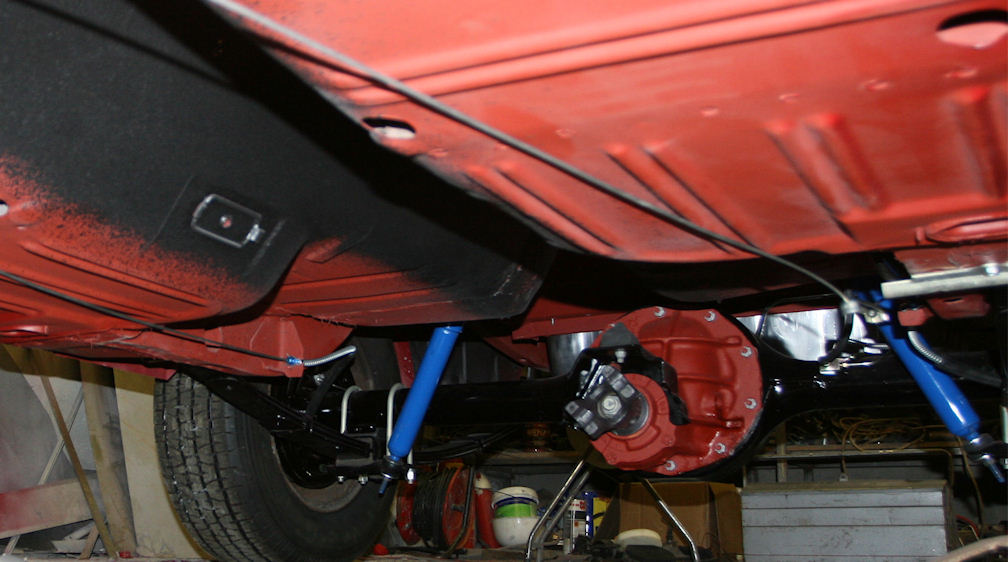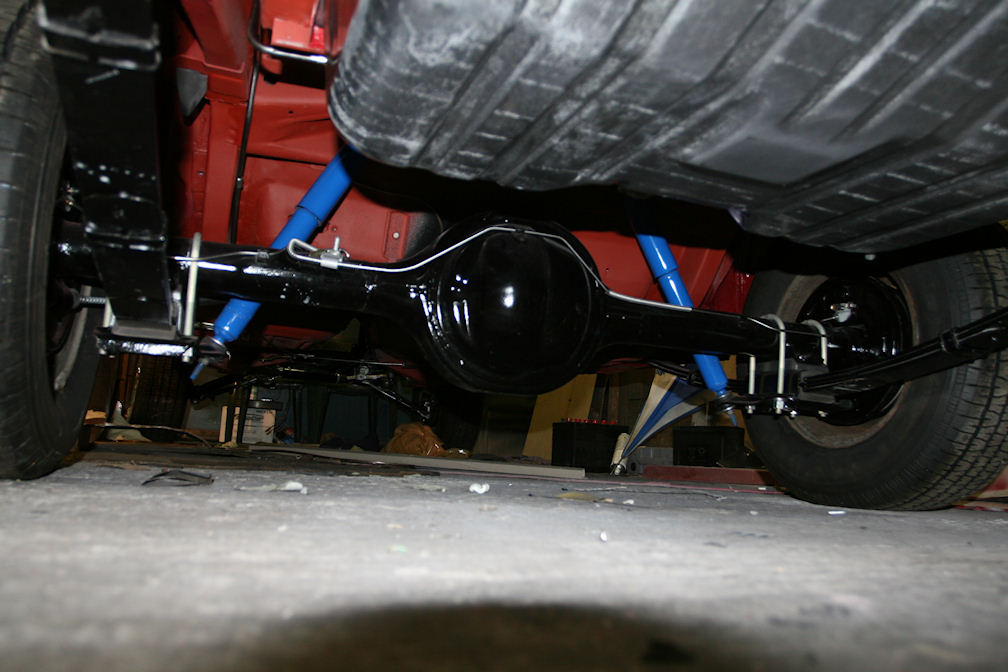 At the same time I had the rear brakes done. New wheel cylinders, shoes and installation kits should give me brakes good enough to stop the car.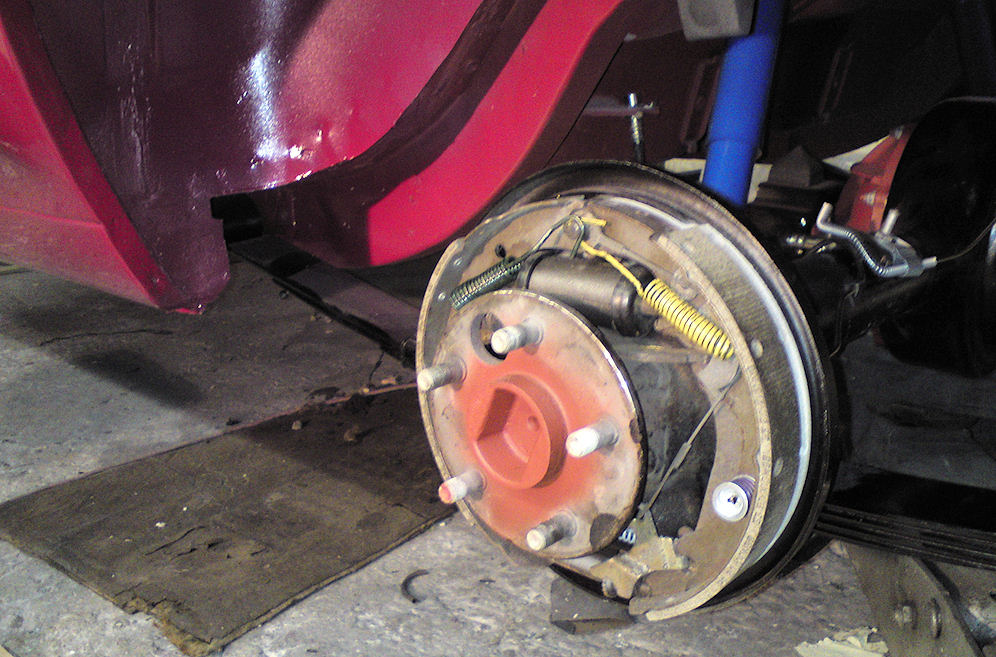 When I was going to install the reproduction parking lamps in the front valance I found that the wirings is totally different on the Mustang and Cougar. As a result I had to remove the bulb sockets from the lamps and install the sockets and wirings from the Cougar lamps. Small things like this makes it more challenging to restore a Cougar vs a Mustang.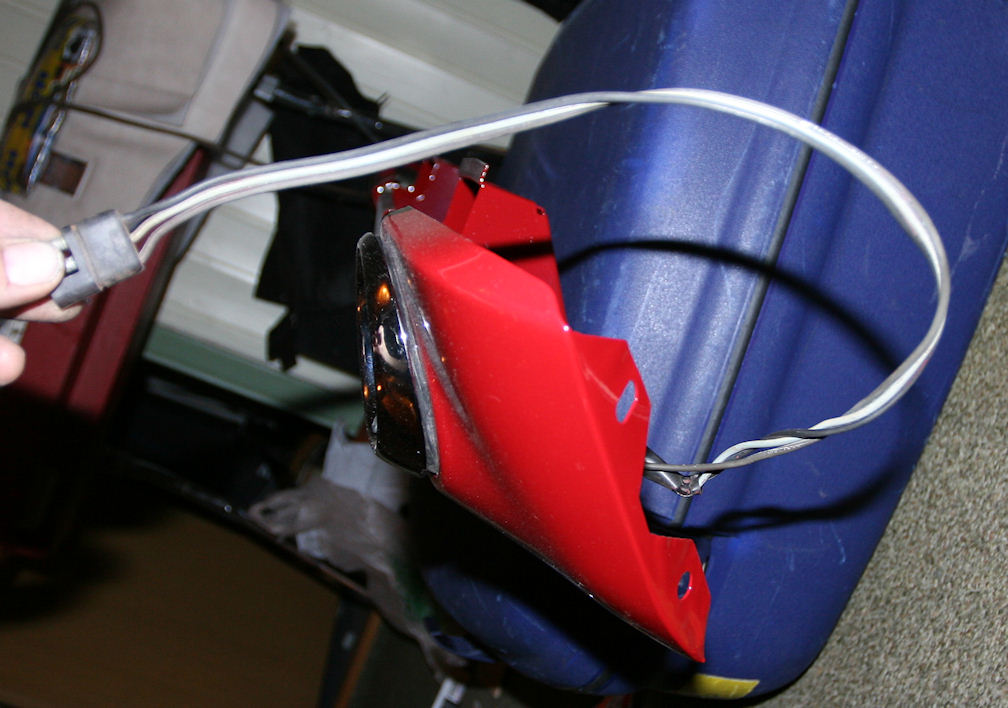 When I had the car painted there was a few parts I was not happy with. Both the quarter panel extensions I had were cracked and dented and the center grille piece was really twisted and out of shape. As a result I decided to put these parts on hold until I could find NOS parts. Finally I have them and they are going to the paint shop this week. Even NOS extension does not fit perfectly, (maybe because the car had been hit in the rear? ) so I made a few minor adjustments to make them line up perfect.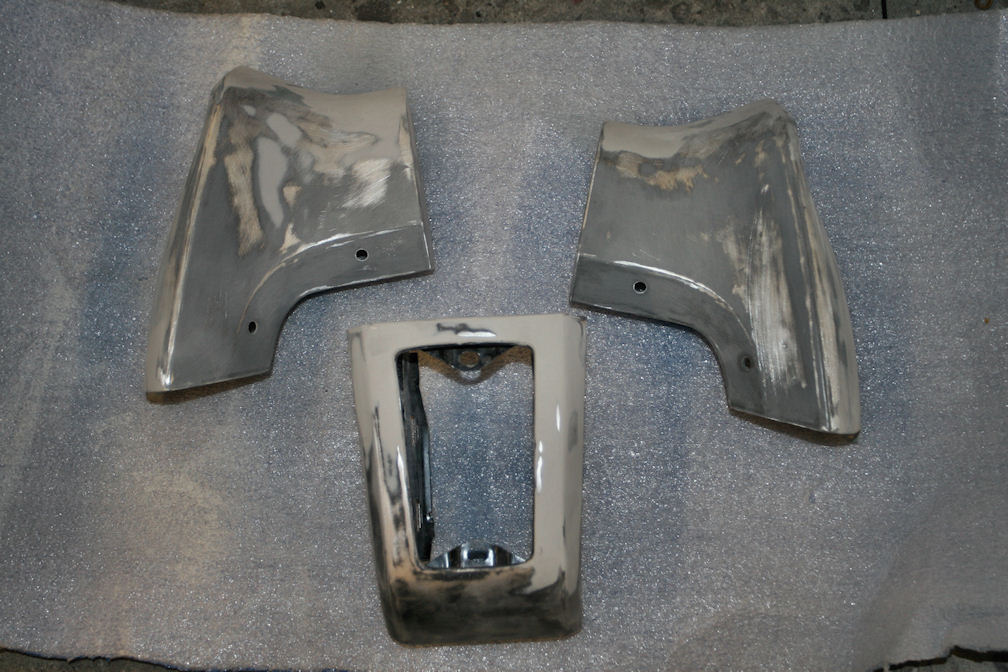 The paint shop forgot to paint the underside of the roof rails and the opening for the sun roof so I decided to do it myself. I also rebuilt my door hinges and had them painted at the same time.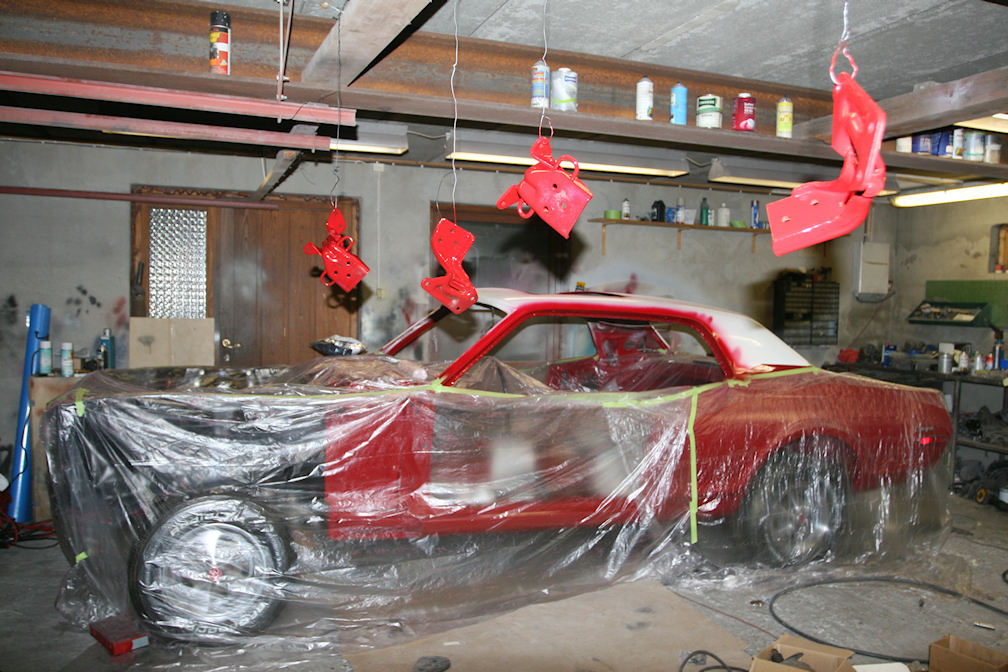 The tilt steering mechanism had seen better days and was more or less worn out. Luckily I had a spare tilt column so with the best parts from both I had a really nice working column to put in the car. Now I just wish I had a good steering wheel to use or restore. The one that was in the car was badly cracked and started to separate from the steel core after years in the southern California heat, so I consider it junk. Please let me know if you have one for sale.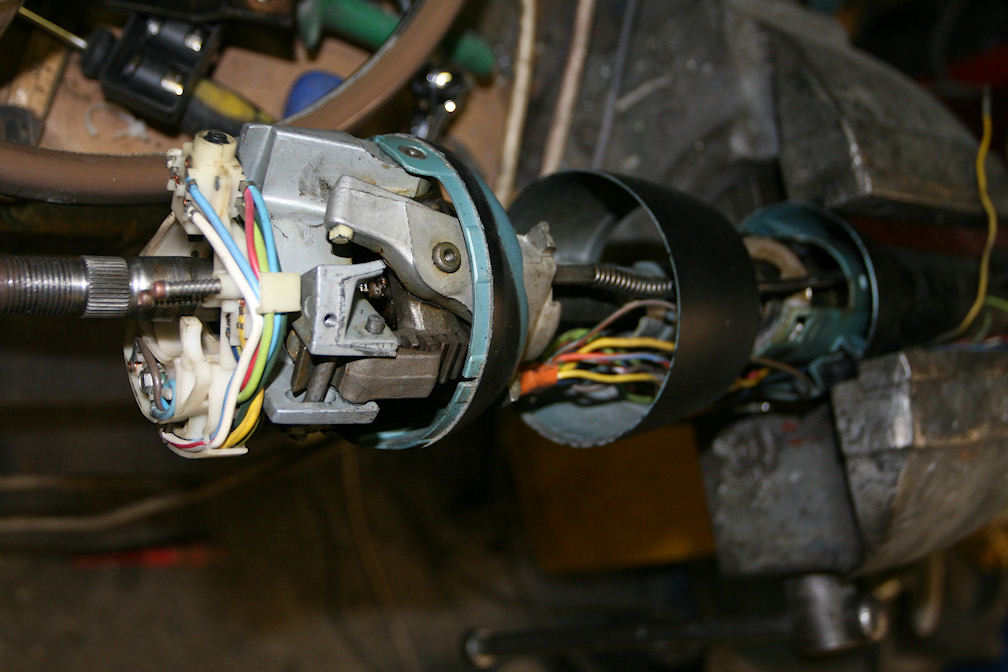 March 25th, 2011

I have had a few people asking for updates on my XR7-G restoration, and here it comes


For the last 5 months my Cougar has been sitting under a cover and I have not done anything at all to it. The last thing I did last fall was to try to install a new vinyl top, and I screwed up totally and had to order a new one from WCCC.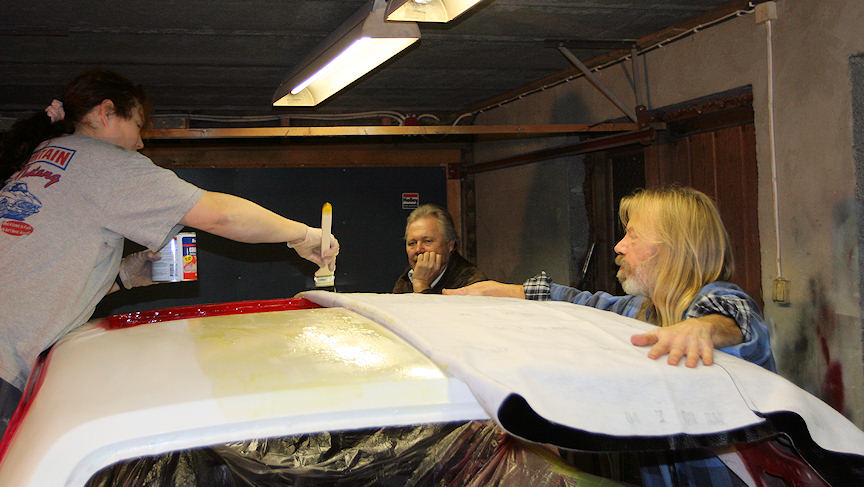 Late November my near 10 years old Doberman got cancer and died and then we got an unusual long and strong winter making it kind of hard to get much done to the car itself.
That does not mean the xr7-G project has come to a halt. The winter is a good time to hunt for good parts on the internet. Also my rebuilt 428 engine block has arrived from the US.
And I have got a new puppy, a wonderful brown Doberman girl named Hera, which of course takes a lot of time



Regarding the engine I had the 390 GT heads rebuilt with new K-line stem bushings and the valve seats reconditioned. When I got them back from machining I installed 16 new valves and they were ready to be bolted on the engine block.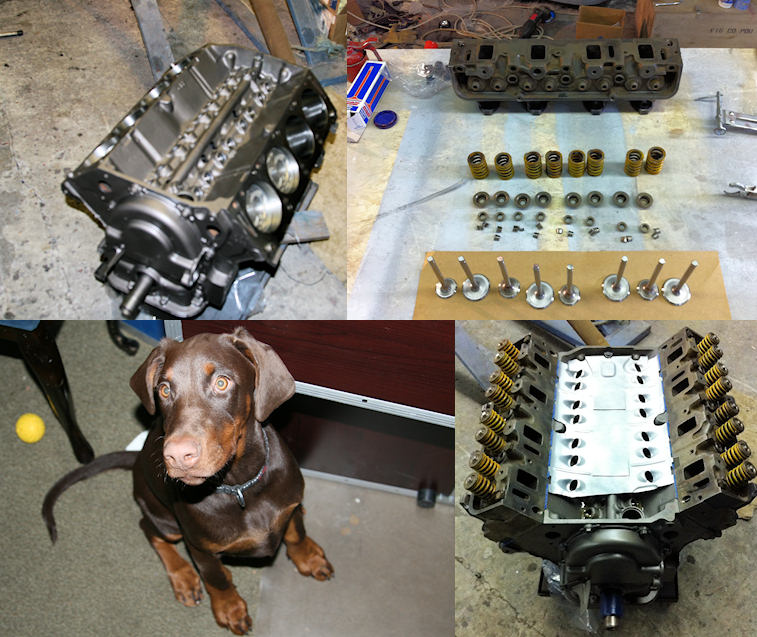 While searching the Internet for Cougar parts I was lucky and found a 1968 Cobra Jet C6 transmission for sale in Oregon. The seller was asking $500 so I figured I would just as well upgrade to this transmission instead of a regular C6. The seller was very helpful and delivered it to a transmission shop where it has been totally rebuilt with a few improvements, a new torque converter installed and finally it was bench tested before it was shipped to Norway. As you can see the drivetrain in my XR7-G will be a little more fun than I planned, but I think this will be a nice upgrade to the car.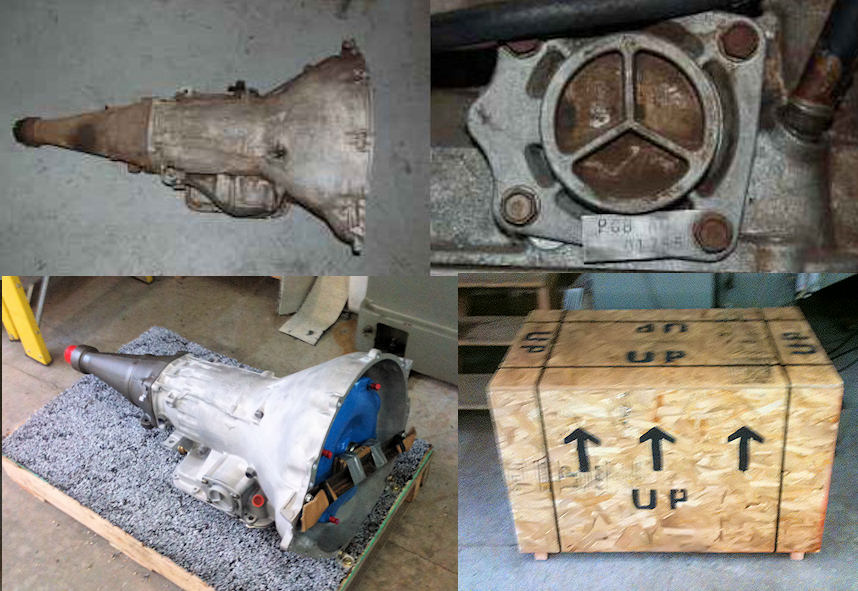 And there is more to tell, but that will have to wait until later

July 17th, 2011

Finally here are some updates on my Cougar. As I have mentioned before this restoration takes directions I did not make plans for just by coincidences. While I was waiting for my C6 CJ transmission to arrive from the US, I stumbled across a set of date correct Cobra Jet cylinder heads and exhaust manifolds for my car. So even if the engine was built and ready to be installed in the car I decided to replace the 390GT parts with these parts to make it even more fun to drive.

When I bought the CJ heads I was told they had been rebuilt not long ago. It turned out to be true, but the job were far from the quality I expected so I had to take them to the machine shop and had the work done right this time.

Unfortunately the intake that came with the heads was for a 390GT so I had to start looking for a matching intake as well. Original CJ intakes are not easily found around here, but I knew that a local guy with a 58 Edsel had a CJ intake on the top of his FE engine so I called him asking if I could buy it back. He did not want to sell it, but if I was willing to give him an Edelbrock Performer RPM intake in exchange he was willing to give up the CJ intake. Fortunately I had a RPM intake laying on my loft....

While the heads were at the machine shop I also had the exhaust manifolds sandblasted and painted.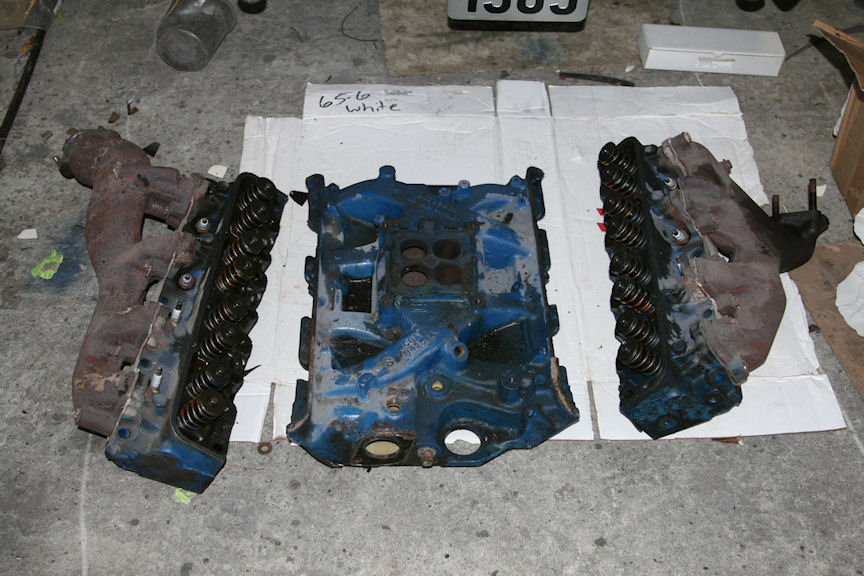 Here is the rebuilt CJ head standing beside the GT head I just had removed from the engine. It is easy to see which is which by the size of the valves.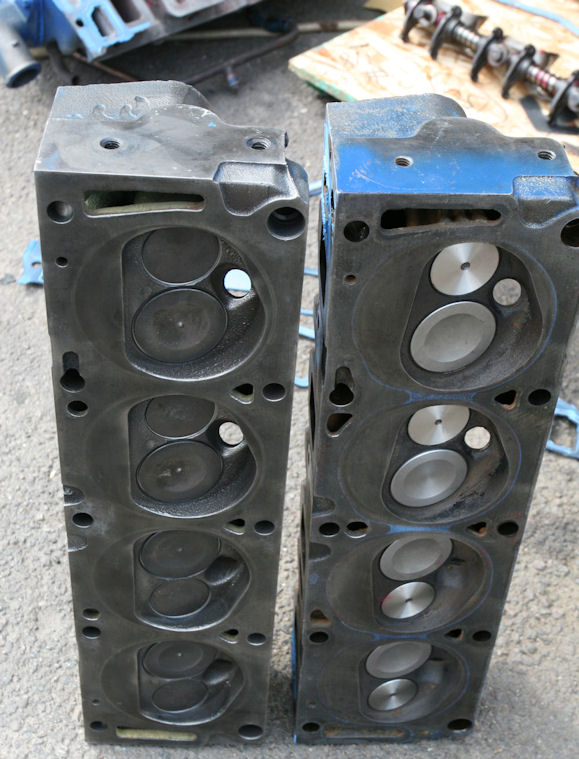 July 17th, 2011

My new CJ heads had the holes for the smog system so I decided to try to find the parts to get a functional smog system back on the engine.
After a few searches on ebay and at some parts vendors I realized that this was not going to be cheap. In fact all correct smog parts are insane priced so I decided to build a smog system, but not to care about all the correct number matching stuff.
Not only the smog parts are expensive, I found out that almost anything for these engines cost more than I like to think about. And then I also found that my complete A/C set up from a 67 Mercury was wrong, so I had to get all those parts. Of course the brackets I had for the alternator was wrong as well. Oh well, I could have done it easier for myself on this by using most of the 67 parts I had, but for me some of the fun is to get things as correct as possible for the money I can afford to put into this.

In the first picture here is the transmission already installed in the car and the engien is ready to go in.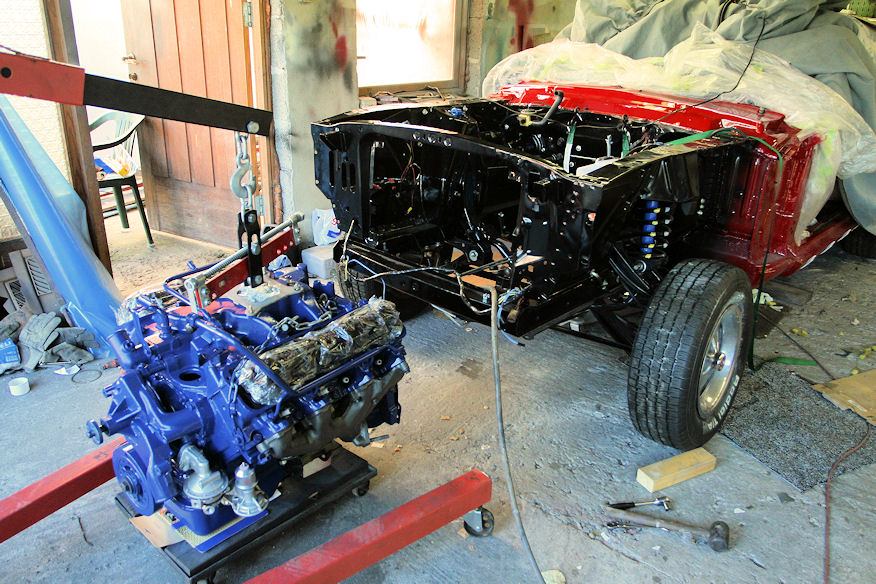 A few days later it looks like this. Of course there is a lot more work into this than what is shown in this picture. All semi gloss black parts have been painted, power steering pump has been rebuilt, and even the brake booster has been totally apart as it was leaking.
While I test installed the pulleys and belts I soon realized that something was wrong as the belts didn't fit. It turned out that the the crack pulley I have is from a regular 390, and that the correct pulley for a 390GT/428CJ is different. So far I have not been able to find the correct pulley so if you know about a pulley for a 428CJ with A/C with the number C8AE-6312-A I would be very interested in buying it.


July 18th, 2011

I just thought I should tell that there is more going on right now that I have not mentioned. One of the things on this car that needed some serious attention was the interior. More than 40 year under the Southern California sun caused a lot of damage to the upholstery so the original interior was long gone and the seats had been redone in an ugly fabric and vinyl combination. Also both front seats were worn out and seat backs were broken. In fact everything inside the car was in bad shape. The woodgrain in the dash was faded, instruments looked bad and did not function like they should and the plastic on the dash was cracked and in helpless shape.

Luckily another forum member had a red XR7 interior that was better than mine so I ended up buying the complete interior including door panels and so on.
Right now the front seats and the rear seat back are at the upholstery shop to be redone in all leather. I am looking forward to the day when I can post some pictures of the redone interior.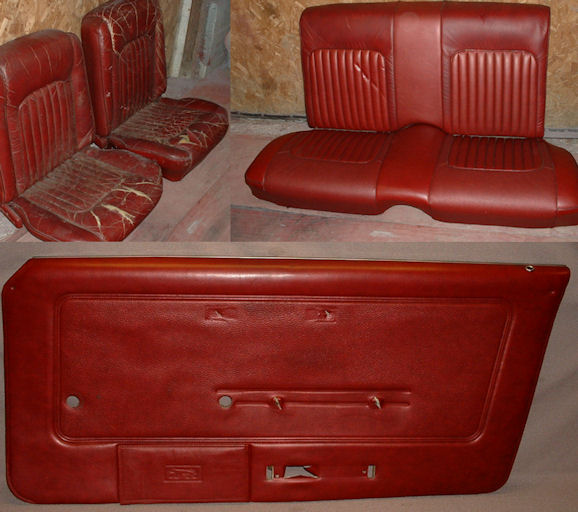 Just one picture of what might be a great restoration tip. The vacuum hoses for my car were dry and extremely stiff and I found out that very little could be re used. My neighbor has a 78 Lincoln Continental and I noticed that his car had exactly the same vacuum hoses as my Cougar. So I bought a complete set of hoses from a Lincoln for less than $10 on ebay and after a good cleaning they are good as new

As you can see in the picture I have also installed the export bar instead of the flimsy original braces from the firewall to the shock towers. I think this upgrade is needed, especially on a big block car that will be driven.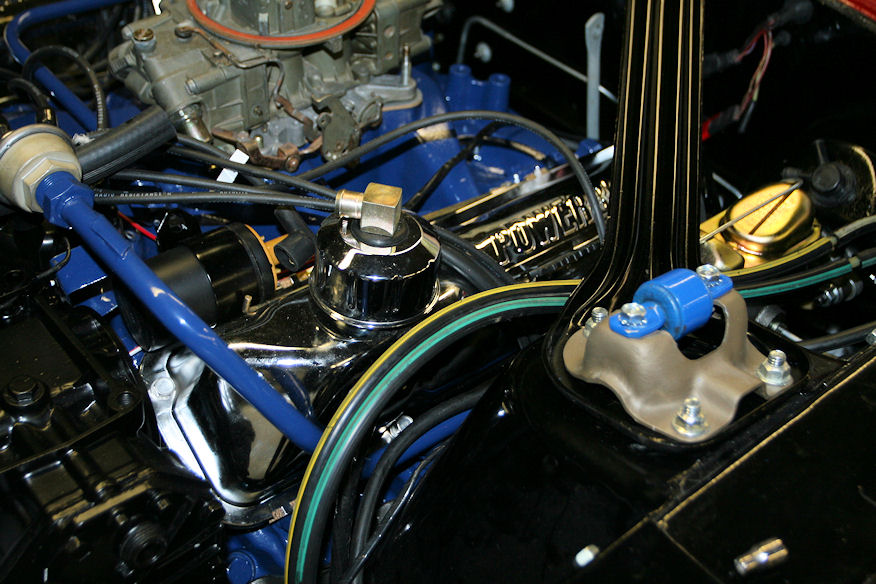 Things are slowly coming in place in my engine compartment. I have realized that a correct 68 crank pulley for a 428CJ with air is harder to find than chicken teeth. I have done a little research on which alternatives that should work and found that the 69 Crank Pulley for 428CJ and air C9OE-6312-D most likey will do the job. At least the 69 428CJ is listed with the same drive belts so the difference from the 68 version must be minimal. I have not found out what the difference is on this one and the C8AE-6312-A. If someone here knows I would like it if you can share that information with me. The 69 pulley i not something you can get easily either, but at least I know where to find one...

The air cleaner for my car has been one of the things I had my doubts about. An original CJ air cleaner with correct snorkel, S-tube and heat shield is totally out of my budget. Sometimes I wonder how these reproduction parts can get that expensive. A 428CJ heat shield and S tube is about $750 which I think is totally insane. So as a substitute I have decided to use the sporty chrome repro GTE 427 (and High Performance 289, 1967 S-55 428 and more) air cleaner. I like the look, and it is hard to beat the value for the money at about $30. SO here is a picture of the engine with a few more parts on it.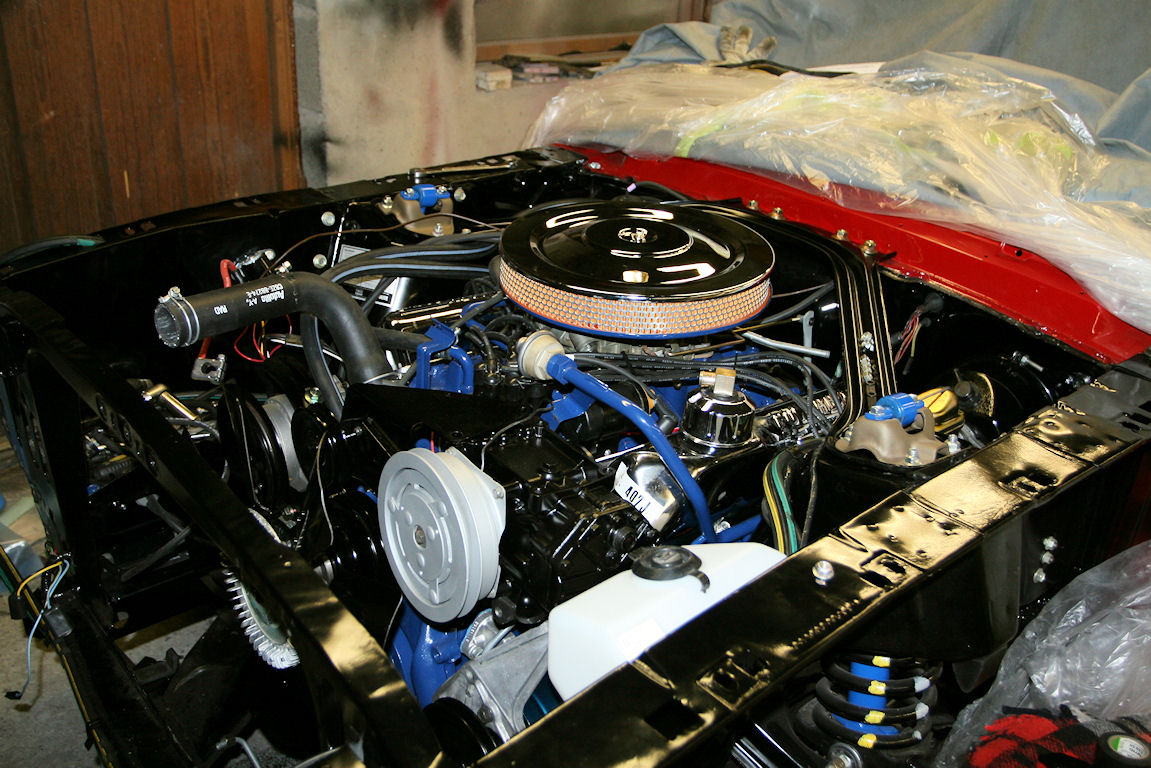 July 27th, 2011

Here is a picture of CJ and 390GT pulleys. I found the pictures at the Mansfield Mustang web site. I hope they will forgive me for using them. Unfortunately they don't have the correct pulley either so I will buy a 69-70 pulley. If it works I am fine, if not I will soon have a C9OE-6312-D pulley for sale.
I do also have a C8AE-6312-D here that I just got from the US, and I am pretty sure it could have been used but most likely not together with the correct belts.
It looks like the front groove on the these pulleys might be about the same but that the two inner grooves have a larger diameter on the CJ with air pulleys? It is hard to see, and it might also be the outer groove that has a larger diameter on the C8AE-6312-D pulley.



August 6th, 2011

A couple of days ago I got the correct crank pulley for the engine and it did not take long before I had it installed. Now pretty much everything attached to the engine is there except for some smog parts and the hoses for the AC. The next thing to do now is to get my radiator installed. The previous owner had put in a brand new correct 4 row radiator not long before I bought the car, so all I need to do is to repaint it.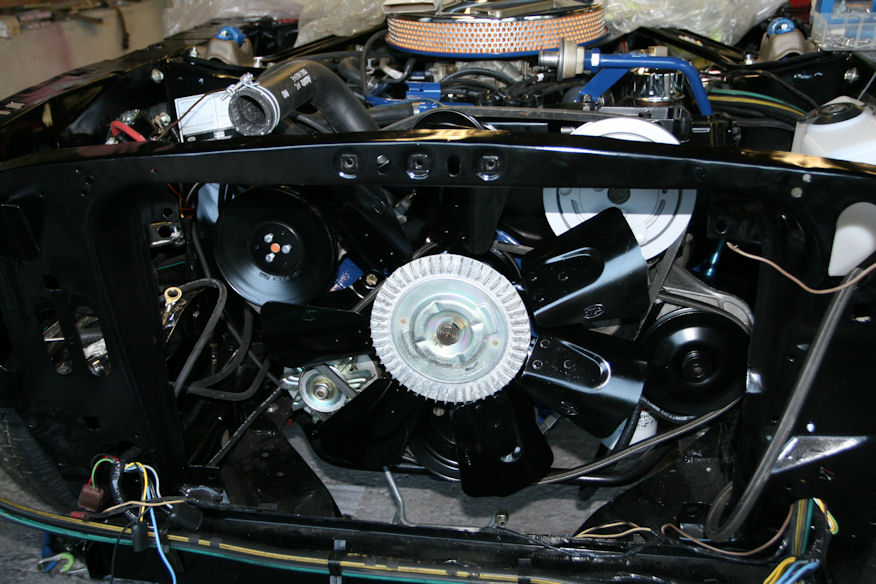 Today I have been doing what I consider to be one of the worst things I do when I restore a car, installing exhaust system. For some reason they never seem to fit like they are supposed to and usually I end up cutting and welding to make it fit right.
I ordered a complete 2 1/4 exhaust system with Turbo mufflers from Mustangs Unlimited and I also bought a set of not so correct exhaust tips from John's Cougar. Buying the concourse correct XR7-G tips for my car gave no meaning since I had to improvise to fit them to the 2 1/4 exhaust system anyways. OK, starting with the front H pipe I became pretty impressed by how nicely it fit to the engine and how nice it looked. Also the rest of the exhaust gave me no problems what so ever. For the exhaust tips I decided to cut them about 1 1/2 inch where they should connect to the original thin pipes and to weld on a 12" long 2" pipe. Then I cut both rear pipes in front of the bend going down so the pipes pointed straight to the cutouts in the rear valance. I made sure I cut the pipes in a place so I could use the same clamp for the hanger and to fast the tips. A little test fitting and I concluded that this would be easier than I feared. I painted the welded on pipes and some of the tips semi gloss black just like the originals and installed them. I am very happy with the result and I must believe that this is the first exhaust system I have installed that fits perfect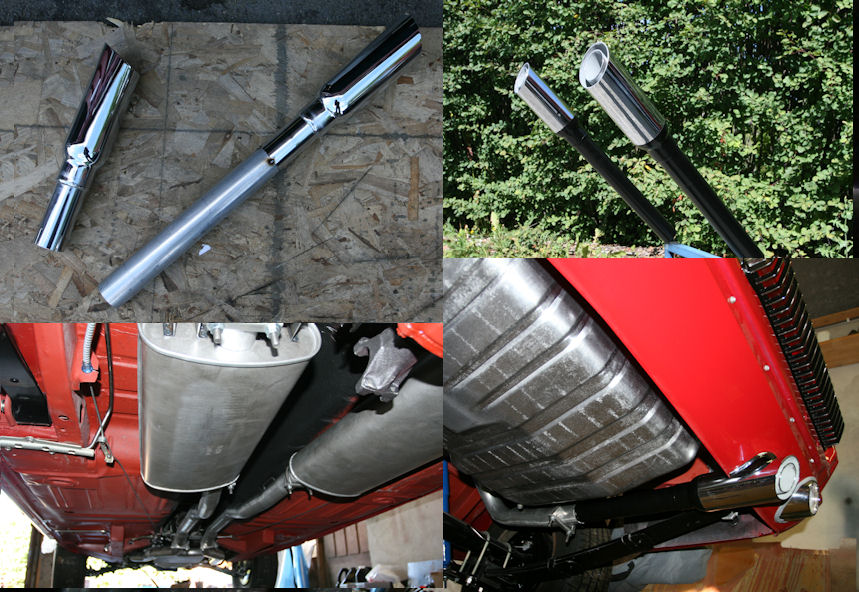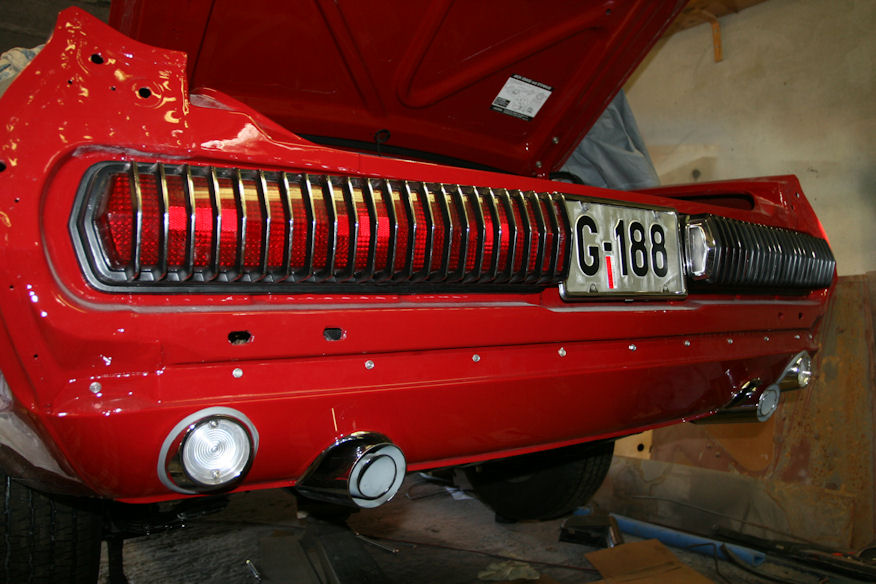 August 7th, 2011

I am not using a complete AMK kit for the car. What I do when I take apart the car is to get all the original screws, nuts and whatever fasteners there is and get them restored at a local shop.(Unfortunately they closed their doors last fall so for the future things will be more difficult. Then I buy additional kits for fasteners that are missing or just not can be reused. For fenders and body I always buy new screws and fasteners in big packages to keep the cost down. I bought a complete kit for my Eliminator, but I was not too excited about the correctness.

Everything in the engine/transmission department are now 428CJ parts including the exhaust manifolds.

What I found out today is that I have a incorrect yoke on my 9 inch rear end. When the original 390 were replaced by the 302/C4 they also had to replace the yoke to make the drive shaft with the narrow U-joints fit. So tonight I have tried to find out what yoke to order and where to get it. I have found that there are several different yokes for the 9 Inch, but I have not been able to find out if I need the long or the short version of the wide (1330) yoke.
August 19th, 2011

There is not much going on with my cougar right now, but at least I have bought a restored steering wheel from Best in Show steering wheels (http://bestinshowsteeringwheels.com/) and I am very happy with it.
To put together a really nice steering wheel for my G has not been easy. I have bought 3 steering wheel pads with woodgrain inserts on eBay to get one pad that was really nice with no or minimal shrinking. One of them also had a good plastic surrounding for the insert, while none of them had a nice woodgrain insert that was not faded or scratched. These woodgrain inserts are so hard to find that I am surprised that no one has made a good reproduction.
I did not want to put on a faded woodgrain insert and since I now had a few I decided to do some experimenting on how to restore it back to previous color. After some experimenting I ended up making a mix of a brown-reddish paint which I mixed with a flat clear coat paint to make it transparent. After a few coats I had the color I wanted and gave it a final coat of flat clear for protection and it looks better than I ever hoped for.


The horn ring and the pewter cougar emblem were the only parts I was able to reuse from my car.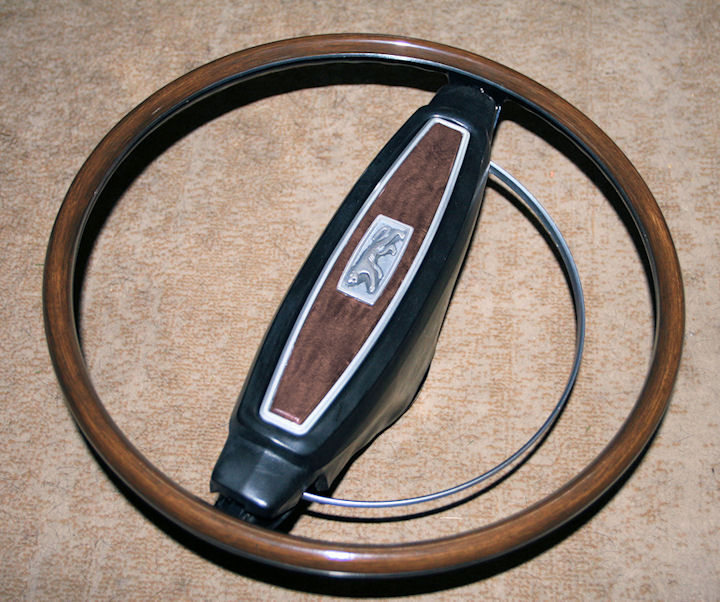 August 21st, 2011

I am sure most of you agree with me when I say that the 67 and 68 XR7 instrument panel is the best looking ever in a Cougar. Also the fact that this is the part of the car that you see most when you drive makes it important to restore it back to the same condition as when the car was new.

From the day I bought the car I have saved up all the parts I needed to restore my dash and instrument panel. Finding perfect parts that can be used as they are turned out to be much harder than I thought, but with good help from friends and some good Cougar parts suppliers I finally had what I needed to start the work.

Unfortunately there was not much from the interior department on my car that was worth saving. For the dash there was almost nothing. The chromed plastic parts were too cracked and brittle from the California sun to be re used. Instead I ended up buying some other part here and there and had them sent to Mr G's Rechromed plastic. (I am satisfied with how they came out, but I would probably have used WCCC for this service today).
Oh well, the woodgrain parts were faded and unusable as well. Fortunately a friend of mine here in Norway had a nice set that I got for restoring the instruments on his Cougar. The tach didn't work in my car, and the speedometer was no good either. Luckily my friend also had a used instrument cluster I could take parts from. Even if these looked better than those from my car, I had to do a lot of work to make everything look like new.

First of all I repainted all the metal parts for the instruments and the black upper parts on the re chromed plastic parts with a semi gloss black paint. Then I picked the best lenses I could find and polished them so they look really nice.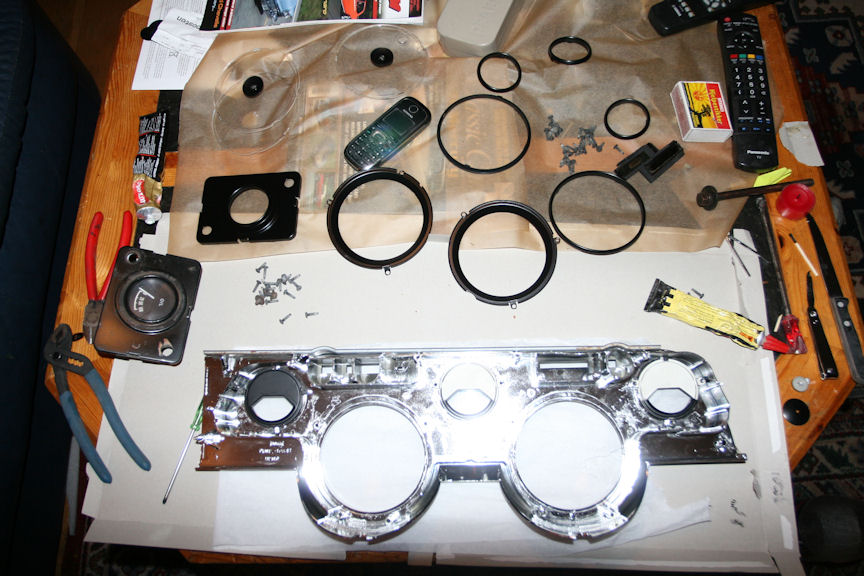 Then I repainted the orange stripes on the speedometer dial. The paint I used is a special paint for instrument needles, but it works fine for this as well.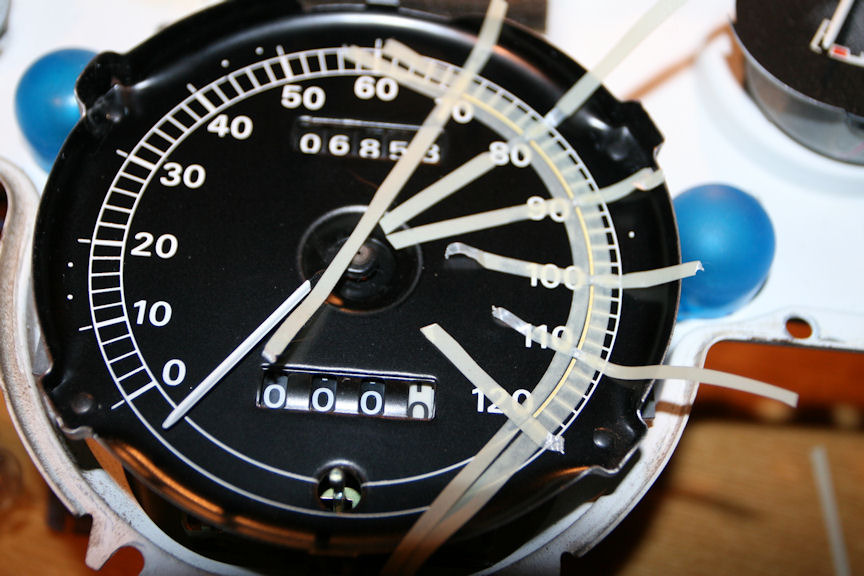 For the small gauges I bought a gauge overlay set from WCCC which makes these instruments look brand new. I have also adjusted the odometer back to 0 miles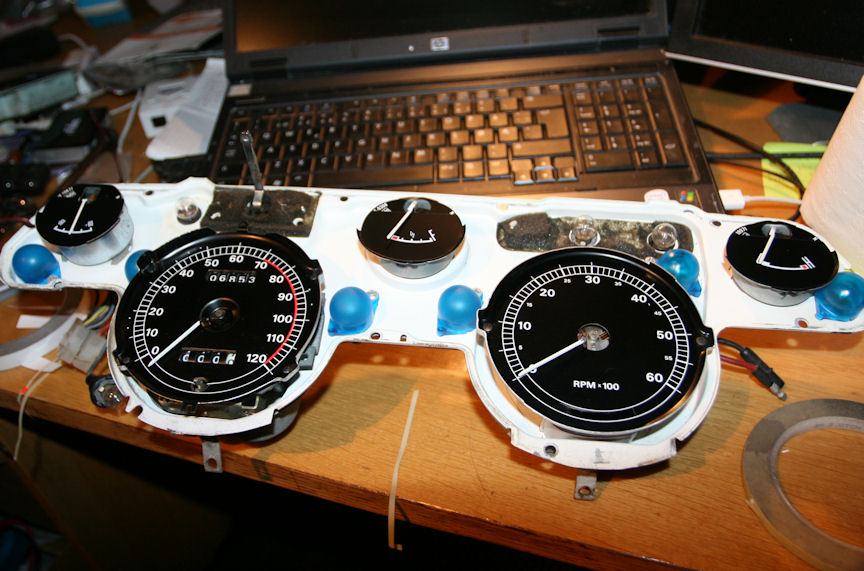 Then I reassembled everything while I tried to keep unwanted dust and Doberman hair out of the instruments. That's not easy, but after a couple of tries I was happy.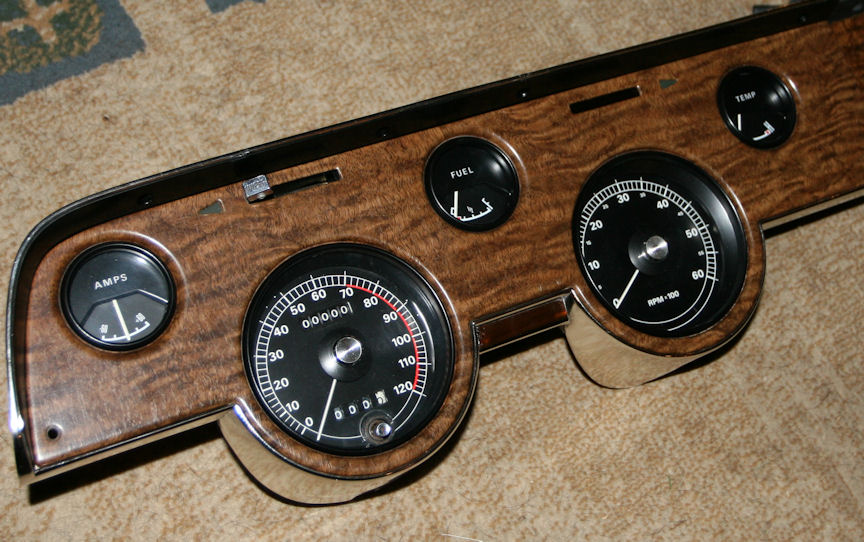 The passenger side of the instrument panel got a perfect A/C vent that I bought from John Benoit, some really nice toggle switches I bought on eBay and finally a set of NOS Cougar XR7-G gold emblems. ( I have an extra set of these NOS if anyone is interested).





I can't wait to get these parts installed in the car together with the repro A/C side vents

11-16-2012
My Hertz-G restoration has been sitting more or less still for a long time. Sometimes there are more important things to do than to work on these old car (yes, I know that can be discussed) and for me I have spent most of my time and all my savings restoring my house. New roof last summer, this summer now floors and most everything outside including building a new entrance and a lot more. Also my dad, who was a great friend, inspiration and not least my good helper when I've been restoring my cars through the years got cancer and passed away in August, which I must admit was really hard for me and sets what is important in life in a new perspective.

Anyway, when I looked through the old posts I realized that I have done a few things since last I posted. First of all I have completed the engine compartment and got all the correct smog parts in place on the engine. It did not take long to install those parts, but it sure took some time to find the money to buy them as some of them are incredibly rare and priced accordingly to that



Also the hood and doors are back on the car. The carpet is in, and I have installed a set of speaker pods so I can install some good speakers in the front without ruin the original look of the kick panels. I have replaced the scratched original side glass with perfect date code correct glass and I bought a few sets of vent window frames on ebay and built a really nice pair with the best parts from them and also put in new seals before they were installed. When I bought the car it had a set of Mustang hood pins, and they are now replaced with a reproduction set for the G cars. I have not been able to find a correct third horn for my car, so I bought a few similar horns on eBay and made a clone horn out of a 68 Cadillac horn. The only difference as far as I could see and hear was he bracket, so it was fairly easy to make it look right.

This week I had the vinyl top installed and I've also spent time working on all the small things that takes time but hardly can be noticed. So right now this is how my car looks. Now I have to wait for a shipment with parts from WCCC before I move to the nest step, which is to put the headliner in and install the front and rear glass.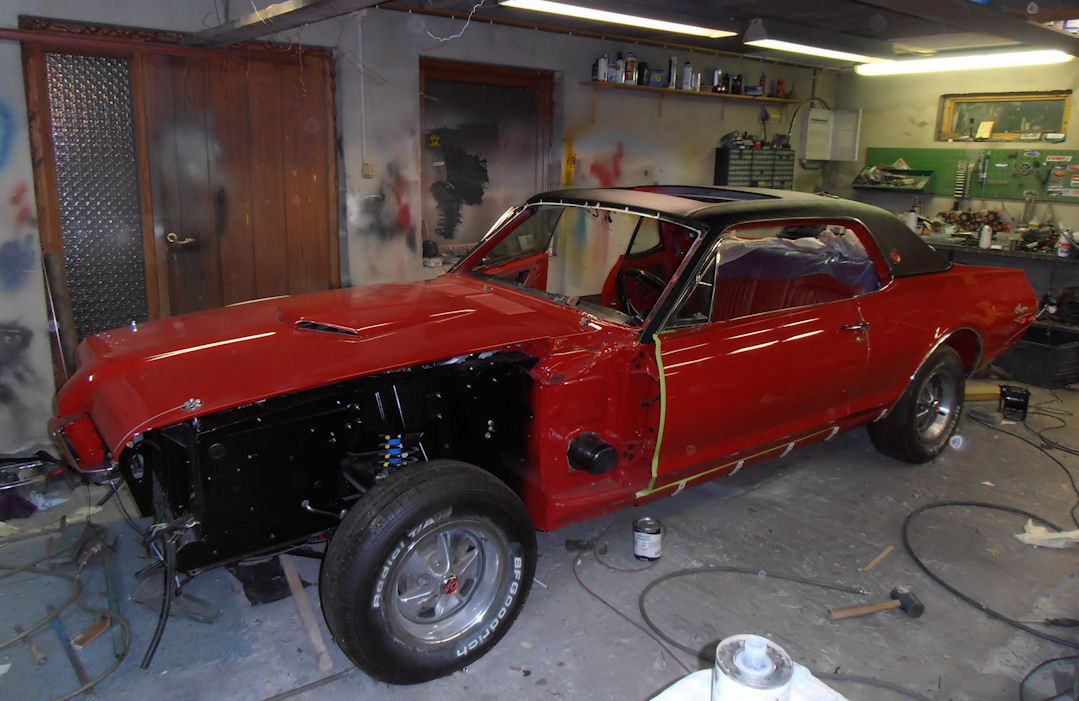 11-18-2012First of all, thank you my friends for the comforting words regarding my dad. It means a lot to me.

This weekend I had some time to play with my Cougar again and got a few things done. First of all, I got the restored G-mirror back on the car. It feels good to put back on parts that makes the car look like a XR7-G again. I have also installed the door seals and door bumpers. Now I need to readjust the doors because of the added weight since I installed them and also because the seals adds a little pressure outwards so they don't line up as nice as they did before. When that is done the front fender can be put on, which will make a huge difference on how the car looks.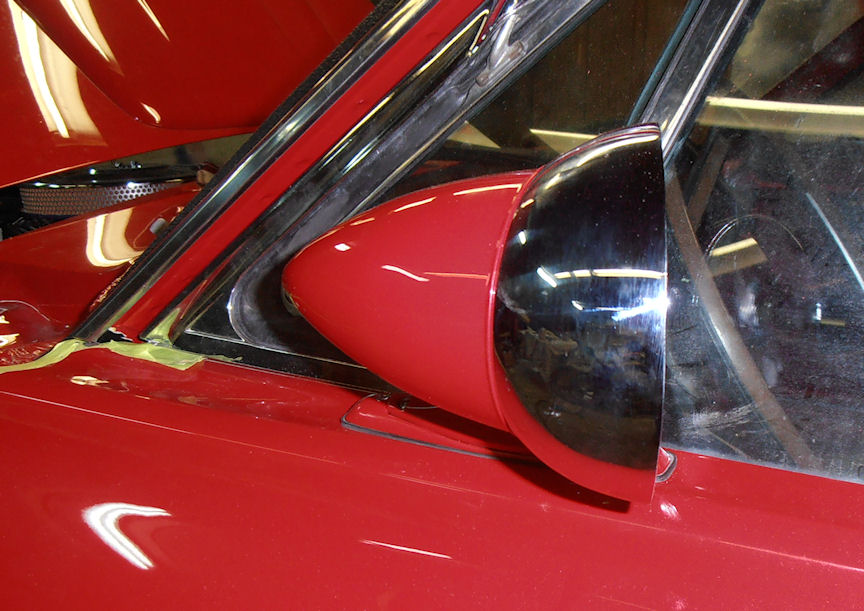 The original roof console from my car was in no good condition so I bought another one that is as good as they get without paying too much money for it. Since it was originally white I decided to dye it dark red. One thing I have noticed with the vinyl dye I have been using for the dark red is that the paint is a bit too glossy. To make it look more like it was supposed to I sprayed a thin coat of the dark red metallic interior paint on the top, and that made a huge difference.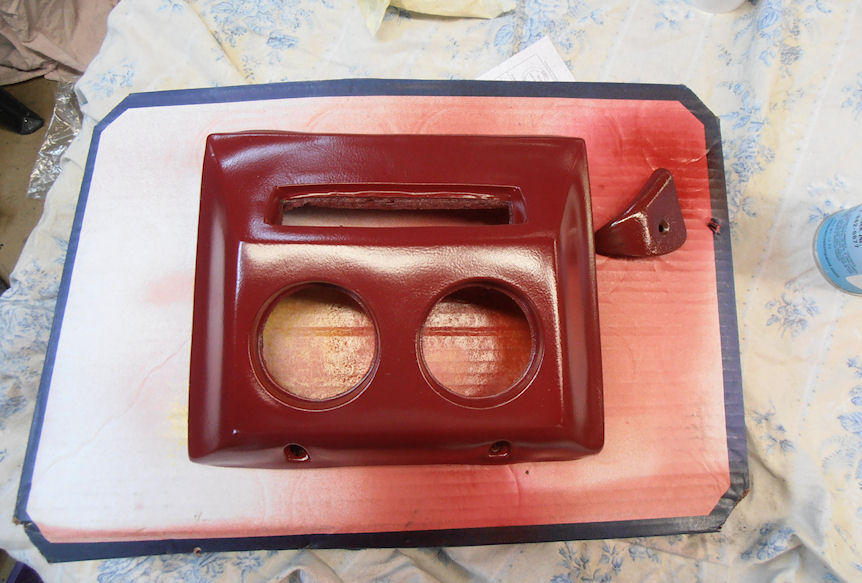 Then I decided to get the new seals for the front splash shields installed. I bought a set of rubber seals from WCCC http://www2.cougarpartscatalog.com/67splashseals.html and according to the description the rear seals should be spot on while the front seals would only somewhat fit with modification. Well, after working with the mustang/ cougar seal kit I have to say that I totally disagree with WCCC on their description as the rear seal does not fit good at all and it is not a spot on to the original Cougar seal. In fact I disliked it so much that I decided to make my own seals. Luckily I had a little left over correct material similar to the original from an earlier restoration that I could use, as I kind of disliked the rubber they use for the new reproduction seals. Rubber is thin, and it smells Made In China!

Here is a picture showing Mustang vs Cougar rear seals. Installing the Mustang seal upside down does not help much as the profile will not match the Cougar seal no matter what you do. Someone needs to make correct seals for our cars, and until that is done these reproductions should not be described as much else than useless.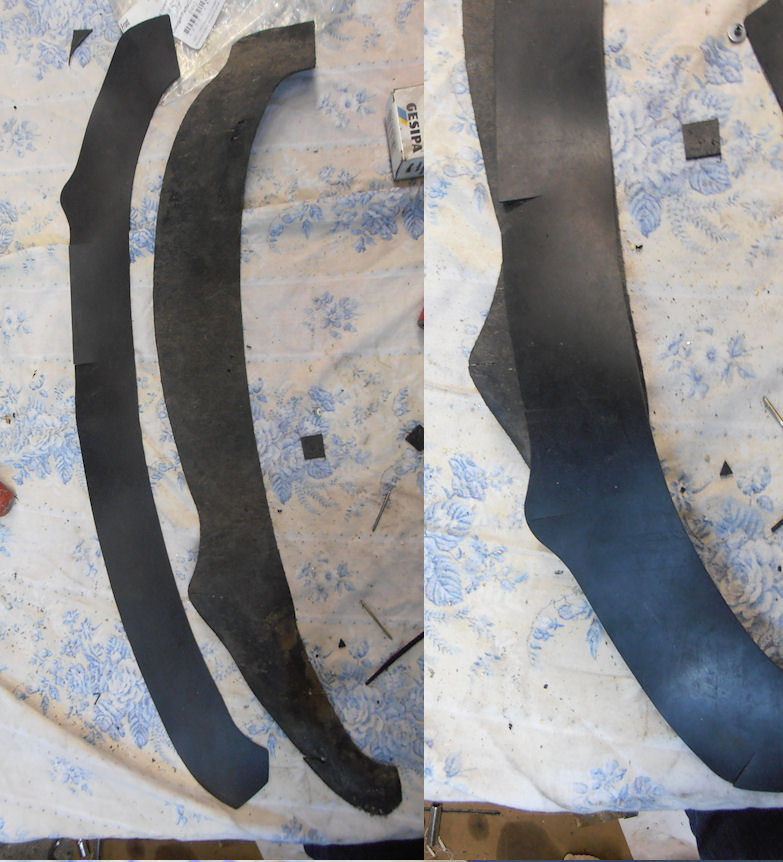 After a little work this is how they turned out with my home made seals.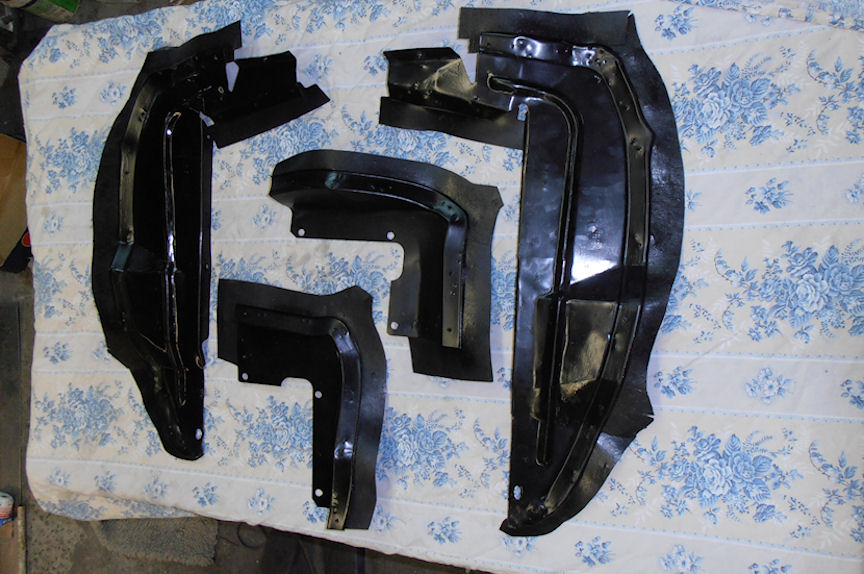 11-19-2012
Last week when I was done with the vinyl roof I pre-installed the sun roof mechanism to see if everything was OK, and if not to find out if there was something I needed. When I bought the car the sun roof did not work because the flexible drive cable was missing. Back then I was unable to find one so to make the lid functional I put in a newer motor and drive that comes from a 70's BMW or something. Today WCCC have those in stock so I ordered one from then to get my original system back in the car. http://www2.cougarpartscatalog.com/sunroofflex.html When I installed the original gear system I instantly noticed that the gear that drives the sun roof cables was missing. Somehow the gear fell off and it is lost and nowhere to be found. No problem I thought, and removed the gear from the newer system, tried it on the original drive and it did not fit. That's when I knew I was in serious trouble

as I assumed these would be next to impossible to find. So I tried to search WCCC web site, but had no luck. Then I searched eBay, and wow, John Bennoit has a NOS gear there for sale for $100. Unfortunately money is a little tight at the moment (and I am also a little cheap

) so I decided to figure out something else. That's when I remembered that I actually had a spare sun roof buried in my mothers garden. Back in 1981 I had a Opel Coupe with a factory sun roof. The car was extremely rusty, but the sun roof option was rare so we saved the sun roof. Years went by and the place where the sun roof rested ended up as a place where my parents put their garden waste, of course with the roof laying under everything. Today I decided to go there and dig out that old roof if there was anything left, and if so if the gear was there if it could be the same. It was a dirty job and it took me about an hour to dig that roof out of the dirt pile with good help from my nephew.



As expected the roof was incredibly rusty after 31 years in the nature. The sun roof lid had to be removed using a crow bar, but believe it or not all the screws I had to loosen to open the tracks and sun roof drive came off easily and inside there I found the gear I was looking for. It did look like it might be correct, but I could not say for sure before I had it installed. 20 minutes later I was just a big smile, the gear was 100% correct.

That for sure made my day and experiences like this makes the hobby so much more fun.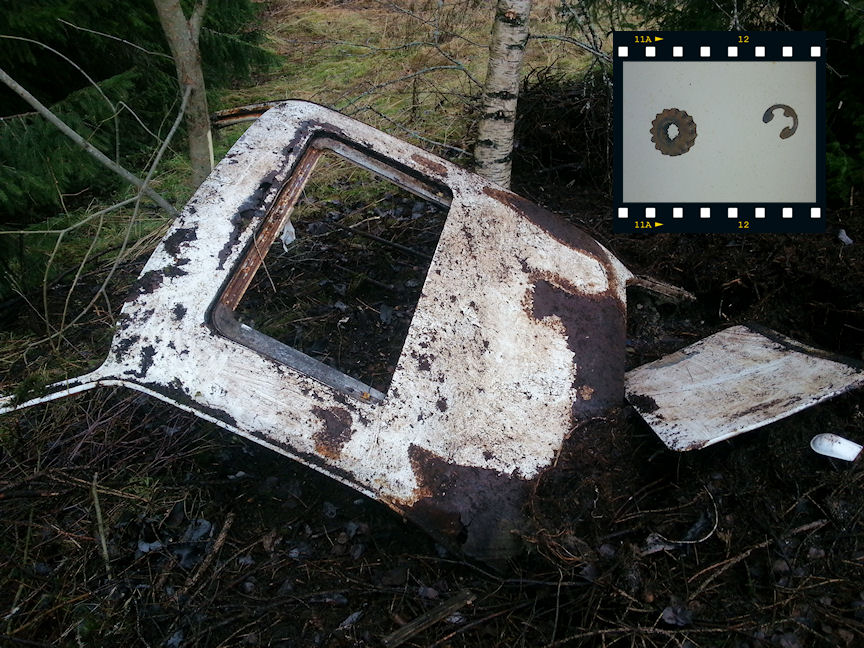 11-30-2012
Thank you everyone for the nice words. This week has been kind of busy, but I managed to make some progress anyway by working late evenings. One of the things I needed to do was to restore the console. It looked fairly good when I bought the car, but like the rest of the interior it had been redone in incorrect red-brownish vinyl. Unfortunately the upholstery guy that did the upholstery work back then probably had a great deal on contact glue and used a lot of it, and it turned out to be next to impossible to separate the vinyl from the console padding. I had to cut it off with a sharp knife blade, and even if I did my best, the padding ended up getting damaged and in bad shape after I had the vinyl and the glue removed.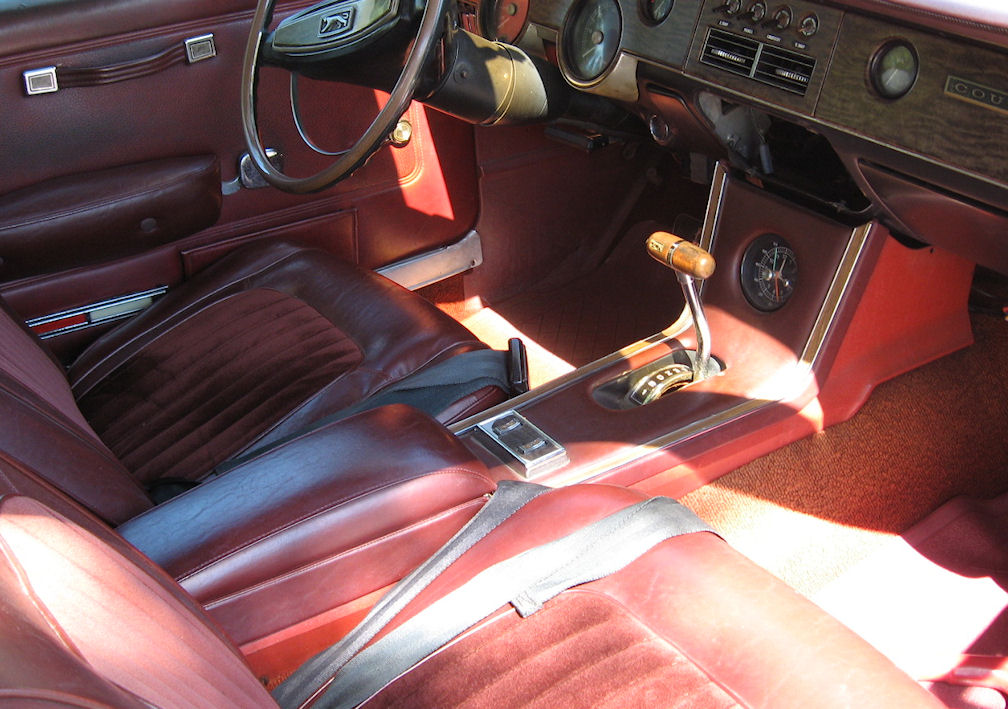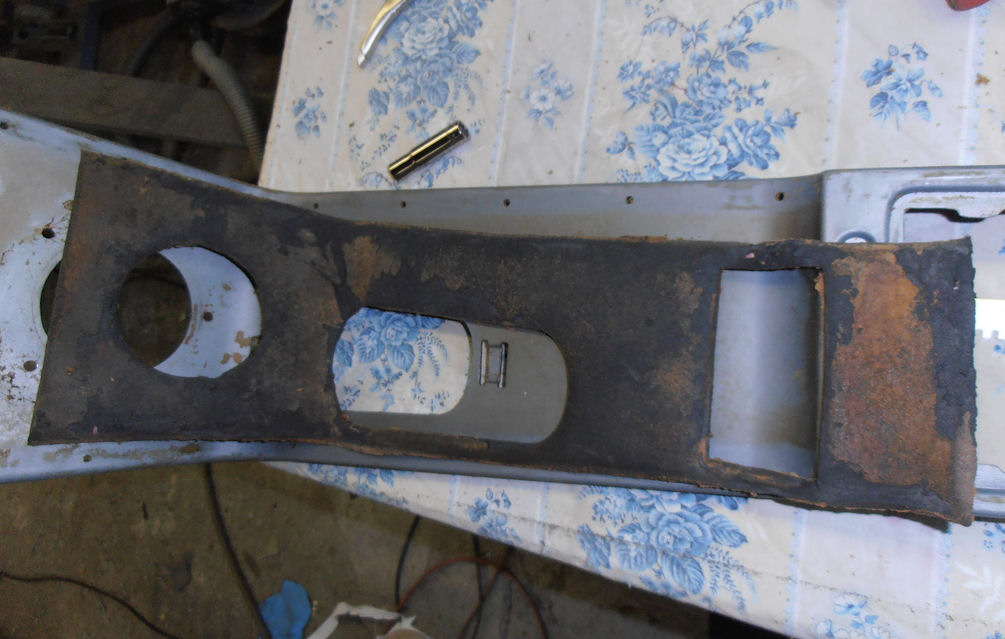 When I finally had everything apart I discovered that the upper console plastic part had lots of cracks and the only good way I know to fix this is to use epoxy glue and to put thin aluminum pieces to support the broken areas.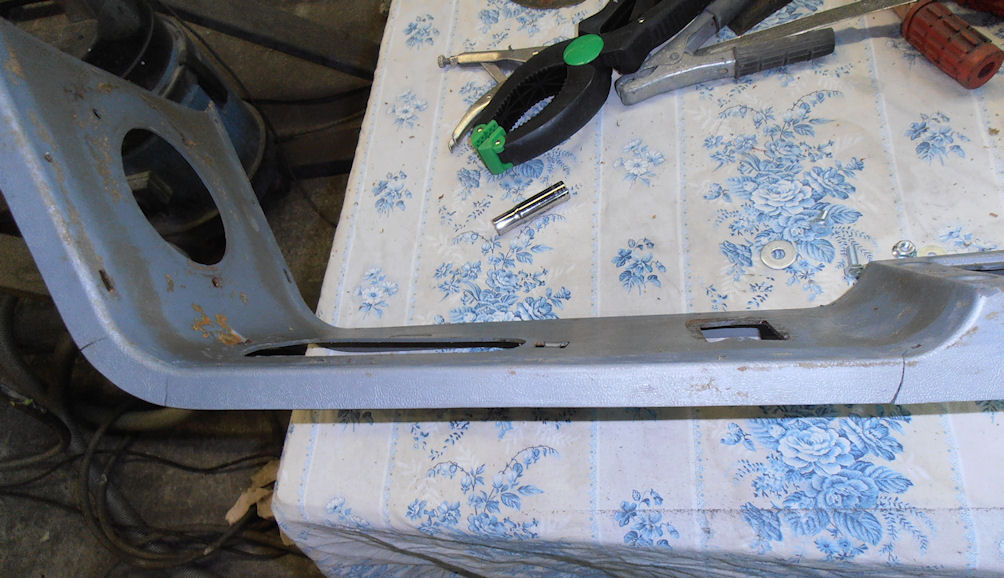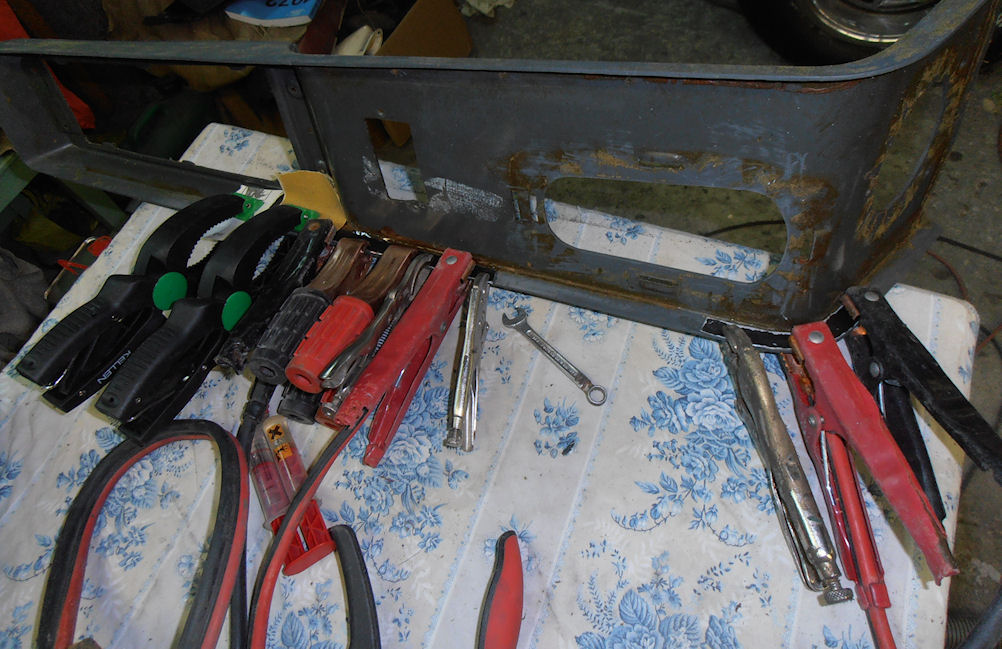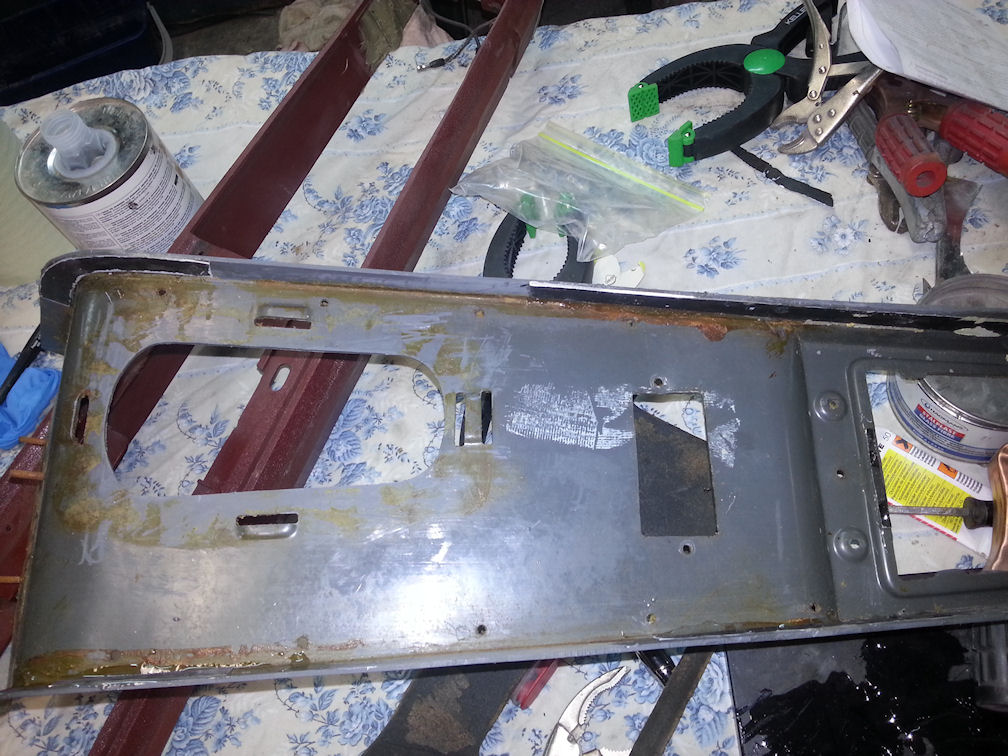 After a couple evenings the upper console plastic was solid again and I could go on withe the padding. The padding on the G console is very dense and I decided to try to fill some of the imperfections with sikaflex, whcih is a rubber like polyurethane sealant. Then on the top of the old padding I put a 3 mm foam to make the surface as even as possible. I knew this would not look exactly like the original when finished, but I just could not come up with a better way to do it.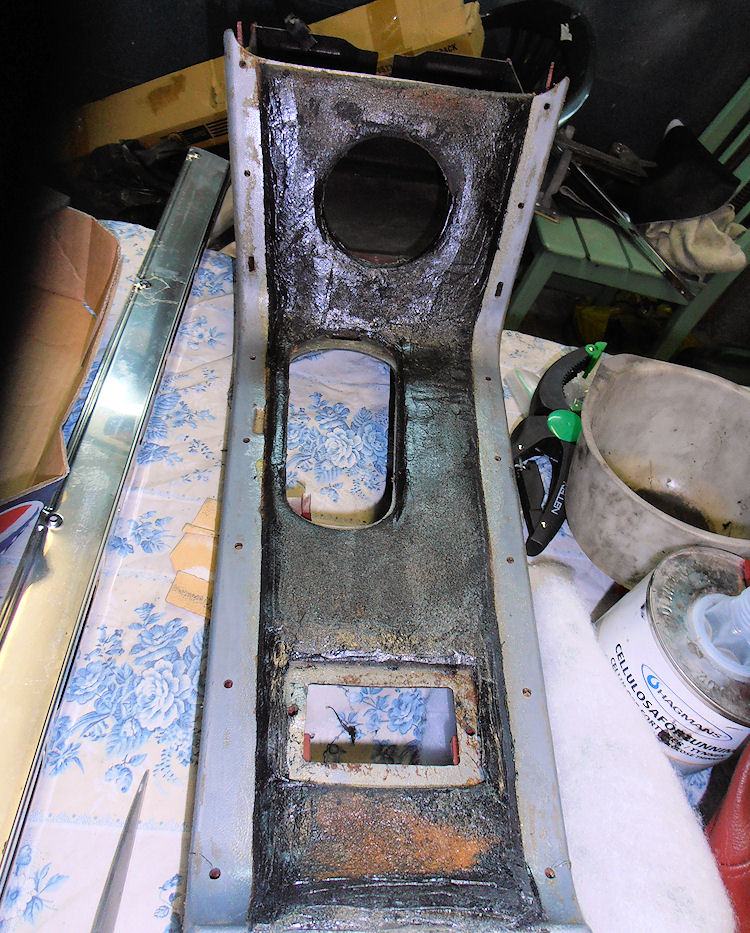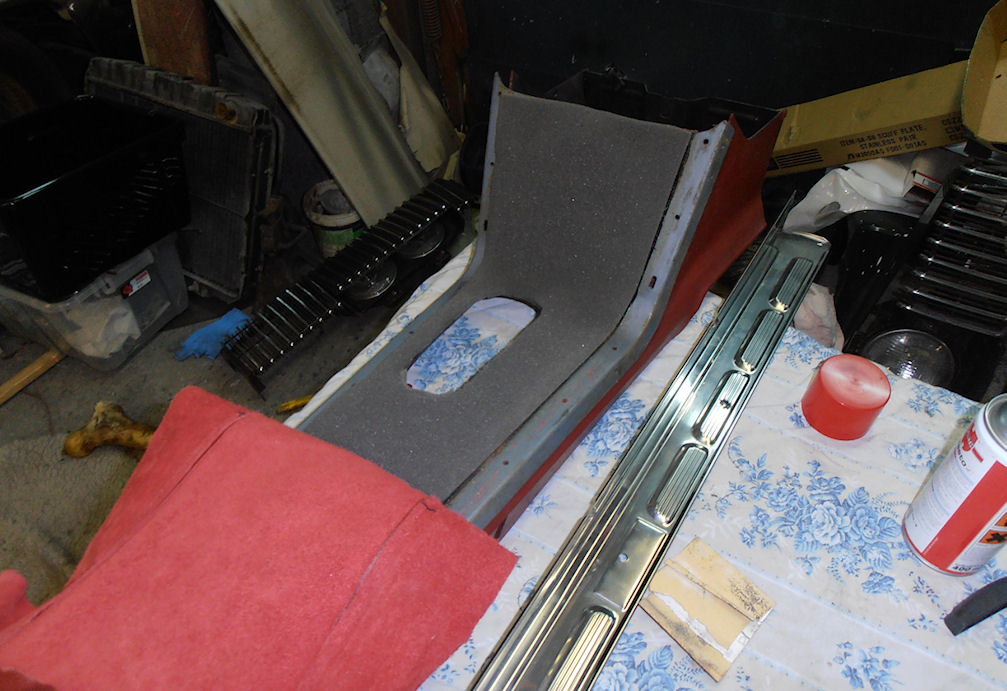 The upholstery shop that did the seats for my car also made the leather cover for the console, so now it was time to fit it and to scratch my head and find out how to proceed.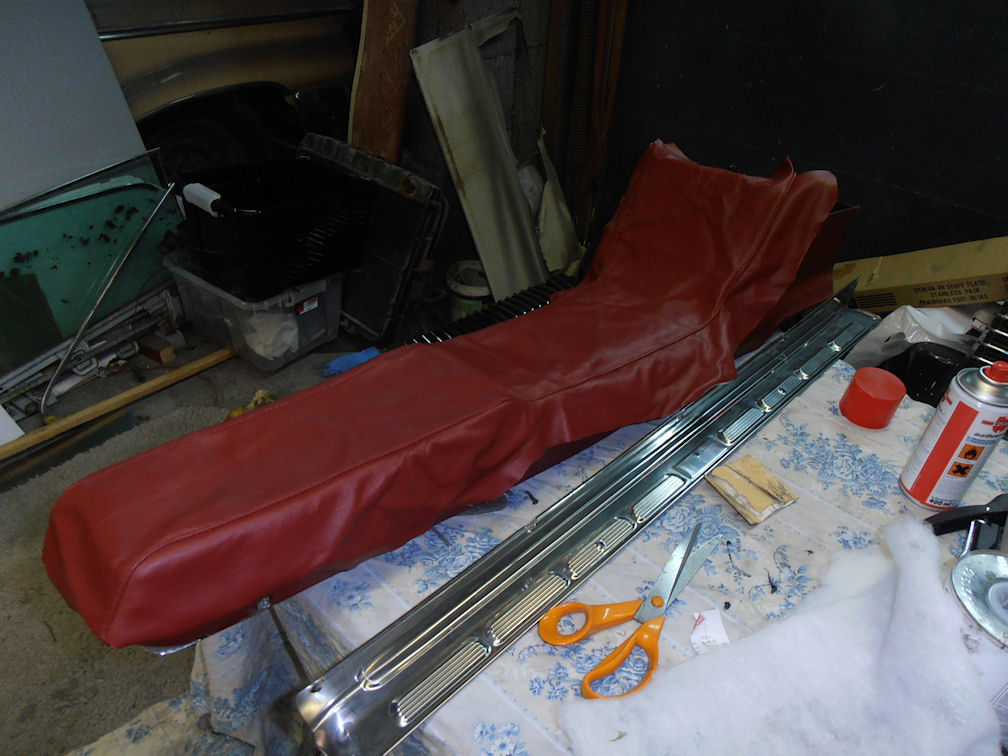 I ended up spraying the console and the leather with DAP Weldwood landau top and trim spray grade contact cement and waited for 5 minutes or so before I started to put the leather on. After stretching, cutting forming and pulling it looks like this. Not bad I think, but as I assumed, it has a little more stuffed look than the original. I also made some minor repair work on the console base and gave it a couple coats of new paint. The rear lens has been replaced, and as you can see I also redid the lid for the console compartment and the pull straps for the doors in the same nice leather. Oh, and I also put new burl wood decals into the trim and the switch on the console.
Now I have one problem left to solve. The console well liner or glove box insert is missing. I thought that would be a small problem as it looked like these were reproduced, http://www2.cougarpartscatalog.com/gwell.html Unfortunately the person that made these are old and ill, and from what I have heard it is not likely that he will make any more of these. So if you know where I can find one I would for sure appreciate your help. Even one that is damaged would be useful as a pattern to have one made.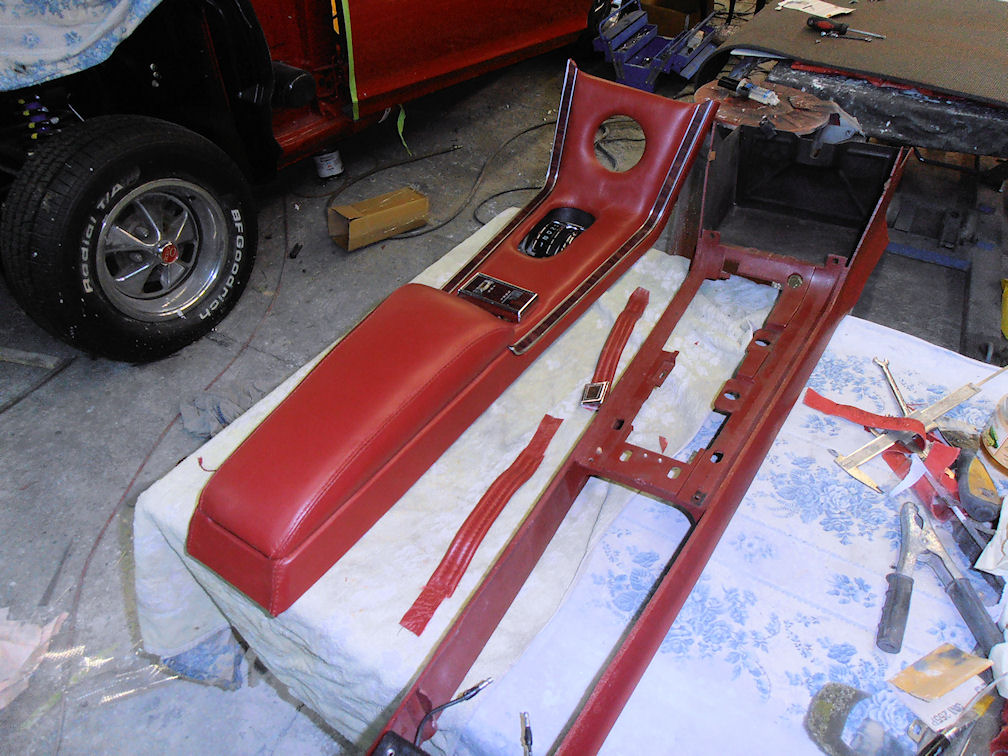 12-9-2012
Now that the console had been restored it was time to pay some attention to the shifter handle. The one that was in my car when I bought it was worn and also the chrome had small pits. I sanded it down and painted it once, but I was not happy with the result and sanded it down again. Then I also became aware of that the Cougar emblem insert should have been gold, not silver like mine. I assume the original handle had been replaced with one from a 70 Eliminator so I did not want to spend more time on it, as it would never be correct for my car anyway. Then I just had to look at the WCCC parts catalog once again and I ended up buying one of their reproduction handles.
http://www2.cougarpartscatalog.com/woodt.html
Javier at WCCC warned me that the wood on the reproduction handle was a little lighter in color that the original, but I figured I could do something to change that.

A couple of days ago I got my box with parts from the WCCC Black Friday sale, and I picked up the XR7-G handle and unfortunately I did not like what I saw.

The color was the least problem with this one. It looks like it is made of a different wood, maybe oak? It does not look like walnut to me. (I might be wrong on this one) What I found to be more of a problem was that it was poorly made, the holes in the wood had been drilled out of center so they did not align with the chrome and were mounted a little slanted, the shape of the wood is not correct and finally because the wood is not centered and drilled right the black plastic knob that goes in the handle does not move freely and get stuck in the inner position. The last can be fixed, but the rest is not fixable. On more thing that I noticed is that the chrome part on the reproduction handle has been grind and polished so hard that it is rounded where it should have sharp edges. I might be picky and this might sound worse than it is, it is still a nice handle for someone, but it is not something I would like to use on an original G.



Many years ago I bought a NOS wood shifter handle at a swap meet that I planned to use on my 1967 Mercury S-55 convertible. Fortunately I ended up using the original chrome handle for that car and I had almost forgotten that I had the extra wood handle here. I pulled it out of my closet and inspected it. It was a perfect walnut wood handle and totally identical to the one that were original for my car except for that there was no Cougar emblem. So I decided to turn this handle into a G-handle. First step on my plan was to find a good way to remove the emblem from the new handle. I assumed it was glued in there, and usually glue gets softer with heat. So I heated up the reproduction handle and the emblem fell out by itself. This gave me mixed feelings, it scared me a little that it came out that easy, but on the other hand I was happy too



Here is a picture showing the 3 different handles. The light wood color on the reproduction does not show as good on the picture as it does in real life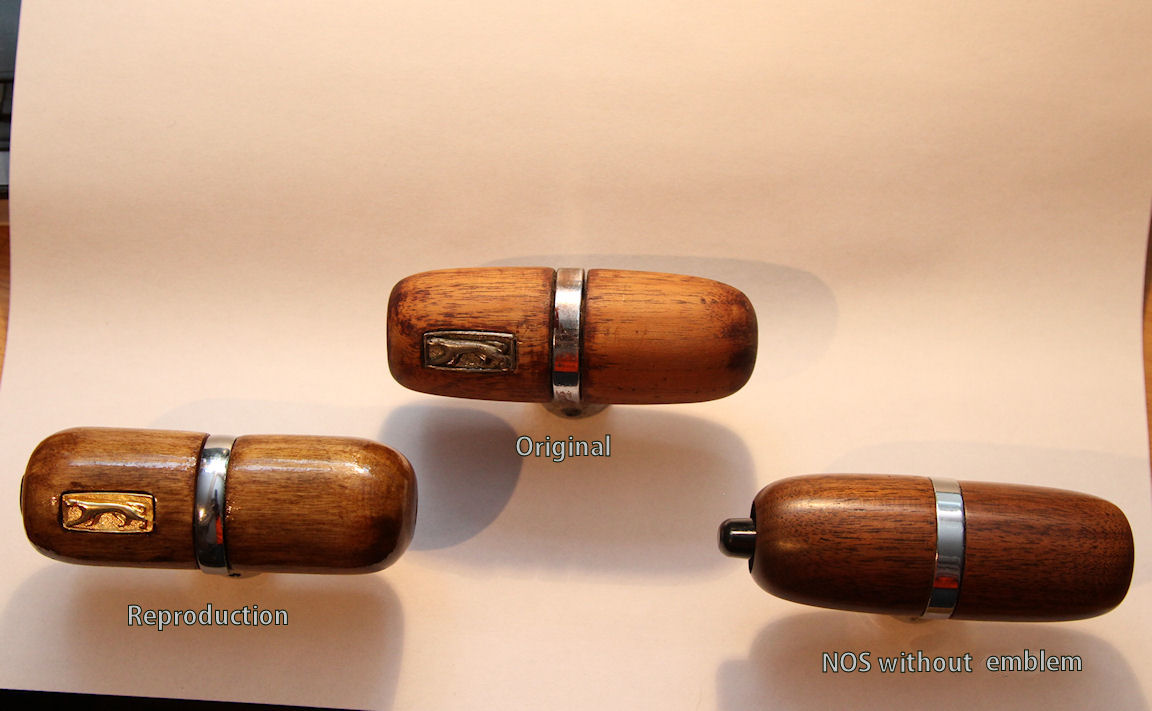 I decided to use a sharp hobby knife to carve out the wood hole for the emblem in the NOS handle. To do this I needed a sharp knife, a steady hand and lots of patience, but the result is pretty good.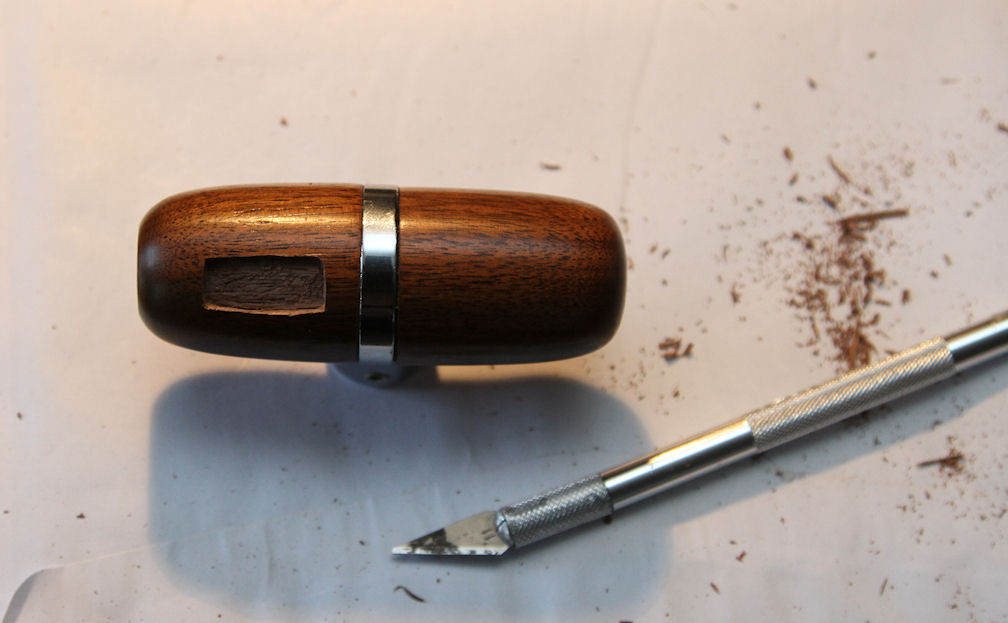 Finally I glued in the Cougar emblem(using a good quality glue) and there it was. In my opinion this is a much nicer handle that the reproduction. The only thing that makes me feel a little bad about the result is the price I ended up paying for that little gold cougar emblem.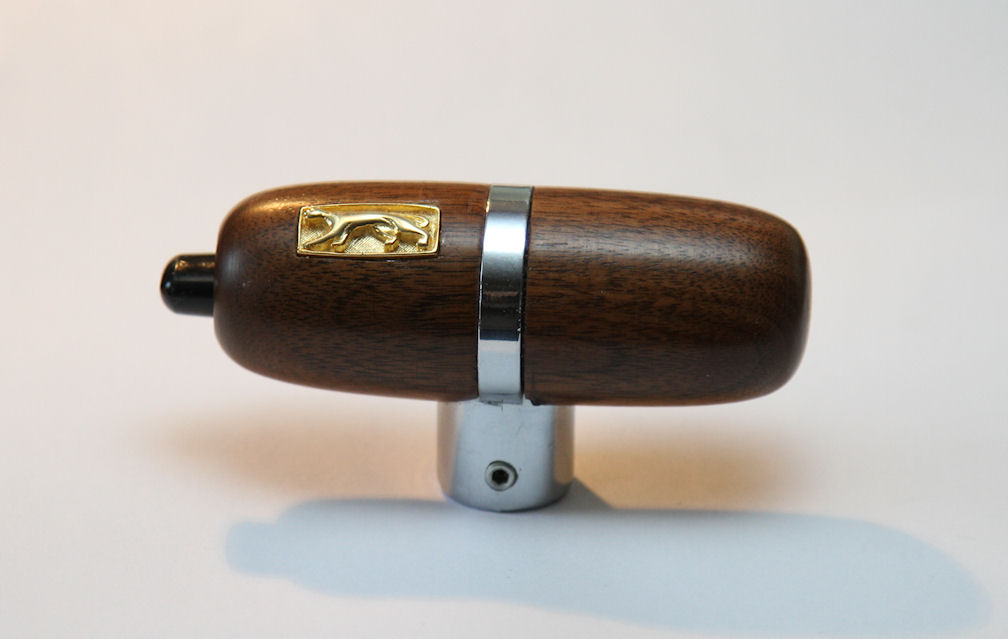 4-21-2013
I guess some of you have started wondering if this car will ever get finished. For some reason it seems like my own projects always comes behind other things to do, but now this cat is going to be finished soon (unless something unexpected happens)
So last week I got the headliner installed. It was really hard to make it fit right and to be true I am not totally happy with it. At first I could not make it fit at all but after measuring the length between the bows and relocate one of the bows I was able to make it fit pretty good and install it without any major wrinkles.
Then it was time for the new windshield and the rear glass to be put in. I pulled out the new windshield rubber from the package and noticed to my surprise that it was marked "Made in India". Then I inspected the rubber and it looked nice but the rubber felt much stiffer than usual. I tried to get the edge of the windshield into the rubber, but ended up struggling opening up the gap in the rubber. So I went inside and pulled out another windshield rubber I had on my shelf and that I bought several years ago. It was from the same manufacturer (Daniel Carpenter), but marked Made In USA. I opened the package and yes, this was a very different and much better quality. Nice soft rubber just like I want it. so my advice is, if you can find the Made in USA rubber, get it as it makes the installation a lot easier.

OK, so for another lousy reproduction part...... Next up on my schedule was to install the dash pad. I bought a black reproduction dash pad from WCCC some years ago. Back then I bought it for a different Cougar, but that car is sold and the new owner didn't want the new dash pad so instead of buying one in red I decided to dye it and use it for my G. I have read about the problems with these dash pads so I knew it was kind of tricky to install as it is way too thick in several places. Well, I just had to give it a try, but it just did not work to my satisfaction. Then I started to think that there must be a way to modify the dash pad to make it fit better. So I took it out and started to inspect the underside and got a pretty wild idea. I decided to grind off the excess material of the underside of the dash pad to make it thin and form-able just like the original. I took my angle grinder, put on a 60 grit sanding disc and started to grind off the foam rubber or whatever material they used to make this. It is a dirty job as the material I grind off was kind of sticky. Also if you have to dye your dash pad I would recommend to do that after this job.

If you should decide to try this please be careful. Stop often and check the thickness as you don't want to grind through the dash pad. Anyway after I got all the sticky dust removed from the dash pad I was eager to see if my effort gave the result I hoped for. To my satisfaction it did, and the rest of the installation went smooth and nice just like a dream.



Here are some pictures showing the dash pad. Here I have started grinding the front lip.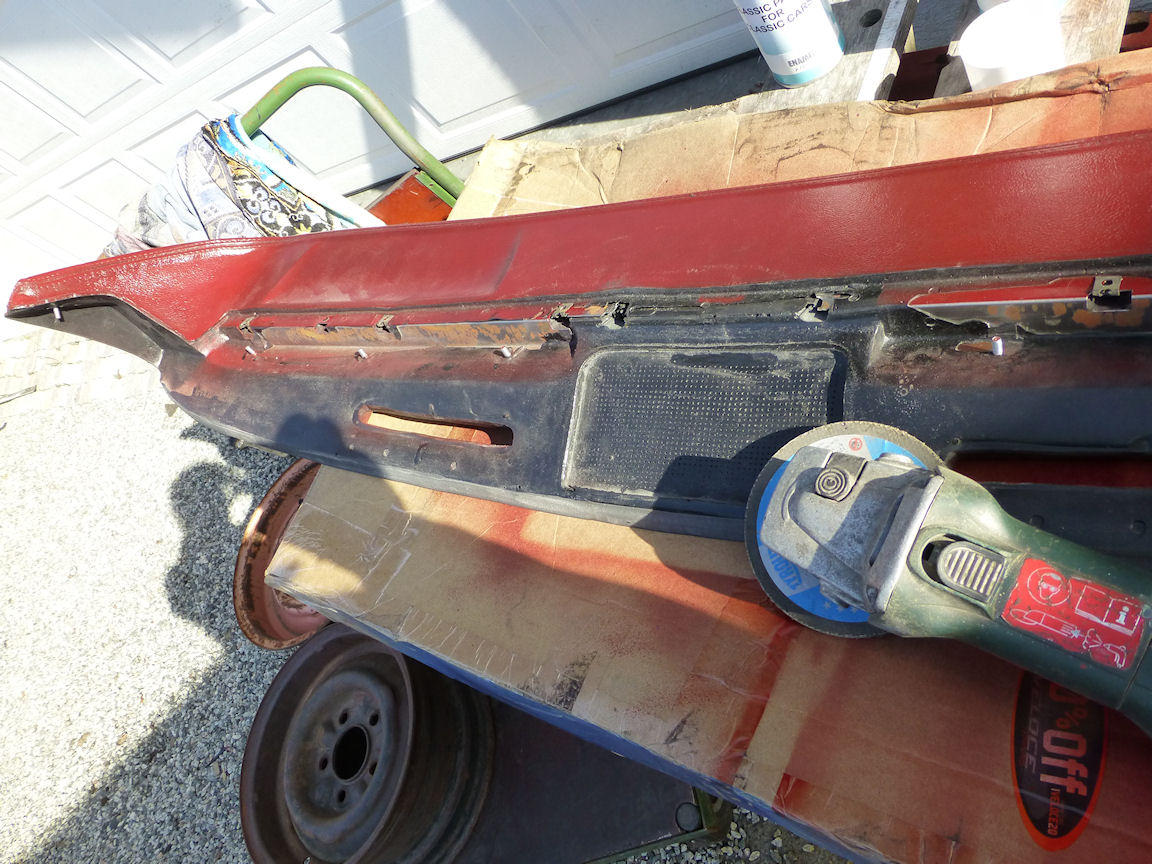 Hopefully you can see the difference here.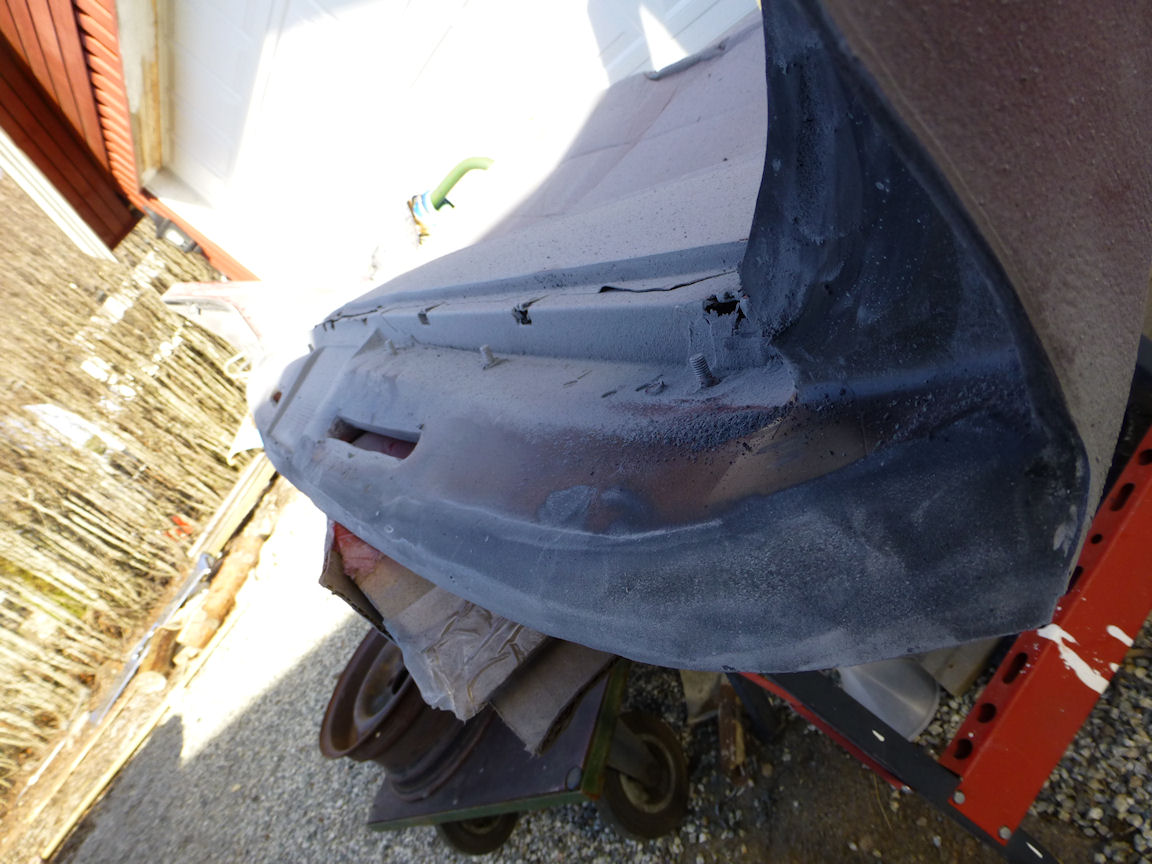 Here is a different view showing better what I have done.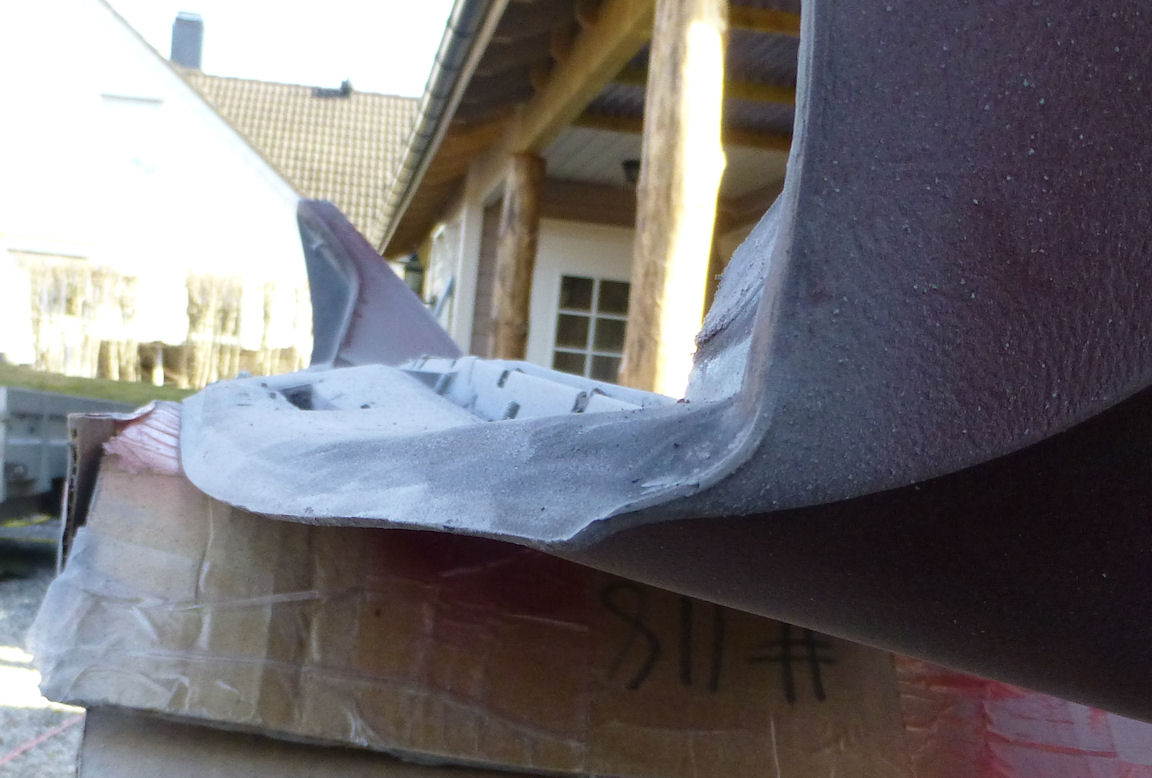 As you can see the trim for the windshield fits right and it was easy to install as well.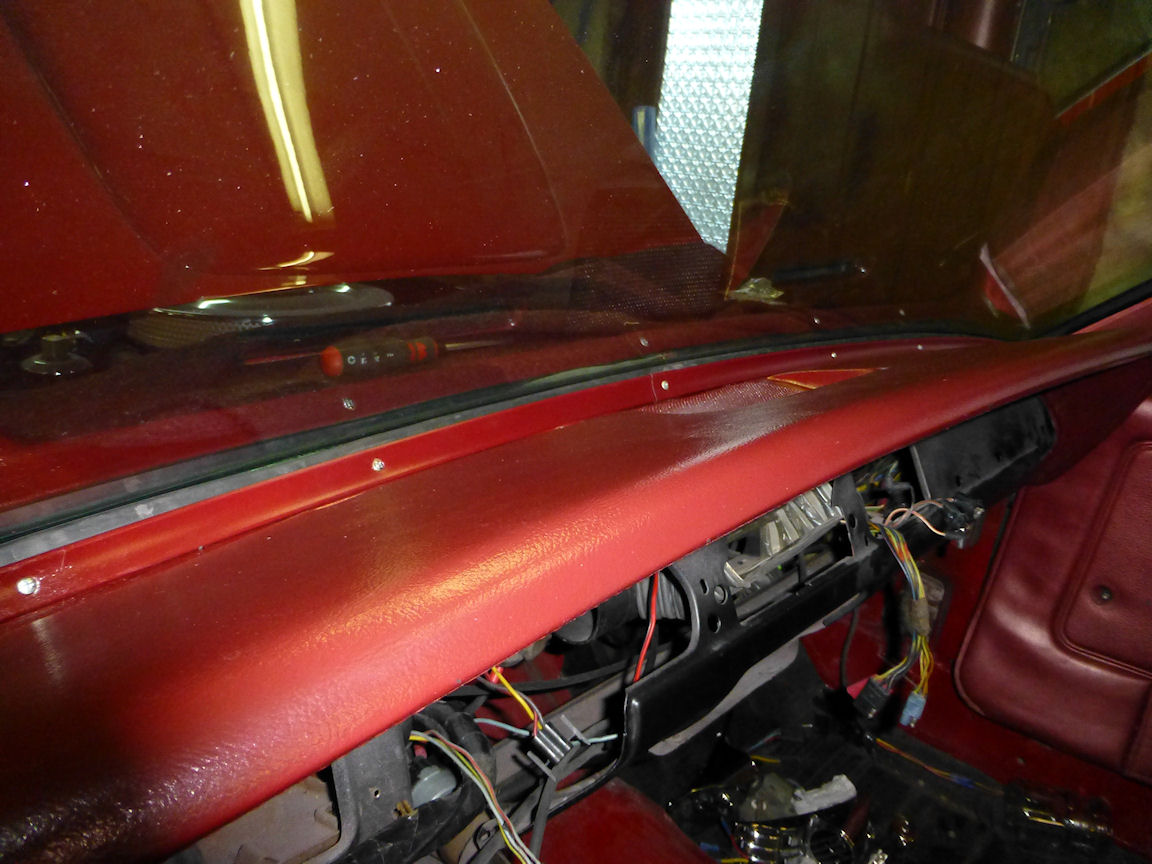 4-22-2013
Dennis, if you only knew how many ill fitting reproduction parts I have just thrown in garbage or had to modify to make them fit you would be totally amazed. The first time I restored a Mustang (a 67 GT fastback) I was new to these care and just could not believe how they managed to sell all the crap i got from National Parts Depot and got away with it. When you get a front fender extension that is 5% too small, windshield moldings that fits so bad that you at first think they must have been put in the wrong package, a trunk lid where I had to redo the corners, a door skin that I just could not believe was made by someone who knew how a 67 Mustang door was supposed to look like, a trunk trim that I still have not figured out what it was meant to fit, a front bumper that was an inch too wide and I can probably go on forever. Some reproduction parts are very good as well, like the tail ight chrome for the 70 Cougar, but it is amazing that the product control is so poor, especially at the big parts suppliers like NDP and Mustangs Unlimited. Last week I got a steering wheel from MU that I guess never will be installed on a car because of the terrible poor quality and that it feels like crap in my hands. I tried to complain, but so far they seems to have forgotten to answer my e-mail. One thing is poor made reproduction parts, another problem I have all the time when I do these cars are sellers shipping wrong parts or parts not as described. But that's another story.
If I should mention one car I have restored where I got absolutely perfect reproduction parts all the way it must be the 1957 Thunderbird i restored from a pile of rust a few years ago. For that car I ordered all my parts from Casco http://www.classictbird.com and they made me very happy and the restoration easy. They do an incredible job making many of these parts at their own shop in Ohio.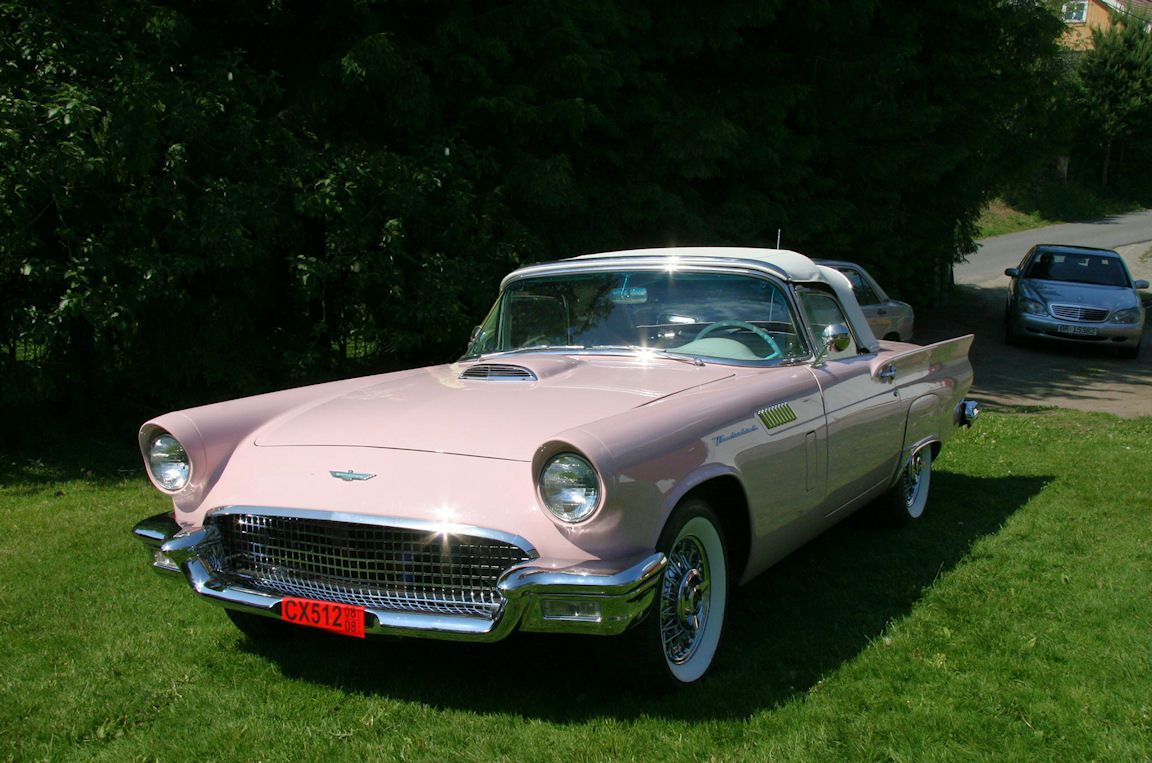 6-30-2013
Restoring cars is not easy. Sometimes you have to do things over again to be satisfied with the result. As I mentioned in my earlier post I was not happy with the headliner and after looking at it for a month and getting more and more irritated by how it turned out I decided to pull the glass and roof trim and redo it. What I did not tell in my previous post is that I had already installed the headliner twice. The first time came out totally miserable and then the second time when I relocated the bows it came out better but far from perfect. At the Mercury Club of Norway sumer meet there was another sun roof cougar and the the headliner in that car was perfect, and it turned out he had used a regular headliner from a non sun roof car. That made me wonder maybe I should order a std headliner for my car instead of the sun rood headliner

. Maybe there is something about these reproduction sun roof headliners that just is not right for my car? So I ordered a regular headliner and when I started to install it I noticed right away that this would work much better. The first thing I had to do was to relocate the bows back to their original position, which is a good sign. From there everything went smooth and easy and the result is so much better



But that's not all. When I pulled out the not so successful headliner I noticed that the sun roof motor was hanging in only one of the rubber mounts. Or maybe I should say what used to be rubber mounts. The had now turned into bakelite and when I tried to remove the nut on the remaining mount it also broke off. Not good, but far better to find this out now than later when the new headliner is in. I was unable to find similar rubber mounts so I decided to make a new mount and also to relocate the motor a bit to minimize the bend on the power transfer cable from the motor to the sun roof gear. This is a much better solution and the the motor runs much better after the modification. As you can see I have not used any insulators, so the motor makes a little more noise now. That is not a problem for me at all.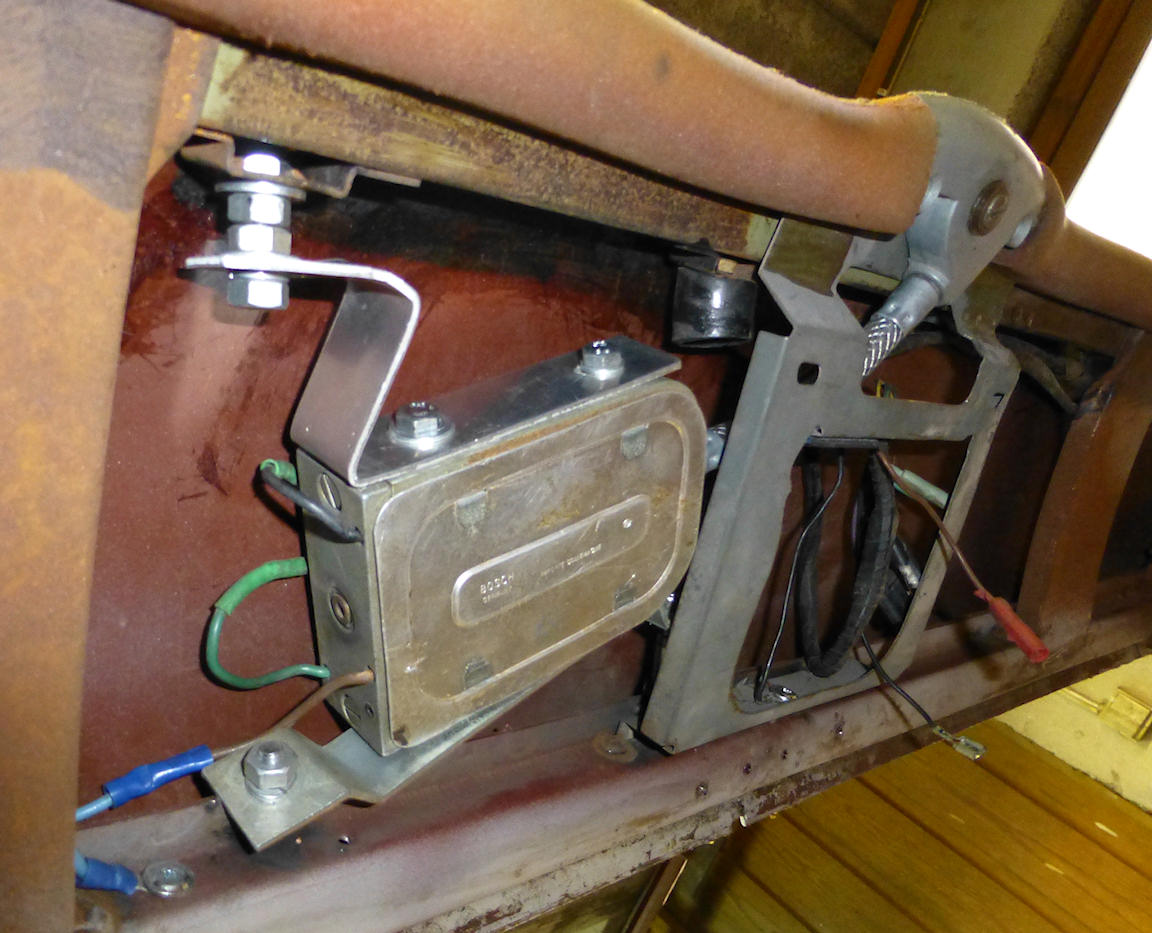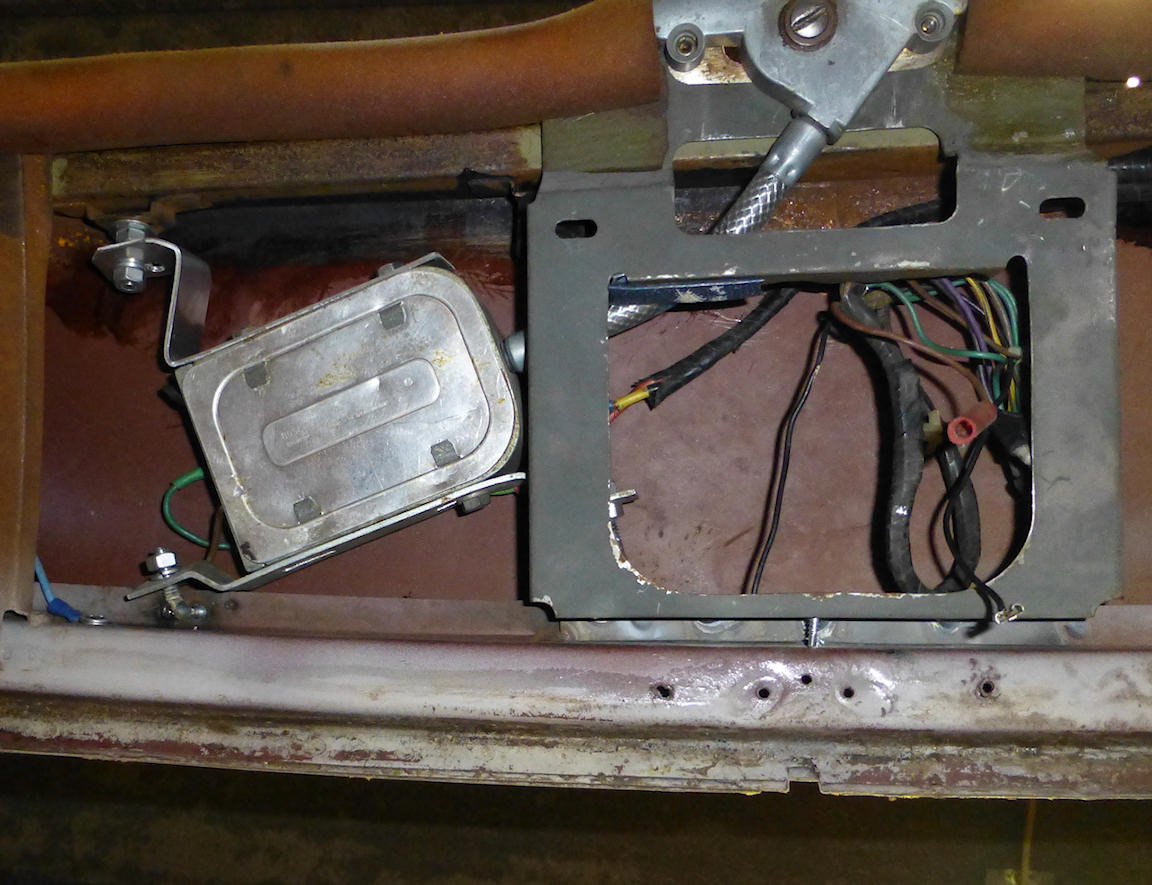 I also want to mention that I decided to put some insulation under the sun roof cassette. In my opinion this serves two purposes as it both insulates from noise and it will also protect the passengers head if they should accidentally knock their head in the roof. This picture was shot before I tried to install the headliners.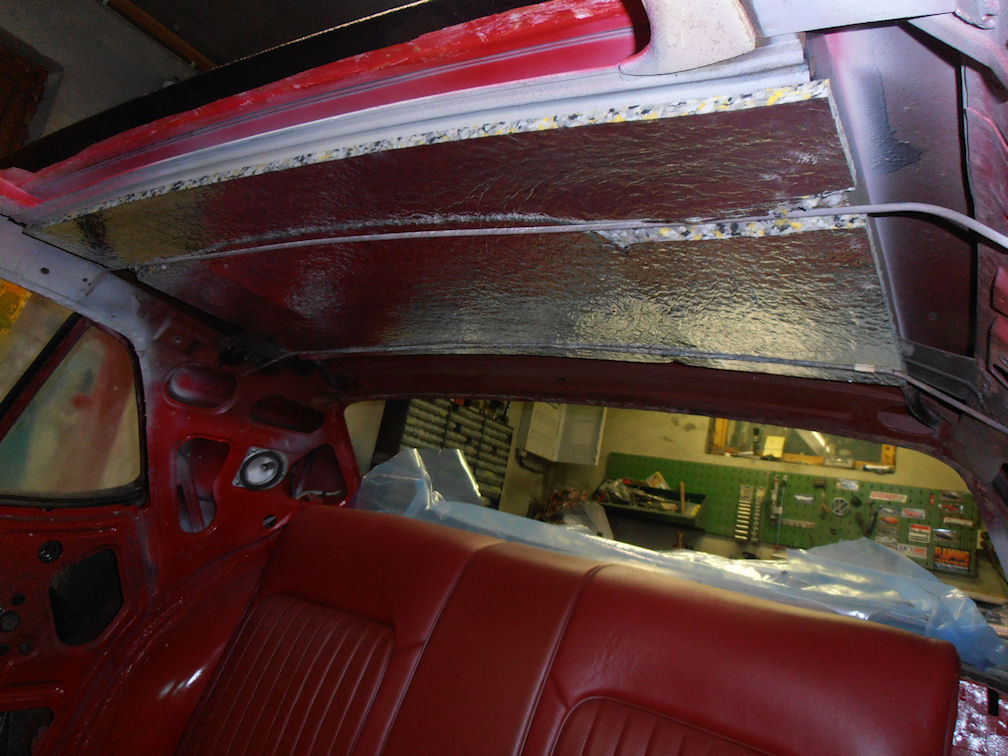 Here is a picture of the holes I had to make to relocate the bows for the sun roof headliner. The number 1 hole is the factory made hole for a non sunroof car, the number 2 is the holes I made to relocate the bow for the reproduction sunroof headliner and as you can see the headliner bow now is located back in the holes made by ASC when they installed the sun roof.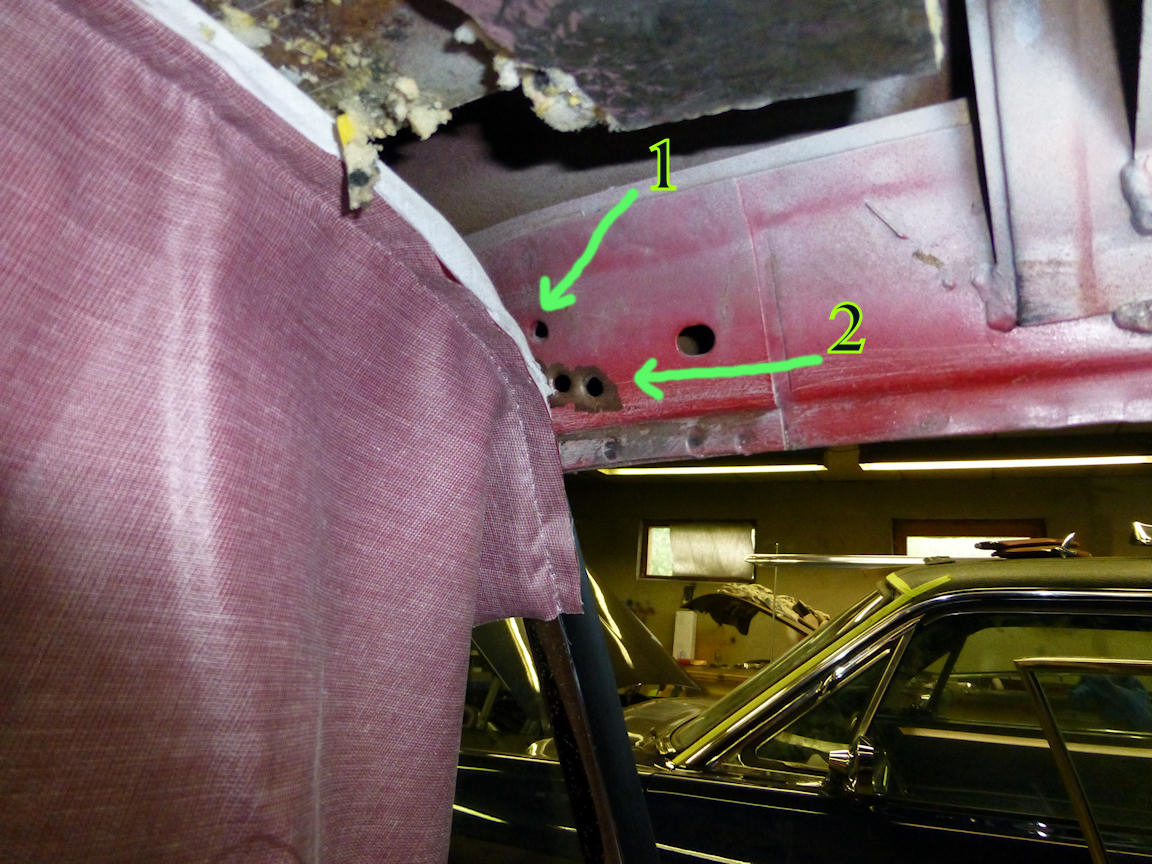 Now here is a tip I would recommend when you install a headliner. When you hang up the headliner you can stretch it out and test how it fits using windlace to hold it to the edges of the roof. Then you don't need to use any glue before you are 100% sure it is located right.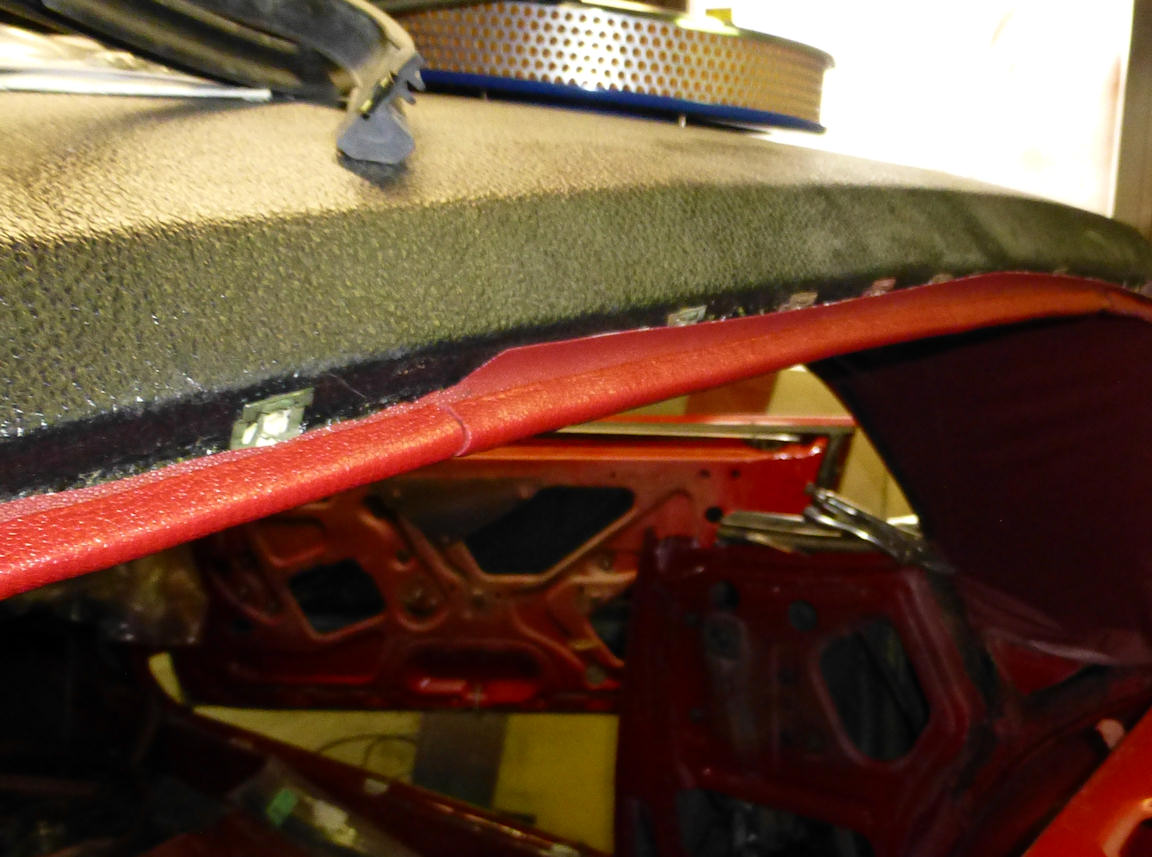 OK, so now for the final result. Looking good, eh?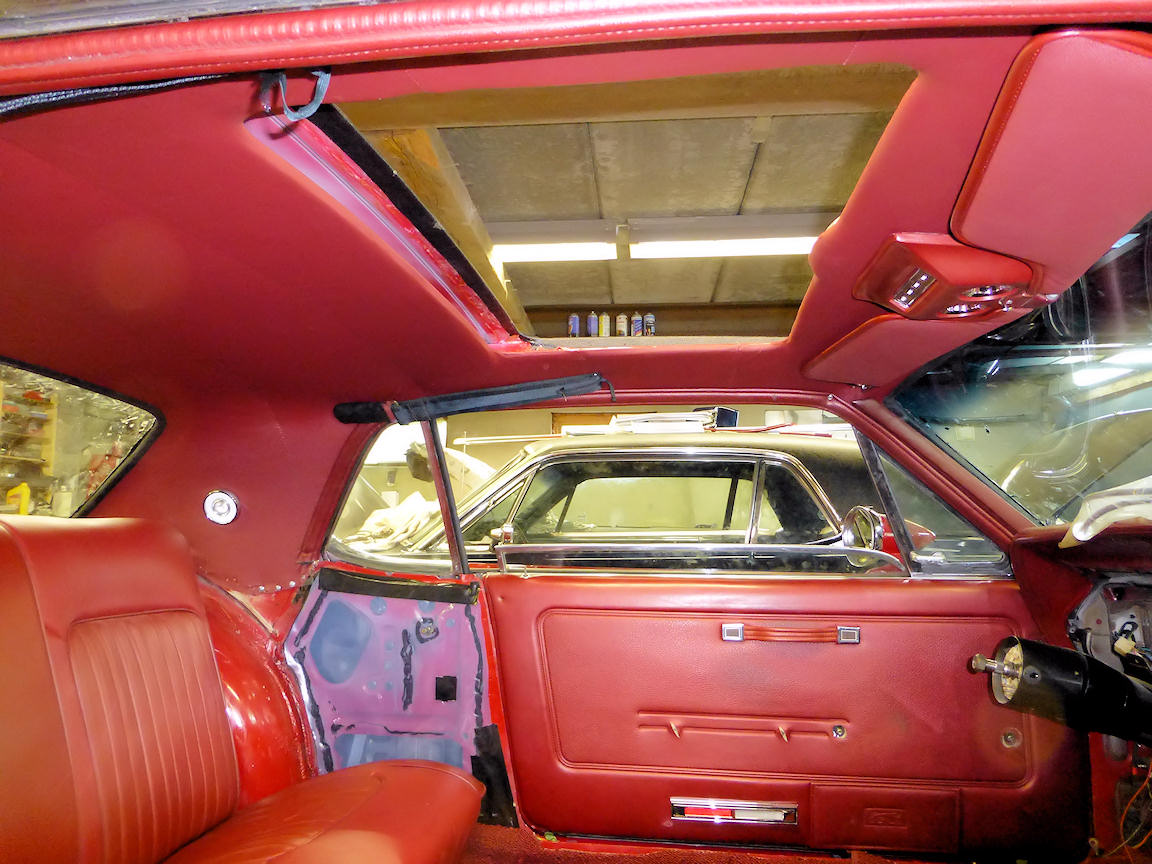 While I am in the mood to post some updates, here is a little more.

I want a discreet but still upgraded stereo system in the car. So this is what I ended up with, JBL 6x9" in the rear and Blaupunkt 5 1/4" in the front. On the top of the rear speakers I decided to use the reproduction speaker grilles and ordered a set like these http://www2.cougarpartscatalog.com/69pktraygrl.html?attribs=76. I also had to make a new plate for the package tray so I bought a masonite board at a local store that had exactly the same surface structure as the original. I used the old cracked on e as a pattern and also cut out the holes for the speakers and the rear defogger that I will install.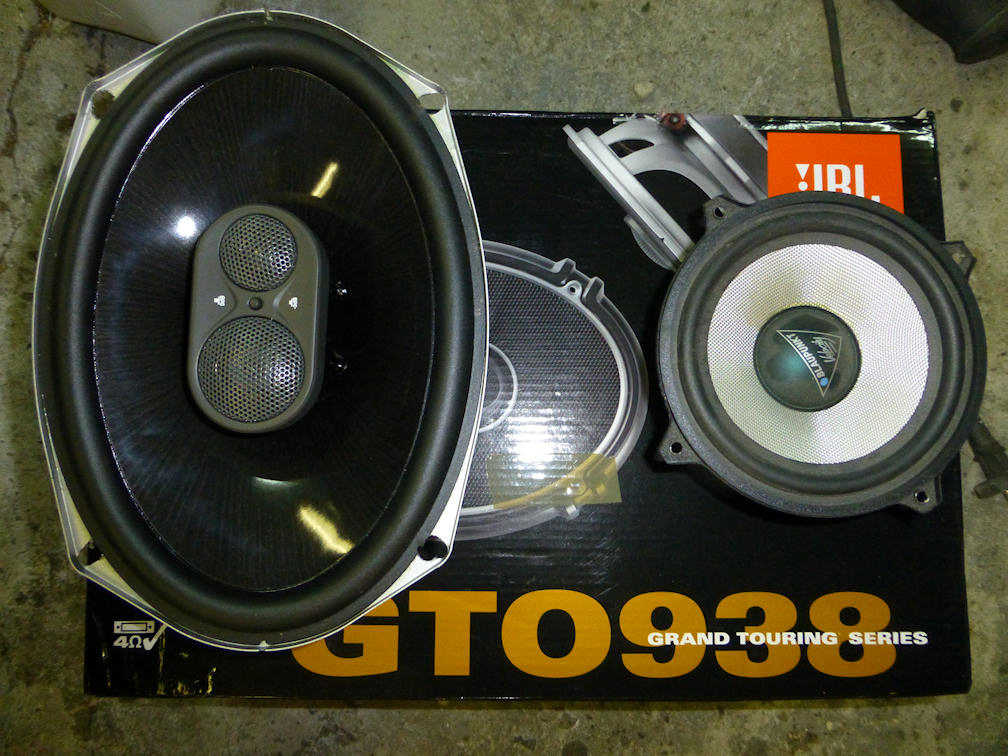 Here is the speakers and new package tray in place. Also in this picture is an aluminum plate I installed behind the seat instead of the cardboard plate. This plate has two functions that I like. First of all, the fuel tank is a part of the trunk floor. With a major hit in the rear who knows what might happen and this plate adds a little security if the worst thing should happen. The plate will also stiffen the rear of the body, so that is also good. I decided to paint the speaker grilles the same color as the interior as I just don't not like them in black. I don't know about Cougars, but for full size Mercury these were usually painted the same color as the interior when factory installed. Finally I am installing a rear window defogger in the package tray. The one pictured is not correct for the car and is only used to make the holes for the installation. I have a NOS all correct defogger kit that will go into there.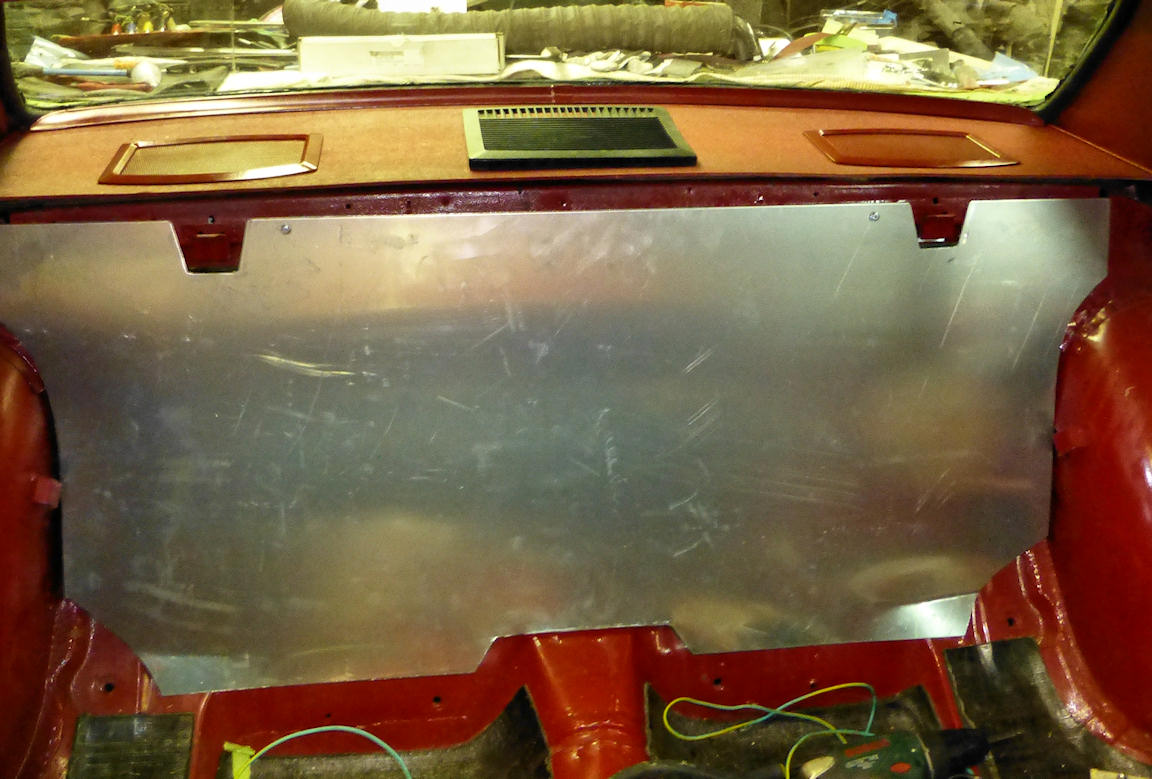 The aluminum divider plate were covered with sound deadener on both sides. For thee trunk side I use a self adhesive asphalt type material that looks very neutral and original and behind the seat I used the same sound deadener I used up in the roof.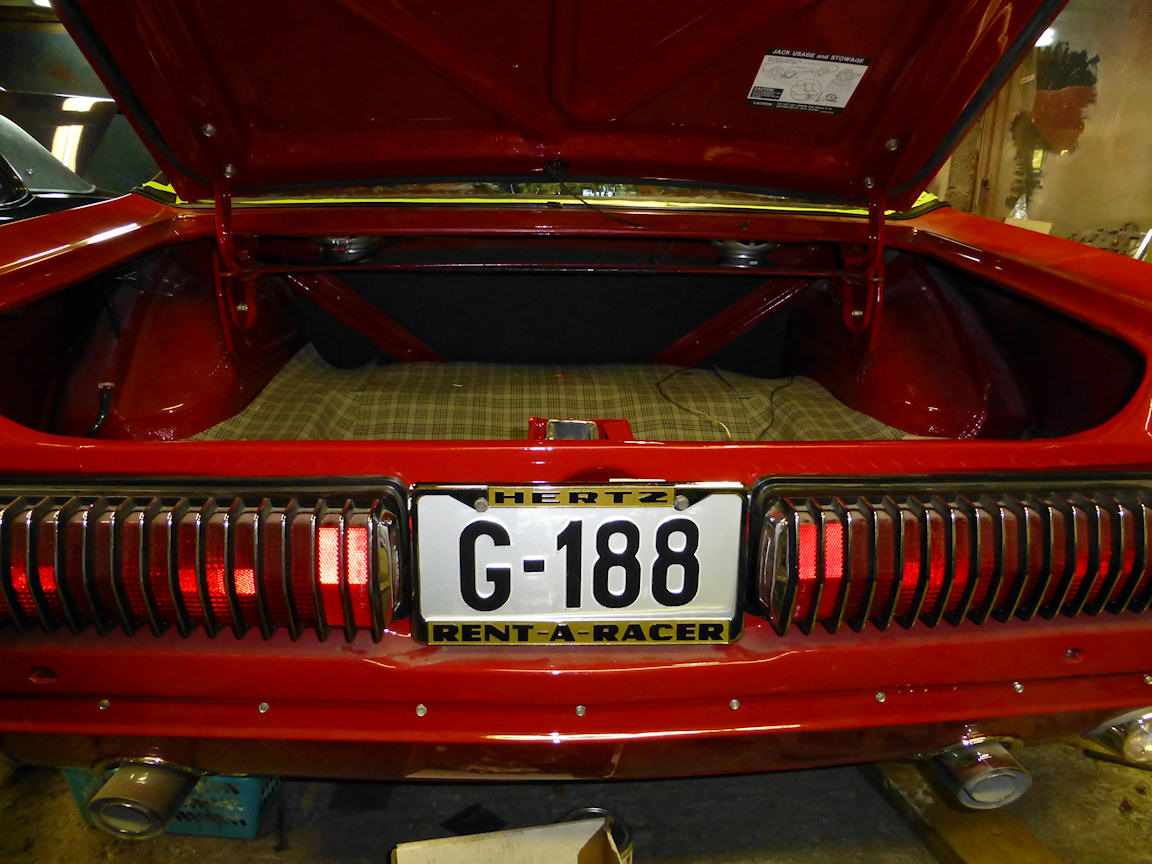 OK, so here is the inside of the plate with the sound deadener. Here i have also installed the carpet in the car.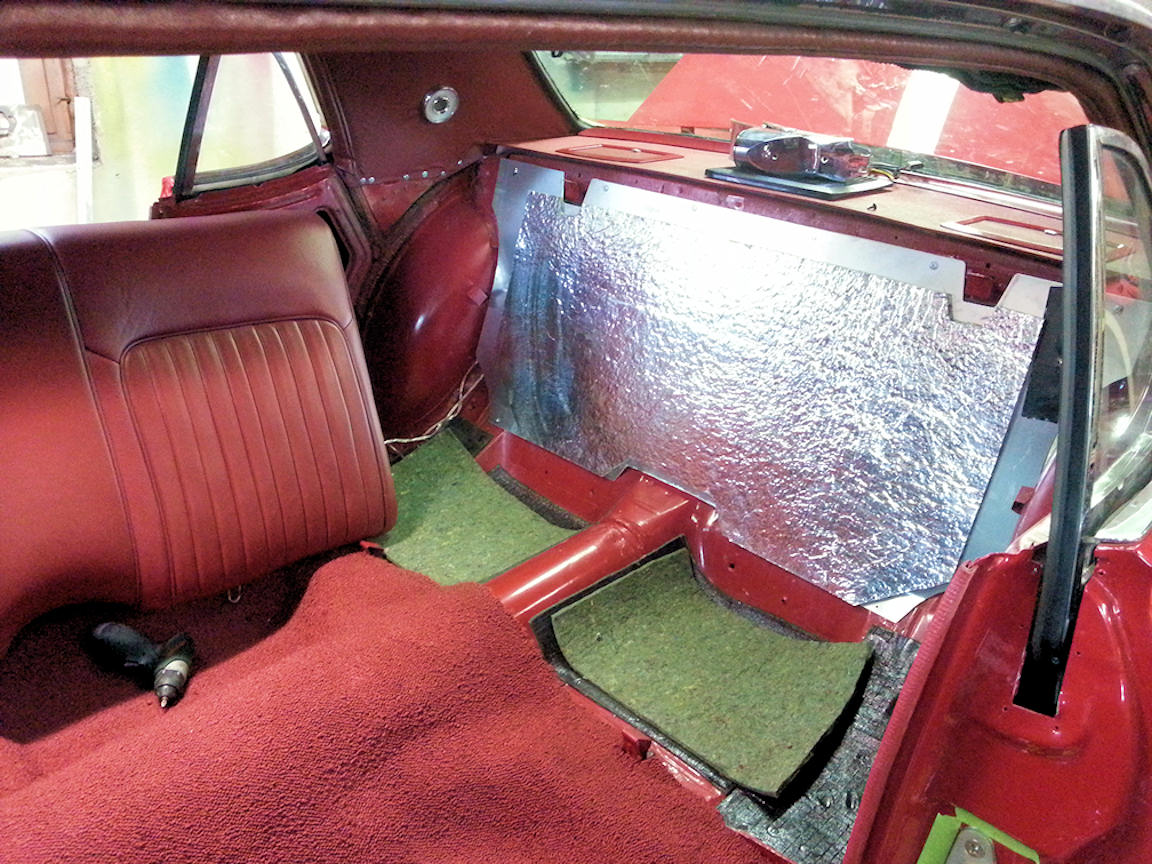 As some of you probably have experienced, the plastic used for the rear interior panels are usually extremely brittle and cracked. The set I bought together with the door panels for my car were among the better I have seen, but still had cracks in them. Luckily this is easily fixed by using fiberglass and polyester.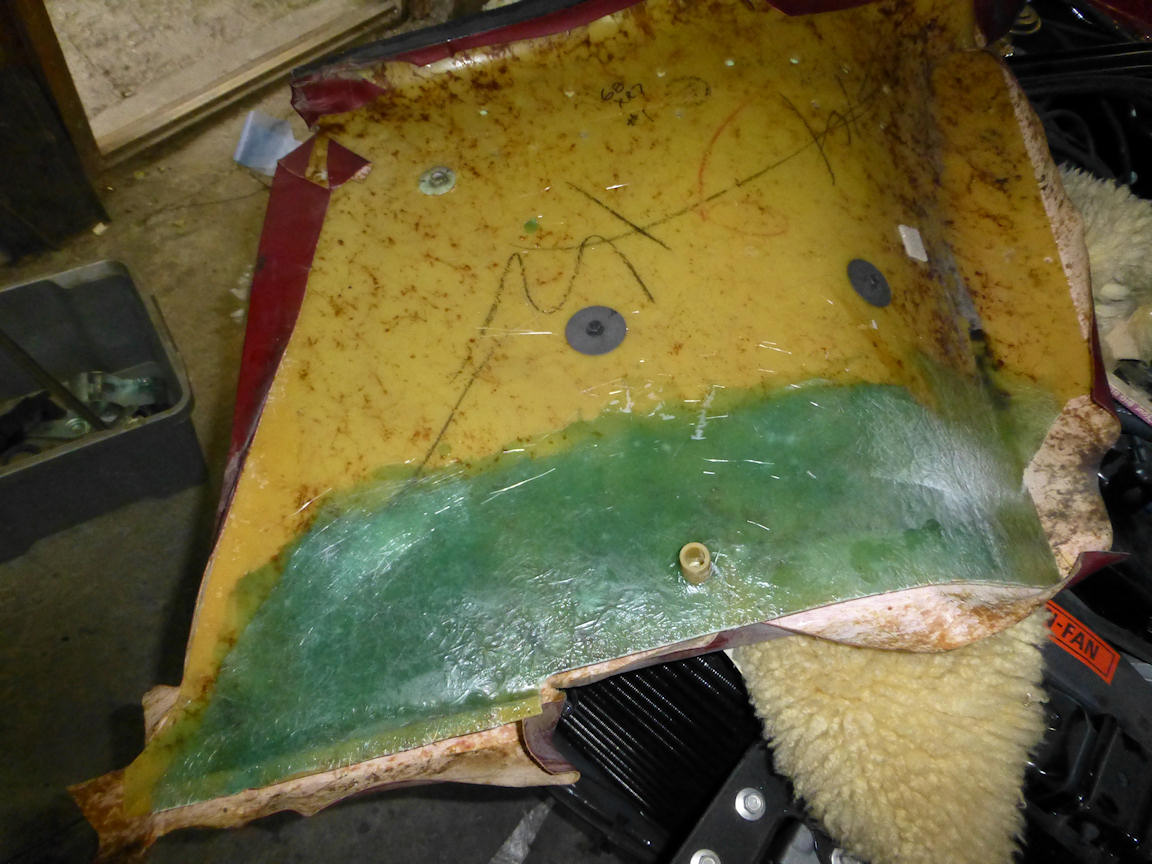 Tonight I installed the panels in the car.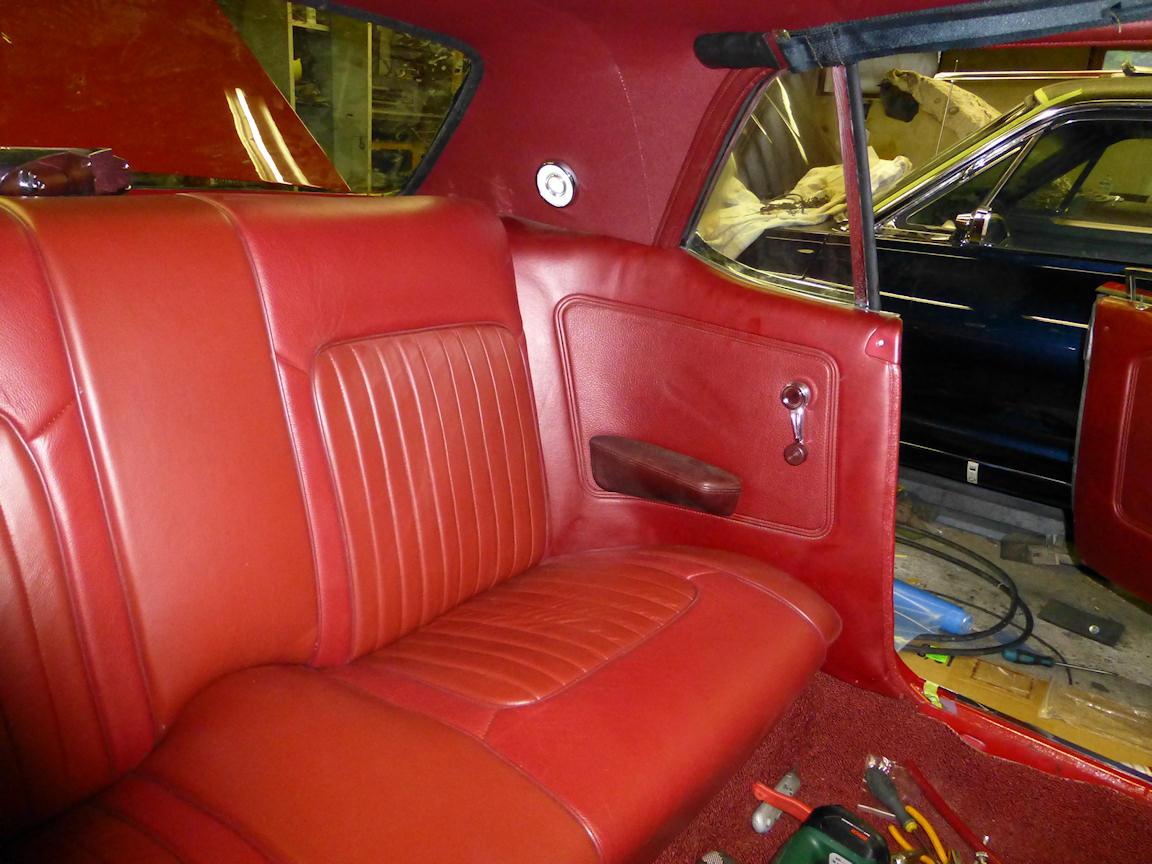 Just for fun, this is as messy as it can be inside the car when I am working.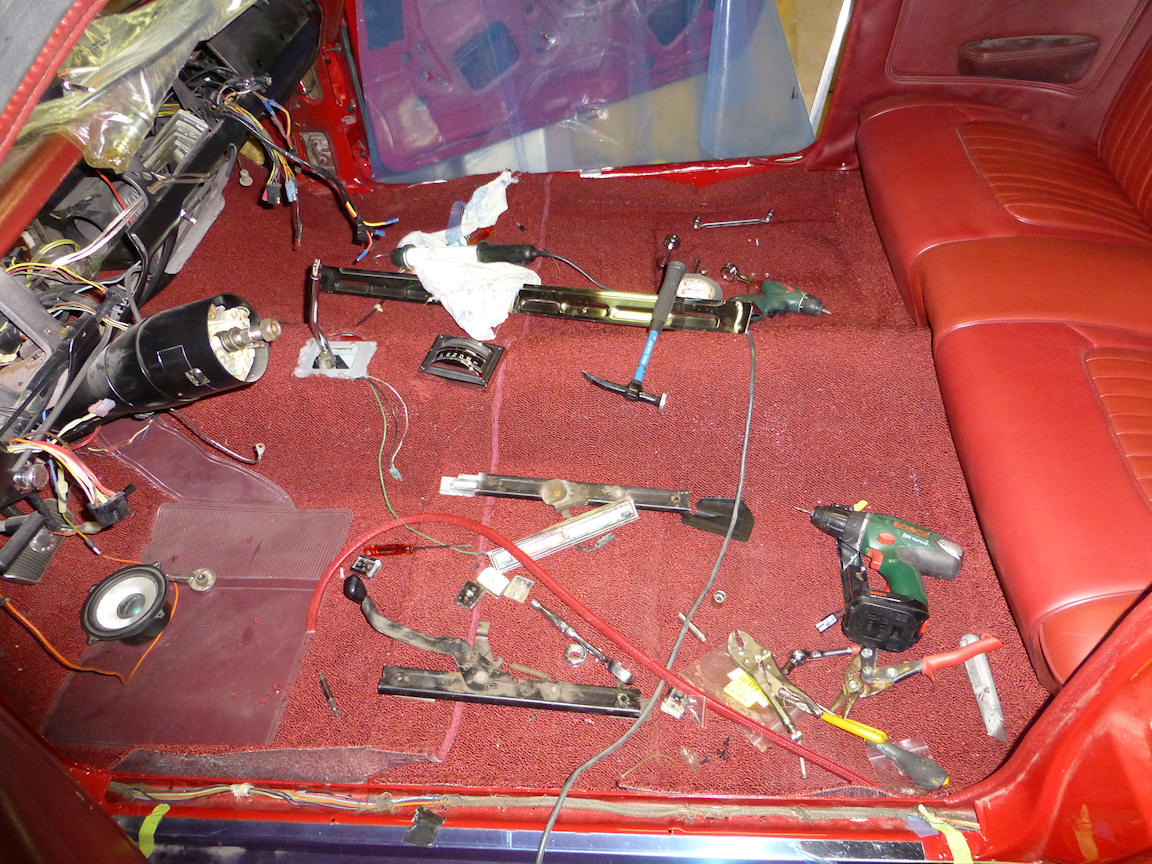 Which leads me to mention another pretty funny reproduction part. I bought a new shifter bezel for the G and while the chrome and indicator is really nice, I can't say the same about the quality of the rubber shield for the shifter rod. I guess it is another cheap rubber part made out of recirculated car tires in India or whatever. At least the rubber broke when I pushed the bezel on. Luckily I had bought a good soft quality Scott Drake rubber shield before I decided to replace the whole bezel so I installed it instead. I guess I could write a book about not so good reproduction parts when I am done with this car.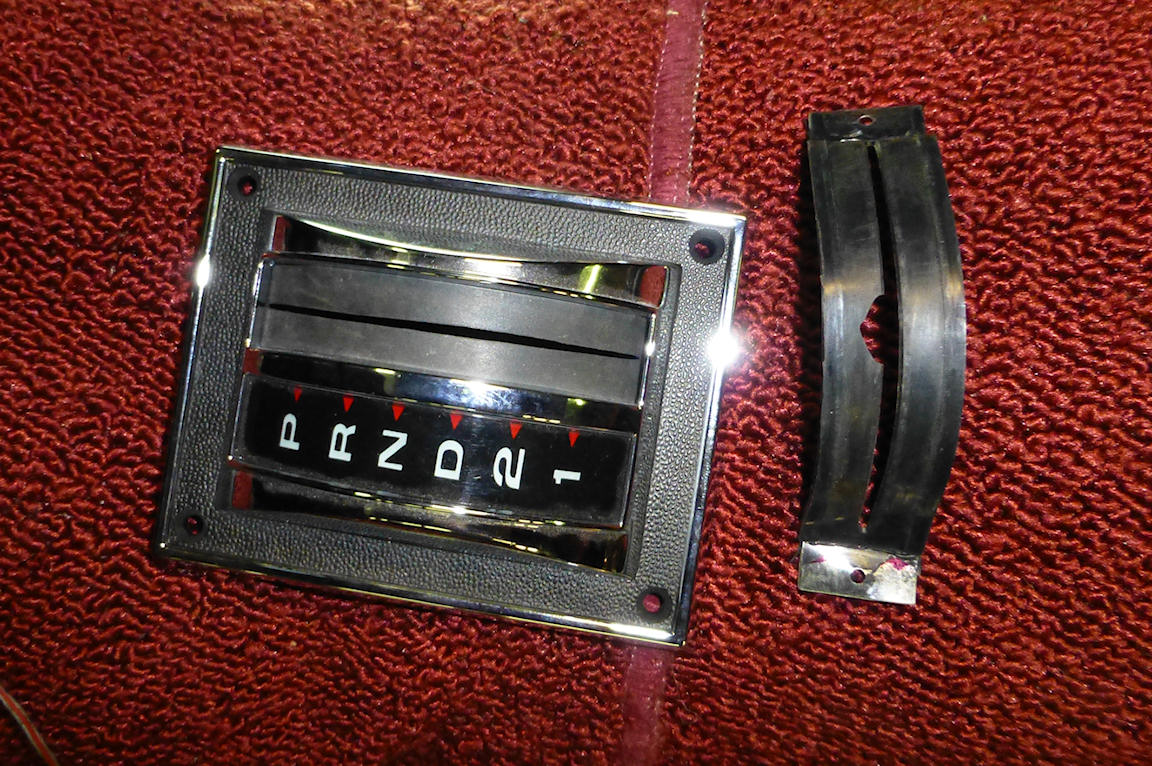 OK, the final picture for now.... not very interesting, but very important. Here I have made good quality plastic shields for the doors to protect the precious mint condition interior door panels I bought for the car. If these are not there the door panels will be wavy and rotten in no time. Before I put the plastic on I gave the inside of the door shell a very careful treatment with anti corrosive goop and wax to protect it from future rust problems.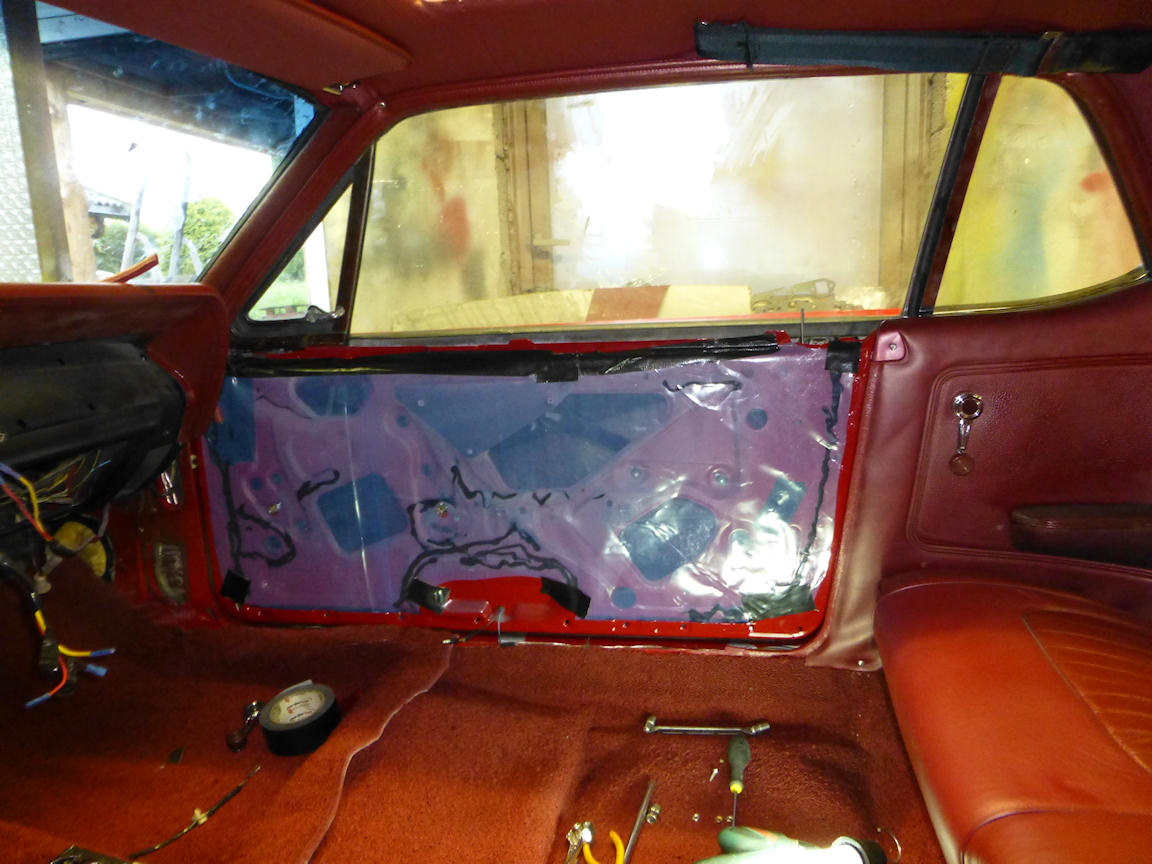 7-3-2013
I have restored a few cars through the years and for my full size Mercurys I have usually a closet full of NOS parts that I put on when I do the final assembly. Not so with Cougars. NOS parts are hard to come by and when you do they are often blemished and not good enough to use. As a result it is even more fun to open up a box with a NOS rear defogger kit, lay the parts out on a towel and inspect them and find that all is there in the same flawless condition as when it left Ford some 45 years ago. I found this kit on eBay and for some reason I was the only bidder so I got it for $100, which I think is nice. Maybe this is not a popular option, but in my opinion it is kind of cool, and I like it when people wonder what this thing in the package tray is for.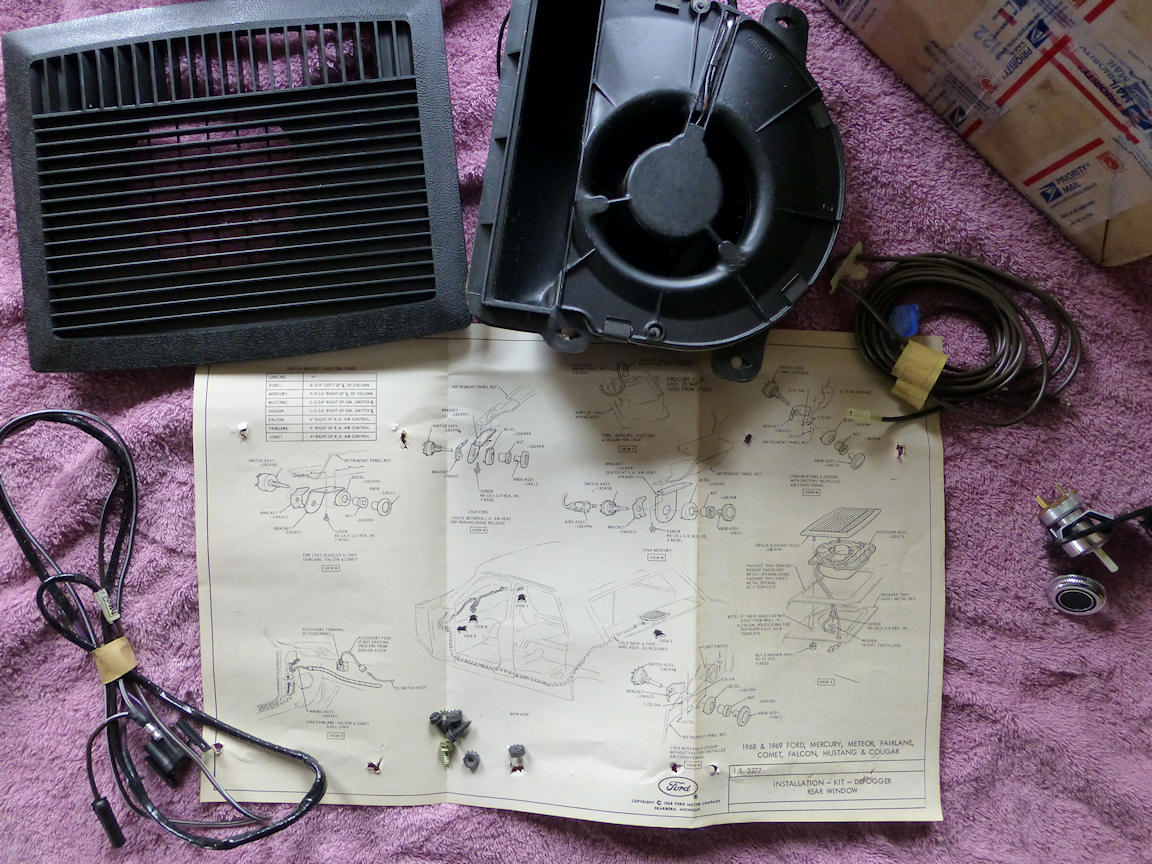 7-4-2013
If someone need an original Bosch pancake sunroof motors I will be more than happy to help you. It might sound strange, but I know about at least a couple of them here. I think the owner want $125 each. Sun roofs were far more common here in Europe back in the 60's so one can still find these now and then.

There is also a few for sale on German ebay

http://www.ebay.com/itm/141006459691?ssPageName=STRK:MEWAX:IT&_trksid=p3984.m1438.l2649

http://www.ebay.com/itm/261232195034?ssPageName=STRK:MEWAX:IT&_trksid=p3984.m1438.l2649
7-6-2013
It feels like I have been waiting for ever for nice weather so I could take my polishing machine out and get some parts polished before I put them on the car. Finally it seems like we got summer here so here I go. All the aluminum parts for the sun roof were dull and partly corroded, so I started with them. Aluminum is soft and in my opinion easy to work with. First I sanded the corroded parts with 240 grit and followed up with 320 and then I was ready to buff them to remove the sanding marks and finally I polished to make them shine. It helps a lot to have a good polish machine like the one in the picture.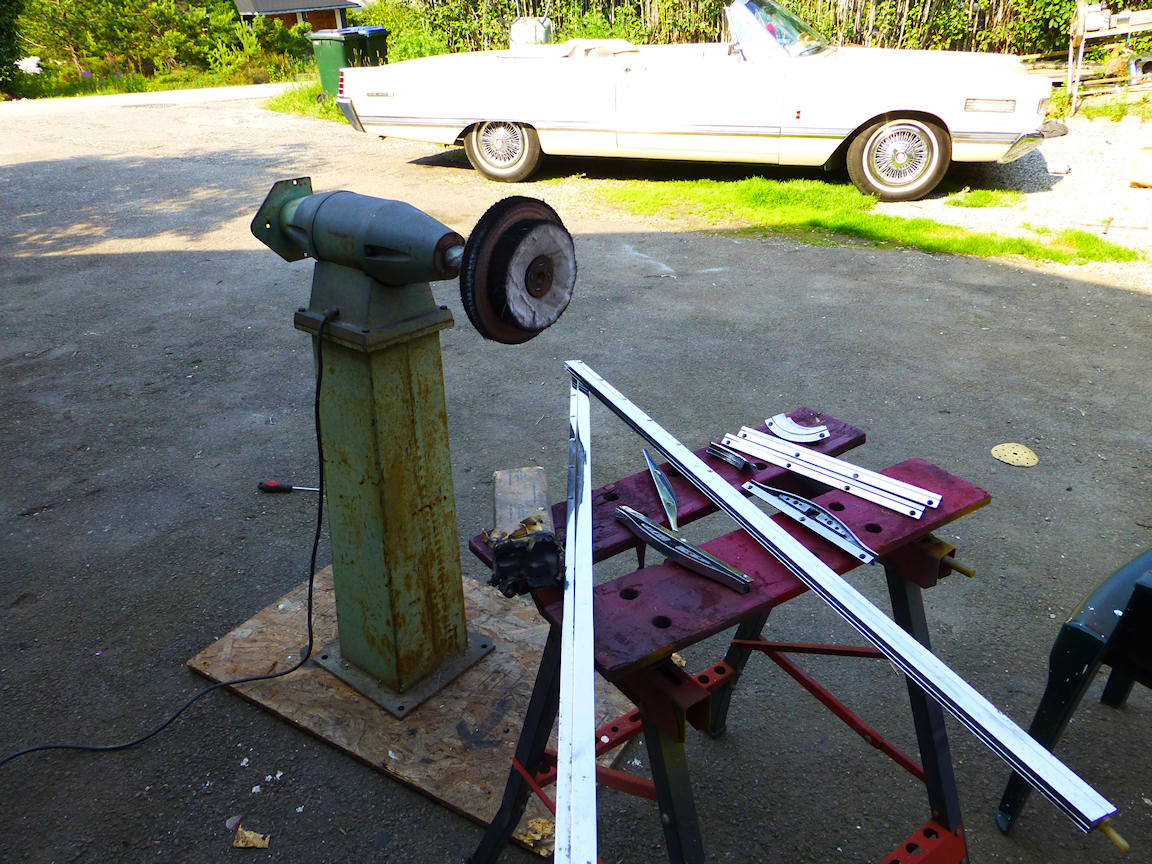 Here is everything back in the car. Luckily I had lots of extra parts and also 2 sets of sun roof cables so I could pick a good set of both cables and aluminum parts.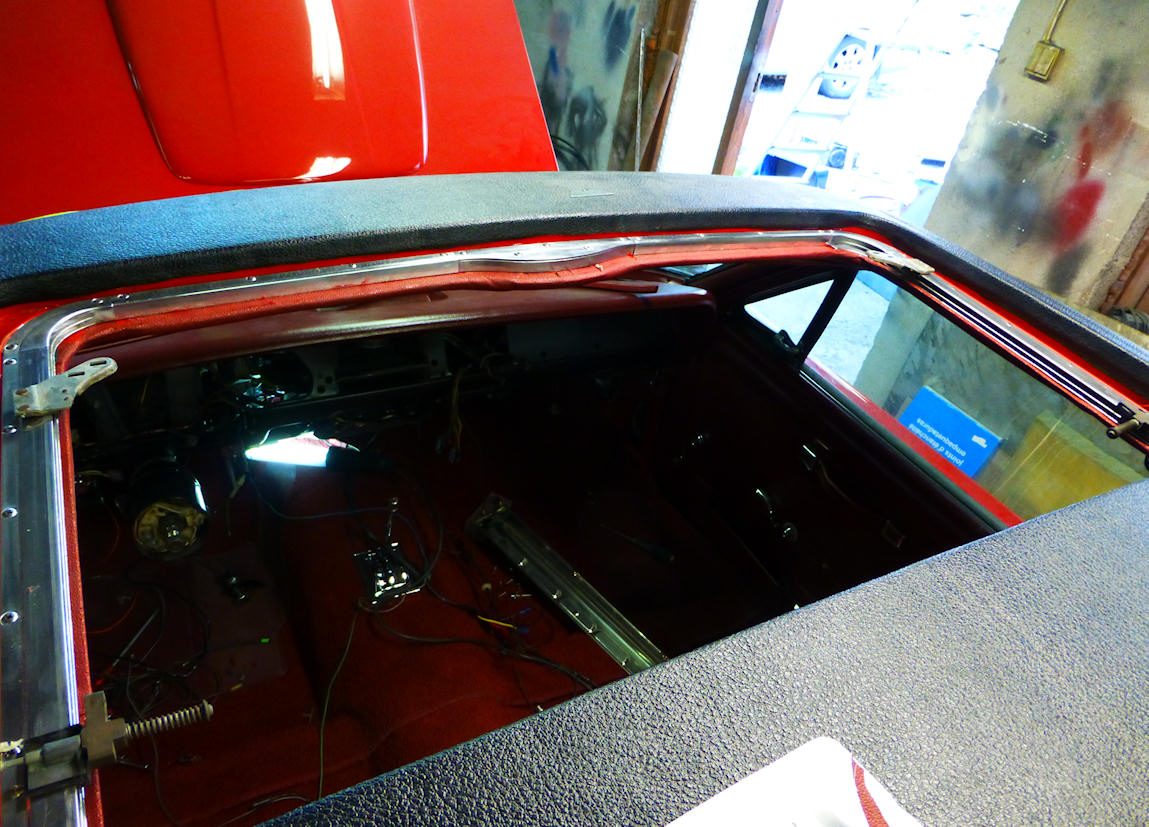 I also polished the stainless trim for the windshield and the rear glass. The trim that came on the car when I bought it had lots of dents so instead of spending a lot if time to restore them I found a really nice set of used trim that only needed a couple small dents removed and a good polish to look like new.
Now it will be interesting to see if I can get them installed without putting dents in them. Wish me luck!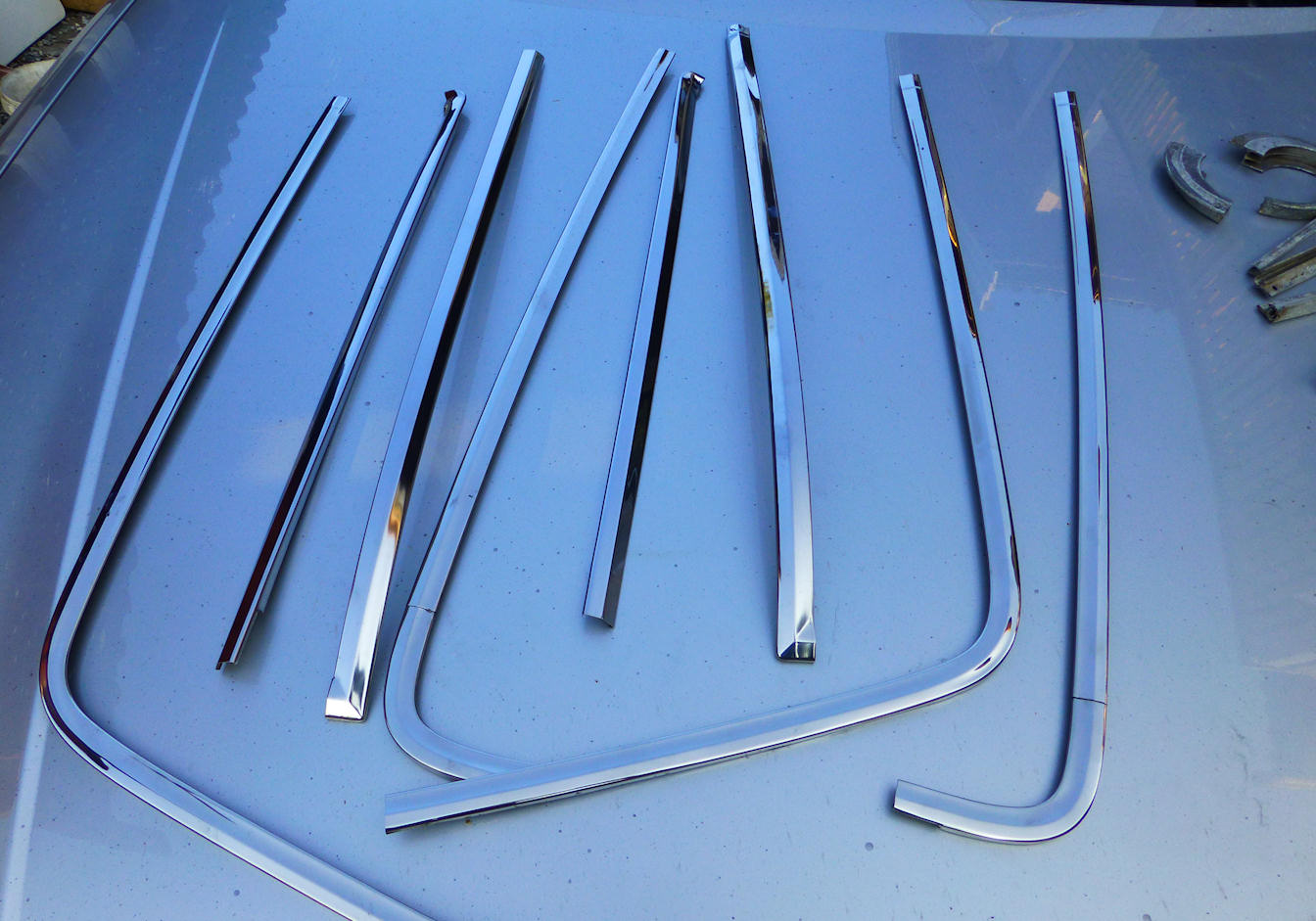 11-24-2013
So, after a much needed pause from this car I am back working on my G. I had just too many unfinished projects going on here at once and unfortunately I had all kind of problems to finish them, and especially to get parts that were reasonable good quality seems to be a growing problem. So I decided to put my G on hold and focus on my brothers 70 XR7 convertible and the 68 XR7 GT to get them out of my way and free up some space.

Now I have been working on my G for a few weeks and the first thing I did was to install the new windshield. Yes, I know I had put in a windshield a long time ago. Unfortunately the first one cracked when I put on the lower windshield molding, as I just could not make the restored molding to sit and finally tried to get it in place with a wooden block and a hammer. Well, my hammer and my windshield did not go good together, and the catastrophe was a reality. Oh well, with the new windshield in place I could hang on the front fenders and get them adjusted to see how the front would line up.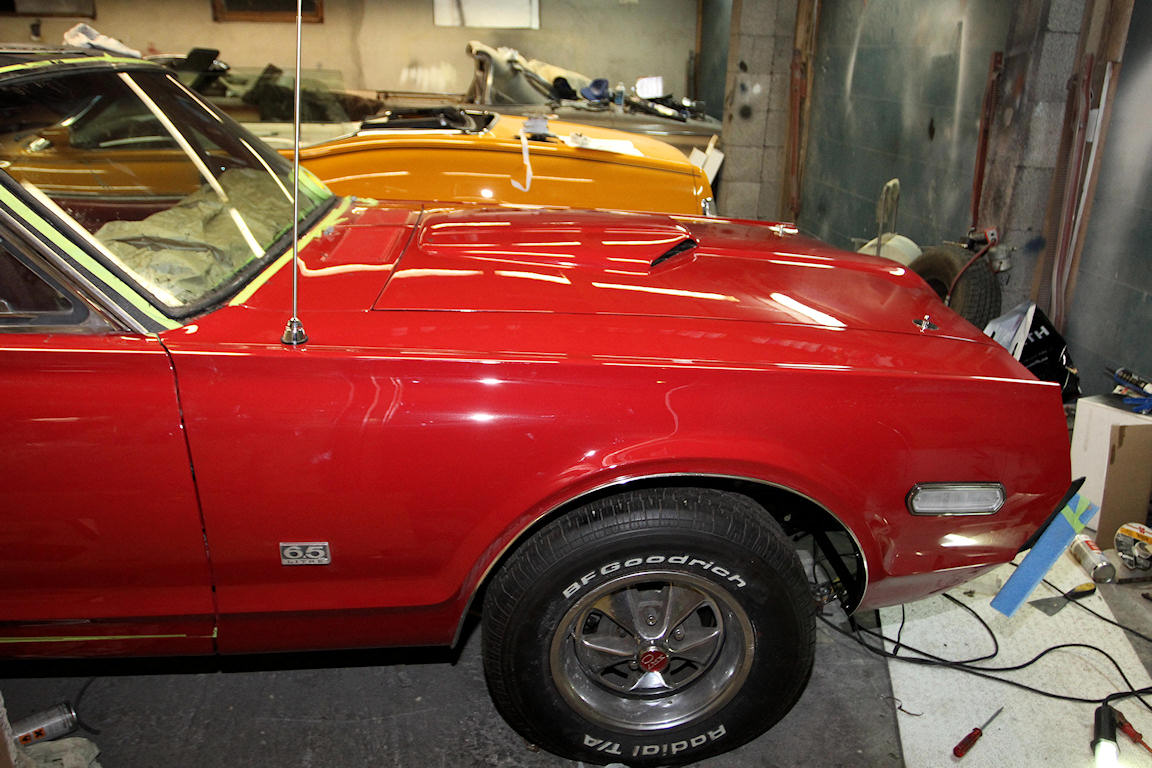 Then I installed the front valance and test fitted the NOS Lucas fog lights. Here you can also see that I have installed the buckets for the grille/headlight assemblies, the vacuum motors and the horns.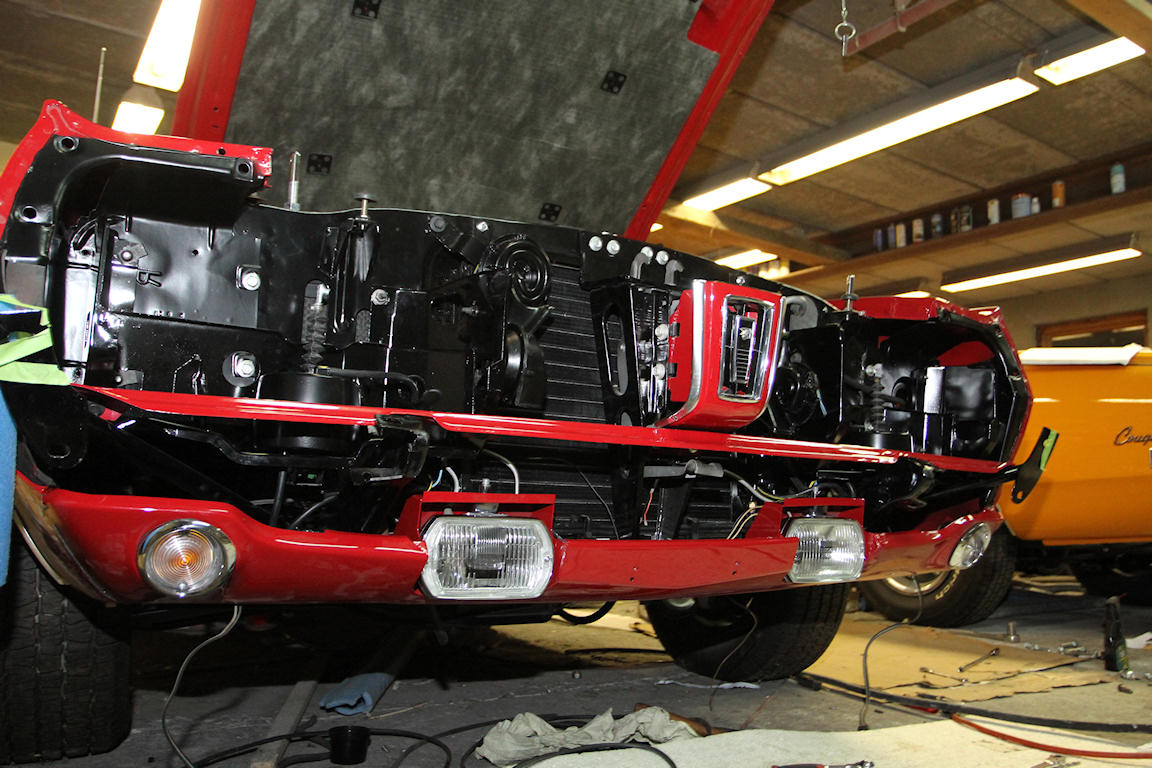 By the way, here is a picture showing the visibility of the license plate frame with the rear bumper in place and trunk lid closed. I like it a lot.


There is no trunk molding on my trunk lid simply because I have no good trunk lid molding for the car yet. I ordered restored front and rear trim sets for my G and the other 68 I have been restoring, but unfortunately the trim I got from WCCC were ruined by poor workmanship in the process of restoration and far from the quality I expected.

WCCC sent another 2 sets my way as a replacement, and from those two sets I puzzled together enough good trim to finish one car. I just gave up to puzzle together a nice set for my G out of the remaining trim and now I am trying to find what I need to complete it elsewhere. So far I've been lucky and found some NOS moldings, but I still miss the trunk molding and a good RH hood molding. I have no cores anymore either as I sent all mine away when I ordered these, otherwise I could have shipped them somewhere else to have them restored. In fact, that is what I urge everyone else to do if you are going for show restoration trim for your car. Also I had to replace the rear bumper I first bought for the car because the chrome started to flake off. This time I bought one from a chrome shop in LA, CA that I would like to recommend. Their name is D&R Chrome and I have had a lot of bumpers restored there through the years and they all turned out really good and they actually realize that a bumper has two sides so they sandblast the rear so the chrome will sit there as well. As you might understand I have not been too happy with the restored parts I have bought for this car from WCCC. I guess it's just a result of my ever lasting bad luck.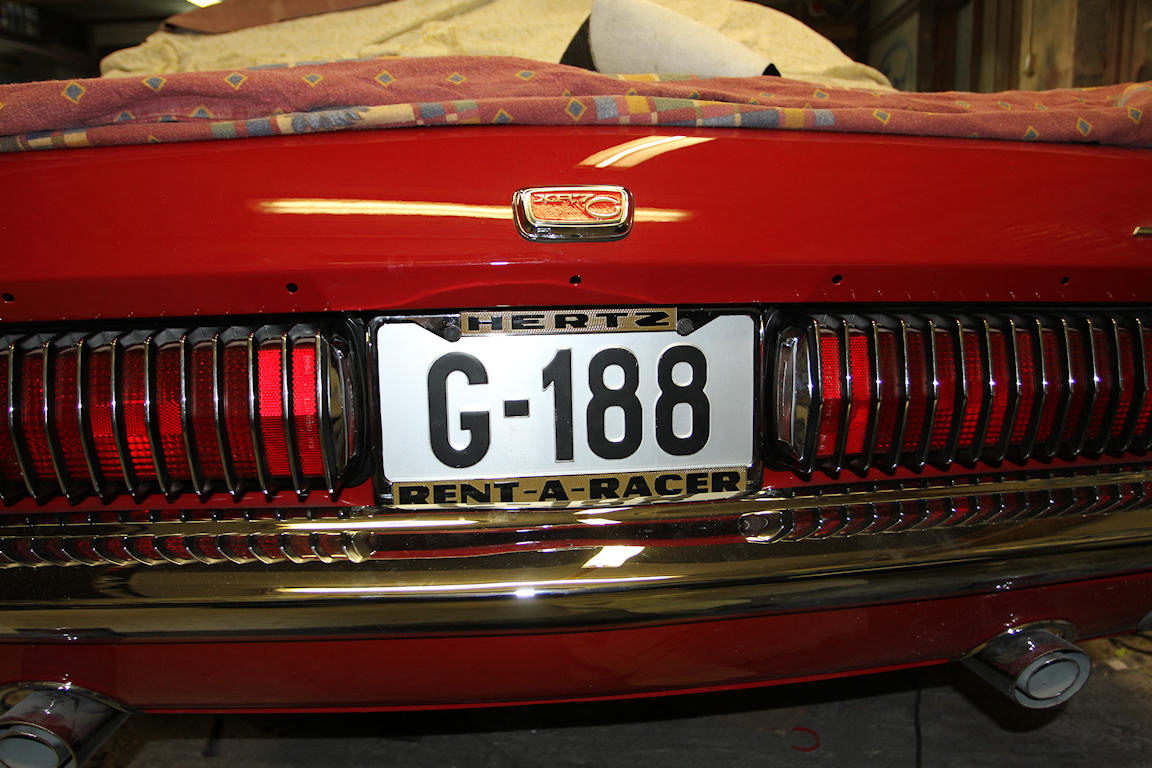 The next thing I did on my Cougar was to install the car stereo and to get everything under the dash hooked up and functioning. My plan was to make a quick connector for the radio so I could fast and easy pull the modern stereo out of the dash and put in the original radio fro shows. To install the new CD player/radio in the original radio place I ordered a bezel made for the DIN opening. http://static.cougarpartscatalog.com/67mustcdbezel-chrome.html?attribs=76. I am not sure if I had totally wrong expectations to this part, but the description said "Bezel - Radio - In-Dash CD Player - CHROME - Non Console - Repro", and @$100 I think I was in my full right to expect something made out of metal and that it would fit in my dash and also that the chrome was good quality. After all, the original style radio bezel that is made in nice chrome plated metal is $56.... So when I got my shipment, opened the package, and found a cheep made plastic bezel with a finish that hardly anyone should call chrome I was unsure if I should laugh or cry. What a piece of junk! I then tried to install the CD player using this plastic "chrome" bezel in the dash, but it became very soon obvious that this $100 part is absolutely useless as it just does not fit. So instead for using this, I decided to use my Dremel and just cut the opening I needed in the correct reproduction bezel I had bought for my original radio and just order another good bezel for that later. http://static.cougarpartscatalog.com/c8zz-18842-ar.html?attribs=76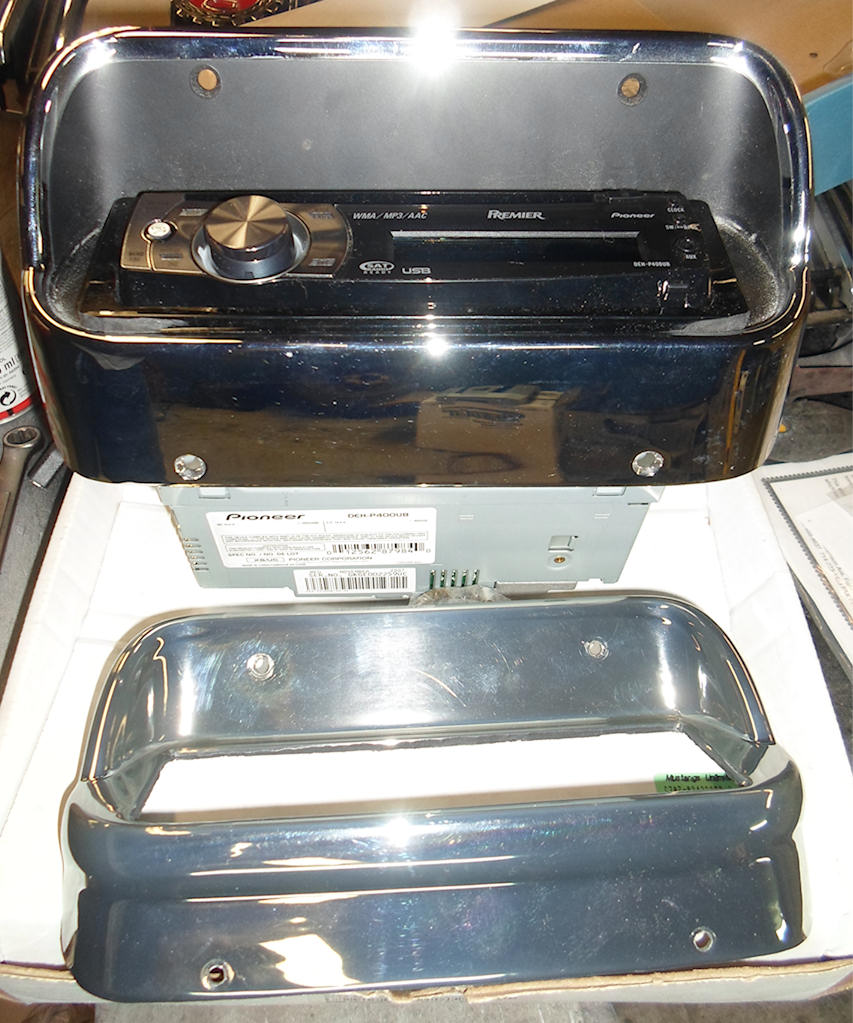 Picture above shows the modified original style bezel at the top and the miserable plastic bezel at the bottom.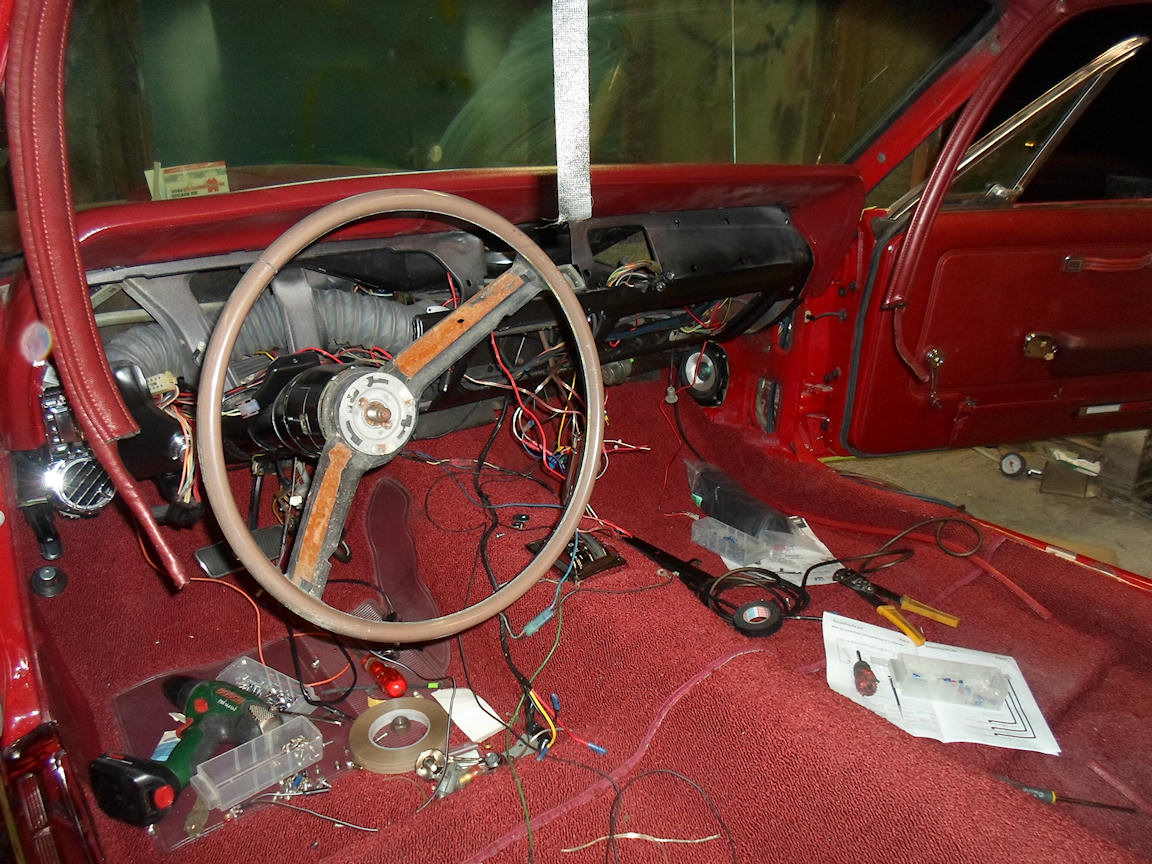 Here I am doing the wiring for the car stereo. You can also see that I have installed a set of Blaupunkt speakers in the front speaker pods. The stereo in the car is meant to be very discreet, but still have good sound quality. So in the trunk I have placed a 300 Watt mono amplifier with a 12 inch sub woofer. That should take care of the lower tones. I also wanted to put in a set of Infinity tweeters in the front, but there is not really any good place to put them, so I decided to make some small brackets to install them under the dash. To make the brackets look factory made I painted them with a wrinkle paint.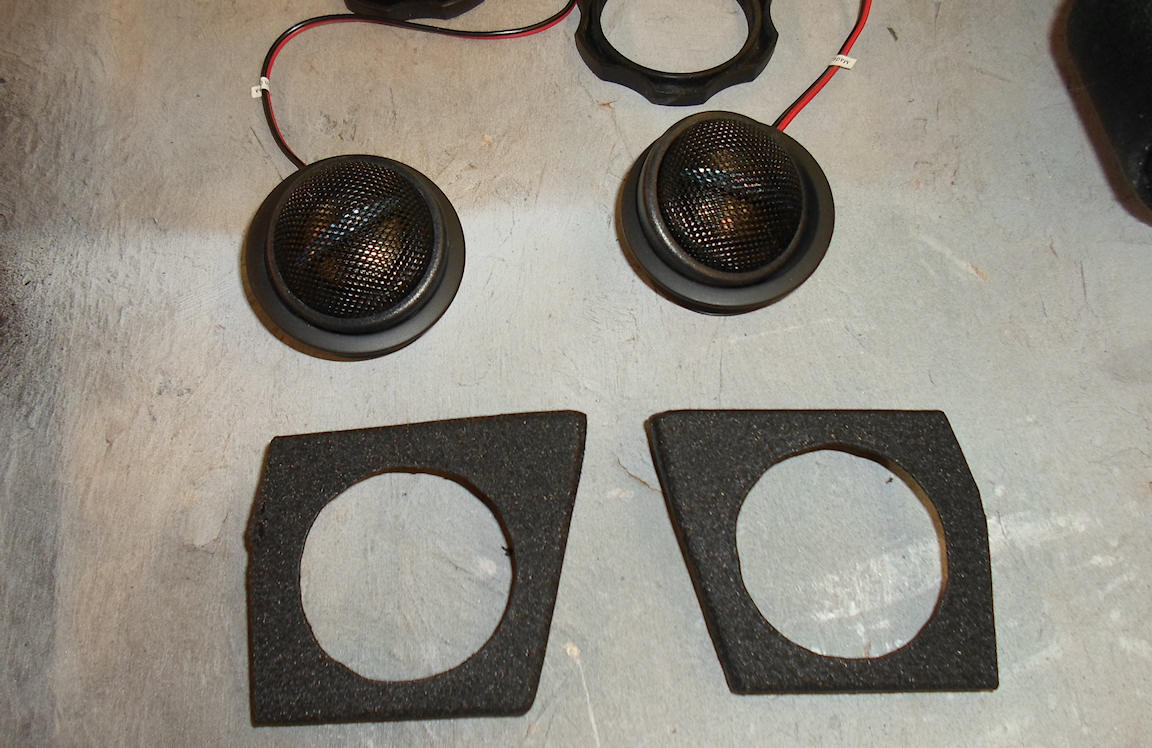 To my surprise all the wirings to hook up the switch and the rear defogger were already in the car. That made it very easy to make the fan work, just connect the switch and one wire in the trunk and it was working

I wish everything would have been that easy.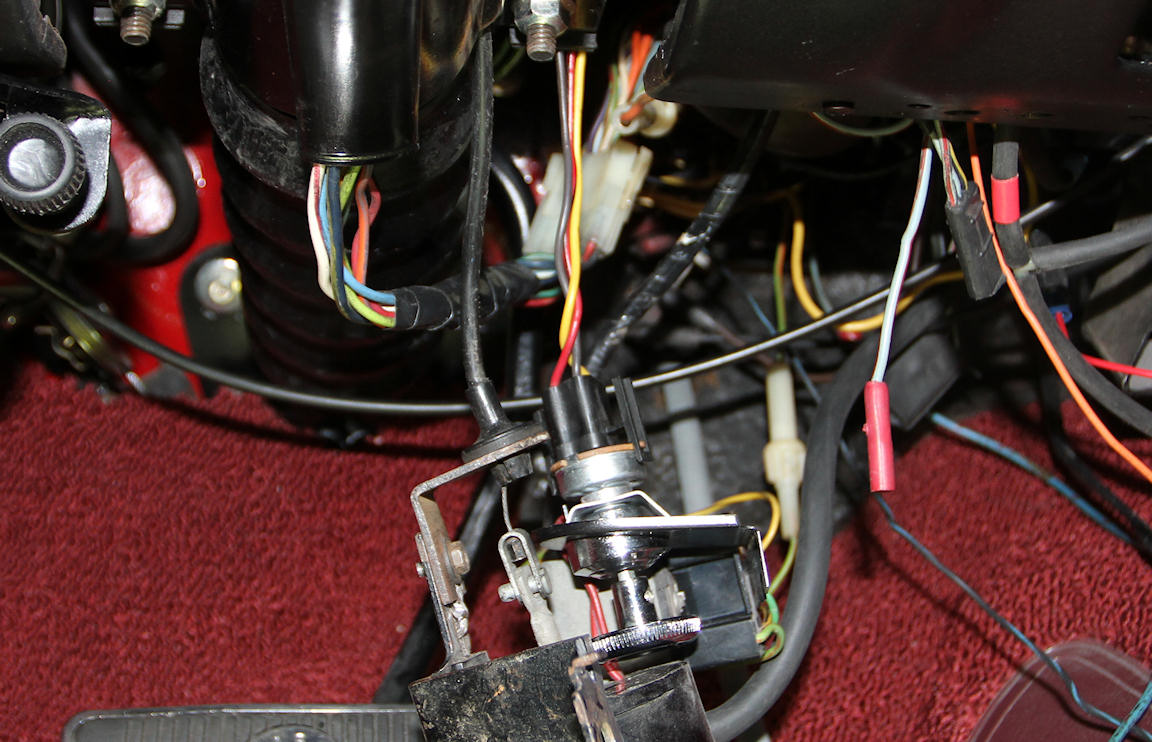 Here are things about to come in place.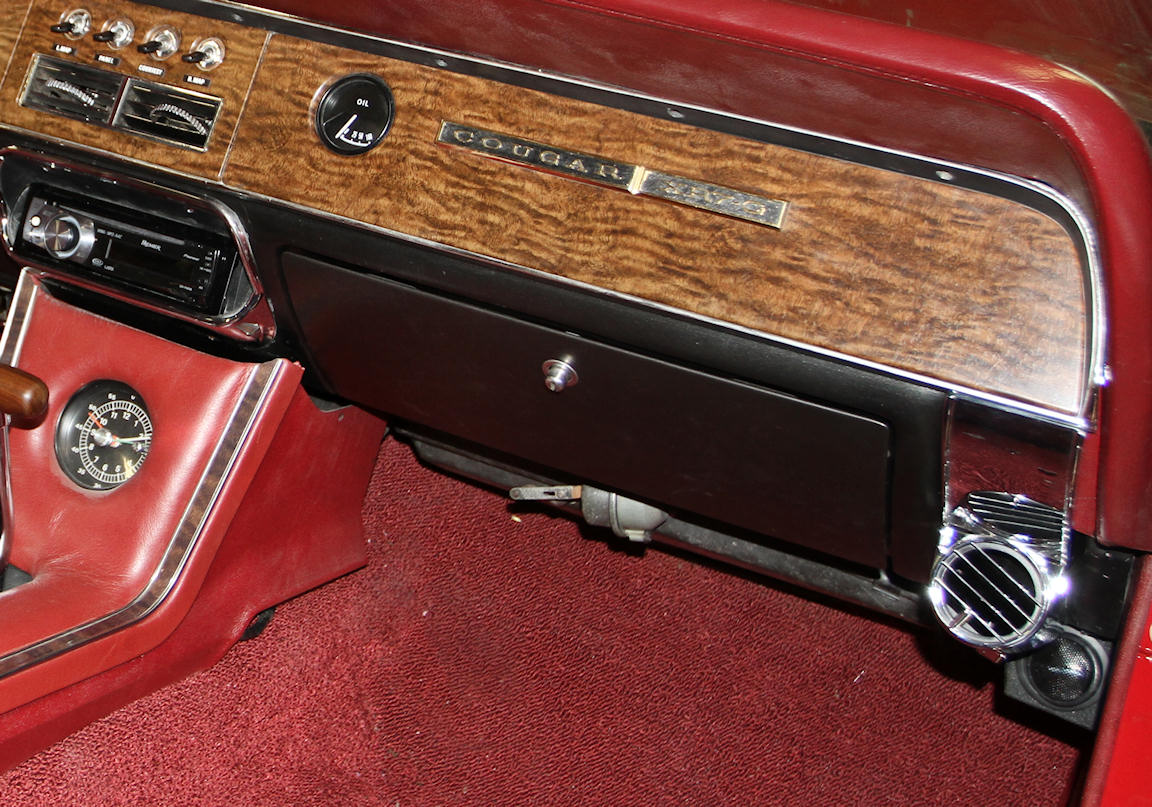 With all the wirings done and also the original seat belts back in place it was time to get the front seats installed. I have not really tried to make the interior as original as I could have. Instead I decided to do it the way I am sure they would have made it if they didn't have to care about the cost back then. So the seats are all leather and they are just wonderful looking (and smells good too). A big thank you to Randy Goodling for helping me out with these, I really love them. Oh, and since I used a flash in my garage when I pictured the interior the seats looks a lot brighter than they actually do.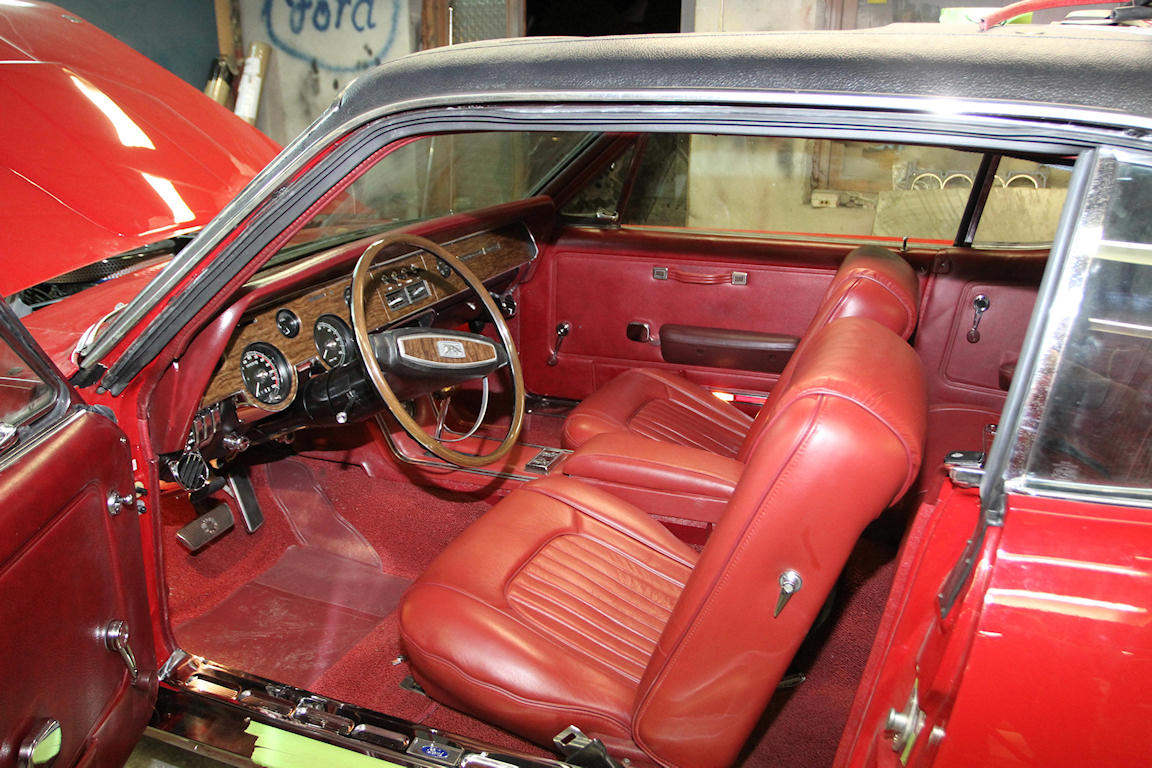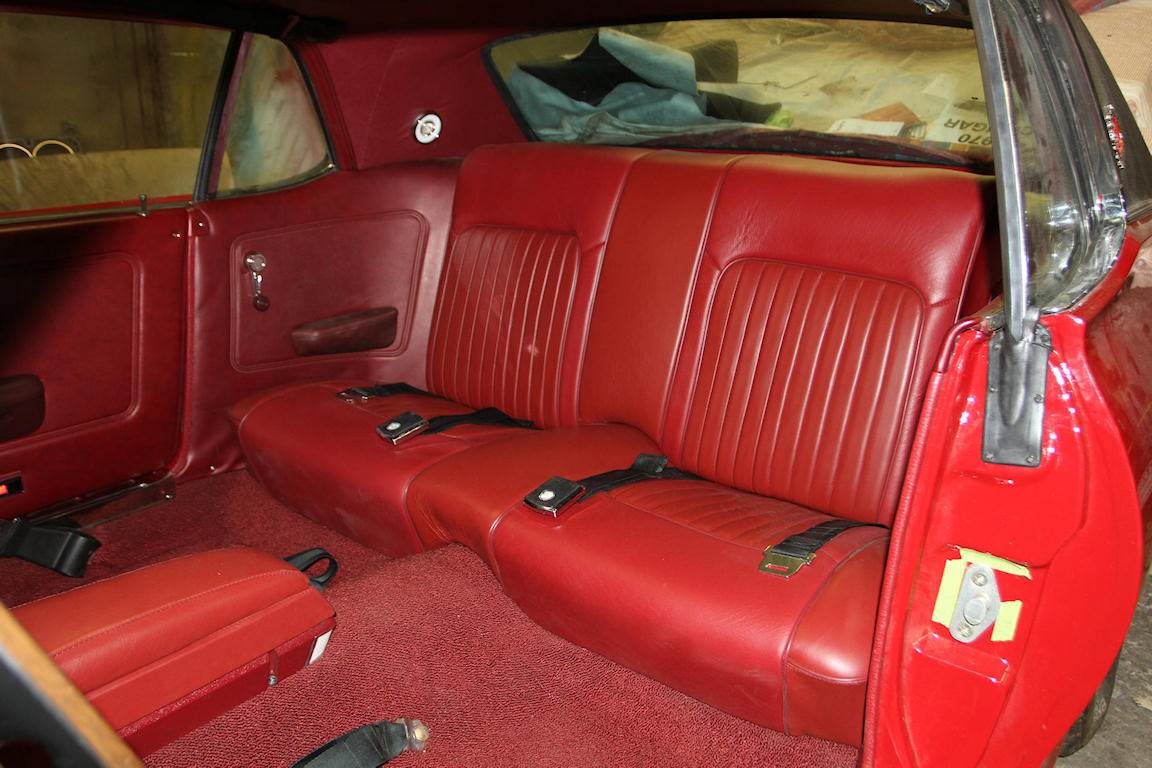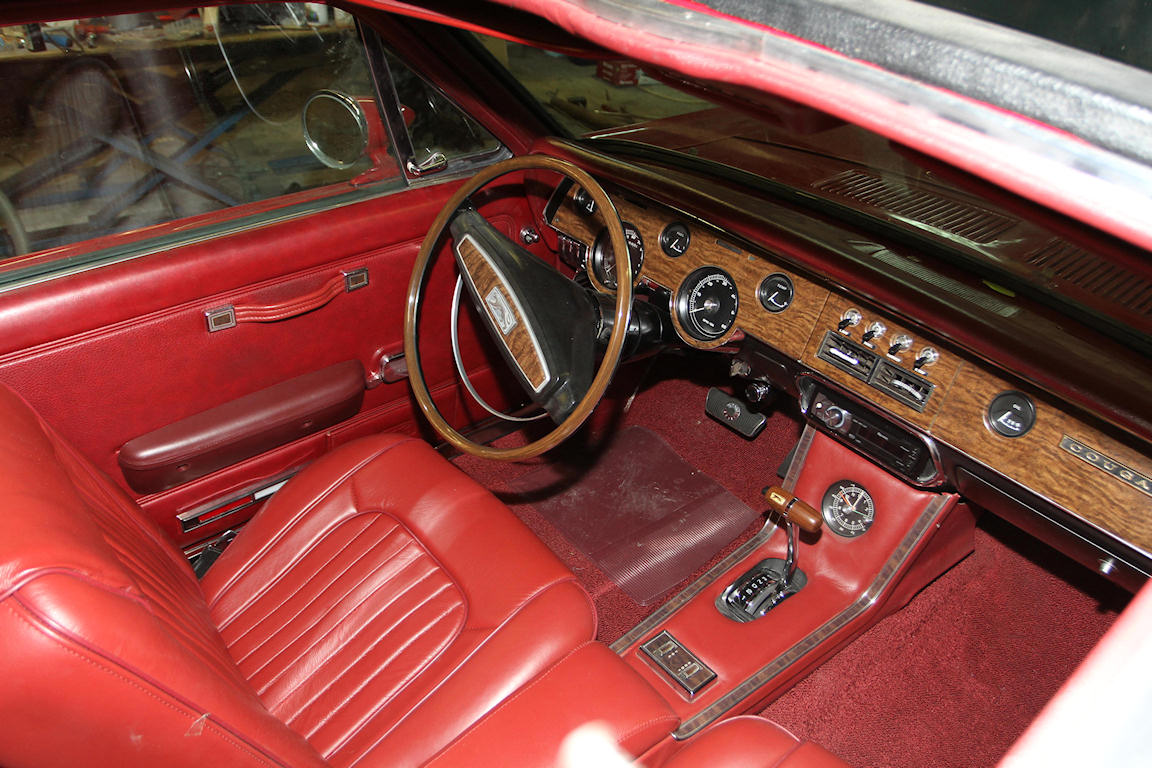 11-25-2013
Cougar2, I just sent a PM regarding the fog light wiring. Steven, my Cougar statue arrived some time ago and I really love it. I will take picture of it together with the G very soon



When I am done with this Cougar I might write an epilogue listing all the crappy ill fitting reproduction parts I have had to deal with on my way restoring the G, the 68 GT , and my brothers 70 XR7 convertible. Unfortunately, parts that does not meet my expectations have become more the rule than the exception. But lets move forward. Here is a picture of the car with the front bumper in place.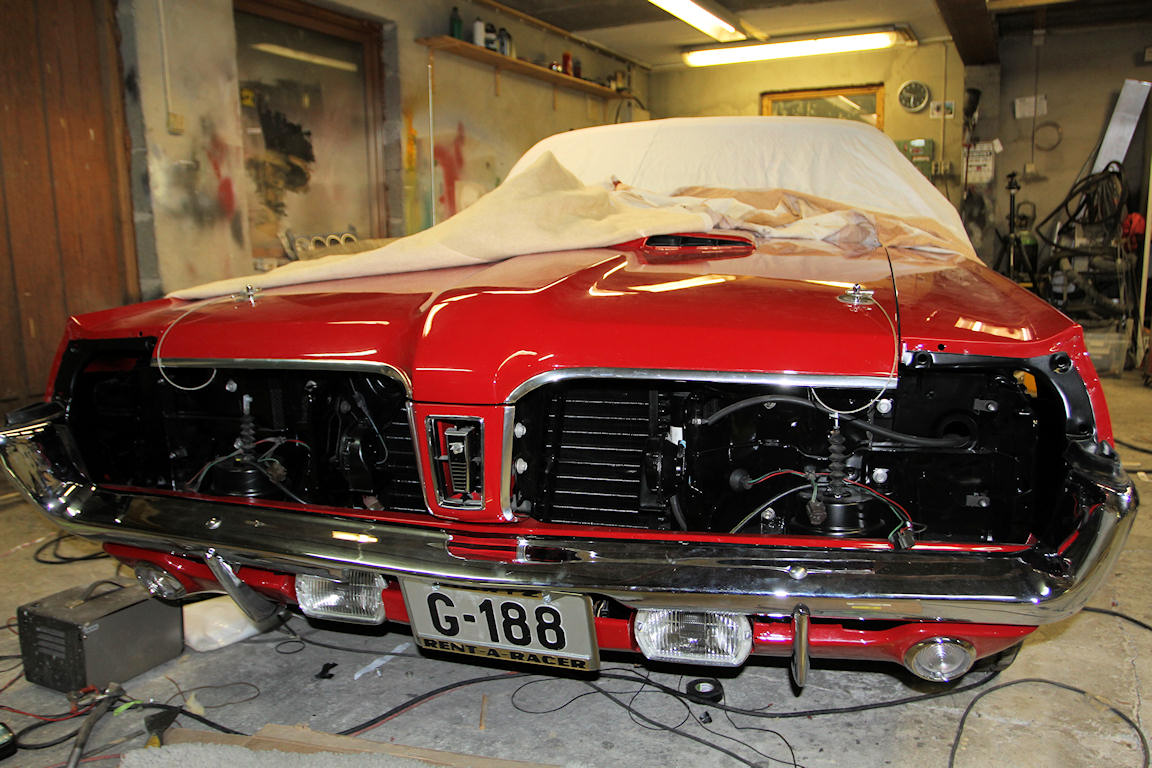 The next thing on my to do list is to install the grille. Since I could not afford one of those fantastic good looking restored grille and headlight assemblies from WCCC I had to make the best out of what I had. I bought a couple of used grilles on eBay for about $50 each side to have more chrome parts to choose from. I also had an extra set of NOS headlight doors. Unfortunately I found that NOS does not mean they are good enough to be put right on the car.
First I took absolutely everything apart, then sorted all the parts and picked the best parts to be reused. After a thorough cleaning I painted all the black parts semi gloss black. Then comes the not so funny part, and that is to paint the chrome parts flat silver and black. This takes some time, and to be honest it is pretty boring work, but even if not the chrome is 100% perfect on these used parts, they look almost like brand now with the fresh semi gloss black and the argent silver paint.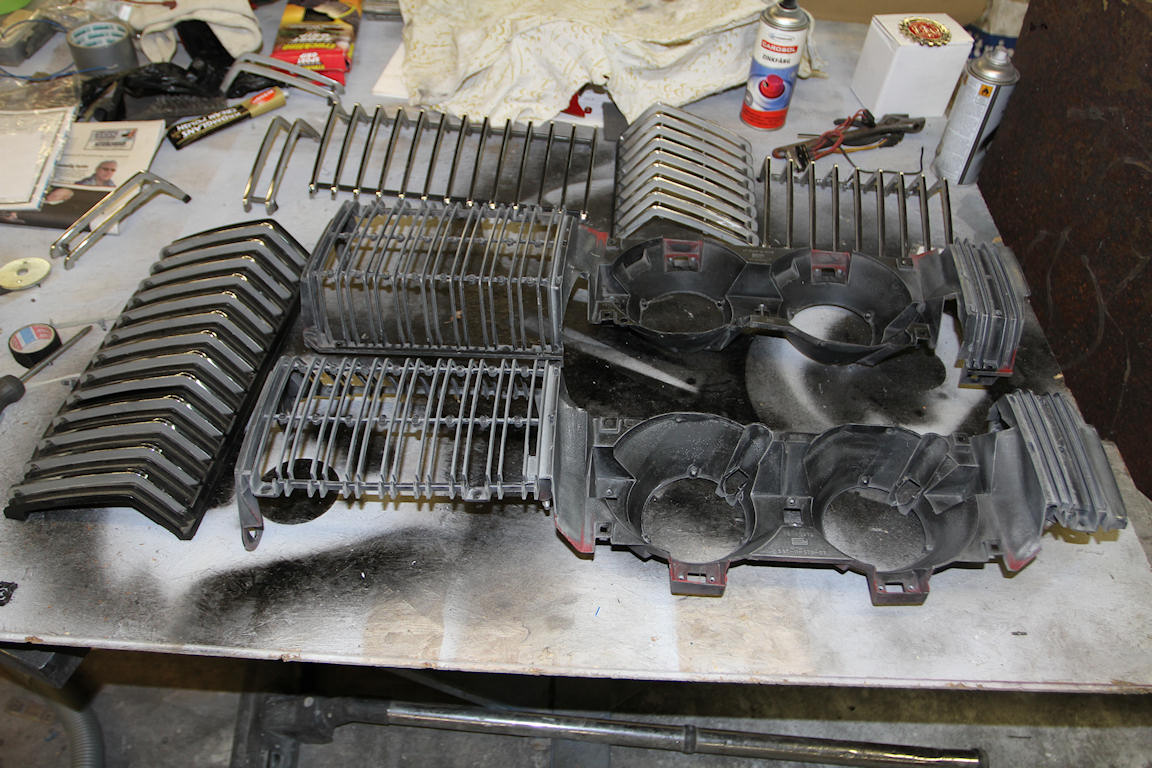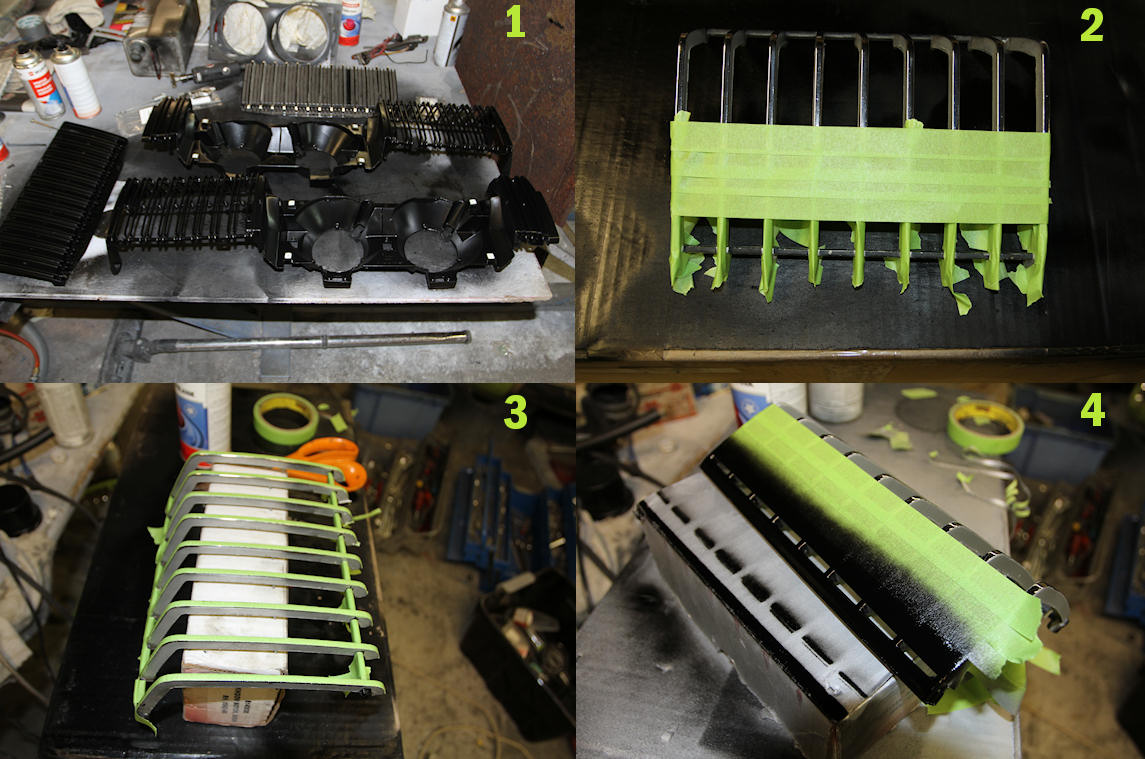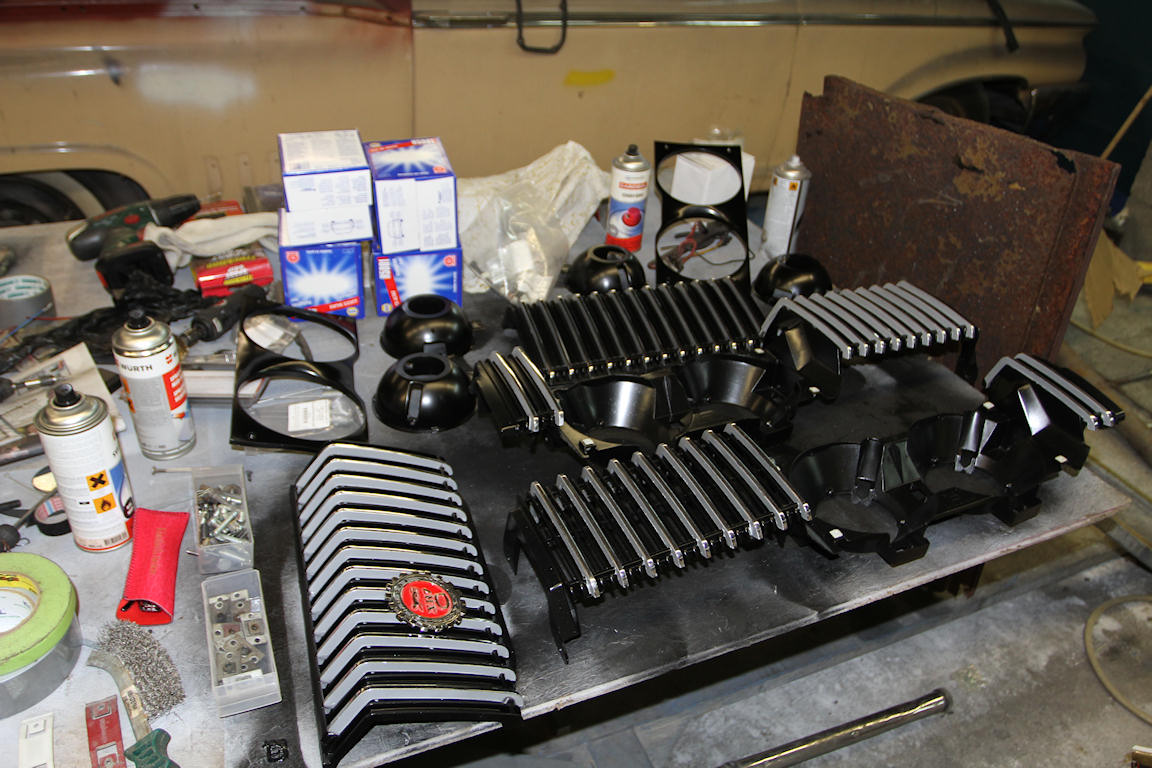 OK, that is just about as far as I am right now. Next thing to do is to reassemble the grille

11-26-2013
Me too have a nice special tool for the spring installation. That's a 3 feet electric wire. Install the spring in the lower bracket, then hook the spring to the wire and just pull the spring in place. Takes about 20 seconds each spring. With spring in place just pull out the wire.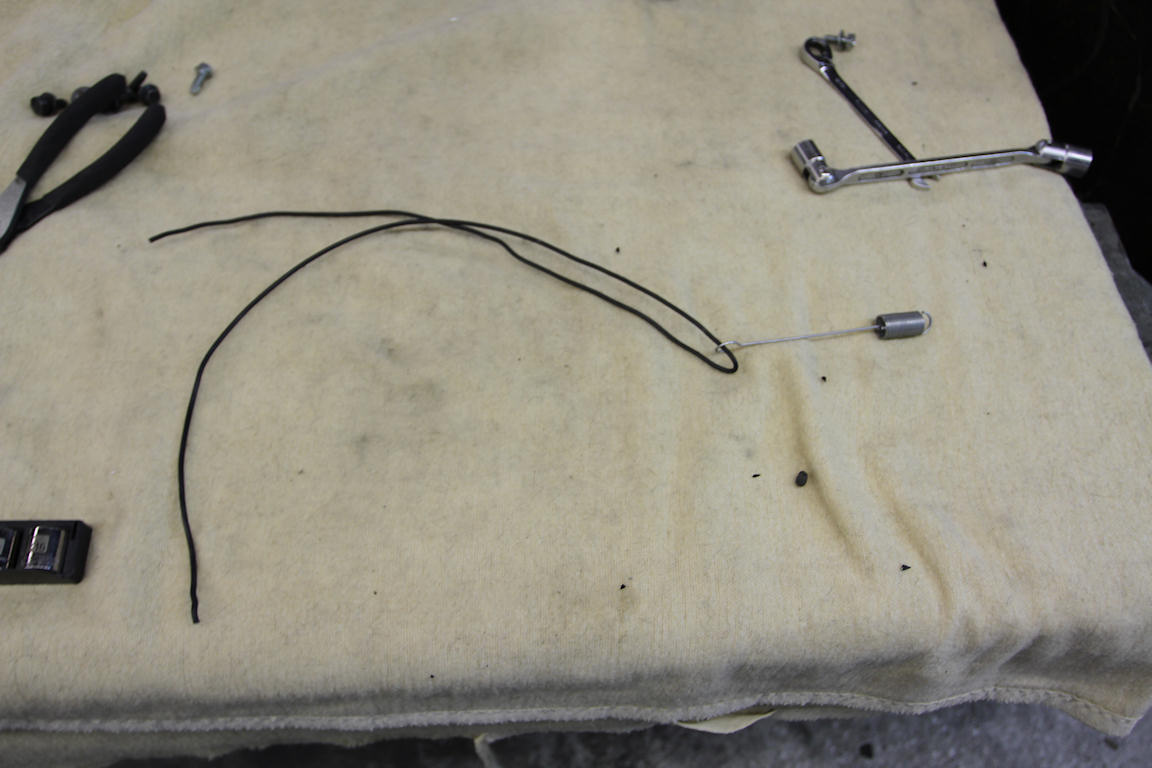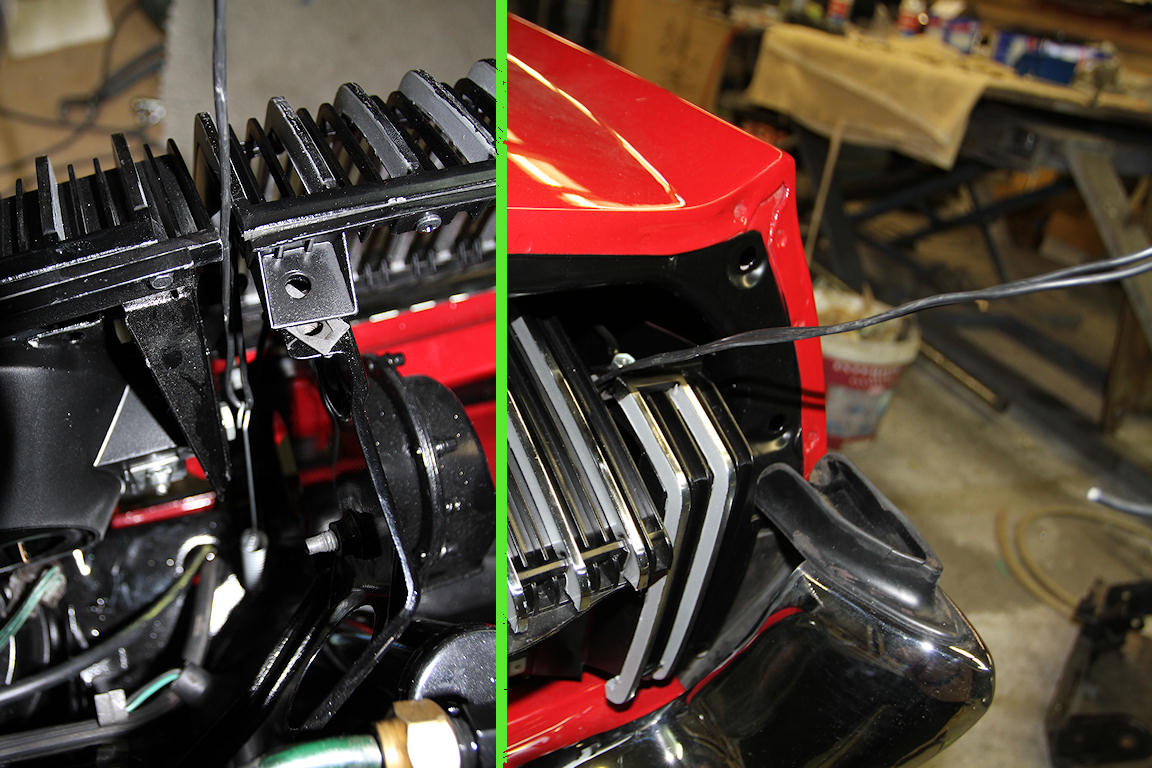 11-27-2013
So until we have a picture of the special tool for this purpose I'll post my how to do it easy without special tools instructions here. Hopefully you agree with me that this is as easy as I think it is. If you are just replacing the bulb, simply drop step 1 and 2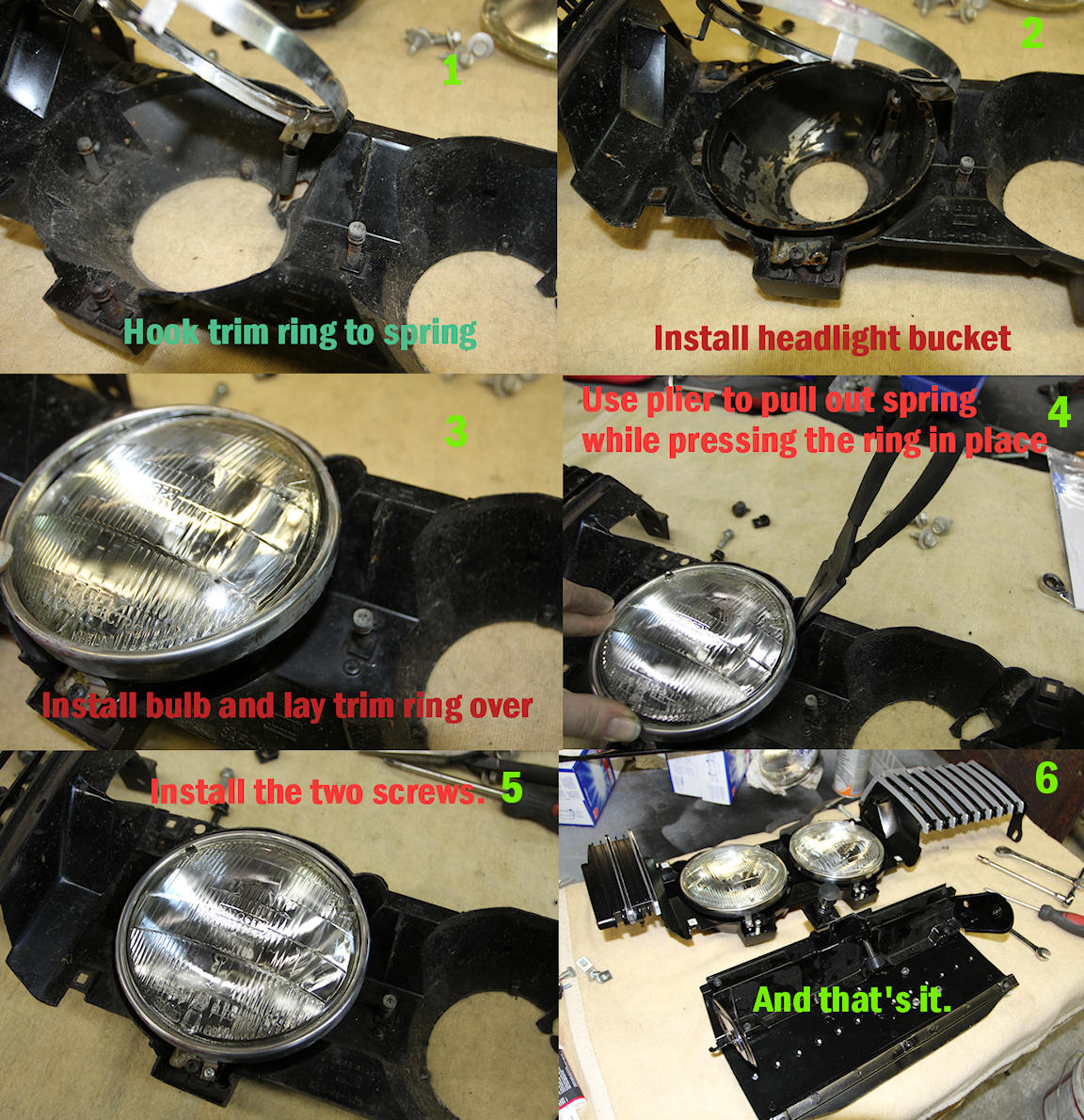 BTW, while am in the mode for evaluating reproduction parts, lets take a look at the rocker panel molding clip. When you buy a set of rocker panel moldings you will either get a set of mounting clips included with the set or some sellers sell these separate in kits. My experience with the clips that comes with most moldings is that they are a big joke. The plastic end clip with the screw are just so badly made that those I don't even care to evaluate, they went right in my garbage can and I made new ones myself in aluminum. Then I looked at the rest and thought they looked OK and put them on my car with the pop rivets included in the kit. So far so good... Or maybe not. Putting on the rocker panel moldings did not give the feeling that they were sitting as they should, and right, when I closed the door the molding fell off (that was before I had put on the end clip nuts) Tried again, but it was just like the moldings did not snap correctly on the clips and they were just way to easy to pull off again. So I started to inspect the reproduction clip closely and then compared it to the original clip. The first obvious difference I noticed was that the reproduction clip was molded in a softer plastic material than the original clip. Then I also noticed a very small lip or edge sticking out on the top and the bottom of the original clip that was not there on the new one. Alright, I tried the old one in my rocker molding, and yes, it snapped in place and held good when I tried to pull it out just because of these small lips. Then tried the same for the reproduction clip and it failed totally the test. So then I had to do some research to see if there are other suppliers of these rocker molding clips out there, and luckily there is. I ordered a set from Class-Tech-Cars http://class-tech-cars.com/ and they seems to be made out of a more correct nylon and they also have the lip needed to hold the moldings in place. Of course they are not perfect either as they are a tad too wide, but I found it very easy to widen up the moldings to fit the clip perfectly.

Here are a couple of pictures that I hope will show the difference. From the left is the common reproduction clip that comes with the moldings, the center clip is the original and the one to the right is the clip from Class-Tech-Cars. The lower picture will hopefully show the edge or lip on #2 and #3 while it is not there at all on #1.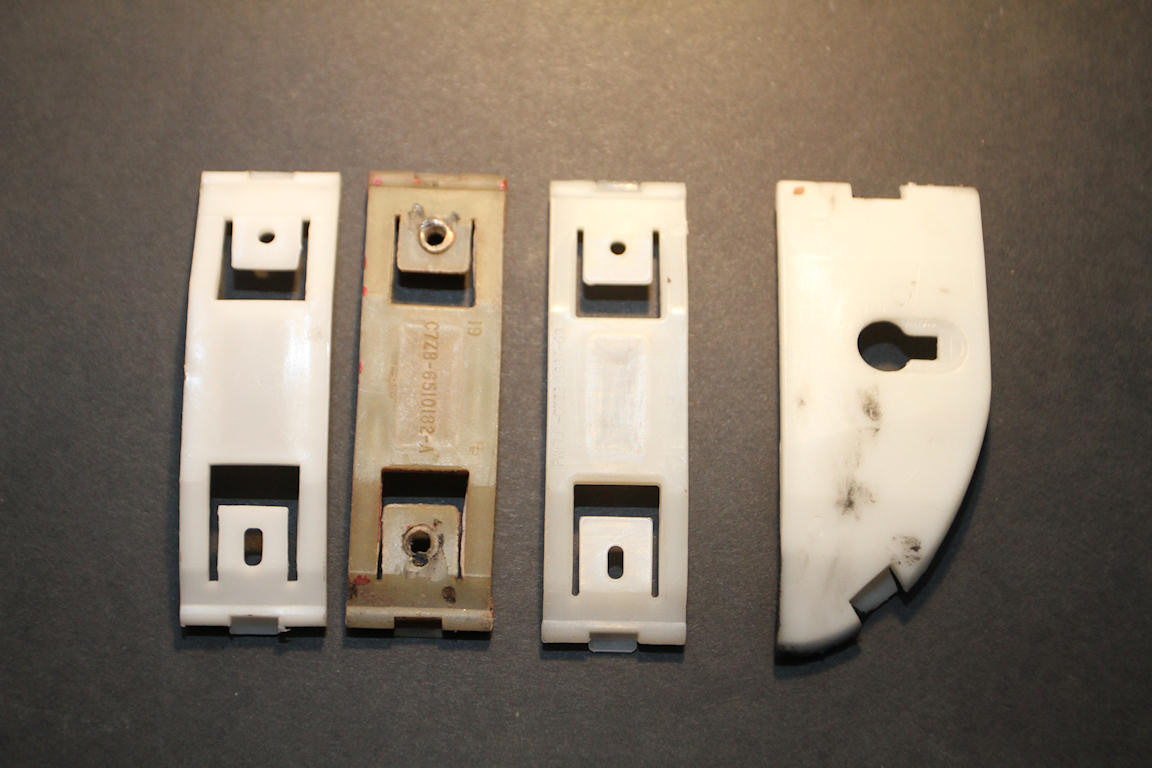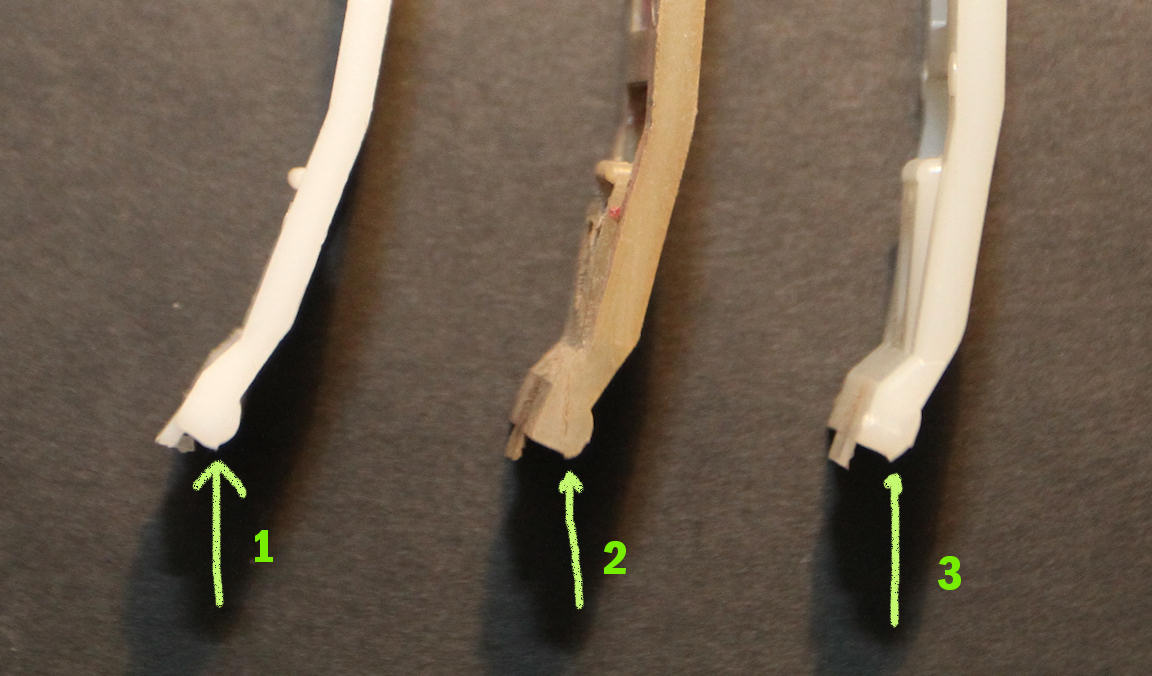 11-29-2013
OK, so now that we all know what kind of spring hook to make this weekend I want to show you what I did last night. It was time to paint on those white strips. I ordered a roll of the exact width striper stencil tape from Finesse Pinstriping INC http://www.finessepinstriping.com/, but since they refused to ship paint overseas I found someone locally that sells One Shot enamel paint for pin striping and good pencils. With all this in place it was time to do go to work. I first cleaned the areas where I was going to tape with water, then wiped eventually remaining fat away with silicone wash solvent. Then I started the measuring to get the stencil tape on the car exactly where it was supposed to be. I read somewhere some time ago that the upper stripe should be about 1/2 inch from the edge on the body, so that's what I did. To help me get the tape nice and straight all the way I first put on some small pieces of masking tape all along the side to guide me. The stencil tape was really nice and easy to work with.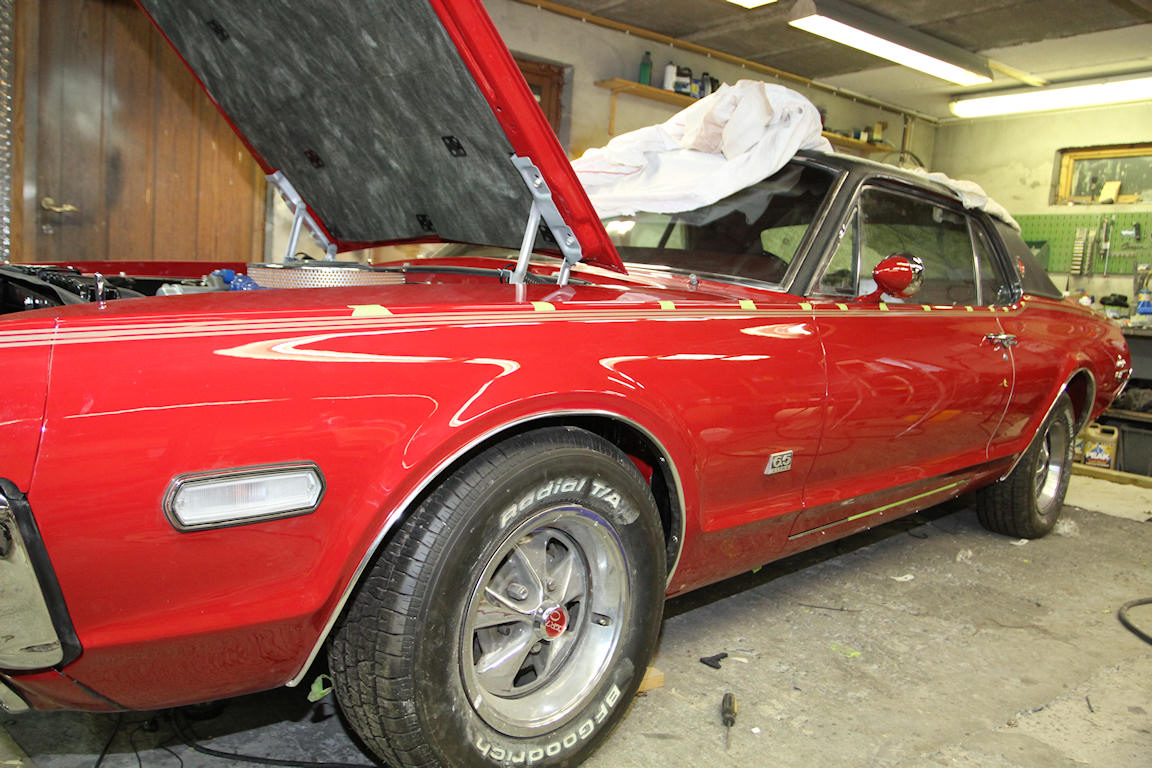 Then it was time to paint the stripes. This was a first time for me so I found a nice instruction video on Youtube
and then practiced a little bit before I started with the car as I wanted to have an even coat of paint all the way. It was a lot easier than I thought up front, and the result came out very nice. I am amazed by how much these white stripes adds to the appearance of the car.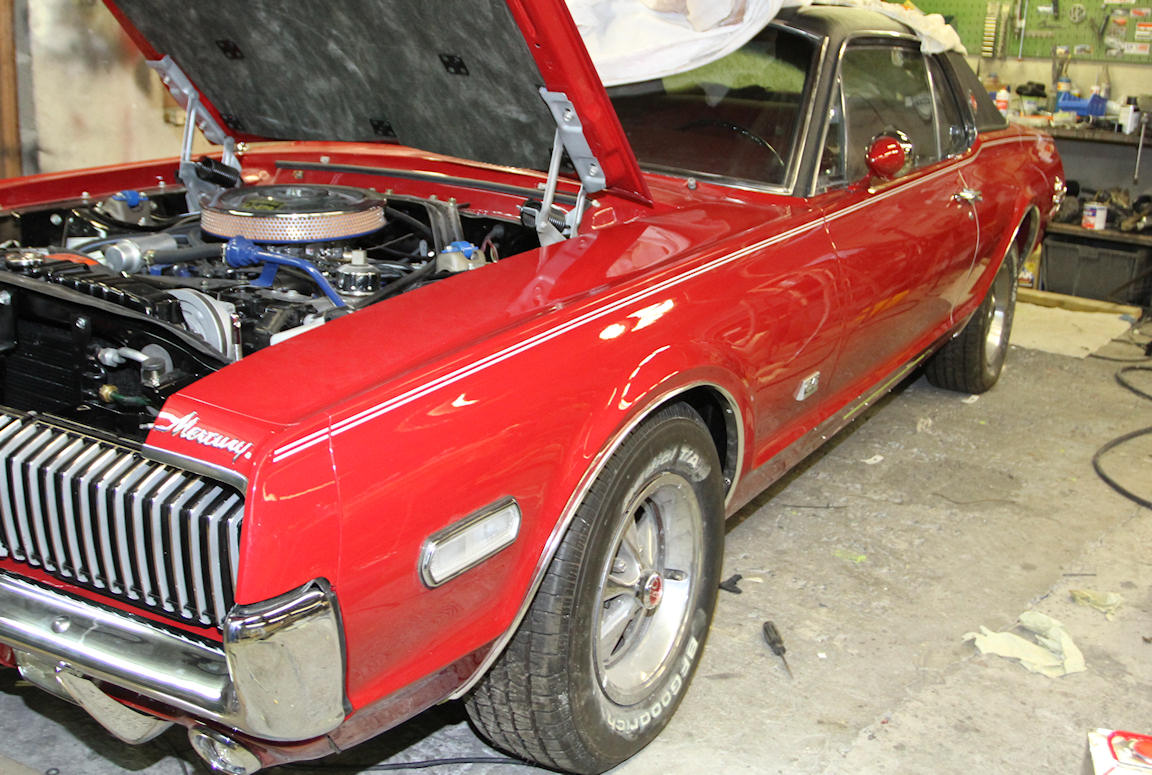 11-30-2013
One option I really like is the remote trunk opener, so I bought a reproduction Scott Drake kit and got it installed today. The kit contains the handle, cable and fasteners, but not the unique trunk lock mechanism with the release arm that you need to hook the cable to it. Luckily I had one in my left over parts from other projects. After I ordered this kit I found that you can also buy a kit with the correct handle but that is operated by a switch and an electric solenoid in the trunk. I would say that it is a much better solution and a lot easier to install.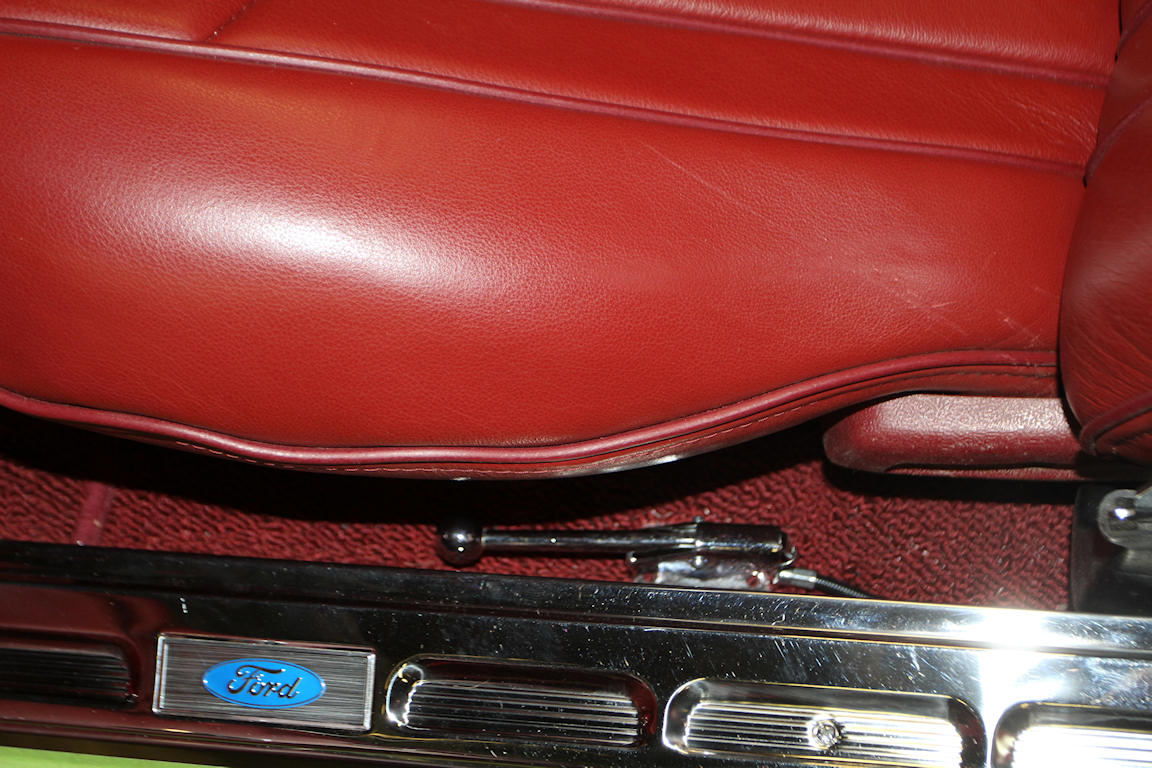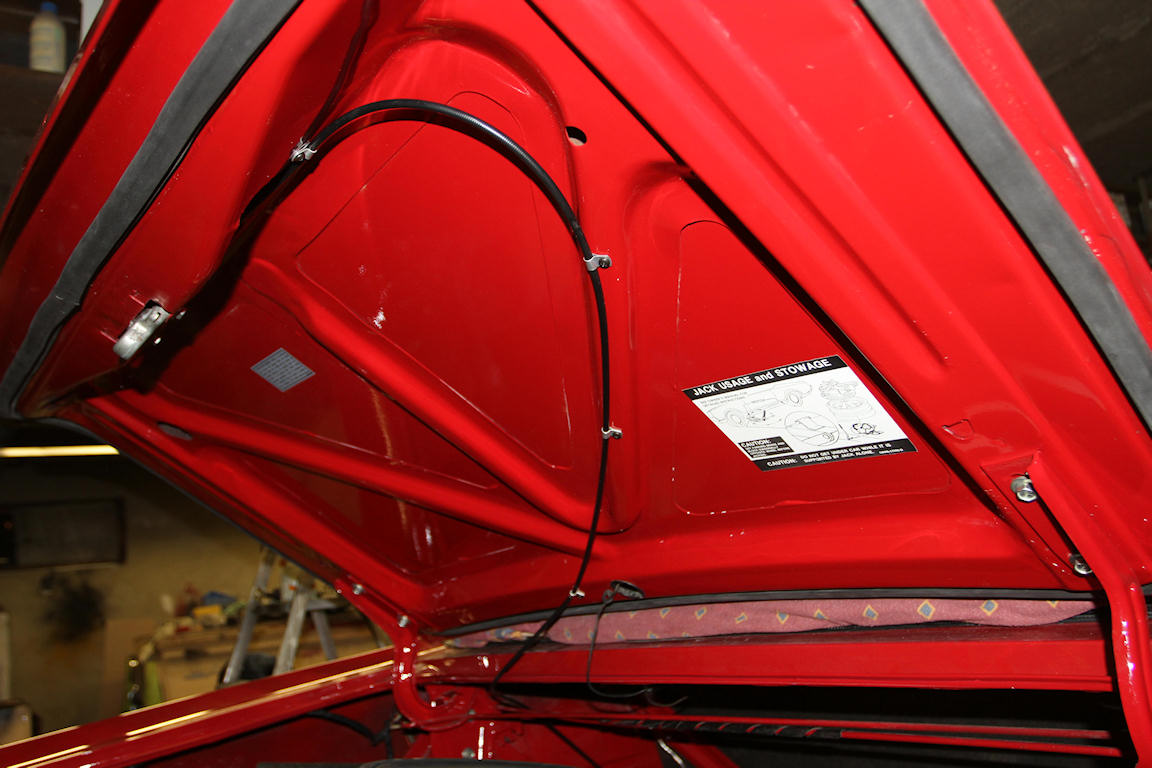 Gry, What is the small label on the left hand side of the trunk lid?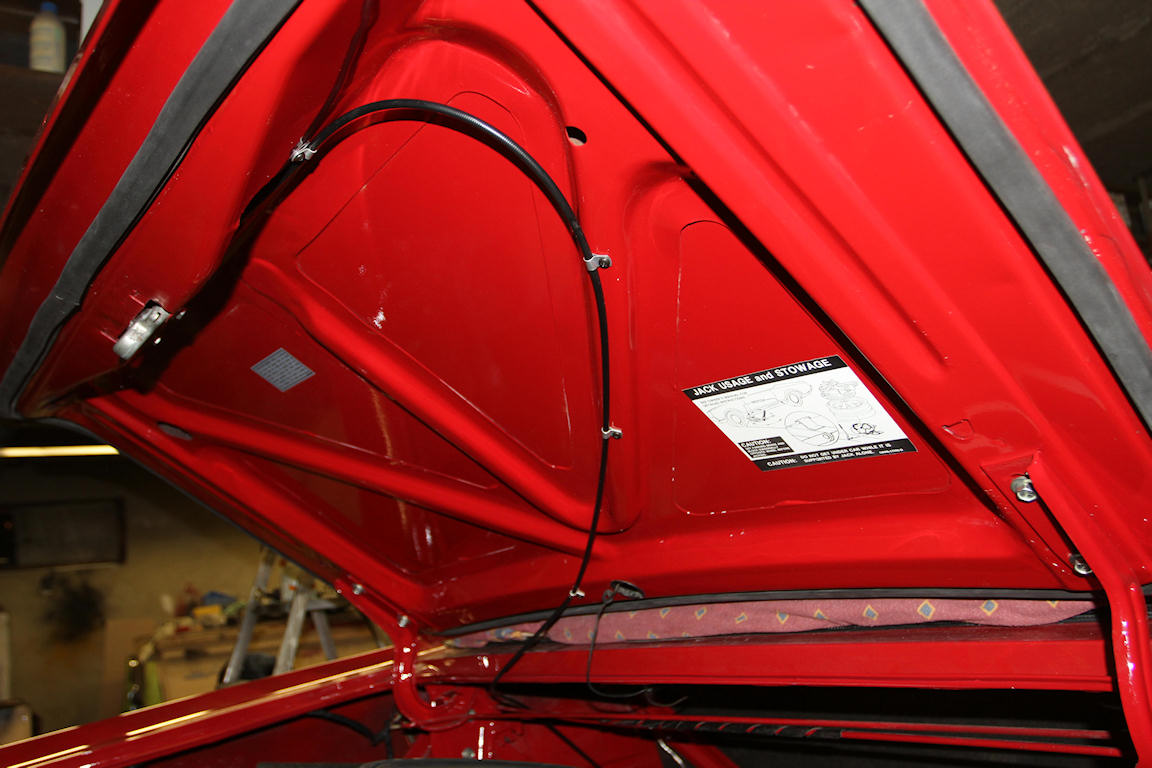 3/24/17
Some photos of the finished car.