Project Trig - After 18 Months Away, Is Back In Town! by Mini 360
By diyauto
You must be logged in to rate content!
Project Trig - After 18 Months Away, Is Back In Town!
Compliments of Mini 360 @ theminiforum.co.uk
9-6-2011
(The below is mainly copied and pasted from another forum I frequent (ScottishMini.co.uk) so some of the words may not make complete sense)

So heres my project! And to whoever said Minis are cheap....I want to see how!

I want to say now that I have funded the entire car myself from start and will be to finish. I work hard for a living when Im not at Uni and have no loans/debts.

Back story is I bought this from eBay when I was 13. Came from Birmingham and had never seen it or driven it before, so a BIG risk since it was my savings. Car was a little rough but did it up to look like this for time I was 17.....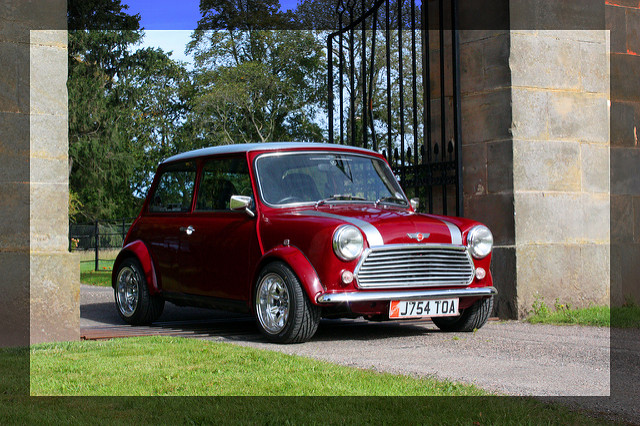 Its been to IMM 2009 in brum and it did a John O Groats to Lands End trip in June/July 2009 too! So its well travelled! But less of the history....onto the REBUILD!






Well over the years Trigs been tinkered with but hasnt really been a project as such. See here for the original thread.

But now I have the funds to fully rebuild and restore him to his former glory I intend to do so. He came off the road just over a week ago and now Im finished with uni for 5 months Ive got time to redo him properly rather than rushing to get him back on the road.

Instead of updating the existing 'build' thread I thought I would make another one seeing as this is going to be updated more regularly and in more depth. Plus its the second stage of the cars life really.

So some before pics to show what Im starting with....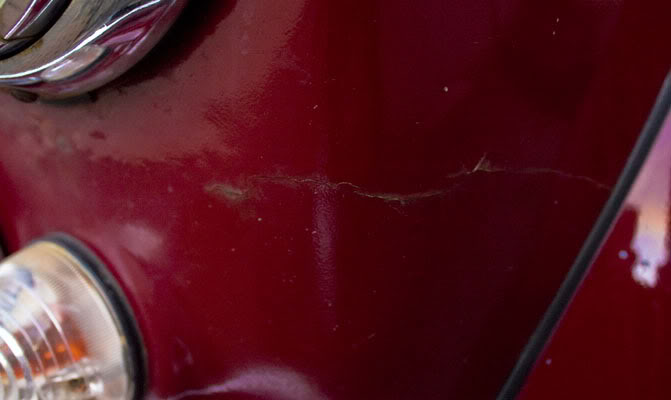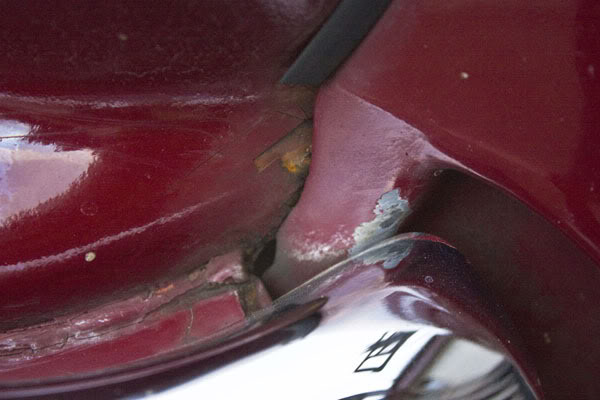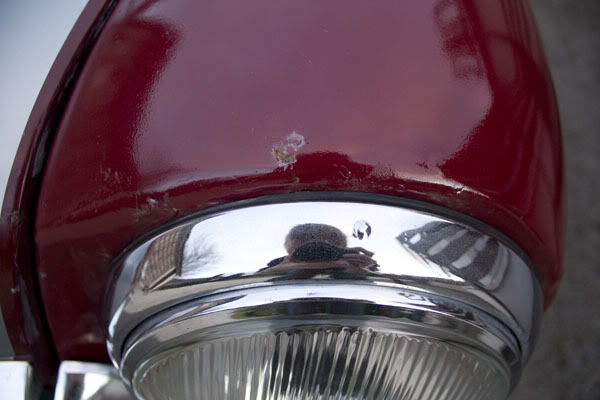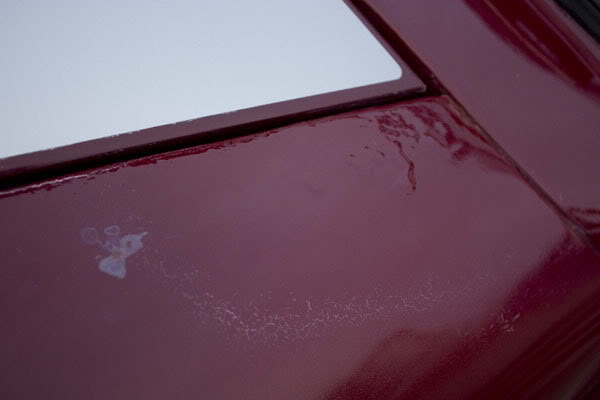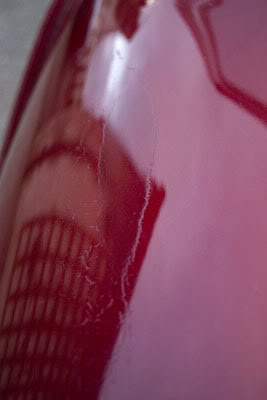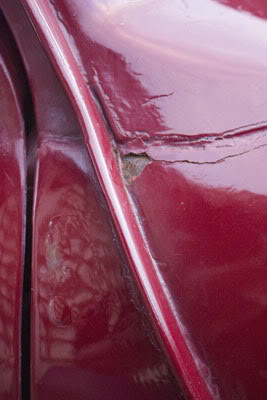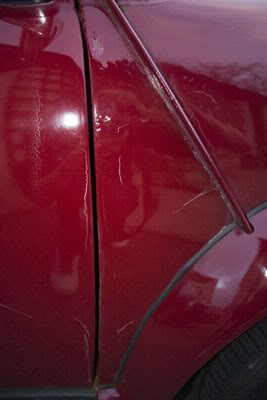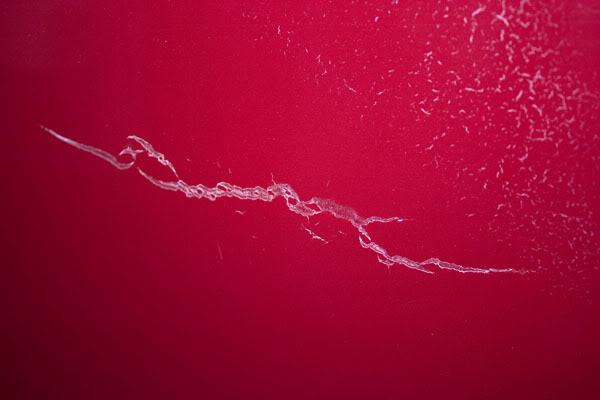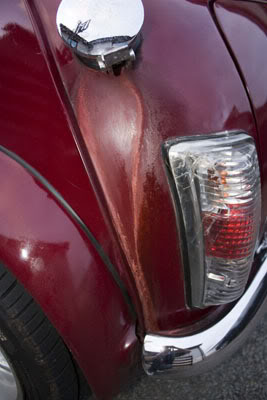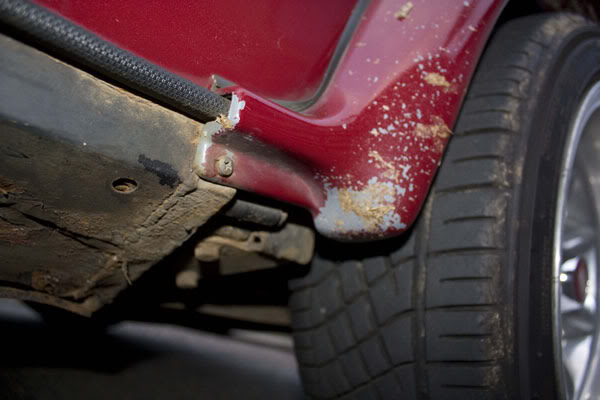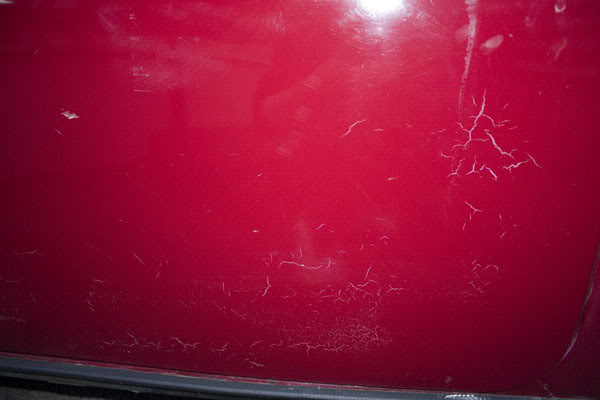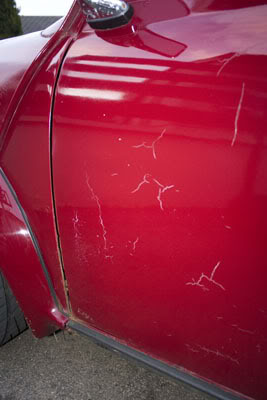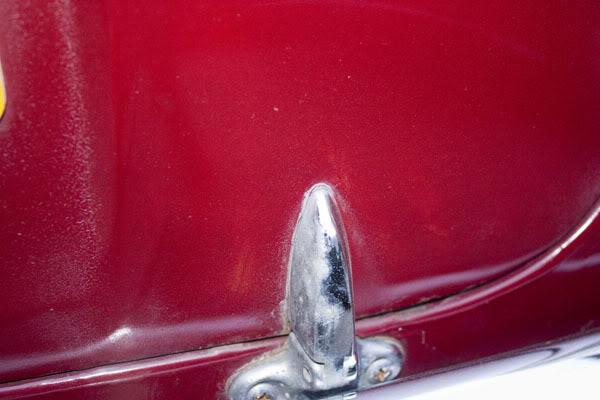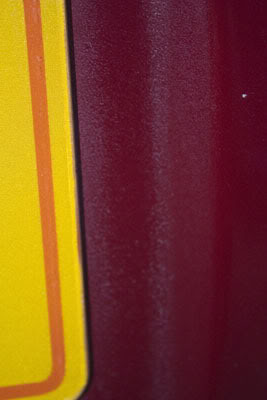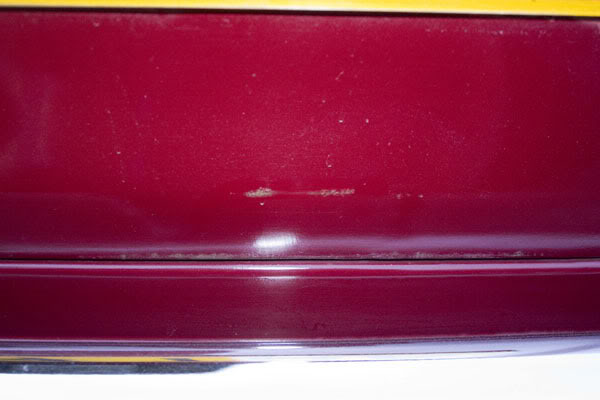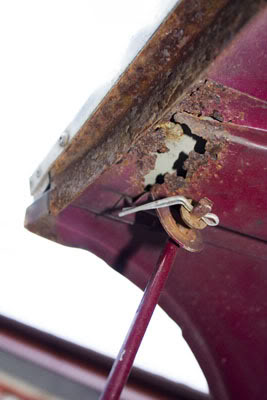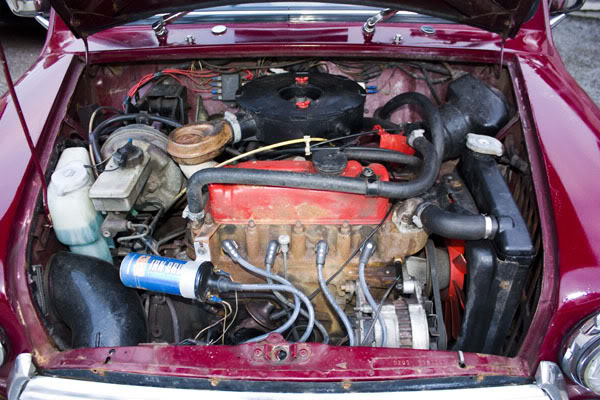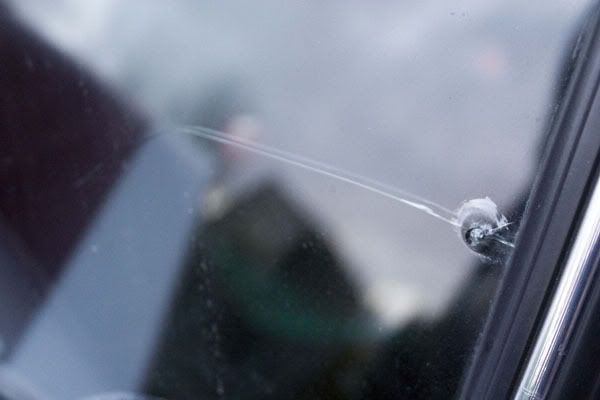 The result of a ruddy great L200 kicking up a boulder after the snow!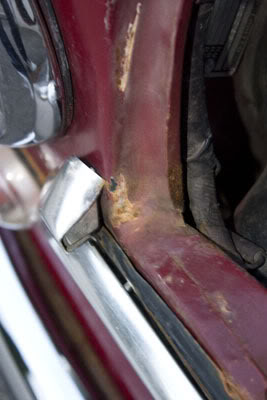 So thats what Im putting up with atm...
Plans are as follows....
Replace all panels (excluding inner wings) forward of the doors
Replace door skins
Replace rear valence
Smooth off filler neck and remount inside the boot for smooth finish
Fit smooth bootlid with SM IMM design on it
Full professional respray by Derek Ritchie in original Rover Cranberry Red with Rover Quicksilver bonnet stripes and roof
Thats all I can think of at the moment but theres plenty more getting done.

So today I cleared out the garage to give me some room to work around the car. So Ive got a couple feet either side and few feet either end. Plenty!
My deal with my parents is I can use the garage but at thend end I need to fully clean it and repaint it to get rid of all the dust Im going to create

The garage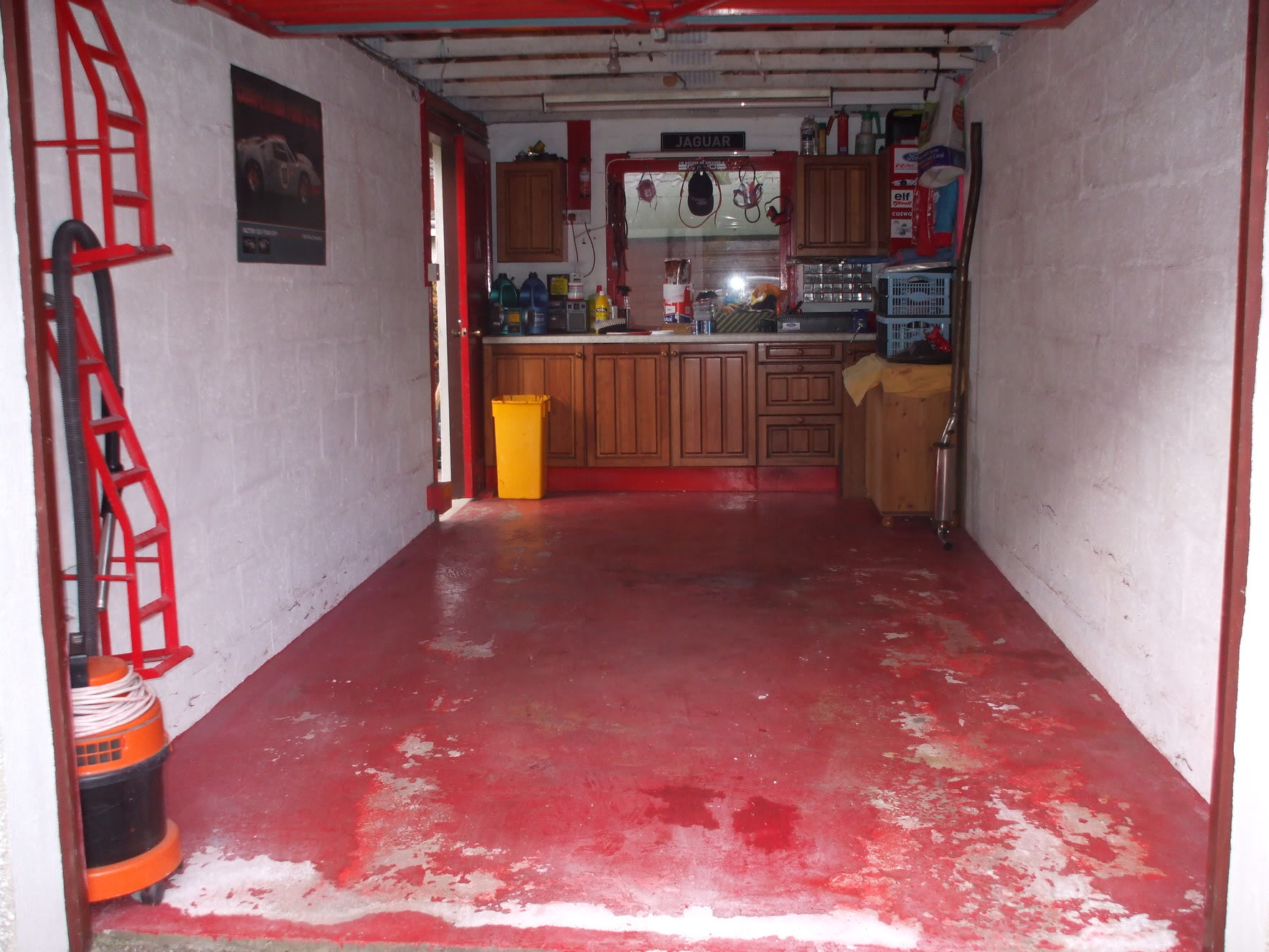 The cupboards are my grannies old kitchen

But its dam good for a garage! Plenty storage plus a long workbench with grinder and vice on top of it.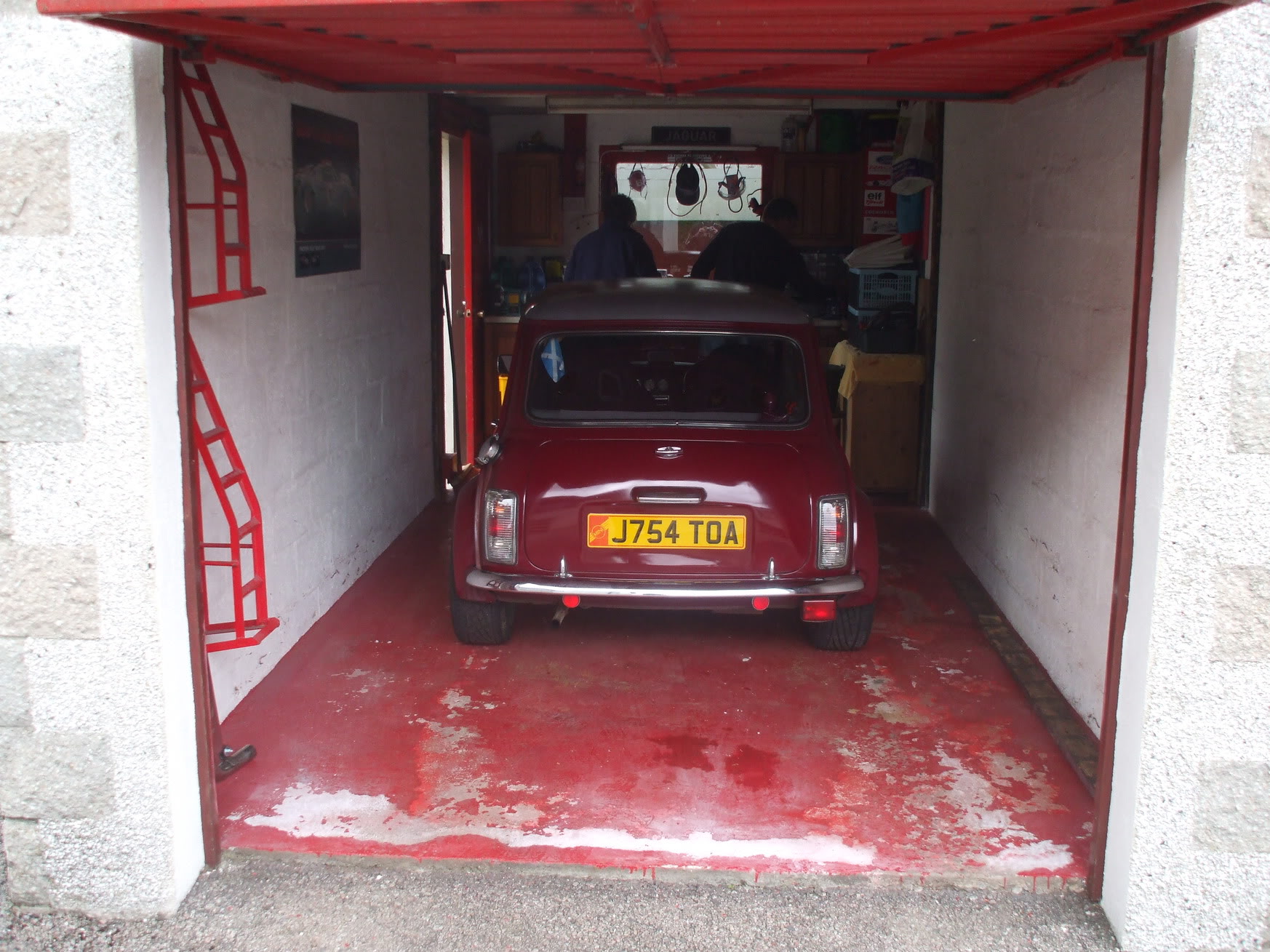 Some pics of the little progress I got......I swear some of the bolts/screwswere welded on!!!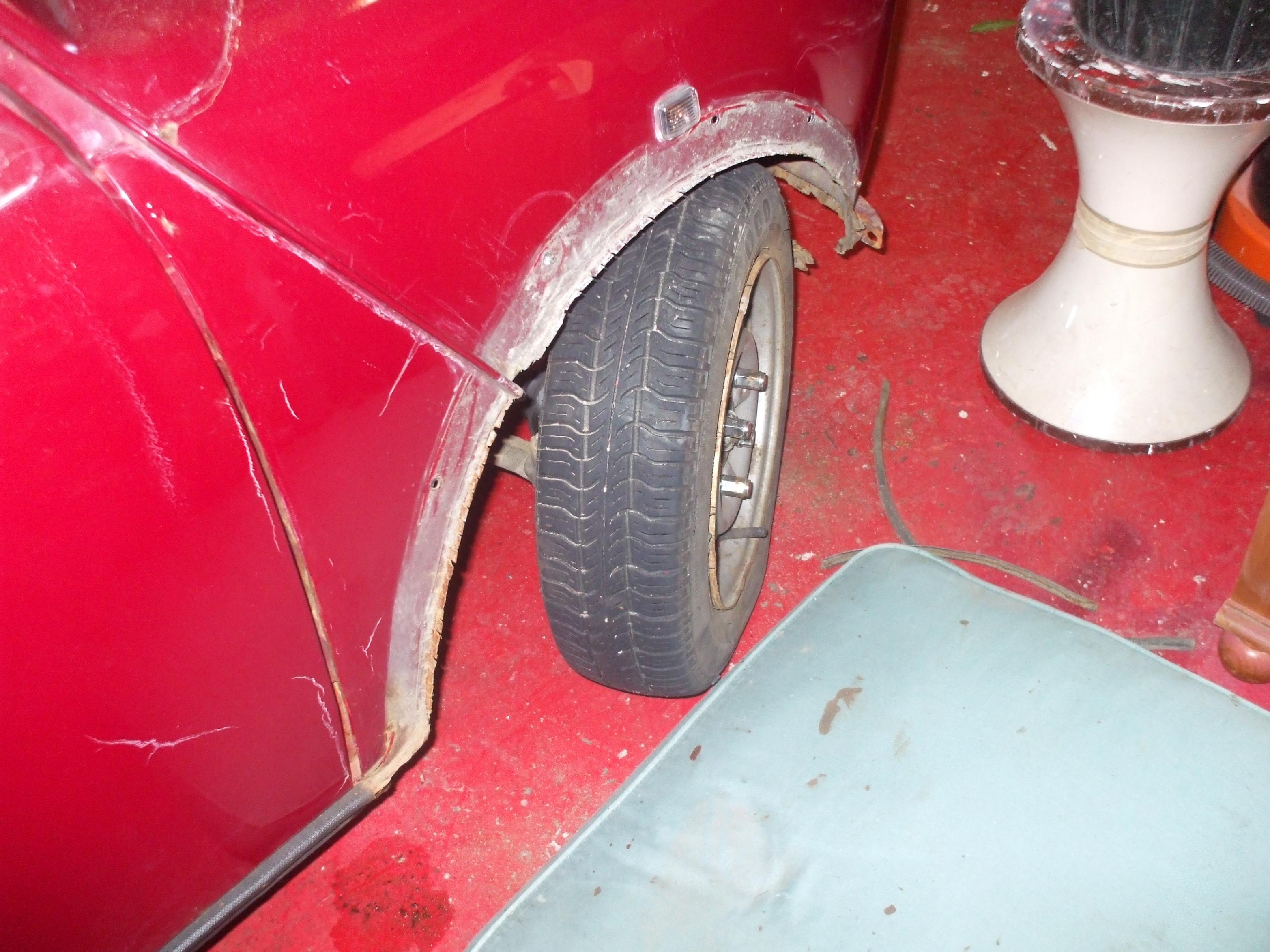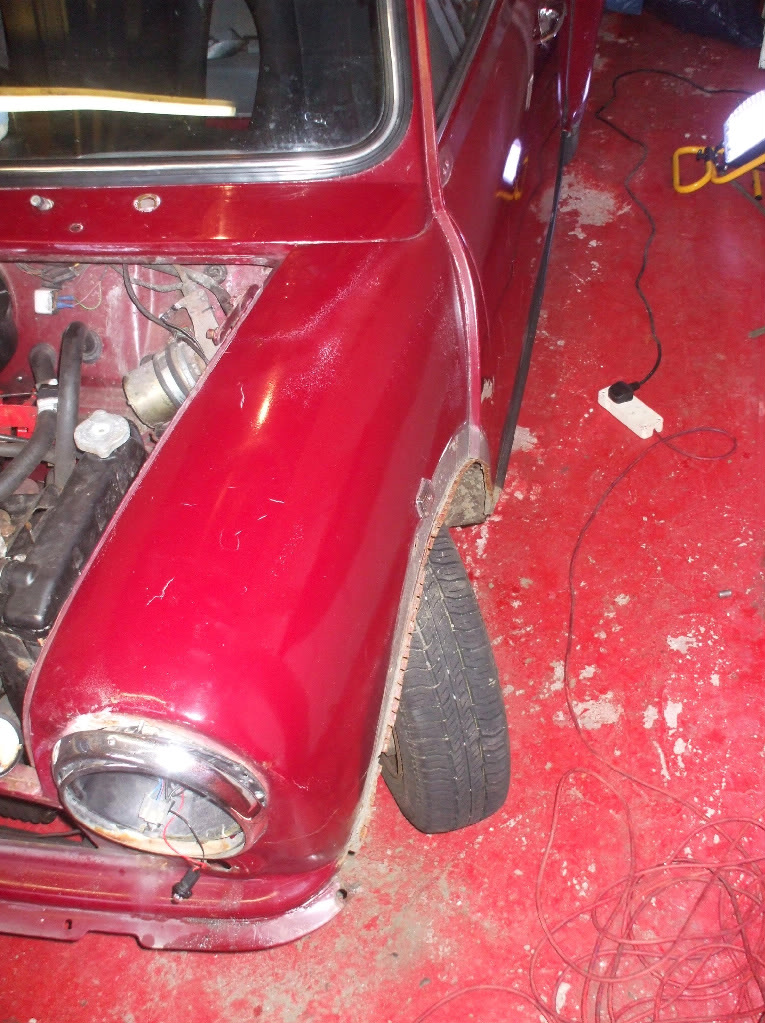 Arches off. (The bolts moulded into the arches came out annoyingly so wil have to find a way to get them in and make them stay that way)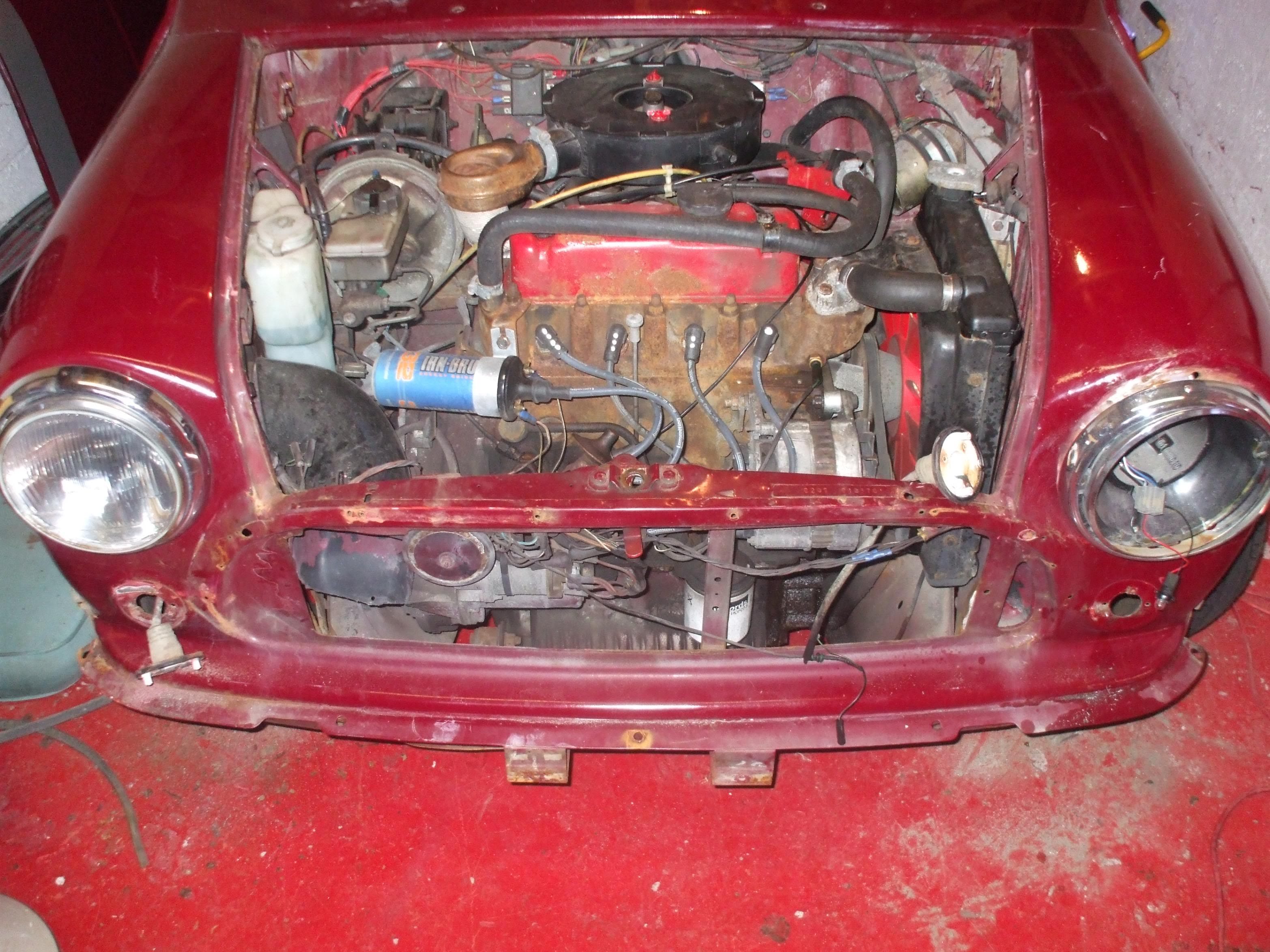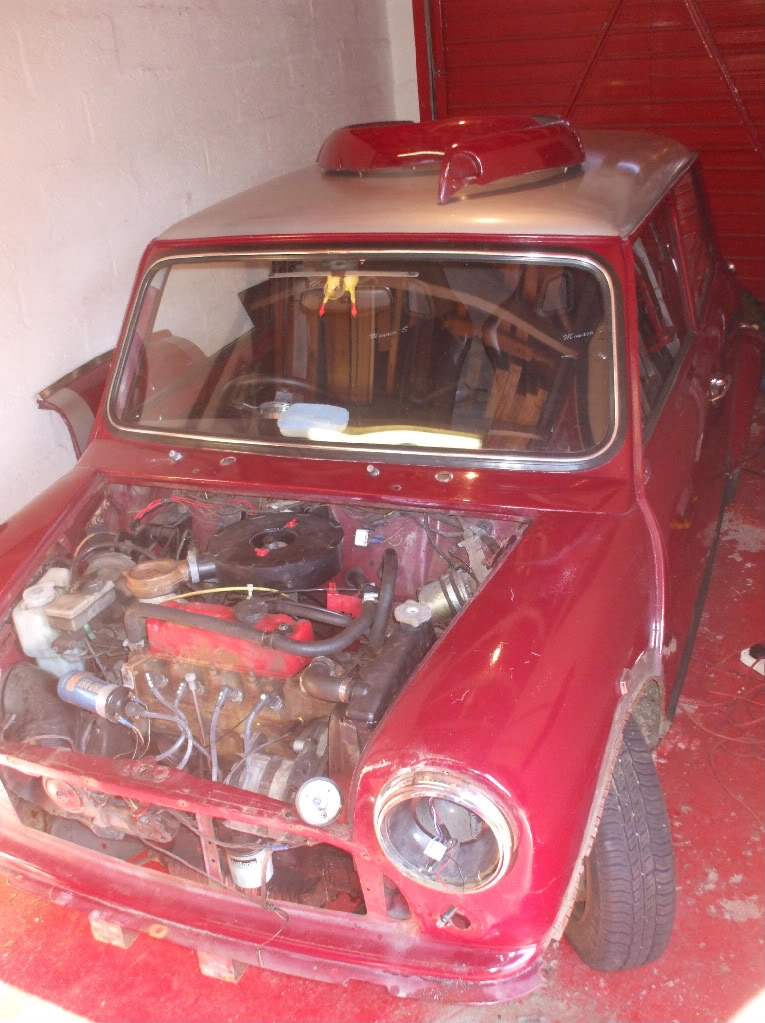 How I left it before going out. Left lights half in as I wasnt wanting to cut wires just yet.
More progress tonight. Basically got most of the stuff off to start sanding down. Leaving the interior and windows in for now to reduce the amount of dust getting everywhere. Boots getting sanded too so took off the bootlid. Shifted the fuel tank to get access to the light cluster and arch bolts but it was too dark to get a good look at the fuel pipes to fully remove it. Didnt want to risk it leaking everywhere!

So the obligatory pics you all crave!

Never knew these things existed.....brackets for holding in air vent pipes. They wont be getting replaced as Im taking out the vents as they are useless and putting speakers in instead. :thumb: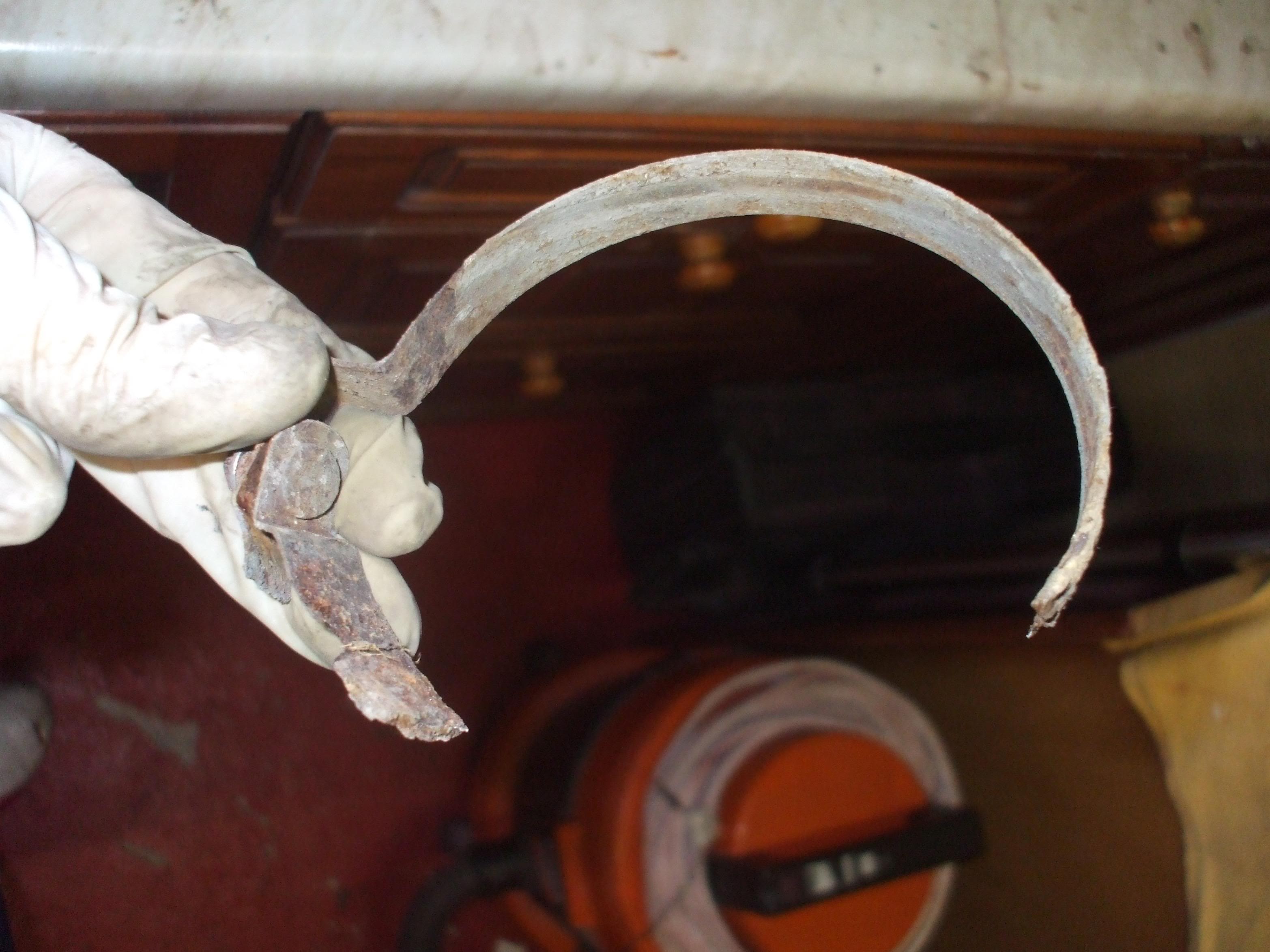 Think I may need to get a new driveshaft seal.......:whistle: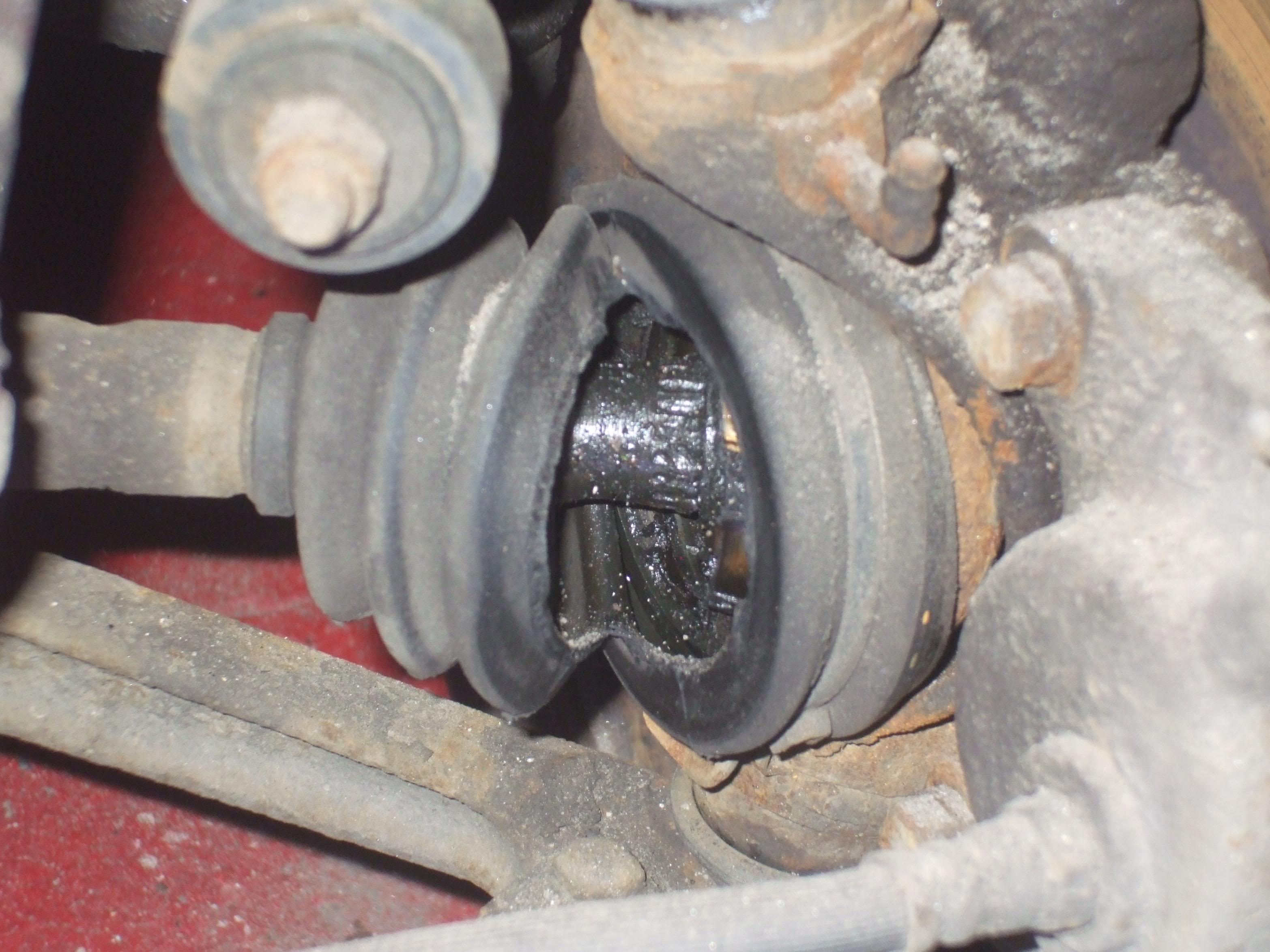 Passenger inside of wing....roosty as hell after winter!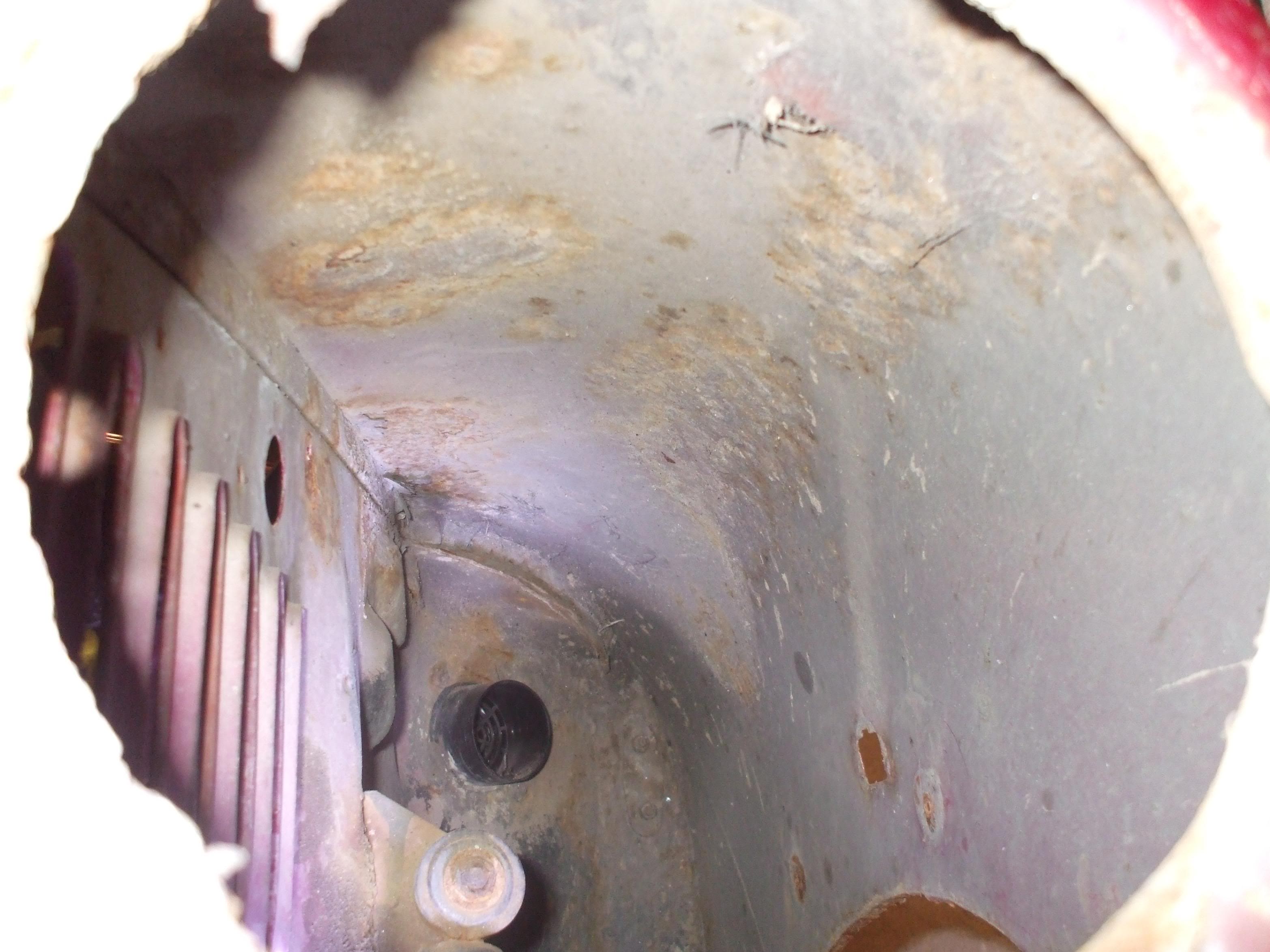 Drivers side wing....again needing some tlc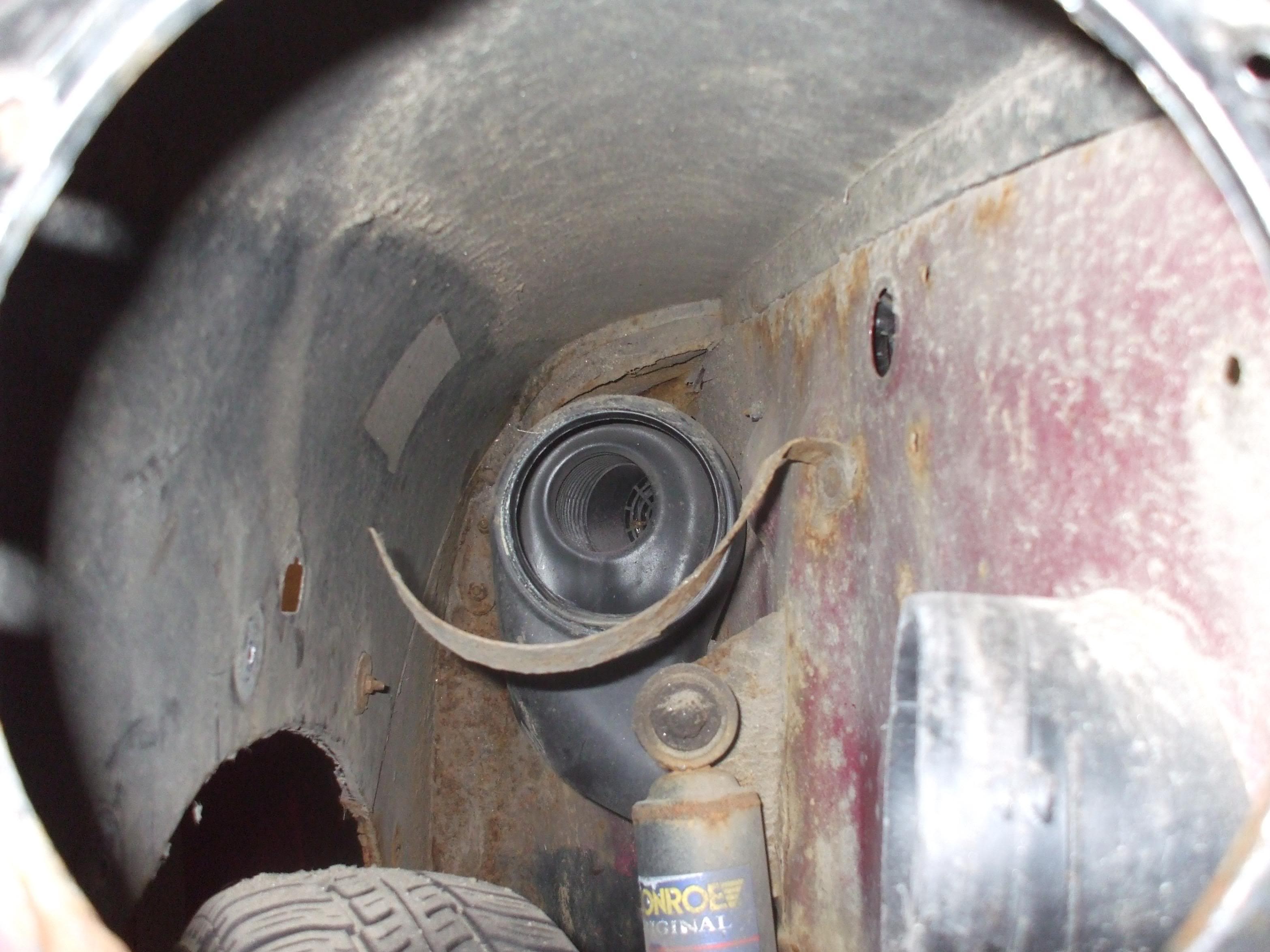 Lights out and wires all labelled for rebuild.




Front valence isnt exactly intact anymore...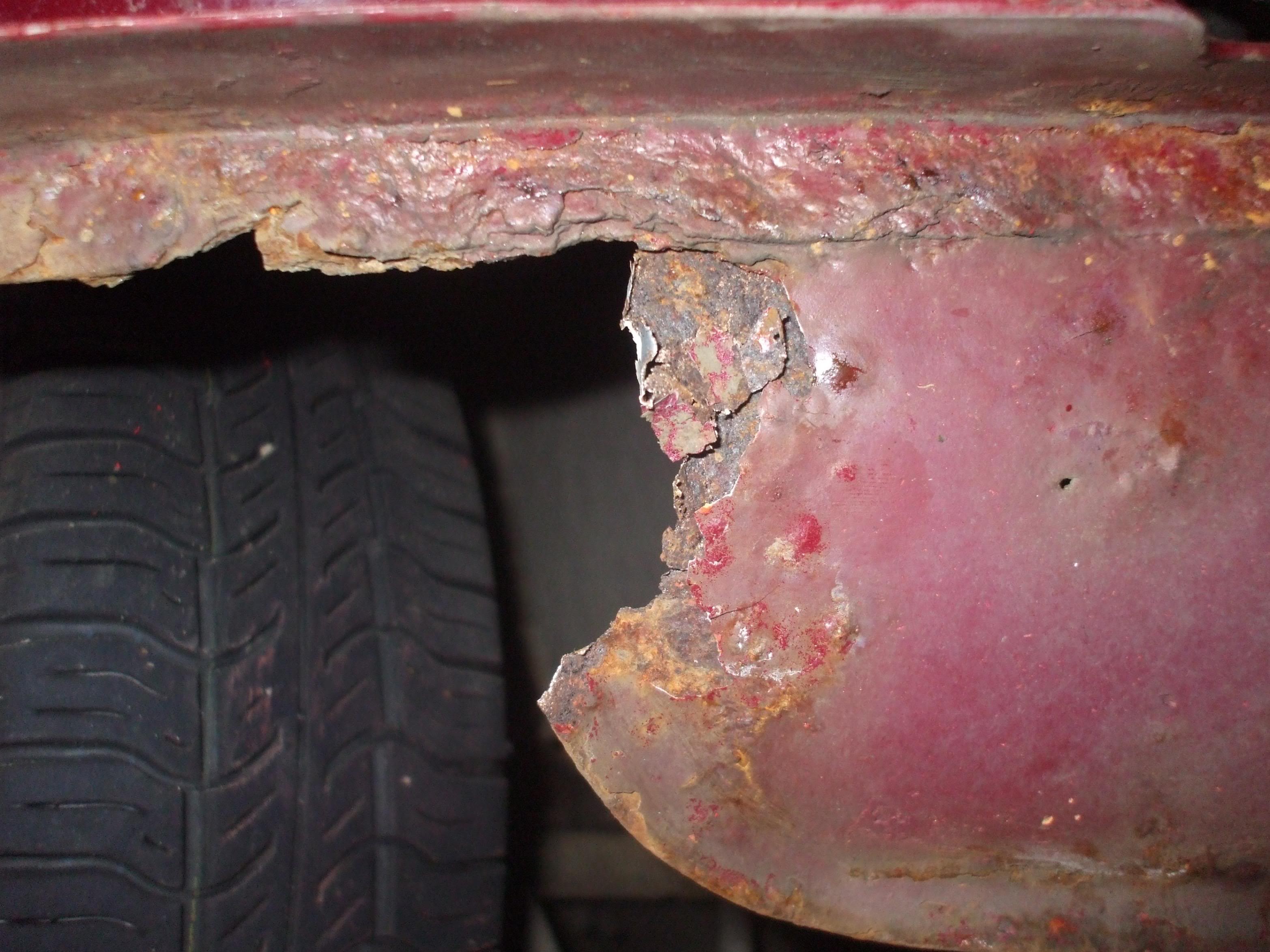 Fog light bolts are rusted on and rounded off so going to have to chop them. Just ripped the bracket off to get better access. Putting it into the rear light cluster to prevent this happening again.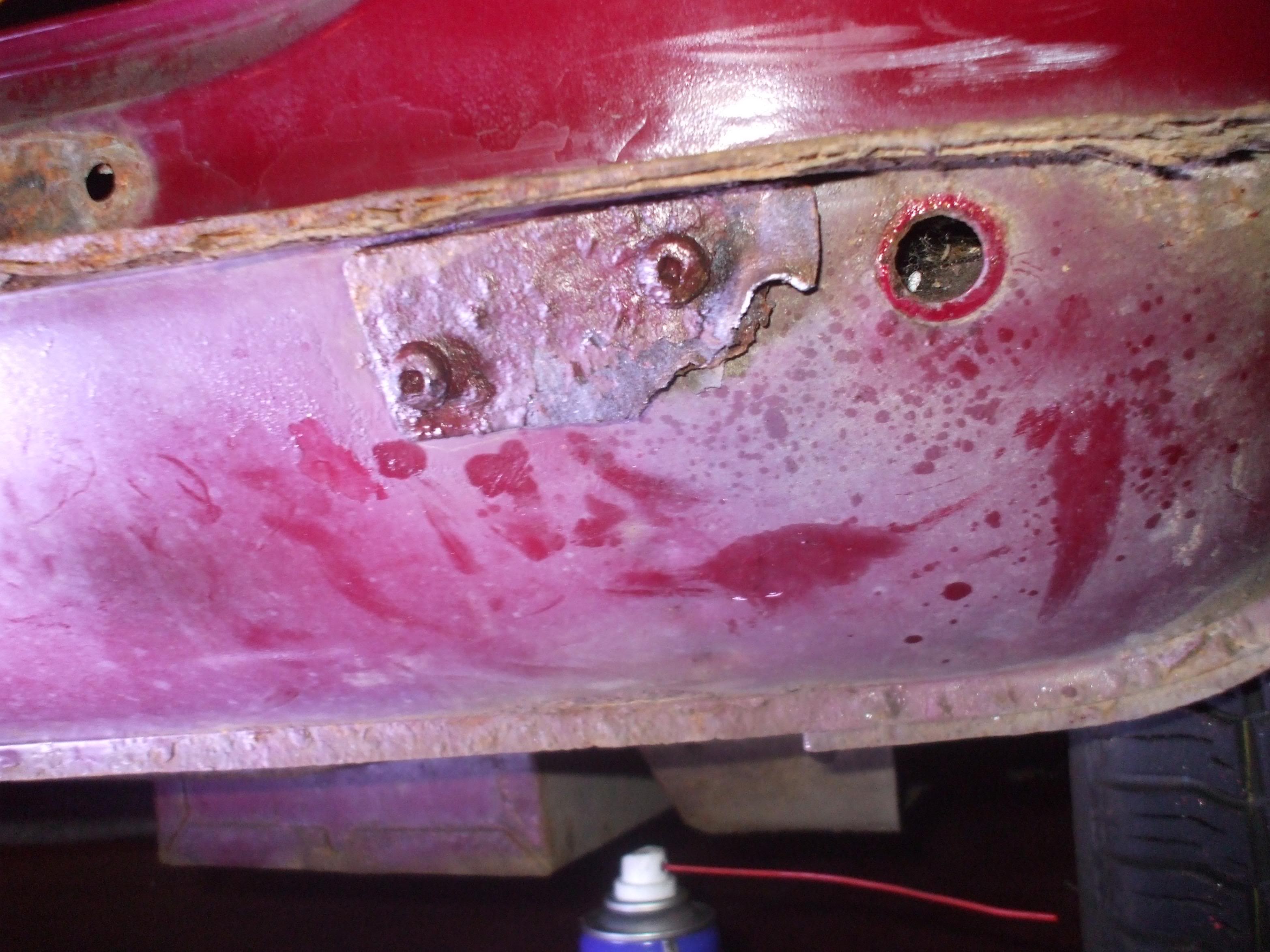 Rear as it stands atm before I was told to come in at 10pm. Just kept going as I was enjoyin masel!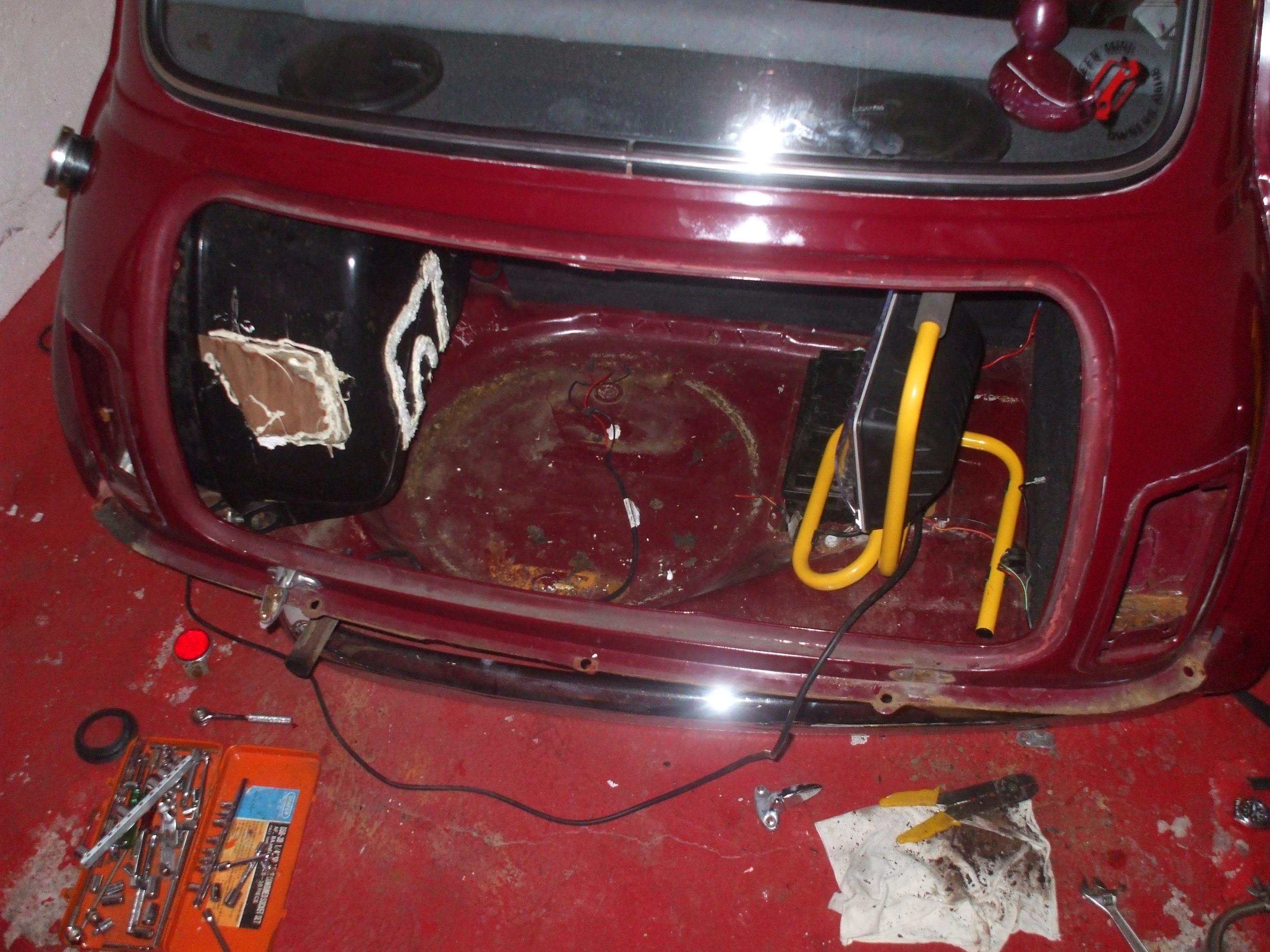 So a bit more progress. All day off tomorrow so wil get some more done hopefully.
Heres the pics of todays fun! :biggrin: Forgot to put on my mask (I know naughty me :redface:) so black bogies for a while!

Arms are stinging a bit with the sparks but nothing that wont pass.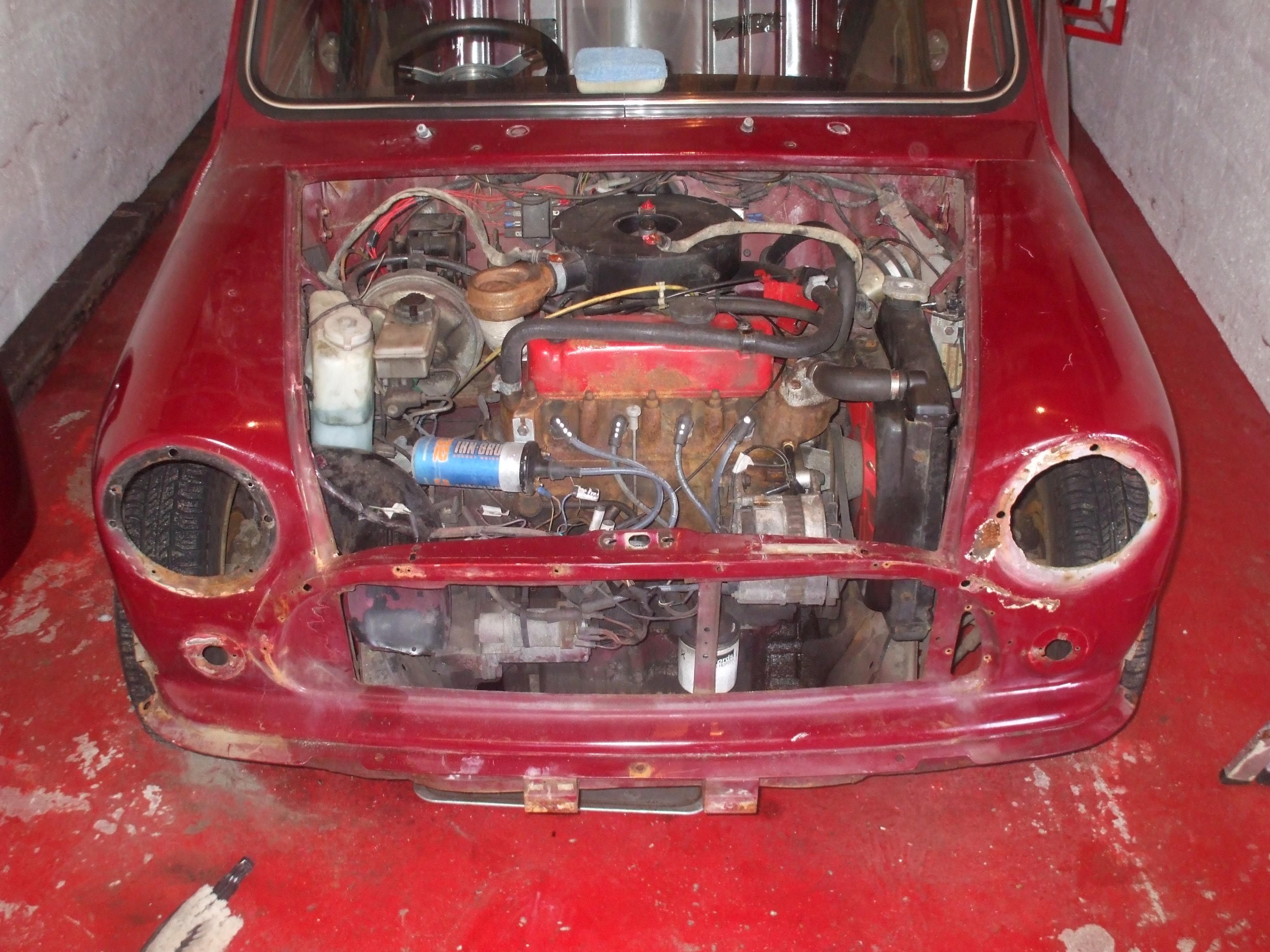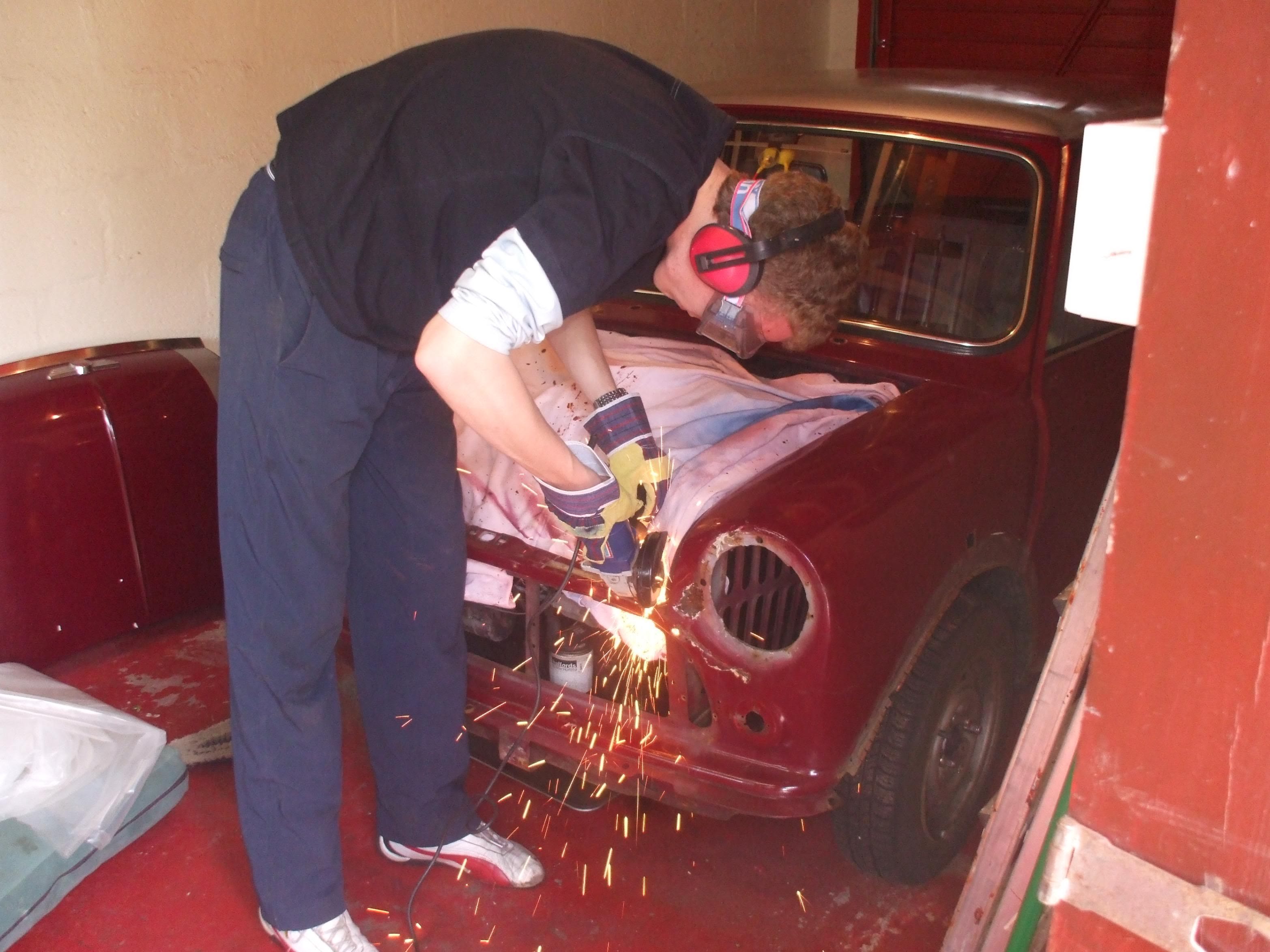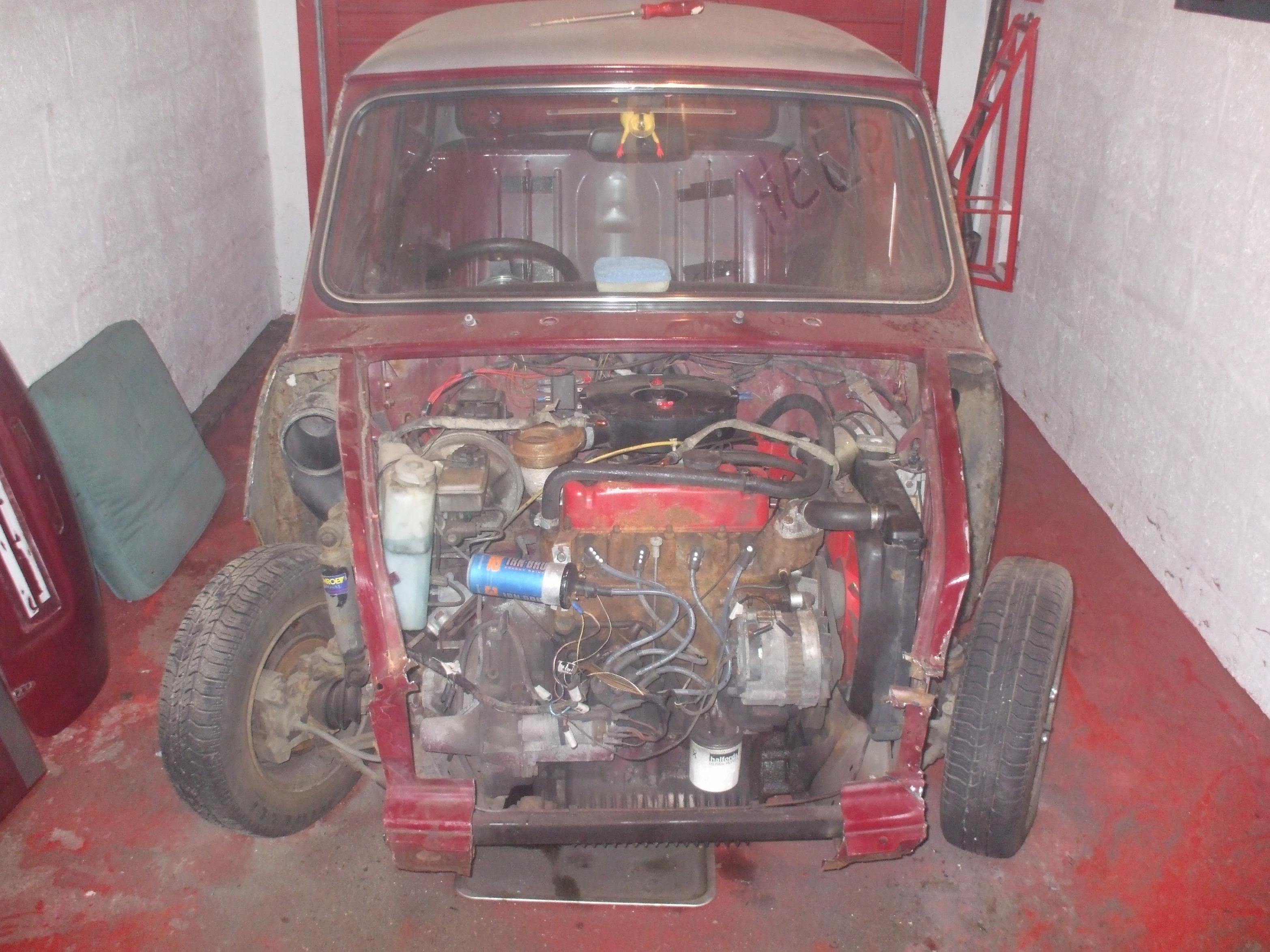 He gave up a bit of a fight....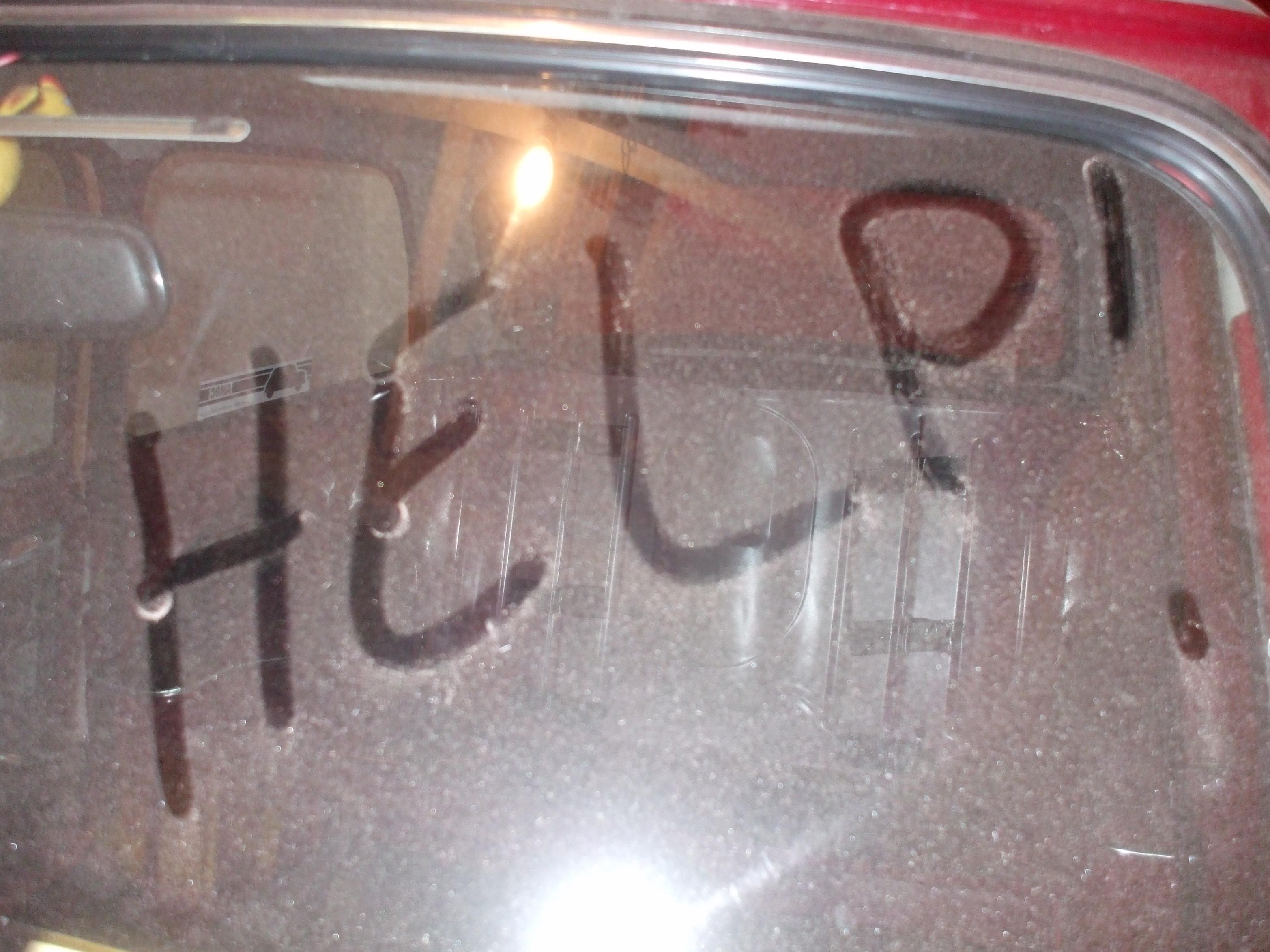 Hole in the bulkhead/flitch that will need cut out and patched...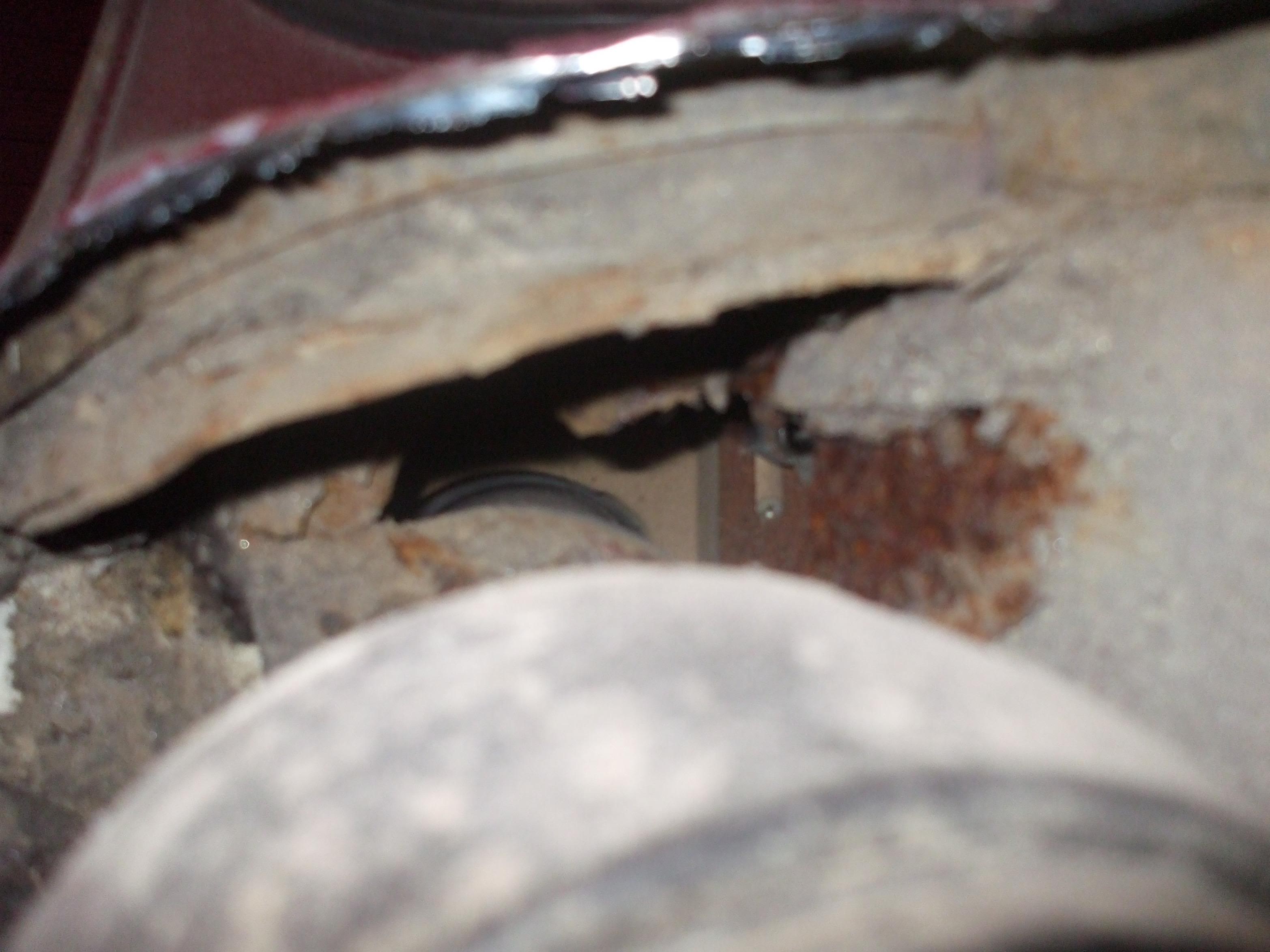 Went out after tea to do a bit more. Tidied up the edges etc. The drivers wing wasnt held on with weld....but filler! Was surprised to find a plume of dust coming out as I took the grinder to it!!! So after taking that off I found Im going to need a scuttle reapir panel as its rotten too. Pics say a 1000 words here...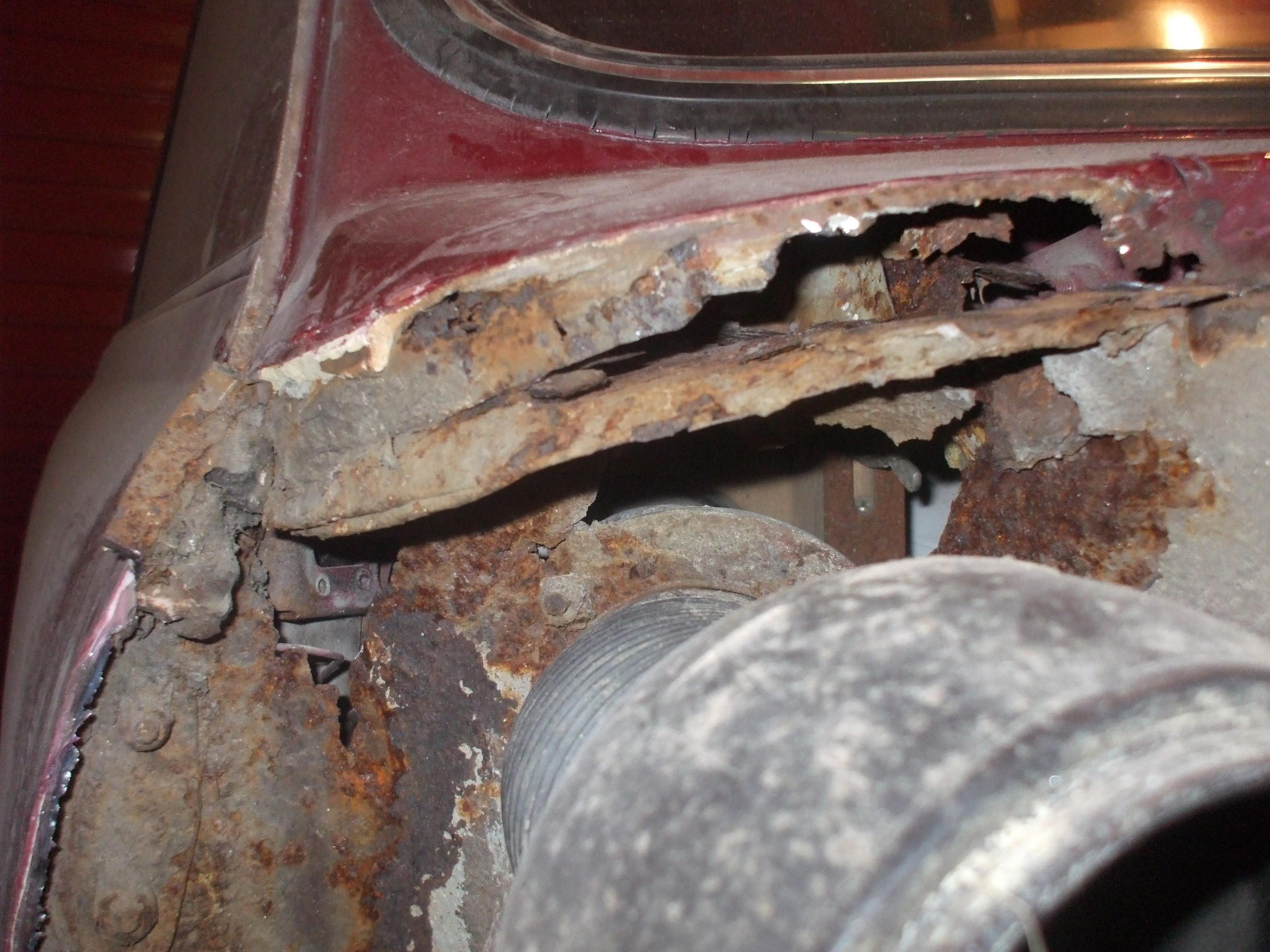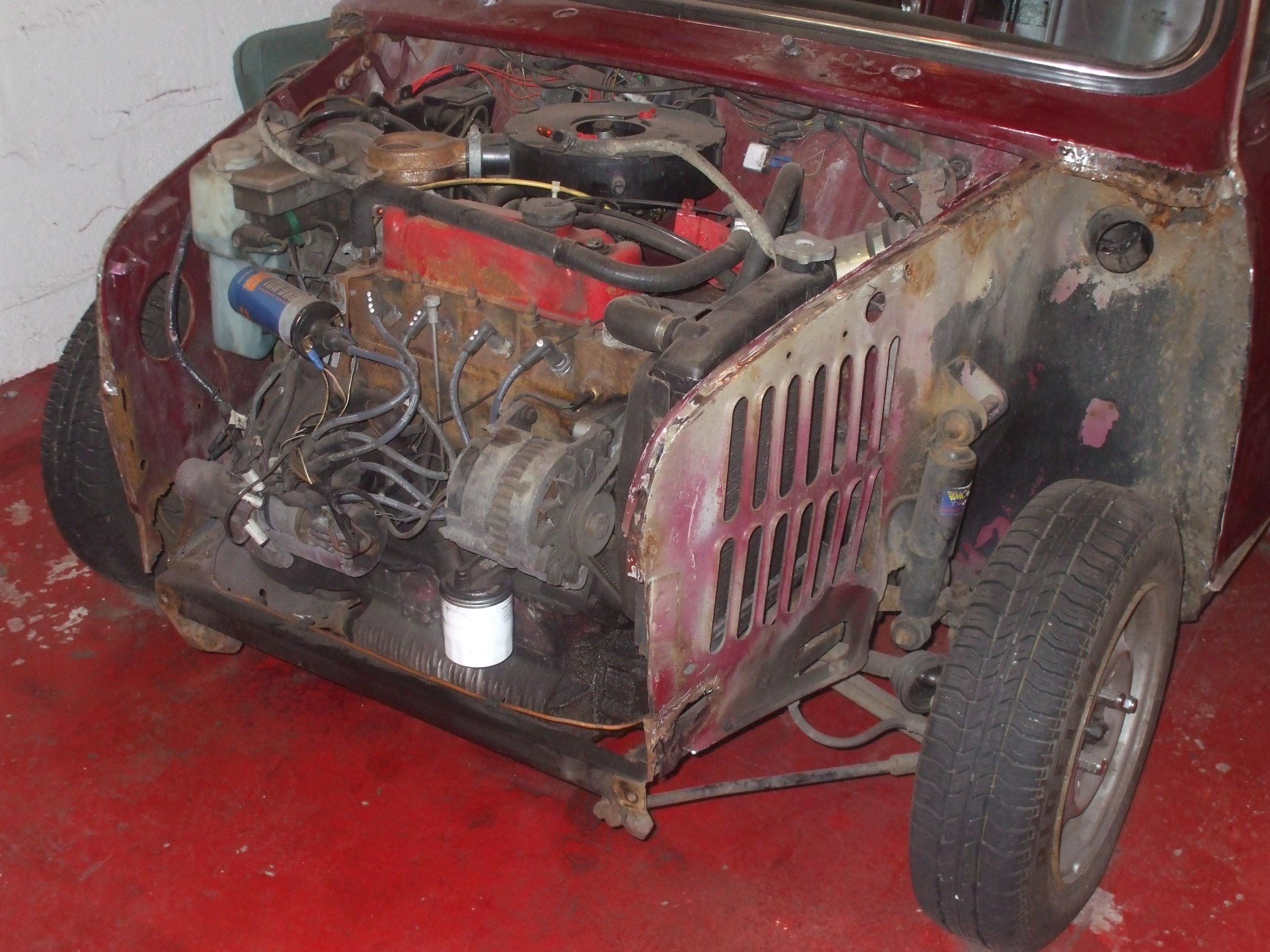 Going to replace the passenger side scuttle bit as well. No point in bodging it.



So tomorrow morning before I go to work its out with the drill and wire brush attatchment to get rid of all the crap from the inner wings. Then its onto sanding the body

The pics.....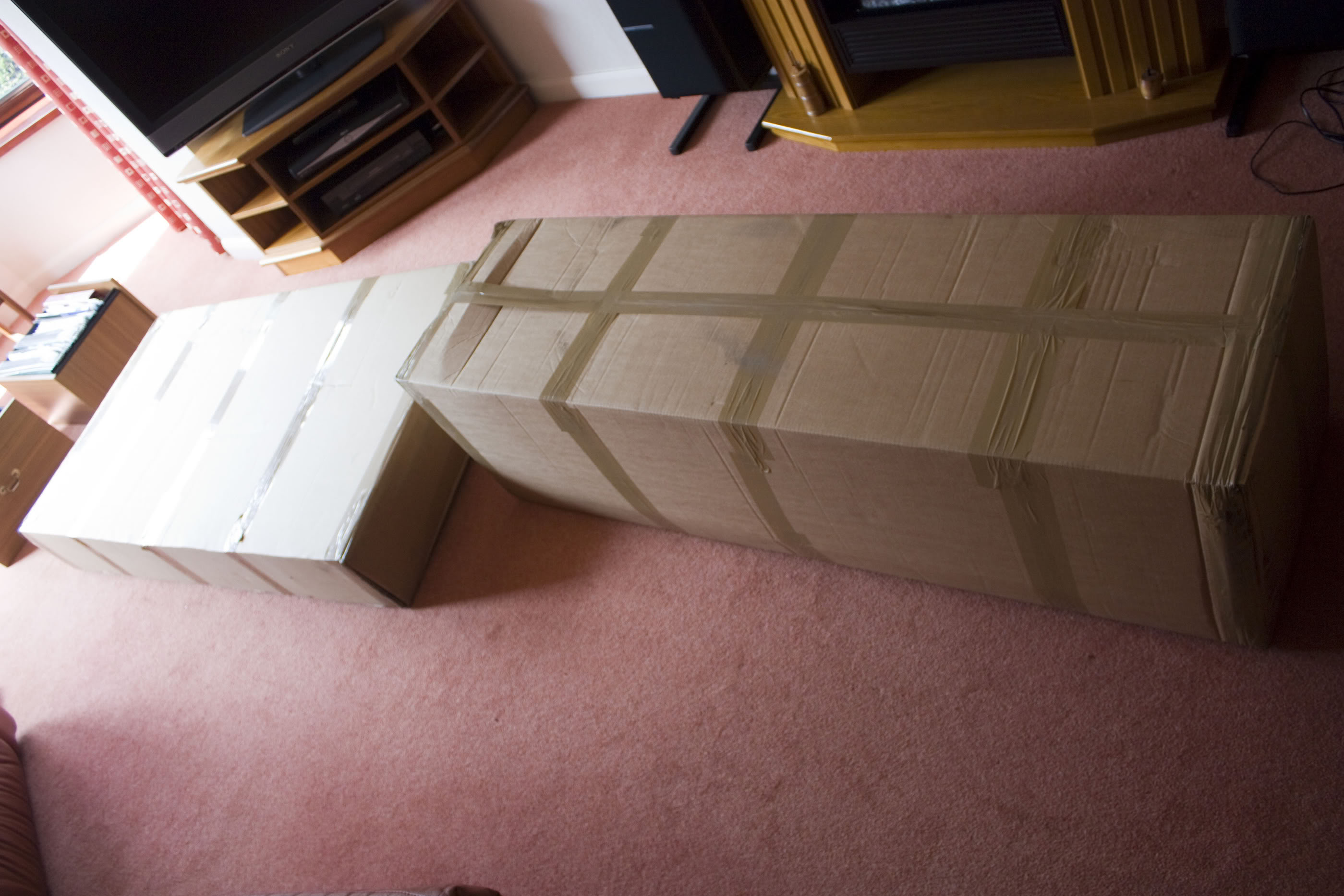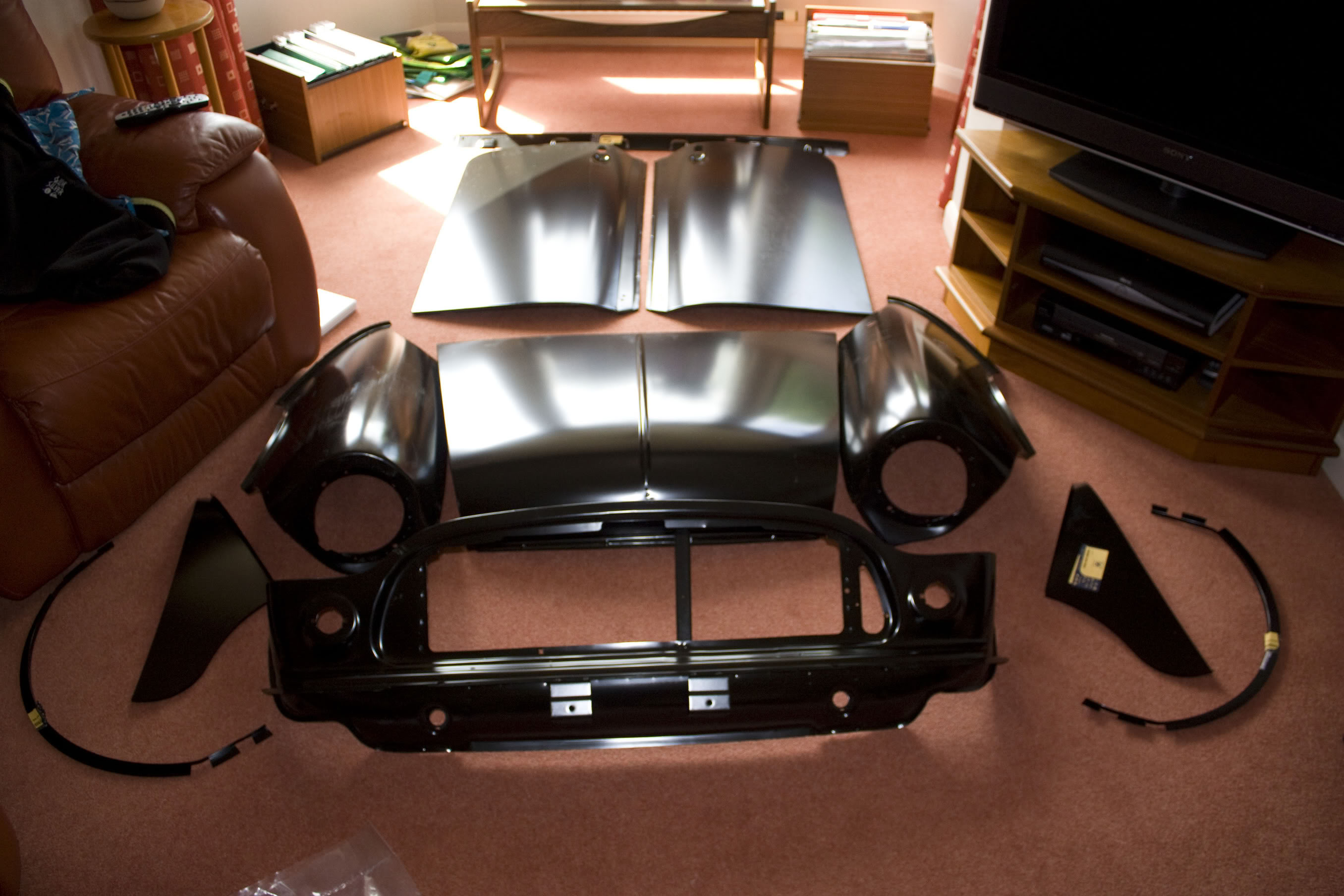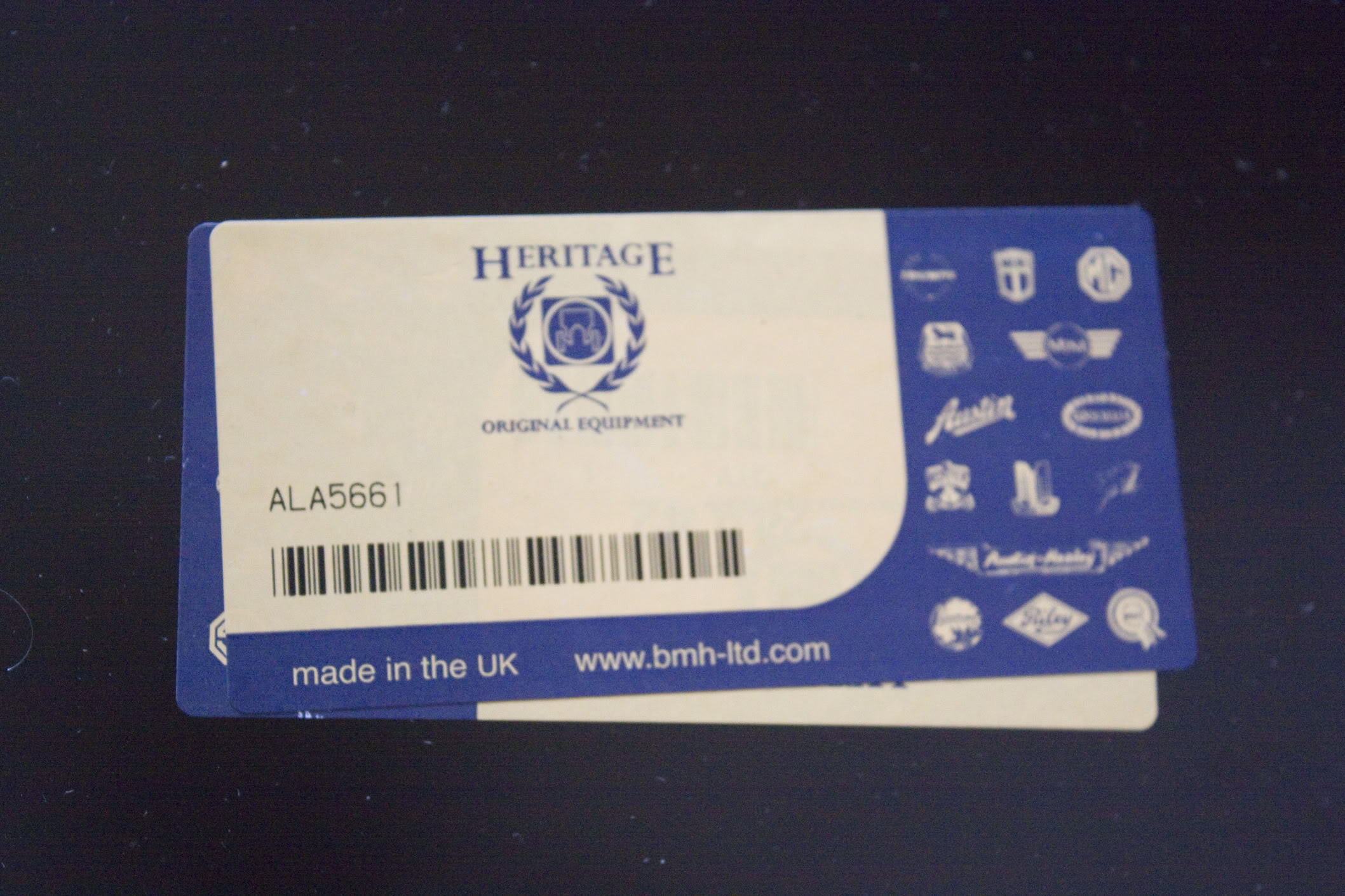 and they all have this lovely sticker on them




So there you go

CHUFFED!
Ok you pic whores heres your lot for tonight



Basically took the gloss off of it tonight but most of its going down to bare metal (roofs ok) as before we got some seriously bad reactions from layers underneath so I want to eradicate that possibility for the new paint. Plus theres a few dents and dings to take out/fill.

Heres the polythene sheeting in place to prevent the front of the garage and the workbench being covered in red dust. Its working well so far!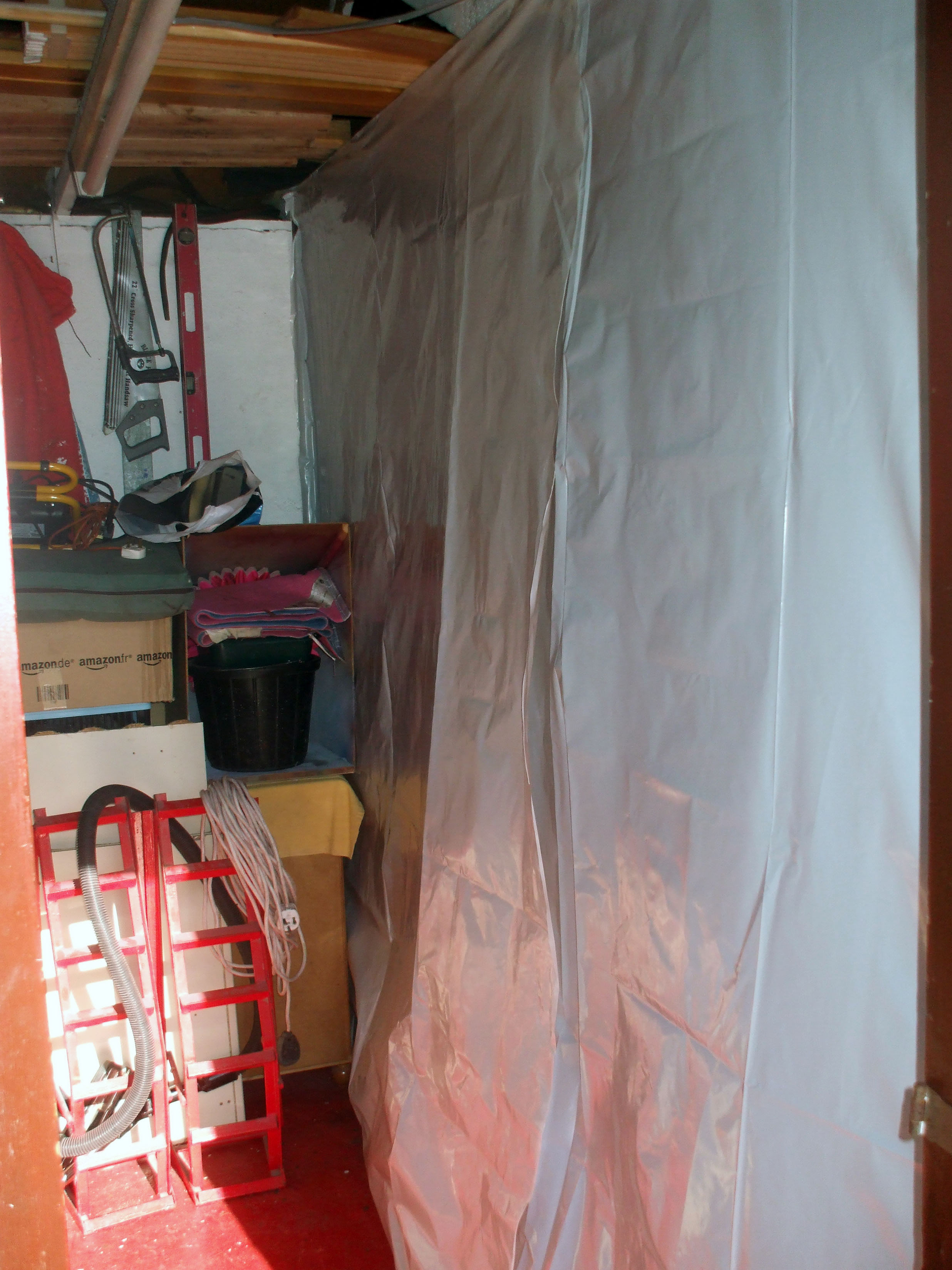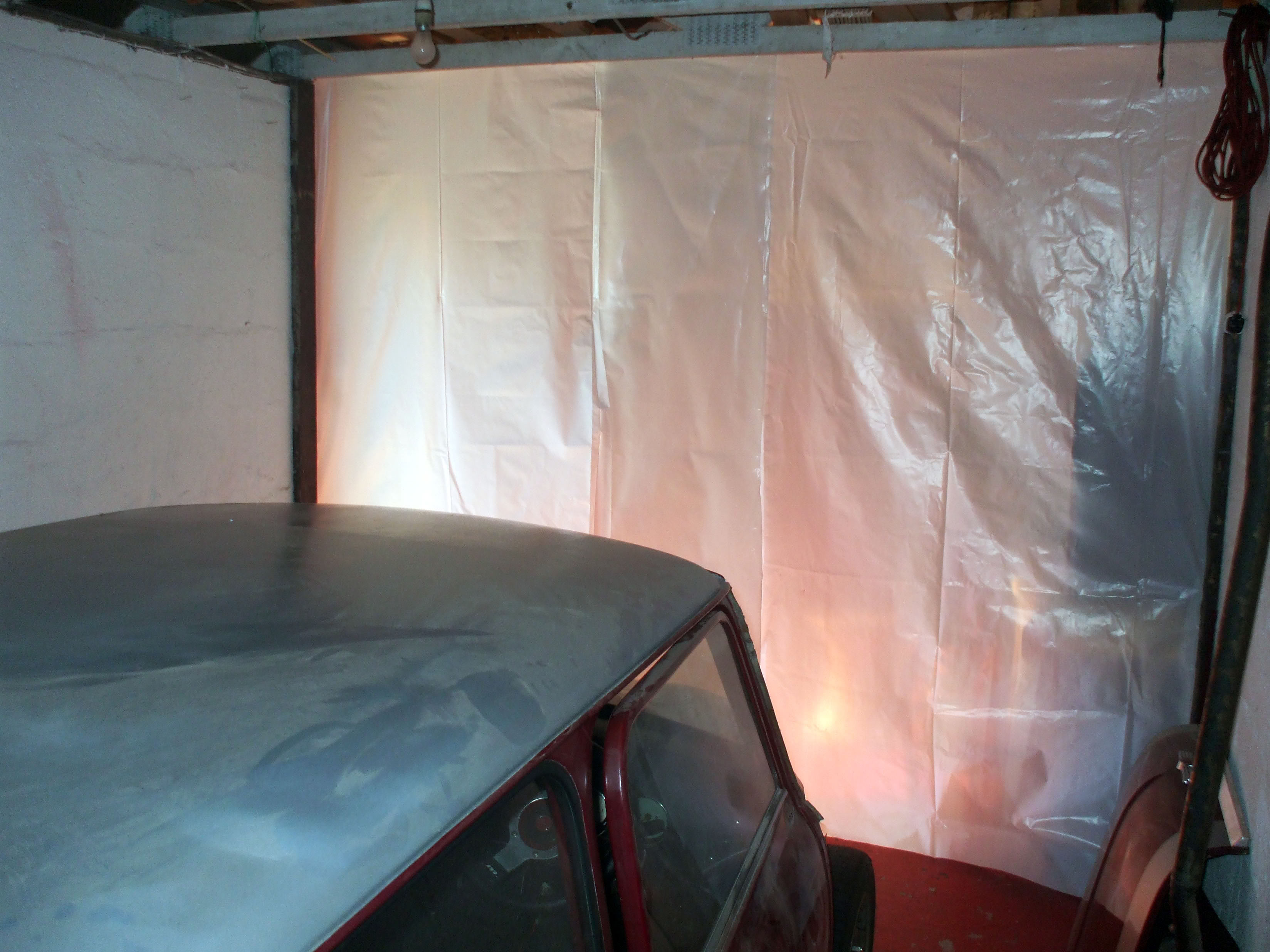 Covered up the enginebay as I CBA taking this out and getting covered in red dust as well!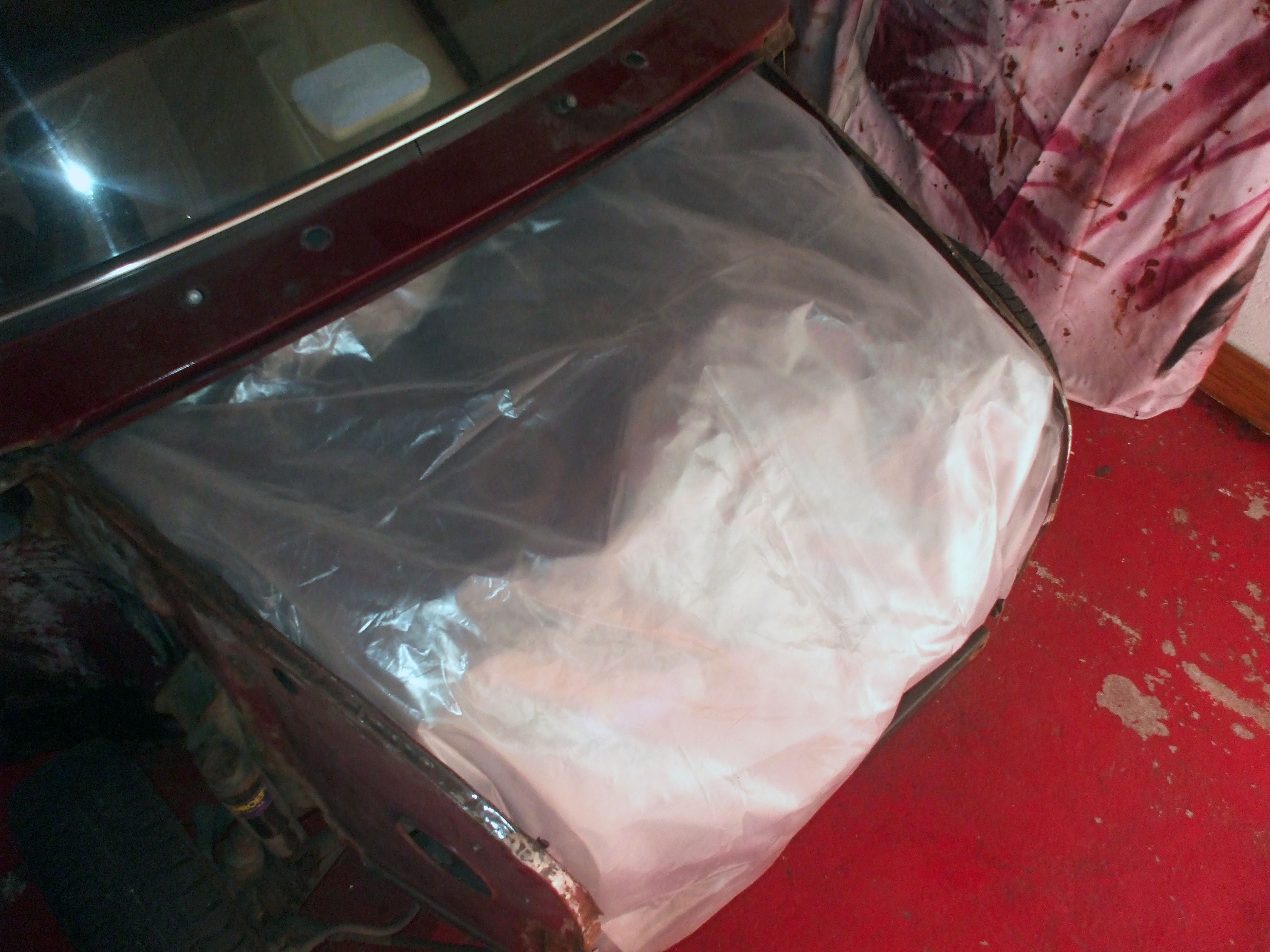 Roof before...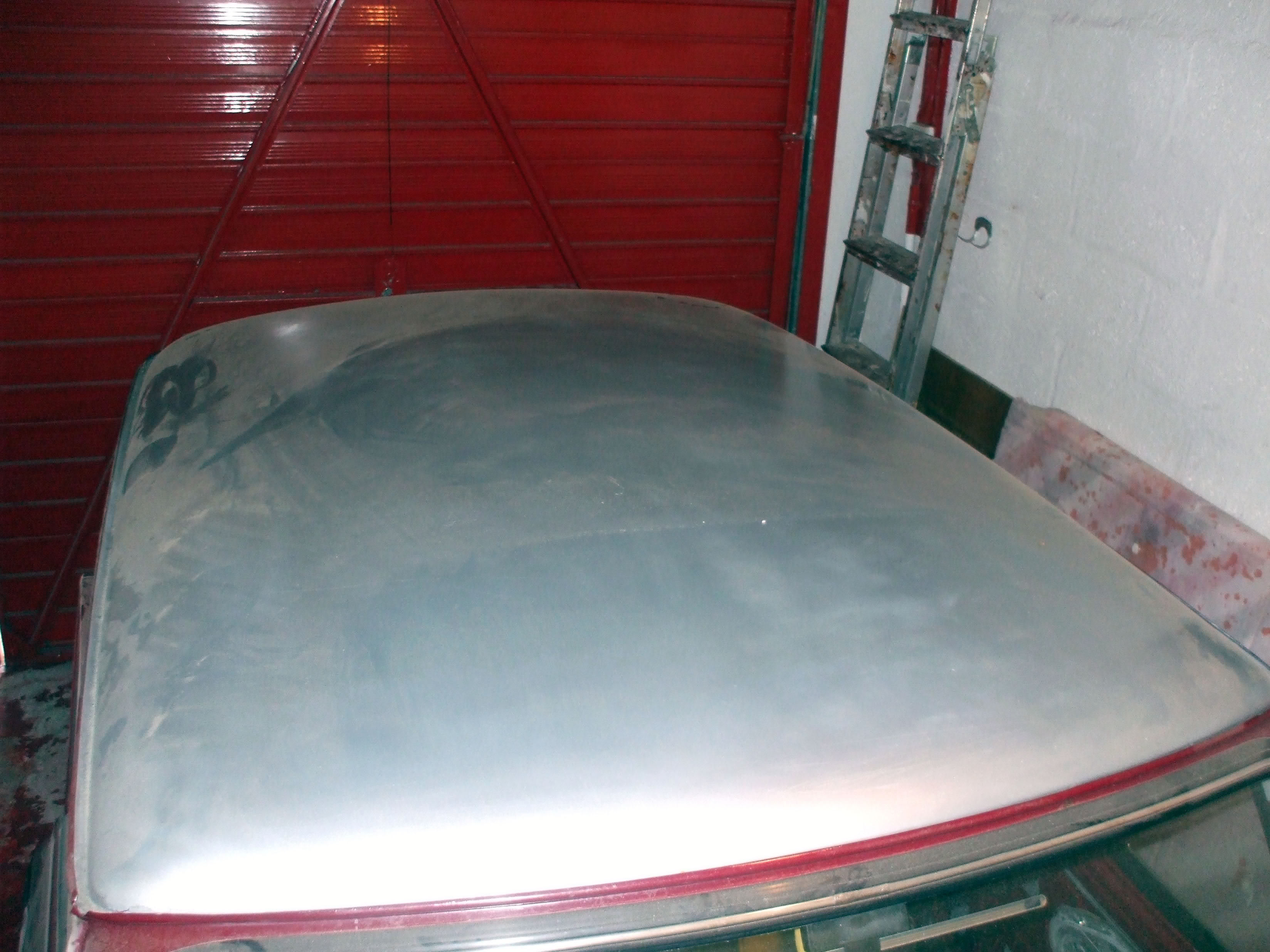 Roof after...




Rear N/S corner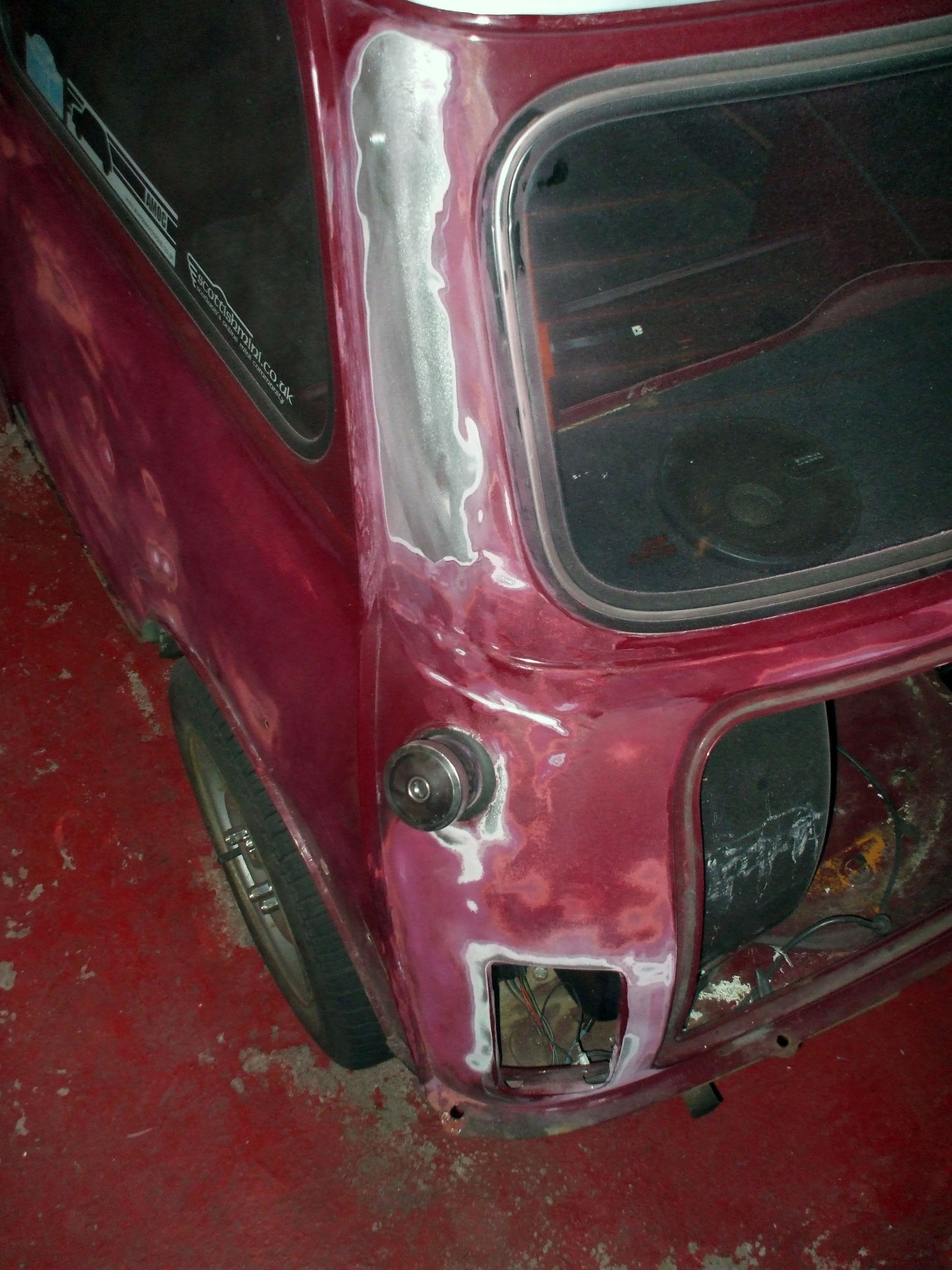 Full rear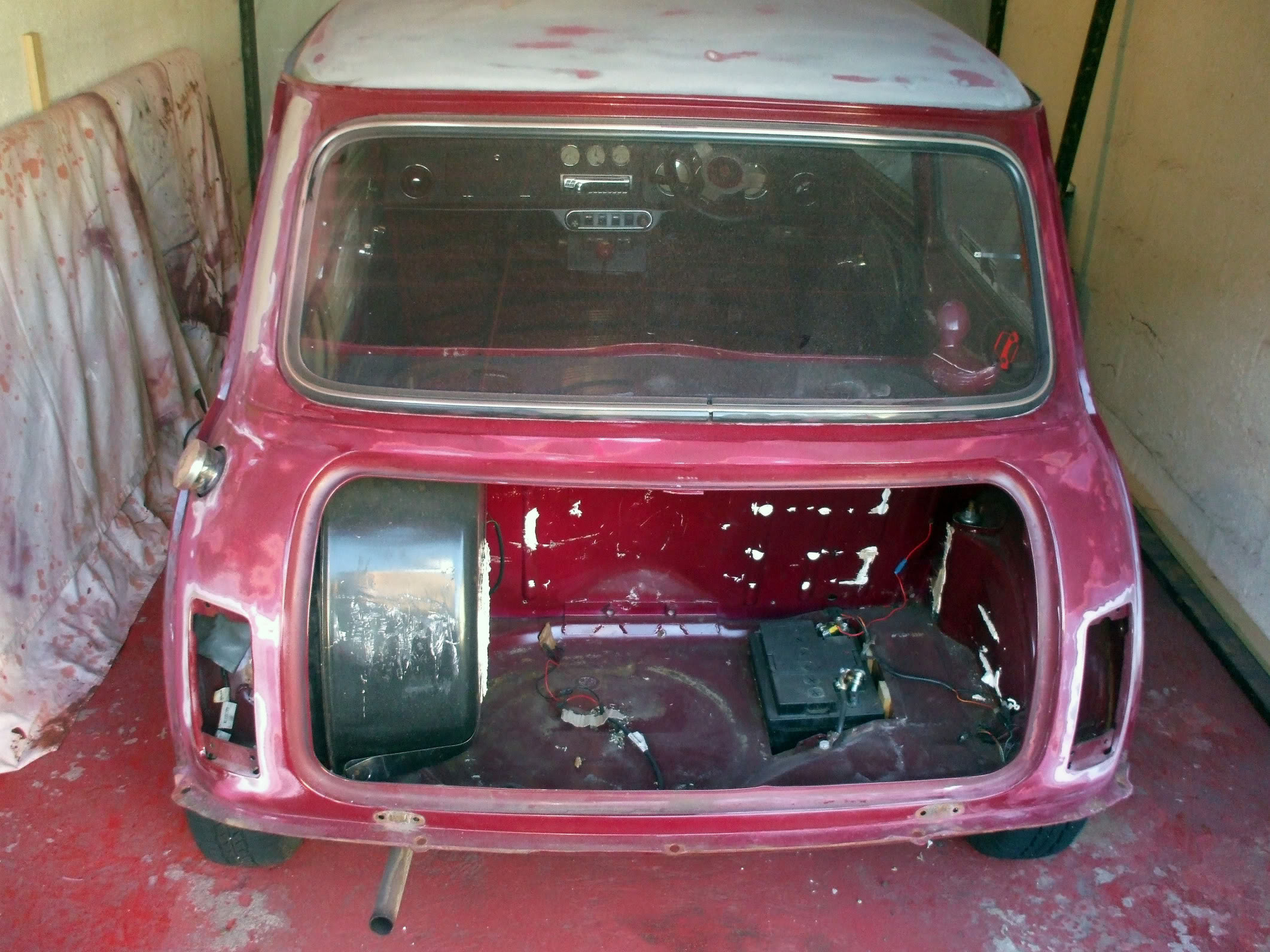 N/S Rear wing. Needs taken back to bare metal as it has a large straight dent in it at about shopping trolley height...... Cant see it in the photo though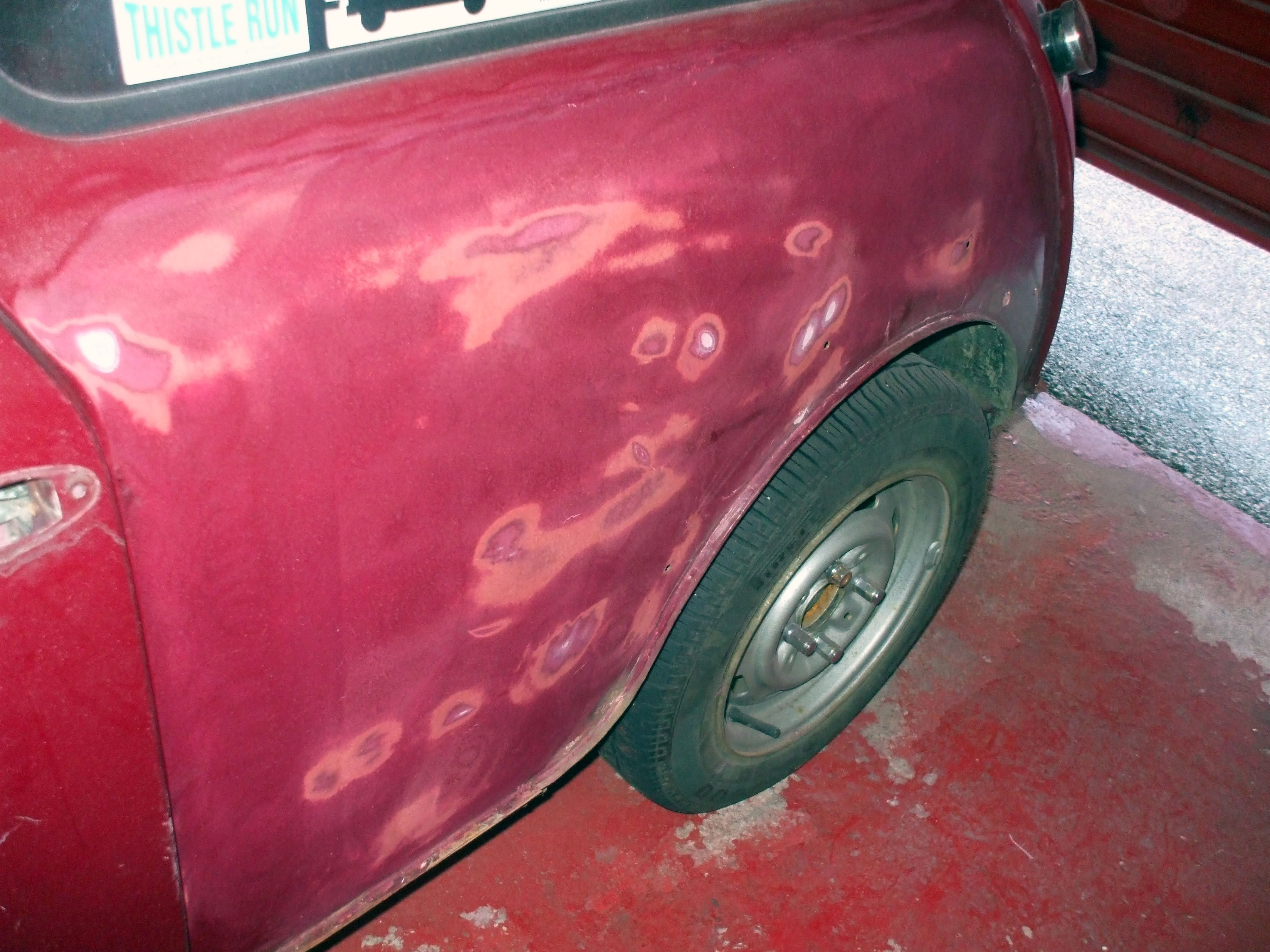 And next time Im wearing gloves!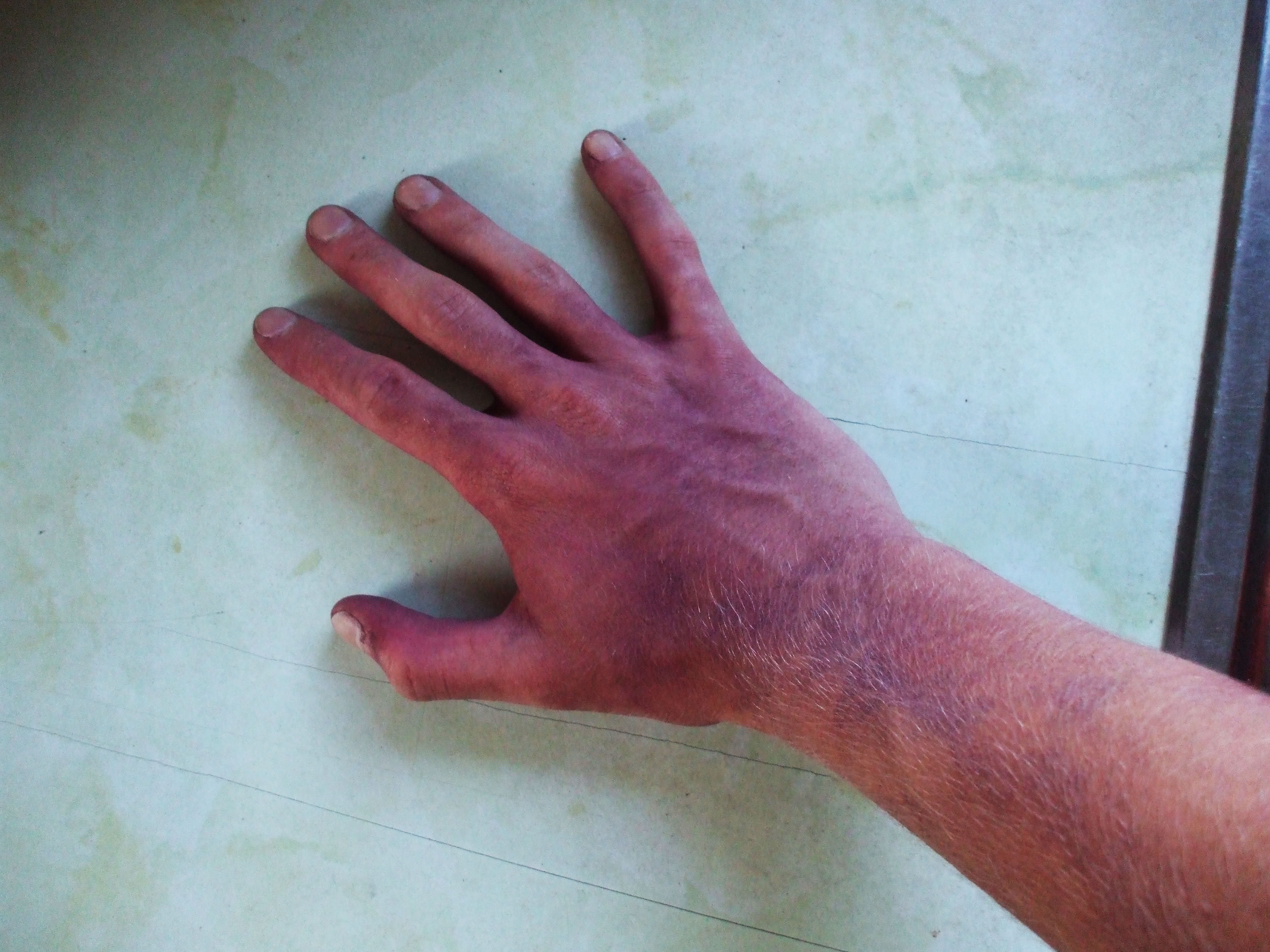 So thats some progress!
Today I had a dig about at the scuttle again....and uncovered something awful! Filler and massive chunks of fibreglass everywhere! :wall: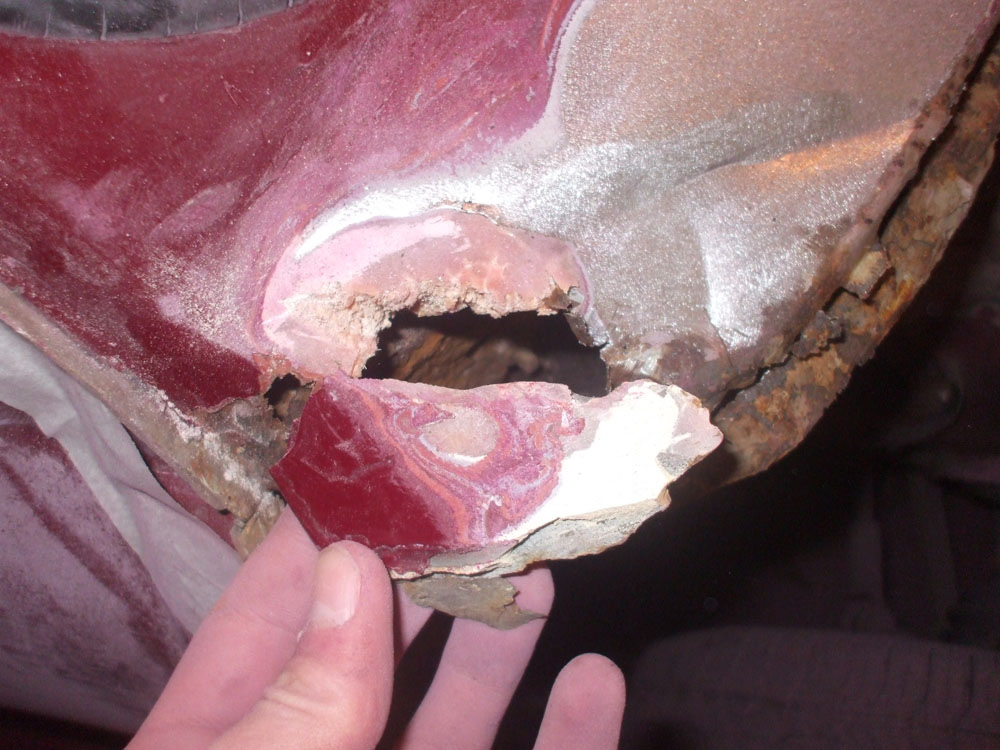 this is a solid lump of filler/fibreglass!!!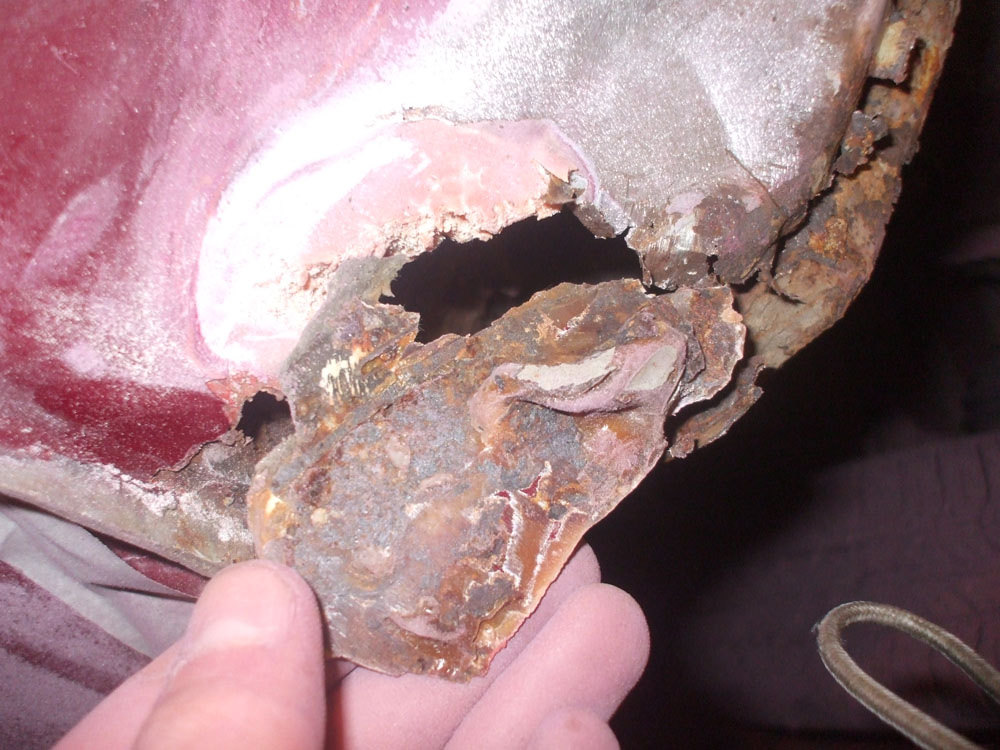 To give you an idea just how thick this combo was.... :doublesho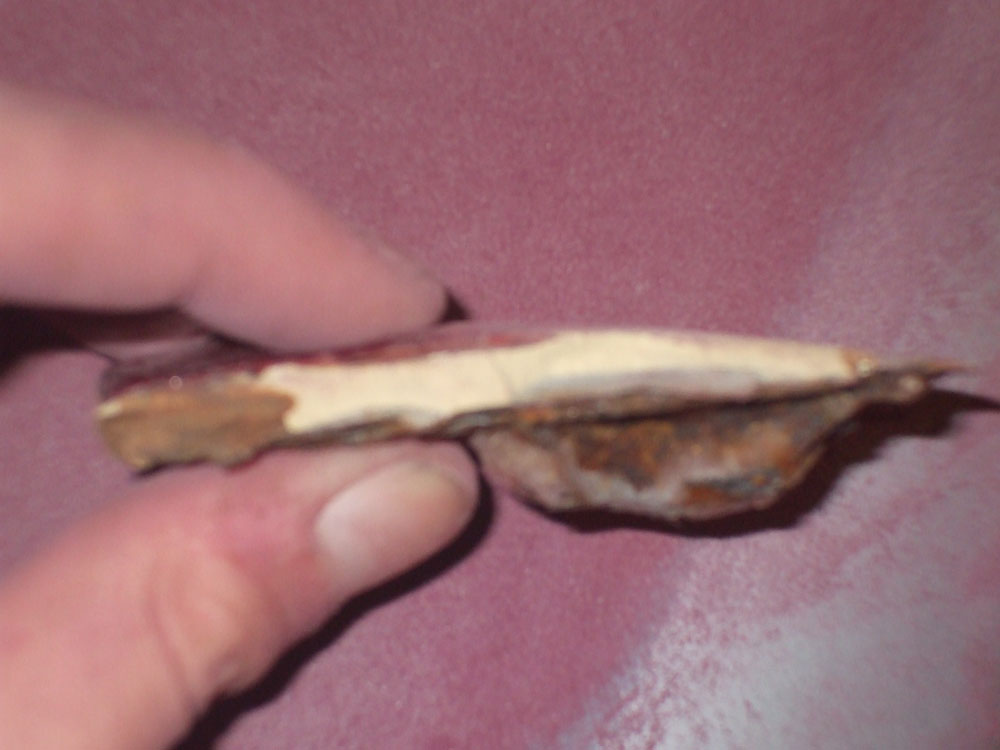 scuttle sanded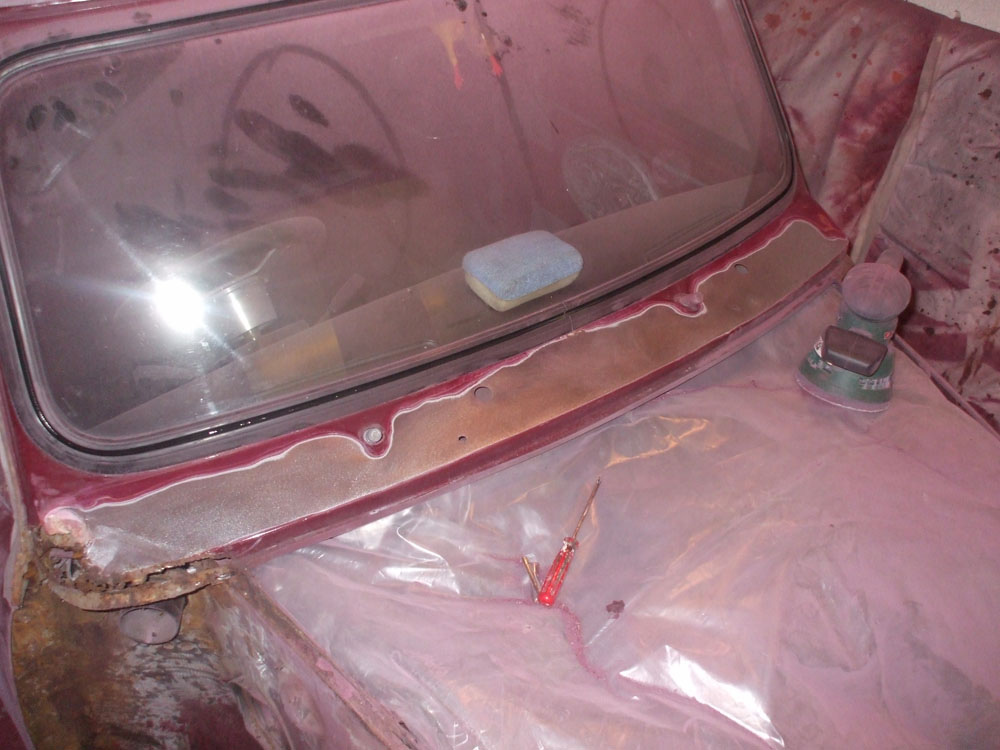 And finsihed off the rear wing... forgot to take a photo.

And its still giving up a fight!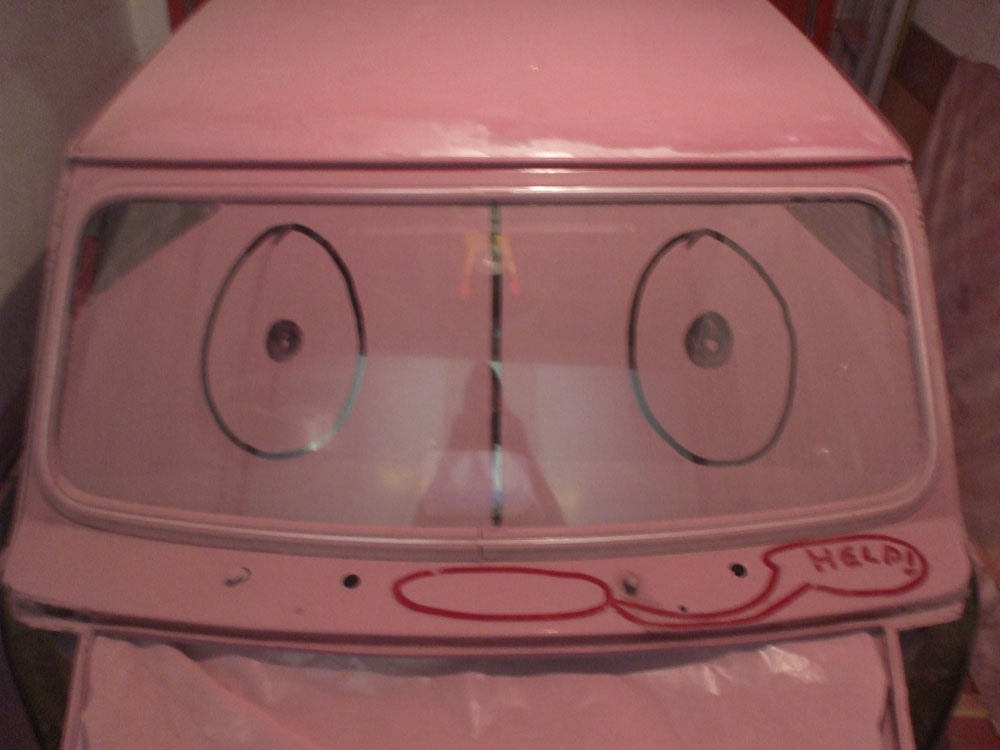 And thats as far as I've got with it so far. Taking my time and every opportunity when im not with my gf or working to pay for it.



Hope you like so far!:thumb:
Right. Thats the orbital sanding job done, now its onto the hard stuff....HAND SANDING the rest of the finer details. GOing to take a while and a load of sandpaper but I will get there. Away to take out the glass just now so I can get right into the nooks and crannies. Will get photos taken as I go of course.
[p]-----Added 16/7/2010 at 03:44-----[/p]
Glass oot! Apart from door glass as my dads not wanting to take them out and put them back in after having to do it on a Capri back in the day. Will see what Mr Welder says about it for welding on the new skins though.....

But anyway heres the pics you long after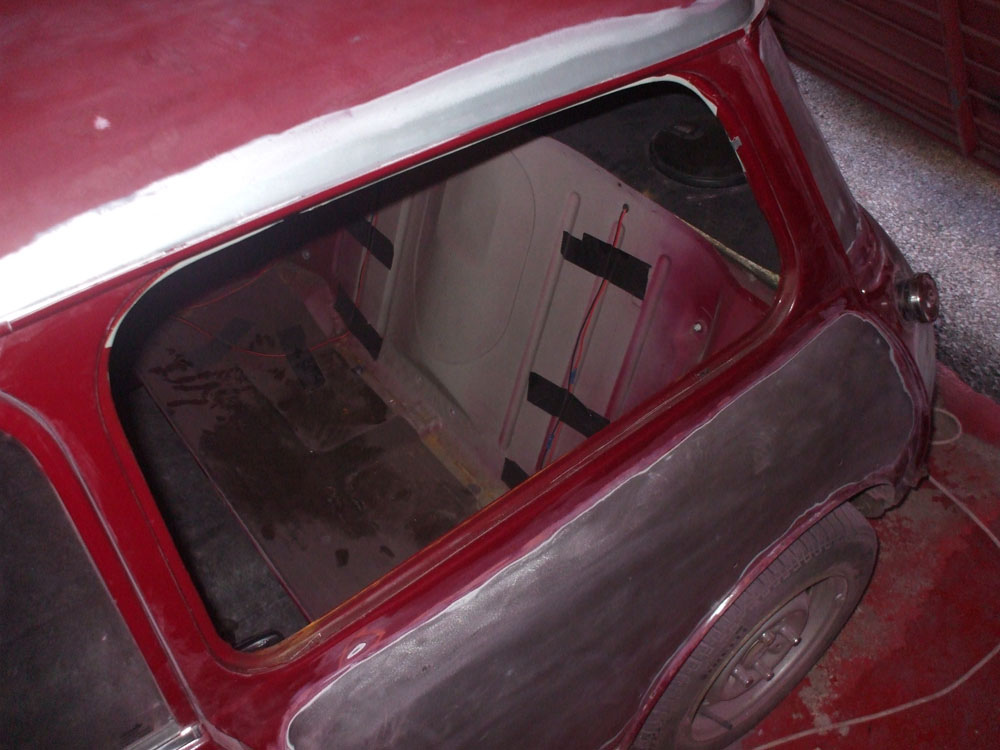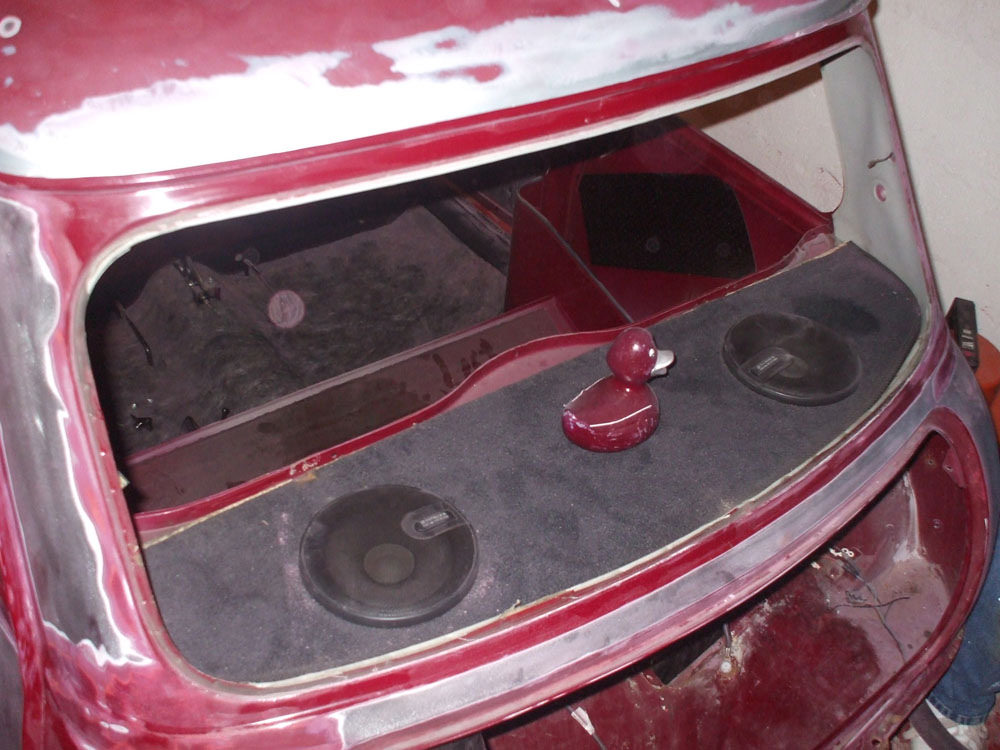 Front screen out and wont be going back after it was already cracked (see first page for pics) New one to source but wont be too hard within the club.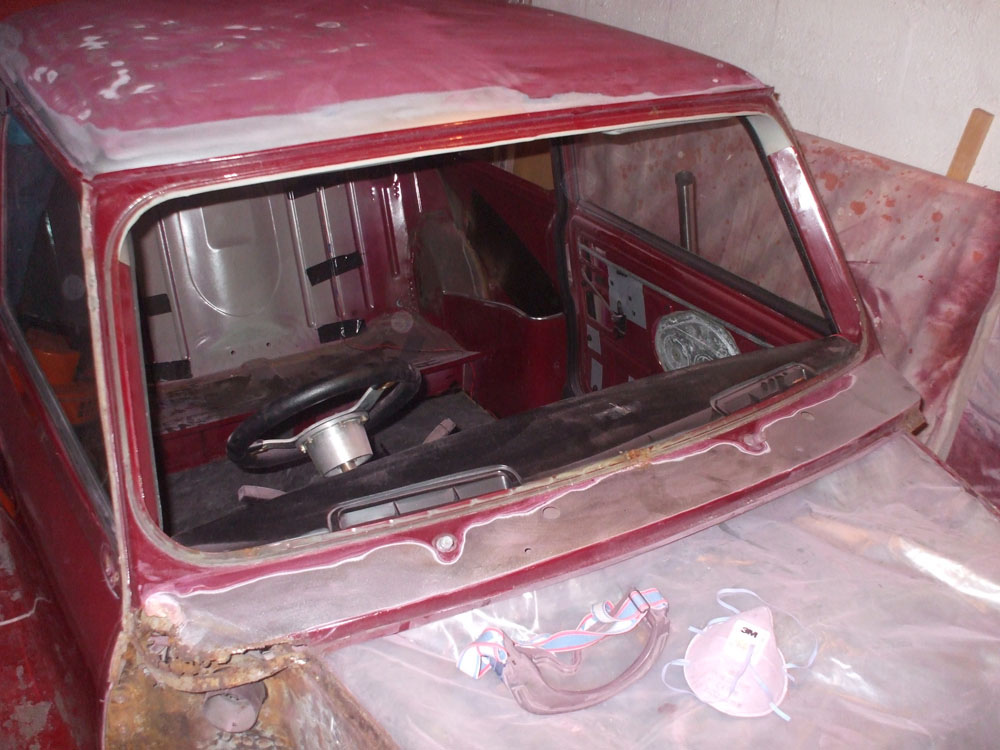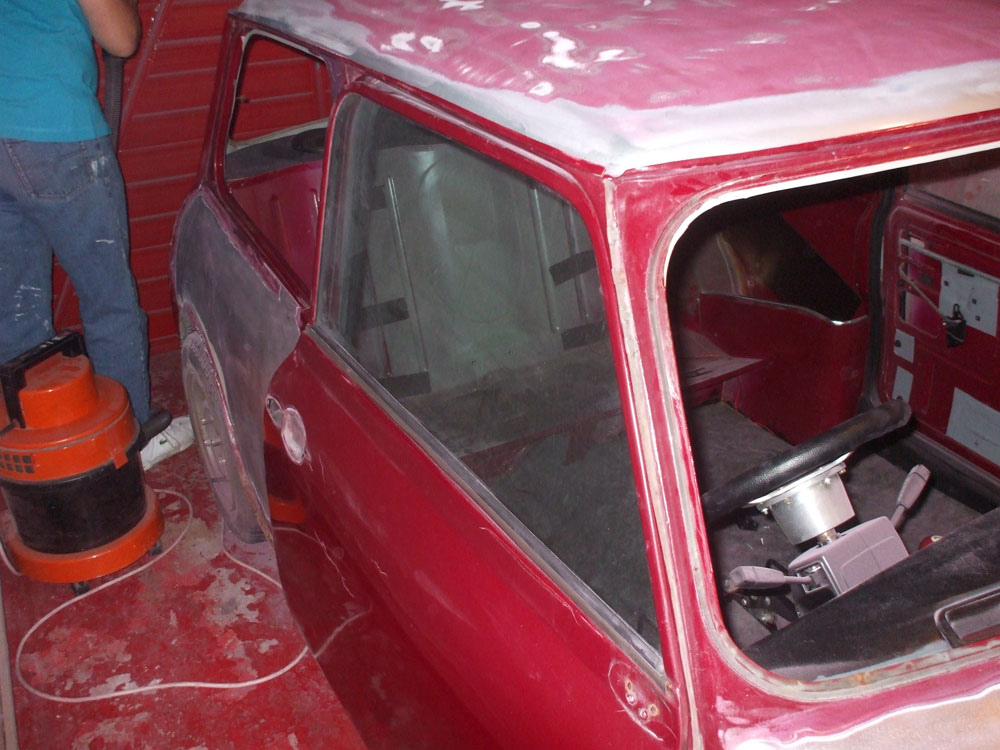 This is the only bit of rust around the window frames. Where the window rubber on the front scren joined together at the front. So I breathed a sigh of relief at this!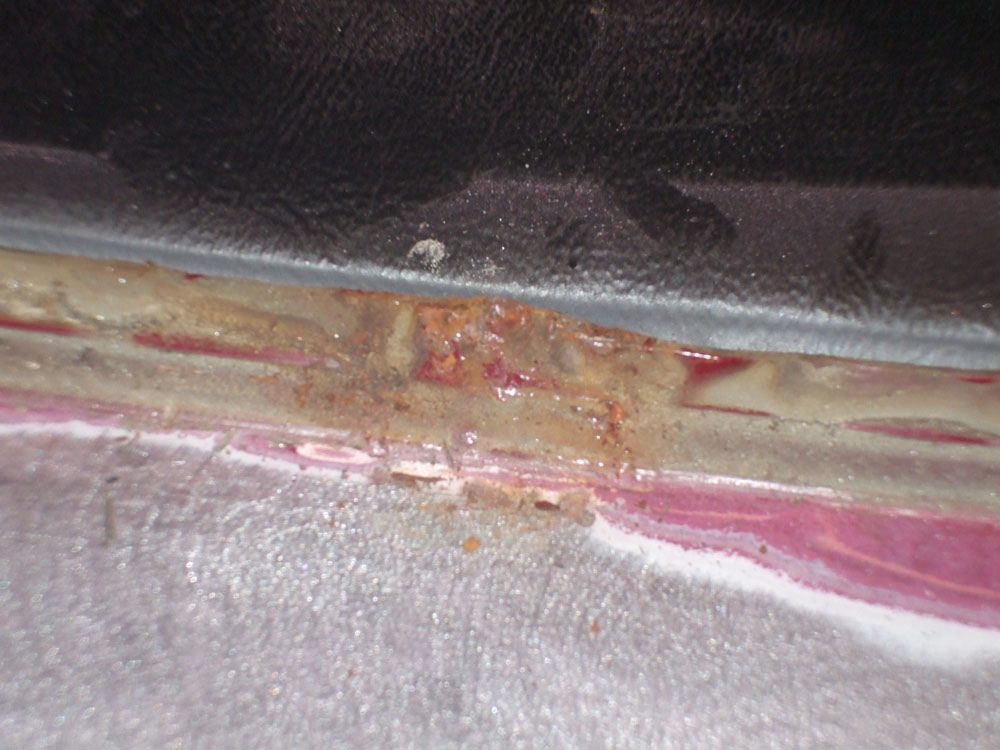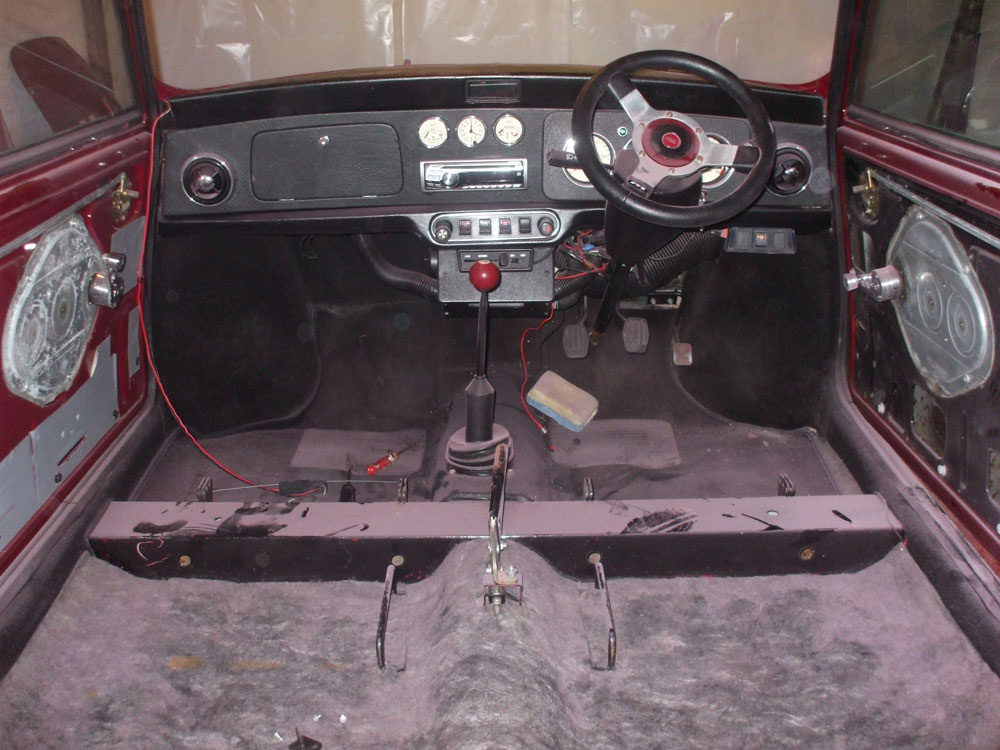 And thats yer lot for tonight

Ok pic whores here you go!



Got fed up of sanding the other day so took the parcelshelf out (eventually!) It was stuck in with silicone sealant for some reason and had trapped moisture underneath it. Thankfully not leading to any rust!!!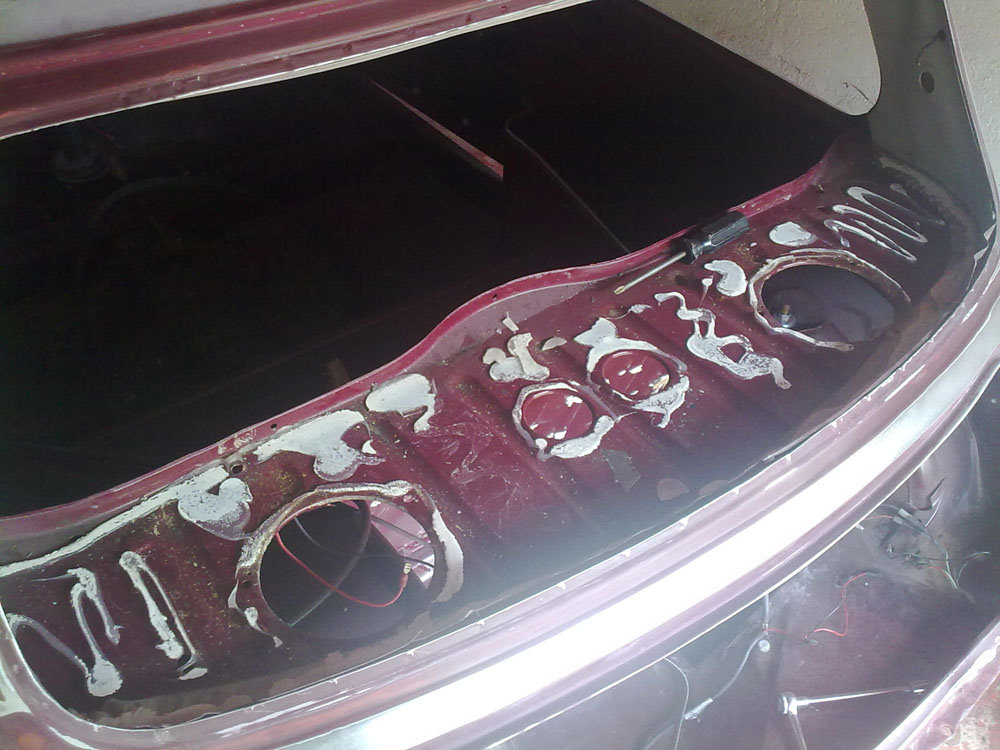 But it did have sn SM duck in it though!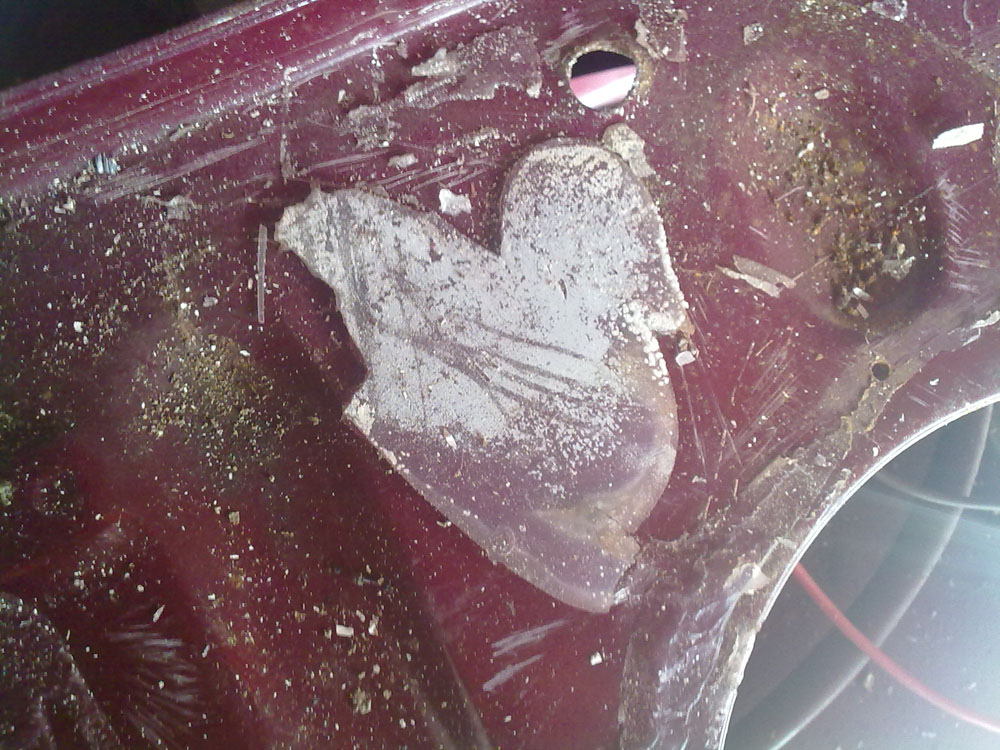 YOu can see this hardboard backing for the pacelshelf has been a bit wet......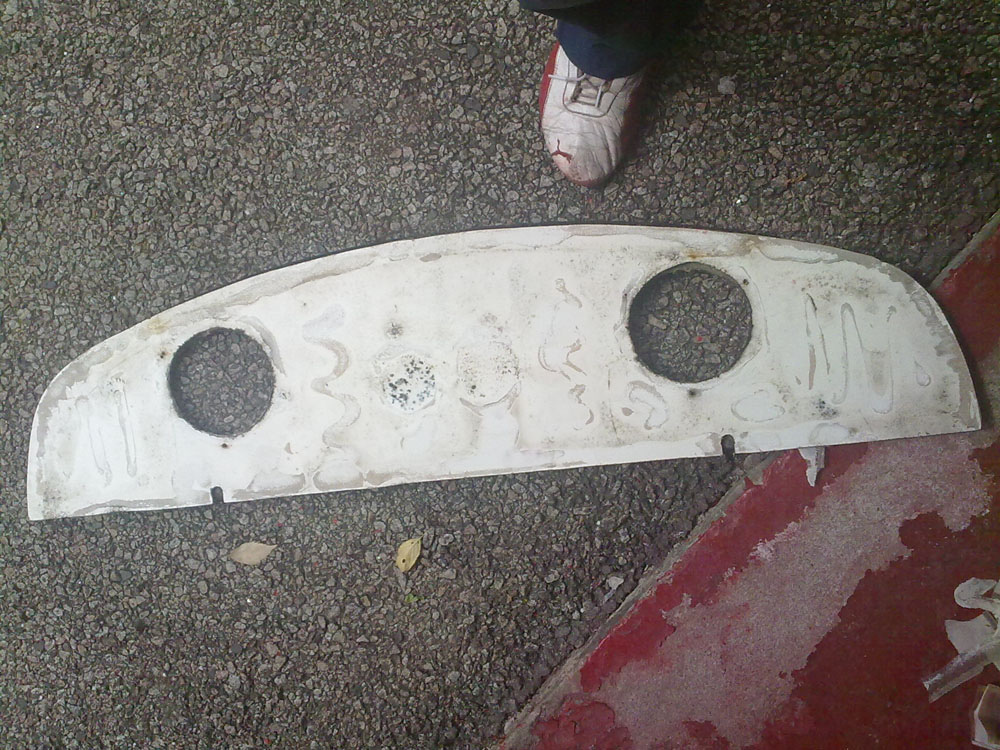 also tried out the smooth fibreglass bootlid for fitment! So after realising it isnt perfect its getting sold on! Its fine and a good thickness but just doesnt quite fit round the edge well enough for me so open to offers for it :thumb: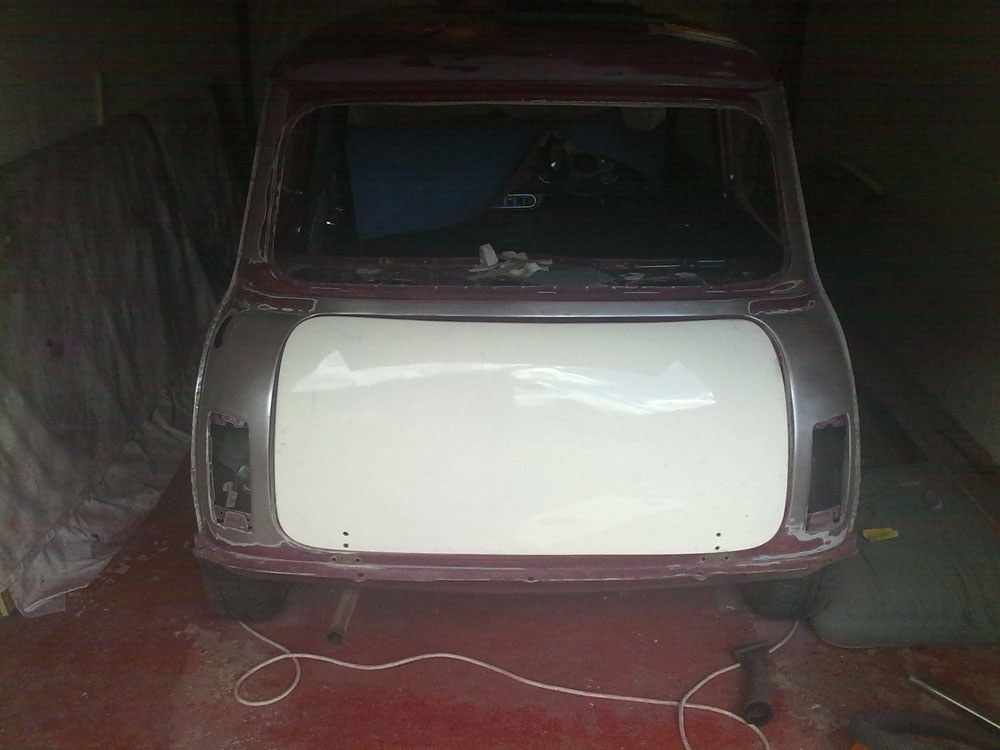 Then got back to sanding

And this revealed a hole which was covered in filler and hidden from view! So think I made a good decision not to just key the original paint........so this will get cut out and patched.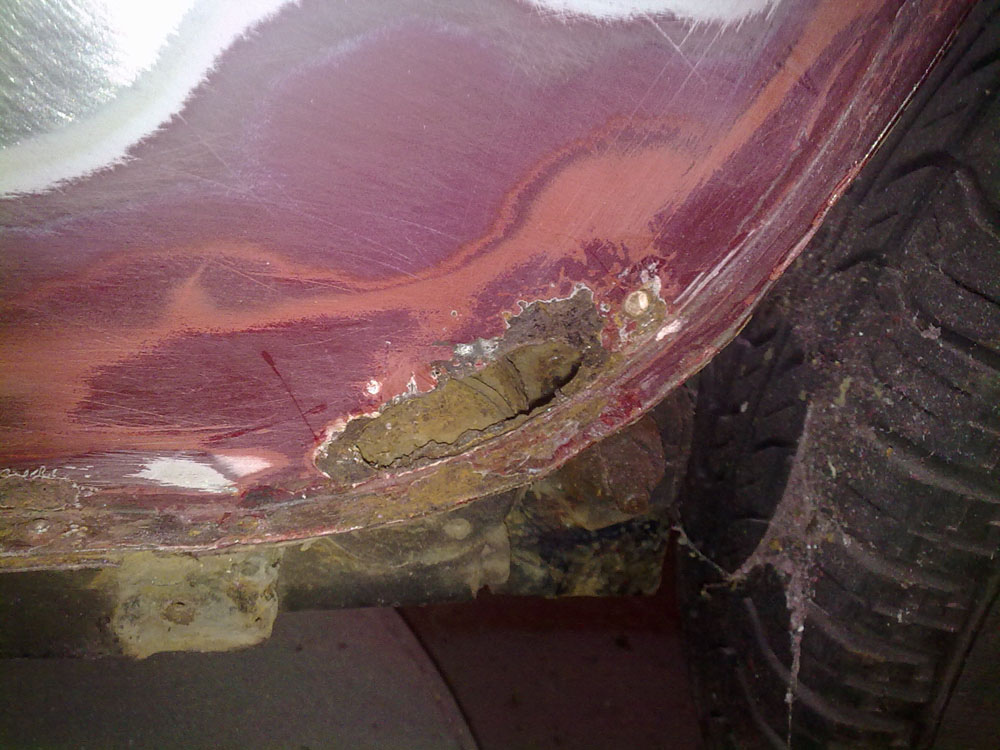 not too big but its pretty brittle at the sides so definite patch needed.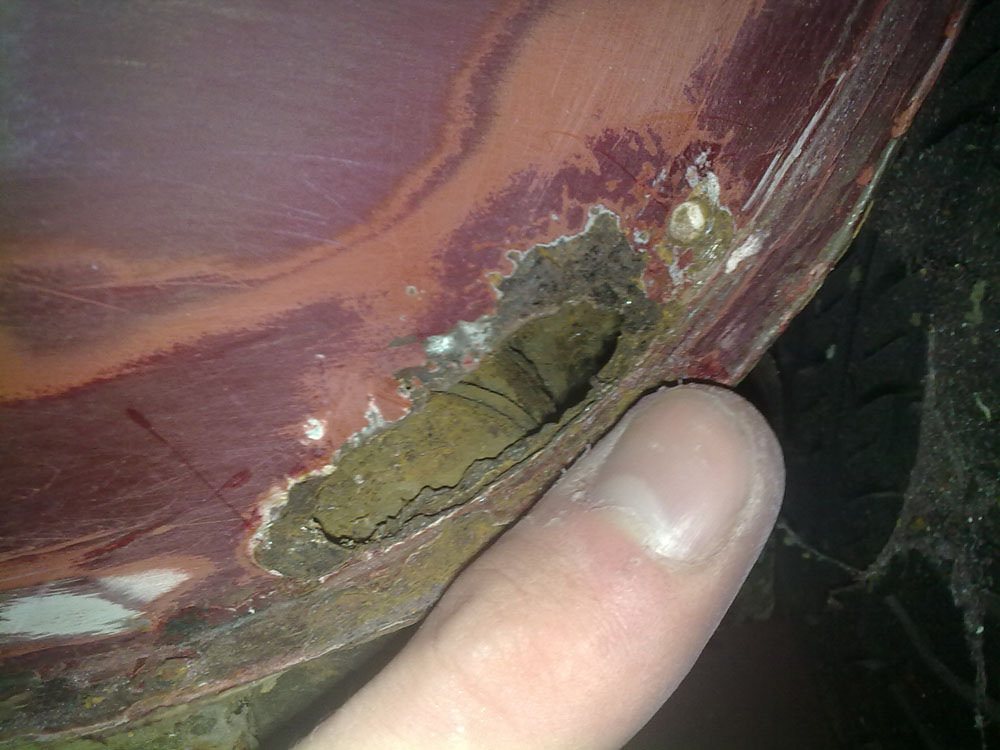 Thats yer lot for now! Still sanding away, getting there slowly but worth the effort!!!
More phone pics....and also from Photobucket instead of Flickr as Flickr wont let me direct link photos anymore!!!

Found a hole in the boot the other night.....was surface rust but poked it with a screwdriver.....oh well!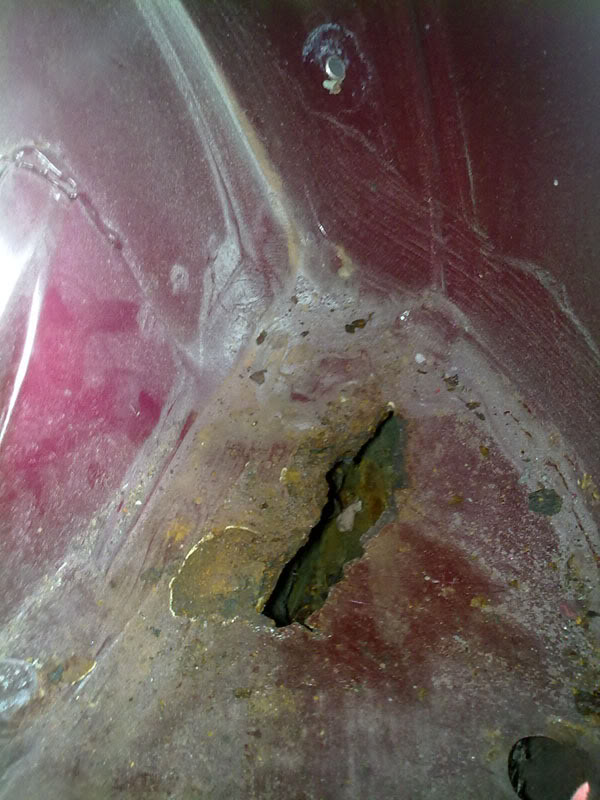 Pics of the car outside......what have I done!?!?!?!? Will look good again....some day!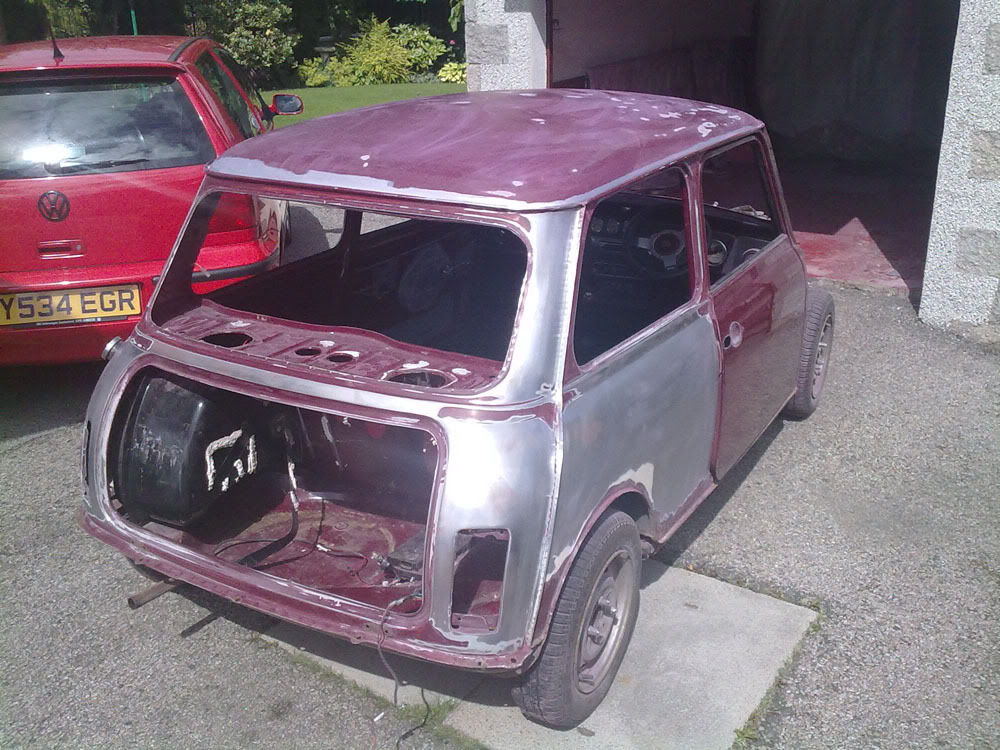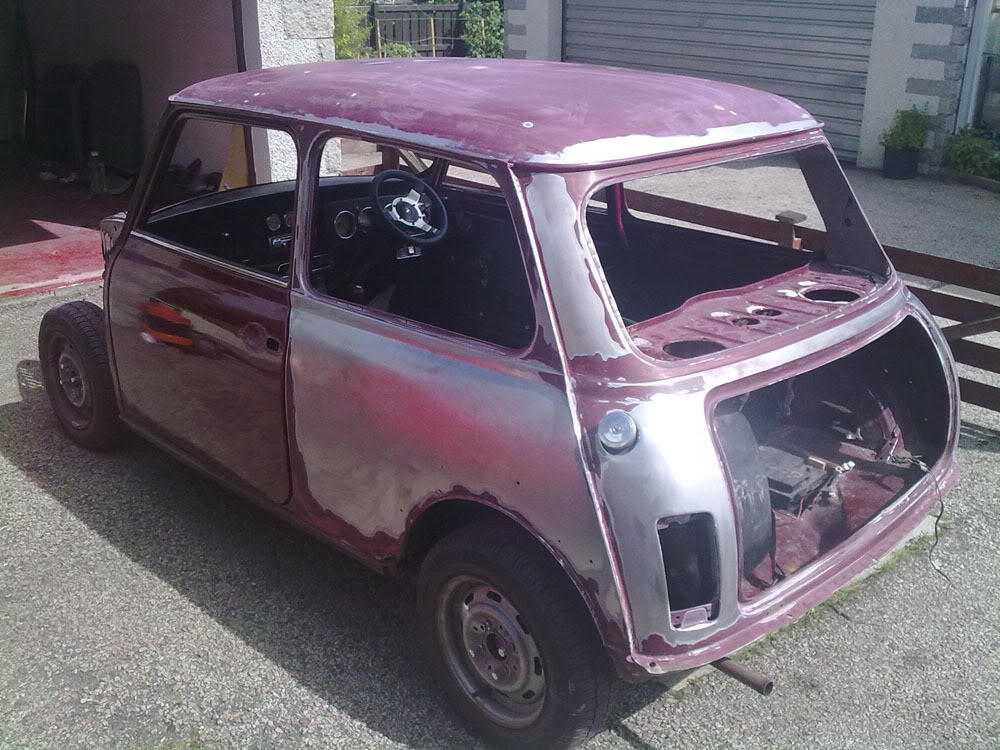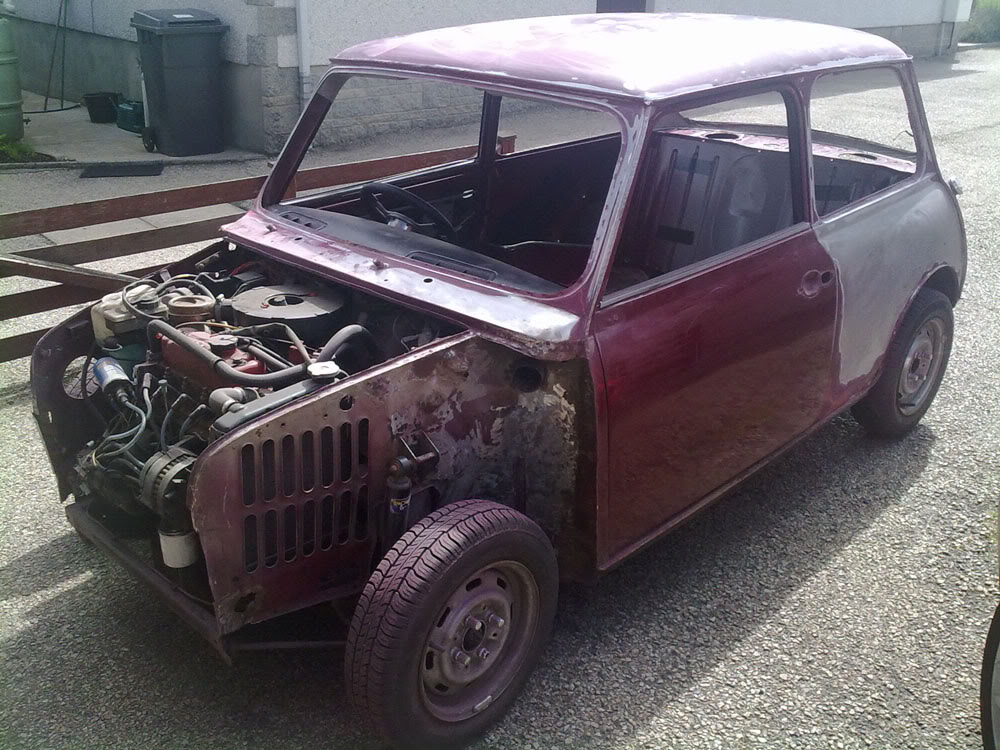 And got a new bootlid dropped off at work by Gus from Eastside VW. Dent free, bit of surface rust but nothing the grinder wont solve!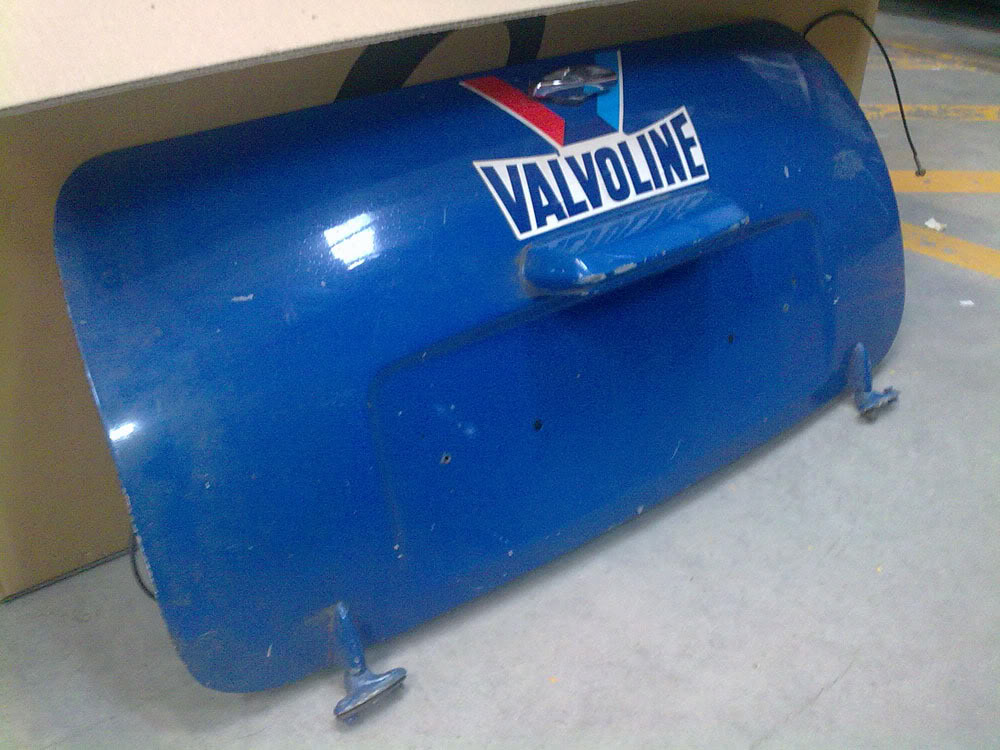 Get to work on the bootlid tomorrow sometime.

GOOD NEWS! Photos are up!

So prepare for some (read loads) of photos



So engine still in...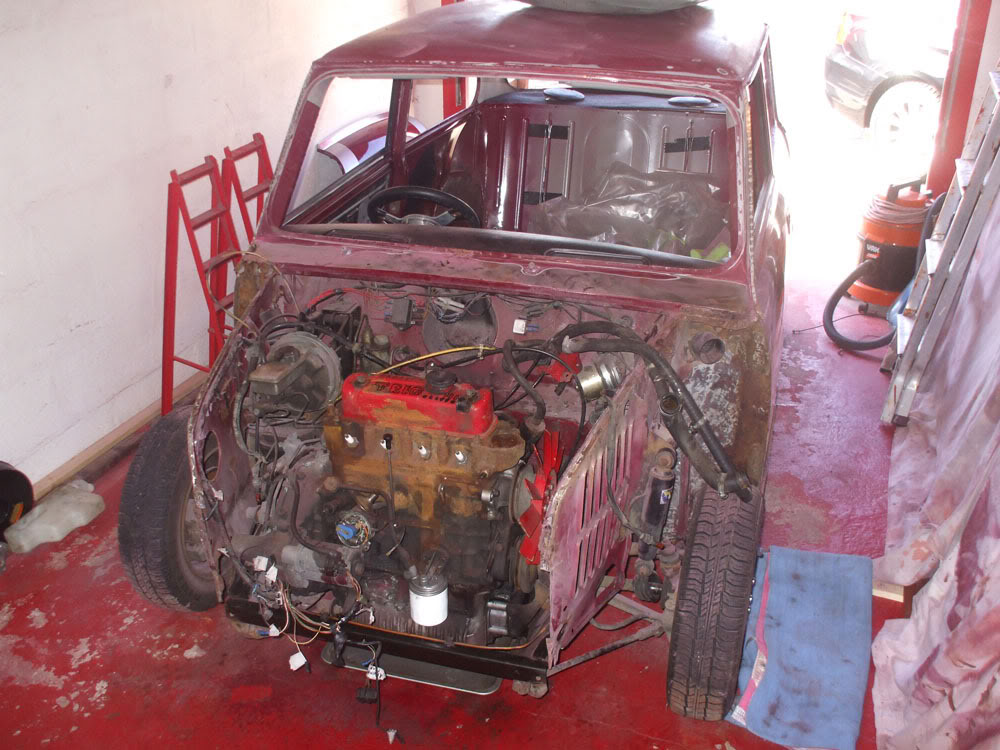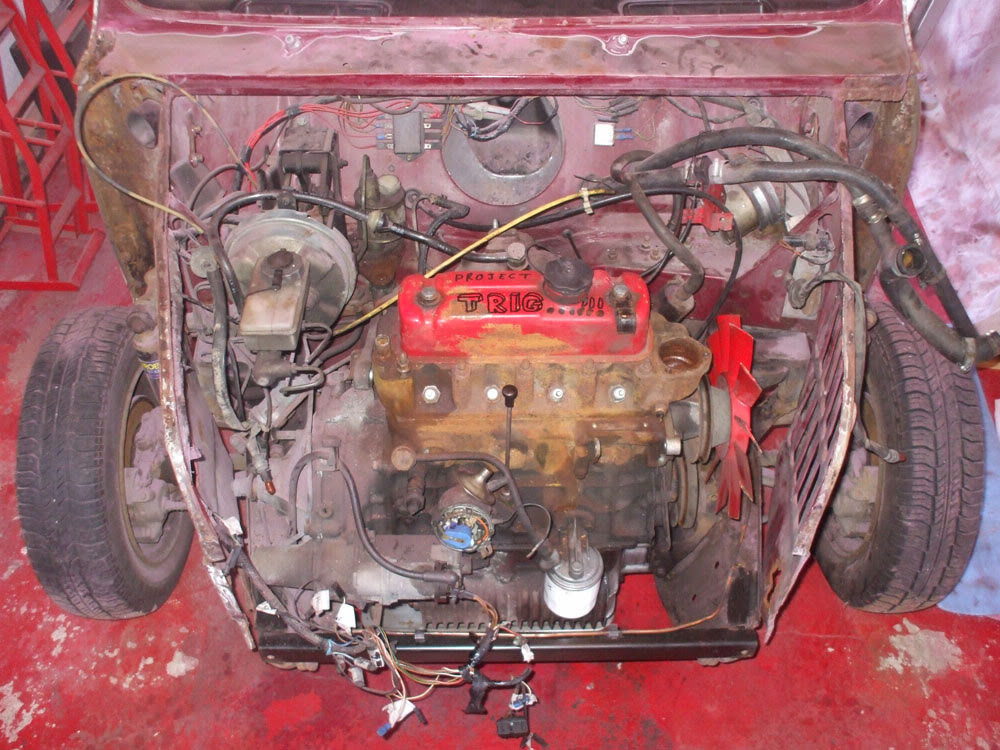 and so it begins!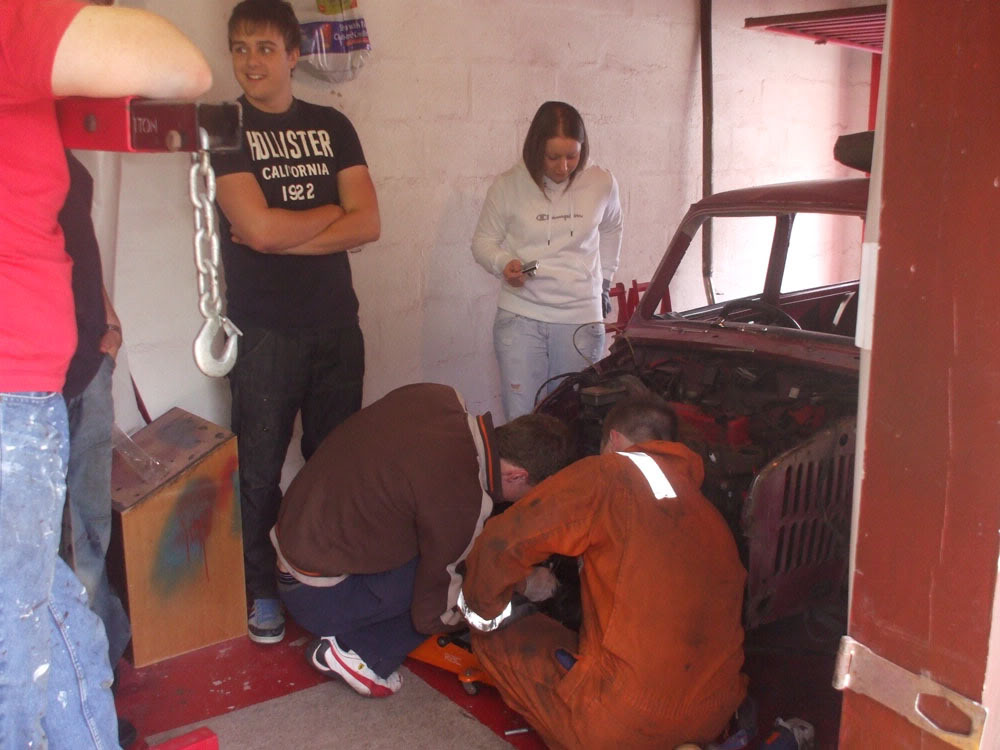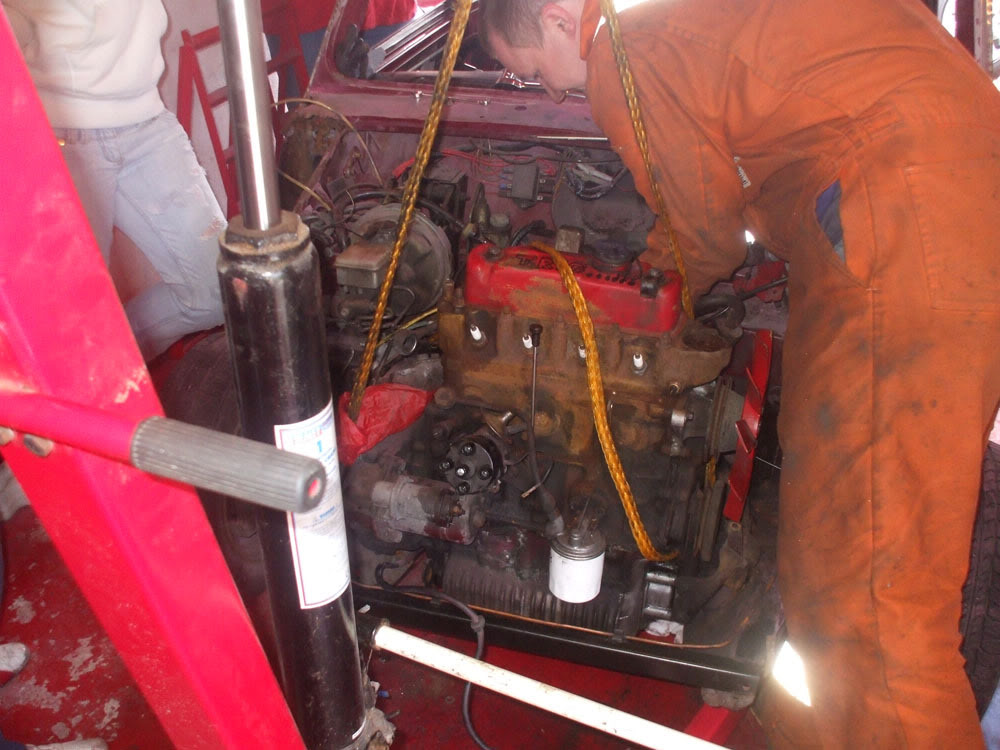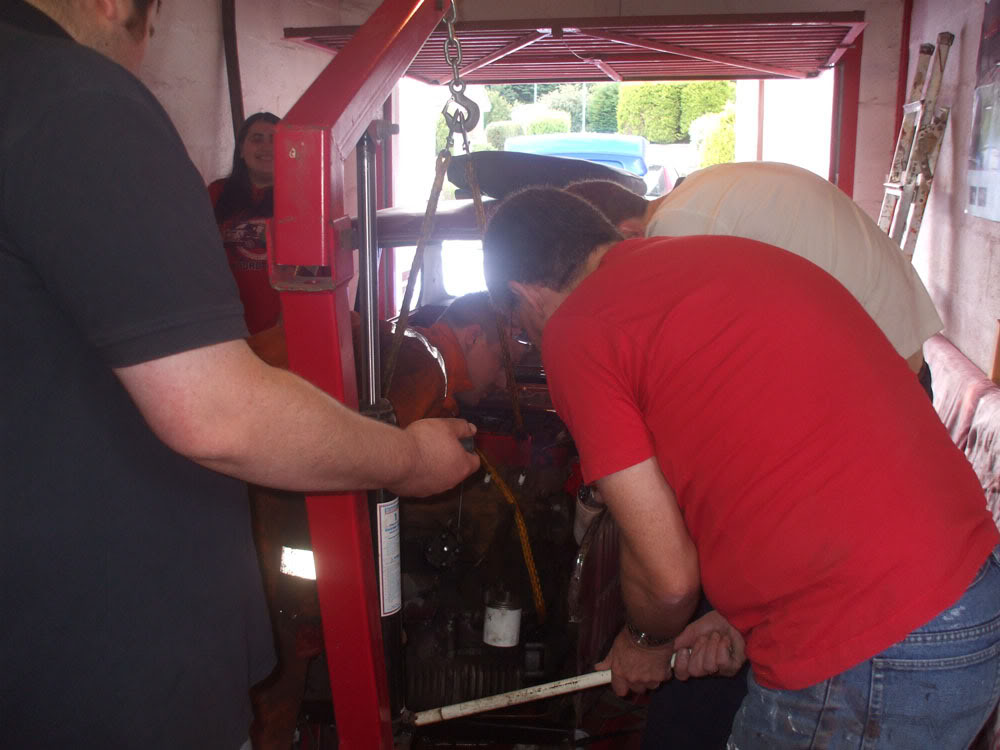 who nicked me engine!!!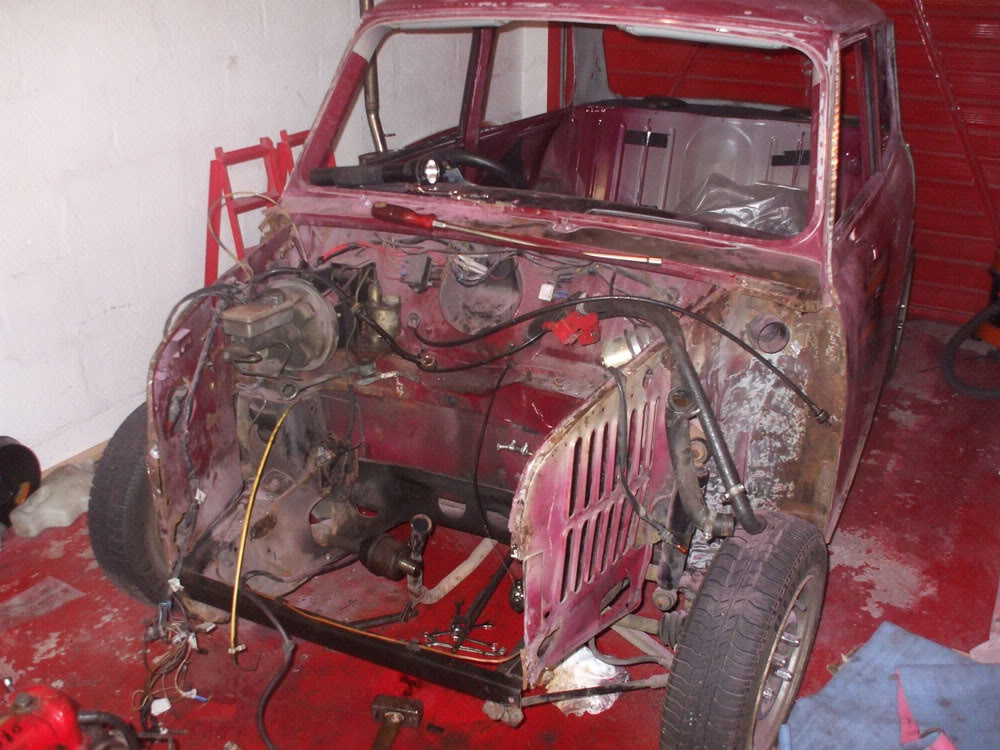 Ah there it is! In all its clarted black mess glory...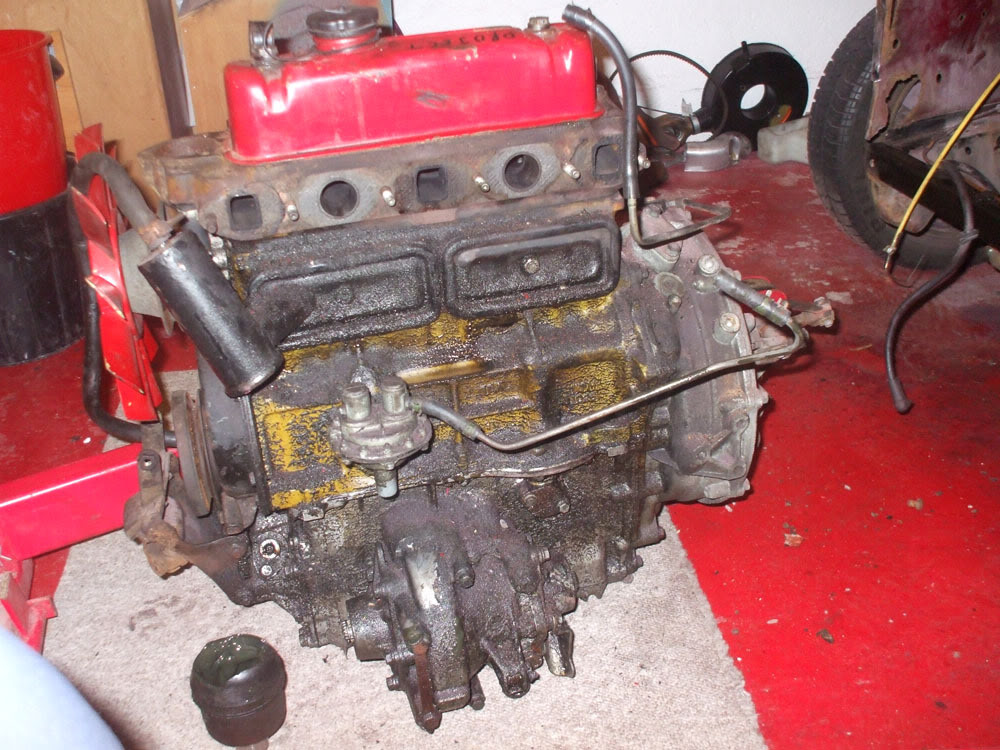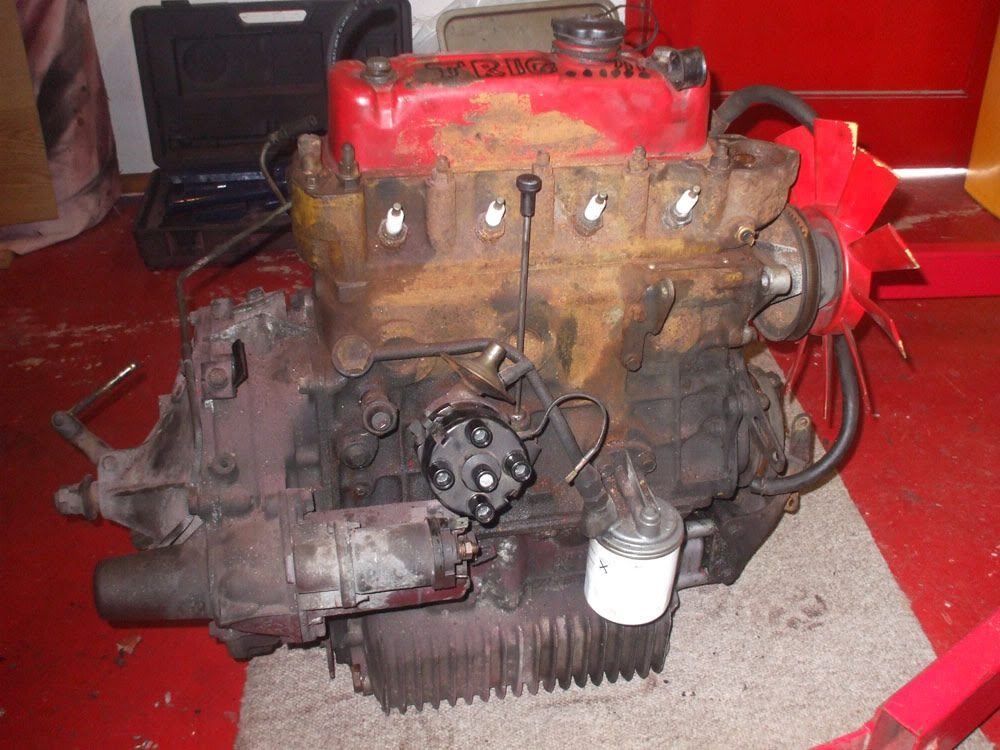 So as you can see the engine is a right state. 19 years of no cleaning has taken its toll and the paint is flaked, gone or worse rusted away. Time to clean!
Started by rubbing a bit of the crap off to see what it was like underneath.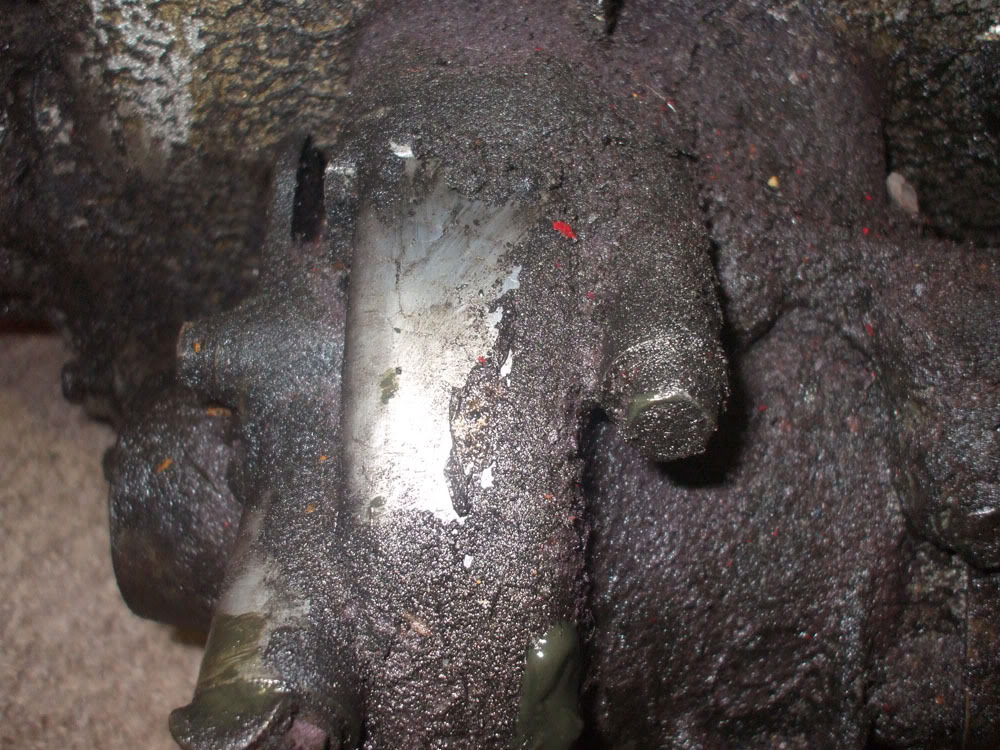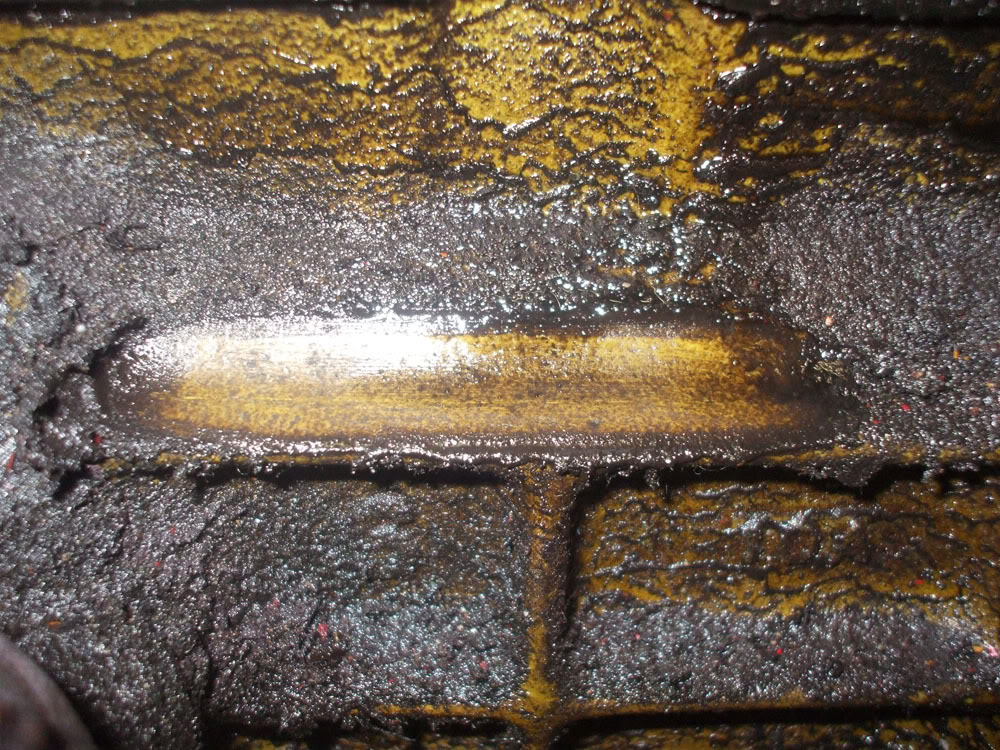 Must try harder! So out with the Gunk!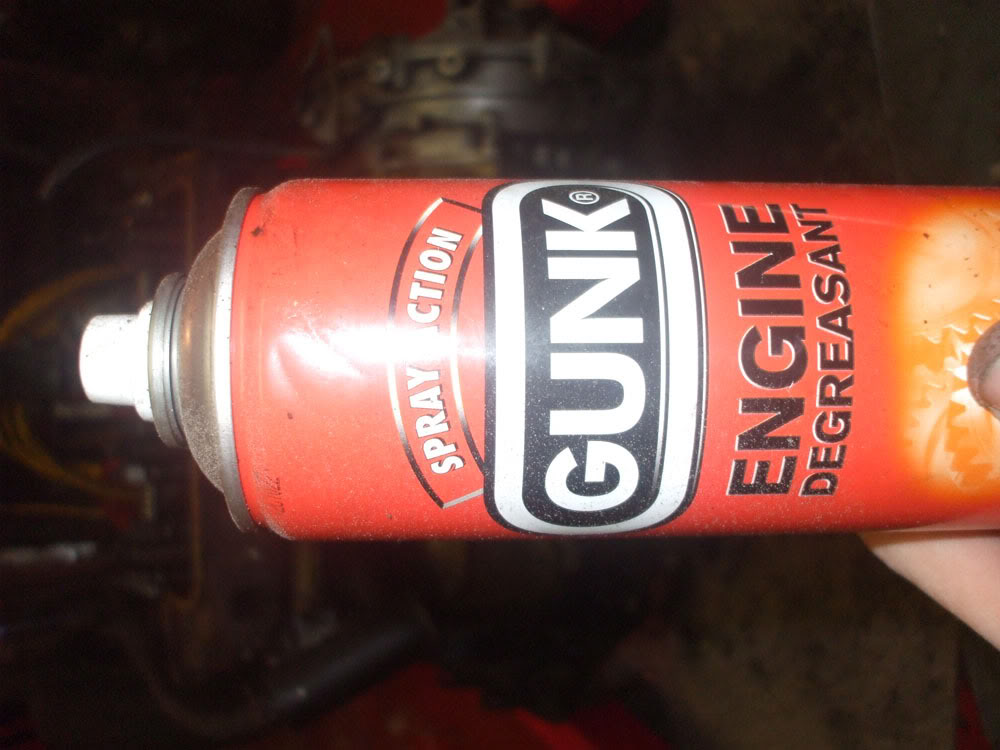 Agitate with a brush....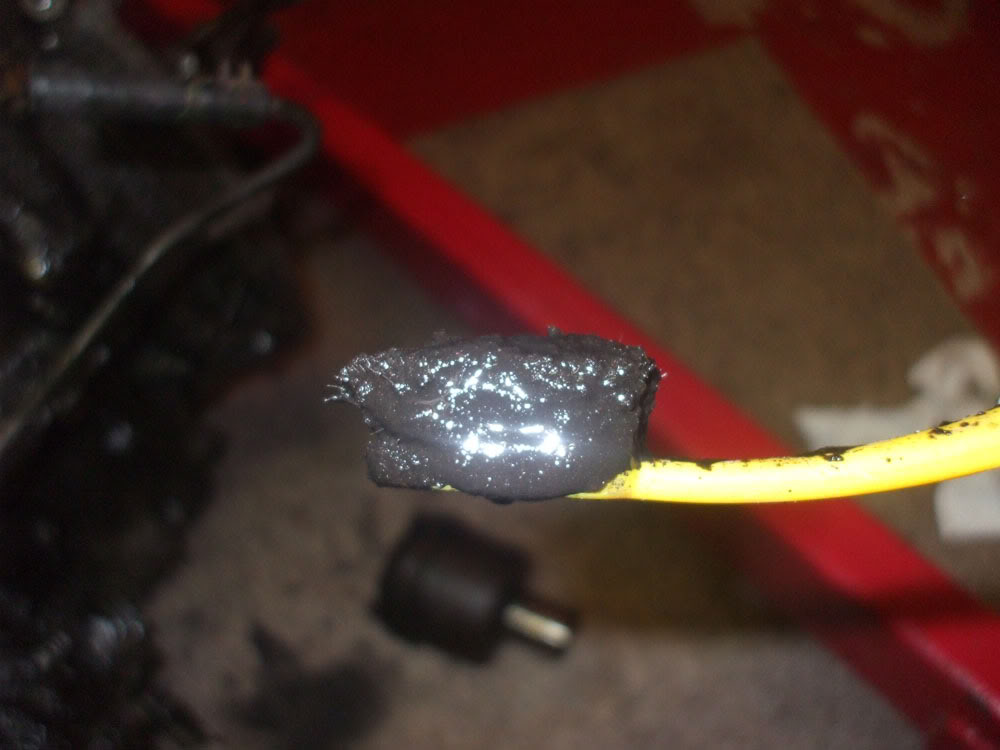 and then wipe off!

50/50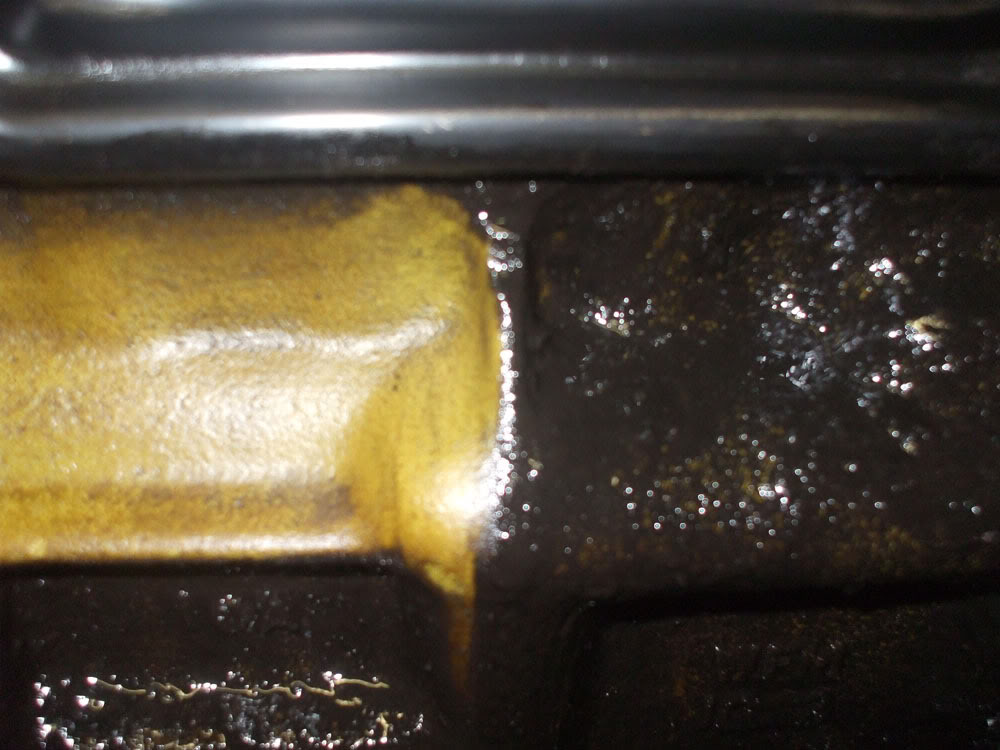 Whilst I was letting the Gunk work away at the slime I got to work on some ancillaries. Off with the rocker cover then!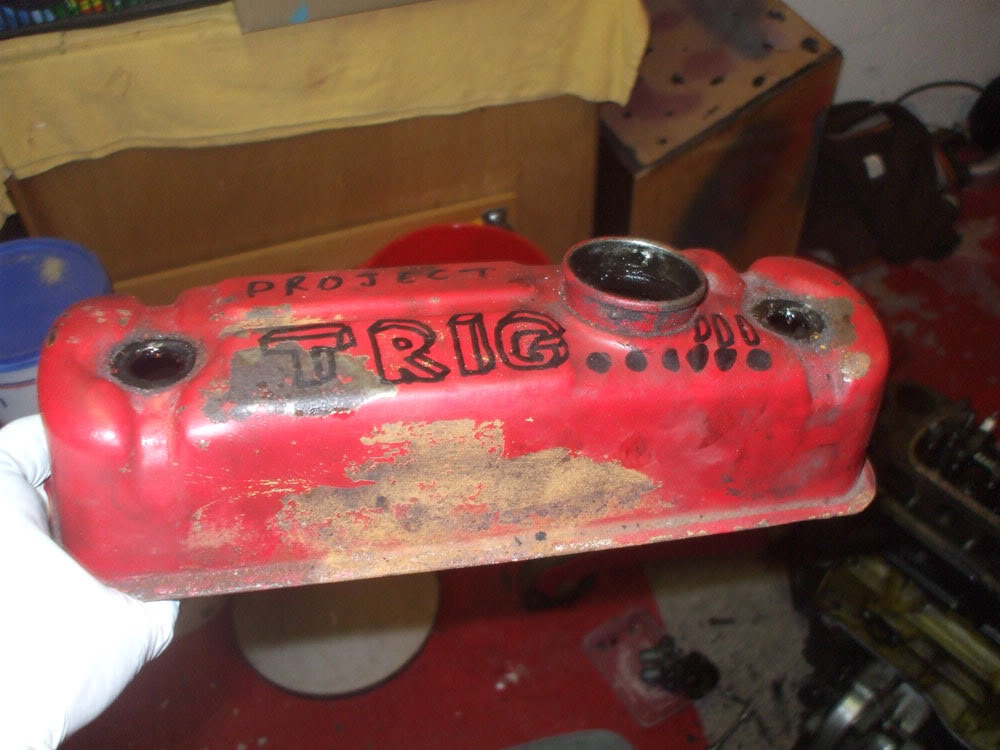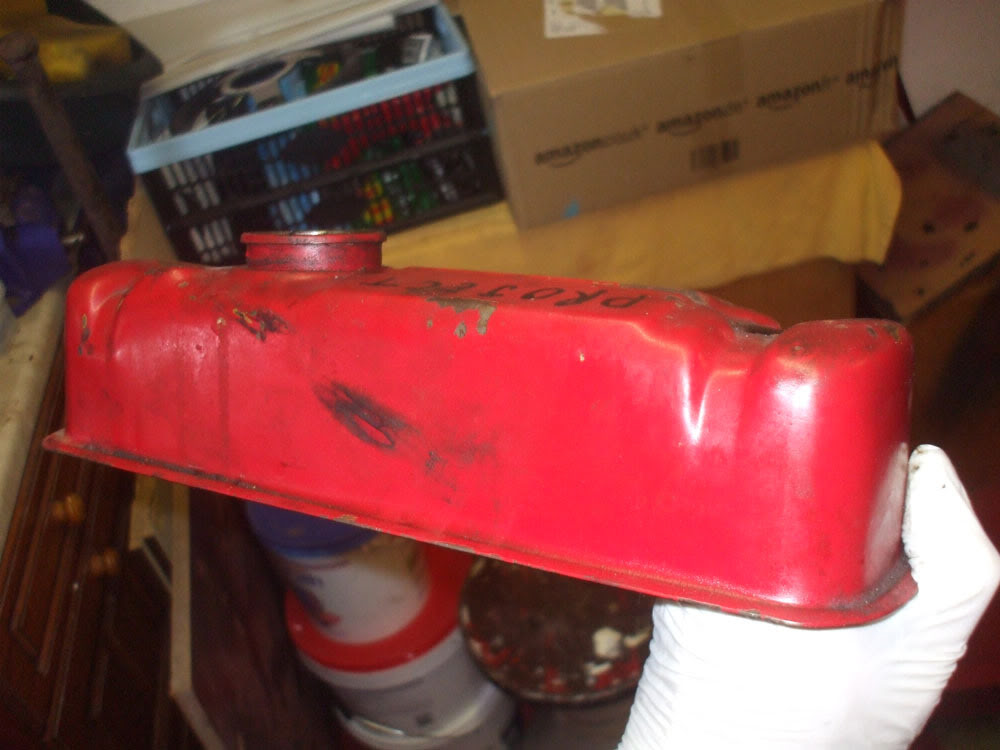 This used to be a perfect finished red rocker cover I renovated a couple years back but running the car over winter has destroyed this finish so it needed to go.

Quick going over on the bench wire wheel/grinder mabbober and the paint was gone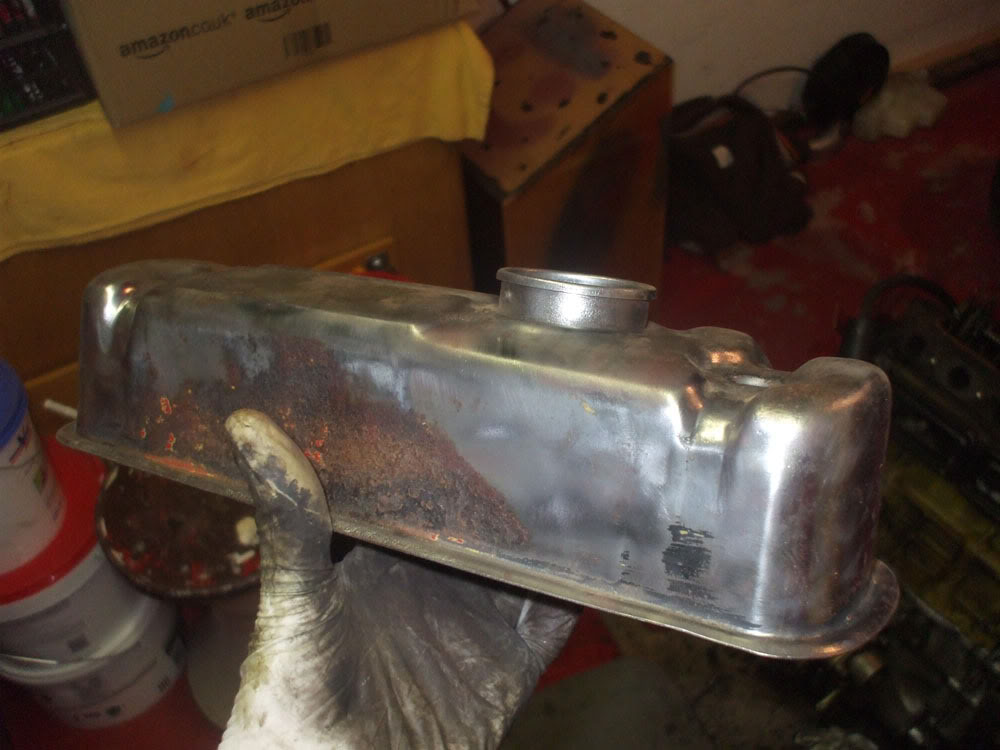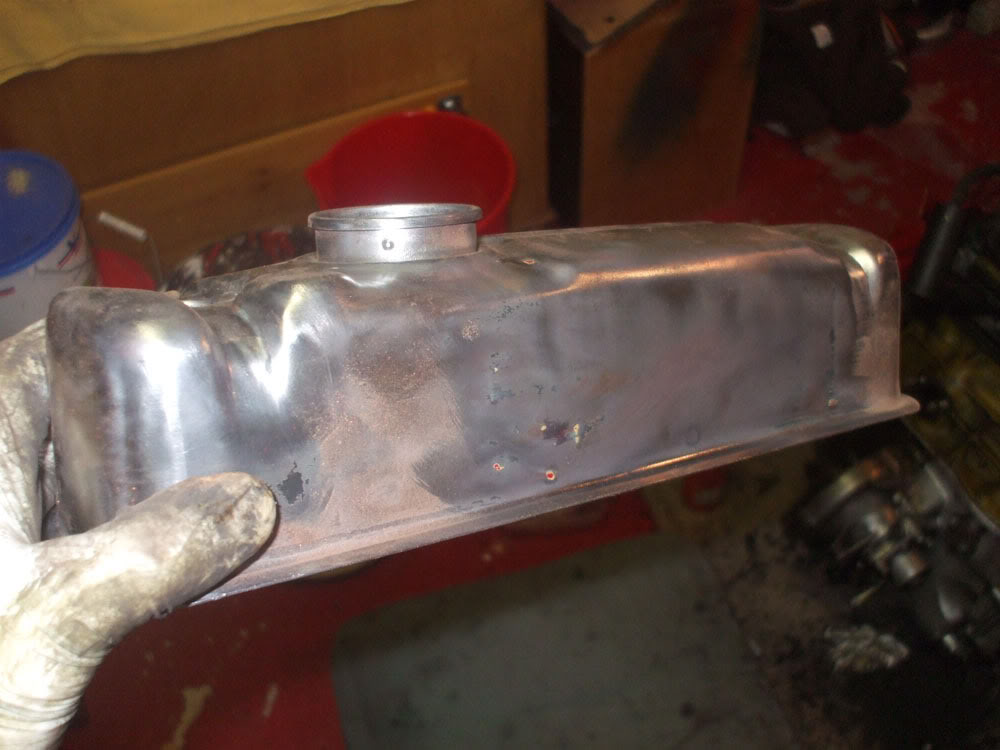 Water pump/radiator fan boss before...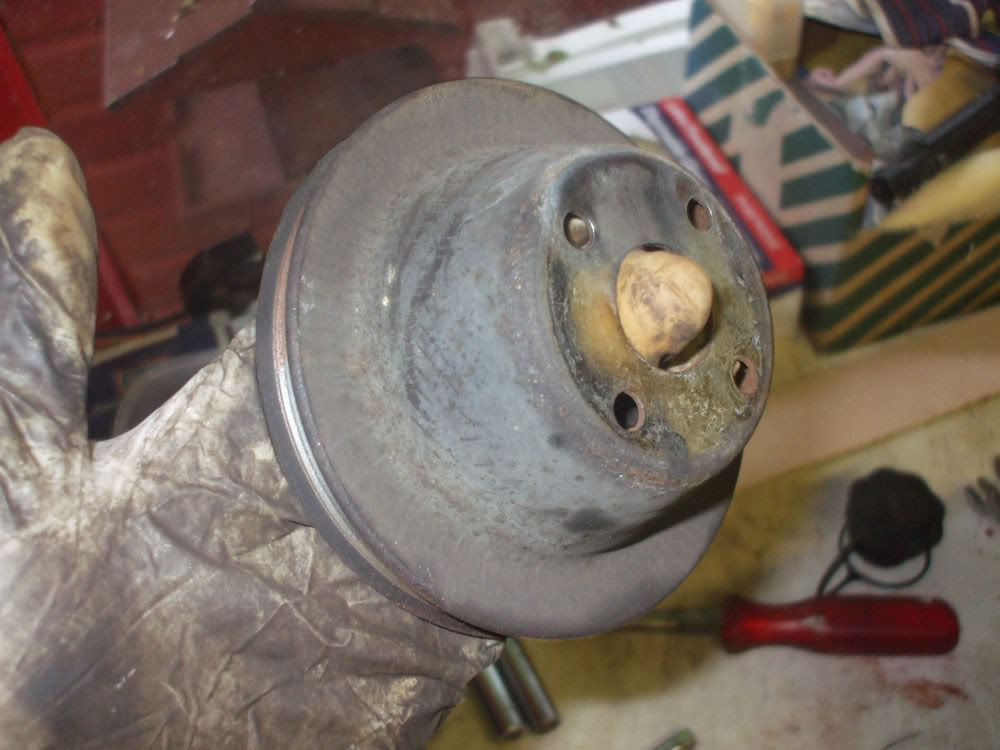 and after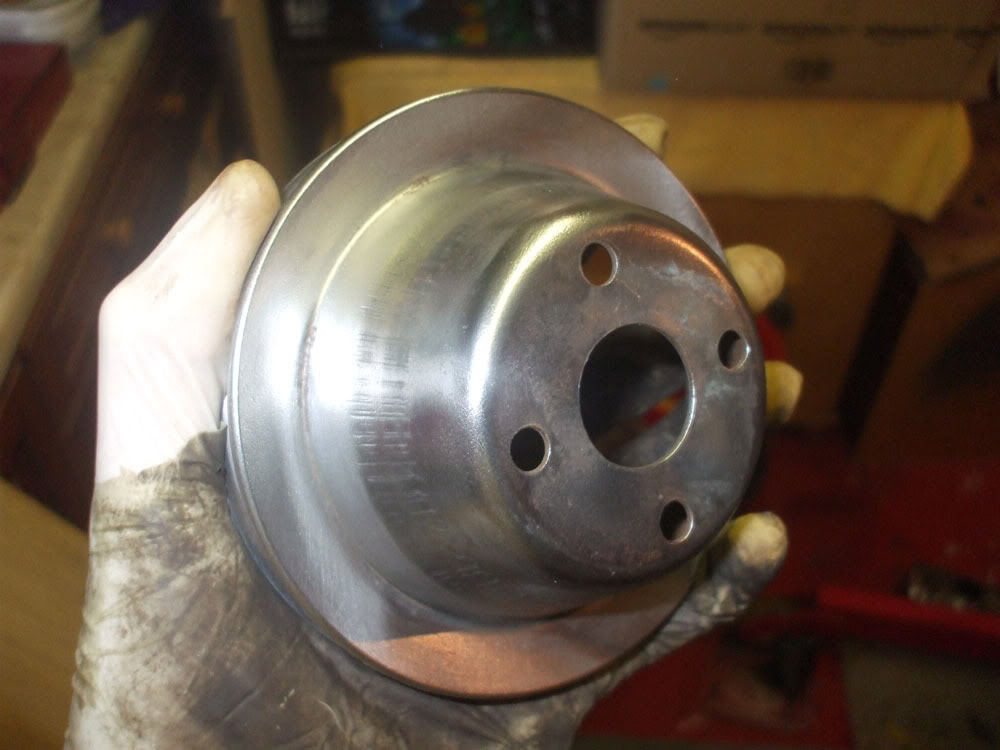 then back to the engine to finish off the back...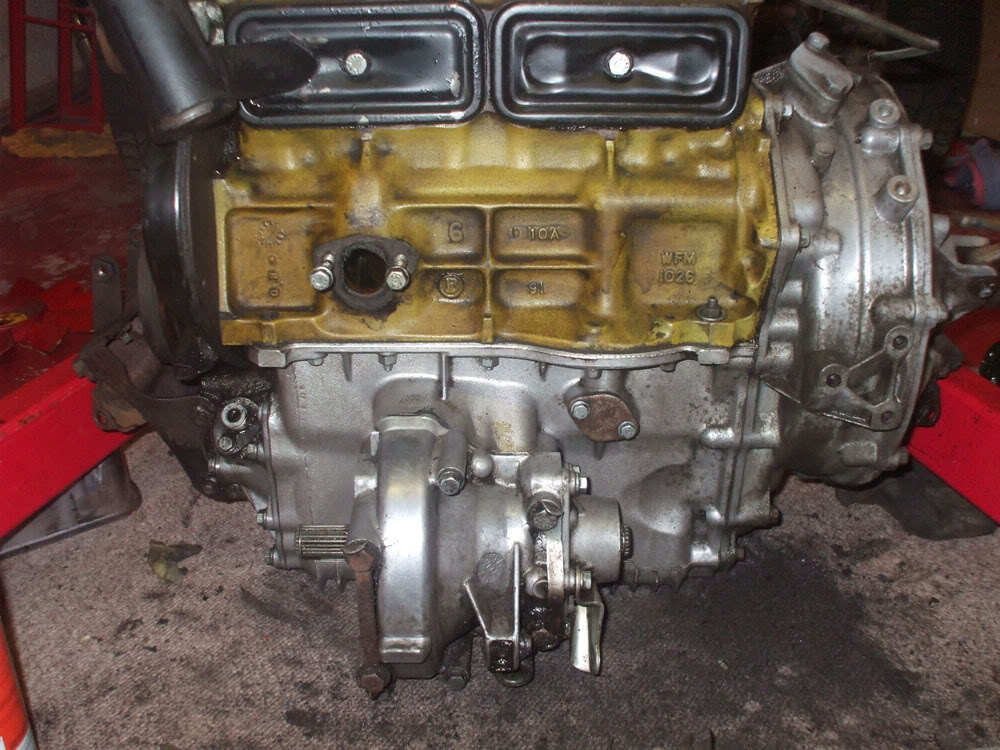 Progress indeed! Garage floor is a mess but cleaning up the engine is really satisfying as theres such a clear difference between before and after. More of the same tomorrow!
PROGRESS! Well old progress to be honest but only just got the time to get the photos off my phone!

So....starter motor before.....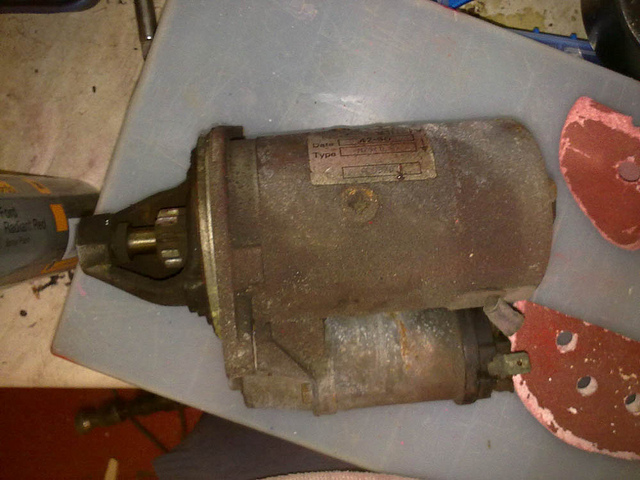 Starter motor after!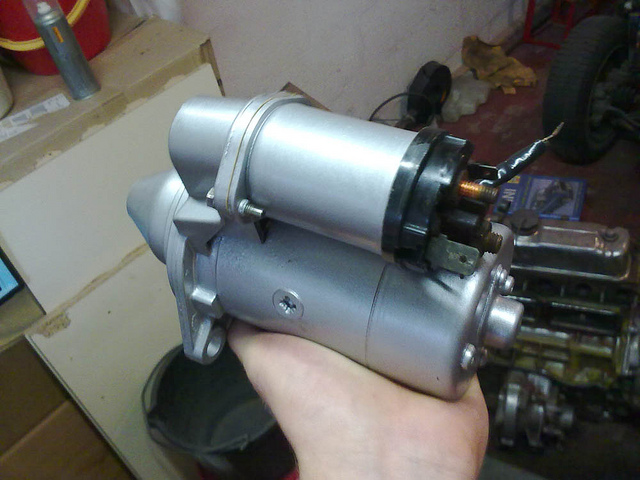 Alternator partially stripped down...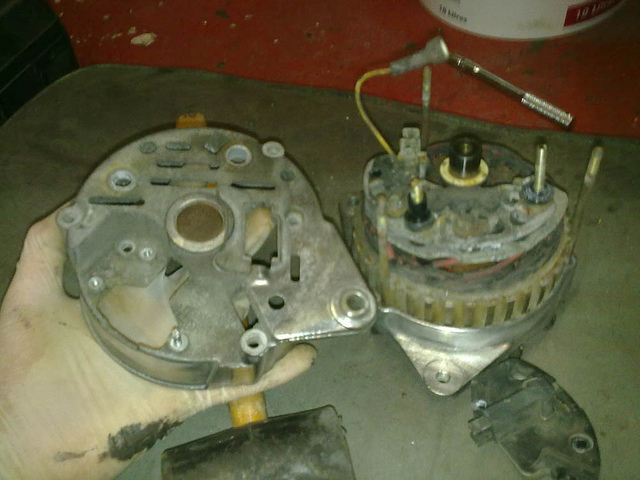 Alternator after!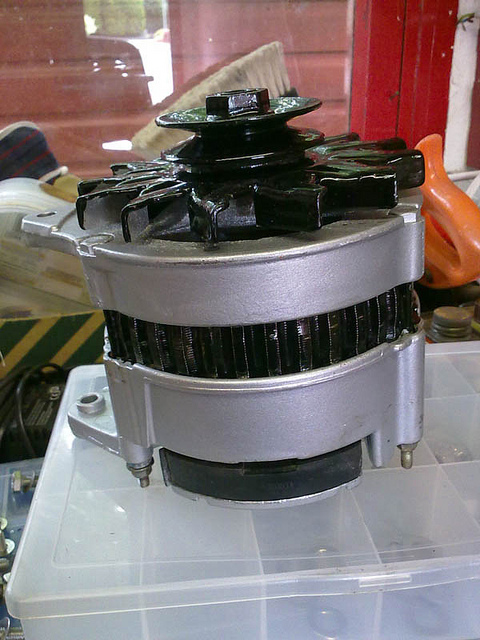 Fan (no befores but imagine this in red with yellow flecks coming through from underneath....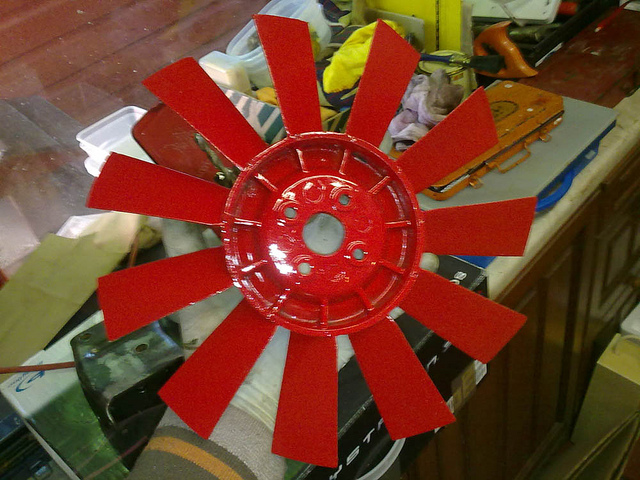 Gearbox housing 50/50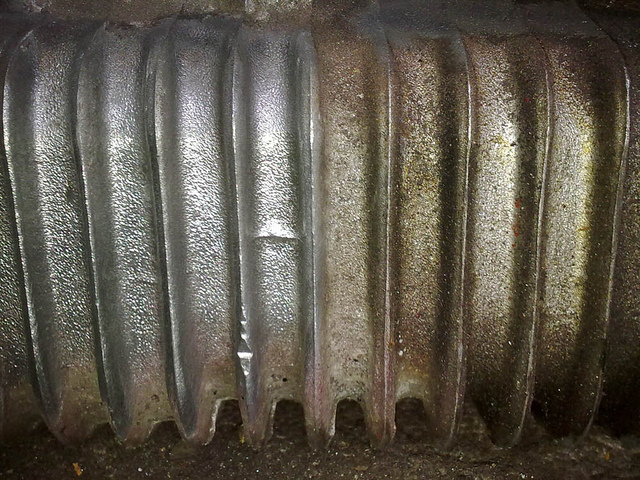 Rear of engine. Test fitting Stainless manifold. It fits like a glove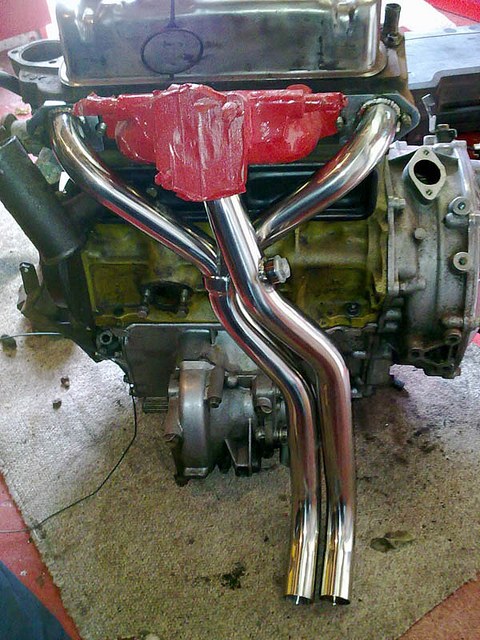 Engine placed on base of old computer desk so it can be wheeled around the garage.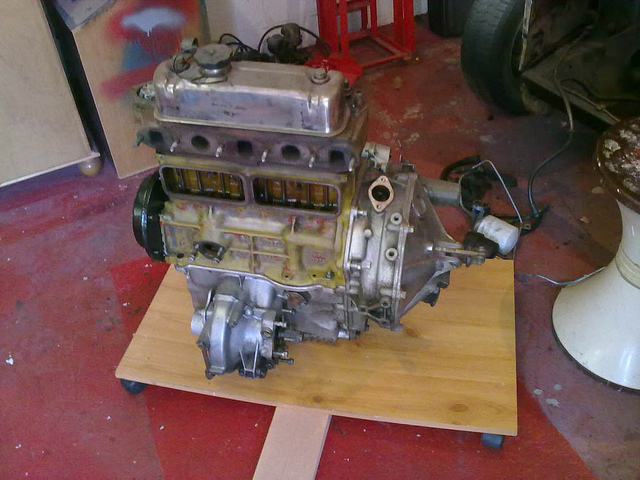 And replacing the engine bolts with stainless alternatives. No rusty inaccessible its from now on!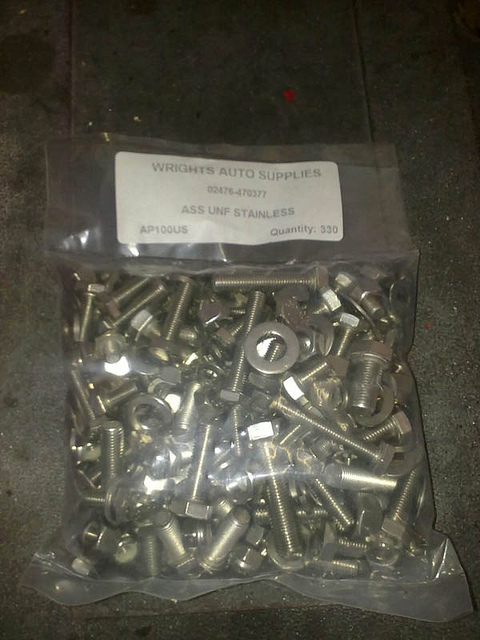 Thats yer lot for now! Havent worked on it in 7 weeks due to work/uni but intend to do some more asap before i go mental with uni work again.
PICS!

This ones more for my own reference come rebuild time with regards wire locations but I know how you all like pics!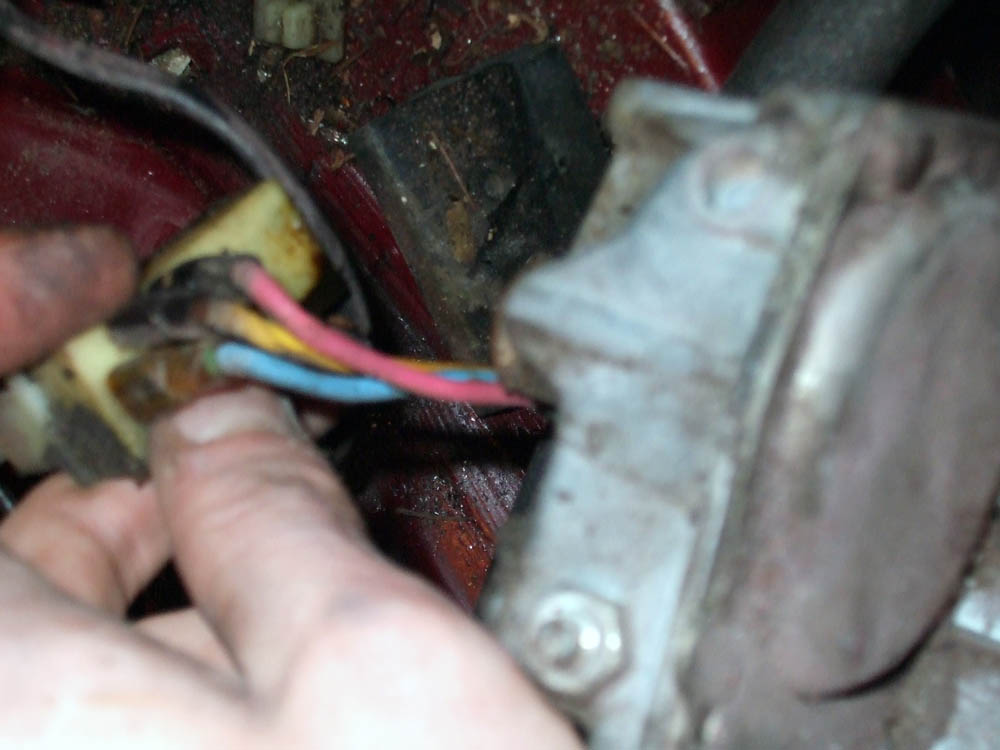 Removed what remained of the a panel. Lots of rot and LOADS of bog/fibreglass taken out. Ridiculous amounts that served no structural strength whatsoever.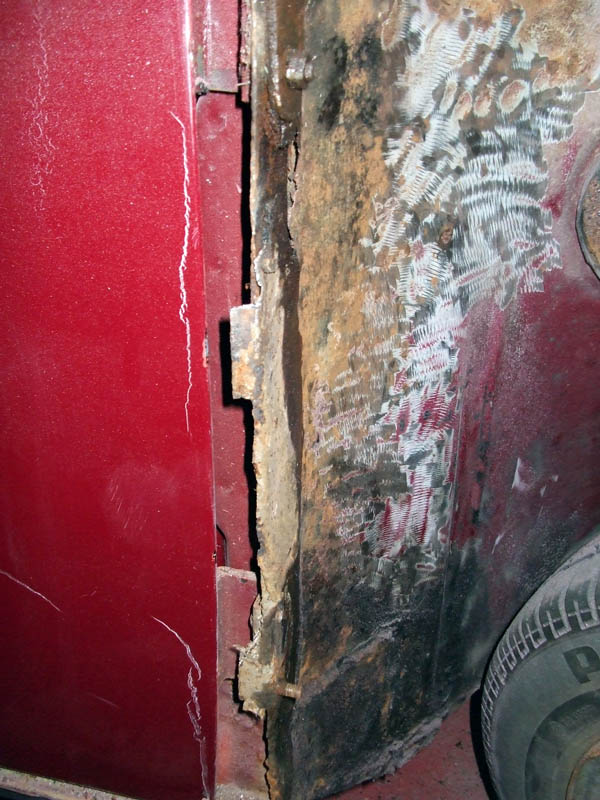 Heres a small amount of what I took out.....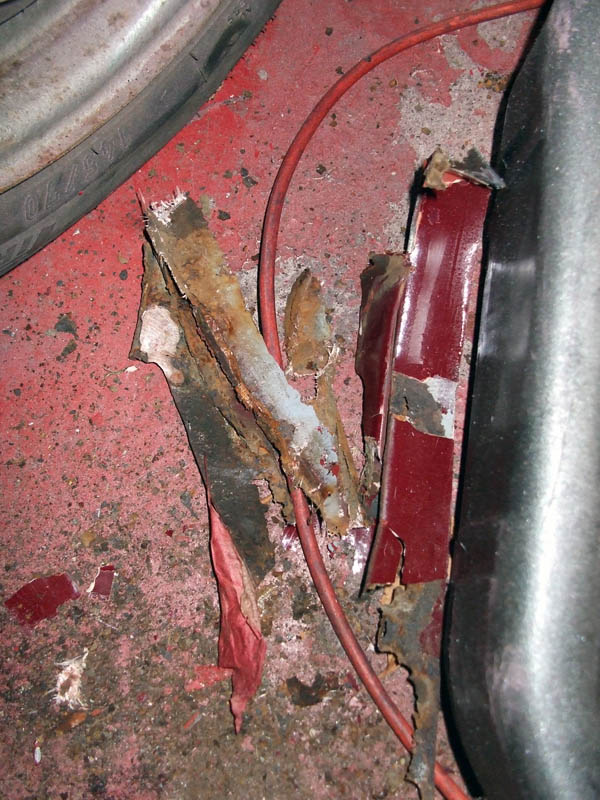 And this one to show how cold it is in the garage....snow driting inside through the gap in the door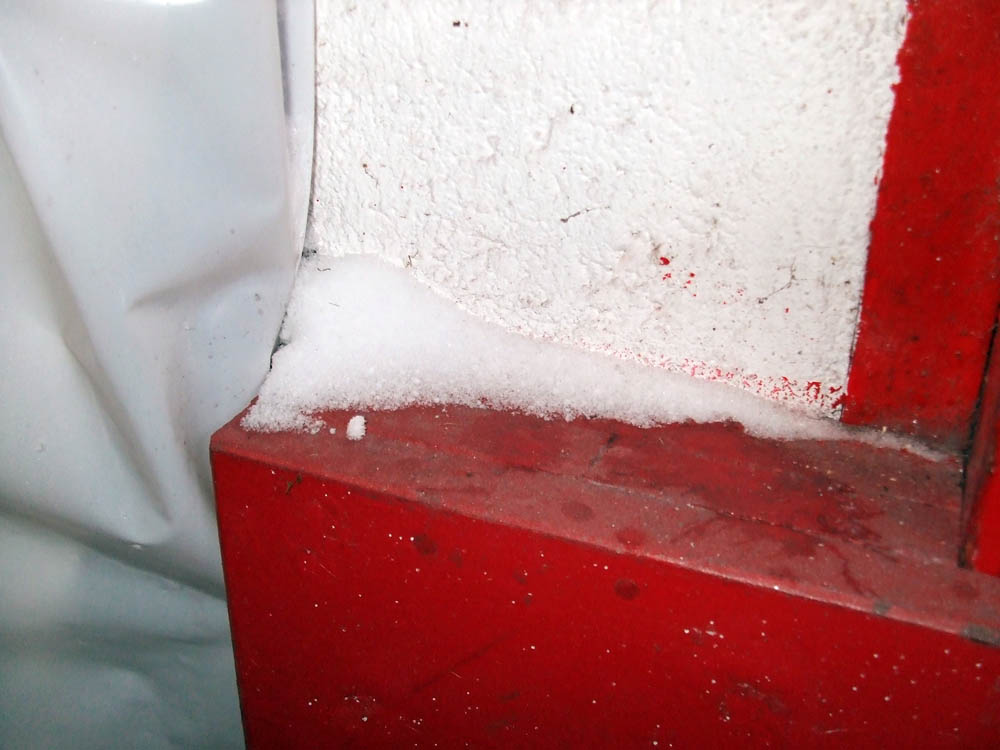 Dont know exactly what this is or what it does...but it was dirty so needed taken out, cleaned and painted up!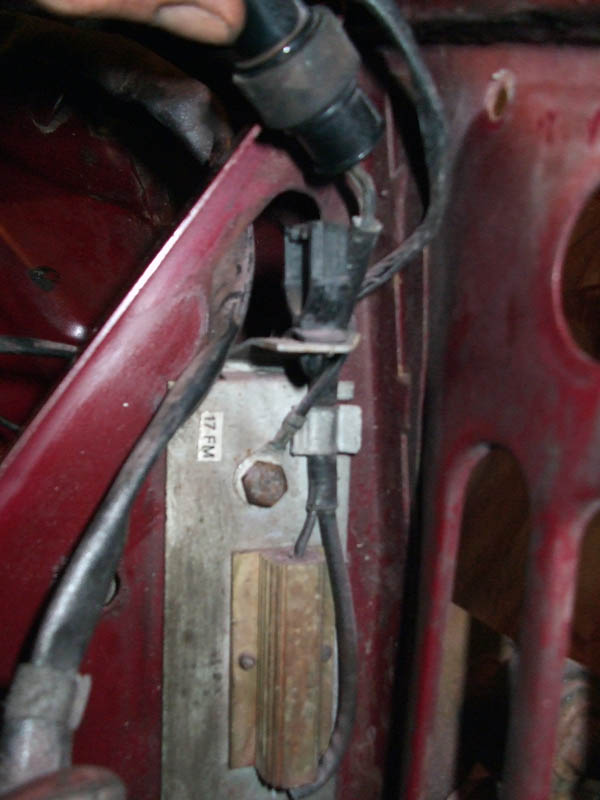 removed wiper motor and stalks...badly corroded and dirty!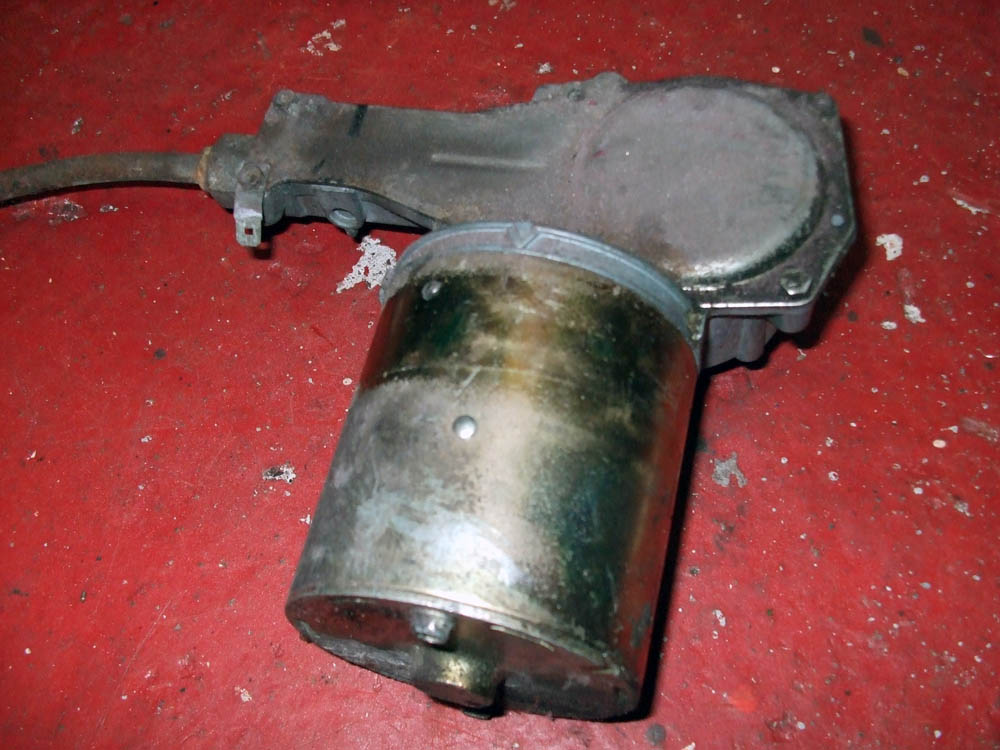 Stalks were covered in dust, grease and general muck from 18yrs worth of driving.
And then cleaned up and painted. I would have polished it up but it was too far gone to do that and it works so not shelling out for a new one...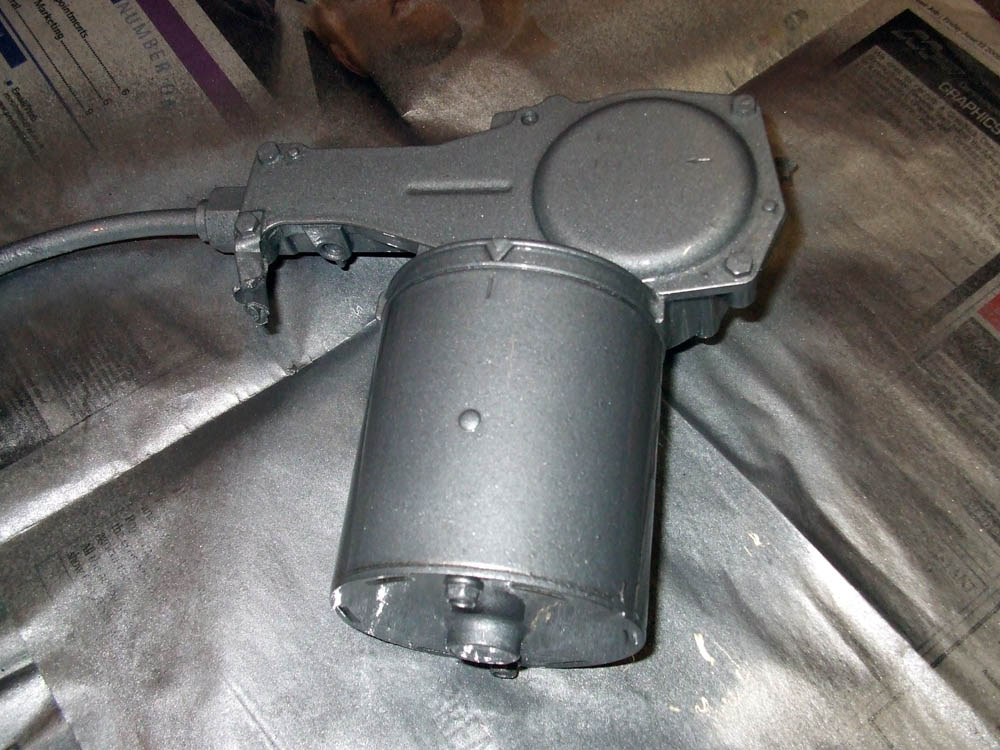 I know they wont be on show but a coat of paint wont hurt them. Full regreased after they dried out.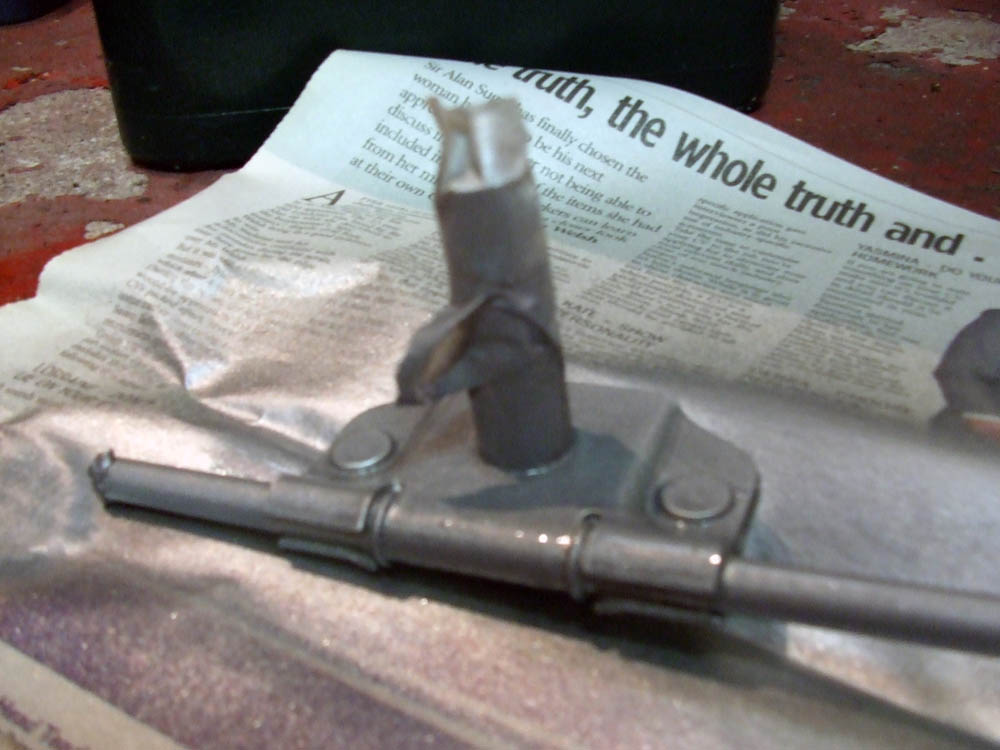 With the wiper motor removed I thought it would reveal rust but thankfully it was fine!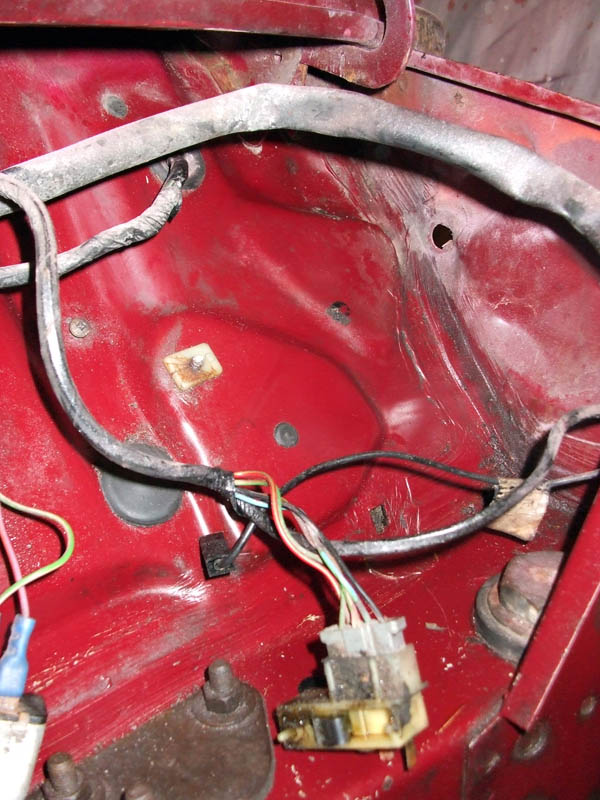 So thats your lot for just now. Started getting dam cold and need more time to tackle electrics next. Lots of labelling and pictures to take to remember where everything goes for rebuild!

Been having a look at the wiring....a lot of it is a complete mess and looks old, cracked and tatty. So Im thinking get a new loom so its all new and clean but also to prevent wiring failures later on. Problem is theres loads on MiniSpares to choose from

Was in my room so thought I would dig some of the parts Ive got so far for rebuild time.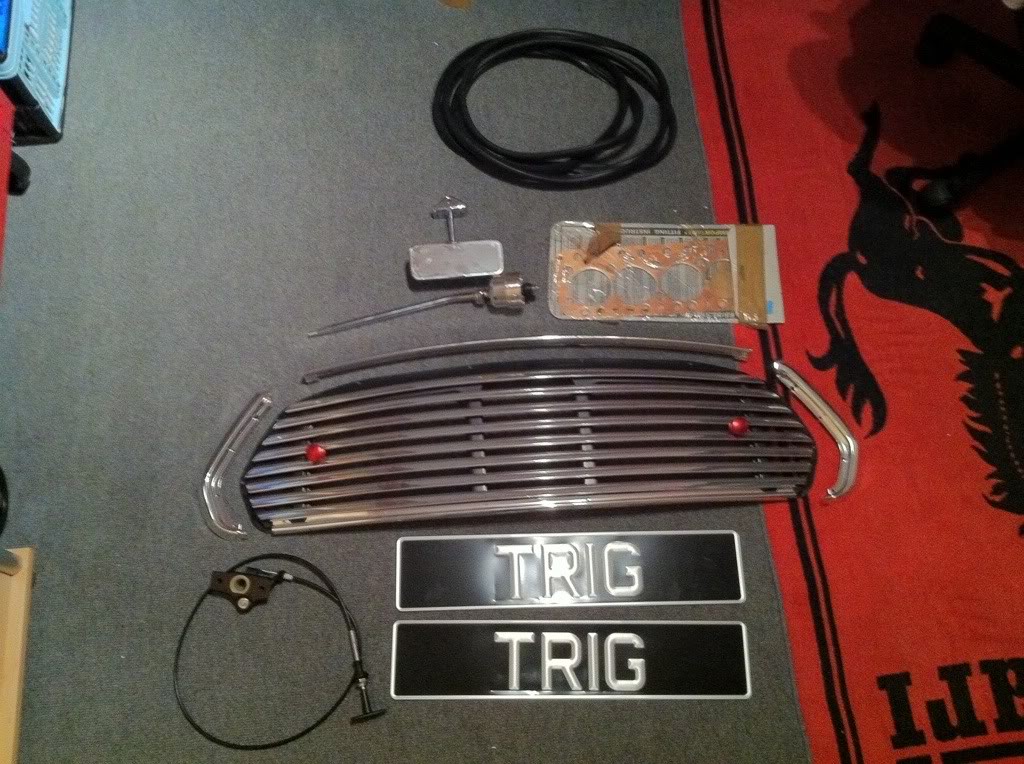 Internal bonnet release
Custom made TRIG show plates


Chrome internal release grille
Chrome strip for grille and grille ends
Red anodised grille buttons
Unidentified make quickshift
Head gasket
Chrome rear mirror
Couple of window seals (got whole set lying in a box in the loft)
Also got engine and gearbox gaskets ready to go on

BUT theres still lots to get





Interior
Polished alloy Door handles (With Trig emblem)
Carpet for rear seat
Upholster rear seats same as fronts

Miscellaneous/Mechanicals
LED bolts for rear number plate
Smooth off Sportspack arches so repeater is above
Relocate fog light into rear cluster
Headlamp bowls
Truck Horn (Get out of my mutha****a loud

)
Boot Seal
Paint job
Internal fill fuel tank
Smooth off steel bootlid
Fitting of front panels
Modify tank for internal hinges
Internal release solenoid powered boot catch (and emergency catch incase battery dies.....)
Stainless exhaust centre pipe
GAZ Lowered ride height fully adjustable front shock absorbers
GAZ Lowered ride height fully adjustable rear shock absorbers
UNC Stainless Steel Bolts for gearbox

And thats just bits I know of! Bound to be much more to get but Ive pretty much got the money together now to get the above list which is always a good thing!

No real progress at the mo as its far too cold in the garage to work without going blue.

Well I came home from Uni today and we need transparent things for creating images like these....photograms...

So I didnt have a clue what to use but I did have spare headlights kicking around. They have surface rusted rims so arent going back on the car....unless my plans work out....

To get the glass off for this project thing I took my mums hairdryer on max heat setting and melted the sealer that bonds the front piece to the back piece. Revealing just the glass on its own!

Before...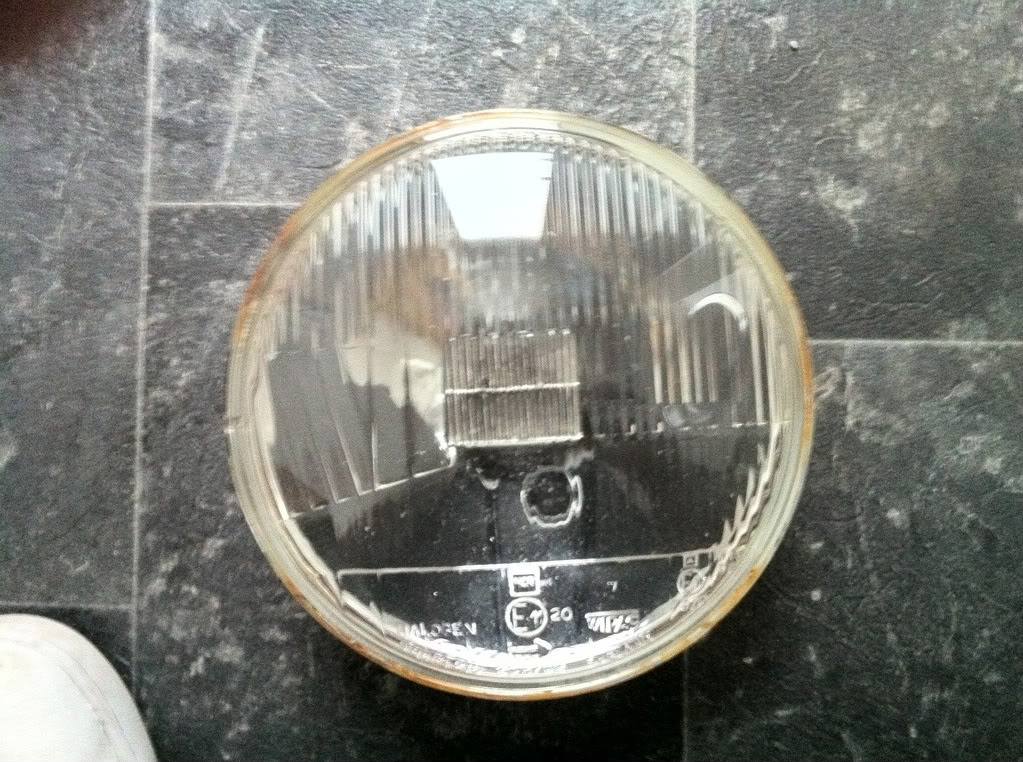 After!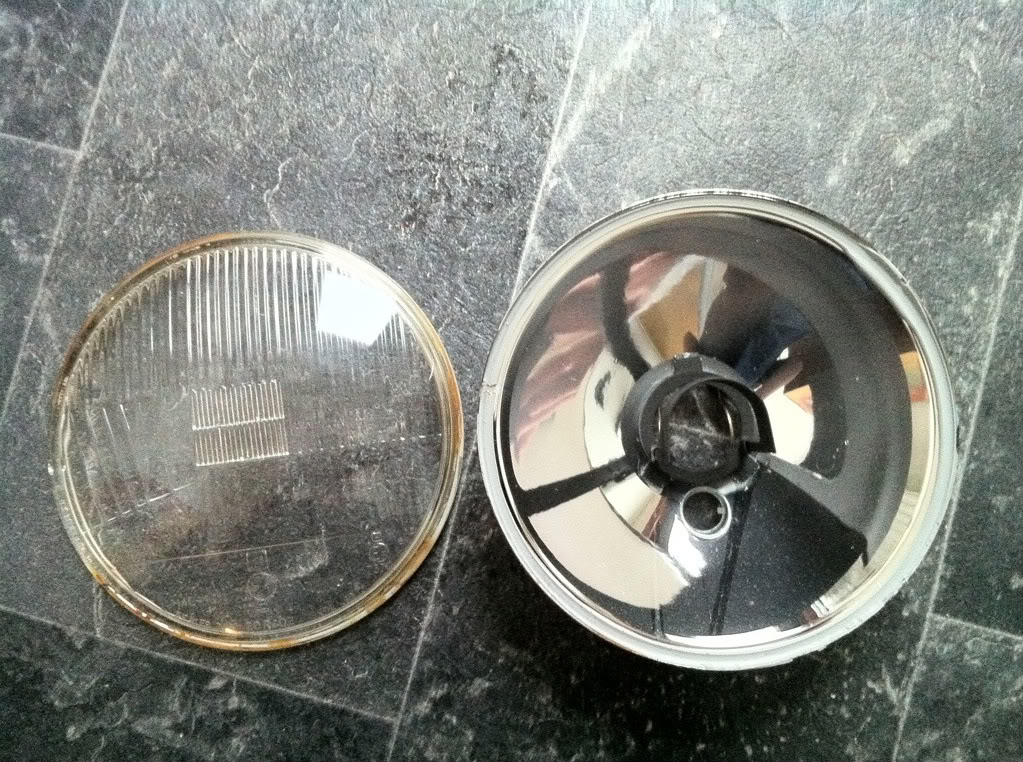 Now my plan is to do this......

Image removed by Deathrow.

Crosshair headlights

Will see how it goes though....using these lamps as test beds before I ruin a brand new set



So final should look like these...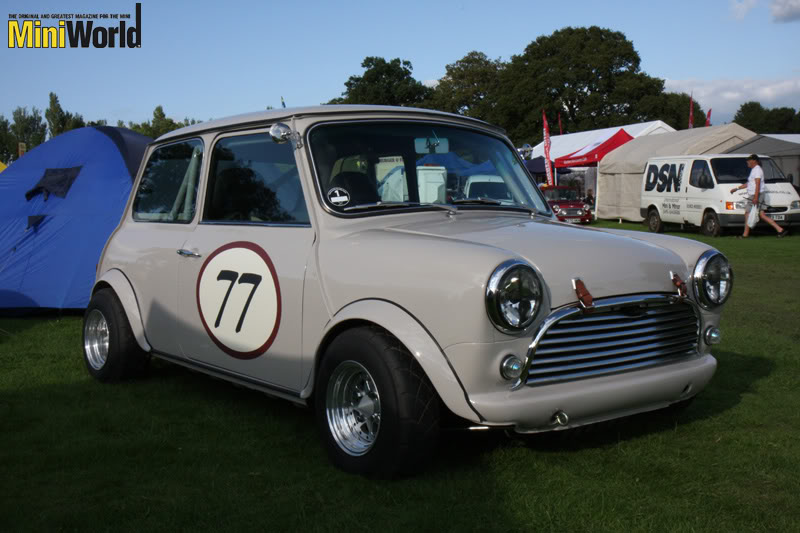 Marmite Im sure but I love it! These ones are actually MK2 Golf aftermarket ones with some modifications done to make them fit. I cant be bothered paying over £100 for them so going to make my own!
PROGRESS!!!!!

This afternoon I decided to finally take a break for uni work (first time in a month I decided to have some free time....)

So I took out the dash and started feeding everything into the car from the engine bay so it can be welded/painted.

So dash in....and anyone want a bootlid? I have accumulated three somehow....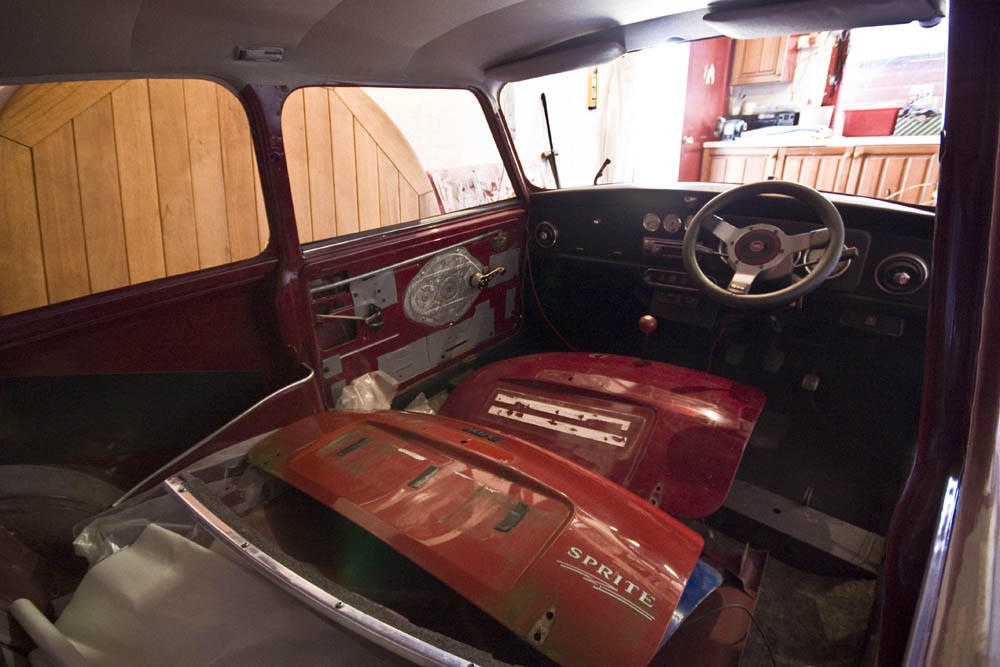 As it sits at the mo... (ok Im just testing my new lens really

)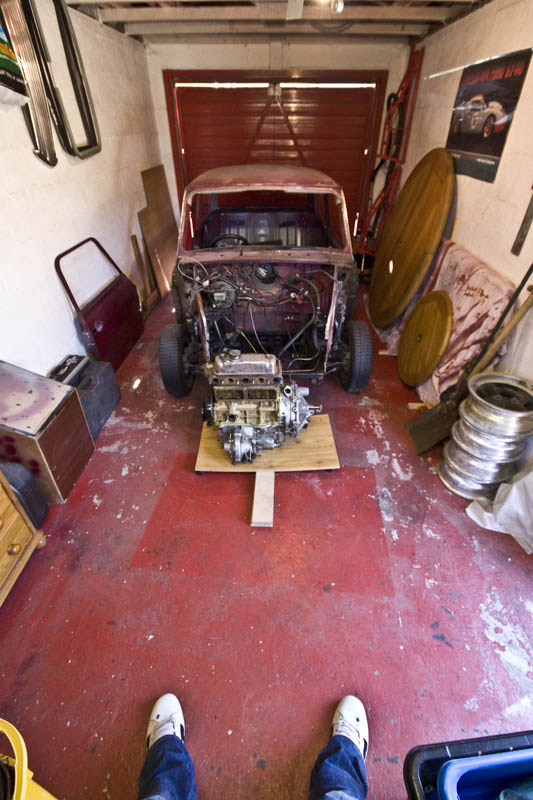 When i took out the dash found a few bits of surface rust but thankfully nothing major! The sound deadening was a bit fushty so its been binned. This is a weekend car afteral so being quiet isn't the overall plan



Took some time to label up as many wires as I could so when the new loom comes its much easier to work out where everything goes.

More pics to come once its daylight again.

Fel really good to have some ME time for a change and to have progress on the Mini felt awesome too.

edit: Screw daylight heres some pics



They bite when they know you are ridding them of their dashboard.....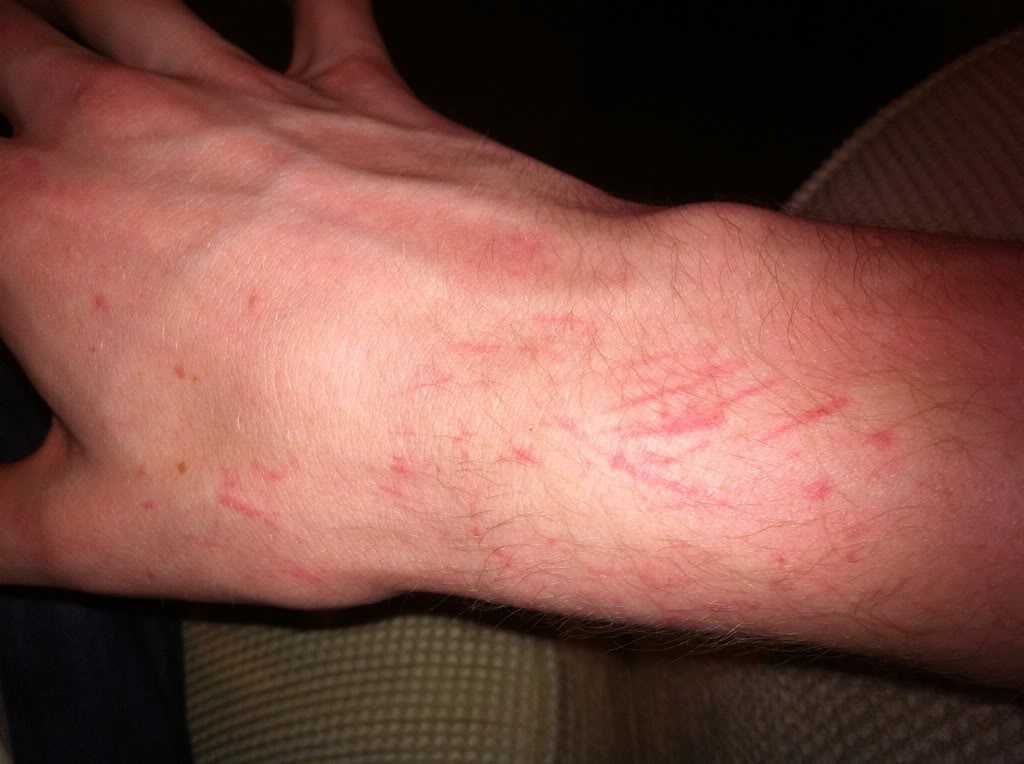 aaaand removed. Meet wiring hell. So many bits going to so many location and it all needs replaced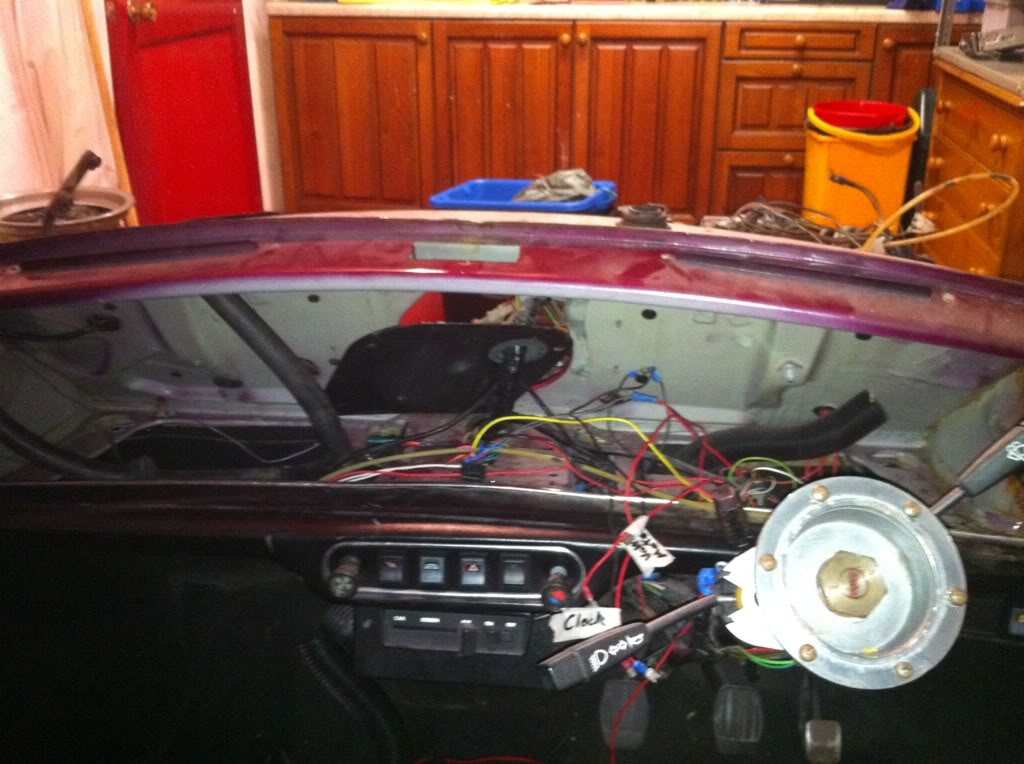 Progress again! Pics are to follow!

Did some uni work in the morning and thought seeing as it was a fine day I would go out to the garage for a couple hours. As it turned out I spent 5 hours working on the car.... Love it when you dont realise how long you have been working for.



So I tackled the wiring. Labelled everything up that I could. Im labelling it so putting in the new loom is an easier afair rather than trial and error. Found far too many wires that Im sure went somewhere at one time or another but now....they go nowhere

So Im pretty glad I decided to go down the new loom route! Dont want my hard work goin up in flames!!!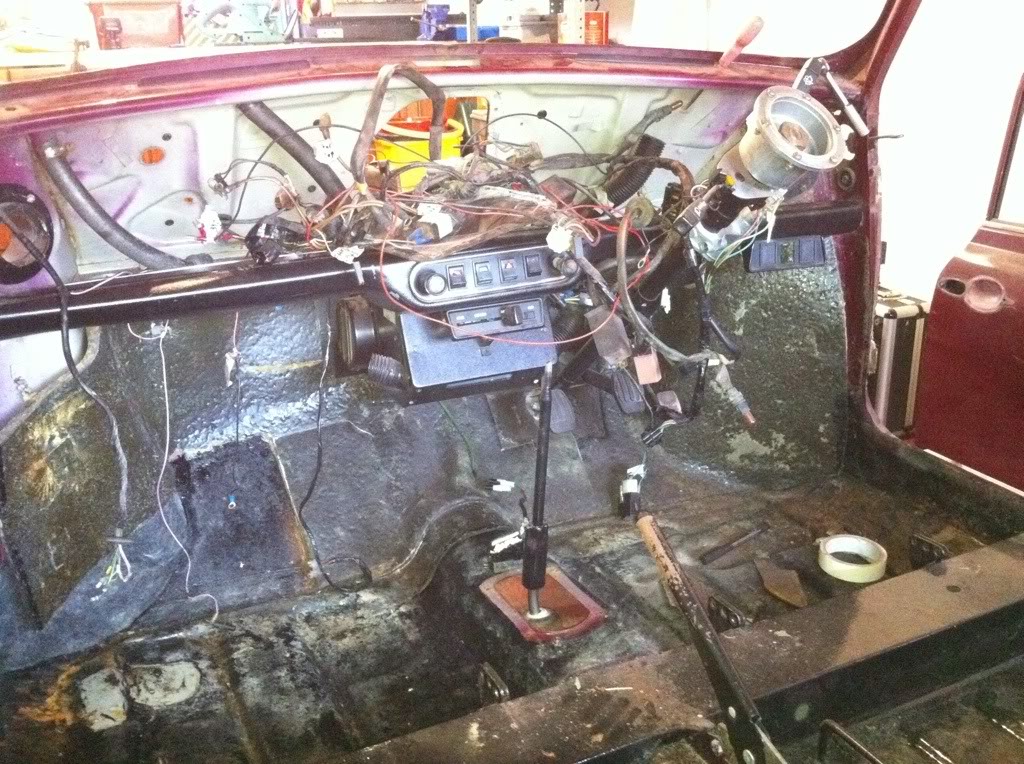 So the engine bay has no wiring now and everything has been fed into the interior for now. Once that was done got to work getting the carpes and sound deadening out. This was a bit rushed when we put it in and always let the car down as the carpets were stuck down squint....so time to remove and redo!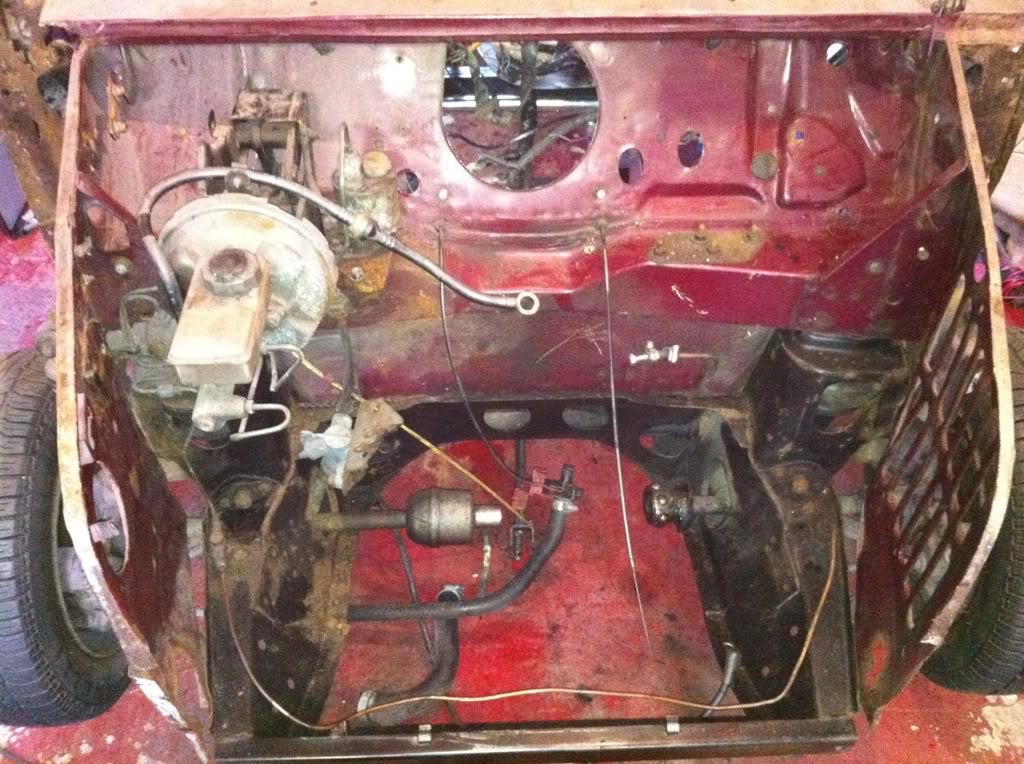 On removal I found I have some rust issues around the sills. I was expecting it to be honest as its a Mini after all but not on the passenger side! The sill was replaced with a genuine panel (NOT an oversill before someone gets all high and mighty....) a few years back and the inner sill is rotten! Bit disappointing really as the other side has an oversill and its got minimal rust......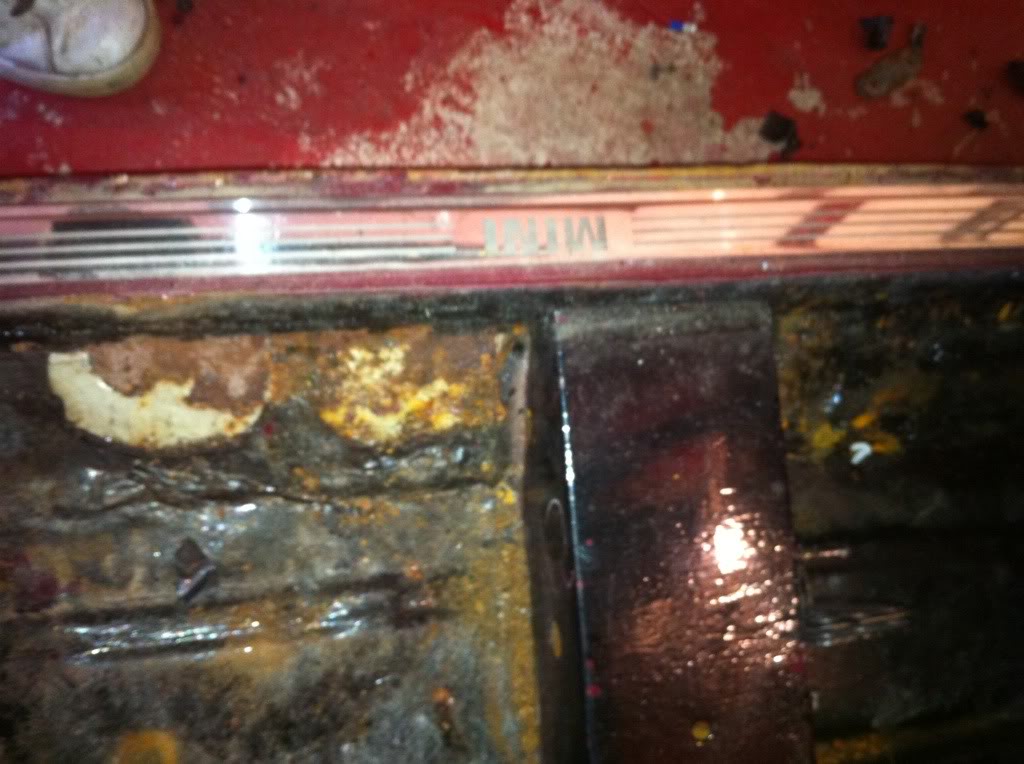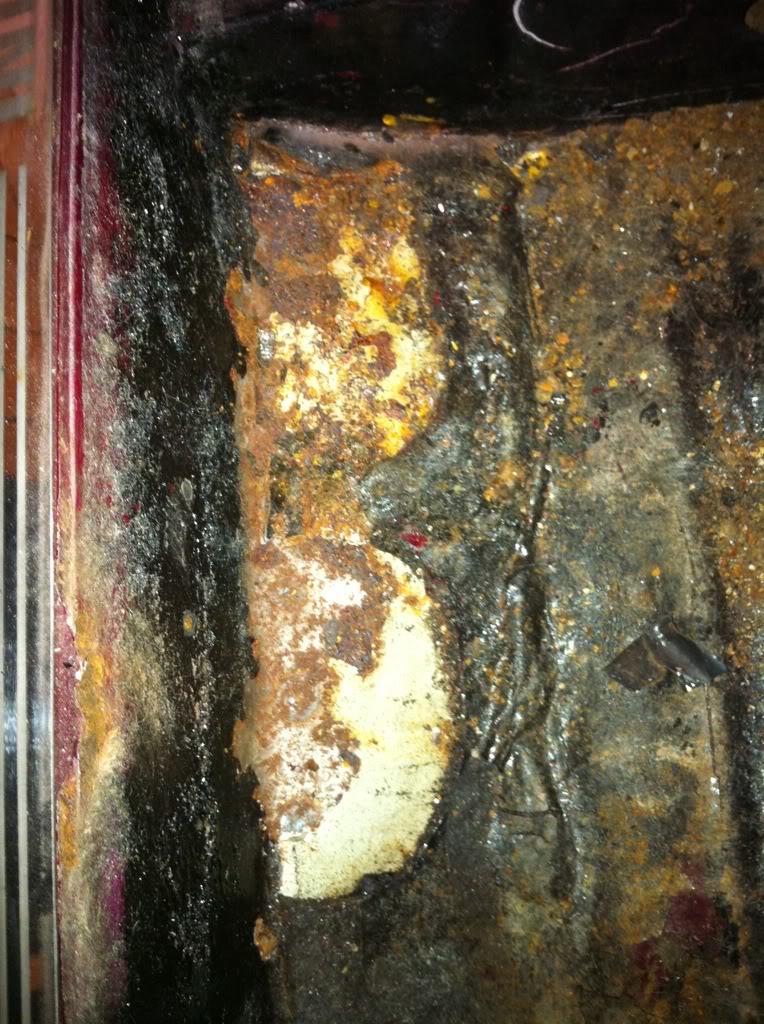 And this is the drivers side with the oversill.....its nae fair!!!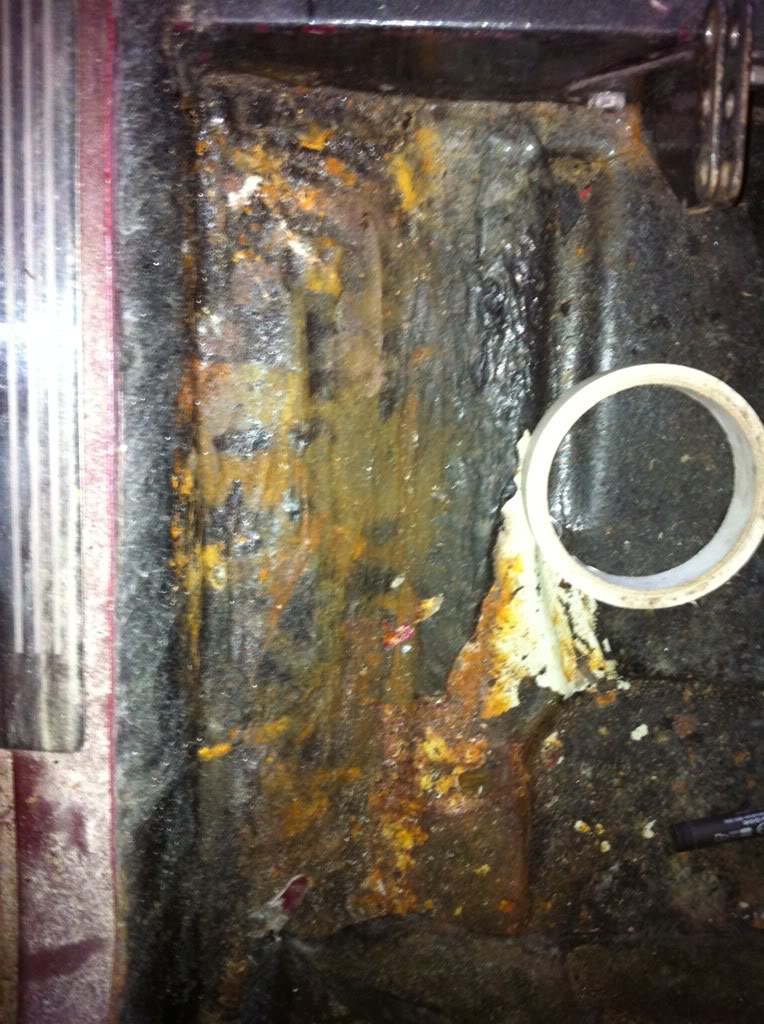 Then just to be on the safe side to try and reveal more rust problems I started chipping away at the bitumen type stuff used by rover for sound deadening. Plan is to fit decent quality sound deadening (possibly Dynamat if funds allow....) and do it properly!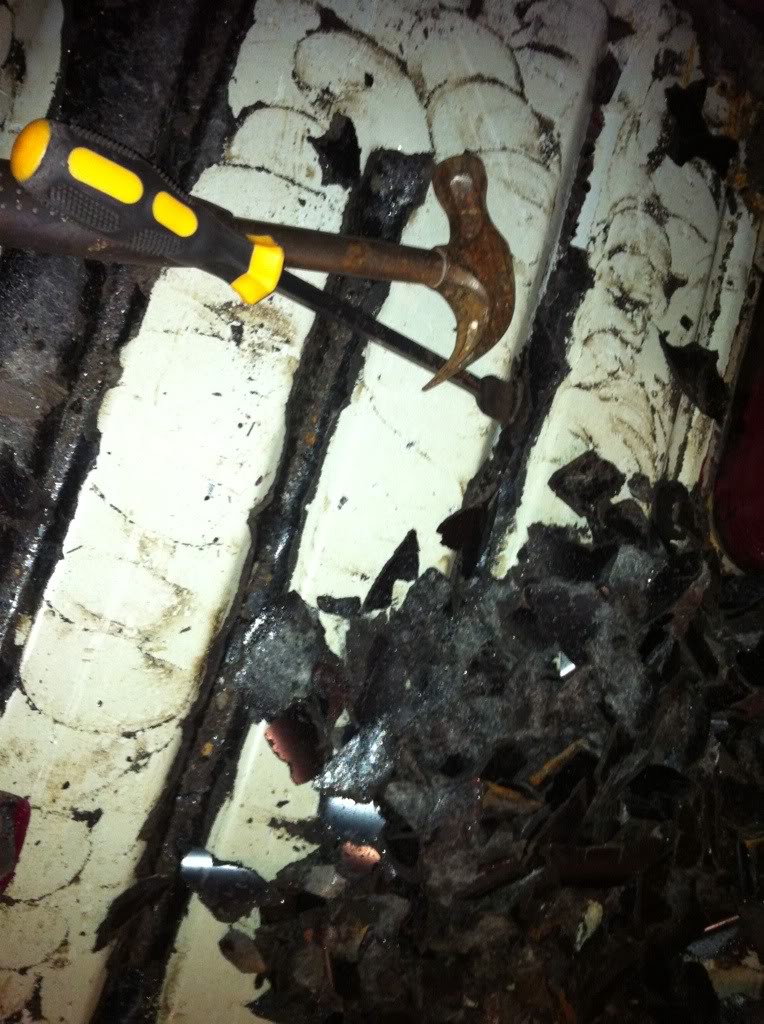 Found that a gasket scraper tool is brilliant for this job! Cost me 85p after discount when i worked at Halfords

Just the right size to get at all the little bits.

Also reveals more clearly how some of the floor needs replaced due to some idiot jacking the car up in the wrong place numerous times.......

Then finished the day with a indian takeaway

So its getting there!


Took more pics but they are mainly for my own reference for reassembly.
Went oot to the garage again tonight

Been too long!

Plan was to finish getting rid of all the bitumen, take out the heater and get the remaining loom out along with padded dash rails. Thought I was mad taking out the loom but when its laid out on the floor its not that bad....guess it was just the small confined area being filled with it that scared me



So the much needed pics!

The bitumen was pretty thick so the weight was astonishing. Filled the bin and fairly added weight. Do I replace it or do I go lightweight and noisy?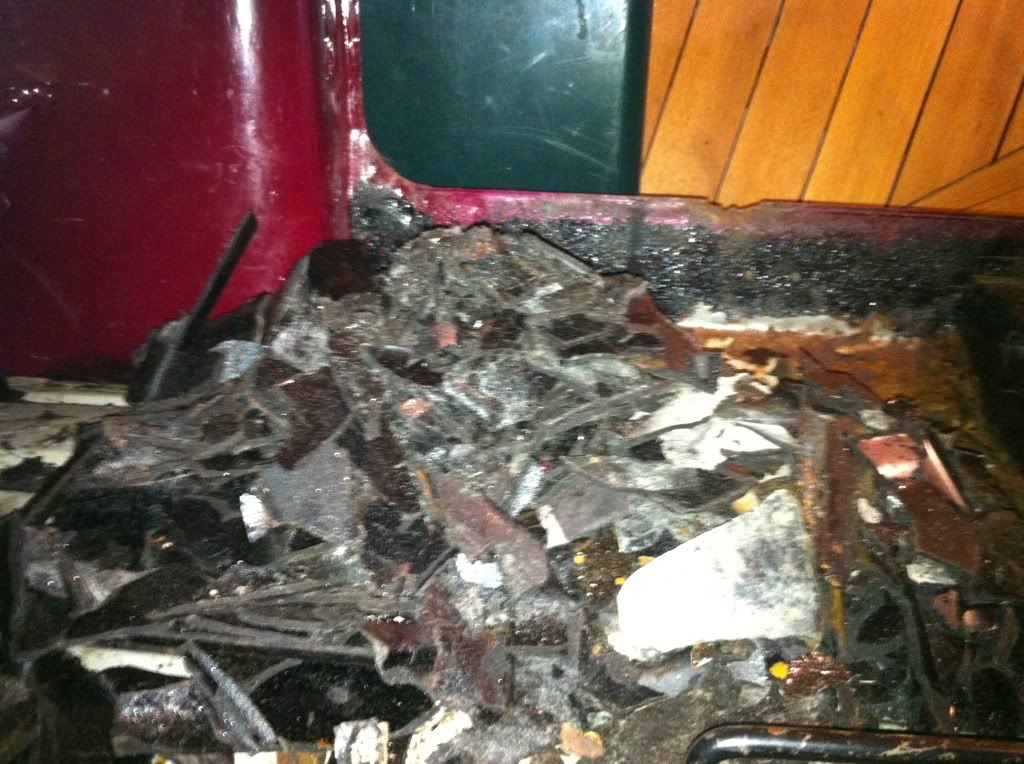 One bitumenless floor. Needing replaced!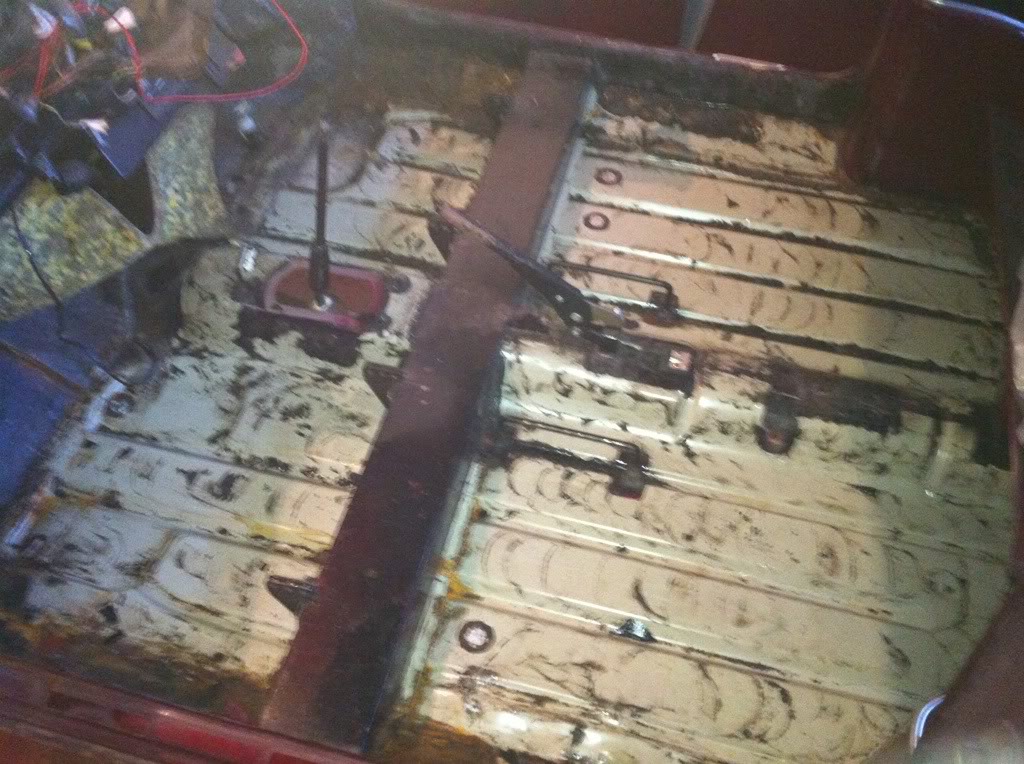 Found a hole under the rear seat on drivers side. Pain in the hoop but hey ho.....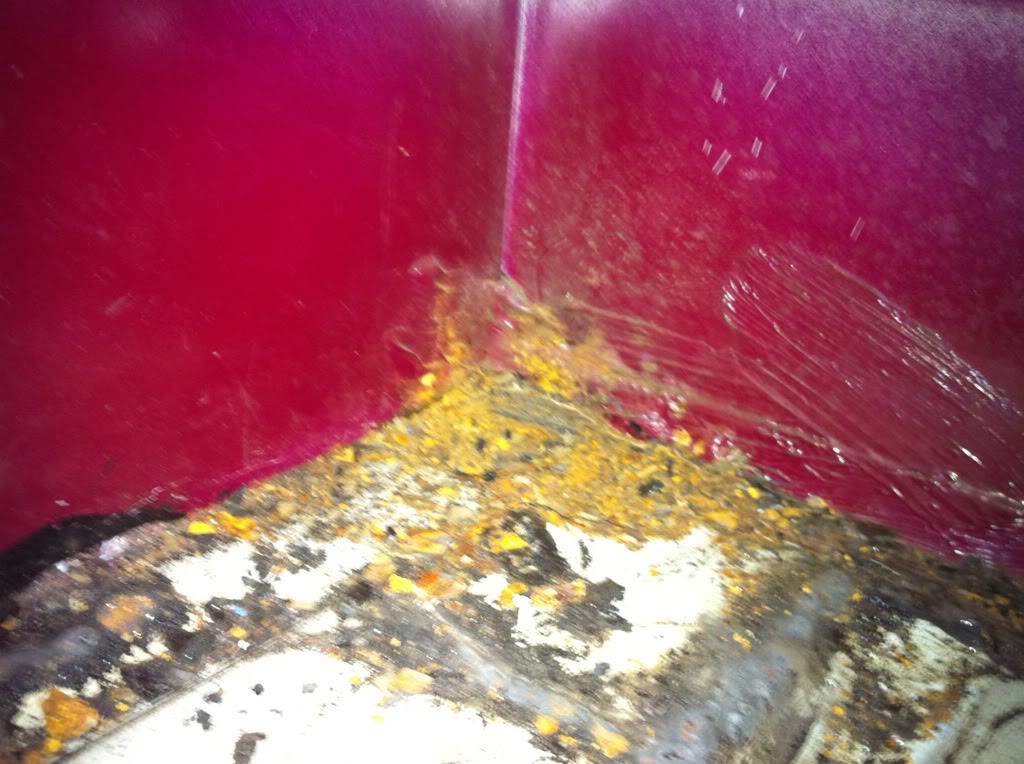 Everything oot!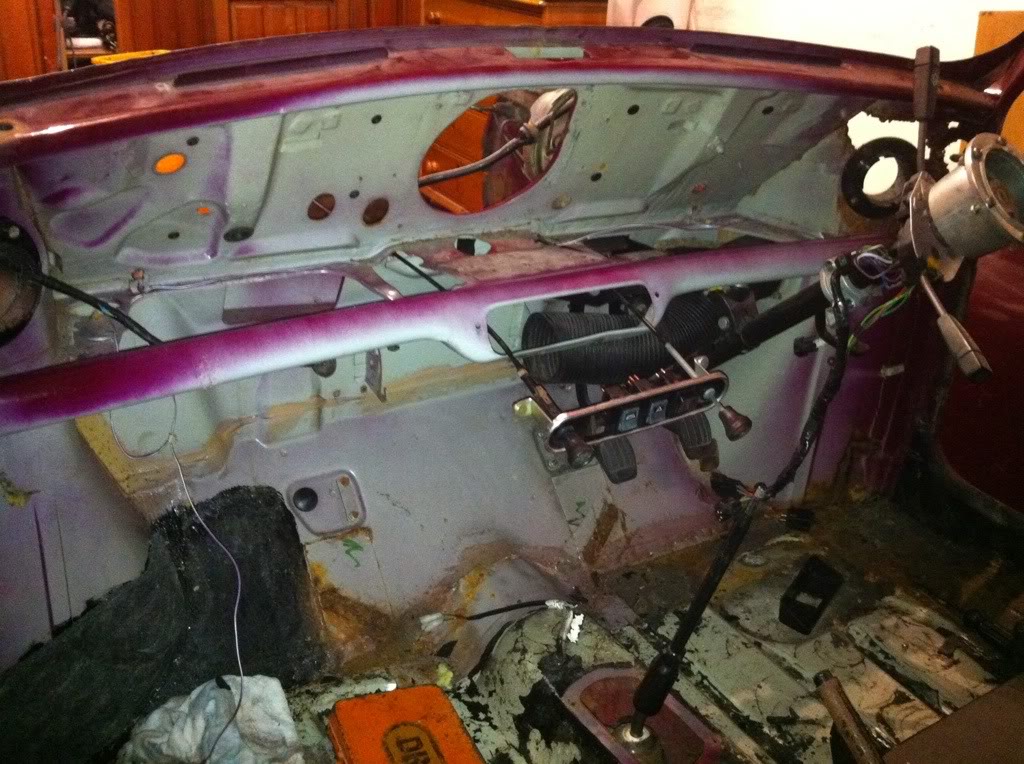 The loom all labelled up for reference on new loom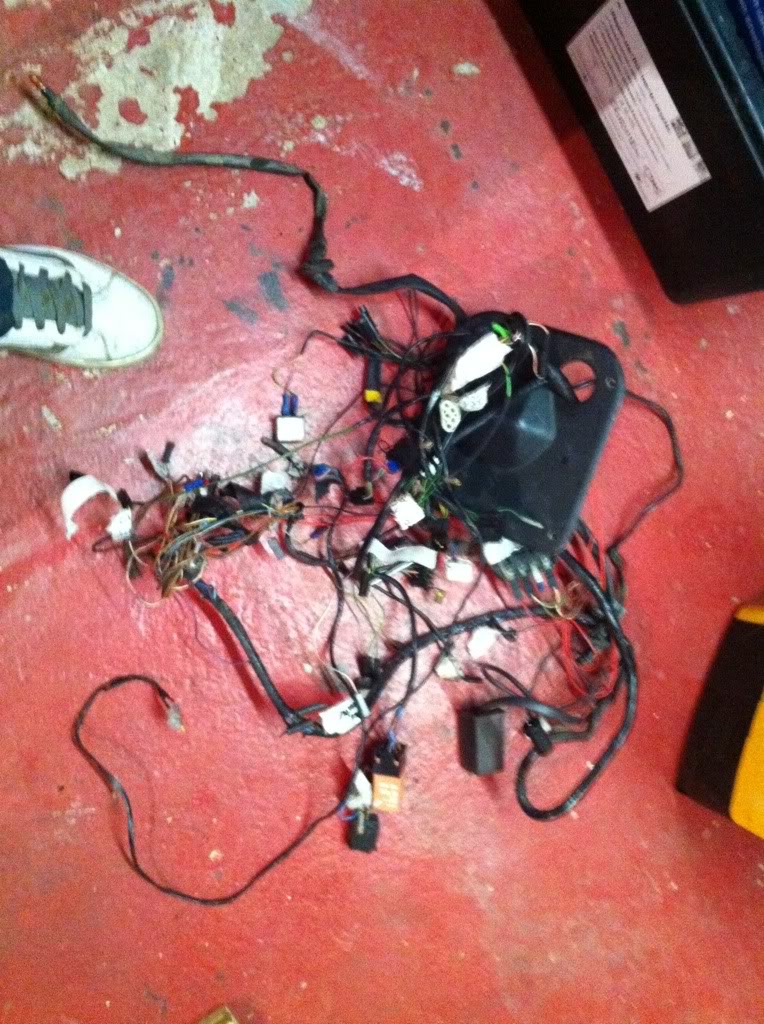 And where do all the bits go? On the dexion shelving and chest of drawers of course!



Bitumen, sound deadening, loom, heater and dash rails out. Not much but good to be working on it again.

Next up Im not sure but temped to remove subframes to reveal more rust....



MUST. BE. MAD!
So some stuff arrived today! Many thanks to Mr Dodgy Weedgie for these even after some epic failures of the royal mail! Ended up having to pay twice after Royal Fail lost me money!

But thats neither here nor there as Im afa chuffed with these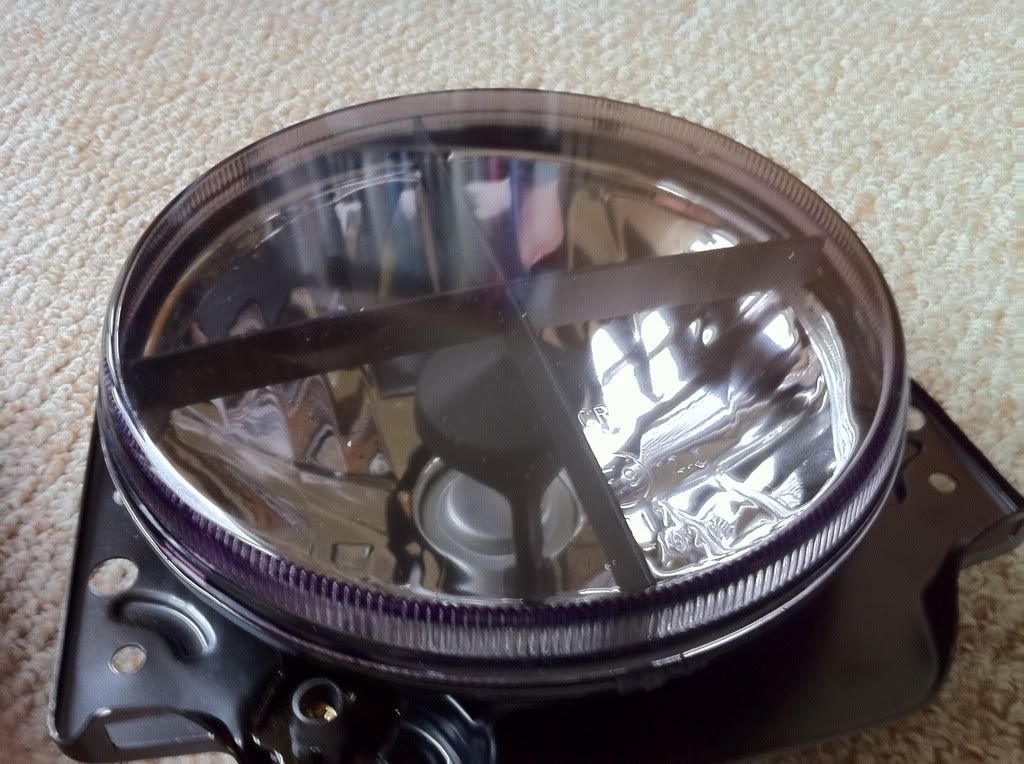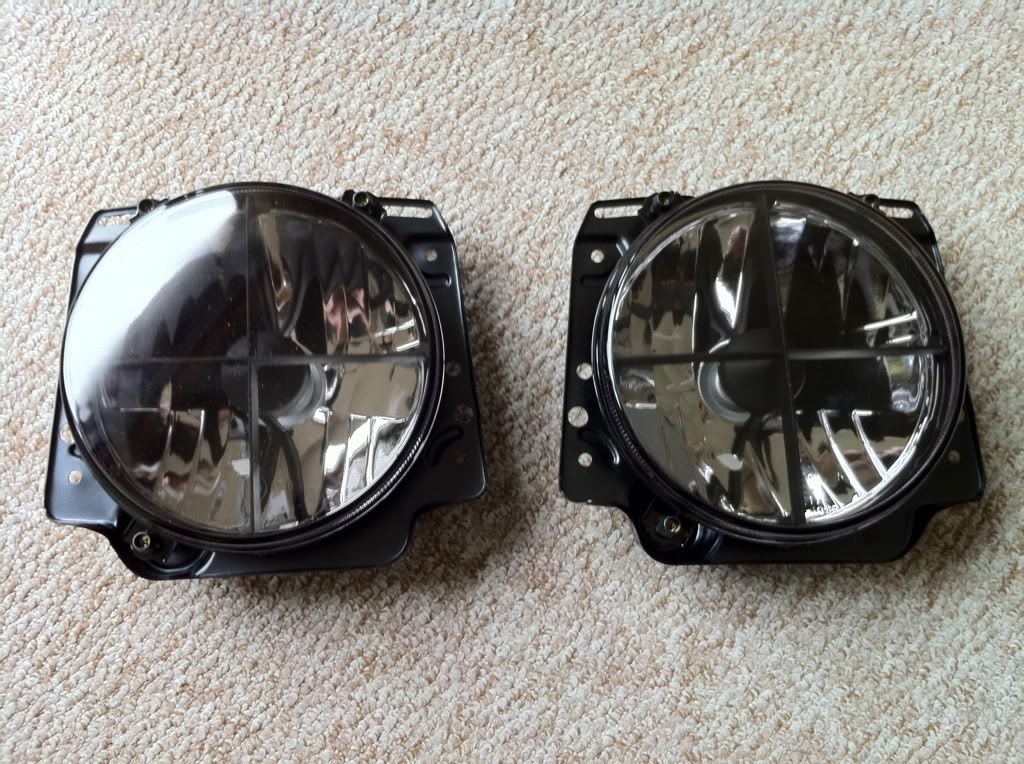 VW Golf MK2 Crosshair headlights. E marked so legal to use. All the need is a bit of adapting to fit the Minis headlamp rings and bowls and they will be perfect.

Something a bit different from the norm but I like em. Slightly tinted too so an even more aggressive look



Snowed under with Uni work again so work has halted on the Mini (again... :sad:) but it shall commence as soon as Ive got it oot the road! Desperate to get some decent progress on it!!!
THE PICS!!!

Didnt do much looking at these but as I say some things were rather more difficult than others.....stainless bolts being used at rebuild time....

So heres a pic of the donor mini as it stands at the mo....not much left! Just need someone to come take the engine away now.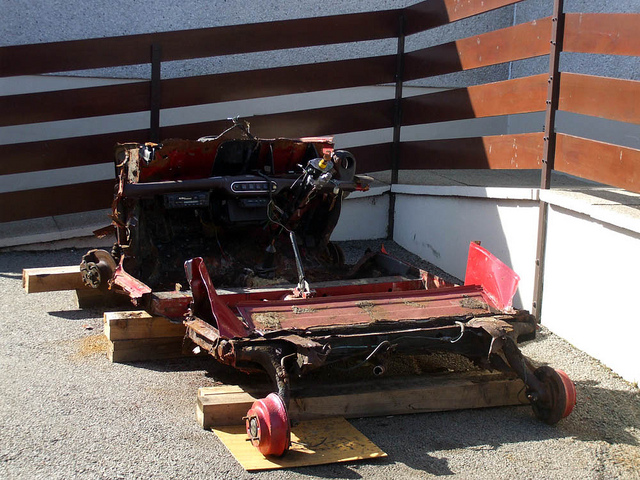 Most of the pics as for my own reference for putting it all back together again but heres some anyway...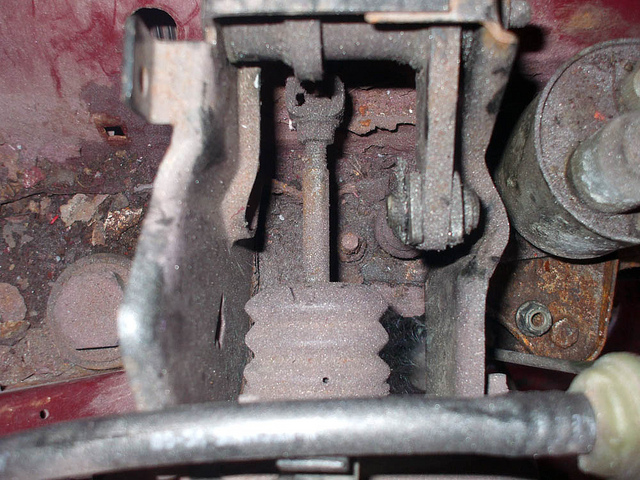 Some minor prepwork required for welding and painting now but not too much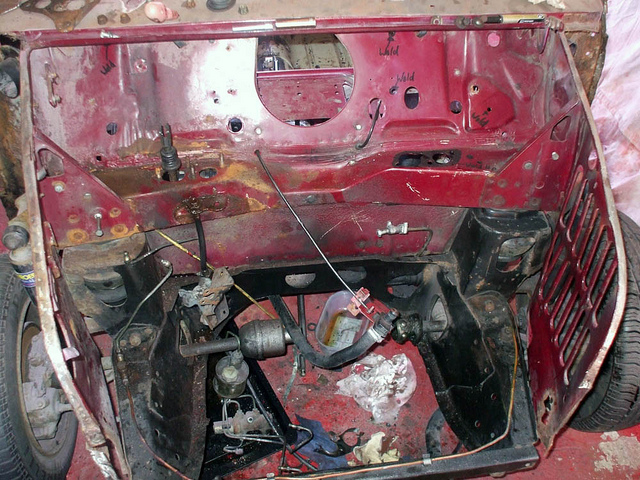 Brake servo painted up much nicer than before. Tried to polish it up but it was too pitted for that and would look awful. Didnt want it corroding more so hammerited it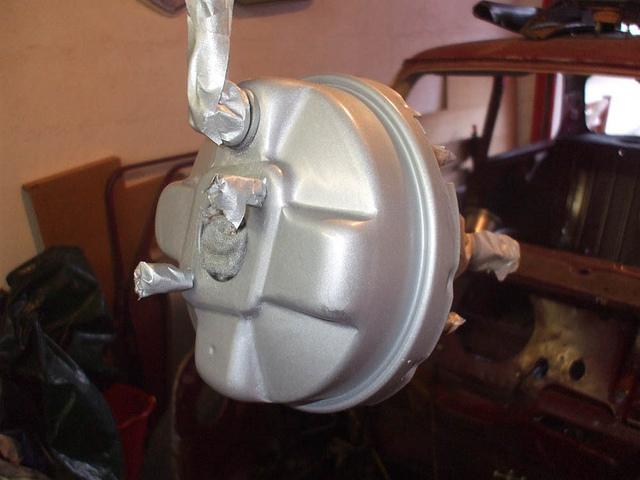 Then the servo bracket painted in black as well.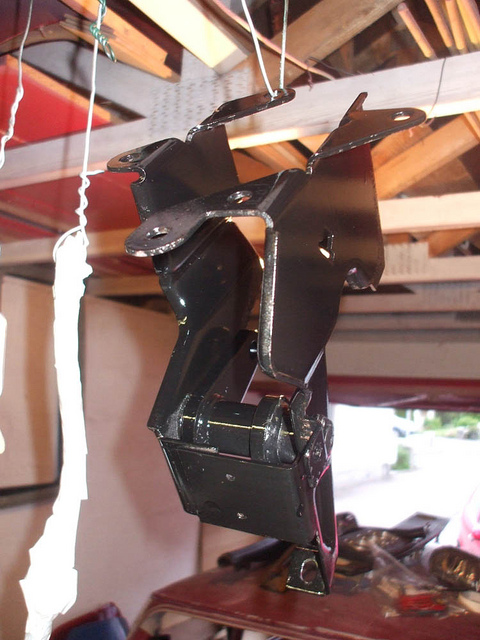 So not much exciting pics but some progress being made

Loving having some time to work on the car again!
MOAR PICS!

More work done! Love the Deox gel. Did exactly what it said on the tin, works a treat at getting rid of rust. So once I cleaned all the sludge off that it creates, I was left with a clean block ready for paint.

So I got to it with the Hammerite Red primer that acts as a blocker to prevent reaction. Put it on with a brush but final coat of red will be sprayed for a smoother finish. All important holes covered with grommets so crap doesnt get inside the engine as Im not taking it apart due to it running perfectly well before resto.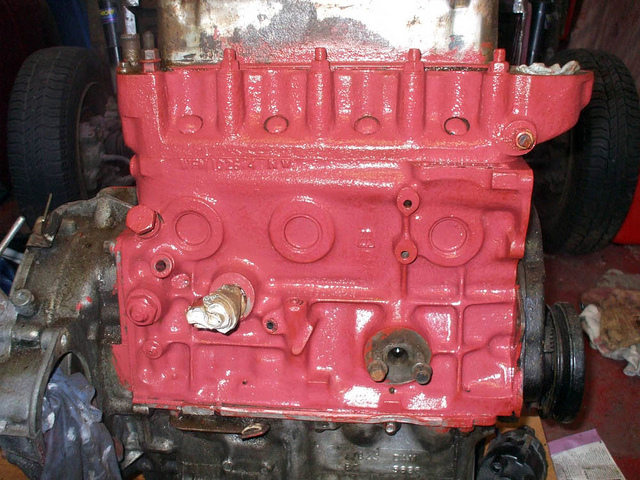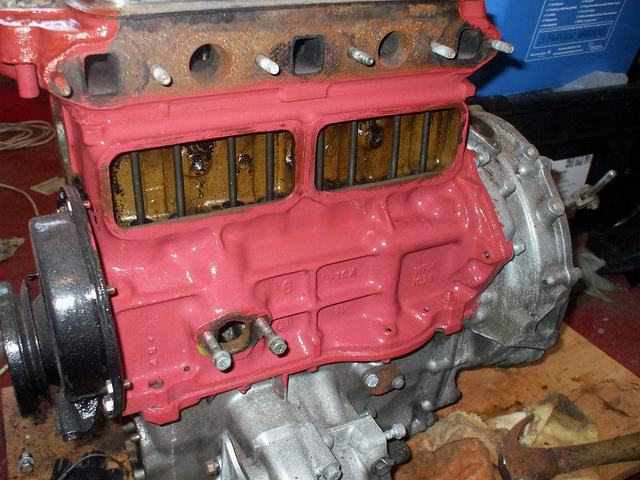 Then when that was drying I noticed some of the factory sealer on the bulkhead was bubbling a bit so I poked away at it and it fell off revealing yet more rust! Amazing rust preventative from BL/Rover......

The roooost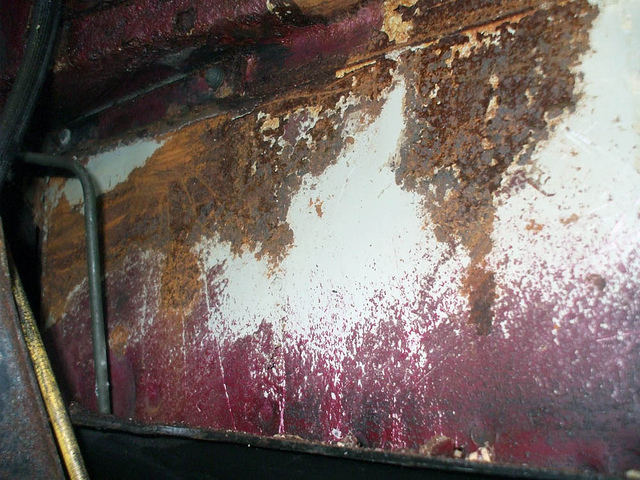 The sealer off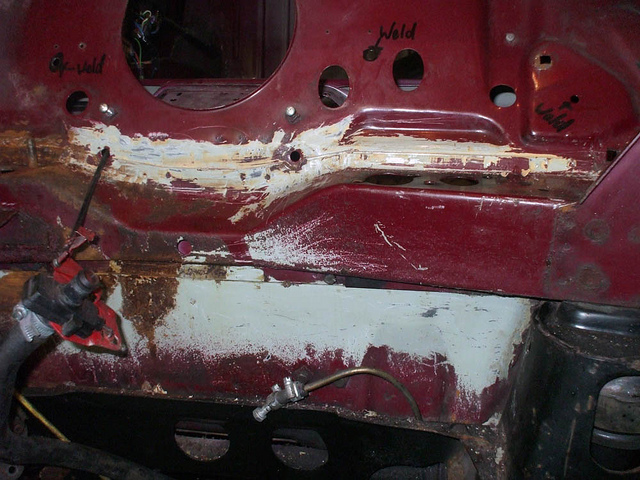 Then the stuff at the top of the bulkhead was all lumpy and bumpy, not smooth like Im needing the bay to be so its coming out too. Fan heater on it then a multi faceted scraper are a perfect combo for this.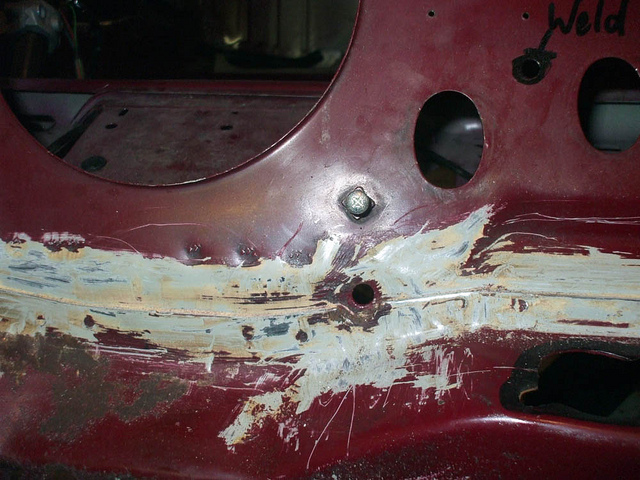 So tomorrow its more primer on the block before top coat and more sealer off. Cant get all of it off as is but once its back from welding I will take the subframe off to get at the rest of it.

Fun fun

MOAR PICS!

NOt a huge amount done today but still steady progress. Wheeked the bell housing off for easier access to painting. I initially planned on mirror polishing it and then doing the same to all the other cast parts on the engine. Buuuuut after an hour of sanding I got bored so into paint it went

Probably a good idea really as once its back in the car it will be near impossible to clean properly so it would ruin the look in no time. Could laquer it but it flakes too easy.

Again this will be getting put back on with stainless nuts and bolts to keep it all shiney!



So onto das piccies

Forgot to take a proper before pic so heres a 50/50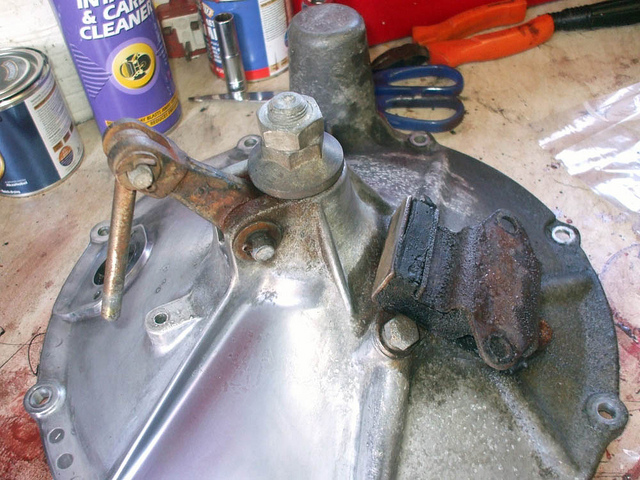 Inside of the housing looks good enough to me! Question though. Would I be best to replace the clutch now to sve having to do it later on? Total ball ache to do it with the engine in the car so want to save myself the hassle.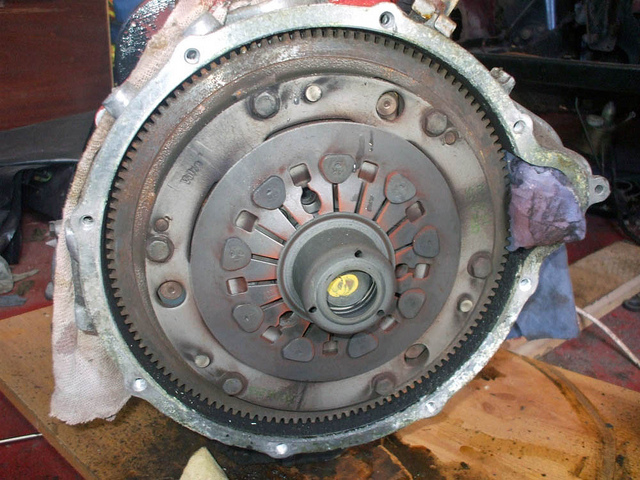 This was after an hour of sanding and polishing. Not good enough so stuff it!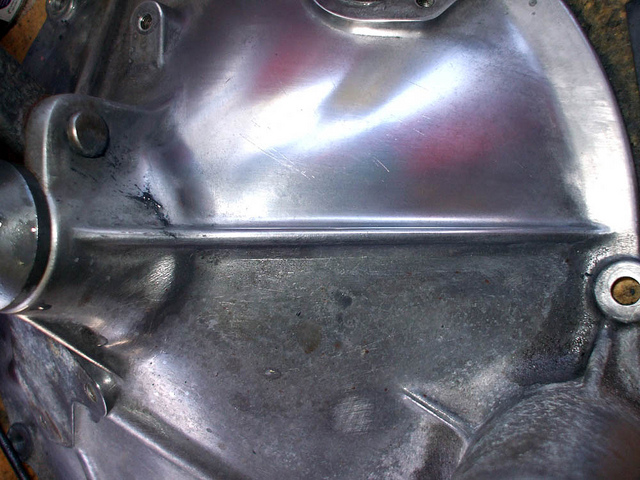 Also got the brake servo back together again. Reservoir looks sh!te now but will get a chrome cover for it when it goes back in.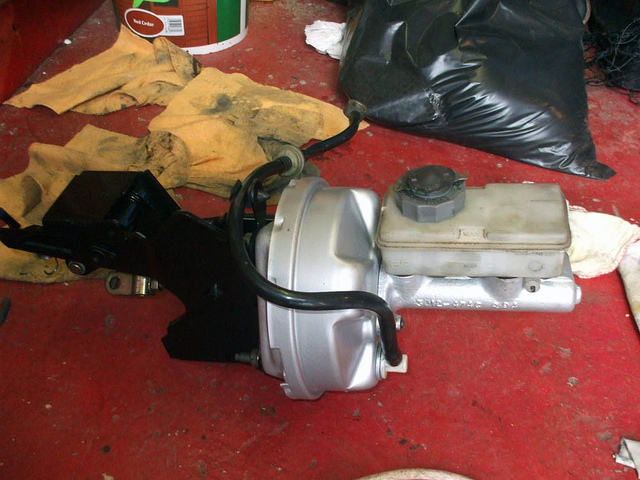 Housing all painted up along with the clutch master cylinder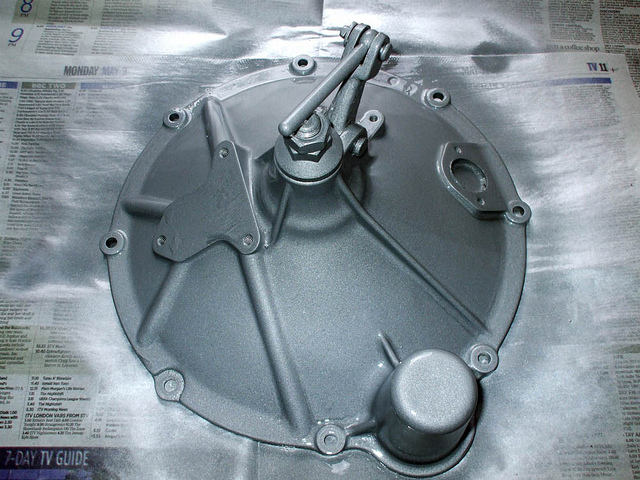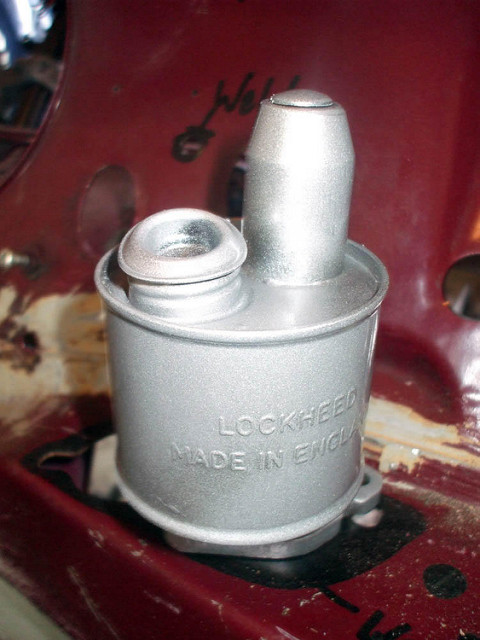 So more done also put a second coat of primer on the block as some bits were patchy. Hopefully I get time tomorrow to get the red onto it but will wait and see as the burden that is the Polo is throwing a hissy fit and needs its throttle body cleaned out......:rant:
All thats the engine painted minus the block. Silver Hammerite ftw!



Pics to follow!

Heres the brake slave cylinder looking lovely and caked in grime and oil!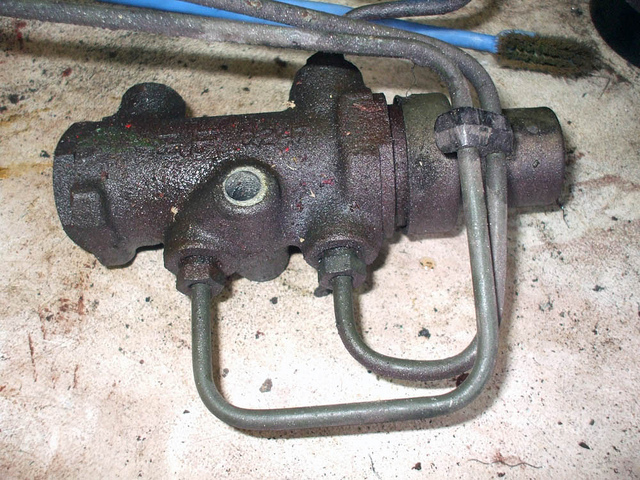 Then that all painted up again looking much better.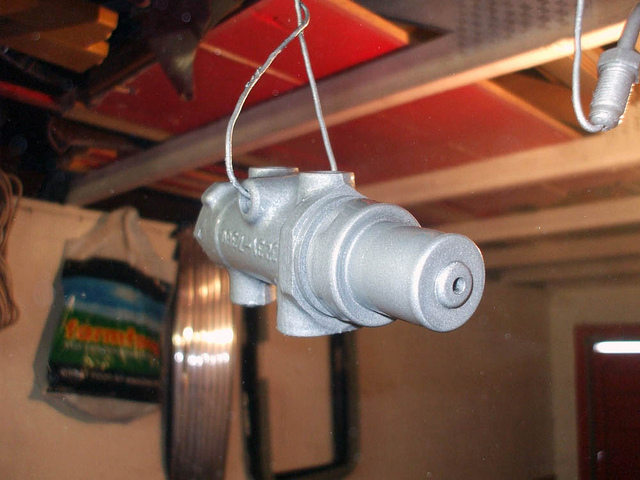 This gives you an idea of the gearbox before I gave it a final once over with cleaning stuff before paint.





Then it got its first coat of Hammerite.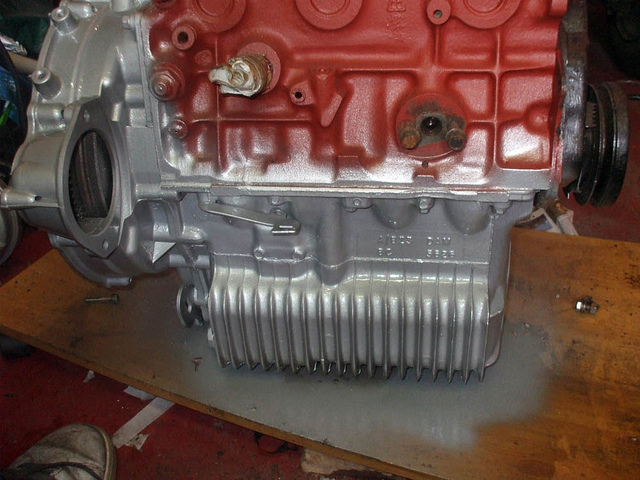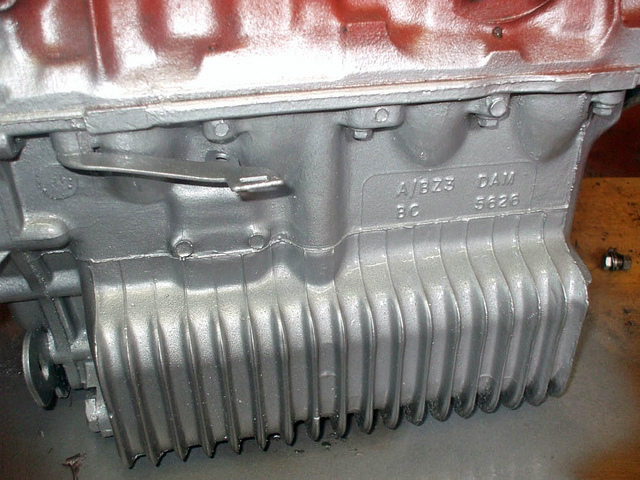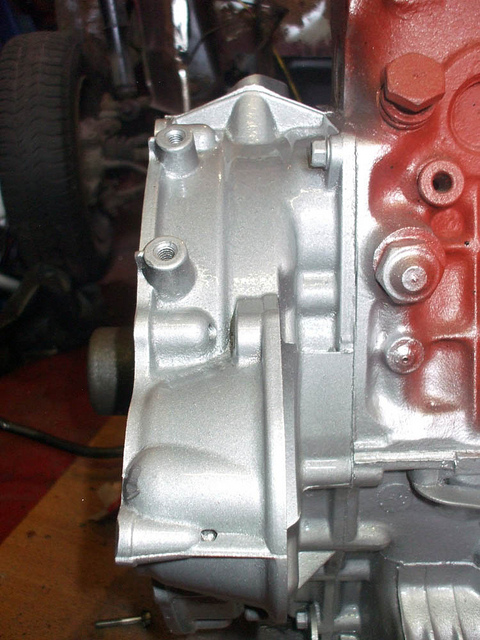 So its looking afa good if I do say so myself! Next up is paint the back and bottom but trying to find an easy way to get it propped up to do so.....
Just realised I need to buy a scuttle before it goes off for welding.....so Minispares order is in place......amazing how one item can transform into a £300 spree "To save on postage costs Mum 'n' Dad!"

So parts that shall be arriving soooooon hopefully....
Scuttle
Headlamp bowl kit x2
Indicator seals
Manifold Gasket
GAZ lowered ride height adjustable dampers (front and rear) THIS THINGS GOING LOWER THAN YOUR GRANNIES NIPS!
Pot joint gaitor kit x2
CV Joint gaitor kit x2
And few other fasteners here and there. God I love having a job

Cheeky dugger

So Santa came early today......delivered this little lot.......
Firstly this came......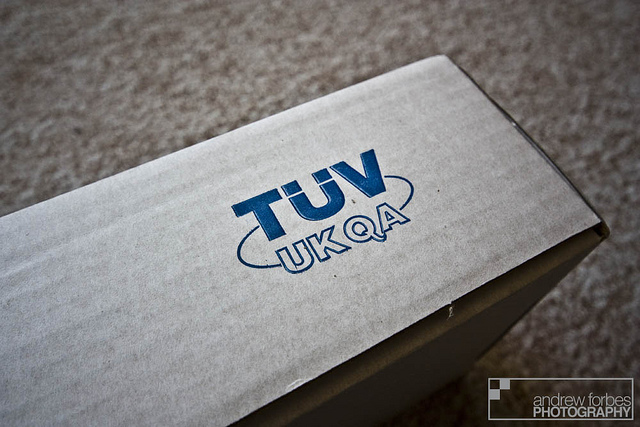 can you tell what it is yet?
Of course you can! Its a set of lowered ride height adjustable GAZ shocks! Always wanted a set so.....I got them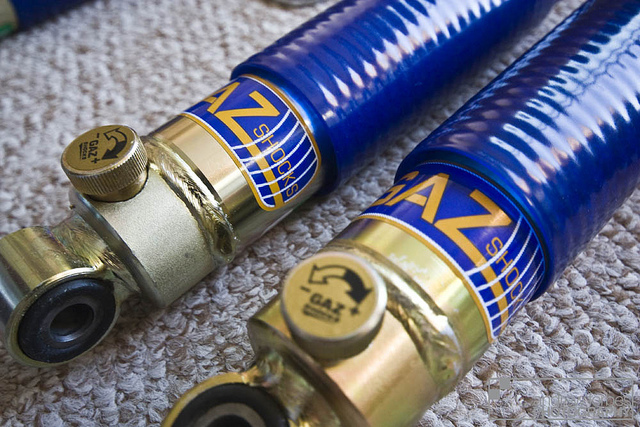 They are TUV approved and are individually tested to manufacturers specifications at the factory. Even got print outs of the dyno run for each shock in the box. 2 year warranty too.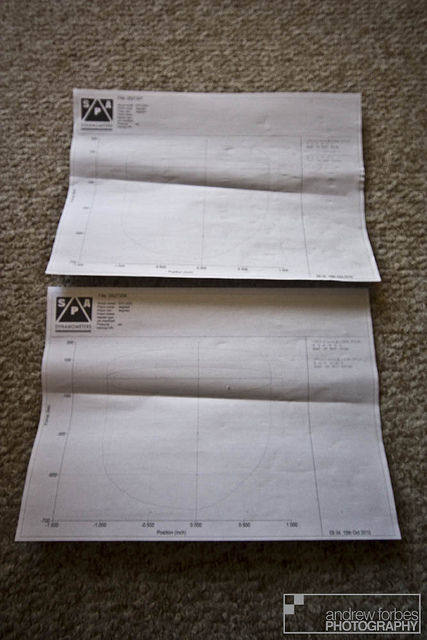 So alongside these I got a few other bits.........
Heritage Scuttle panel (excess holes will be welded up for a smoother look)
Headlamp bowls (including inner rings etc)
Front indicator to body seals
Original specification wiring loom (which shall be modified to accommodate my triple clocks in the centre of my dash which are clock, oil pressure and voltmeter)
CV joint boot replacement kit (both sides)
Driveshaft seal kit (both sides)
Manifold gasket (at the great expense of 88p!)
Paddy Hopkirk throttle pedal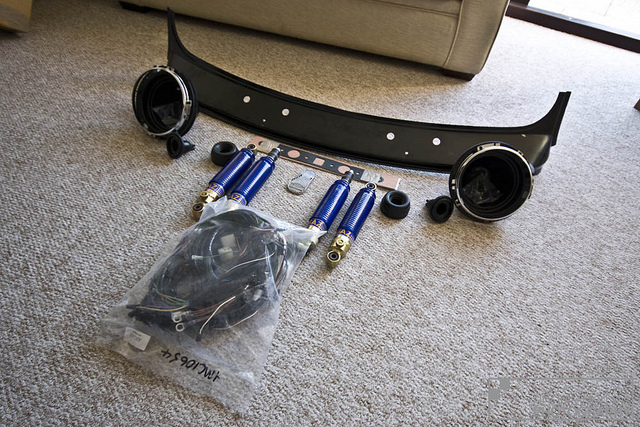 The throttle pedal...which shall have a custom twist to it soon to be revealed....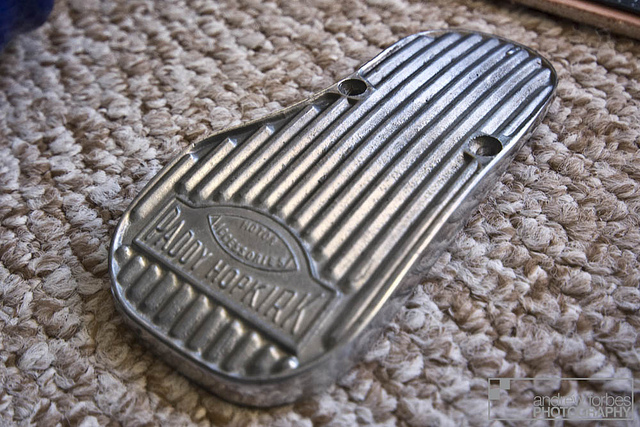 So Im affa happy and that SHOULD be most of the big bits ordered and here now....so its just over to Fastmini1380 now asap to get it welded.......then its off to paint!
More work today been done. Wheeled the car out of the garage to clean up a bit so took a couple pics of that.....not to let you down!



Rear brakes were well and trully seized despite me leaving the handbrake off. So when i had them off to free them up I took the screwdriver and had a dig at my passenger side arch.....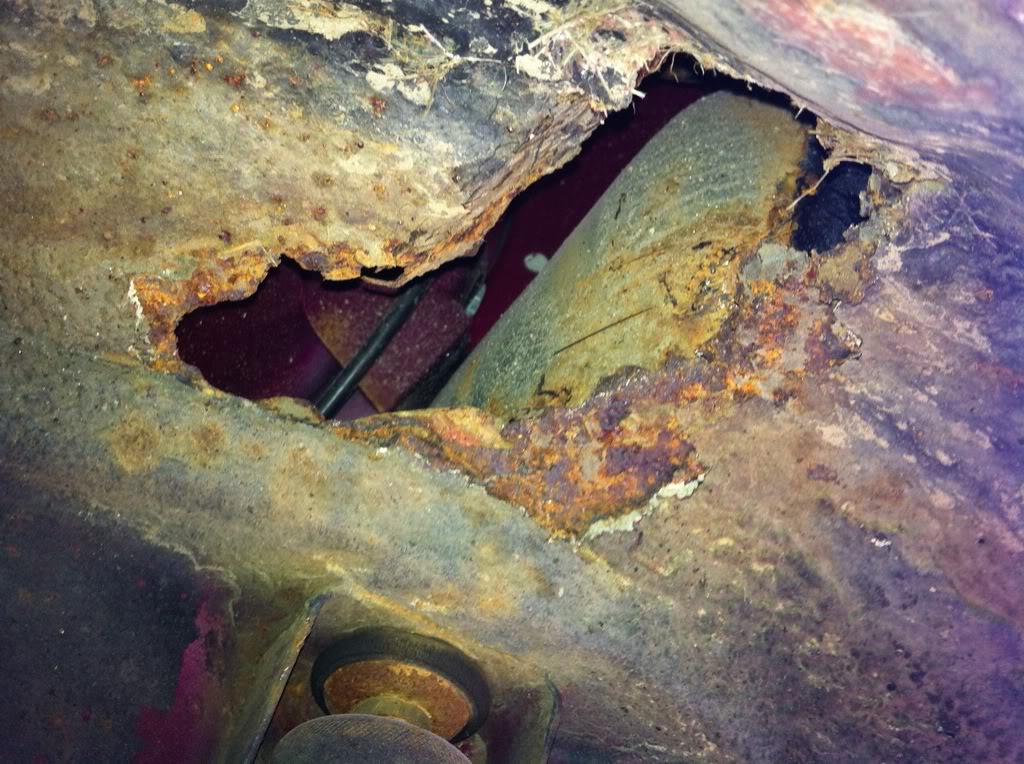 OOPS! Massive hole that explains the often wet floor. How this got past an MOT I have no idea being that close to the shock mount. Thankfully the arches will be getting tubbed anyway for greater clearance and this would be cut out anyway as a result.

But eventually got the car outside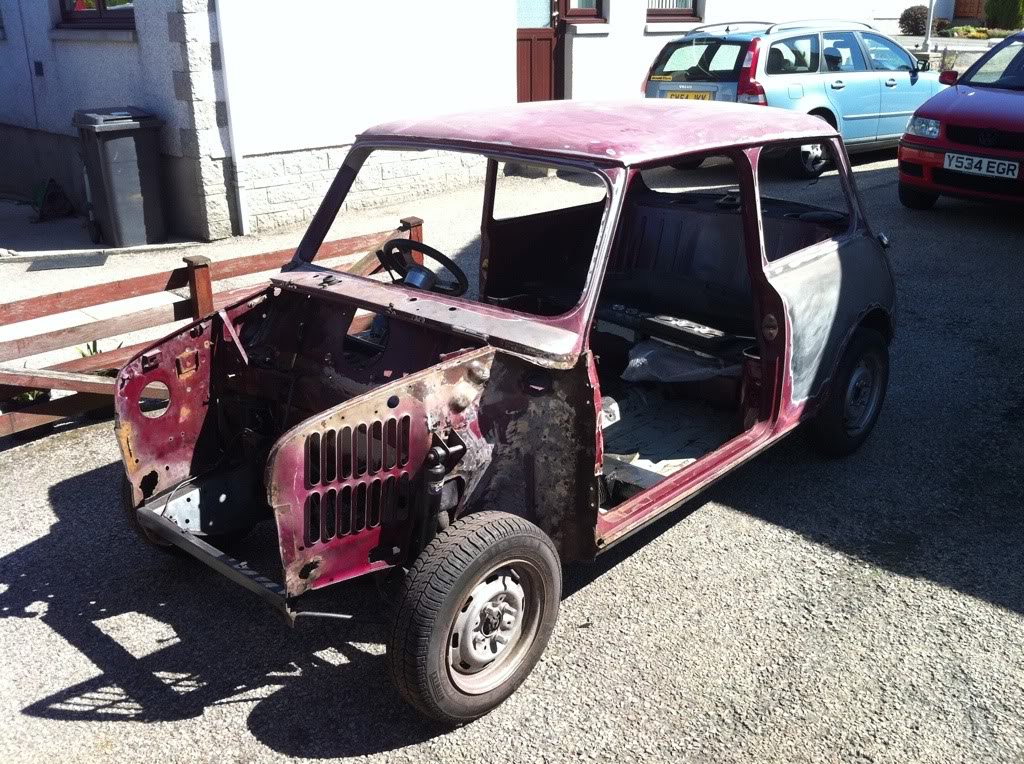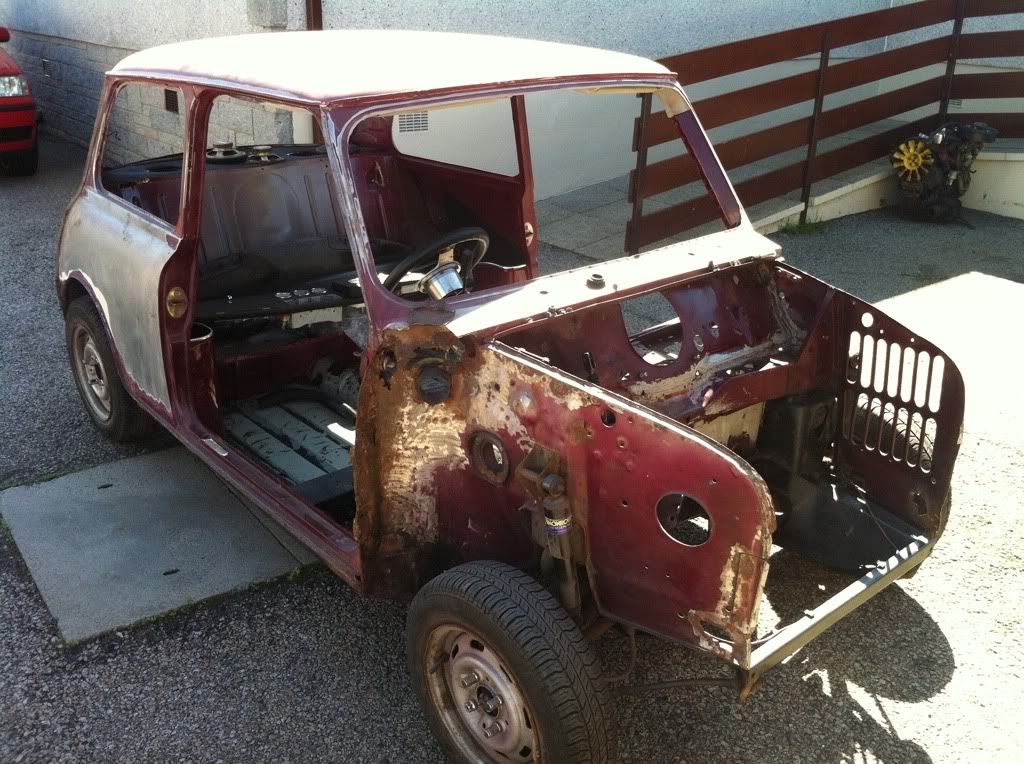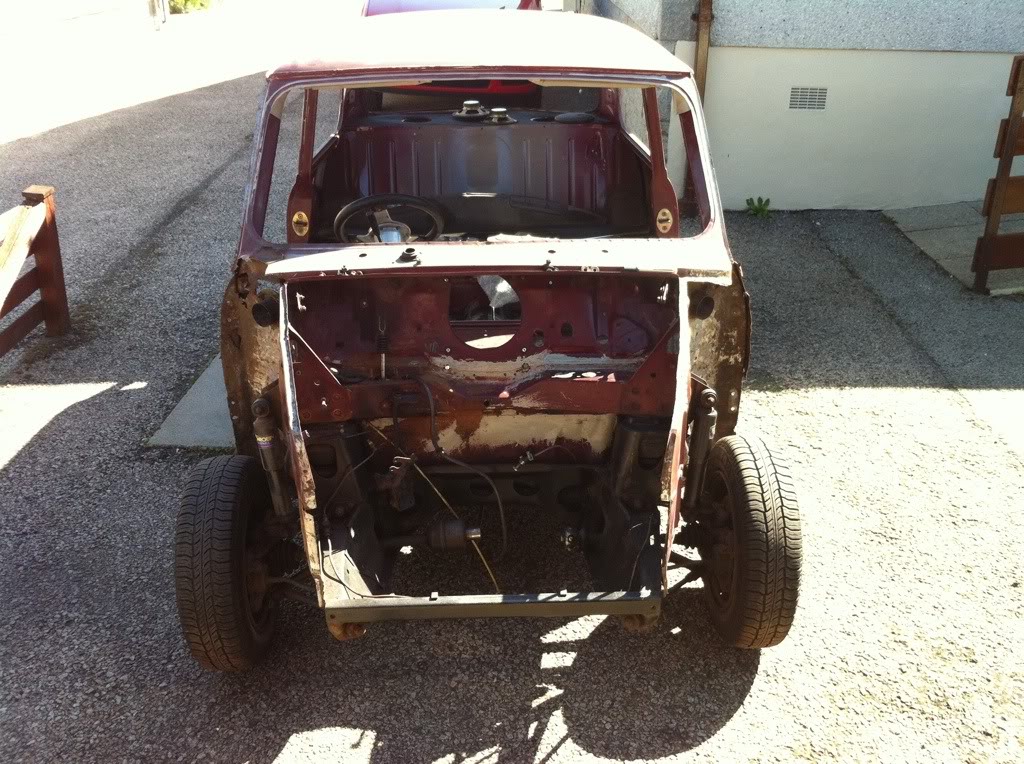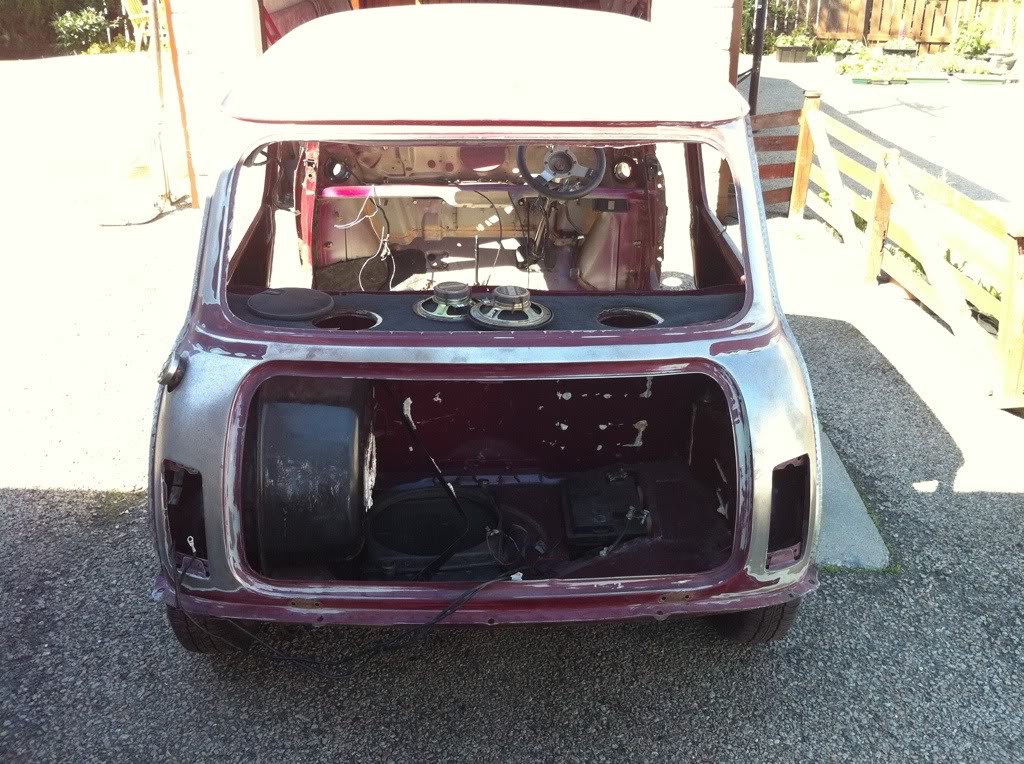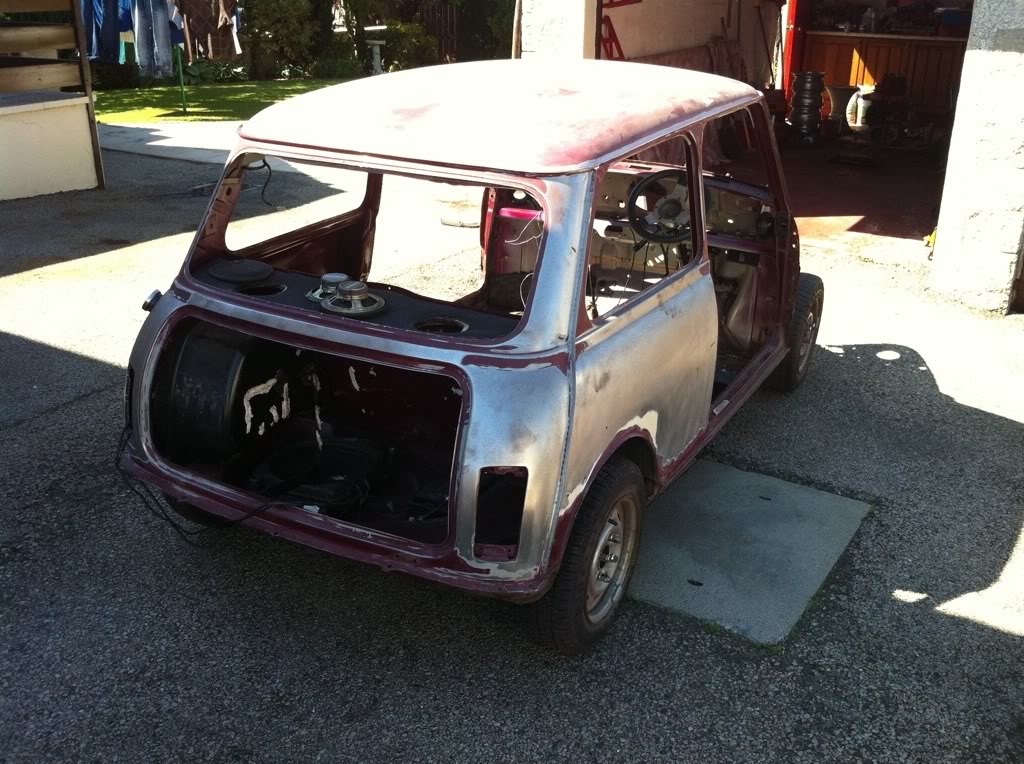 Looking rough as hell but not for long hopefully!

Then I nipped down to Hellfrauds to get a tin of Red engine Enamel due to the Hammerite being crap. Couple of coats so far and will need a few more but the engines looking far better now. Sunshine and high temps are drying it very quickly which means the several coats should all be done today hopefully!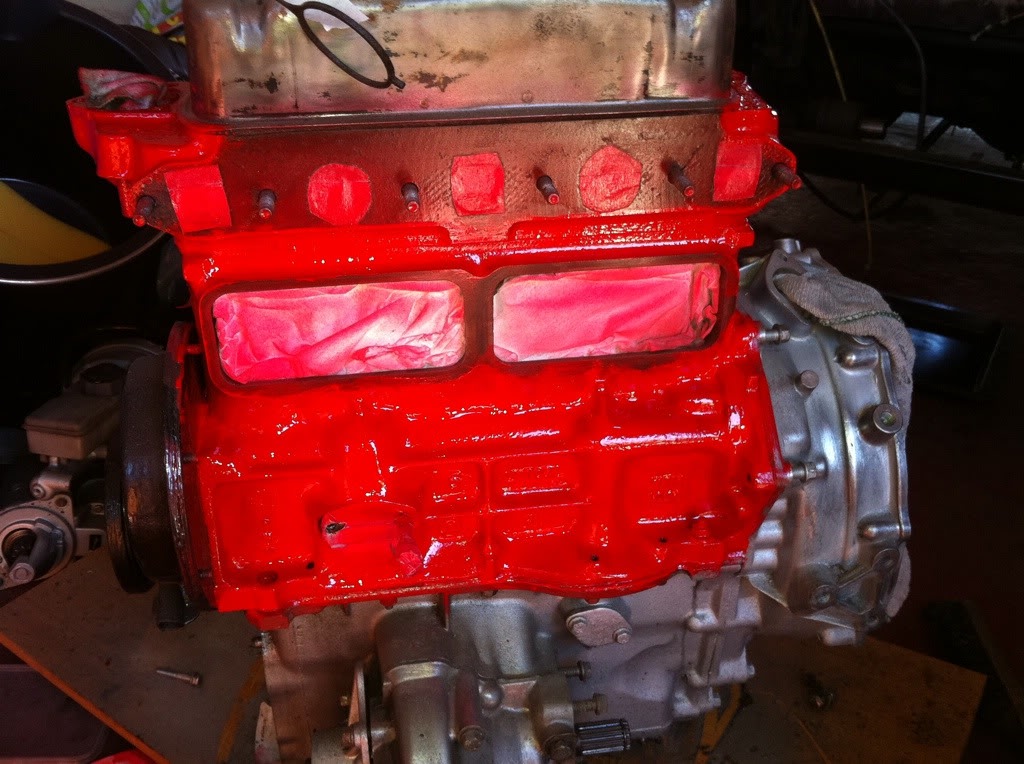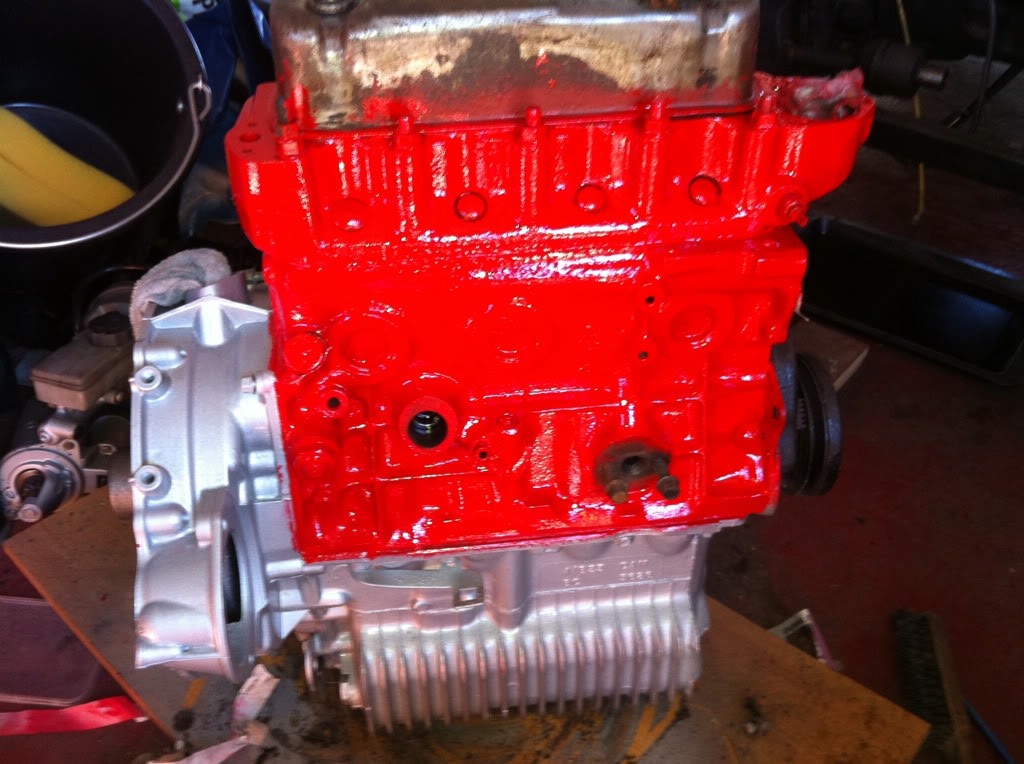 Looks MUCH better now. Just need to touch up the black and silver bits with a fine brush later on.

Progress, progress, progress!
Welding and paint done right dont come cheap is the reason really!

Nipped out to Banchory yesterday to get a rough idea of how much it will cost to get the car welded and painted by the same person. Kirkton Bodyshop/Body repair (whatever they are called) are used by most of the VW scene up here and I can se why. The quality of repairs and finish of paint was astounding. Looked like glass and it was just fresh off the gun, not polished. Welding was highly precise and well finished.

They would put the car on a spit to get all the work done but first they would throw it in their oven to get rid of any moisture from the shell. Then weld it al up, put it in the oven again to get rid of any moisture build up in that time then as soon as its out of the oven, wipe down and put in the booth for spraying. I was really impressed by this attention to detail and dedication to get stuff done right first time. He also offered to let me come in as often as I wanted to do some work on the car to reduce my bill and maybe learn a couple of things too.

He was showing us some photos of cars from back in the day he did for customers. One was a Lotus Cortina done 20 years ago. The guy is now only just thinking of taking it back to get some work done. That is the level of finish he gets.

Also he gets work from other 'high quality' bodyshops from the area to get redone so again he must be doing something right!




So thats where the extra money MAY be needed if I decide to go through with it or not. I really want to keep my shell as without it, not only is it illegal....but also it wouldn't be my first car anymore which is the main reason behind the project in the first place. Also with a reshell you really dont know what is underneath the surface as I found with mine so i could end up worse off than I am at the moment!

But ho hum it needs done just need to save and save and save.....

And heres the fruit of todays labour. Needed to see what I still needed just incase I missed anything. So I took everything down from my loft and payed it all out on the patio! Didnt realise how much i had actually bought to be honest.....

So its a Tamiya 1:1 scale kit ready to be assembled! Anyone got any Airfix glue they can spare?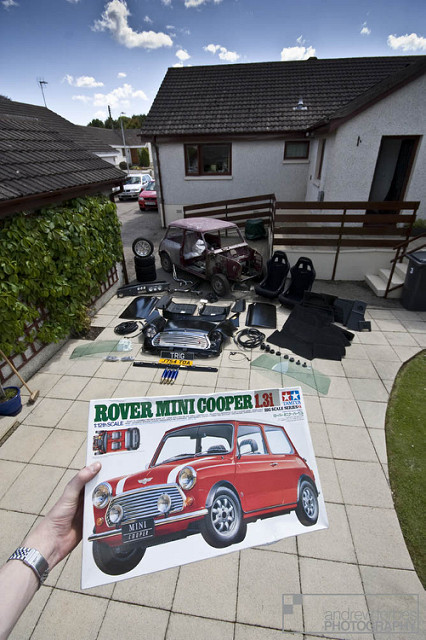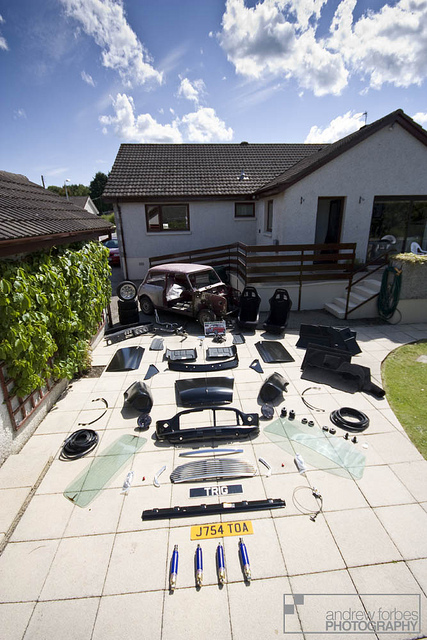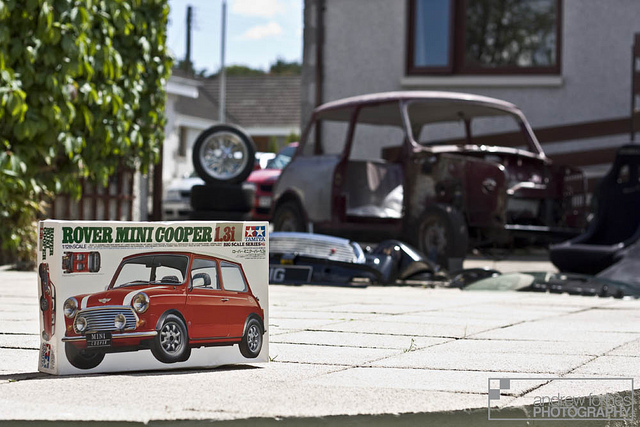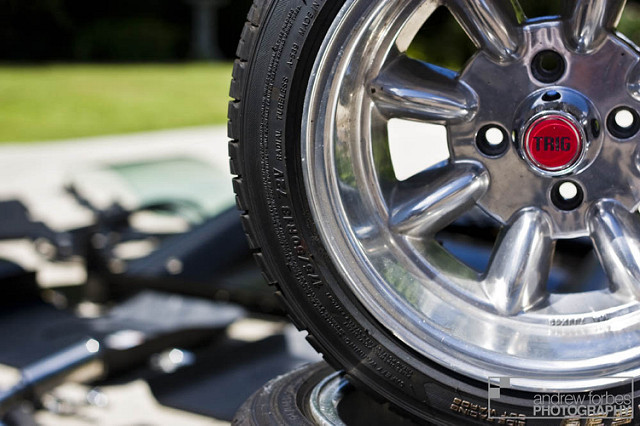 Took forever but looks pretty cool!

Only thing I think I need to get now is inner wings and couple wee fixings here and there. Other than that its ready.
Good to see Berts still stuck in his ways....



anyhoo moving on.....will be on the phone to the painter tomorrow to get it booked in mid to late July.

Before I went for an investigation for welding/paint I took some pics to show what work it needed doing. Just found them on one of my camera cards again so thought I would throw them online. Can see now how bad it really is out in the sunlight. But hey ho cant stop now!

Passengers inner wing.....ordering new one tomorrow....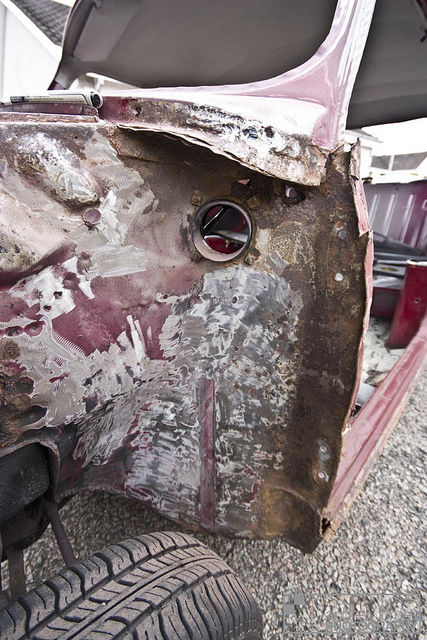 Engine bay isnt too bad. But then I will be taking the sbframe off before its put on the spit so will then get to see it how it truly is.....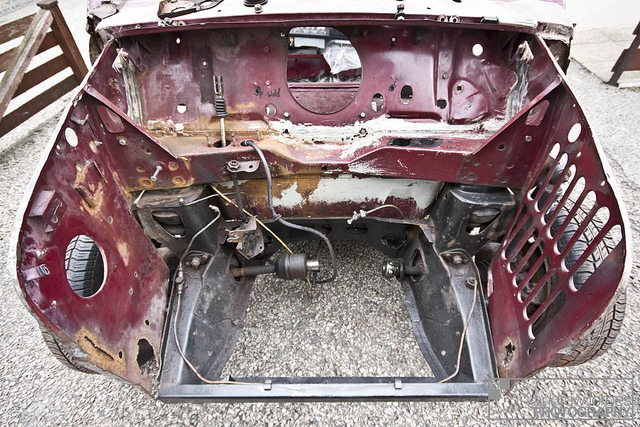 Drivers inner wing.....had thought of patching/repair panelling this but not worth it when theres this much rust/holes.....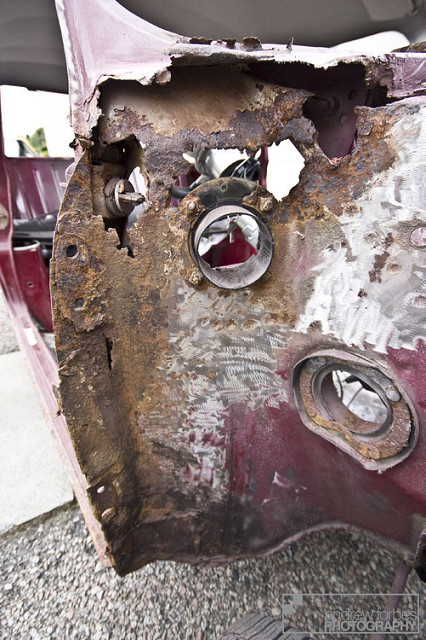 Drivers floor......bent, buckled and rusty from poor jacking. Whole pan bought to replace it.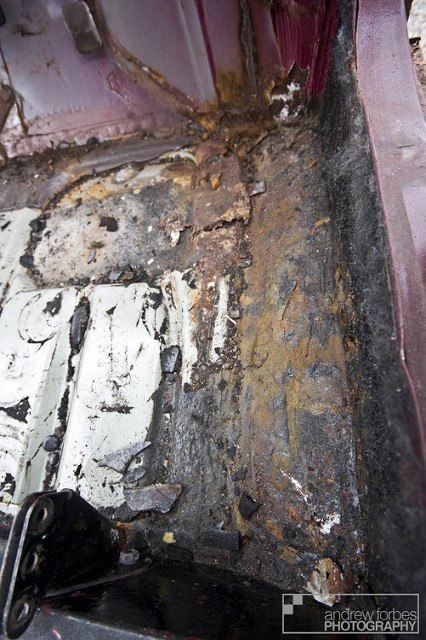 hmmm....yes.....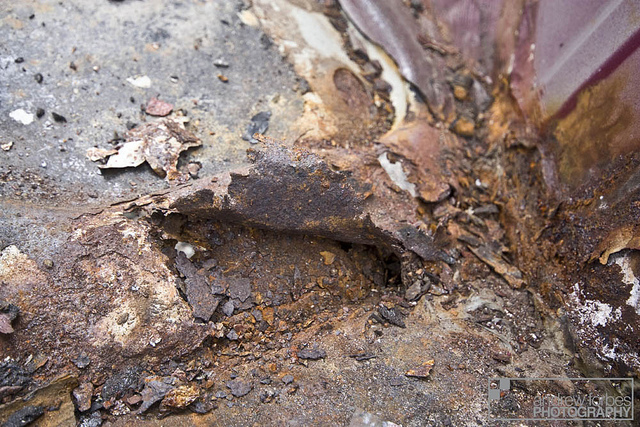 Under rear seat.....will patch this as its tiny and rear floor is straight.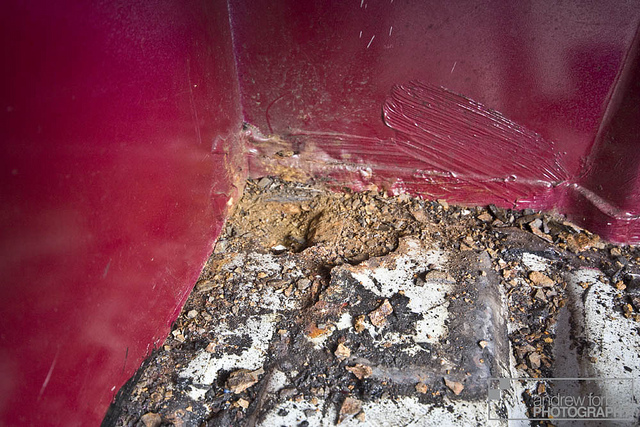 Will order a rear valence I think....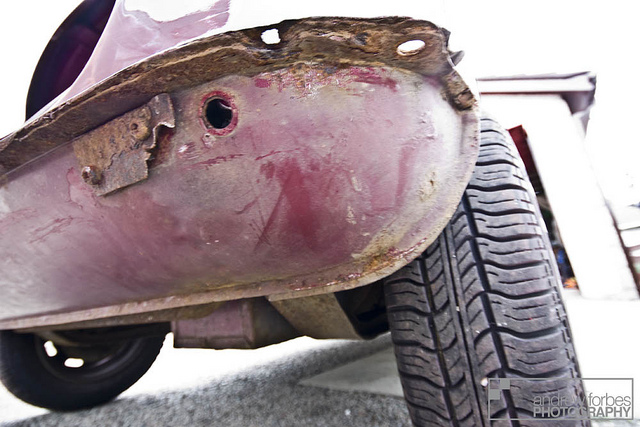 The only hole in the boot believe it or not!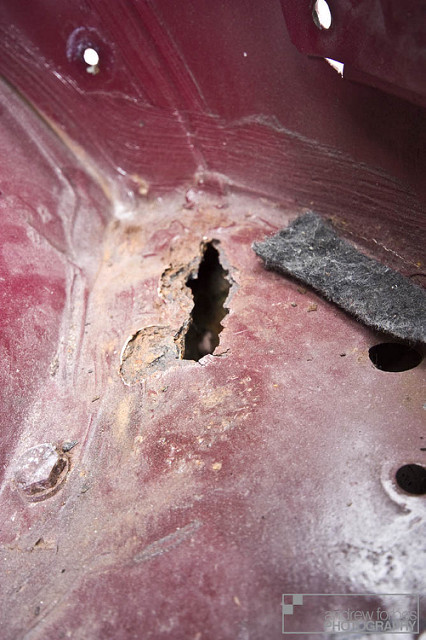 patch this too but may well be cut out as part of the tubbing process....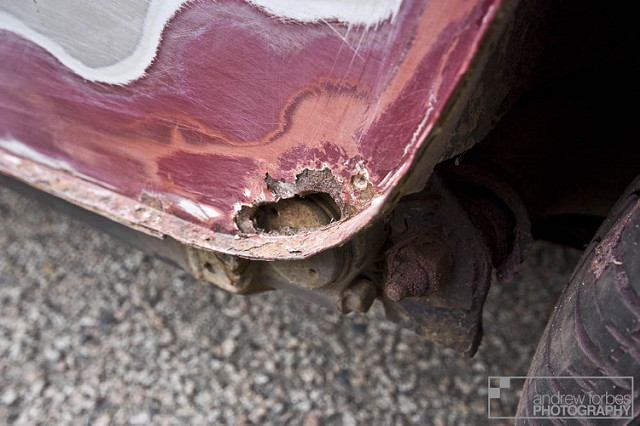 Passenger side floor.....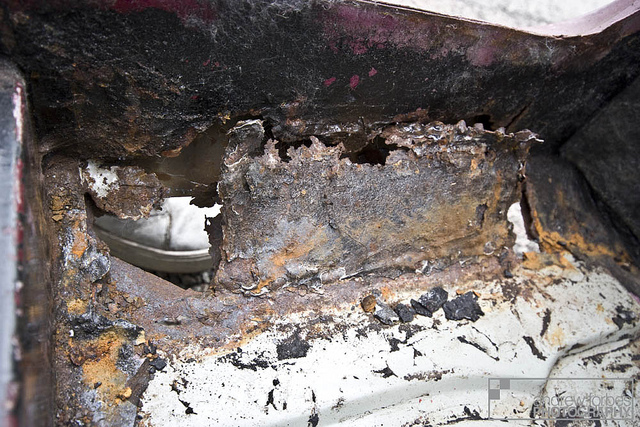 And yet more....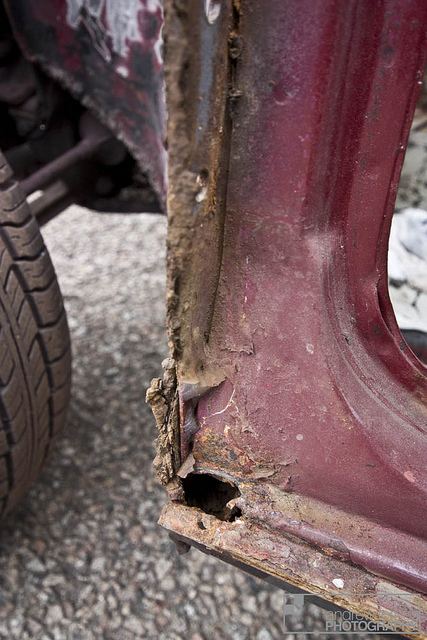 Rear wheel arch inner. Again this will cut out when they are getting tubbed....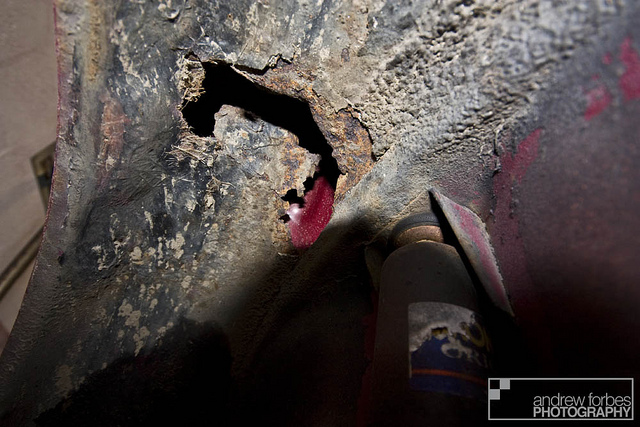 Even the shock mounts have rusted in the centre!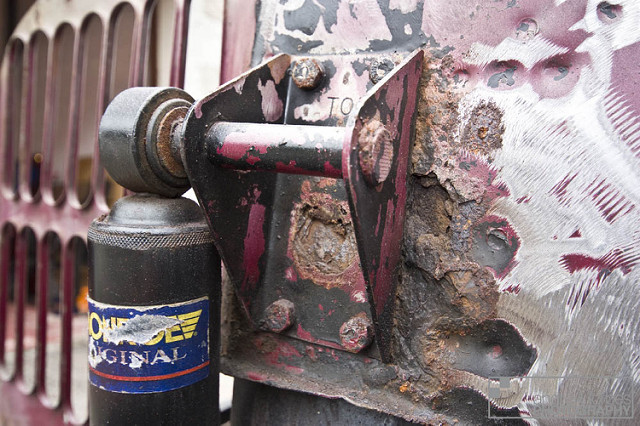 So now you can really see what Im working with.

Must be mad not going for a new shell but this is Trig. Any other shell wont be the same.
Goodwood FoS photos are done but uploading takes a fair while!

Heres the wings anyway :tongue: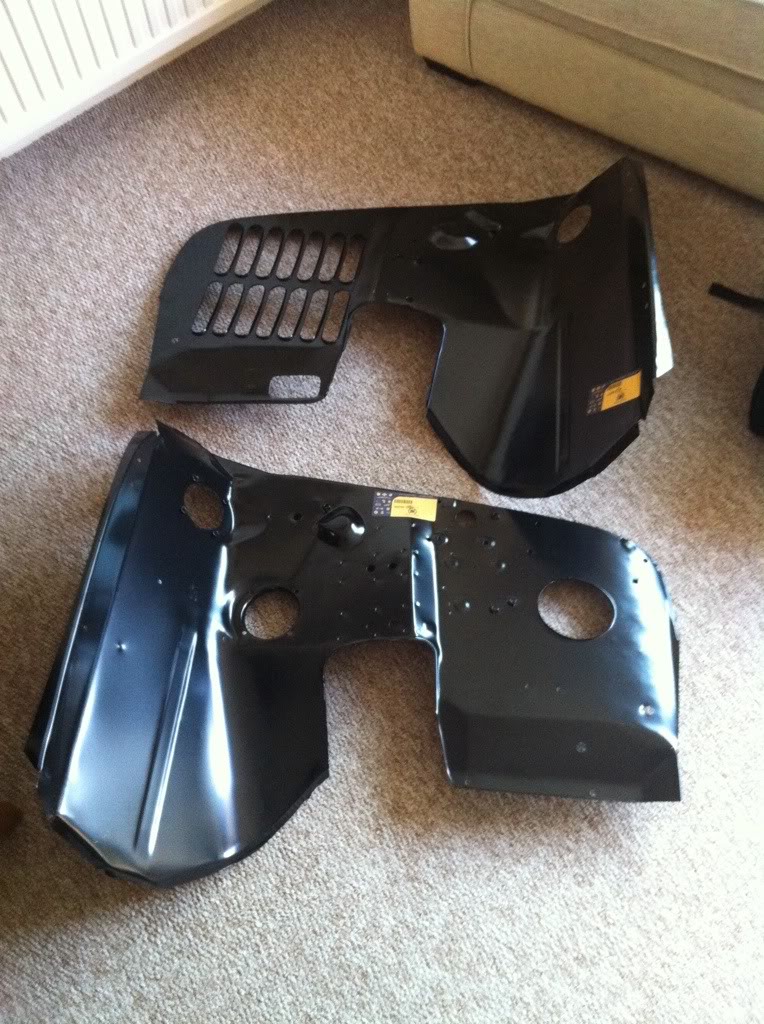 They came in an epic box!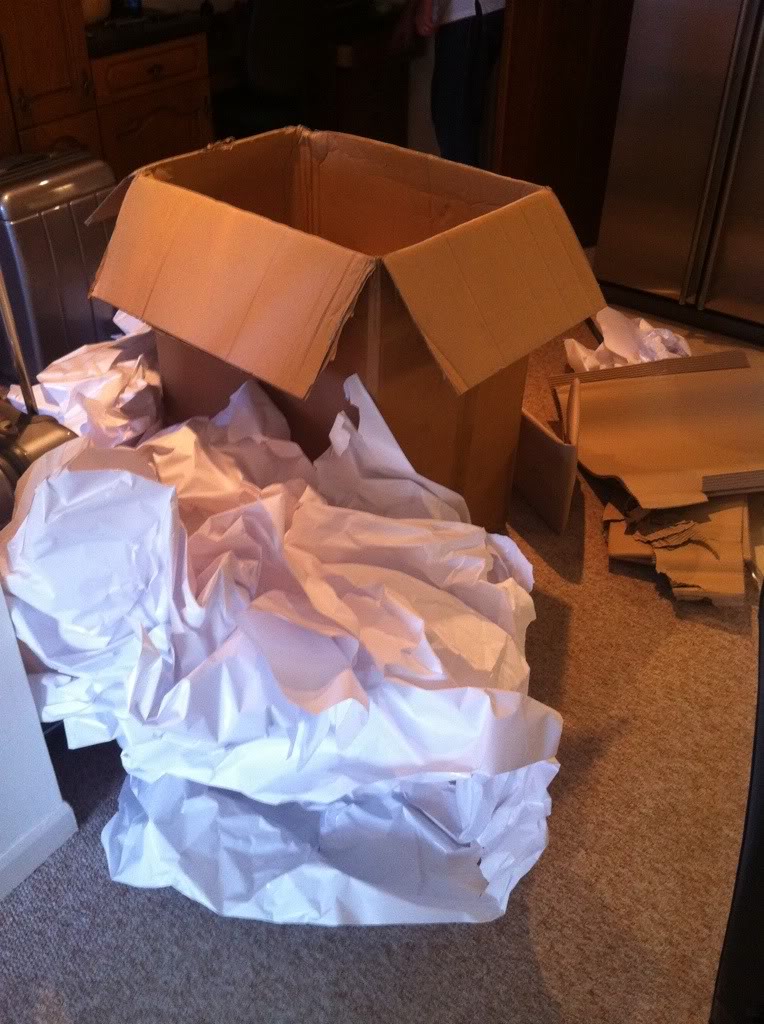 Confused the neighbours anyway

Bought a 1275 for a future install....its going supercharged




Zee piccytures! This was the polo on engine transport duties. Reverse rake fail! Made handling a bit interesting.......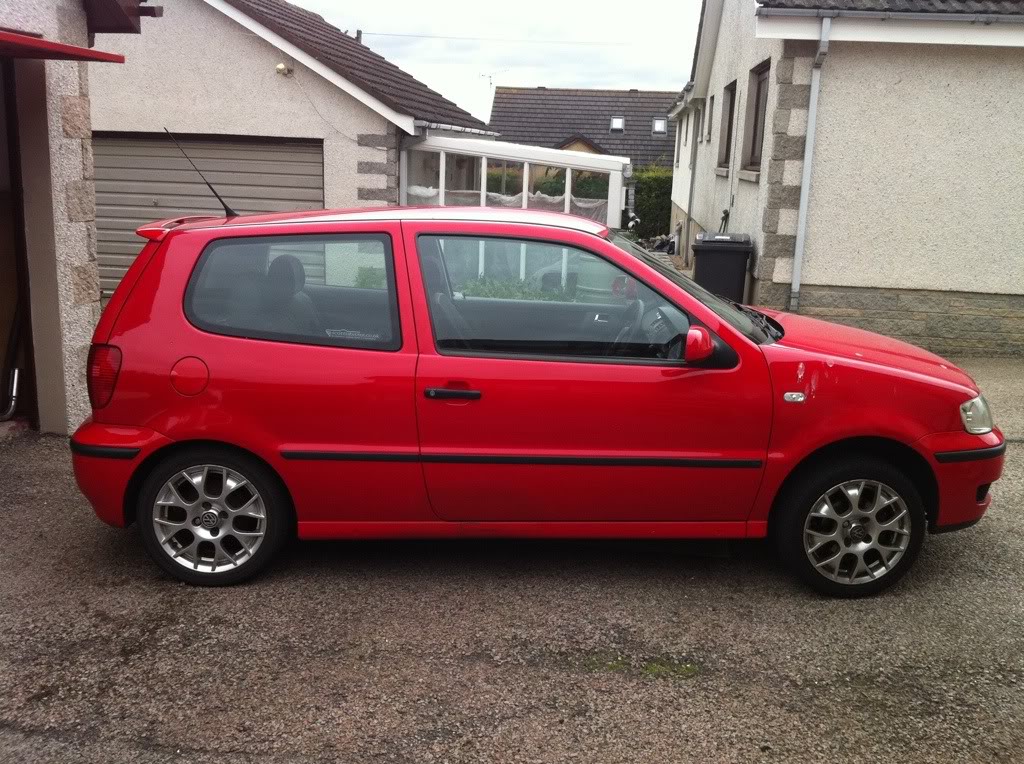 Took a while to get it out. Some weight and not much room in the back of the polo to manoeuvre either. Eventually managed to get it over the boot lip with the aid of some old seatbelts from the scrap mini and out onto a workmate bench. then man handled from there down to the floor. Back breaking!

So this is it. 44,000 miles, unseized 1275cc engine. Affa chuffed!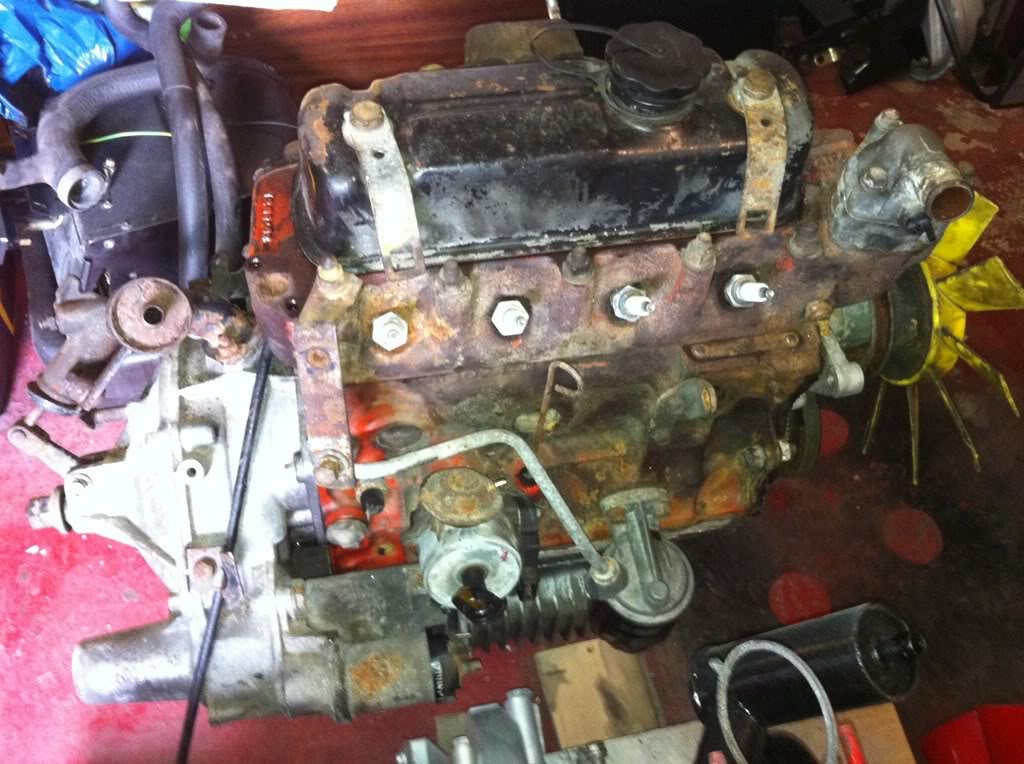 Its got a 12G9804 head on it (which as far as Im aware is standard?)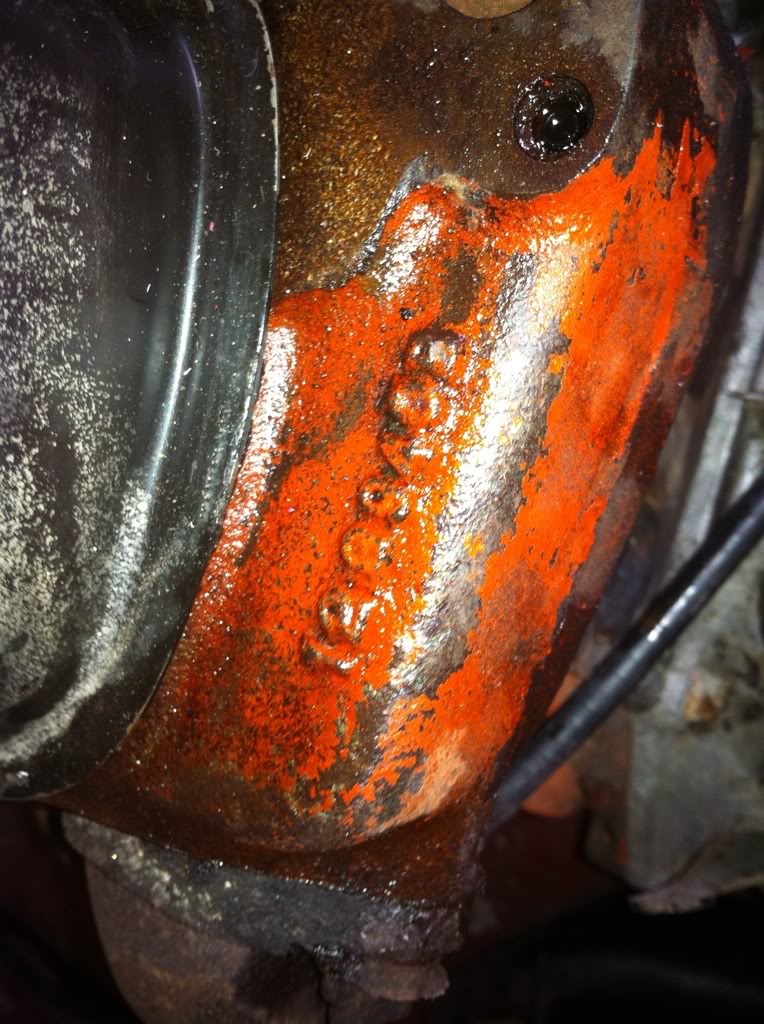 And it came with an HIF carb. No idea which carb though so any ideas?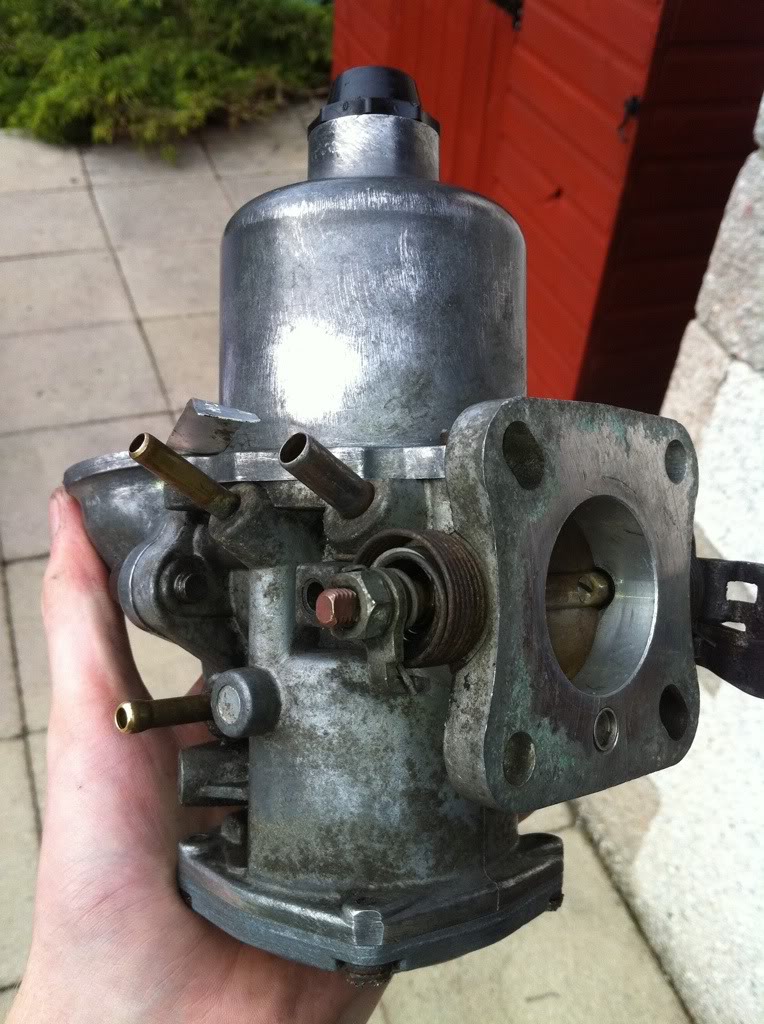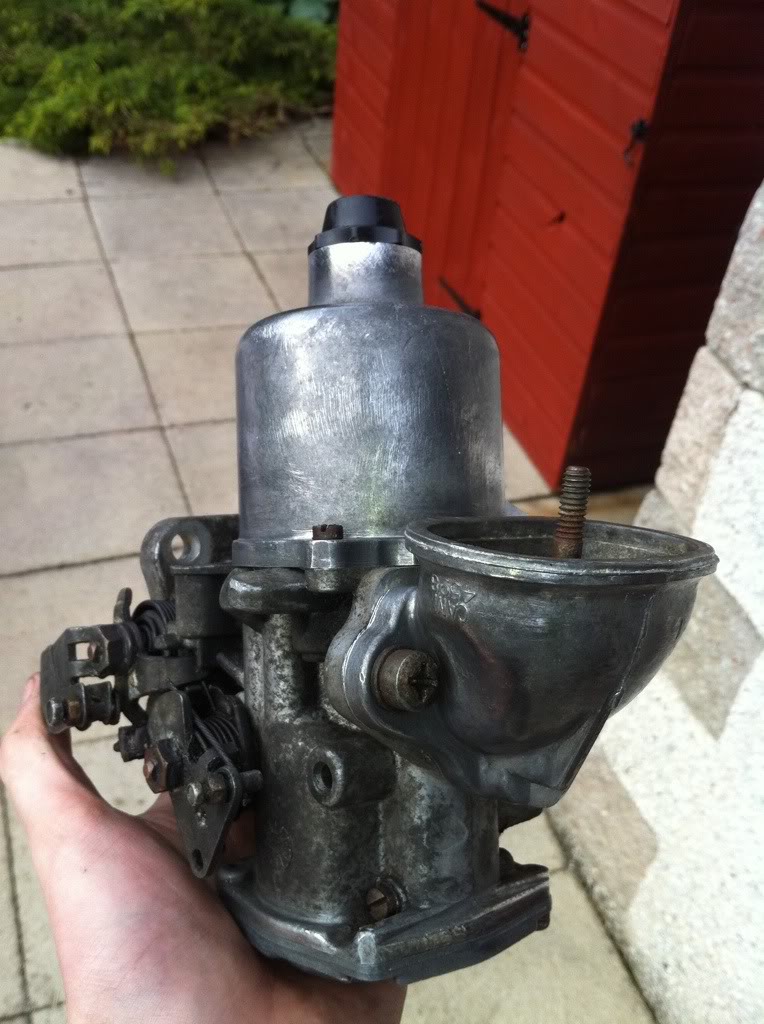 Also got a box of random bits thrown in......got another whole loom but its fit for the bin.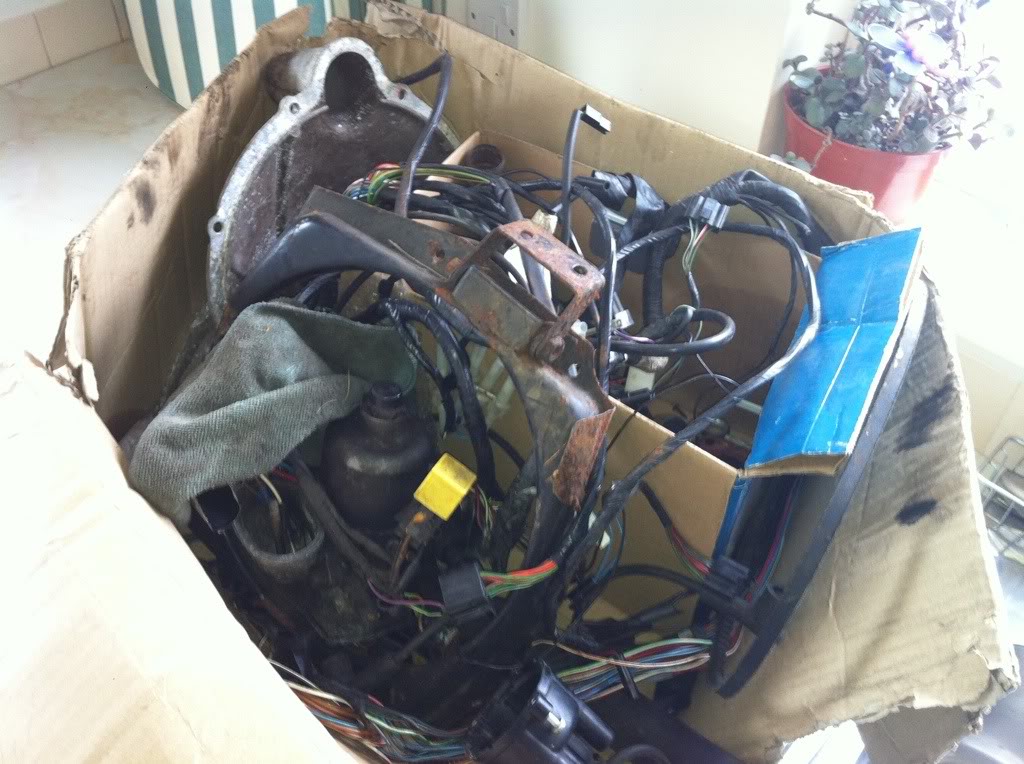 And heres the ever growing collection in the garage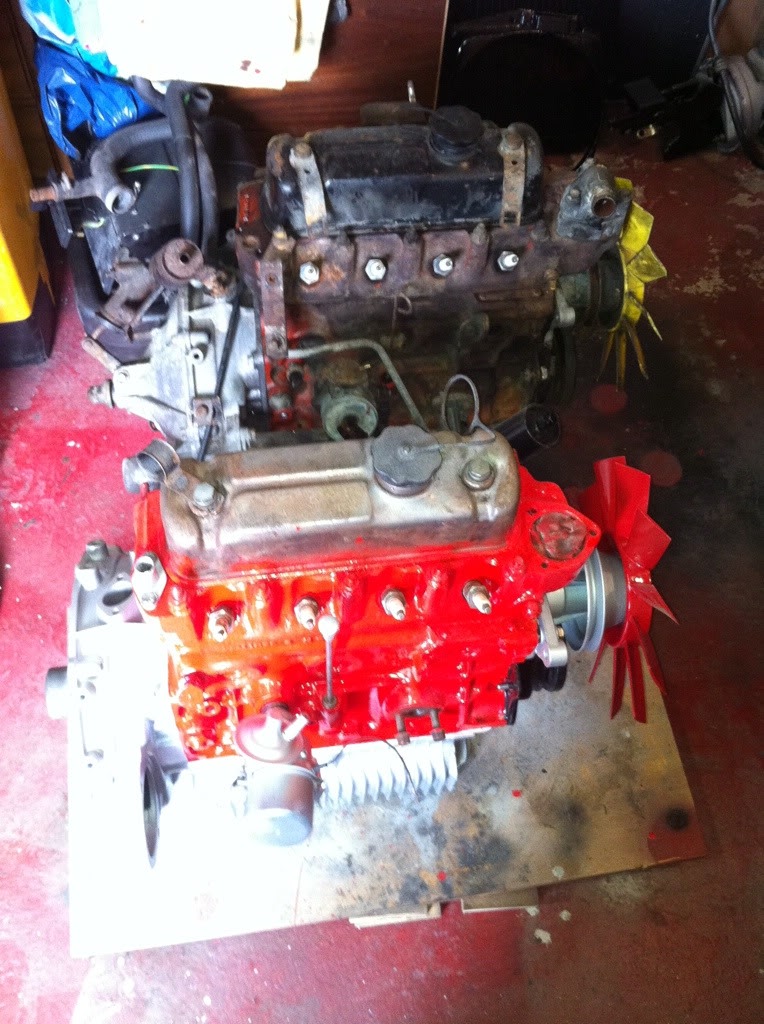 For now the 998 will be going in as its rebuilt and all good. Once cars back on the road I will get to work on the 1275. Going to get twin carbs on it ideally, lumpy cam, some funcy rockers (the ones it has look standard to me, when i compare them to the 998 ones...) etc etc for some poweeeeeer!

And after all the lifting and shifting and also my first day off in 10days Im sitting down with a nice well deserved cold beer.

It will be going two when the time comes for sure :thumb:

Been out in the garage again today. Tidying bits up etc. Engine is now done just need to order some stainless UNC nuts and bolts for the gearbox bolts.

So this is how it stands at the moment

And just to remind you what it looked like before I think you will agree its some transformation and a hell of a lot of work!

From this....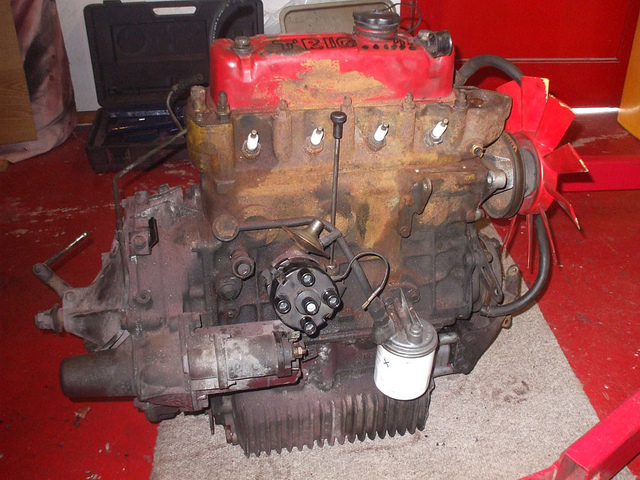 To this!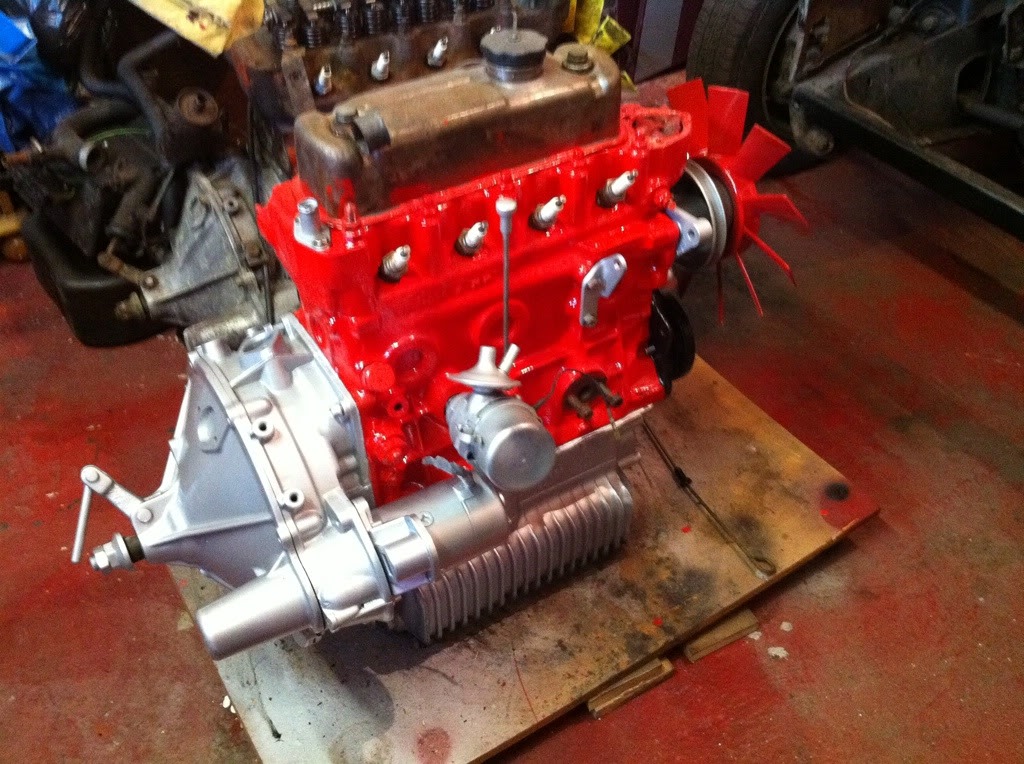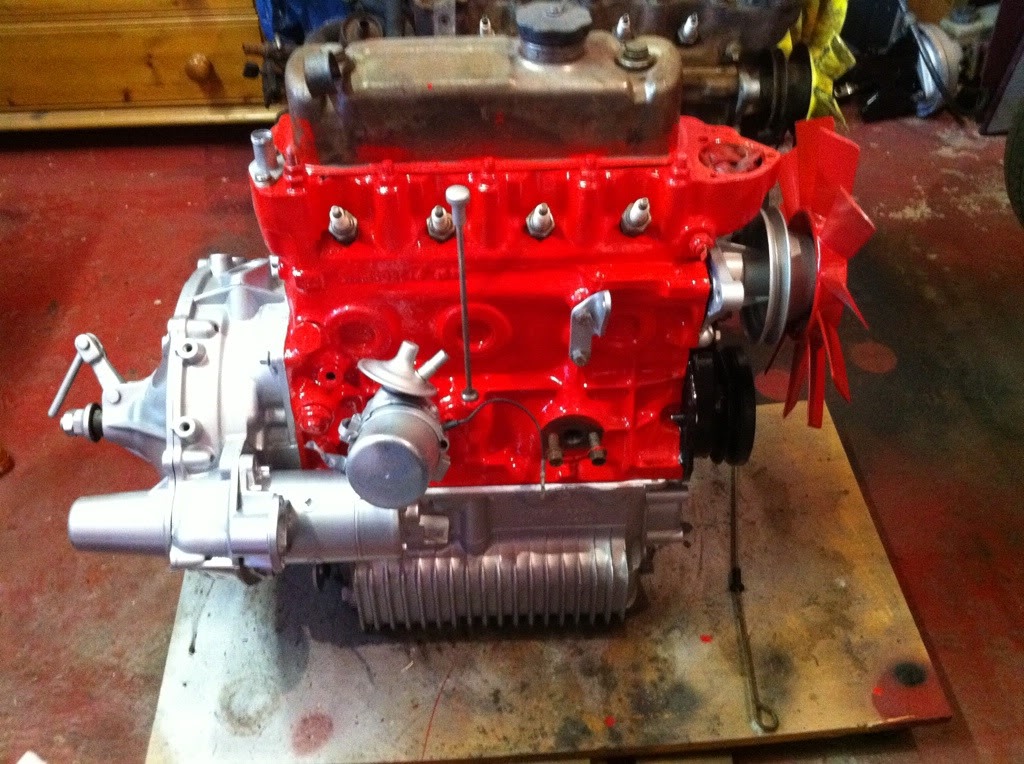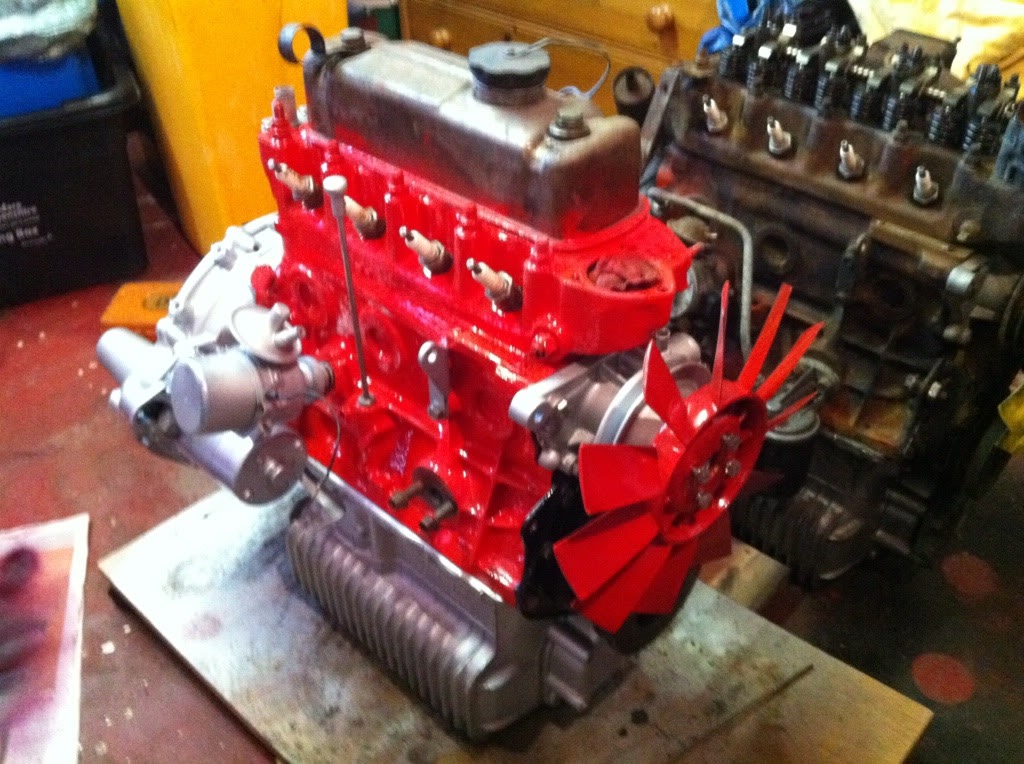 Pretty happy with it. Its not been rebuilt so just painted in situ so not 100% perfect but to the casual glance it will be fine. Rocker cover isn't going to be staying as Im going for a slat topped on which i shall customise to be something much more interesting in the future......

Next up the long wait for welding and paint......
Just in from subframe removal failure. The 4 bolts going into the rear healboard are well and trully holding. Dont really want to grind off the heads as sliding the subframe back and down isnt my ideal method of removal......so Ive drenched them in WD40 and will come back to it another day/evening when im not working.

Pics anyway....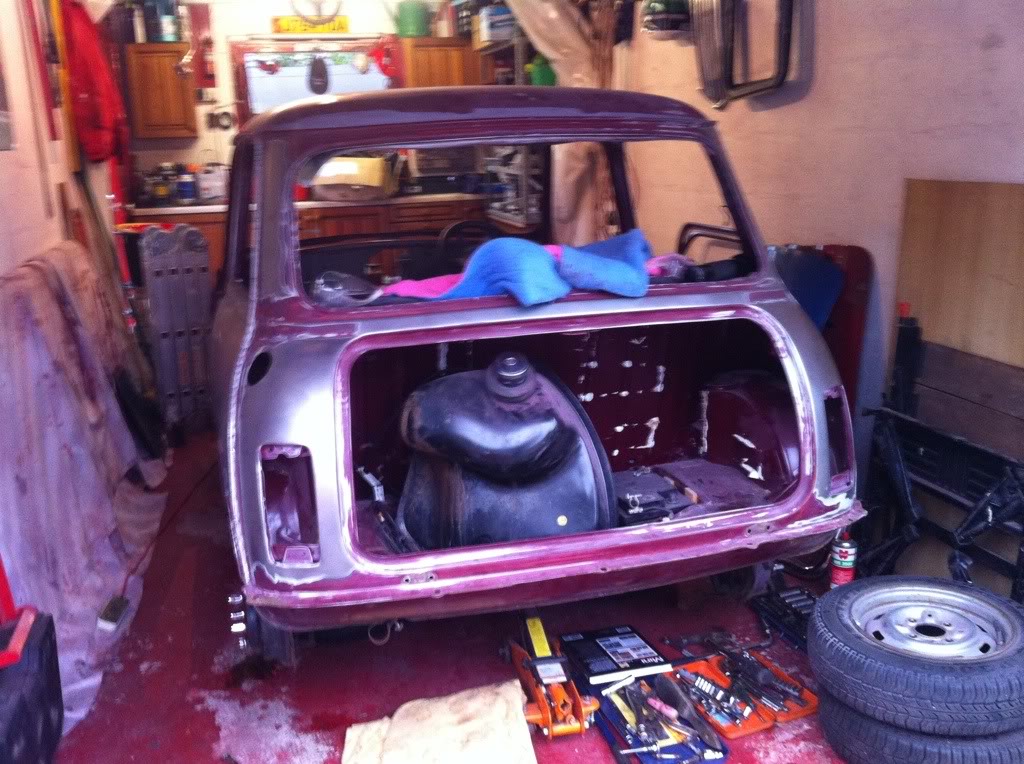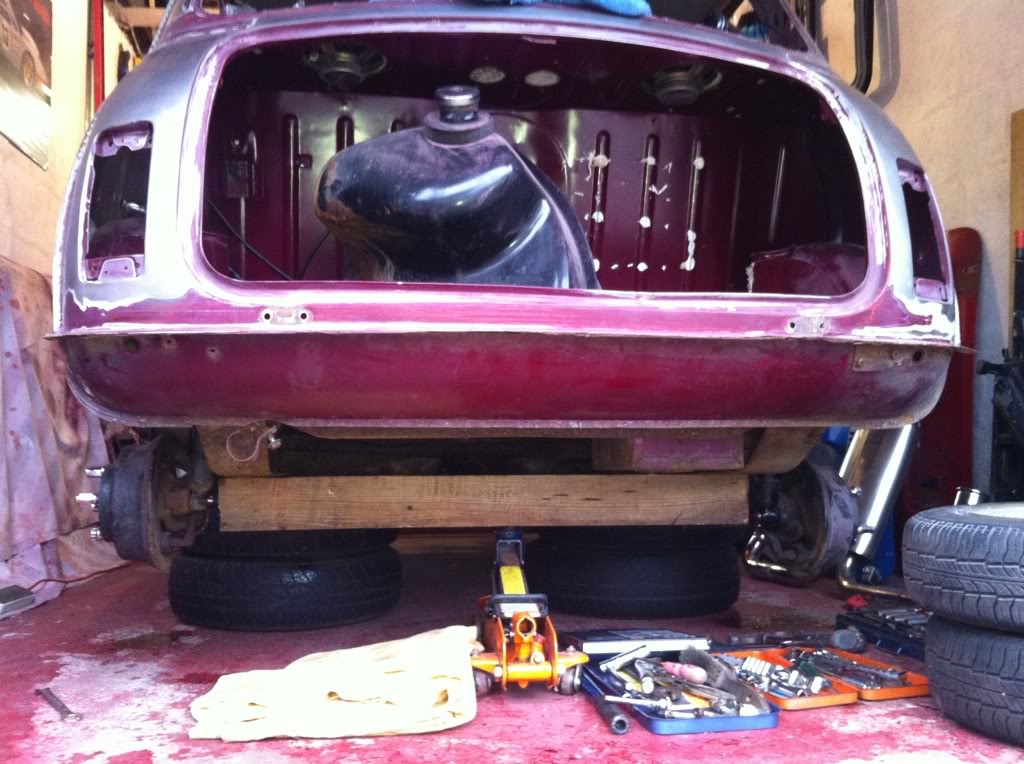 Progress even if it is rather little

Rear subframe oot! In the end I resorted to soaking the bolts in WD40 for a few days then when they still wouldn't shift I took some old 12mm sockets and hammered them onto the bolts. This ensured a tight fit

Then too the bar and placed the jack handle over the top of it to make a massive lever and snap go the heads! Then gradually lowering it noticed that the battery cable, handbrake cable and brake line was stopping it from moving any further. Let off the handbrake cable easy enough, battery cable wouldn't move so I cut it off and the same went for the brake line. These were all due to be replaced anyway so no harm done.

Pics to follow.......

Now for the 'easy' front subby
The much needed pics.....

Got it dropped but brake line and battery cable caught so cut them off as they needed renewed anyway. Did this single handedly too just lowering it gradually inch or two at a time. Dont see the major dramas folk go on about to be honest.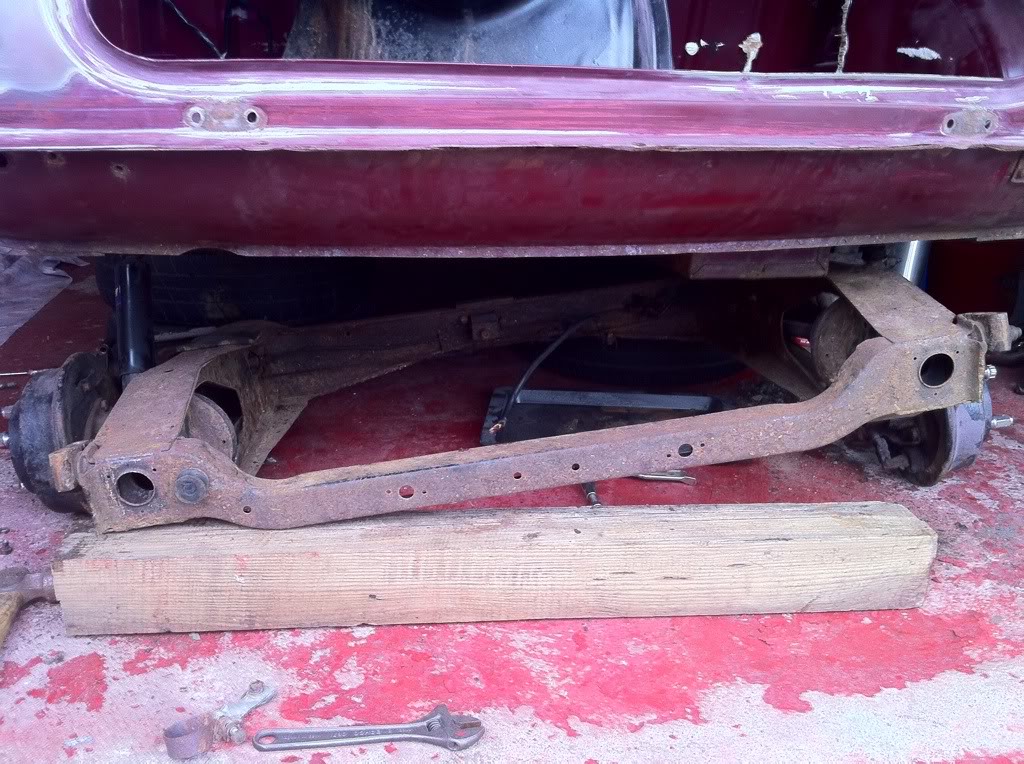 Then dragged it out. Its totally solid so think its been replaced at some point or just been kept well.....somehow I think it wasnt the later.



Plan is to get it sandblasted clean then get it protected in either paint or powdercoat. Weighing up the options.



Also last night I was in McDonalds and met a guy I know who is giving me a BMW MINI Cooper S JCW GP Supercharger.....for FREE!
Means I can get a Vmaxscart fitting kit to go along with it for instant power
Needs a couple wee bits changing to get it up and running again but for free I cant complain!
When i get round to it I will be hitting up Vmaxscart for their charger kit (minus charger obviously...) Rebuild 1275 with standard internals put on the charger kit on and you can get a reliable 100bhp from it. Exactly what Im after.

But back in the present....tomorrow im whipping out the front subframe to get all that repainted/rebuilt. So plenty to be doing! Also booked 2 weeks holidays starting when the car goes for weld/paint. This means I can lend a hand on the hard graft and reduce my bill significantly
The classic case of MPi being reliable but way more expensive to tune :sad:


Was out all day in the garage today (and away back out now to get more done while I have the time to do so...)

So main task was front subframe. Gave up a bit of a fight with one of the mount under the floor. The other was beyond knackered and separated without undoing any bolts....glad I took the frame off now....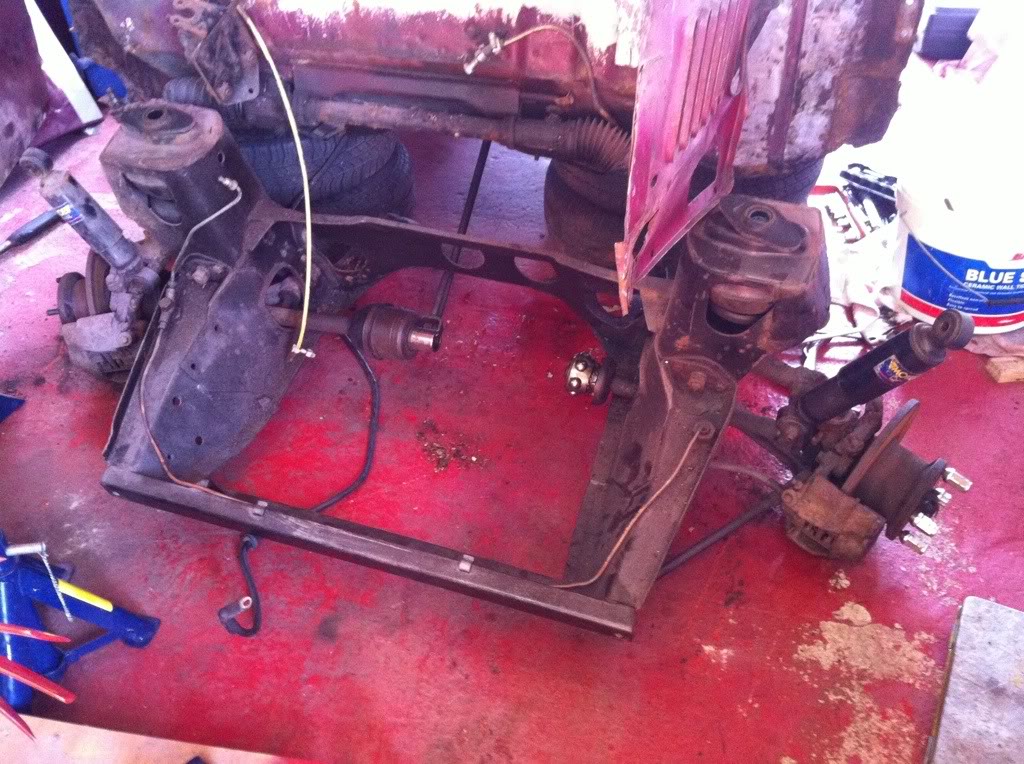 Its in amazing condition and has obviously been taken out and painted before as theres two layers of paint. So thats good news! The bulkhead itself is also in good nick with just a light bit of surface rust here and there.

Going to get front and rear frames along with cast suspension parts blasted and powder coated locally so they are currently getting stripped.

Also took of the steering column and rack to give the rack a lick of paint and change the seals.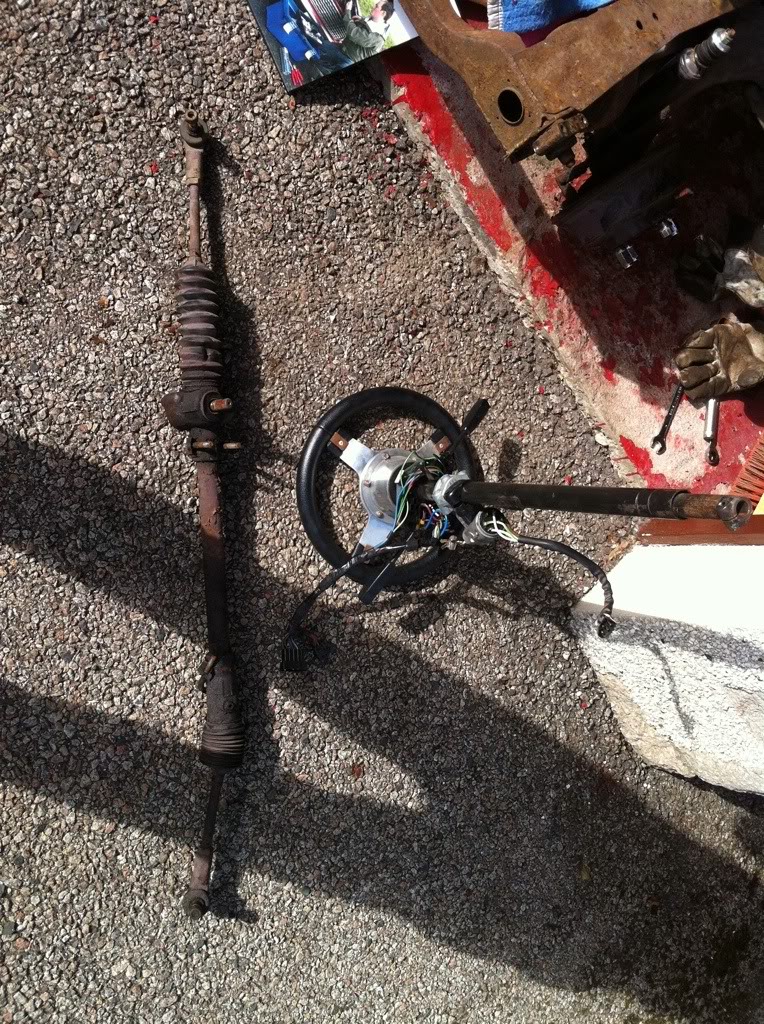 All the seals/mounts on the subframes are damaged/totally gone so will be fitting some poly replacements all round. £40 for a full car set from FloFlex



So thats todays progress. for starting a project not wanting to go too far with it Ive somehow ended up with a bare shell nut and bolt rebuild......oops!

Spent the day (ok afternoon after a long needed long lie.....) in the garage again. Got the front subframe fully stripped finally. Had left the bolts soaking in WD40 for about a week and they finally released. As you can see its in good enough condition I could quite easily put it back into the car. Buuuut its going to get blasted and powdercoated by PPS in Inverurie along with the rear one and a few other odds and ends removed from the suspension for some durableness.

Almost got the rear subby done but rain stopped play. its too big to fit infront of the car at the mo so its being attacked outside instead. More work to commence on saturday dependant on my hangover......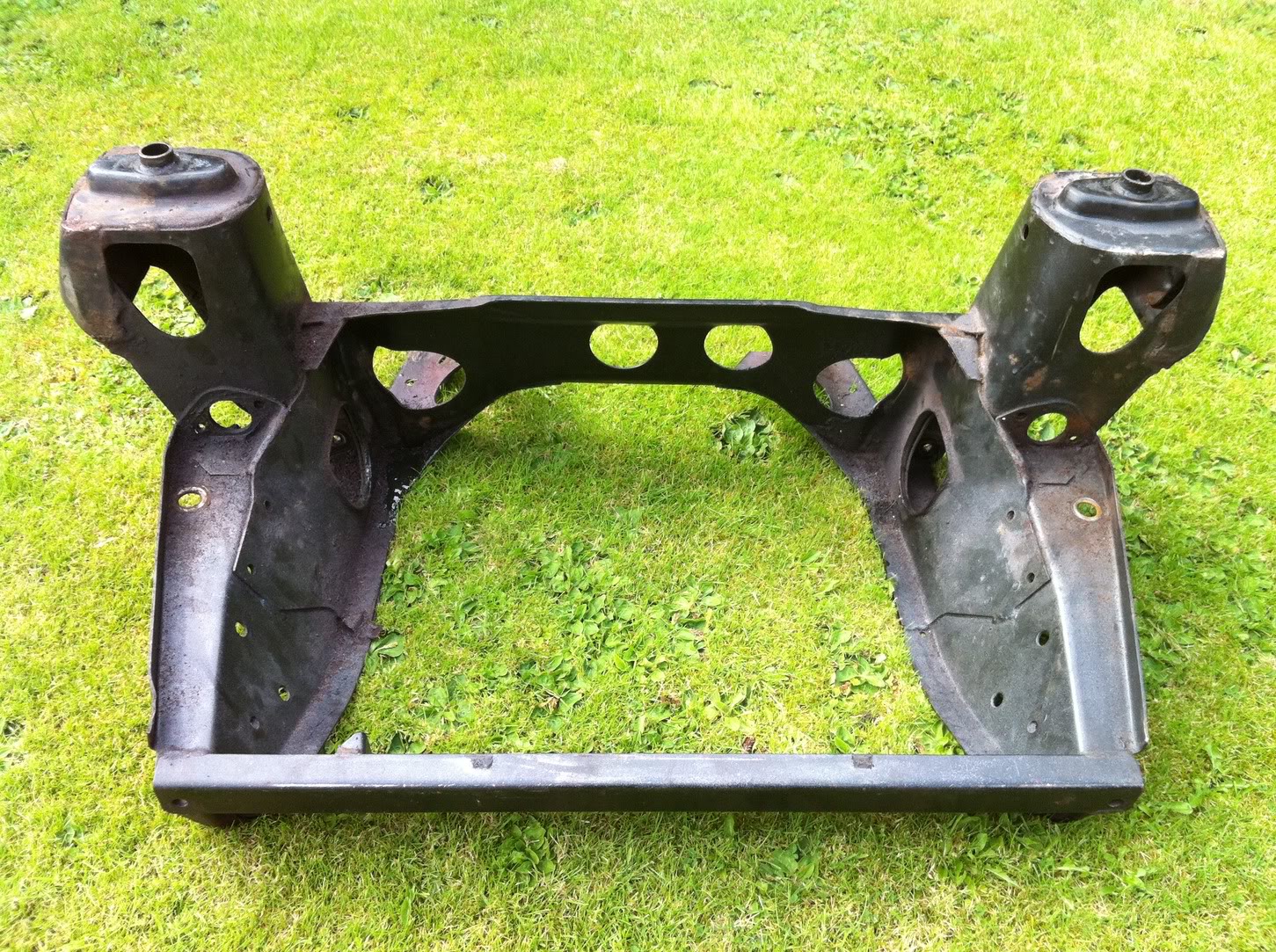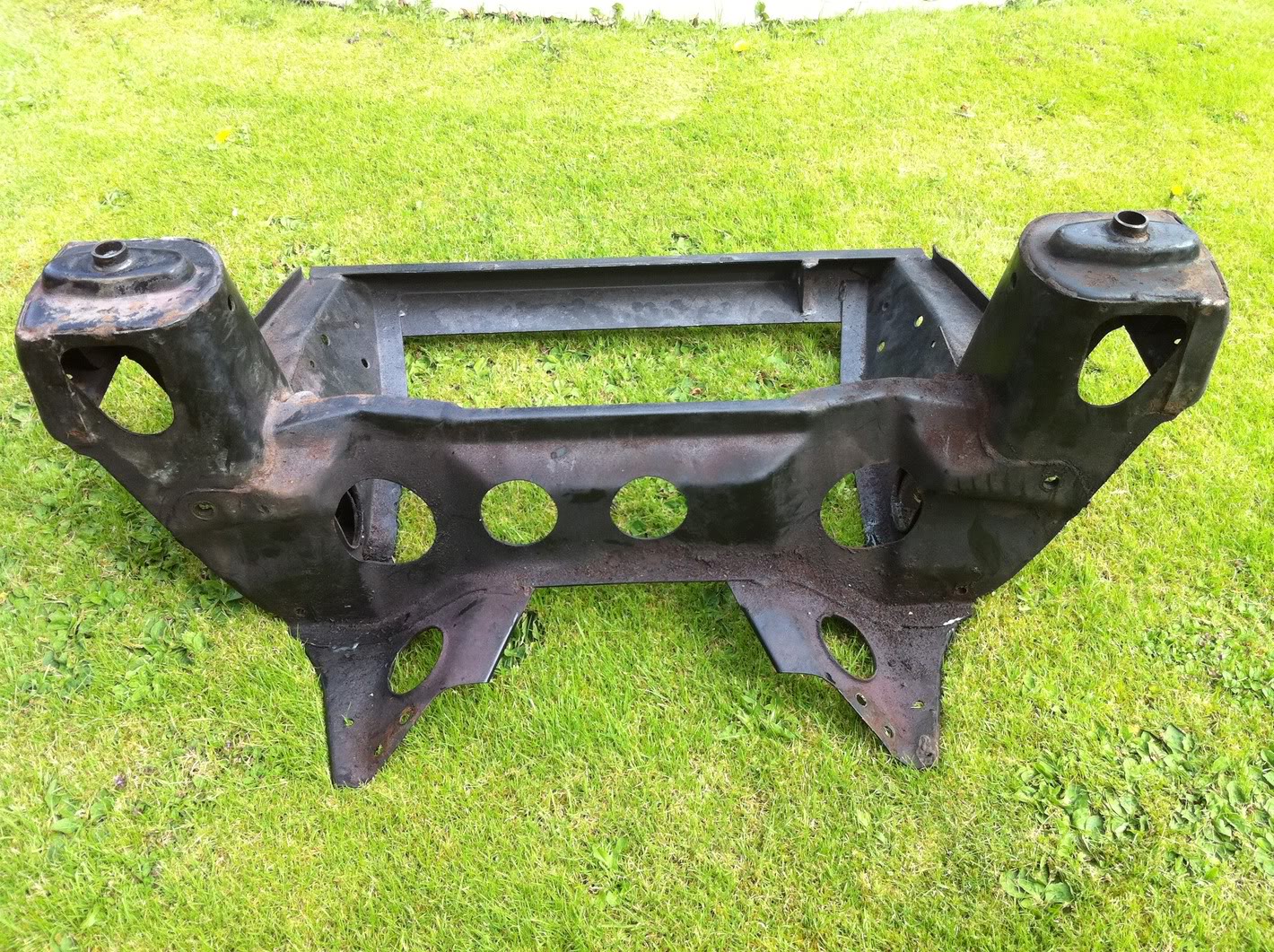 Next up is finishing the rear subby!

Ordering a set of Flo-Flex poly bushes for the car however they only come in yellow. they do individual sbframe mounts in red so Ive emailed them asking if I can get a whole kit in red instead. No reason why not and hopefully they will be the same decent price!
Paints ordered along with some scratch resistant laquer to go onto it once its been flatted and polished. Keeps the shine and stops wash marks (or stops them to a degree.....) Its going to be kept cleeeeean!

Week to go........starting at the rear of the car and working our way forwards. The painter just did Ionas arches for her. Quoted more than double what he eventually charged so a top loon in my book! Don't see him doing that with my bill somehow though........ :sad: Would love to pay £2k instead

Spent the day in the garage today. Needed cleared out and organised badly! Had just taken parts off and left them lying around.....not the best idea! So we took the car out of the garage a bit to get cleared up.

So now everything's organised/bagged/tagged/photographed in prep for the rebuild. Parts have been set aside for blasting and powdercoating and others just for me to redo myself. Just a waiting game until it goes to Bunkry a week on Tuesday.

Also marked out the rear arches for tubbing to get this thing shlammed!!! Using a home made tool as a guide (bit of cut wood and a marker....like the one here http://www.turbomini...p=vt&tid=121011) Should give me a good inch extra clearance which was badly needed before the rebuild....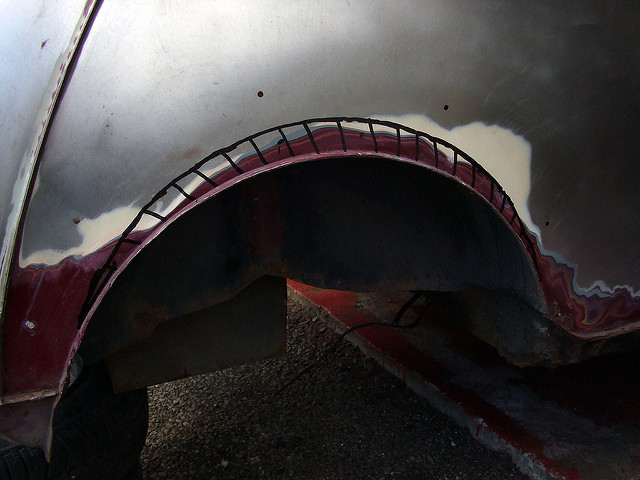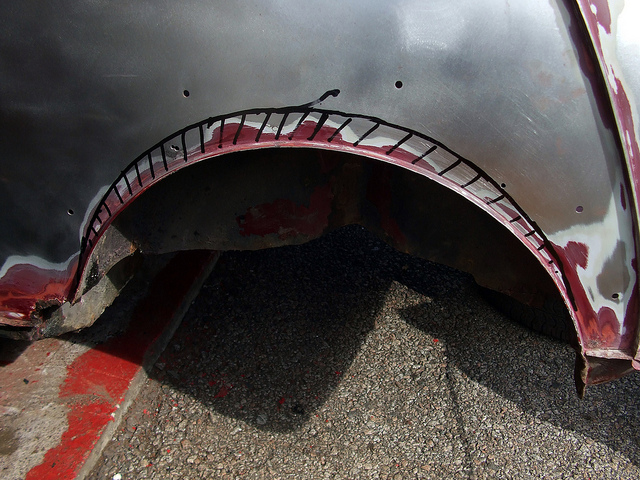 Took out the fuel tank too. Had a good 10 litres in it which is probably worth more than the tank itself these days......... But its stale and filled with crap so its headed to the dump...pipes gave up a fight so just cut them in the end when we got fed up. All the lines are getting replaced front to back anyway. Got a spare tank from my other scrap mini so from the two I can make one, internal filler necked tank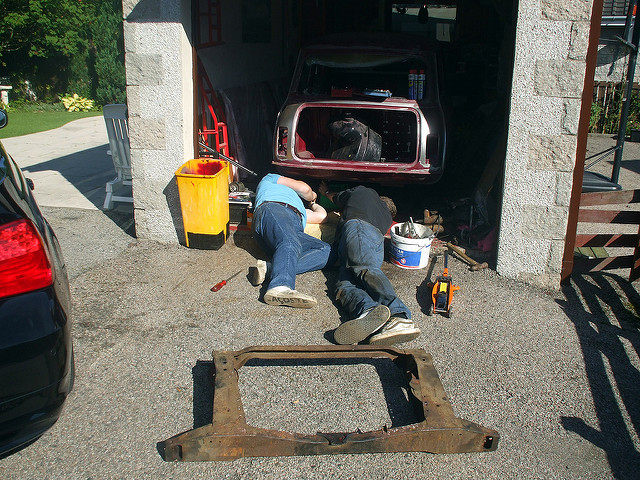 rear brake lines from the subframe are badly corroded so again they are getting replaced front to back.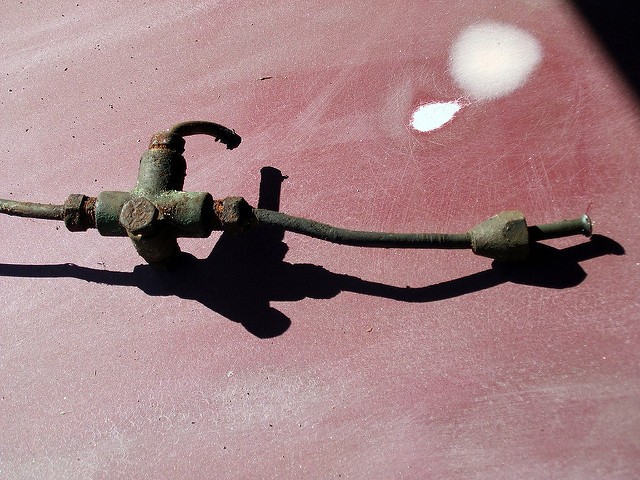 Tore out the headlining too. Its getting replaced with something a lot more special and luxurious than 20 year old grey vinyl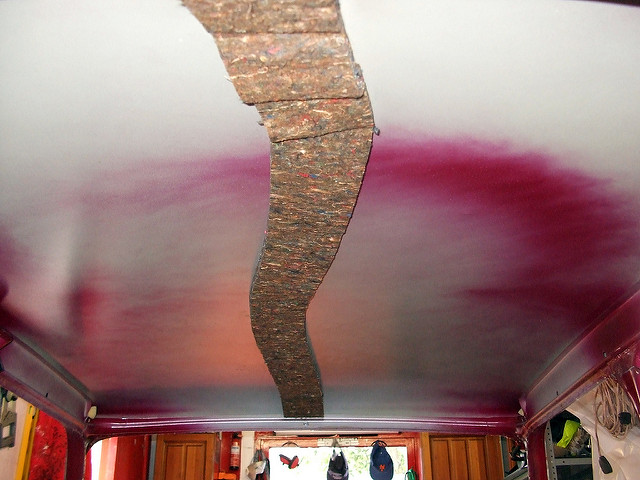 As you can see subframes are ready to go. Front is in way better condition than the rear but both are getting done for uniformity and piece of mind.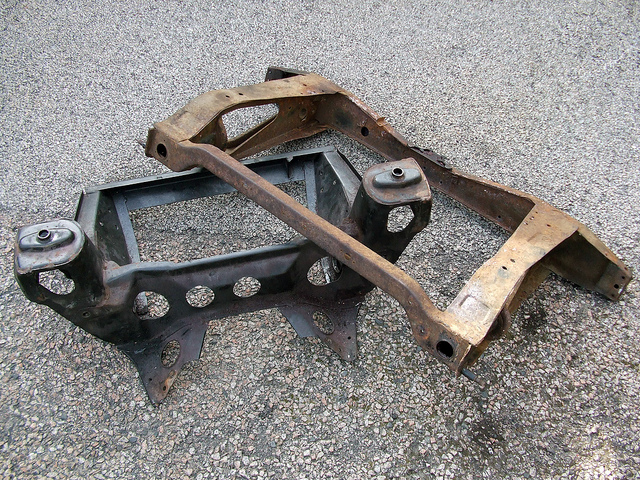 Then left the garage as is....

This is organised. Honestly.....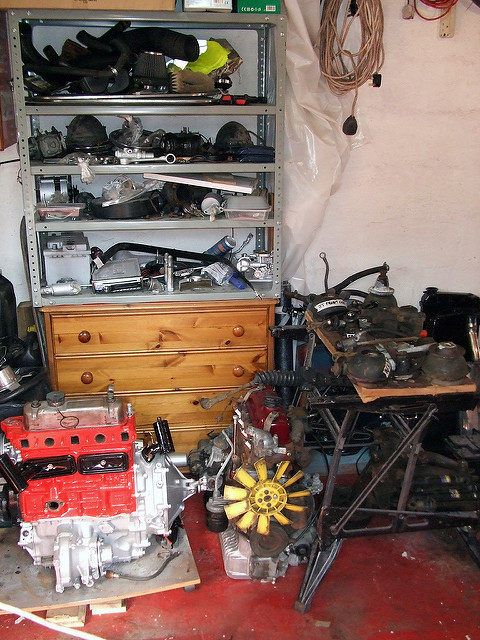 Parts everywhere, two engines, drawers filled to the brim with bits. Minis, for being so small, have far too many parts.
Made up a very quick list of everything Im needing to get. This is just a rough list with more to add later when i remember other stuff......most will be new parts for lines, brakes etc but other stuff will be looking for second hand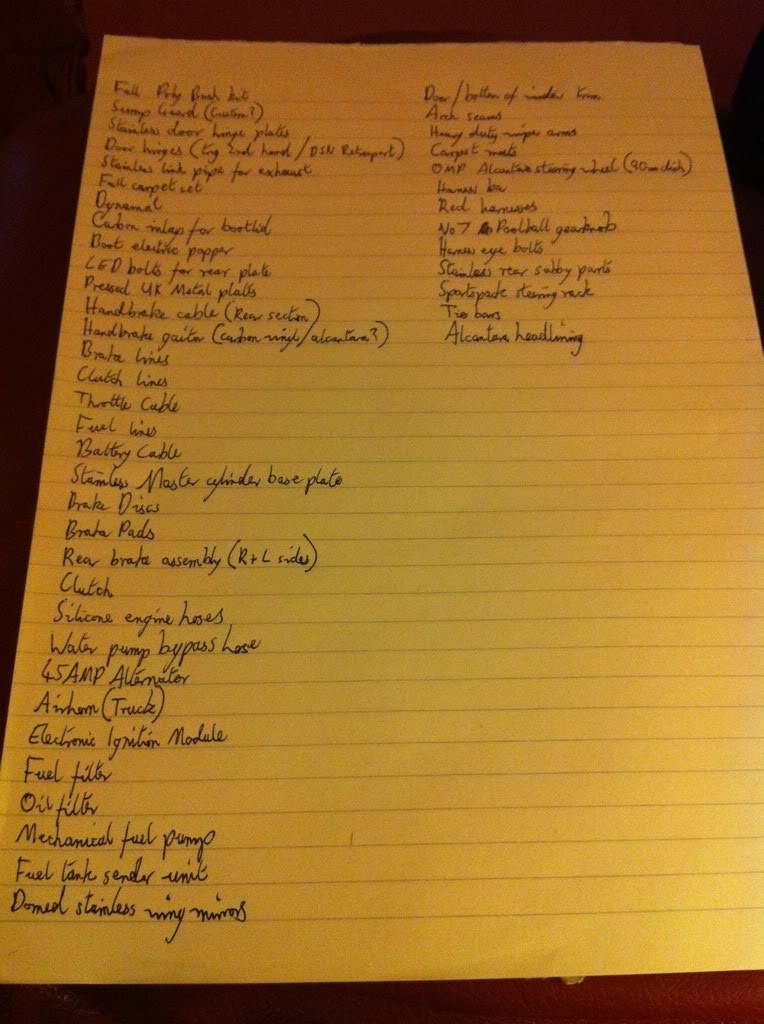 9-11-2011
Bit more progress today. Spent most of the day filming for a project Im working on but got some time to work on the car too.

So I thought I would try and smarten up the calipers. Ideally I want new ones but will tart these up and get new ones another time. Money needs to go towards the body and these work fine.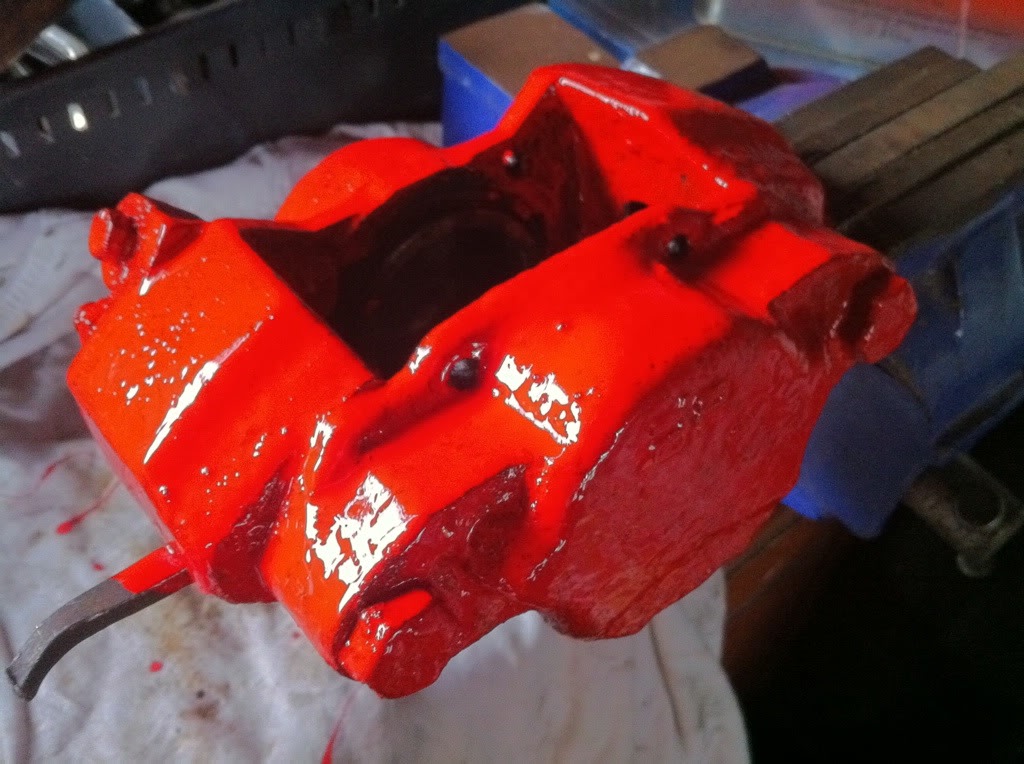 This is just one coat so will require more work.


2 Days till welding work commences!
9-12-2011
Bit more progress today before I ran out of room for parts. once the Mini goes off tomorrow things will be a LOT easier!

Cleaned up and painted my Hi-Los (adjustable height suspension for those who dont know....) Genuine Ripspeed goodness. Ripspeed used to be a stand alone company in the 70s-90s before Hellfrauds bought them over and ruined it by making chrome plastic tat for your corsa miiiiiin! So these are rally/race tested and quality parts!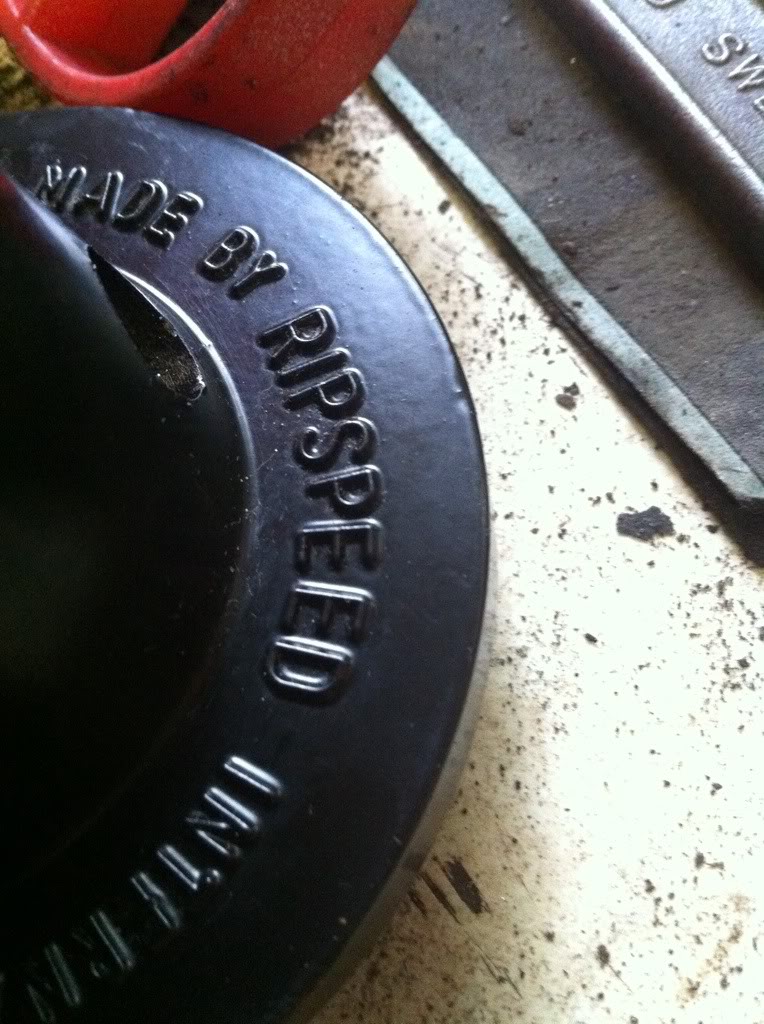 Then I set to work on the front suspension bits and pieces. All of these parts were heavily covered in surface rust. So I threw on some Deox Gel and left them for about and hour. Then wire brushed it off and rinsed to leave a perfectly clean, rust free part. This stuff is worth its weight in gold! Saves so much money on blasting! Not to mention powder coating as I sprayed them in gloss black hammerite. 5 coats should be enough I hope.....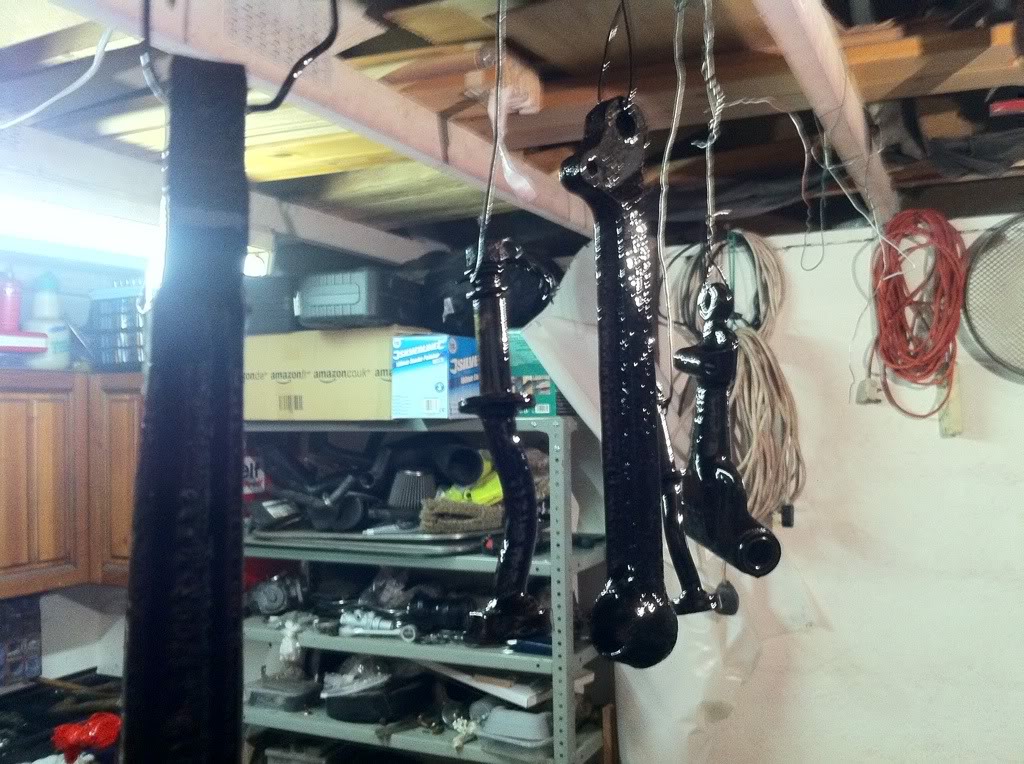 Also cleaned up and painted the Hi-Lo bars silver. Just need to go and get clear laquer to toughen up the finish a bit.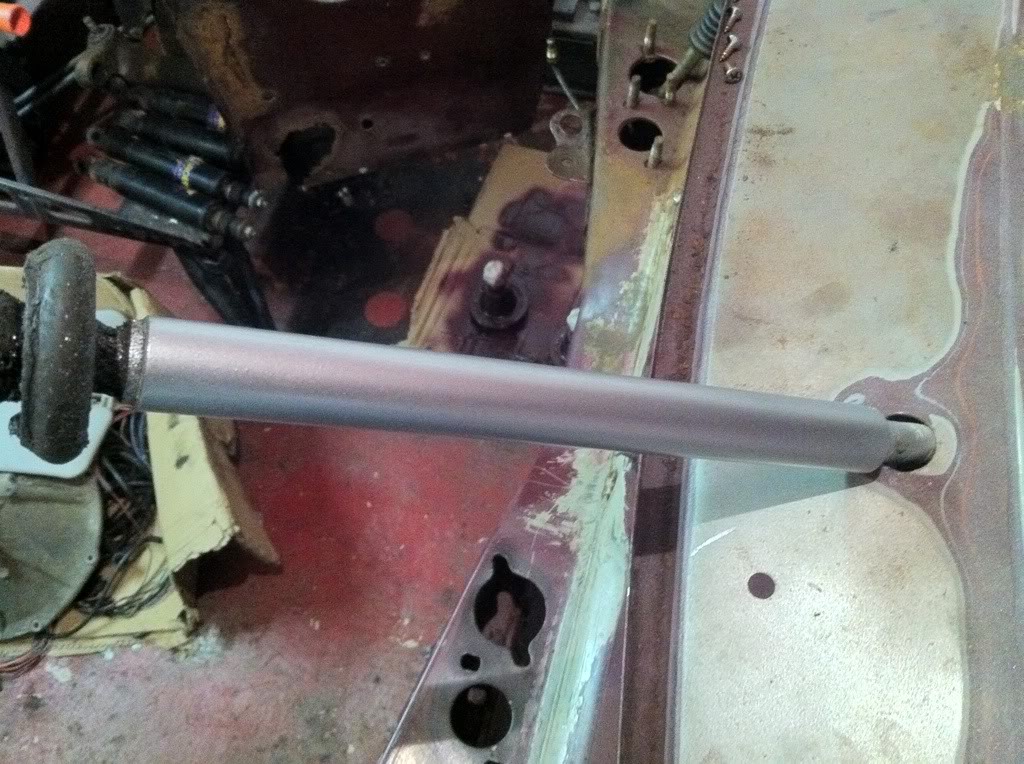 and also Deox'd the brake drums and painted them in smooth red Hammerite to match the front calipers. Not convinced on the colour myslef but will see what they look like on the frame/car. If I dont like they will be going back to black.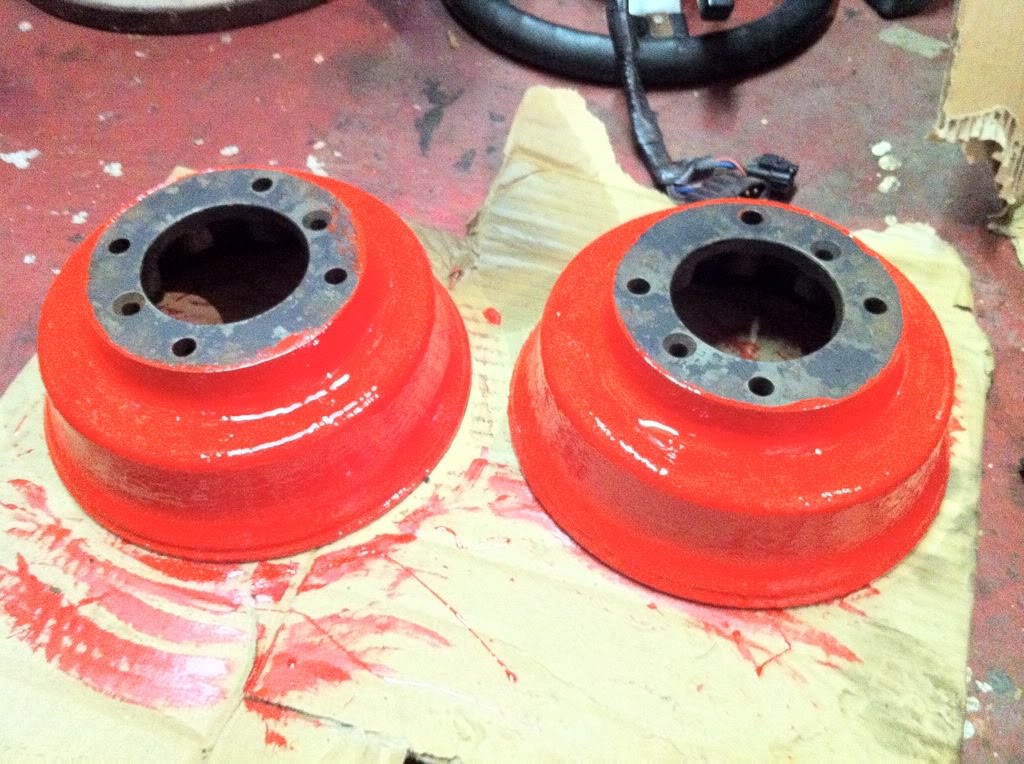 Also ordered a full car set of Polyurethane bushes from flo-Flex for £40. Cheaper than a set of rubber bushes.......weird considering ruber ones perish and get destroyed by oil in no time and these dont....... So they should arrive soon which means I can get to work on reassembling the subframes once they are back from blasting and coating.

And thus covers todays work. Tomorrow is Mini shifting day so work on the actual car should mount up pretty quickly from now on. Cant wait

9-13-2011
So today was the day of mini shifting. Out to Banchory to Kirkton autobody for welding and paint. As of tomorrow Im working there from 8-late to try and reduce my impending bill as much as possible!

So called in a guy I know through a friend who has a trailer. Couple folk soon saw it on the trailer. 20 minutes drive and at Banchory. Got dumped into the corner of the workshop for the fun to begin. Tomorrow Im taking over my sills and inner wings to see what we can do with them. So progress ahoy!

Anyway the pics....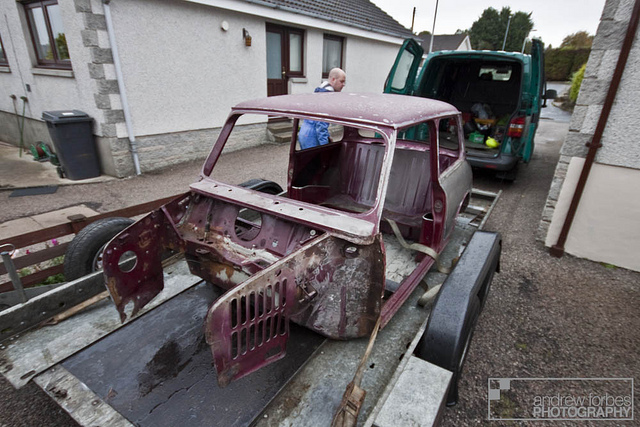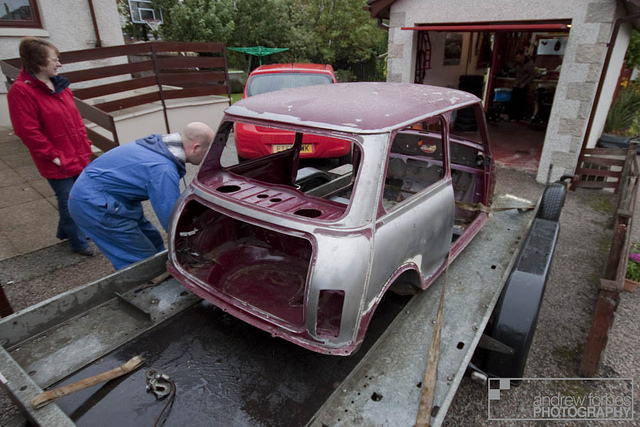 En route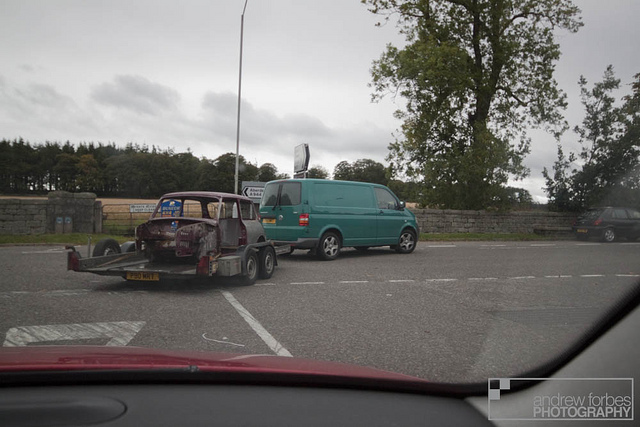 Aaaand dumped, ready for working on.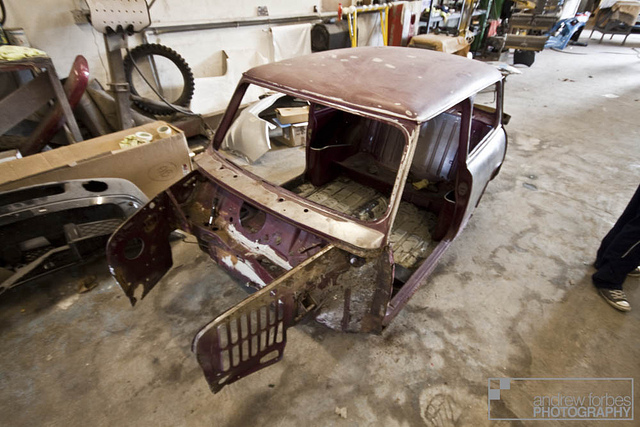 Doesnt take up much room so will busy myself away in the corner while customer cars are worked on by the guys

And where the car will end up in the end, the wall of fame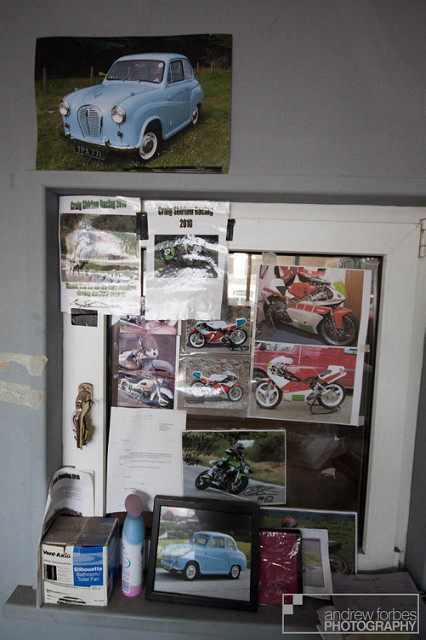 Let the games begin and the bill mount up. In it for the long haul now!
9-14-2011
Day one of works at Banchory today! Started at 8 through till about 4.30. Had my whole 10 minutes for lunch then tore back into it!

By time I'd arrived Phil had already put 3 hours on it the night before after they closed! So it was minus a passenger outer sill and passenger inner wing

Lad doesnt hang about!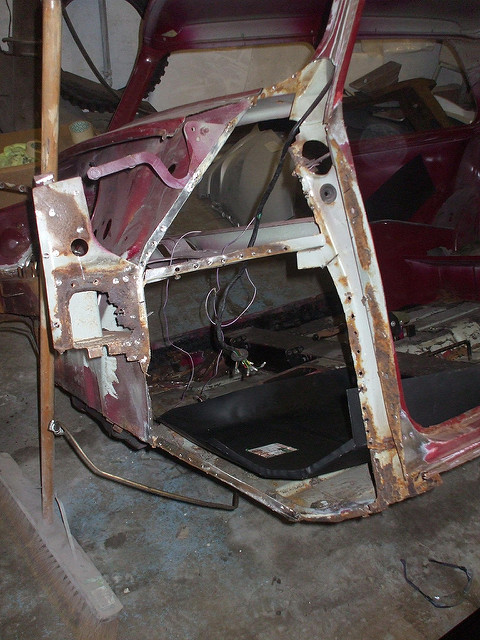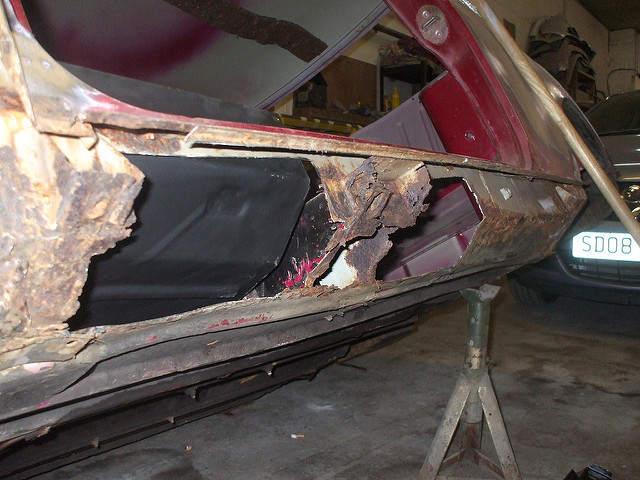 We offered up the new inner wing and it fits like a glove. Everything just matches up! He just finished another Mini and had a hell of a time fitting the Hadrian stuff he was provided with. So its good to keep the man your paying in a good mood!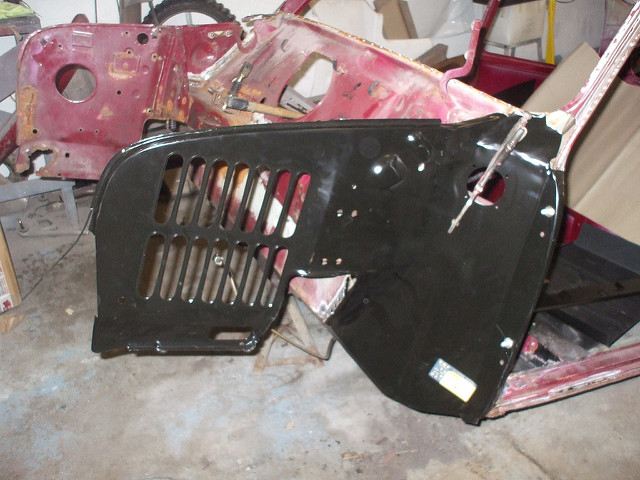 So he set to work panelling up the floor and reinforcing the crossmember. We took out the 'jacking point' as its useless and not strong enough to jack up the car....just warps and its also a massive rust trap! Not what I want! (the pic shows it before being dressed/tidied up)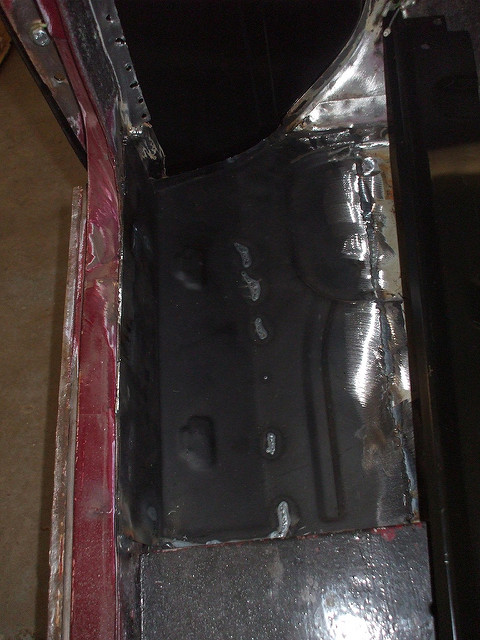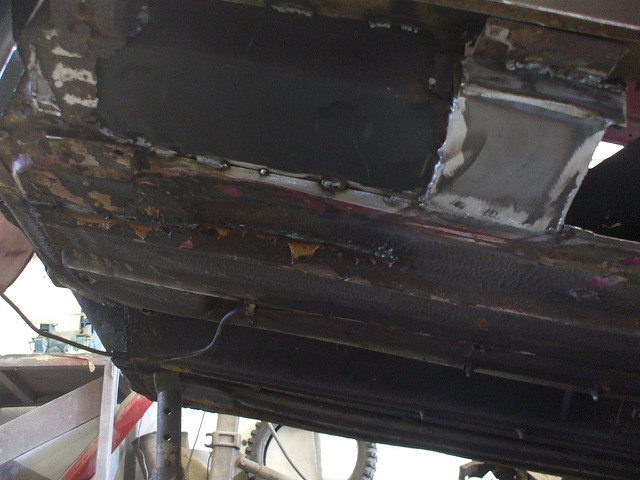 And while he was doing that I took off the scuttle and drivers inner wing. He would leave me with the rusty one where you couldnt see the spot welds wouldnt he.....took me most of the day to remove in the end but got there eventually, with lots of cuts, bruises and many many sweary words......:whistle: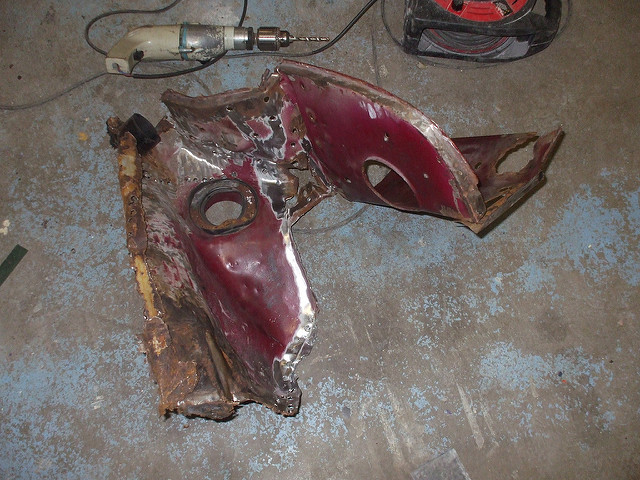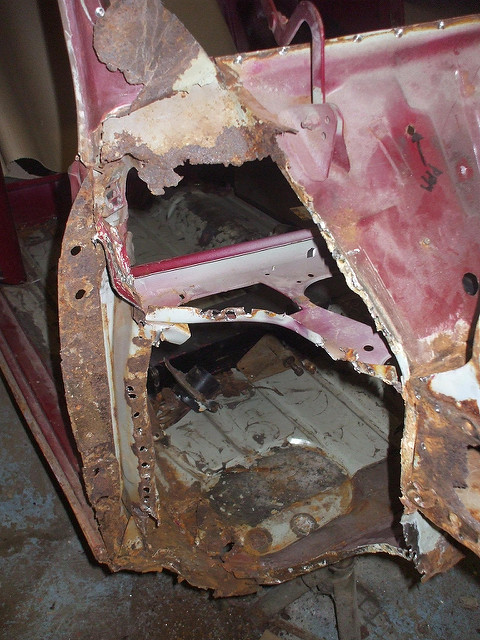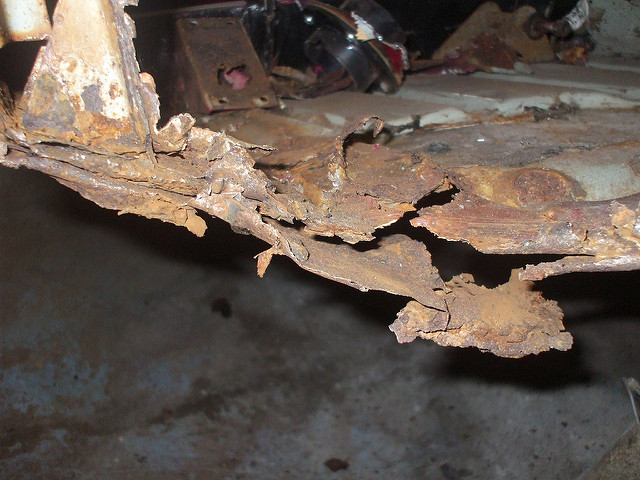 So hes going to put a couple more hours on it tonight then tomorrow we should get the inner wings on with the other floor pan and possibly sills too. Speed he works at is insane and its all top work! Very impressed thus far!

Roll on tomorrow!
9-15-2011
So the update from todays work!

When i got to Banchory Phil had worked on at night again and had got off the start of the sill and part of the front and rear floor on the drivers side. Said it was a total pain to get off but he couldnt understand why. So I left him to get on with his other jobs and got stuck in removing the sill.

This is part of the floor/sill combo.....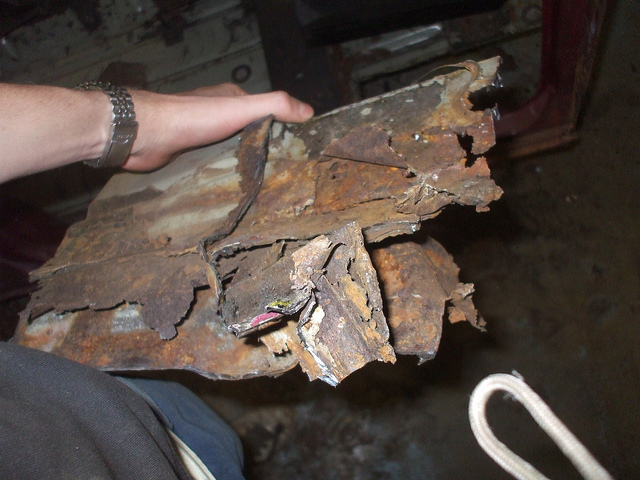 To my horror when i sliced open the top seam and bent the sill down, I found........another sill........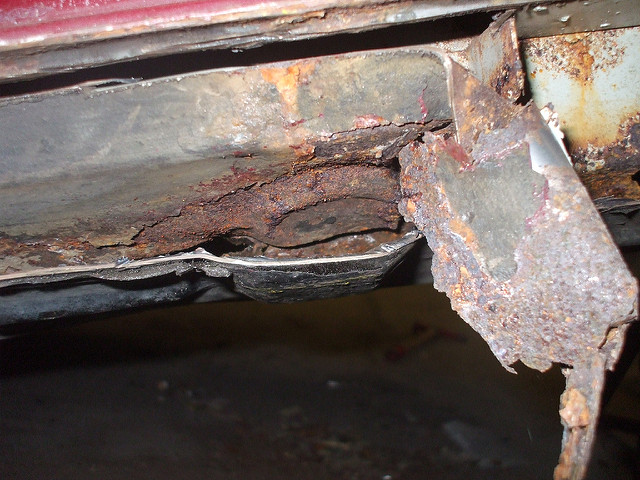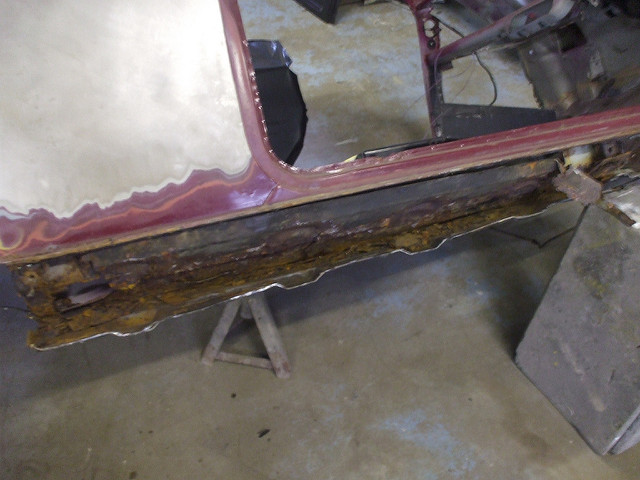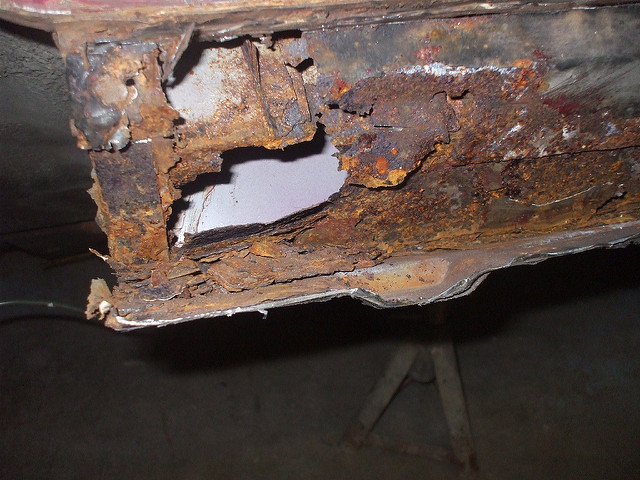 SO! This sill was an oversill (as I had known since I got the car. It looked totally fine from the outside and not too bad from the inside. I was determined to take it off for this very reason. Whoever put on the oversill clearly did it as a quick fix and left the original, rusted sill in place and the oversill covered it up completely. Clever but so dam stupid at the same time!

So it took some time to remove.....total mangled mess with filler and even pop rivets all over the place!

Then we set out to fix the subframe bolt captive nuts. The metal around these was gone and needed replaced. Problem being, the location of those nuts has to be dead on. So after much measuring, testing and offering up we got a plate made with nuts on and fitted it. Its thicker gauge steel than original so its a very sturdy mount for the subframe. A good thing!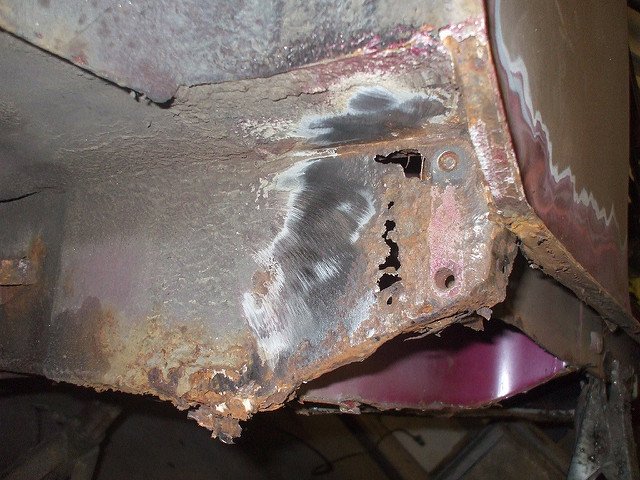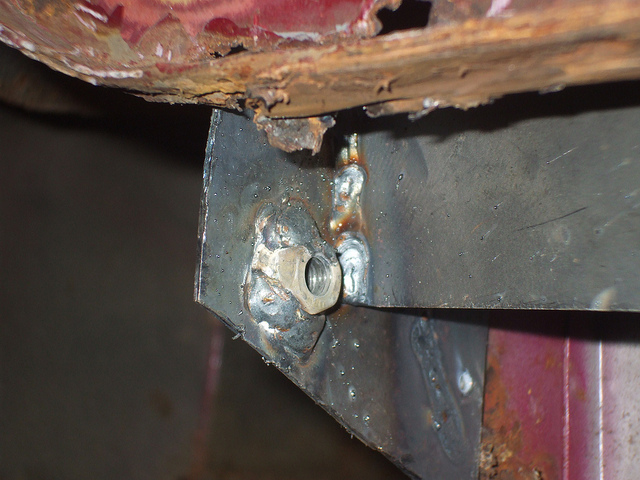 Then we set about fixing the rear floor. We don't have a panel for it and after looking at it, its just a piece with two long bends in it so we made a panel up ourselves. Again using the thicker gauge of steel we measured up some sheet, nipped down to the garage down the road to use their sheet metal bender (epicly old machine but still works perfectly well) and that was that. Just got it screwed into place at the moment and still needs a bit of tweaking/trimming but its more or less there. Should be done first thing tomorrow morning all going well

Then the outer sill can go on quickly after!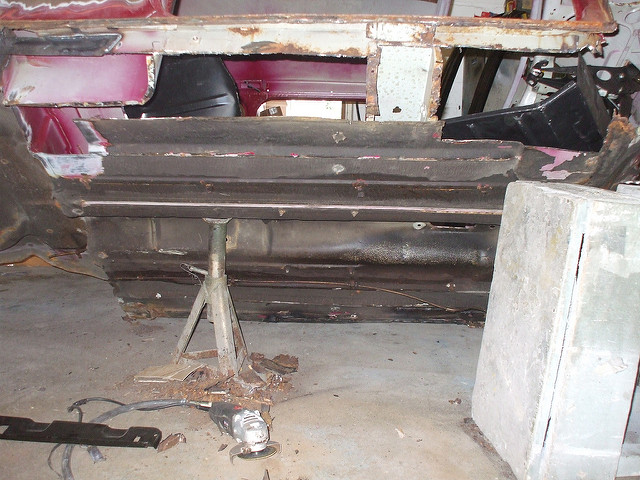 Sill clamped on to see the fit. Actually mm perfect. Chuffed!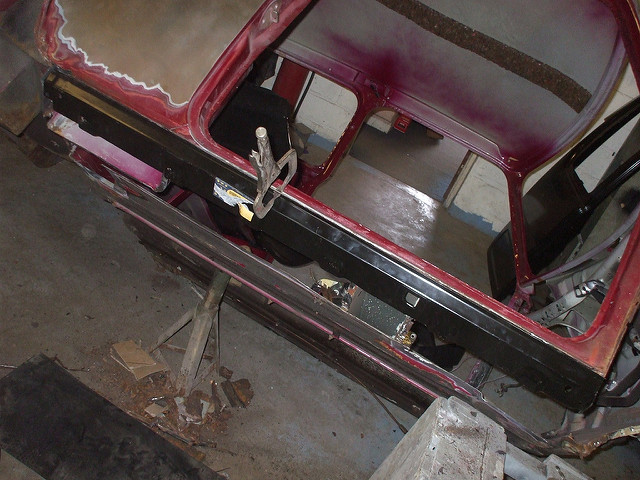 So that was todays doings! Should get the sill and possibly inner wings on tomorrow but we shall see how we get on with the sill first and take it from there.
9-15-2011
Forgot to mention......Poly Bush kit arrived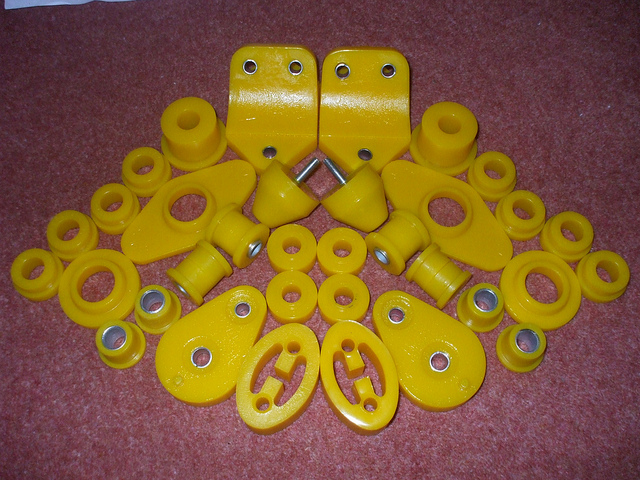 Just need subframes blasted and coated now

9-16-2011
Progress progress......!

Another day down at Bunkry! Today it was mainly focus on the front drivers floor pan and rear floor/inner sill area. Needed a lot of work and lining up but we got there. Being a Hadrian floorpan (Heritage didnt have any when i ordered the other stuff) it didn't fit too well......We tried our best and got it all in place nicely in the end though. Could things of note on the pan. The sort of scoop where your feet go is a good 2-3" wider than the original, hence why mine has a sudden straight line to the left next to the trans tunnel.

Also the channels in it aren't as deep as original ones are so when these met the rear floor we had to pinch them up and in to meet the front. If this were a show winning/concourse car then this would matter, however its not so Im happy enough with it. The bottoms getting stone chipped in black anyway so will hardly notice, the inside is going to be covered in Dynamat and carpet so you really wont notice!

And thats not to mention the fact that it will be dam low so nobody will be able to see underneath it anyway

But now you all know....your all going to bloody well check.......

So this was the fruits of todays labour!

Car was tucked into the corner overnight....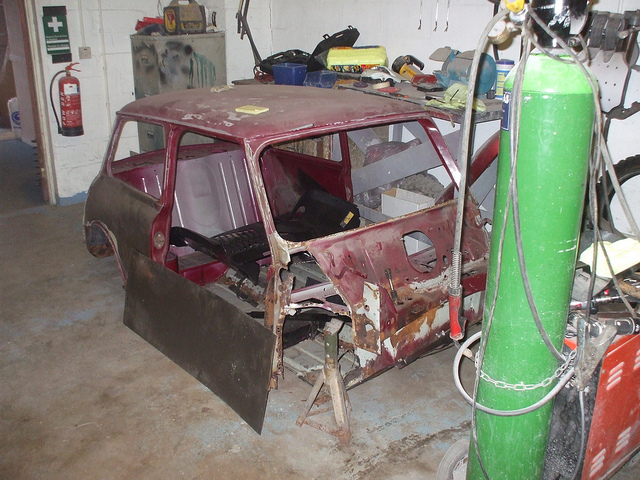 and it had gained a friend. Anything that can fit in the door can and will be worked on. This camper had been driven under something too low.......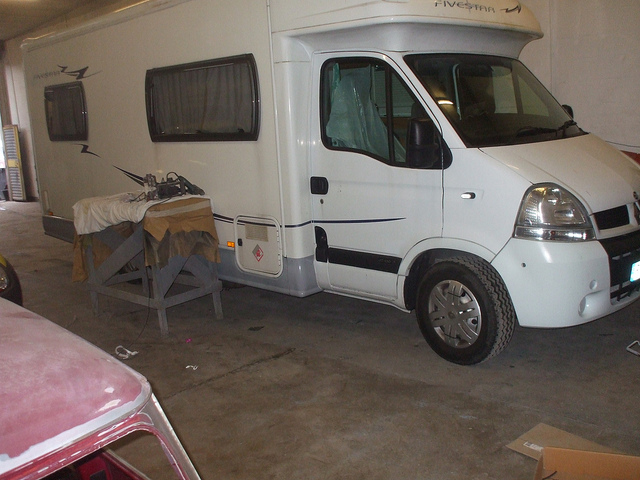 And we got to work on the floor pan.......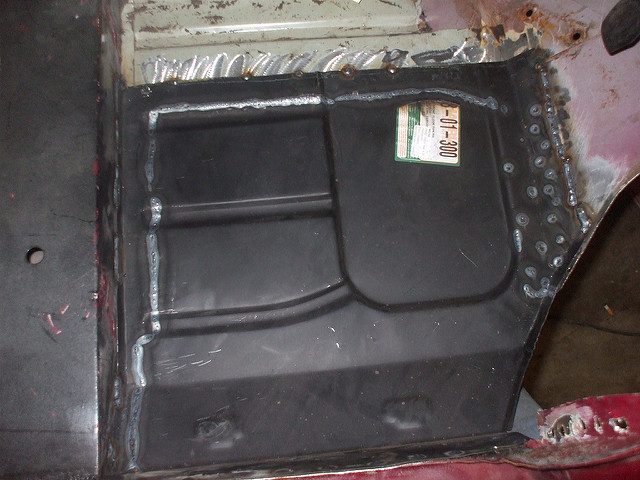 Still needs tidied up and final welding done but its in!

Then I made up a couple bits to repair the rest of the sill and Phil welded them in for me.





So the inner sill/floor is super tough and rust free now!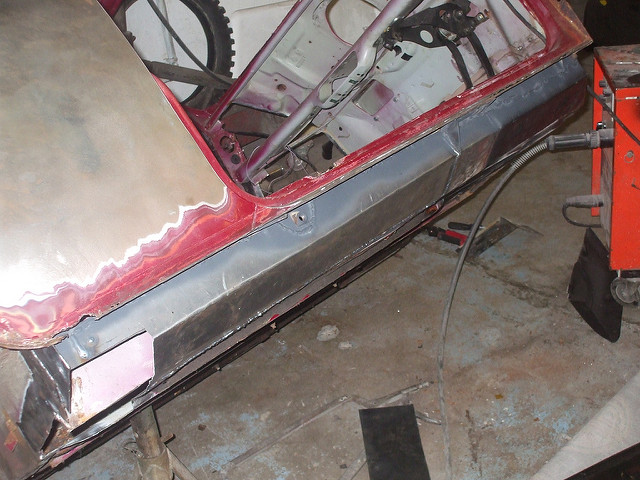 Floor pan was plug welded to the sill and then it was finally seam welded along the seam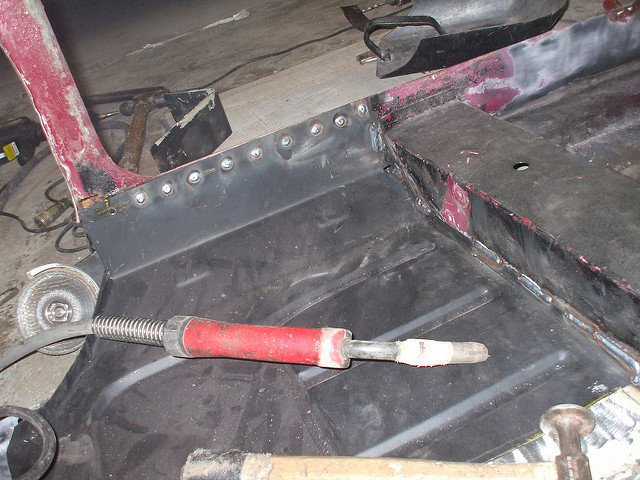 So heres the final drivers side floor, minus outer sill which will get put on tomorrow morning (aye we are working on a saturday!)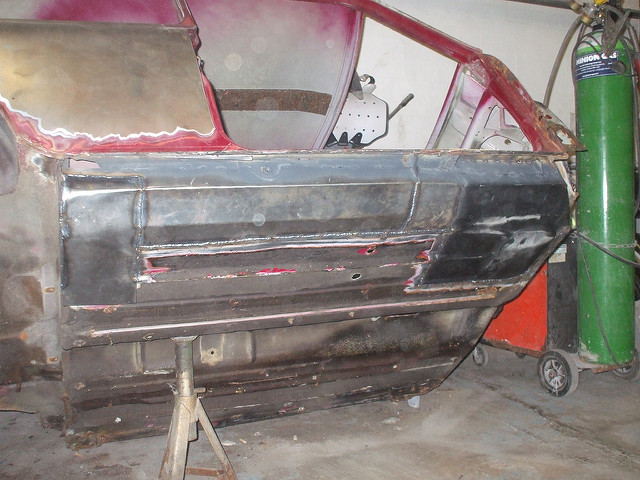 So tomorrow should be outer sill and then get started on the inner wings

Totally in my element working on it at the moment haha!

Also got a shot of welding. Such a skill! NEver done it before but my results werent too bad. He reset the welder to min settings and told me to get it right. Managed it after a couple failed attempts. Aim is to get some welding done by me actually onto the car by time its ready for paint.
9-17-2011
Todays progress! Had to stop on the way there as the sunrise coming through the mist made for a tidy photo.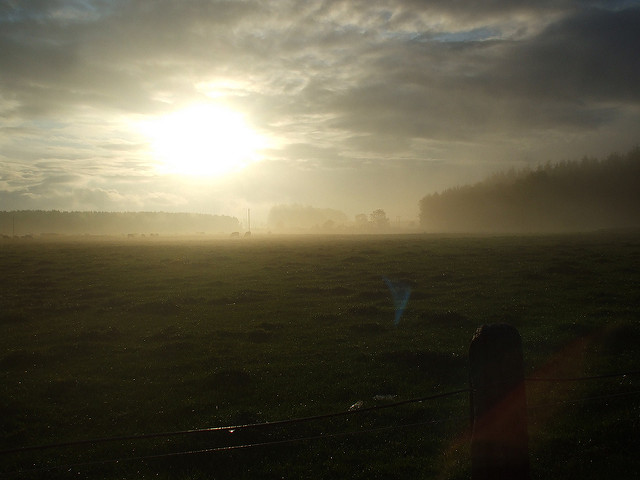 Again 8am start but i brought along some freshly baked Butteries so we were delayed a bit by the intensity of their amazing tastiness! But we soon got going. We finished off the inner sill fairly quickly and were going to move onto the inner wing. Then we remembered about tubbing the arches so got stuck in to the drivers side to do just that!

So no sooner said than done we cut along the mark I had made previously. He was very trusting and followed the line dead on what I had marked so no pressure on me then......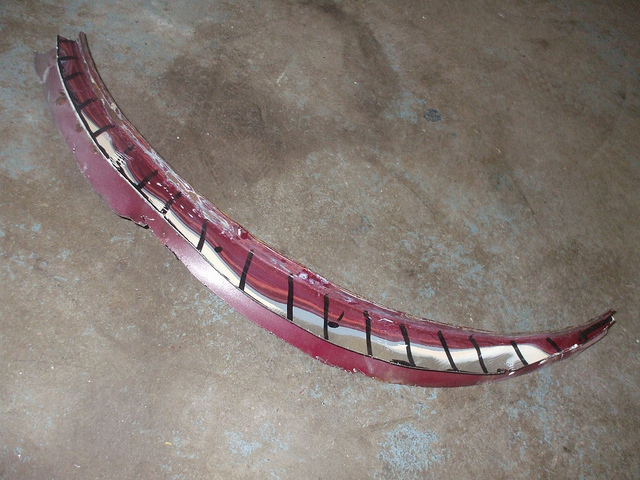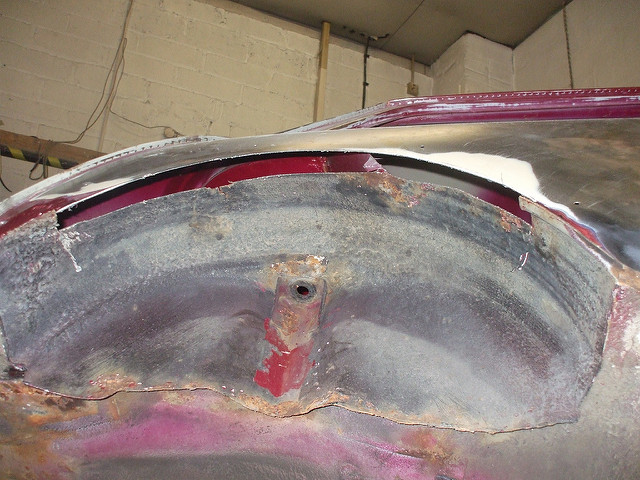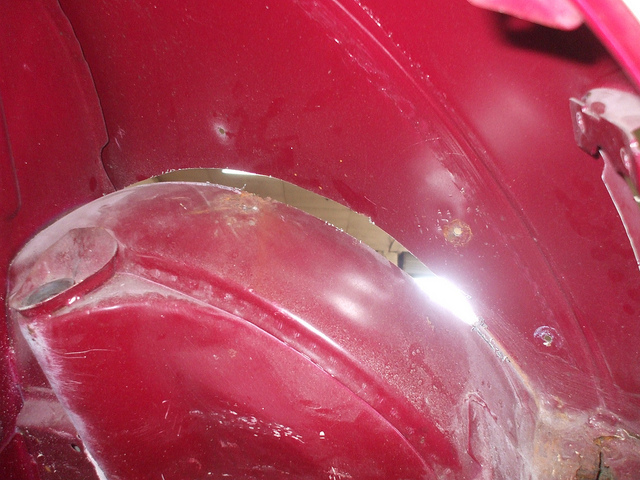 However! My marks made with my special tool worked a treat and were dead on! So with the hole cut we set about getting a panel to fill the gap. We had the perfect length of metal but it was a foot wide so down to the garage again, used their guillotine.....another epic machine.....and back again we had perfect size. Offered it up to the arch and was dead on. Tacked it on to form a lip. Really tricky not to warp the panel so we took it easy, coming back to it every 10 minutes or so. Worked our way round until it was done!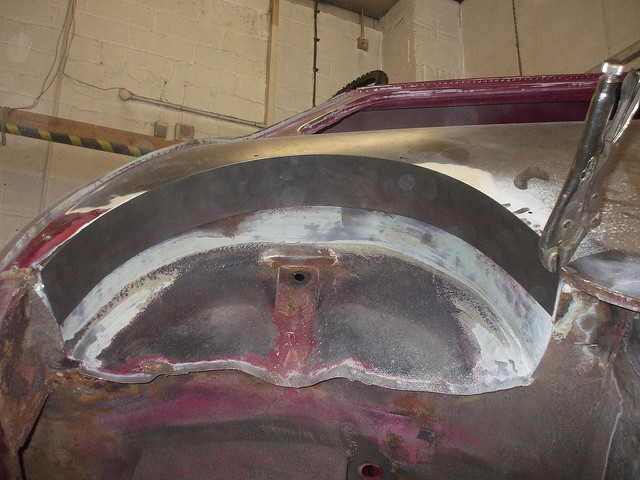 Then we got the inside welded up. To bring the lips together to weld we drilled a few holes, popped in a fee self tappers and brought them together. Welded up to the screw, removed and continued around until it was all done. Then did the inside lip too. Strong as hell as its (again) thicker steel than standard.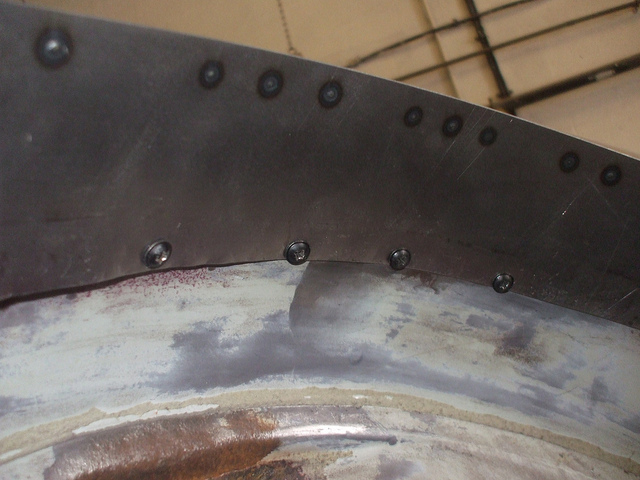 Also got rid of all the sound deadening/sealer/bitumen/horrible crud from the arch. Its getting stone chipped so needed stripped anyway. LOVE using this tool called an MBX. Strips off everything in no time at all. Really satisfying!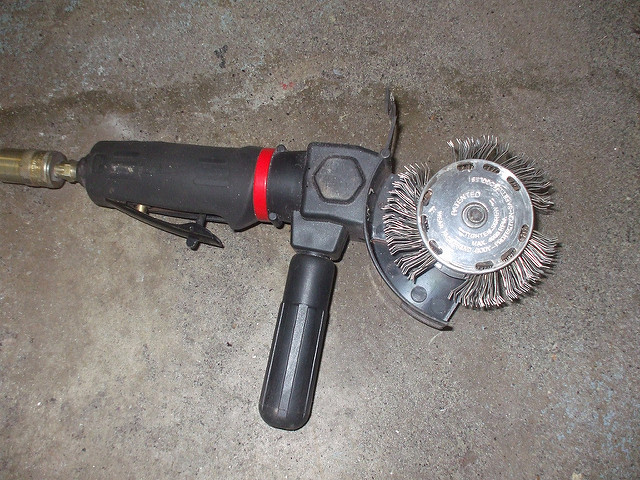 And we managed to get the sill on too but forgot to take photos of that. Passenger side and front to go!

Time taken today to do the above arch tubbing and sill? 4hrs......some quick work from him!
9-19-2011
SO it was MOT day for the Polo today and that meant no chance of getting to Banchory. It failed catastrophically so wont be able to put any funds towards the mini for a couple of months as a result.......fuming! Cant stand the car but cant afford to replace it with something worthwhile......

However! Seeing as I was stuck at home went to the garage and cleaned up more bits here and there. Mainly brackets and small parts but thought I would put some bushes into couple of bits to see what they are like. Look tidy to me!

Just the lower arms and steady at the moment. Rest will go on when the subframes are coated.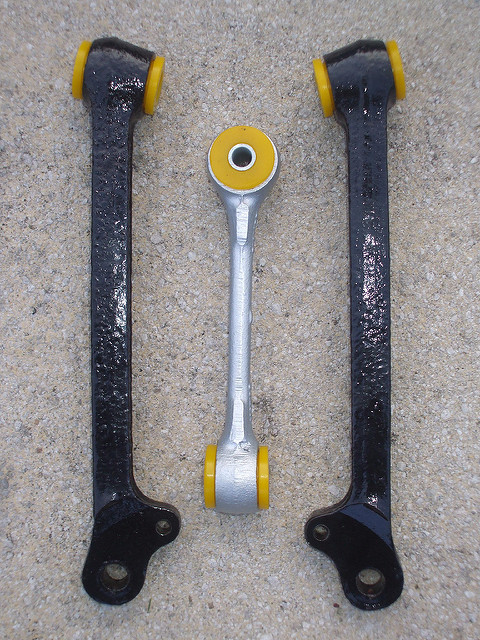 So not much progress really but did get to take out my frustration of the Polo failure on my door skins. Angle grinding is one hell of a tool

9-20-2011
Another day bites the dust at Banchory!

Had the help of my mate Greig today too so got loads done. Not too many pics at the moment due to too much to be getting on with.

We arrived and needed to have the bonnet, doors and door skins.....so went back to Inver and threw what we needed into the boot. We forgot door hinges though so yeh....we couldnt mount them as we planned. Still amazed we fitted everything into the boot of the Lupo



So no sooner said than done we were back to Banchory and within 45 minutes Phil had reskinned and finished an entire door. This included welding in a full length and corner repair on the bottom of the inner skin made from scratch and then the outer door skin body filed smooth. top effort and perfect finish. No filler in these doors!

Corner repair





Bottom door repair plate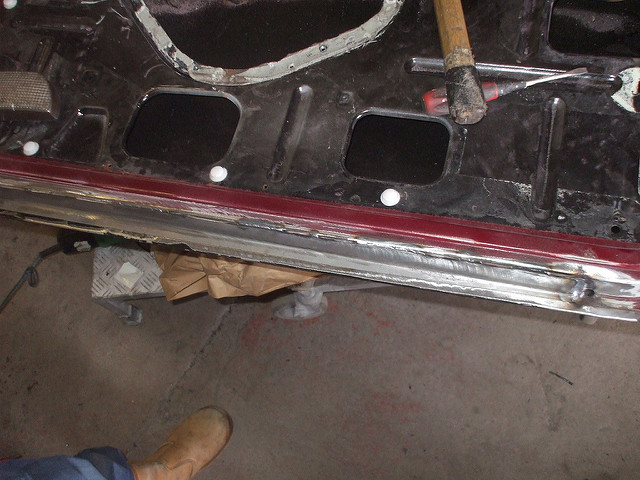 Skinned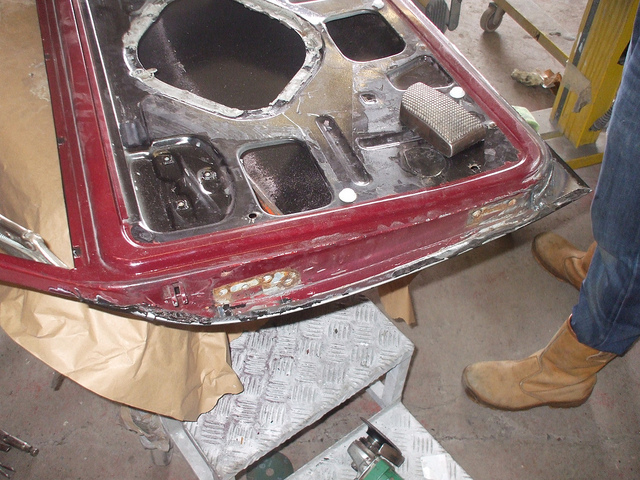 and body filed edges to perfection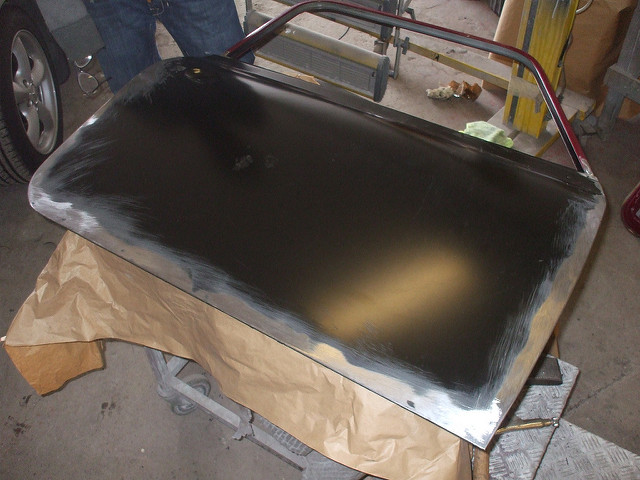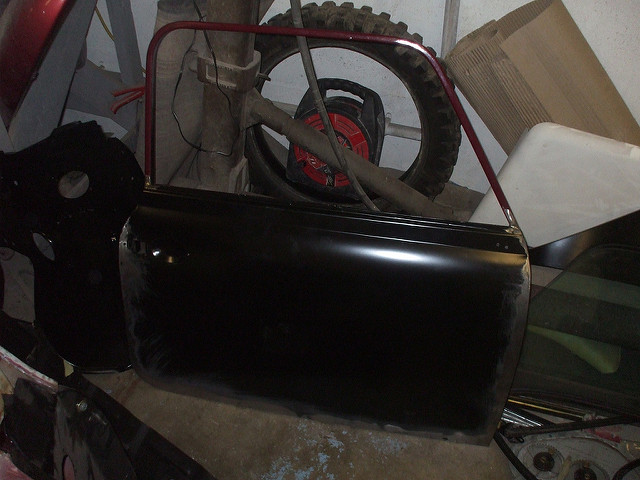 Put into place

Then we decided to take off the jacking point hole seeing as this shouldn't be use as a jacking point.....quick spot weld drilling sesh then out with a plate Greig made up. Sorted!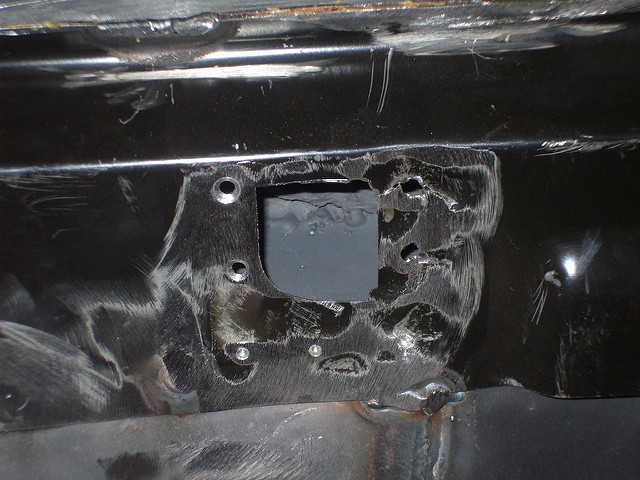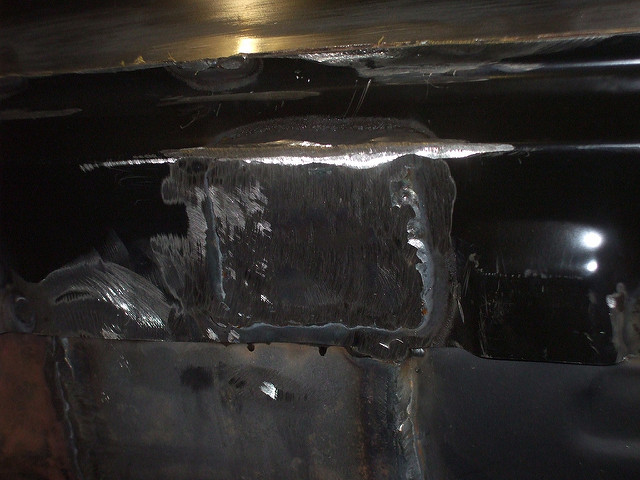 Then the box section behind the inner wing had a hole so again a quick Greig special plate was made up and welded in.


So tomorrow is door hanging then front panel positioning. So Im taking over the front subframe seeing as the front panel mounts to this at the front.



Progress, progress, progress.....
9-21-2011
SO! Another day down at Banchory today. Seeing as i remembered to take my hinges this time I cut off the original bolts, drilled out the remaining bit then took some new bolts, chamfered and edge of the head to then hammer into the hinge gap and weld in place.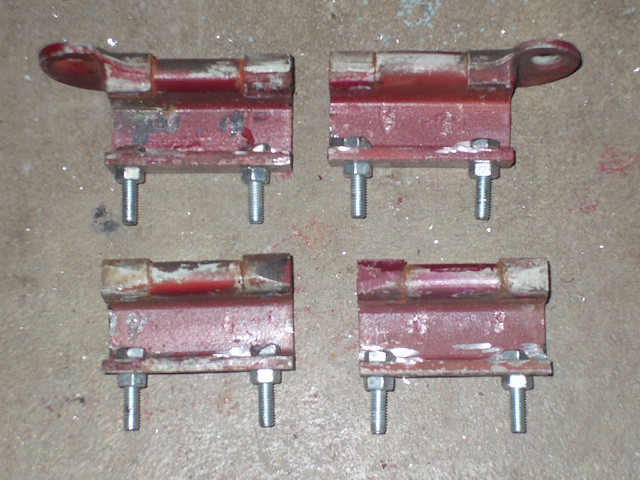 After this picture was taken the bolts were welded in place, bottom nuts removed and then heads ground down so as not to catch on the door skin when the door opens. Phil learnt from past mistakes regards the grinding down of the bolts........meant painting doors twice which I dont want to be doing!

And last night after I went home Phil went back to the shop and did the other door skin. Top loon!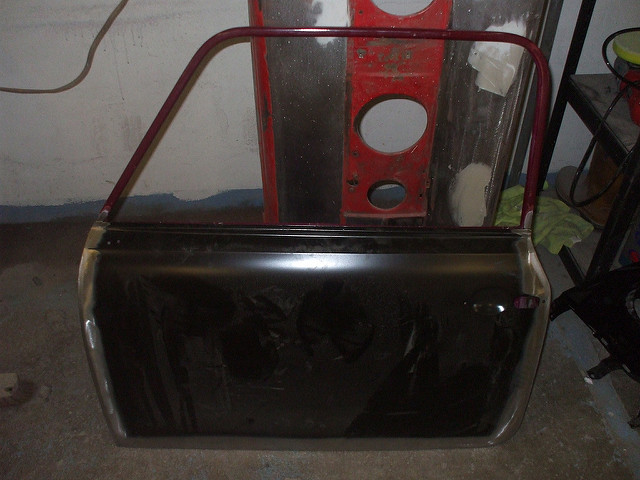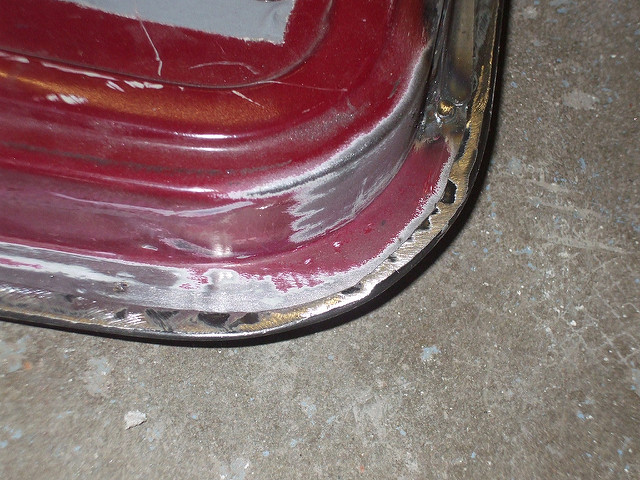 Spot the face! Got bored so he appeared.....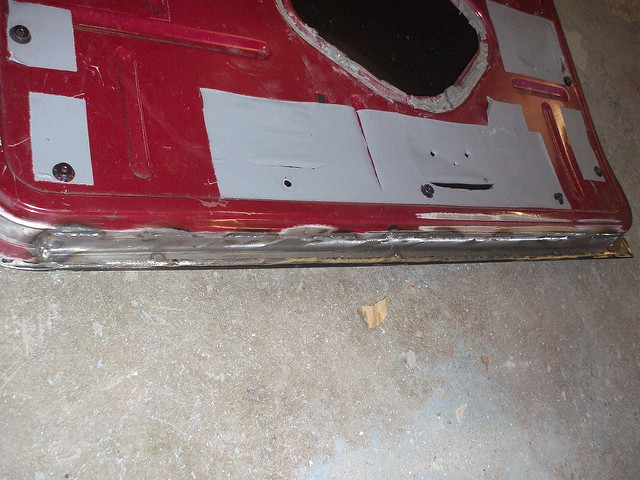 That all took some time due to the amount of bolts and crap drill bits bending/snapping at almost every bolts. Not to mention the strength of the bolts themselves.....

Then we thought we would mock up the front end

So it was on with inner wings and instantly we found a problem. The holes for the doors didnt line up, so they were drilled to match. Existing holes will be welded up before paint.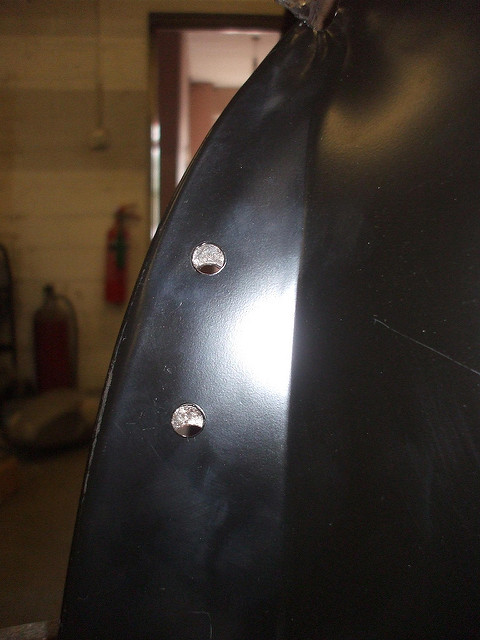 So the front mocked up...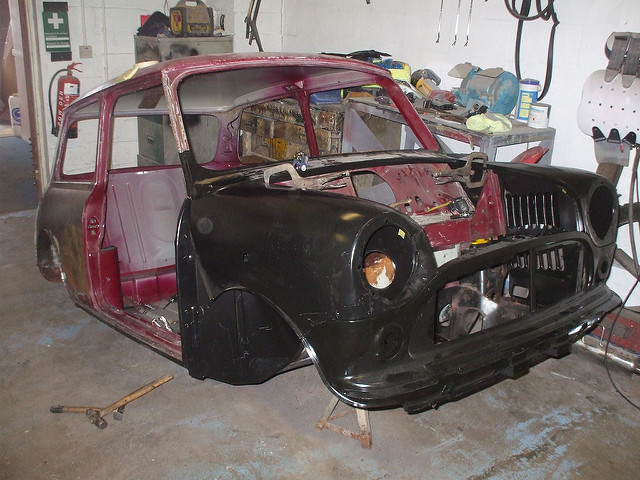 and then since we were mocking up the man panels we threw on the bonnet to get an accurate idea of the fit alongside the A panels too. Safe to say the fit is amazing. Thank god for Heritage panels! VERY little altering/fine changes to make. Might be more pricey to buy but saves loads in labour costs!

So we arent in tomorrow as the workshop is closed for reasons I wont disclose here and I wont be in till Saturday due to a Uni induction day on Friday taking up the whole dam day!

So not a huge amount of progress today but every little helps! Feels good having the panels in place though. Makes it seem that bit closer to being painted/done.

9-23-2011
Well wasn't supposed to be at Banchory today but Uni finished 4.5hrs early so nipped out. Keep my stuff in the boot so was all prepped to go anyway. Not much done but got the doors sanded using a cool little Mirka orbital sander with vacuum feed to cut down on dust like one of these.....



Makes sanding a breeze! Just used it on bits that a scotchbrite pad didnt smooth off. Didnt want to risk using too many discs when Im paying for them!



Once it was all smooth we popped some high build primer on the bare metal bits around the edge of the skin and the door bottom. Then we put some seam sealer on to protect it from rusting any more! Plan is to get the bottom of the doors stone chipped to again prevent rust as much as possible. this can be painted over too so will hardly be able to notice it!

So more work tomorrow morning which will mainly be alignment and possibly welding of the front panels! Should be good to see!
9-25-2011
Well a half day down on the mini today. We decided to get the drivers side door lined up along with the inner wing and a panel. Even though its all Heritage panels they still needed a fair amount of lining up to meet my expectations

I dont want the typical mini door syndrome where the bottom rear is sticking out a bit which looks terrible.....

So eventually with a bit of playing with the door hinge holes we got it mm perfect with no spacers/shims. Chuffed!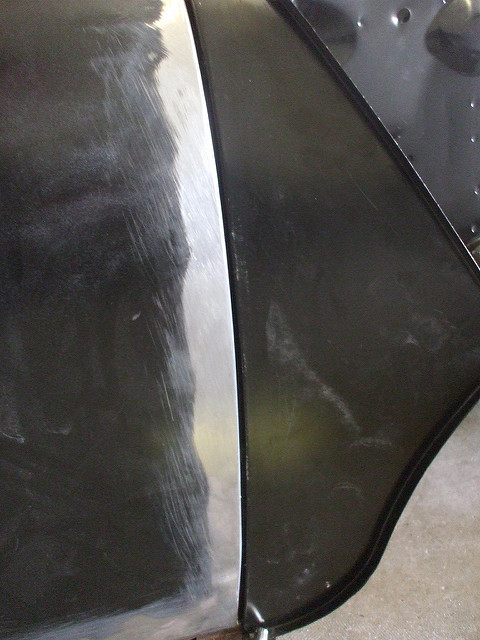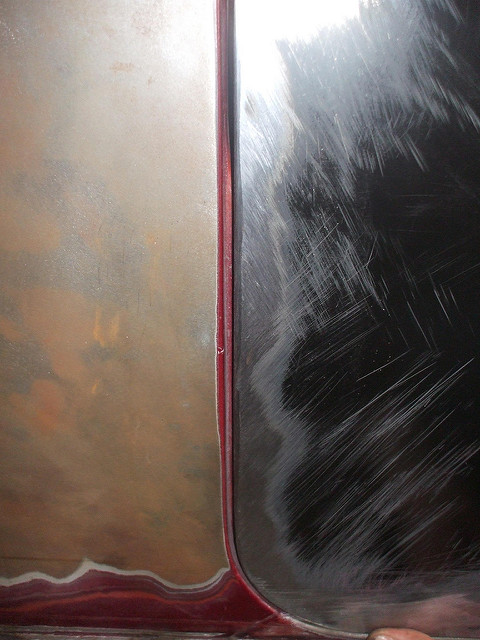 The door skin had warped/been bent a bit with positioning as you can see below......but a quick sesh with the hammer and dolly soon sorted that out. Sits flush now.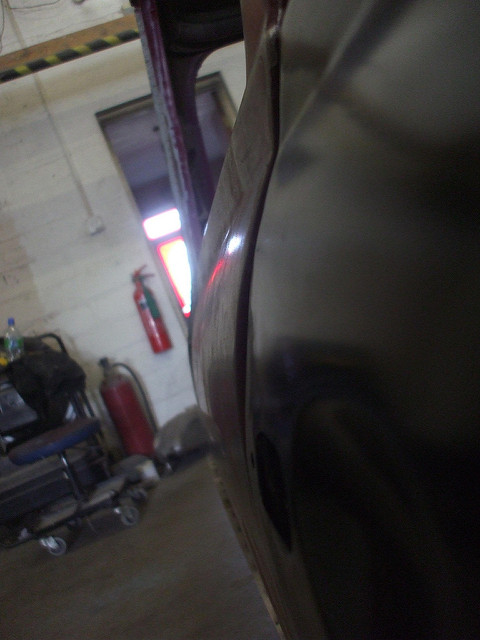 So here we have it. One door in perfect position. Hope the other side works out as easy as this one....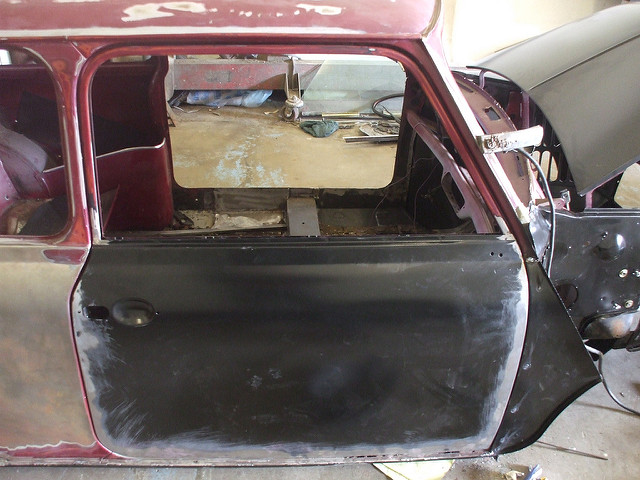 Then once we got that done the A panel quickly followed on and then we went onto the inner wing. These were spot welded everywhere at the factory but we have seam welded them as they have loads of points of contact so it should be a lot lot stronger. Plug welded it where it meets the door frame.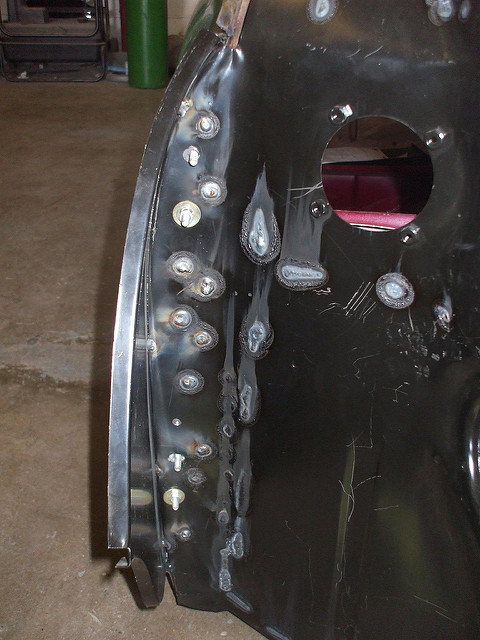 This was all welded from the inside of the bay so hence the burn through marks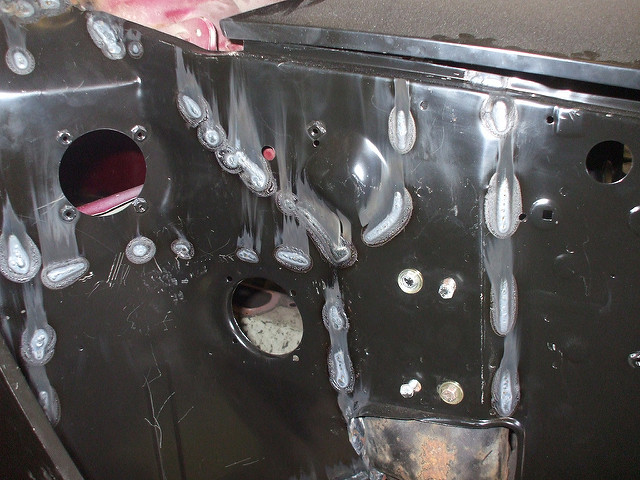 and one from the inside. Looks a bit rough and ready but still needs cleaned up and then will be covered in paint, sound deadening and carpets. So you will never know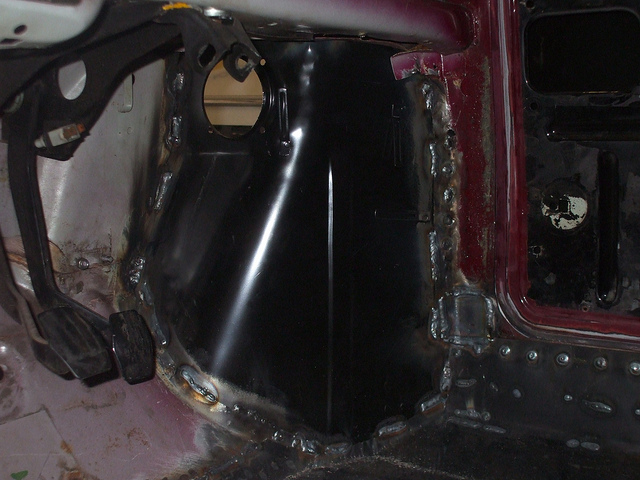 And this is the cars company for this week.....an SL63 AMG needing some boot paintwork. Sounds amazing!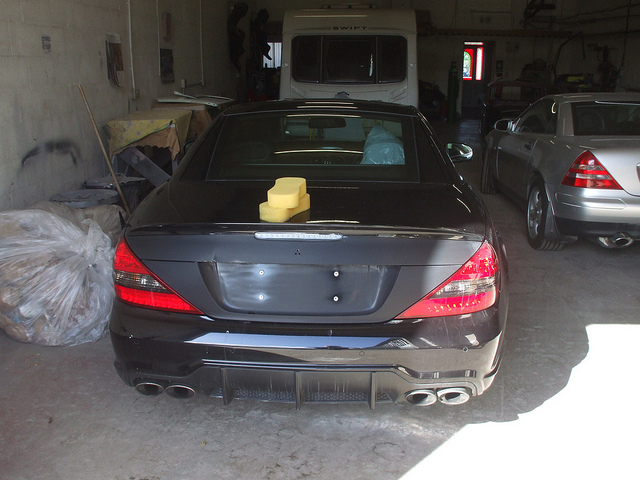 So it may not seem like much progress but perfection takes time as they say....next out on tuesday morning/early afternoon before work in the evening. So should get more done then along the lines of the other door/inner wing/scuttle and possibly even outer wings as the front panel is perfectly in place.

Back to work after 2 weeks off tomorrow so now
9-27-2011
Didnt start work till 4 today so was up early to go out to Banchory and work on the car for a few hours!

Got stuck into boot repairs/prep. This is the boot as was....





Not too bad but holes nonetheless so poked away at them and they got bigger....so out with the airsaw (epic tool!) and I was left with this.....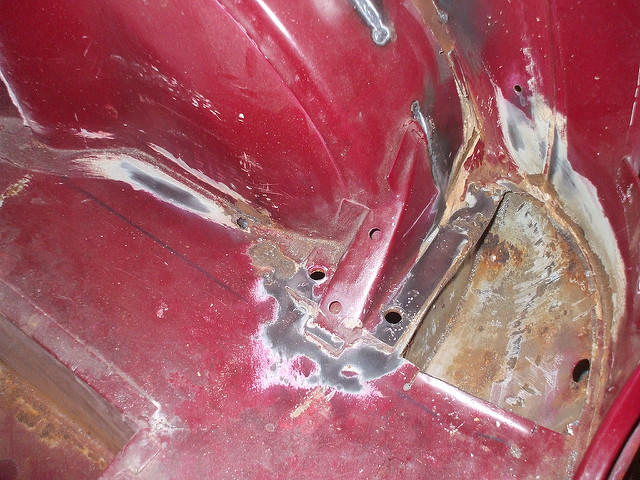 Was good to check the state of the valence closing panel. Thankfully it was fine so will get filled with Waxoyl so it stays that way! I made up a carboard template to plate up the hole and then set about a spare bit of metal, left over from the floorpan repair panel, with the tin snips.





Then made up another curved plate to match the contour of the inner arch to fix the other hole which also grew.....





Then made some holes in the other side and plate them up too. Just need welded up and the boots done. Glad thats the worst of the holes!

So progress again. Not much but still satisfying work. Love doing little bits like this

Saved me some money doing it myself too!

Not sure when i will next be working on it due to Uni being useless and not giving me my timetable yet even though Im now back at Uni........so watch this space!

10-1-2011
Update time! Bit late as this was done yesterday but you can blame the crap BT internet connection for that.........

Managed to get a morning on the car today. As I had made up panels for the boot already, I just needed Phil to weld them in. Boot now done! Just needs welds dressed up for paint and some seam sealer on.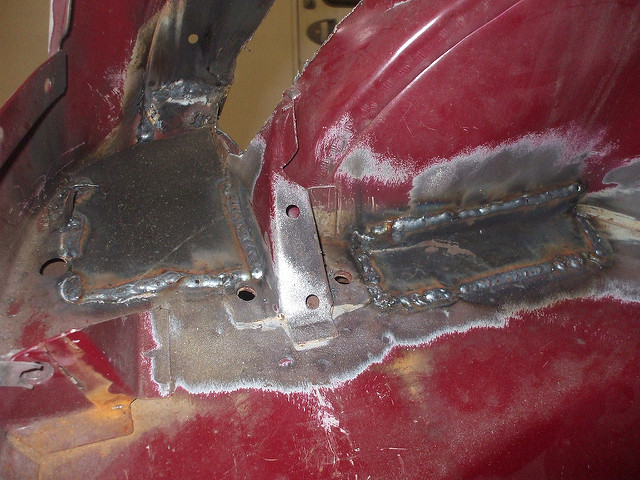 And some of his quality welding.....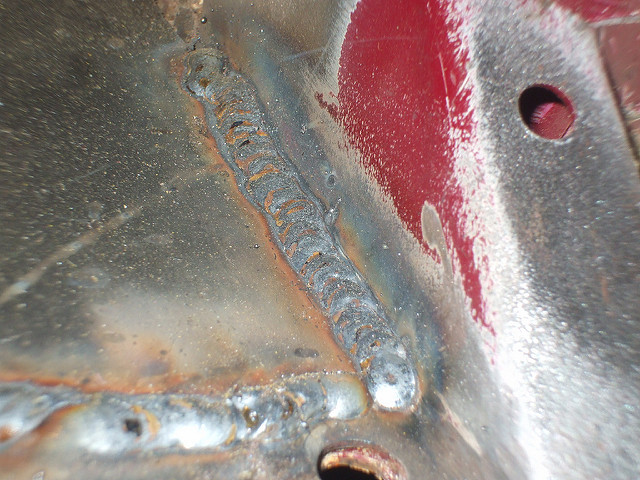 Since we still had a bit of time before I had to go to uni.....which was a waste of time anyway.....we got torn into tubbing the passenger side arch. First I stripped off the sealer/sound deadening/crap from underneath and then we cut out the lip and a larger section of the arch. Going to be doing it in one piece of steel again with another lip formed to get some strength back into it.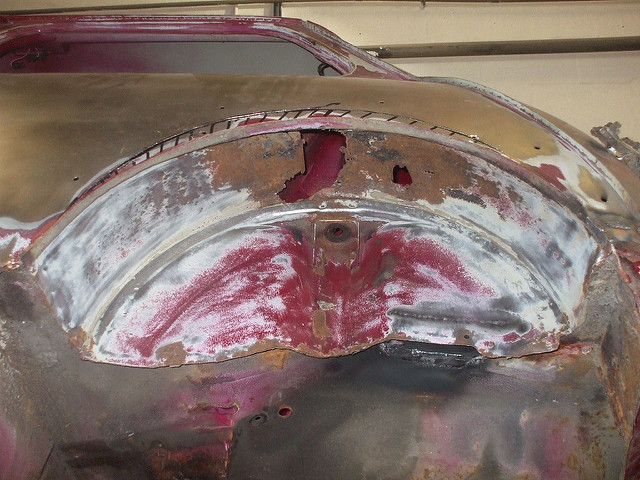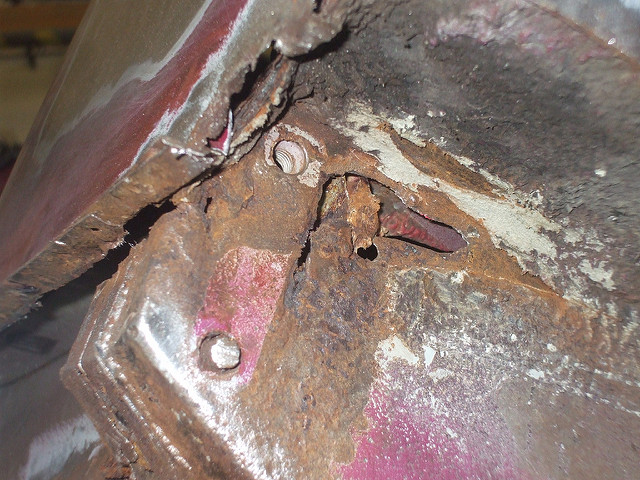 MBX'd..... I LOVE this tool!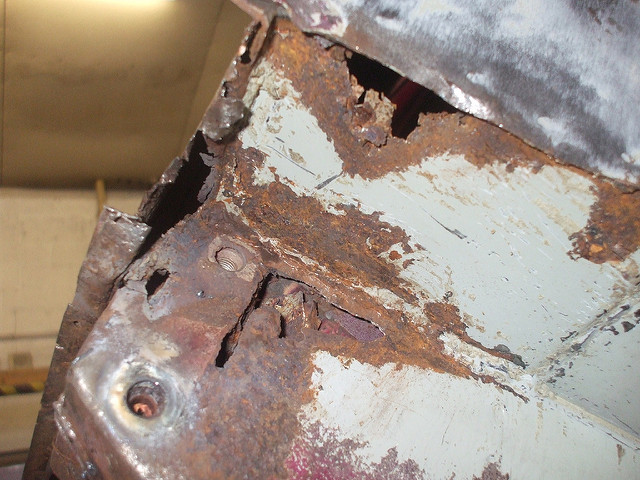 Rest of the sealer off just to make sure theres no other nasties hiding anywhere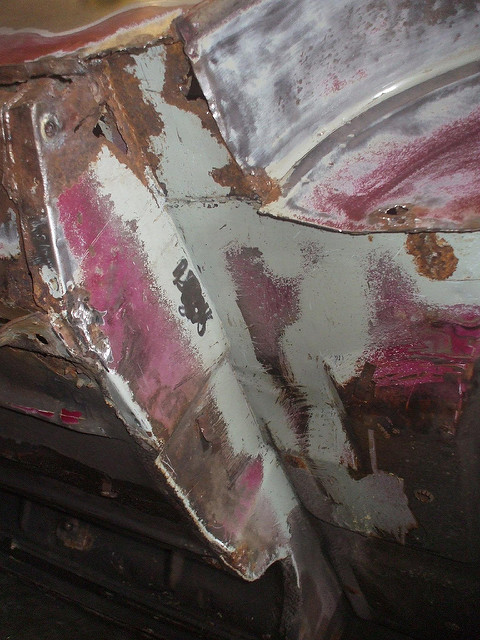 The cut away piece of arch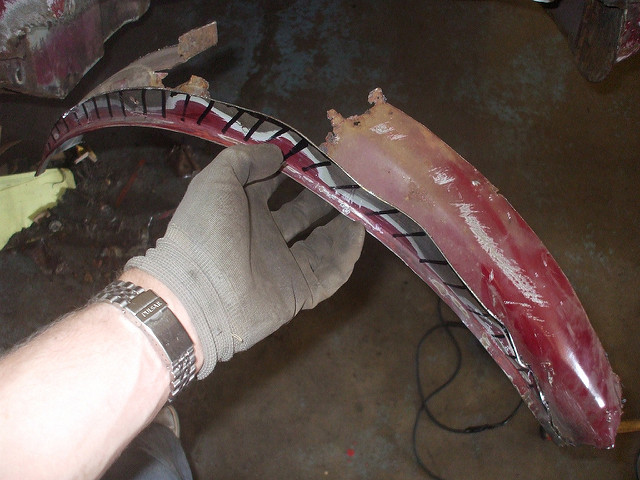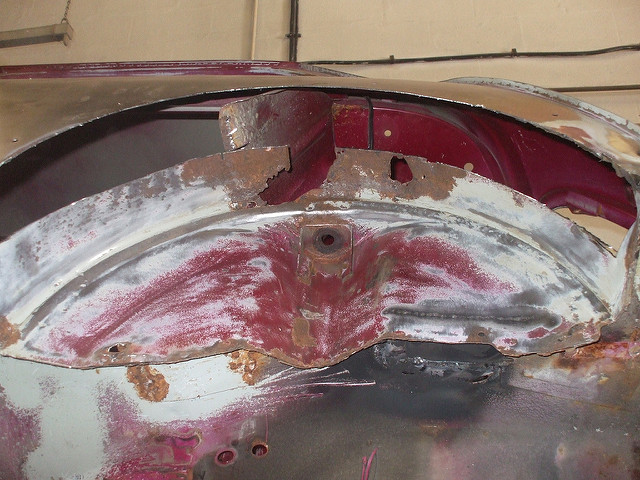 Couple repair patches to go in where the subframe mounts as its badly rusted but I just got a text saying its been repaired! So thats almost all the rust gone, just the passenger outer sill to go which isn't a massive job! Then its just front end final welding and it will be onto paint prep and painting. Starting to see the light at the end of the tunnel......

Im next out on Monday morning so should get the arch finally tubbed then, that is if Phil hasn't finished it off tomorrow morning though.......he fairly works on!
10-3-2011
Well its been a long time coming but Ive finally got a rust free Mini!

Thats the inner and outer passenger sill done along with the passenger side tubbed arch. So next is the front end which, if not done/started already, will be done Friday morning when im next out. Or at least started on anyway.....

The much needed pics!

Phil worked on after I left the other day to get the metal into place for the tub.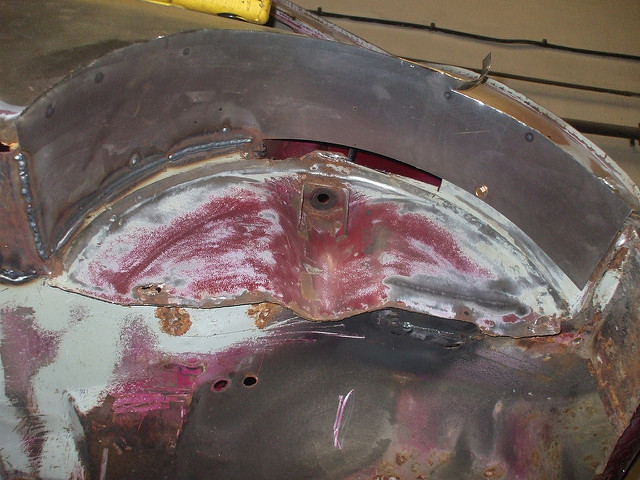 Leaving an ample lip for me to trim down this morning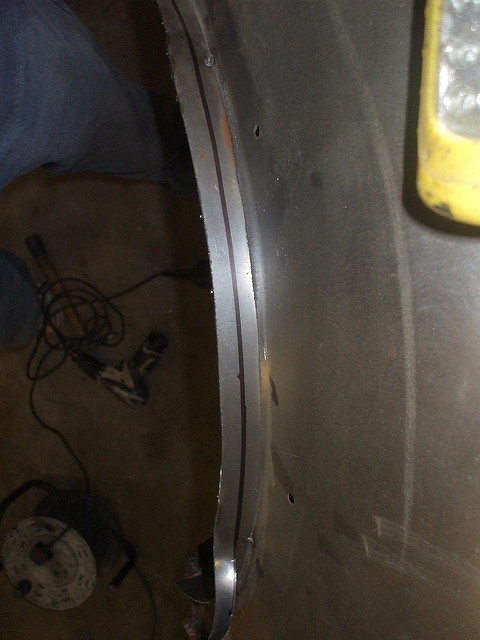 And then the remaining bits that needed repaired were patched up. Doesnt look too pretty here but they are yet to be dressed up and the floor/arches are getting stone chipped and painted black anyway and the wheels/arches will easily cover it all. Function over form for once!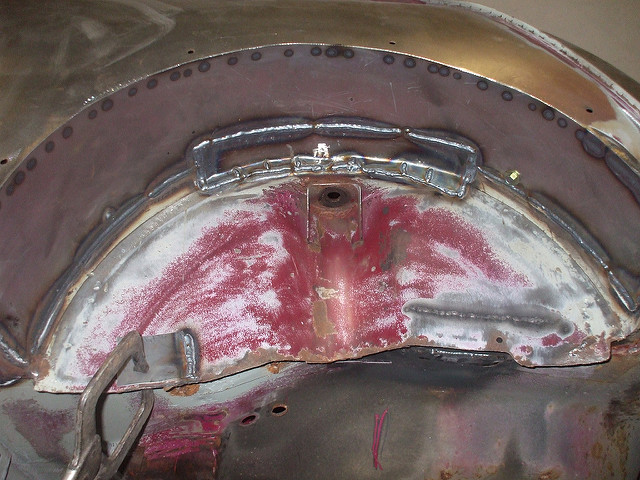 Trig gained a friend in the form of an Austin A35. Pretty solid looking thing but in for some welding work on the front arch.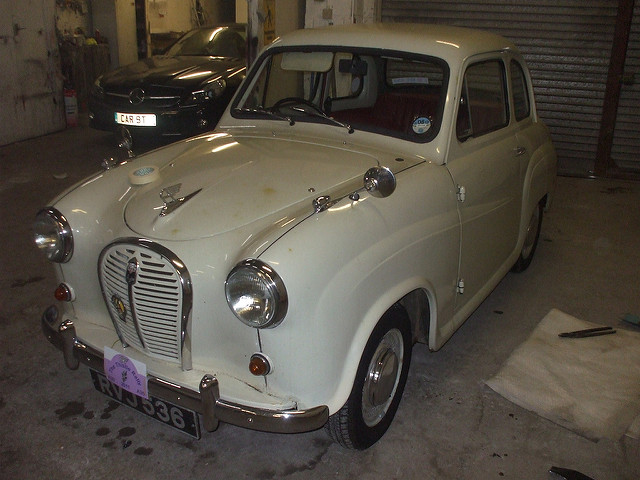 And sill on. Hadrian panel but does the job....just.....fit was ok thankfully but did need a bit of tweaking to get right.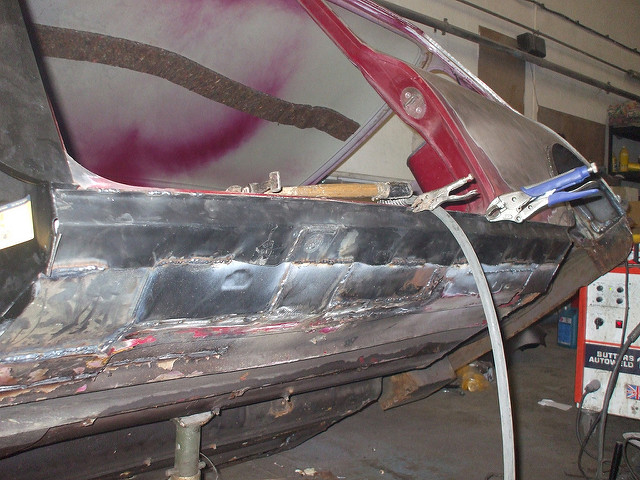 Progress progress! Roll on Friday morning

10-7-2011
Was at Uni this morning and got a text from my dad saying my bootlid had arrived.....what bootlid you ask? Well this one to be exact......





As you can see in this photo the filler they used on the lock holes has sunk. So that needs dug oot, welded and properly filled! Theres a couple ripples in the finish but again it will all be sorted out.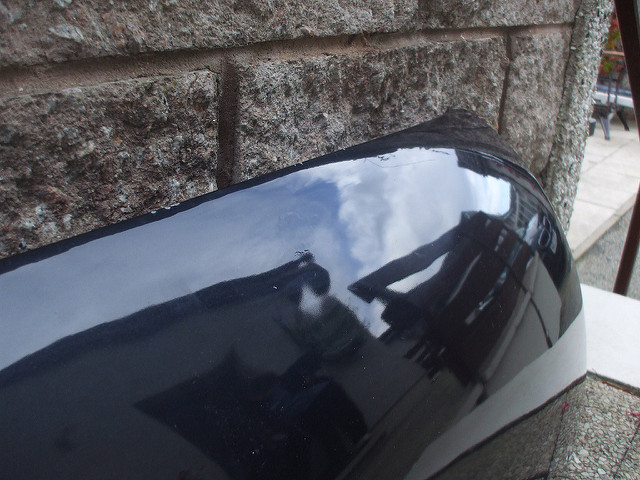 eBay bargain find! Full metal skinned lid with a little ripple where the top lock was before. Easy to sort and will save £££s in labour with Phil! Affa happy! Its already got an internal release mechanism on it but just need to source a mount/part that will go inside the boot itself and get a cable system into the car. It appears to be a bonnet/boot pin from another car of make unknown so may need changed altogether. Mounting plate is welded on though so it will be easy to sort out hopefully! Holes for hinges will be removed and hinges sourced for internal ones. This things going smoooooooove!

And here is the back showing the mechanism...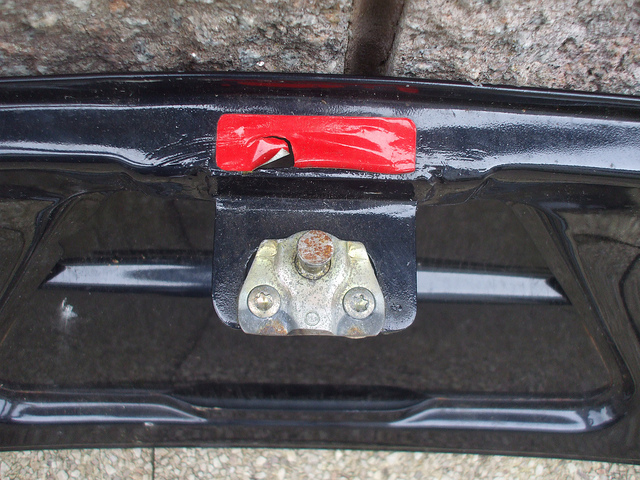 Its fitted with Torx bolts so all I know is that its off a modern car. No idea which one but going to go find a replacement asap.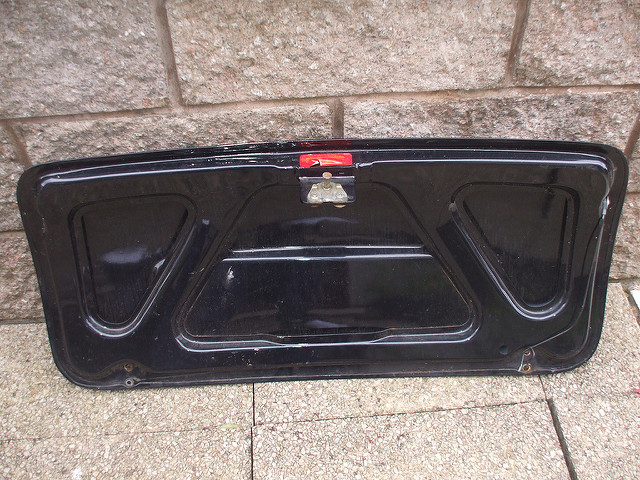 It still has the original recess so that bits kinda hollow and it shows how the lids been made. Plan is to get it painted and make up 3 panels to the shape of the cut outs on the inside. Get them slightly smaller than the recesses and get these parts then carbon fibre wrapped (in real carbon not the sh1tty vinyl....) Nice touch and hides the truth!


So I know have 4 bootlids in total......so anyone in need of a genuine bootlid? Got 2 for sale at £20 a pop. PM me if you need!

Also got a call from Phil around lunchtime. The front end is now welded on

Not bad for a mornings work! No pics of the front welded but its done and will get some tomorrow



Out tomorrow morning to work on it again. Bring on the sanding and filler!

Another mornings work done. Now the panels are on its a case of paint prep. Scotch Brited the intricate details and will take the Mirka sander over it for the big bits. This included working under the arches which was dam uncomfortable but it means the stone chip will have a good key to stick to.

And I got to work on the bay getting rid of the rust and old stone chip/sealer crap with the MBX. Satisfying job!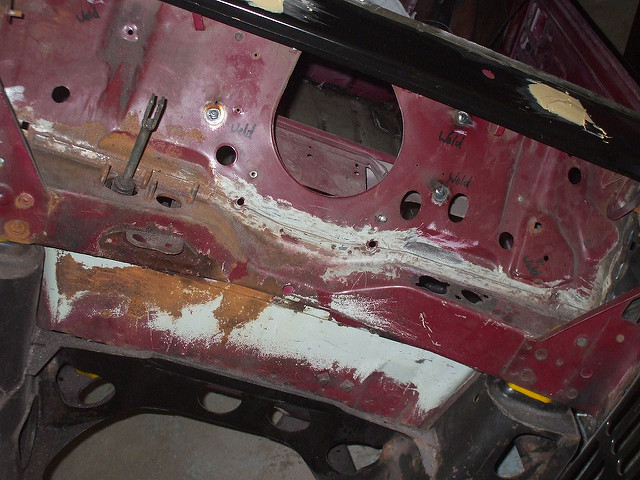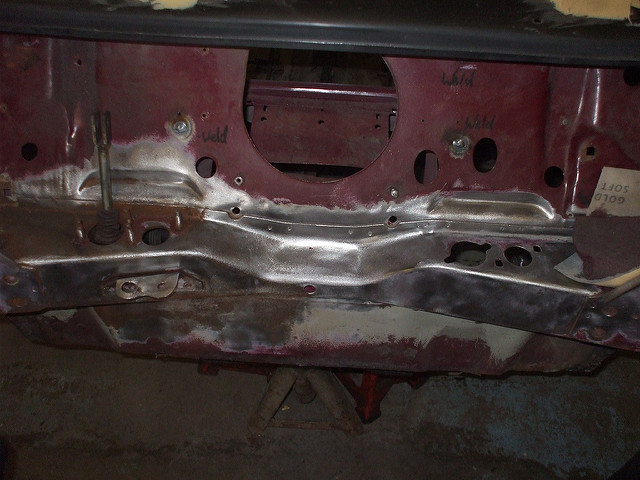 and the panels done too....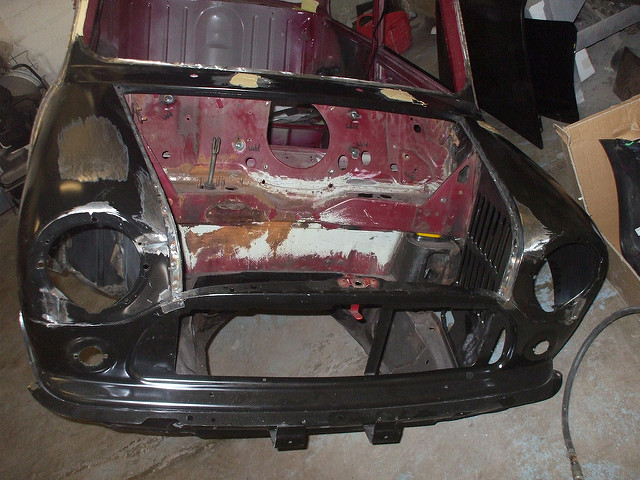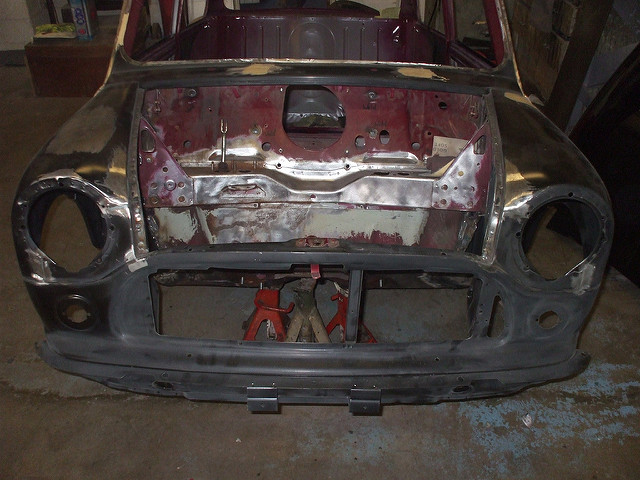 And I forgot to add this to yesterdays update but my parents tidied the garage ready for the cars return.

So Ive now got three areas. Cleaning/prep/paint, assembly, and final assembly



Main bench is all cleared to resto small parts and we have an old pasting table for putting all back together again and the rest of the garage is free for the car to return to.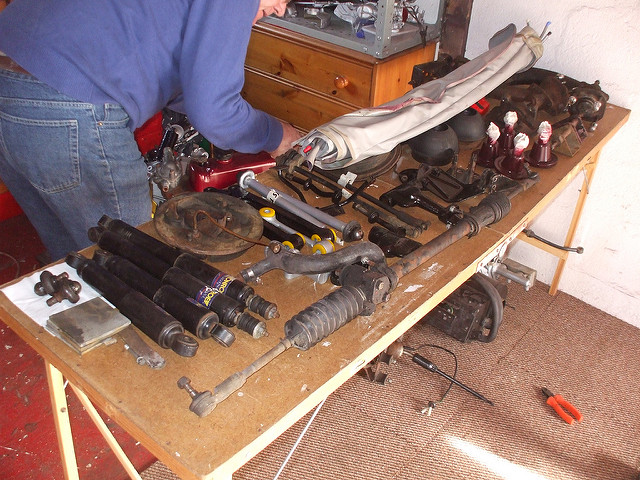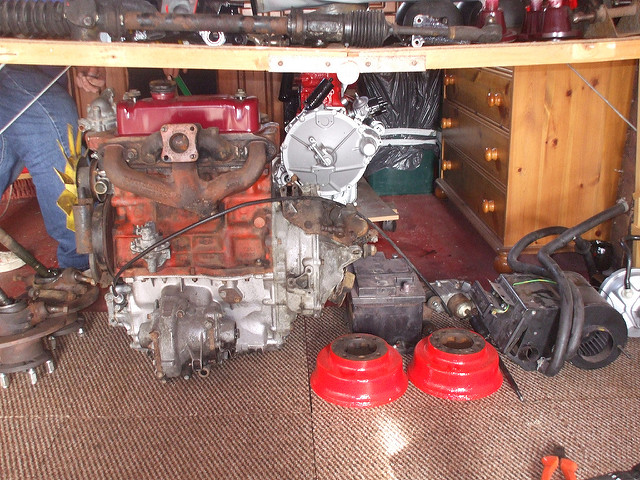 Also as I will be working on the car over winter its going to be cold in the garage. So we took some old carpet tiles (retro!) from the loft and put them down. Something soft for the car to go onto, to kneal on and also easy to replace when they get damaged/spilt on! Brilliant idea!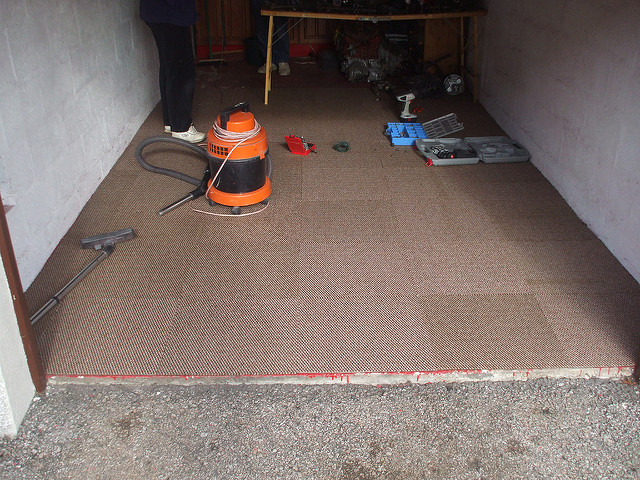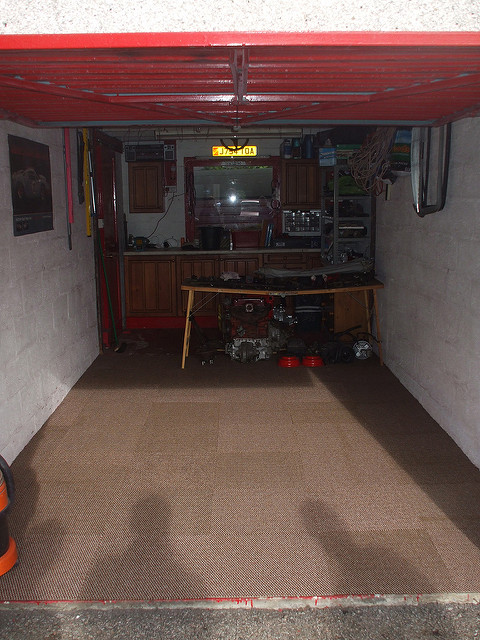 More progress monday afternoon all being well

10-10-2011
Well Ive been doing uni work/been at uni all day so thought I would wind down by working on some parts in the garage. Loads of suspension and steering parts to recondition so I set to work.

Started with a radius arm. Clarted in muck and covered in surface rust too.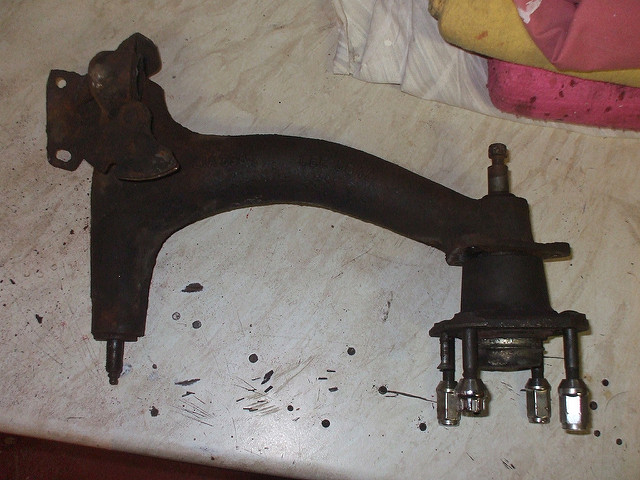 Took apart most of it and gave it a once over with a wire brush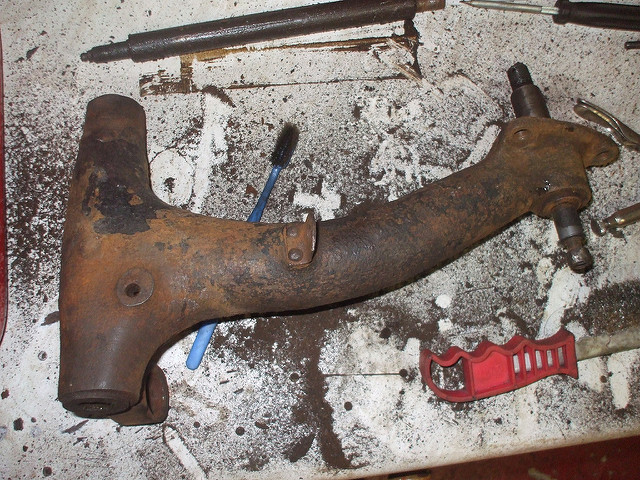 Then put loads of Deox Gel onto it and left it for about an hour whilest I worked on some of the smaller things.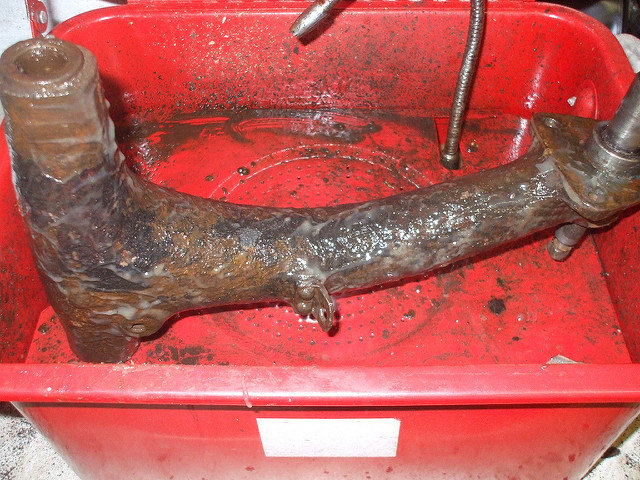 The hub came up really clean after the same treatment.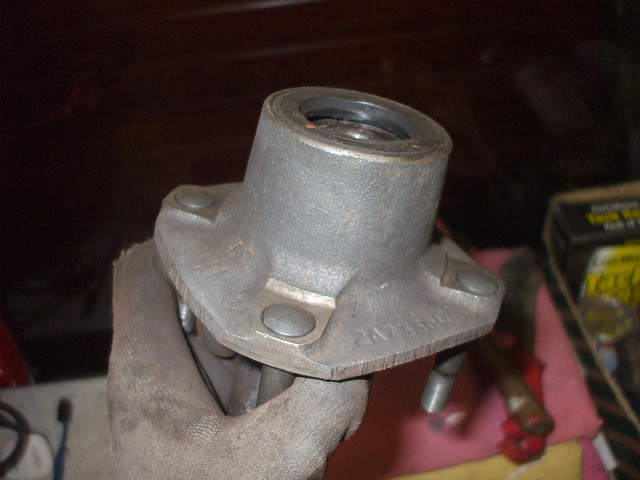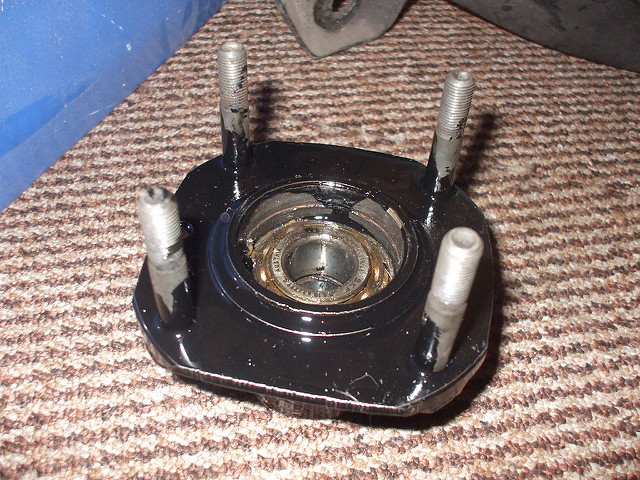 Then once I had aggitated and then washed off and degreased the radius arm I put on a couple coats of brush on smooth black hammerite.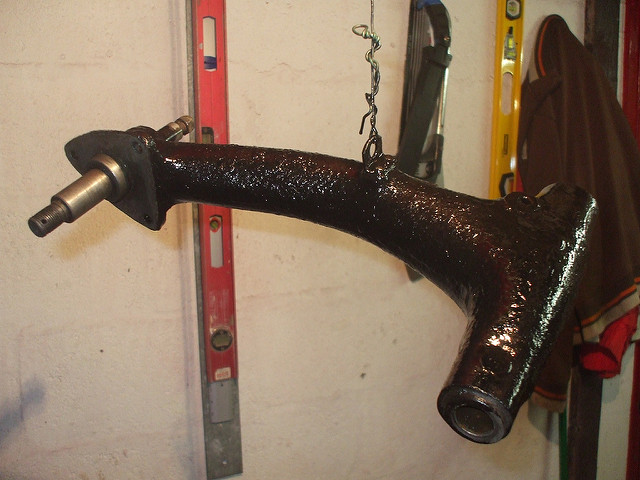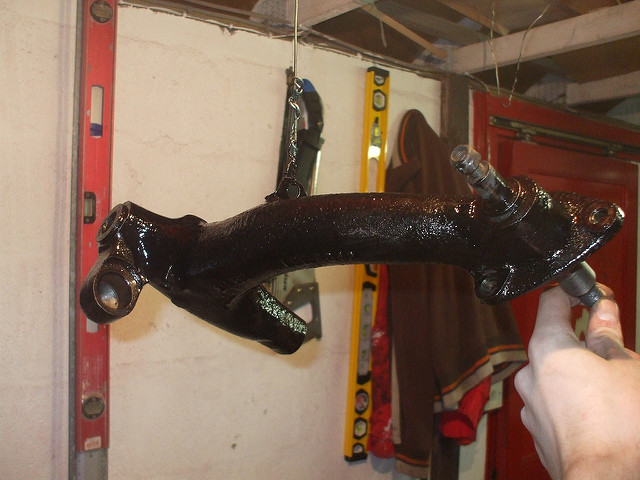 Came up a treat and just needs a few more coats!

Also got the steering rack done, just need to leave the track rod ends soaking in WD40 as they are well and truly seized.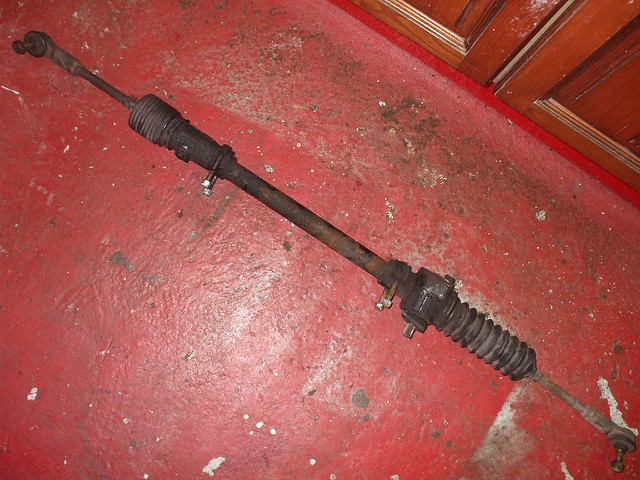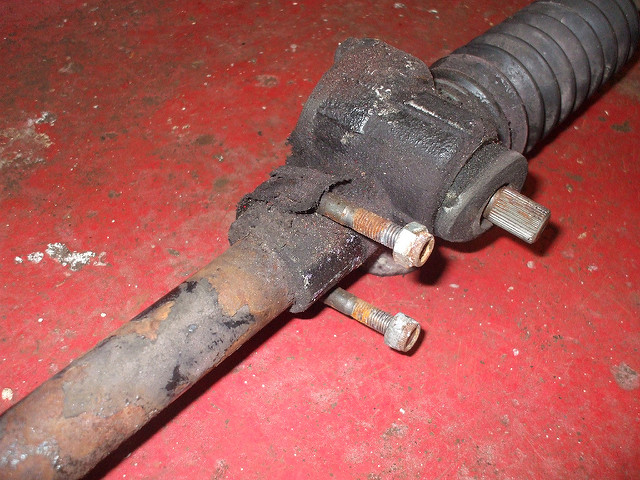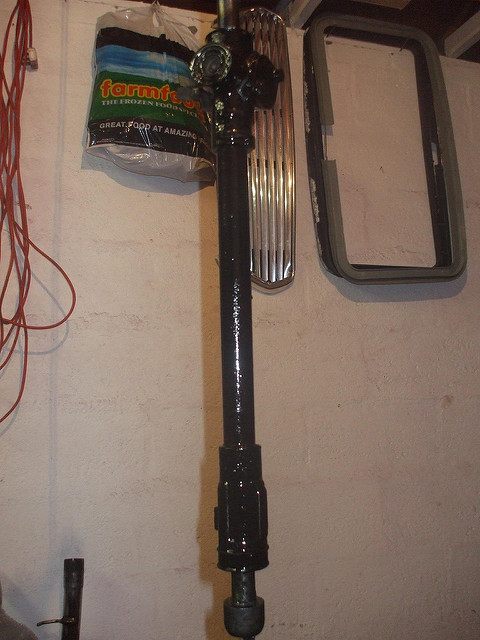 Also dug out an old cupboard and found a set of brand new Ferodo drums brake shoes. Result!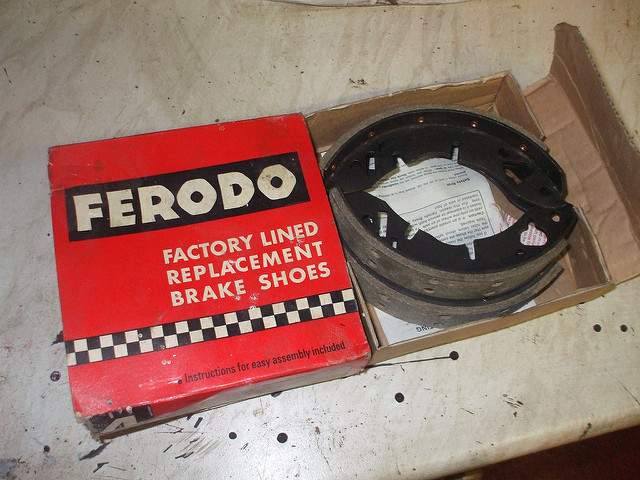 So more progress down. Running out of parts to redo quickly which is good! Just need subframes blasted and I can get them all reassembled again!
10-12-2011
Just won a genuine Sportspack steering rack on eBay for £26.99. Worth about £100 more so thats handy! Its got slightly more limited lock than a standard Mini which stps the 13s hitting the arches on full whack. Turning circle increases but hey ho!

10-18-2011
Well Im sitting full of the cold freezing but still wrapped in many many blankets. Nae fine! So no progress on the car but my new sportspack steering rack arrived. So that cheered me up a bit.

Pretty much brand new condition. Just needs a bit of a clean and a touch up of paint to make it perfect. Not bad for an eBay bargain! £100 saved!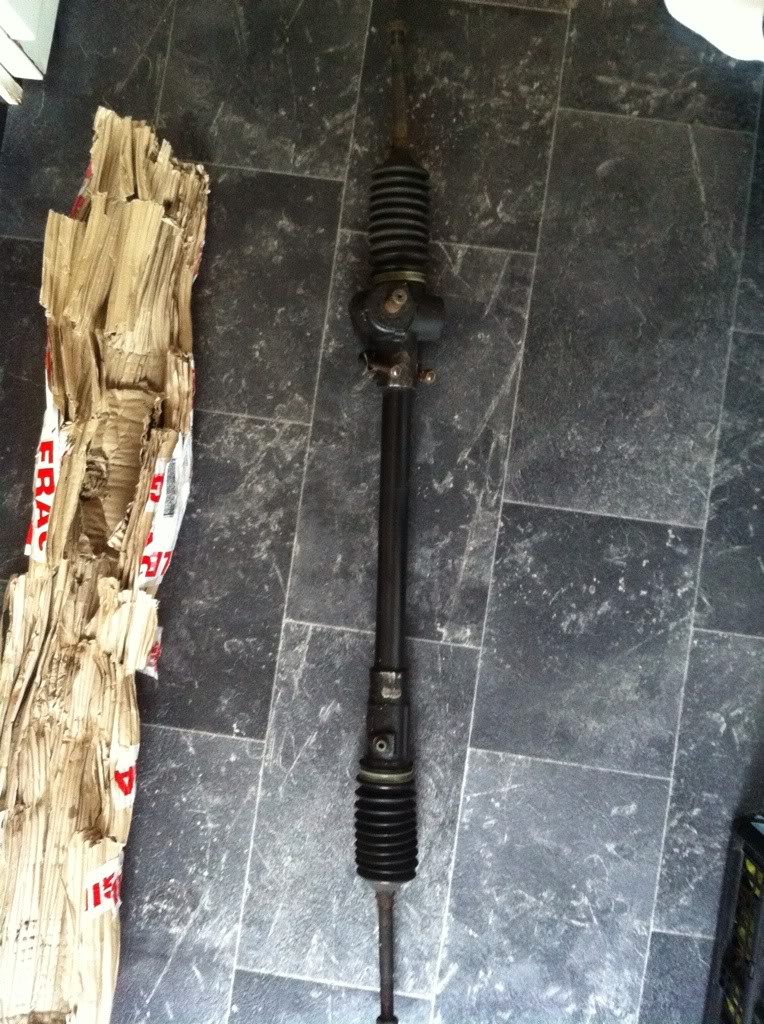 10-24-2011
Well no progress to report but will keep the thread alive......something Ive been working on in the late evenings after work/uni work......

Before we moved the car my friend Tom Joy Photography and I took some footage of the car and parts both in my garage and over at Banchory. The idea? To make a final rebuild video once the car is done. So here is a little teaser. To watch in HD go through to the Vimeo page. So far its just working on a few parts and general pan shots but sets the scene to the 'scene' video.....

http://www.vimeo.com/31048921

(How do you embed a Vimeo video on here!?)



11-8-2011
Thanks Andrew!


And an update from me too! (Shock horror!)

Had a day off for once from uni and work so what better way to spend a day off than go work on the car?

So I got the inside scotch brited ready for paint along with the inside of the bootlid. Far too many nooks and crannies for my liking but anyway its done now......

Main thing we got done was the fuel tank modification which is brilliant.

Ive never liked the way the fuel neck physically sticks out of the cars rear as it looks like an afterthought and to old fashioned. So Ive always hankered after an internal fill one. I know it means its got less capacity but its still got more than a 5.5 gallon tank some folk fit. So having left the tank outside upside down and open for months it was safe to work on with no risk of explosions! So I soon I set about cutting off the neck.....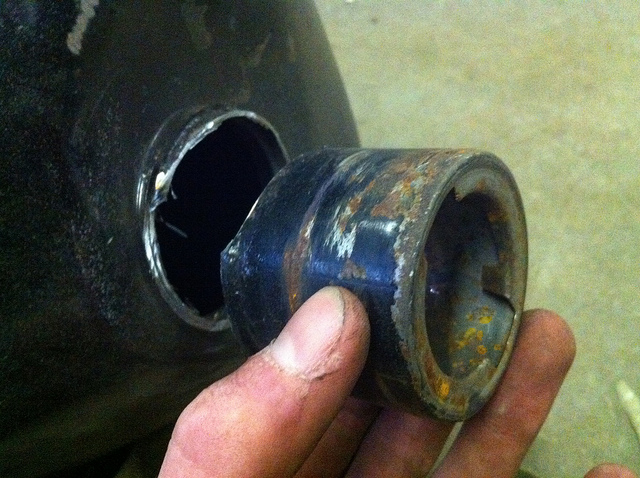 grinding the opening smooth for the plate to go on......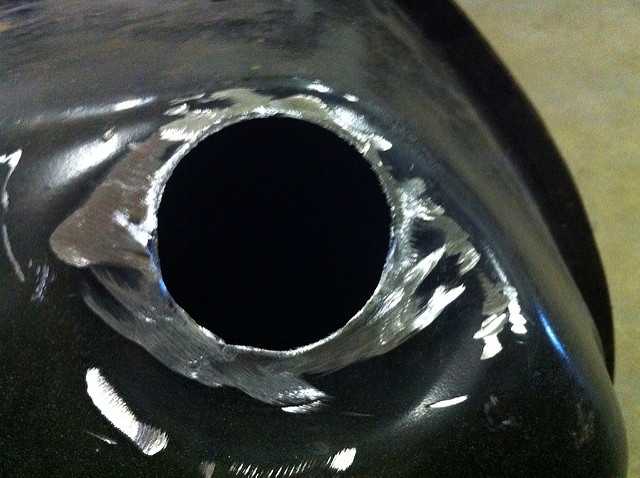 plate welded on......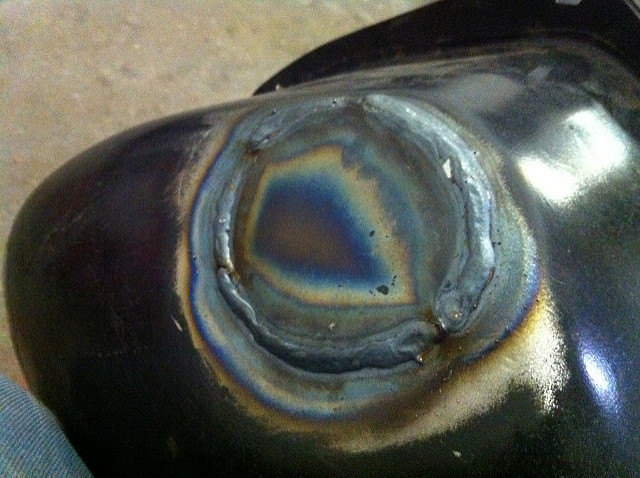 hole bored for new location.......love the stepper drill bit!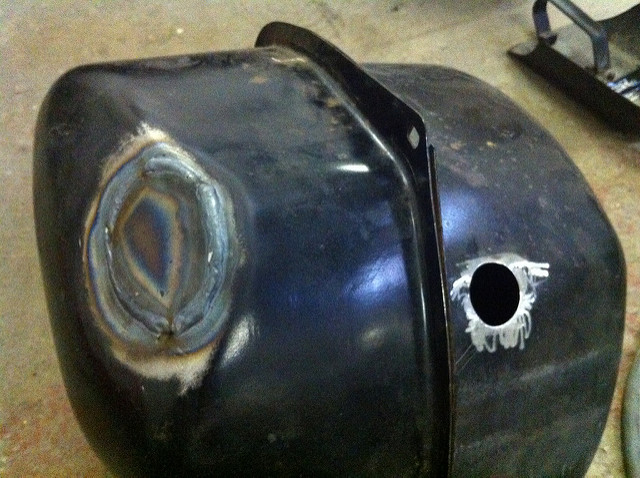 and then welded the shortened neck into place after careful testing in the car. Its quite tight in there but it works well and will make refueling more interesting at the pumps! Im ready for the bizarre looks.....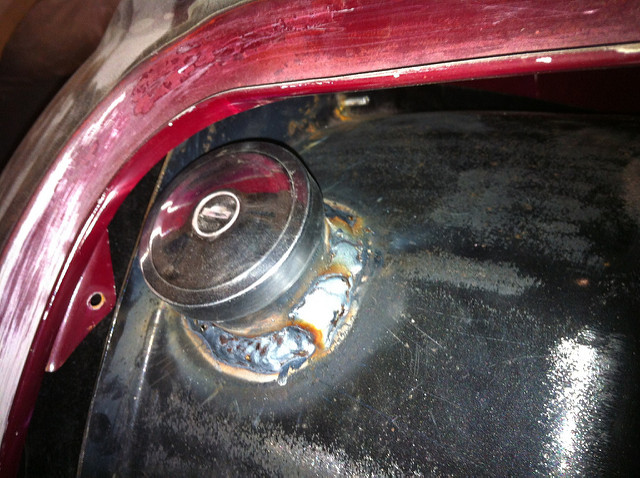 Welds look pretty hefty and thats because they are. Metal of the neck was so thin we kept blowing through it so took some time to get it all ok.

Also I do believe a man has welded himself to the inside of the neck

Prize if you spot him!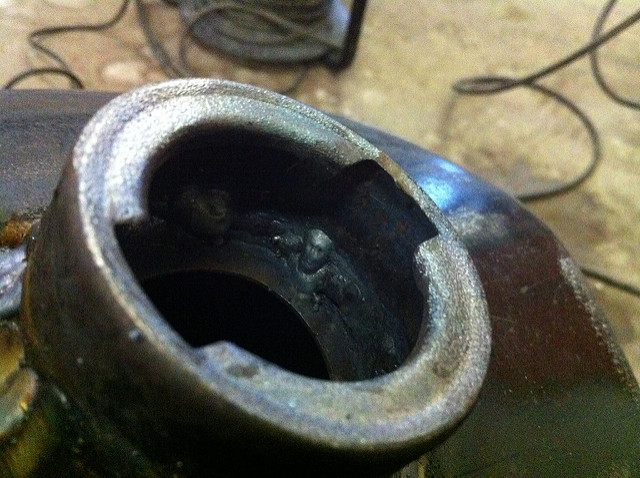 and here it is seam sealered up. More to come on this later but the plans for it will be kept up my sleeve until rebuild time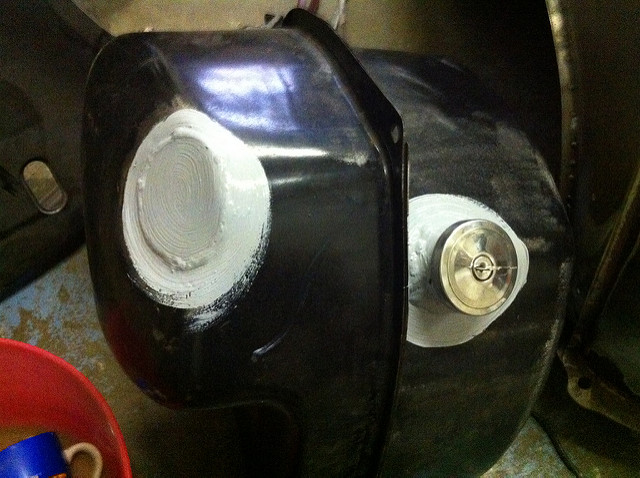 Also I managed to get the boot all tidied up and then etch primed and seam sealered. No water is getting into my boot!!!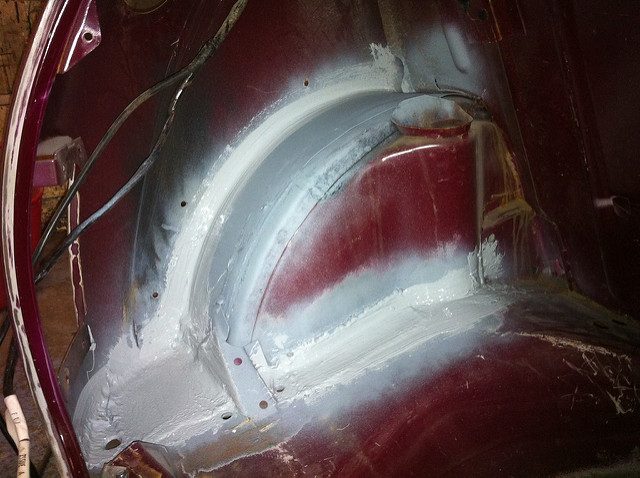 So it doesn't look like much progress but these things take time. Should be done and back to me by the end of the month/early december all going well. Hope it doesn't snow and I can actually get it home though........

Next stop is the internal hinged bootlid!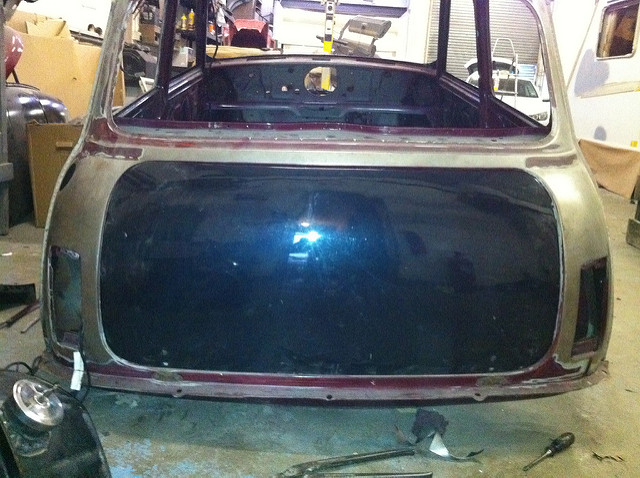 11-17-2011
So a wee tiny tiny update. Nipped out to Banchory with parts today. Arch templates for cutting and fitting the sportspack arches, boot hinges and bonnet hinges to finally create the internal hinges I so desire and the arches themselves.

Took a couple pics of progress. Not much just the wing and A panel but they are far too busy at the mo. Not taking on any more work until the new year so they can get everything out the door before xmas. Suppose thats a good sign though!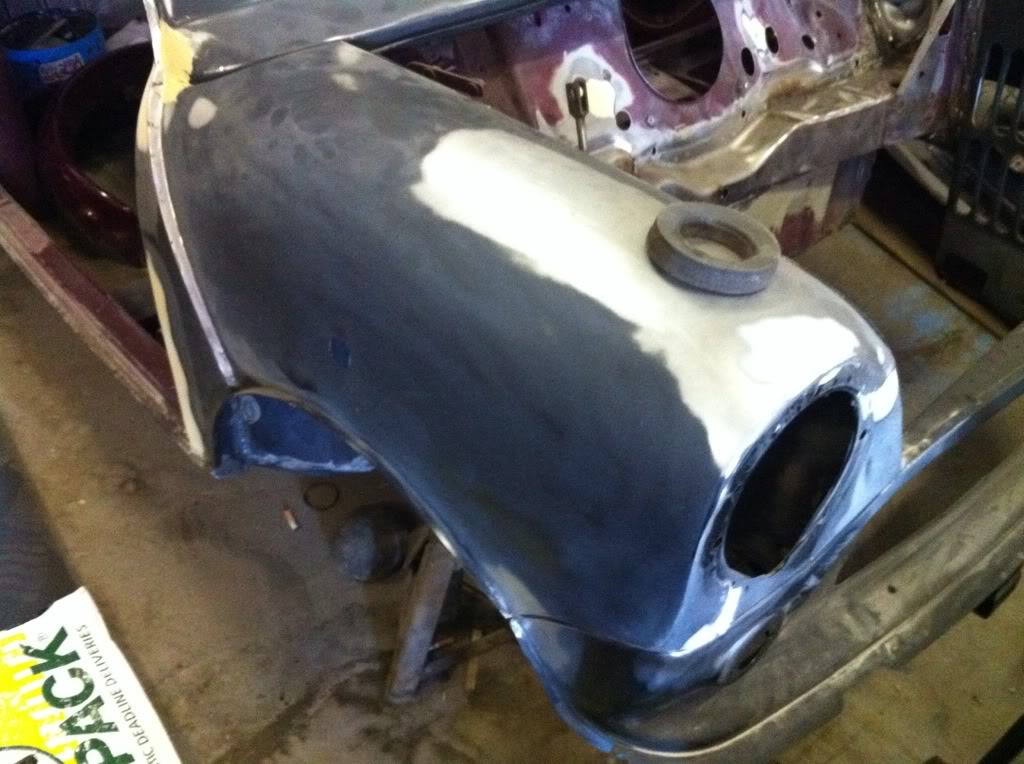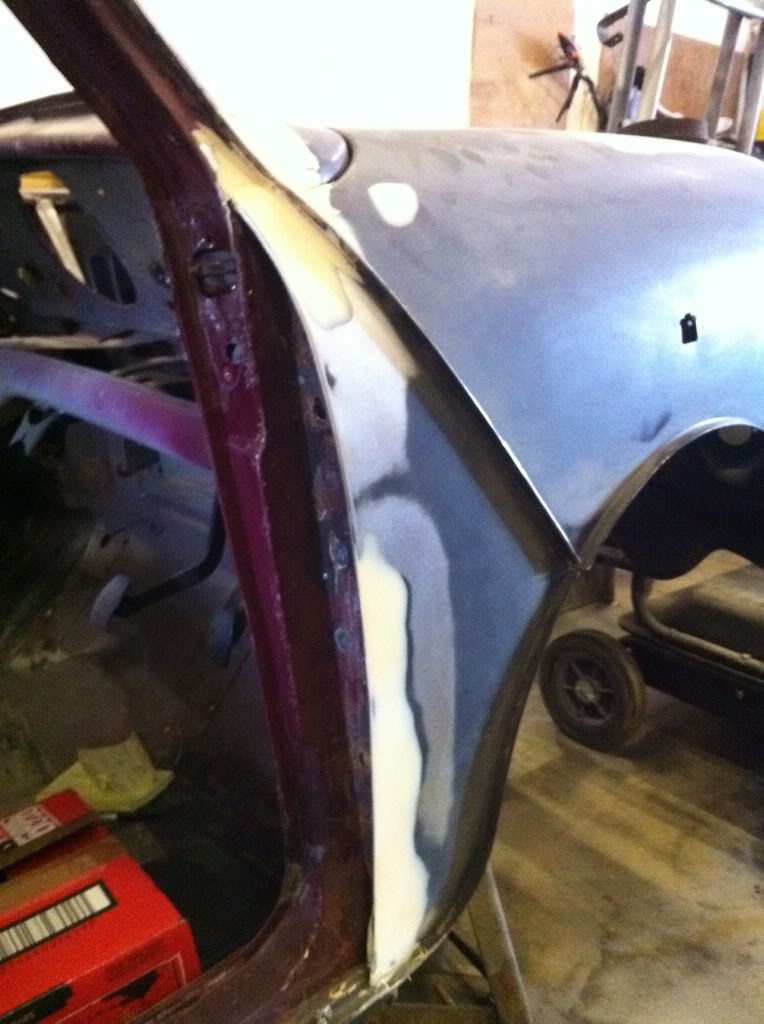 Boring update but if your into smoothed filler pictures, fill yer boots

11-22-2011
Small update. Needed to get a boot seal so bought a few things at the same time (you know....to save on postage costs...? :whistle: )

So I got the boot seal, carpets, discs and pads, throttle cable and stainless steel link pipe for linking my stainless manifold to my stainless exhaust




Look at the shiny shiny!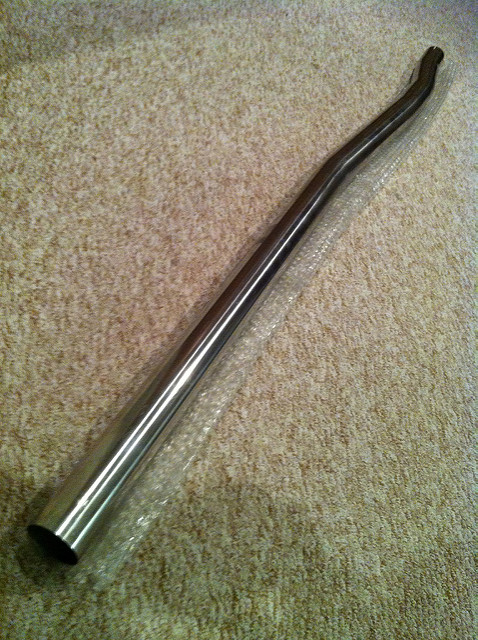 So thats all. I'll let you get on with your day now

12-2-2011
Another day another parcel



Today it was a harness bar from Jon Betts. Custom made for me to fit 4 point bolt in harnesses and to be mounted between the rear arches, not on top.

Well made and strong its got 4 bolts along the tube for the harnesses and then three bolts through either end plate for fixing. HUGE bolts but they need to be to keep me in ma seat!

Heres some pics. Plan is to try and polish this up to mirror finish but if that doesn't work out paint it either body colour (cranberry red) or roof colour (Rover Quicksilver) Just need to get the harness eye bolts for it and Im done
Thankfully they don't cost the earth....at only £1.30 per bolt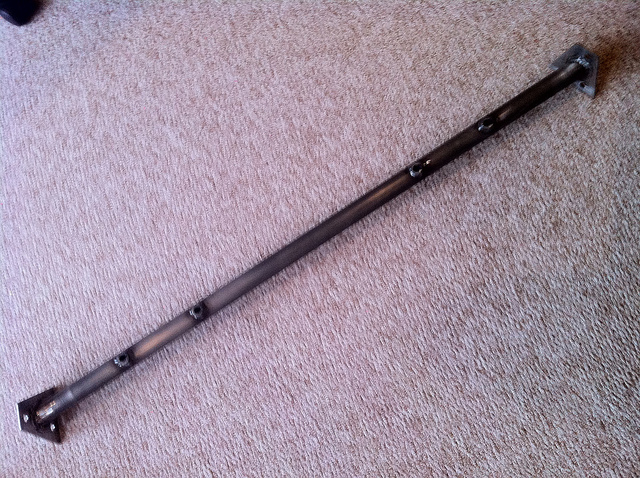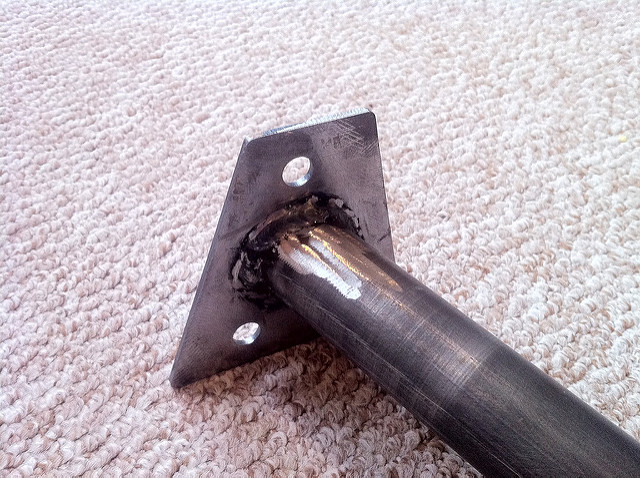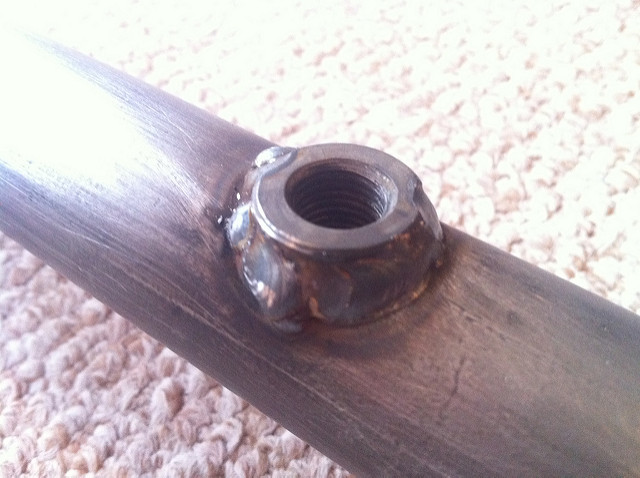 IMG_0820 by Andrew Forbes Photography, on Flickr

Chuffed!
12-6-2011
Still nothing major happening here.....

Uni finished early so I popped by Kirkton to see progress. Unfortunately not much! Been too busy with repairs and haven't had time to look at the Mini. Shame really as I was initially told I would have it back before christmas but theres no way thats happening now! Nevermind these things take time....

Few pics I took anyhow....

One wing cut, reinforcing strip welded in and arch kinda fitted correctly. Its off in the middle where the light will go. Needs adjusting.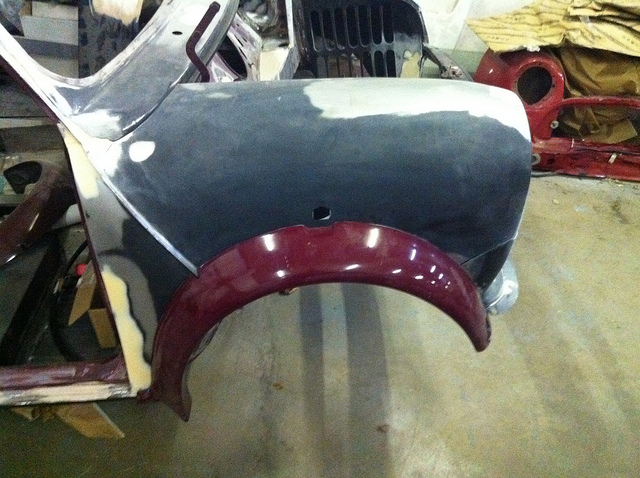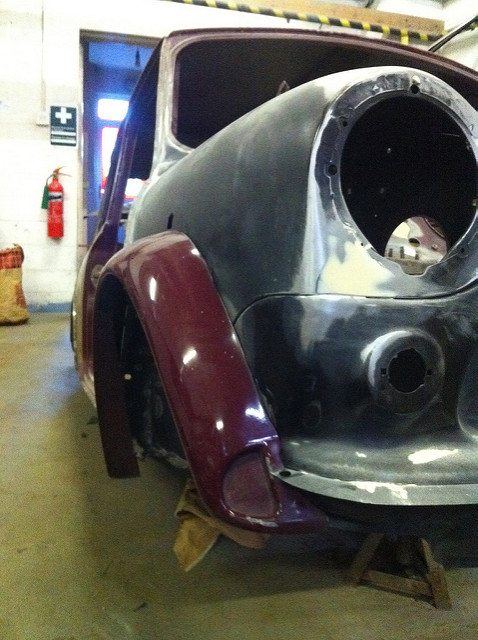 Bulkhead holes welded and filled. These holes were for LHD cars only so just had a blanking plate over them. No need for it as its yet another rust trap so this is much better!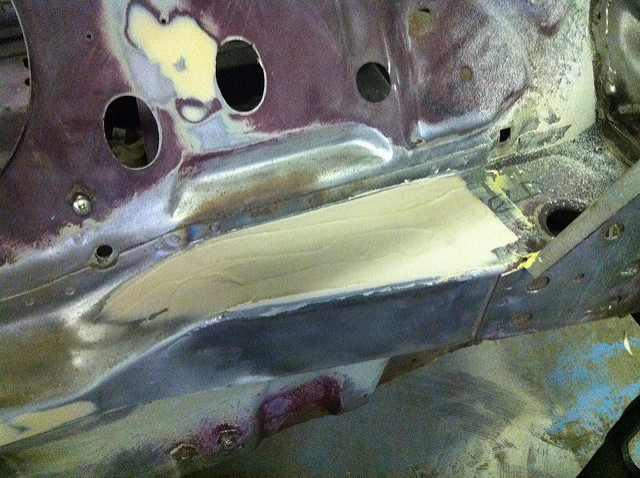 Getting ready to cut passenger side. Inch above existing lip for clearance for the 13s.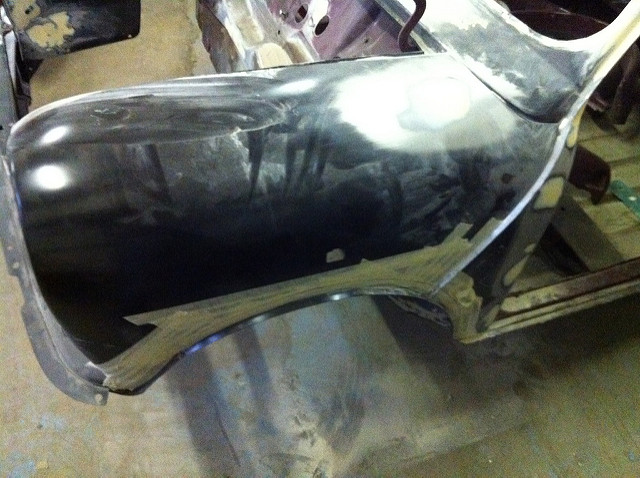 And a pal for the car to have! A MK1 Morris Cooper S Rally car in for some crash damage repair. Ive been told its 'just an ornament' until mine is done out of the way......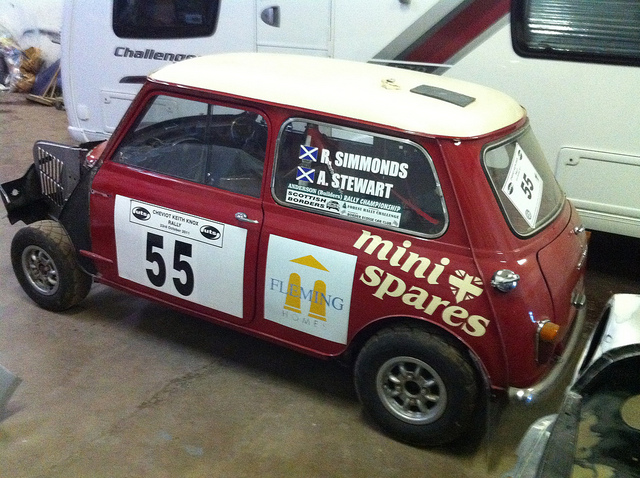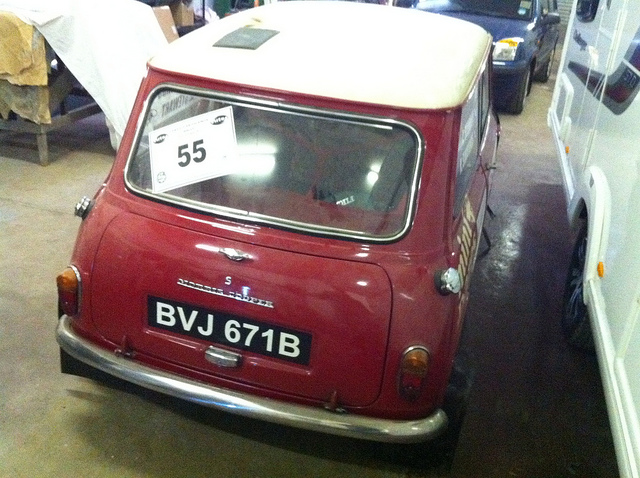 The damage....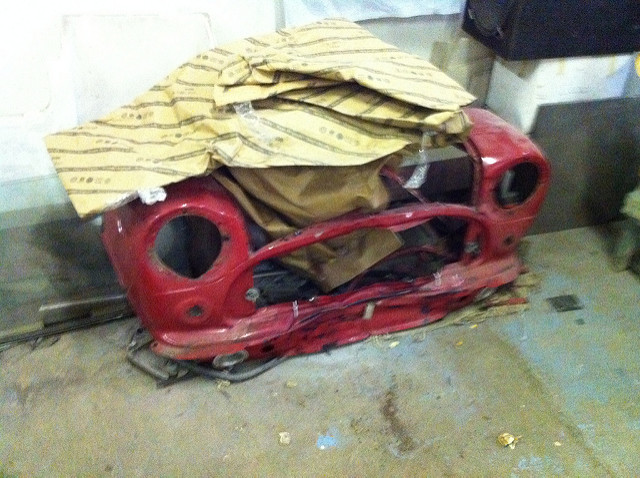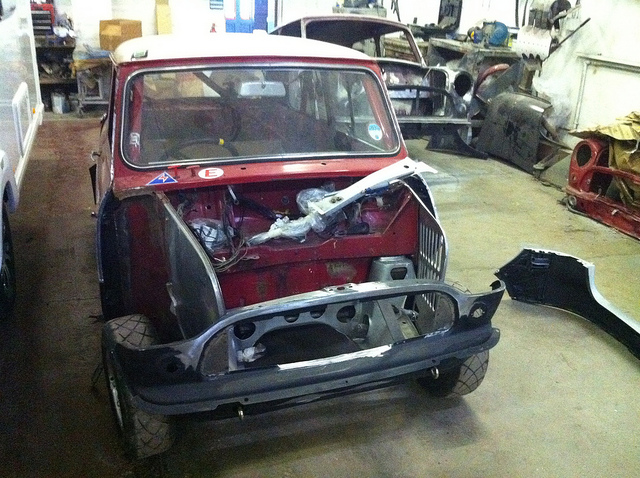 Very nice but hopefully I will get some more progress with it soon.....had really bargained on it being back by xmas so i could get the majority of the rebuild done in january when I'm off uni but hey ho.....
12-8-2011
And a wee update. To go along with my harness bar and harnesses I had to get eyelet bolts to fit them all together! Not bad for £1.18 each when most places charge £5 per bolt!

So its x8 as they are 4 point harnesses.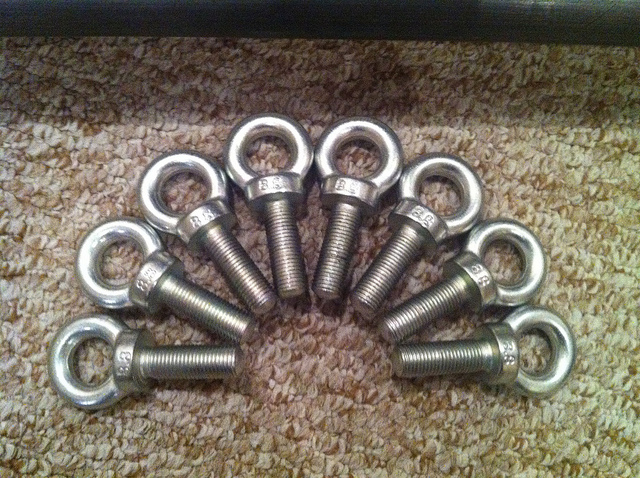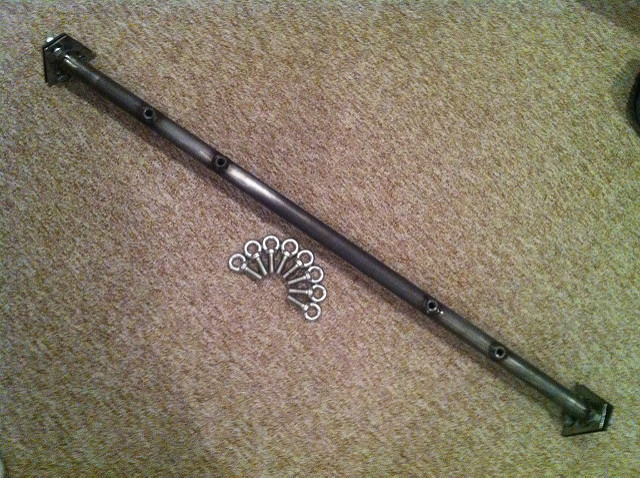 They screw into the bar perfectly but will need to try and grind some metal off the top of the bar nuts as they don't line up perfectly straight which not only looks awful but isn't great for safety as the force wouldn't be at a straight angle and would then warp the bar in an impact.....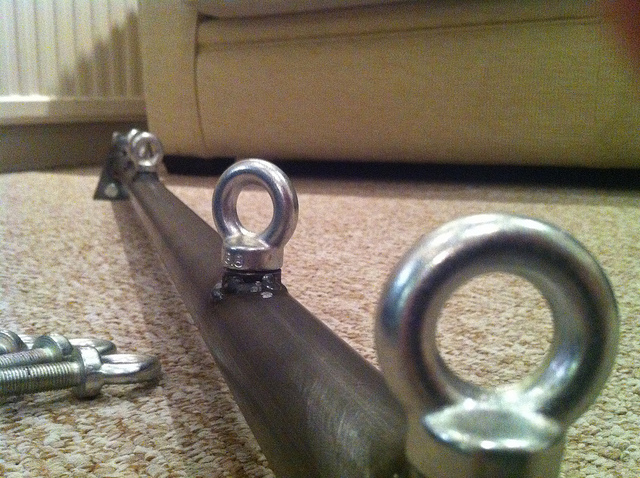 I shouldn't be buying so many bits with the car not back from the body shop yet but I need to, to keep my motivation and interest going

Harness bar was from JonBetts on here. Eylets I shall get back to you on.....Bar cost me £35 as I got it unpainted. Usually £45



And thanks! Full time student and 24hr contract at work means Ive no time to work on it but when holidays from uni begin at end of next week I will get a few days out to work on the beast

12-15-2011
Collected my harnesses. Rather chuffed with them! Came with couple bolts too which is fine. Don't need them really as I bought new ones but still nice to have as spares!

Crap photo as phone went mad in the low light....but you get the idea. Got them for a steal but don't intend on them being the final harnesses for the car.....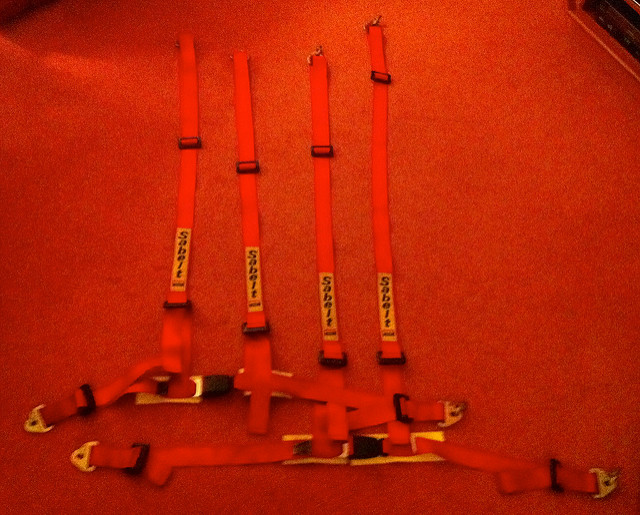 12-19-2011
Did intend on going out to work on the car today but slept in....will go tomorrow instead



But I did mock up the seats, harnesses and harness bar together to get a feel of what they would look like. Safe to say, I like!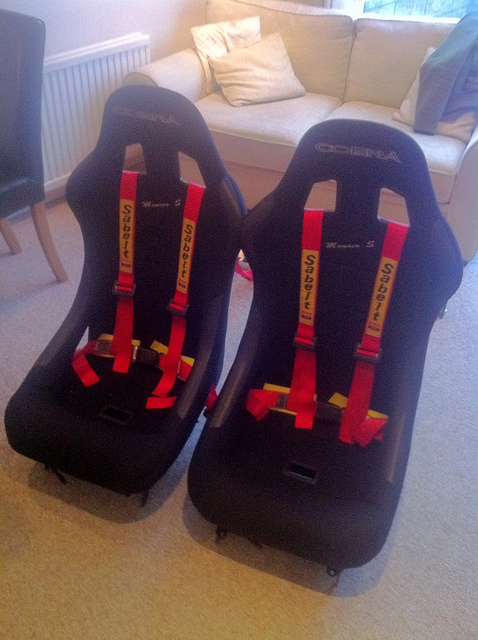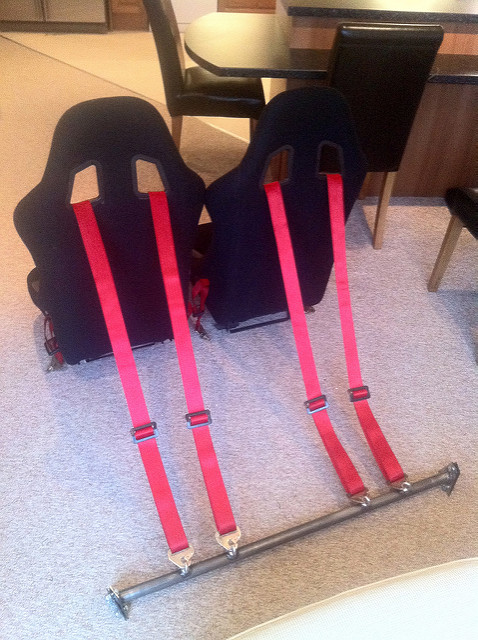 So should get some progress pics tomorrow

12-20-2011
MADE IT OUT TO WORK ON THE CAR TODAY! First time in a month and a half!

So got cracking mainly on paint prep. Sanding sanding sanding but got to play with another new toy. 3M Pistol Grip sander. Comes with loads of different heads, one of which is a little green rubber/plastic combo which is great for getting rid of old paint in seconds. Labour saving tools = win!

Also got started on the internal hinges for the boot. After buying some old bonnet hinges for the job we found the profile/shape of them just wasn't going to work. So be resourceful we grabbed a nearby coil spring and chopped it up! Gave us some C shaped metal rods and with the help of an oxyacetylene torch we got the desired bend. All we need to do now is weld it to the boot lid and make up a hinge/bracket for inside the boot! Should look good when its all done and painted!

So to the pics....

Firstly the dash of the 60s Cooper S Rally car that is now Trigs neighbour in the workshop. Switches and wrinkle paint everywhere. Very nice!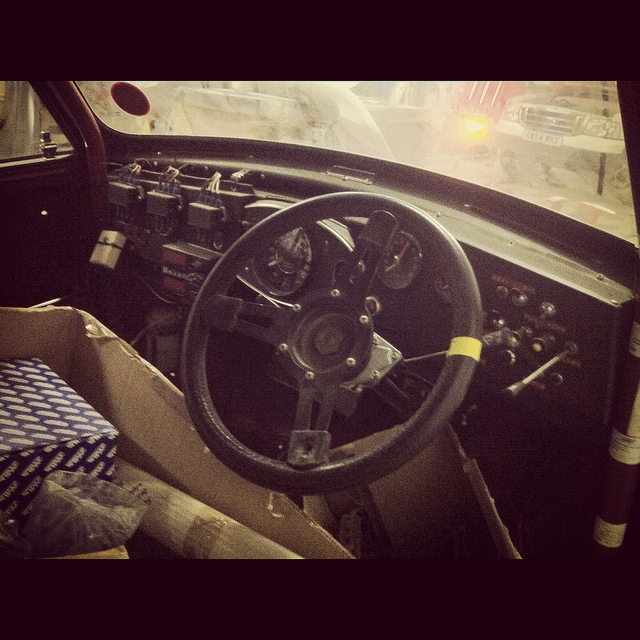 Phil had already fitted the passenger side arch and it sits perfectly. I managed to sort the drivers side alignment after a bit of careful filing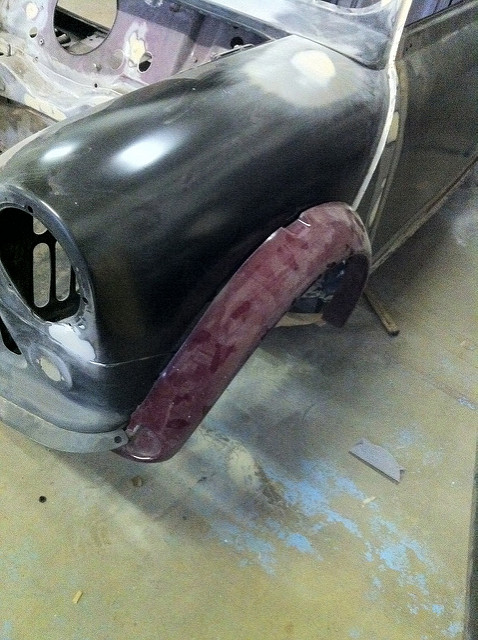 Heres the tool that is brilliant!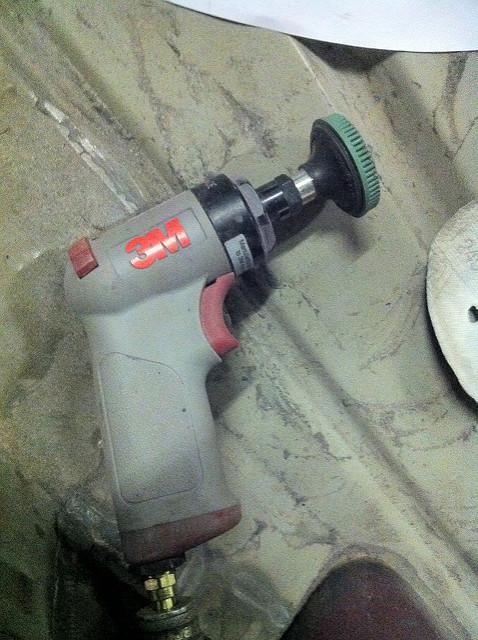 Funcy tool head. Really really soft but somehow works a treat on old paint!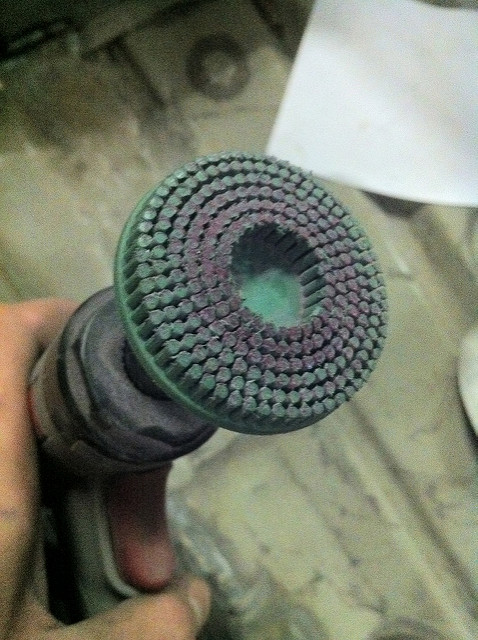 Made up a template for the hinge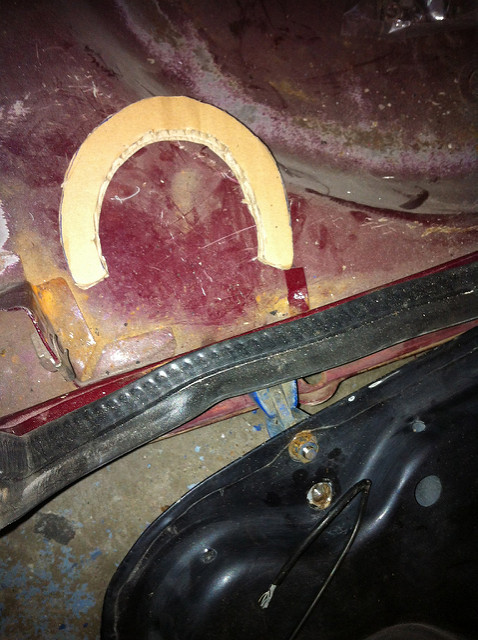 So take one spring





Coil spring cut and shaped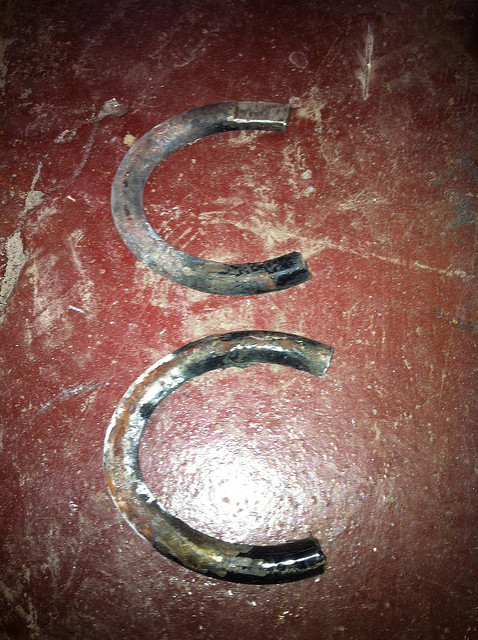 And another friend for Trig. A Cooper Sportspack in Tahiti Blue. Previously 'restored' under 2 years ago for thousands but a total mess. In to get an idea of prices and level of work required to get it back up to scratch! So out with 'Moby' the workshop wheel hoist!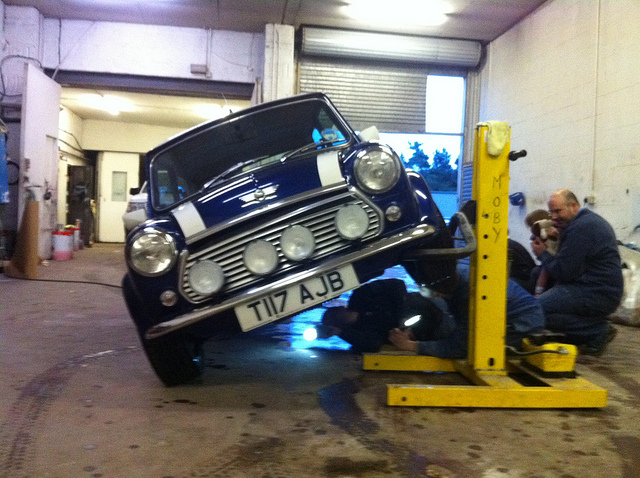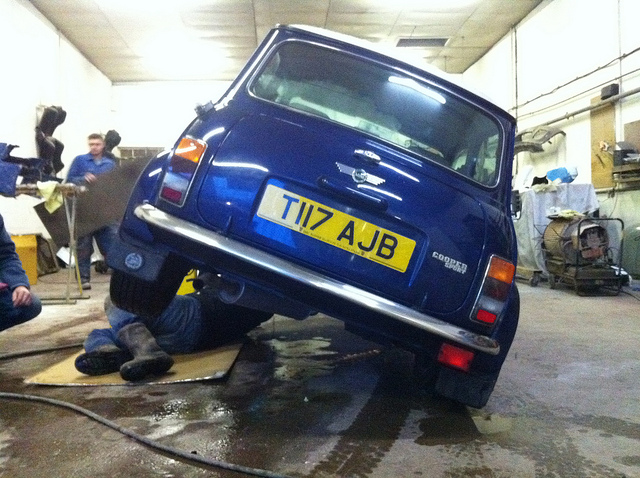 So its now Kirkton Motor Body Mini Repairs! We have the 1960s Morris Cooper S Rally car, the Cooper Sport and Trig. Getting a name for quality minis now so thats a good sign!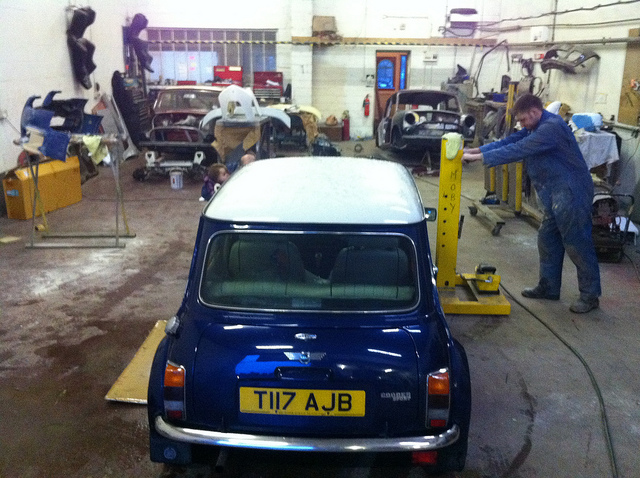 So no pics of paint prep progress as its well....paint prep....so kinda boring....

No idea when I'll next be out to work on it but the guys were working on after their tea tonight on it as Phil needs it gone now!
12-29-2011
Well Phil texted me couple days before christmas saying the car was ready for primer! Didn't get a chance to go out and check it over before yesterday to see if it was truly ready or not. Couple little things still to do like properly mount the boot lid which is proving to be a total ball ache. However the filler neck hole has now been welded up and filleted smooth, outer panels are all ready and prepped and just the roof to do a final bit of prep on. Where we tubbed the arches still needs a bit more welding to strengthen and tidy up rough edges but progress indeed! Should (I hope) have the car back full painted, flatted and polished by last week of January (I hope so as I booked a week off then to start rebuilding it......)

I took some more video when i was out so stay tuned for the second teaser video.

In the mean time I leave you with this. Ive had the images to make this for over 2 years but never got round to editing them together :) Very happy with the final outcome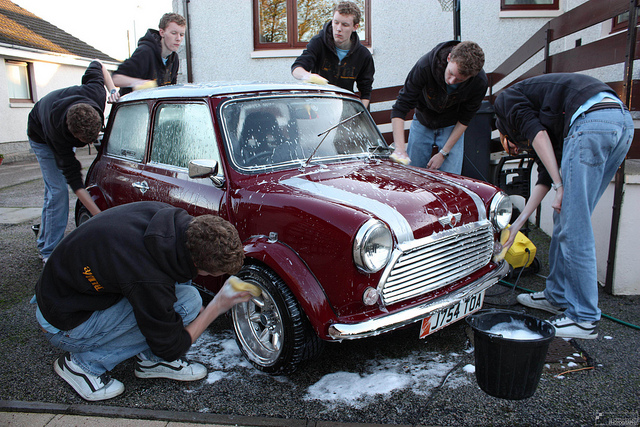 If only it was looking this good at the moment :sad: But will look a LOT better by time its back on the road

1-19-2012
So after my laptop threw a wobbly and died I haven't managed to update the thread for a couple weeks! Safe to say Ive been busy! Finished Uni work 6 days early before hand in (had Xmas day and new years day off and every other day been churning out the design work) so I could manage a few days out at the mini. So today is day one of many this month


When I arrived we decided to get the arches prepped. Before rebuild the rear wheels hit on the rear arches under compression so with the tubbed arches we need to take advantage of them! So I got to work with the air saw and cut out a segment of the aches so the wheels will clear the arch and go up into it rather than hit it. Cars going to be very low so this is going to help. This took balls as these arches are genuine OE Rover sportspacks worth £400 new. I didn't want to muck up the cutting!!!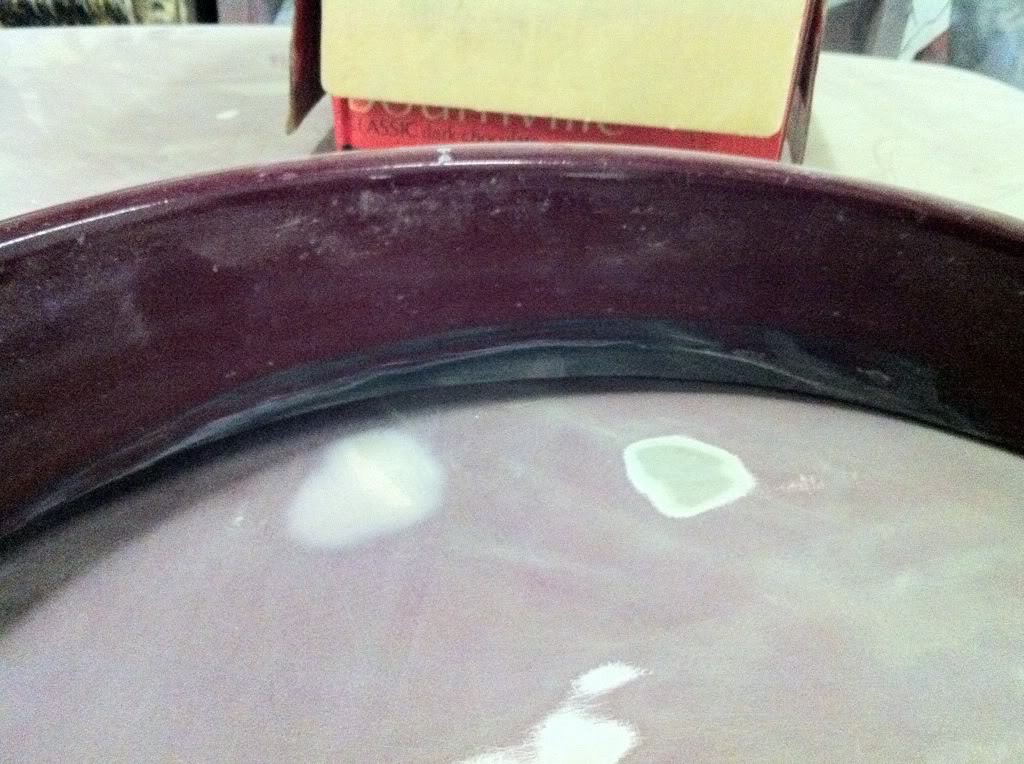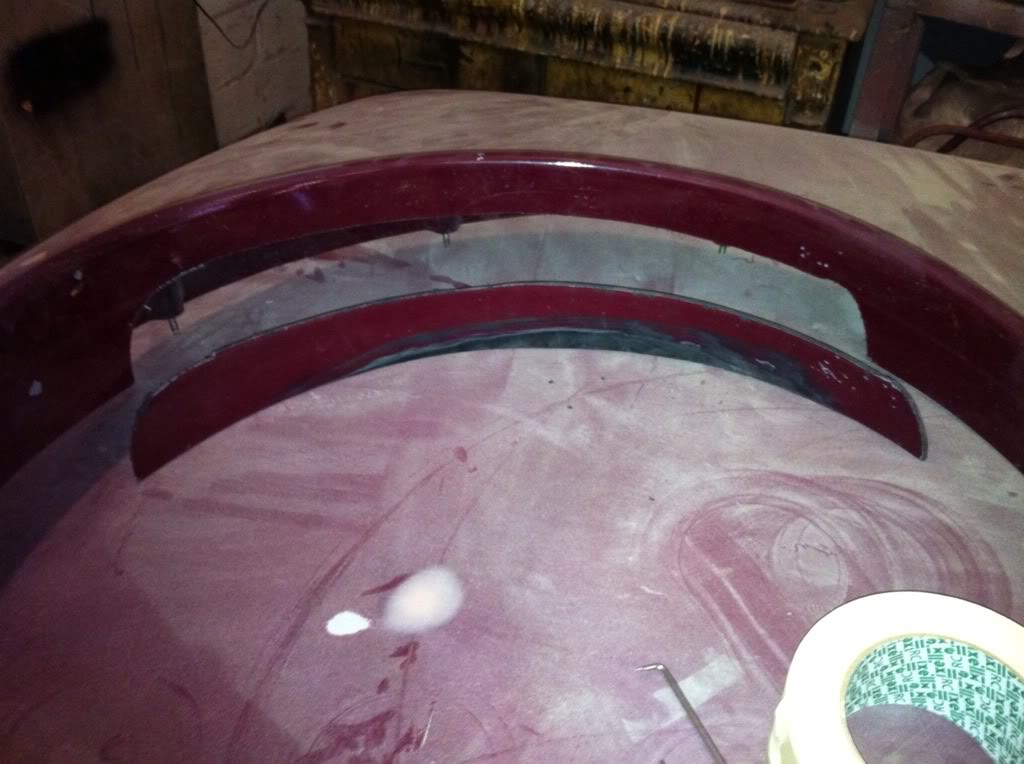 Then I prepped the rest of them ready for paint. Almost finished just needs a bit of final hand sanding to get rid of a load of stone chips in tight areas.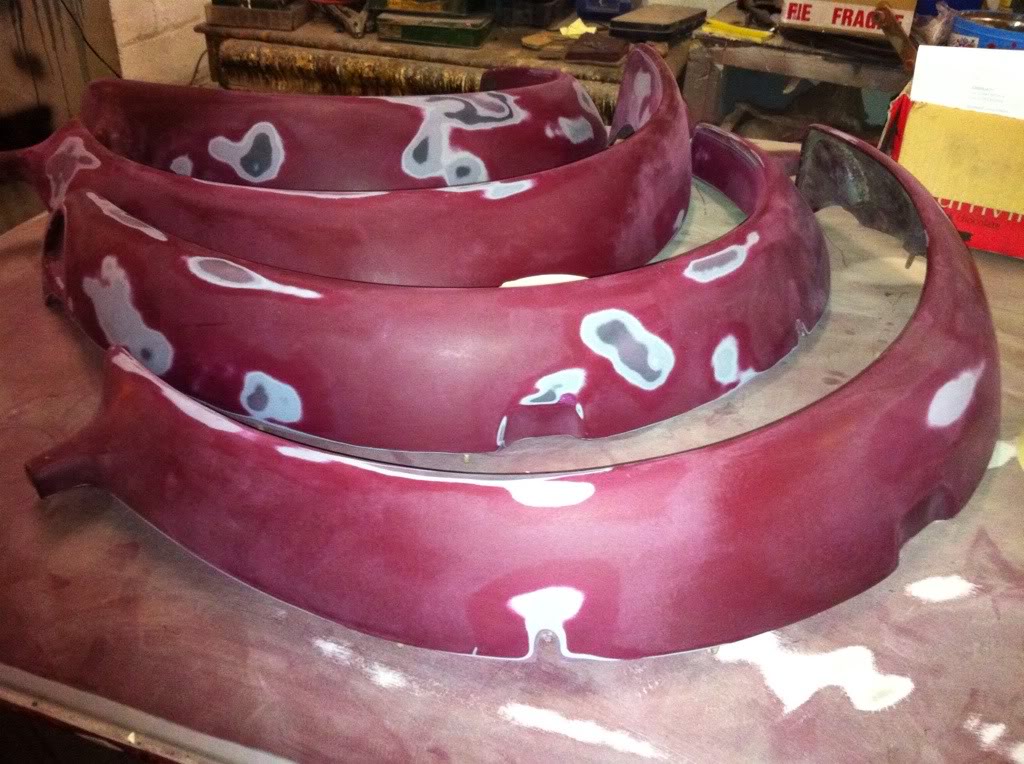 I also bought a latch, striker plate and bonnet pull from kit car specialists Europa Spares for the bootlid. Decided to mount the handle on the rear seat support plate in the centre of the car. That way either passenger or driver can open the boot from an easily accessed place you won't accidentally pull on!!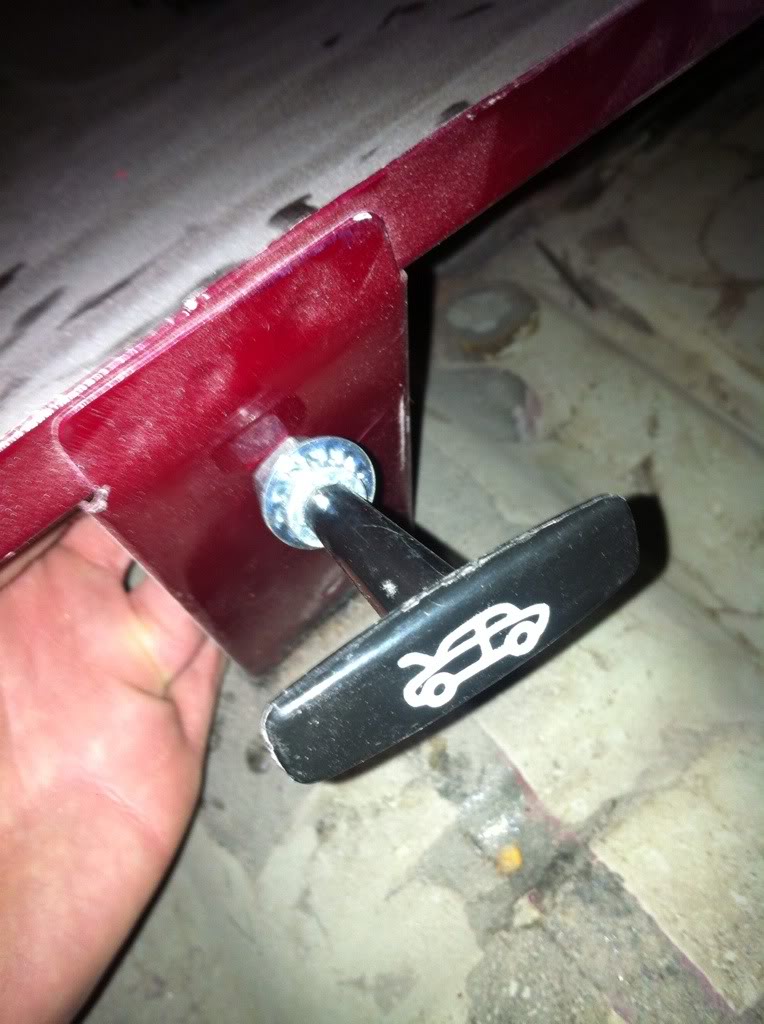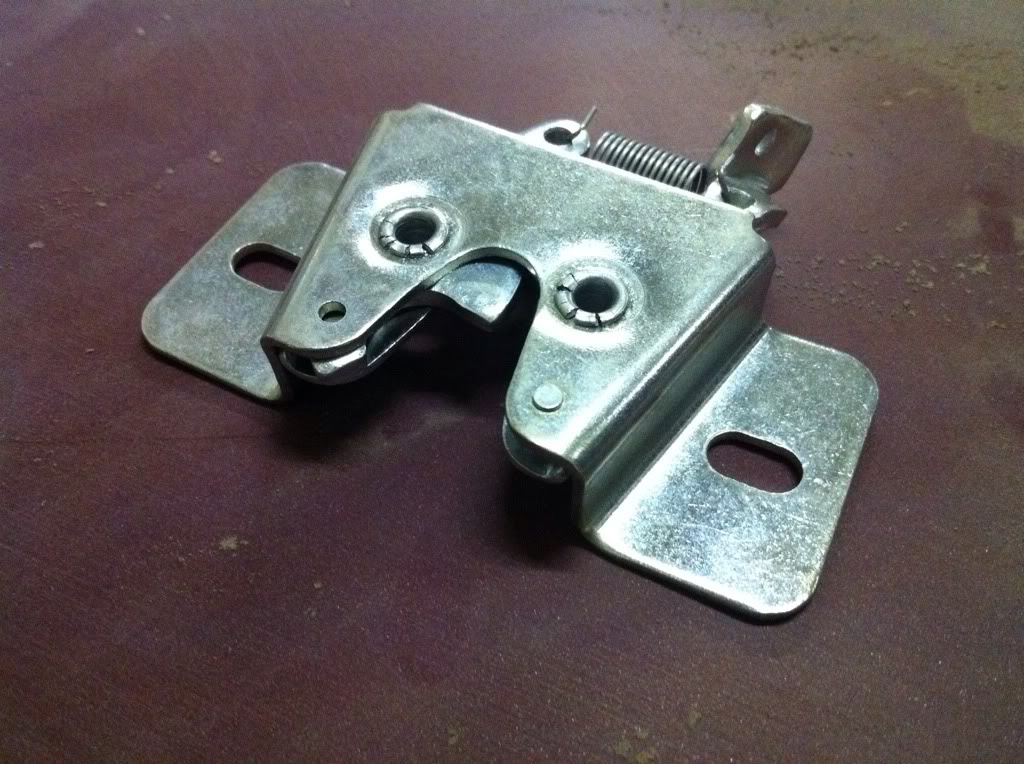 The spring looks weak but is beyond strong! Literally fires out the pin when it's released

Also mocked up a bracket for the latch as it will need to align perfectly with the bootlid striker plate. Only made out of cardboard at the mo, will make a metal version tomorrow morning. Little project to practice welding on hopefully! :)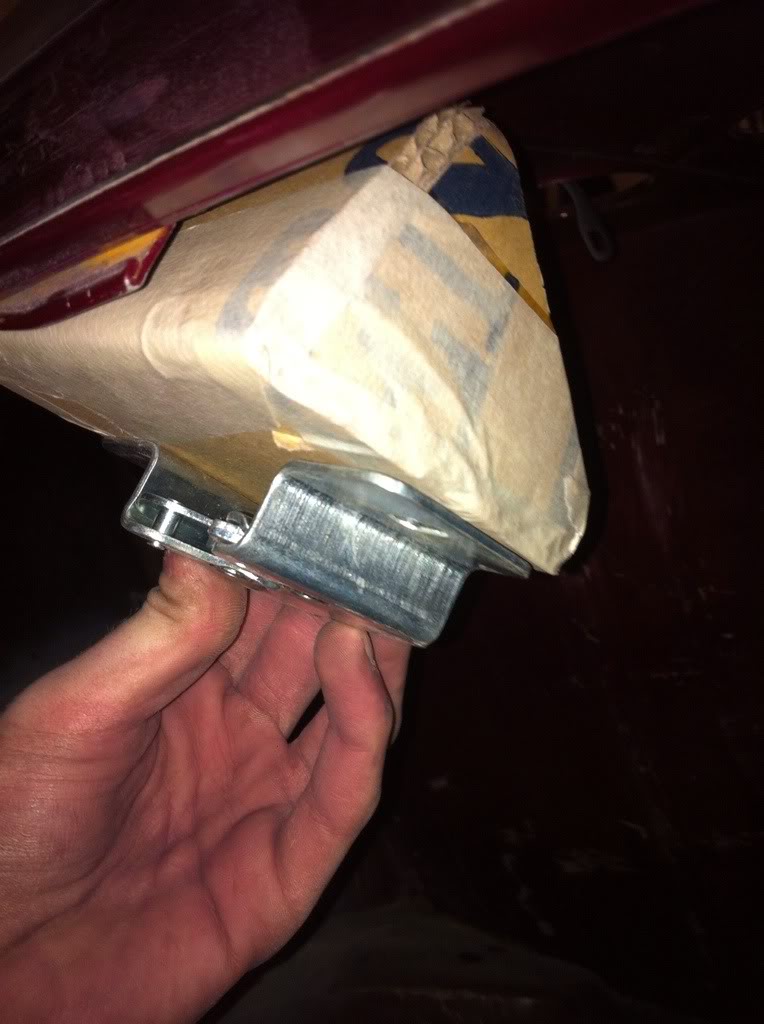 Back to it tomorrow for another few hours! :) Another morning working on the motor vehicle! Major step forward this morning. Bootlid is done! Most will know by now that Im after internal hinges and catch for the bootlid so today we set about doing the hinges. Got rid of the paint on the bit we would be welding onto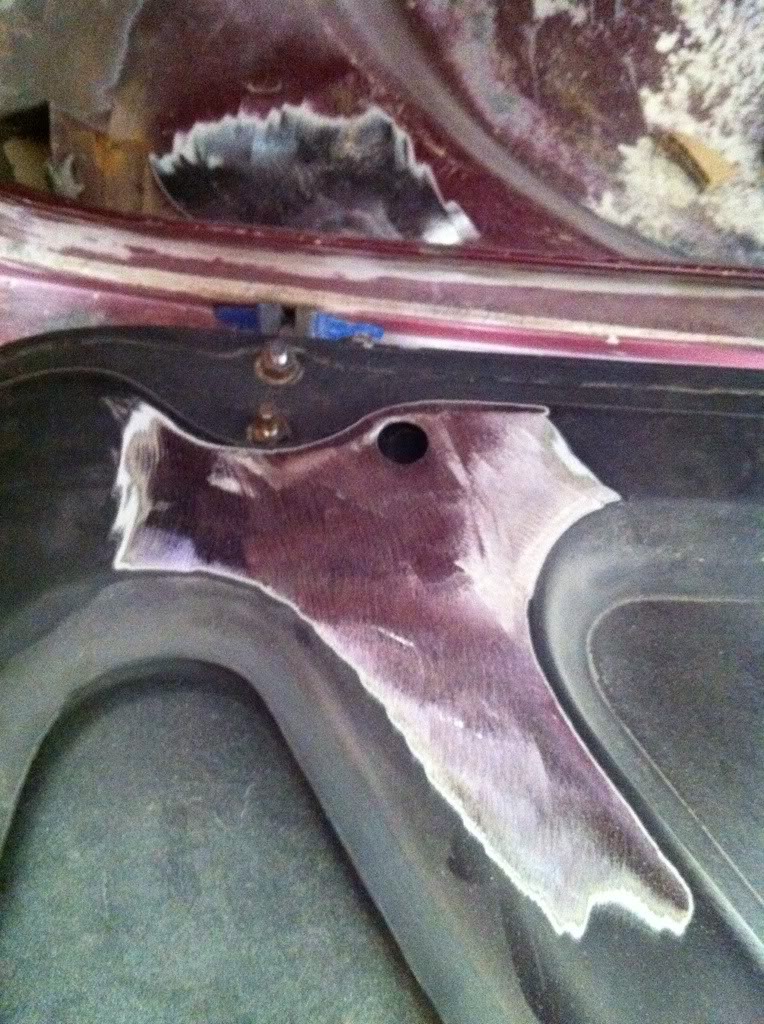 Then with a lot of trial fitting of the hinges and positioning of them/tweaking with an oxyacetylene torch we got it bang on to create this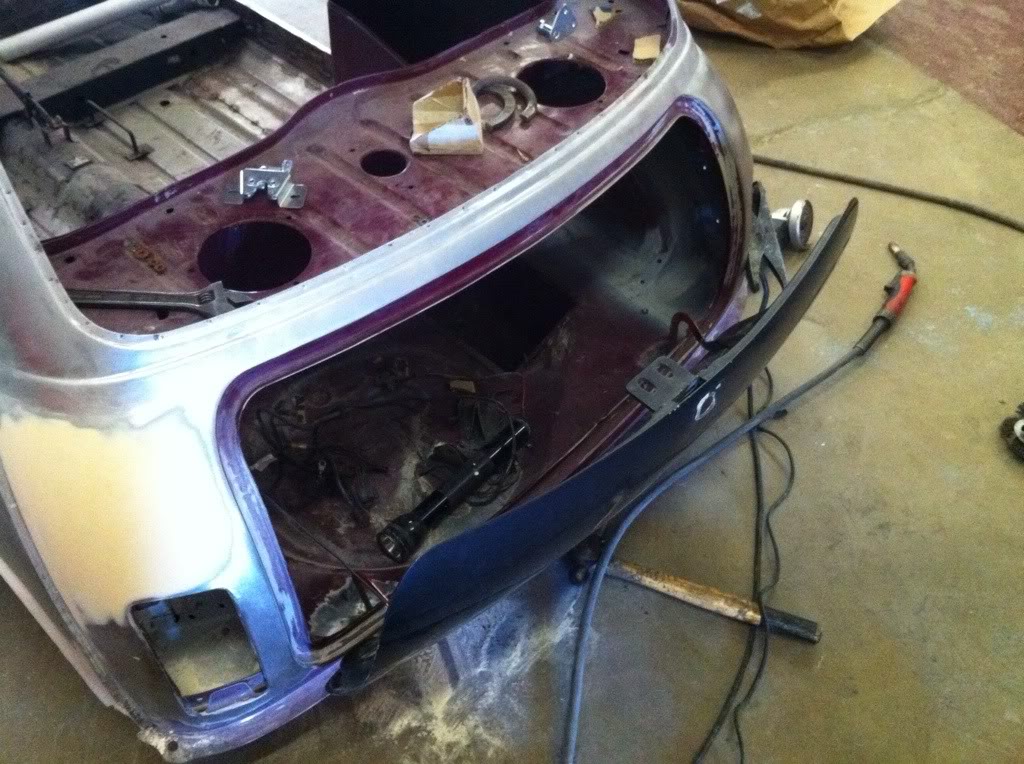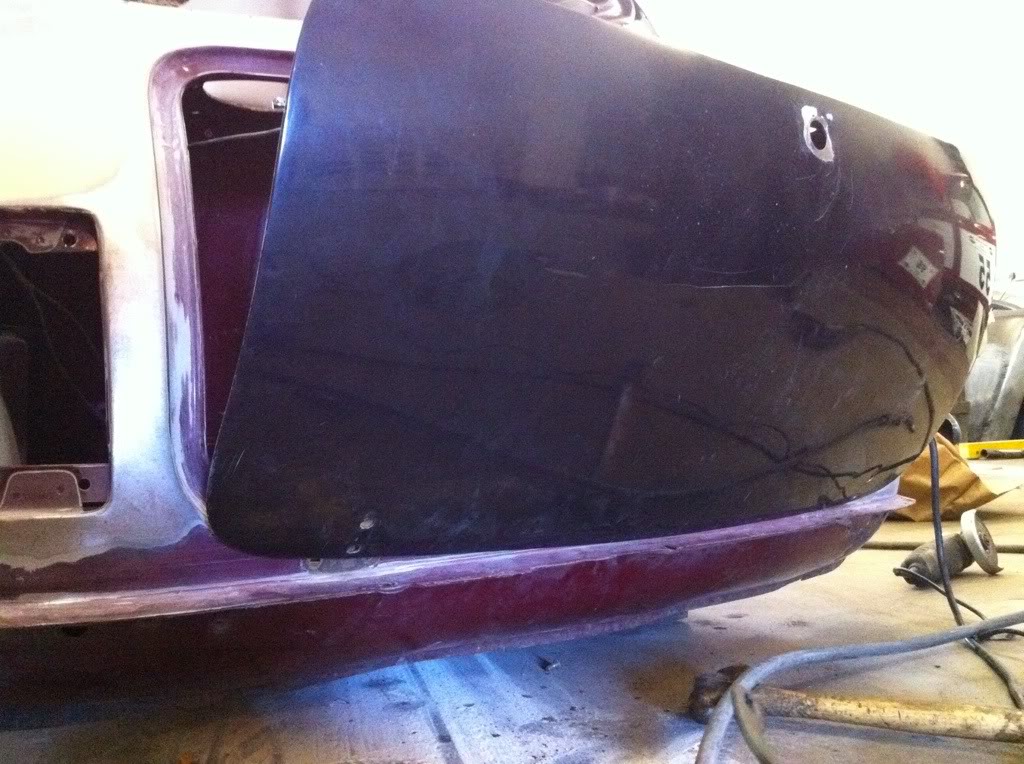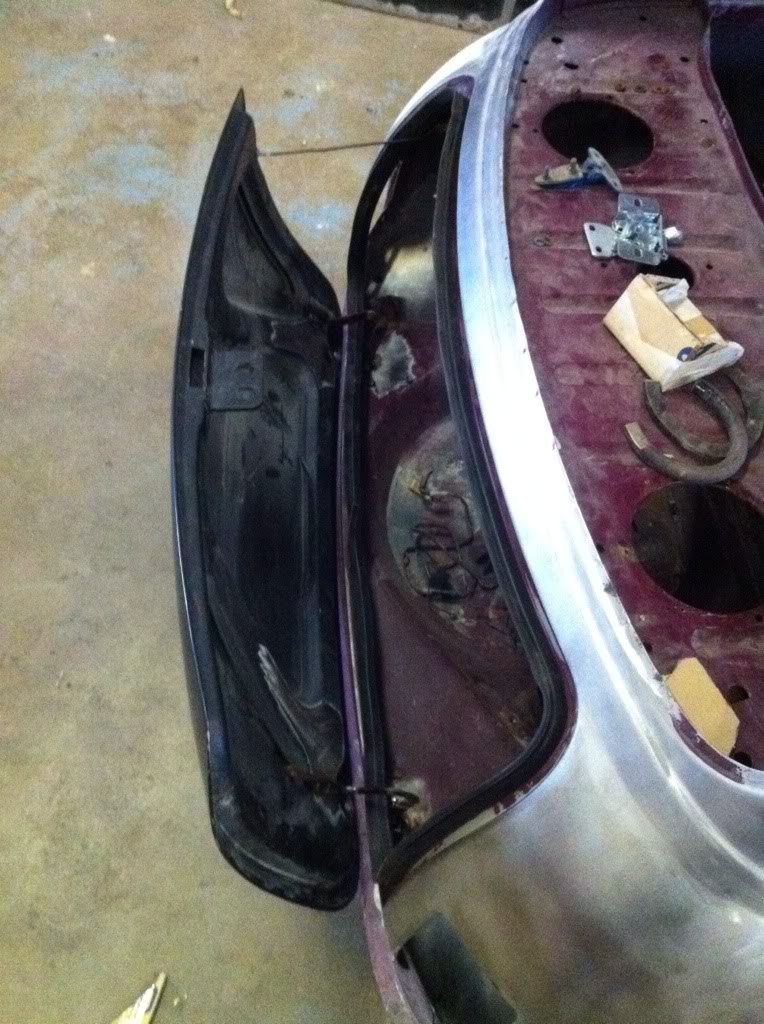 AS you can see it doesn't open as far as a normal lid but with still having the rear seam on the valence the lid would hit it if it were to open any further. As Phil accurately pointed out 'You've enough room to slide a crate of beer in!' which is pretty much the largest thing i will need the boot for

Also got a test bit of stone chip underneath one of the front arches. Going to look pretty good!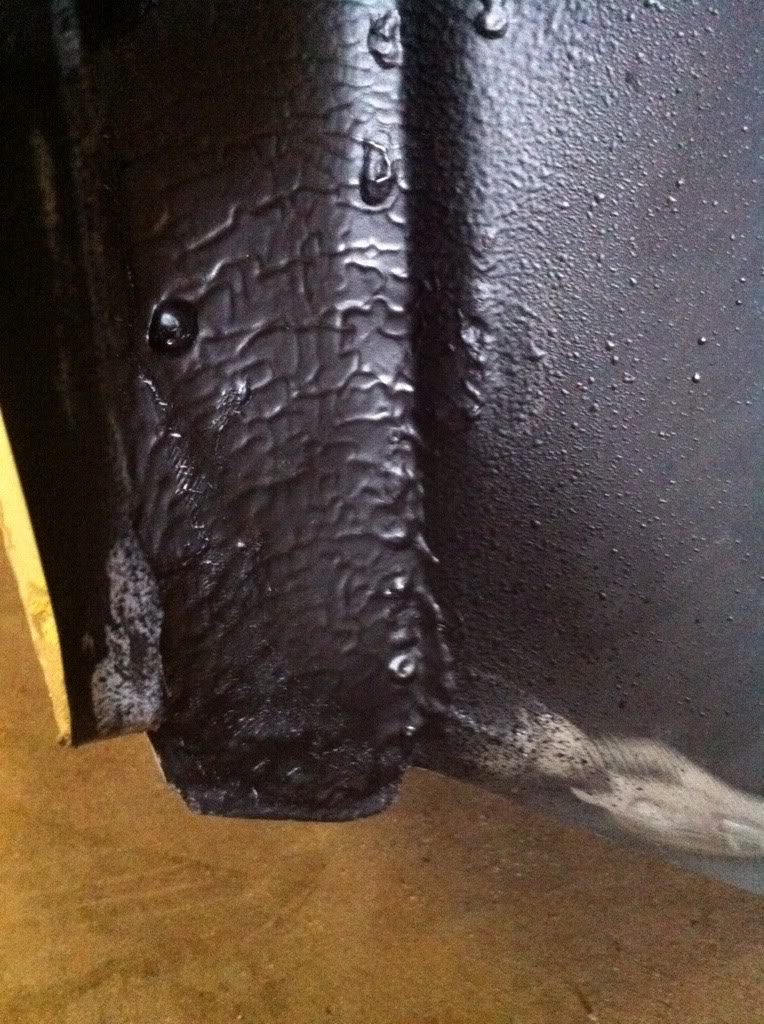 Out again Monday afternoon after I hand in all my uni stuff in the morning for the first semester. Next stage is reinforce the bootlid hinge mounts and then attack the underneath to get it ready for stone chip, then its paint time

Another afternoon out at banchory today after my uni hand in. Phil and the lads had been asking what wheels were going on the car so brought a couple out. Safe to say they were impressed! Even though they aren't polished....And just because I could.....slammed/tucked Mini anyone?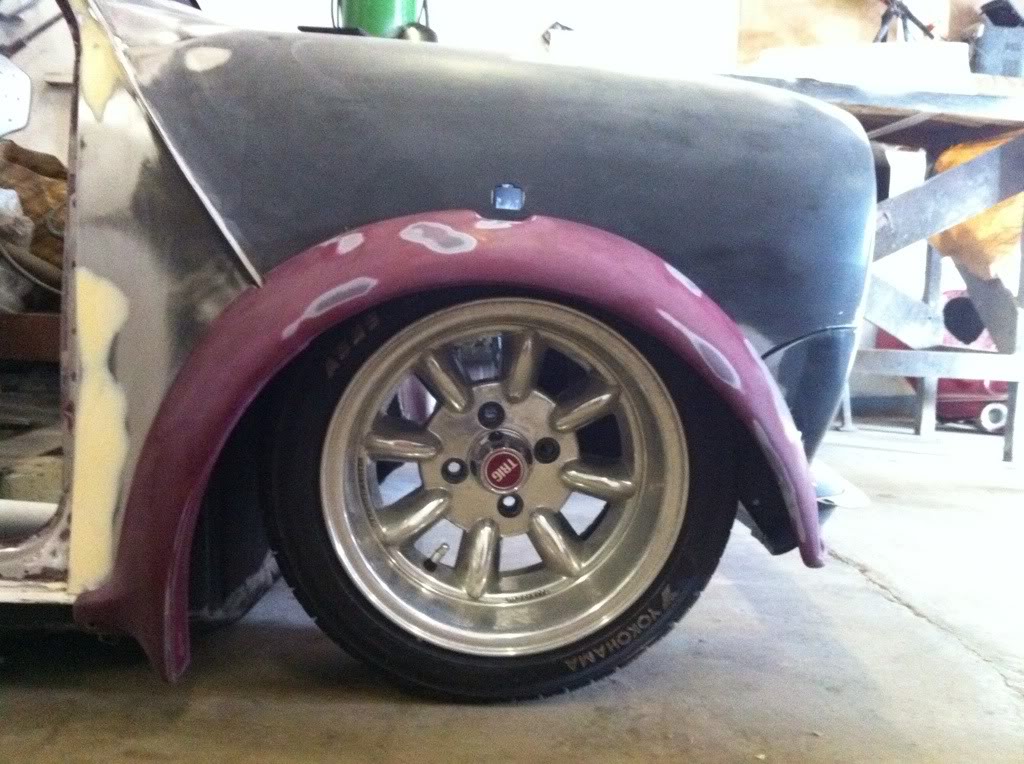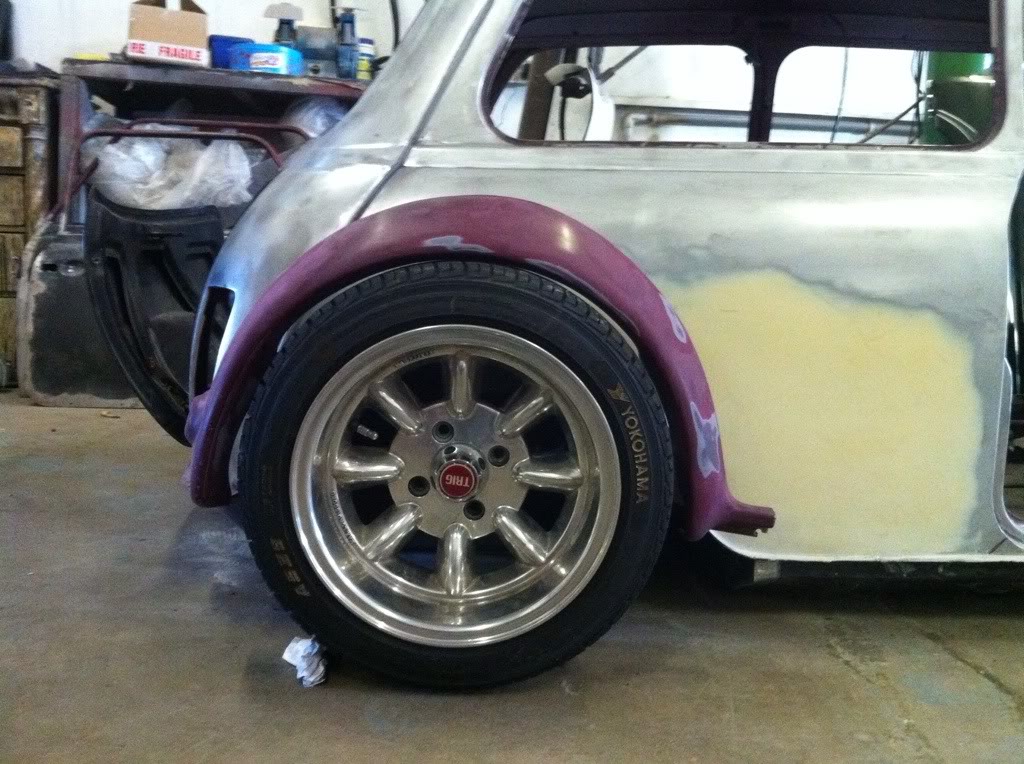 It will not be possible to run this low of course as it would need even more severe arch work and the front wouldn't be able to turn at all! Unless I go and get a Z Cars Monte Carlo kit theres not a hope! So with that out the way we set about prepping the rear valence/boot hinge area ready for primer. Chucked it onto a couple trolleys and set about fixing it. Welded and filled the bootlid and top valence holes for the original hinges and filled and sanded them down.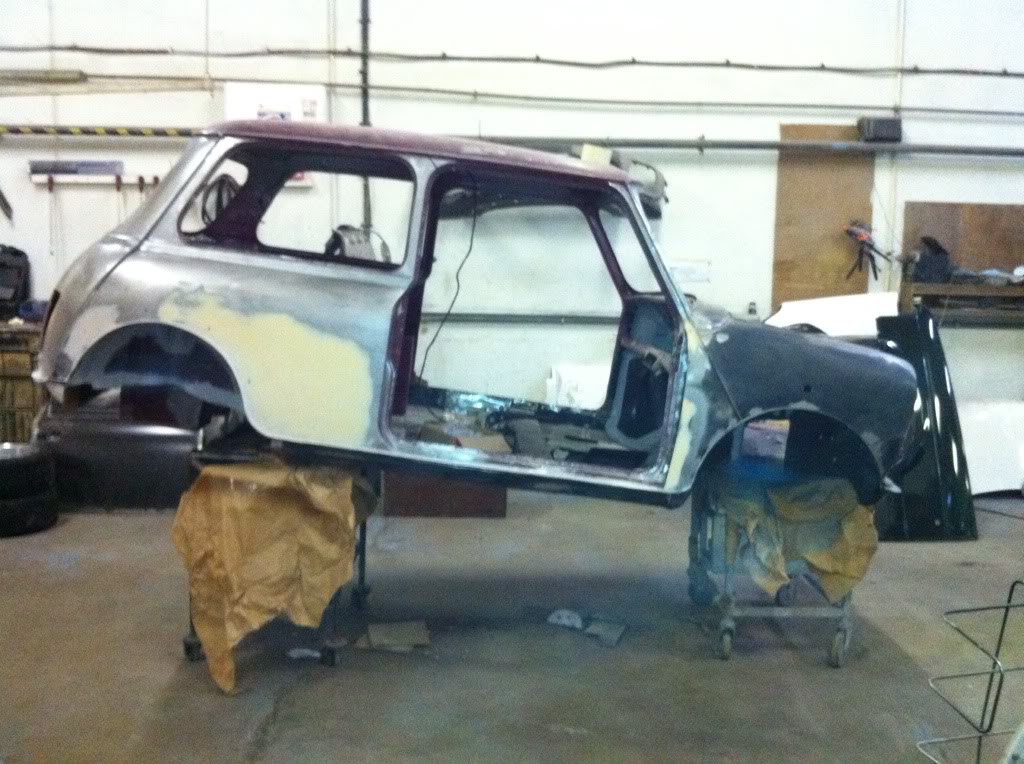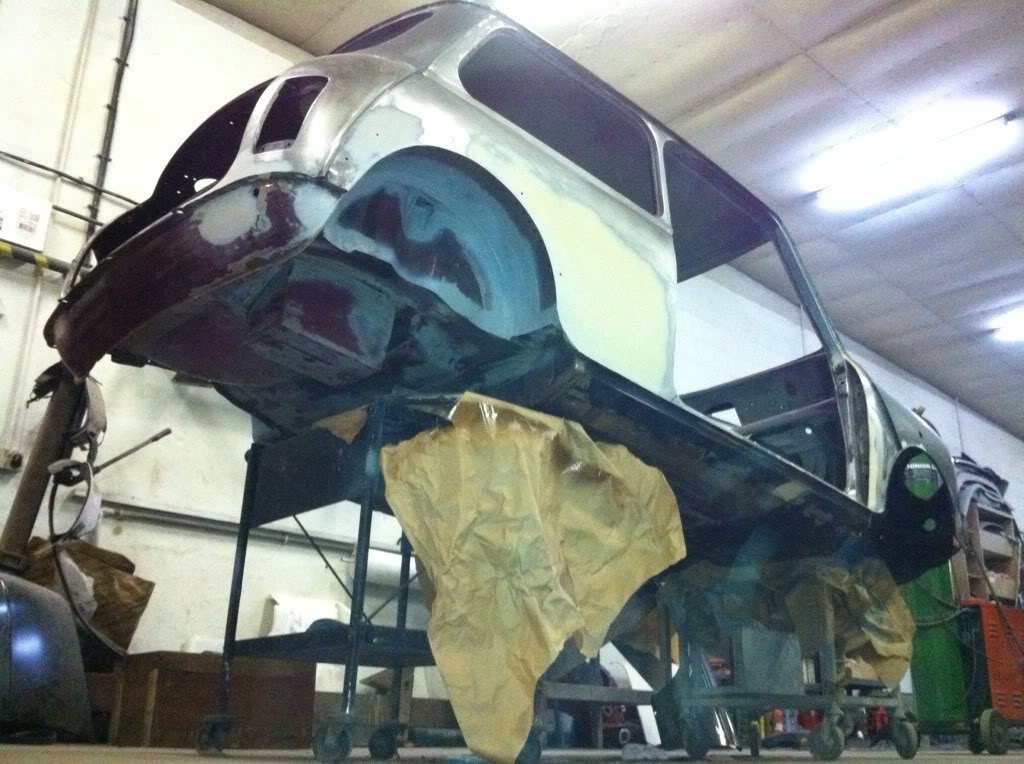 Then MBX'd the floor to get rid of all the old stone chip/sealer put on by the factory.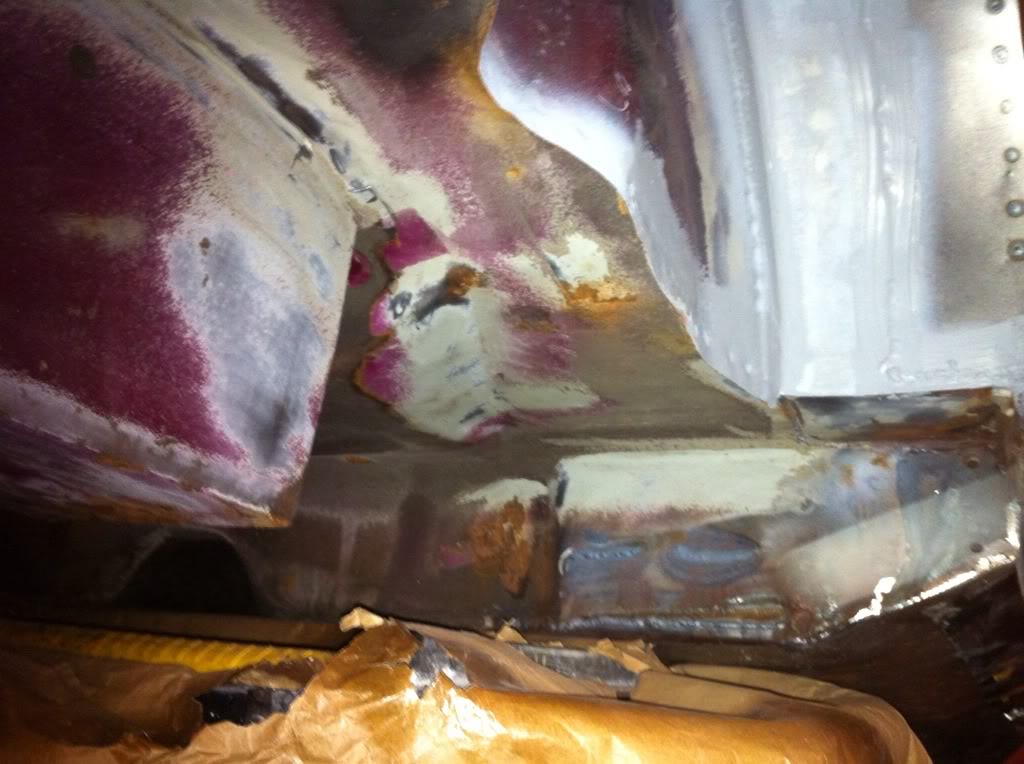 With the rear all prepped I sorted out the location of the boot pull handle. Had to locate it further down than first thought as it was hitting the seat because of the way it slants at that section. Means its more hidden and won't get knocked by stuff in the car though which is good! It will be fixed underneath the sound deadening/carpets so won't be floating in space as it is at the moment.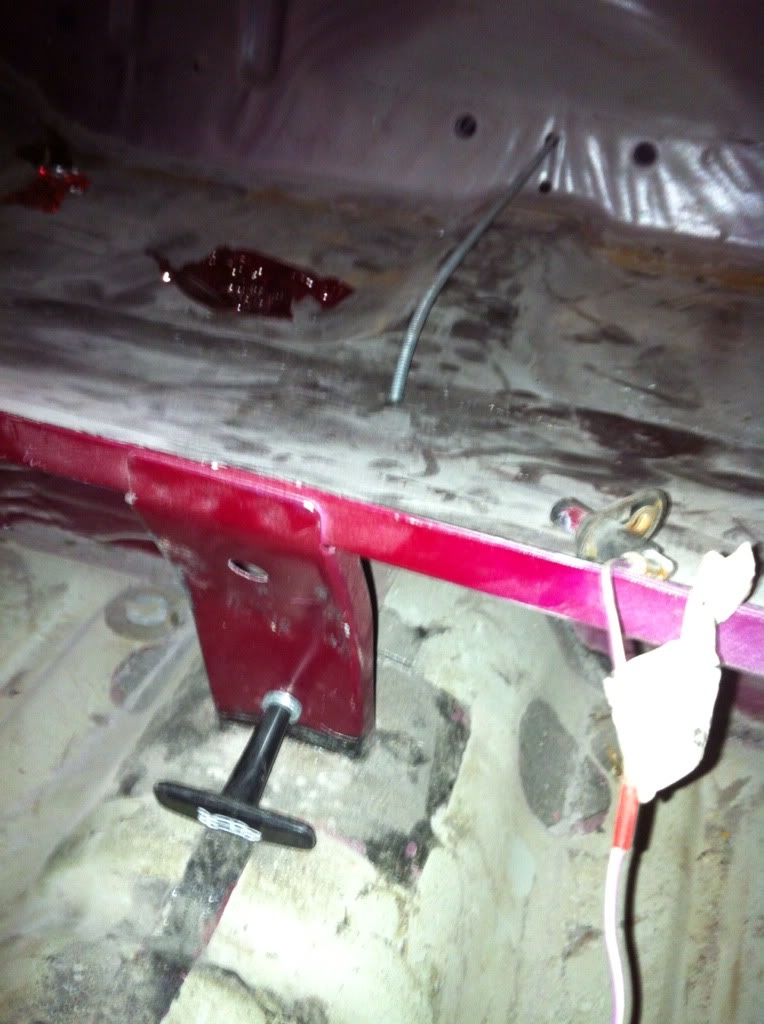 Will get the catch properly located and a plate welded first thing tomorrow morning. So thats todays progress. Tomorrow is the biggest day so far.....PRIMER!!!!! Acid etch followed by high build to really smooth off the panels before the final top coat goes on with the laquer to finish! The end of the body shop period of the build is in sight!!! Righto! HUGE day today! Car is now in PRIMER! So onto the photos.....! Before we got that far we created the bracket for the boot catch. All of 30 minutes work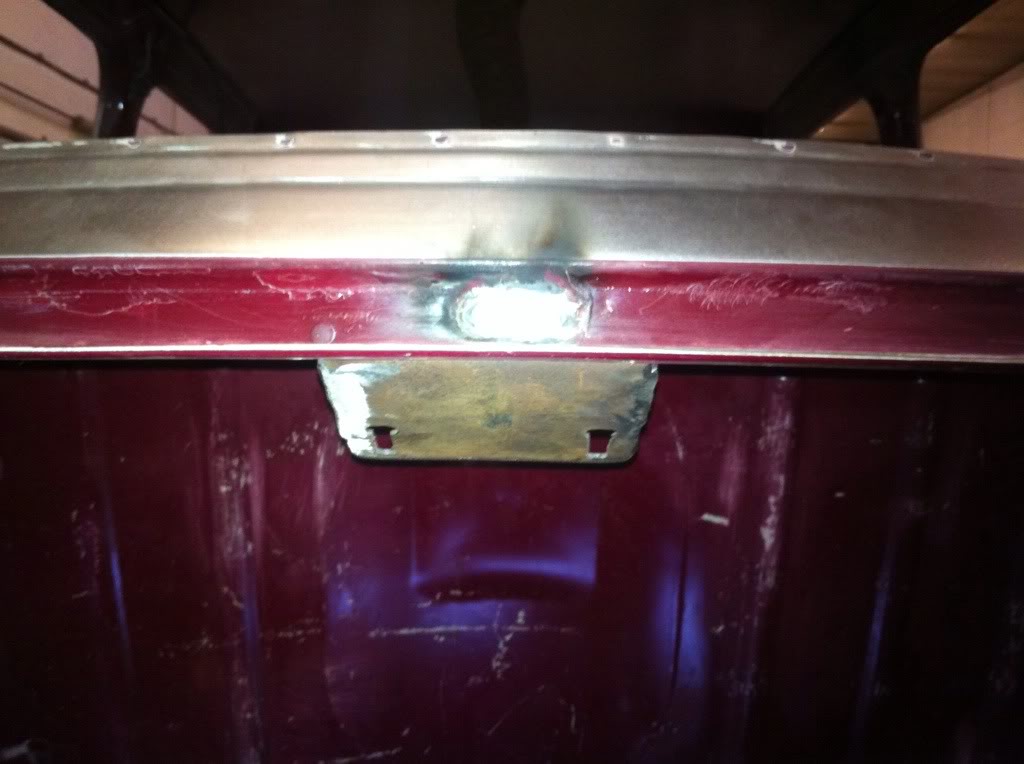 Slotted holes so we can adjust the catch after paint for perfect alignment. Having then sanded down the epic layers of paint on the rear valence we revealed some stupidly thin steel. So we drilled out the spot welds and cut it off. Here you can see what was revealed. No point in cutting corners at this late a stage.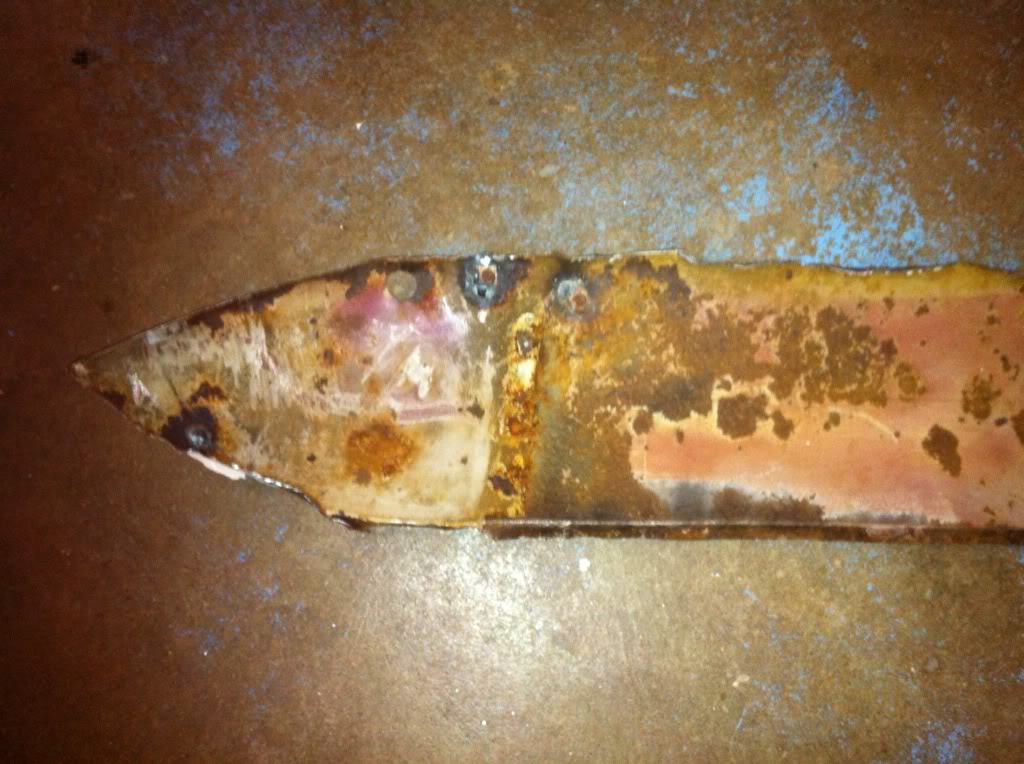 We couldn't get another one until tomorrow afternoon at the earliest but we soldiered onto the main bit of the day. Priming the car. Masked off the interior so the crap inside didn't flow onto the fresh paint. This is just a test prime really with the final getting done asap. Its highlighted some areas we need to go back to which is the whole idea.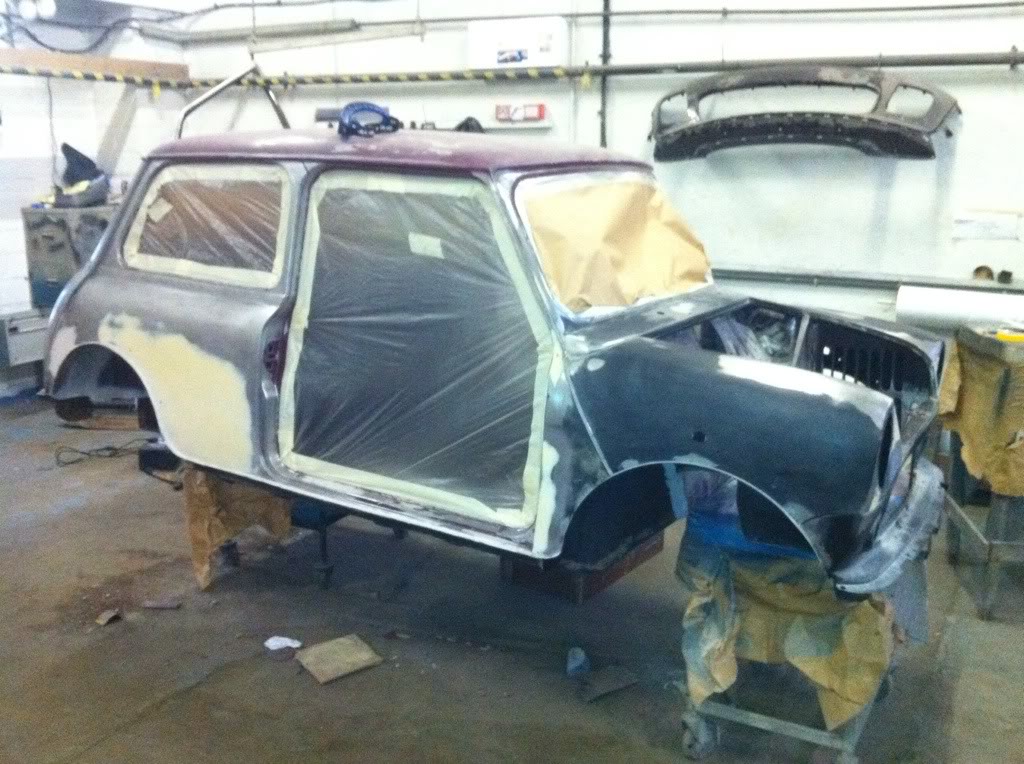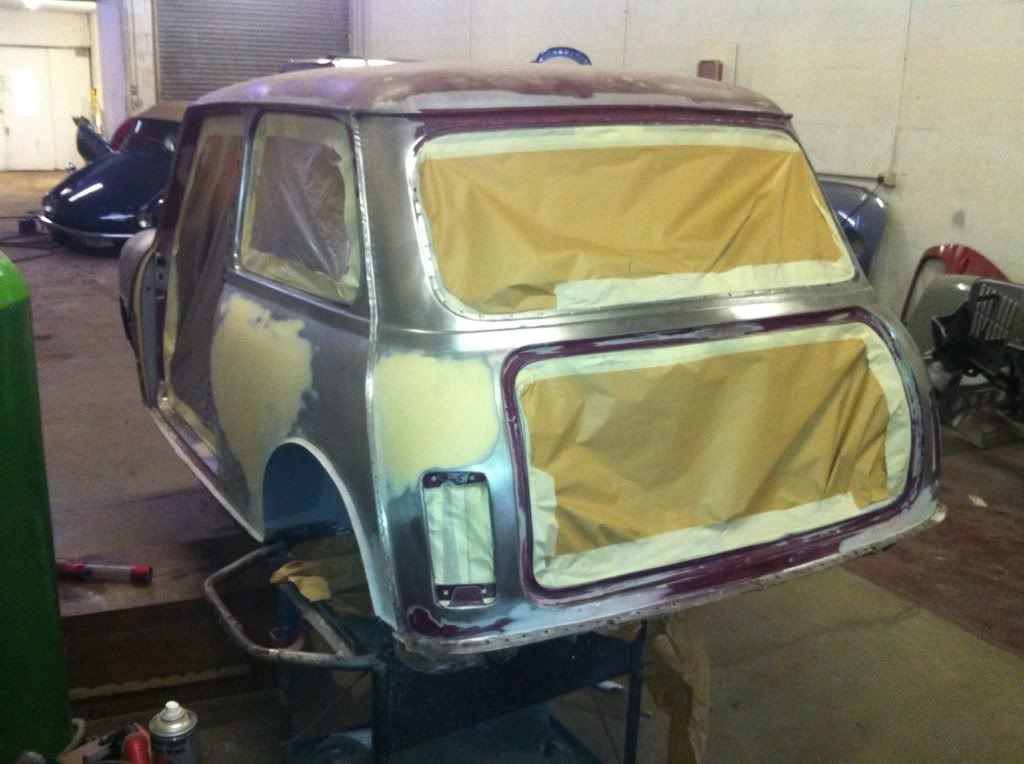 Then it was a quick slide into the booth.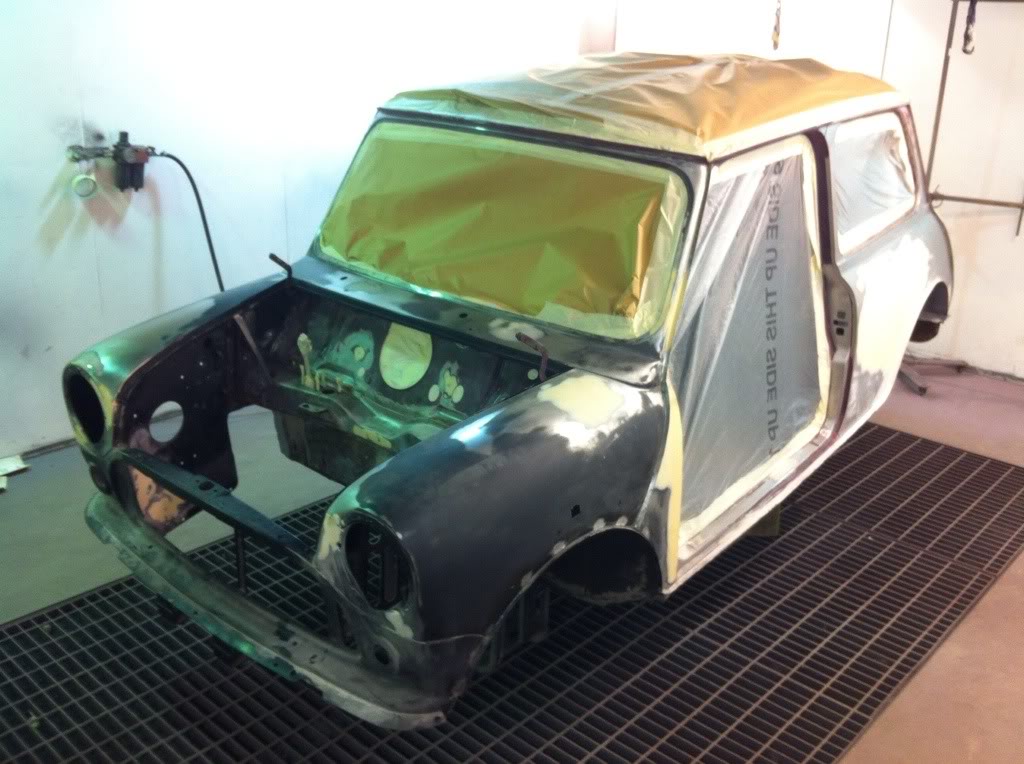 1-19-2012
and then a coat of acid etch zinc primer for the bare metal. did the whole car in this. Horrible colour!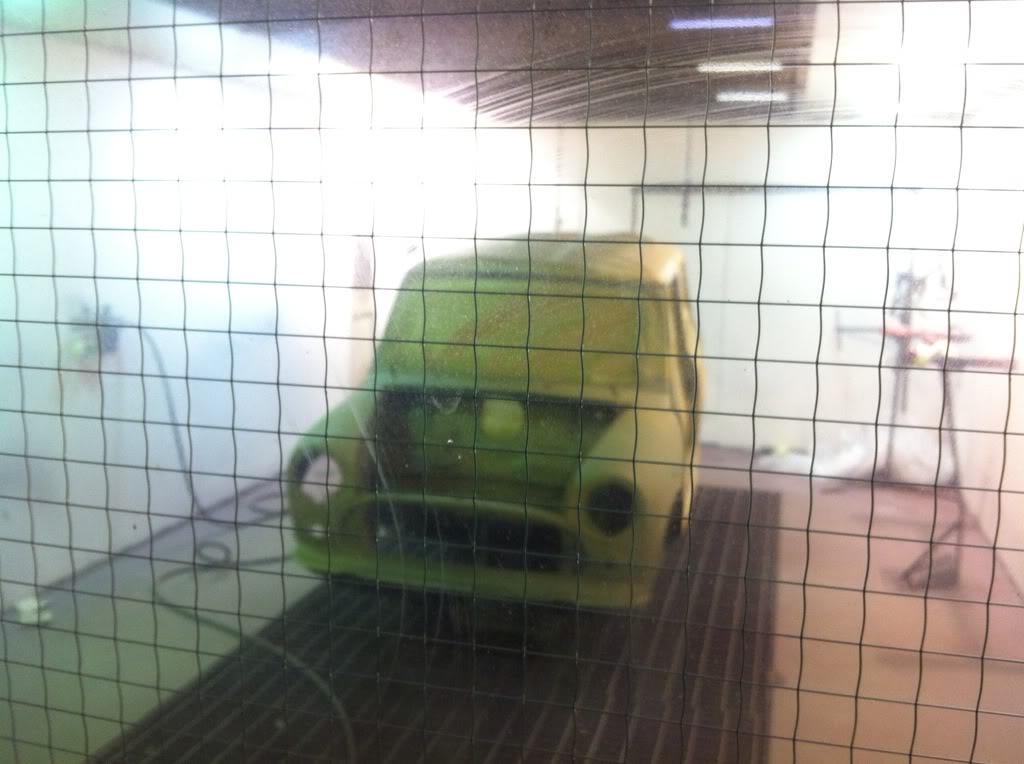 Then Phil set to work on the primer. 3 coats for extra bulletproofability!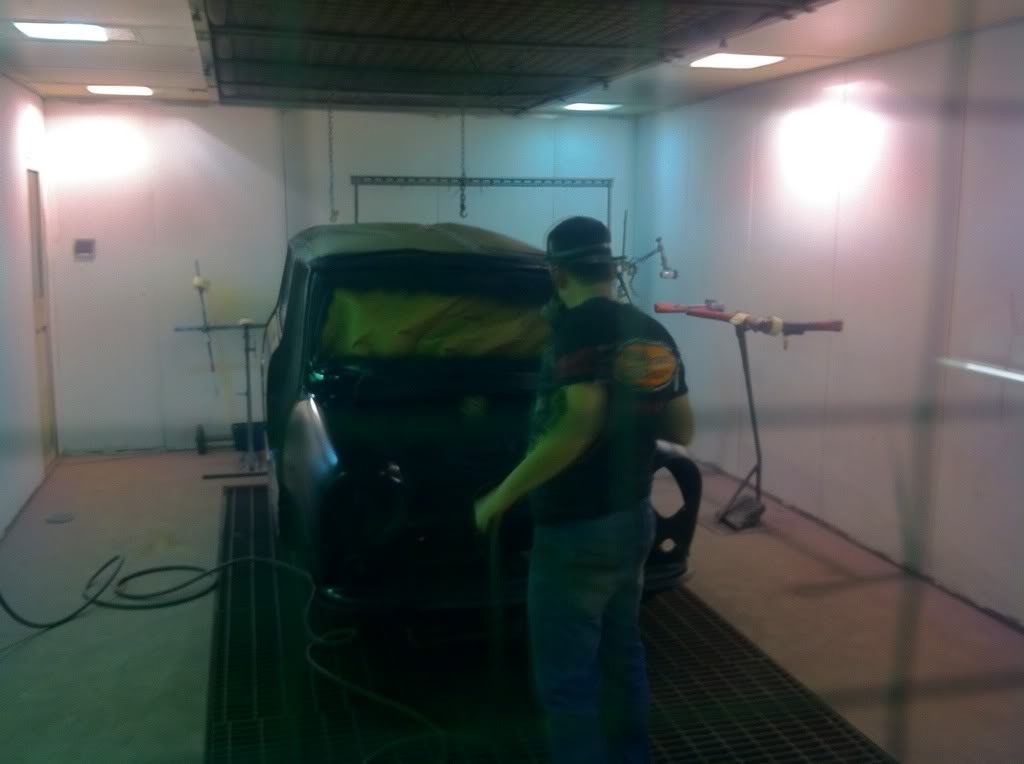 And tada! One car primed ready for some flatting back by hand......oh the joys!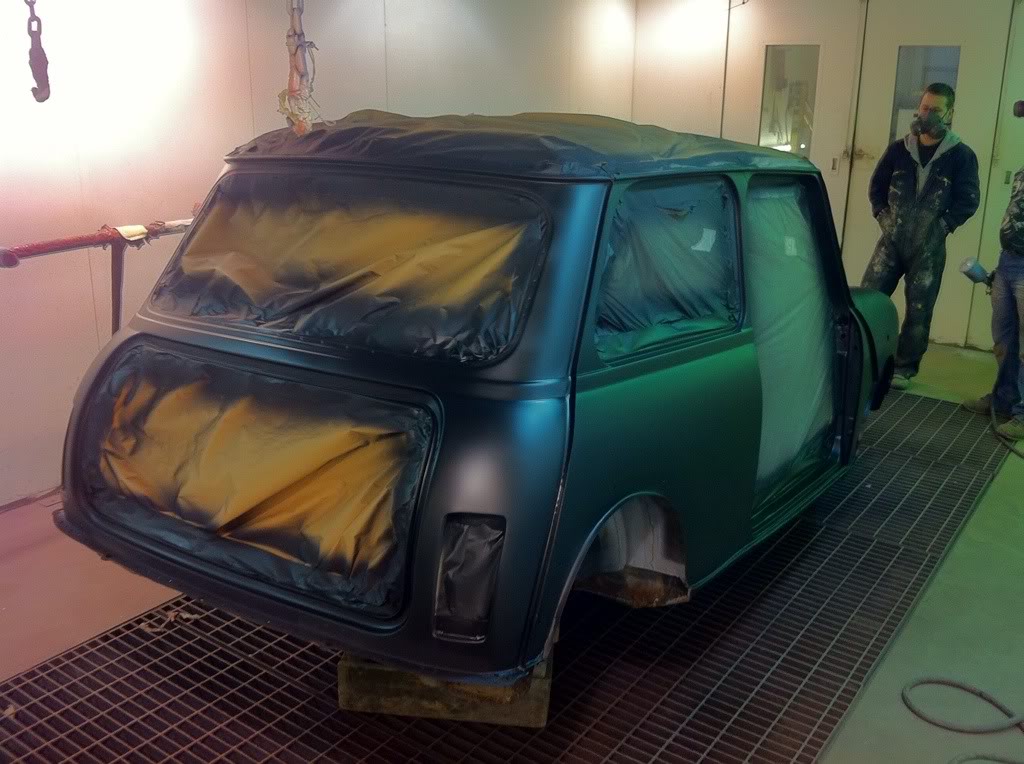 Really happy with how its turned out so far. Theres only a few little areas need addressing so shouldn't take long. Phils getting the valence welded on tomorrow afternoon so will be back in the booth in a couple of days. Wont be working on it for a while as I have to work (helps to pay the bill at the end I suppose!) but should get back to it on Tuesday

(These are iPhone pics so not the greatest quality wise. I did take LOADS of shots with my proper camera but lack of laptop to edit them on means they won't be uploaded until my new laptop arrives)

Had another afternoon at it today after catching up on sleep from a 6 day stretch at work. Decided it was best to prep the floor ready for stone chip so we flipped it onto its side (with the aid of an old mattress we found on the industrial estate

)

Before we did that though I had another little mockup. It's pretty much how it will stand stance wise but it will be raised a bit at the front. Going to look ACE!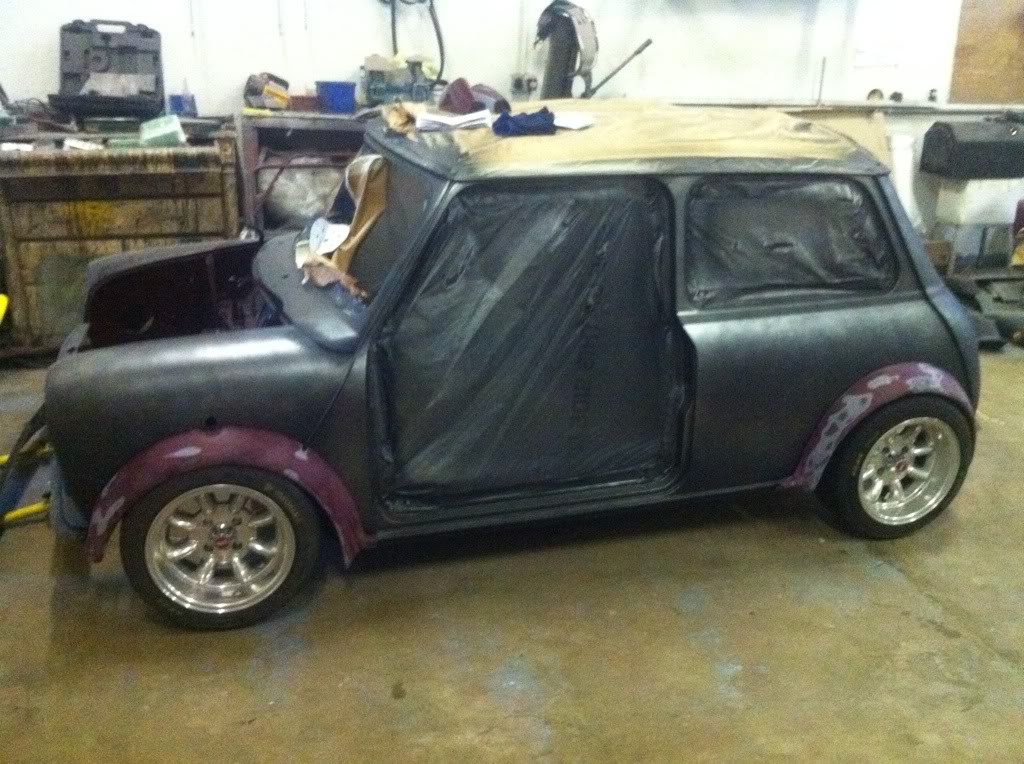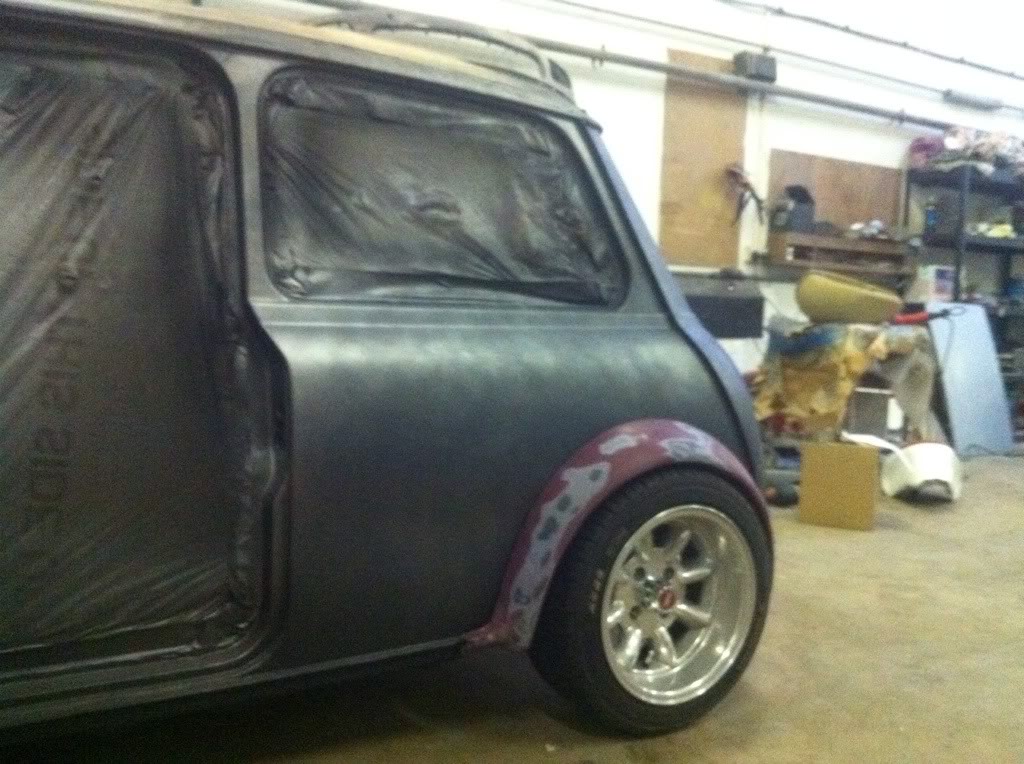 So onto the flippage! The mattress was in questionable condition so to be safe we covered it with a poly sheet to keep us away from the nastiness.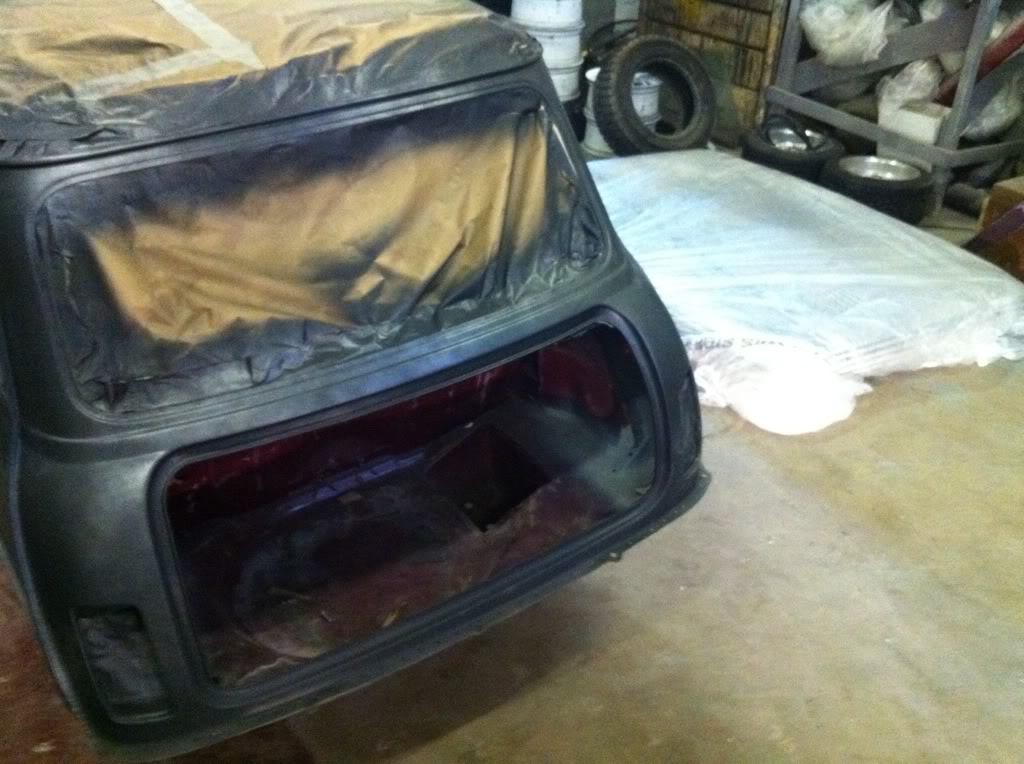 Then a quick flip onto the side!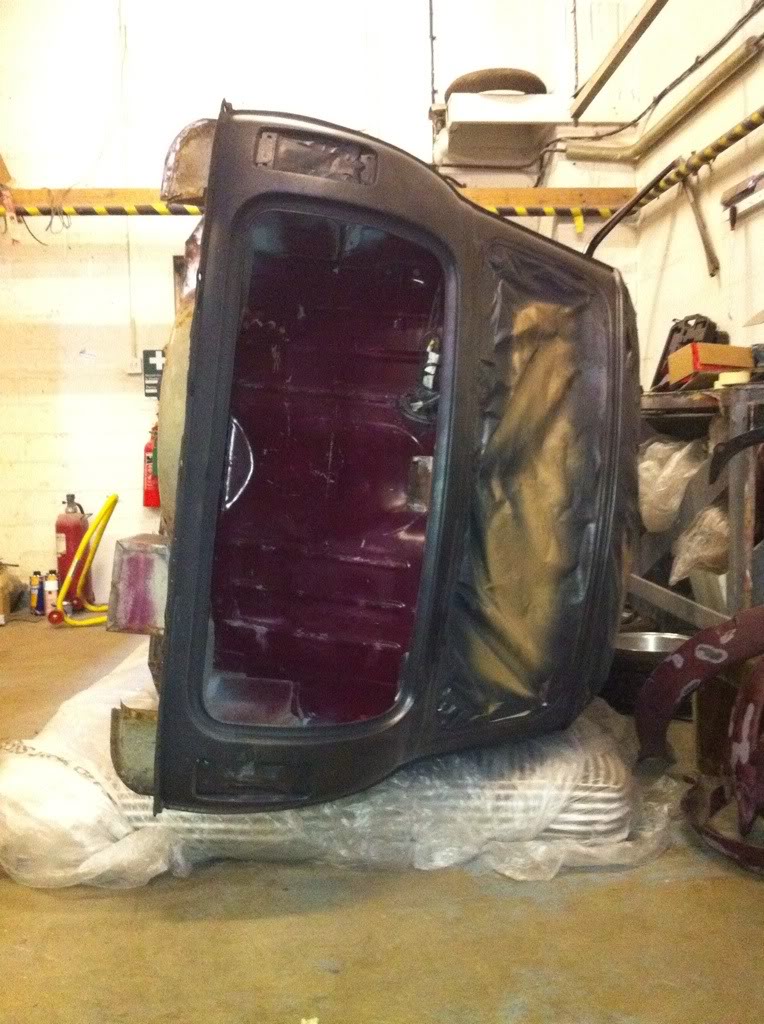 To expose the old horrible underseal. It's weird stuff, almost like a really thick candle wax kinda deal. No idea if this is factory done or simply 20 year old waxoyl but either way it's horrible and needed to come off.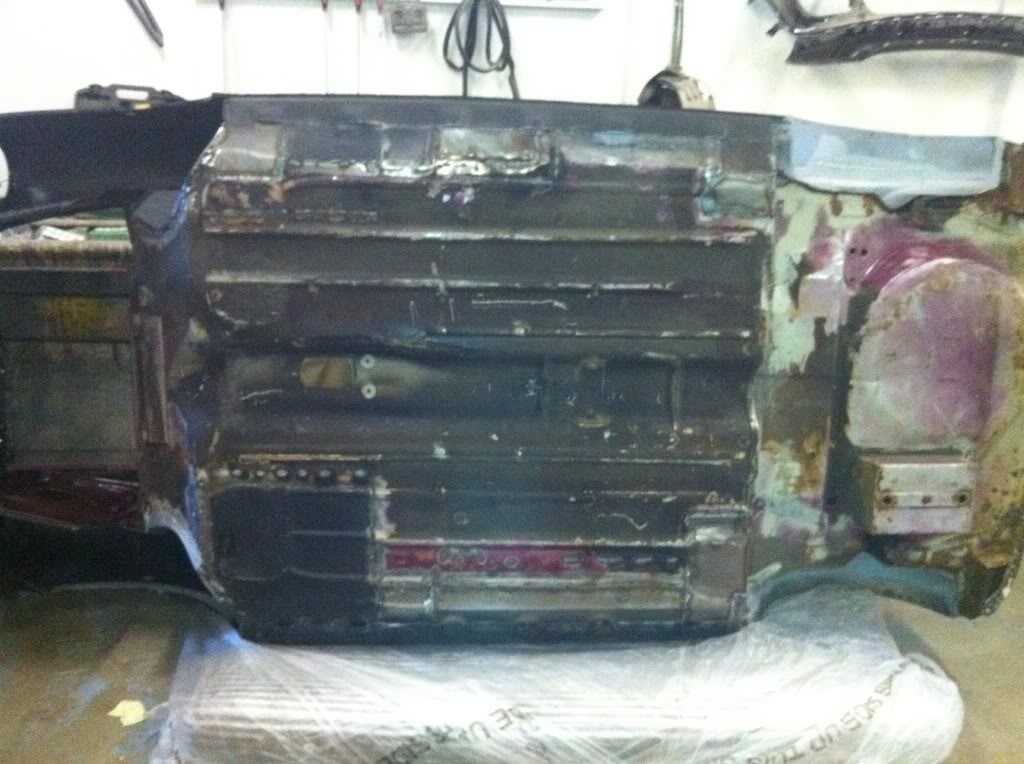 Then after an hour or two with the MBX wire wheel and scrapper (needed when the compressor overheated....) didn't need any heat as with enou force the stuff chipped off easy enough.




Then Phil welded on the rear valence. Not a heritage panel unfortunately and fit isn't 100% but close enough in a hidden area.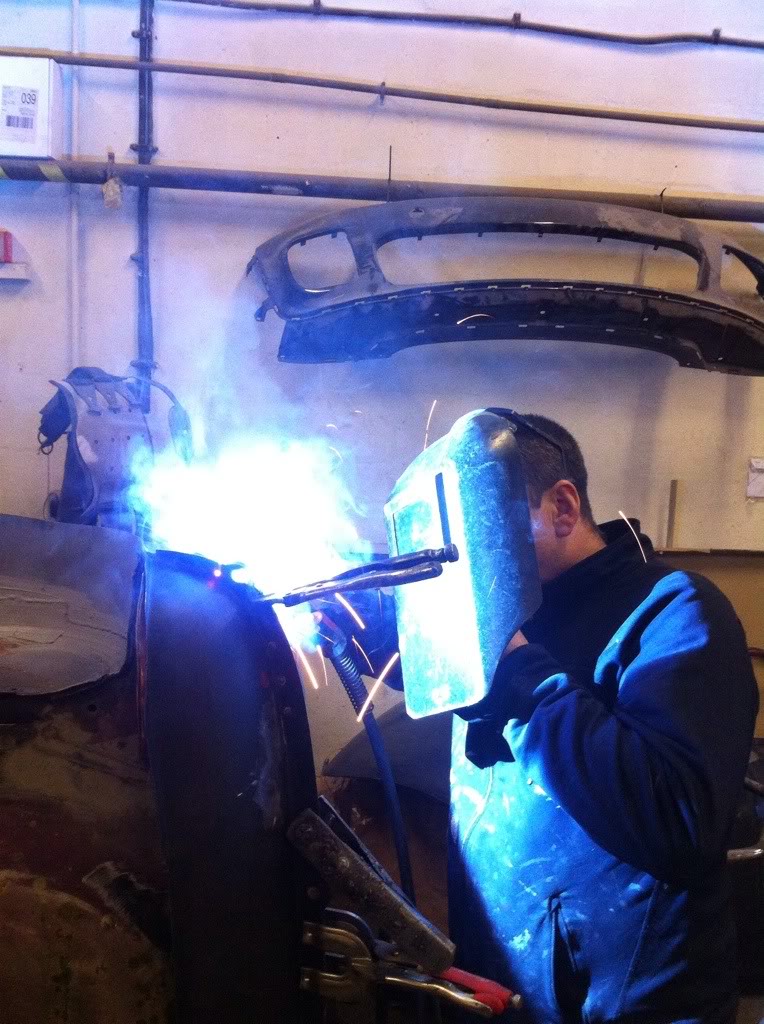 You will see we welded up the holes for the fog lamp(s) as I have a plan for this which will be revealed later on.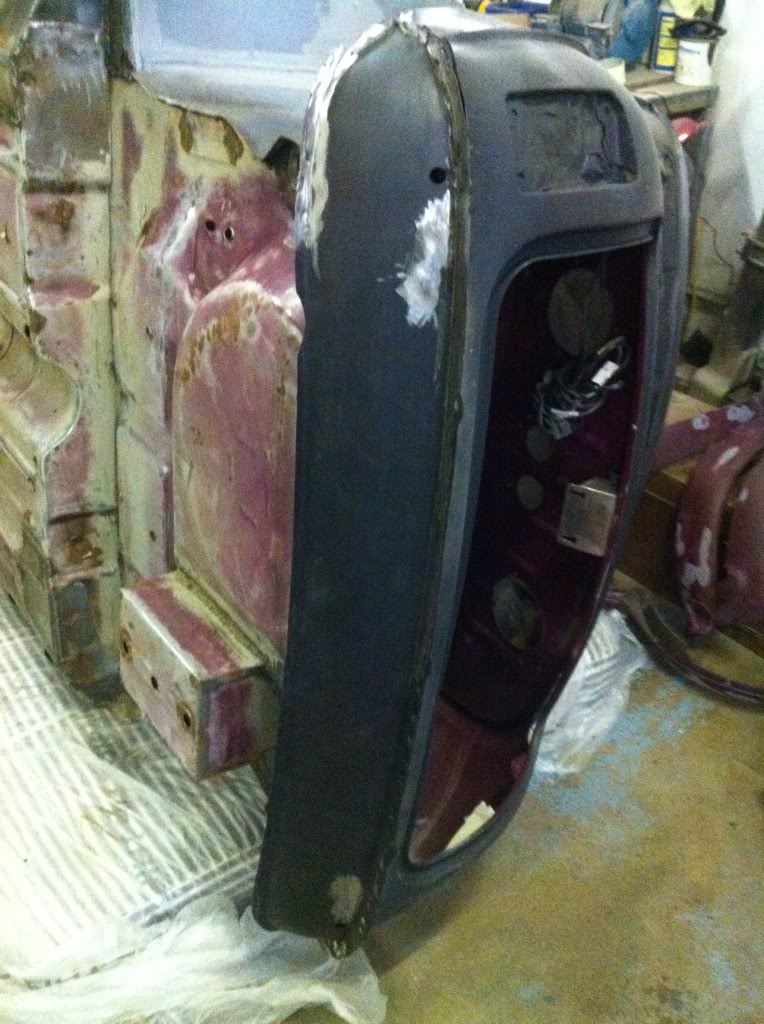 So that's today's work! Was going to be another day at it tomorrow but Uni sprung a placement meeting on me at the last minute in the middle of the day so won't be able to go out to Banchory until Thursday and Friday afternoon. Got next week off work too so will get 8 full days at Banchory so hope to have the car painted within that week!!!

Phil was getting more seam sealer delivered this evening and intended on getting the stone chip onto it too. So I hope to have that surprise me next time I'm out!

Little backwards update. Got the photos off my camera and since I just got a new laptop onto them for editing!

First some paint booth shots...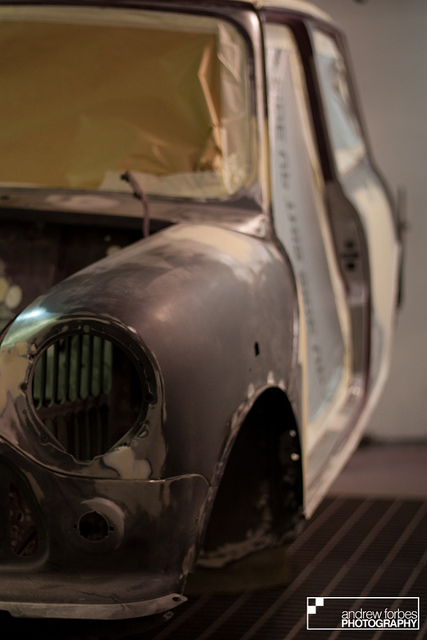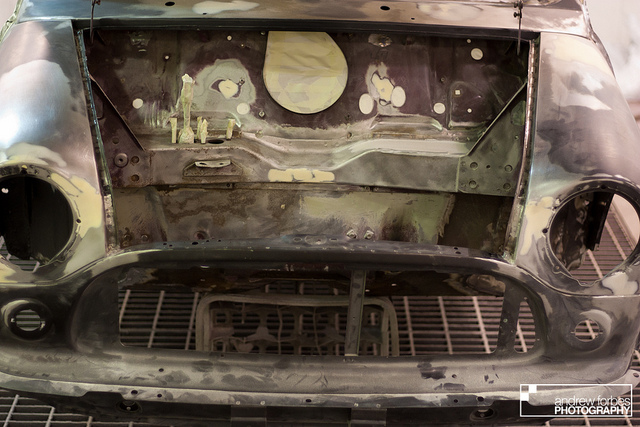 Phil putting on the layers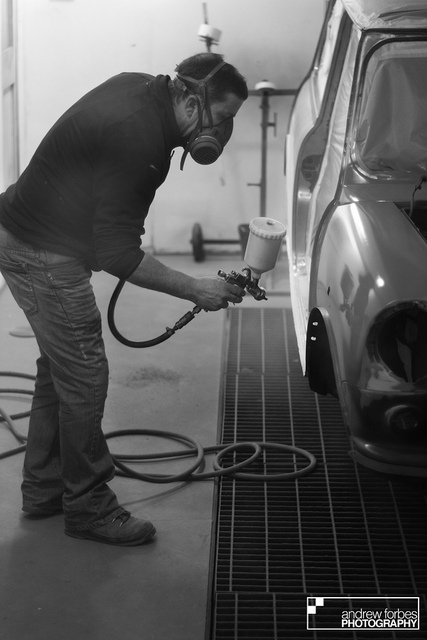 In the operating theatre!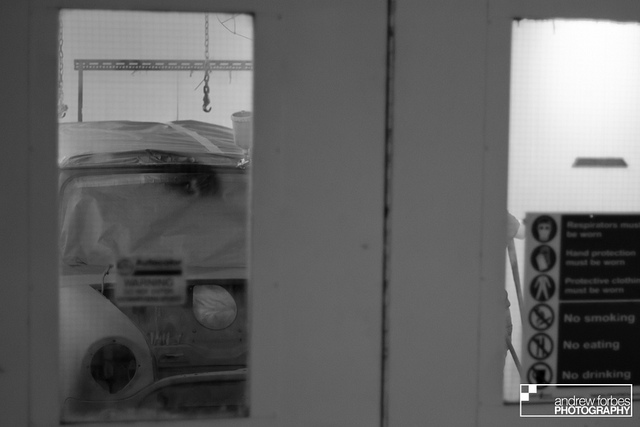 The paint prep area! Epic space that I'm sure could tell a few tales....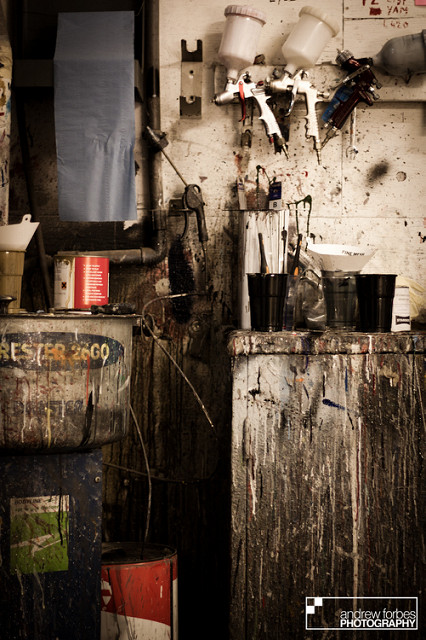 Primer dried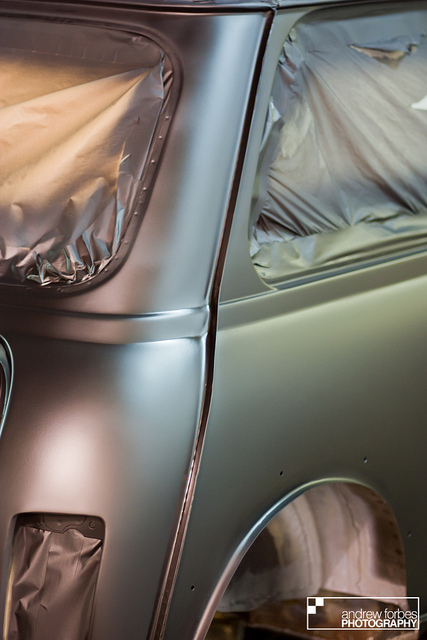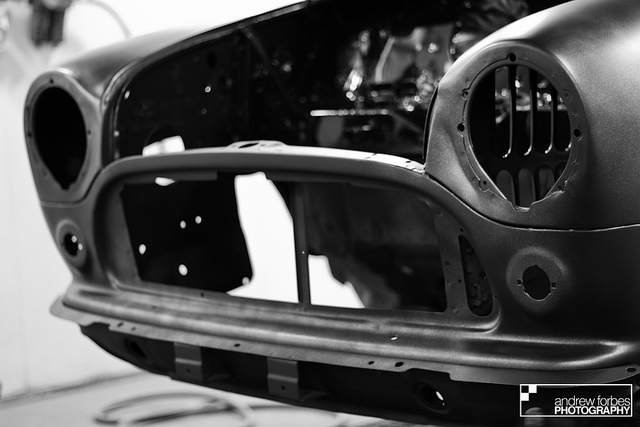 Milk bottle crates have their uses!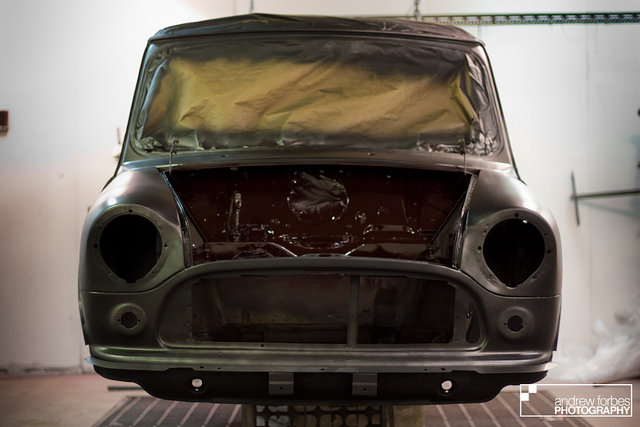 Then back onto the shop floor ready for next stage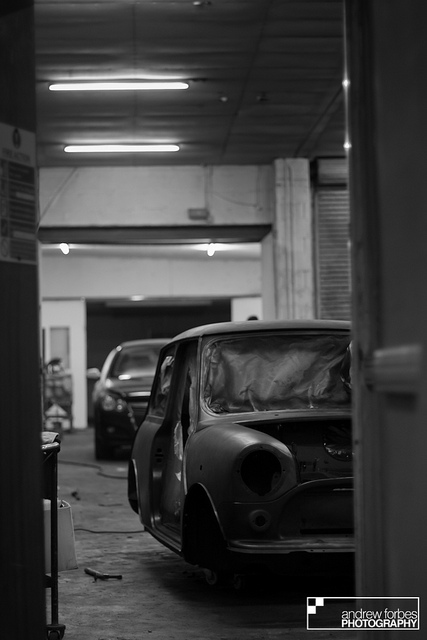 So that was up until today. But todays work was mainly engine pay sanding so no pics of that as it pretty boring but Phil did get the seam sealing and stone chip of the floor done! Looks and works great!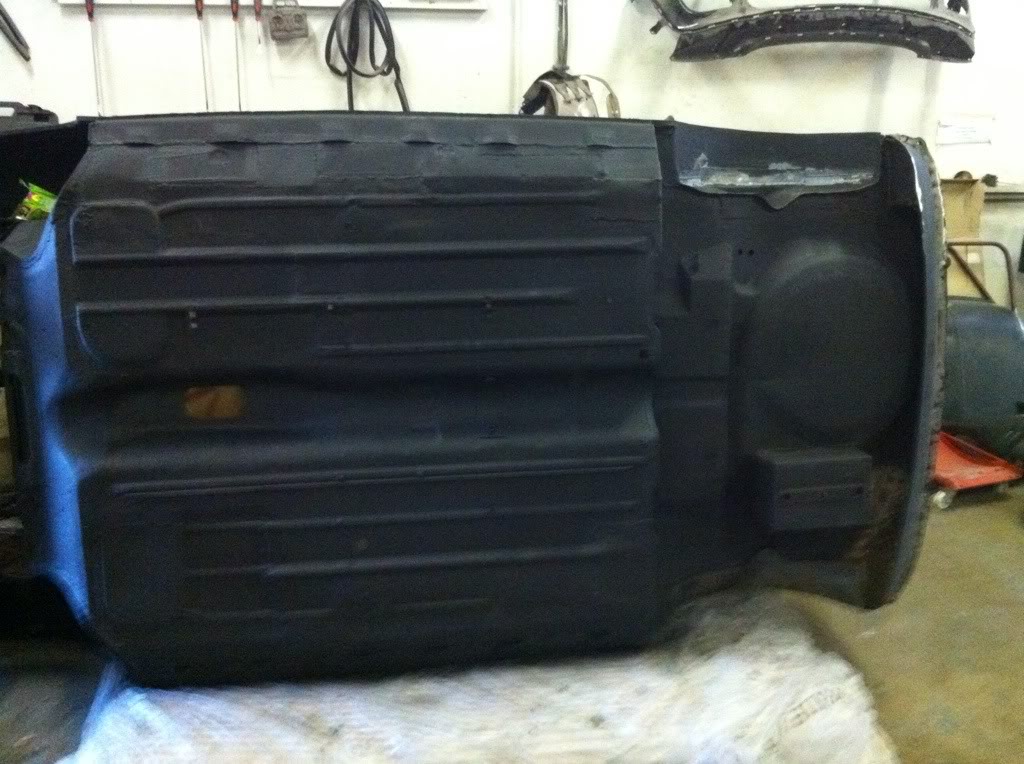 And that brings it up to date again! Only bit I now have to prep is the boot and then its ready for top coat! Can't wait!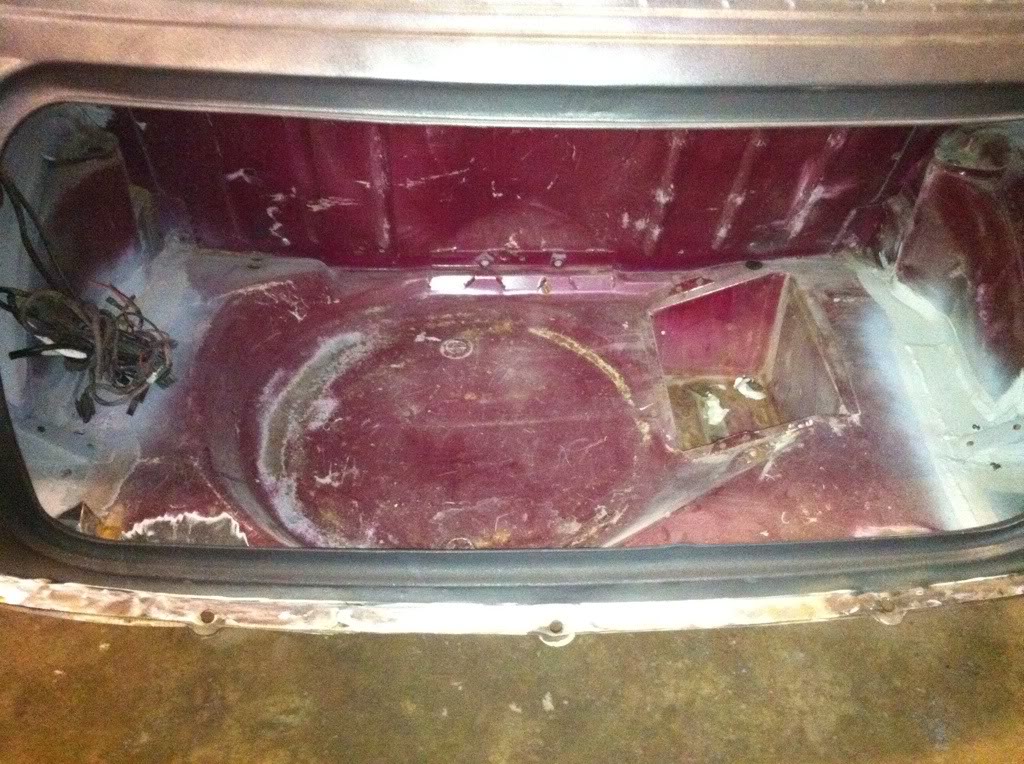 I also came home from the body shop to find a package from MiniSpares again! Todays was seam strips for the body, lowered suspension shock mounts, handbrake cable bits and my favourite bit, Goodridge braided brake lines and clutch line.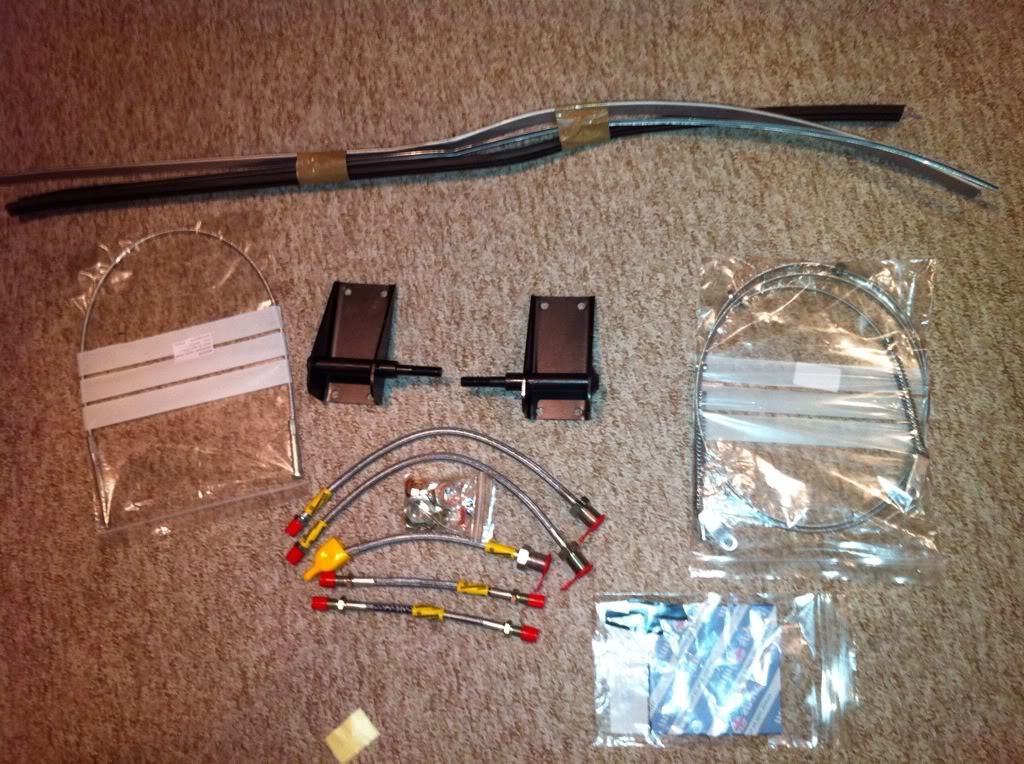 1-22-2012
Another day another set of photos:lol:

These are from yesterday but forgot to upload them. Morning spent at the body shop and we got the roof prepped and painted in primer. Will need a rub down in a few areas, especially the back as it reacted weird with the old silver paint. Nothing too bad.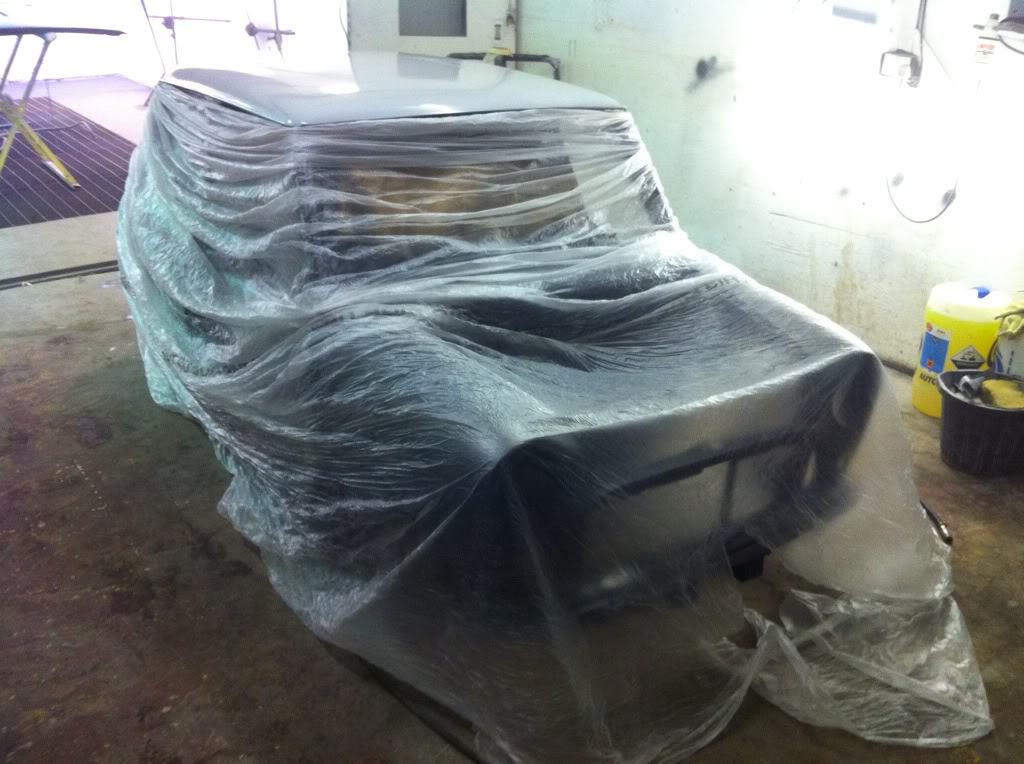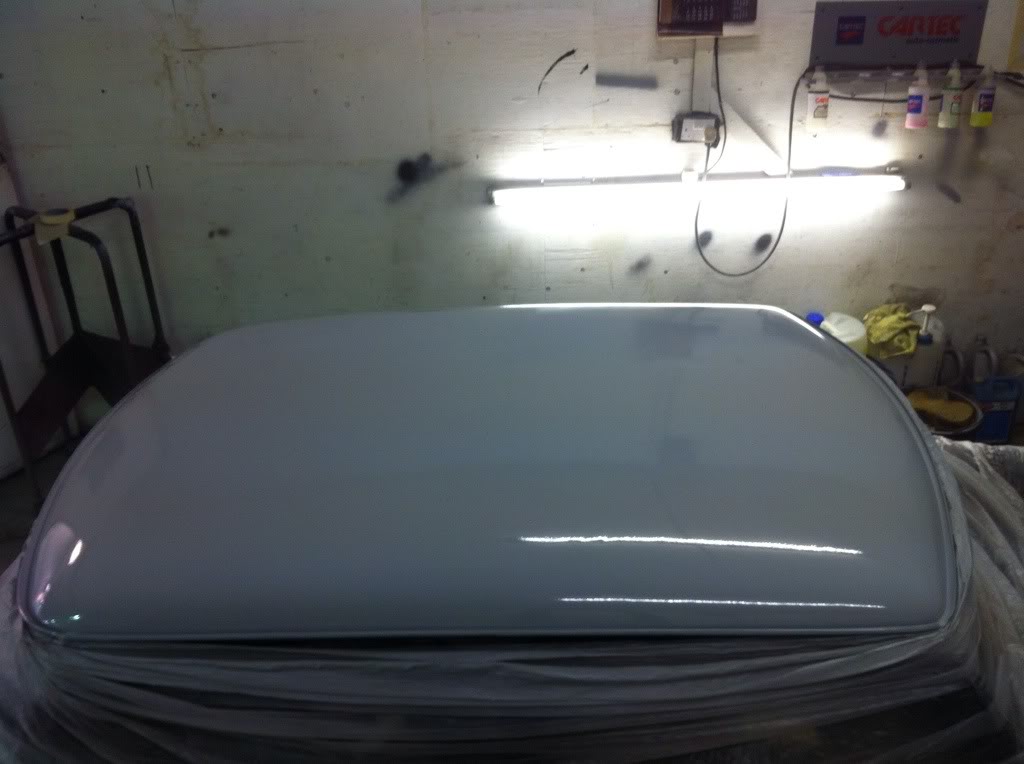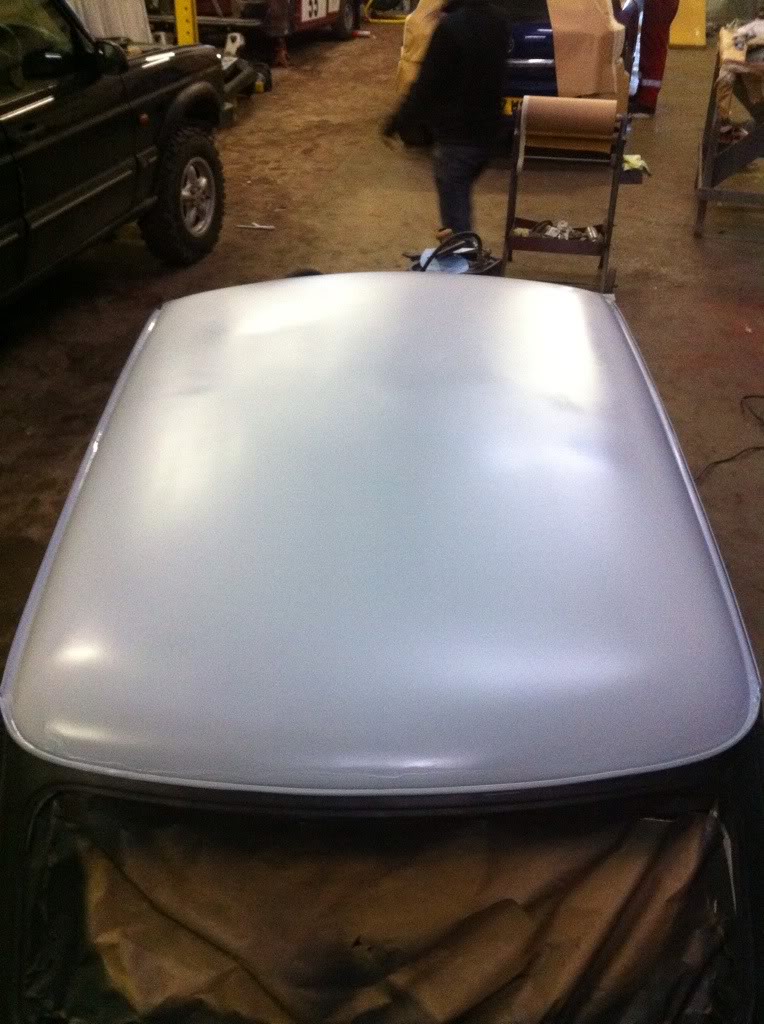 Monday is boot prep and final body prep :)
1-26-2012
SO! After 4 months, 12 days (11,577,600 seconds, 192,960 minutes, 3216 hours, 134 days, 19 weeks) or however else you want to measure the time, Trig is painted and looking amazing!

We masked the car up late Tuesday night ready for painting first thing Wednesday morning and left it in the booth.

Next morning Phil phones me saying the lacquers not going to arrive until 11.....so instead of heading straight to Banchory he sent me to Aberdeen to Dingbro to pick up the supplies the head out. Saved us a couple of hours which let us get on with the painting! Dedication from the both of us!





And a fancy shot in the booth before the painting began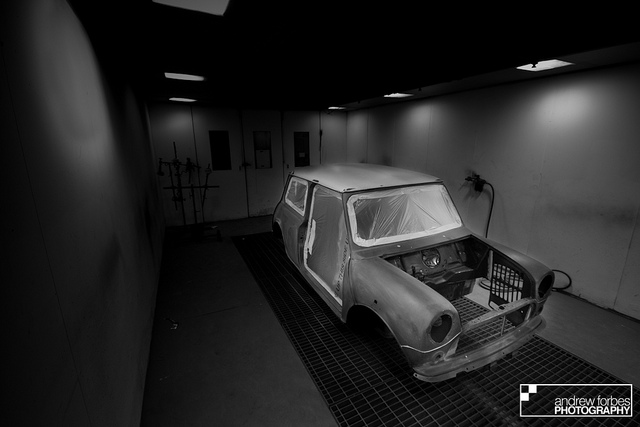 After Phil left me in charge of cleaning the surface ready to paint it (wasn't expecting that to be left to me, being such a crucial stage!) he got on with the main show!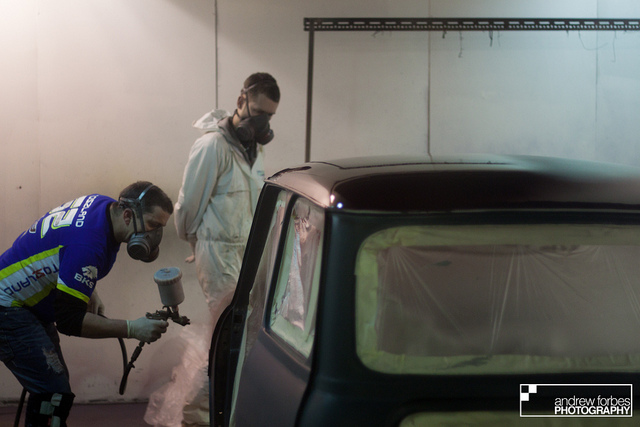 I took more video than stills as he painted, for the final video, but thats neither here nor there as this is what the car looked like after the colour coat!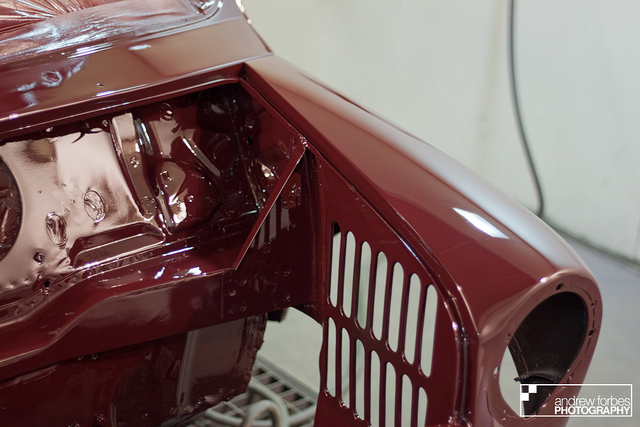 And to give you an idea of the gloss factor on it.......this is unpolished 'straight off the gun' before any lacquer went near it. Its even shinier now and just flatting and polishing to go! You can't tell there used to be the filler neck there at all!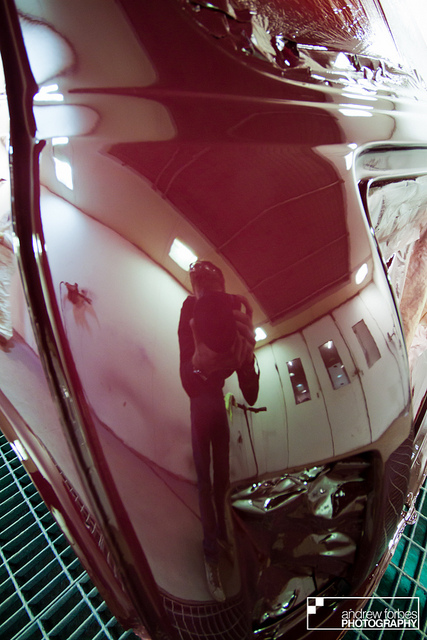 Kyle on the left, Phil on the right and me behind the lens.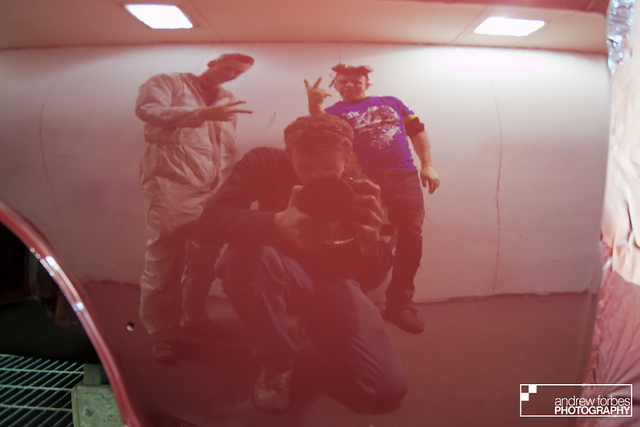 Then Phil shot a few coats of some modern 'anti scratch' lacquer onto it!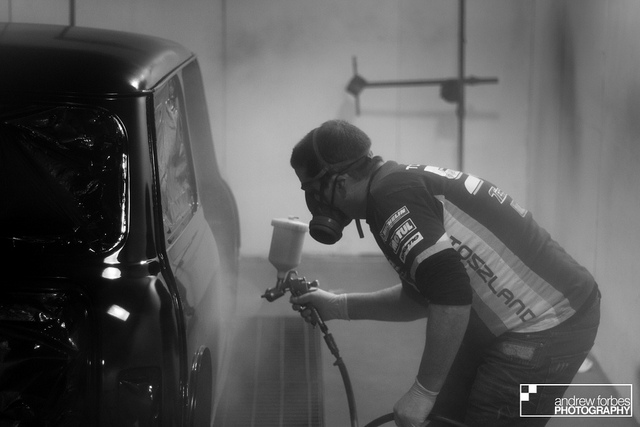 Didn't get out to work on it today as I had to service the Polo and give it its 6 monthly wash (no exaggeration.....) but Phil did text me saying the roof was painted in silver too! So thats something to lok forward to tomorrow!



Its really satisfying to get to this stage. After owning the car for almost 8 years now I never thought I would ever be in the position to get the car to this standard. After hundreds of hours at home and at Kirkton the results make it all worth while

Next stage is the tricky bit......putting the giant jigsaw all back together.
2-6-2012
Small but at the same time huge update. The Mini is home! Got it flat bedded over this morning and to see it in daylight was ace! So dam shiney!!! Popped it up on the few sets of wheels and tyres Ive collected over the years (steels, cooper originals and my 13s) so I can get access to the underside to get battery cables, fuel and brake lines etc all done along with painting the underside gloss black to make cleaning a breeze! Thanks to Phil and the lads for helping us get it onto the flatbed and all the guys who helped at the house to get it off again. HUGE help!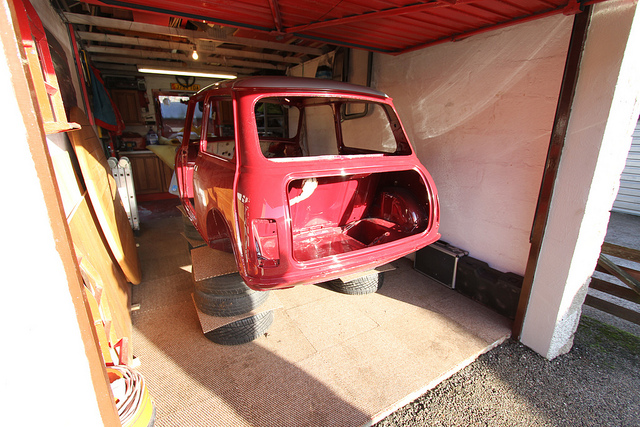 So this marks the start of the rebuild finally! With uni and work I don't see me getting too much time to play but I still really want it back in time for Thistle Run in June. We shall see.....

Updates will come and go but not as regular. Wish me luck!
2-9-2012
Bit of progress! Not much but its a start!

Went out to the car about wish tonight and set to work sealing in the floor with some Hammerite. This floor is not going to be rusting again!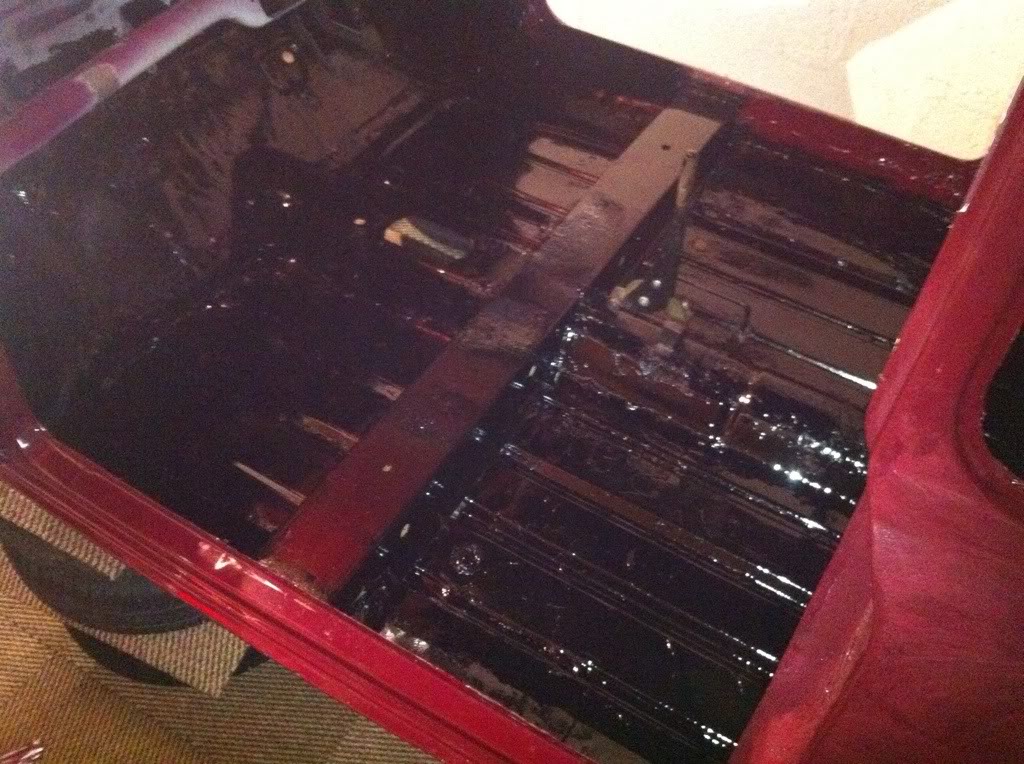 Not too cold but still 2 tshirts, 2 hoodies and track bottoms on.

Also started work on the front swivel hubs as these need rebuild but leaving them to soak in WD40 overnight.
2-11-2012
Progress again!

The floor took an age to dry due to the temperatures at the mo. Meant I couldn't get to work on it last night. However tonight it had finally hardened so with the day off work I got going



First thing to do was the steering rack. I had the choice of two as I bought another which I believe to be a sports pack one. Having tested them theres a 1/4 turn difference so Im not convinced however its a quarter turn less so it made the cut. It needed refurbed as the rubbers were split and the grease had all escaped, bolts were rusted solid and track rod ends had seen better days.

Had a spare refurb kit that a guy at my dads work donated to the cause after learning out his garage years ago so that was handy! After mixing and matching track rod ends from the two I got a decent steering rack together! Stripped the U bolts and painted them in silver Hammerite to protect them. Didn't repaint the rack itself as it was in pretty good nick under the grime which must have preserved it.

So here it is, all regreased, new rubbers and bolts replaced for stainless.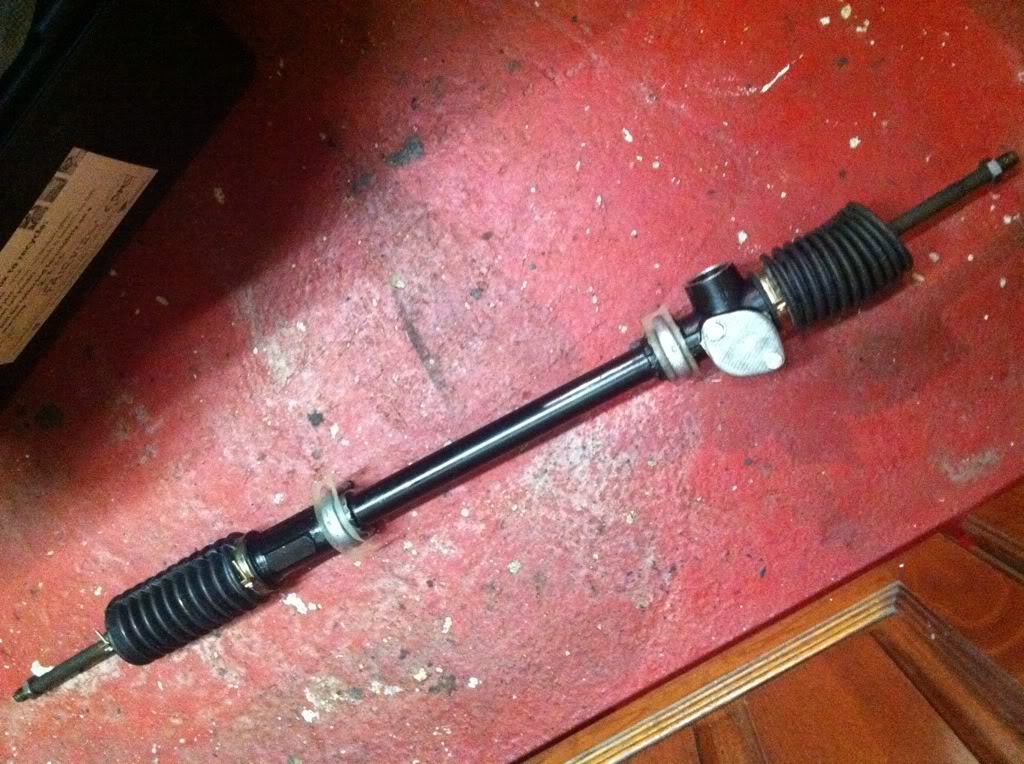 So with that installed I got the column in too. Got a drop bracket on it but I think I must have snapped the bolt that attaches it to the dash rail as its nowhere to be found, so its tie wrapped in place for now. This won't be the final steering wheel as I have something special in mind for that. ;)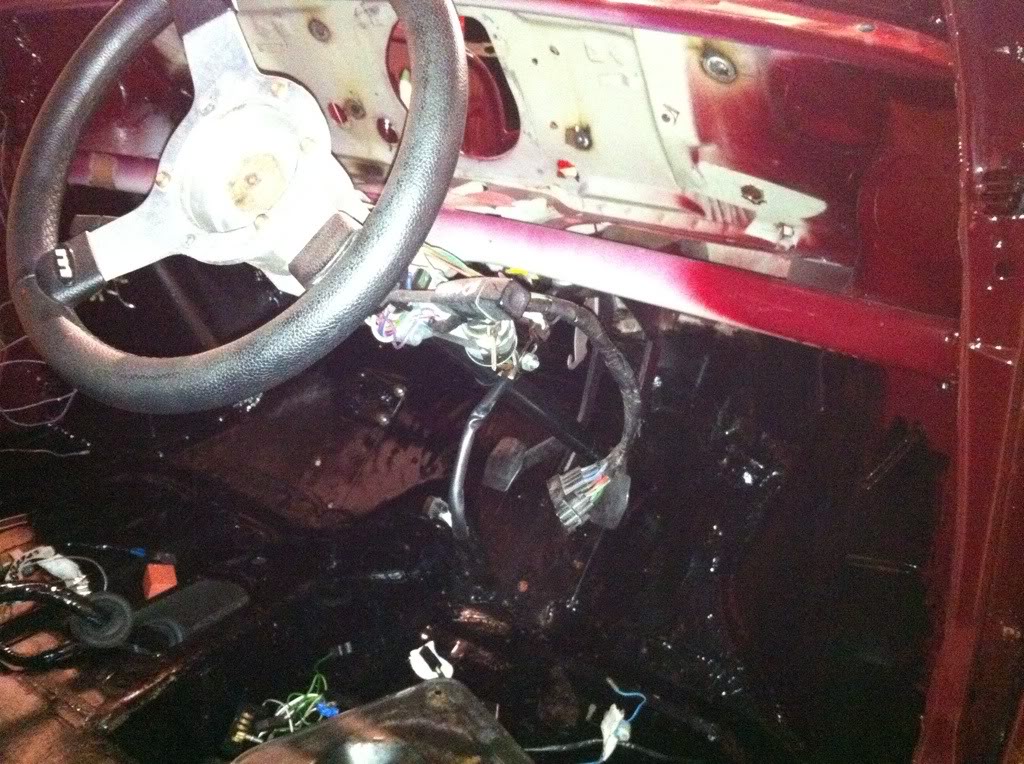 And with that all installed I started to tackle the wiring loom. Been dreading this but once I had it all load out side by side its actually pretty simple. Thankfully I had labelled most of the old loom as I took it out. If I hadn't done this I would have had no hope in getting it done!

At this stage I was a little worried.....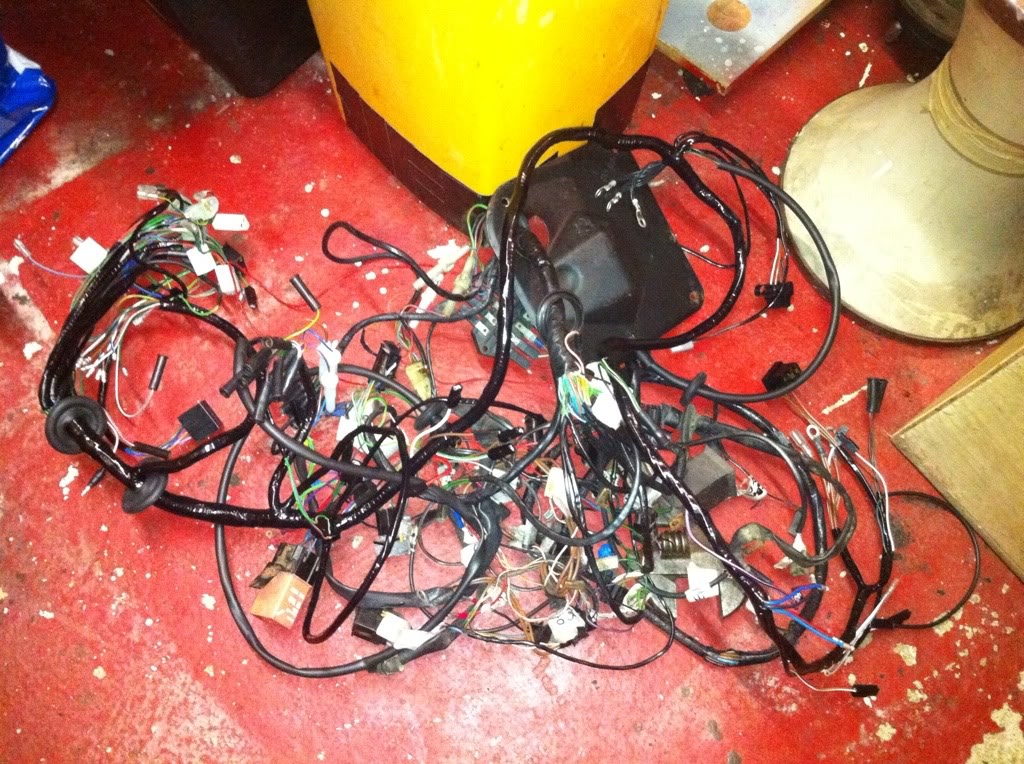 Old loom on drivers side and new loom on passenger side. Almost all done but finished up early to relax in front of the TV for a while before work all day tomorrow :)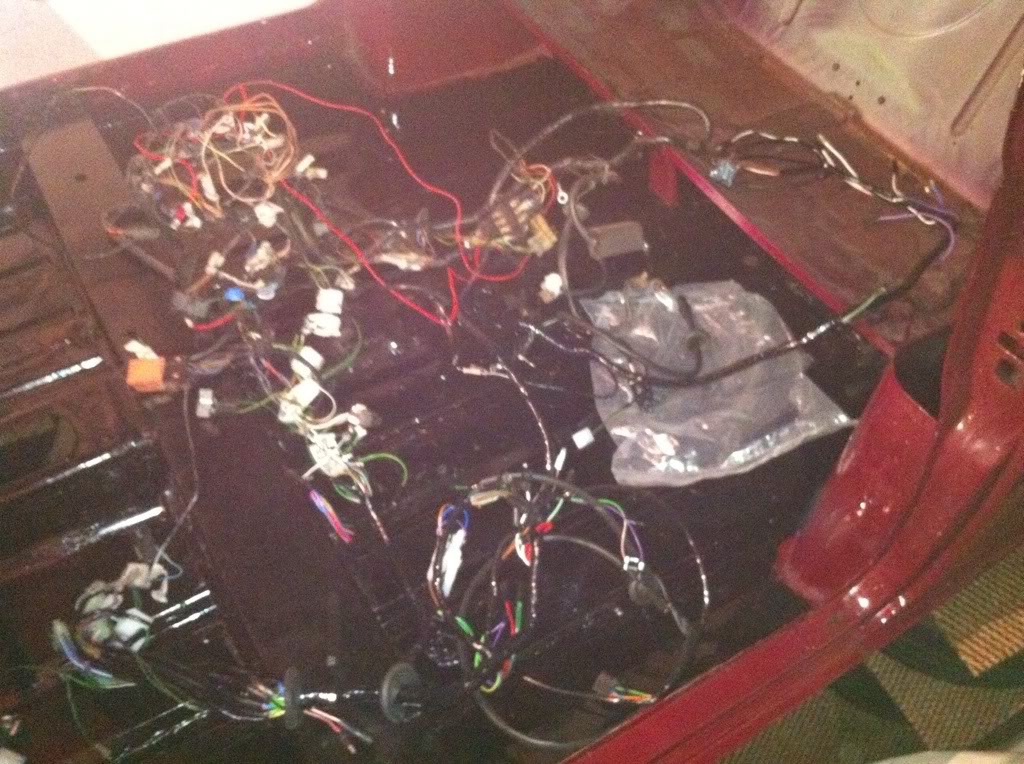 Satisfying to finally get going with it!

I can see the June 2nd target being met at this rate

2-15-2012
Time for an update!

Went out about 8 to get the floor painted in hammerite to give it a bit of added protection. What a mare of a job! Got most of it done apart from the parts where the supporting wheels are holding it up. Will have to go over it again as I know some bits are thinner than others which isnt good enough!

Not really an exciting photo but here you go.....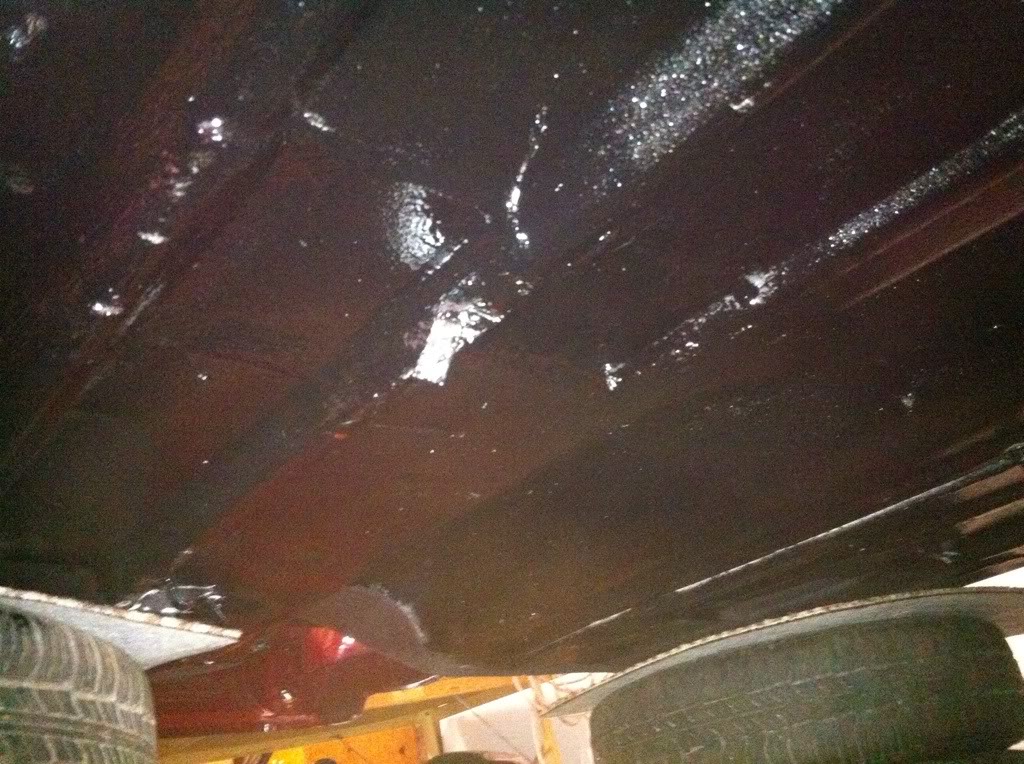 and seeing as I had the Hammerite out I thought I might as well get going on my other radius arm. It was covered in surface rust (as you would expect) so stripped that off with the bench wire wheel, quick rerust with the Deox Gel, degrease and then a coat of paint. Its come up really well!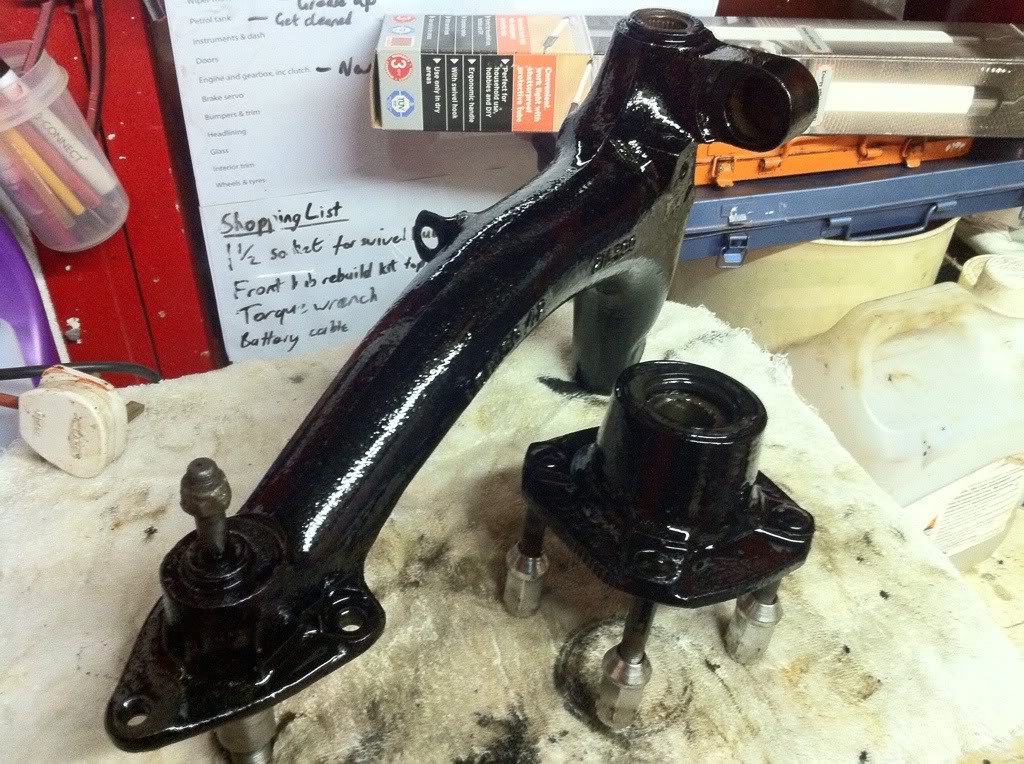 Also did the hub whilst I was at it.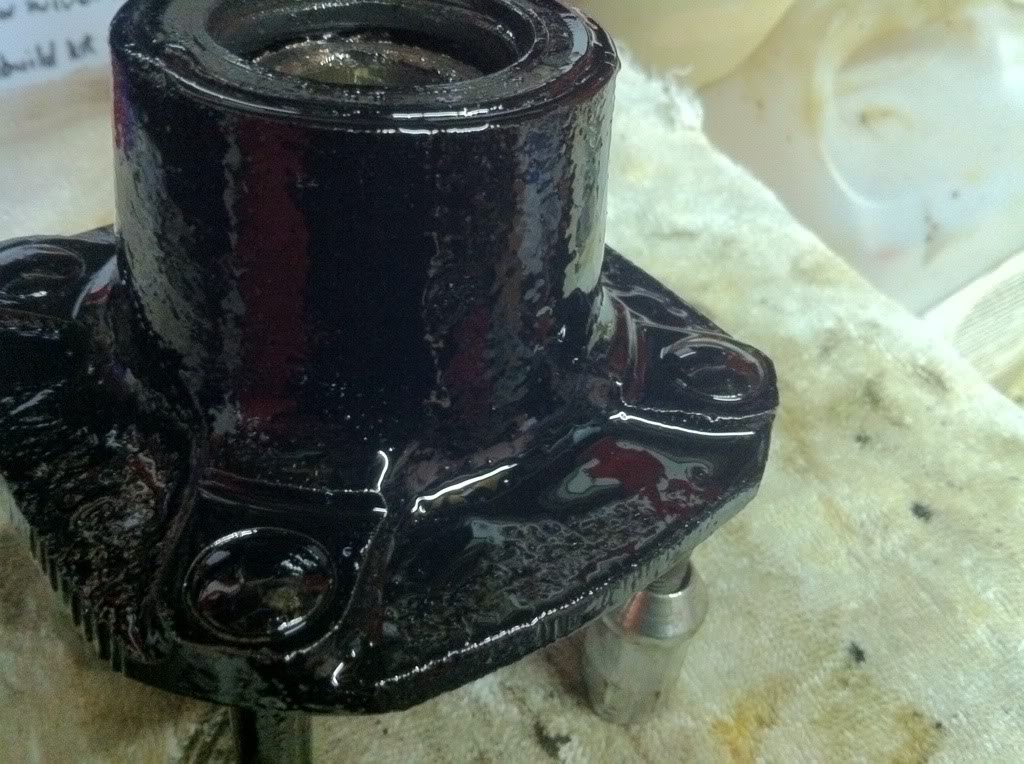 Also I managed to straighten out my tie bars, which were pretty out of shape as on most Minis, with my special precision impact tool (MASSIVE HAMMER)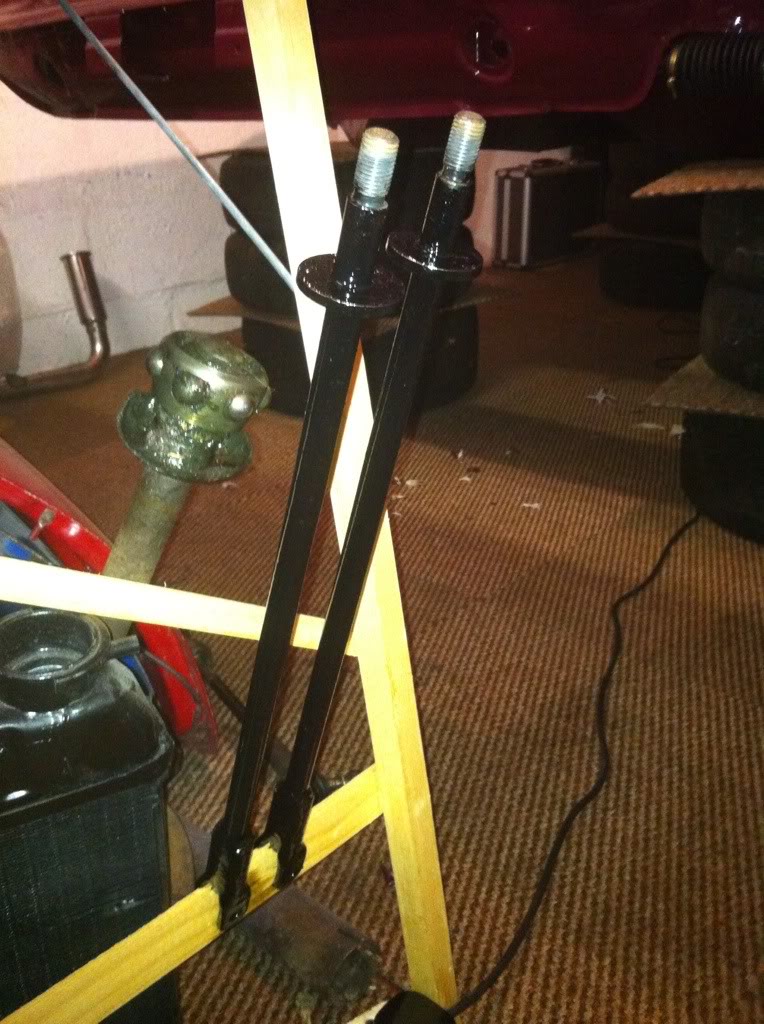 So with these parts done thats all the suspension stuff tidied up and painted ready for subframes. Just need to get them blasted first but don't have the time/funds at the mo!
3-24-2012
Well tomorrow I plan to get some work done on the car as its a rare occurrence I am off the same day as my dad.

In the meantime check out the third video in the series that Ive just finished off. Click on it to view in HD (recommended)
Enjoy folks!
3-25-2012
Update! Small one but progress nonetheless!

Had a day off work and I forced myself to take advantage of the fine day and not sit inside doing uni work. Im glad I did as I thoroughly enjoyed myself.

Got some supplies in (Hammerite mainly...) so got going with a few bits. I started by painting the bits I missed on the floor. turns out I hadn't missed much but it was good to top up for extra protection. No pics of this but....its a floor.....

I had the gear linkage on the bench anyway so split it all down and cleaned and painted everything. Reusing the bobbins as they were in perfect, oil covered condition

I took advantage of the fine day and let them dry off outside. Didn't take long with temps hitting 21C!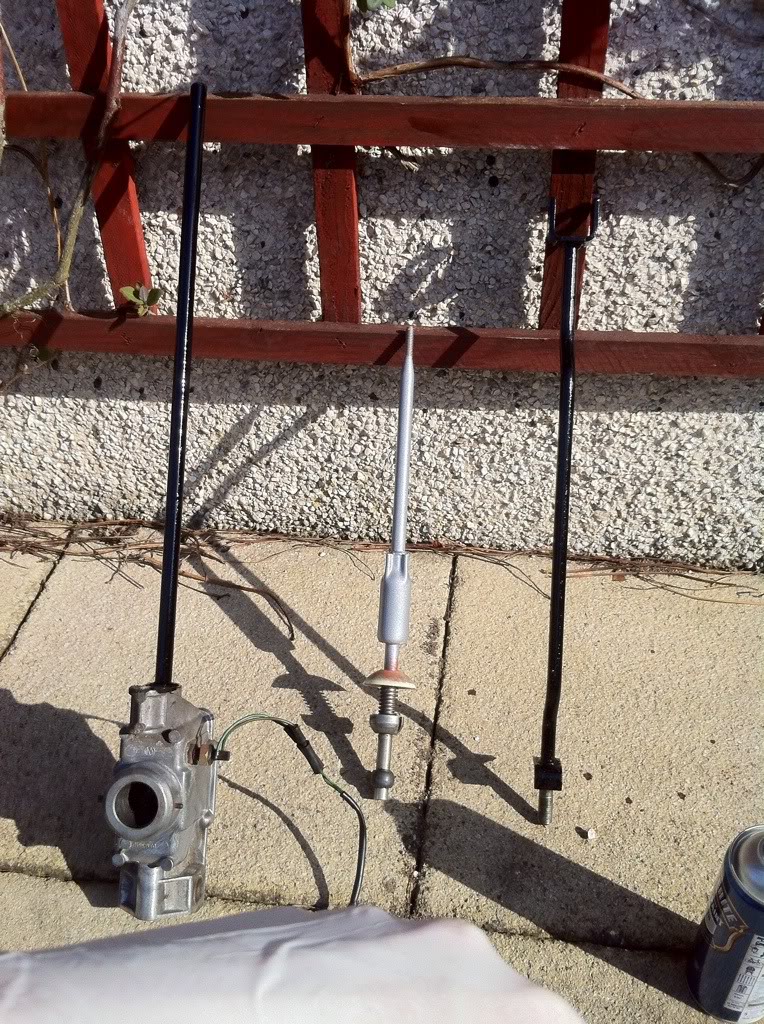 and then reassembled with stainless bolts/washers throughout! I fitted it to the car and held the linkage that attaches to the gearbox with a tie wrap for now to keep it from stretching the bobbins.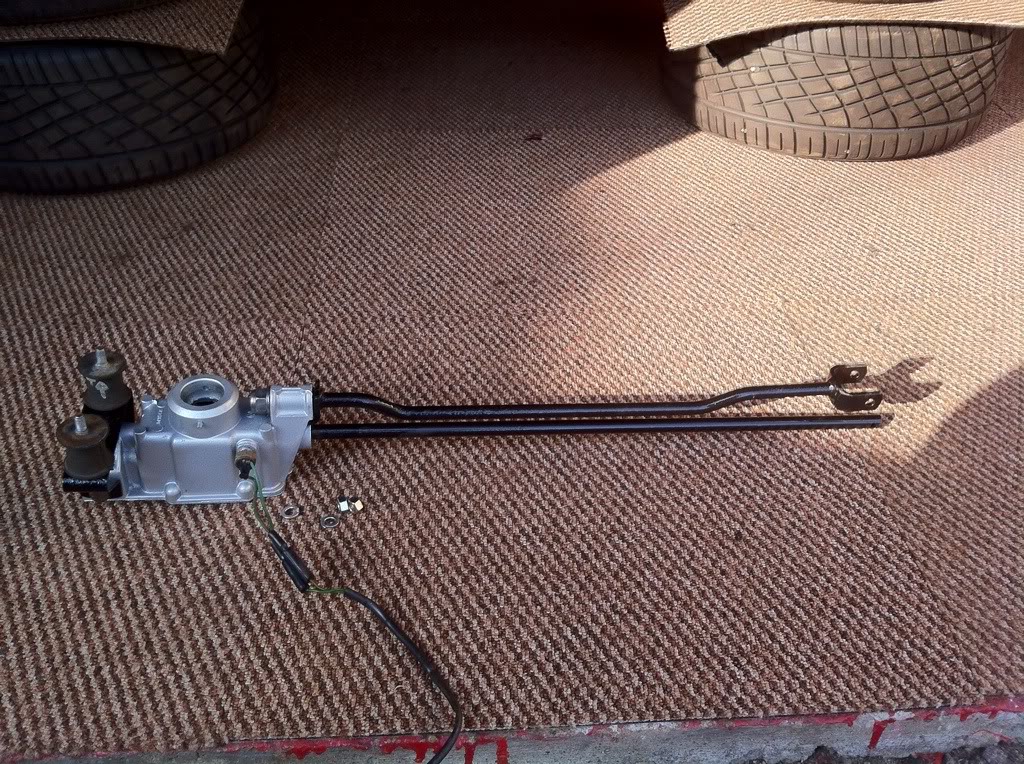 Also when I was under the car I couldn't resist taking a shot of the doors reflection!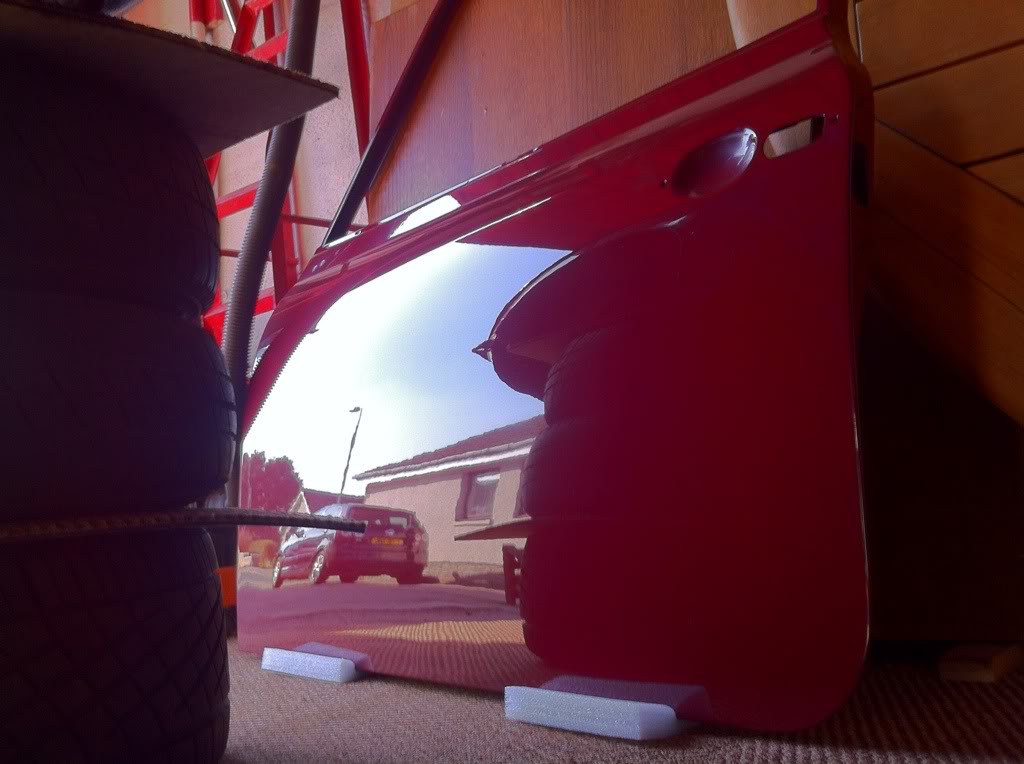 After that I took a look at my front subframe in more detail. Decided Im going to degrease it, wire brush drill it and then Deox Gel the few rusty bits and then paint it up. Its not too far gone for blasting so will see how this goes instead :) Should get that done tuesday/wednesday evening all going well....

So as I say, not much progress but god did it feel good to get back to work on the car!
3-27-2012
Another day another bit of progress!

Went out tonight to see what was needing done next. Thought I would try and tidy up the front subframe as its not too bad but the time it was going to take me I think its just going to be best to get it blasted.

So with that done I routed the loom through the bulkhead blanking plate that had dried off overnight (in silver to contrast with the red. The standard black looks crap)




Then I routed it throughout the car ready for attaching to everything. Kinda simple when its all labeled up!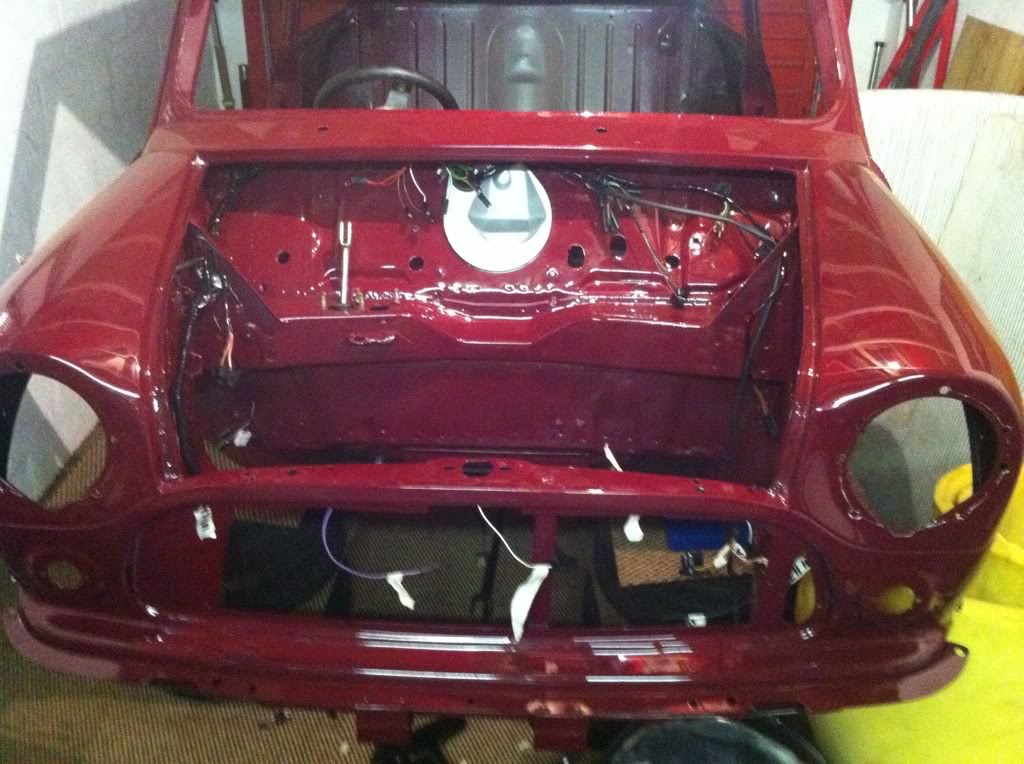 Going to take the frame to get blasted by PPS tomorrow. They haven't returned my calls to book it in so going to doorstep them instead! Hopefully they will be able to get something done with it asap.

Next stage for me is to get lighting stuff located which involves adapting the holding rings to fit the MK2 Golf crosshairs. So still lots to be getting on with!
3-28-2012
No progress so far today (might get out to work on it tonight) but I ordered a load of bits from MiniSpares today. Took advantage of my TMF+ membership and got a nice 7.5% off the whole lot

Totally worth the £5 to get the membership! Still came to a fair whack all added up but everything is needed to progress.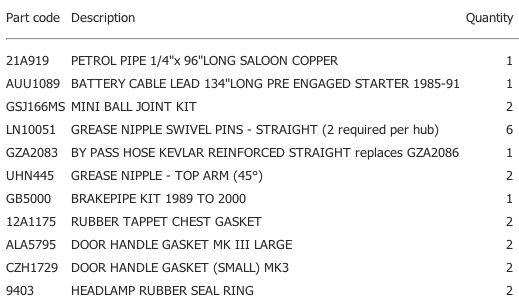 Also after weeks of thinking about my subframe and what to coat it in I phoned PPS today and Ive decided to put it to them to get blasted and coated in high gloss black powder coat. The way I see it is that the car won't be doing loads of miles and will be getting regular cleaning. Im thinking of putting some clear laminex on the bottom of it where it faces the road to prevent stone chips as much as I can. The laminex is clear so won't be noticeable and works great on car front ends so why not a frame!

Dropped it off this afternoon and should have it back in just over a week. Means a delay on assembling the frame but hopefully my parts will arrive quickly as they are coming by courier.

I also ordered some Scooter deck grip tape. Answers on a postcard for the uses of this......

I got more done to the car tonight though! Not much but what I was doing is complicated....

As you will probably know already I have MK2 Golf crosshair headlights to fit. The problem with these are they are ever so slightly too large for the inner mini headlamp rings. So I had to modify these rings to fit!

Heres the light in question....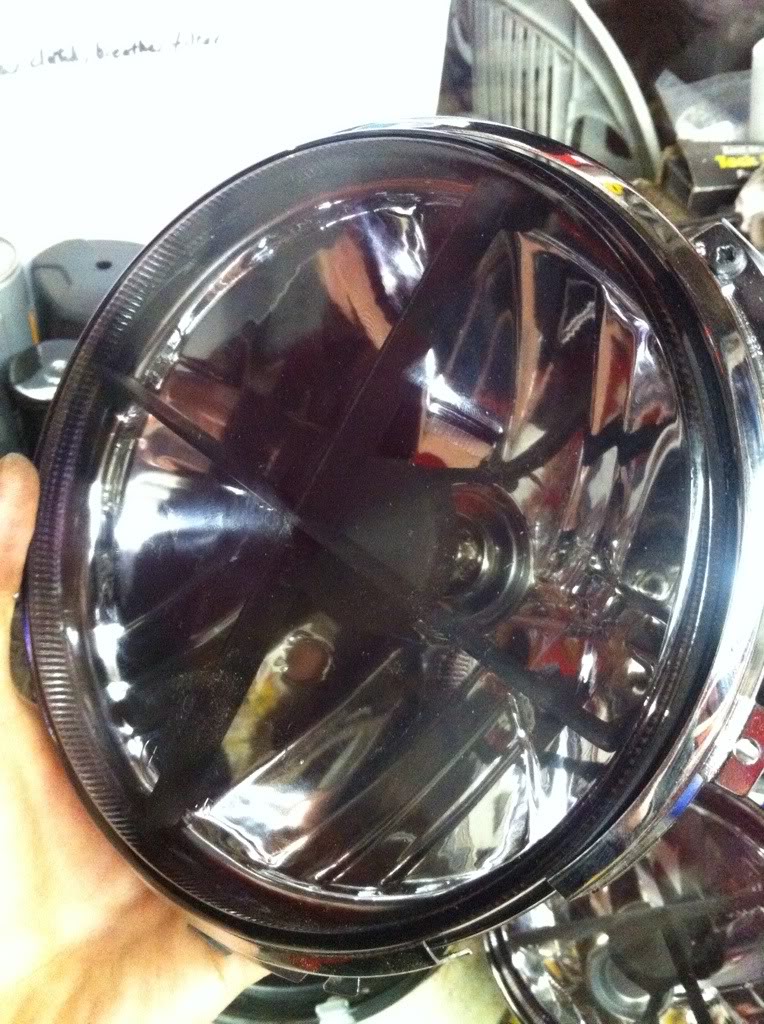 and here is the cut to stretch the ring out to fit the glass.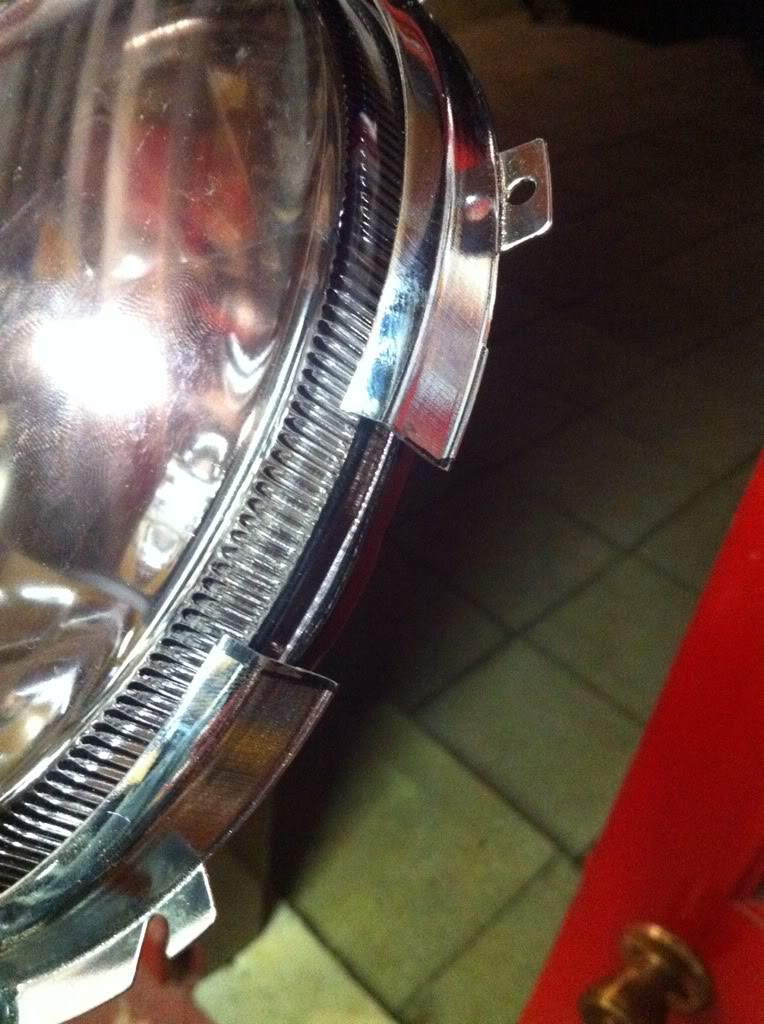 I didn't get a chance to get the placement/orientation done tonight but I did have a quick mockup on the car. Im beyond happy with their look!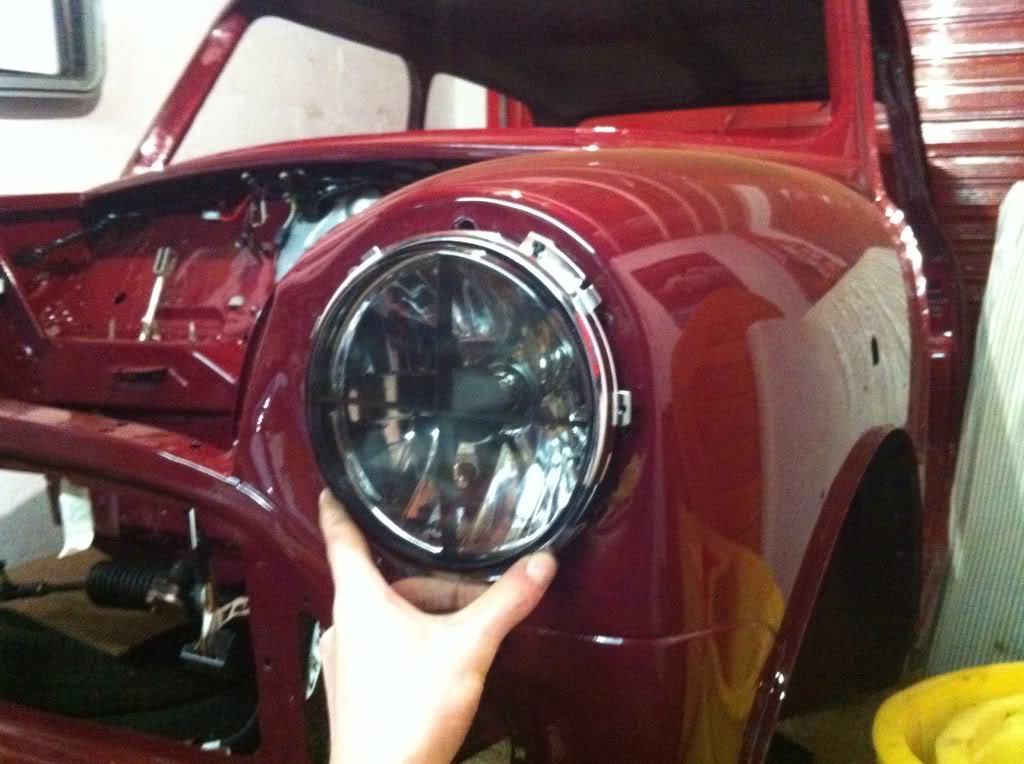 Something so subtle but you can guarantee I will be the only Mini on the show field sporting them which is great.
3-30-2012
Grabbed another evening in the garage tonight.

Went out to get the headlight fitted all perfectly but got annoyed with it so will leave it to another night



I did get the headlamp bowl fitted though and the rivets have a strong hold.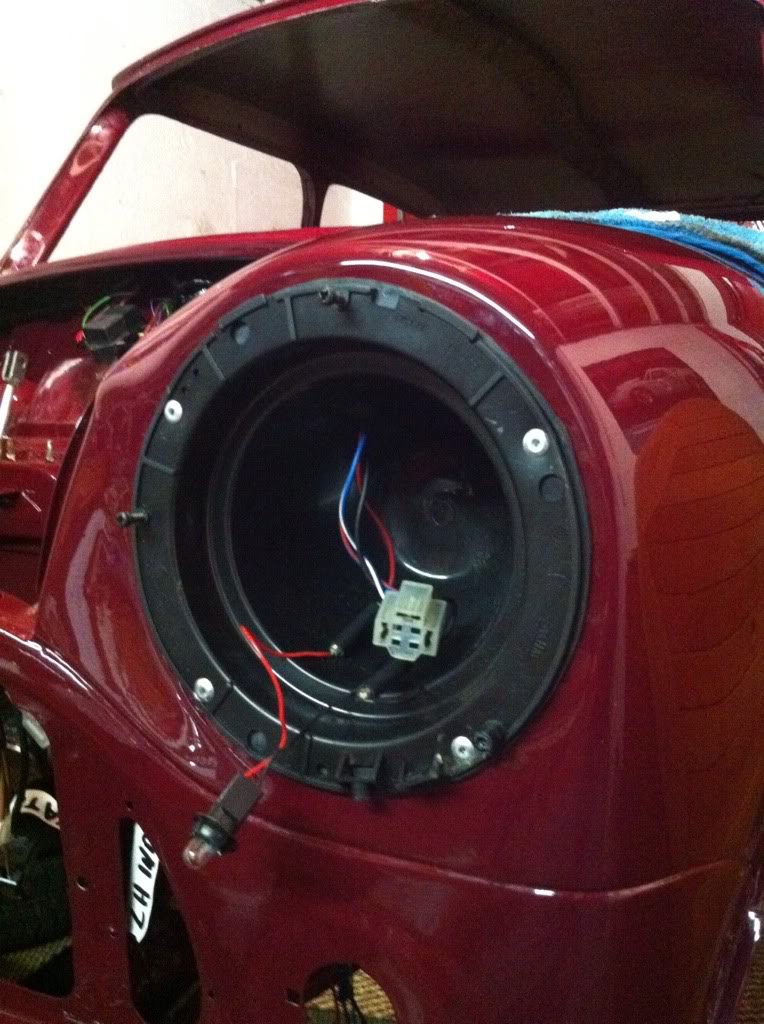 Not sure if the rivets were standard or not but the old ones were held in by them and they were solid so new ones replace them!

Then I located my internal bonnet release and fixed the bracket supplied in the kit to the lower dash rail. Replaced the kit bolts with stainless as shiny looks better than matt black in a bay.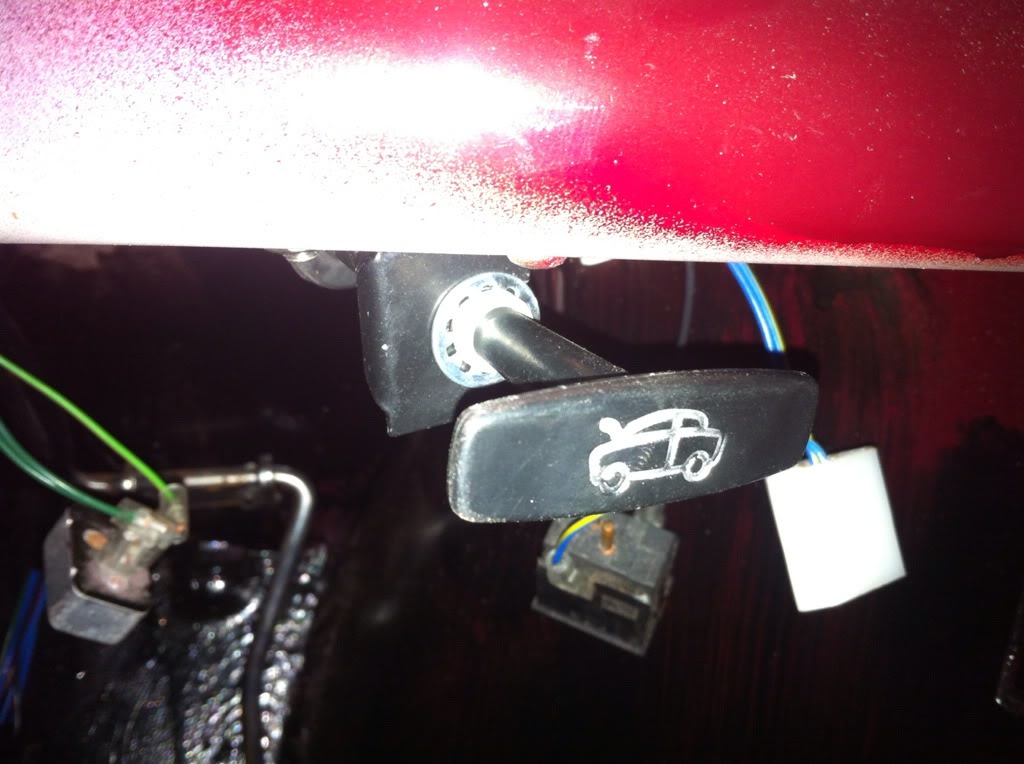 I got a few little bits like more wiring and fuse box located etc etc but no pics as its nothing significant.

I also got my door striker plates fitted after their fresh paint job. They will eventually end up stainless steel but Im trying to reign in the spending at the mo just to get this back on the road.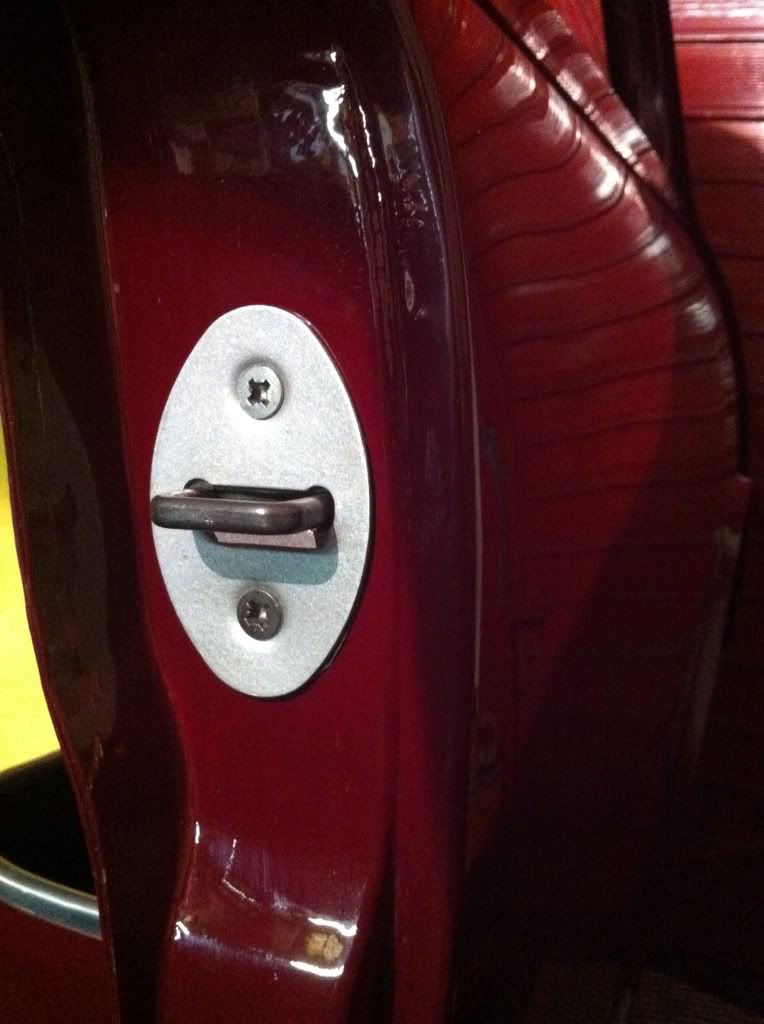 I also marked out where I need to drill holes for the harness bar to go. Used my iPhone as a spirit level and it is more sensitive than my actual level......

The bar itself has some weird looking welds so Im smoothing them off by a bit of careful grinding and then adding filler on top. This will make it look like one piece of metal once smoothed and painted. lovely!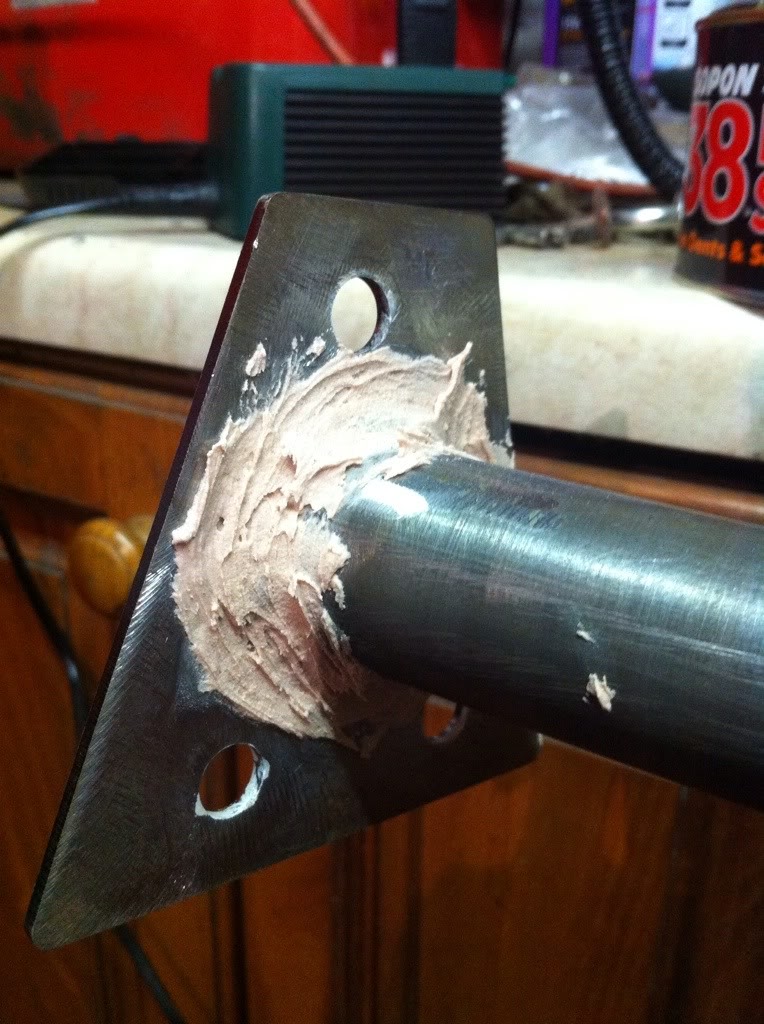 and I did my usual end of shift thing of marking down another day on the calendar. Ive got 66 days until the Thistle Run. I want it back on the road before mid May to iron out any niggles Im bound to have but we shall see how I get on :)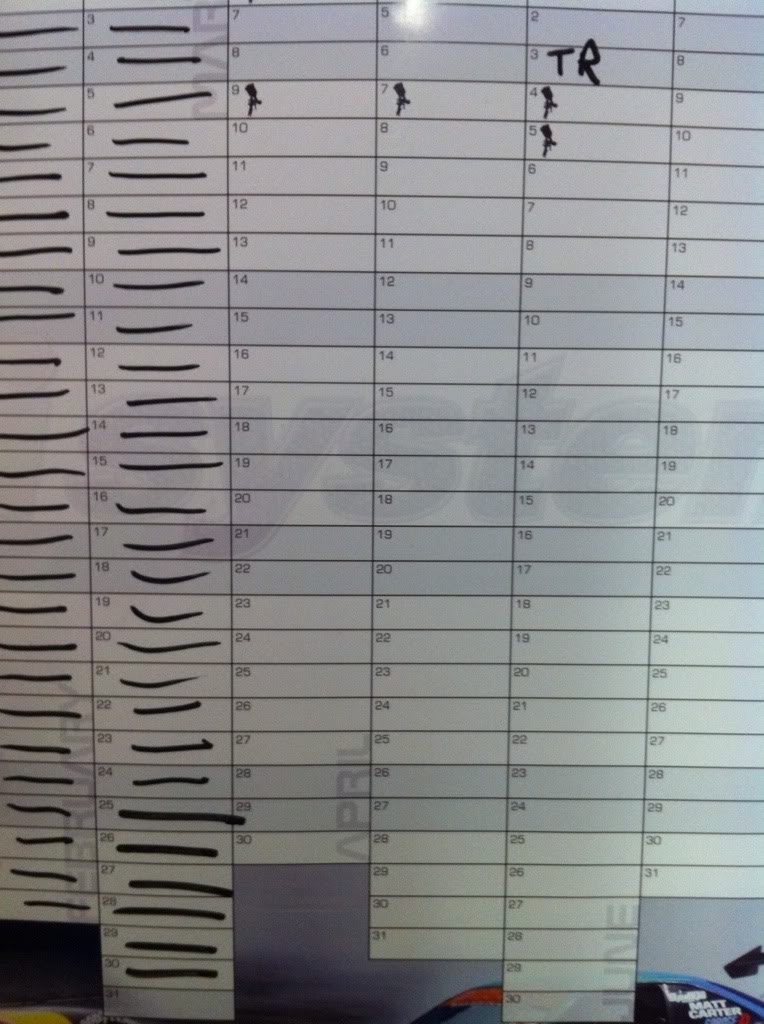 Should get more done over the weekend as Im working all day and home mid evening which means no time for uni work

4-2-2012
Yet another day, yet another parcel!

MiniSpares order arrived half an hour ago. Really impressed with their service as always. Specified delivery between 16.27-17.27 (hows that for accurate timing!) and it arrived on time. Perfect!

So onto the pics...

The order breakdown is above this post anyway so won't go into details

Mainly fixings etc. Two chunky bags are the ball joints. them have arrived assembled but need taken apart to lap them in as they are a bit rough inside. Easy to do though with the aid of my drill :)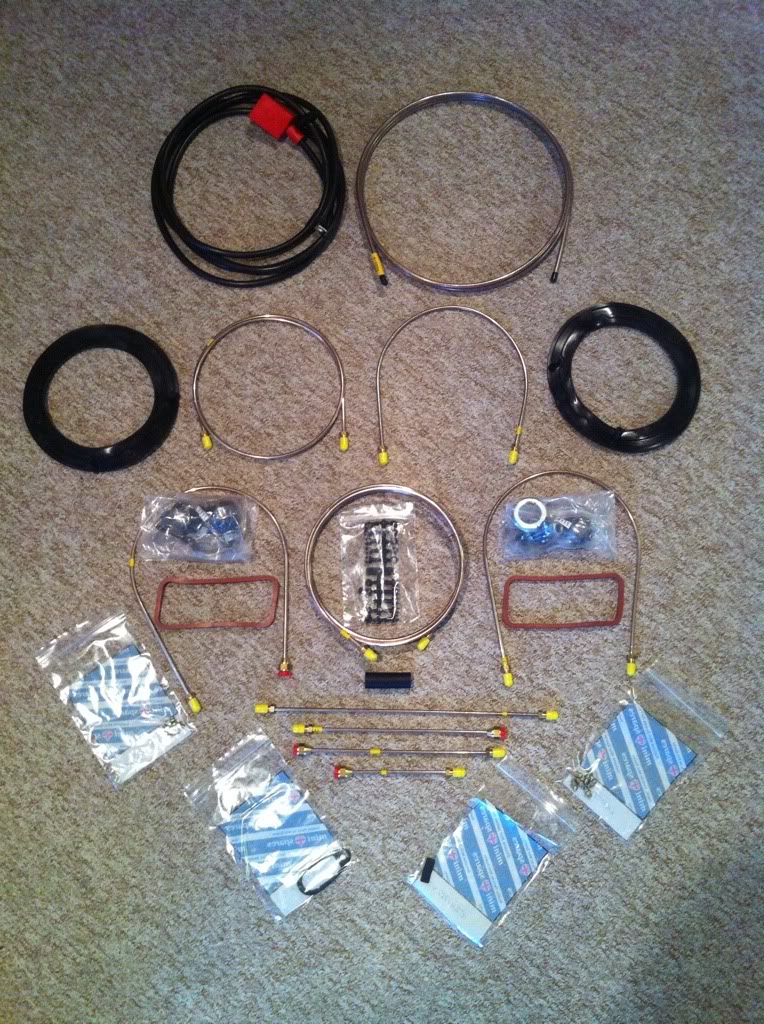 Brake pipes are a cooper/nickel mix (commonly known as Kunifer) which is easy to bend by hand and harder to kink. Making it super easy to install! (he says hopefully....)

They come pre fitted with all the end fixings and labelled with a guide to where each one goes. Much easier and way less labour intensive than making your own!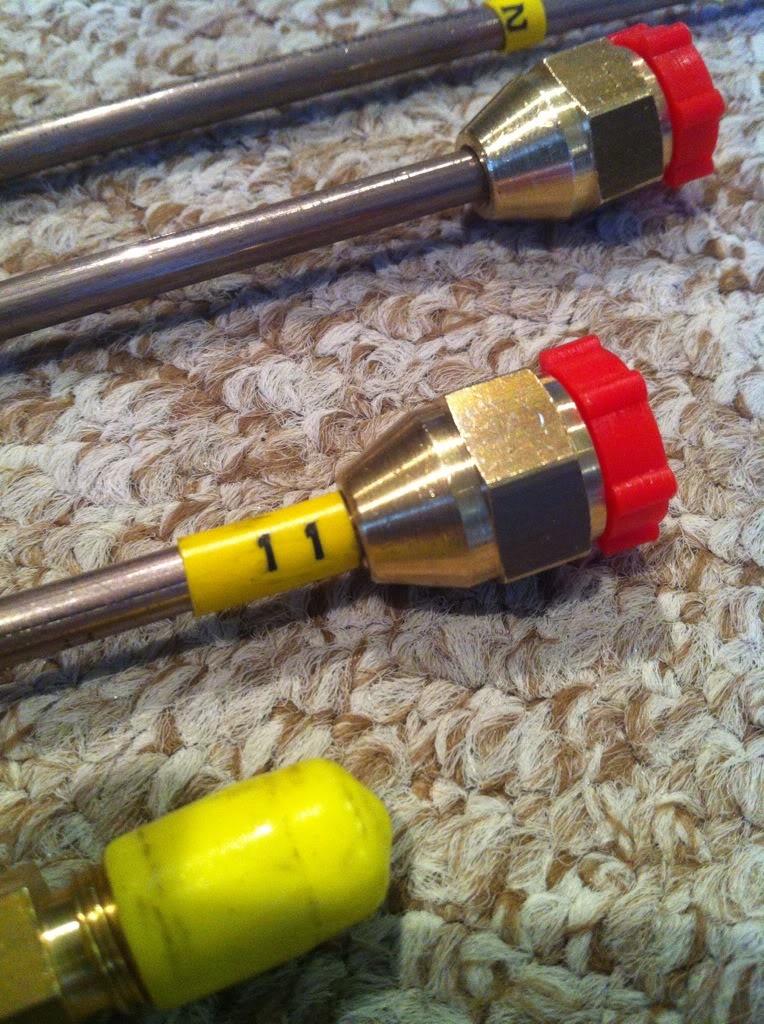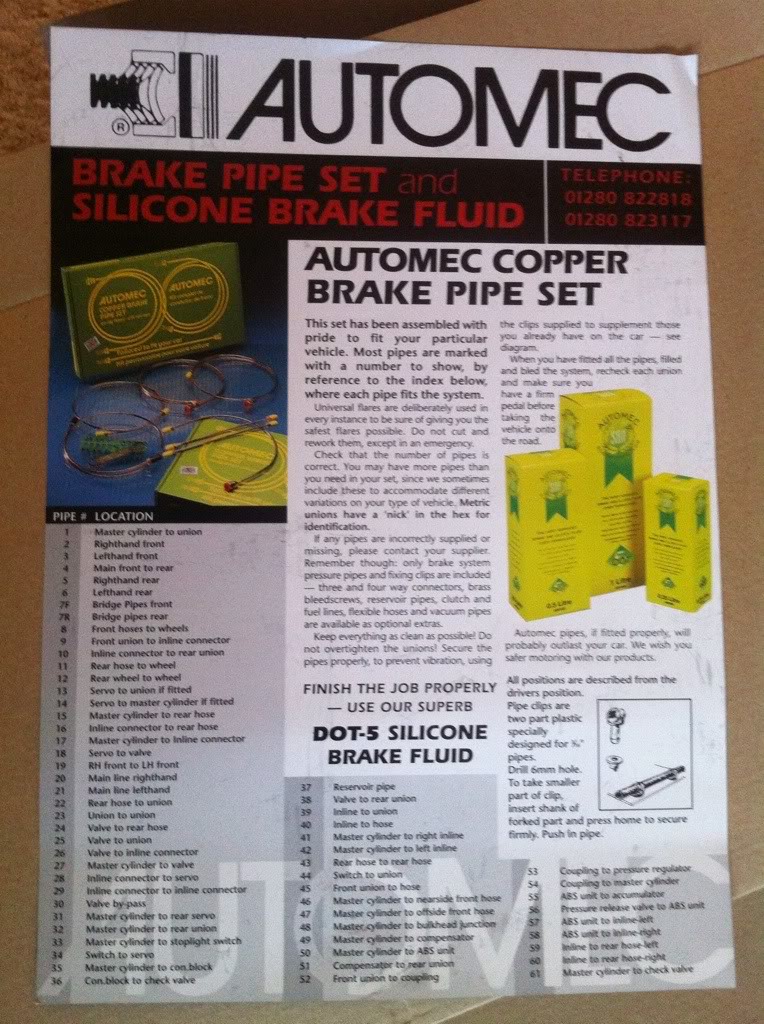 And something i didn't expect was this. Set of plastic clips to attach it all to the car underbody :)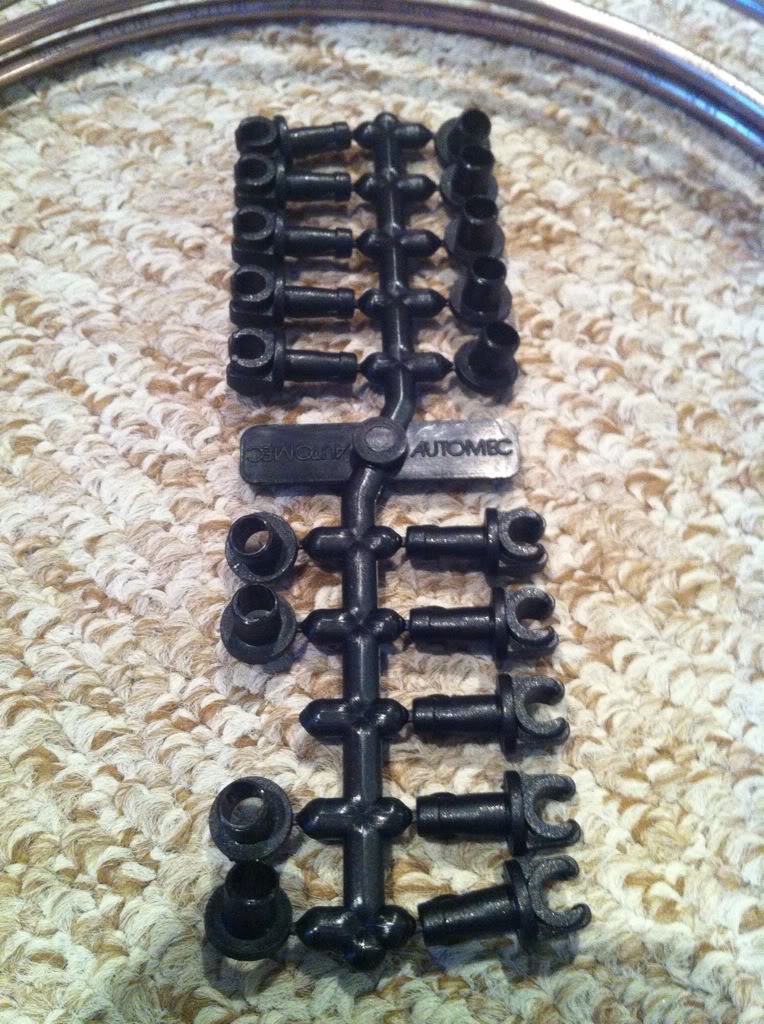 I also got loads of nipples ( ;) ) for radius arms, wheel hubs etc etc to keep everything greased up easily!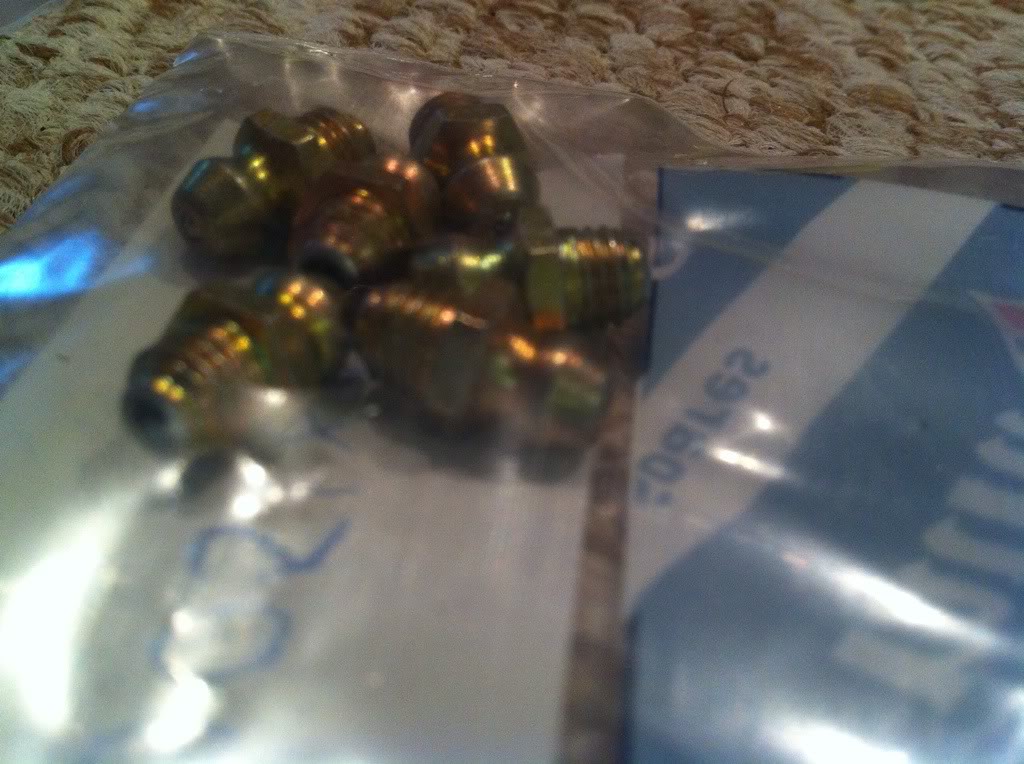 Should get the battery cable and a couple other bits fitted tonight :)
Well tonight I got some more done with help from my mate Greig.

Got the battery cable installed but no pics as its under the car and its dark under there....

Ive decided to put the engine in from below, along with the subframe, seeing as the car is in the air anyway. This meant we could get the brake servo in without blocking the path of the engine. Win!

So put Greig to work on that...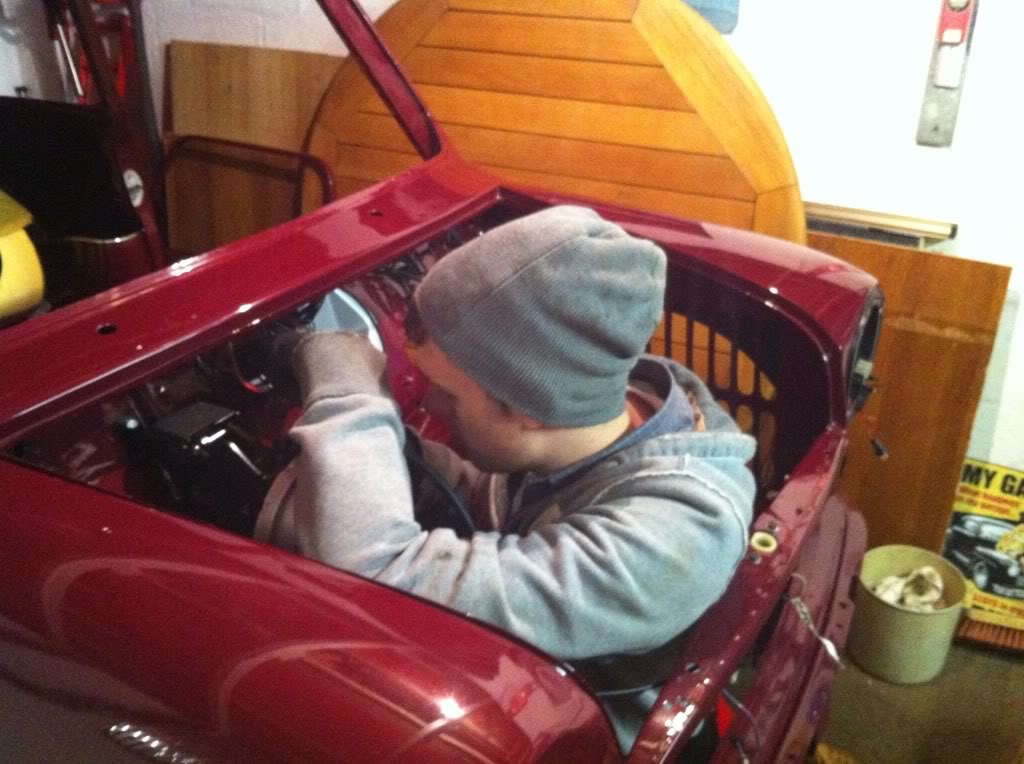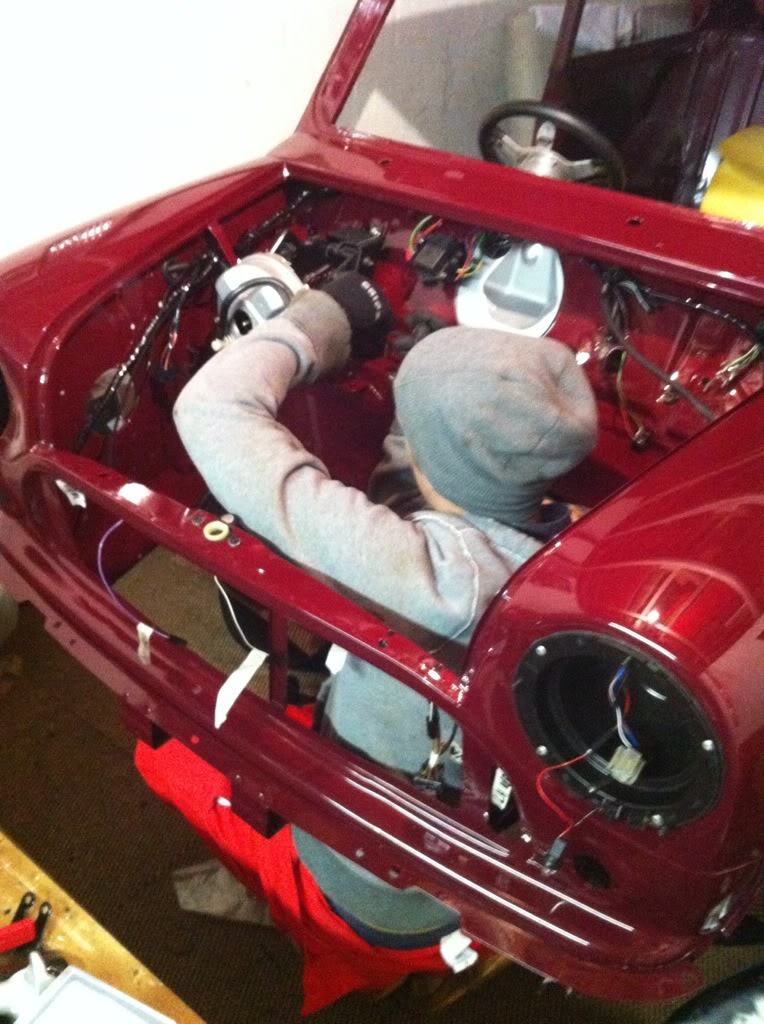 and then we thought what to try next and decided to do the lights. Two pairs of hands are definitely better than one and we managed. Needs fine tuning when its all back down on the ground on a flat surface but they fit! Just need to mod the outer rings a bit to fit over the now larger inner rings.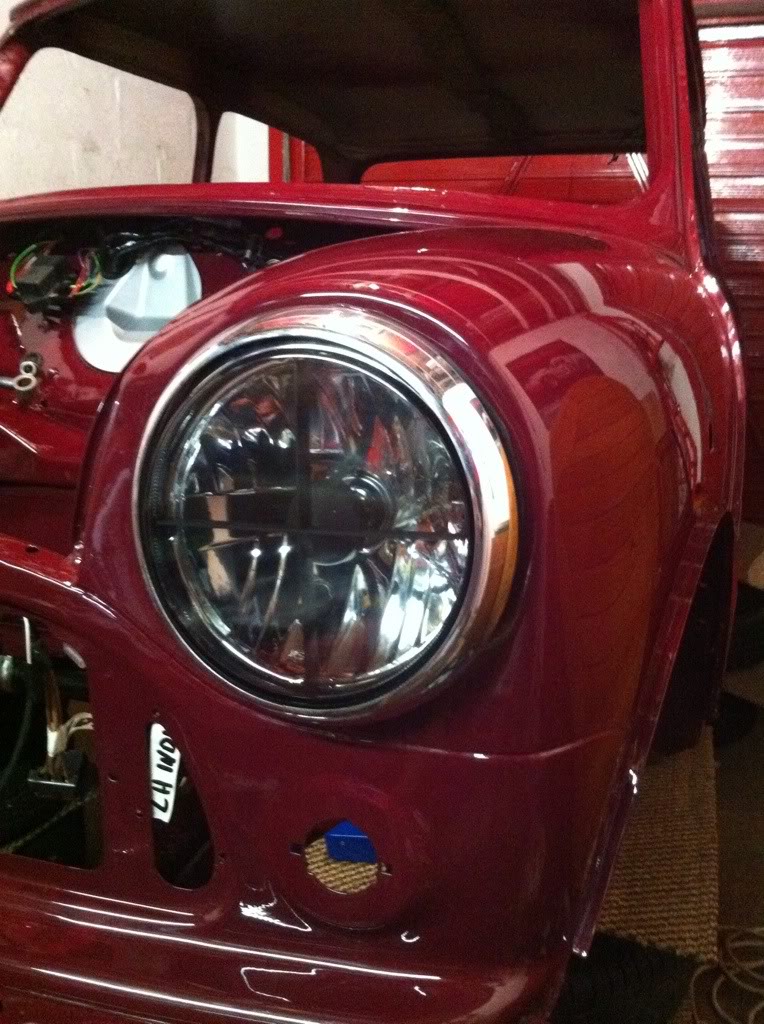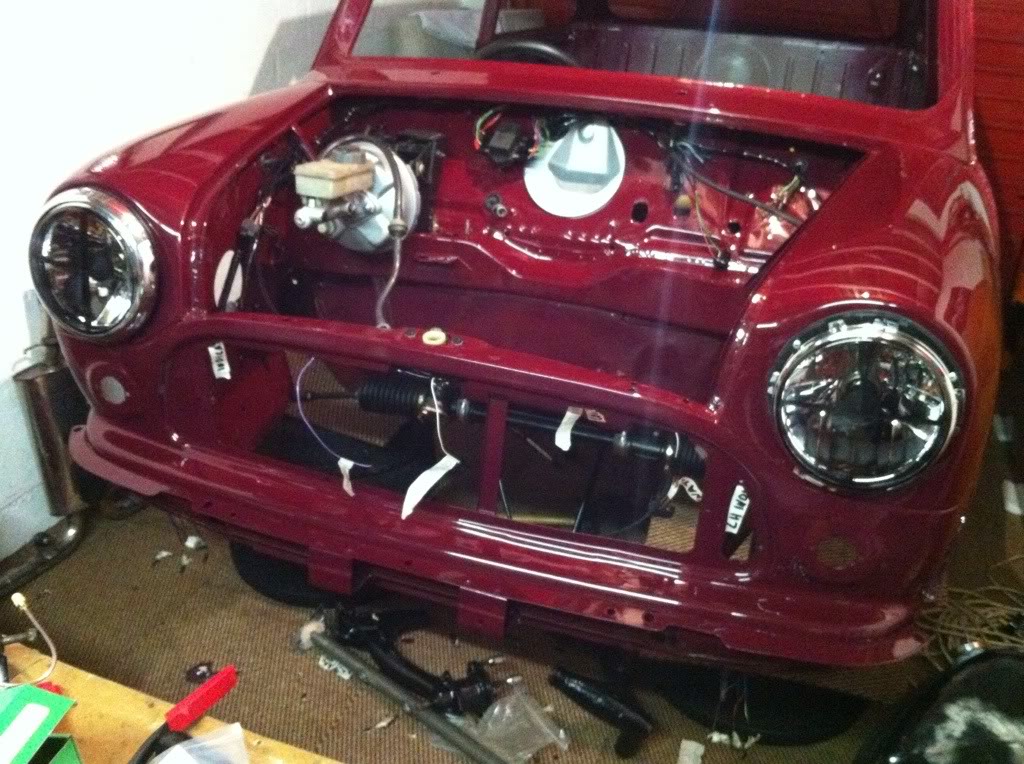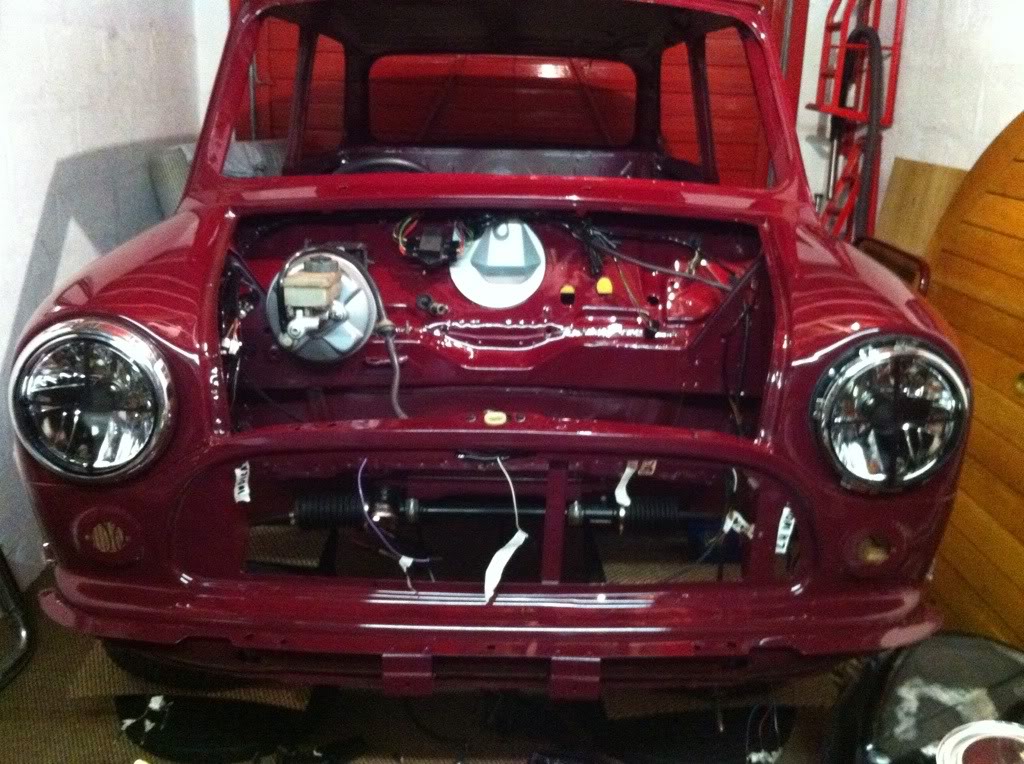 So more progress as ever. Running out of things to do when I have no subframes but hopefully PPS will have the front one done by the end of the week so I can get torn into it over the weekend depending on my workload.

Thanks to Greig for the helpage!
4-4-2012
So I haven't progressed too much with everything over the last couple nights. Lights are continuing to be a pain but determined to get them done.

Only pic of progress to show that Ive got is I managed to get the grip tape fitted to the pedals. Looks ace and hopefully will make gripping them much better.

Before/after photo....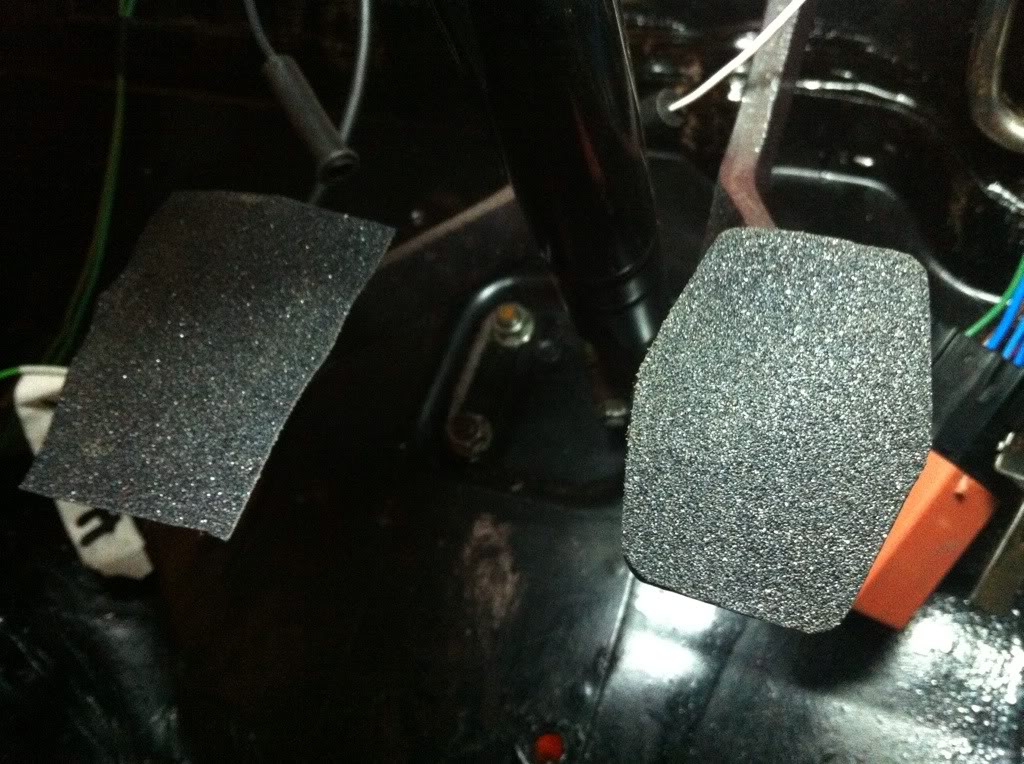 and both done :)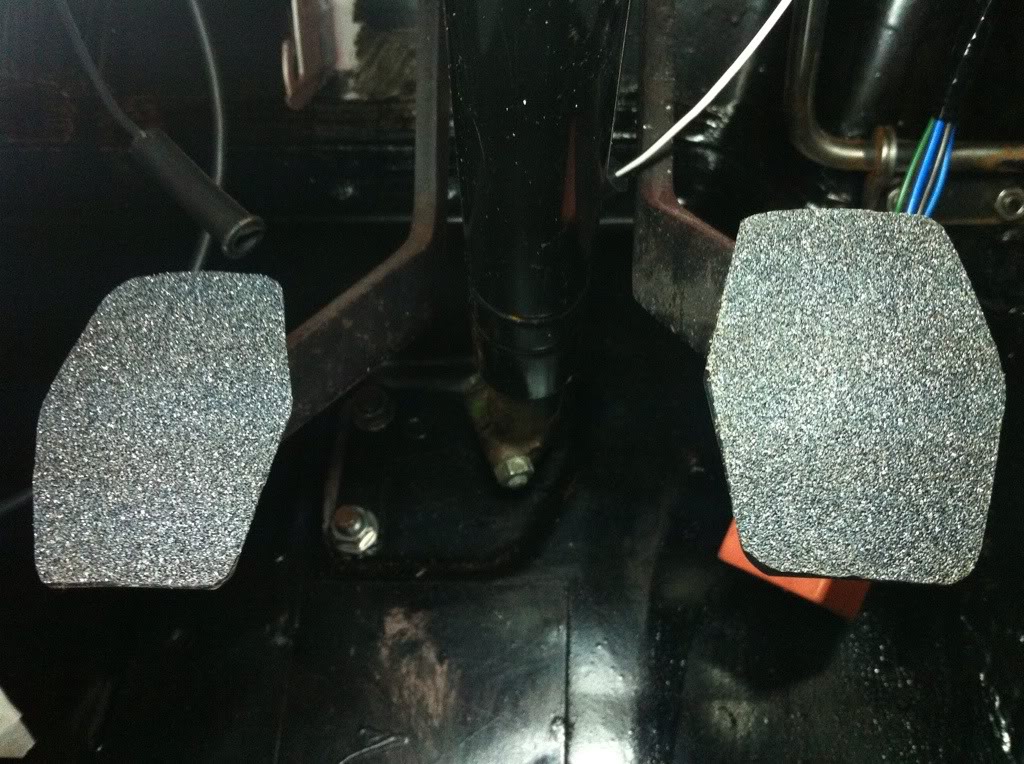 Notice the height of the brake pedal. Way higher than the clutch and the throttle pedal is even lower than the clutch. Sounds weird but it makes heal and toe far easier. You only do it under braking and as a result your foot is at the perfect height to roll onto the throttle instead of up and onto it in many modern cars.

Hopefully PPS will phone soon saying the subframes completed and I can get it all reassembled, engine on and then installed in the car.
4-11-2012
Another wee while out at the car tonight. Got my dad to take my hubs and driveshafts into his work at Jaguar to get one of the lads in the workshop to take off the hub nut. The wonders of the proper power tools!

So with the hub nut off I managed to separate the shafts from the hubs. The dust covers on both sides were well split and grit and grime had invaded so they needed cleaned out badly.

Took a bit of brute force to get it all apart but was all part of the fun. Ball bearings were shooting left right and centre but thankfully found them all again.

So here we have separated....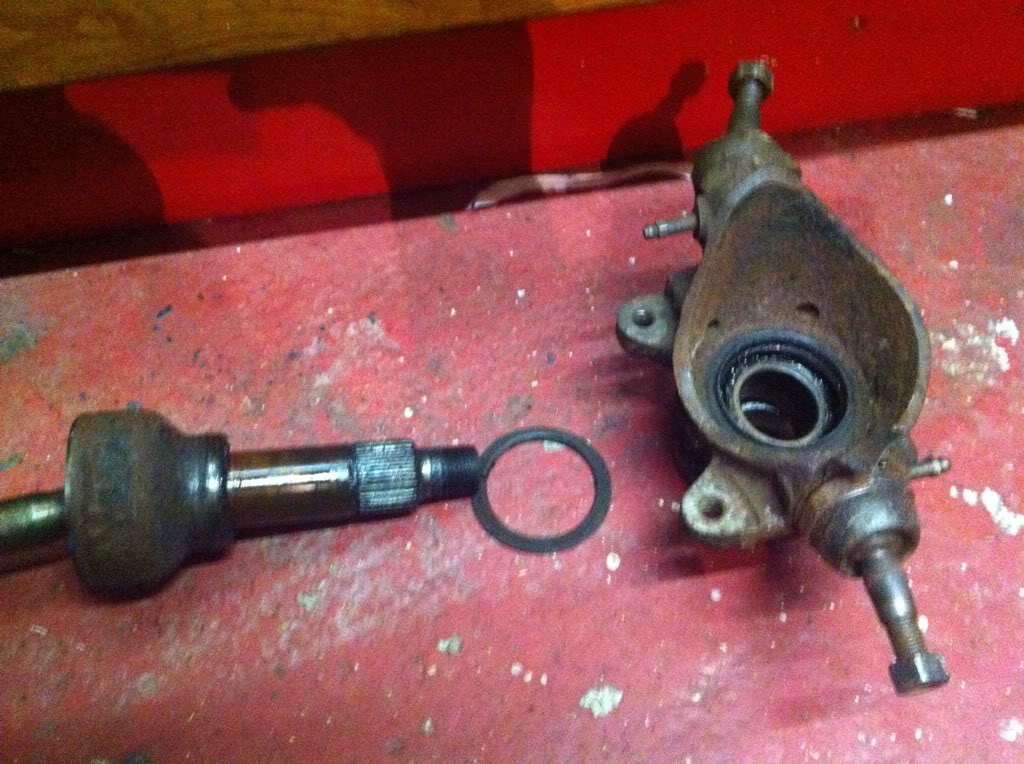 All laid out and cleaned!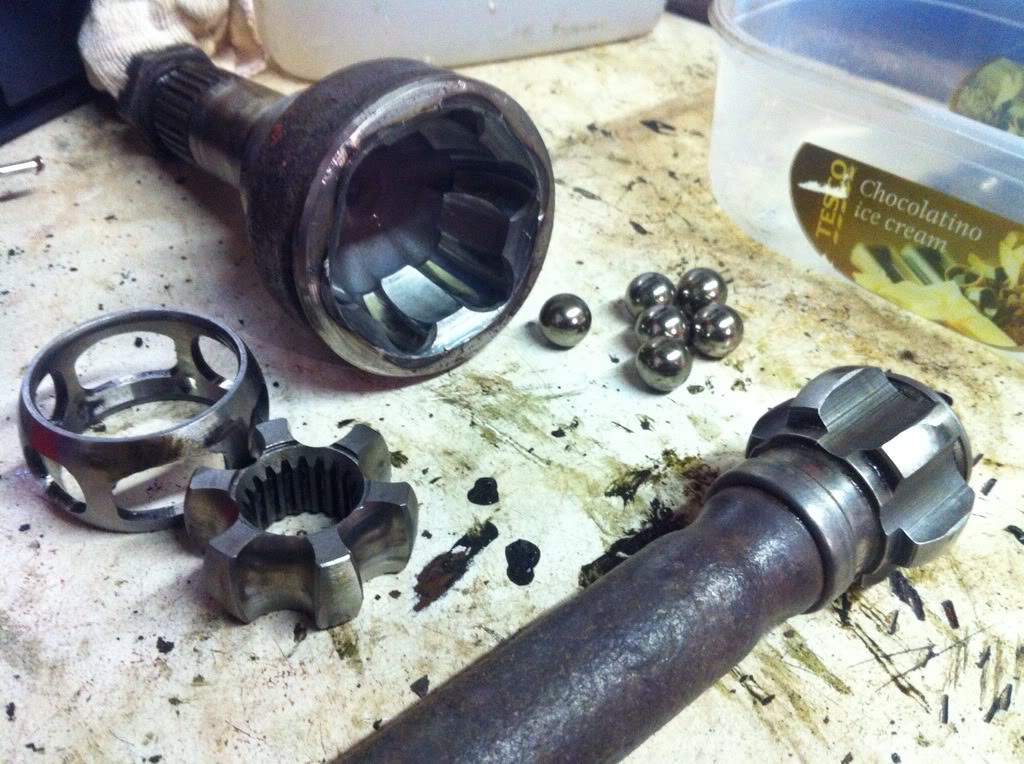 Then this is a before shot. Going to give this the once over with wire wheel and a drill to get rid of the crap and then deox gel, clean and paint.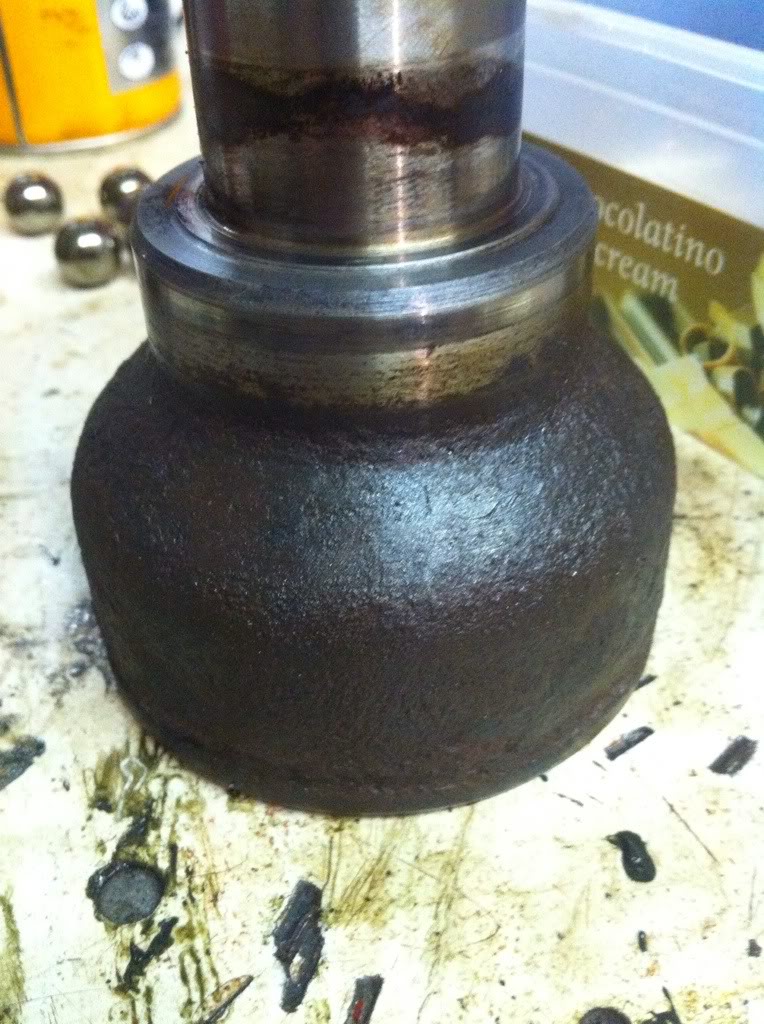 Was going to get more done but will go out another night to finish it all off for this side.
4-13-2012
Another evening down. More good progress.

Continued on from the other night and got my second driveshaft separated from the CV joint. Then cleaned it all out again, thoroughly coated it all in Deox gel, left for an hour while I cleaned other bits and degreased and painted them!

So this is after wire brushing...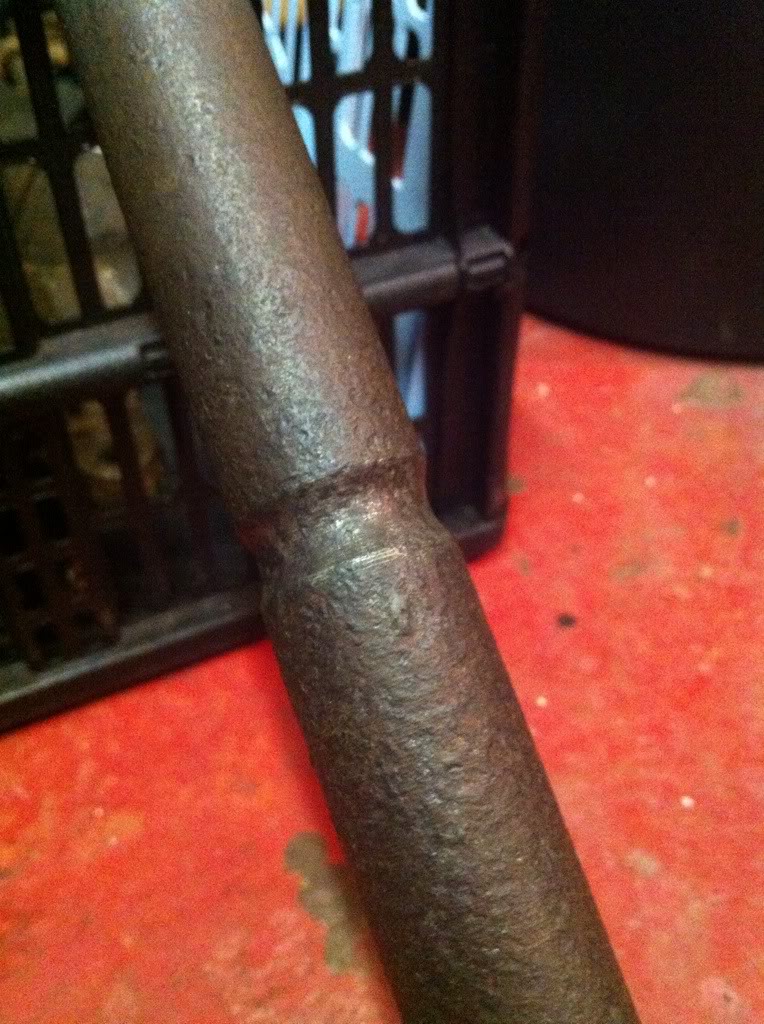 and this is after deox gelling. Doesn't appear much of a difference but theres no rust to come back through the paint now




and the CV joint cleaned. See above post for the before!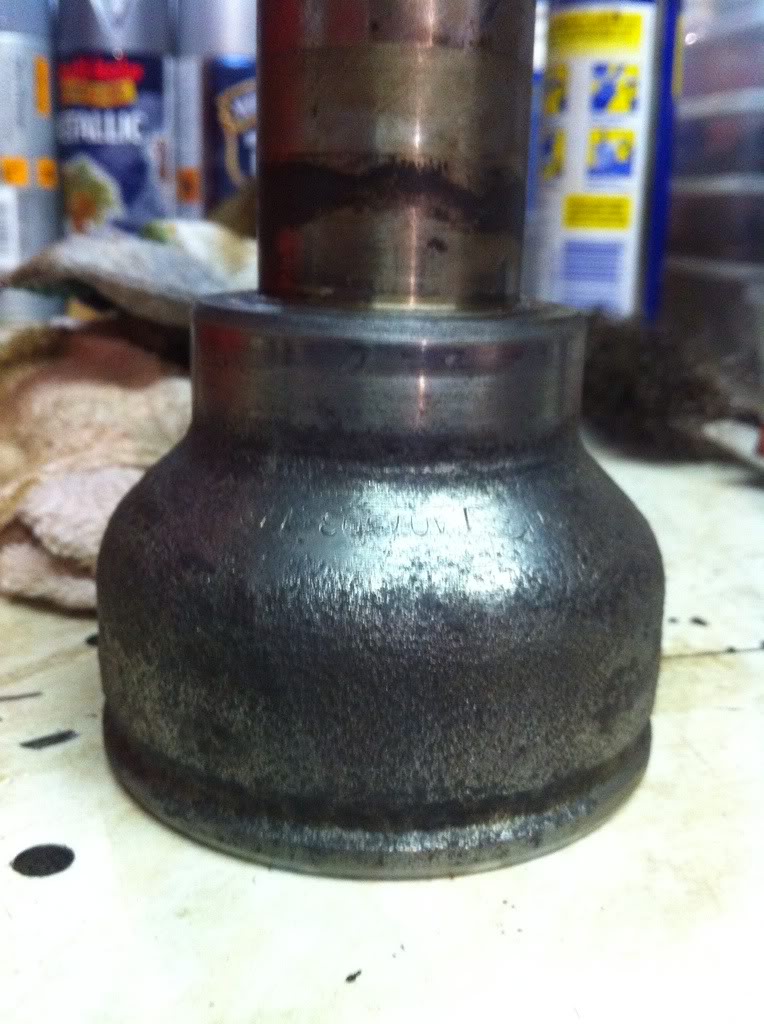 and painted everything up. I know some paint is on contact surfaces but I'm going to scrape that off with a new blade before reassembly. saves time masking up etc.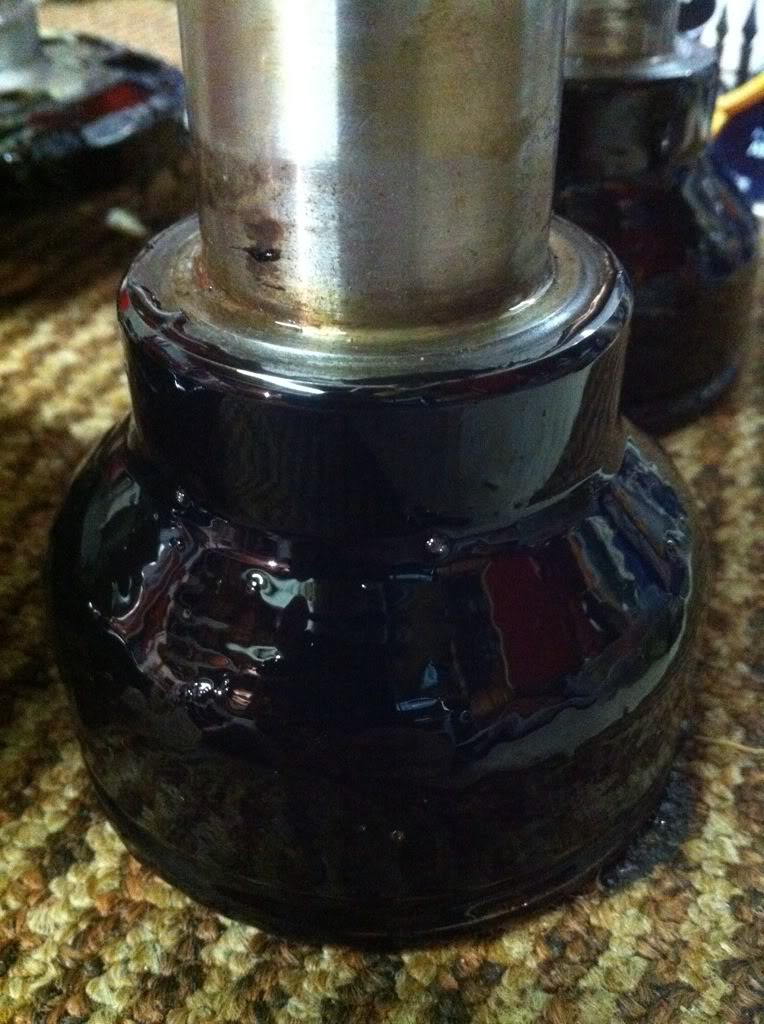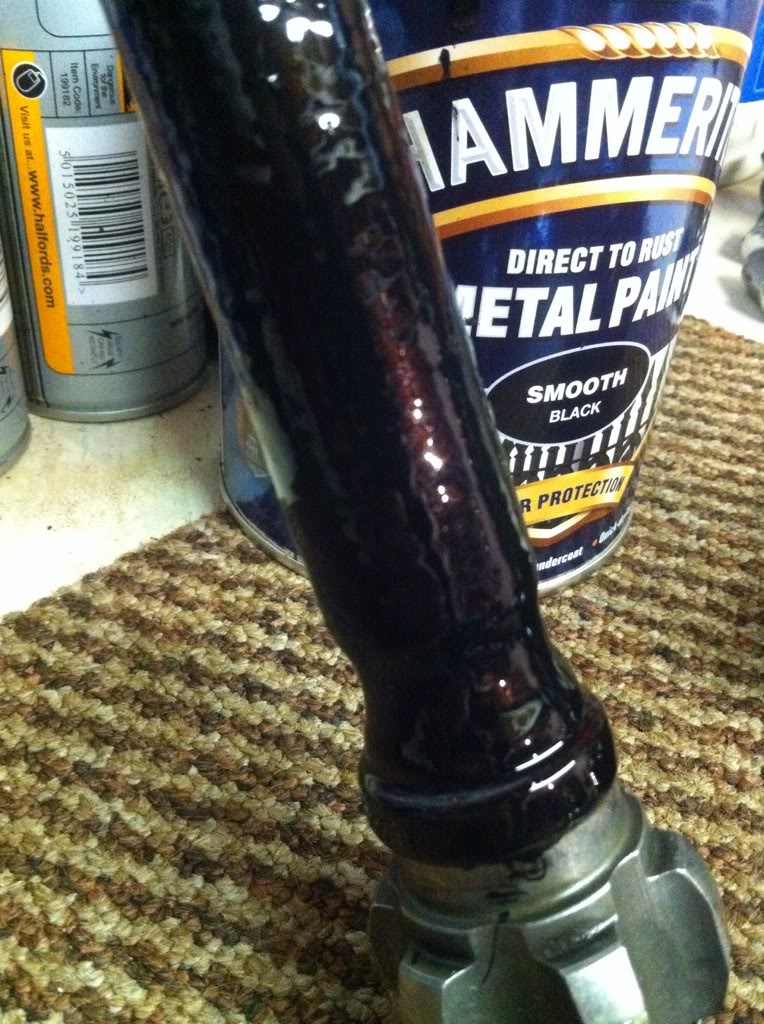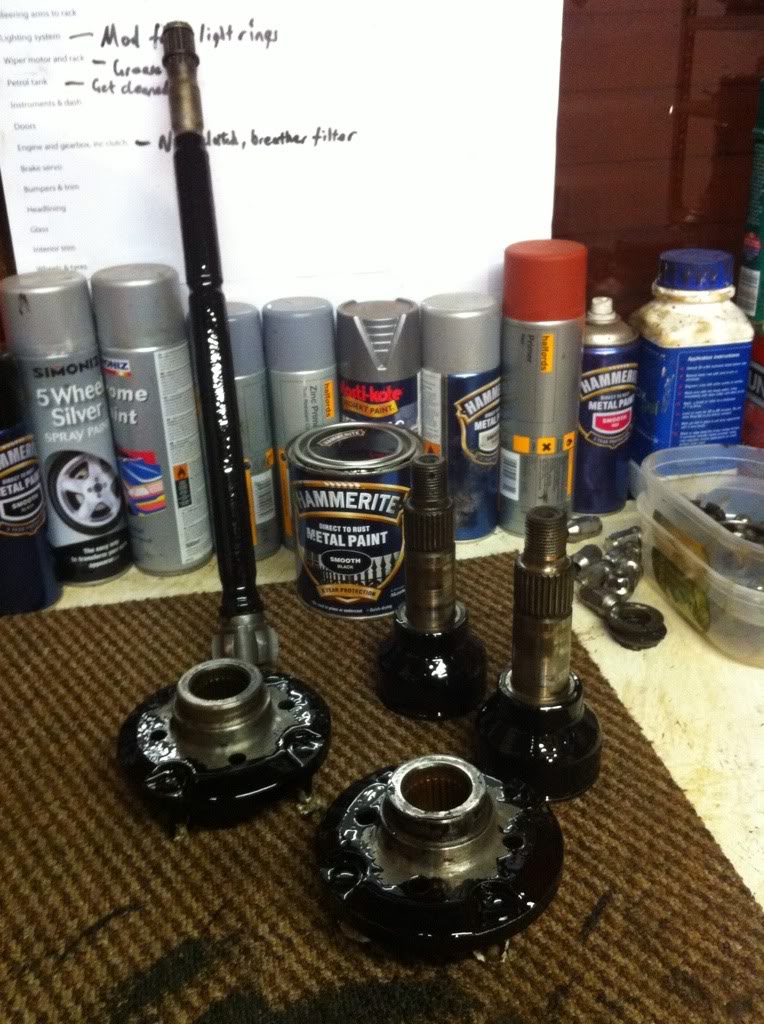 Also when everything was under deox gel I tried to get my ball joints taken off the hubs. Unfortunately that ended in me snapping the vice clean in two......its safe up to 1 ton too!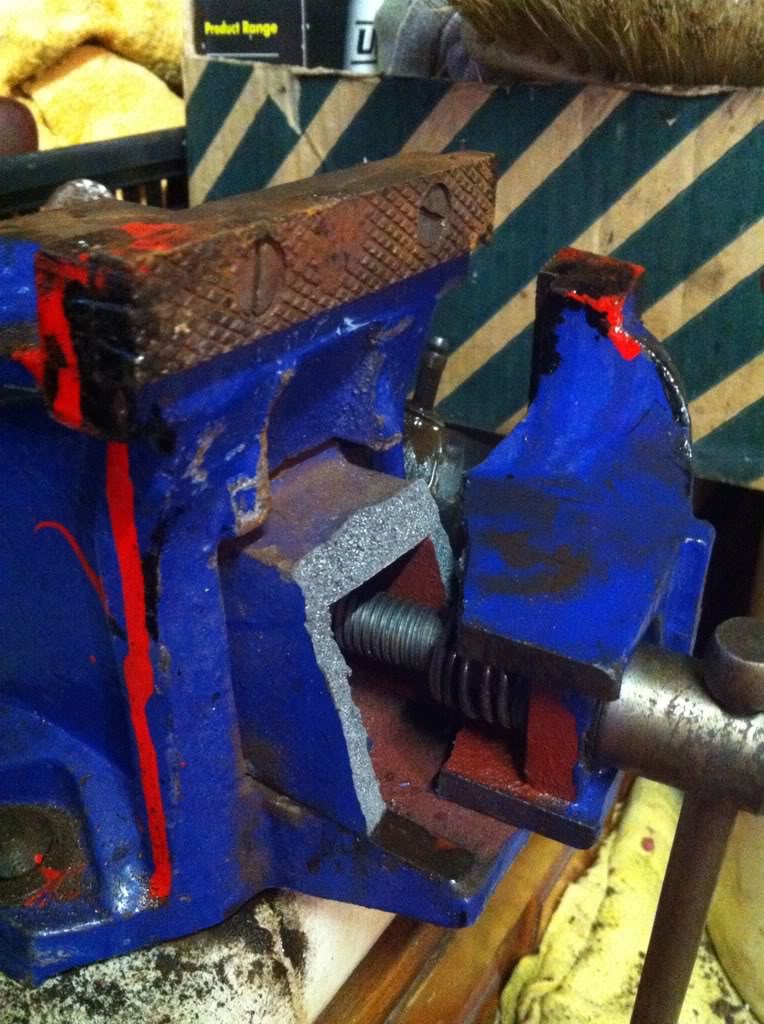 So I may get out to work on it tomorrow night but if not sunday/monday will be next time Im out. I gave PPS a phone the other day and after being assured I would get my subframe back within 'at the absolute max, 2 weeks' 2 and a half weeks later its not been touched. Hopefully I can get it back sometime next week...
4-20-2012
Managed to get a couple hours in the garage tonight after 9. Aimed to get a driveshaft and CV joint reassembled and managed it easy enough.

Getting the bearing into the cage/race was a bit of a pain. Then realised I'd forgotten to grease up the bearing channels. Once I had done that it was unsurprisingly, much easier.....

So here the race, cage and bearings reassembled in the joint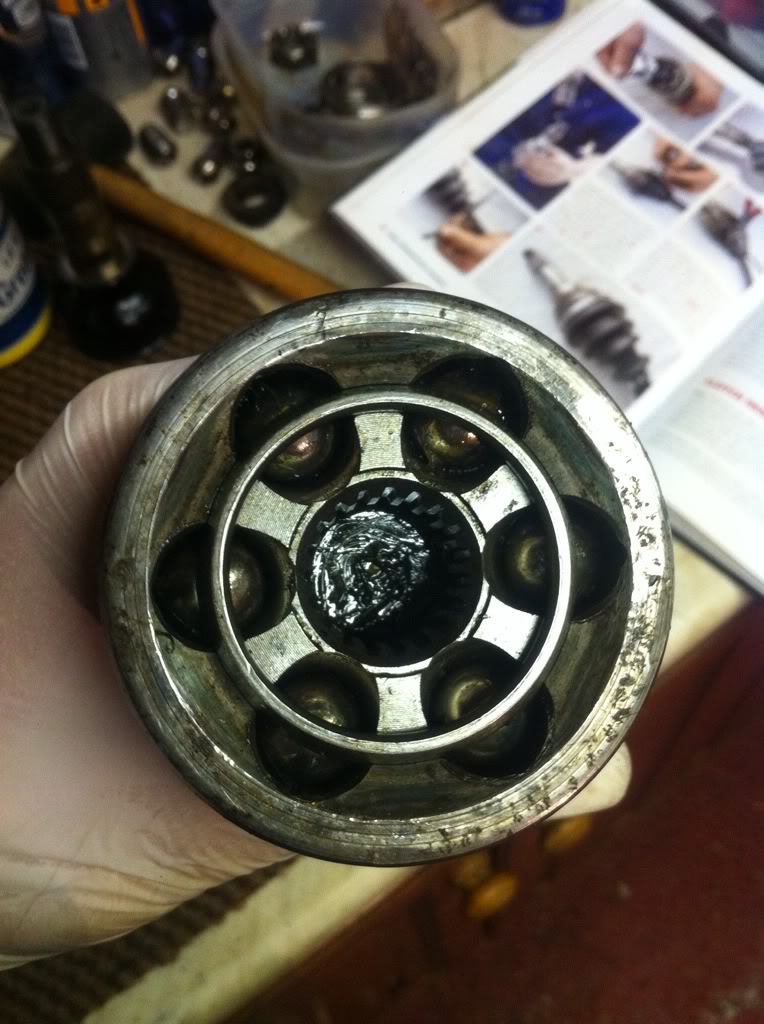 then greased it all up with the perfect sized sachet that came in the kit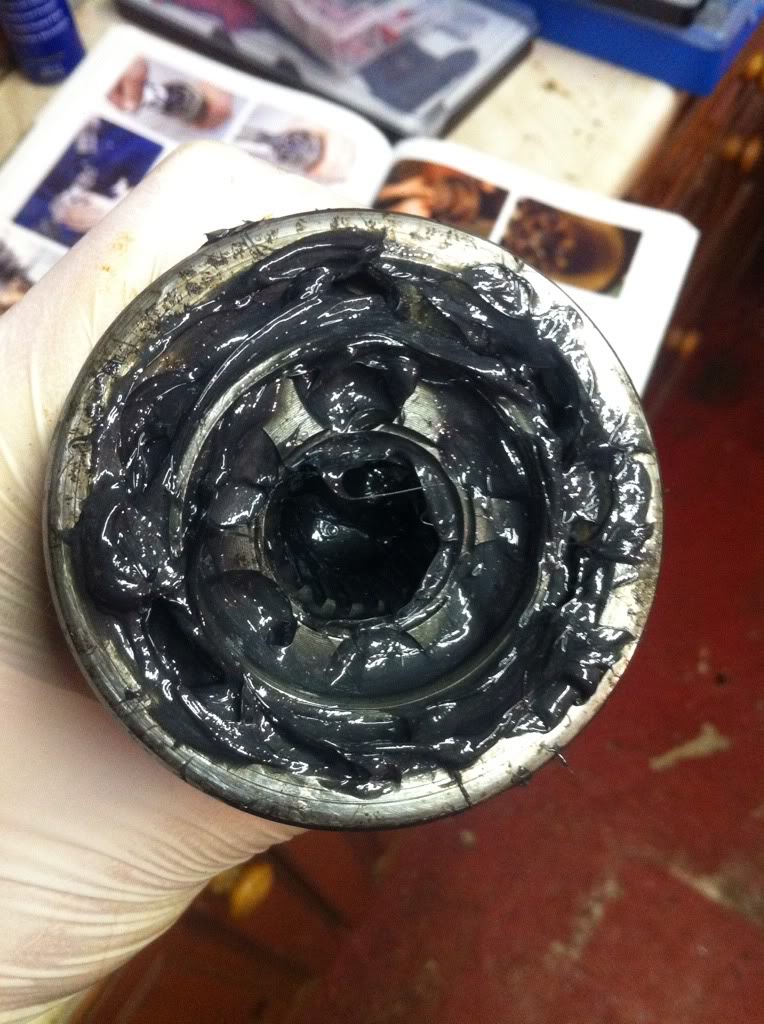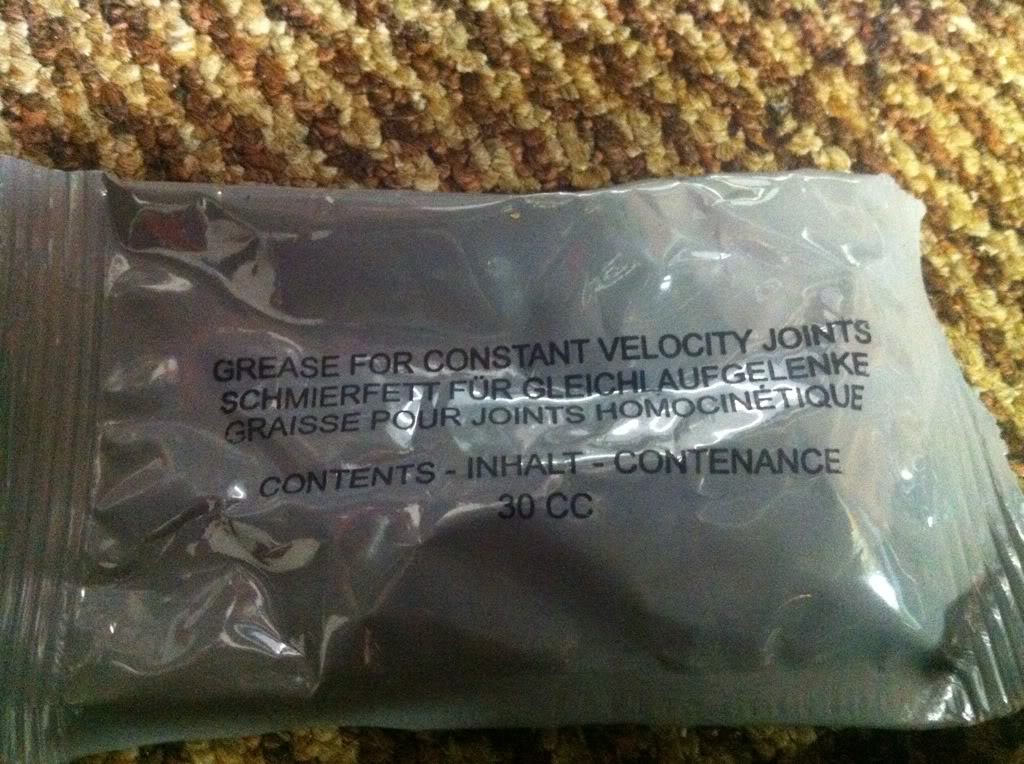 I then gently tapped the driveshaft into the CV joint to locate it. I made sure I had the new gaitor in place BEFORE i did this otherwise I would have to take it all apart again to put it on. One thing if you are doing this yourself is to make sure the inner race has the machined face with the 1mm inner section in from the outer face pointing TOWARDS the driveshaft itself. This allows the driveshaft to locate itself in this race face. This is important to get right.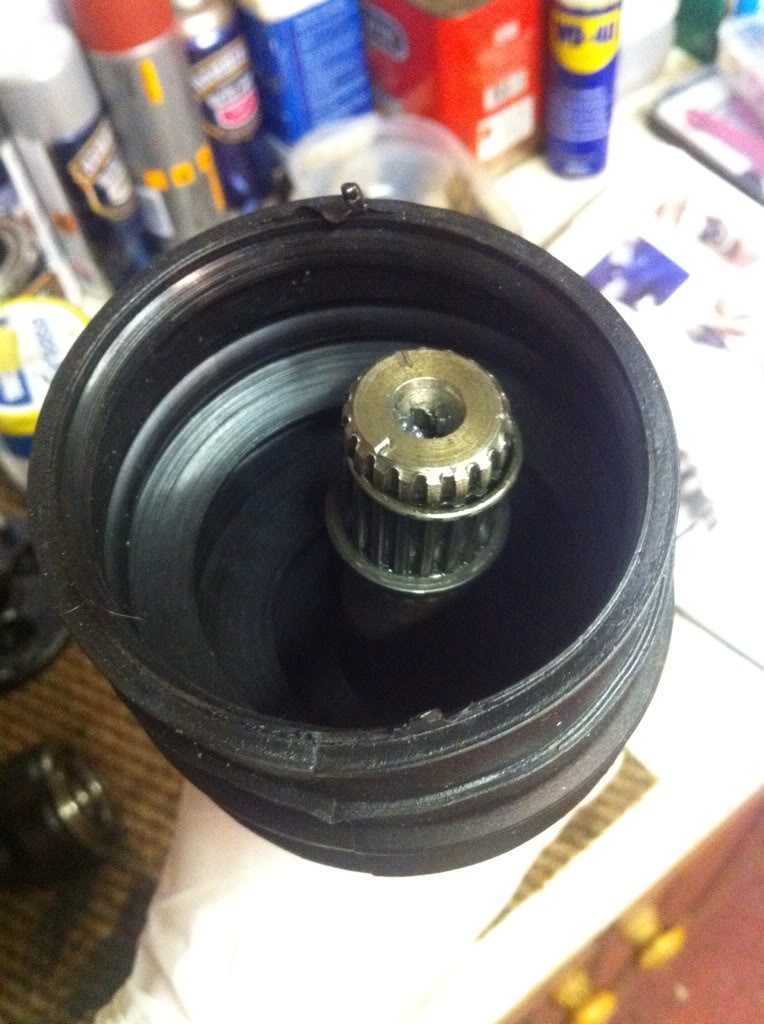 and then I popped the gaitor over the CV joint itself and sealed with a heavy duty tie wrap. Job done!




And the whole driveshaft almost ready to be refitted. Need to do the point joint end next but that should be quicker as Ive got the method now.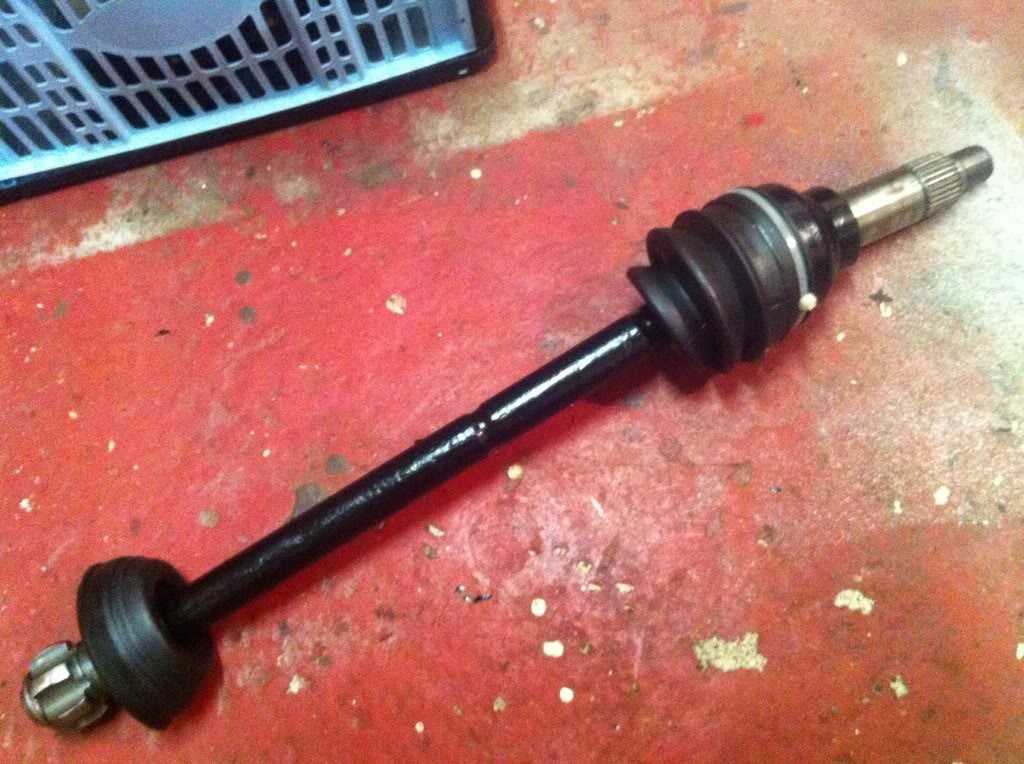 Oh and I also found the bracketry for my throttle pedal, so thought I would bung that on. I like it but not decided whether to keep it or just grip tape the throttle pedal to match the others. We shall see.....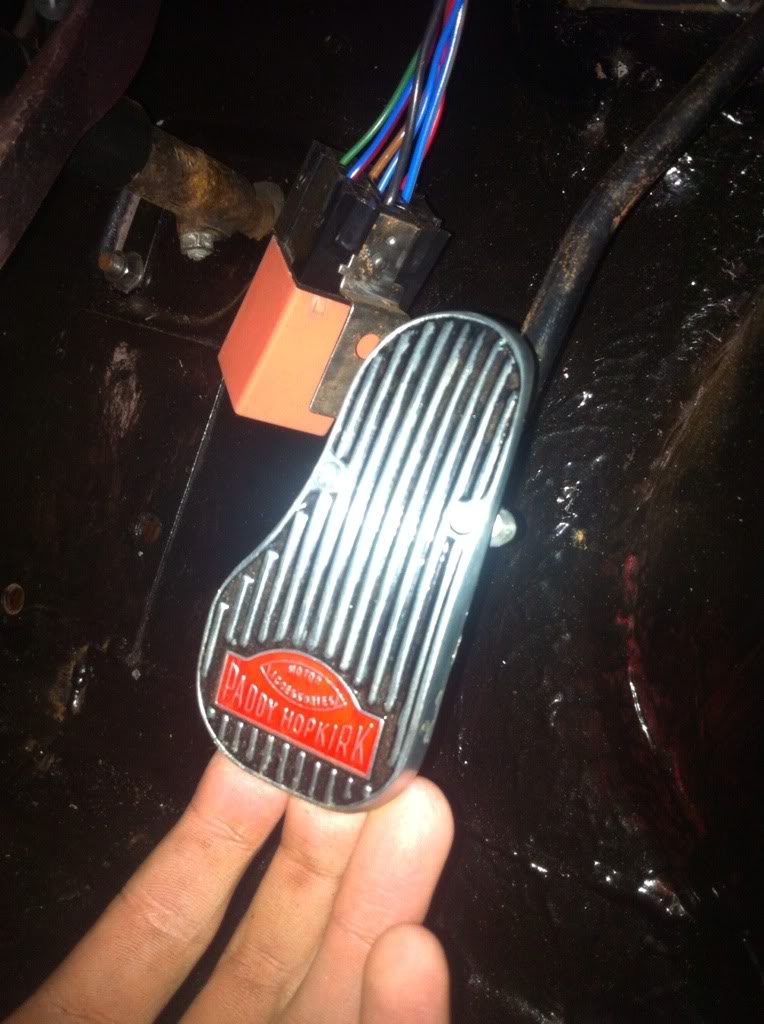 Haven't managed to get anything done today/tonight as I was too busy doing a 3000 word essay due tomorrow on propaganda for uni



However PPS finally phoned today at twenty to five saying the subframe was ready. So I went down straight away to collect it much to their surprise. No discount even though its two weeks late though......

It is stunning! The finish is beyond amazing as stupidly tough. Much tougher than Hammerite or any other paint. The gloss of it is awesome too so no need to polish up! Im glad they managed to get inside the towers done so well as its pretty tight in there but I shall let the pictures do the talking now.....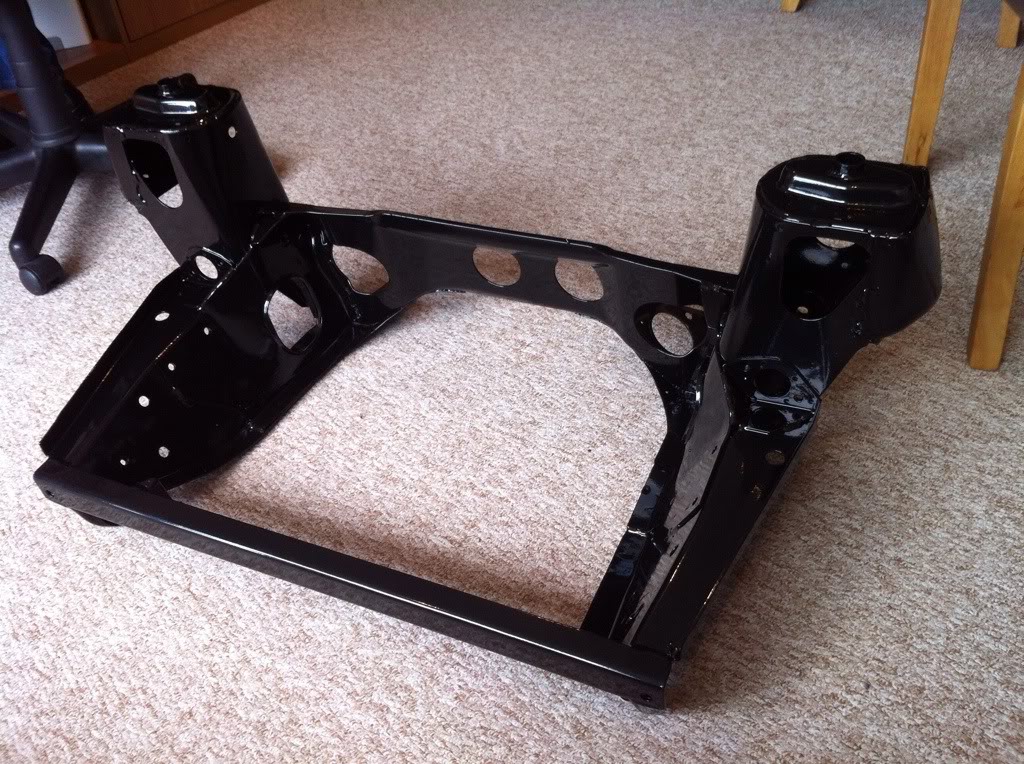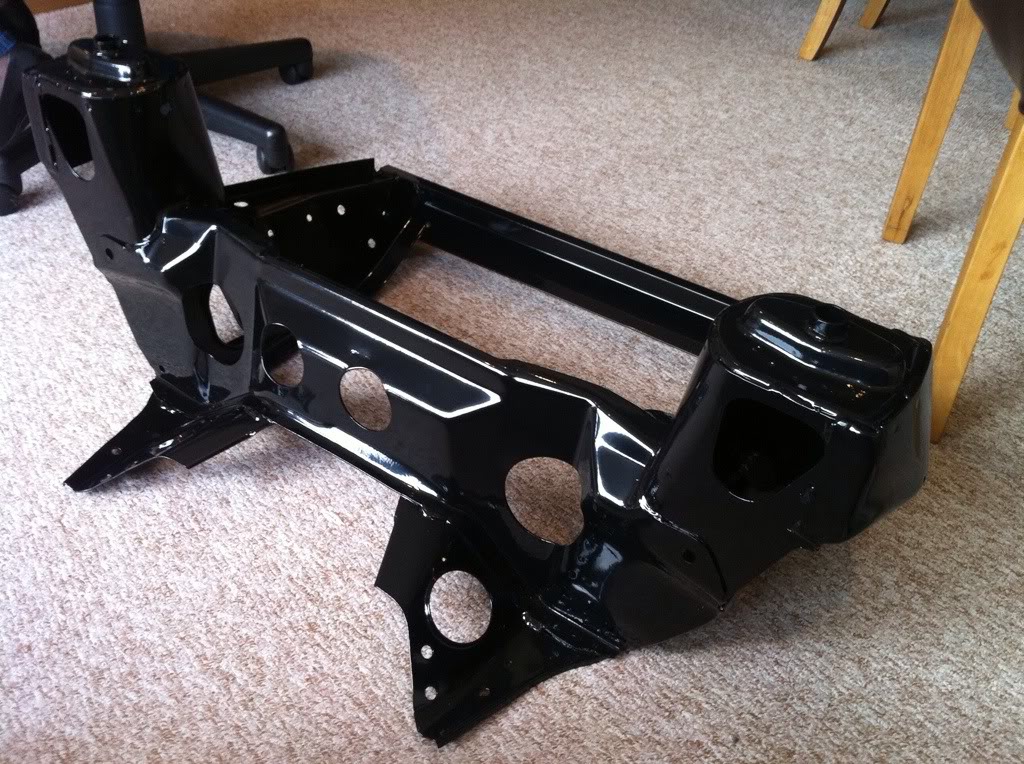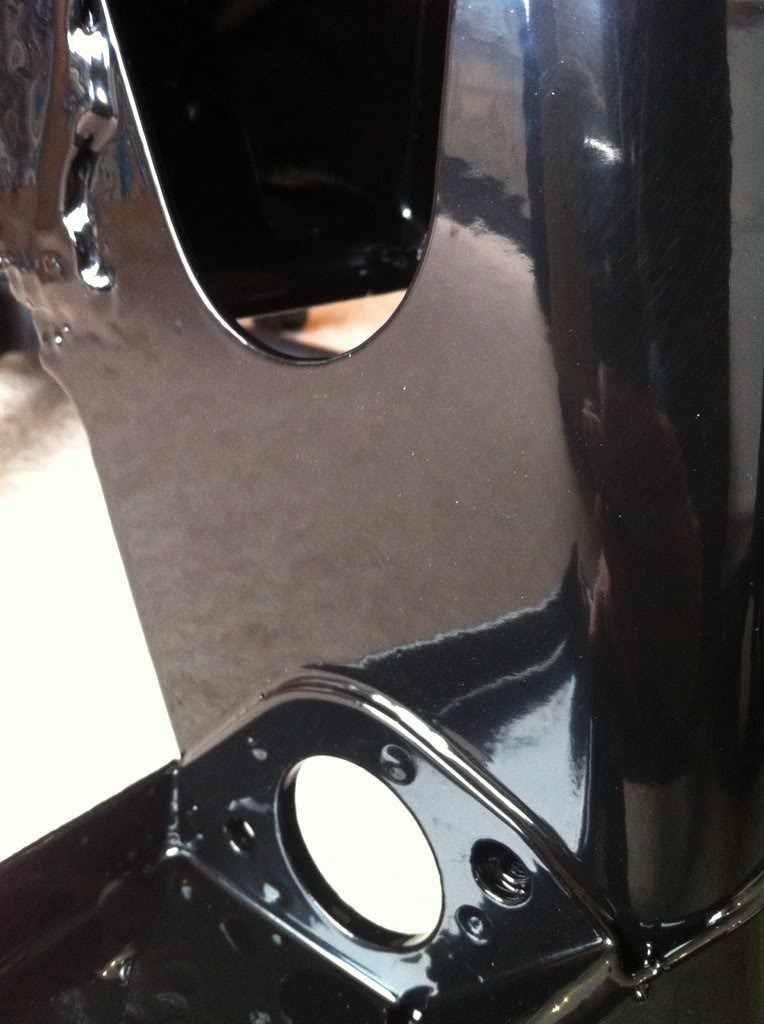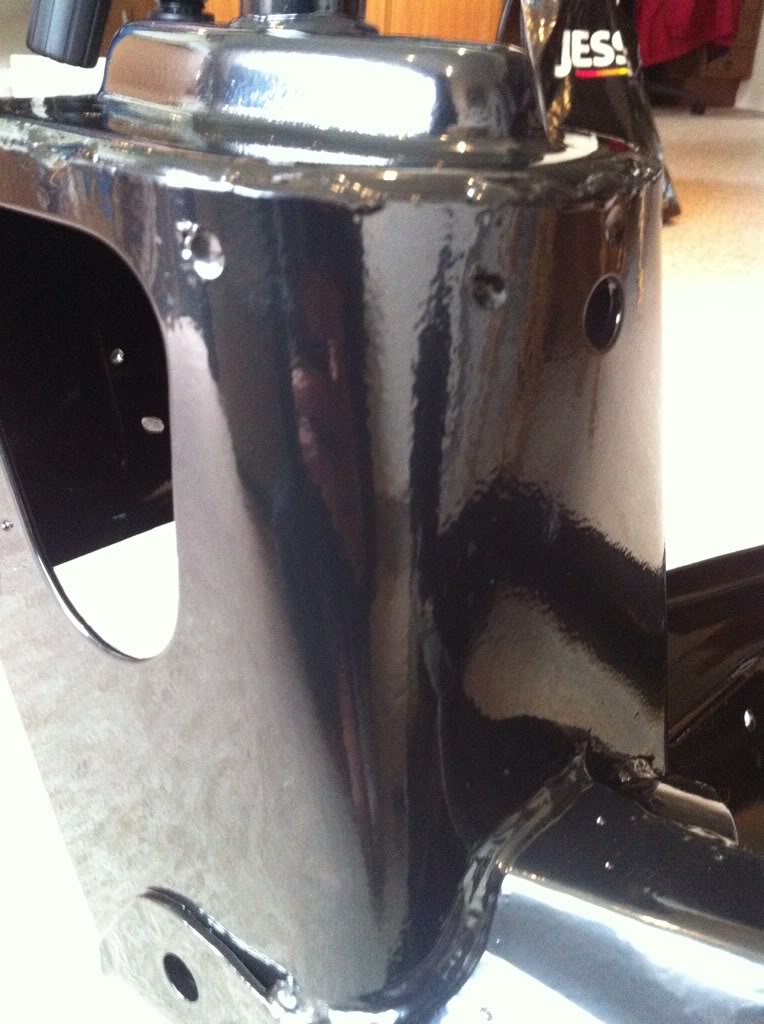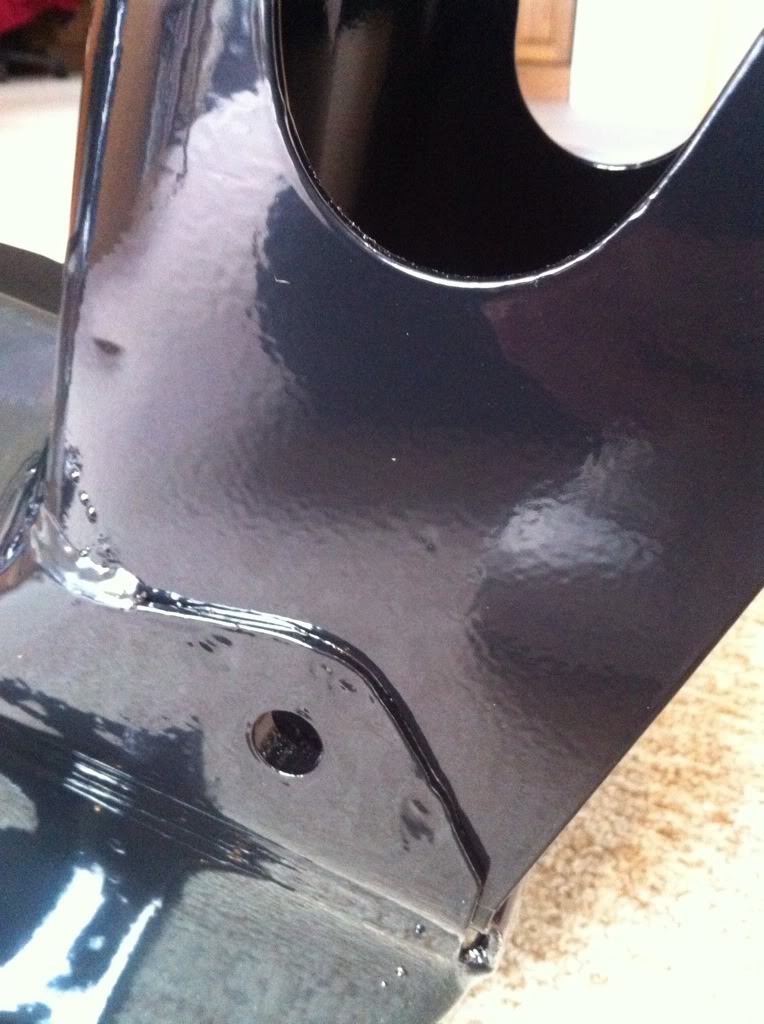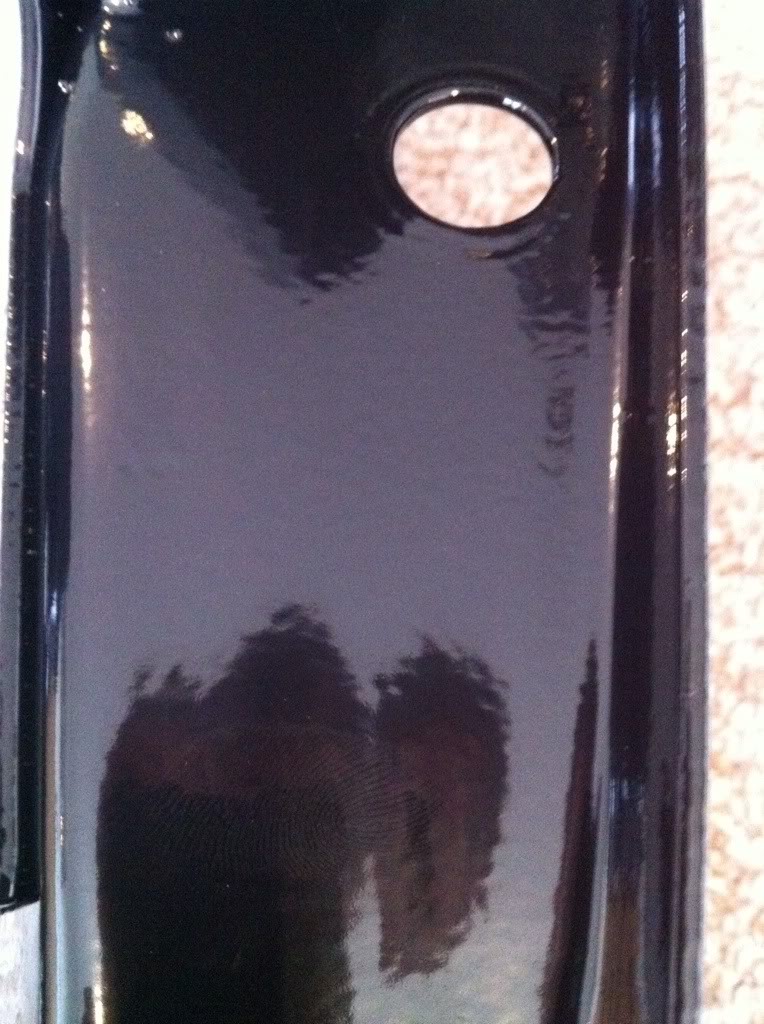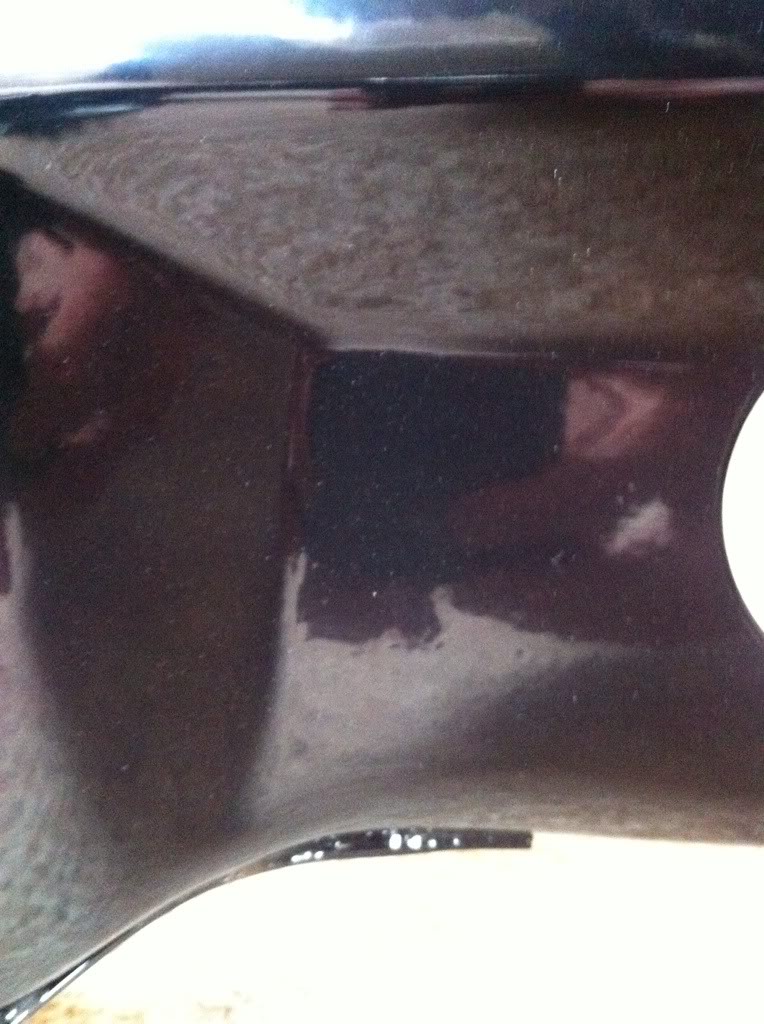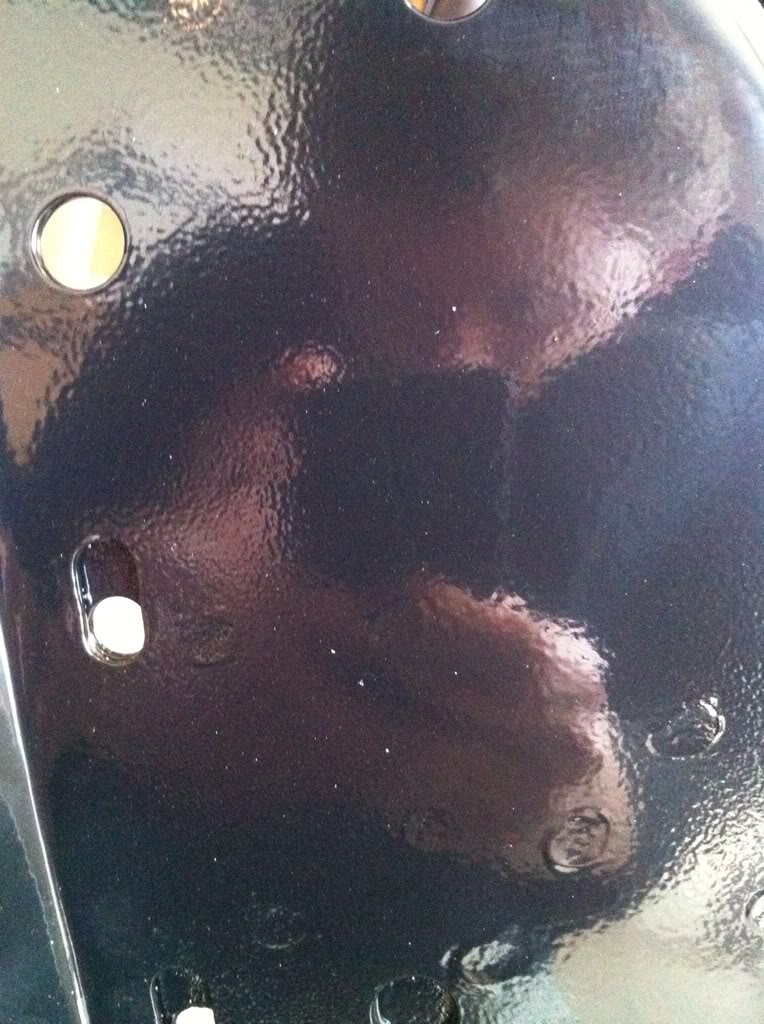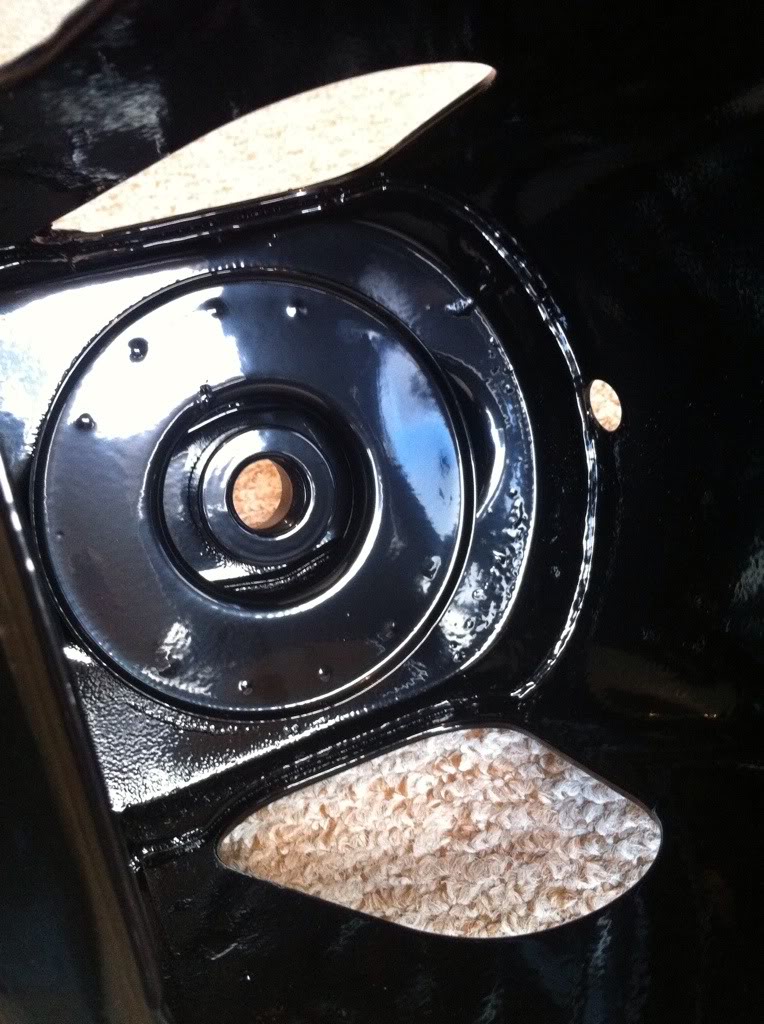 So as you can see, epic finish! Just need to drill out some of the holes and retap the threads of the captive nuts on the towers.

Need to give it a wipe down and a few layers of tough wax before fitting to keep the dirt at bay. Definitely need the rear frame (once it arrives) done in powder too




Managed to finish off my epic essay this morning so went to the garage all afternoon as a reward. Before that though I got a couple coats of wax onto the subframe to protect it from the elements a bit more before reassembly.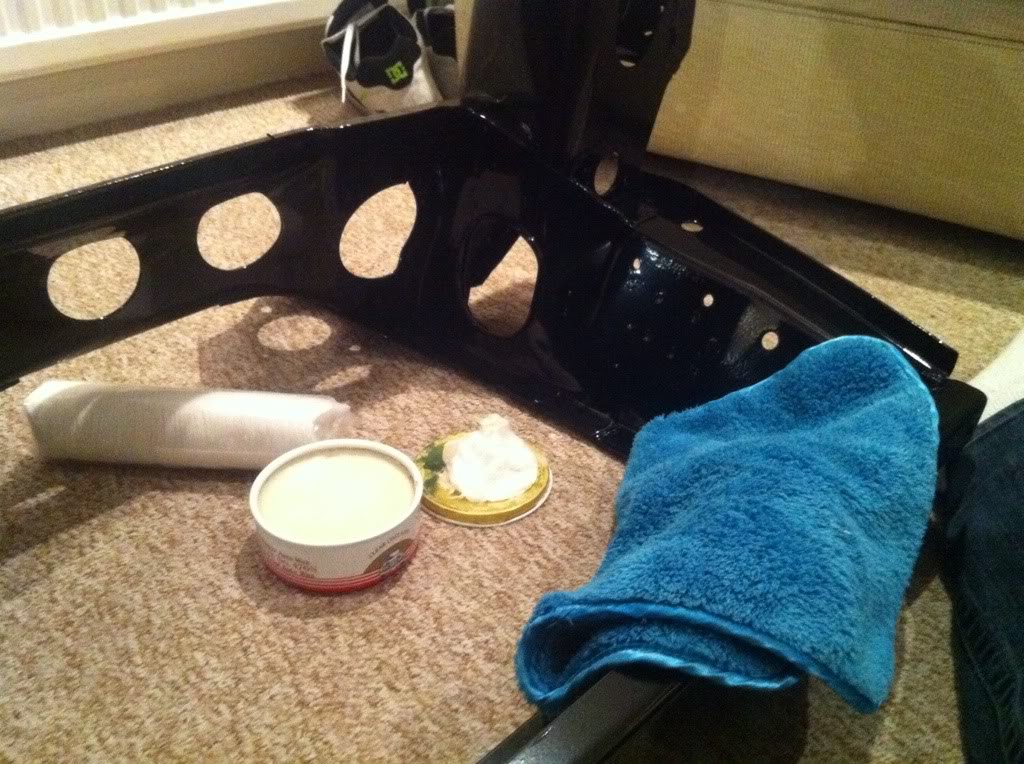 and then got cracking. This was the hubs state as it came off the car. LOADS of curb caked on and loose rust that needed chipped off.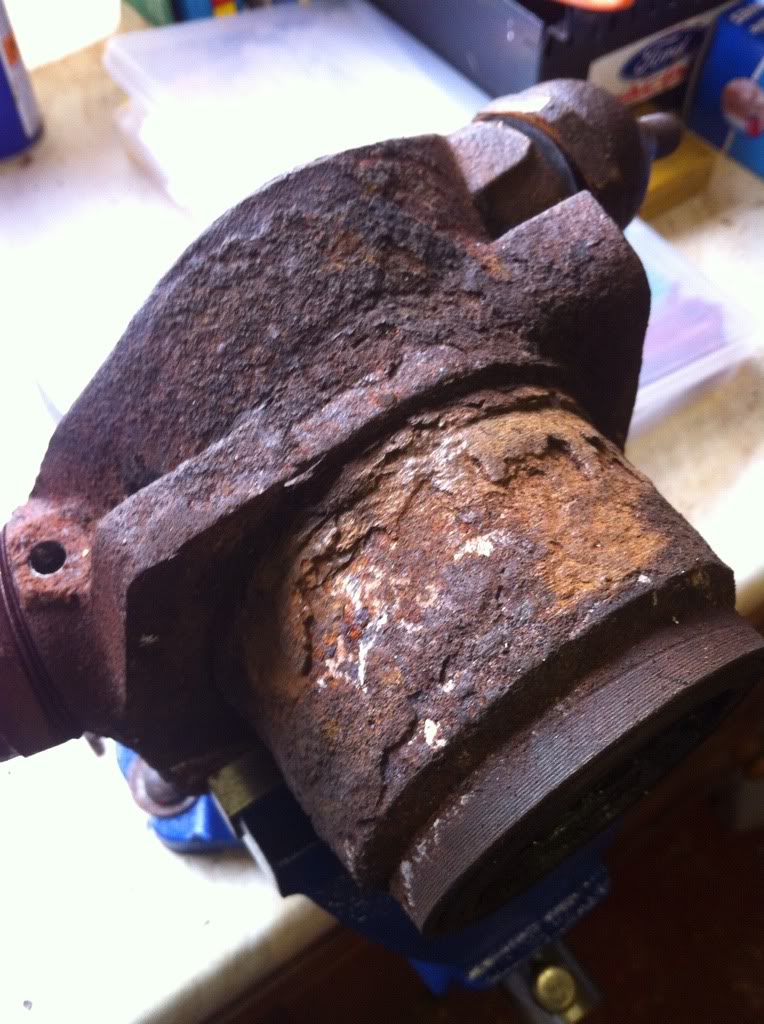 So this was if after the drill had attacked it with the wire brush on it.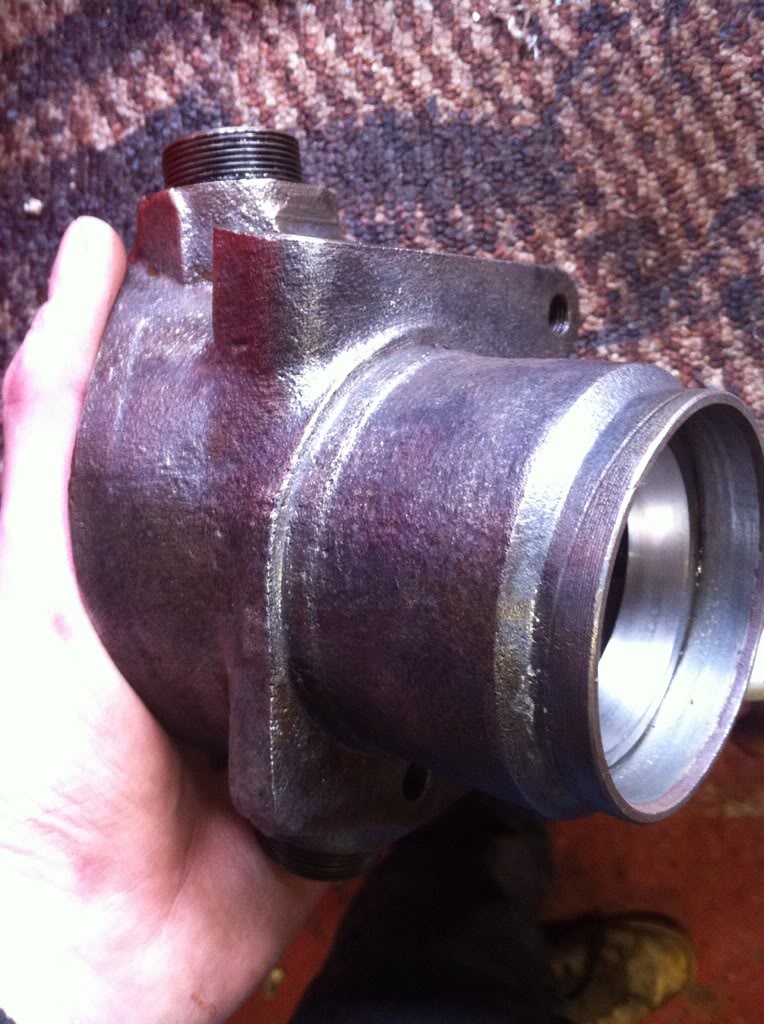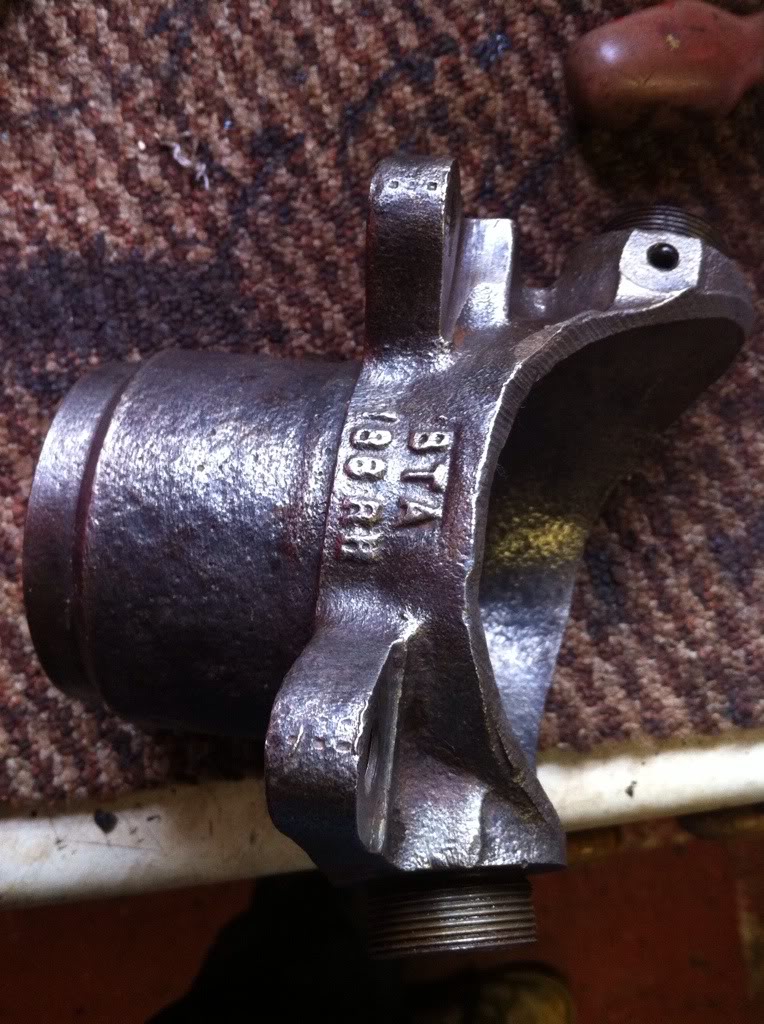 and then given its first coat of black hammerite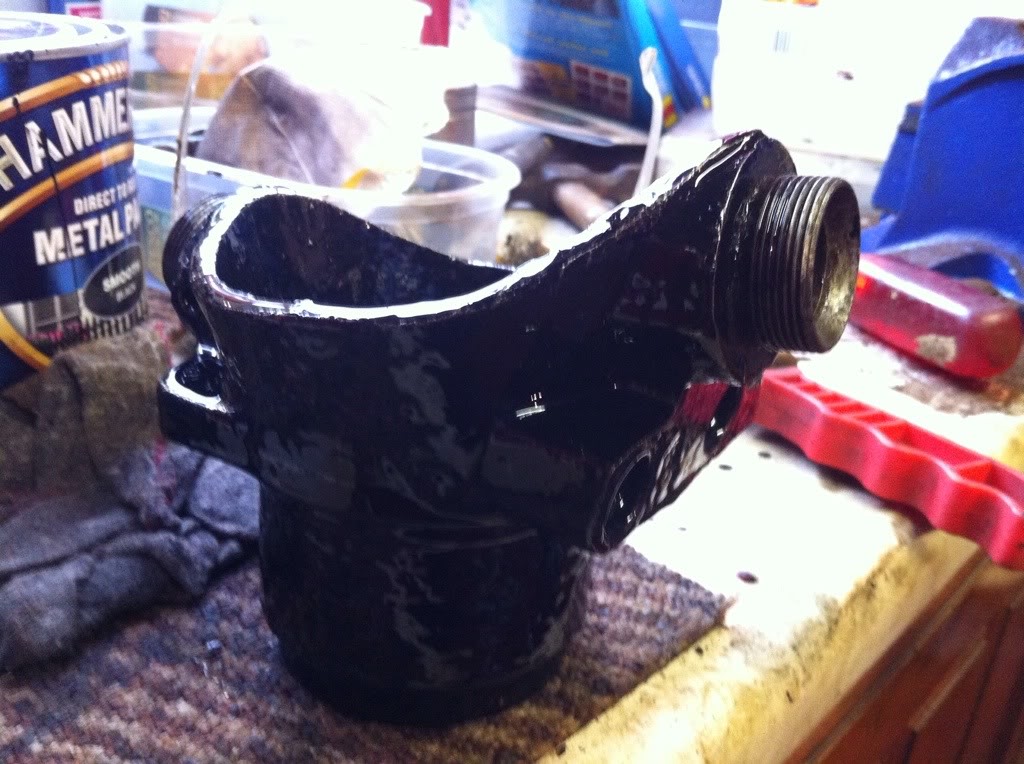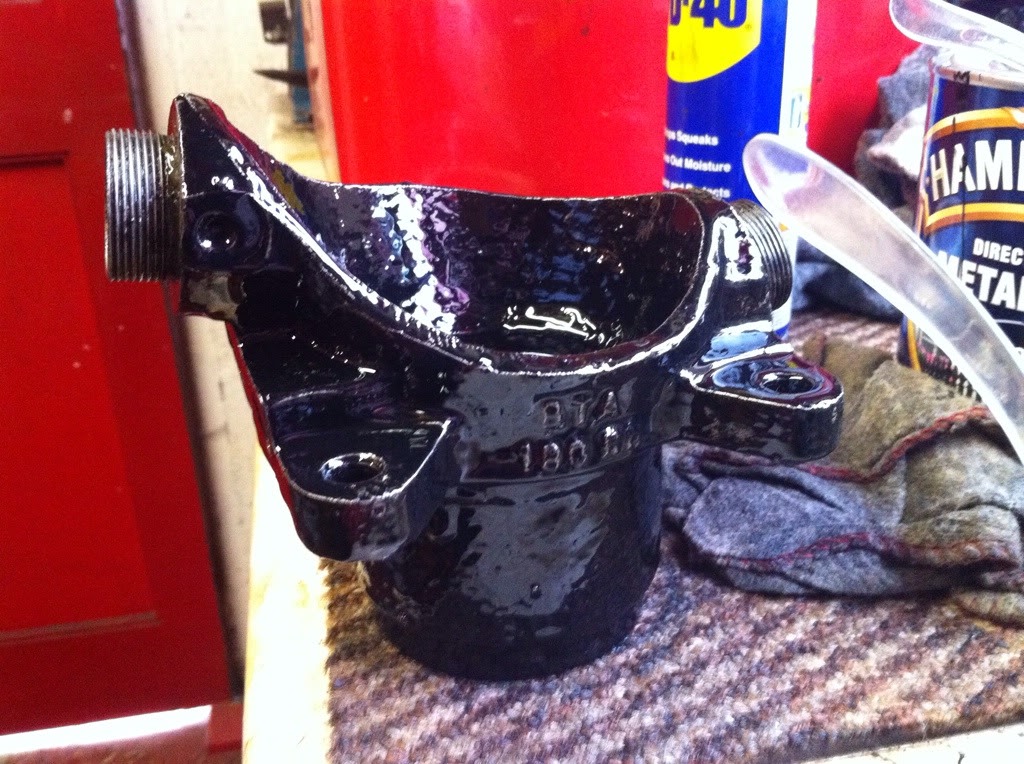 Then cleaned up the other drive shaft and deox'd it then realised my top arms had some rust patches coming through already. Probably due to not being thorough enough with cleaning before painting. So I stripped them back to bare metal and redid the deox'ing. Leaving these overnight to fully dry off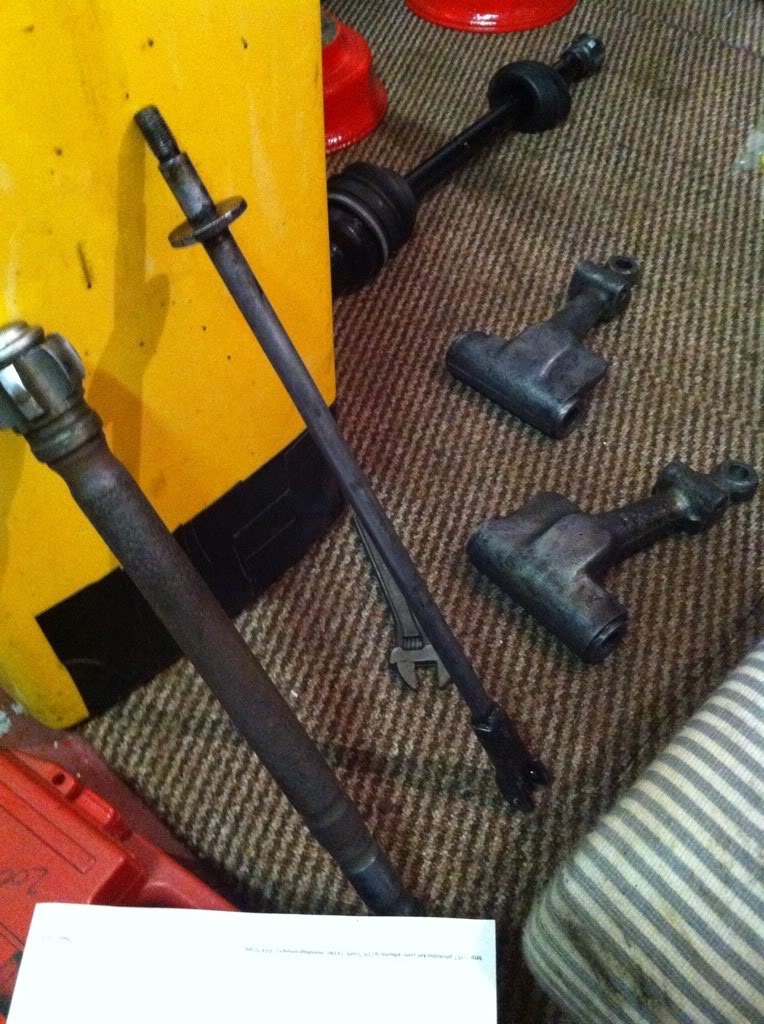 and started putting the bits back onto the subframe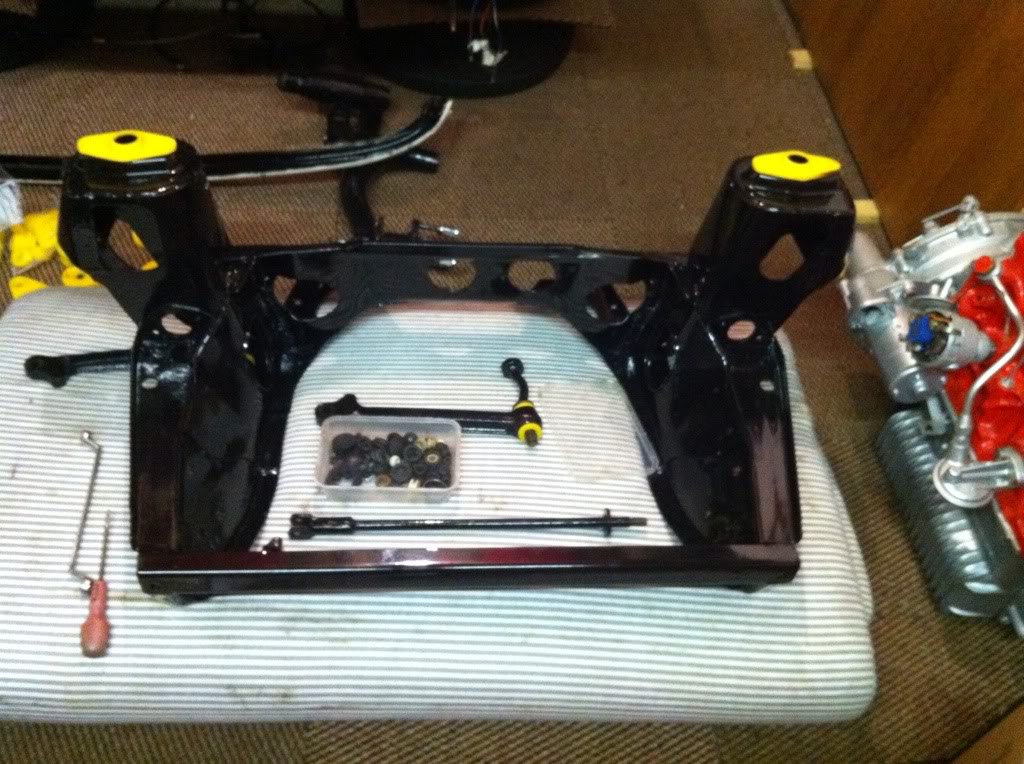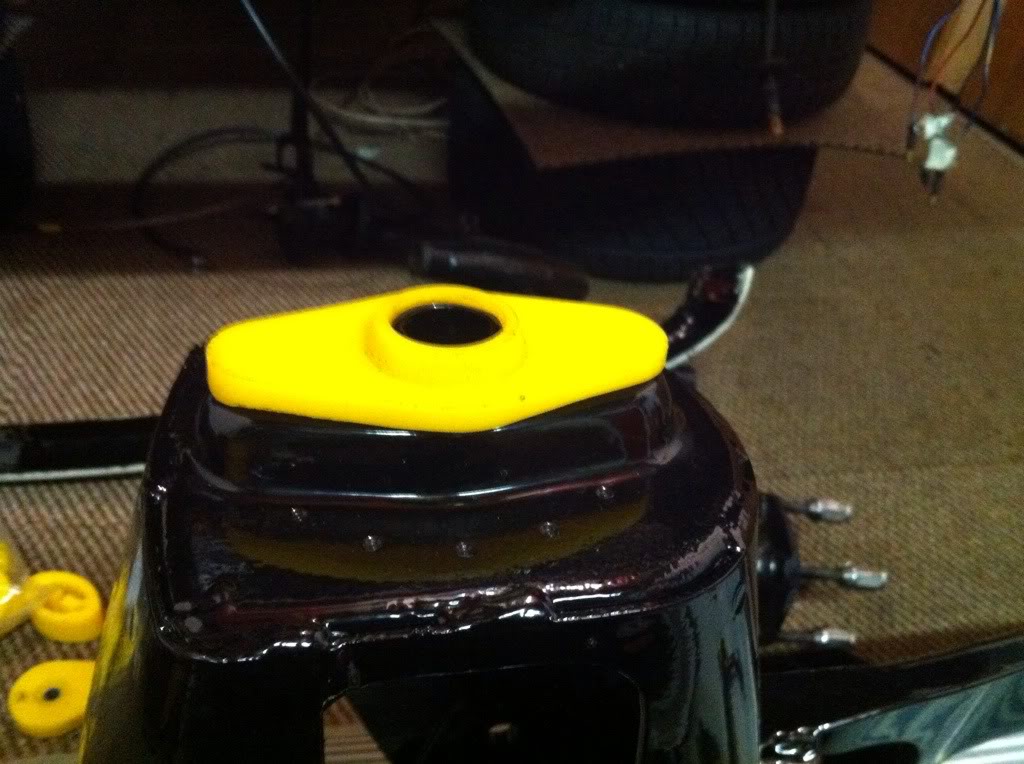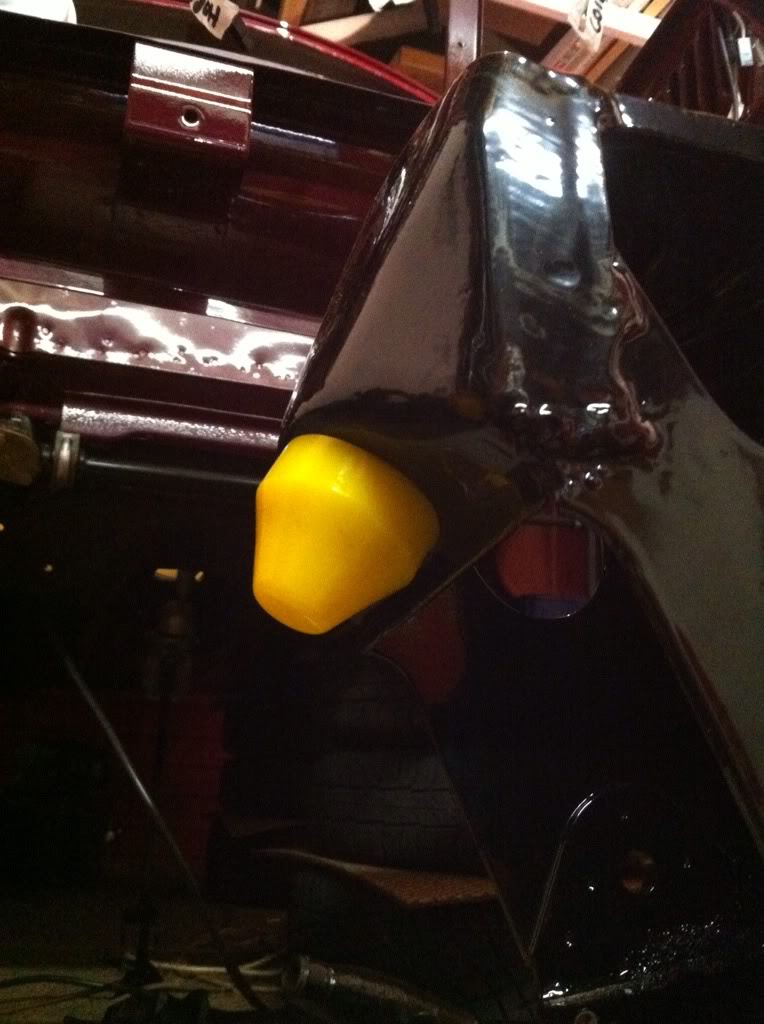 Loving the yellow and black contrast on it

and here it is almost ready to be put back in....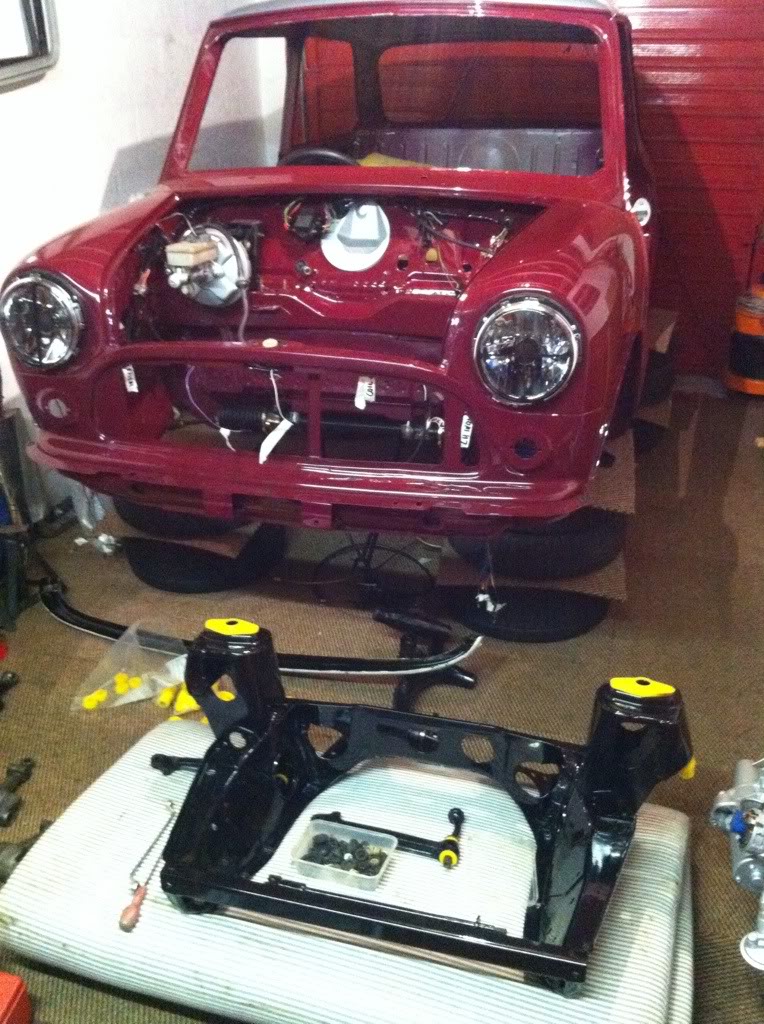 Not sure when I will next get out to work on it but hey ho, will keep going with it!
4-24-2012
Had a wee while outside again. Not much done as ran out of things to do and need parts to be ordered before I can progress!

Tidied up my fresh air duct that goes in the inner wing. As I don't have the eyeball vents in the dash anymore I needed to cover up the hole that leads to this. So one Hammerite spray can cap later. We have a cover

Perfect fit for anyone out there looking to do the same!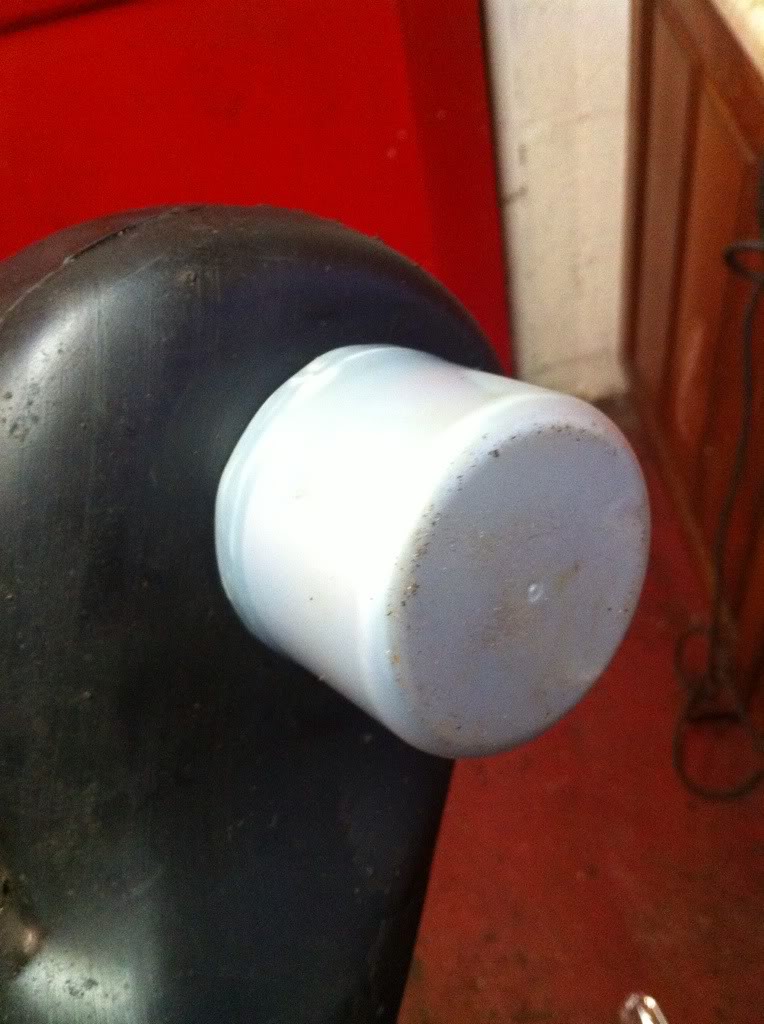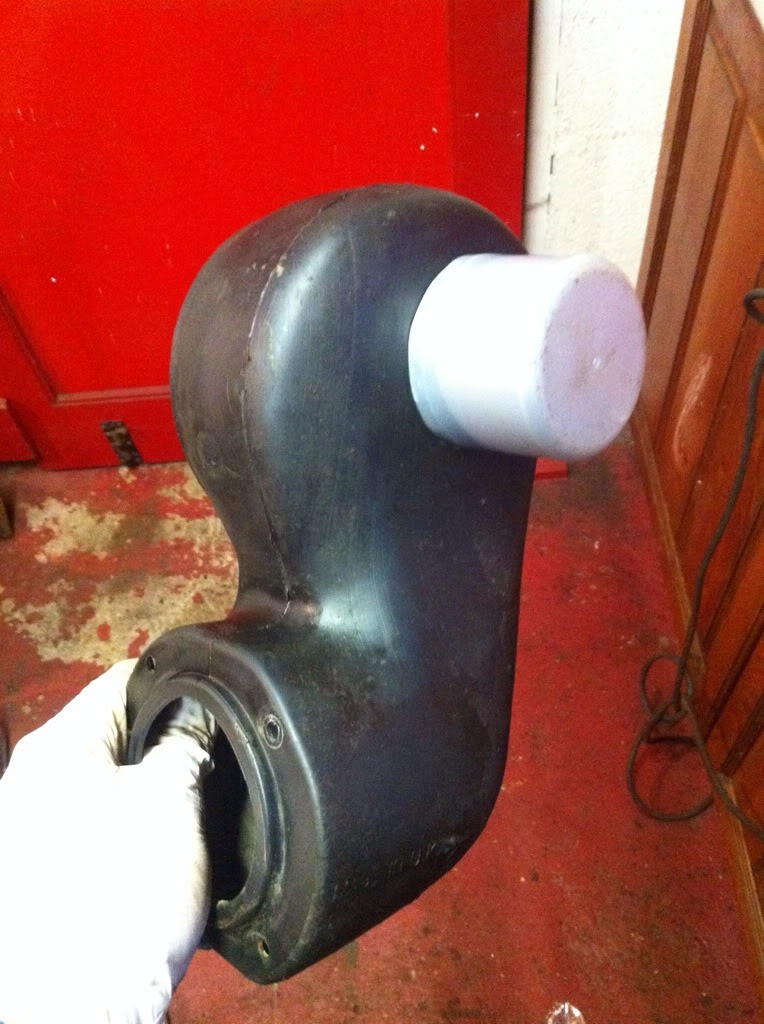 Gave a few parts a coat of hammerite so leaving them to dry. Then I ran out of things to do so came in again. Frustrating lack of progress and parts list needed is scary.....return date of 3rd June looks all but a dream now.
4-27-2012
Another few hours of graft tonight. Not as much as I would have liked but awaiting parts and waiting for stuff to dry meant I couldn't get more on.

But I got the front bumper on as I was fed up of catching my leg on the leading edge. Stainless bolts and rubber grommets throughout and underside of bumper painted with Hammerite for rust prevention.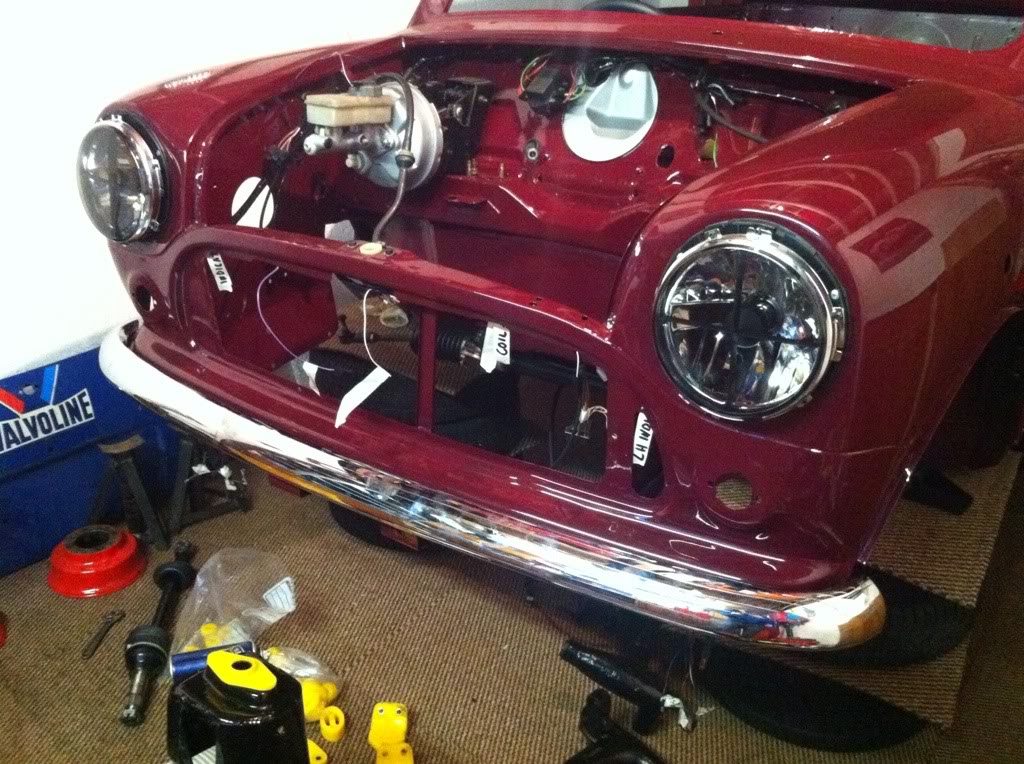 Painted up a few more bits but nothing interesting. Got my air duct bolted in, again with stainless bolts. Pig of a job for clearance and access but got there in the end. Not a fan of fishing for bolts when you can't see what you're doing!!!

As one tie bar and bottom arm were dried and ready to go, I got them bolted in with poly bushes in place. Contrast of black and yellow looks ace.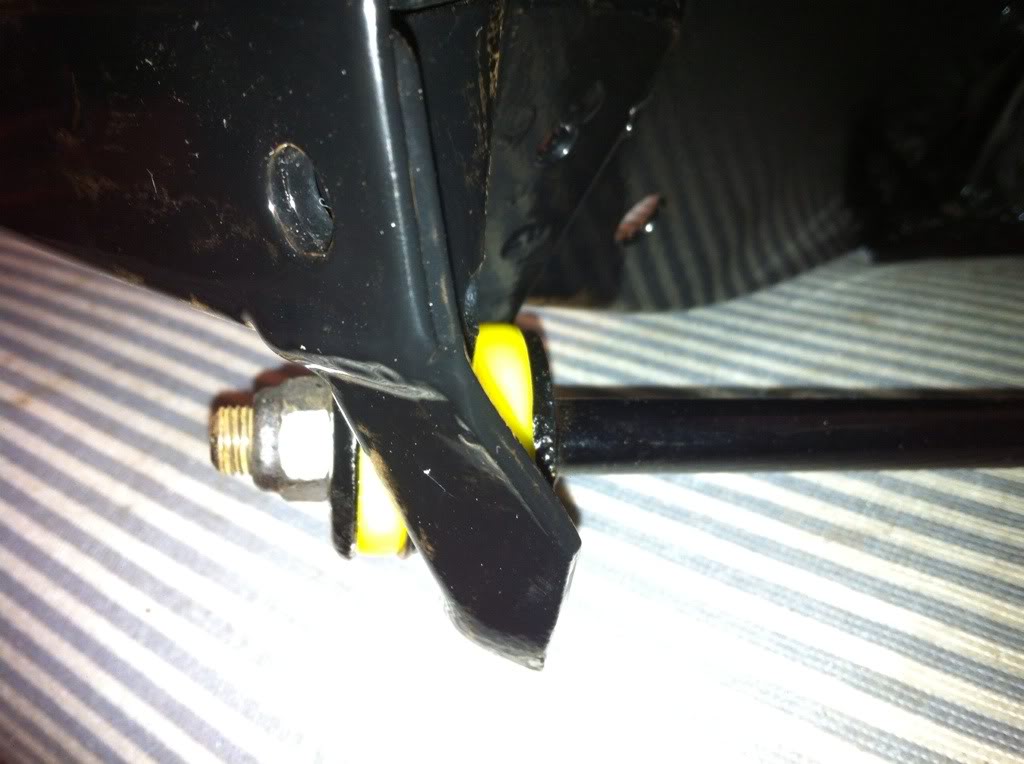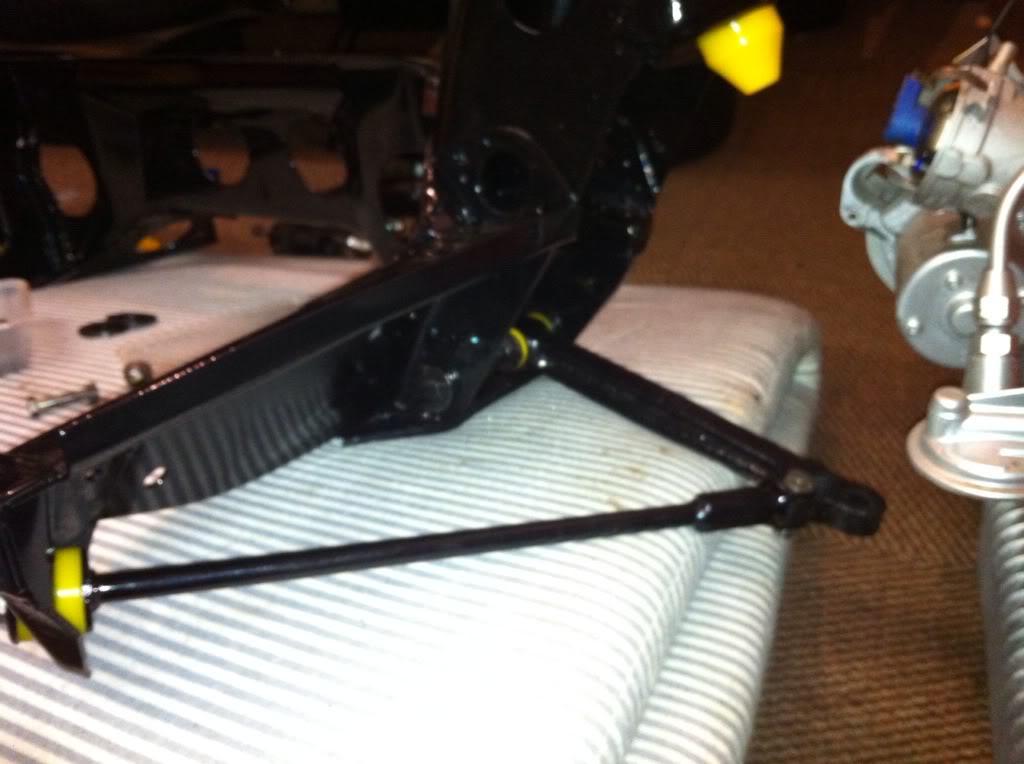 Ultimately these will be replaced with adjustable tie bars and bottom arms for neggy camber but funds simply don't stretch that far at the moment which is a shame.....

Should HOPEFULLY get my parts tomorrow but if not Monday and I can get going with fully reassembling the front frame, get it installed and then get the engine in and wired up ready to go. I feel i need to get this stage done asap so I feel like the car is progressing as at the moment it feels like its not progressing at all.

Also texted Phil about door, boot lid and bonnet and he says they should be ready end of this coming week so can't wait for that. Been waiting a while but I know they finish will be worth the wait, especially my little surprise on the bonnet.
5-5-2012
Got a wee bit more done. Mainly bolting things to the subframe ready to accept the engine again. Got some help from my mate Greig again which was dam handy when it came to the Hi-Lo's!

So engine mounts.......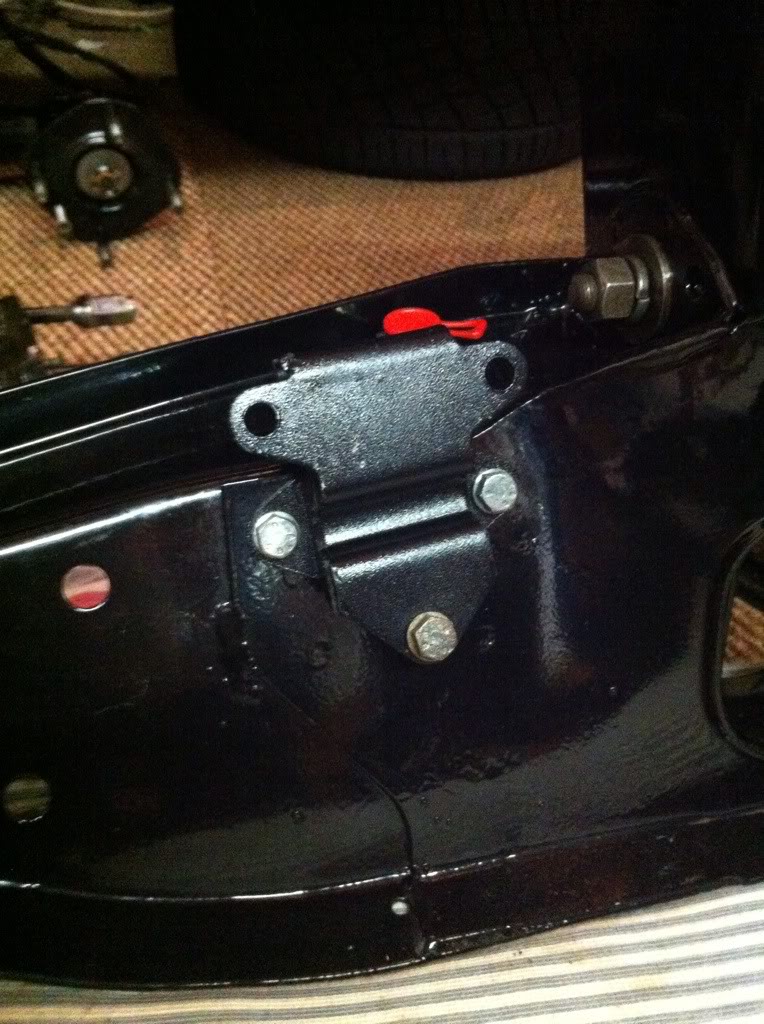 Braided hoses from frame to calliper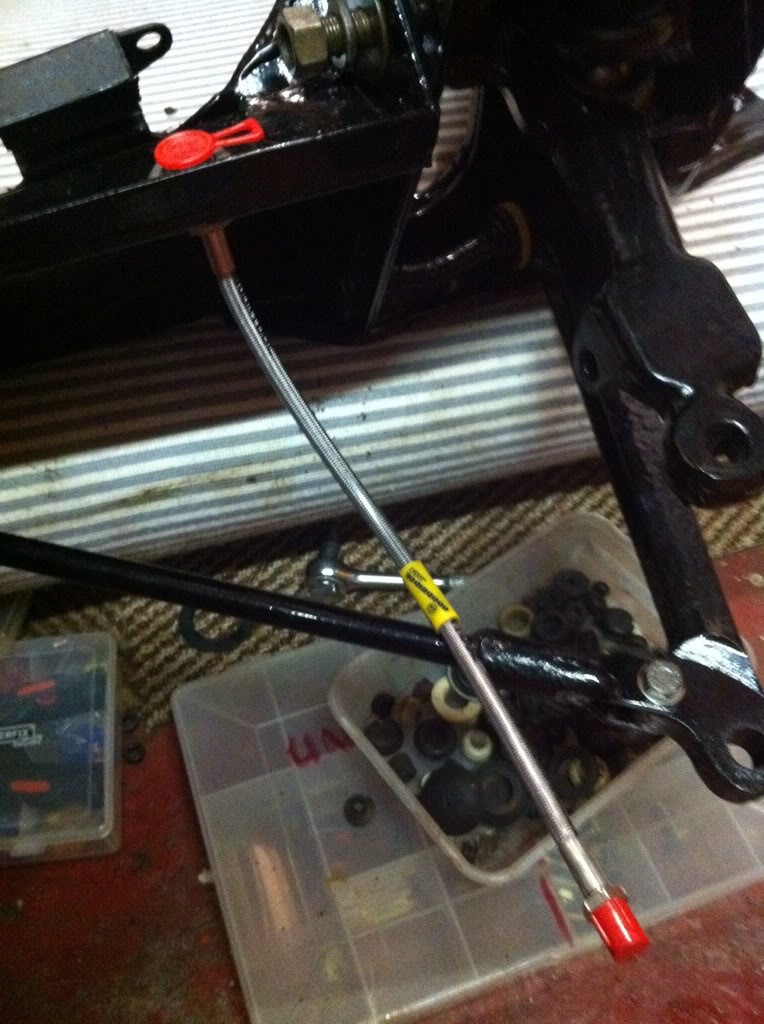 and then the hi-lo's. I don't have the tool at the moment as a mate is using it so it was a bit of a fiddle but they are in! Pretty much put it in as a top arm, hi-lo and spring assembly and then fixed it in place with the top arm shaft. Pig of a job but its done now :)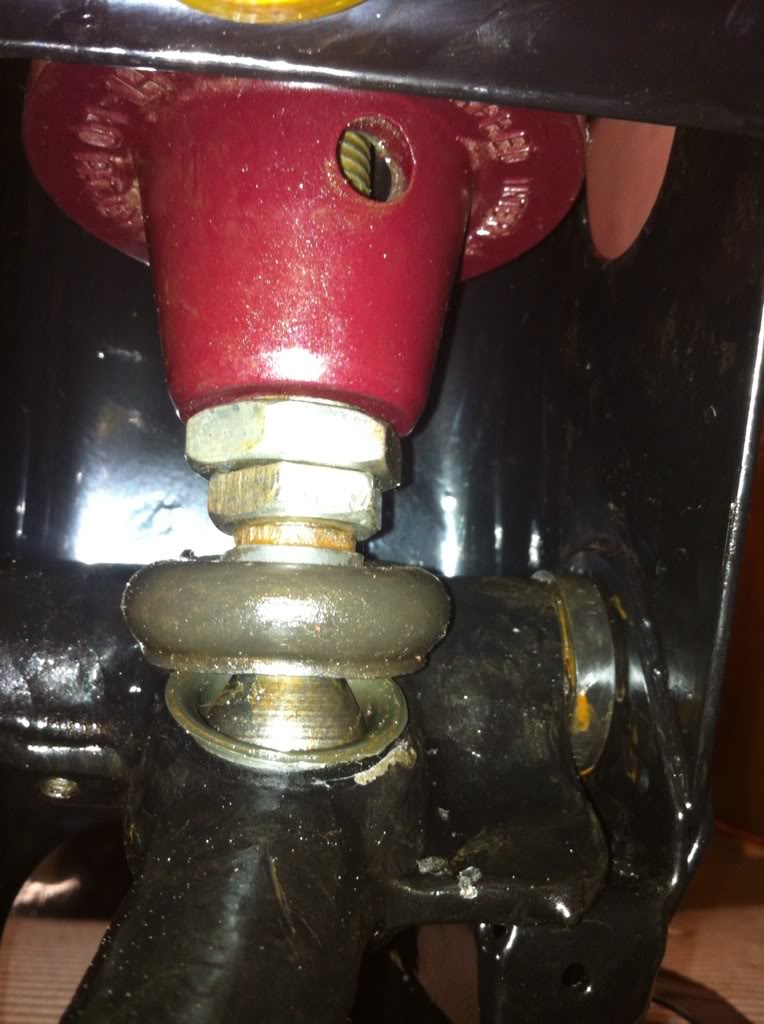 Need to give it a dam good clean up as grease went everywhere and yes I know I have to fit the rubber over the nylon cup to stop it getting filled with crap but it was getting late so finished up for the evening :)

Next stage.....who knows!
5-13-2012
Finished uni so Ive been working a fair bit to keep me busy. Means more monies for the rebuild too

But today my dad began his weeks holiday from work so we got stuck in (after a break for the epic grand prix of course)

So the helper getting stuck in with the cleaning up of parts!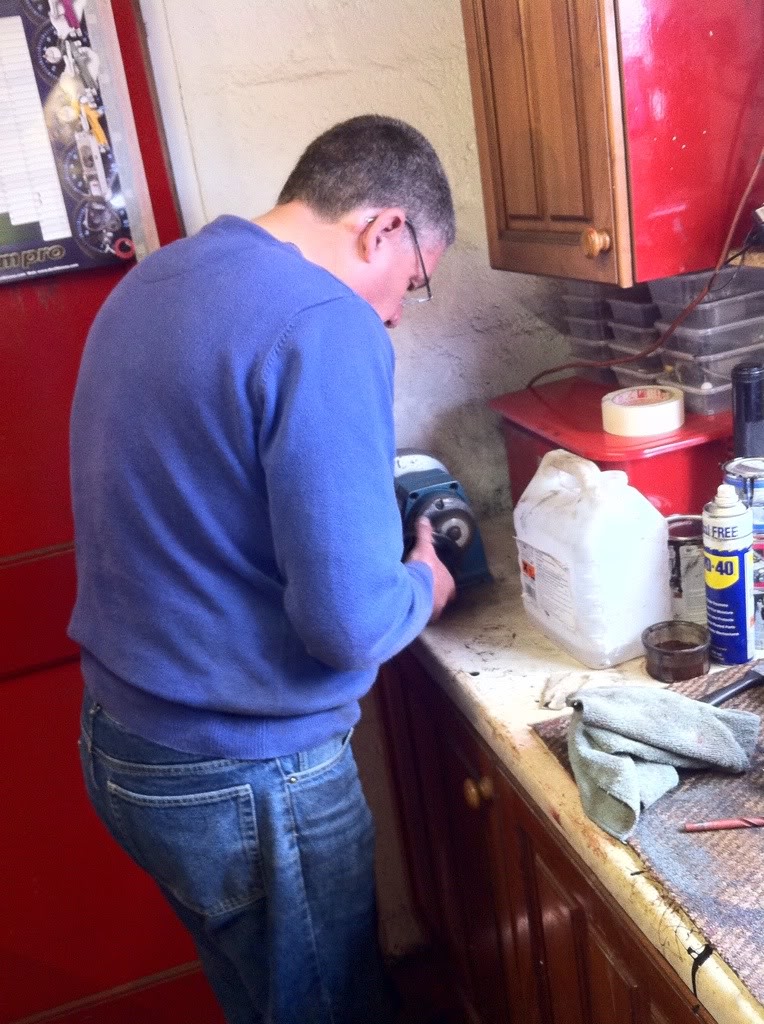 I had tried to shim up my hub ball joints before but the kit didn't have enough shims. So I contacted Simon at MiniSpares and got some sent out FOC straight away. More great service but postage is still really slow. Could be because Im in Aberdeen but its the mainland so no reason why it takes so long.

However we got both hubs completed and now we are just waiting wheel bearings to go in.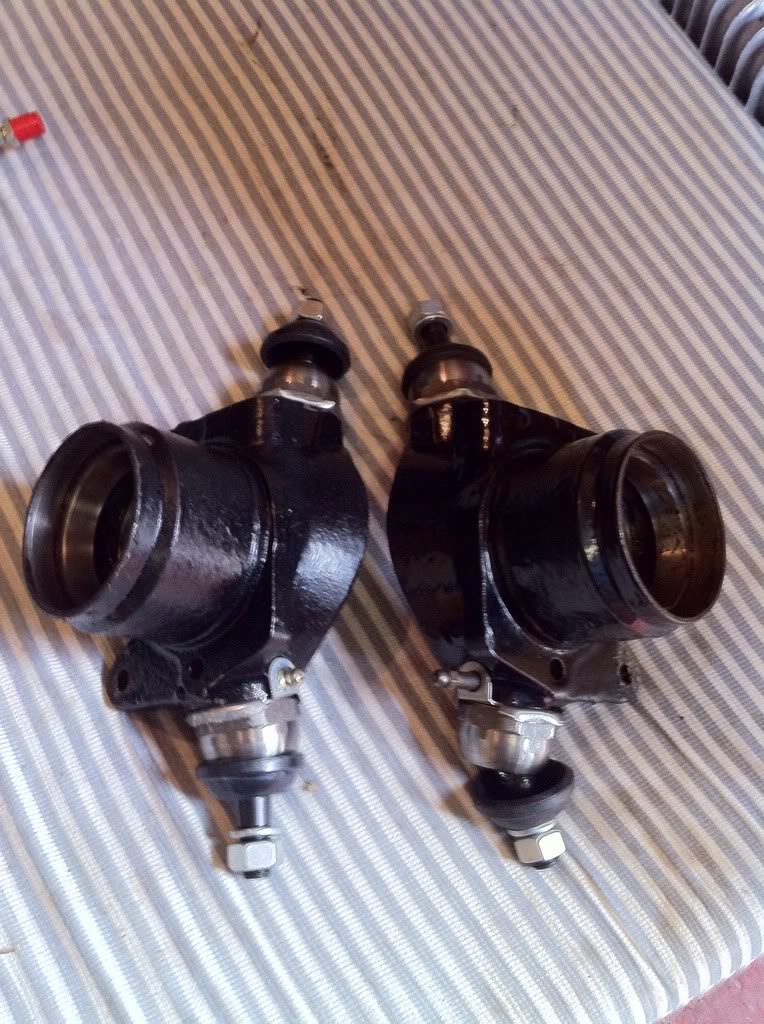 Also you may remember my CV joint ball bearing issues. Well after my 7th attempt we got it all assembled. Not a fun job! But this meant we could get the driveshafts fully reassembled ready to go back in. Just need to buy proper clips to seal them all up.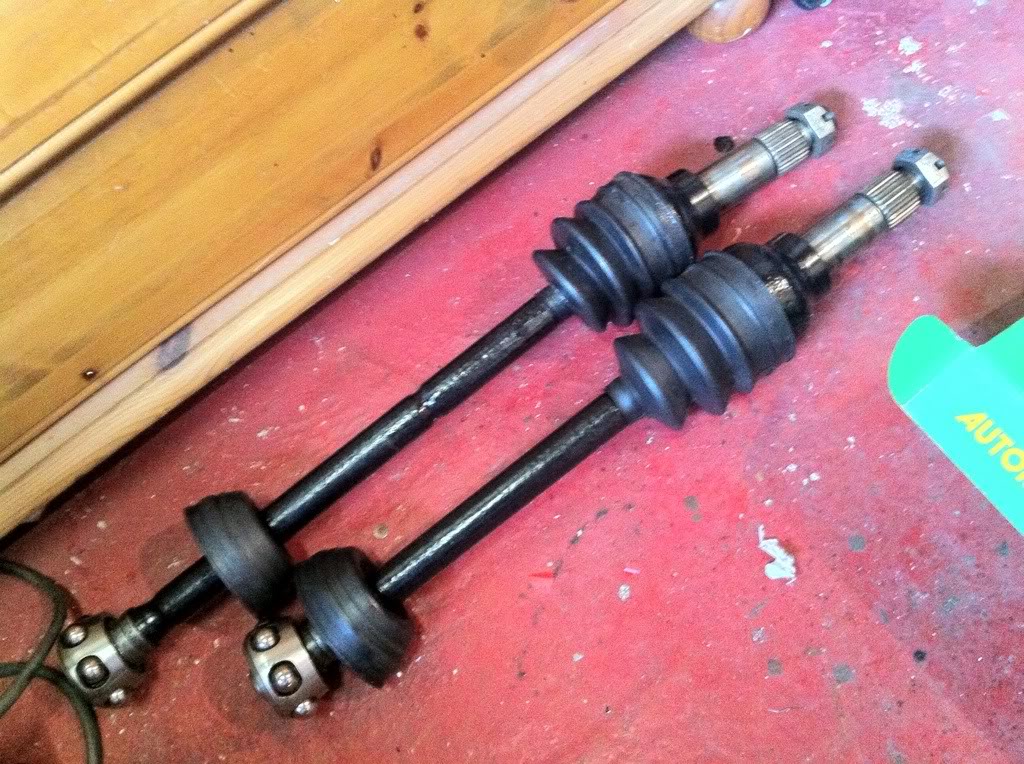 And with that dad cleaned up one of the pot joints and gave it a lick of primer and then paint.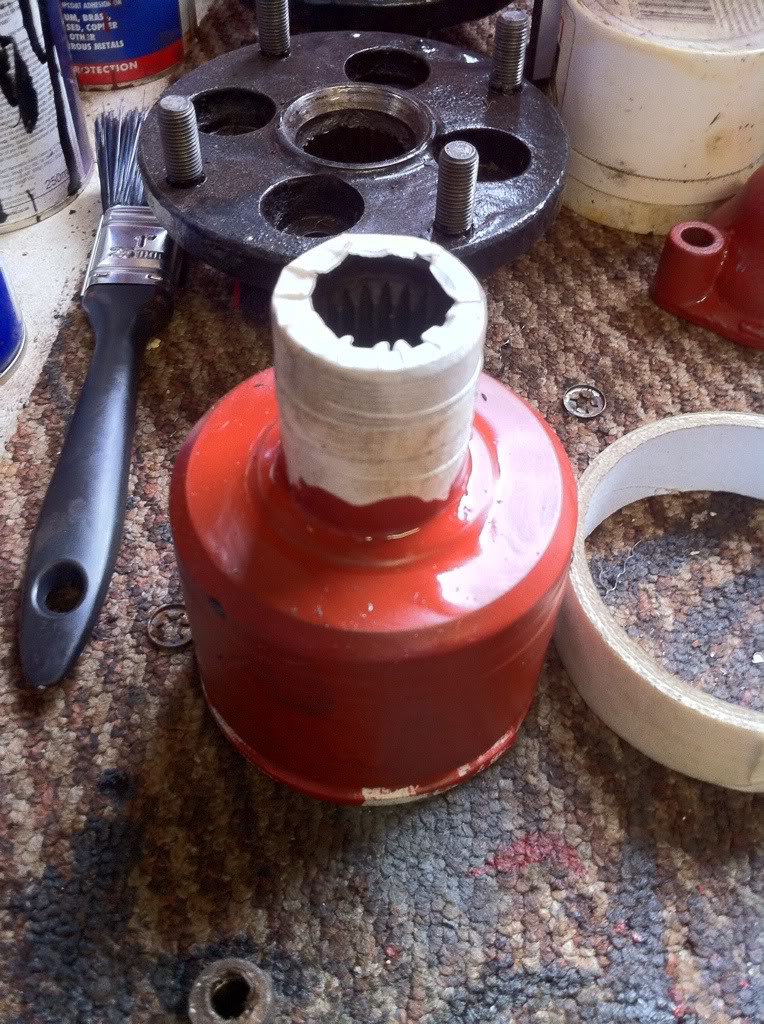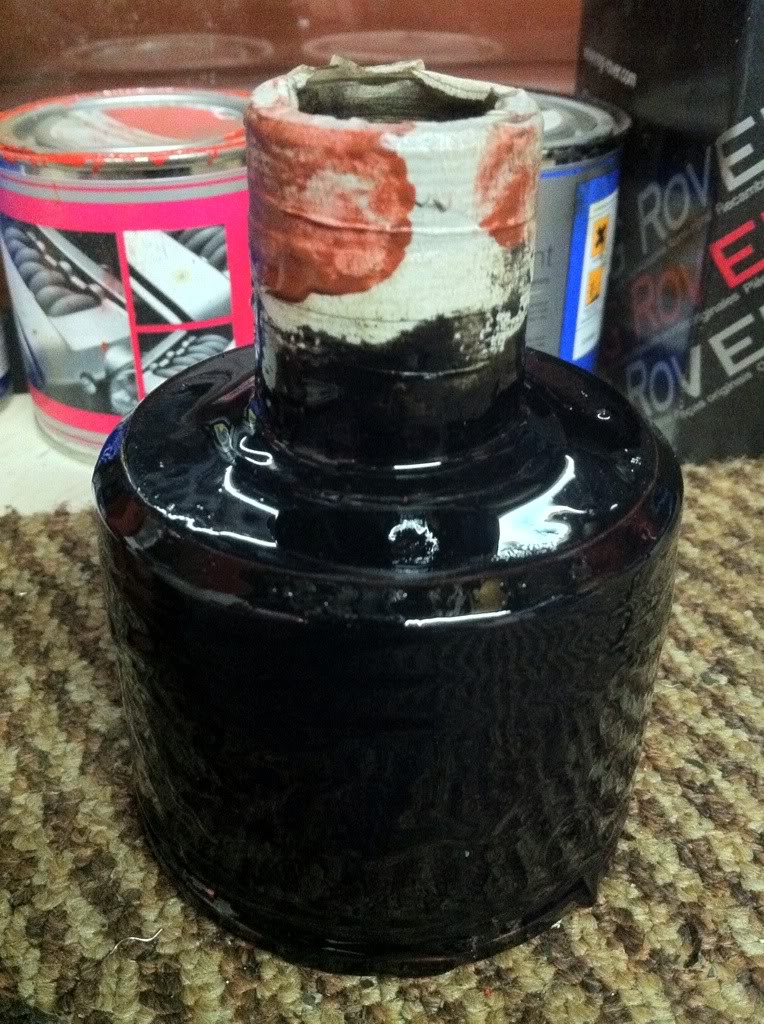 Also got my thermostat cover stripped cleaned and primed. Waiting for it to dry to give it the top coat of silver.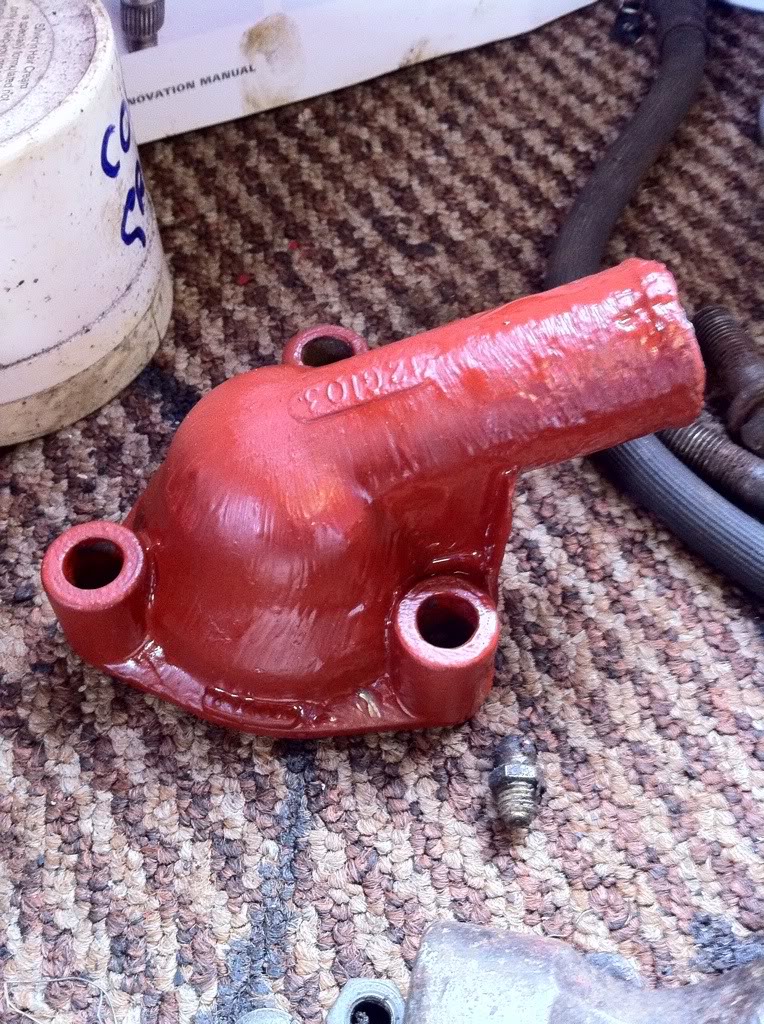 Took a look at my old brake pipes for a bit of reference for refitting. This was the rear section that sits on the rear frame. Pretty horrible and rusty....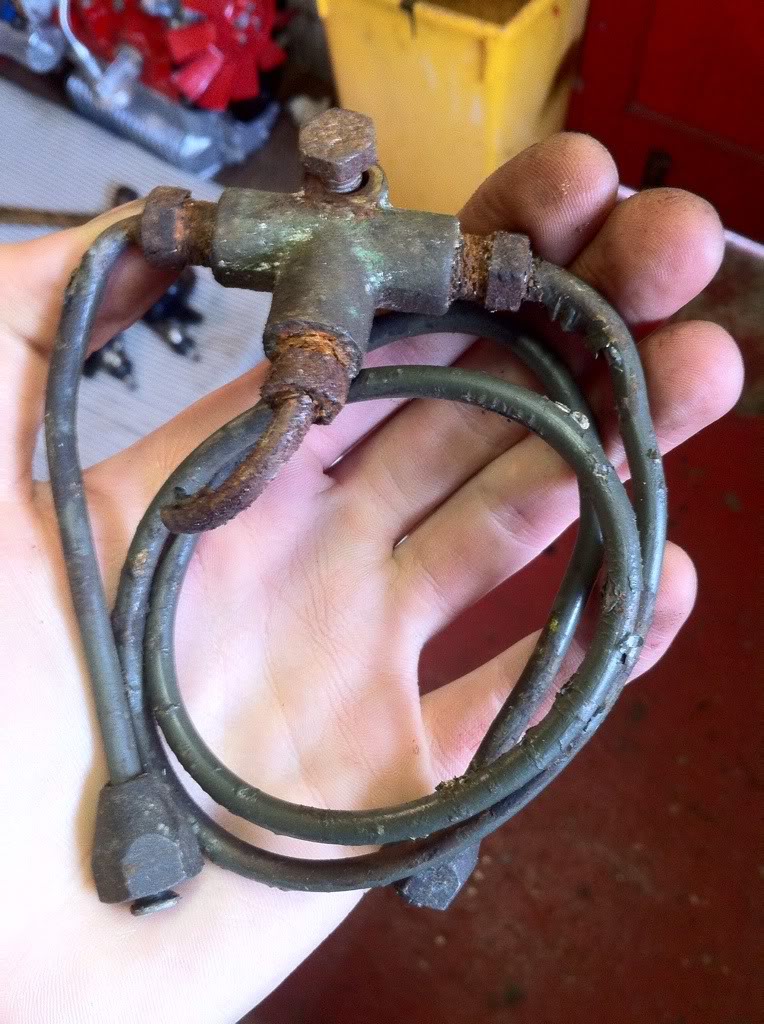 however after a clean up.......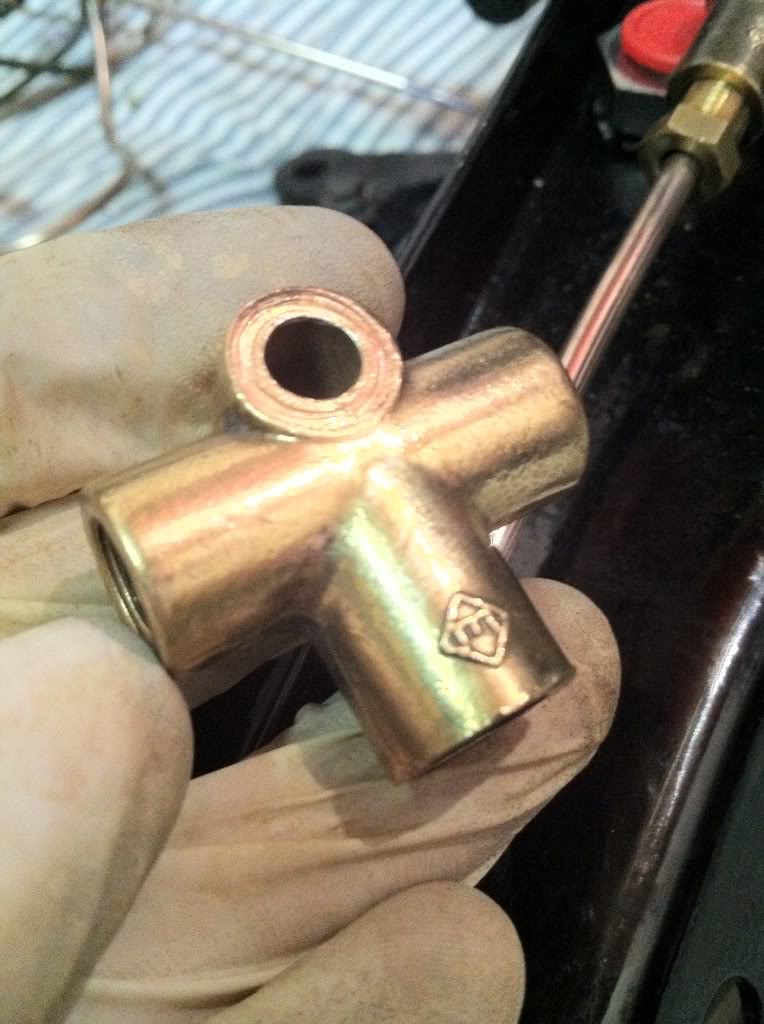 it looks awesome again!

I also got the front subframe rear mounts fitted to the frame ready to go....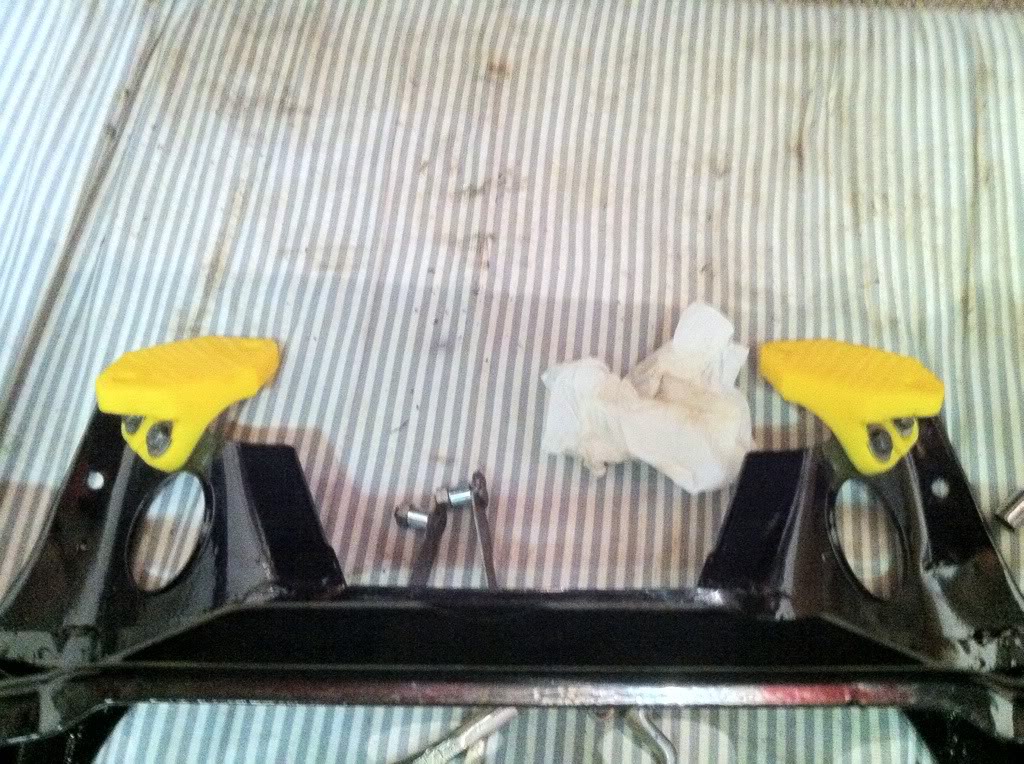 and I began to run the brake lines on the front subby too...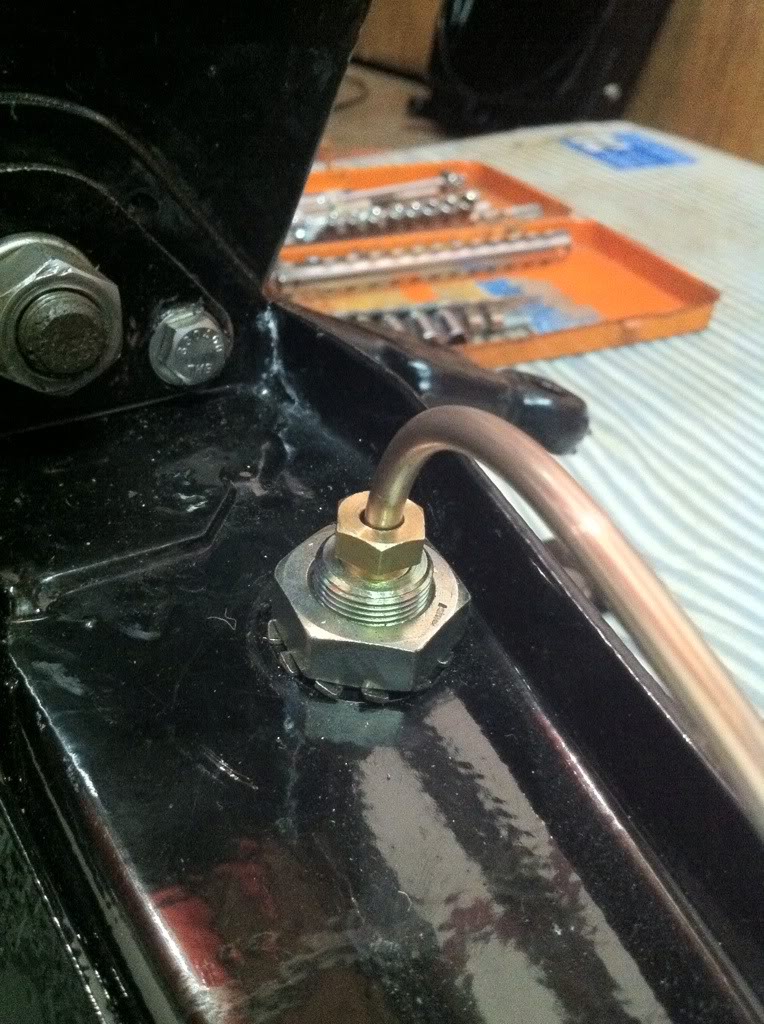 Im just awaiting a banjo bolt for this union now.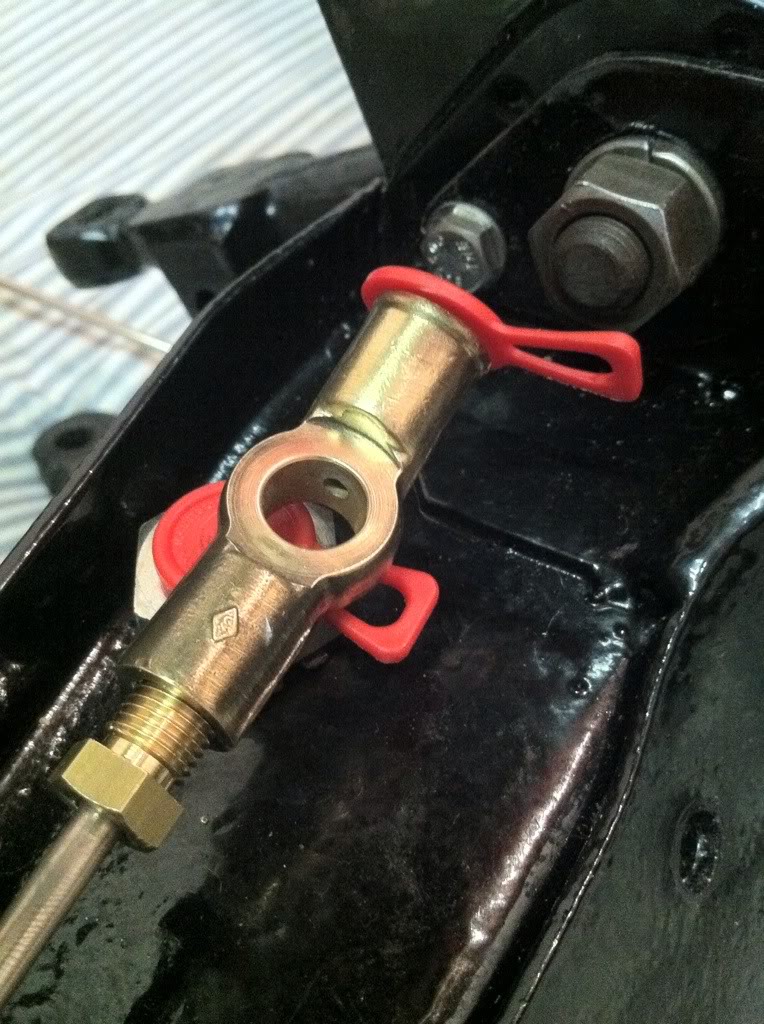 and then left some more parts to dry overnight.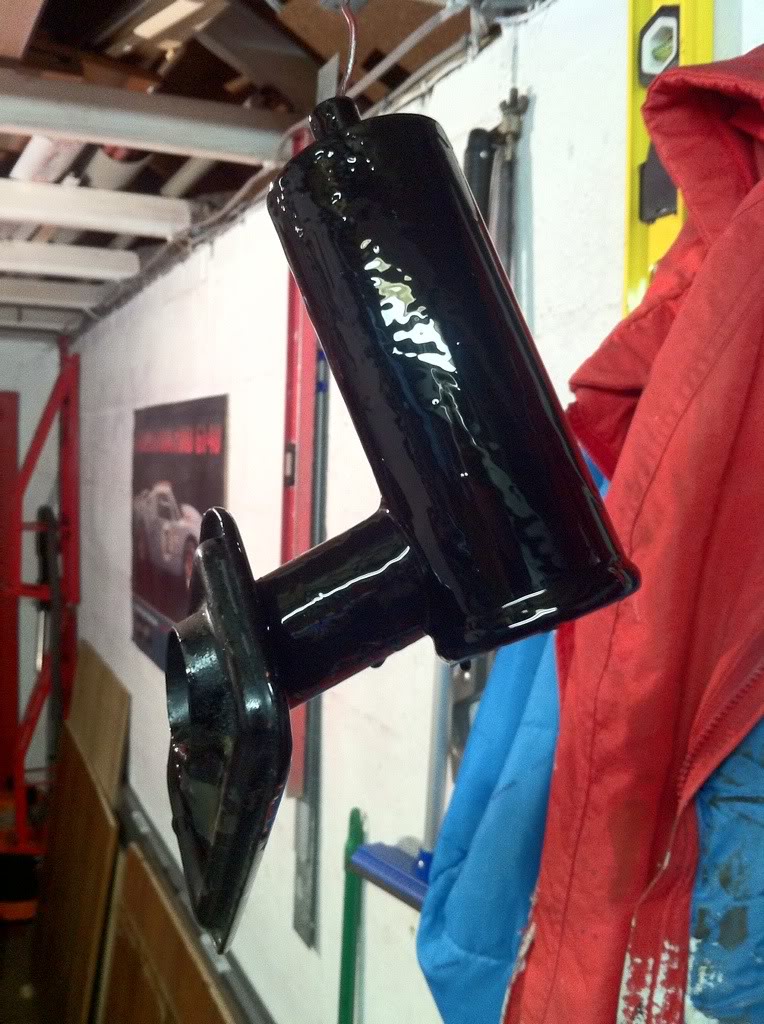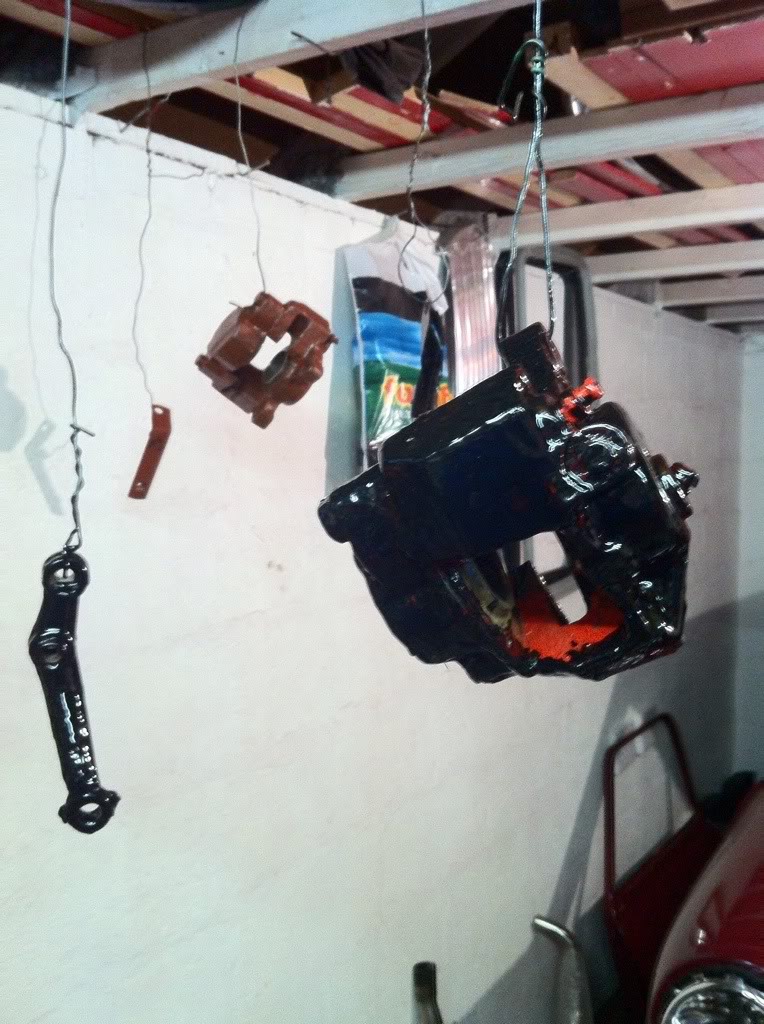 and this standard intake/exhaust manifold is for sale now its all nice and shiny again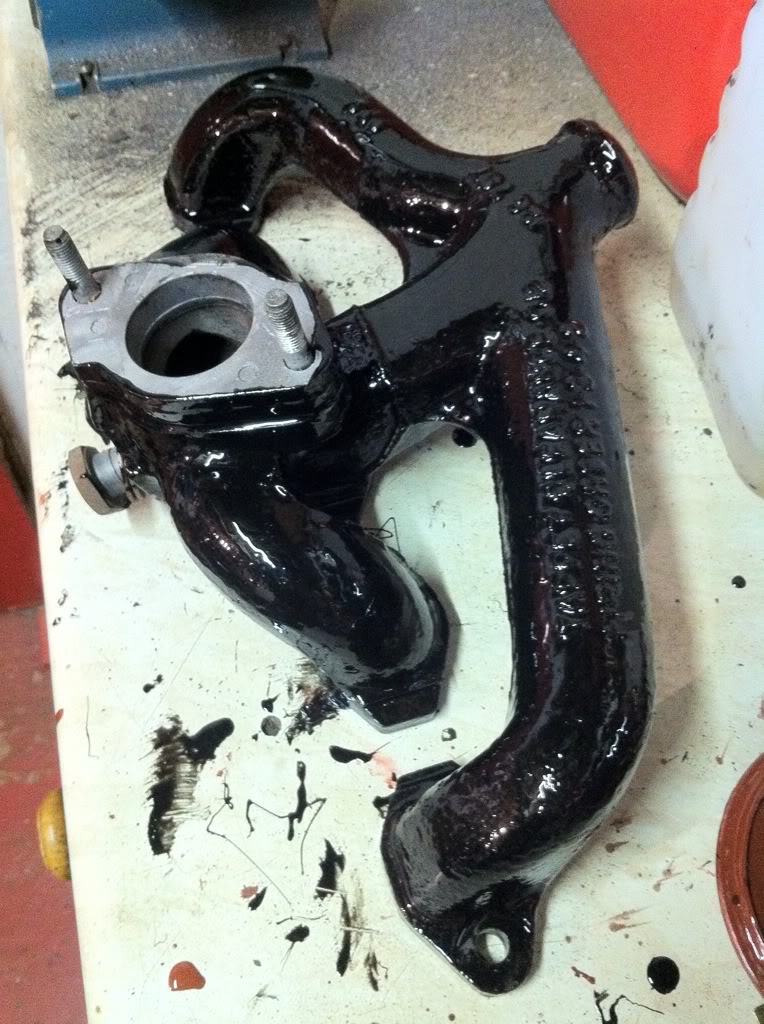 So lots of progress! Plan to have the engine and from subframe in the car by end of the week.

In other news I have just ordered a genuine rear subframe from MiniSpares. Costs a bomb but being genuine it will fit and will last forever with the right protection. Should arrive by end of the week hopefully which means I can finally get the car rolling! Then theres no holding me back

5-16-2012
Wee update. Nothing major as parts are en route to progress. Main part being a genuine heritage rear subframe (huge dent in the pocket....) as I have been mucked around by two guys from TMF now offering genuine frames only to find one had been sold to a relative and then one seemed to want it collected not posted. Shame as it would have meant money saved but I need a frame to get going.

So got a text from Phil saying almost all my parts were done. Went over this morning to get a door and my arches. Bootlid is done as are the seam strips but didn't have enough room in the polo to take them home too without risking damaging them.

So heres the pic I got sent. It looked awesome even here......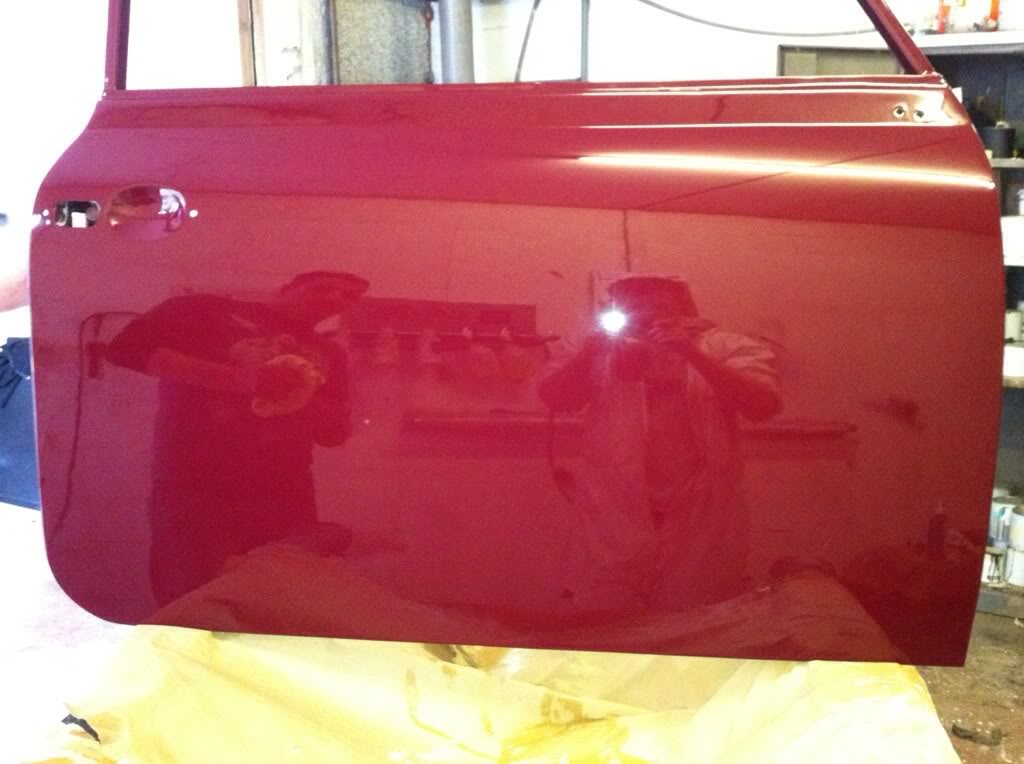 Then I saw it and it was just as good as the car itself. Spotless and totally like a mirror.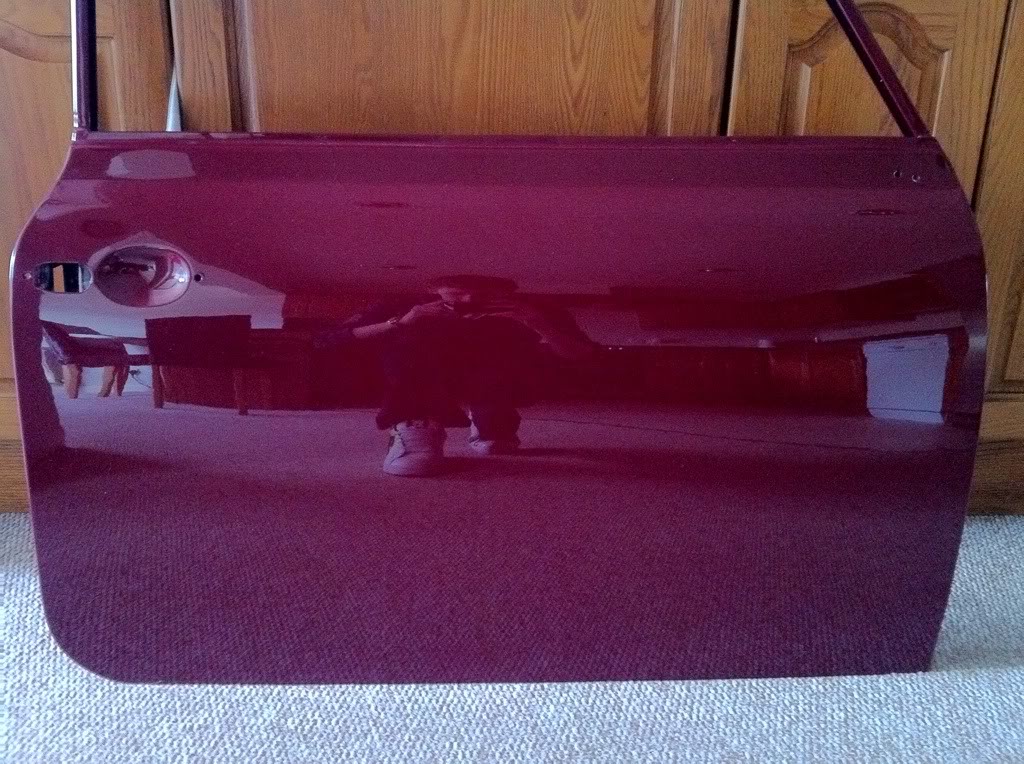 and this is me in its reflection. No distortion in the paint, only the shape of the door thats making me appear pretty short when intact Im 6'6"! Stunning finish as expected from Kirkton!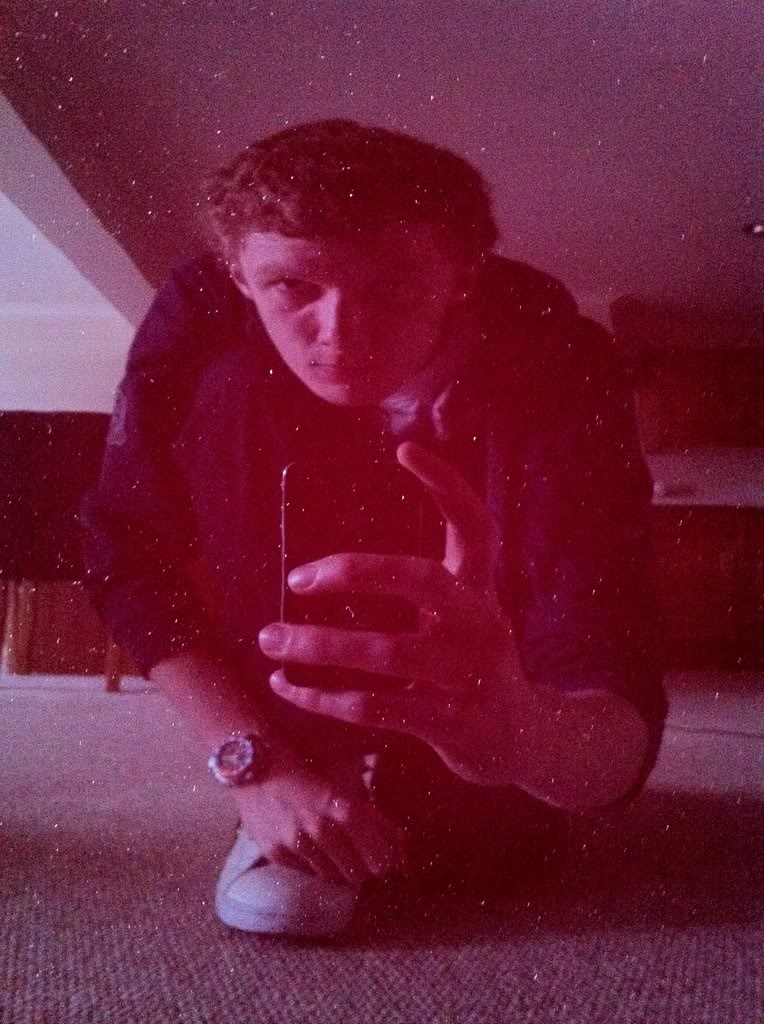 I then found out how small the polos boot is.....made to measure!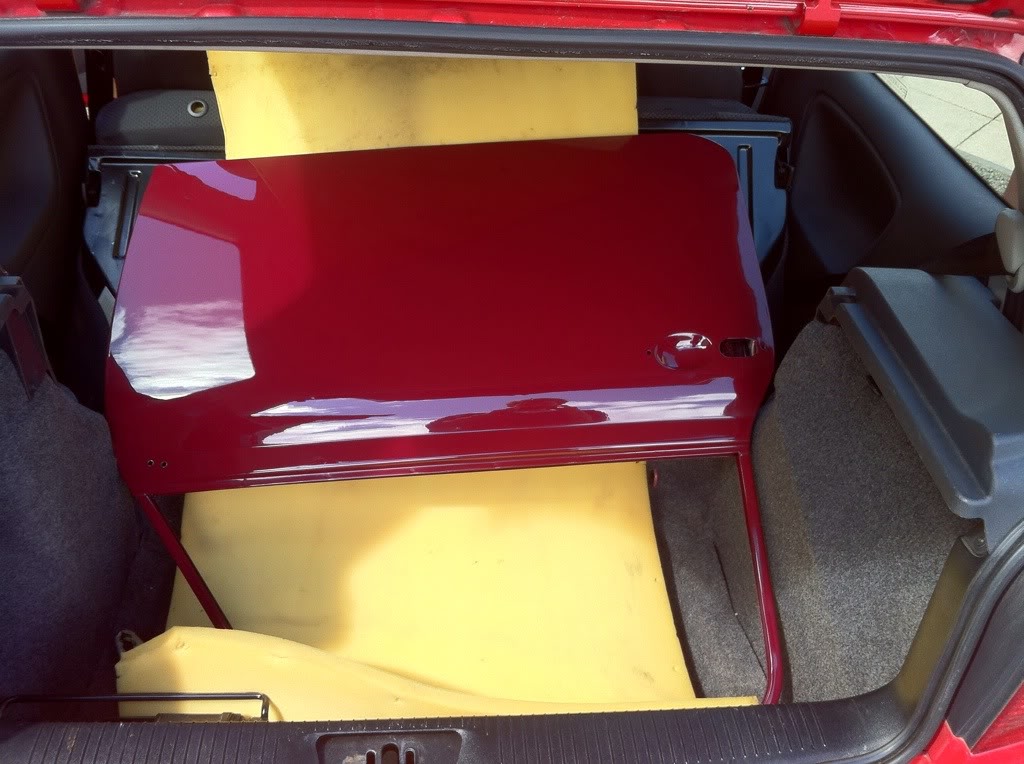 Also my dad has been busy breaking down the rear brake assemblies and refurbing all the parts in them. Everything seems pretty good nick/new anyway but Ive had a set of Ferodo brake shoes sitting for years in a box so fitting them in while the assemblies are apart which should make the brakes perfect. My back plates were rusted through in a couple of places so some genuine AP ones are on their way as I type. Will get them rebuilt and adjusted asap to then bolt onto the trailing arms.

Got a wee order from MiniSport on the way too. Mainly pins, seals and other little things. Devils in the detail as they say!

So hopefully I will get my frame by the end of the week meaning I can get stuff bolted onto it saturday ready for fitting sometime next week. Also hope to get the engine into the front subframe and then lower the car onto the assembly. Fingers crossed that install goes smoothly! Cant wait to get the car onto all fours finally!!!
5-18-2012
So today we thought it would be a great idea to get my flywheel off the engine in order to change over my clutch. Bad idea.

We bought the flywheel puller tool designed solely for the Mini however we didn't know what all came in the kit and it turns out we were missing a bit..... This resulted in us stripping the threads on the end of the crankshaft. One ruined crank and engine!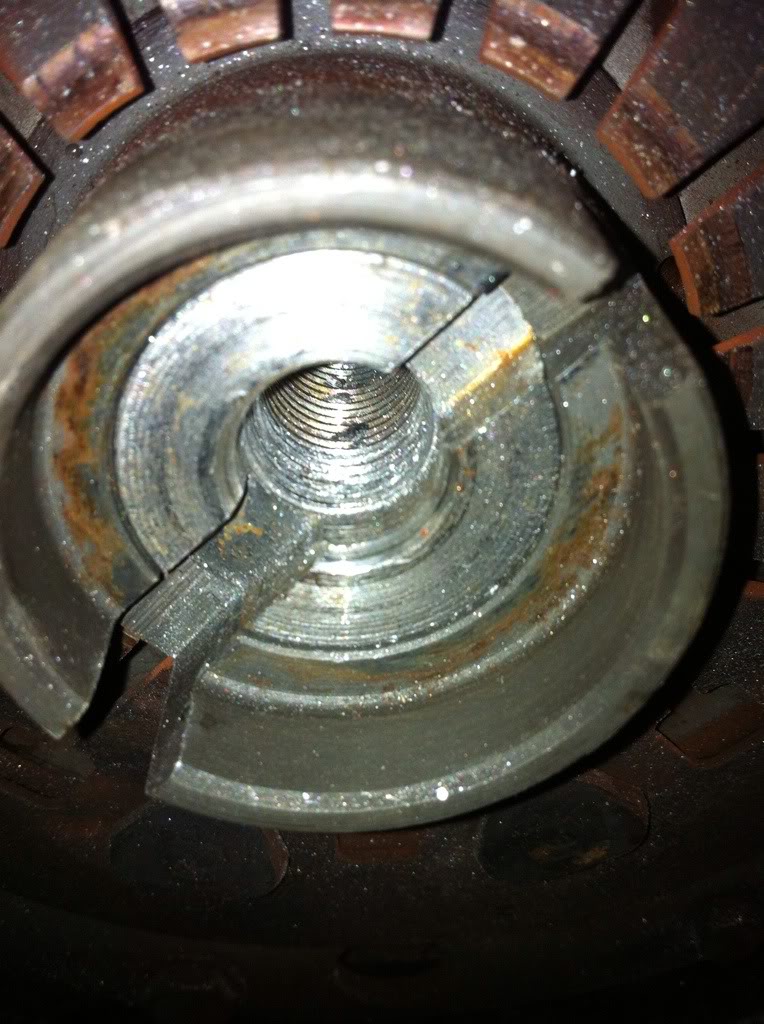 Picture doesn't look too bad but the thread is beyond repair and theres no way Im going down the engine strip down route as its just a standard 998 at the end of the day and Im not keen on the idea of ordering a new crank and getting it all balanced up either......

SO! After many sweary words we got started on the 1275cc engine I have had lying for about a year. I didn't want to install this engine as insurance will be nuts as is given the amount of modifications the car now has. Being only 20 this isn't ideal but needs must!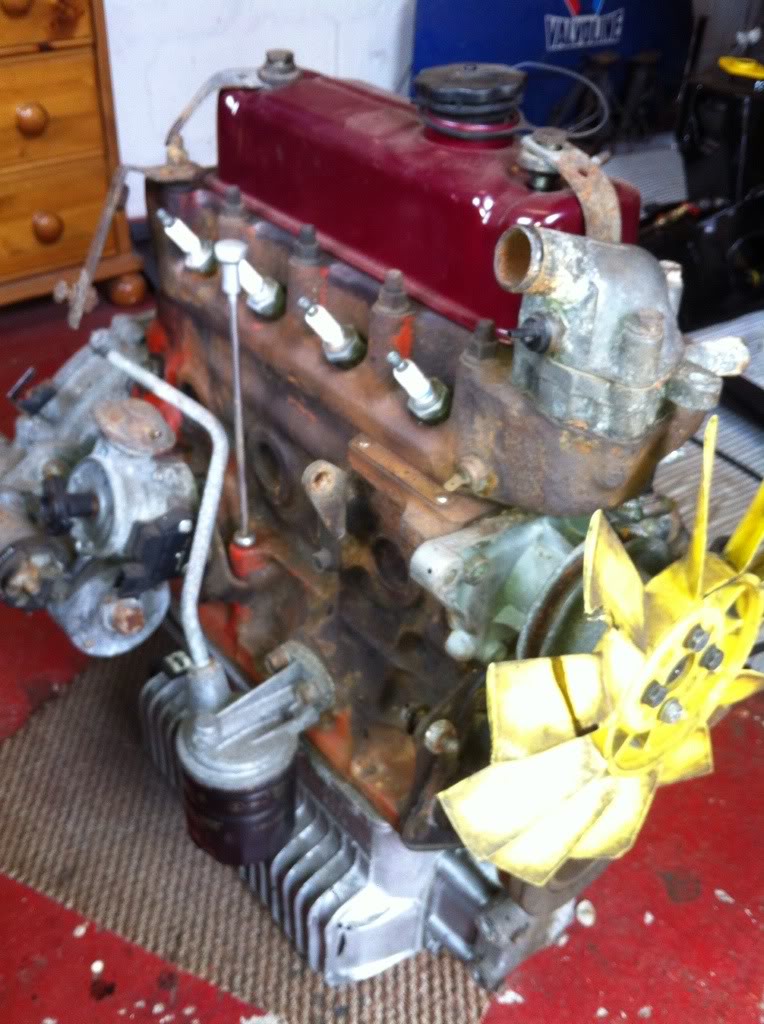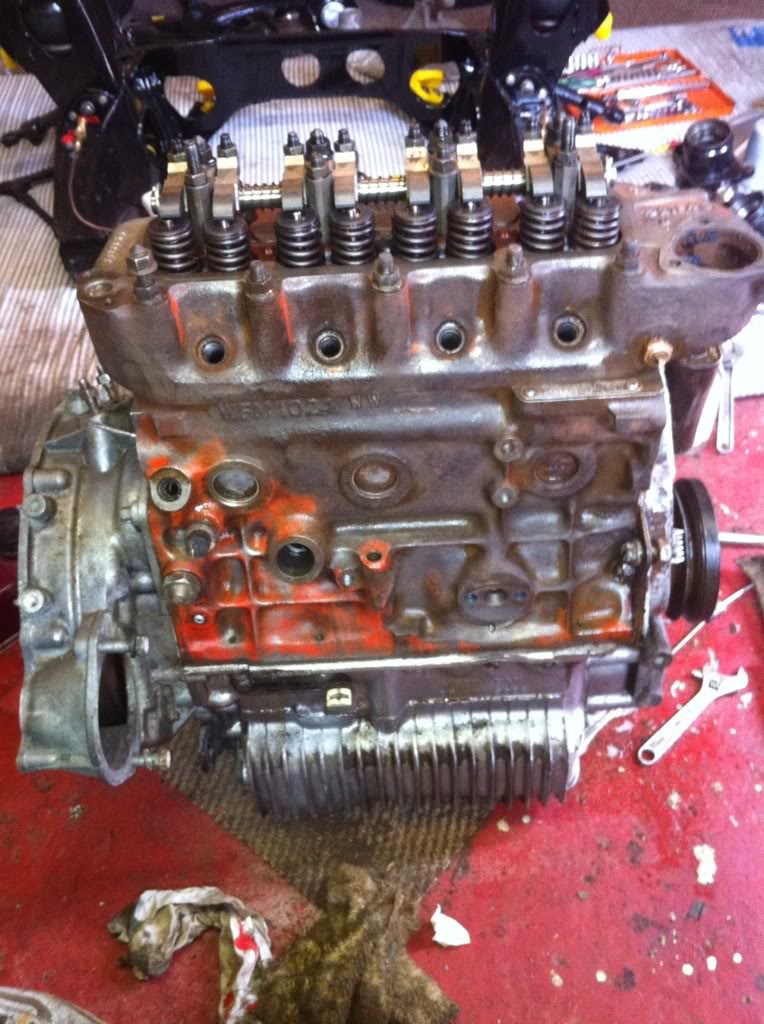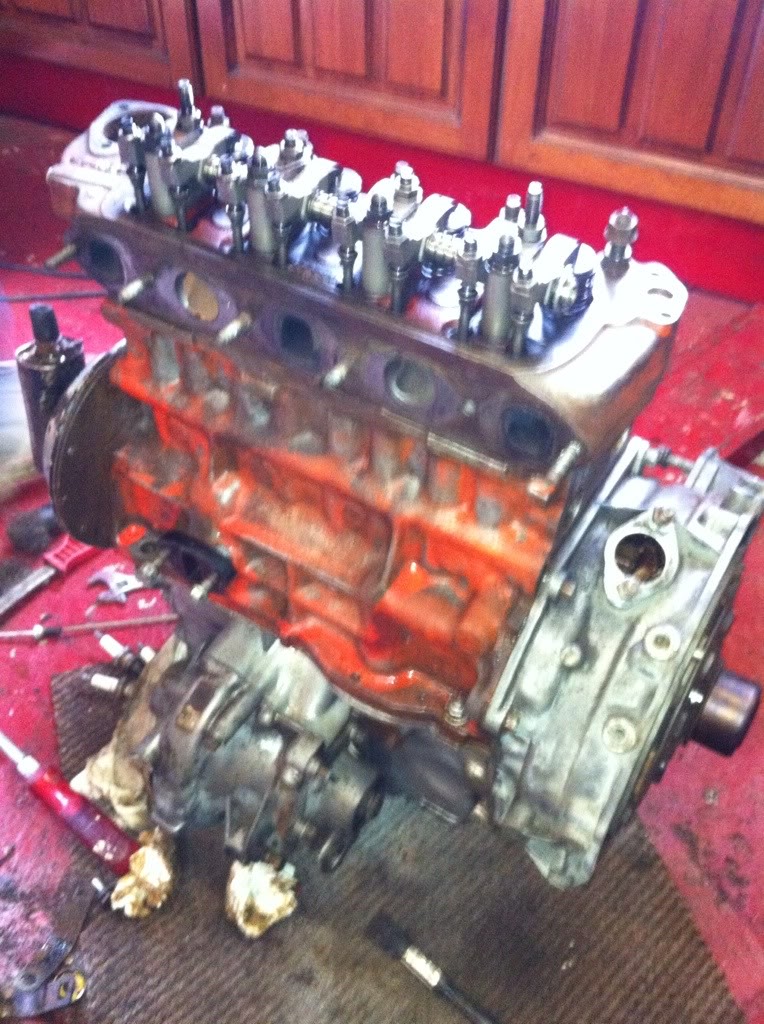 Looks pretty tatty but so did the other one. Managed to get it all cleaned up and Deox'd and its now sitting in primer ready for top coat tomorrow.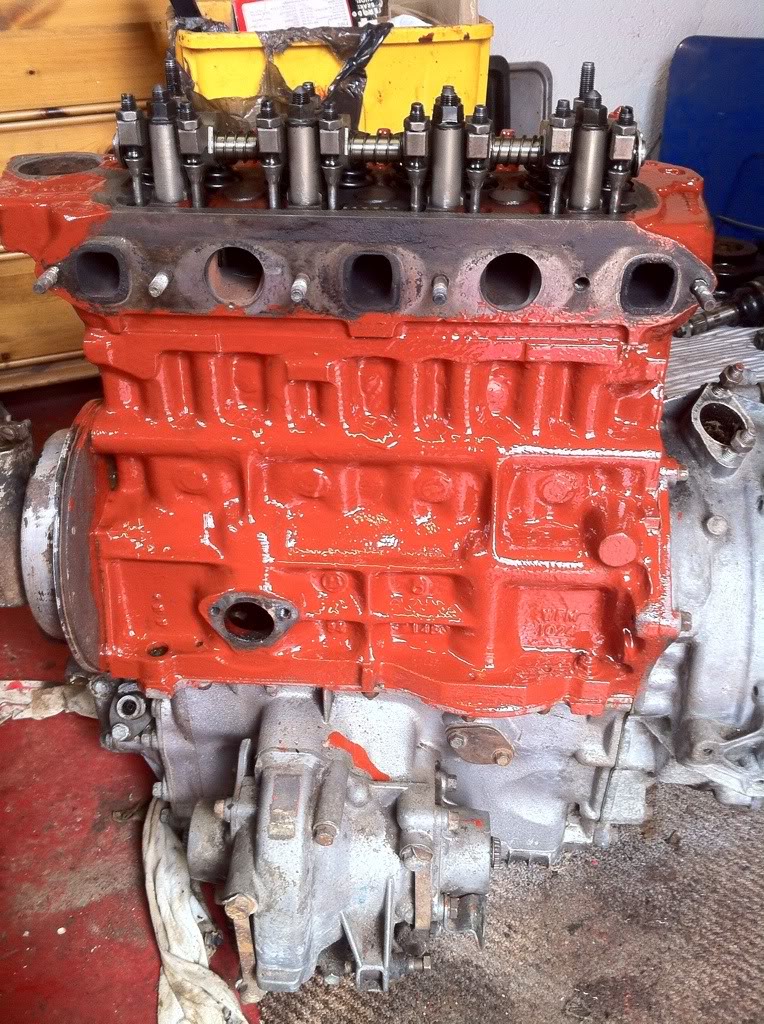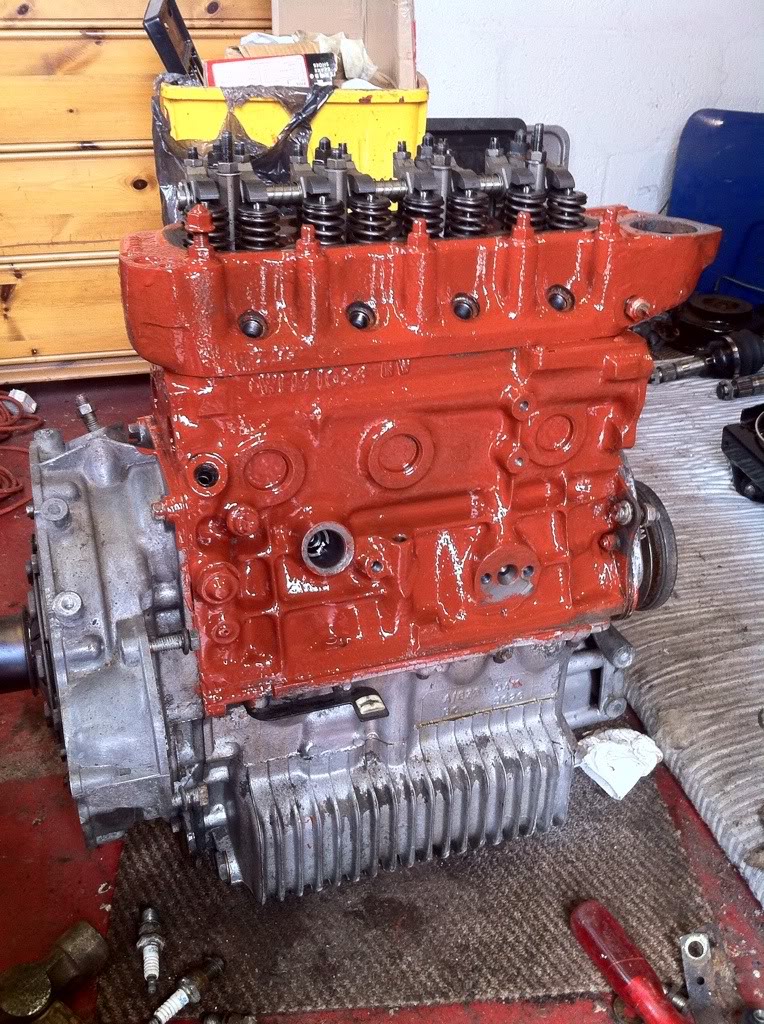 While we were working away on this my MiniSport delivery arrived. Nothing major but it did contain genuine AP brake drum back plates. So we got stuck in and rebuilt the assemblies. Easy enough which was good as I was expecting it to be a nightmare job.

So a before and after......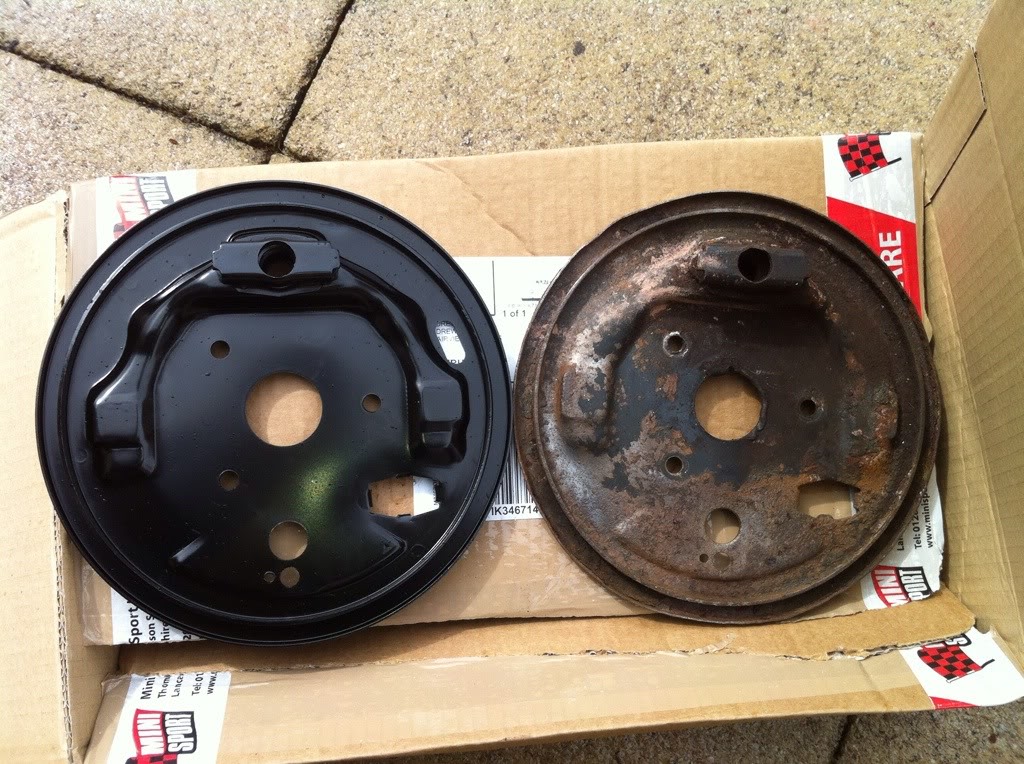 and all reassembled!




And I also got my pot joints cleaned internally and then popped these onto the driveshafts. Nice and easy thankfully! They are now, along with the CV boots, clipped on ready for refitting.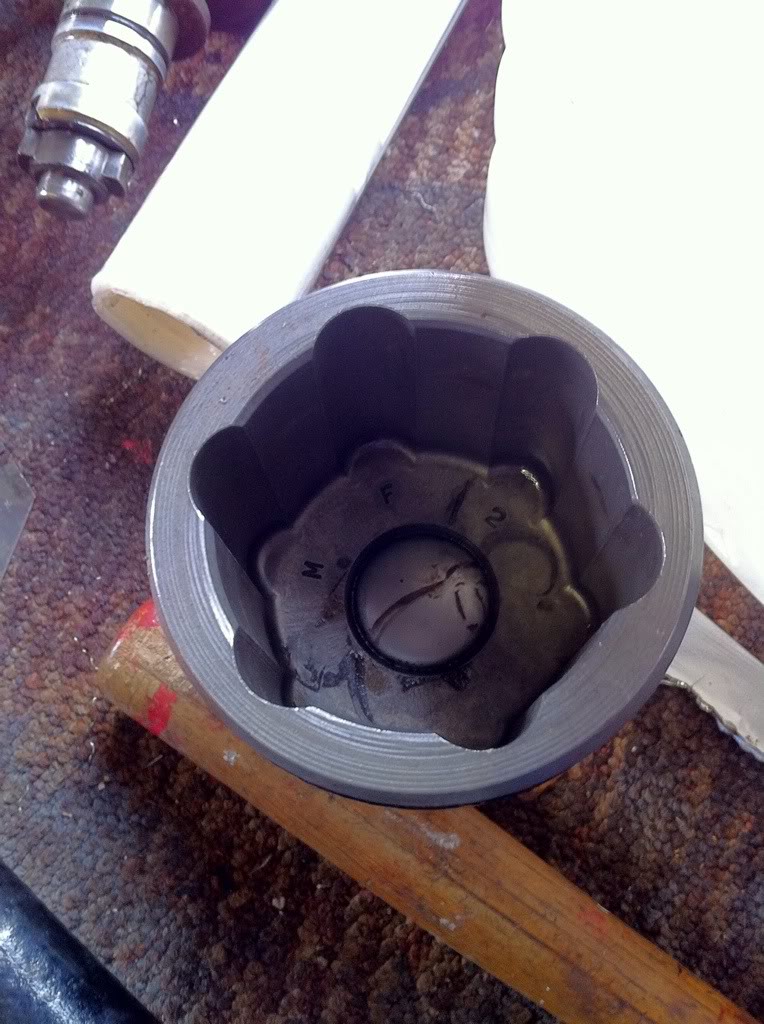 Only got one done as the other was only painted today so leaving it to dry.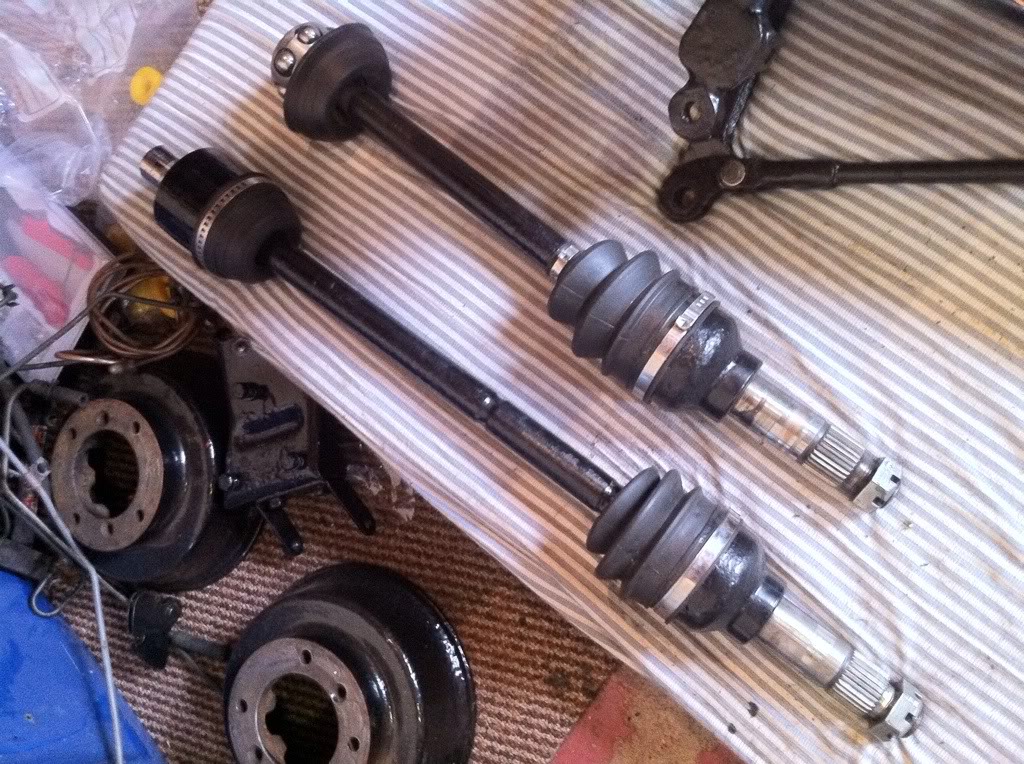 So a productive but rather annoying day. Didn't intend on ending today with a 1275 engine away to go in but I think its a blessing in disguise.....more poweeeeeeer!!!!



Tomorrow is more engine painting and then get as much bits from the 998cc engine transferred over to the 1275cc. So all in all its not been a massive hold up.
5-19-2012
Another day of works!

First things first I cleaned up the engine a bit more and gave it another lick of primer. Looks much better for it. End of the day I got it painted in its first coat of Rover Flame Red. Properly bright and a proper red, unlike all the engine paints which end up drying more orange than red in my experience!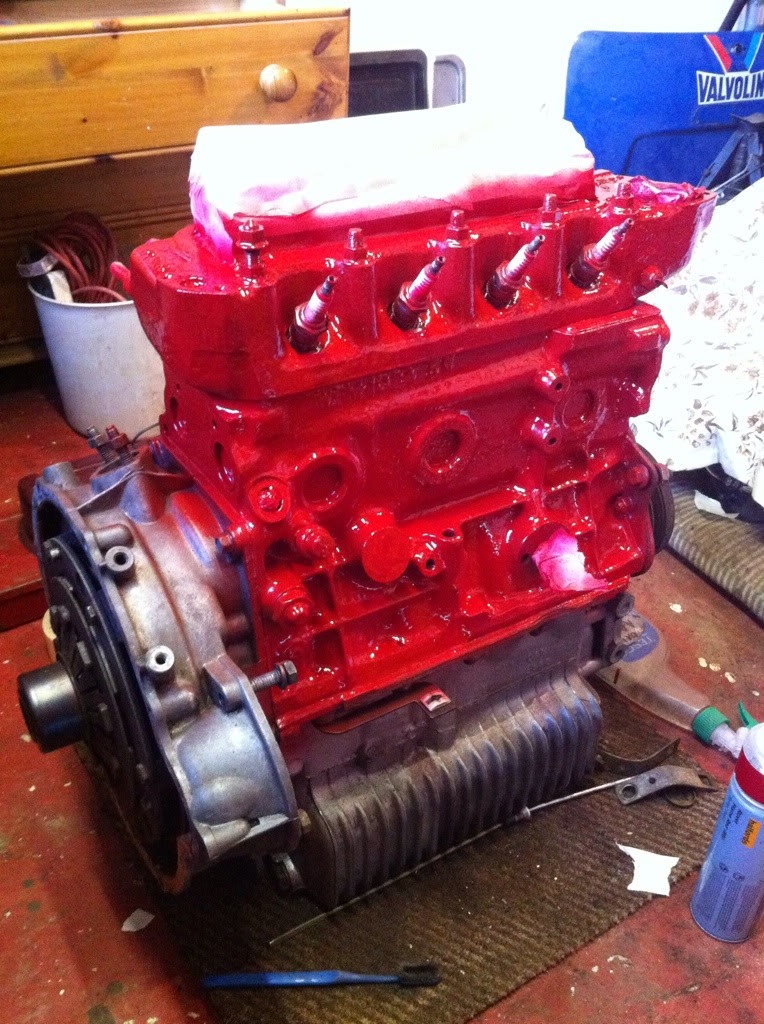 Notice it is the later 1989 Flame Red which was more vibrant for the Flame Red special edition.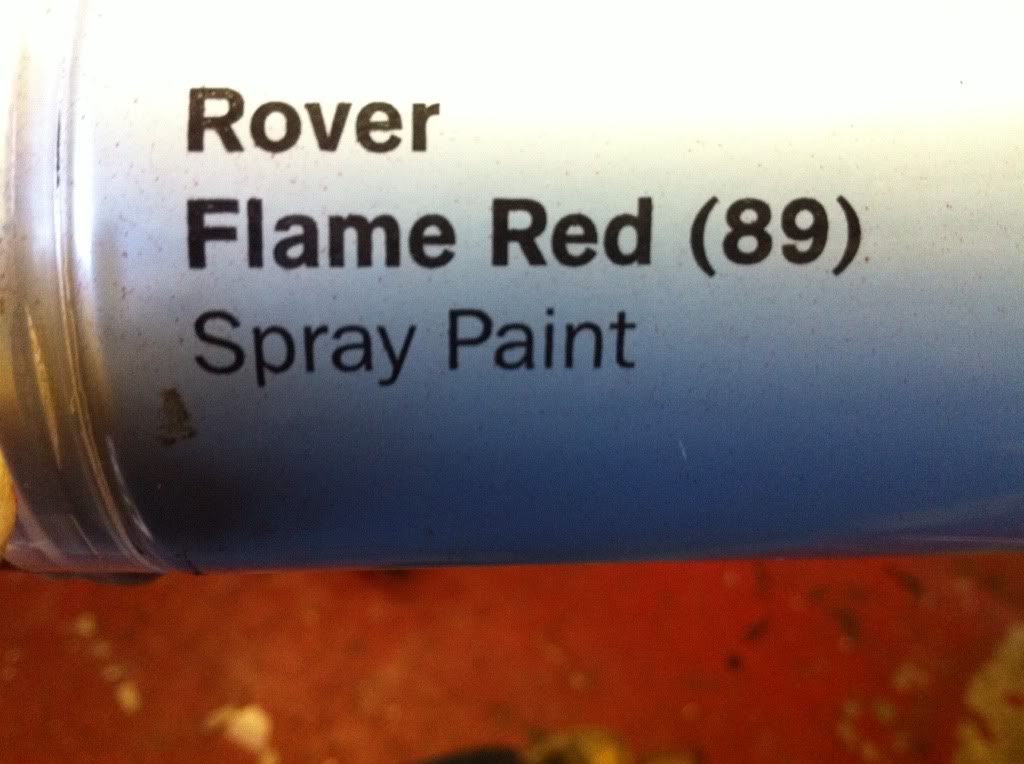 Also got the radius arms all built up with brakes, handbrake guides and brake pipes. Braided and polished cunifer brakelines throughout!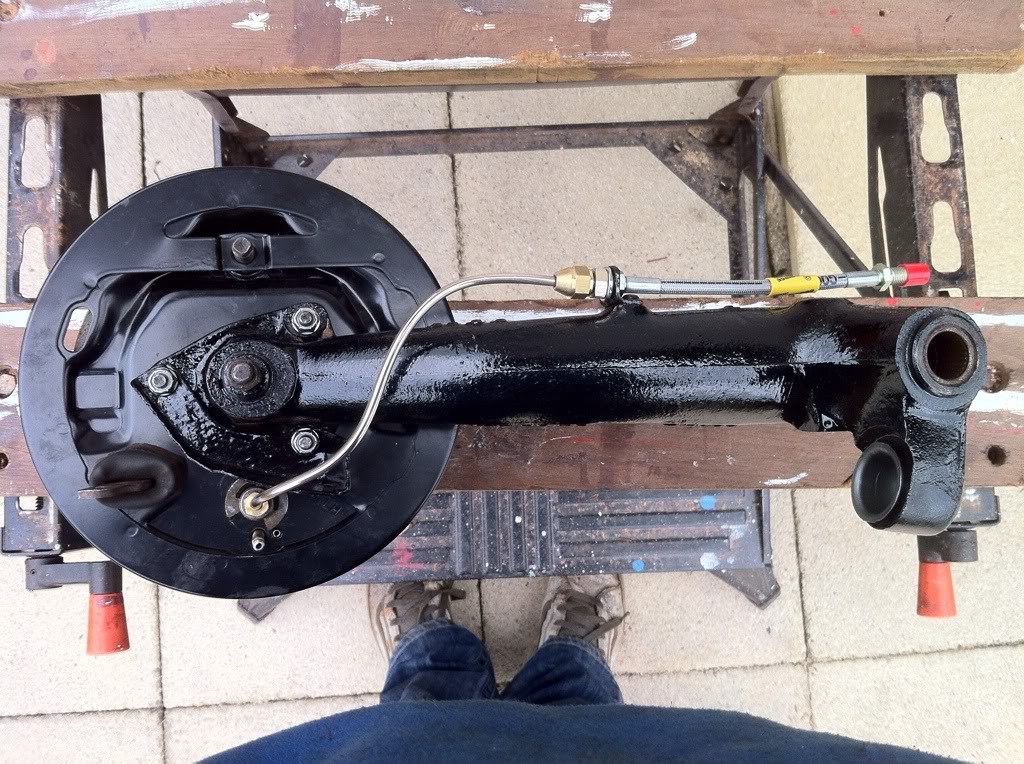 Also got my other pot joint all greased and assembled whilst things were drying.

Few parts have been left to dry overnight. Rocker cover from the new 1275 and loads of washers for bolting on the arches. They weren't painted before and trapped rust as a result. Primer and then hammerite for the lot of them, rocker cover finish I'm not sure on yet though....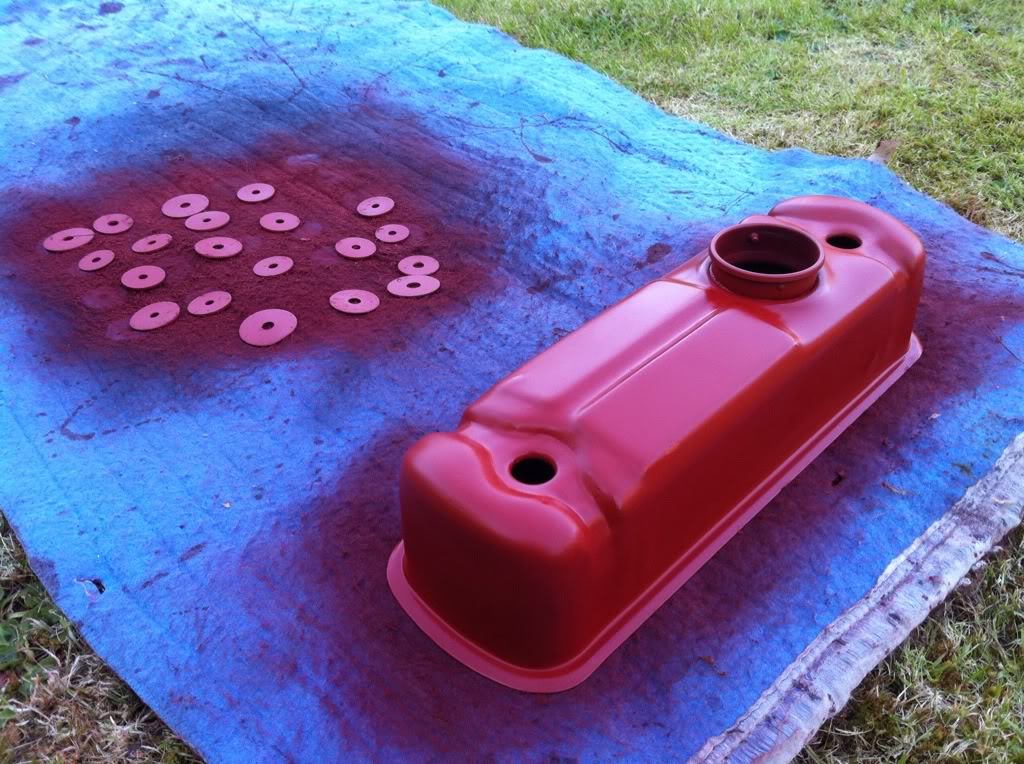 Also got one of my rear lights installed and new lens put in. Same as old ones but not cracked

Im not 100% on them at the moment but will make a final call when its all together. Bit marmite but I like them....I think...

The red and white/silver ties in well with the body colours. Idea behind them is they are more modern styled with no sharp edges/lines unlike the clear versions of the standard lights that you get which look god awful.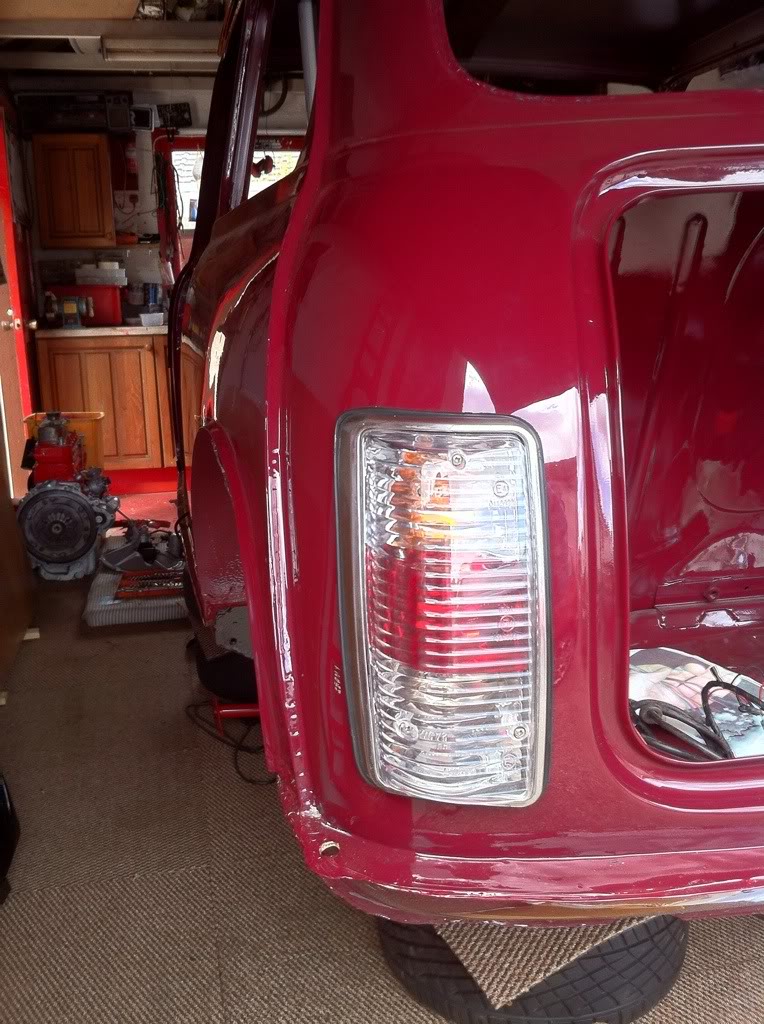 So thats todays work!

Working tomorrow all day and night but will get going on it again on Monday. :)
5-21-2012
Today I had a lie in after an epicly long shift at work. But I was awoken by the postie with a huge parcel.

It contained some Heritage loveliness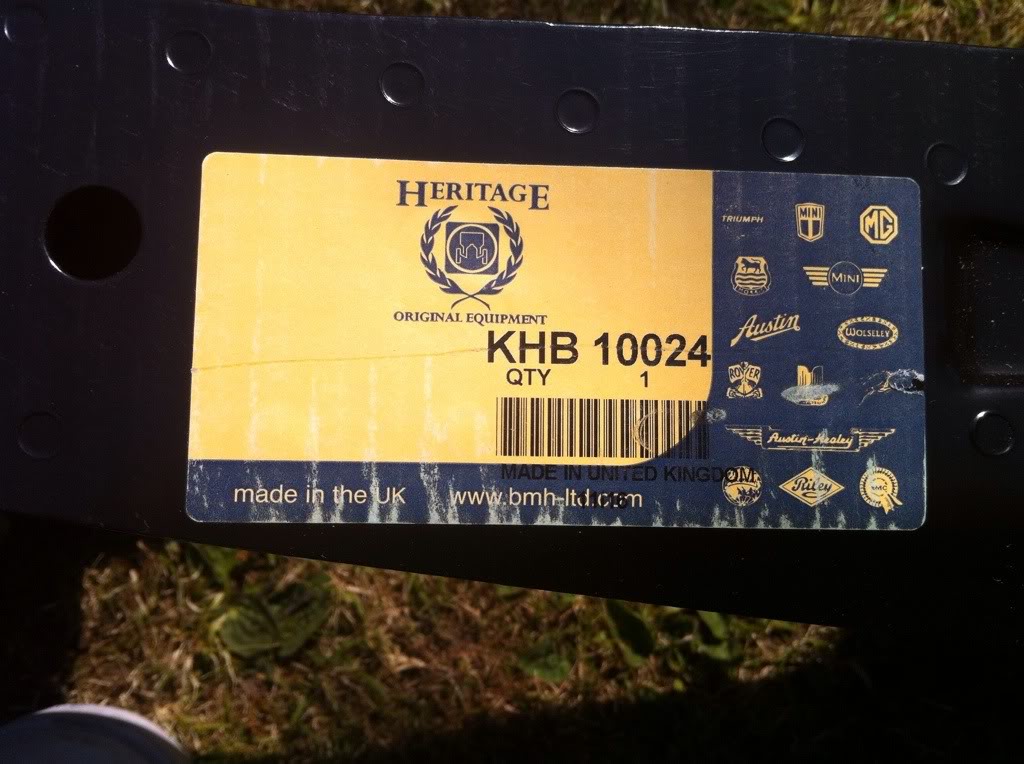 Genuine Heritage rear subframe. Expensive, yes, worth it, yes.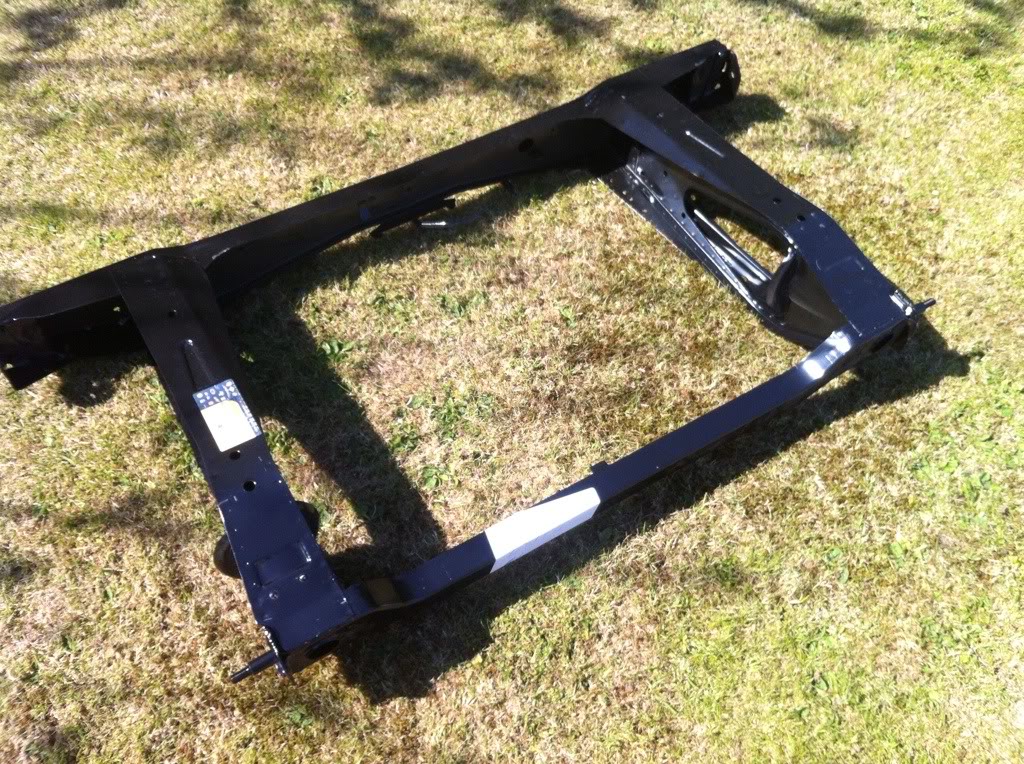 MOWOG stamped as it was from factory.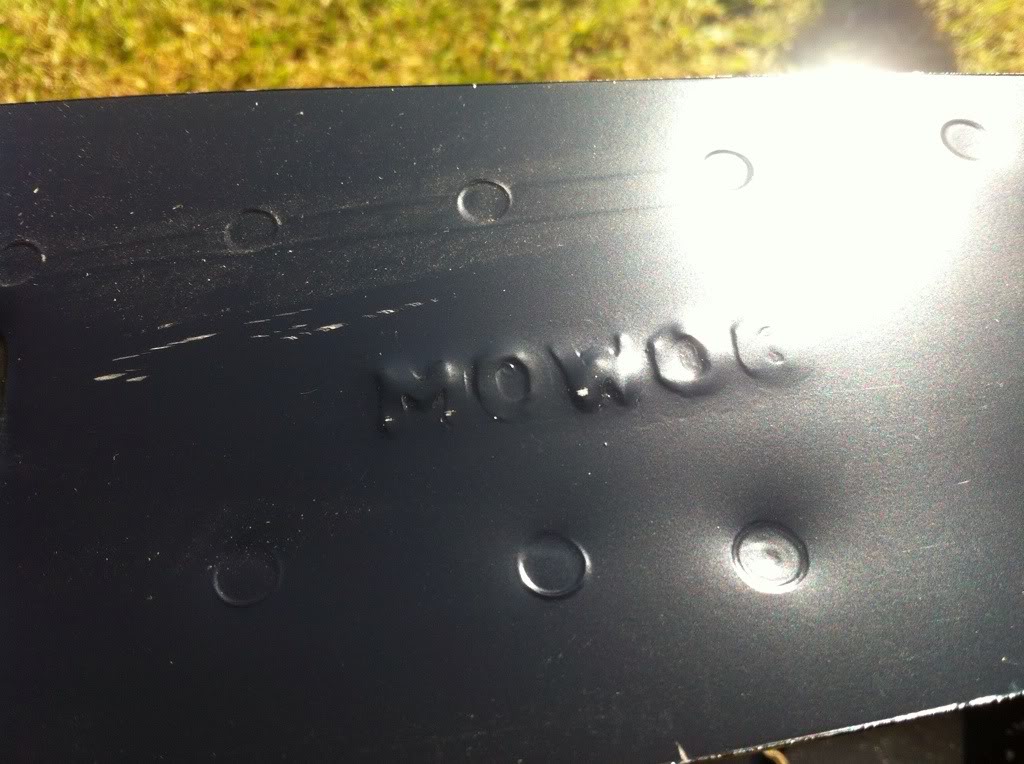 All I need is new bolts for the boot floor and healboard to frame so will go to Grampian fasteners later on in the week. Most of mine snapped when i removed them.....

Got another couple coats onto the engine too so the finish is great and should stay well. The frame came with radius arm brackets but I ve changed them over for my adjustable camber brackets instead. Also got new front wheel bearings so I got them installed. Pretty easy really, you just have to take your time with it so as not to damage the inner faces of the hubs or indeed the races.
5-22-2012
Today I was working 7am-4pm so when i got home at 5 I went straight to the garage seeing as the weather was a toasty 20oC!

Got my wheel bearings done and seals installed.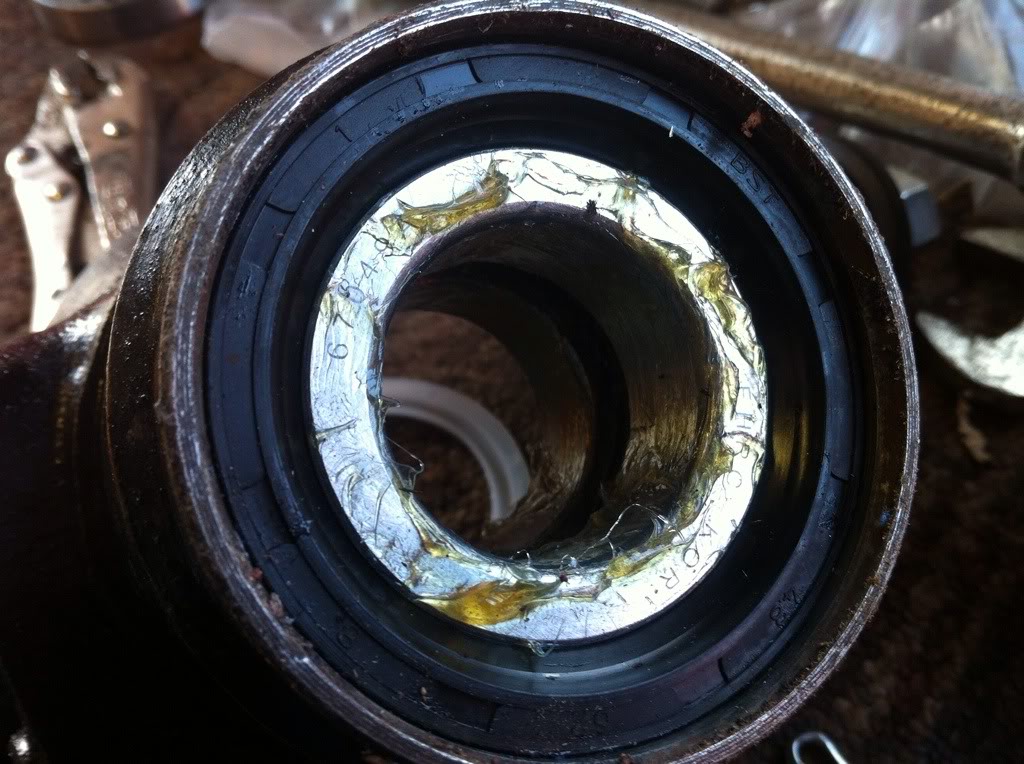 Then it was time to add some much needed girth to the car. Step in sportspack arches!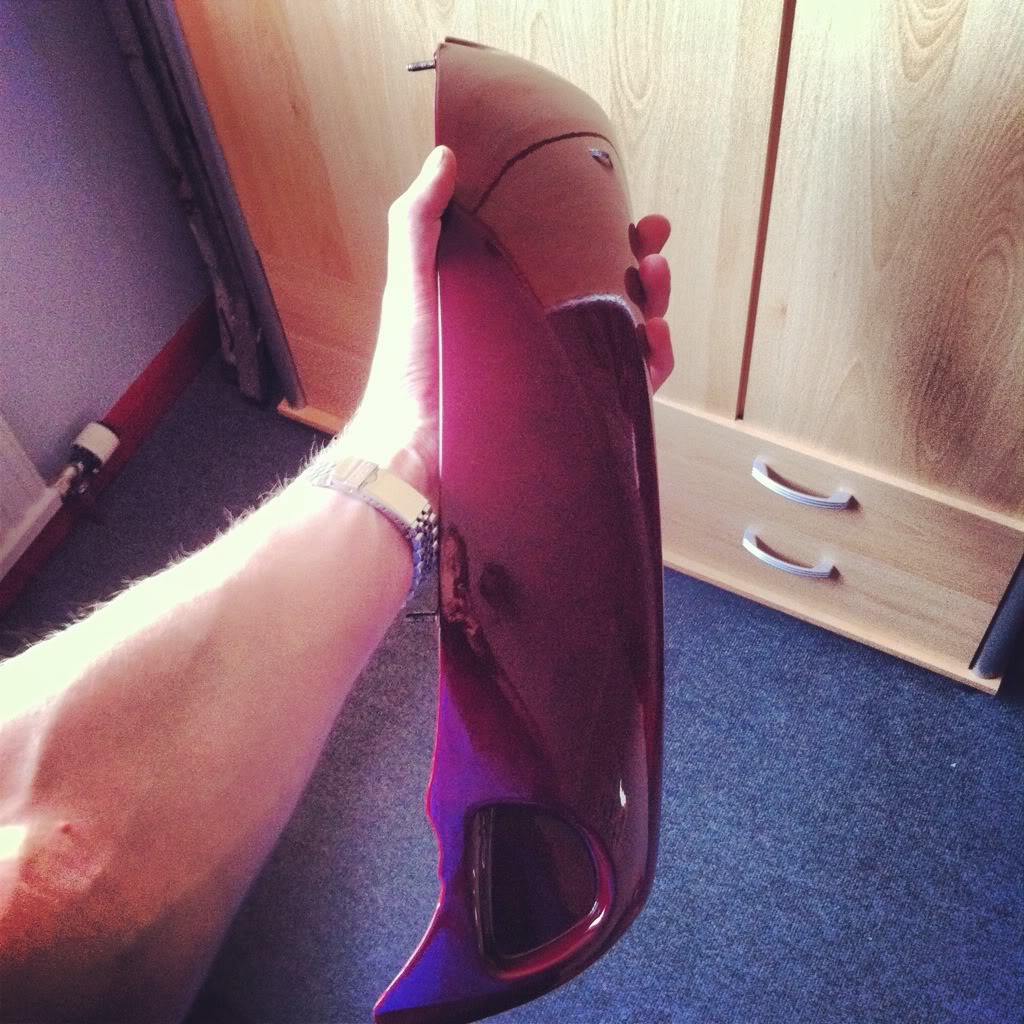 They are 3.5" wide each side so makes the car 7" wider. Ace!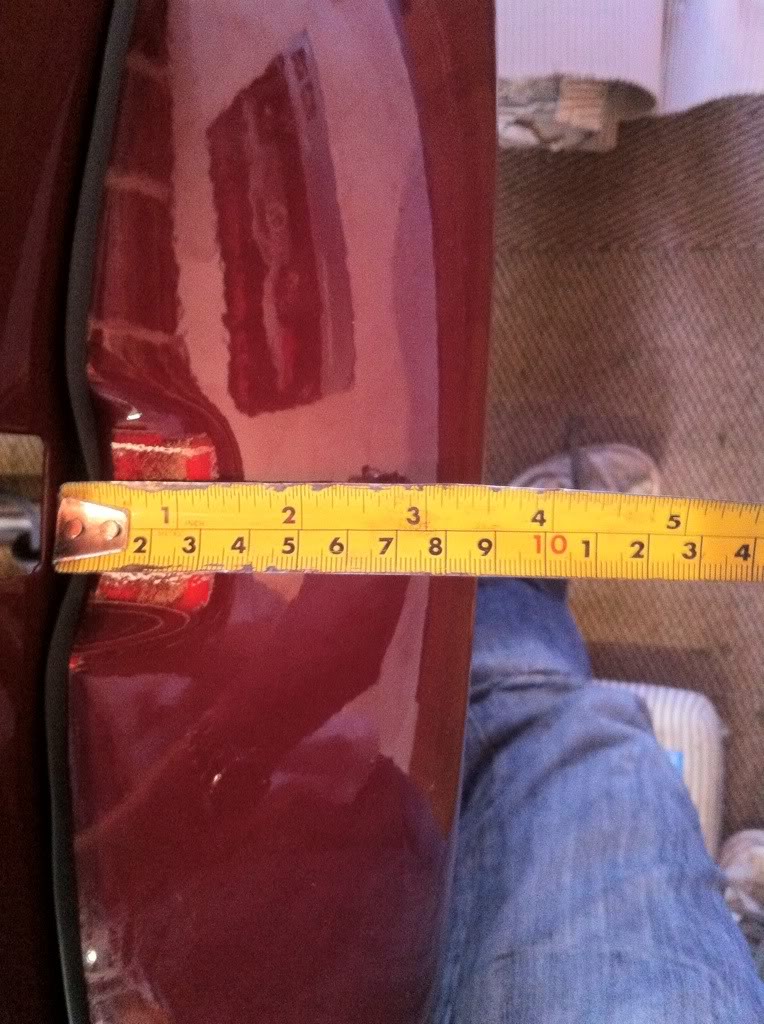 And here they are fitted. The seam strips aren't a great fit so going to buy different ones and redo it. These are all puckered and don't hug the body well at all. Its not perfect so therefore it is wrong.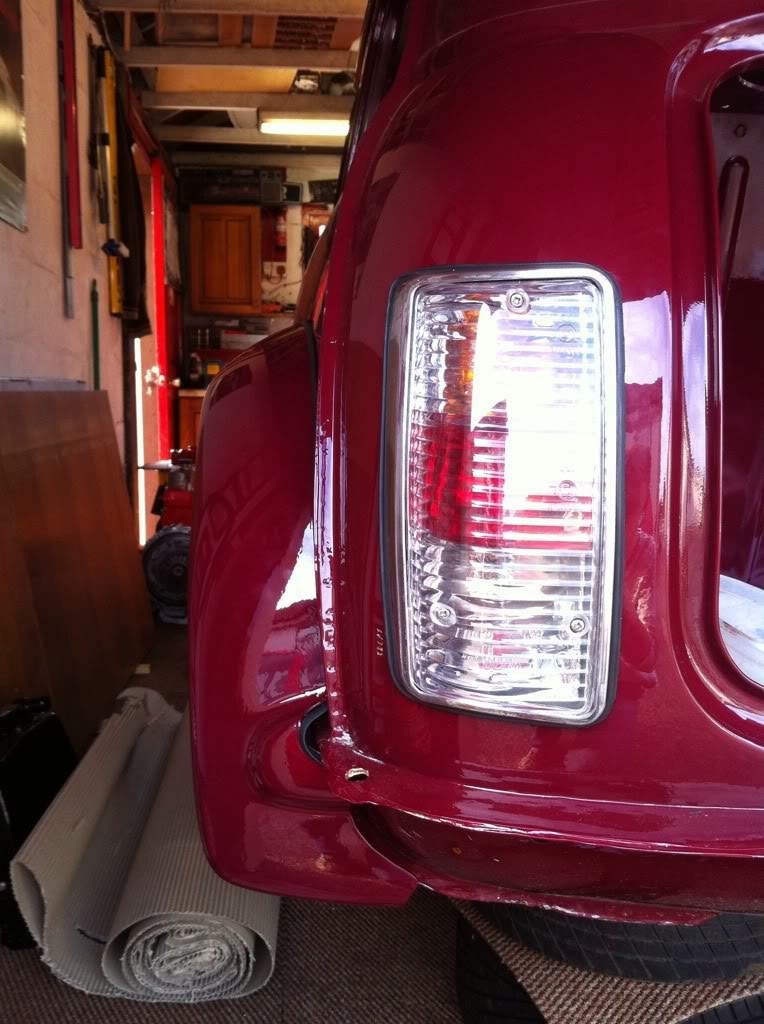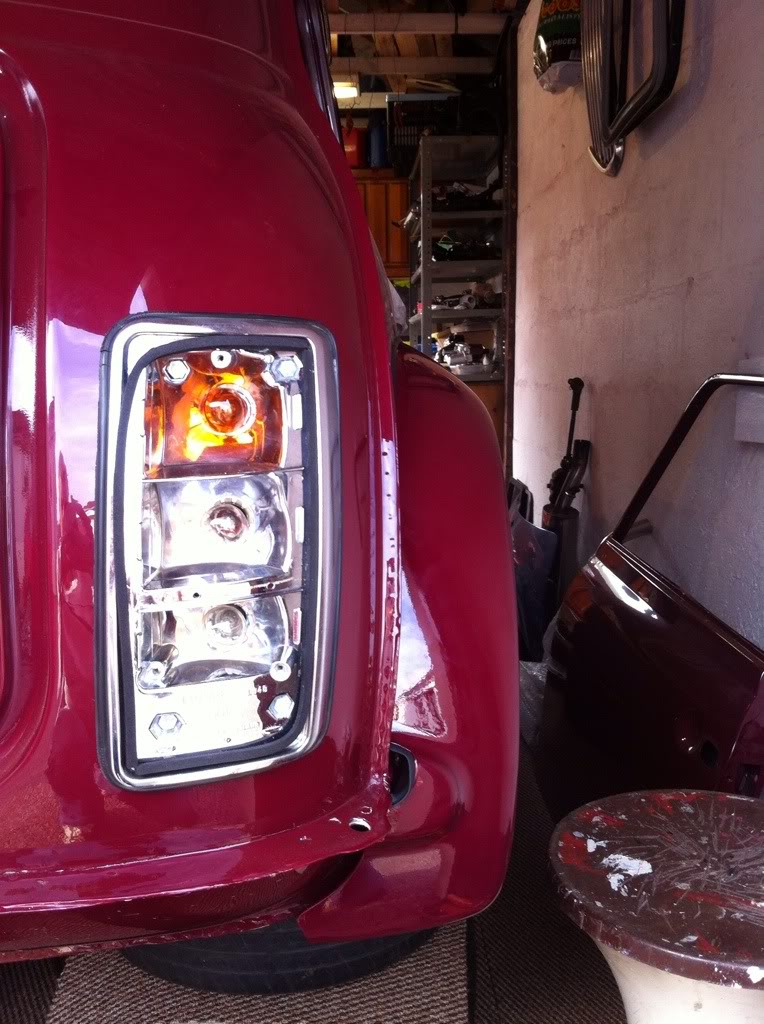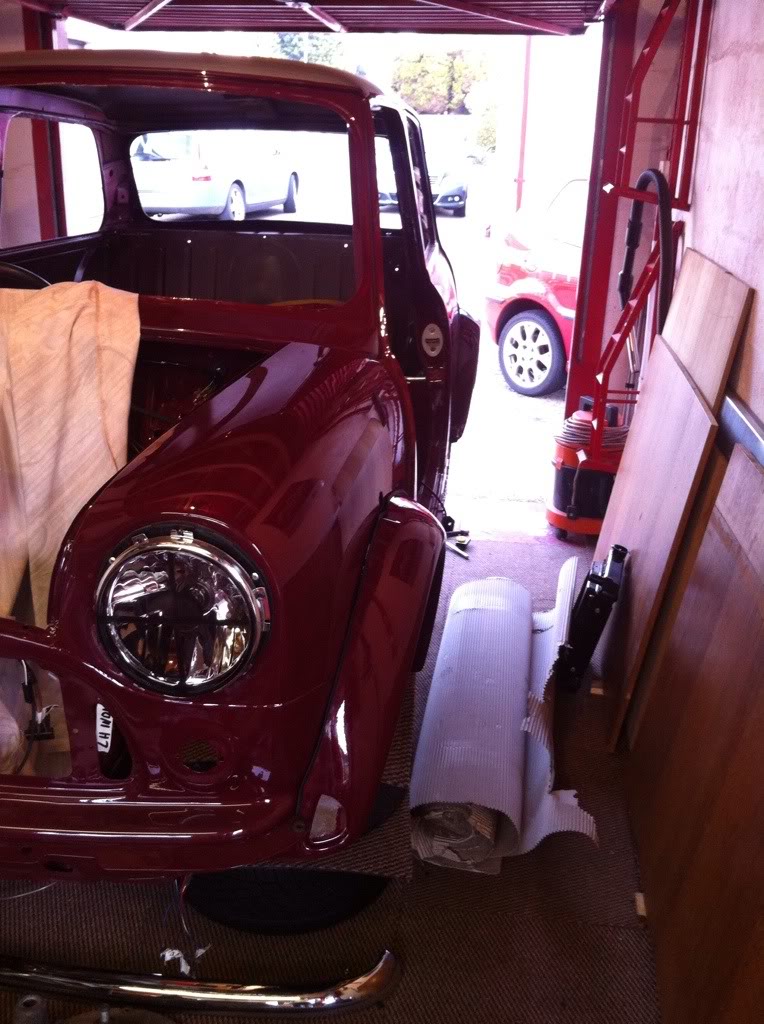 I also took the new electronic dizzy and gave it a clean up on the bench wheel.

Before....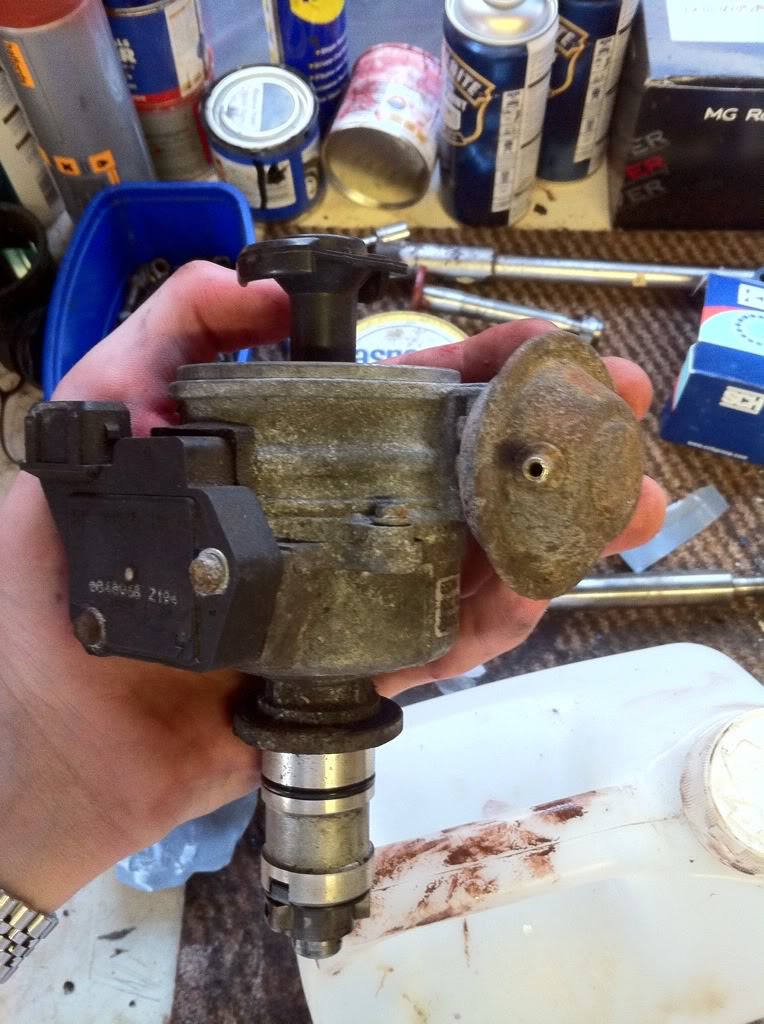 After....before I go and paint it silver to protect the finish from going horrible again.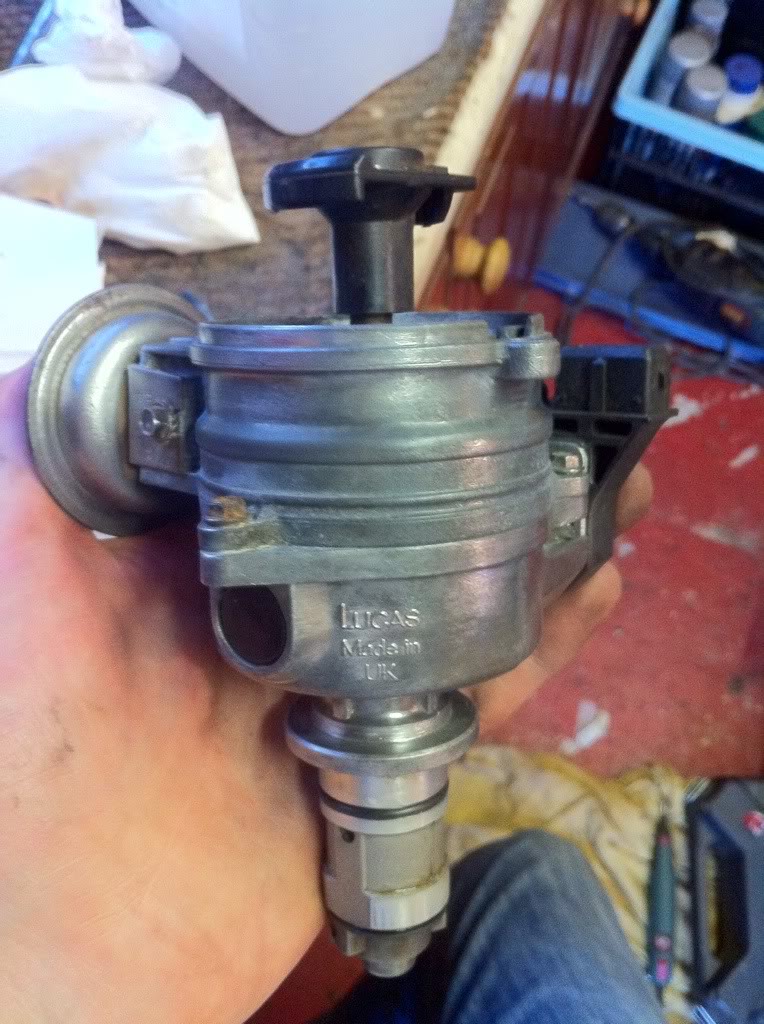 Then I took my new rocker cover and repainted it. Hd done it in red but it needs to contrast with the block. So I took a can of Rover Charcoal Grey that is used on my best Mini mates Mini. Ties the two cars together very subtly I think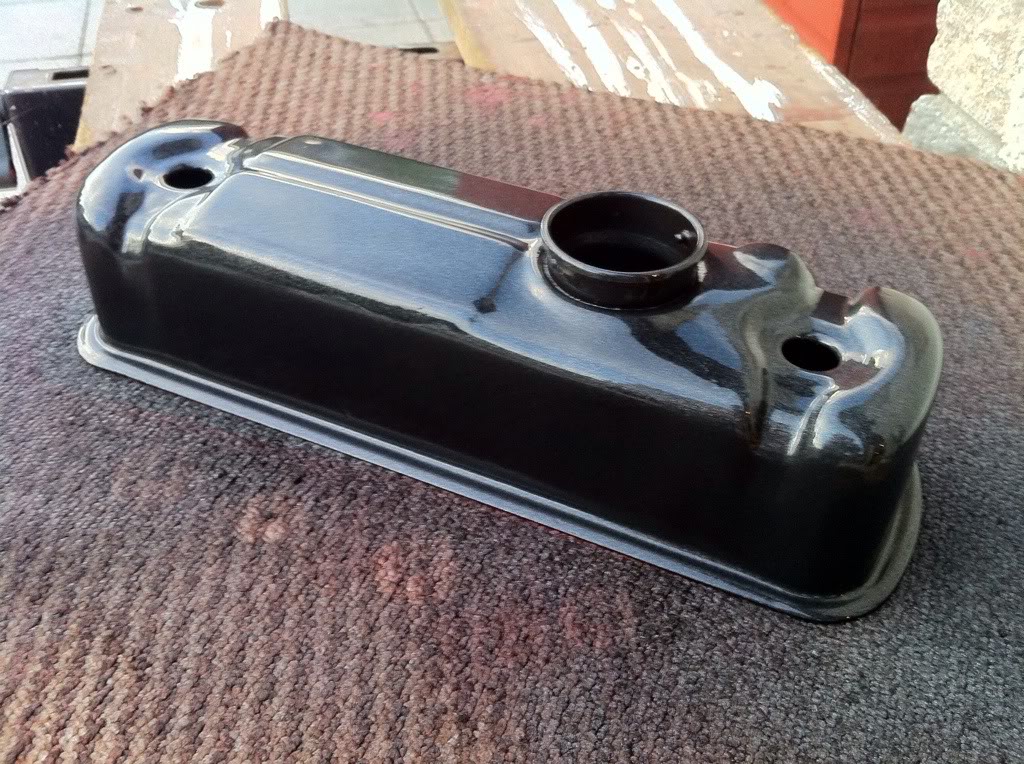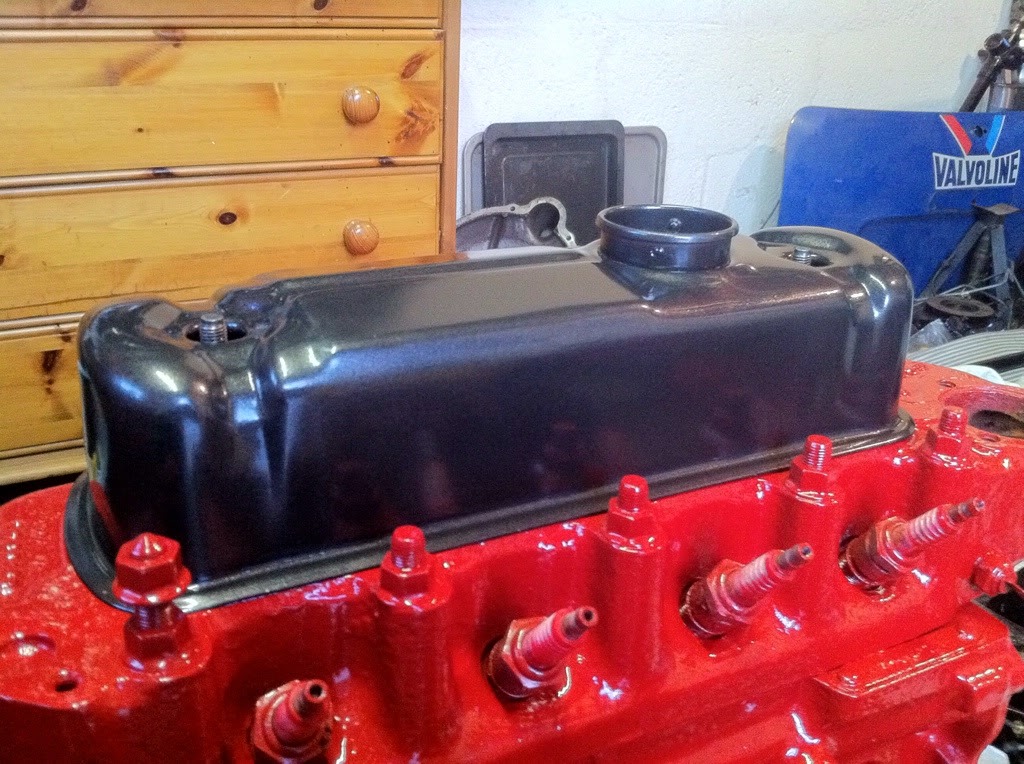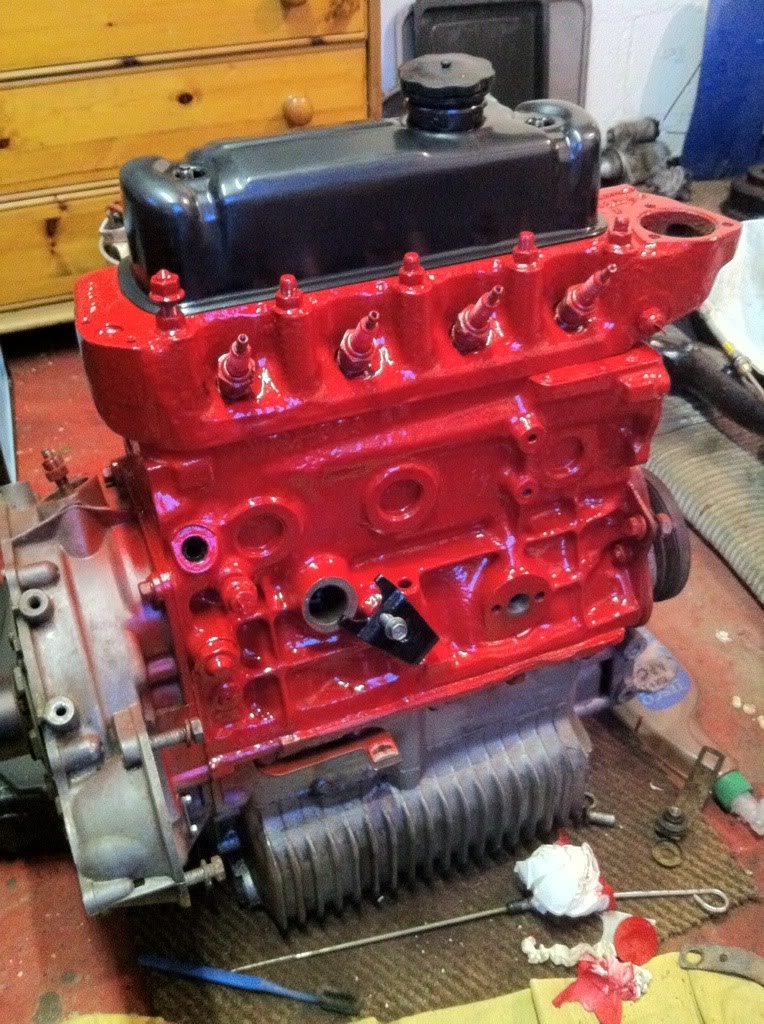 It still needs lacquer and a polish up but its a beautiful colour when its finished.

Tomorrow Im going to buy loads of silver paint to do all the cast pieces on the block and ancillaries. Then the engine will be ready to go onto the frame and into the car. Also going to buy black paint for the rear frame so its got some good protection on it for the future. Once its done I can finally get the car rolling again then its full steam ahead for MOT! I can see the light at the end of the tunnel now....
5-23-2012
Went to get a few more bits from Phil at Kirkton. Nothing major really....just some body seams....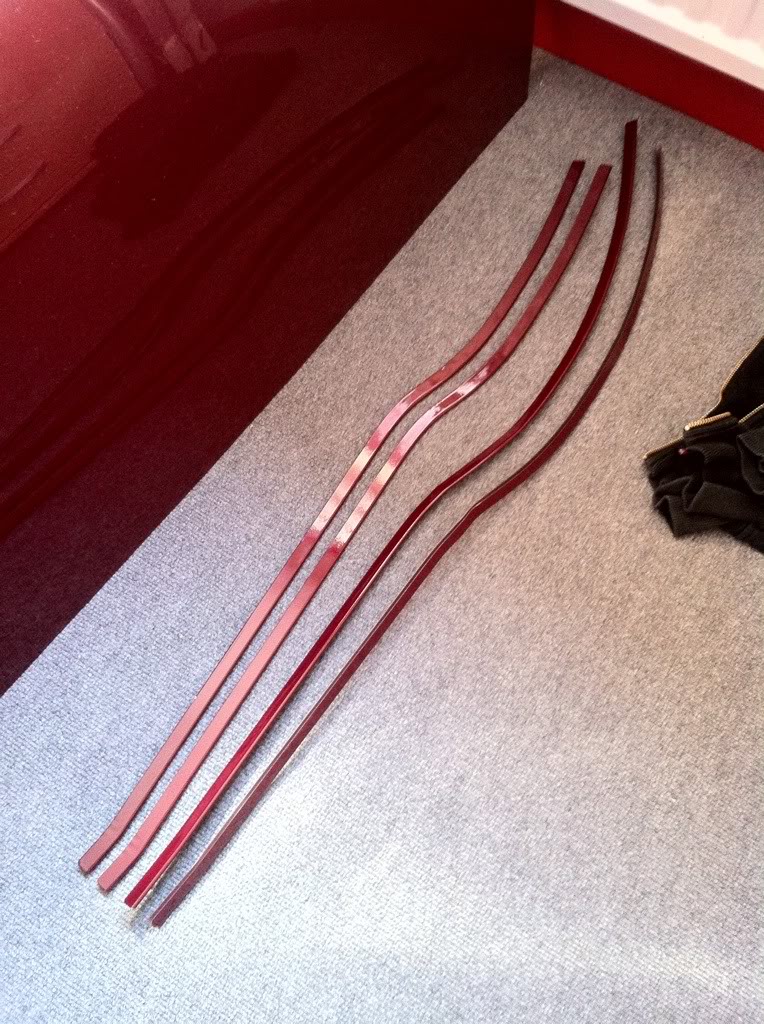 Oh and a boot lid as well.....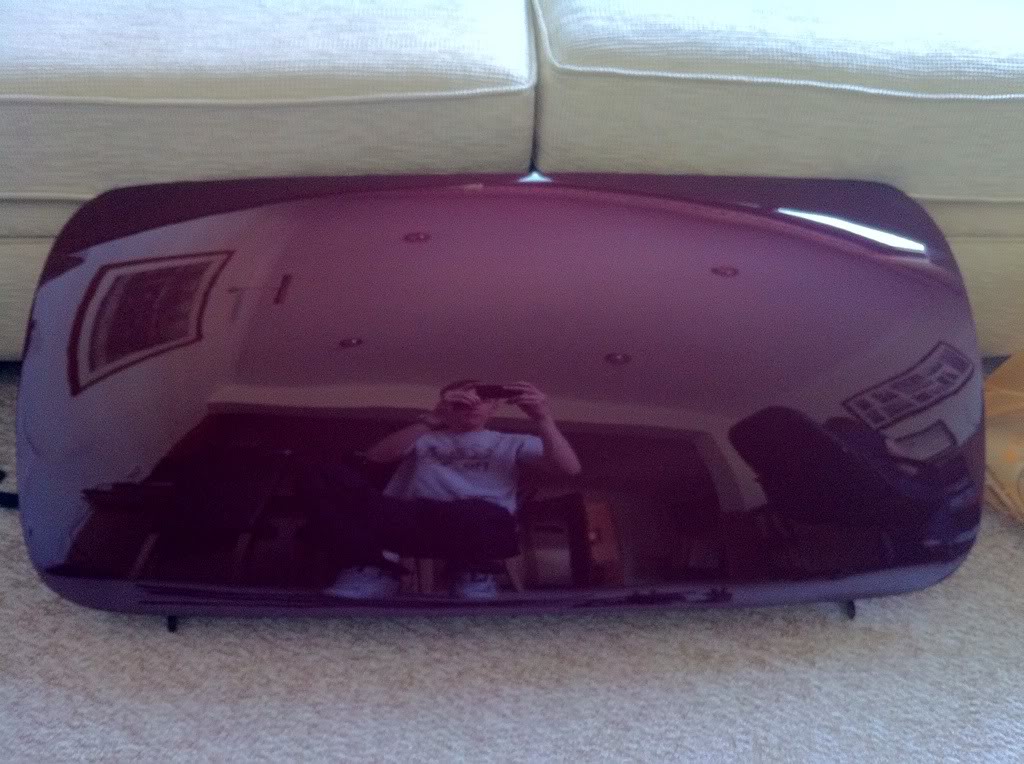 IT IS EPIC! Stunned at the finish and smoothness of this metal lid. Fit will be bang on as a result and the depth of the paint is just crazy. Beyond happy with it!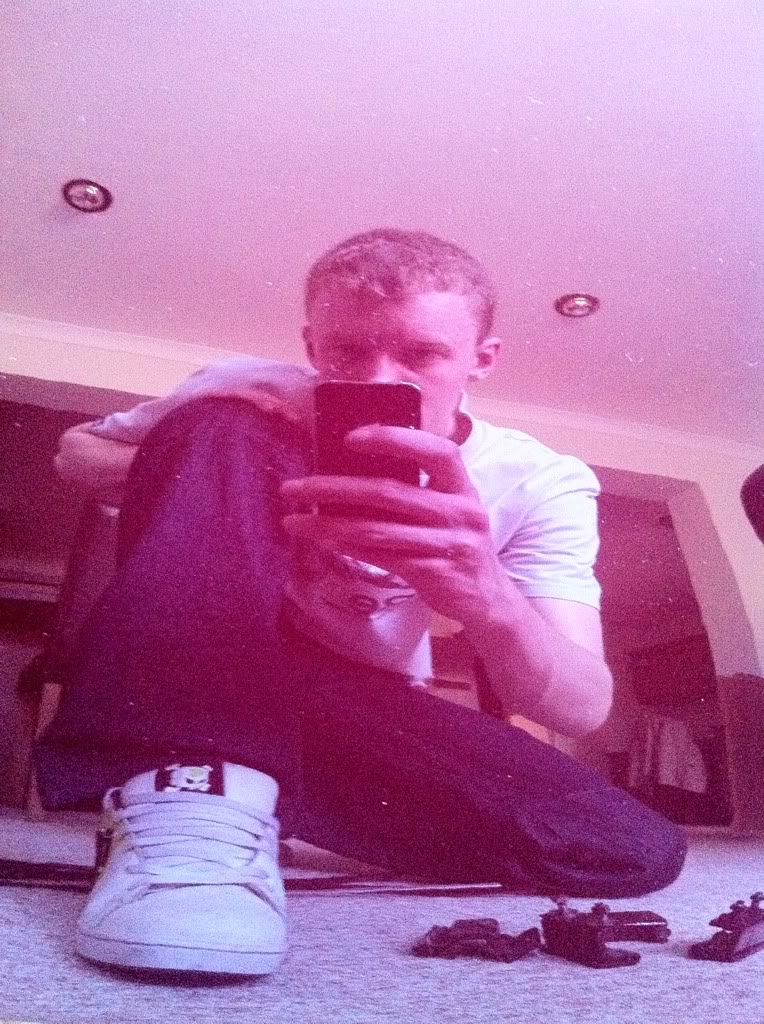 Heres the sort of shine its got. Mental and absolutely no distortion whatsoever.


didn't get any work done but tomorrow Im off work, as is my dad so I plan to go and get bolts for the rear subframe and then get it reassembled ready for fitting sometime next week.
5-24-2012
Will have to use that quote sometime

My cars not shiny, its provocative!

Thanks!





Well today I got some bolts from Grampian Fasteners for the rear subframe. Brilliant place with every bolt known to man. Brilliant service too. Spent best part of 15mins finding about 8 bolts for me



Once I was home most of the day was spent respraying stuff after I had stripped it all and cleaned it. Paint took minutes to dry in the sun today where it hit 25oC at one point!

Mainly engine stuff, all in Rover Quicksilver or gloss black. Silver got loads of clear lacquer too get the shine up too.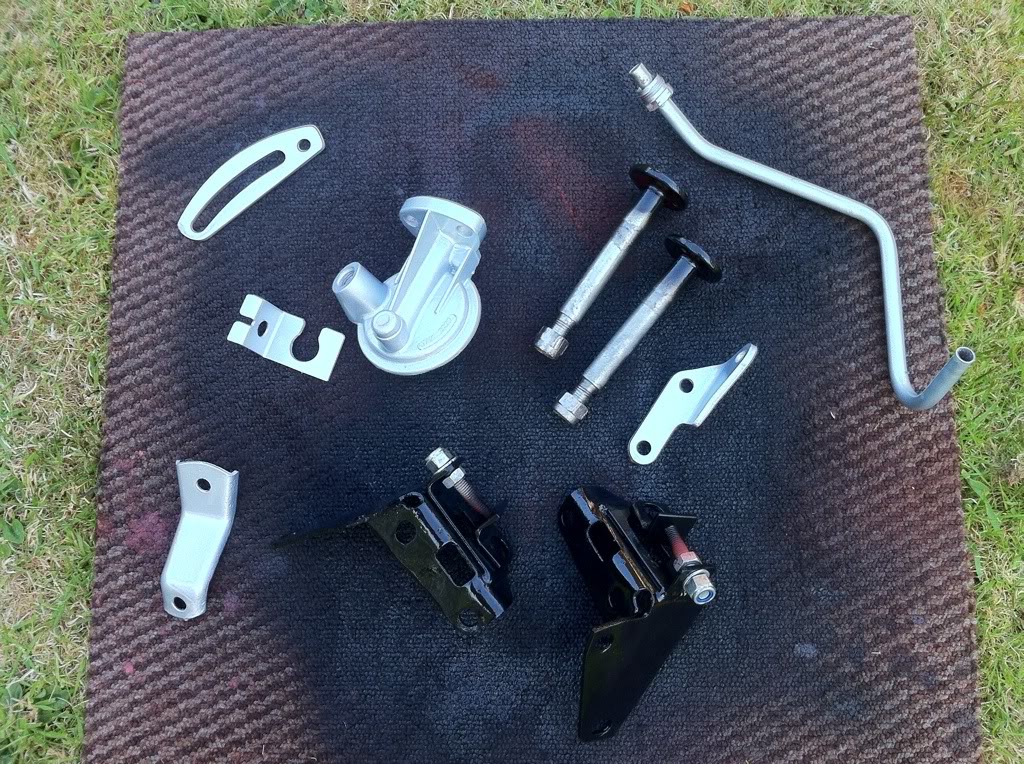 Also spent most of the day in the sun sipping on champagne as its my parents anniversary today. Not a bad way to spend a day off!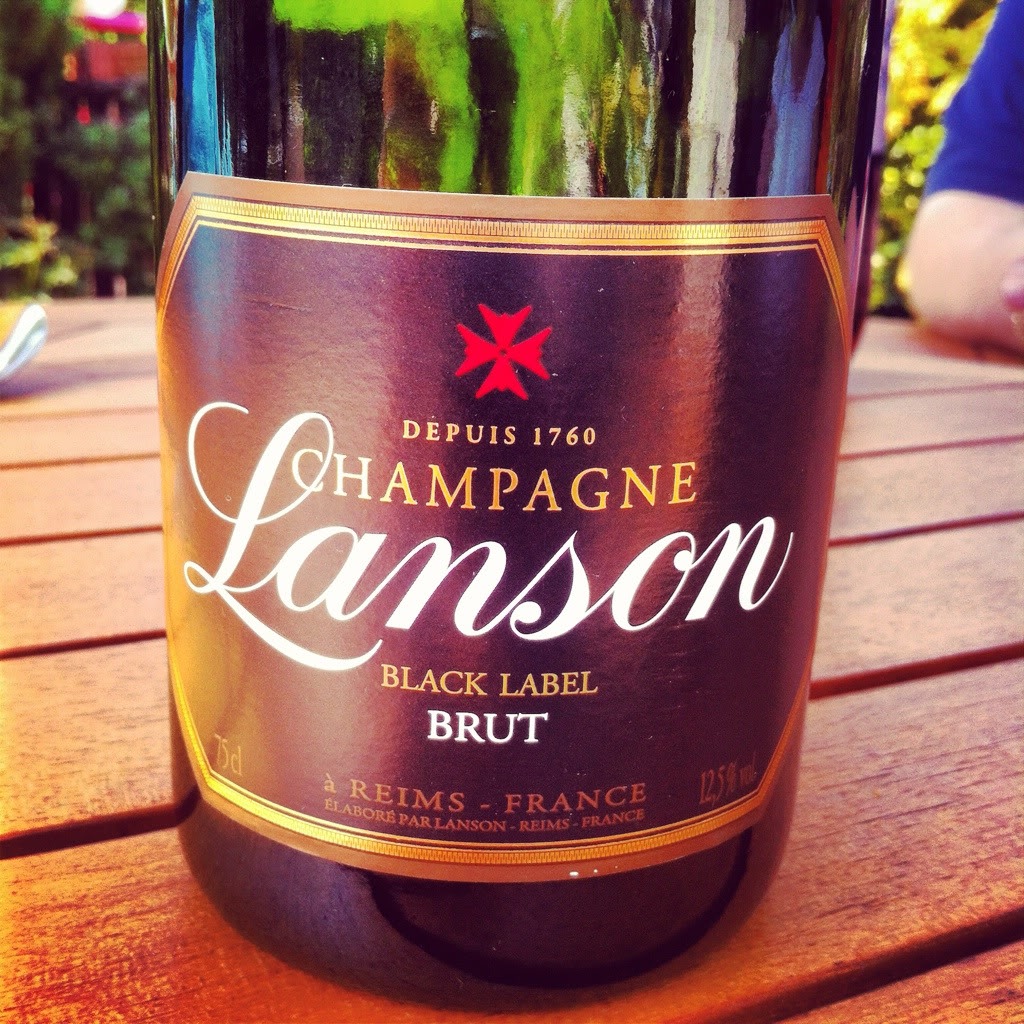 And I also rubbed down my new subframe as the paint is just to prevent it from corroding in transit/storage. Then gave it a coat of gloss black paint. Used a whole 500ml can for the first coat so I need to get more.....finish isn't too bad for rattle cans but its just for rust prevention not show/concourse.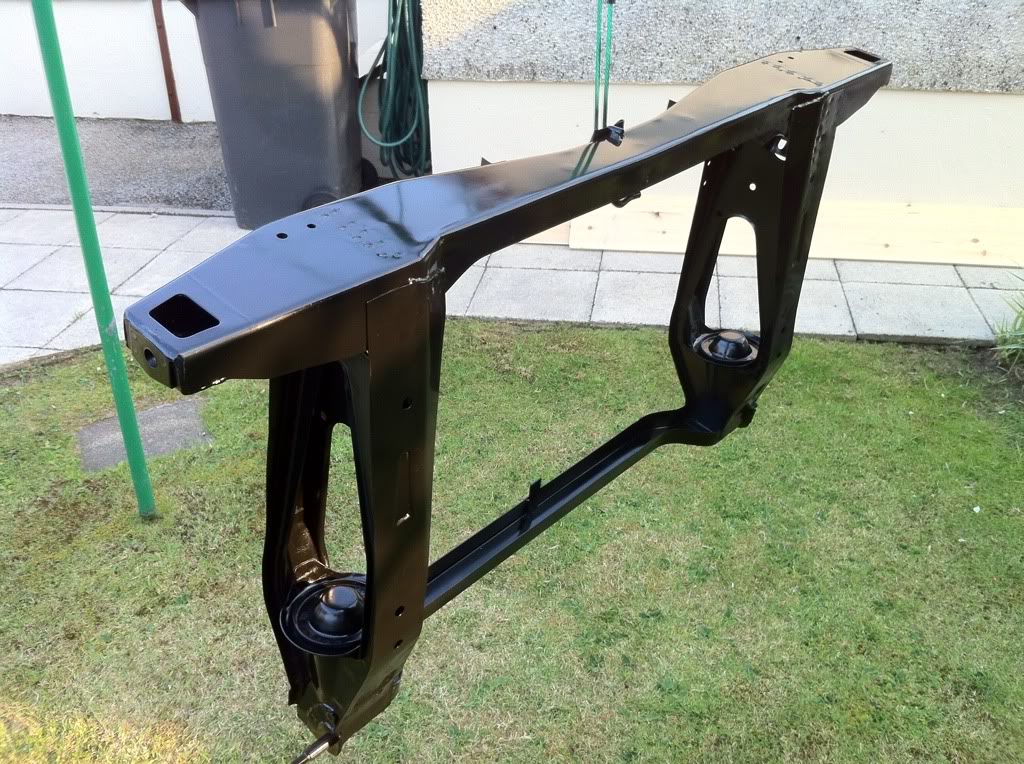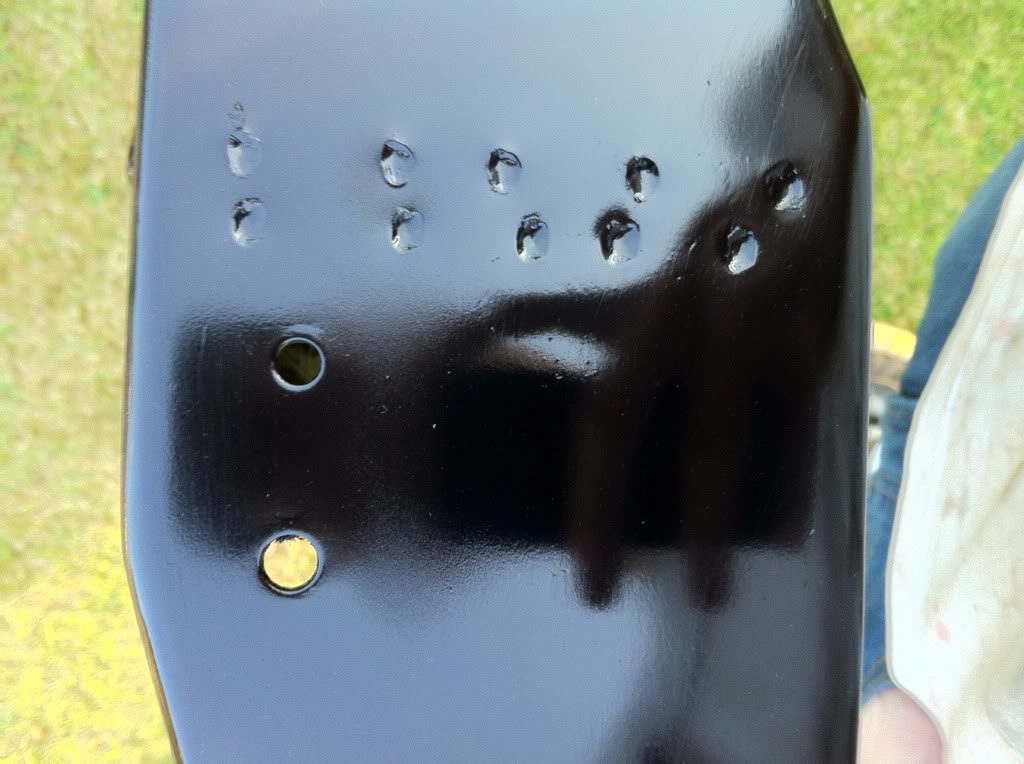 Working next couple days but Im off Sunday again so hope to get the frame all done and dusted ready to go in sometime mid week.
5-26-2012
I got paid yesterday! So thats 4 different orders from 4 different suppliers completed!

Silent Coat sound deadening
Silver Anodised billet alloy bonnet hinges and reservoir plate (look amazing!)
Front door window stainless trim
Red anodised rocker cover t-bars
Rear subframe trunion pins (old ones had badly worn threads, not ideal on a critical safety part!)
Electronic dizzy to loom converter cable (1275 uses electronic dizzy so utilising it for reliability!)

So all that should be here by mid week hopefully. This SHOULD be the last parts I need to get it back on the road which means I can then start saving for a Honda Integra Type R to replace my daily Poslow with

5-29-2012
All but one of my orders arrived today. No surprise in it being MiniSpares. Last two orders have been a total shambles with deliveries.

However the parts are all ace!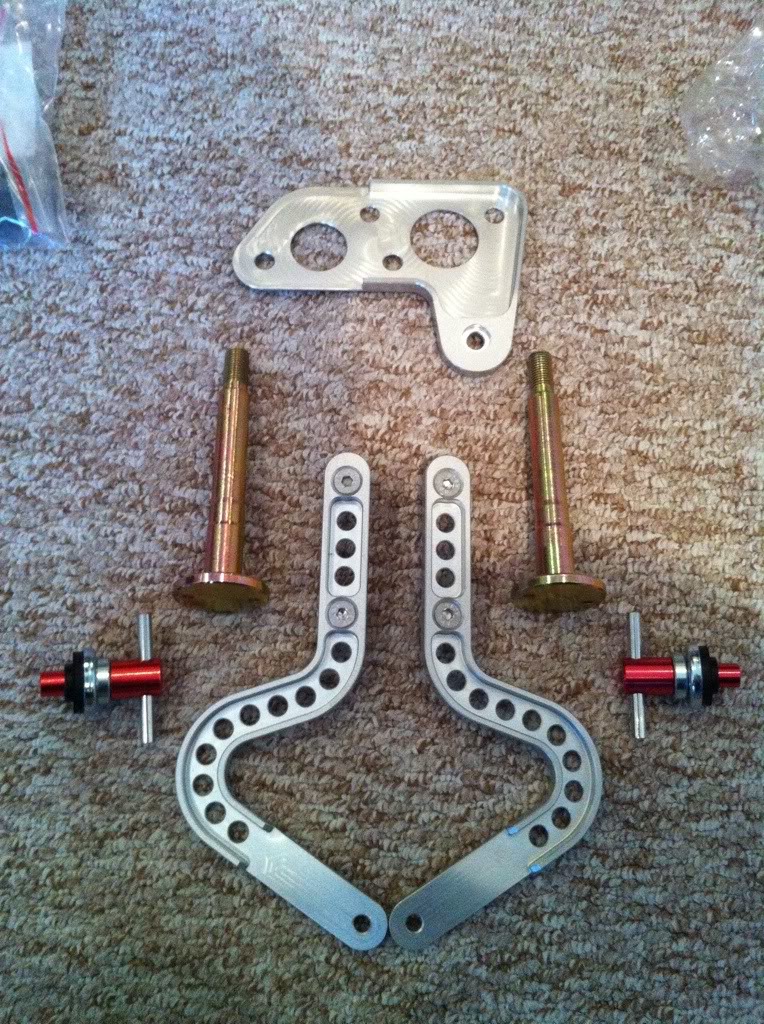 Here we have DSN Retrosport bonnet hinges (super light anodised alloy), DSN Retrosport master cylinder/engine steady base plate (again light anodised alloy) rear subframe trunions (for mounting frame to car), rocker cover T bars for quick removal without tools and also a conversion lead to change to electronic ignition.

I also got sound deadening to go in before carpets etc. SilentCoat which keeps heat out, cuts sound down and reduces vibrations. Pretty much Dynamat but 50% of the price......

Went for the bulk pack as it saved money and it covers a huge area.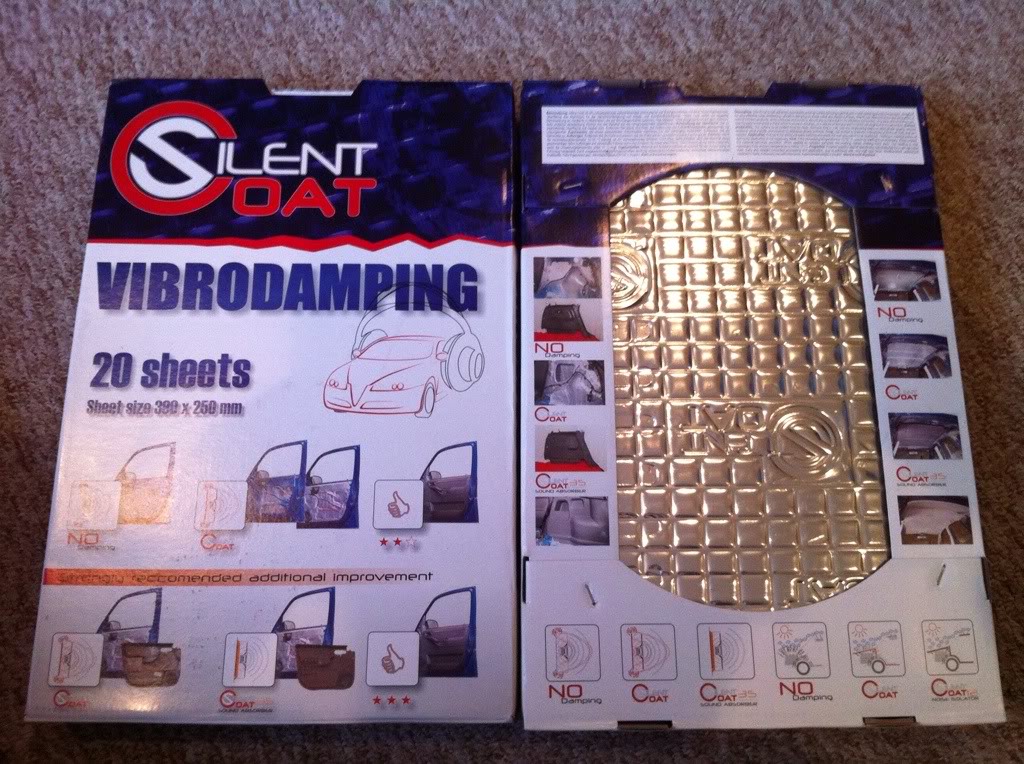 This is half of the whole pack. Brilliant!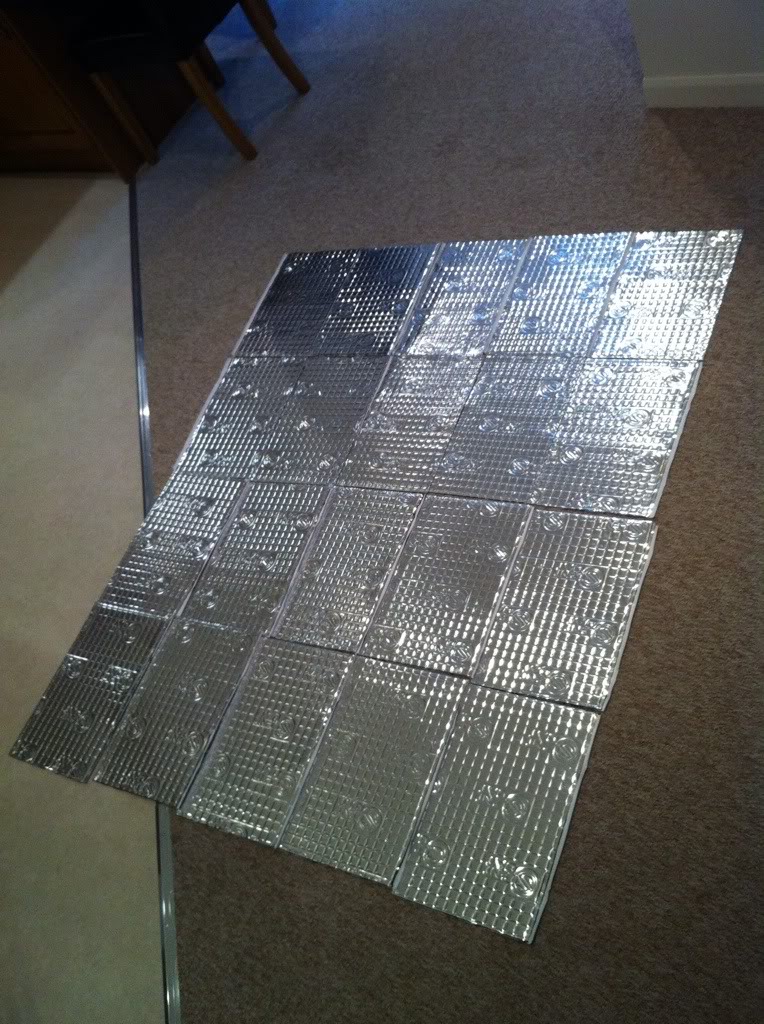 So seeing as it was still light I went and put the Tbars on and mocked up the hinges. They are going to look ace!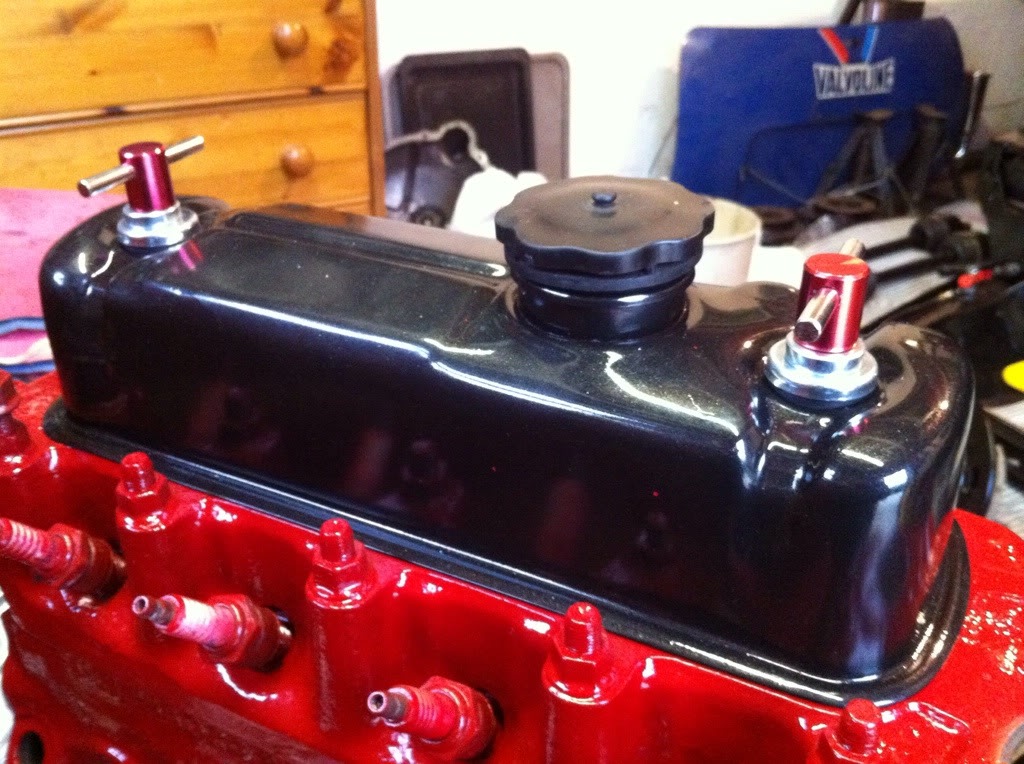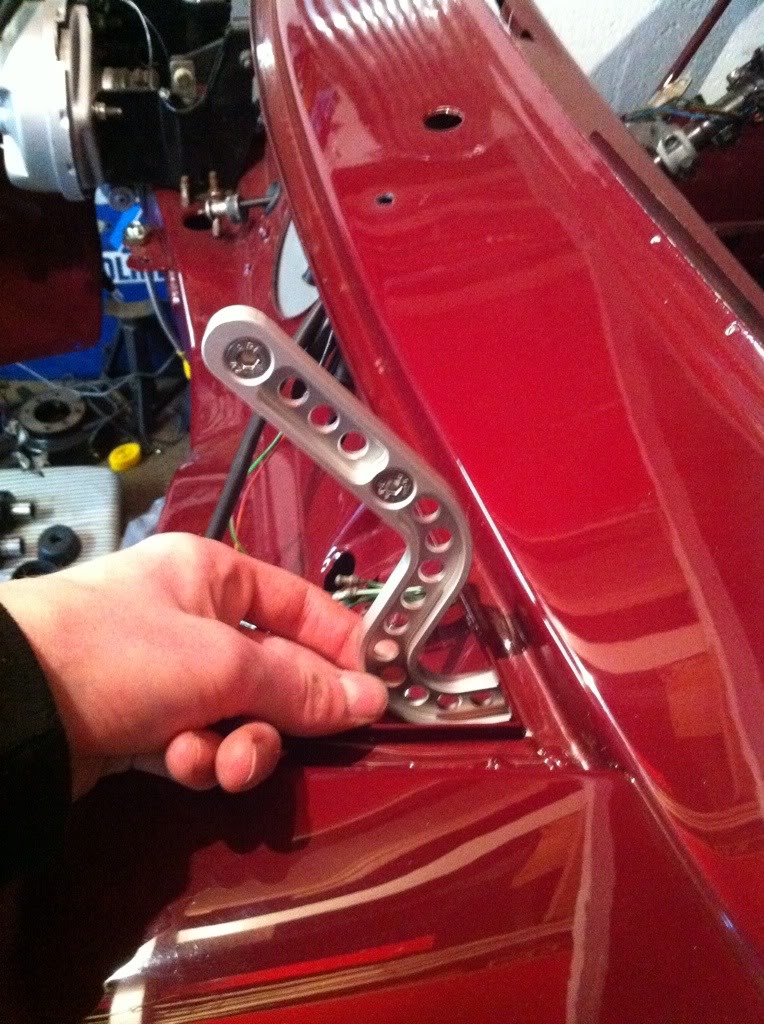 So tomorrow is my day off work so plan on getting the rear frame fully assembled and then get as many parts from today on as possible. Also going to phone MiniSpares to see whats going on with my order..........
5-30-2012
Day off today so got some more done. Main aim was to get the SilentCoat in ready for the rest of the interior/wiring. Its brilliant stuff! Very pliable and sticks really well even over highly complex surfaces.

Its easy to cut as well even with cheap scissors. Rolled it out with a small size wallpaper roller to get into the tight spaces. A very time consuming job but it looks great now! Used all the offcuts to cover the bulkhead seeing as lumps and bumps won't matter there.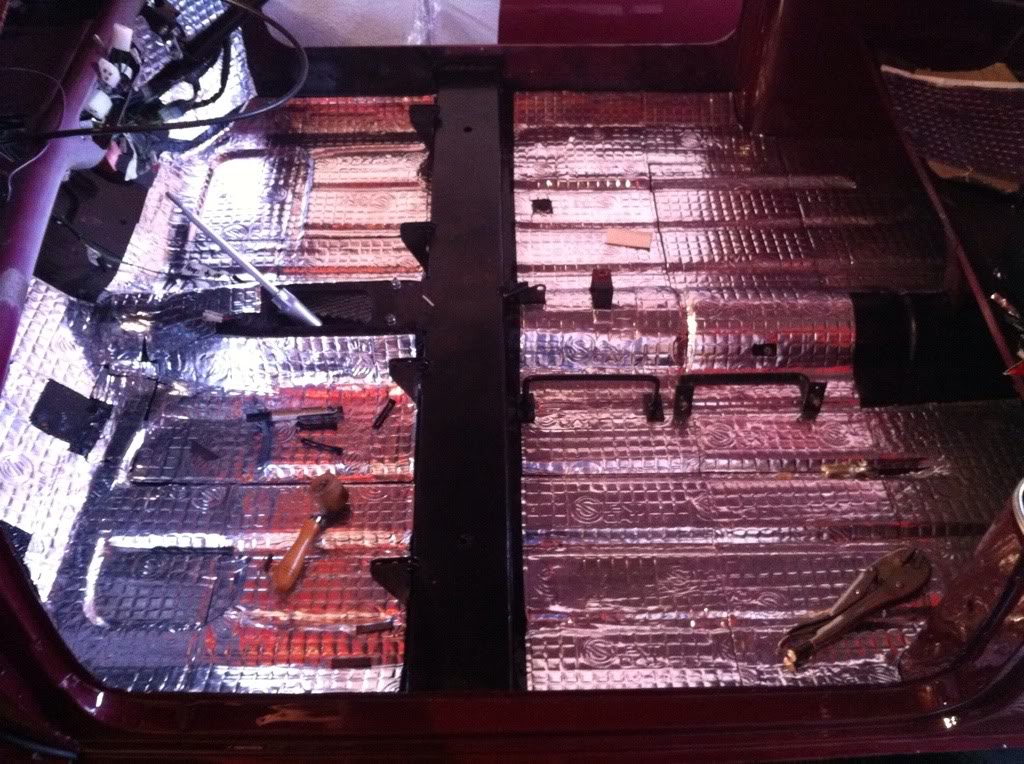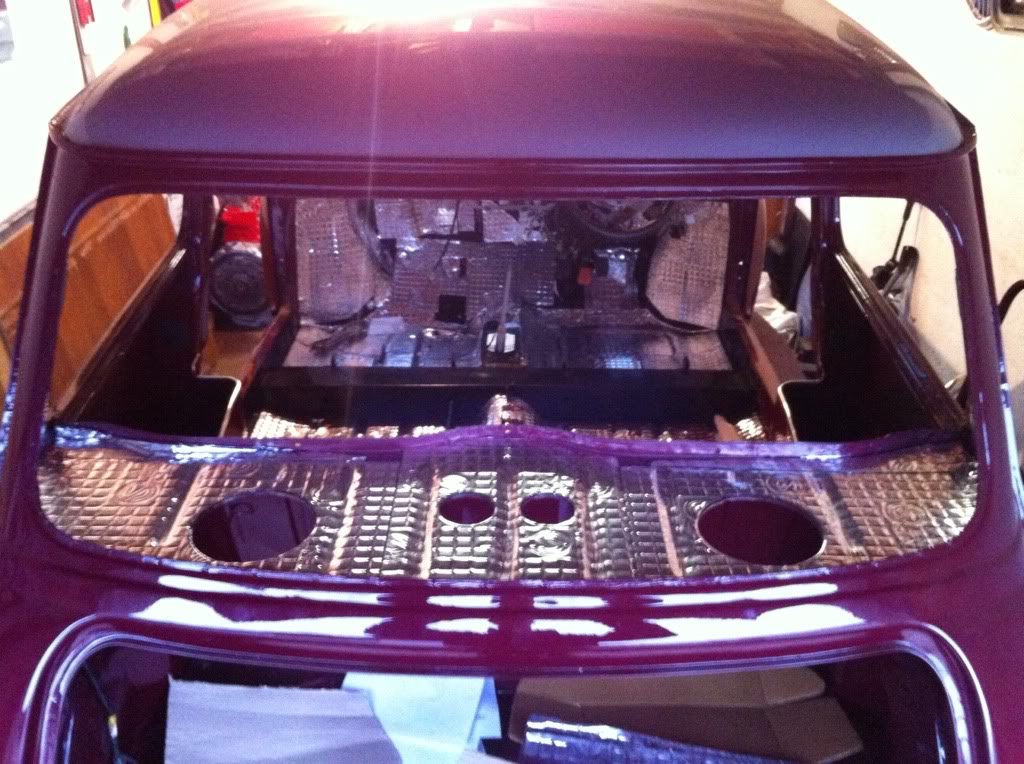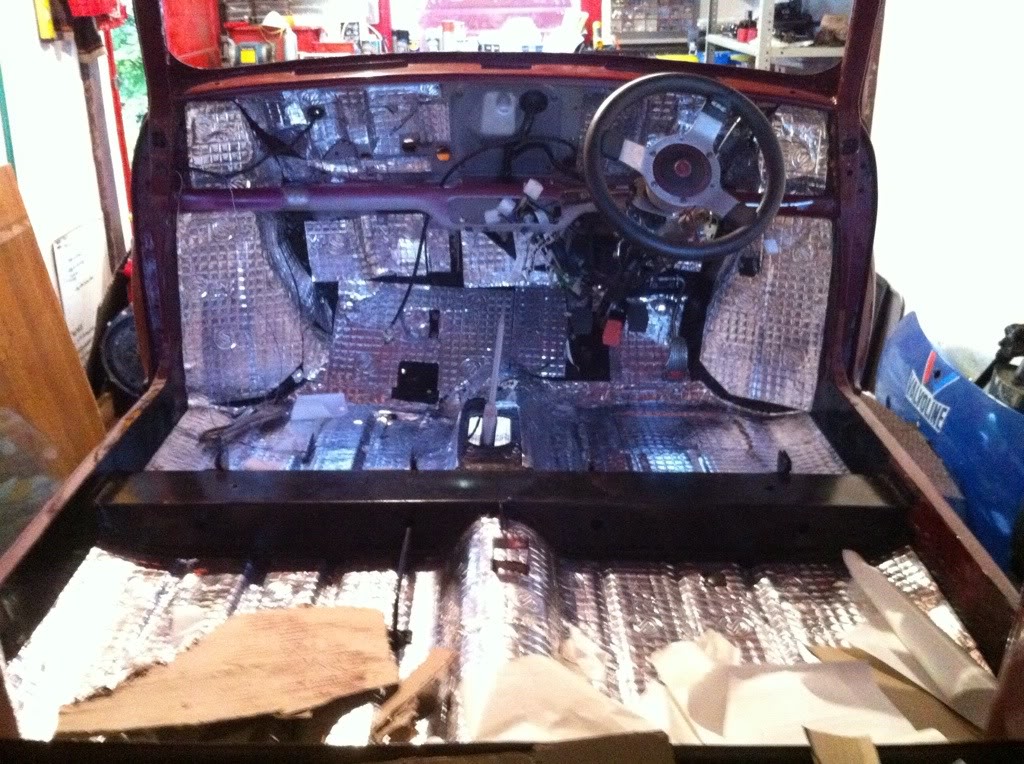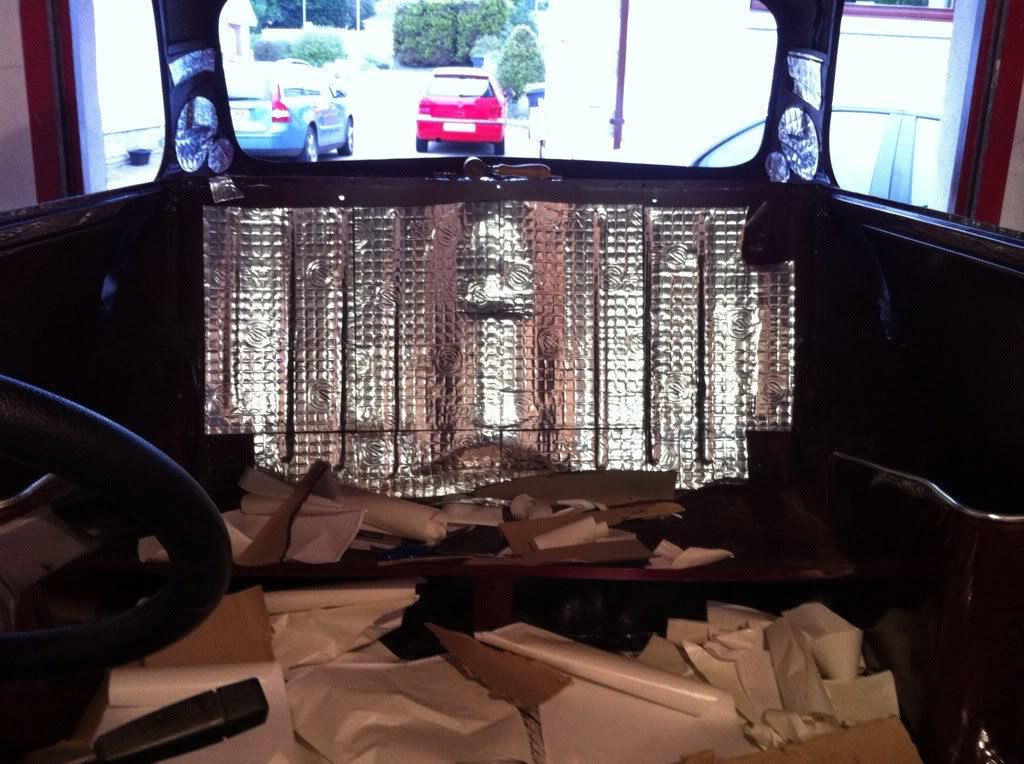 And a couple sheets in each door to give it a 'like a golf' slam just like the advert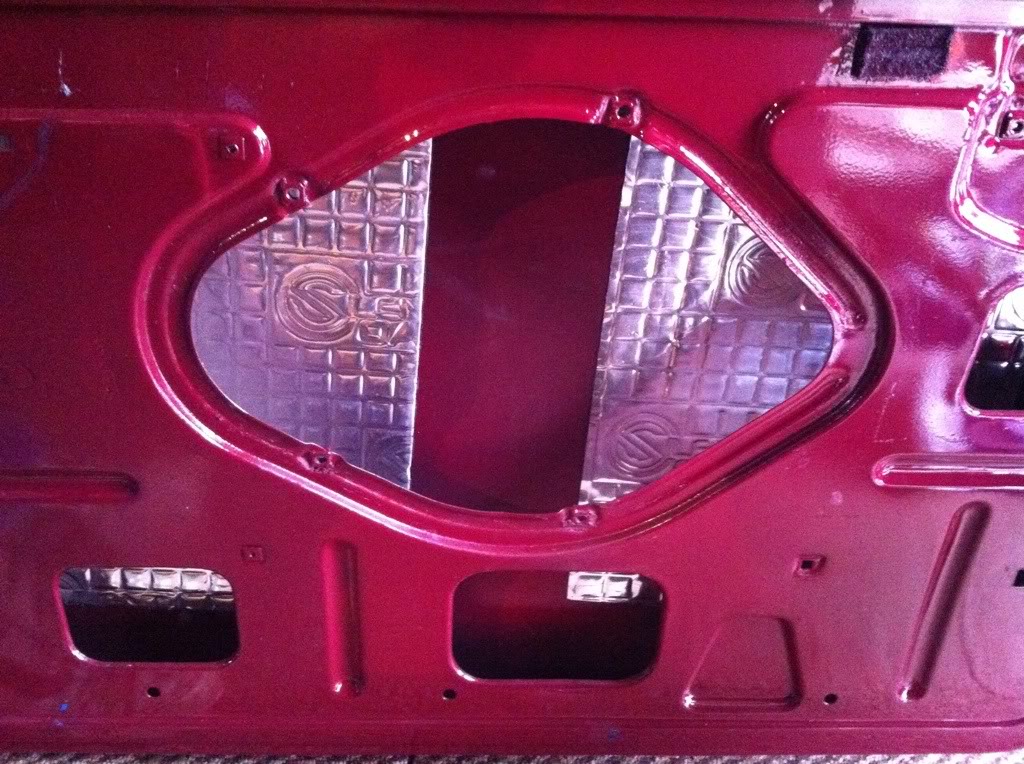 Even used my circles from the rear speakers on the C pillars!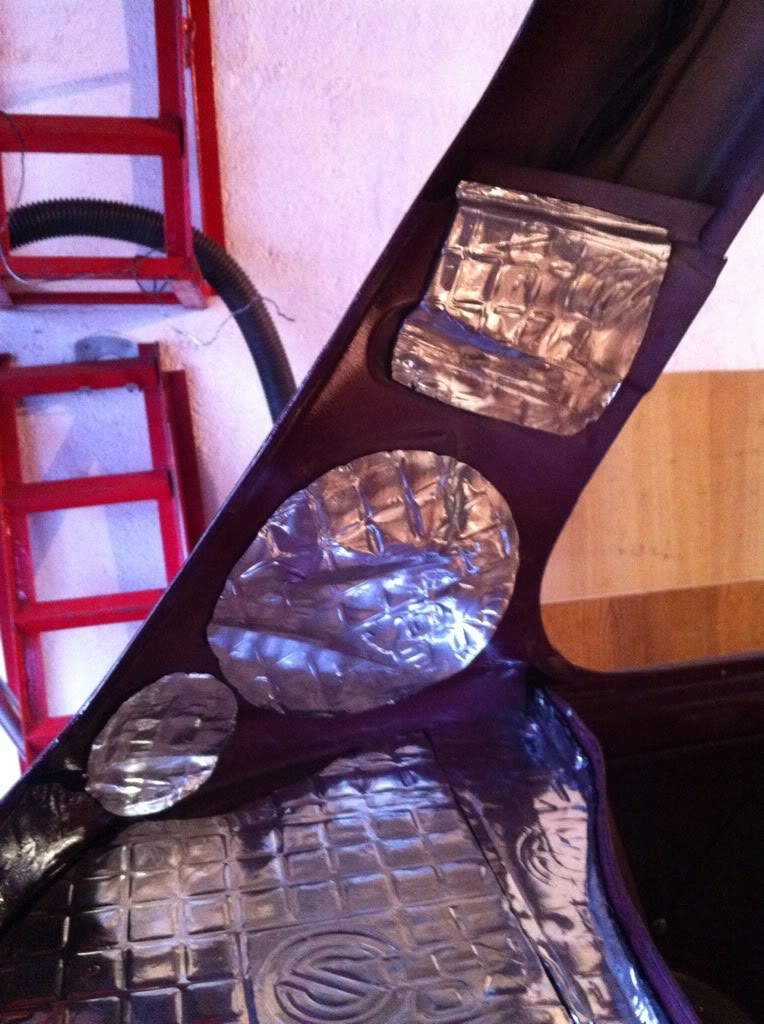 And I got my DSN plate installed too. So thats the servo in place for good!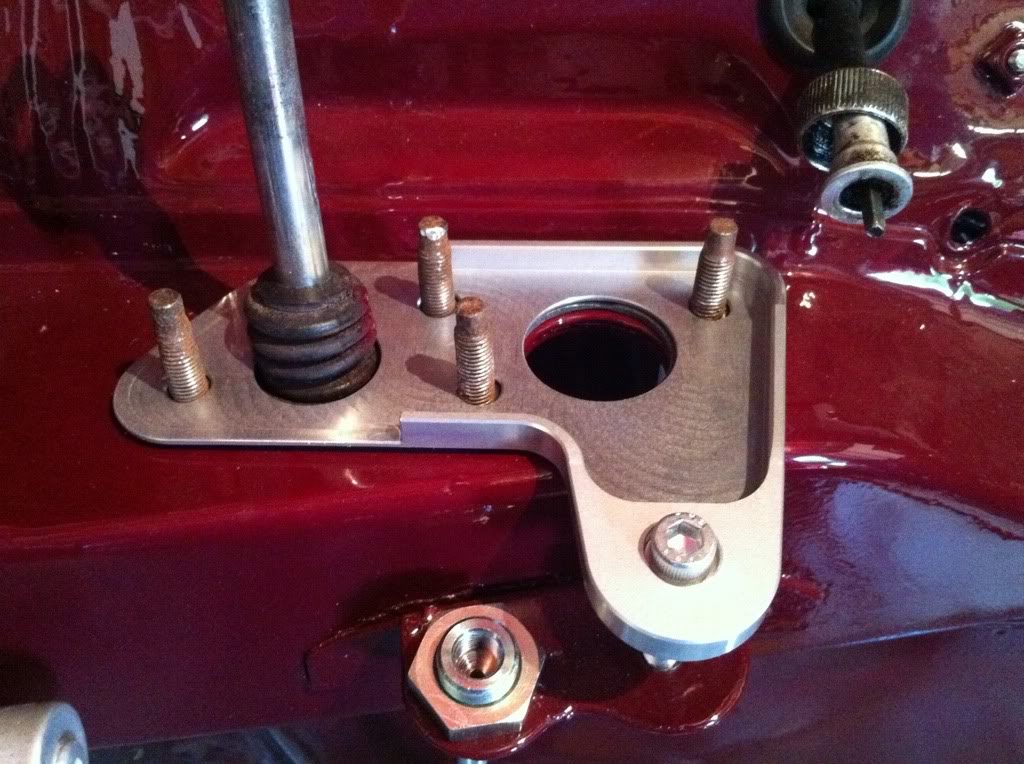 Along with the bonnet hinges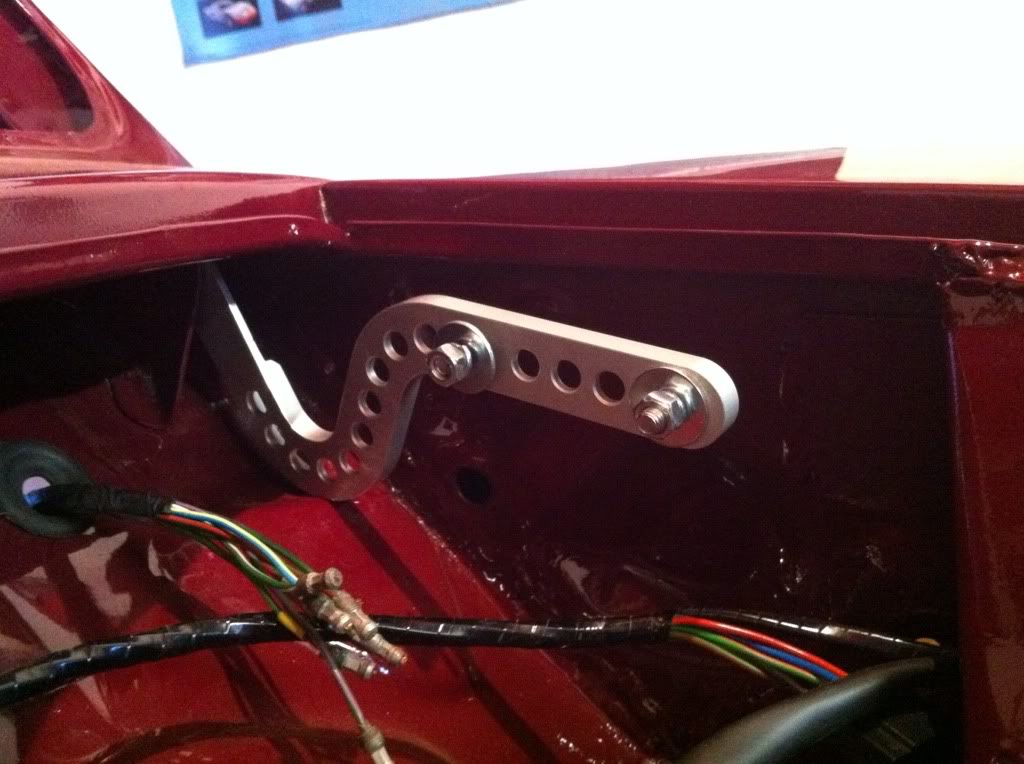 I also got one side of my rear subframe built up but need another bolt for the other side.....Friday is my early day at work so will pick one up from Grampian Fasteners on my way home. No pics of this though!
6-2-2012
Finished work at 2 yesterday so nipped out to Grampian Fasteners for some more bolts to get the subframe done.

Then got to work! Was a fiddly job trying to get some bolts to line up with the adjustable camber brackets but we got there. Brake lines took a while too as we have never done any before but ended up not too bad!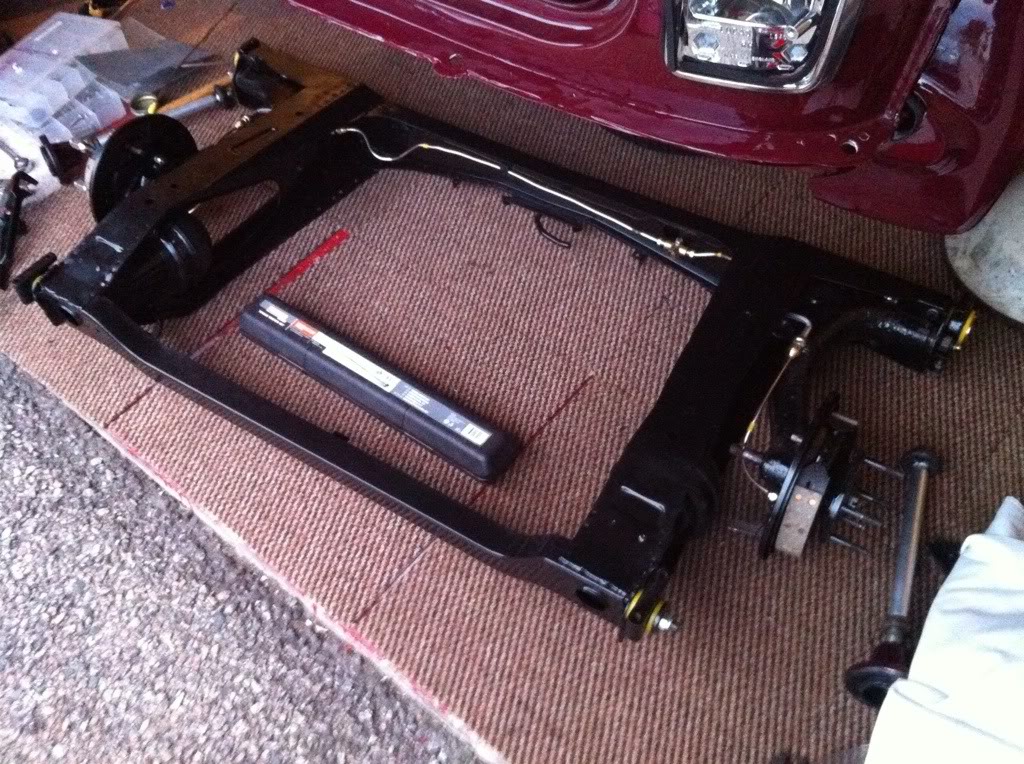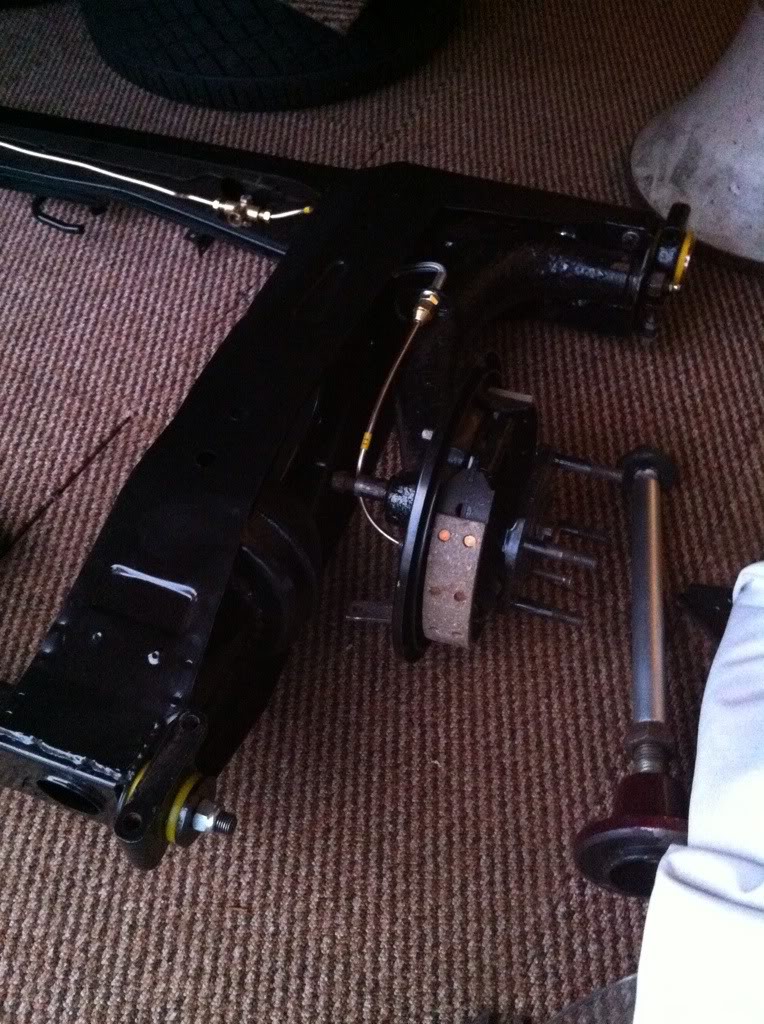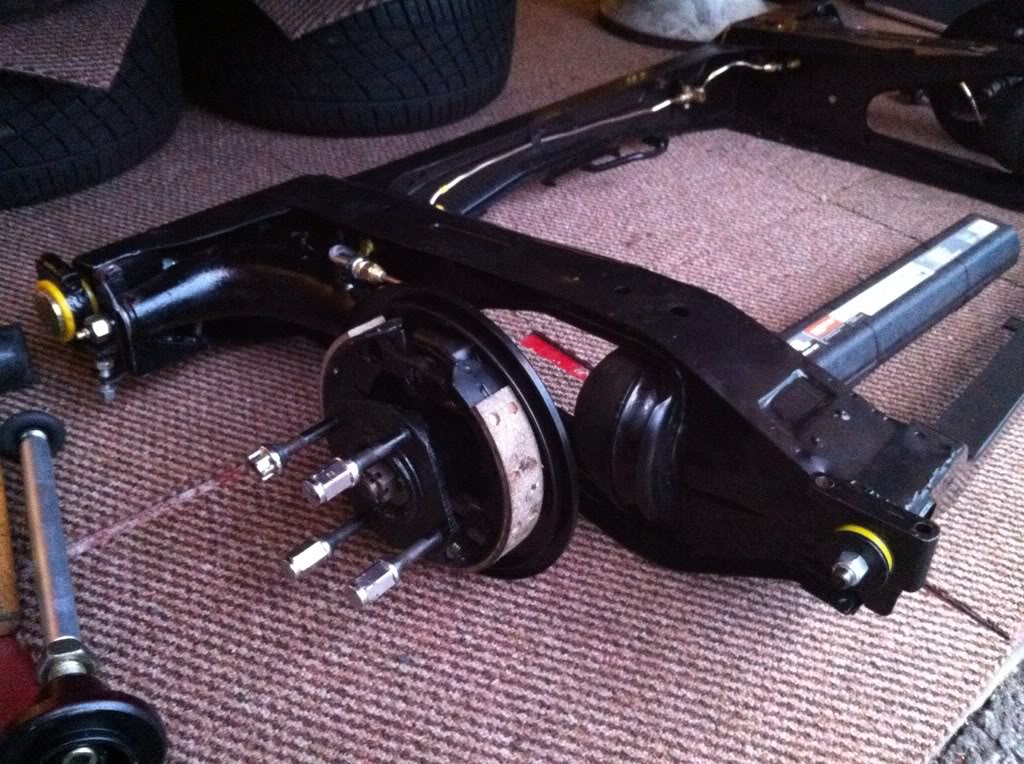 And its now ready to install tonight once I get home from doing a photoshoot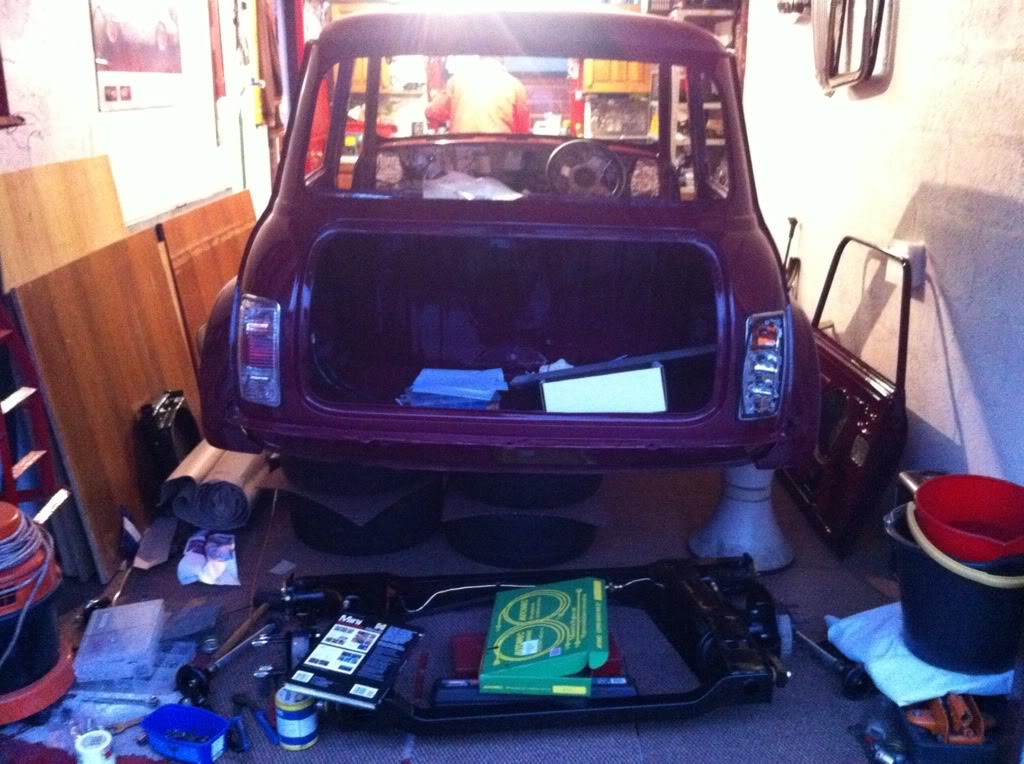 Also got these in the post the other day but forgot to put a pic up.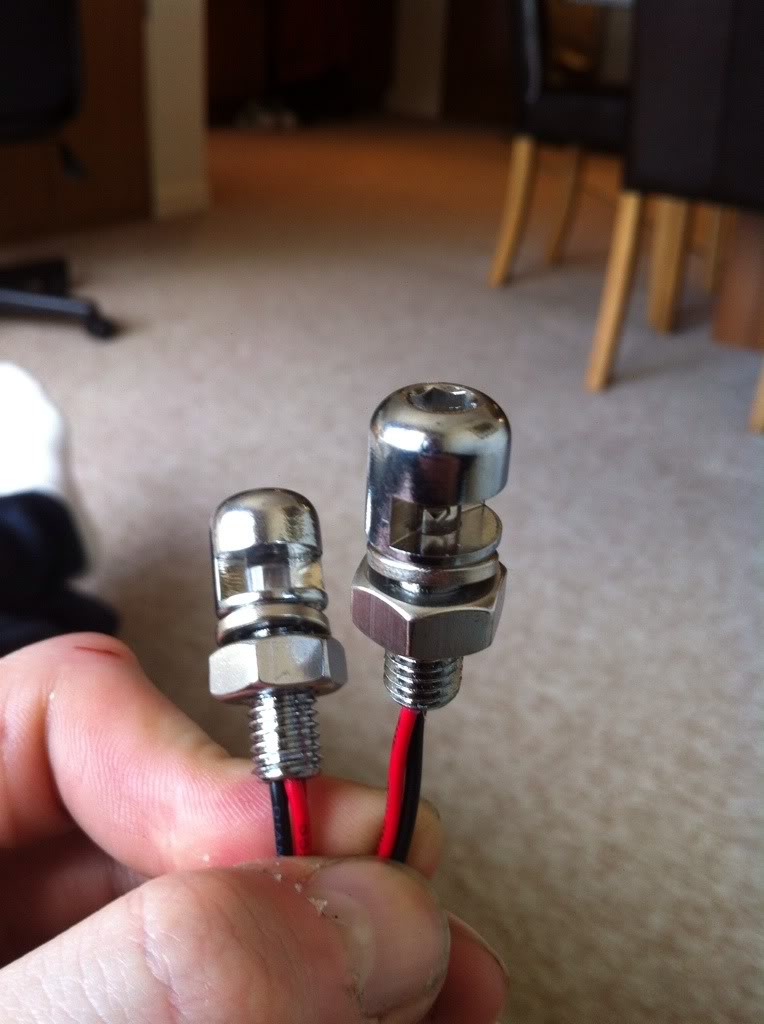 LED bolts for the number plate. Going to use them to mount the plate and also illuminate it. Cheap eBay purchase so who knows what they will be like.....

And today I got some door mouldings. Brilliant finish on them and should stop leaky door windows!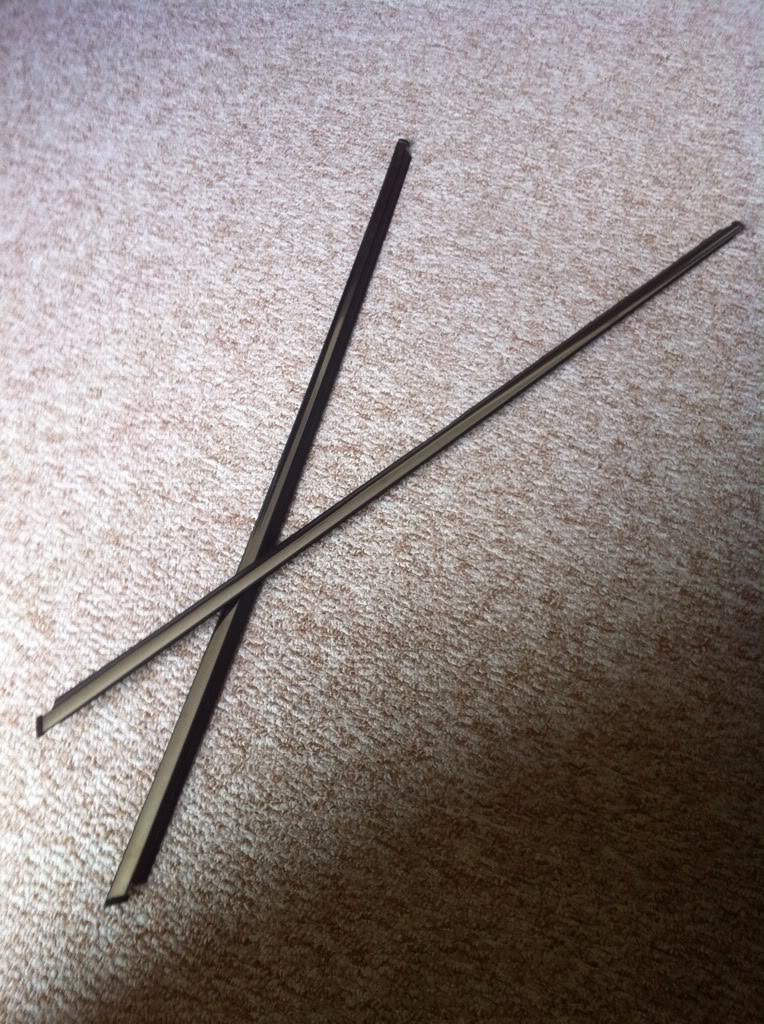 6-6-2012
Day off couple days ago. Had an epic lie in after the Thistle Run the day before. So in the afternoon and evening I got going. Waited for my dad to get the major part done so got on with a few odds and ends.

Firstly, polished up my exhaust again as it had lost its sheen sitting doing nothing.

Was like this....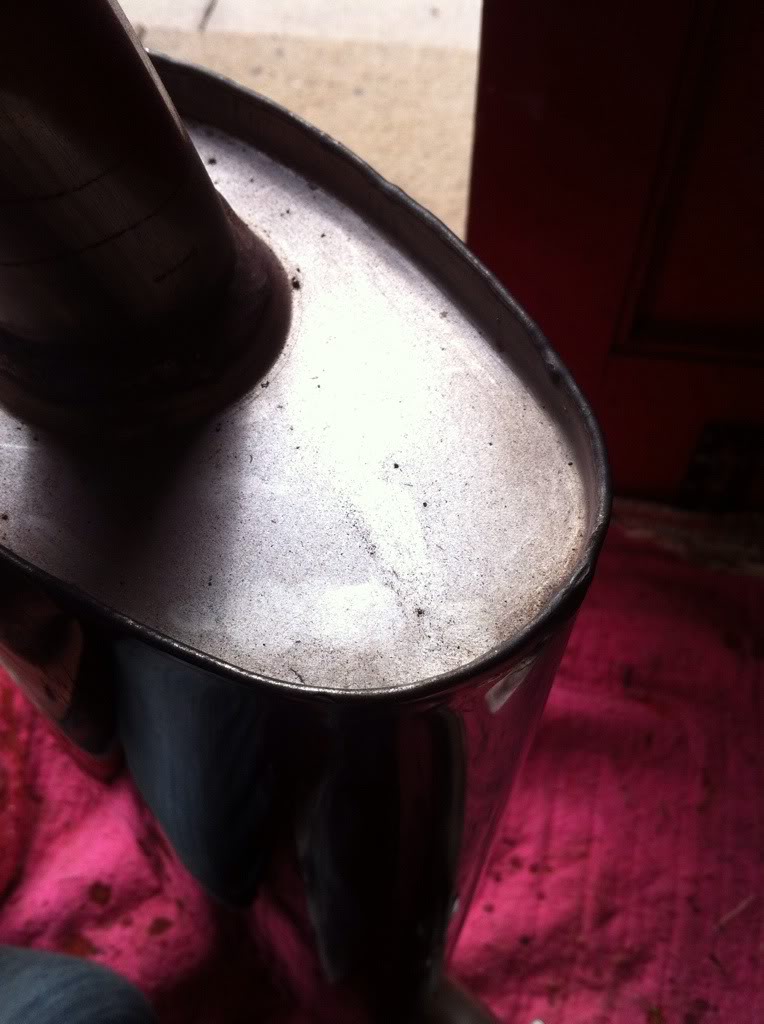 Ended up with this! One stupidly clean PlayMini Twin exit Supersport. Stupidly inefficient but it looks cool and it sounds nice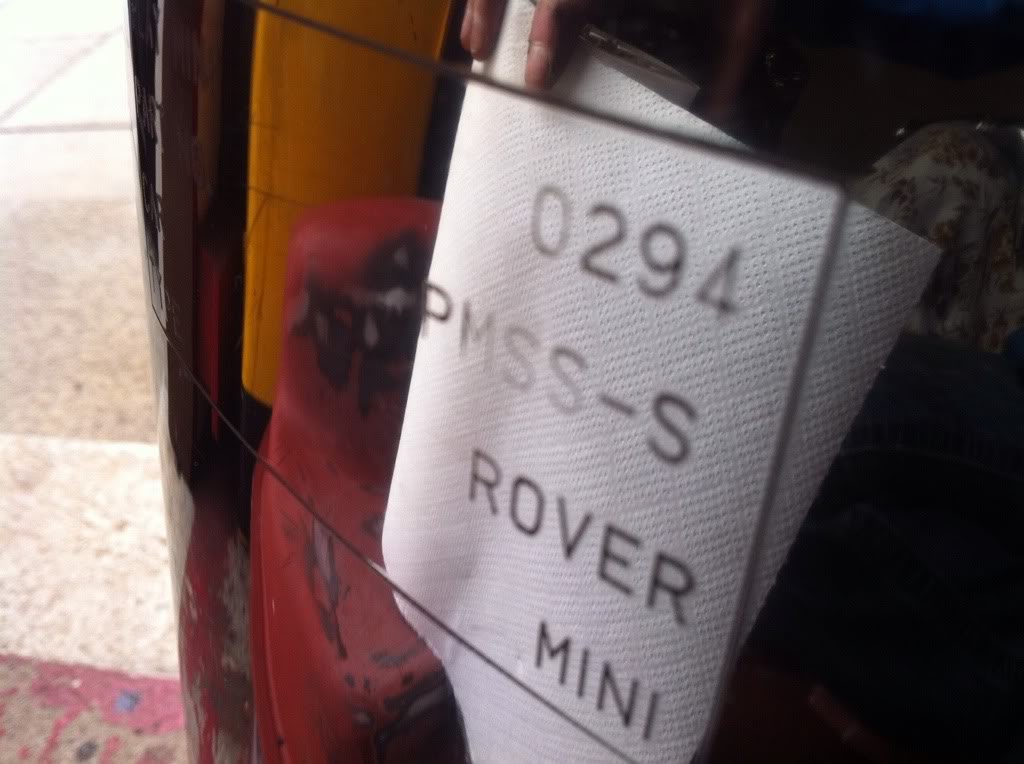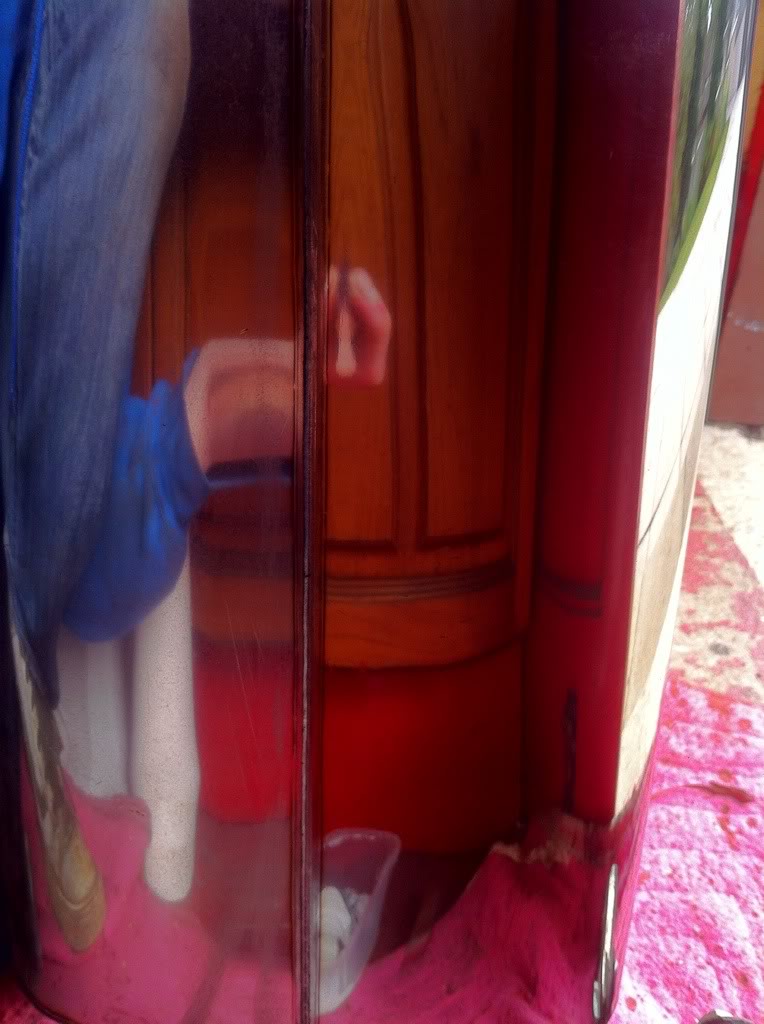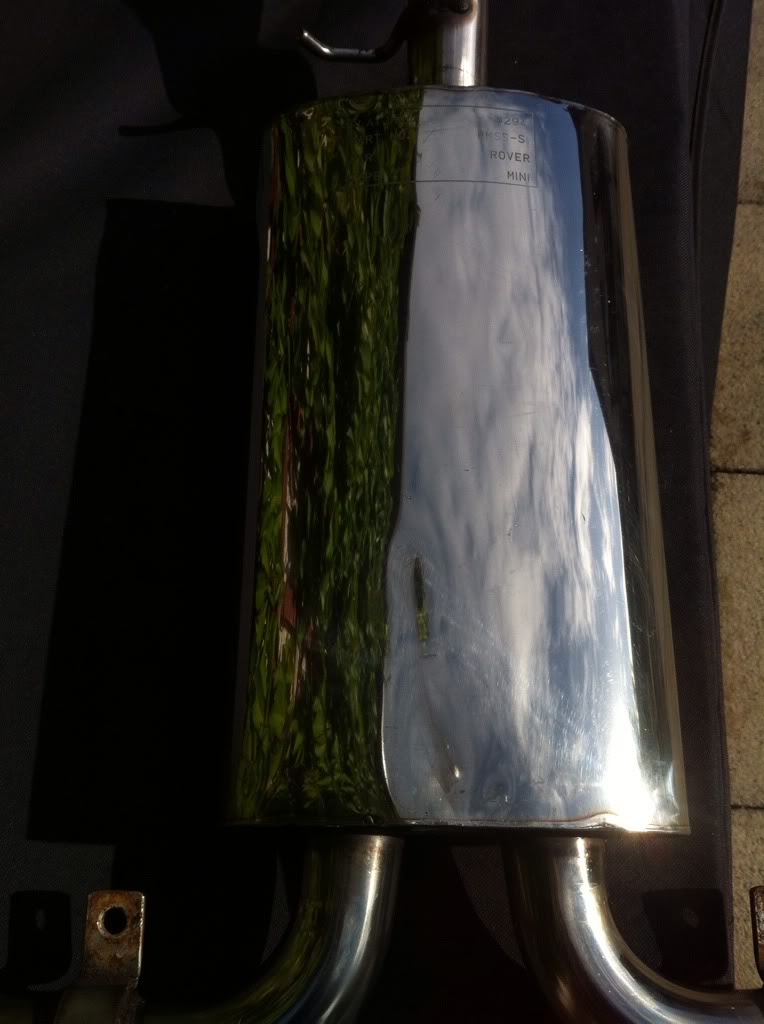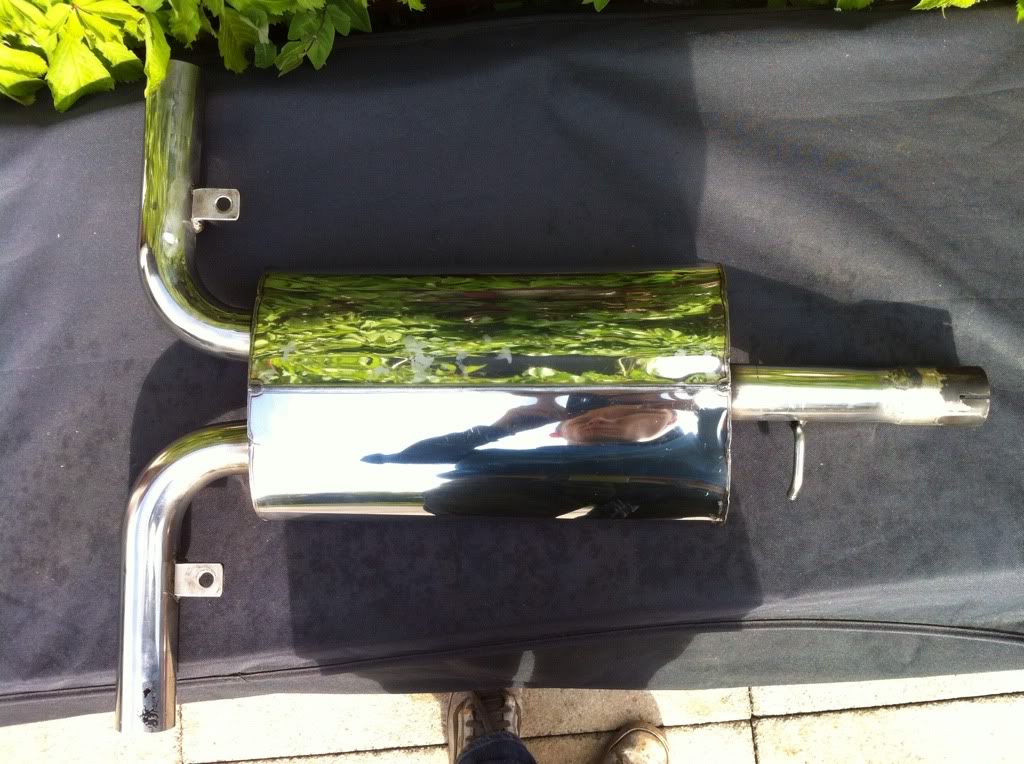 And I started to polish my door locks up too. They were bare metal and a little bit corroded. Wet and dry and polish up. Probably won't last long but will probably buy chrome versions at some point down the line.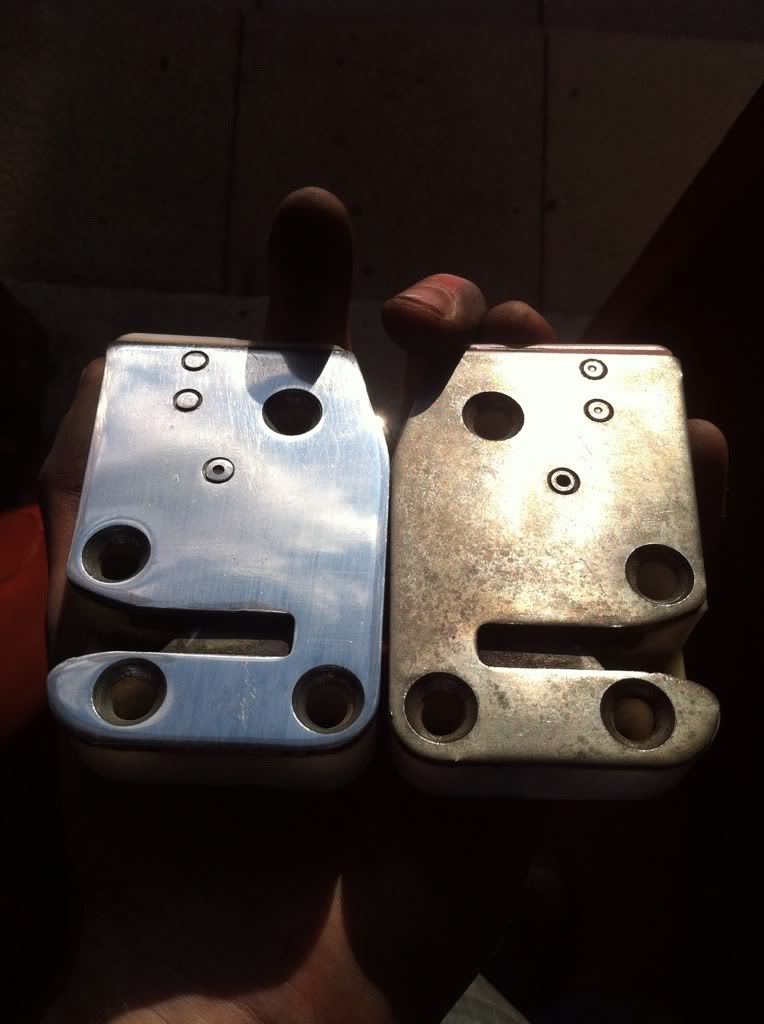 Then the major bit! Been wanting to fit my rear subframe for ages so dad and I got stuck in. Took us 3hrs to get in 8 bolts......because all the mounts are new they weren't bedded in and were super tough but with some playing around we got there. All high tensile bolts and loads of copper grease to prevent them locking in the future (not that I plan on taking these bolts out again!

Had it tipped up so we didn't have to jack the frame up too much. Bit tricky but worth the effort.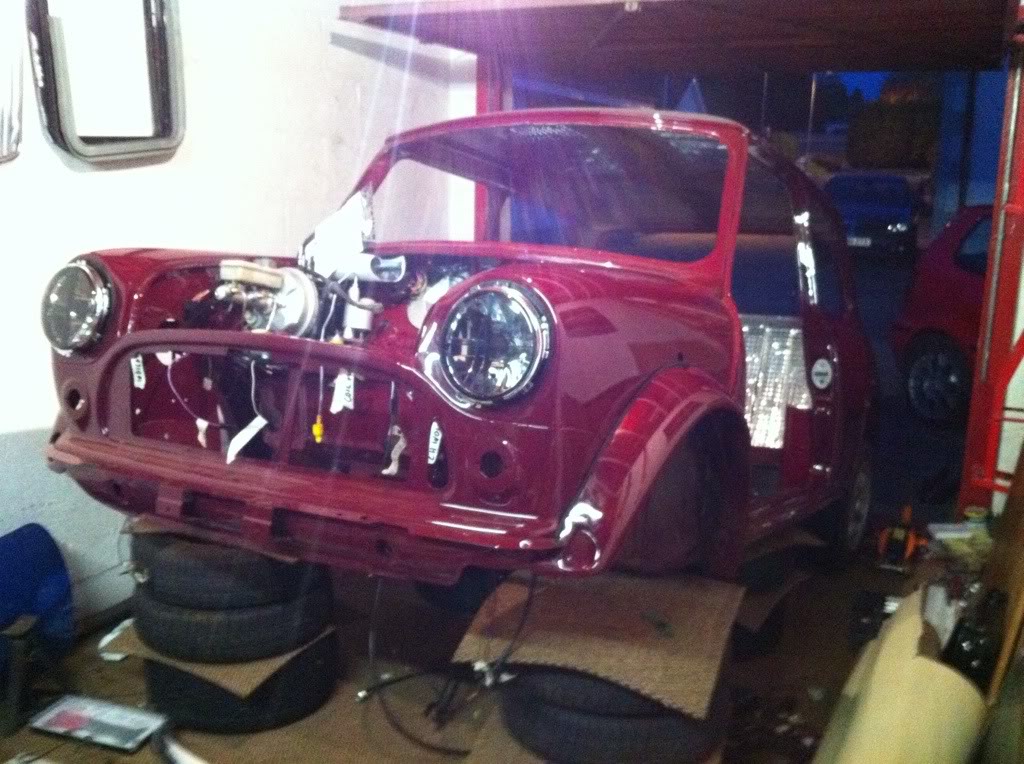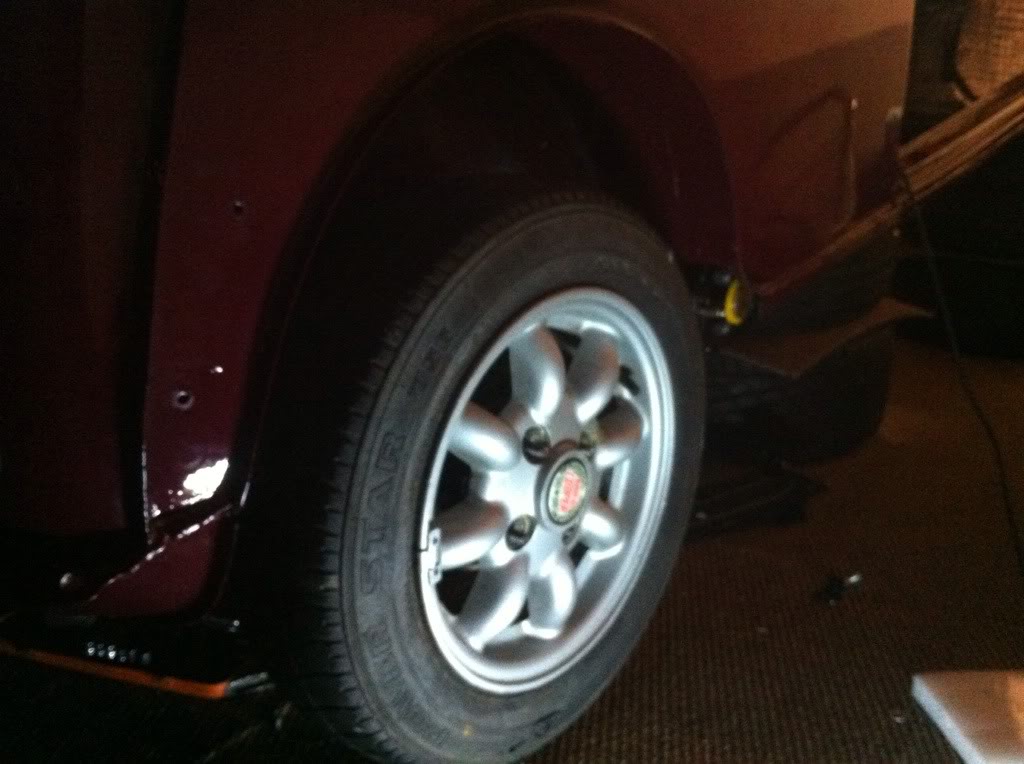 So thats the car rolling on two wheels! Next stage front frame and engine which is almost ready to go

PROGRESS!!!

Also got the car into miniMagazine this month. Sent pics in months ago so totally forgot until I got a message from someone who recognised the car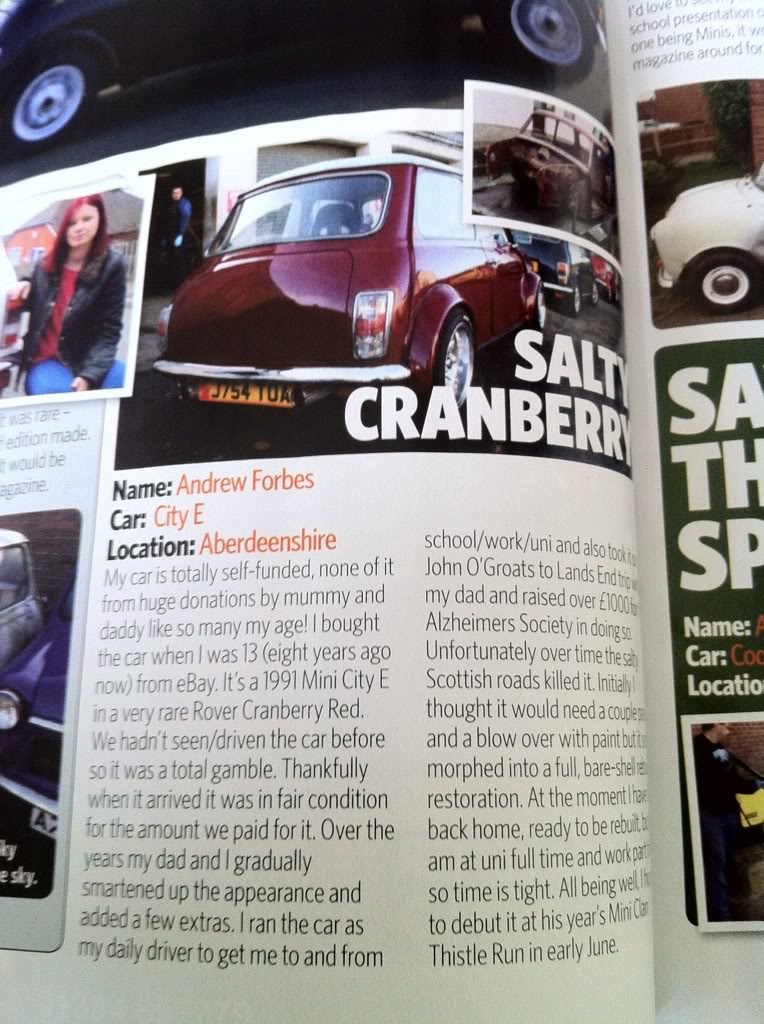 Good feeling! Next stage is a proper feature

6-7-2012
Today = epic! Brilliant progress that to be honest I wasn't really expecting at all!

So to begin!

Got the day to work on it with my dad and some great help from my mum too! The family Mini



First up was get the rear subframe attached to dampers and Hi-Los so I could set it down on the ground. The GAZ shocks look great against the red in my opinion! Currently on softest setting but that will be played with once its on the road.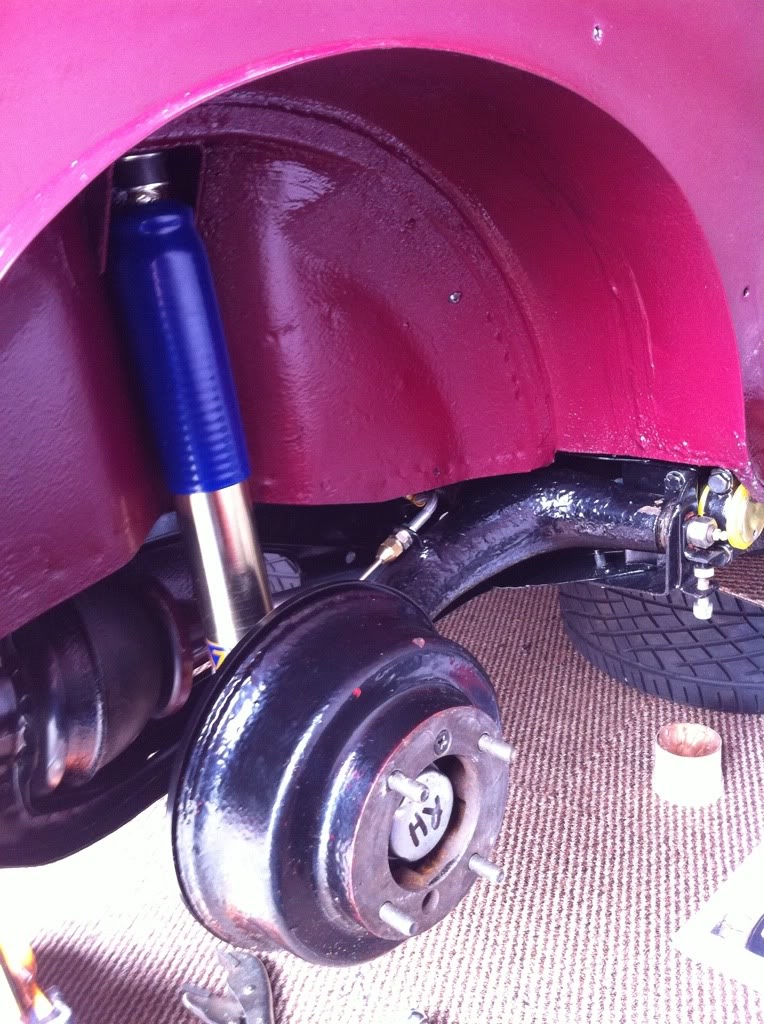 Then after painting up some little bits and fitting them to the engine it was time to mate the engine with the front subframe! Didn't think I would get this done today but glad we did!

So we got the driveshafts placed in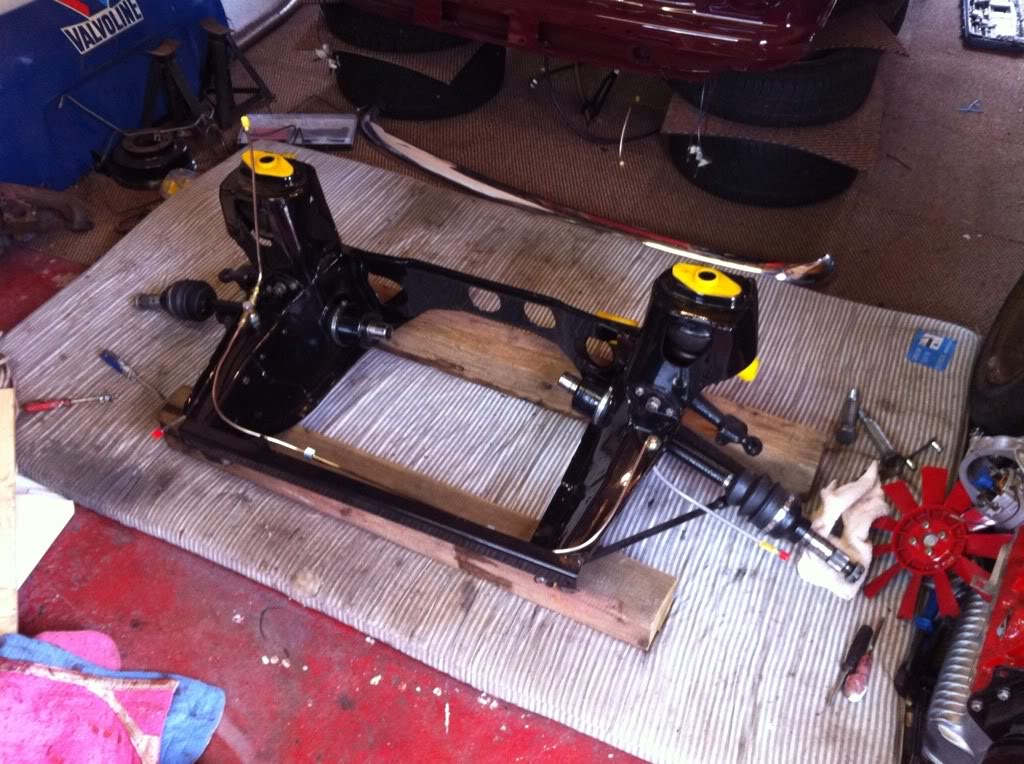 covered up the front of the frame to prevent damaging it and also raised it up on a couple of old fence posts we had lying around. Handy things to have!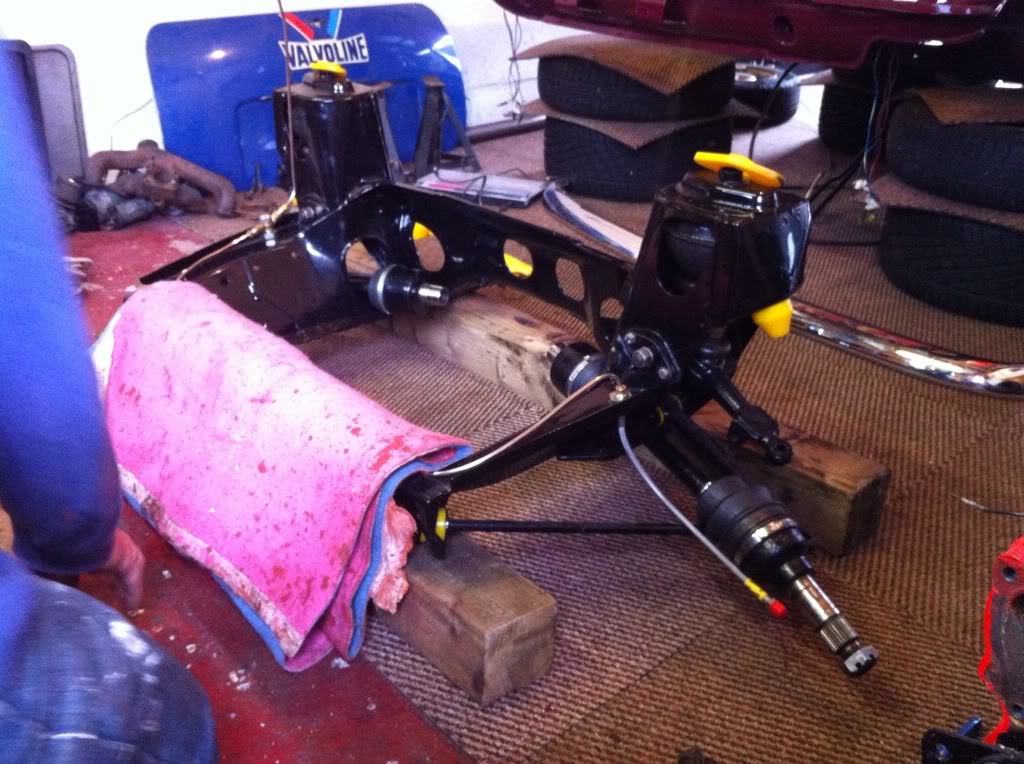 and then built a ramp to gradually slide the engine into the frame. We remembered to fit the engine mounts to the engine first and placed in the bolts so they could auto align as we placed it in.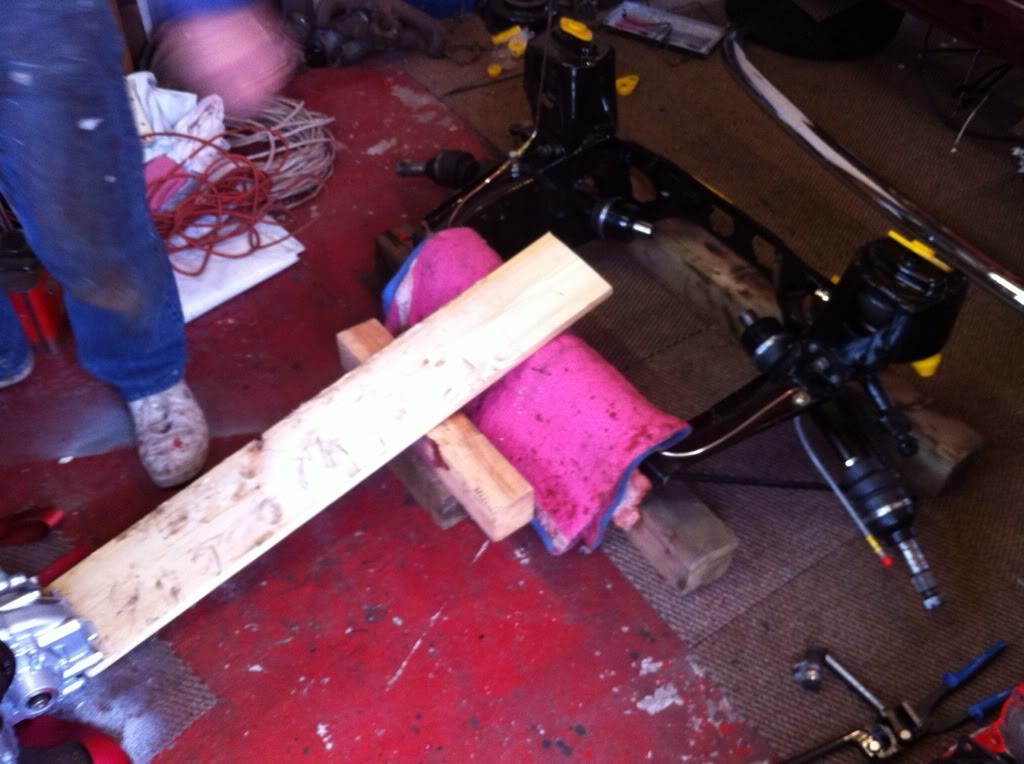 So after some man handling and a bit of swearing we got it in!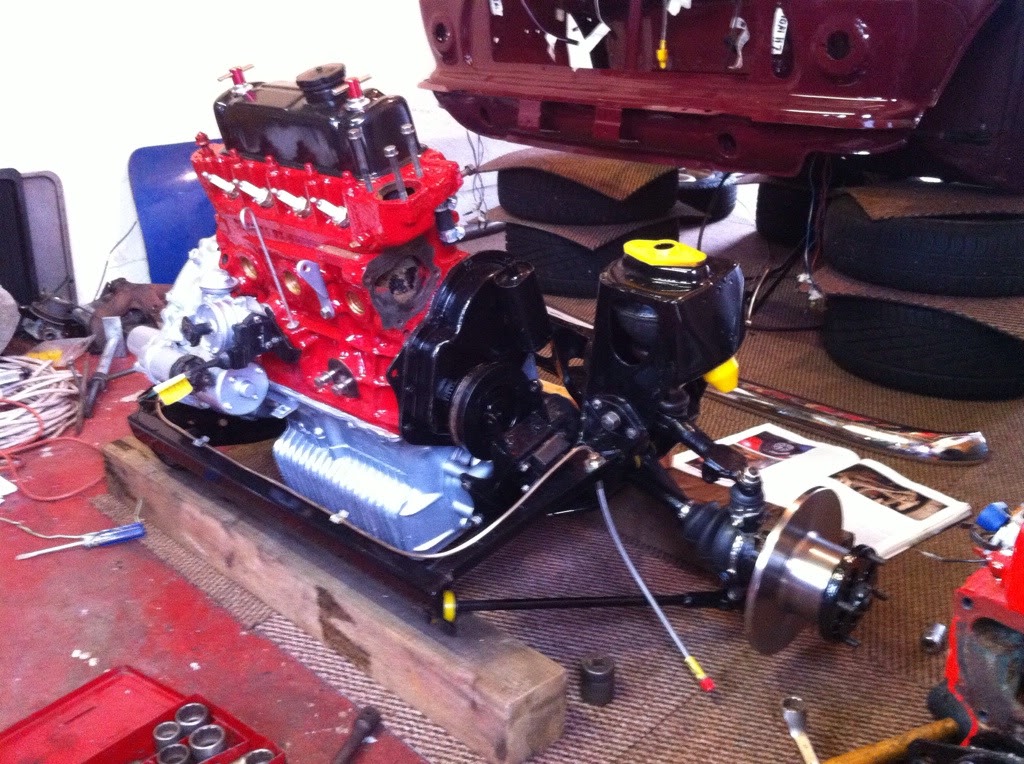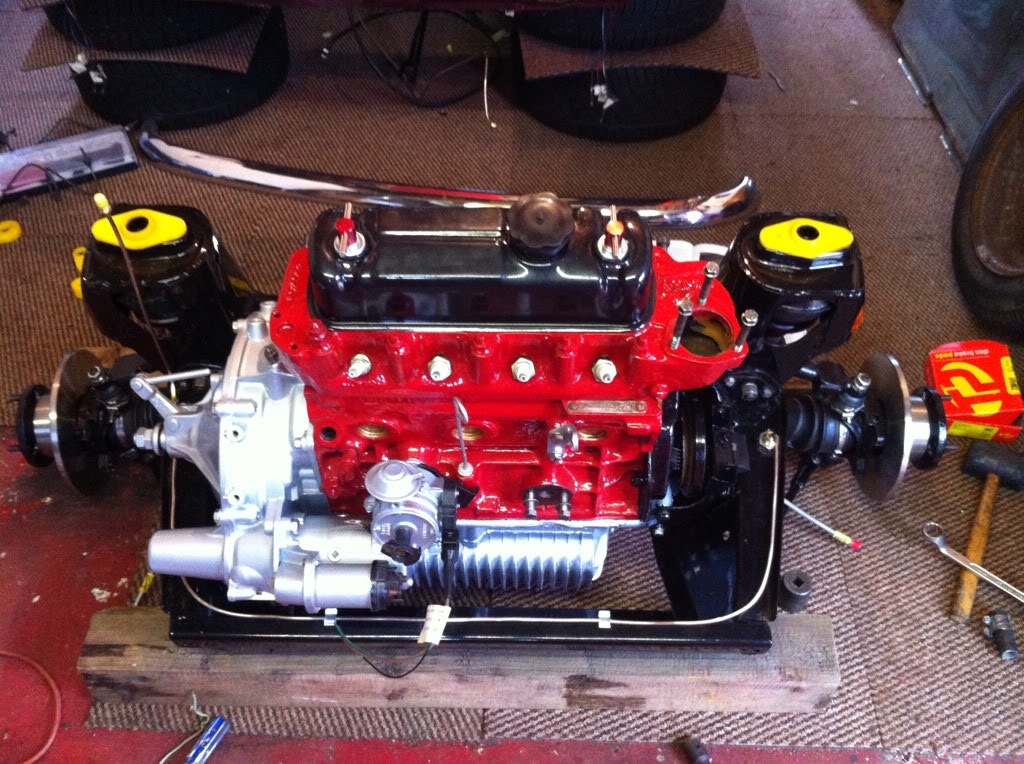 Really happy with the way its looking now. Didn't want to get it into the car just yet as theres still a couple wee things in the bay to compete first. Hopefully get it in within the next week though!

So at the moment its sitting waiting install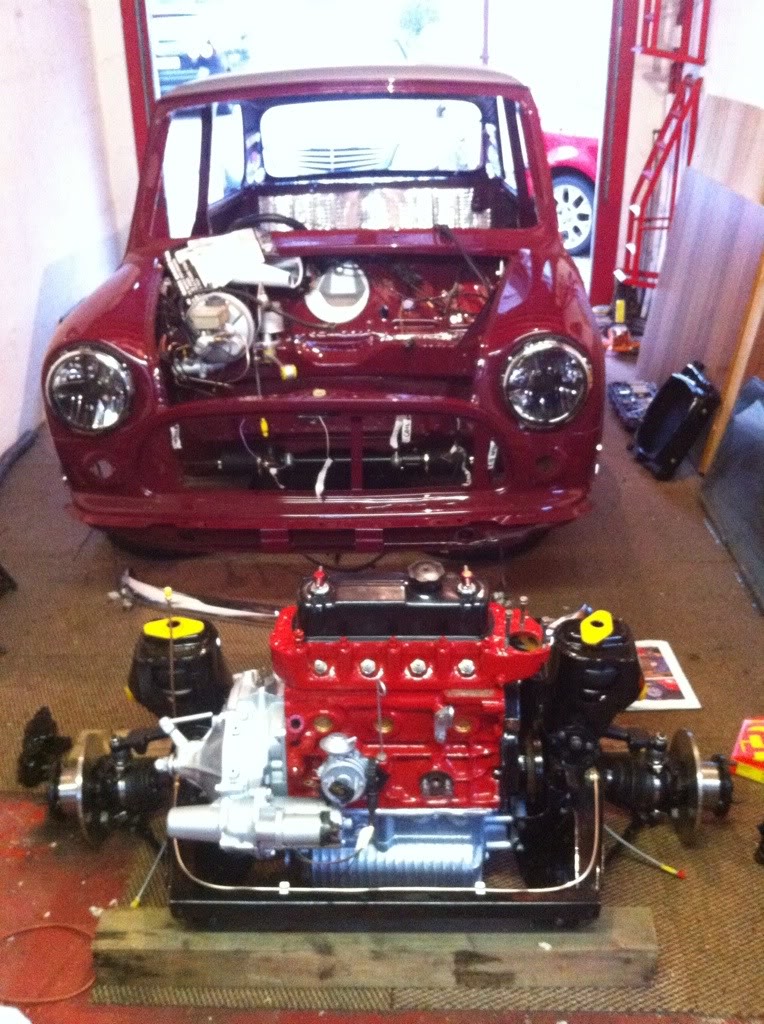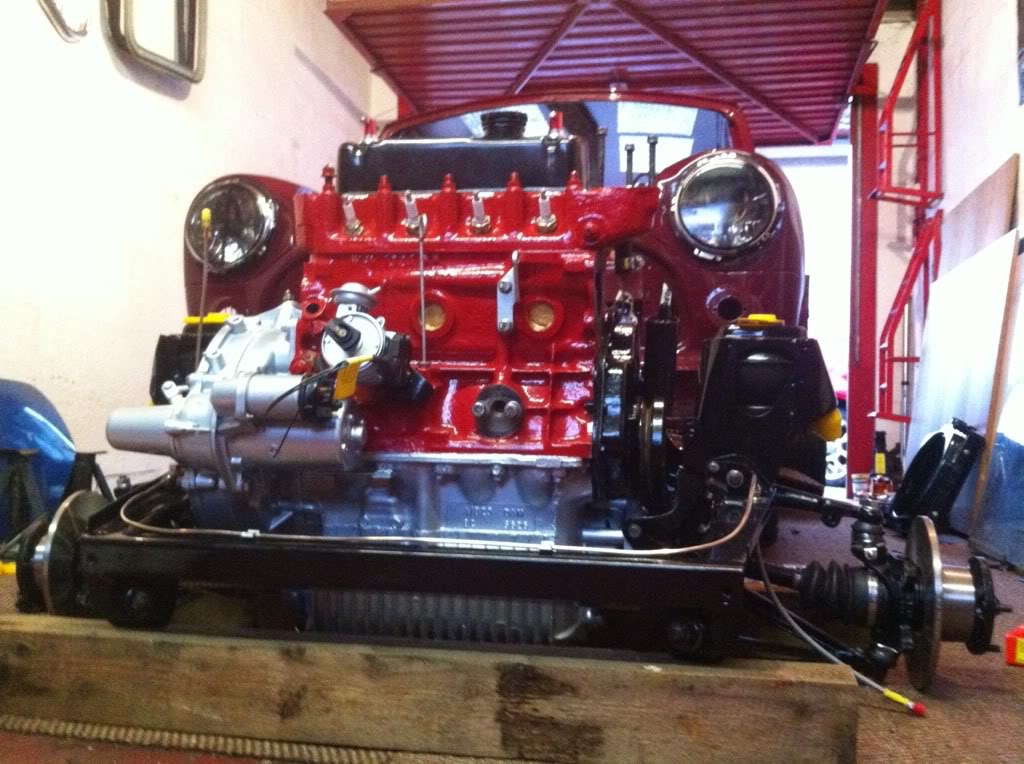 (I may have even polished my brake lines...........)

Also got the other side of the rear frame assembled and then put the car properly onto the ground. Had to place the 13s next to the car just because.......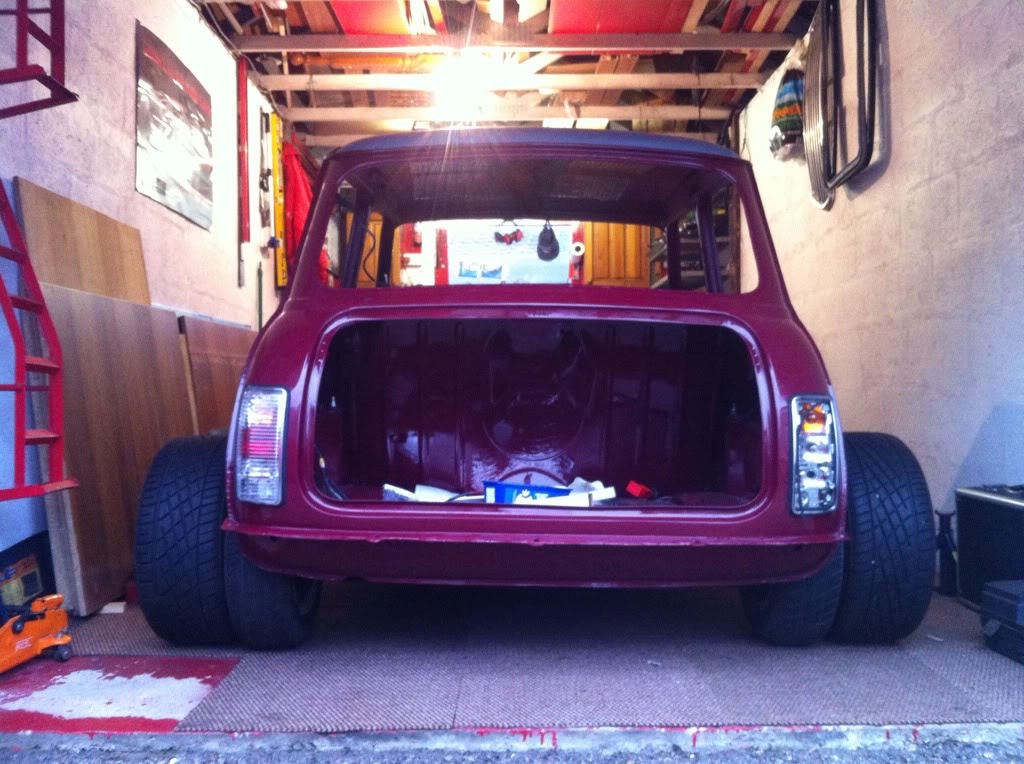 So Im off tomorrow as well so theres lots to be getting on with! Stainless LCB manifold can go on now which will really shine up the bay.
6-8-2012
Todays works.....

Exhaust mocked up ready to drill holes to bolt it in :) The plate will cover up the back box when done.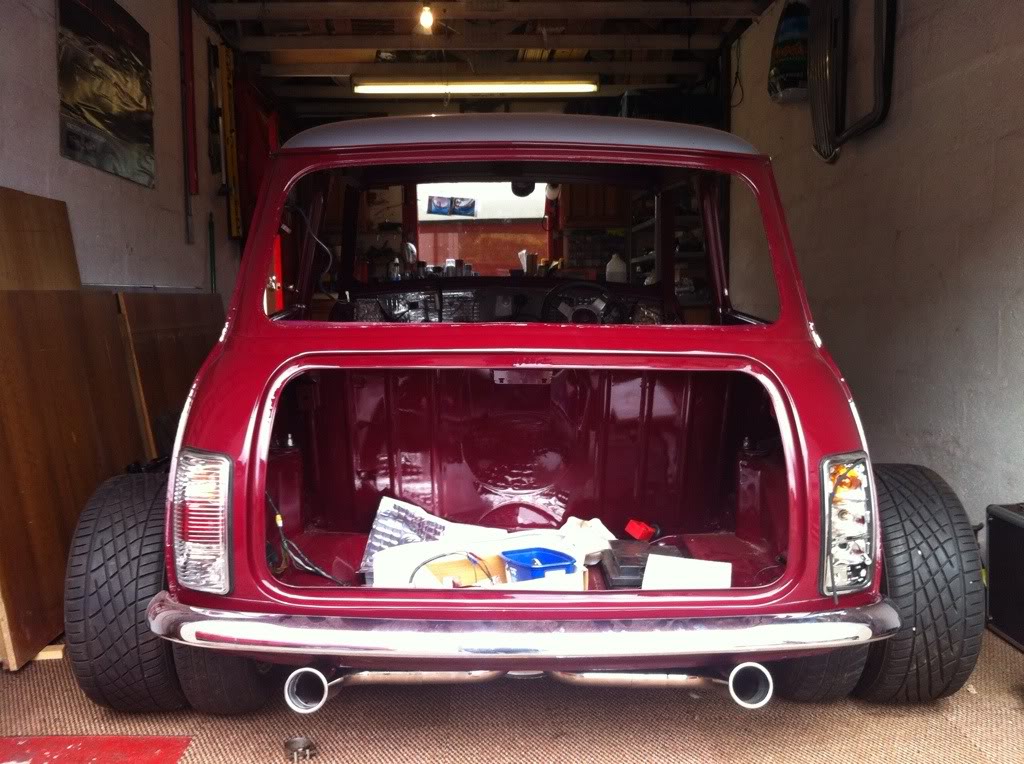 And this is how most will see it seeing as its so low.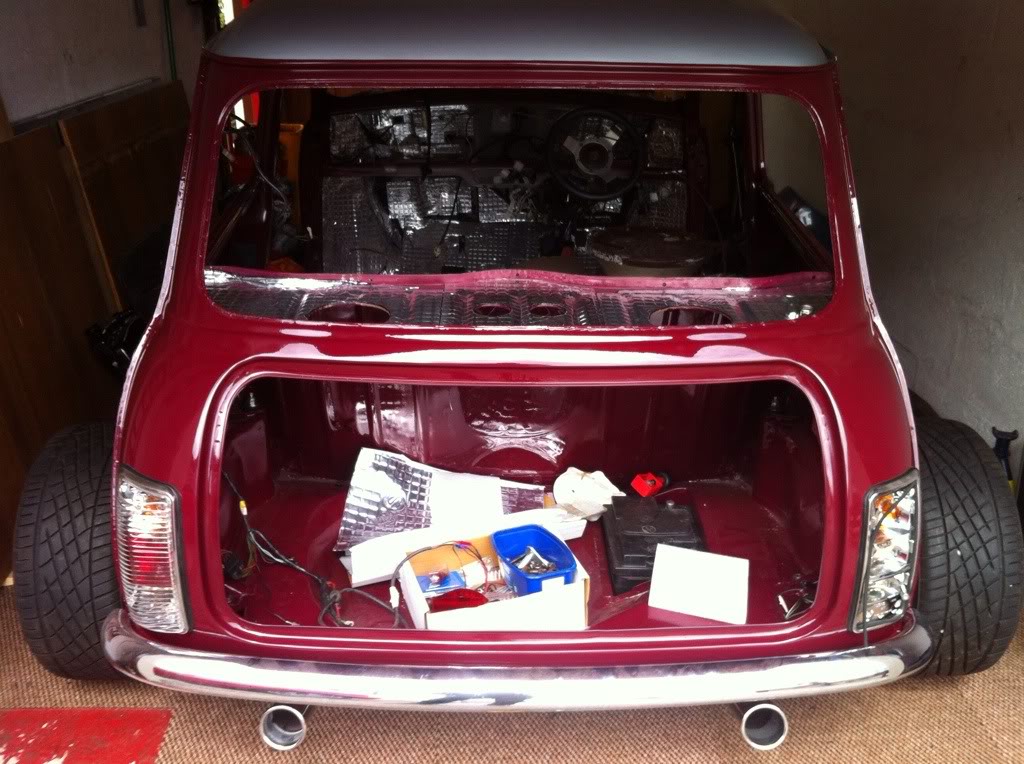 Primered up my tank and finally painted it black.....not perfect but meh......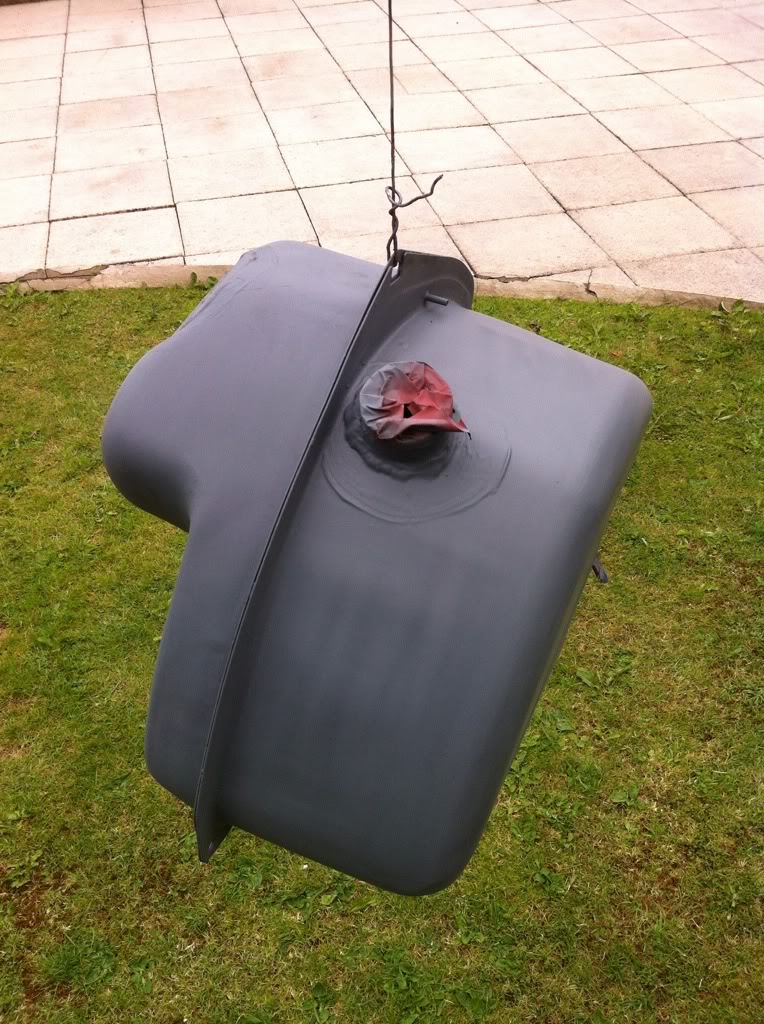 Got my lower engine steady painted, lacquered and bushed up and fitted!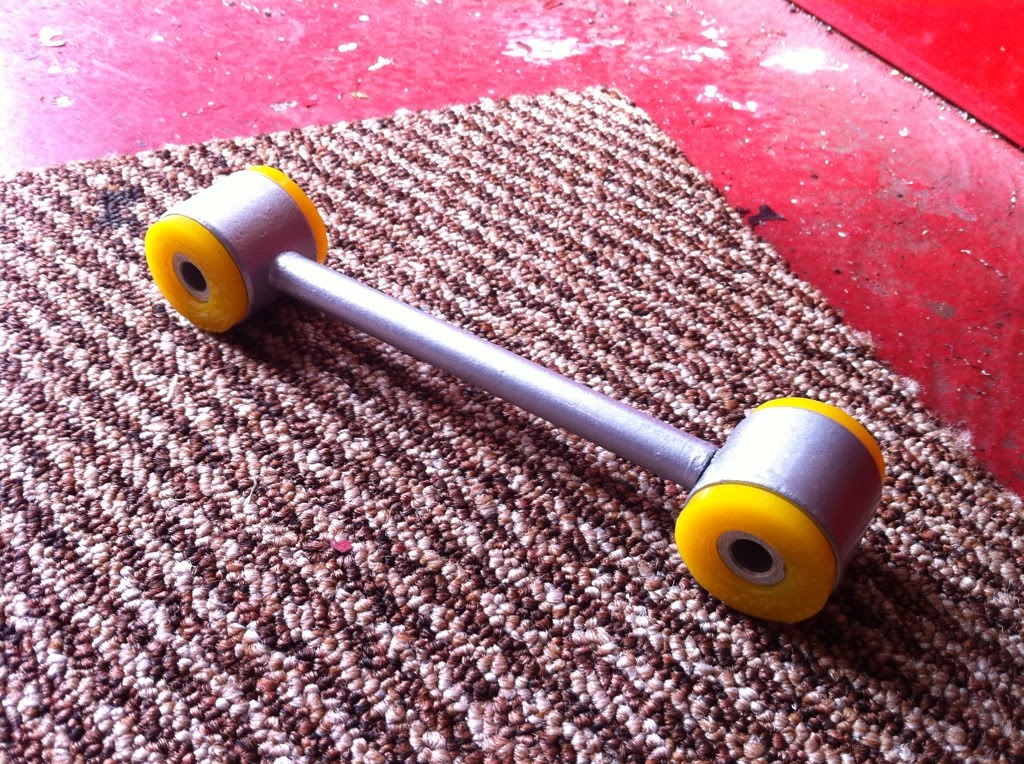 Shocks on! However I need new bolts for these as mine (as most seem to be....) are cross threaded. Brilliant! :sad:

Quick comparison of old vs new carb. Will need a rebuild kit......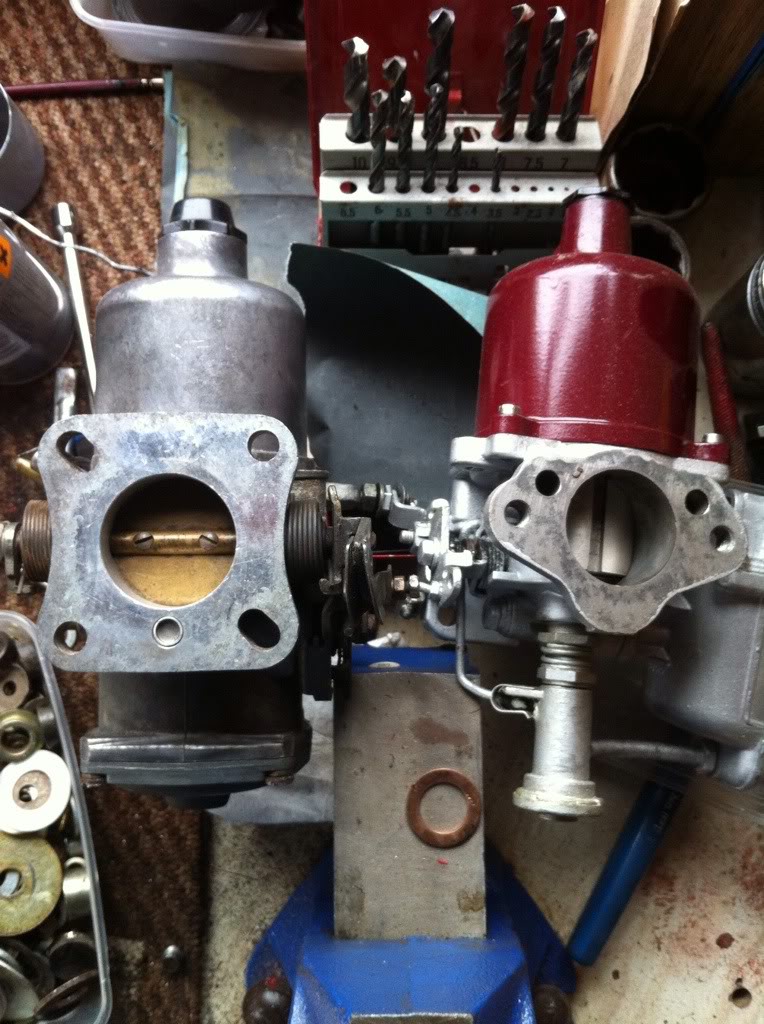 and I got some shiny fitted! Specialist Components LCB in full stainless :)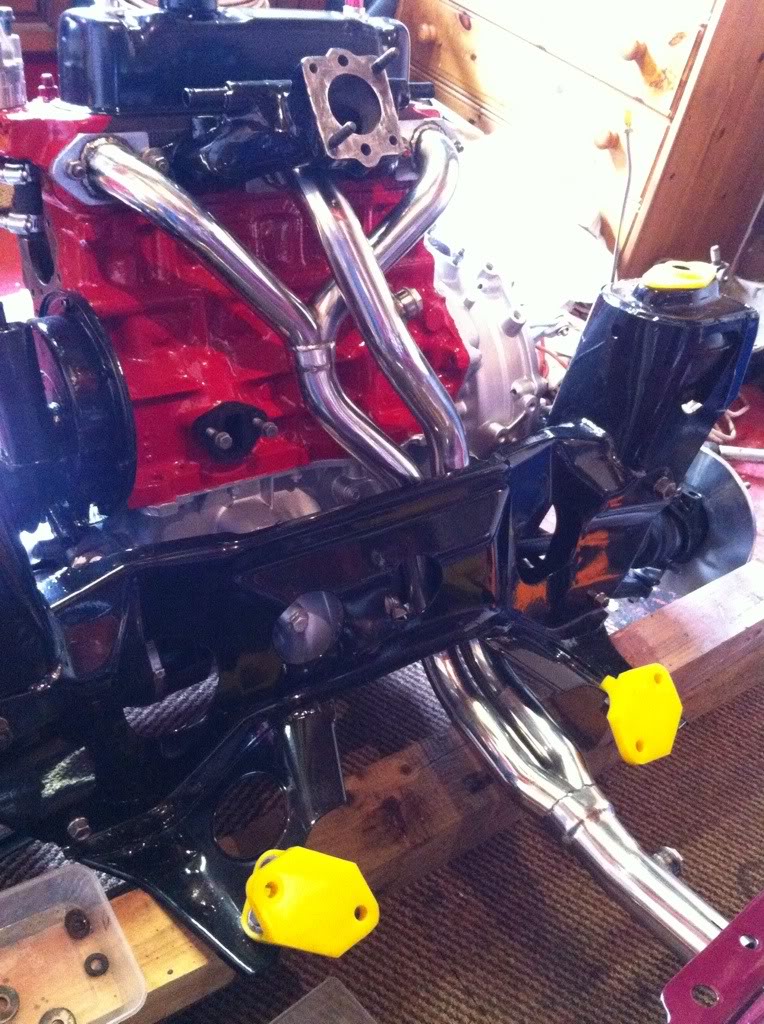 Need to order more bits but funds are running low. Need to get it onto 4 wheels asap so I can get on with wiring and interior stuff. Don't want to do that now as it will make car too heavy to move around. Catch 22 situation really!

So the slog continues.....
6-15-2012
Yesterday was a big one for progress to say the least. Got up early (.....ish. It was a day off after all....) with my dad and friend Greig to get my subframe and engine installed in the car.

First things first we fitted some bits that would be hard to fit with the engine in (fuel pump, couple brake bits etc etc) Also had to bend the frame a bit so the manifold didn't hit it. It was only slight but it was squeaking as I rocked the engine on the powder coat. Now theres plenty clearance for it.

With that done we set about putting wheels onto the hubs so we could wheel the frame around. My dad borrowed an engine dolly from his work (thank you technicians at Jag Aberdeen!) which made things MUCH easier!

With the frame and engine on the dolly we roped in my mum for an extra pair of hands and lifted the body over the frame. Bit of moving around and removal of tyres under the floor and we were in! Almost 2 years since the engine came out. Got it all bolted up fully (rear mounts were a pain but with some patience we got them done. Seeing as it was sunny we wheeled it outside to see it in the daylight. Safe to say Im one happy camper! Paint still looks great and everything is new/refurbished to look like new. Proud!




Only one steering arm was on as I need a collet for the drivers side one....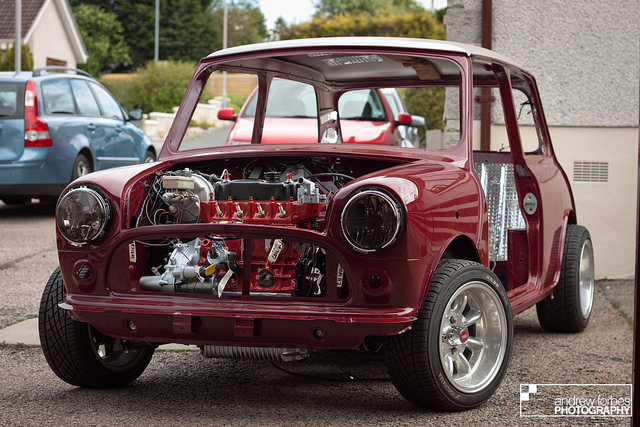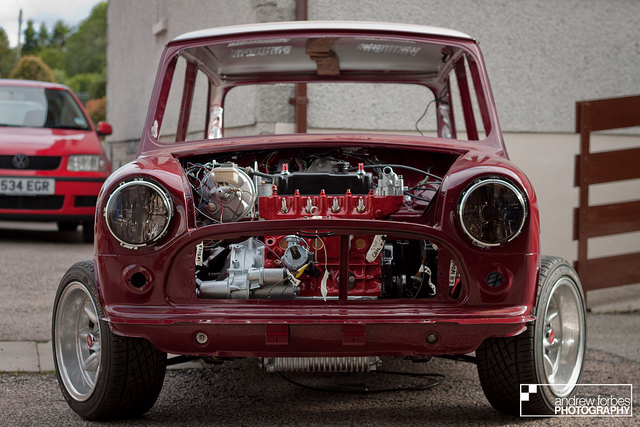 Suspension and brake setup looks great hidden away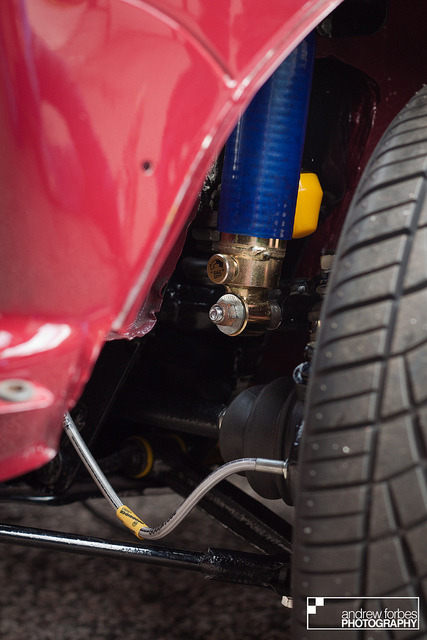 Lots of wires and pipes that Im unsure how to route or wire up but we will get there....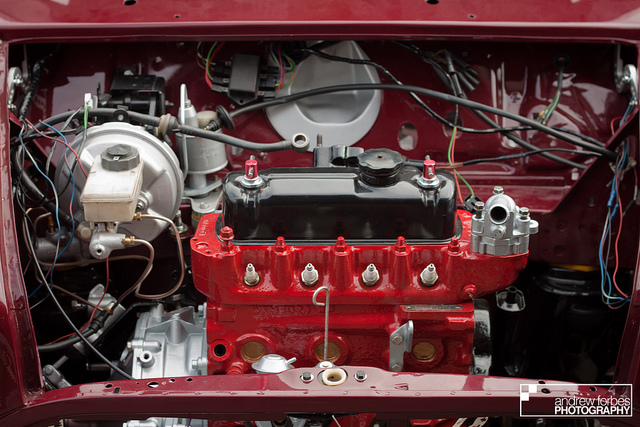 Im happy with the poke though! Arches will cover them well.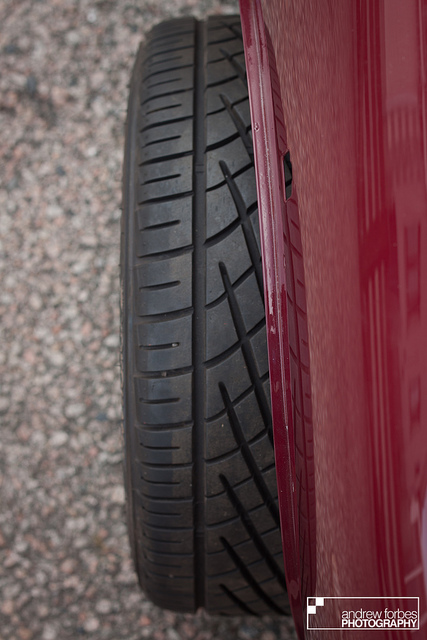 Fair bit of work needed on the interior....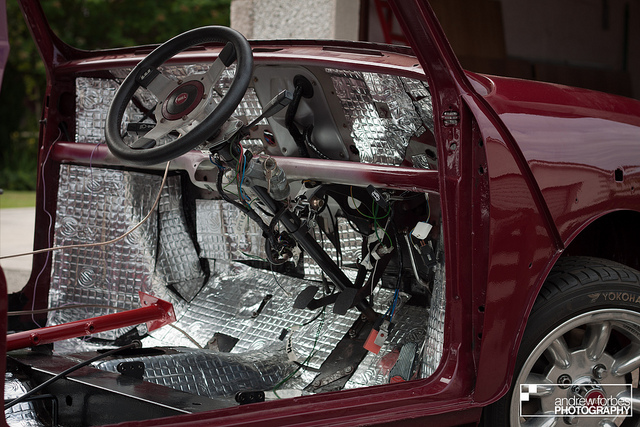 Glad I tubbed the arches though as the tyres would sitting on the arch as it is in this pic otherwise! Means this combined with the stiff (really stiff on soft setting....) shocks will mean no rubbing hopefully!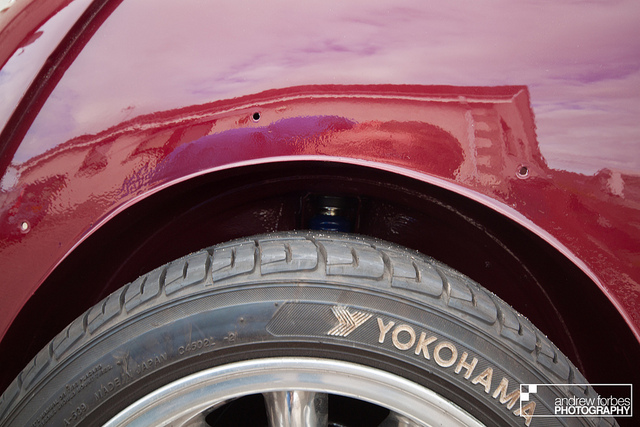 This makes it look like a toy.....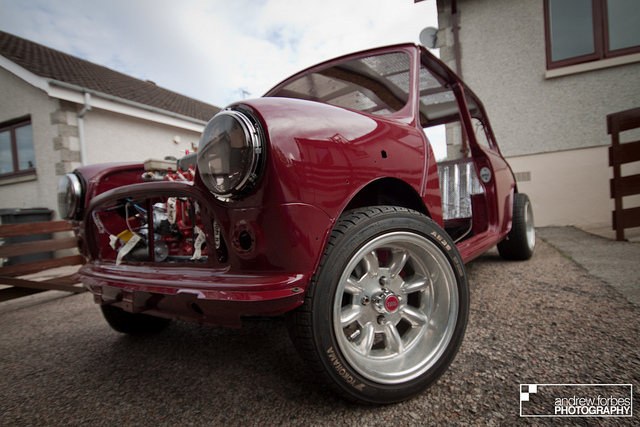 Check out the shine! Needs corrected and waxed but it still looks stunning!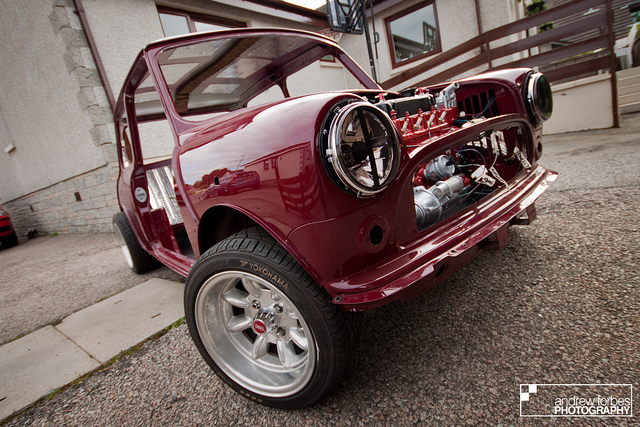 Then I put the top engine steady on with the poly bushes in. Solid as a rock now!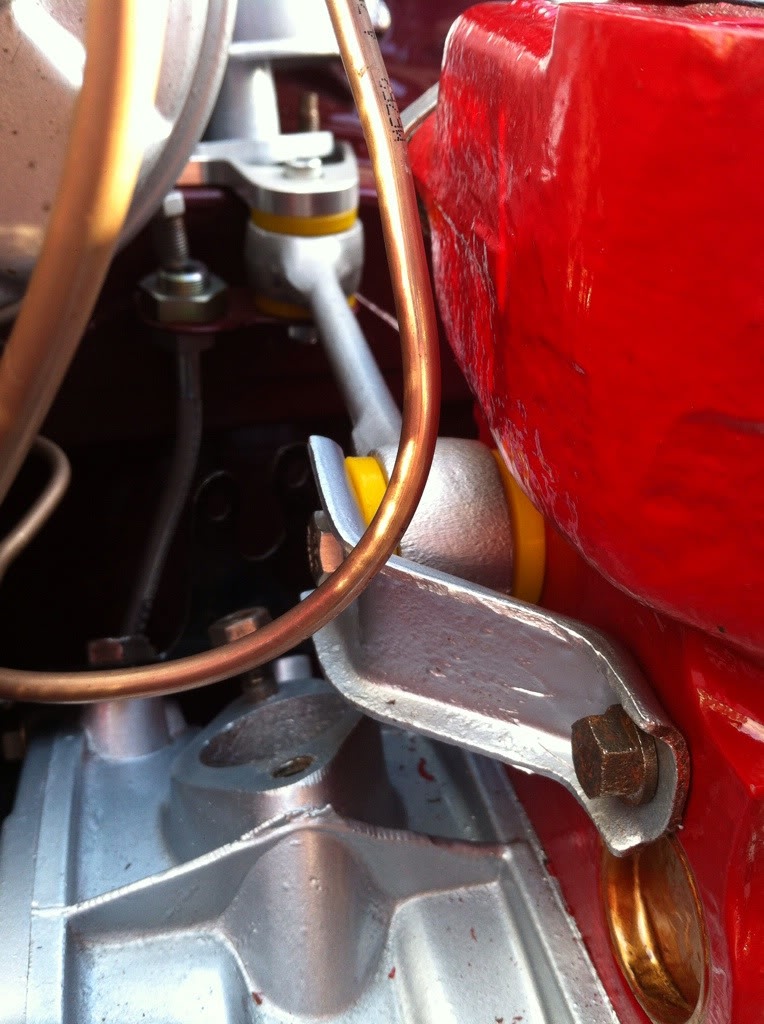 And then put it back in the garage again and put on my showplate which has the cars nickname on it.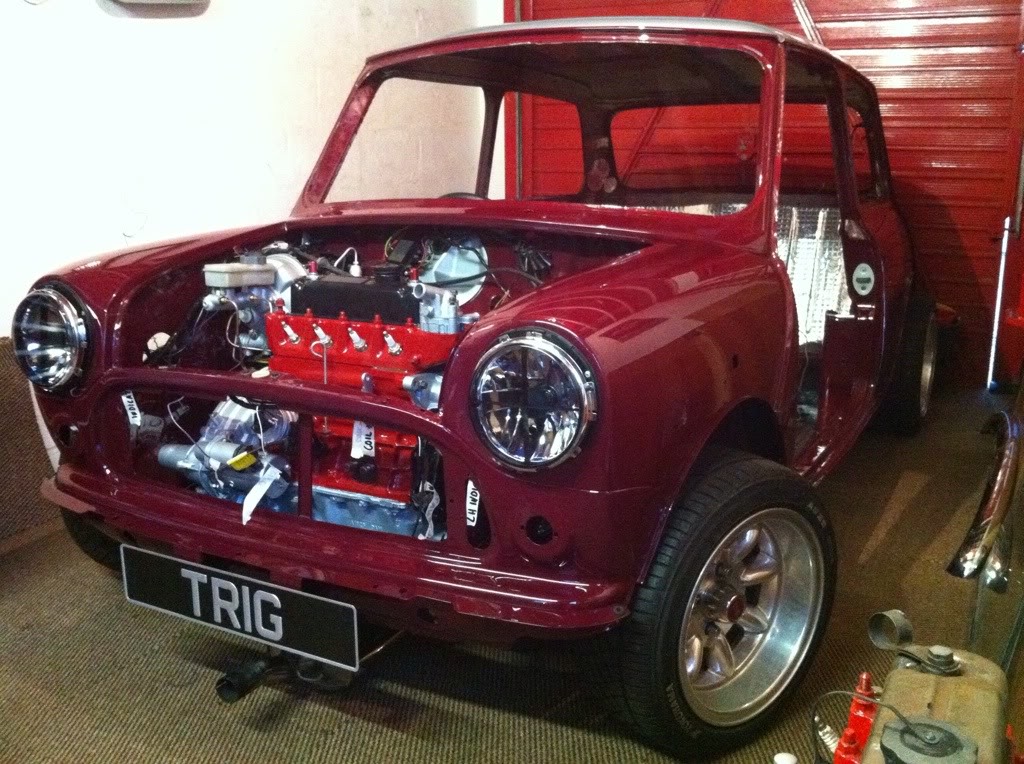 Next step! Wiring! Not looking forward to that one little bit!
6-26-2012
No updates as I have no money for parts to fit to the car. Its payday today as well......at this rate its not seeing the road this year which is beyond depressing. Daily driver is costing too much to own with garage bills and fuel but I need it to get to work.

Project Trig. Coming to a show near you in 20??!

7-9-2012
Progress after a long stint of no motivation/money (still missing the money part
)

Started by fixing my fuel and brake lines with the P clips I had. (6mm for fuel, 5mm for brake if anyone is wondering)

Top tip! Don't use crap pop rivets!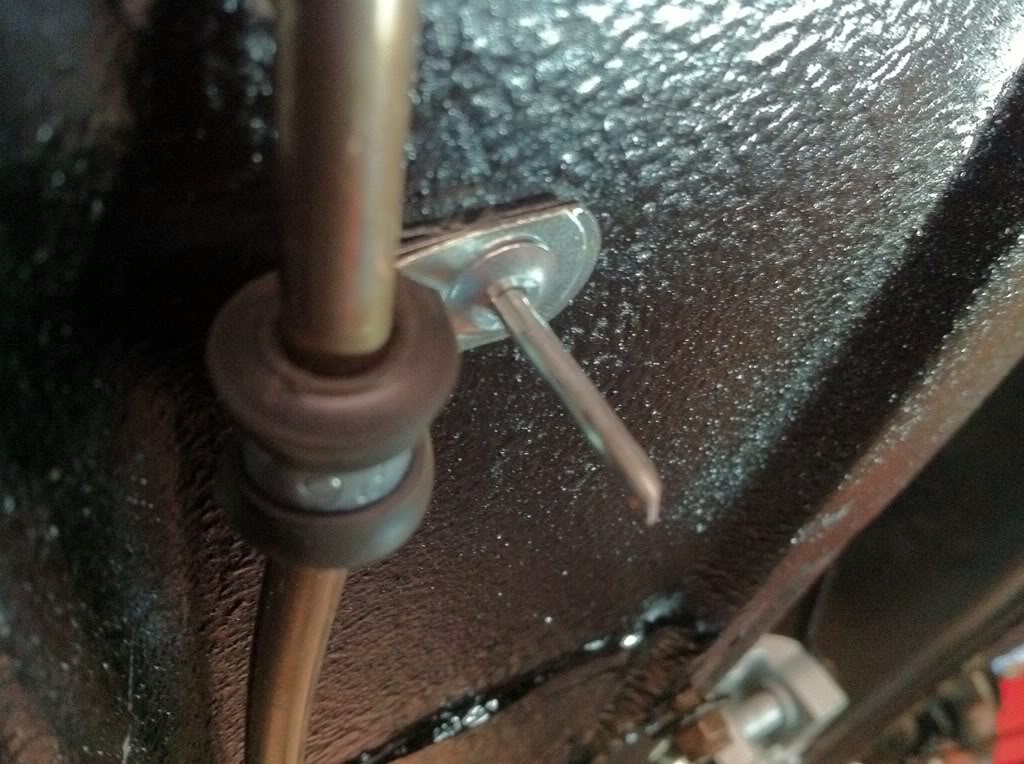 They sheared off at the wrong point! Thankfully they had a really strong hold so I just cut off the excess.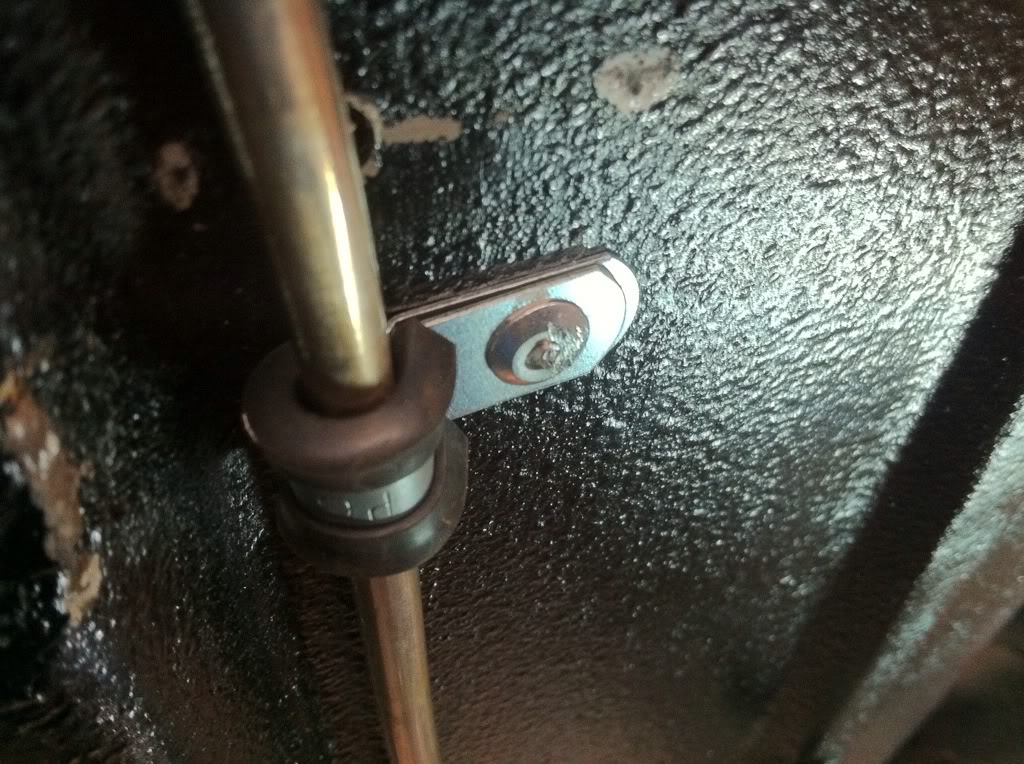 Placed them next to the floor ridges as this will offer extra protection if it scrapes the ground.....which it will.....


I tried refitting my gear knob. However, its worn a bit and didn't line up straight so I may have over tightened it......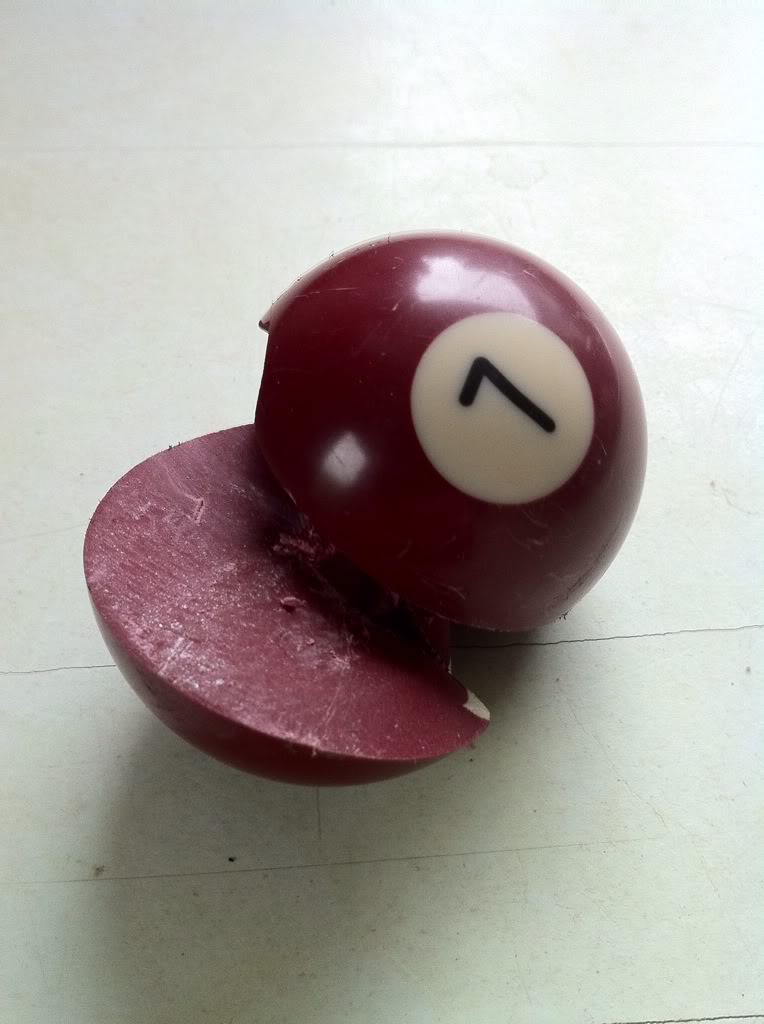 Not a great loss as it was scratched with my dads wedding ring and they only cost £5 on eBay. Just need to get one with a metal insert instead of threaded resin.

Got my harness bar mounted. Drilling 10mm holes in a car is never a good experience! Thankfully its over now though!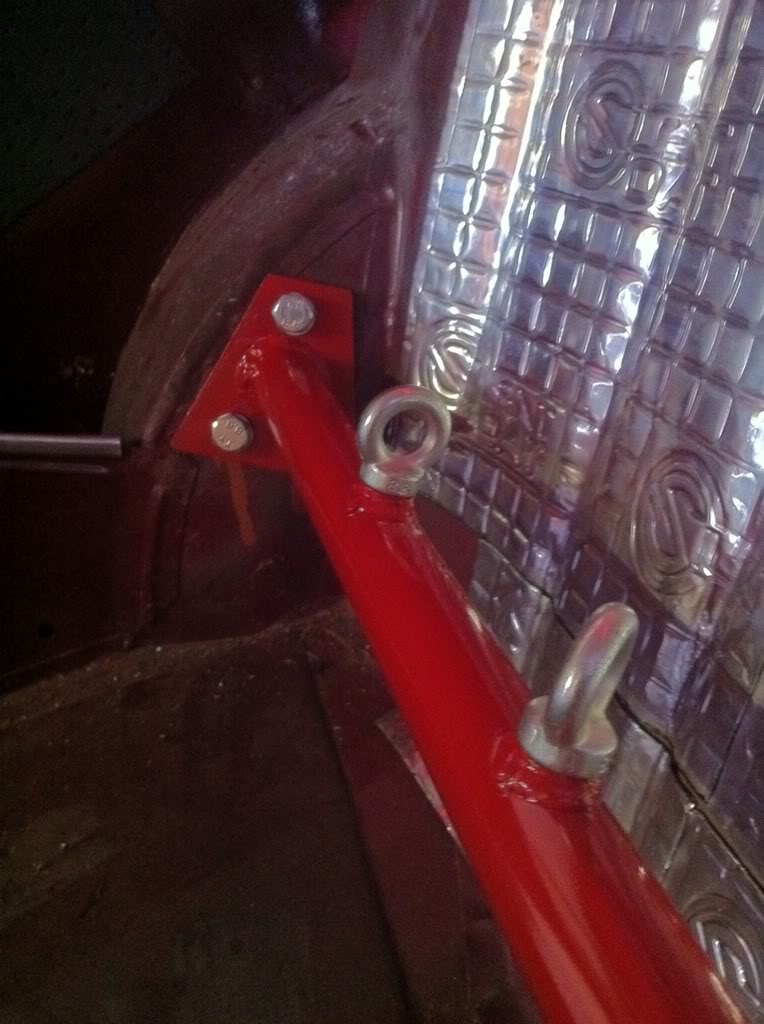 Got my rear handbrake cable fitted. Just need split pins to finish them off.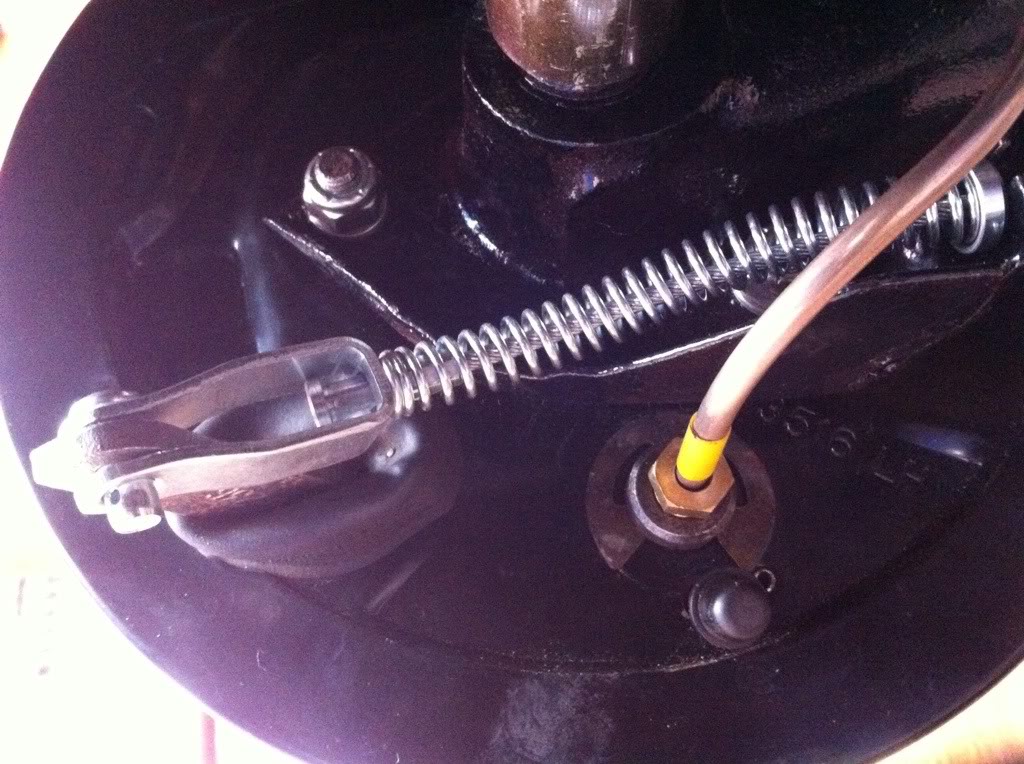 Then got the mid to rear handbrake bracket refurbed.

Before....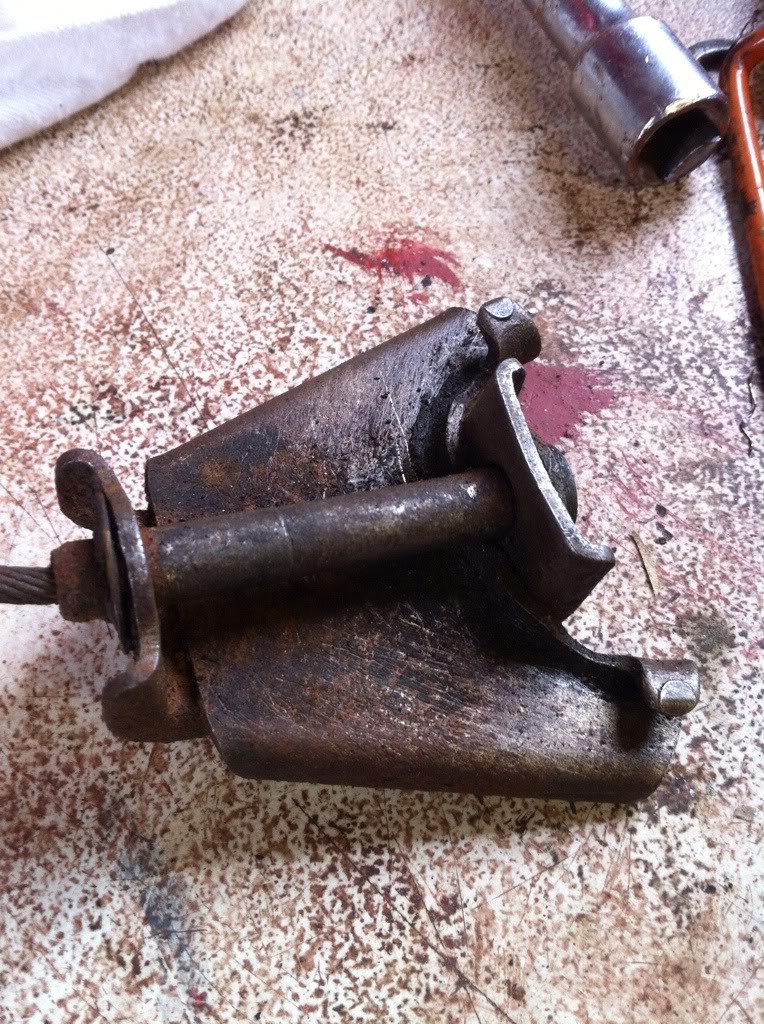 After!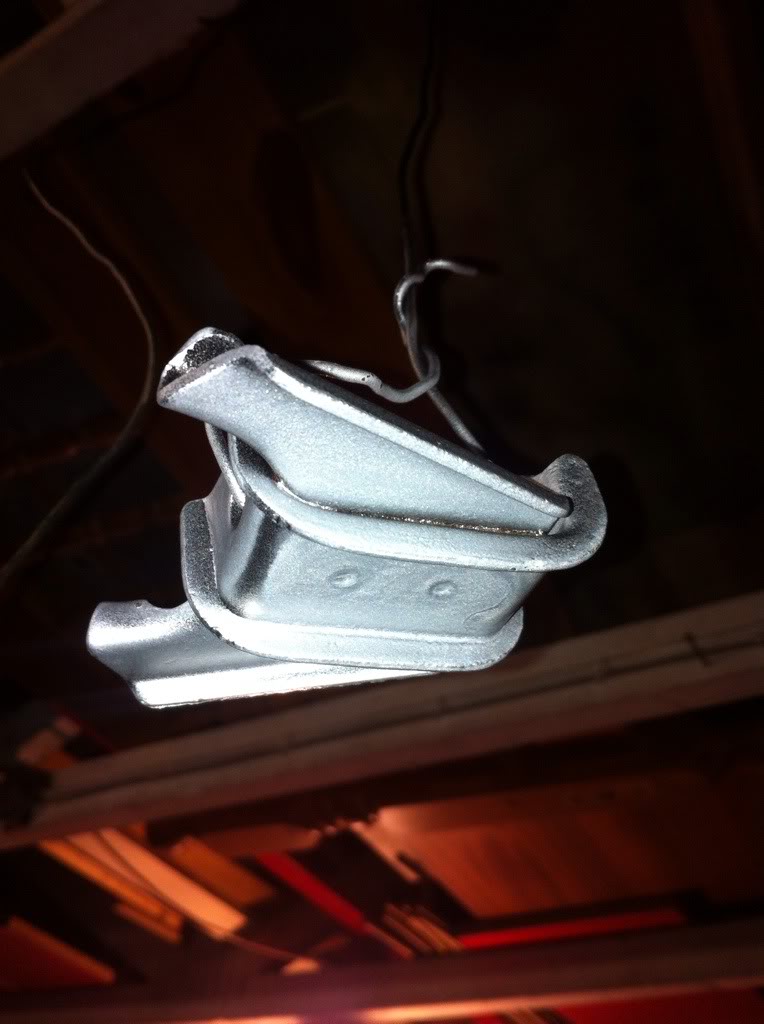 Also got some more wiring done and rerouted simpler. A satisfying day of work!

One thing I had to do was trial fit my bootlid. Hadn't done it since I got it home and safe to say I am one happy lad. Just look at it all mocked up!

8-2-2012
Progress after a long stint of no motivation/money (still missing the money part

)

Started by fixing my fuel and brake lines with the P clips I had. (6mm for fuel, 5mm for brake if anyone is wondering)

Top tip! Don't use crap pop rivets!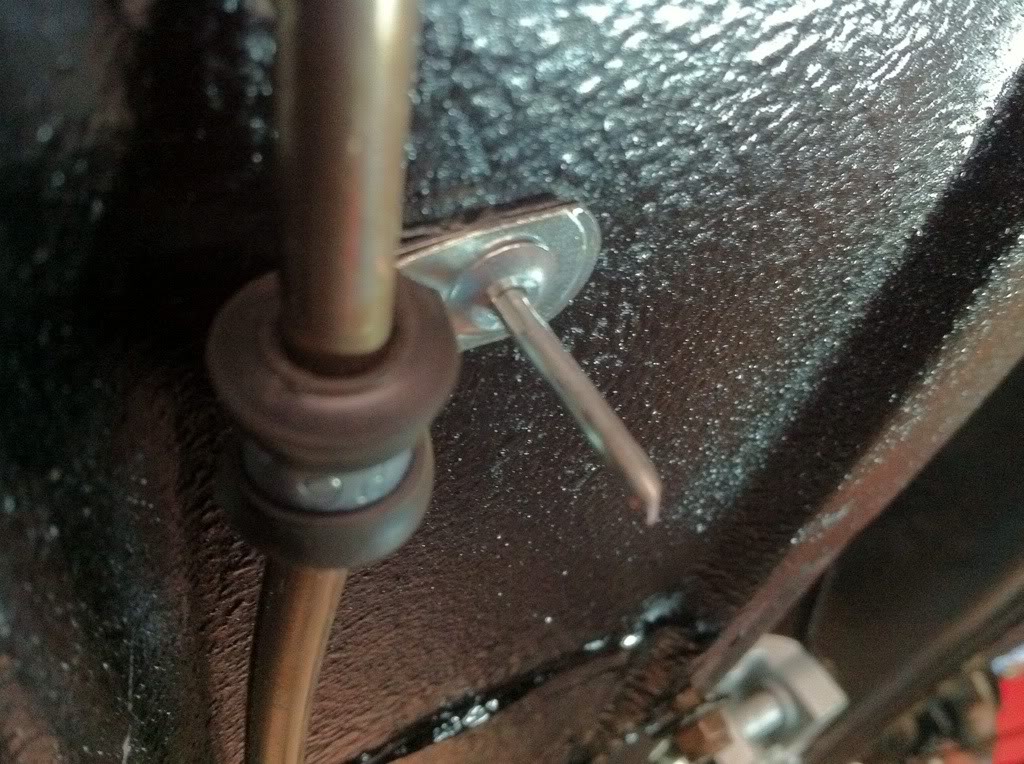 They sheared off at the wrong point! Thankfully they had a really strong hold so I just cut off the excess.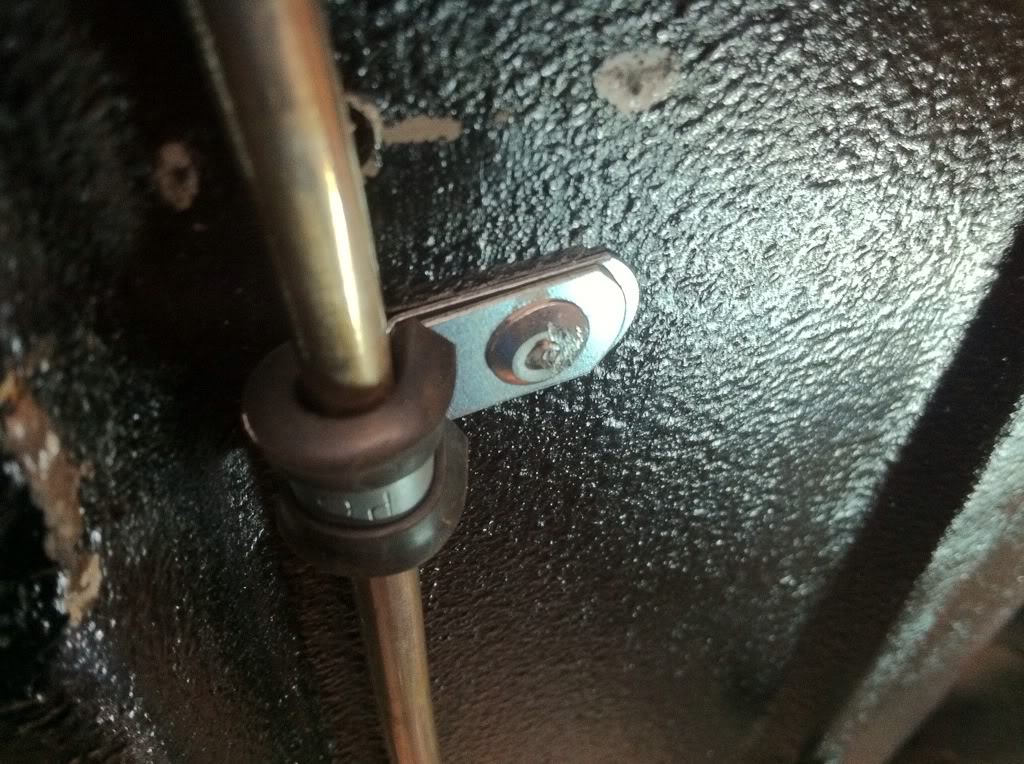 Placed them next to the floor ridges as this will offer extra protection if it scrapes the ground.....which it will.....



I tried refitting my gear knob. However, its worn a bit and didn't line up straight so I may have over tightened it......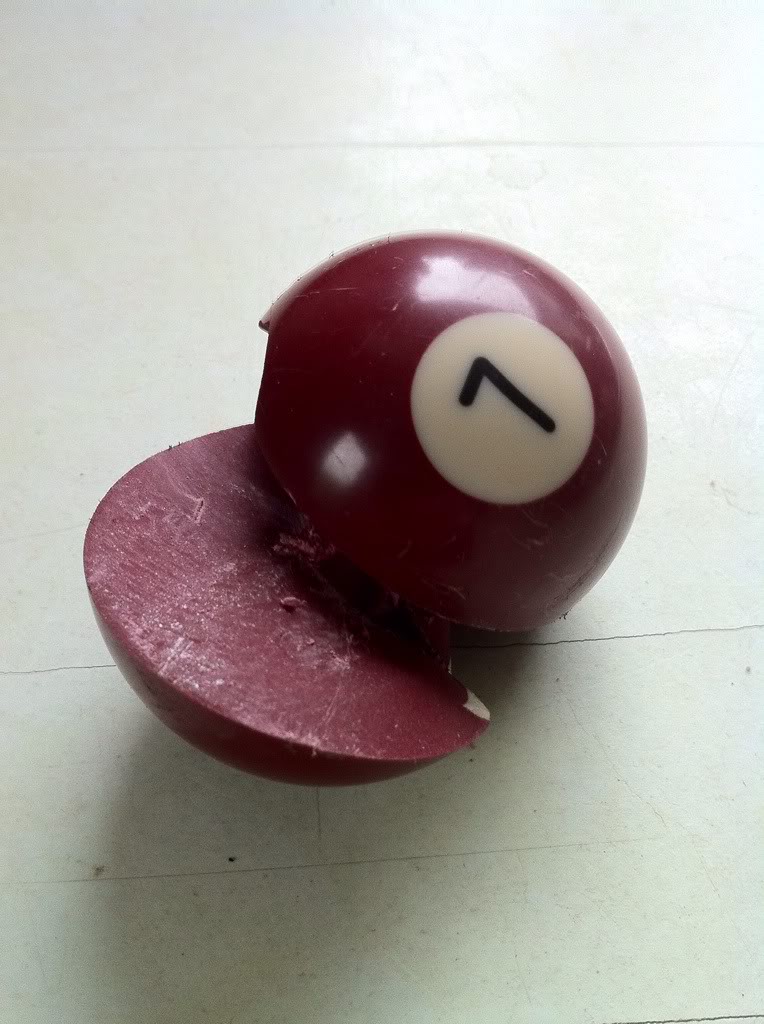 Not a great loss as it was scratched with my dads wedding ring and they only cost £5 on eBay. Just need to get one with a metal insert instead of threaded resin.

Got my harness bar mounted. Drilling 10mm holes in a car is never a good experience! Thankfully its over now though!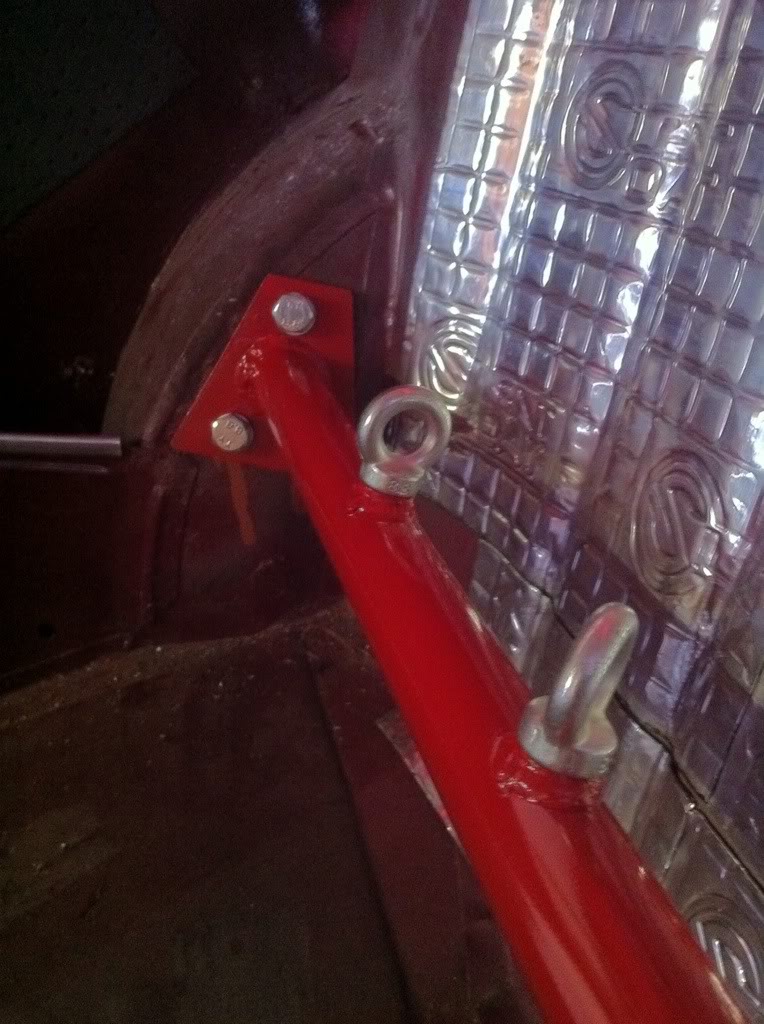 Got my rear handbrake cable fitted. Just need split pins to finish them off.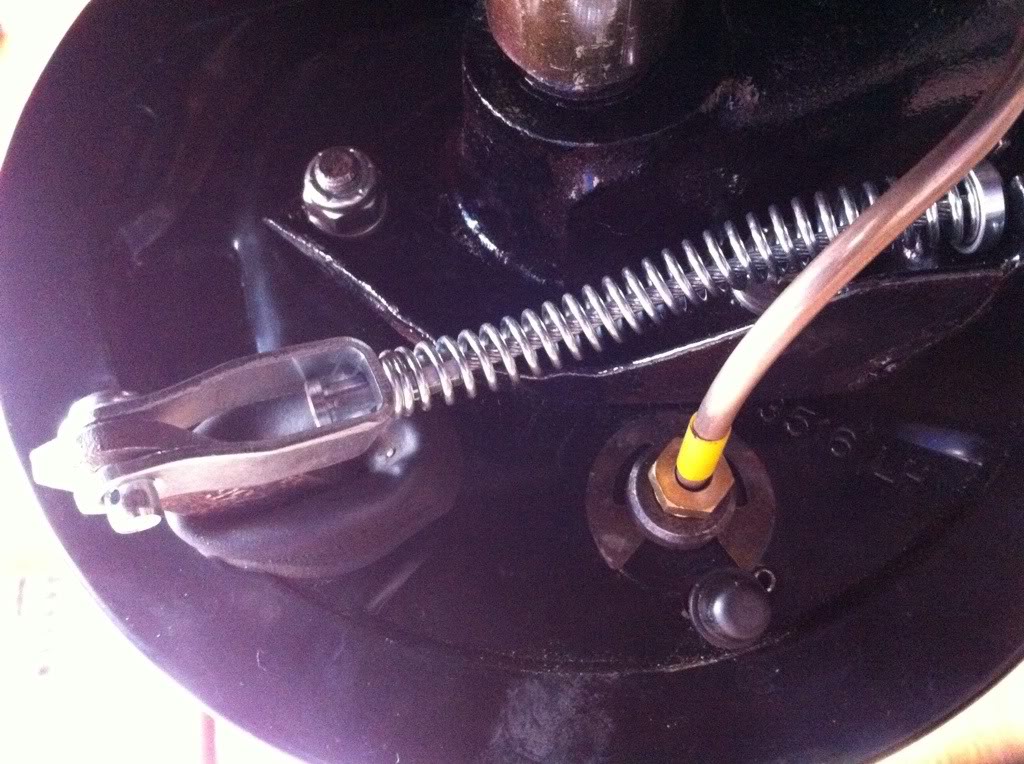 Then got the mid to rear handbrake bracket refurbed.

Before....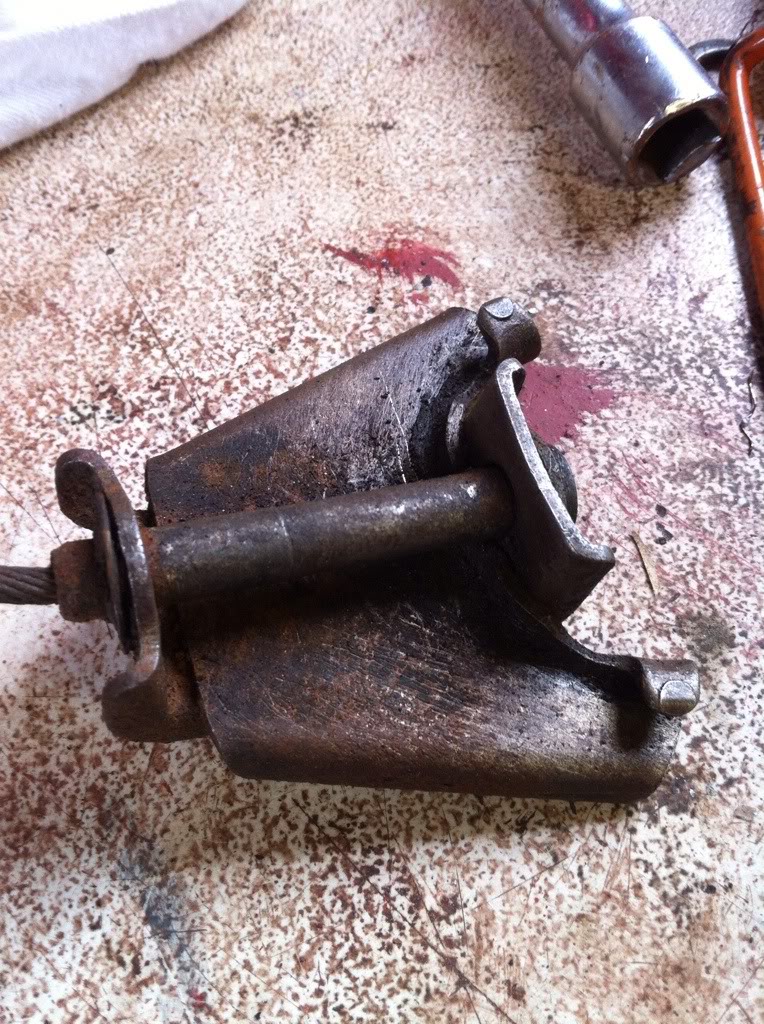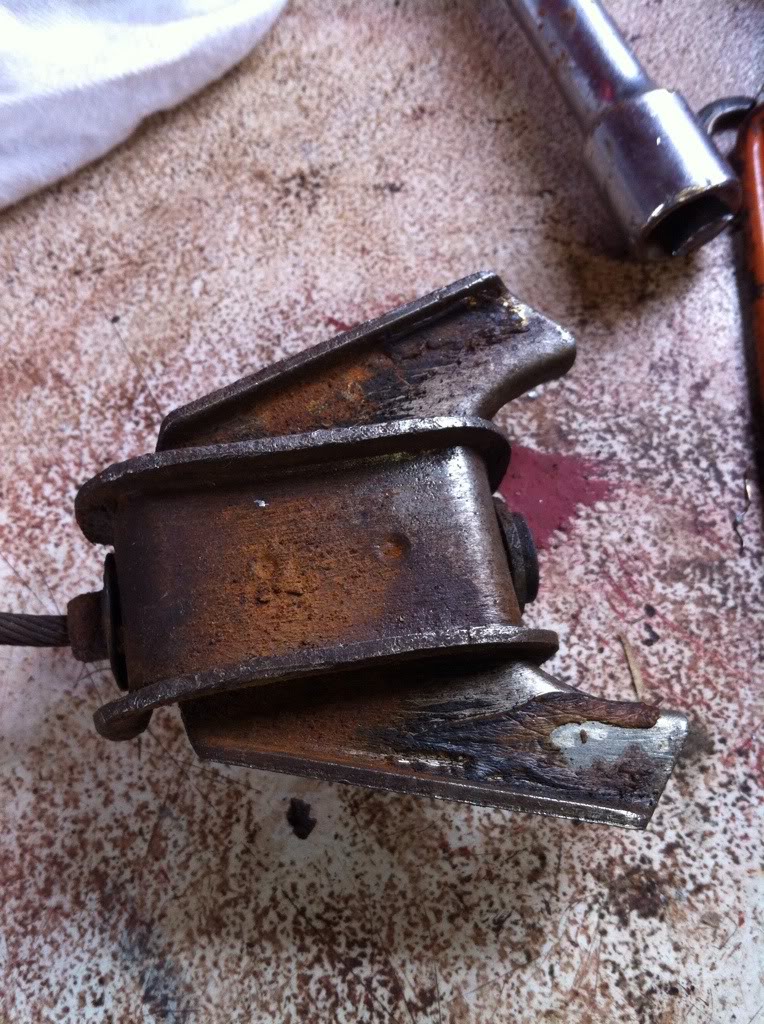 After!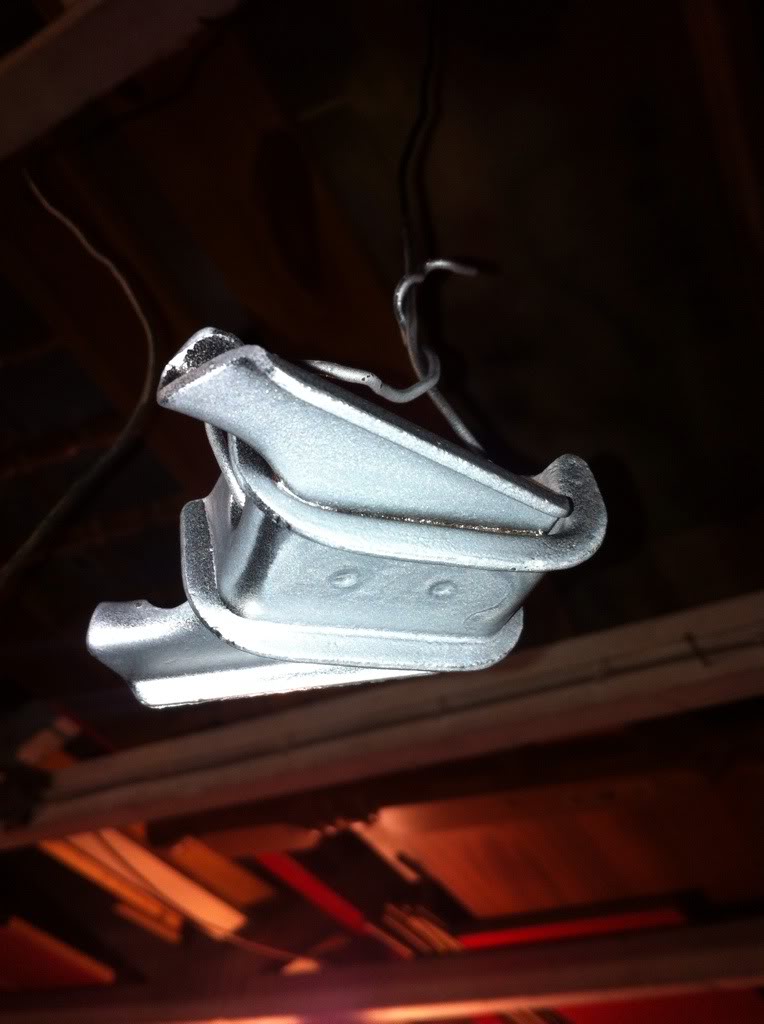 Also got some more wiring done and rerouted simpler. A satisfying day of work!

One thing I had to do was trial fit my bootlid. Hadn't done it since I got it home and safe to say I am one happy lad. Just look at it all mocked up!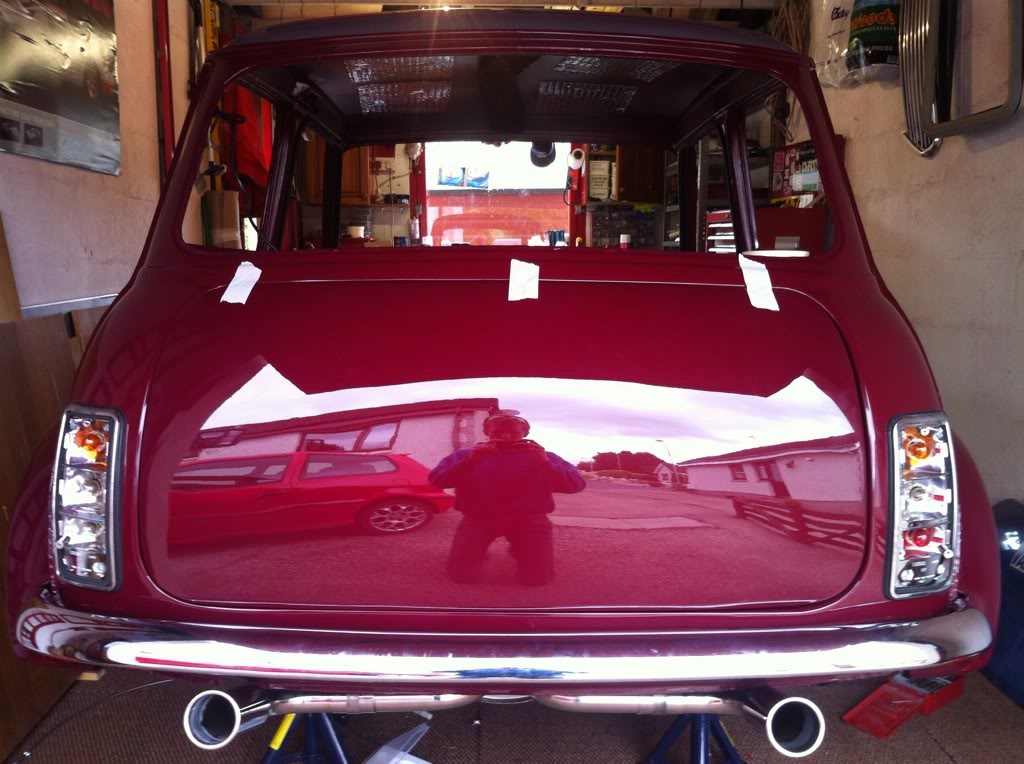 Forgot to update the thread. Been working lates at work so had no time to work on it. LOADS of overtime and payrise means more pennies though



Got the exhaust mounted finally front to back using only clamps, no paste as recommended by specialists.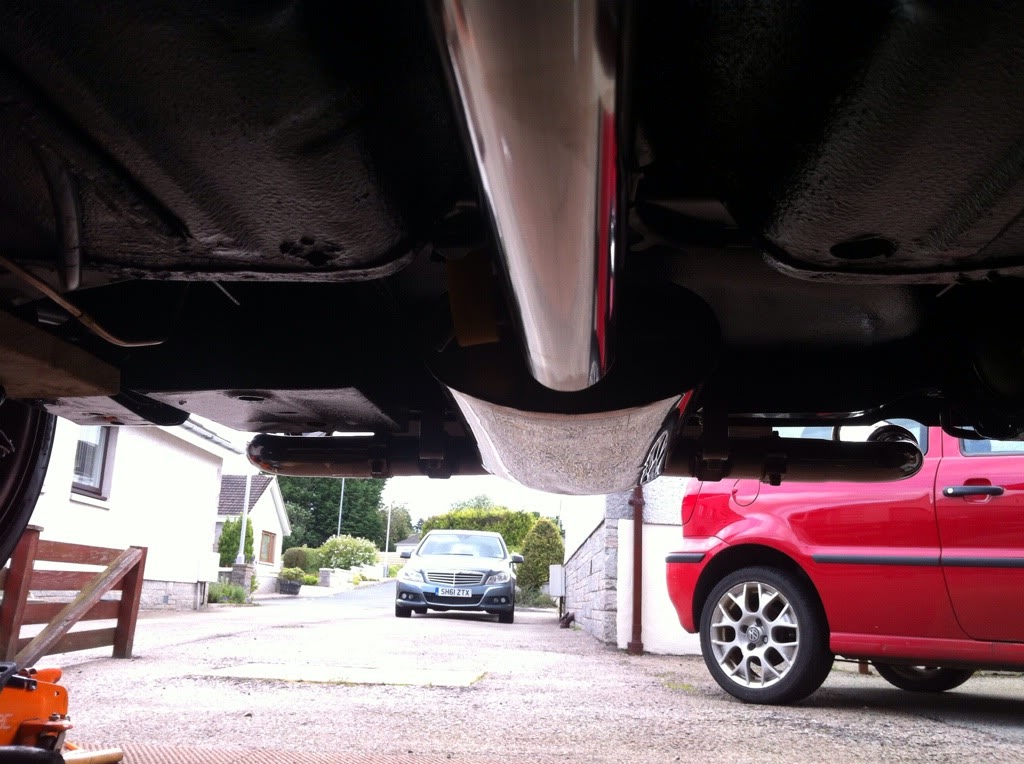 Clamps are angled as far into the tunnel as possible so they dont scrape.....




and the plate mocked up, hiding the back box nicely. Can also see the boot release cable ready to be routed properly




I also bought some bits. Little bits really but I got a Flamethrower coil and a carb rebuild kit.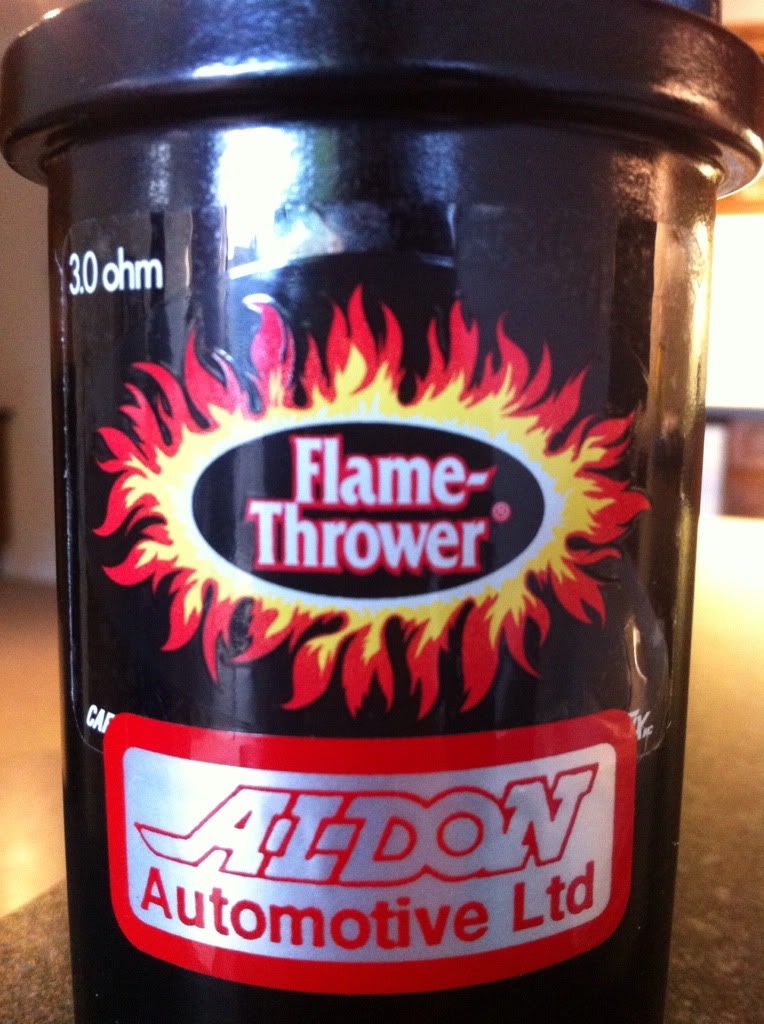 The rebuild kit was ordeed wrong in my error. So I have a full HIF44 service kit for sale. £20.

Will get an HIF38 one ordered asap!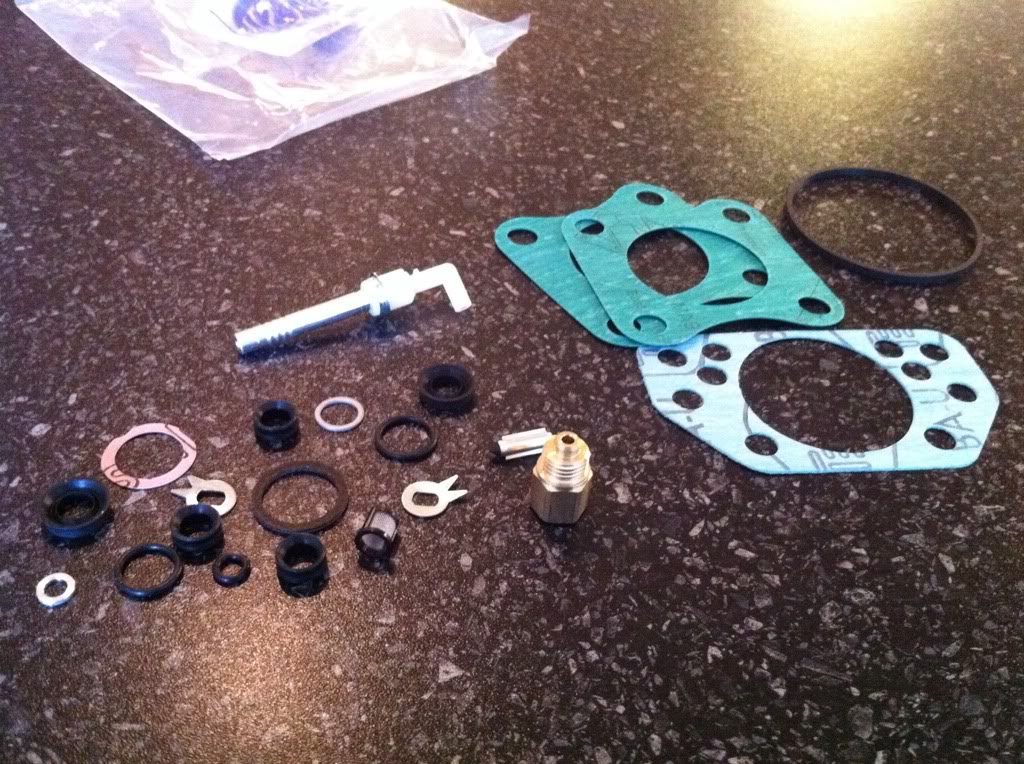 I also turned 21 at the weekend so I treated myself to a genuine OMP Corsica 90mm dished steering wheel. Suede covering for extra grip! 90mm dish means my legs go under it rather than around it like it used to be. Also brings wheel closer for better steering feel. Just waiting for the boss to arrive now.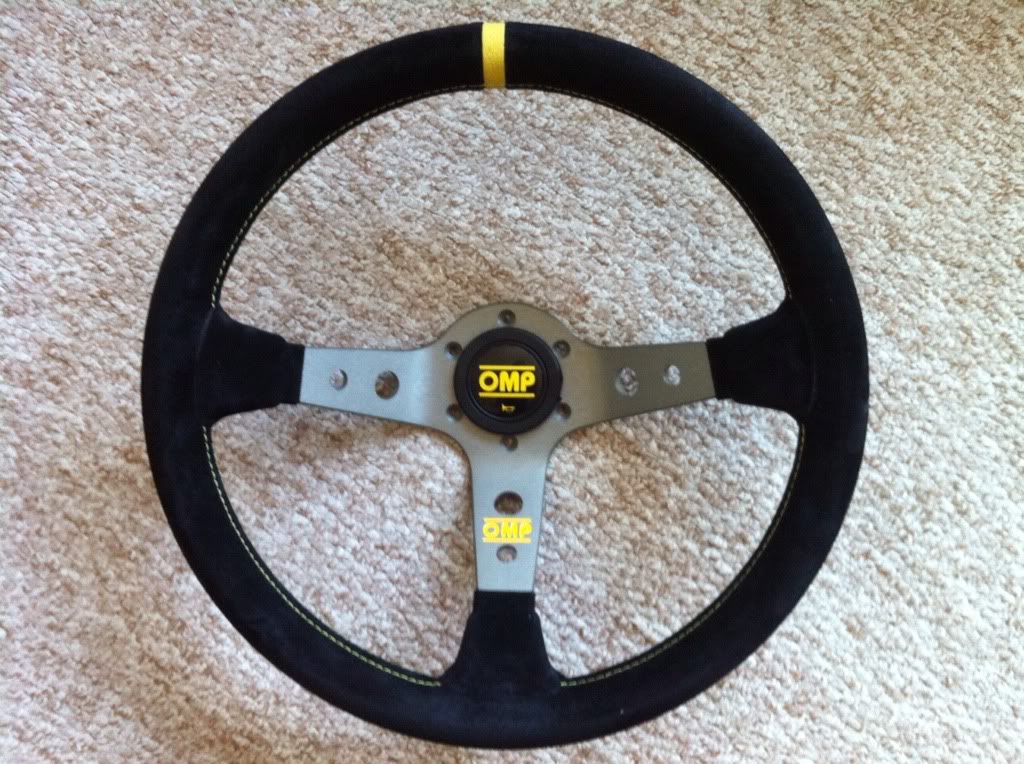 and the horn push which wont be needed as the horn is on one of the stalks.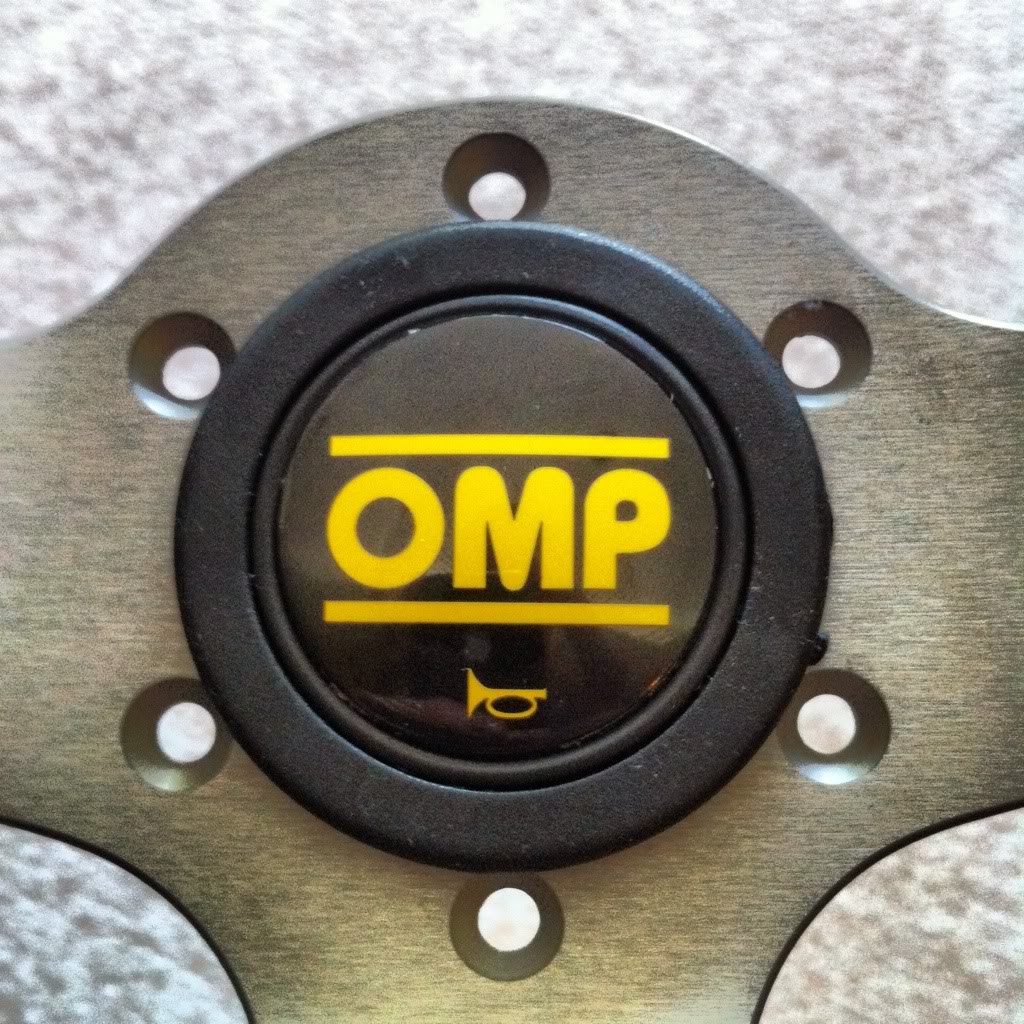 But look at the dish! Love it!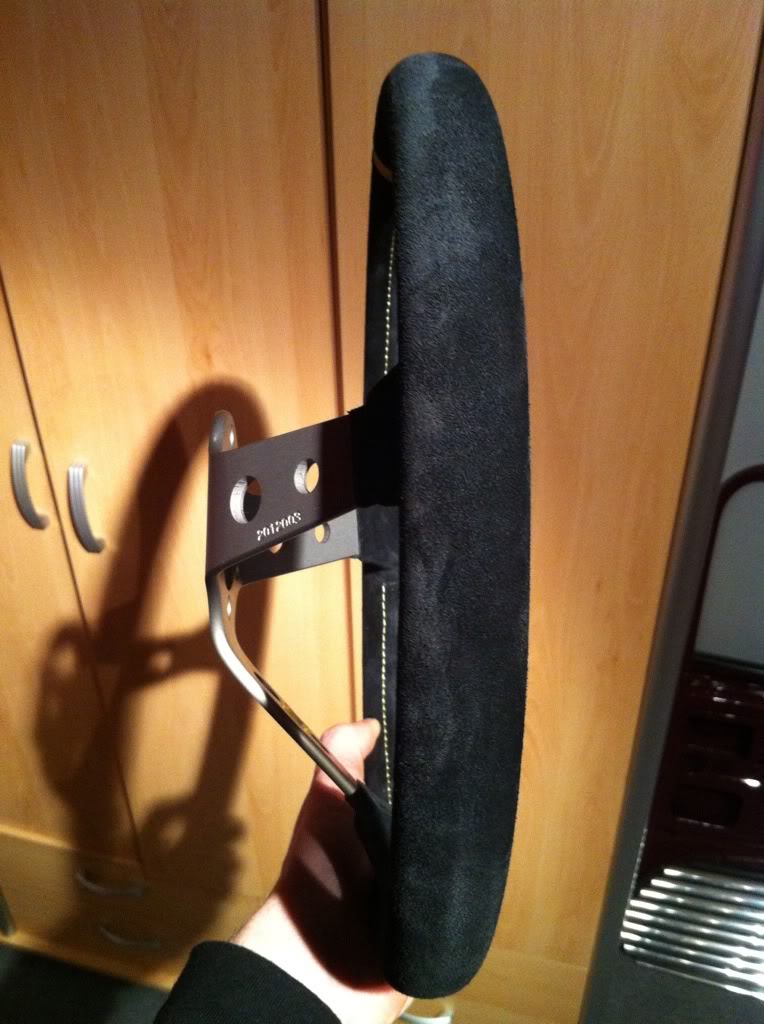 MiniSpares order being placed tomorrow too! On earlys this month (7am starts...) so means I have evenings free to work on it

8-8-2012
Had a day off on Monday so rolled the car outside for some fresh air and a couple of iPhone photos.....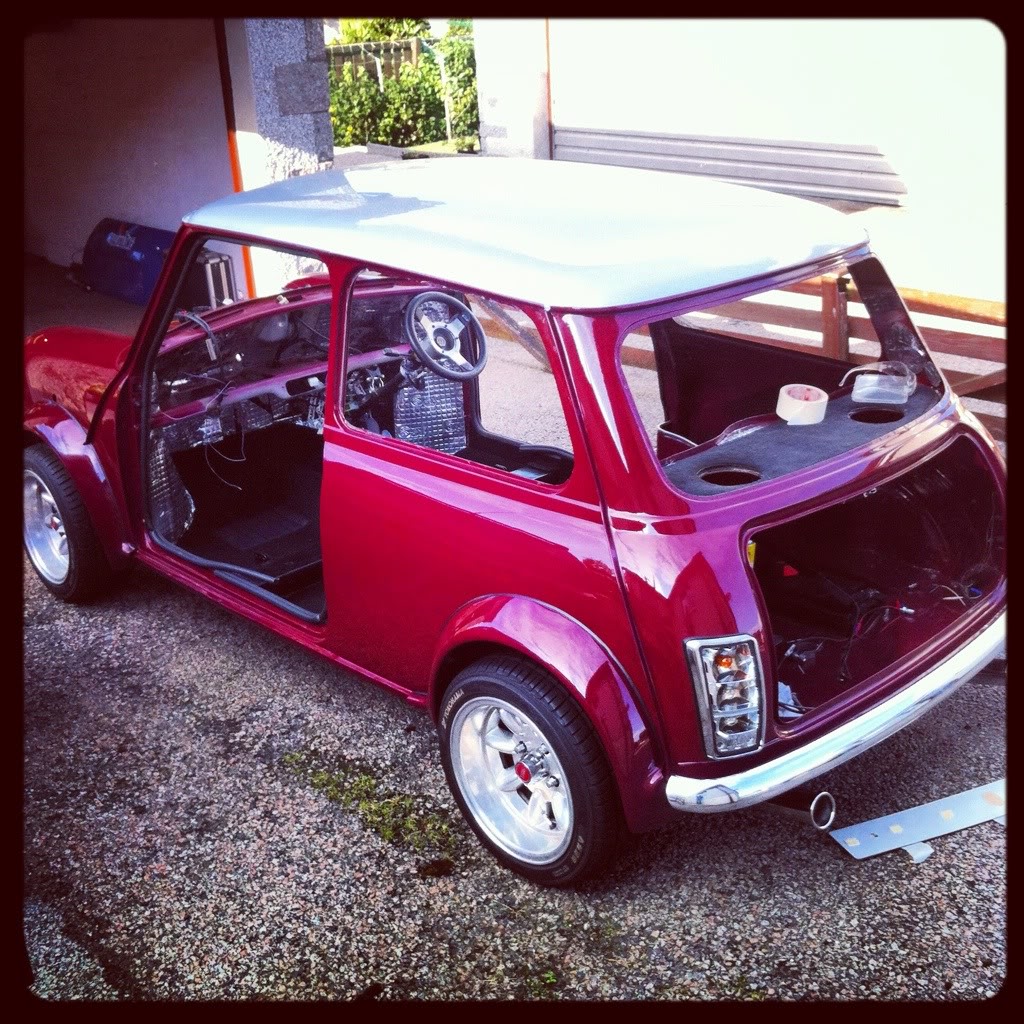 Bucket test fitted with harnesses on the harness bar. To say its secure is an understatement

Really holds you in tight!!!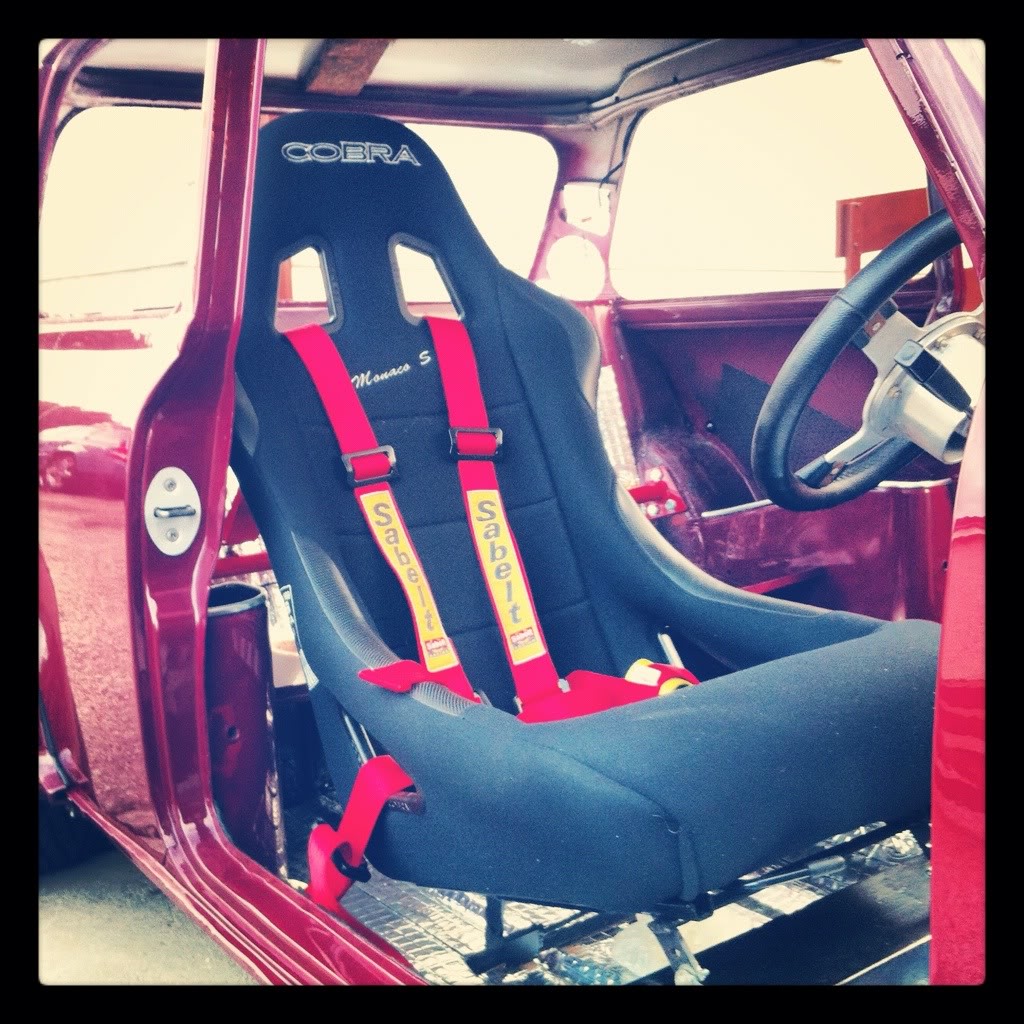 Had a quick test with my new OMP wheel. Its going to be perfect. Just the right distance from me and my knees will fit underneath it with ease even with the drop bracket! The stalks are a mile away from my hands but I can handily bend them to whatever angle I require without damaging them so I can reach them again! Chuffed with the combo! Just awaiting the bolts for the wheel and Im good to go!

And a quick shot of the rear wheel arch with the wheel under it. Cant fit your hand in the gap and the cut our arches are dead on. Wheels possibly need a 5mm spacer to fit them properly but IM happy enough to get it on the road with :)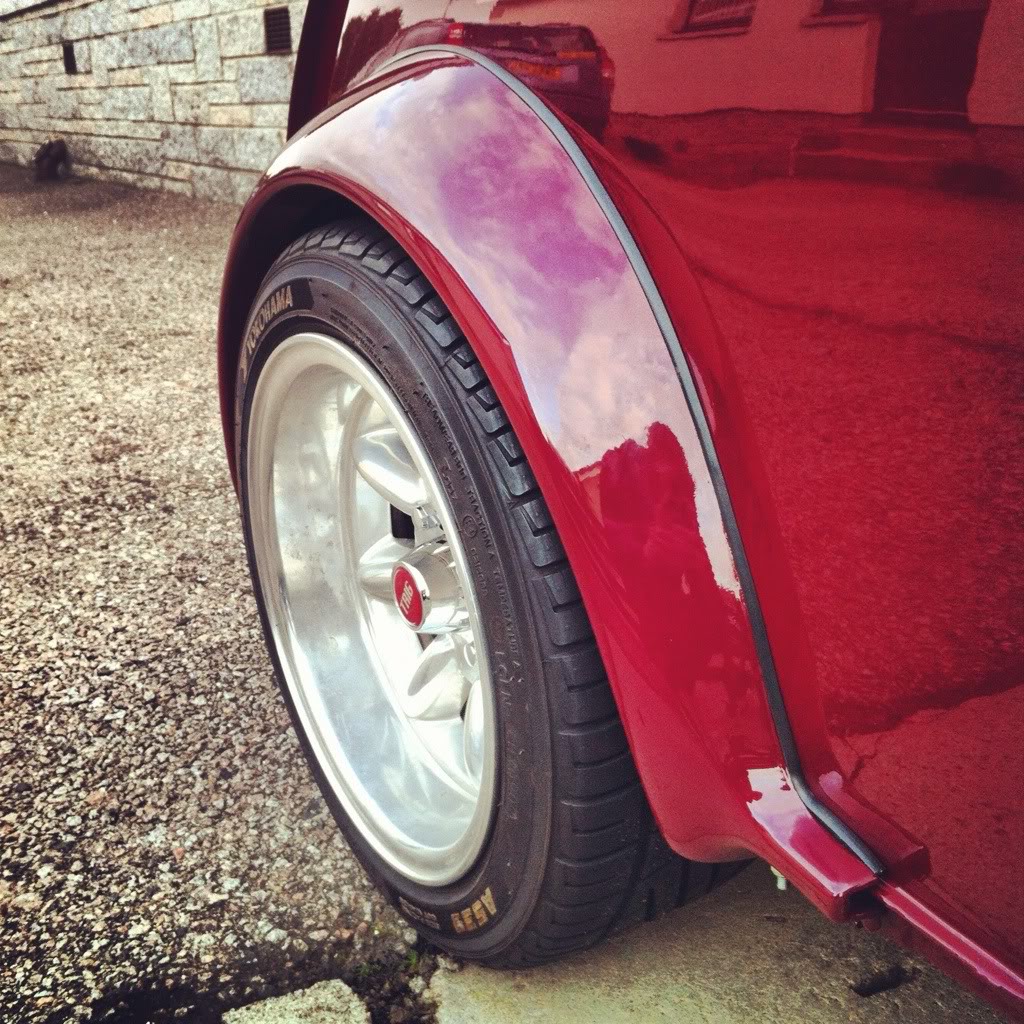 Well lots of parts arrived today so within 15minutes of getting home they were installed

LOVE bolt on bits that take NO effort to do!

Lucas rear lights in mint condition. eBay bargain was too good to resist. Must say, I much prefer it over the clears I had on it for a while.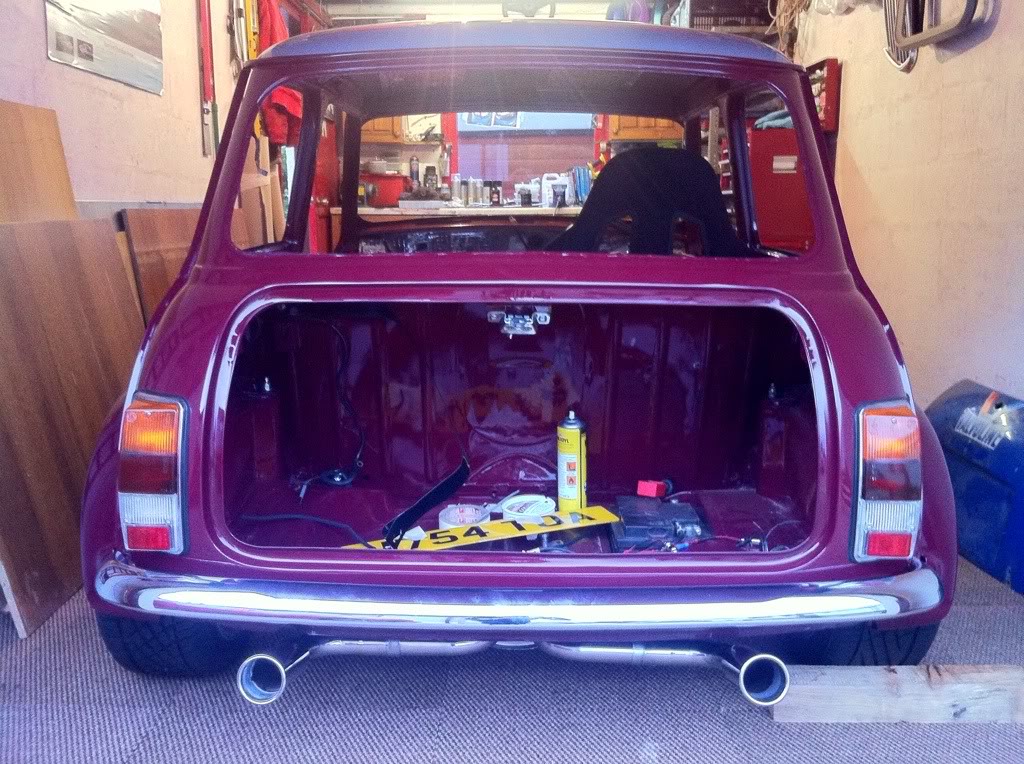 Genuine MOWOG fan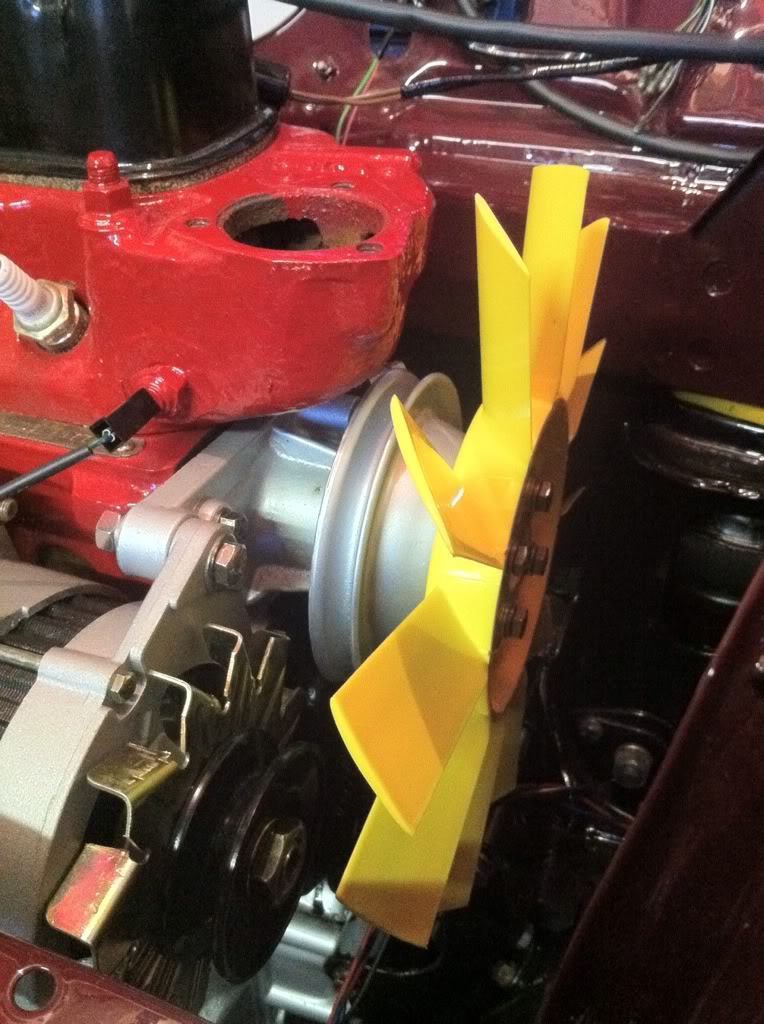 Replica sill trim. Would you believe that genuine square shaped trim is £20+VAT each side!? Got both sides non gen (albeit not square profile) for less than that!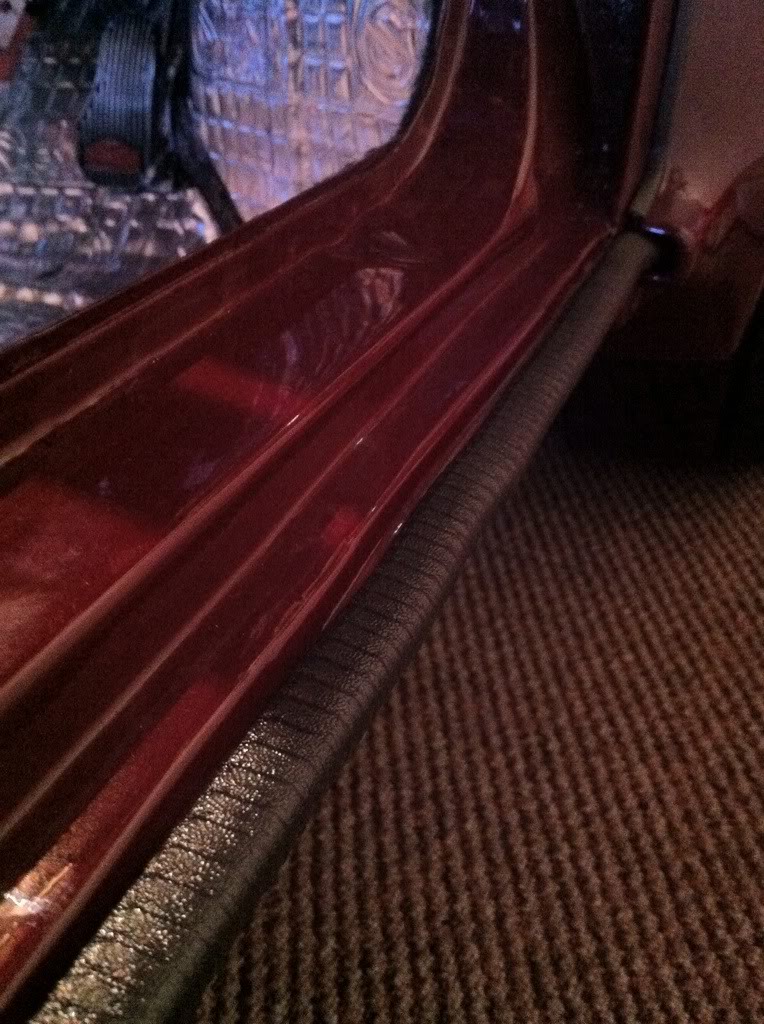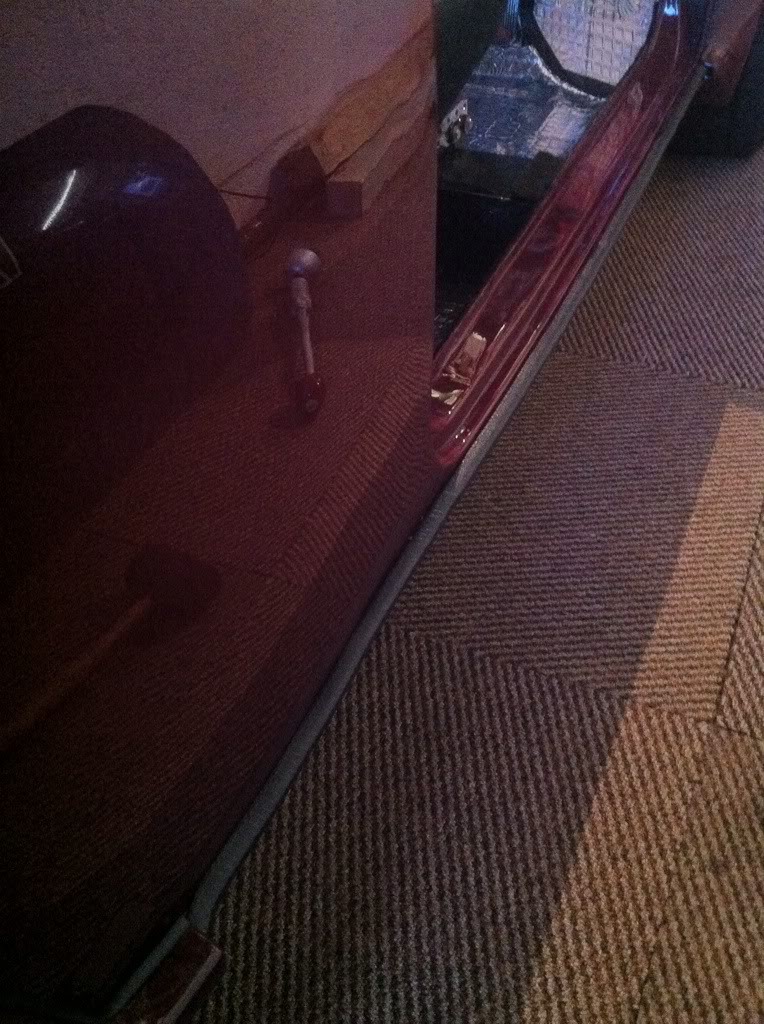 Also got new door check straps as the outer clamps had snapped on my old ones.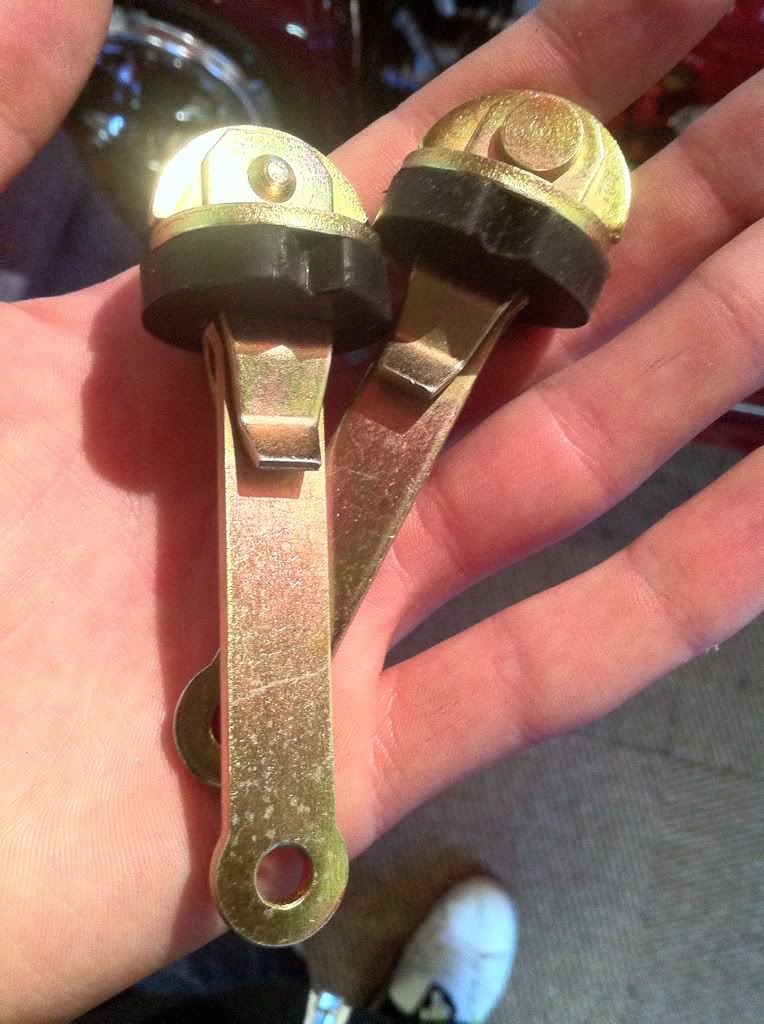 Also bought a little something to help the project along but I wont reveal that until it all goes through

Safe to say, it is a brilliant purchase!

Ordered a new alcantara headlining in black which should arrive soon. As soon as its here it will be installed so i can get my windows etc all in too! Its all falling into place gradually!
8-9-2012
Nothing major but my wheel bolts arrived this morning! So nipped out to test it out before breakfast



Went with black as I cantbe bothered having to polish chrome/polished ones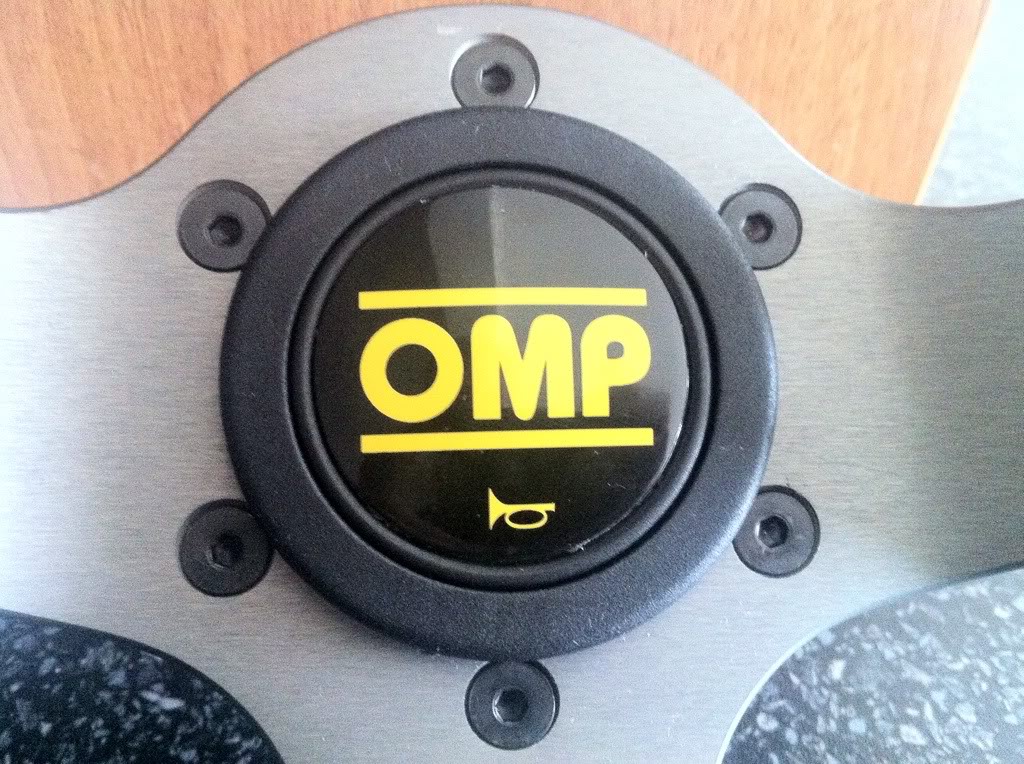 And installed! Remember Im 6'6" so this is amazing access for someone like me!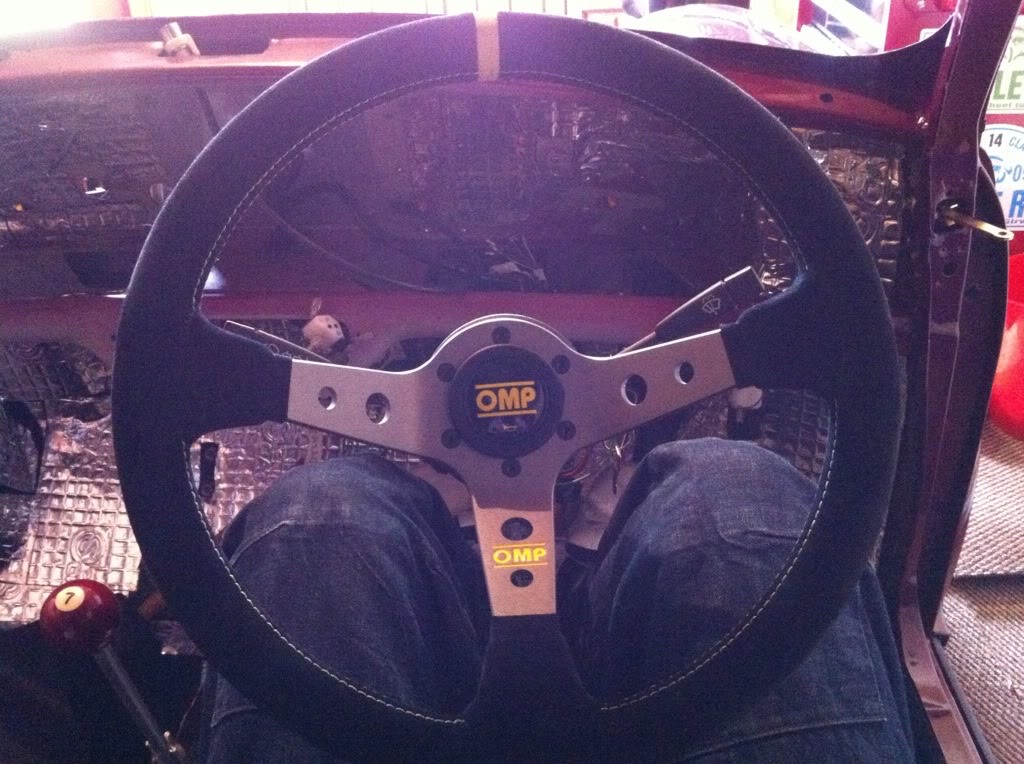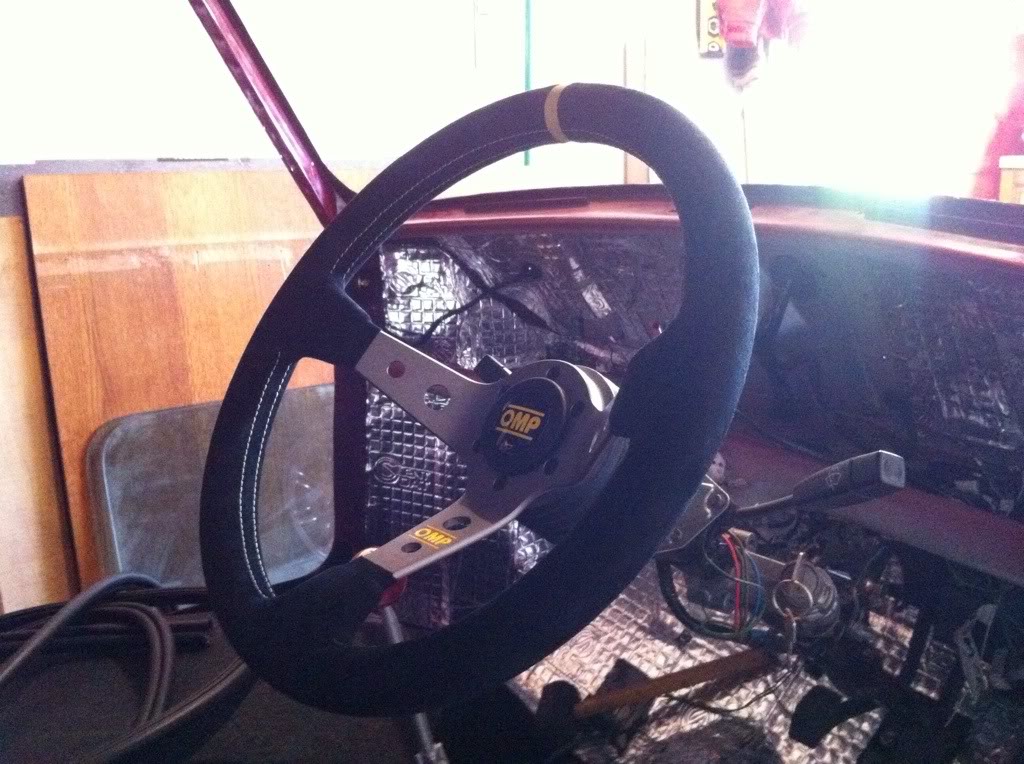 The boss acts as an extra spacer so its in the perfect position.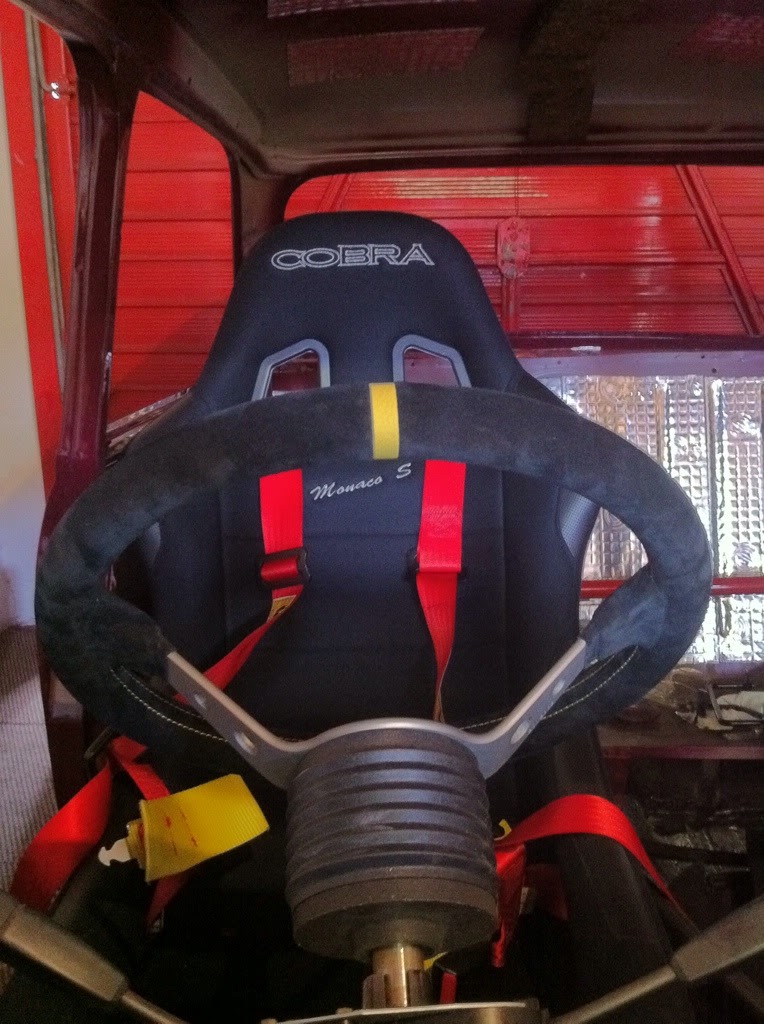 Seat is a bit far back maybe as when i look directly 90 degrees right I see the door pillar or out the side window but only just.

Something to tweak i think! Steering column needs its cowl put on (colour coordinated of course) which will tidy things up. Just got to work out how to bend the stalks without snapping them now......
8-17-2012
Forgot to update with some progress! Been a busy boy!

Got my washer jets fitted. Had to drill the holes as they were made to fit the MPi later model plastic jets which have a D shaped hole. Wasnt nice drilling through fresh paint! Sealed the edge with hammerite to prevent rust setting in again.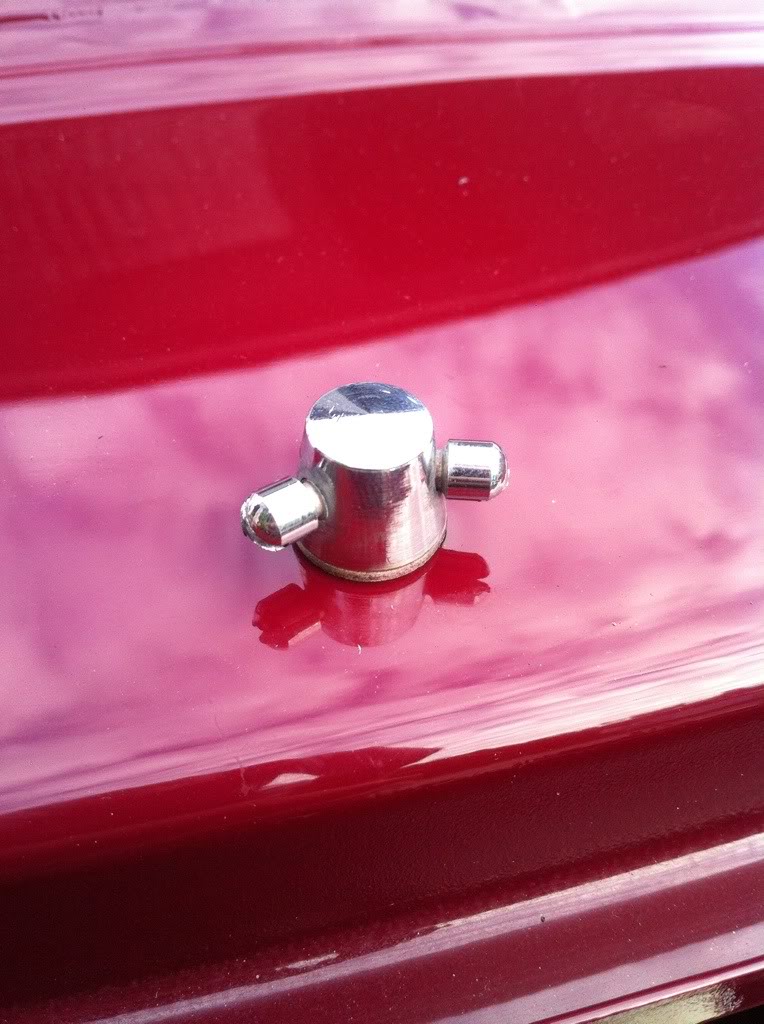 And with the help of my mate Greig we got the carpets in. Little bit of cutting needed but nothing too bad! Just need to carpet the crossmember now.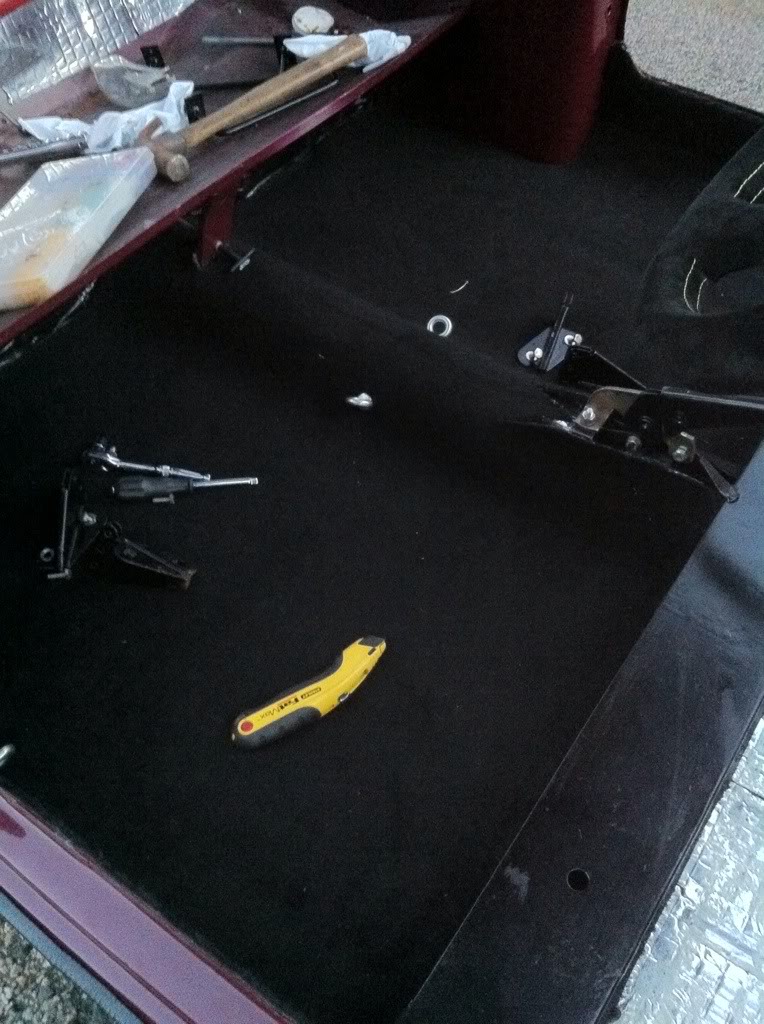 Also got a shot of the flake popping in the roof. Brilliant finish to it!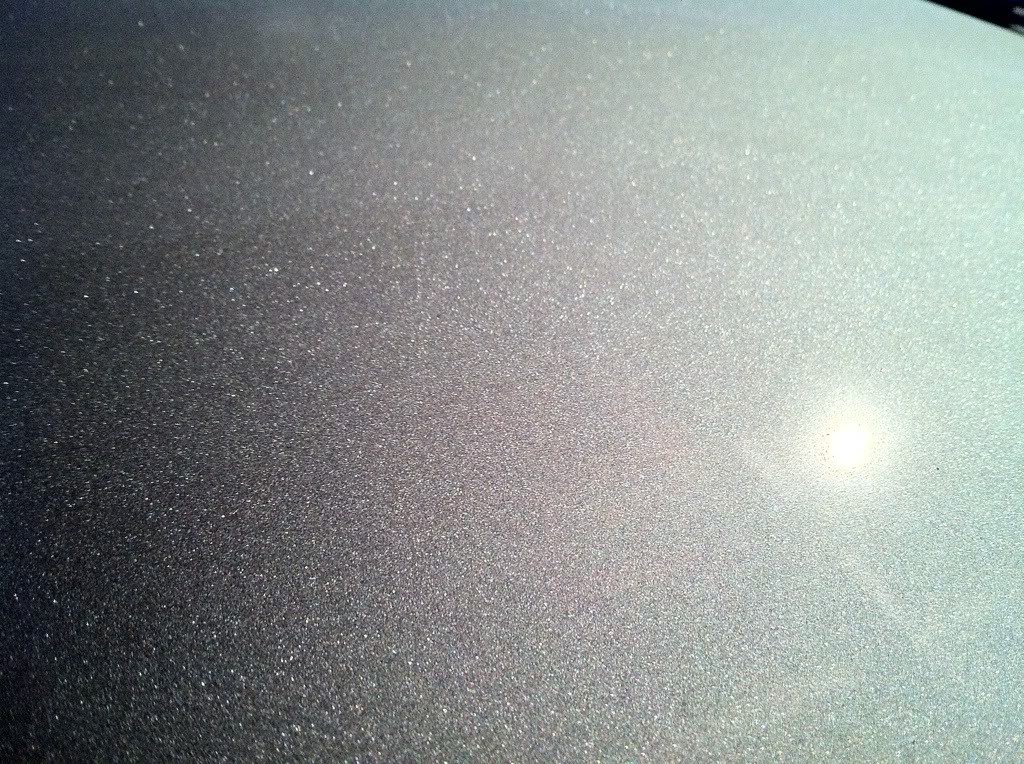 I rebuilt the HIF38 carb......bolts and tiny bits EVERYWHERE!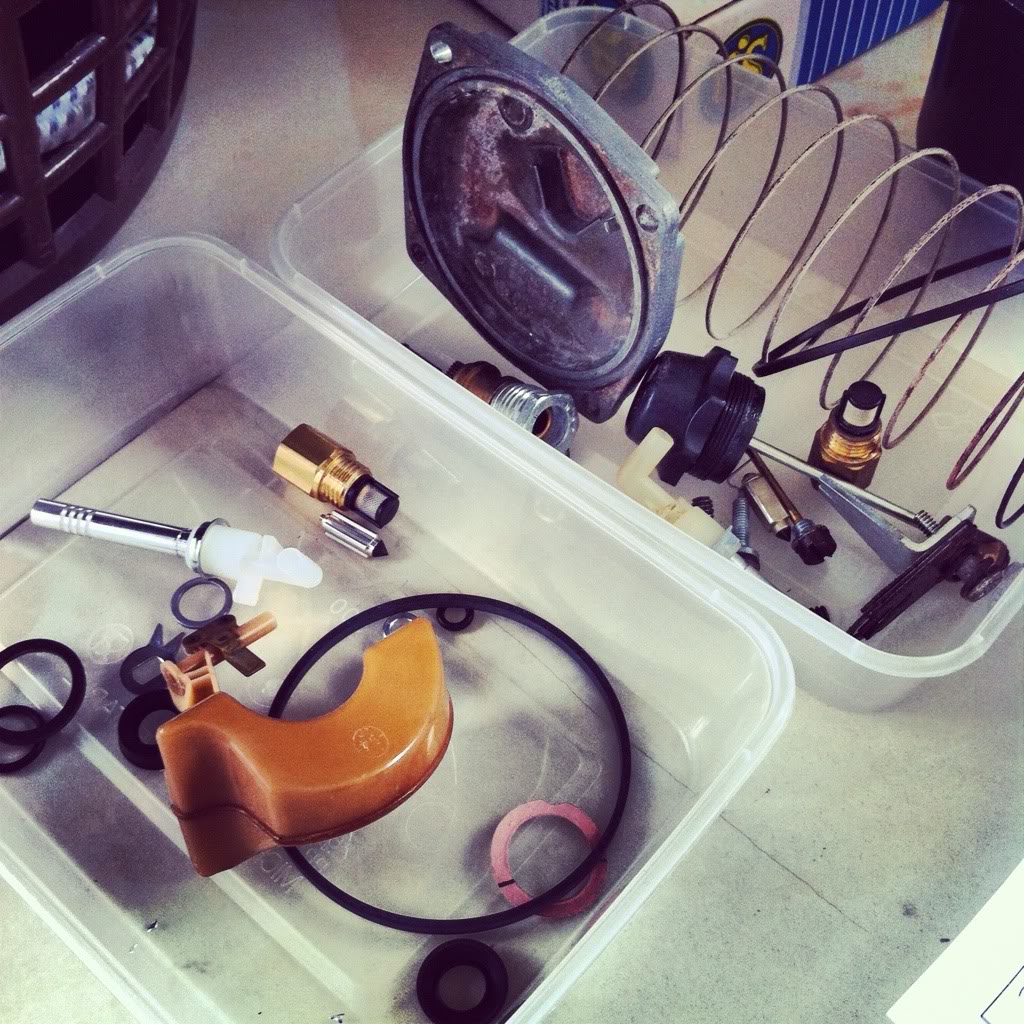 took yet another photo of the whole car....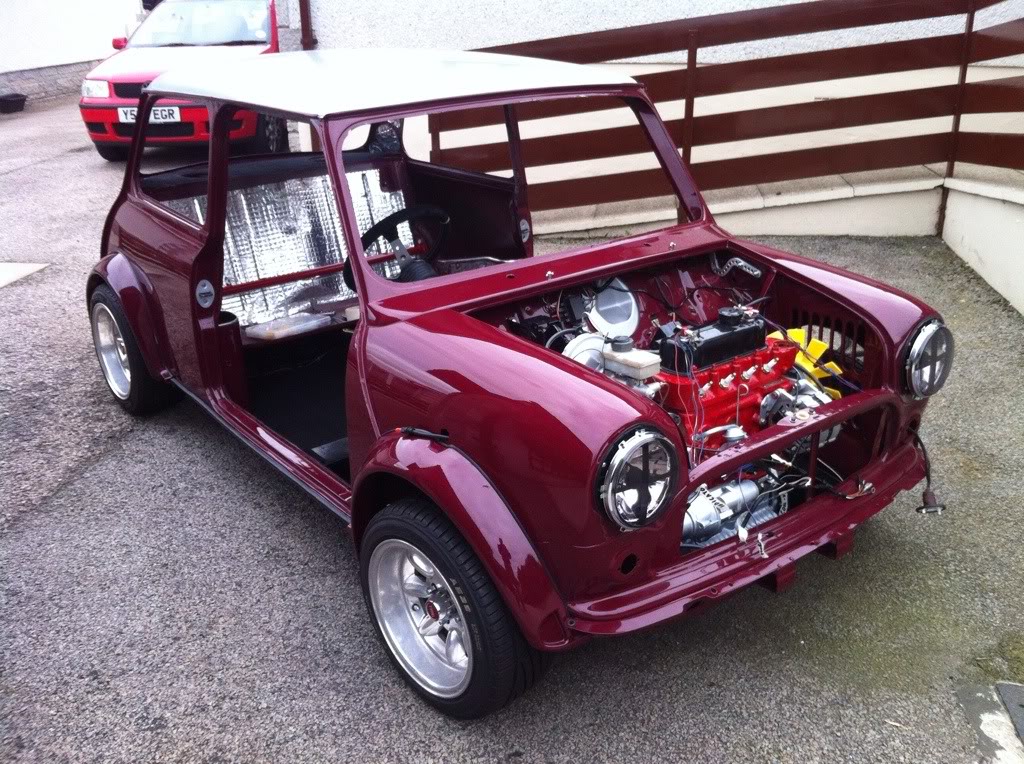 and this was my big purchase. A 1984 Mini City resprayed from original yellow to Tahiti Blue with silver like a late Cooper 500. Its been sitting for over 5 years so it has siffered with sitting outside. Went 50:50 on it with Greig. Shell is beyond saving (2foot hole in the boot etc etc) but some of the parts will be destined to go onto my car and others will be for sale in due course.

So it arrived like this....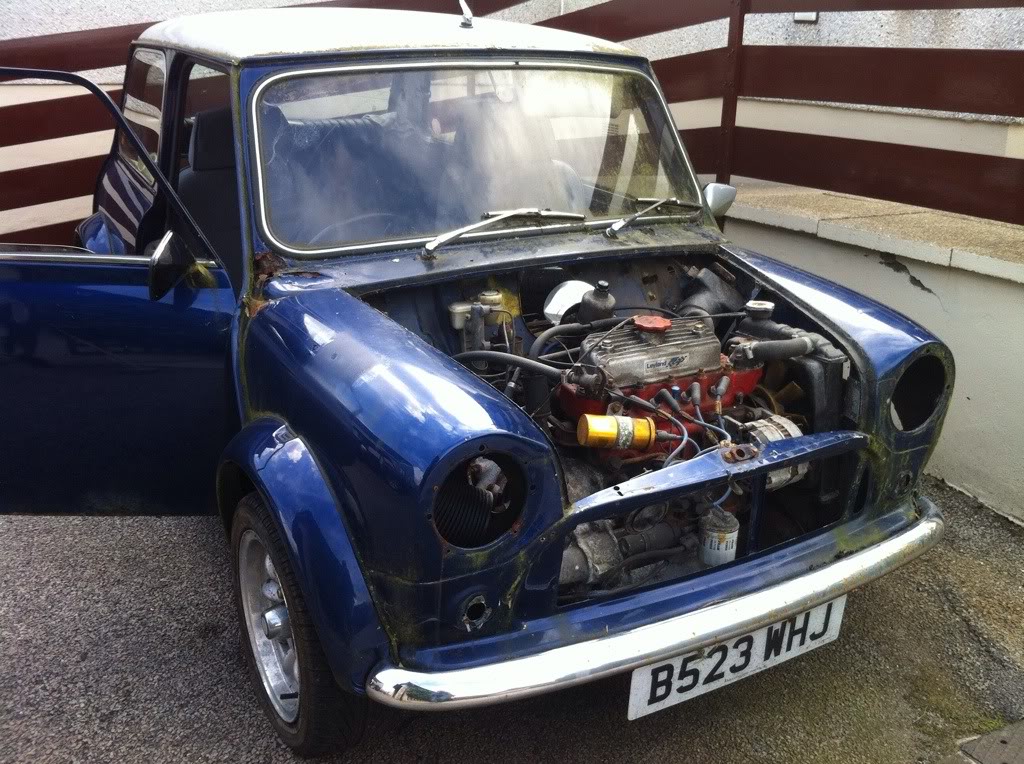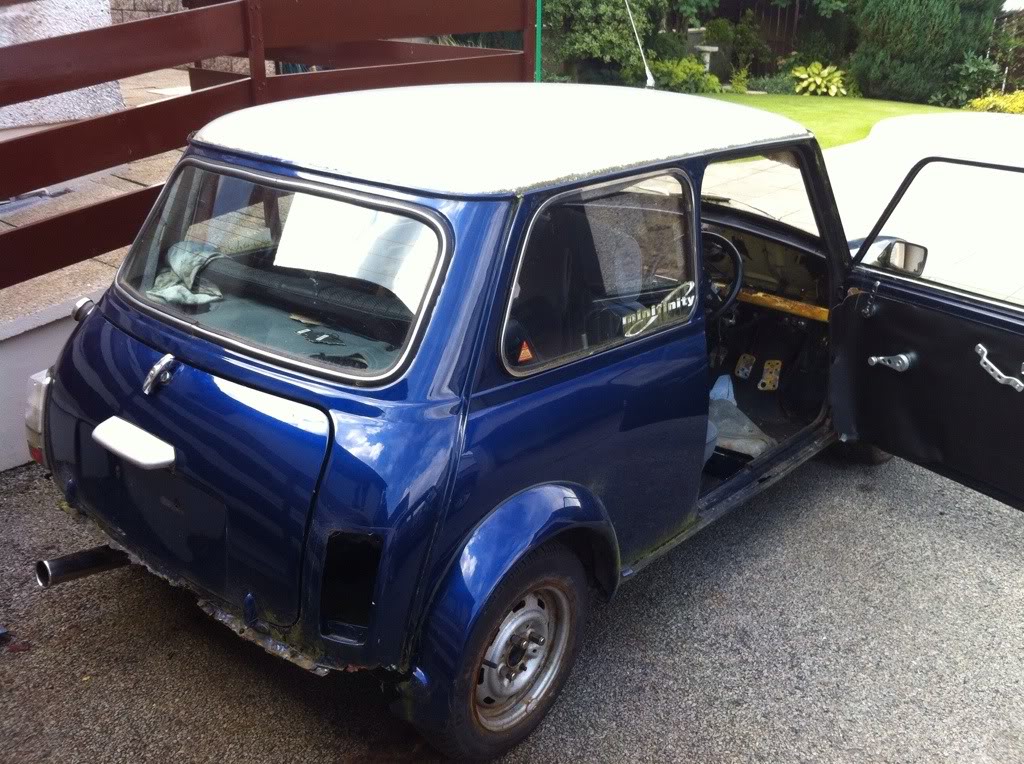 and by the end of the day looked like this!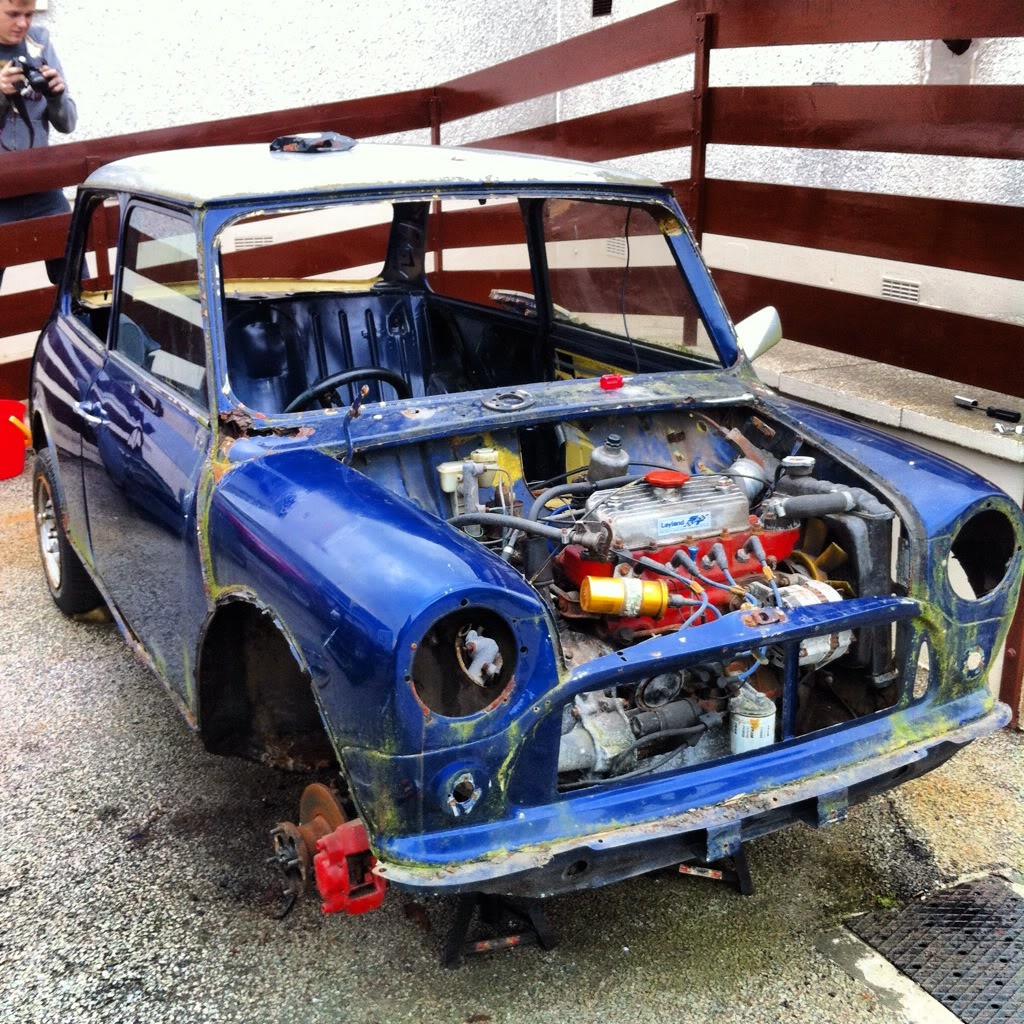 Its got alloy Minifins, genuine sportspack arches, Metro A+ engine with electronic ignition and a 12G940 head paired to an HIF 44 along with loads of other tasty bits! The carb is going onto mine seeing as I have a rebuild kit for it anyway, it would be a shame not to use it really....

Havent touched my car since then as Im working 9 days in a row so coming home knackered. My parents cleared out our loft and now all my parts are in my room. Suppose that will speed me on to get clear again!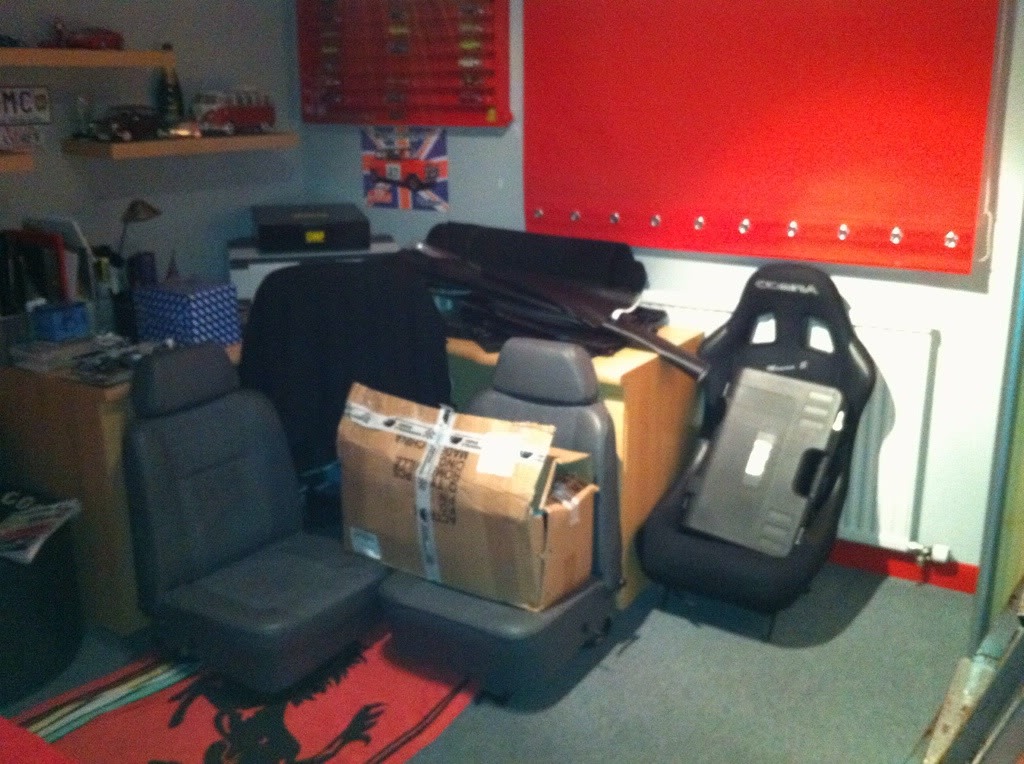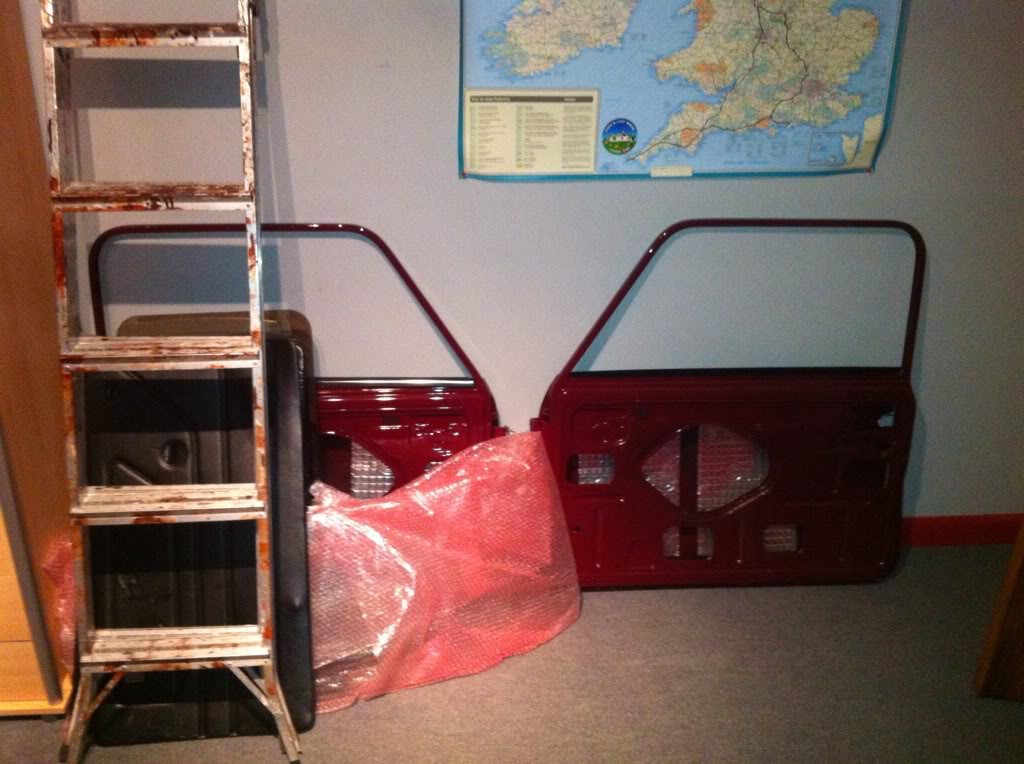 So its still going just not that quickly. Currently waiting for my headlining from Optomise Automotive to be made and arrive so I can get it fitted and then windows etc in. Once thats done its just wiring and filling up the tank and its done!
8-20-2012
Finished work at 4 so came home and set about rebuilding my HIF44 carb. Fairly straight forward but remembering where everything goes does mean you have to concentrate!

So I started with this pretty much all over....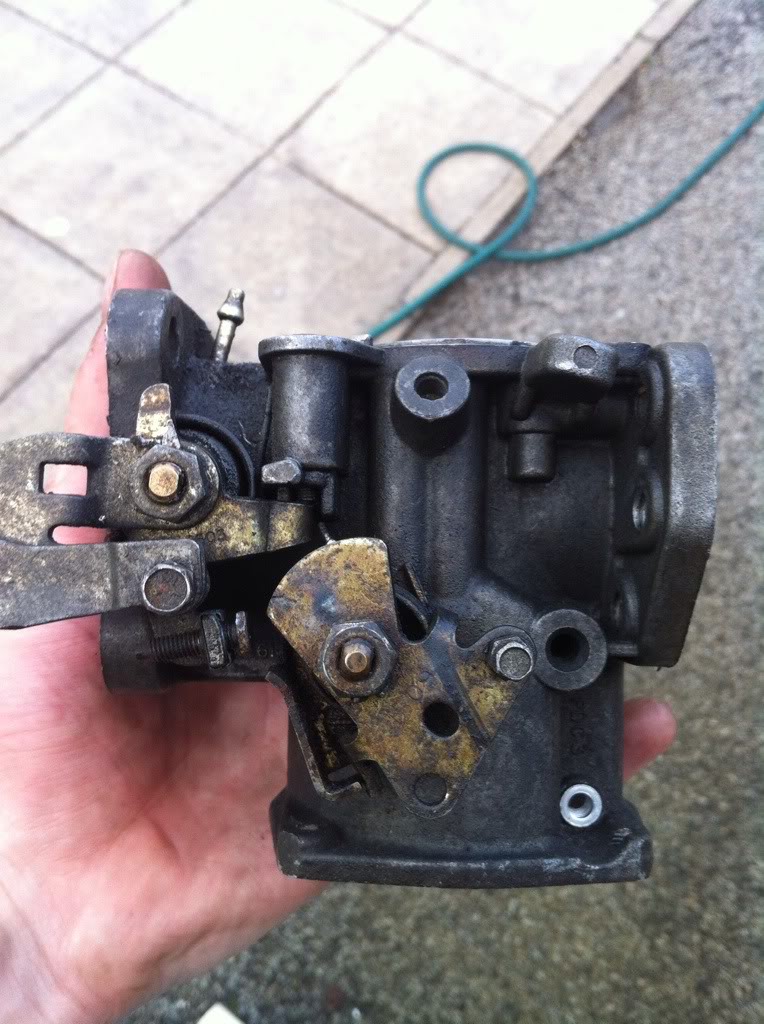 Surface corrosion but nothing the Dremel couldnt sort out. So I got it fully stripped down ready for cleaning and new seals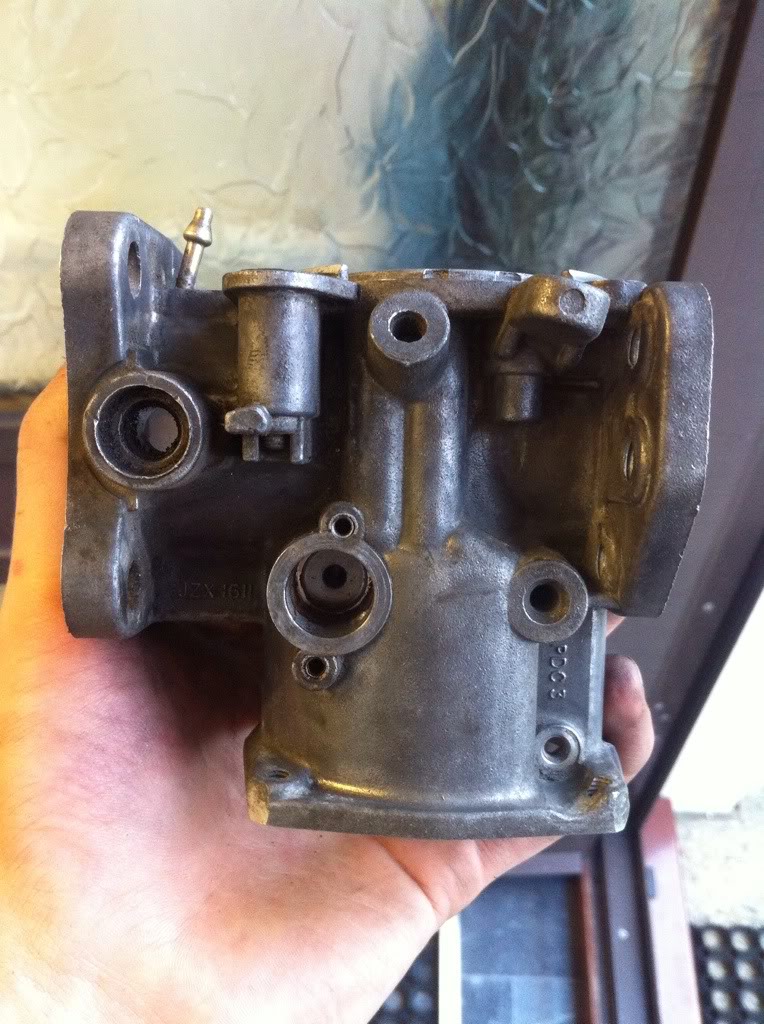 and was left with this....scary sight!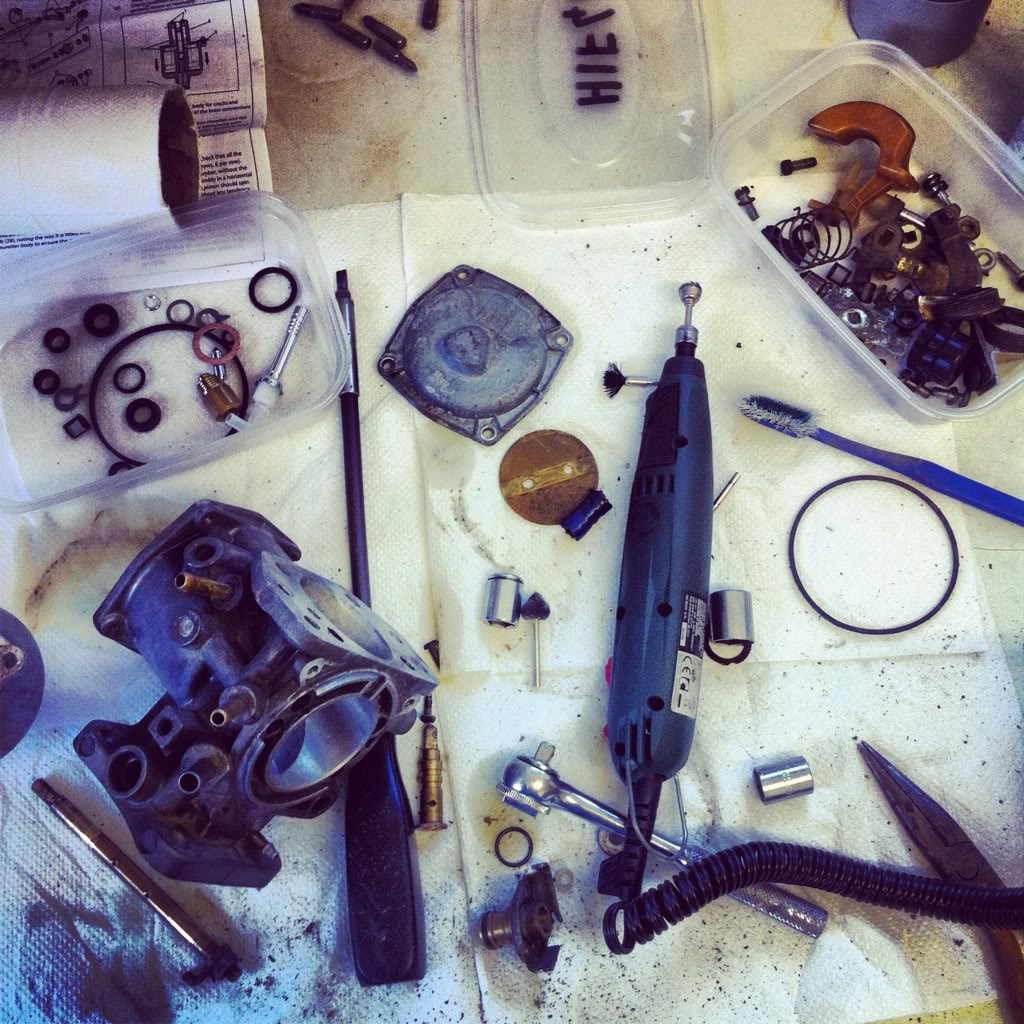 One thing the new kit has is an improved tip on this......instead of brass which wears down this lasts much much longer.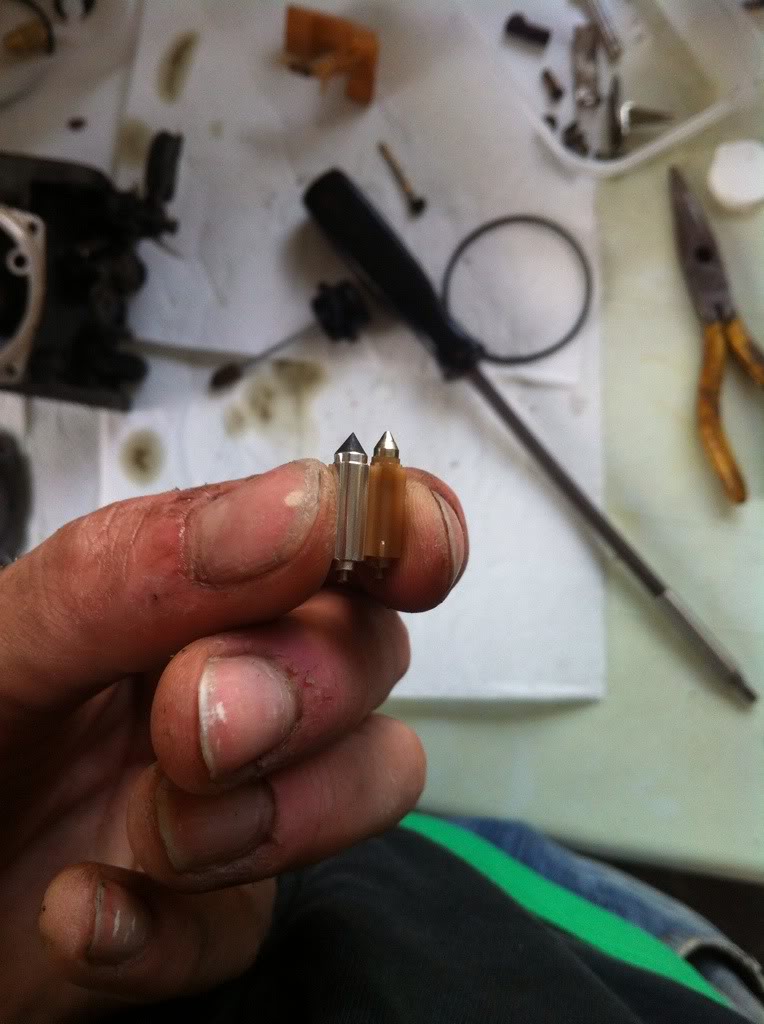 Then all reassembled ready to fit and go!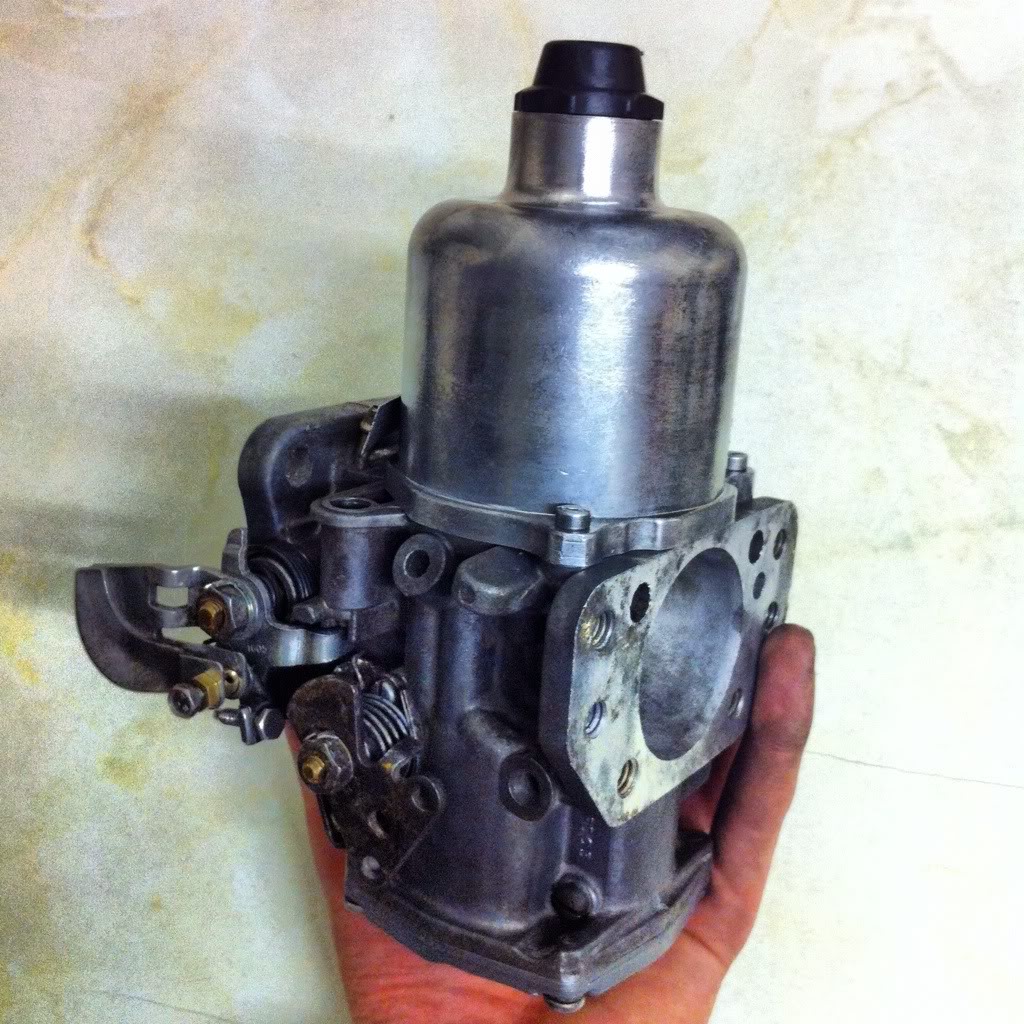 Just need a new pipe to hook up the fuel pump to it and its done.
8-25-2012
Another day down. Good 9-10hrs today so loads done!

Main objective was to get engine bay ancillaries done. Mission accomplished!

No befores as they have been posted already. Got the radiator installed after modifying an existing bracket and creating our own bushes to attach it to the thermostat housing. Big job for something so insignificant.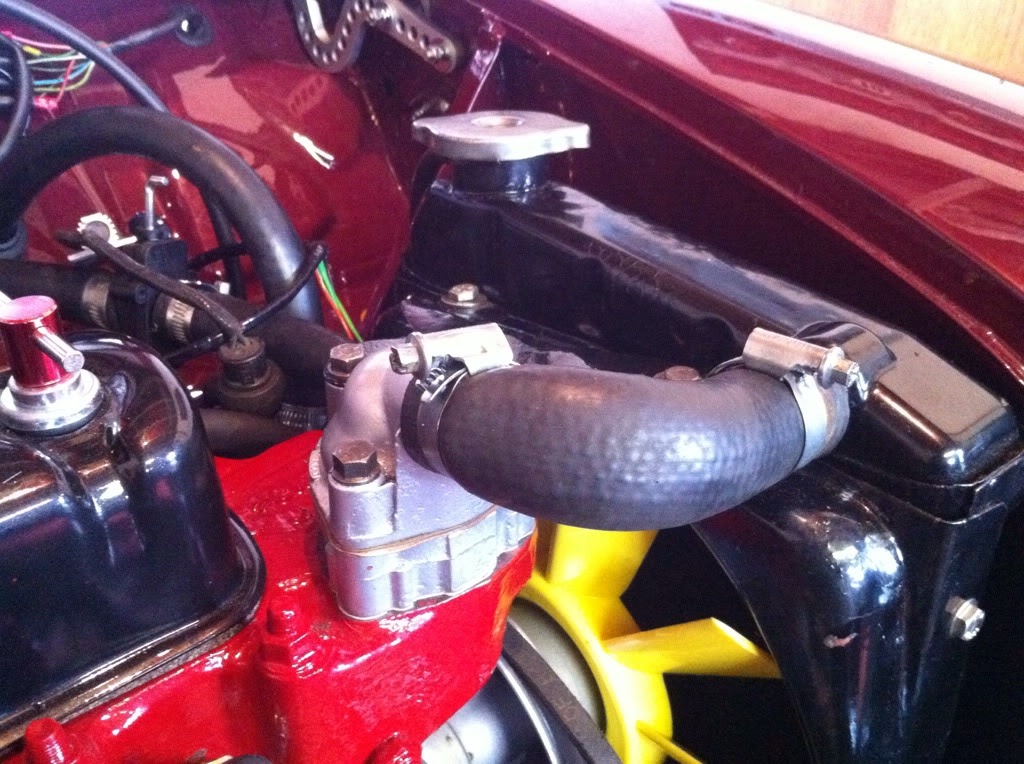 Also got the heater and all engine hoses installed too. I had 3 cars worth of hoses to choose from and I needed bits from each one given the different cylinder heads and bulkhead holes they all had. Thankfuly had the right combo to fit my car though!

Also got the HT leads on and these funky little lead identifiers on too which i got from the scrap car.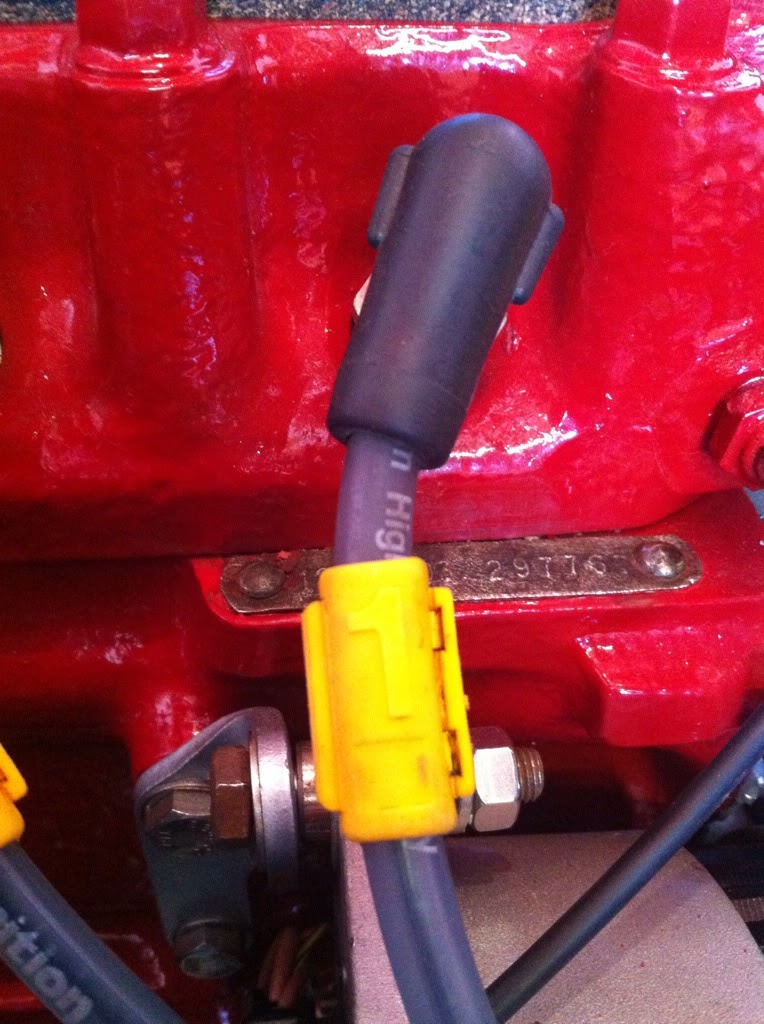 So the bay is gradually getting busier and is pretty much now ready for all fluids, ready for starting.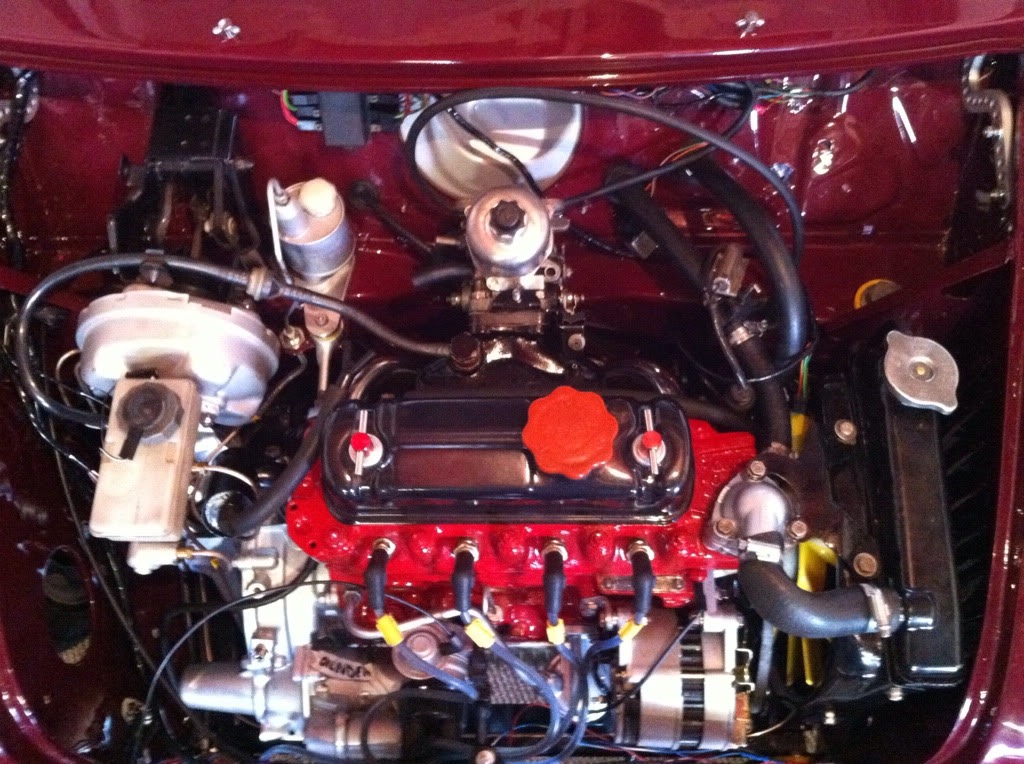 Also tried to install my wiper motor and rack but the spindles are rounded off so need to order up new ones. I made rubber bushes for the wiper motor so it doesn't clunk or rattle on the move. Old one didnt really do it but better to be safe than sorry!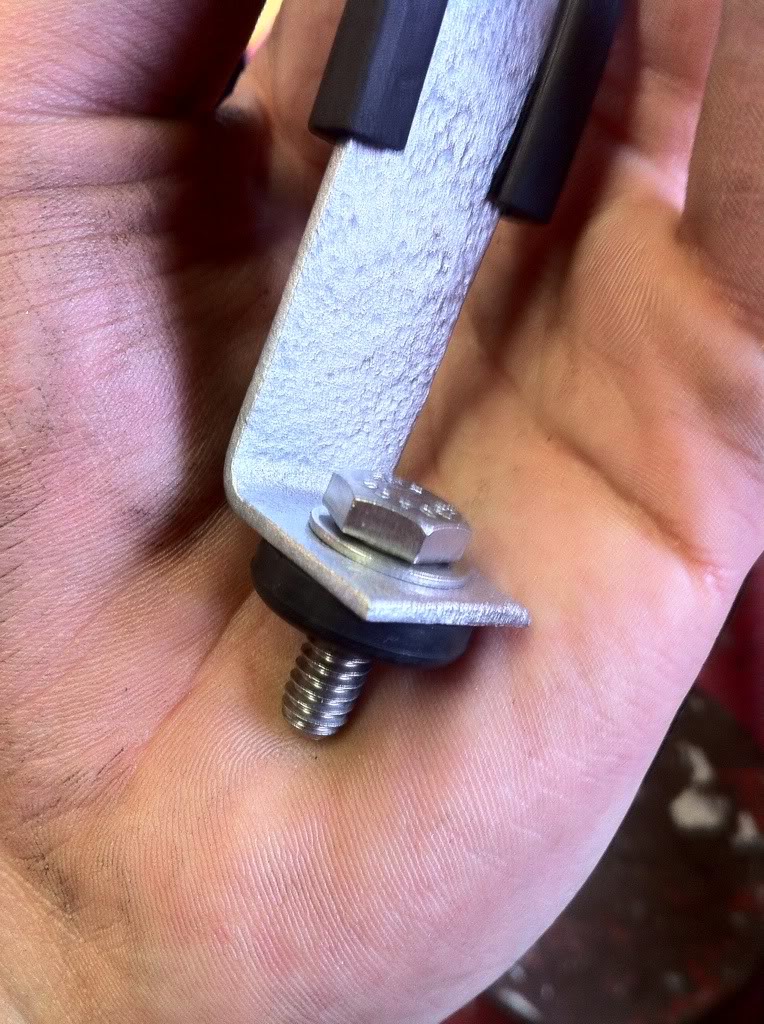 We also tidied out the garage and I noticed this dude on one of the old shock mounts. A very shocked shock mount indeed!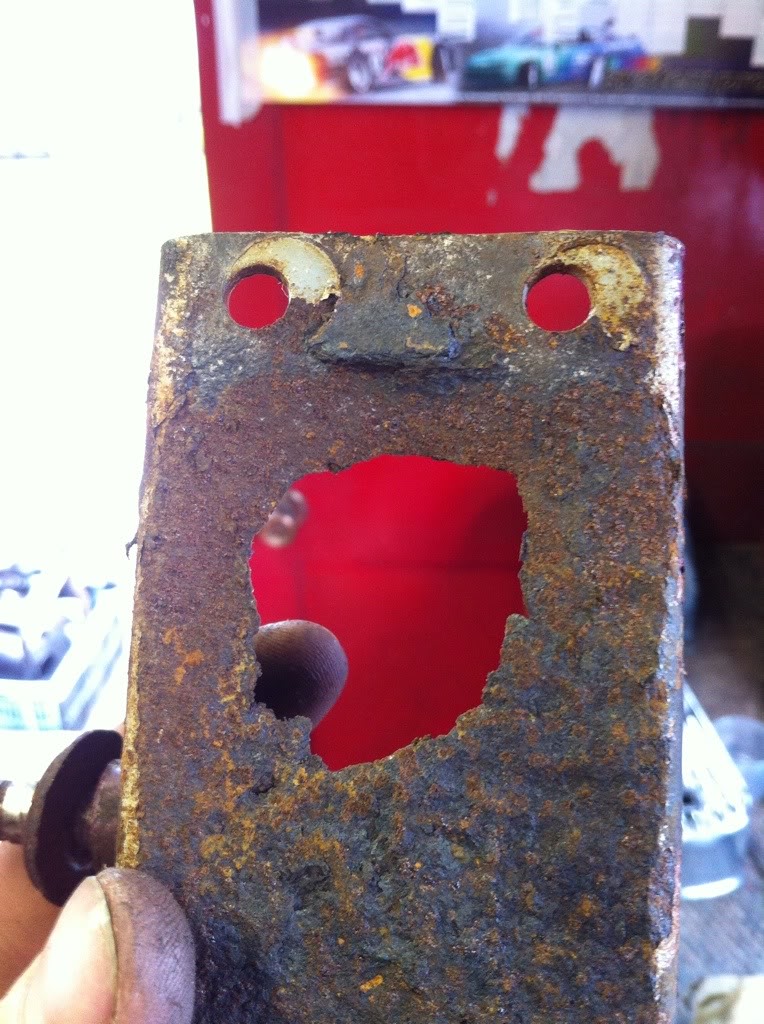 So now the engine is ready all we need to do is wiring and install a tank and its ready to fire up! Headlining is en route so that will be done by end of the coming week which means the windows can go in too! Its all coming together nicely!
8-26-2012
Had another day at it today. Main task was painting few bits here and there and completing most of the wiring. It was a successful day



I tidied up some routing of wires and got them all reconnected. Then I had to toally rewire the instrument cluster multi plug as it was hard wired into the old loom and the new loom had bullet connectors. As it was I made up spade connectors for easy fitment and future disassembly in the event of an electrical failure.

So with that all done the lights started to spring into life......albeit it slightly weird! The indicators/hazards were on without flashing, the side repeaters thought they were headlights and the brake lights only worked with the headlights on. Not great!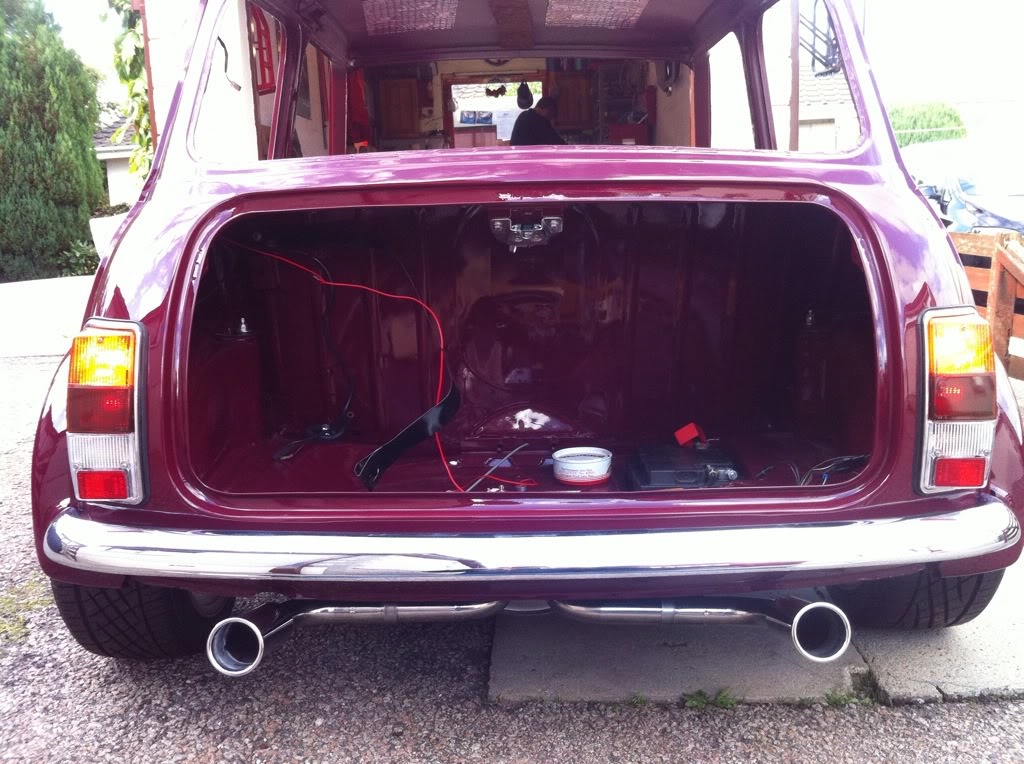 After some troubleshooting I found I had forgotten to reconnect 3 earths on the bulkhead reinforcing plate. With that reconnected it all began to take shape!

Brake lights, headlights, hazards all working!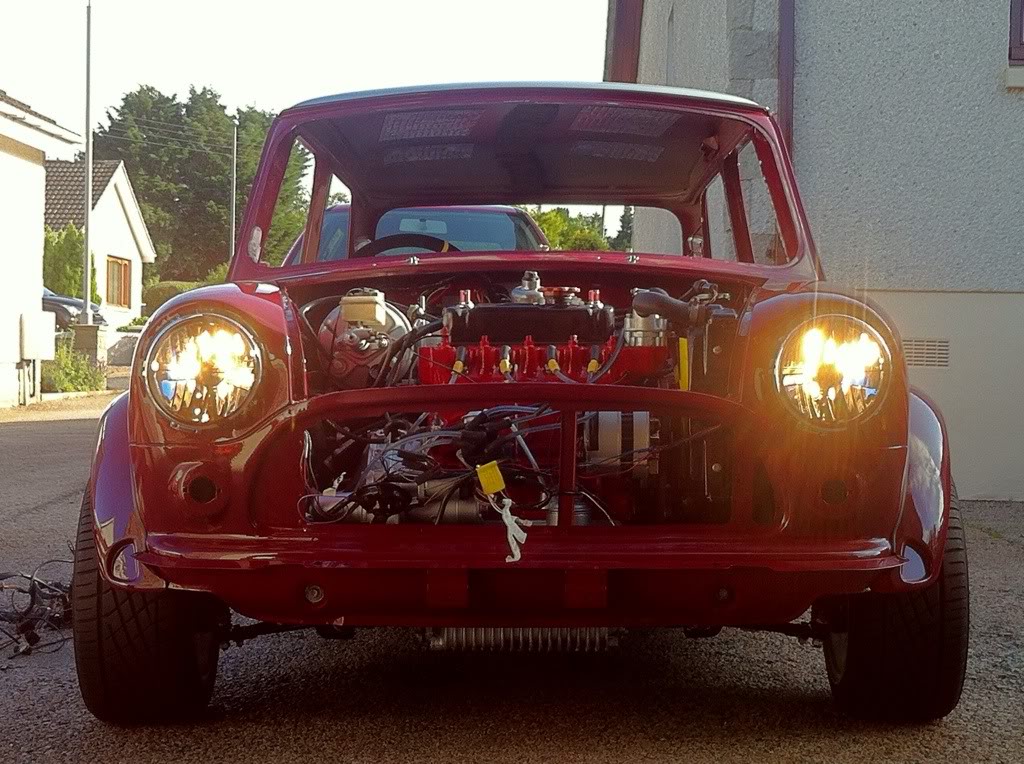 The lights look dull above but thats just a phone HDR setting I had on. The one below is much more realistic. This is just dipped beam too! Im using uprated bulbs as even halogen lights are crap on these things!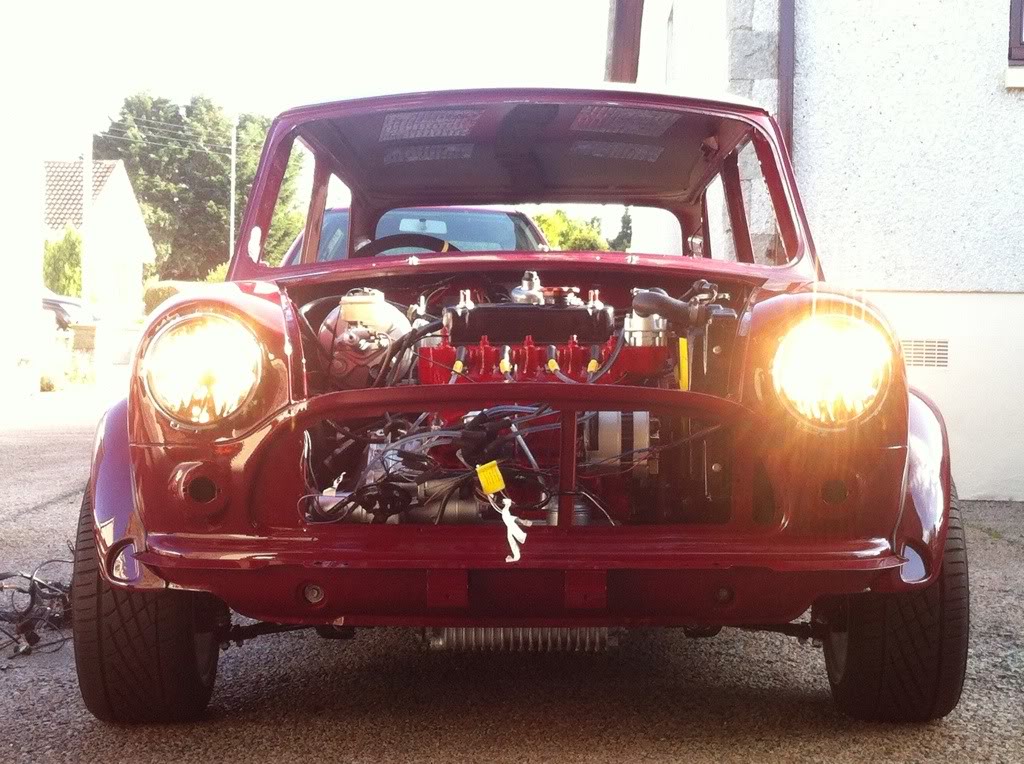 Rear plate LED bulbs work which is a relief as I wasn't sure if I was going to need a resistor in there or not.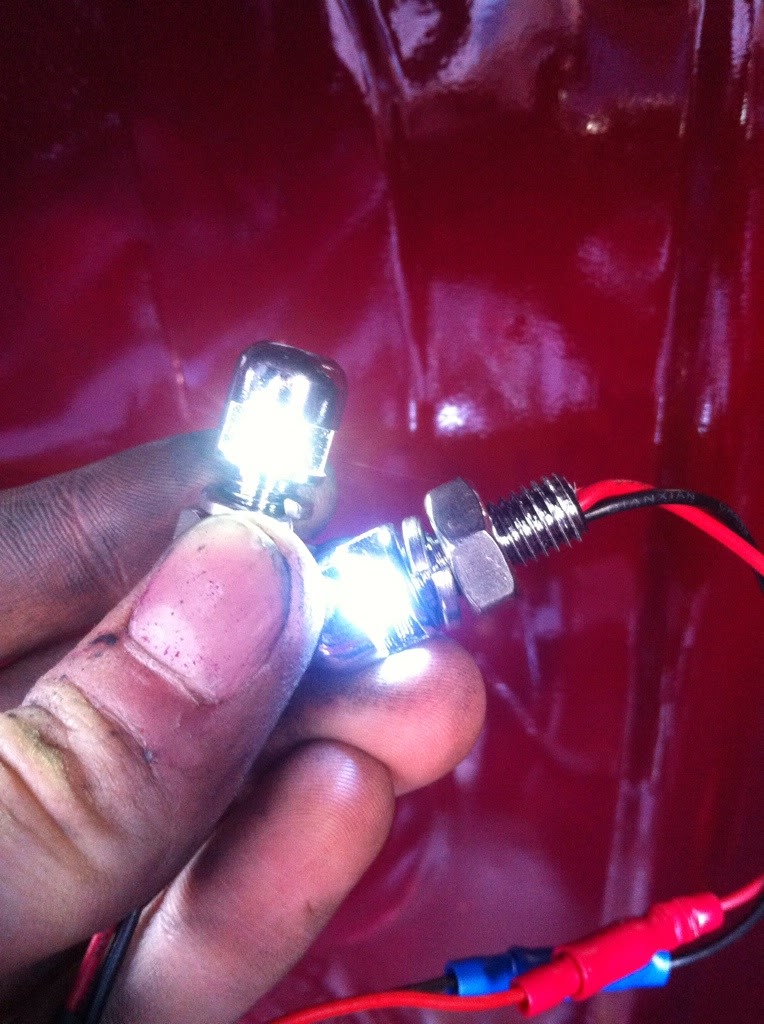 Right indicator works, left doesnt on either flash or hazard so not sure whats happening there and foglight isnt working. Overall though Im pretty happy with it!

One downside from today is Im going to change from the crosshair headlights to standard halogen units. Main reason is, although they fitted, I didnt like the modified lamp rings as they had a gap in them at the bottom which looked, at least to my eye, awful. So I will add a set of headlights to my MiniSpares order and maybe get Laminex onto them to darken them a bit. We shall see!

Next step is making sure all the lights/electrics work correctly and then get the tank modified and installed and give it a test start! Getting really close now!
8-31-2012
On holiday from work to get as far along with this as I can.

Seeing as I was fed up of wiring I thought I would build up one of my doors. Task and a half when you are petrified of scratching new paint!

So due to me having a huge selection of glass I decided to go with factory tints all round for a more modern look. Very subtle but its enough that you can just see it.

Got the glass from a donor door. As I took it out, it dropped and I heard glass......thinking the worst I slid the glass out to find it was in tact. Turns out the window had been smashed before and obviously just left in the bottom of the door!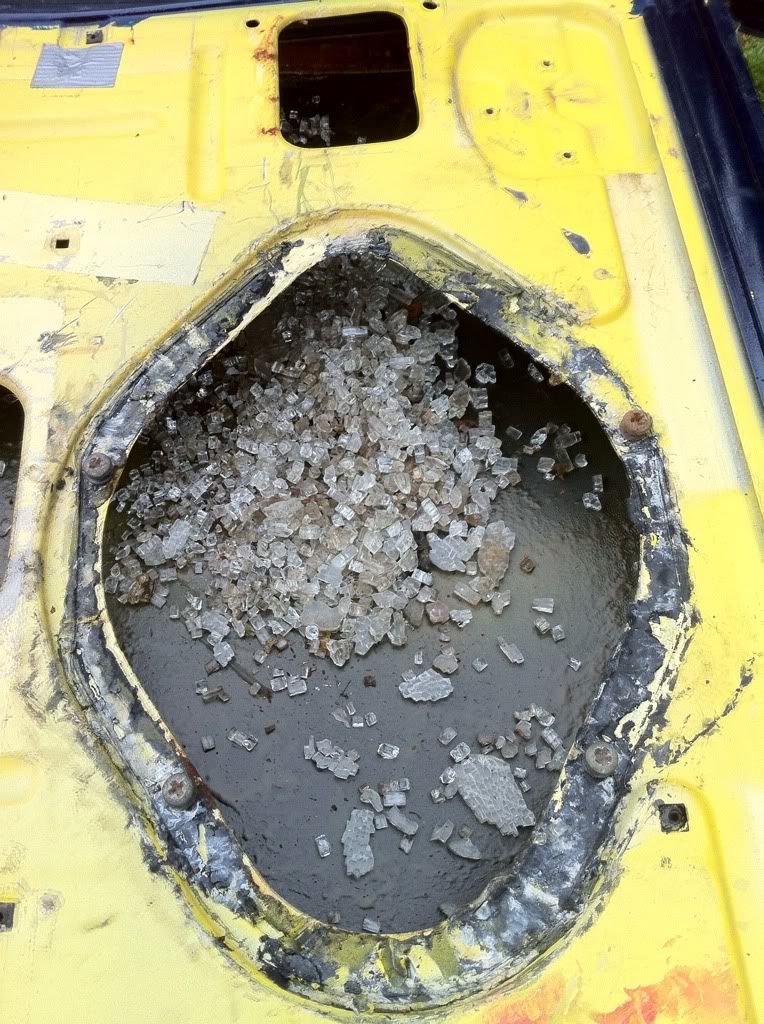 So with that, I cleaned up the glass and put the door together. Took an age but glad I took my time as its perfect now.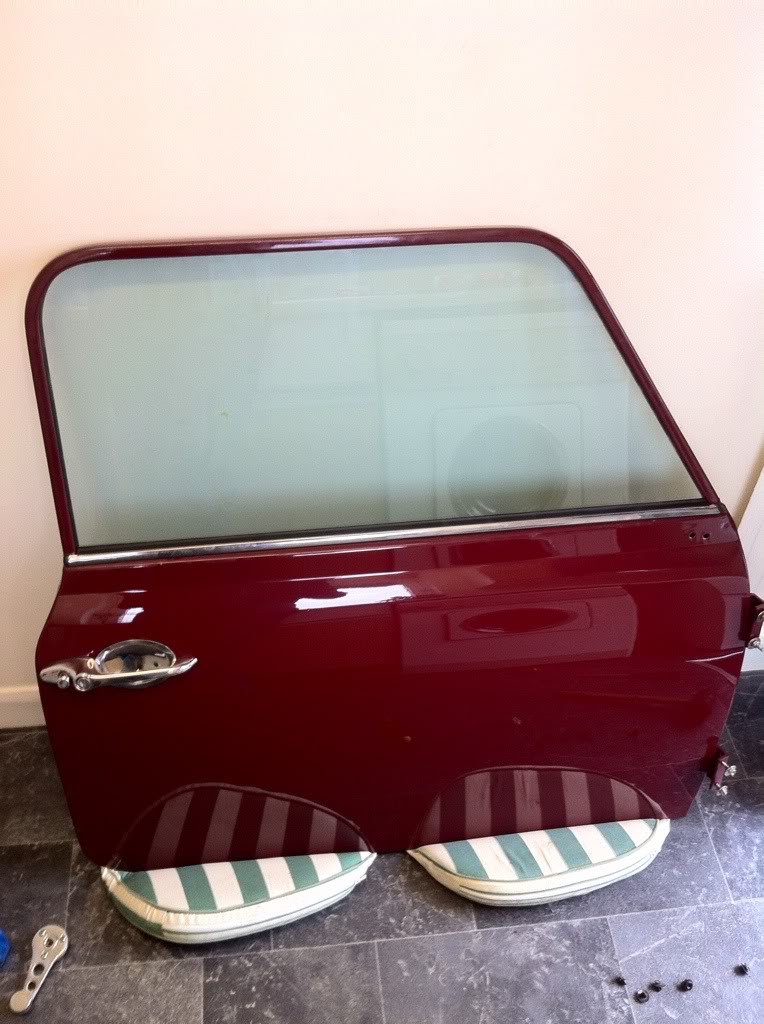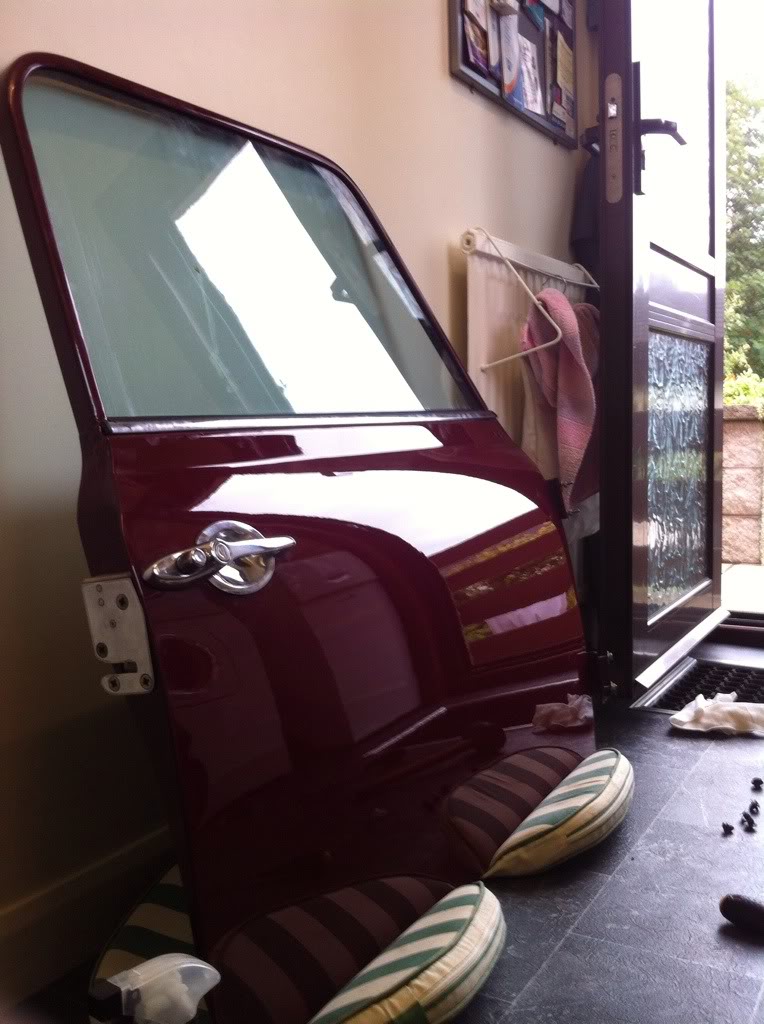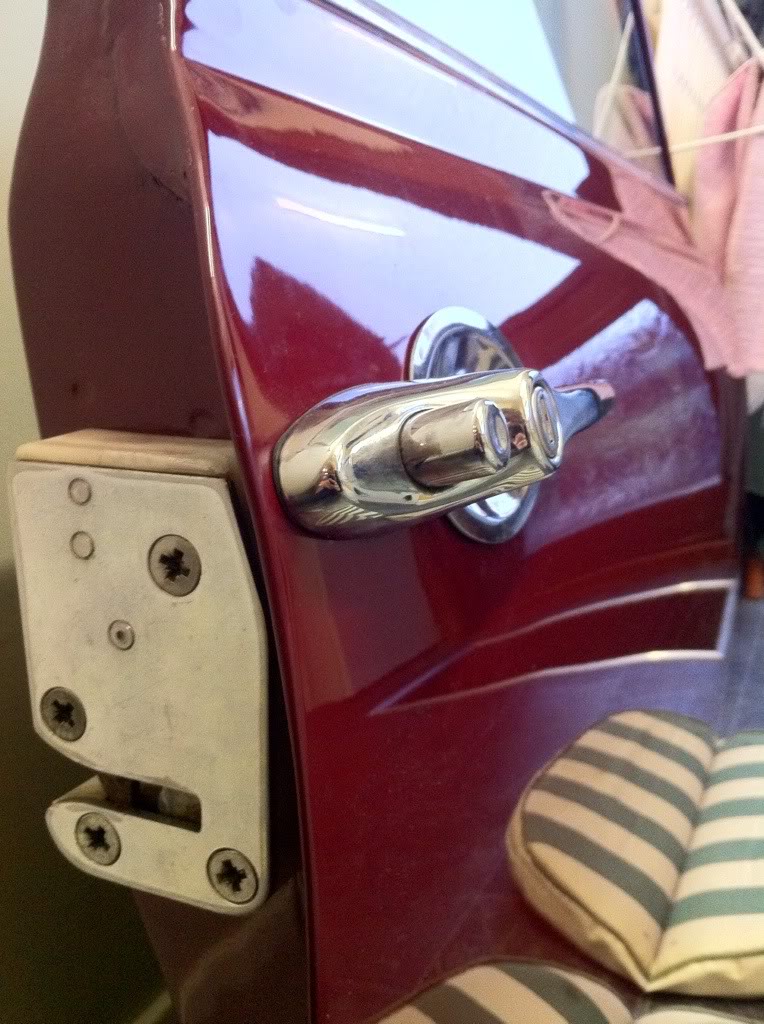 I also got my new side repeaters installed.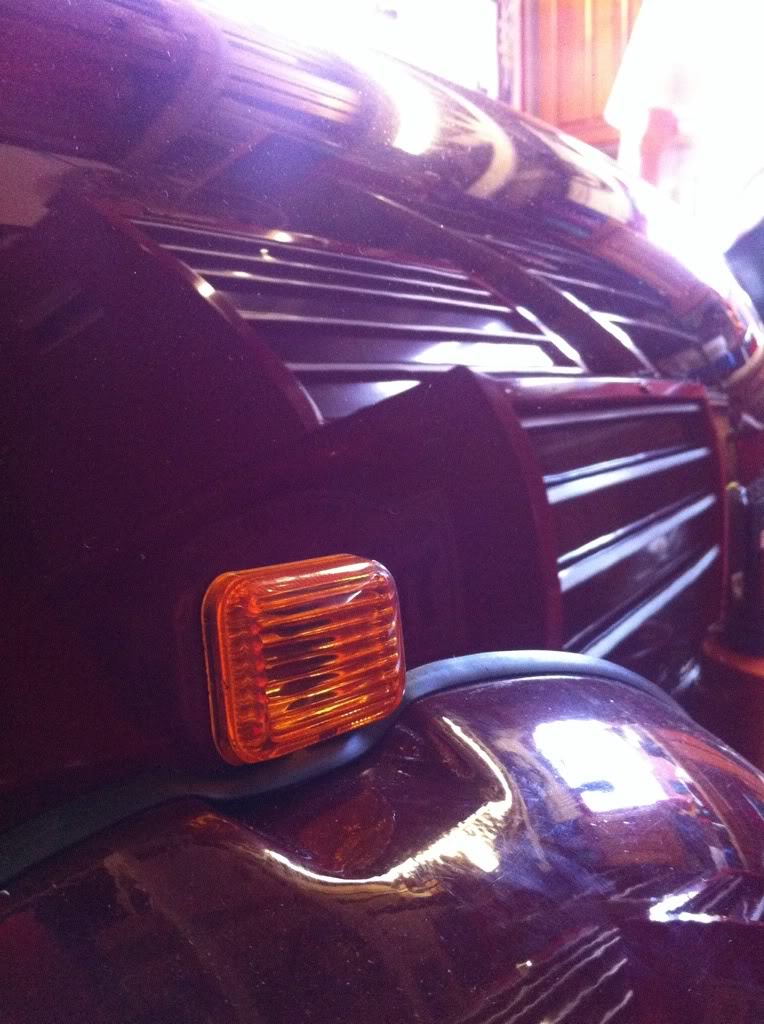 and i got numerous deliveries from eBay and MiniSport too!

So we have an HIF44 K&N filter, brand new in wrapping for less than half the price it should be on eBay! Also a couple of things from SmiffysBits. Stainless steel slam panel guide and coil bracket. Look great against the red of the engine!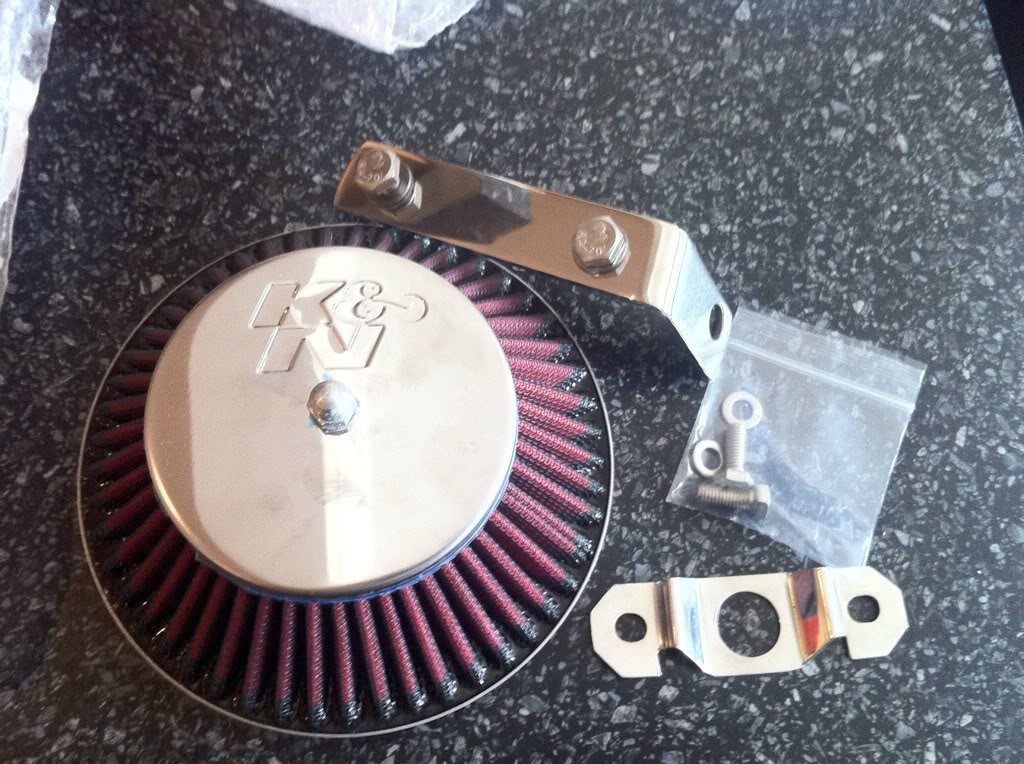 So they were all quickly installed.....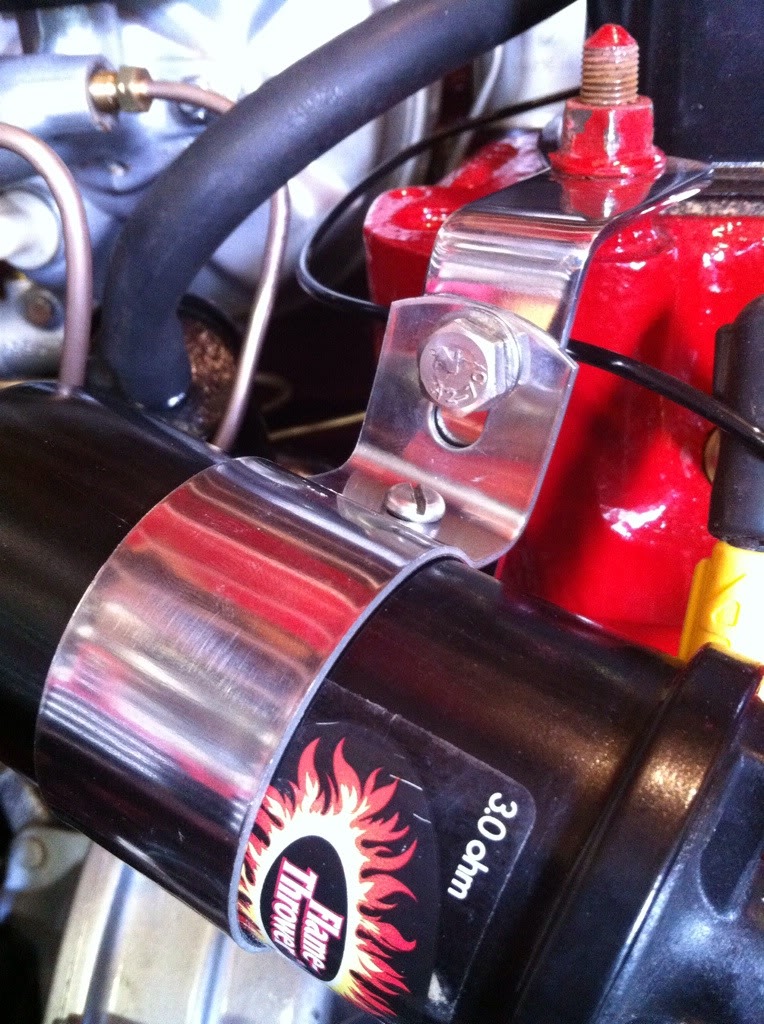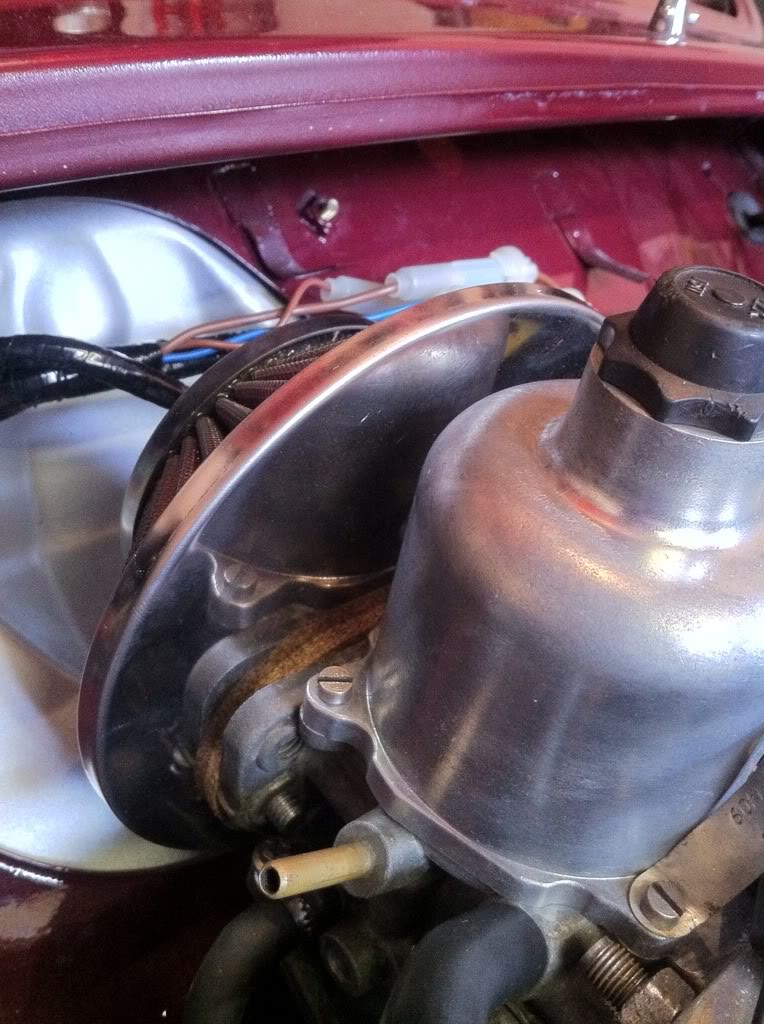 and my battery cuttoff switch which i need to work out how to wire in somehow.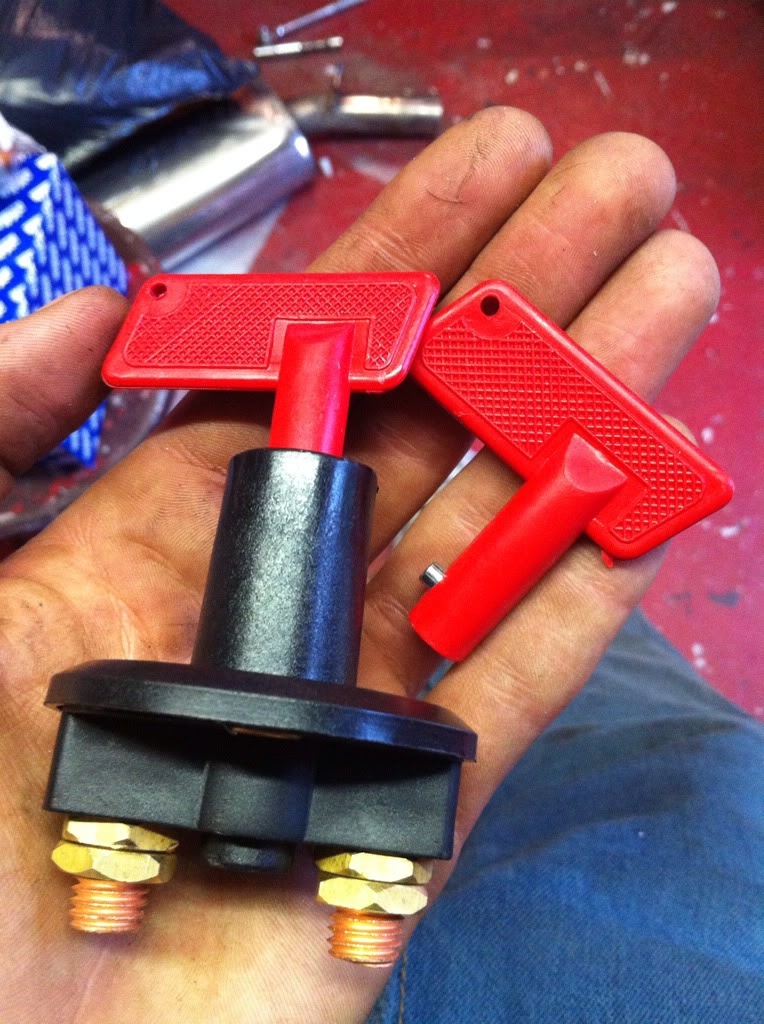 I also got my headlining from Optomise Automotive Mini upholstery specialists. Went for black fake suede. Finish is good but material is very thin. However you wont notice as it will be above you. Plan to get this fitted this weekend and then i can install the windows etc. Got some more of the same material for some custom doorcards my mum is making. They are promising to be amazing if my design works!

Tomorrow is building up another door and then install some more stuff from MiniSport which I will show next update. :)
9-6-2012
As for an update....not much to report! Still struggling with these dam electrics. Please watch the video below to see if you have any ideas for a resolution!
So....any ideas?
9-19-2012
So a weeeeee update for you all! With failure of electrics Ive not had much else to do on it but got some done anyway.

I test fitted my tank and then bootlid at the same time and immediately struck a problem. The lid hit the tank with its internal hinges! Megafail! So I took the tank to Kirkton MBR to get it modified (again)


Didnt need much, just a couple of inches and it clears.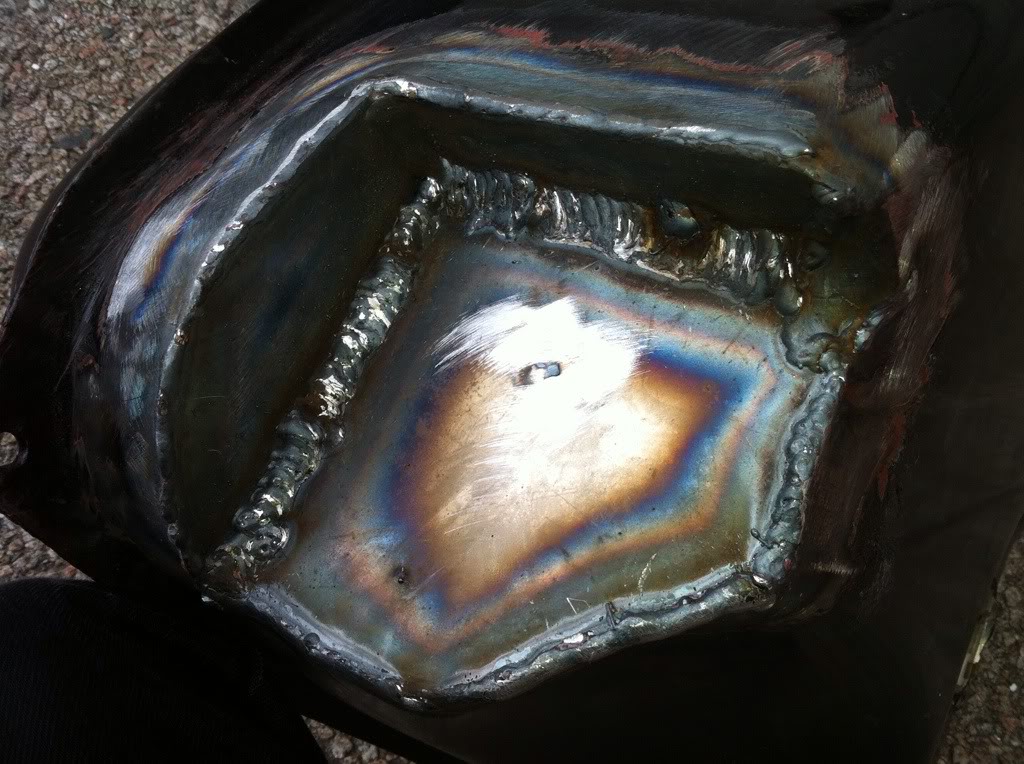 However! The strap that holds it in place now fouls the hinge! So I modded that too....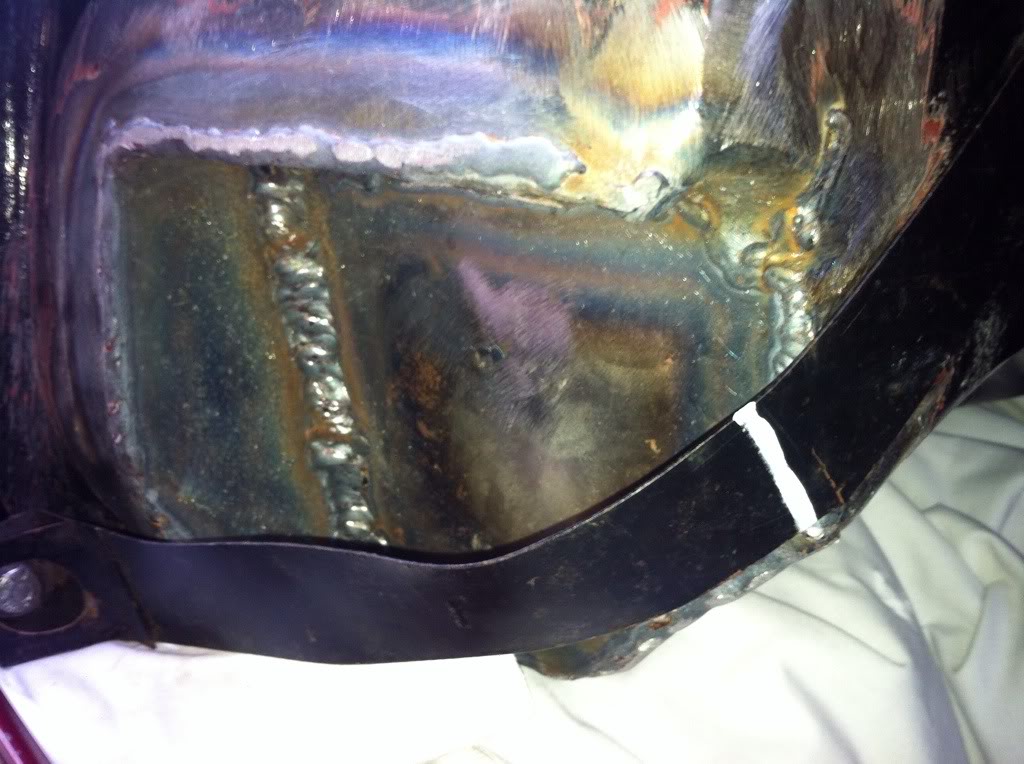 Bent into a passable state...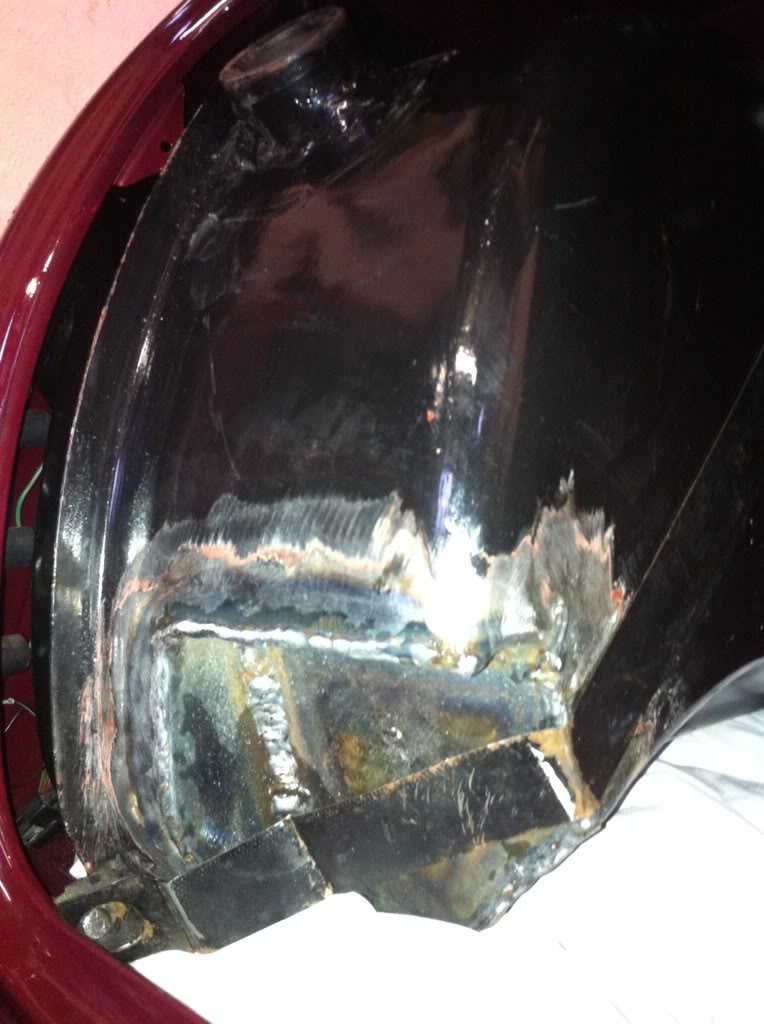 It still hits, so needs more modding/bending. Its getting close though.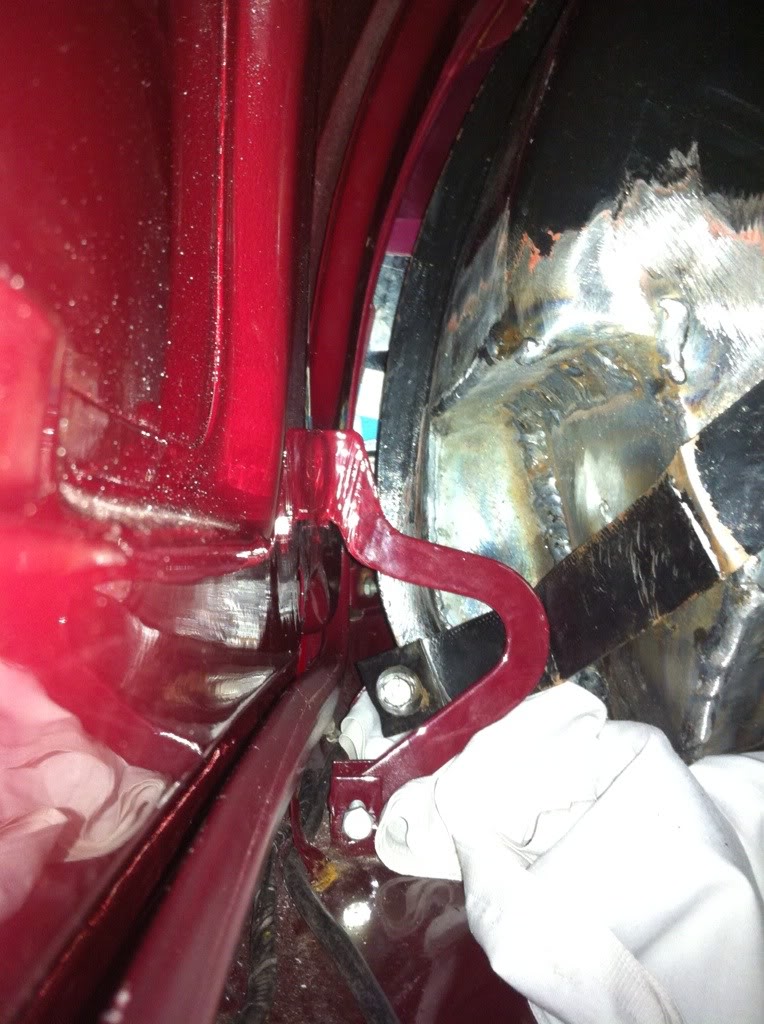 Once its done the tank needs sealed, fillered and smoothed. Lot of work but worth it!

So I fixed on my latch and got the lid fitted. ITs a crooked fit so need to bend the hinges about a bit to get it sitting nicely and the boot seal is stiff and almost preventing the lid form closing. Need to try and soften it up a bit.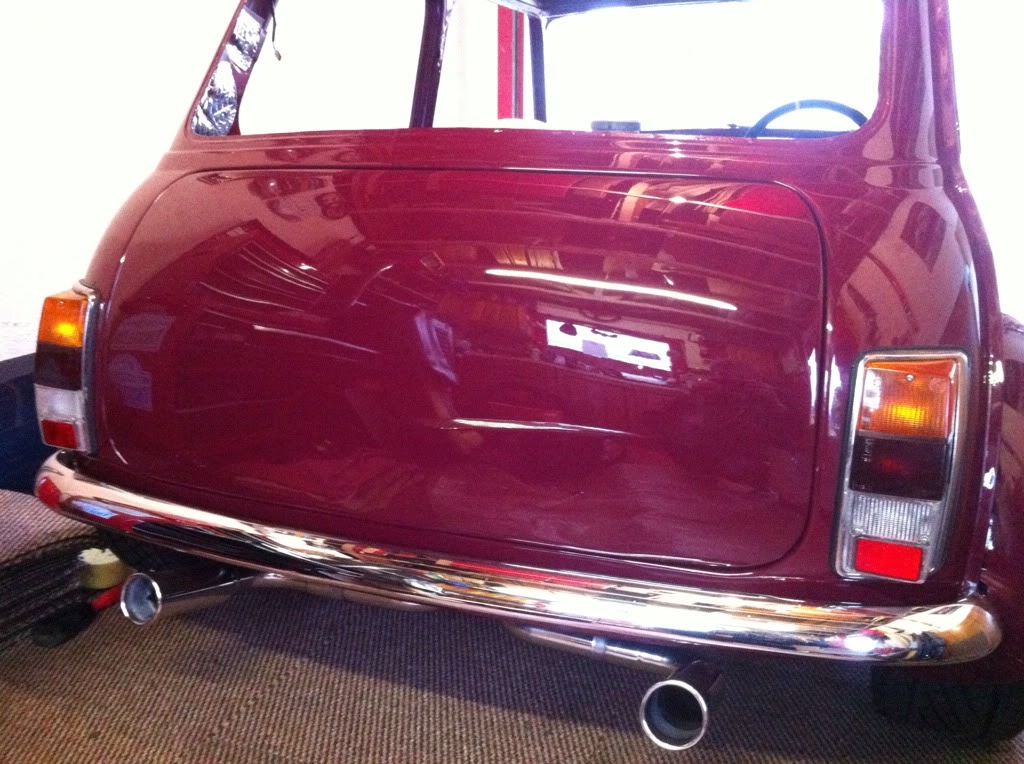 I covered the bit of paint where the pin goes into the latch with a bit of 1mm thick Laminex I had sitting about. Prevents scratching and indeed rust!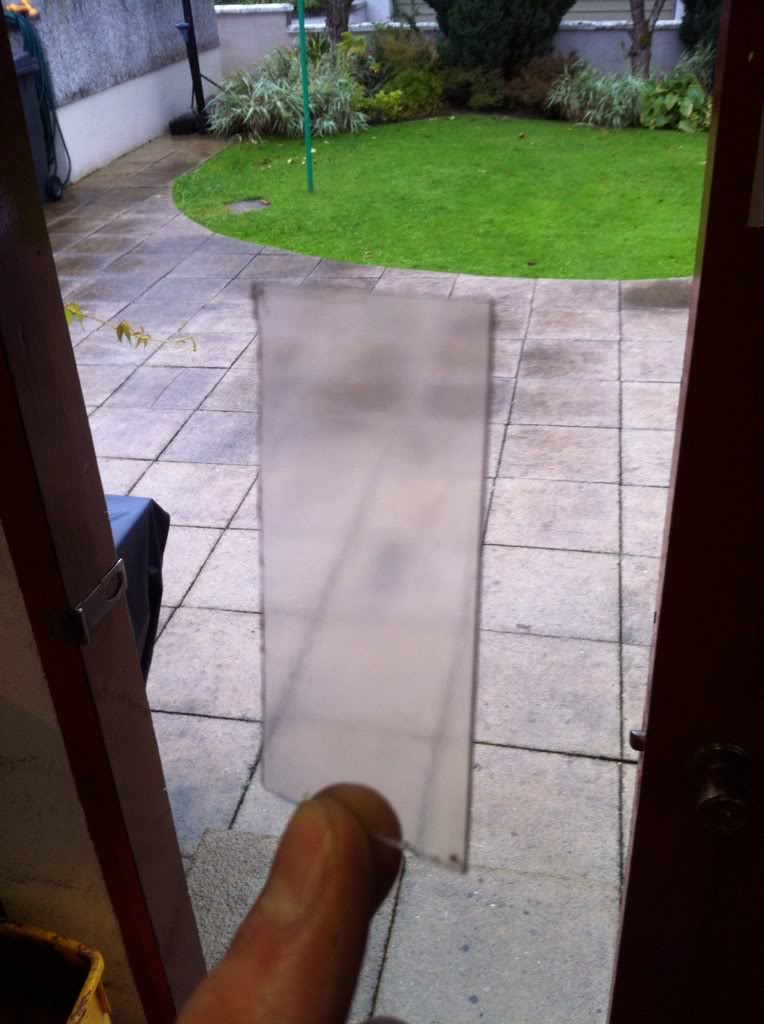 Today we got some upholstery work done! I have a theme of black suede and vinyl so got loads of both materials and let my mum loose on them! The results have been brilliant!

Suede cloth....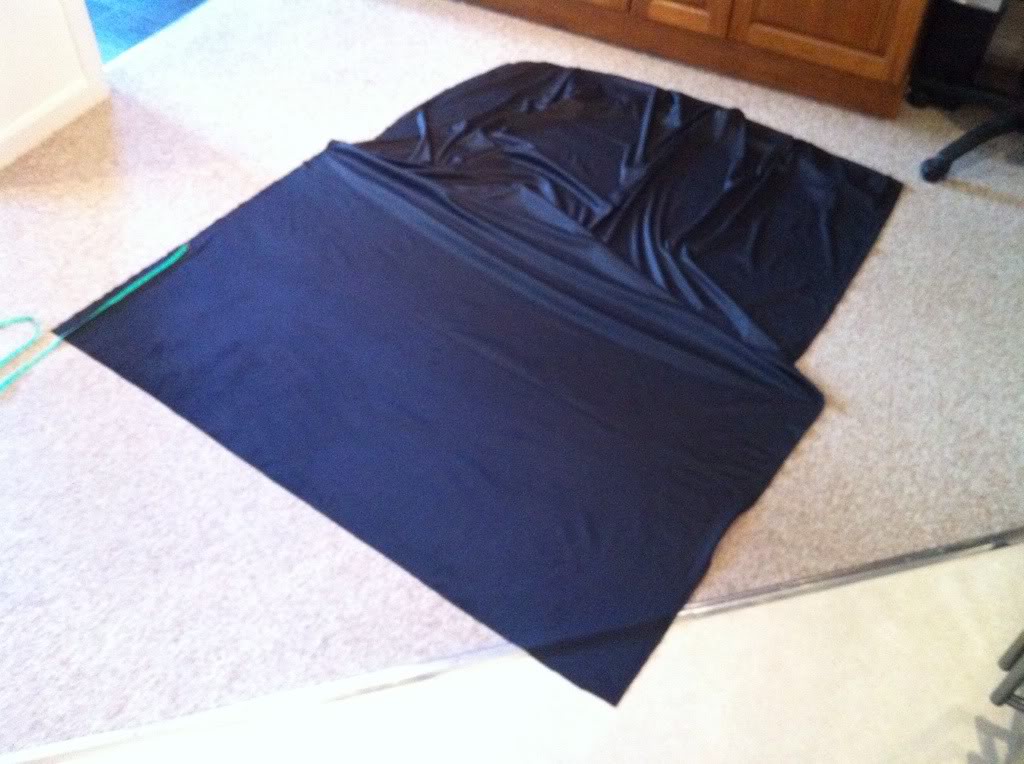 We got the dash rails done today but no photos yet as they arent finished and need trimmed. VERY happy with them though!

Also got my headlining (black suede too) in, just need to do the tricky bit of sticking the edges to the roof. Nightmare of a job so waiting for more hands on deck for that one.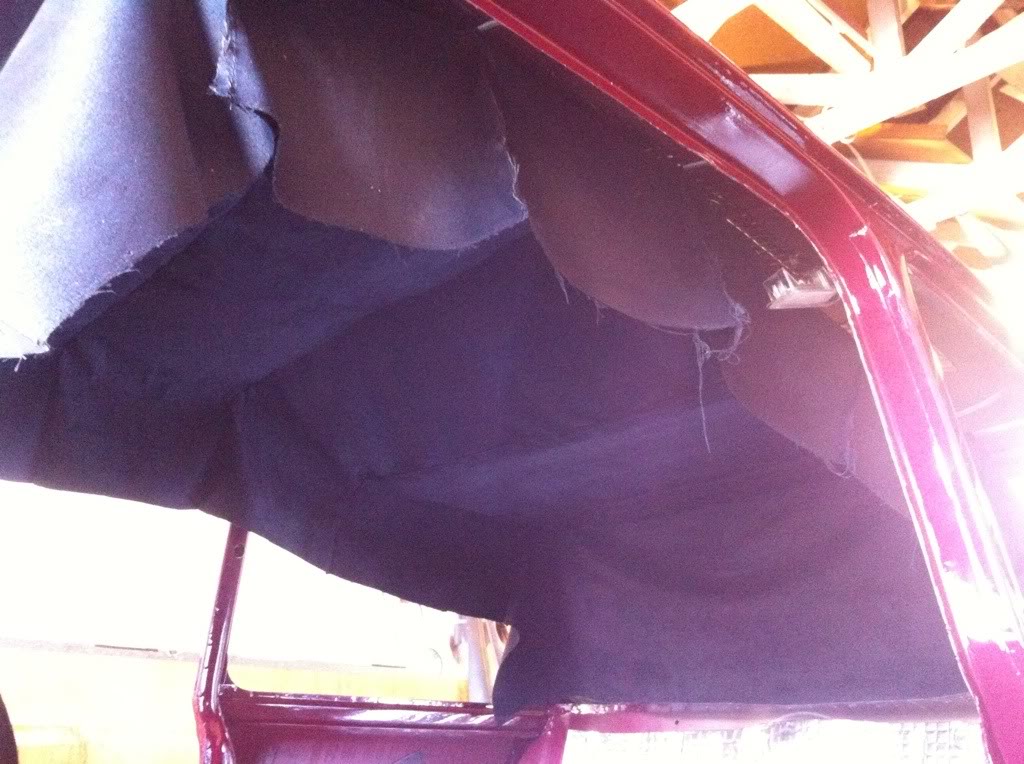 Oh and I got the car featured in the P&J 'Your Car' section today too! Great little write up and great to see the car in print too! First feature of many I hope.......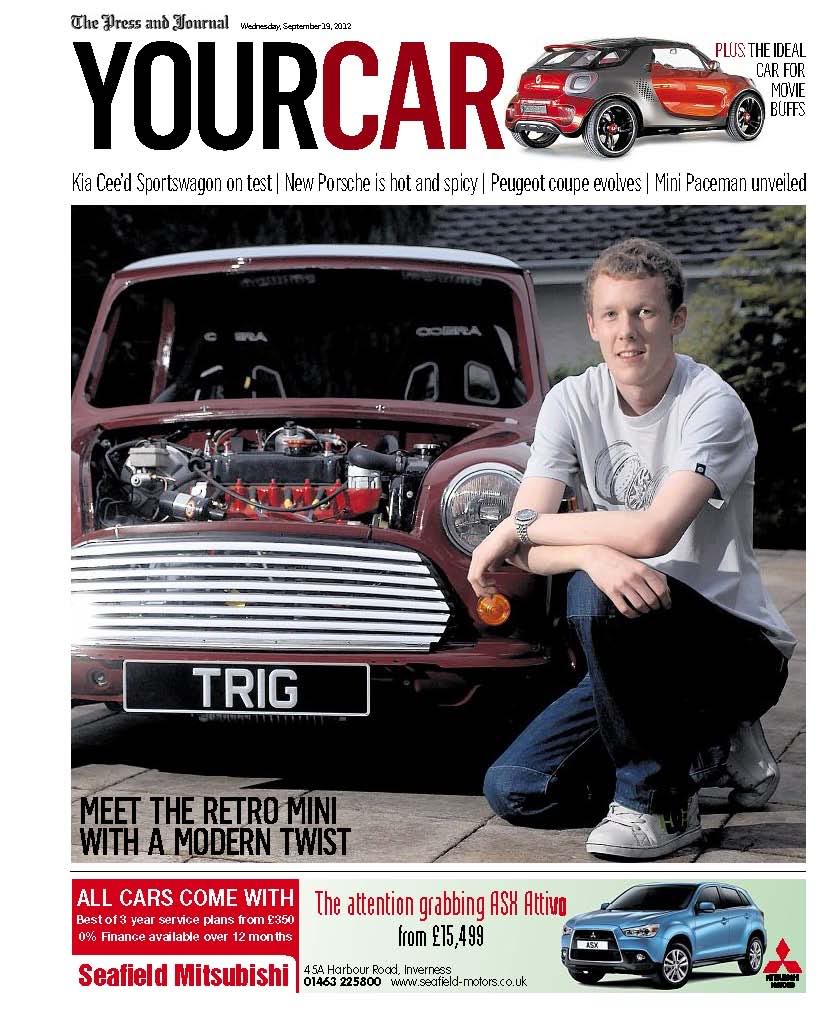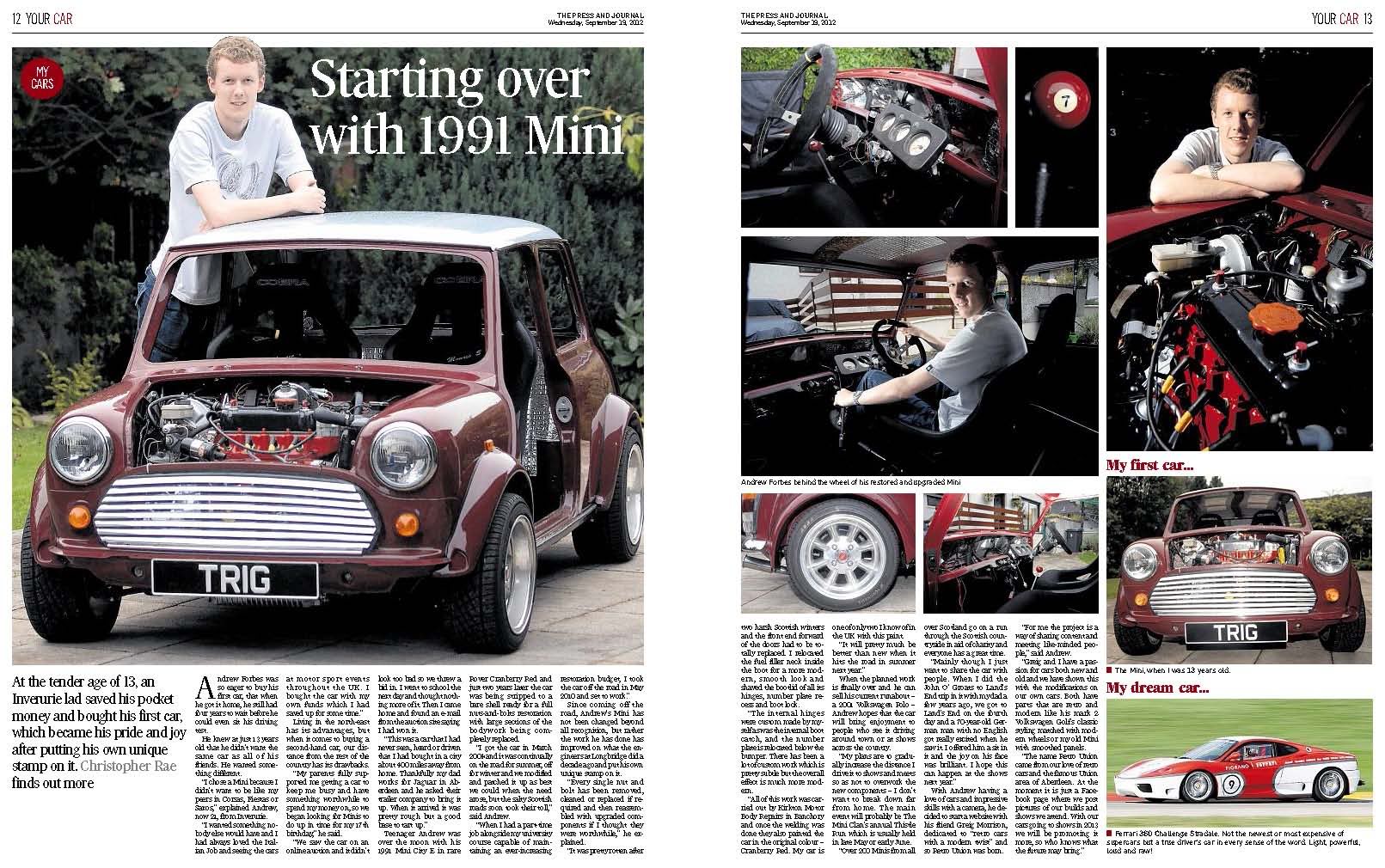 So tomorrow is wiring and more upholstering :) Progressing again!
9-28-2012
Small update. Got my bonnet

I am most pleased with it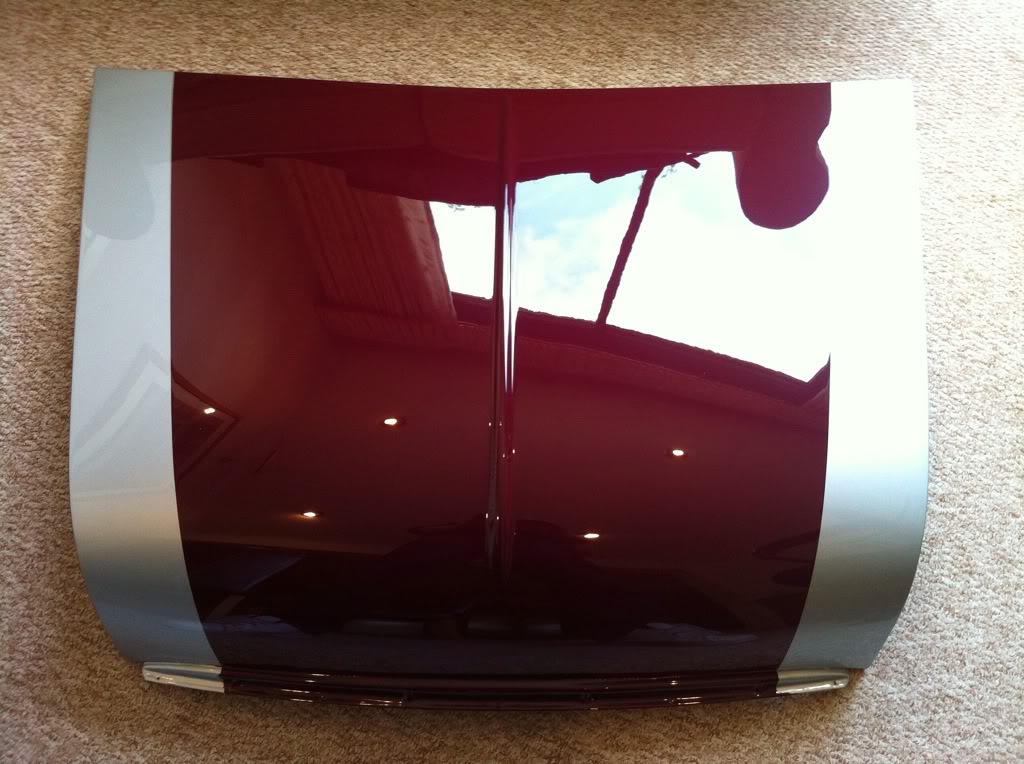 Sharp colour change line which you cant feel. Epic paintwork!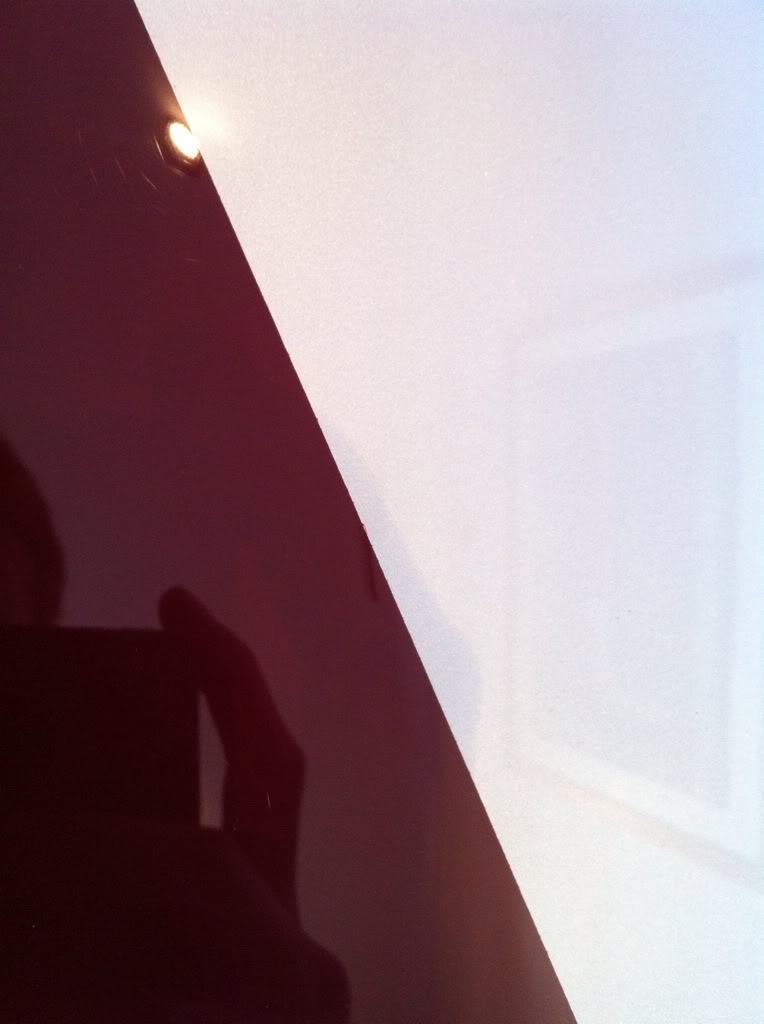 and dropped in place for a test. One shiny motor!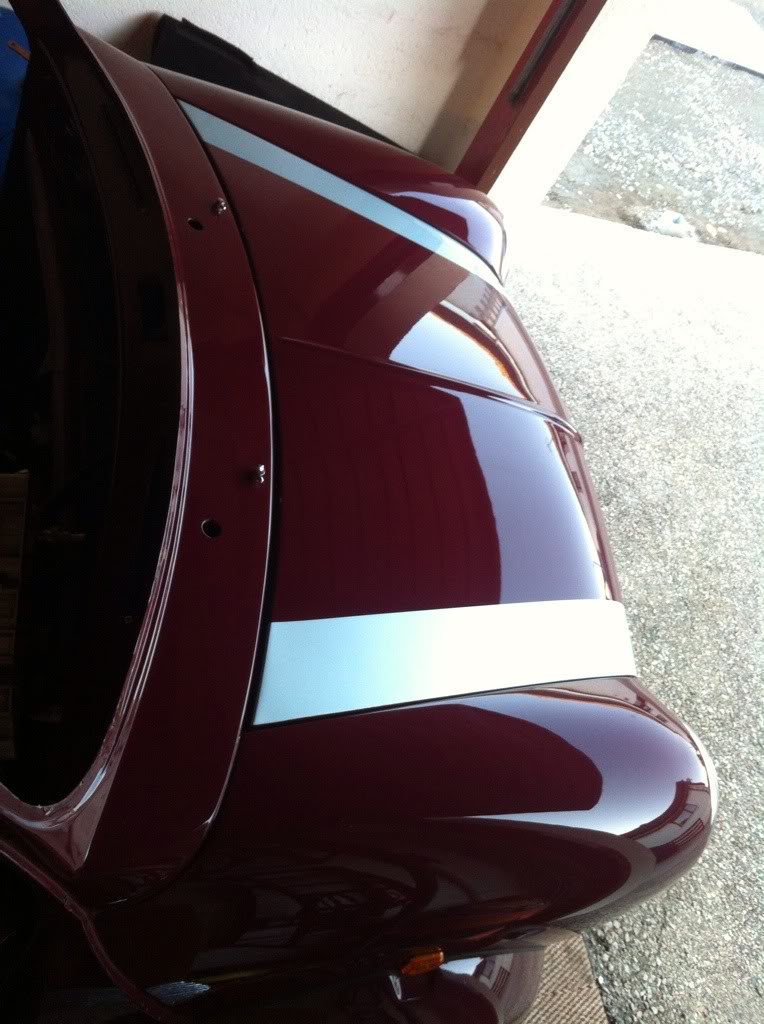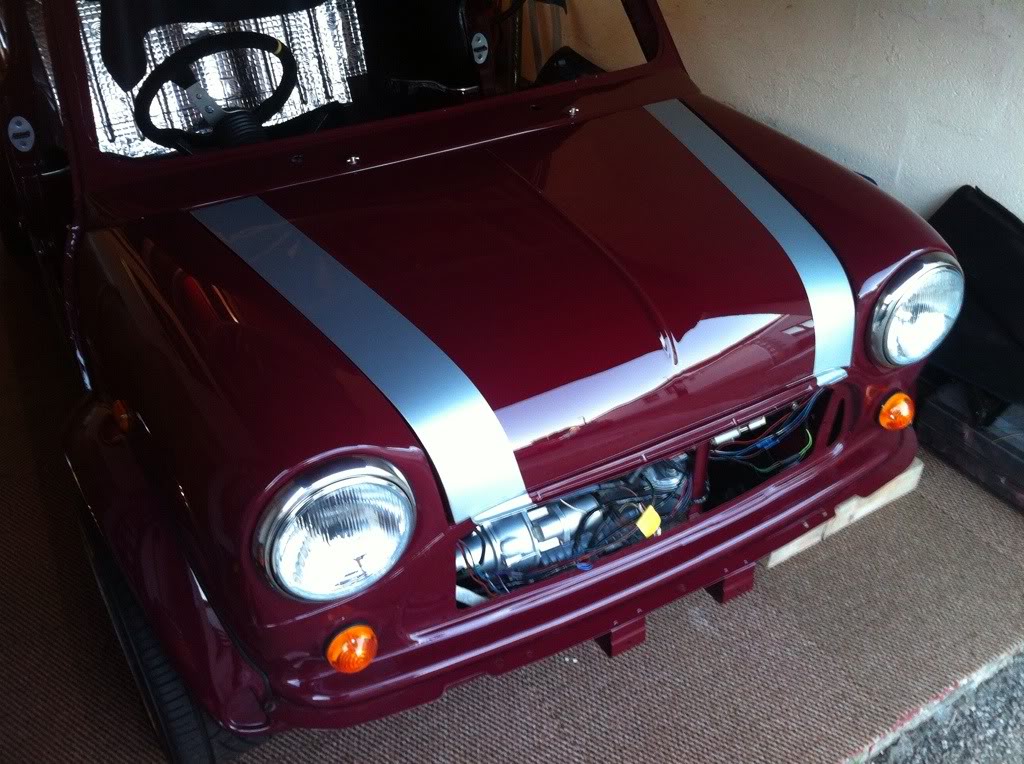 Looks a bit lost with no grille/grille surround but that will come once the dam electrics are all done.

And a reflection shot just for fun...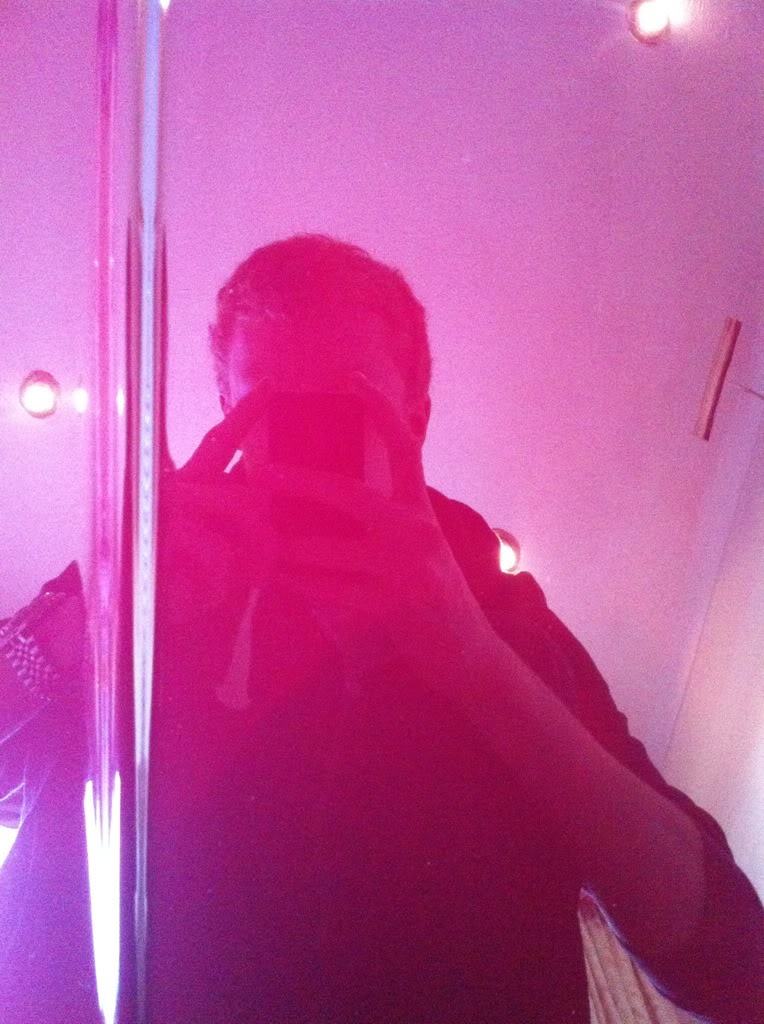 It has a unique paintjob underneath but that wont be revealed until show season 2013 ;)
9-30-2012
OK so the last couple of days we have been busy with the interior bits. First up, finish off the dash rails.

We kept on sticking a bit down, leaving it for a day or two then repeating as we went. Clamped on with clothes pegs as the adhesive dried.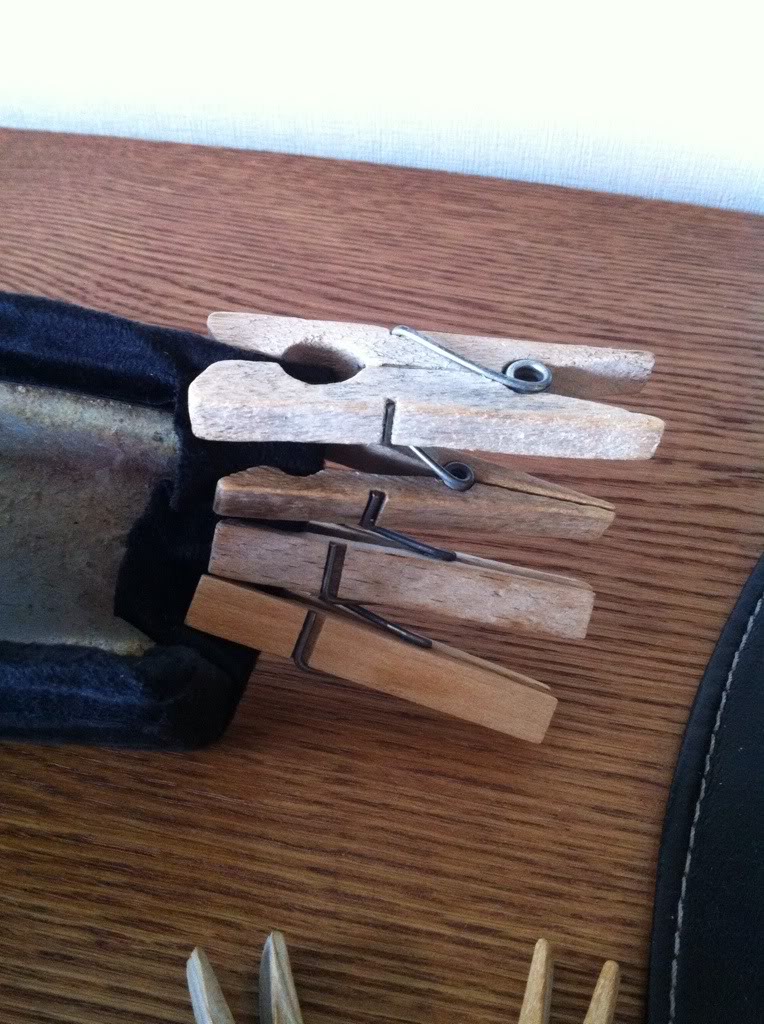 So thats them done now. Very happy with the final outcome.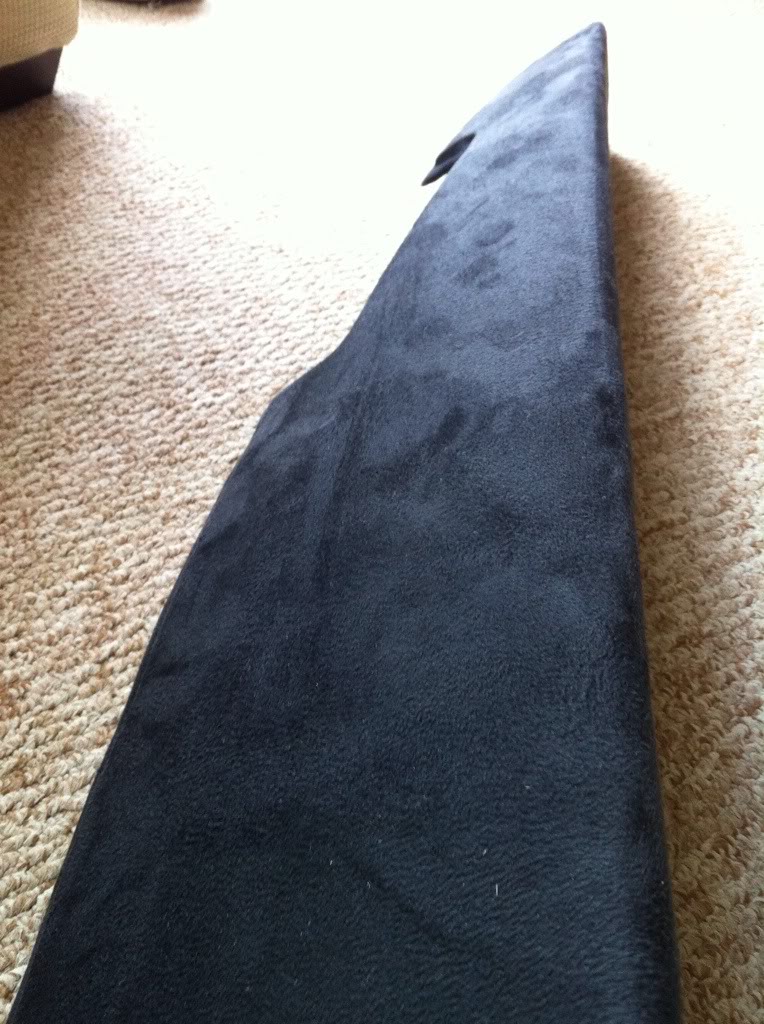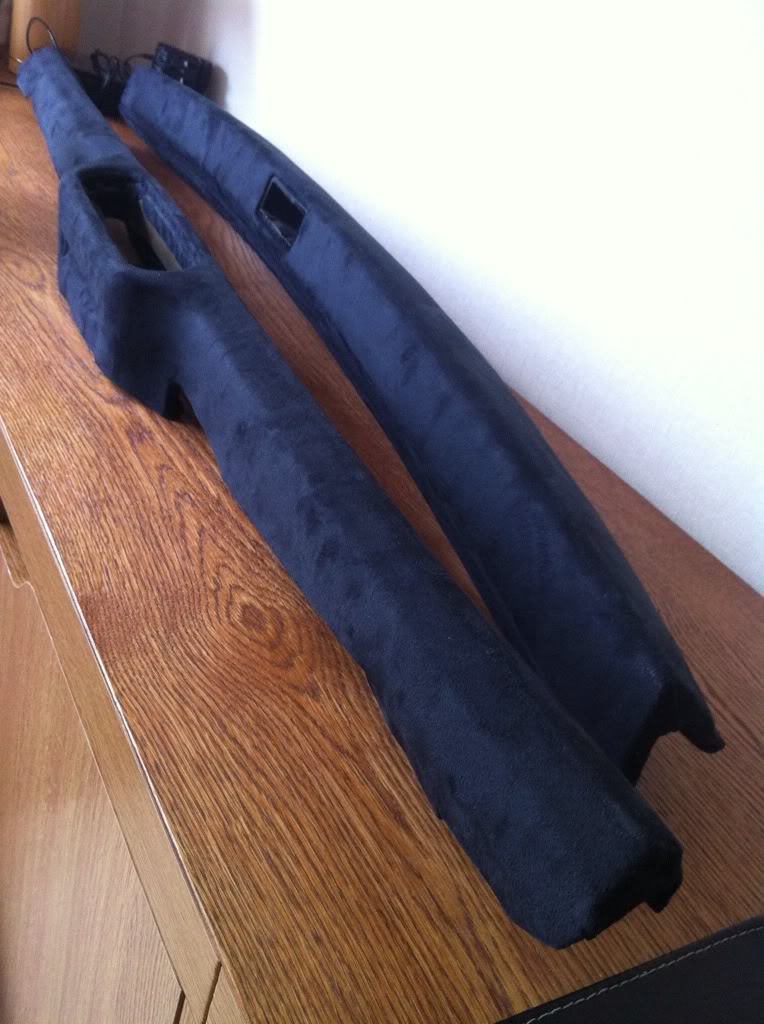 Top one is easier as it is a metal piece covered in foam whereas the bottom is pure foam. More flexible but not impossible to cover.

Then we started on my doorcards. For these Im going diamond stitch suede with leatherette too. This thing is turning into a luxury barge! I want the cards to be slightly padded for added looks and luxury so we bought some wadding to do the job.

So here we have some black cotton sheeting, wadding then the alcantara. The black sheeting is so the wadding doesn't get caught up in the sewing machine.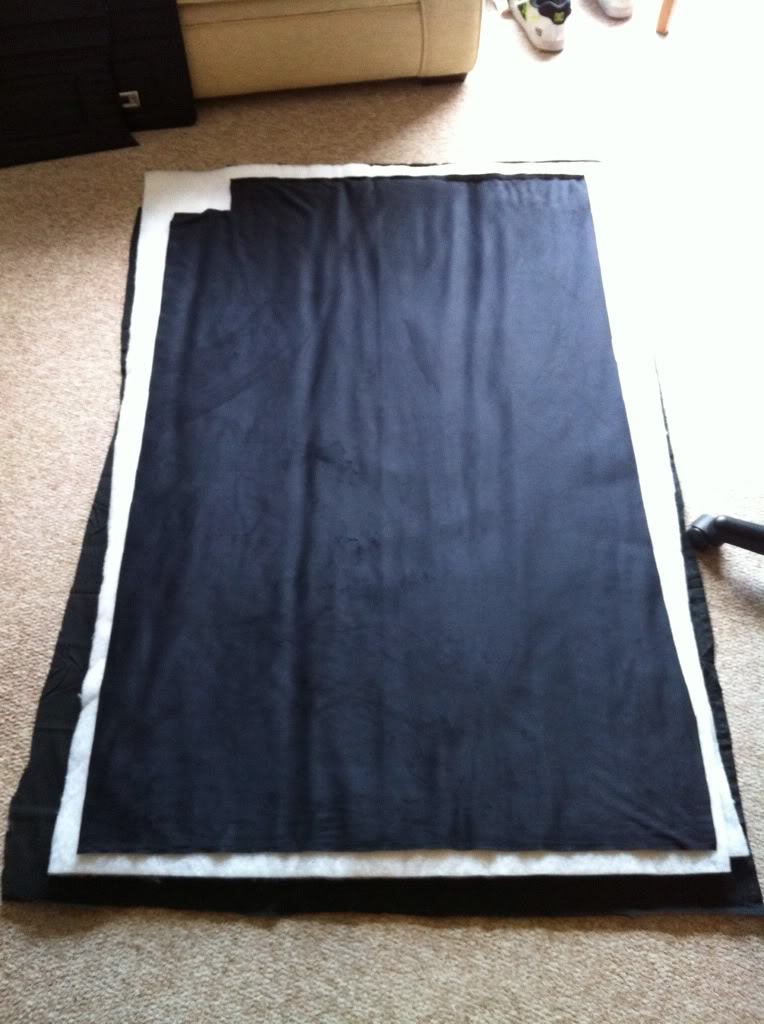 Then we tacked it all out so the material wouldnt move as we sewed.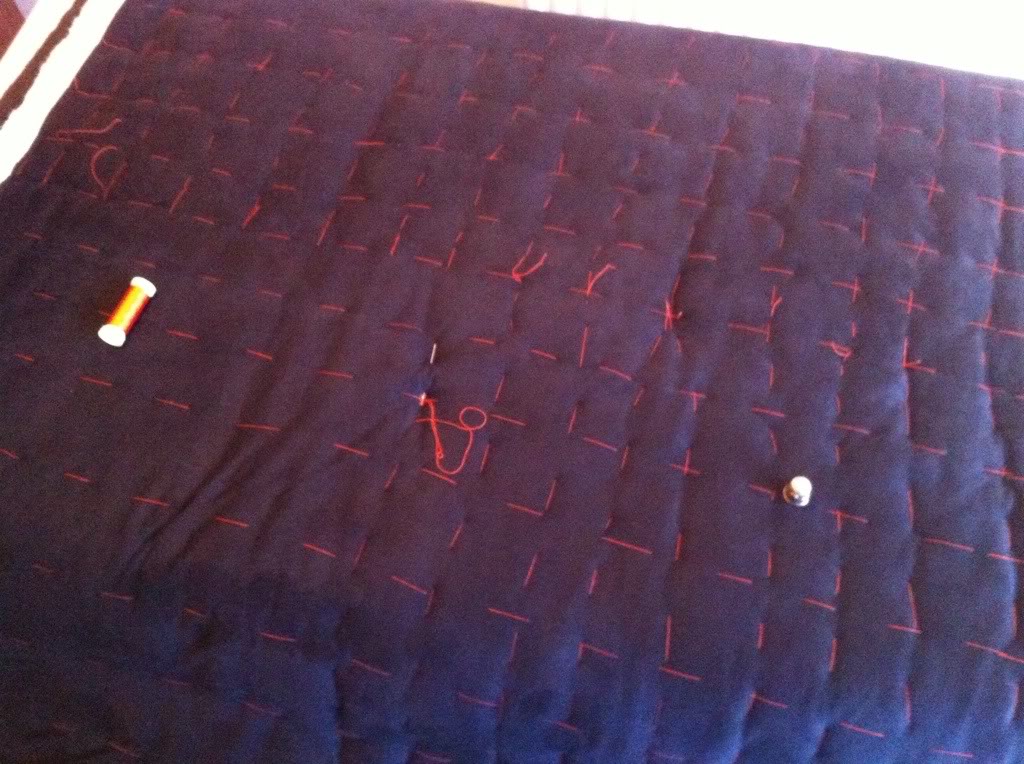 We used double thickness wadding for more defined diamonds but this led to the machine struggling and as a result slightly squint lines. We werent happy with this so unpicked it all and we are now resorting to single thickness.

Sickened by that we moved onto the headlining. Out of the frying pan, into the fire as it turned out to be.....

So the headlining was put in and left to hang.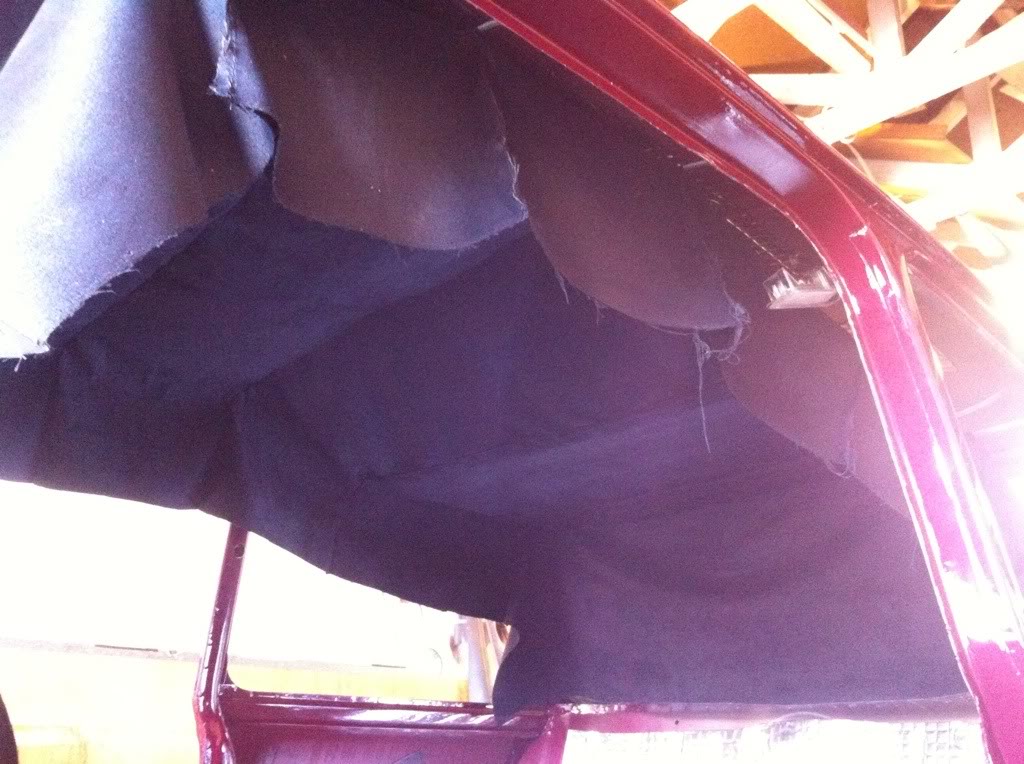 When we rotated the hangers to their upright positions they caught on the material and twisted it. So we removed them again and I set to work with the polishing wheel to make sure they were properly smooth.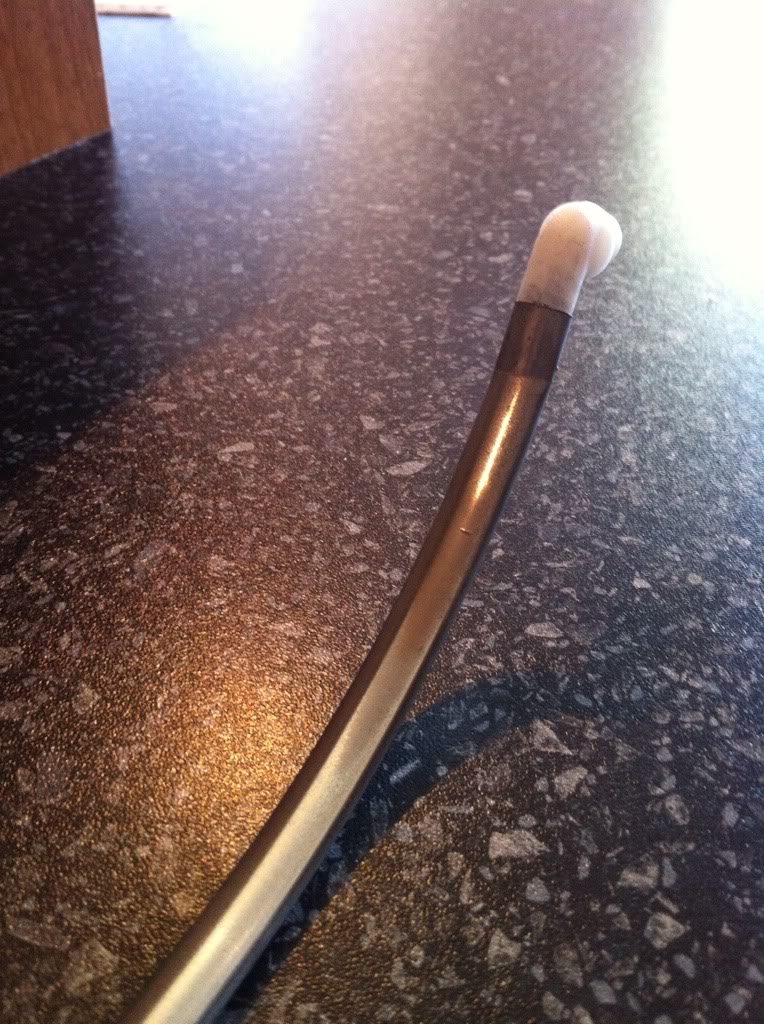 Then we reassembled and eventually got the hangers to stay upright after placing foam between the hanger and roof to 'lock' them in place.

As it happened its dam tricky doing a Mini headlining, so we got one edge (the back window) done before we called it a day, to leave this to set. I hammered on a boot seal to the lip to hold it on the glue on both sides. A handy tip I found online!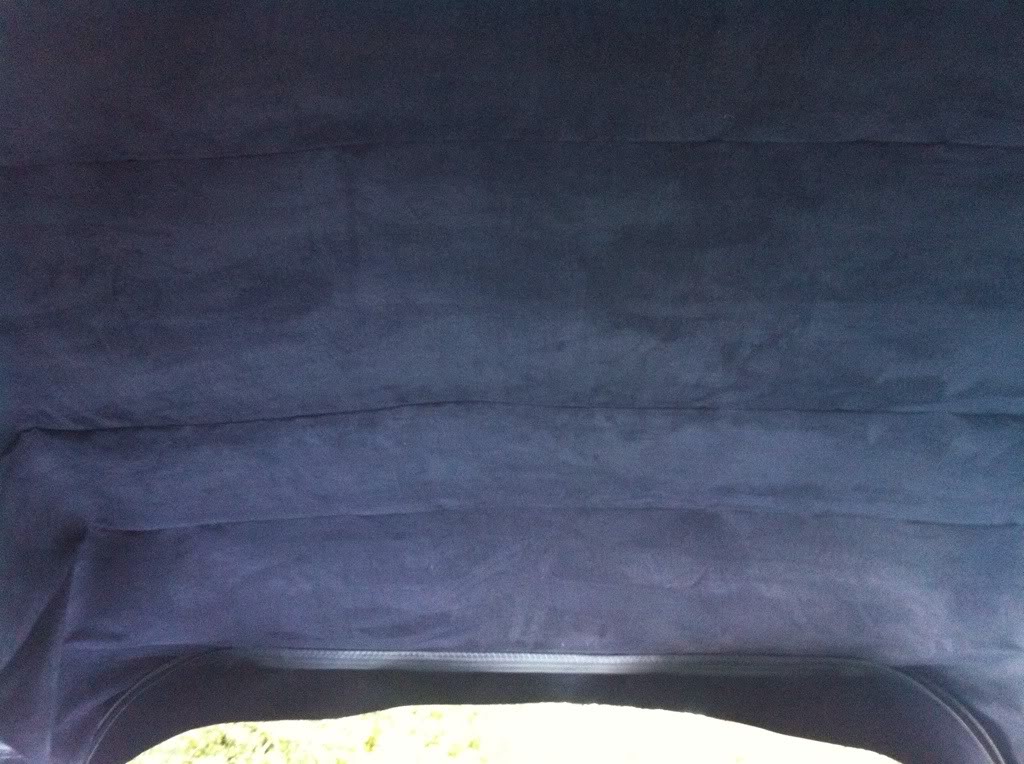 Whilst my mum and I were doing this my dad was smoothing off the fuel tank. This was pre sanding so doesn't look like this now!!!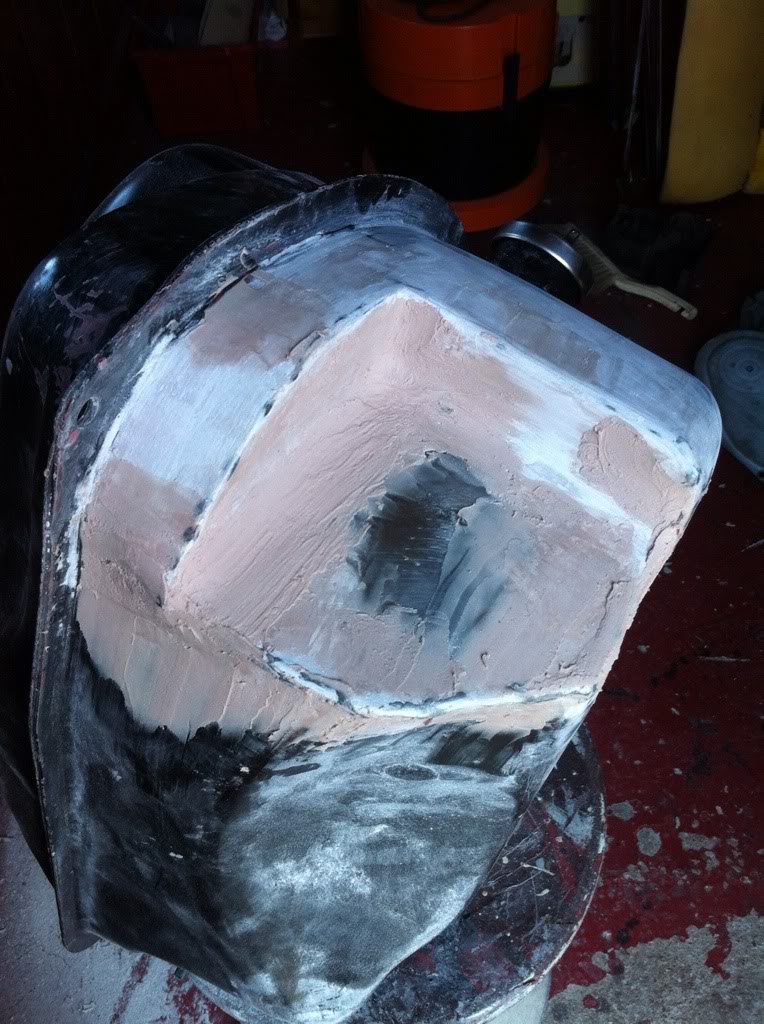 So its almost ready for paint now! Just need to buy tank sealer to pretty much make a tank within a tank so there is no chance of leaks.

Back to work for the next 7 days solid again so will try and get a few little things done in the evenings when i have time.
10-1-2012
Mum has been busy today whilst I was at work........really happy with it so far!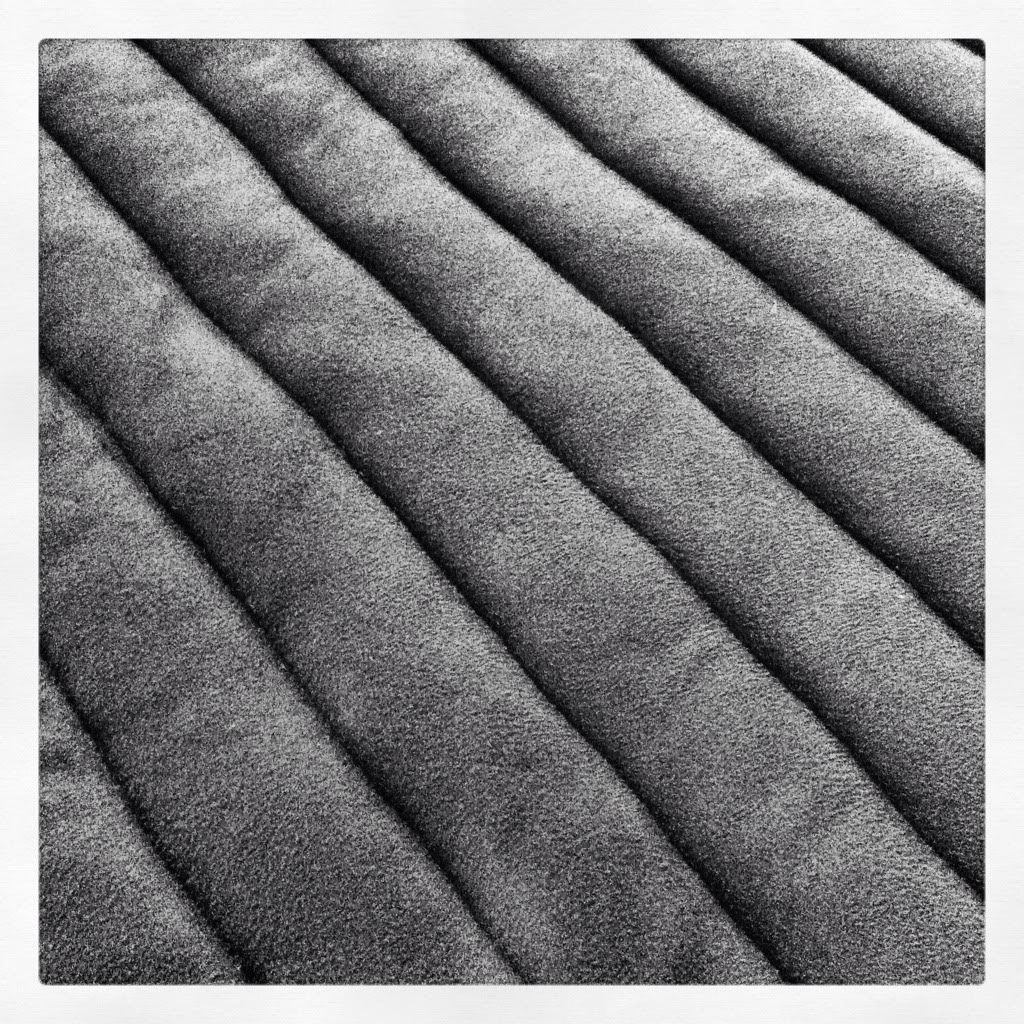 Just the other direction to go now.......

10-10-2012
So not much progress as I have been working mad hours at work to rack up the overtime! Means I am tired 24/7 but worth it at the end of the month!

Decided to fill and bleed my brakes. Got all the unions properly tightened, poured in fluid and found a rear one was leaking. Turns out the brass end had cross threaded so ordered up some more from eBay along with a flaring tool so I can remove and then reflare the pipe.

Just using this stuff as its not a performance car.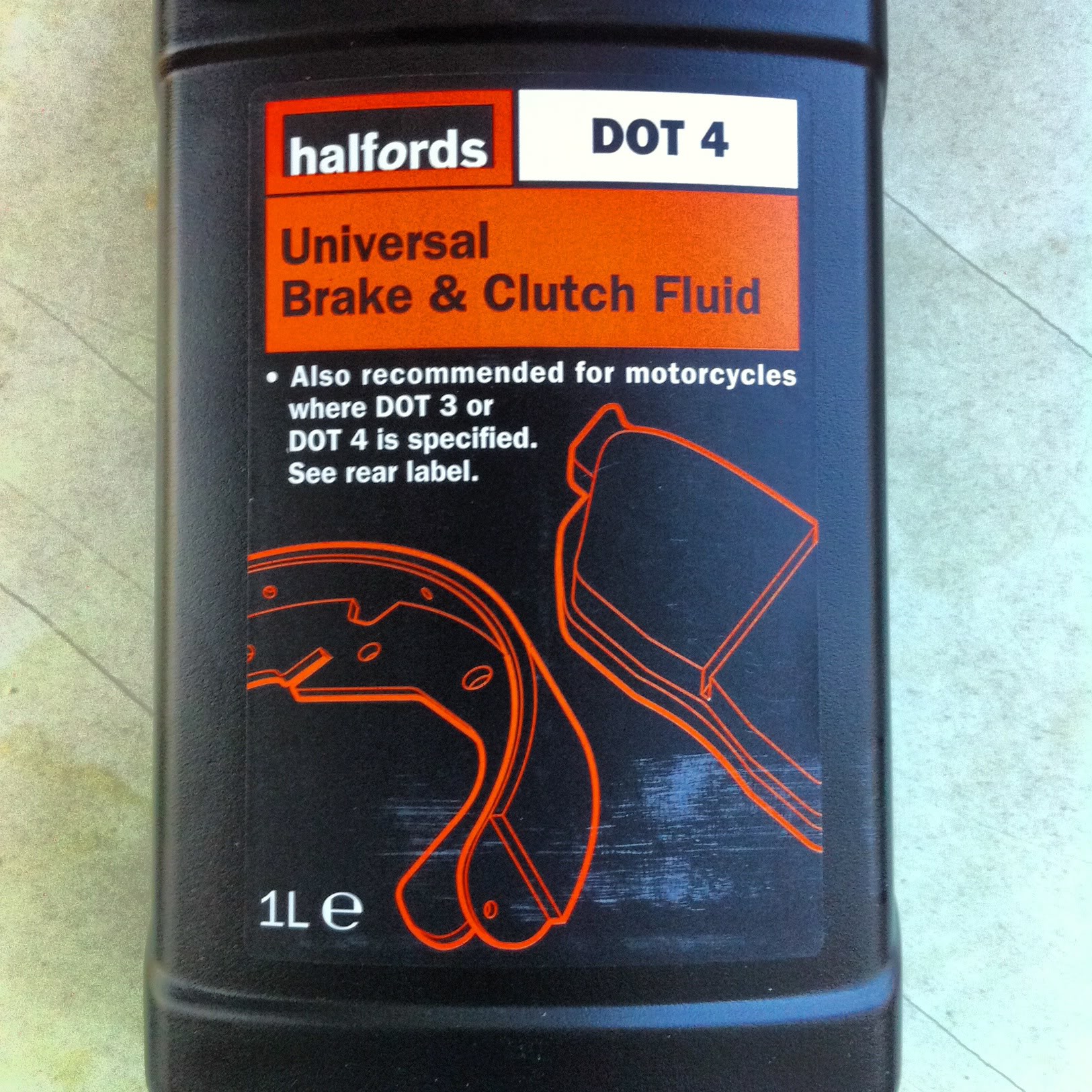 Mum has also been busy working away at the sewing machine.....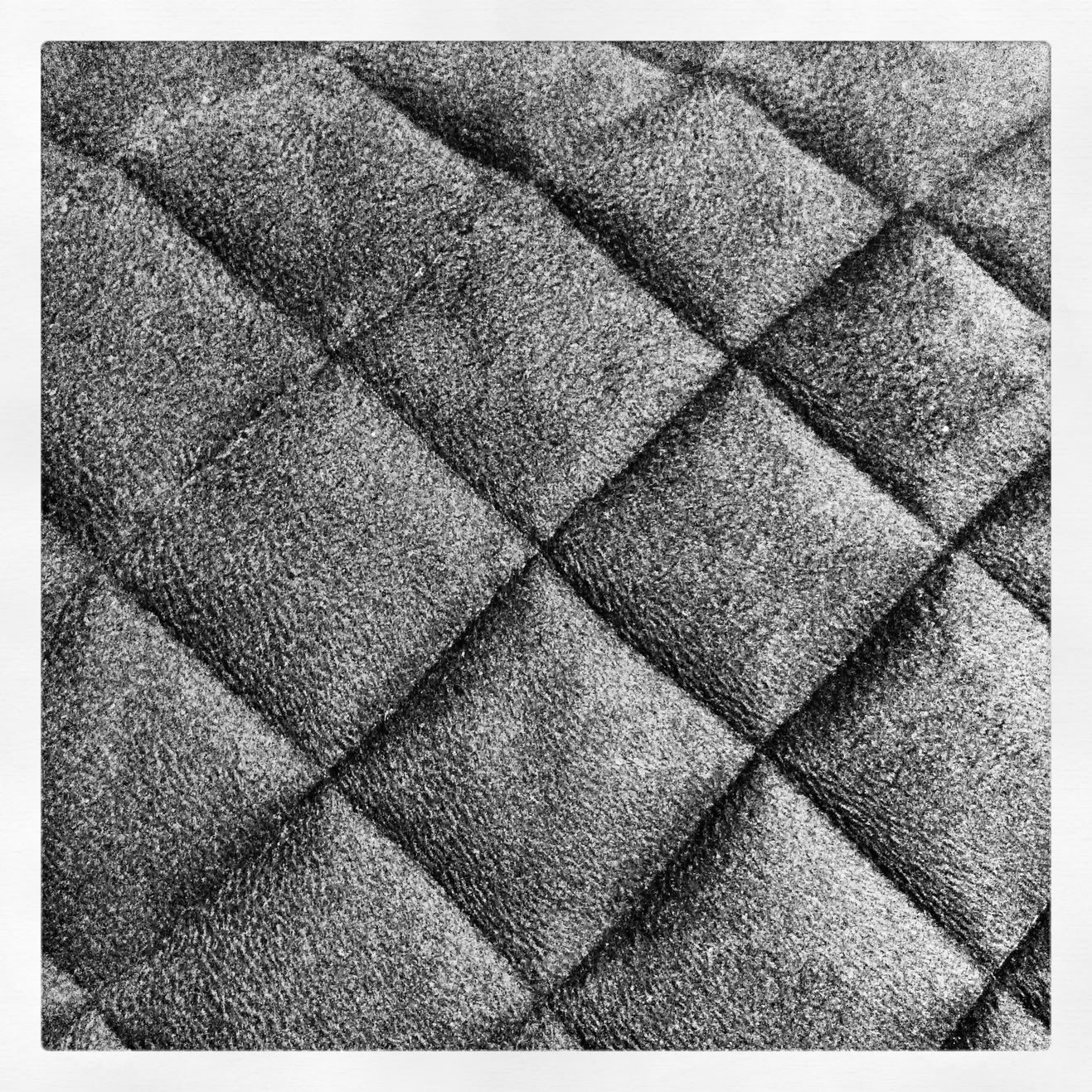 and I have now got all my missing tinted glass after finding P&L Minis have a handful of new old stock Rover panes in stock! Thankfully they post too!

So heres a drivers pane by pilkington so its a late '90s window. As its drivers side Im now going to have to disassemble my drivers door to swap the glass over. Annoying but better to have the perfect window on the drivers side!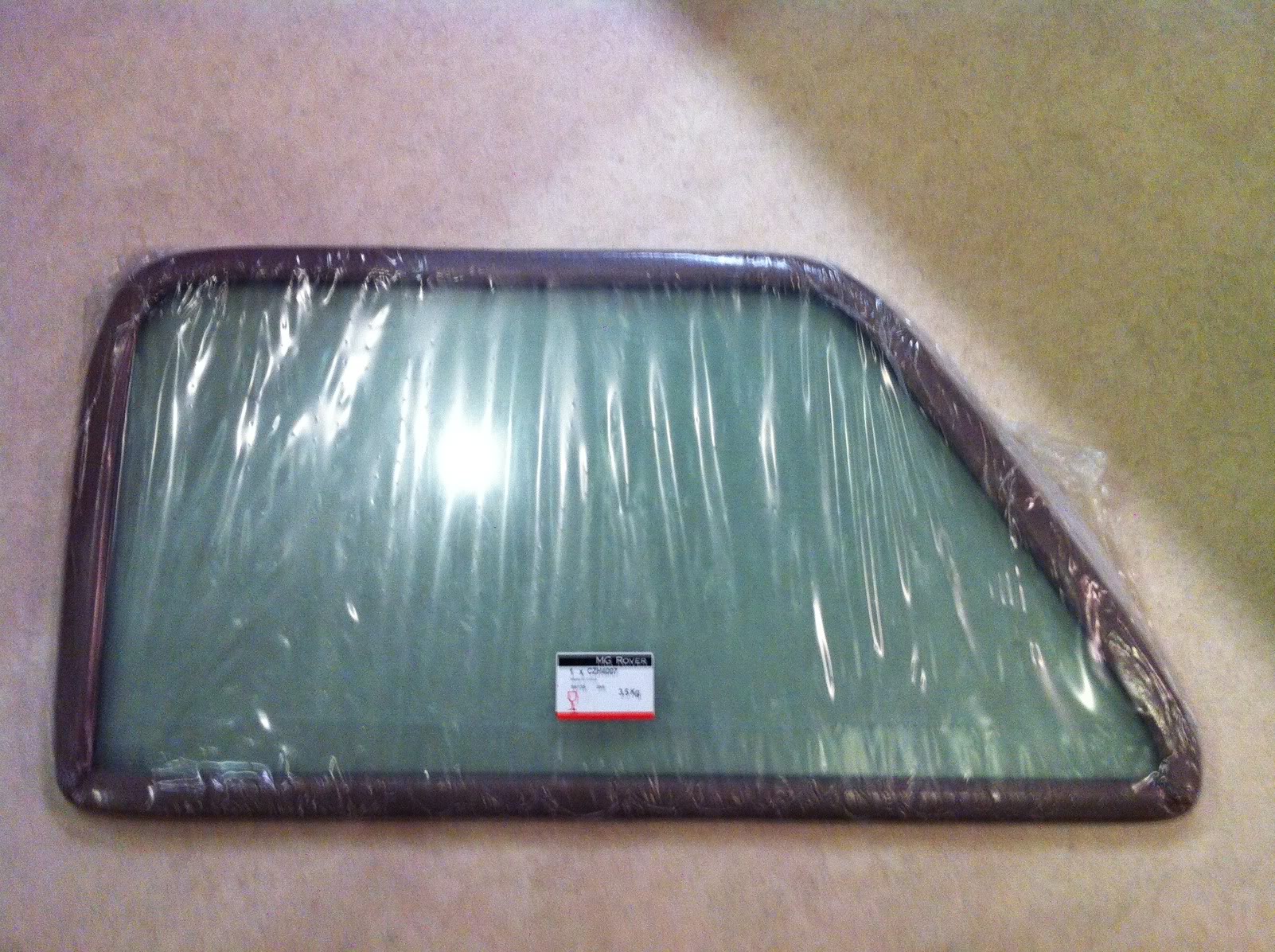 They also had 10 non opening rear windows in the factory tint in stock too! They now have 8

Should arrive tomorrow or day after.

Hedlining is getting finalised at the weekend and then the windows will go in and I will get the brakes bled and tank finished off, painted and installed. Then it really is just electrics to do!
10-14-2012
Update!

Had the whole weekend off work so got some odds and ends done on the project.

First up was gluing the front of the headlining in place with help from my mum. Leaving it for a few days to properly set and grip.

Then I got round to sorting a cross threaded brake union. Bought a flaring tool and lots of spare unions just incase I need to do more in the future on my fleet of cars.

Then with the help of my dad the brakes were bled using the tried and tested Gunson Eezibleed kit. Brilliant system!

I also made some adjustable height brackets from scratch for mounting the plate. The plate can be moved up or down about 1-2cm each way which will be good for MOT day Im sure! Properly happy with the look of it as it hides the quite large back box perfectly.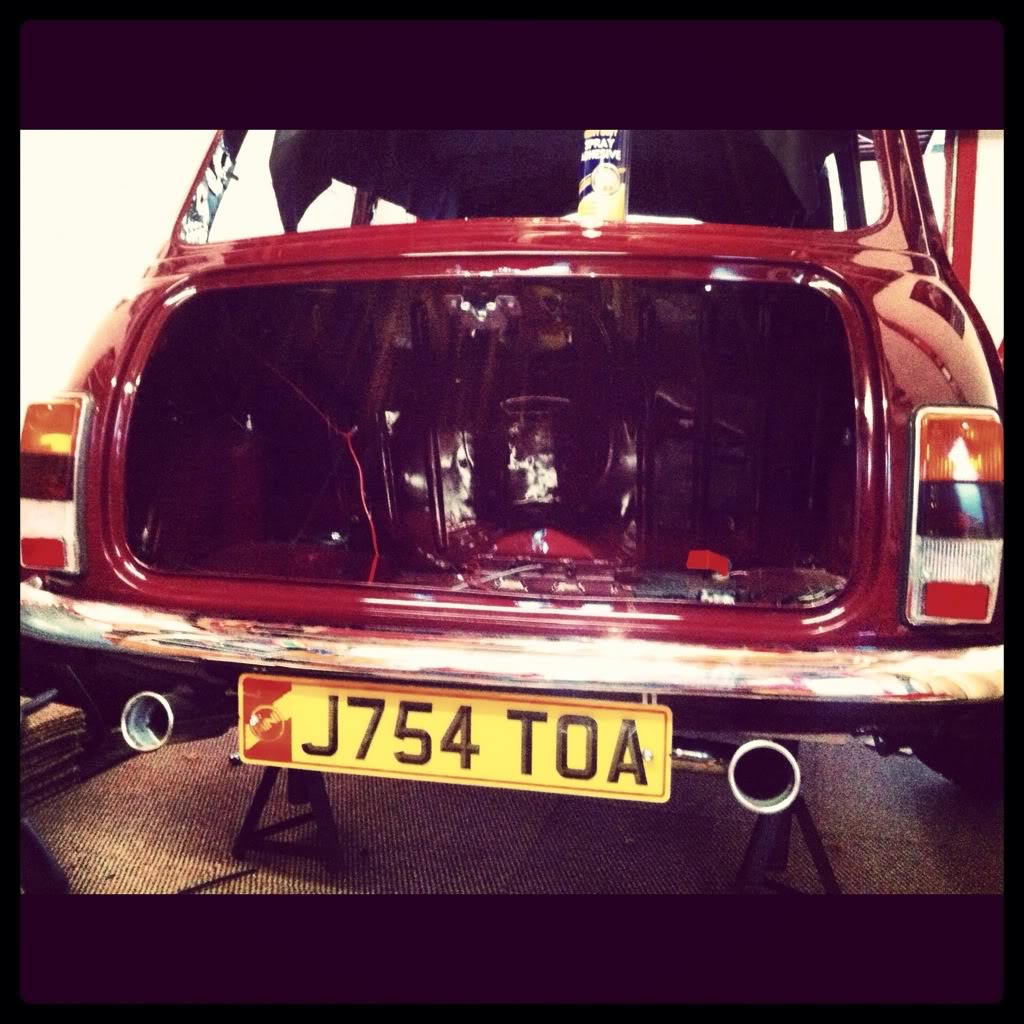 Its held to the brackets by my LED plate bolts. Very clever idea!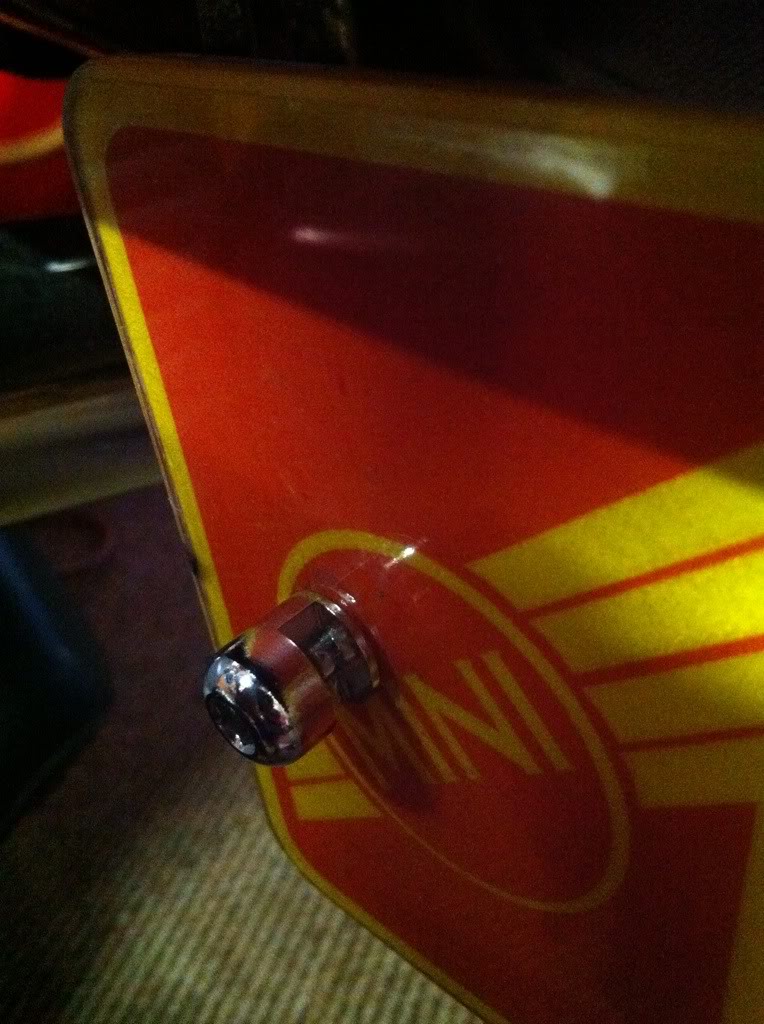 Also got my tinted non opening rear windows brand new from P&L Minis. So thats my set complete!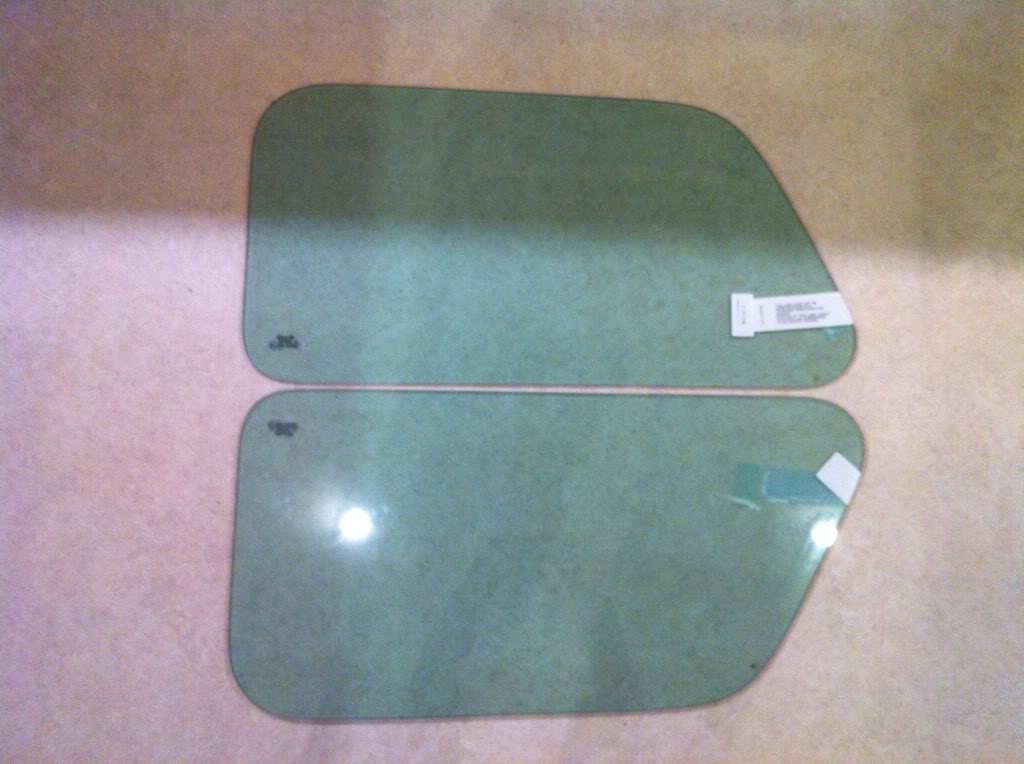 And a special shout out to my mum for making this rear seat!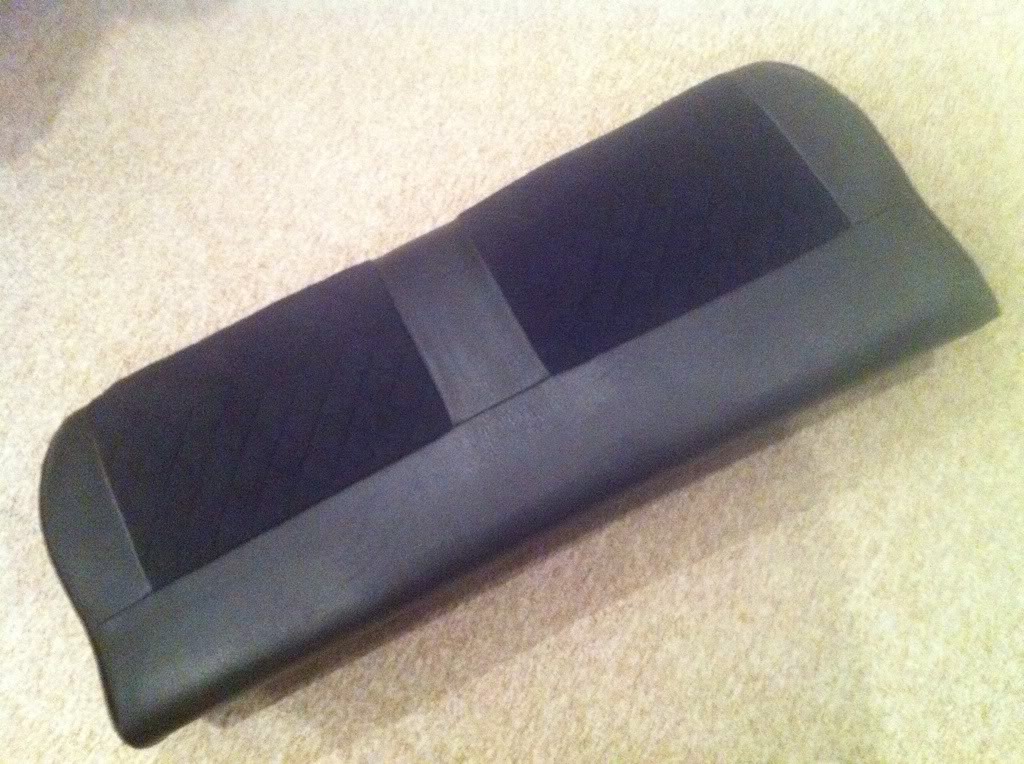 Fully homemade in vinyl and fake suede with diamond stitching. It looks AWESOME!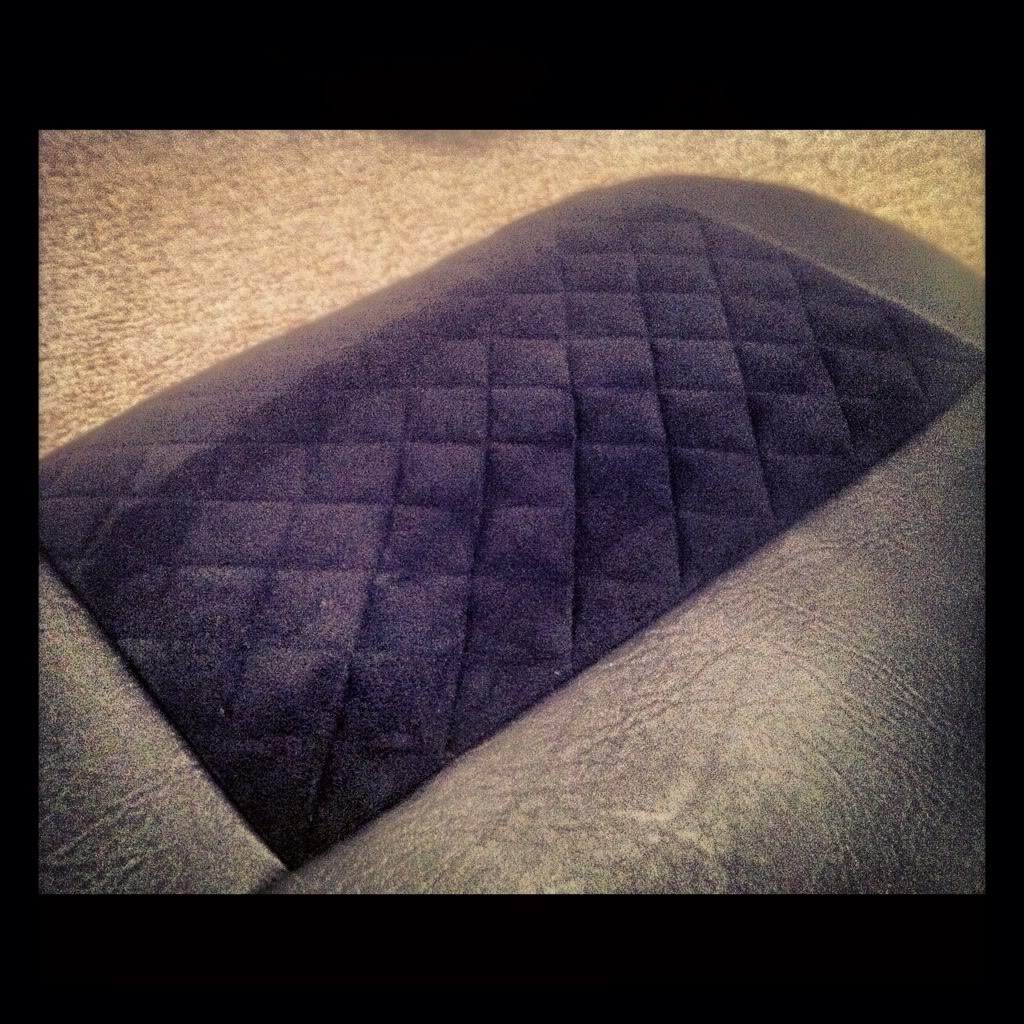 Next up is finishing off the tank, installing it after I work out a practical way of mounting it and then try and finally tackle the electrics to fire the beast into life for the first time!
10-20-2012
Got a day off on Monday so going to try and get more work done on the car then. Electrics is obviously top of the list! Plus windows are ready to go in almost once we have done the headlining sides.


I also just bought this to replace my daily driver VW Polo.......thankfully Im not needing any parts spending on the Mini anyway at the moment as it has emptied my pocket! 98 Spec Japanese Import Honda Integra Type R in mint condition. Chuffed!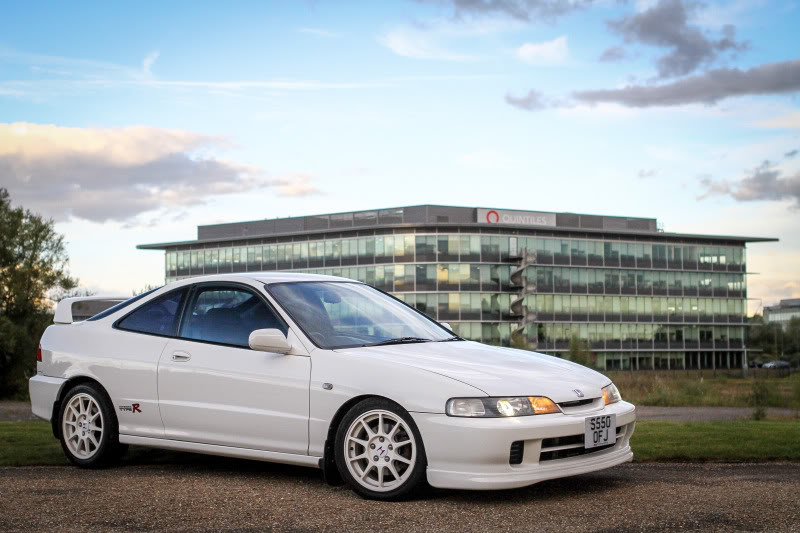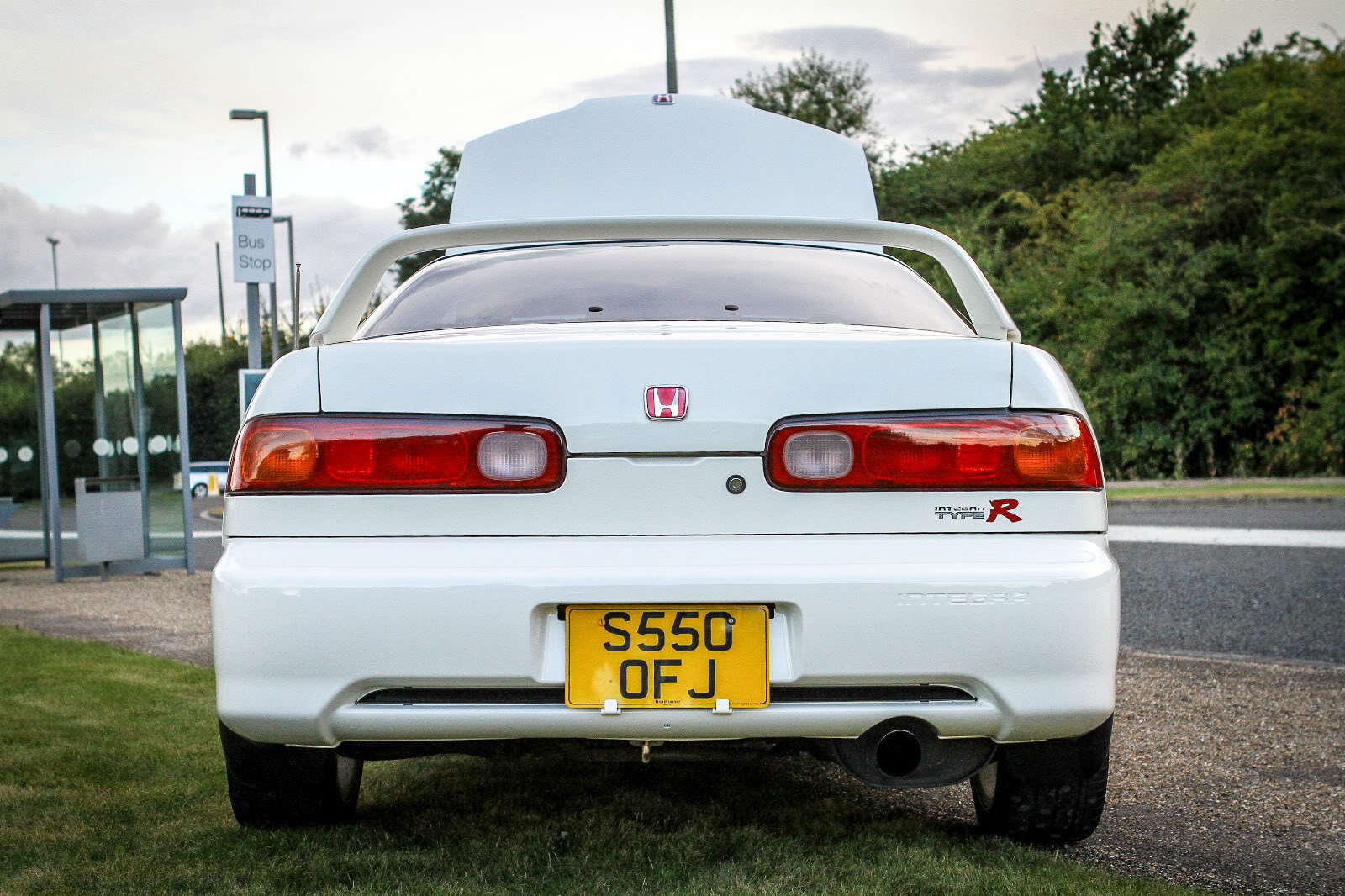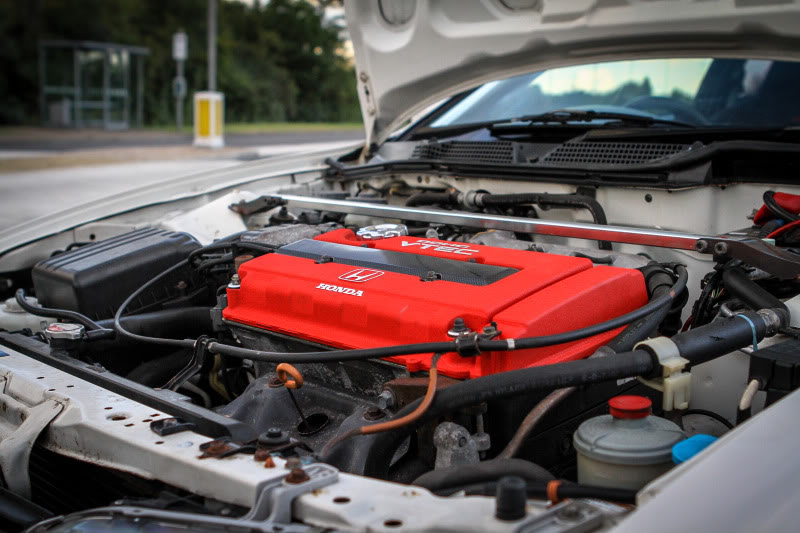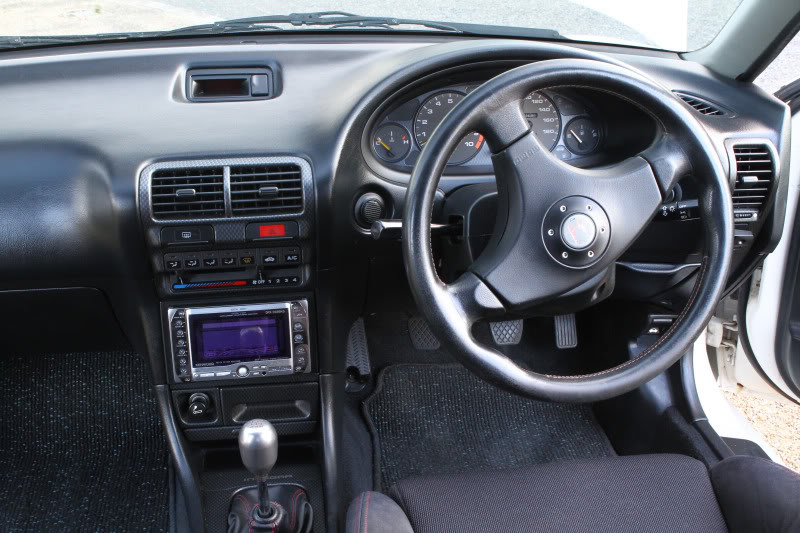 Getting it trailered up sometime in the next two weeks hopefully as its in Reading!
12-2-2012
Righto! Interior is almost completed! Mums been working hard on it and the effort shows in the final outcome! The front cards are done and now we just need to cut the holes for the door furniture. So some pics...

Took a lot of glueing and pegging to keep it all in place.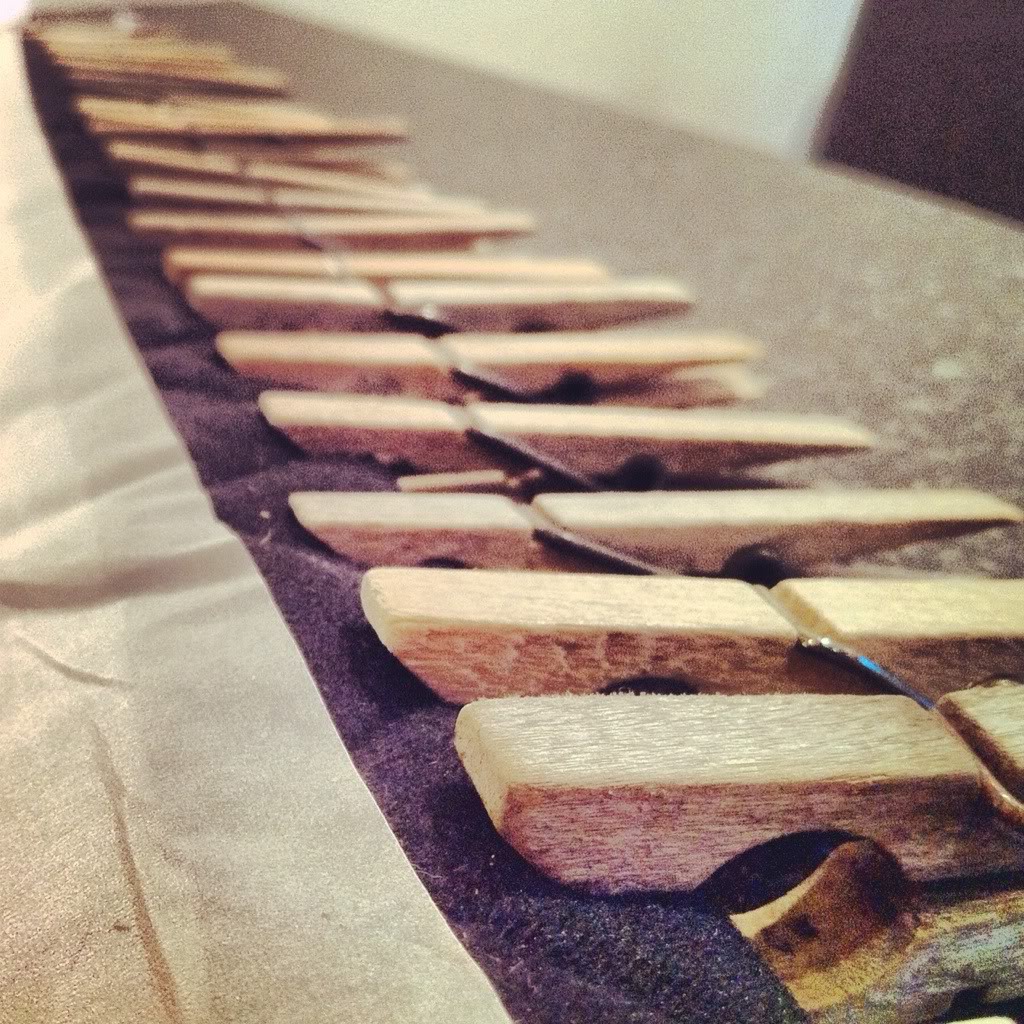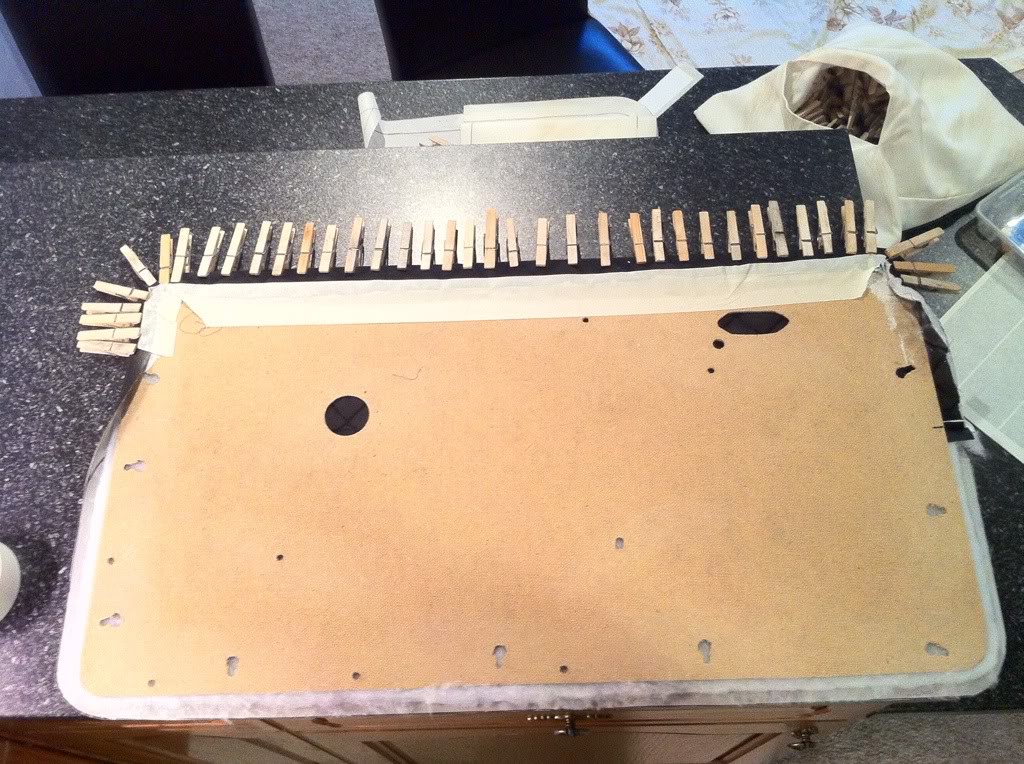 But it was all worth it!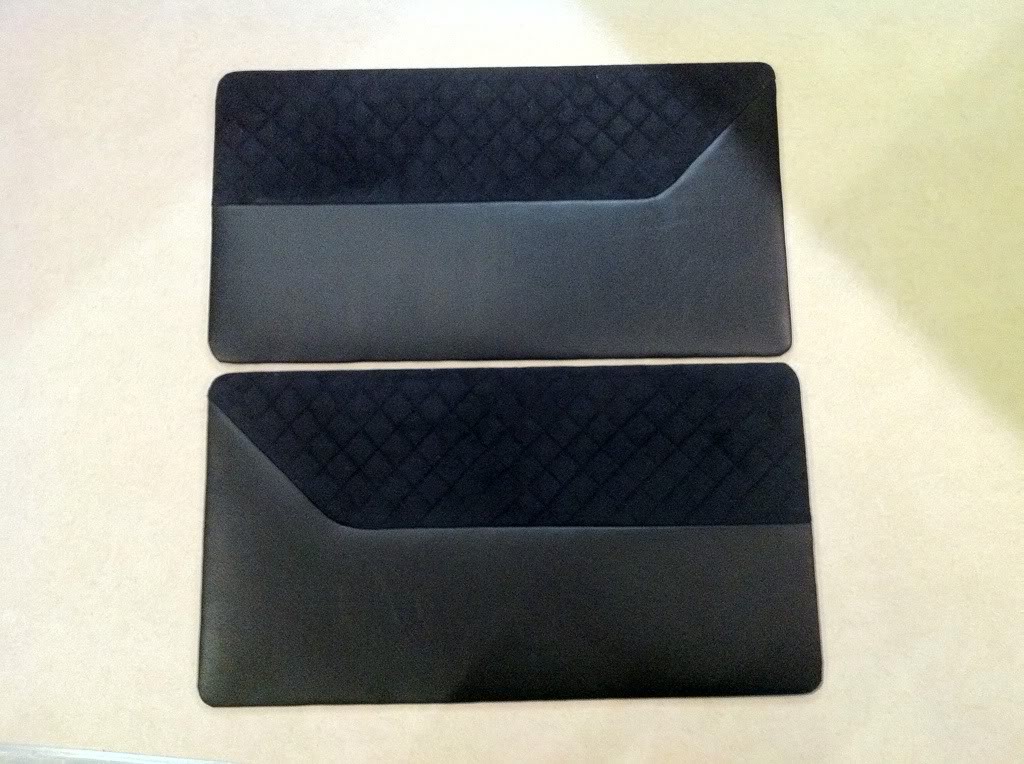 and the cards along with the suede dash rails and rear seat :)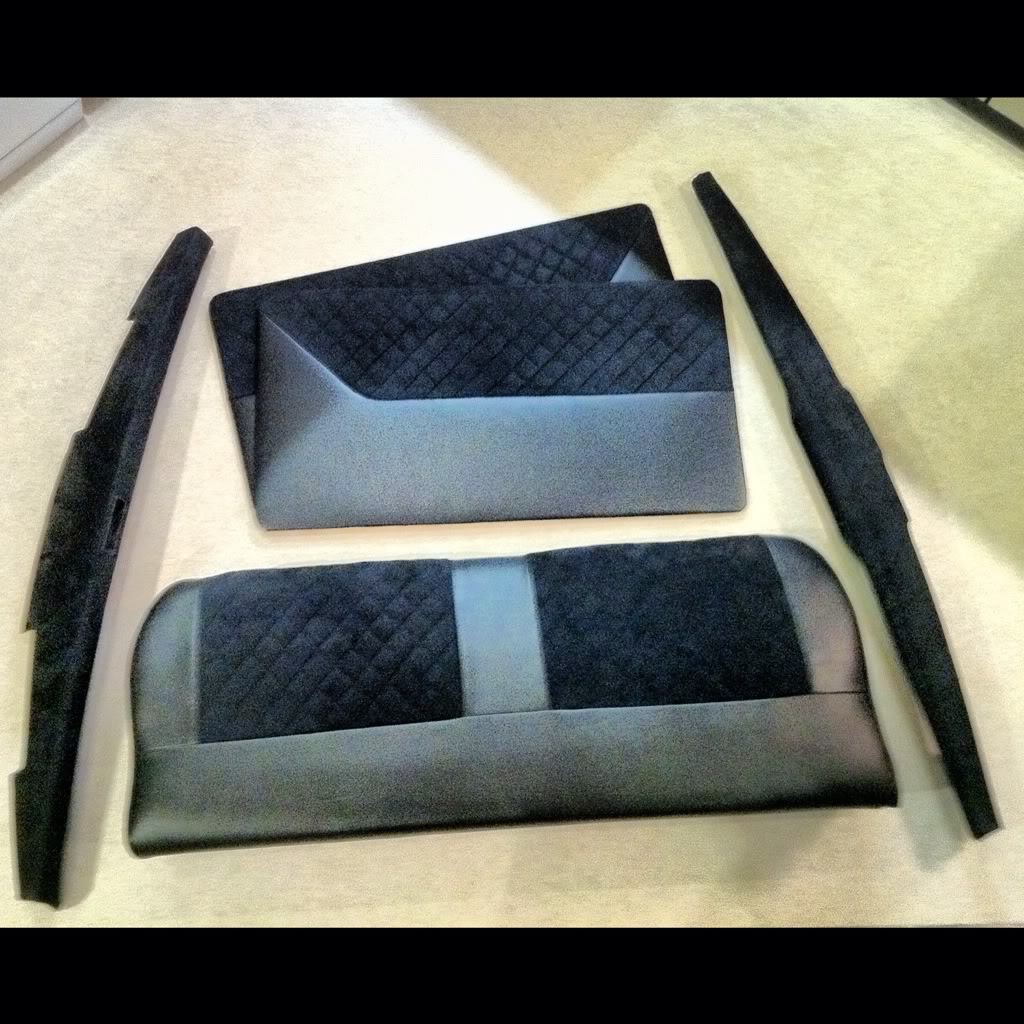 Happy chappy! Cant wait to get the rear cards done and get it all installed

1-2-2013
Well Ive got this weekend off work and with the new year comes a new motivation to get this thing finished! Acquired a boot popper from my mate Greig cheap. Simple solenoid controlled wire that will work perfectly with my existing boot catch mechanism. Just need to wire it in somewhere stealthy :) simple to wire up and saves me relying on the manual one I had planned to use!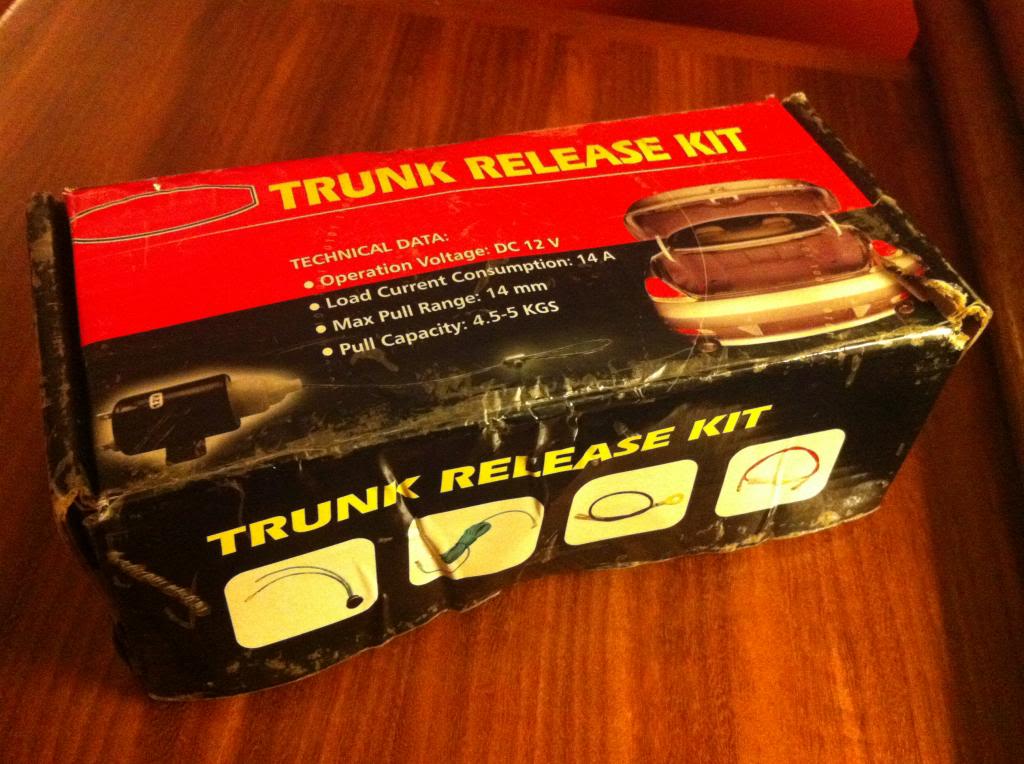 (Obviously theres more wires than this switch.....)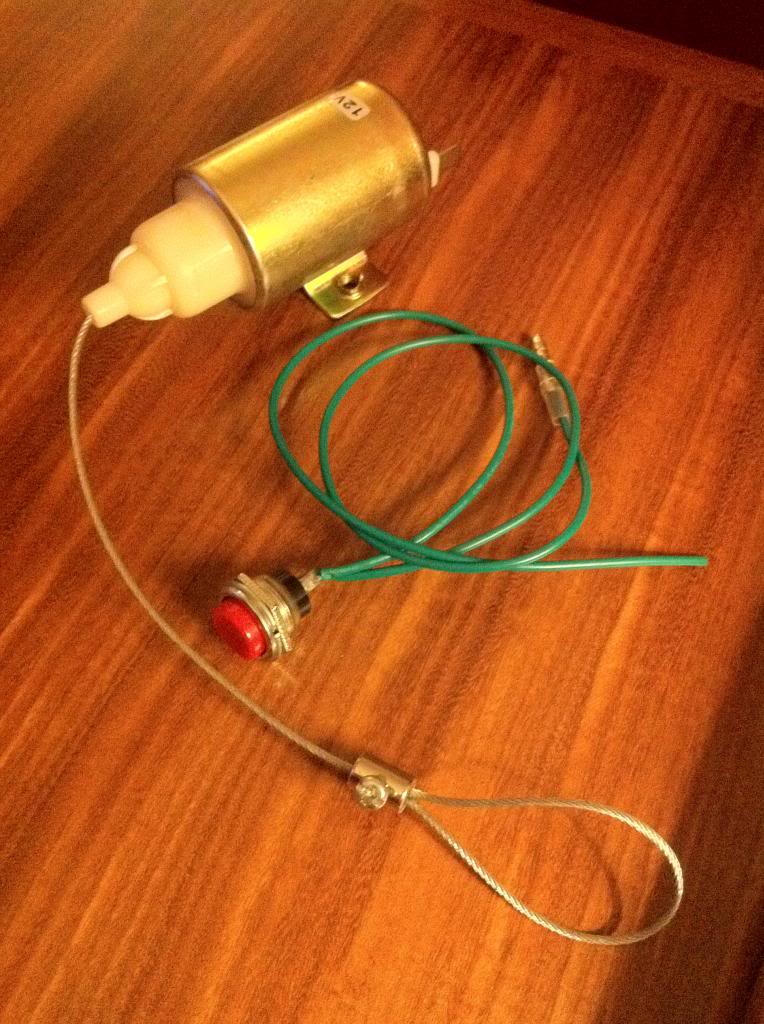 Also looking to work out the electronic dizzy wiring. Done my research and seems easy enough!
2-2-2013
So ordered some more parts in the hope it will get me going with this again. Worked out a method of securing the tank in place so fingers crossed the parts work! Also ordered a genuine Rover boot seal to get the lid to close properly as the non gen item I have has a huge lip on it pushing the lid out. Got a weeks holiday coming up soon so hope to get cracking then :)

All that needs done is tank installed and plumbed in, electrics finalised, fluids and a key to turn it over and its pretty much done! Then its just cosmetic stuff like interior and windows

2-6-2013
New bits are always welcomed! Get them on Saturday hopefully! 5.5 Gallon Tank two piece strap and also the fixing bracket to bolt it to the floor. Hope it works but it seems to be slightly adjustable so fingers crossed! Also got a genuine boot seal too. Hope it helps the lid close better!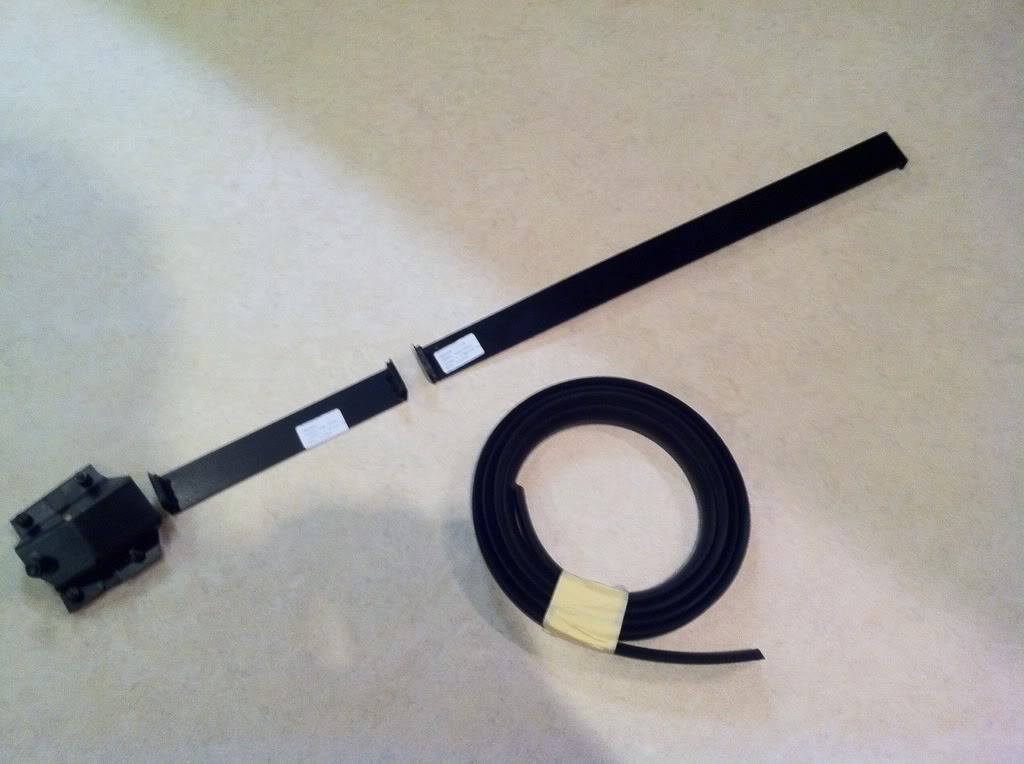 Will test fit the tank and repaint the strap to match. Stainless bolts throughout as expected too. Then need some fresh BP Ultimate in the tank :)
2-9-2013
Day 1 of holidays......it might be freezing but I need to get this thing done! Got the added assistance of my dad all week too!

tested out a mates snap off boss on the wheel. Works great but a bit loose in fitting for my liking so going to try and get a better quality, name brand, item. Loving the extra access it gives me though!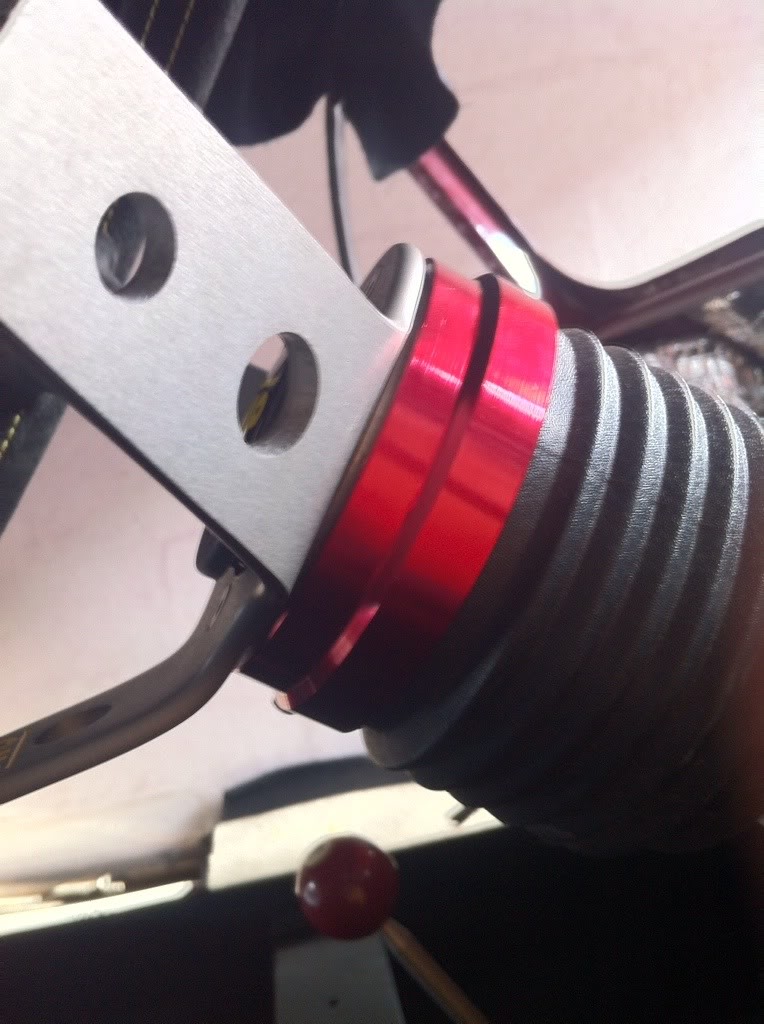 Then went about fitting the fuel tank with the new bits. The idea has worked!

Didn't need the mounting bracket in the end so going to try and return it to MiniSpares.

So after some trial and error we bolted the short strap to the floor and the long strap to the existing strap mounting on the rear seat bulkhead.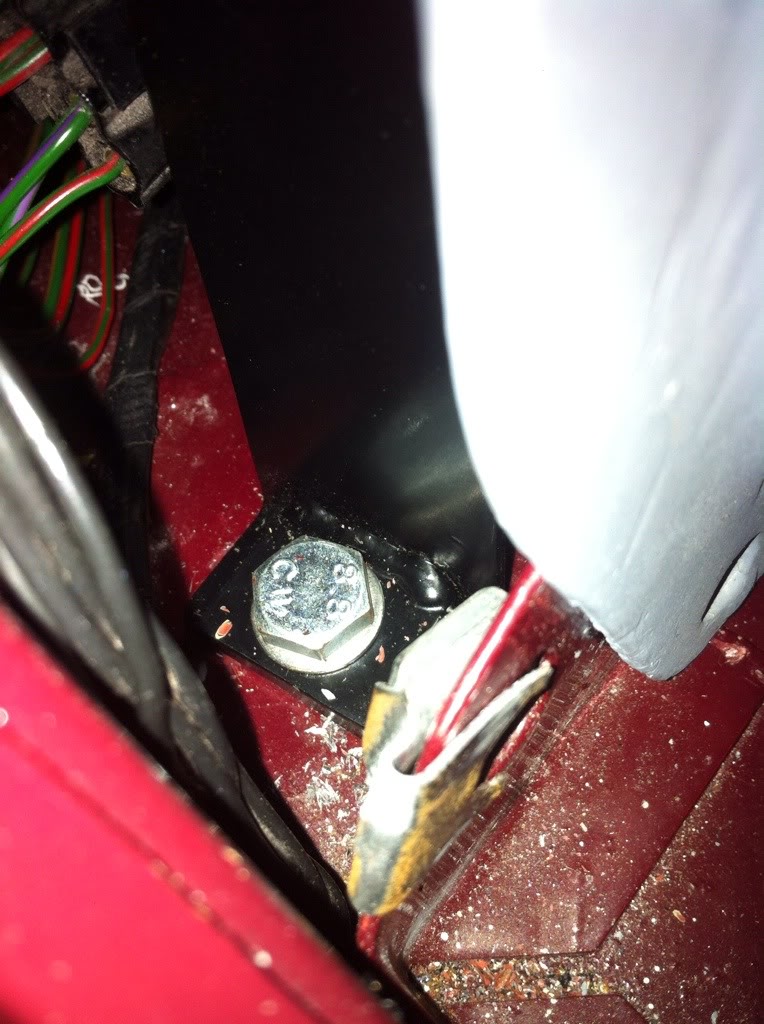 Then used the old strap bolt to bring the two together, clamping it in place.... can hardly see it when its installed which is good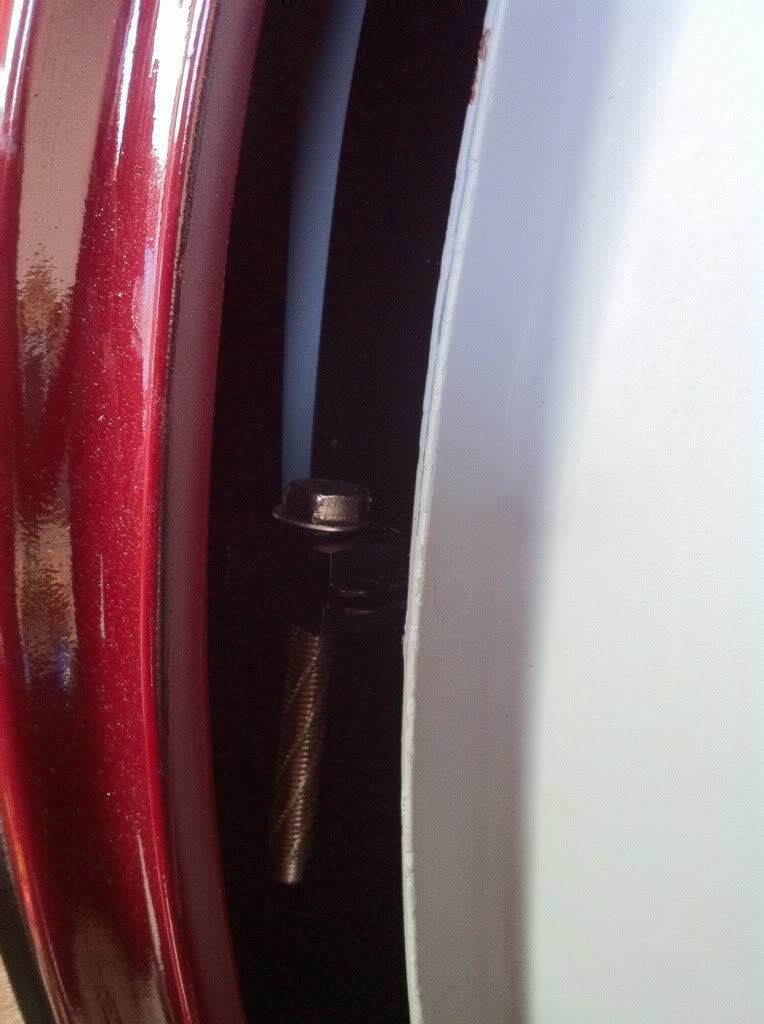 and voila! One floating fuel tank!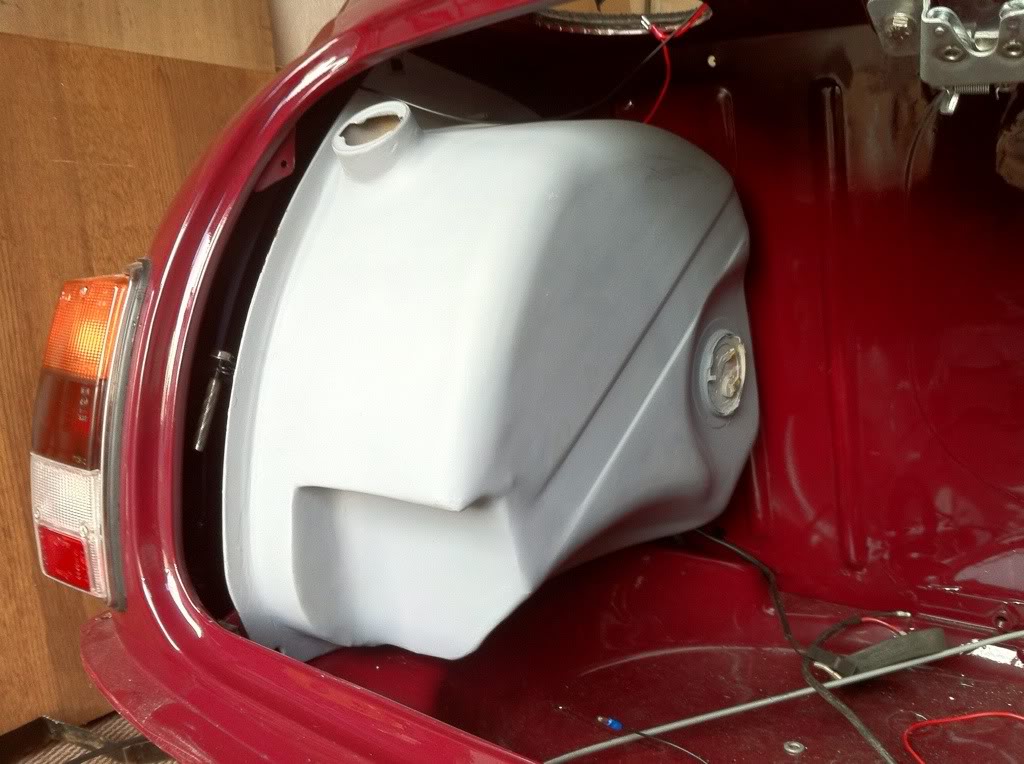 The strap could be doing with being a tad tighter so we are going to put some tool chest rubber mat underneath the strap to grip and space it out a bit.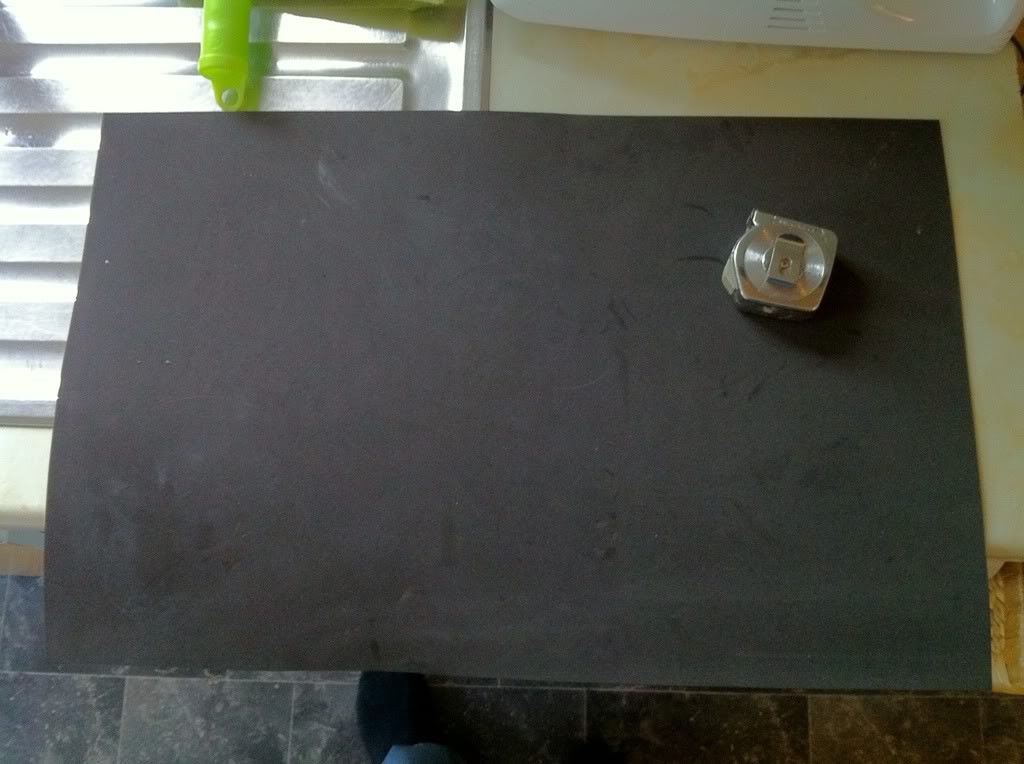 And with the foam on the strap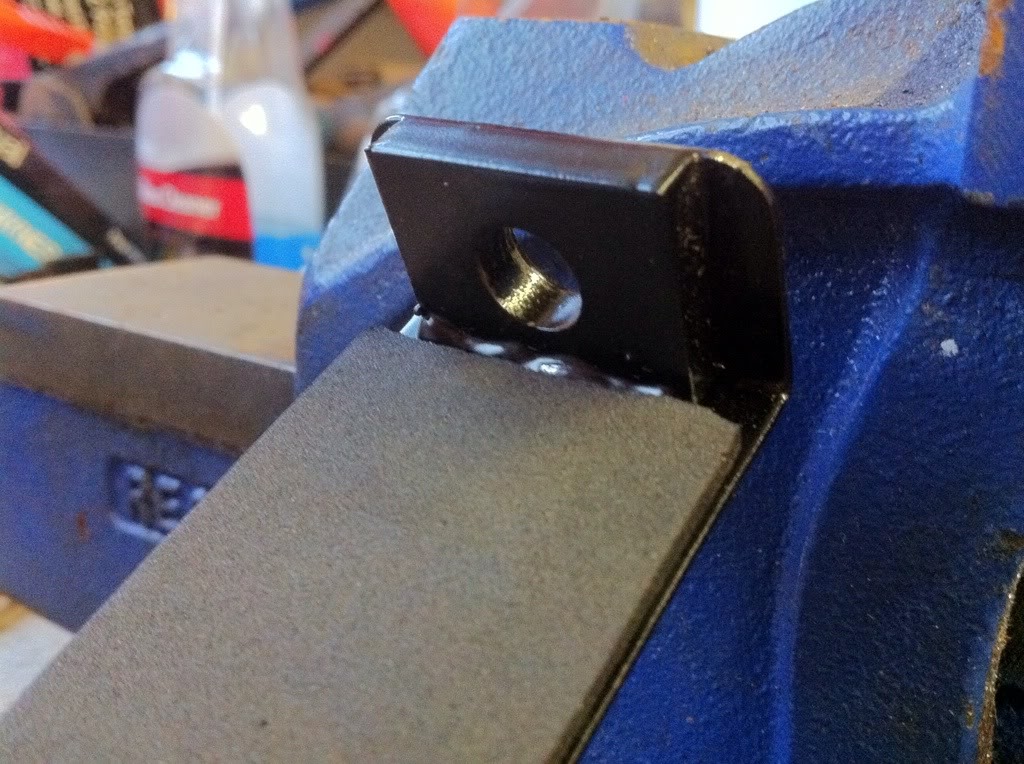 Also refitted the bootlid with the new rubber. Its better but still doesnt line up right.........hope its nothing too much though.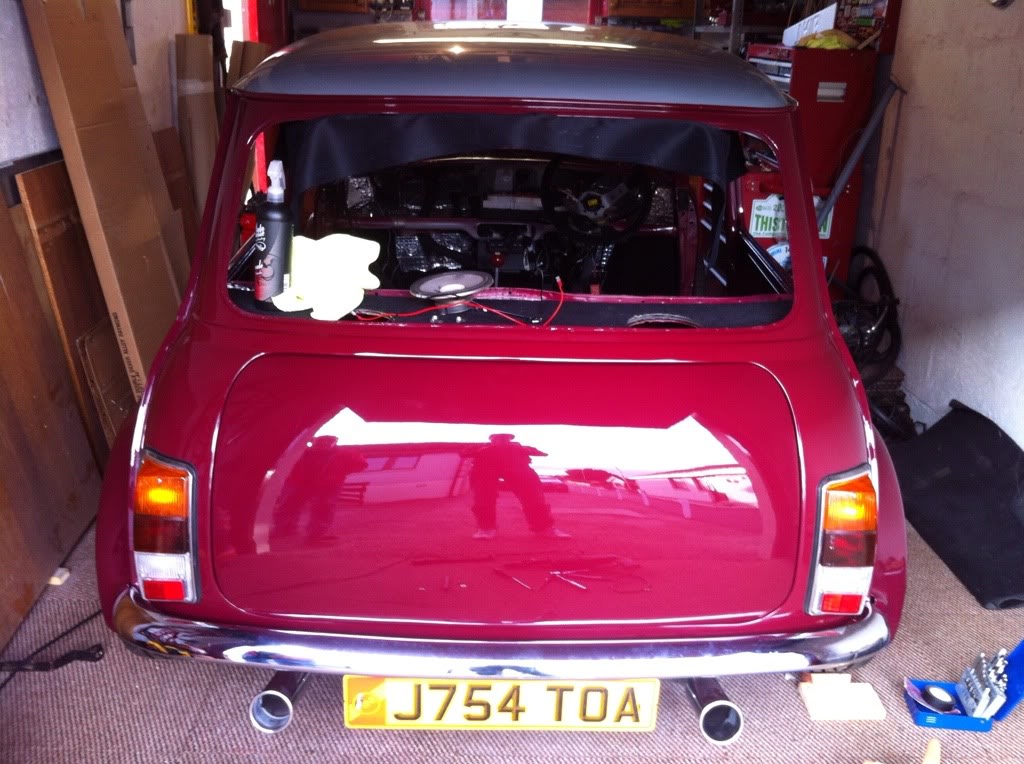 Tomorrow hopefully we will get bit more done too!
2-11-2013
Another day another update....

due to snow and general crap weather I resorted to cleaning and polishing stuff thats ready to go onto the car. First up, the glass. Side windows are all new old stock so just needed cleaning but the front and rear screens needed a fair bit of attention.

Gave them the GTechniq treatment as its worked so well on my dailys over the past few years. Gave them a polish and then applied G1 in three coats. Beads like mad now. Ready to go! (This stuff is kinda like Rain-X but not crap)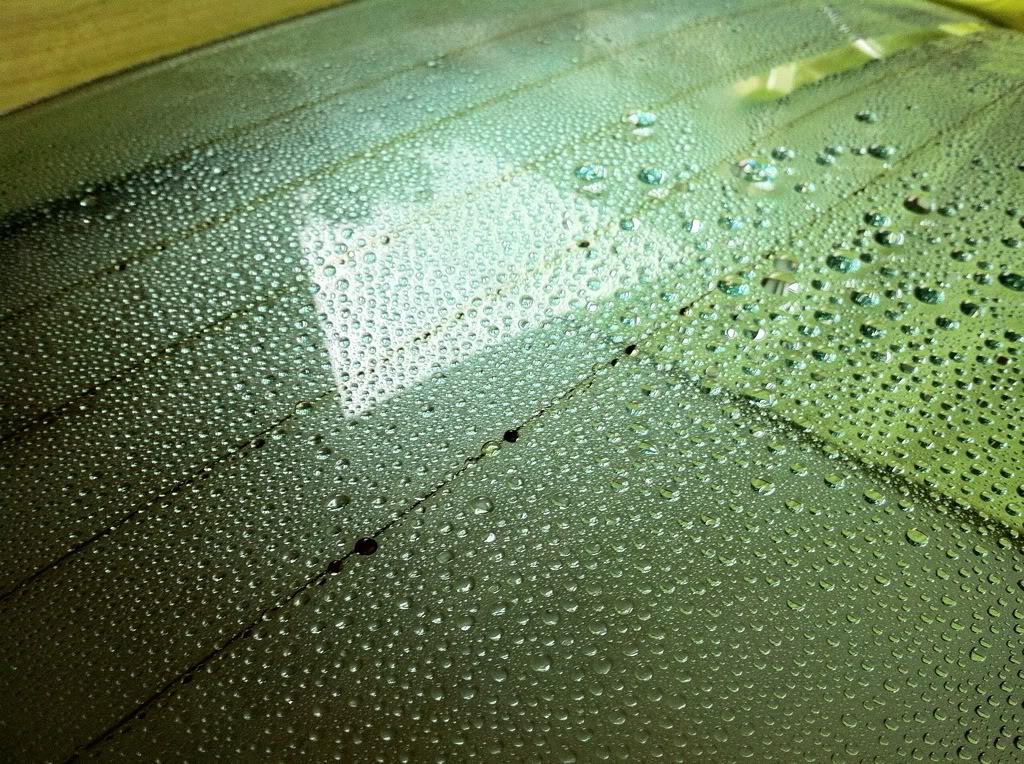 next up the bare alloy wheels. Boy do I regret not polishing them before putting them away at the start of the rebuild!

This is how they look....

Dull, water marked and covered in spider webs......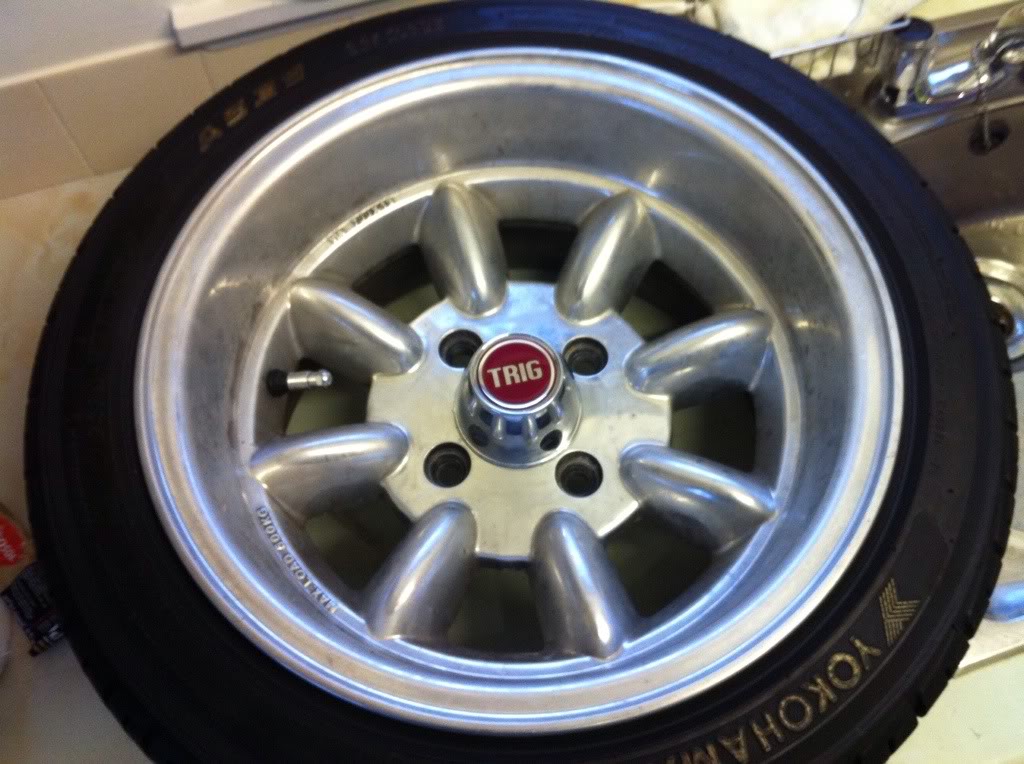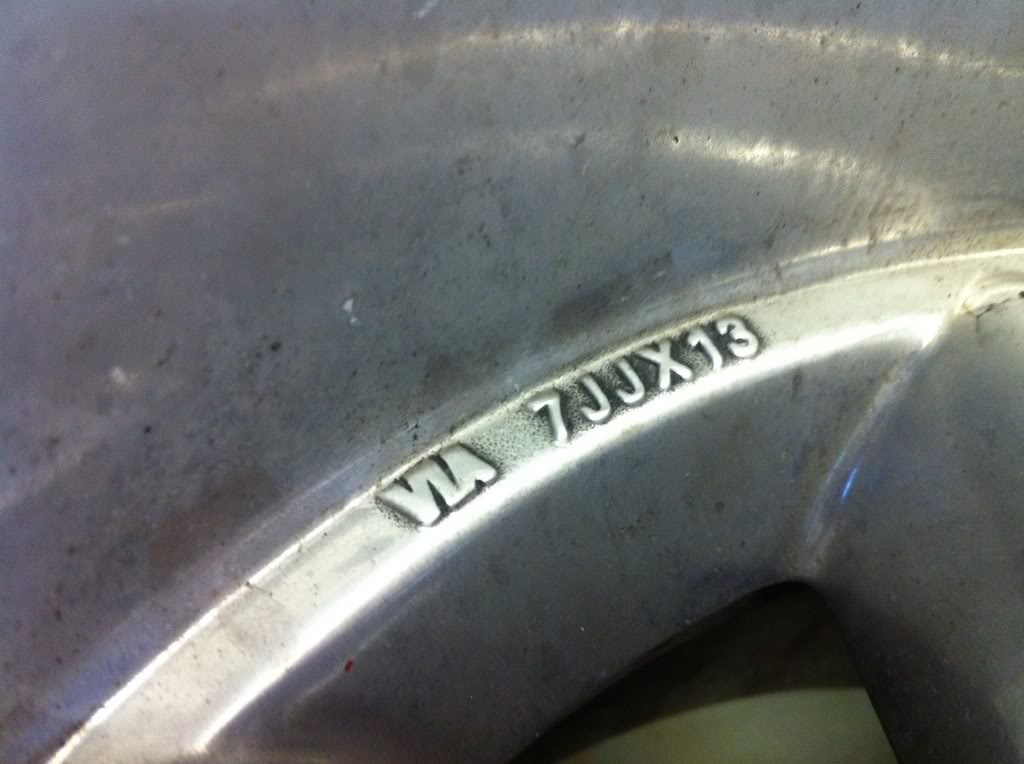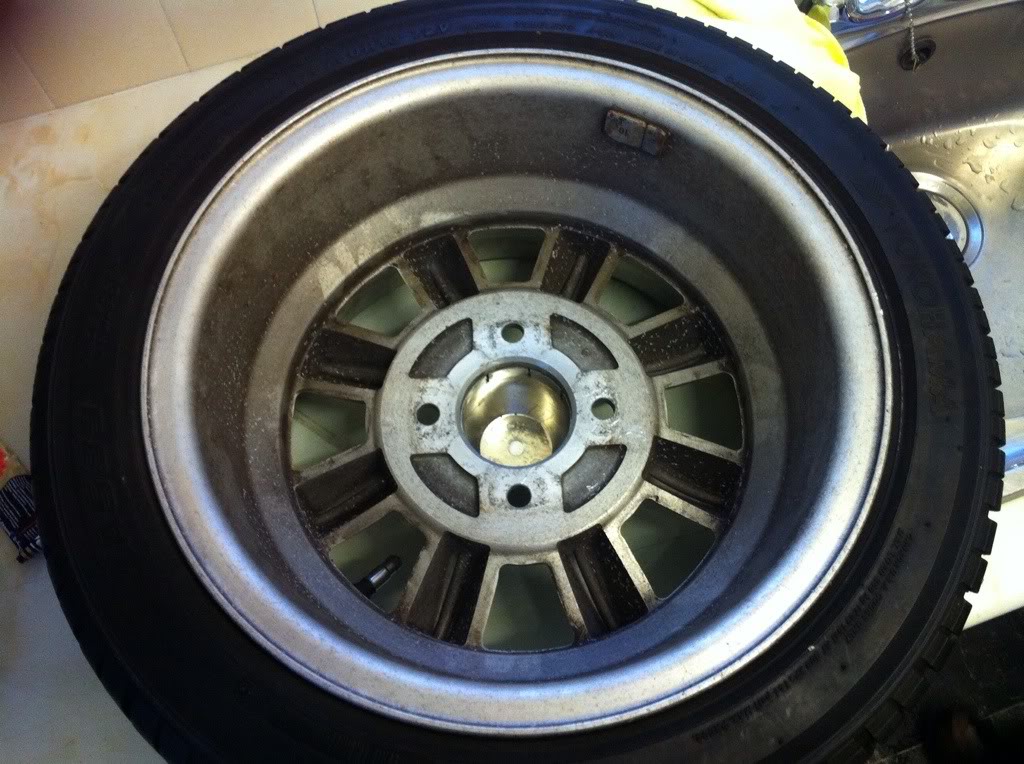 So set about cleaning the backs first. As they arent a high polished finish I took a brillo pad to them. Worked a treat!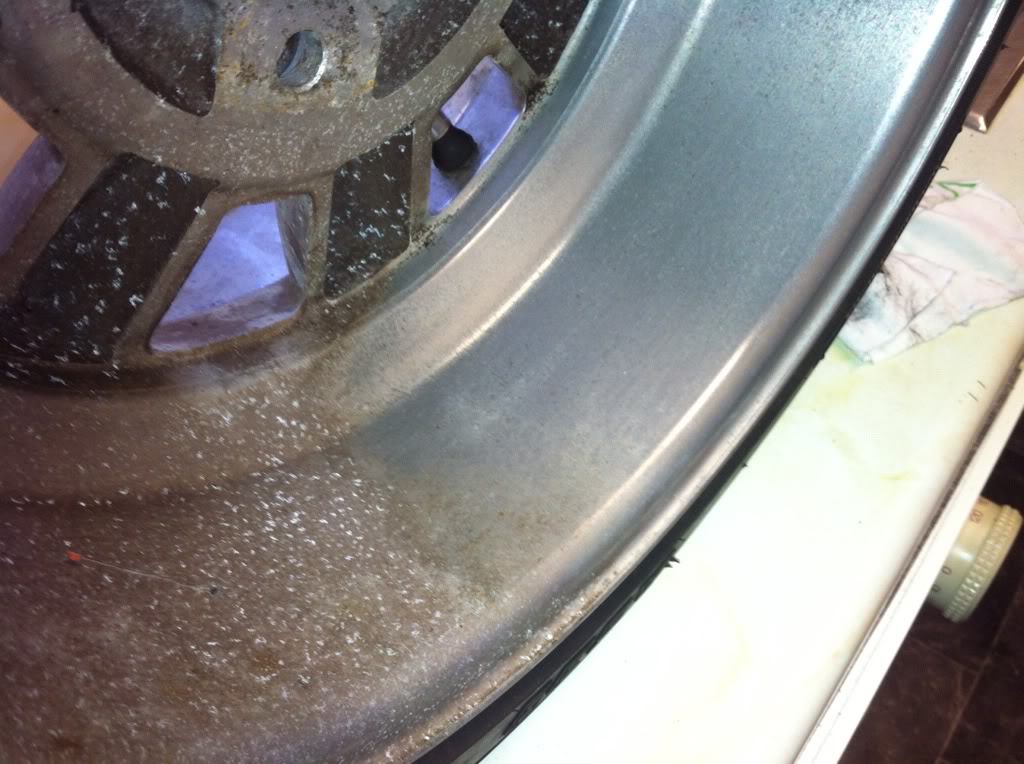 then set about them with the drill and some autosol on a polishing wheel. Good enough for the backs seeing as they wont be seen.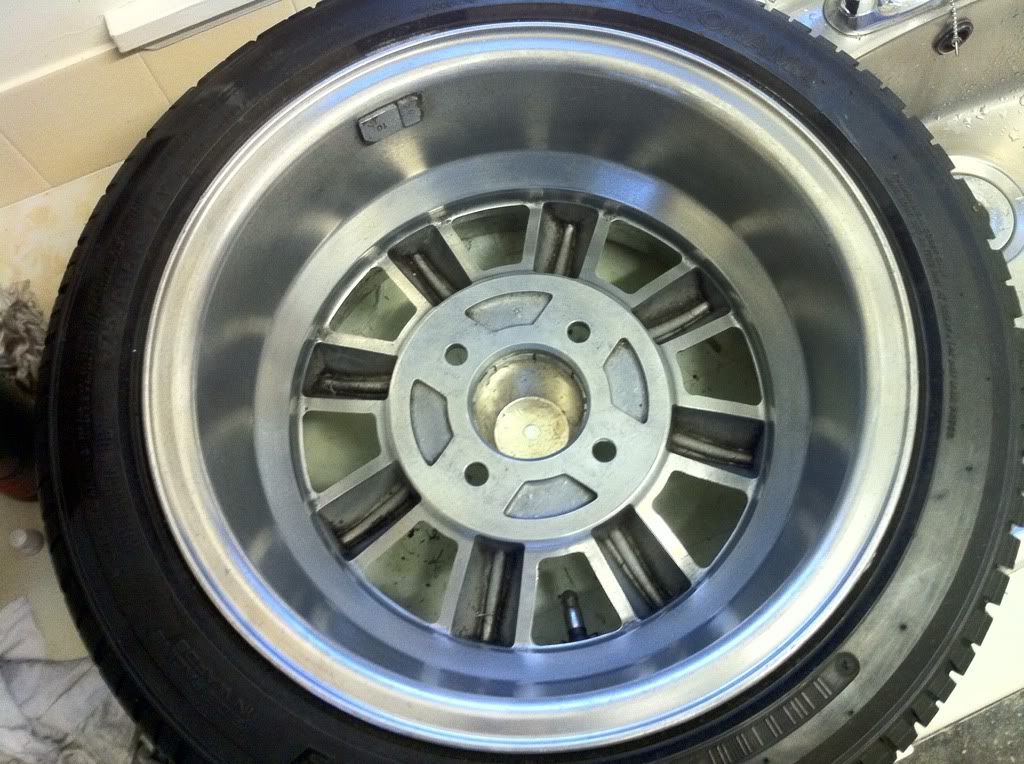 Then the front I did the same minus the brillo pads. Its come up not bad but looking to get some finer polish to really bring up the lustre of the metal. Thinking Peeks or similar?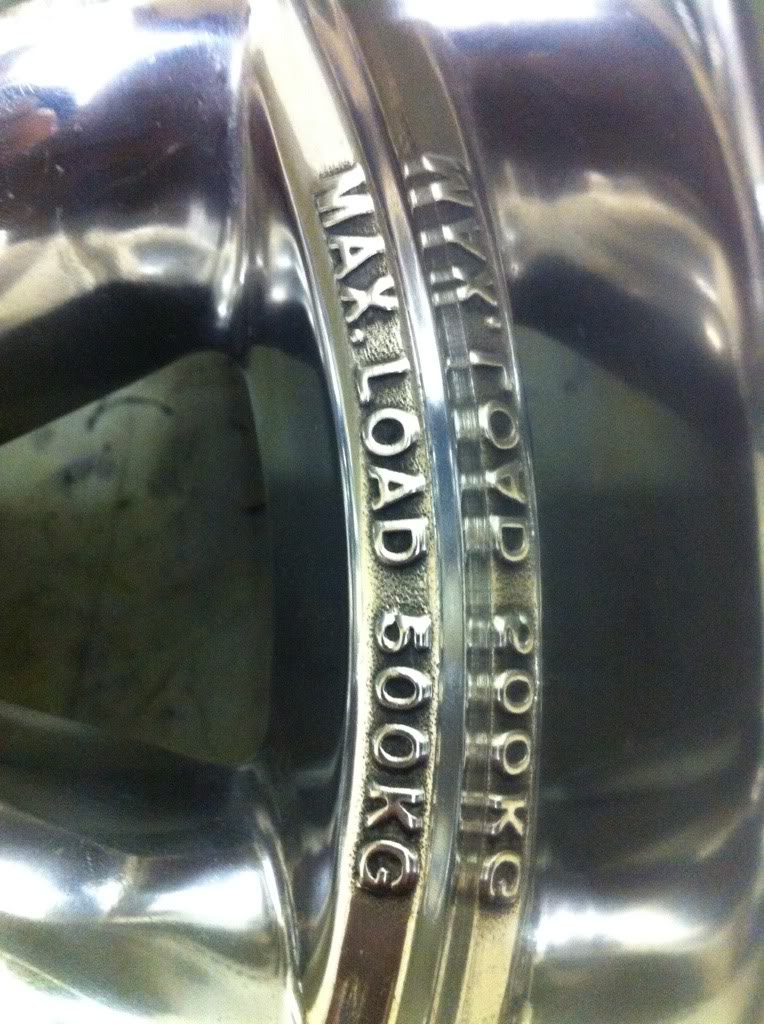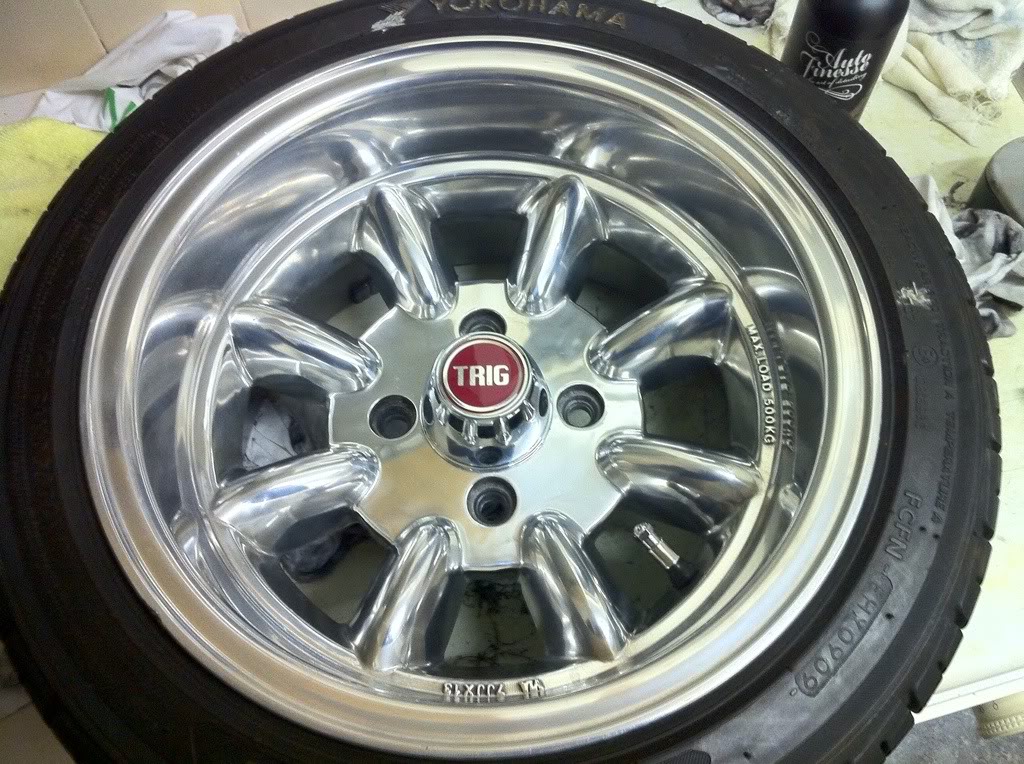 and its got a bit of dish....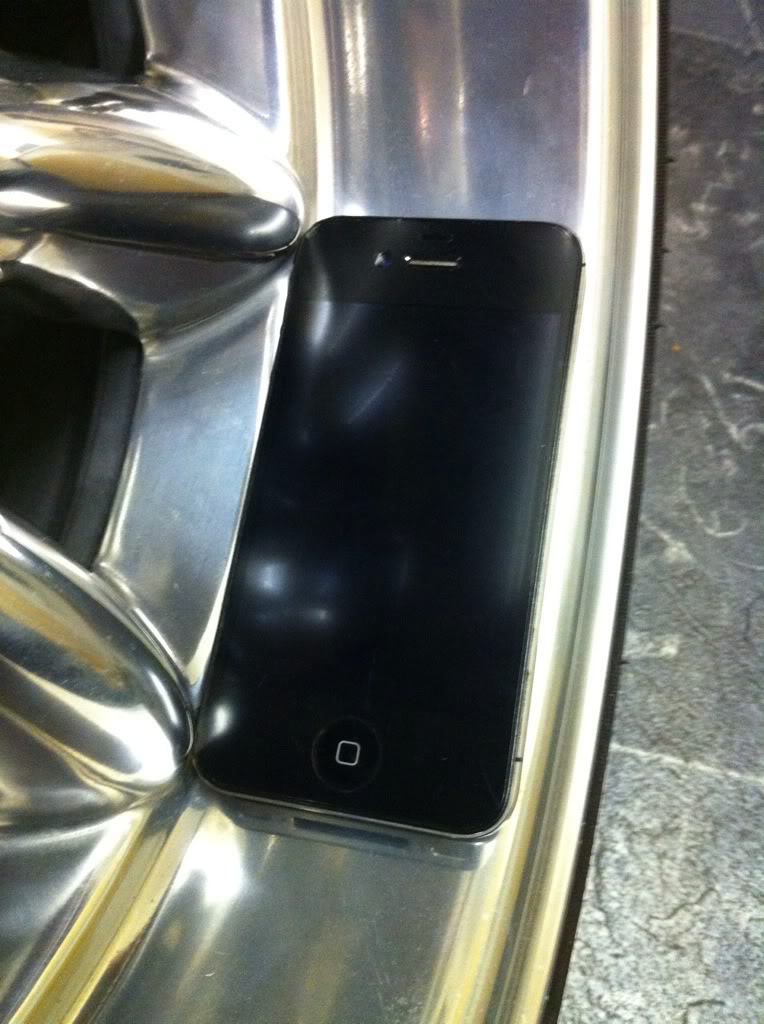 Also before it came off the road I had picked out the Yokohama and A539 in the tyres with tyre paint. Marmite I know but something a bit different these days.

Before....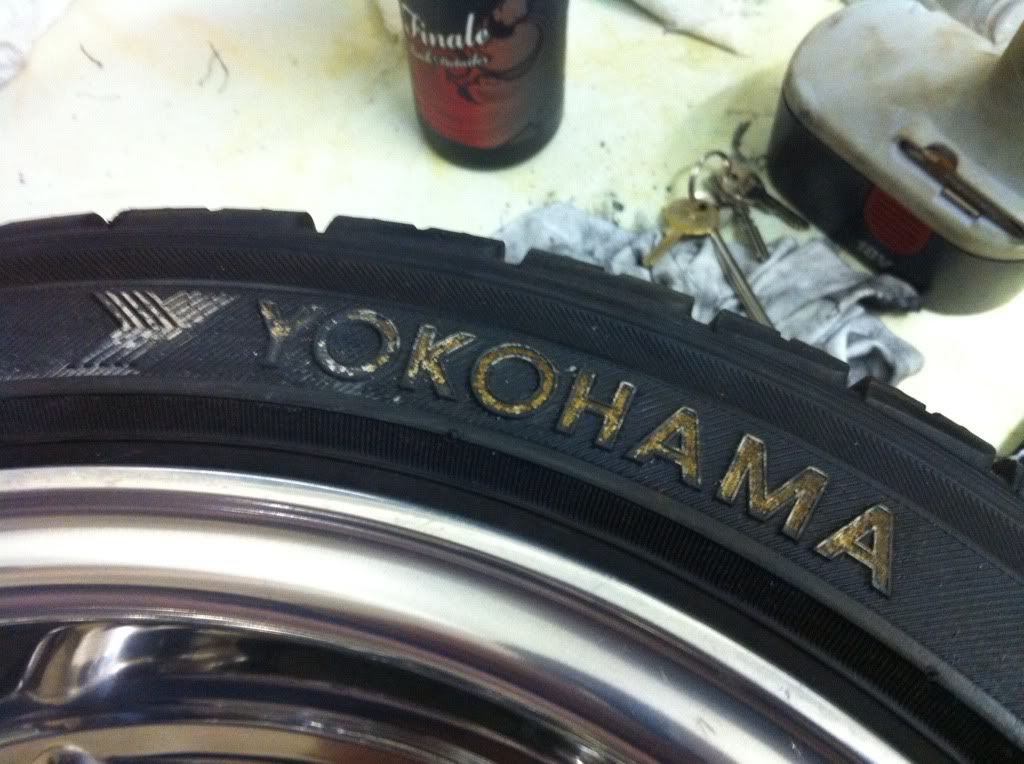 after....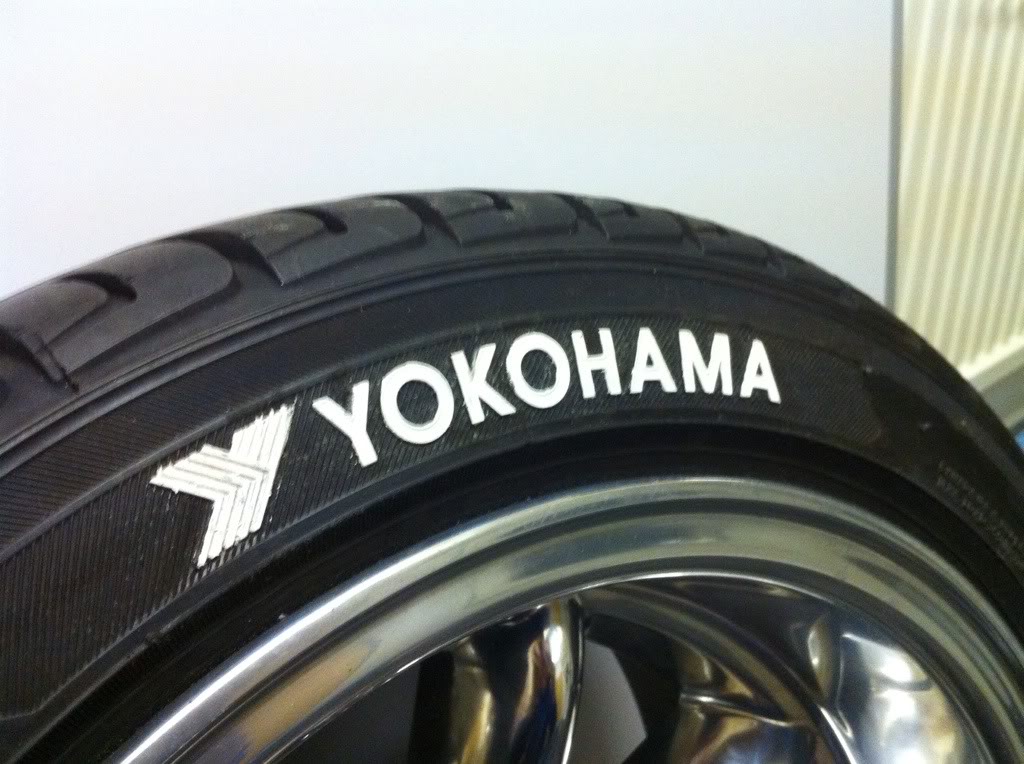 and the whole wheel done.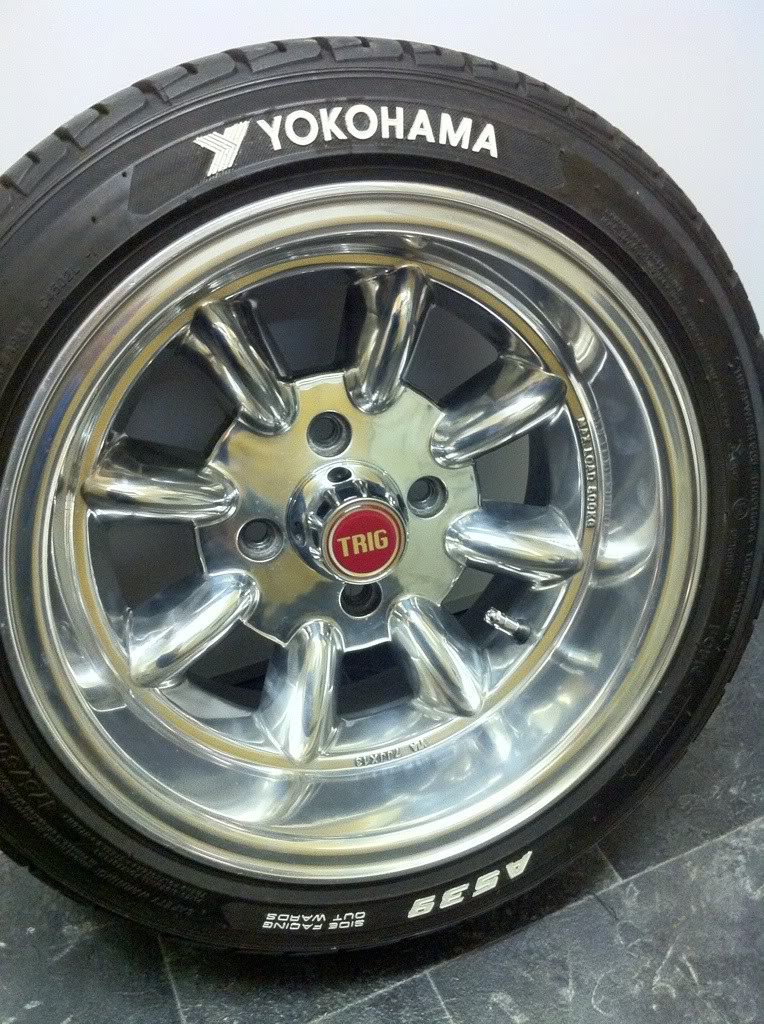 Took an absolute age to get to this stage (talking a good 2-3hrs) but once they have been treate with GTech C5 Wheel armour I hopefully wont need to do it again for a dam long time!
2-13-2013
Lunchtime update! Finished the first wheel




I wasnt happy with the finish Autosol had left so bought some Mothers Metal polish instead. Much finer and give a much better shine! So having gone over the whole wheel again, I was left with this.....much better!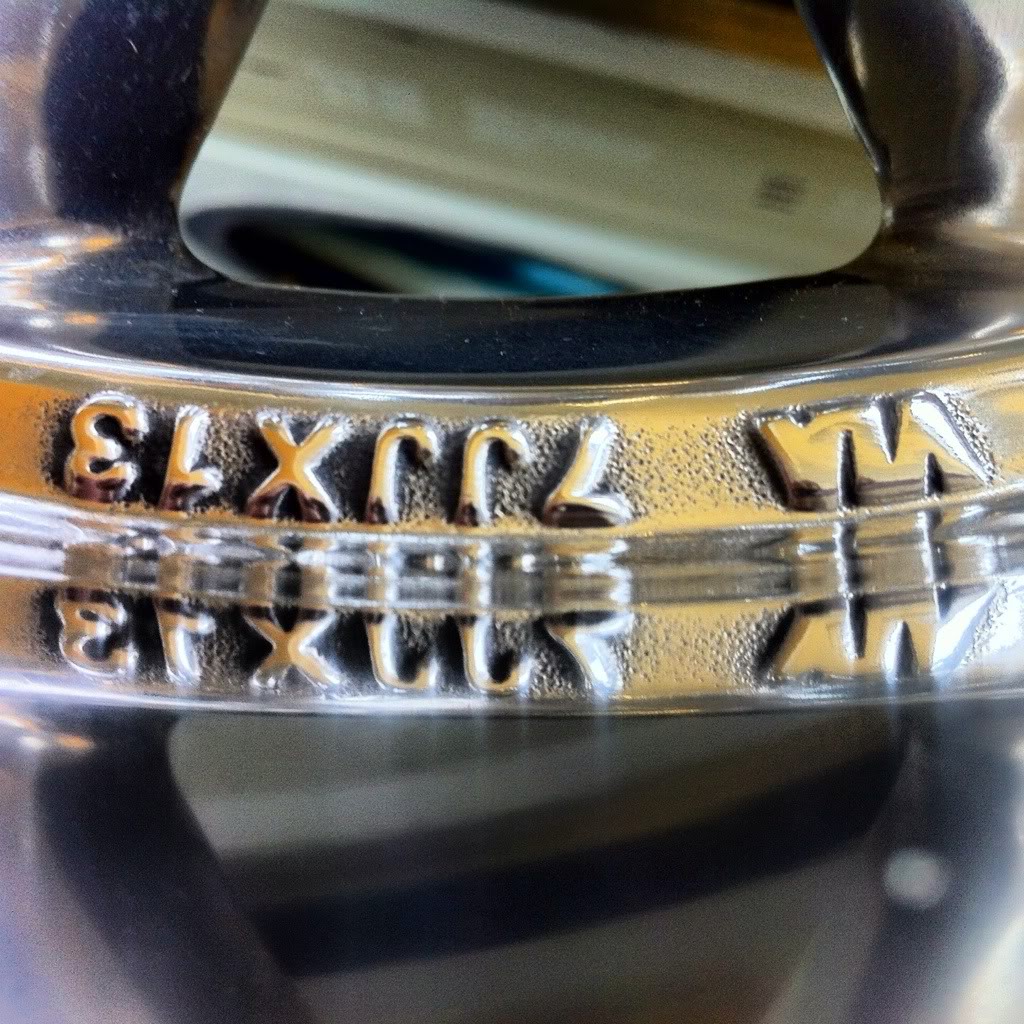 And a wee before and after......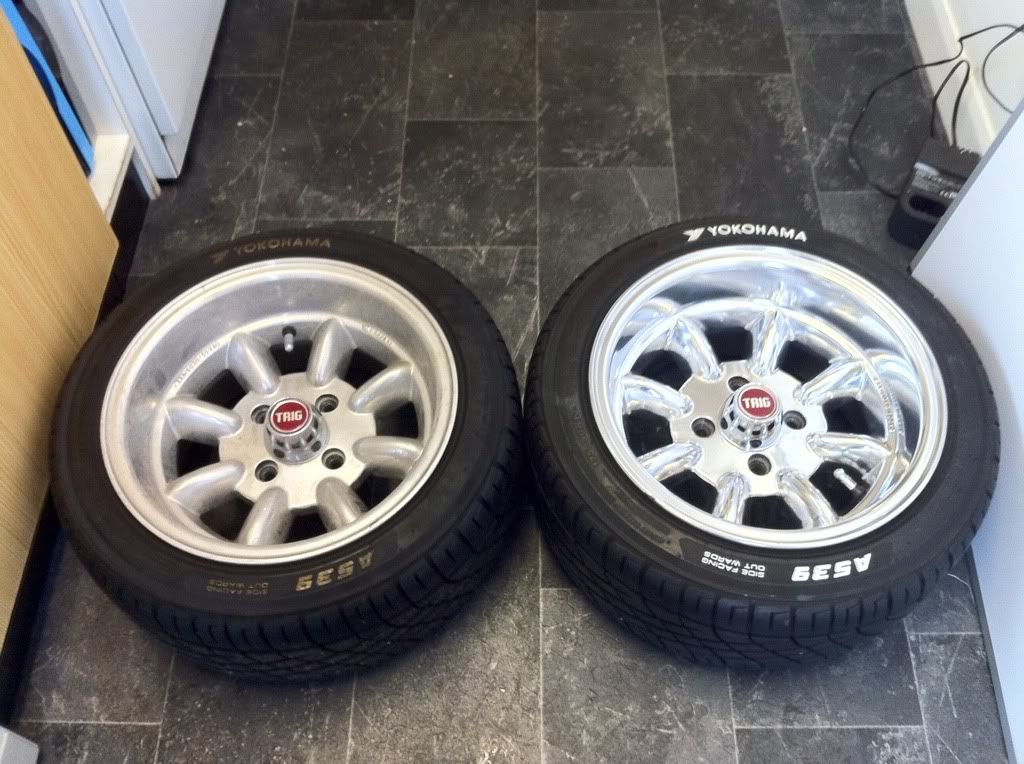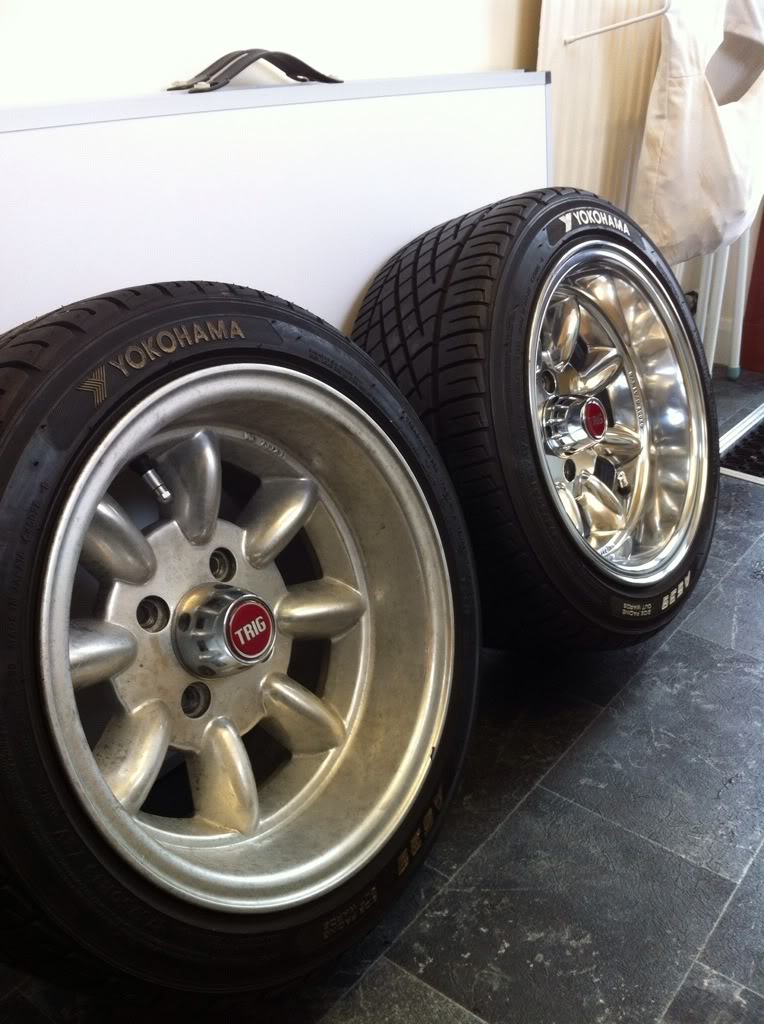 Ready to go but not protected.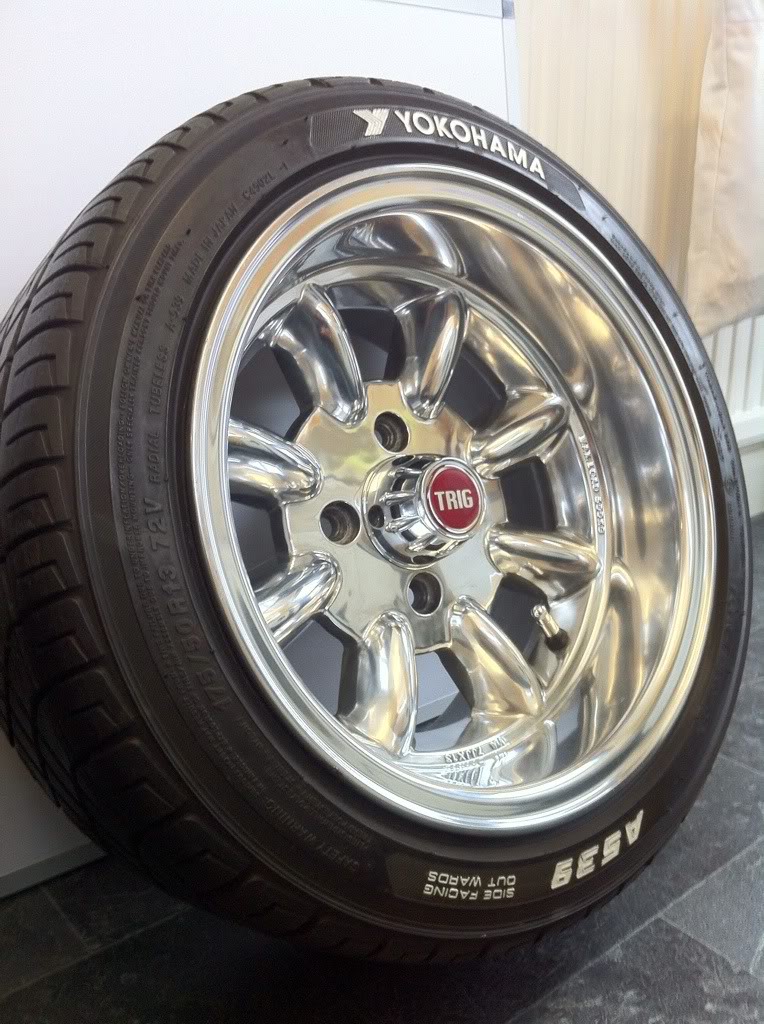 Roll out the GTechniq C5!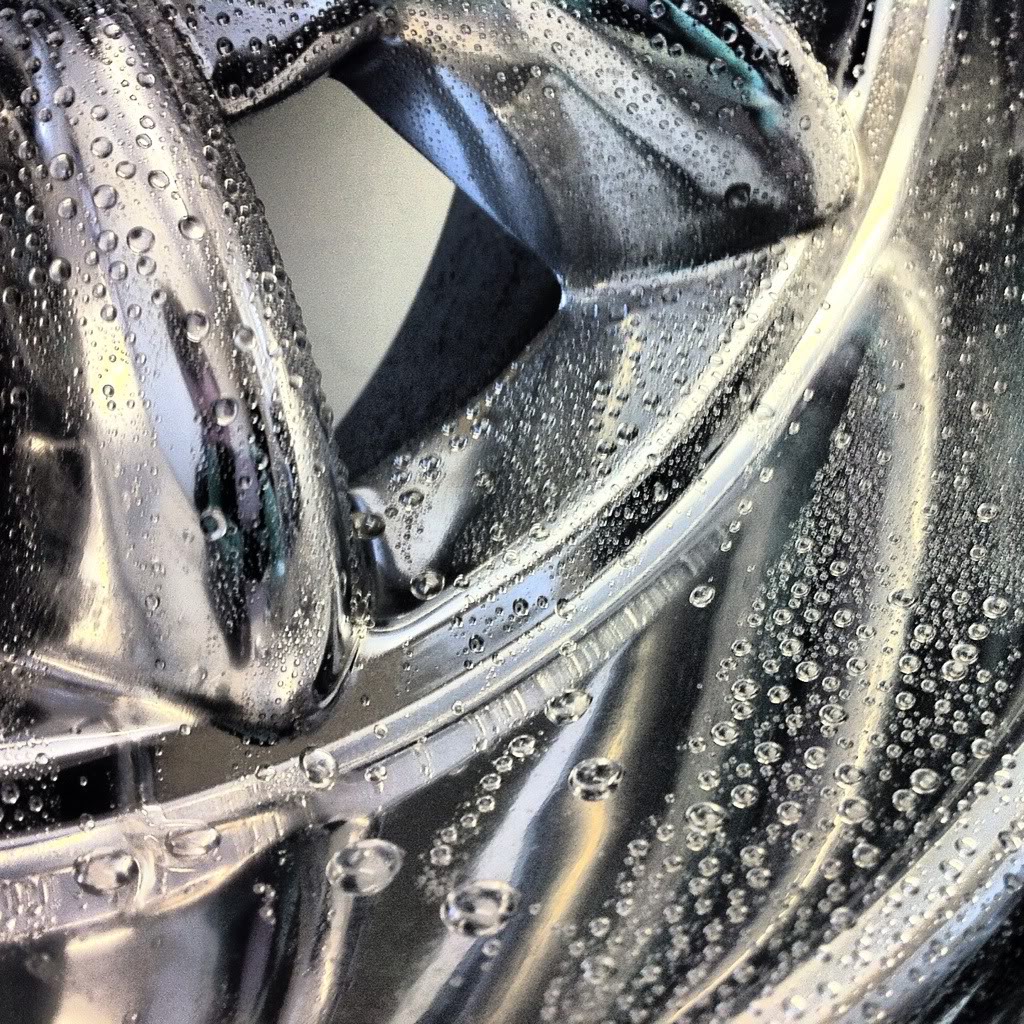 did the backs as well to keep them looking tidy too!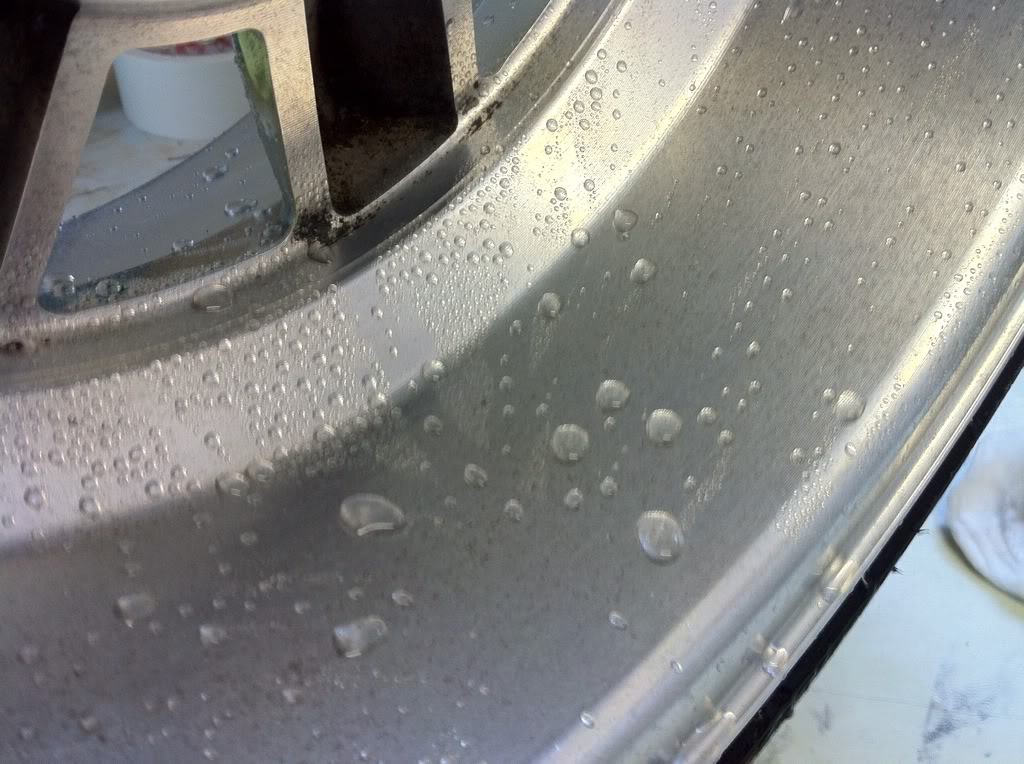 oh and I also acquired a new rocker cover. It will be getting some decent treatment too in due course.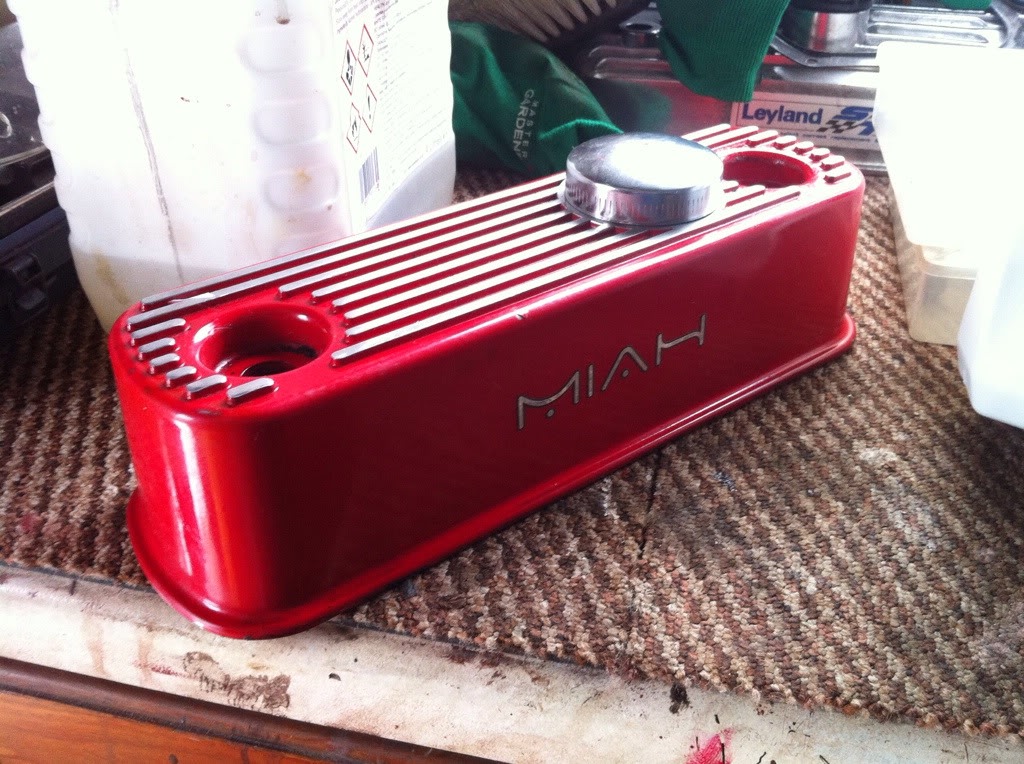 Forgot to add that my dads been working on the tank today as I was doing the wheels

as I no longer have a use for the tank strap section on it, Im getting rid of it so it looks like my mod looks like a factory intended item. Devils in the detail!

Basically just fillering it and then once its sealed inside it will get a coat of black out at Kirkton for the best possible finish :)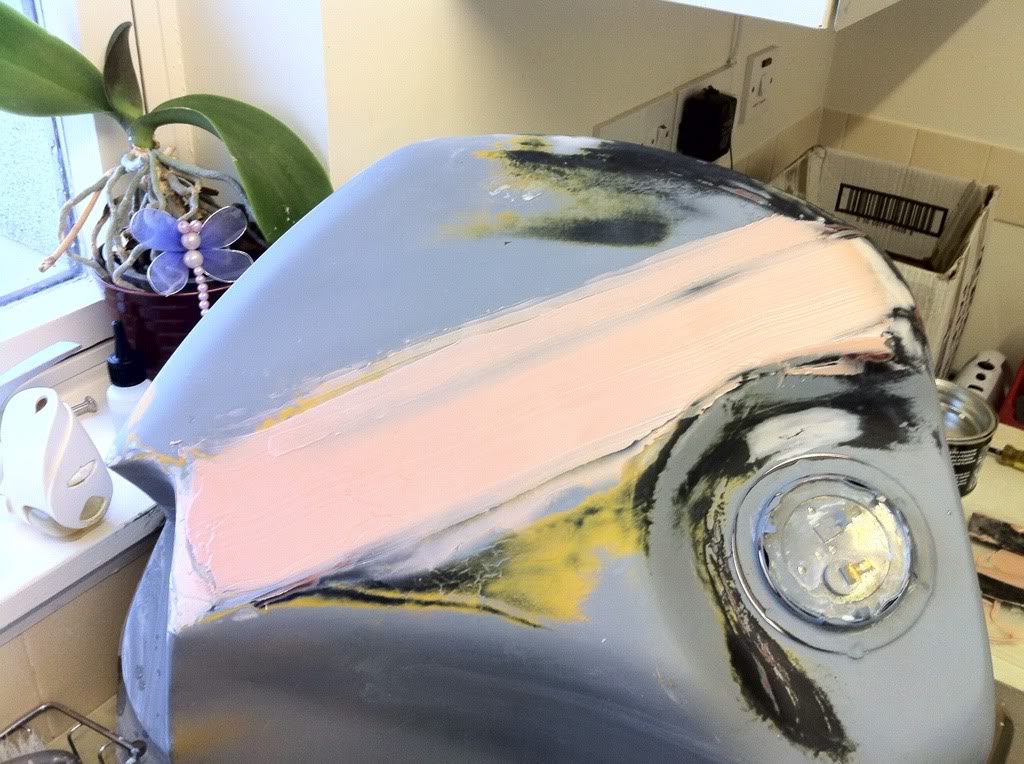 Ready to go!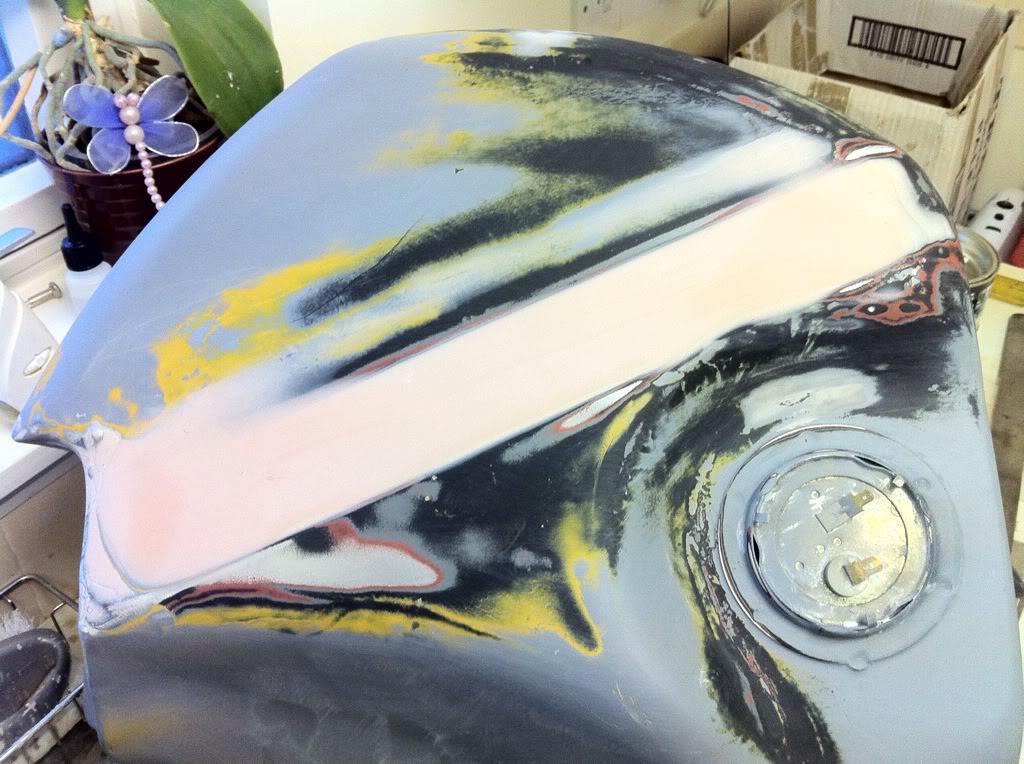 Hopefully the tank sealer will arrive tomorrow so i can get it out for paint and in by the end of the week :)
2-17-2013
Wee bit more done today and last day of my holidays. Not got as much done as I would have liked but thats no great surprise.......

Drew up a list of everything needing done. Doesnt seem to bad, wiring is still the biggest task obviously as I have no idea what Im doing with it now.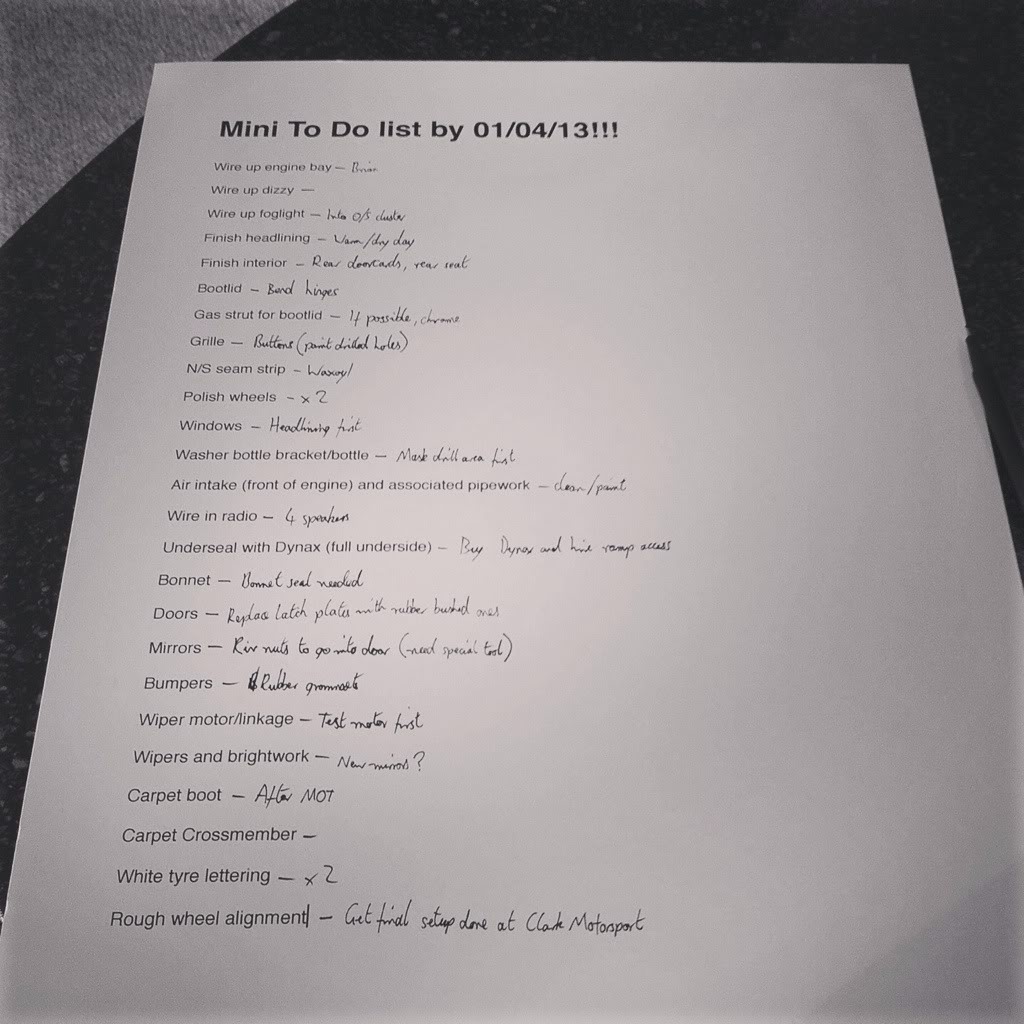 So I decided to get my grille together. Riveted the outer pieces to the grille itself and then went about fitting the quick release grille buttons. Need to get the protective plastic trim that goes between the moustache and body though.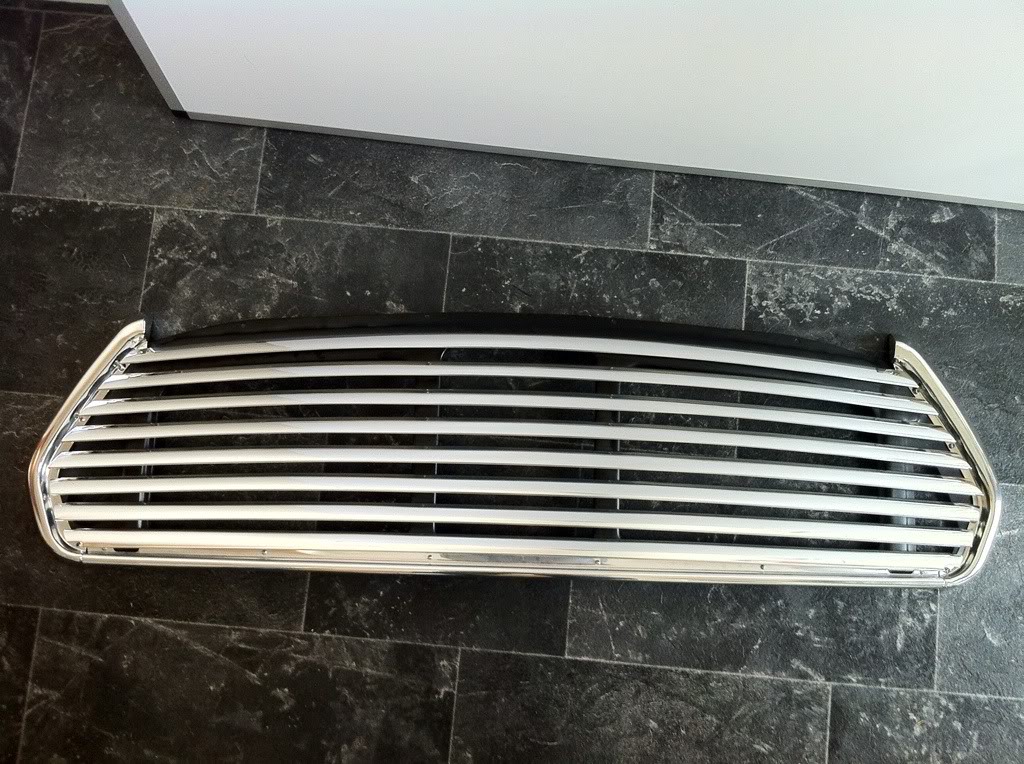 Not decided on colour yet as they are currently red anodised. Nae convinced so may change to one of the two body colours or sand them back and polish them.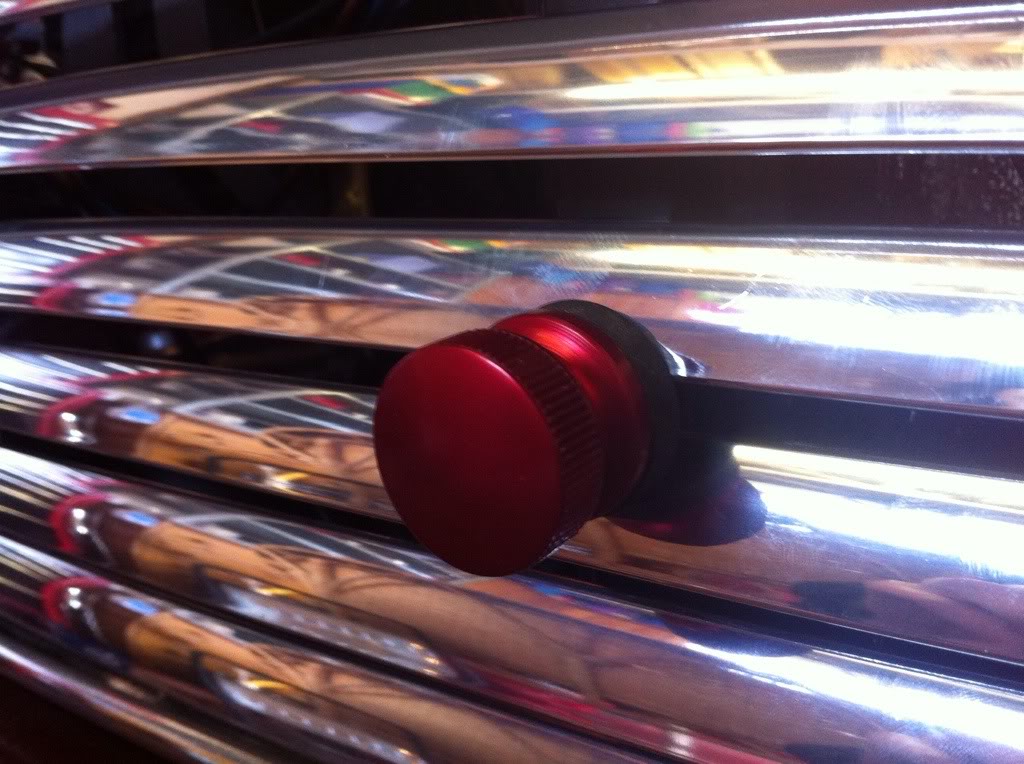 As I had the grille on anyway I put the bonnet on and placed the indicators in. Finally looking like a car again. Really want to show whats on the underside of the bonnet but thats being left as a surprise for its first show ;)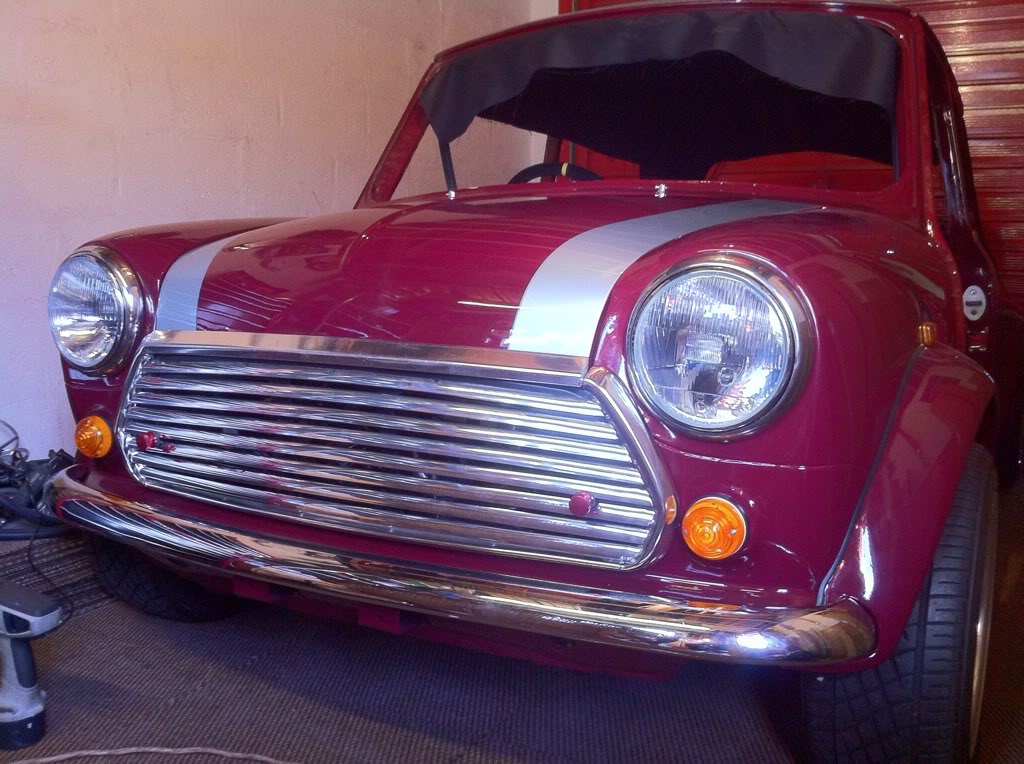 Went to drill holes in the inner wing for the washer bottle bracket but couldnt get the drill to angle right to make the holes. Nowhere had a 90deg adaptor for it so will do that another day.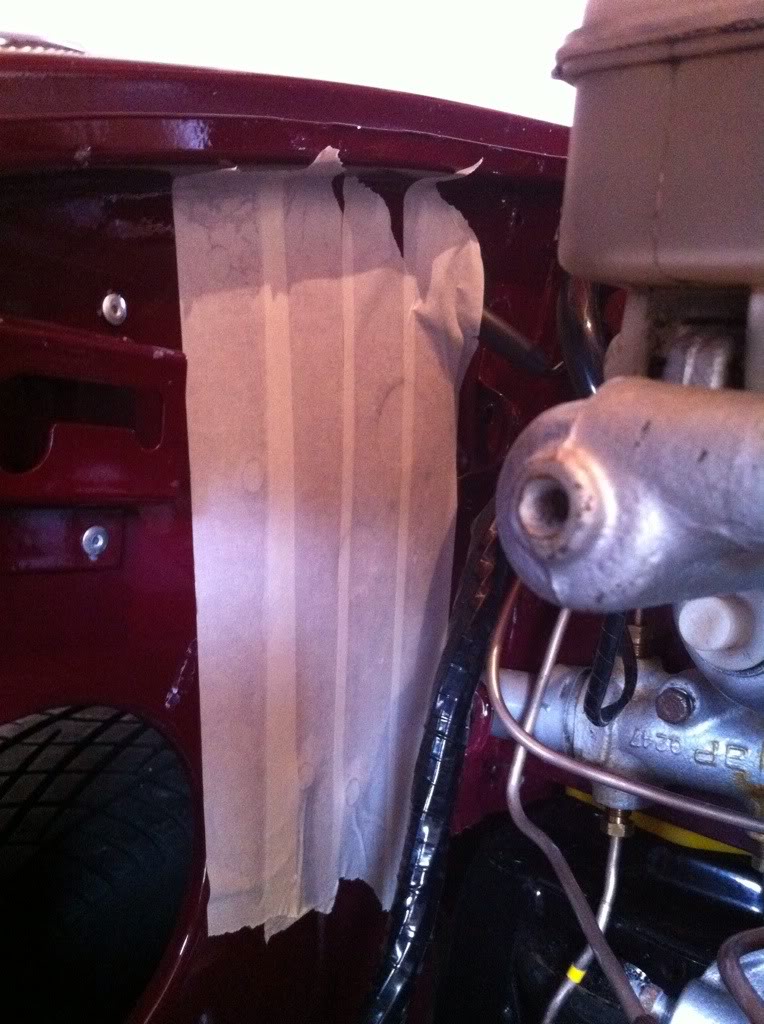 Also got some rubber bushed door slam plates from one of the scrap cars I had so cleaned them up to a polished finish and fitted them. Great improvement!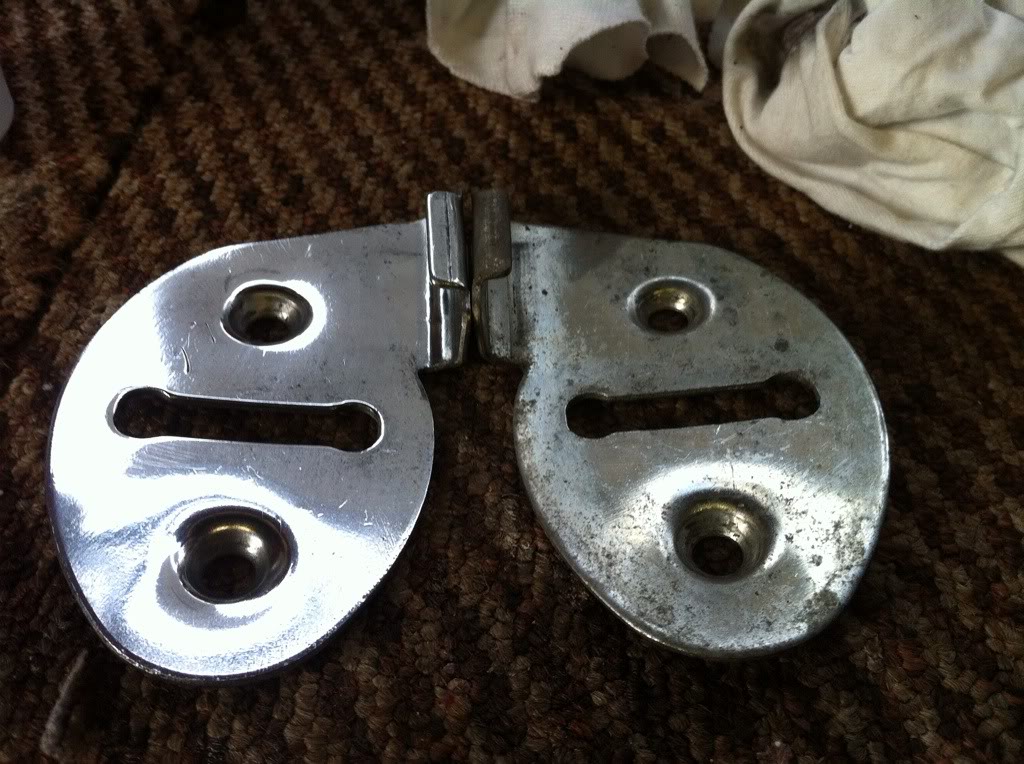 Before....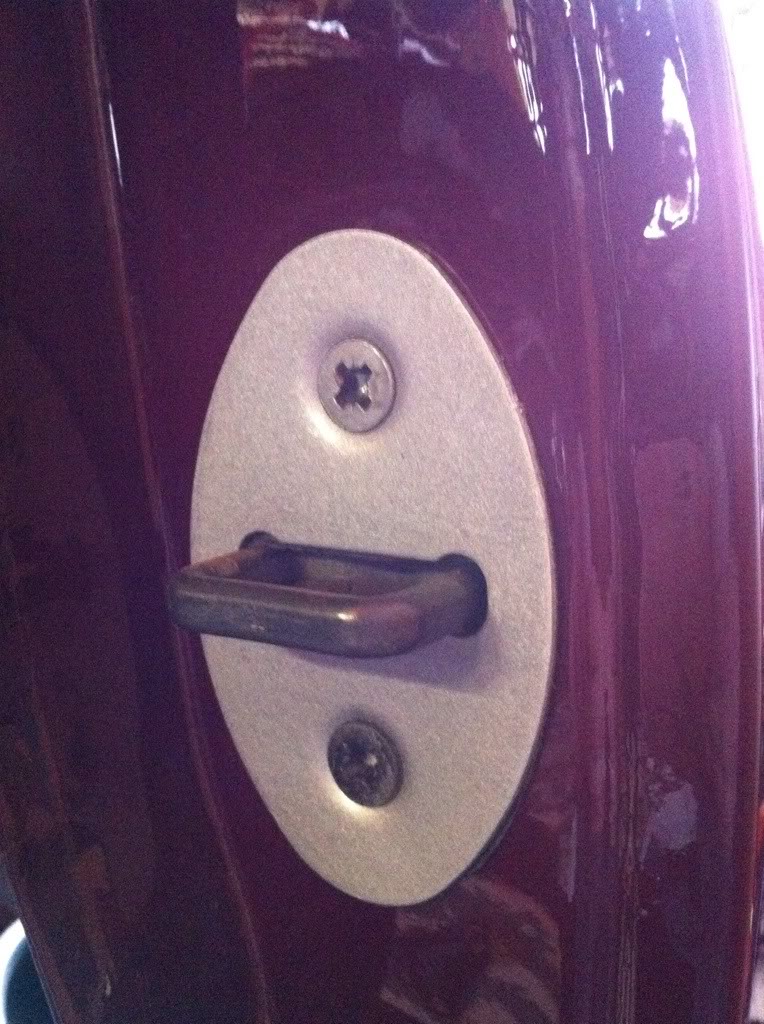 After!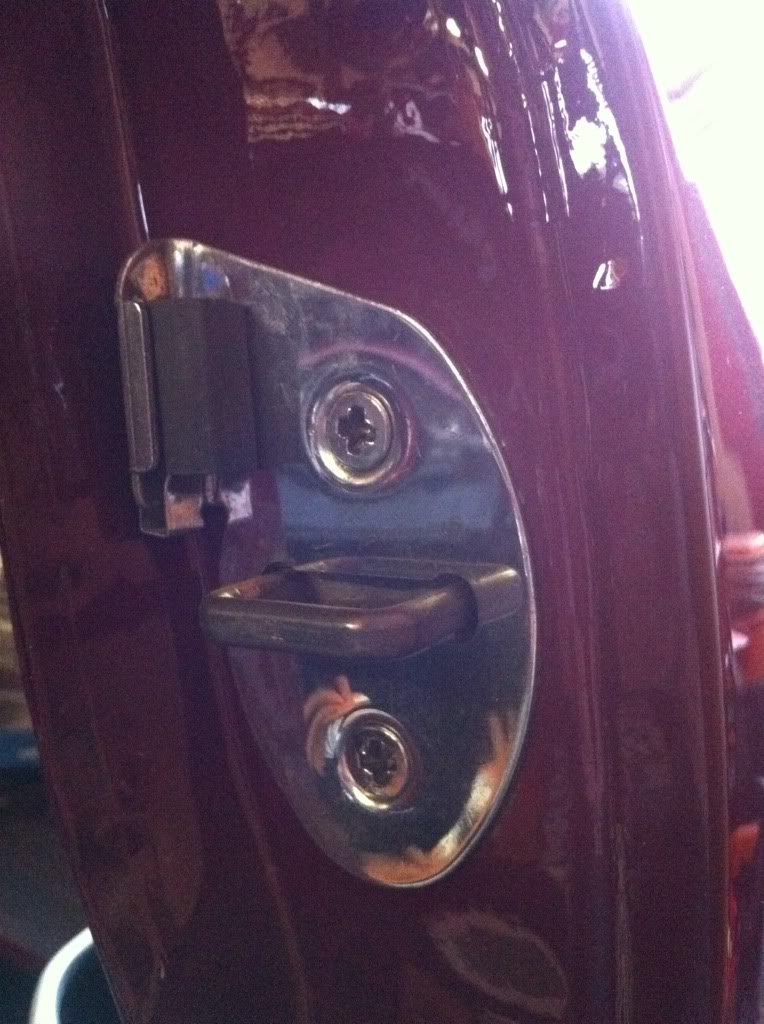 Got the drivers seat in to test the reach with the snap off boss and its bang on! Just need to find a slimline one with no play now! (The paint needs a clean and polish....)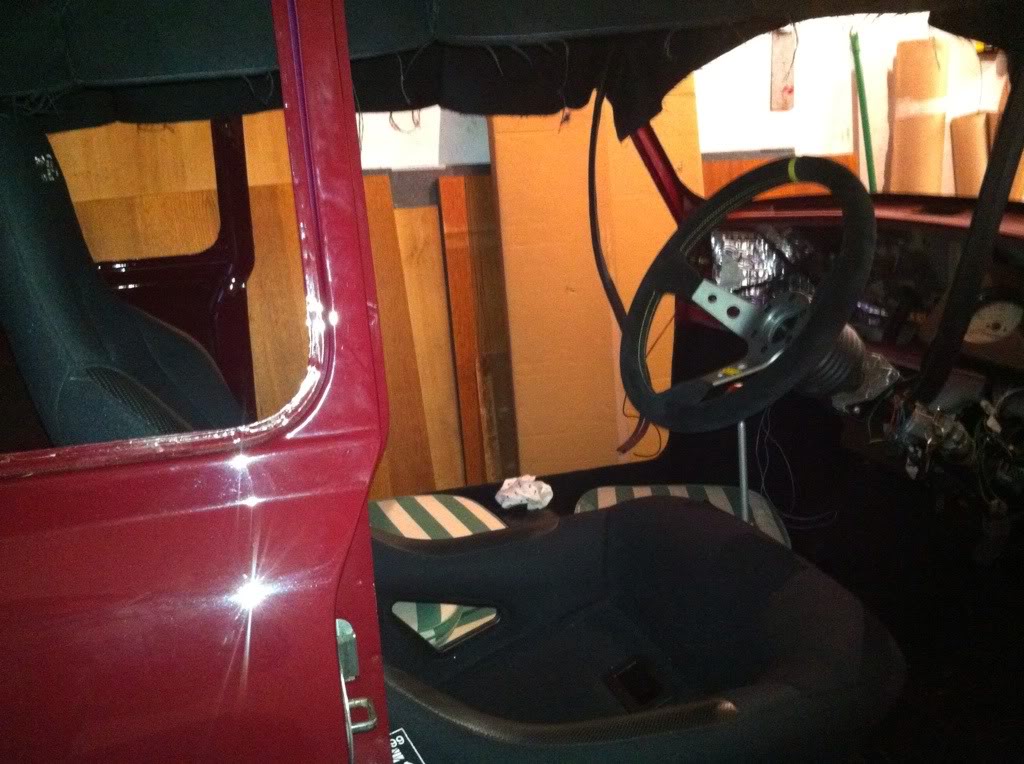 Once the wiring is done and it starts and the headlining is finalised it will come together pretty quickly. Reason for that to be announced tomorrow!
2-19-2013
SO! Got my tank stuff! POR15 stuff. 'Marine Clean' to get rid of any residual crap that remains in it, 'Prep and Ready' to derust and prime before the final Tank Sealer. Total pain its all in separate stages and its not the cheapest of stuff unfortunately but cant afford to have a dodgy tank.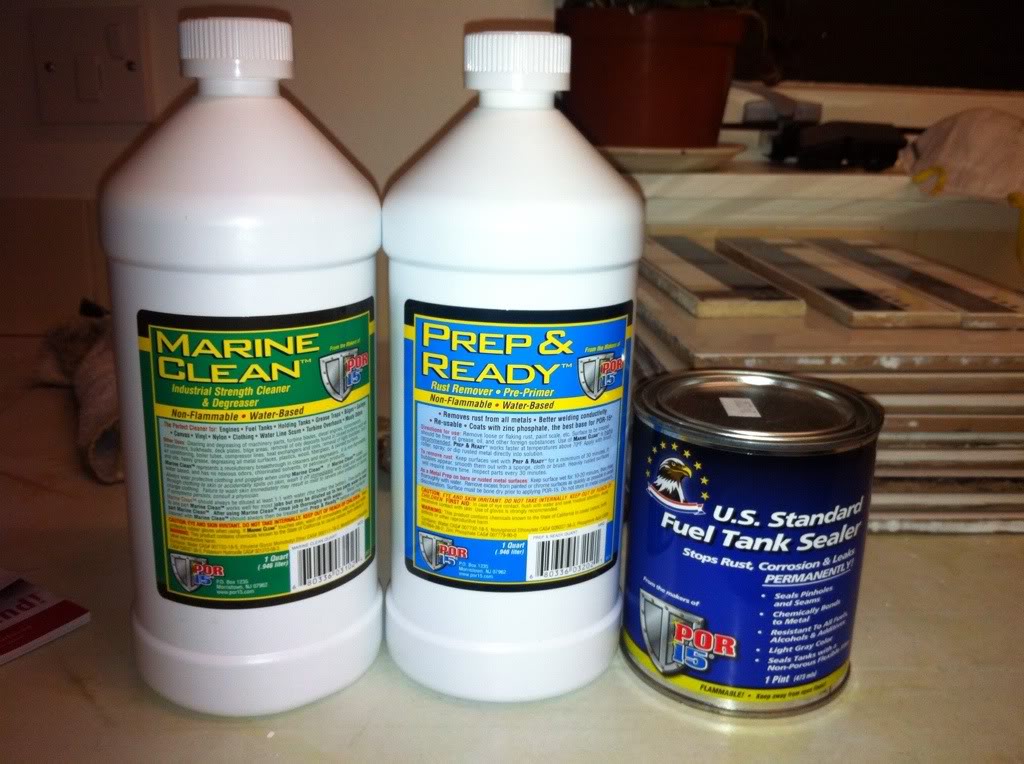 Also Ive got a new job as a 2D/3D Drafter and its weekday office hours so I will have every evening and weekend off! Time to spend working on the car so I can get it done asap!
2-28-2013
Cheers guys! Can't wait for Monday start




been a wee bit of progress on the car. Not much due to shifts but managed to start on the tank cleaning.

Before.... (Almost didn't bother with cleaning, glad I did now!)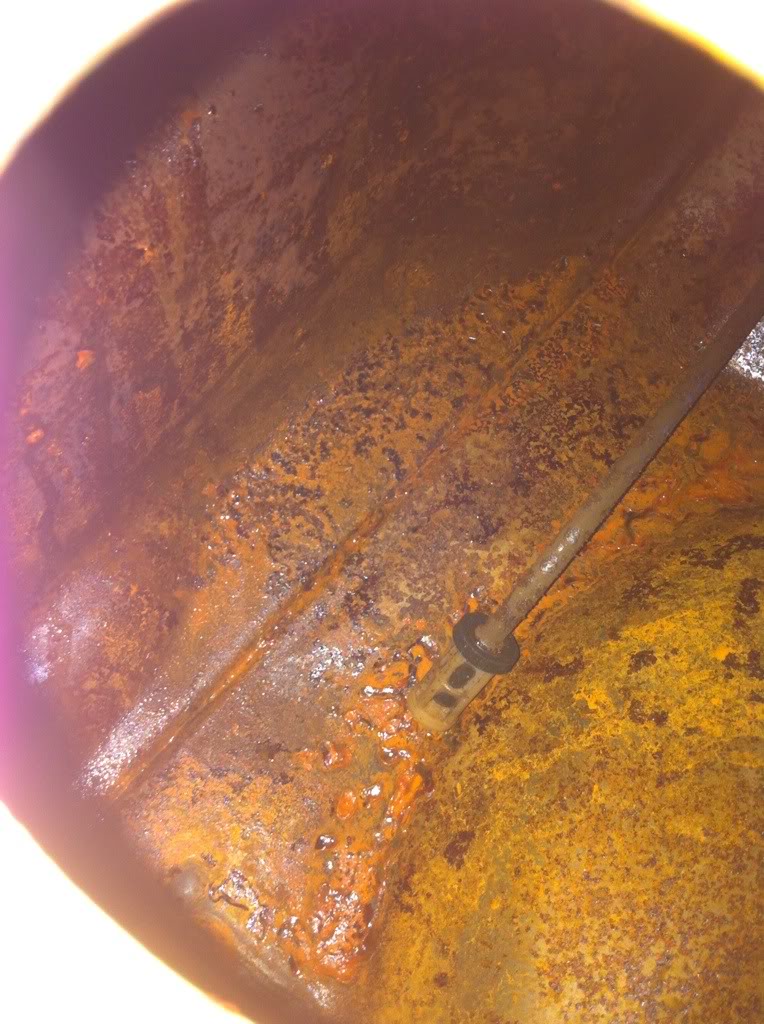 and with the marine clean doing its job diluted 5:1 with boiling water. Sealed up the holes with Gorilla tape and left to simmer at gas mark 5

just got to move it about a bit over the next 24hrs to get it to as many bits as possible.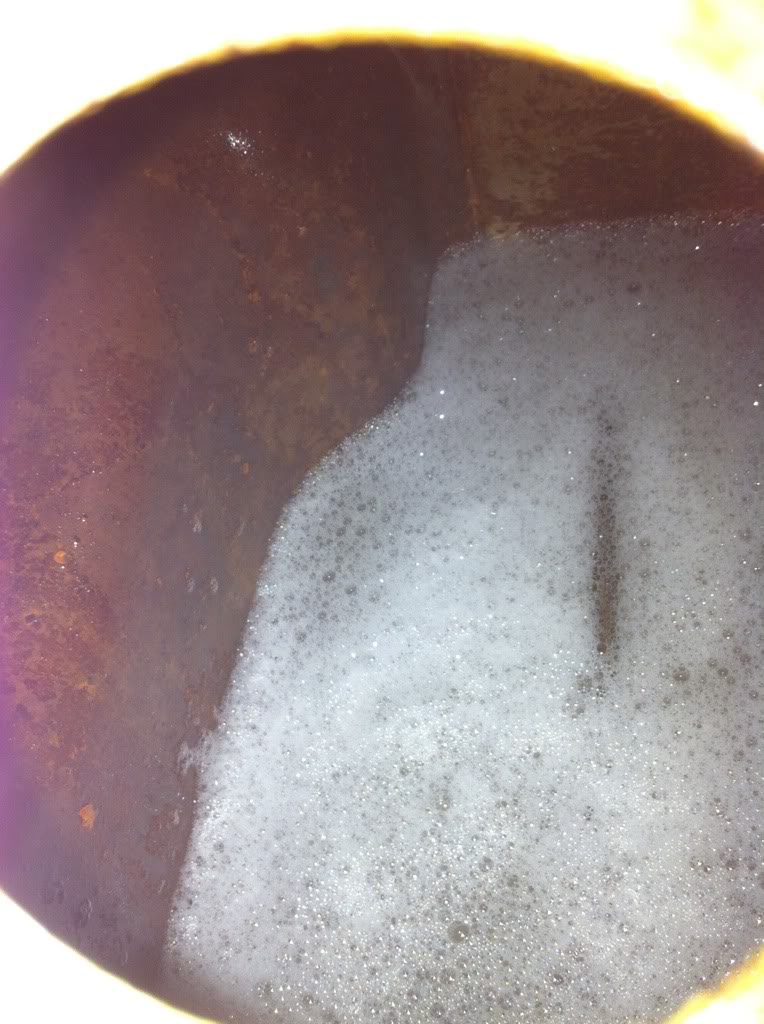 Then it's time to get the prep and ready on the go :)
4-4-2013
An update!? Surely not!



Getting used to having evenings free so thought I might as well use them to my advantage!

Fuel tank is now cleaned and prepped for the sealer to go in over the next couple of days. Just need to let it dry out for a while until its bone dry for the sealer to work correctly.

Here's how effective it is......a clear tide mark where it sat and the whole tank now looks like this. Brilliant product and reusable too!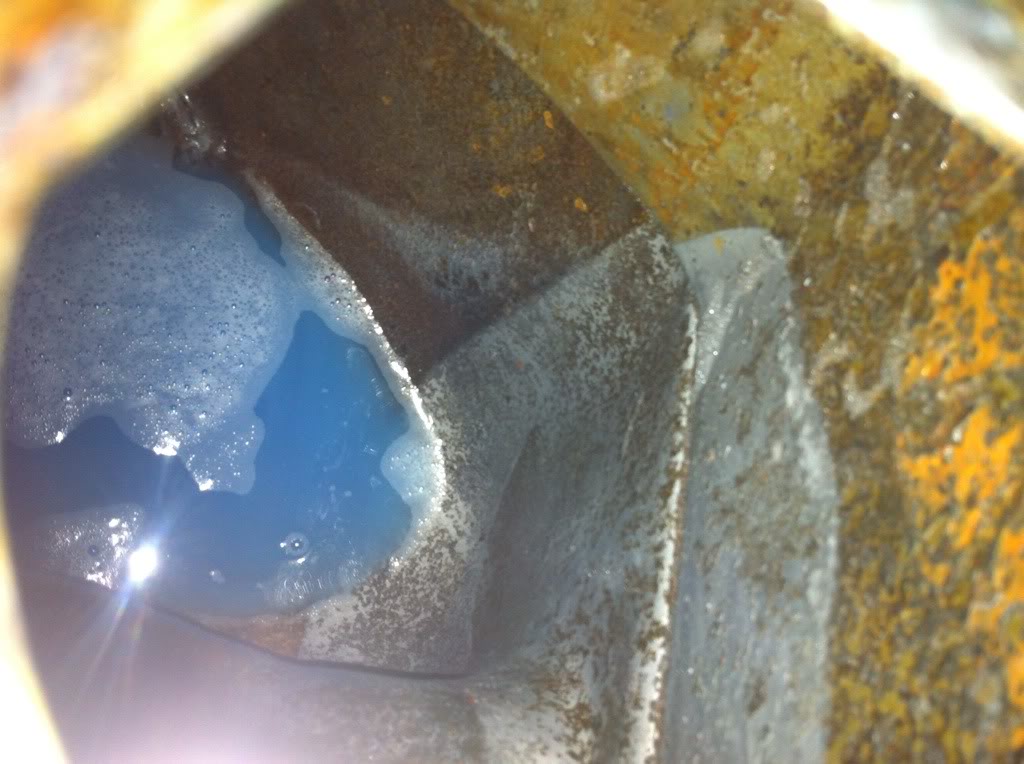 Then as I'm nearing the first start up in 3yrs I thought it would be best to get some oil in it. Halfords 20w50 designed for the Mini.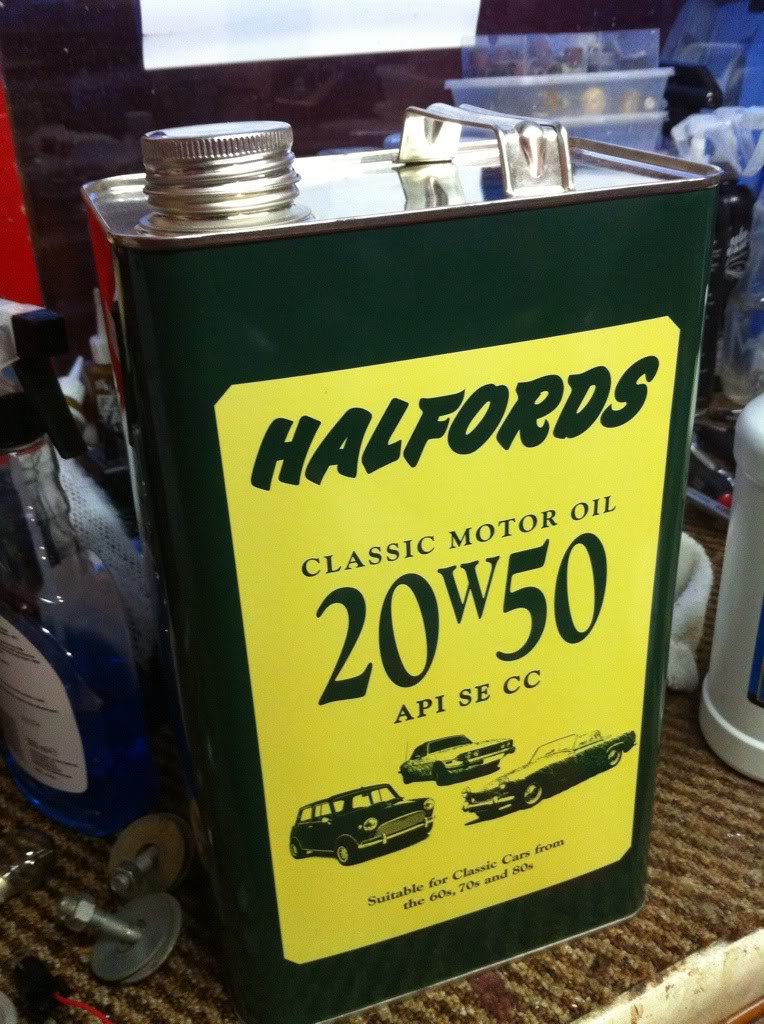 old school (its green!!!) and given its grade, very thick. It's got to lubricate the engine and box as they aren't separate units on A series engines.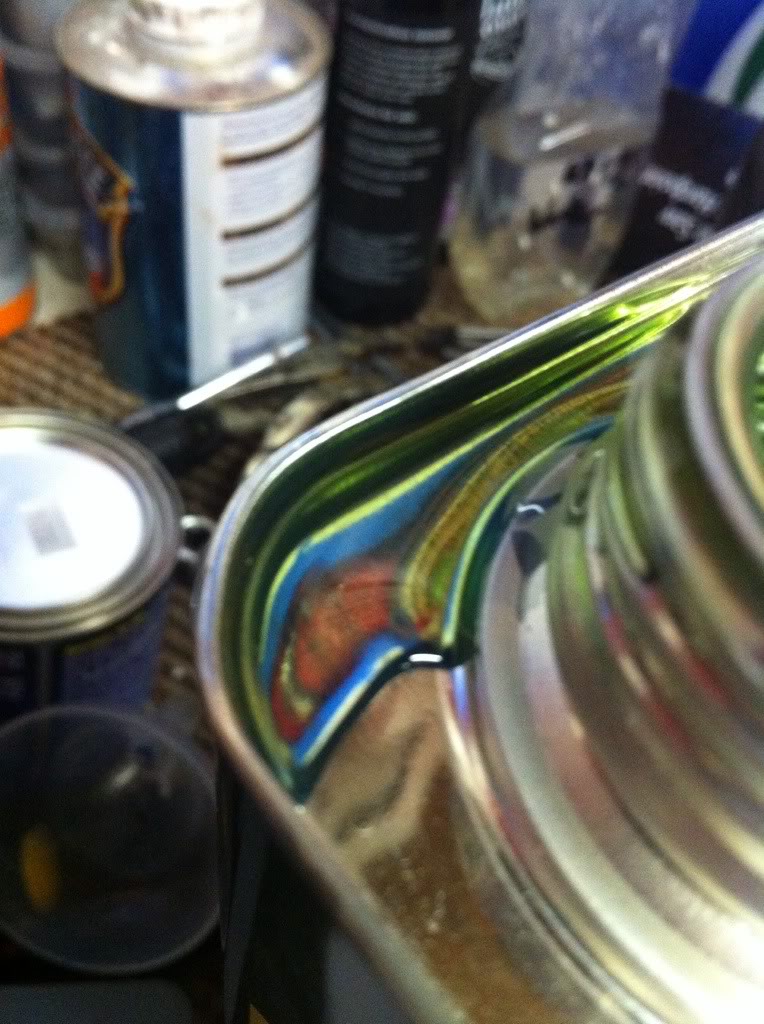 So gradually started filling it up, leaving to settle and checking for leaks throughout given the fact that its an untested engine and I've not replaced any of the seals. (May do a full strip down and rebuild on this engine over another winter to refresh it and maybe add a mod or two)

Then set about doing a bit of wiring. Got the coil hooked up to the starter motor/solenoid. Only issue now is this......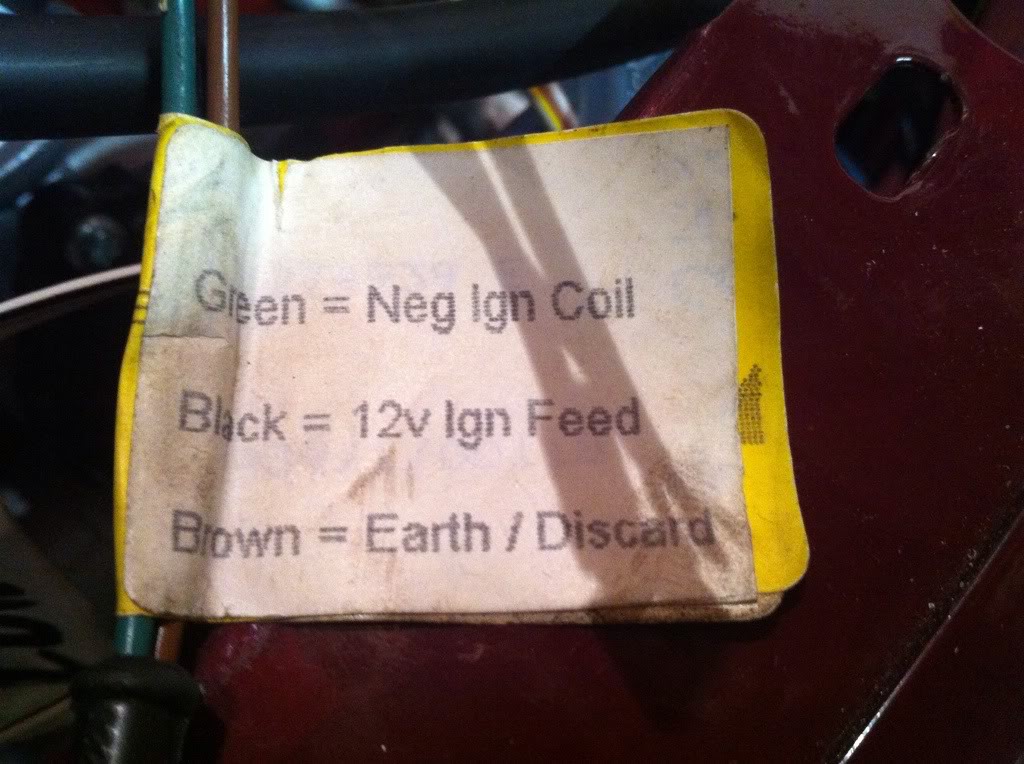 Not us what colour wires these connect too at the front of the bay! Any ideas Mini peeps?



So that's the update on the car, now for something completely different! I recently left my job working for Apple Retail in Union Square and received this as a leaving gift from my department colleagues. It's ace! Signed by everyone and custom plates and Apple logo on the bonnet. Takes pride of place on my desk.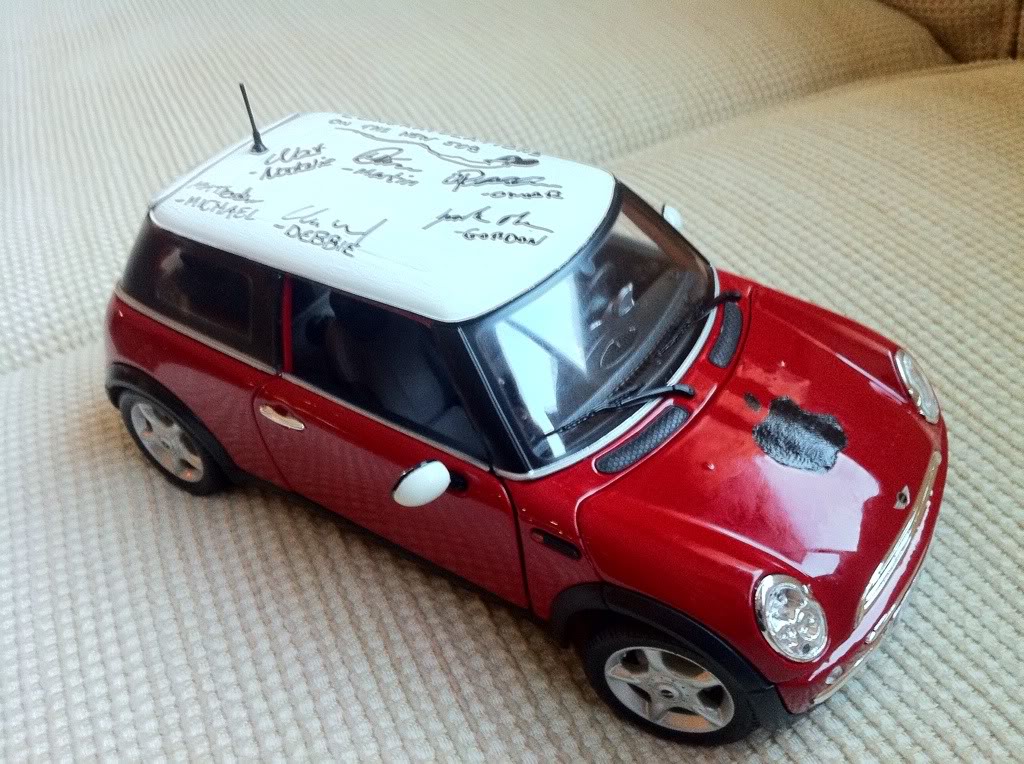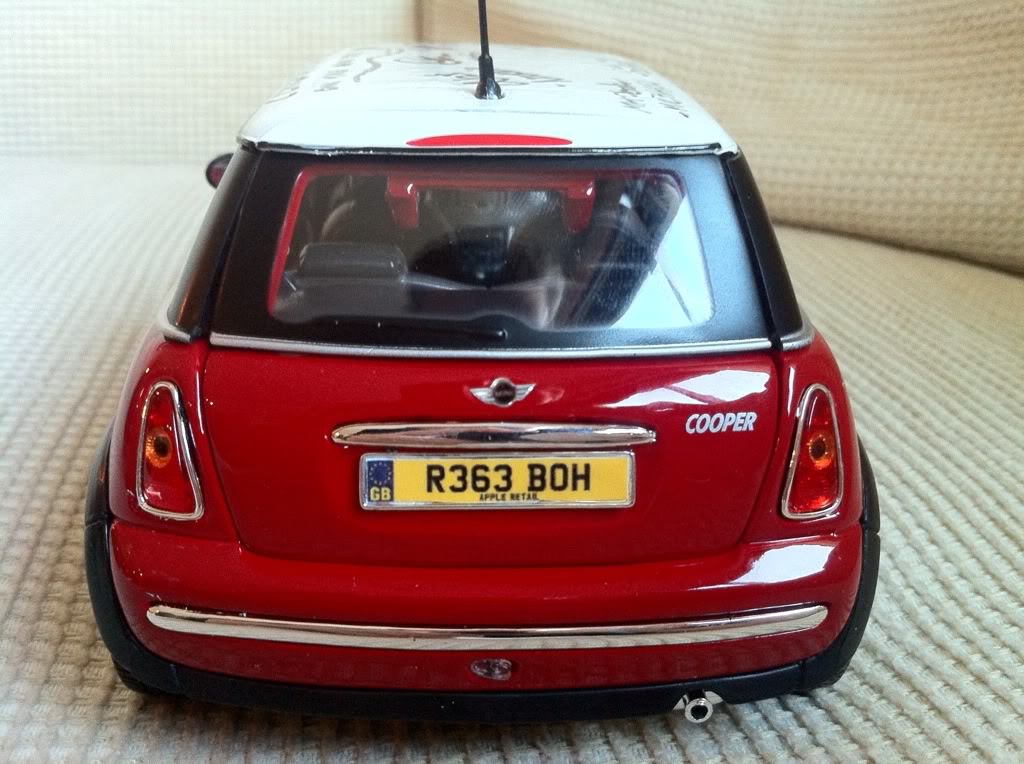 (And they knew it wasn't an old mini but they couldn't find an old one!)
4-7-2013
Update again. Wiring is all hooked up to what I believe to be correct! Going to try and get it checked over before turning the key though, just incase I've made a fire, not a Mini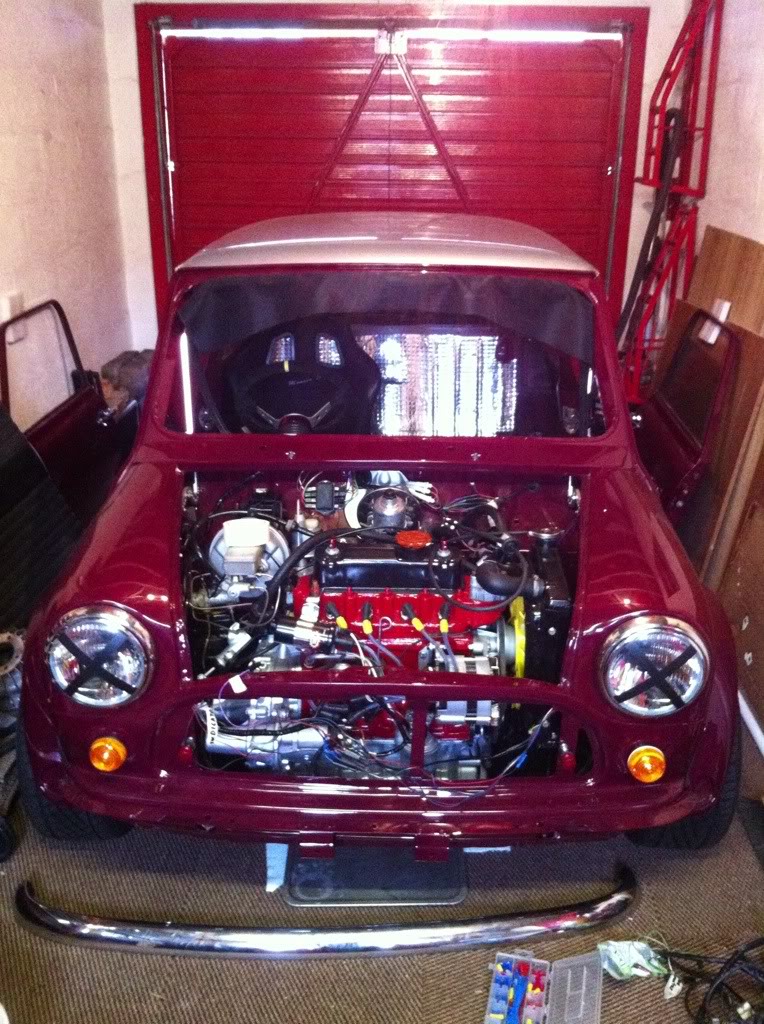 So moved onto the tank again. Still drying out but getting there with the help of a fan heater. Should be good to go after tea and will get the sealer in afterwards. Takes 72hrs to fully cure, but may throw the heater on again to speed things up.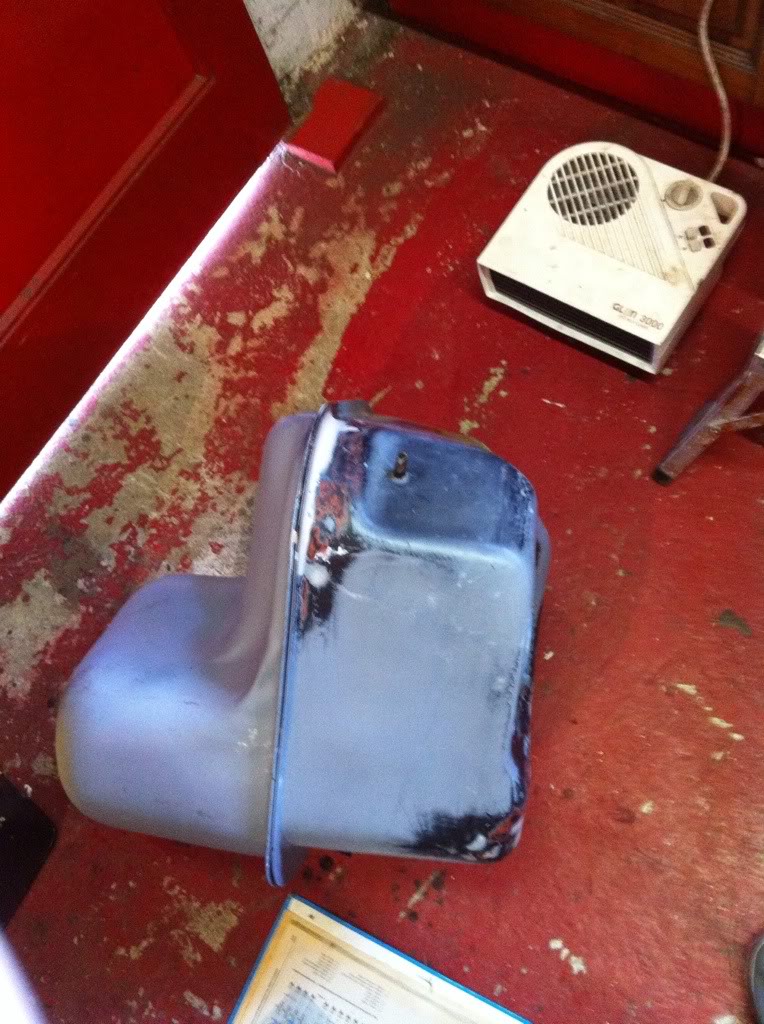 Took a look at the float/sender unit. Scrap! Thankfully had a new one in stock anyway.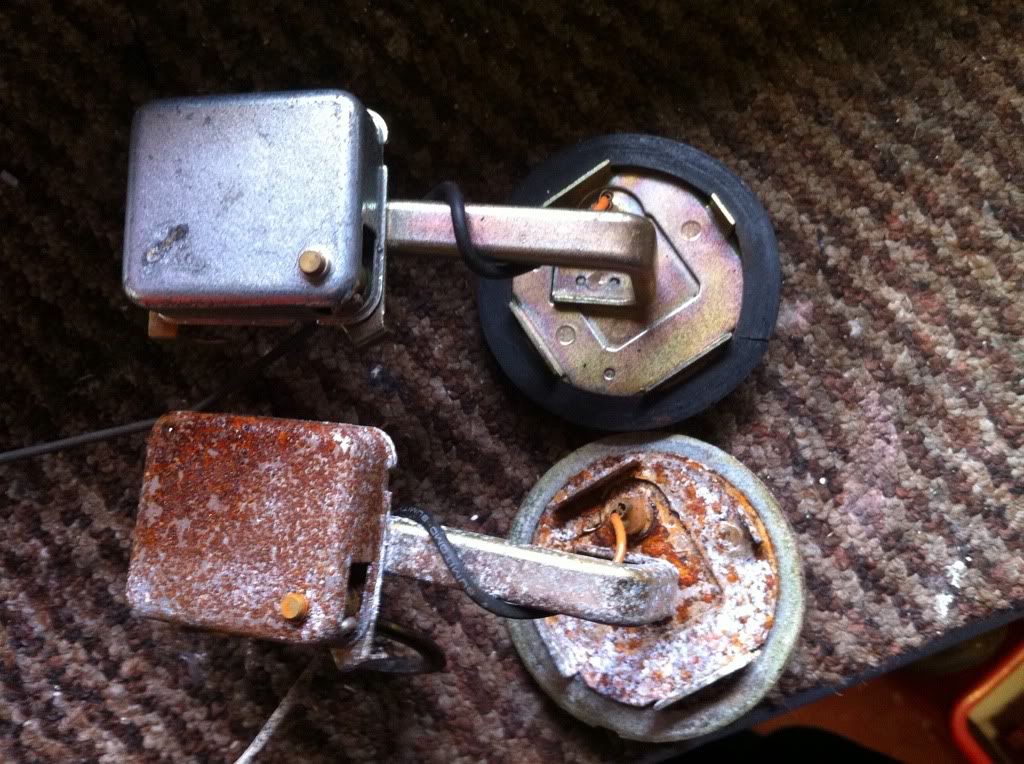 Only to find that the new one had a cracked seal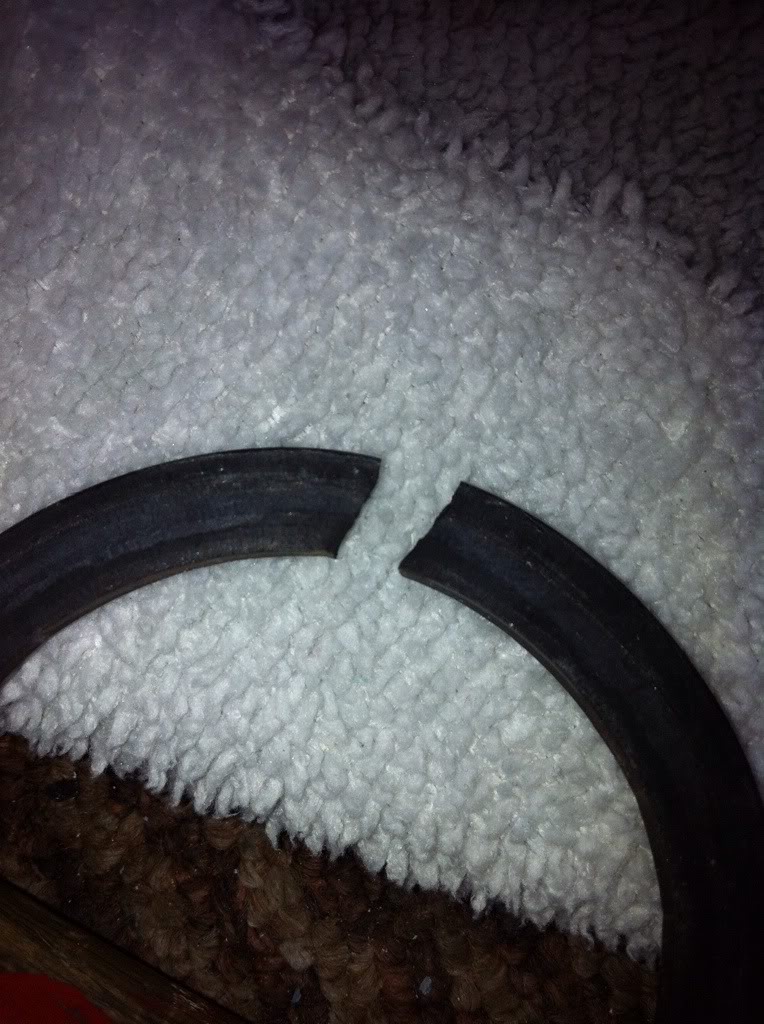 the old one was still fresh though so swapped them over and fitted with some silicon sealer to guarantee a decent seal.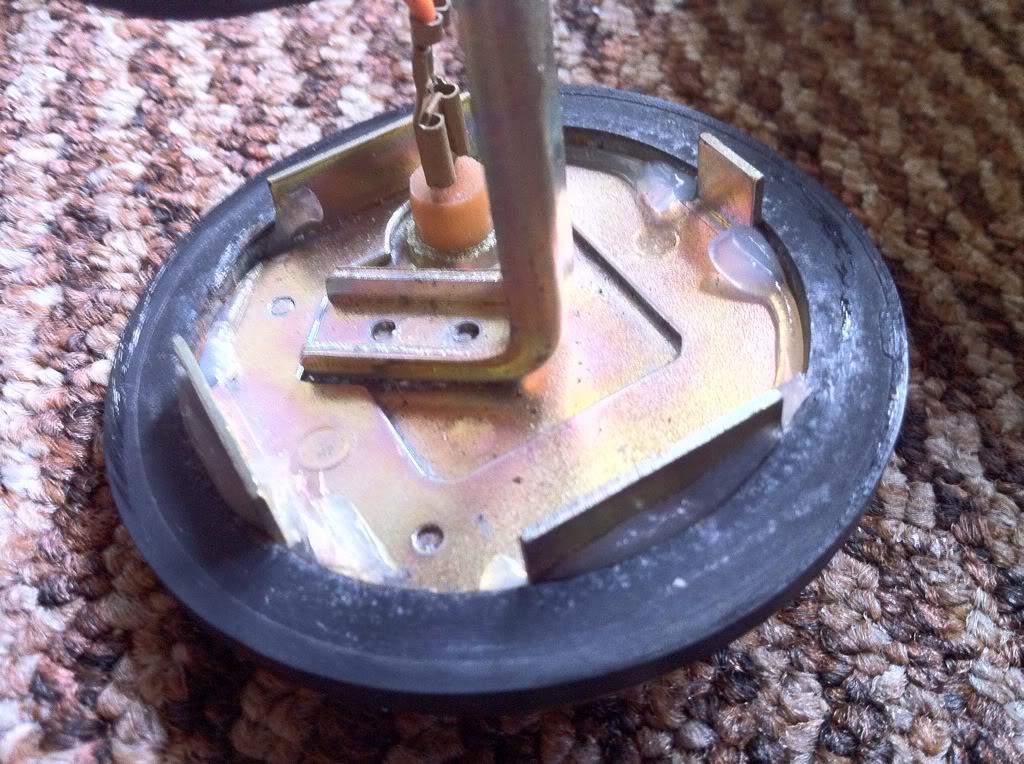 filled the radiator too. Getting close now.....
Having realised my stupidity, I removed all the silicon from the tank bit as the petrol will eat the silicon. Thankfully wasn't dried! Seal cleaned and put back in.

So the tank dried out so set about sealing it up. Very simple!

Pour the whole can in, sloosh about so all faces are coated (cover ALL holes with decent tape first!) and then pour out again. Ive still got 3/4 of a can left now which will be handy in the future no doubt on future toys



Doesnt look too bonny but it seals rock solid and doesnt let any crap that may have still remained from below, resurface.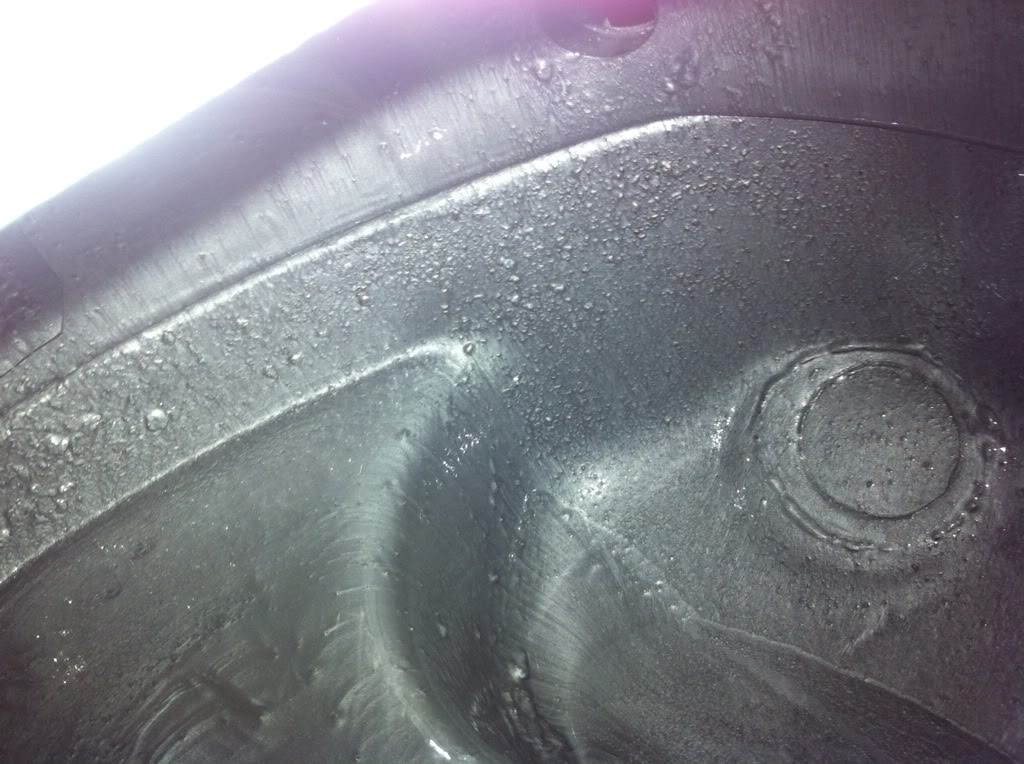 Took forever to pour out the excess due to all the contours but got the majority out again. Now to wait 3 days for it all to cure properly. Then its external paint time :)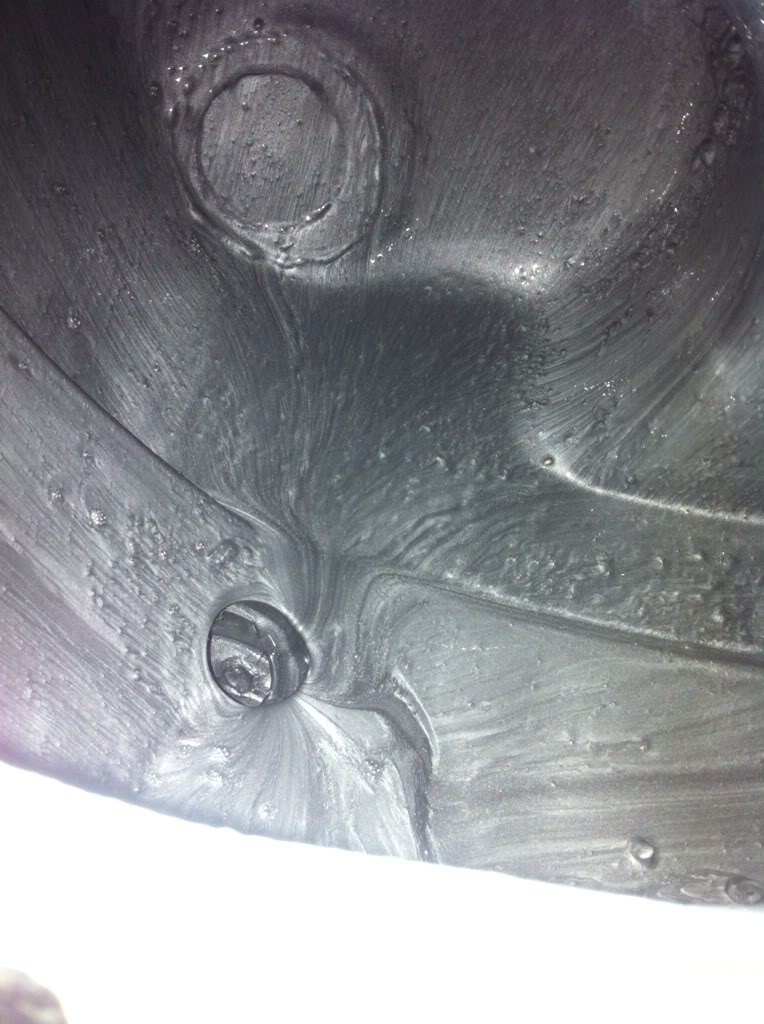 Progress indeed! Worthwhile weekend! Oh and I went for a drive yesterday in my daily DC2. some pics from that to keep you amused.....Scotland = Win!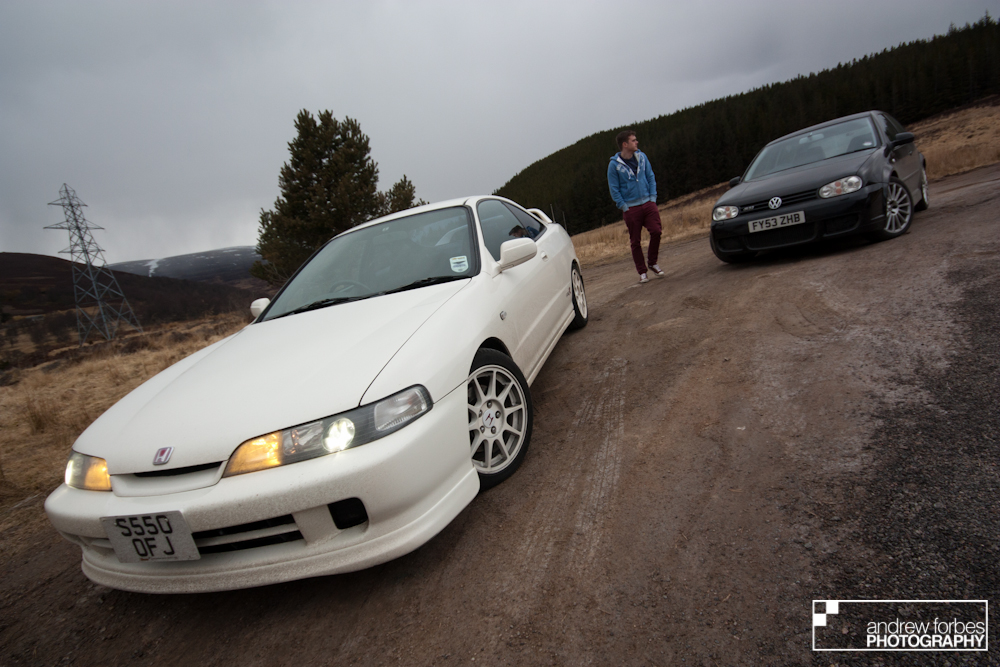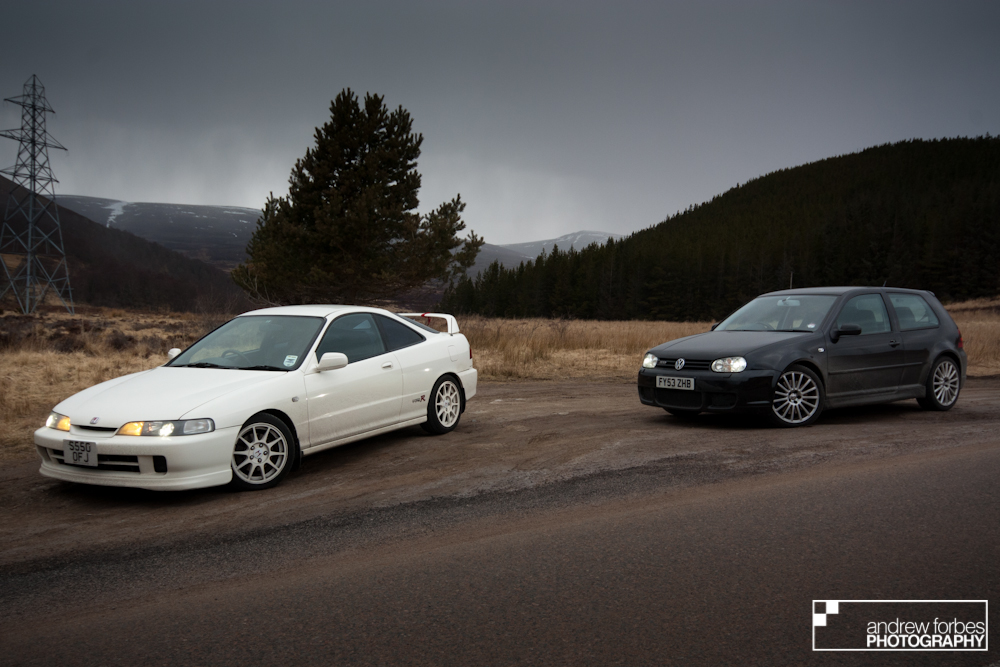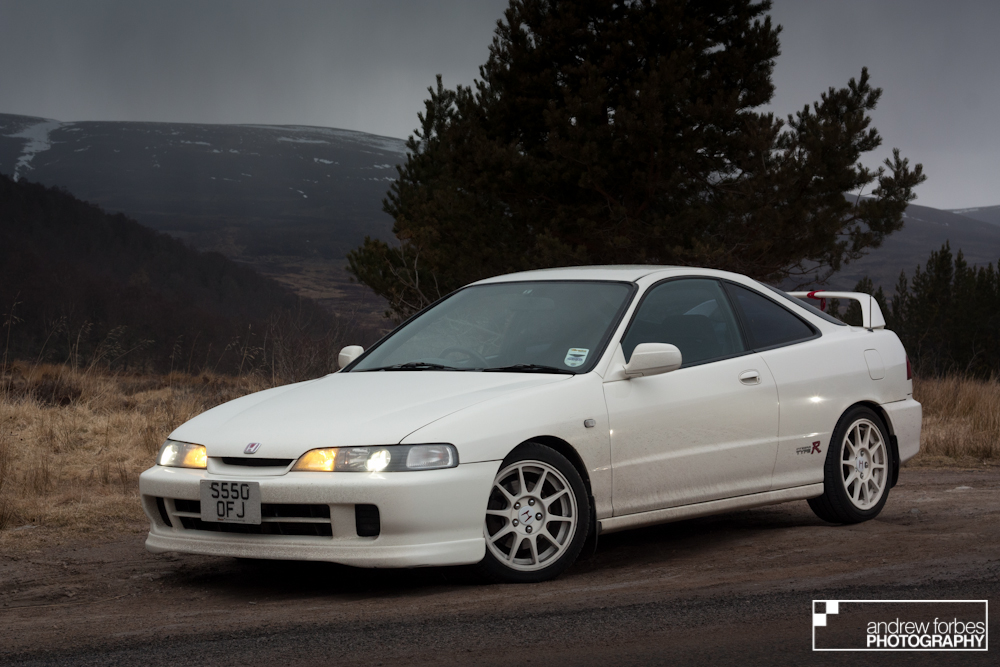 Cooked brakes. Was a good run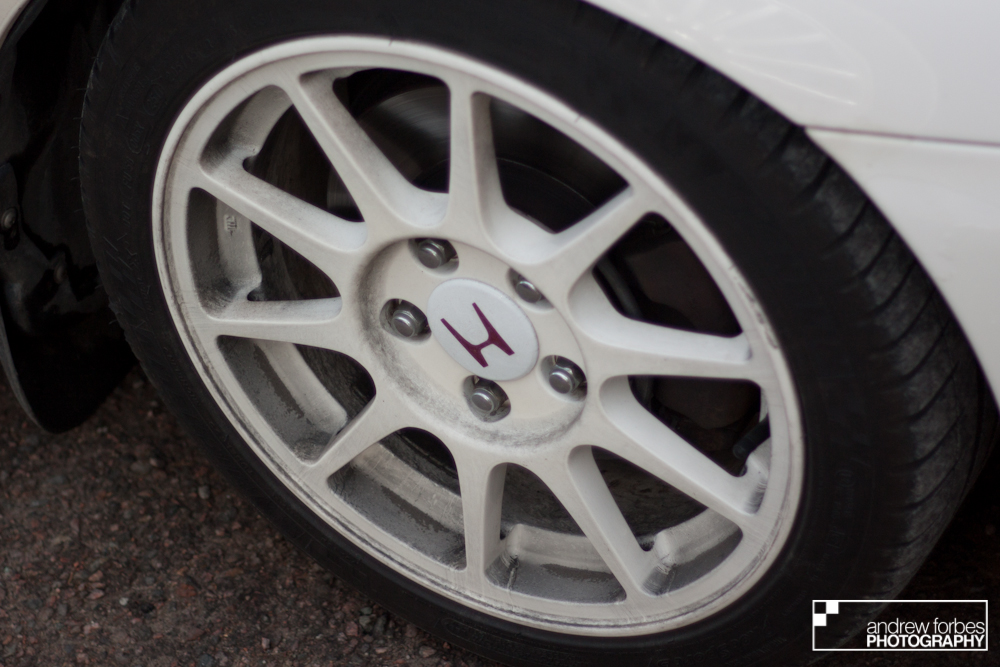 4-13-2013
Wee update. Fitted the tank and got some help/advice from Chris with some wiring. turns out everythings was pretty much ok, just a wee bit of adjusting here and there. Fuel tank got painted straight gloss black. Not an amazing finish but didnt ask for perfection as the boot barely opens as it is so nobodys going to be looking inside anyway. Hooked up, just need to put fuel in and then fire it up! Should get that done tomorrow after checking over the coil connections as it looks like a ballasted setup but not sure whats coming out of all the wires. We shall see, but exciting times none the less!

Rolled it outside for some space. Fine morning helped!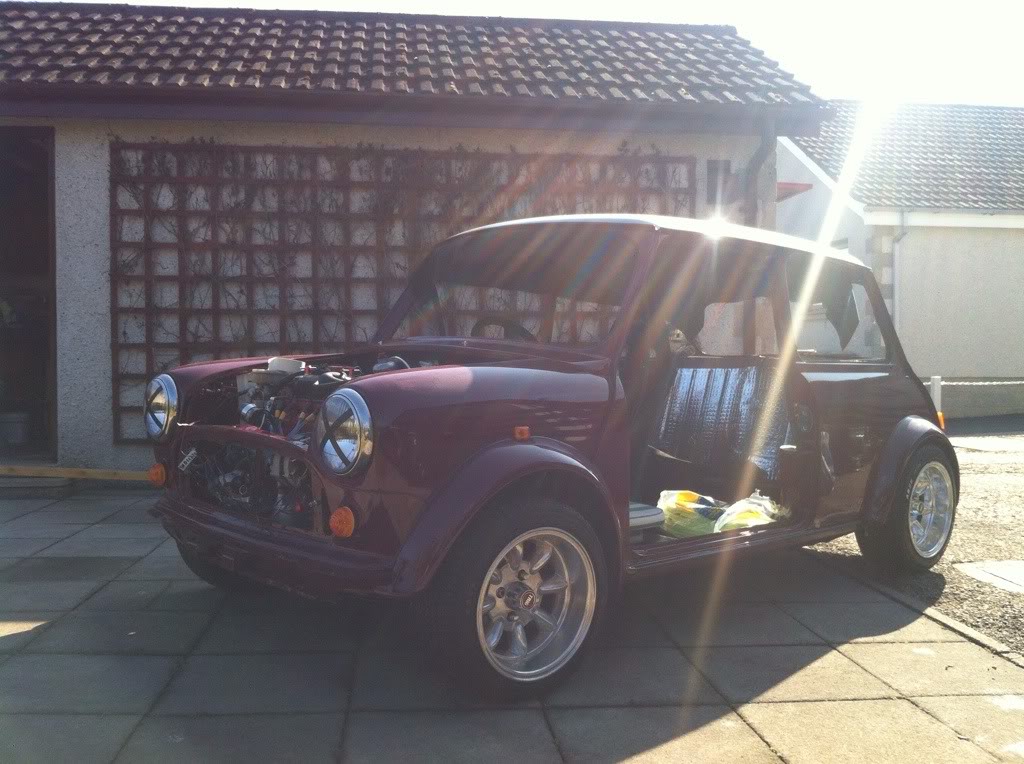 Refitted the float/sender unit. Think its catching on the inside so will take it out, bend the stalk outwards a bit and refit before filling it up.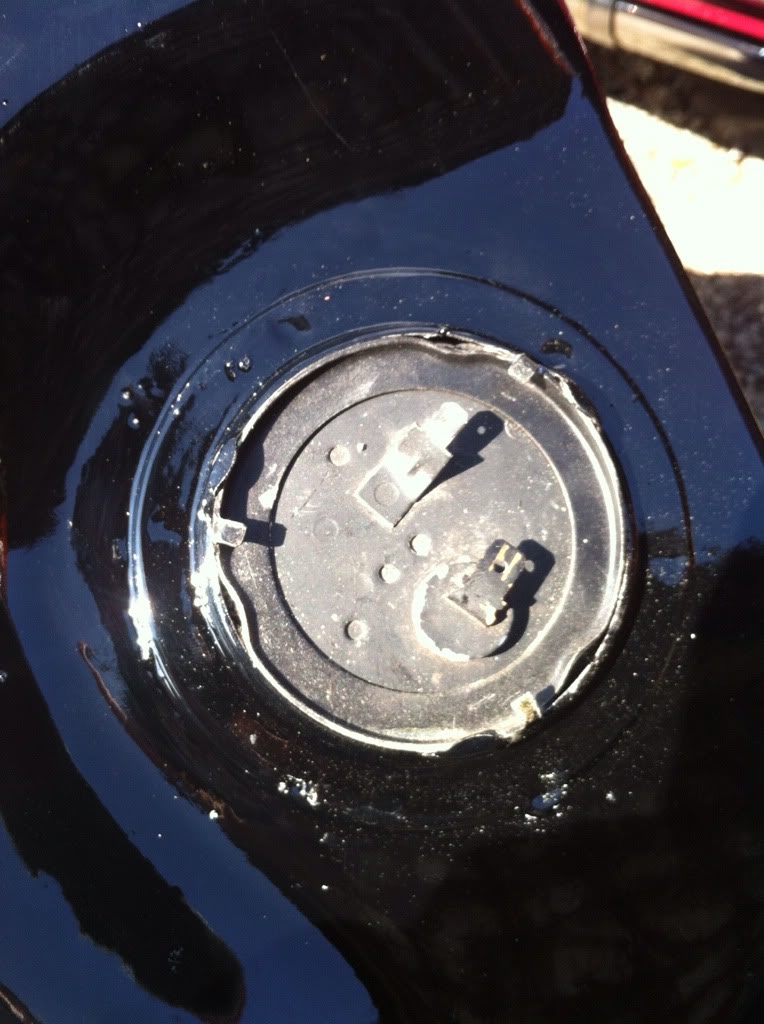 And firmly in place, ready to go!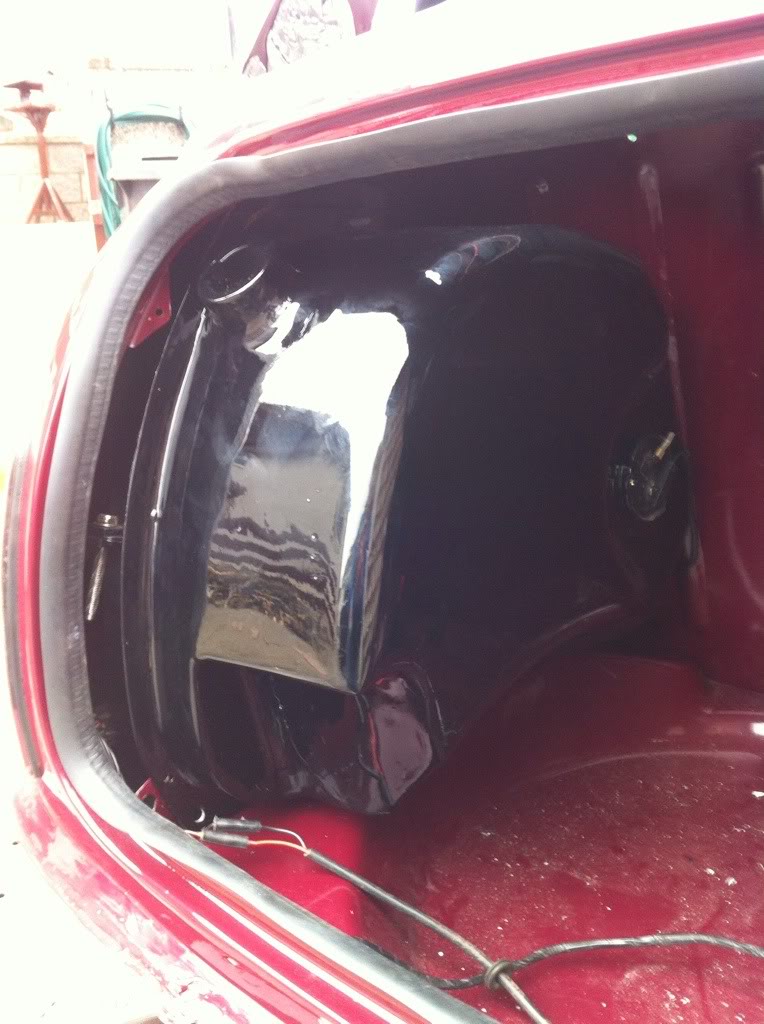 4-14-2013
More progress. Or maybe more accurately one step forwards, two steps back.....

Wanted to get the car started this weekend. Everything was going well. Tank in, electrics sussed (12v coming from coil = non ballasted. Win! Meant I could get going with the firing. Until I tried to check the fuel lines were all ok. Overtightened one of the rubber pipes going to the pump aaaaand snapped the inlet pipe on the pump. Cast metal pipes = fail! No fuel in it so all is not lost but still means forking out £40 to replace a brand new unused pump. Never noticed you got 998cc pumps and 1275cc pumpsand mine appears to be for a 998cc so wouldn't feed enough fuel through anyway. Blessing in disguise maybe......

However the timing was set (dizzy was 180deg out....) and everything else is ready to go. Wee bit of electrics here and there still to sort though.

Hacked off with it for today, so its back in the garage and I'll maybe try and do some other stuff on it this week before trying again once the new pumps here. Bloody Minis!!!
4-18-2013
So having realised that my brake callipers were on upside down (mega fail!) I set about taking them off and swapping them over. Simple! Or so i thought......

The nice, new, shiny, expensive brake lines were tightened and tightened hard! As a result their soft faces got quickly rounded off and not even the much favoured mole grips would touch them. So tonight I too off the callipers and brake lines together, took the pads out and binned them. Destroyed.......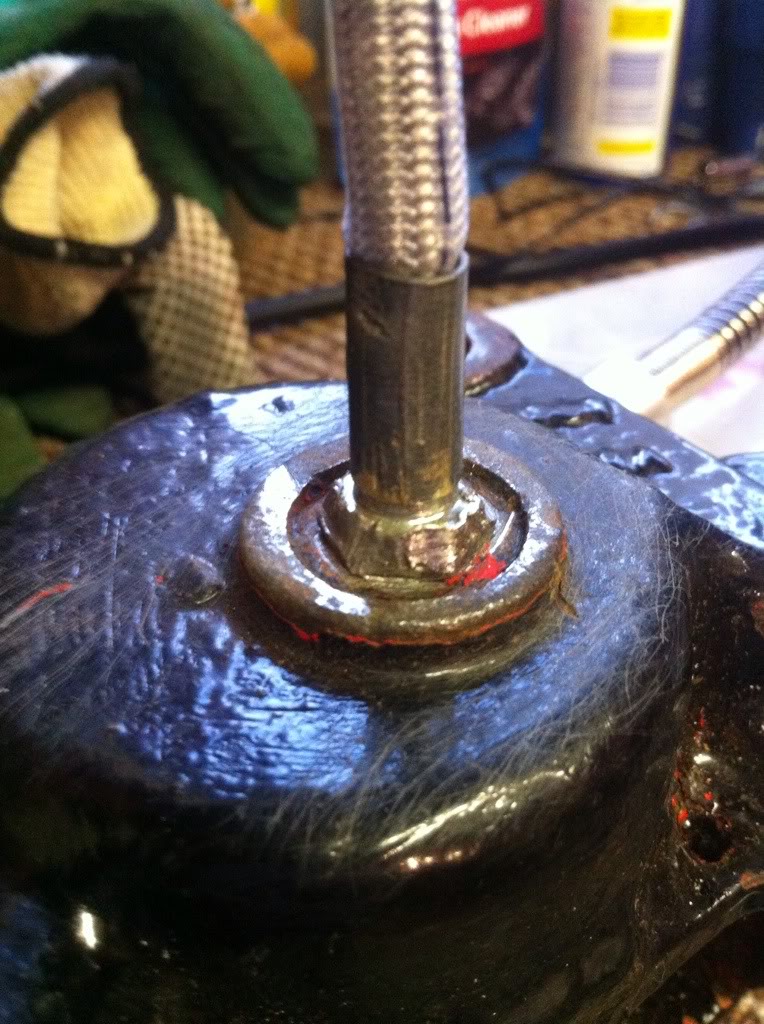 Bit extreme you may think but not when I found these 4 miles away.......time for an upgrade! MiniSport fully CNC'd alloy 4 pots! Special limited edition '50s' to commemorate the 50th Anniversary of the Mini too, so rather rare and only have 200miles max on them! Will help sharpen up the brake feel no end, plus look much better.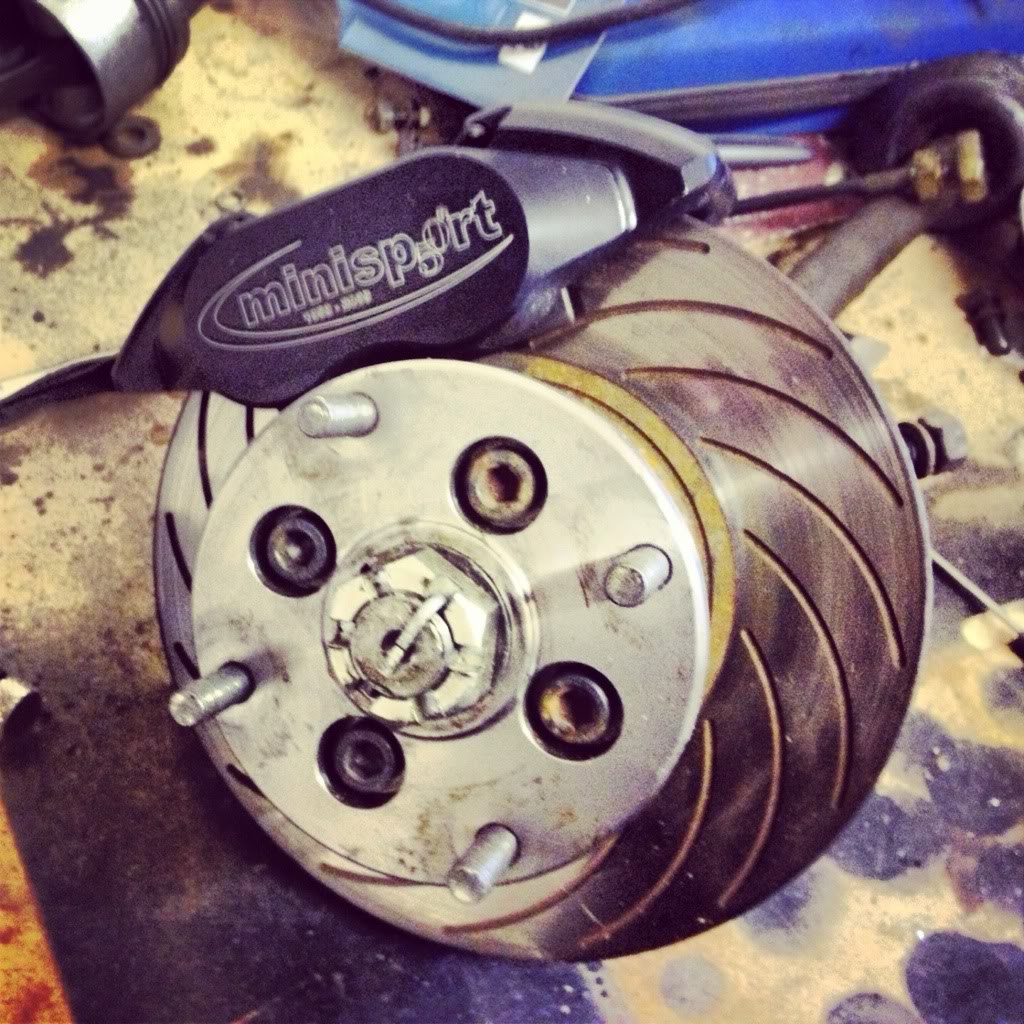 Shame to have to bin working brakes but they arent worth anything anyway. The new ones most definitely are though. Pocket will be hurting until payday but they are coming with the grooved and vented discs so did a deal.

So Im looking at it as a blessing in disguise. Just need to order up new lines and then get them fitted up again soon.

Getting the brake lines out when the engine is in proved to be a nightmare too, but nothing a 3' long extension combo couldn't handle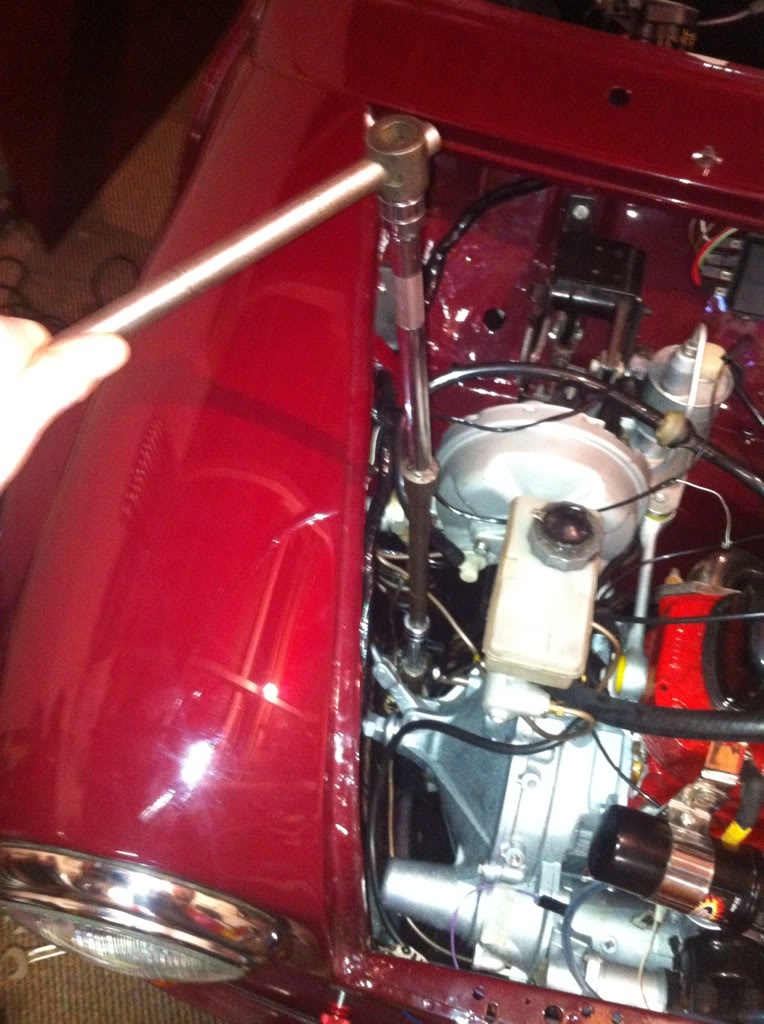 Took off the discs (which are now for sale as they are brand new if anyone wants) and took a pic of the assembly. Performance throughout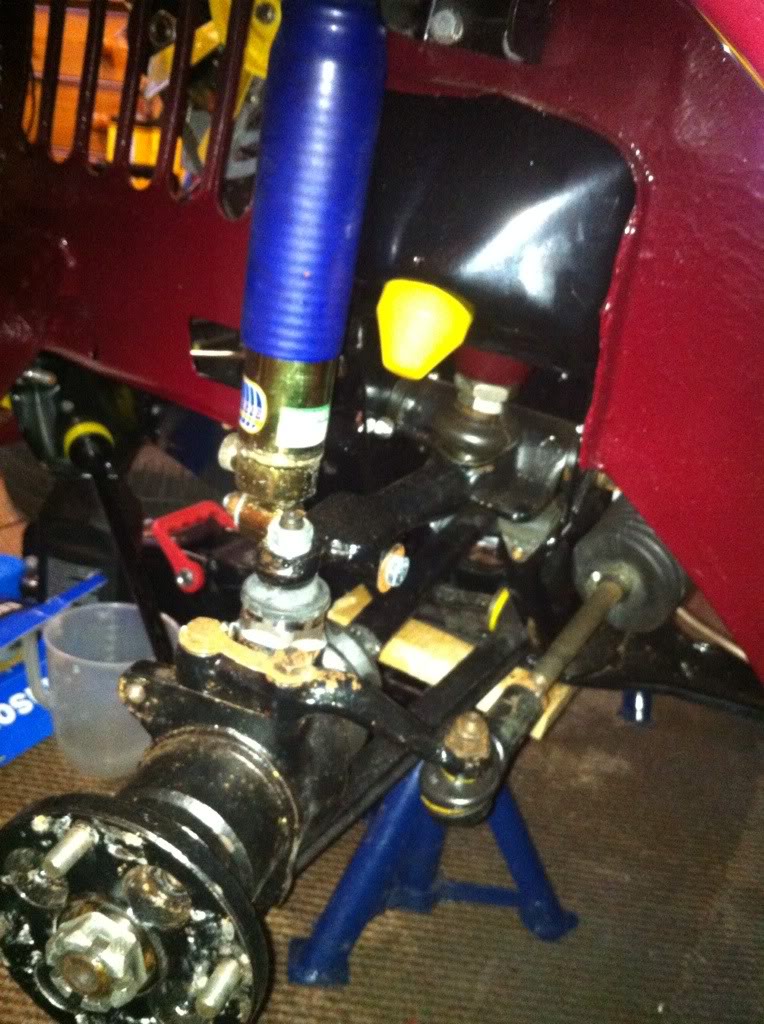 Also needed a red bulb for my rear cluster fog light mod. Shame none of the local shops sell the bulb in red, so out with the clear red paint.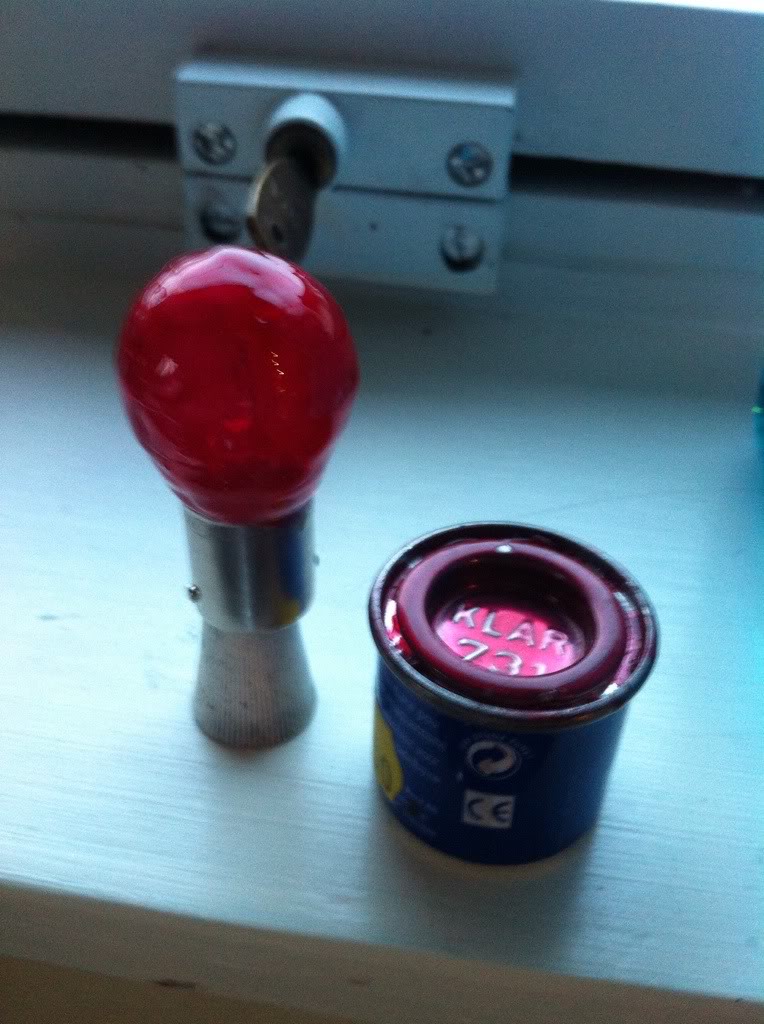 Hoping to collect the brakes either tomorrow night or saturday and get them cleaned and fitted.
4-19-2012
Thanks man! Easy mistake to make, just really annoying!!!

So new parts are here. BRAKES!!! Birdog (Nikki) got the brakes disassembled for me so picked them up tonight. In desperate need of a clean so decided to split them and get rid of any brake fluid/dirt with some brake cleaner.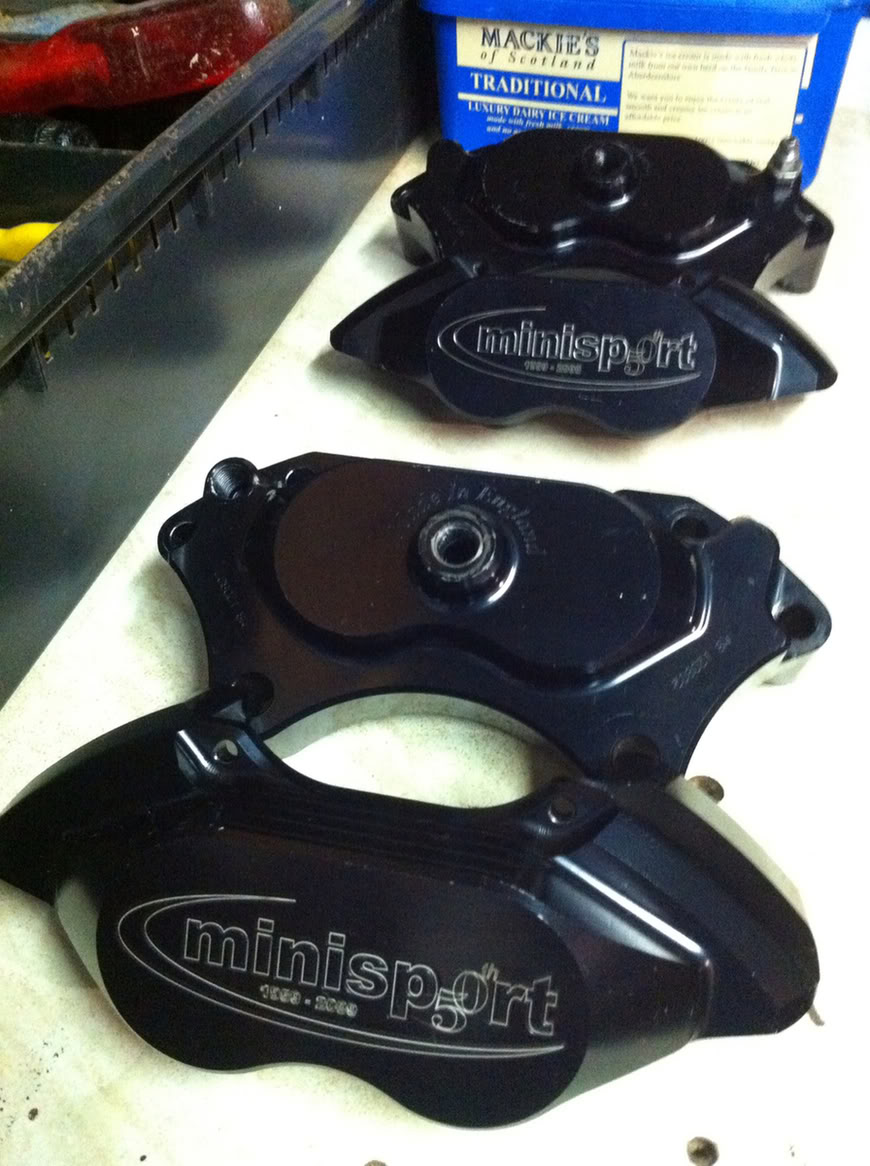 Easy enough, just 4 Allen head bolts per calliper. Stainless, of course.

So no ingrained dirt, just machined and anodised finish! Love it!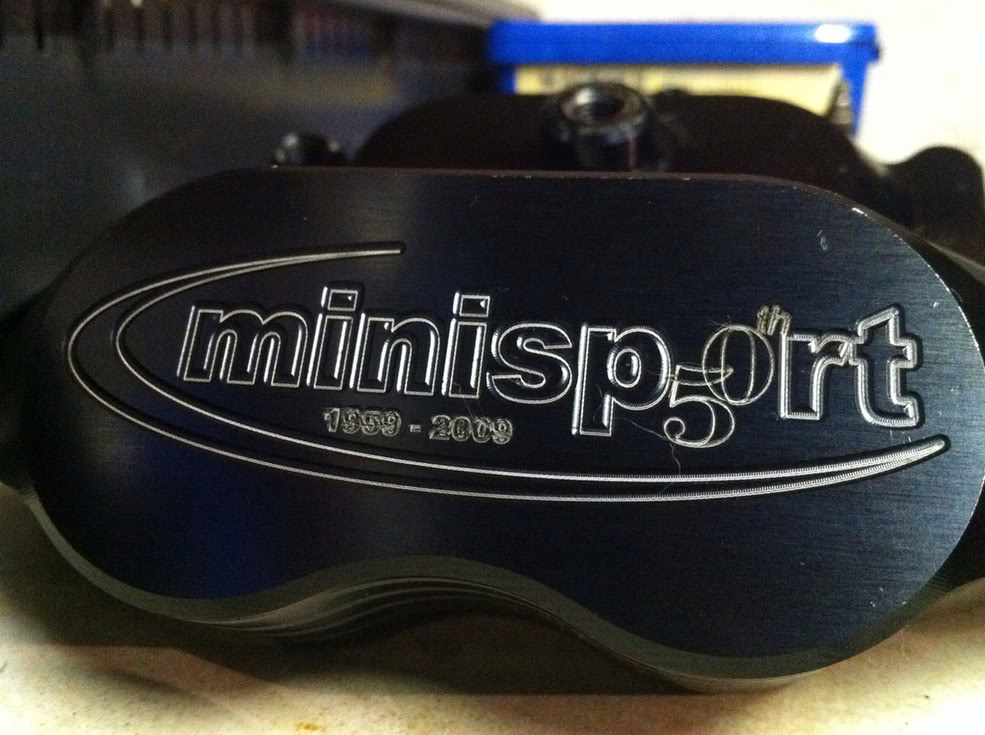 Came with vented and grooved discs. Yes they wear down pads quicker. Don't care. They look amazing.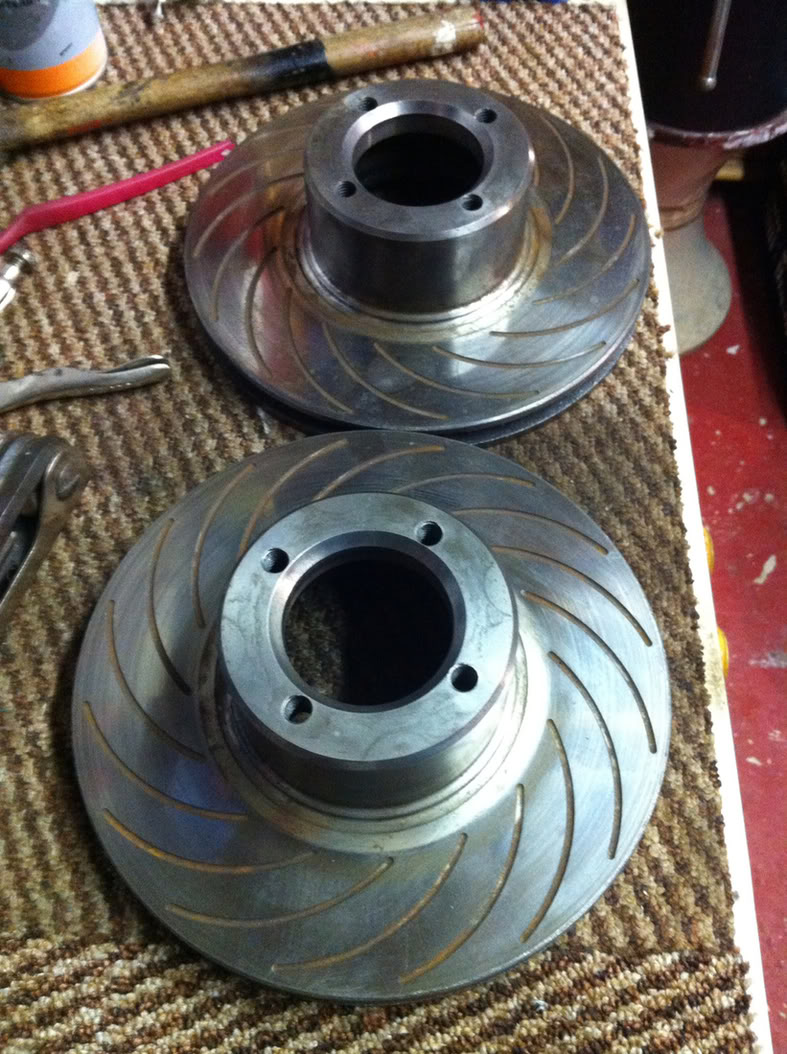 And with them clean I set about degreasing, and then sealing with GTechniq C5 Wheel armour to fend off the dirt they will collect. Hopefully will mean it only needs shampoo to clean!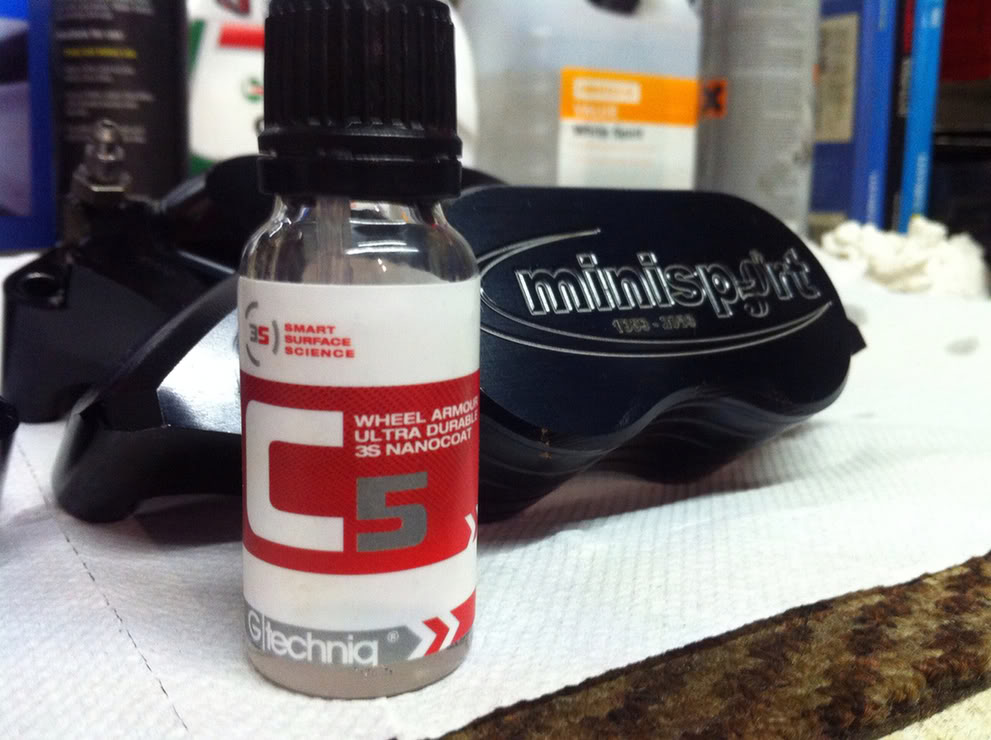 So a wee standard vs upgrade photo. Vast improvement and less than half the weight!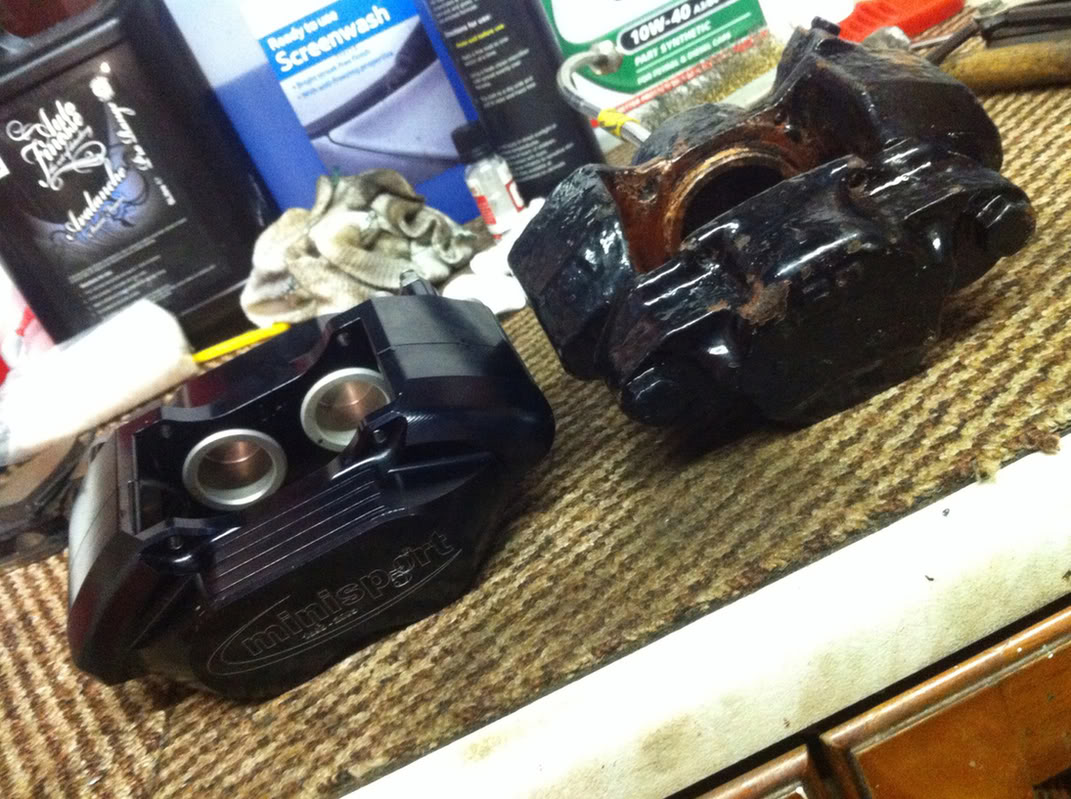 Ready to go once I go back and get the bolts for the drive flanges as they are different on vented discs compared to standard. Wo knew!?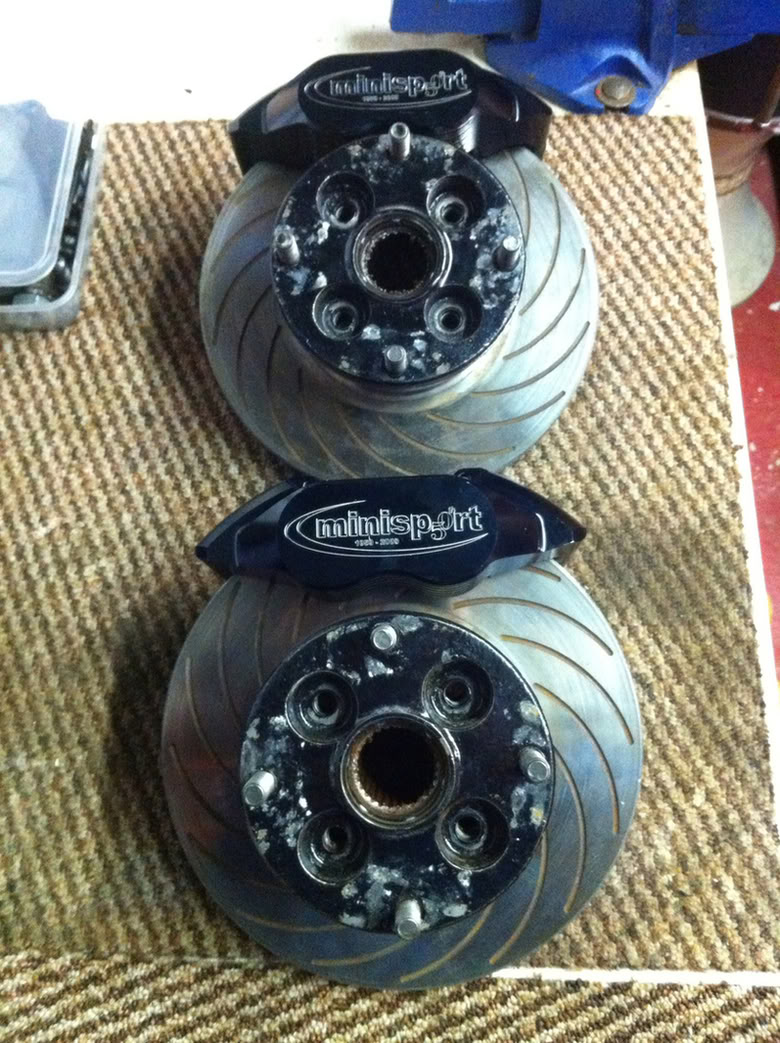 4-20-2013
Dont know if anyones reading this anymore but.....

Another weekend means more work on the car! With the new brakes cleaned, I went to put them onto the flanges. Got the bolts from Nikki so set about it. Only to find vented discs need difference flanges. The bolts I had didn't fit through the standard flange. So thankfully Nikki had a set and nipped over to buy them too. So Ive now got full new brake assemblies. Needed a wee clean but nothing brake cleaner couldn't sort!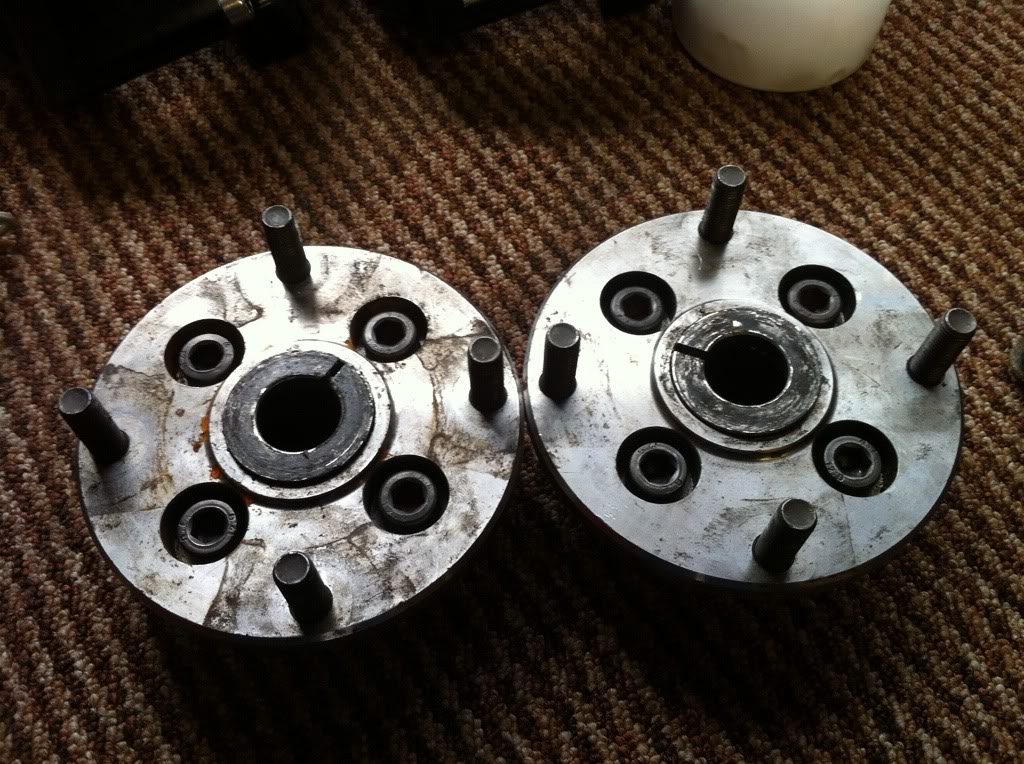 Wee before and after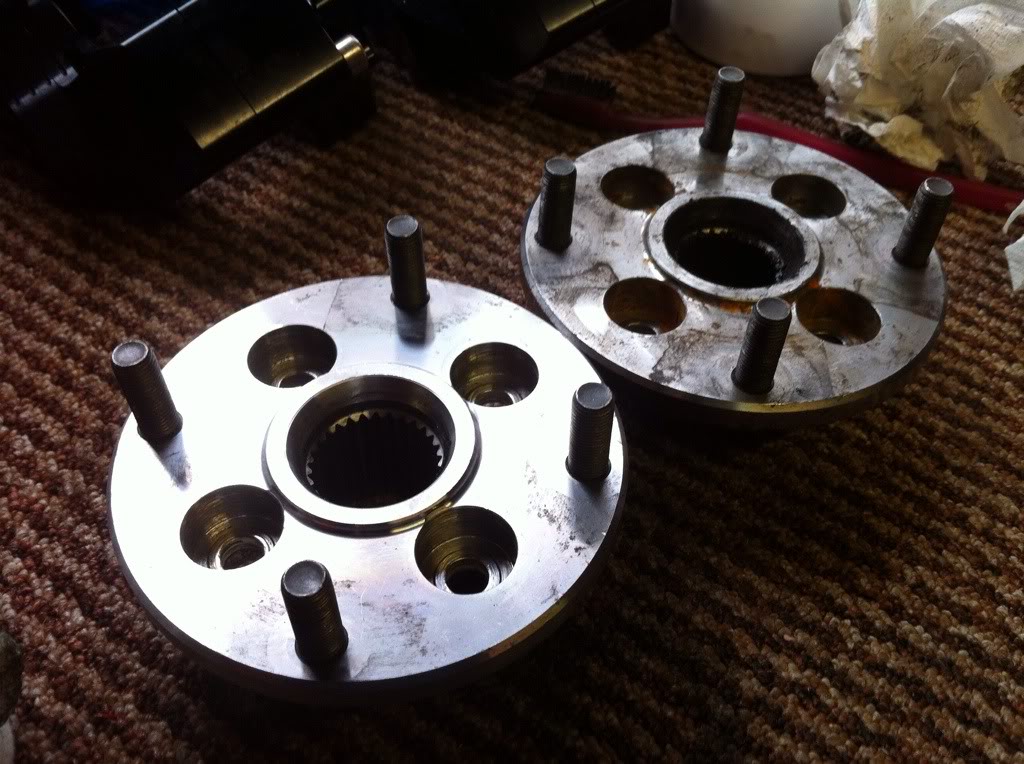 Ready to go!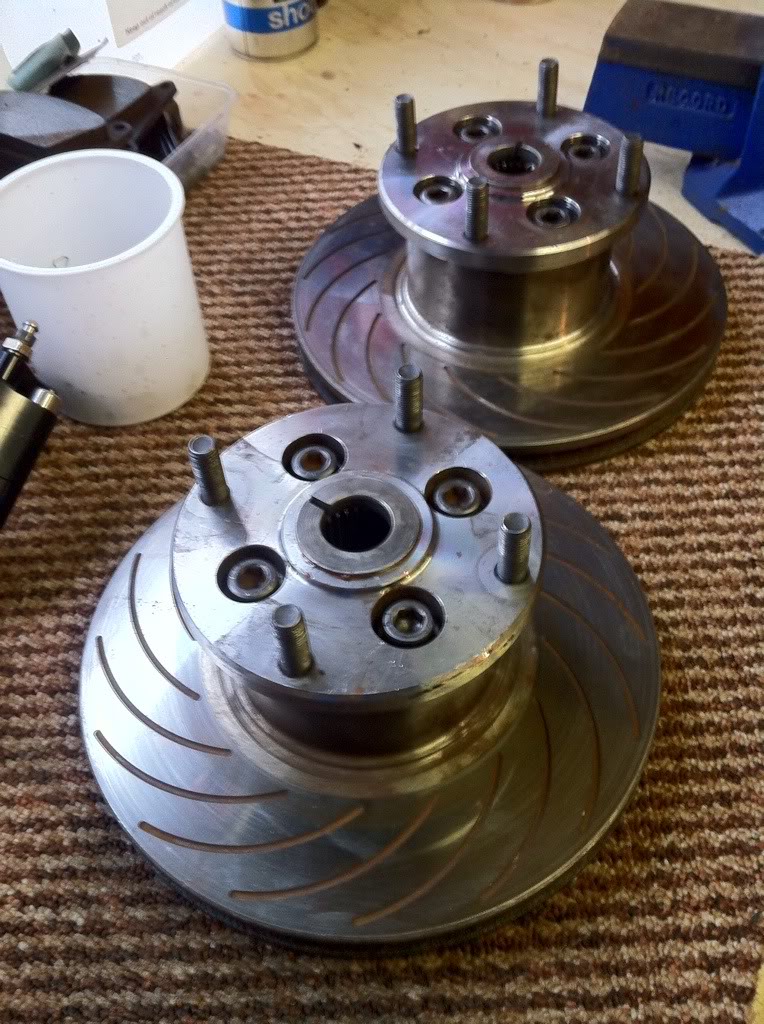 But the main goal for this weekend has been headlining. Attempted it a couple of times already but the fabric (alcantara) was just too stretchy and never sat right. So my mum suggested we added stiffening material to the back to prevent this from happening. With this ironed on we tried again. MUCH better as it made it the same sort of rigidity as vinyl, which is what it was originally.

So its in, we're just leaving it overnight to settle into place with all the bulldog clips before applying the glue and cutting/trimming off the excess. Then its windows in and more interior.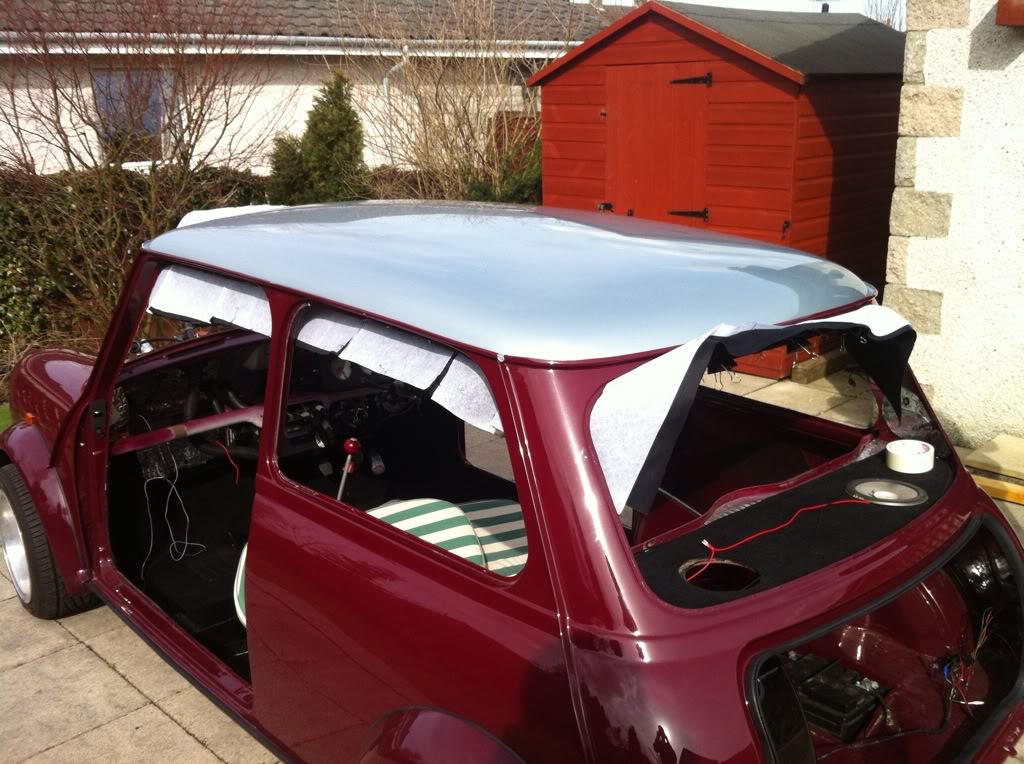 Not perfect (yet) but a very good starting point.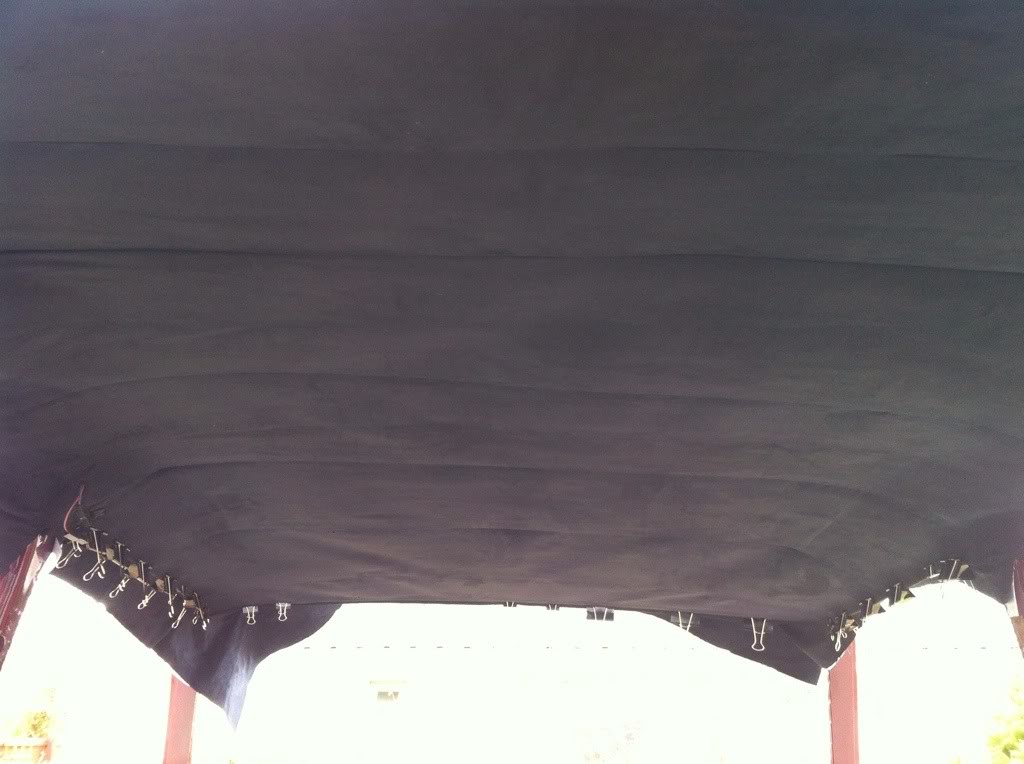 Tomorrow should be finalising this and then getting the brakes installed (would do it tonight but dont want to risk knocking the headlining out of place)
4-21-2013
Progress at last! Headlinings in, just two little bits drying out at the moment so will get them done after some food! What a pain of a job!

With the inside glued, we set about gluing the outer edge on. This is a small bit to ensure the fabric comes over the lip and is held securely by the door/window seal. We bought some cheap bulldog clips in Home Bargains and used all 10 packs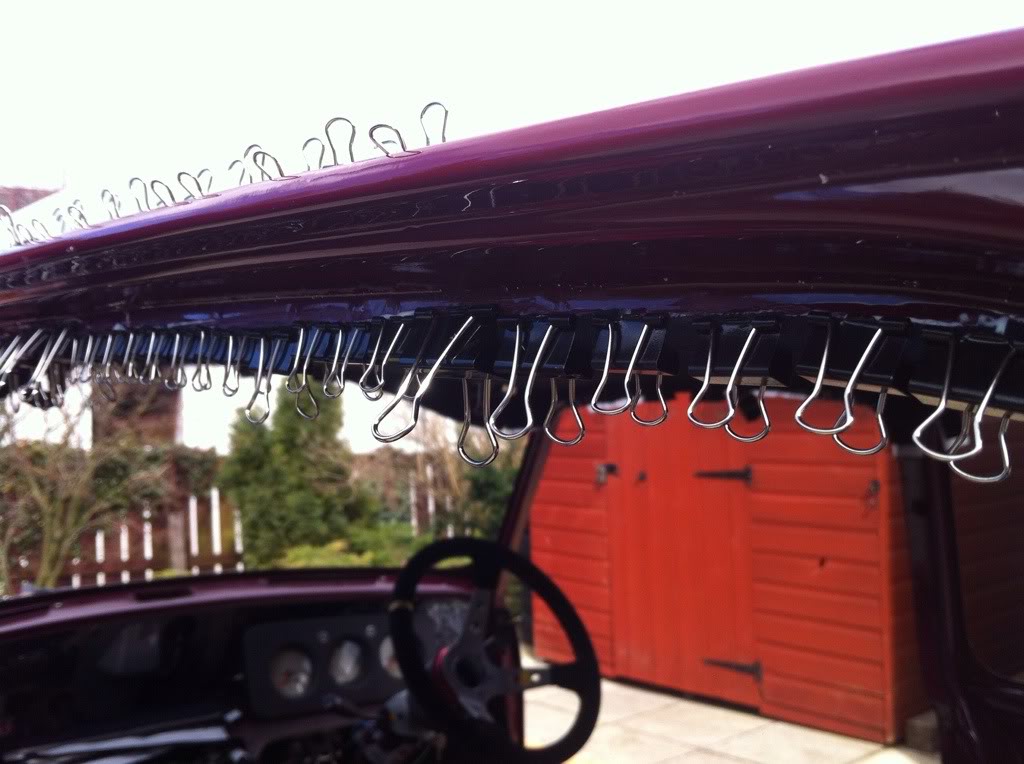 Just leaving the two bits here to dry, then final trim and leave to set fully.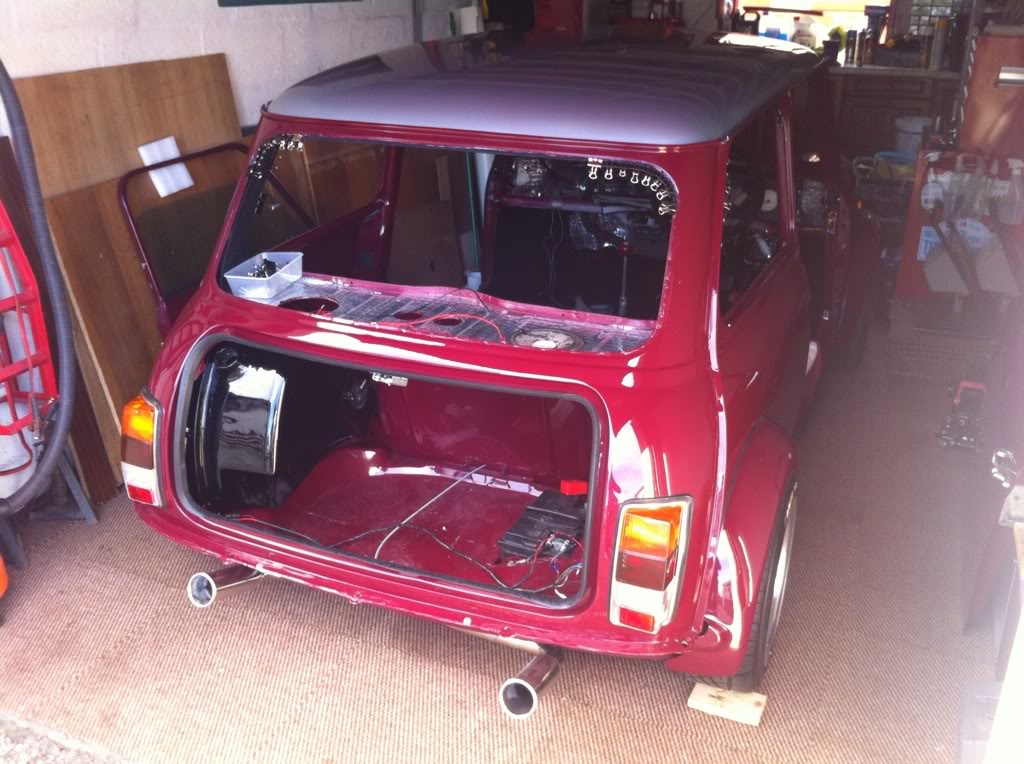 Again, dont want to risk moving the fabric so we decided not to put in the glass. Sure it would be ok but not worth risking a days work for! Get it done tomorrow night. Going to crack on with getting the passenger door built up and the brakes installed ready for the braided lines to arrive though. More pics soon.....
Headlining = done! What a long day thats been! Almost 10hrs but we got there. Looks ace though!

Not the best photo....but its dark so will have to do!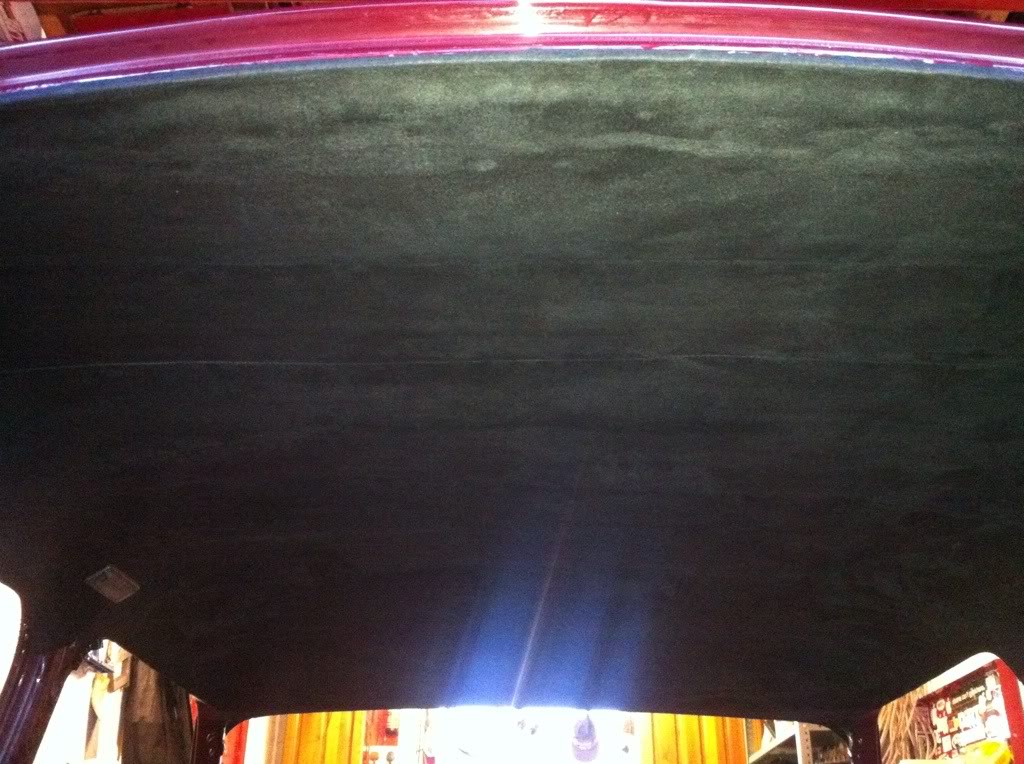 and we are very happy with the fitment of the interior light. Not easy to get right but it is!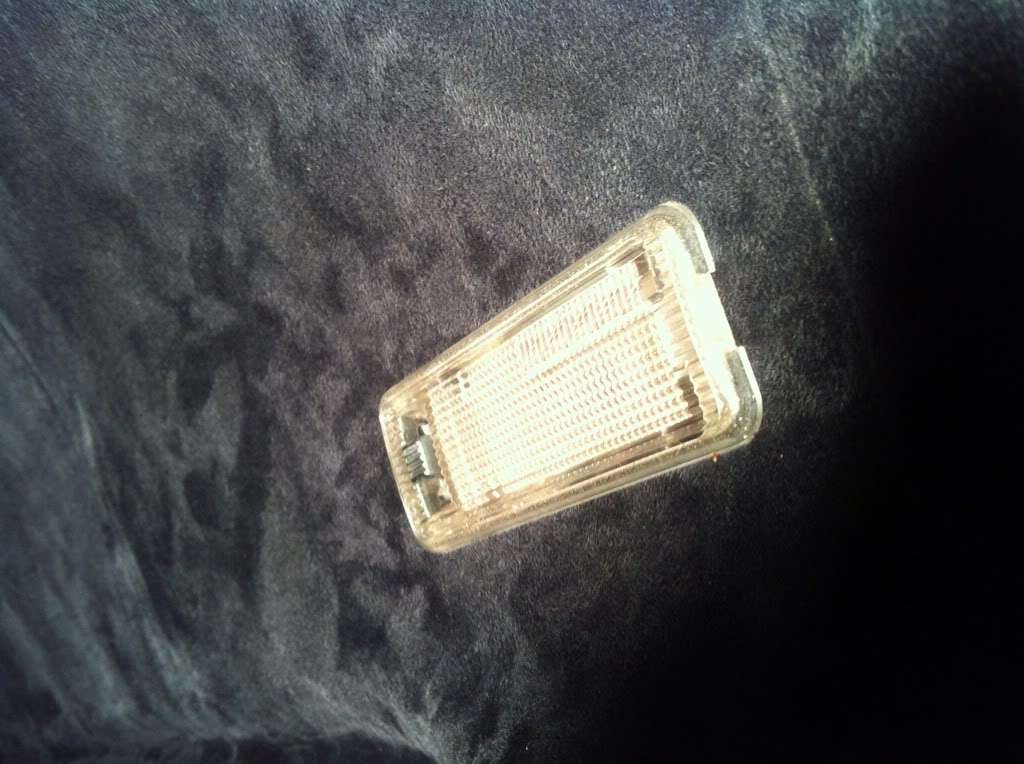 And I finished off the day by fitting the brakes (bleed nipples to the top this time.....!) They are such a vast improvement over standard. Look amazing behind the wheels too! Brake lines should be here mid week so i can get going with them too. Another productive weekend! Hope the fuel pump arrives soon too so I can start it for the first time in 3 years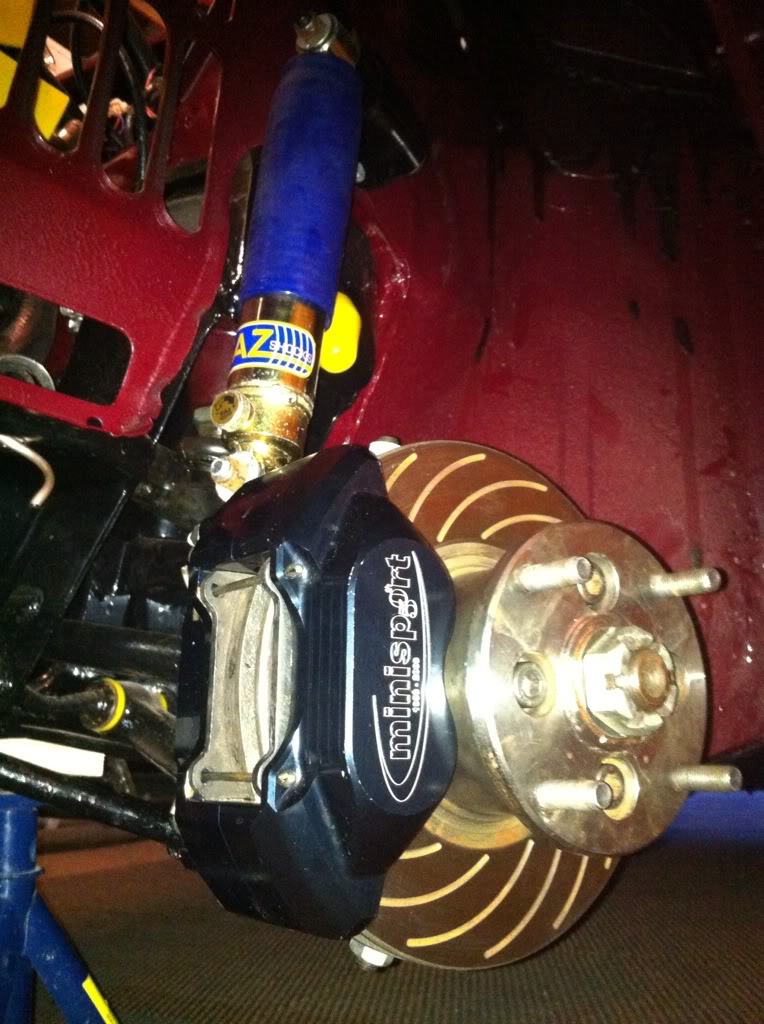 4-22-2013
Update again! Postie had been. He's desperate to see this car on the road

New old stock fuel pump still in original box and grease paper. Ace!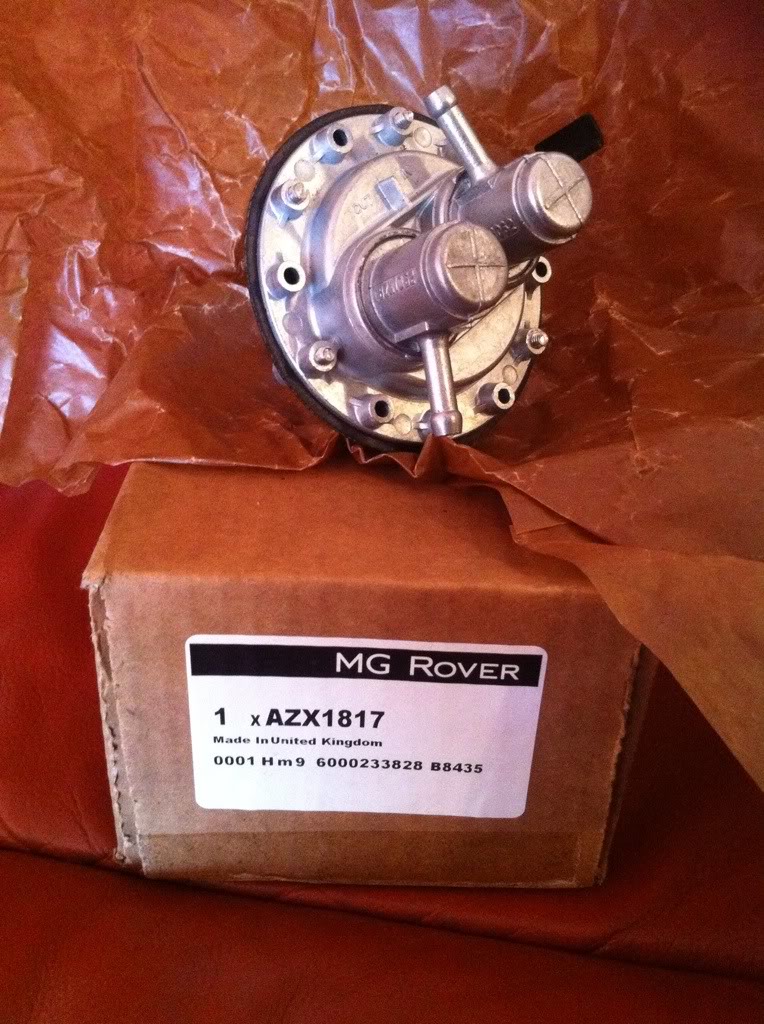 And all because this happened to the old (brand new...) one.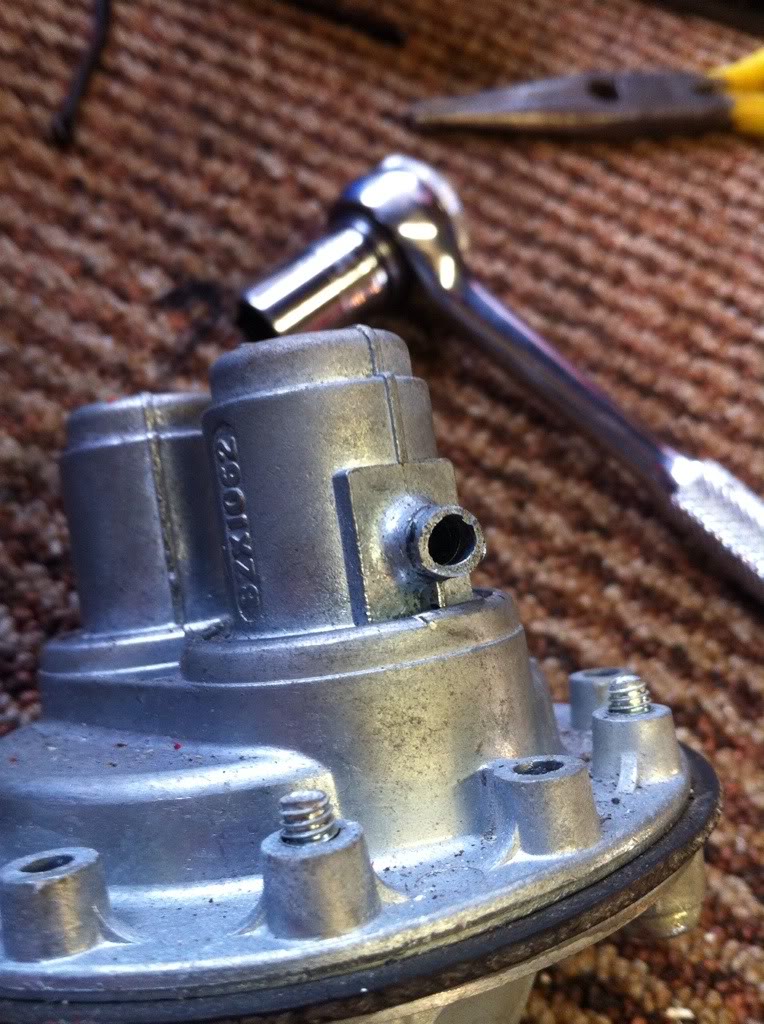 Easy to get out but after an hour and a half I gave up, Greig arrived and got it in in 10 minutes. My hands are too big for working in the enginebay it seems...

Found some old parts from the 80's. They said *******. Hilarity ensued.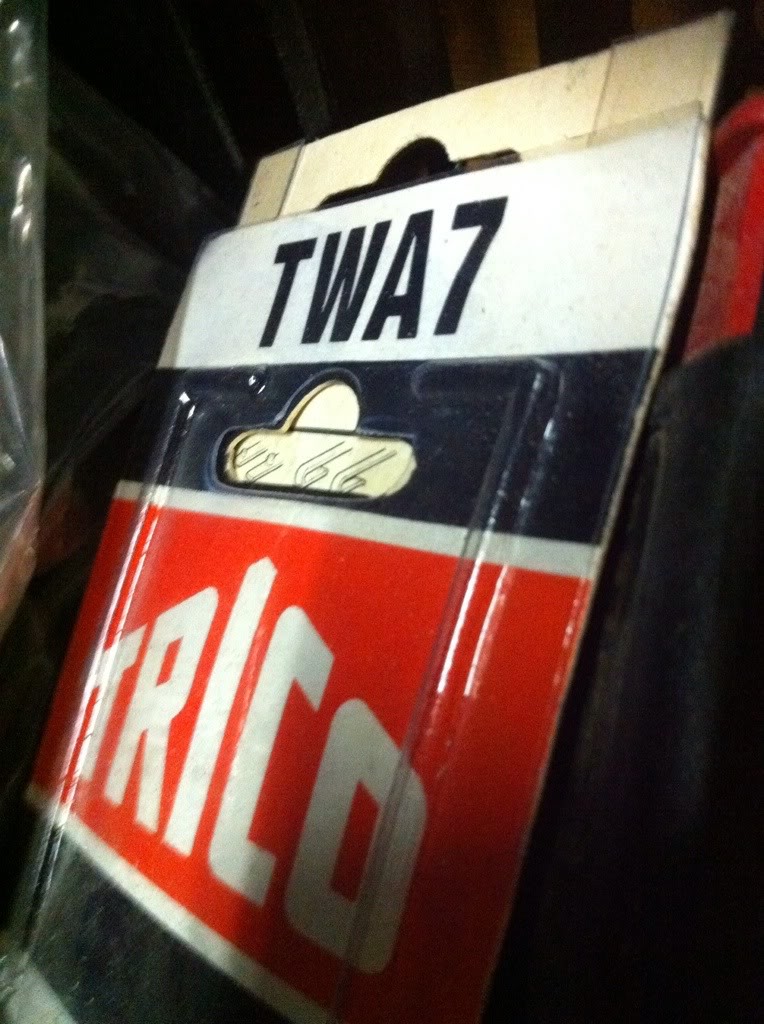 Decided to get the rivnuts for the mirrors in. Greig knew what he was doing so left him to it...he's a happy chap usually but it doesn't show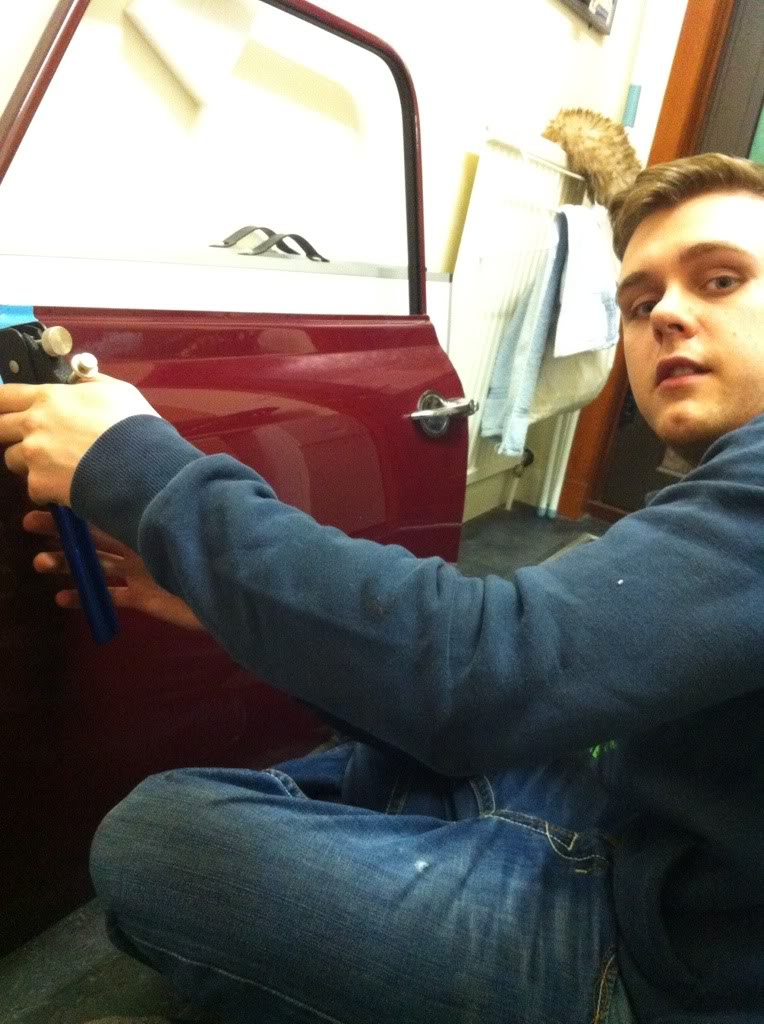 Clever gadgets, very simple and effective. Will nip to Grampian Fasteners on my lunch some day to get the bolts to go in. Made sure I protected the paint as Im paranoid I scratch it!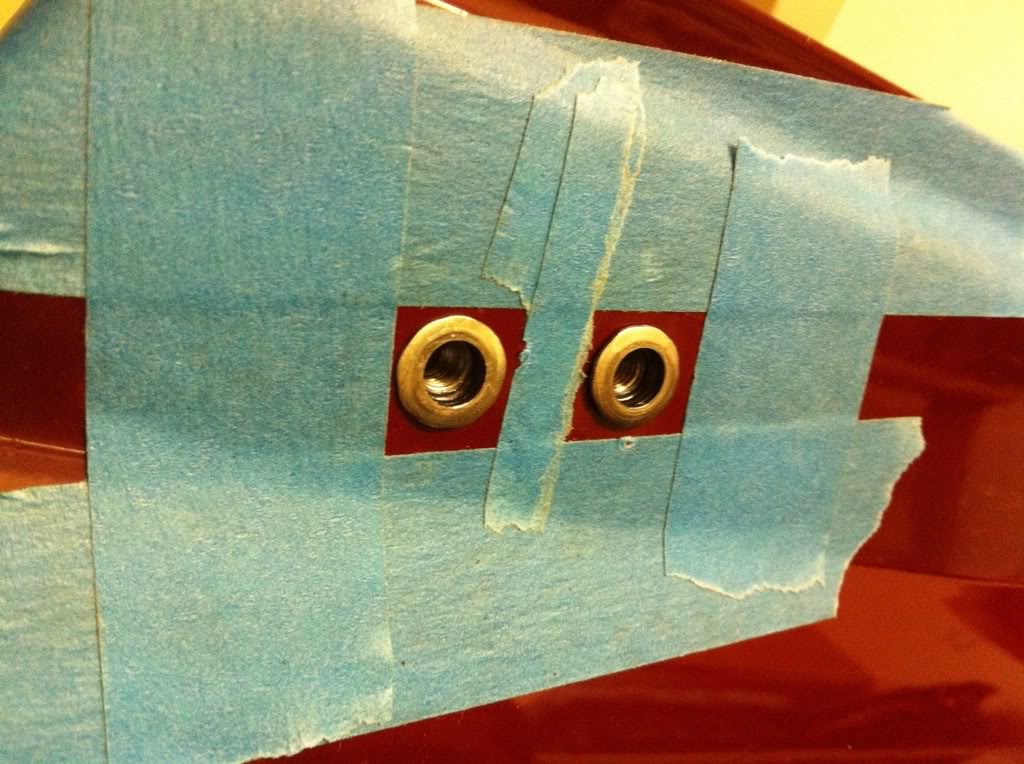 They just crumple onto the opposing face to lock in place. Love it!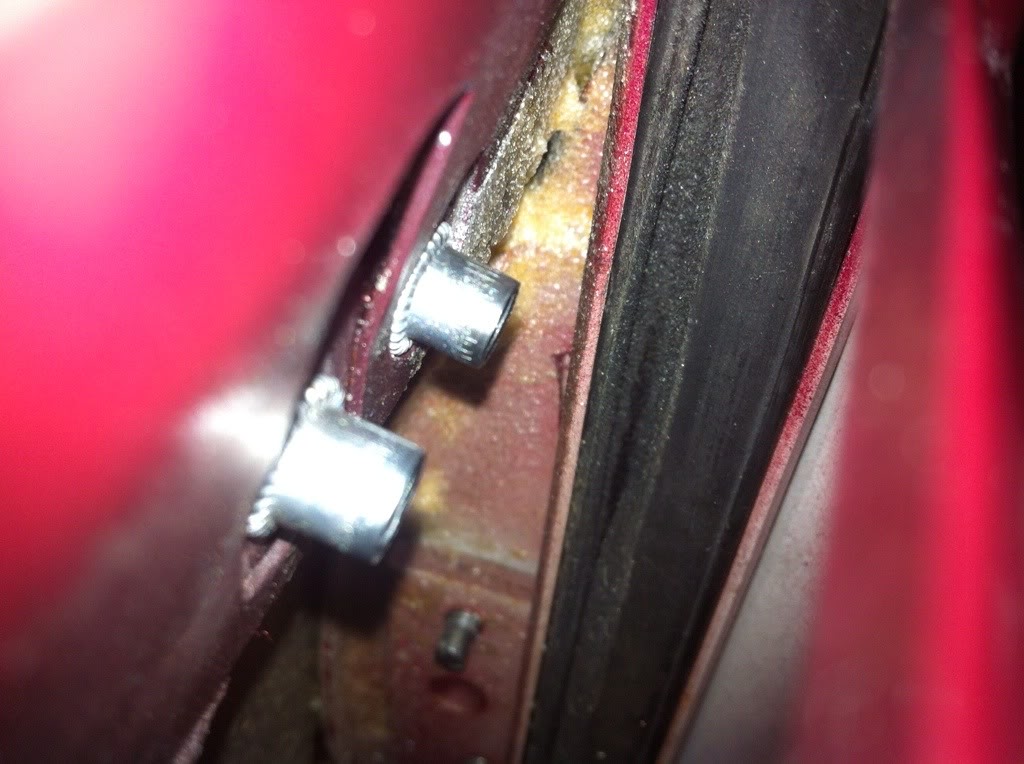 Also got the other front brake assembly on. If you want a pic, flip the other one over and you will get the idea

Just need to get the brakes lines all done (once parts arrive tomorrow hopefully) and then I can do up the hub nut. So cheers to Greig for the help and hopefully get more done tomorrow night! Getting there!

So, tomorrow its brakes, hub nuts, A,B,C pillar alcantara trim , radiator back in and filled then see what I can do after (maybe windows?)
4-23-2013
Uuuuuuuupdate!

Arrived home and MiniSpares had pulled a blinder and got my parts to me in just over 24hrs order to door. Ace and very unusual for them!

Braided front lines, clutch clevis pin and split pin, chrome body/grille filler trim and bonnet seal. Small order but Ive pretty much got everything else!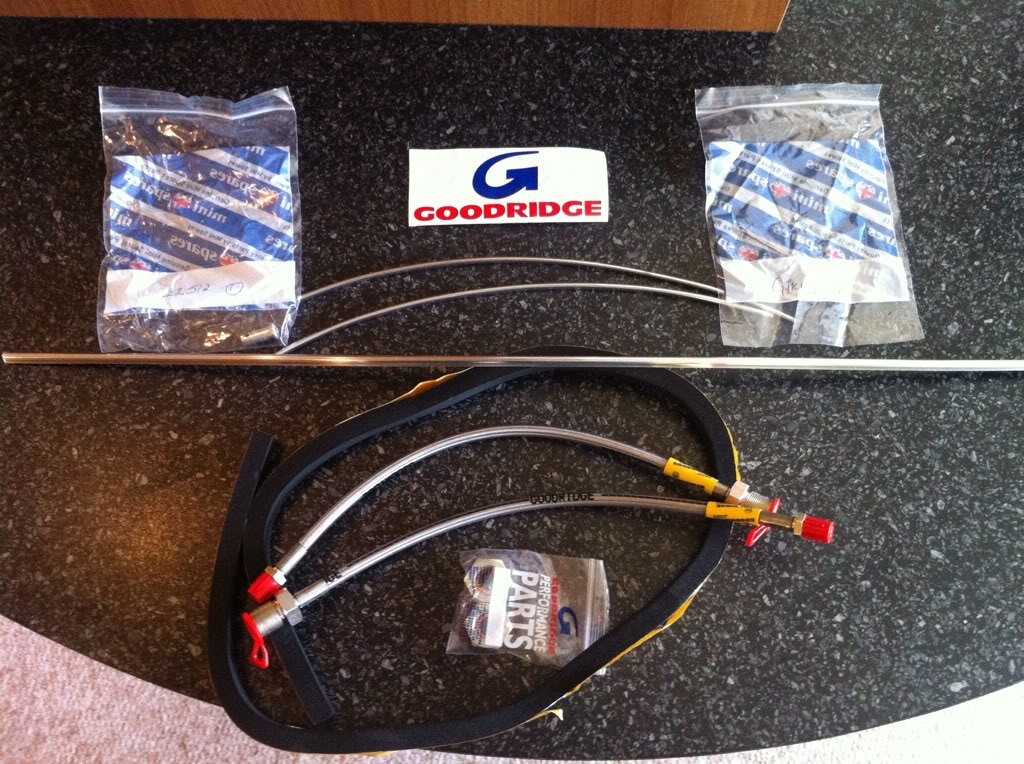 So got the lines on, reflared the passenger side subframe brake pipe as it needed cut off the original braided lines. Easy enough. Then bled the system using the Eezibleed and I now have a rock hard brake pedal! Very happy as theres not a single leak. Torqued up the hub nuts, split pins in and wheels back on. Done!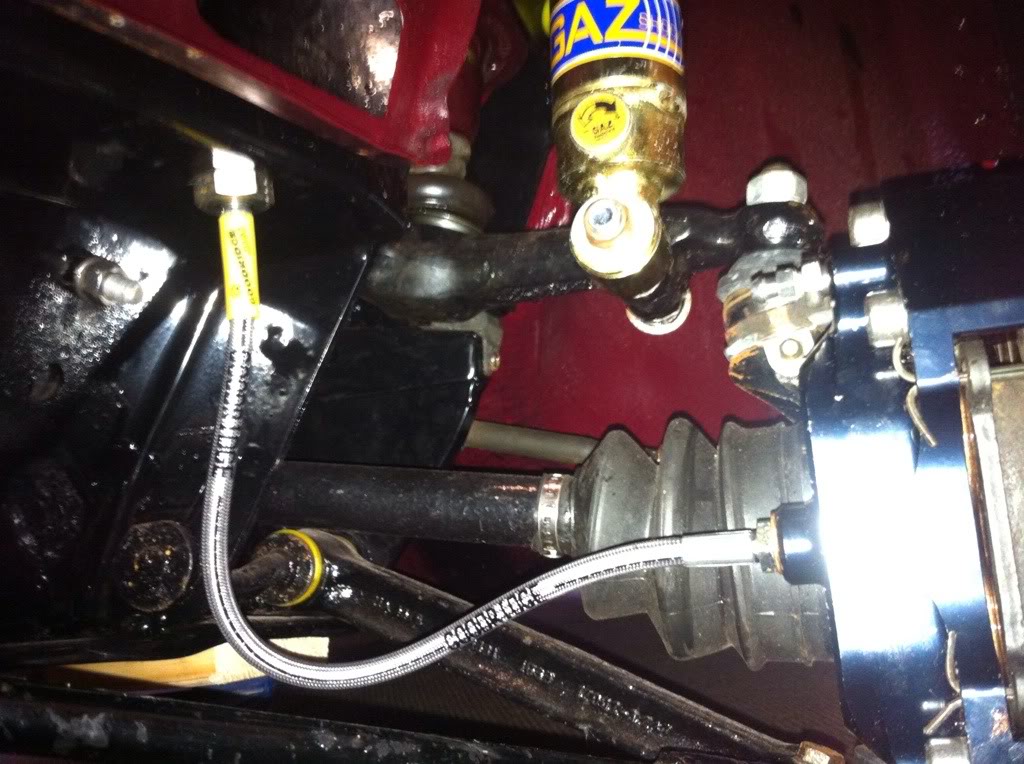 Then i remembered I needed to change the rear shoes about. They aren't symmetrical as I had them, so flipped one round and will leave adjusting them for another evening.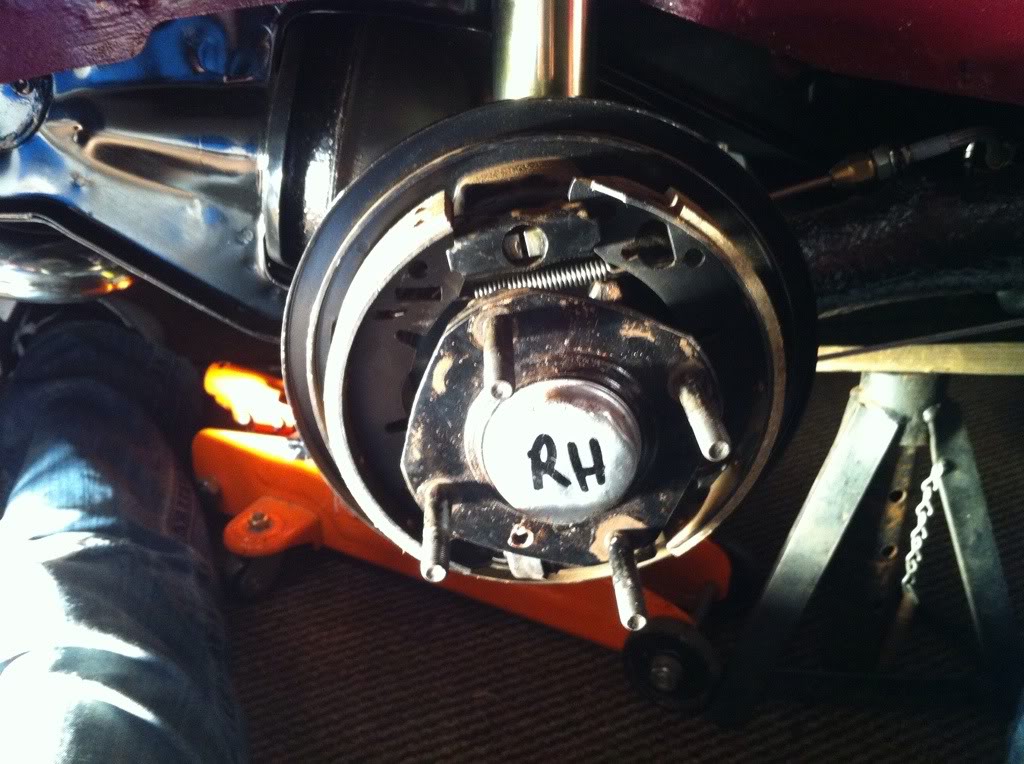 Also remembered I had a set of genuine Minifins kicking about (as you do...) so looked them out and will get them off to the powdercoater (PPS in Inverurie) after payday. Just straight gloss black, nothing fancy.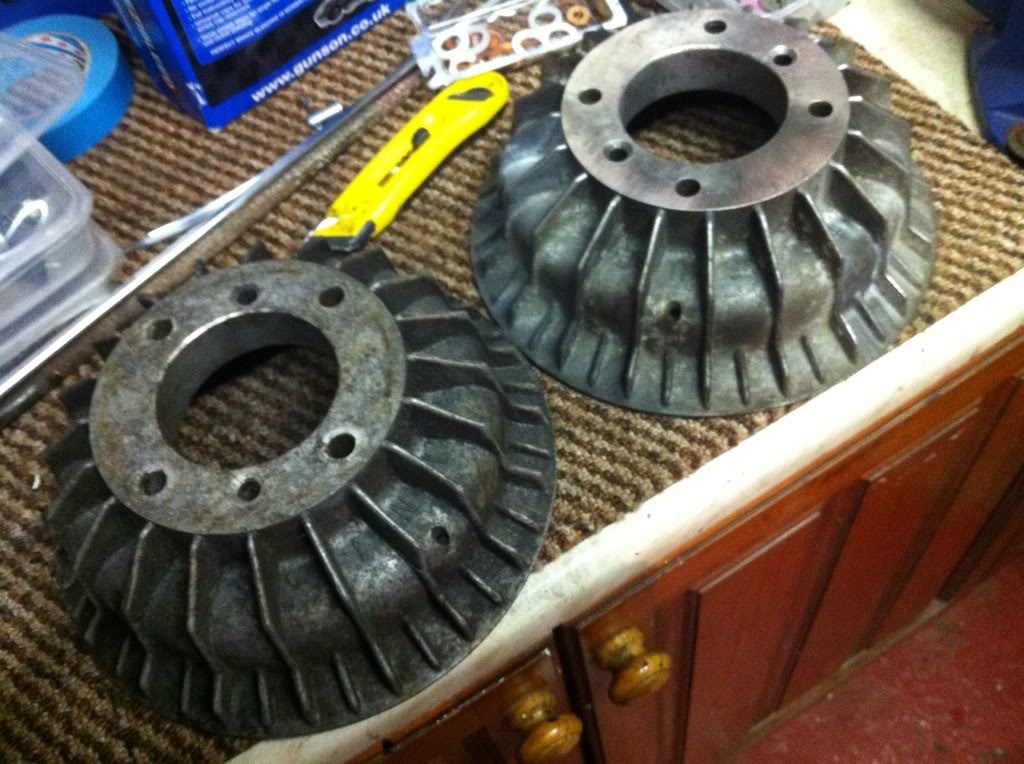 Also realised that with the 1000W worklight and shiny wheels and paint, you get cool pictures.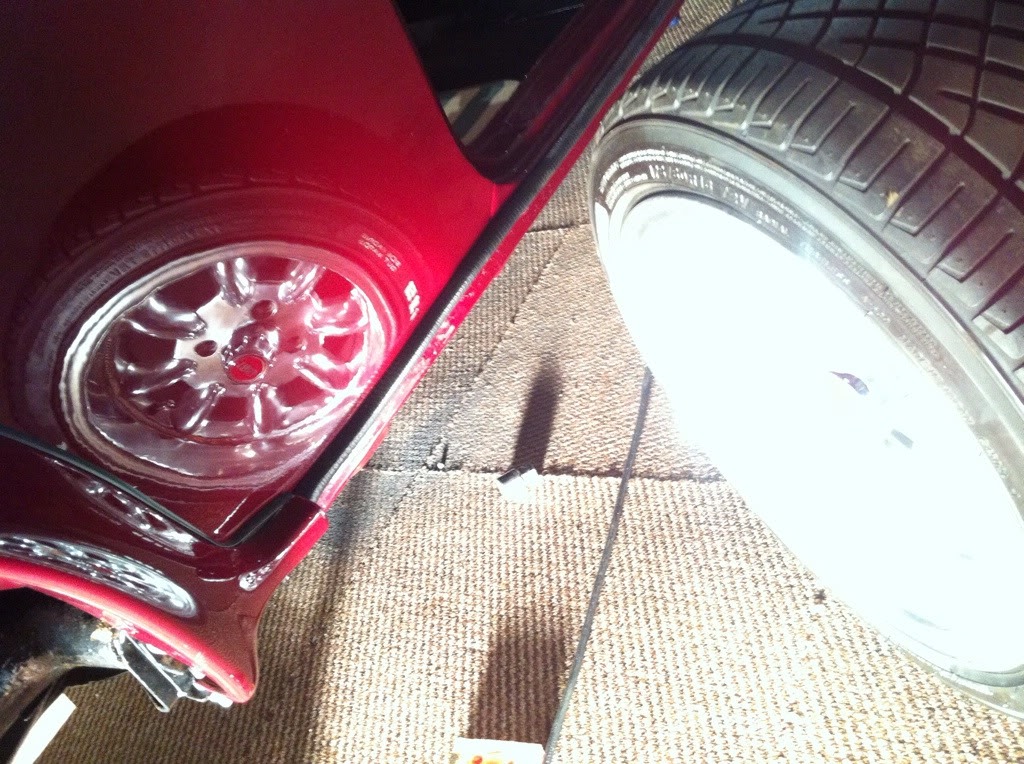 It was getting dark and wind was picking up so decided to call it a night.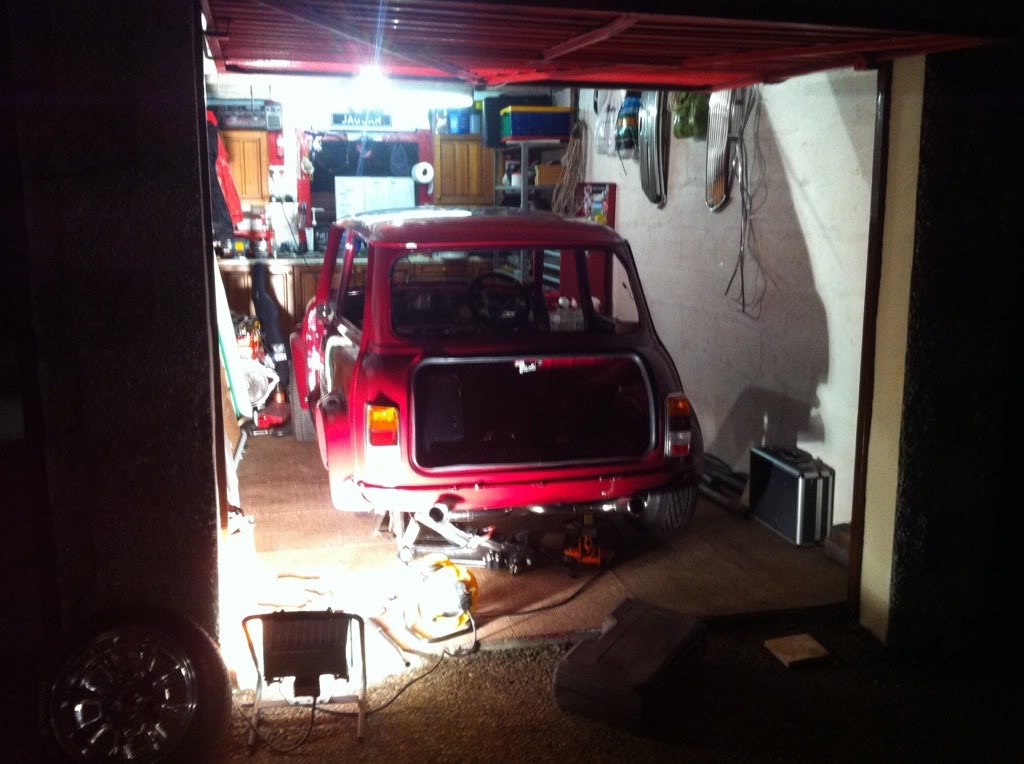 Put on the bonnet seal as I was tidying up though and used up the slight excess on the channels running towards the front panel.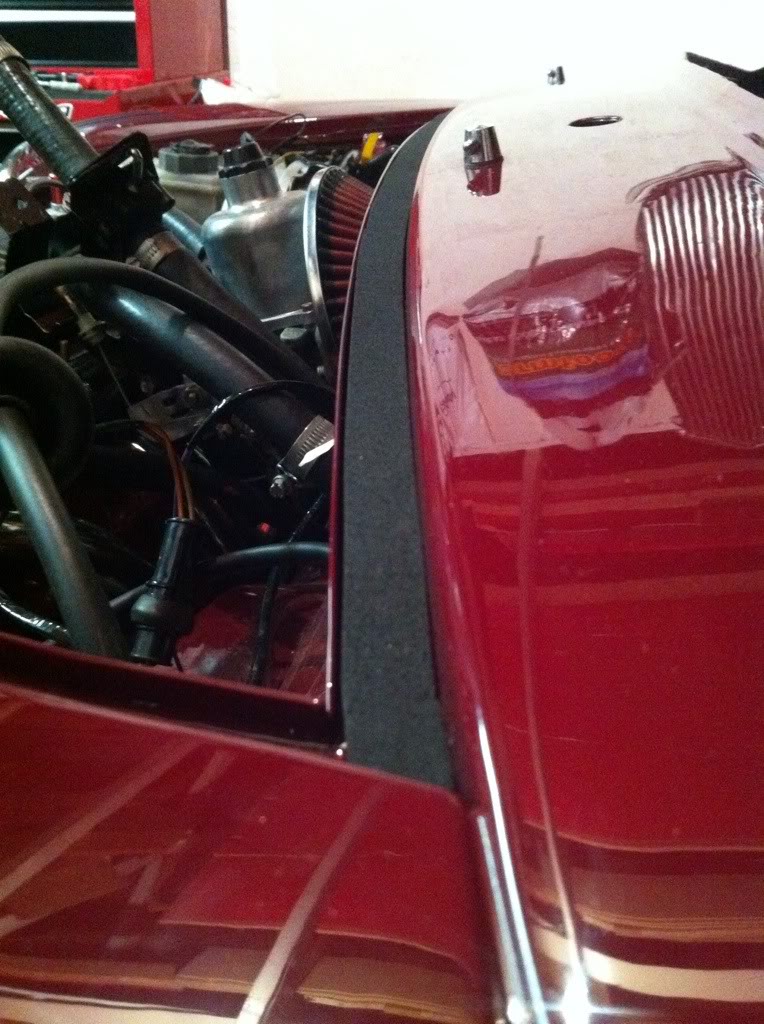 Another big milestone down and next up, engine starting

4-25-2013
What I DID get done tonight though was temporarily plumb in my oil pressure gauge for when the engine is started (at the weekend first thing saturday morning). Used the T piece on the front of the block instead of the sump plug alternative.

Gauge looks like this, to go along with the clock and voltemeter on the dash. Genuine Smiths with magnolia face. Classy!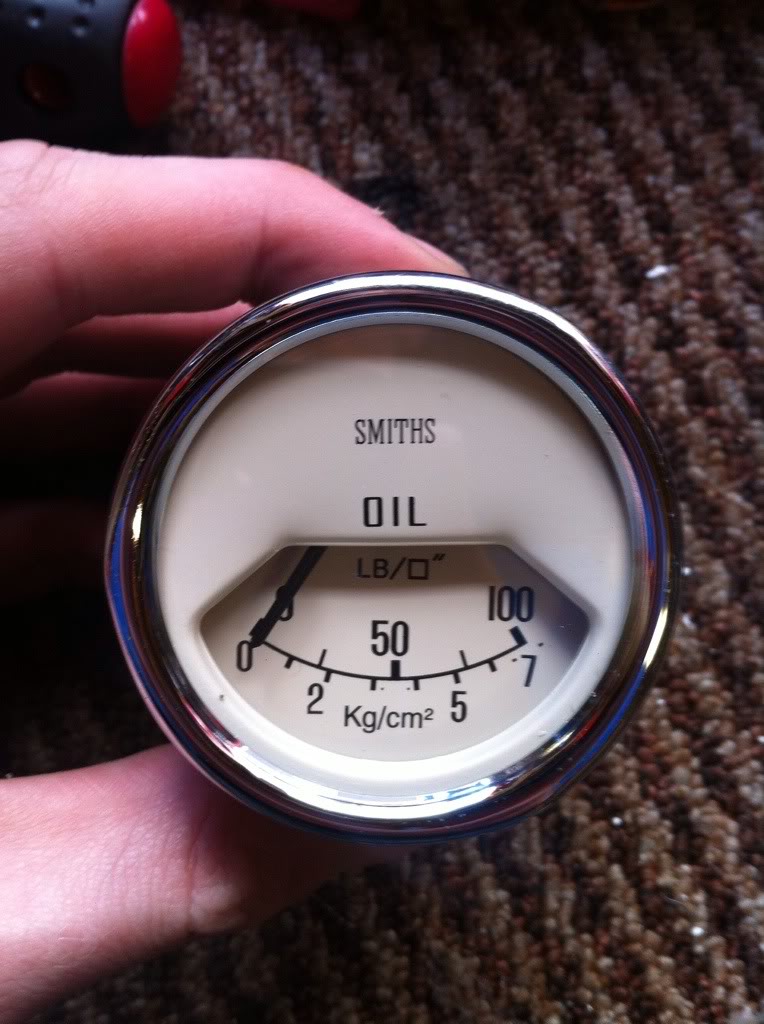 T piece was looking tatty so cleaned it up on the bench wire attachment.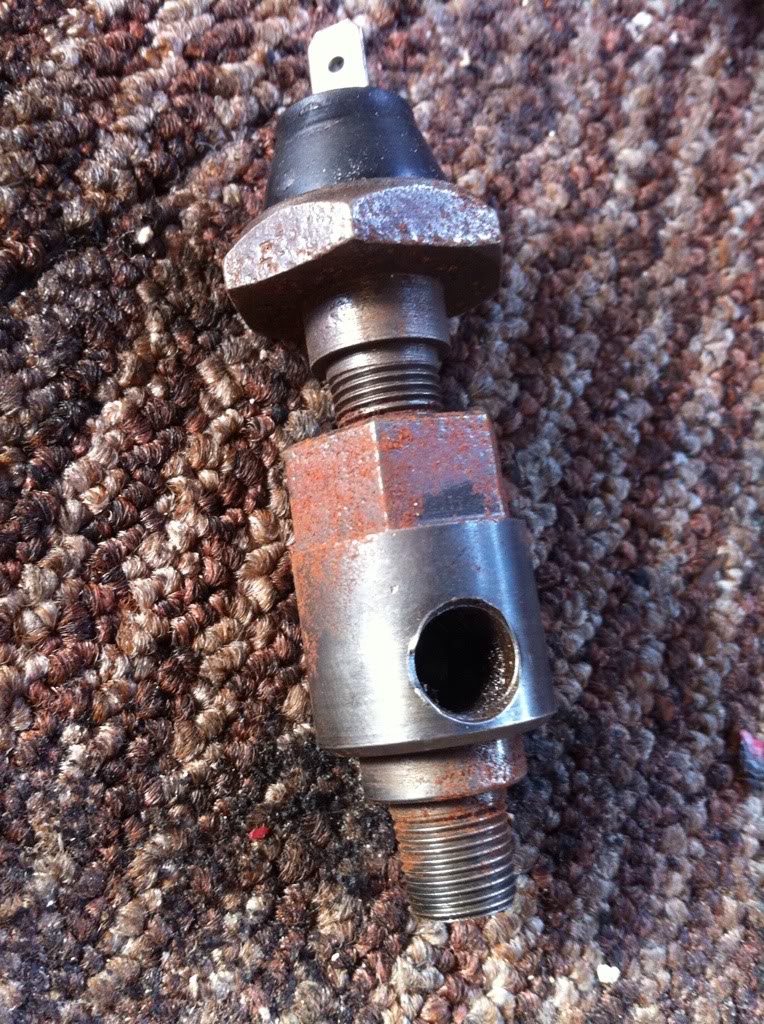 Replaces the wee red thing on the left which is just a sender. The cappilary for the gauge screws into the hole on the side. Simple!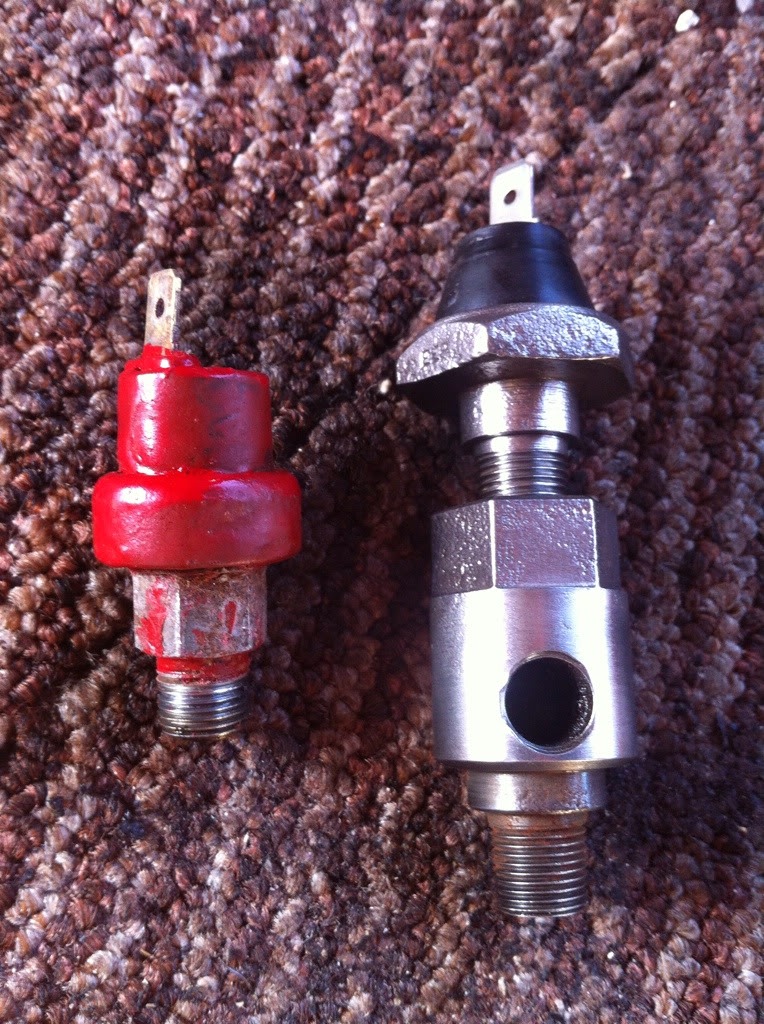 Was going to fit choke and heater cables but found that the plinth was looking crap too.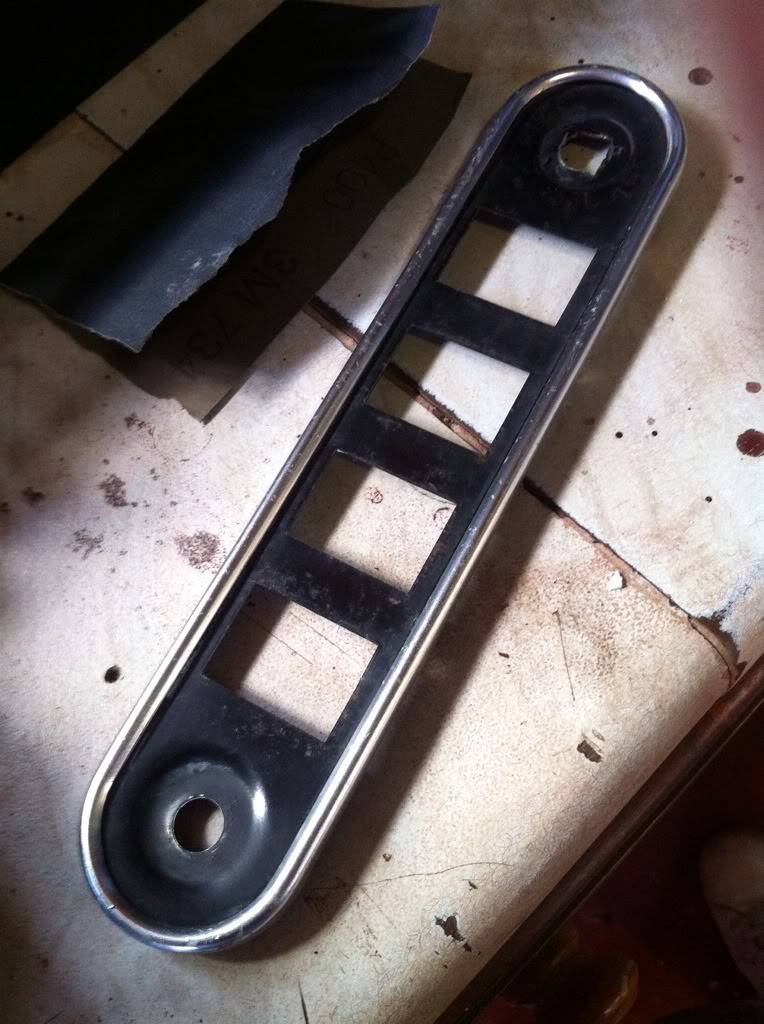 So took it apart, repainted cranberry red to tie things together nicely. Eventually this will be carbon skinned but will do for now.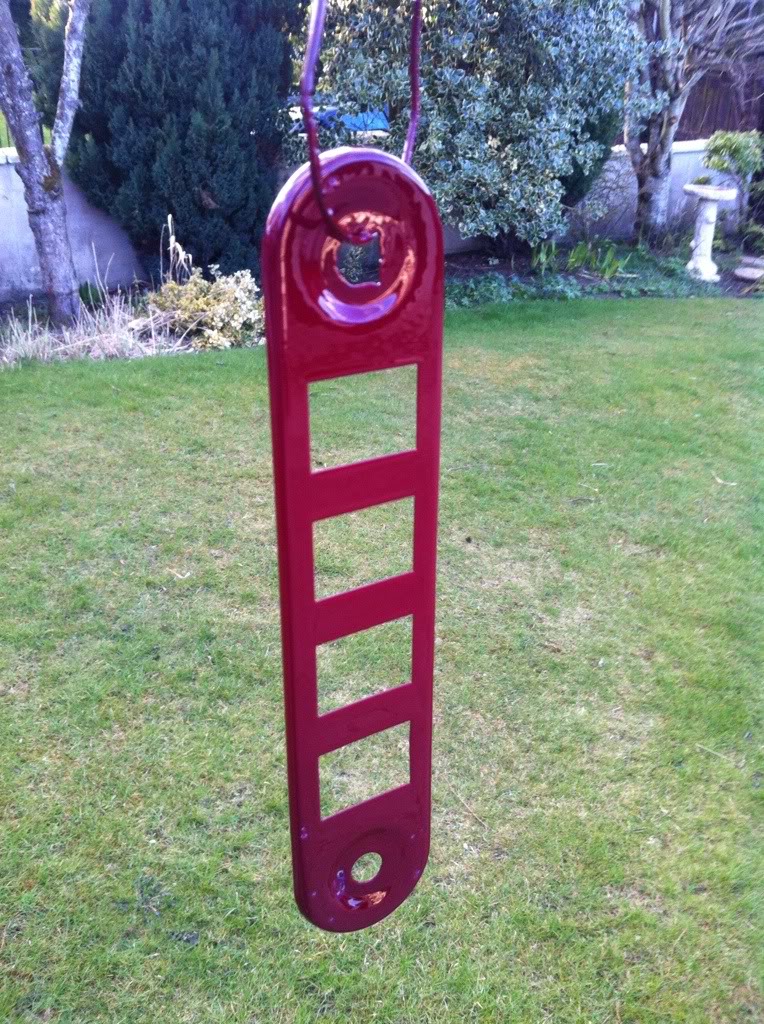 Working our way round the car gradually with the pillar trim. Think we need more clips.....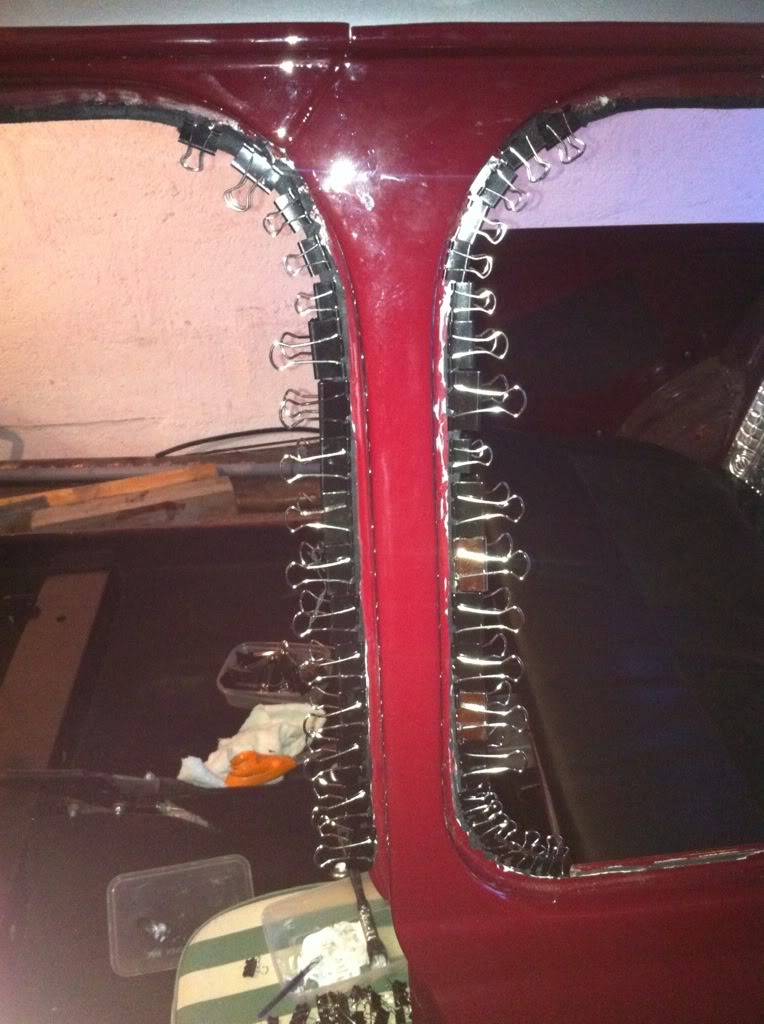 Should get the front and rears done tomorrow or over the weekend hopefully then windows once they are dry and starting. Need to set the tappets first though.
4-25-2013
Also, heres my motivation for getting it done asap. Thistle Run on the 26th of May.......a month away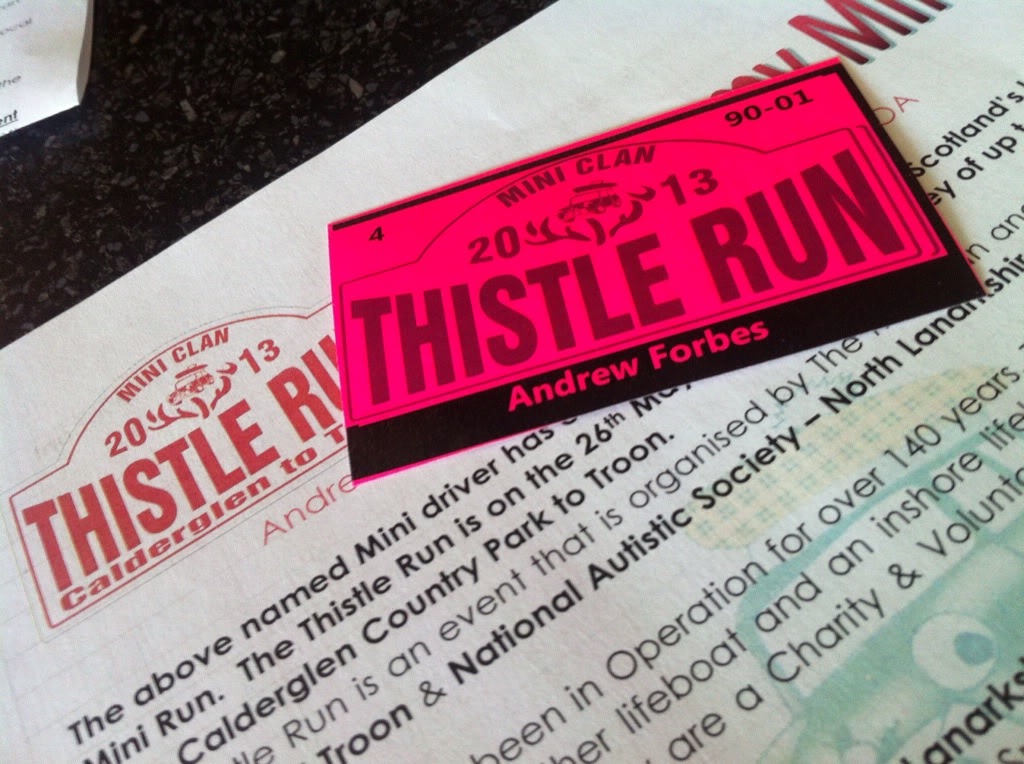 4-28-2013
Update time........couple days late due to forum being down. Few wee odds and sods completed. Sprayed my harness bar black, in prep for wrapping in alcantara to blend in with the seats.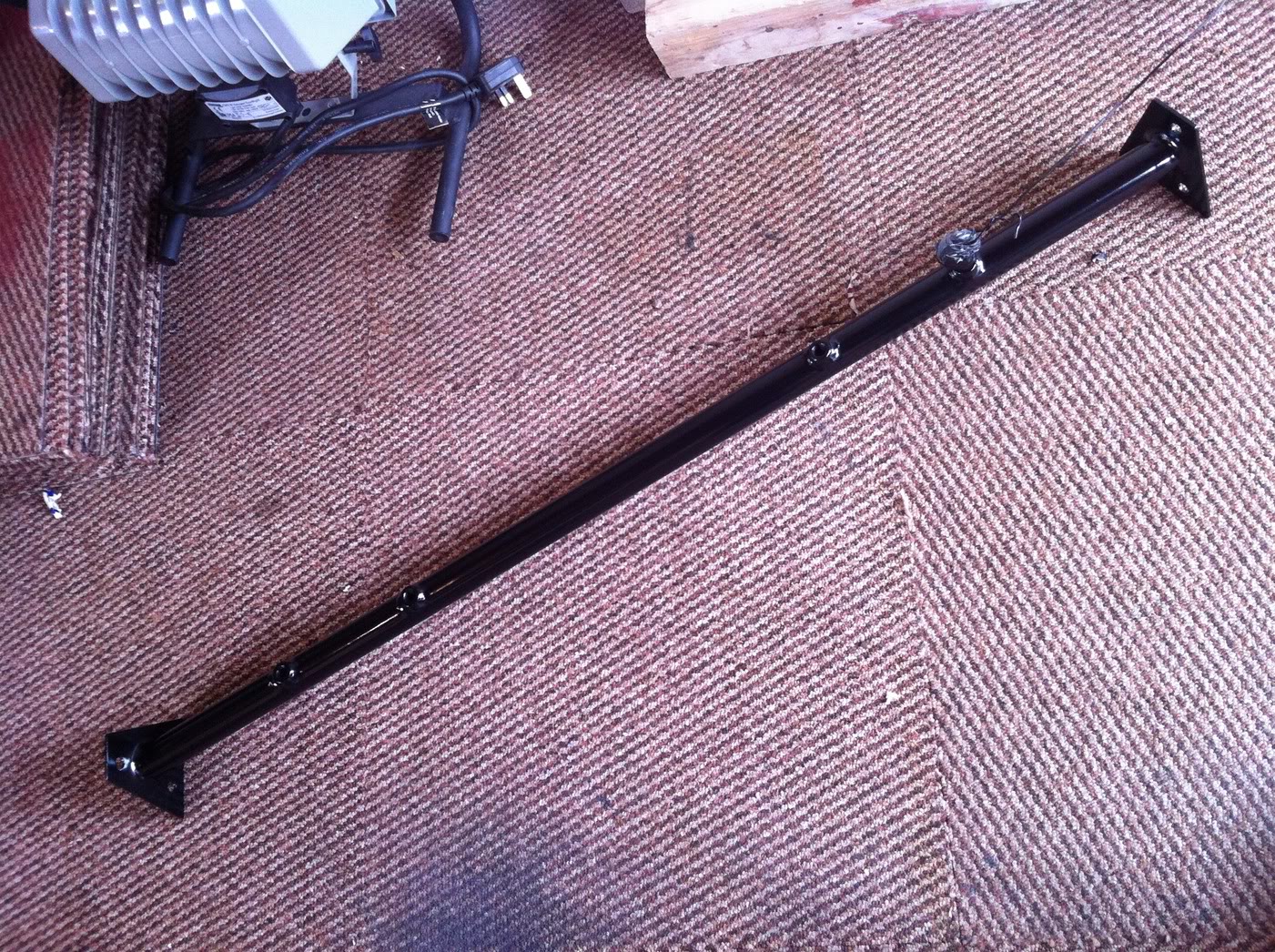 finished off the headlining pillars and other trim. Looks amazing!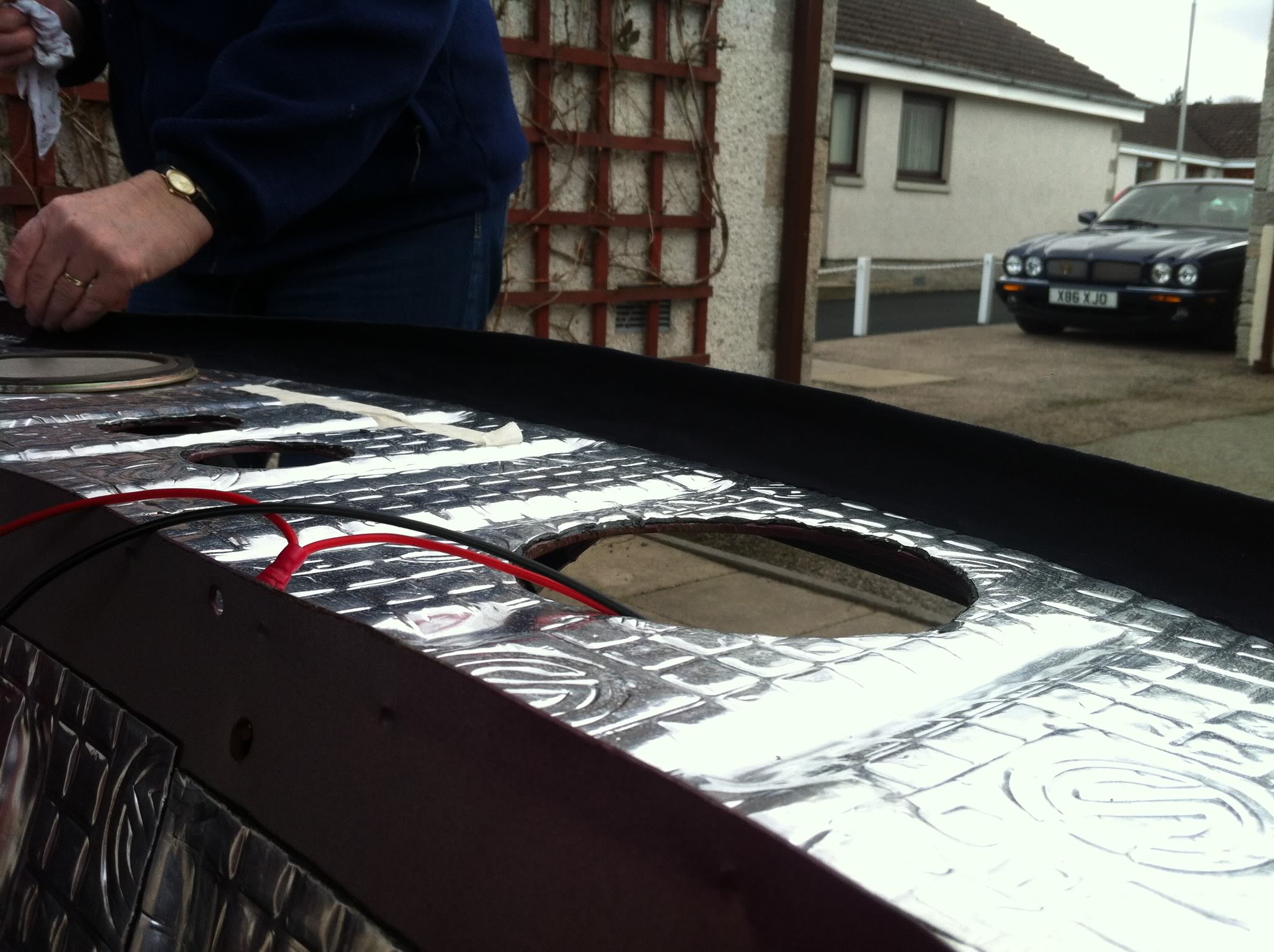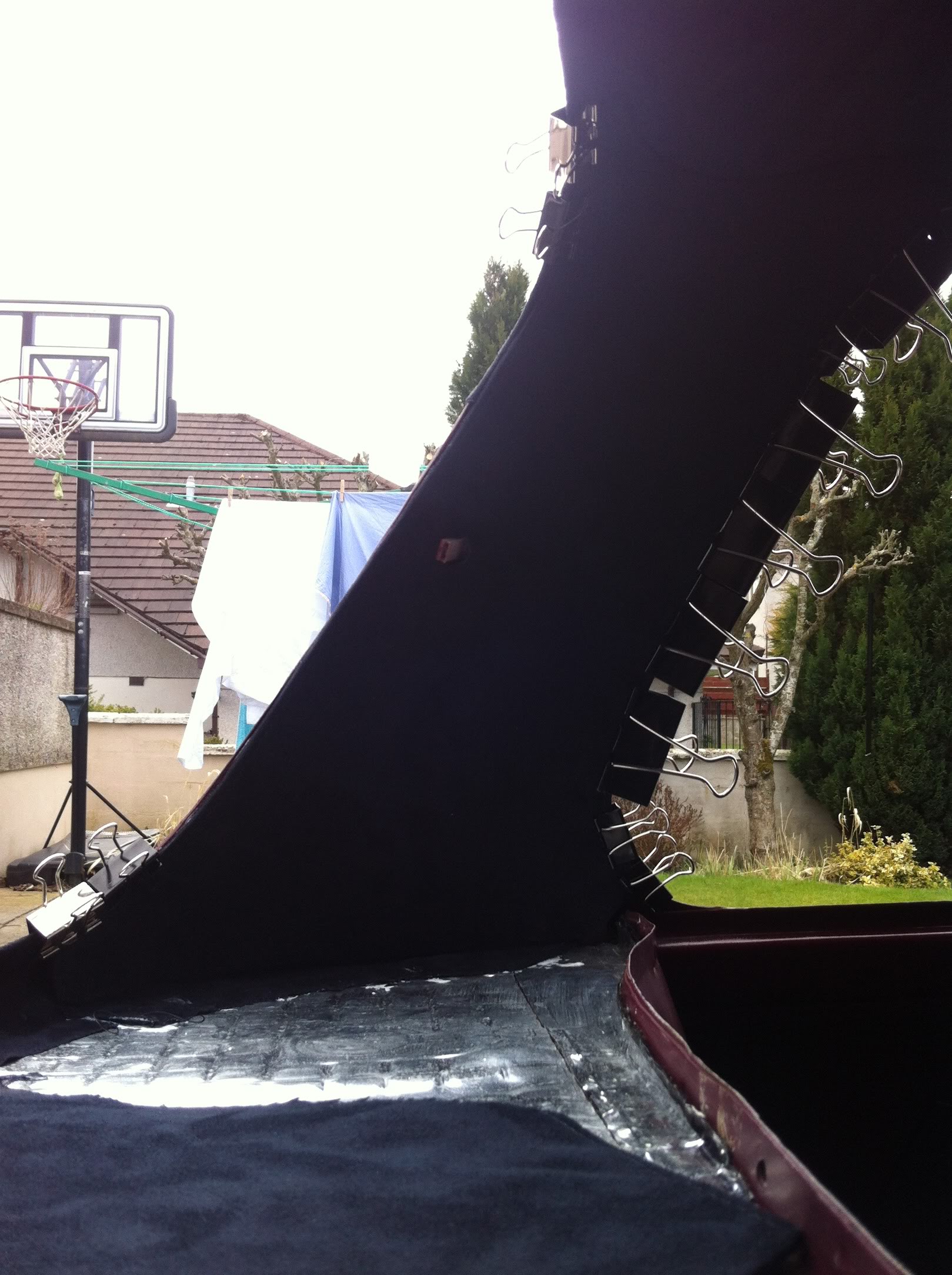 and got my passenger window mounted on the mechanism runners. They were VERY rusty but nothing a good scrub with a wire brush and a coating of Deox Gel couldnt sort.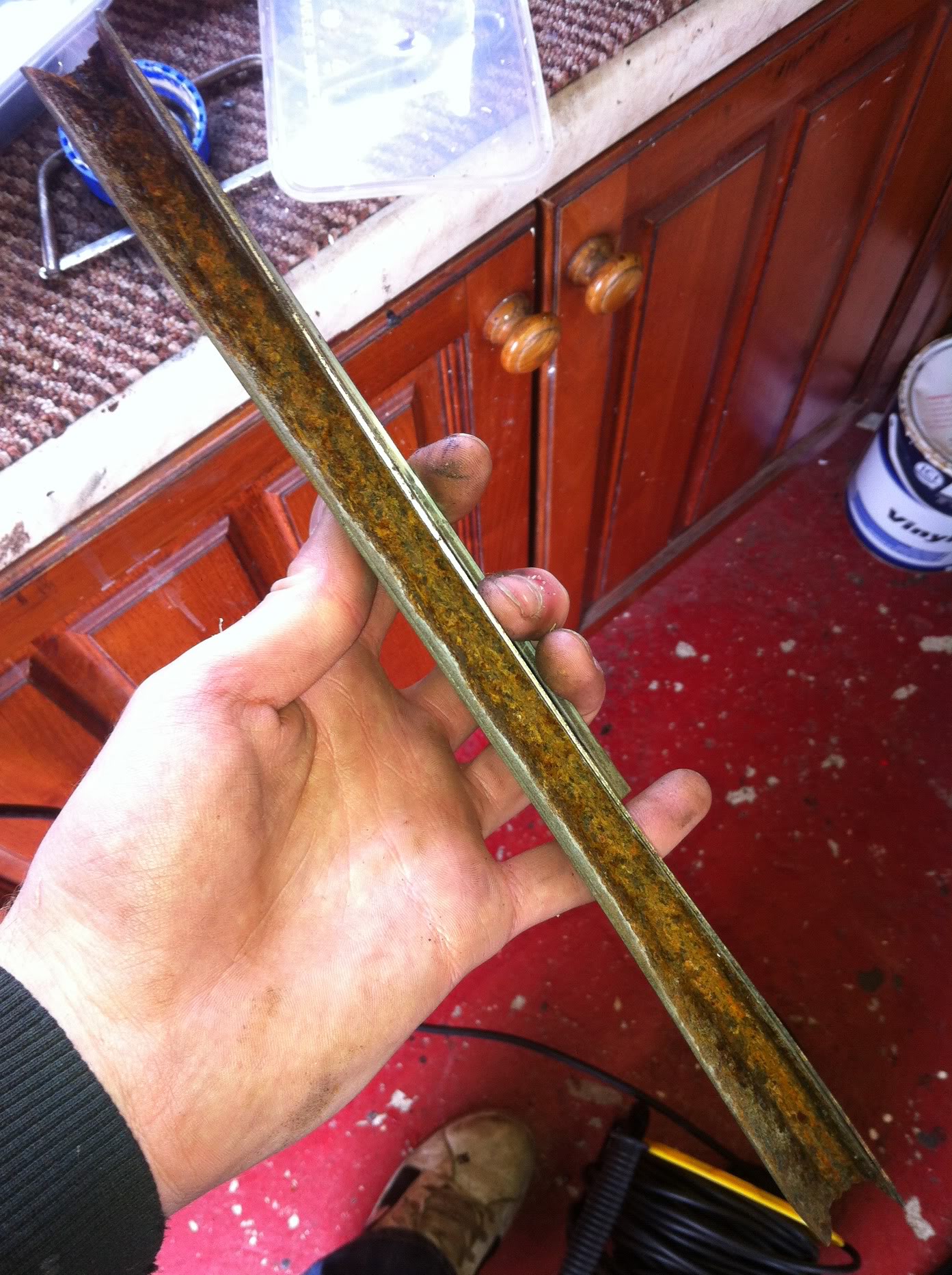 Update 2 from today
Well today has been probably one of the least productive ever. Went to start engine (it turns over well after charging the battery overnight) but no, it just kept on turning over, not even the hint of catching and firing into life. Balls! Turns out its a rather complicated fix that I need knowledge and multimeter skills for. Neither of which I have so im stuck for now on that front.

In better news the engine does have consistent compression readings across all 4 cylinders. 1-4, 130, 125, 130, 130. Happy with that considering I bought it fo £130 untested!

Went to fit the side windows. Didnt go well. The seal was too long, so i cut it at the bonded bit and rebonded to get the right fitment (very tight to allow for slight contraction over time) however upon trying to fit it, the seal got damaged, so need a new one. Balls!

As you can see, far too big....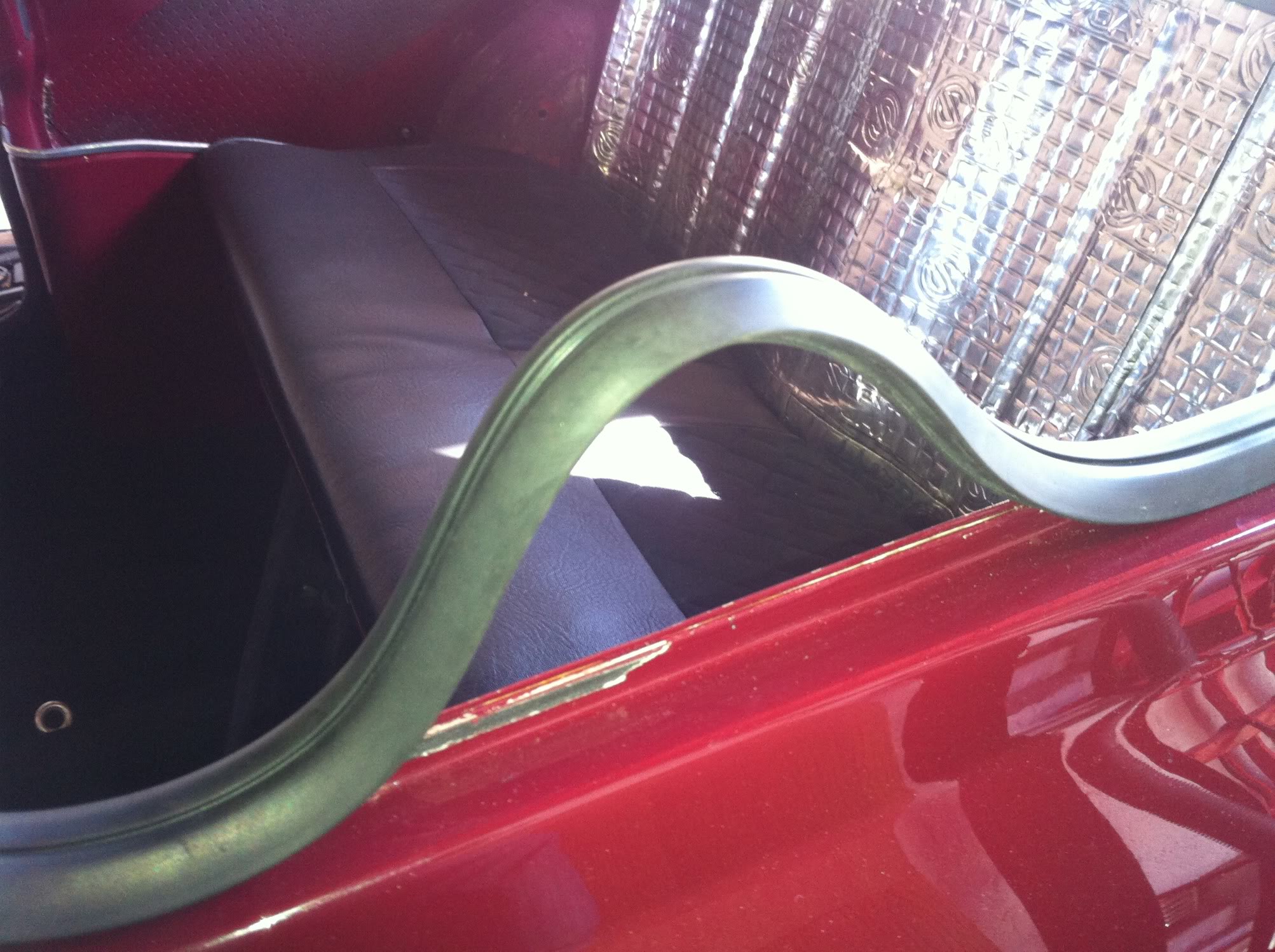 So we thought, ho hum, get the windscreen in. Was sunny when we started, but the clouds soon took over and cold wind picked up making the seal solid. Balls!

So its currently sitting with the seal on awaiting a warmer evening or weekend.......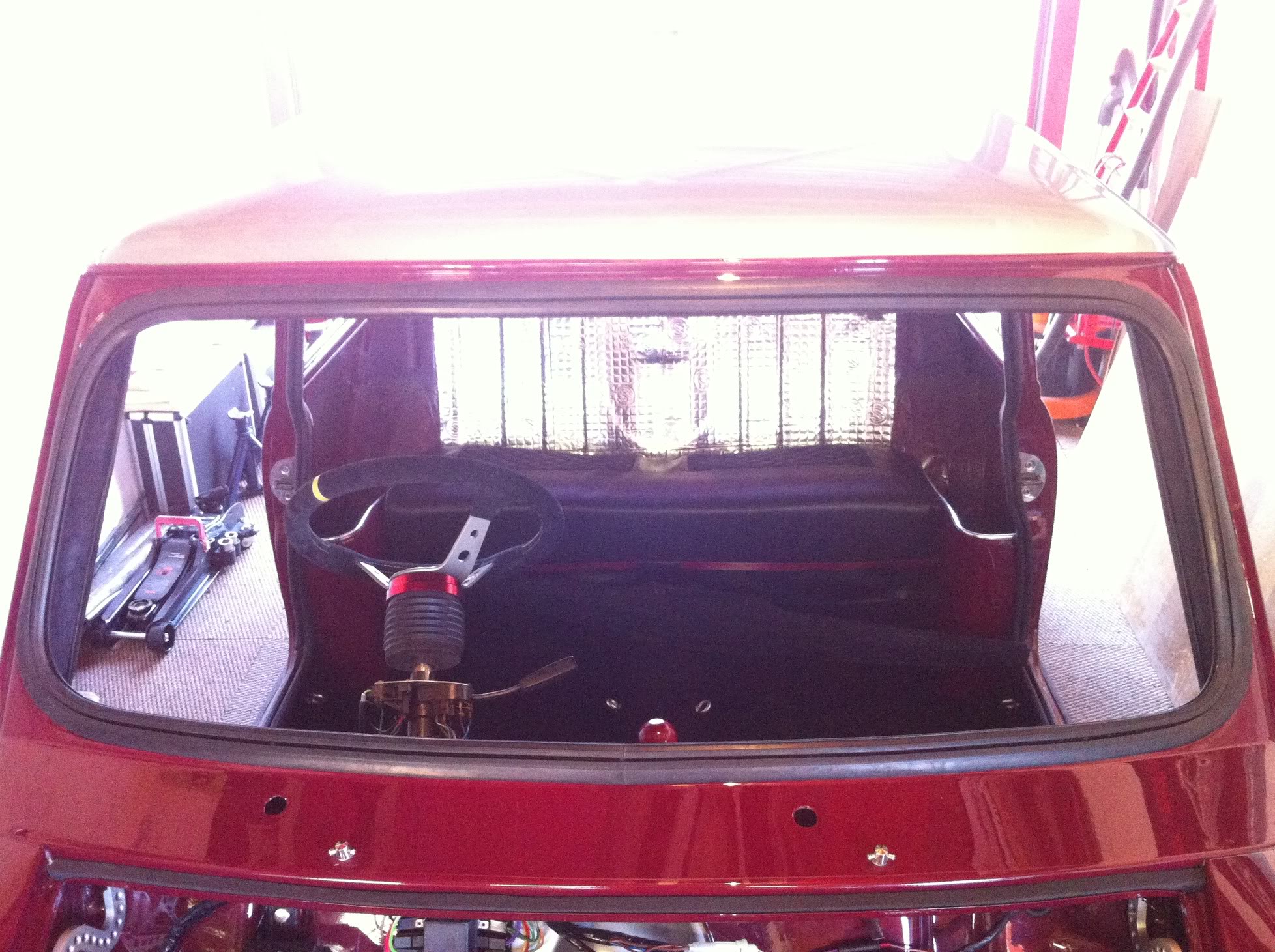 Got the plinth fitted into its chrome trim. Thankfully, it was a job that couldn't go wrong......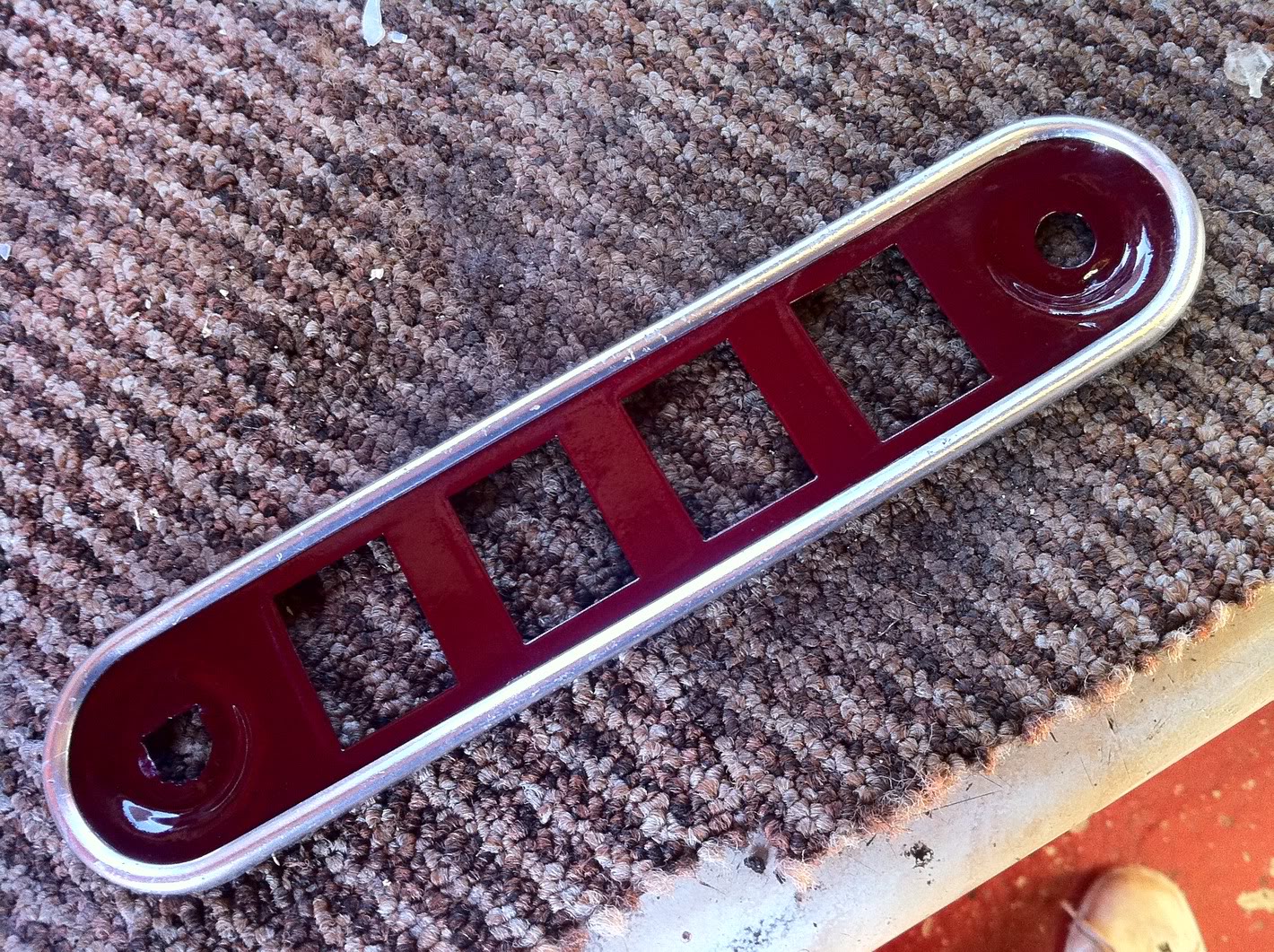 and i got one of the mirror plinths on too. Other one is missing the metal plate that sits below this, so will add it to the window seal order.......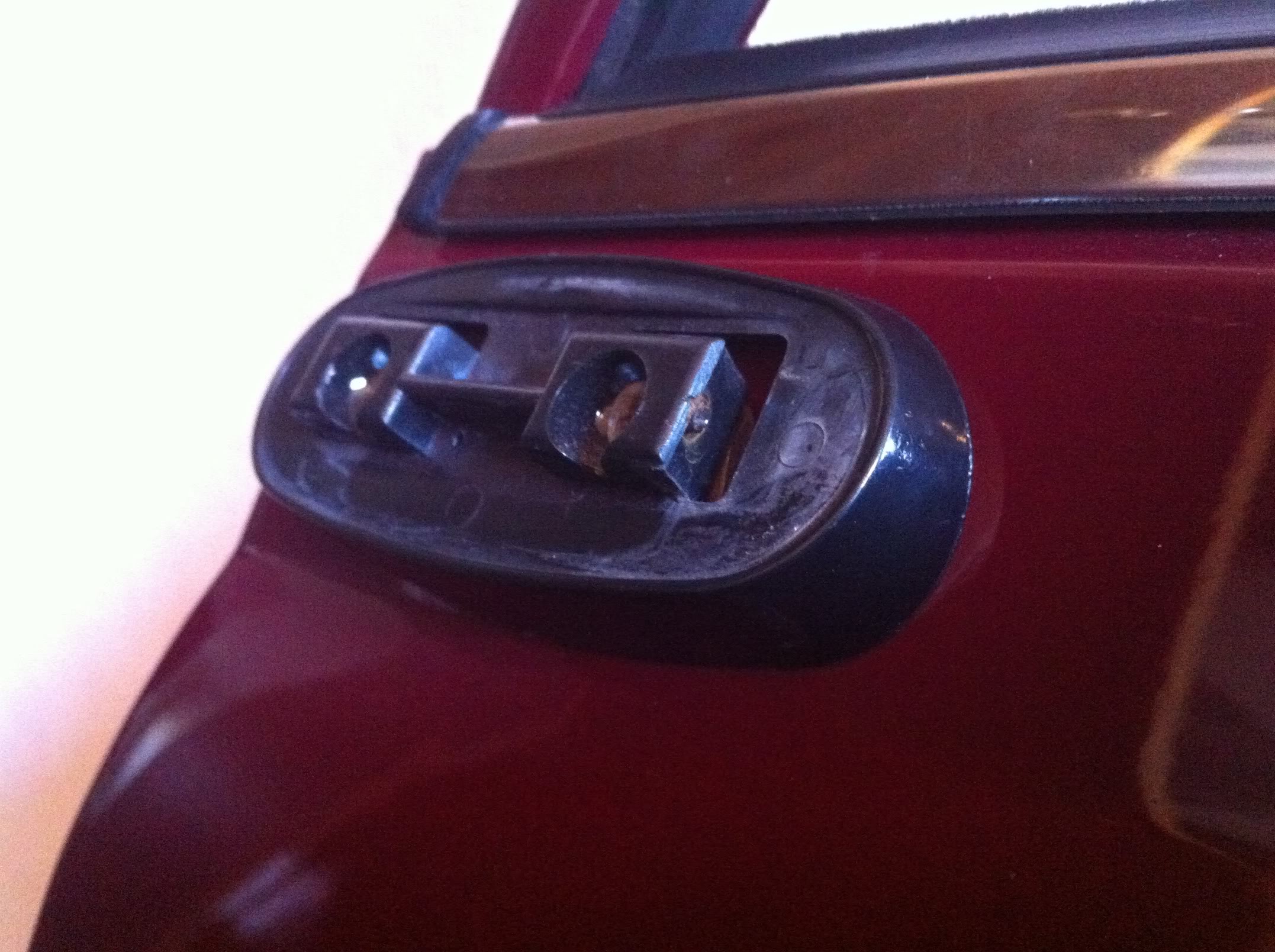 So yeh, 7hrs to fit a window seal but no window and a mirror plinth. Given up now as i know I will damage stuff if I continue to work on it. Making a list of small things that need done so i can tick them off as I go so I feel like Im making some form of progress.

So to summarise.....BALLS!!!!!
5-4-2013
Aaaaand heres that small update! Got a lots done today thankfully! Fine day, new seals, so got on with fitting the side windows. Not the easiest but once we got the technique (thick nylon cord in the channel being pulled inside) they were in. Genuine seals so perfect fit all round. Lovely! Almost looks like a complete Mini here! (If only.......)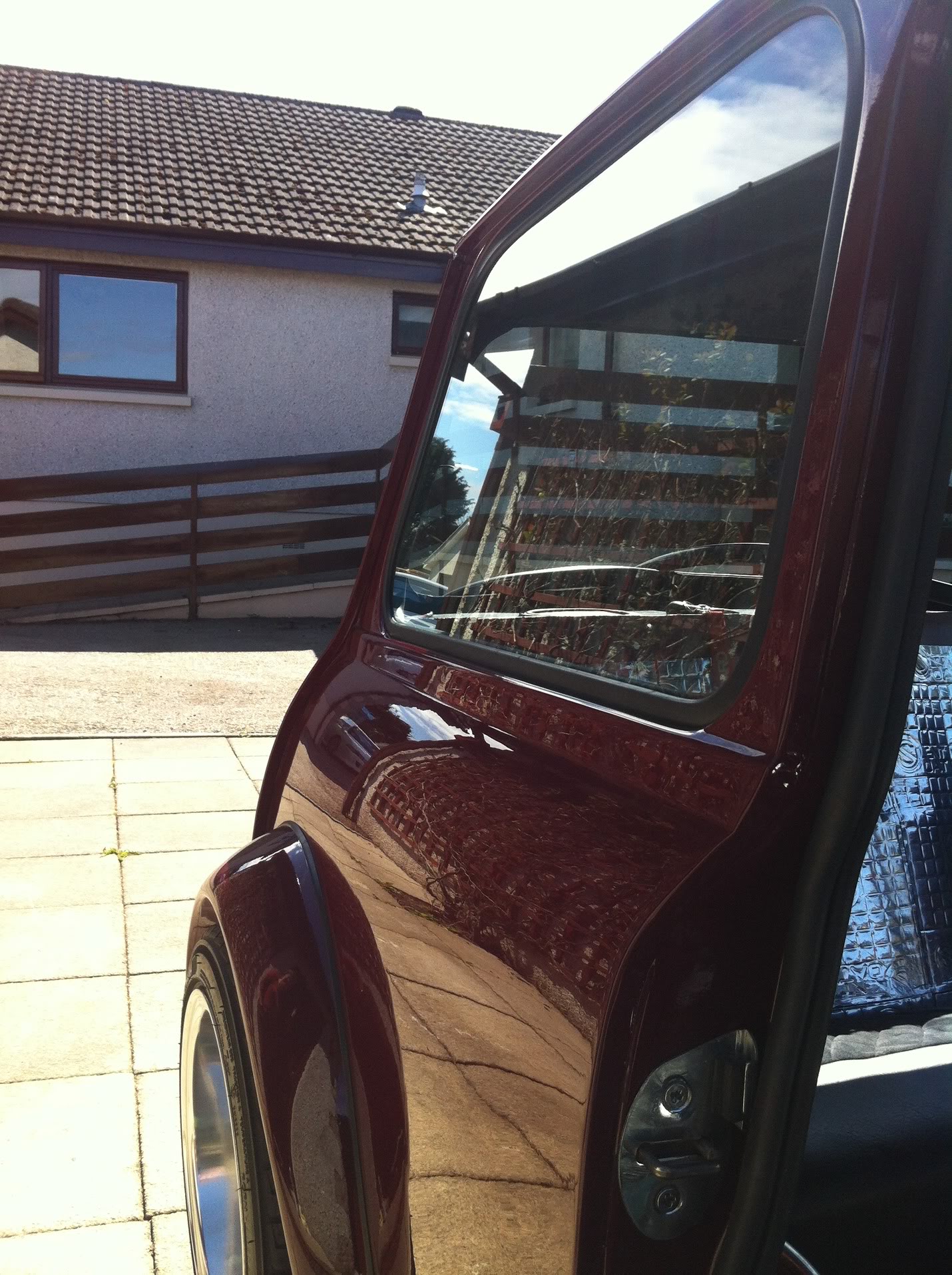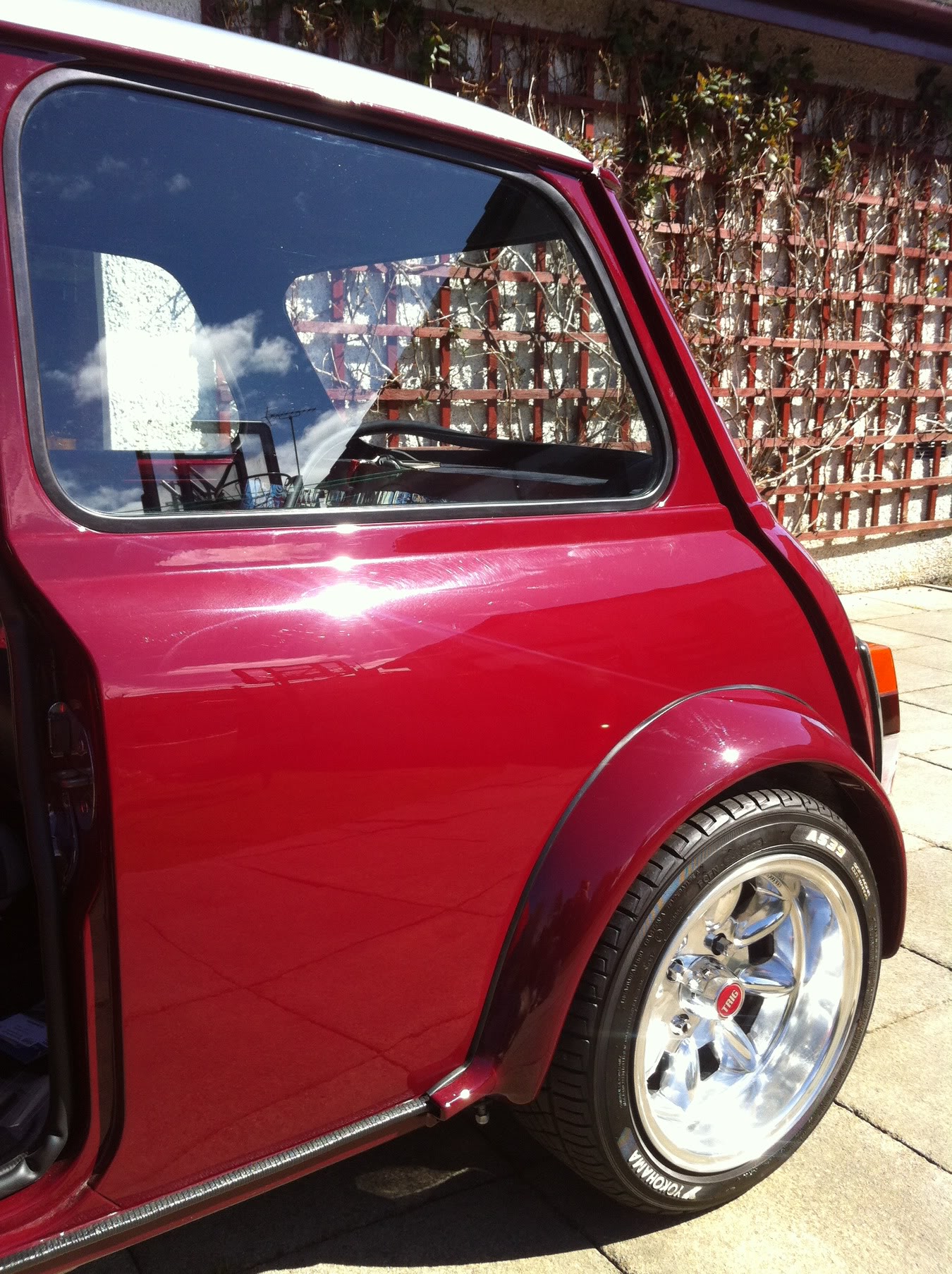 Wheels look amazing in the sun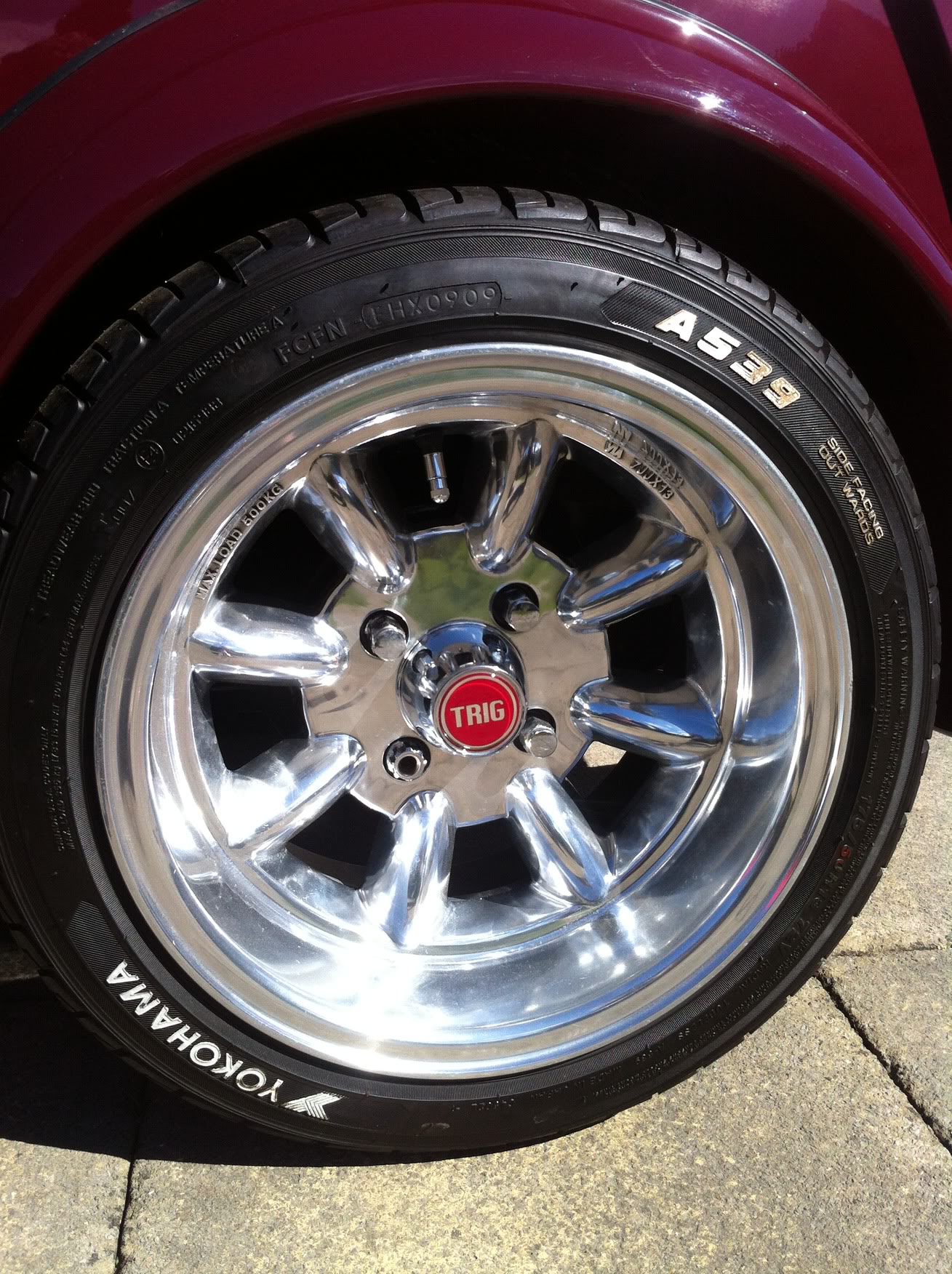 Also got mirror plinths delivered. Made up a couple of seals from thin foam to prevent water getting into the doors through the rivnuts. They are a good seal anyway but better safe than sorry!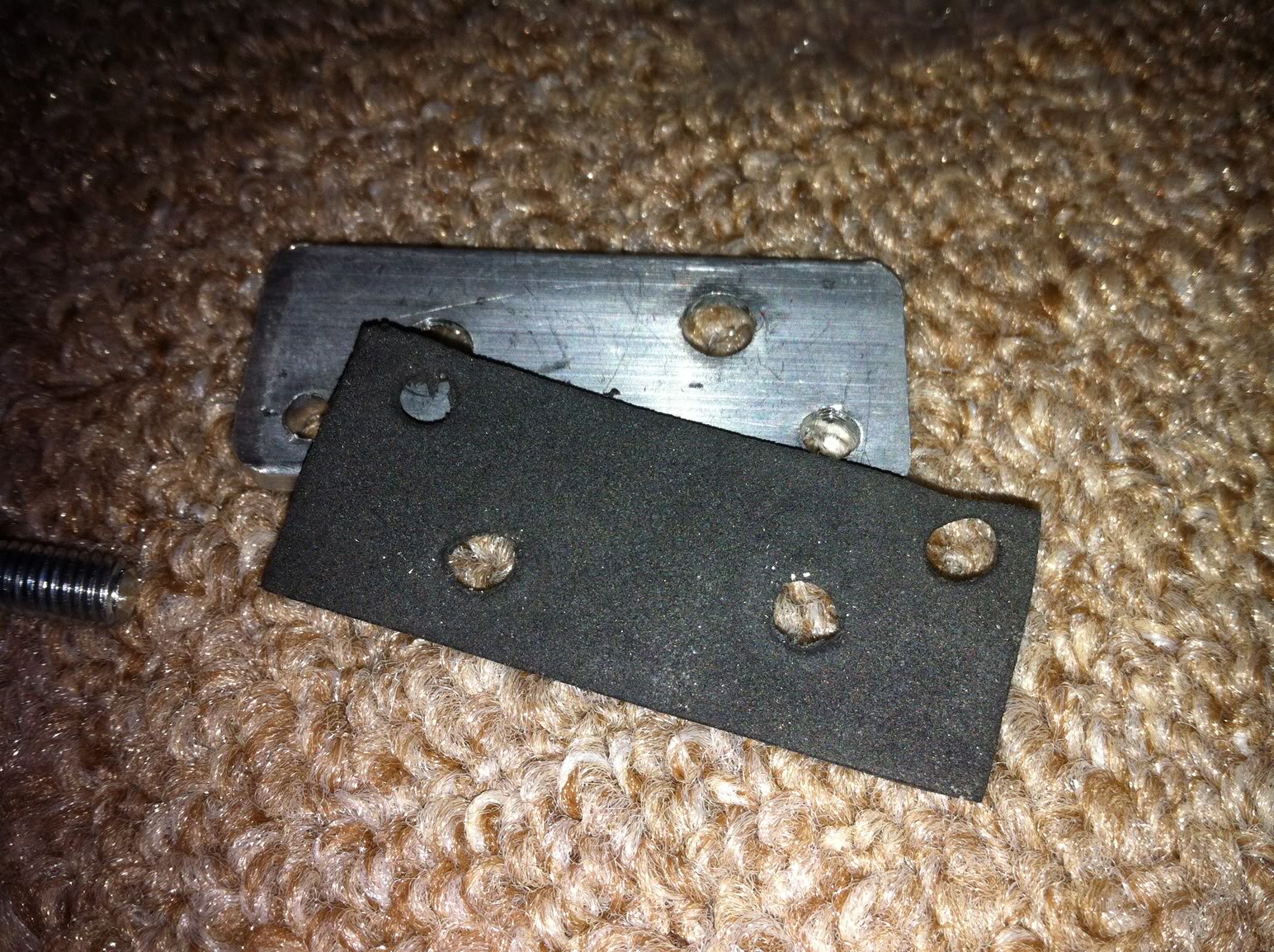 And that was today! Good progress and more tomorrow :) Oh......forgot about this bit.......after wiring changes last night went to fure up the car. It runs. Almost 3 years to the day since it fired its last breath. Beyond happy. Its running rough but a bit of tuning and it will be sewing machine smooth. Sounds ACE! Its a full stainless engine to exit system. Specialist components LCB, centre link pipe and PlayMini Supersport back box. Its totally inneficient for power but dont care, it looks ace and sounds even better

And heres the obligatory 'vid or it didnt happen' video

A HUGE thanks to Dan from The Mini Forum for guiding me through, step by step, all the coil/distributer wiring. It was a MASSIVE help and has helped the car progress massively!
5-5-2013
Another day another big bit of progress. Amazing what some fine weather can let you do! It actually hit mad levels today!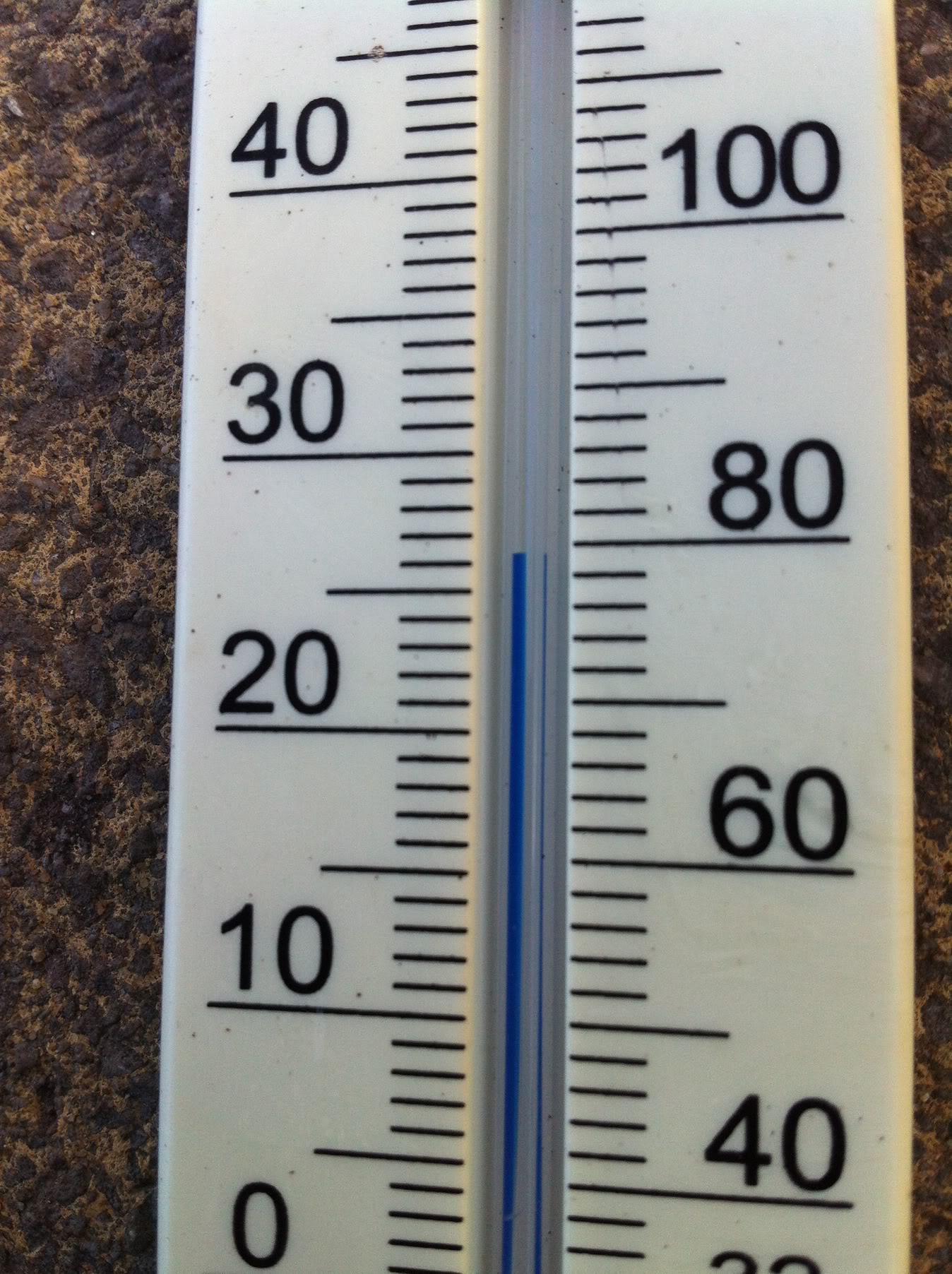 Went back to the rear number plate light wiring. Had to drill a hole in the boot floor and then another in the rear valence to achieve it which was a sore one considering its perfect paint! But with holes drilled and fresh edges dressed and hammerite'd to prevent rust they were through. Tested and they work. Done! (dont worry I cleaned up the wire)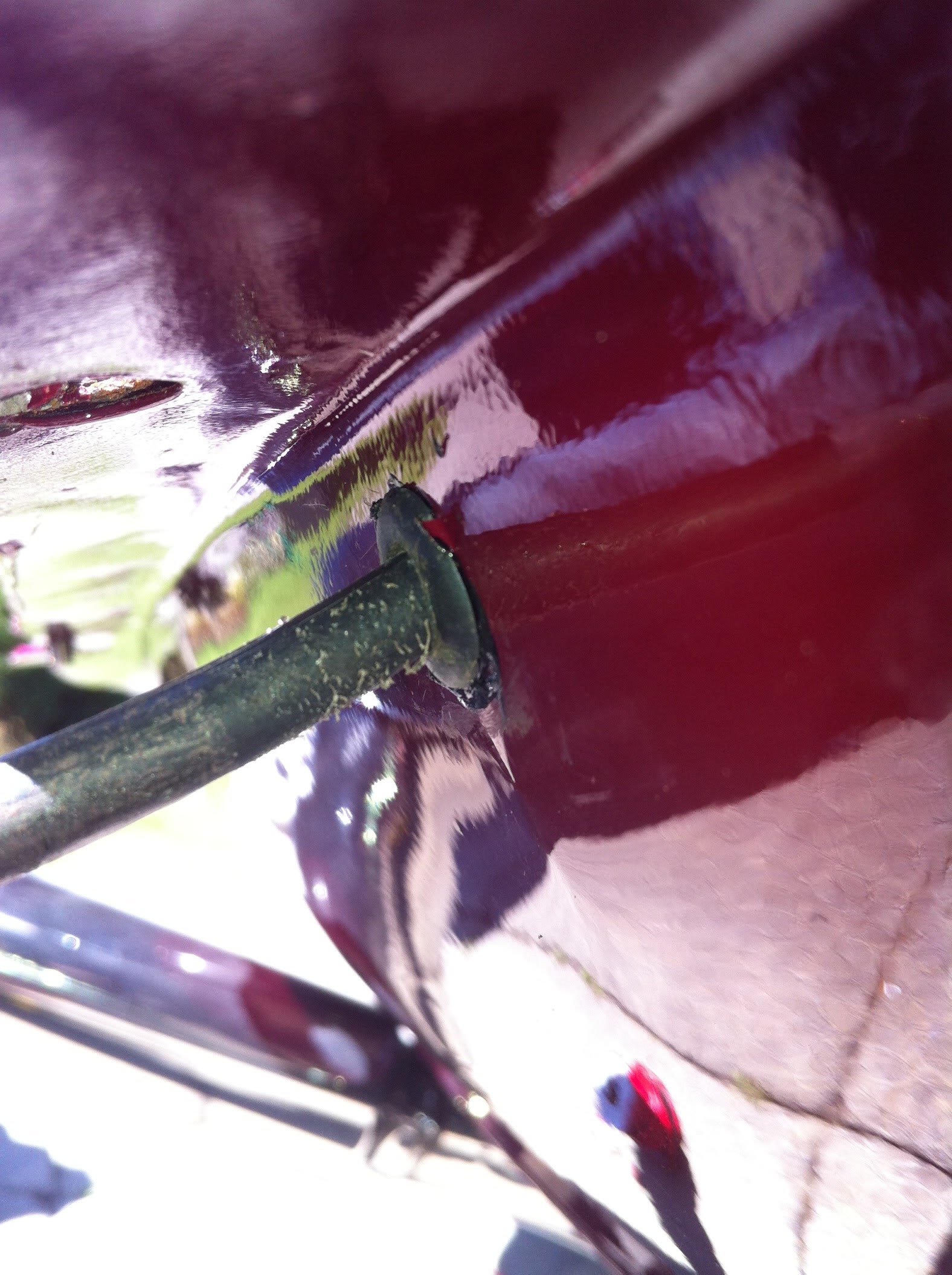 Made the connections to the lights simple spades so if the plate needs to come off at any time its a quick job.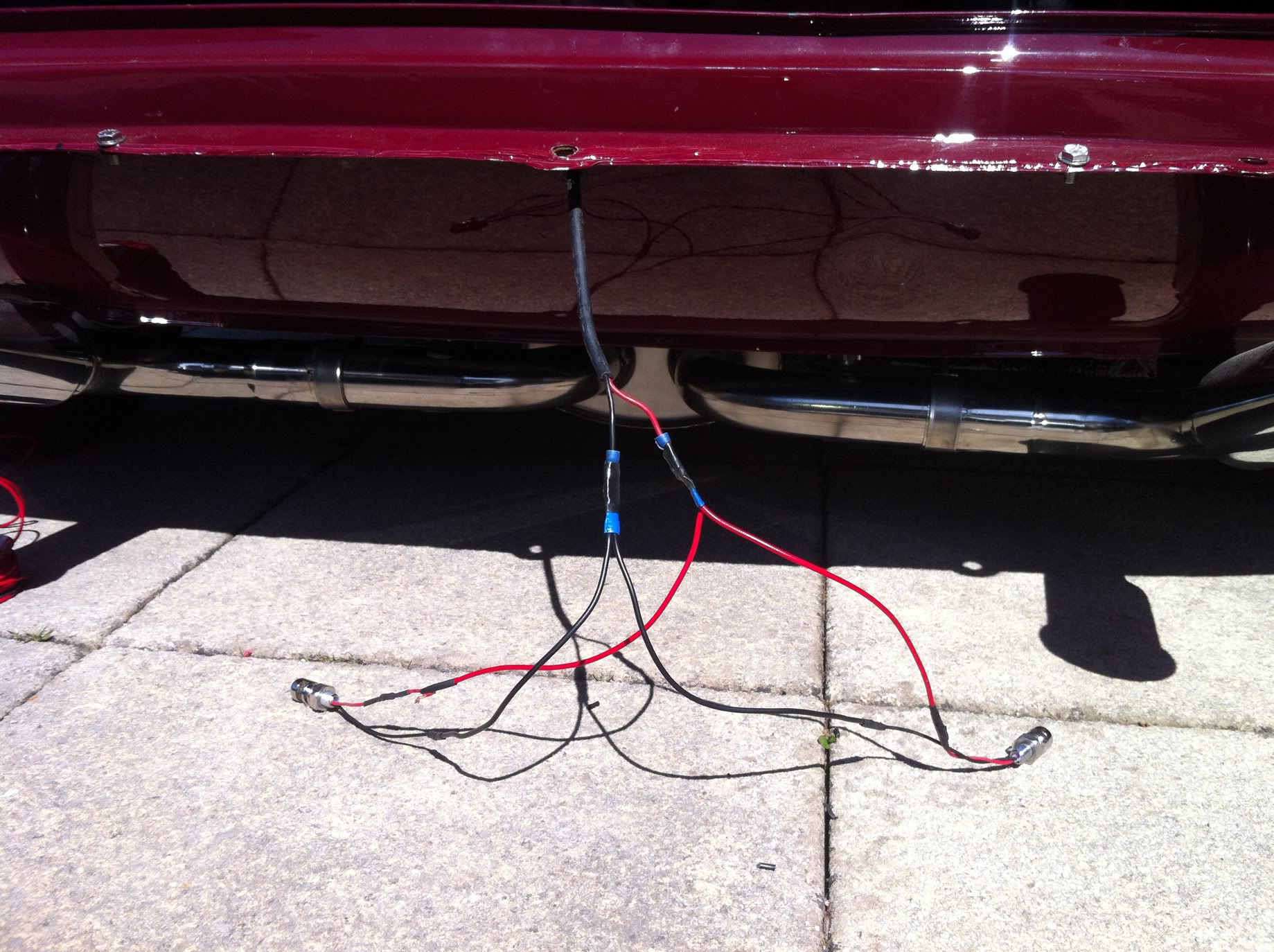 Put the bootlid on to check fitment. Not the best and I know its going to be a big job so left it for another day as I wanted to get lots done out of the way today instead. It does still look very good but excuse the blue tape. Didnt want to risk damaging the edges.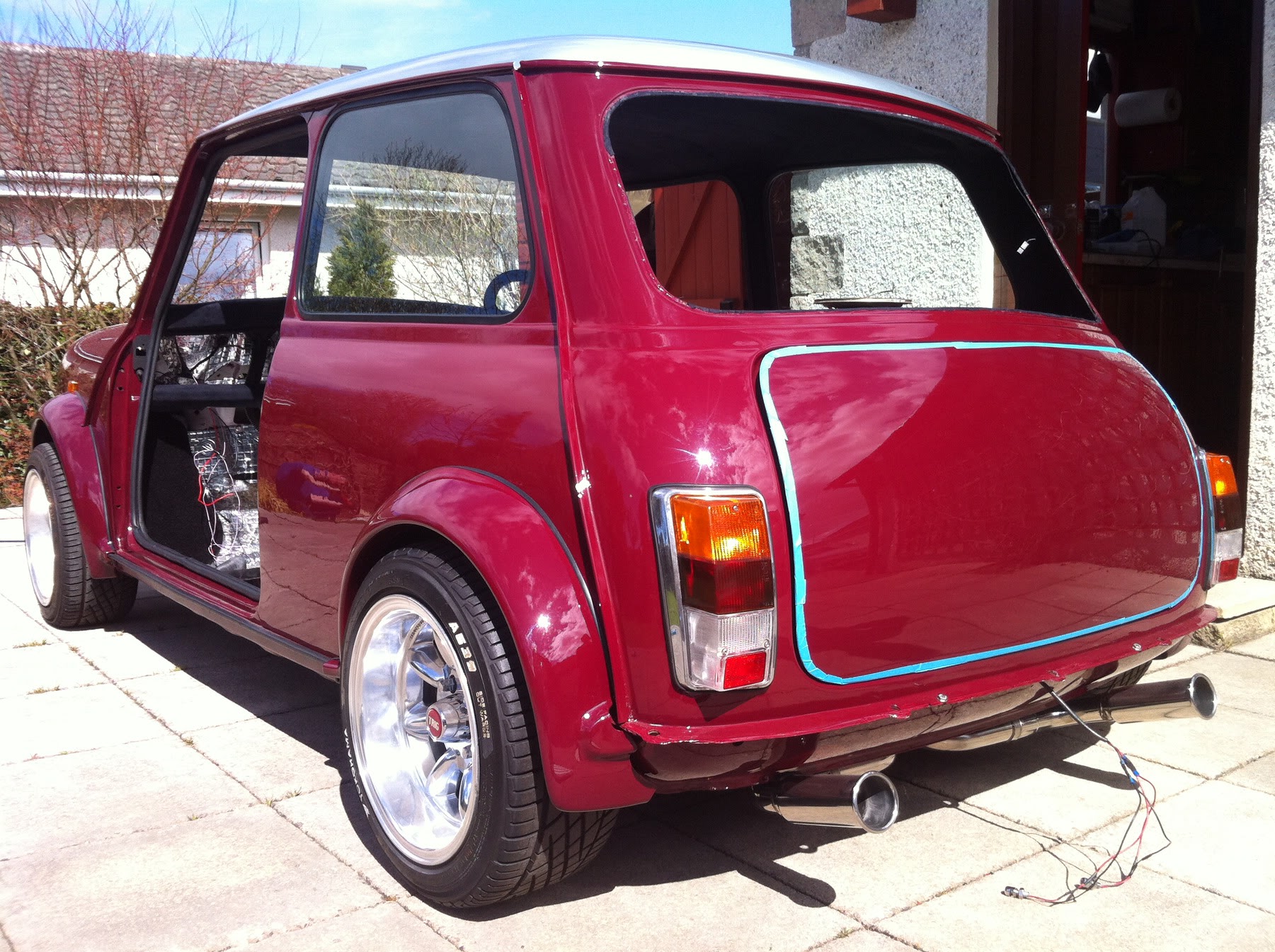 Got my bonnet trim put on after glueing the plastic paint protector on the leading edge. Same went onto the grille end moustaches too. Still amazed at the finish on the paint (you're still not getting to see whats underneath ;) )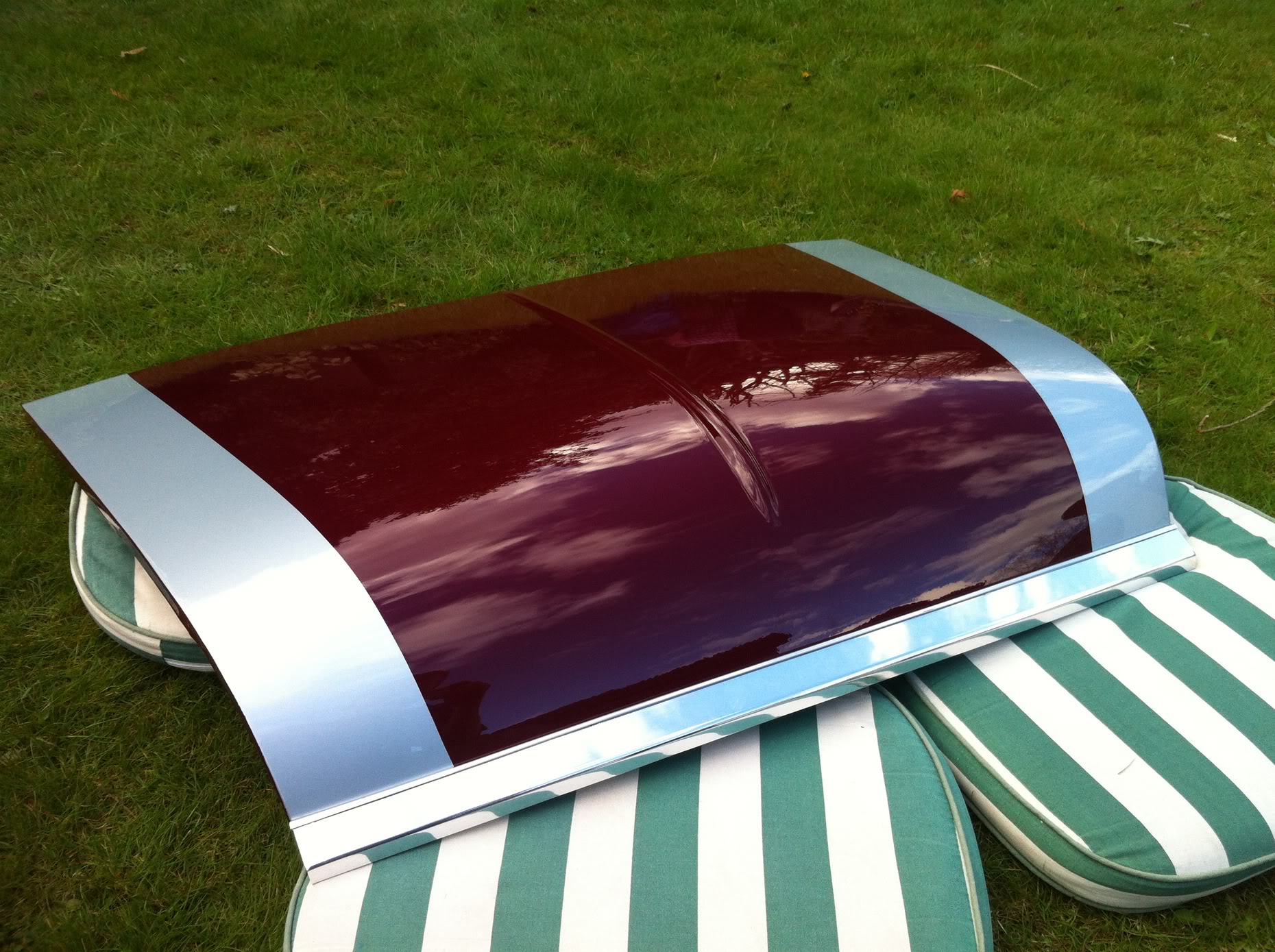 Fixed the wipers with a new switch. Old vs new shot is of course required here....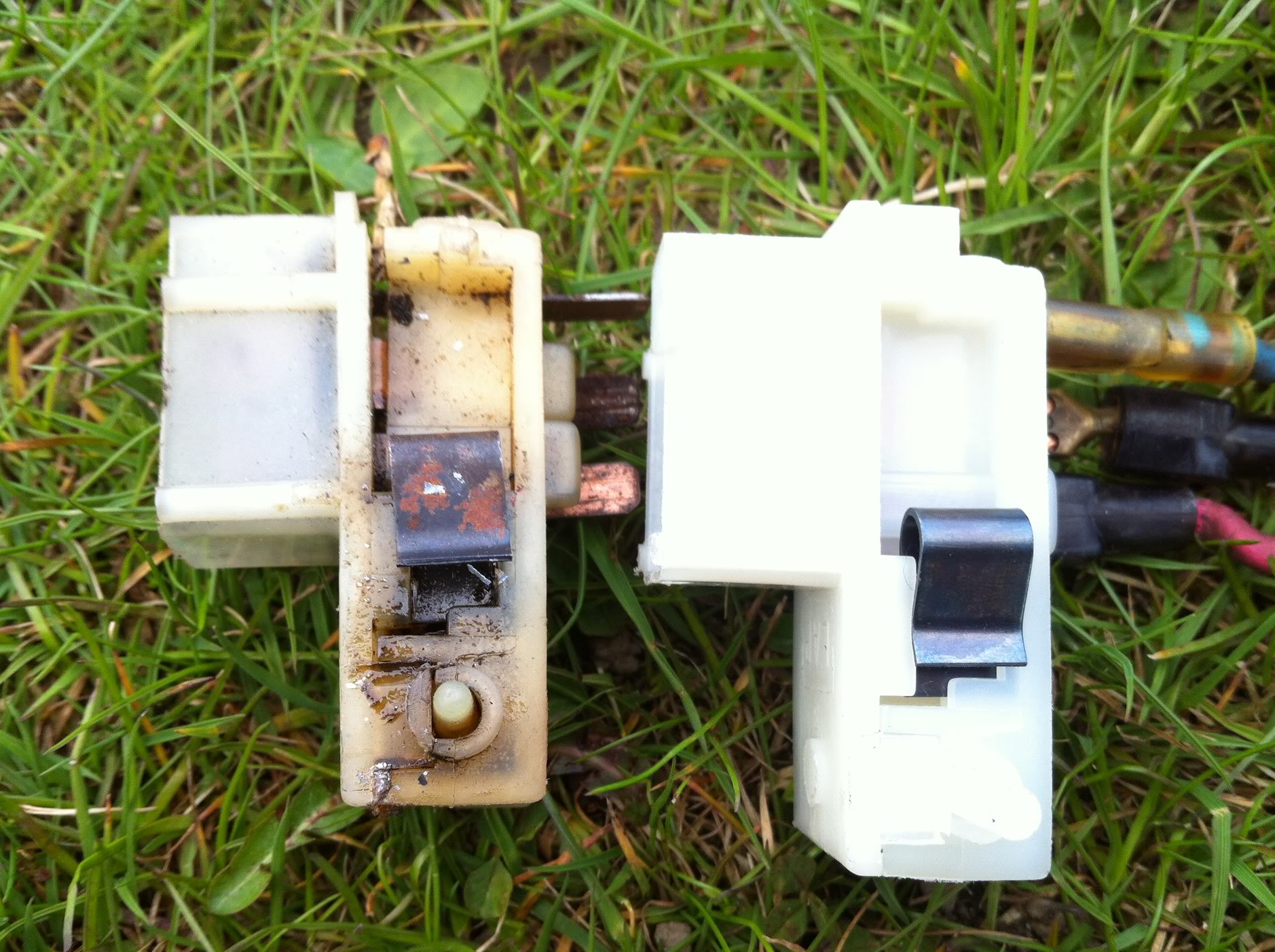 Whilst I was working away on these things my dad was polishing up the bare alloy door furniture. Like chrome now!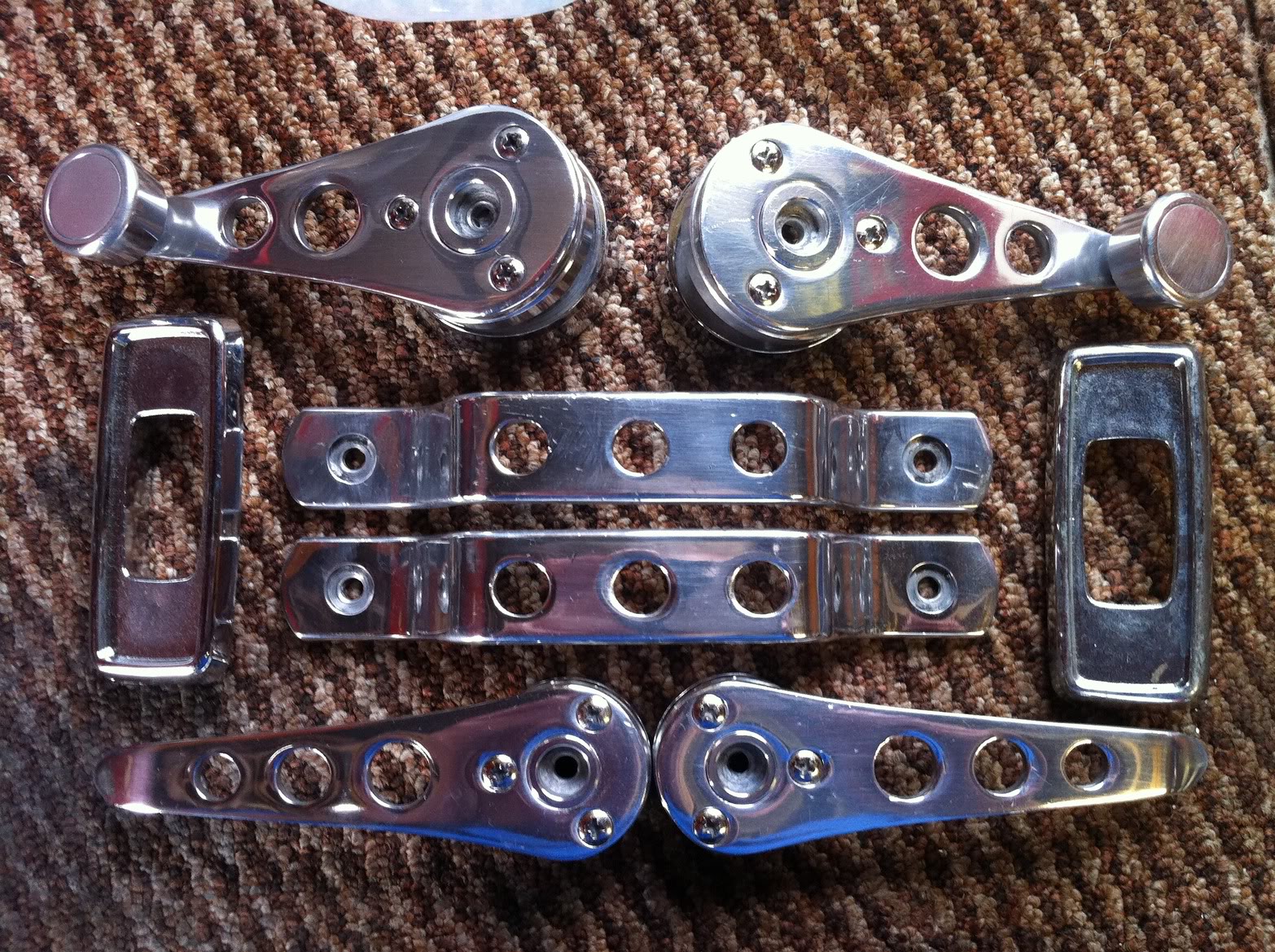 Also popped the grille back on for now. You can see Ive got the washer bottle in place now along with the internal release bonnet catch with a stainless steel slam plate.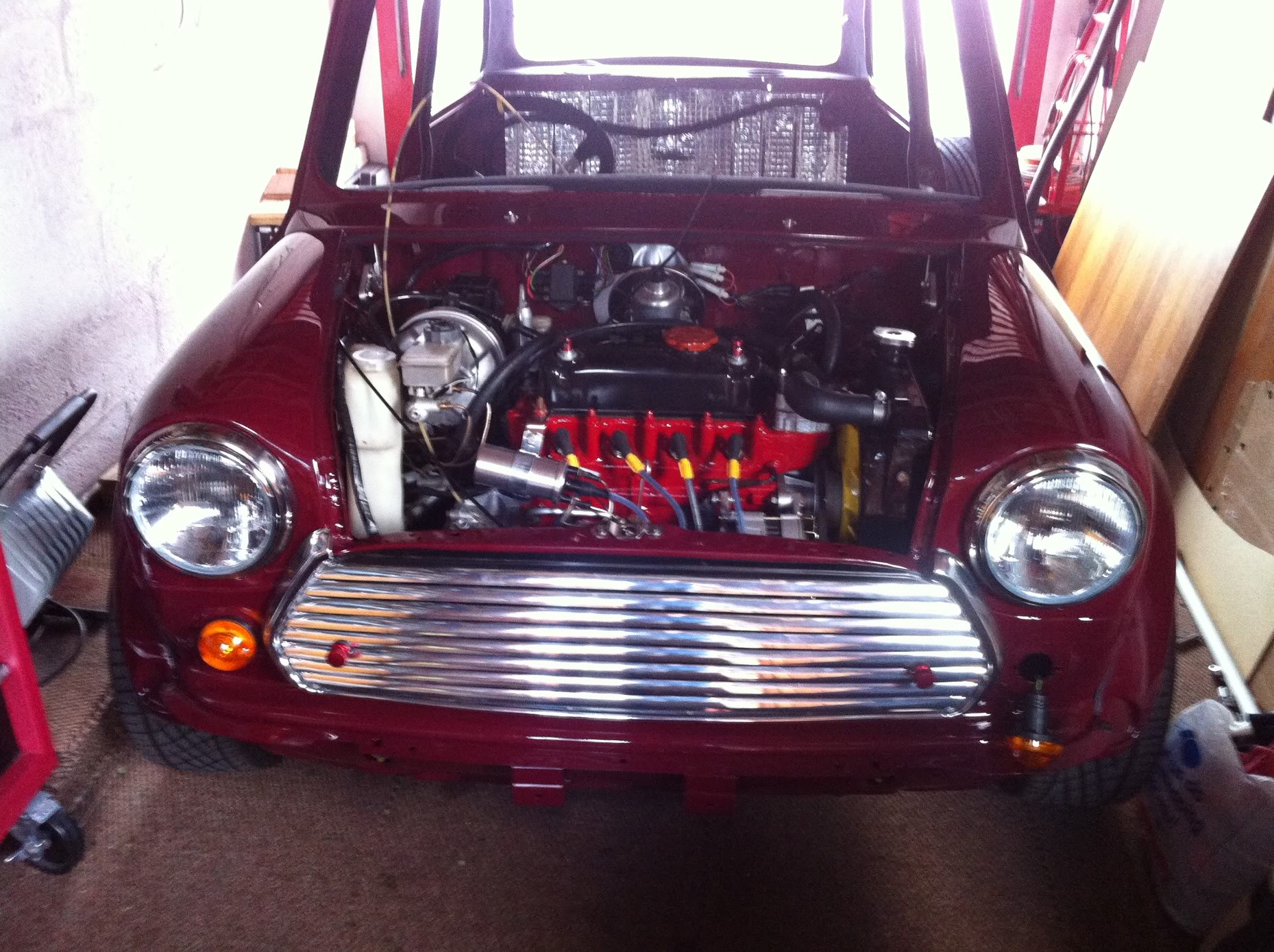 I dont have pics of it but the lower dash rail is now in and switches are all in place. I relocated the foglight switch into here to save having another plinth on the right hand side of the column. I dont need the brake test switch as its pointless (tells you if your brakes have failed but is common to fail itself.....) Got a couple of videos to come of the car moving about under its own steam. Needs fettled with but its sounded much better than yesterday even with a little tweak of the fuel/air mix screw. Copious amounts of exhaust noise was created in the process of this testing. Which was nice.....

As promised....
5-7-2013
Some more progress tonight again.

Got the engine running much smoother. Need to seal up a few gaps in the exhaust as its making it sound a lot worse than it actually is. Still running a tad rich but going to get the MOT station to perfect it after the MOT is done.

Got my wiper motor and linkage fitted. Works perfectly with the new switch! Spot my helper......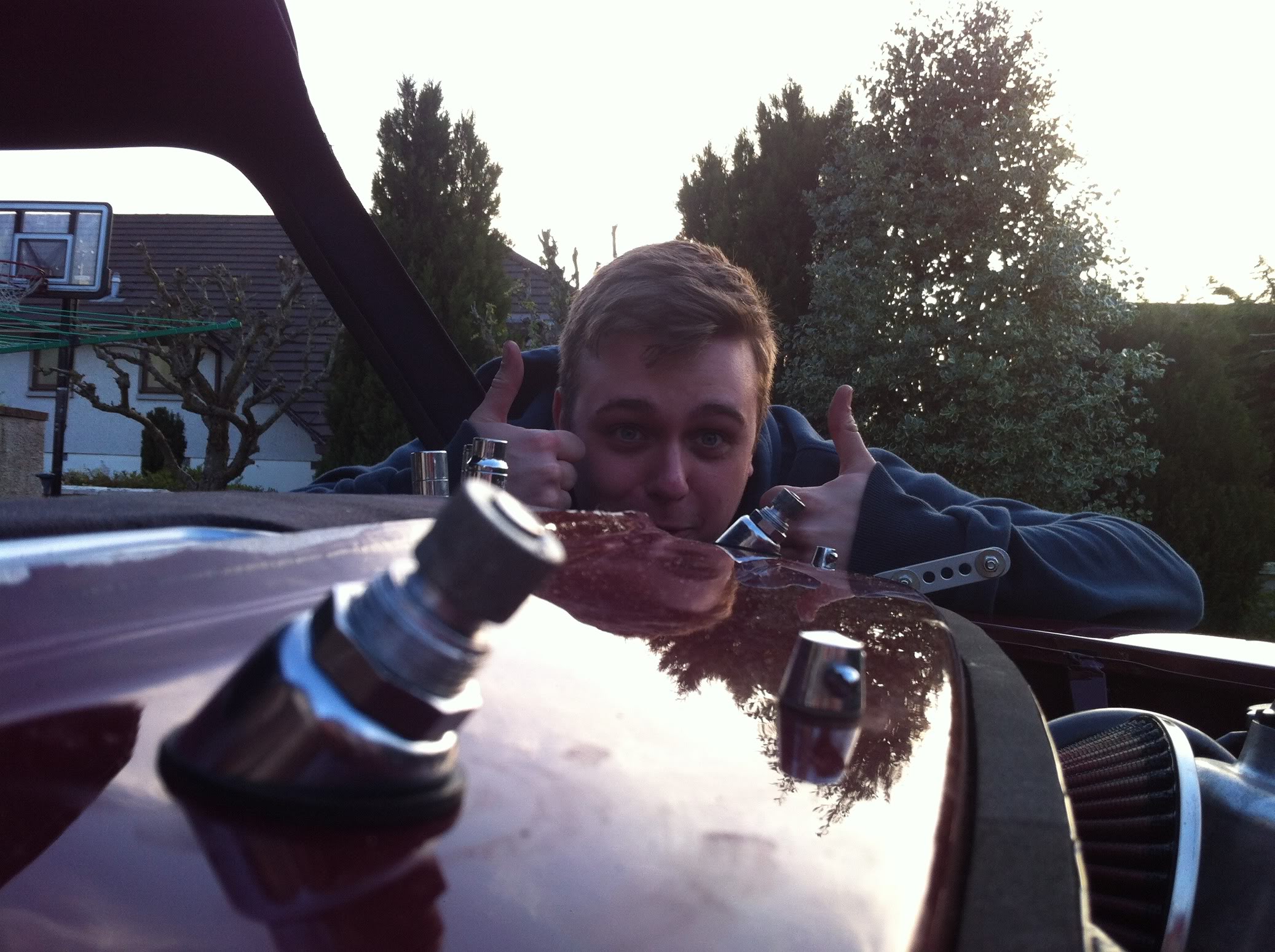 Also got my air intake for the heater in but no photos of that. Unsure how it attaches to the inner wing though as its pretty loose. Something for another evening when theres still light.

Replaced my washer pipes. Old vs new......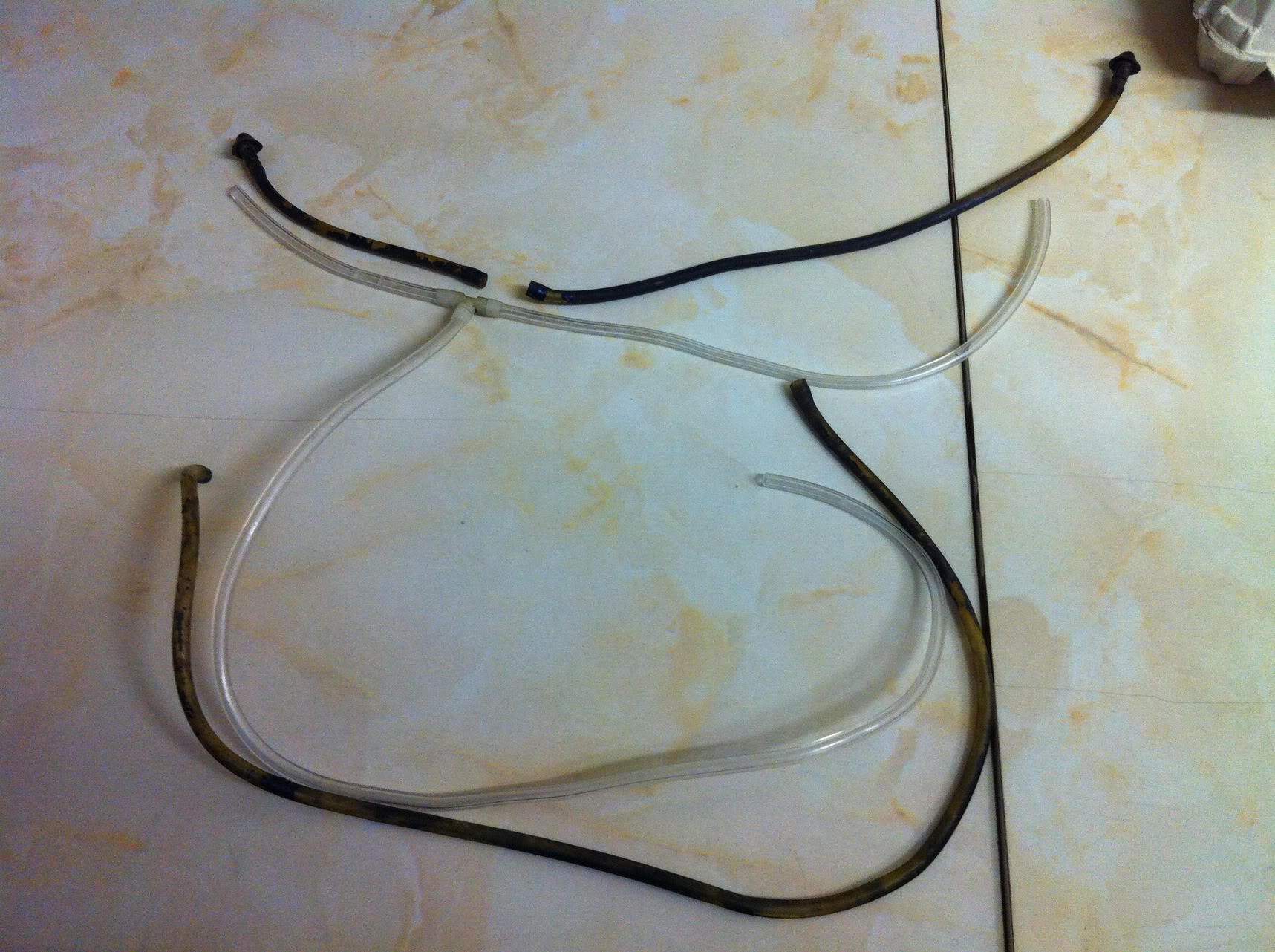 Going to have to play around with the gear selector as its not selecting 1st or 2nd. Only 3rd and reverse have been used, not sure how 4th is.

No other photos as mainly we were just doing small things but will get more tomorrow!

Cheers to Greig for the help!
5-8-2013
My JDM DC2 you mean? Its the daily toy

Before I go out to do more work I had to share this. New arrival today and it is quite possibly my favourite bought part of the whole car. Full real carbon fibre dashboard in original dashboard style. Stunning!

Light is weird in this pic so it looks fake....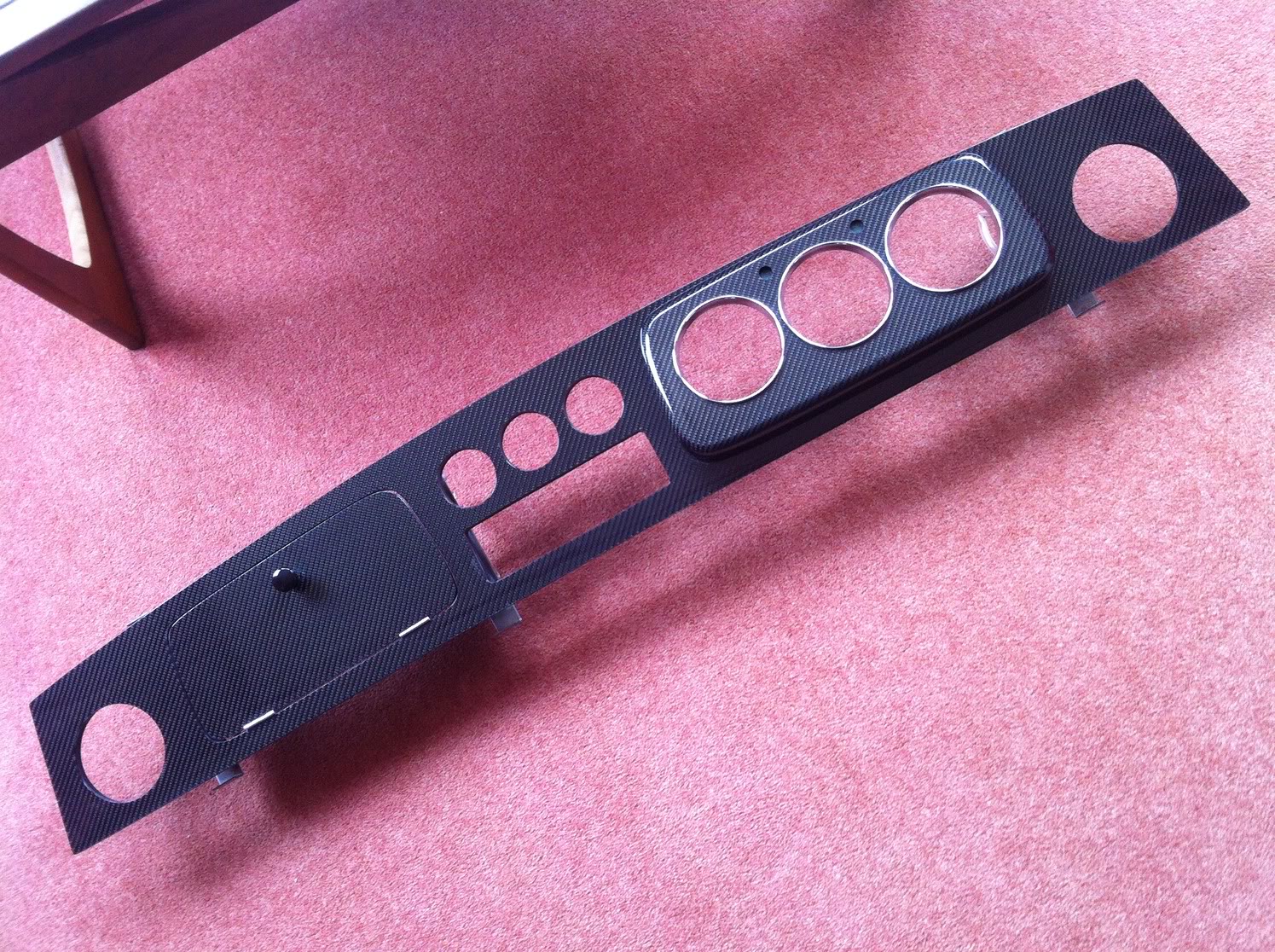 but it isnt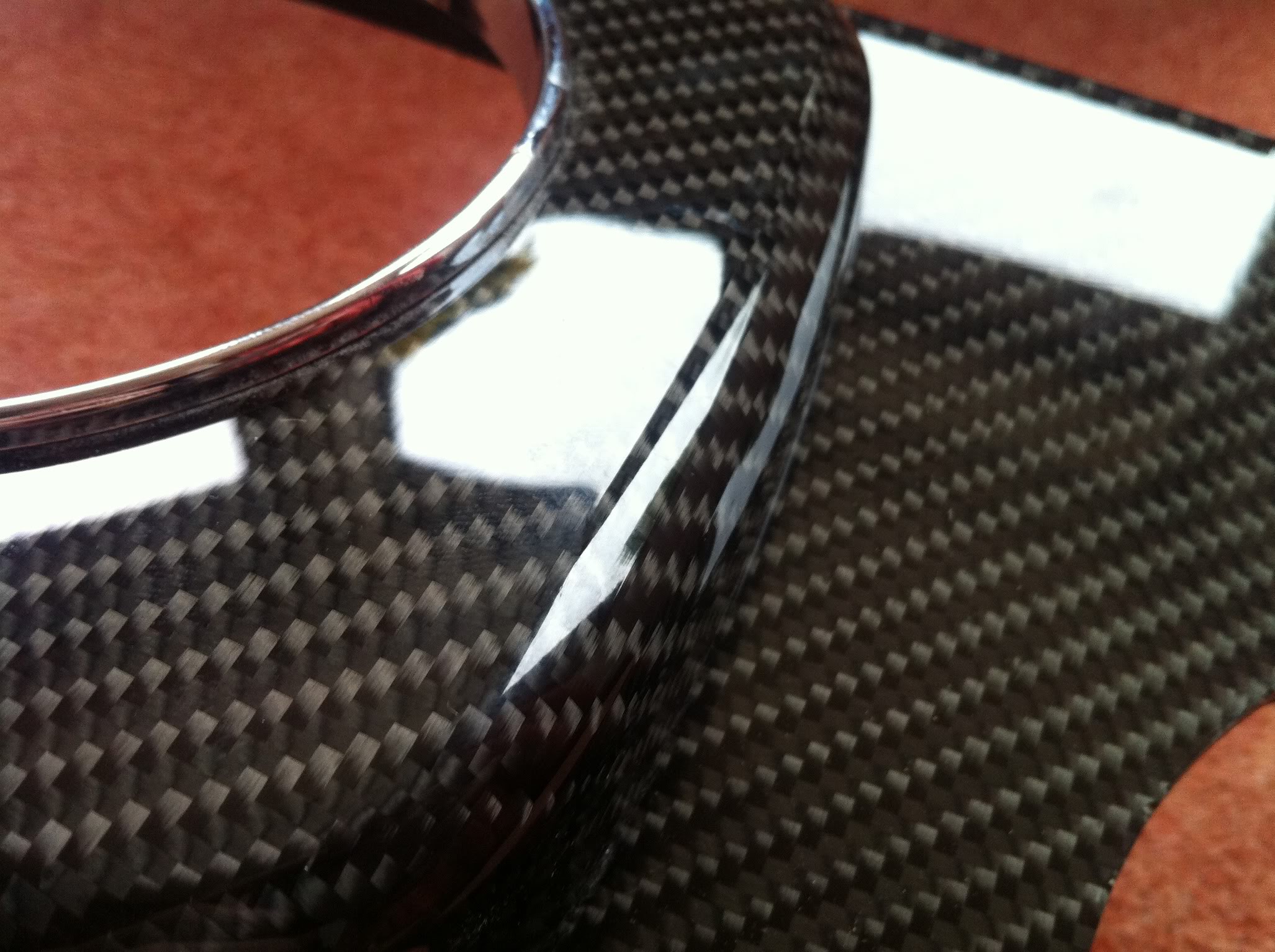 Comes with fitting brackets on the back and chrome rings on the tripple clocks. The other three come with their own bezels on anyway. Going to look stunning against the alcantara dash rails top and bottom.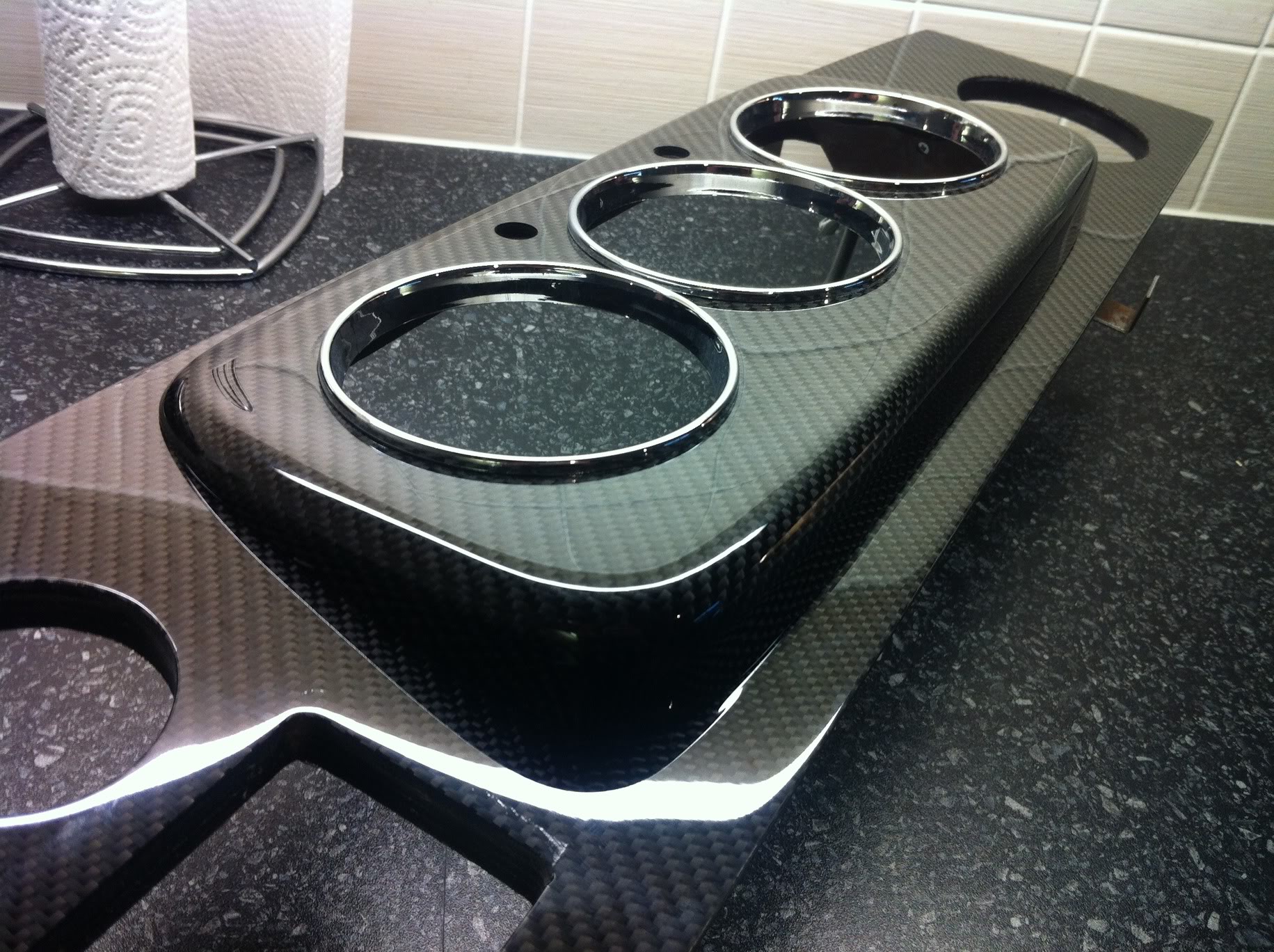 Its got a good 1mm of lacquer so plenty there if ever it needs a polish. Main binnacle is removable which will help too. Going to change the glovebox knob for a chrome one to balance it out against the surrounds.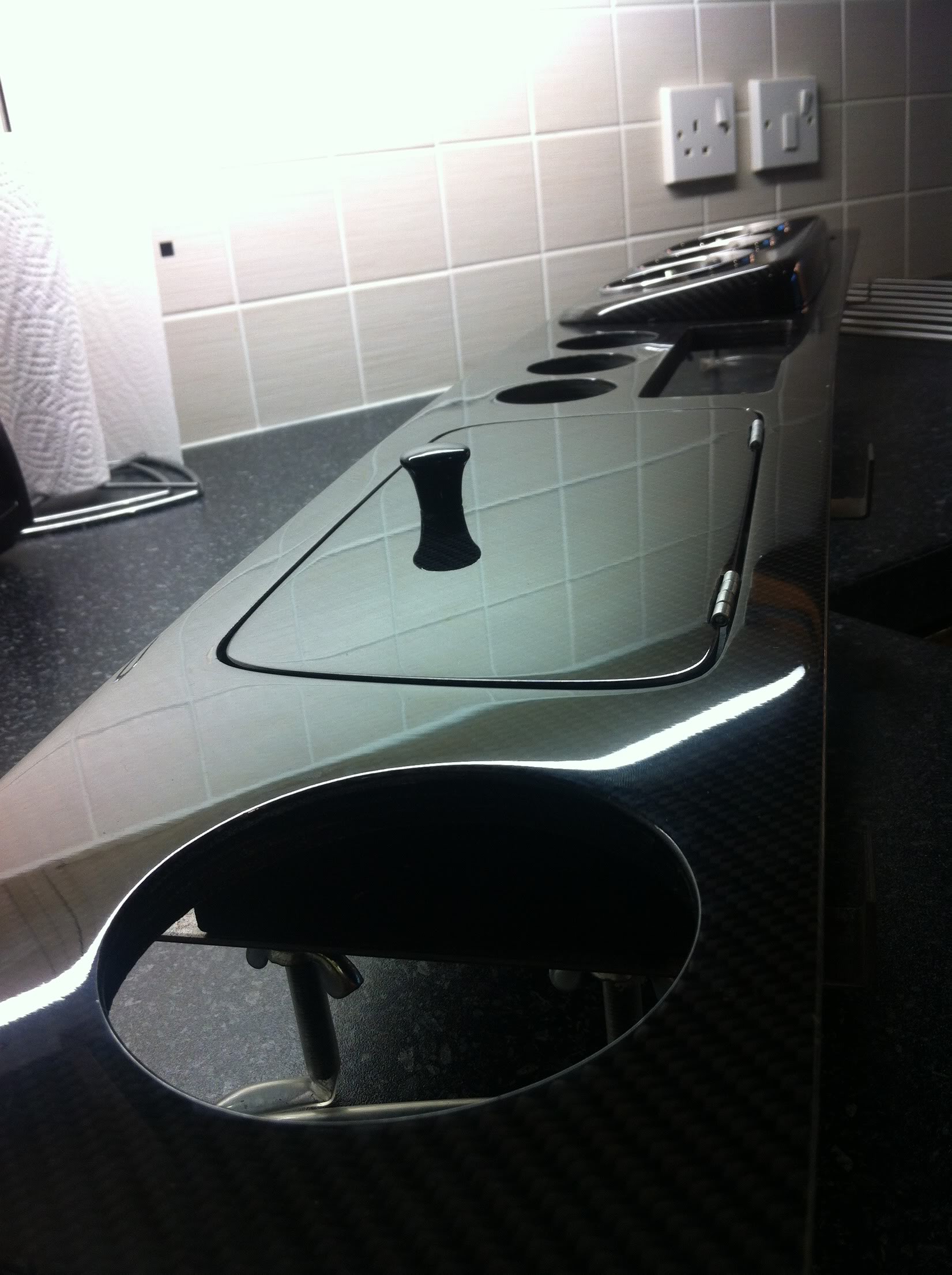 And I also have a spare bit (the radio blank) for another little side project Im working on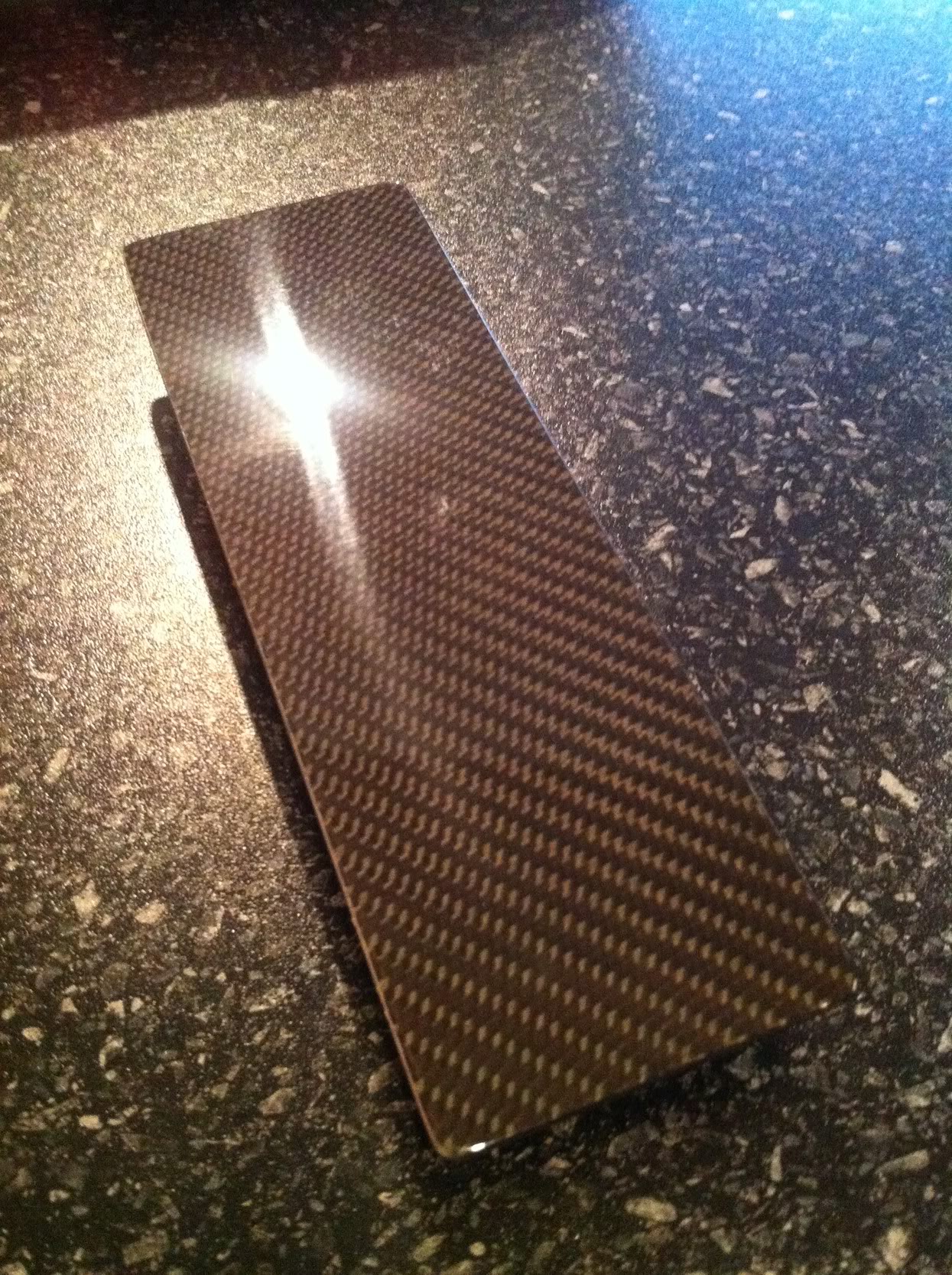 Chuffed!
5-11-2013
Friday night my mate Greig and I tried to fix the linkage to no avail. Even swapped over the entire linkage (I had a spare, as you do.....) but still no first or second. Open heart surgery time! Fail!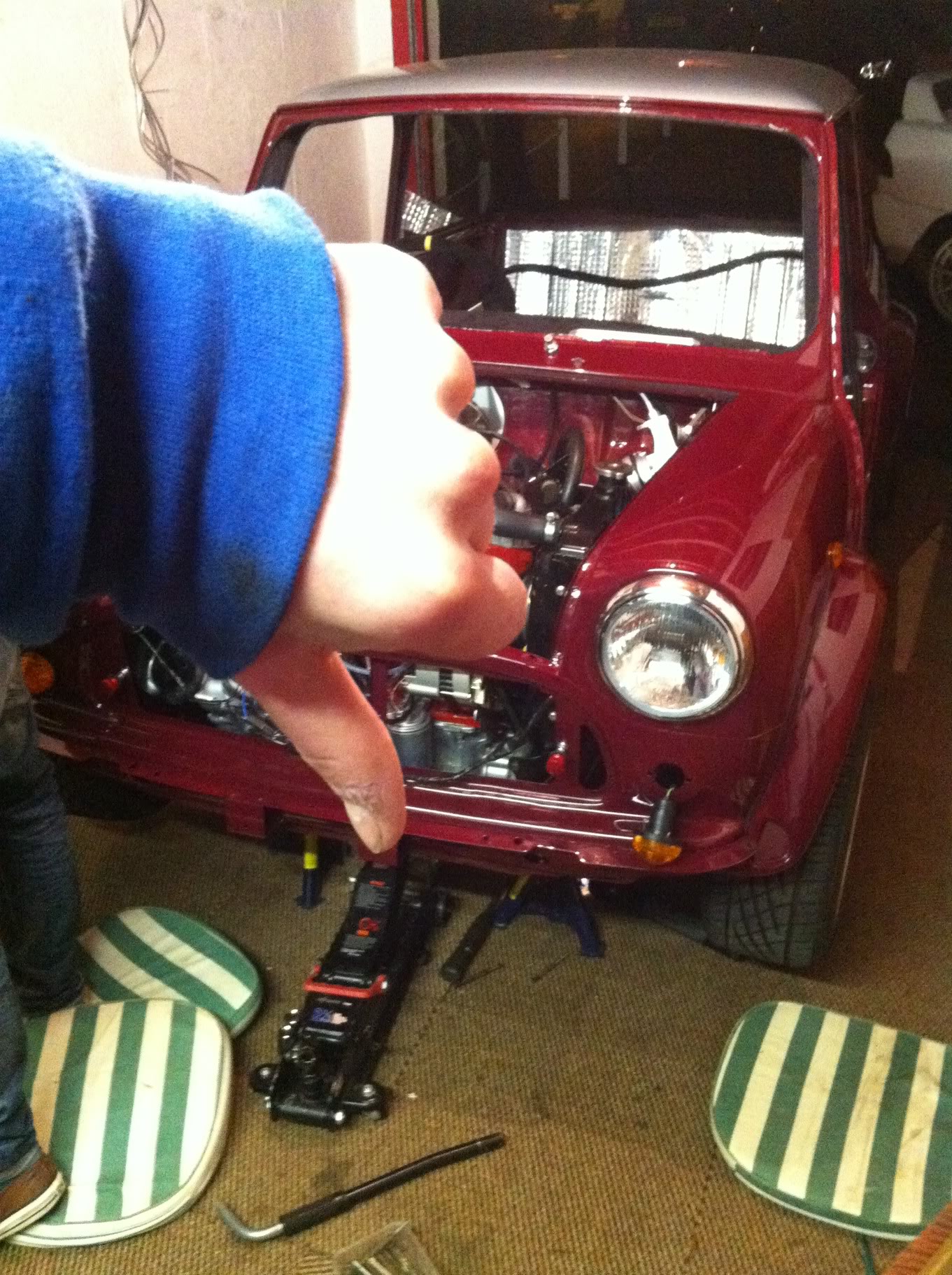 So as I had a 998 sitting from the car originally, we set about plucking the box from the block. So my dad and i set about it! People say that the flywheel is a nightmare to remove......it came off with two turns with the puller tool. Ace!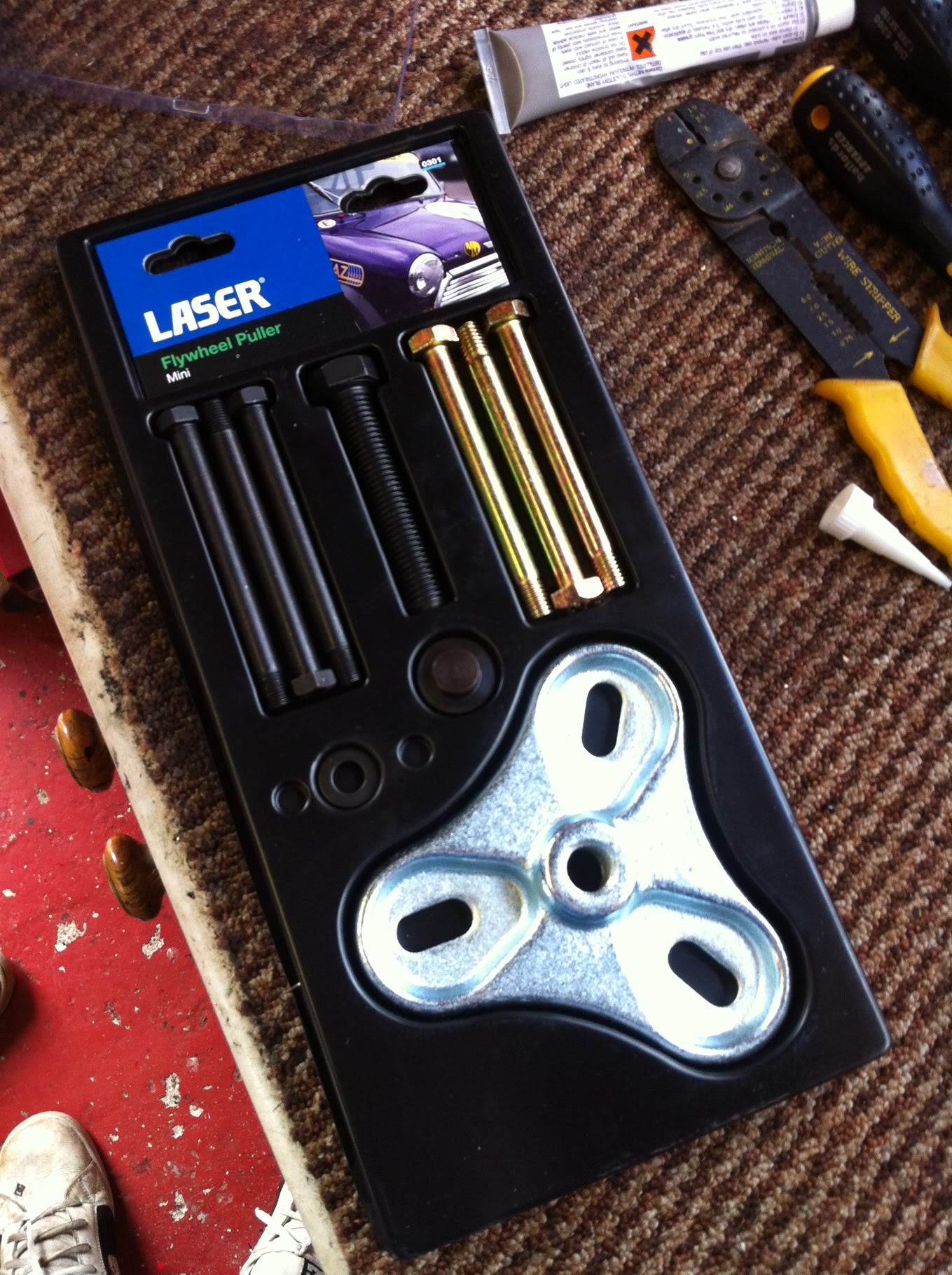 Worked fine before rebuild so will still be fine now. Got all the gaskets etc in stock as I bought a whole engine kit a while back and didnt use it all. Handy!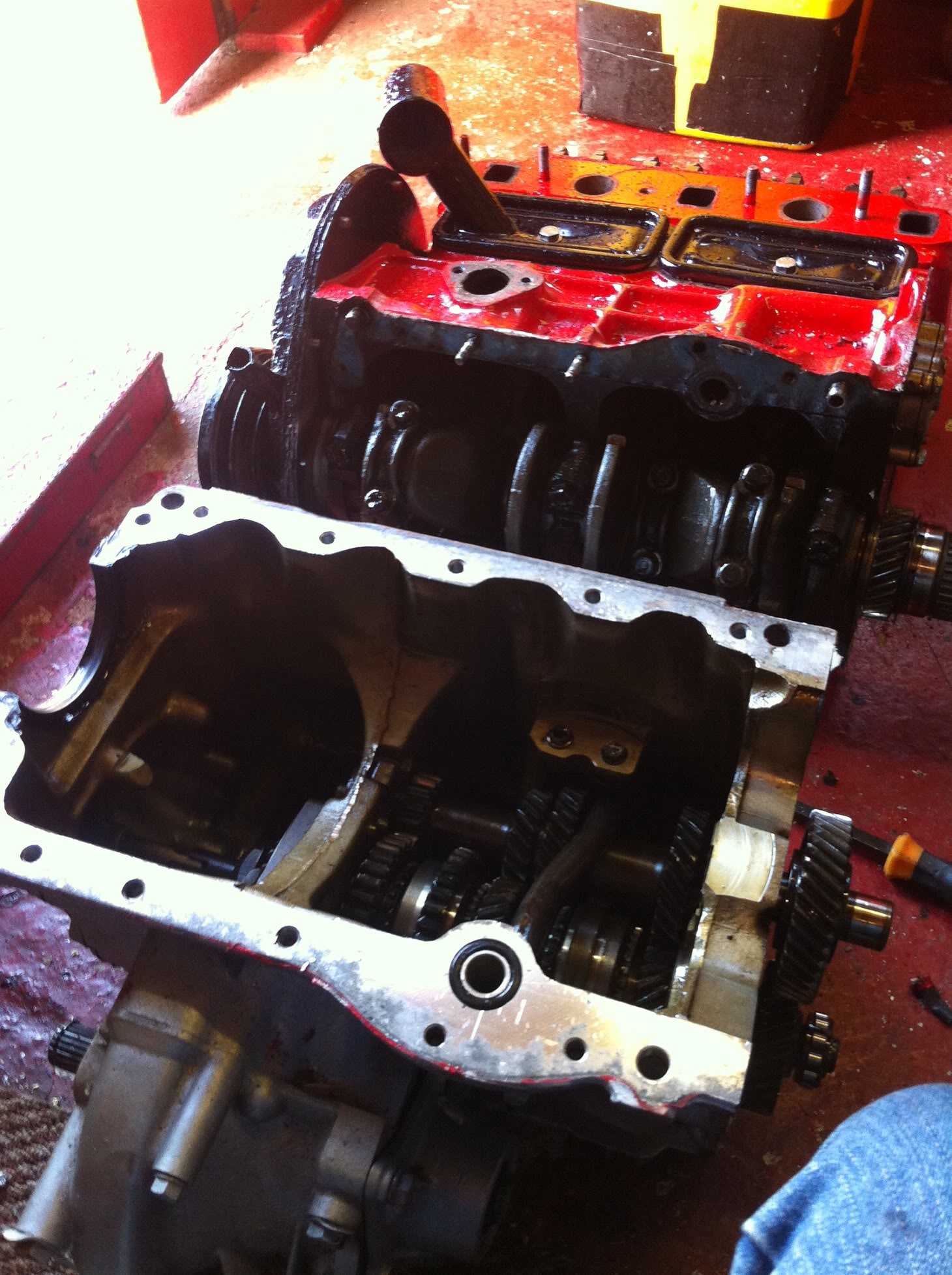 Standard inner box shot.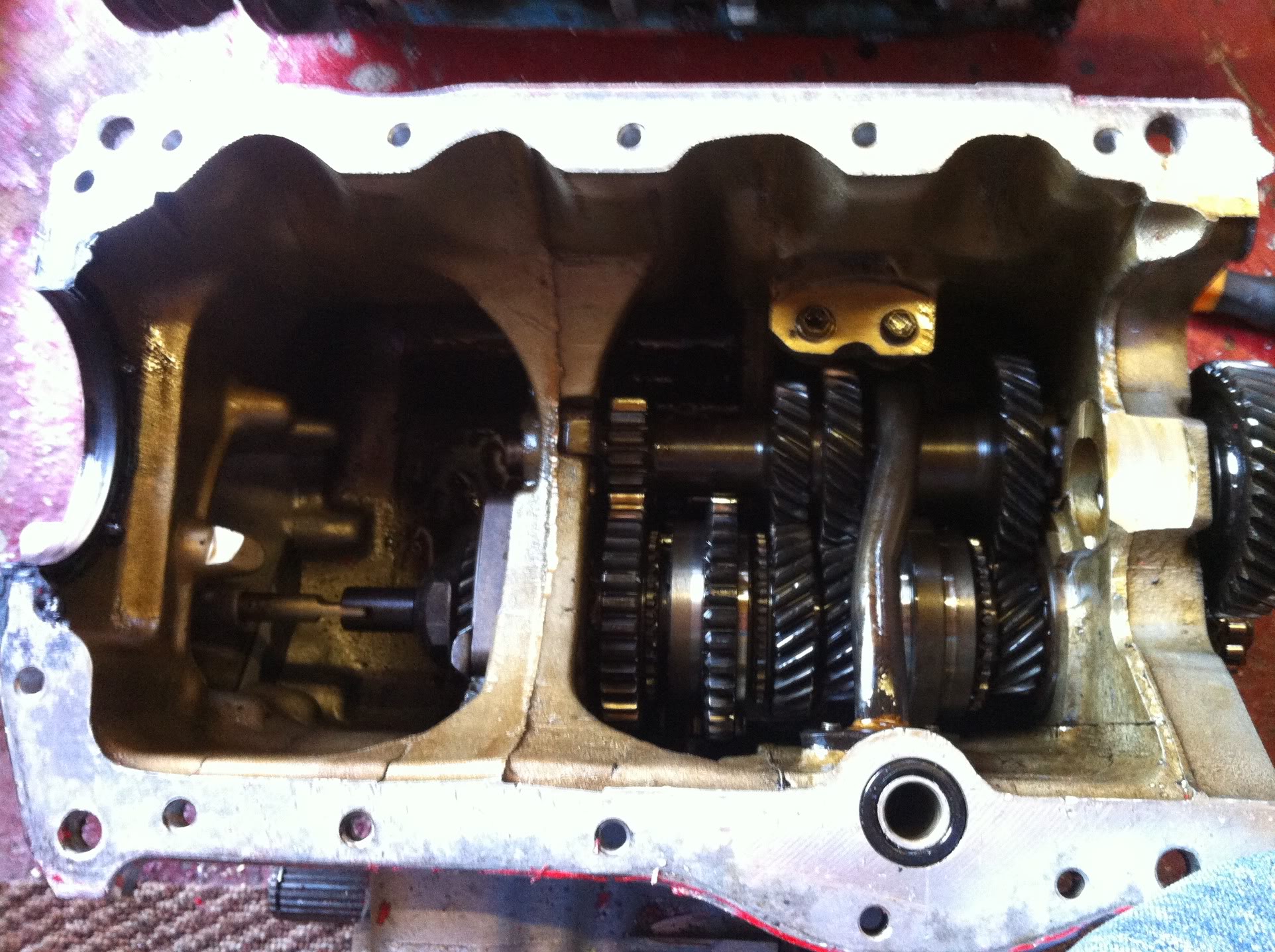 Engine in, running fine, just no gears. Shame as it was SO close!!!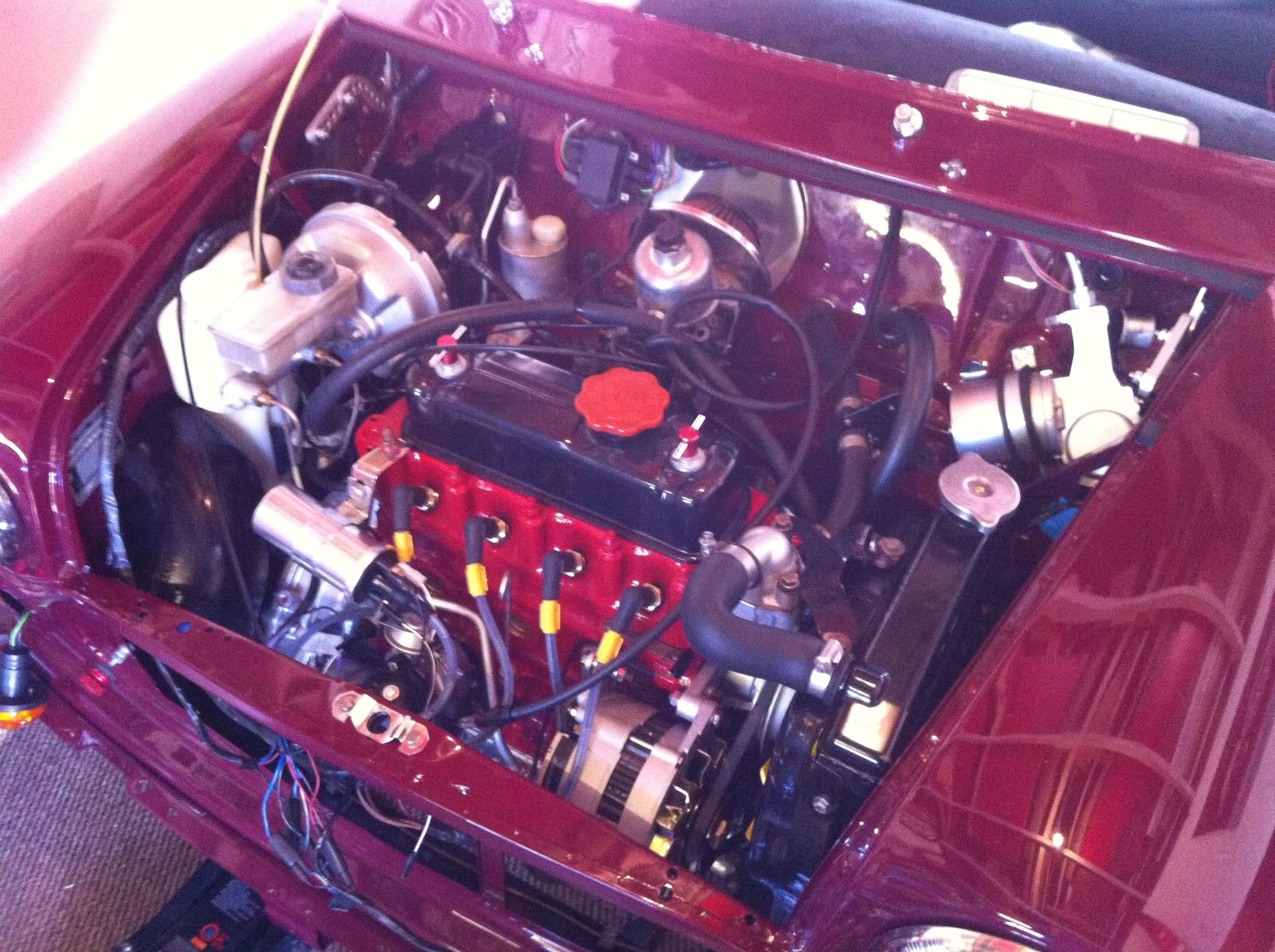 Stripped the ancillaries minus the clutch and brakes systems as I didn't want to rebuild them too. Unbolted the brake servo and managed to get the engine out around it. One less job to do!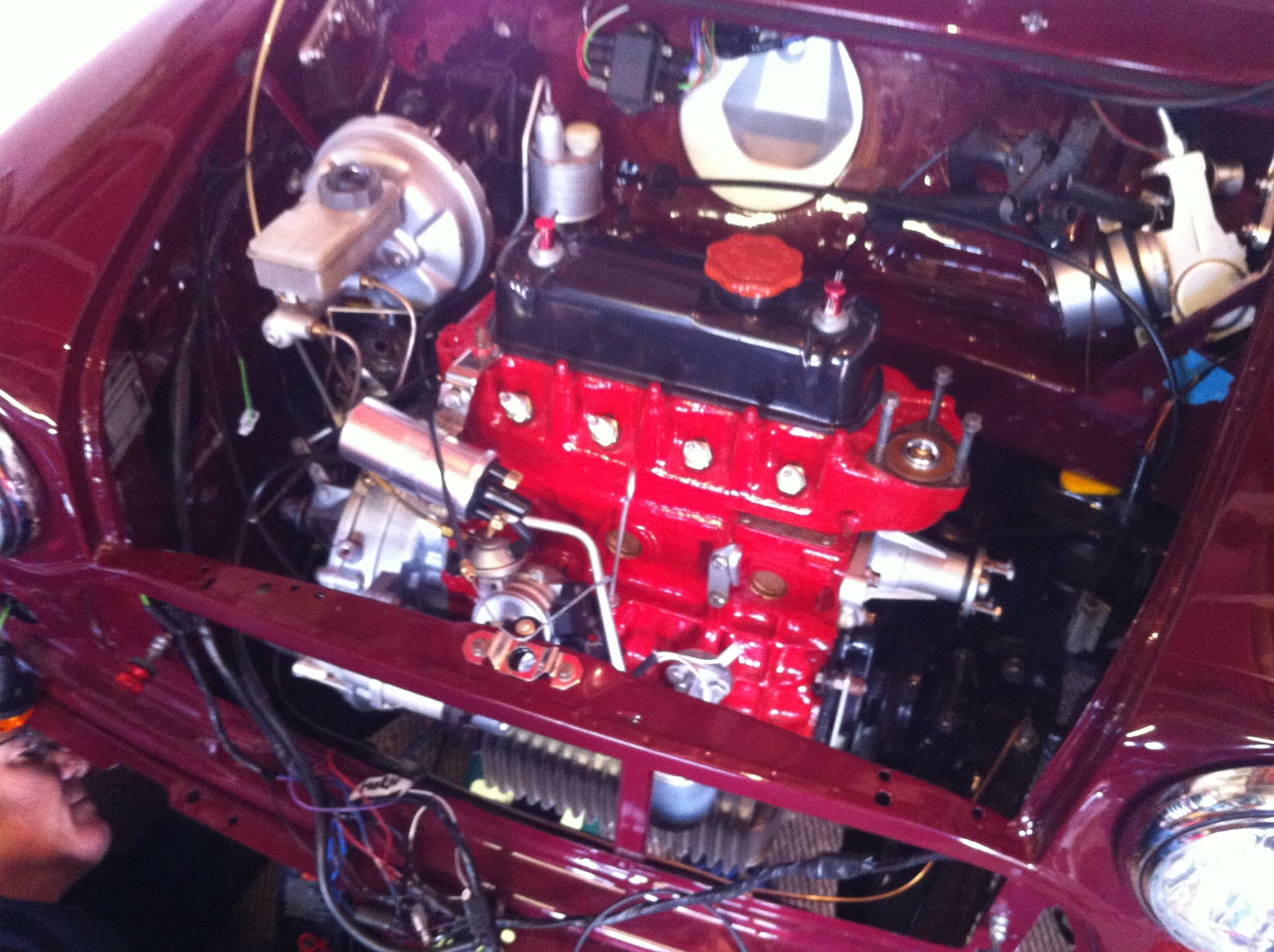 And with everything disconnected the engine was pulled out gradually so as not to damage anything and to ensure we werent dragging anything with it that we had forgotten about. We did it without a scratch on either engine or body. Very happy with that!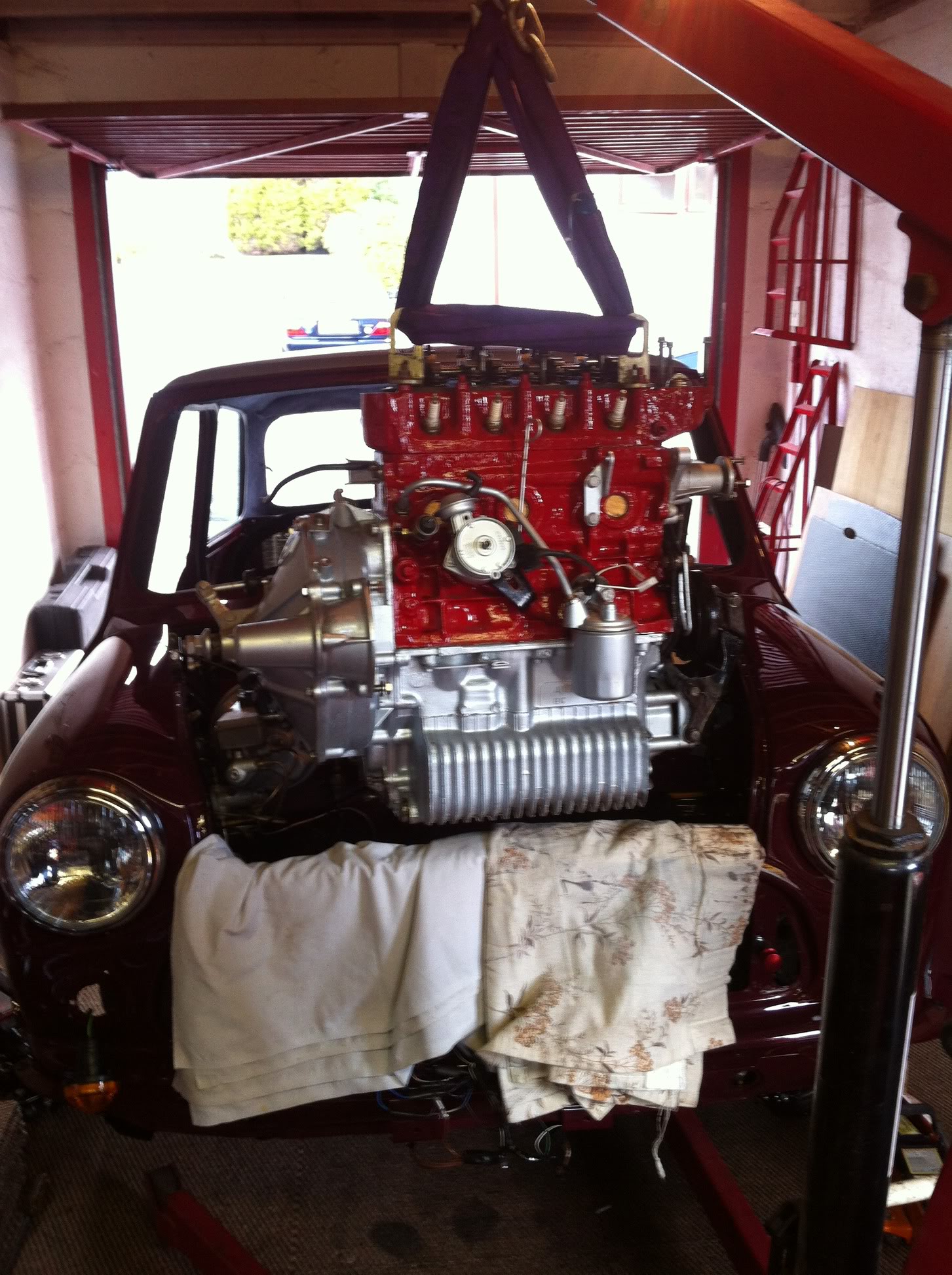 Empty bay, hopefully filled again soon....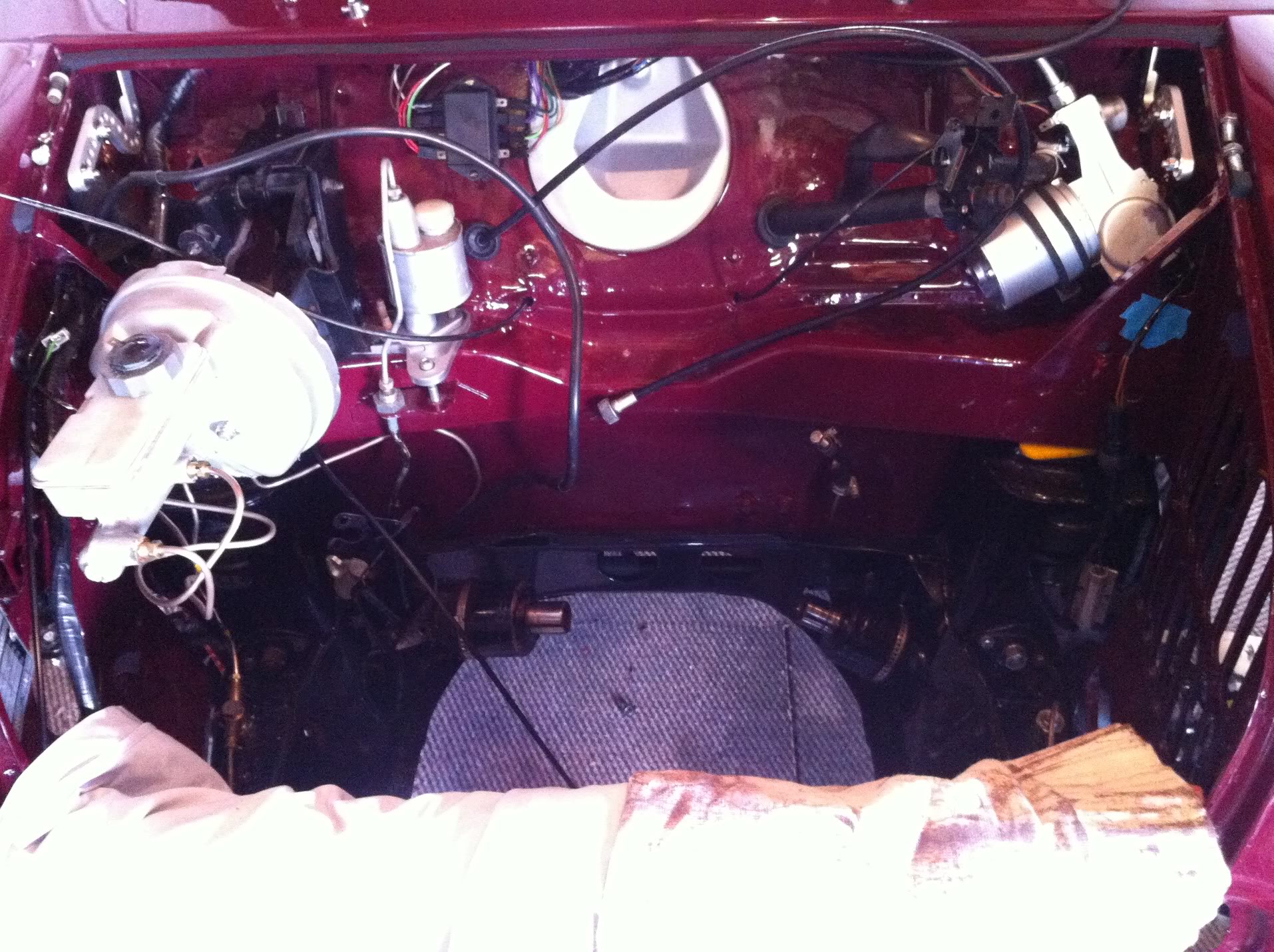 So we tried to take the flywheel off the 1275 but wasn't budging so leaving it overnight under pressure (dum dum dum dum dee dum dum

) and sometimes the pop off by morning. Looks a bit of a mess but its sort of organised

Was out this evening so didn't get anything else done but pretty sure the above is an acceptable amount of work....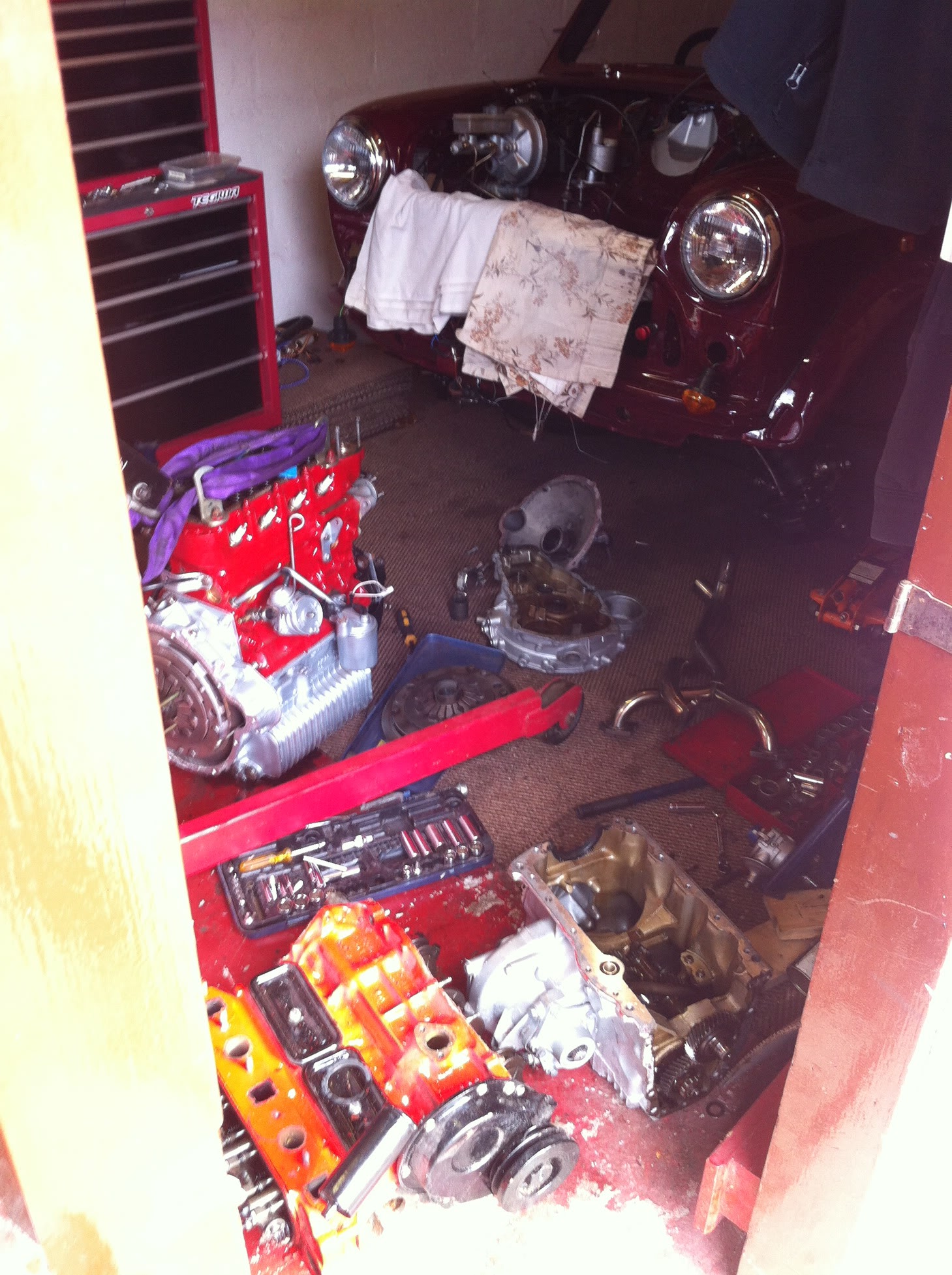 Next up, gearbox swap over and refitting! Busy weekend!
5-13-2013
Yeh I had a swap around with that before swapping the linkage. It was the right way round to start with but good to rule it out!
Good and bad. Managed to separate the flywheel etc from the 1275 and got the box off. Shame I didn't have all the required gaskets and seals to reassemble it with the 998 box though! Bits ordered and should be here by Tuesday. Leaving some parts in paint stripper overnight for reprinting as the paint had reacted and bubbled/blistered. Presentations everything! Not ideal but don't want a leaky engine!
No pics of what we did as we were trying to get as much done as possible. That didnt stop us listening into the grand prix on my iPad though!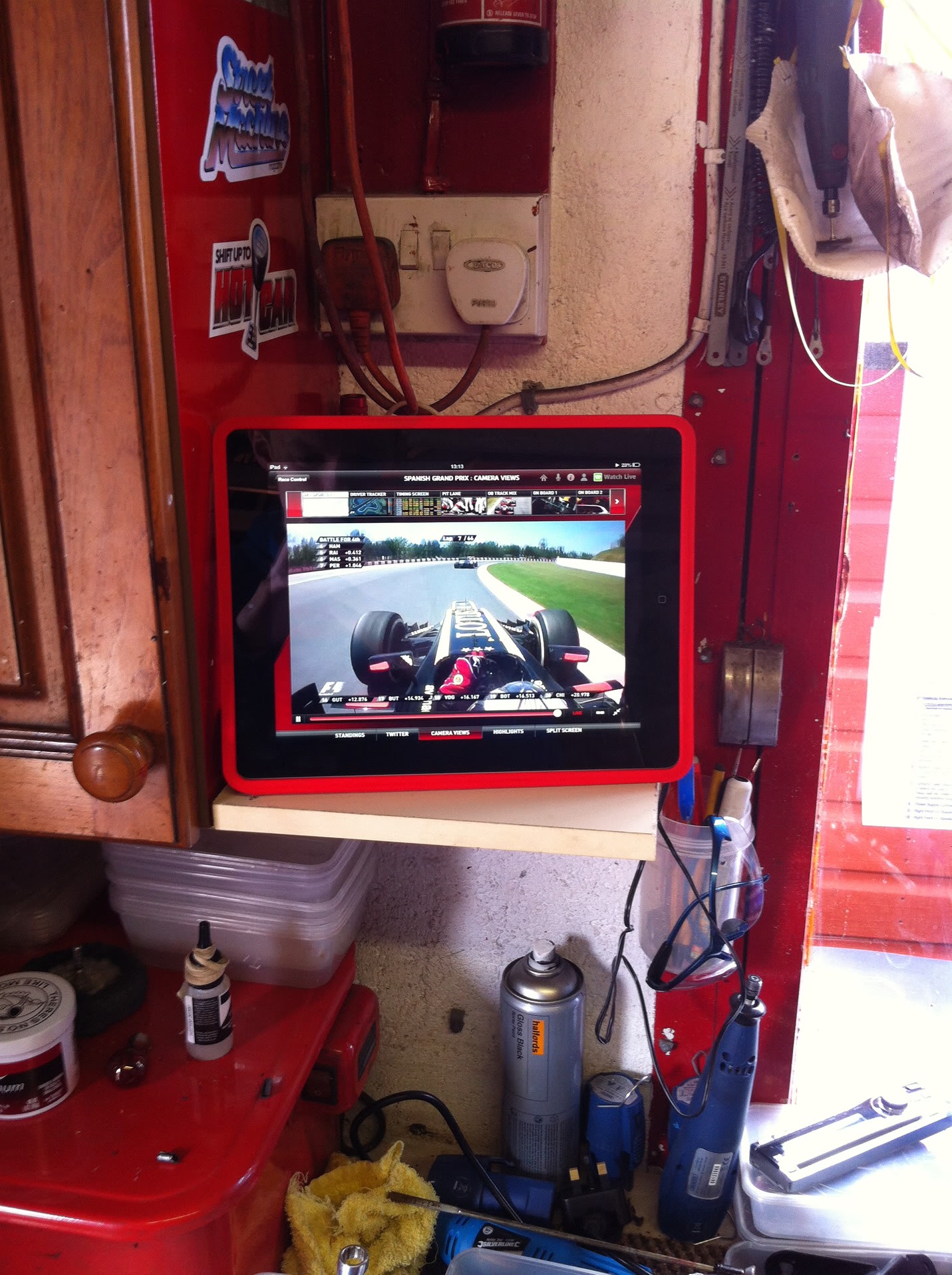 Tonight however I got my other door rebuilt to hopefully hang this coming weekend. Turns out I was having difficulties fitting the glass before as there was the remains of the original window channel seal, about 5" long still stuck in the door which was jamming up the glass! With this found and removed, it went a lot more smoothly!
Again, protected everything with blue tape. Its cheap but does the job of stopping scratches well!
On factory doors this channel is filled with a grey putty. Obviously this was removed before painting but it does act as a good seal. Instead of this I decided to use clear silicon which wont dry out so easily as the putty did (it was rock hard upon removal)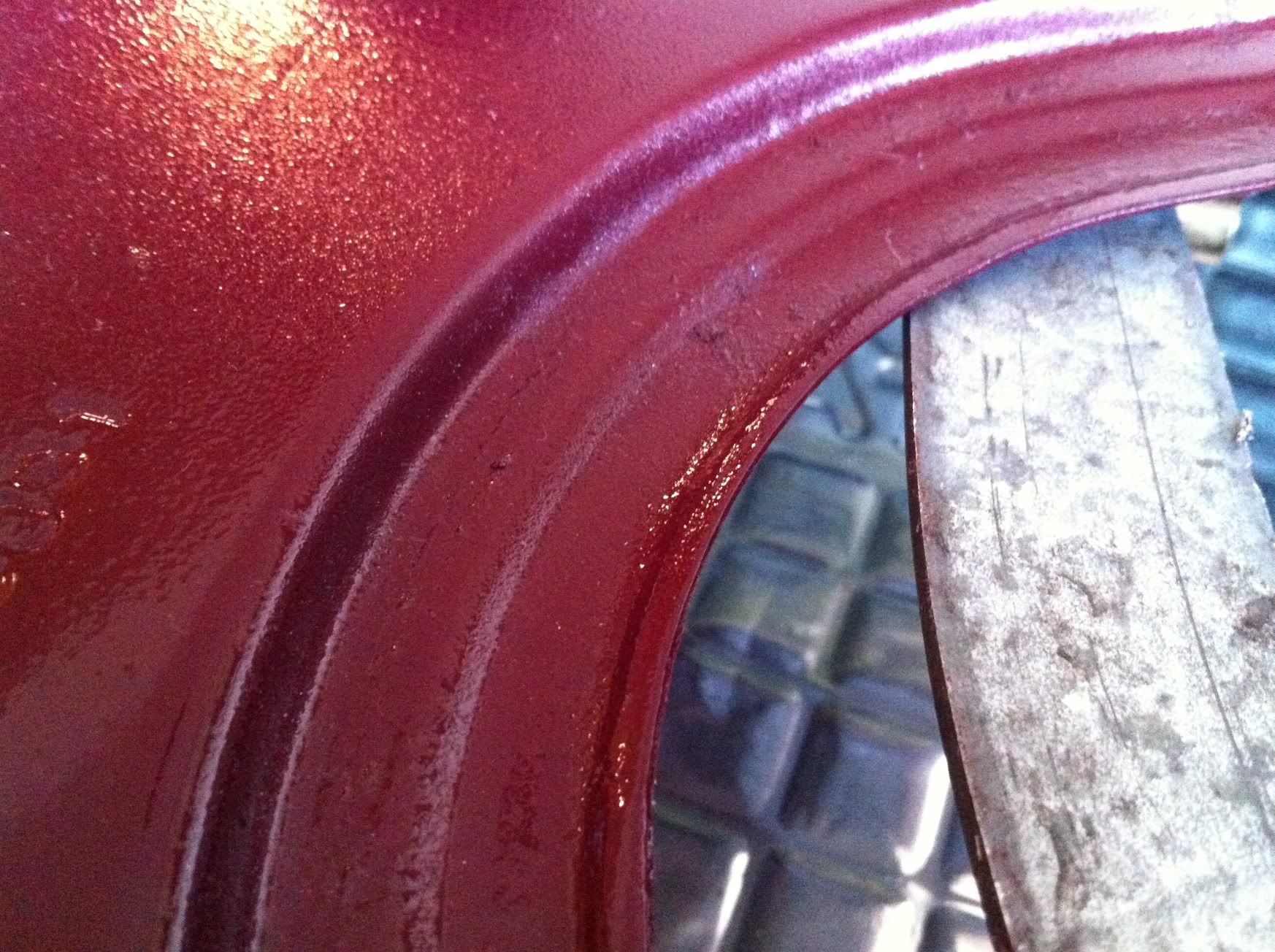 Little bit messy but dries clear and will be covered by the door cards anyway!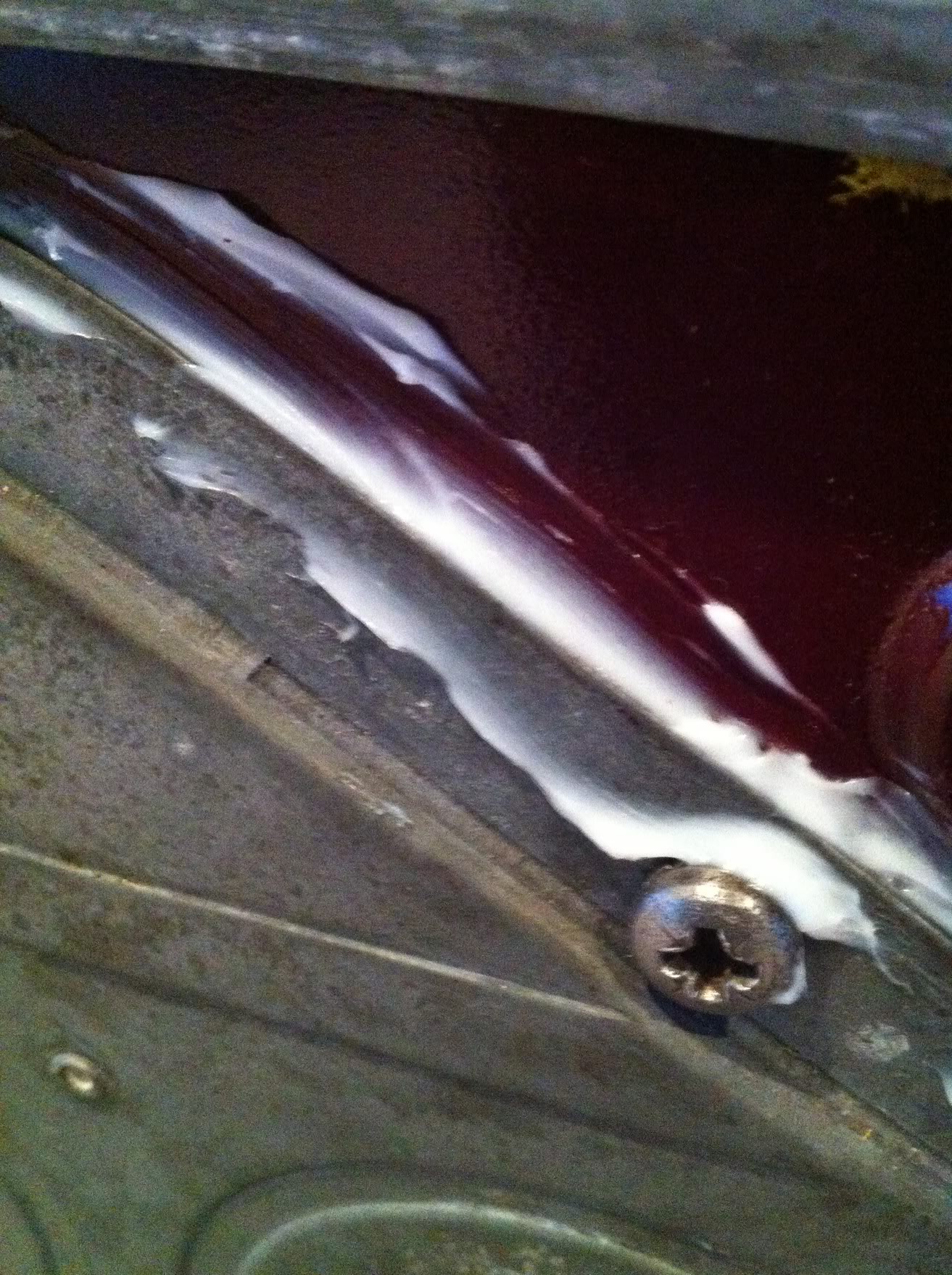 Then went all Karate Kid on the doors. Wax on....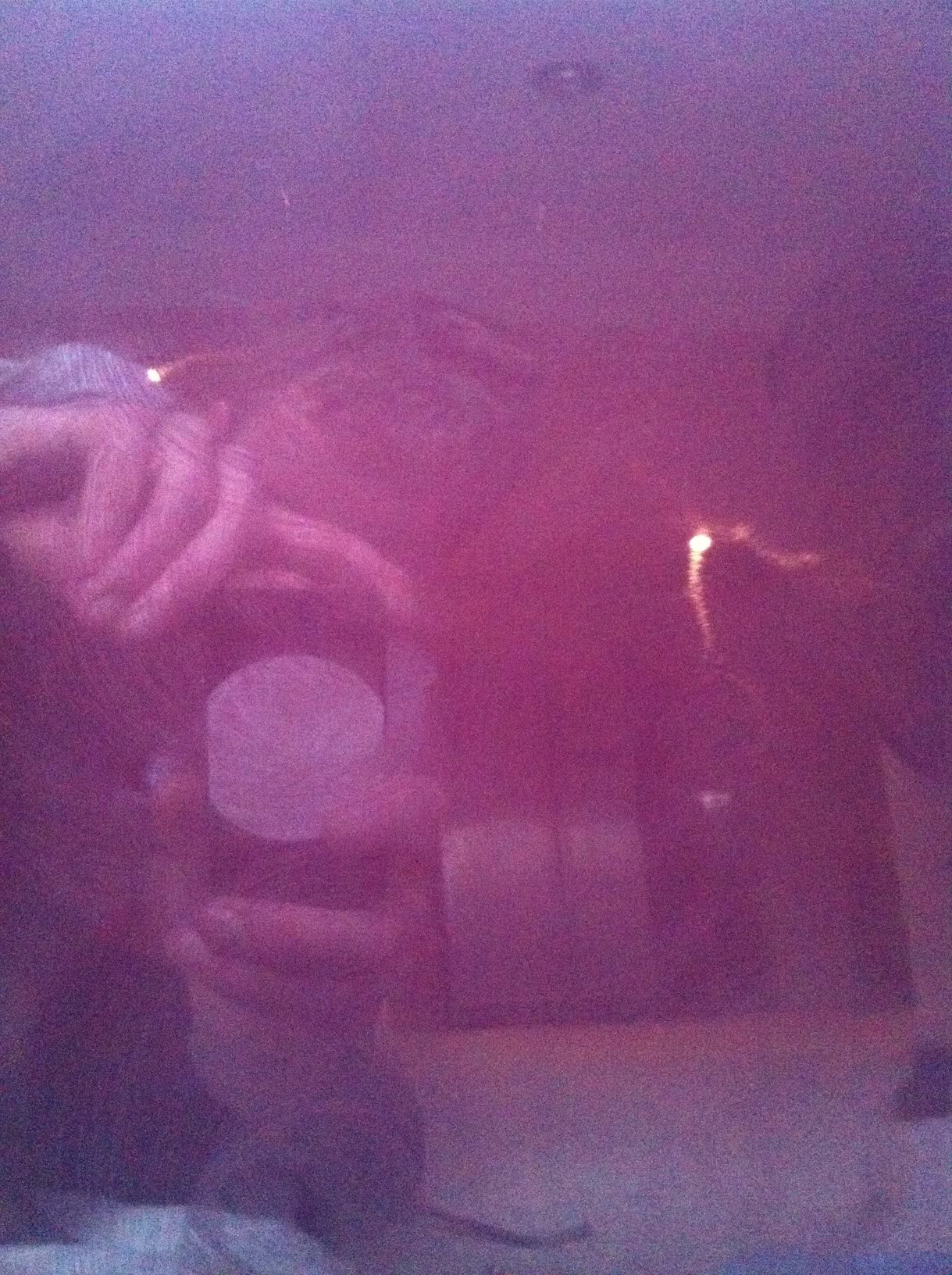 Wax off!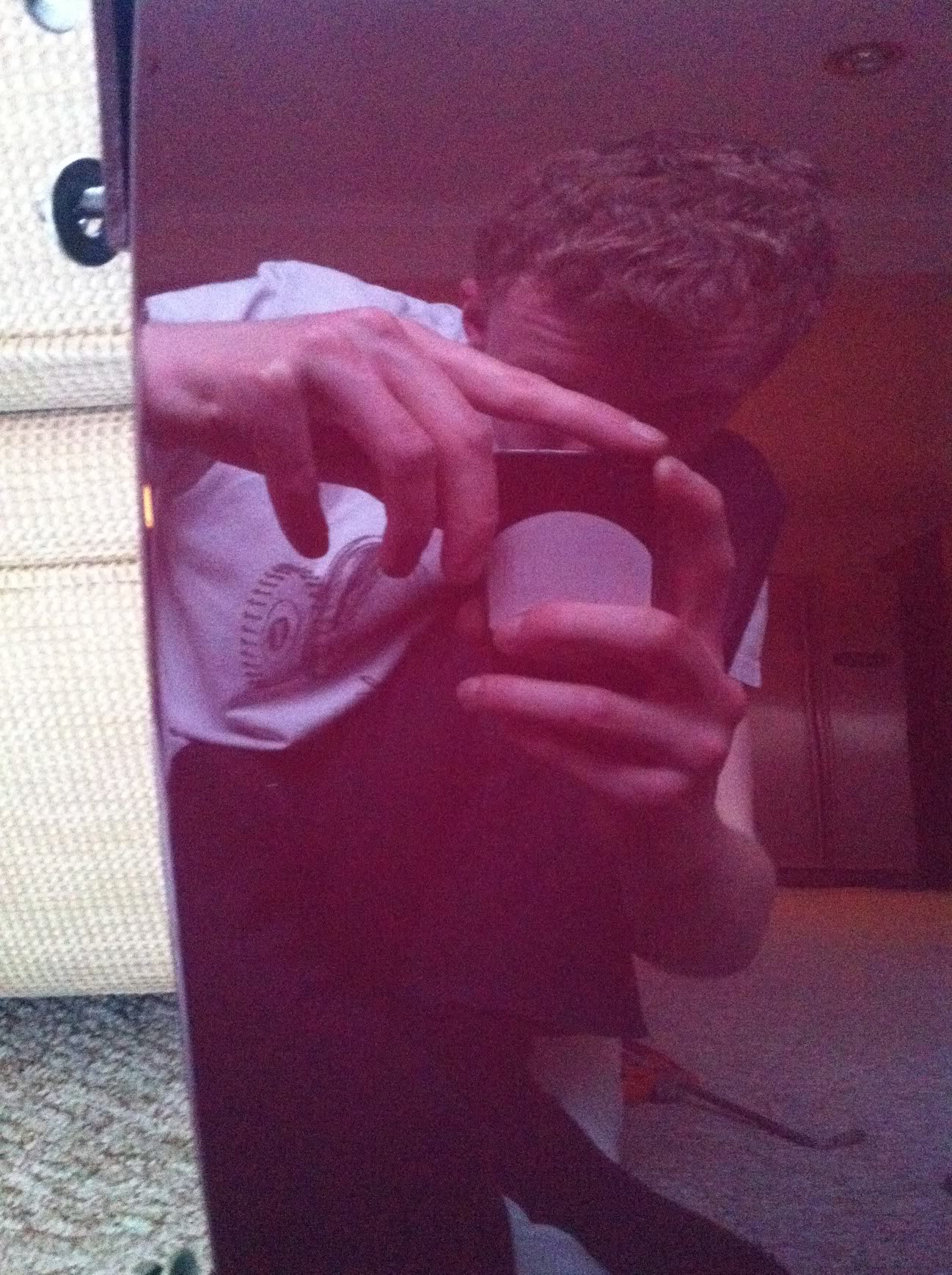 Still amazed at the finish on them!
Mirror mirror on the door.......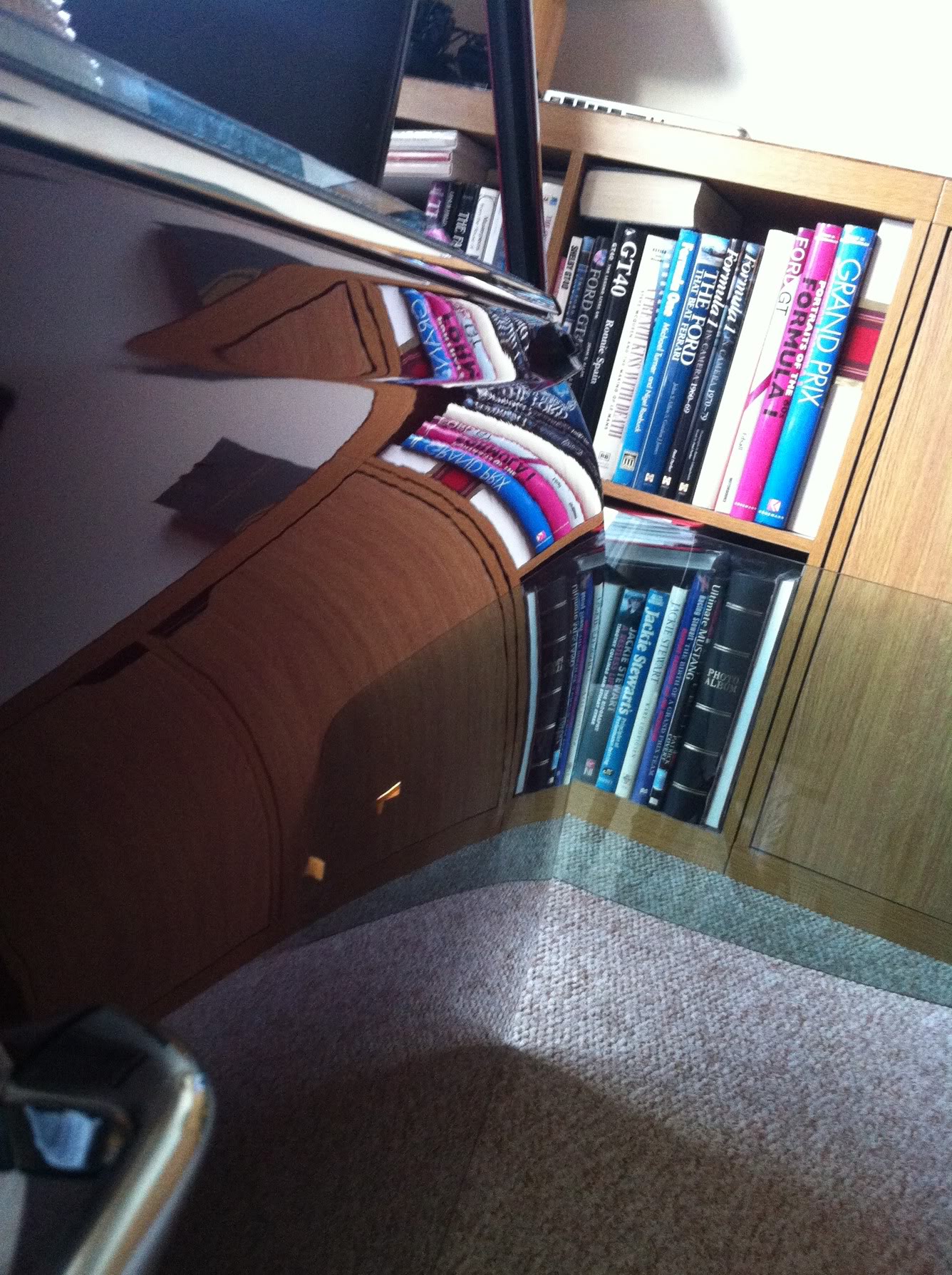 So without the parts I need for the engine, and the engine parts taking up all the floor space in the garage Im stuck for work tonight but Greigs coming by to help again tomorrow and with the new seals etc, should get the engine reassembled again and maybe even reinstalled! Although tis seemingly more and more unlikely I will make the Thistle Run, Im not going to give up. Its not over till the MOT man says no!

5-14-2013
Very small bit of progress tonight. Garage is filled with engines and gearboxs everywhere so no room to work! Would have got on with the rebuild but not all of the parts arrived......

Did however get an indicator screwed in and a doorcard on.

Hopefully get the parts tomorrow and get cracking with the engine again!

beyond happy with how the door looks. Perfect inside and outside. Will mount the mirrors once its in place.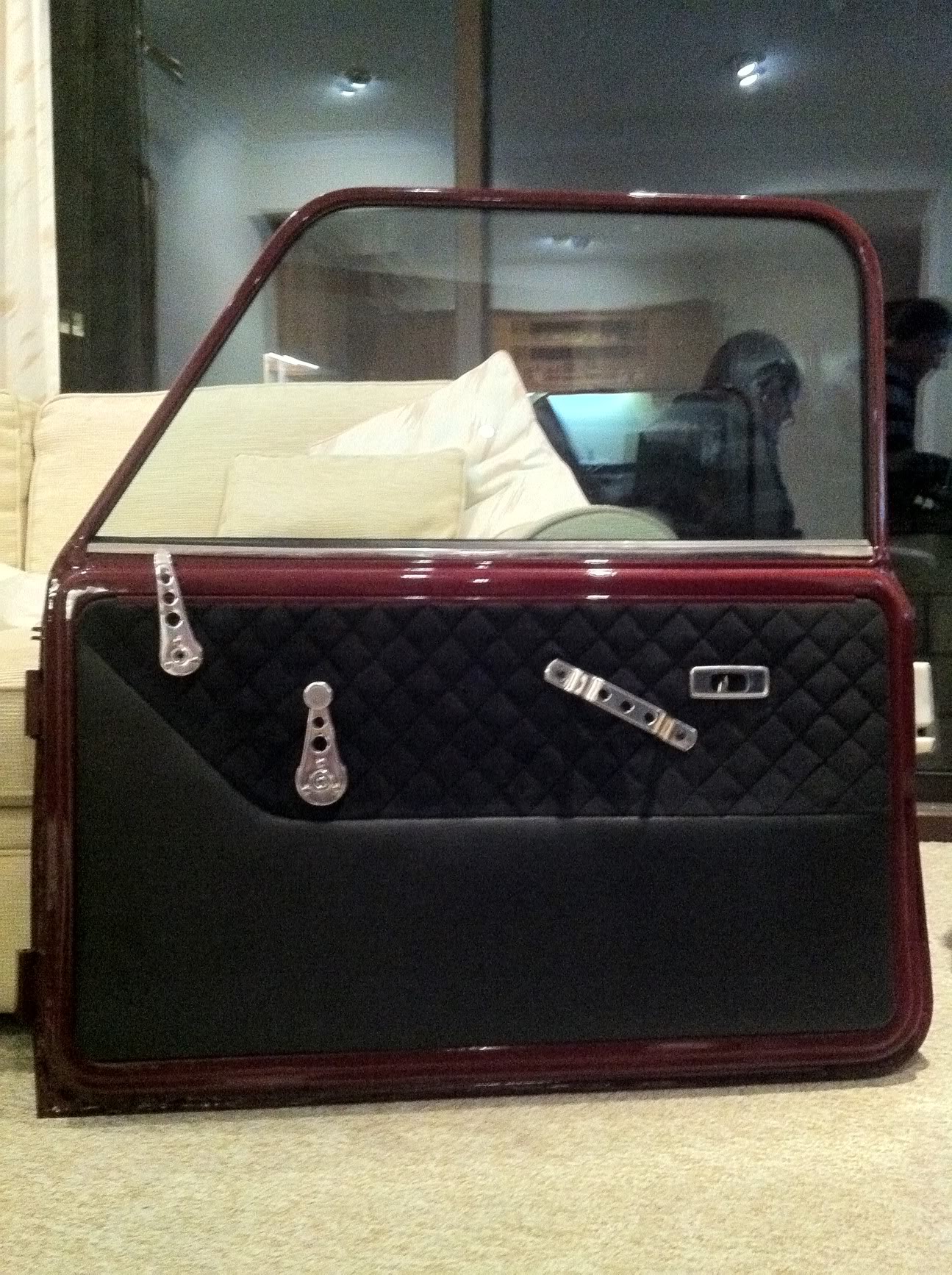 So come on postie....where are you!?
5-15-2013
Evening done! Mainly spent it prepping the flywheel housing and wok for paint. Not 100% perfect but I needed to get it done tonight, so if my half moon seal arrives tomorrow, its ready for fitting. (Kinda...)

Seeing as the car is in the garage unable to move I used the apple trees for hanging the bits. Handy! Masked off the internal piece before doing so though!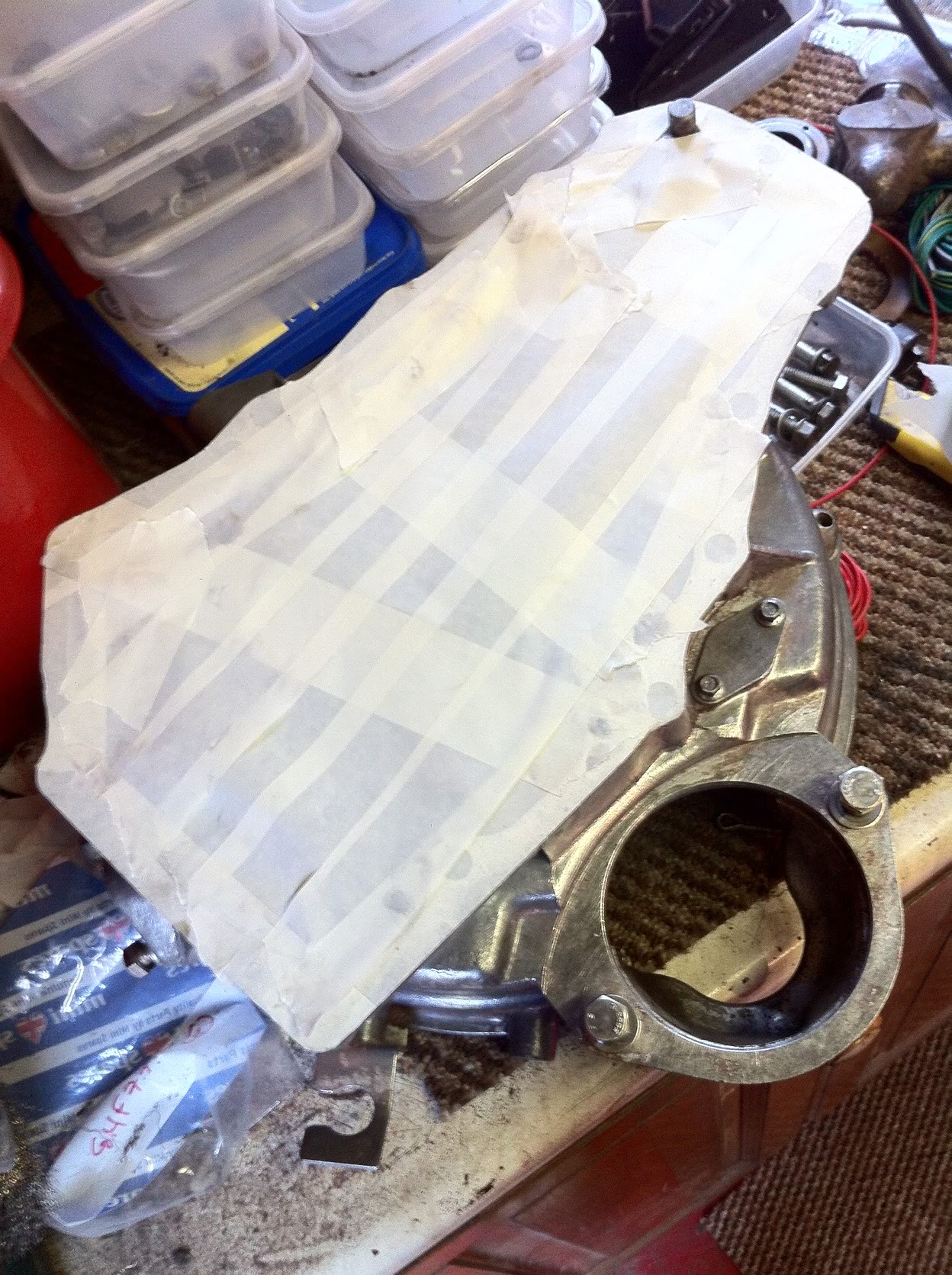 As you can see, not perfect but a hell of a lot better than before. Ultimately these will get powdercoated but will leave that for a winter some year.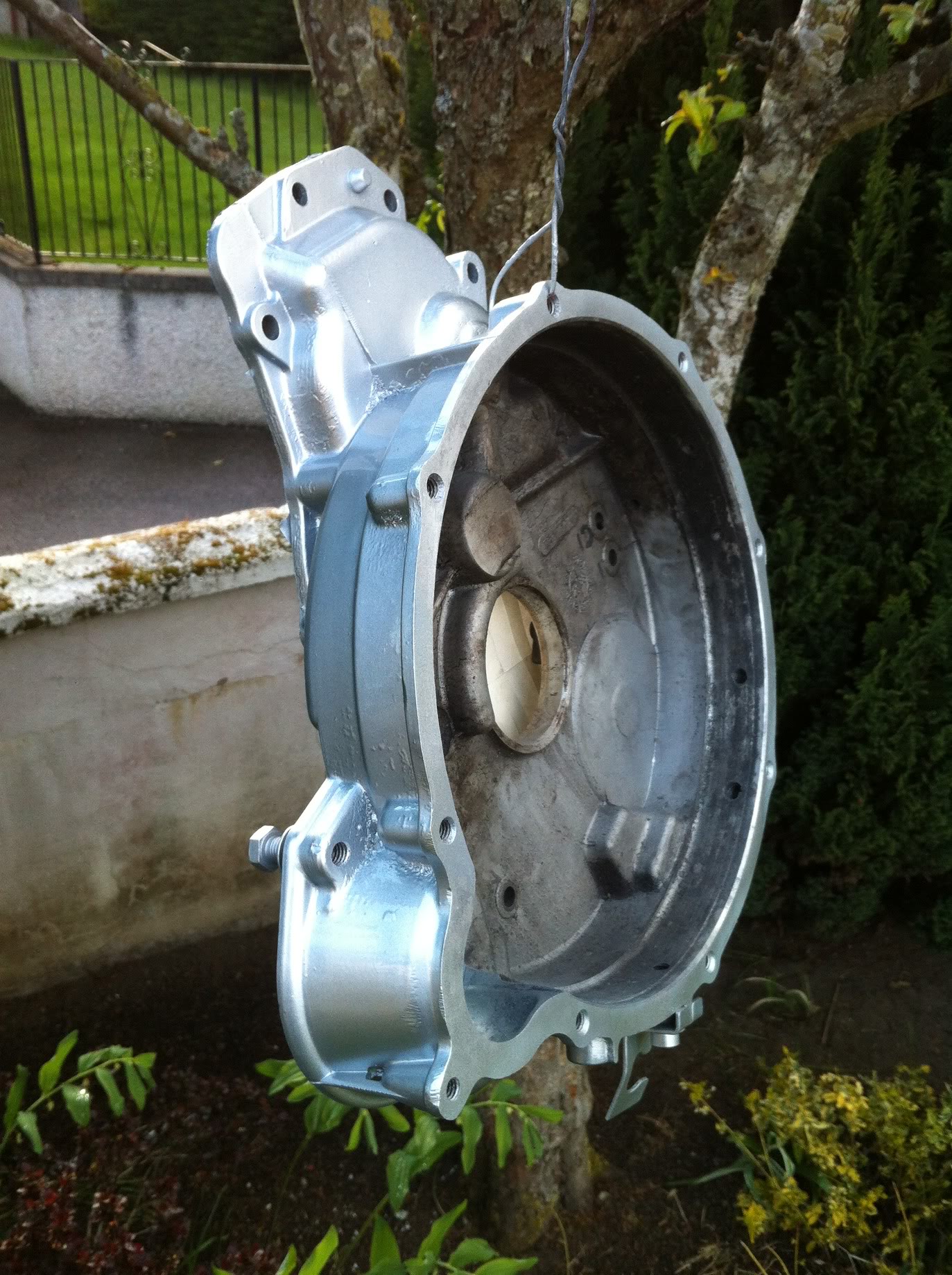 With those painted and drying on the floor in the garage I got my front indicators screwed in. Ordered clips for them and they werent a good fit at all even though they were sold as genuine from a Mini supplier......but with some modification they were in!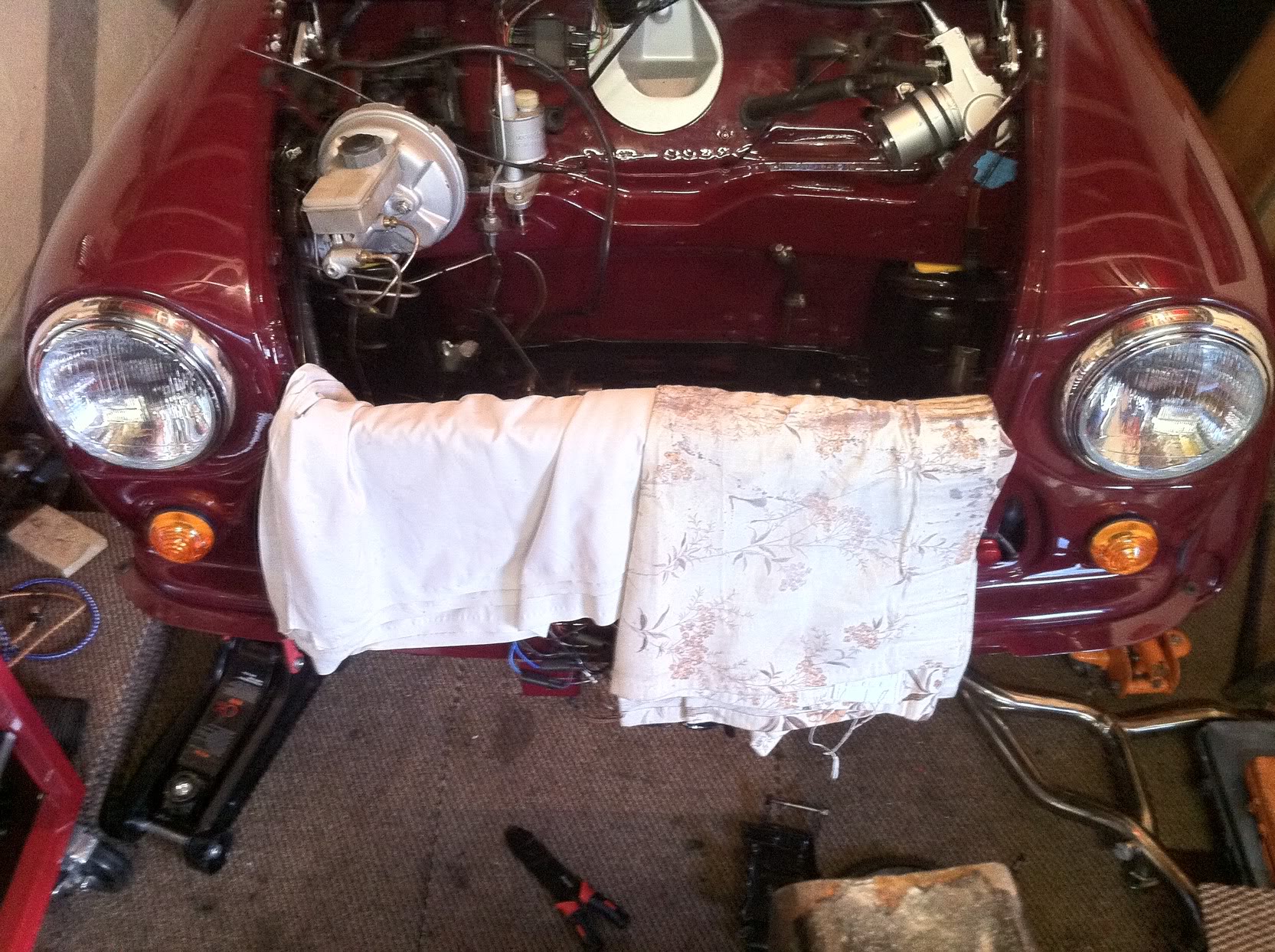 Bought new driveshaft dust seals seeing as I had the diff covers off anyway! Fitted with appropriate socket and hammer



and in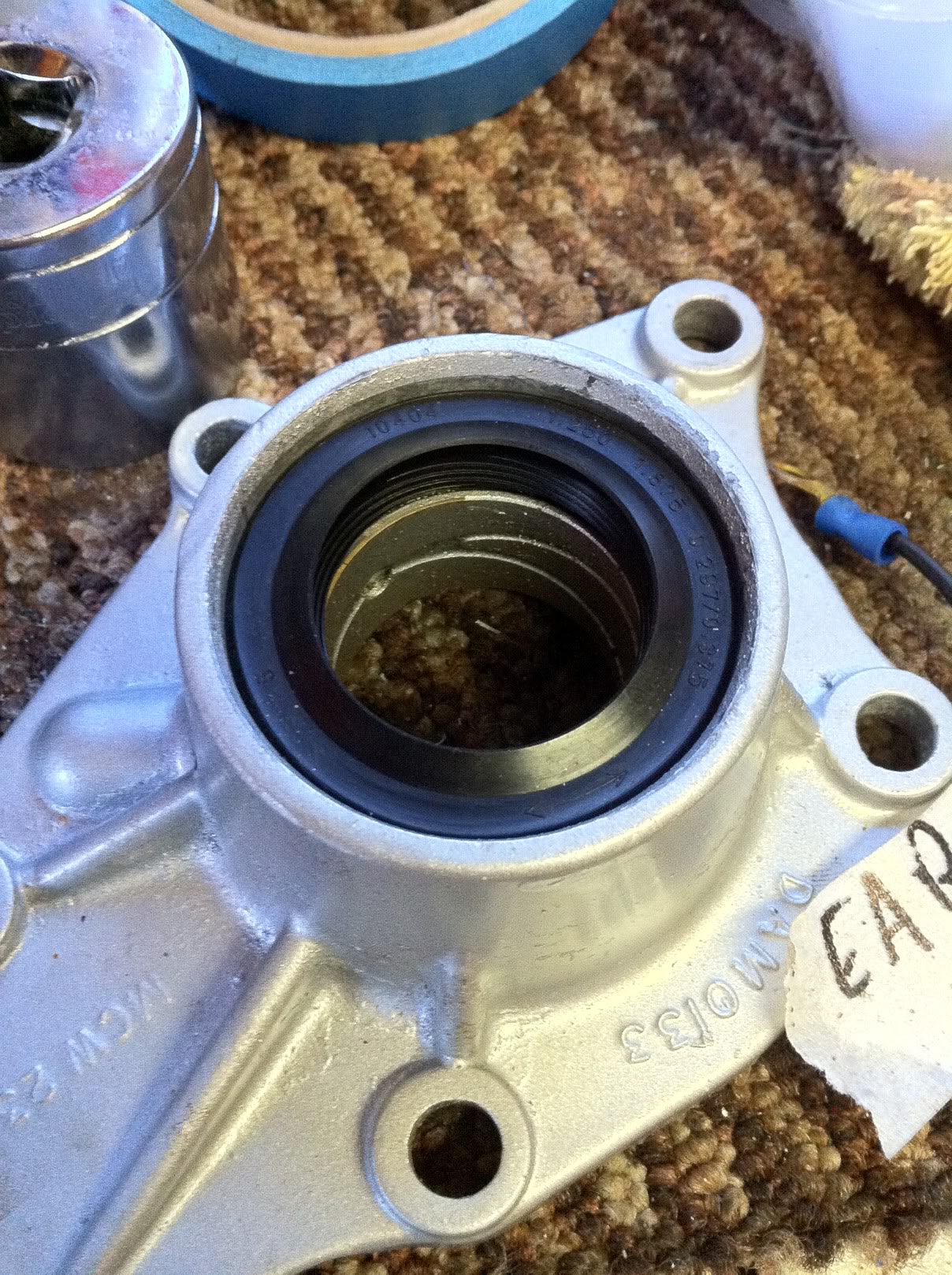 Then decided to shim up my diff! Measured 12thou between plate and bearing so add 4thou to that and you get 16thou overall. Got a 10thou shim, got a 6thou ordered from MiniSport which should be here friday or saturday hopefully! I DID have shims from the 998 box but god knows where they have disappeared to which is a shame as its adding a couple days to getting it all back together!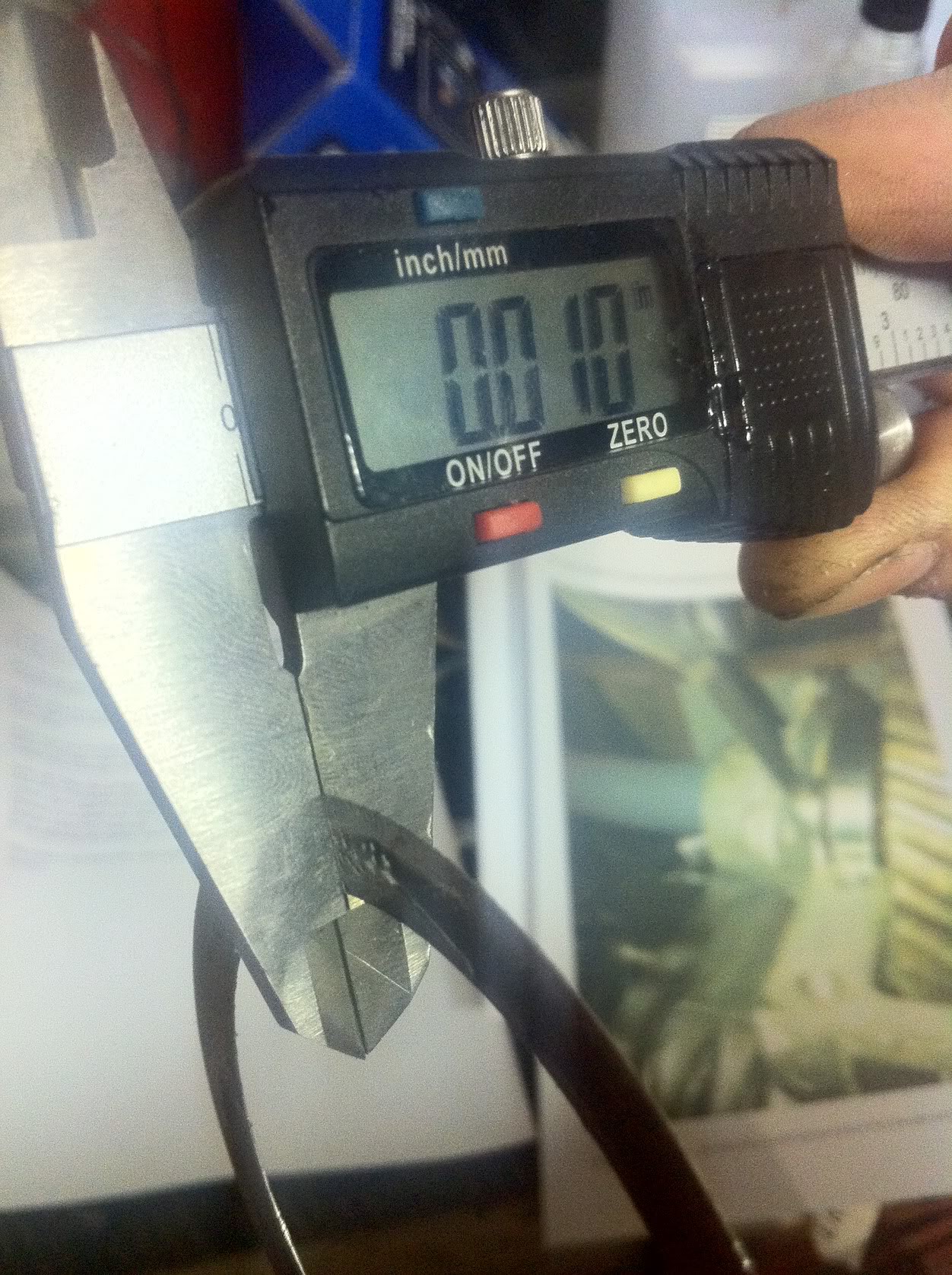 and then back to minisport for more bits and pieces.....couple diff shims so they are brand new throughout and door shims, just incase the fitment isnt perfect as is just now. Tomorrow should see the flywheel housing back on along with flywheel assembly and wok and then get the gearbox on soon after.

Times run out. It wont make the Thistle.
5-16-2013
More work done tonight. Got to just keep on truckin with this or it'll never get done! First up some bolts (ladies and gent, please contain your excitement...) for the front subframe. The ones I had on the mounts to frame were rusty and too short to pass an MOT so a quick trip to Grampian Fasteners on my lunch break and they were bought for just over a pound! Nyloc nuts for piece of mind.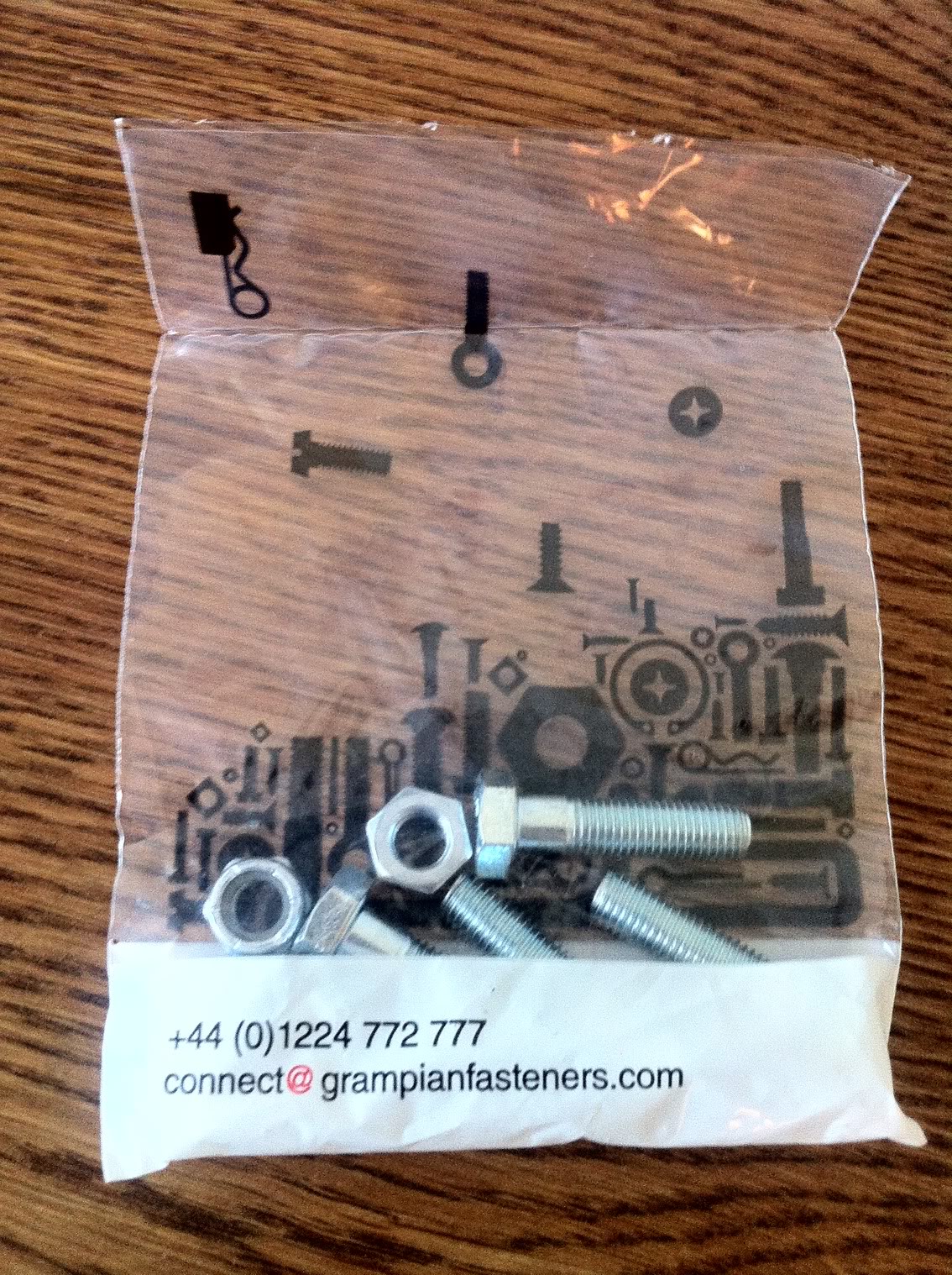 Drilled couple of holes in the bulkhead....with yet more blue tape!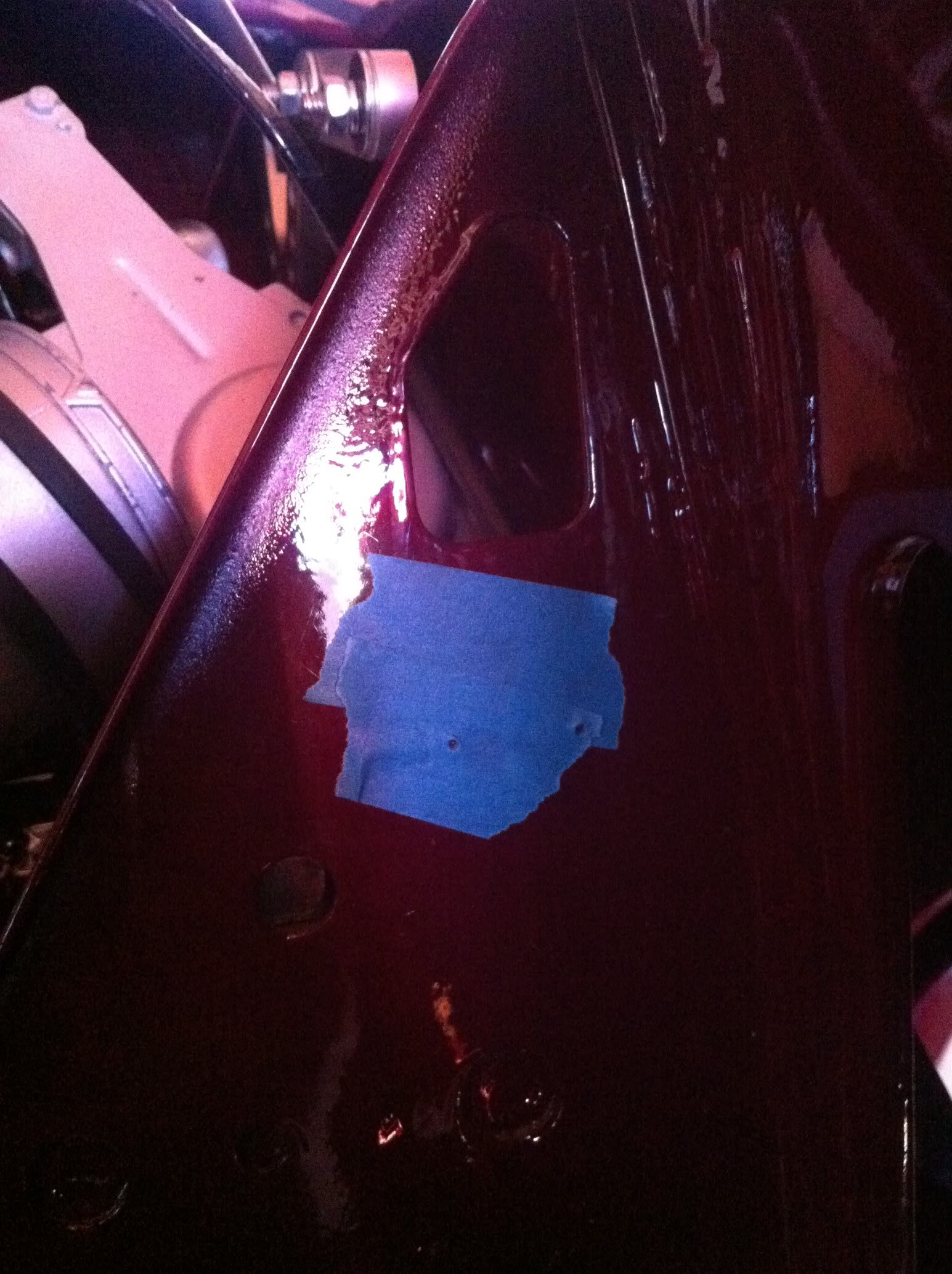 and that was then filled!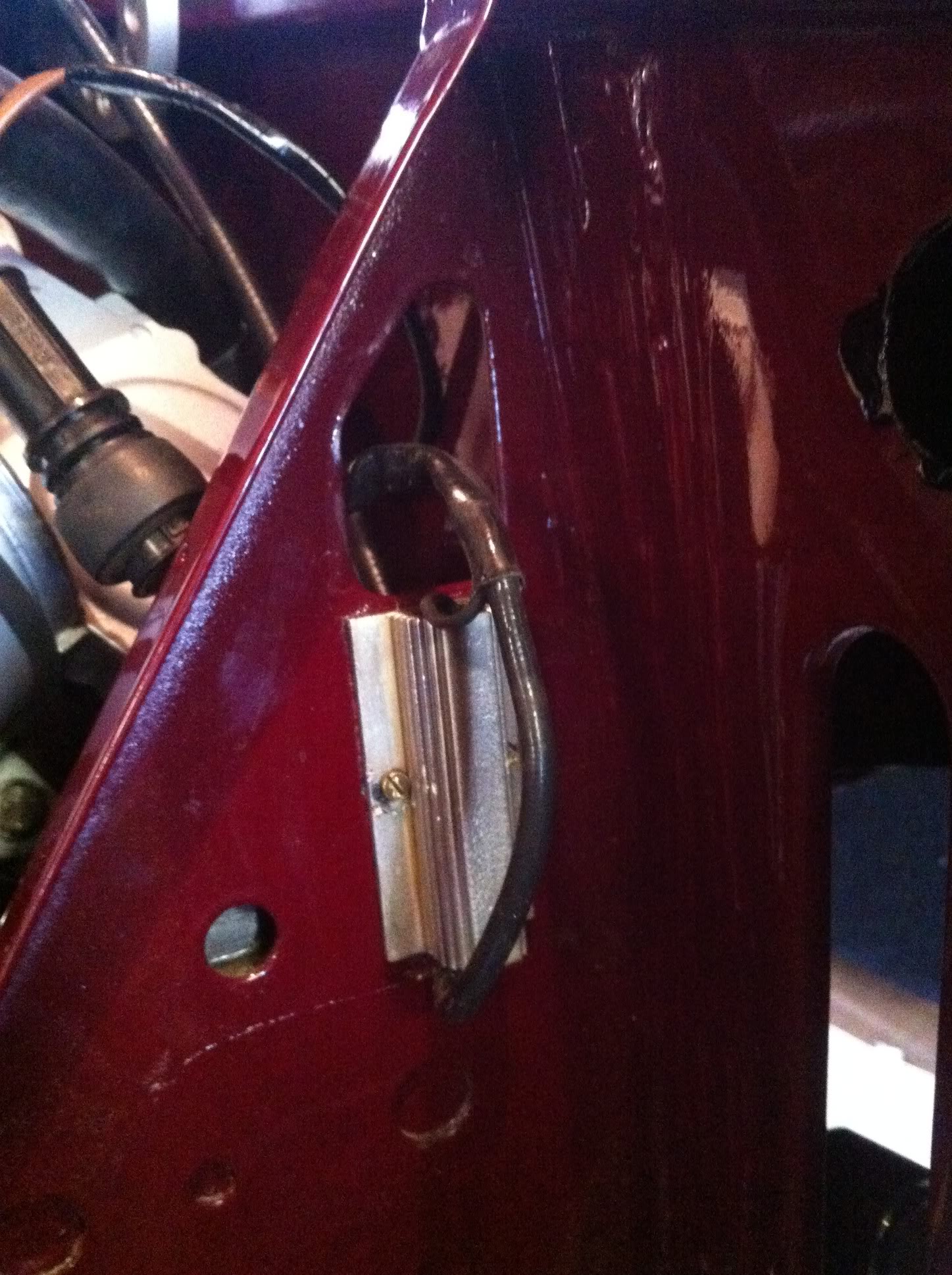 Then I finally got round to drilling out the hole for the passenger side repeater. NEver thought to check for this before paint as you would think they would be there already....WRONG! So with the engine and rad out had space. Made a template from the passenger side in paper then mirrored this onto masking tape to act as a guide. Worked a treat!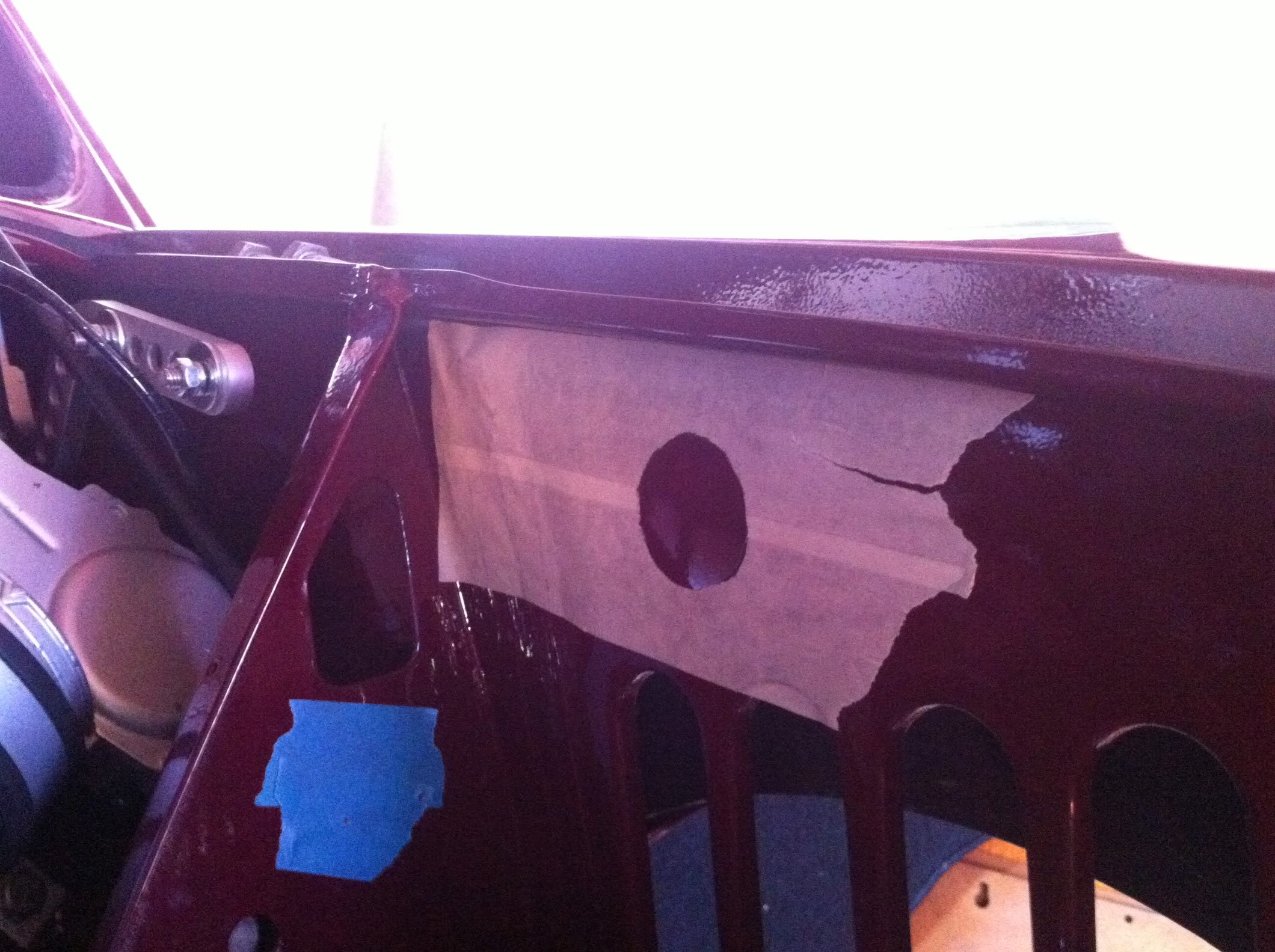 Drilled a pilot hole, made it larger and then ran out of big enough drill bits! So I set about it with a circular course file and made a huge amount of noise in the process.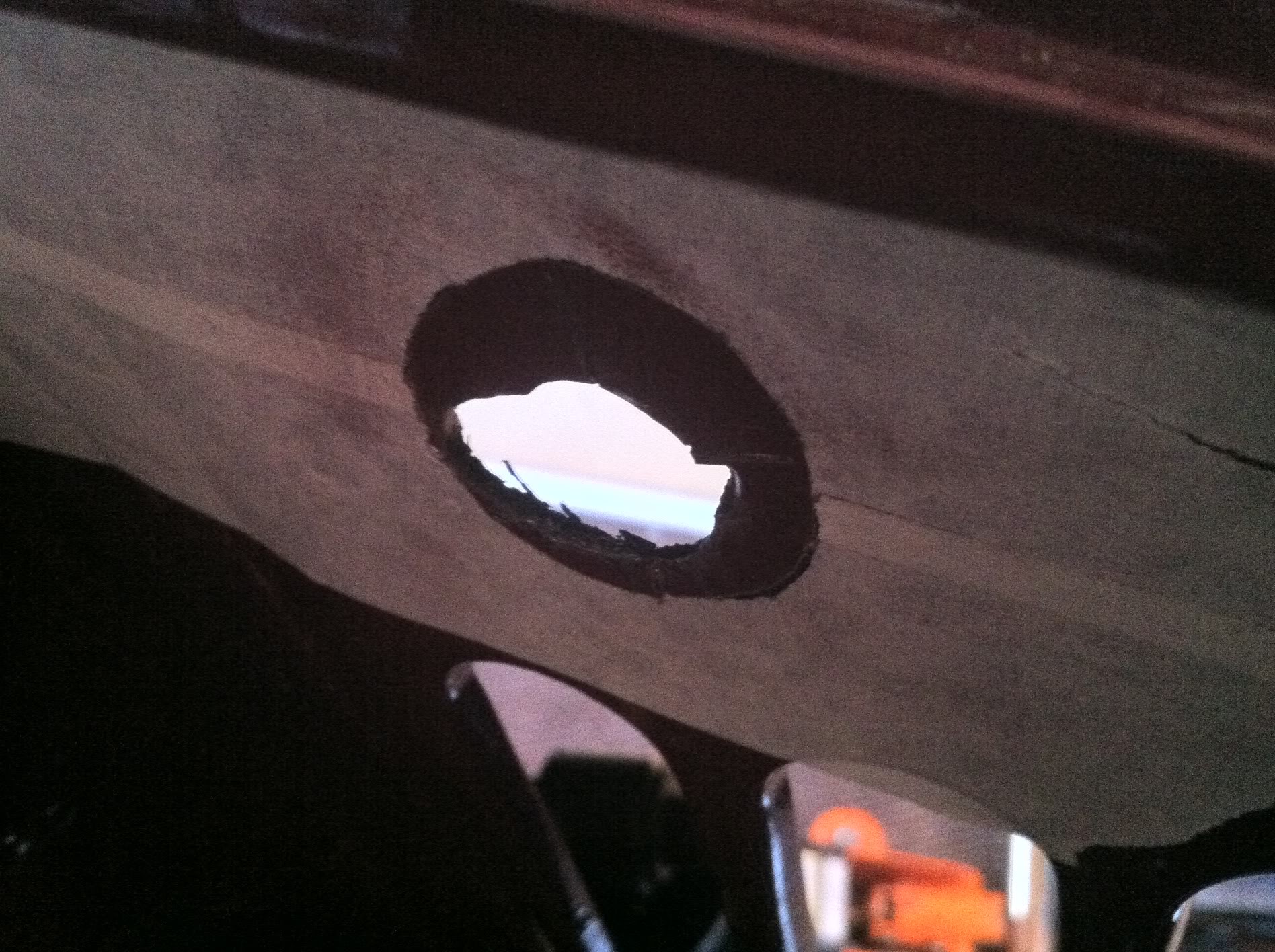 Got it roughly right then took a stone bit on the Dremel to tidy it up nice and smooth. Then finished it off with hammerite to prevent rust setting in!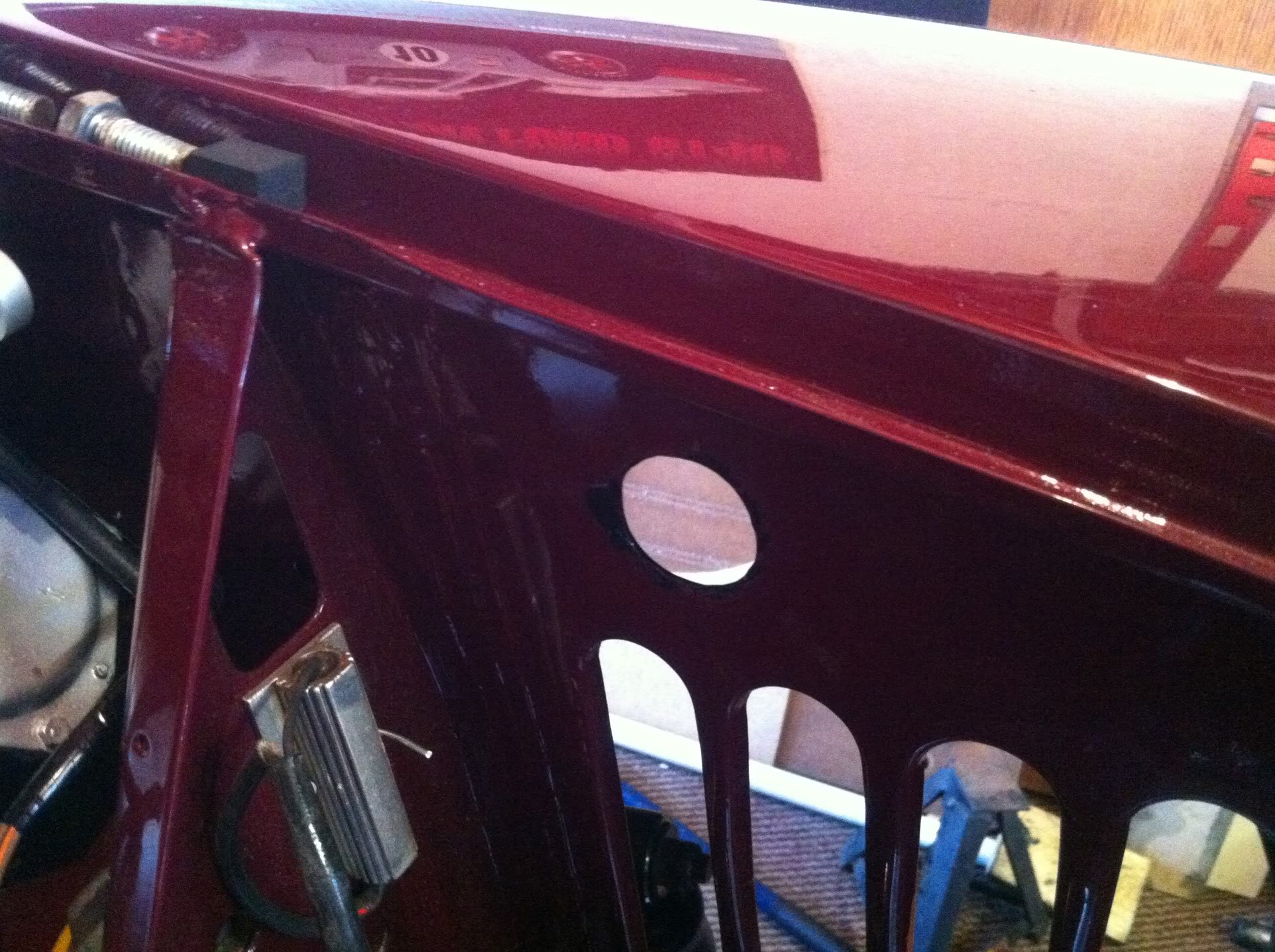 Then, seeing as my required part didnt show up again I thought I would tackle some shiny. So cleaned up the gauges for the dash. They were pretty grotty but nothing a bit of polish couldnt sort. We have oil pressure, voltmeter and clock :)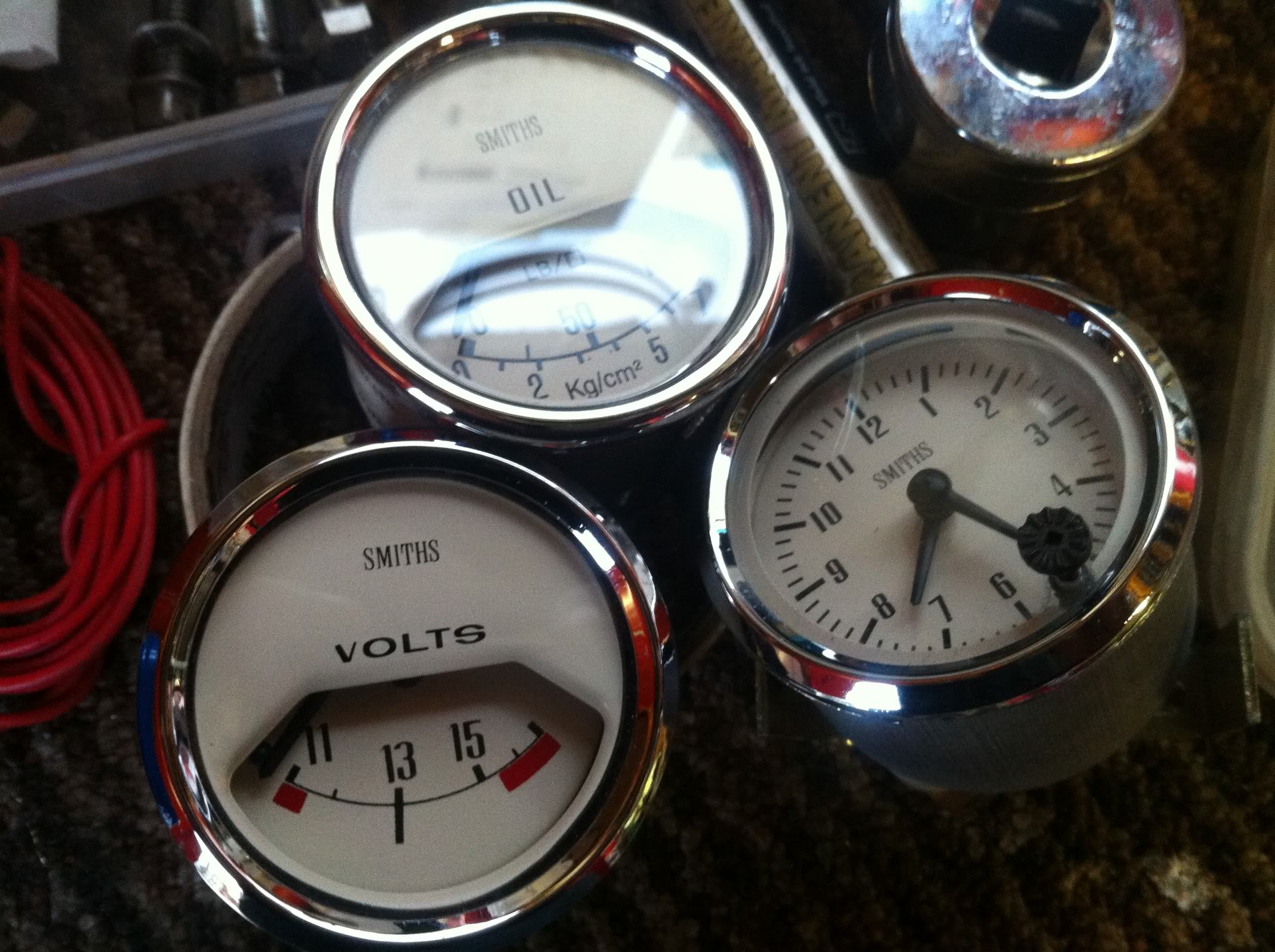 Then fitted it all to the dash! Had to make some small wooden spacers on the rear in order to fit them correctly with the brackets. Easy enough with a hole boring bit on the drill though!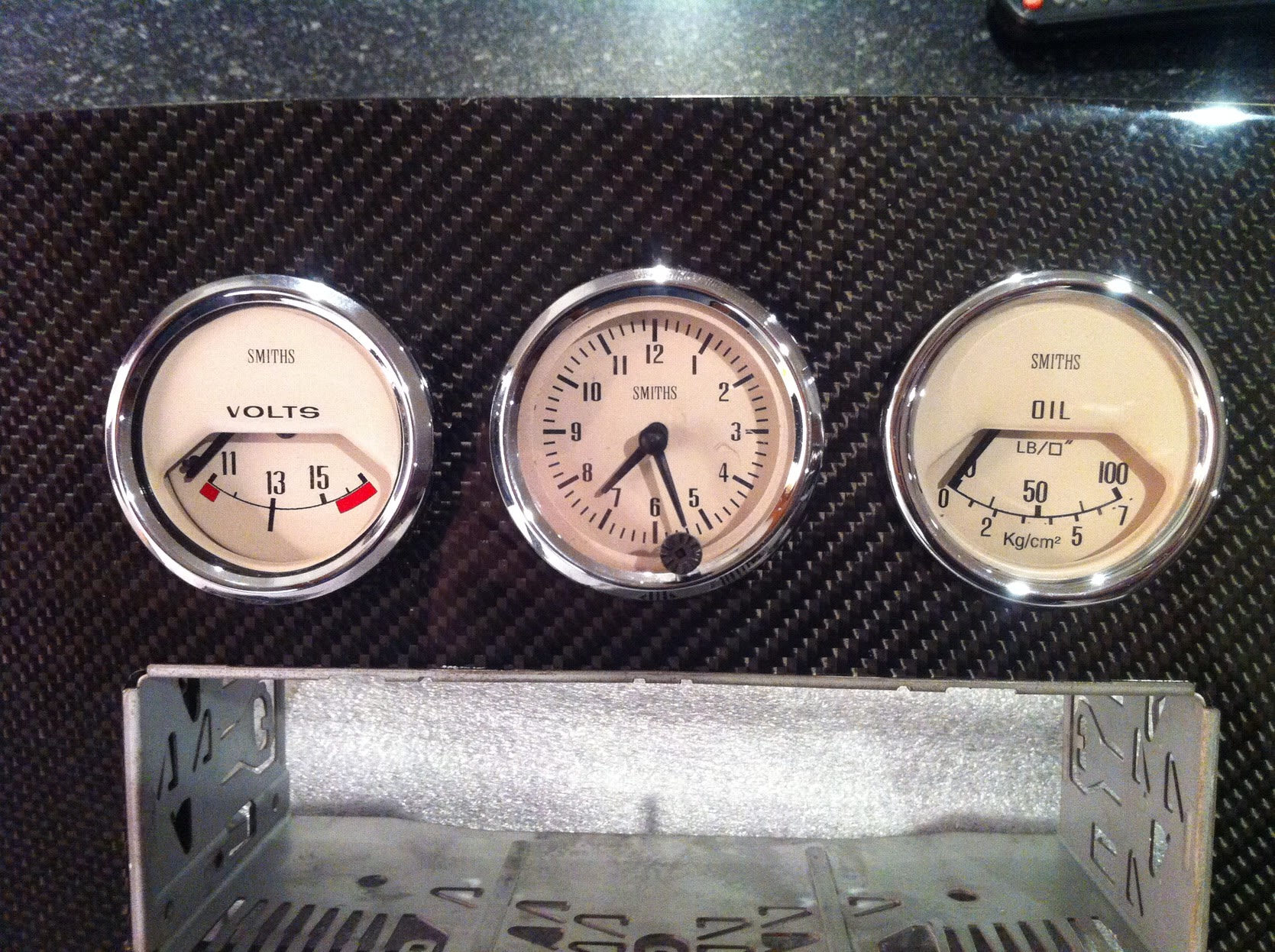 Also fitted the radio cage for the radio which is almost fully wired up ready to fit.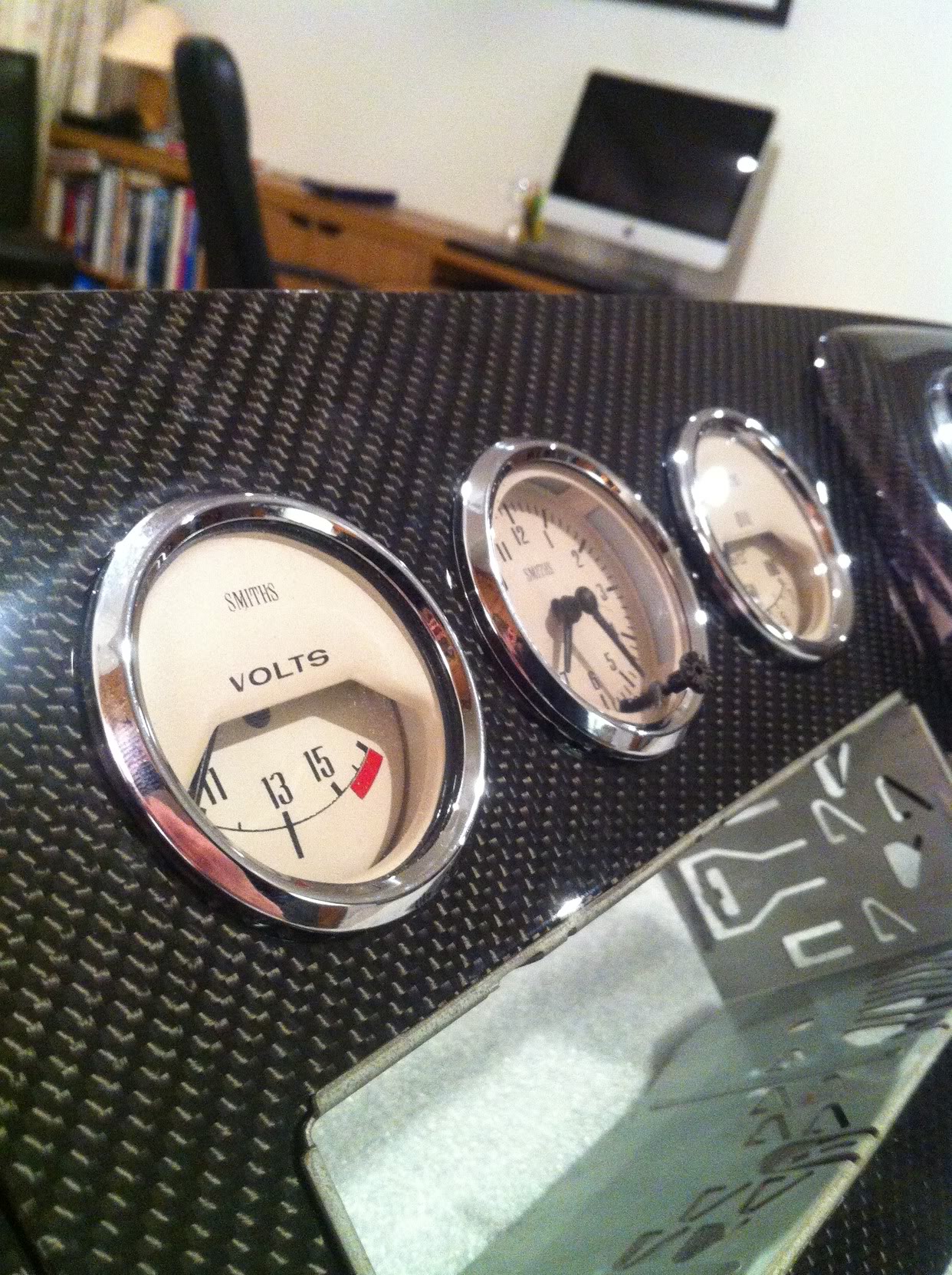 The main cluster is going to need some adjusting and larger screws than standard but ran out of time and light to do that tonight. Still, its going to look awesome!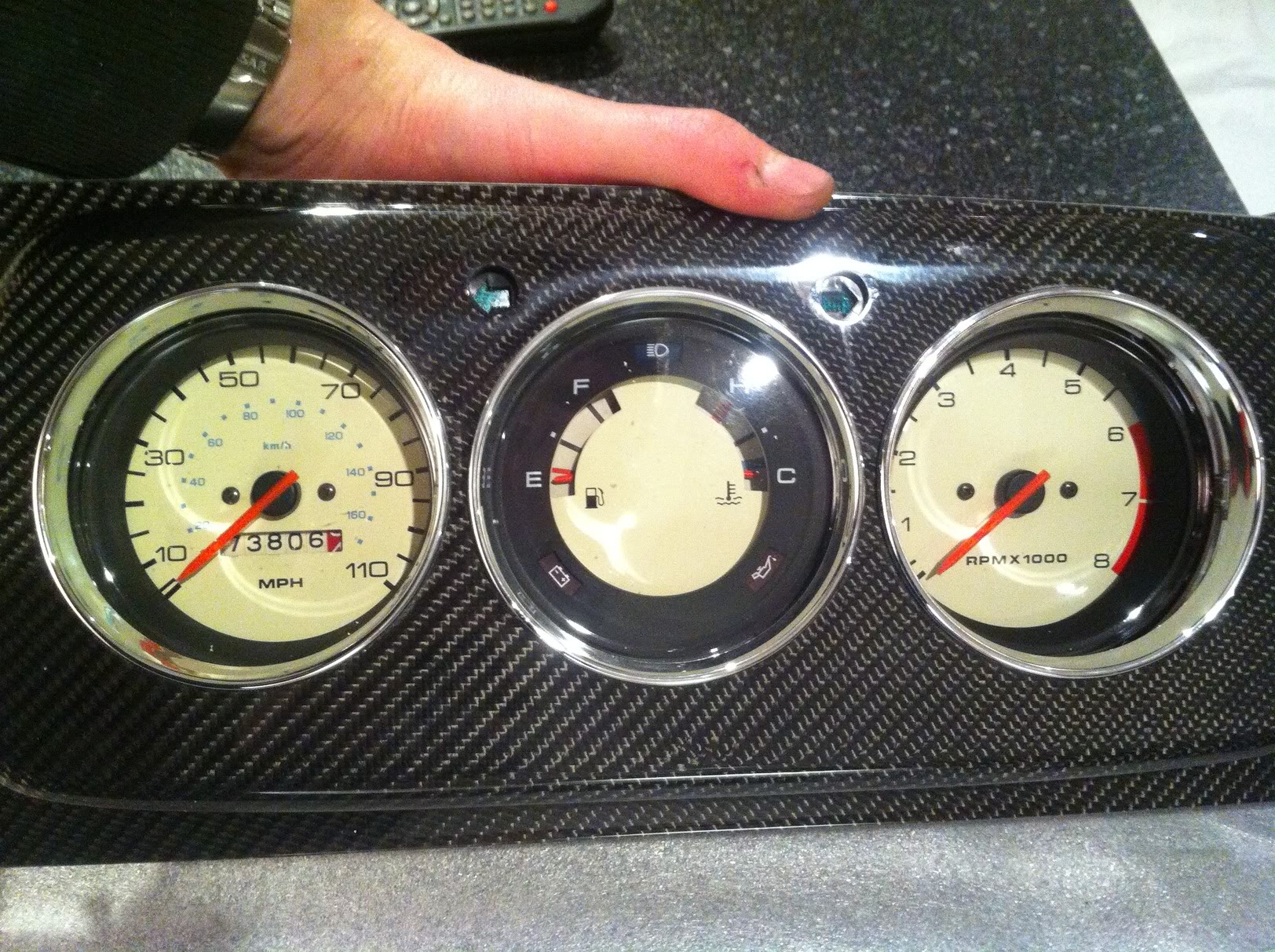 Shame its still sitting like this but hey ho, plenty other stuff to be getting on with!




More progress this weekend as Im off to see Fast 6 tomorrow night

5-18-2013
Progress! Parts finally arrived yesterday and this morning! First up, gearbox crankshaft seal. Genuine of course.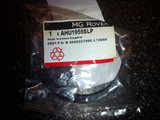 And door shims incase the doors need finer adjusting and diff shims! 10thou and 6though. Exactly what I needed, which is handy!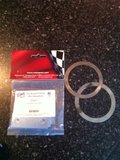 So with the shims acquired I shimmed up the diff, reassembled it and back on the box. Then befo fitting, tested it with the linkage. Click, click, click, click, lift and click! 1st thought to 4th and reverse. Result!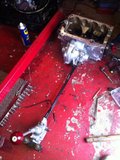 Bought a special tool for the roll pins on the linkage. £3 and does its job perfectly! Makes the pins an ease to add or remove without damage!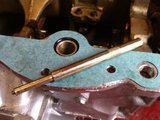 Replaced the oil pickup seal on the gearbox face (goes between box and block) needed changed!!!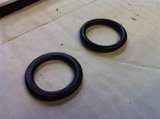 And then mated the box to the engine and the flywheel housing back in after fitting a new genuine main oil seal around the crank hole.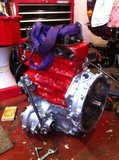 Then was out the whole afternoon in town but did my mum was busy making up a cover for the gear stick gaitor. In door card matching suede. Looks great!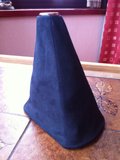 So tomorrow it's flywheel etc back on and then install the engine again!
5-19-2013
Not long in from the garage. Been out since about 9.30am! So 13hrs aint too shabby! This popped up on my phone just to remind me that this is a week away.....
First up, get the flywheel etc all on. Housing went on no bother s we marked up the bolts and the housing to match everything up. Top tip, keep everything loose until you have all bolts located them tighten. We tightened up a couple first and then found the others wouldnt go in. Save yourself the hassle! Then got the flywheel and clutch assembly on and correctly torqued up as per Haynes recommendation.
Then it was on with the 'wok' flywheel cover and engine was hoisted into place. With the brake servo still being in to prevent having to rebleed the brakes, we made life difficult for ourselves but loosened off the servo and tied it with some rope to the rafters of the garage. Worked a treat!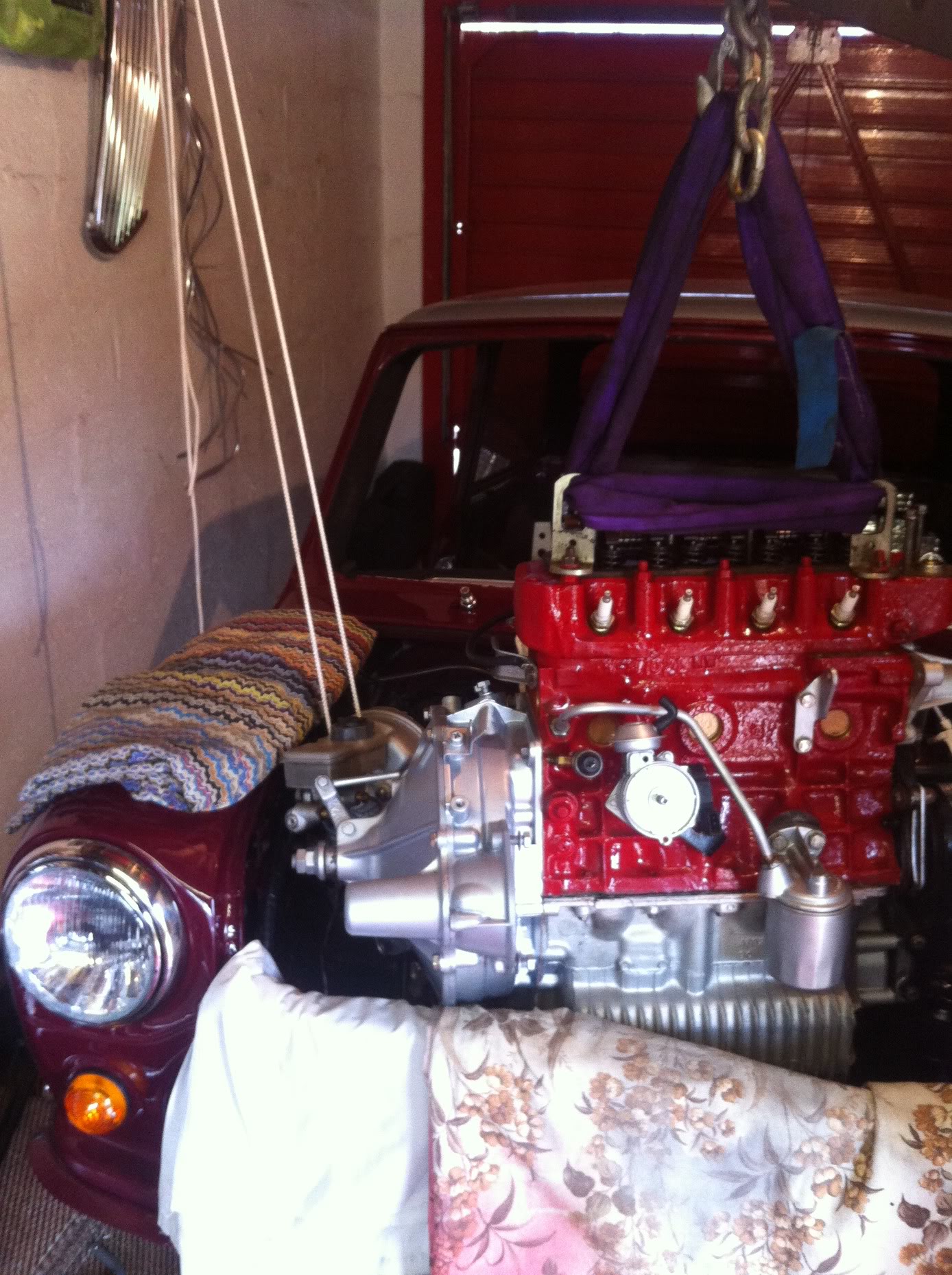 With the huge help from my parents, we eventually got the engine located in the subframe. Took longer than anticipated, the air was blue and the floor was red with blood from my burst knuckles but it was in! Then we set about getting the ancillaries all in. So all thats left to do is get the rad, throttle/choke cables, heater cable and coil wiring and HT leads on and its broom broom time! Should get all that done tomorrow night hopefully!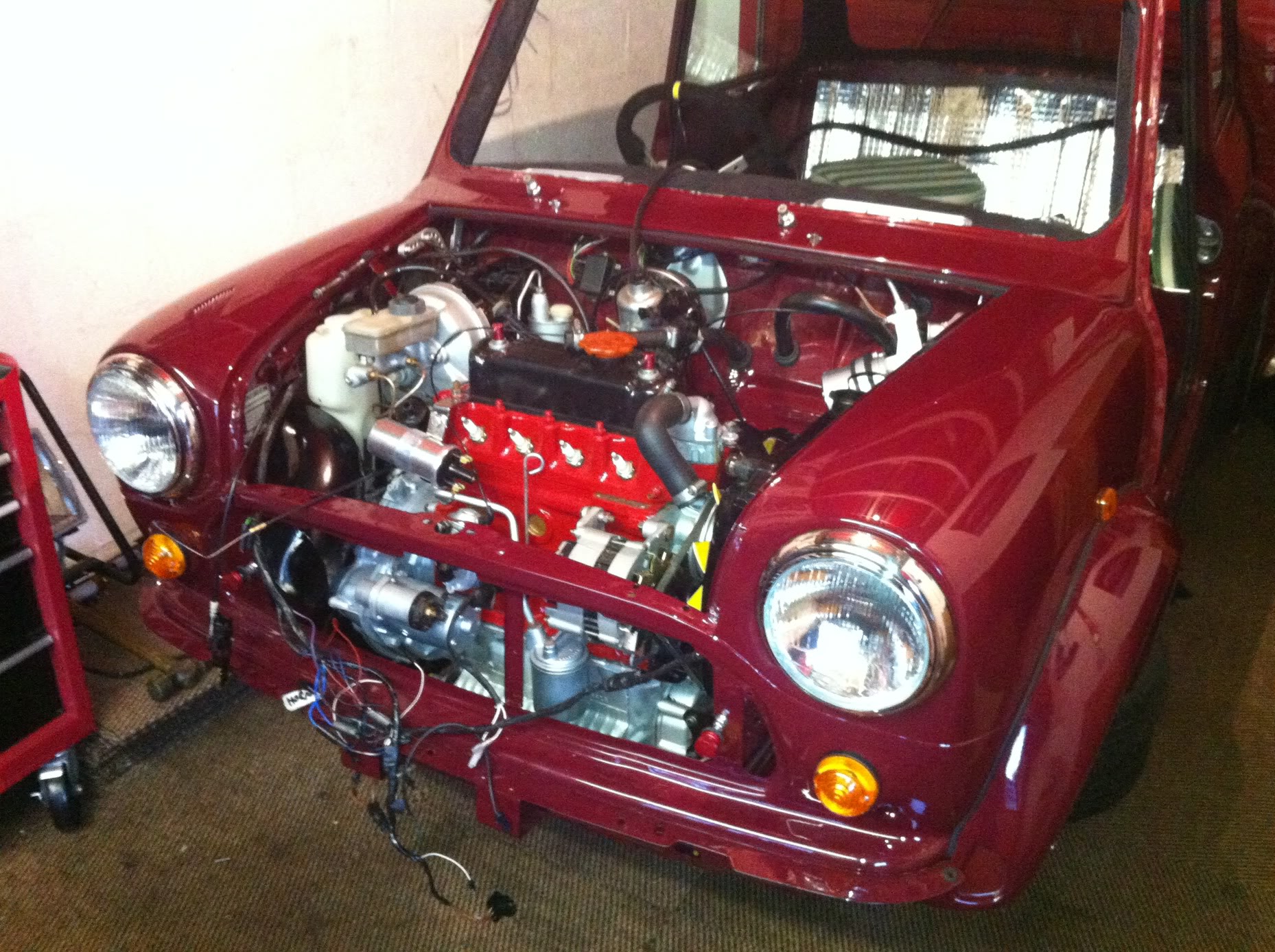 So that was today. Hands are in tatters but worth it for this amount of preogress. Note the masking tape plaster quick fix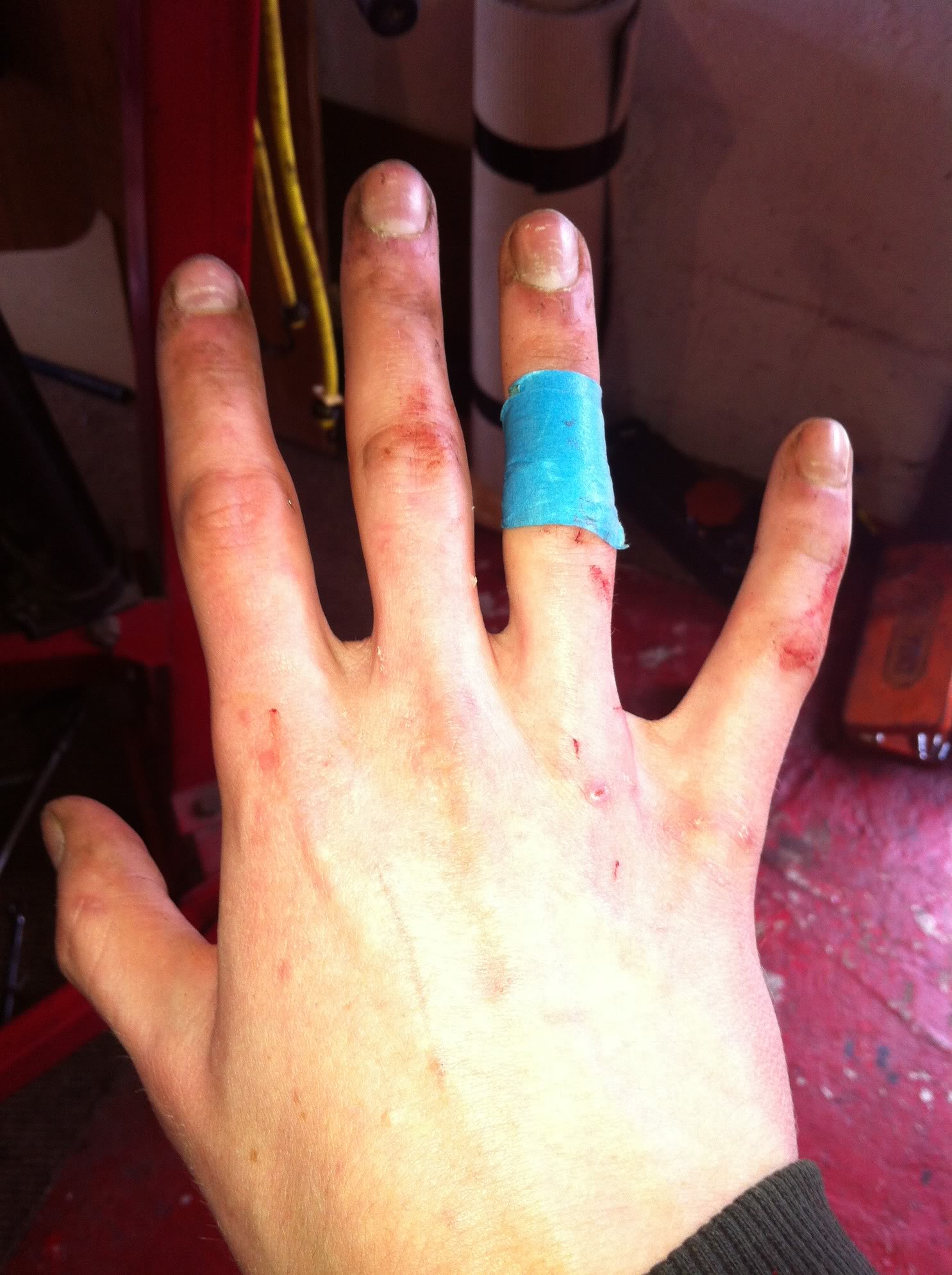 Dedication and commitment? You bet! :thumb:
5-21-2013
Wee update. Finished everything off yesterday to get the engine going but didn't start due to flat battery. Home today from work to a charged battery and still no starting! Checked for fuel......

So with fuel bought (

) and poured in we tried again. Still no start but strong spark and turnover. Looked at the choke cable and realised it was jamming the choke fully closed as the cable housing was up against the retaining bolt. So with that adjusted, it fired up first time no bother at all! Result! Again, its running terribly but the exhaust is properly sealed this time which is good and its popping and banging on overrun lovely



Very happy with the work we did on the engine and box. Never tackled anything like it before (any of us!) and it hasn't got any leaks, be that oil or water. Drove it out to test the gears and we have 1st, 2nd, 3rd, 4th and reverse. Ace! Shame its not got the better final drive of the 1275 box but beggars cant be choosers! Ultimately I want to rebuild the now spare box but that can wait for now.

So, first thing tomorrow, out to fine tune and then get going on other bits and pieces. Not looking for perfection from the timing as I will get Jim King to do that at MOT once its failed its emissions test ..... :)
5-22-2013
Badly wet and windy, on and off, throughout the day so car stayed inside. Not ideal but made the most of it.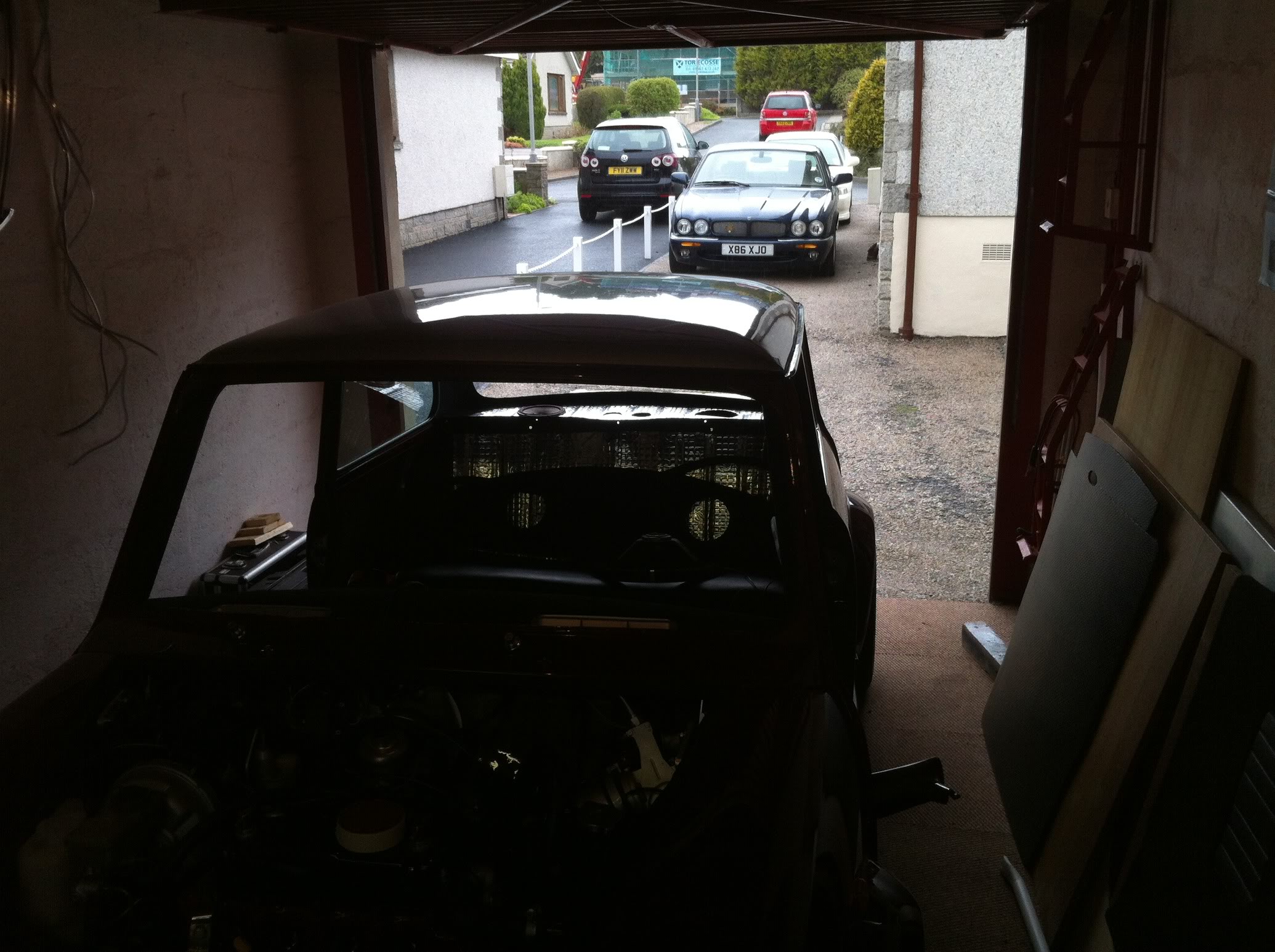 Spent the first few hours playing with the carb/dizzy etc etc. It was backfiring through the carb, not revving and cutting out. Thankfully thats now all stopped but its not perfect. It is good enough to drive it to the MOT which is all I need though!

Excuse the dust and dirt in the battery box! Needs a clean but got the three drainage grommets in after a quick stop at Autoparts. Had to buy three multi packs to get the three I needed.......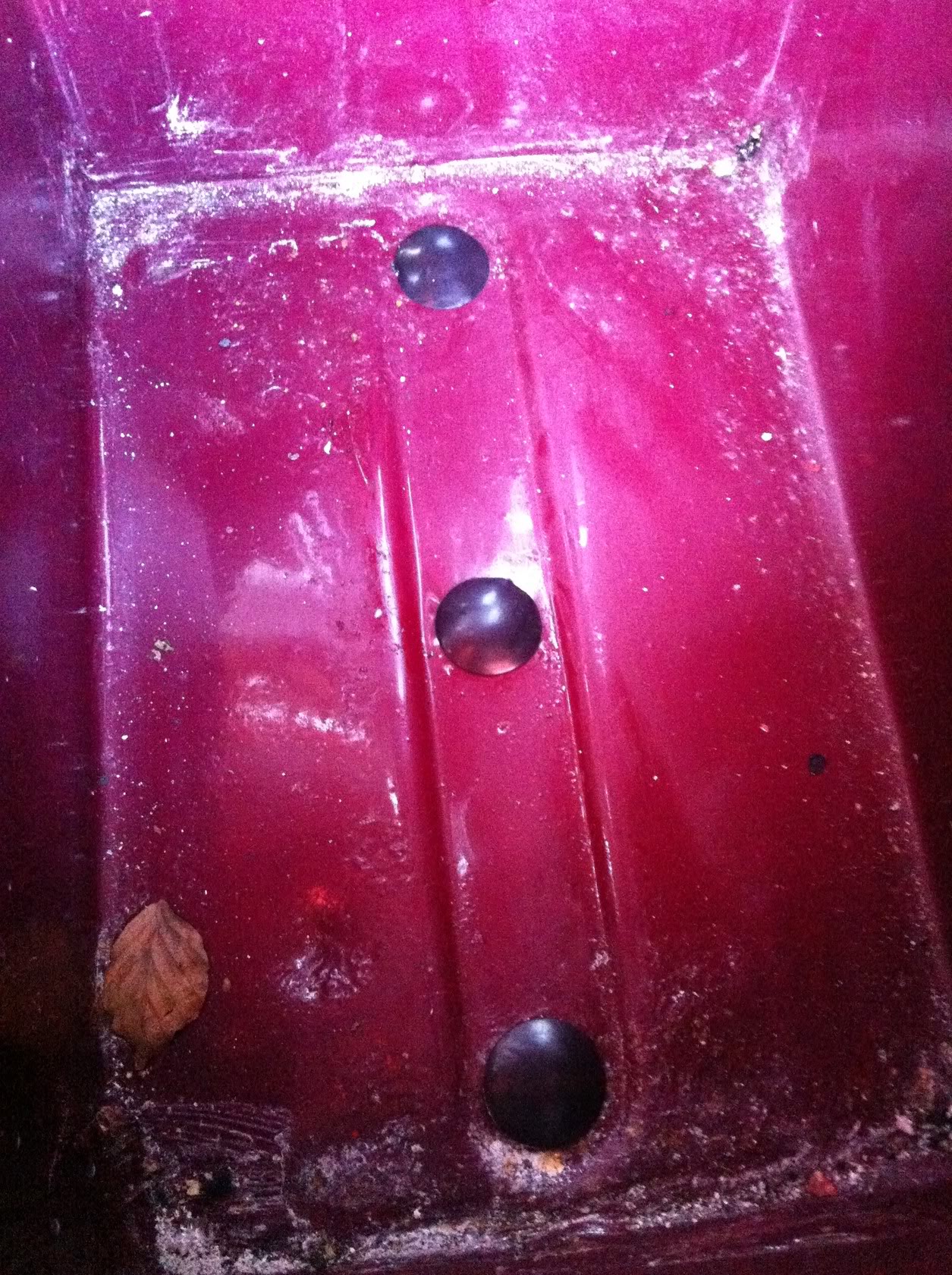 Then got the front window rubber on (not window, thats tomorrows job!) As you can see it wasn't wanting to sit correctly and seemed far too long.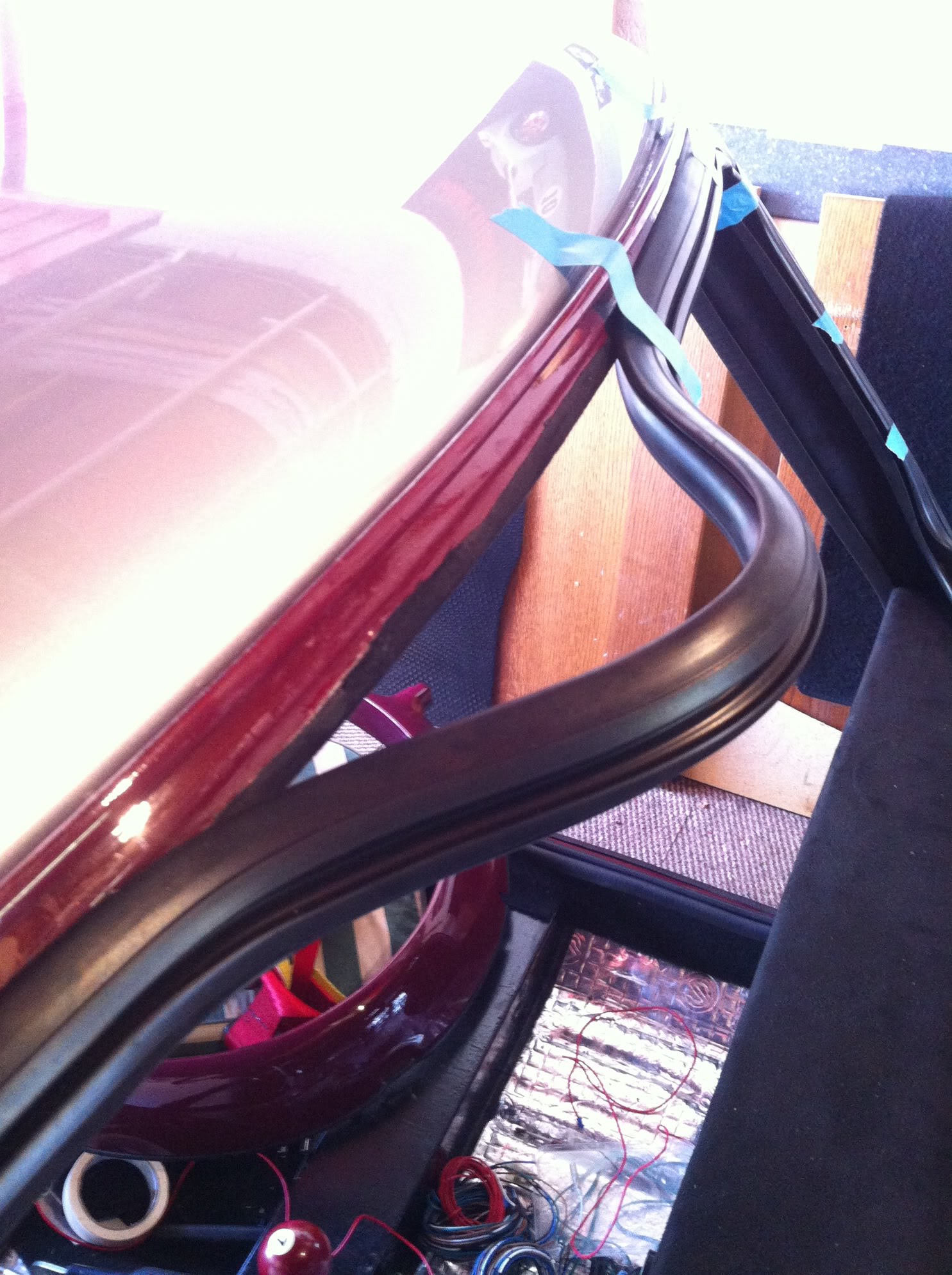 However, with a bit of stretching and pulling it sat nice and tight in the frame. Hopefully the windows easy enough to get in now!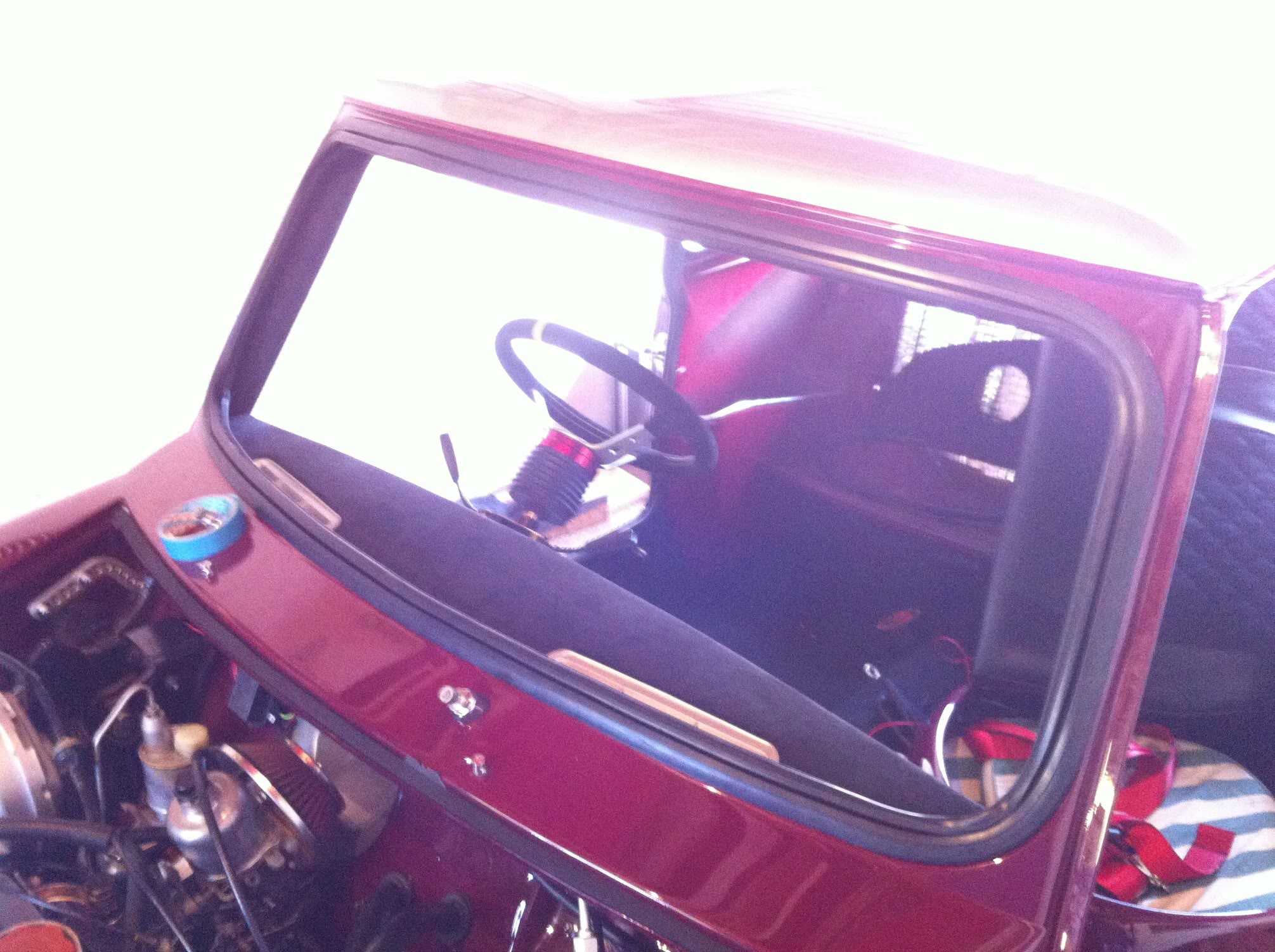 With the front electrics done, I got the bonnet catch back in. Left loose for now to allow adjustment for bonnet fitting but its working.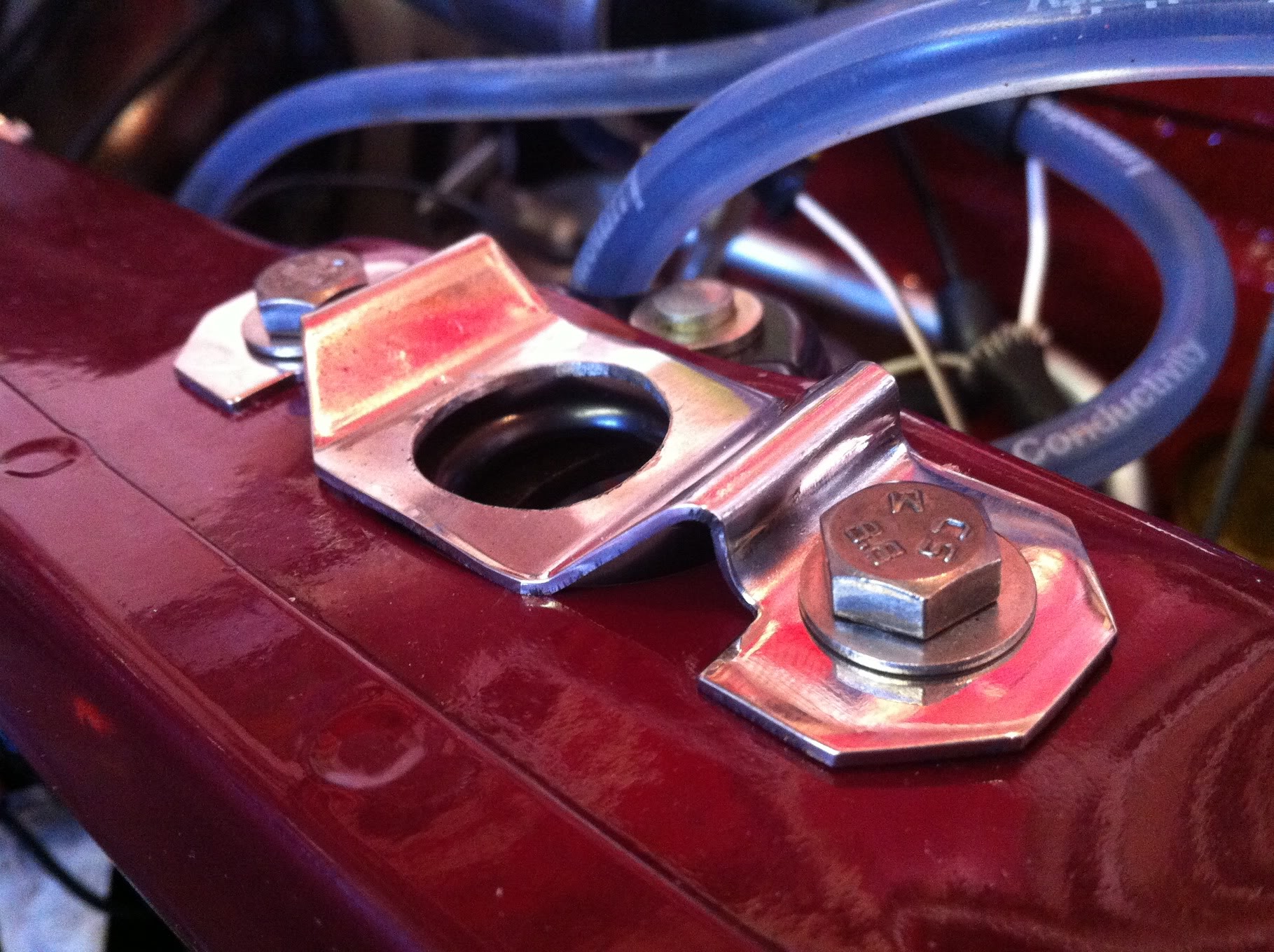 Grommeted up the choke and heater cables. Two of the hardest grommets Ive ever come across. Beyond tight!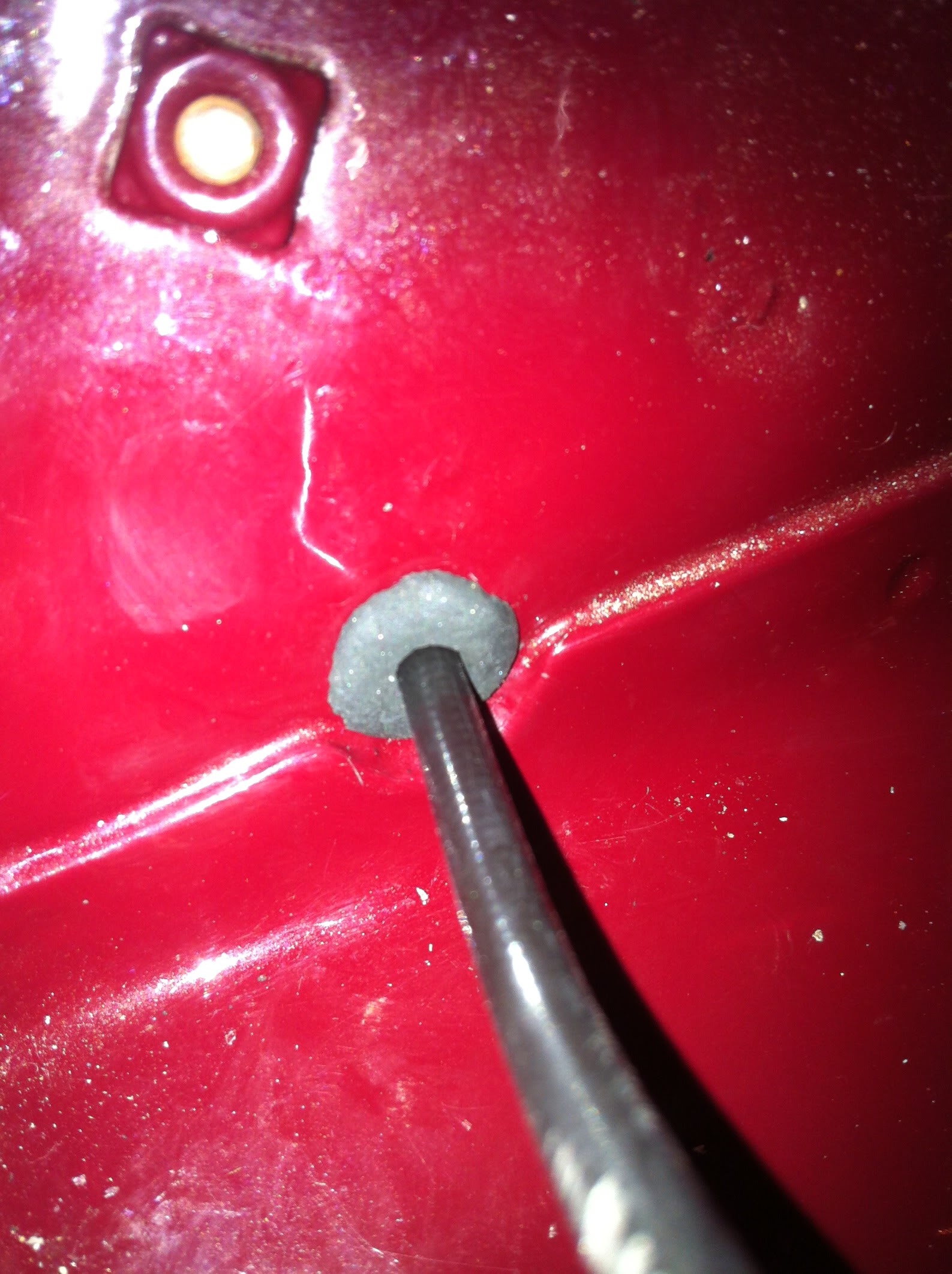 And swapped out the dull black plastic knob on the dash for a chrome one. Balances it out much better!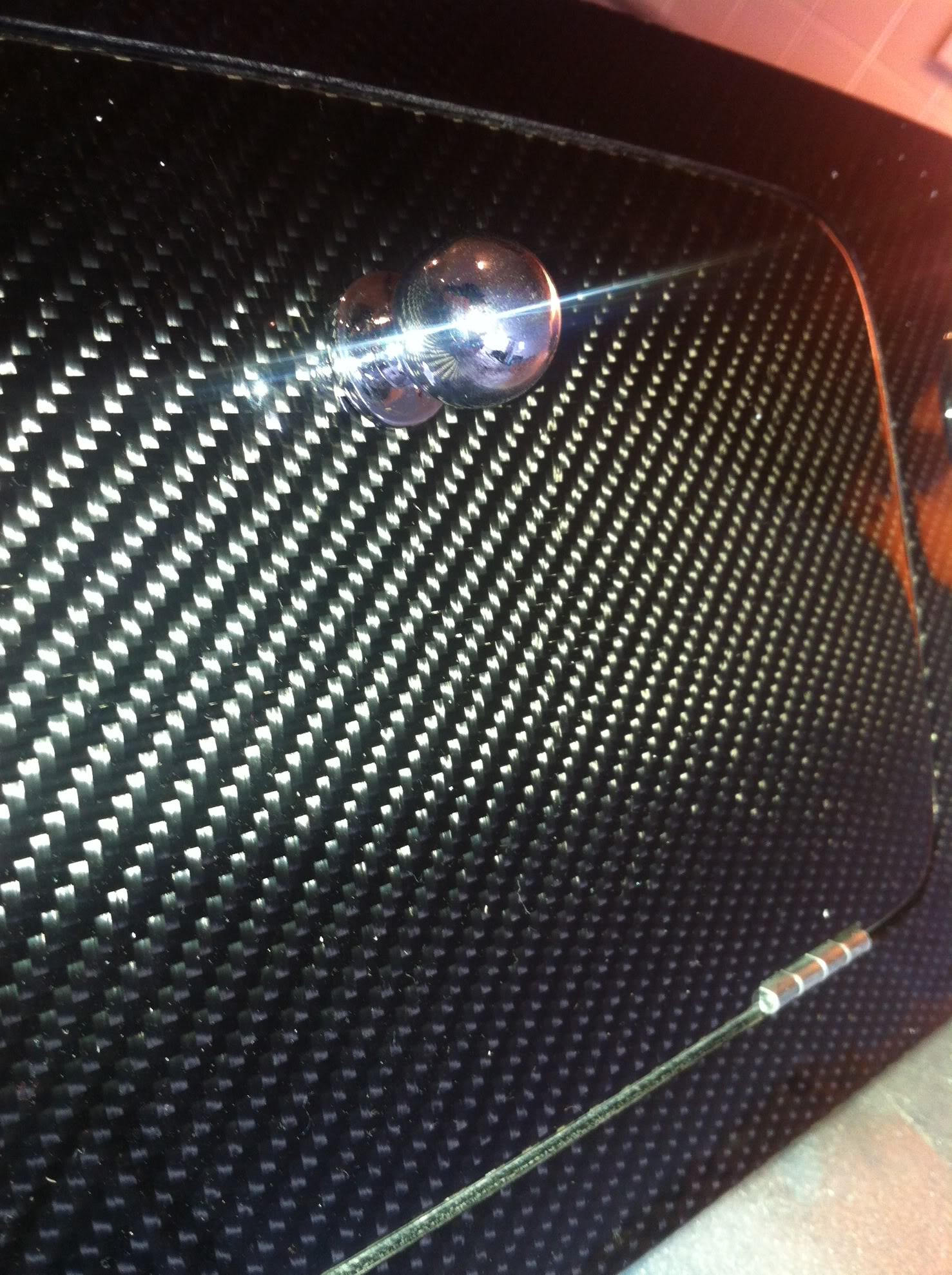 I did try and fit the radio up loosely so I could disconnect it again for dash fitting. Need a couple of correct shaped connectors to get it done. Hopefully get lots more done tomorrow like dash, radio, doors etc.
5-23-2013
More work done on it toda with the help of Greig again!

First up, windscreen in. Took a while and a bit of haridryer heat required but we got there! Didnt get the locking strip in as it was far too cold and the rubber was very stiff. Try again tomorrow if weathers nicer!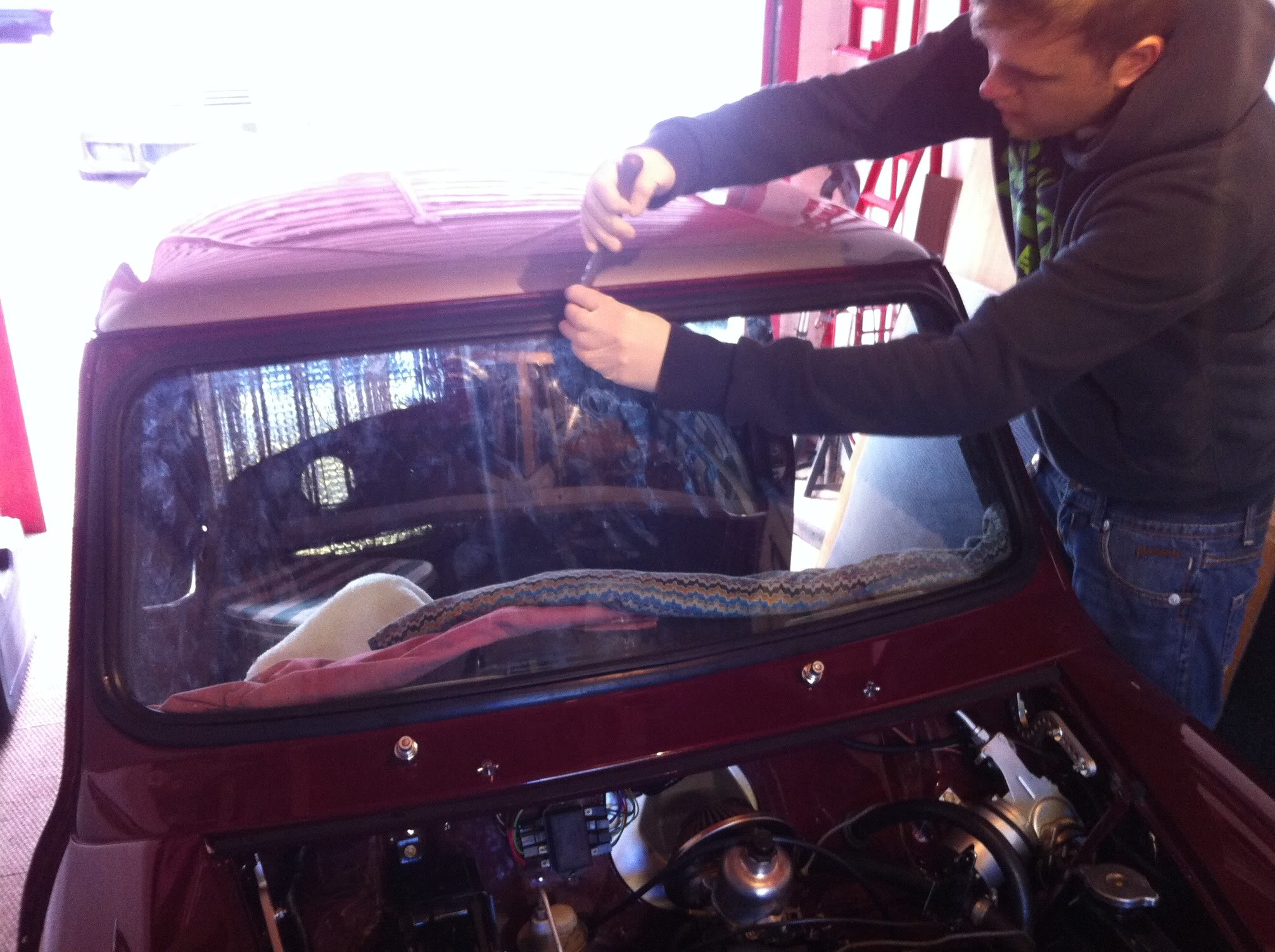 He was very happy with our achievement...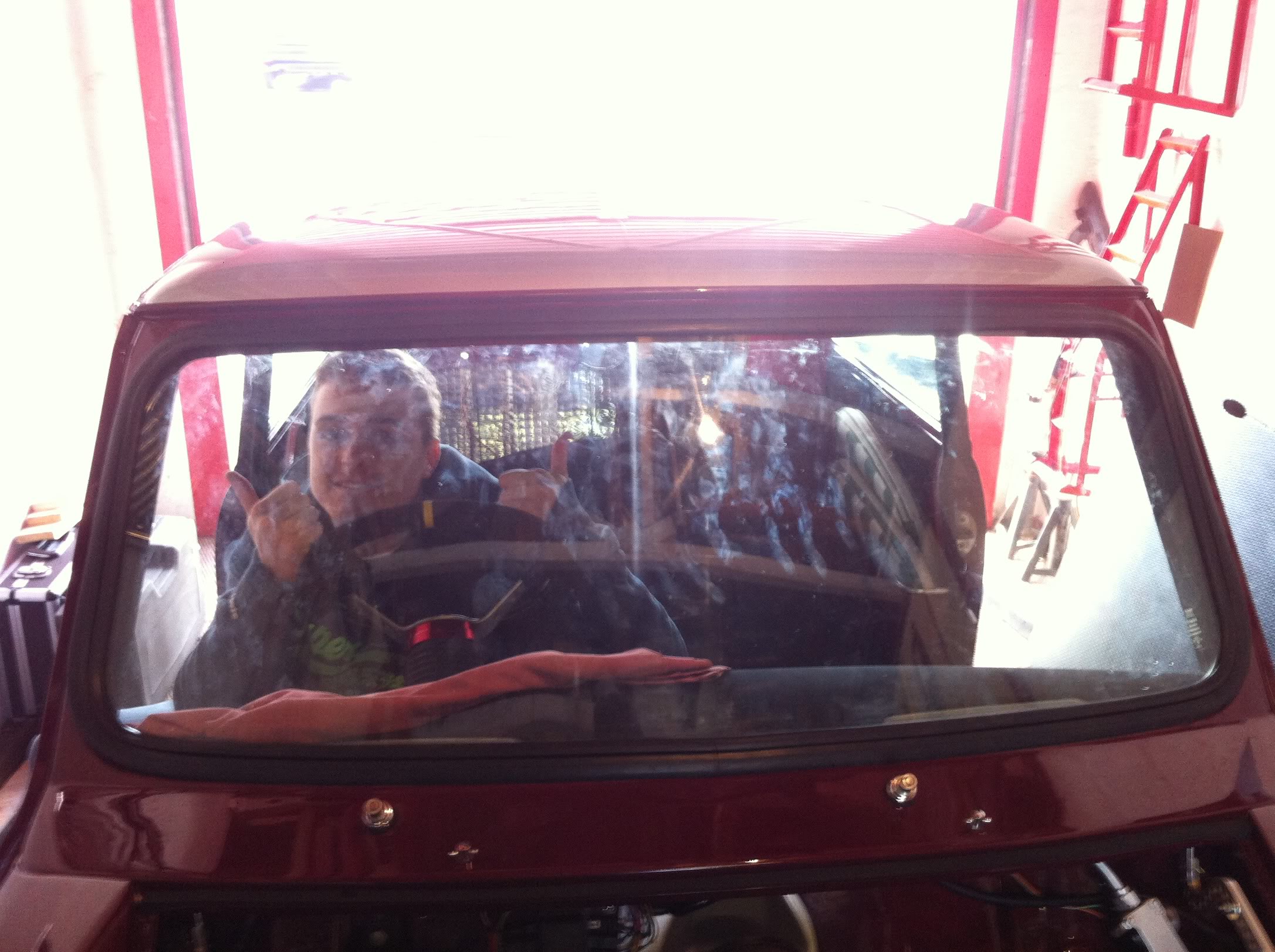 Then we wired up the radio, and it doesnt work. Time to upgrade then.......

We built up the passenger door and then got the drivers door fitted. Fits ok but needs a shim on the bottom hinge I think to bring it up perfectly in line with the shoulder line. Good to get it on though!

Again Greig was enjoying himself fondling the inner wing.....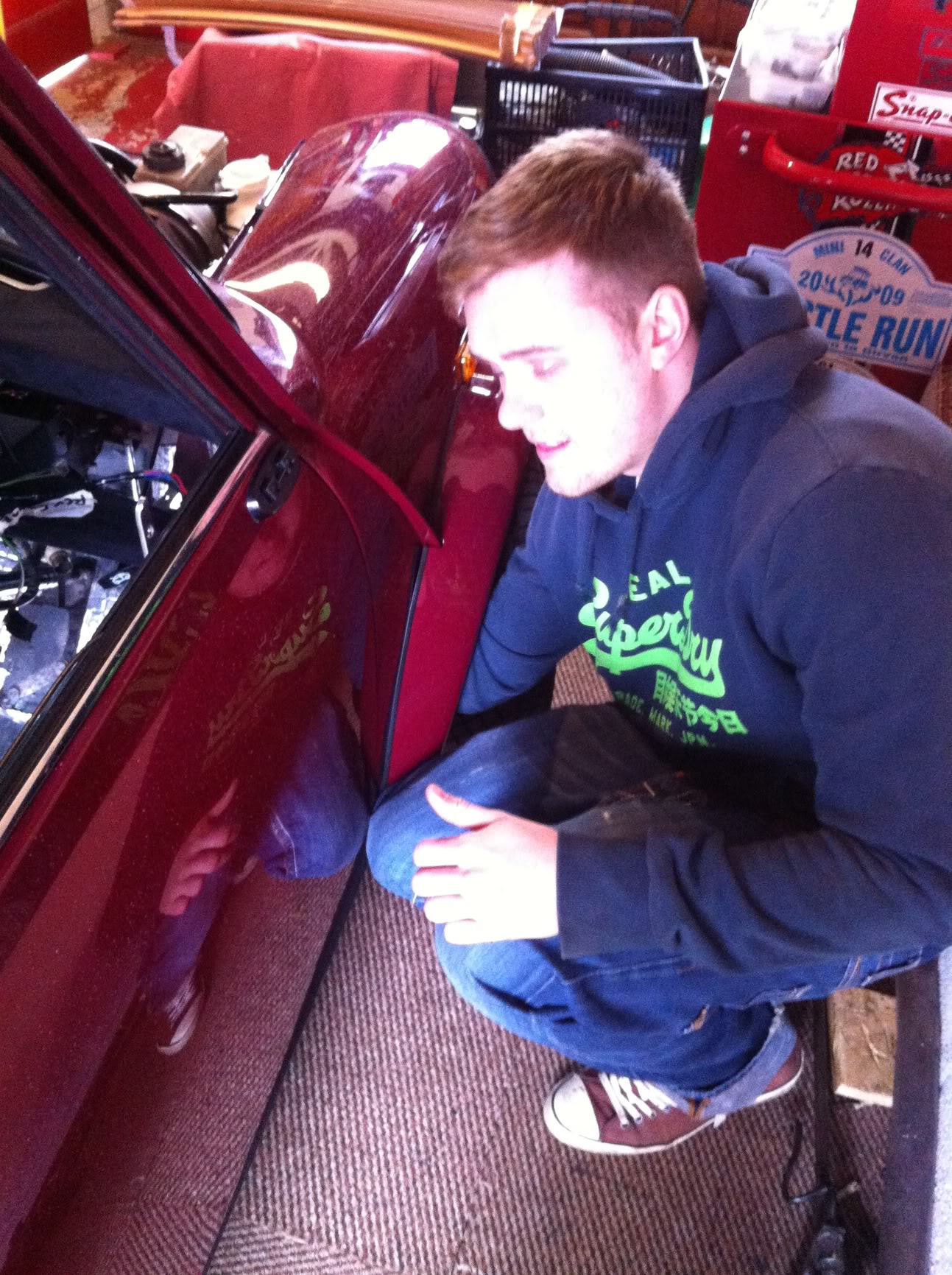 Finish = epic!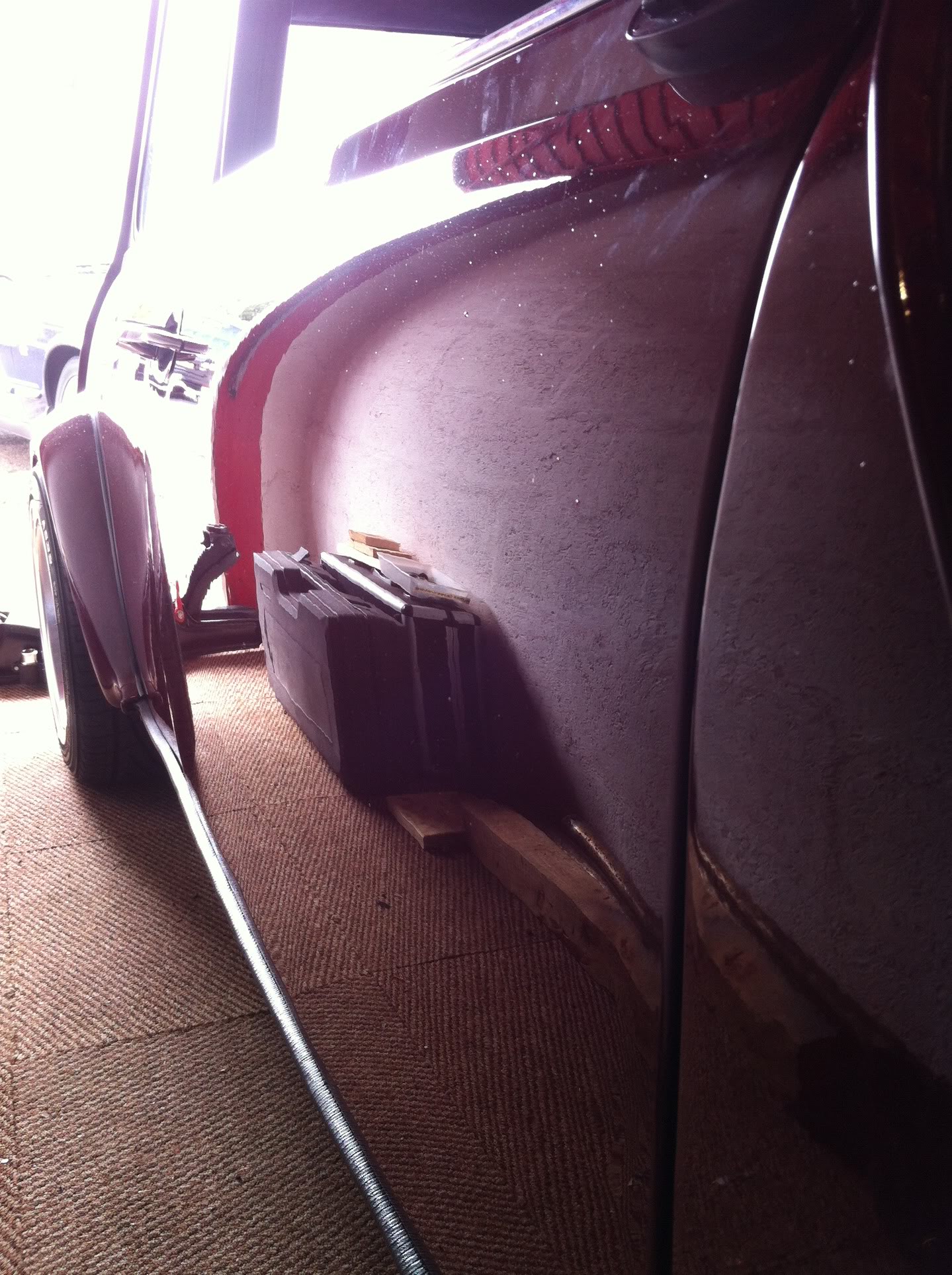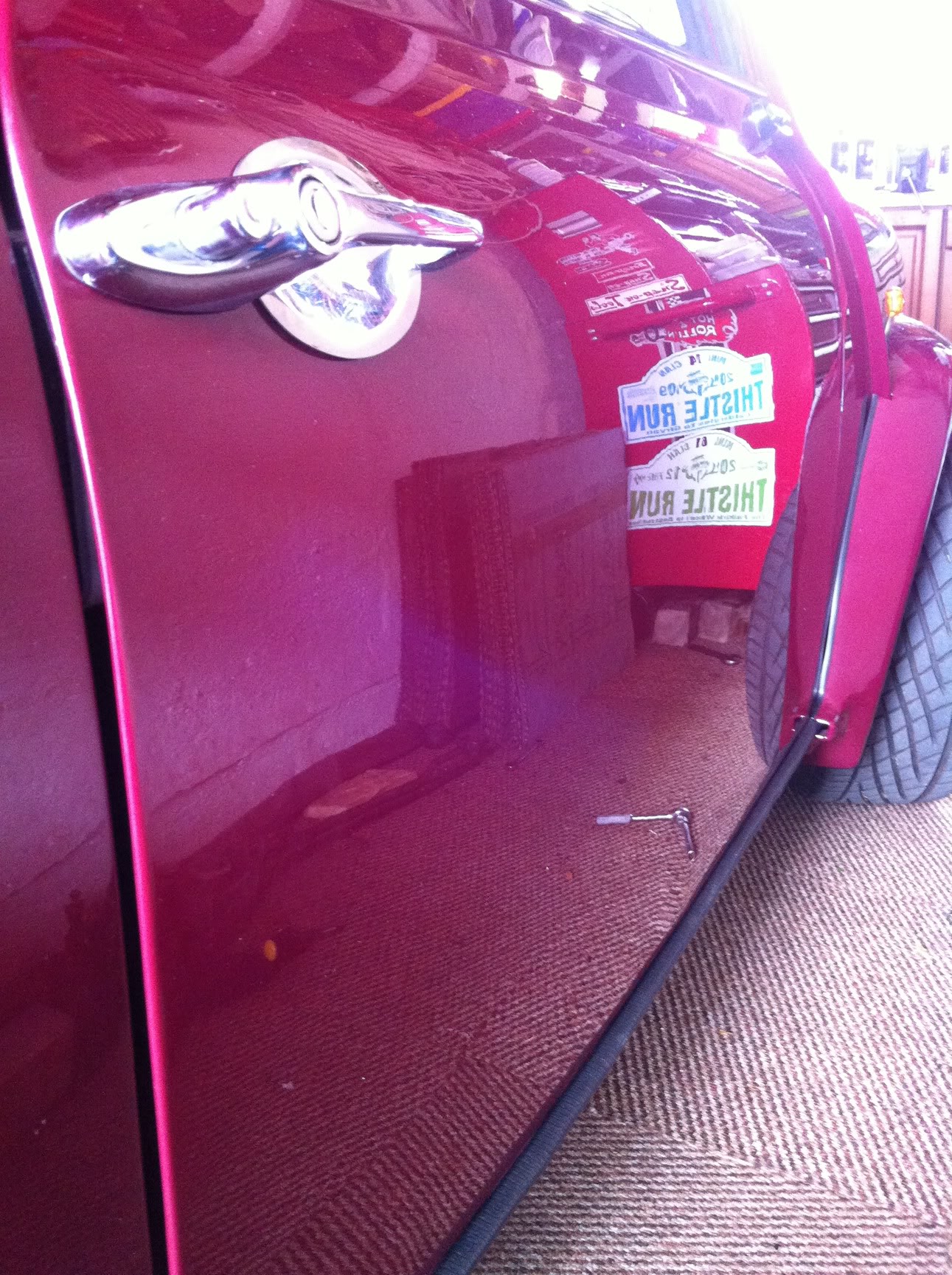 Inside looks not too bad either though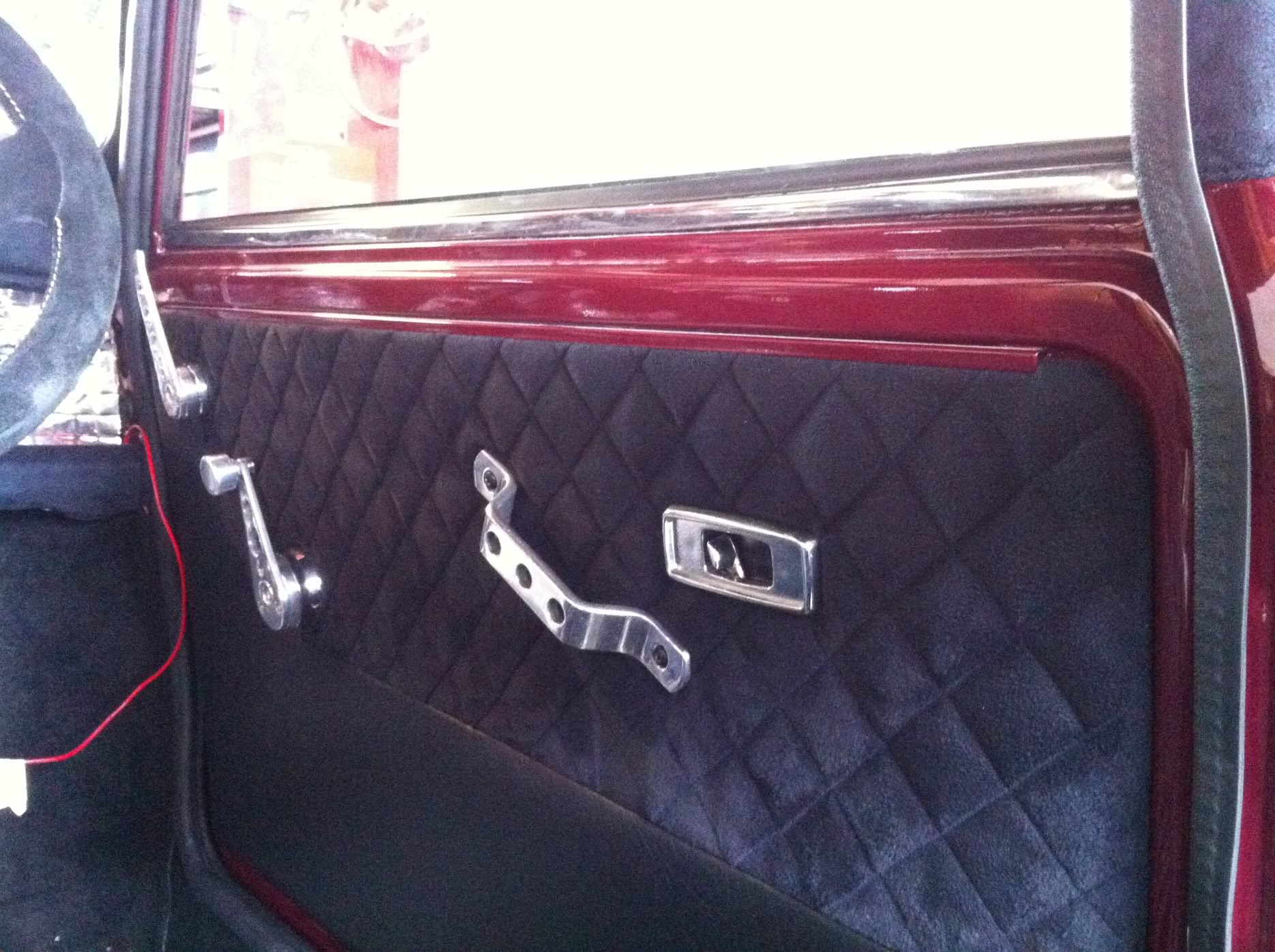 And then got this too! Some light bedtime reading ahead......
5-26-2013
See below for how I got on.....
Once the wires for the speakers are run opn the floor and the carpets are in, we can get the seats back in again! We shall see what happens at Tain! I cant wait!
Forgot to update this last night so here it is before I get todays work done! It was a REALLY hot and sunny day so the toys all got out to play!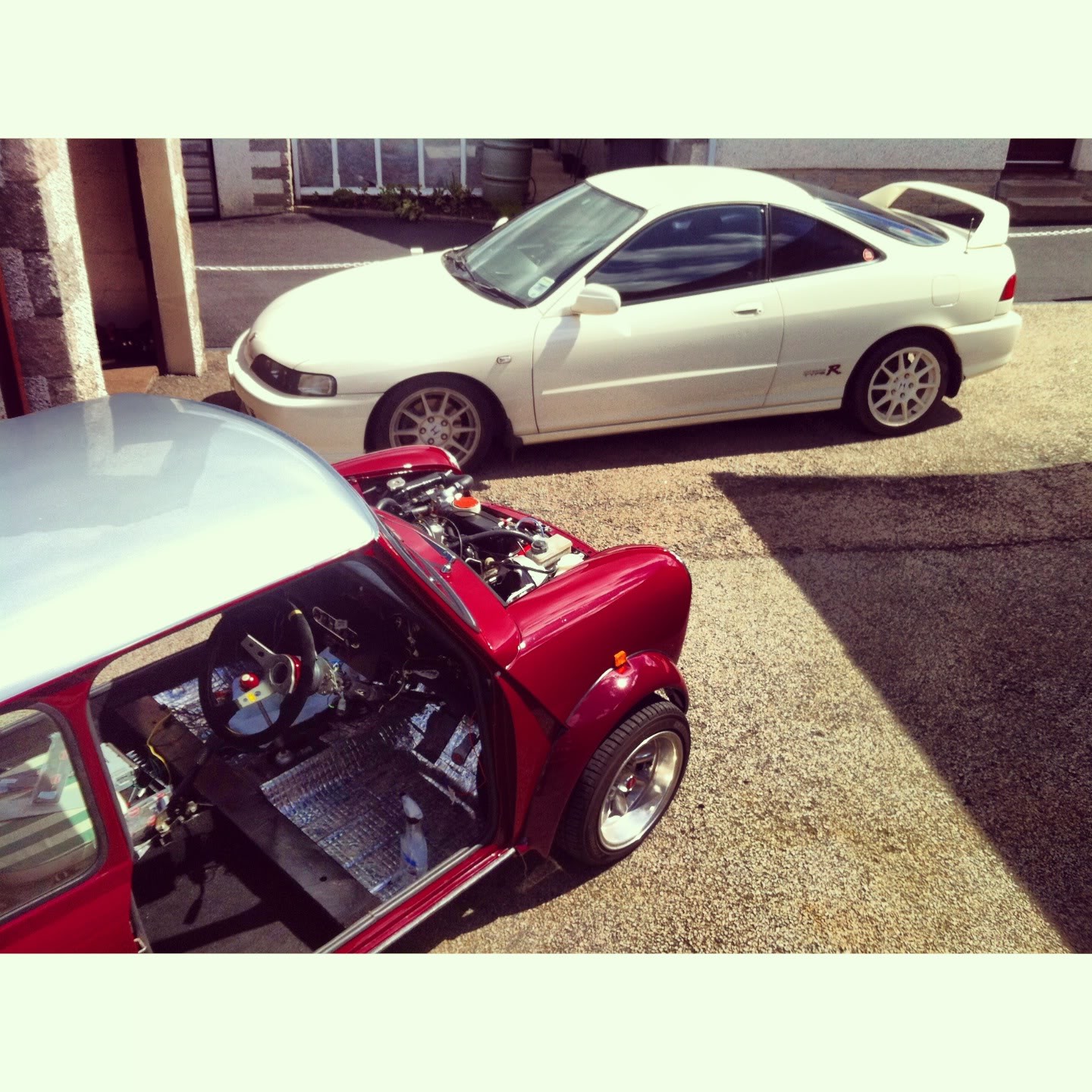 Went about fitting the windscreen fillet. The tool for this is around £15 so instead of that i modded an old coat hanger onto an old hand file. Worked a treat!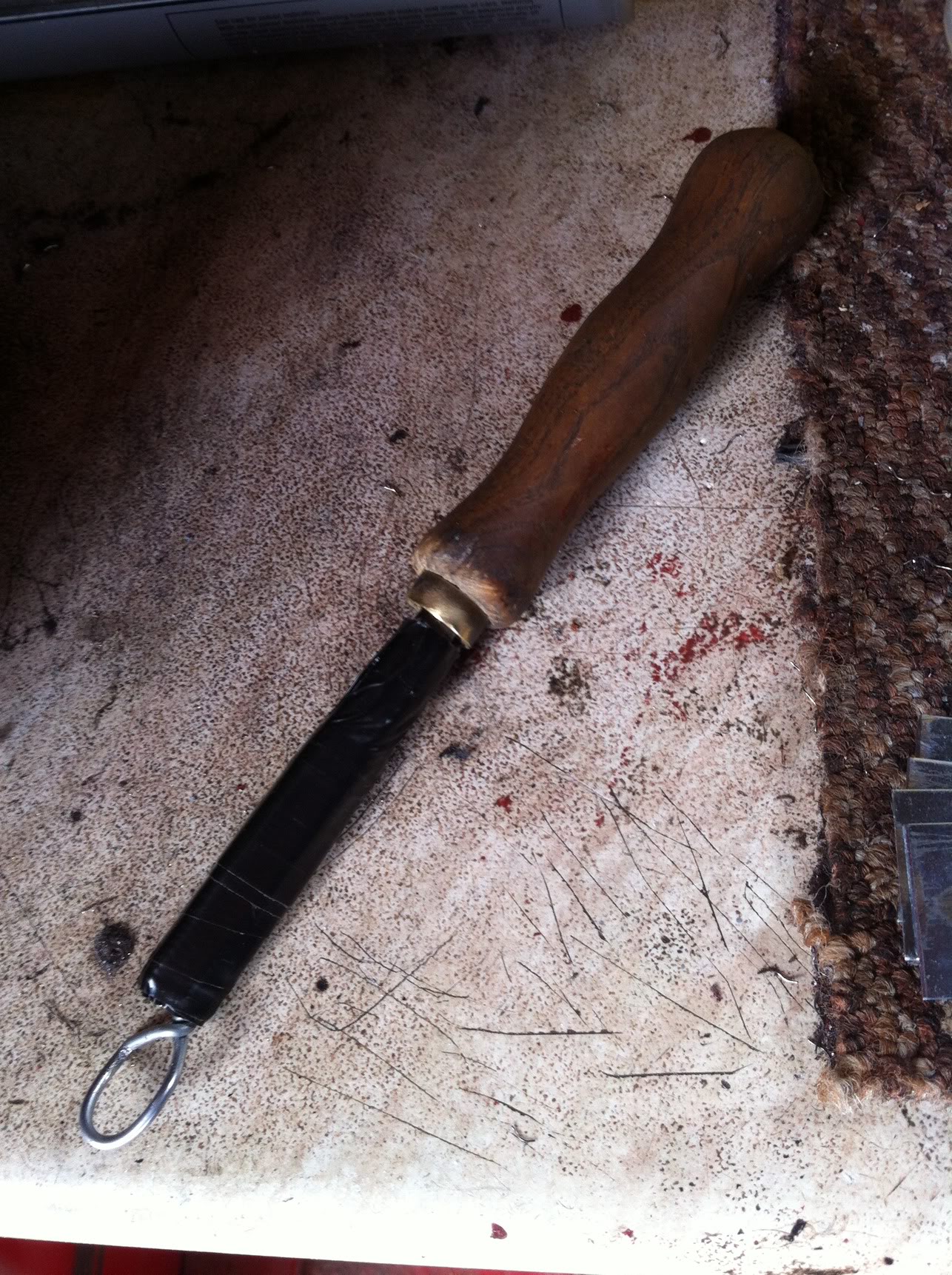 It went in eventually after leaving it in the sun and plenty of car shampoo water!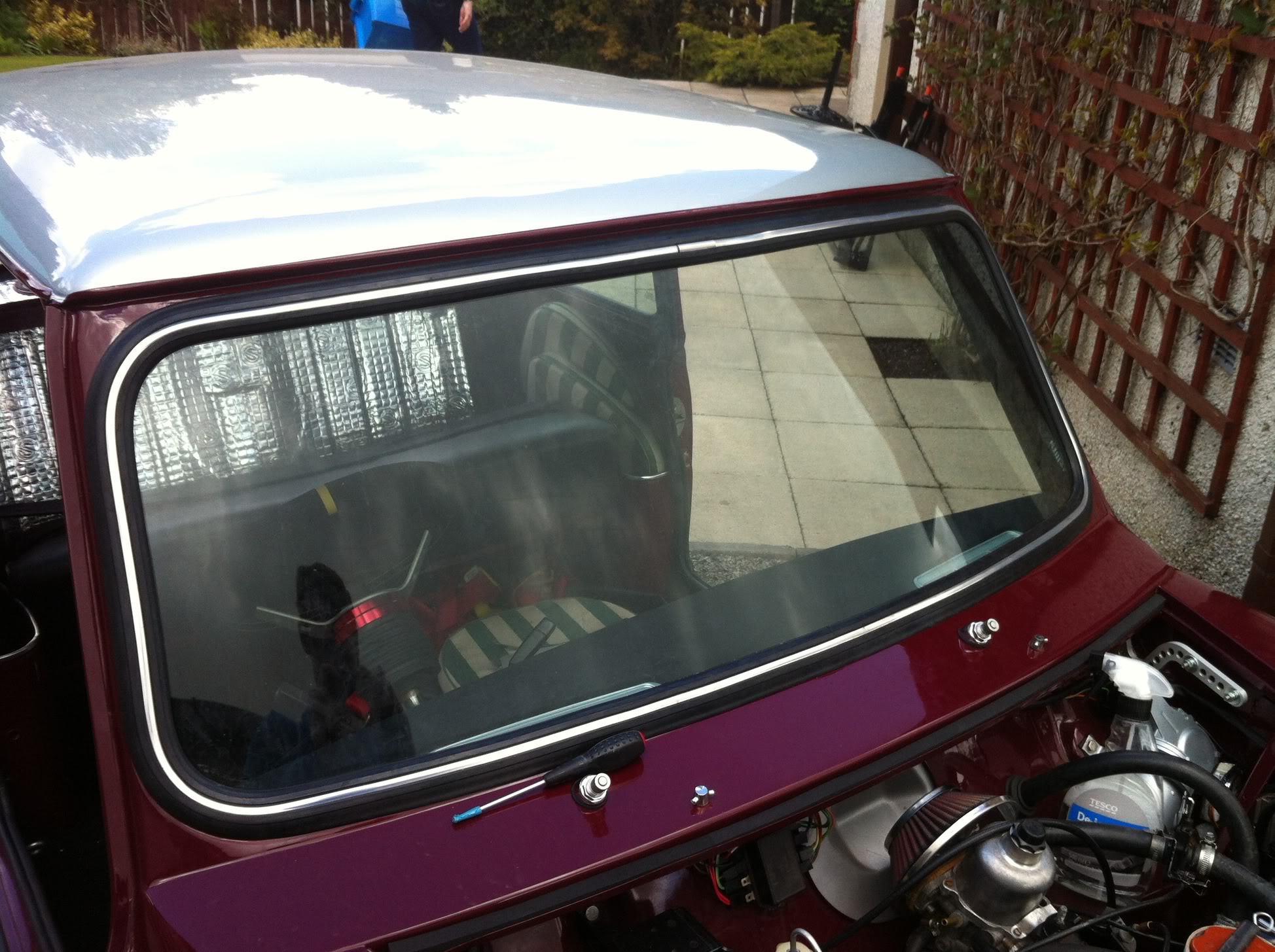 and that meant I could get my heavy duty wipers on! I did adjust the drivers side after I took this, dont worry...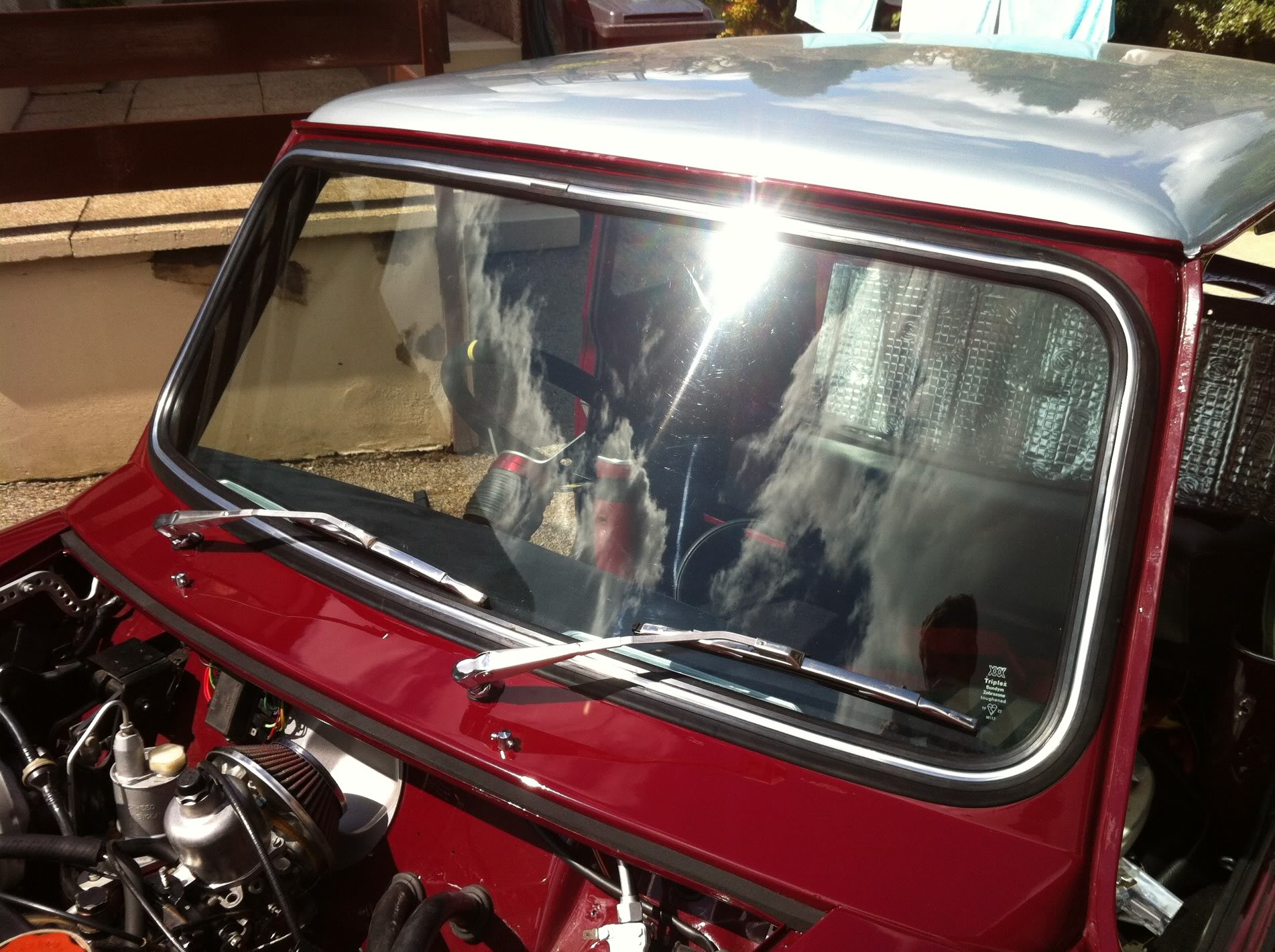 And whoever said Minis are low......mine doesnt seem to be at the moment!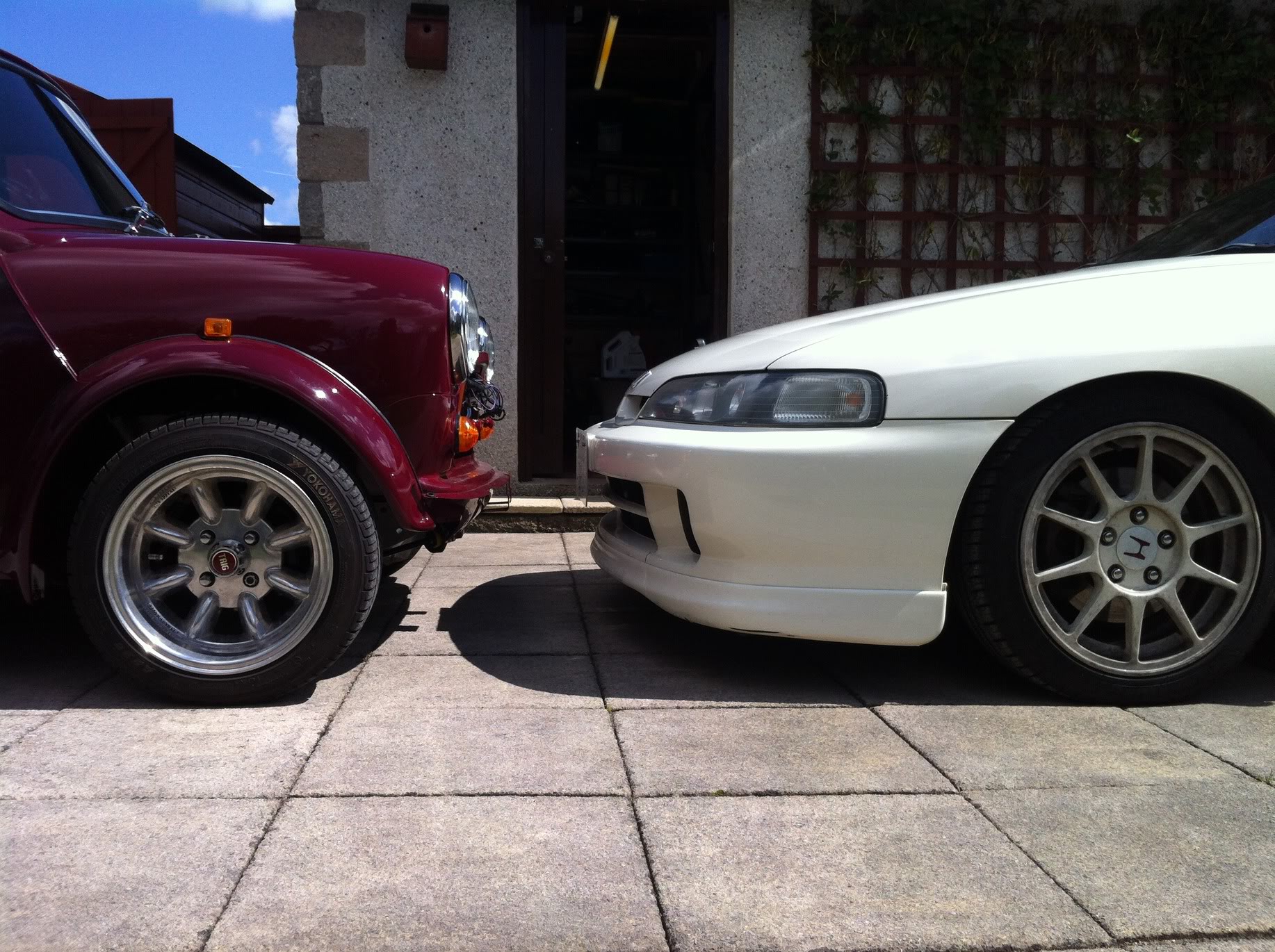 Two great engines but totally different beasts!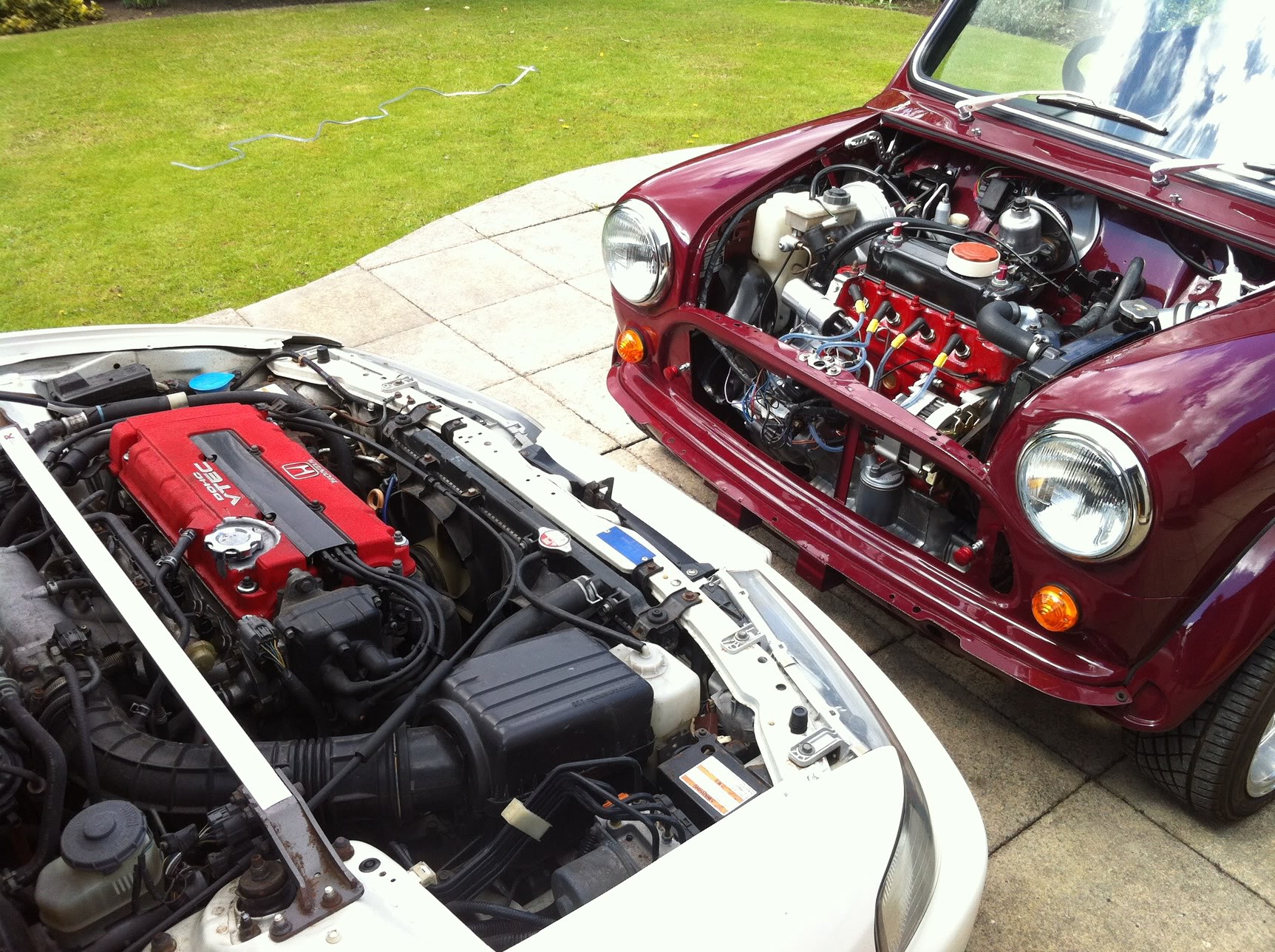 I got some rear dor bin liners from my parents as an early birthday gift. Will wait until the door cards are in before fitting as they are going to need a bit of modifying around the arch due to them being tubbed.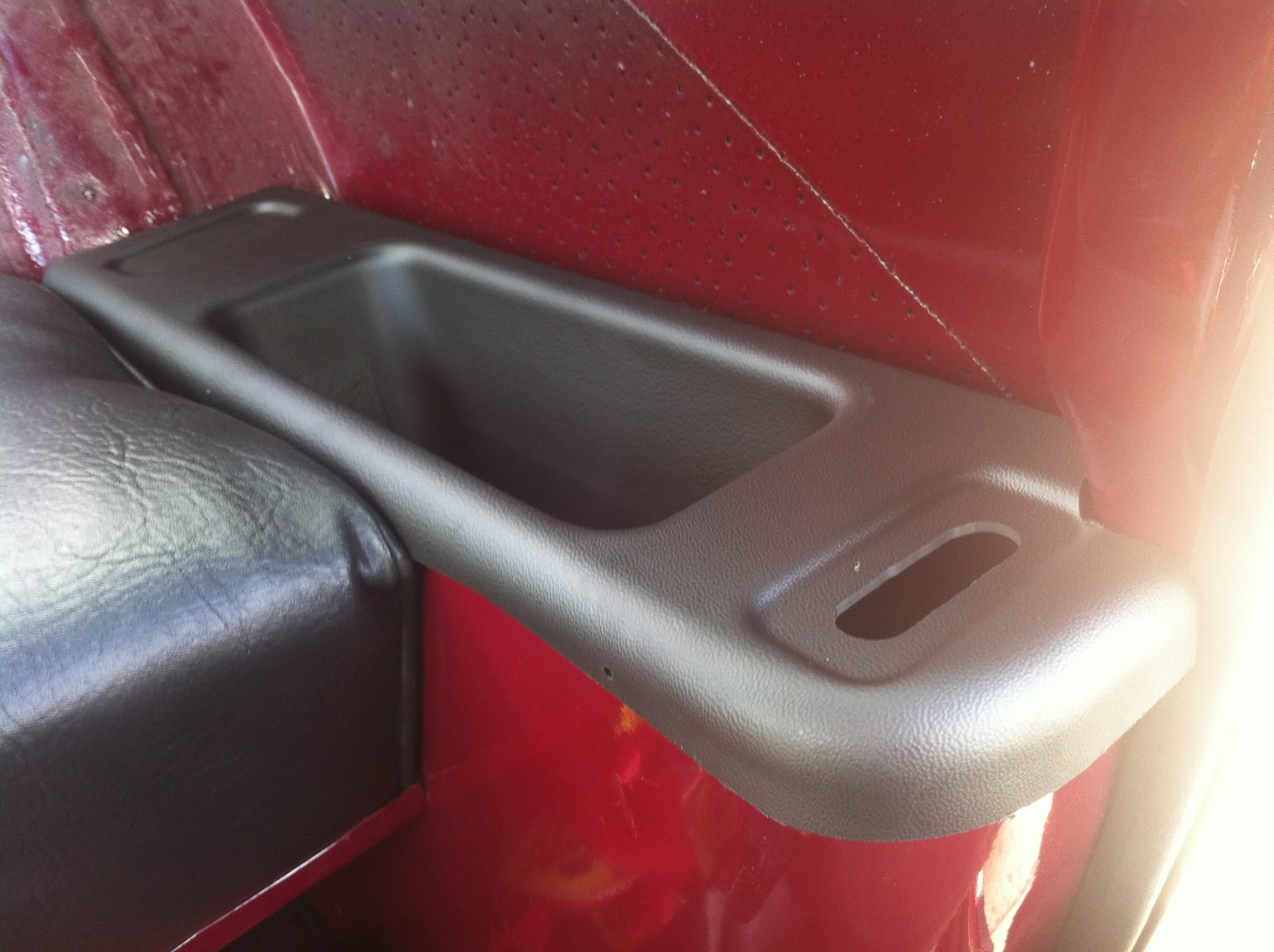 Got my new plates delivered too! I already had the Trig ones for shows but fancied some pressed metal 100% legal ones for day to day running! For the price of them they are great quality!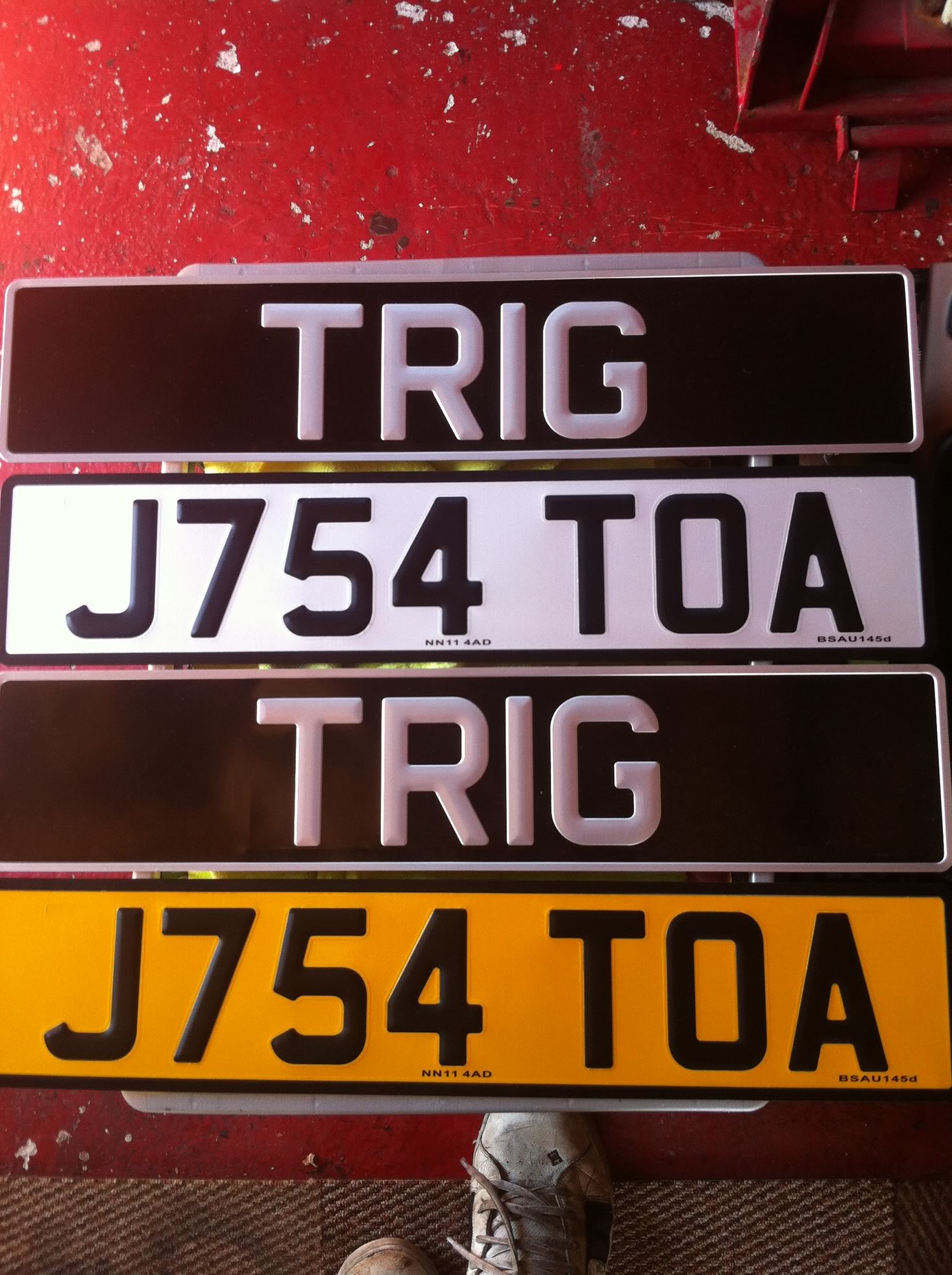 But me being me.......I didnt want to drill any holes in the front one for a cleaner look. So I took my old front plate, scuffed it up and painted it satin black....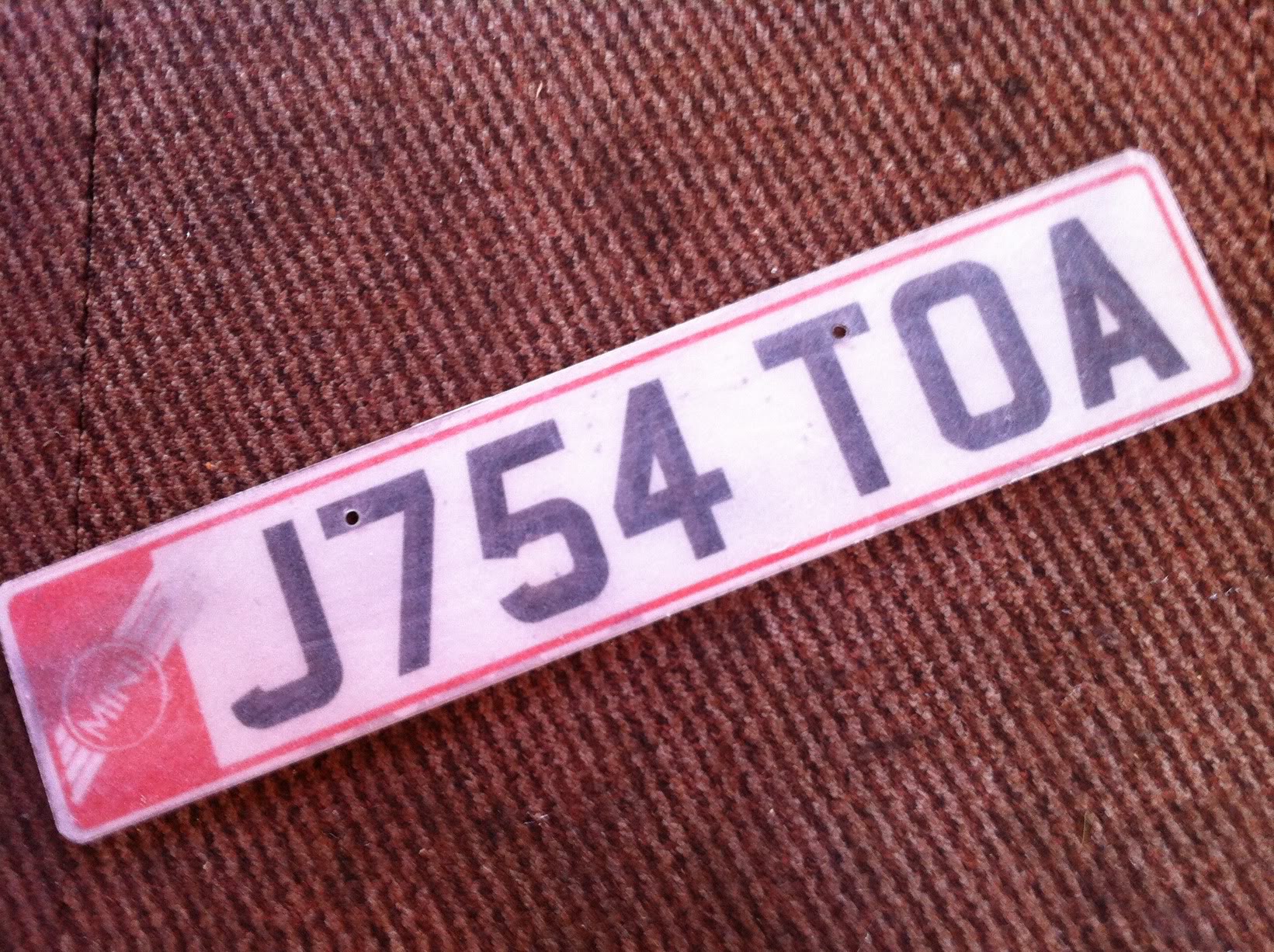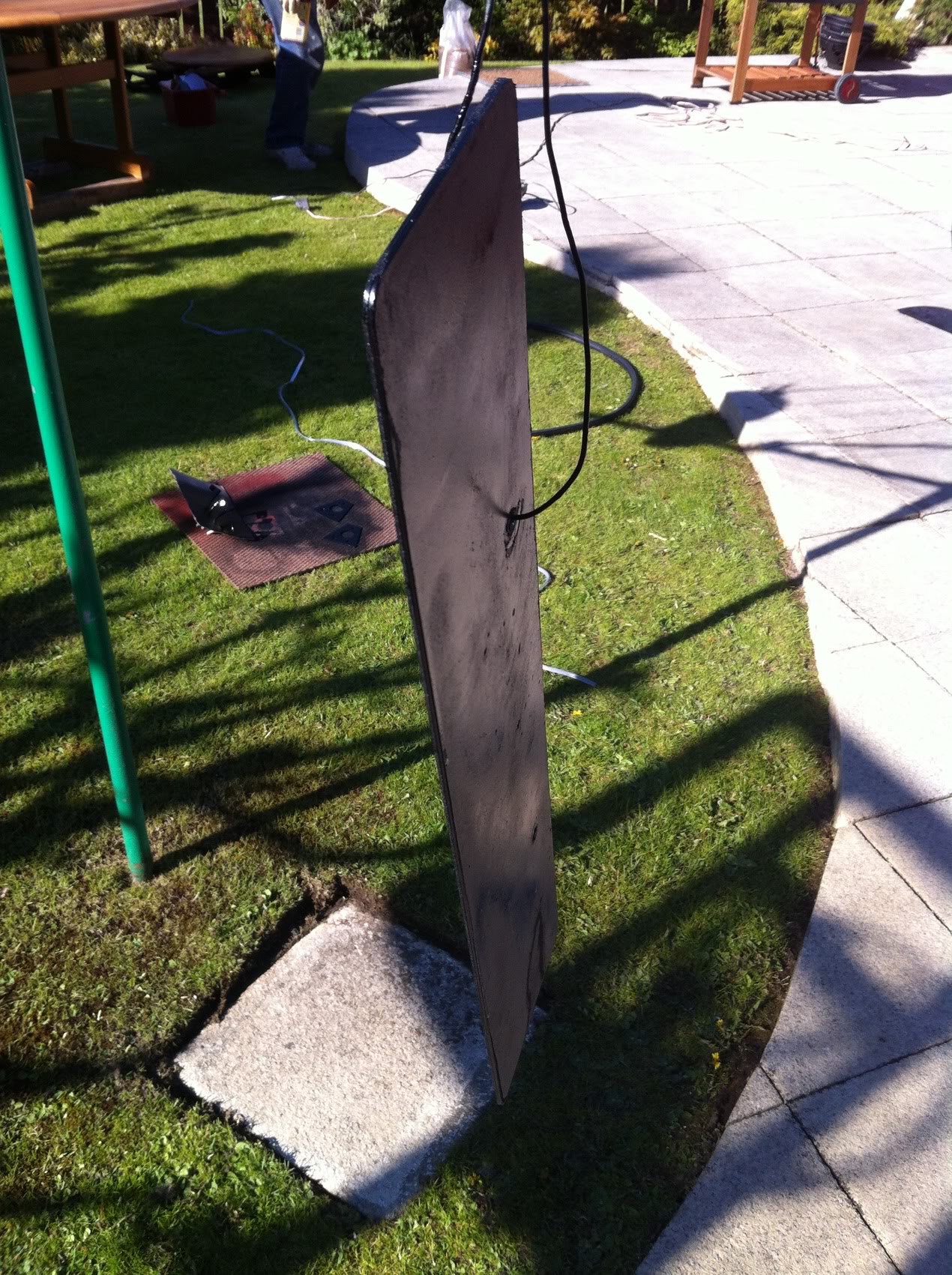 I had already drilled some counter sunk holes to fit a couple of counter sunk allen head bolts....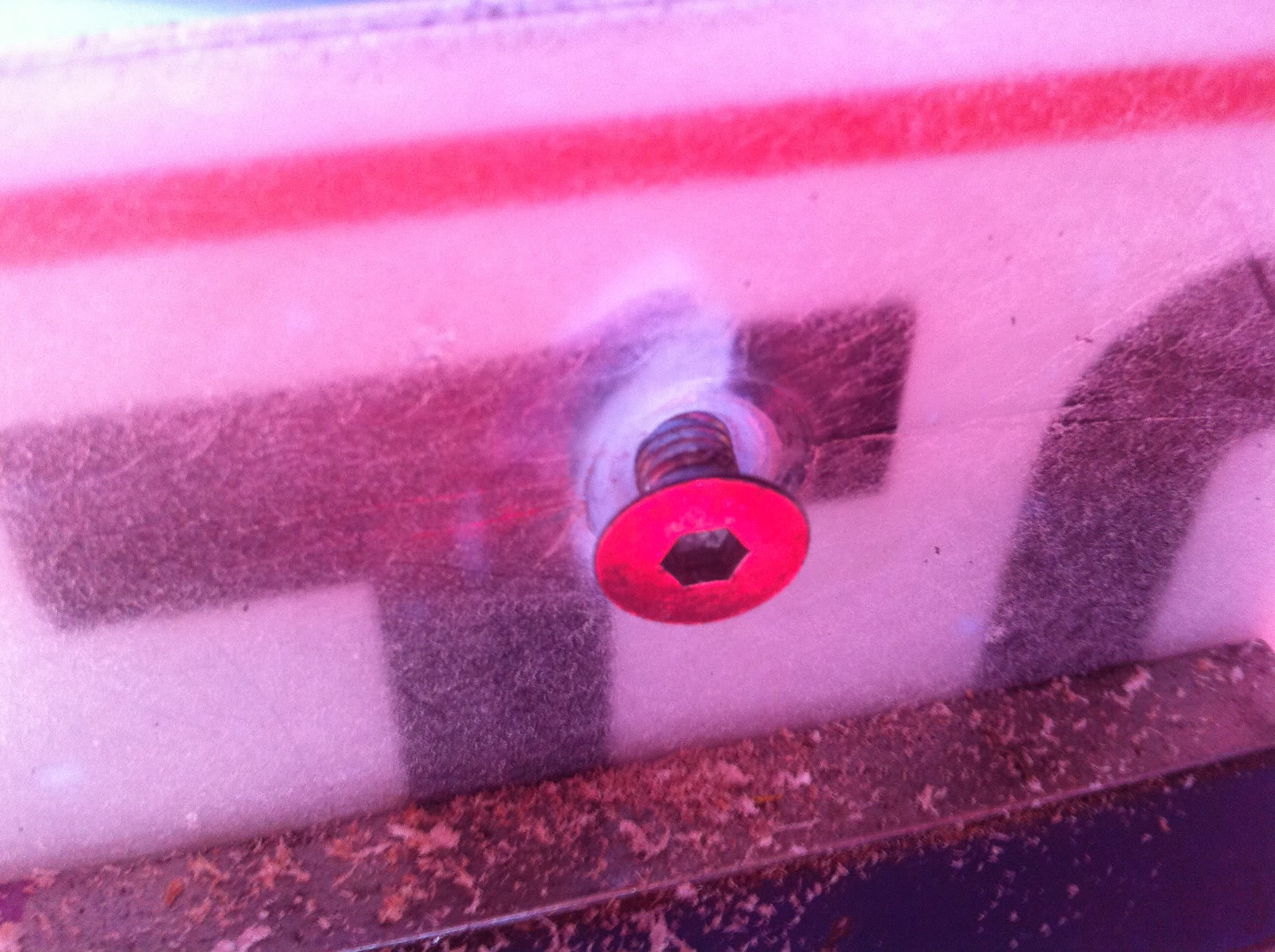 and then with the paint dry, it was fitted to the car and then the metal plate fitted with number plate pads on the back. Clean look thats still removable if need be. Devils in the detail!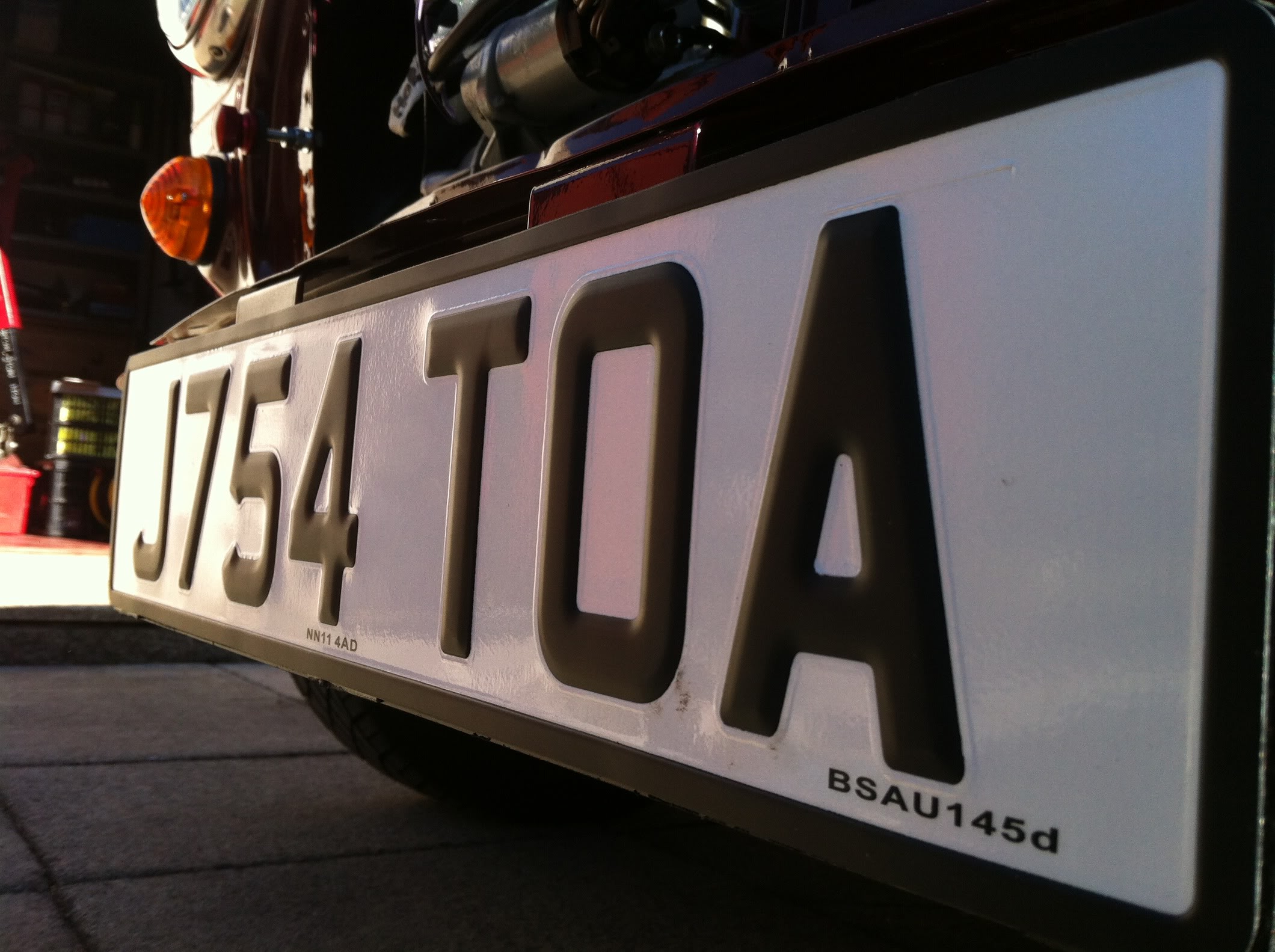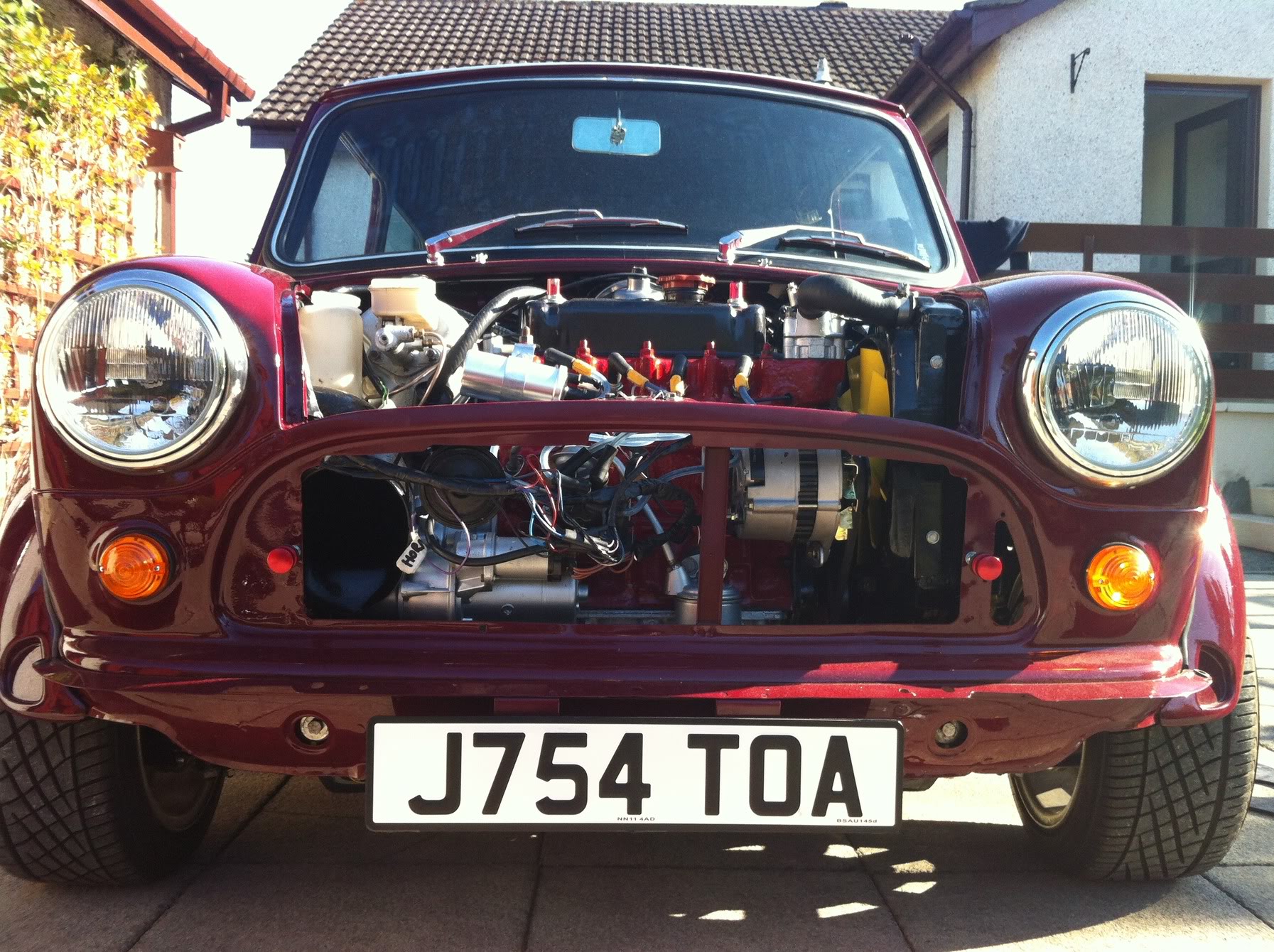 Got my rear view mirror fitted after I had broken it down for cleaning and polishing.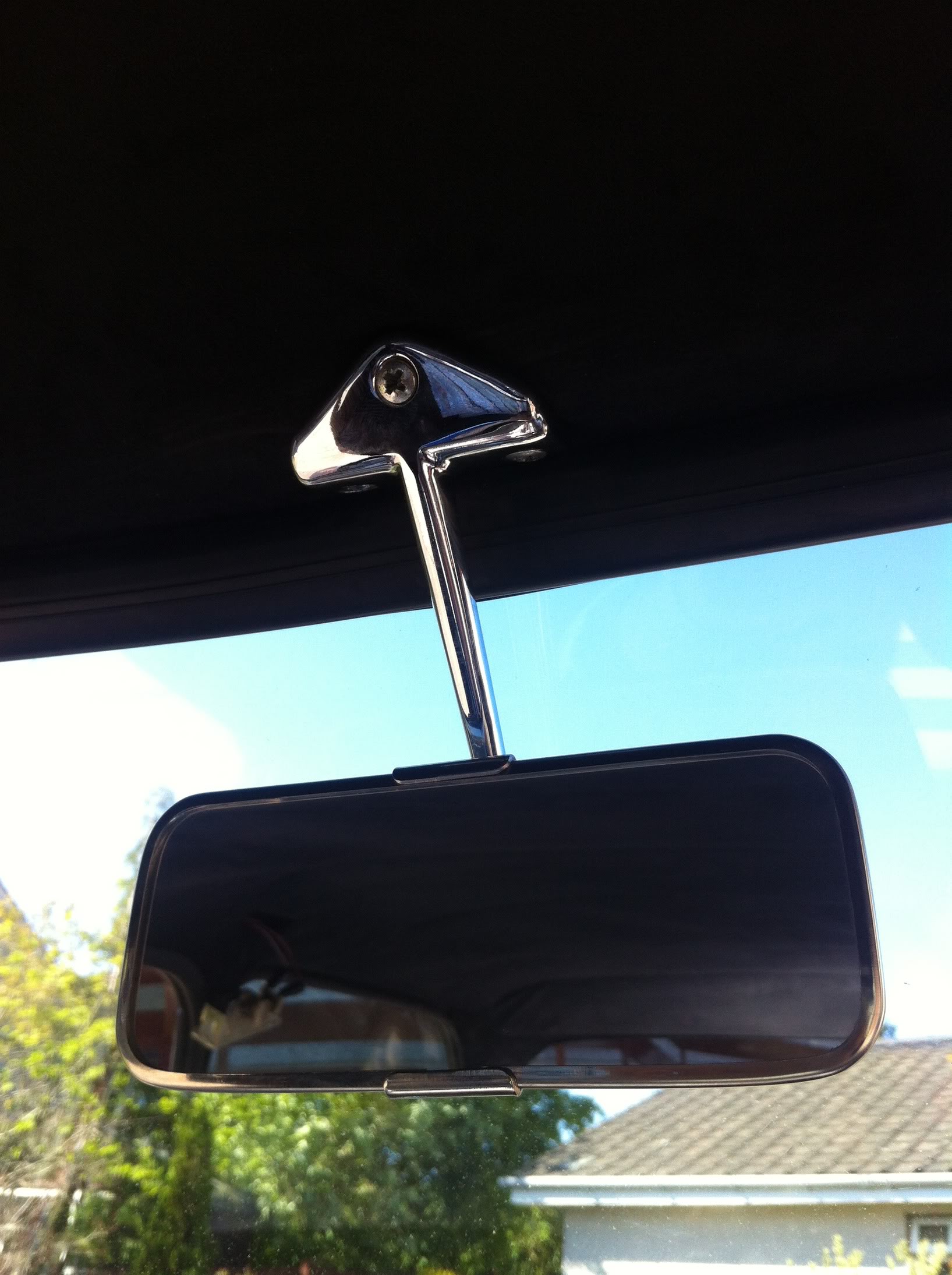 its as shiny on the back metal plate as it is on the glass.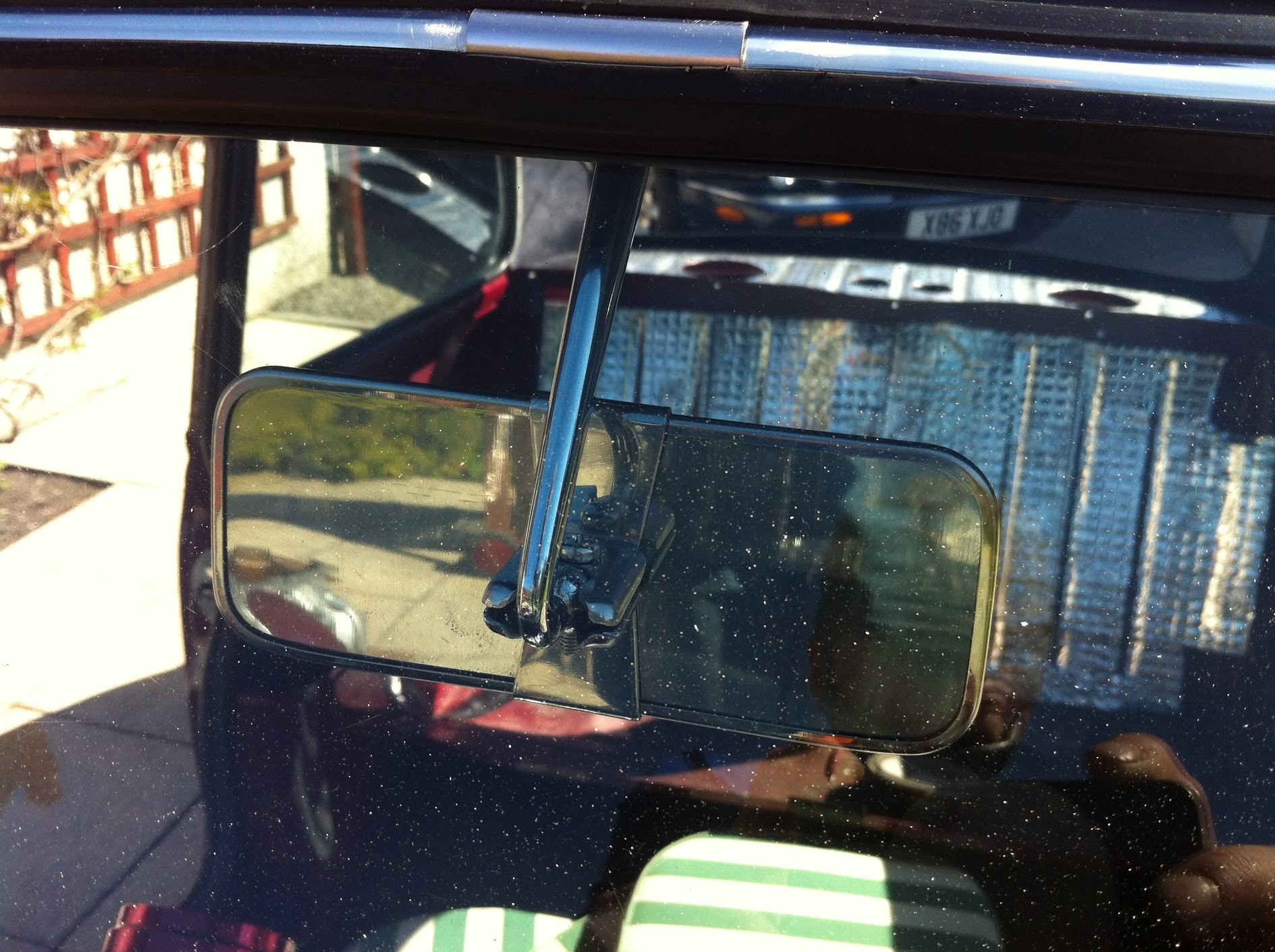 Painted up my sun visor brackets before I get them fitted today with their new alcantara covers....satin black to be low key until i source some chrome replacements.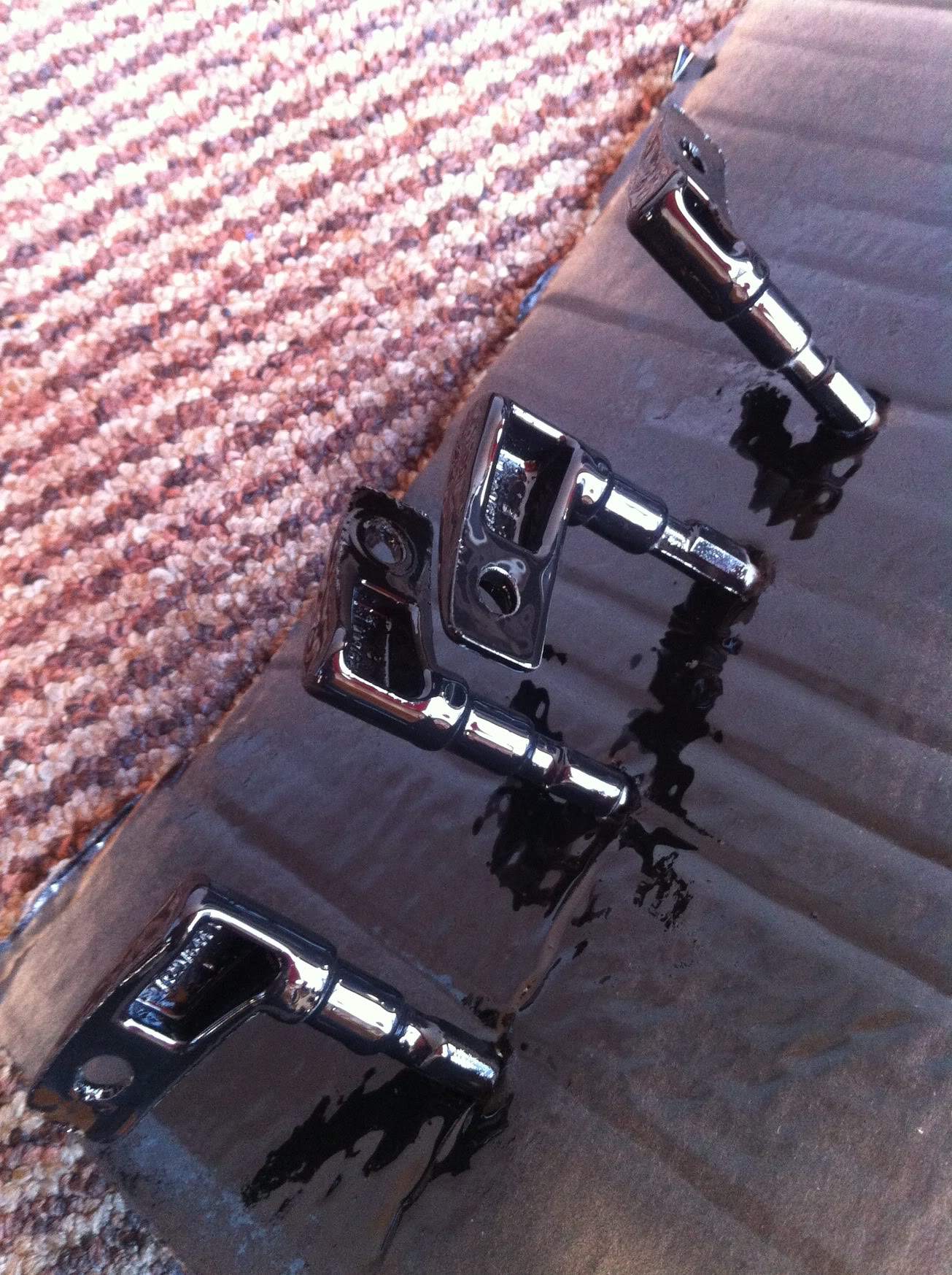 Given i have sportspack arches i need shorter bumpers. They are £50 each so Im going to try and cut mine down to fit for now.
I also got my internal boot release cable fitted up. Looks a bit rough but it will be getting carpeted over with a boot board so you wont see it in the end!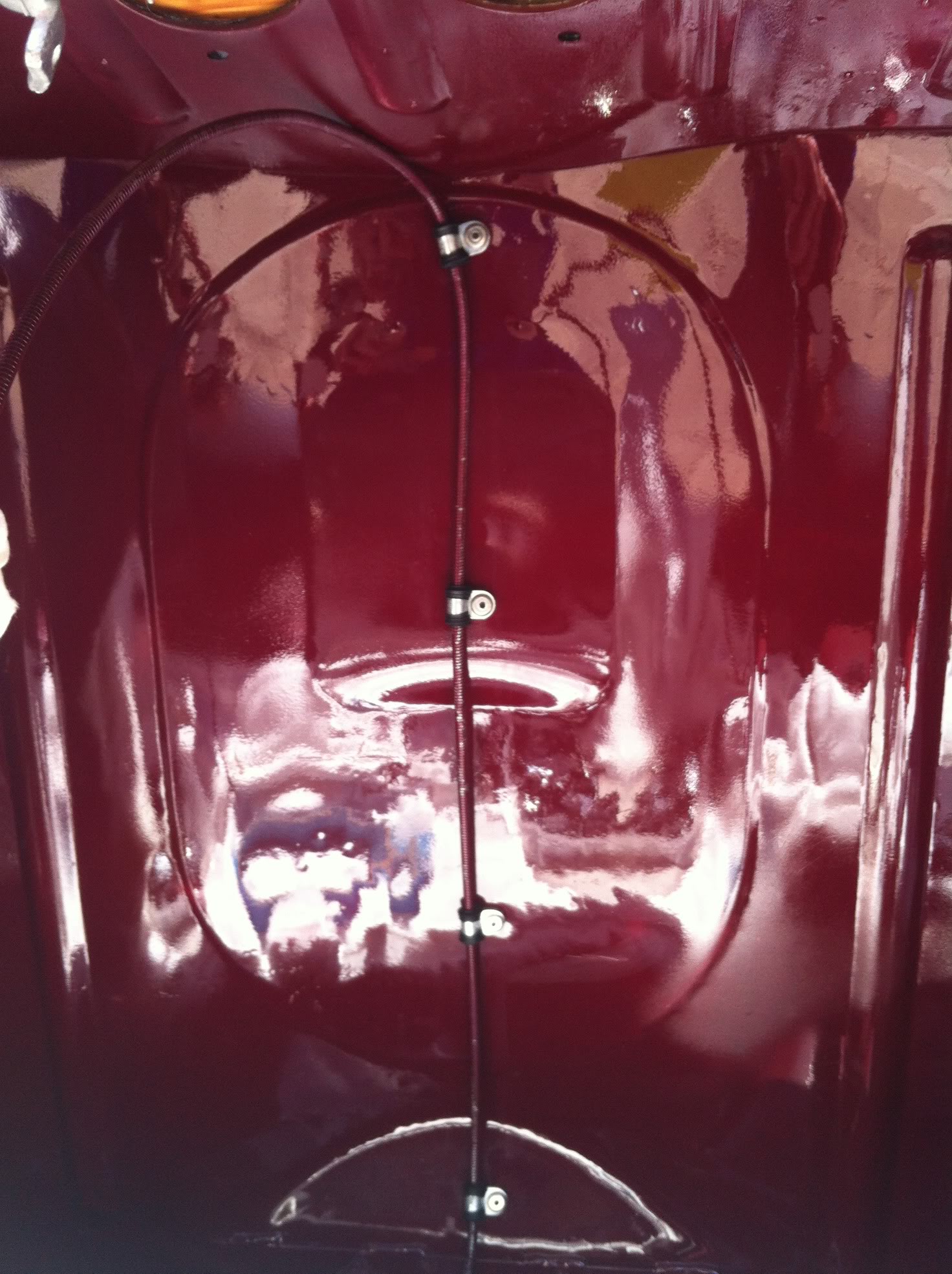 We waved off Iona and driver on their journey to the Thistle Run. Wish i was going too but it wasnt meant to be!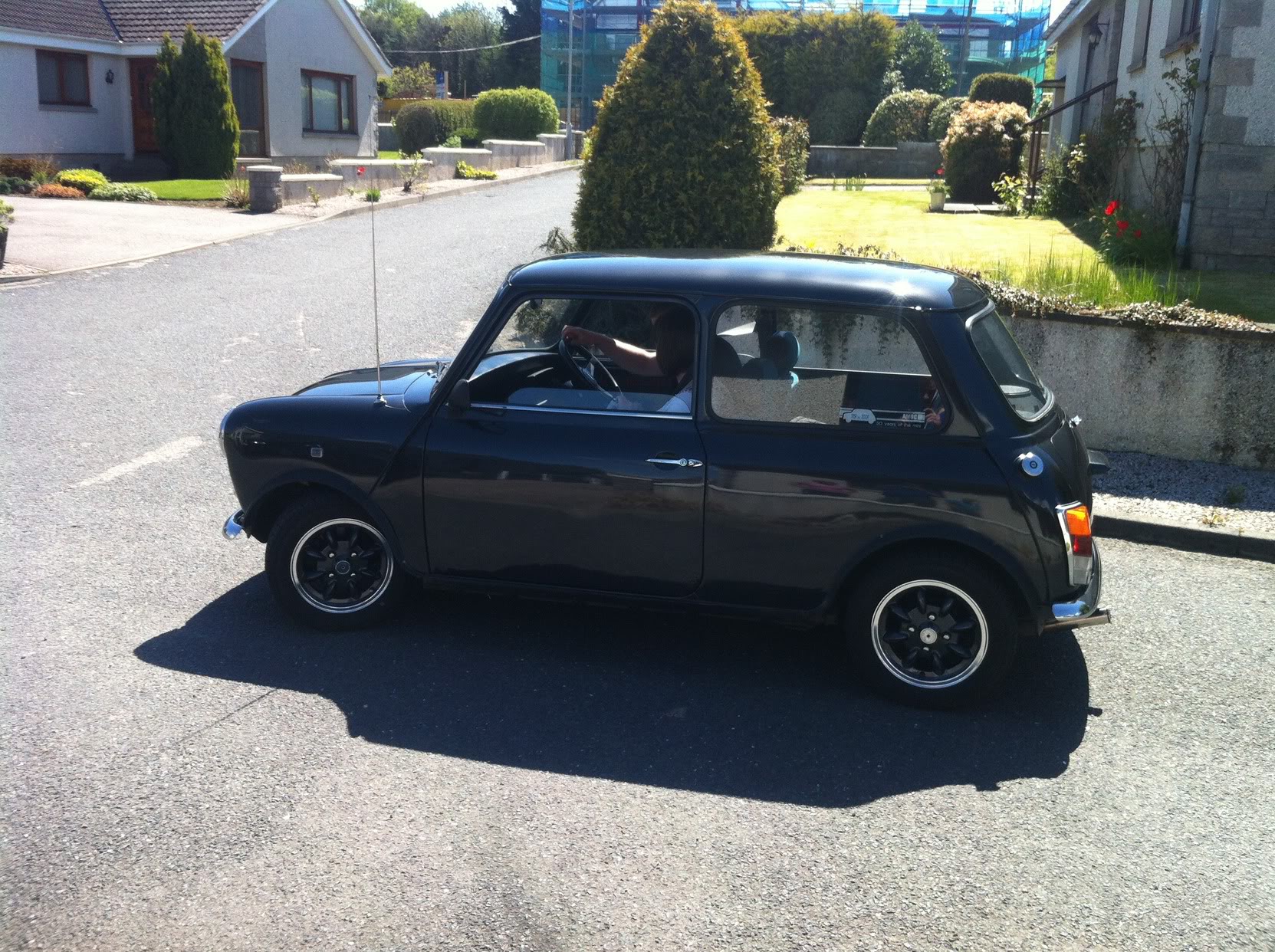 And with that days work done, we finished off with a BBQ before I went out for the evening. Good progress of little jobs, that seem to take an age to complete!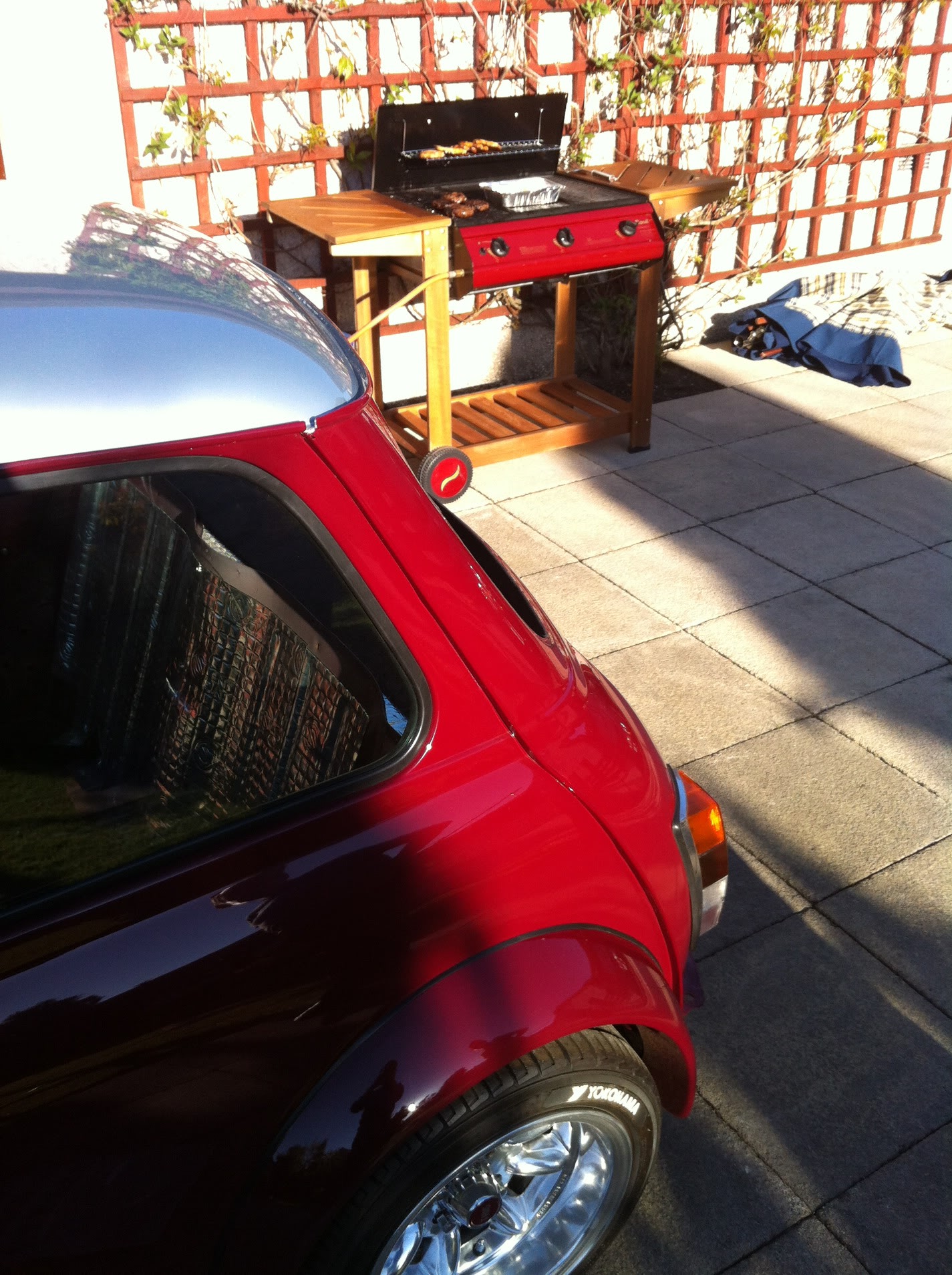 Today its wiring up the aux gauges, radio and possibly even get this dash fitted!!!
I routed it along the line of the wiring loom. Through the bulkhead brace plate and then over the top of the bonnet stay bracket and then to the front panel.
Little bit more done today.

With some modifying and fabrication, got the number plate mounted. Drilling the new plate was not something I was looking forward to doing but thankfully it went well. The bumper would have gone on but one of the brackets had rusted through so its now in the bin and I need two new bumpers!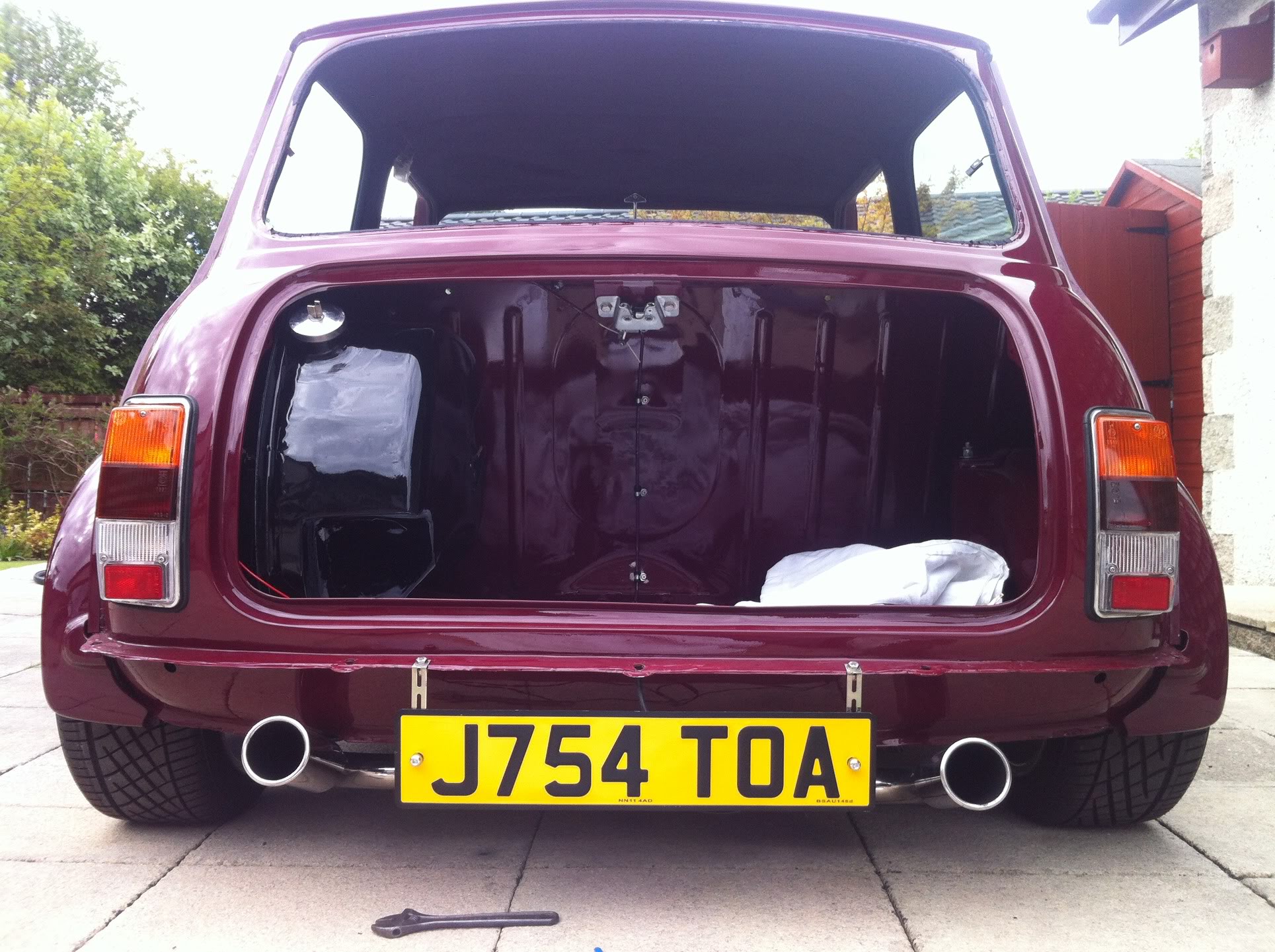 Got the sun visors on after poking around with a pin looking for the screw holes.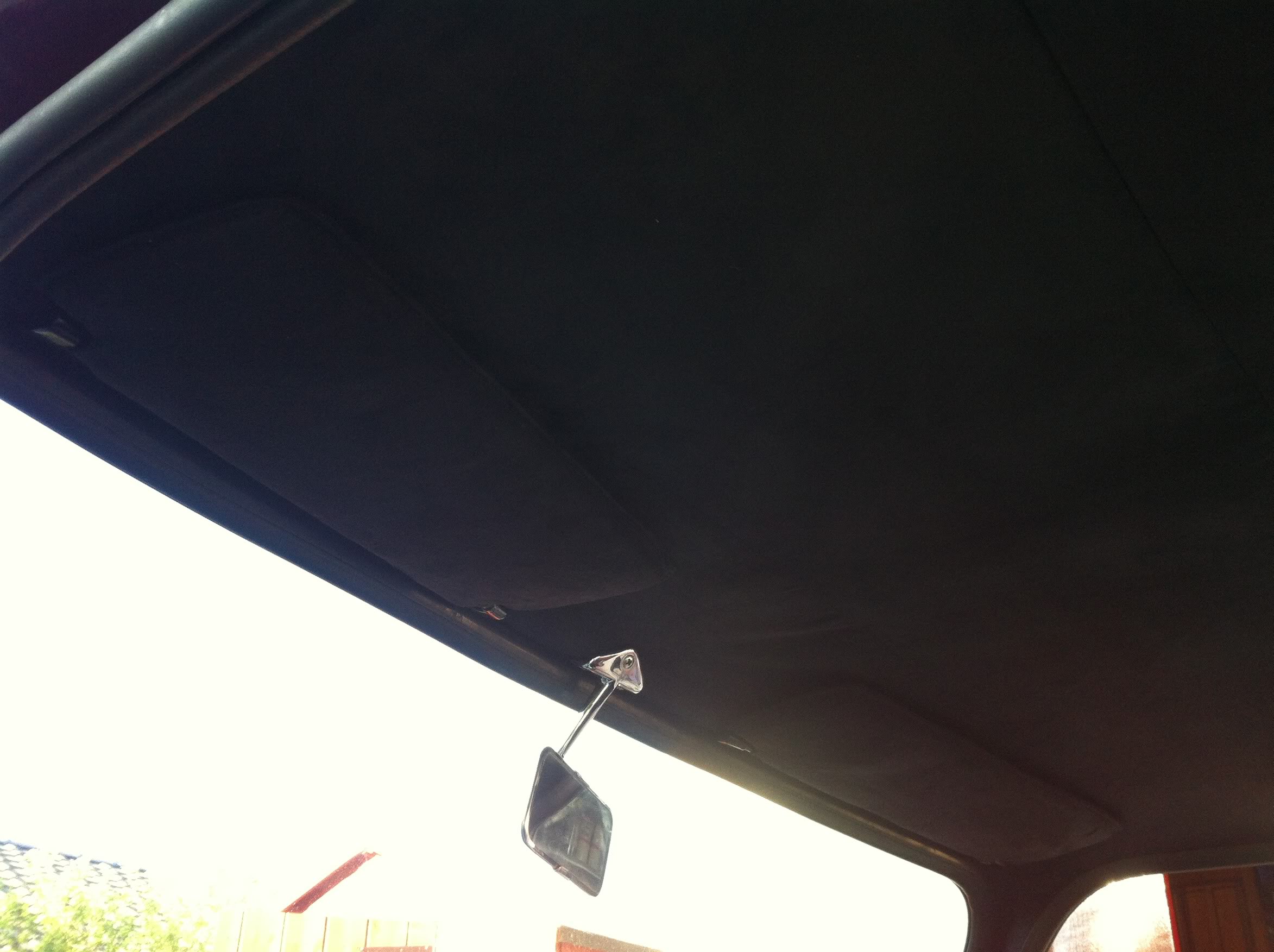 and thats about it! I got some radio loom wiring done but spent the afternoon watching the looooong Monaco GP this afternoon! Off tomorrow so will get more done then hopefully. Got a pretty big shopping list again so time to bash the credit card again.
5-28-2013
Did more work on this yesterday. Got the speakers all wired up and wires hidden beneath the carpets and a rogue trapped wire leading through the roof channel removed.

No pics of the wiring as well...its hidden but did make a start on my radio antenna. Originally the car had a front passenger wing mounted monstrosity that was a huge rust trap. I got the hole smoothed off before paint and I had this window stick on one from when it was last on the road. It works great. Stick it to the front screen and then lead the aerial/live wires around the window seal. I will paint over the red writing before it goes in though.....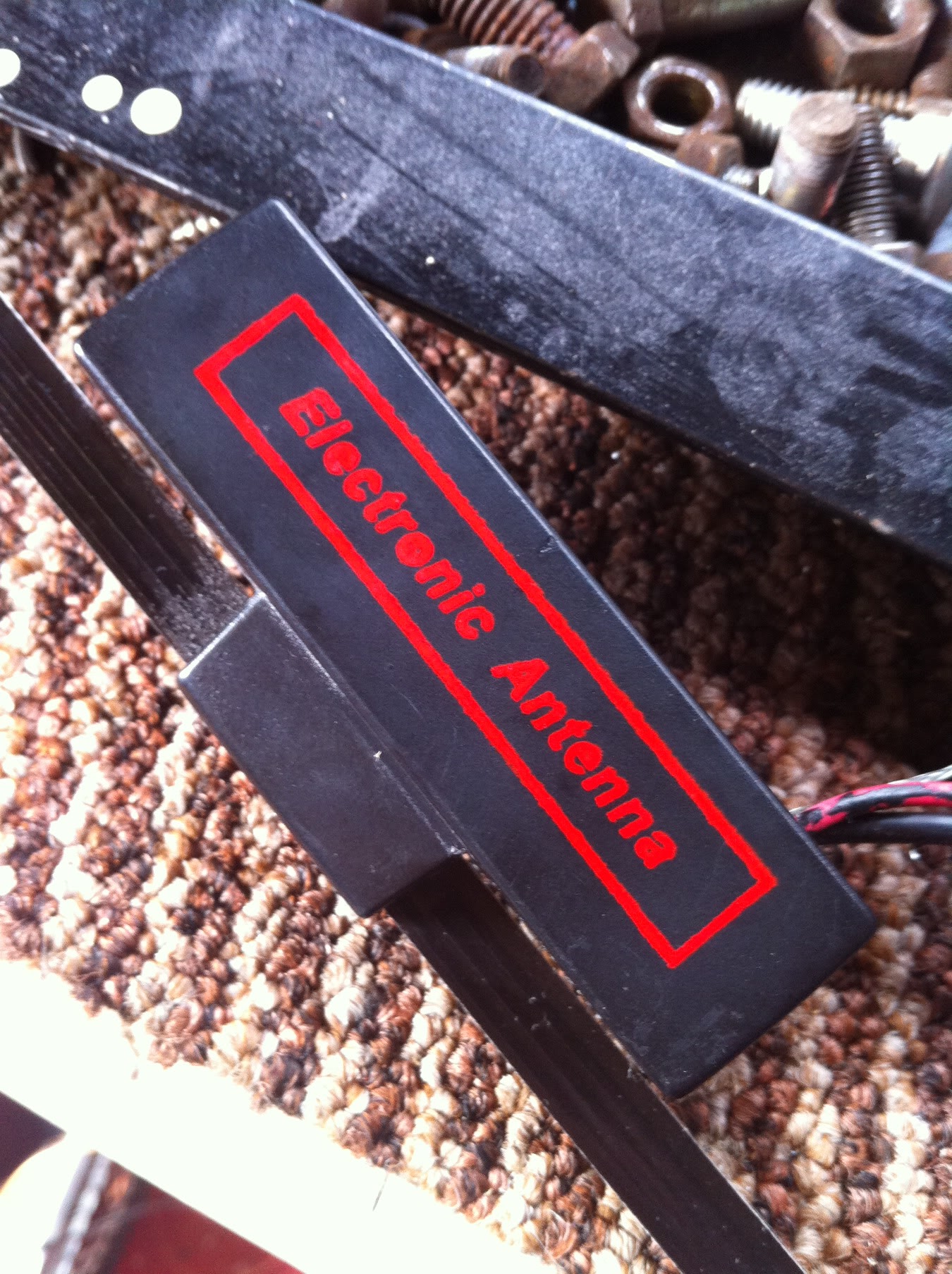 With the speaker wiring done we got the parcel shelf in and speakers mounted. Not doing a fancy install as there wont be much point with the noise the car creates. Standard speakers will do the job fine.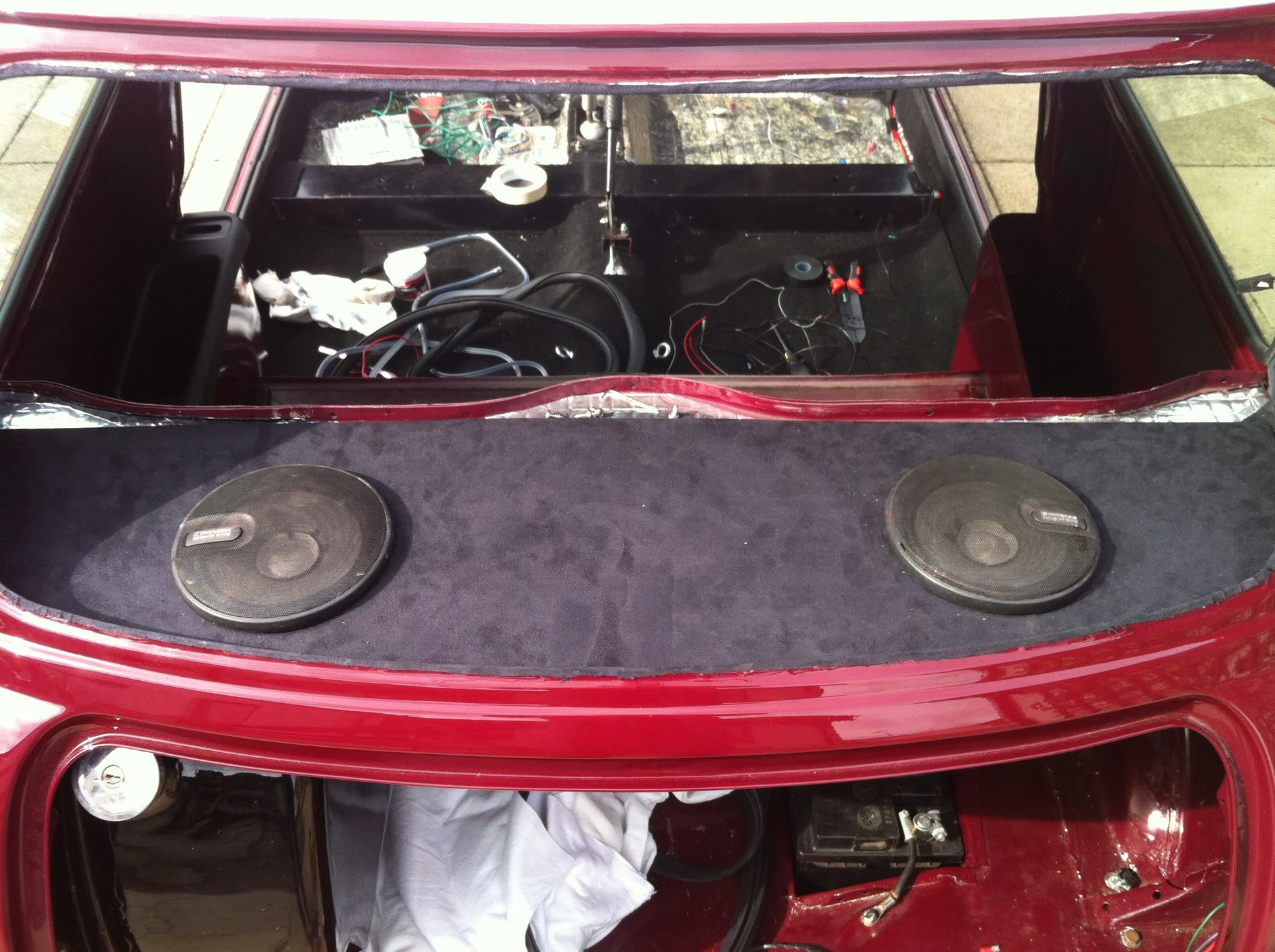 Also rewired my courtesy light wiring after i discovered this lovely bit of work....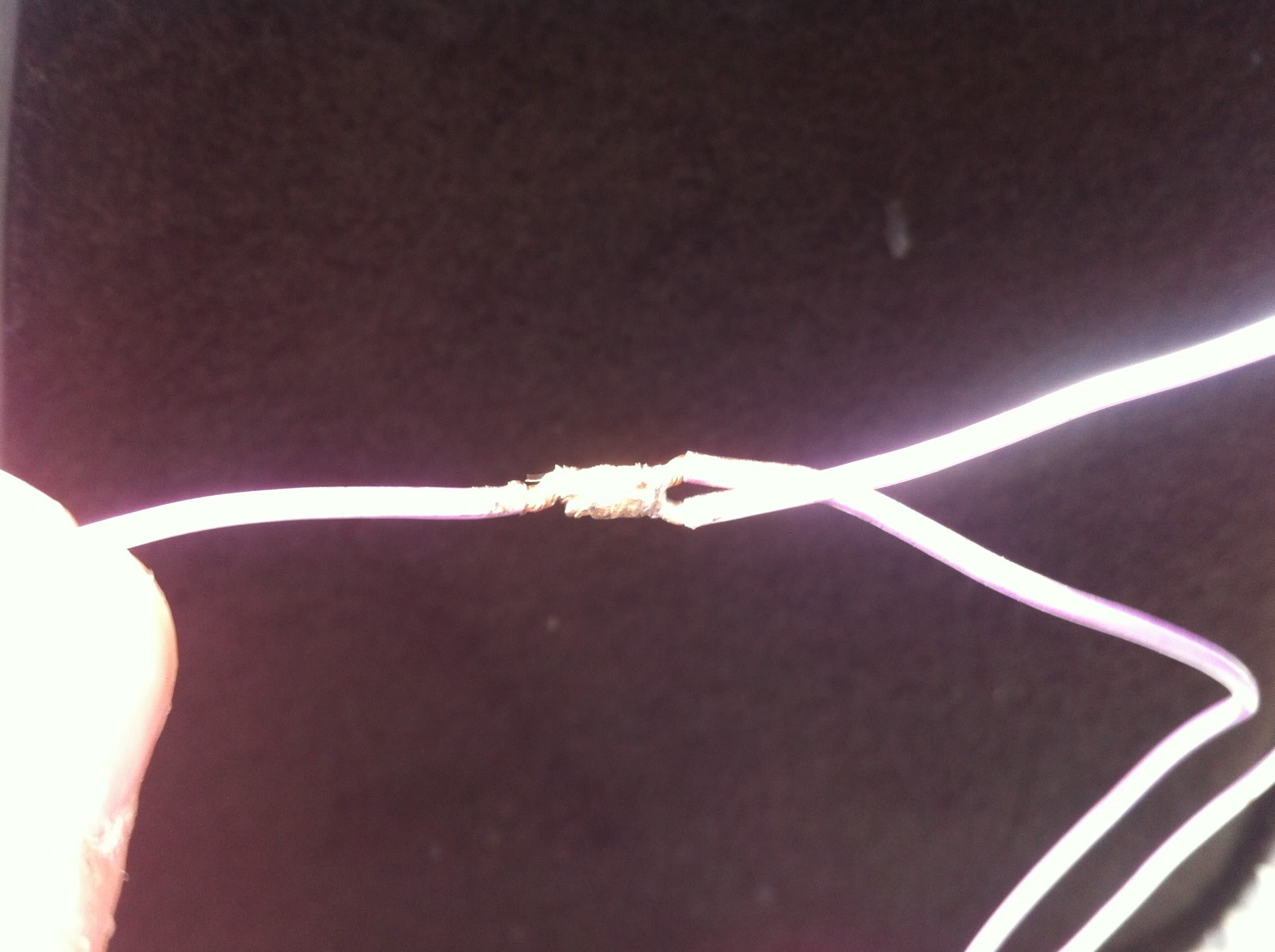 Unshielded wires with some sort of metal clip used for a join. So safe! Properly done now and insulated.

Got the rear window seal into place. Left it to form to the apperture overnight and will get the window in tonight hopefully. Back to work now so its evening and weekend garage time once again!
Anyway seeing as I had time to build the car tonight, I got on with the wiring and dashboard. Beautiful, still evening, radio on, no distractions. Great!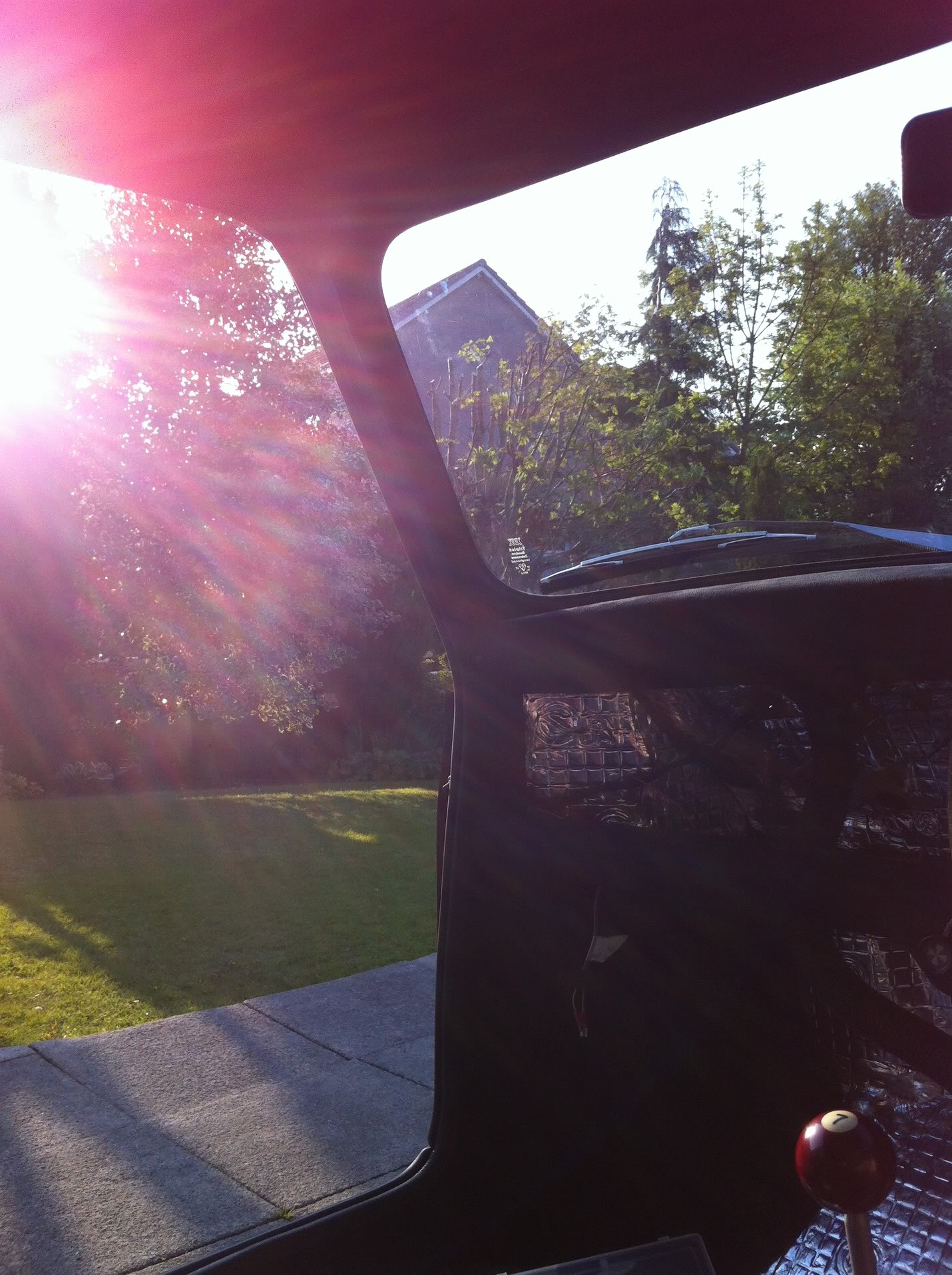 Got the majority of the wires tucked and secured behind the lower dash rail. Only wires remaining are for the aux gauges, head unit and main gauges.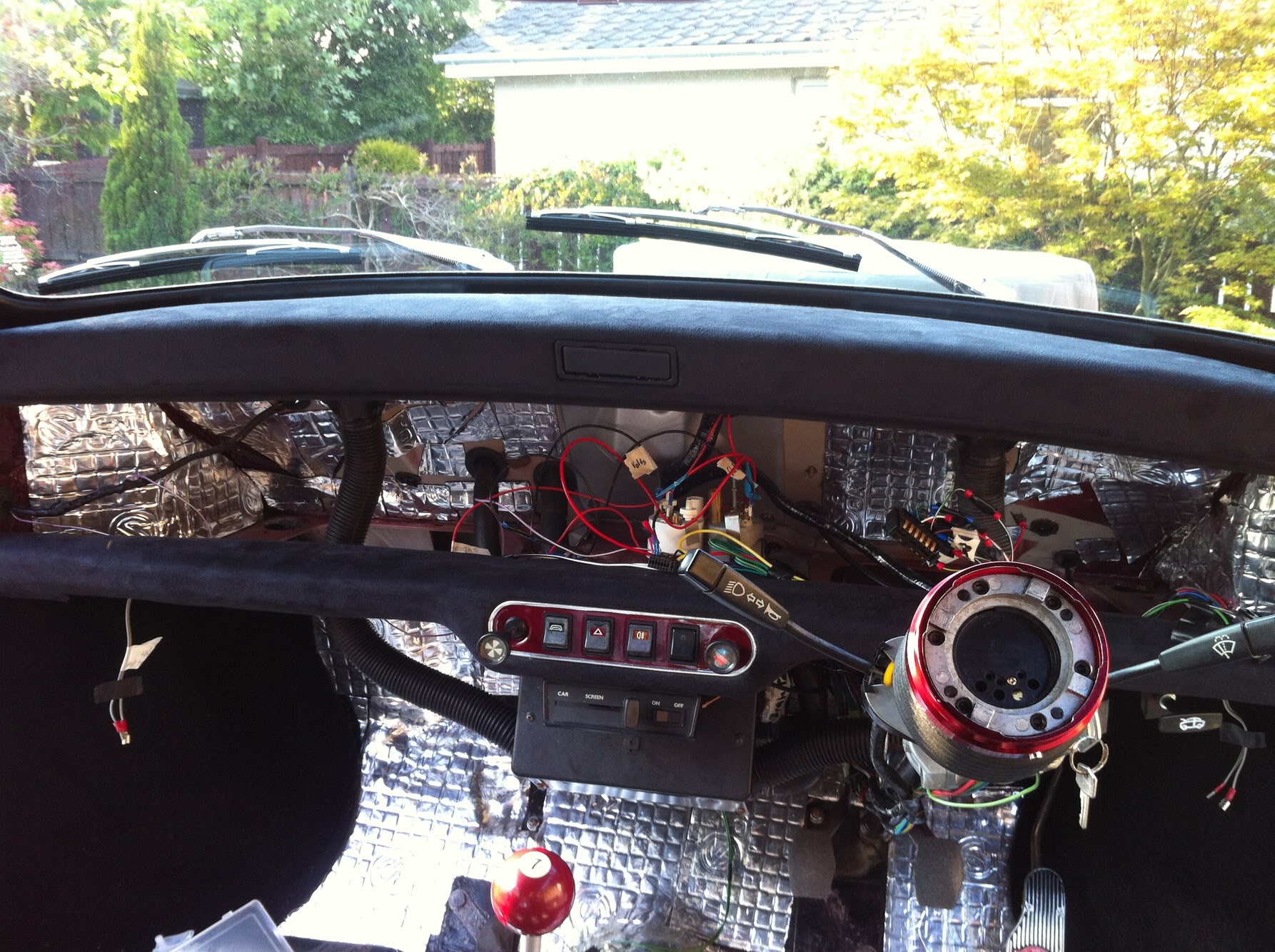 Got my dash built up, complete with speakers in the eyeball vent holes seeing as they no longer have a place on the car!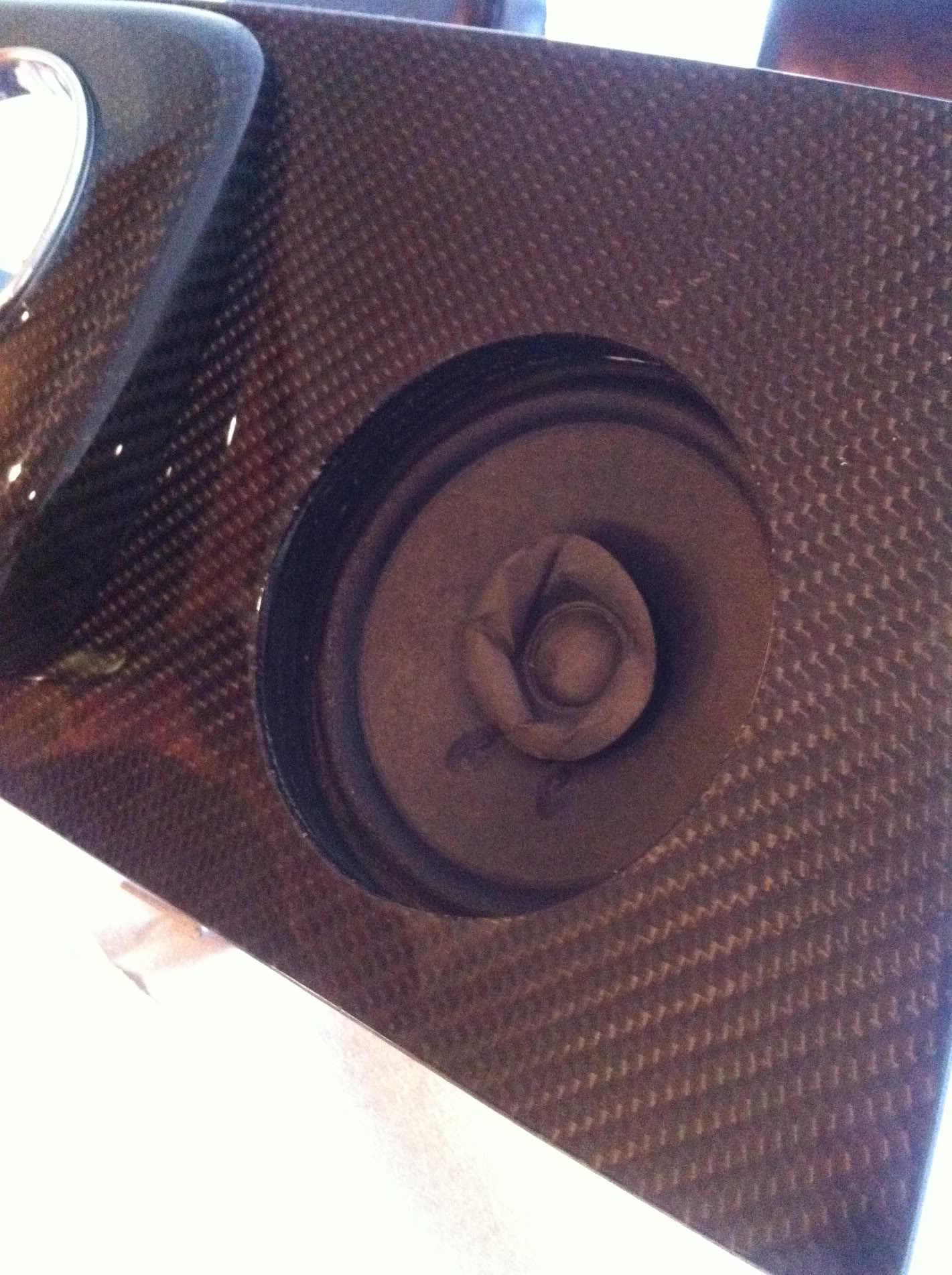 Having to drill holes in a mad expensive dash was not a pleasant experience but needed to be done! Found some short screws in an assorted box we have collected over the years. Handy to have!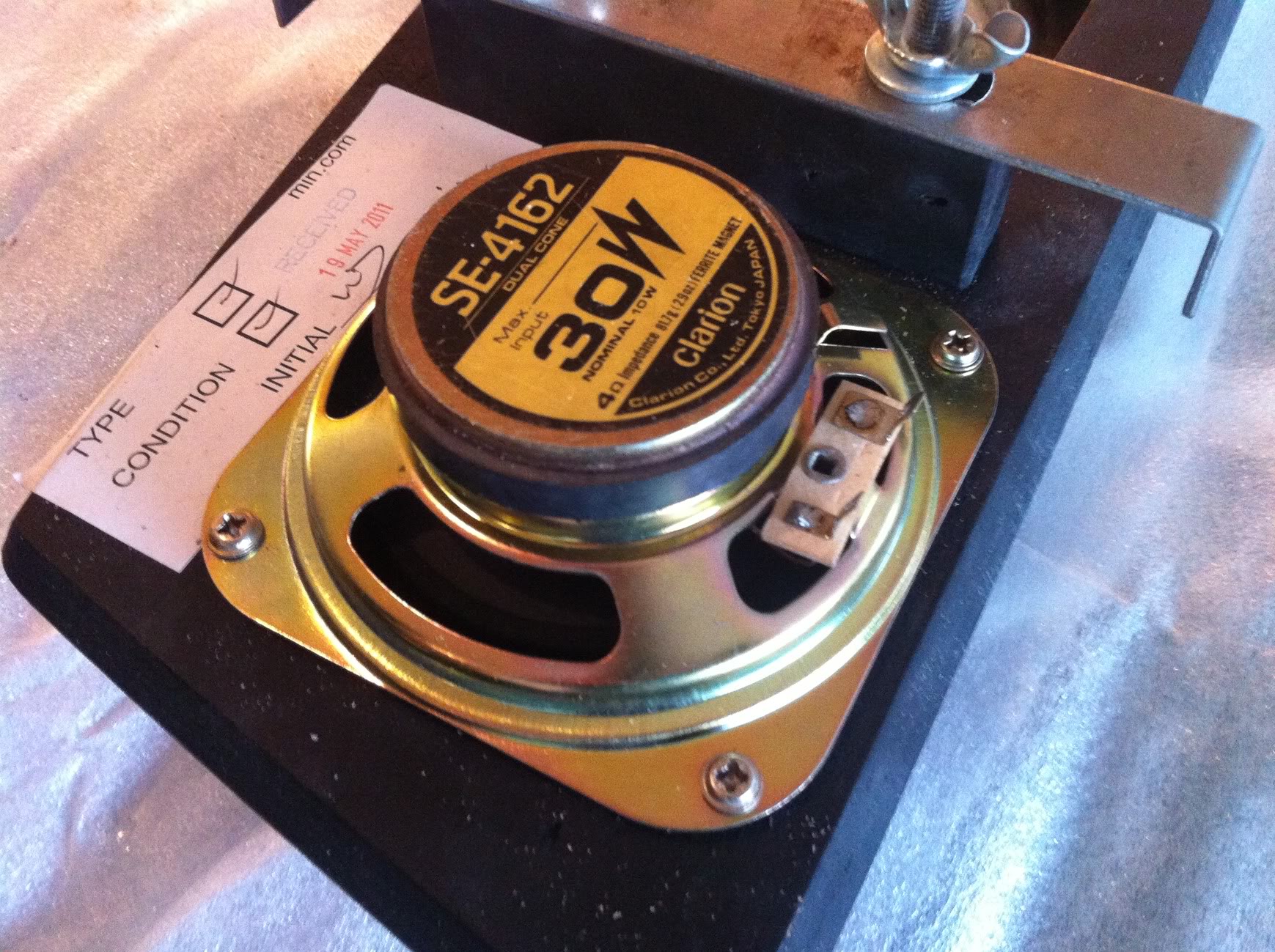 Then, rather annoyingly, the dash needed a few spacers glued onto it to fit the gauges, which are supposed to fit into the shaped dash perfectly.......but thankfully it wasn't a big issue.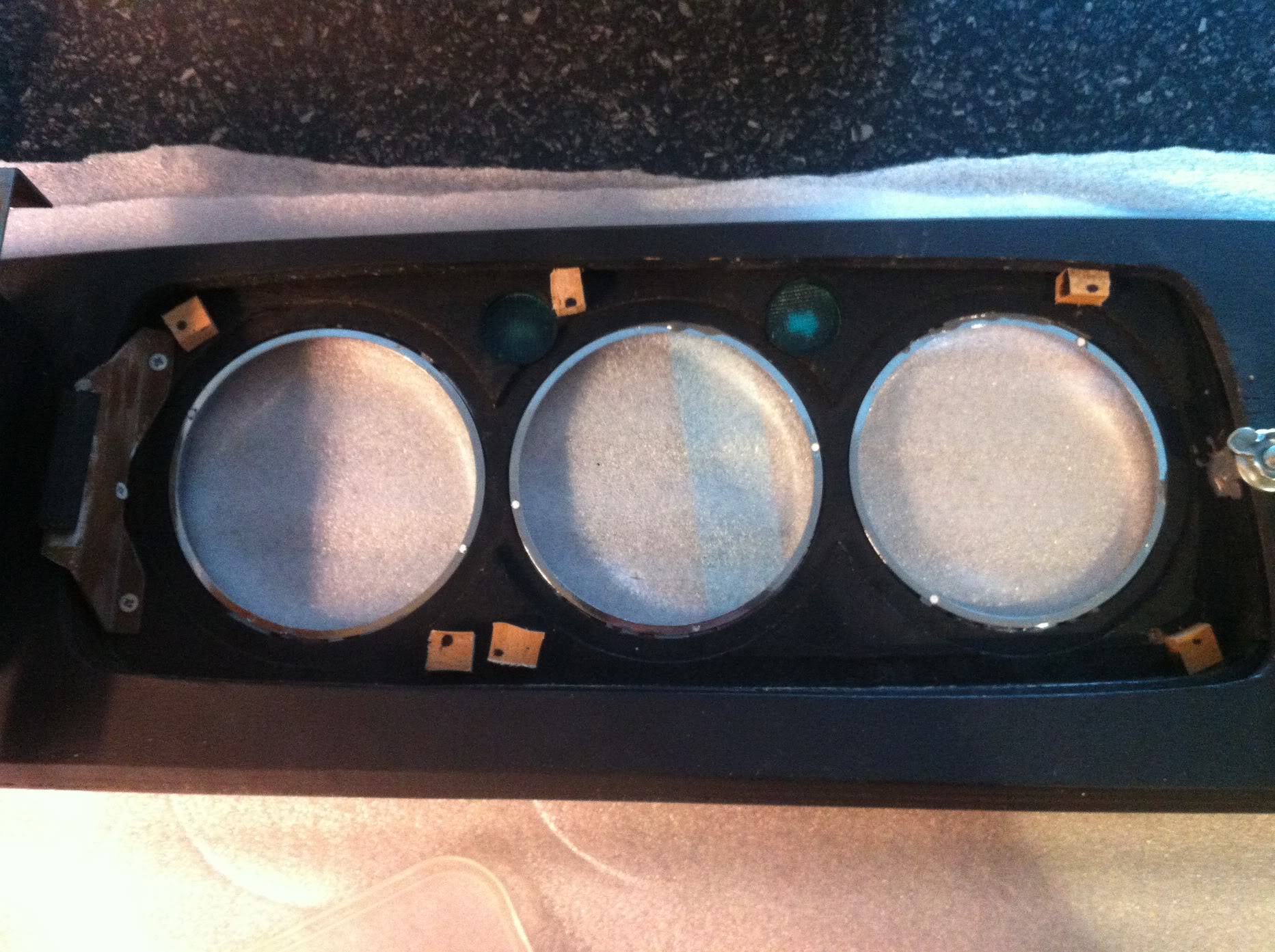 Fairly worked though!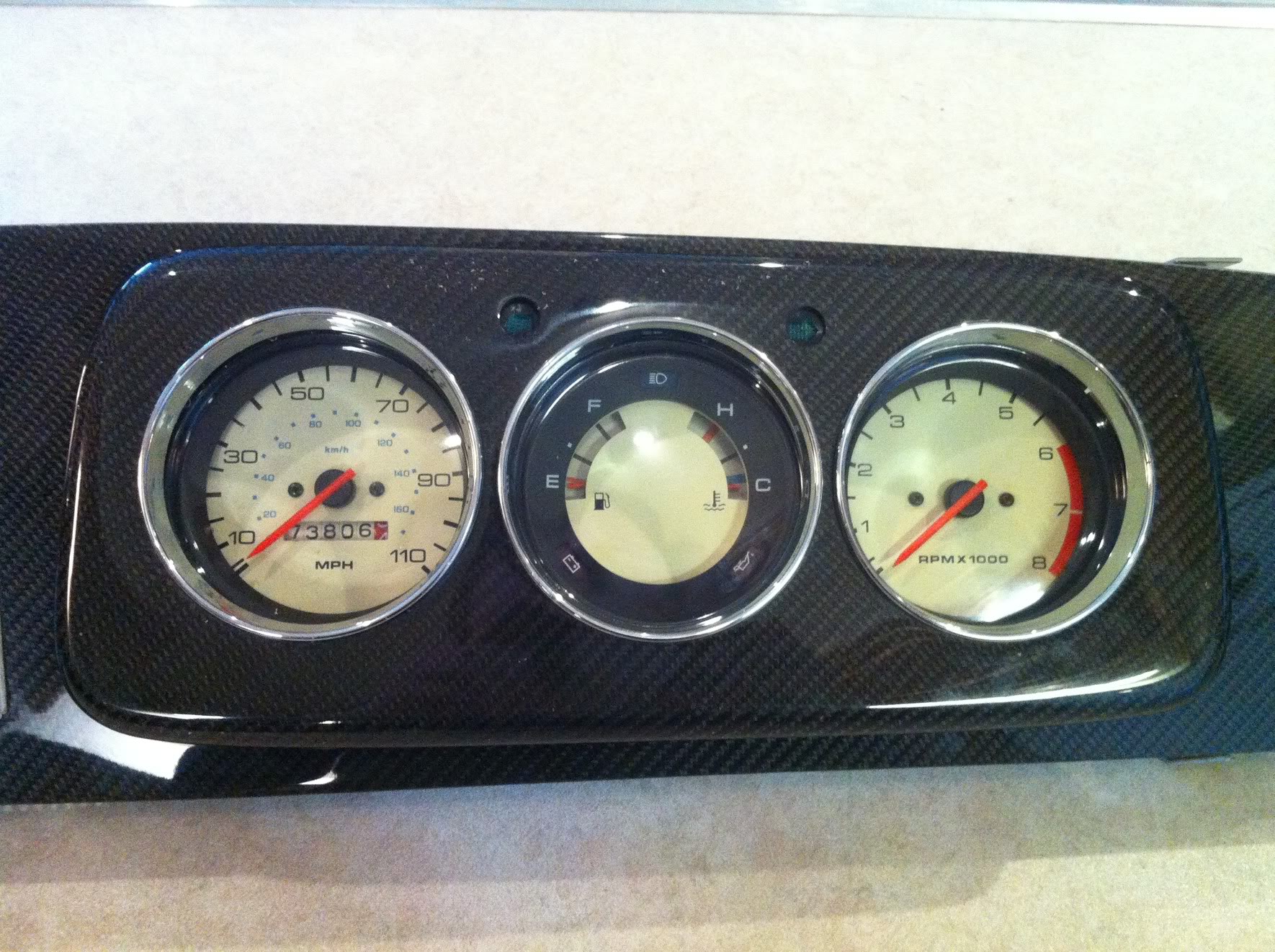 So dash built up, just need to buy speaker grilles and a new radio!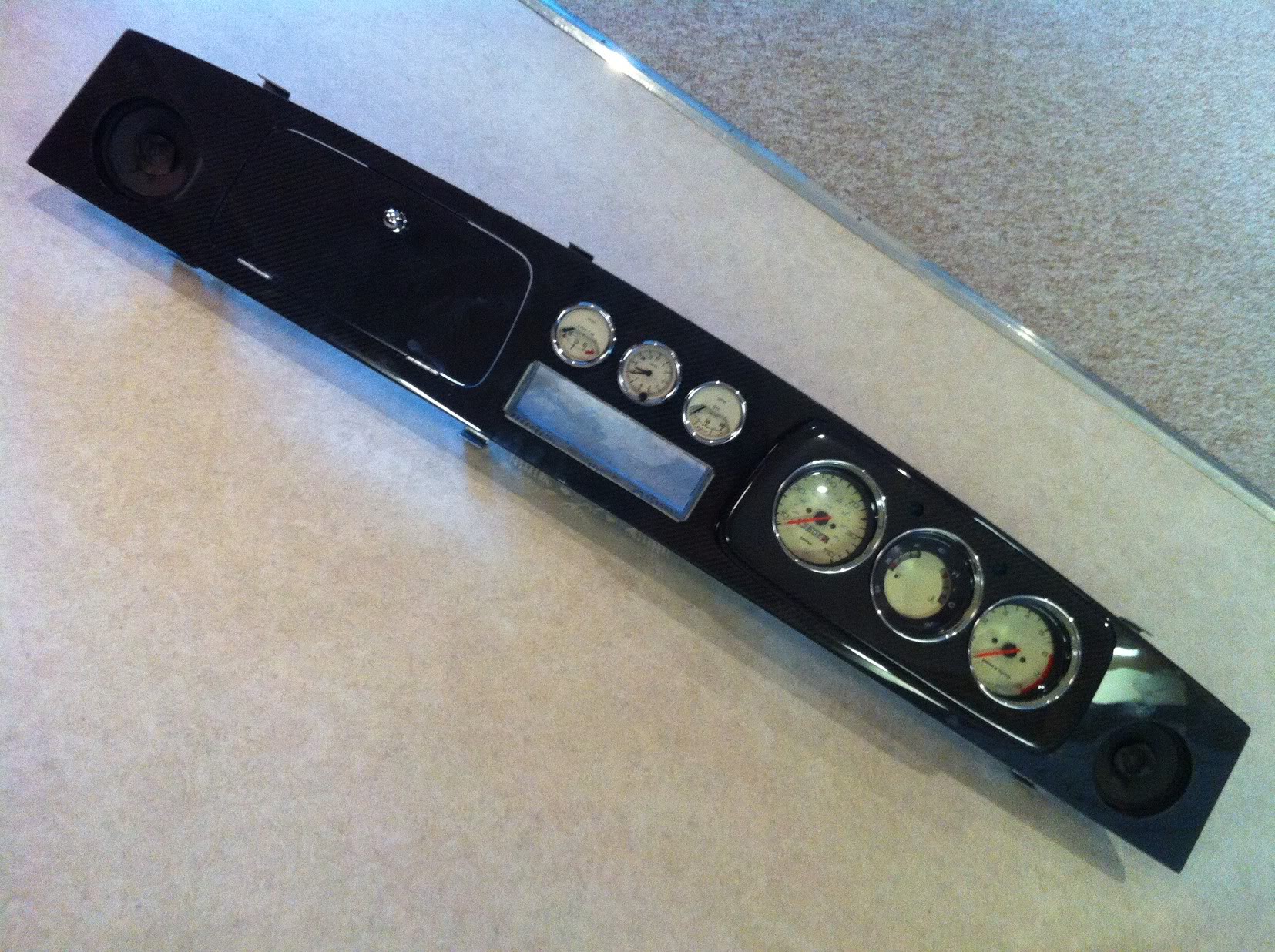 Oh and mums been busy again!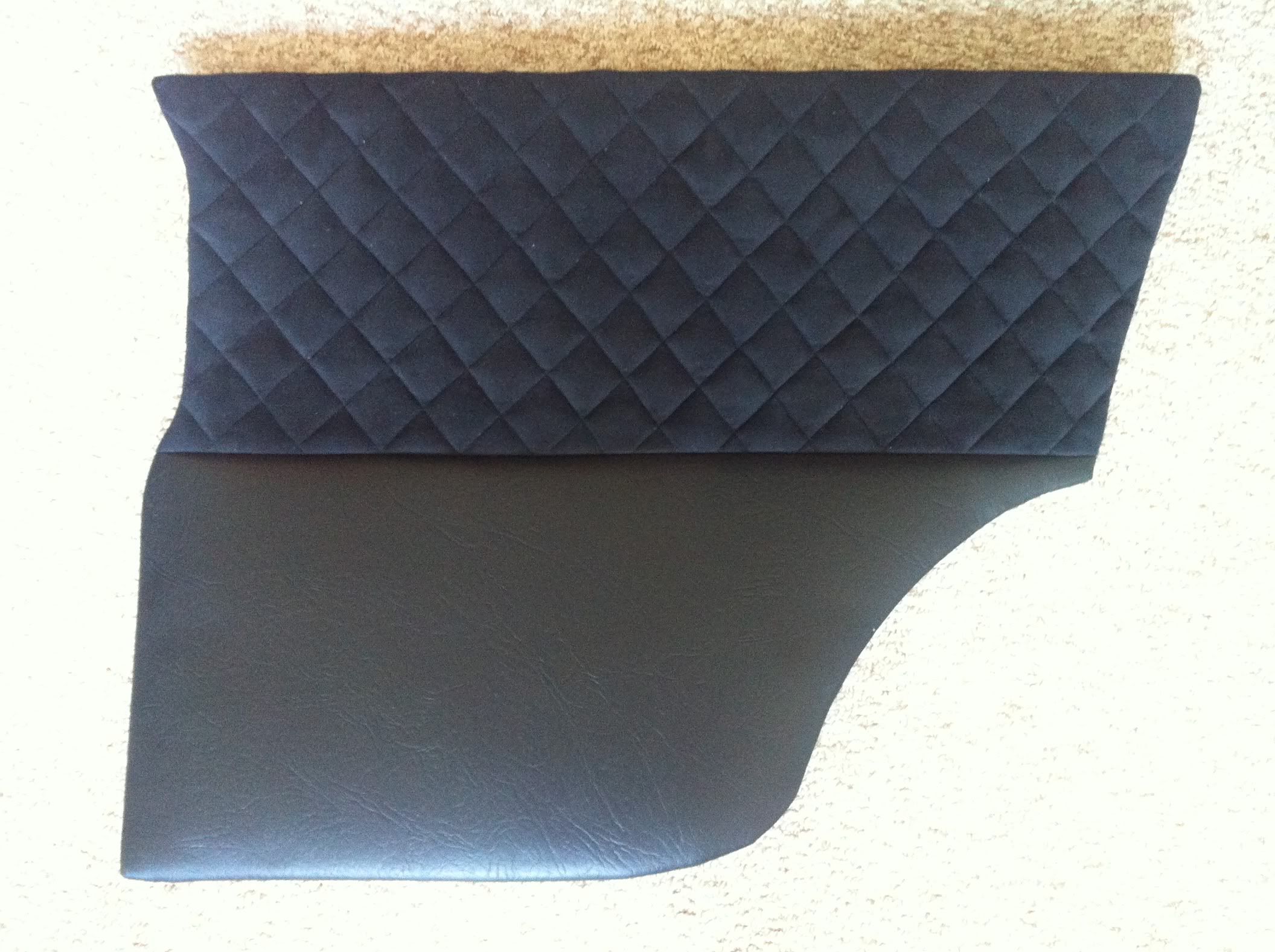 Should get the dash fitted up tomorrow if its another nice evening!
6-1-2013
Haha thanks I think!? Glad you think its good! Its by no means perfect!
So I ordered a LOAD of bits during the week and the only bits that arrived were the speaker grilles and hinges! They turned out to be too big to stick on the front of the dash but thankfully my dad had an idea..... I took the grille...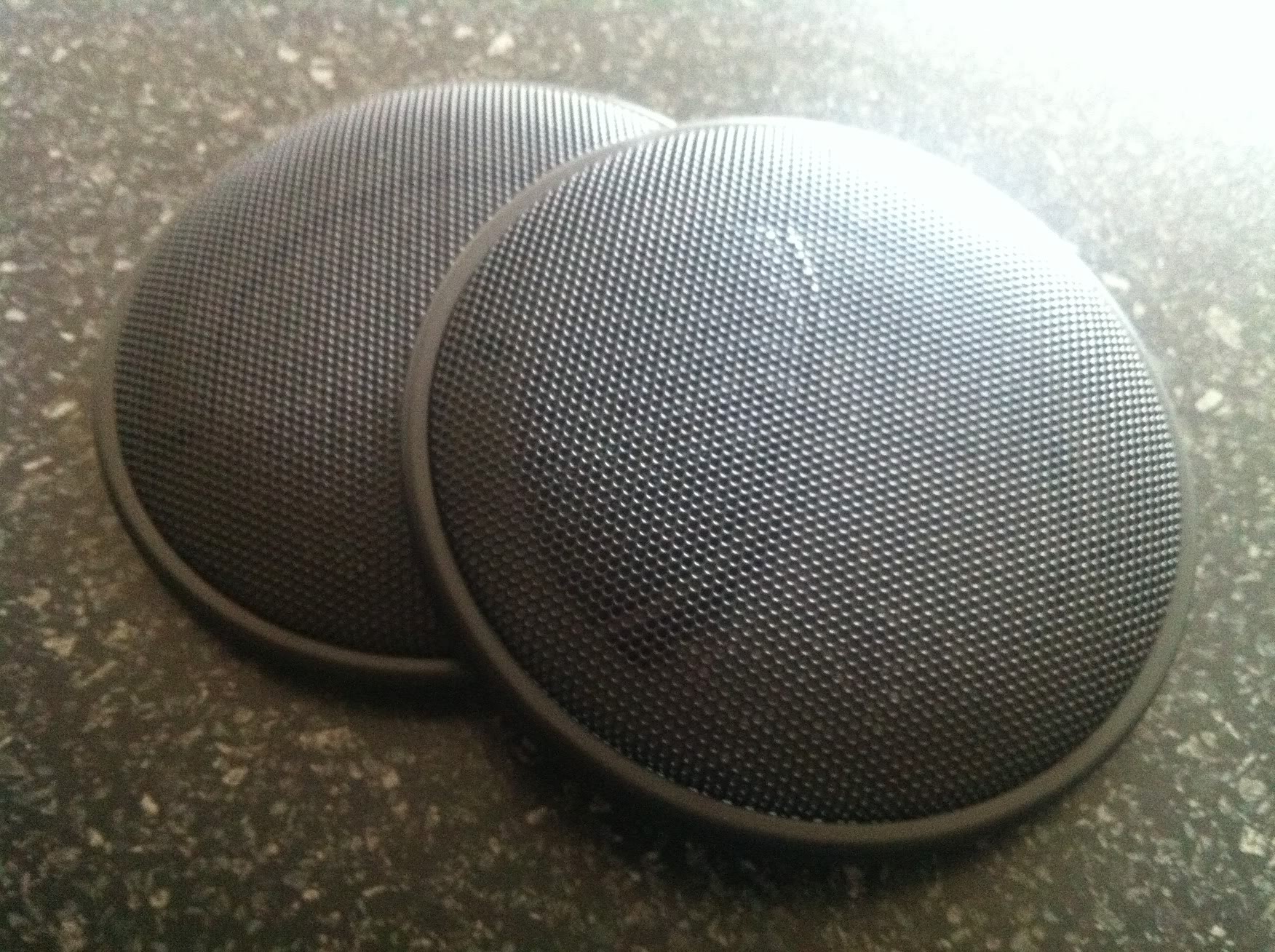 I cut the centre out of it.....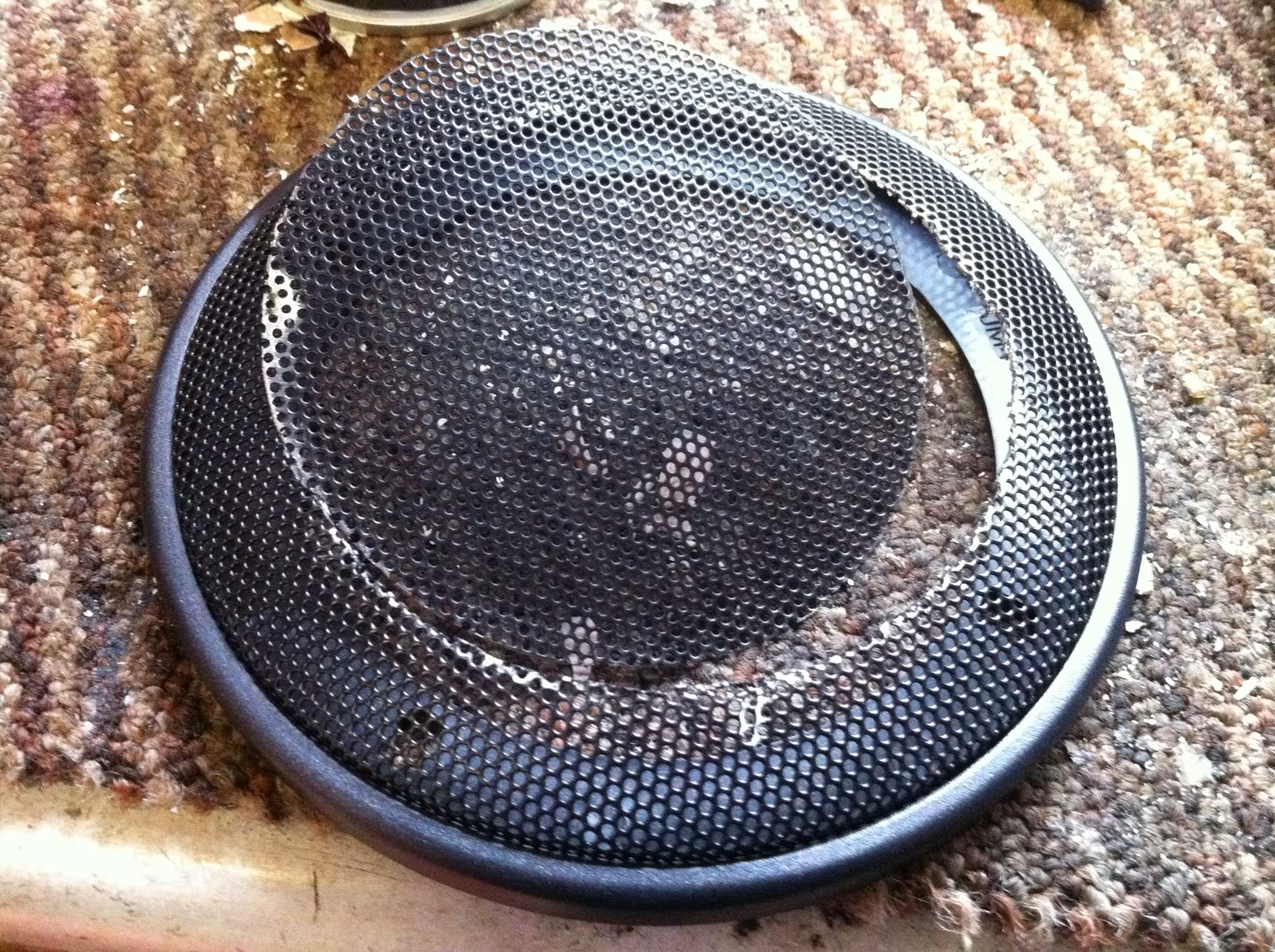 I took a spare chrome ring for the gauges that I had and checked for fitment....which was perfect for the diameter of the hole!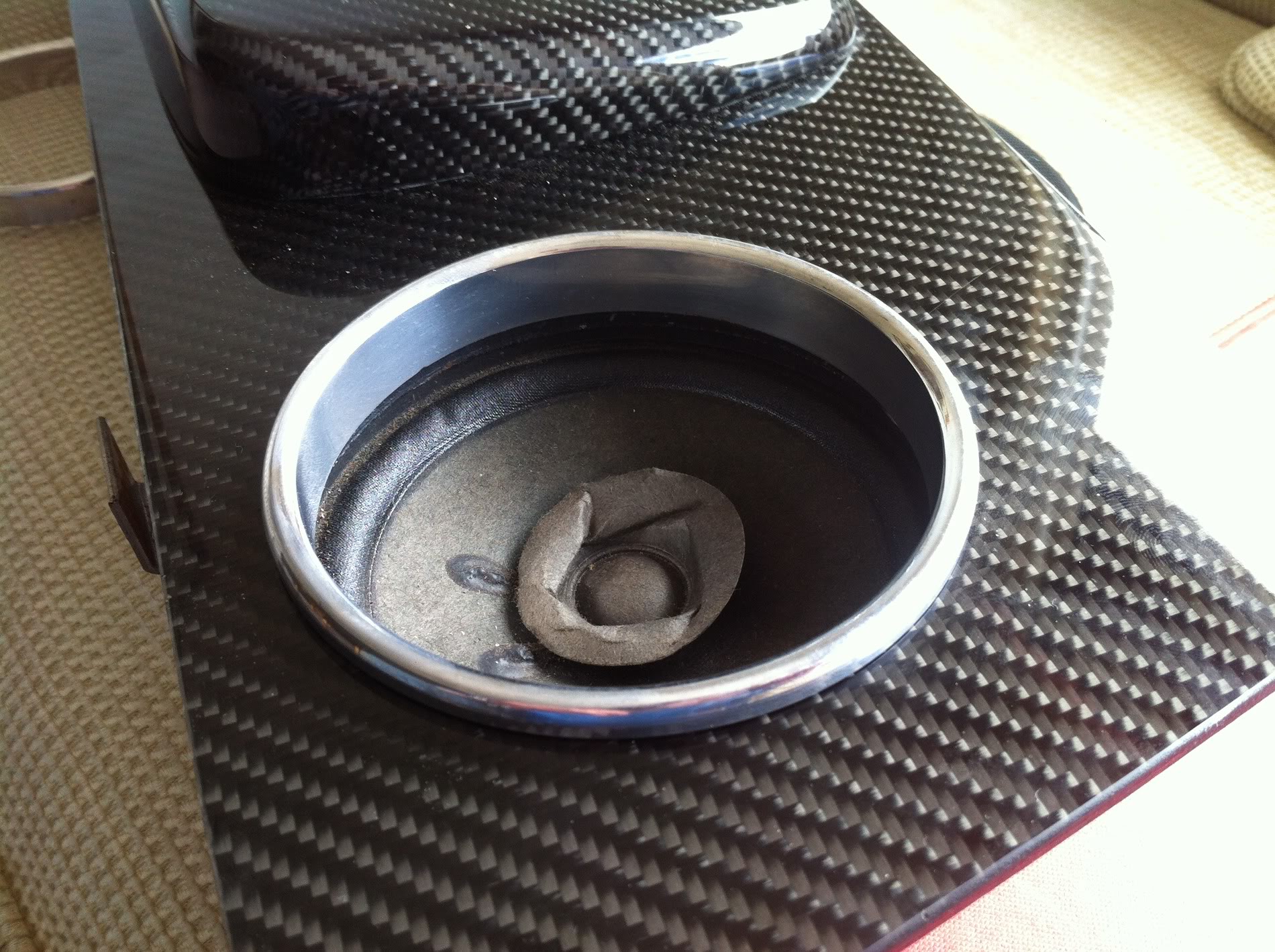 and then after a tidy up of the grille, sandwiched it between the back of the dash and the speaker!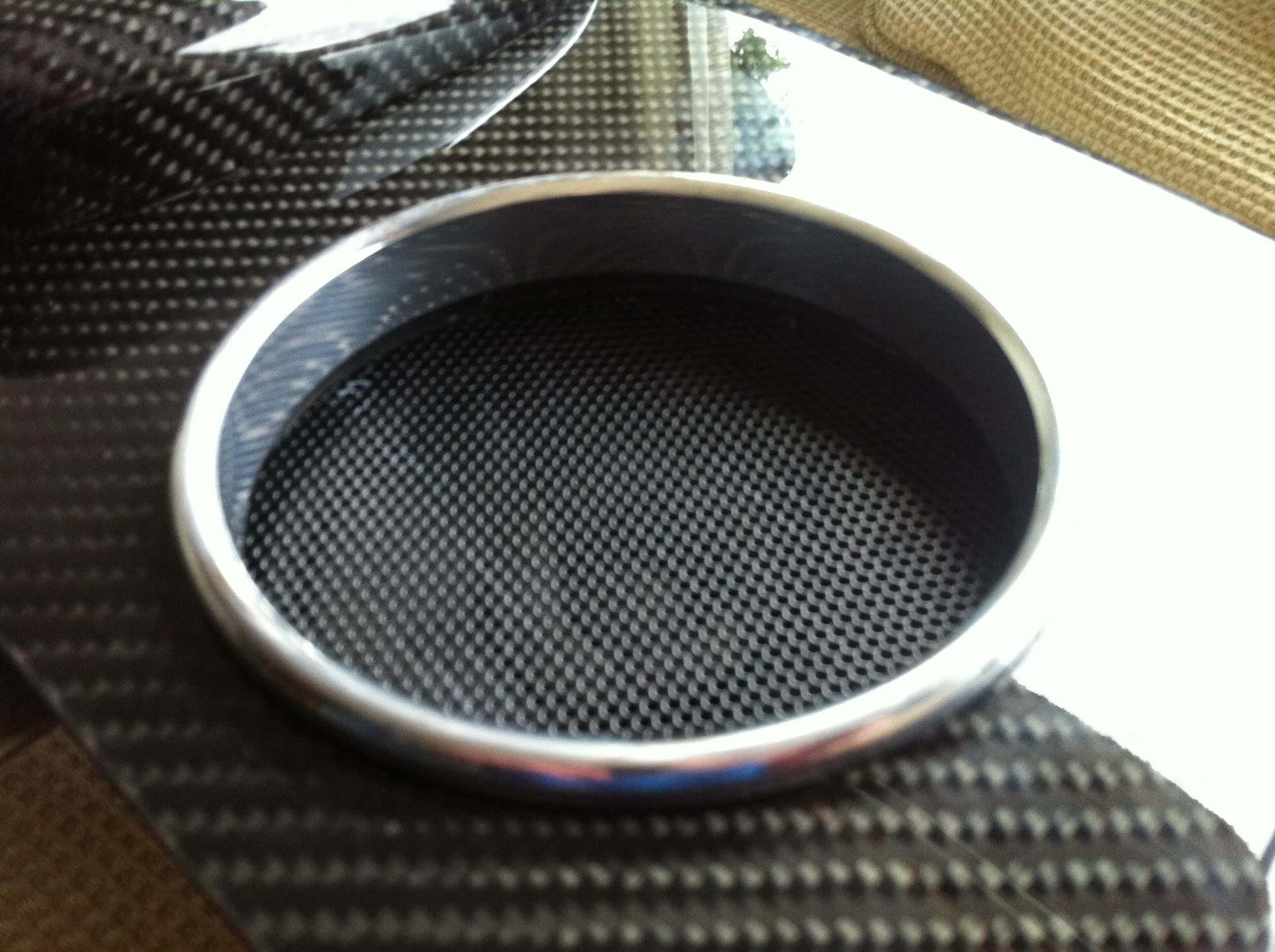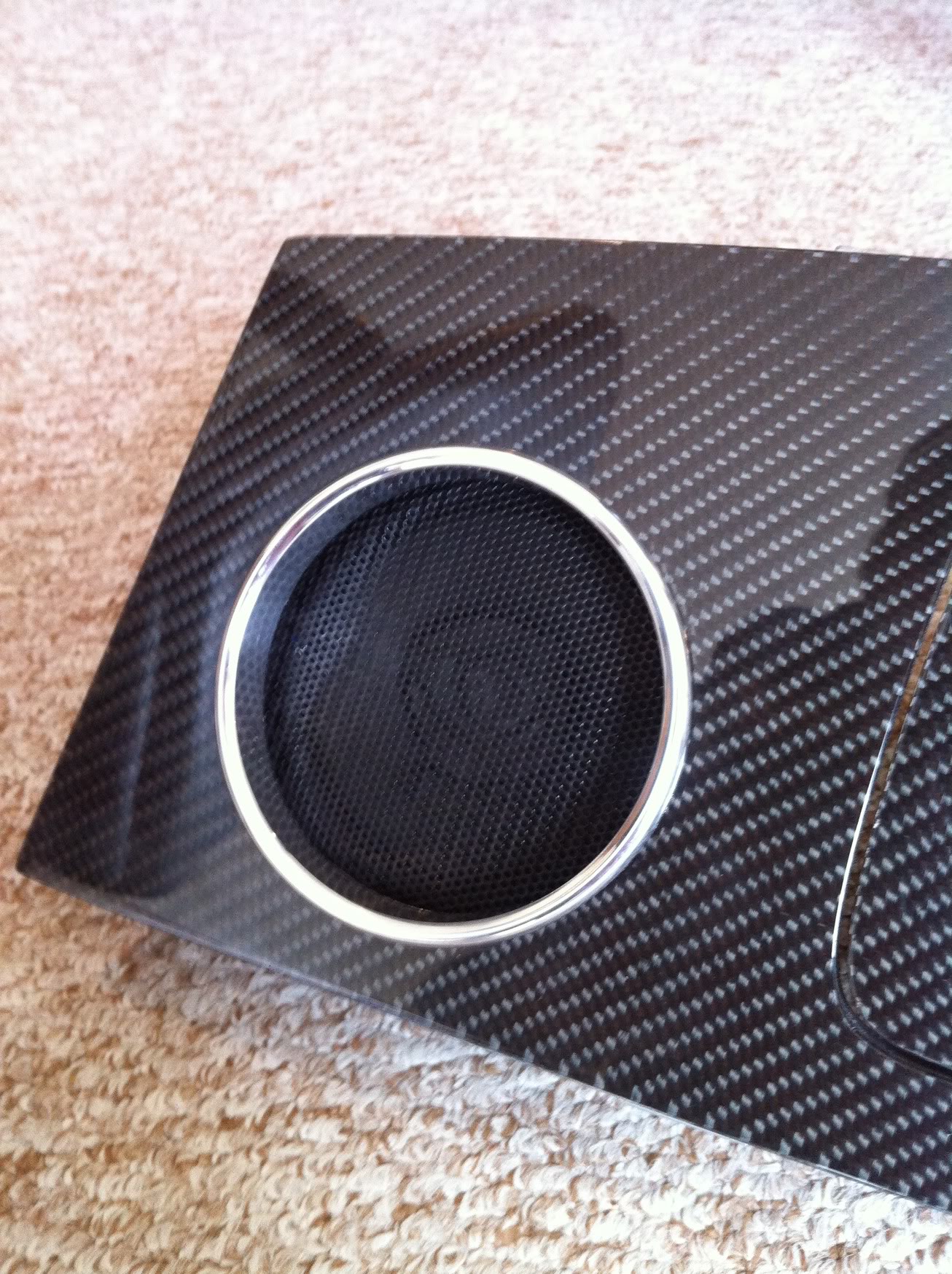 So it looks in keeping with the rest of the dash and functions! Glad I didnt fit the dash before thinking of this now!
Also got the aerial fitted onto the screen and wires tucked etc. Got the hinges, two were seized so had to split them and free them up/unclog the paint they had been heavily coated in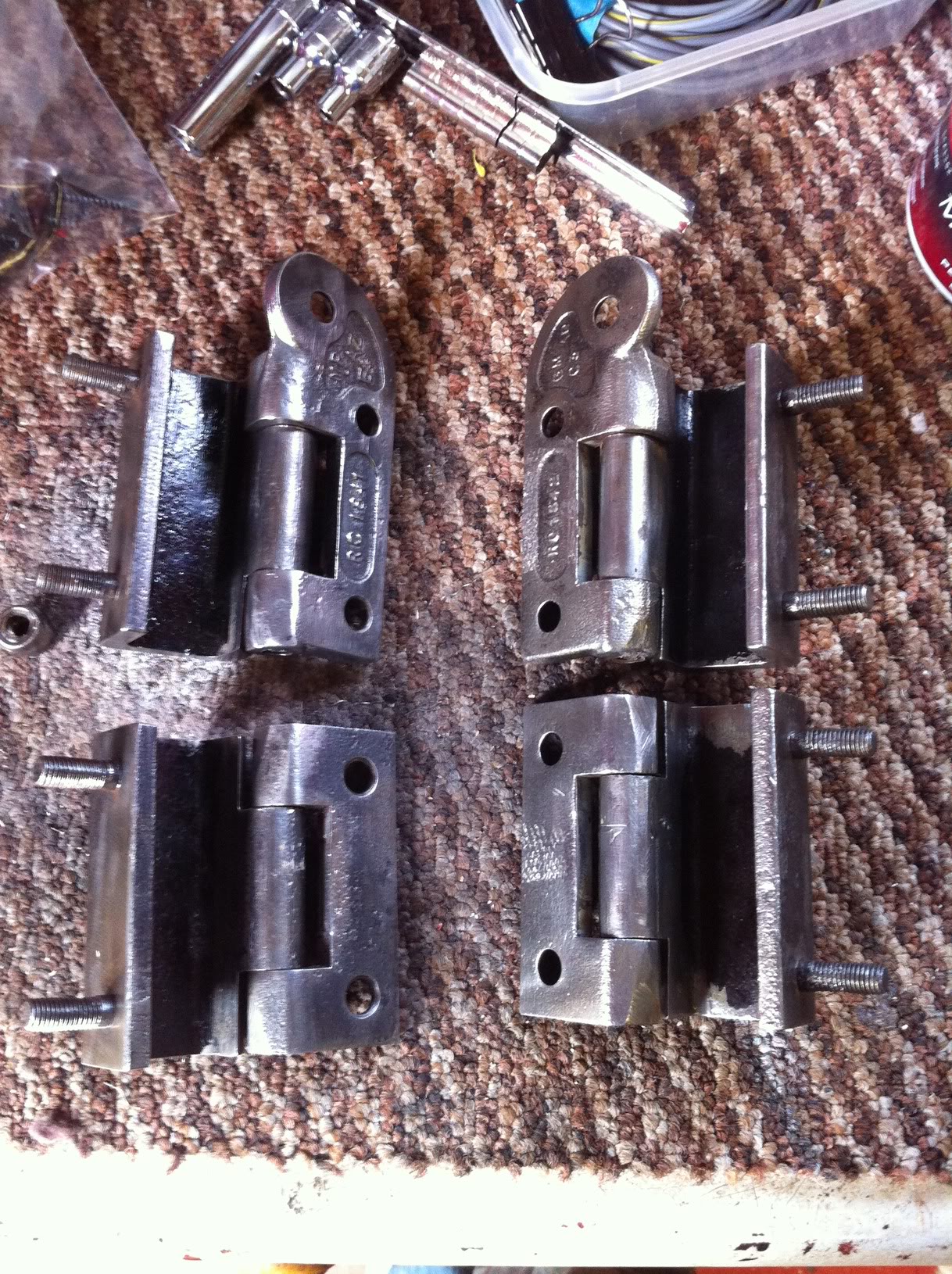 painted up on the washing line!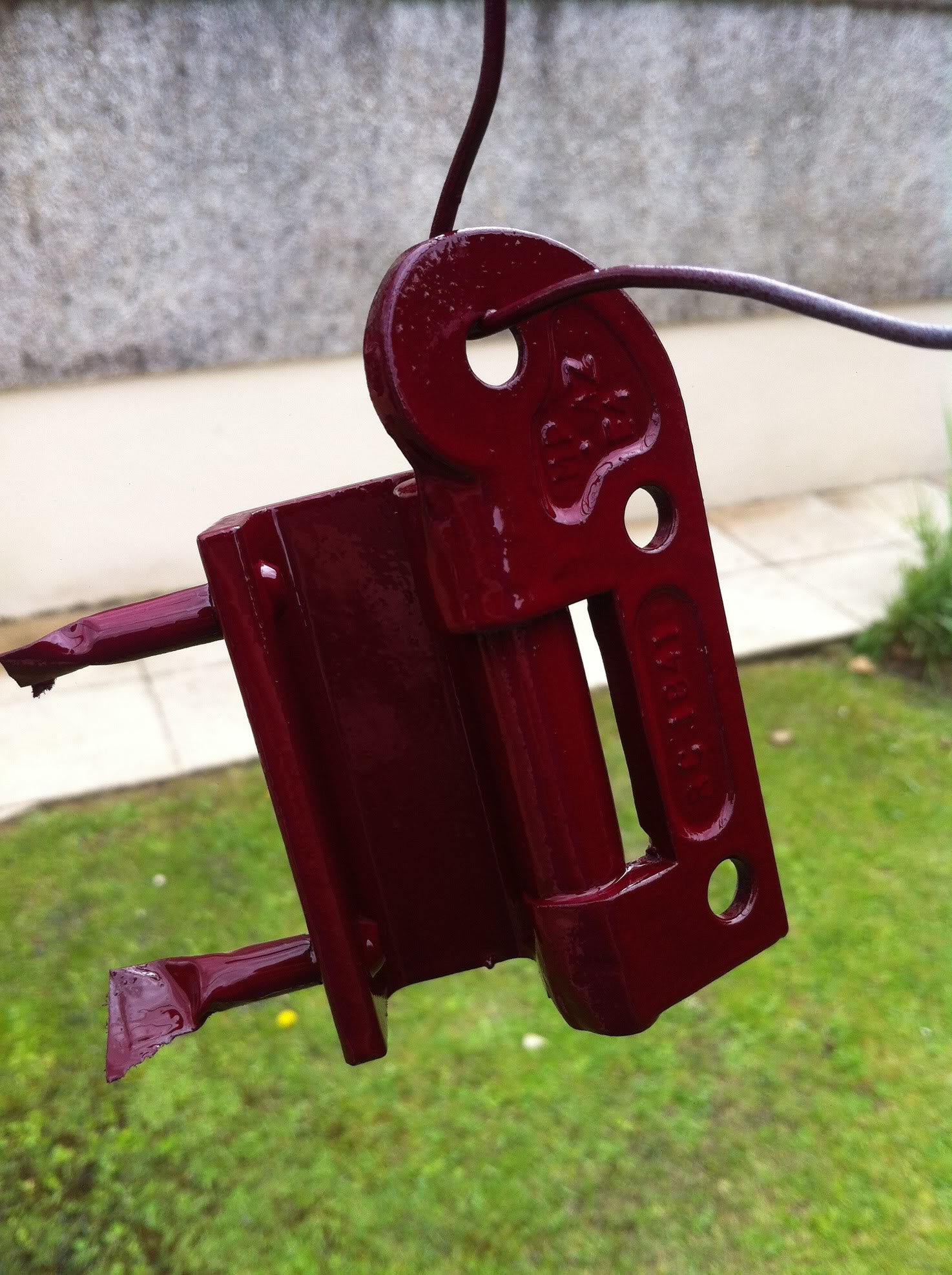 and done ready to go!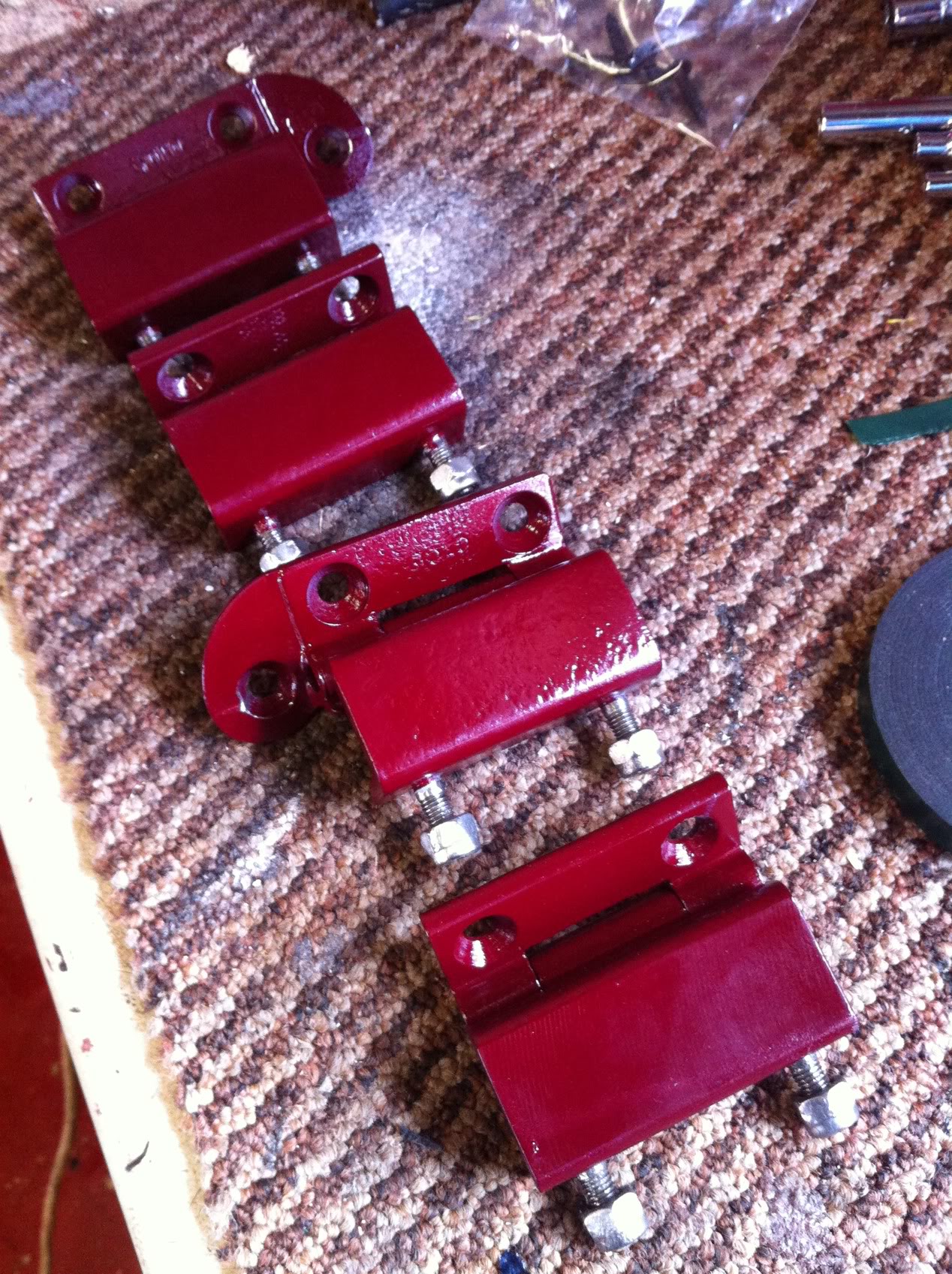 Should get them fitted to the doors tomorrow and then if my folks are about, get the dash and doors in!
6-3-2013
Update time! Radio arrived in the post, nothing else did due to local holiday. Superb! But seeing as it was already wired into the car ready to go, I plugged it in and tada! Working headunit!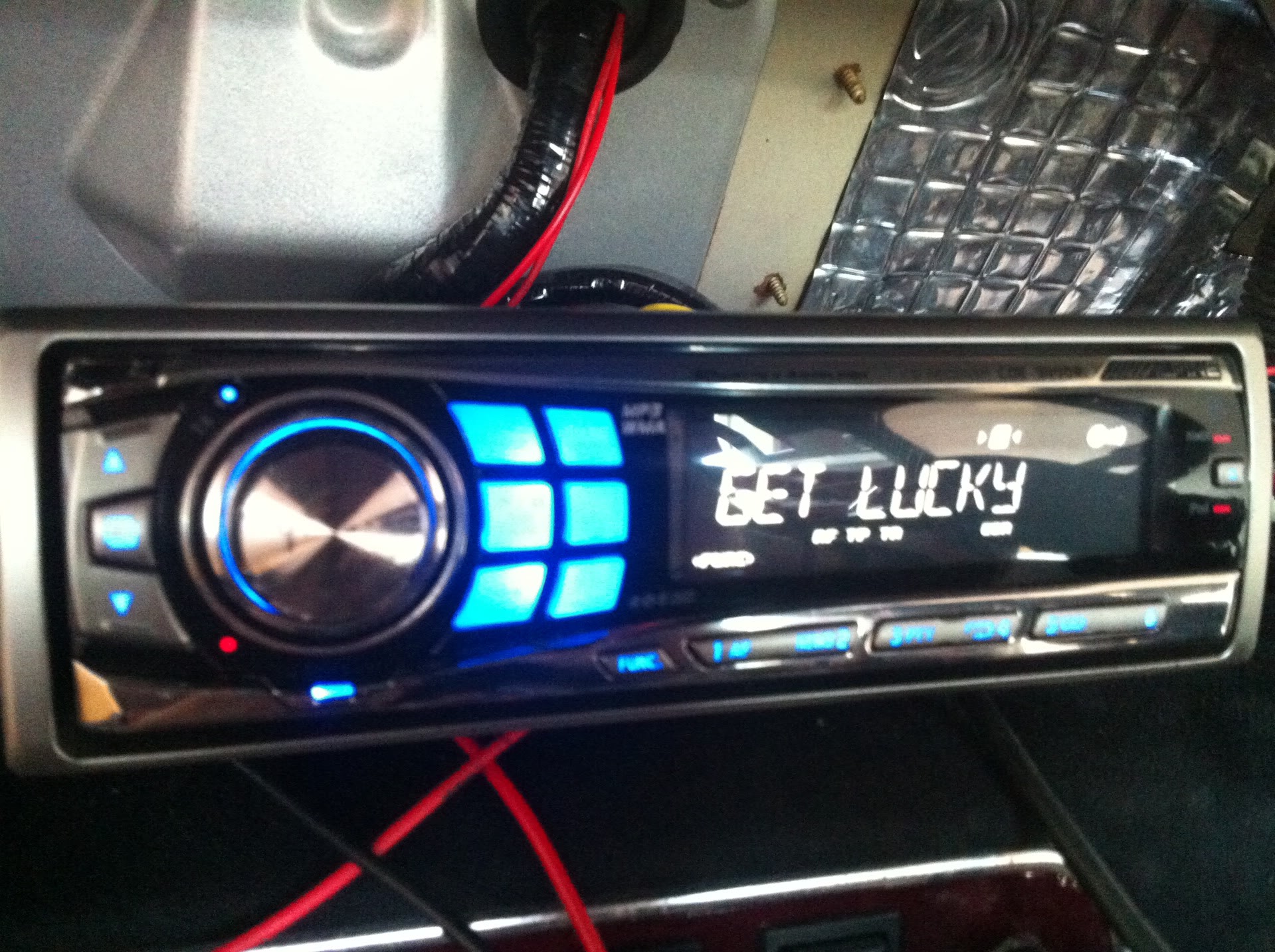 With that tested and the speakers all working I fitted the dash together with everything in its final place. Blue taped up to prevent possible chipping on installation!




Not a bad radio for £50 on eBay! Was circa £200-250 when i worked at Halfords 3 years ago.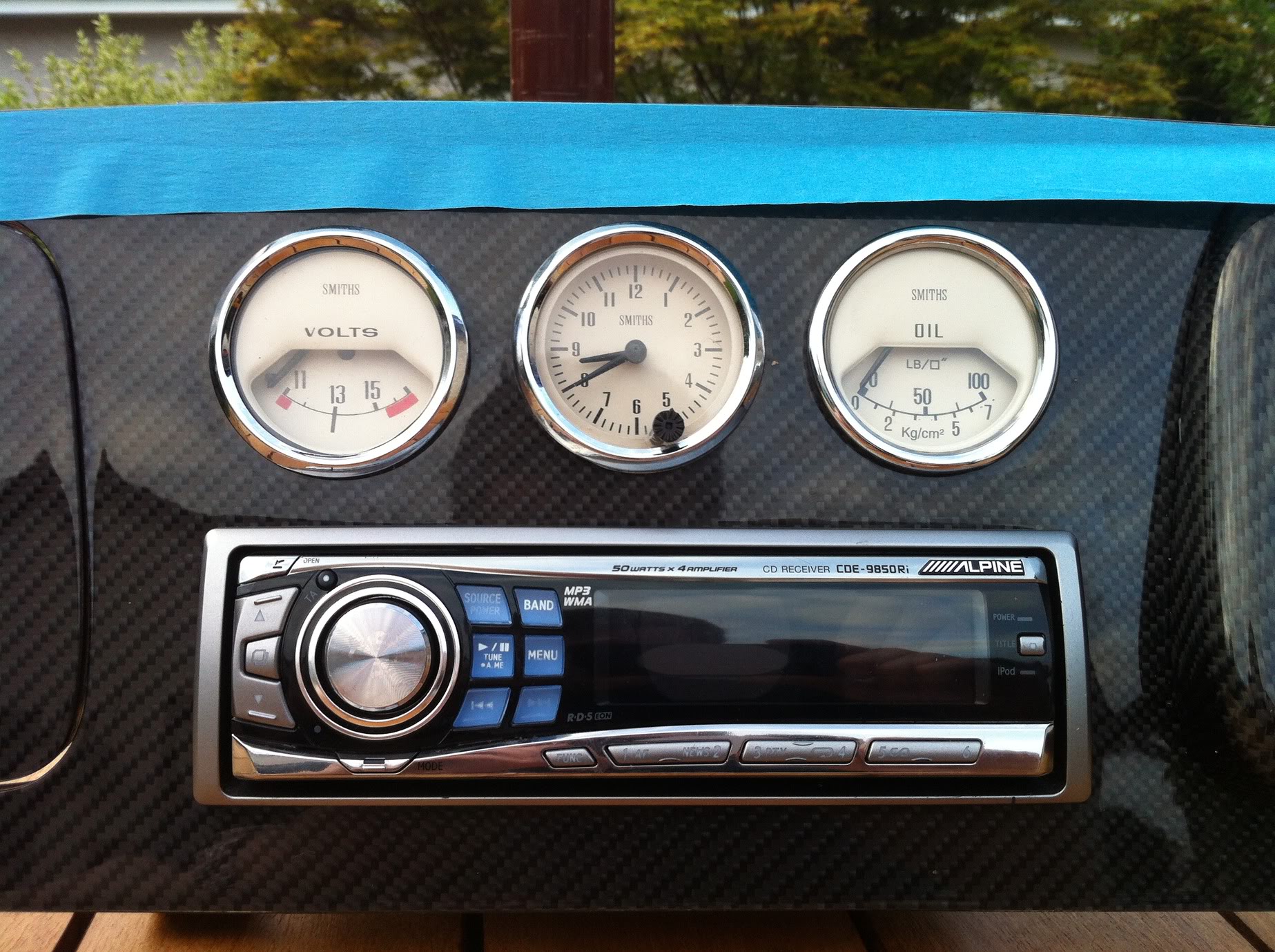 with a bit of fettling and adjusting it went in easily! Everything hooked up and working well. Ace! Looks so much tidier now!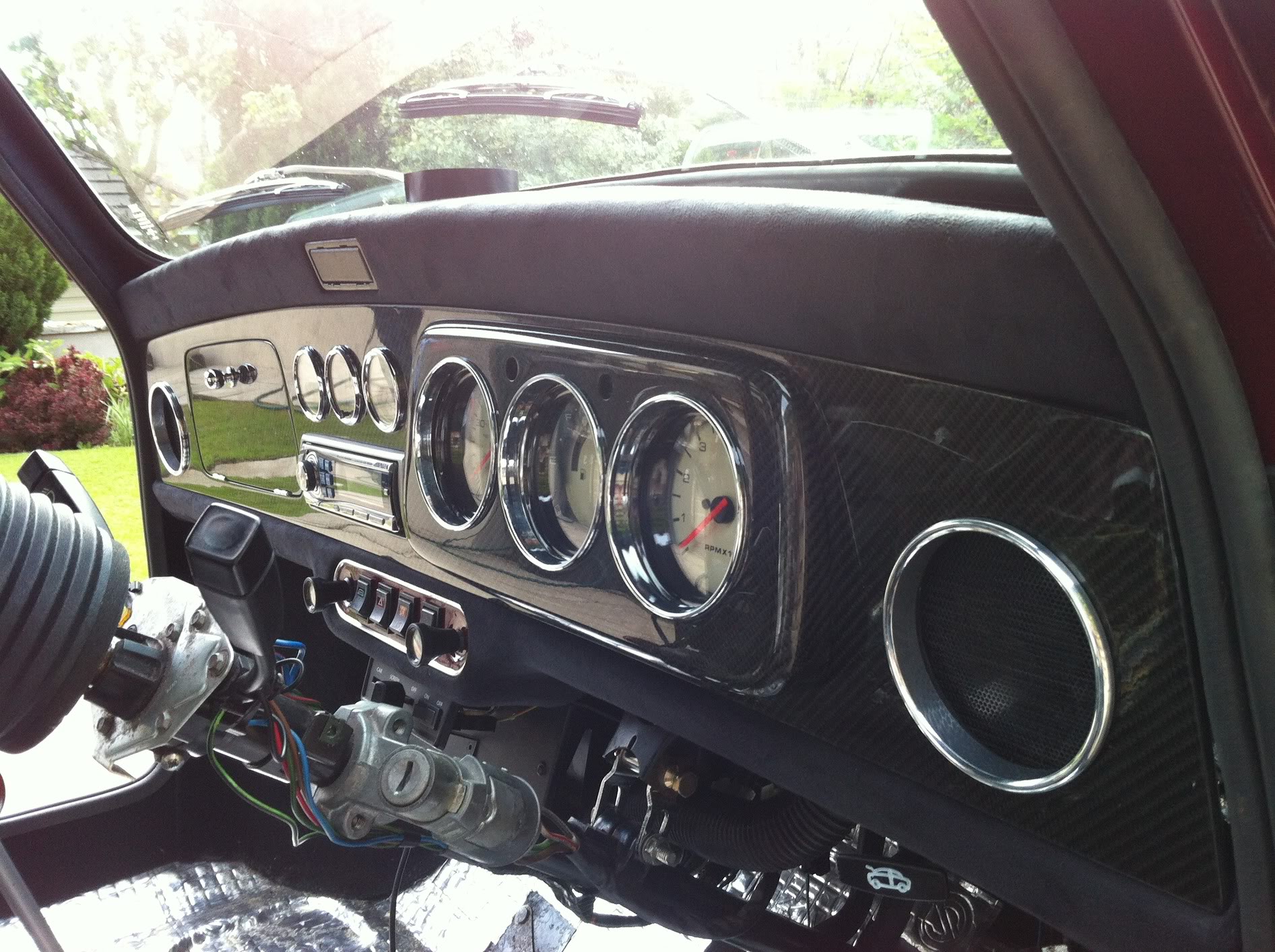 Perfect view of the gauges too which is nice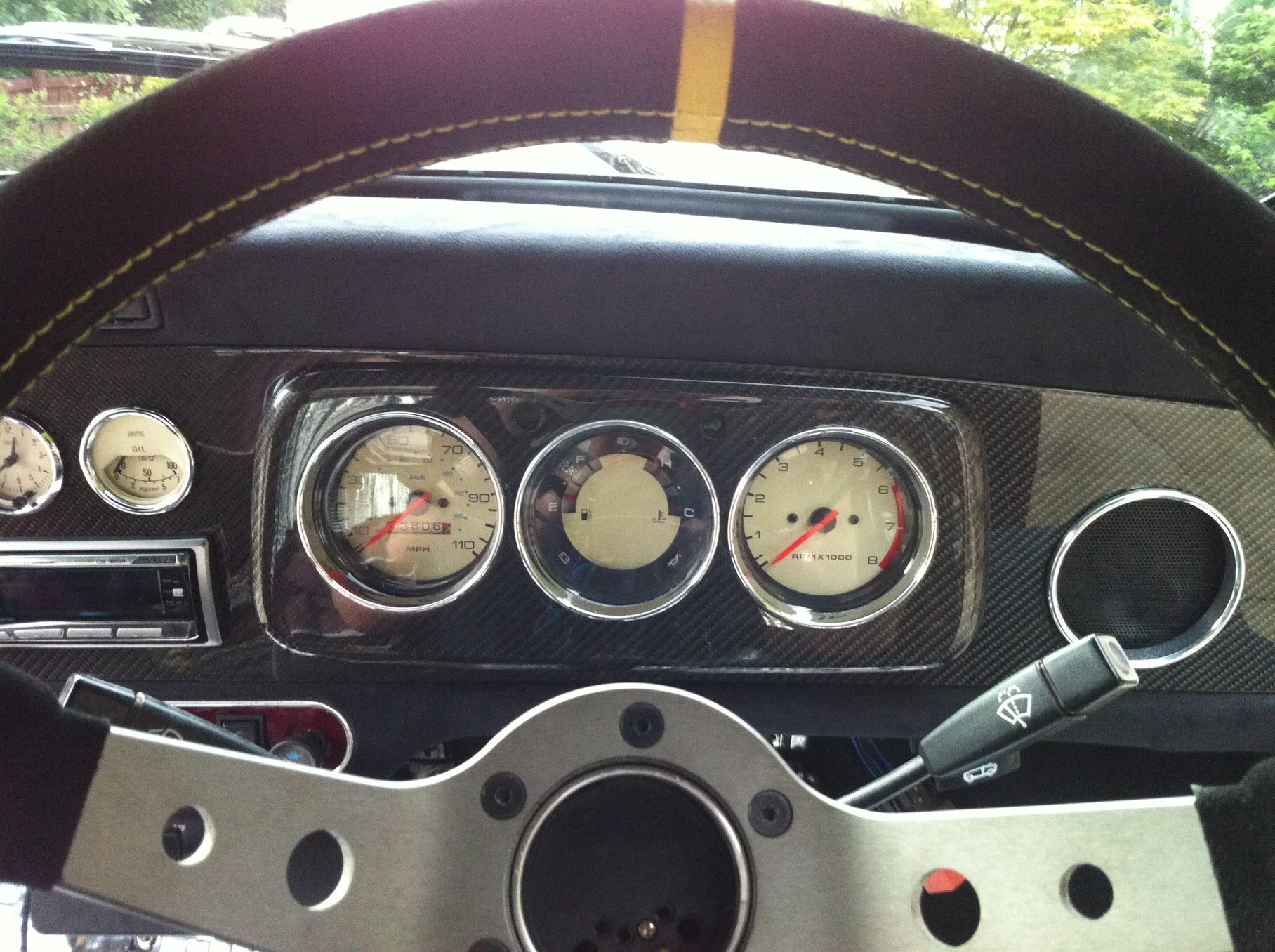 Also painted up my rear speakers to make them look fresh. Much better!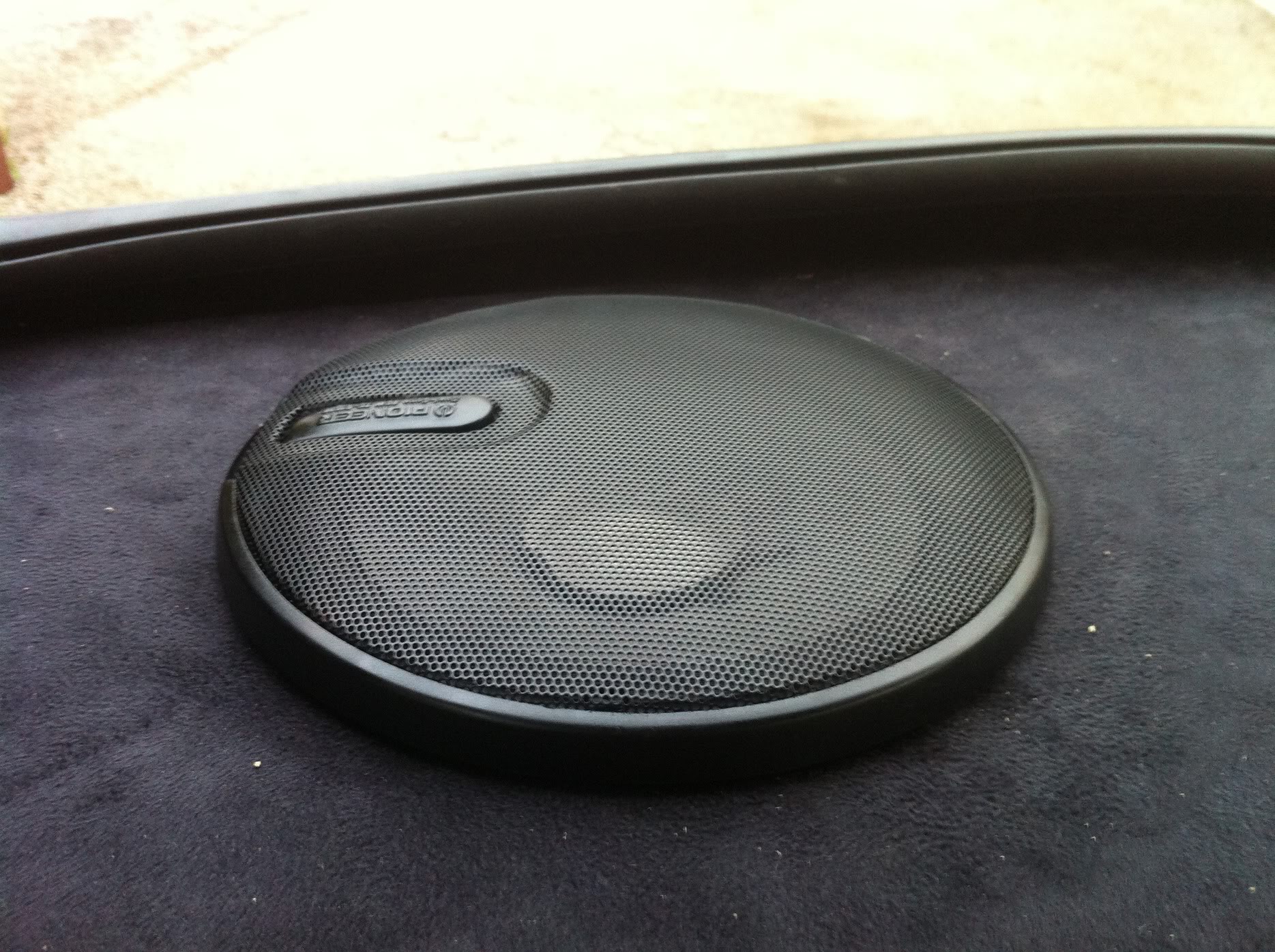 Tada!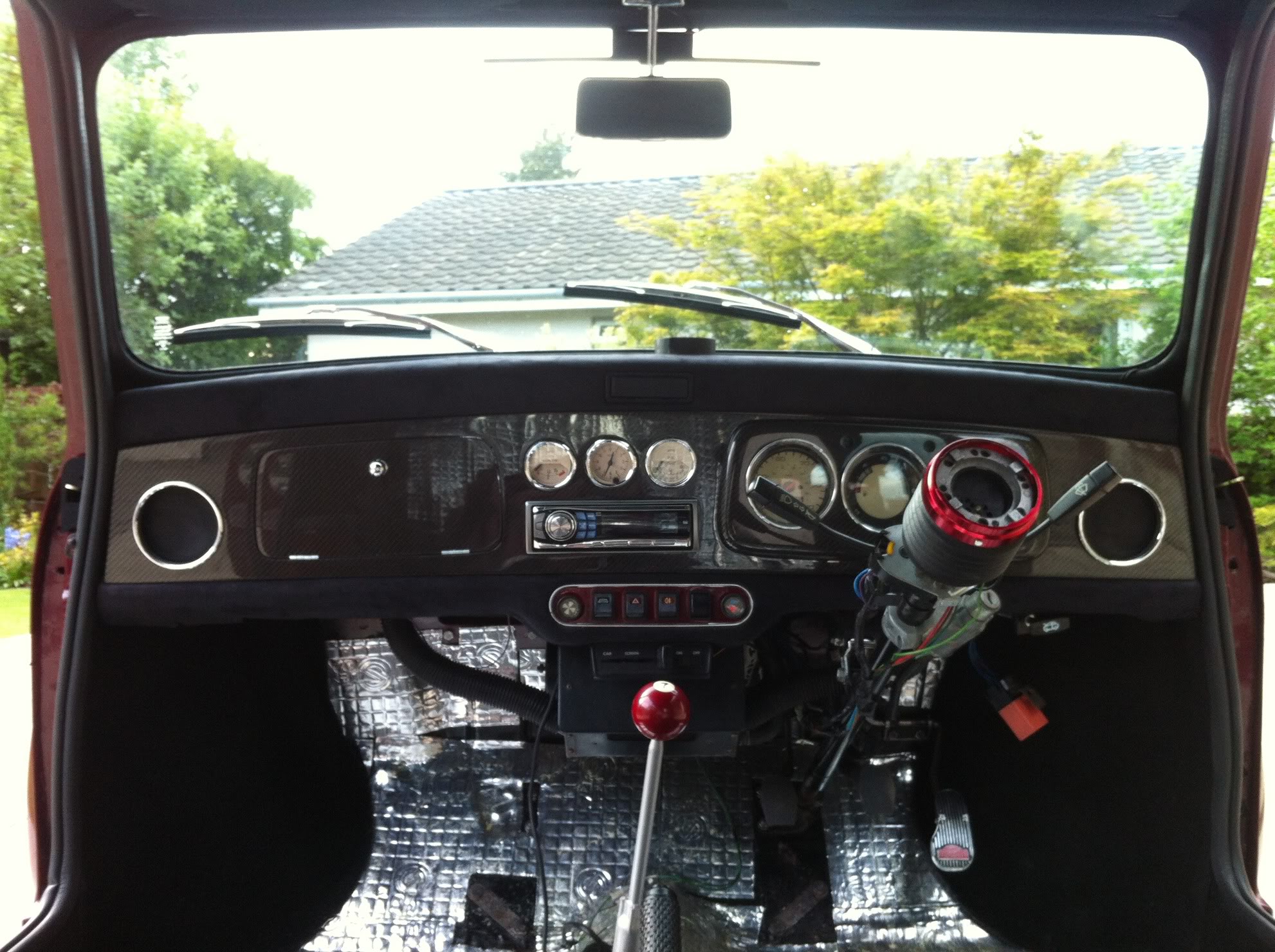 NExt up carpets, doors and bonnet and boot! :)
6-5-2013
Thanks guys! Im a pretty big fan of it myself if Im honest!

I did get a couple of deliveries yesterday. Unfortunately not MOT dependant ones.....oil pressure capillary fibre washers and a Speedwell (old 60s Mini tuning company) fuel bib to protect the paint on the tank from potential splashes! Looks better in the flesh now Ive put it on properly....(not pictured)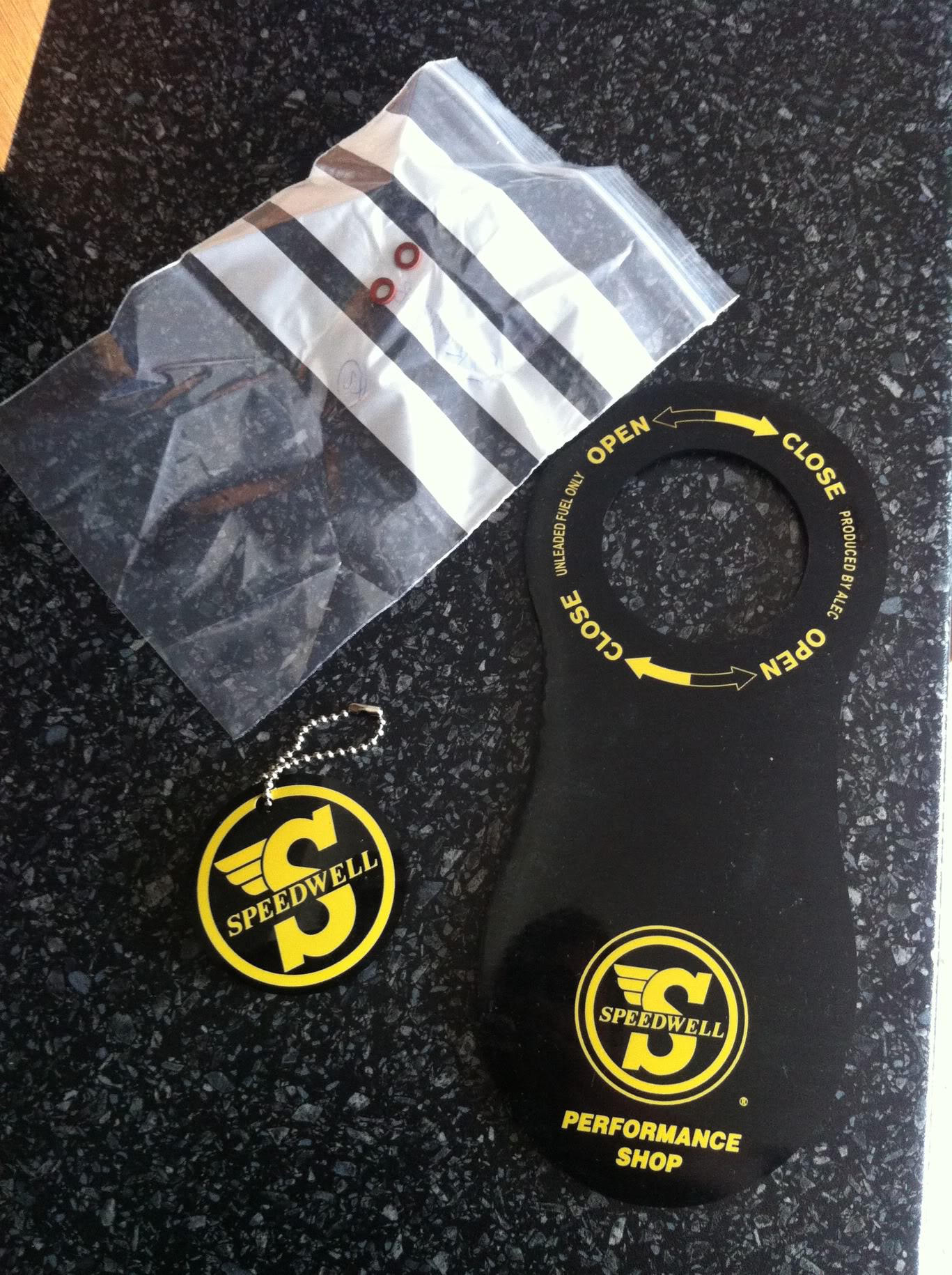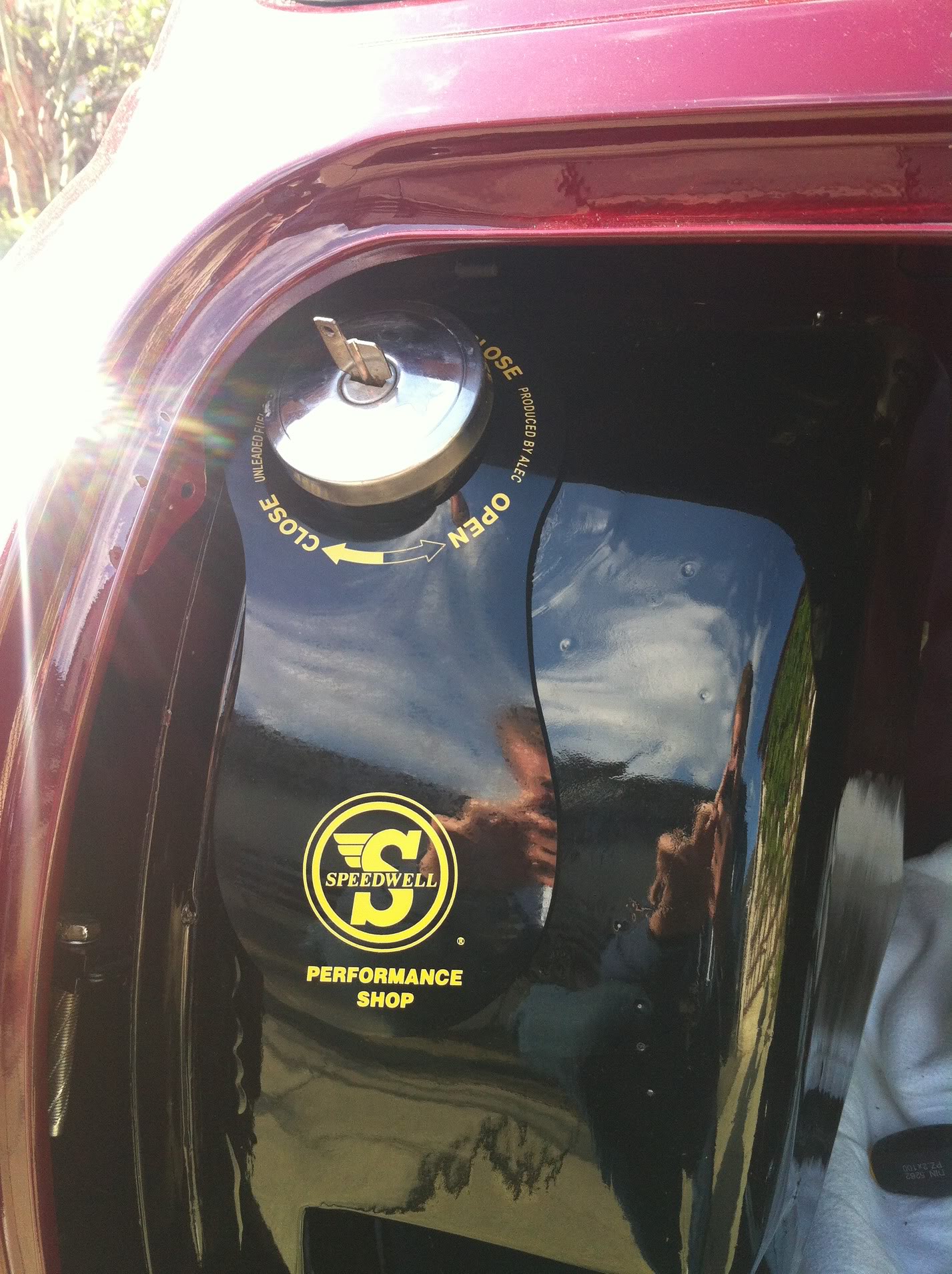 However I also got my fresh air ducting fitted up after it arrived the other day.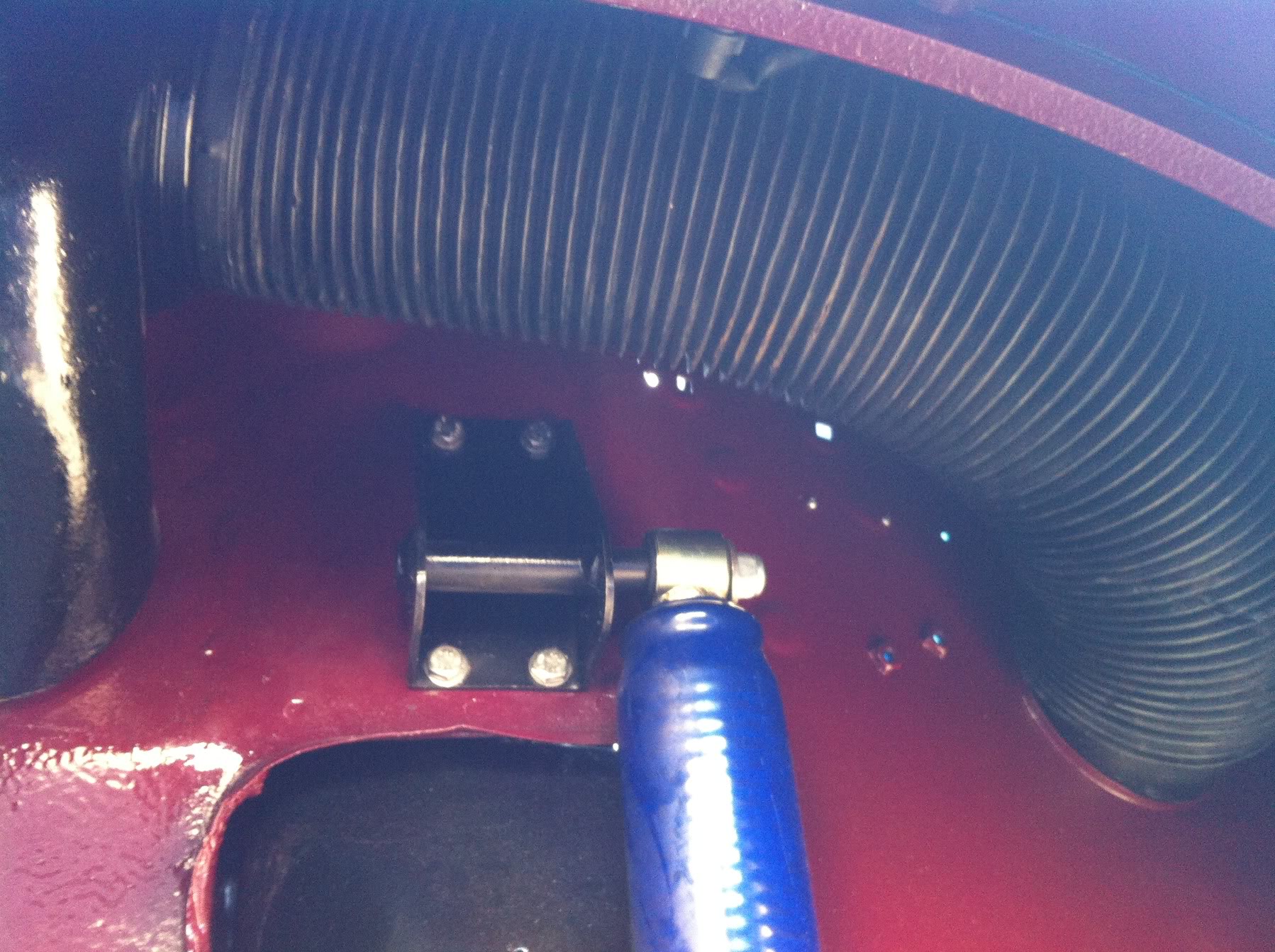 and got my rear window in! Need to fit the metal strip at the top but temperatures dropped and the seals hardened up. Leave it for sunnier times.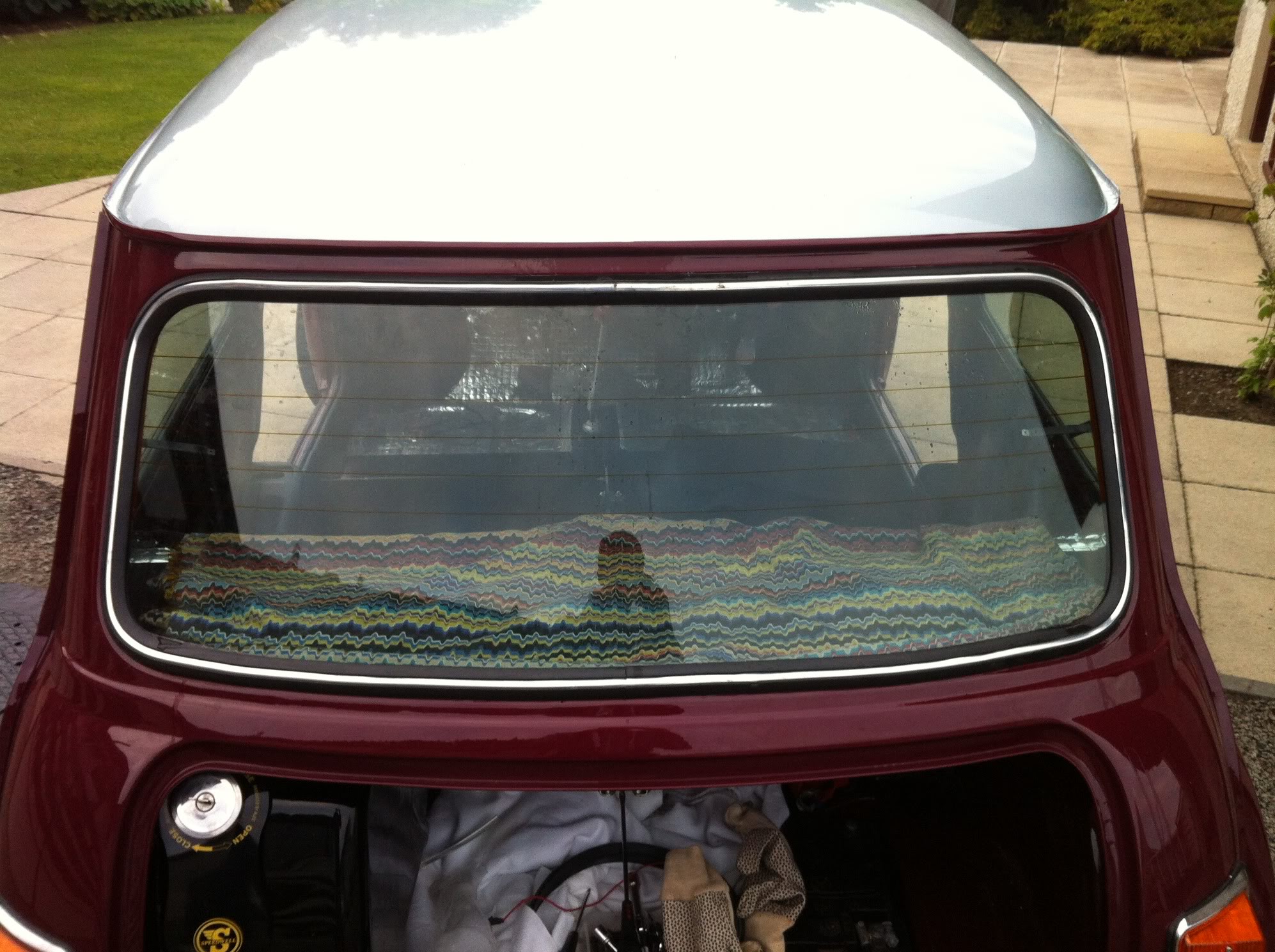 Tomorrow my mums going to fit the carpets again and then we can get the doors on etc after. So close.....! Oh and my Tain entry arrived. Its only 10 days away......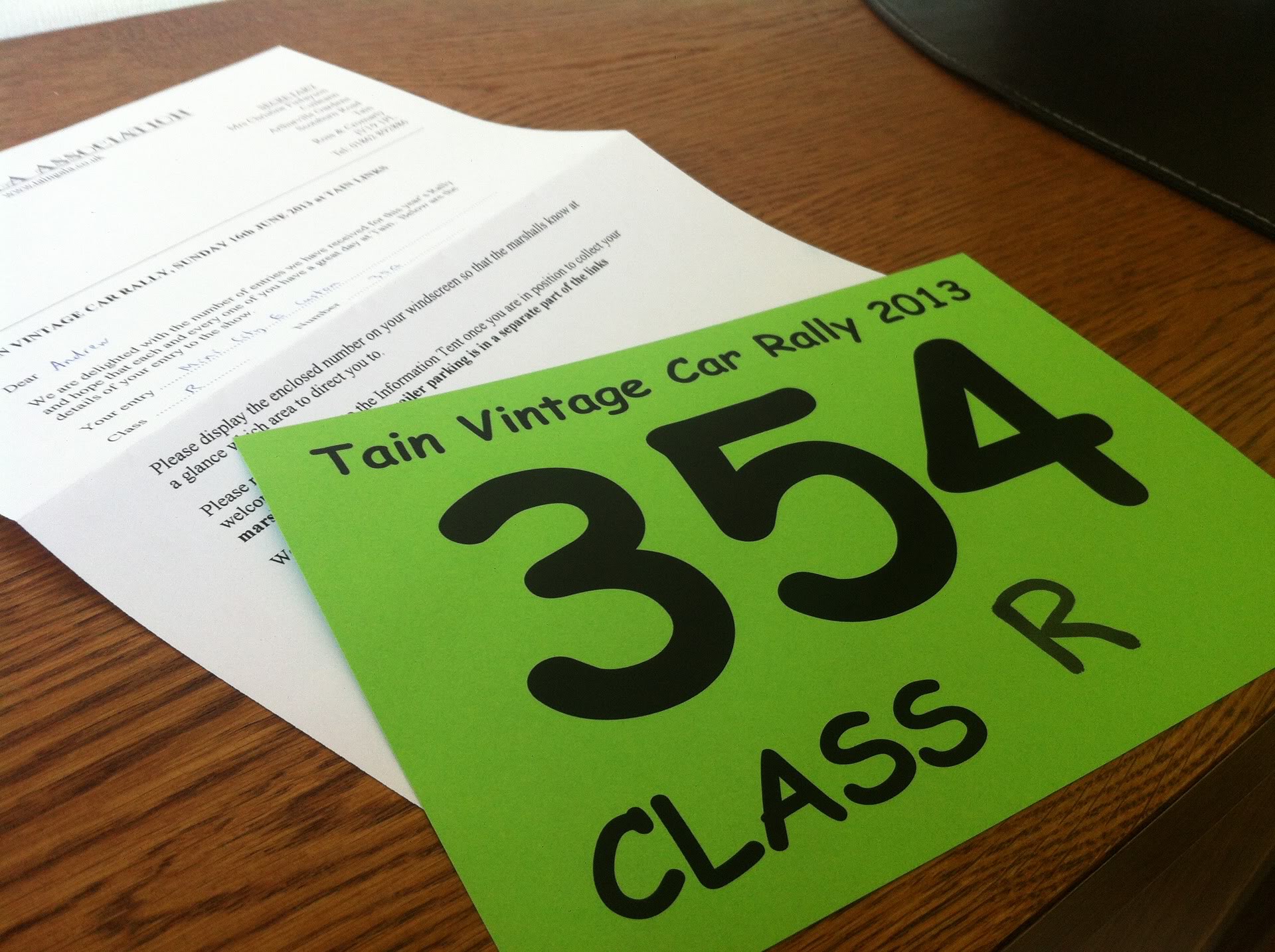 6-6-2013
Update again! While I was at work mum carpeted the crossmember and then once I was home managed to get the carpet in after I had checked the reverse light worked and no extra wiring was required. So a photo of that....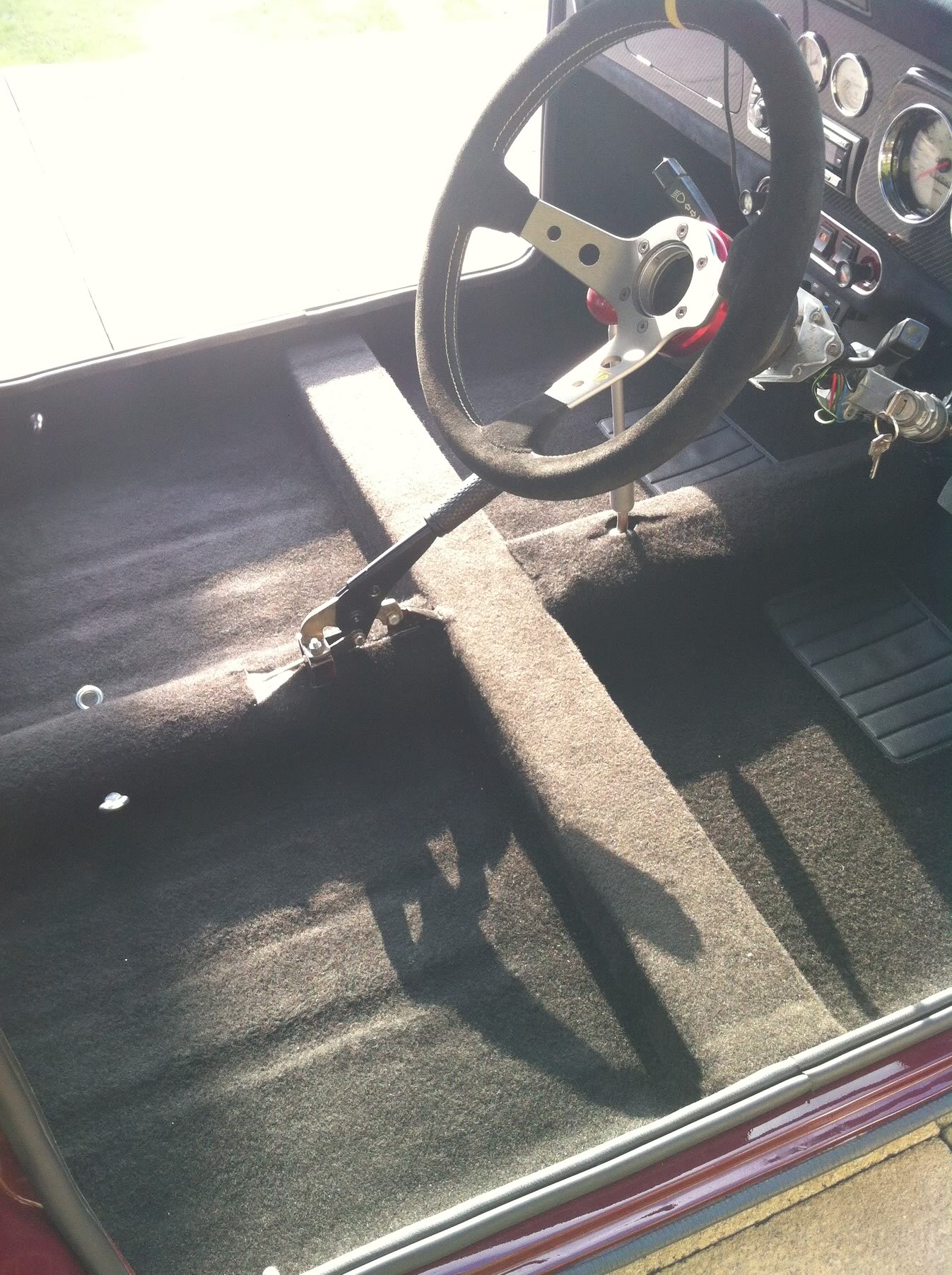 Had these kick plates fitted before. Still not decided if they will stay but they are on for now.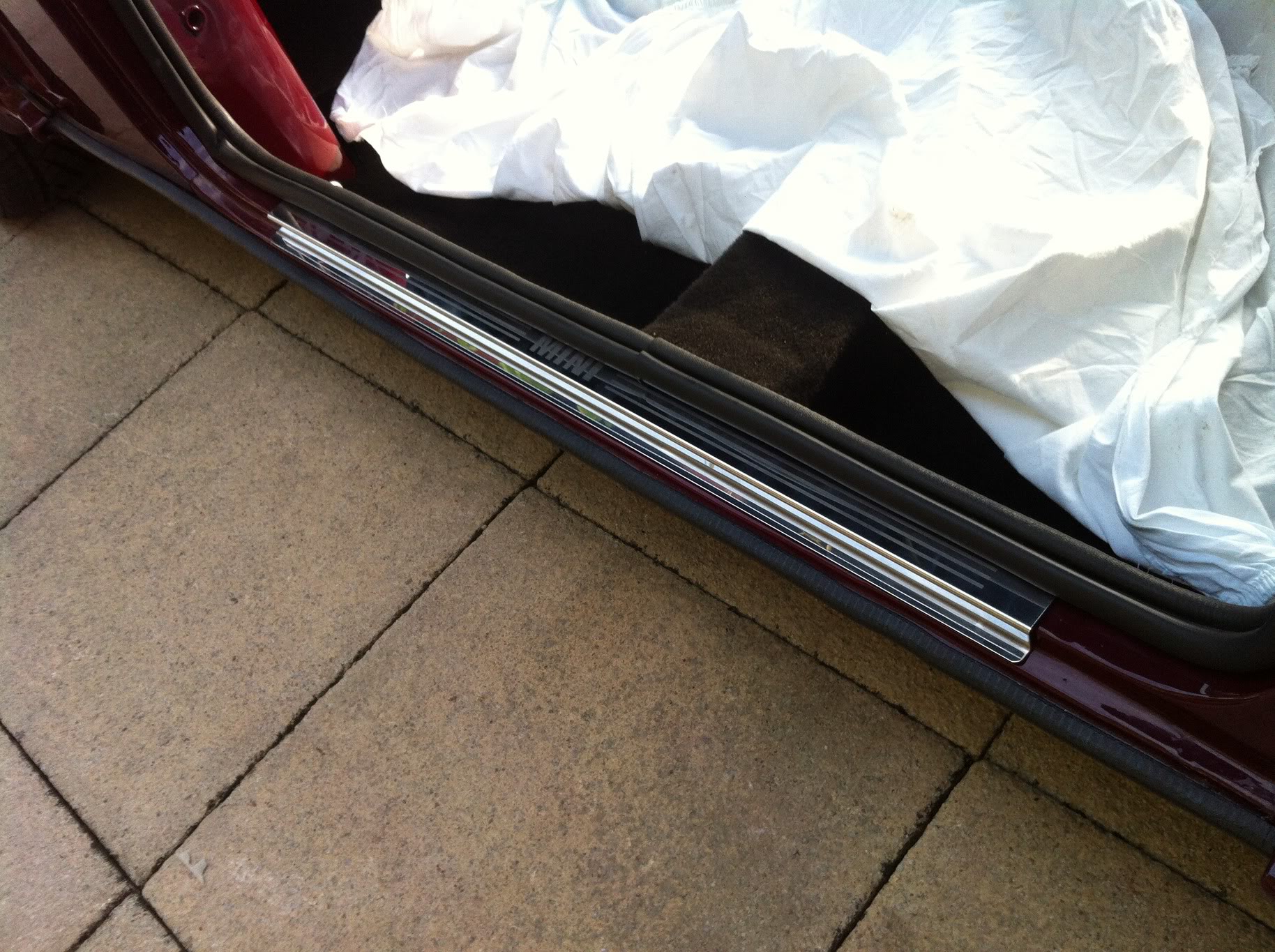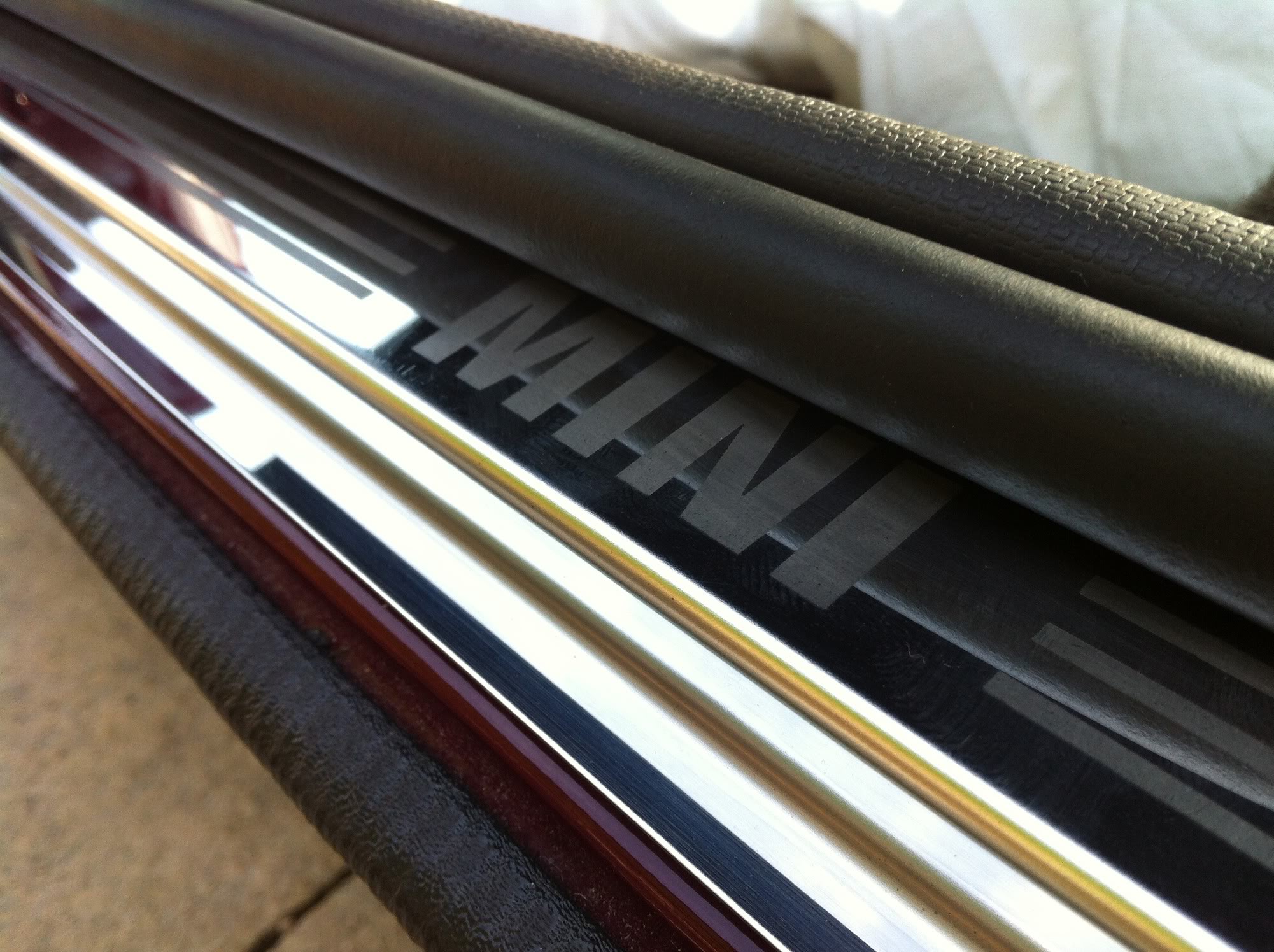 Also after trimming the doorcard to clear the rear arch (tubbed arches mean non standard shape which we forgot about before the card was made....) we got it fitted! VERY happy with it! Fits perfectly and with the doorbin its finished off nicely. The other card is awaiting fabric to arrive and then the backrest of the rear seat needs made up. So close and its looking amazing! Just need to paint the screw heads to let them blend in a bit better than they do here...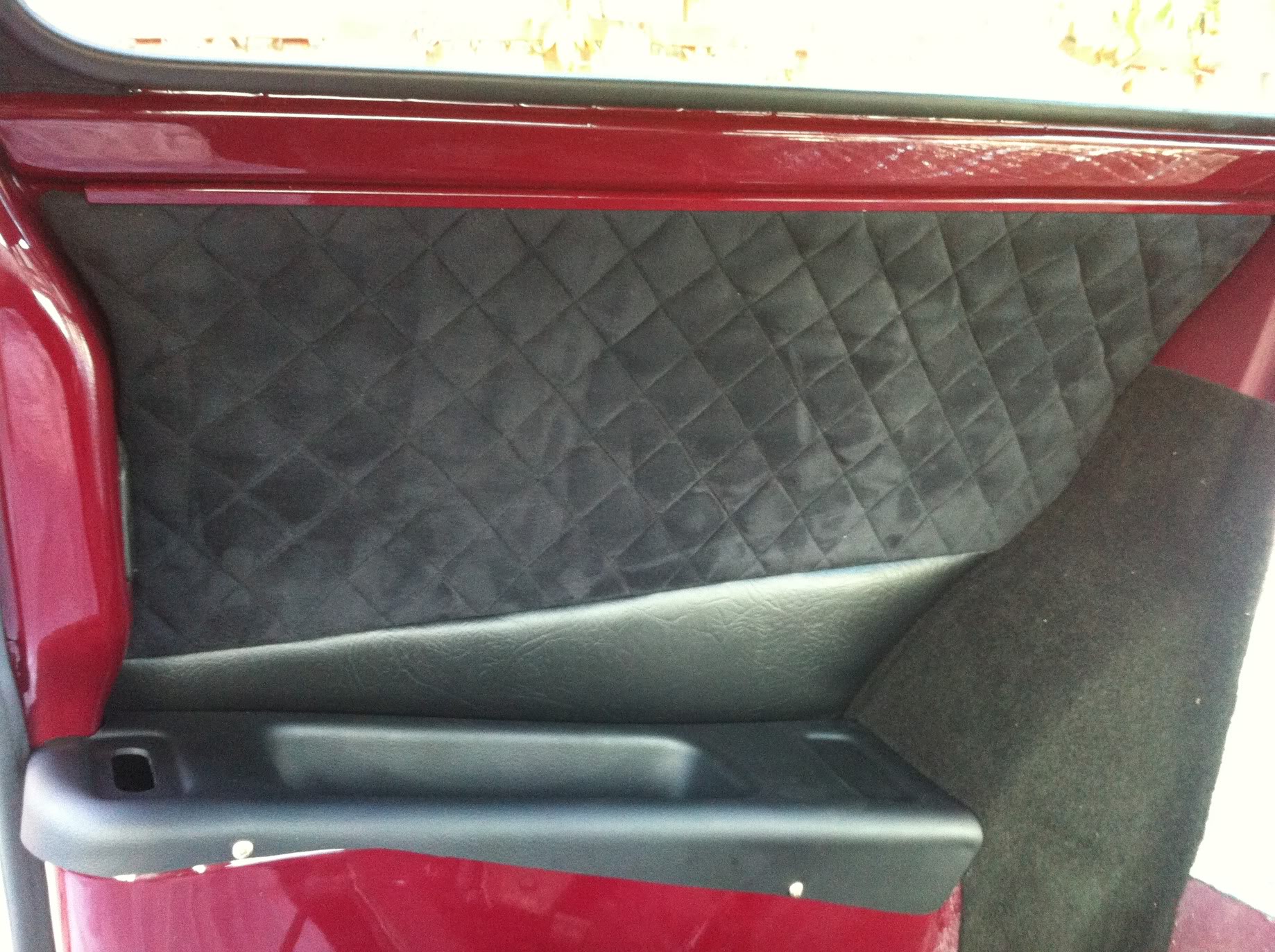 and with the carpet in we got the gearstick gaitor in! Getting the weather gaitor underneath the carpet and getting that aligned with the carpet, gaitor and gaitor plate took a while but we got there! Just need to aint the heads of the screws.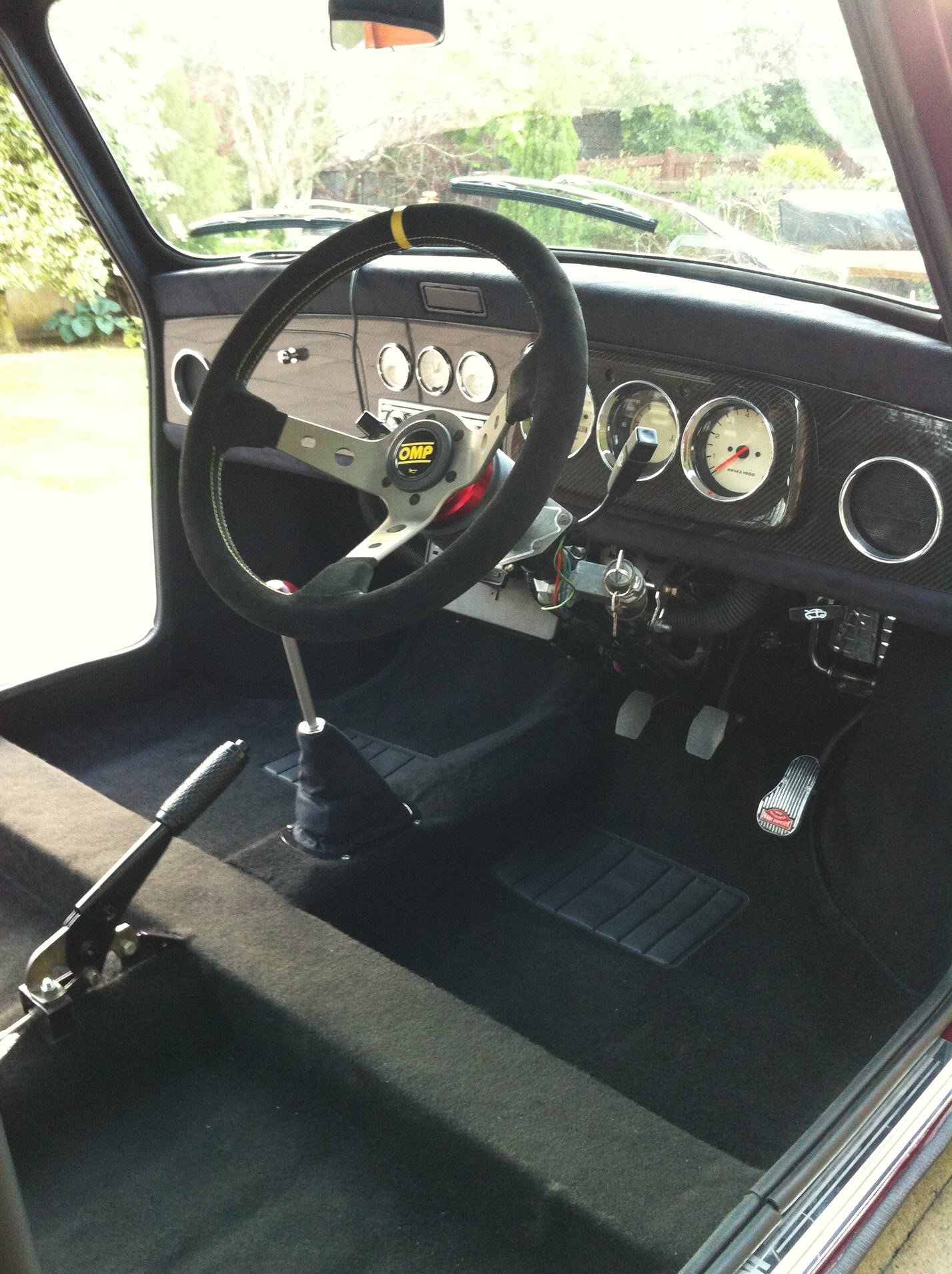 And seeing as I dont have standard belts and therefore dont need the holes in the doorbins, mum made up a couple of blanking plates. In suede of course.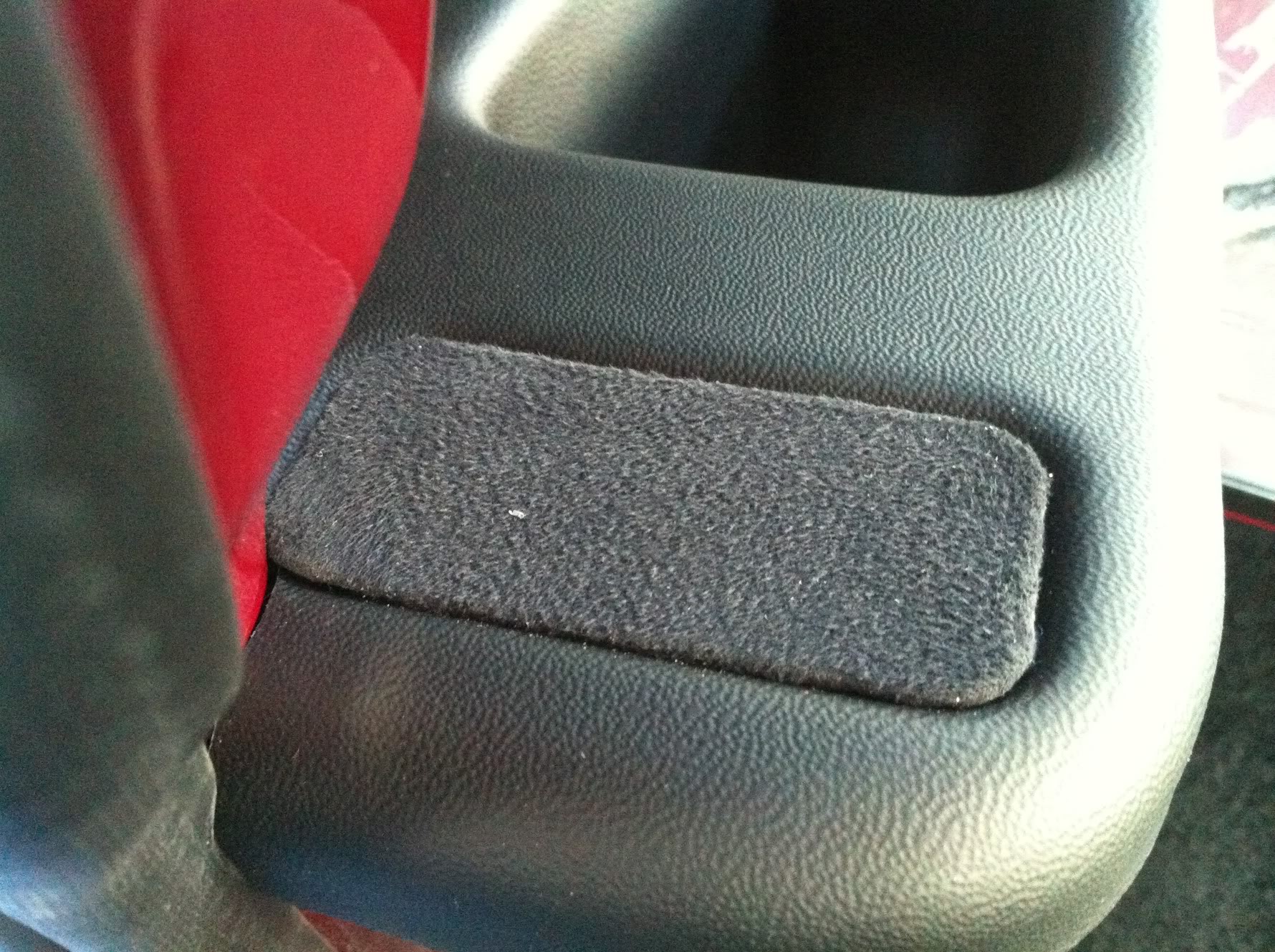 and I think the DVLA know its almost ready too. My Tax/Sorn reminder came in today. Will make it easier to tax next week :)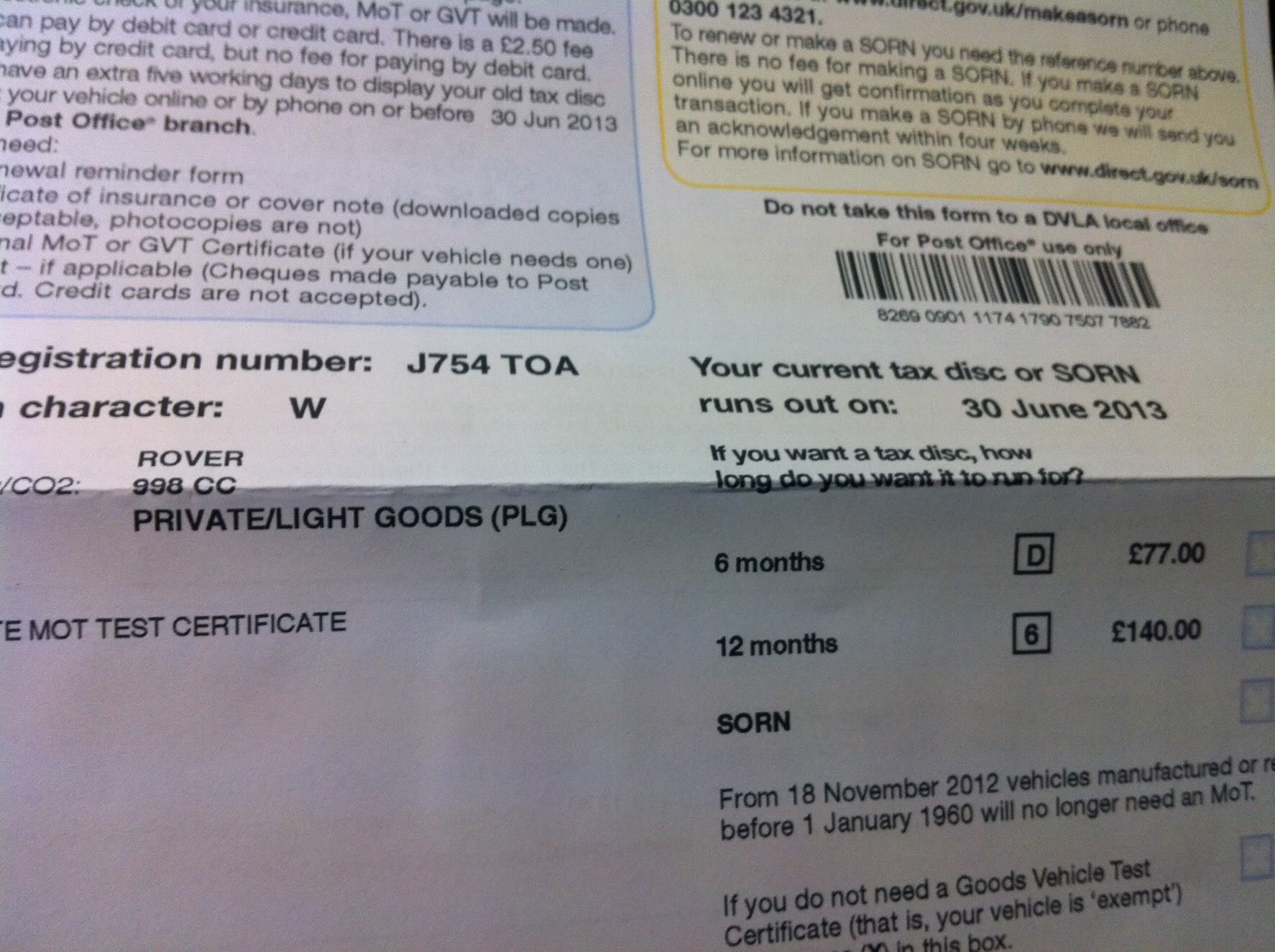 Dad got a couple of bits of interior trim painted up (steering cowl, rear bench lip trim etc) so they are being left to fully dry overnight. Next up now that the interiors pretty much done is doors, bonnet and the dreaded bootlid! Need to play about with the carb too as the cars not idling. Idle screw issue I think!
6-7-2013
So after a 9day 48hr delivery from Wood & Picket.....my bumpers finally arrived today.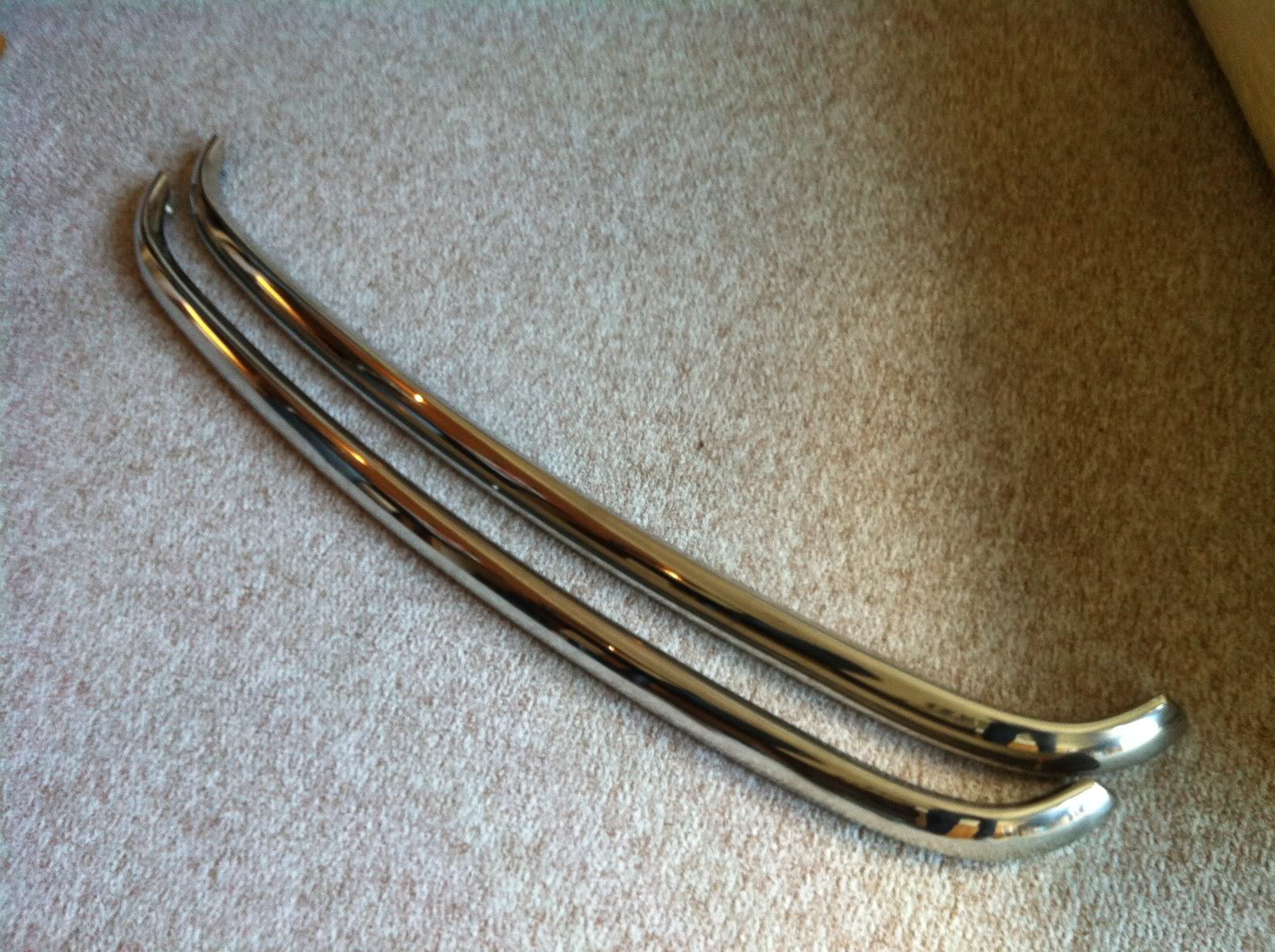 No sooner said than fitted! Ace!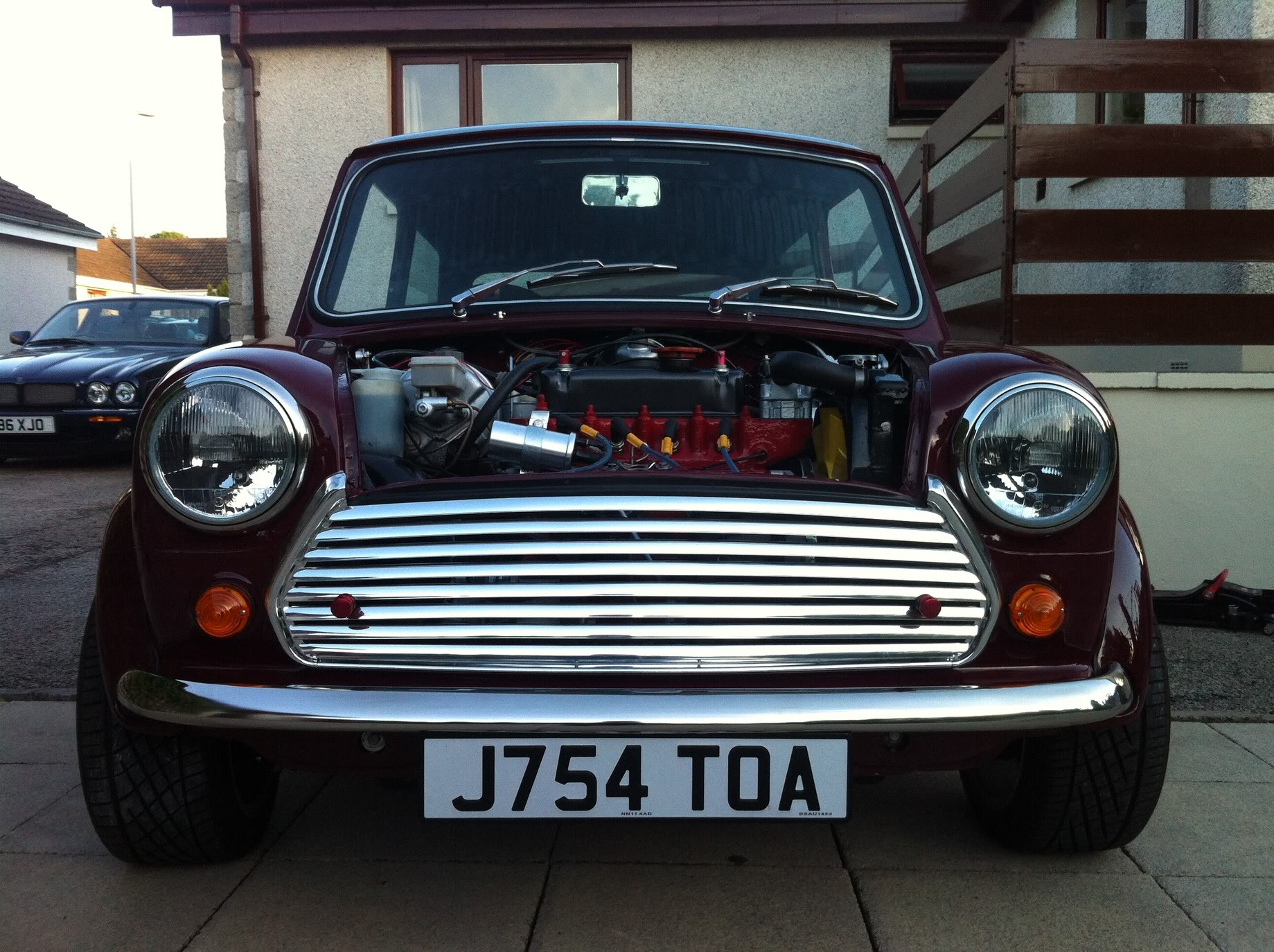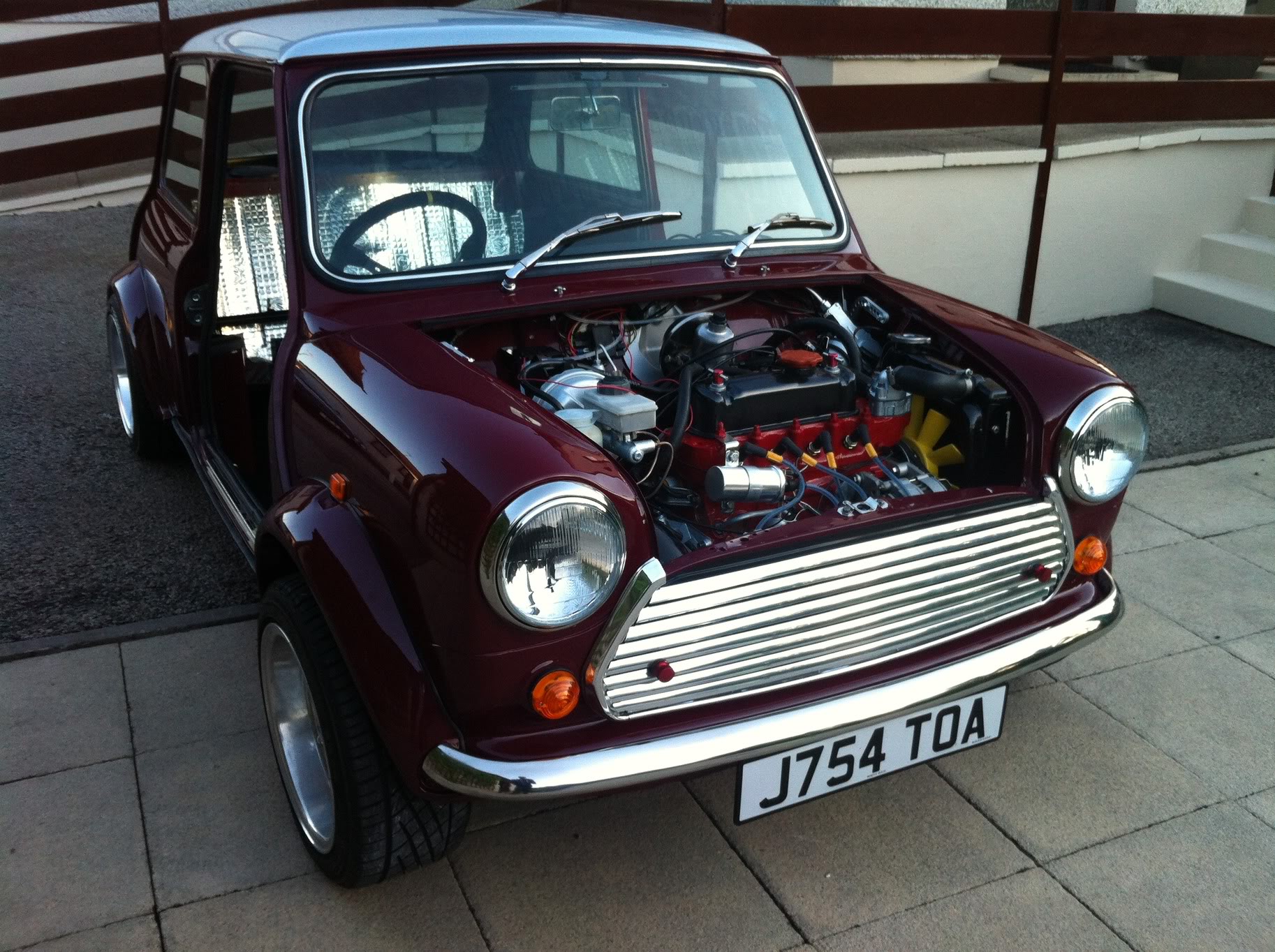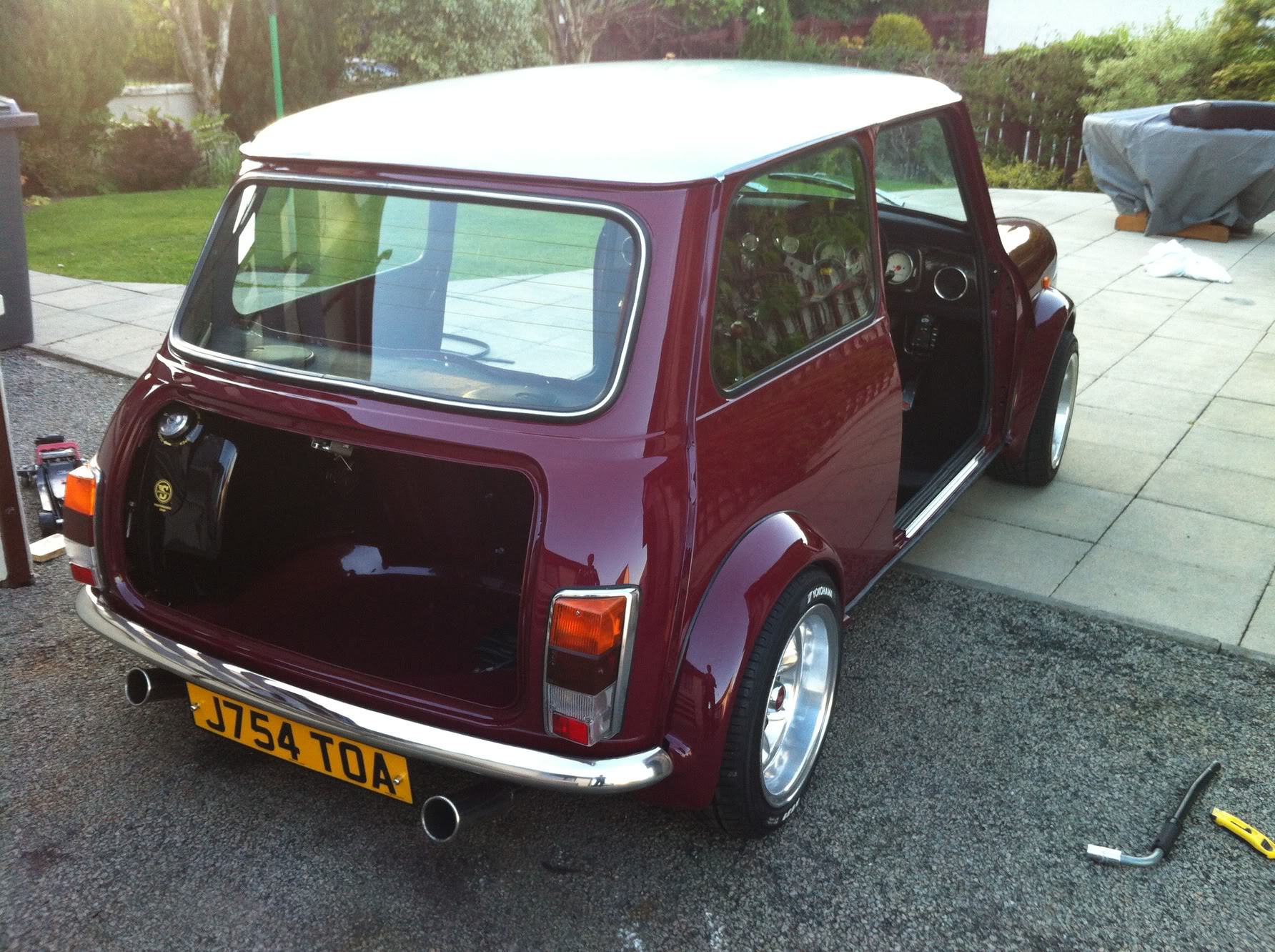 Also got my harness bar installed. No rear seat going in for MOT as there arent any mounting points for the belts anymore. Will go in again after MOT but wont be useable because of the bar and harnesses for the front seats. This will be getting covered in the end but not point doing that now when it needs to come out again to fit the seat underneath!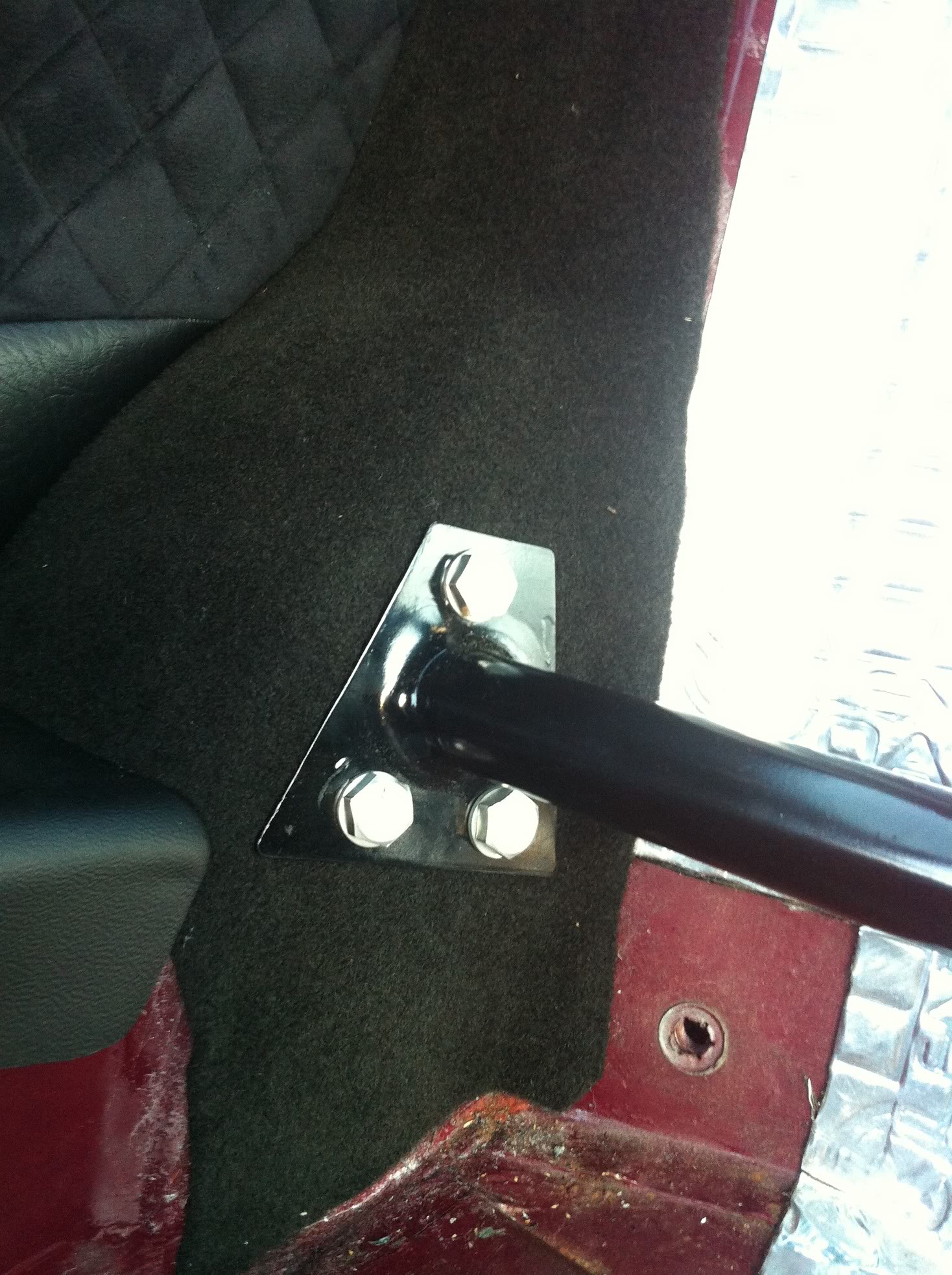 Tried running the car again. It fires and runs for about 3 seconds and cuts out. Need to investigate this over the weekend as it was running totally fine before......! Mums been busy quilting yet more suede to get the rear seat and final doorcard done and dads been touching up bits of paint in the engine bay and prepping the MOT special steel wheels

6-8-2013
Today then! Got the seats in! Changed the brackets since this photo so they are more upright. Much better.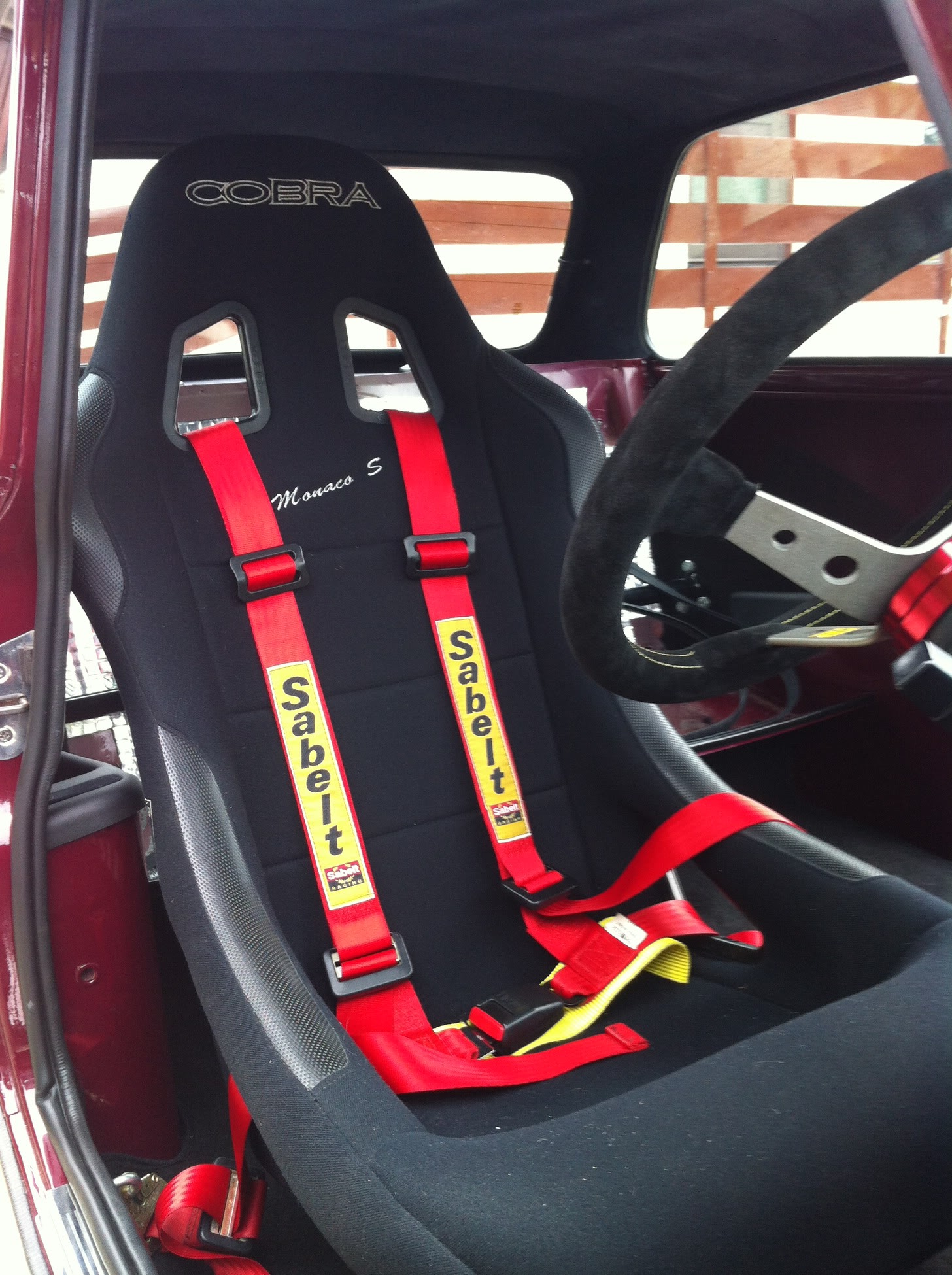 Got the drivers door on. Couple shims on the lower hinge. Perfect alignment and slams 'like a golf'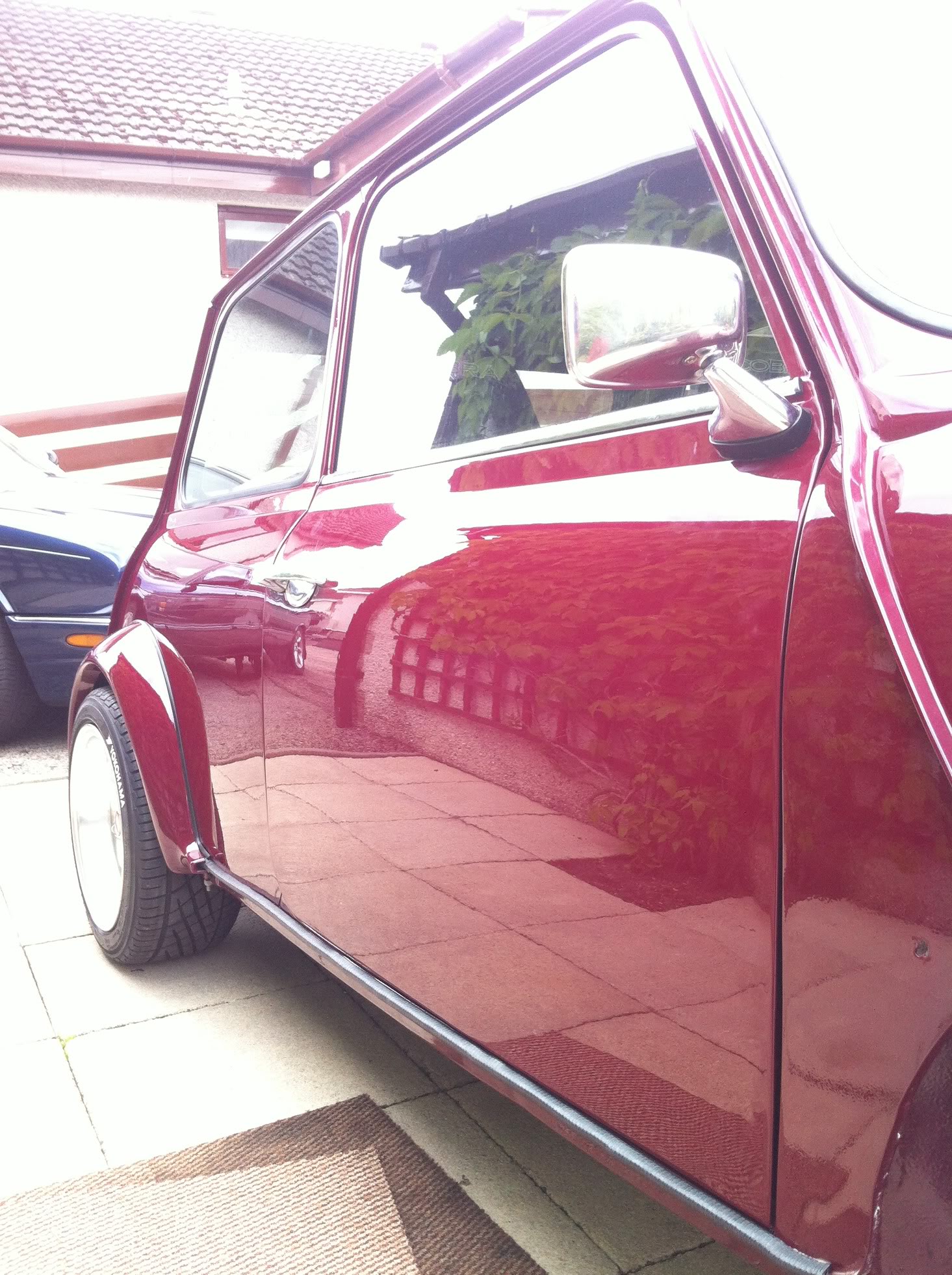 Uniform Mini panel gap. Kinda big but no Minis perfect.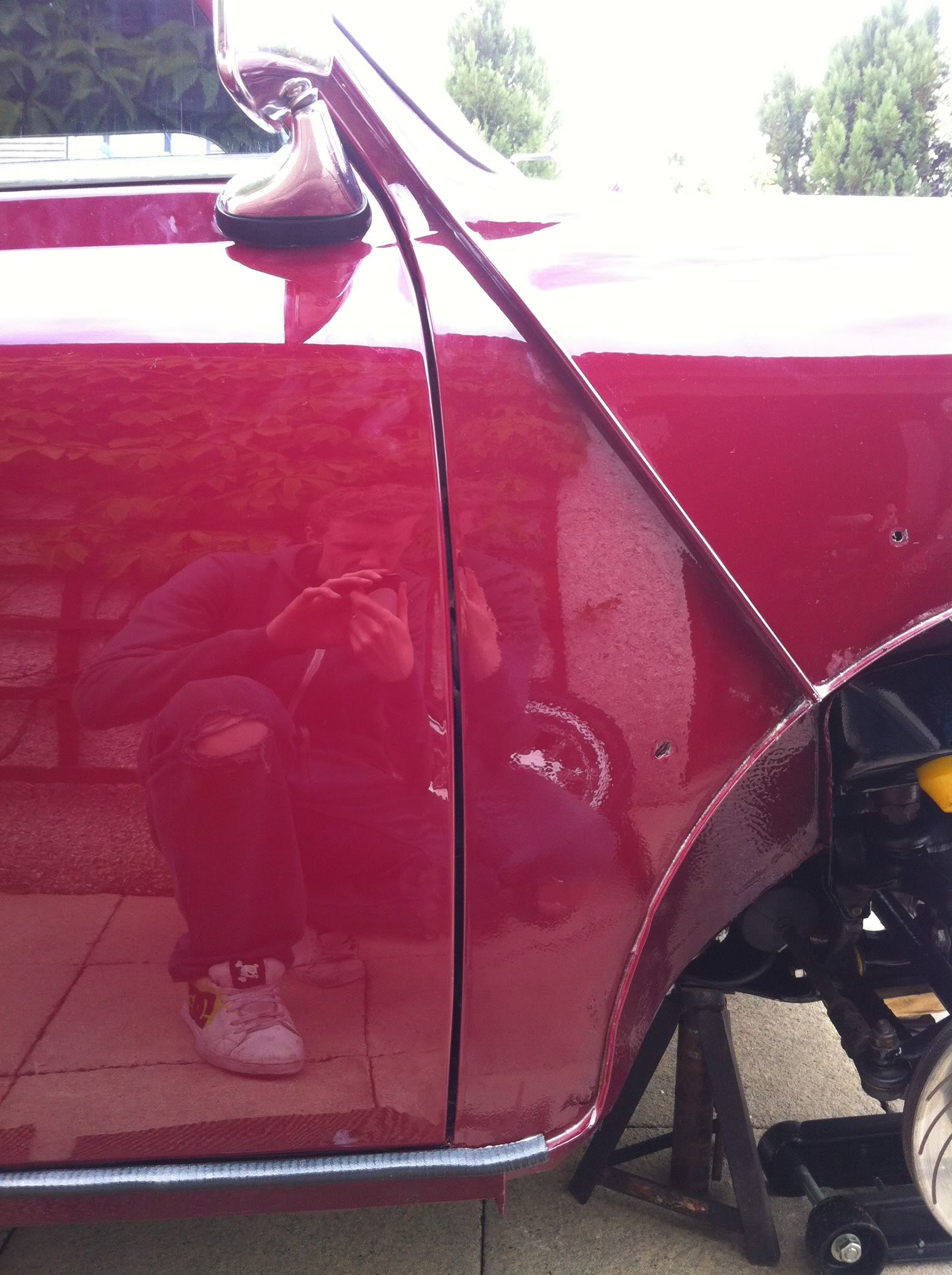 Passenger door on. Still needed adjusting of the slam panel bracket here hence slightly dodgy gap at the rear. Sorted now.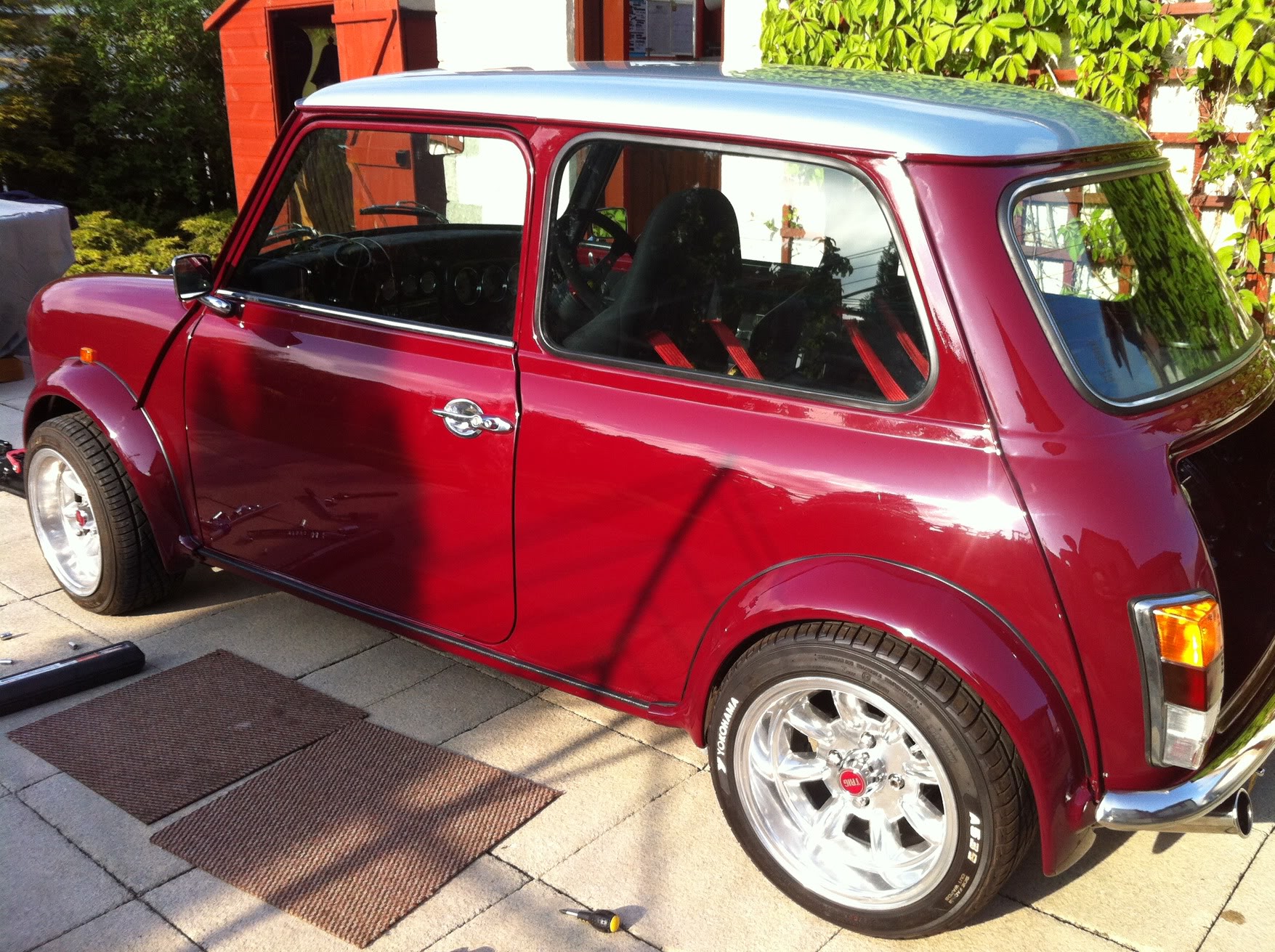 Bonnet placed on. Hinges arent acting as they should.....no idea whats going on but temps dropped as did the light so ended for the day. Got a lot more done than pcis suggest (checking over torques on bolts etc) but all needs done for MOT time!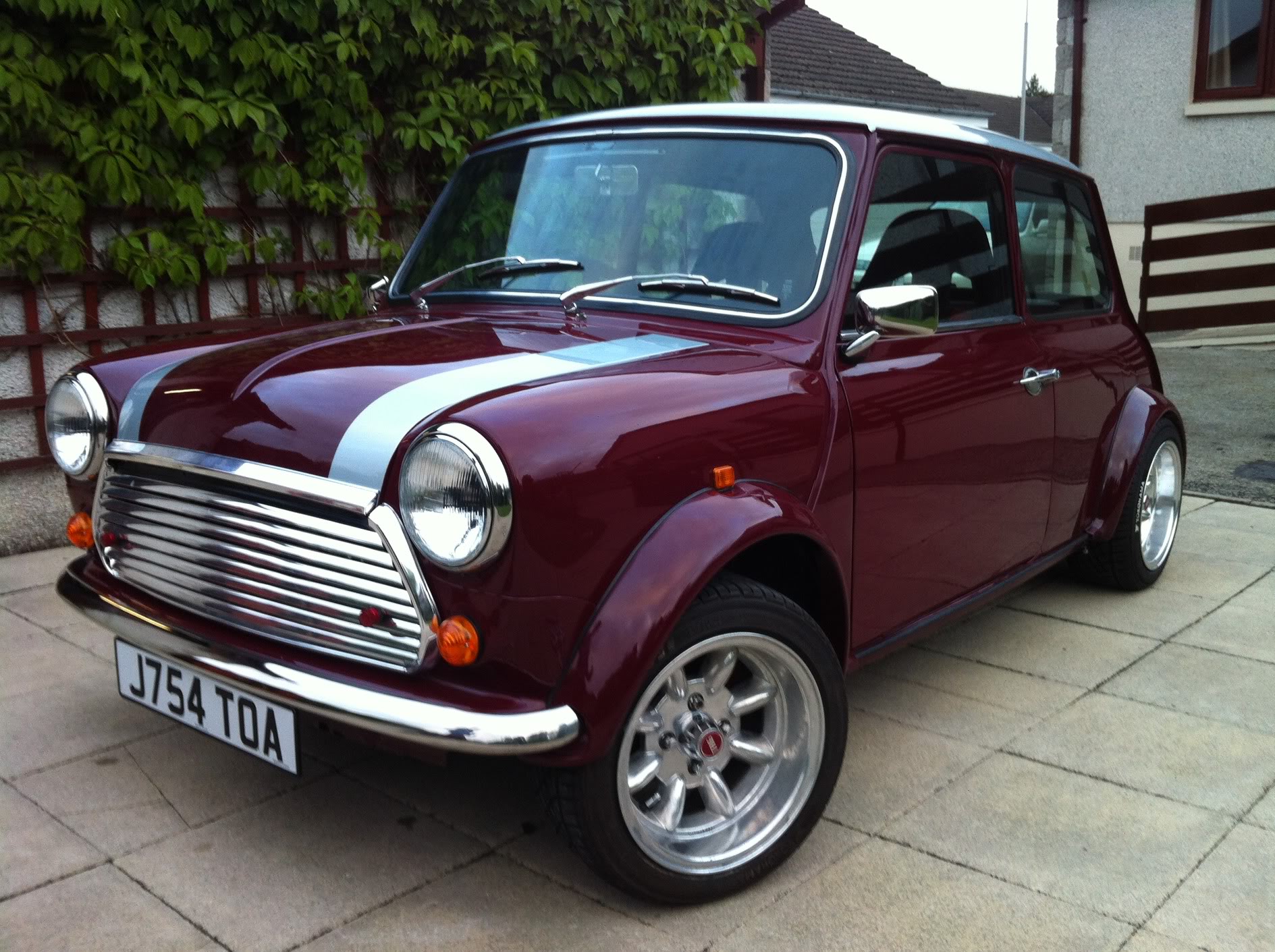 (again door got adjusted after this...)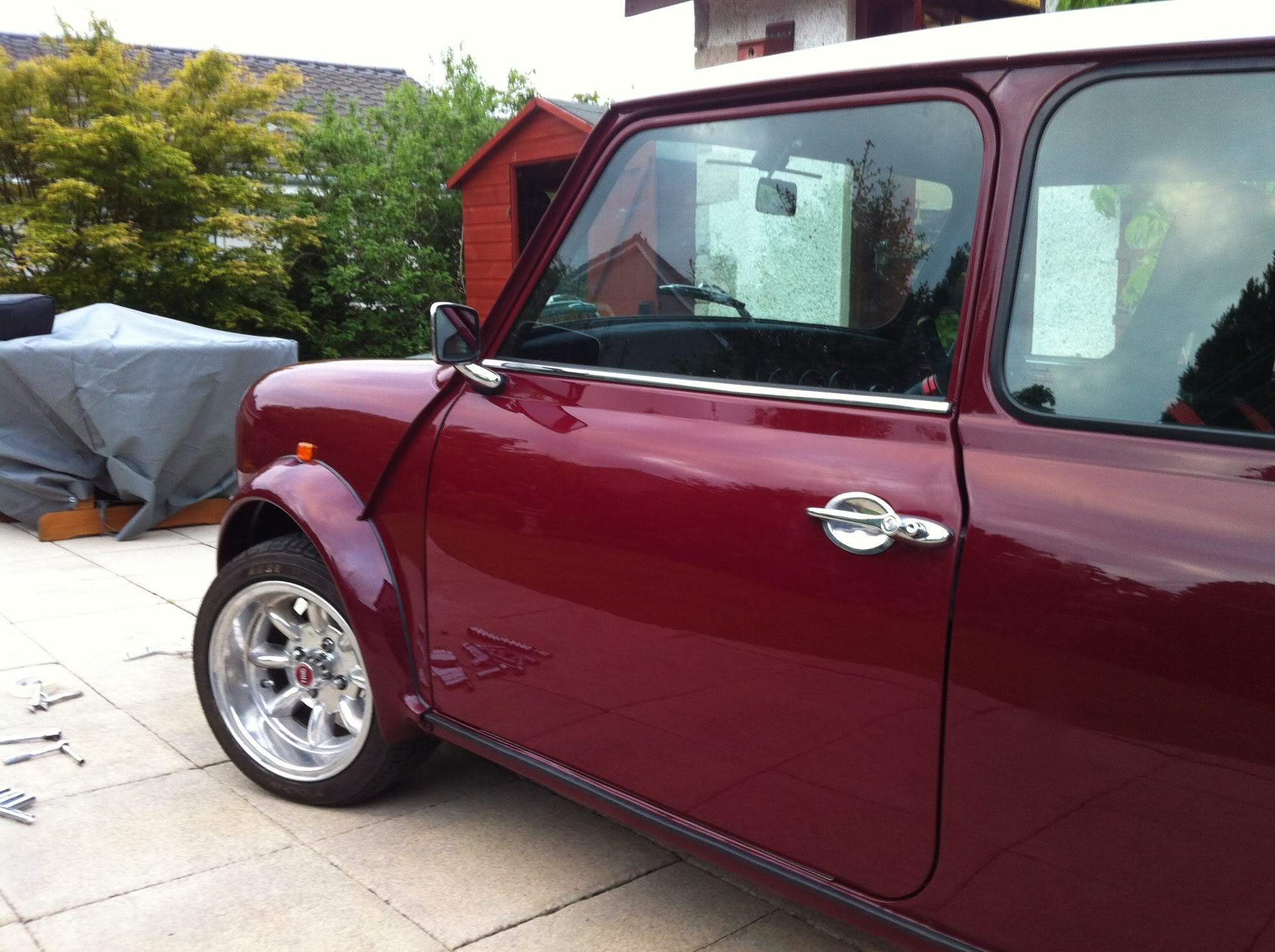 LOADS to do tomorrow but good weather forecast so fingers crossed we get through all the little niggly jobs!




Also cars STILL not running right. Fires for about 3 seconds then dies no matter what throttle or choke you put on it. No idea whats happening so any ideas??? Getting worried by it!
6-9-2013
Update time! LOADS done today! (not all mentioned though) It looks like a car again!

First up we tried to fit the bonnet. And came across our first issue! The bonnet pin was from the old bonnet and before the paint went on, it was tried out for bonnet fitment after welding. Problem being it was still slightly rusty and then it got painted over.....and as a result it was jammed SOLID into the captive nut welded onto the bonnet. Not a great issue until you realise the bracket its located into is paper thin and spot welded to the bonnet face. Slightest torque on it and instant bonnet damage. So we sourced one from a mate and cut the cold one off, drilled out the stud and fitted the new one. Nightmare and nerve wracking with paint so close but we did it!

This is the old one....unable to be adjusted.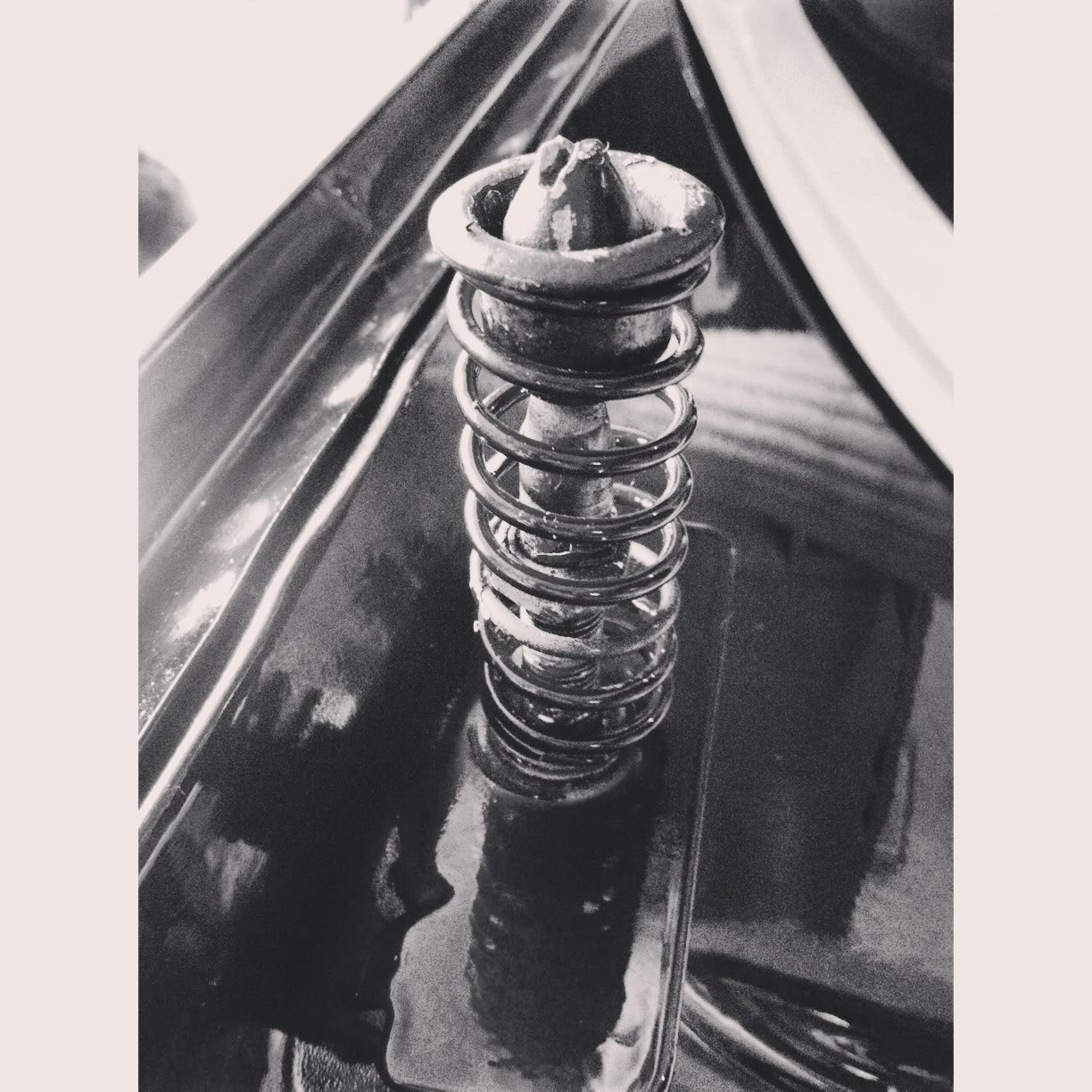 Then we went to fit the dreaded bootlid. Warmed up the seal for a while to ease application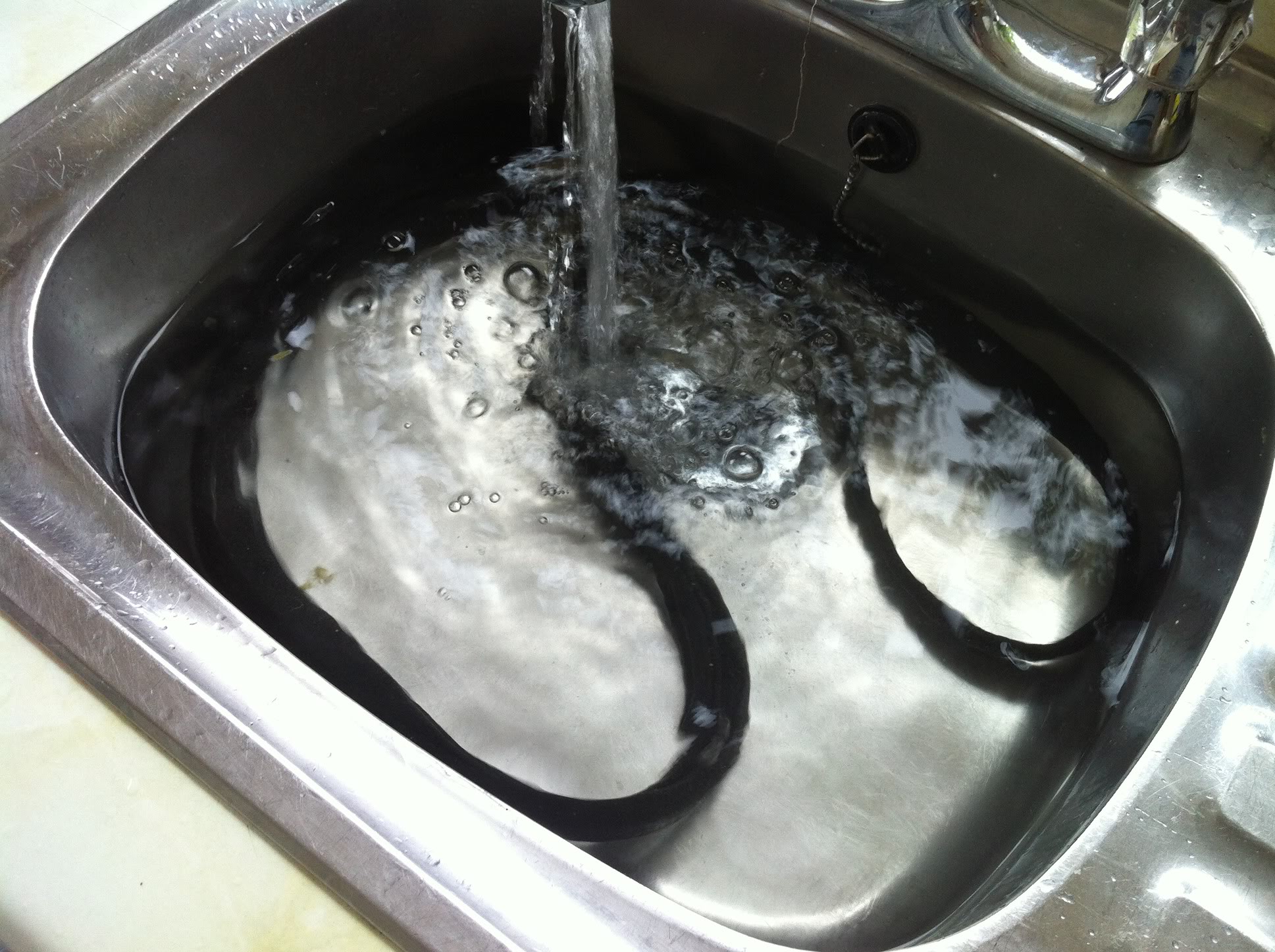 Cleaned up the boot a bit and saw this angle so had to shoot it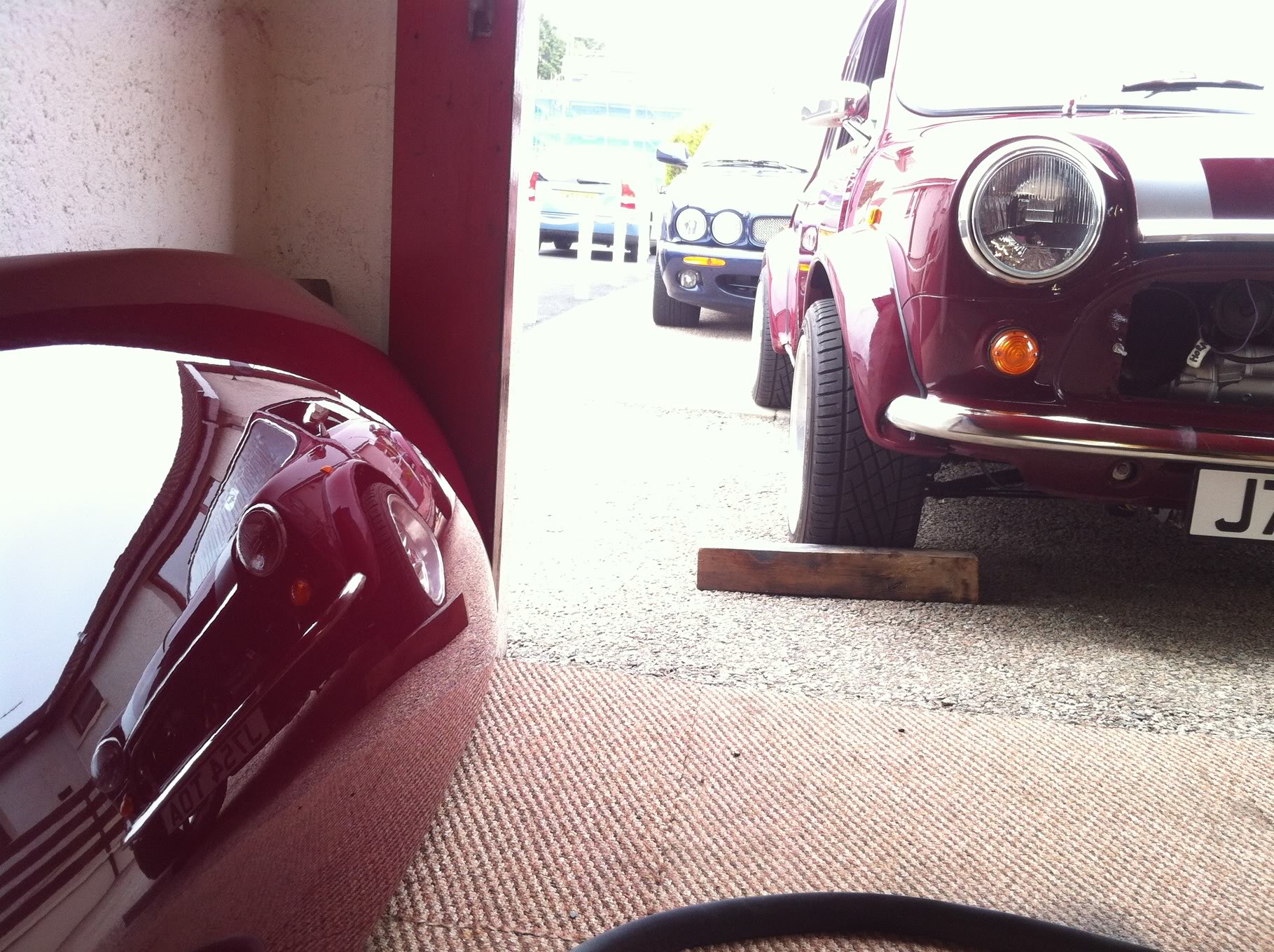 and fitted it. Win! ITs fitted without the seal as its pushing the lid out far too far but it closes firmly. Will try the seal another day but didnt have time to waste on it today.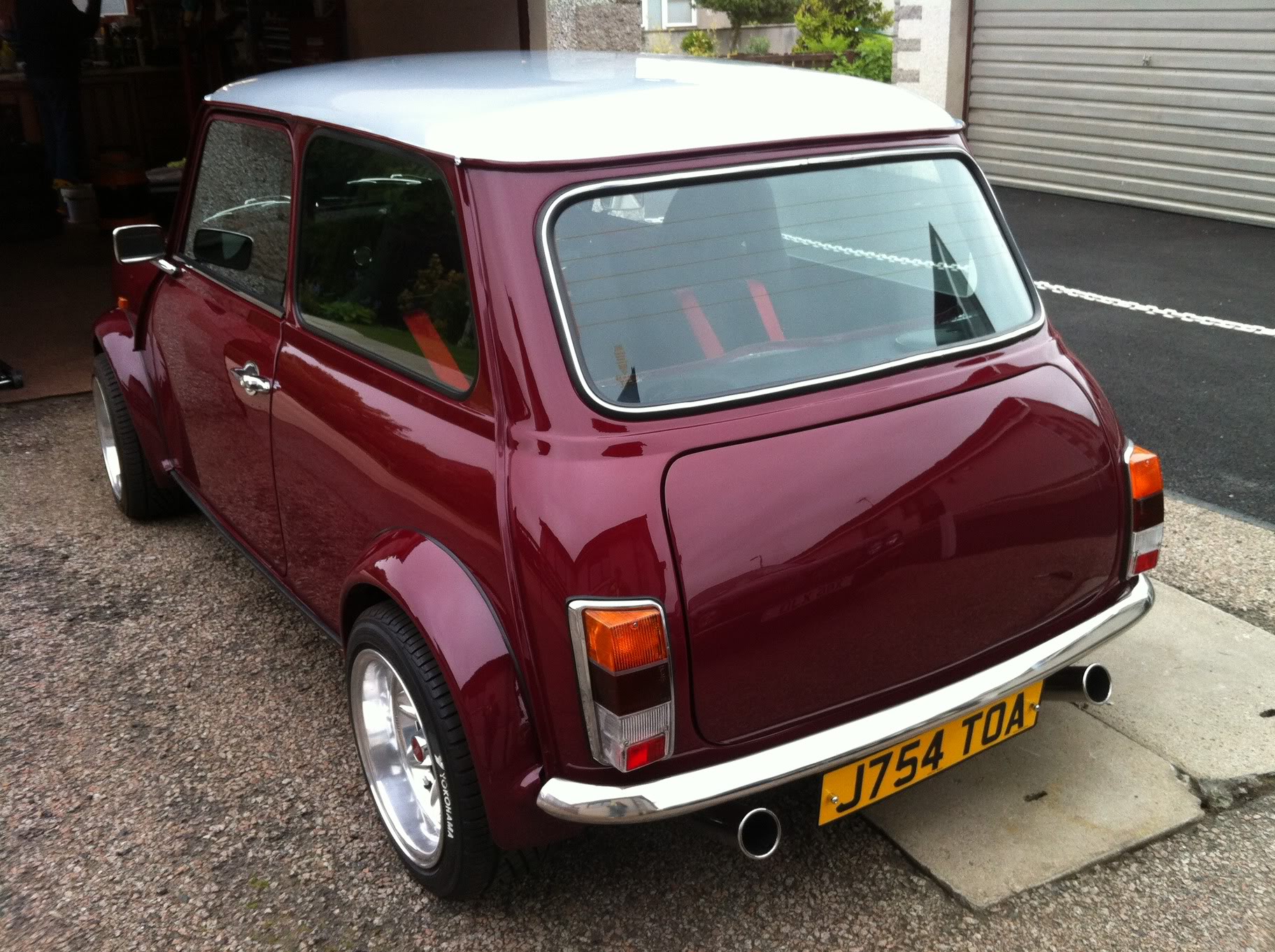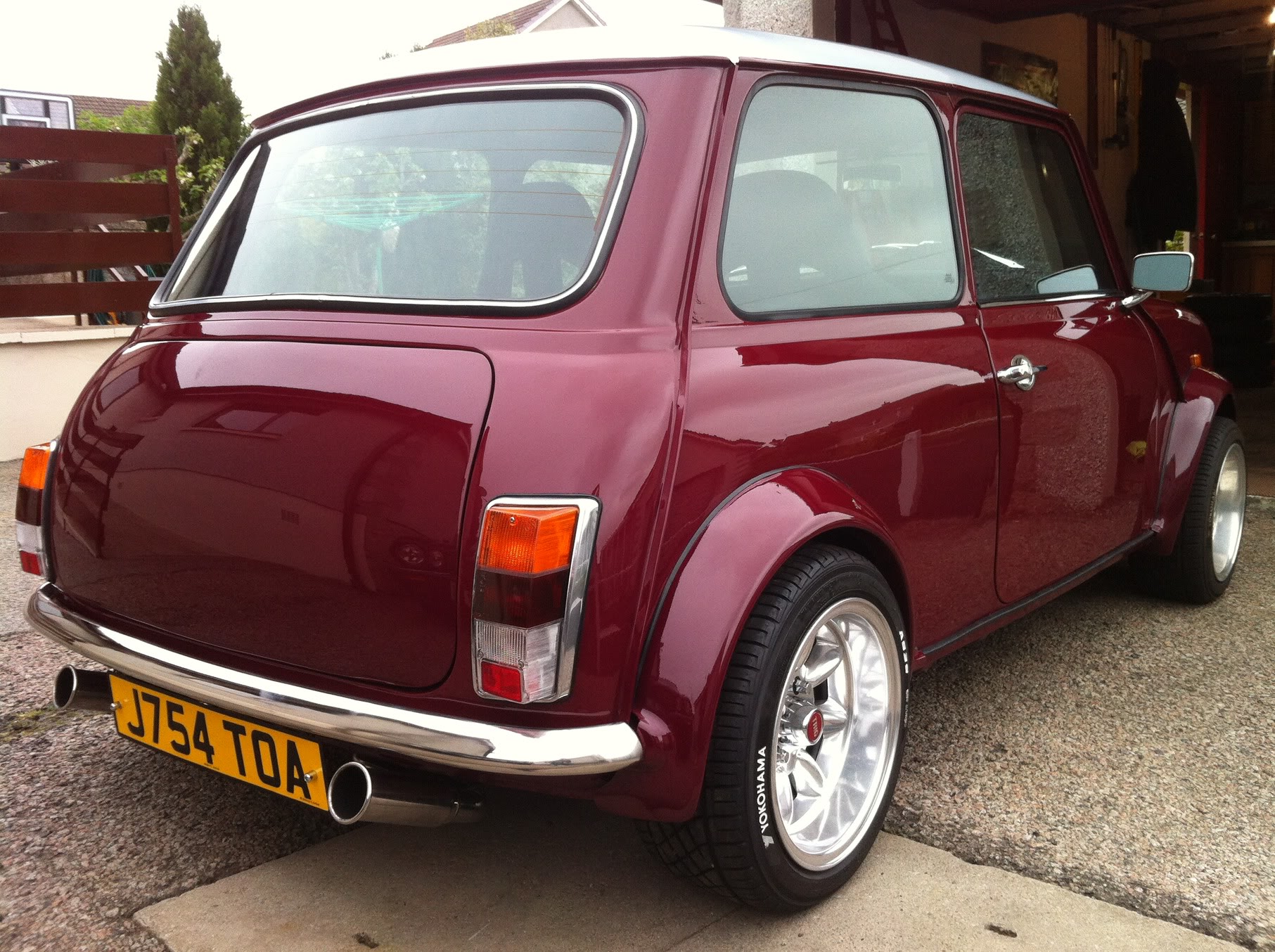 Shiny? You bet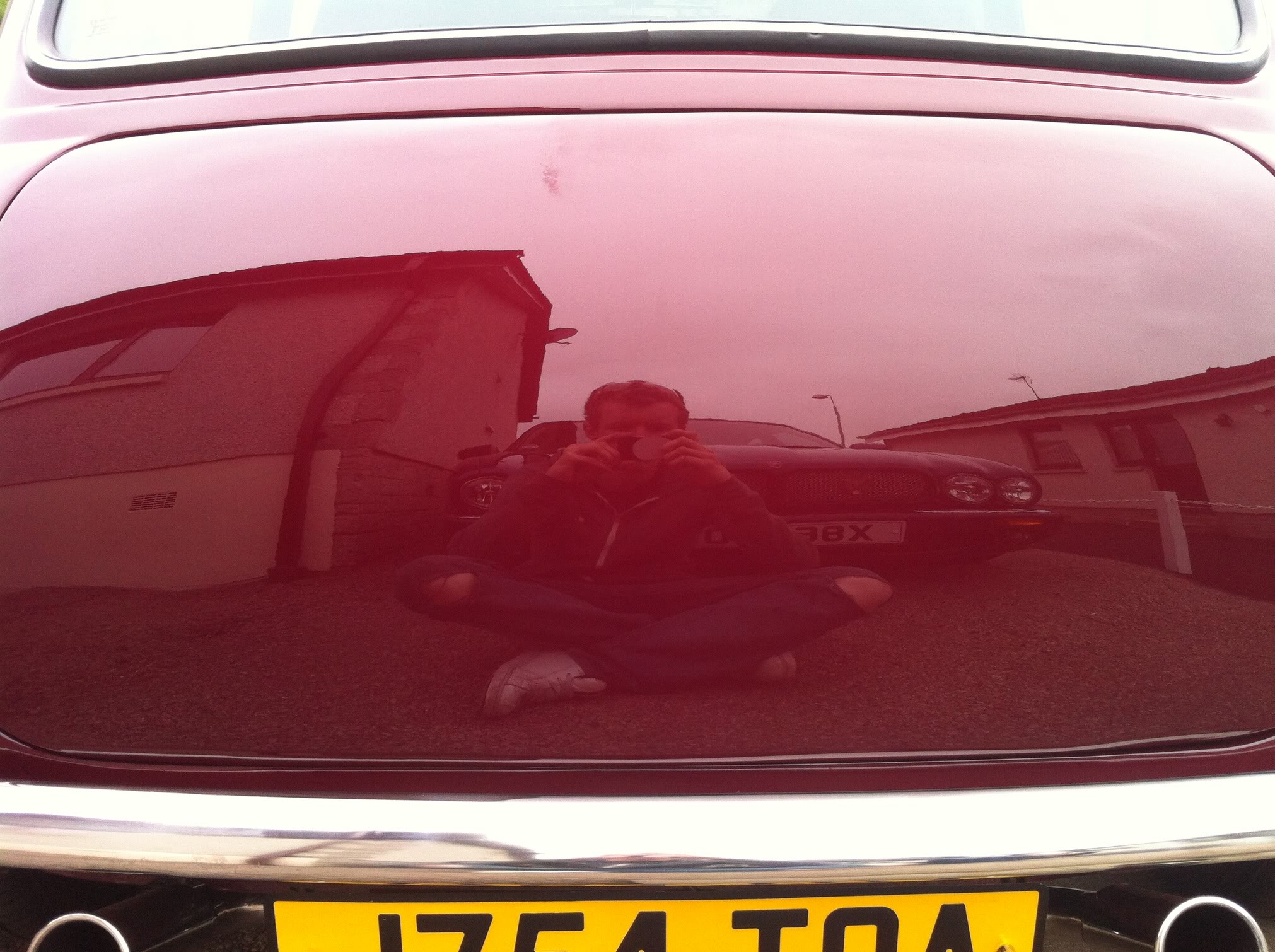 The lid does open but not far. If it opened any more than this, it would hit the bumpers top edge. Typical me being awkward and wanting the smooth internal hinges. Been a huge pain in the build! Enough to fit a crate of beer in though which is all thats needed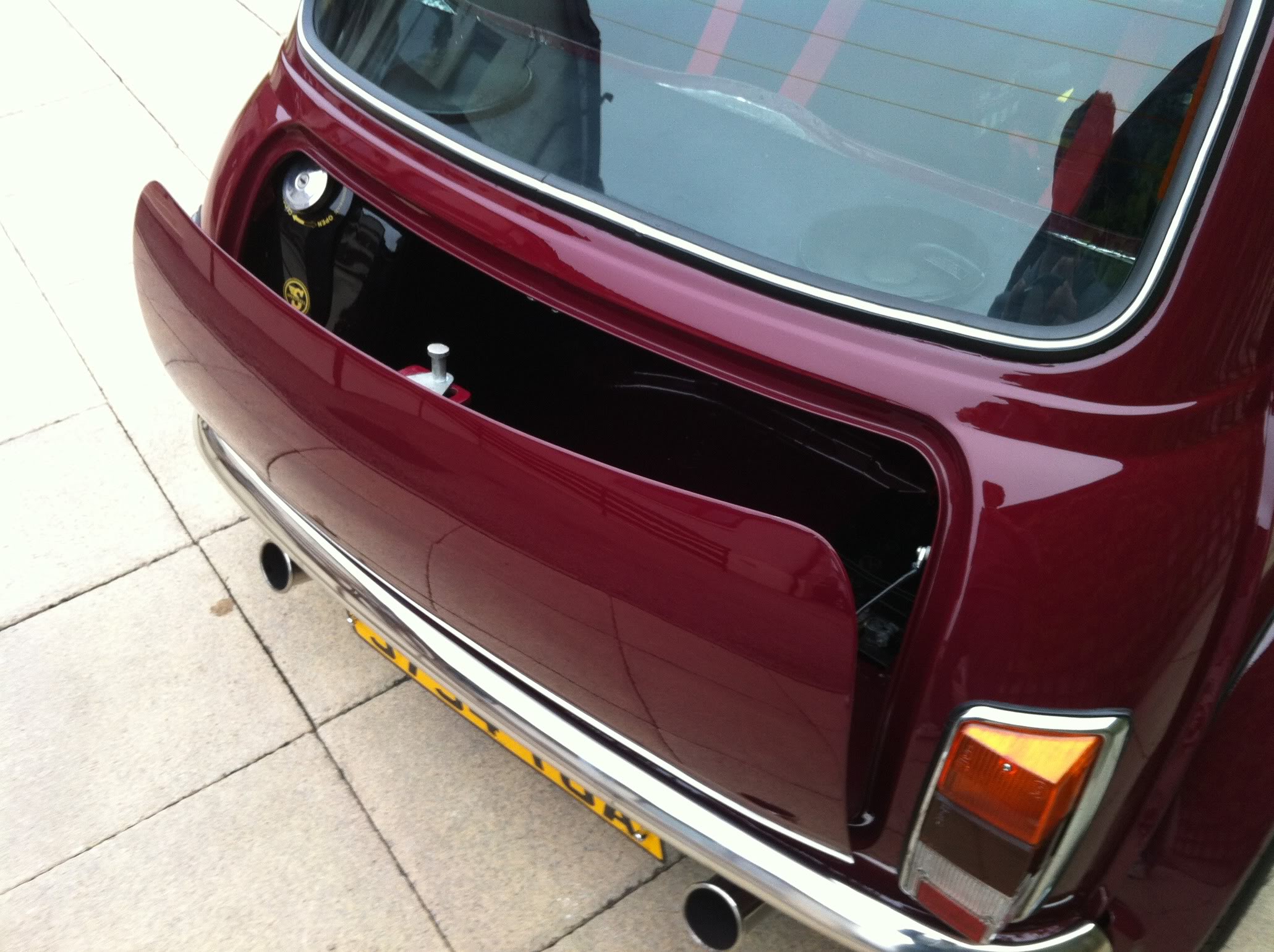 We had loads of boot stays kicking about but all were obviously too long. Adapted one and made up this one. Works a treat!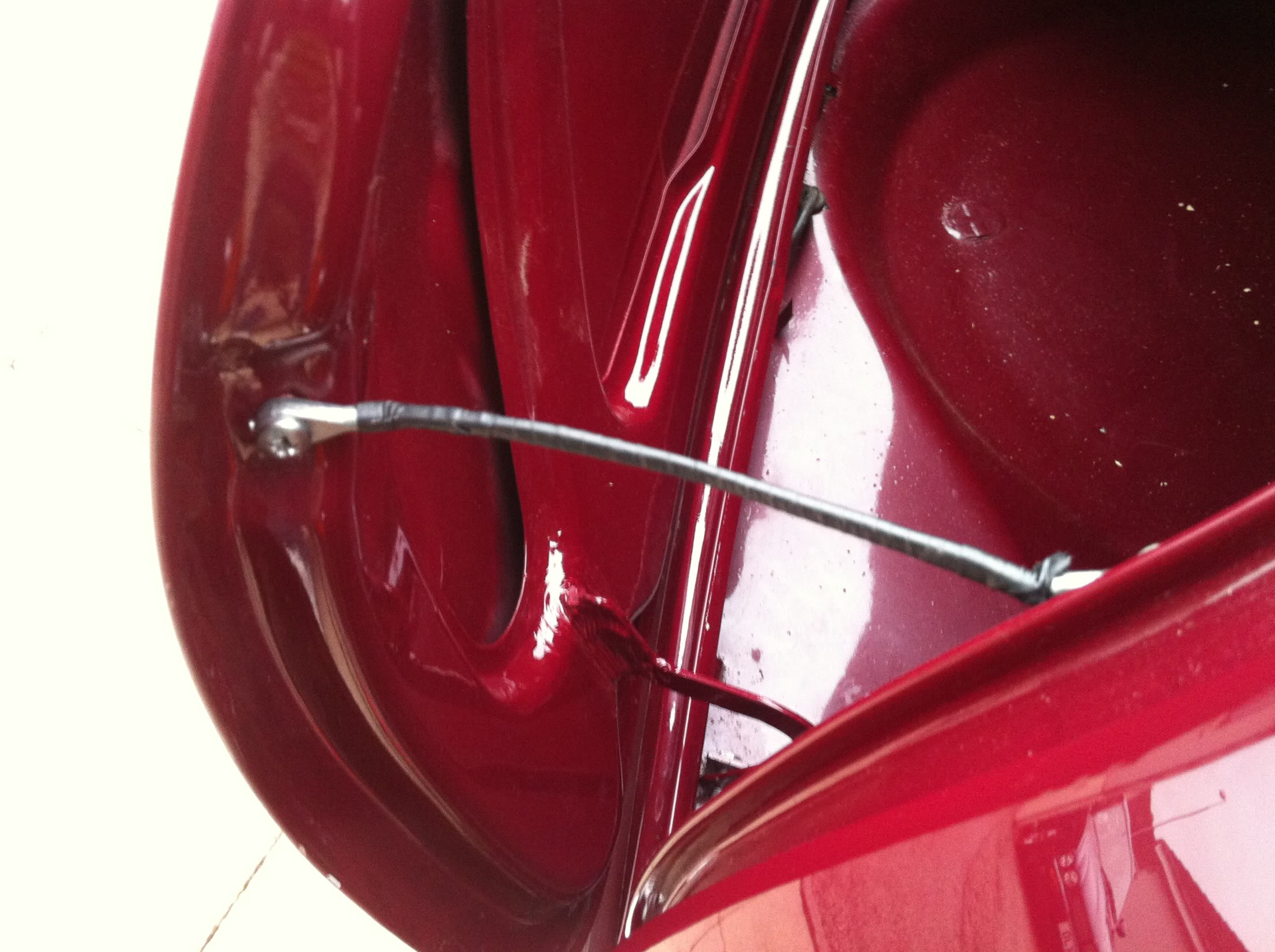 Front wheels still need cleaned and polished. Rears are done though.




More tomorrow as I've got the day off work. :)
6-10-2013
Thanks gents! Almost there!
So today was the day. MOT time. Got the car running again last night. Stupidly I had blocked off a pipe on the carb that shouldnt and tada it ran fine again. Timing/carb way off but ti ran well enough to take it to Jim King about 3 miles away. So here it is ready to go. Fine day for a wee trip to the station.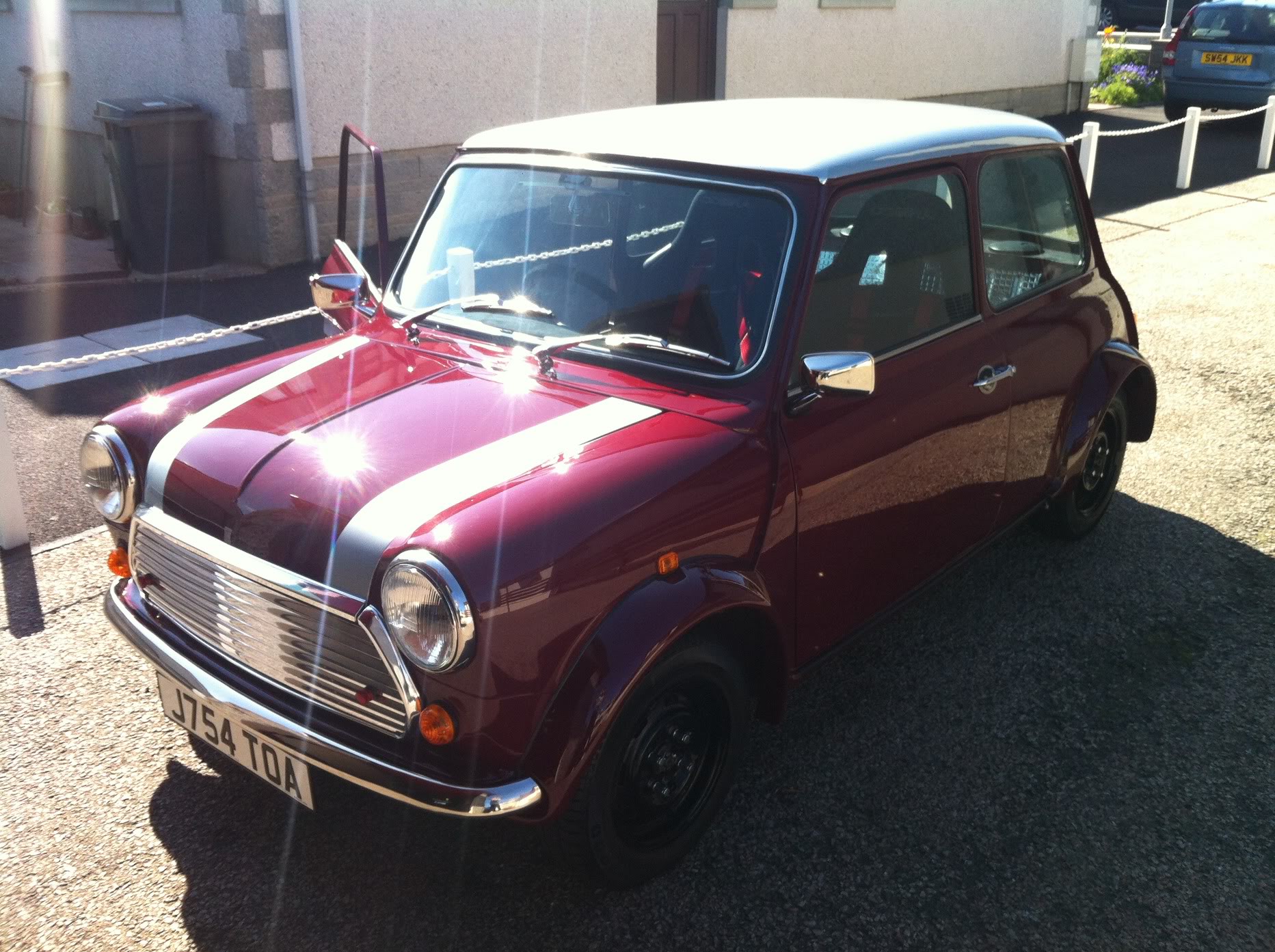 Arrived very early but got the company of this guy. Ace garage dog!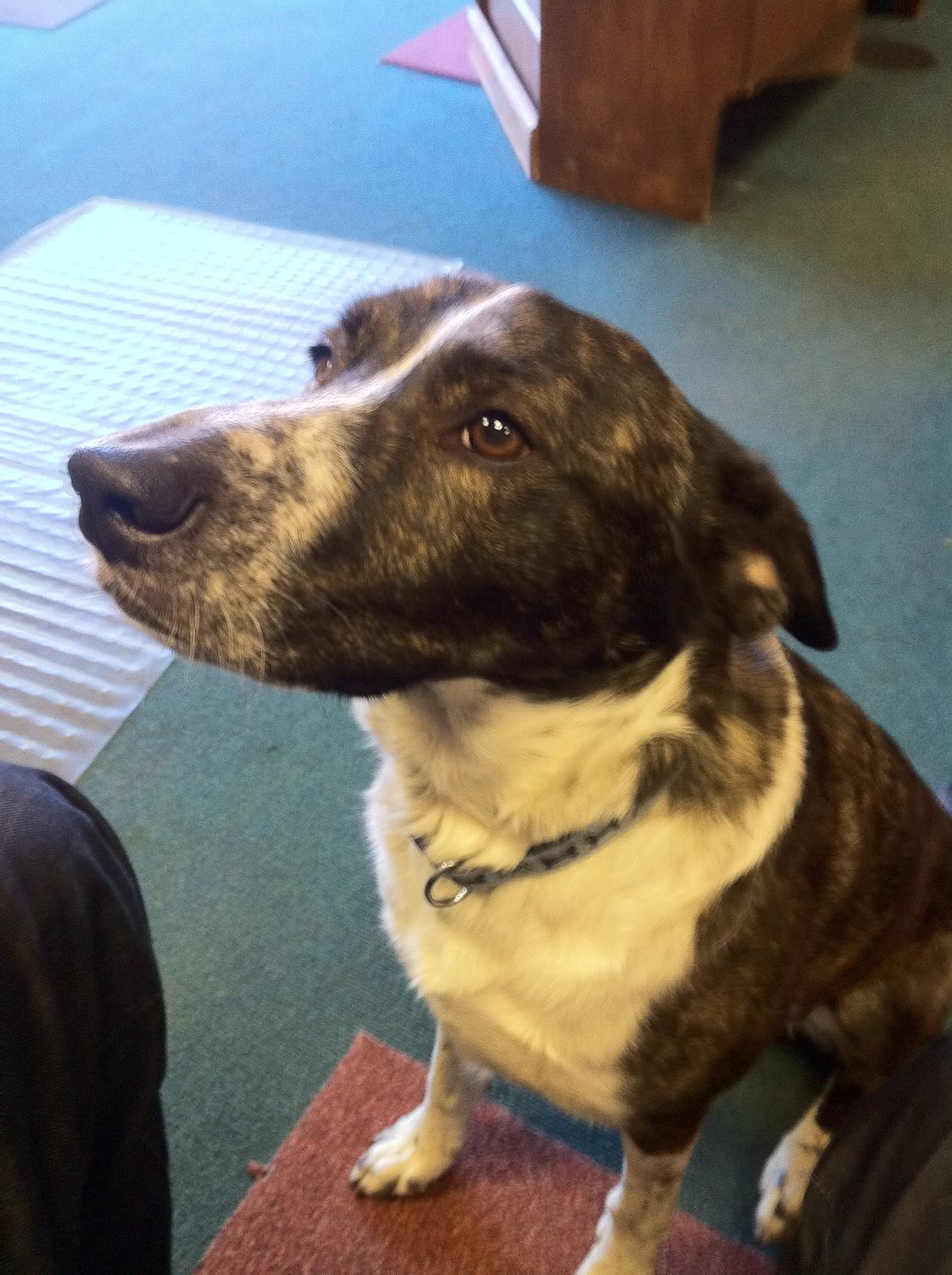 You will notice the steel wheels. The 13s arent finished yet so threw these on to get it through the test. Looks horrible but will do the job!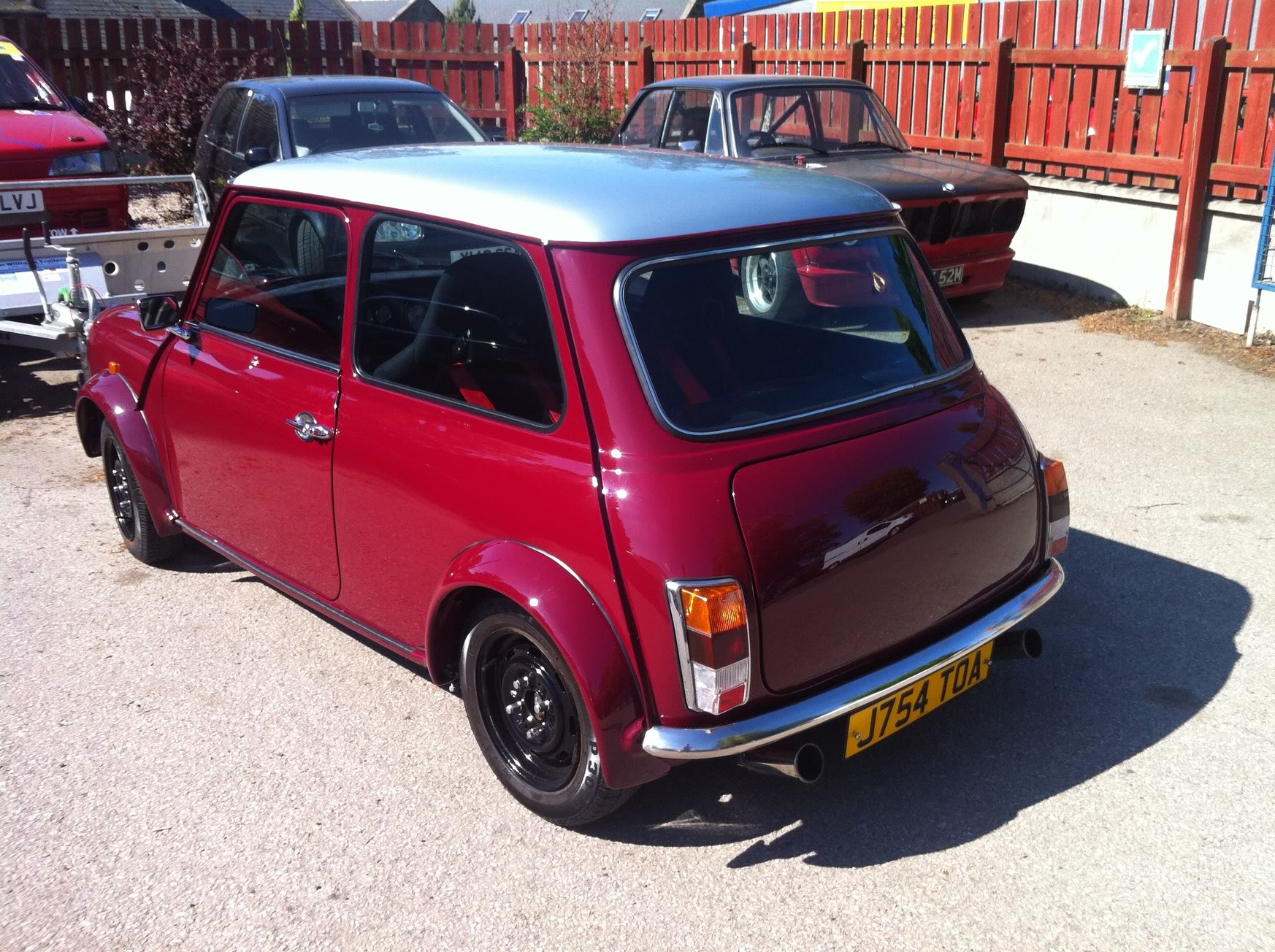 Commence test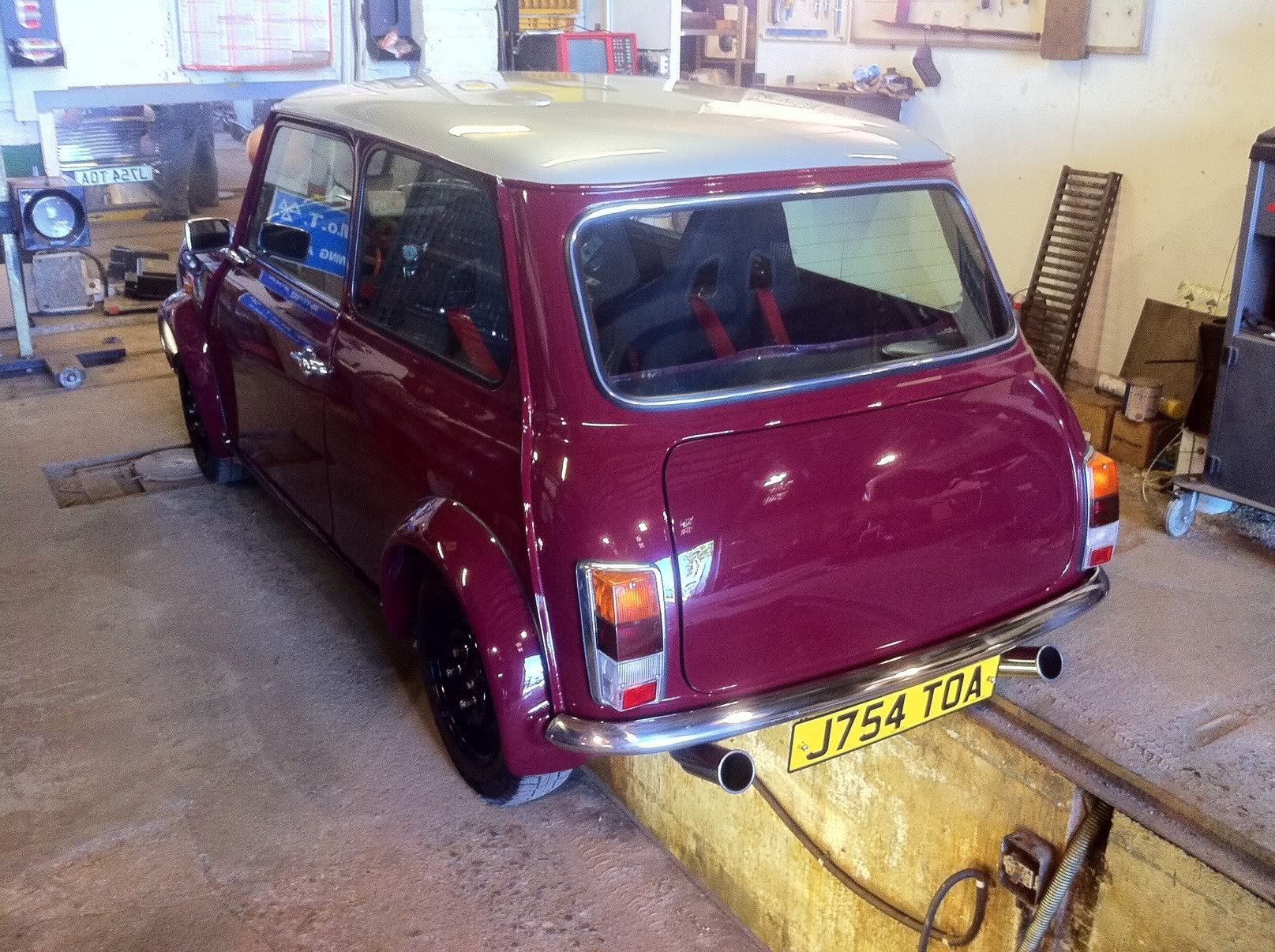 Test complete and here the view of the cars they deal with while I awaited the full results. MK1 Escort RS2000, Pontiac Trans am Firebird (yes the smokey and the bandit one), a Lotus Eclat (I believe) and of course Trig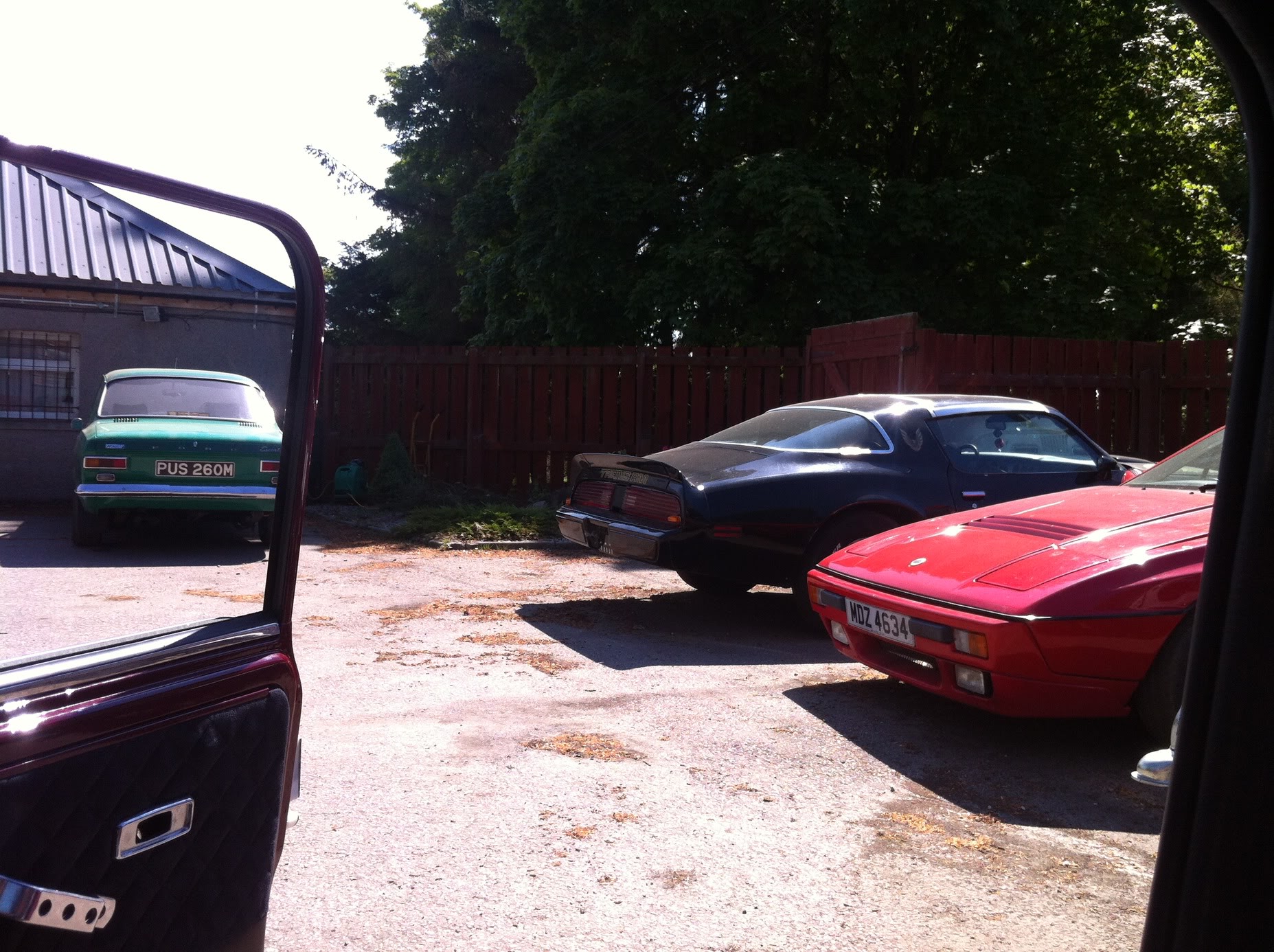 As I expected, it failed. Emissions were through the roof and blocked the machine. Should be 3.5% CO2 for this age of car but Trig was reading just shy of 7%. Good lad!

Also failed on non funtioning horn and headlights out of alignment. That was it! Very happy with that considering its been nut and bolt rebuilt by myself with help from friends and family. Going to order upo a new stalk for the horn/flasher side as neither of these work and the wiring all seems fine, as do earths etc. If that doesnt fix it, god knows whats wrong with it! Hopefully if that arrives later this week it will have its MOT ready to go to Tain. The suspension is solid and I mean SOLID! The car was bouncing all over the shop so I think I need to tweak that a fair bit as there is next to no travel in the shocks at all. Other than the above, its great and Jim was very impressed given my previous experience (none...). Even went as far to say he's seen cars built by garages done to a far far lower standard than mine. Happy with that!

Felt good to just drive a Mini again too!
6-12-2013
Cheers guys! Fingers crossed!

Wee update. Awaiting parts to arrive to solve issues so its getting rather close to the wire but not giving up hope yet! Mums been busy though! Rear seat almost done, just needs clipped onto the frame again hence why its slightly saggy in the photo. All good when clipped up :)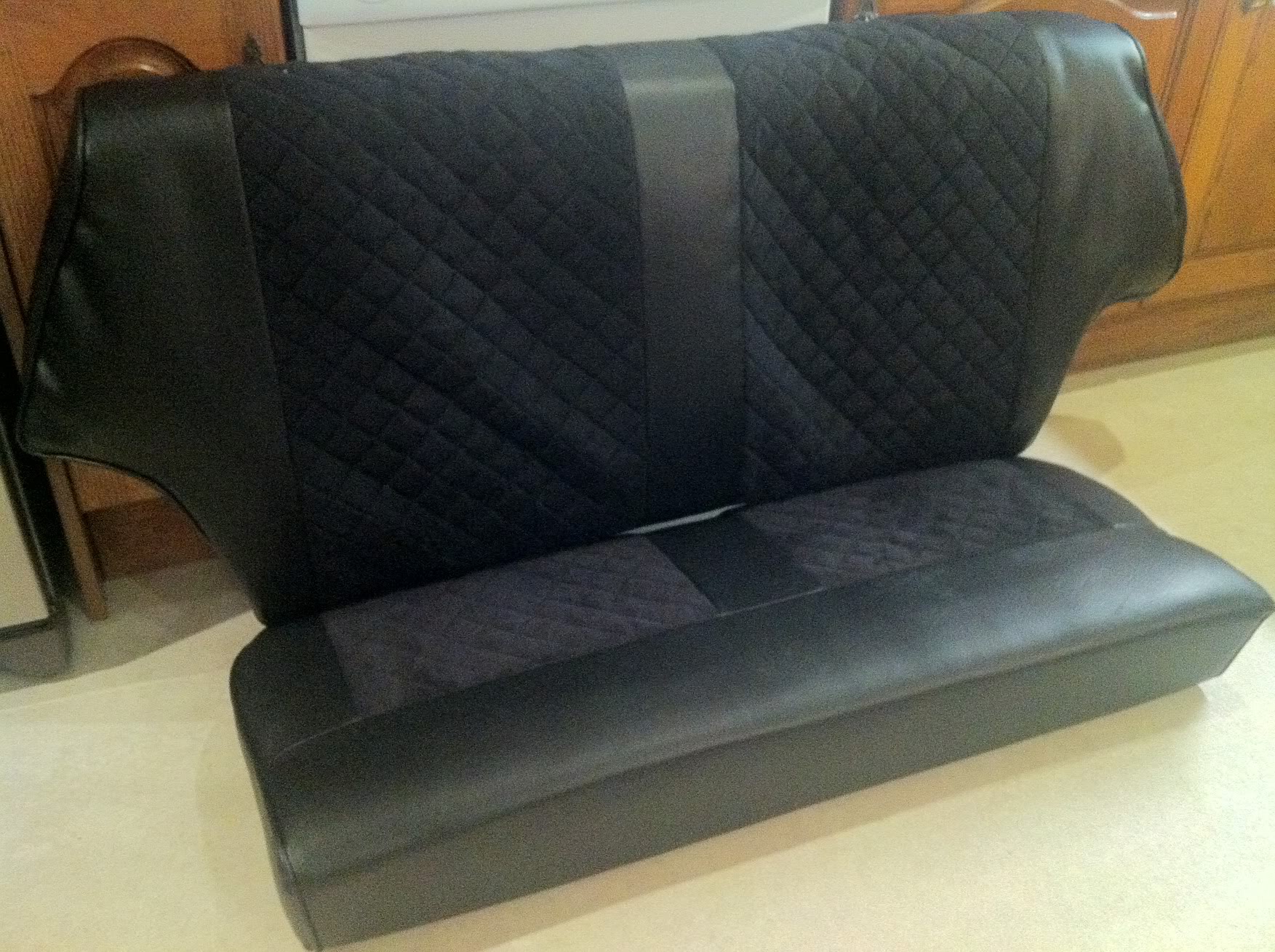 Hopefully more news tomorrow if Mr Postie plays along.....
6-17-2013
So you may have noticed theres bee little to no updates since the initial MOT failure last week. Well thats because I've been a bit busy! With the MOT failed on emissions, headlight alignment and horn not working, I got it sorted and my dad took it for a retest on Thursday which is passed with no advisories. Ready to go! With MOT and tax in hand I got going with the show prep. The rear wheels had been done a while back but the fronts still needed a lot of attention. One had pitted quite badly, so it was out with the wet and dry and I set to work fixing it.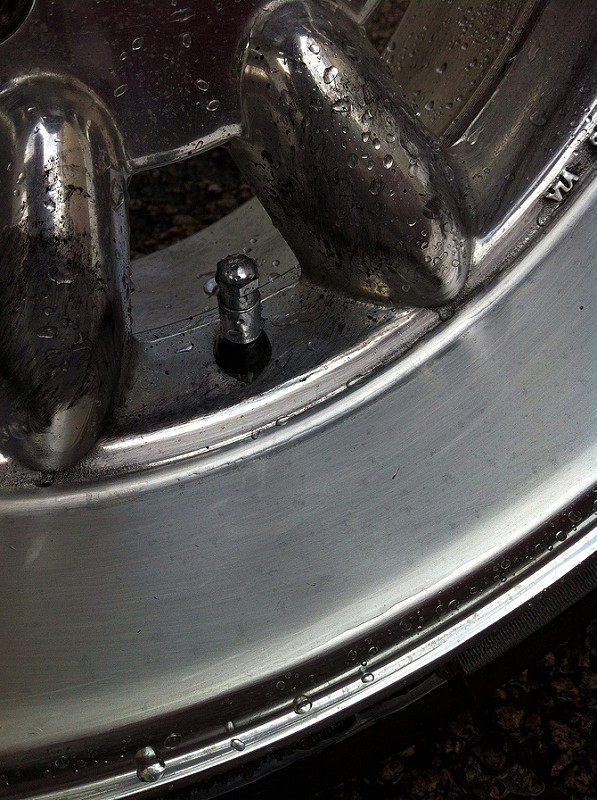 it soon came up to a mirror sheen again after using autosol by machine and a final once over with mothers. Protected with GTechniq C5 wheel armour as per the rear wheels.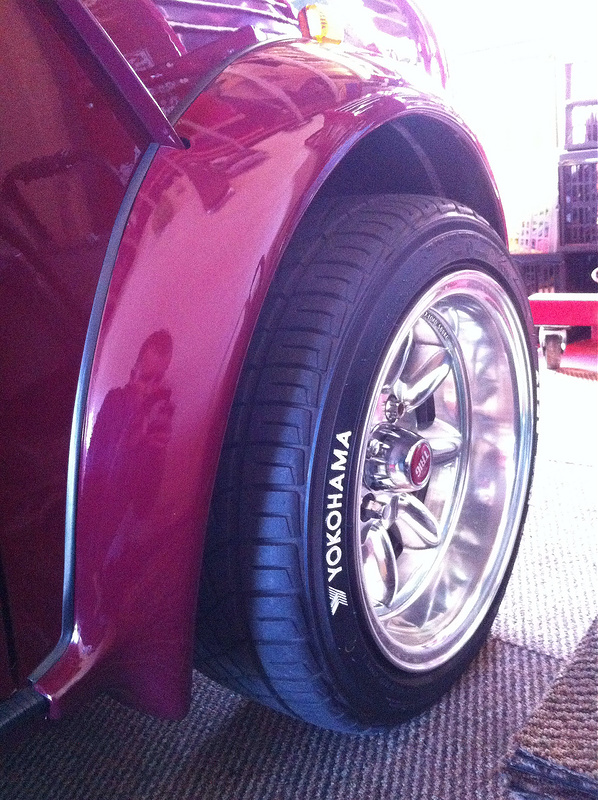 The rest of the car was showing signs of pollen drop, so I gave it a quick wipe down with AutoFinesse Finale to remove it. Then I put on some sealant to protect it for the journey to tain, whatever the weather brought! Wax on...wax off.....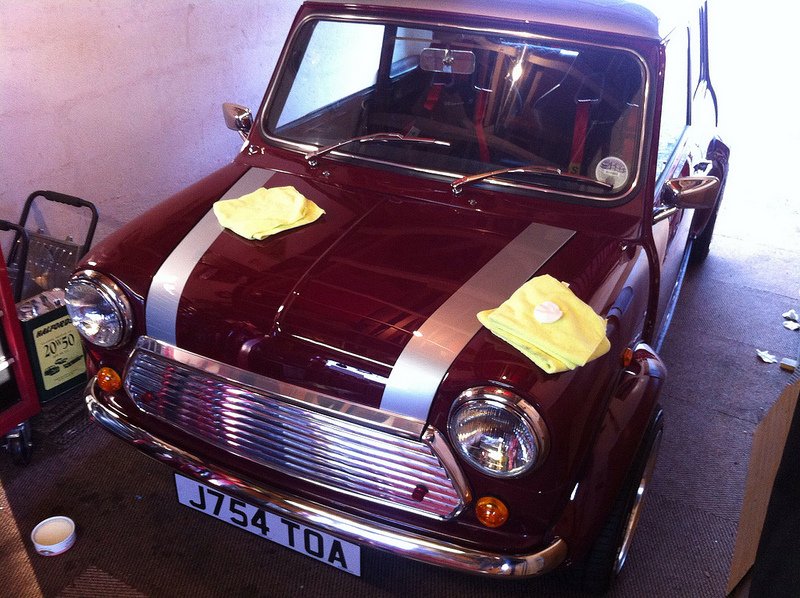 which resulted in this finish all over. Happy with that!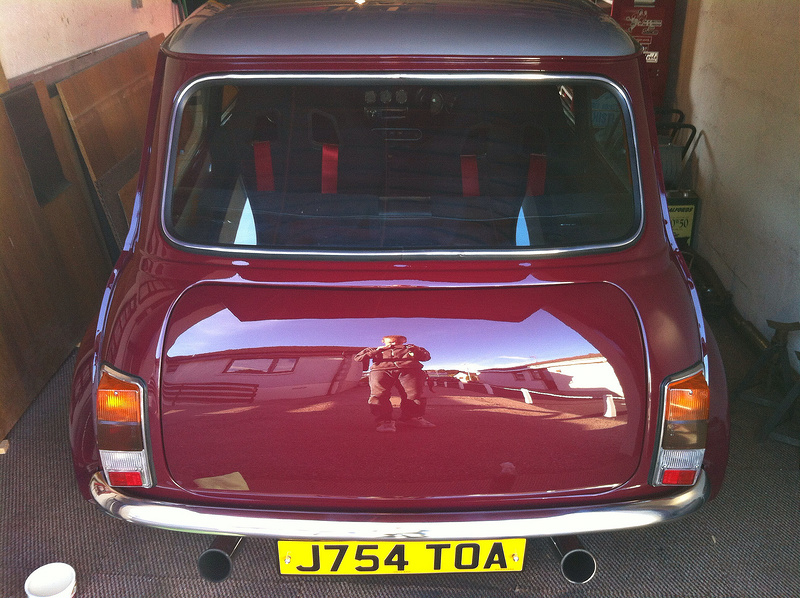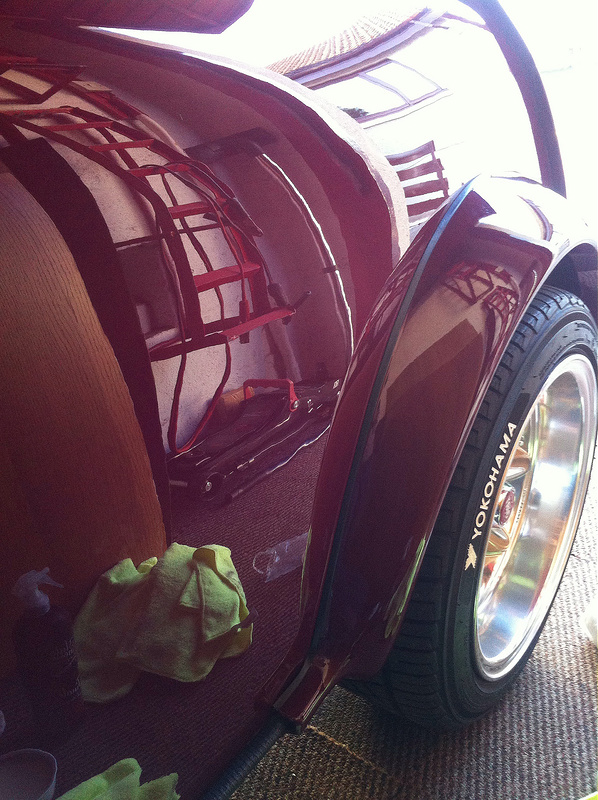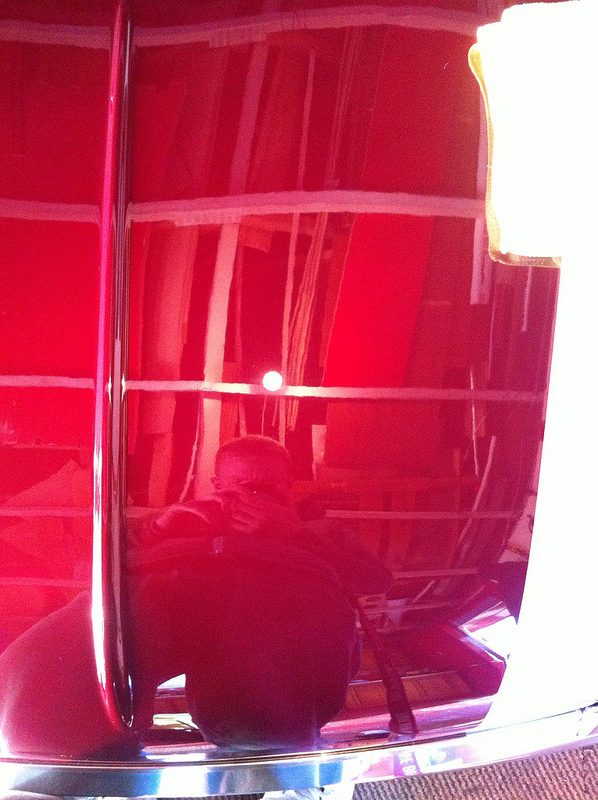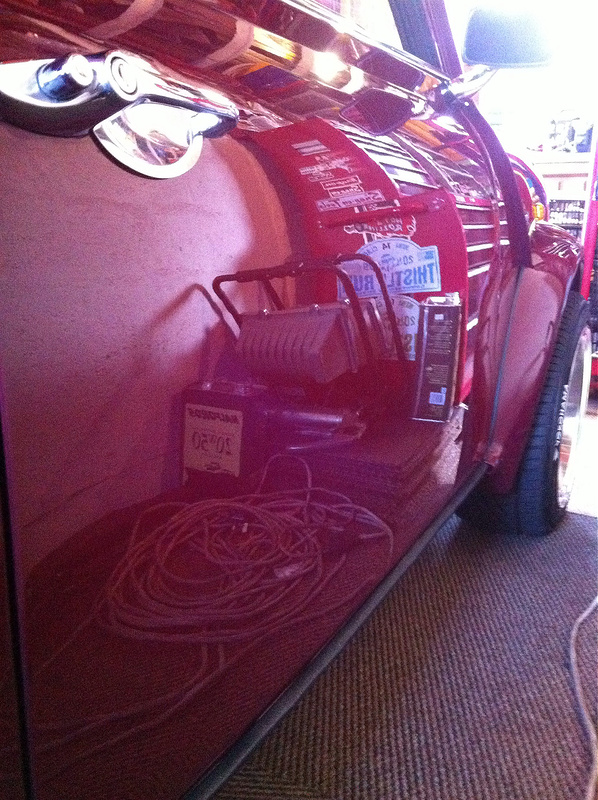 And with the final prep work done, tucked it into bed for the night before its big day.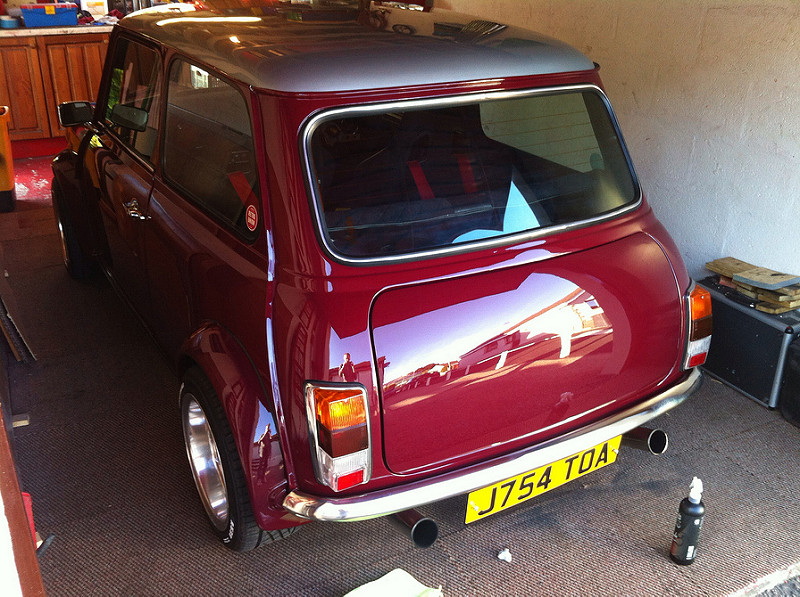 The following morning (6.30am on a Sunday!!!) I met up with some local Minis from the Aberdeen Mini Owners Club and we set off to Inverness where we met up with the Inverness Mini Owners Group to make a final convoy into Tain itself but we needed a Burger King breakfast first though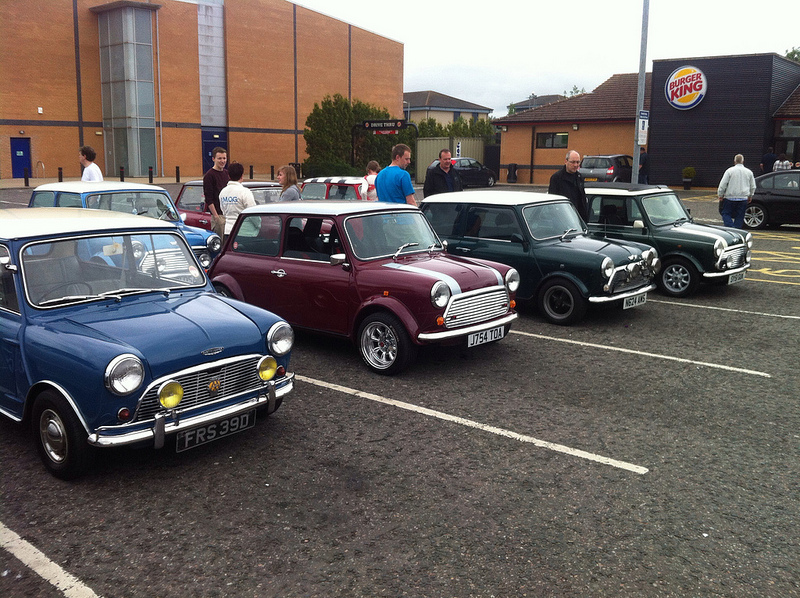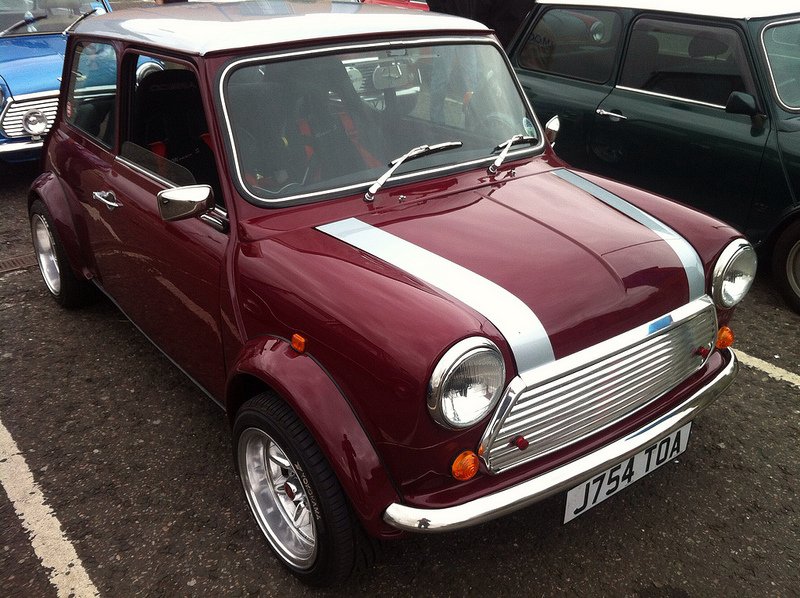 We got there about 10.15 with no issues. Relieved! Thanks to the well organised events team, we were distributed to our relevant classes within minutes. I entered in the custom class as so much of the car features one off pieces. It didnt really fit into the classic classes given its only 21yrs old and not to original spec.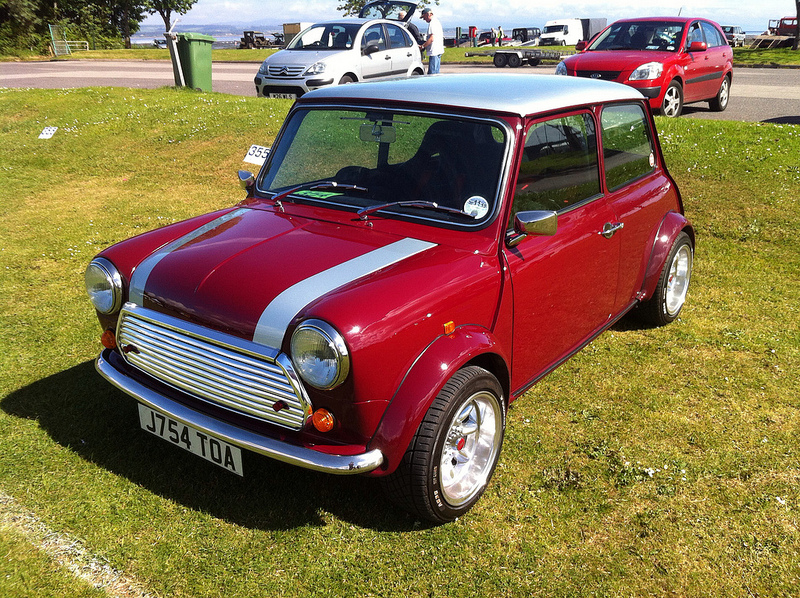 Within seconds the car had folk round it but I busied myself cleaning the grime off and got it to its fully open state.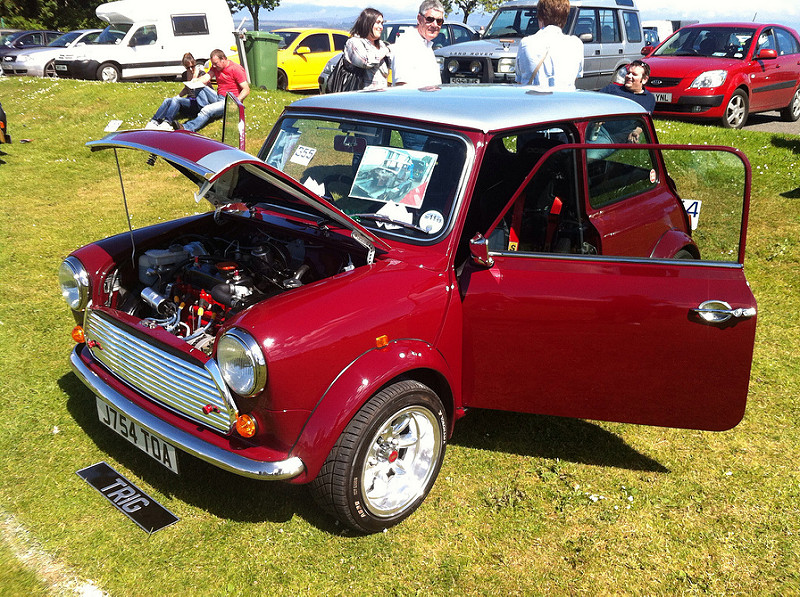 Popped a couple of 'before' photos in the screen to show what it once was like. So many people didnt believe it was the same shell! Spent most of the day talking to interested folk and the majority had one 'back in the day' so it was good to hear all their stories. Kids loved it and a few got their photos taken in it. Happy families all round. Its what car shows are all about :) The judges came round, asked a few questions and later on in the day one came back and handed me this.....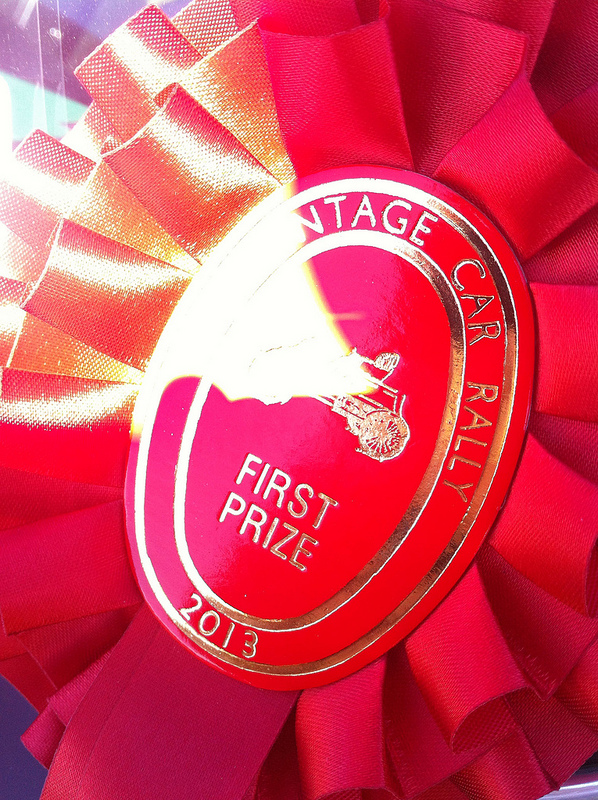 We won the class! I was over the moon after all the hard work over the past three years. It made it all worth it. I had to go into the show ring at the end of the day for the prize giving and this Ferrari 360 was alongside. Owner talked more about my car than his which was nice considering what he had!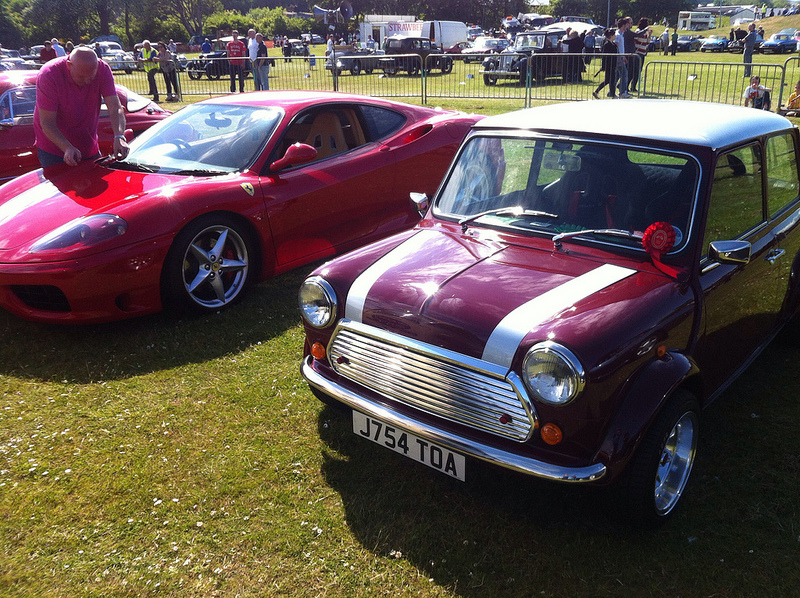 and heres the little trophy I got! Ace!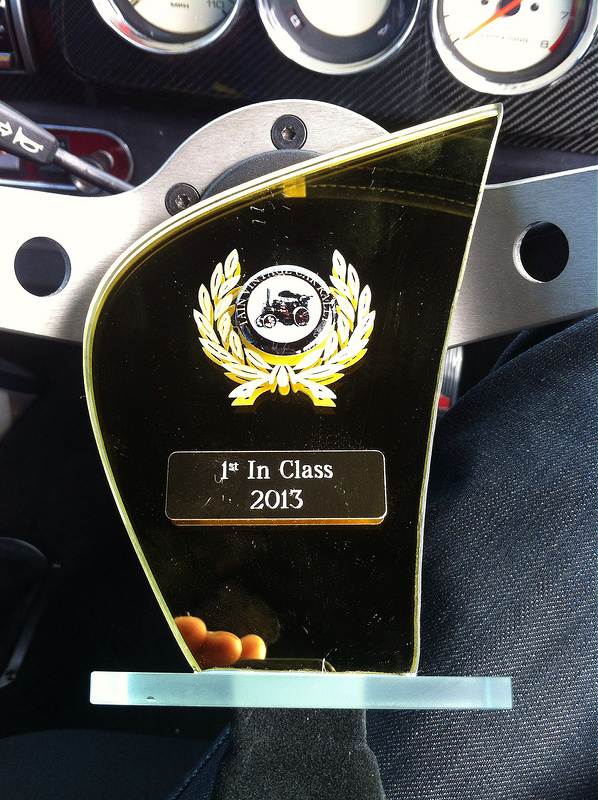 Also got another rosette as we entered the show.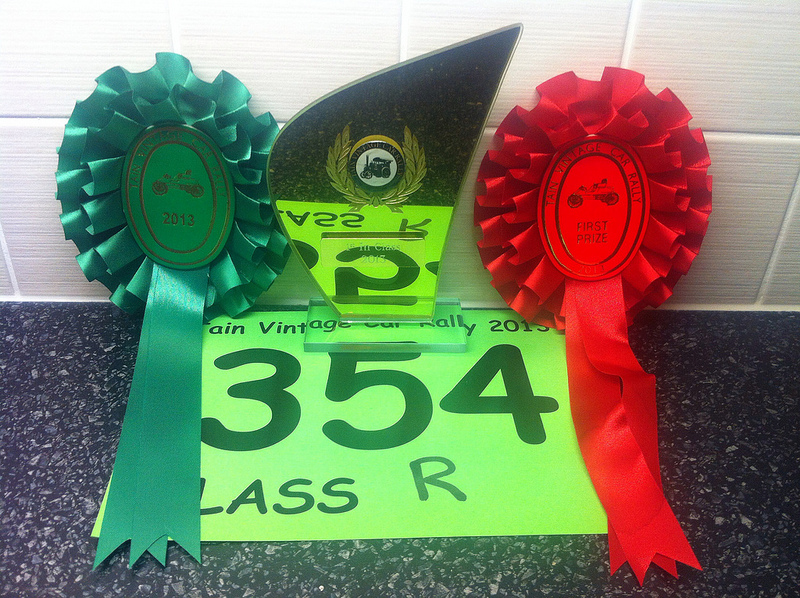 Drove home and got caught in a pretty bad rain shower and the car got pretty mucky. Ran without fault though so I know the electrics are in good condition! Helps its been converted to electronic dizzy though.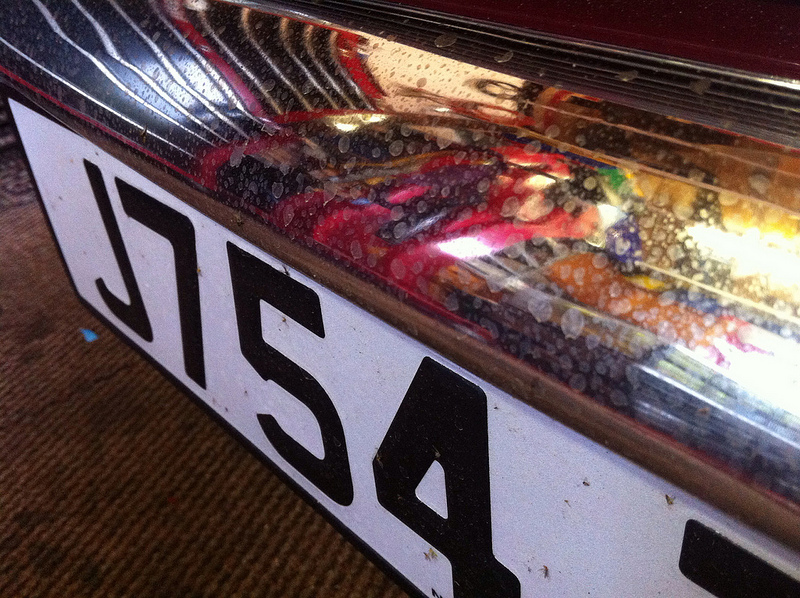 Wont take much to clean as it was so well protected but will leave that for an evening this week.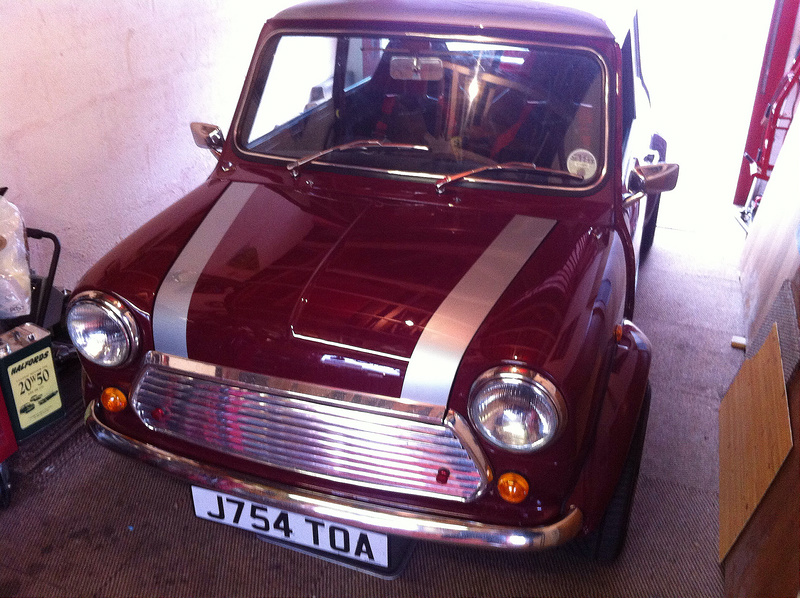 The car did develop a minor oil leak which I believe is coming from the speedo drive housing on the side of the gearbox but will investigate that tonight. So just shy of 250 miles round trip completed straight after rebuild, with no issues. I would say thats pretty good going! Loved driving the car all day and had a perma-smile throughout. It sounds brilliant, with lovely little pops and bangs on over run after a bit of heal and toe action. Need to edit my photos from the day sop expect better ones soon. Thanks to everyone for all the help, advice, banter and enthusiasm throughout the build. It helped me no end and I wouldn't have got it all done without you. So thanks! :) Oh and its now taking pride of place on my work computer desktop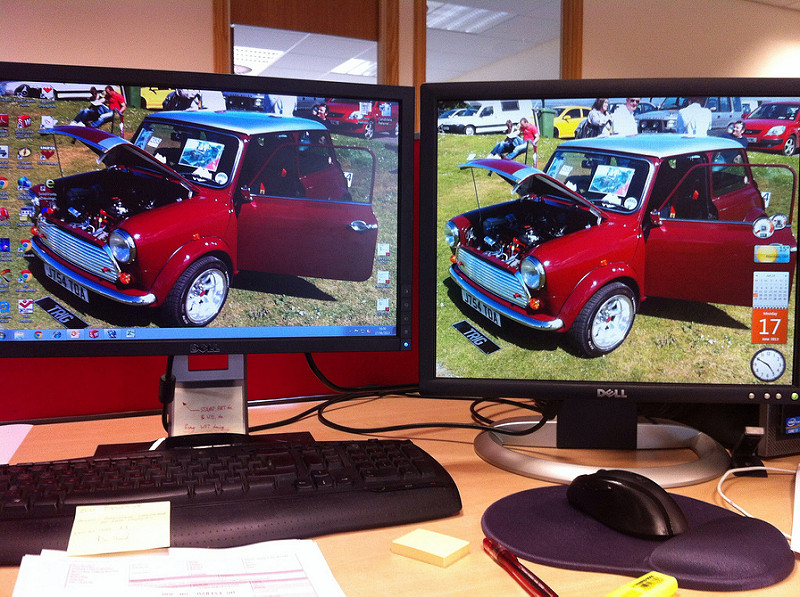 6-18-2013
Got my photos quickly edited last night. Nothing fancy as I couldn't be bothered going into detail with them but here they are anyway :) In inverness, quickly trying to diagnose the oil leak location....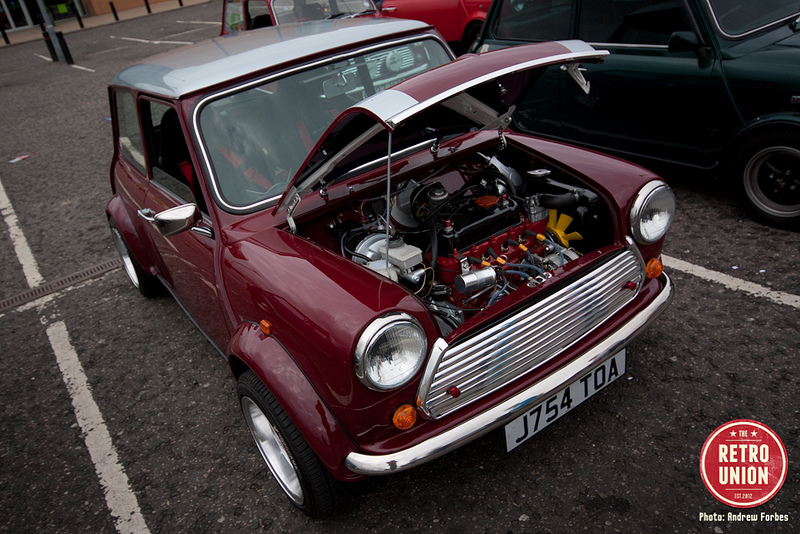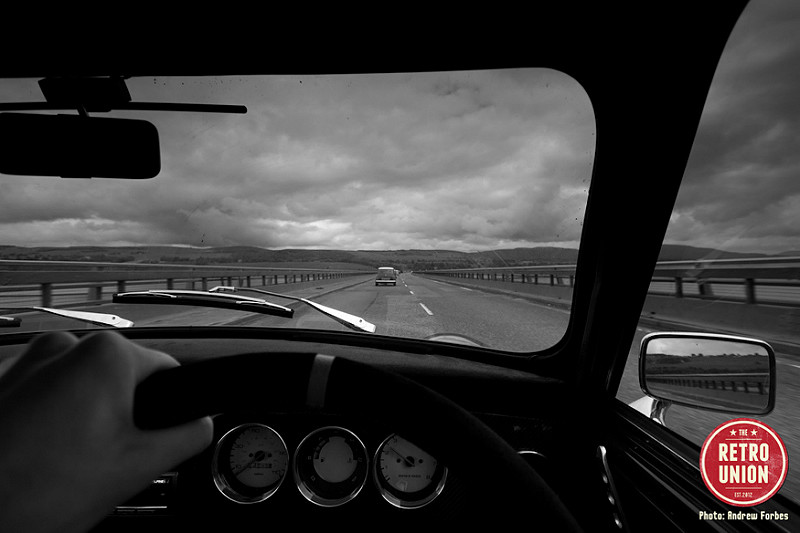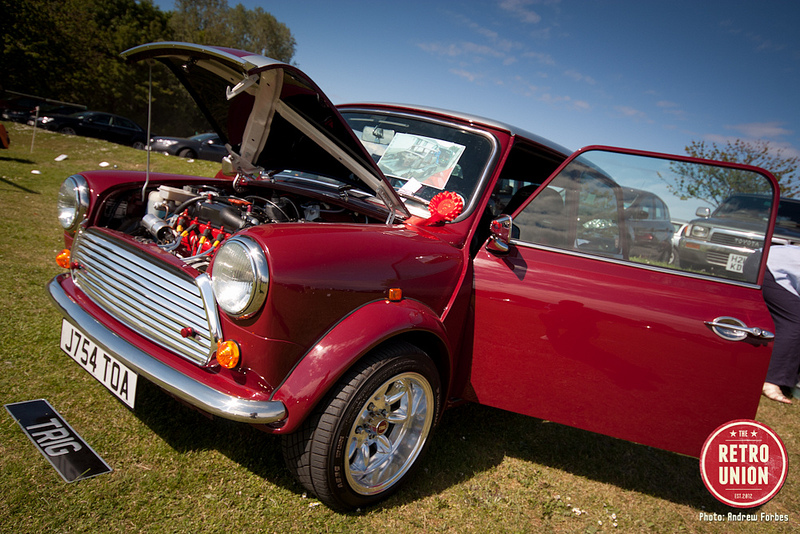 Heres a pic of whats under the bonnet. Scottish flag themed cross brace!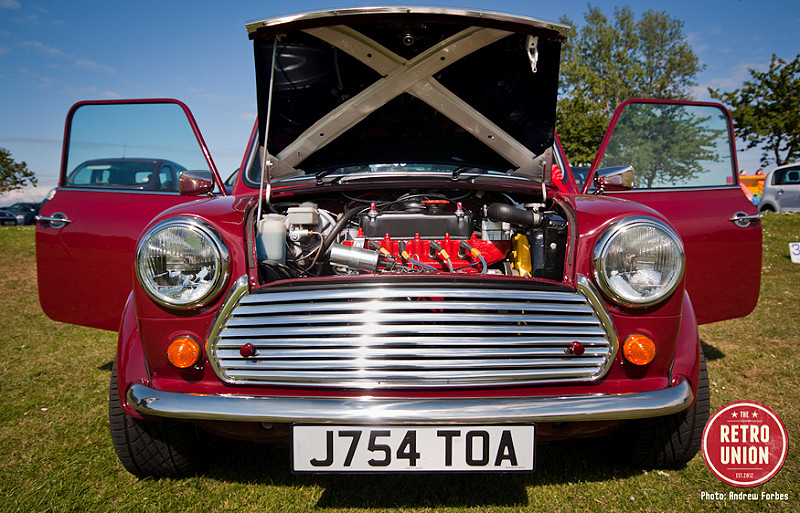 In the show ring for the awards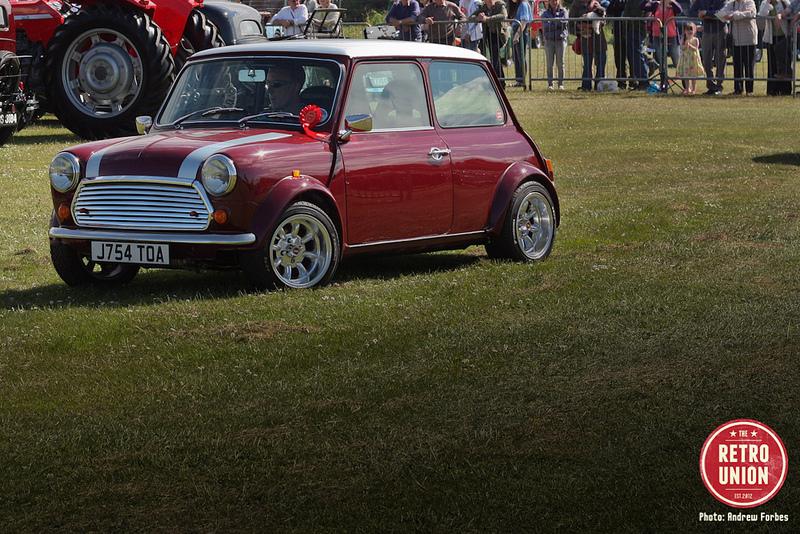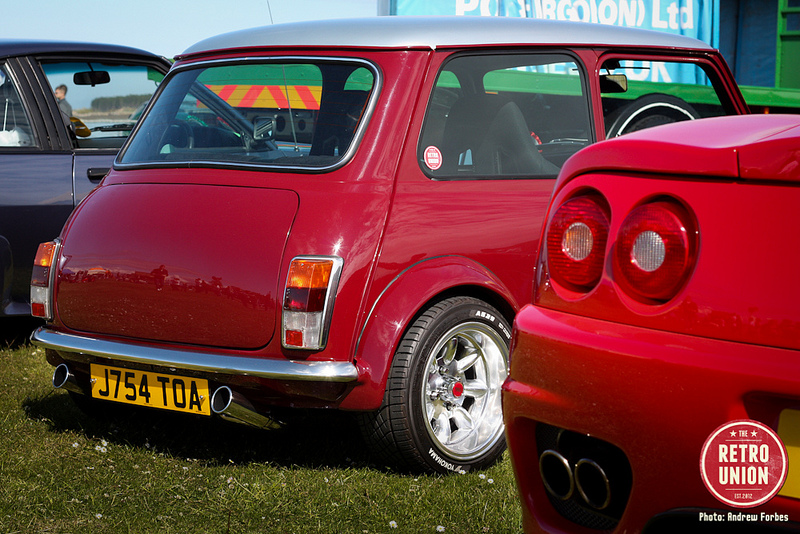 And the journey home (was followed by my folks in the Jaaaaag and mum took some photos)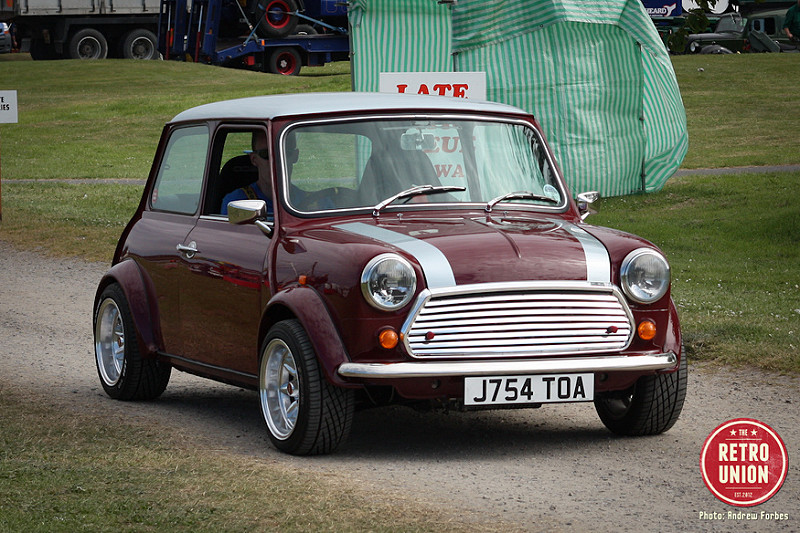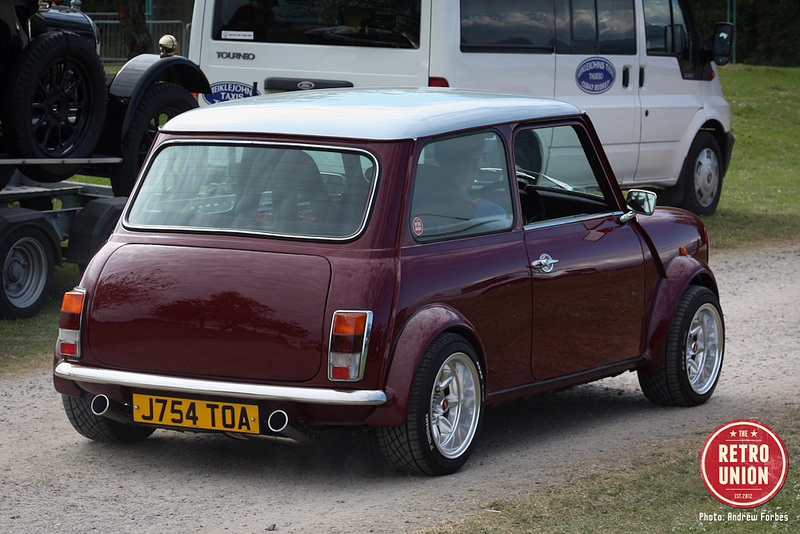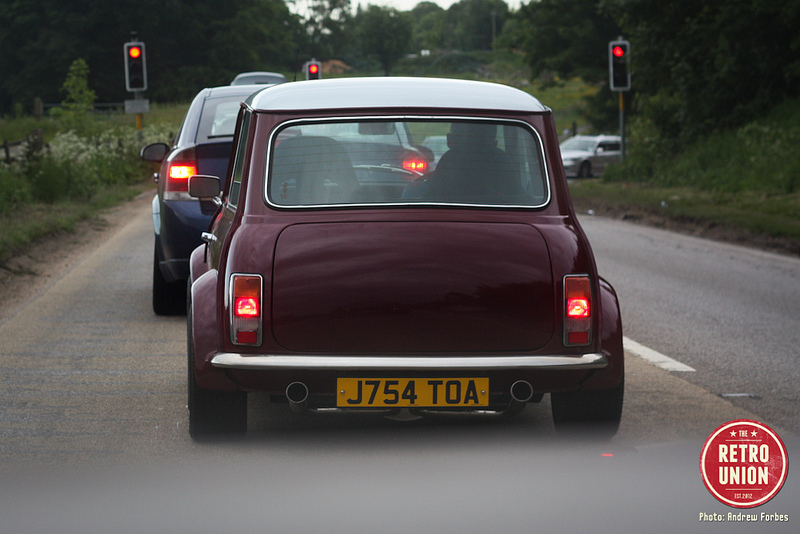 Rough ride quality issue solved! Thanks to '78 pickup' on scottishmini.co.uk it was pointed out my shock mounts were in fact on the wrong sides of the car....thus limiting the travel of the shocks by 50% as they were half compressed standing still! This also meant it was raised far too high even on lowest Hi-Lo setting!

So set about swapping them over. Bolts were easy to undo but these two weren't so willing to come out. The threaded block behind the panel was rusted out at rebuild so we drilled it out and put a nyloc nut on the back. Never thinking we would have to remove them again......

With some persuasion of the panel and a thin spanner they were oot!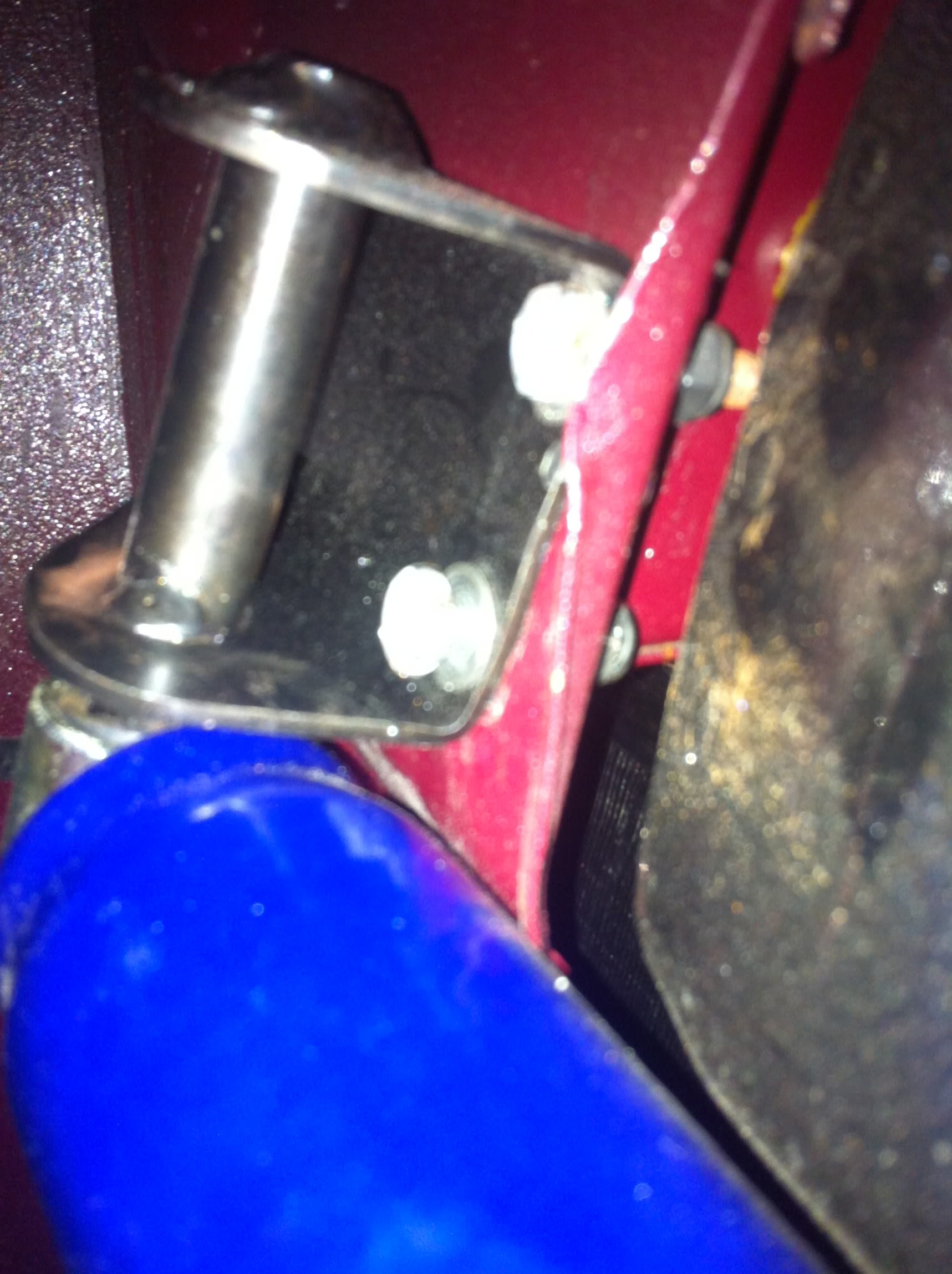 Swapped over the mounts, shocks back on and down on the ground again. Vast improvement!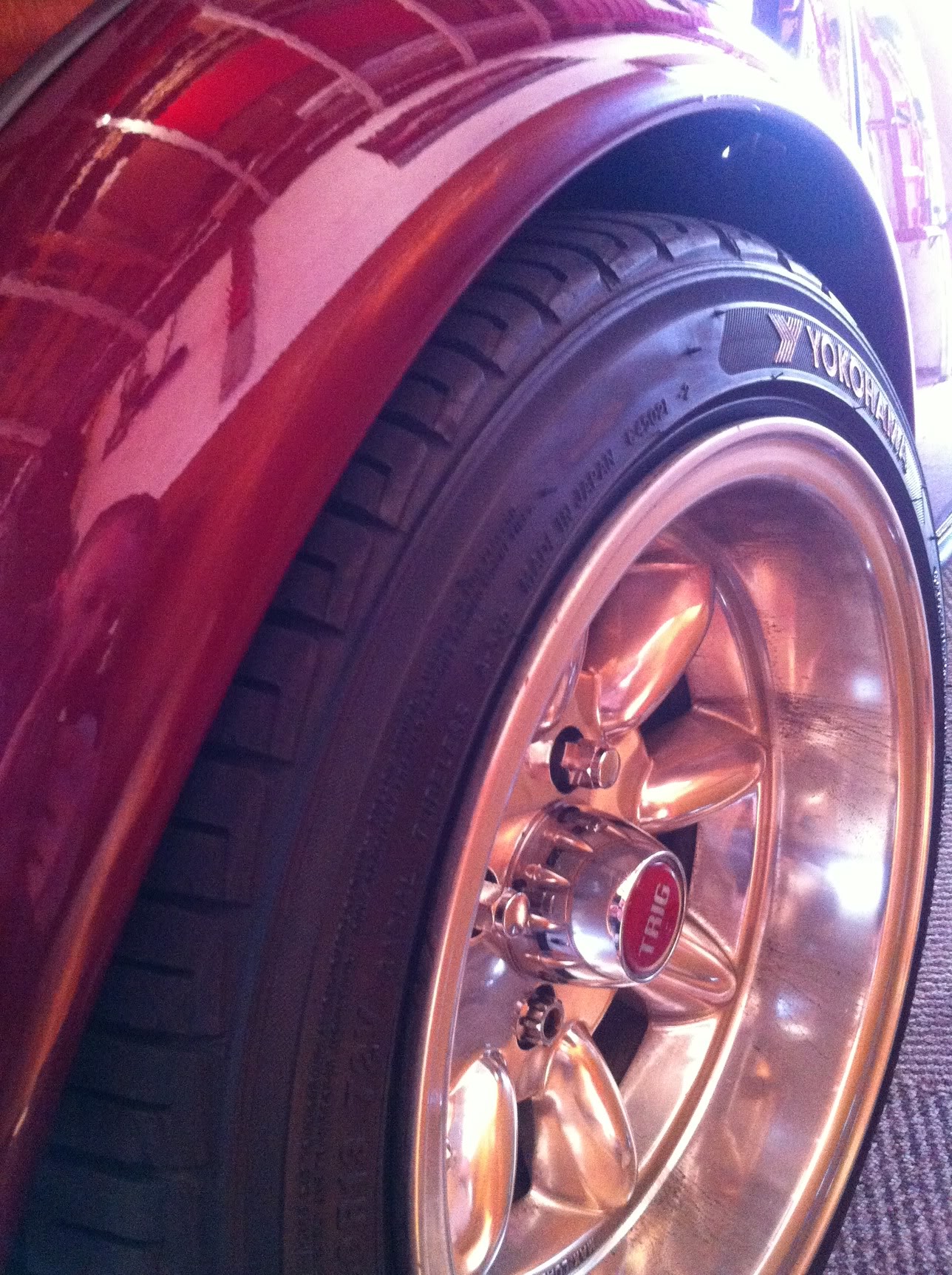 And with jumping up and down on the door step....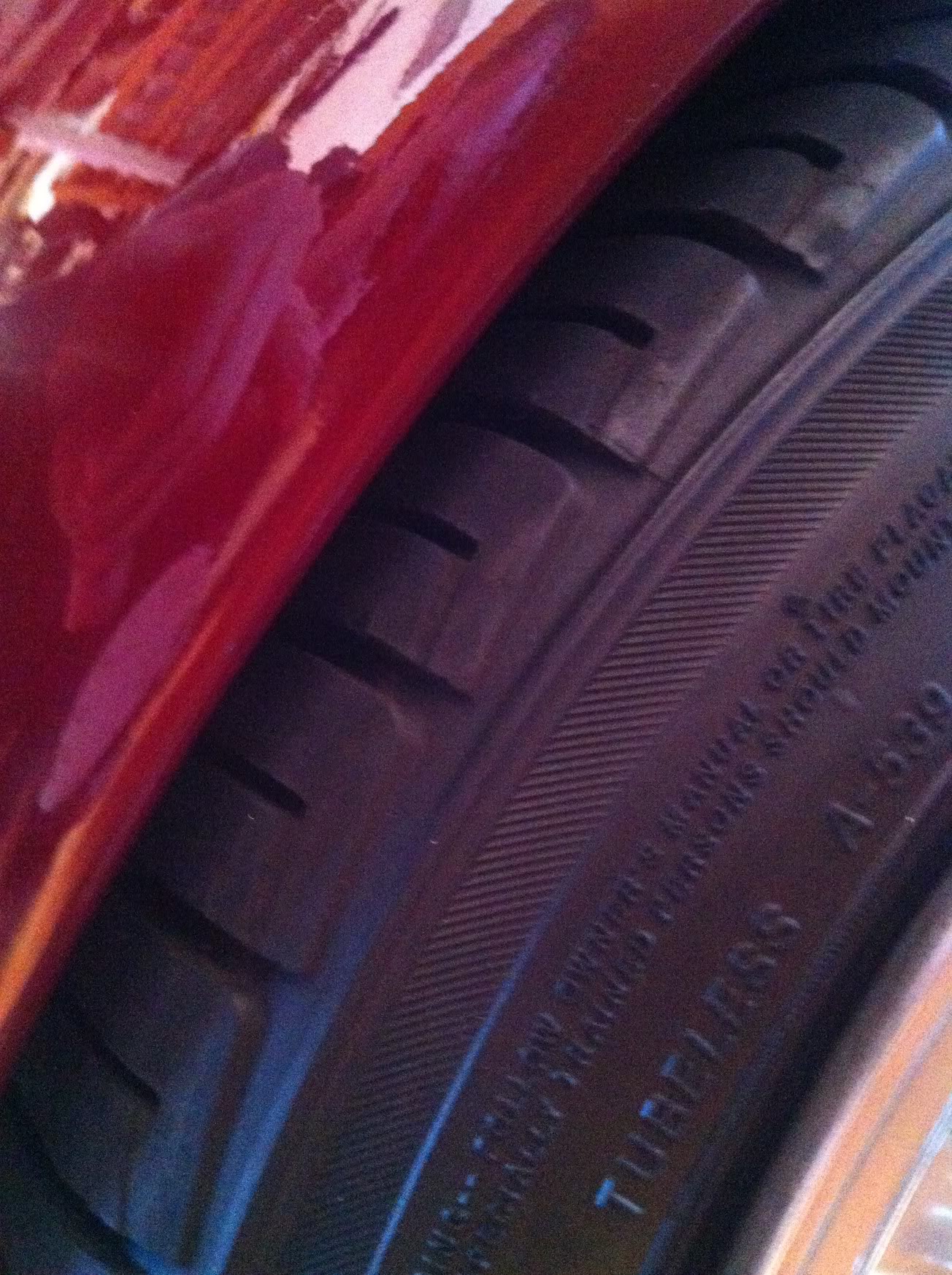 We achieved our ride height

MUCH better! Took it out a wee test run and the ride is 10x better. Need to now stiffen up the fronts as they roll a little bit in the bends but that will come with time and fine tuning :)
6-24-2013
So I needed to take pics of the car for insurance so they could confirm agreed value I have requested for the car. Needed a wash after Tain though so finally got a chance. Thankfully it wasn't too bad but a fair amount of dust had settled on it from the garage so the foam came out to play.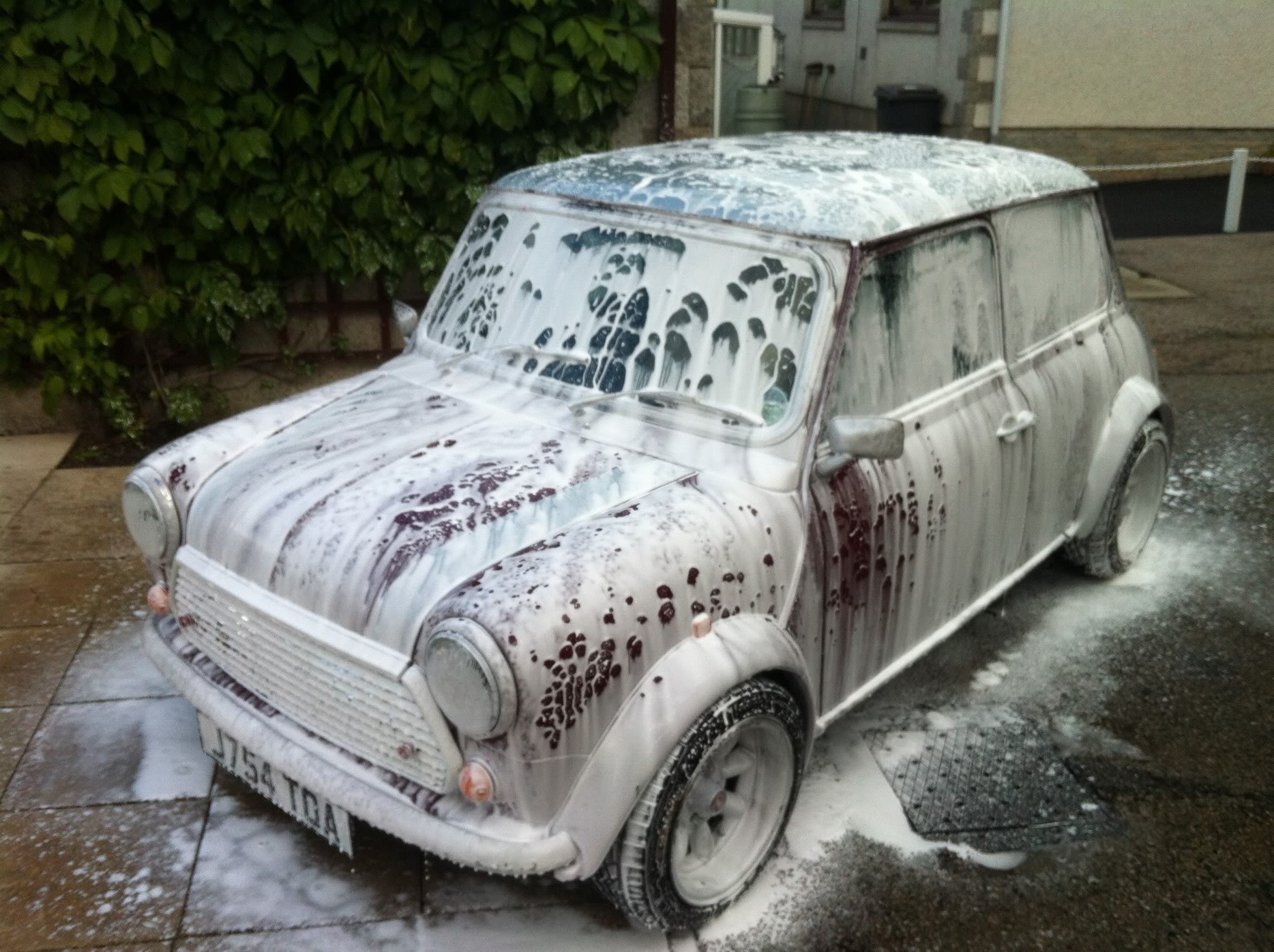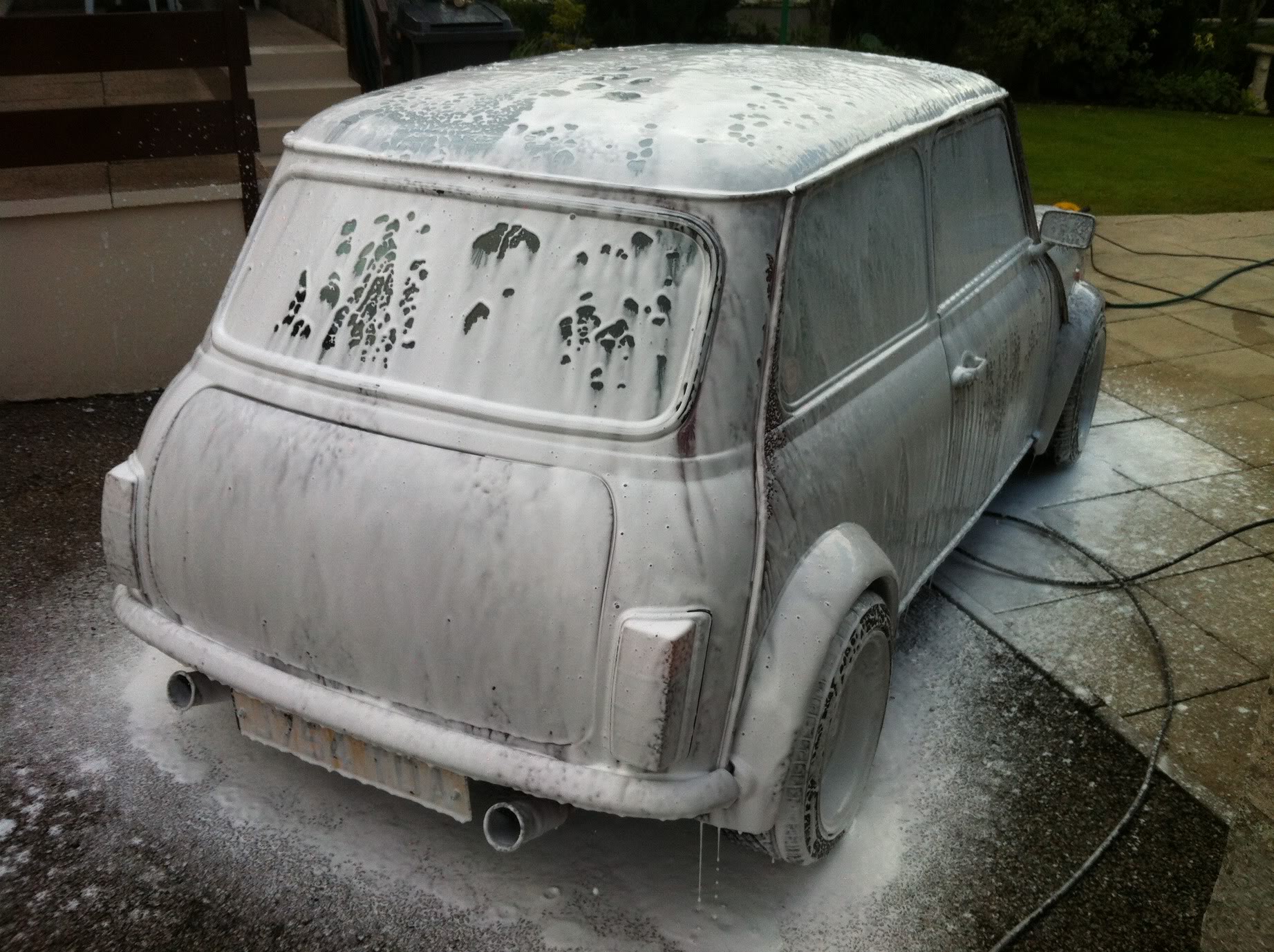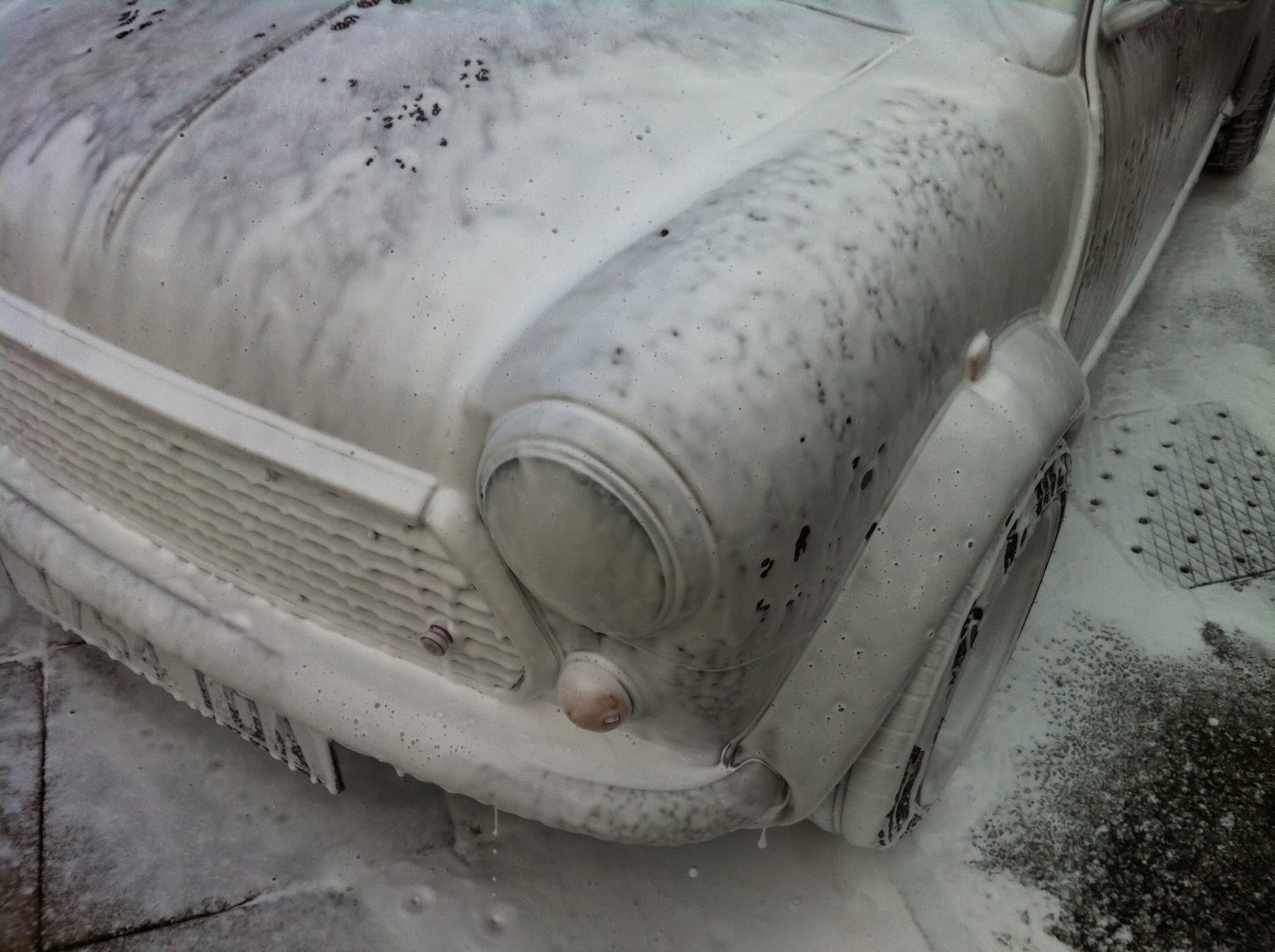 Problem with having a car with ace paint and a well protected finish? Snow foam doesnt want to cling onto it......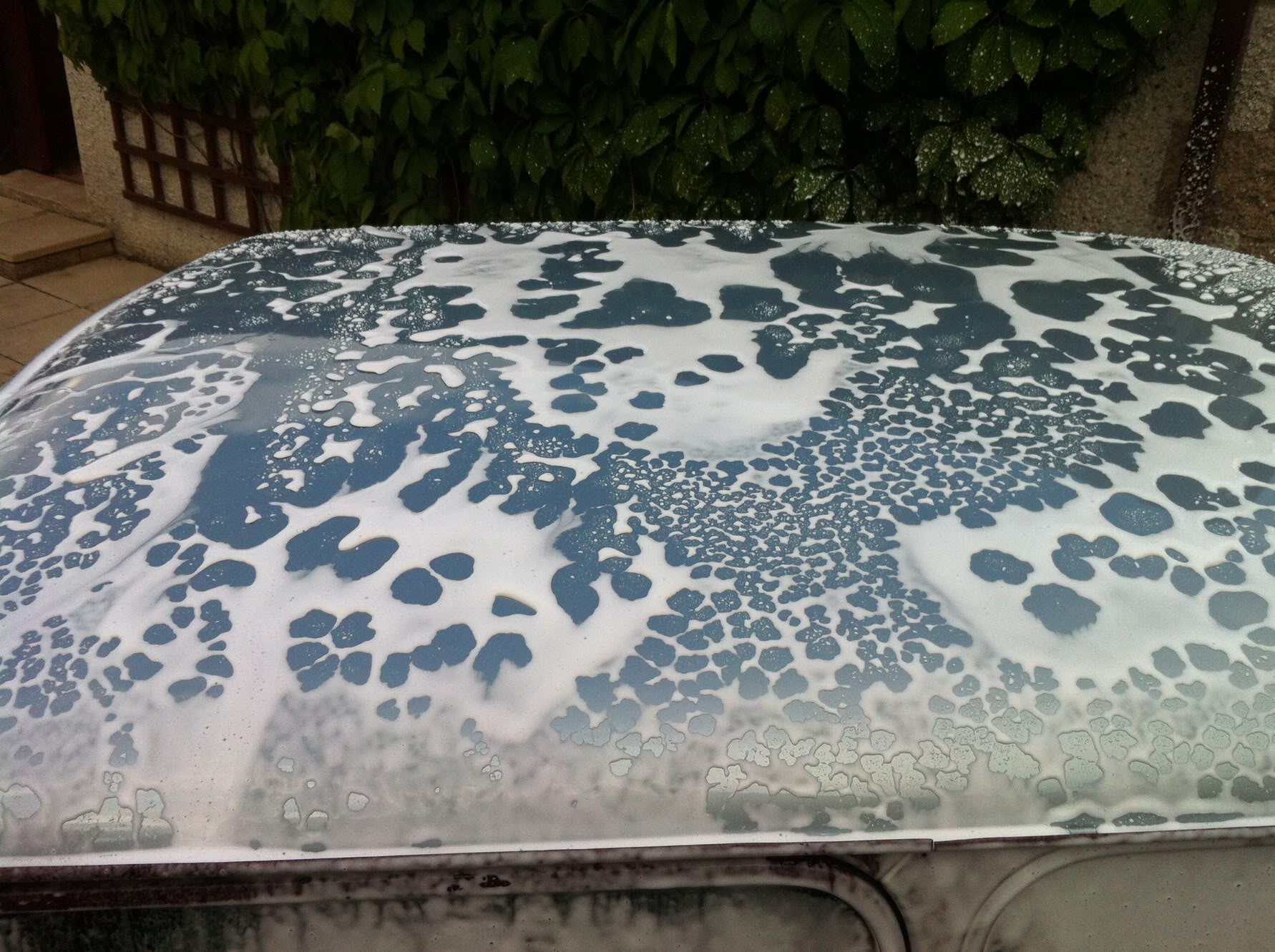 Identified a few issues......top of the passenger door doesnt touch the seal it would seam....




and not fitting a boot seal has its downsides....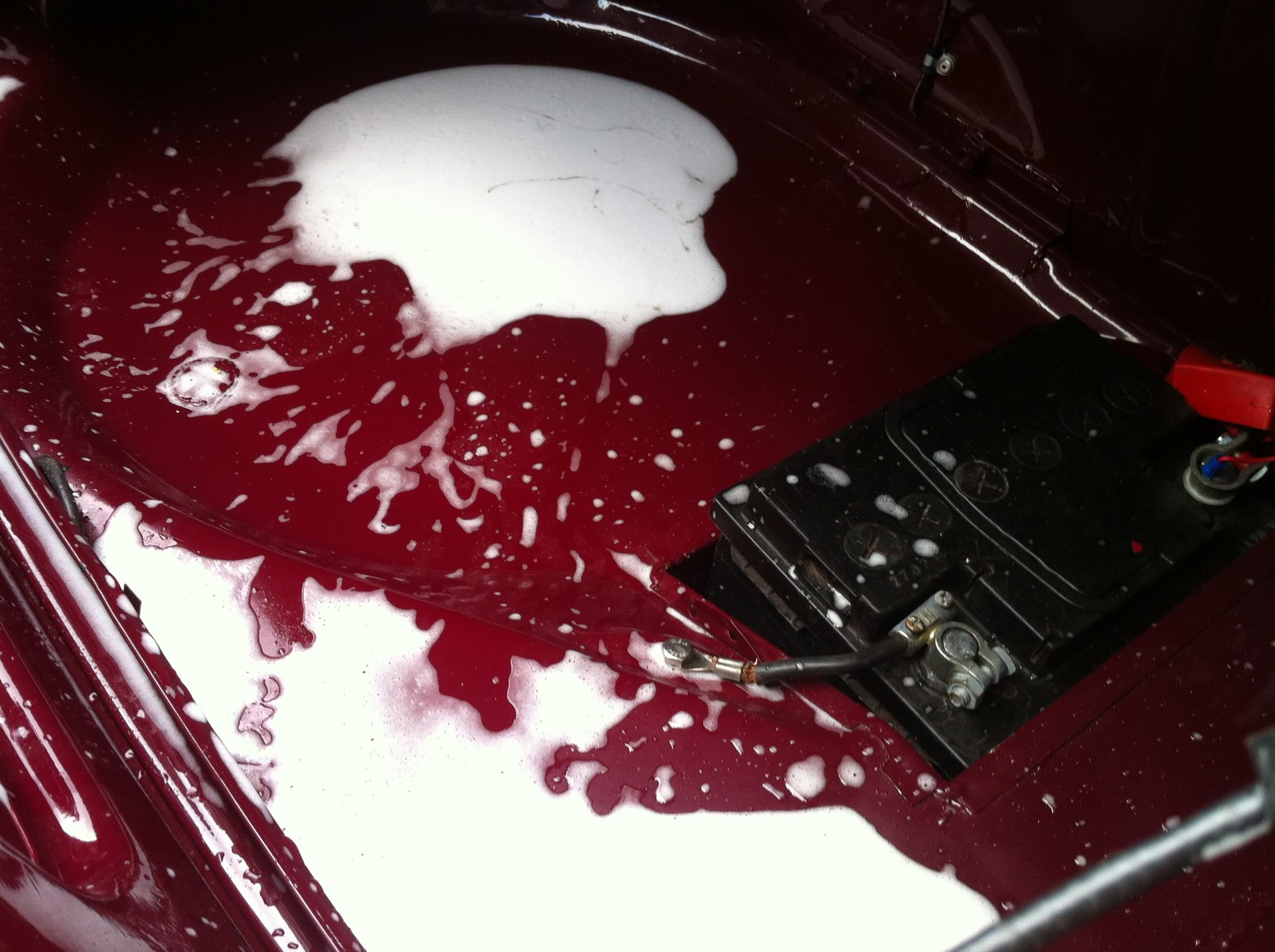 Just as well it's not an all weather car! Sadly the rain came on so no photos tonight but will hopefully get some done tomorrow!

Cars leak is fixed, still got a wee drip from somewhere but it is minimal which is fine. Its a mini after all. They leaked as standard from the factory

6-25-2013
Had to take pics of the car for insurance. THey didnt want a 3/4 view so you can have it instead

Need to sort rear ride height.....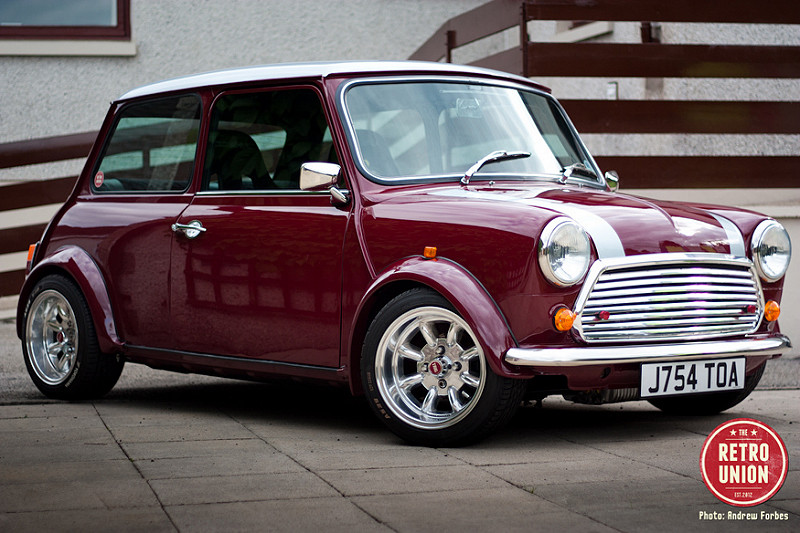 7-3-2013
So as some may remember the car leaked a fair bit on the run to and from Tain. Thought it was the loose oil filter (it was to a degree...) but it was still leaking. Couldnt think where from until i noticed tonight there was a lot of oil firing out of the oil pipe going to the filter housing......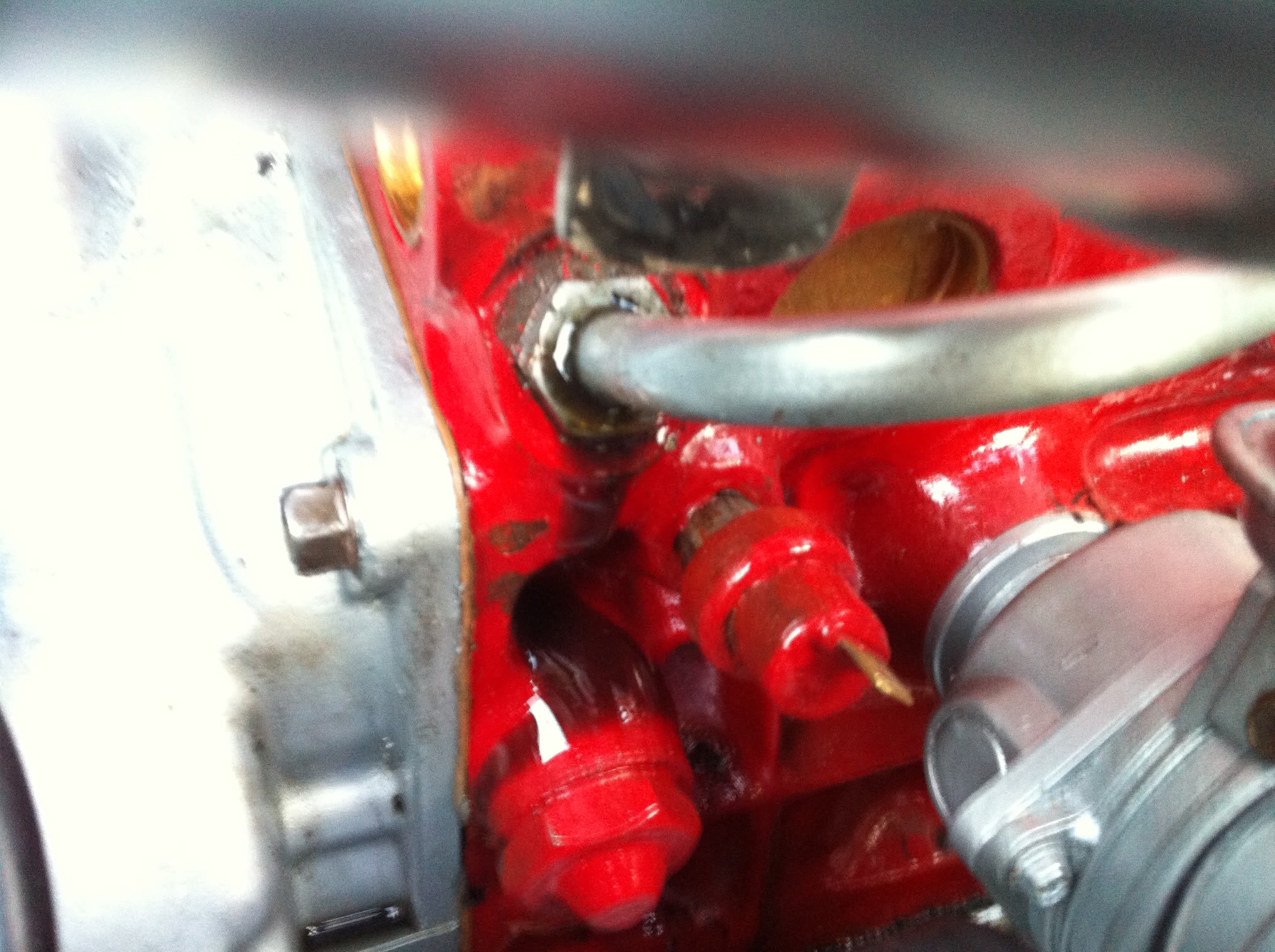 So for now, I've tightened this up, cleaned and thrown in some instant gasket. Sourcing a braided replacement with proper unions instead to prevent the leak reappearing though. Gave it a bath after a mucky back road drive at the weekend so its back to looking spotless again :)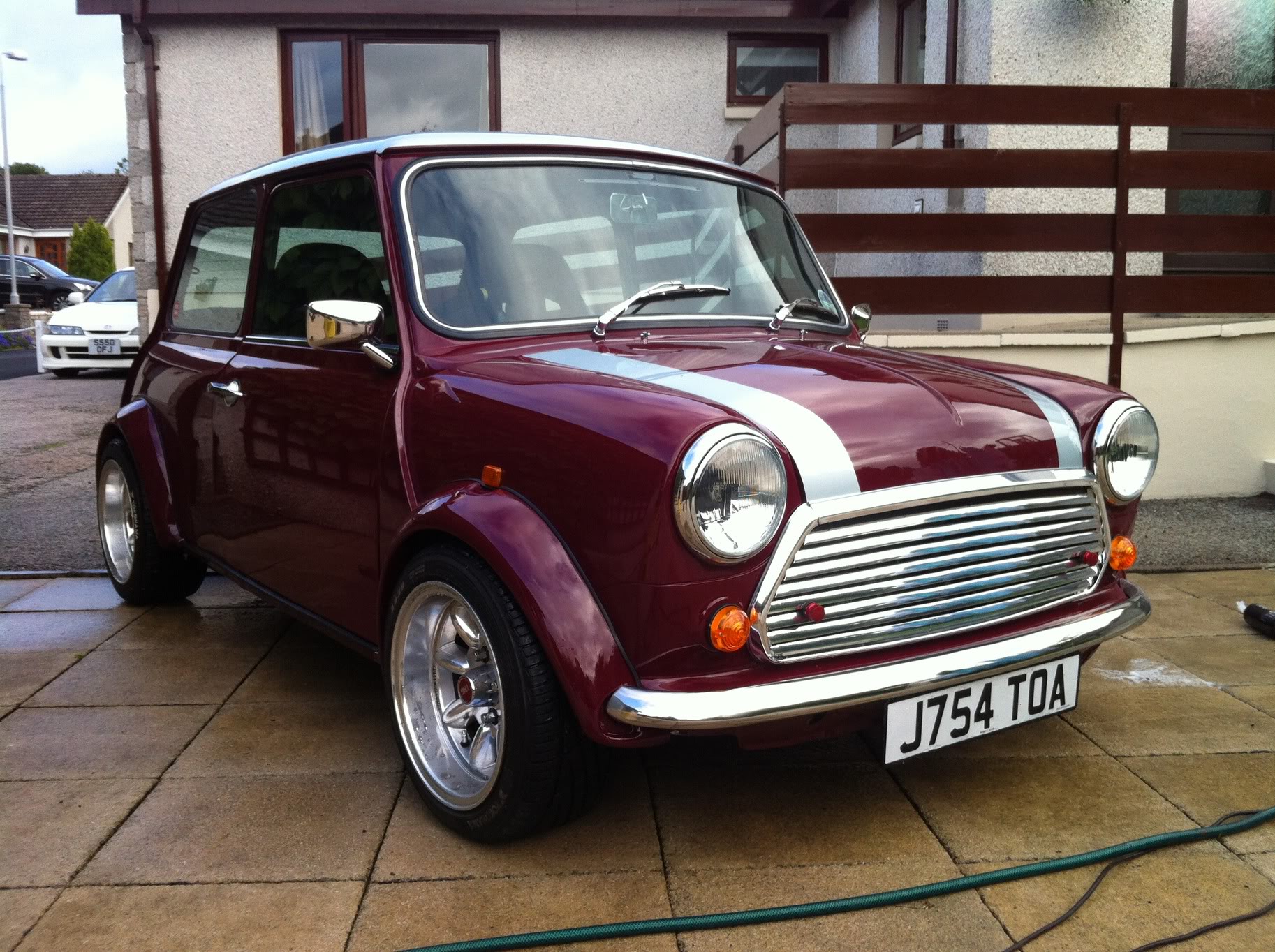 7-5-2013
Wee update. Fixed the leak from the oil pipe. Will still replace with braided though for piece of mind.

Today however! Since the weather was amazing I thought, lets take the Mini to work! Then as I was burbling along, it came up to temperature.....and wouldn't stop rising! Pulled in to steam billowing from the bonnet. Oh dear! Turns out the top hose jubilee clip had worked its way loose and spewed the contents of the rad all over the bay. Lovely rusty water and antifreeze all over my clean bay.......

One naughty Mini......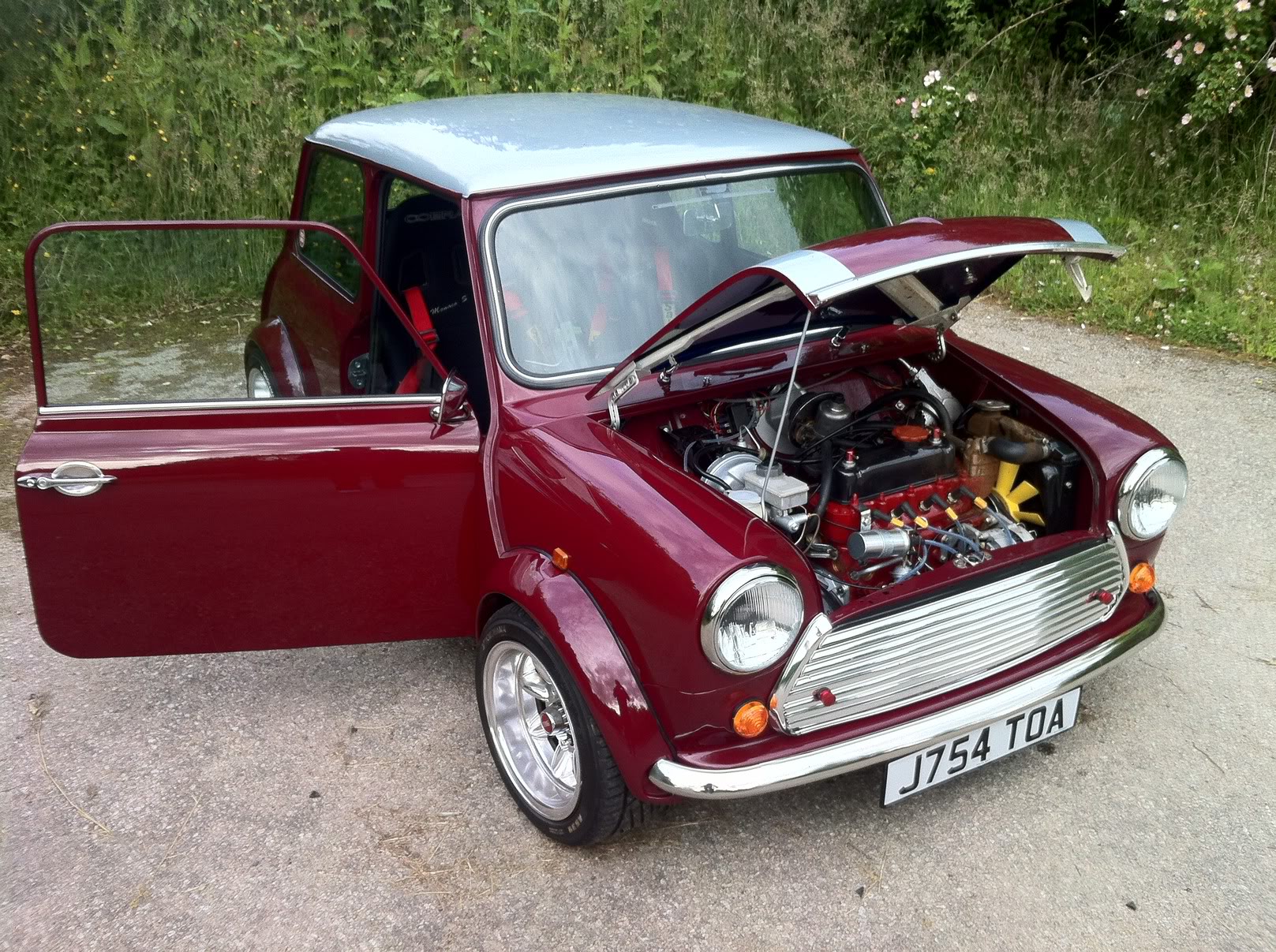 One dirty bay....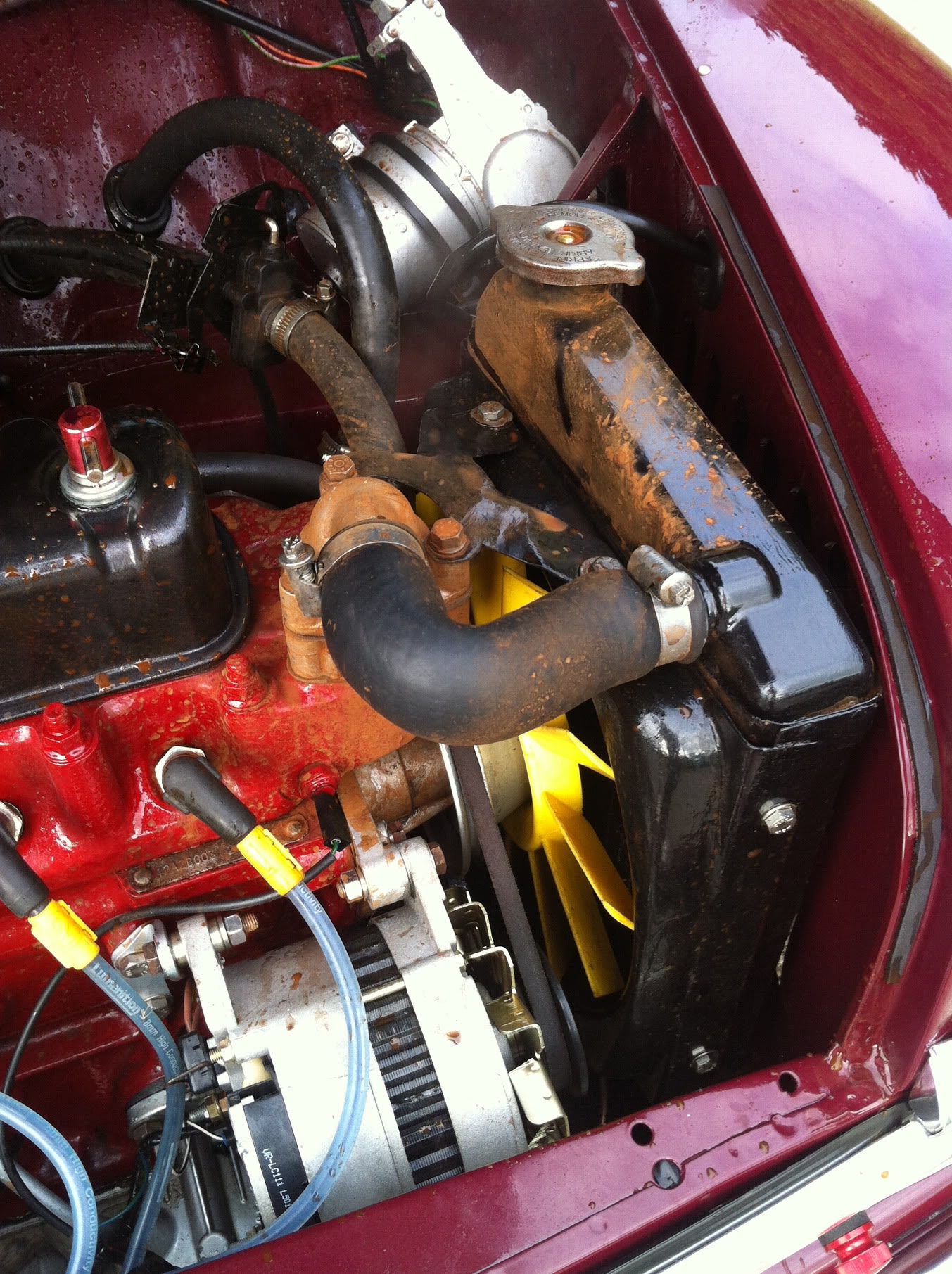 Nursed it to the BP filling station and my dad came to the rescue in the Honda, we topped up the rad and swapped cars so I could get to work. In the 2 minutes we were there a woman came over saying how she had one years ago and the top hose was always coming off and her fan belt snapped in the middle of nowhere and she used her tights to fix it. Proof that it works! Then a tanker driver said he had one and had 3 gold seal engines for it over his ownership. You dont get that chat with a 'eurobox'!

And whilst I was at work dad cleaned it all up. The antifreeze has damaged the paint on a couple of bits but nothing a lick of paint wont fix again! Thankfully the body colour paint is fine!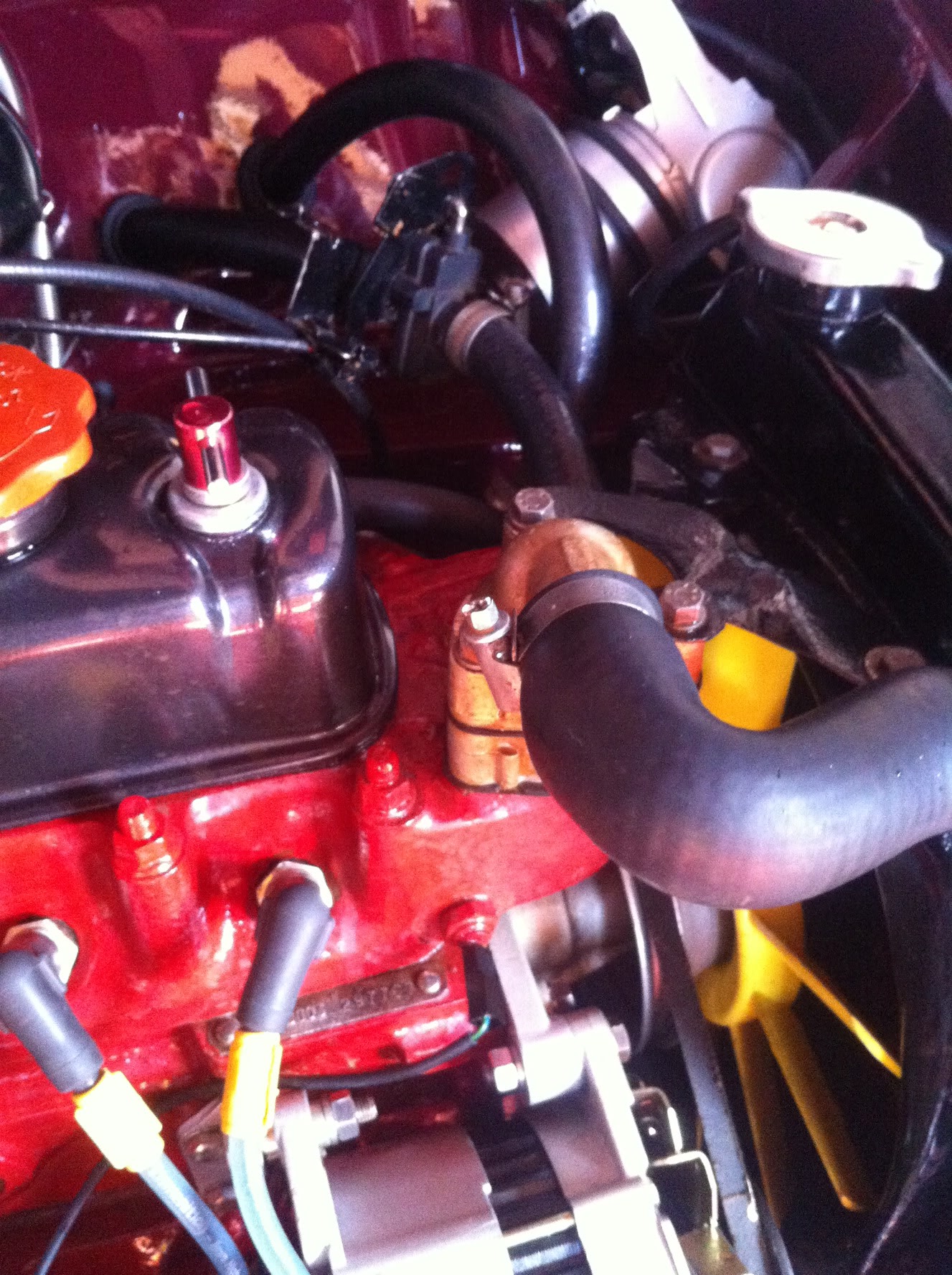 7-8-2013
Went out to try my rented 70-200 f2.8 lens Ive got for Goodwood Festival of Speed later this week. Pretty happy with them considering Ive not done anything like this in over a year! Car could be cleaner but its got to be used sometime!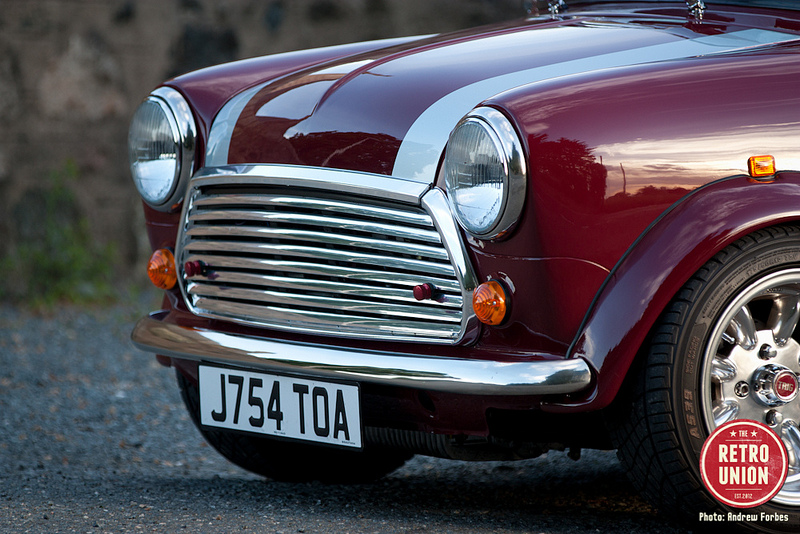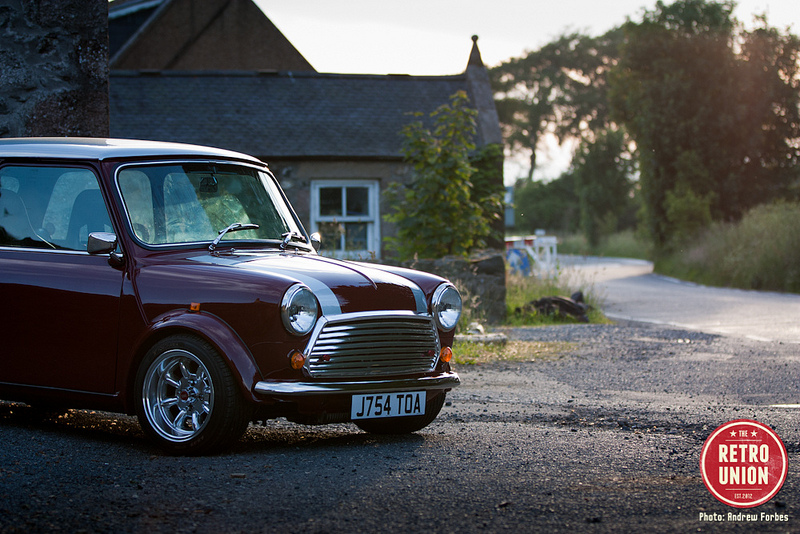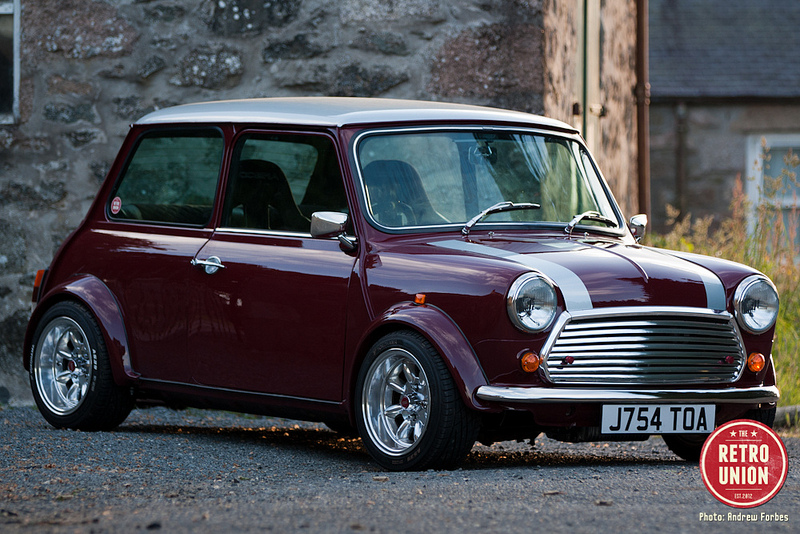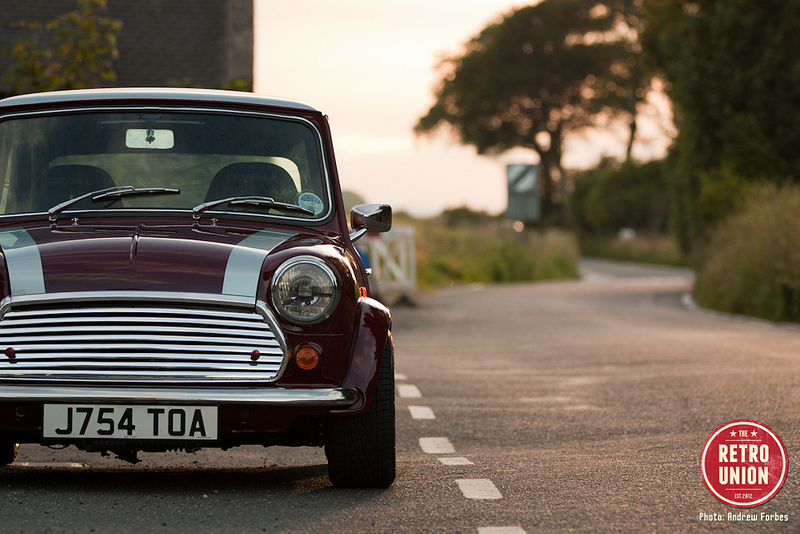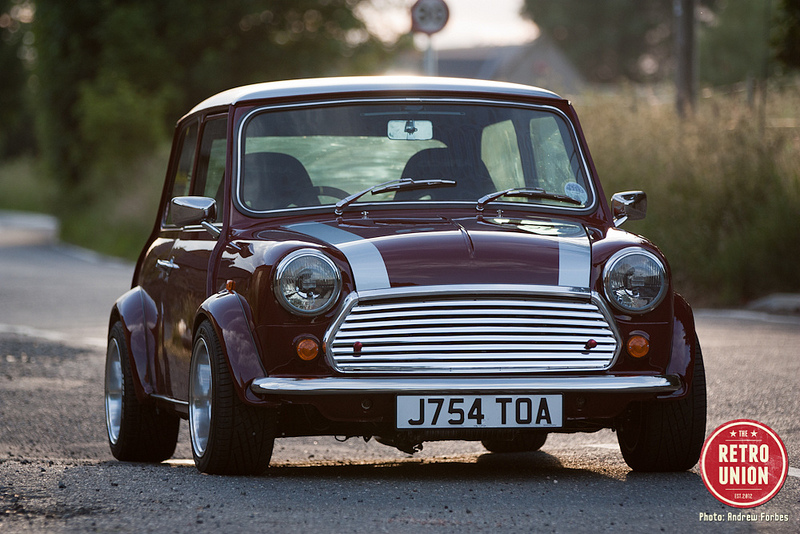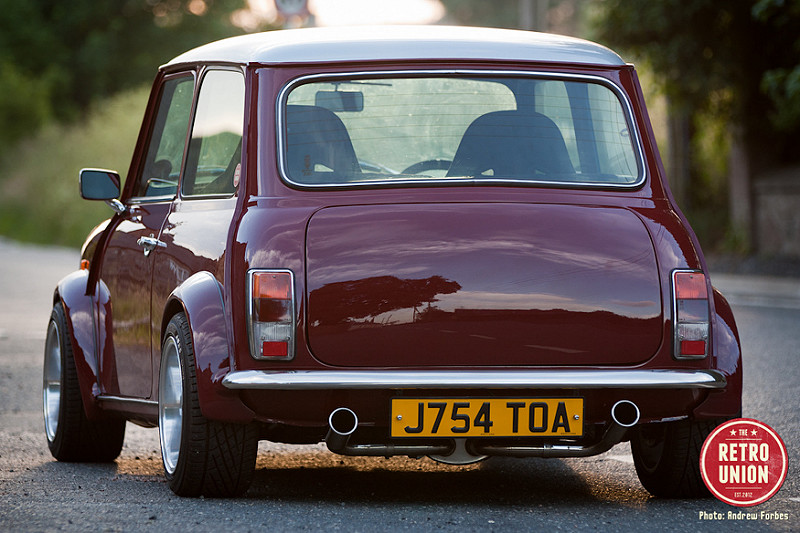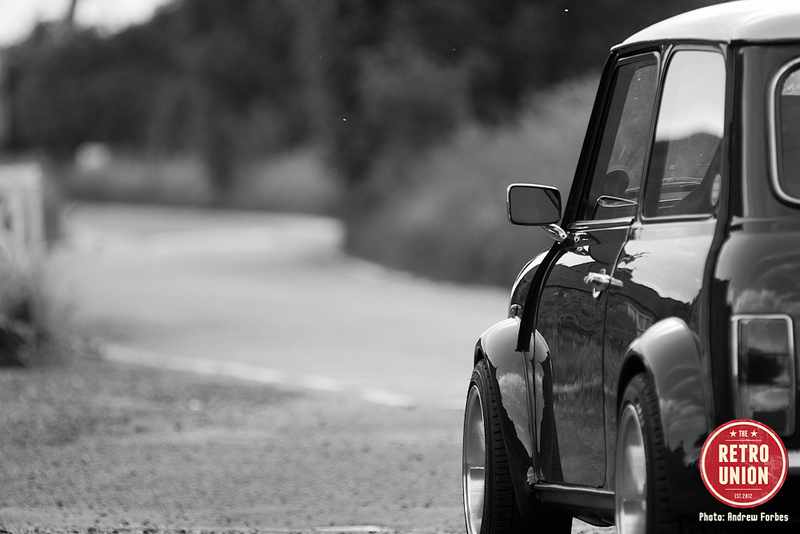 Rest can be found on my Flickr below....
7-9-2013
So whilst I took photos last night, before we left I took some video to see exactly how the car sounded on the outside. Viewing this......me happy! It sounds amazing! Turn your speakers UP!
https://www.youtube.com/watch?v=Q-Oh0tB4dYM
7-24-2013
Got bored the other night so went out for some nosie and photos with my mate. Ace summers evening light made it even better. New editing style to see if I liked it.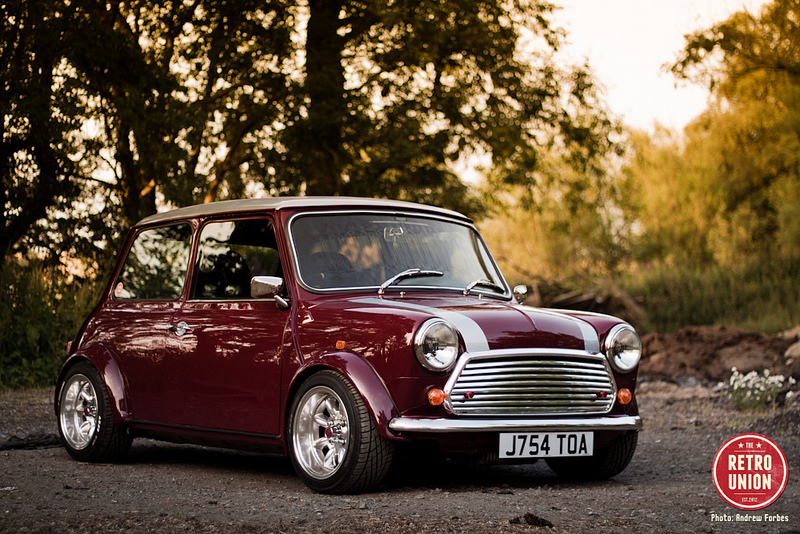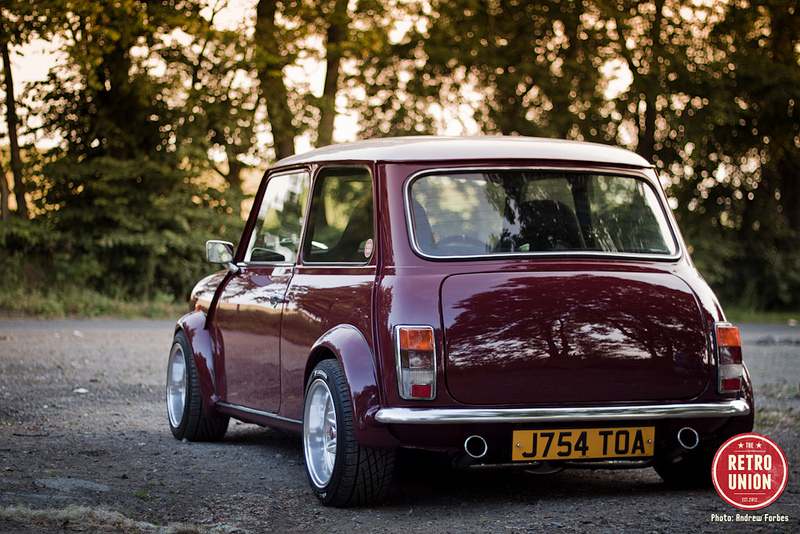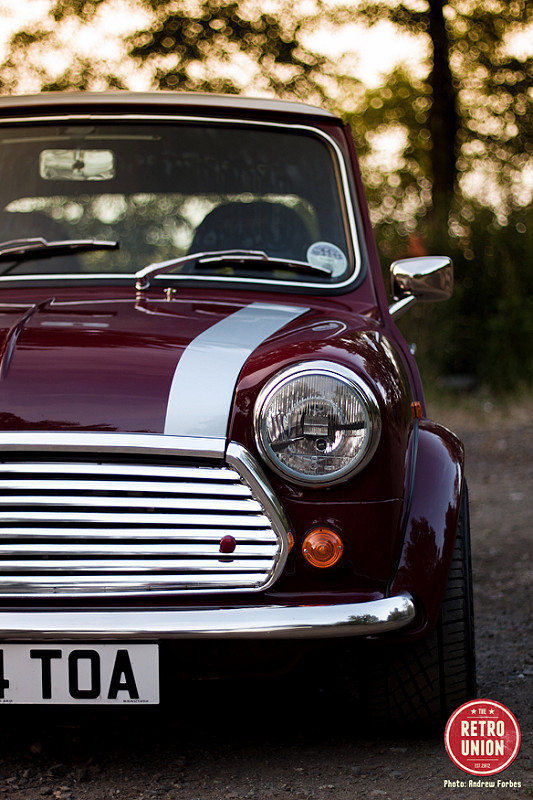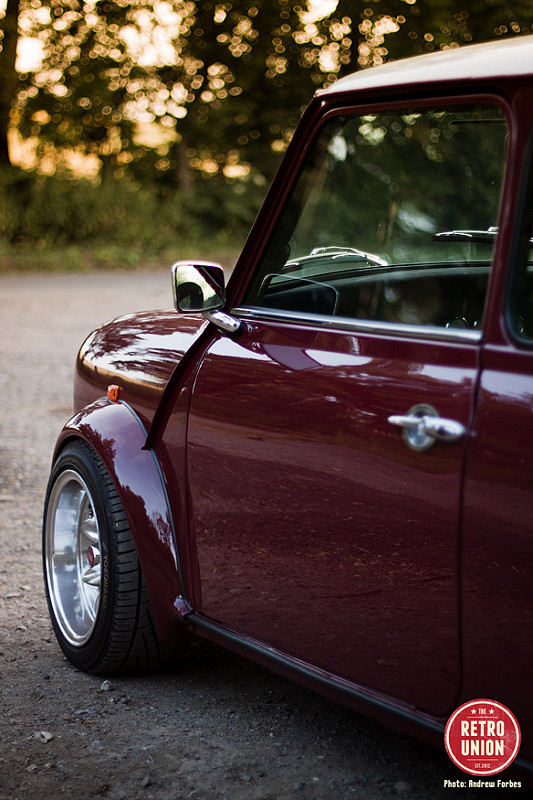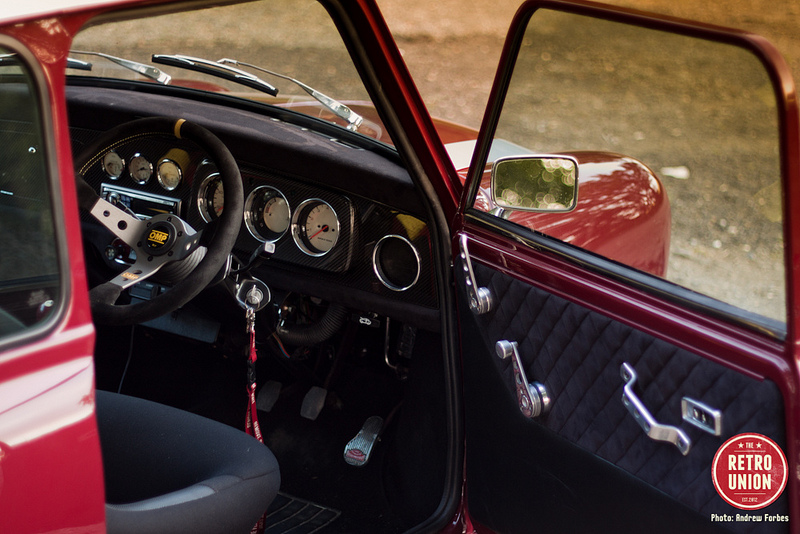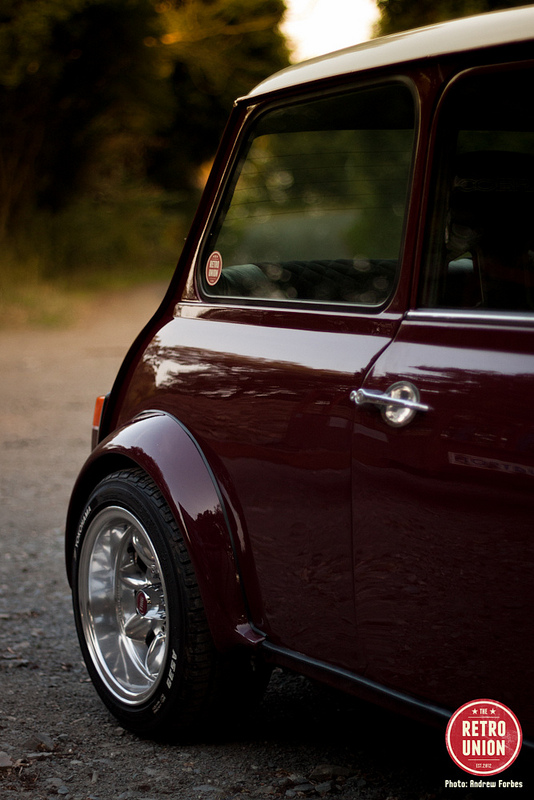 And because there was a tractor trailer on air, why not!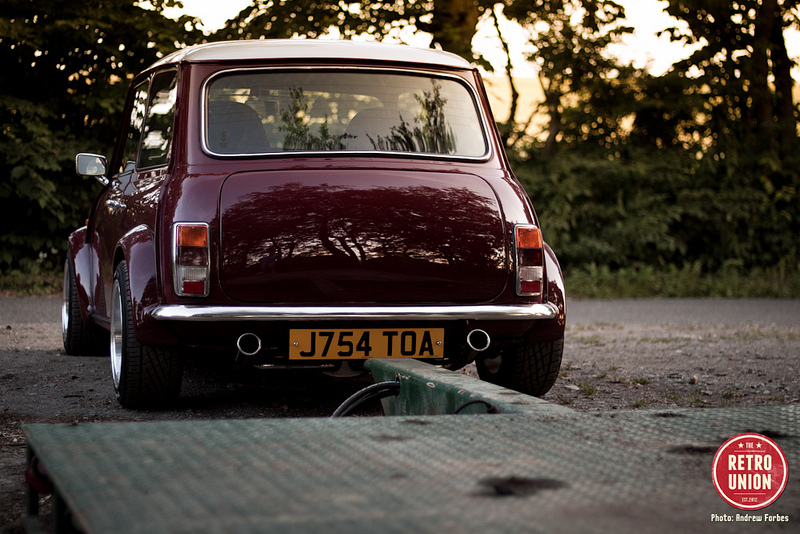 Hopefully sort out the ride height issues this weekend and test out the 5mm spacers I have for the rears. :)
8-1-2013
Played around with the ride heights the other weekend to get it sitting better. So the car is now level! :)

It still needs to settle a bit after the adjusting but it looks far far better I would say.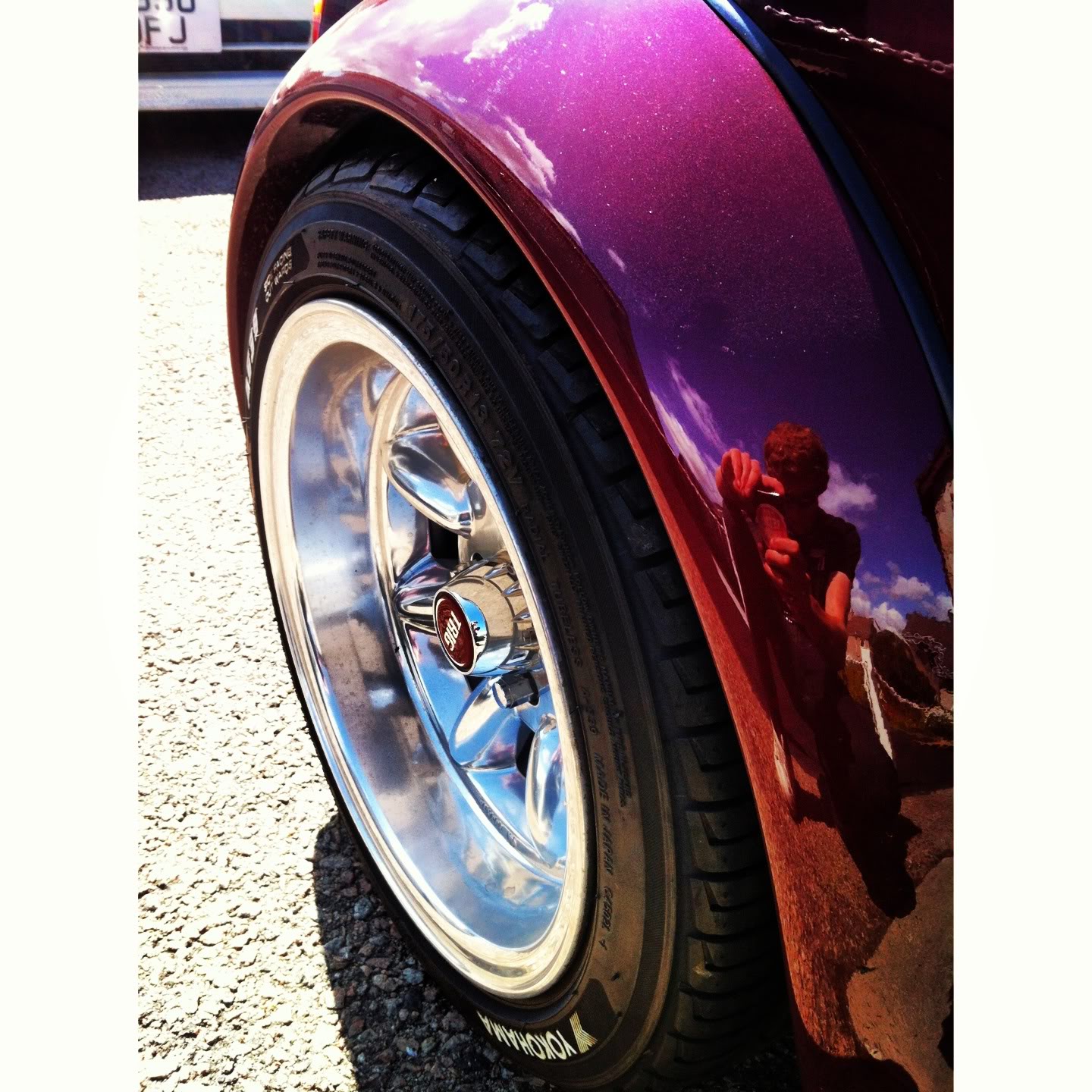 However, having grown fed up of scrubbing the wheels on the arches I set about fixing the issue tonight once and for all!

As you can see there was a bit of an issue.....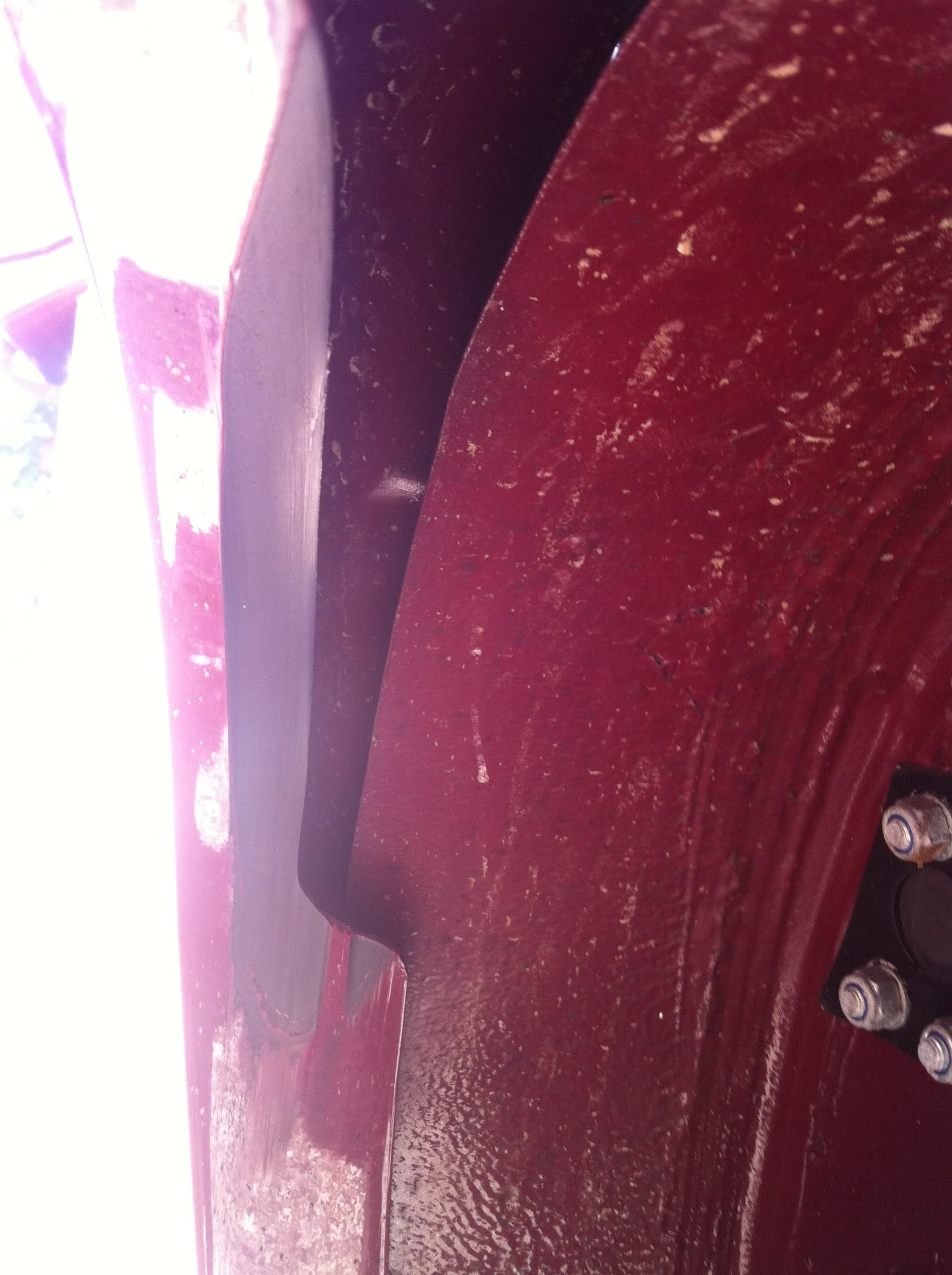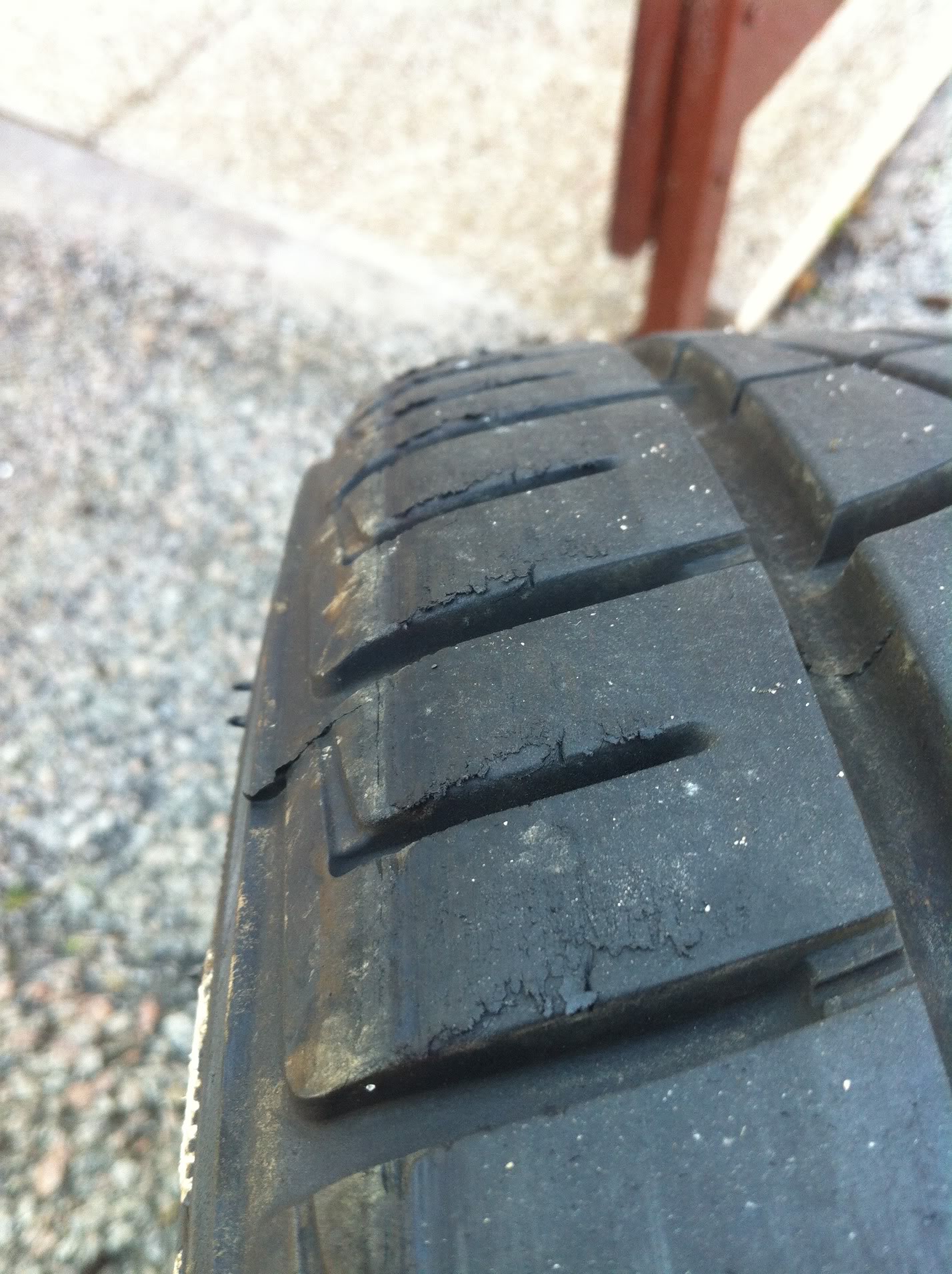 So out with the dremmel! Chop chop!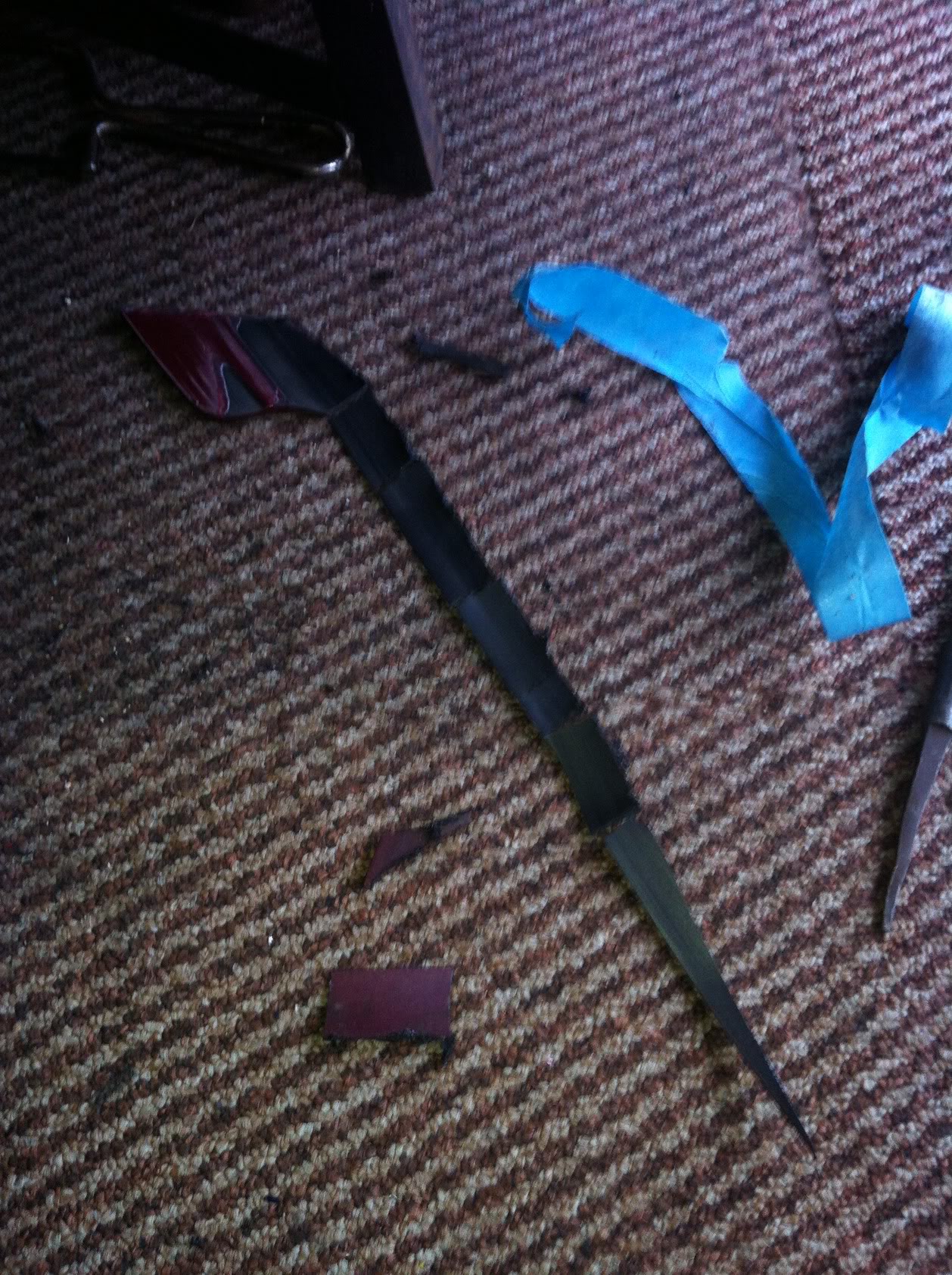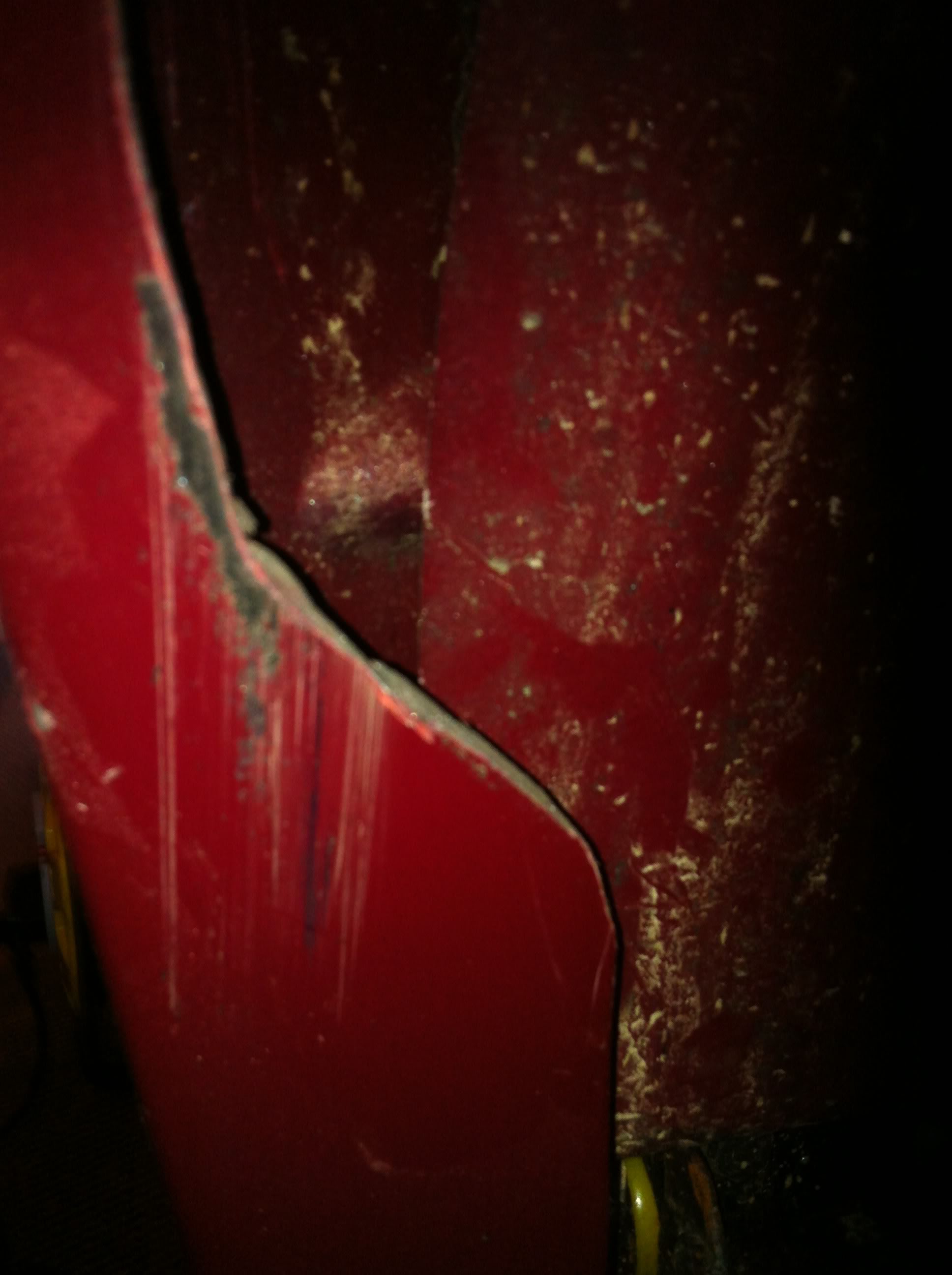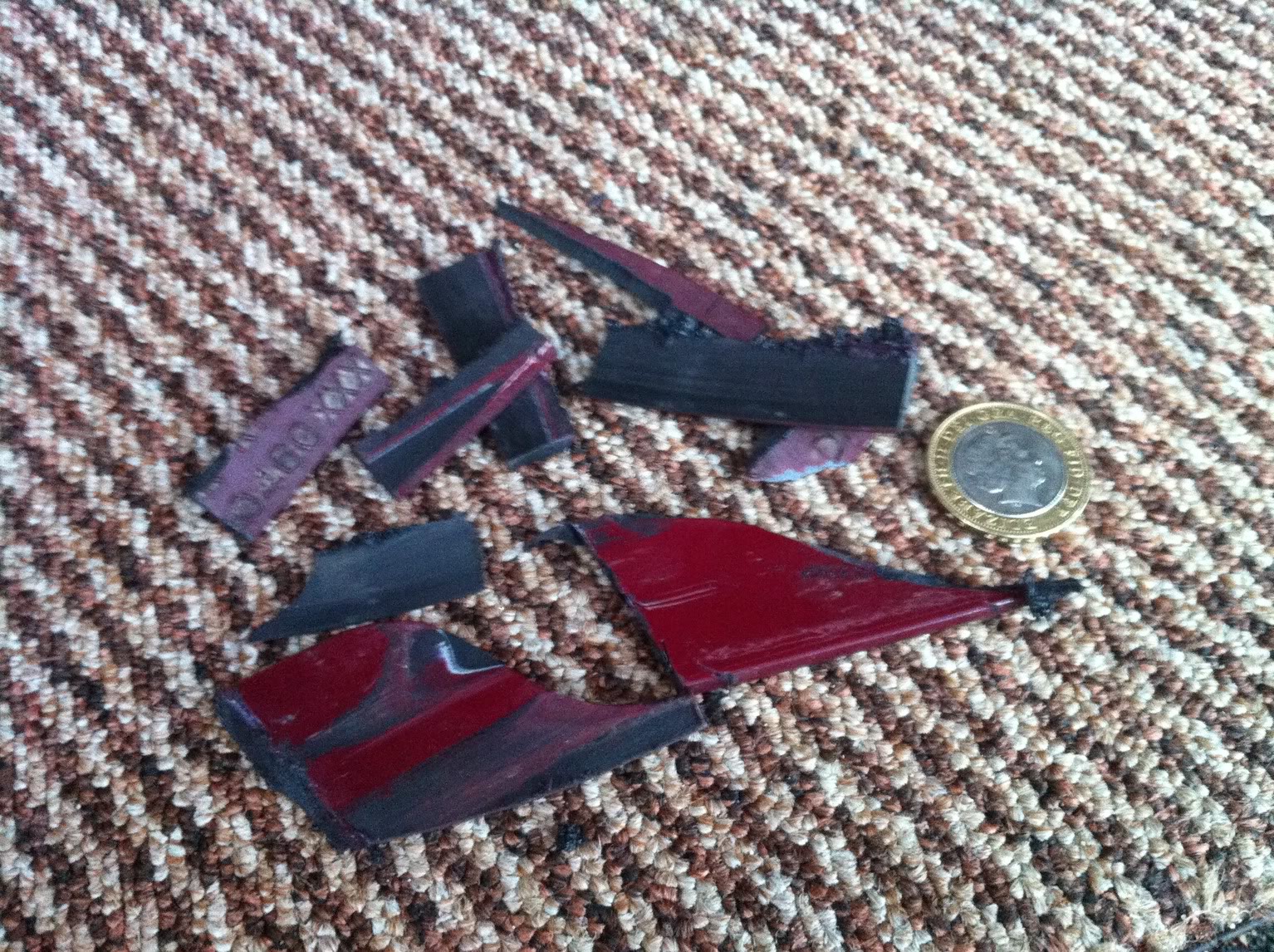 Doesnt look like a huge amount but after a little test on some roundabout, we no longer scrub! Happy!
8-6-2013
I think that the LCB has a lot to do with it as well
Went on the AMOC run on Sunday. Worked late on saturday night to get the car up to its usual standard.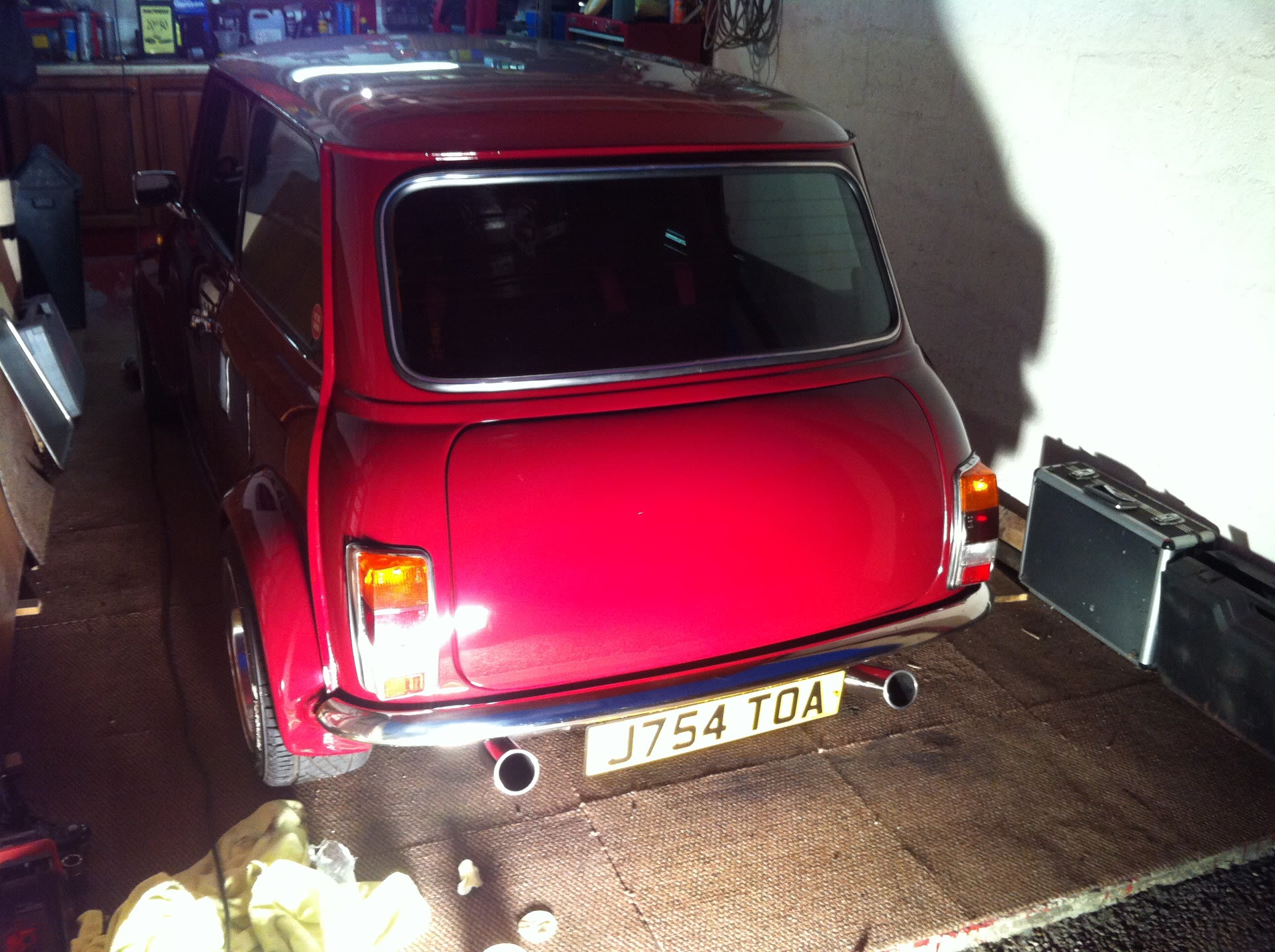 Great day but it started off a bit dodgy. Clutch issues saw me stop by Alexs garage for an attempt at a repair 15 minutes before the start. No such luck. Had to do the whole run pumping the clutch to change down. Ace! Will try to sort it this week sometime. The top engine steady had thrown its bottom nut so replaced it to try and stop the engine moving about. It helped the issue slightly but no fix. Minis being minis it wasnt an easily accessible nut....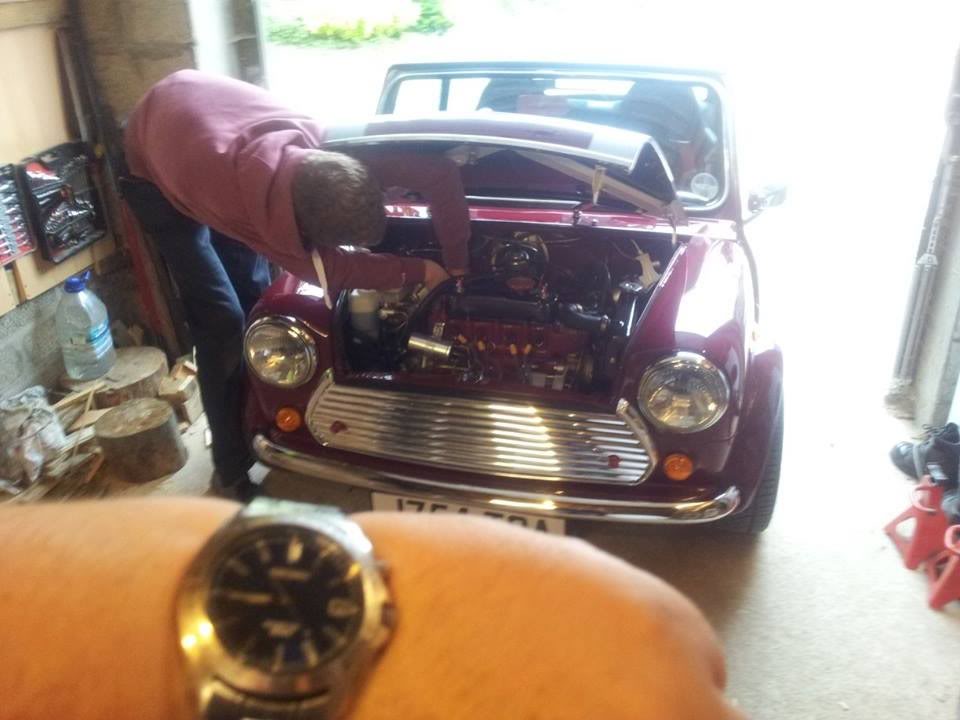 Stopped off on our way to Cullen at the falconry centre outside Huntly. Birds were amazing and the guy fairly knew his stuff!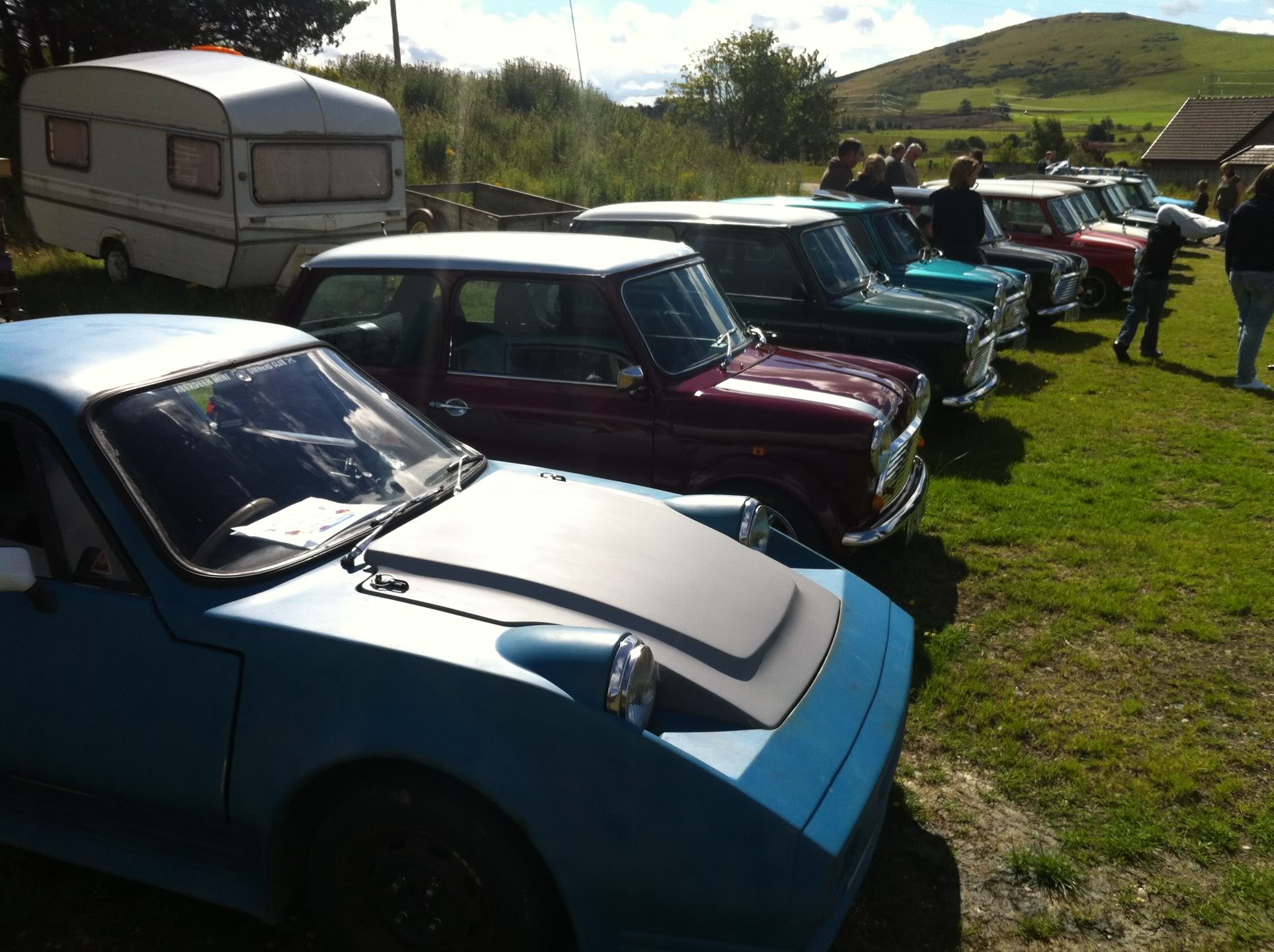 Other than the gear issue the car ran faultlessly all day. Still scrubbing on the rear wheels a bit (with two people in the car) but nothing like before!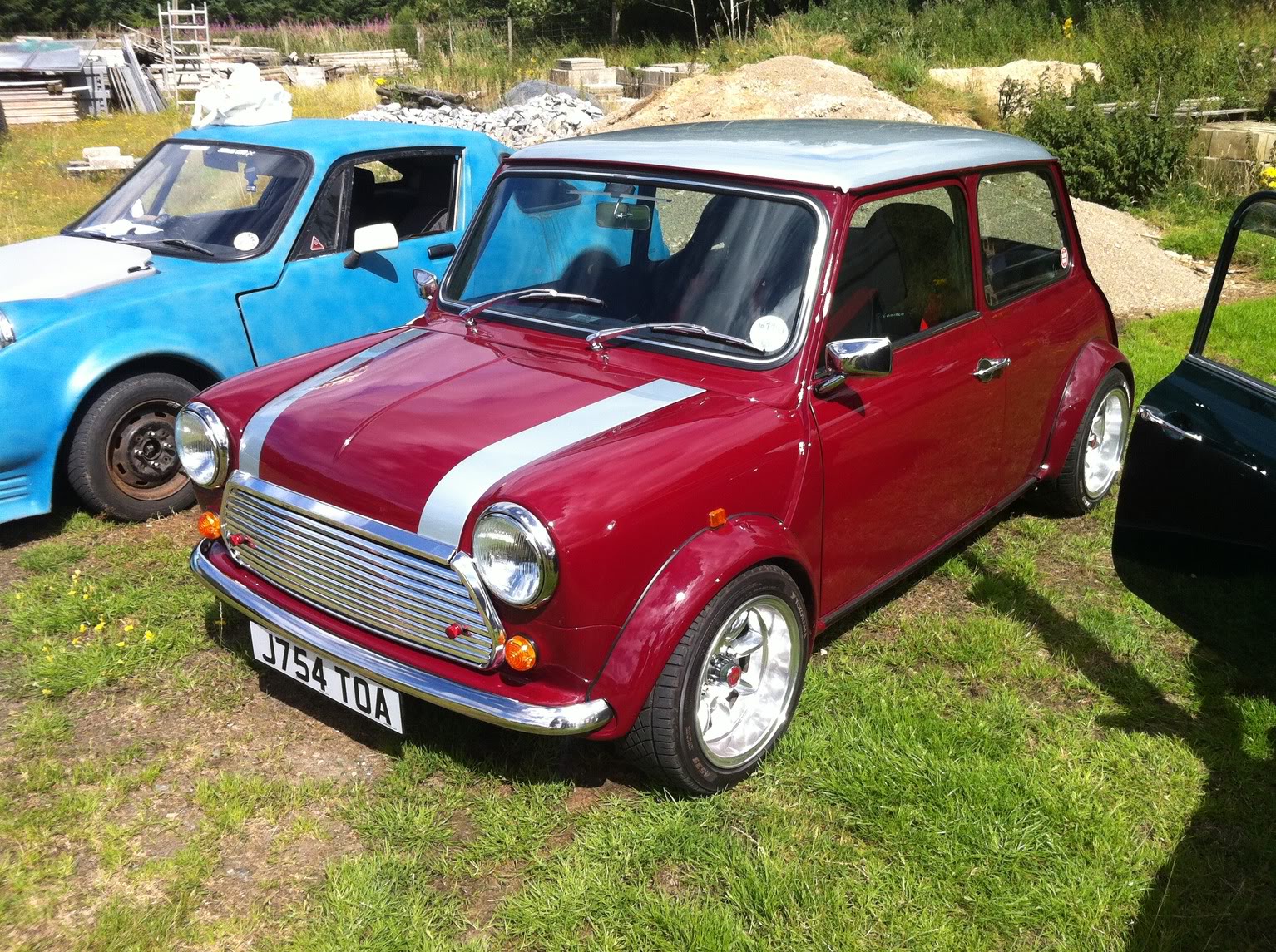 Good turnout of cars and the weather helped make it a decent run.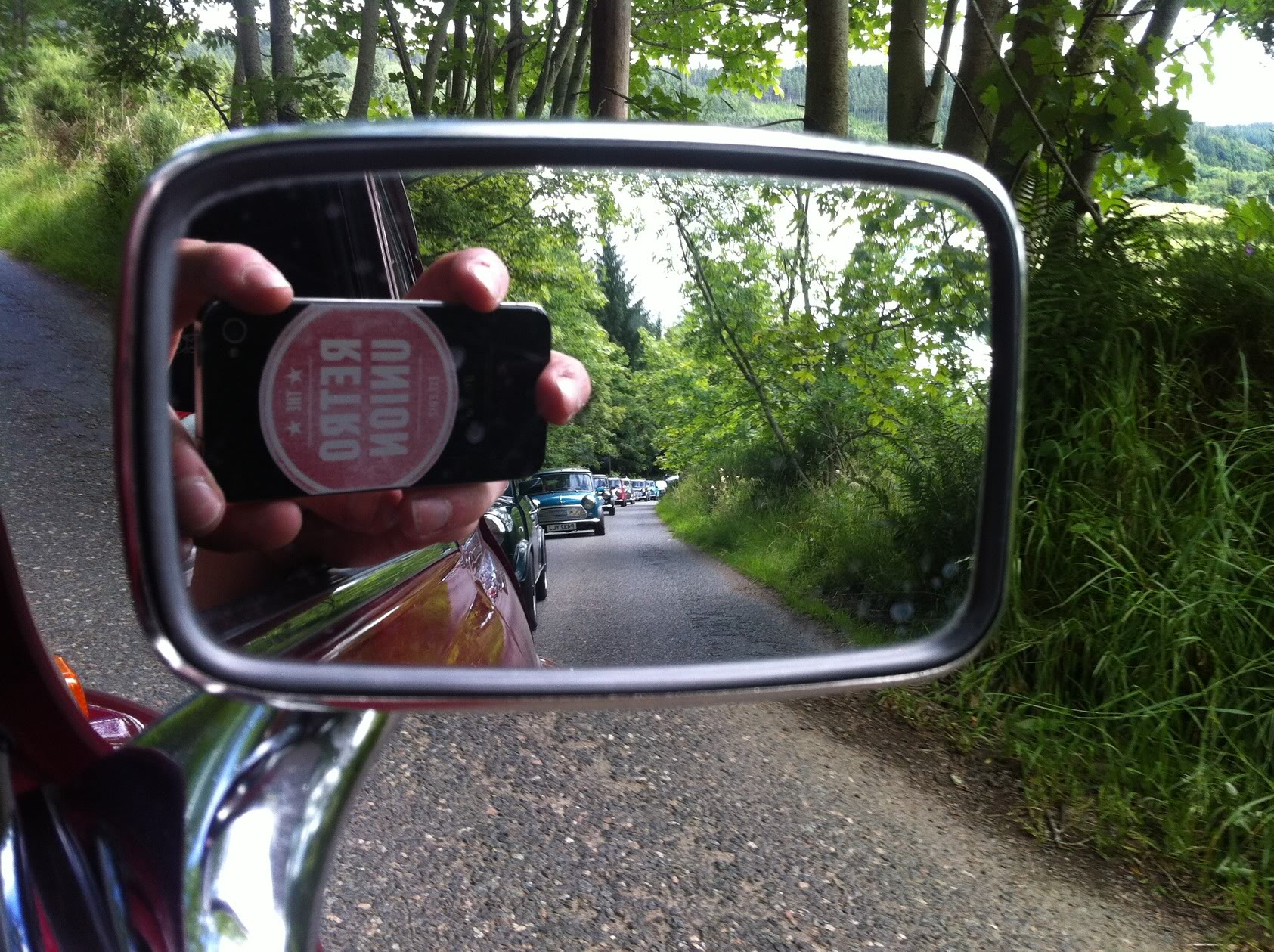 Made it to Cullen for the epic fish and chips fresh off the boat. The town had a gala day on so it was heaving with people. Pretty much stopped when 10+ Minis burbled into town though!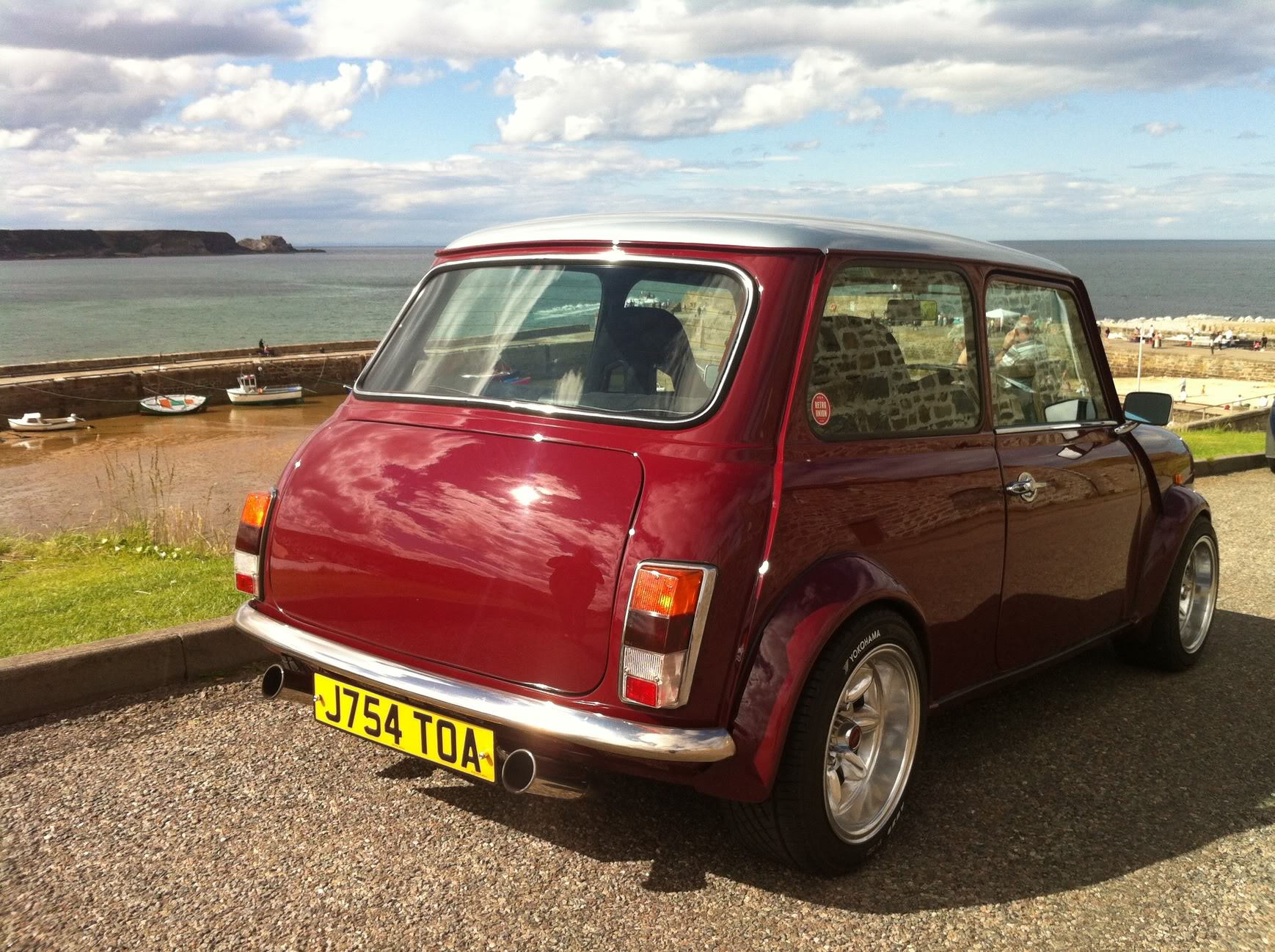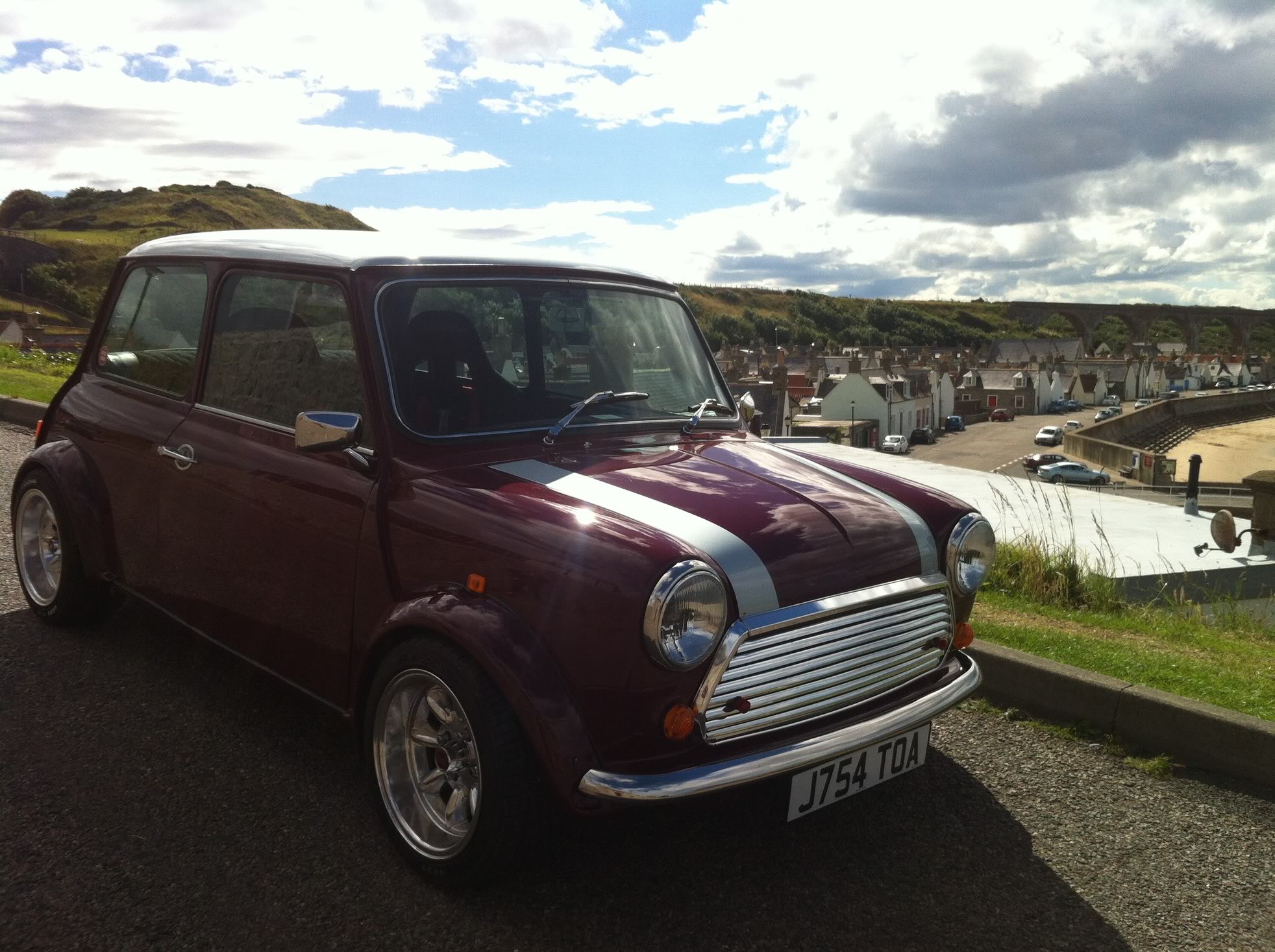 Was a fairly long day but only covered just over 100 miles. Some decent roads, decent cars and decent folk. Now just to sort out this dam clutch!
8-9-2013
Discovered that the brake fluid in the system resembles coke more than nice fresh fluid. Think a flush and rebleed is in order.......will get on that tonight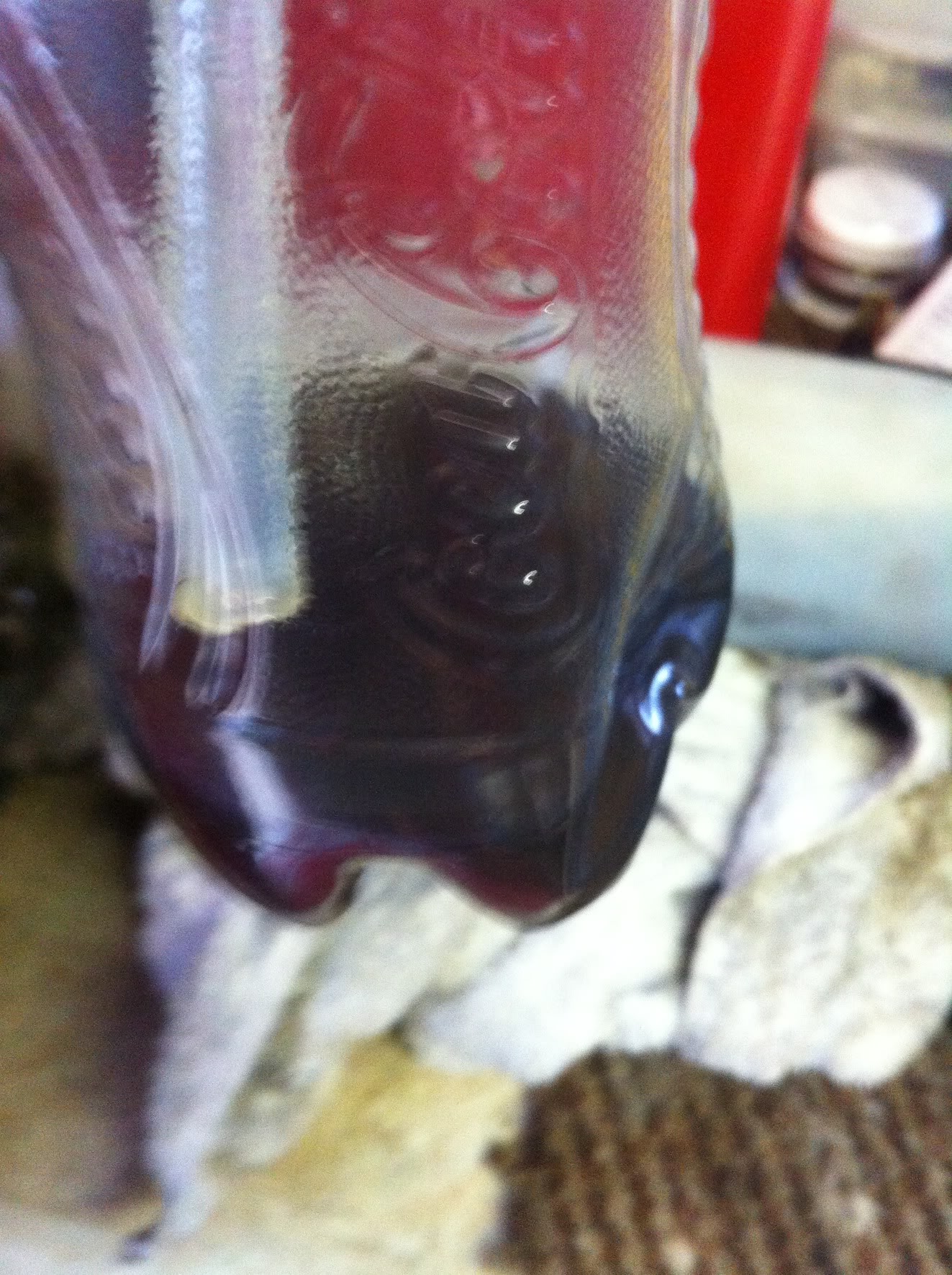 8-23-2013
Another weekend passed and another show attended. This time out to Crathes Castle for a 'Vintage Steam Rally" (Read that as loads of old guys and tractors with a few cars thrown in for good measure). Convoyed out with Aberdeen Mini Owners and the clutch system failed again. Currently sitting in the garage totally rebuilding it in a hope of fixing it! Pretty small show but pretty well attended. Spoke to lots of people interested in the car but was good to have a wander round the other cars on show too! Car wasn't in perfect cleanliness so was kept closed all day as the bay is a state at the moment. Anyhoo some pics....didn't take many, as I tried to actually see the show rather than see it through a viewfinder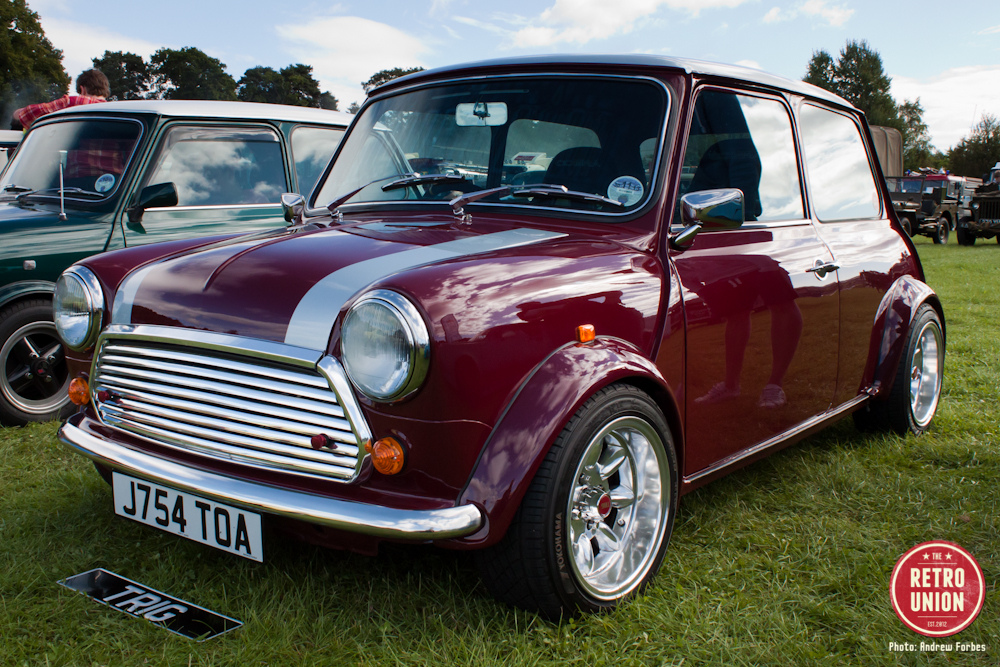 Got a couple from my phone too
10-5-2013
Well not much been happening on thsi thankfully! Running it very occasionally to and from work and local meets. However last saturday I took it down too the Driftland opening weekend. Good day and a good test of the car. Motorway speeds keeping up with fast BMW and RS Audis I was convoying with was a challenge! Car never missed a beat though. My mate Scott paterson (PatersonPhoto) took the chance to get some decent pics of the car. It wasnt spotless having driven about 150miles to the event but I dont think it shows too much!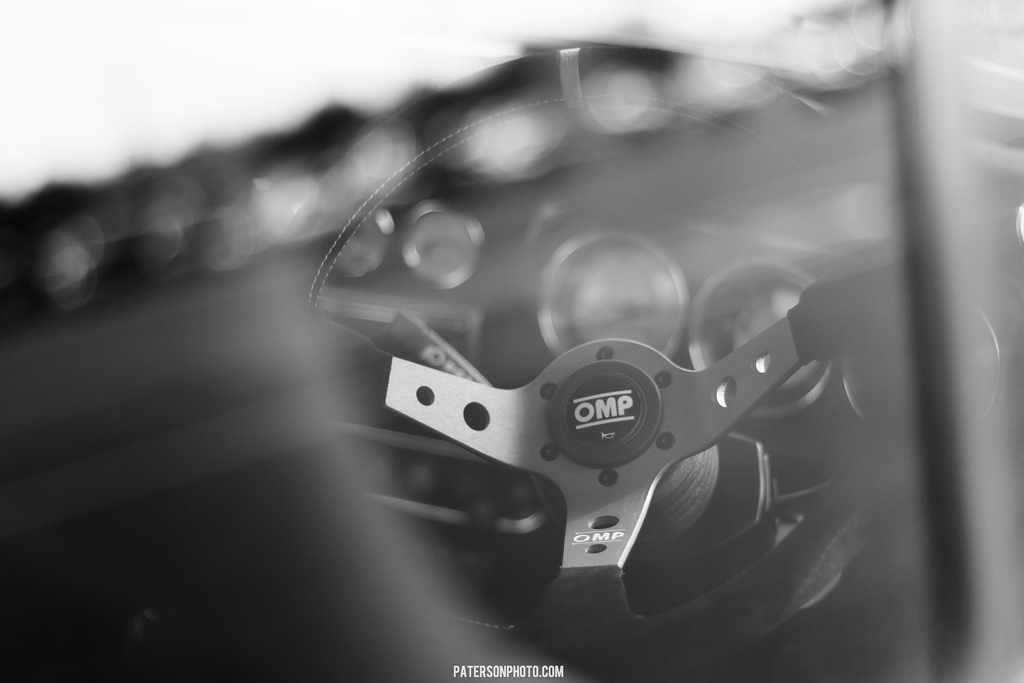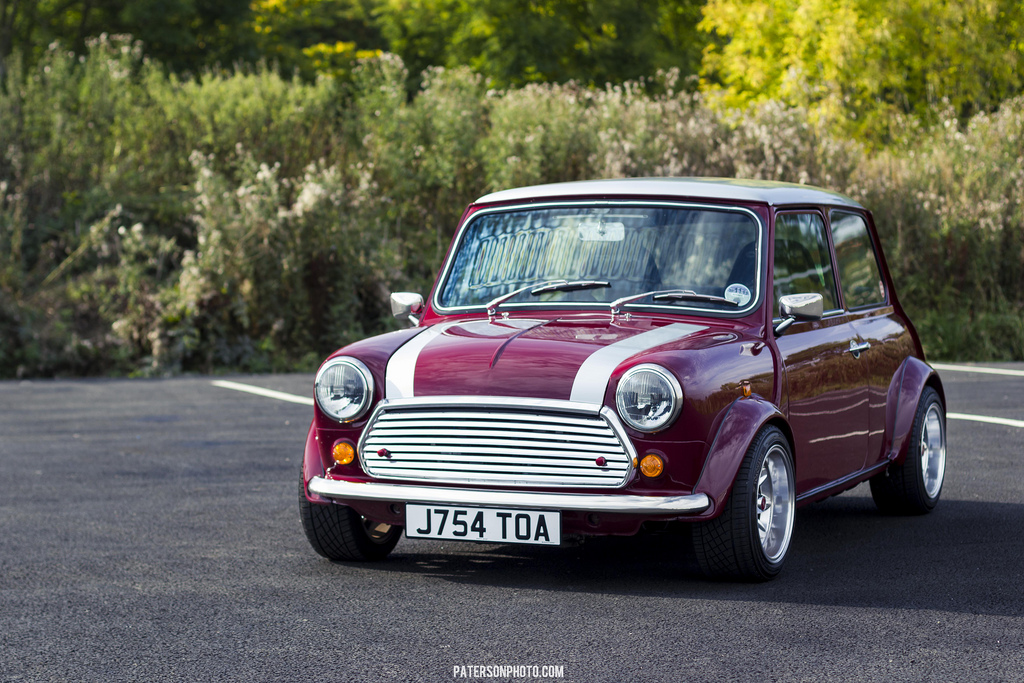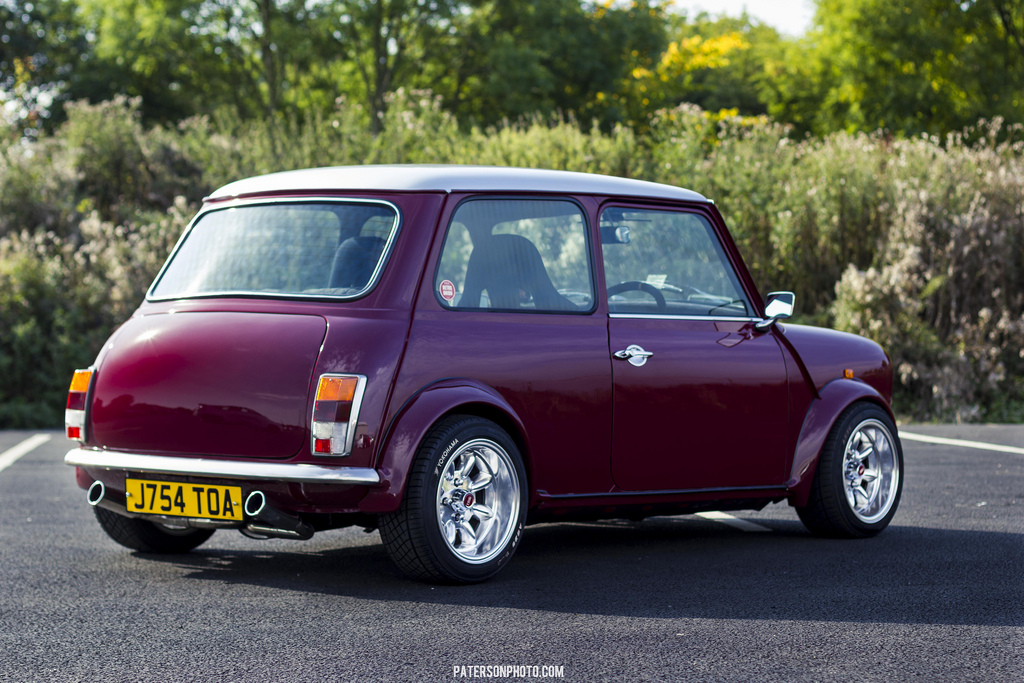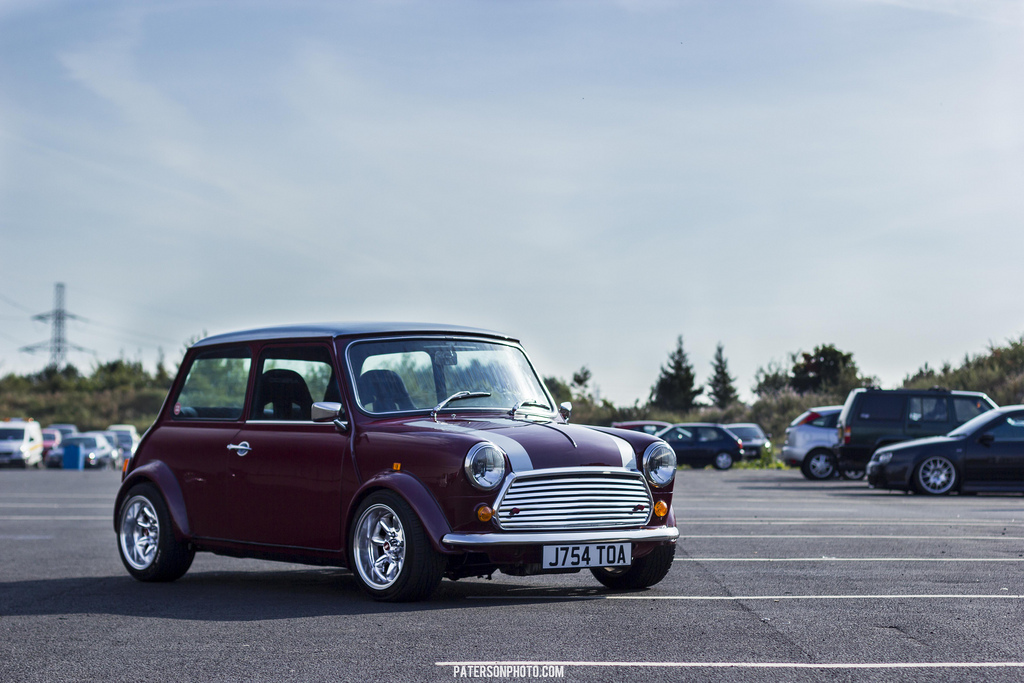 Got a small promotional thing for the local transport museum to go to then after that I dont know whats next. May be the last event before it disappears until next year
Thanks! :) Not anymore......
So today wasn't that fun if I'm honest! Went out to the Grampian transport Museums publicity thing today which was good, then drove home via Kemnay quarry road. My car ended up looking like this.... Ok, just parked up? Nope!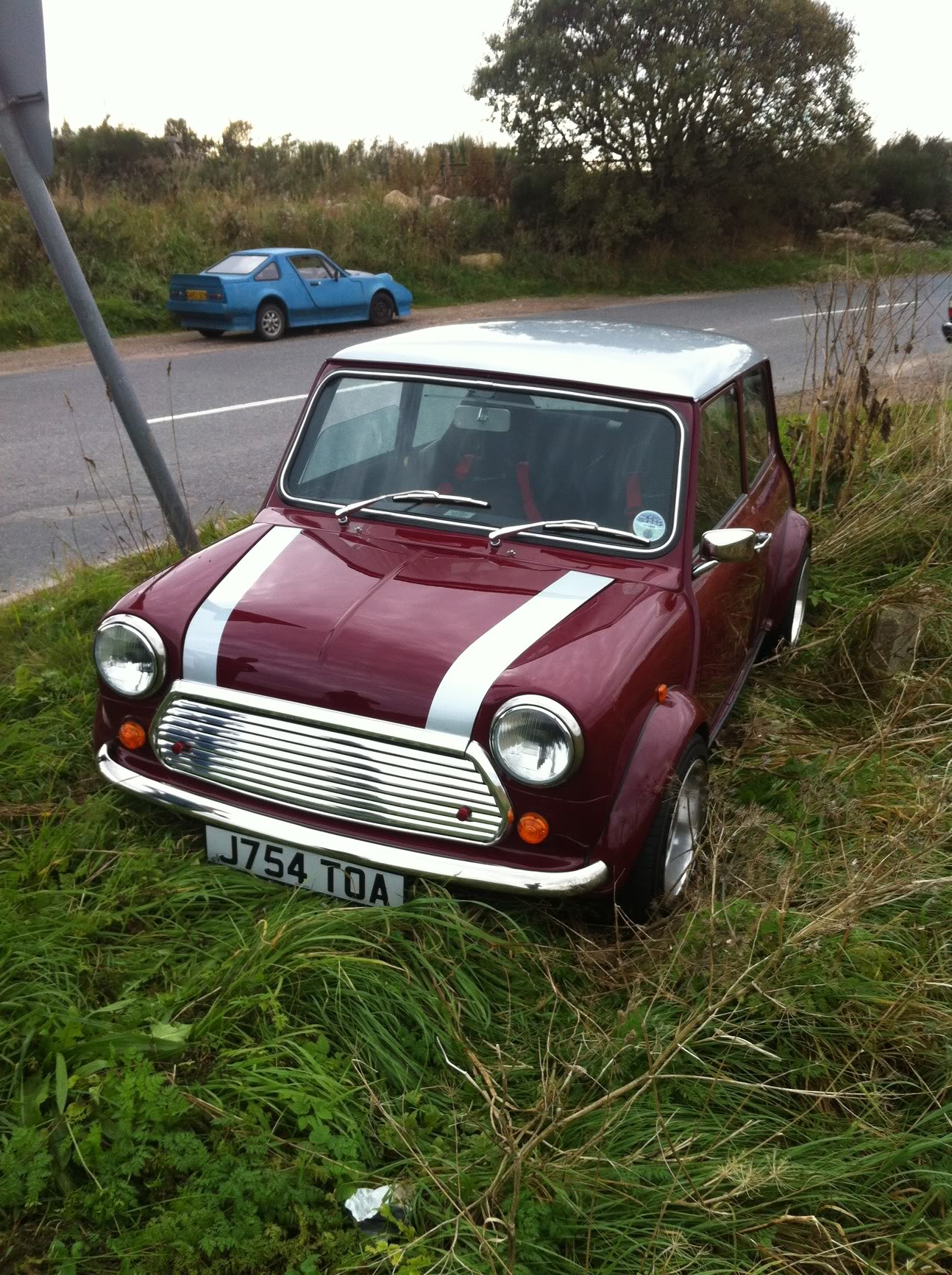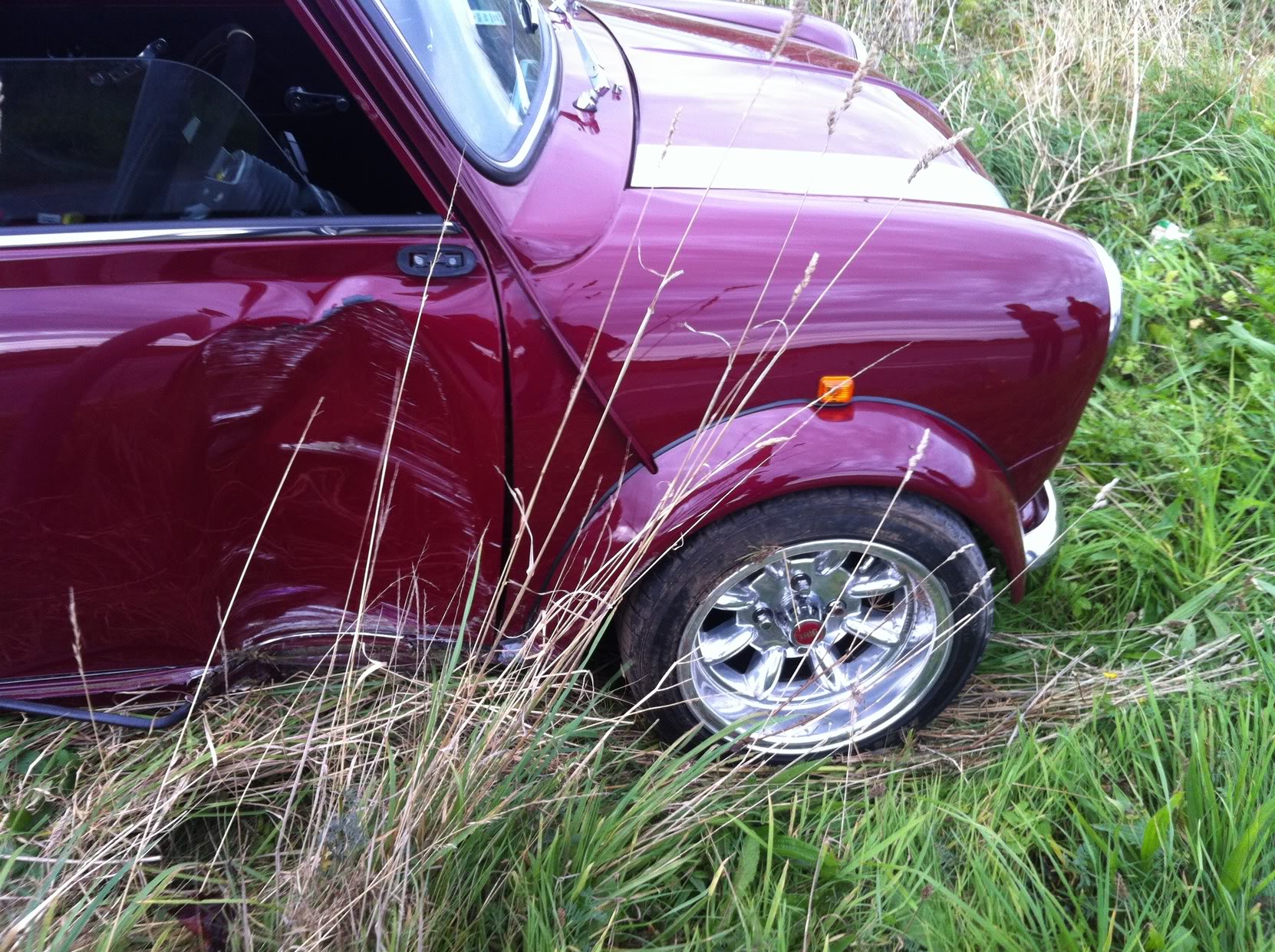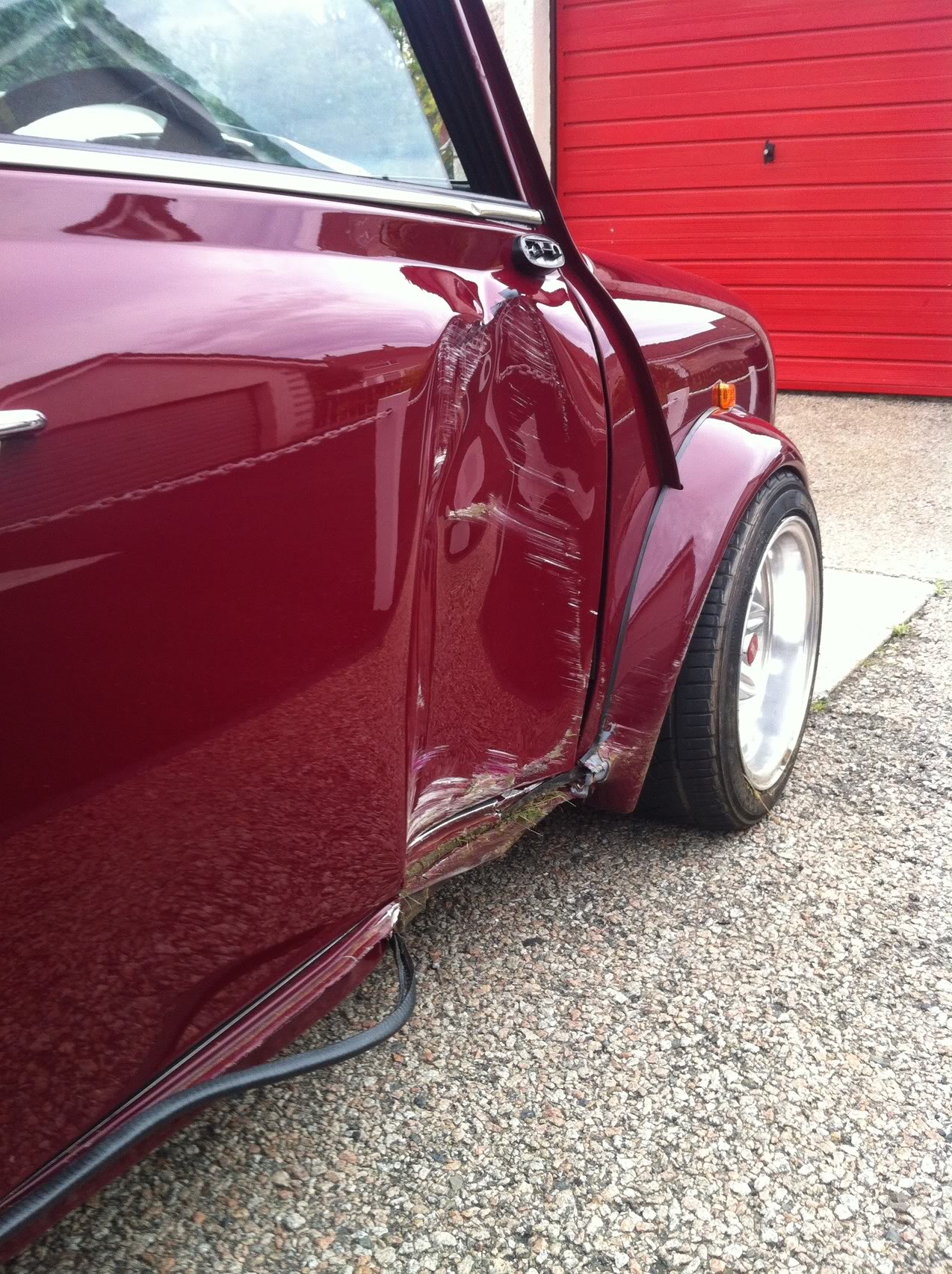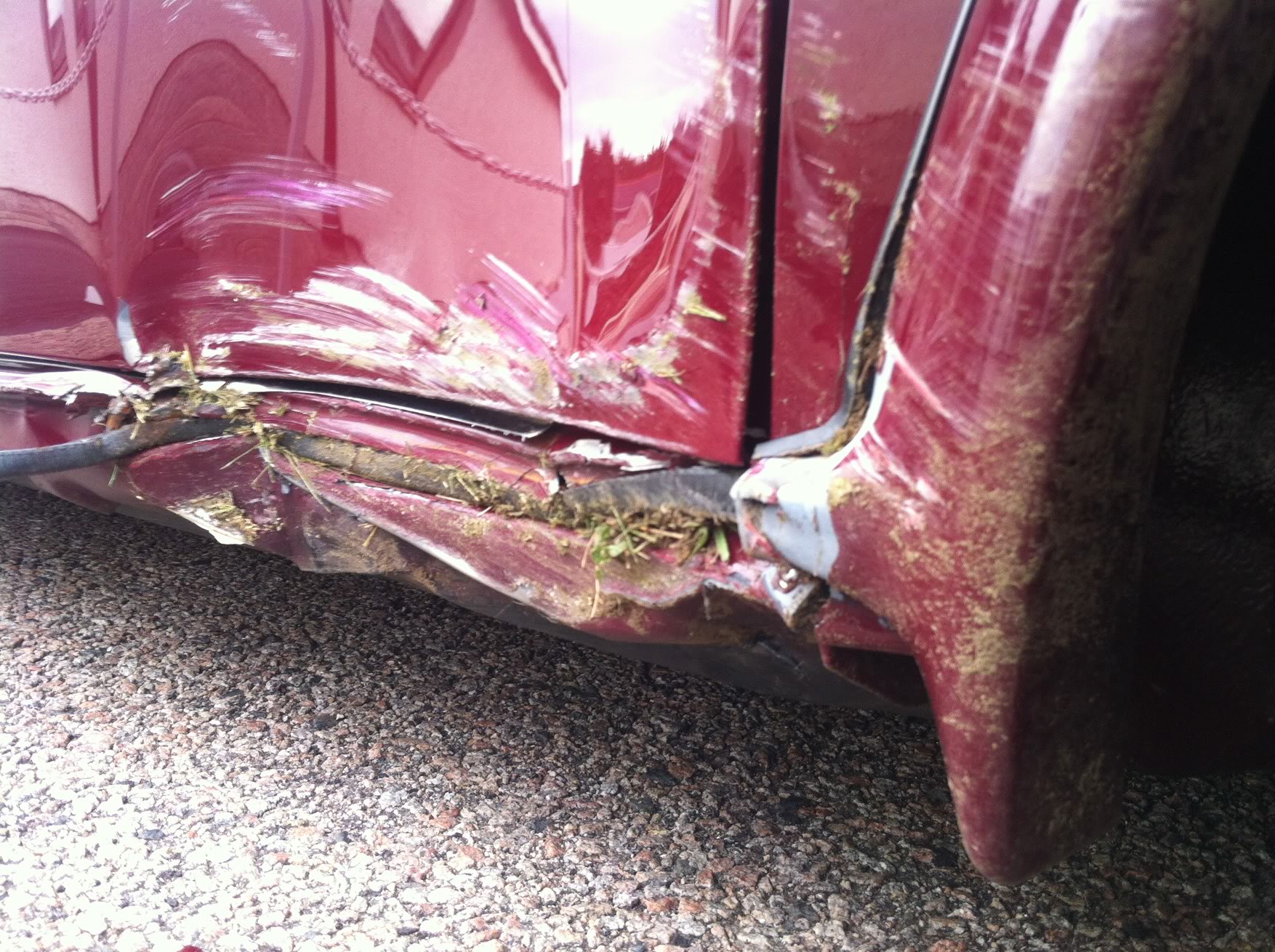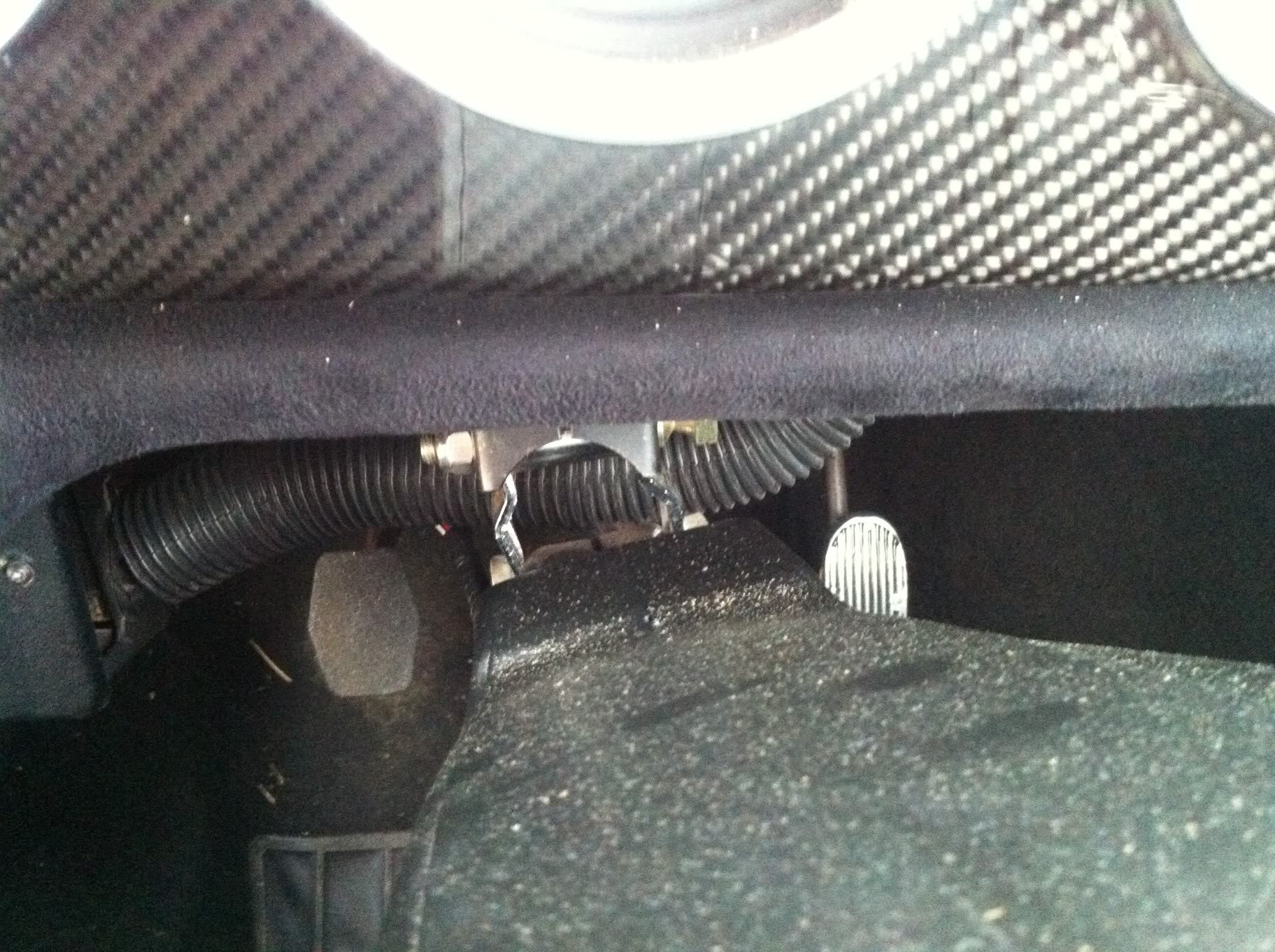 As far as I can remember I drove over some bumps that unsettled the car and the rear brakes locked, got into a tank slapper and ended up hitting a give way sign which helped me come to a rather abrupt stop! I am totally fine with just a light bruise on my wrist and a sore thumb where the steering wheel/column moved and dragged it with it. No other parties involved thankfully and managed to drive the car home as is. Obviously I am totally gutted given the time, effort and money I have put into this car but **** happens as they say. Cars can be rebuilt, people can't I suppose. By what I can see I will need a new floor pan, inner and outer sill, a-panel, door/door assembly and possibly some suspension stuff as the rack looks to have taken a fair whack going into the sign. Not too bad parts wise but labour in paint and body is going to be a beatch! So at least I have something to occupy myself in the winter months now!
10-27-2013
Yeh many a swear word was uttered. I'm just REALLY not in the mind set to even get a quote for the work at the moment. Fed up spending money on cars and the hassle they bring. My daily driver needs an engine rebuild (starting with the head but i know for a fact that wont fix it...) and yeh just generally feeling crap about it all. Had a couple of hard months and its not getting any better

12-7-2013
Righto! Panels (genuine of course...) ordered to repair! Ordered a couple of other small items that shall remain under wraps until show season. Like the rest of the car, they are subtle changes, yet effective...... Started it up for the first time since the smash the other day. Took a few seconds to get the fuel through (mechanical fuel pump) and started first time. Strong, original, battery! Sounded a bit lumpy so will put fresh fuel in before taking it out again. Mini booked in to get sorted 20th January 2014 :) (Still havent booked IMM ticket yet)
12-10-2013
Well if you insist..... ;)
Bits are finally here. Week long next day delivery. Never use UPS.

Floor and inner sill are non gen as MiniSpares dont do genuine. Will never be seen so no great issue. All external panels are genuine. Gauge of steel is much better side by side. Couple other little bits not in the photo but will see them next show season :)

Safely tucked away in the garage ready to fit. Just need the inner door step panel once it comes back into stock. Oh how I have missed getting these deliveries!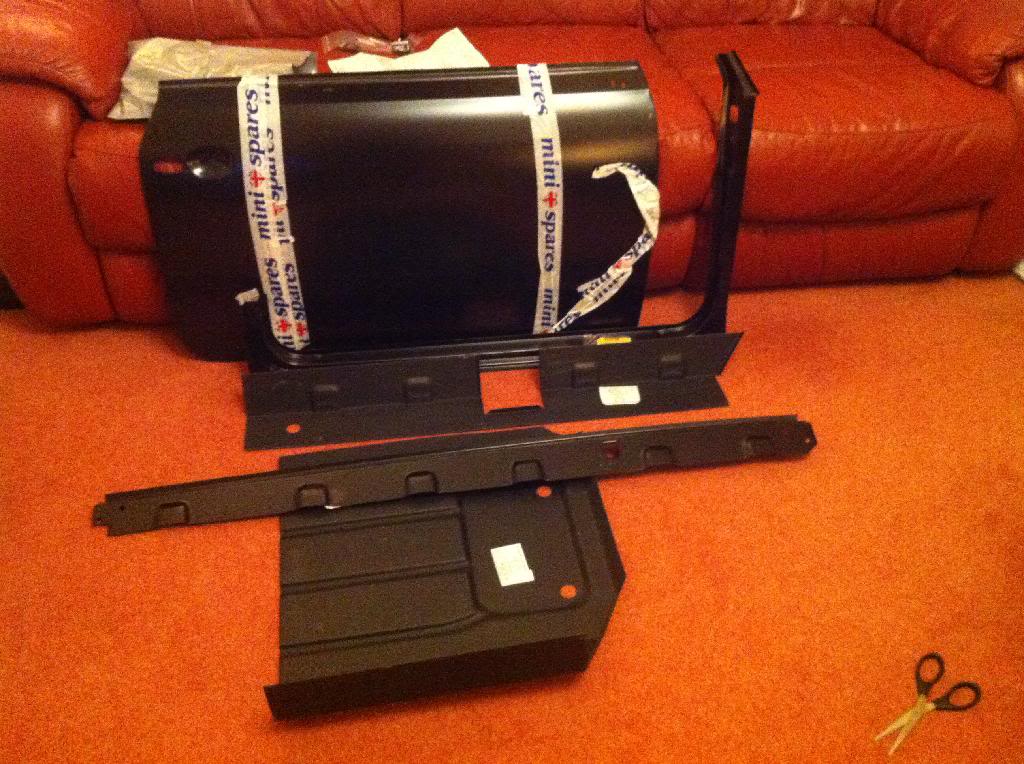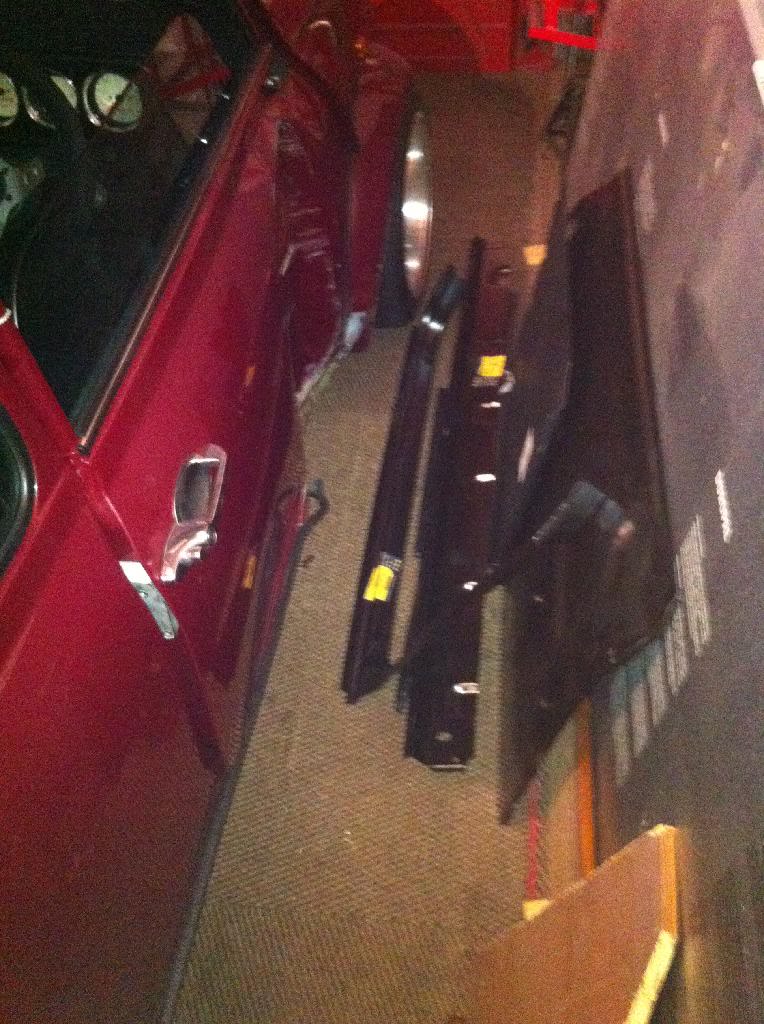 The countdown begins...
1-11-2014
Final piece of the puzzle acquired thanks to a friend with too many spares

Full Park Lane Door with all internals including glass. Will fully strip it down to a bare door and will possibly use the doorskin I have as its got a few spots of rust around the bottom edge. Its actually in better condition than the door that was on before it got redone

Will see how it cleans up before commiting to the new skin though as its a straight panel already.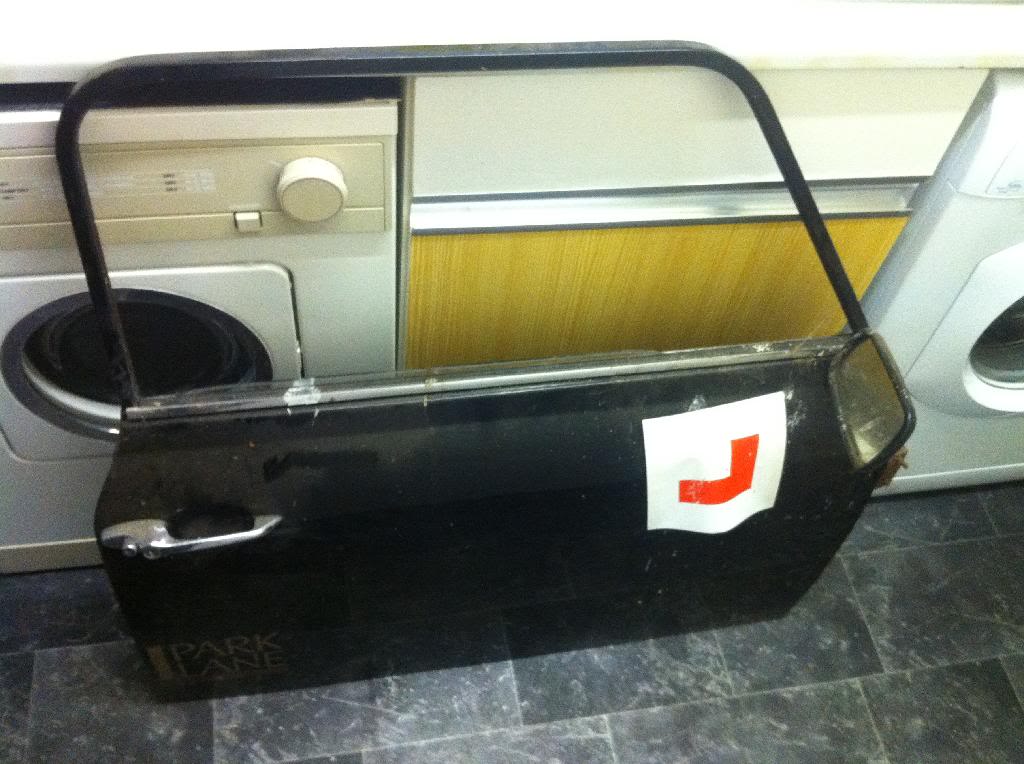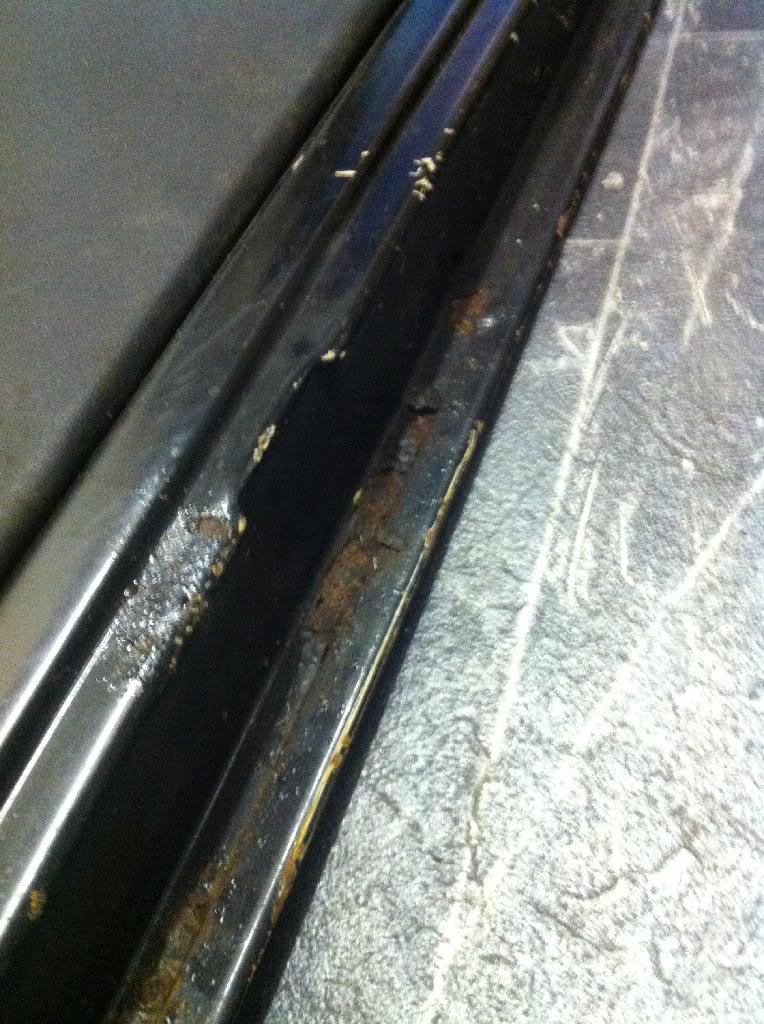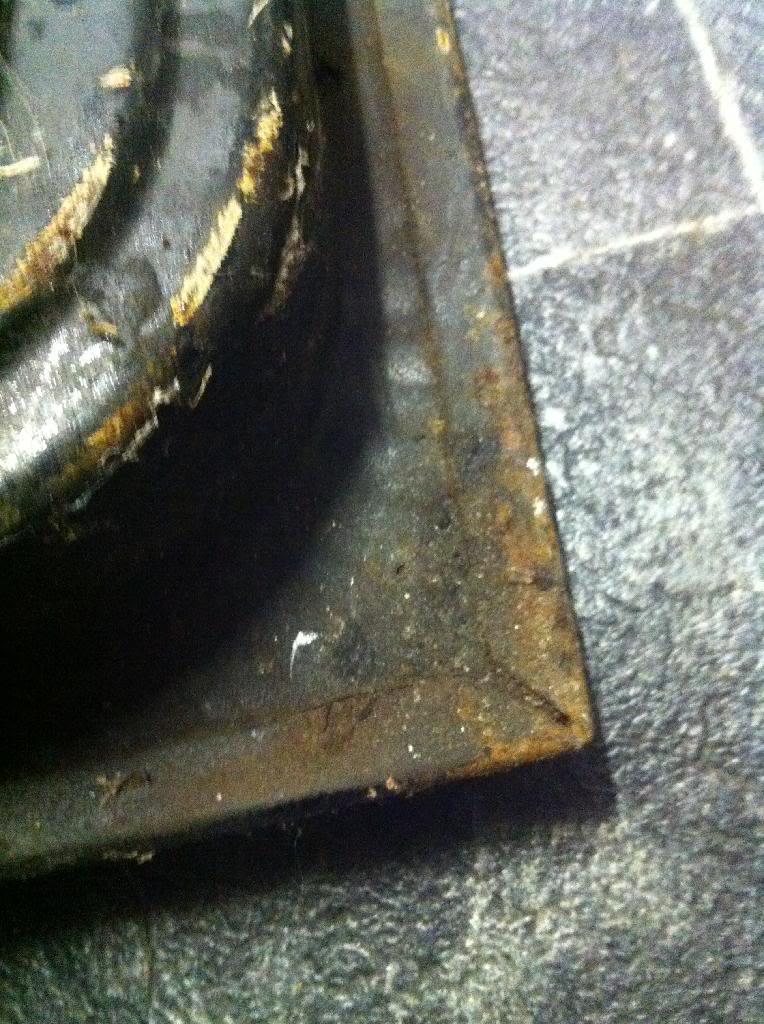 Week today it goes in for surgery :)
1-12-2014
Cars ready to go out to Banchory on Saturday now. Ripped up the front carpet so it doesn't catch fire and realigned the steering rack as it had been pushed over to the left of the car in the impact. Steering heel is still off as the alignment is obviously far out (man)

Having a look at the floorpan and inner sill.....they don't look like they are going to need replaced. Considering what it looks like on the outside, they haven't buckled at a sharp angle and look (to my untrained eyes) like they will hammer back into place with a bit of panel beating. Could be wrong and I have the panels anyway but if its possible, its a bonus and will save me lots of money!

Realised I still hadn't bought a replacement sportspack arch but managed to find a set of genuine ones for £25 on eBay (they are £400 new....) so they have been snapped up and will keep the rest as spares. Hopefully by end of the month the car will be back and ready to go for the 2014 show season :)
1-18-2014
Car dropped off at Kirkton ready to go first thing Monday morning. Plan is to get the door off then use a body jack to see if we can get the sill as close to straight as we can and take it from there.

Identified a couple of other bits and pieces needing tidied up that will be attended to at the same time :)
1-20-2014
First day down, a lot if progress!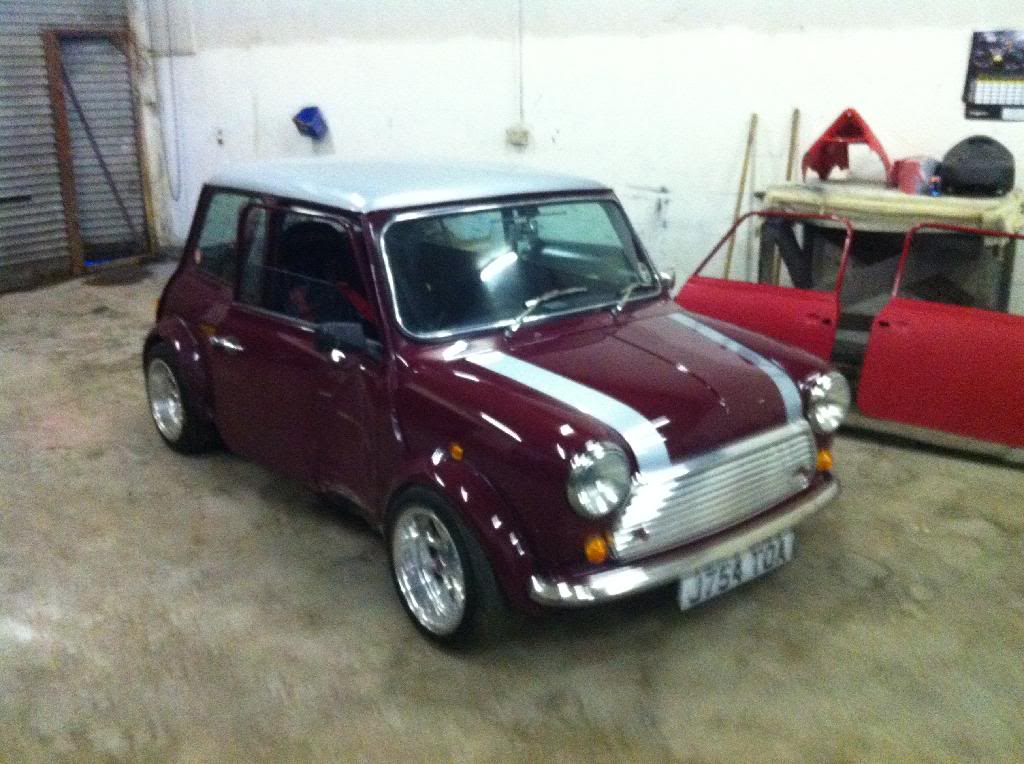 First up, get the floor trued up to see what we were dealing with. Hadn't removed the door since the smash so wasn't sure just how had it was. The sill is pretty buckled but the floorpan was not too bad at all. The benefits of using 2mm steel for an inner sill rather than standard panels!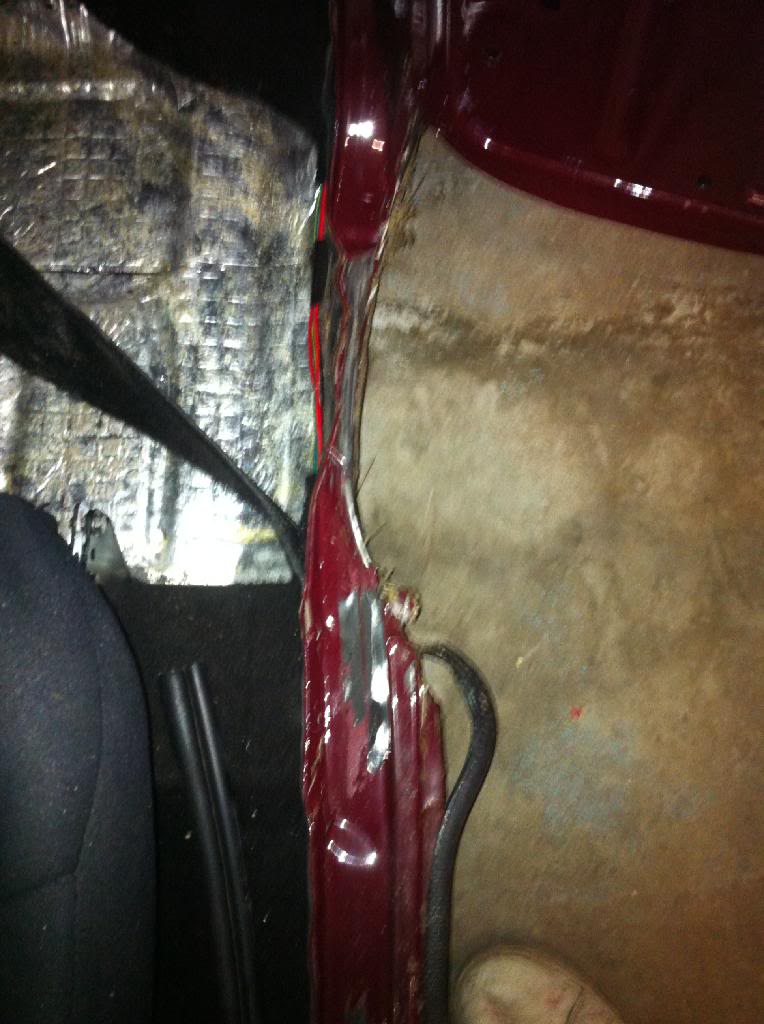 So out with the air chisel and bad bits gone.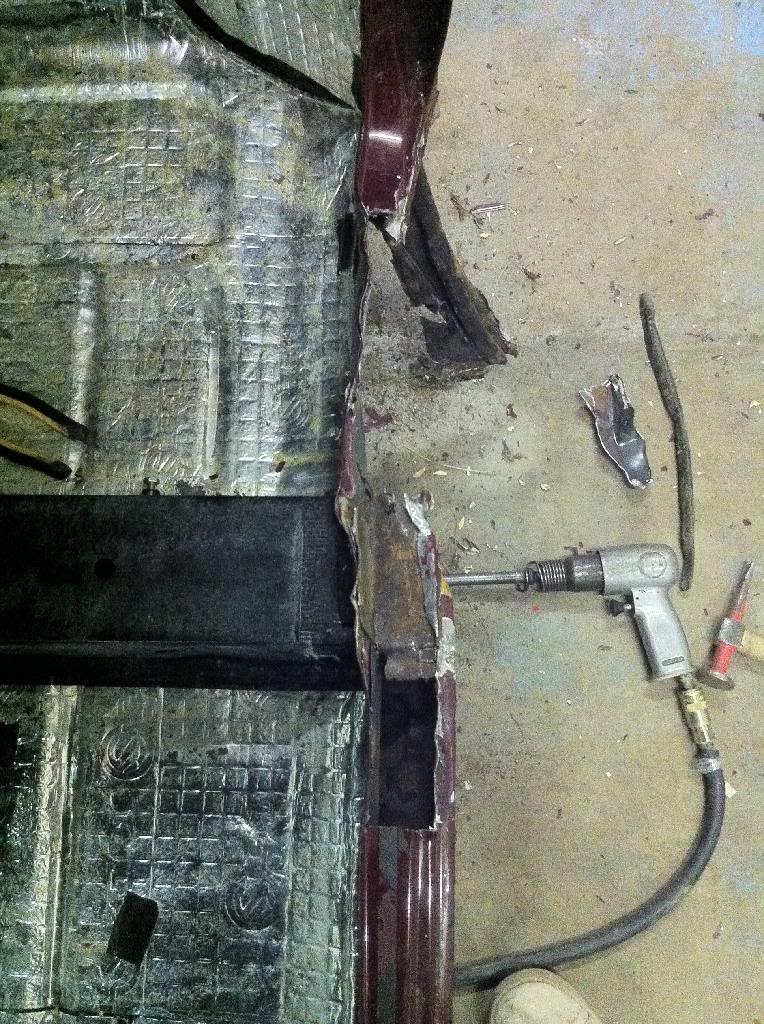 Then with the selection of some precision implements...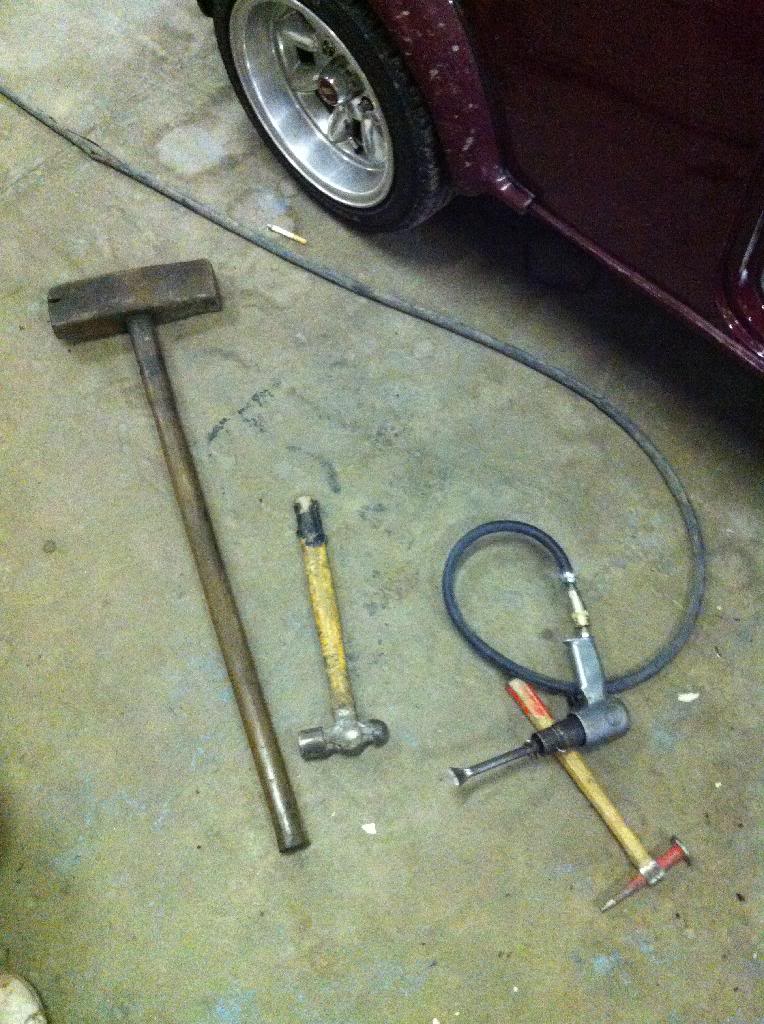 ....we got it pretty much bang on. Needs some minor panel beating but its straightish. Will line up better once the new doorstep is in place.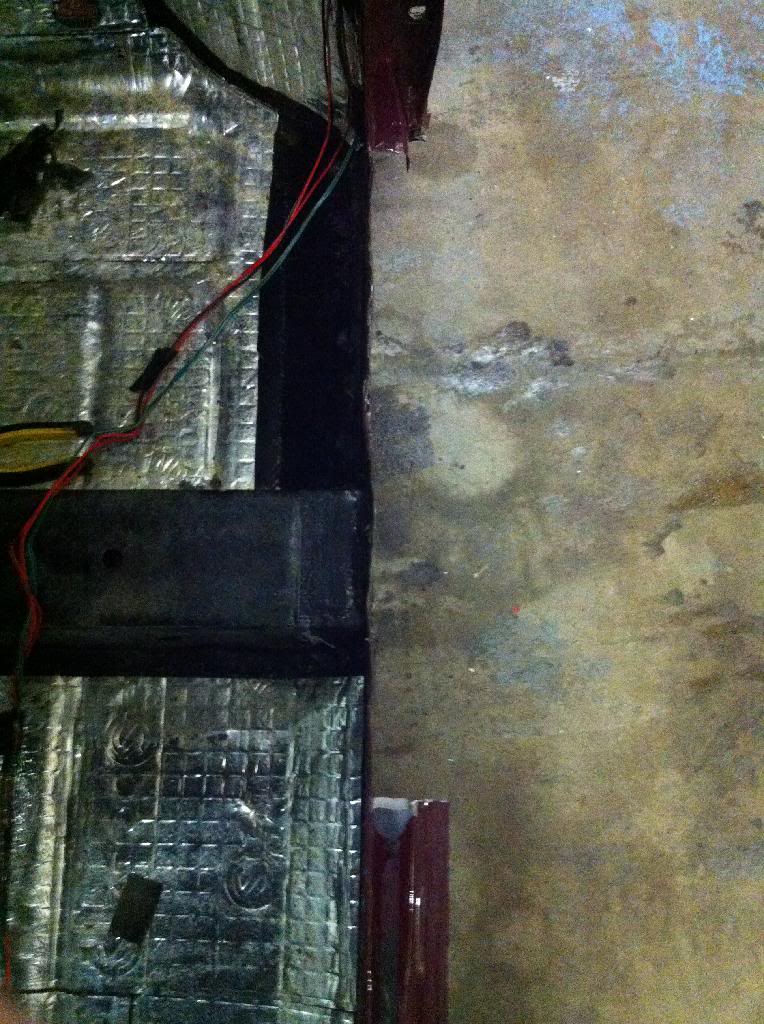 Tried on the new door. Not too bad a fit. Wasn't sure if it would need a new skin or not. Few spots of rust on the bottom edge so rather than leave it we reskinned it to be on the safe side. Glad we did as the mating face of the frame had a lot of surface rust and a few pin holes. All taken back with the grinder, holes welded up and then new skin on.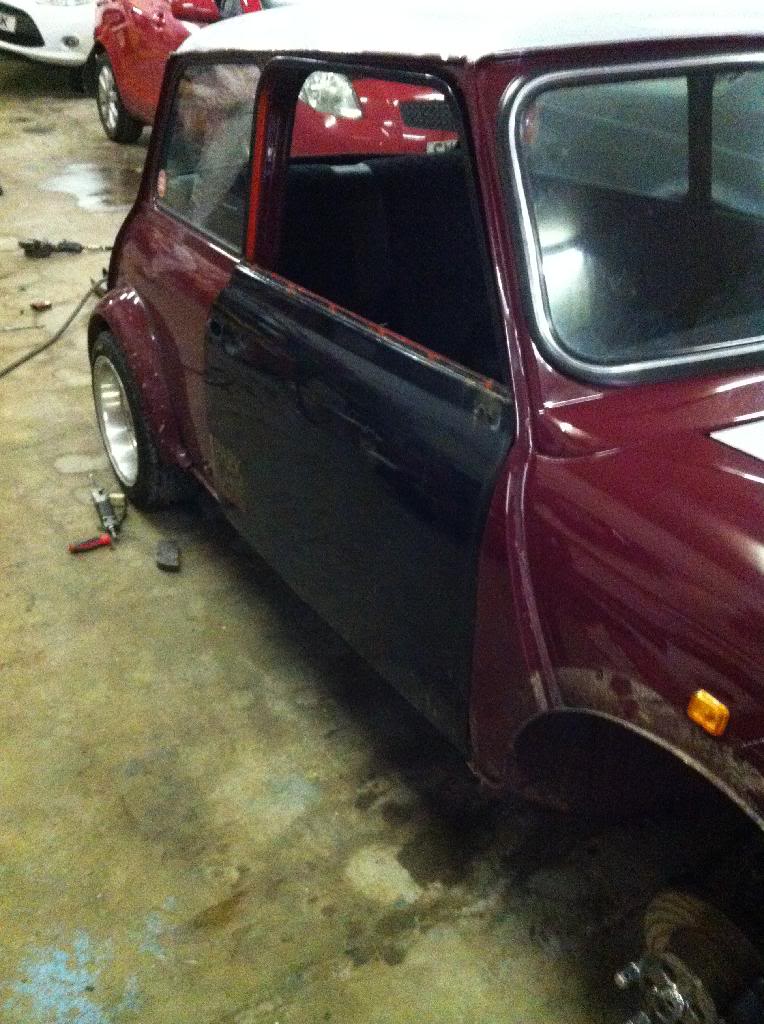 There really isn't much to a Minis door.....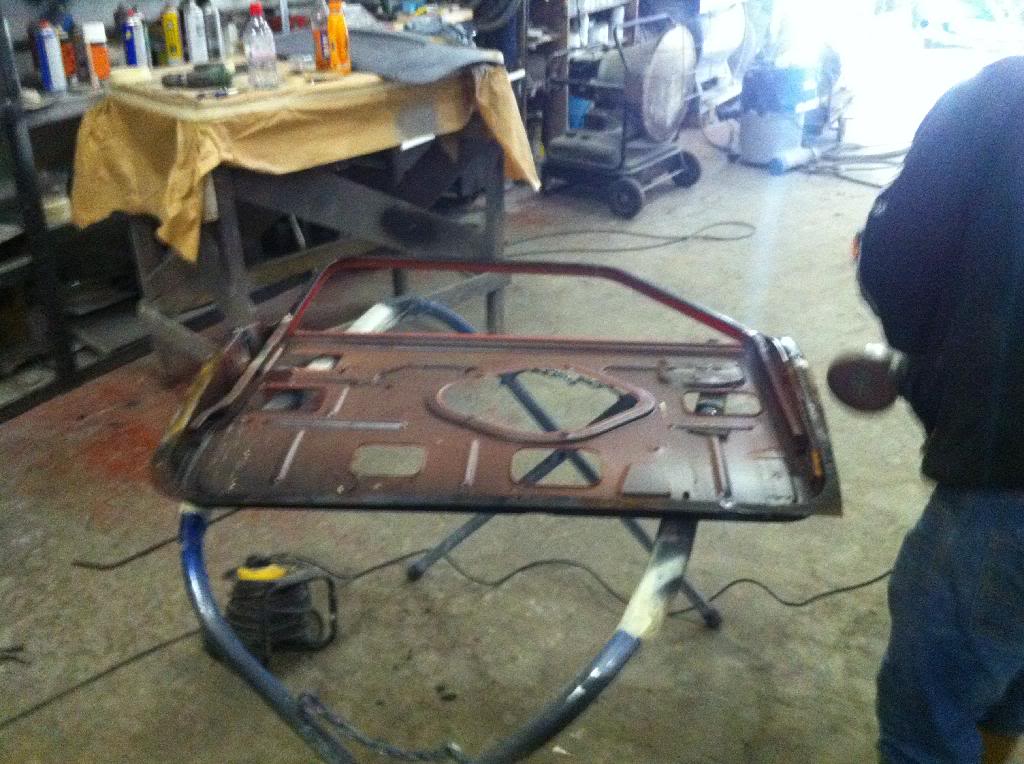 Some of the rust that was between the skin and the frame. This was only going to show up down the line so better to be safe than sorry!
Bonded up and then folded the edge over on the new skin and back to trial and error fitting. Needs tweaking but we will get there.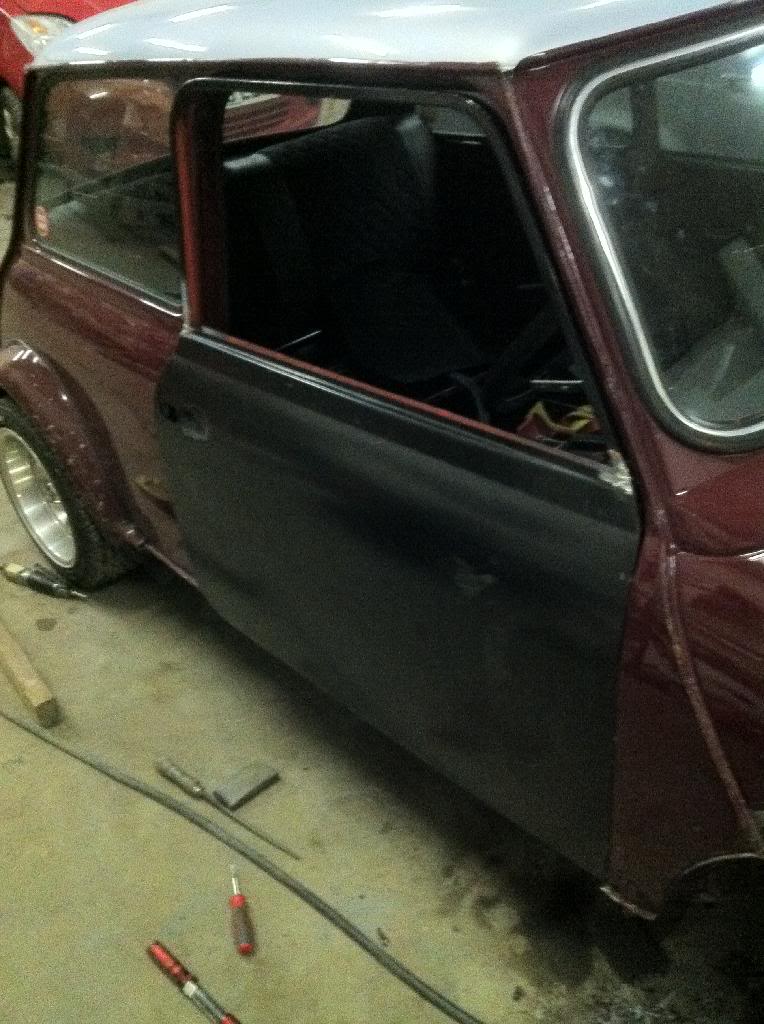 In other news my new arches arrived. They wont be getting used as they are far too flexible and badly shaped. Glad I didn't pay too much for them! Tomorrow its truing up the door with the doorframe then prep the surrounding areas for the new panels. Hopefully have a welded up car again by tomorrow night. :) Then its back to panel prep before final paint.
1-21-2014
Another day of decent progress. Took more parts off the car ready to then scotch flat and repaint. The scuttle/drivers wing seam split in the impact. REALLY annoying as now that wing and the entire window surround/scuttle needs repainted!!! Added expense

So window out and bonnet off. Will mask up the bay to prevent any overspray hitting all the shiny.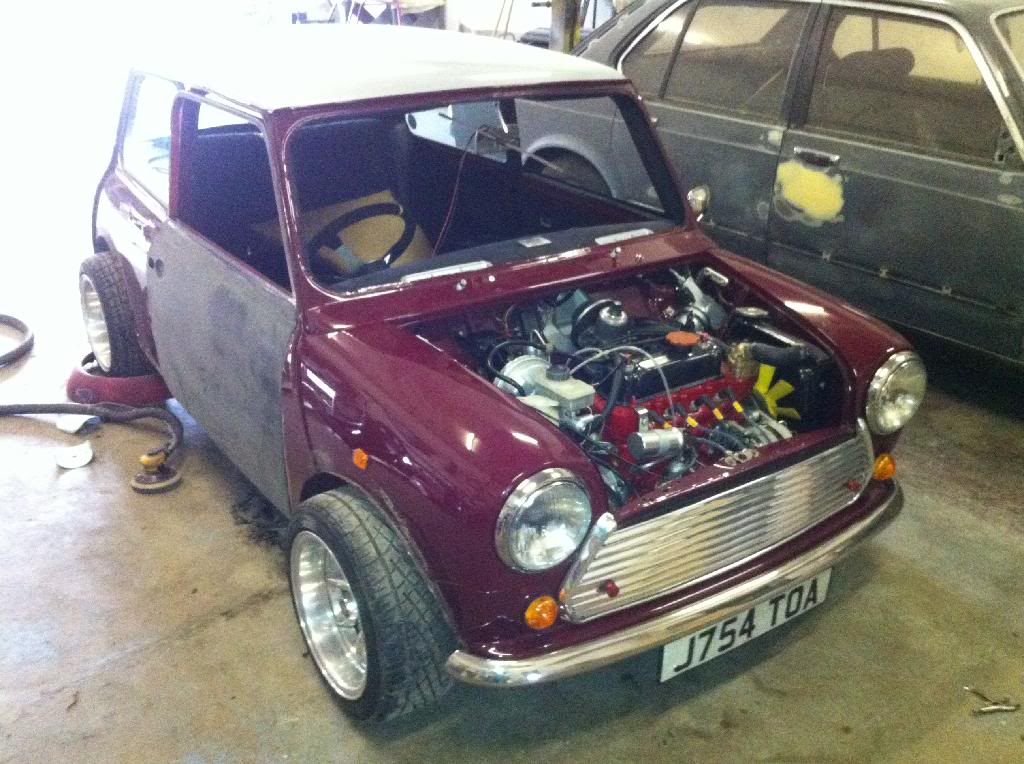 Where we smoothed off the badge holes and flat, the paint had sunk slightly leaving a horrible wrinkle in the paint. Fleep was keen to get this sorted so its been flatted back too, ready for a repaint again. MORE layers of paint so this bonnet will never ever rust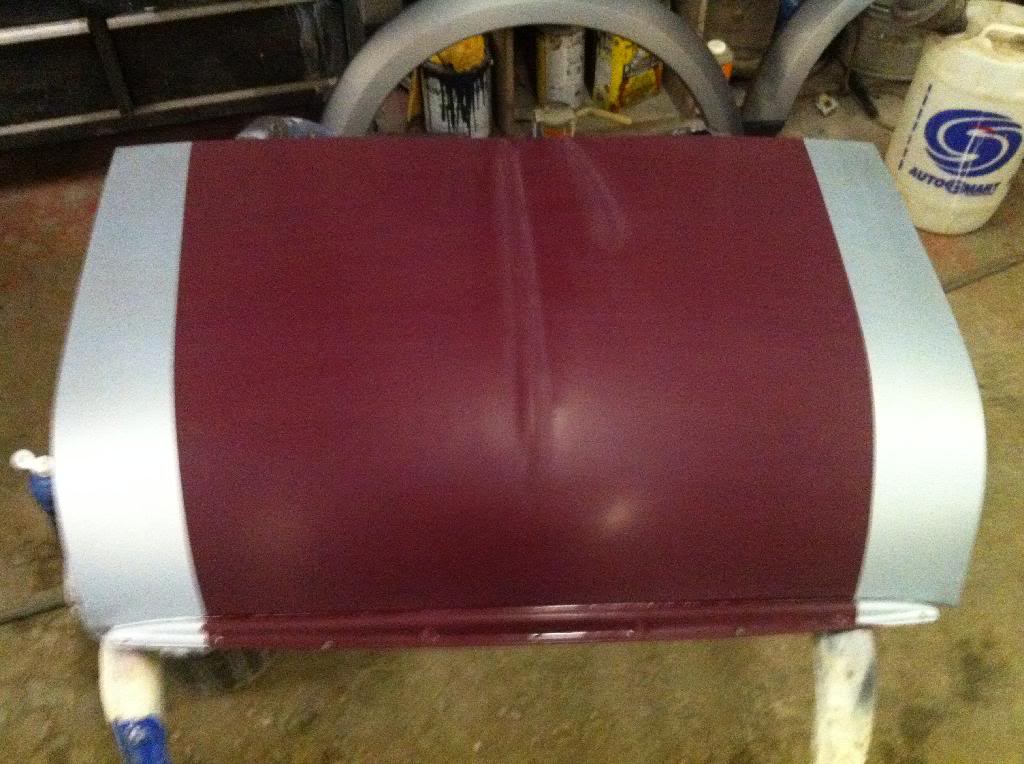 And after a load of tweaking and heavy hits with various hammers, the door now aligns perfectly.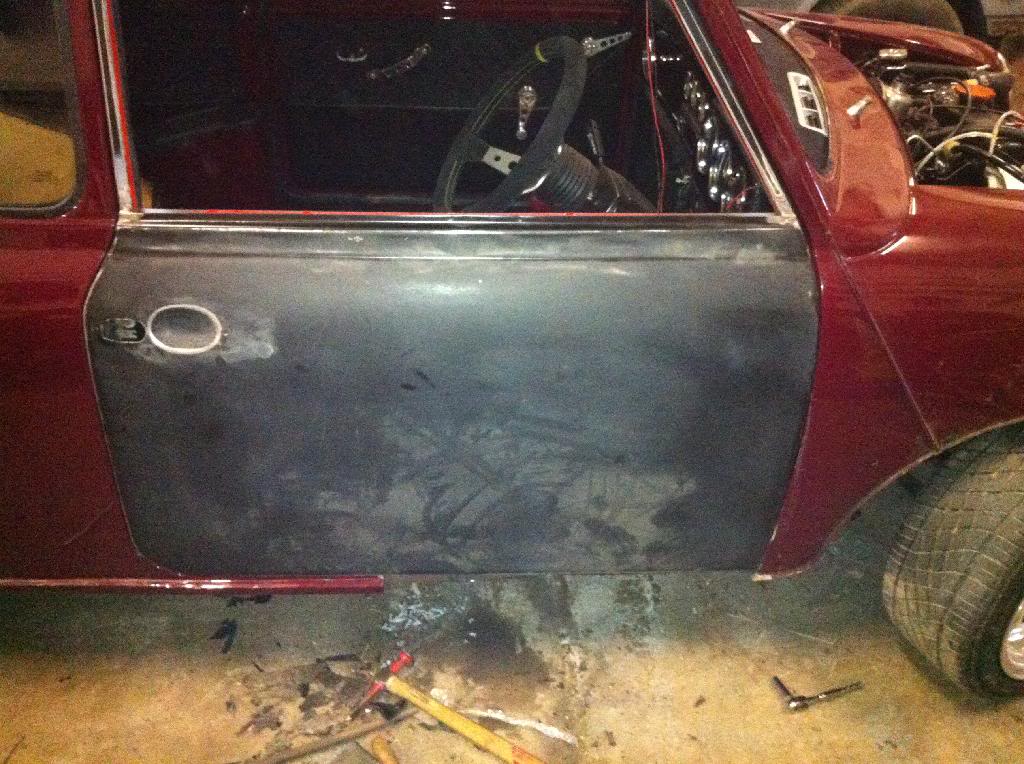 It always amazes me how many minis have a poor fitting door as it reaches the sill/rear quarter. Can be up to 1cm of gap here on some! Not so here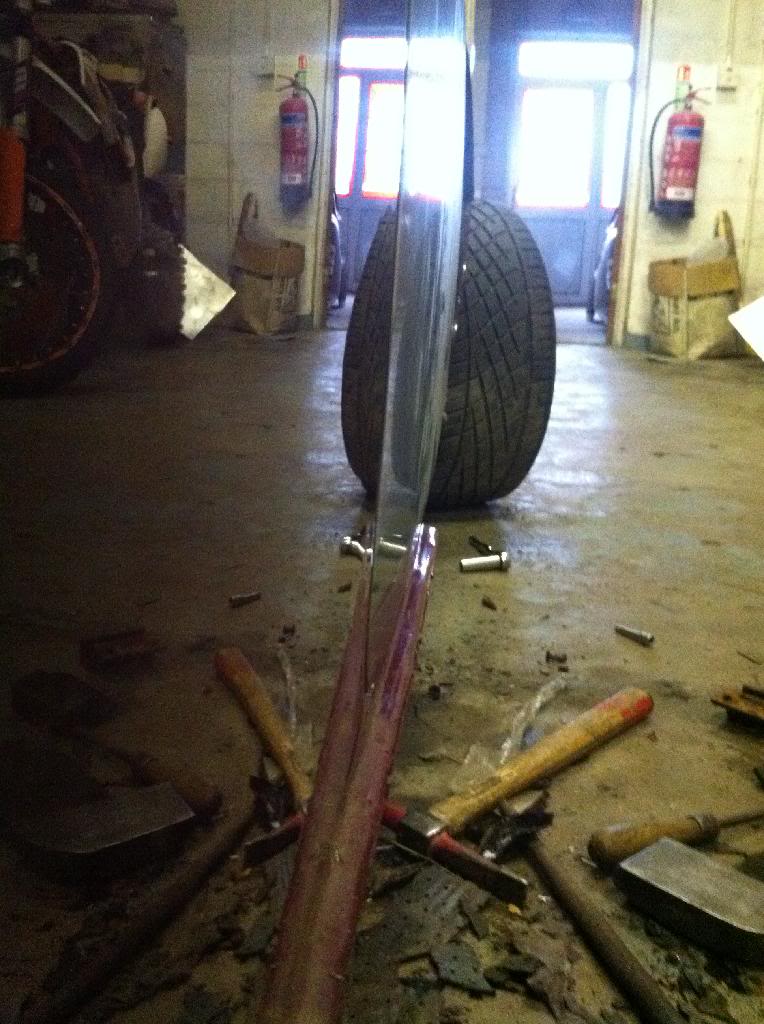 Offered up the new doorstep. Like a glove! Buffed up the faces and cut to length.....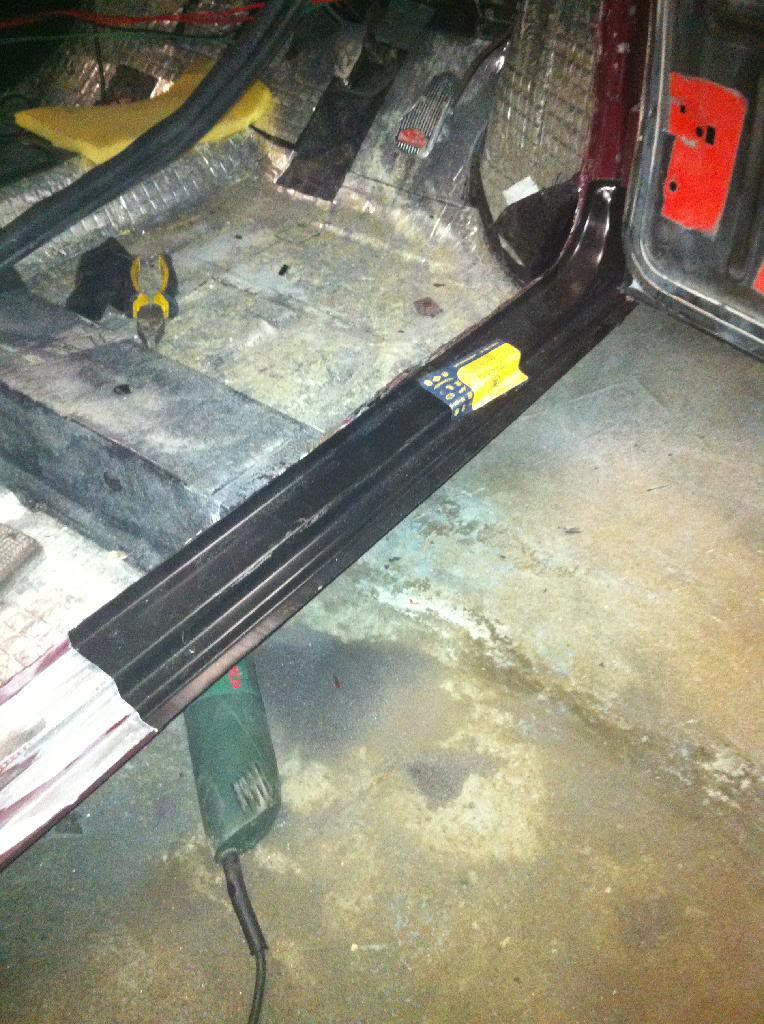 ....add a welder.....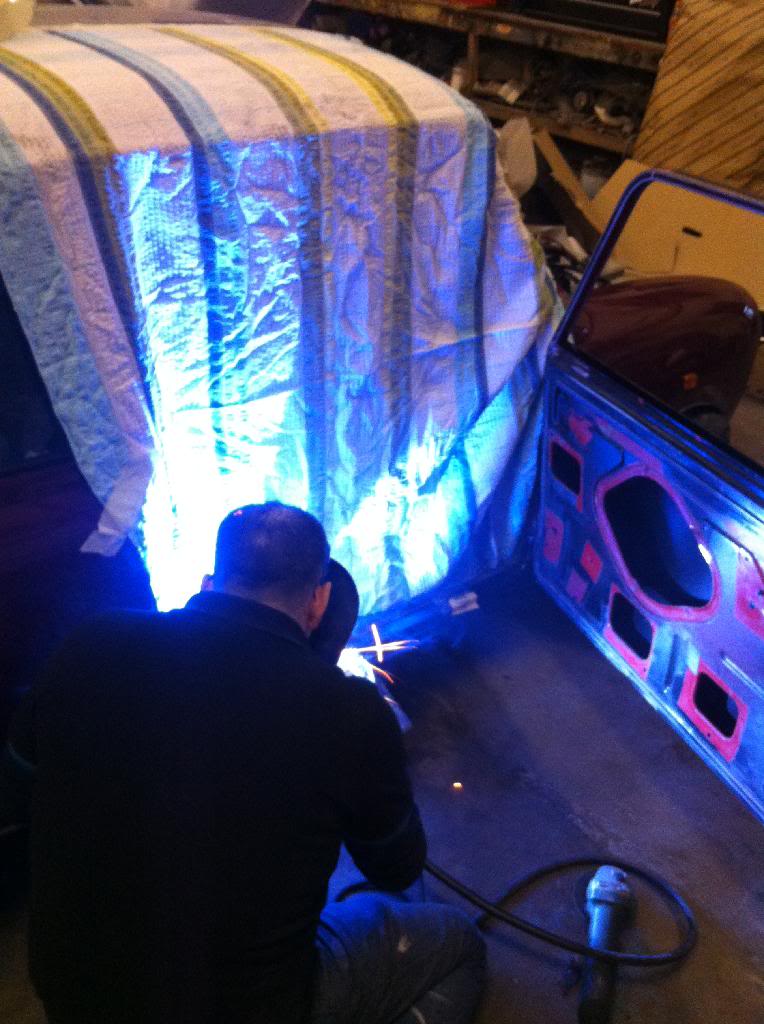 ....and tada! One new door step. :)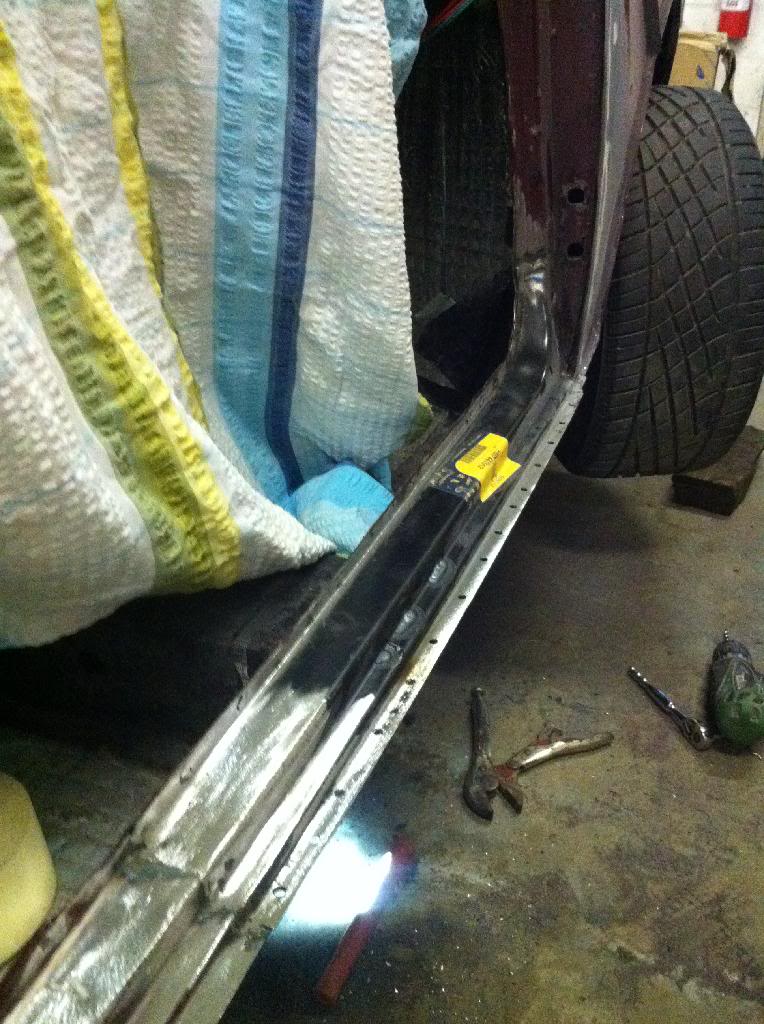 The sill also went on (didnt need the whole panel, just the same length as the doorstep) so now its over to final prep before repaint. The sill will get restone chipped and then hammerited as before. Another busy day ahead :)
1-22-2014
Day 3 in the big Kirkton house and Trigs almost ready for paaaaaaint.

Took the jacking point out of the sill. A big gaping hole in a panel prone to rust anyway is never a good idea and Minis should never be jacked on them.....thats what subframes are for.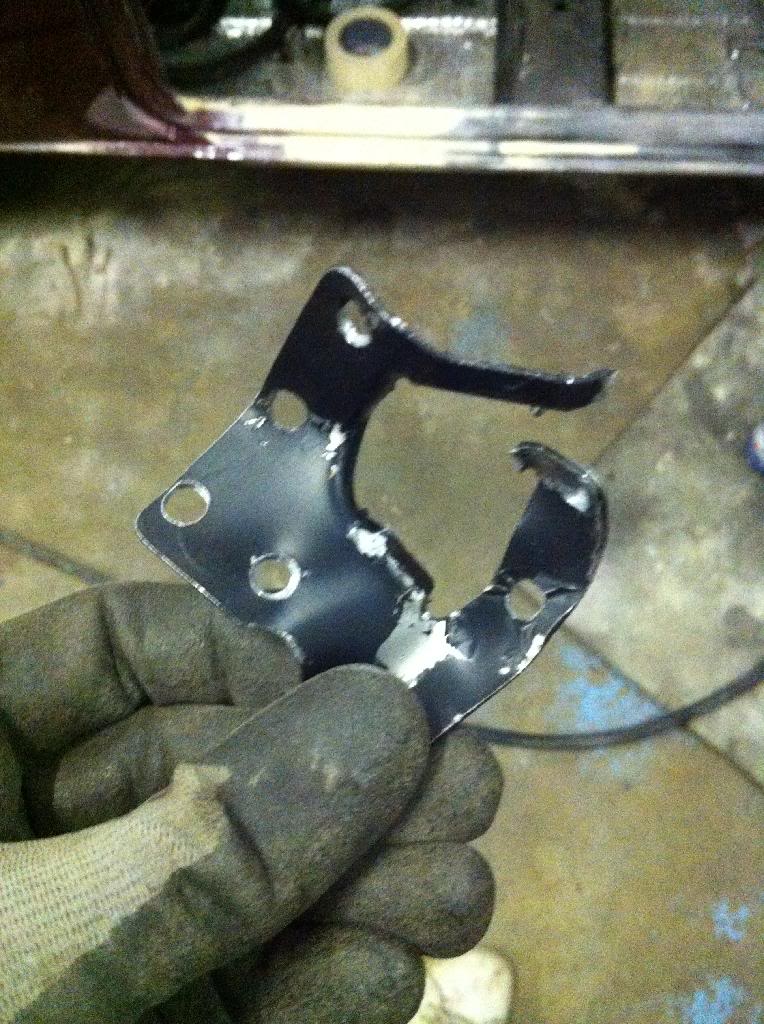 Fleep went back last night to finish off the welding on the sill and then added a few dobs of filler to smooth everything over again.
Refitted the door to double check we didn't need to change anything.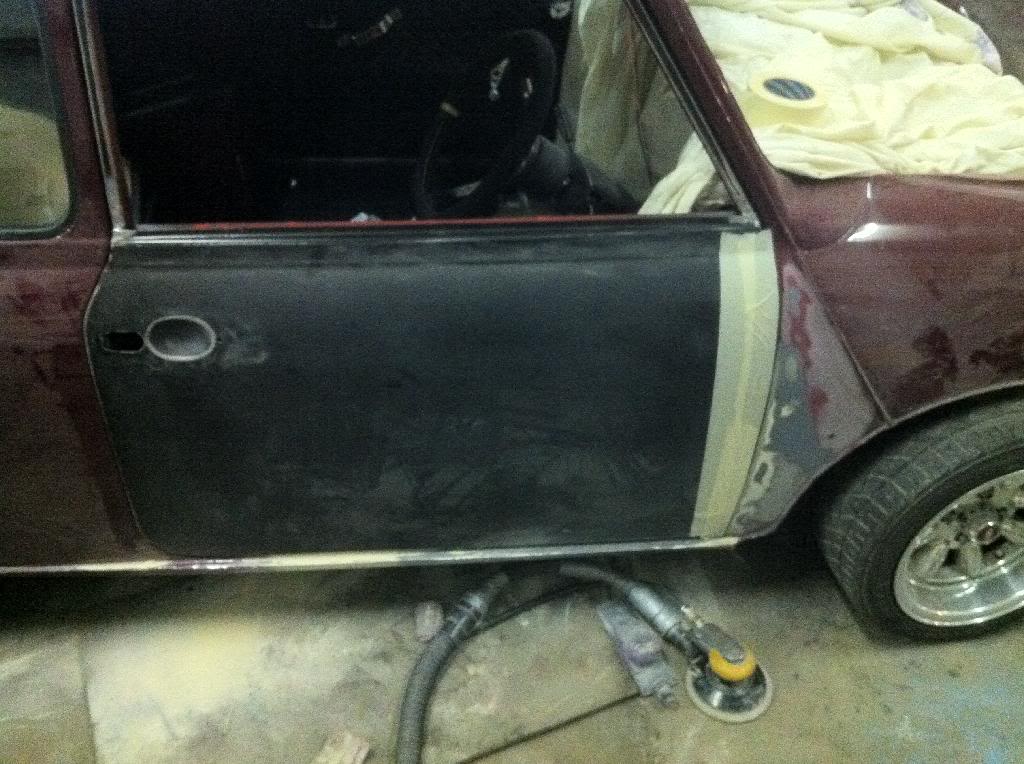 Then smoothed out the a-panel with some stopper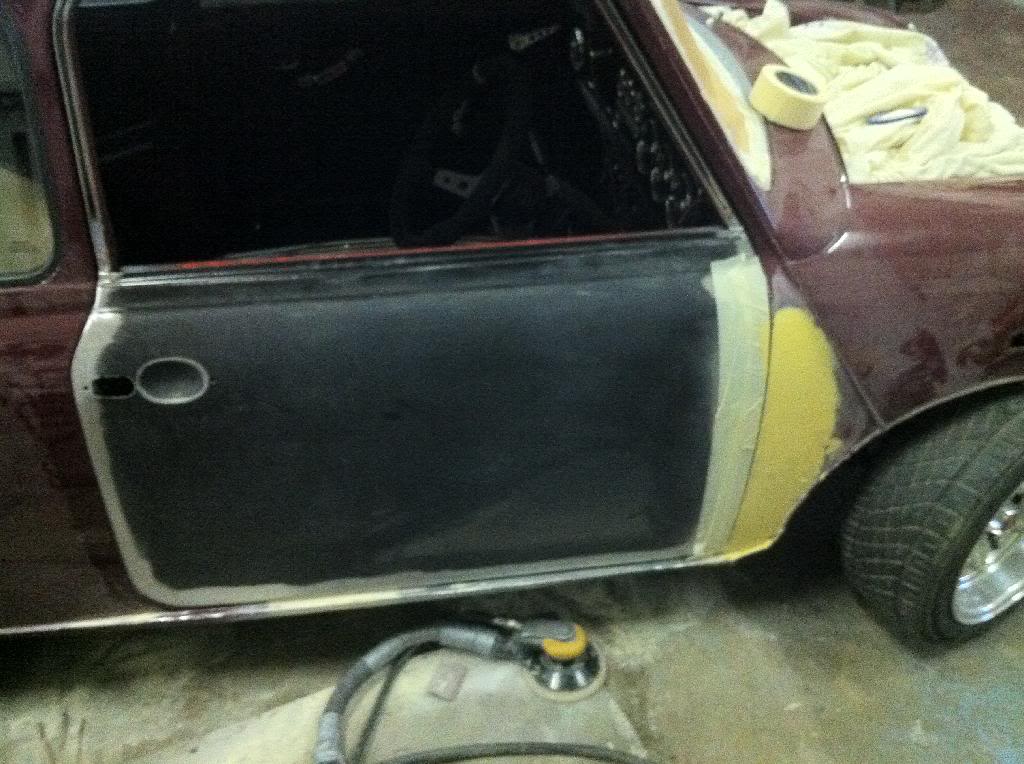 I then flatted back the panels getting new paint. Scuttle/window surround, drivers wing/a-panel/side panel. Pretty much half the car....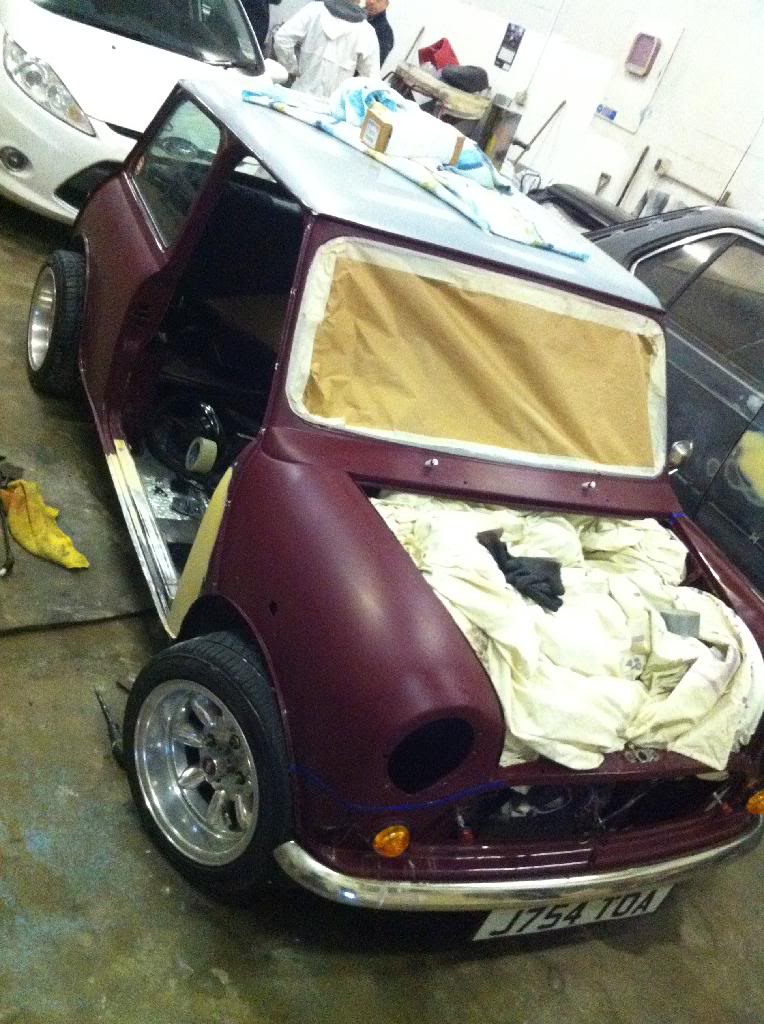 Totally unrelated but heres how a Mini compares to an old 7 series. Very cool car in for a full respray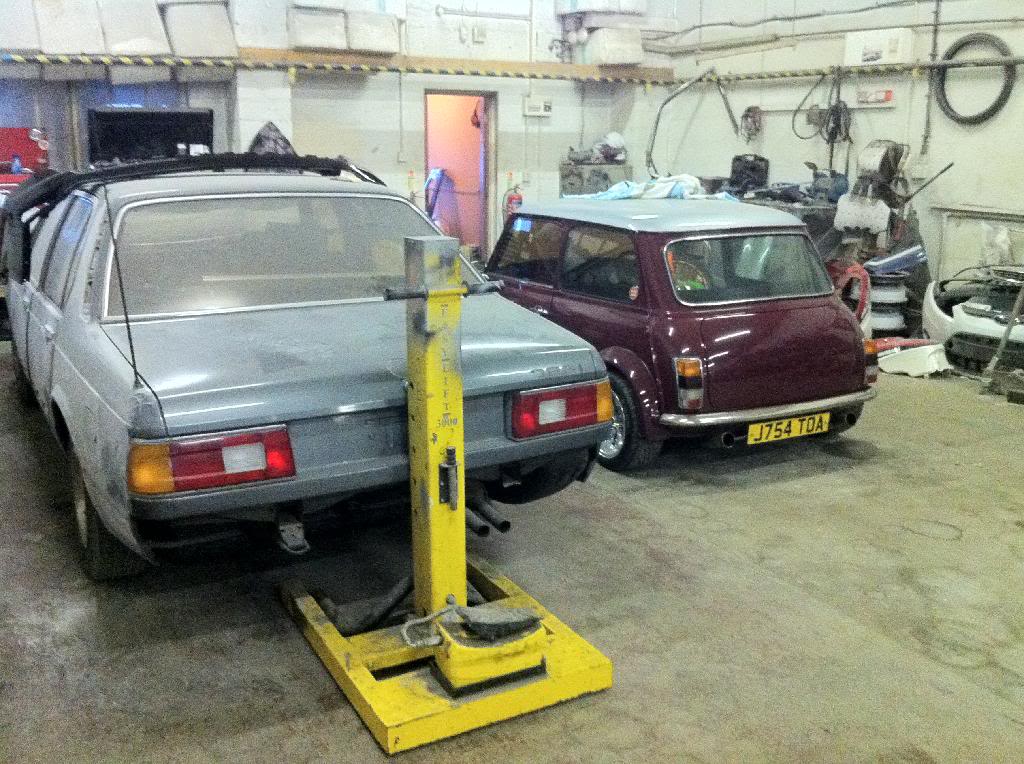 Needed to get the door painted separately from the car so smoothed off the skin with the body file to get rid of all the tiny lumps and bumps from fitting the skin. Its amazing the difference this makes.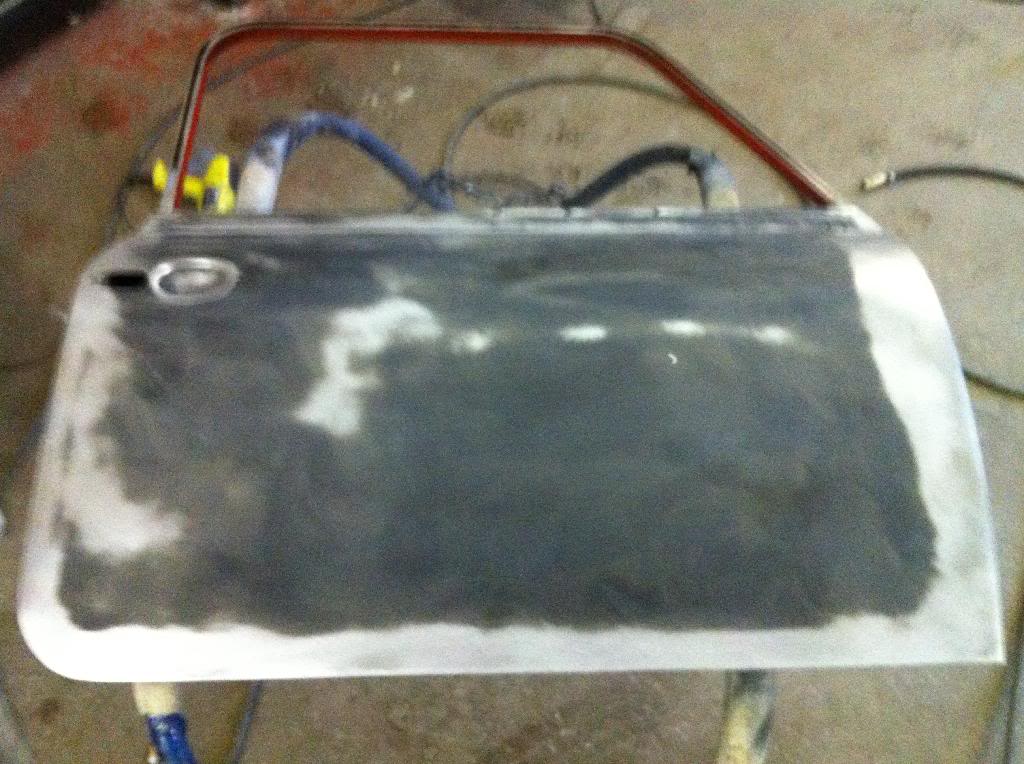 Then with all the sill prep done we gave it a quick spray of etch primer to stop the bare bits rusting.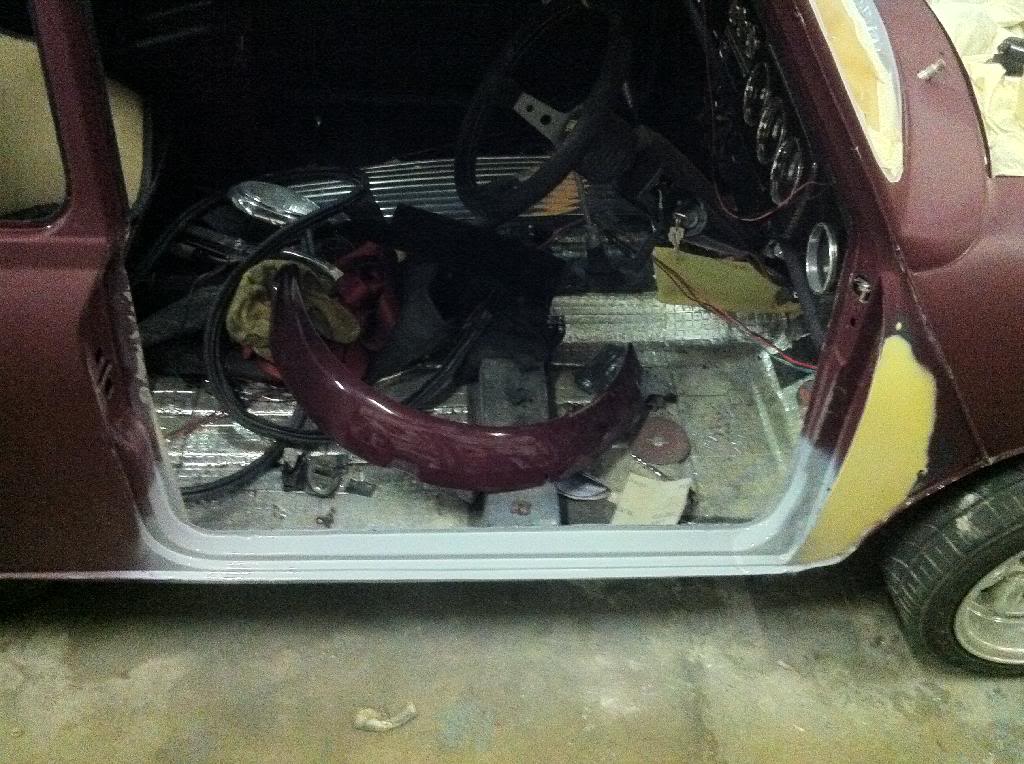 Paint ordered and should be applied tomorrow then flatted and polished on Friday ready to refit everything on saturday! Quick turnaround as expected! :)
3-24-2013
Well this thread is LONG overdue an update! Grab a cuppa, its going to be a long one.... At the last update the car was just awaiting paint. Then, Dingbro happened...... The car was painted just over 2 year ago in the original Cranberry Red (Code C.O.S.) so we thought there would be no issue at all getting a new batch made up, to the formula, to paint the repaired section. To ensure there wasn't a chance of a difference, the painter decided to blend in the rear quarter panel and into the front wing/scuttle panel. Got a great finish off the gun and rolled it out of the booth to see a night and day difference. The new batch was far too pink. So without going into too much detail, we got various batches made up, none of which matched the 2yr old paint. Useless! So to make sure we got it right, we opted to respray the entire car again. Not what we had planned to do but the only way we could possibly go. So i took a couple evenings/days off work to get stuck in and flatted back the entire car ready for more paint.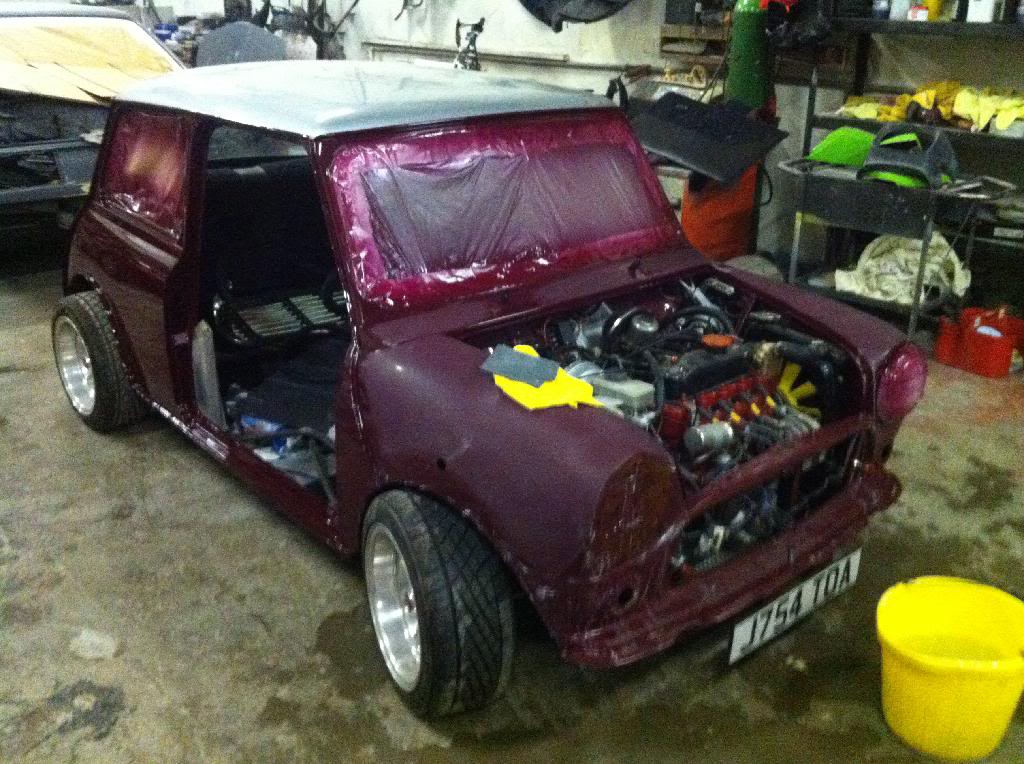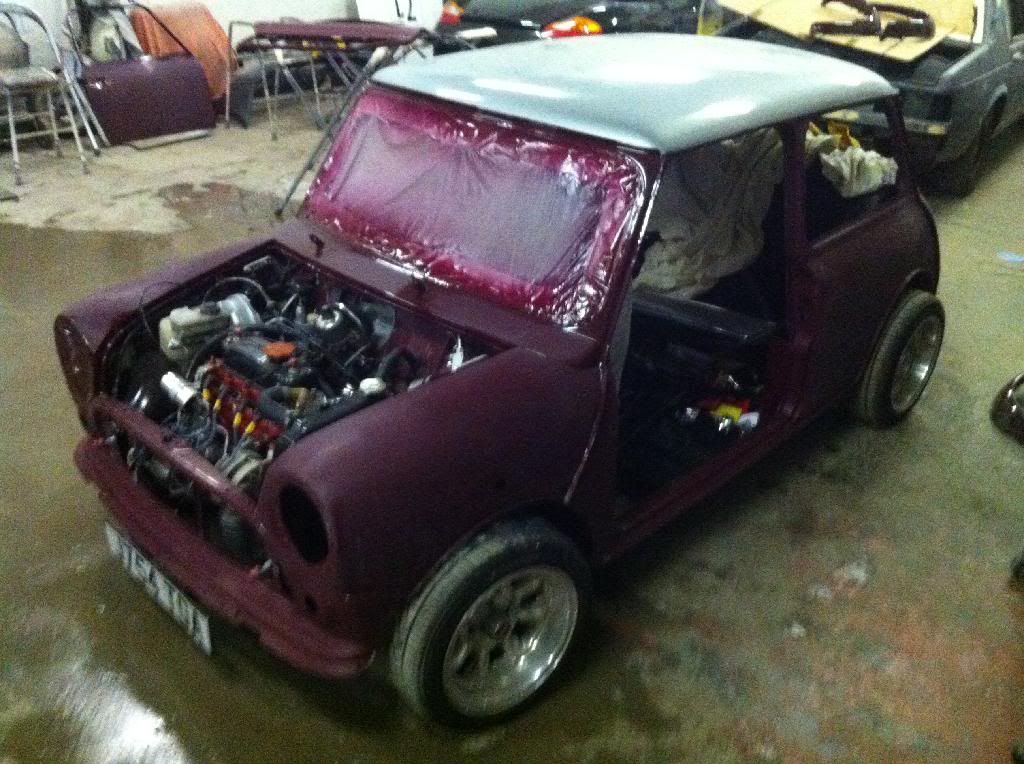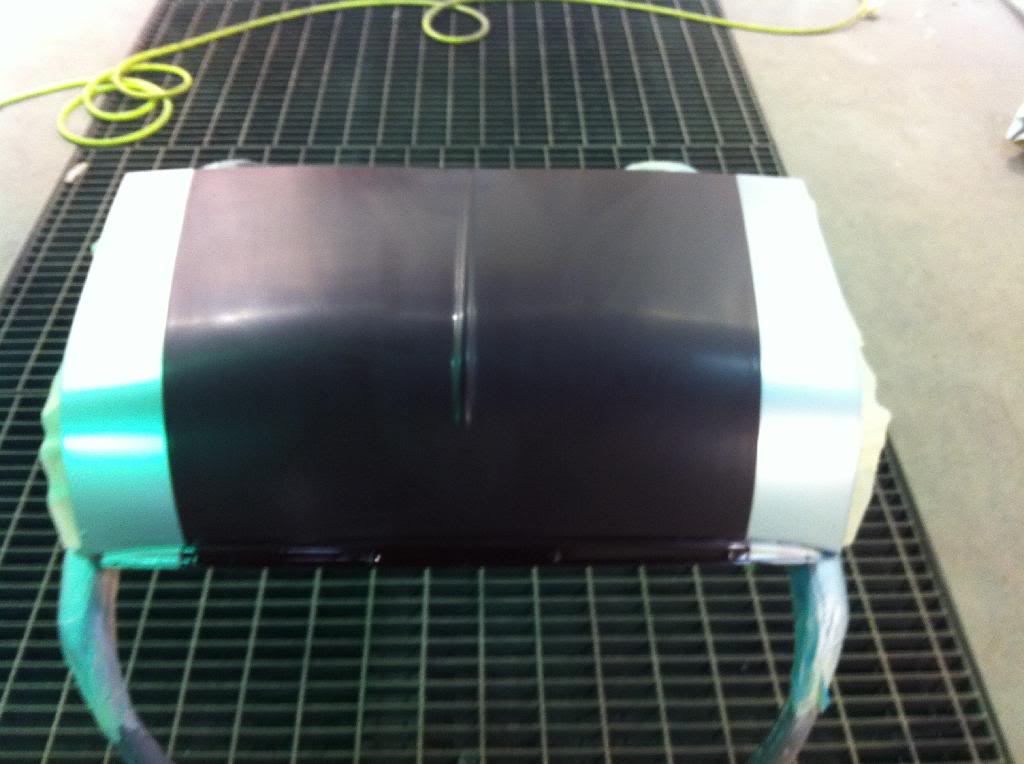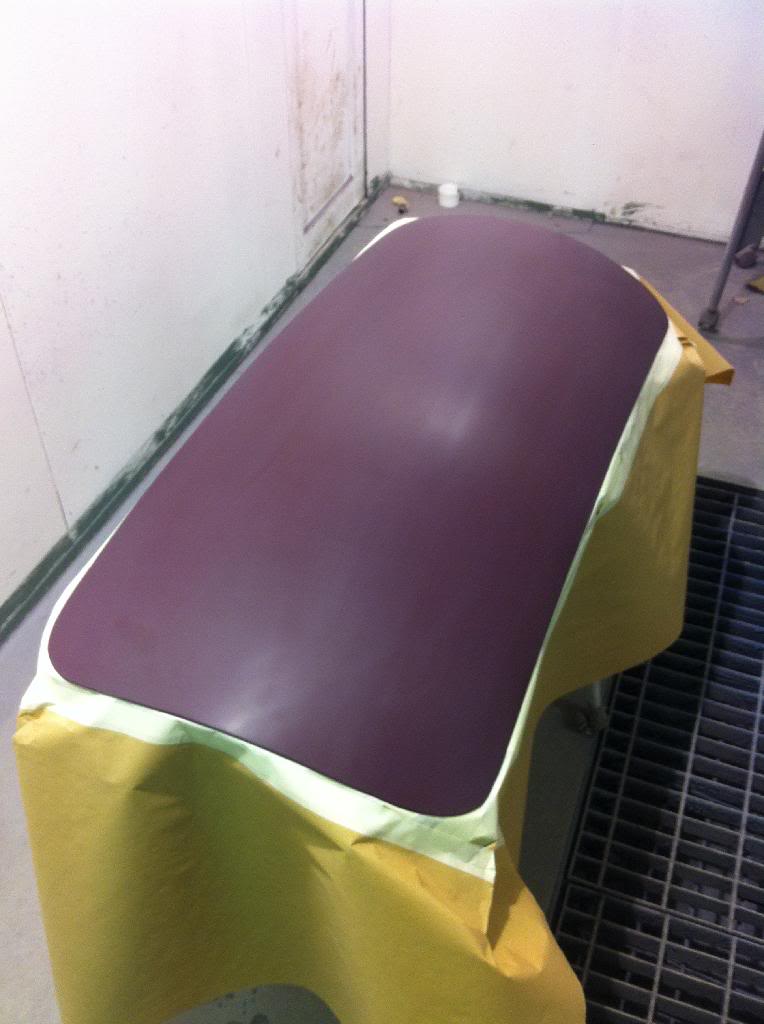 With that, we got the car painted and lacquered back to a mirror shine. The whole car got flatted back and polished to get rid of any minor imperfections, as we had done before, which left us with this. Fleep polishing the boot before I took it home.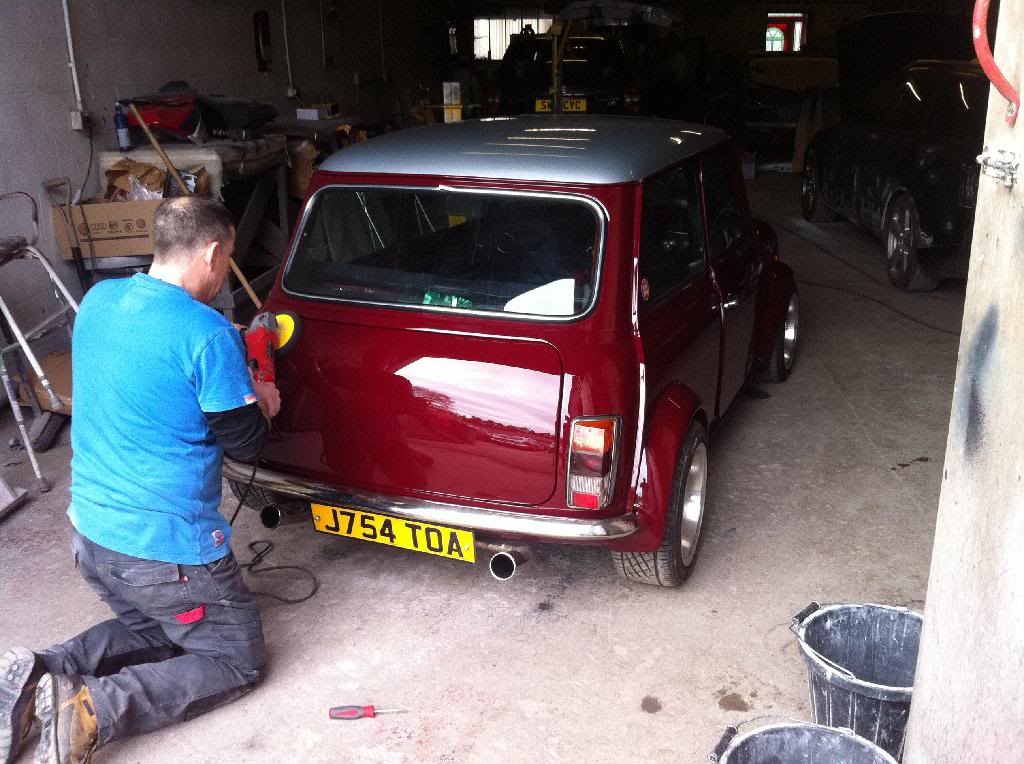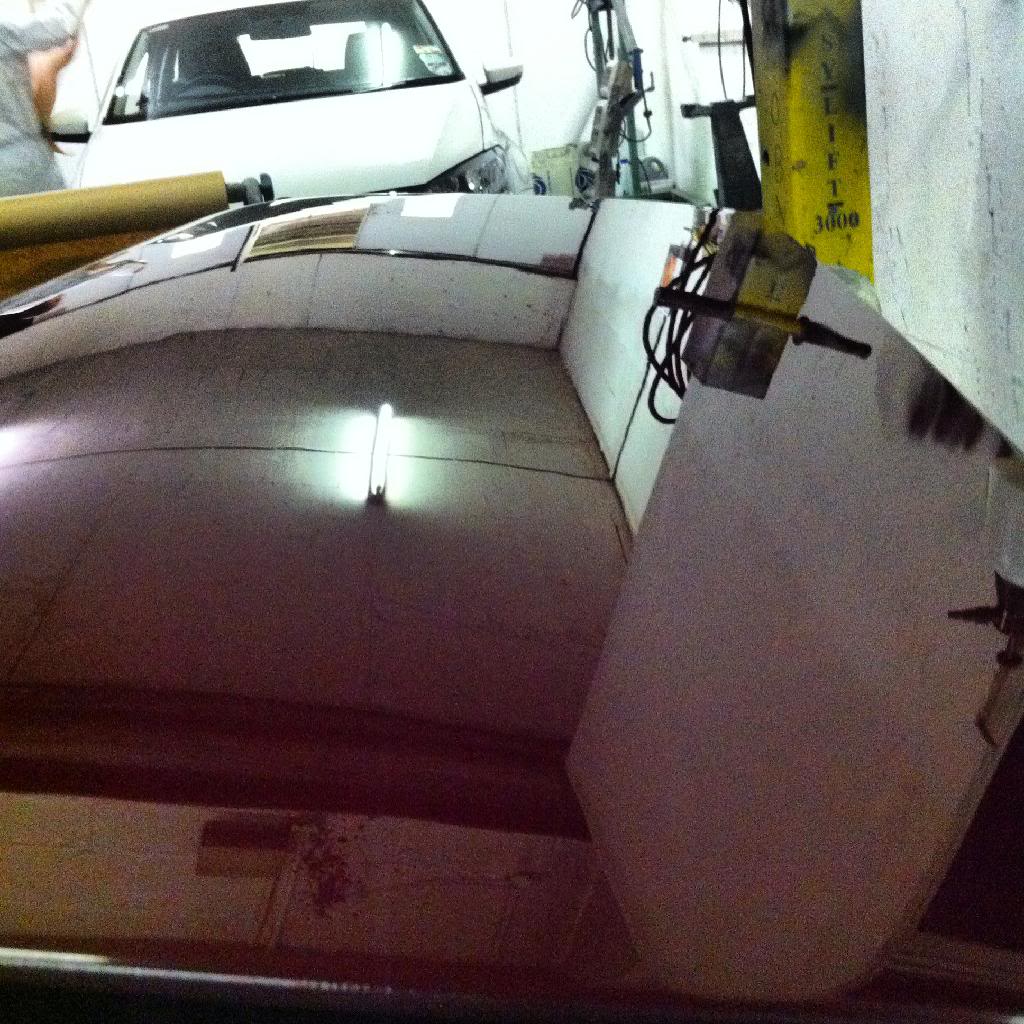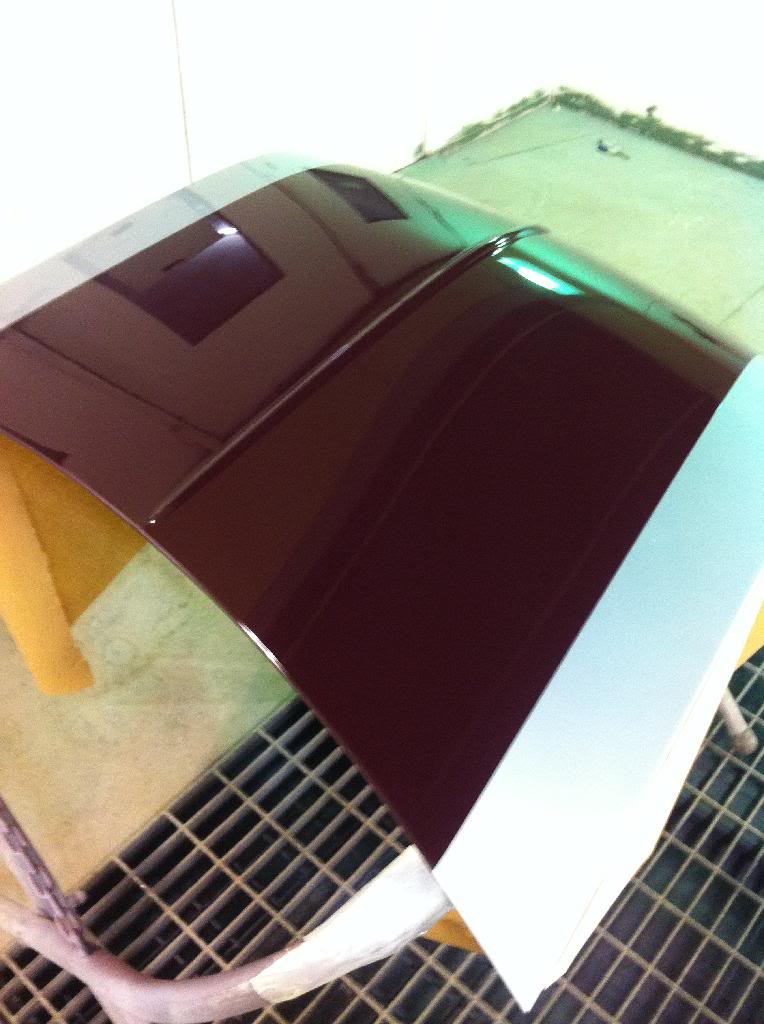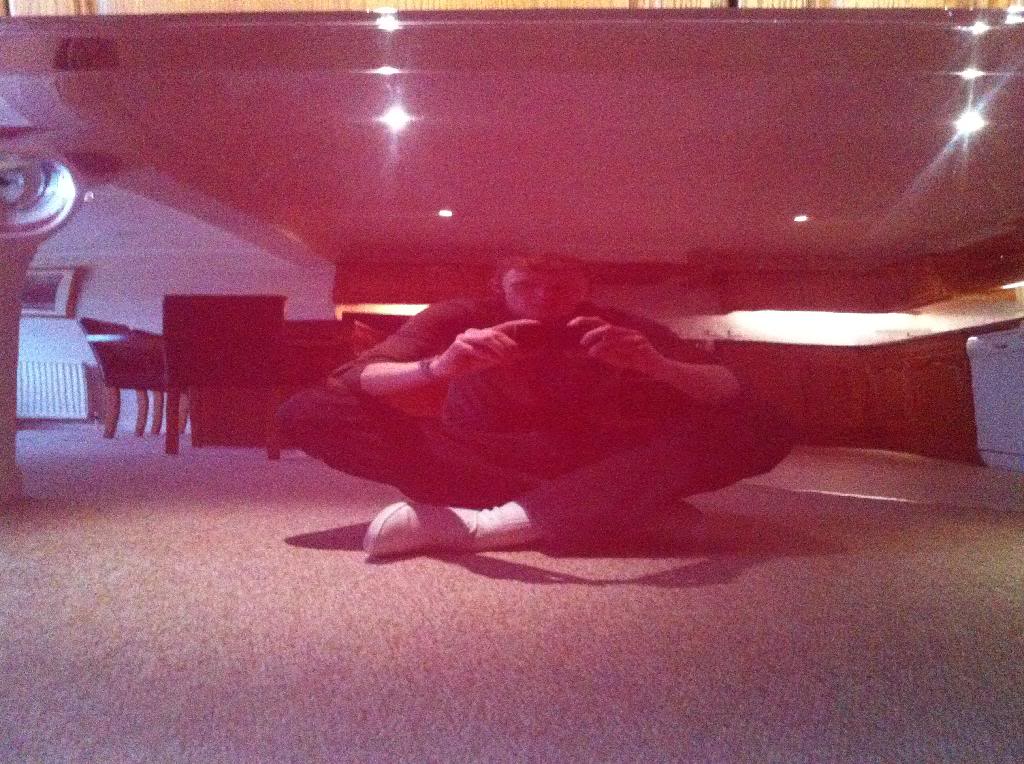 and my personal favourite...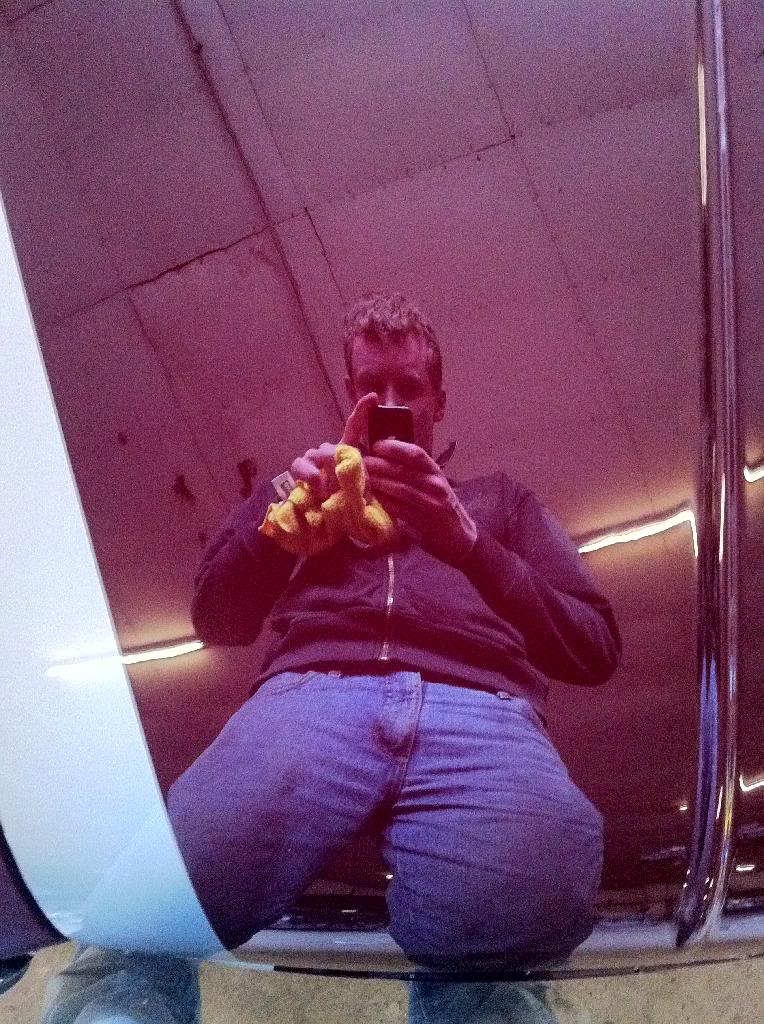 I then got some assistance from my dad in an evening, reassembling it all ready to come home again to be finished off. Got it home Wednesday afternoon. With the Run on Sunday and me working full time, it wasnt going to be easy!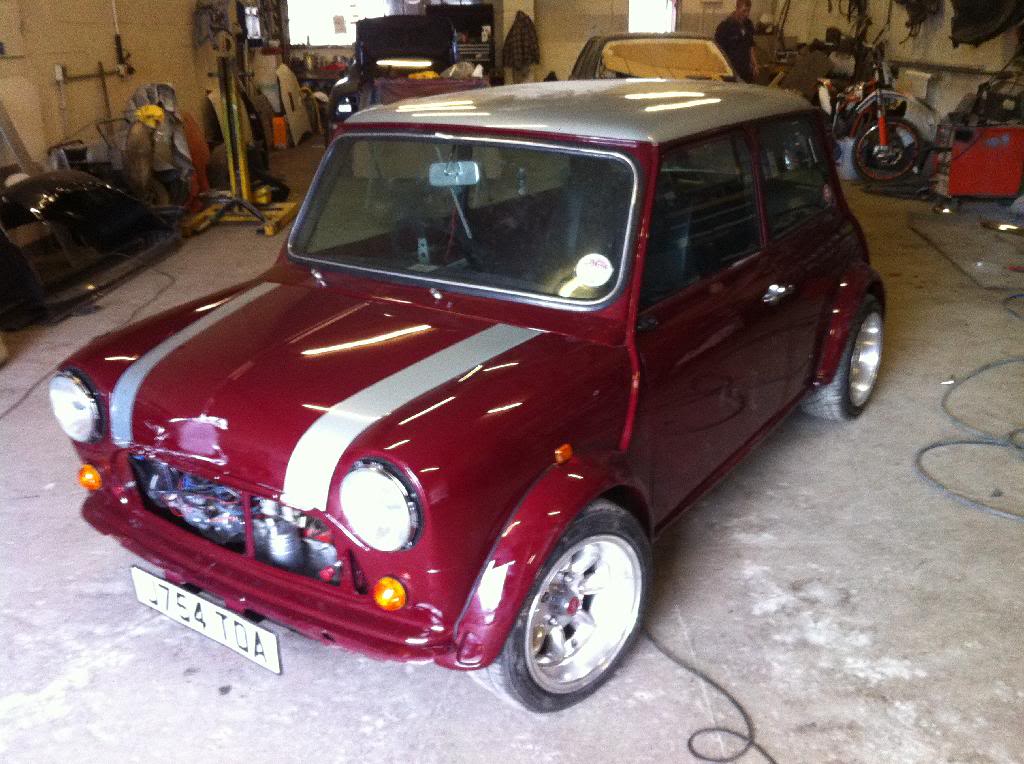 Took a couple more evenings to get it back to its former self again with help from friends and family and it was ready to go on the first run of the year on Sunday just passed. It was a charity run in aid of the Brain Tumor Charity where we raised over £300. Great for the charity and a good day had by all.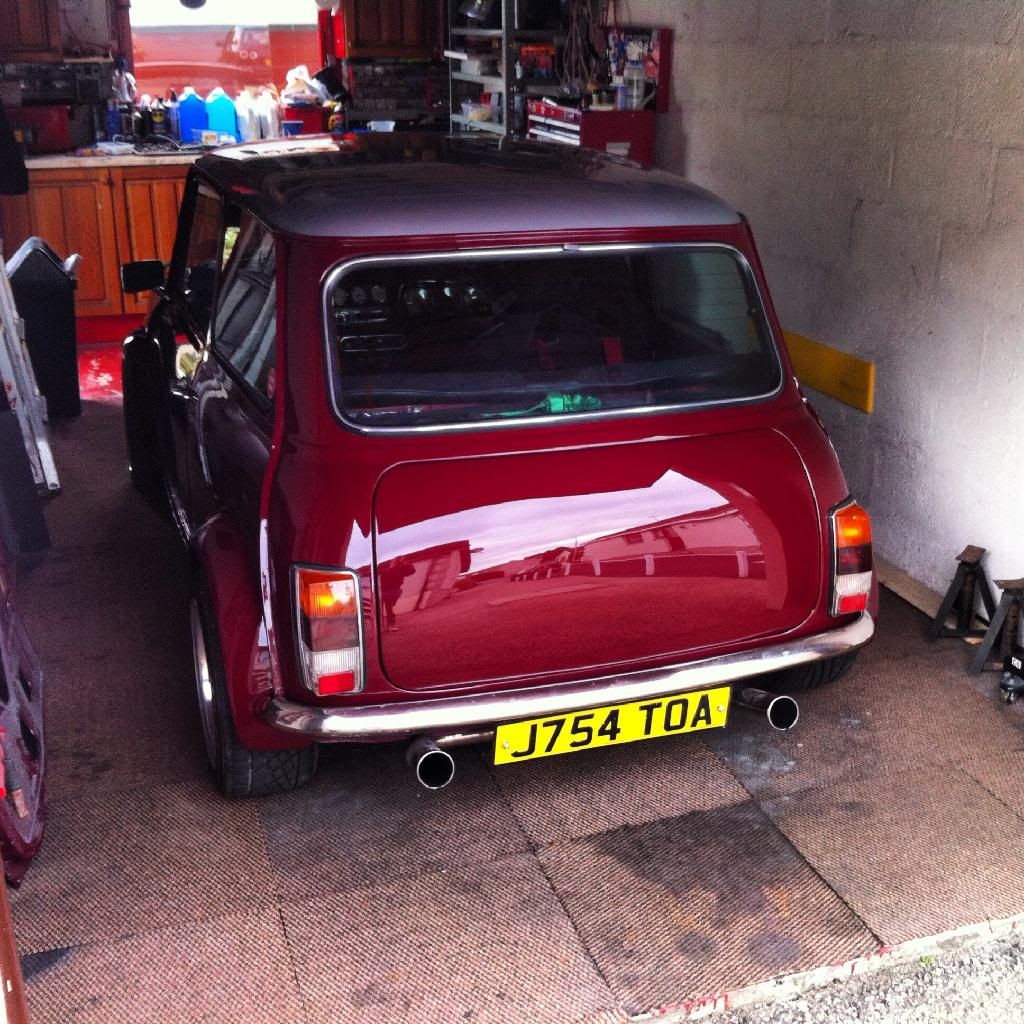 Some pics from the run I have stolen from others on Facebook....
Great fun but I felt sorry for my fresh paint as it got absolutely covered in some lovely road salt.
Got it all washed off again tonight ready for its next outing. Salt got everywhere so the undercarriage got a good soaking too. Rust paranoia!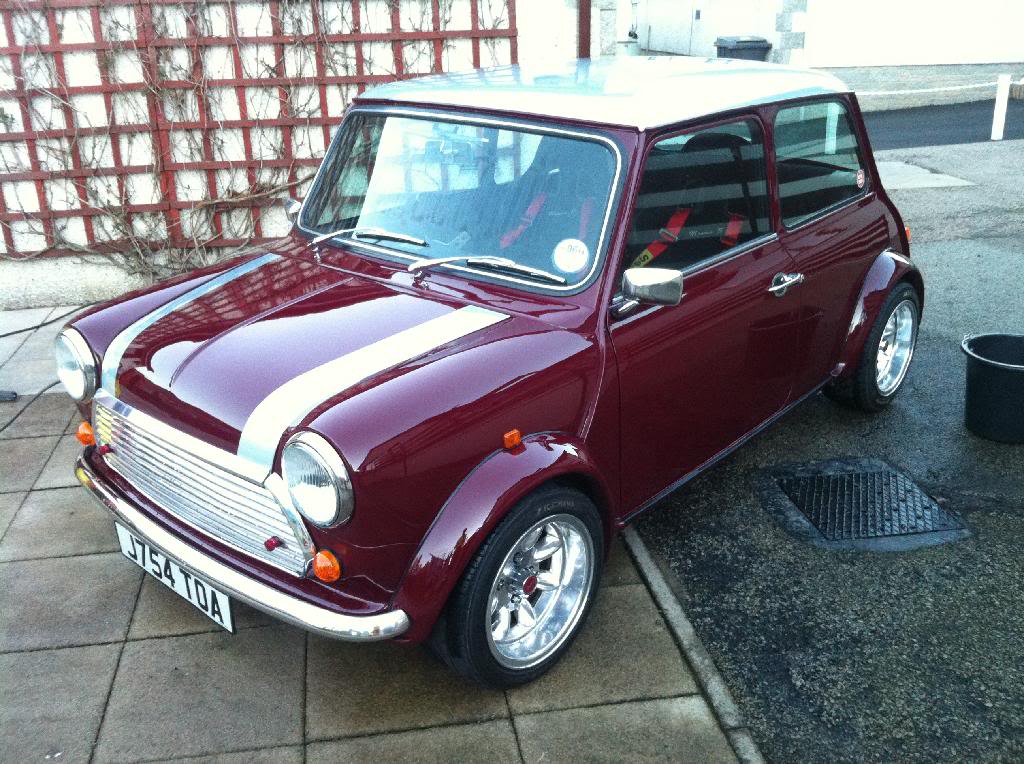 So Trig is back and better than ever. Bring on the 2014 show season! :)
Another pic Ive found from Facebook. Proof there was snow on the run

4-4-2014
Finally got round to drilling my rear show plate to fit over the LED bolts, rather than plonking it on the deck.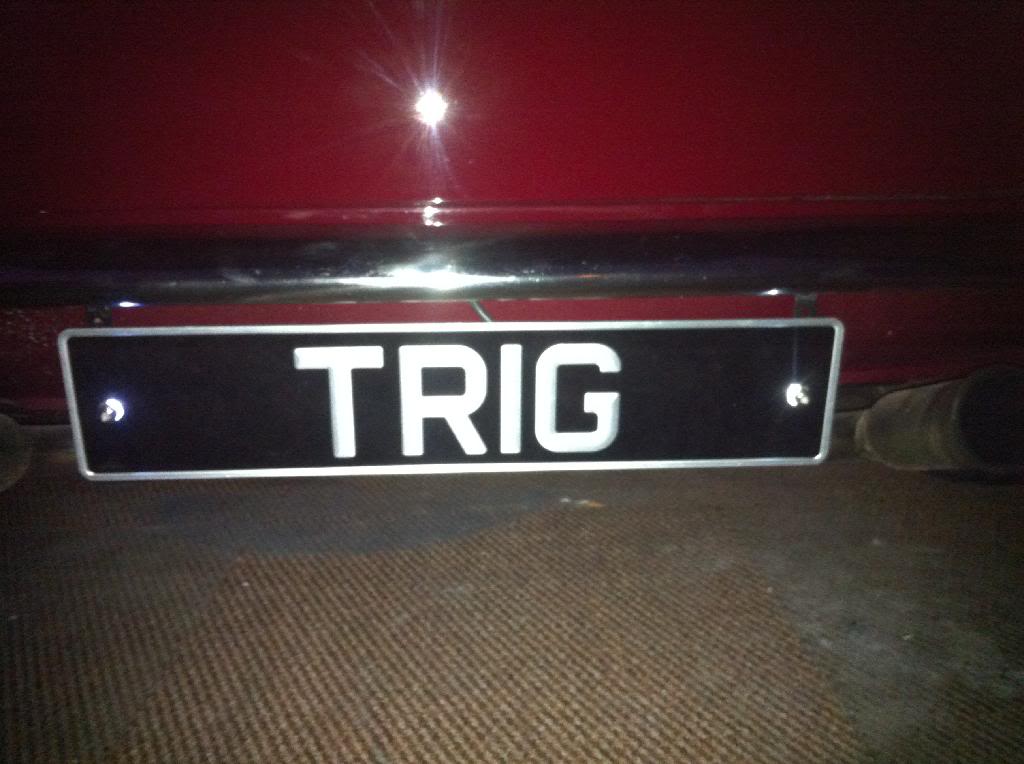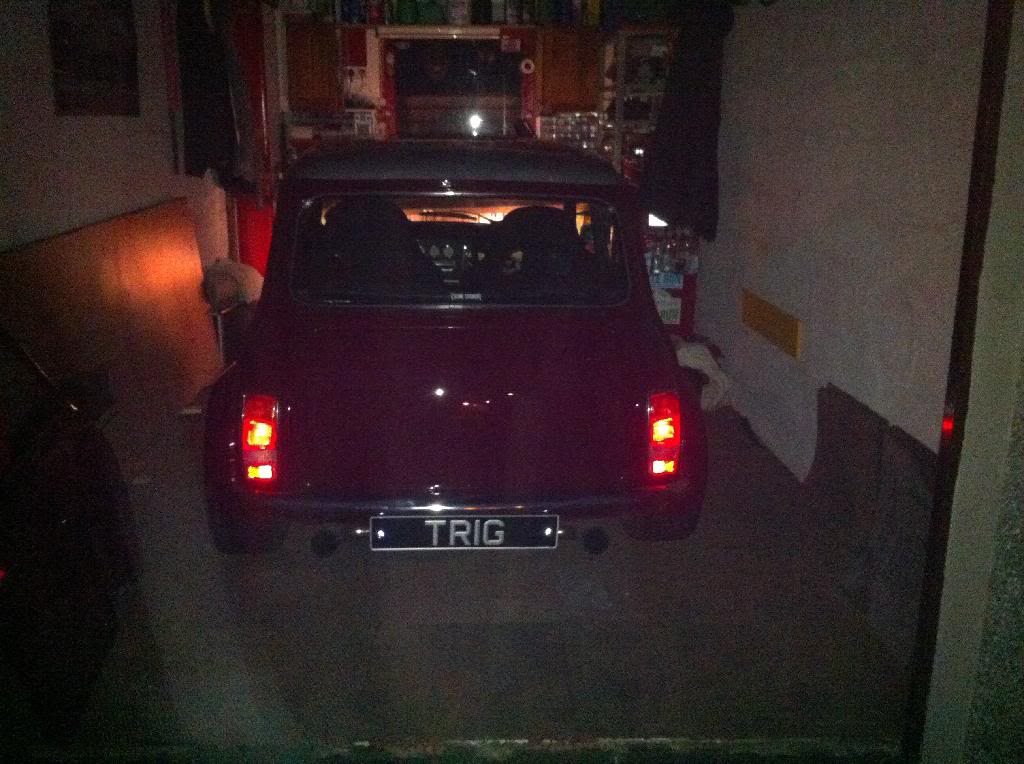 All ready for its fashion photo shoot tomorrow morning :)
4-5-2014
Photoshoot complete! Met up with Chris (photographer) and Charlotte (model) at Cove Bay. Deserted and overcast but just what the brand were after. Brand's called 'Shack Clothing' and they hand design and produce their products from their base in Germany. Heres a few shots that I took whilst Chris and Charlotte were earning their keep. :)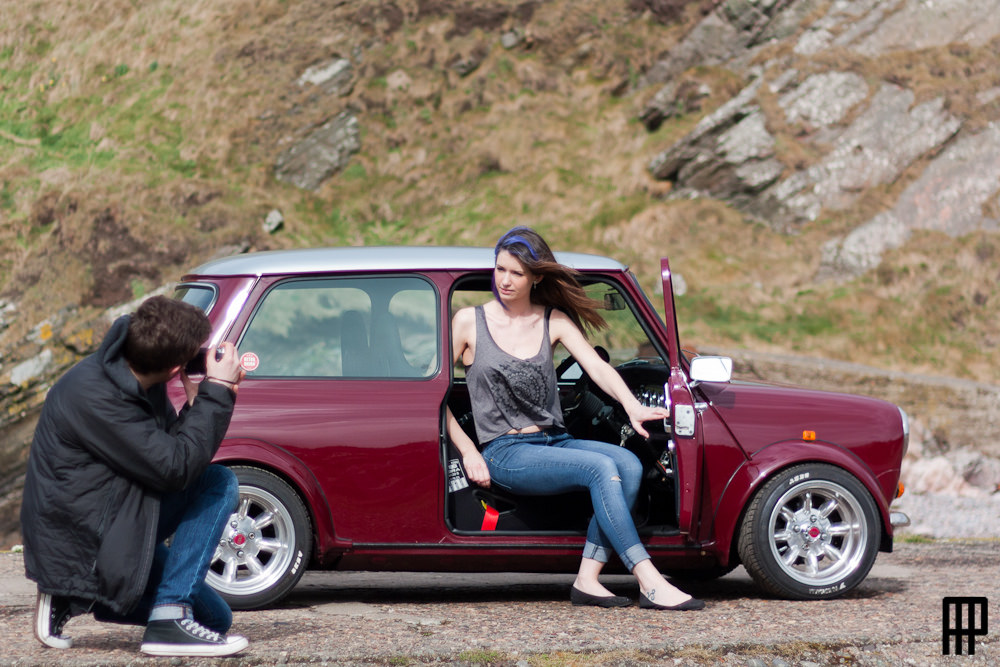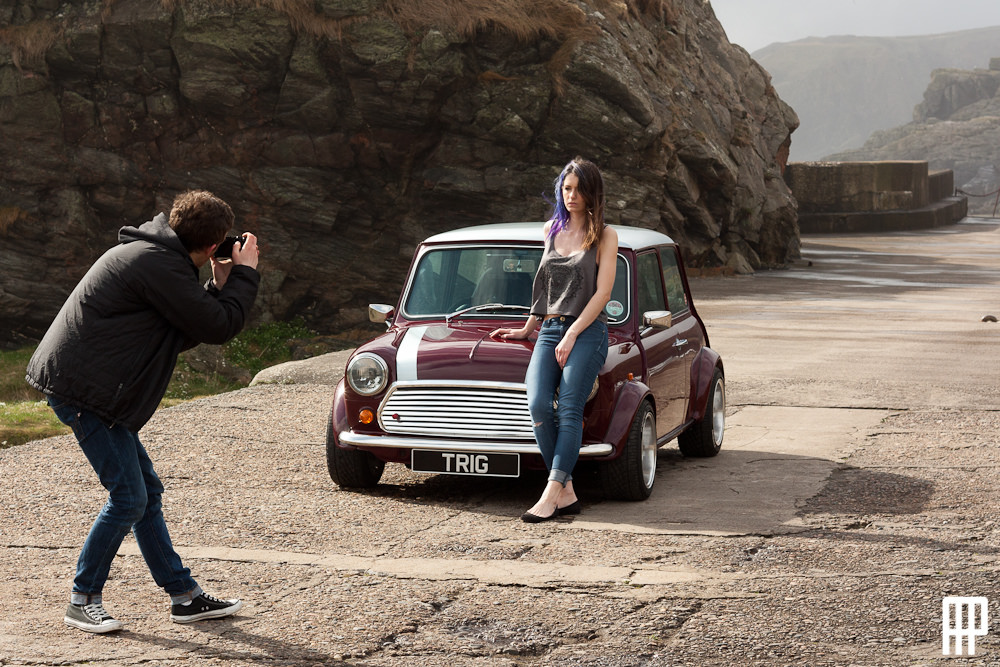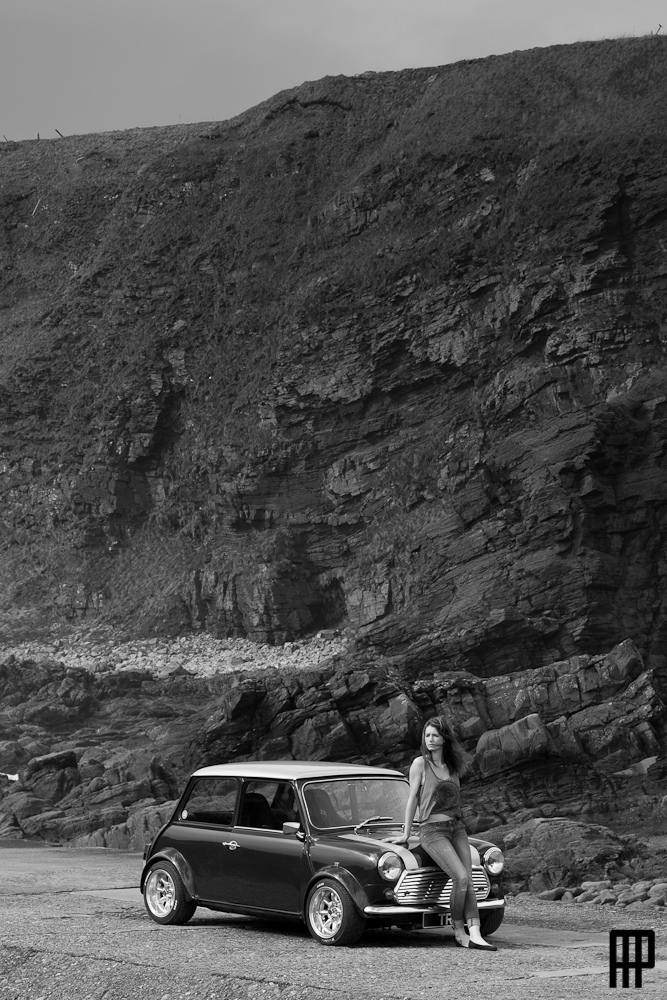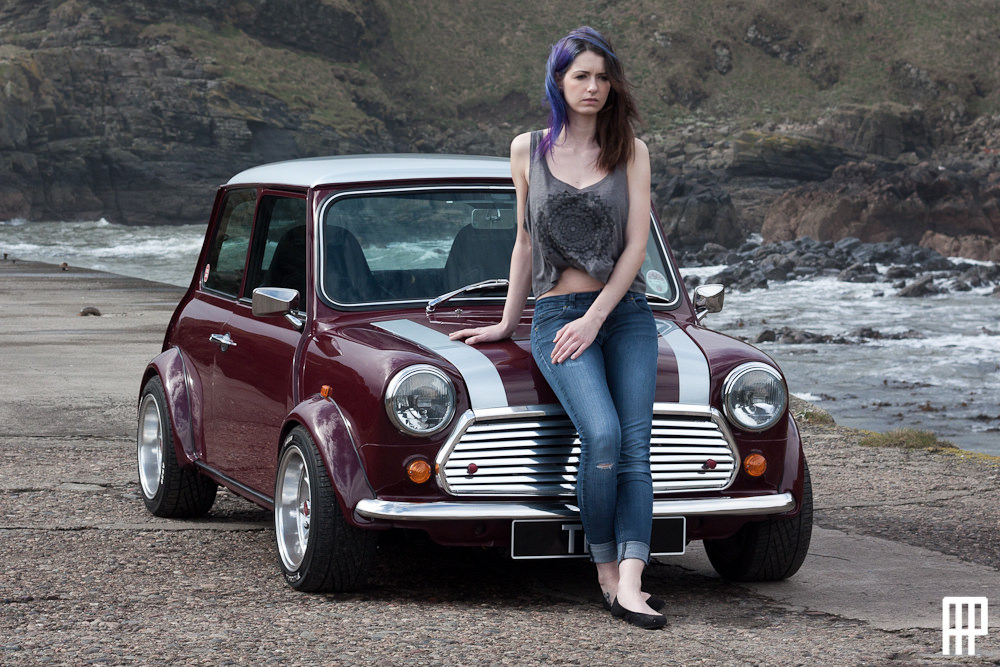 Very nice Im sure you will agree and a few of the car on its own once we had the shots we needed.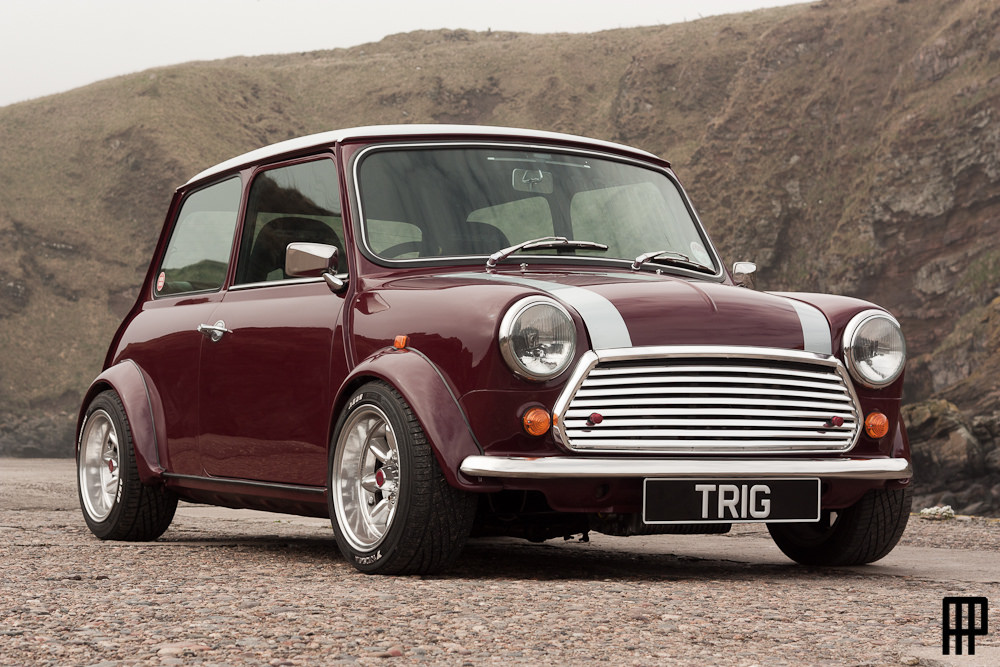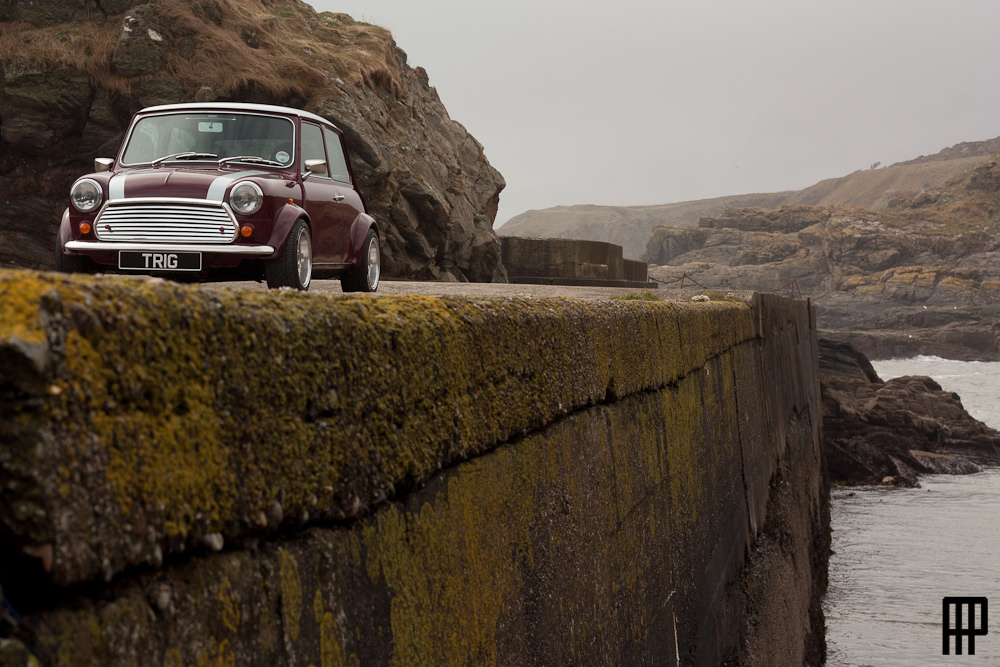 Was a great chance to get some decent shots after the latest respray. Driving back home via Union Street on a busy saturday was ace fun. Lots of smiles and pointing. Got surrounded by a group of 10-15 Japanese tourists all wanting a photo with it at a set of lights. Felt bad when I had to move off! All part of the fun of driving the Mini :)
4-7-2014
So paint match.....(unedited photo straight from my phone)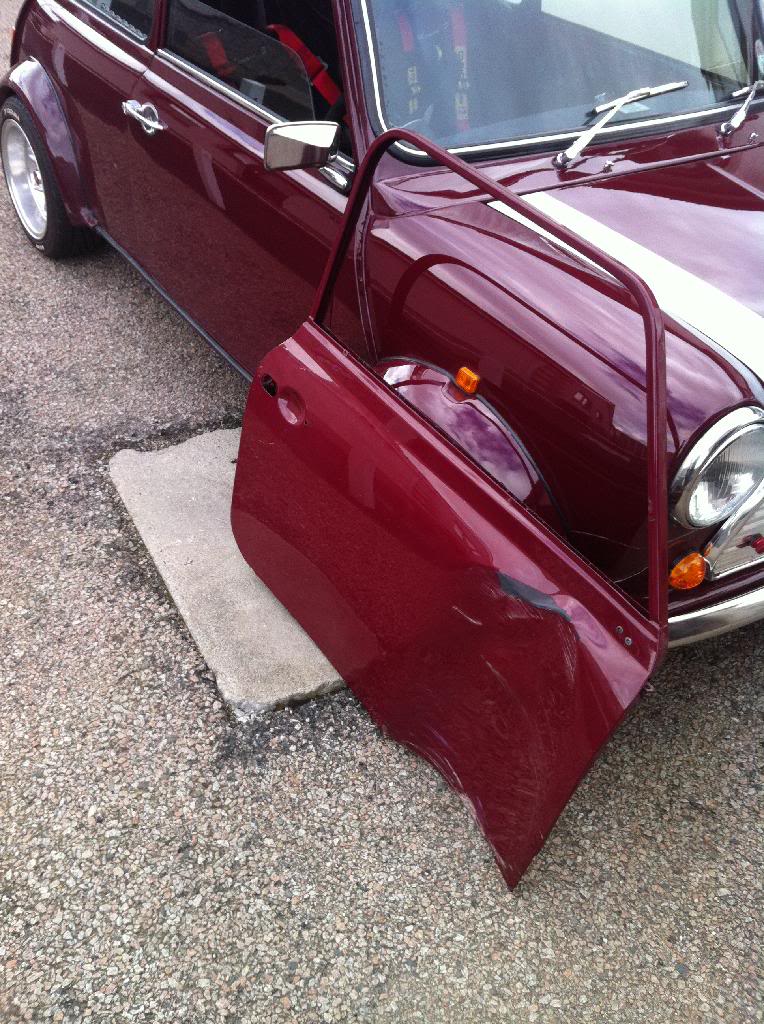 Old door is the colour they mixed for the original repsray, car is now the correct shade. Shocking difference but its a nicer colour now in my opinion. Much deeper shine too!
4-13-2014
Managed to get a couple wee niggles sorted out this weekend. Raised the front a touch so its not riding on the bump stops. Looks worse but hopefully after a short run will settle a bit. Seems veeeery high at the moment so may need down a little touch again.

When I was away to leave after getting pics taken by Natalie, the boot wouldnt close. Thankfully her boyfriend Greg had a screwdriver on him so whipped out a speaker to force it closed from the inside. Problem was the catch. It closed but didnt close fully so kept popping open. Quick mod to the catch (ake the mounting holes larger for some adjustability) and it sorted the issue. Before and after.....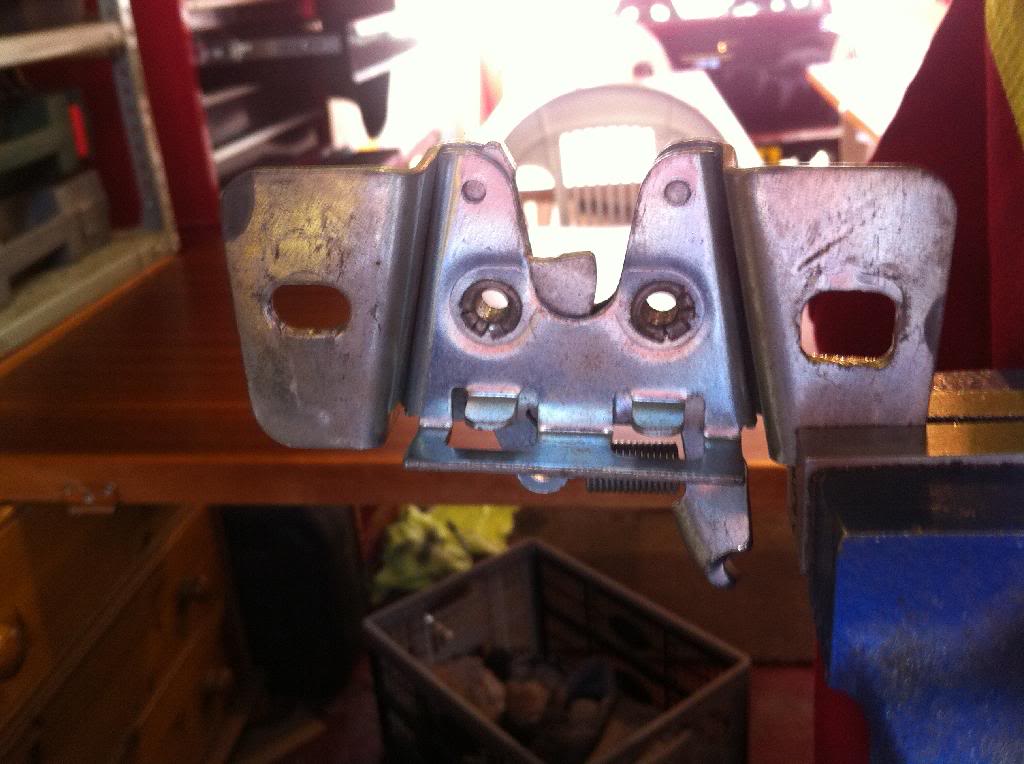 I also just got an email saying I have been accepted for a hanger space at Cleanfest, which is being held at Fife Airport this summer. Think Players Show but easy to travel to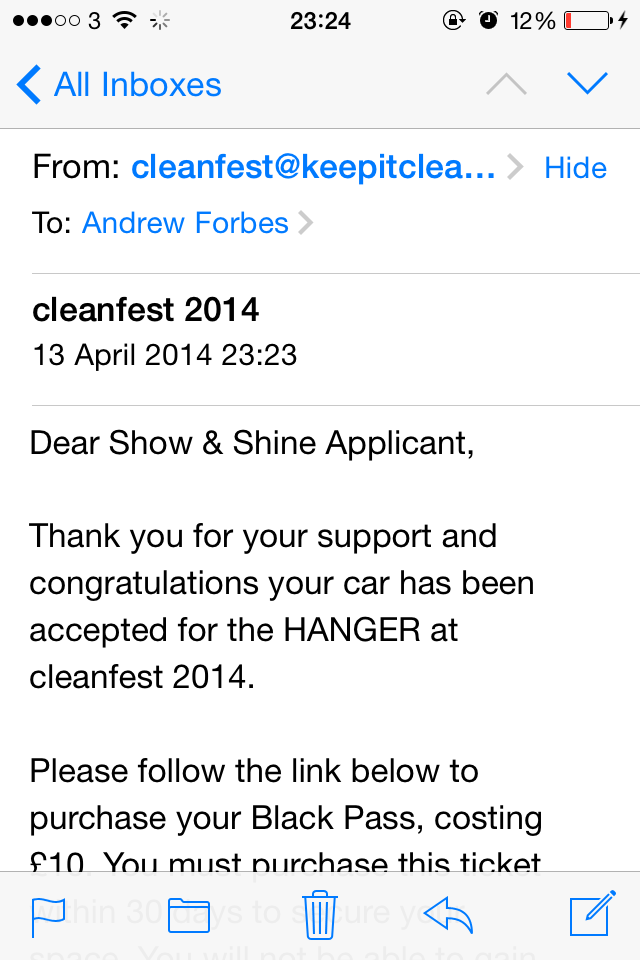 Fairly chuffed as there arent many hanger spaces on offer and I guess a lot will go to super clean VAG scene cars, so goodness knows how a wee shiny Mini will compete with them! Should be a good show though!
4-26-2014
So today Trig got a surprise sister!! Everyone, meet Heidi, the 1971 VW Camper my parents have just bought unannounced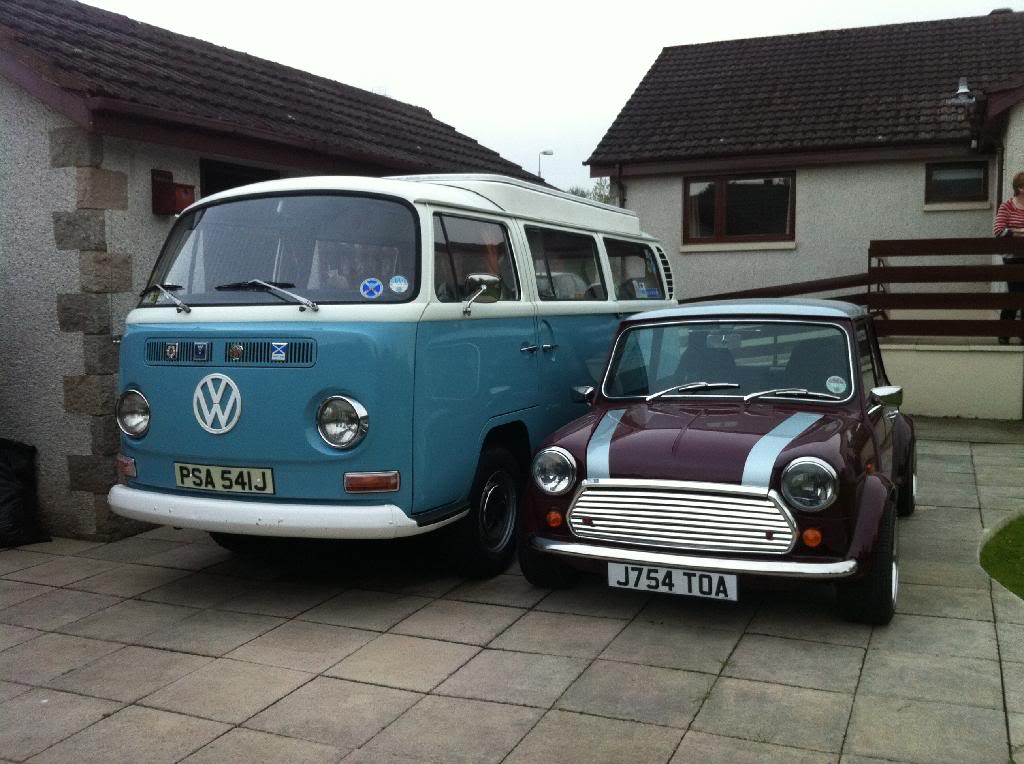 5-18-2014
Located a wee oil leak. Driveshaft to diff seal. Leaking onto the pot joint and spraying oil all underneath the car and up the back of the engine. Lovely! I needed to redo the engine bay ancillaries paint anyway but this has ensured that the bonnet stays shut for shows for this season as its a mess!

Waiting for parts to arrive (few other bits and pieces thrown in for good measure) but got it ready for the change today. Split the ball joints to release the hub, split the pot joint from the diff and bungeed in place. Quick swap of the seal and back together in no time some night this week. Hopefully sorts it!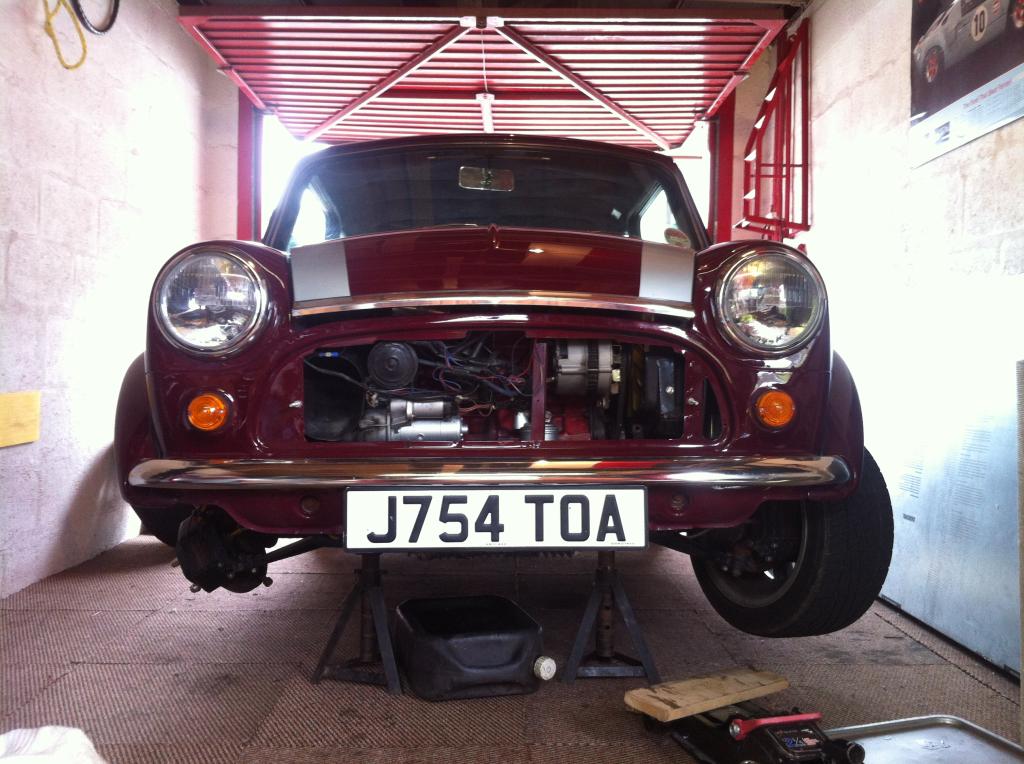 Few other little issues. Bonnet catch refuses to close properly (easy fix) and found a fair bit of swarf on the sump plug. My guess is its coming from the gearbox. It crunches into third up and down the box so I think its starting to take its toll. Drained the oil for the diff seal anyway and fresh stuff will go in. Was going to be changing the box before IMM anyway but hopefully it doesn't damage the engine too (why did they have to make the A series share oil between engine and box again...?) If it does damage the engine, I guess it will be time to go 1293/1340 far earlier than anticipated

5-20-2014
MiniSpares order arrived. All fitted and working well. Diff to driveshaft seals, ball joint dust covers (old ones get destroyed splitting the joint on removal), rocker cover oil cap (managed to snap my old one by leaning on it) and out of shot, fibre washers for the oil pressure gauge line for the unions at the block and gauge.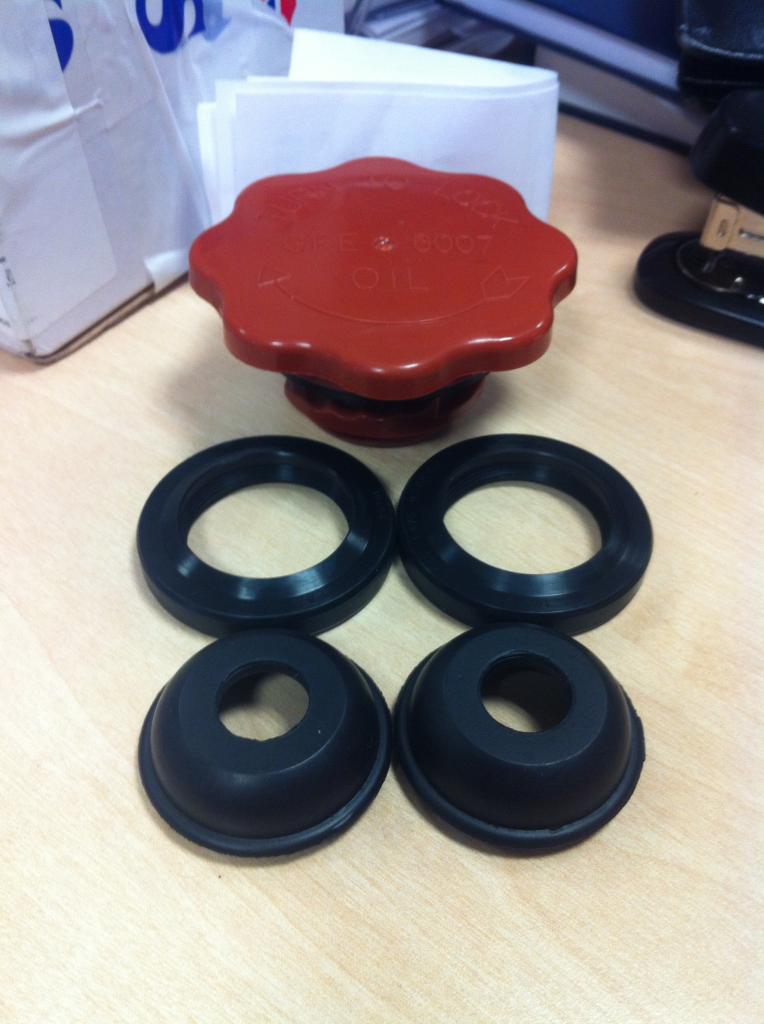 Fitted up ready to go. Old diff seal had a small split on the ID hence the leak. Hopefully this one will last a wee bit longer! To do tomorrow, fit a 12v socket for the sat nav/phone chargers, make sure all bolts on the suspension are free for the hunter 4 wheel alignment at Reidline on Friday morning and check fluids ready for the Thistle Run on Sunday! :)
5-28-2014
Good effort coming up from Manchester! And thanks! Hopefully he took note of the car and contacts me for a feature...........

Post up the pic if you got it in the end! :)

Got the car a full wheel alignment done at Reidline Performance in Kintore last Friday, so it behaved on the Thistle Run. Took them 4hrs to get it right in the end but its all good now. Braking is no longer a scary, shaky/wandering experience. Negative camber dialed in on the rear really helps it bite in the twisty bits.

And now Ive had a chance to sit down and edit photos, heres some photos from the 2014 Thistle Run from Newton Grange to Eyemouth Harbour.

With the alarm set for 5am, it was an early start. It was torrential rain all the way to our pre convoys. Met up with a few folk in Portlethen and headed down the road. It was slightly foggy.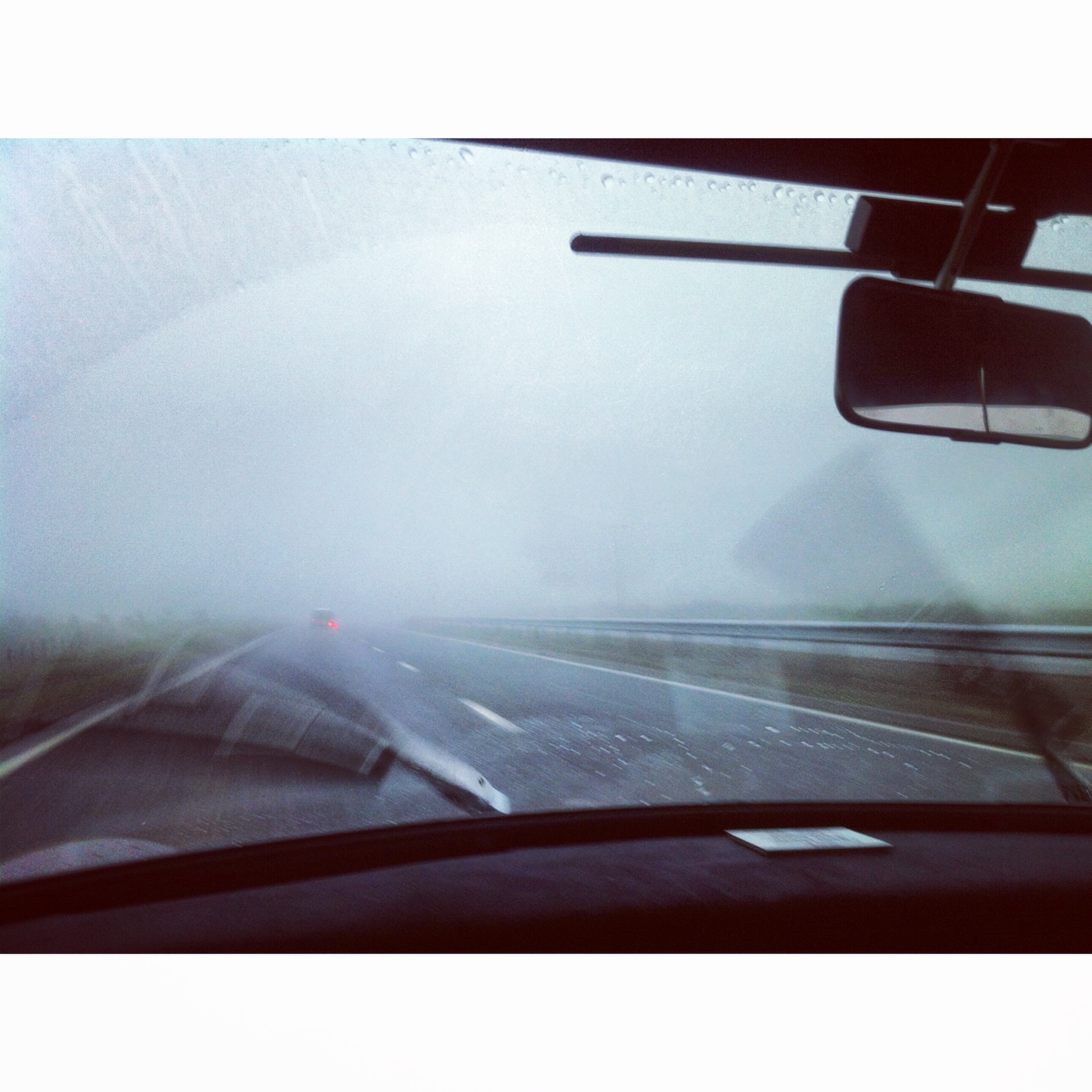 But we made it to Ferrytoll park and ride to meet up with a few local folk, before heading to the start point at the Scottish Mining Museum.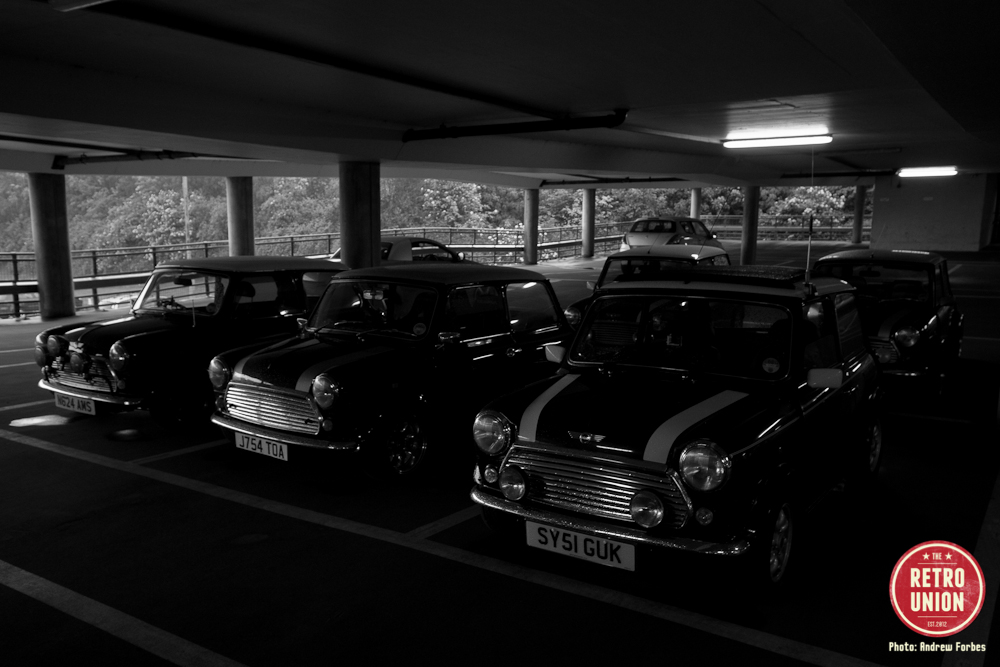 As you can see, it was still pelting down going across the Forth Road Bridge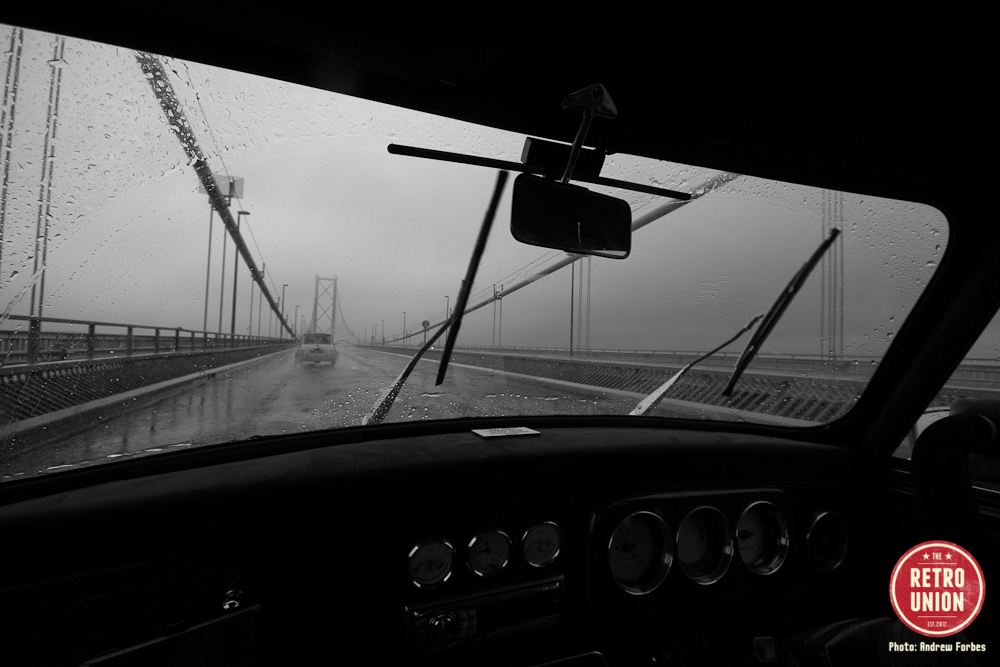 But that didnt seem to bother my co driver Greig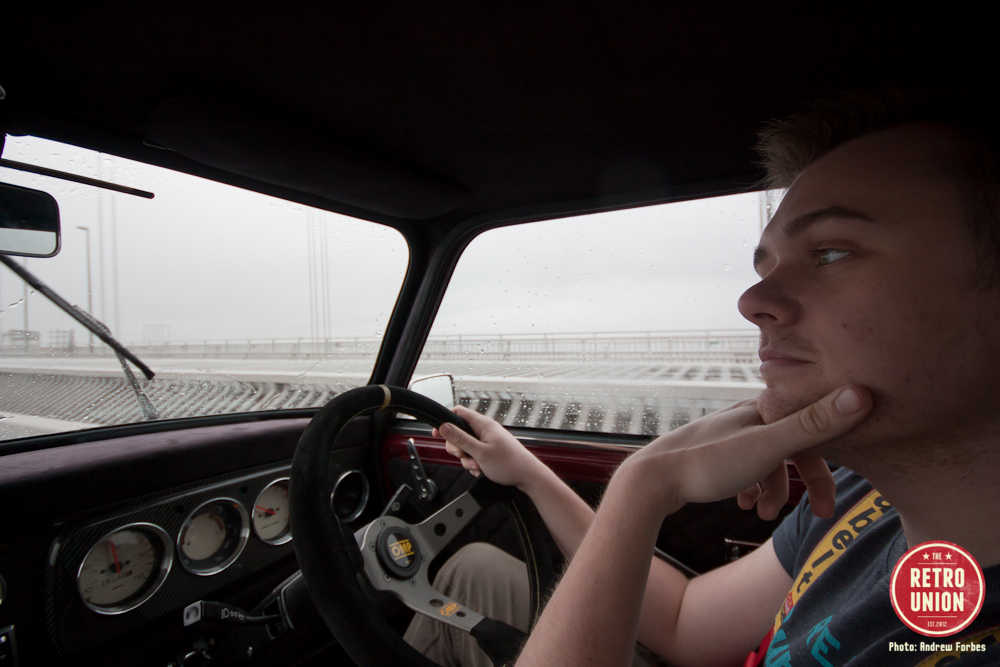 We set off from the start after our drivers briefing ('The Thistle Run is not a race!' etc etc) You can see that minis are actually pretty spacious inside!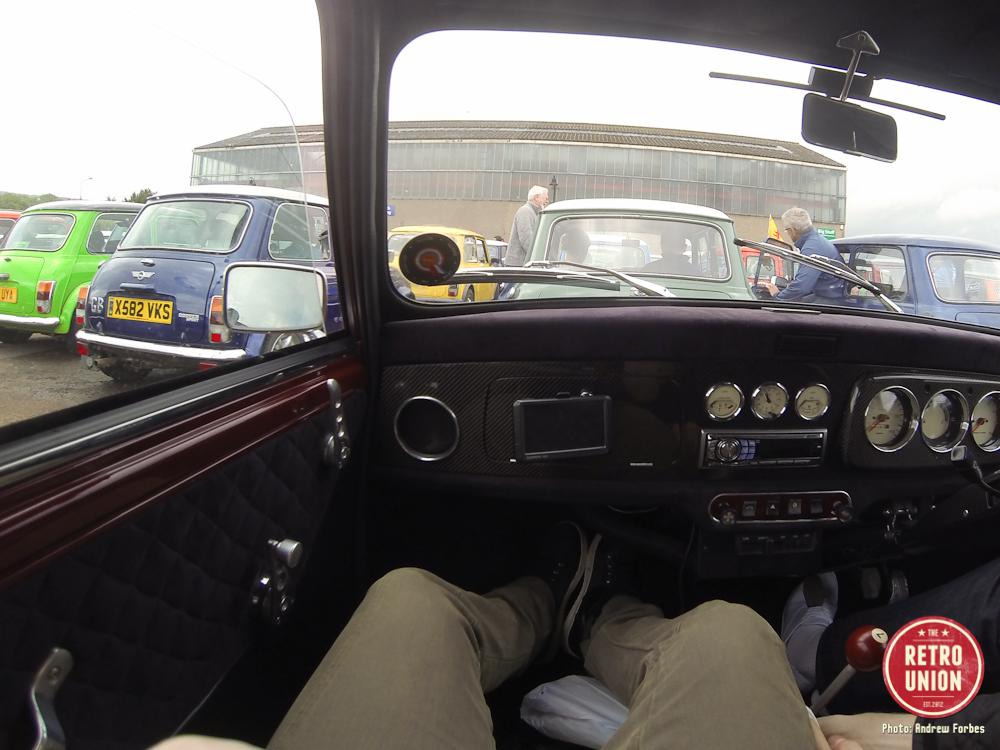 But first, let us take a selfie...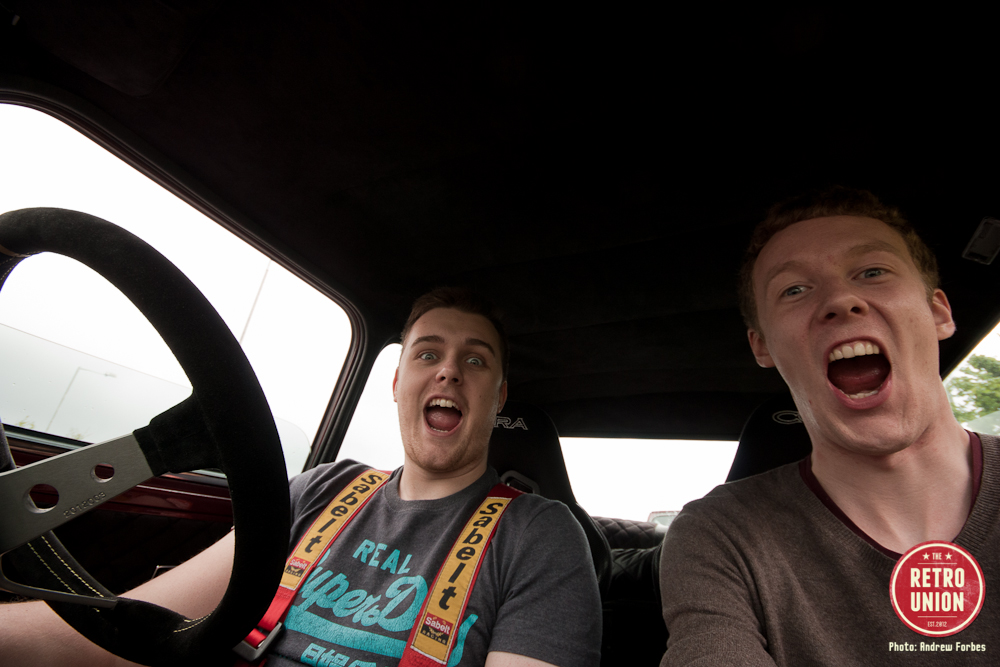 Ended up in Northumberland at one point. This photo was taken as we waited to cross a small, one car at a time, bridge back into Scotland. As you can see the weather decided to brighten up for the actual run, which made life much easier!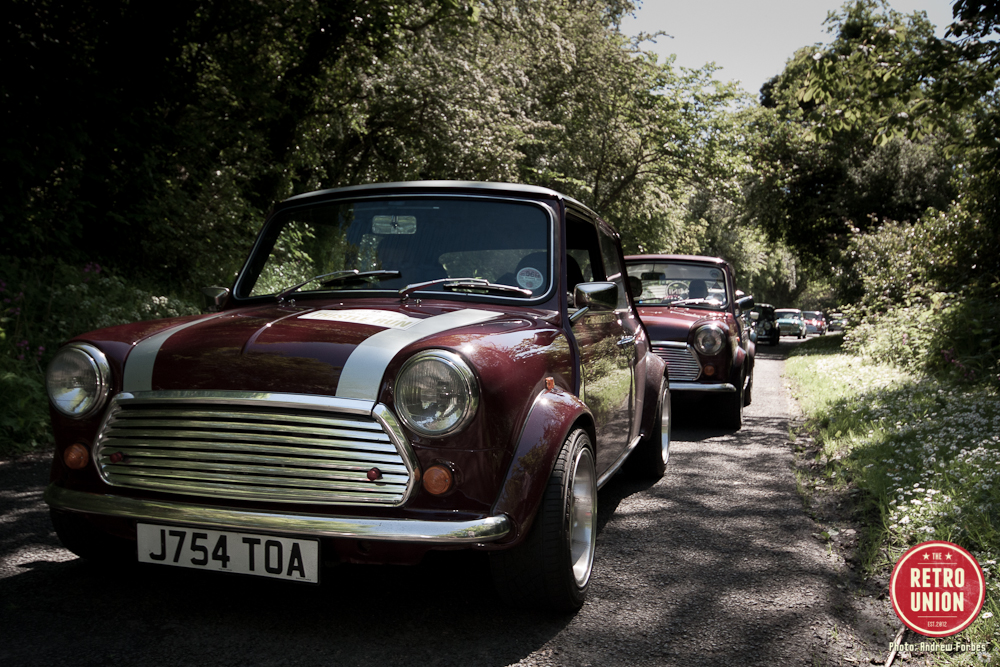 The run took about 2.5hrs to complete. Totally trouble free for us, but others weren't so lucky. Thats just Minis I suppose! On arrival, a quick polish of chrome and wipe down of body was all the car needed for the show and shine. Greig was on the case, polishing my tip.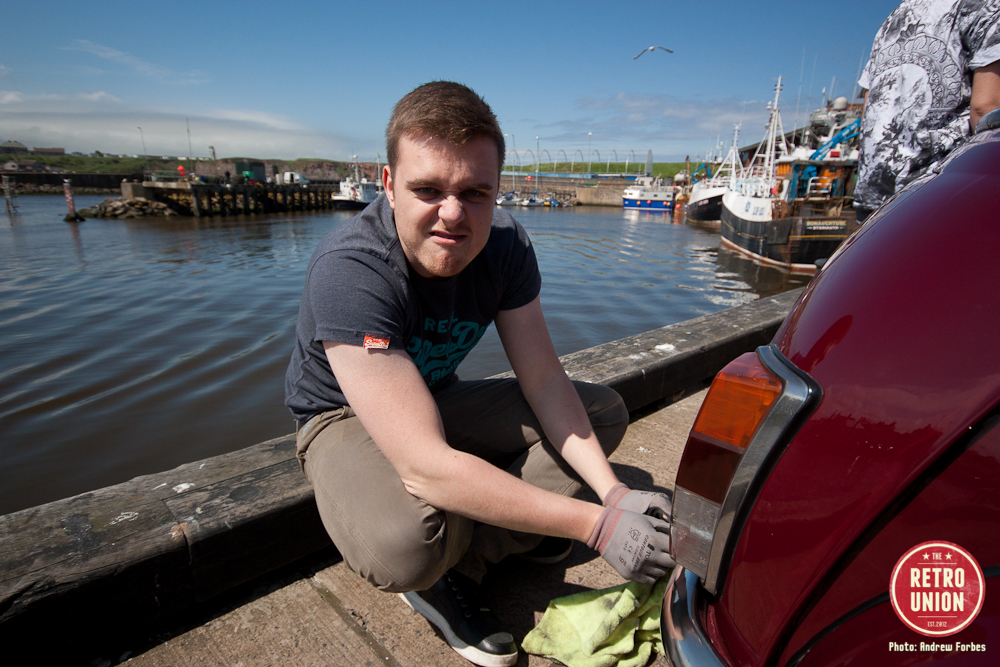 Sun was ridiculously hot which showed off the car well. So heres its arse.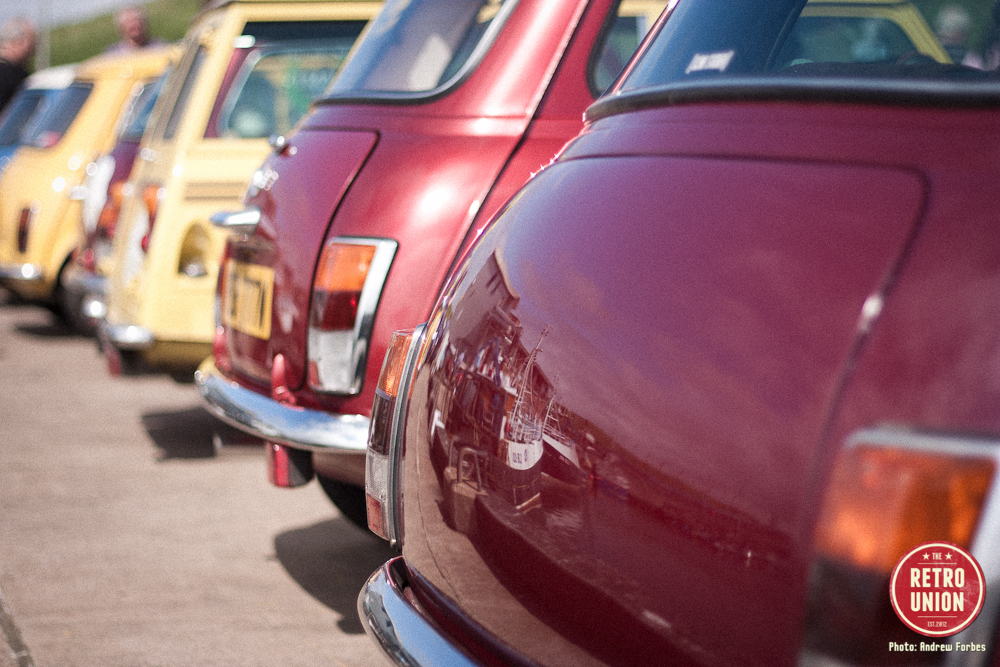 Scott (ManicMonkey) had a co driver too, who took this shot (the only decent one I have of the car at the harbour-side actually)




Sadly didn't win any prizes but still had a good day out. We stopped off at Krispy Kreme for donuts and then headed back up the road again.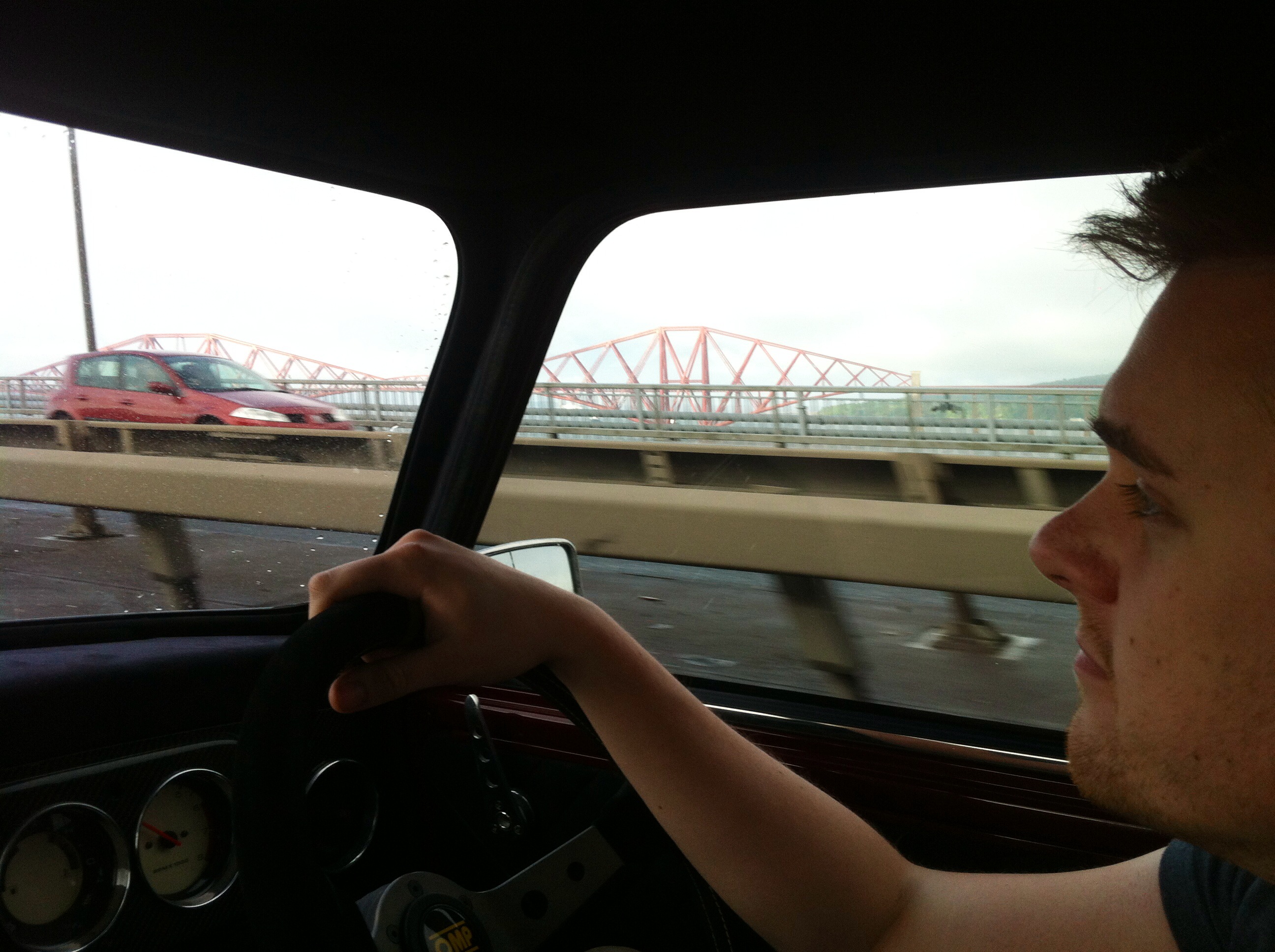 Ace but very long day. Left the house at 5.30am and got back at 9.30pm. Just shy of 500miles total, with no issues. I was going to wheek out the box and replace it before IMM but seeing as it coped ok with this trip, I think i will leave that and sort it all over winter. If it aint totally destroyed, dont fix it. :)
6-1-2014
Another weekend, another show down. Fraserburgh Vintage Vehicle Fair this time. Ignore the vintage bit, there were 11 plate Focus RSs there...... Met up with Alex and Chelsea and headed to our convoy start at the ******* and Bull Pub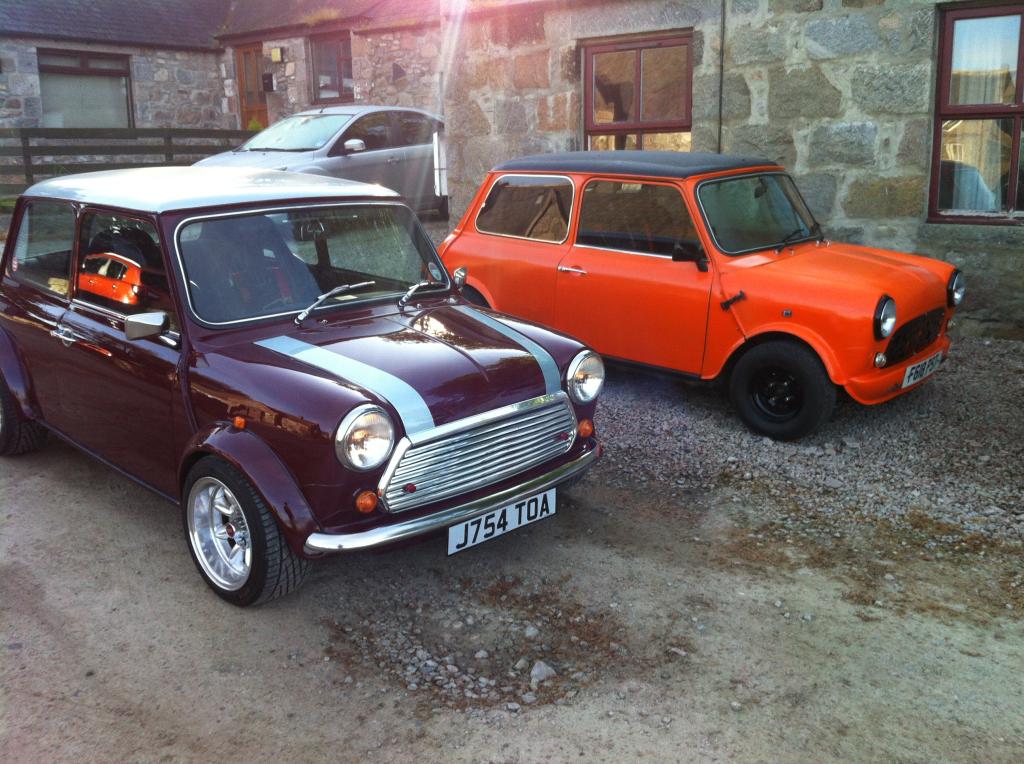 Foggy this morning but it burnt off pretty quick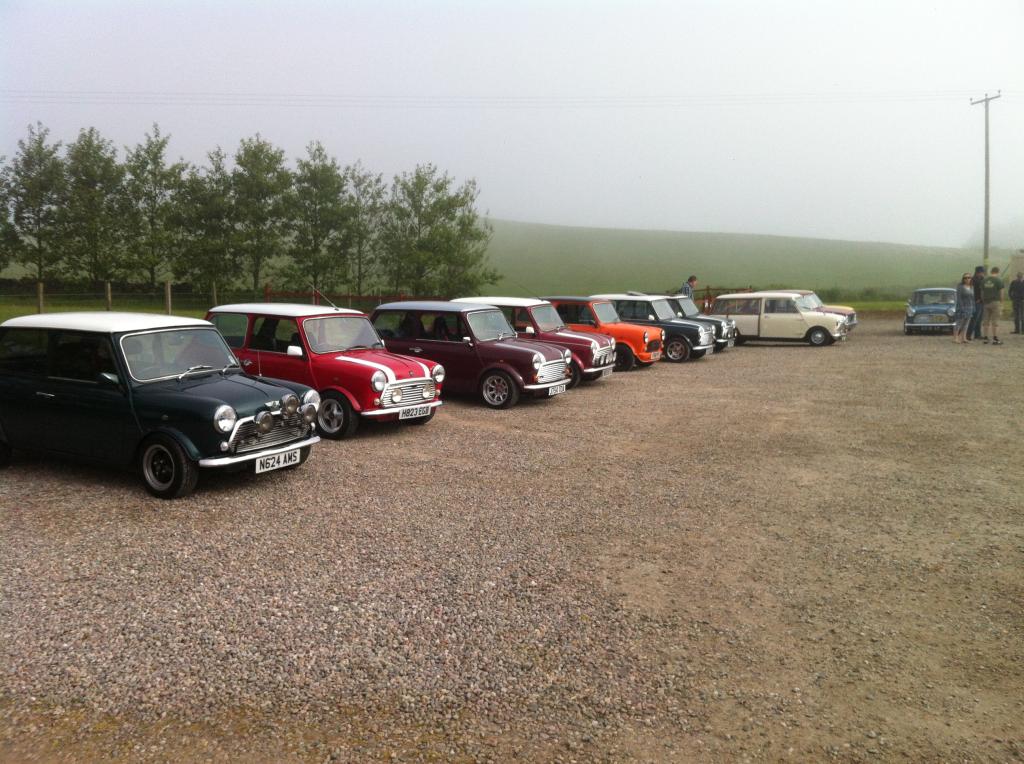 And picked up a few more at Tesco Fraserburgh before we headed in together to make our stand.
I was on the corner of the pitch so got the banner.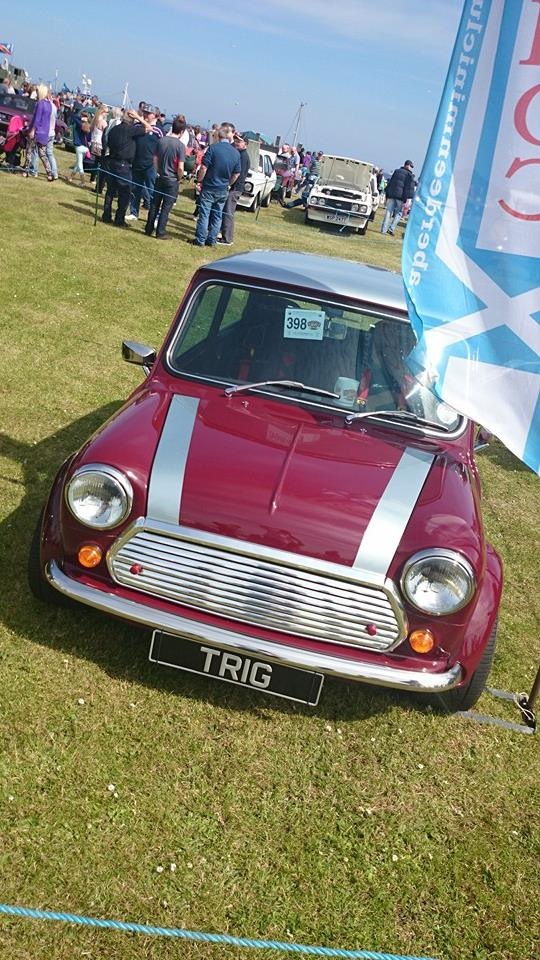 And I got to work cleaning for the show and shine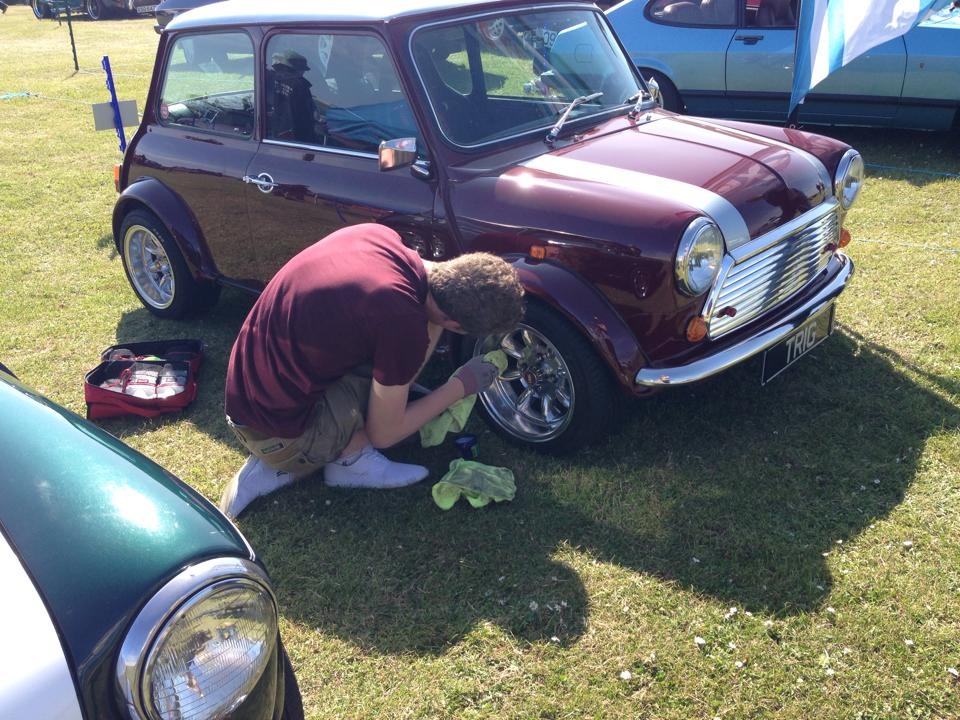 I didn't win anything (an externally restored purple Mini won best Mini instead) but we did win the club stand shield. Rare victory when the RS Owners club name is all over it from previous years!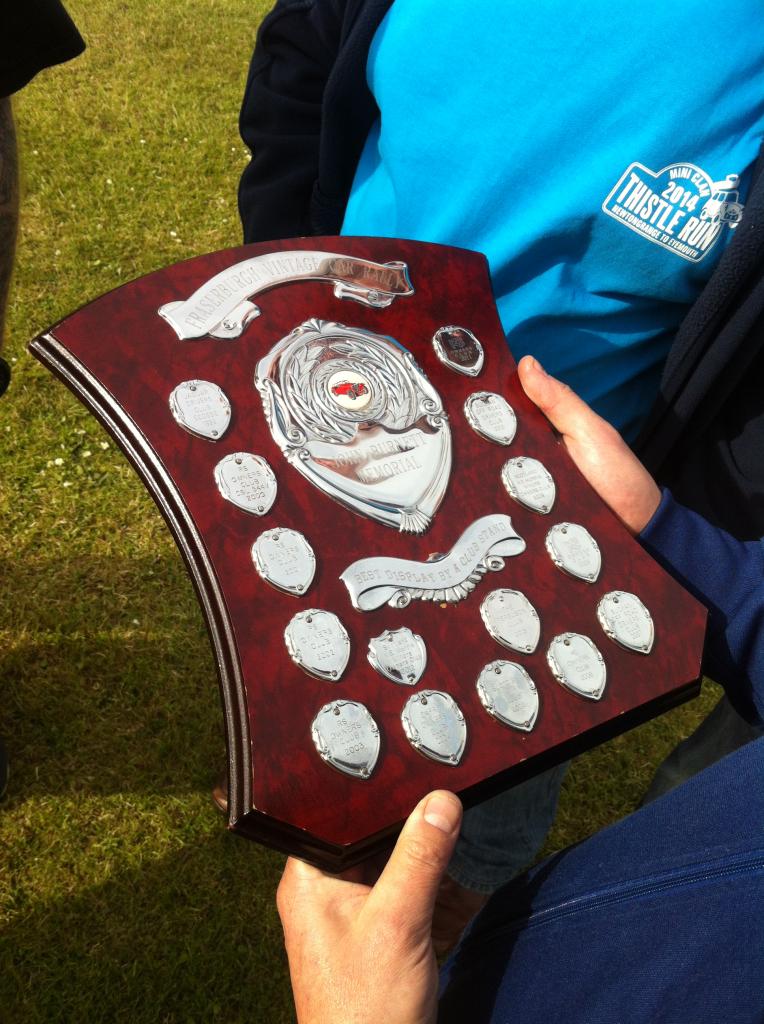 Again, no issues for me which is always a bonus. Home tired and burnt to a crisp but a good day out. :)
6-15-2014
Well I took this photo the other weekend since the sun was out but on closer inspection at Fraserburgh the paint was covered in swirl marks from poor wash technique and quick detailer to remove muck at shows.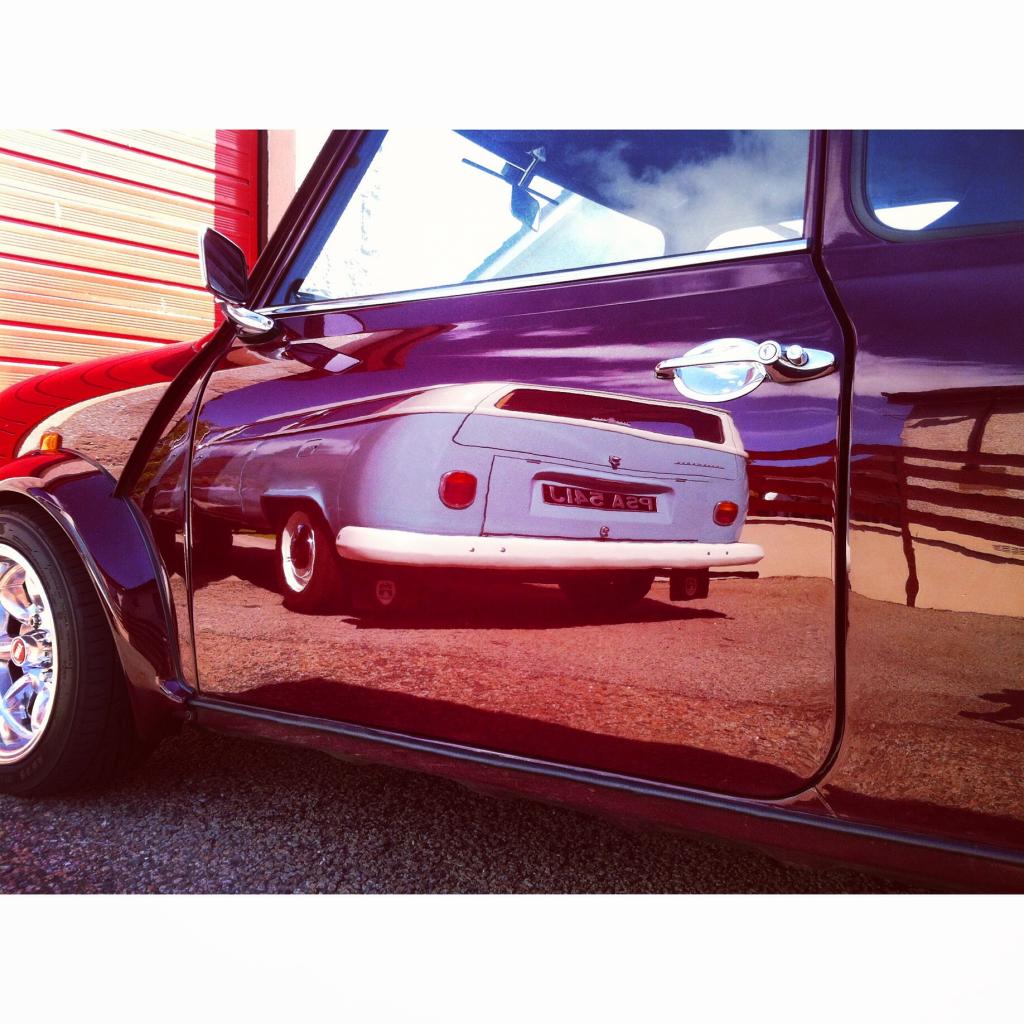 So Greig popped out to help me get rid of around 90% of the swirl marks. Taped up and ready to go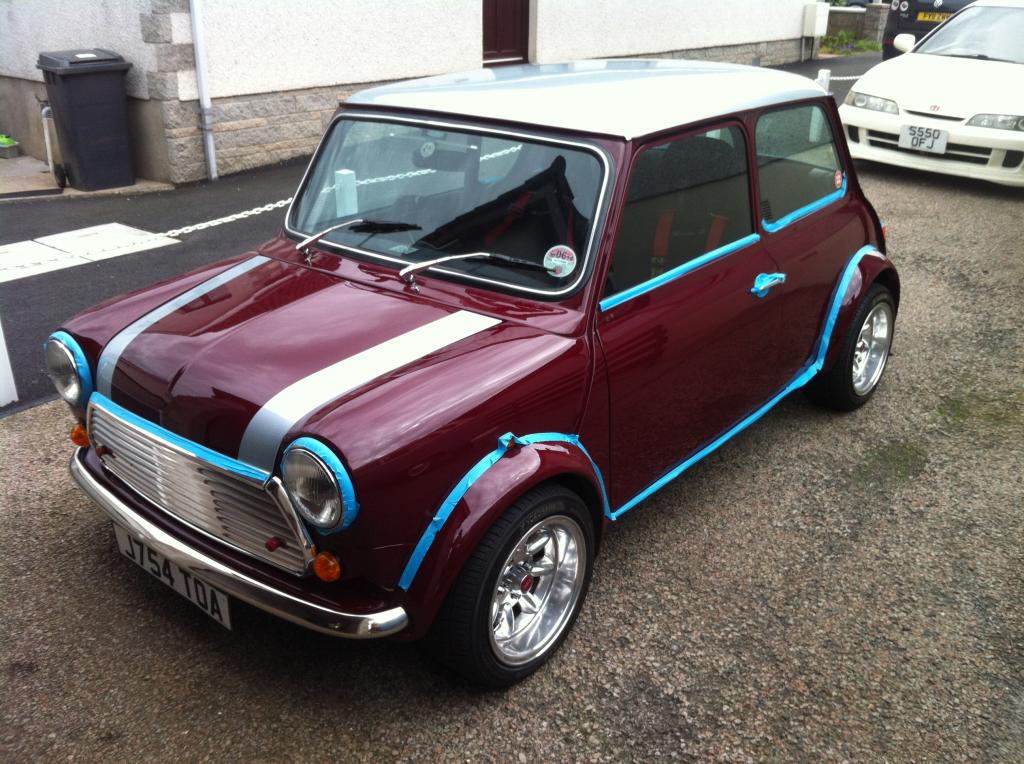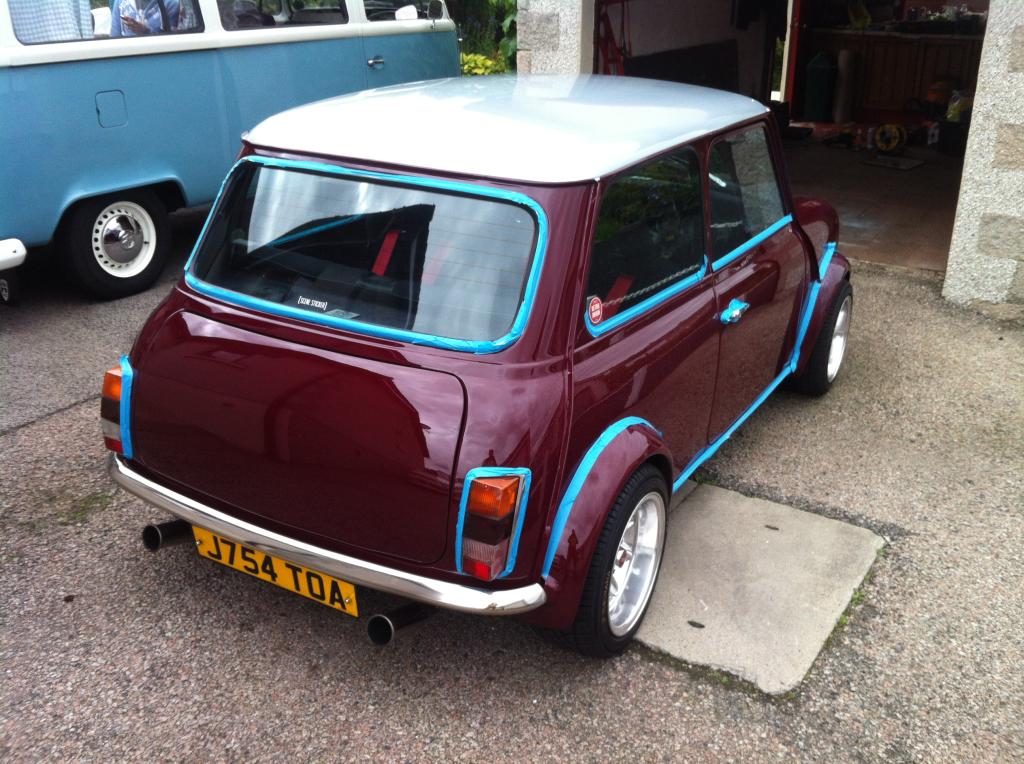 Greig takes polishing VERY seriously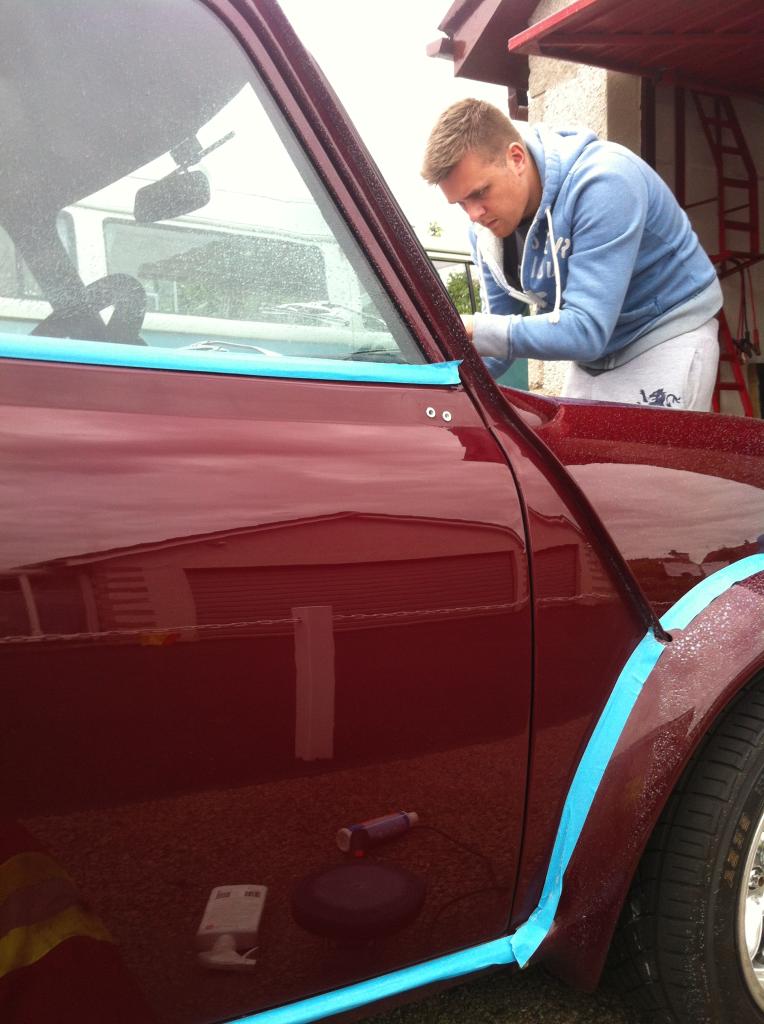 Mirror shine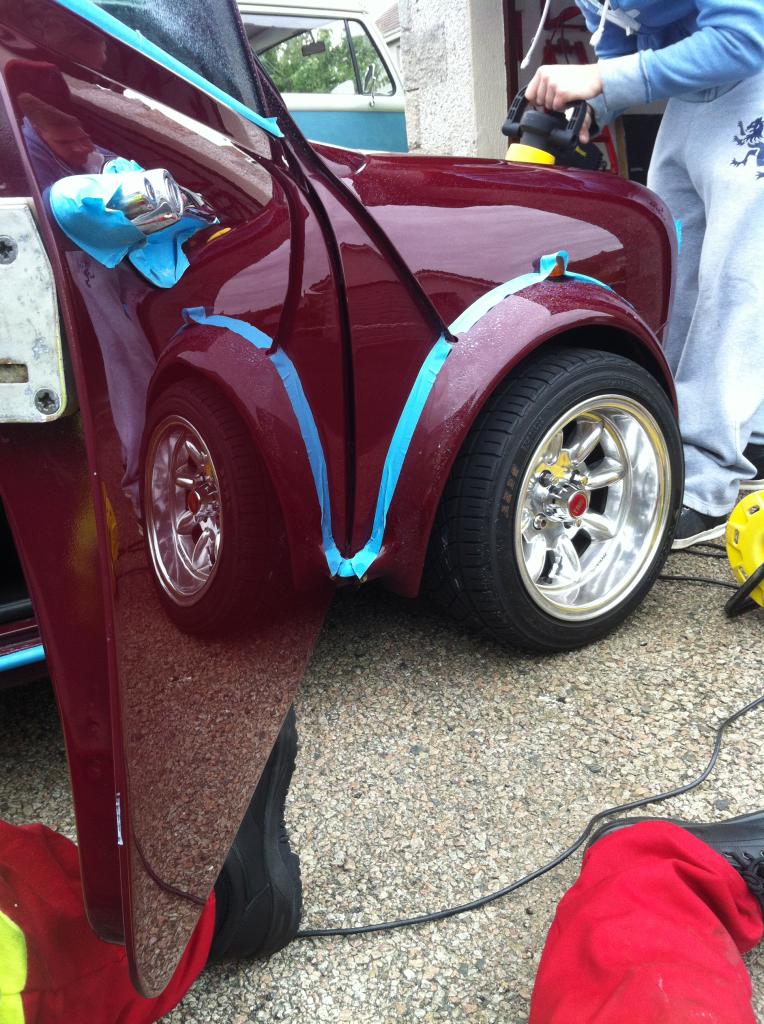 And a pic of the boot. Just because.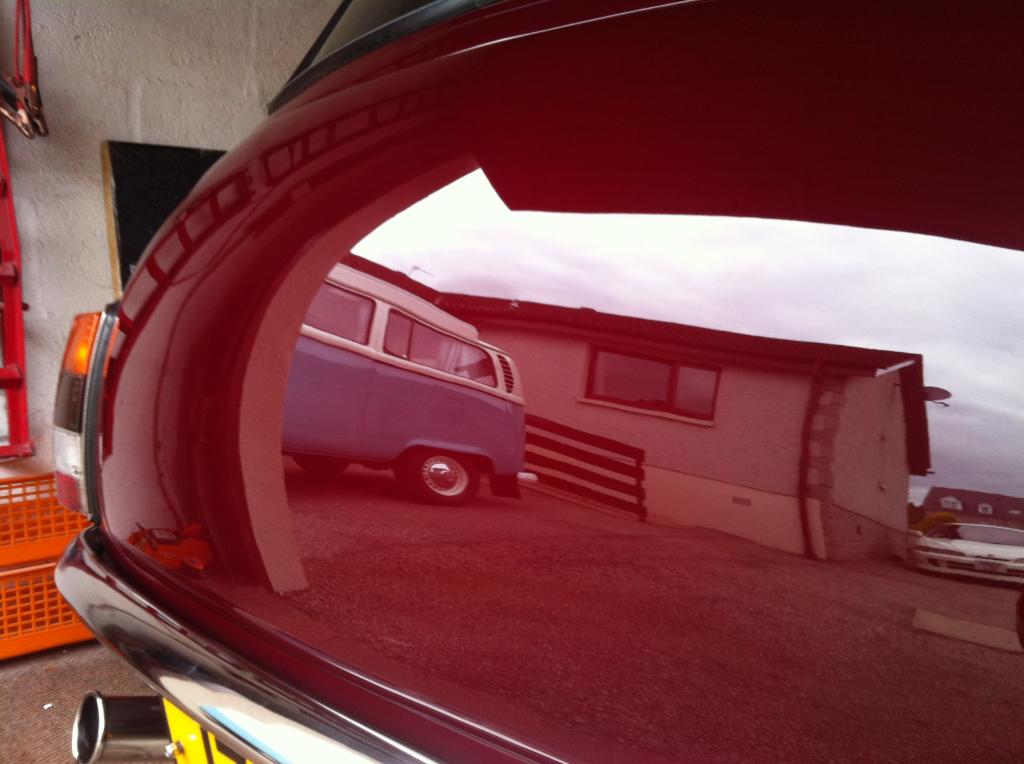 Thanks to Greig for the help. Halved the time it took to do the car and its now ready for Tain on Sunday (after a few coats of wax that is).
6-23-2014
Tain was on Sunday and sadly it wasn't as sunny as last years with rain most of the day. Still a decent turnout though! Joined up with AMOC and IMOG in Inverness to roll into the show together.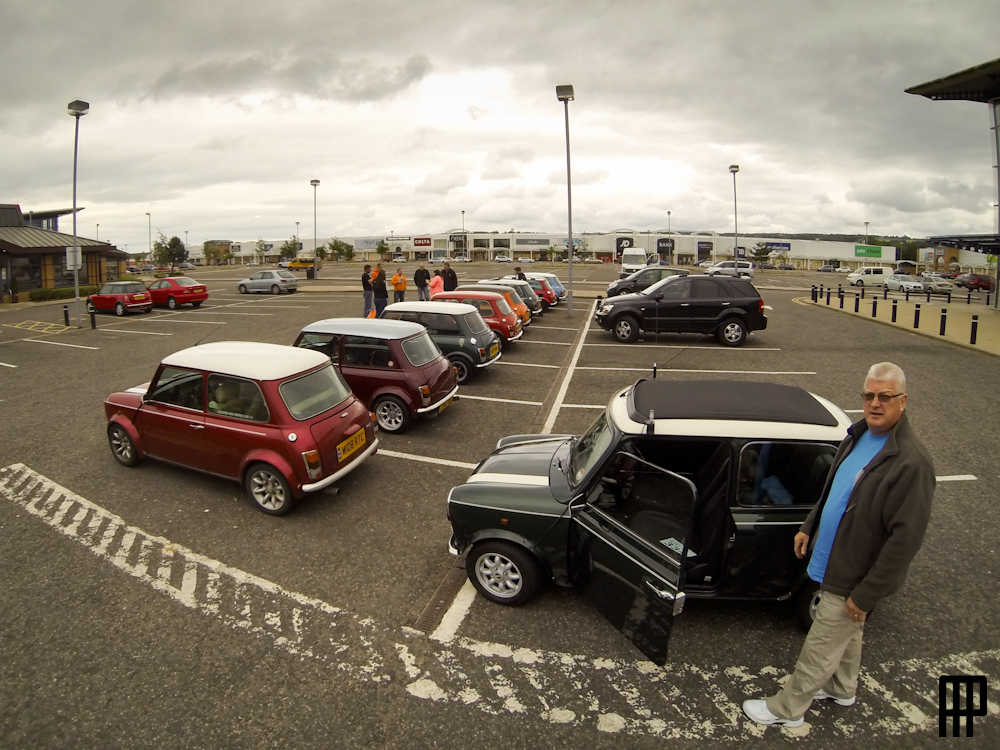 Car was looking remarkably clean given the weather on the way up the road.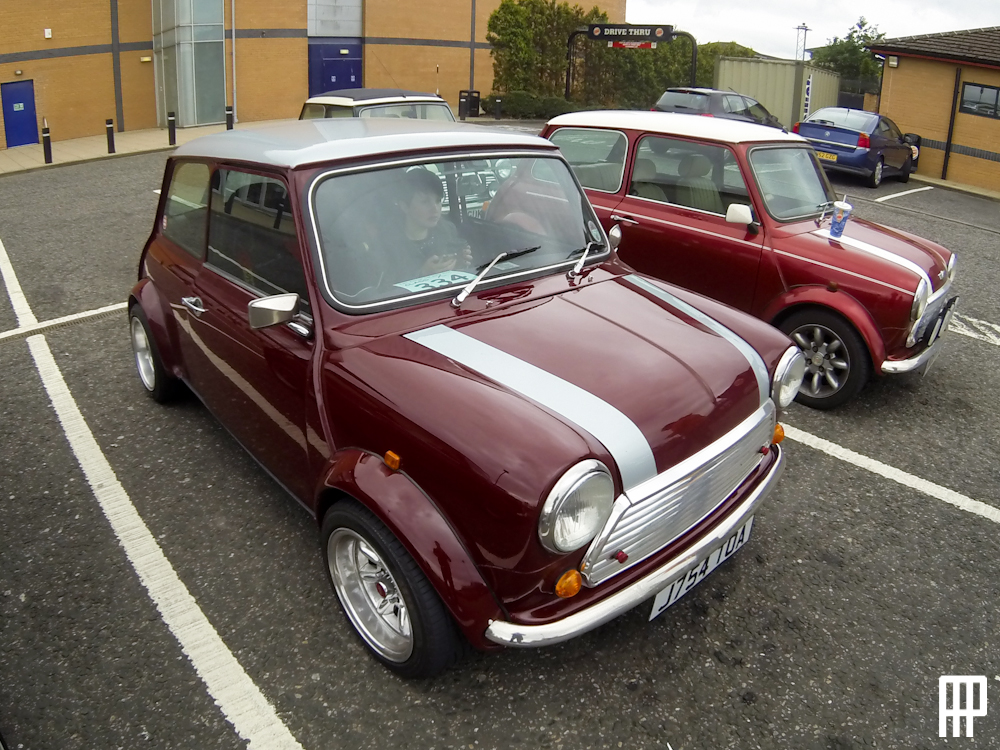 Arrived and given it was so wet, the car looked fine, so I didn't bother cleaning it.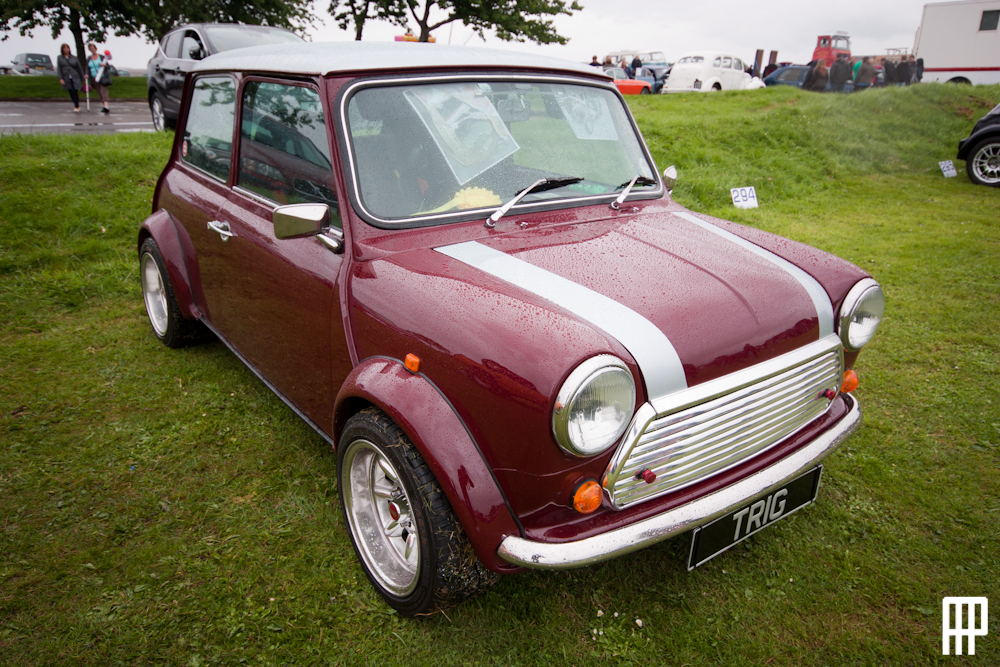 However I still won second place in the Custom Car class. I won last year but this year I was defeated by a Westfield running a Mazda MX5 engine. Not too many custom bits on it that i could see but hey ho still got a trophy!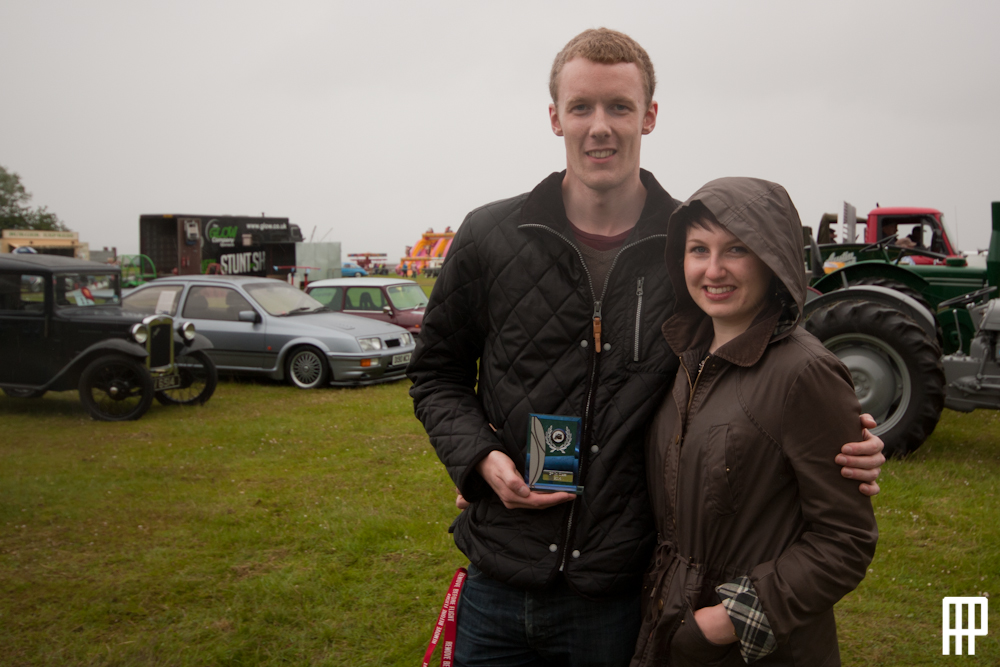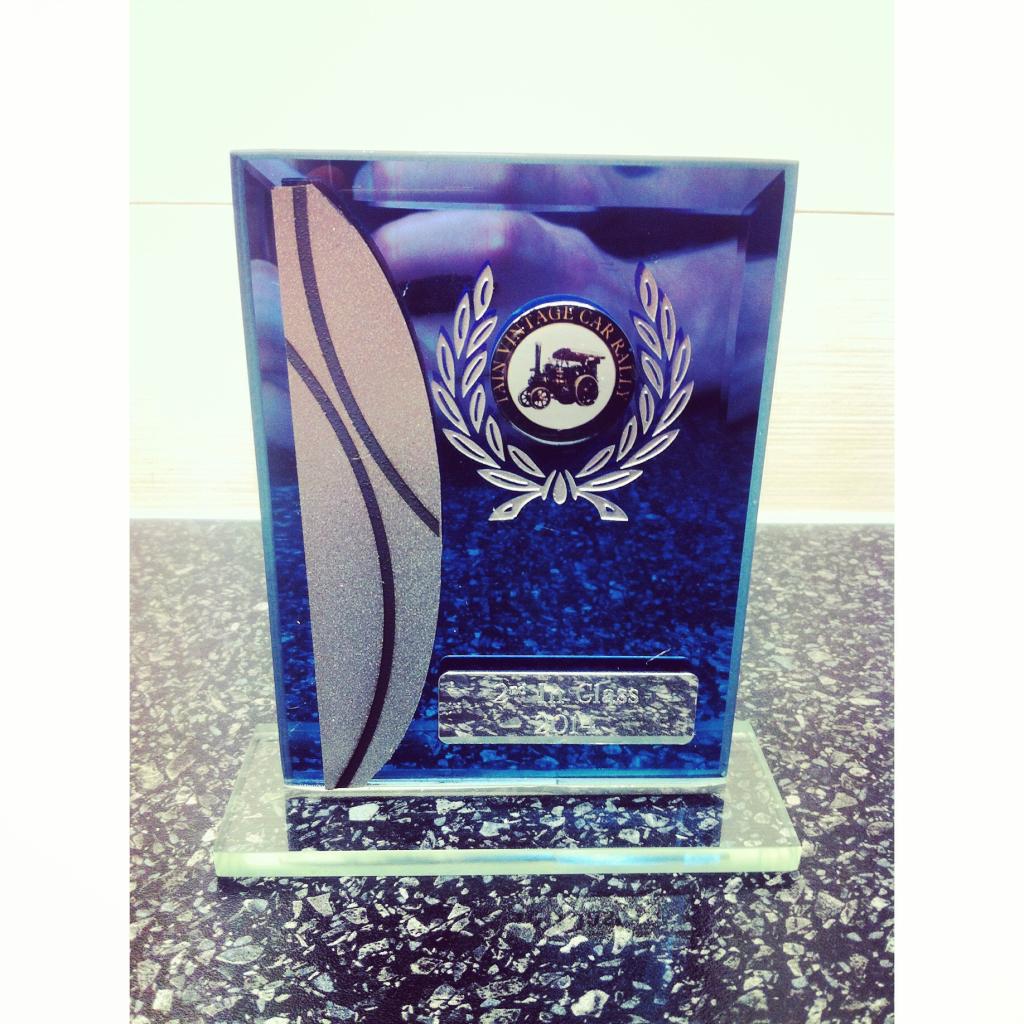 Just shy of 250 miles done with no issues at all. Think these long distance shows are giving me faith in the long trip to Kent in July. Next up, Glamis Extravaganza at Glamis Castle in a couple of weeks time :)
7-13-2014
Not much to report. Could have gone to Glamis show today but I really couldnt be bothered. So instead I replaced a wheel bearing on the passenger front. Wide wheels on these things really dont help the bearings last...... 'Gentle persuasion bar' for the hub nut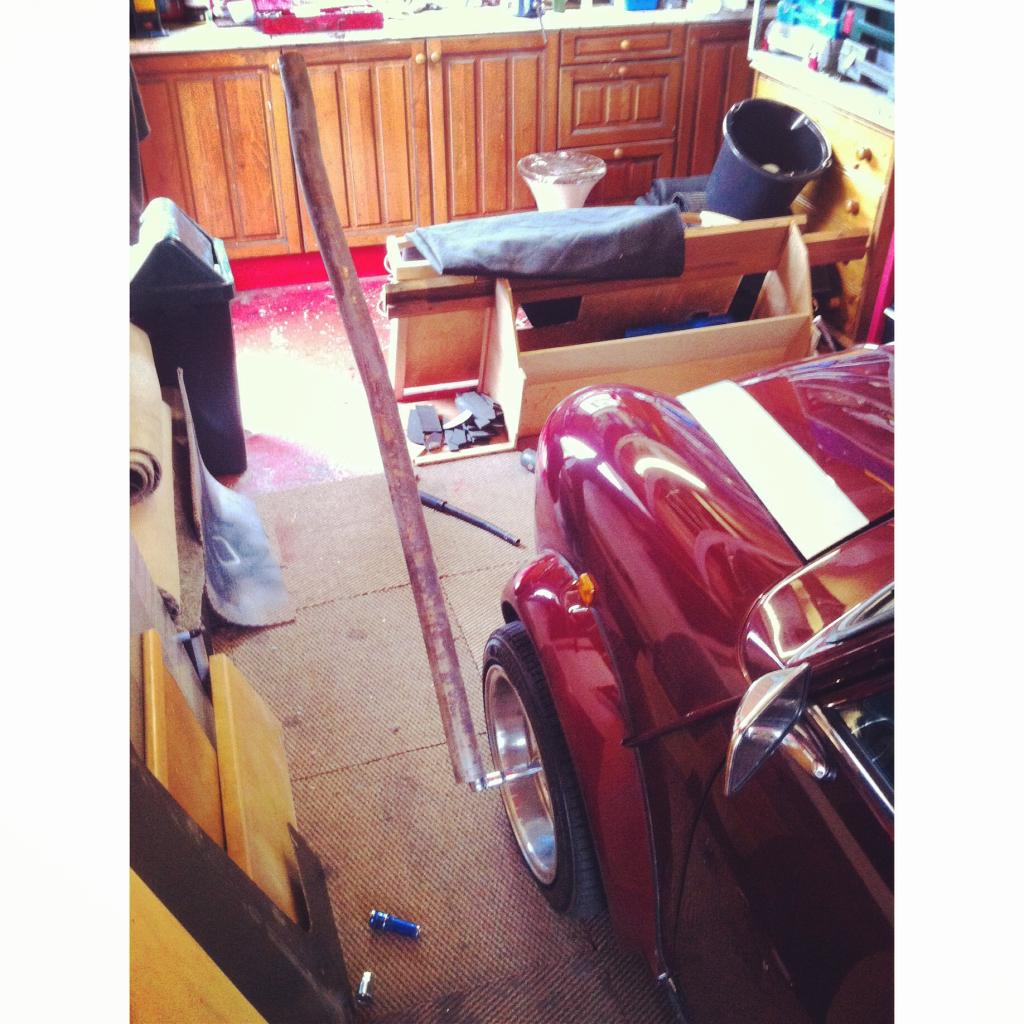 Dirty old knackered things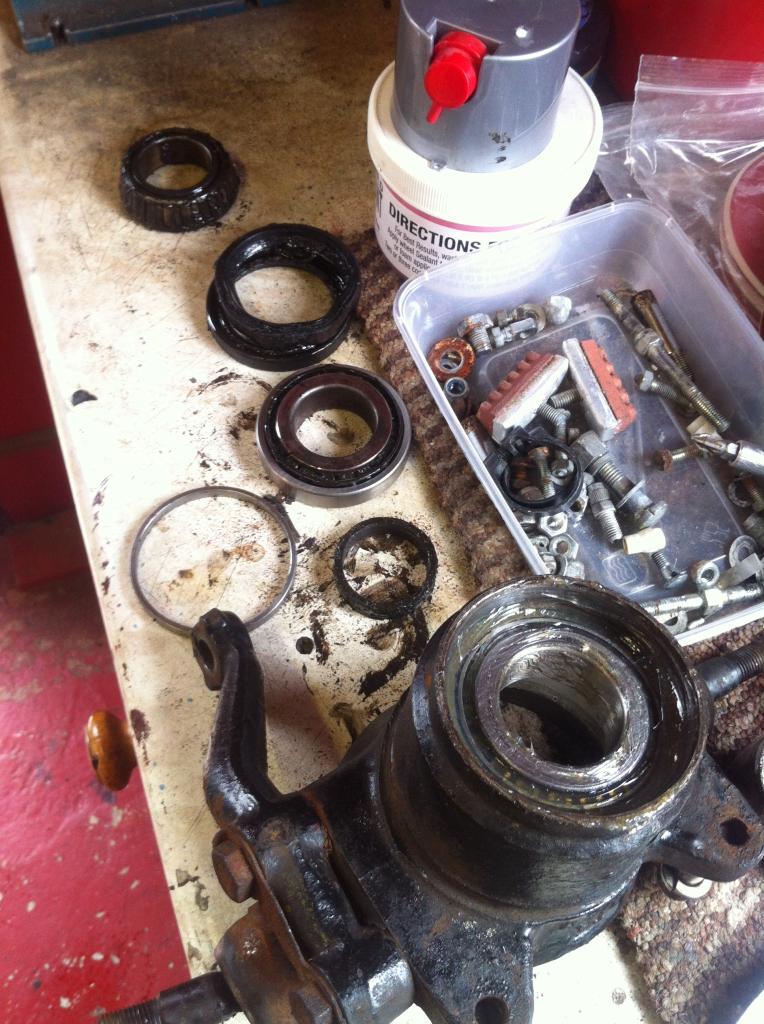 And MINI put a link of their article onto their Facebook page. It proved rather popular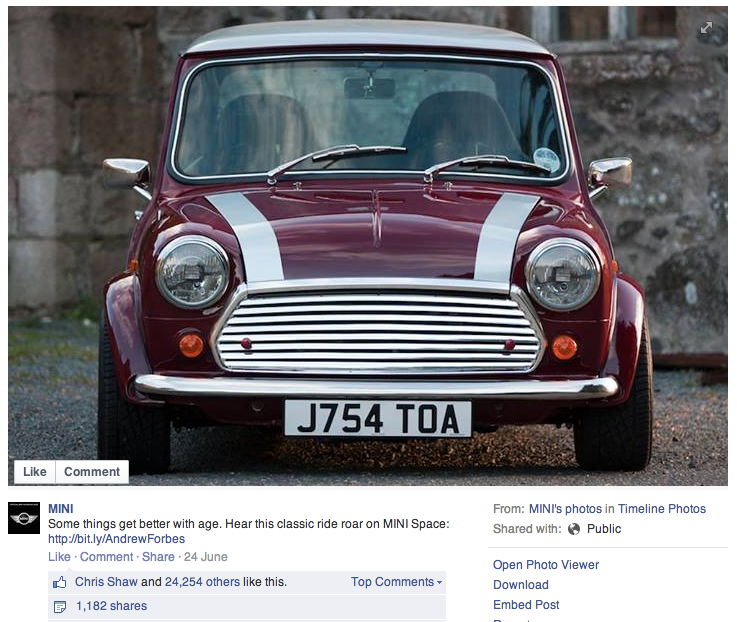 Next up, the long long trip to Kent for the IMM2014. Cant wait for that! After that, who knows. Don't know if I want to take it off the road after that or not. Not feeling the love for it at the moment as its not in a condition Im really happy with. Engine bay and running gear are an absolute state and need a lot of work to look right again. Arsed!
7-27-2014
My heater wasnt heating and I had a couple of minor exhaust leaks. Managed to fix both issues :)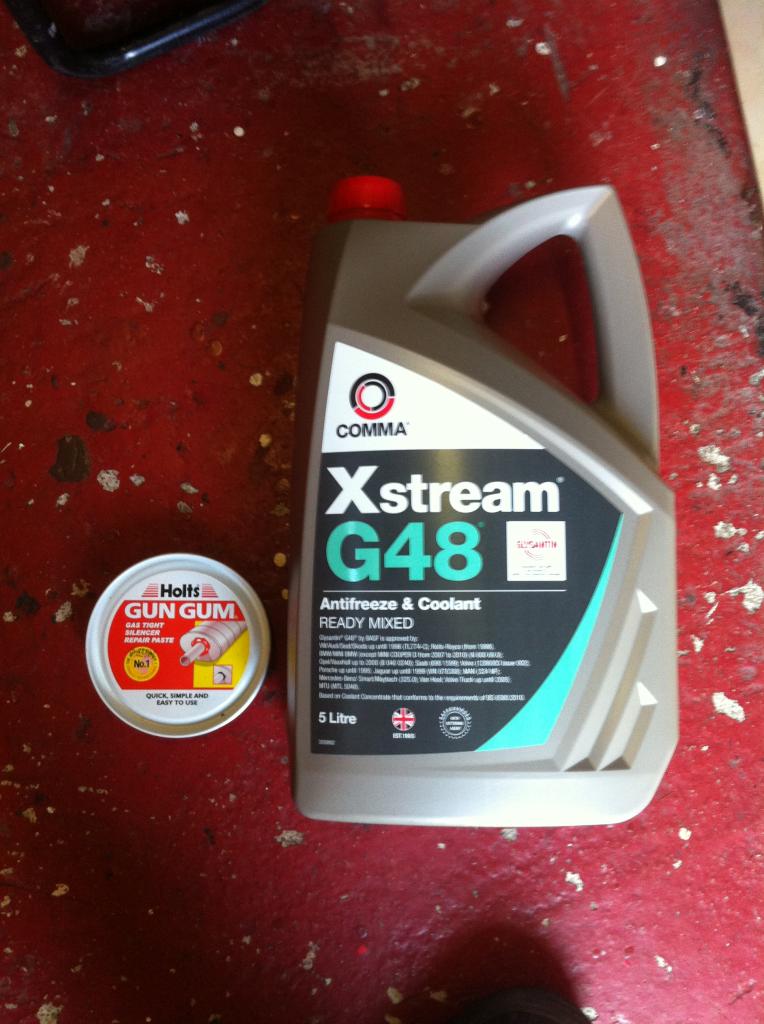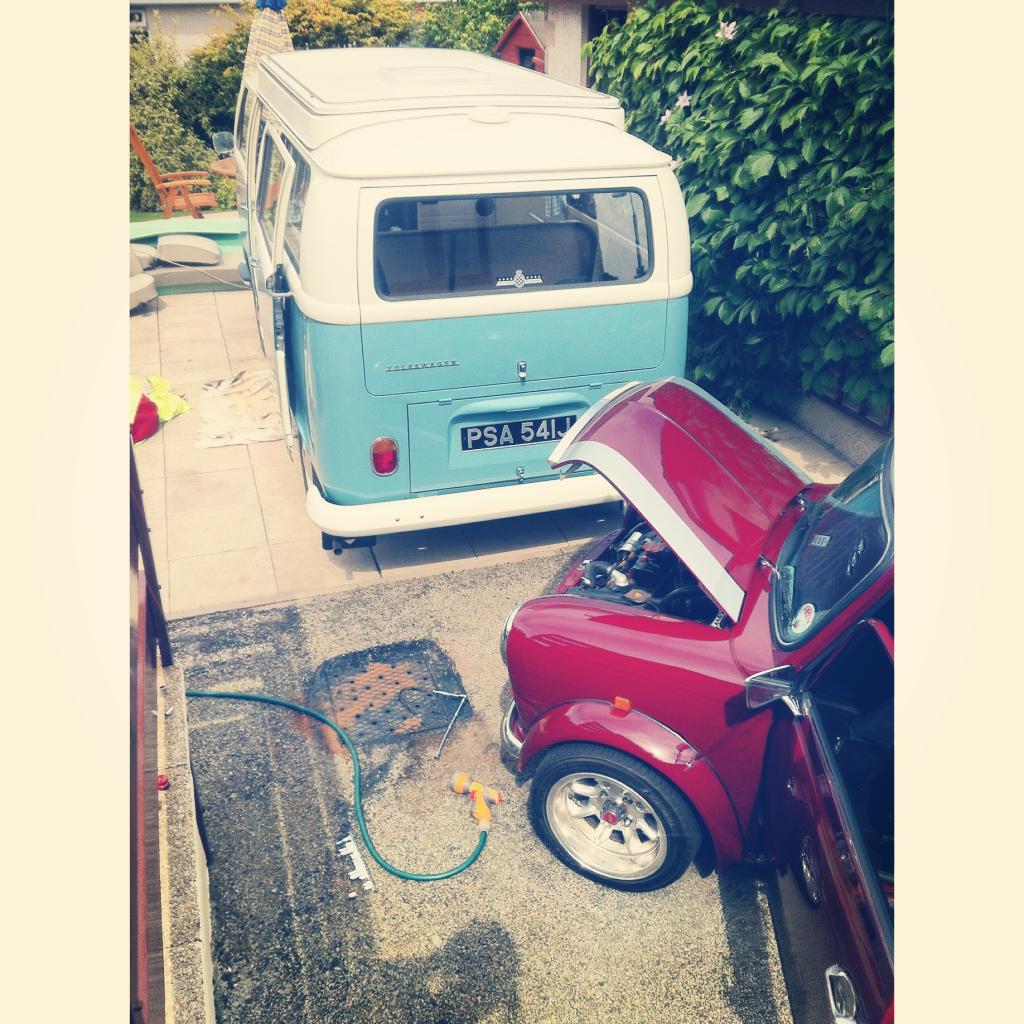 Then gave it a wash down ready for minor paint correction and waxing tomorrow before the 600 mile trip to IMM in Kent on Wednesday. :)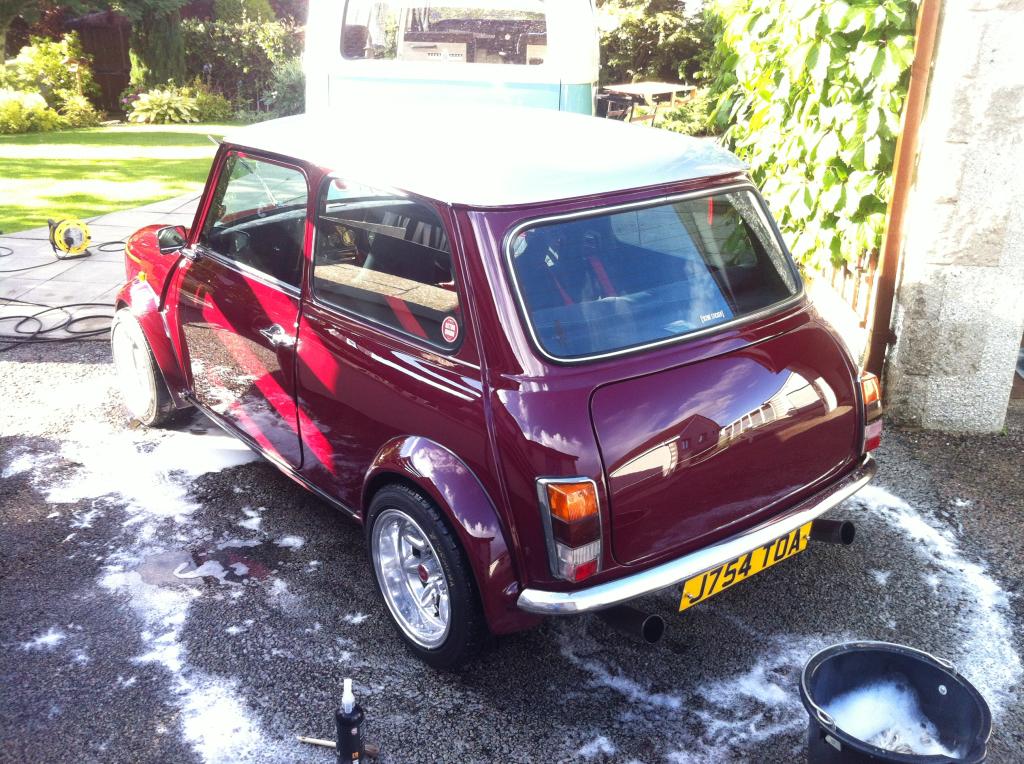 Tucked up, ready to go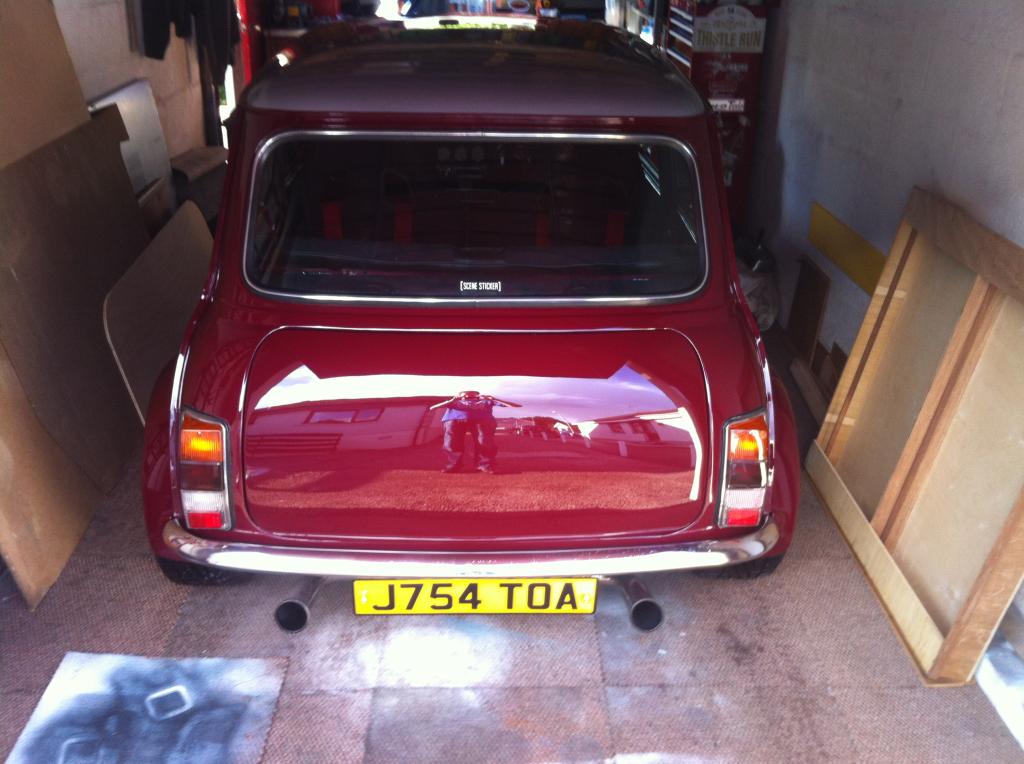 Then had impure thoughts about splits.......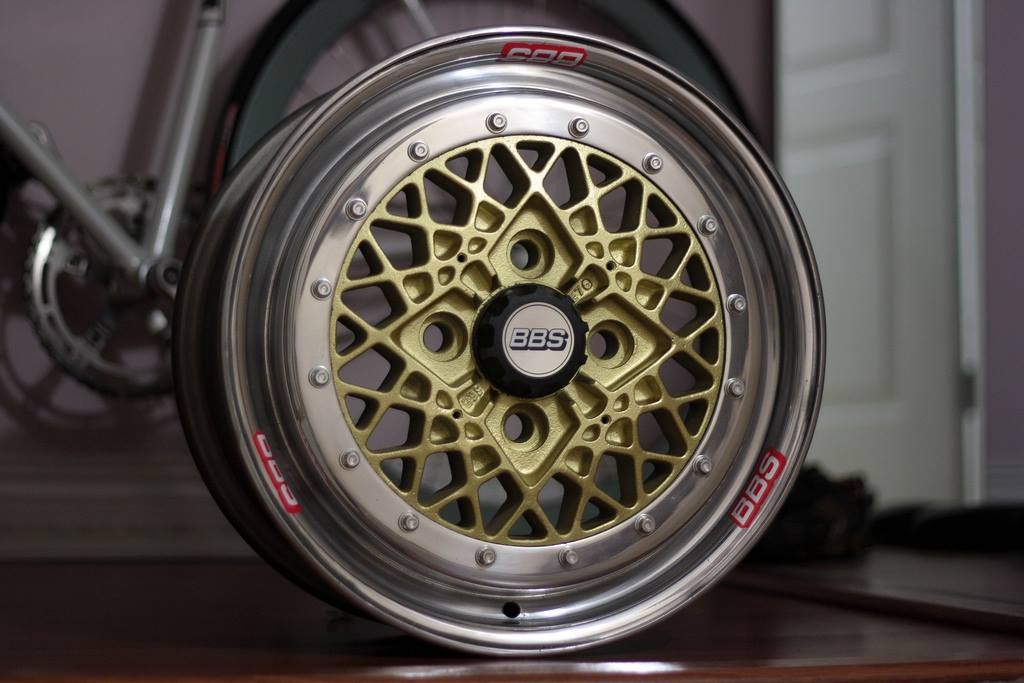 8-6-2014
Brace yourselves for another large update post! So after going to the International Mini Meet in Birmingham in 2009, I naturally wanted to go back in 2014 when it returned to the UK, in Maidstone, Kent. 615miles away

The car didn't really need much prep work to get it into shape, just a machine polish to rid most of the swirl marks and the heater actually heating the car. With a quick coat of wax applied by Katie, it was ready to go!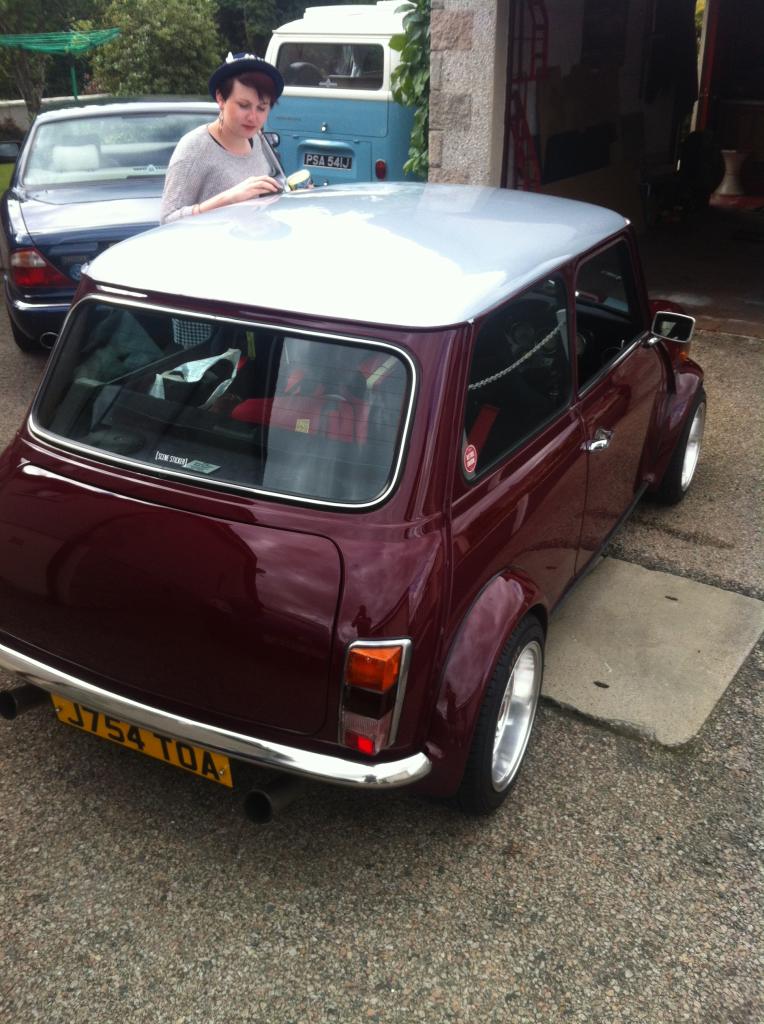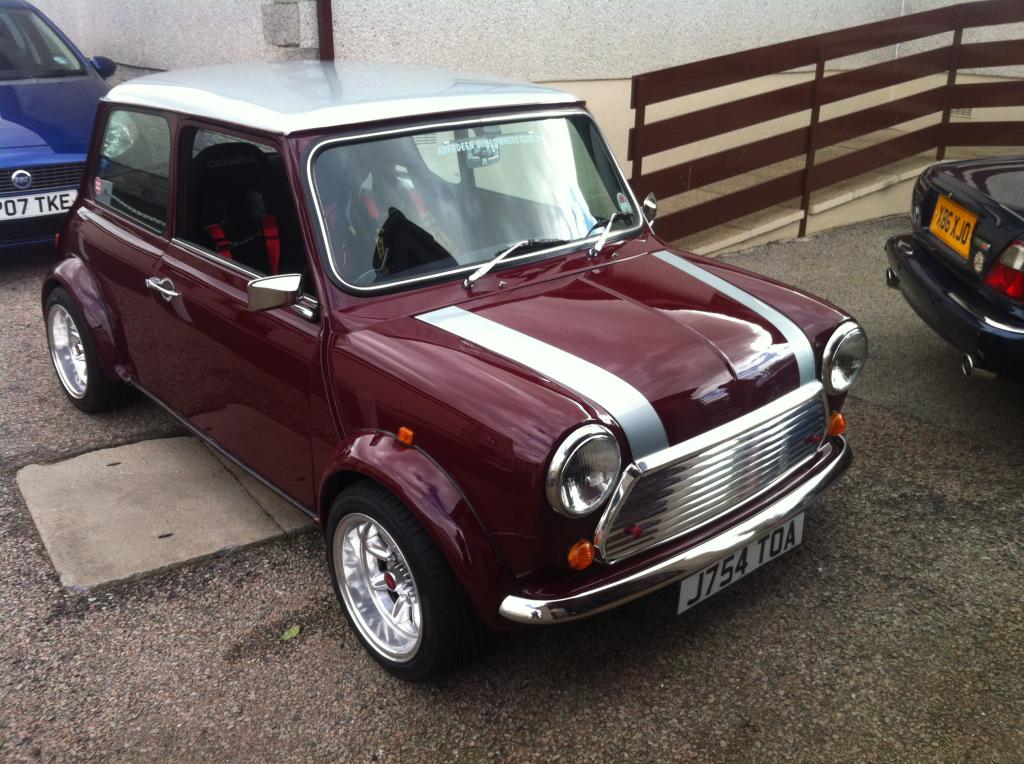 9.30am start at ASDA Portlethen with the rest of the Aberdeen Mini Owners Club who were convoying down with me. Dave in his MPi 'Red Dwarf', Gavin and ben in their Japanese 998cc, Chris in 'Skippy' the Australian import Clubman (awesome car with lots of subtle differences to UK spec), me in trig and Scott in his mid 90s Jap import Mini tartan (complete with air con and green tartan interior). Gary turned up before we left in his mint condition 1275GT in Damask Red too!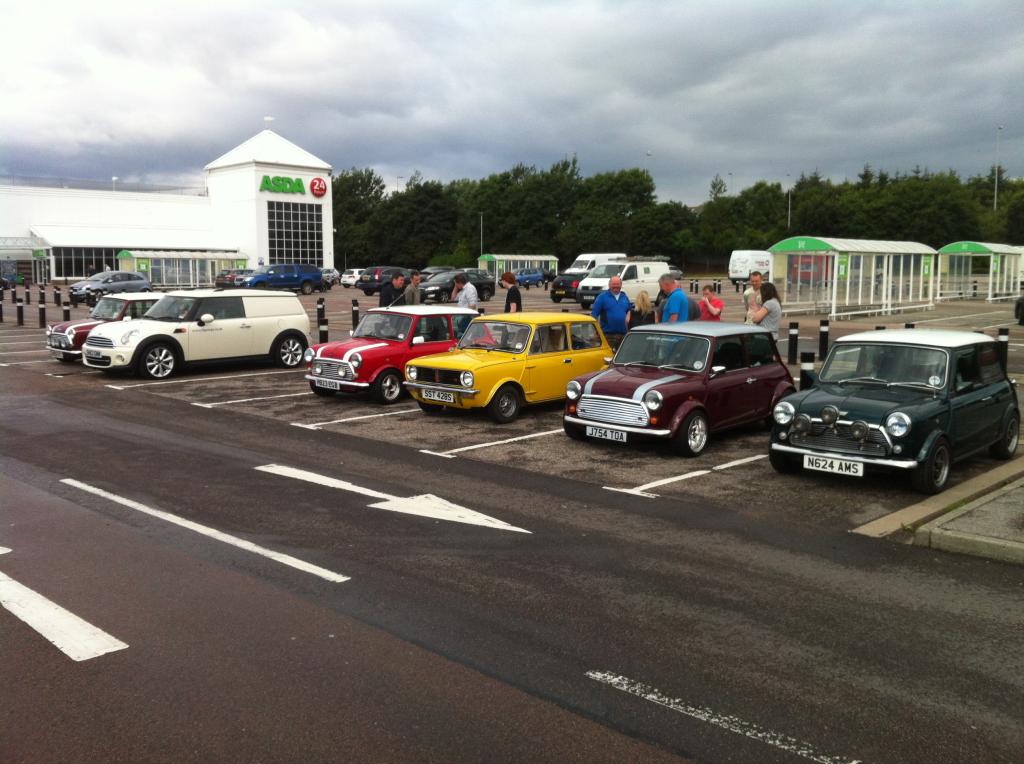 Various stops on our way to an overnight stop in Northwich, (somewhere in Englandshire Im told) Skippy was burning oil, so Chris was a busy man topping it up regularly.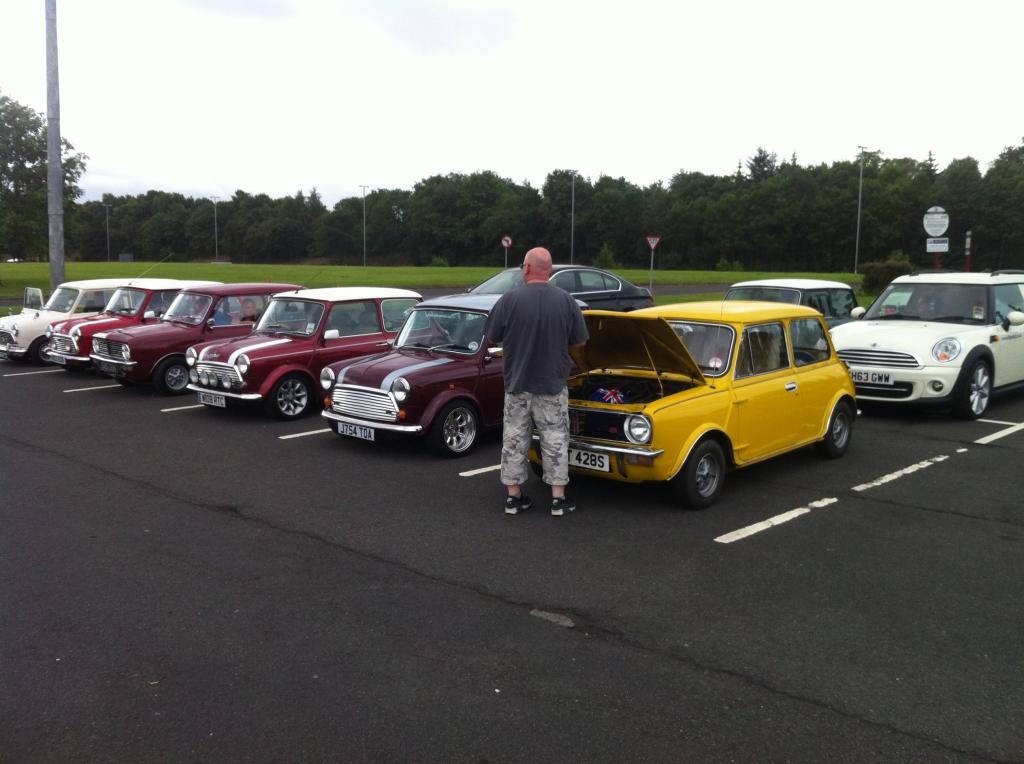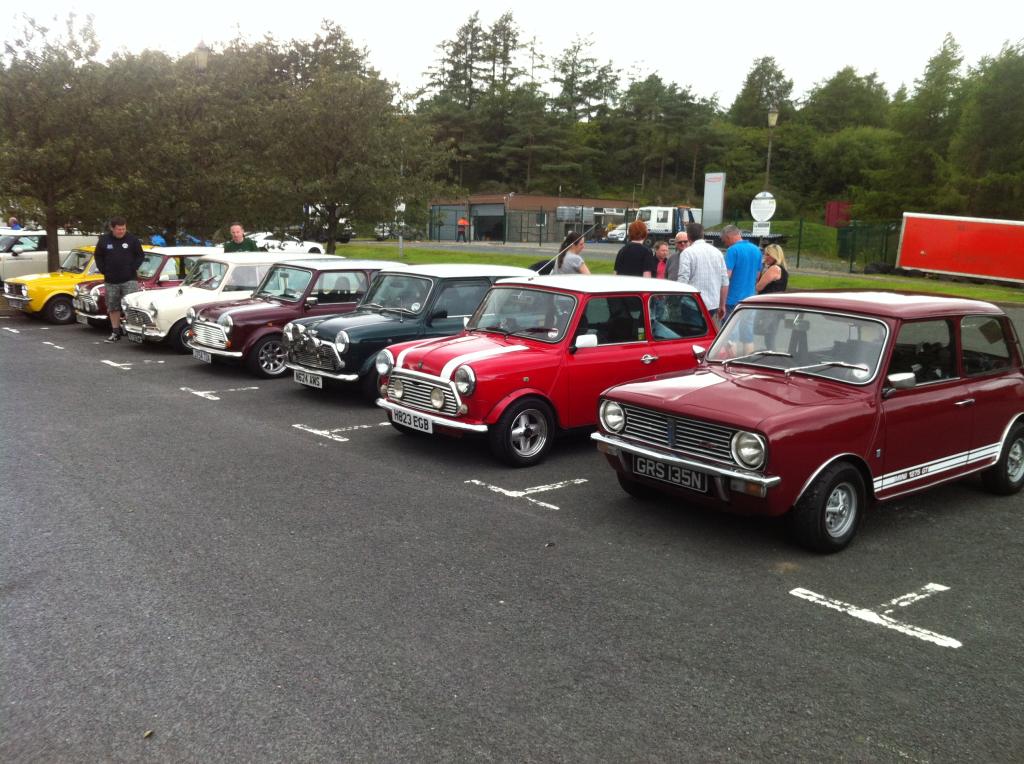 Still looked tidyafter a few hundred miles in roasting heat and bug splatter.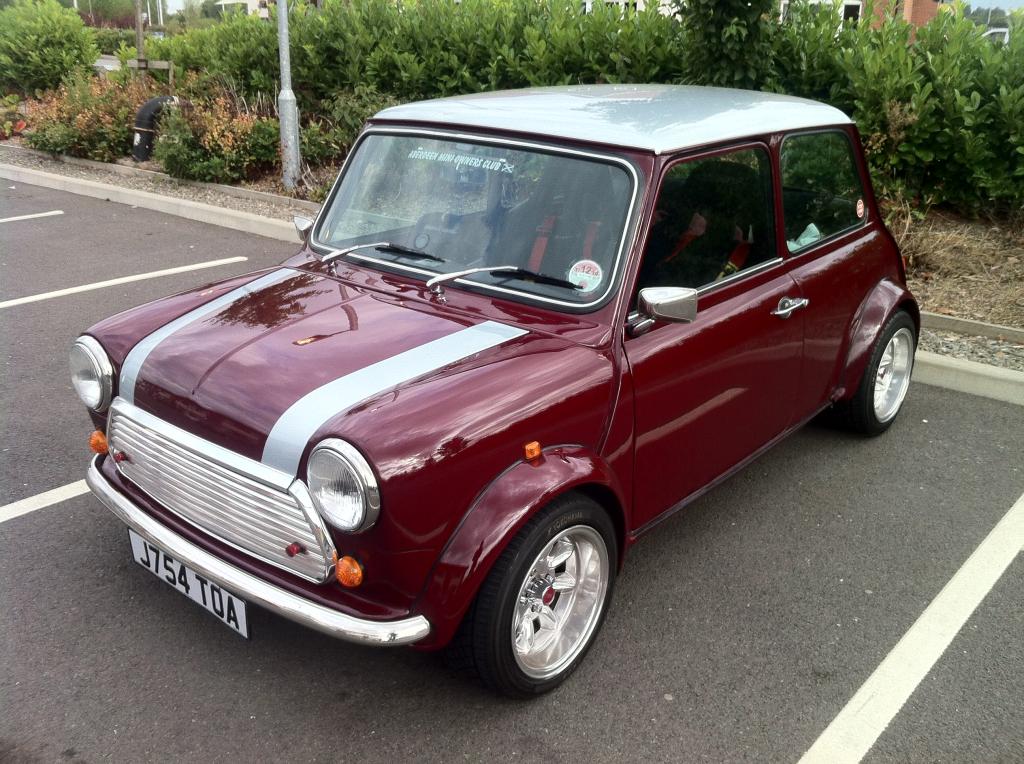 ...so it was straight to the pub next to the Travelodge for a free pint!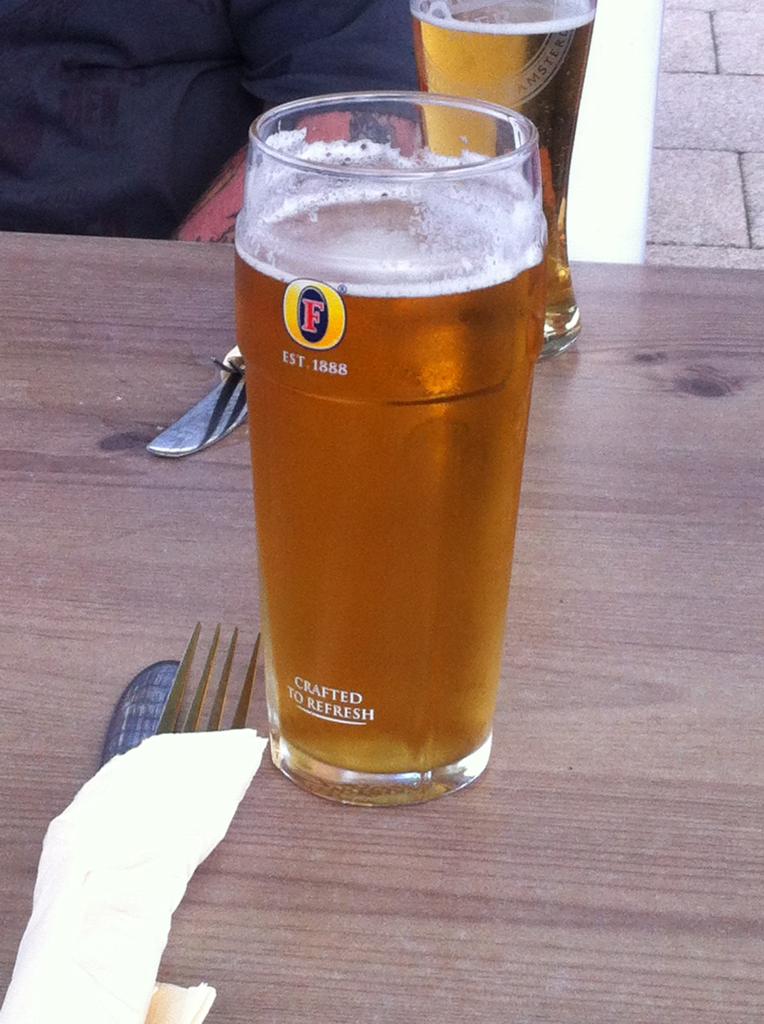 Up early the next morning to get down to Kent. More fuel stops en route....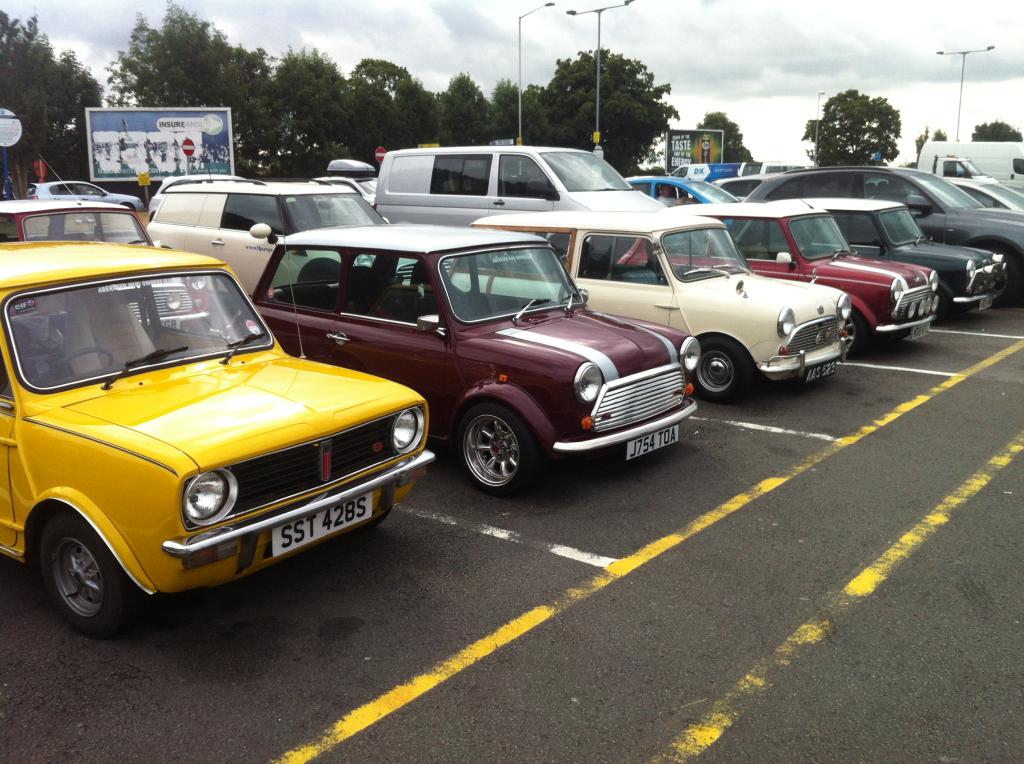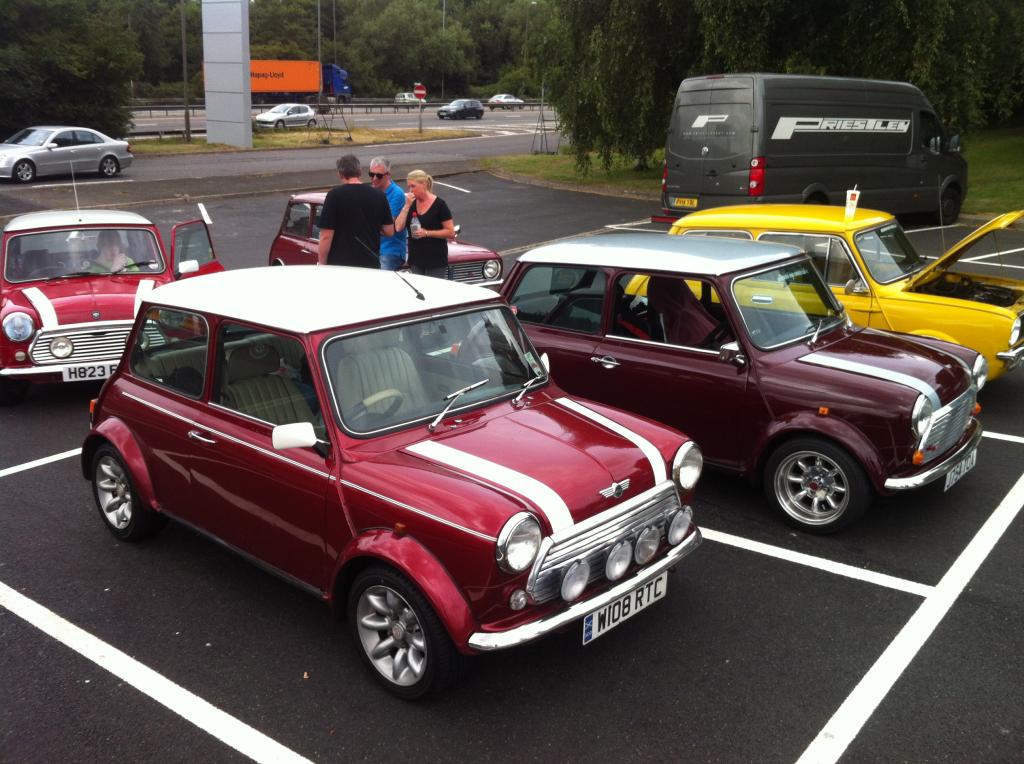 and eventually we arrived in Kent, to find a massive queue to get in. So we took out our camping chairs and shared stories with friends and new faces whilst we waited to gain entry.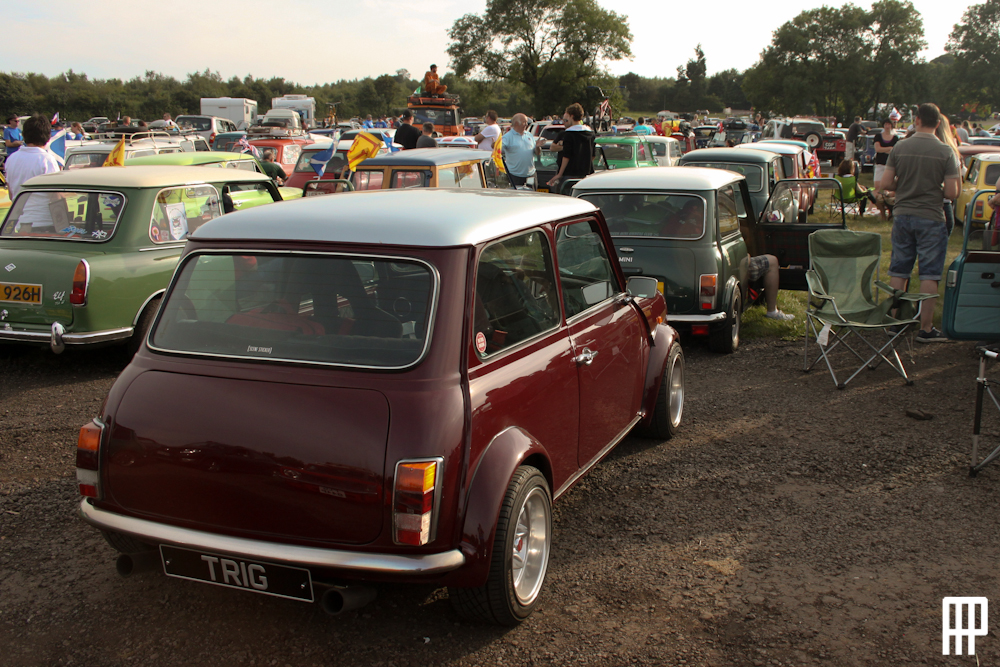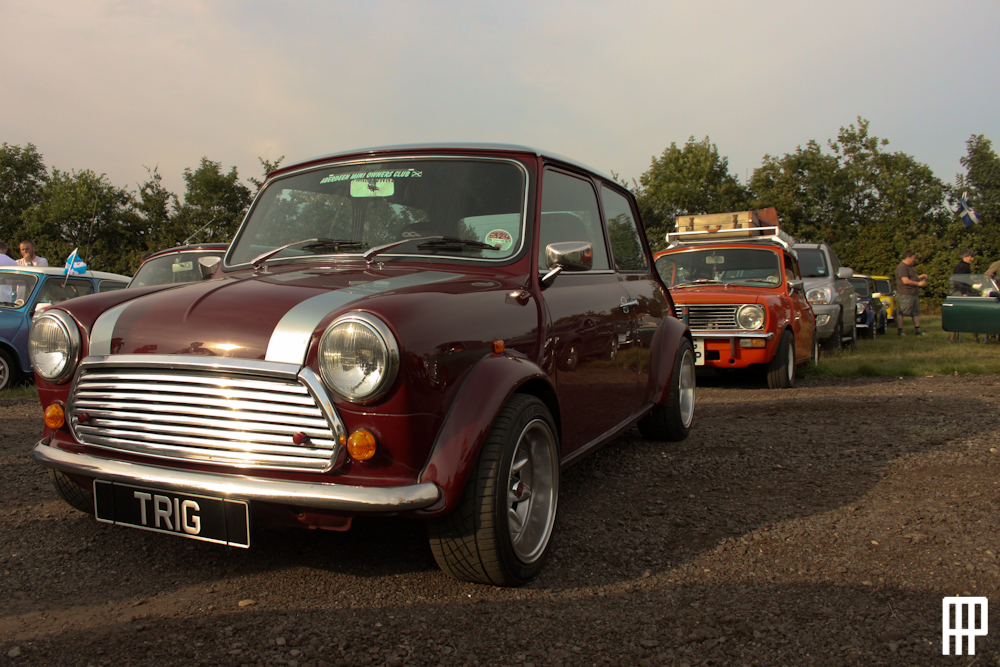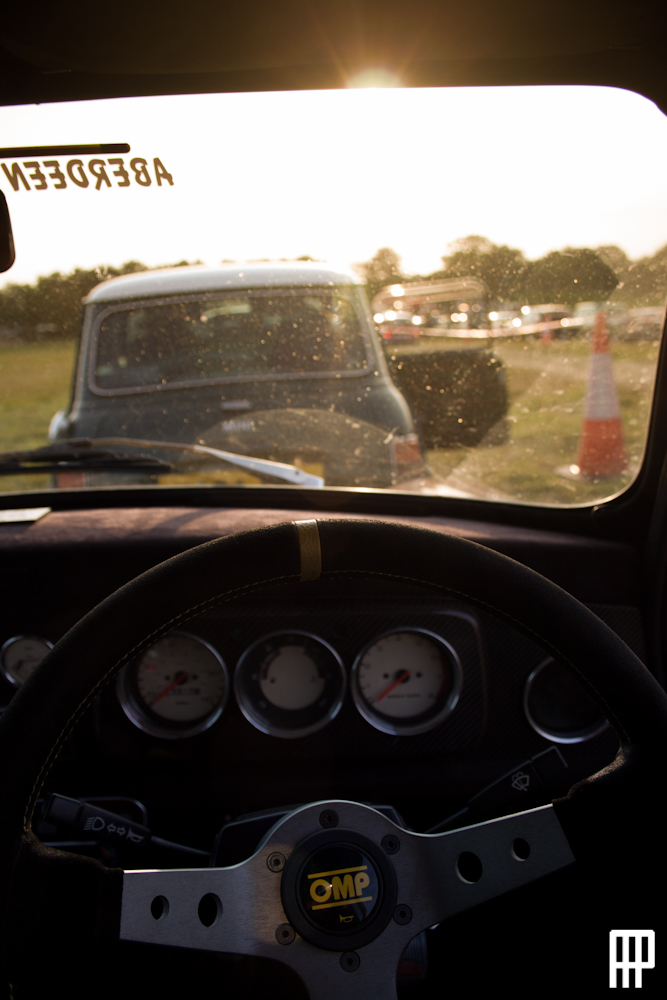 By the time we got in it was nearly dark..... in the end it took 3 and a half hours from arrival to entry. Bad planning on behalf of the Southern Mini Owners Club.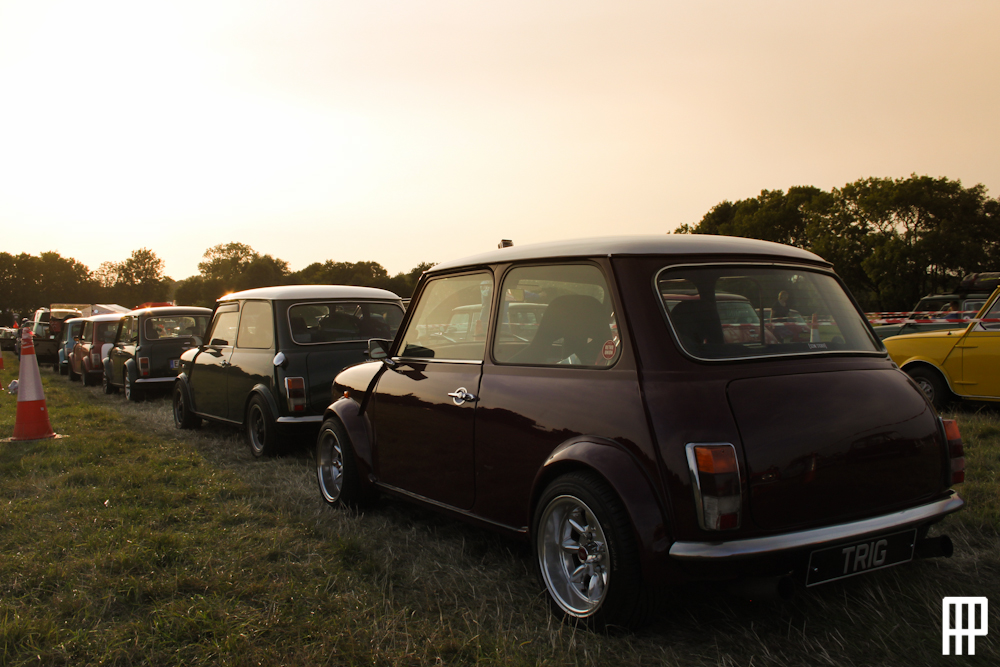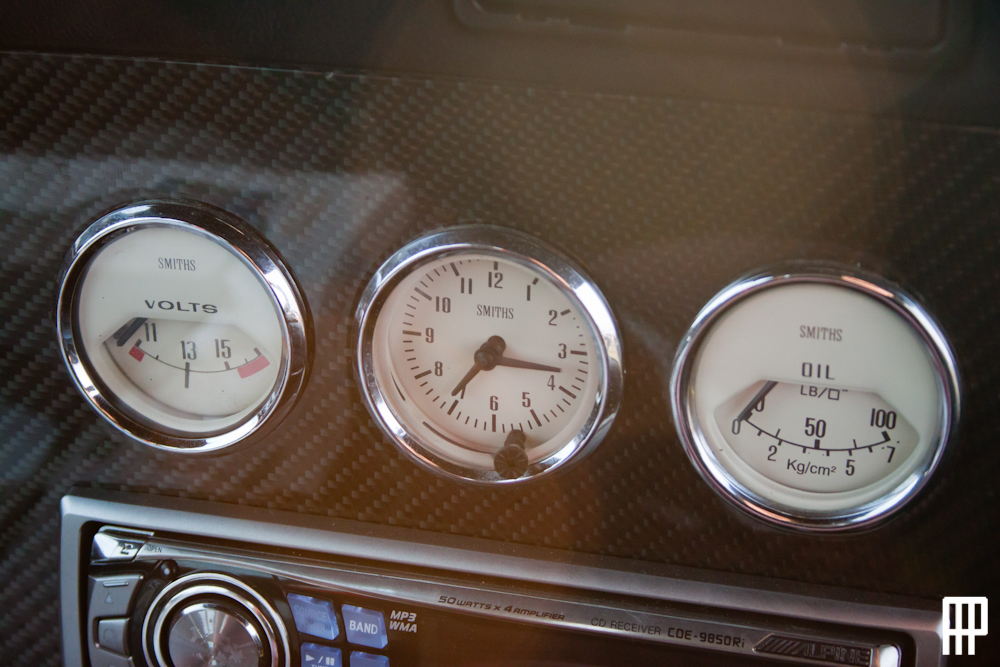 And heres a few pics of the car at the show. Most from my phone as I stupidly didn't take any pics of it on my camera. Hopefully someone else has and I find some pics online soon.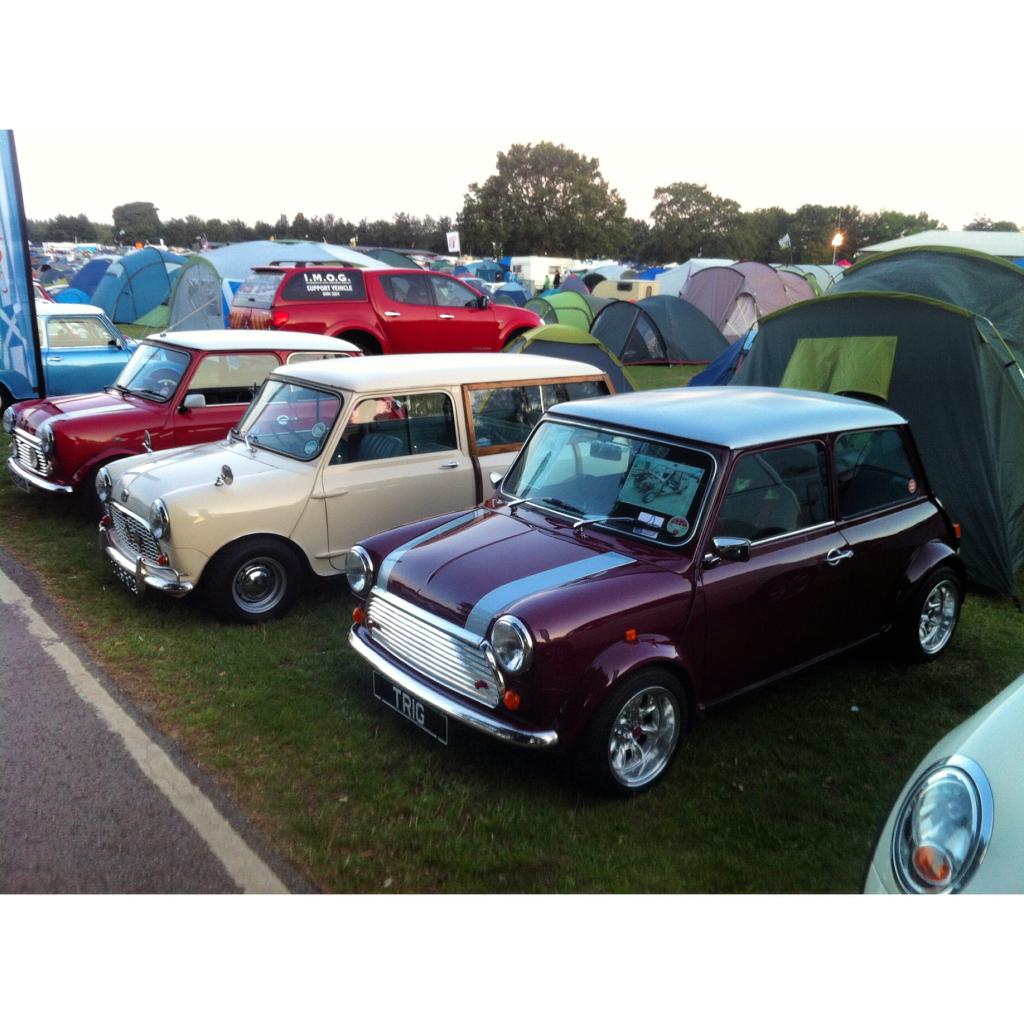 Dave from the Club was dressed as Mighty Mouse for the entire day on Saturday. Kinda gutted Aaron didnt get a pic without him in it to be honest.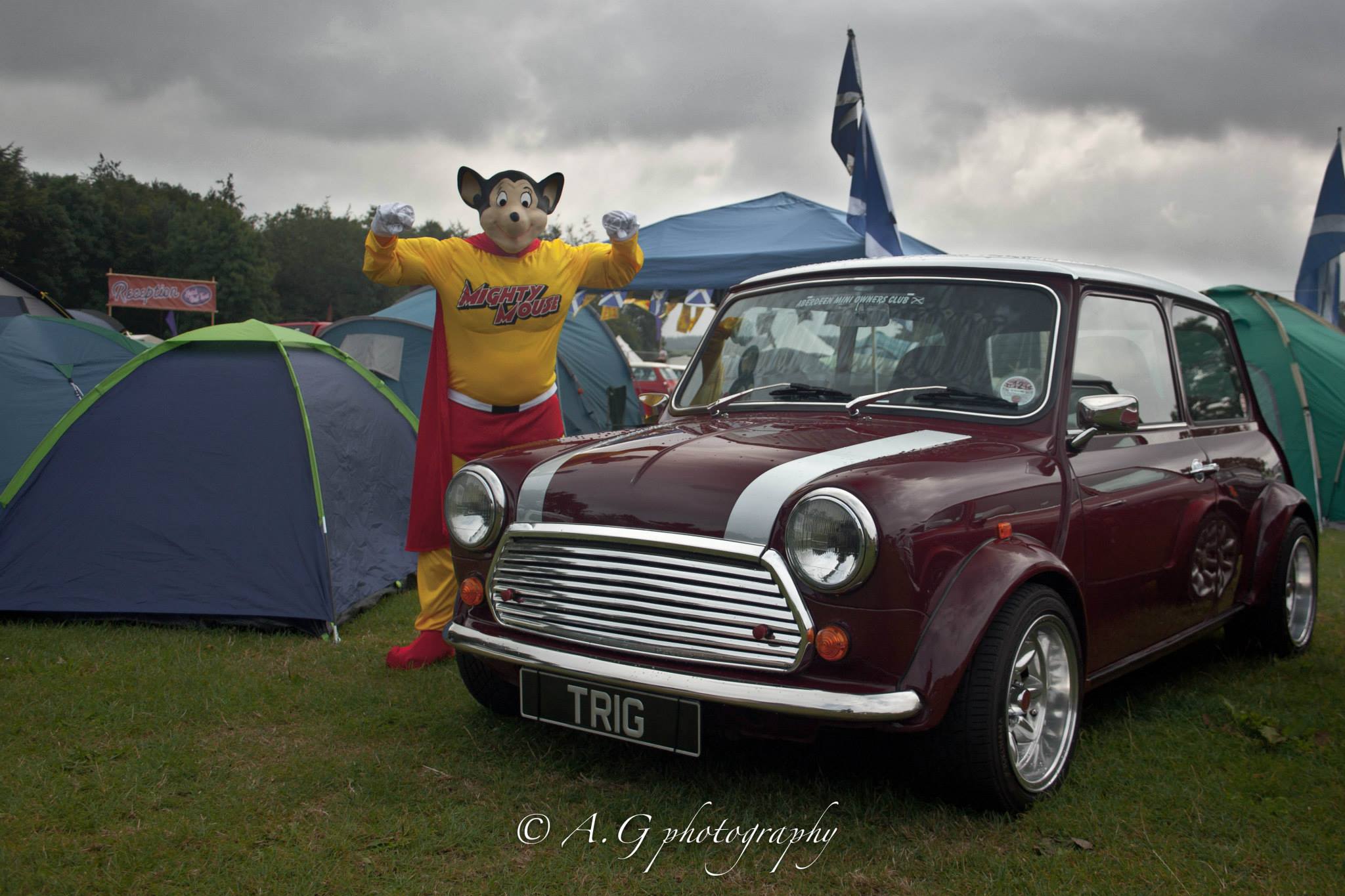 Then as a form of revenge for Trig farting black, watery soot (after a night of heavy rain meant my exhausts filled with water...) onto Nicol's nice and clean cream shorts, he put bits of duct tape thread onto the car to look like scratches. And yes, I did fall for it and yes, it was bloody funny.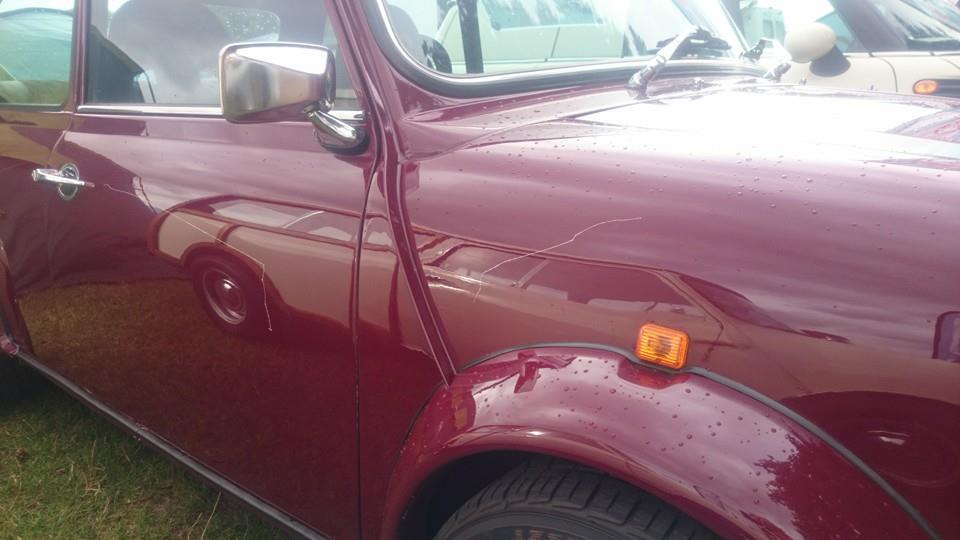 Thats the only pics of the IMM itself I took (I spent most of my time taking video and drinking into the small hours of the morning) but there are a few from the route back. Exiting the site was a nightmare, as the dual carriageway was shut due to an accident, so we were sent down a tiny single lane country road. Jams ahoy!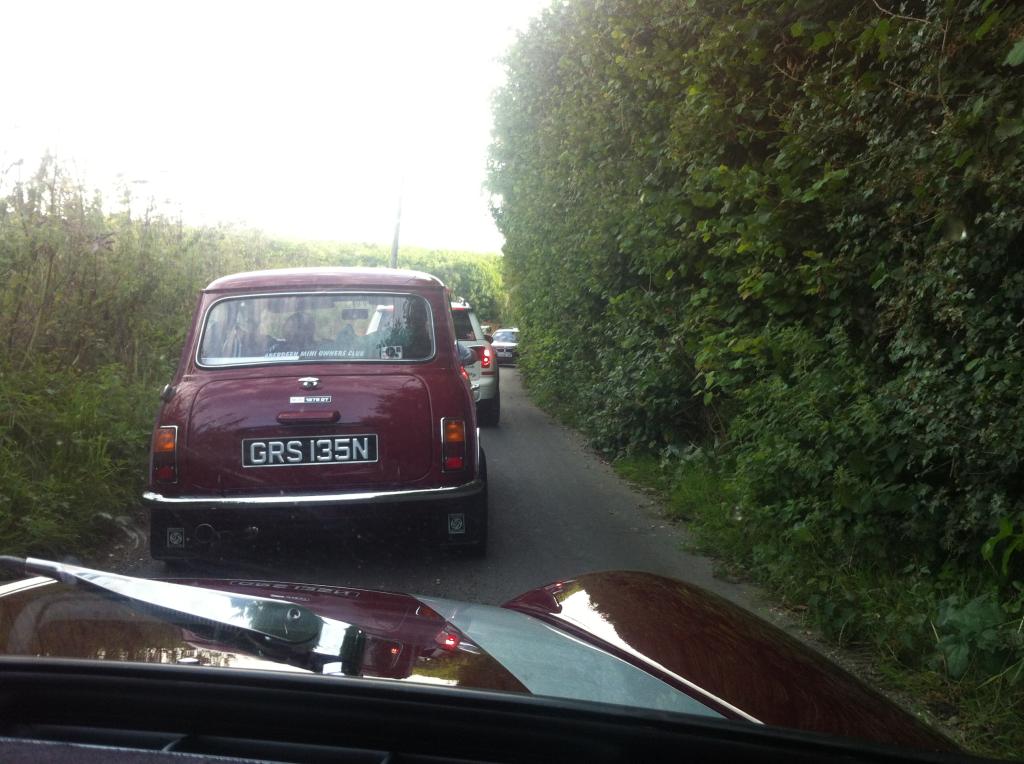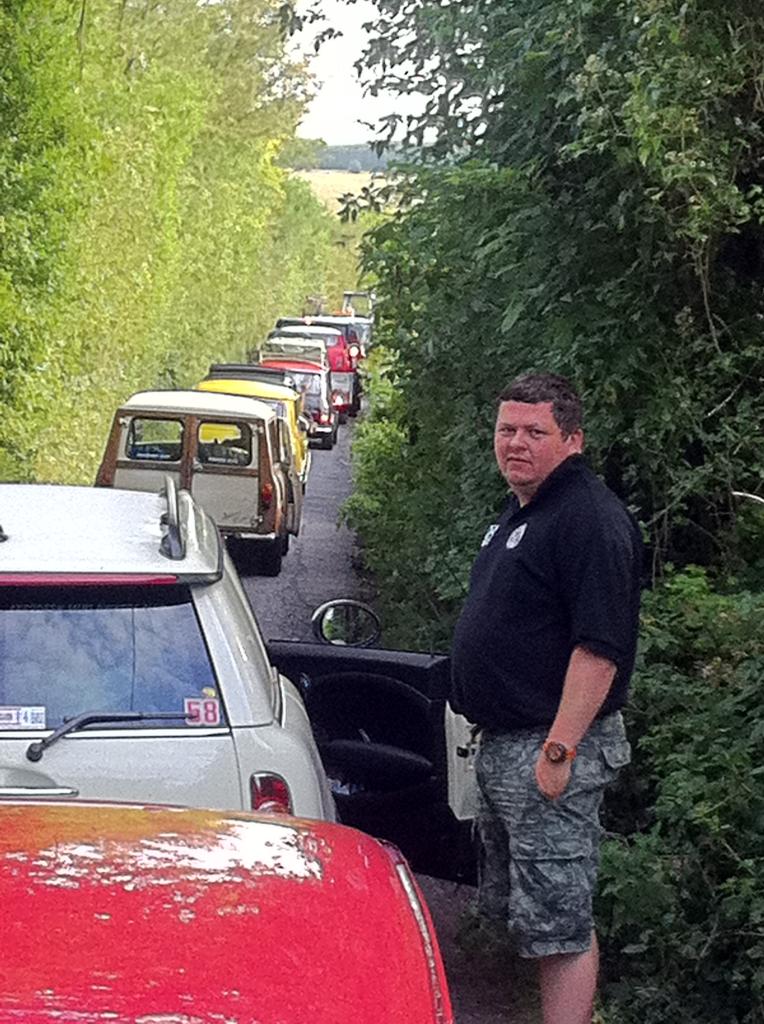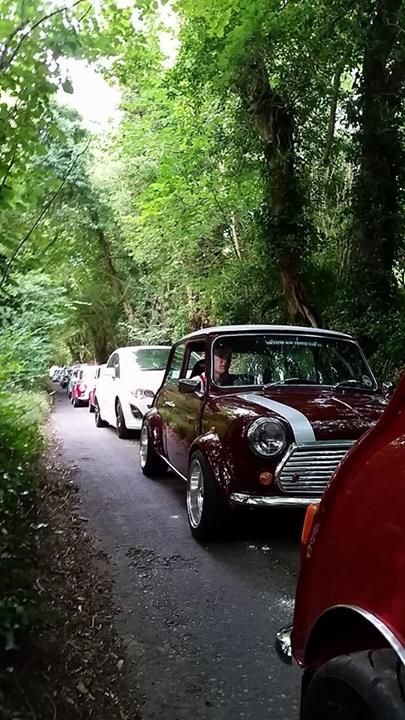 Somewhere in deepest darkest England...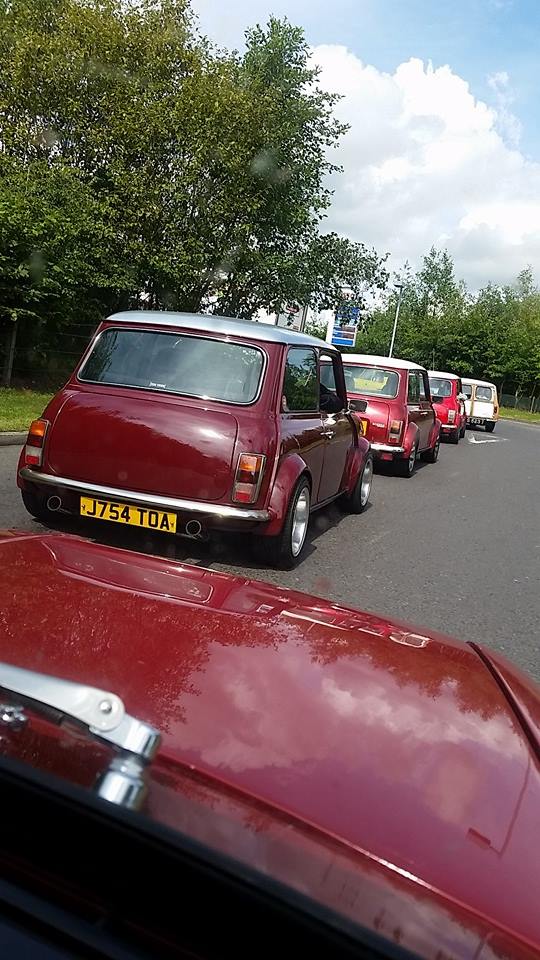 I learned as we were near the Dartford tunnel (The Dartford tunnel was epic. Down to 10mph, up to 40mph, pop pop pop on the over-run galore

) that truckers hold no respect whatsoever for small cars, so I bailed on the convoy for fear of getting wiped out and arrived an hour ahead of everyone else at our overnight stop at Lancaster. It helps on the motorways to have a relatively powerful and torquey 1275cc engine when compared to the 998cc cars.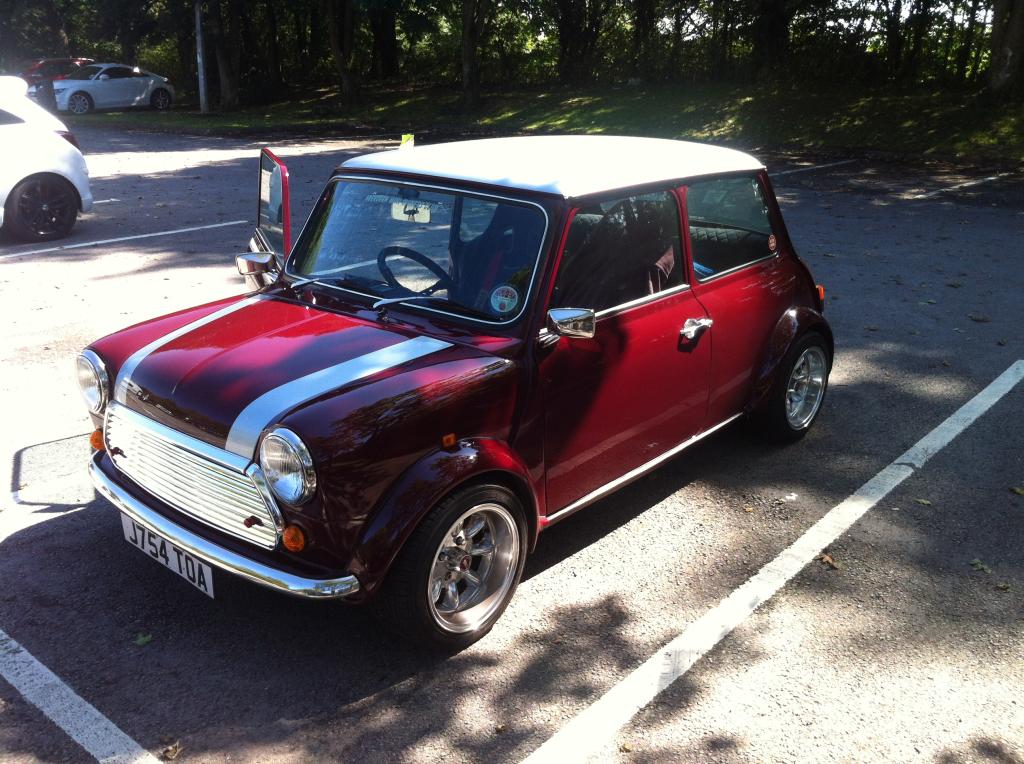 Up early the next morning for the final stretch home and grabbed a pic as we crossed the border.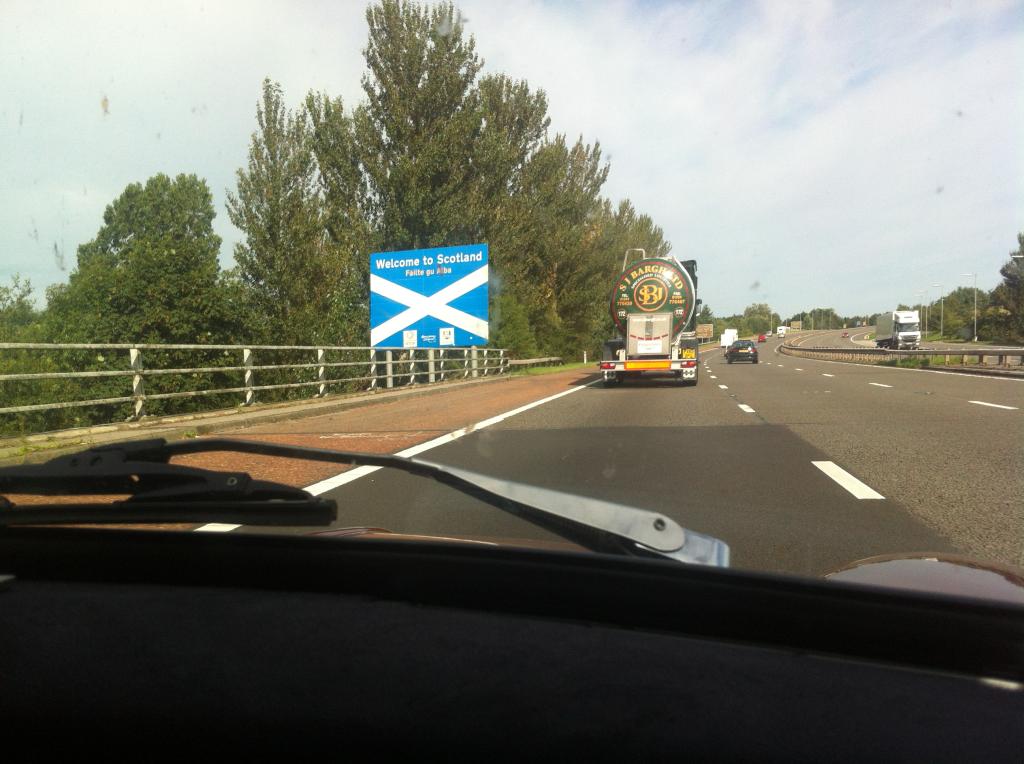 ....and finally I got home after a total of 1276 miles, in uncomfortable bucket seats, with solid suspension and barely any sound proofing. A great trip and it was done without a single fault with the car. Cant say much better than that!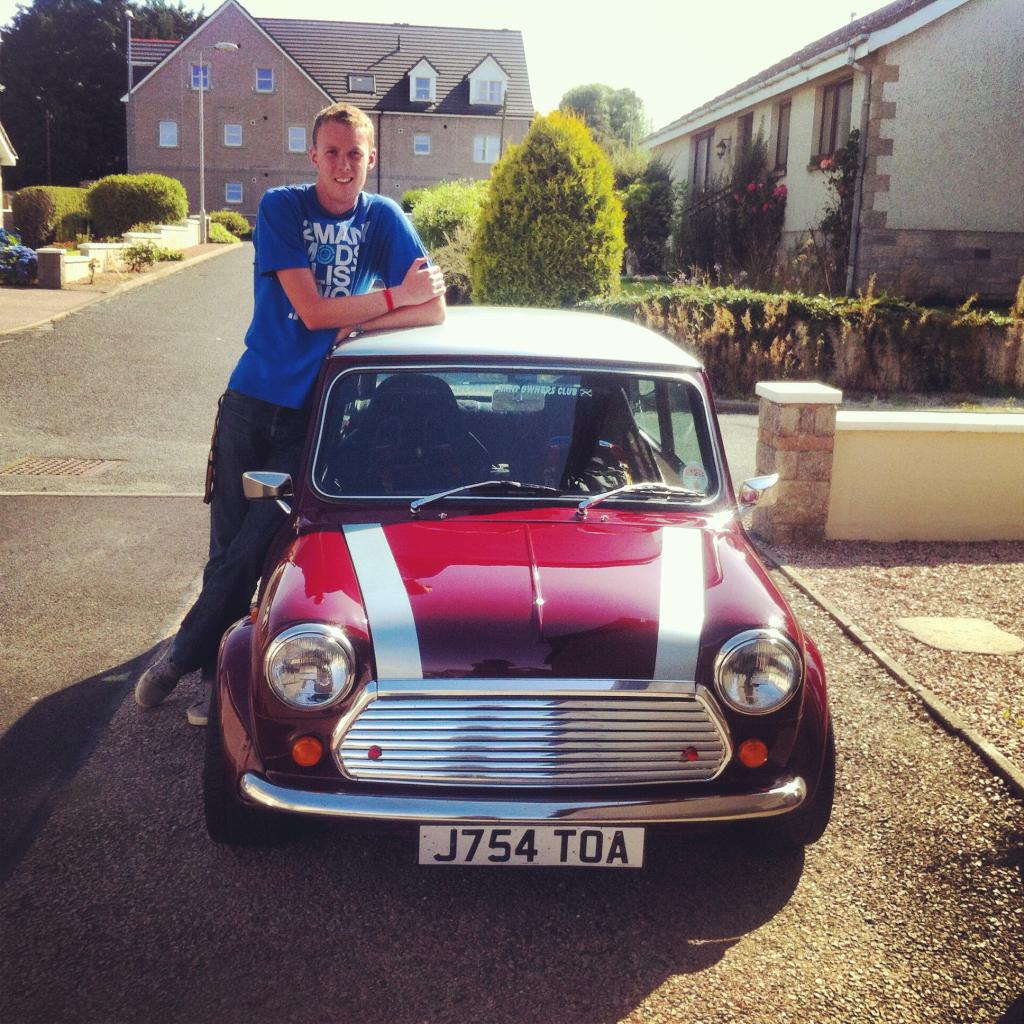 Next up, we have Cleanfest at Fife Airport where I've got a prestigious hanger spot. After that its time to take it off the road and get that engine and box seen to.....thats all folks!
8-11-2014
Another weekend and another show. Not too far this time, Cleanfest at Fife Airport. Good show, just a shame it was a total washout. Good turnout of decent cars though. Dry in the hangers so most folk stayed inside. Which was handy as thats where the Mini was tucked away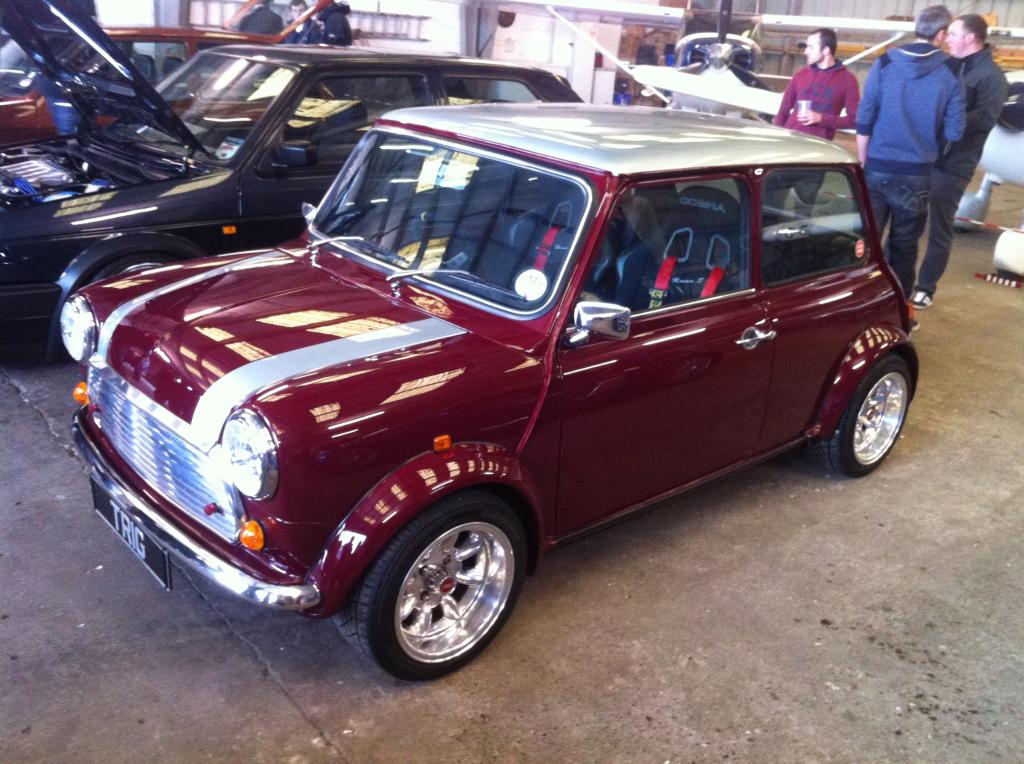 Didnt take many pics as it was so wet. Couple of other folk did though, gradually finding more as time goes on too which is nice :) One found on Instagram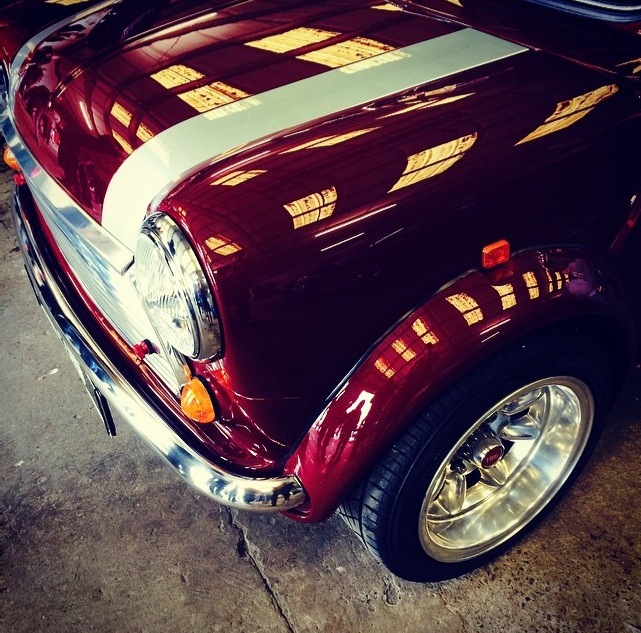 Got tagged in these earlier today too. Not too shabby.
...and that marks the end of my show season. There are a few local shows (Crathes Castle this weekend and Grantown at the end of the month) but I think I've had enough of shows for this year. Fed up of being presented with oil leaks and the stress that causes, so its getting laid up until (at least) next year. The engine needs to come out to address said oil leak issues, so whilst it's out, the gearbox will benefit from a rebuild and then the engine will get looked at too. Turbo, supercharger or N/A....who knows at this stage? Its been a great year, of great shows, but I don't think my back can cope with driving it another mile, so maybe have a look at different suspension options whilst I'm at it. GAZ shocks are ridiculously harsh even at full soft setting! This is all if I want to spend money on it, which at the moment, I really don't

1-18-2015
Possibly an update, possibly not. All depends on if this makes it onto the car or ends up in the bin

Always wanted a carbon fibre steering column cowl to match my dashboard but unless you have a MK1, it isn't catered for and costs £300-350! So I thought I would give carbon skinning a bash! For those not in the know, its applying a layer of REAL carbon fibre onto the part, bonded and cover in layers of clear resin to replicate a full carbon part. Many many many times nicer and classier than the carbon vinyl/carbon dipping available (both look absolutely hideous and nothing like the real deal). Still not cheap but results are worth it. Heres the cowl....(painted it cranberry red and quicksilver years back but it never made it to the car as I changed my mind on it)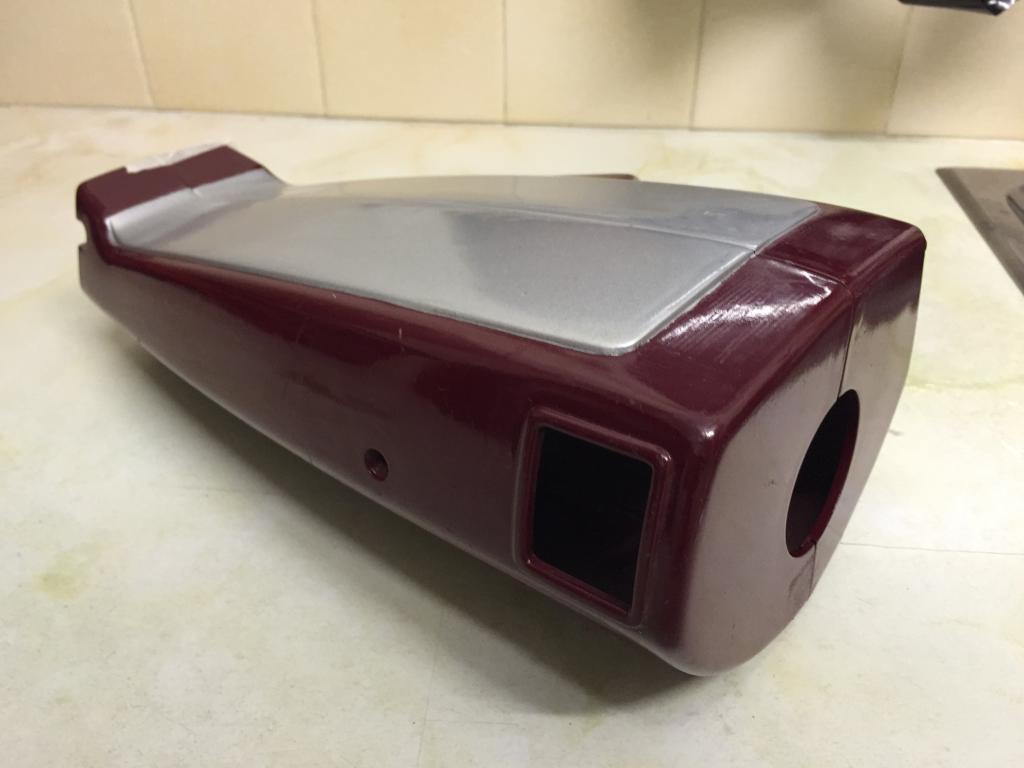 Two pieces, pretty smooth curves thankfully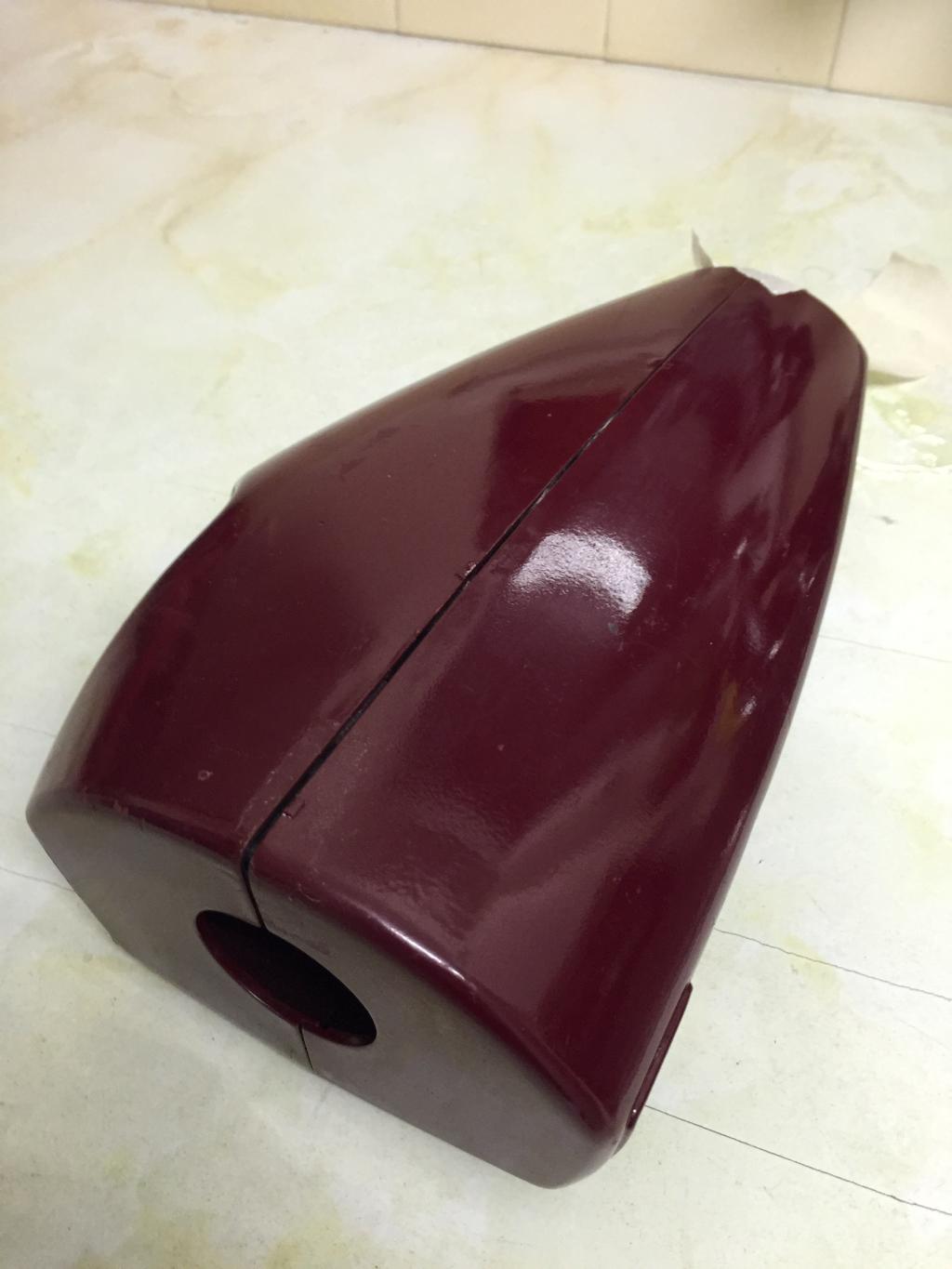 but the key recess scares me a bit! Lots of contours to battle.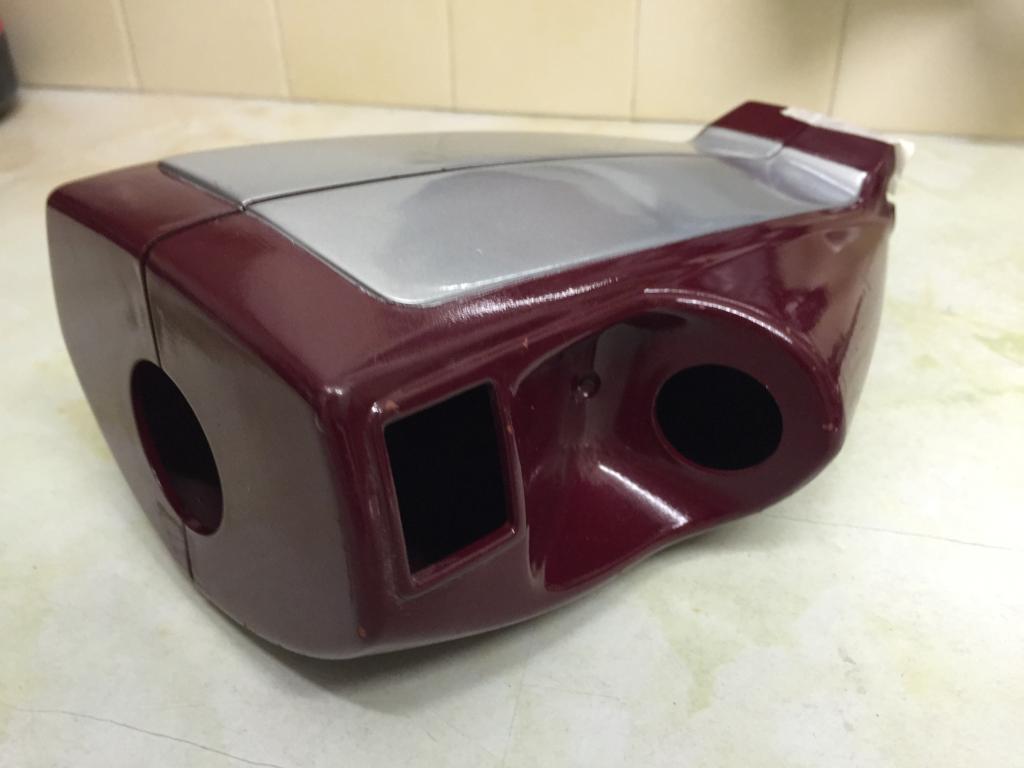 Heres the carbon. Don't get much in the starter kit but not too pricey to buy separately.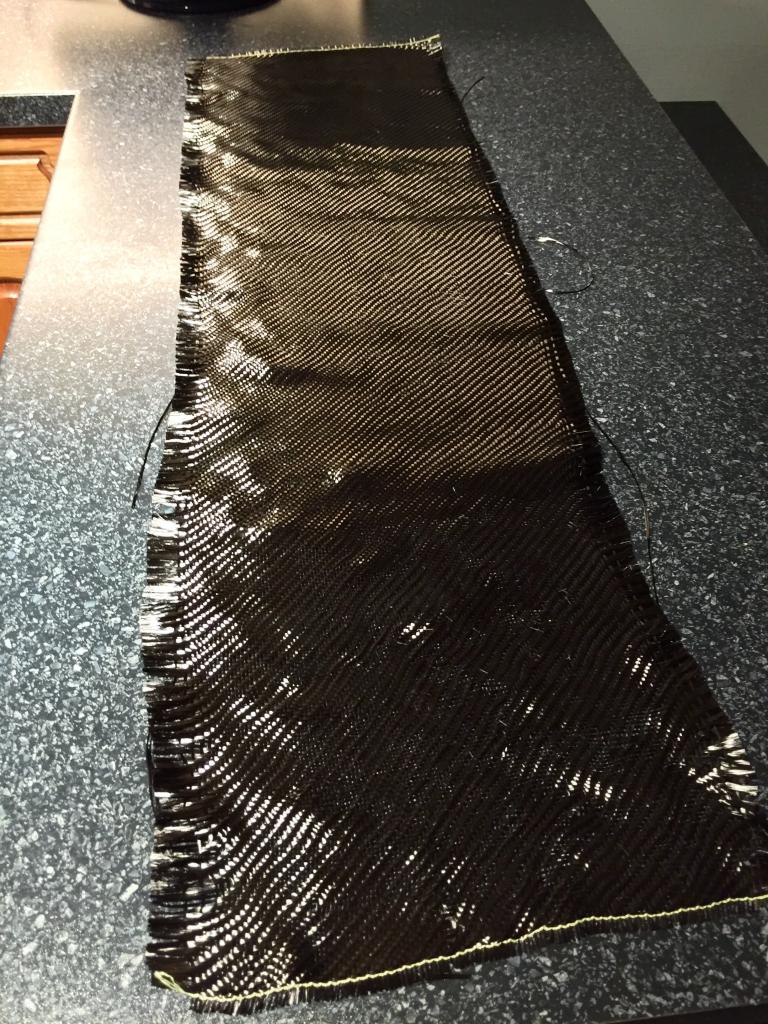 Will keep this up to date as I go :) And no, I won't be using the car this year as previously stated. House deposit is more important these days :)
1-22-2015
Bit of progress. The fabric I had before wasnt up to much and seperated the fibres if you looked anywhere near it. Sadly this happened as I applied it to the cowl. So it got chucked and I will come back to doing the cowl another day

In the meantime, I grabbed a few things I had laying around in the garage to hone my skills. Carburettor style air filter housing, switch panel and a Metro oil cap :) These pics are after two layers of epoxy. This needs flatted back and a further 4 or 5 layers added on top which will see it totally flat and shiny. Its looking good though despite still showing the weaves bumpy surface.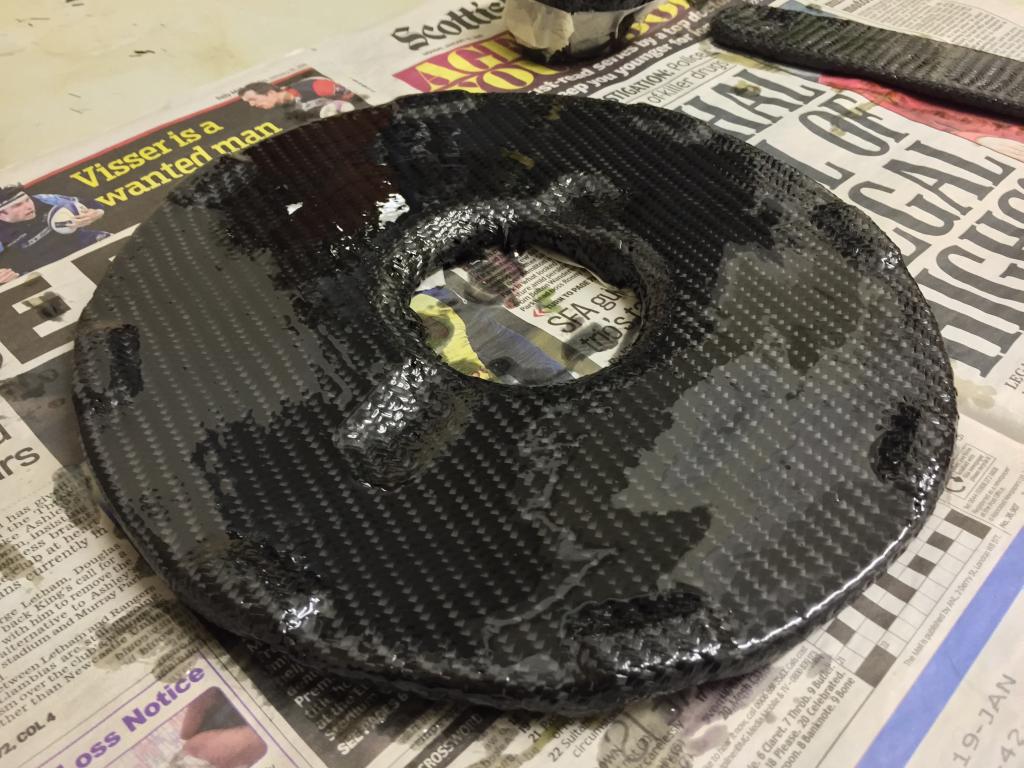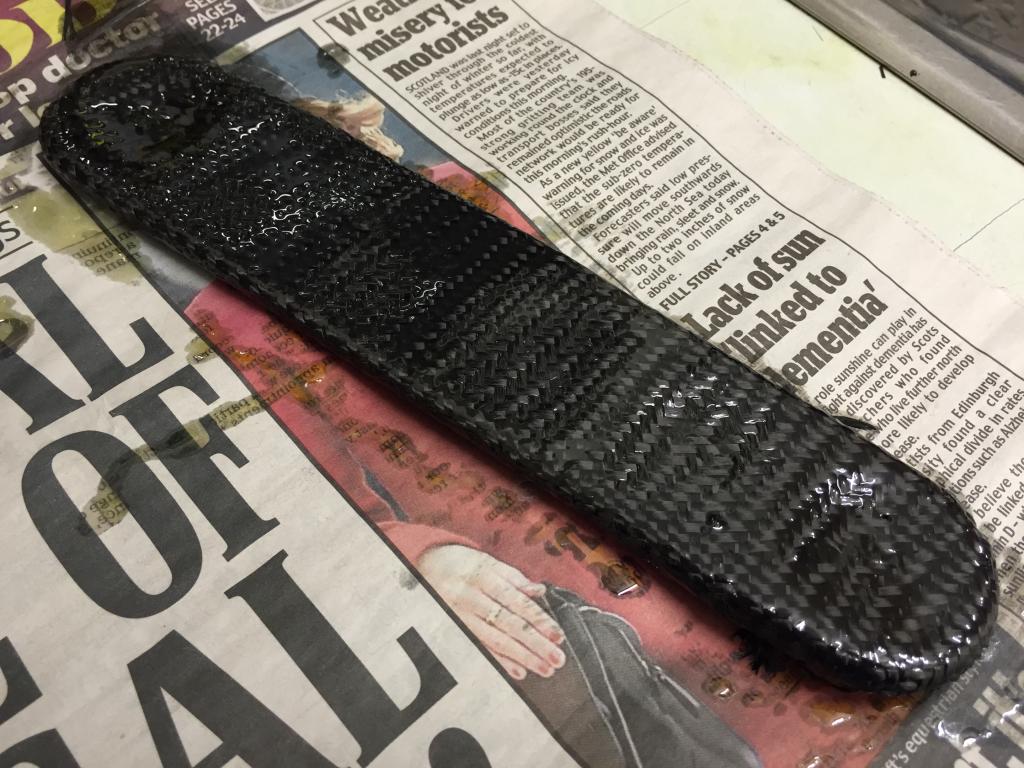 This looks like it is really lumpy on the top right but trust me, its just a reflection :)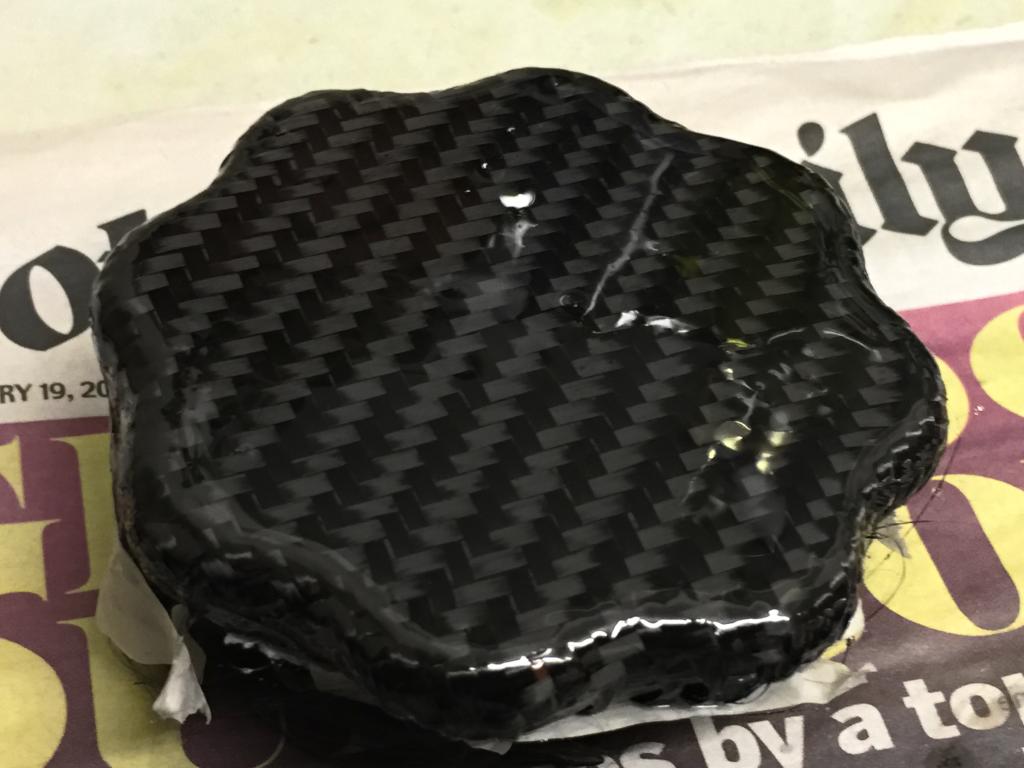 More to follow over the weekend :)
6-24-2015
Well yesterday marked a good day in the future of Trig. I bought a house!

Bridge of Don here we come!

(subject to mortgage final approval yada yada...)
2 bed semi with small front/fairly large rear garden. Of course the single garage (my only demand when we were looking) will no doubt come in useful too...

Makes all the hard work saving for a deposit worth it.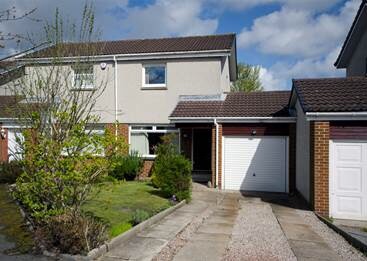 (Please excuse the ******* ASPC photo resolution)

Means I no longer have to save for a deposit and can tinker away in an evening with what little I will have left money wise at the end of the month

7-2-2015
Well having just bought a house which we will hopefully be in by mid August, I can turn my efforts to getting this old thing back on the road for next years show season.
Needs a few bits and pieces doing to get it to a standard I would like..... so commence my inner thoughts and dreams! Obviously not all of this will be done by next year buuuut its a plan of everything I wanted to do to it but couldn't during the rebuild. I just need to get it roadworthy again to be happy for next year.



Engine/engine bay - Its a mess. Wires all over, various little leaks have stained parts and peeled paint. I want to strip everything out again and powder coat all ancillaries and update a few bits things with DSN Retrospect billet alloy parts. Wanting Minivation hinges too for a vertical lift bonnet for easy access. Exhaust is leaking slightly between manifold and link pipe so that needs sorted too. Superchargers are also highly interesting things.....

Suspension - Its harsh as hell and twitchy. Thinking of saving for Protech dual-adjust coilovers having read incredible things about them (plus they look epic and are designed and built in the UK). Until I can afford them though, I think an update with fresh cones will suffice. The GAZ shocks are designed for the lowered height but they are harsh even at 3 clicks from full soft which is a tried and tested setup. Also needs a new rear radius arm and wheel bearings on the back too. Crap wheel alignment (won't name and shame...) meant they got destroyed on the IMM trip last year.

Gearbox - Struggles to stay in 4th gear and crunches into 2nd both up and down. So a rebuild of that will be required. Not going to go straight cut as Im not a fan of bleeding ears and they don't offer any benefit on a road car in my opinion.

Interior - Get nicer harnesses (thinking schroth or the likes) than the cheap crap Sabelt ones I fitted. Seats are nice but I really want a set of recaro Speeds. Had them in my old DC2 Integra and they were incredibly comfy but still enough of a bucket style to keep your arse in the right place. Get them retrimmed in diamond stitched alcantara to match the rest of the interior.

Carbon Fibre - Plan to get some bits and pieces carbon skinned too (no, not crap 'carbon' vinyl or just as crap 'carbon' hydrodipping) Looking at the column cowl, switch plinth in the dash, door caps, mirror plinths, rear view mirror, harness bar, air intake in the bay, carbon rocker cover and I'm sure a few other bits and pieces too!

Wheels - Been offered money for my current ones more than once and all offers have been above their original purchase price so I think they will get the heave ho for a set of Force Racing splits as I've lusted after a set for years but could never justify them.


All that in an even smaller single garage will be tricky but I'm up to the challenge as it can't be as tough as the rebuild was. Can't wait to get tinkering with cars again over winter again!

8-25-2015
Little clue as to my new daily....
10-12-2015
Well Trig is coming on home in mid November!

We moved into the house just before the end of July and are now settled in and have decorated what we need to. So now, its garage time!

It needs some racking and cupboards/workbenches installed but all in good time!
I am away to be buying a compressor, blast cabinet and powder coating equipment so I can do almost everything 'in house' saving lots of time and long term, money too.
So a wee updated list of the plans to get it back on the road. Not my ideal spec but that will come with time....
Engine/engine bay - Its a mess. Wires all over, various little leaks have stained parts and peeled paint. I want to strip everything out again and powder coat all ancillaries and update a few bits things with DSN Retrospect billet alloy parts. Wanting Minivation hinges for a vertical lift bonnet for easy access. Exhaust is leaking slightly between manifold and link pipe so that needs sorted too. Repaint the block and head since they will be out anyway with god knows what as no matter what I use it always goes satin and never stays gloss!
Suspension - Its harsh as hell and twitchy but I think an update with fresh cones will suffice. The GAZ shocks are designed for the lowered height but they are harsh even at 3 clicks from full soft which is a tried and tested setup. Also needs a new rear radius arm and wheel bearings on the back too. Crap wheel alignment (won't name and shame...) meant they got destroyed on the IMM trip last year.

Gearbox - Struggles to stay in 4th gear and crunches into 2nd both up and down. So a rebuild of that will be required. I will blast and coat the gearbox housing/drop gear housing/wok whilst I am at it as the paint on these have gone dull.

Interior - Going to refit standard belts for days you don't want to take ages throwing on harnesses. Cup holders required too for long journeys! Glovebox currently is jut an open void with no floor so I will install the box I bought at IMM finally.
Boot - Need to work out a better system to open the bootlid. The cable routing I have is insanely tight and its a real struggle to open it. Might need to get a solenoid and button installed somewhere but that needs further planning. Also need to work out how Im going to line it as currently its just painted metal. Might sound deaden it and install a custom liner (the ones you can buy look cheap and nasty to my eye) but leave enough room for a couple of overnight bags/tents.

Carbon Fibre - Maybe one or two bits but they can always be added anytime after its on the road again.

Wheels - If I can save enough (doubt it!), Force racing splits will be on the cards. If not, the existing ones shall stay. Tyres are oooold (fitted 2009) so could be doing with a change. They are still legal but old tyres aren't a good idea. Yokohama semi-slicks preferable (like what is on the MINI daily) but who knows at this stage.
Powdercoating - Anything that is metal that comes off can and will be powdercoated. The hammerite I lathered on during rebuild is crap and has flaked, peeled and rusted already. Useless!

So plenty to be getting on with over winter when I'm not doing college work/at work

11-27-2015
Well during my lunchtimes at work I've been taking advantage of having Solidworks on my computer and modelled up the garage with all big equipment/shelving. It means I can assemble it all and know where it will fit and not waste precious annual leave time doing it! The shelving nearest the small door will be wood topped to act as a workbench as well which will come in handy for the gearbox rebuild I am planning. Ideally plan to replace this with a proper bench to mount a vice etc off of but I have loads of dexion shelving to hand so it would be silly not to use it! Lots of storage, toolbox space, blast cabinet for refurbing, compressor for lovely air tool use and still space to work on the car (just…it is a single garage afterall!)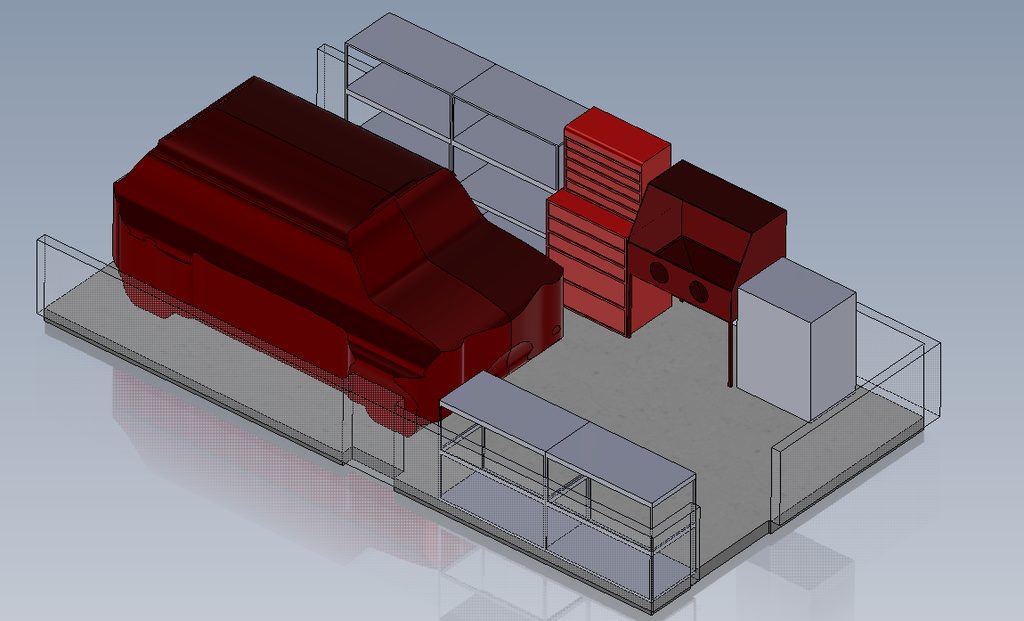 Hopefully this time next week the car will be in place ready to commence work. Well...when I'm not at work/doing engineering night classes/doing coursework that is

1-11-2016
So looks like Trig is coming home within the week if all goes to plan (could be next week though). So here's a few things I've done to the garage to help me out whilst working on him :)
As it was just a bare garage, I needed to make up some work benches. Found some dexion shelving locally for free so I've popped that up by the door so I get some natural light/fresh air during the summer months. Had random pieces of wood that I found in the rafters so these were trimmed to fit into the top of the shelves, so the surface wont scratch any parts I'm working on. Good luck to anyone but me working on them as I've set them high up to make my 6'7" life a bit easier!

Whiteboard now put above this too for rough ideas, lists etc.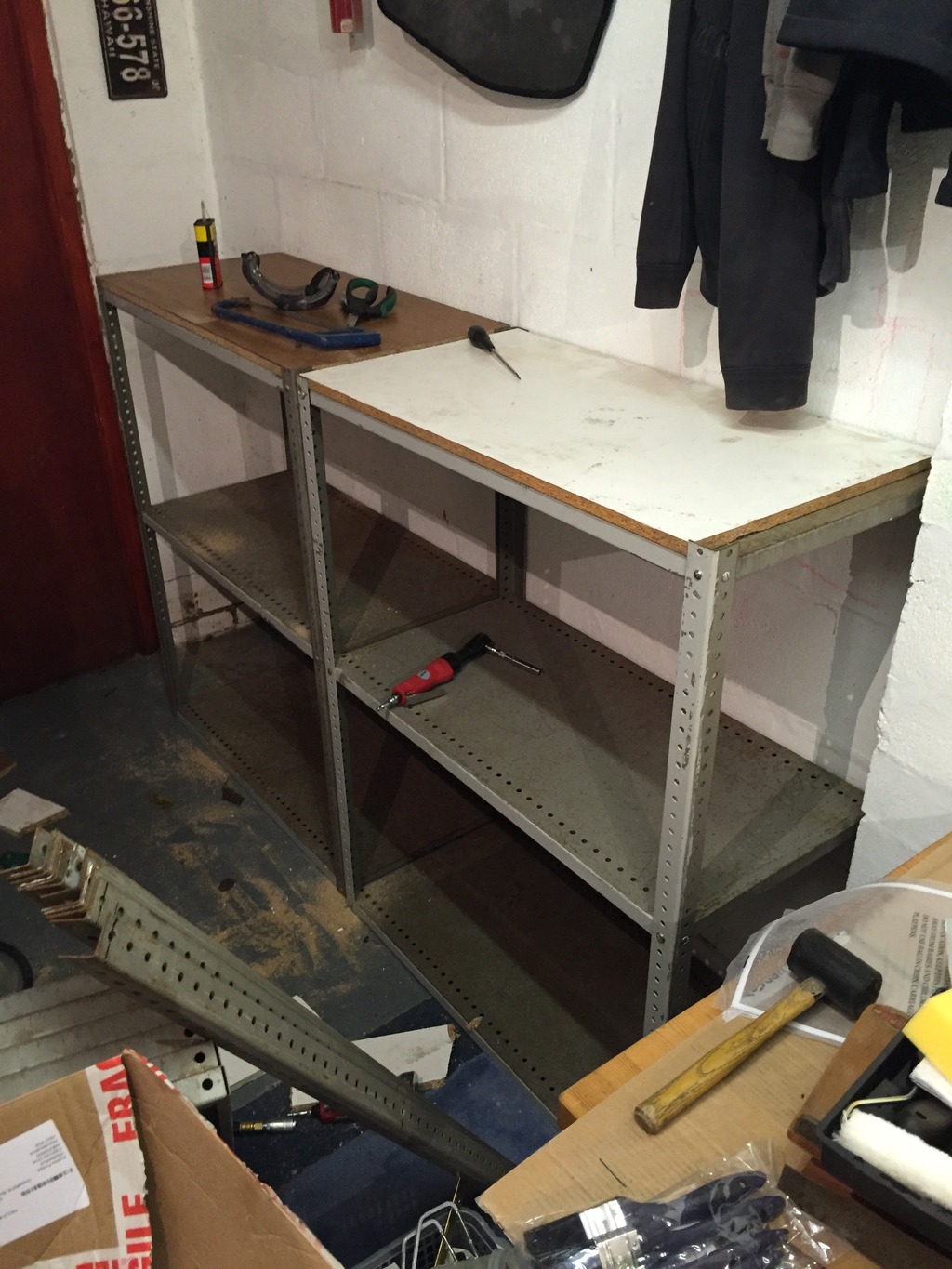 Bolted to this is my new bench grinder which my girlfriend bought me for christmas. Parents garage had one of these and it was worth its weight in gold! Taken the stones off and added a couple of polishing heads as that's far more useful to me.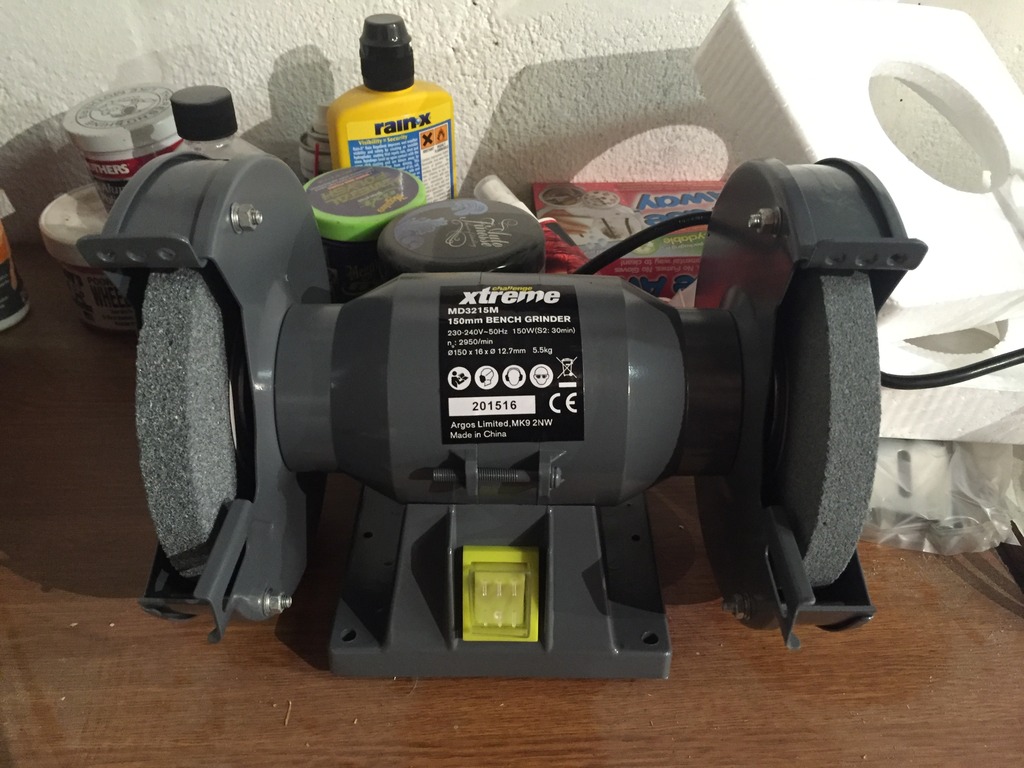 One large bit of equipment I've always wanted (and wish i had when doing the major rebuild a couple years ago...) is a media blast cabinet. So I bought one

Its reasonably large but is super handy and makes part preparation a breeze. Got my toolbox dropped off as well but I'm in two minds to keep this or sell it and mount all the tools on the wall above the workbench for ease of access and space saving. We shall see what happens though.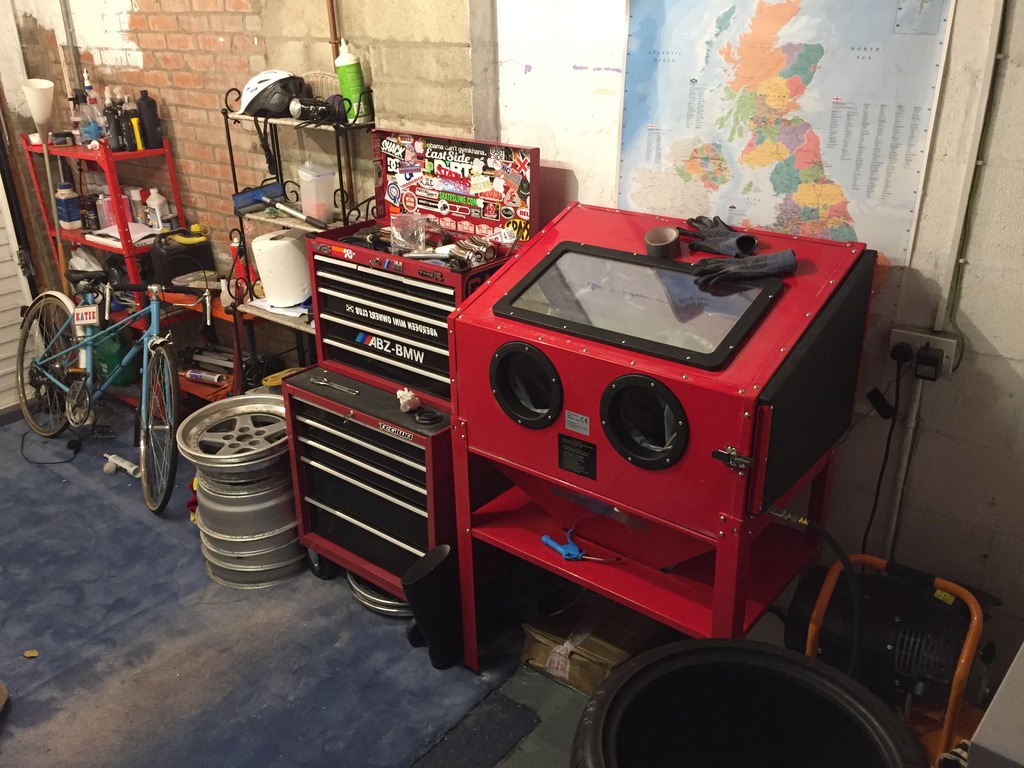 But as blast cabinets need compressed air to run, I got this bargain (aka ex display) compressor to run it. It will come in handy for working on the car too which is a bonus! Bit noisy but walls are thick so neighbours can't hear it that much.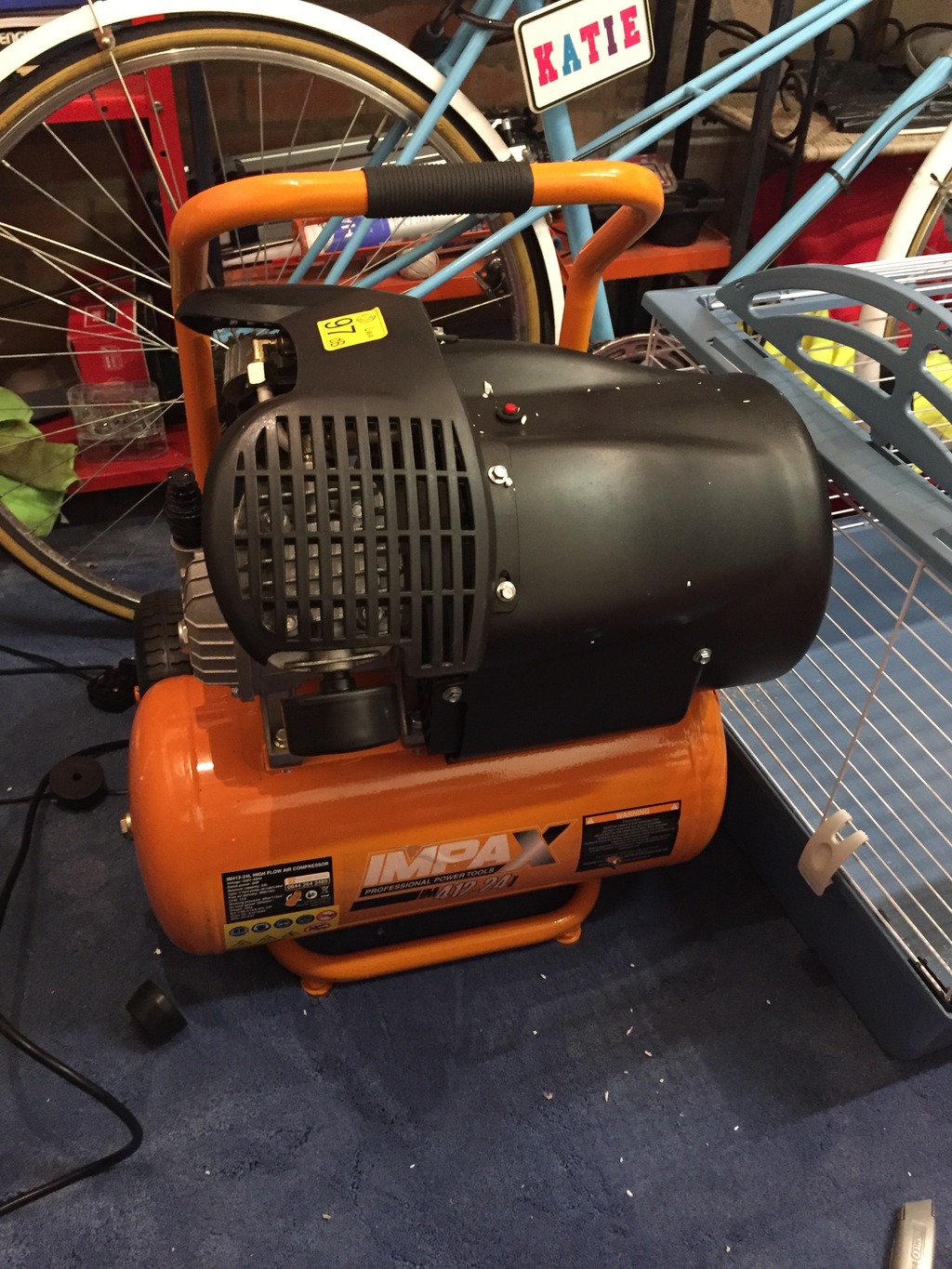 Painted a bar bit of wall missed by the previous owners and put up more shelving for part storage mainly. This ma not be required to be honest and gets in the way a bit so may come down once the car is here.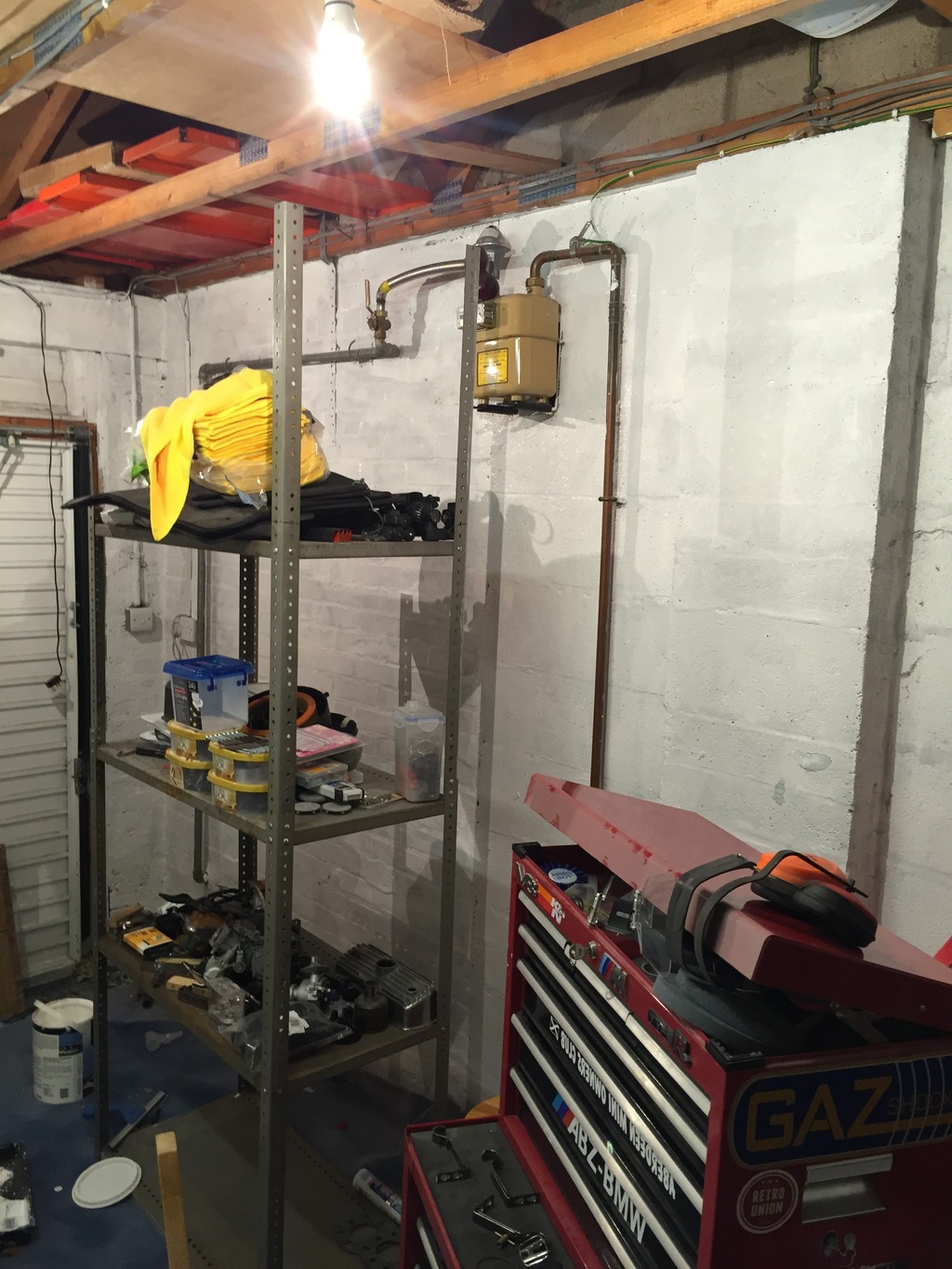 It is handy for storing this load of parts though. Thought I had more than this after many years of Mini ownership but I guess not! Most of it will end up for sale after a refurb so keep your eyes peeled for classified ads going up :)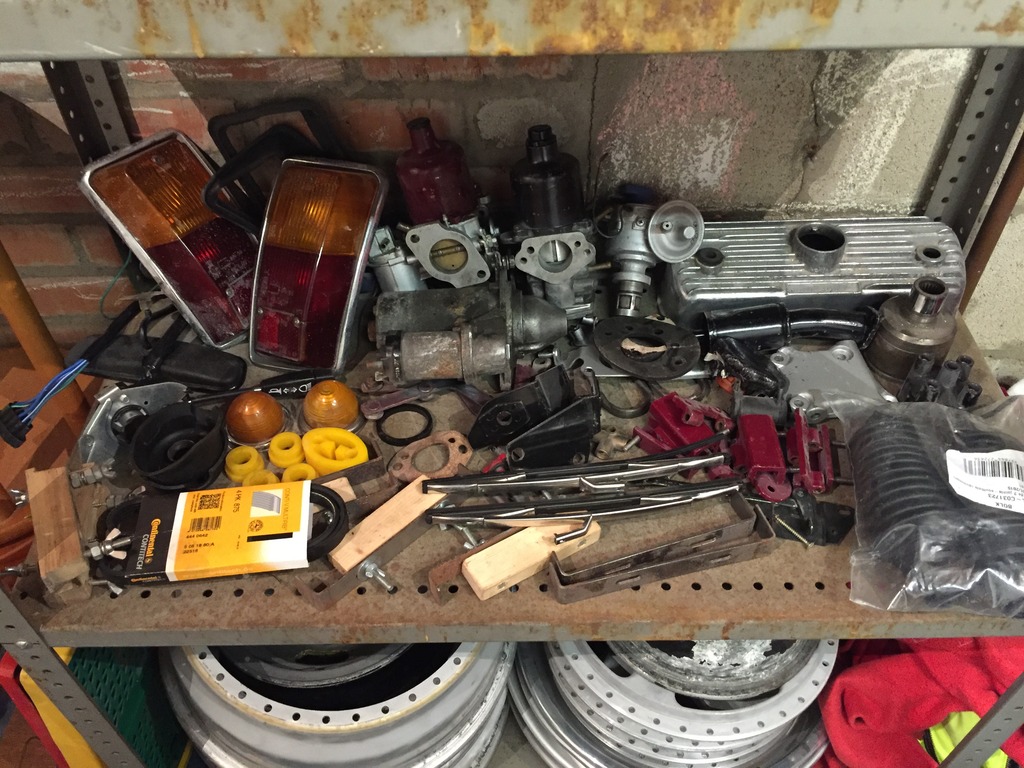 Theres kinda a little shelf above the up and over door so its become the Trig wall, with trophies, rosettes etc on display. Dont worry, those speakers will be properly mounted somewhere soon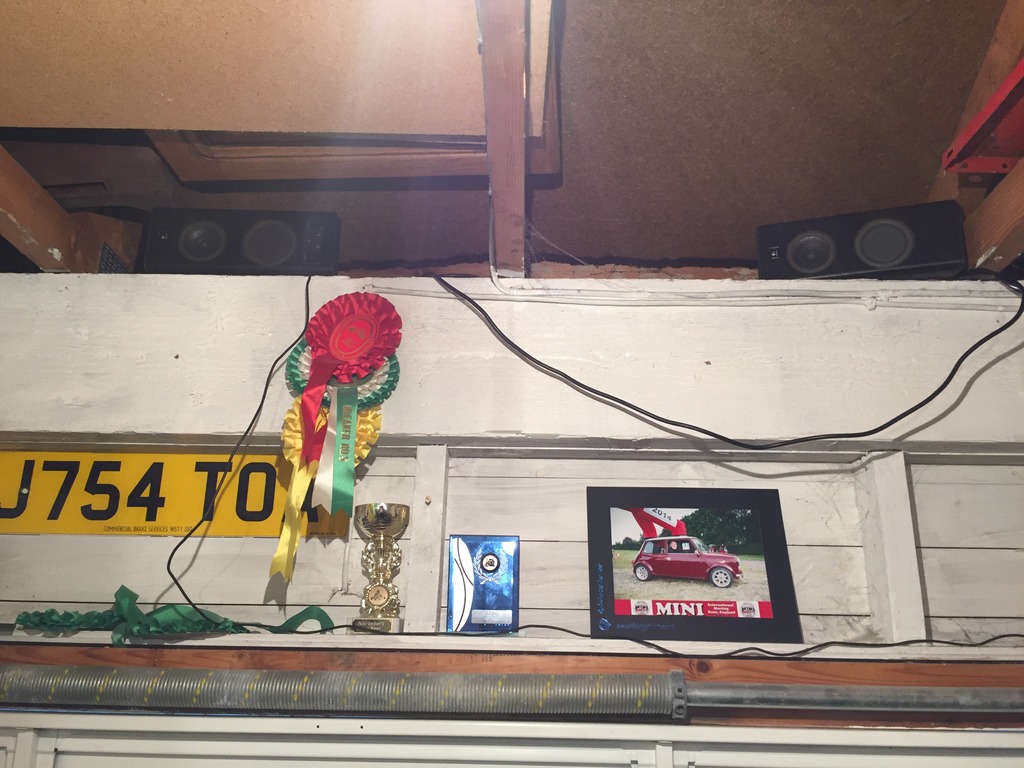 and then i bought the first parts for him. A total impulse buy but it will be fun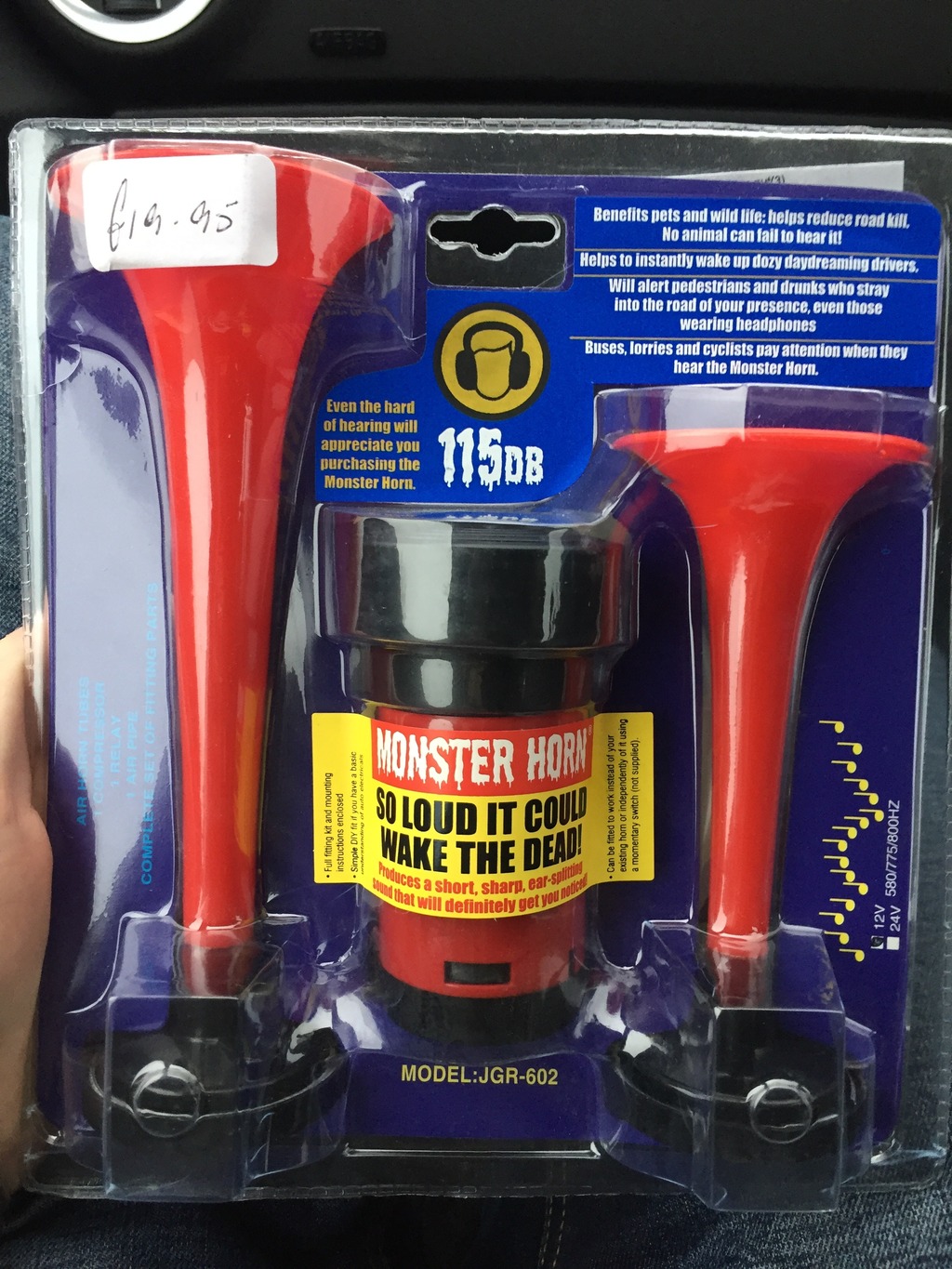 Can't wait to get stuck in once the car gets here :)
1-28-2016
6 months after we moved in, the Mini has moved in too :) Not MOT or tax on it so got it dropped off this morning. Garage is a bit tight as theres too much **** kicking about (boxes of spares mainly) which will get chucked out to the shed for storage.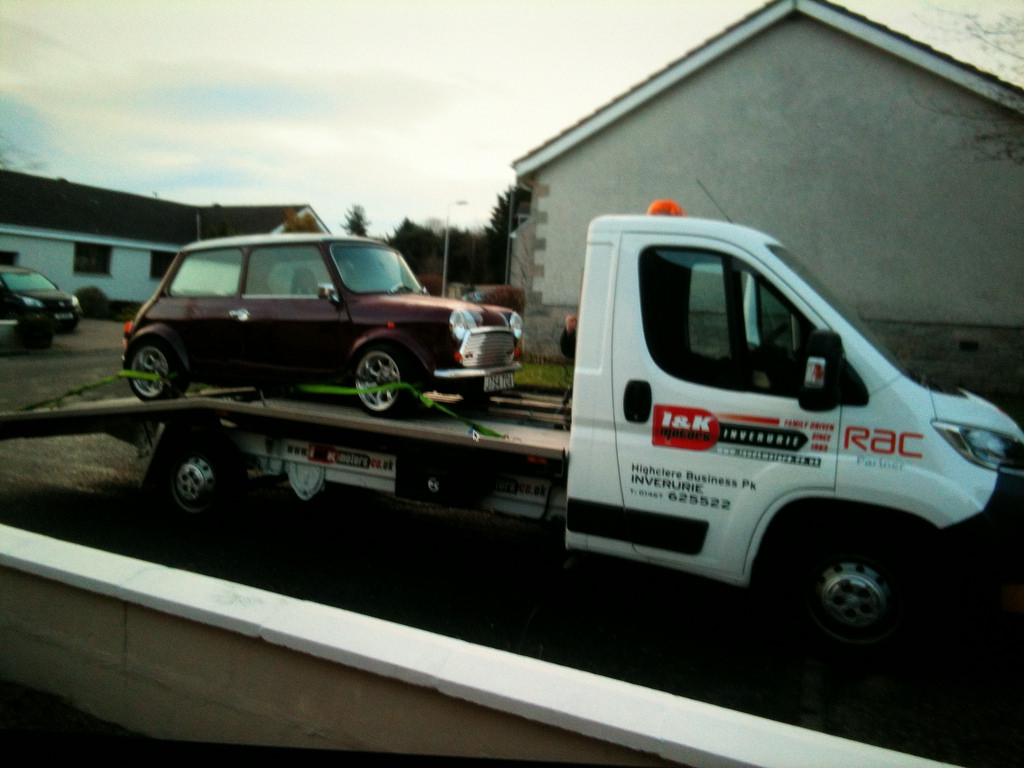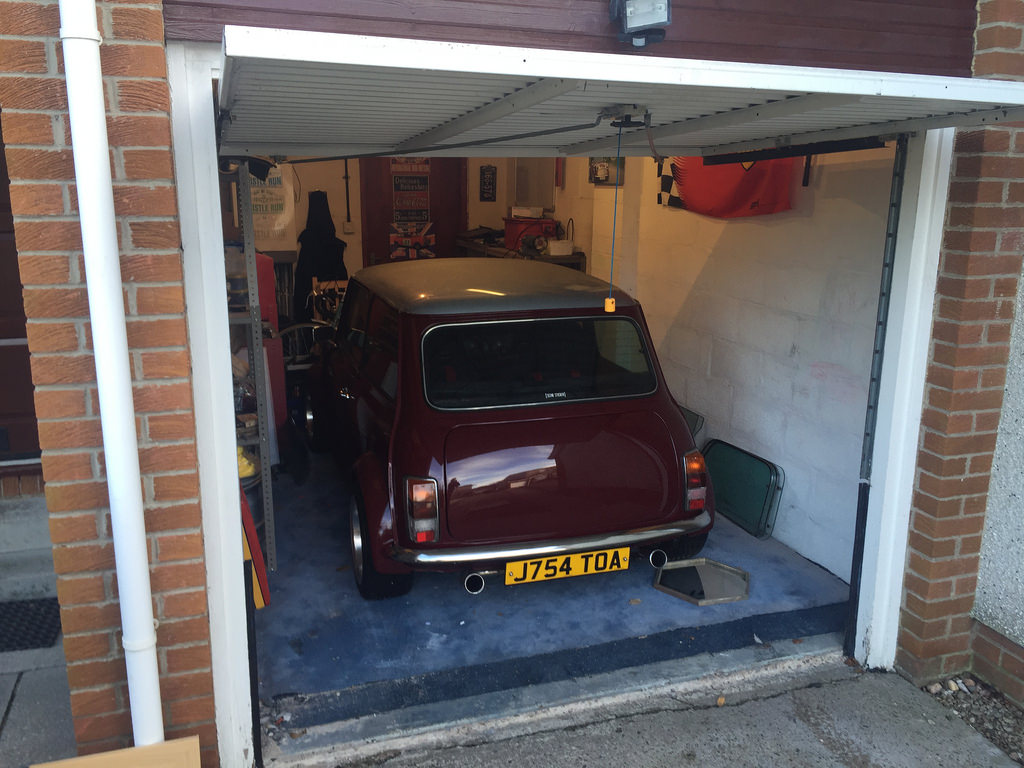 Happy chappy and can't wait to get stuck into it again for the first time in 18months.

2-18-2016
Done nothing to this but i did acquire some adjustable lower arms and tie bars from a TMFer. Need a blast to get rid of the corrosion but they are fine underneath :)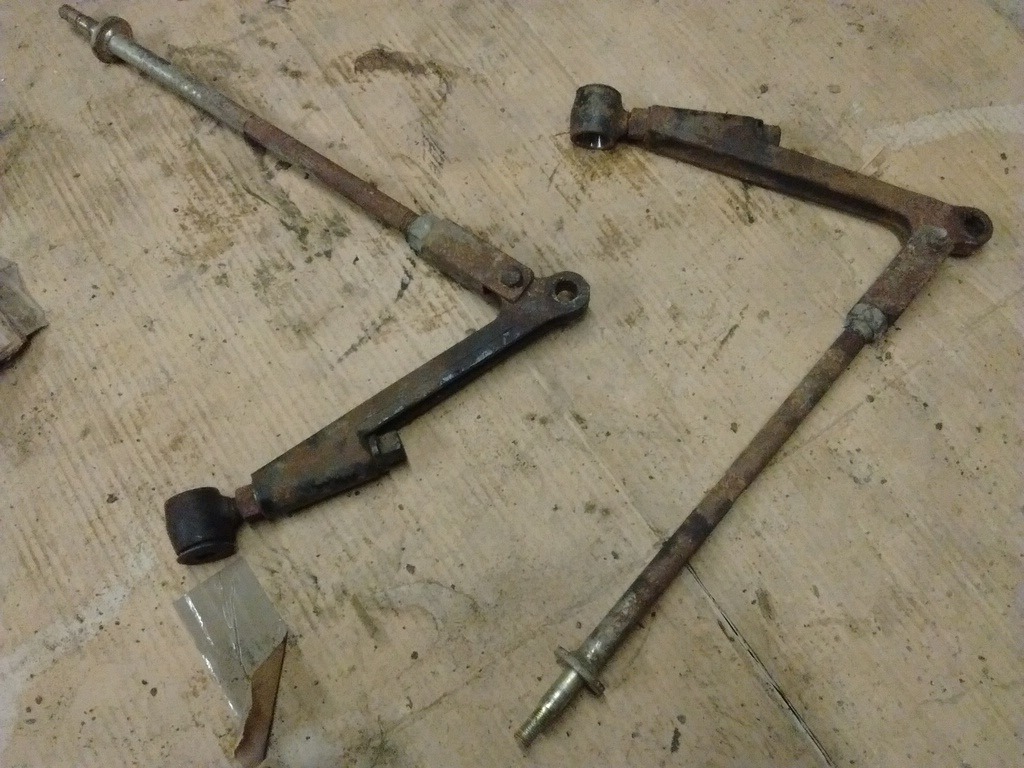 2-19-2016
And after 15mins in the blast cabinet...

Best tool I've ever bought!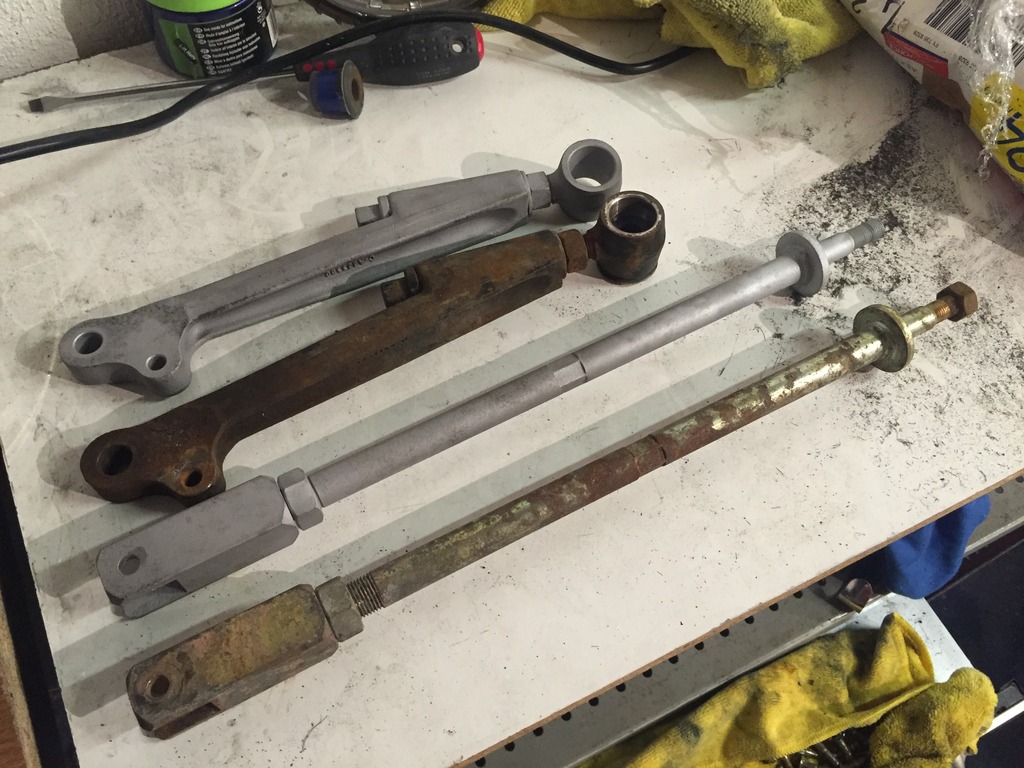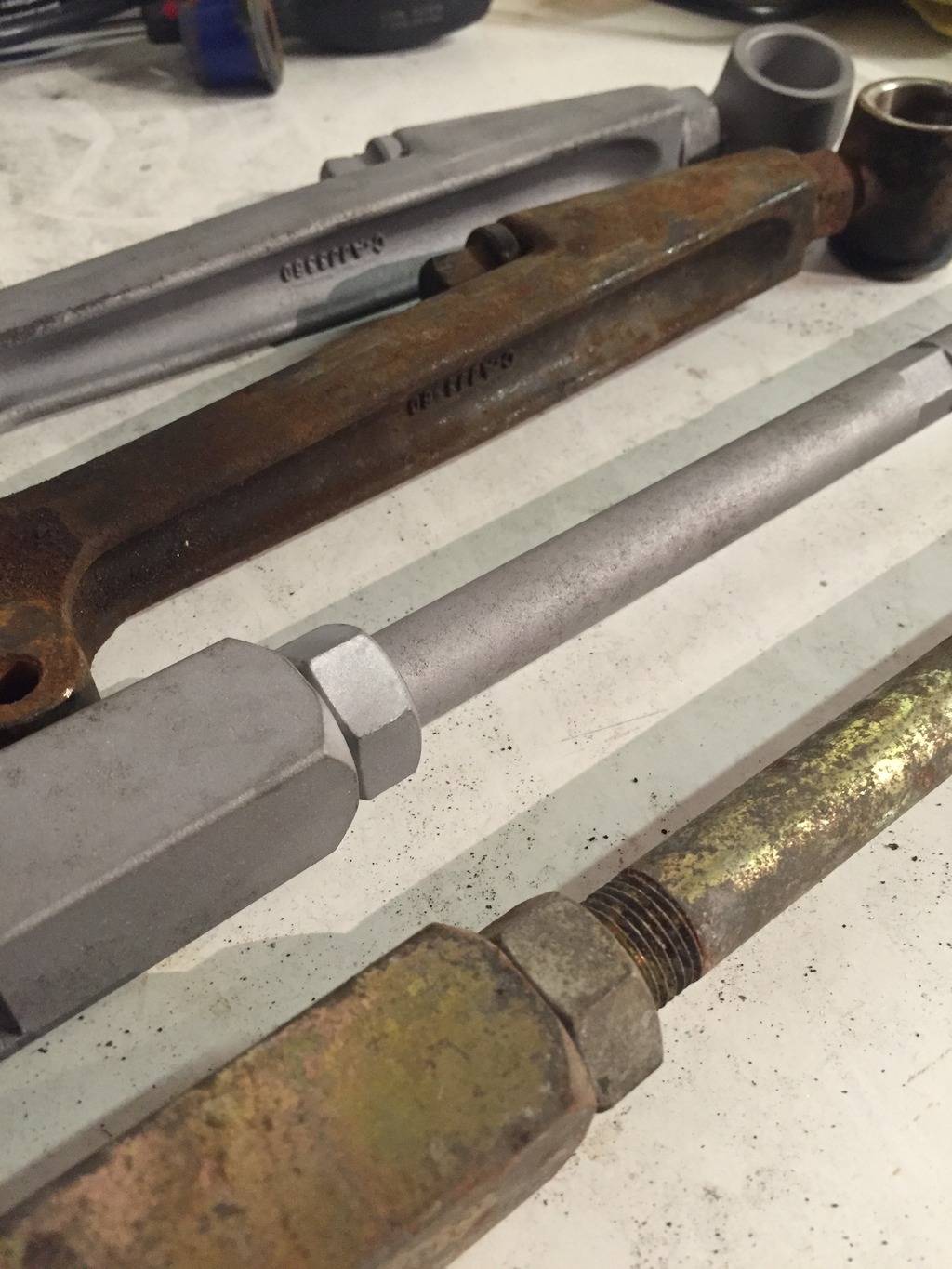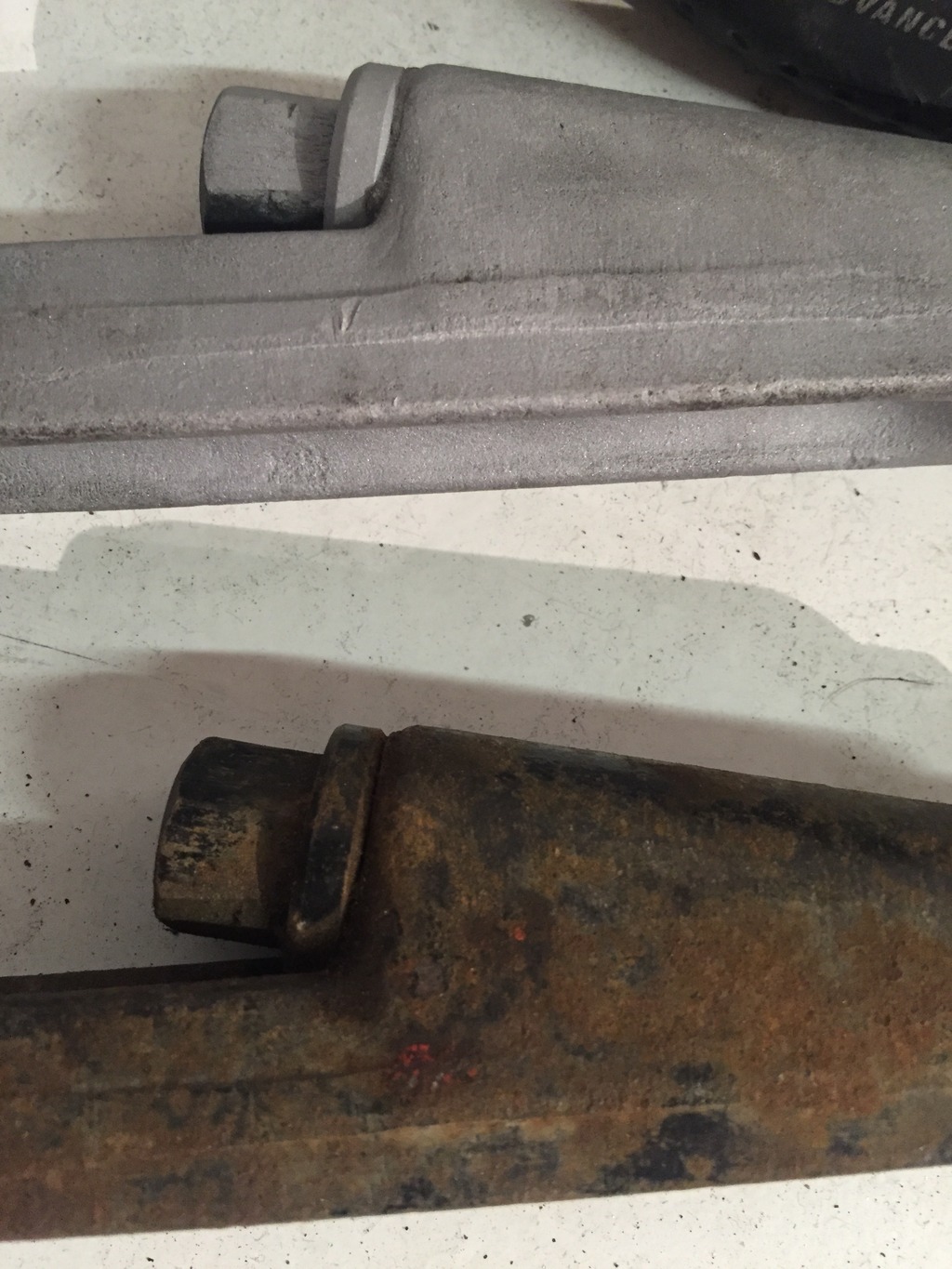 4-24-2016
Long overdue update!
Well, I've still got a job somehow (oil industry sucks!) but with the R53 needing discs/pads/callipers all round, funds are lower than your grannies nipples and Trig isn't seeing any of them! However, I gave the old boy a wash today to get rid of storage dust etc. Cleans up ok but looks terrible in the metal. Needs a decent machine polish to get him right again. Sitting in storage with dust/hands/fingers being drawn all over him hasn't been kind to the paint.... Got a set of split rims I need to sell to make space for a gearbox rebuild to start. Got the original 998cc box with daft final drive in it, so rather than when the engine any box out and take up precious floor space, I am planning on ripping apart the spare box, seeing what needs replaced, then rebuilding it to my ideal spec. No straight cut gears as the car is used for long distance to shows up and down the country but looking at 3.44 final drives for a mix of acceleration and cruising at reasonable revs. When the engine comes out, I'm redoing the engine bay top to bottom as the paintwork on the ancillaries hasn't lasted any length of time and really lets the whole car down. Im sure it would be passable but its not to my standard... But anyhow, hers the beastie after a quick wash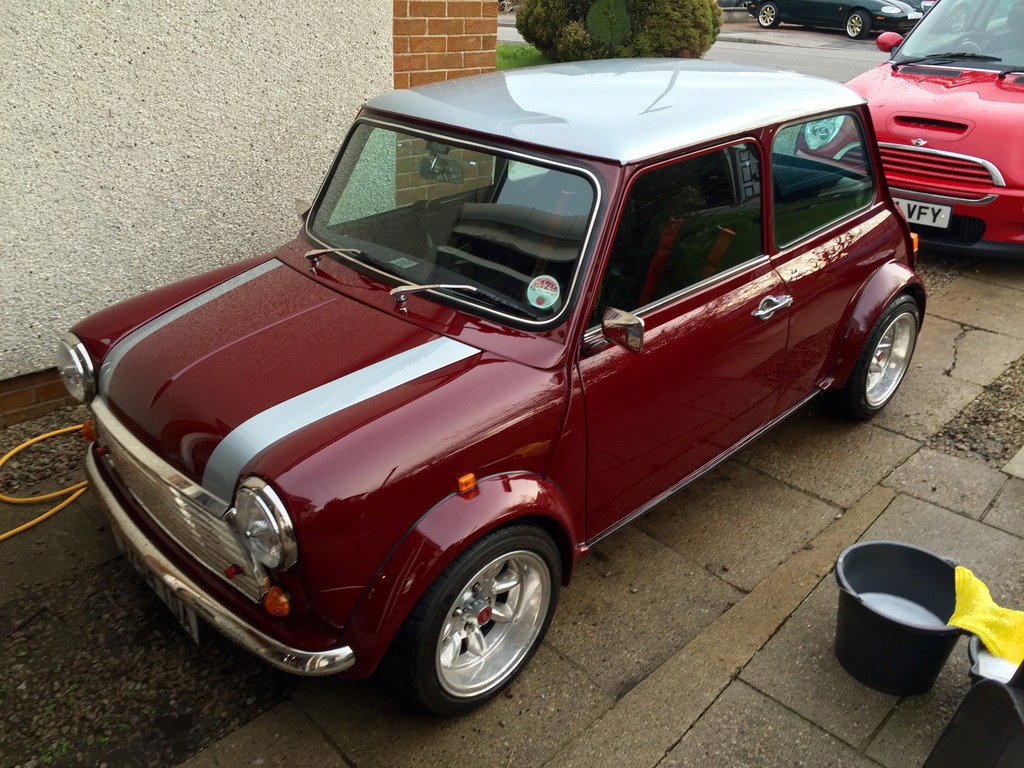 MASSIVE list of bits I want for the car but they will have to wait until i know for definite my job is secure for the long term. If the oil price jumped up by 2-300% that would be great....!
5-13-2016
Well I still have no spare money buuuut I felt sorry for the car sitting there unloved and unused and as its till insured I want to get it back on the road.... The main thing keeping it off the road is the gearbox. It jumps out of 2nd (common fault) struggles to go into third and jumps out of 4th (which isn't fun when you're cruising at 80mph and the revs suddenly start screaming!).

Thankfully I have the original box that was attached to the 1275 (using the box from the 998cc engine at the moment) which has a fault where it wont select 1st or 2nd, which I think is down to a selctor fork/shaft issue.

So last night I started stripping the spare box to see whats going on inside and to get a list of parts to replace, as I want this to be an 'as new' build.

Looks pretty ropey having sat in a plastic bag round the back of my parents shed for about 3yrs, however all the oily bits are rust free which is surprising!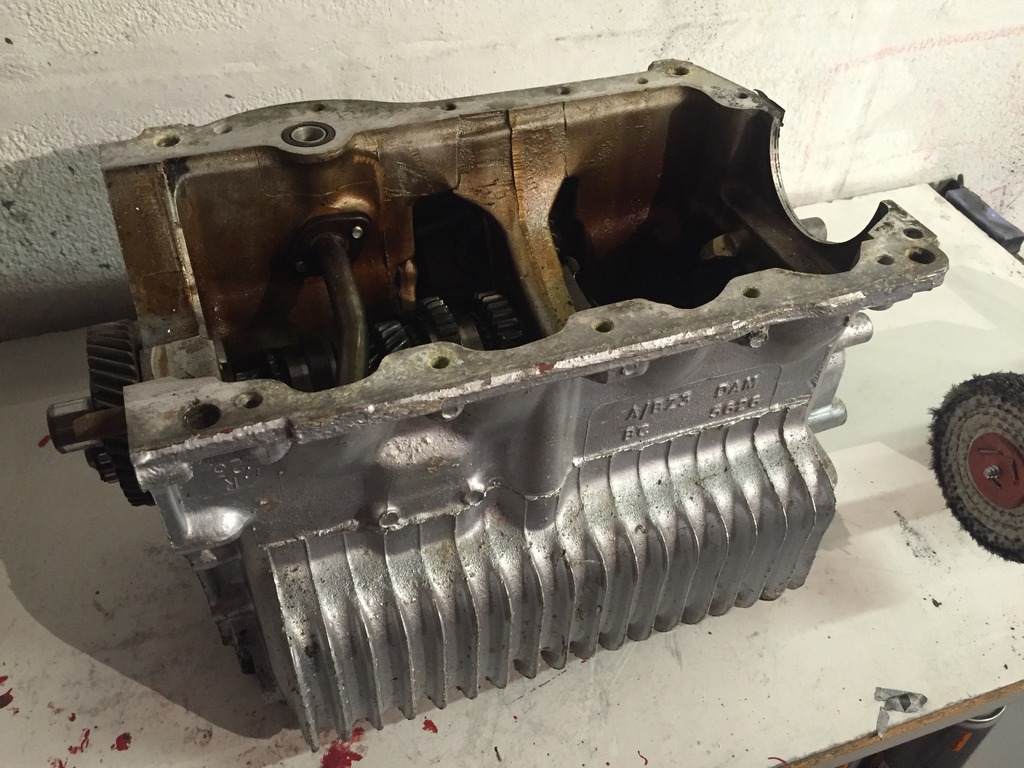 Diff housing looks like moisture has crept in between the metal and the paint, hence the bubbling.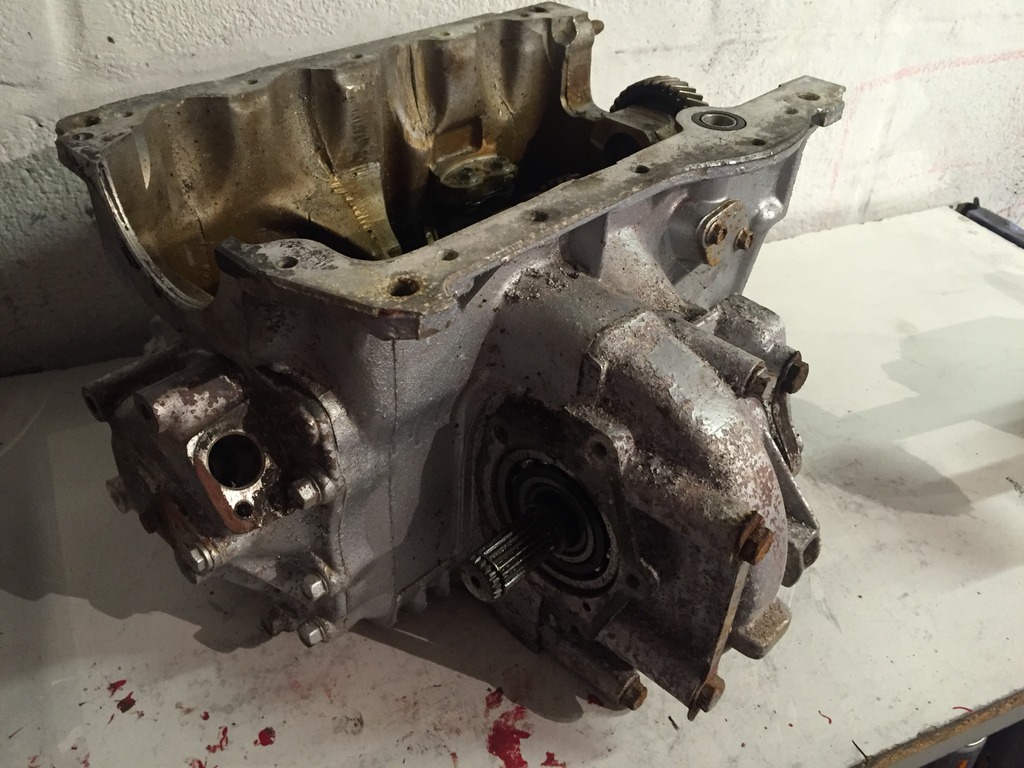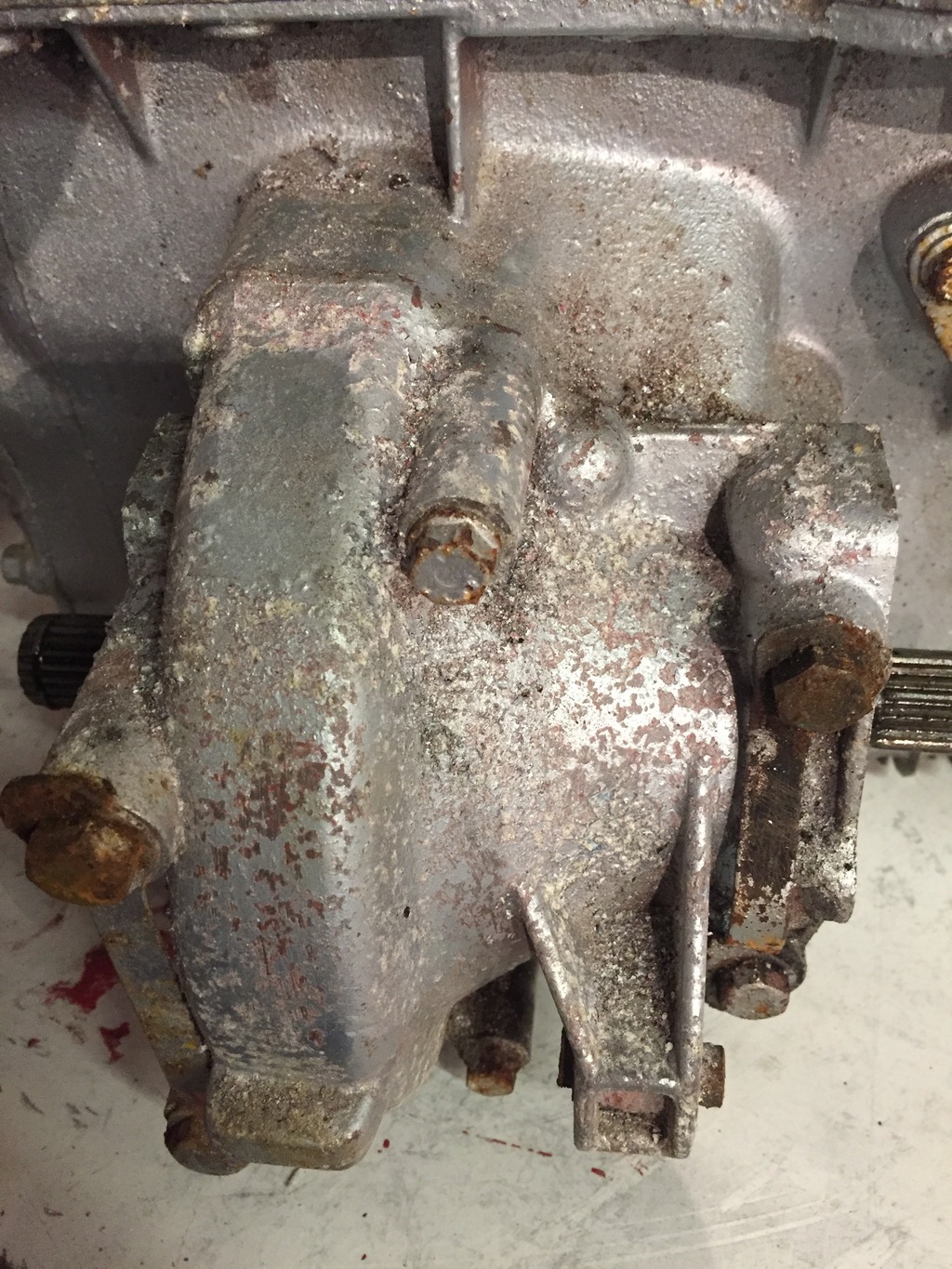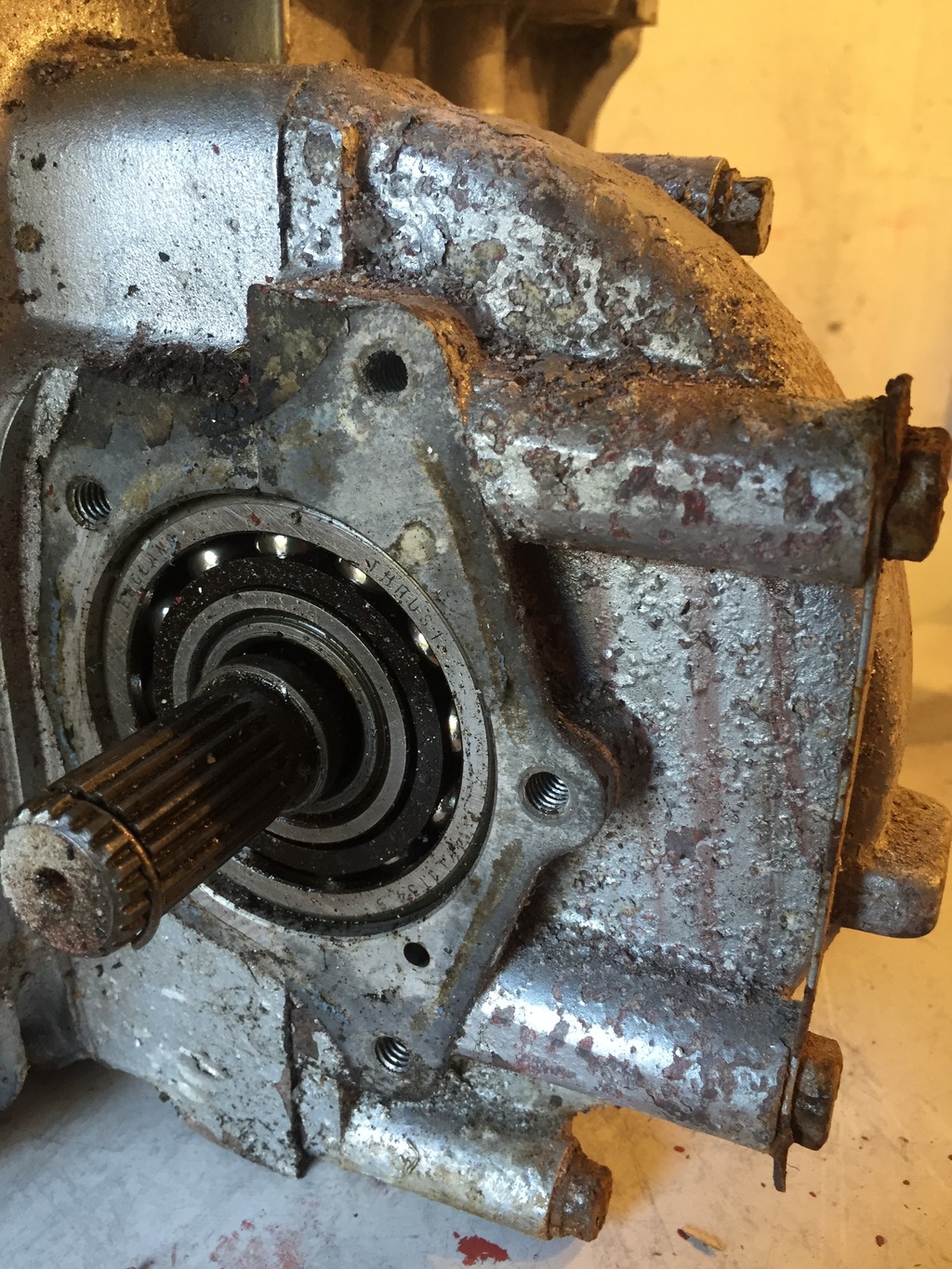 Drop gears are in good condition with no signs of wear so these can be reused. Did consider switching to straight cut drops for all of two seconds. The use the car gets is mainly long drives to shows etc so noise being reduced rather than increased is a nicer idea. Although straight cut drops do sound epic....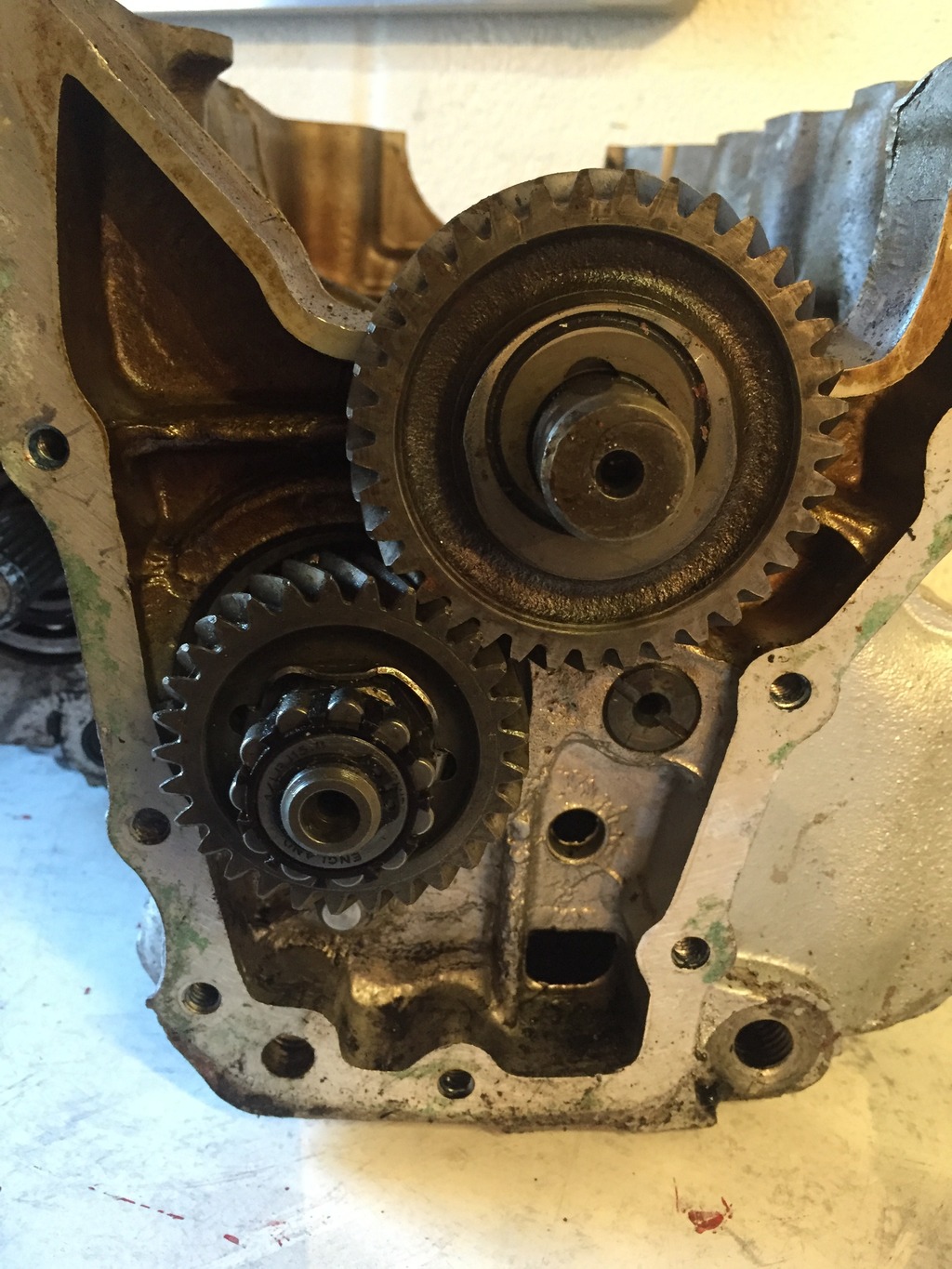 Pretty sure these markings refer to the box casing rather than whats inside it but you never know. Im going to clean up the cast marks on this as well as it looks rough as *******.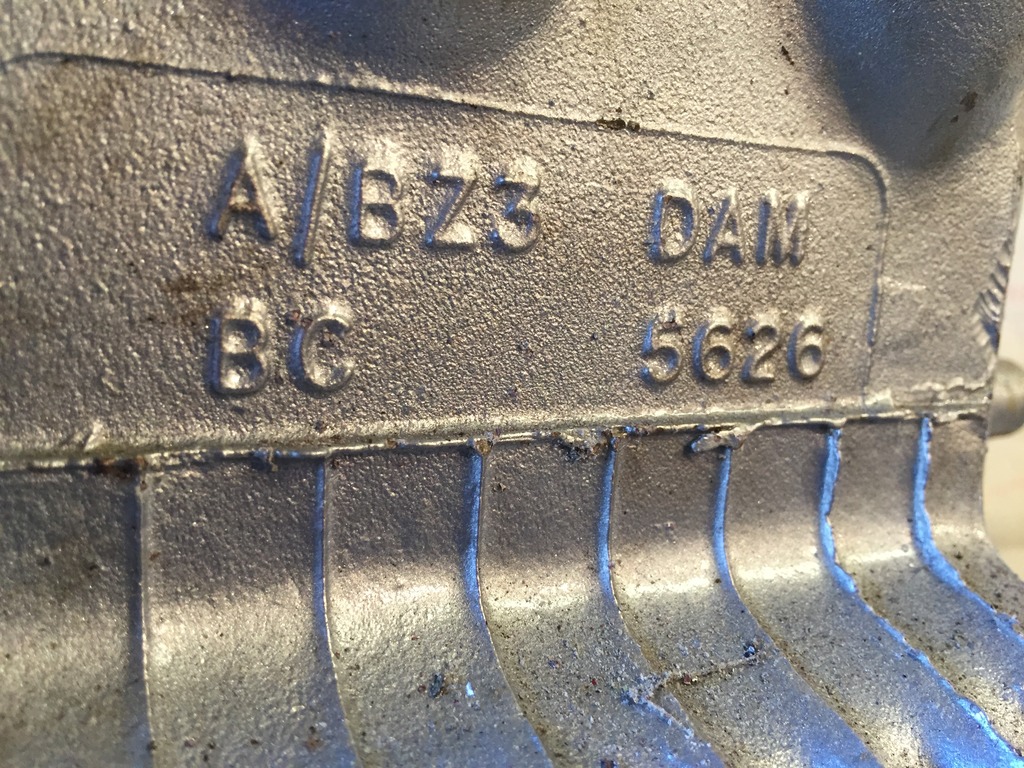 Speedo drive full of crap. Thankfully the gear that connects with this is plastic so this crap wouldnt have been crushed too badly or caused much damage but still...pretty bad.

Bottom of the casing/sump. Lots of debris in it.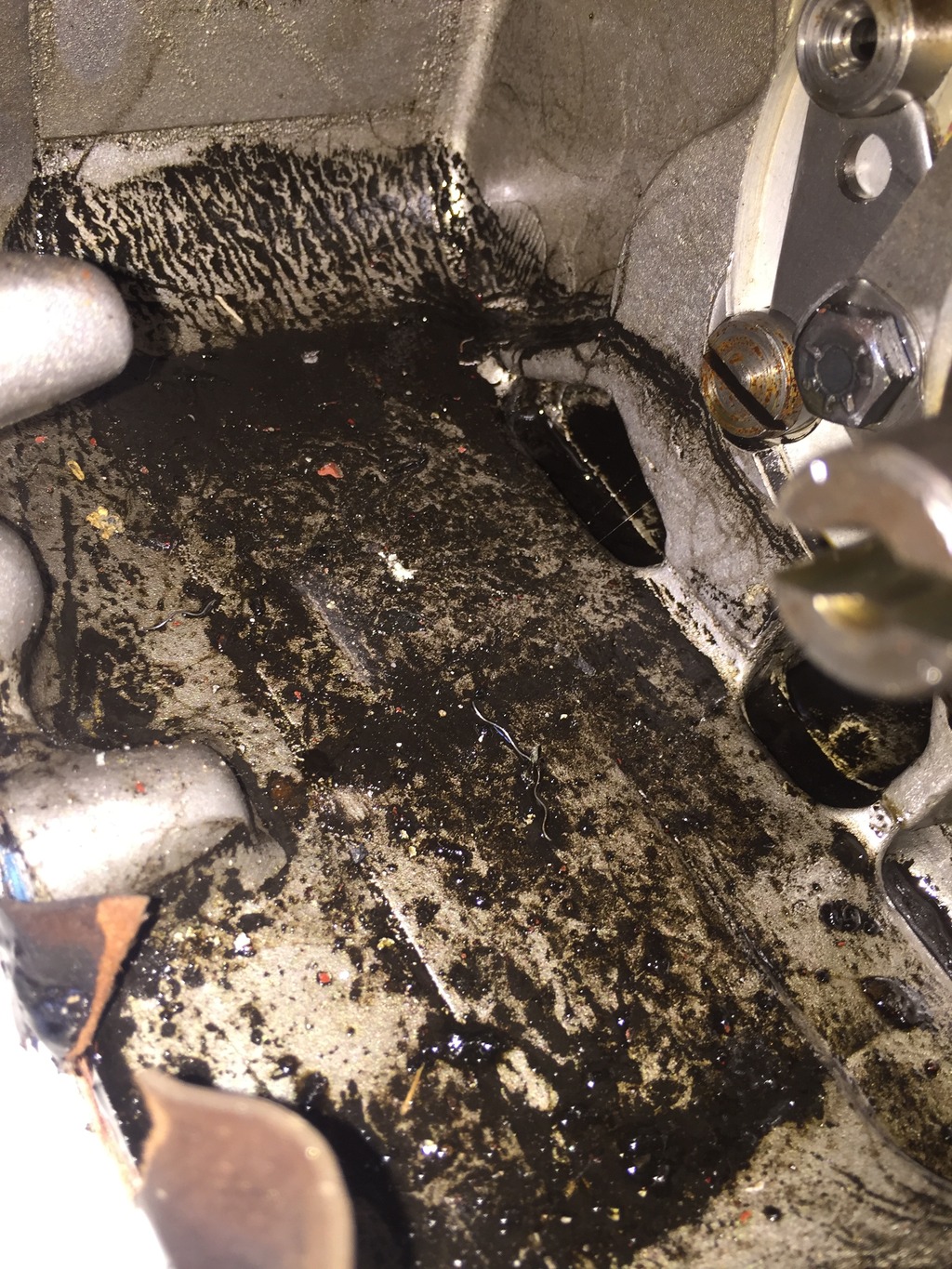 This was rattling around in the sump...hence why I couldnt select 1st or 2nd.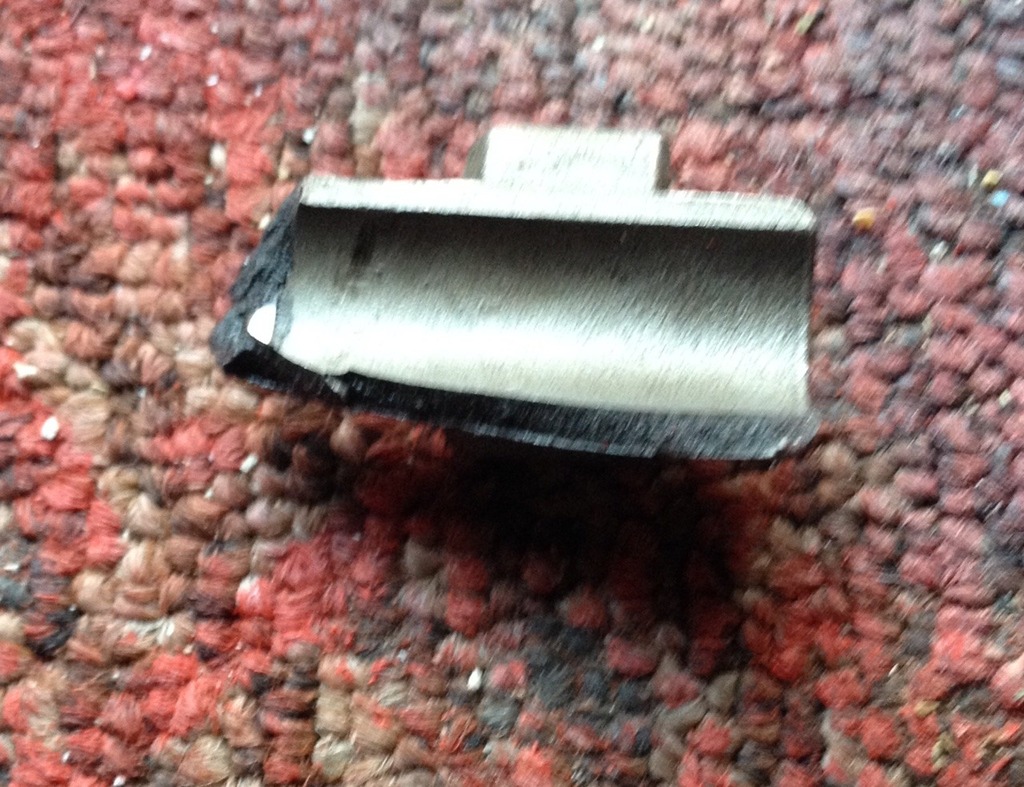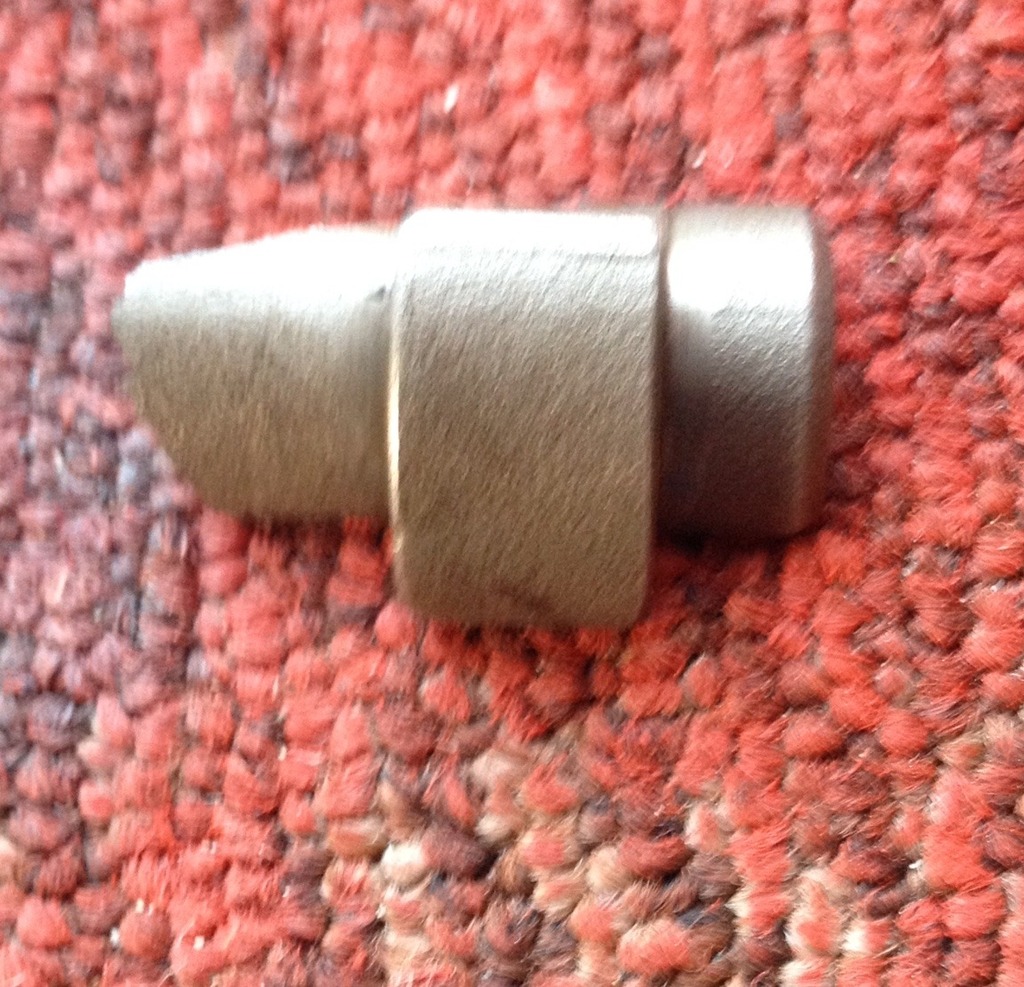 I guess a 25yr old cast metal part is allowed to fatigue over time. Pretty clean shear as well. Hopefully a cheap part new or second hand if not.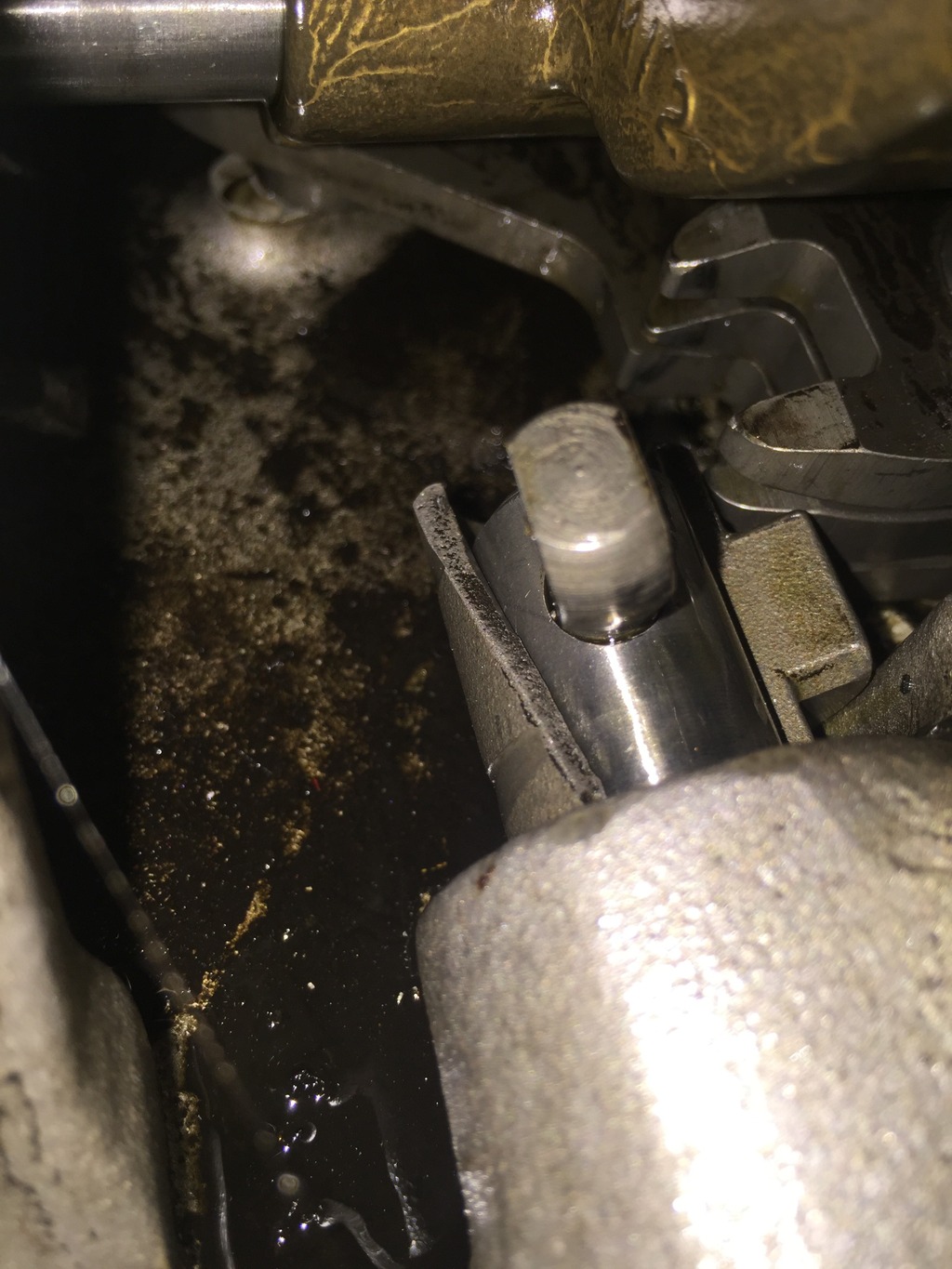 The end bearing on the drop gear side was broken although still spun freely, the plastic had cracked for reasons unknown.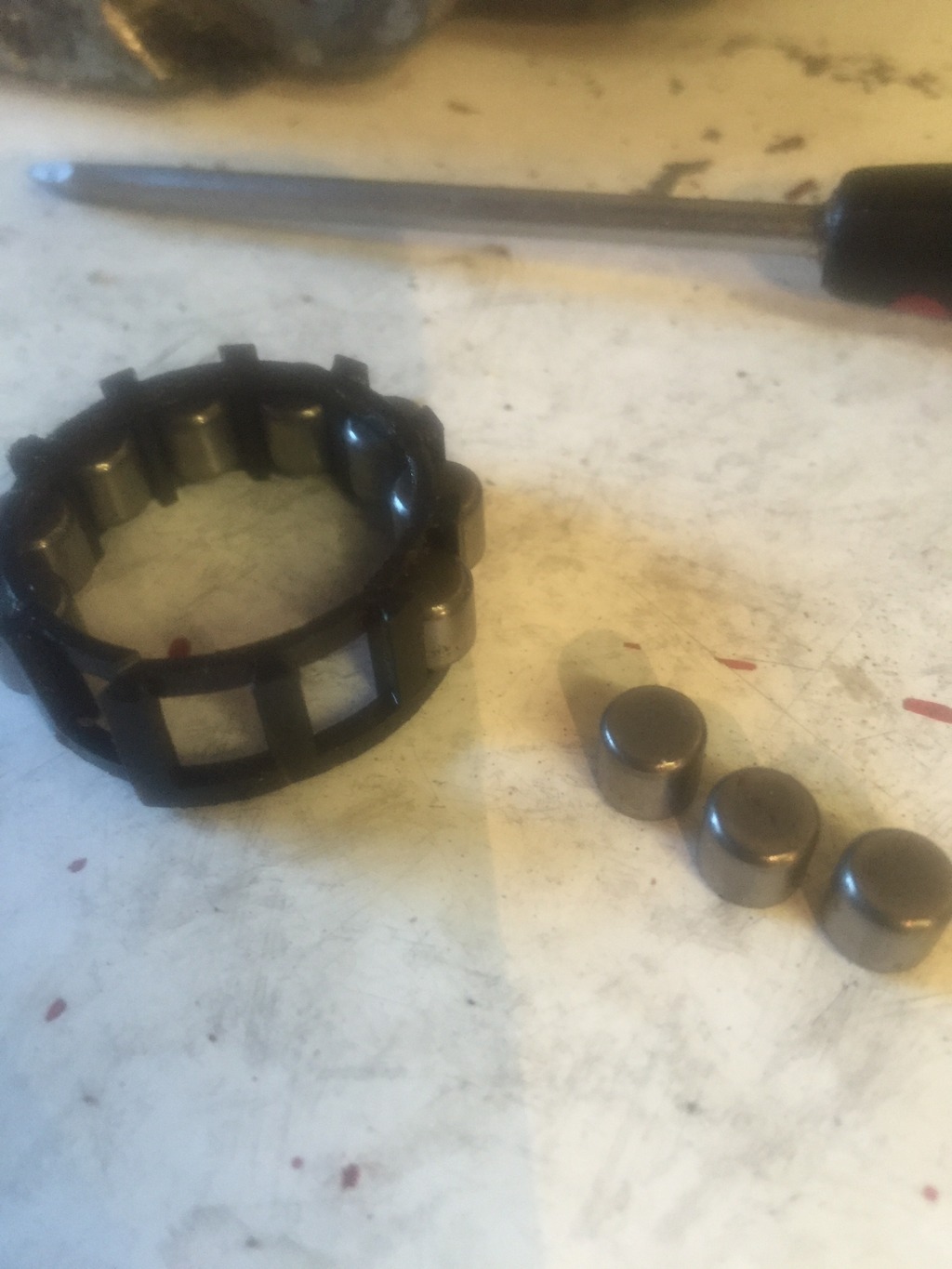 Speedo drive housing was a state so I set about blasting it clean again. Just need to scrape off the remaining gaskets and then reblast it.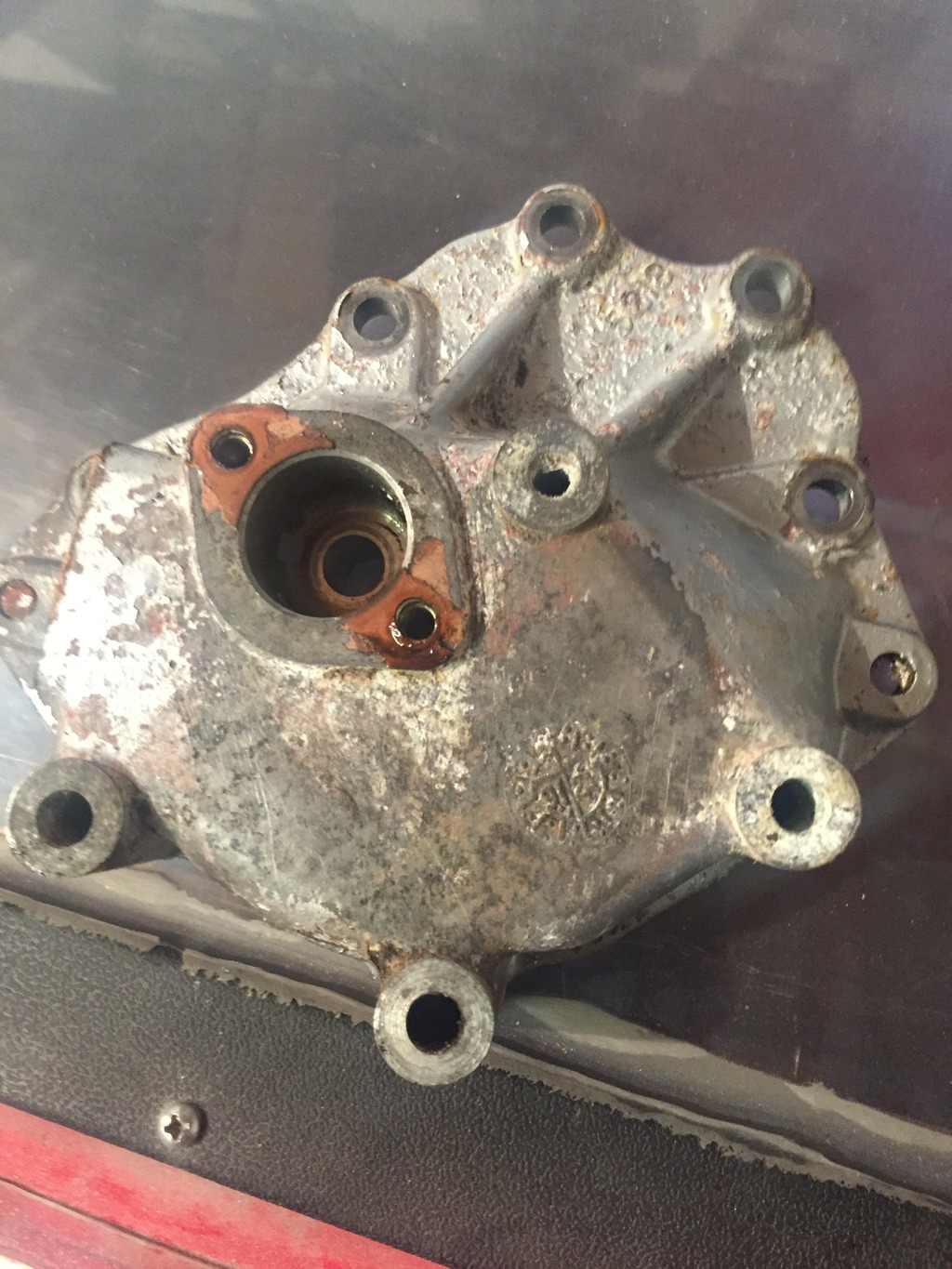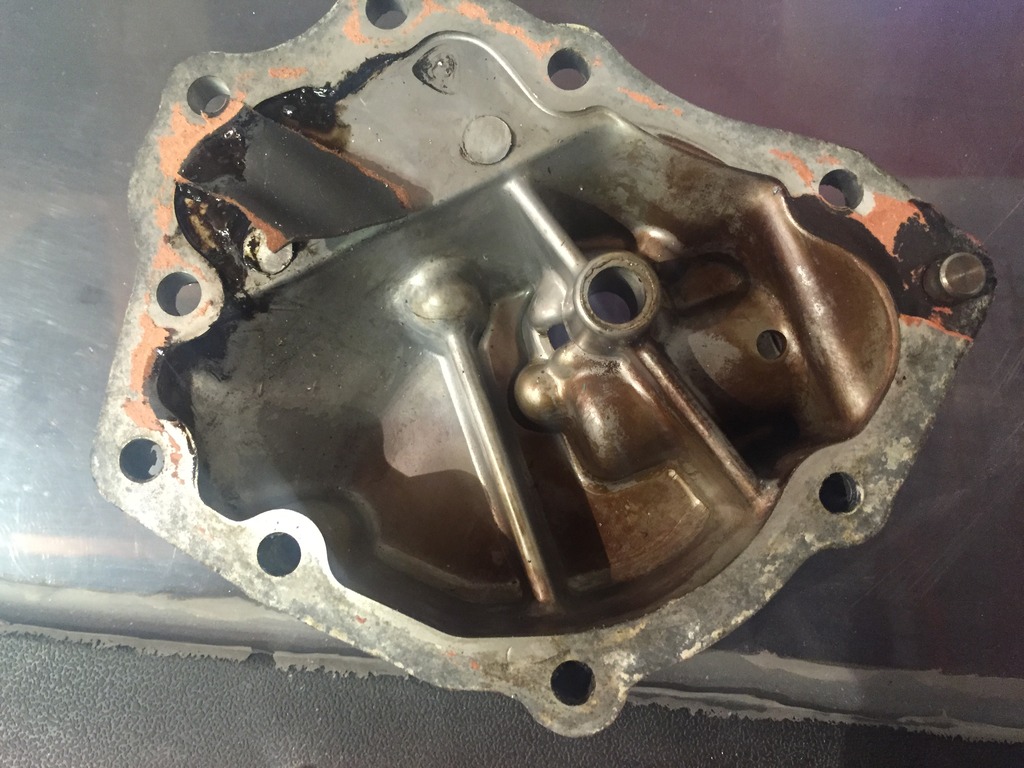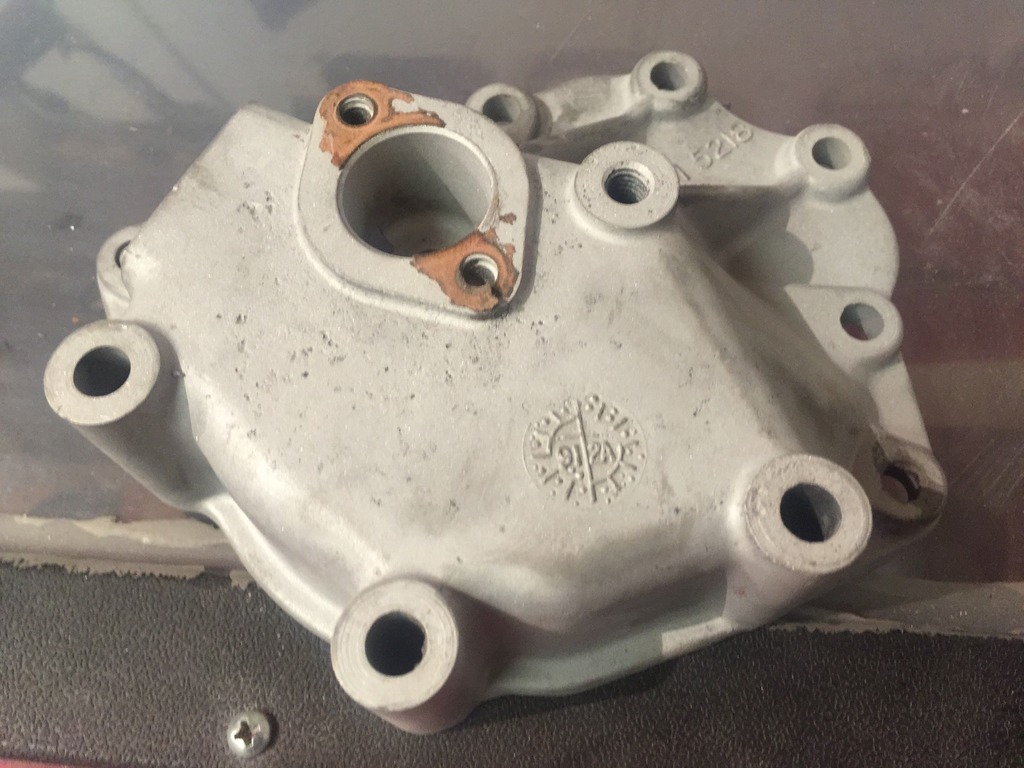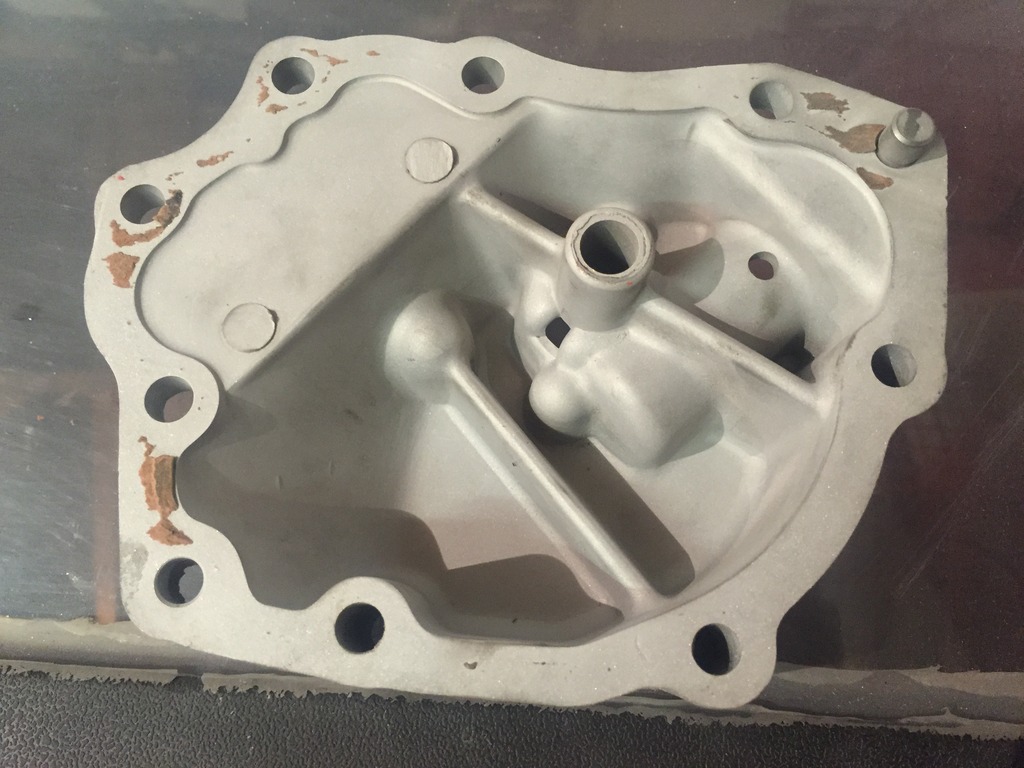 Removed the diff as well but hands were oily so didnt get any pics of that. Need to count the teeth to confirm what ratio of final drive it is.

Enjoyed getting back into Mini stuff for a change. Hoping to get the box fully stripped over the weekend for inspection and then get the casings off for powdercoating. :)
5-23-2016
Fully disassembled the gearbox last night and started going through cleaning and blasting everything today. Looks like it's in good condition throughout, minus the broken collar on the selector pin. Planning on replacing a few common fault parts like bearings and potentially a cross pin diff (to future proof the box if I do eventually modify the engine too).
With the box locked in both 1st and 4th gear it meant I could remove gears without the shafts spinning freely. The bearing on the end of the mainshaft was a pain in the arse to remove as I didn't have a bearing puller at the time. Bought one now which helped on other ones. The nut behind this needs a 1-1/8 socket but as nowhere in Aberdeen seems to sell imperial stuff anymore (tried 5 different motor factors), I had to get a 29mm from Gibbs which did the job. Had to stand on the gearbox and use a bit of old exhaust pipe to apply enough torque to get it off though.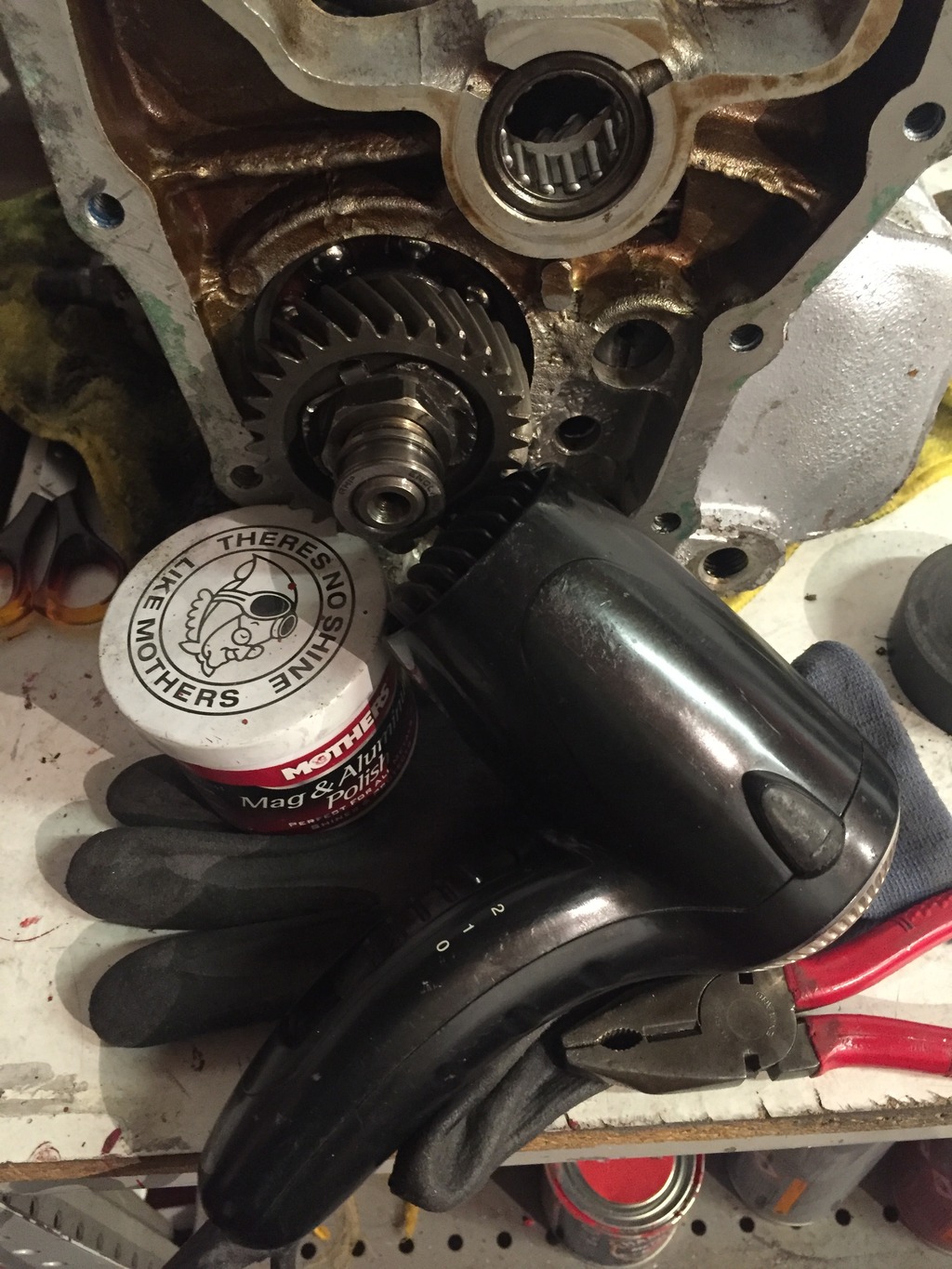 Here's the selector pin collar in all its sheared glory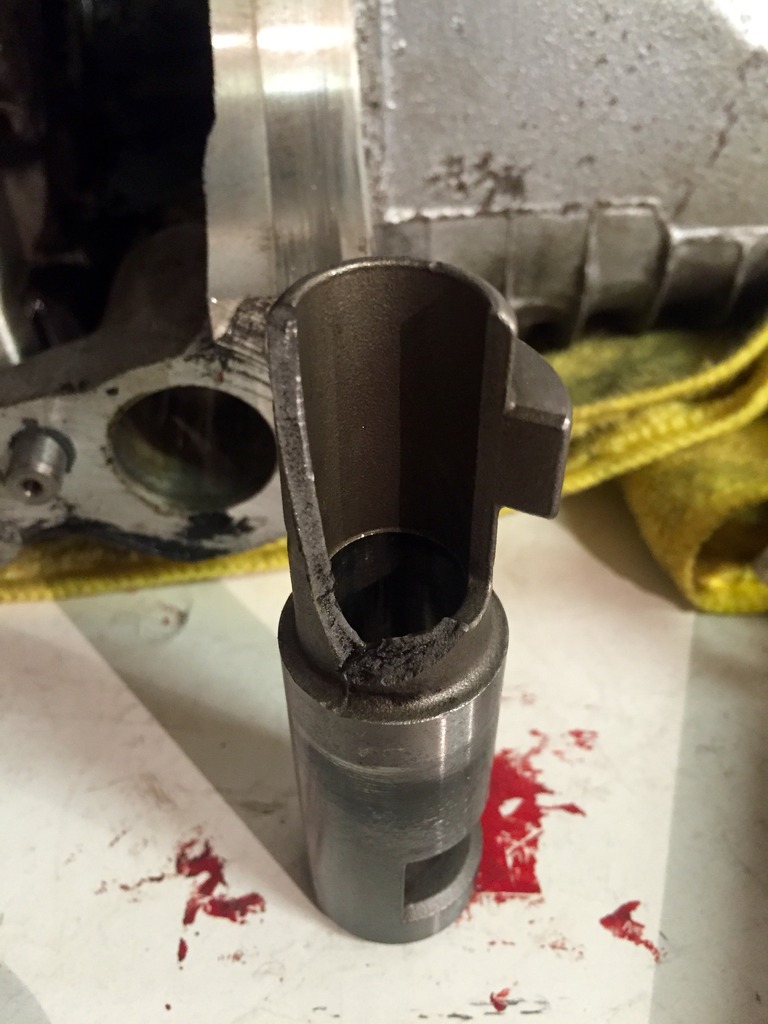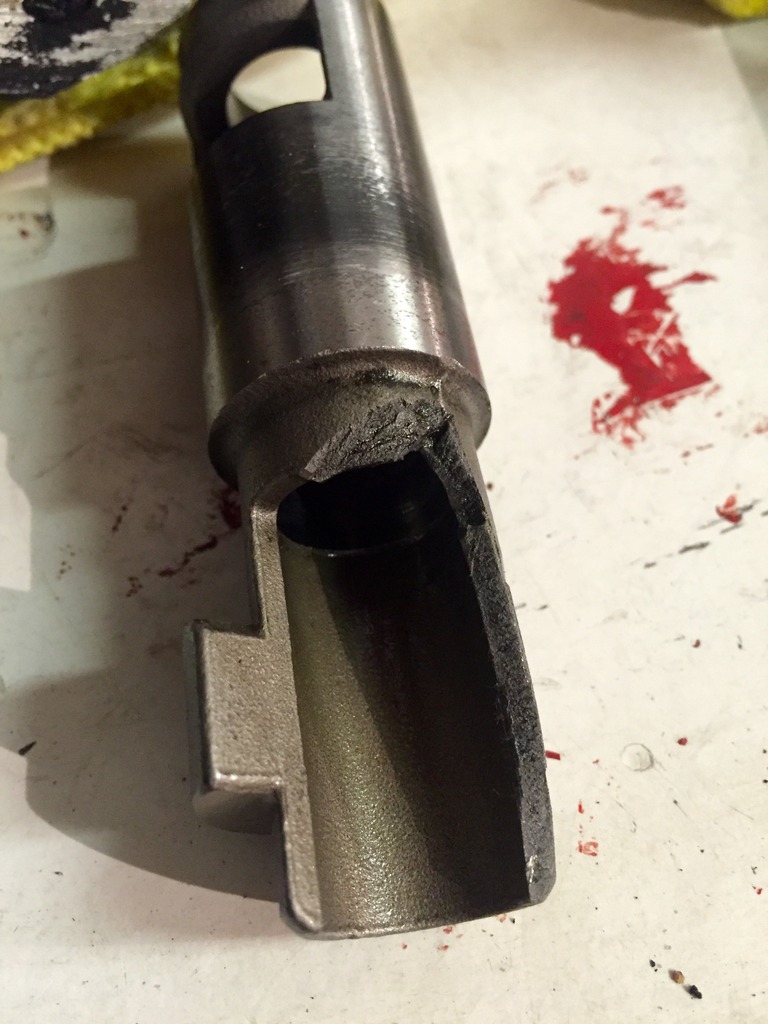 This should be symmetrical. Turns out this is a ridiculously rare failure and the part is now obsolete so I will have to source a decent used one instead of buying new.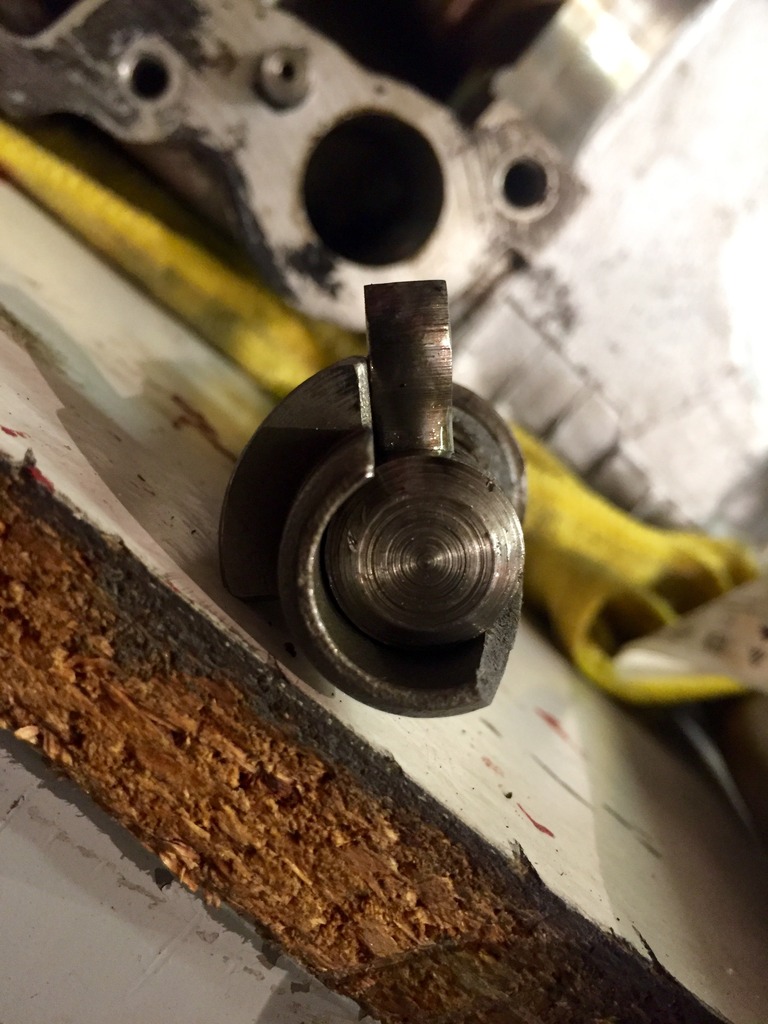 All parts removed and disassembled awaiting cleaning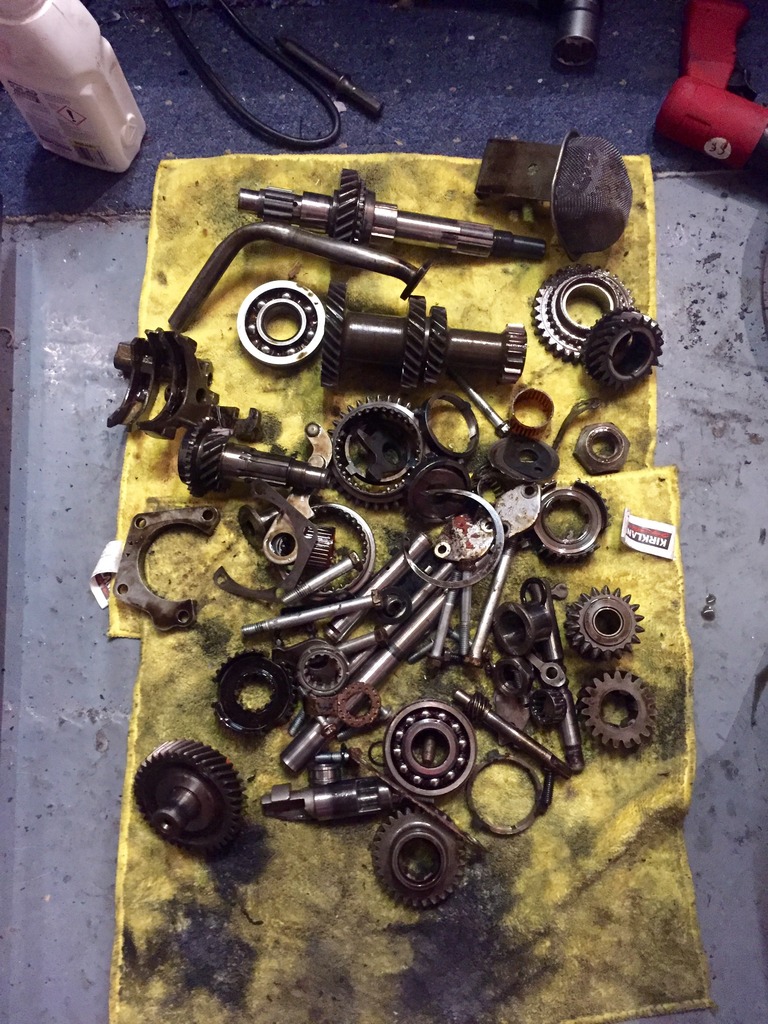 Cleaned the inside of the box with Autosmart Tardis which made light work of the years of oil, grease and debris that had collected inside it.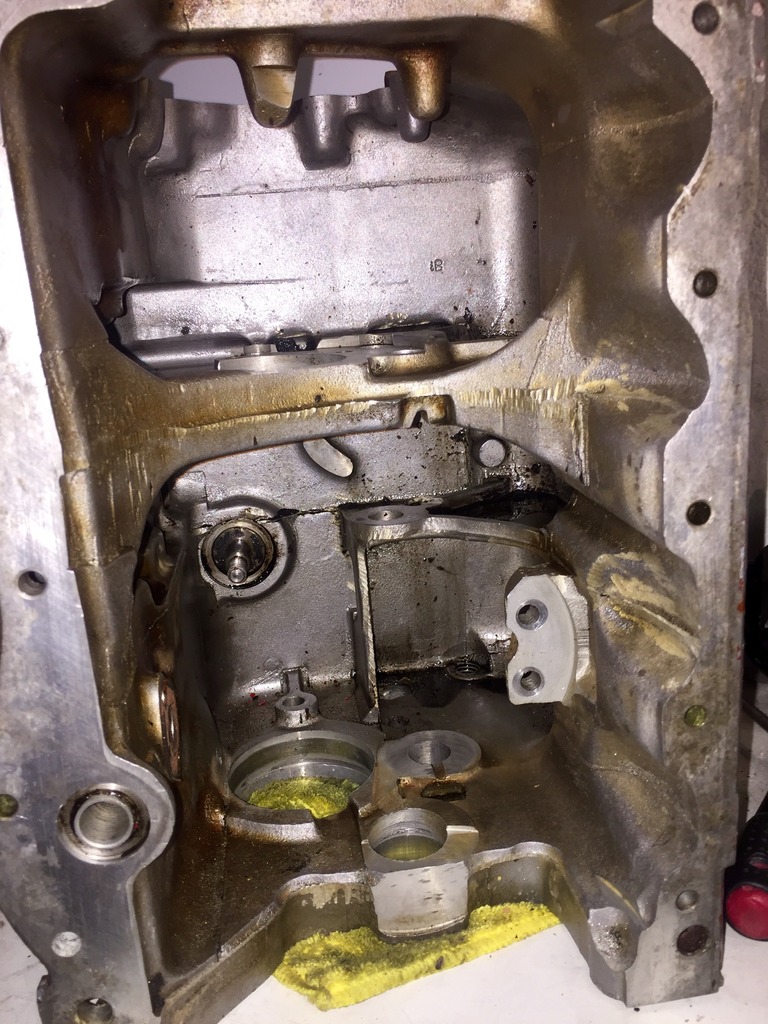 And I started to remove the casting marks from the box for a smoother final finish to help future cleaning and gives nicer finish when the Powdercoat is applied.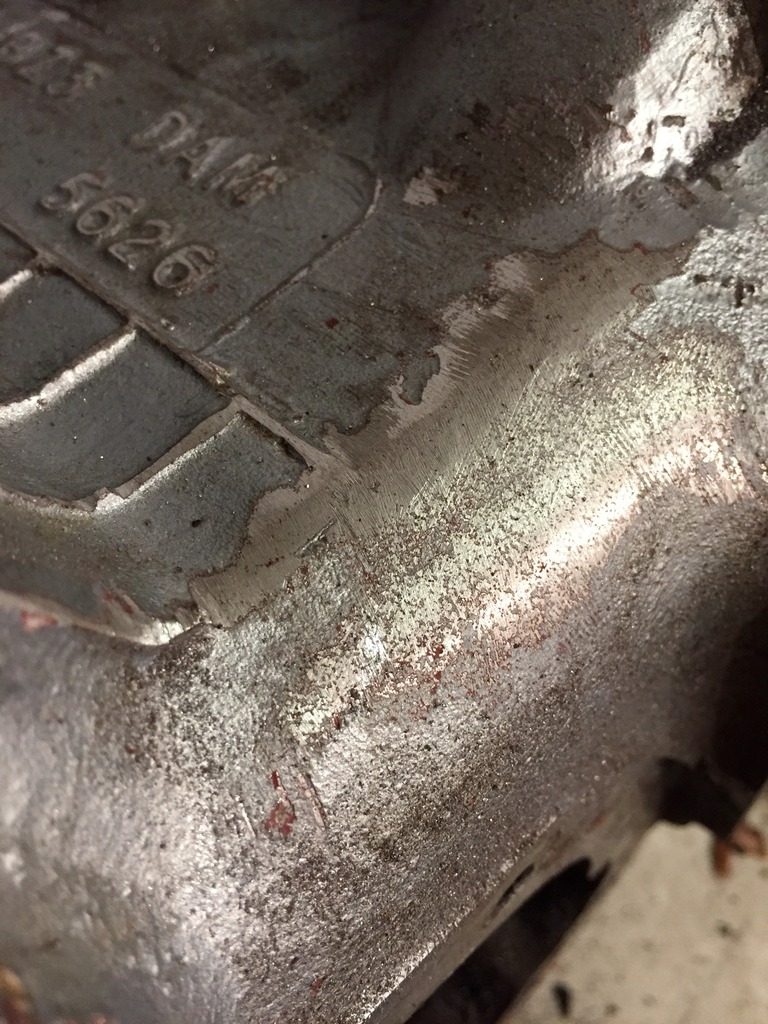 Hoping to have the engine removed sometime this week so I can get ancillaries off and stripped ready for coating as well to hopefully get a bulk buying discount.
7-5-2016
My overpriced and totally pointless titanium bolts arrived after a short delay due to broken tooling. They are ace.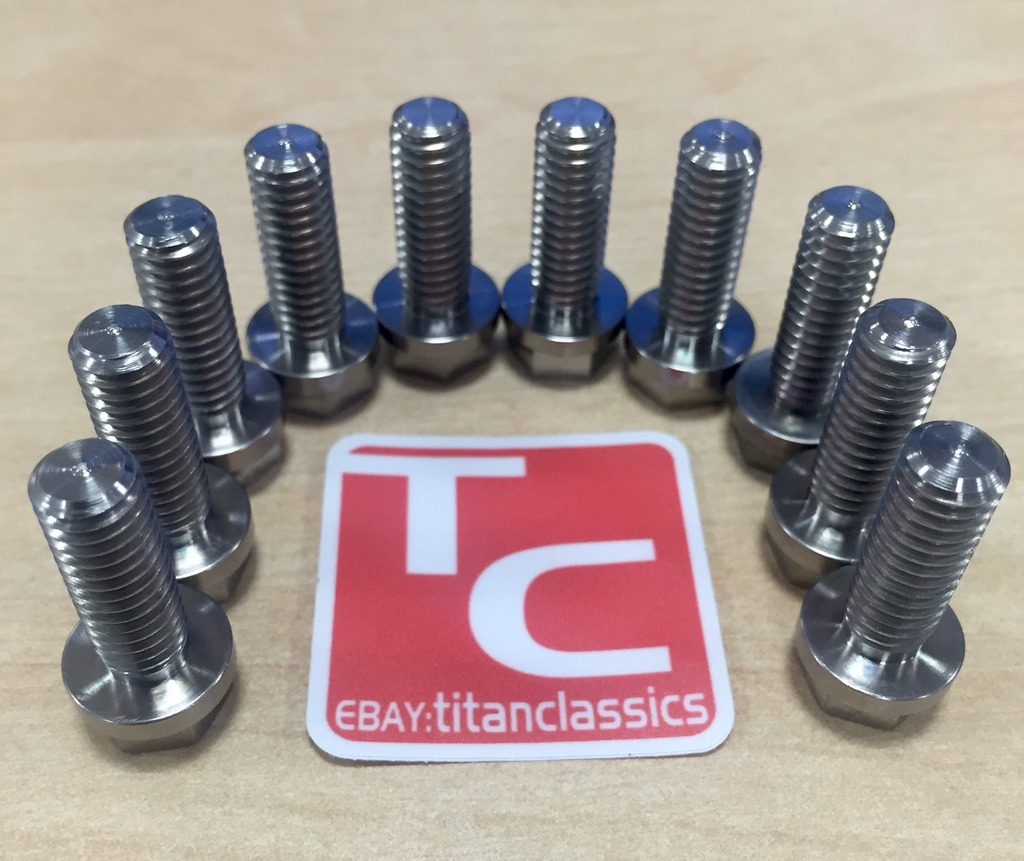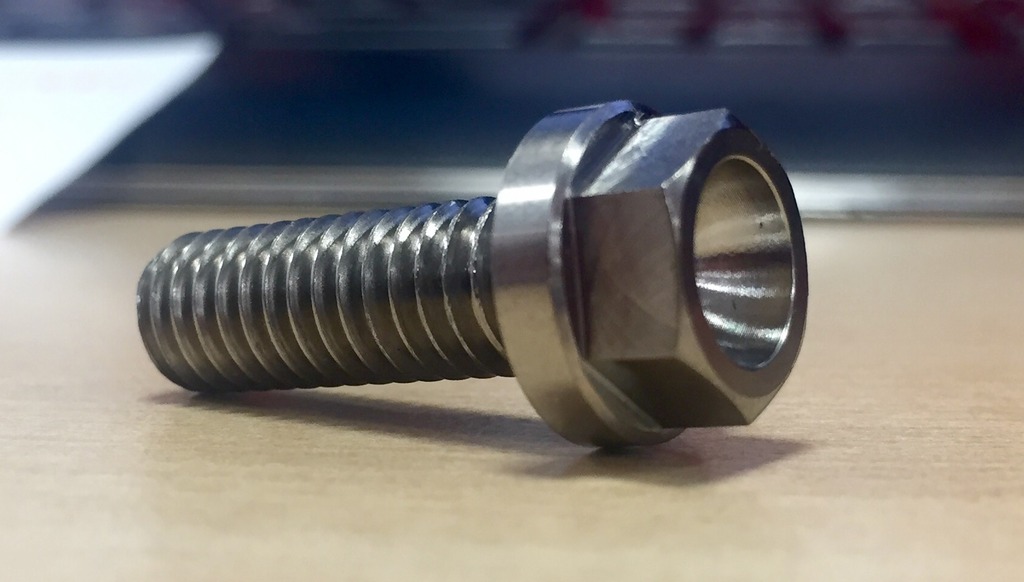 Will give them a polish up before fitting
Got some time to get stuck into this last night again. Still smoothing casting marks from the gearbox casing but as that is boring to do I started to strip the bay ready to remove the engine.
Heres the current state of the enginebay.....what I would call a complete mess.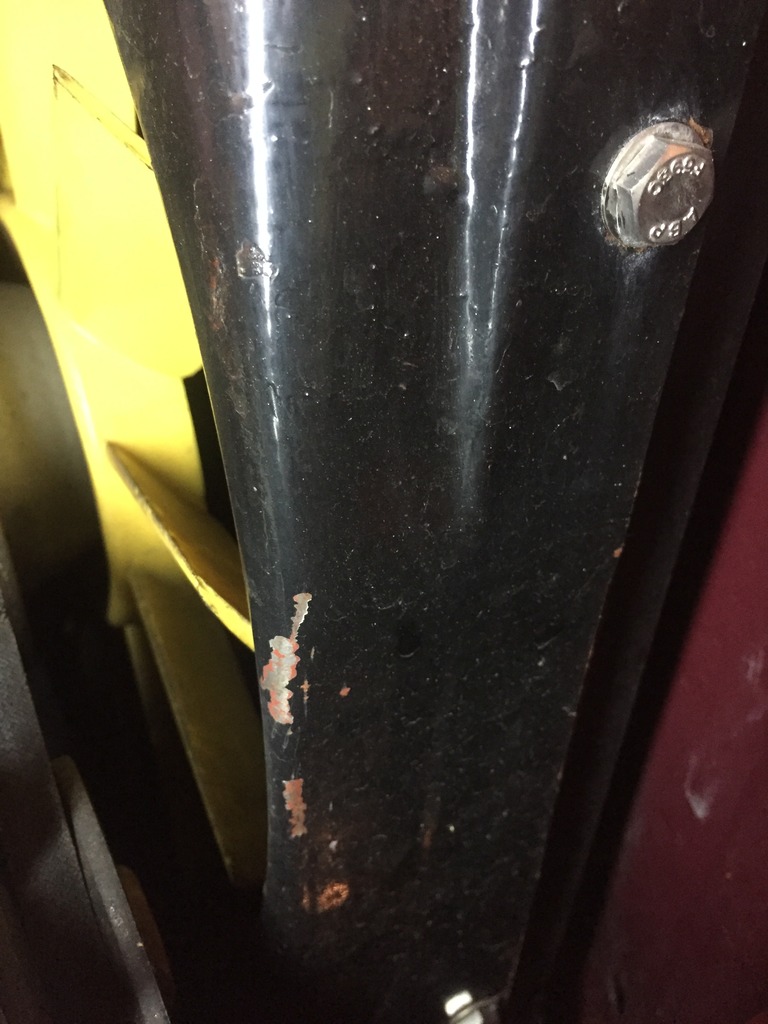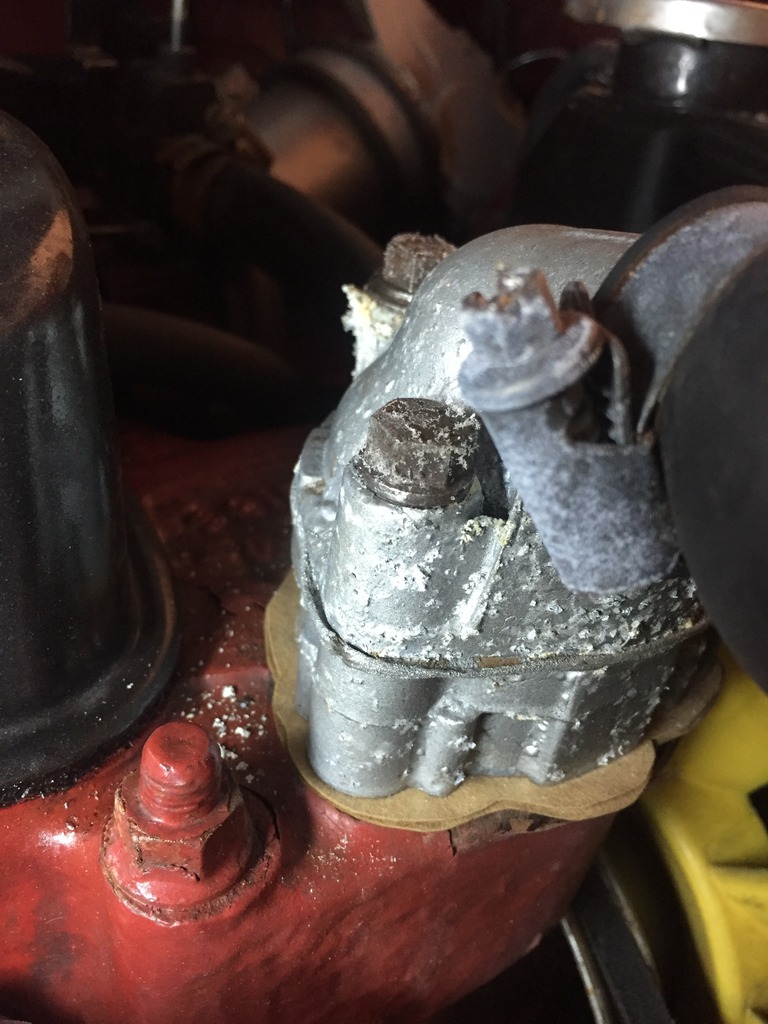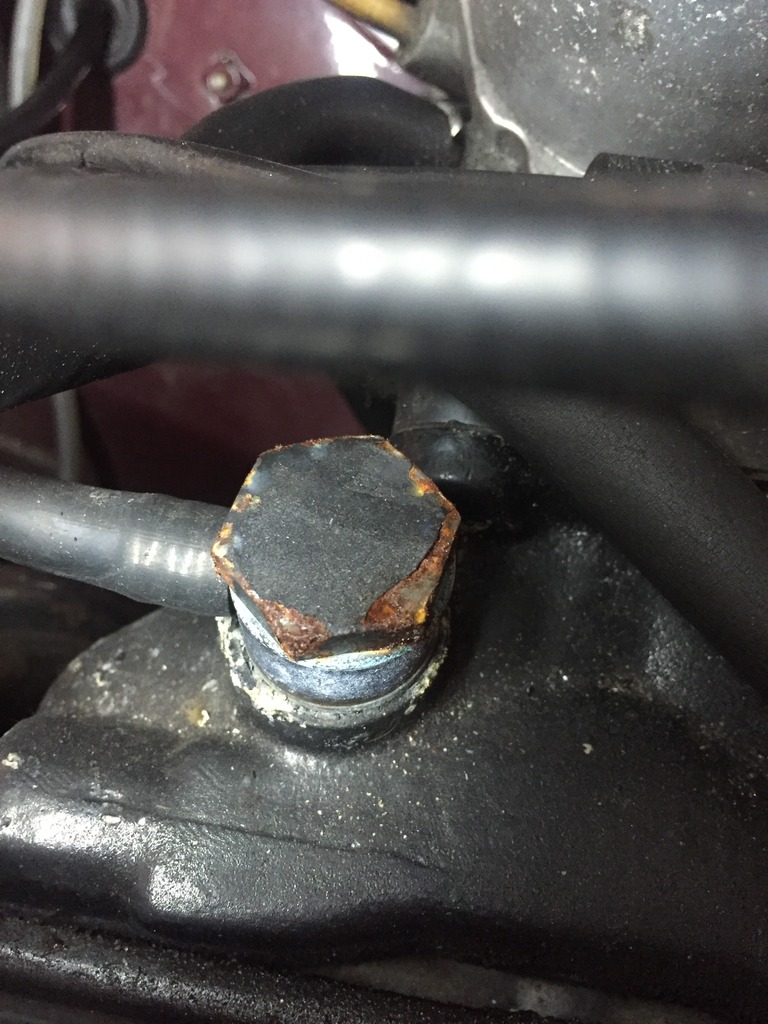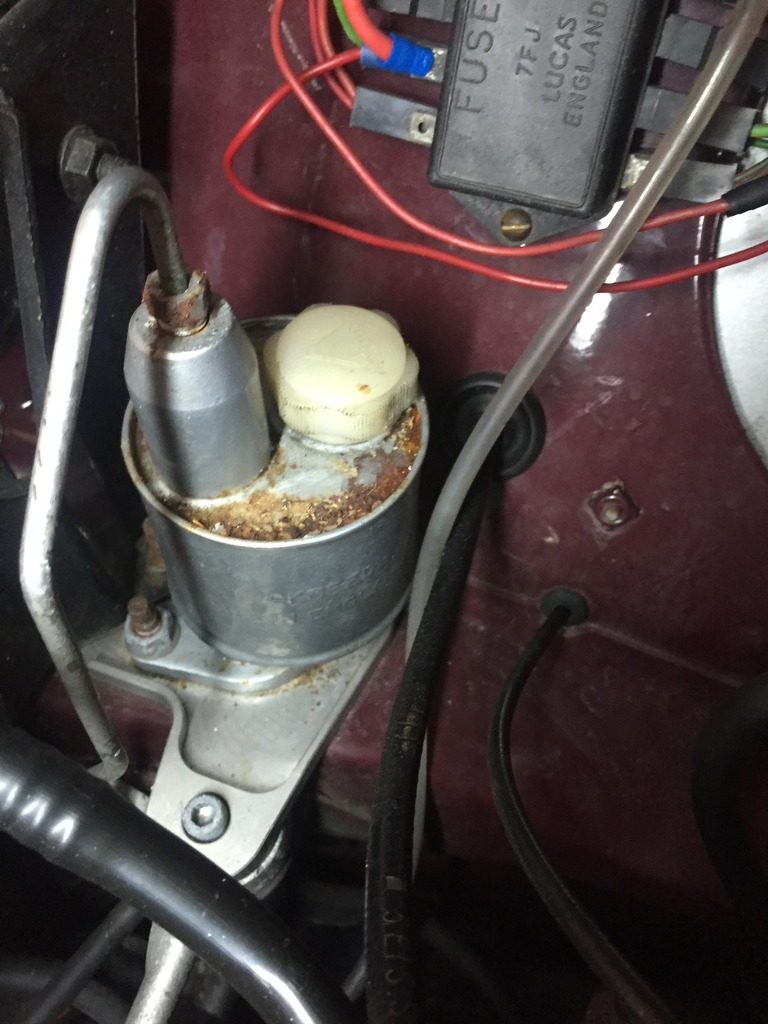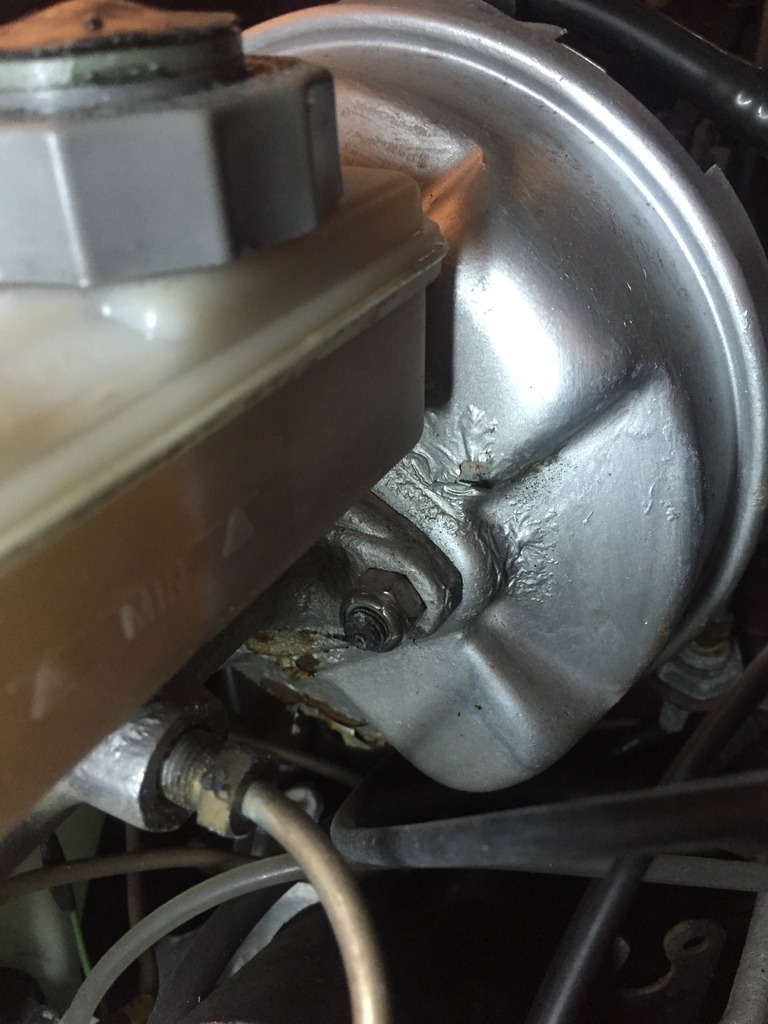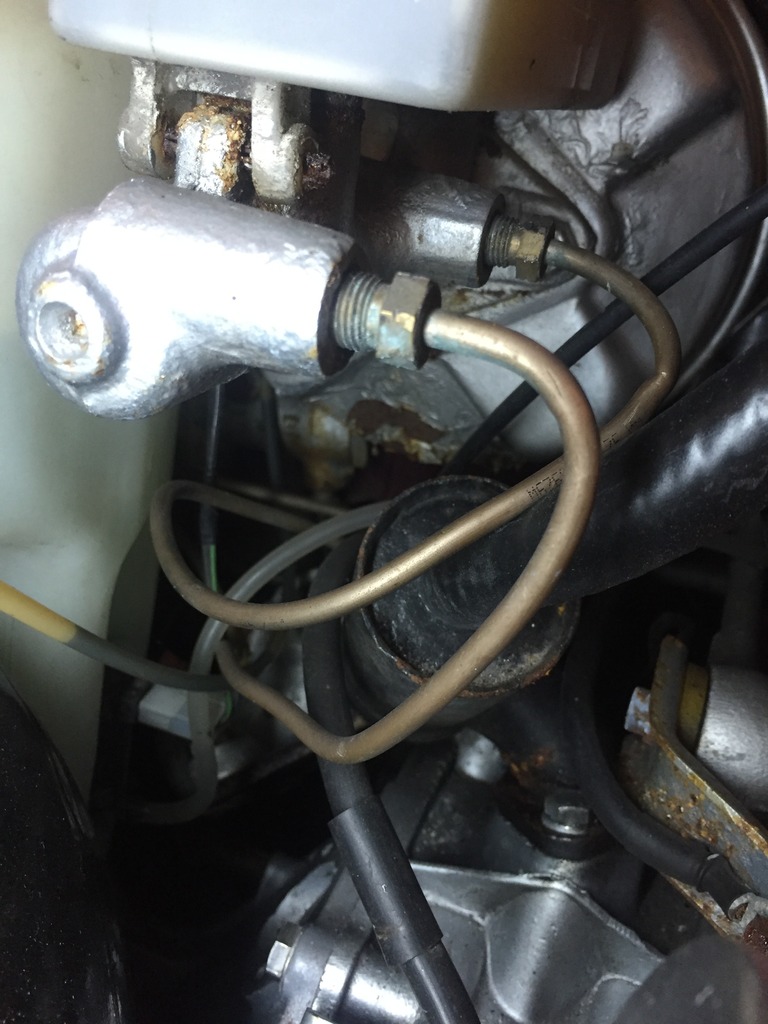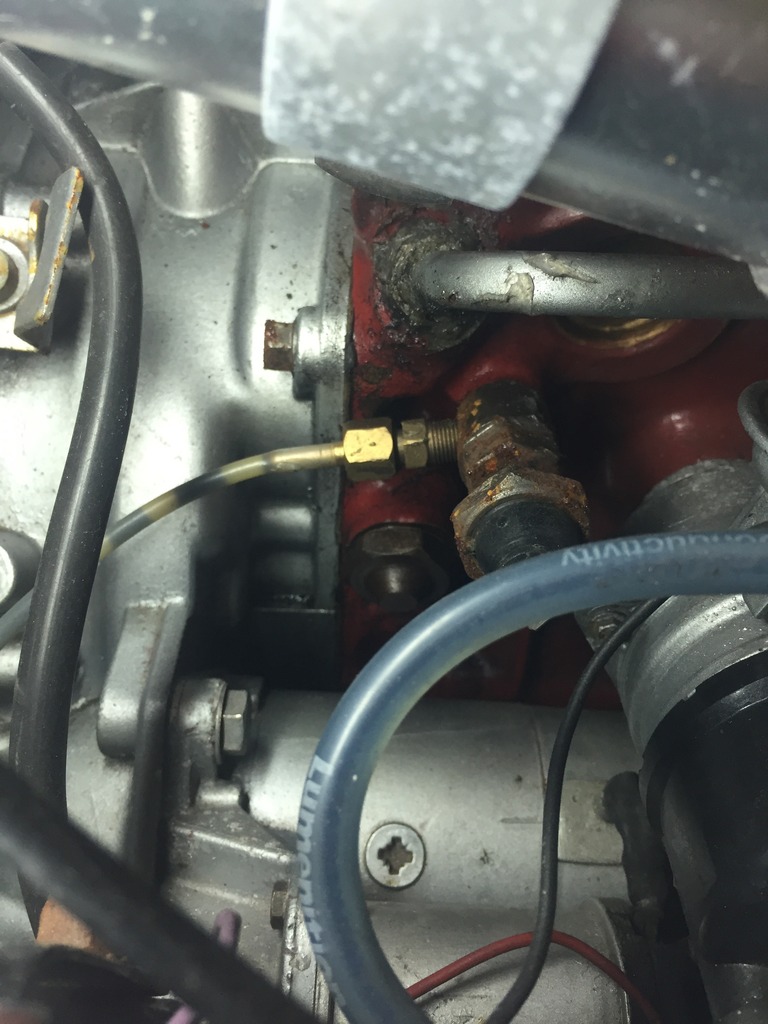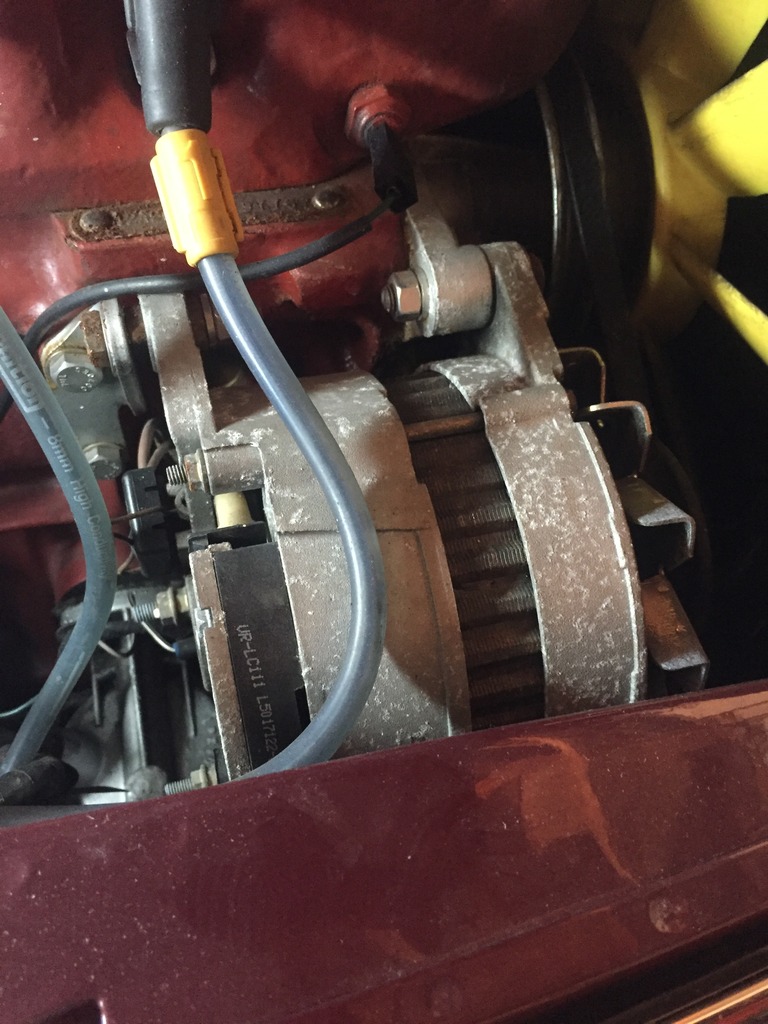 Also diagnosed my **** ride quality issue. Suspension cones have collapsed. Set of new ones are only £160 which isnt bad as they have lasted 7yrs.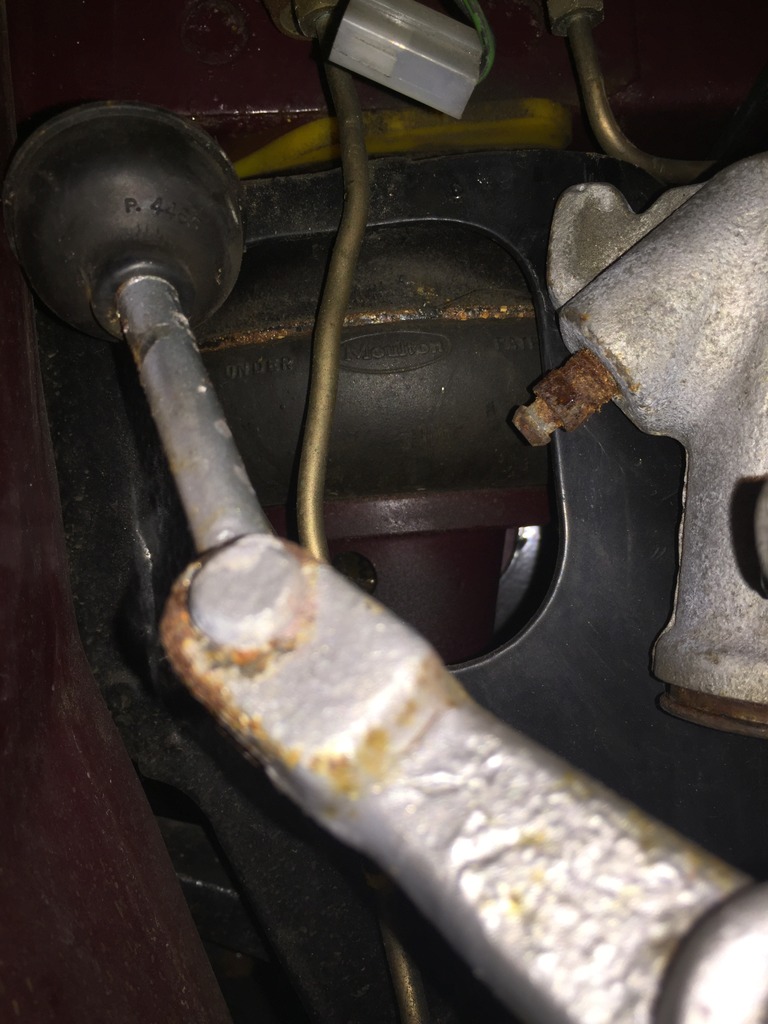 Obviously had to take the exhaust manifold off and its turned a lovely shade of rainbow with the heat. Polishes up bonny too.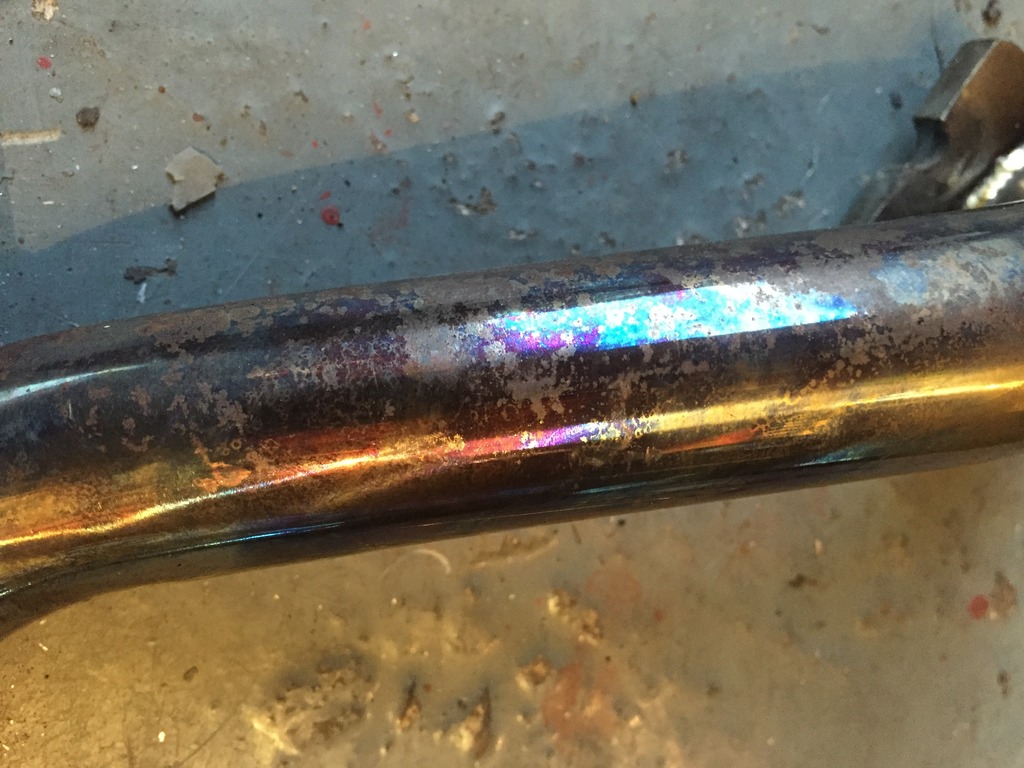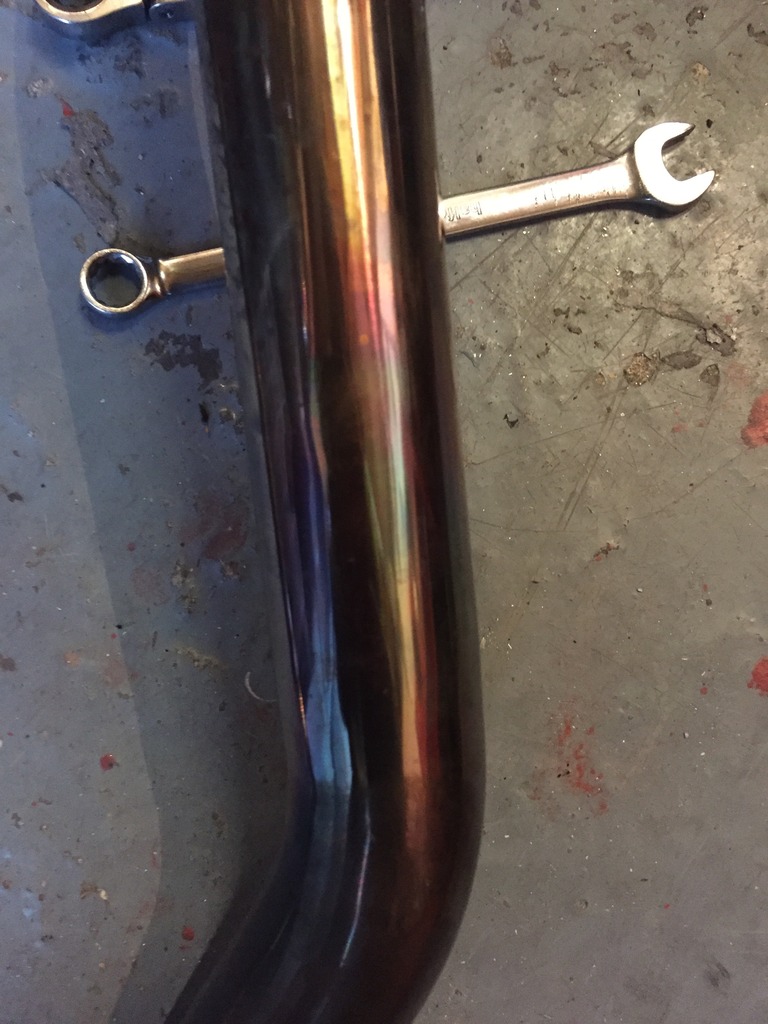 All that remains is to drop the fluids, disconnect the driveshafts and its ready to rip out. That will mean I can get the other casings from the flywheel/clutch side, along with lots of other bits, powdercoated at the same time.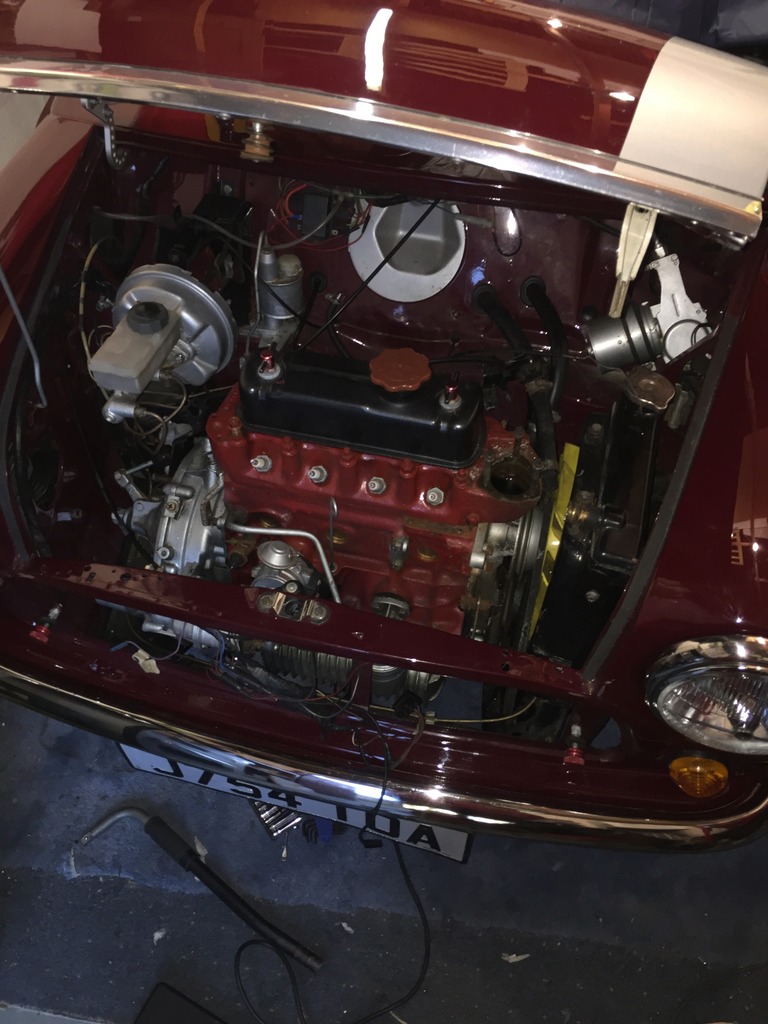 Got a list of gearbox parts I need so will try and get them ordered after payday.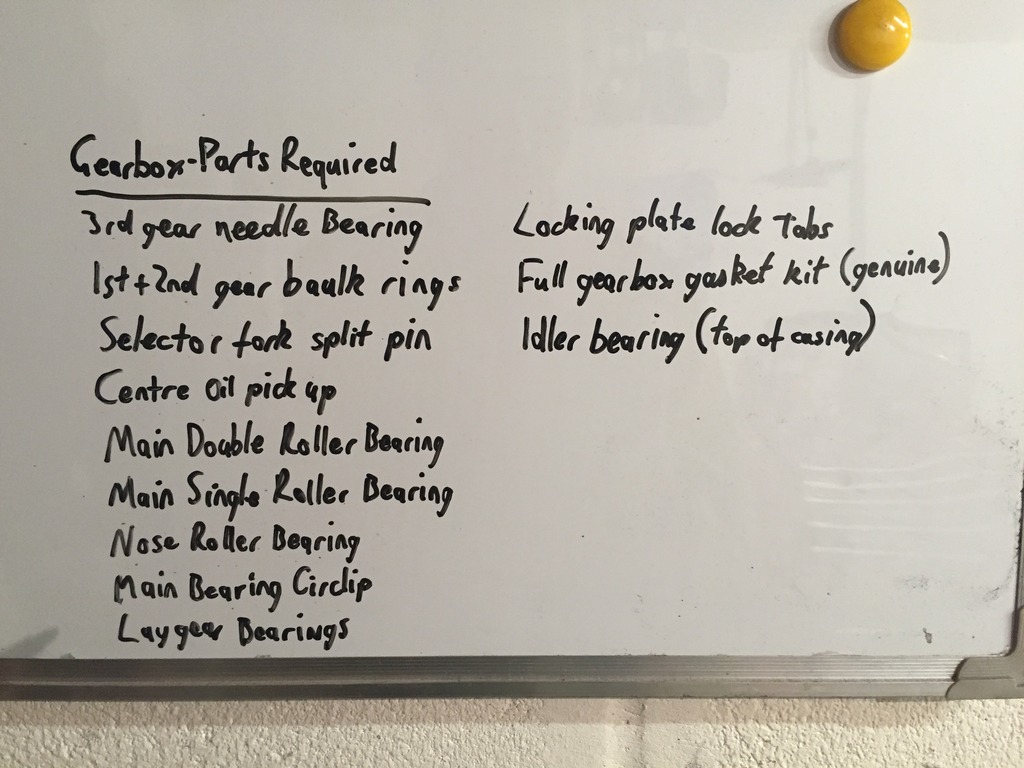 Feels great to be working on the actual car again. Lots of ideas developing as I go so should be good fun
8-5-2016
Well there has been no update since the last post other than disconnecting everything from the engine bay and removing the ancillaries. Delay was due to waiting for birthday monies which meant I could buy myself a powdercoating kit. It arrived the other day and had a quick bash at it. Quick lessons learned are I need to use more powder to even out the finish and get the oven installed so it gets cured more evenly and for longer (used a heat gun on this as a test as I I'm impatient and couldn't wait to use the kit

)
Test part is this carburetor heat shield with integrated throttle cable bracket. Sandwiches between the intake manifold and the carb.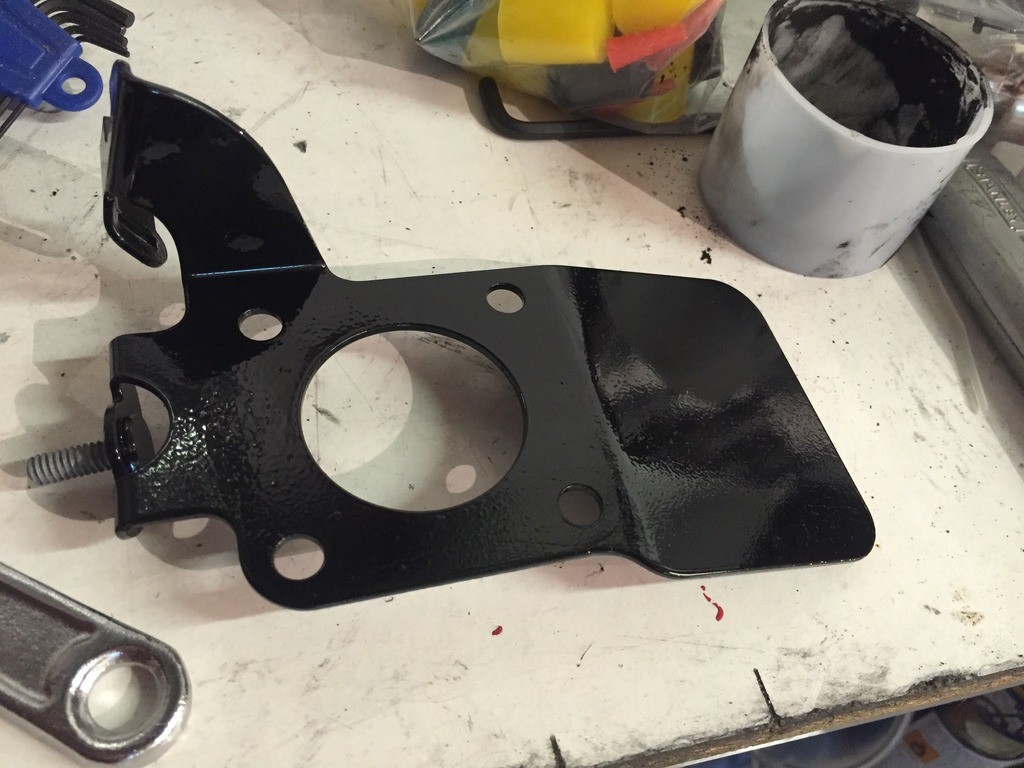 Super simple to use though and with it going from rusty part, to cooled coated part ready to fit in under an hour, its a massive time saver over paint. Currently stripping the coating off now so I can redo when the oven is installed.
8-11-2016
Well due to a spur of the moment purchase at a fair price, I now own these....
7&8x13 Mad-Ins in Mini fitment. Freshly refurbished by Mike the Polisher with new tyres hardware throughout. Wanted splits for ages but didn't want to go down the usual route of fitting Force Racings like most seem to do. Should arrive next week but will be hidden away for a while. Not convinced I like the black centre details so I may blast and coat them silver to match the bonnet stripes/roof but we shall see :)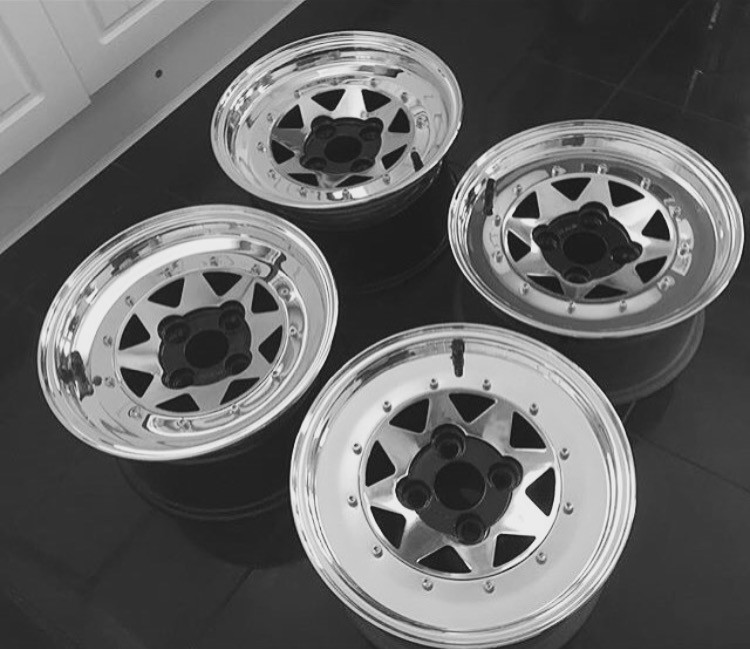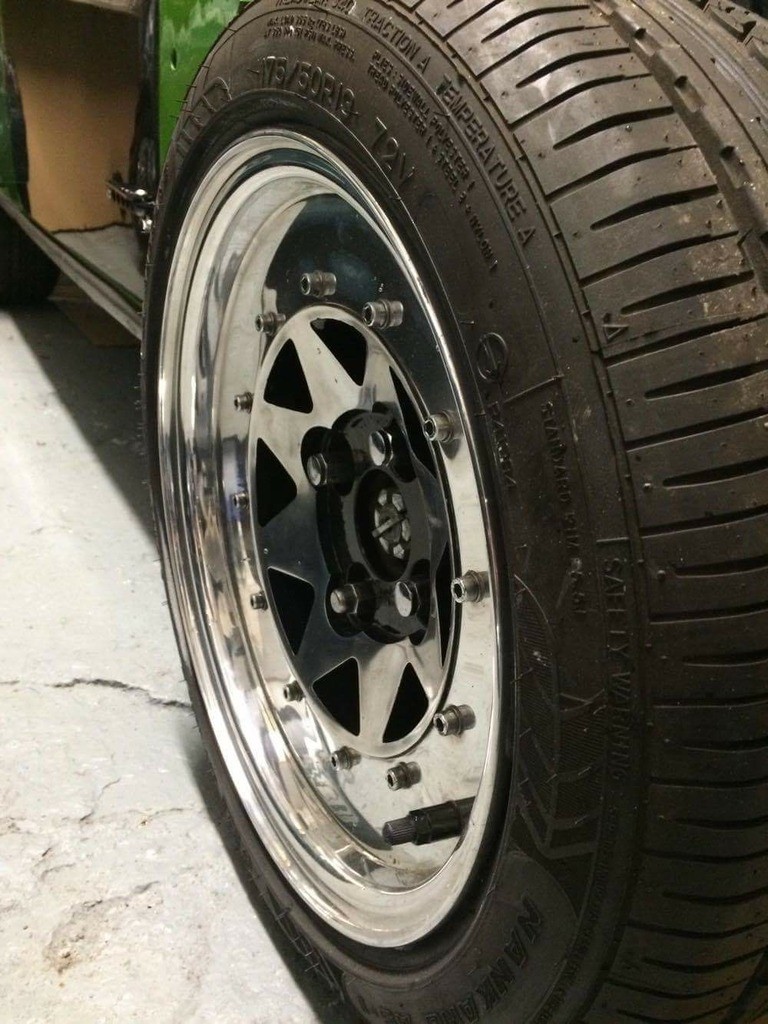 Fitted to previous owners car...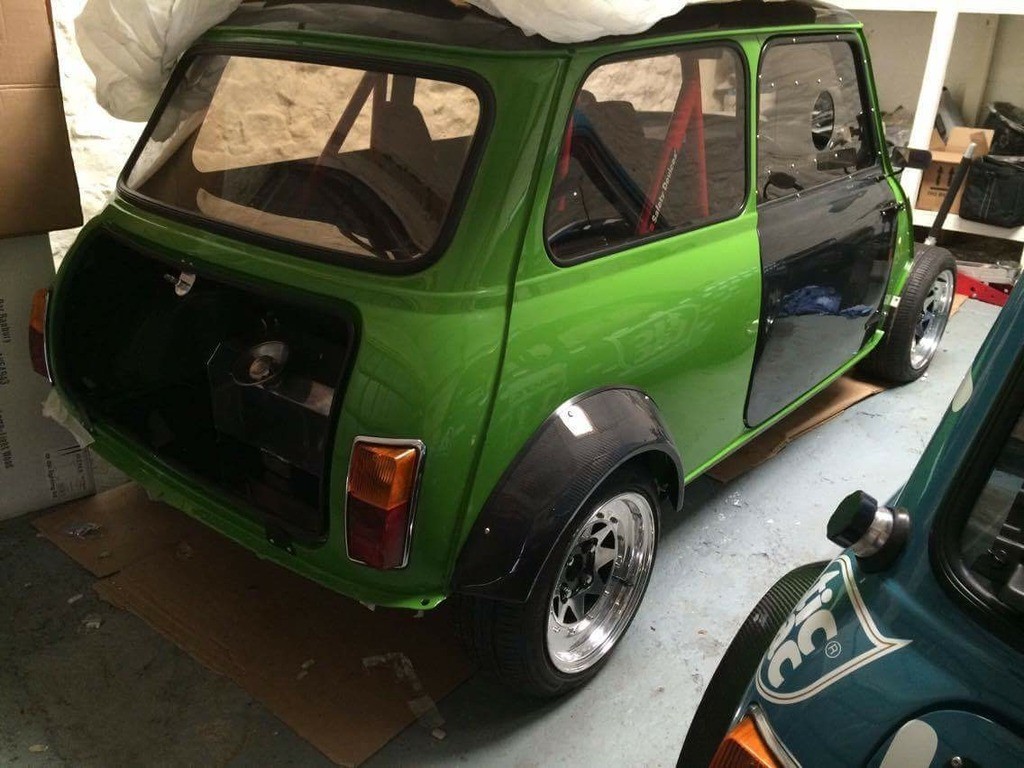 8-14-2016
Got stuck into powder coating some stuff for this over the weekend.
Started by redoing the carb bracket. Using the oven makes a huge difference to the final finish. Much smoother and more uniform.
Everything outgassing.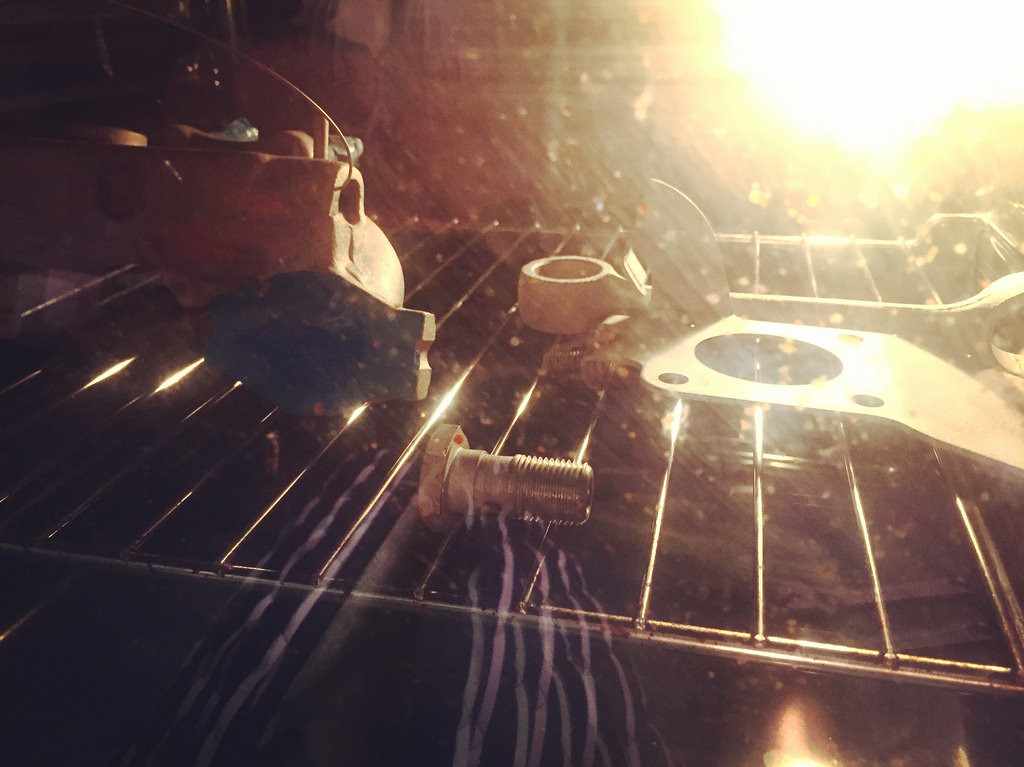 Carb bracket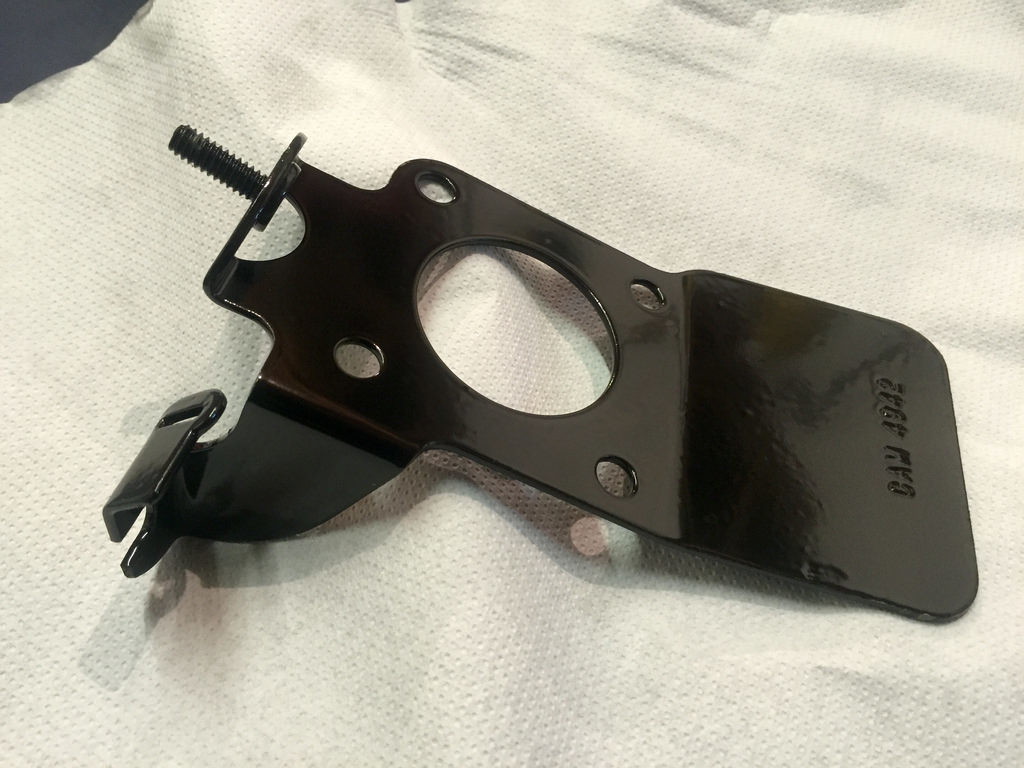 Its only as smooth as the part underneath. Should really have smoothed this inlet manifold out a bit but still looks smart and you don't see it in its final position.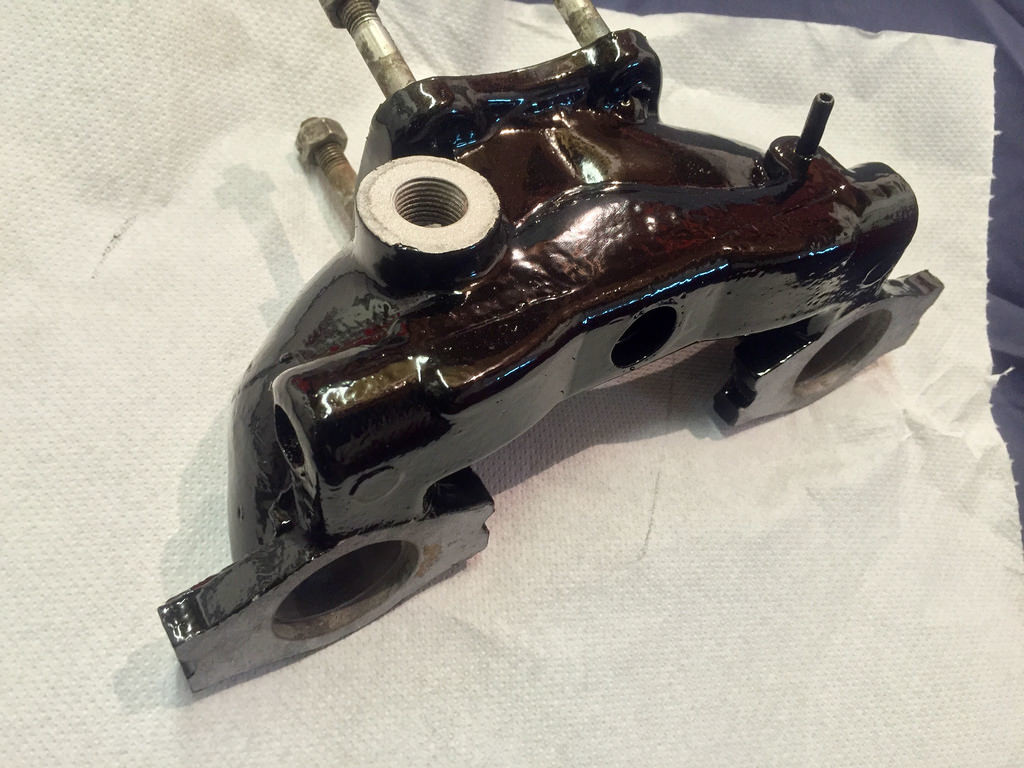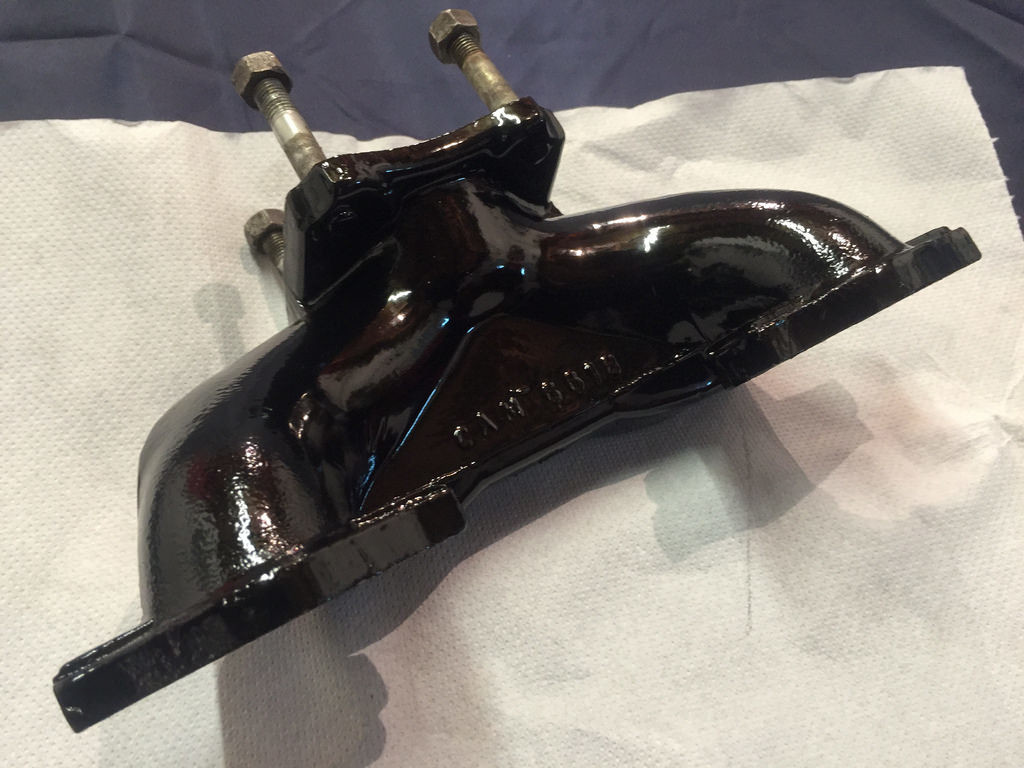 Engine steady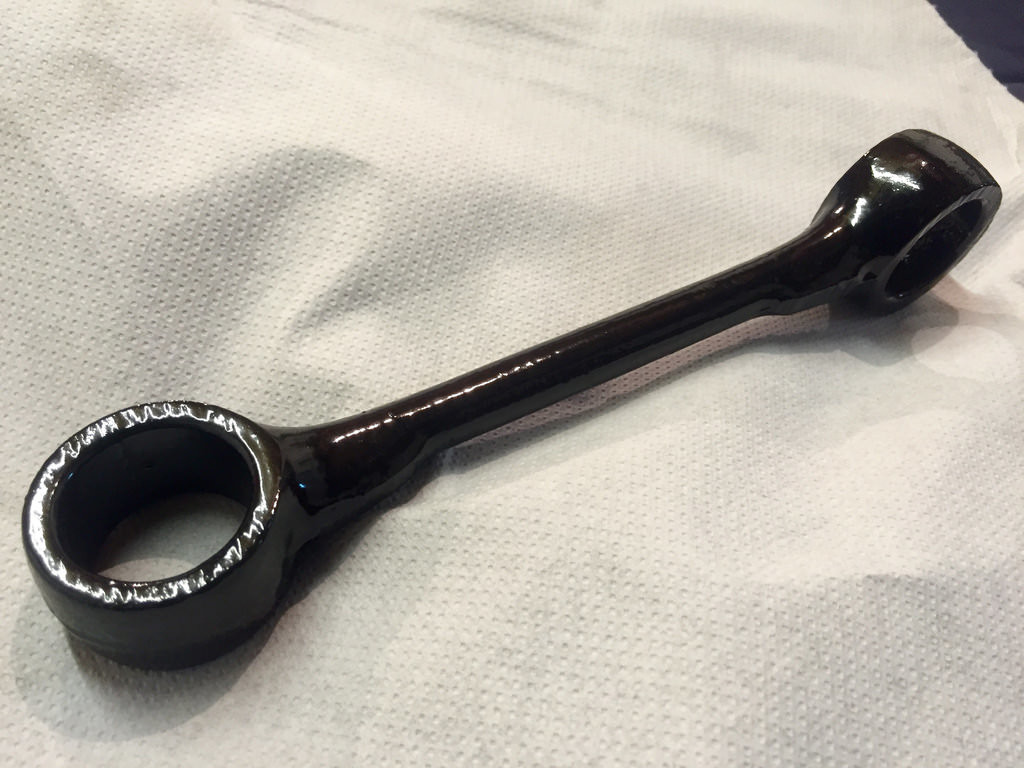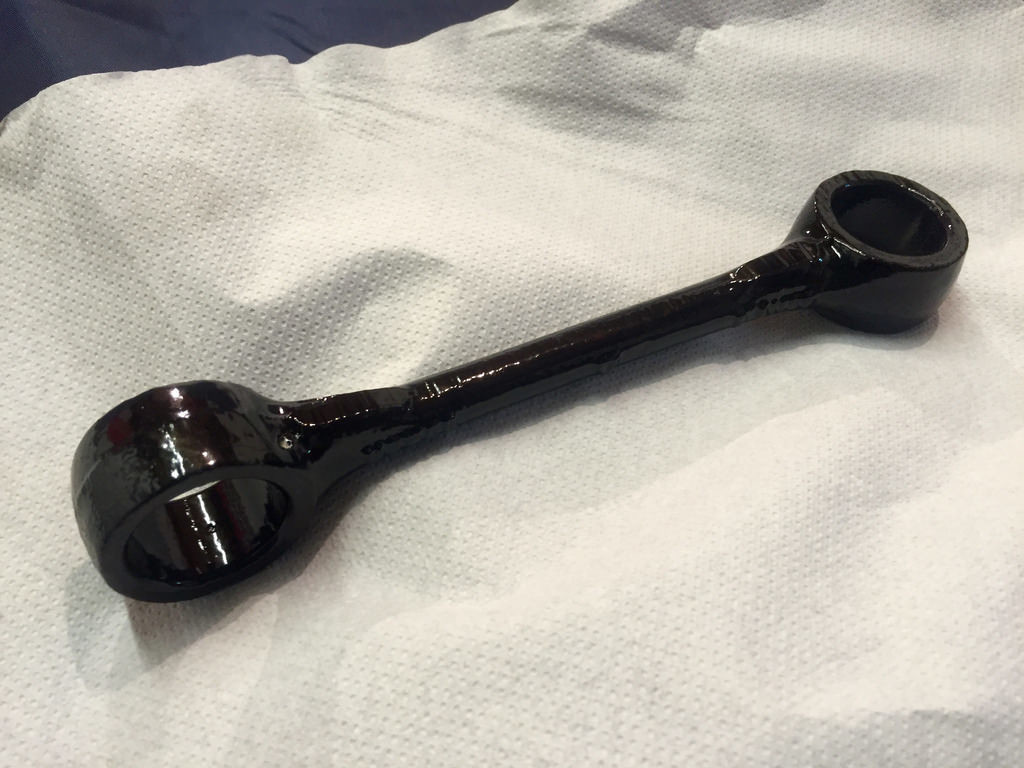 Blasted the adjustable lower arms/tie bars ages ago so they rusted up again.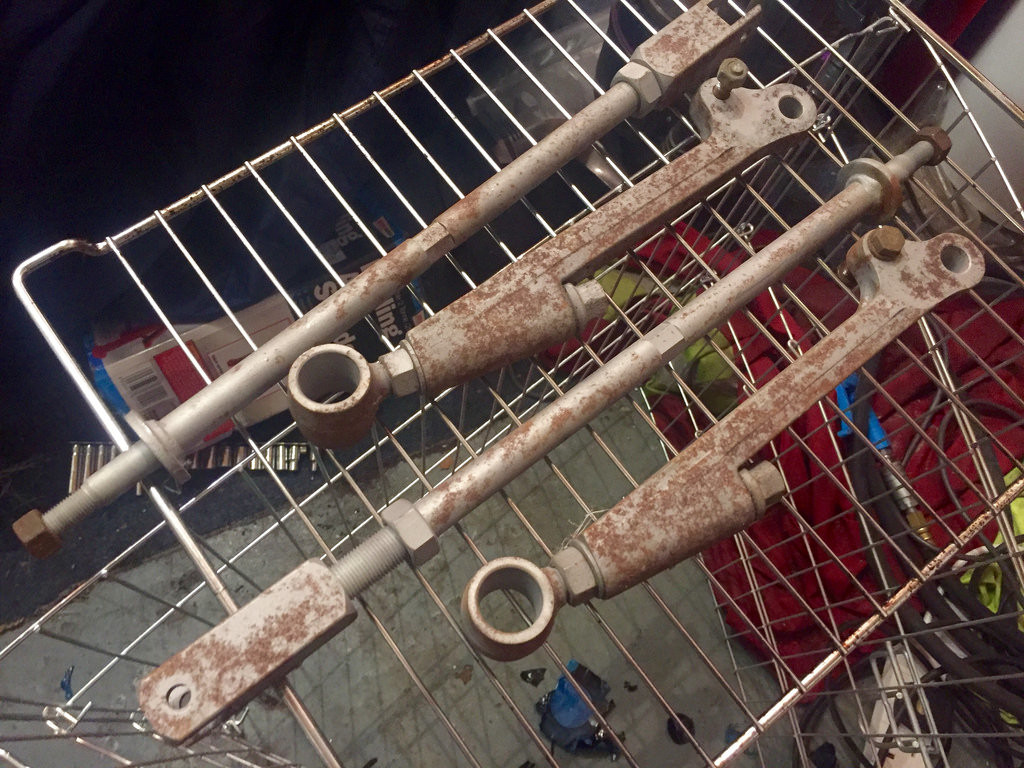 Blasted clean again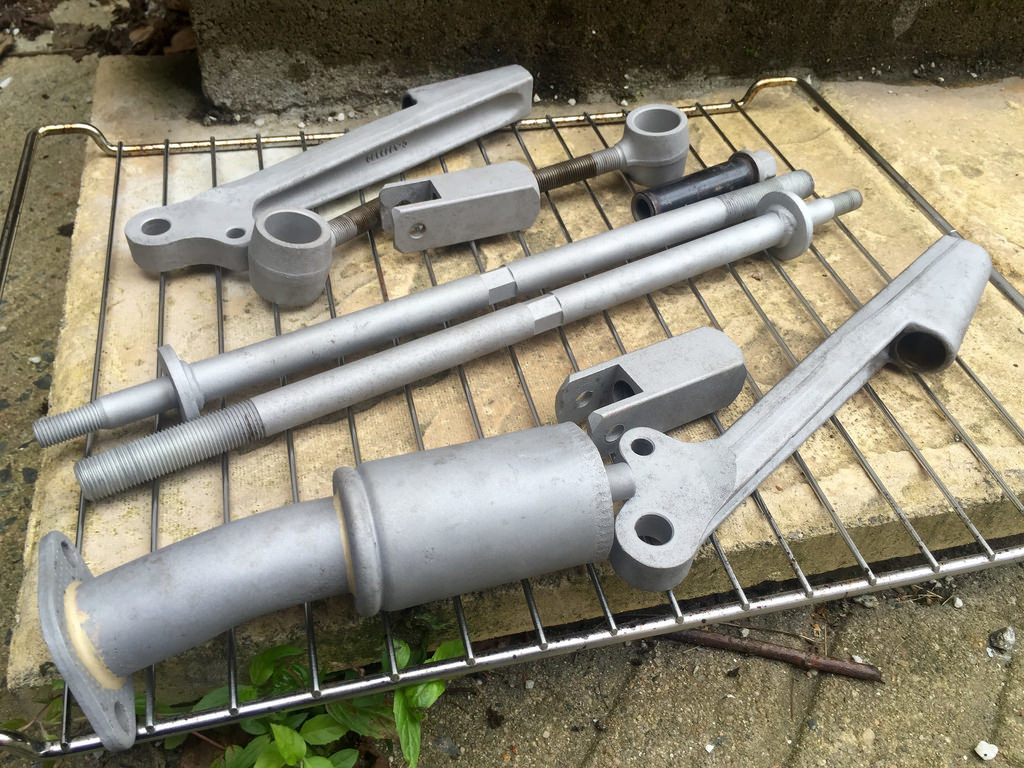 Outgassed and masked. Heres a shot of the detail on one of the arms.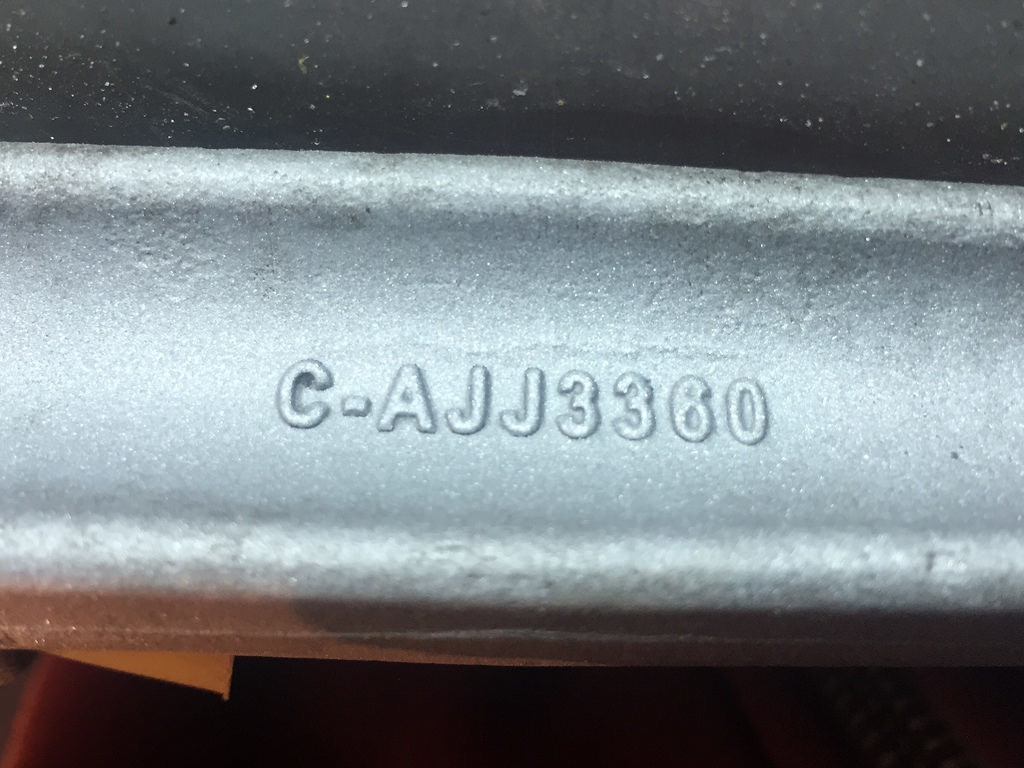 and some after shots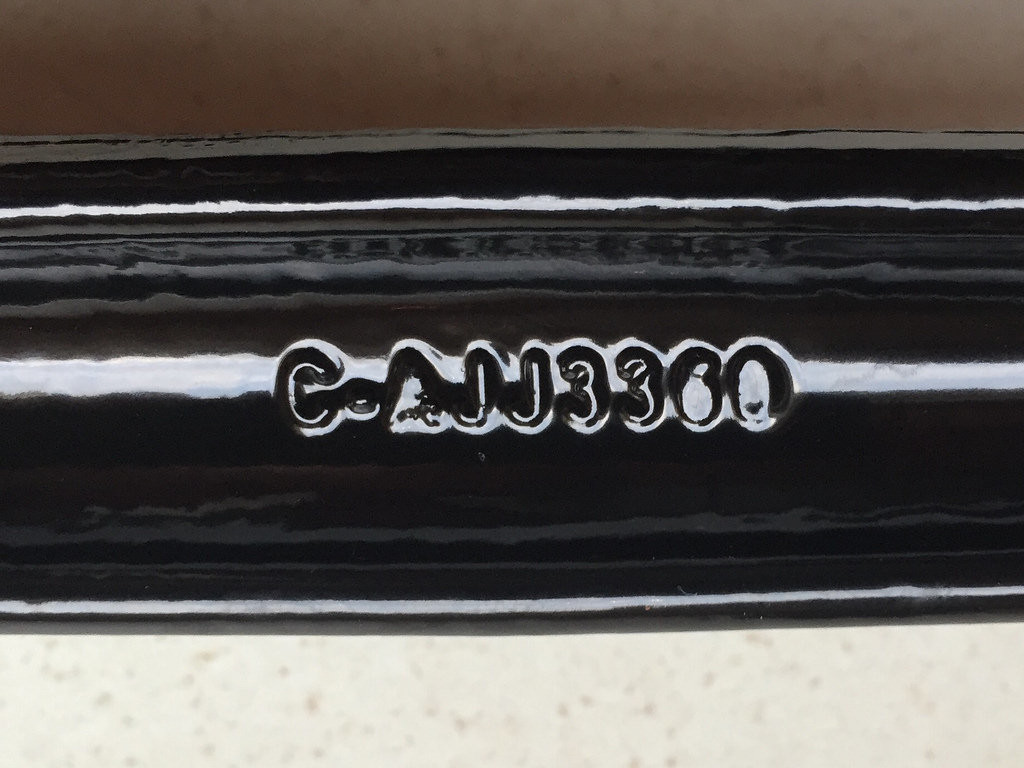 Really happy with the final finish on everything. Nice and uniform throughout.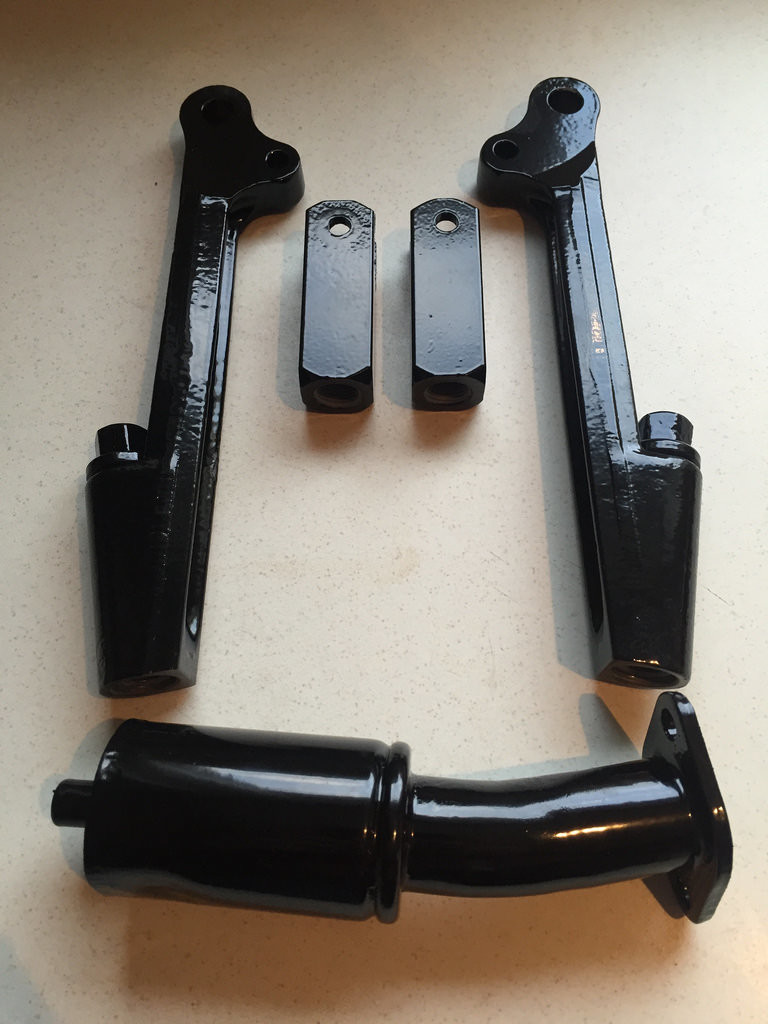 As I say, the final finish depends on the metal underneath, hence this smooth faced engine breather came out pretty good!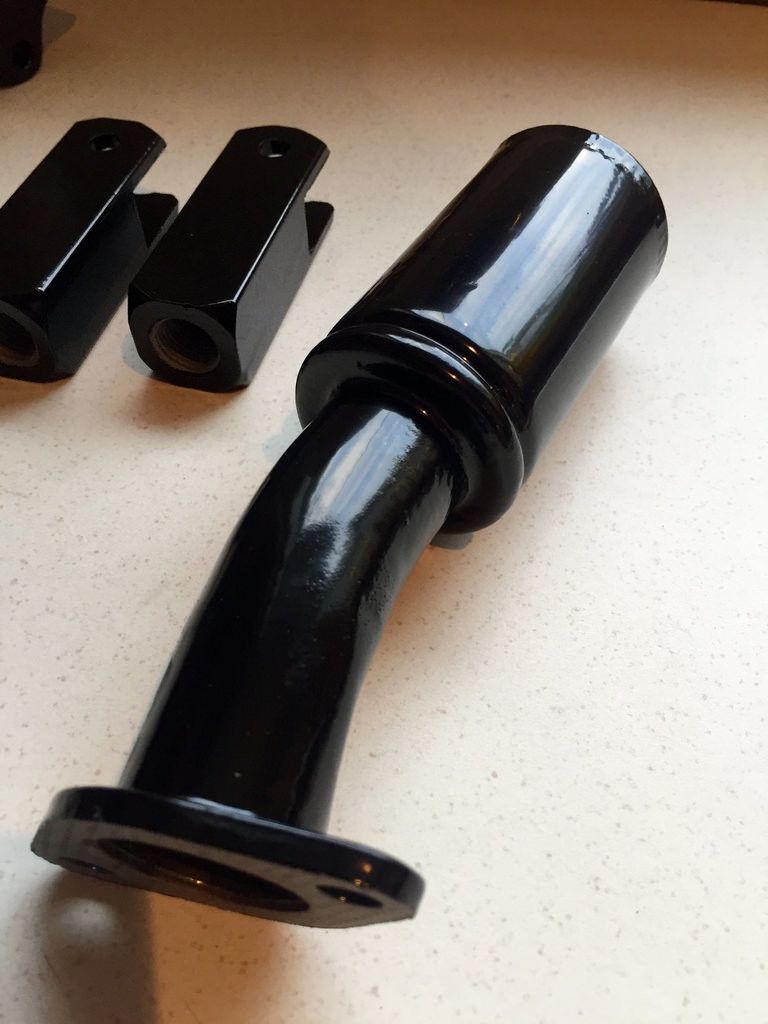 Wheels should arrive either tomorrow or tuesday. Cant wait to see them in the metal

8-15-2016
Wheels arrived! Happy with them would be an understatement. Lower offset than the previous wheels so they tuck in a bit more than before (even with 8's on the back) but they look great! Note, the suspension hasn't settled in the pics, hence the massive arch gaps

Got them fitted since it was a fine night. Been in contact with a couple of engineering places to sort the 4x100 to 4x101.6 PCD issue and even KAD to make up billet alloy hubs in both PCDs so I can pick and choose in future.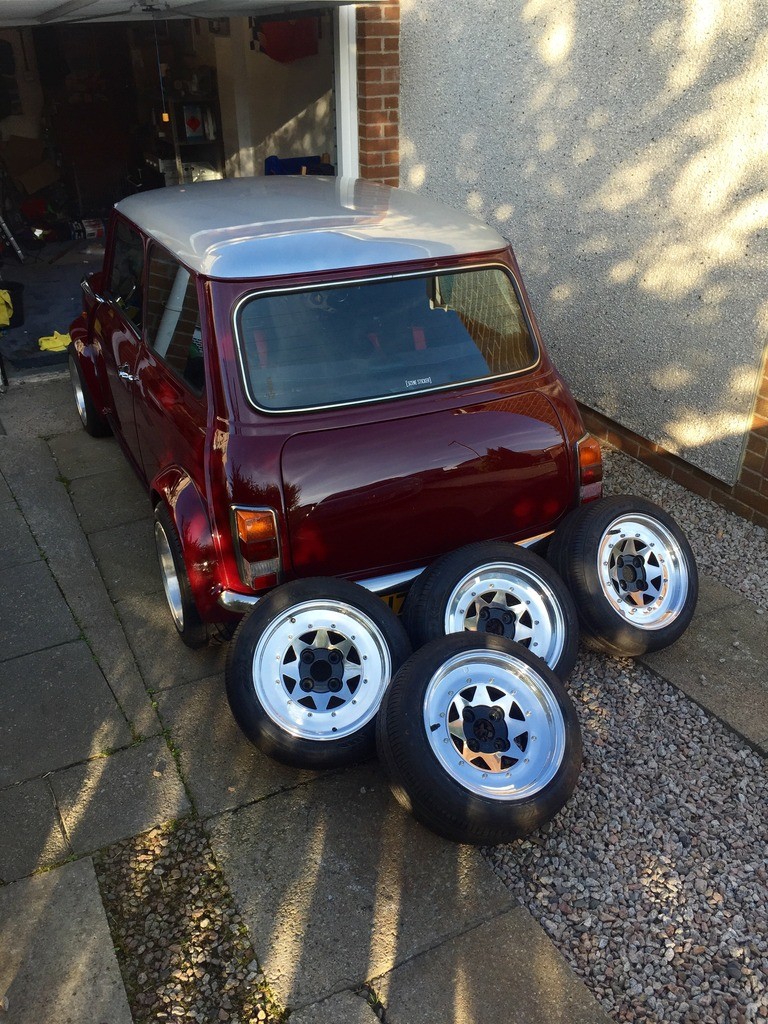 Old vs new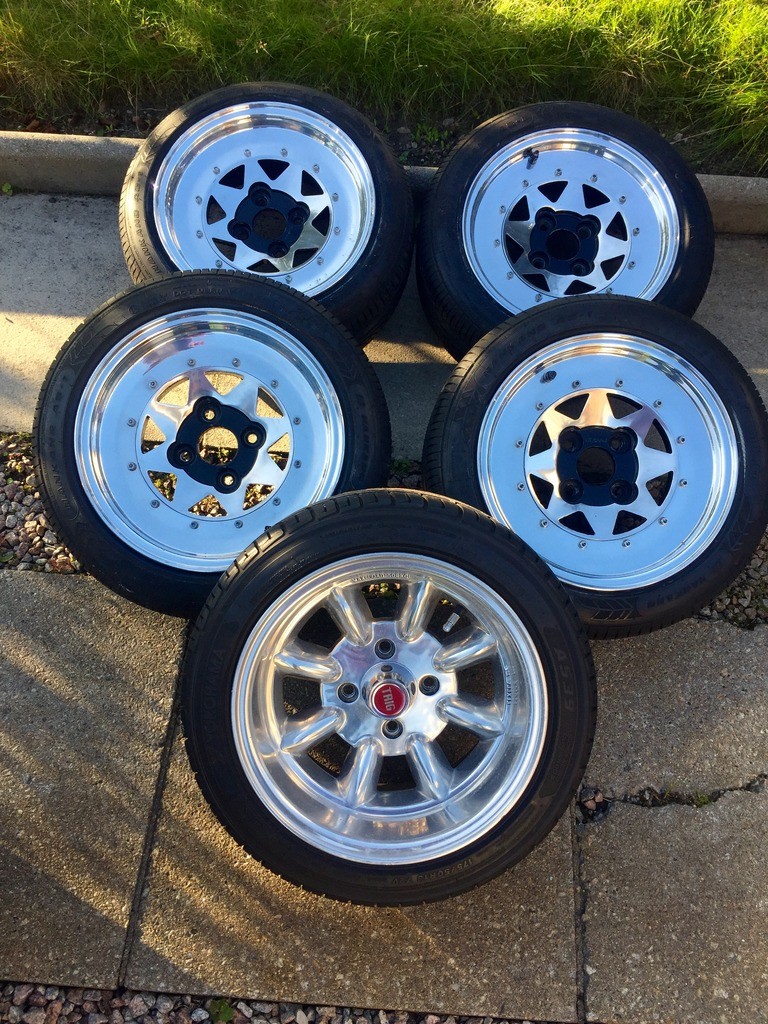 Bit of stretch on the 8's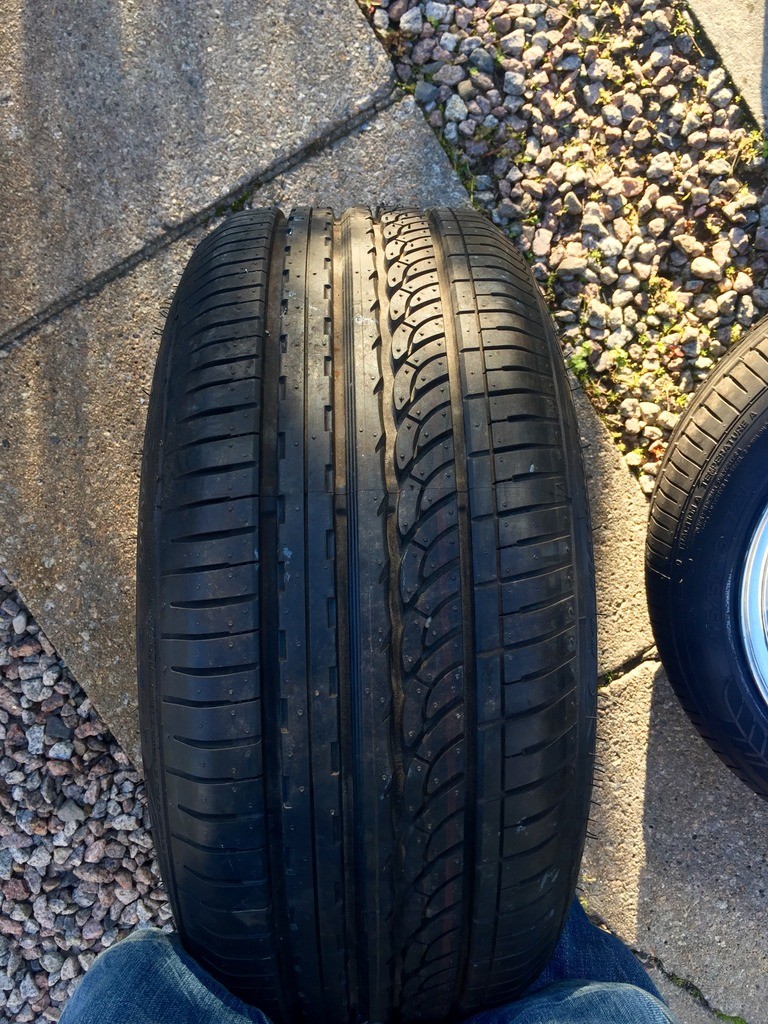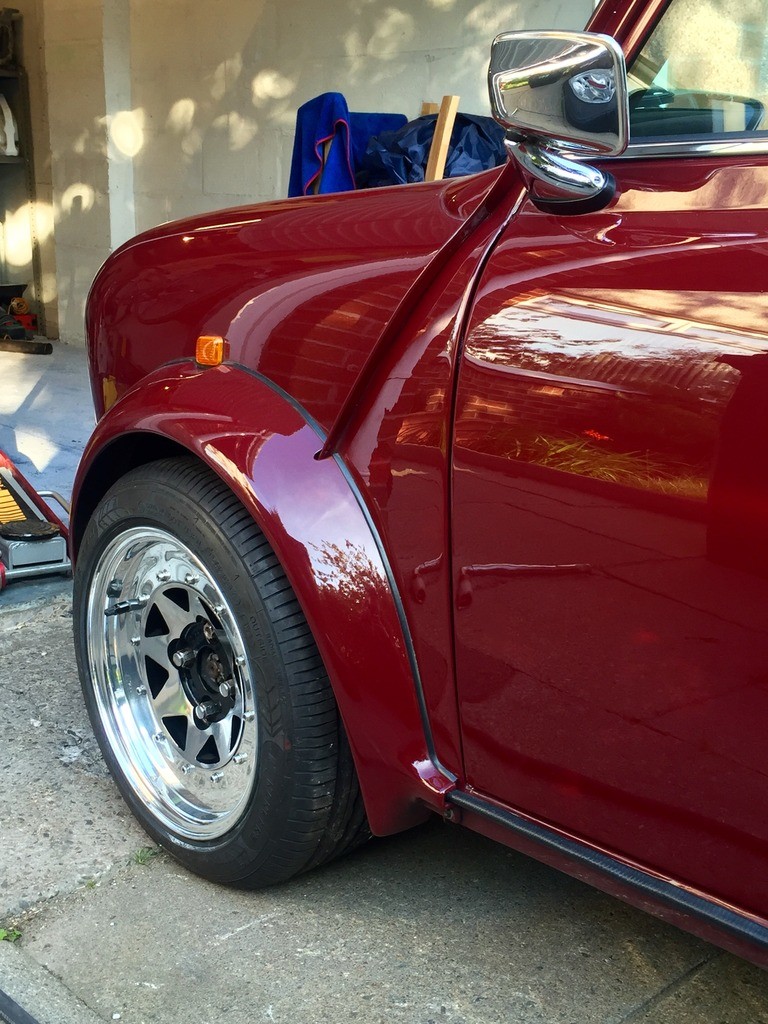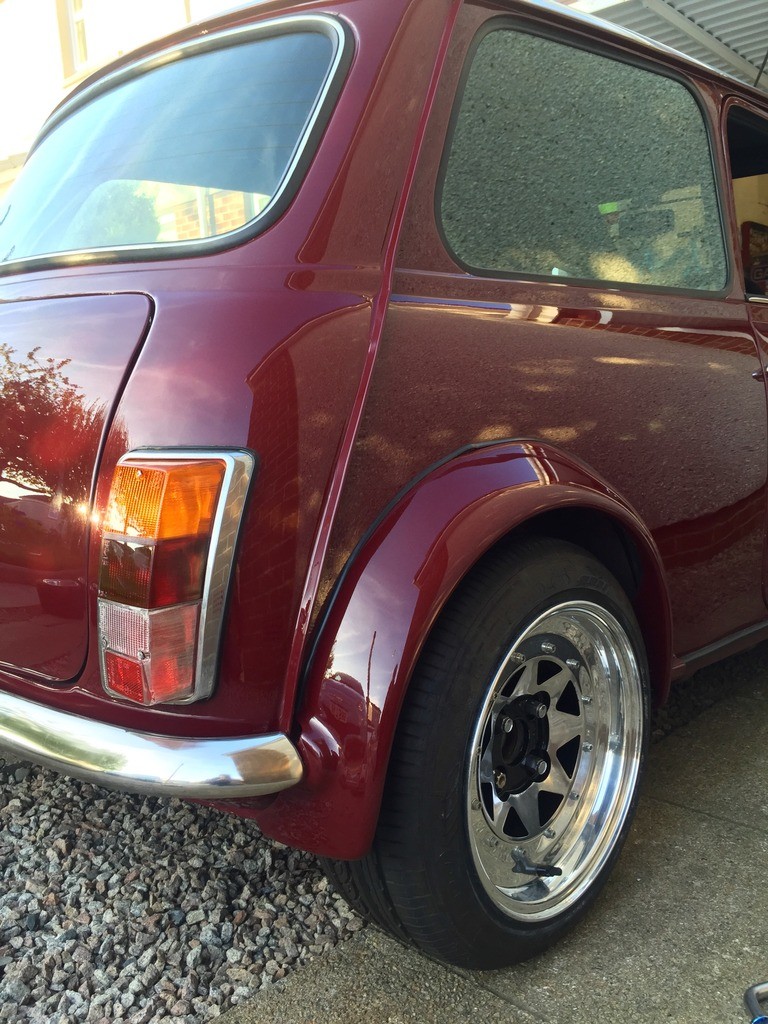 Paint looks remarkably good on the car even after years in storage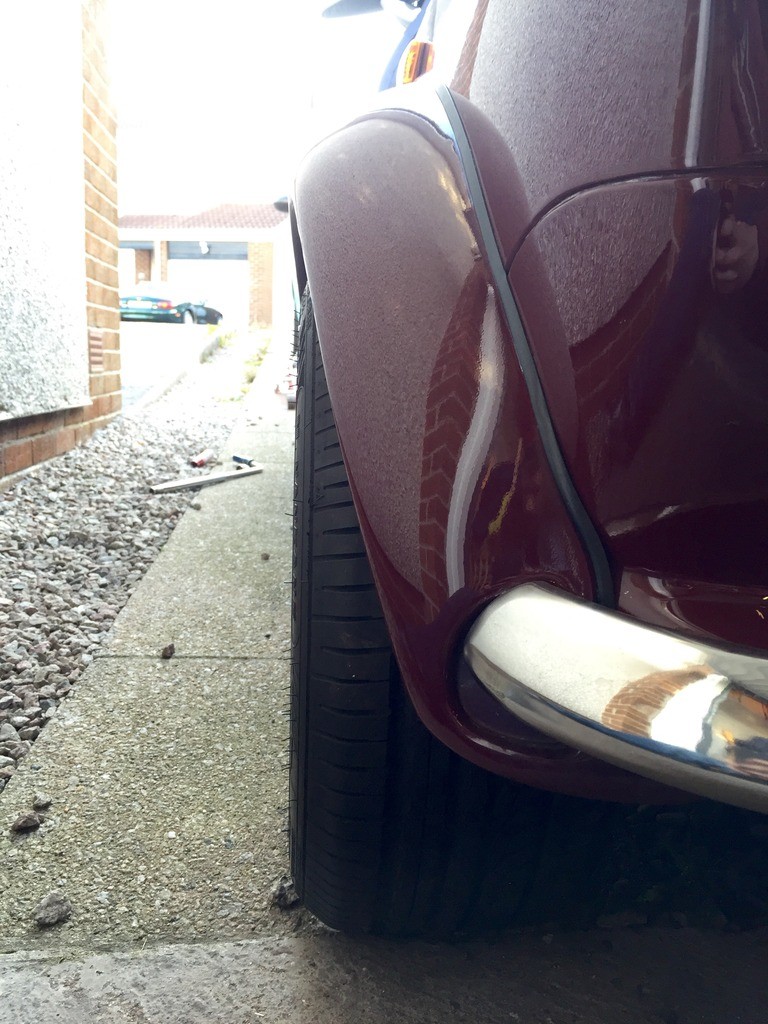 Front tuck
Rear tuck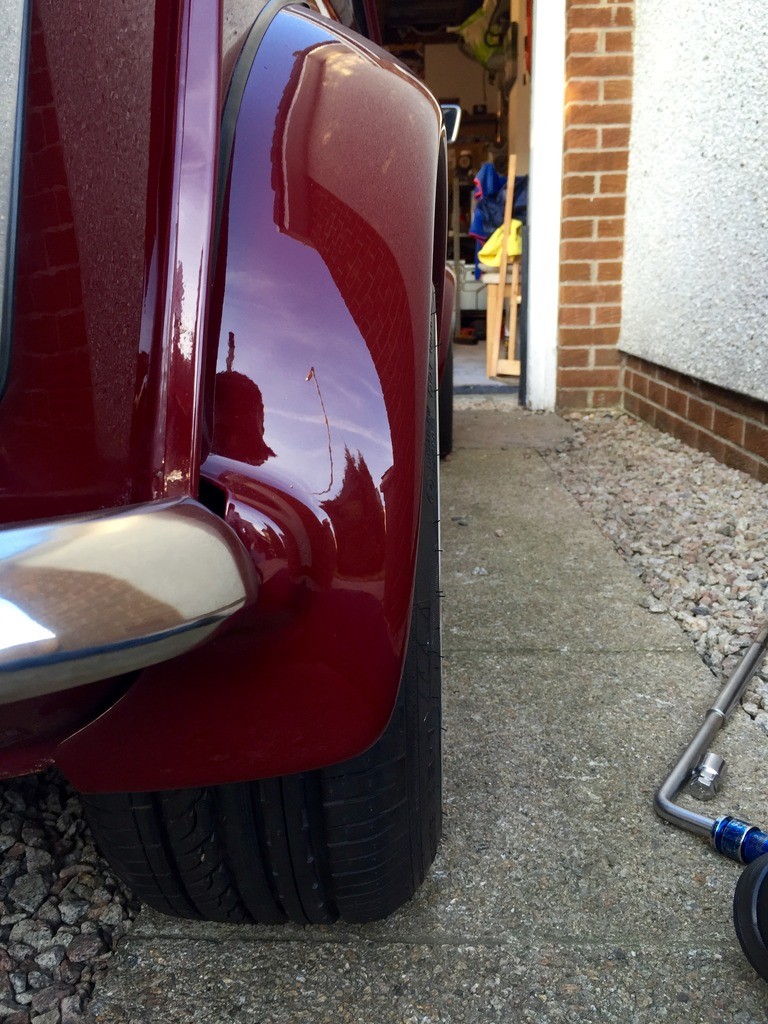 Tucked away inside again.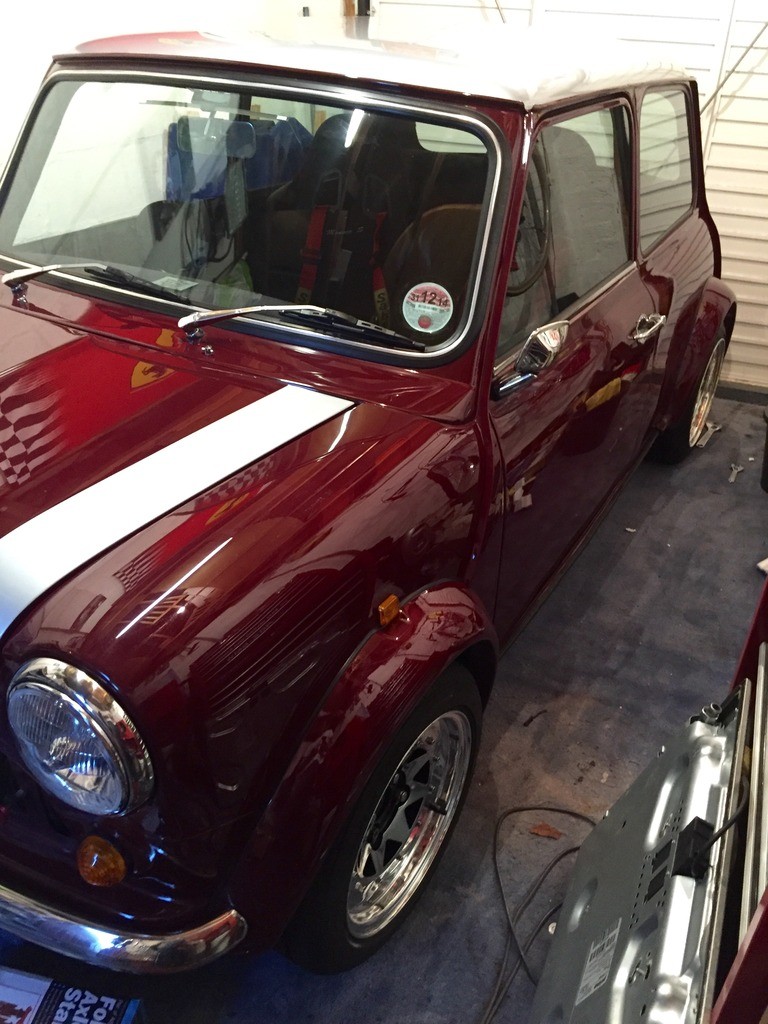 9-1-2016
Had some spare time at lunch today so I took advantage of being a Draughtsman with CAD at his disposal and threw this together. All from memory and Doms are all over the shop but I will update with accurate dims in time. This is all to begin planning some rather significant suspension mods and I want to do it in 3D before spending any money.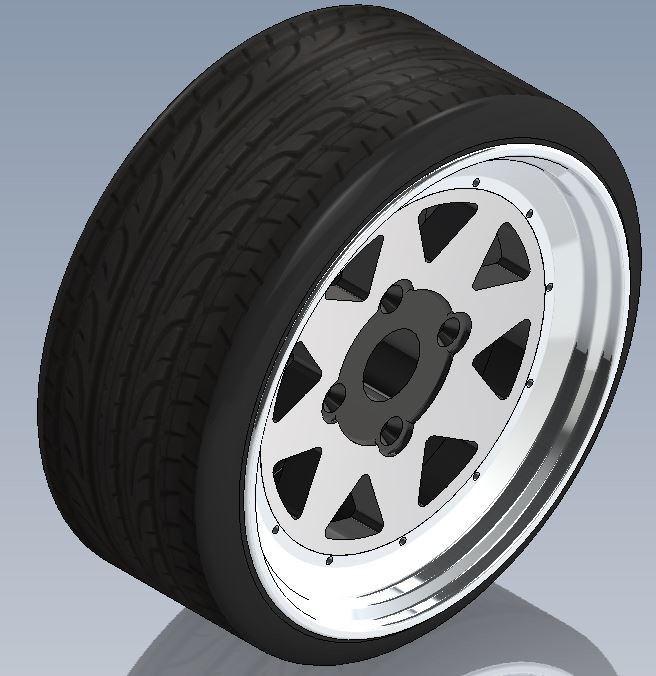 9-22-2016
With the new wheels being the incorrect PCD, I looked into wobble bolts and due to Mini wheels not being hub centric, and 3.8 UNC wobble bolts not being available I am going down the machined hubs route. I have contacted KAD who are willing to make custom alloy drive flanges/rear hubs to accomodate 4x100 and 4x101.6 (4x4") PCDs.
So as I am trying to model up the entire Mini running gear in CAD for my college graded unit, I created this. All dims currently from memory until i can get one removed from the car but it proves my concept. Offset PCDs that don't interfere with the mounting bolt holes.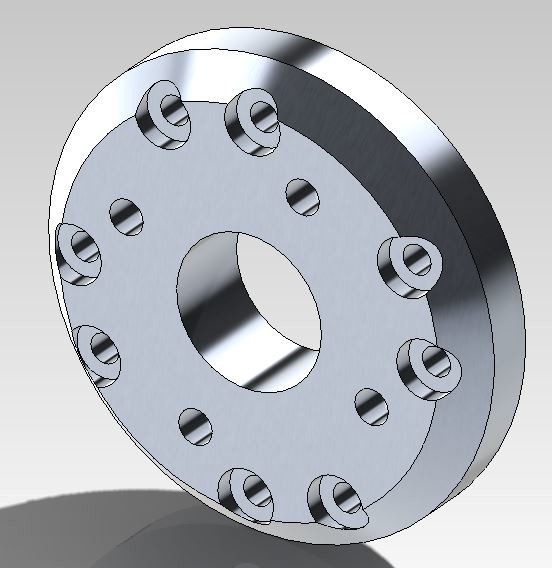 Added inscriptions so the correct PCD can be located easily, so I can change the studs over depending on what wheels I want to use.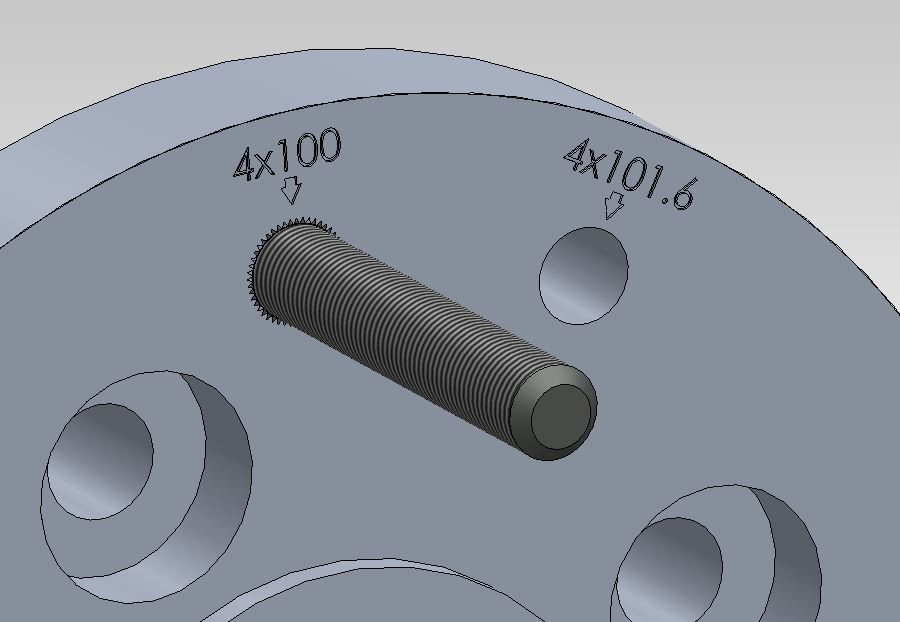 and with the 4x100 studs in place.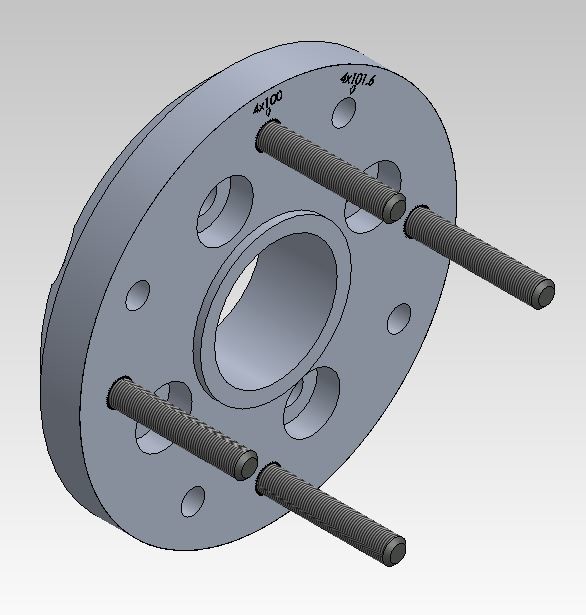 Going to wheak the drive flanges off the car over the next couple nights at some point so i can model them up correctly.
10-2-2016
Cheers! Just got to make them work now

Rare moment outside meant I could get some blasting and coating done. Not as much coating as I wanted but it got too late to be using the compressor (garage shares a wall with neighbours conservatory which they use every evening)
Had the front disc and hub assemblies off for blasting and coating so I decided to tidy up the brake discs whilst they were off. Standard affair, rusted in the usual places.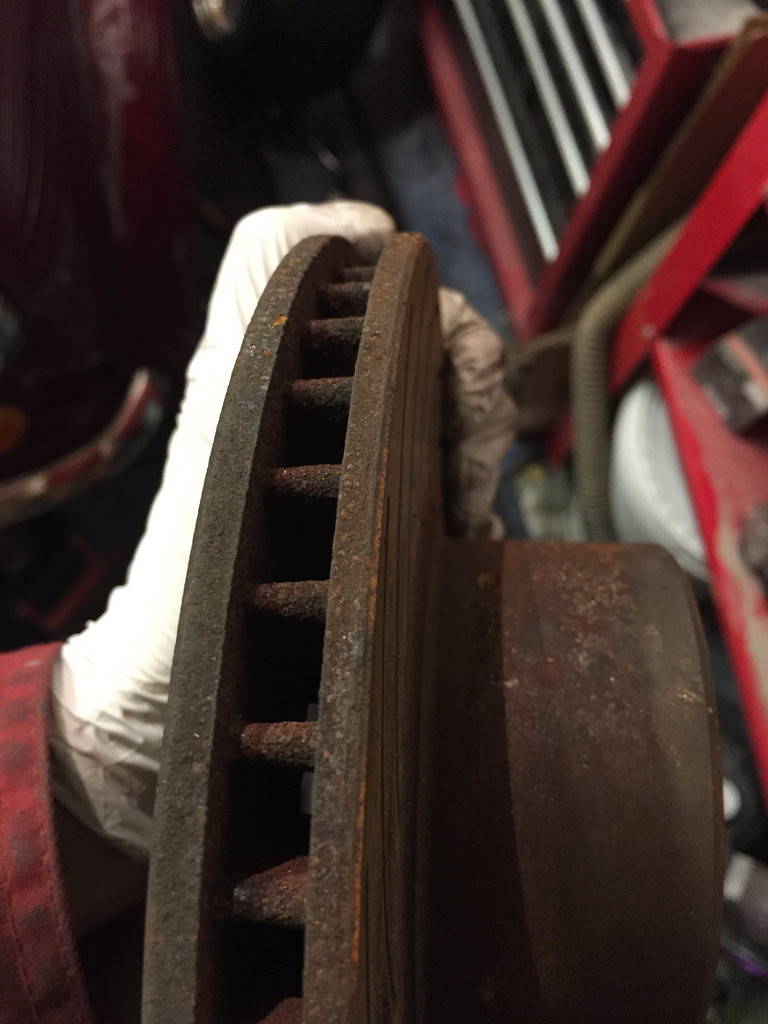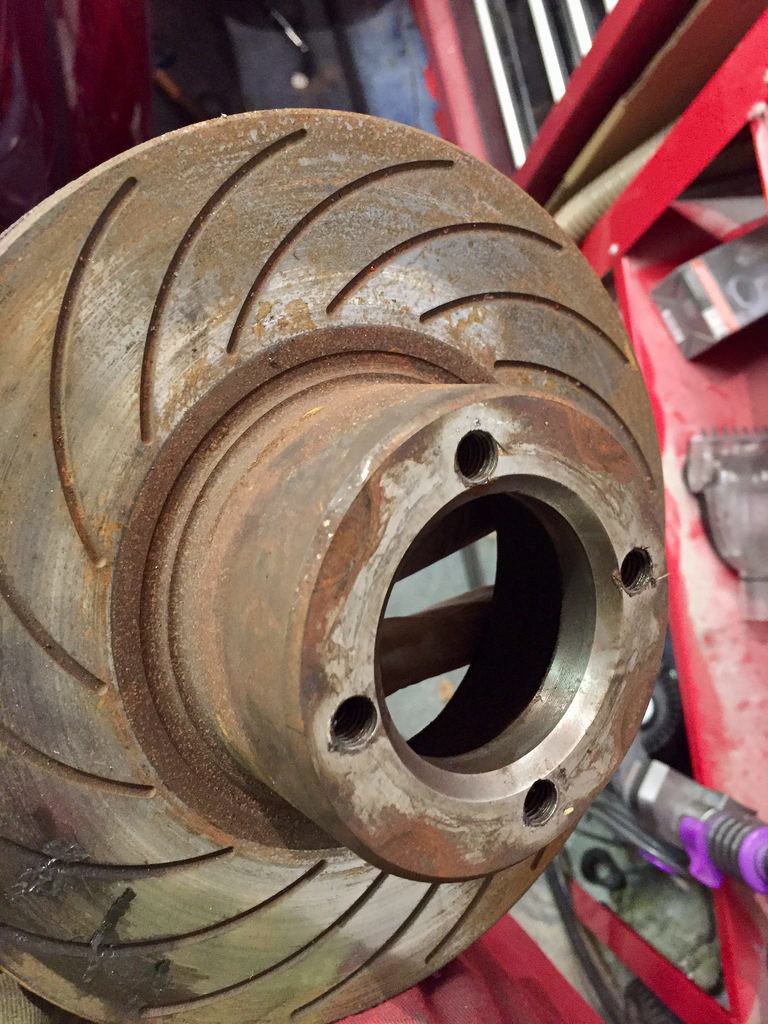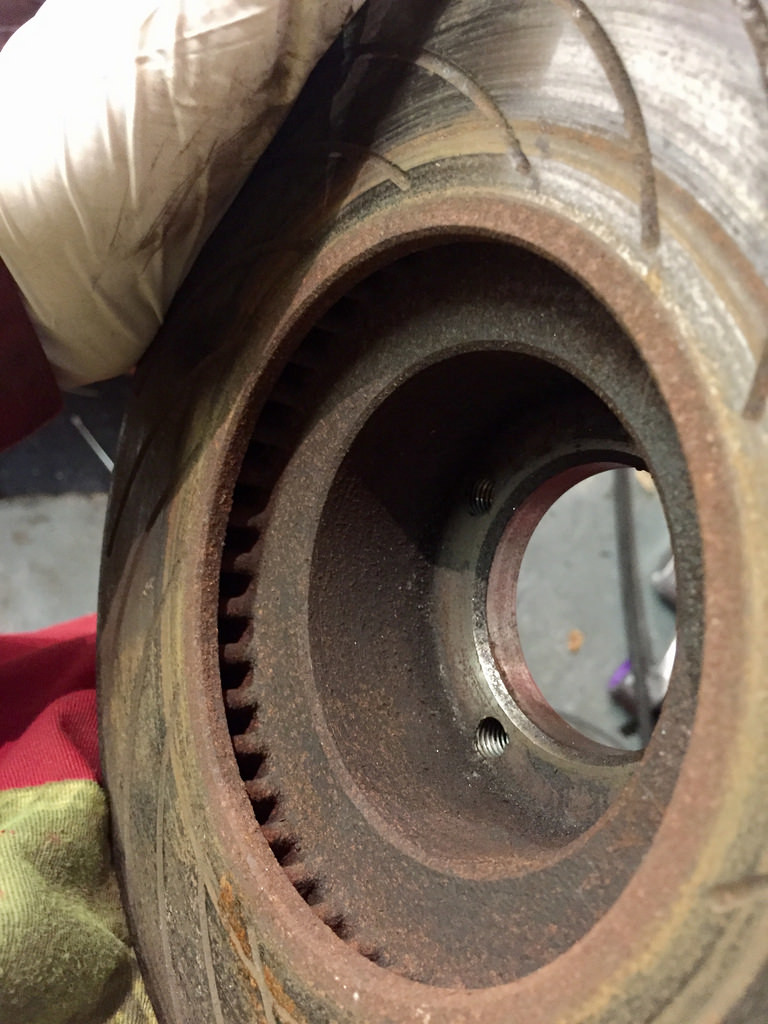 Gave them a quick blast, outgas for half an hour and then masked up for coating.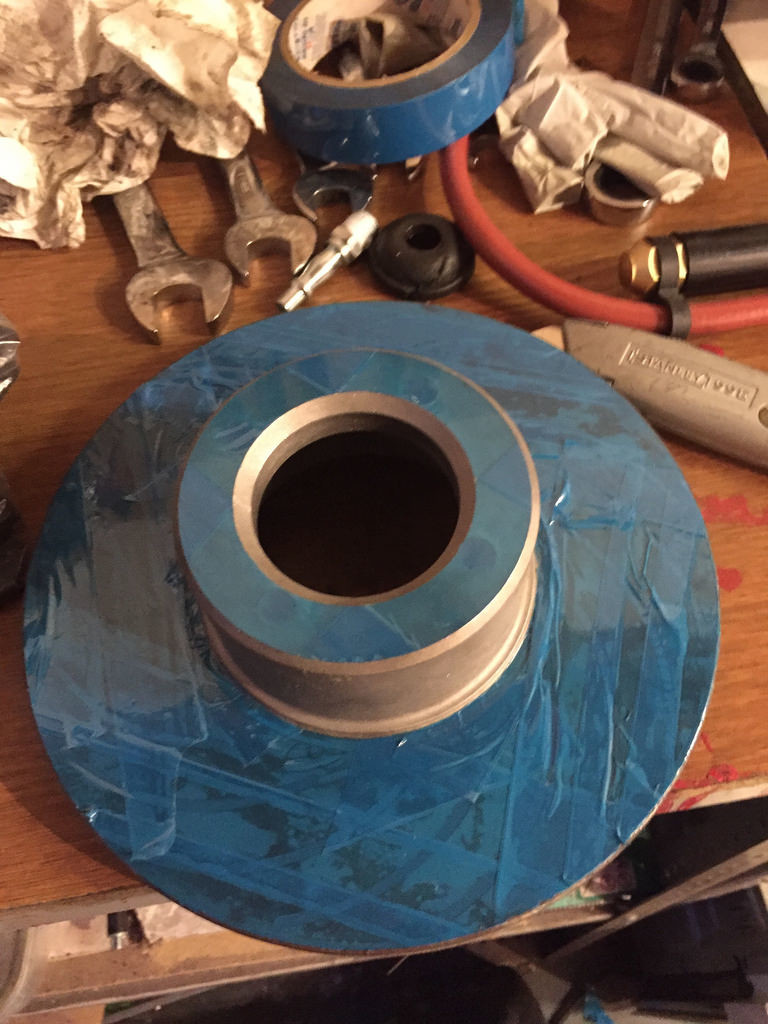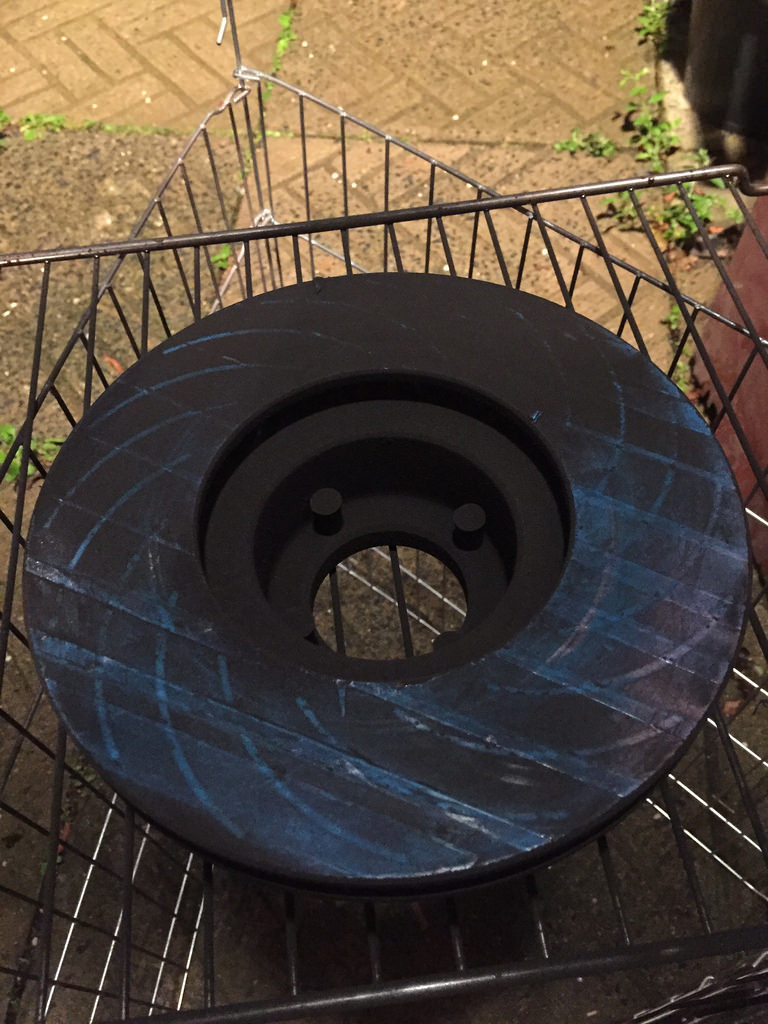 Turned out pretty good for being a cast finish. Should stop them rusting up nicely.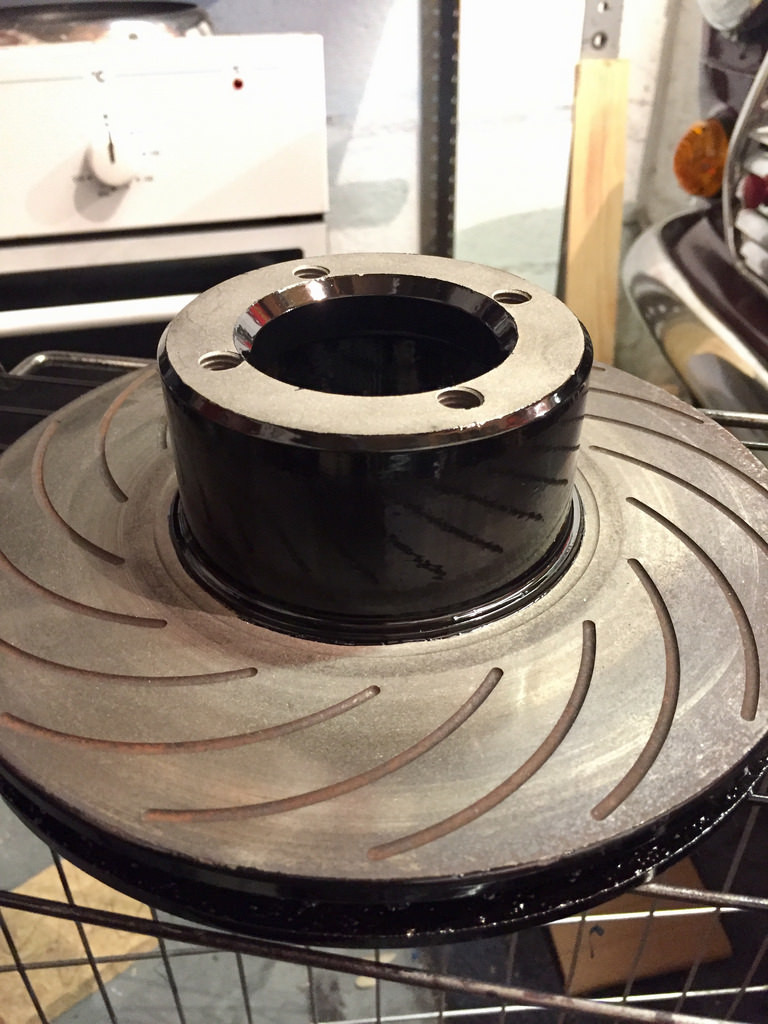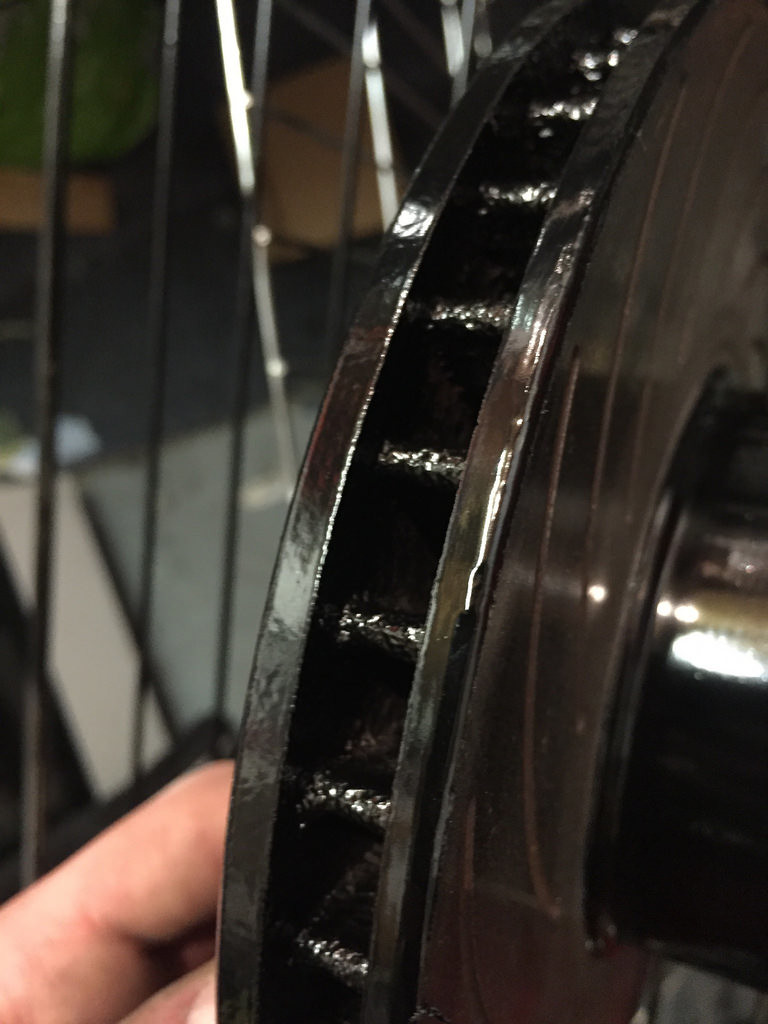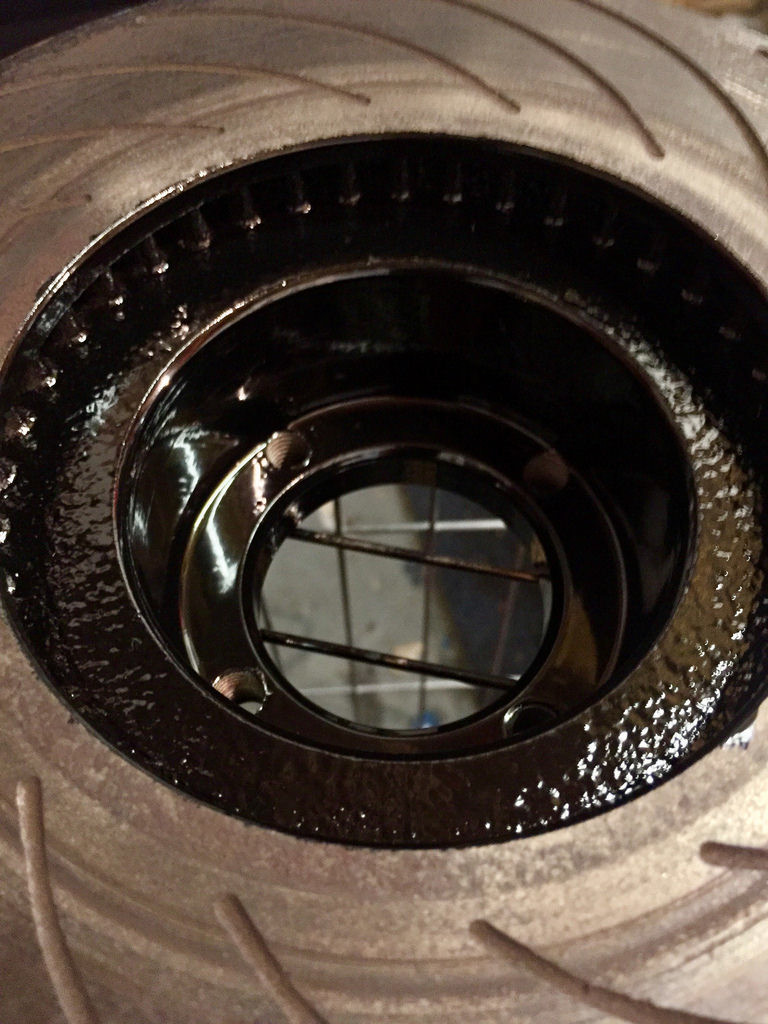 Made sure I plugged the threads as its a pain in the arse to remove powder from threads.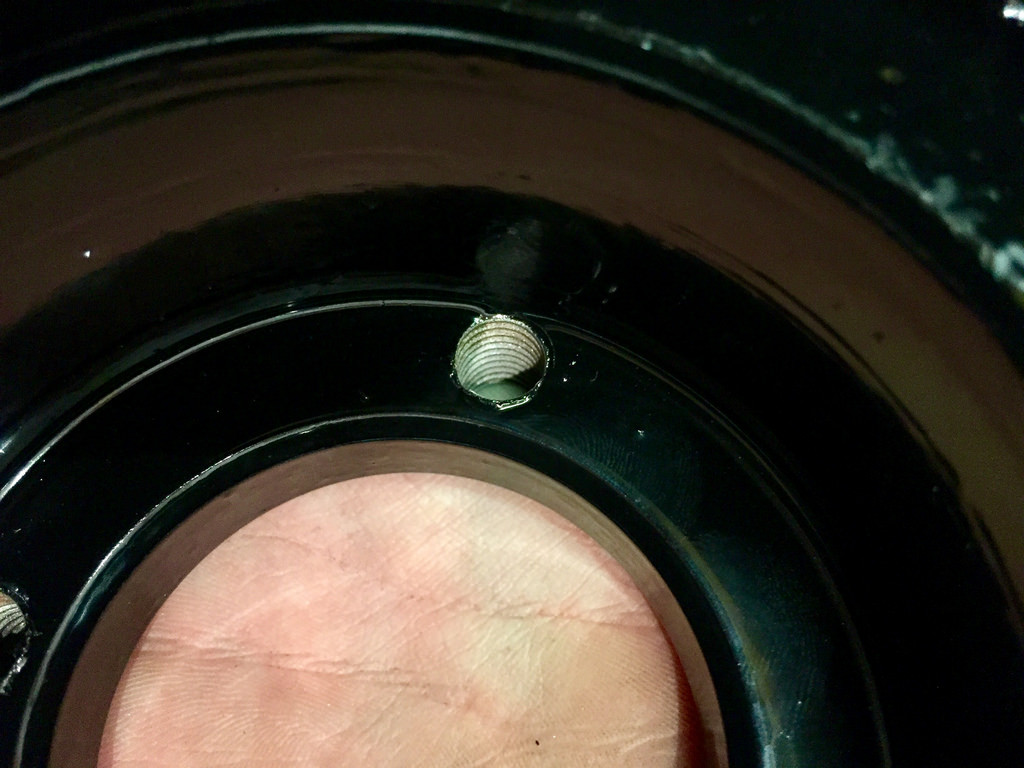 Drive flanges are alloy but still want to protect them a bit. Few rusty marks from mating parts cleaned up and will get coated later today.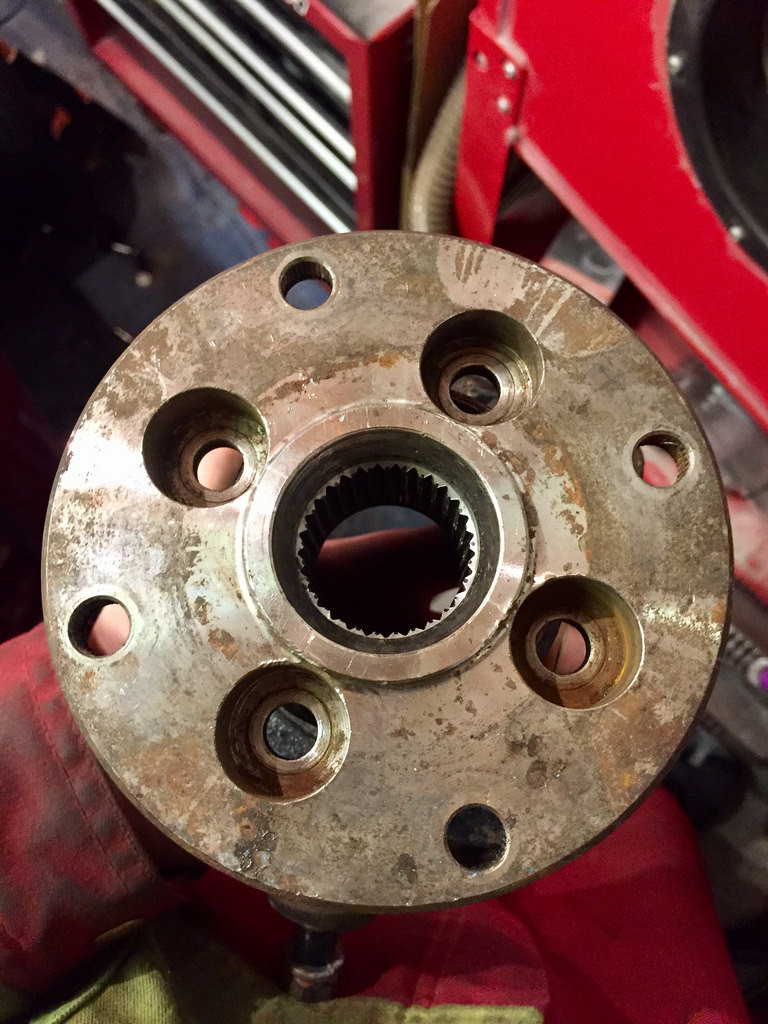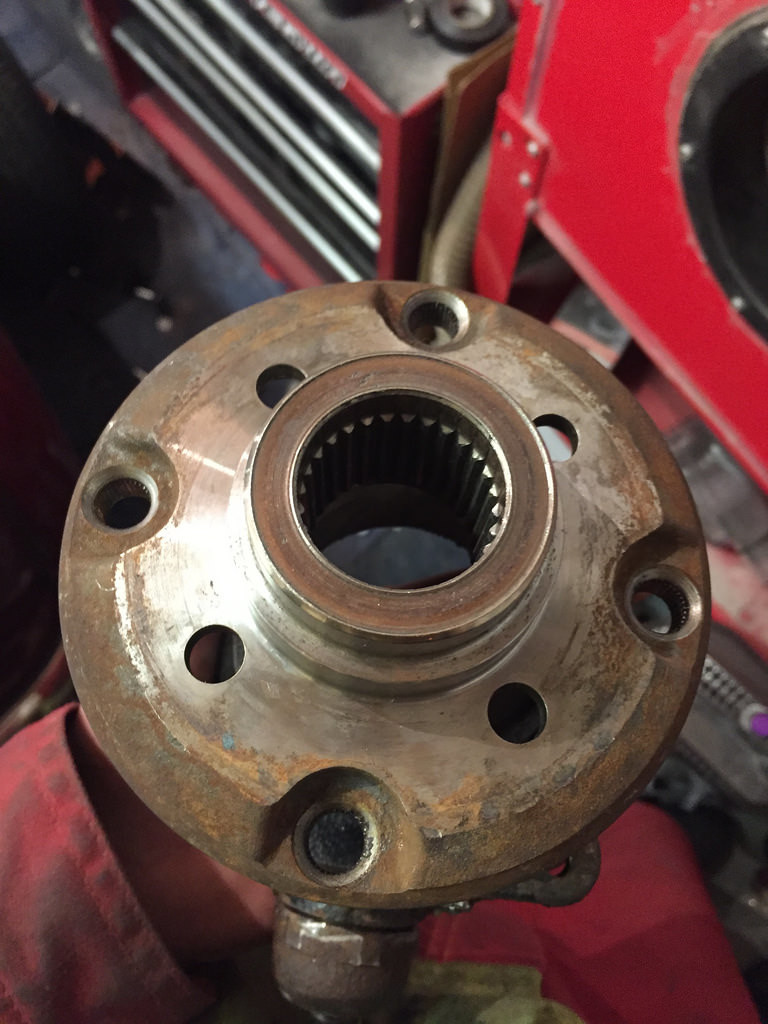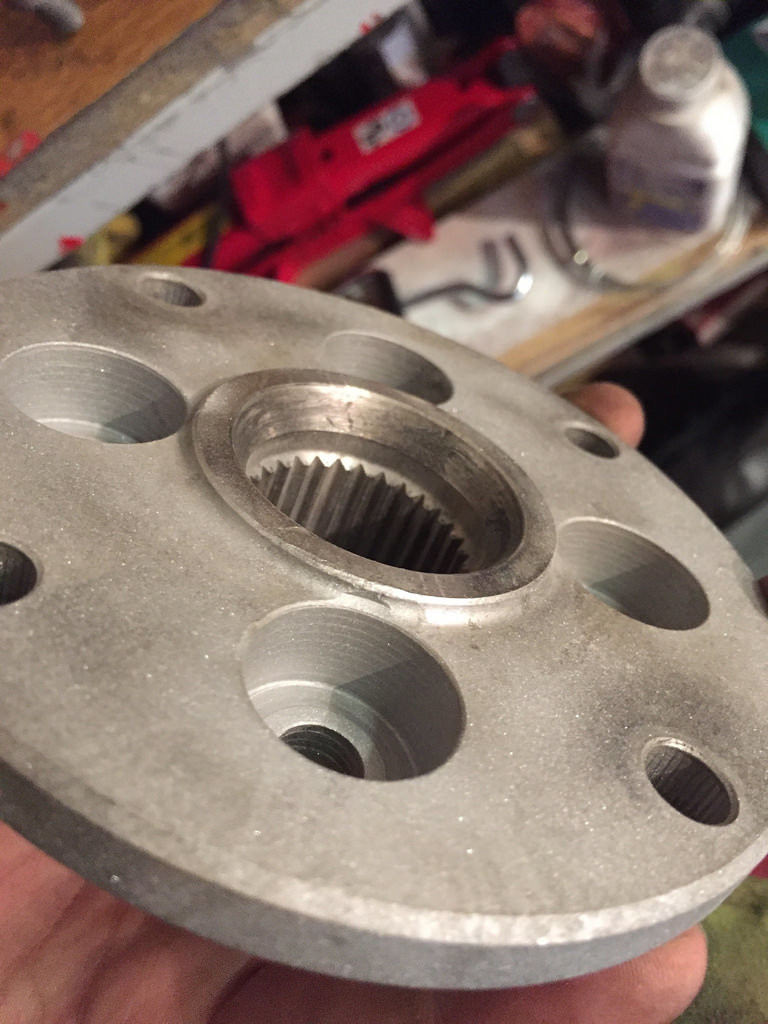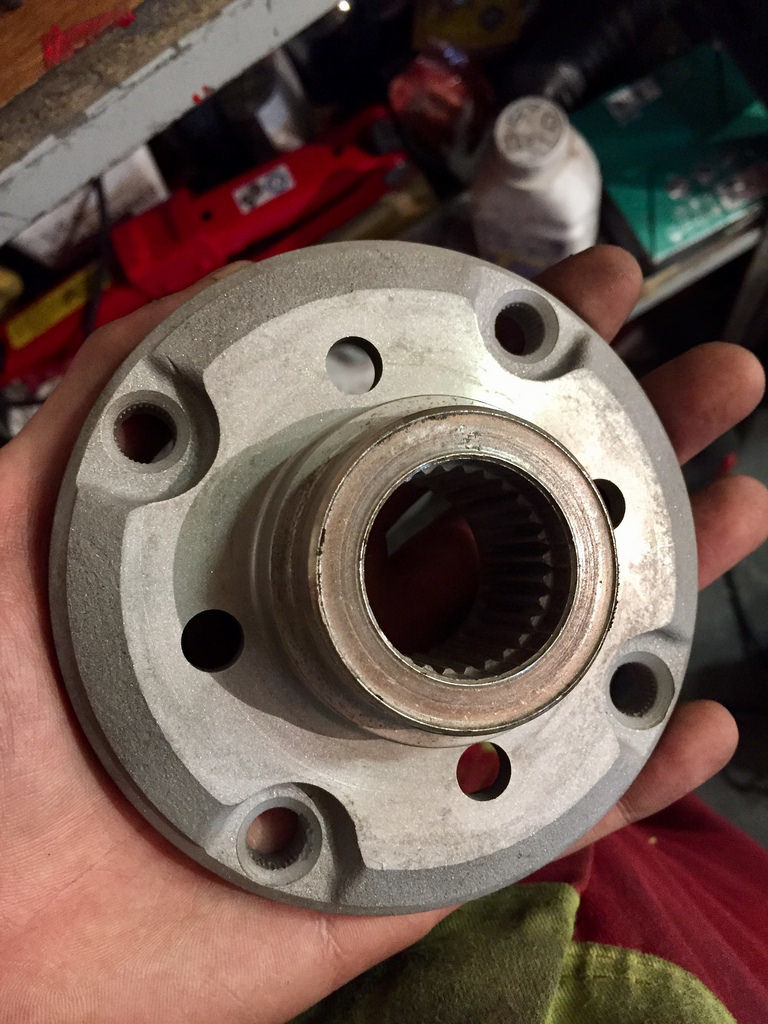 Hubs were rotten. Hammerite clearly doesn't last like it used to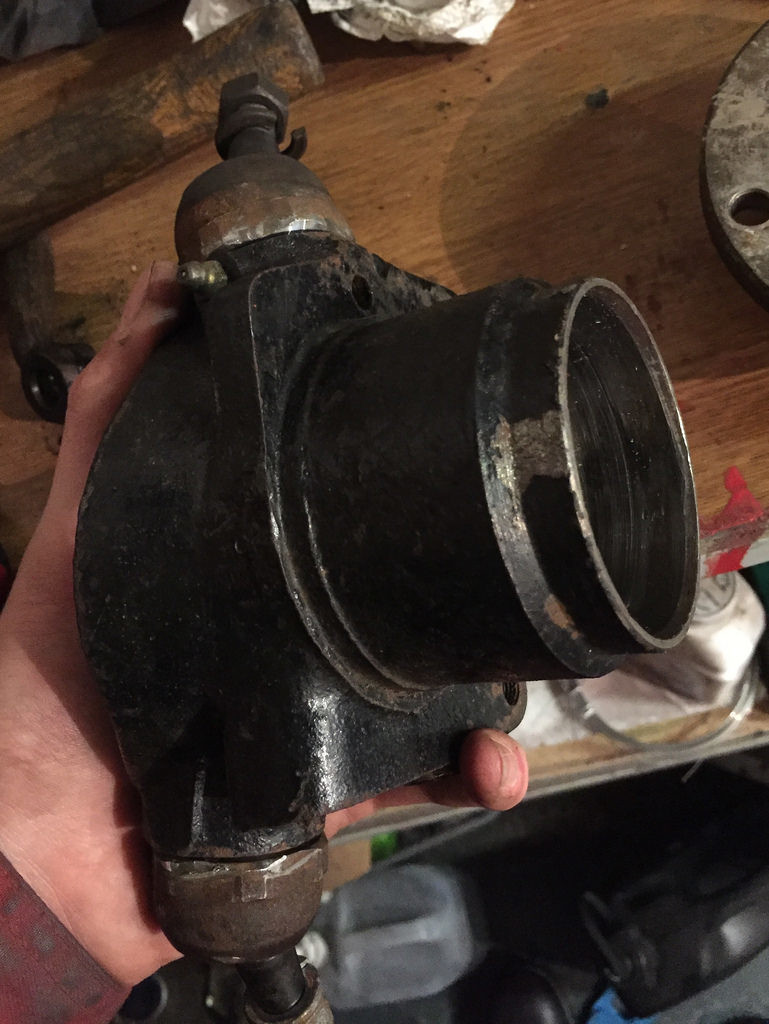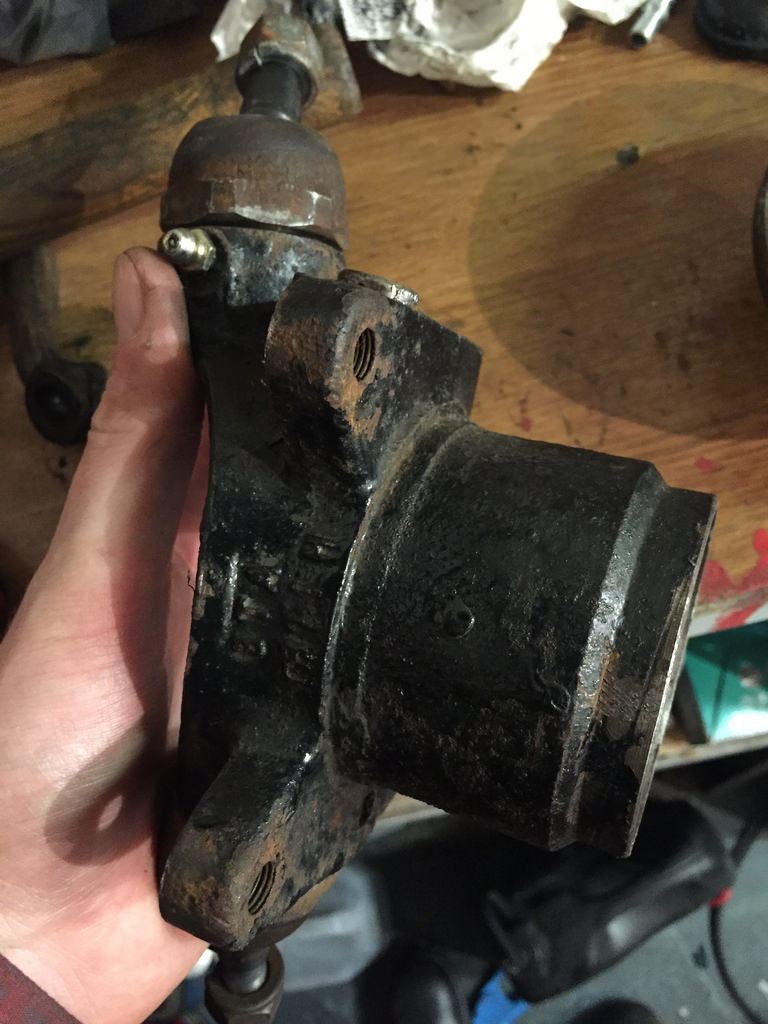 Blasted clean ok though. Masked the ID so the surface finish was retained.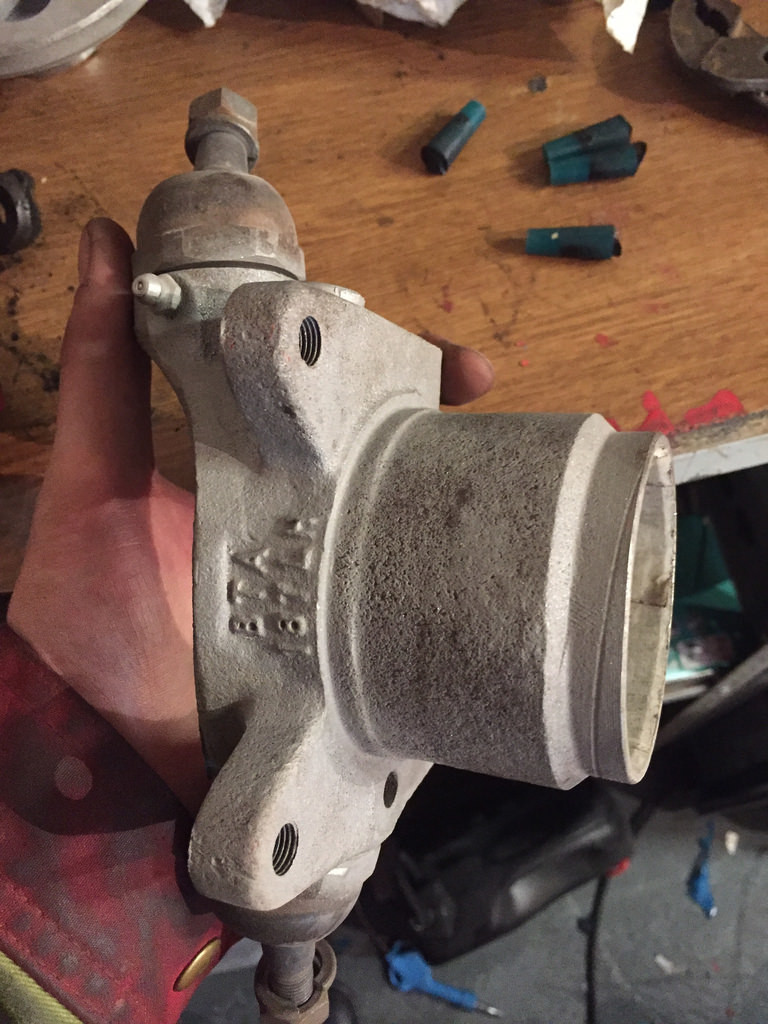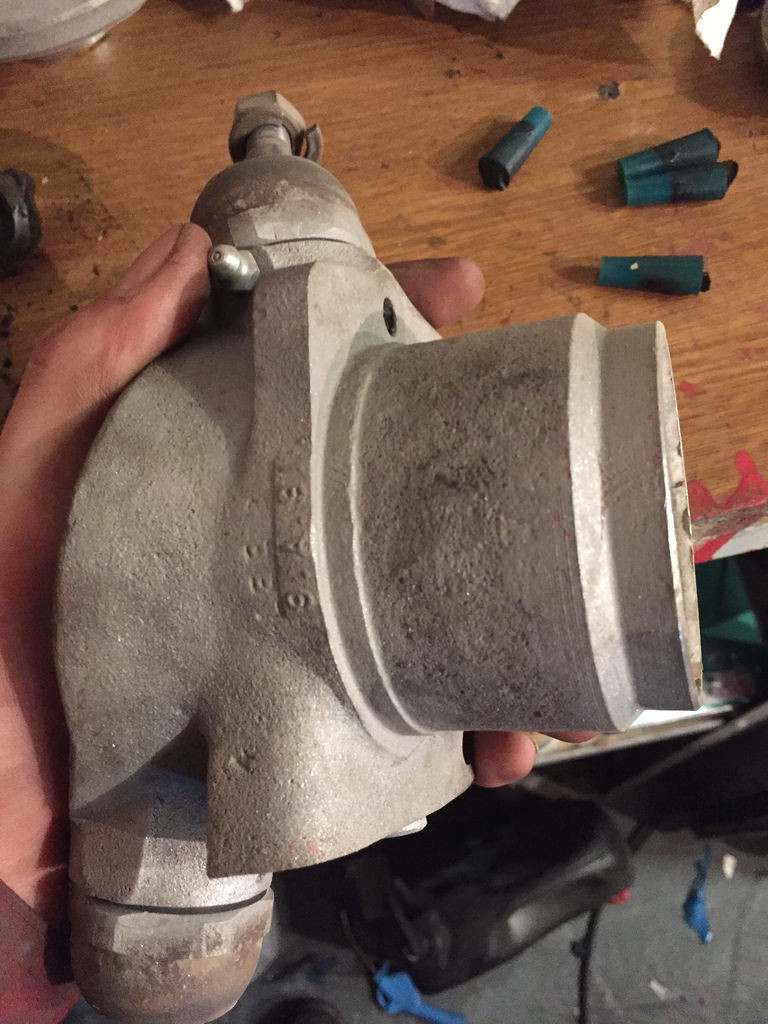 Steering arm also got a clean up, again for coating.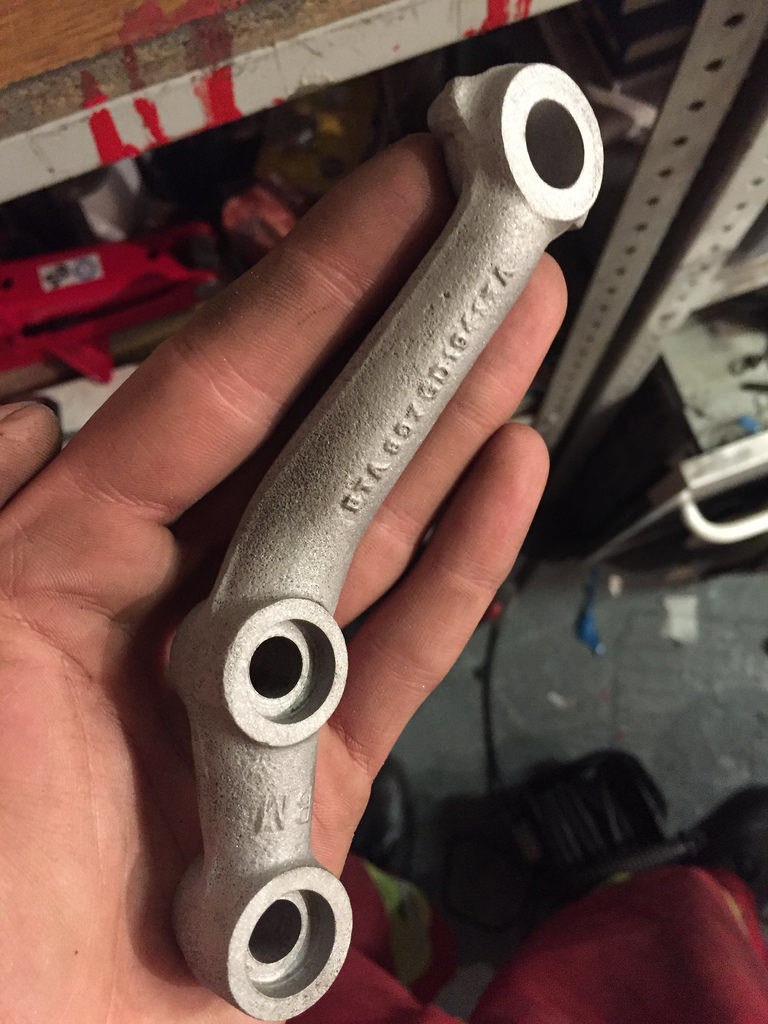 I actually bought my drive flanges second hand and they did say they put their old wheel studs in as they were fairly new. What he didn't say was they were damaged when they were put in.... Thankfully not expensive to replace but glad I removed them to check. Might see if ARP do Mini studs, if not, standards will do.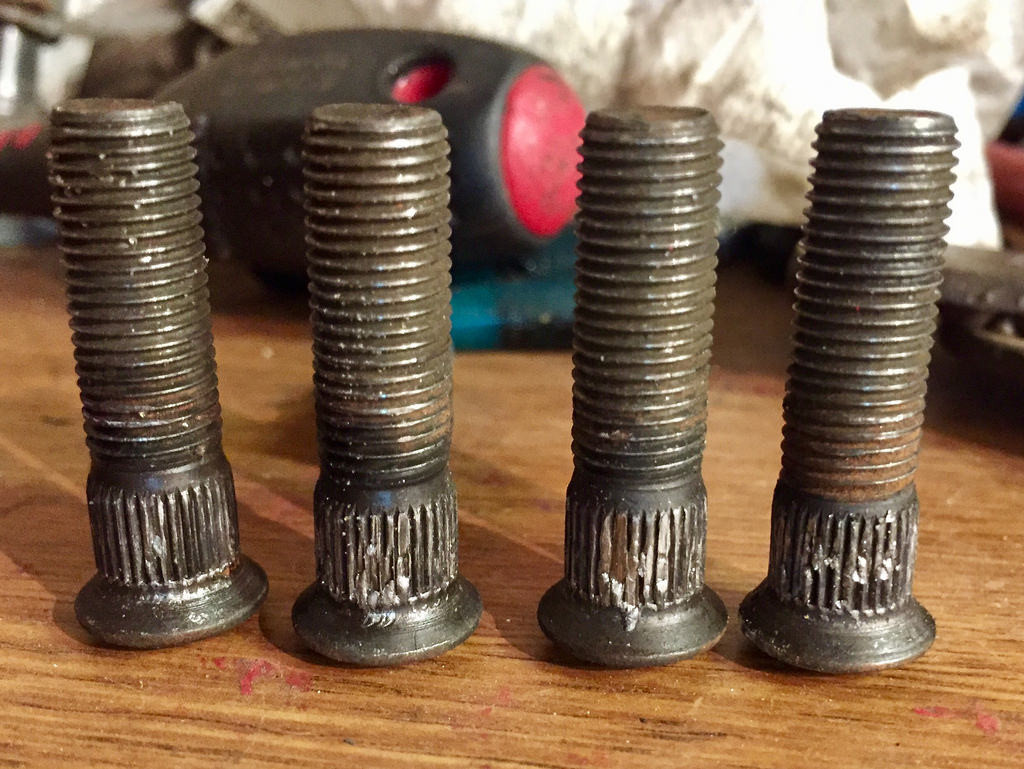 Also gave the drive flange bolts a clean up and will coat them too.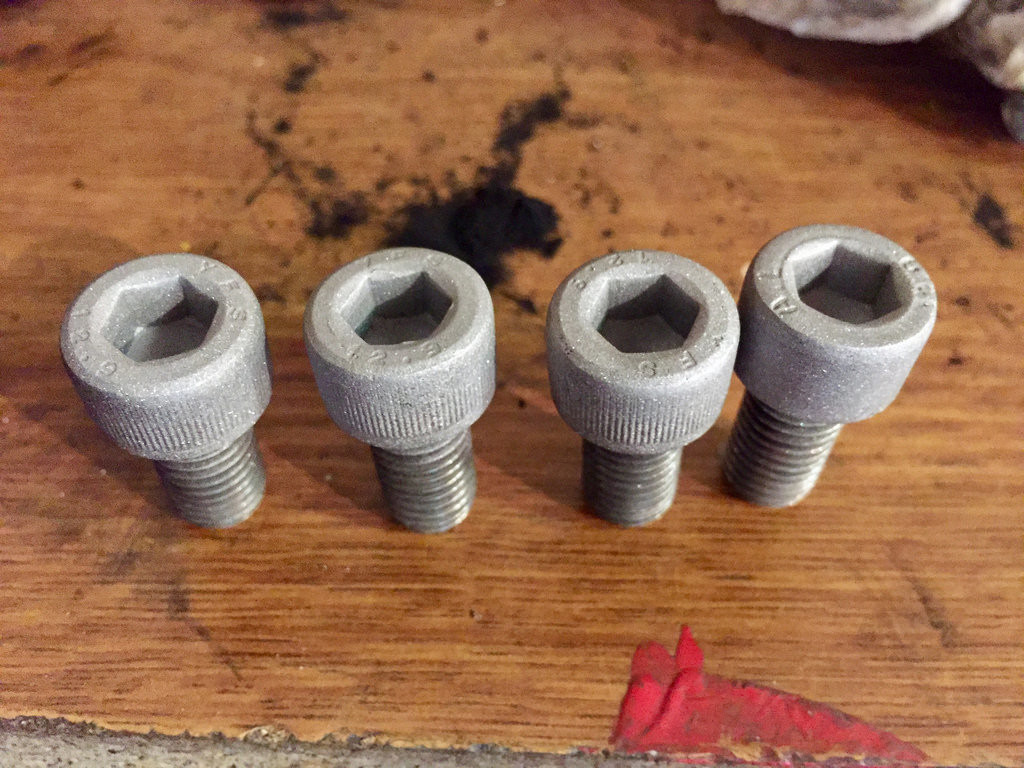 Nothing really groundbreaking update wise but I'm chipping away at stuff when i get a chance.
12-26-2016
No activity on this due to the standard lack of funds...
However I was fortunate to get some MiniSpares vouchers for Christmas, so I've ordered a gearbox rebuild kit so I can get cracking with that sometime. Was going to top up my order with suspension cones and a few other bits and pieces but with my job officially at risk of redundancy I don't want to spend a penny more than I need to at the moment

12-30-2016
Bits! Gearbox rebuild kit (with couple extra bits that aren't included in the kit) and full gearbox gasket/seal kit. Should get me going with a box build then! Bearings are all from original manufacturers so should last forever now. Main extras are the centre oil pickup tube to reduce risk of oil starvation, rod change seal leak kit (never worked before but you never know, they might have improved it...) and went for the kit with the competition layshaft to future proof the box.
Im aware the kit doesn't come with EVERY bearing in the box but if during the build i see anything needing replaced that isn't supplied, I will order them up as necessary. One thing Im not a fan of is the half seal for between the box and crank. This should have a metal reinforcement strip to help it maintain its shape but its missing so must be a nonagon seal. Will add it to the list of things to buy....
Not in a rush to get anything done for a set date, so it will get done when it gets done. Need to smooth the casing and powder coat it first anyway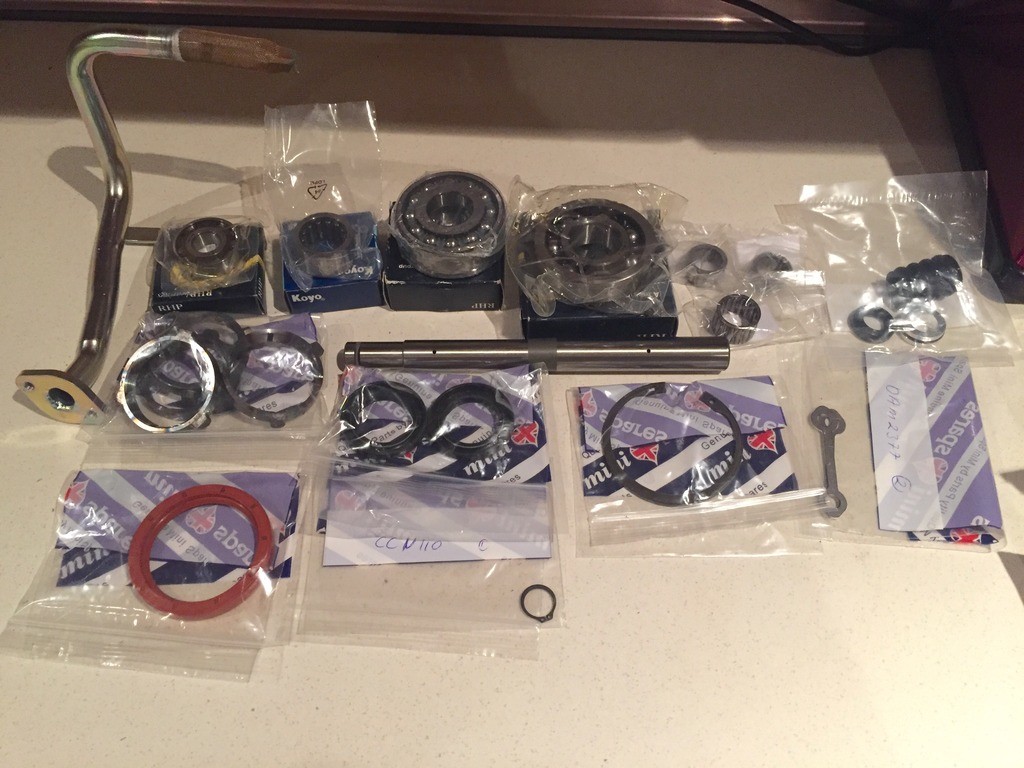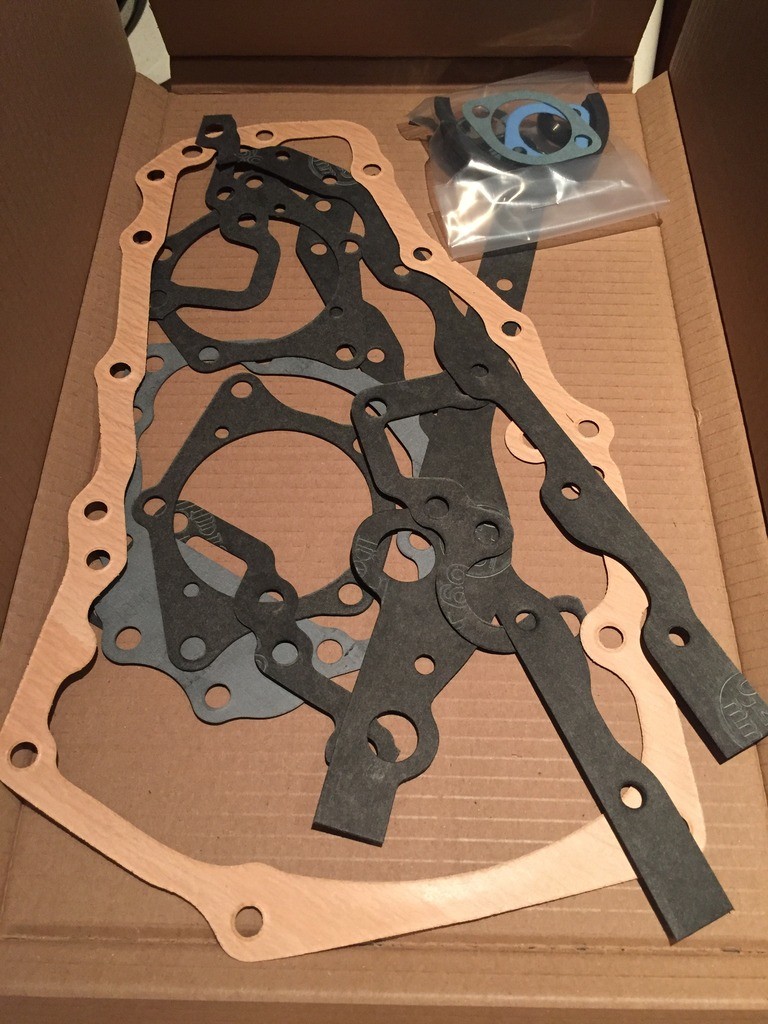 3-30-2017
Holy *******, it's an actual update!

Having spent two months of my unemployment catching up with college work and doing **** to the house, I've run out of things to occupy me so I've started back on this again since there's stuff I can do without having to spend any money.

First up is to get the gearbox casings ready in order to rebuild the gearbox. When the car was restored I painted the housings in hammerite and due to its shitness, it started to bubble in no time. I took a wire brush to this last year but the primer was pretty stubborn and off the shelf paint stripper did ******* all to it.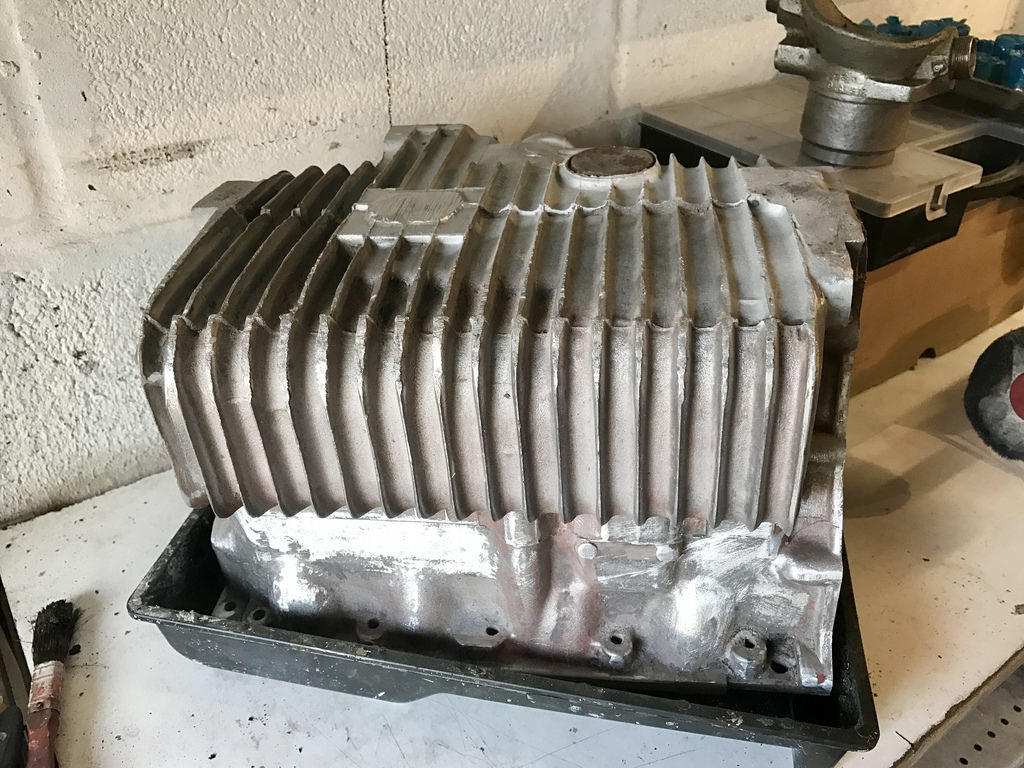 Bought some epic paint stripper and let it get to work...and swiftly disposed of the brush that it melted in the process!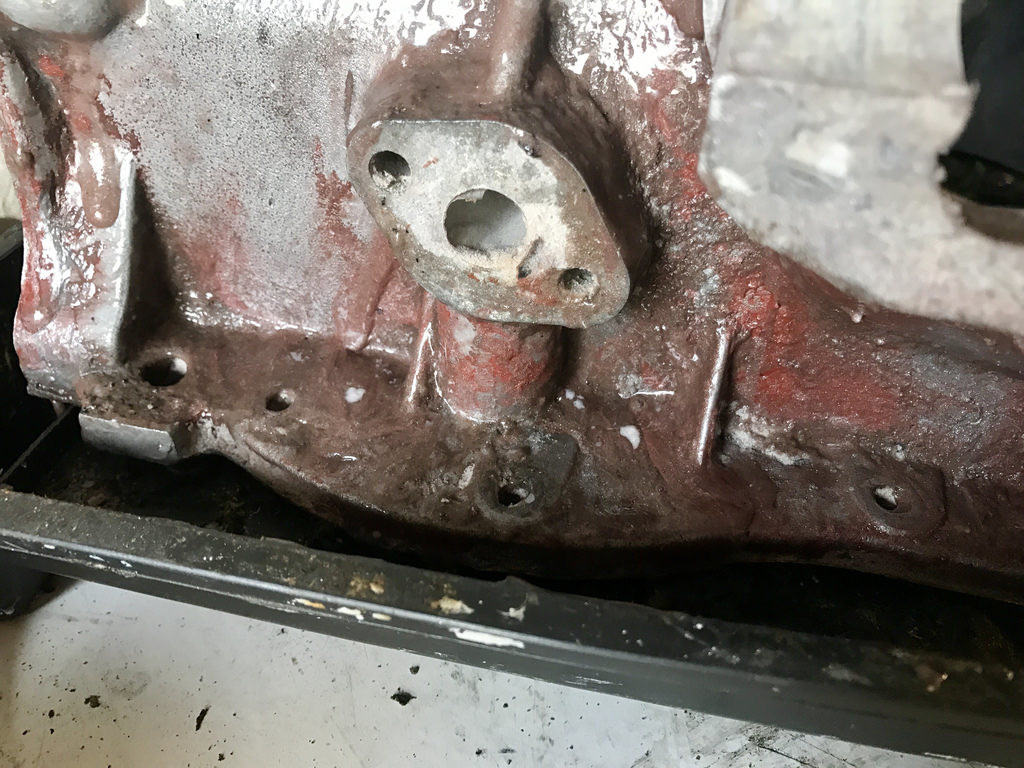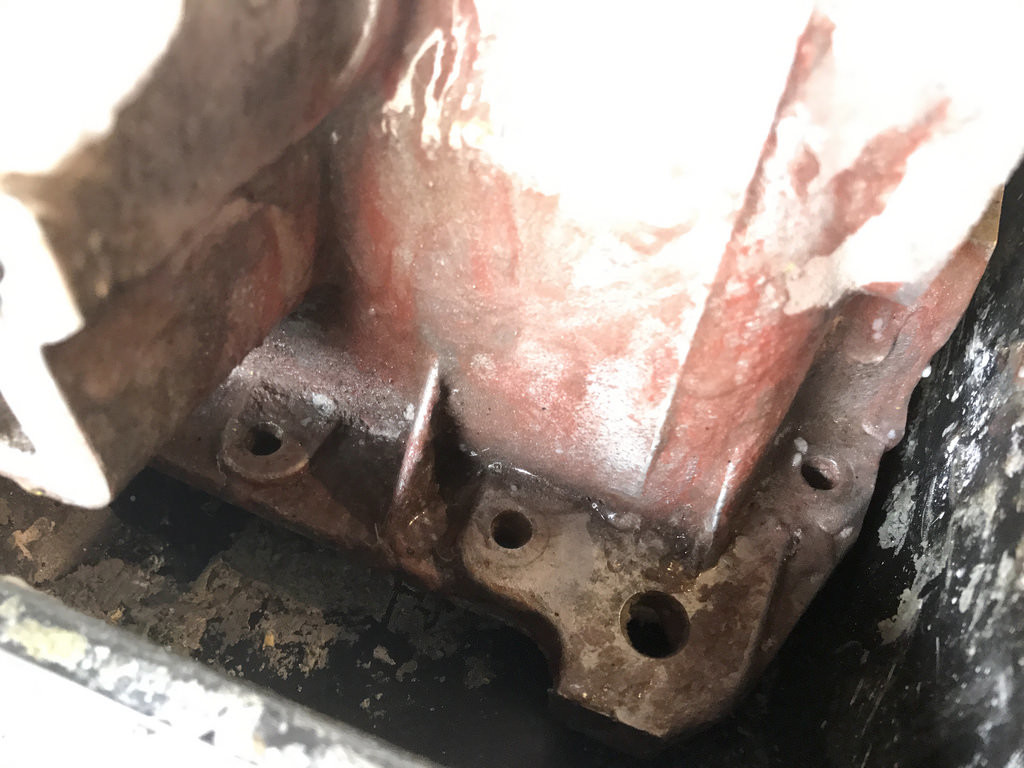 Brushed it all off and rinsed it looked not too shabby.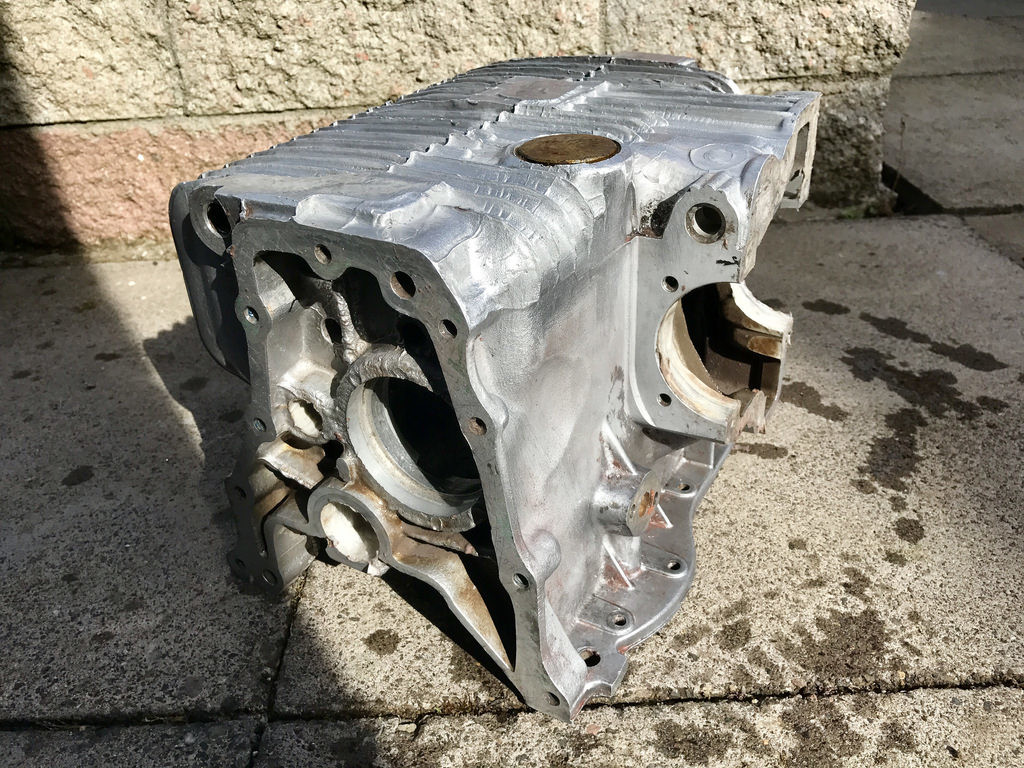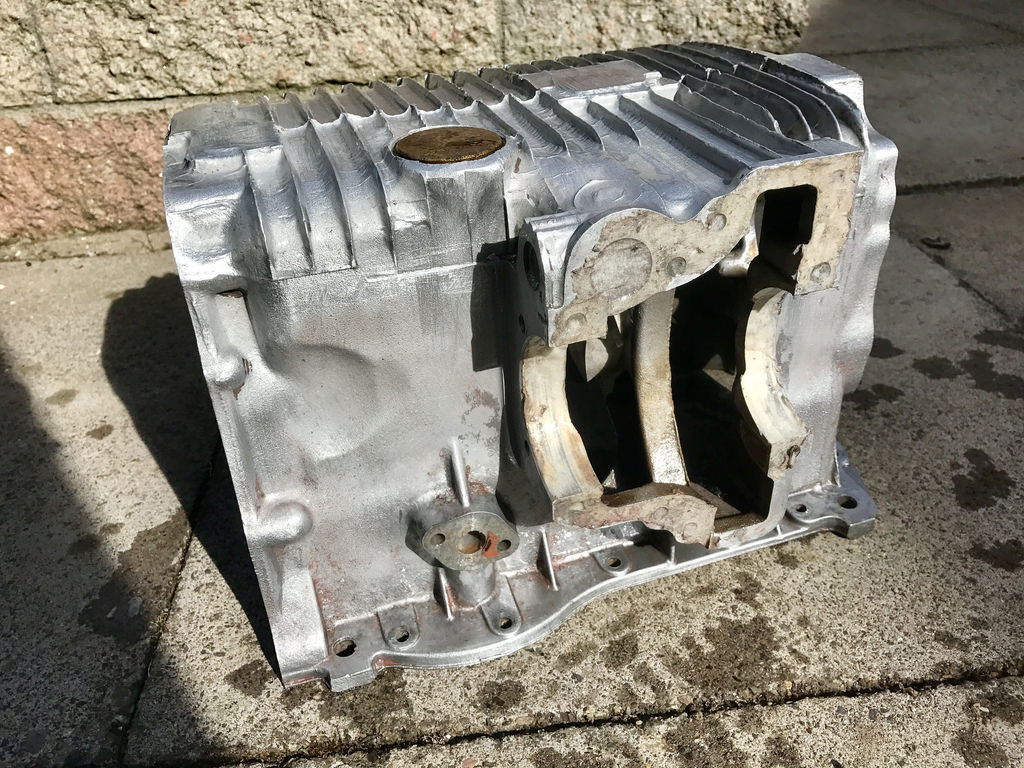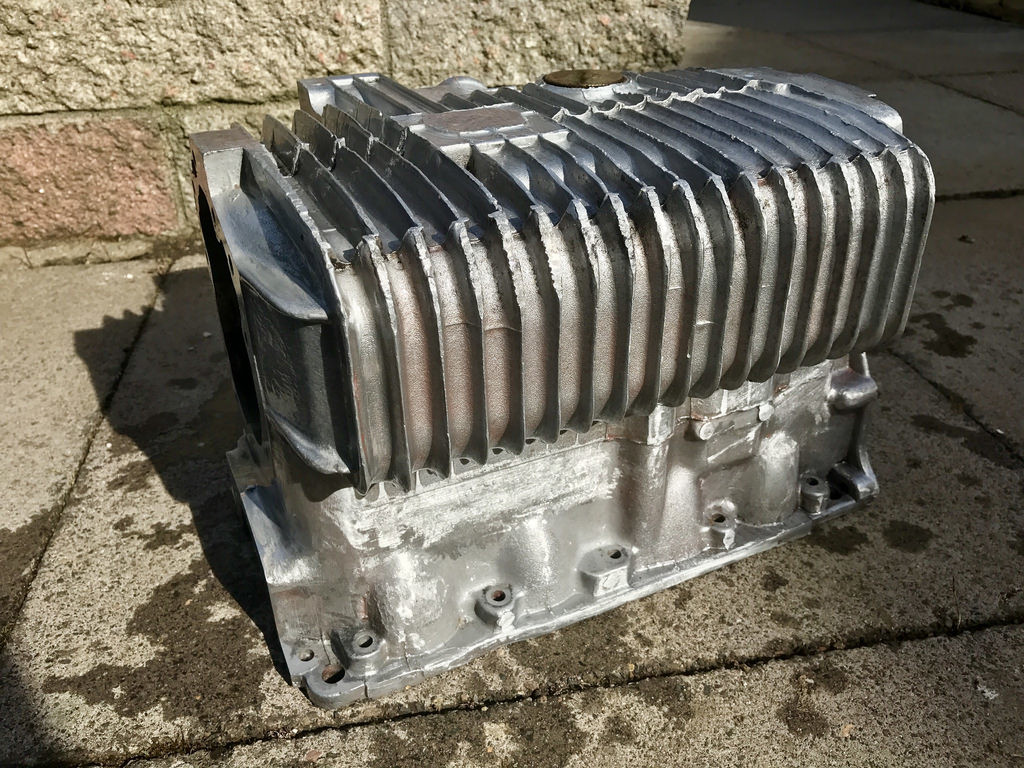 In order to get the final remnants off and to prep for powdercoat I masked off the interior and blasted it in the cabinet. Came out bonny!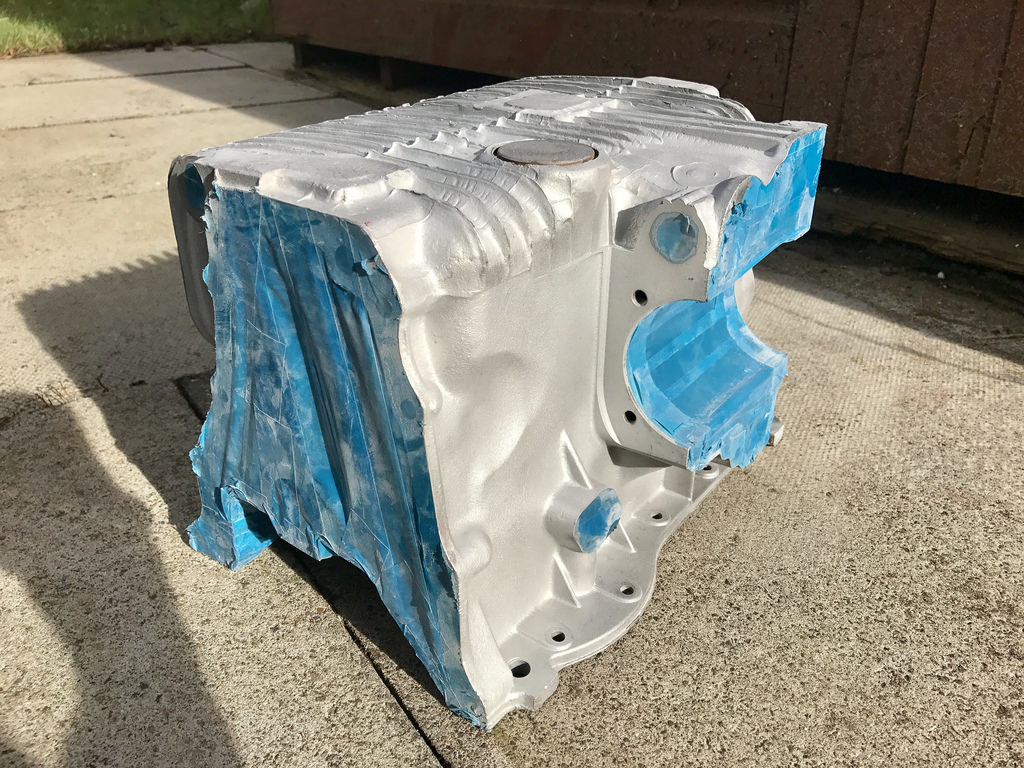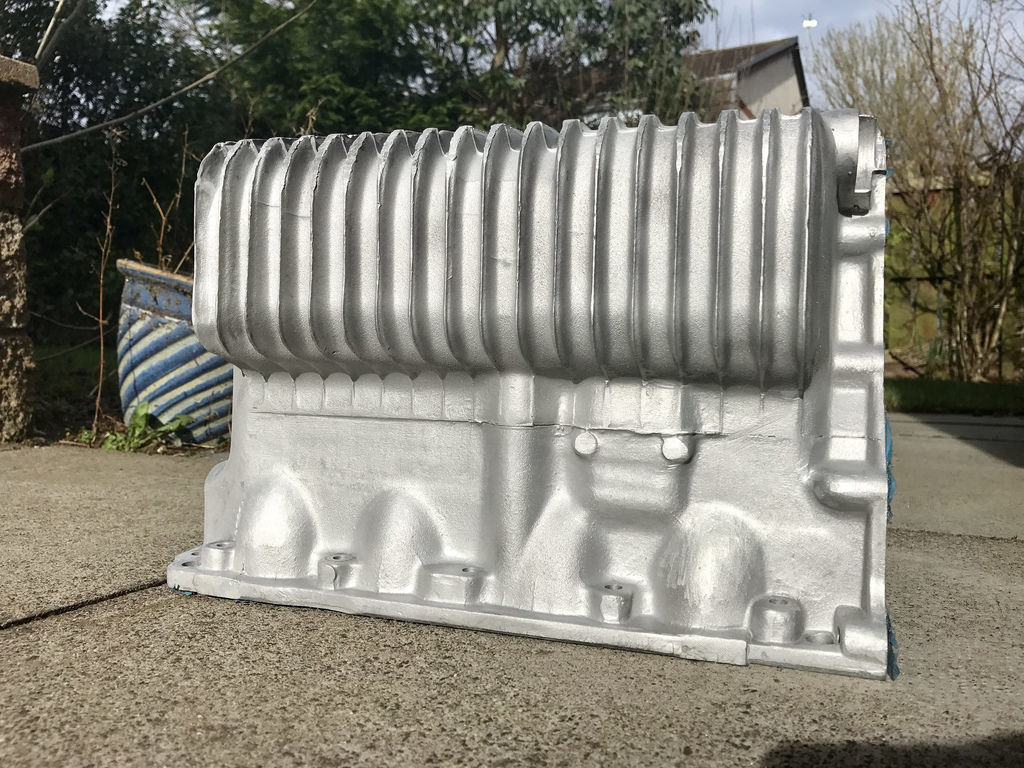 bought some silver and 'glass Clear' powdercoat from the USA to go onto this but that will happen tomorrow as it's currently in the oven to outgas for an hour or so.
Not a major update I grant you but it's satisfying getting into it again with an aim of getting it roadworthy for the first time in years. It has fairly cheered me up/distracted me from sitting about doing ******* all all day.

3-31-2017
The problem with leaving alloy parts bar is that it still corrodes. Yes, you can polish it again but unless its mirror polished to near chrome levels, I don't see the point and you have to polish them constantly. I painted them and that didn't last so with powder it will last for years to come whilst still looking great.
I honestly don't know what to recommend regarding paint because I do powder coat as its tougher, thicker and lasts longer in harsh conditions (oil, coolant, brake fluid etc) when compared to any painting I have done in the past which no matter what prep I do, or getting it done by a pro, it still ends up dull and needing redone. Paint annoys me as you spend so long prepping the part, to find that the paint takes 48hrs to fully cure (if you're lucky) and then it needs polished. Powder is done start to finish within an hour and ready to mount straight away with a fully cured and glossy finish.
On with the progress!
That's the casing finished and started on the bolt ons for it.
Quick wipe down to get rid of any grease from handling it and then a quick bake to dry it out again.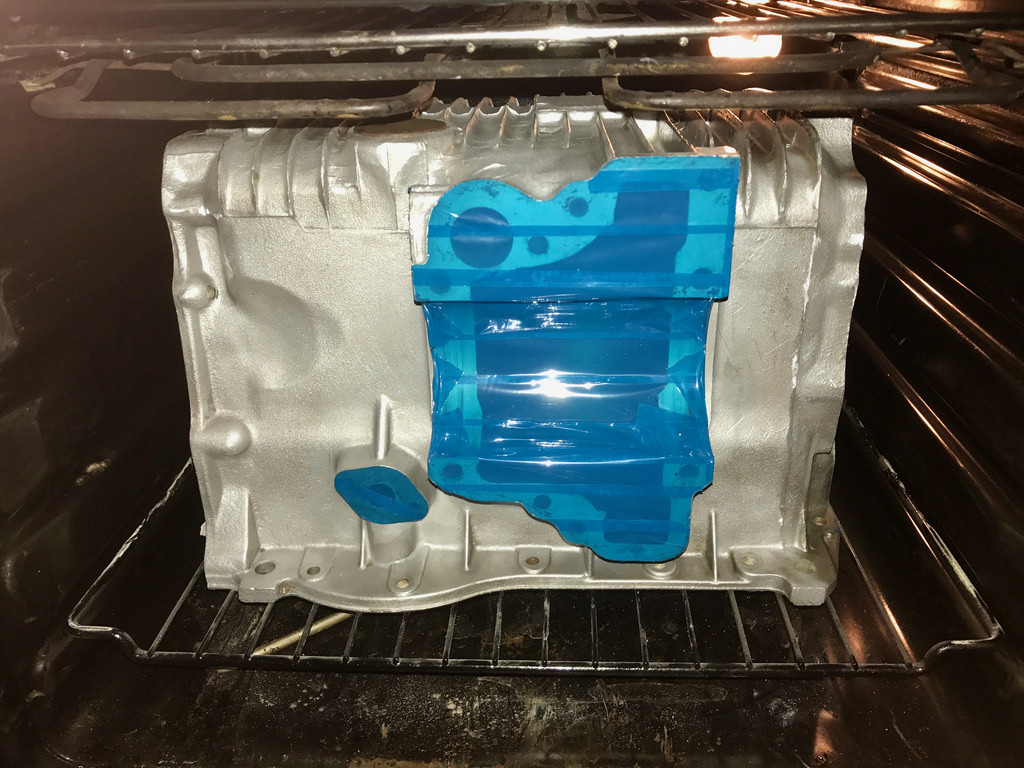 Silver powder on.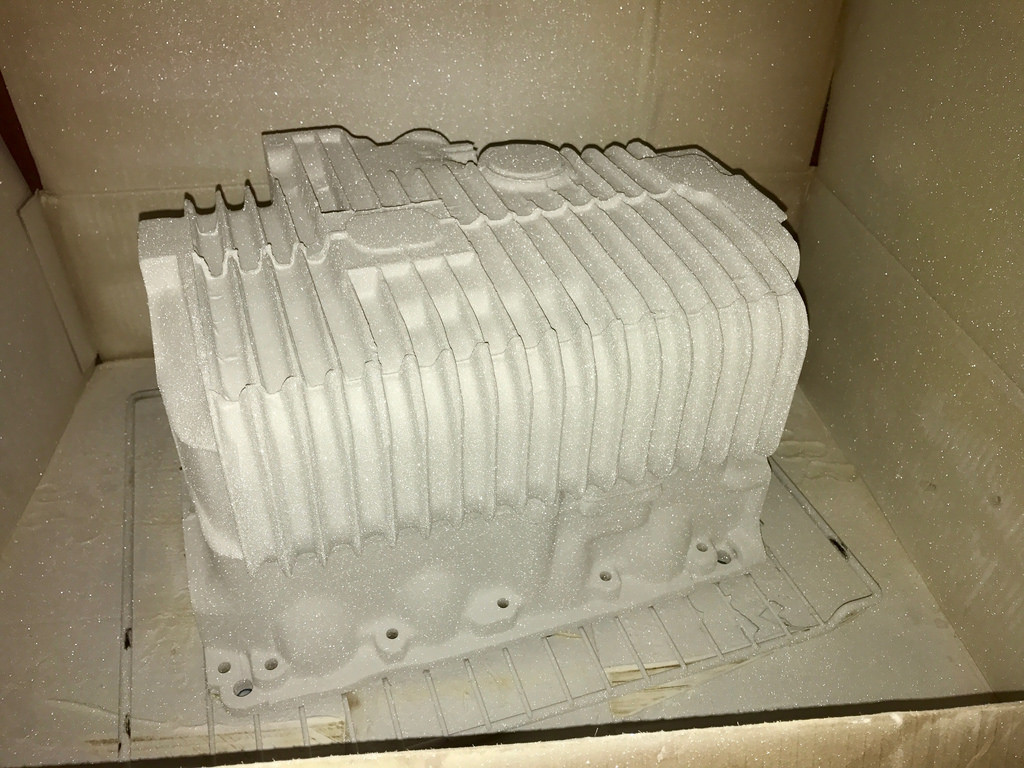 And cured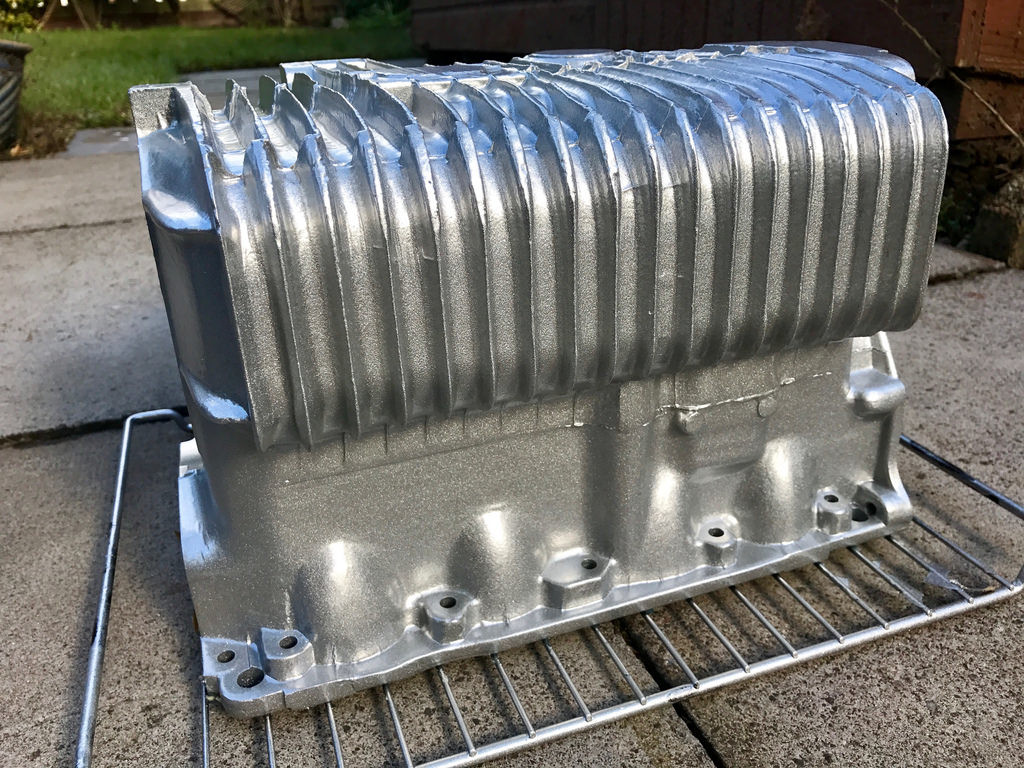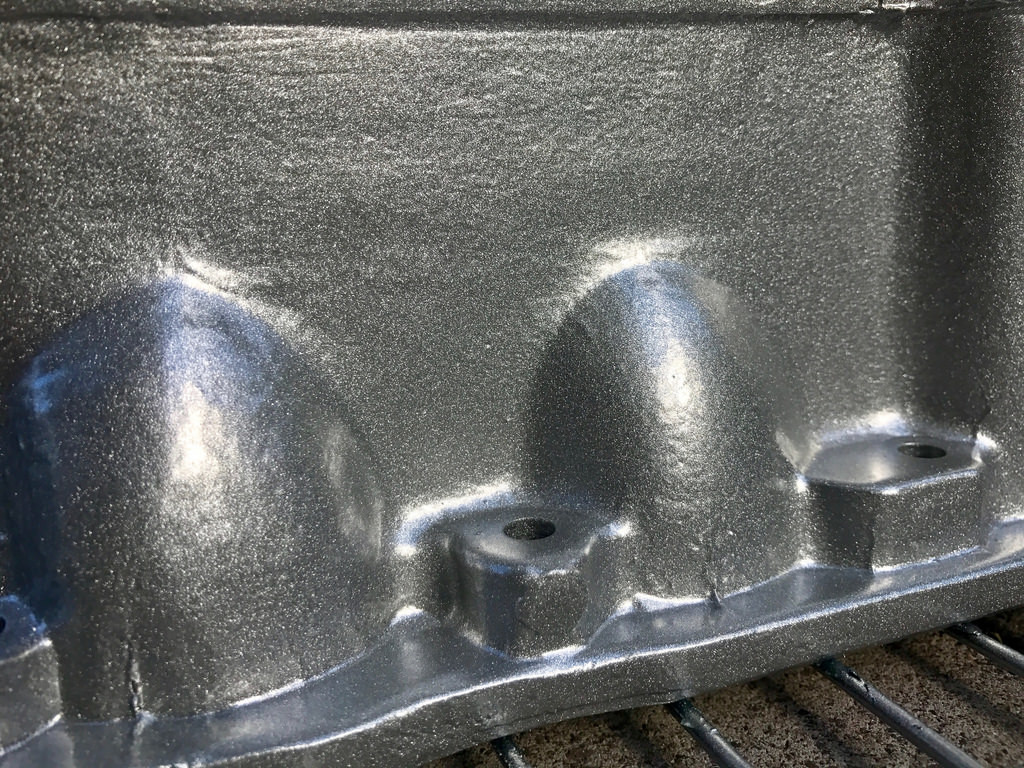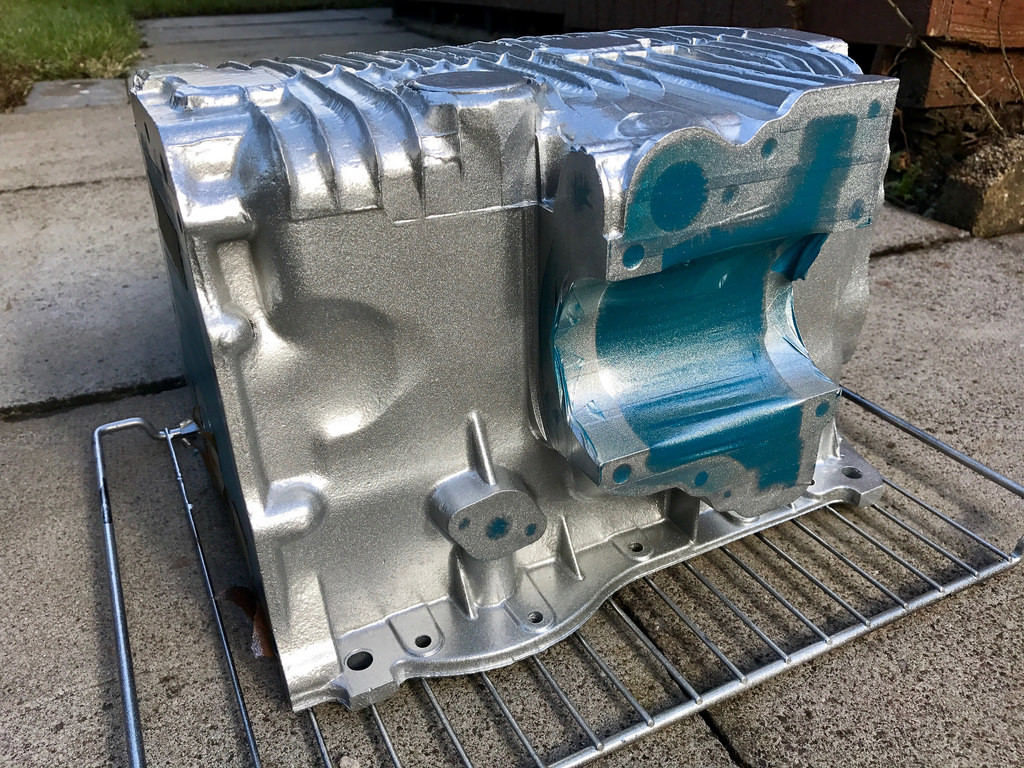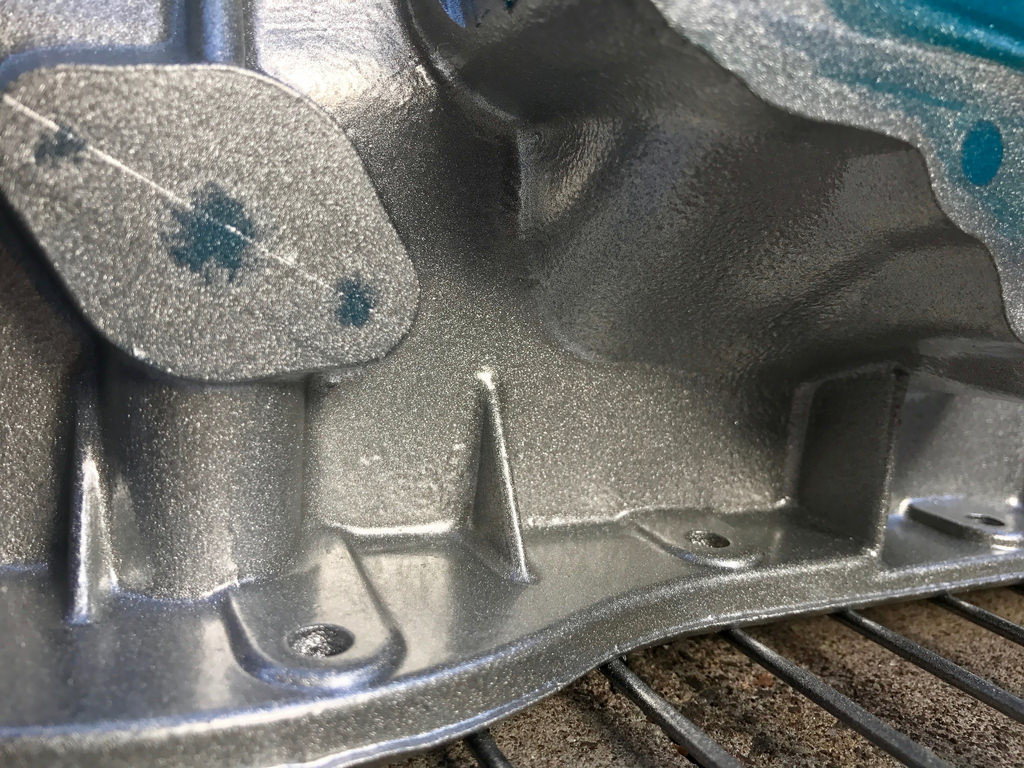 Left to cool off for an hour then applied the clear in two coats. Goes on as white powder and turns clear as it bakes.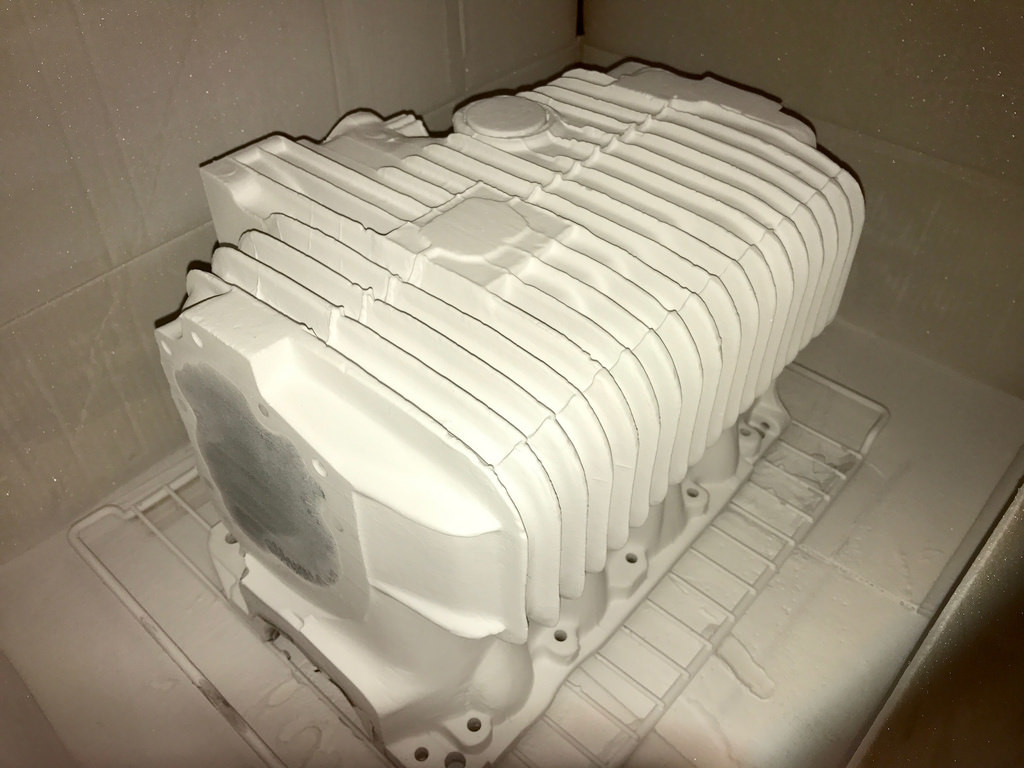 Which left me with this glossy finish. Pretty good reflections for being such a rough casting!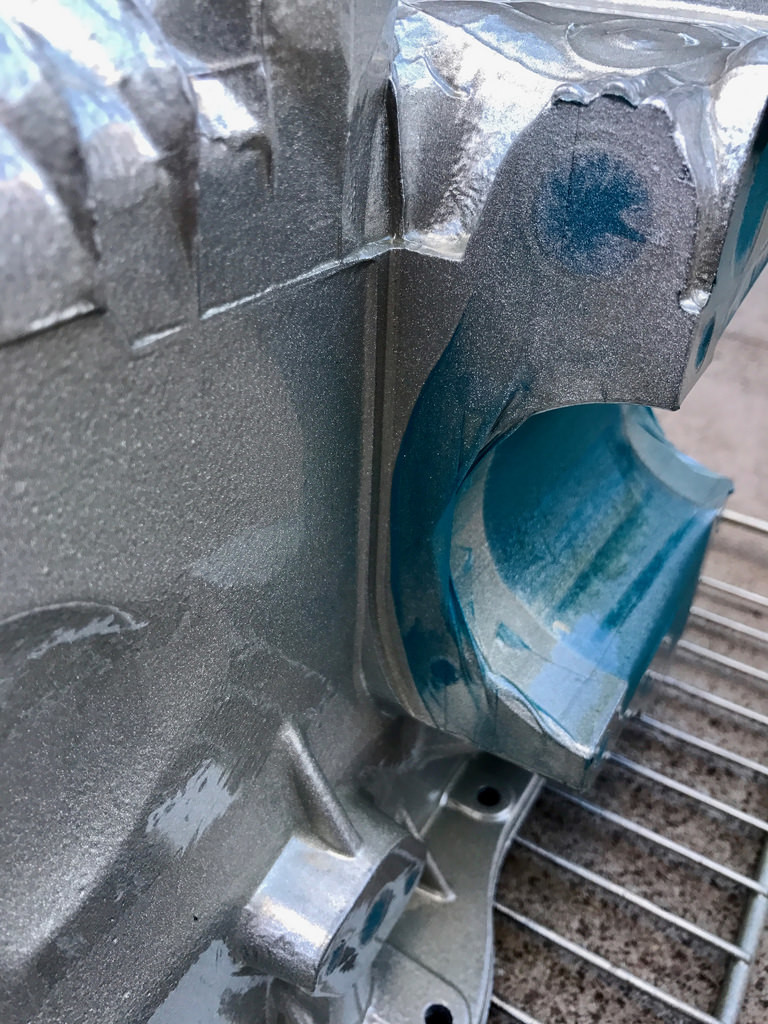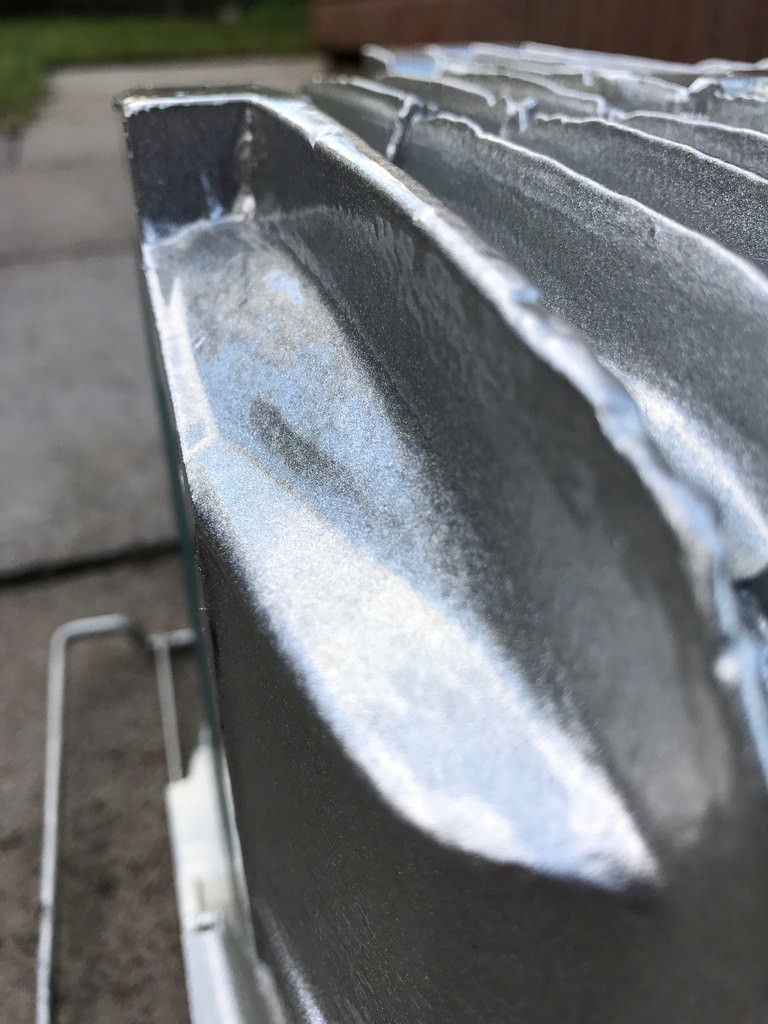 Also did the bolt on covers for the speedo drive and diff. Smoothed off the lettering and manufacturing roundel from the speedo housing for a cleaner look.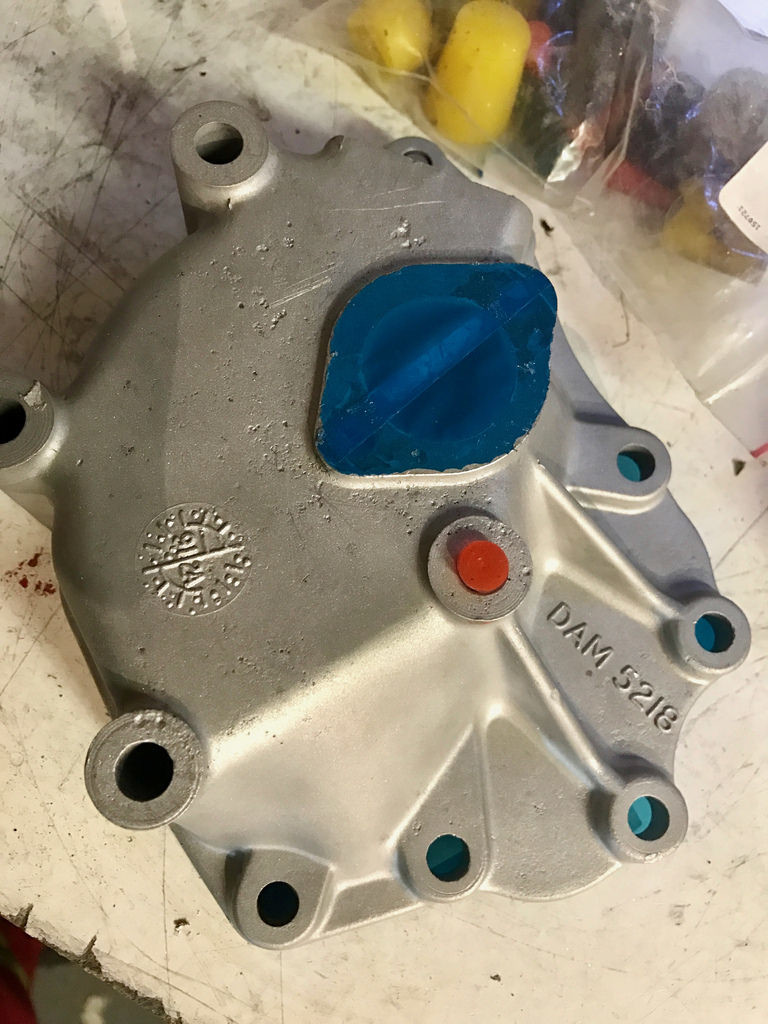 Then masked up the diff housing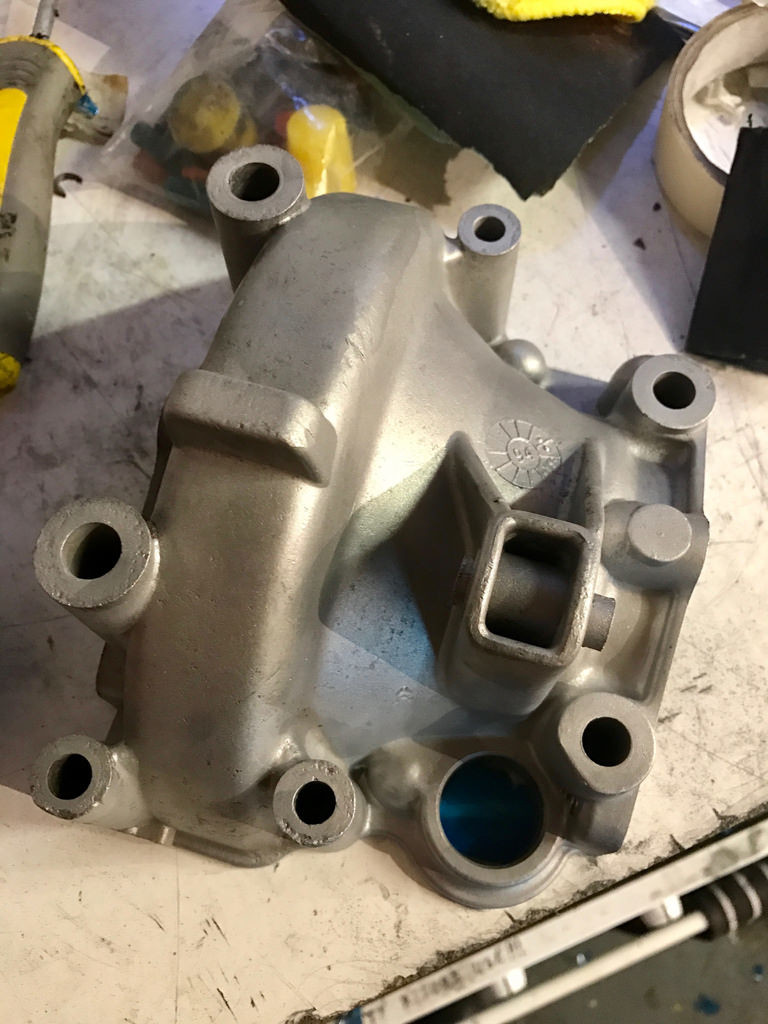 Then on with the silver.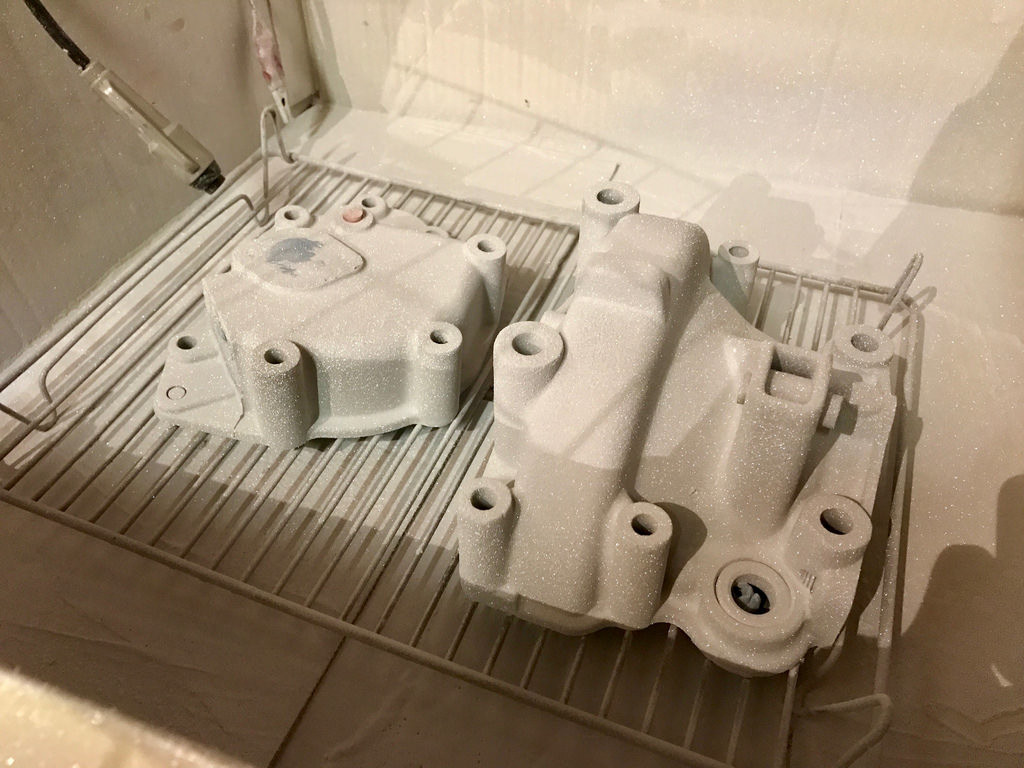 In my haste to get them done whilst the gearbox casing cooled before its extra coats, I forgot to out gas them and the powder bubbled up like **** with all the gas and oil that came out of the Alloy. So they will be stripped and then redone over the weekend. Thankfully don't need them until the box is in final assembly so no real rush for them.
4-11-2017
Today saw the start of the gearbox rebuild. If I did a step by step on this we would be here all week but it's 60% of the way there. Spent most of the day cleaning up the piece parts that have sat in oil since I disassembled the box. Brake cleaner in the parts washer worked a treat. New main, needle and roller bearings throughout as you would expect. Never want to take this box apart again![/size]

So here's a couple photos as I left it in the garage tonight. Used some spare gearbox oil left over from my Integra days as a build lubricant. Thinner than 20W50 that will eventually be in this so will get washed out of the parts in time anyway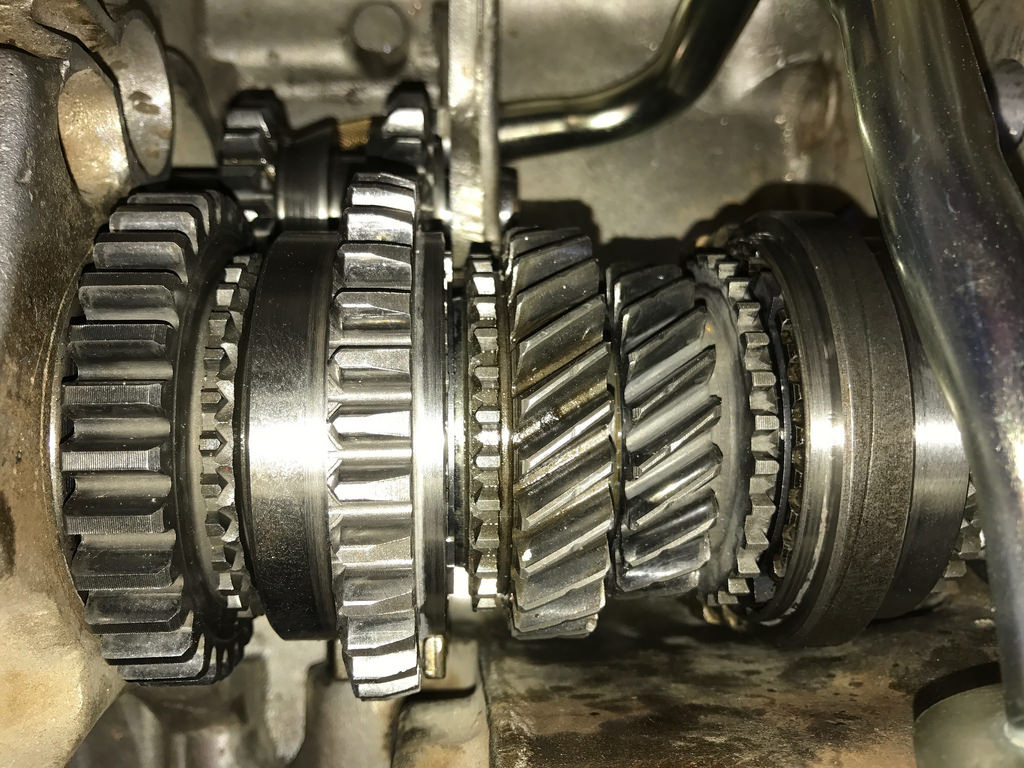 And in the box with just the lay shaft assembly to go in. I should note that the central oil pickup hasn't been bolted in until the layshaft is in. Should see a reduction in oil starvation in right hand turns like the standard oil pickup suffers from.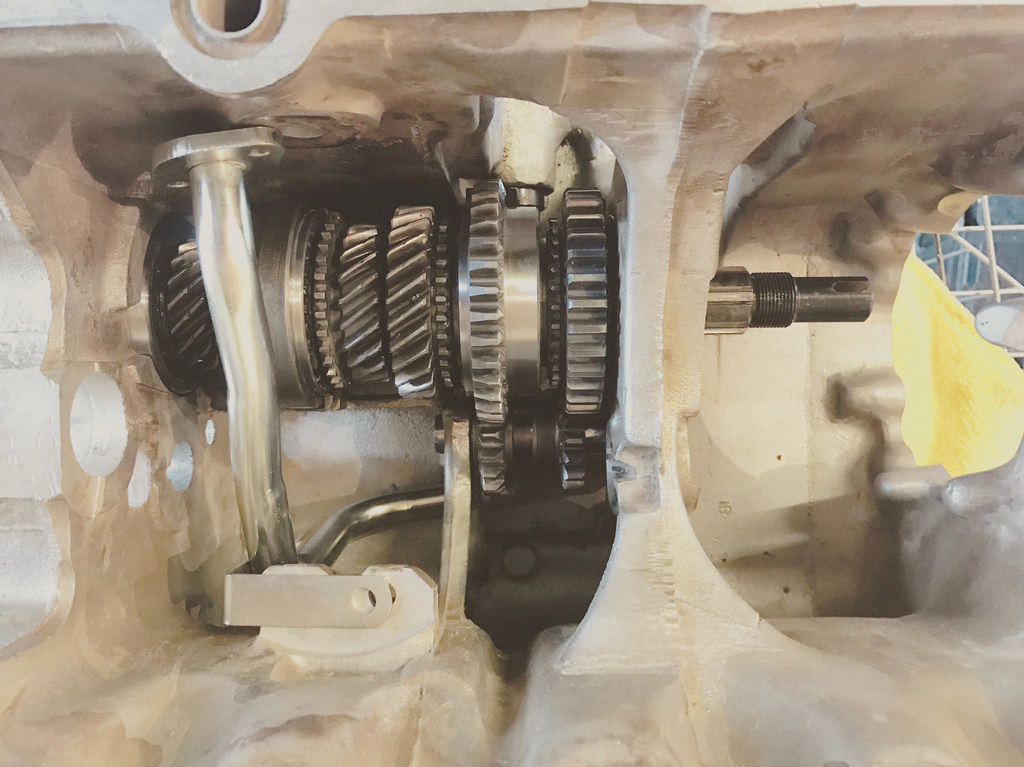 Got as far as fitting the new main bearings at either end of the main shaft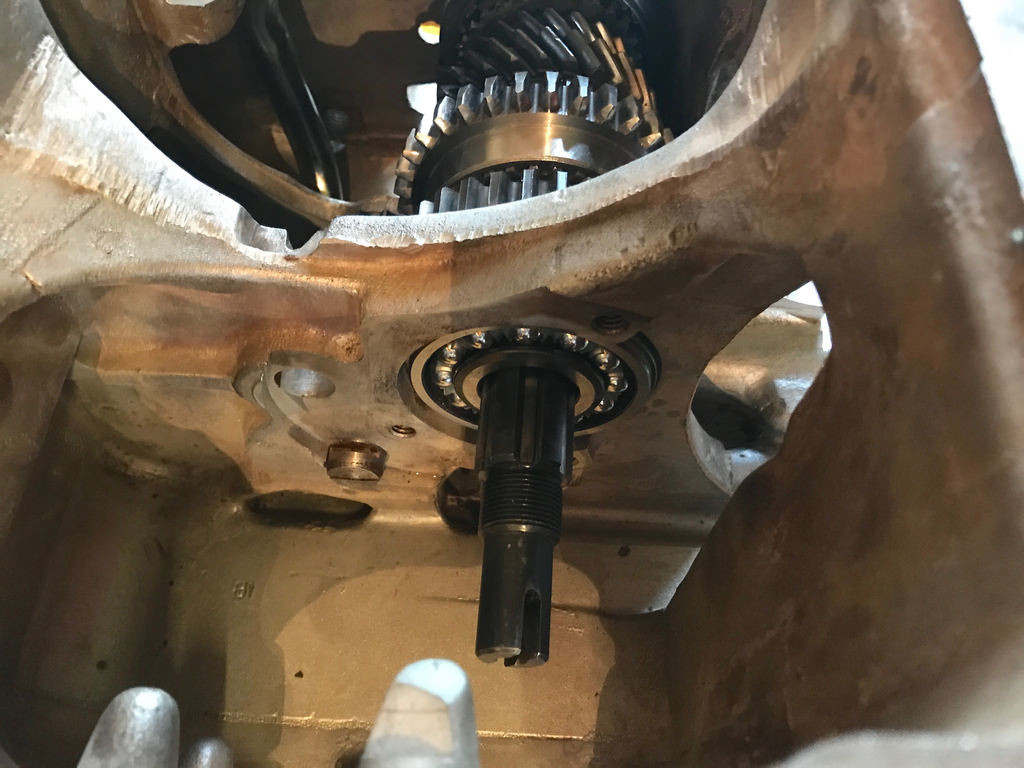 Need circlip pliers to permanently locate the main bearing at the other end of the main shaft, so if I get that first thing tomorrow it should be possible to get it all rebuilt by end of the day.[/size]


As I need the gearbox covers and plates done, I got stuck into them today.

These are a couple of blanking plates after media blasting. Can clearly see why I'm getting rid of the hammerite and going to powder coat instead. These weren't even in the line of fire for stone chips etc. Hammerite = *******.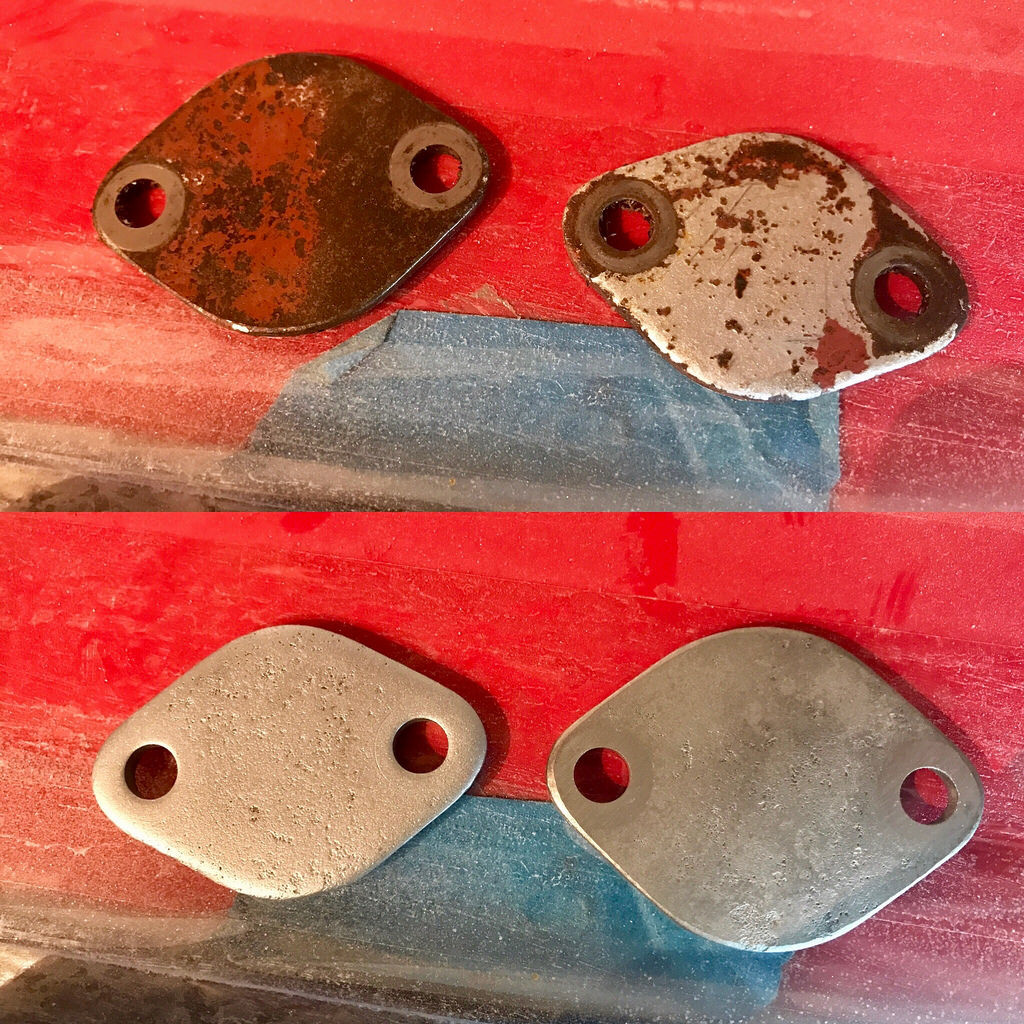 Speedo drive housing, diff cover, blanking plates, thermostat cover and spacer plate and finally the oil filter housing all blasted and then powdered up ready for curing.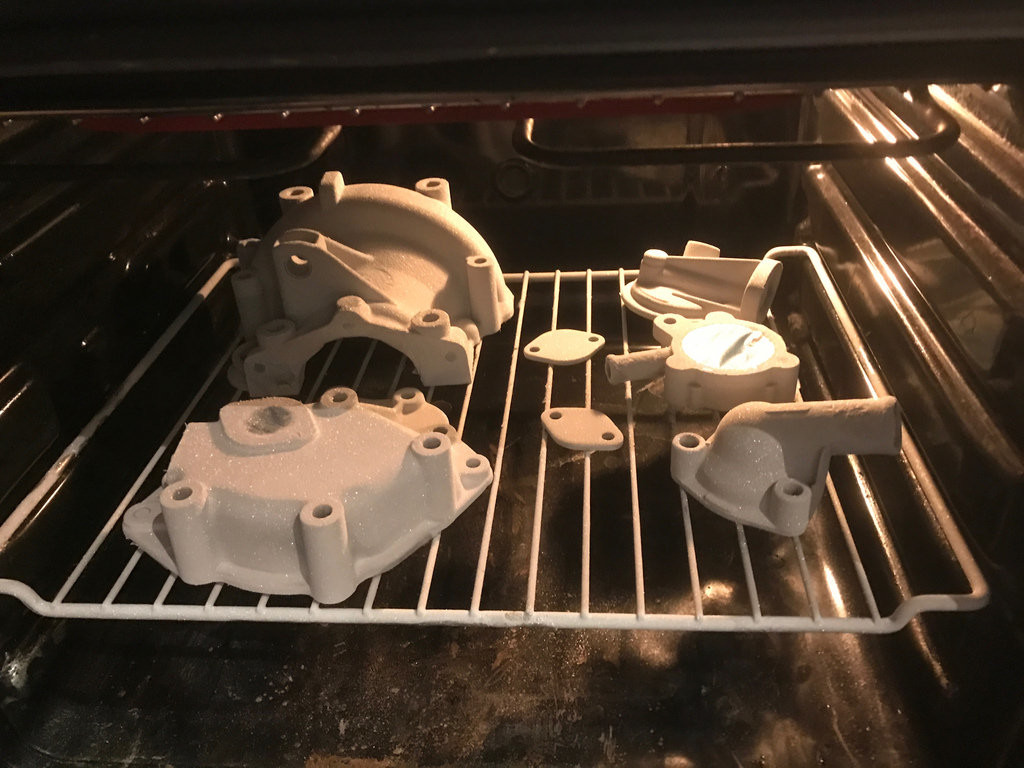 Not the best photo as it looks like they are pretty rough but in reality they are smooth and uniformly coated. Clear coats to go on tomorrow which will add a nice level of sheen. Ultimately these are going to be replaced with anodised billet versions when funds allow, so I'm not overly fussed by them but still want them to match the rest of the silver parts in the engine bay.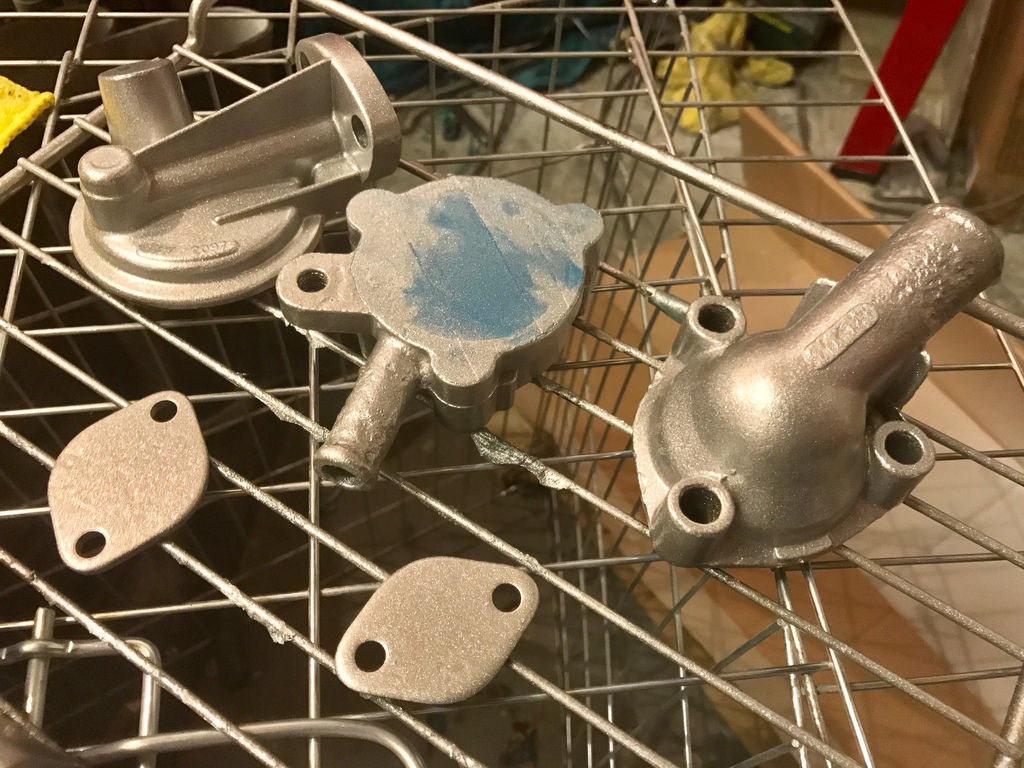 In order to fully test the gearbox once it is built up, i need a gear linkage. So whilst I was waiting for the above to cure, I took my spare linkage (from an old scrapper I broke with Greigzy years ago) and started to dismantle it to get it into powder as well. As you can see, its a bit minging and covered in oil from a previous leak.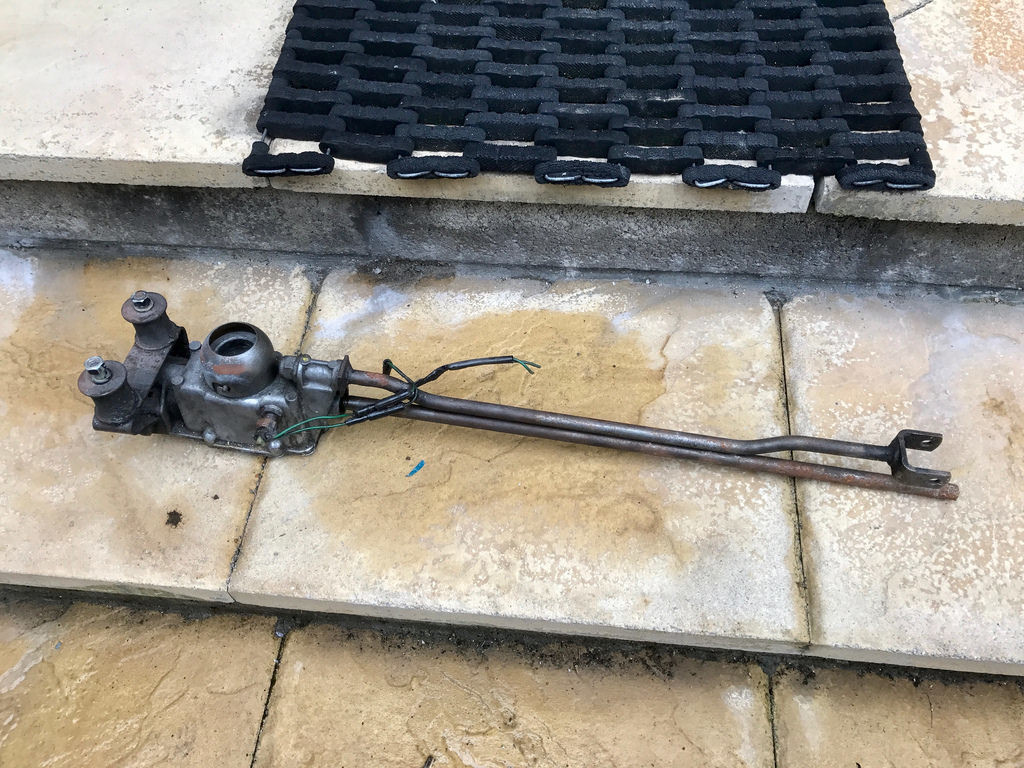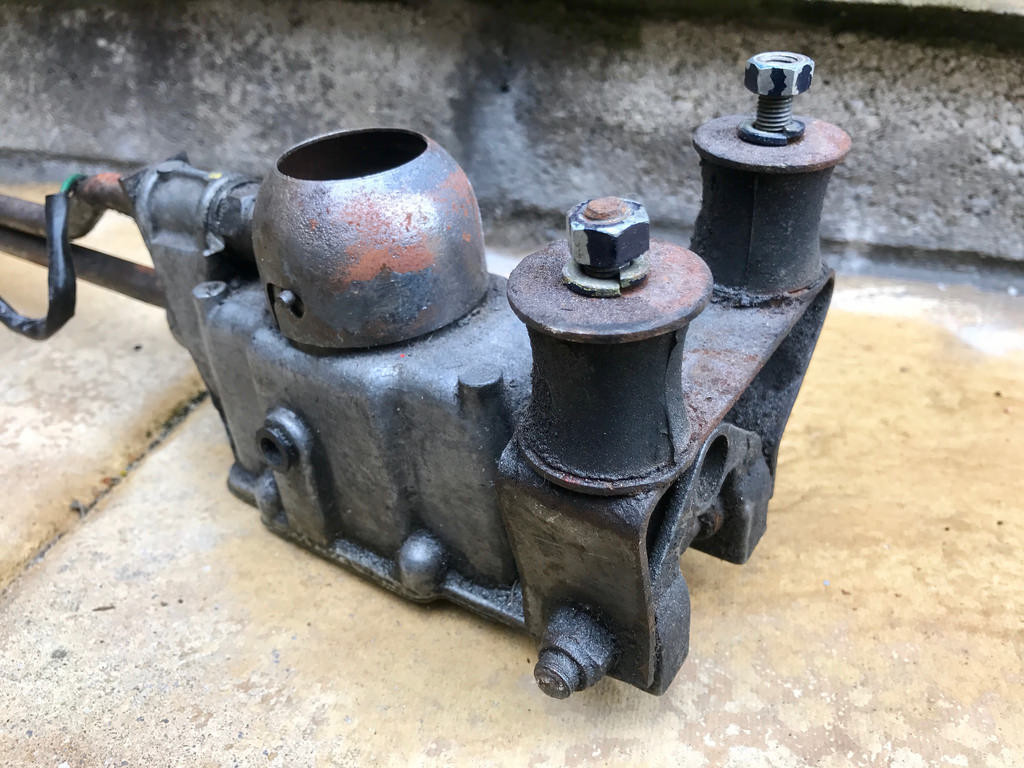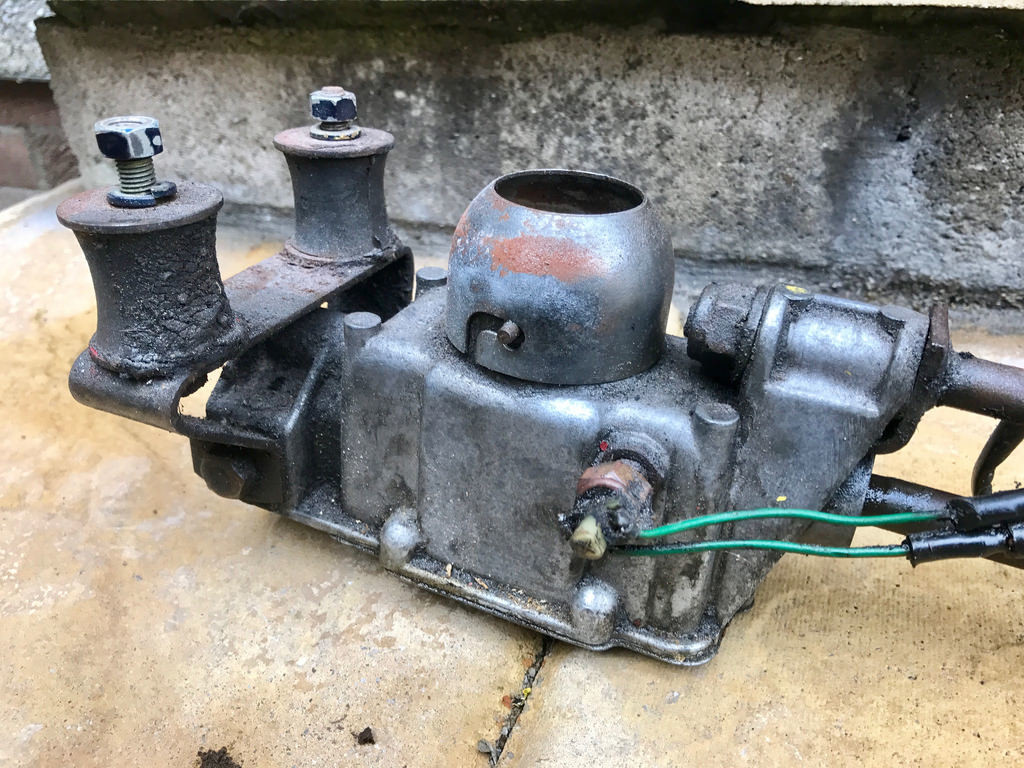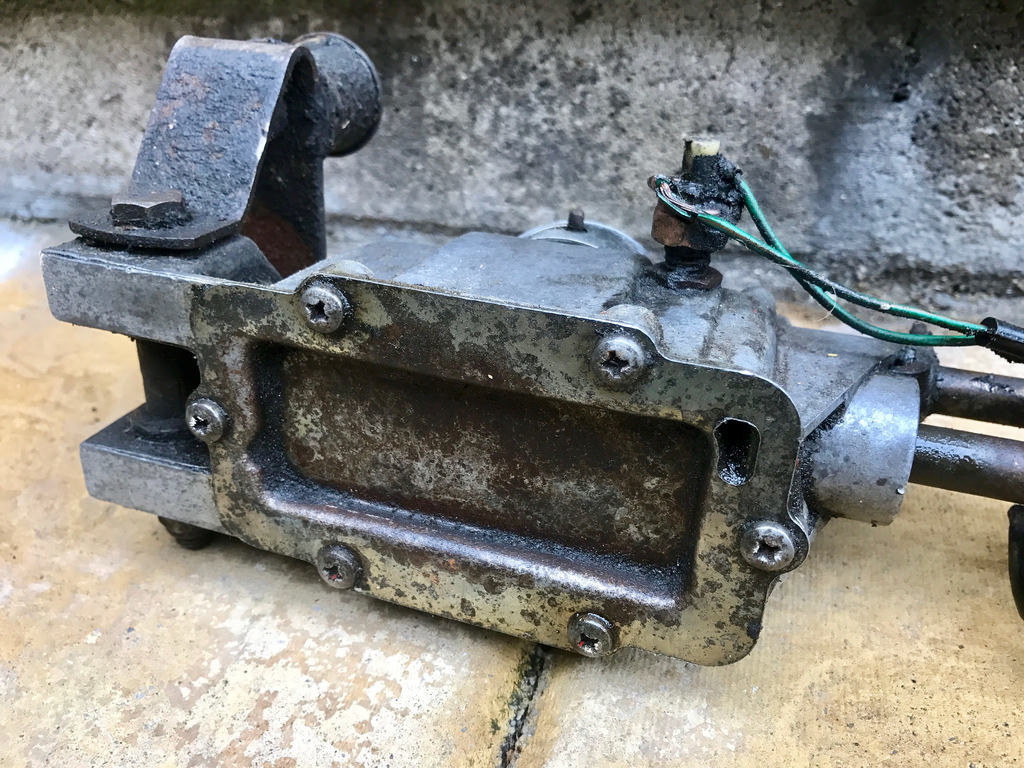 Surprisingly enough, the internals weren't in bad condition and will just need a clean up and regrets going forwards. Just need to fire the two roll pins so i can get the shafts separated from the selector and get them coated black and the housing silver.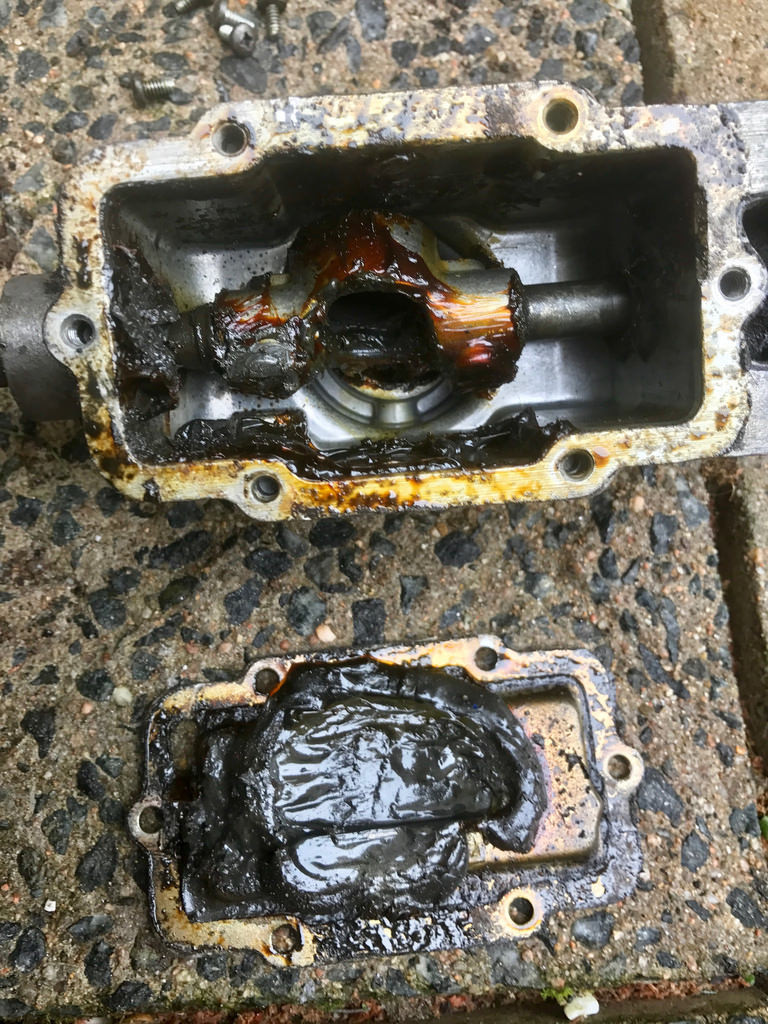 Ran out of high temp masking tape today so that puts a stop to powder coating until i can get some more. Still satisfying to eat away at the long list of jobs I have for the car. Hopefully get to spend a bit of money on it in time as well as I've managed to get a job again after being unemployed for the last three months.