Builds
All Hail Megatron Build - MAP 2.4LR by Levar
By diyauto
You must be logged in to rate content!
8 minute(s) of a 48 minute read
All Hail Megatron Build - MAP 2.4LR
Compliments of Levar @ www.evolutionm.net
4-22-2012
Hello everyone.
I have been a member on this forum for many years now and have been an admirer of the EVO platform since 2003. My first build was a 2003 TB EVO VIII back in 2004. It did not go as expected and I ended up throwing a rod on the stock 2.0L engine. I tried my absolute best to get the car back on the road but between moving states due to a new job endeavor and having to leave my car in Texas coupled with the fact that the car was not paid for while at the same time trying to scrape every single penny for replacement parts, the car ended up being considered a total loss by USAA and was taken away for auctioning. This was really the lowest point that I had ever been since becoming part of the EVO scene and I convinced myself that I was through with the EVO platform altogether. I was so convinced that I even went out and bought two DSMs with the mentality that I could successfully build them at a fraction of the cost for an EVO. I was able to build a high 10-second 1G DSM that was pushing the GT3076r turbo on E85 and 28 pounds of boost. I was pleased with these results but in the back of my mind rang the thought "this is still not an EVO" for various reasons. As fate would have it, I was fortunate to come across a friend of mine that was thinking about selling his WW EVO8 and replace it with a SRT-8. He gave me a great deal and the fact that I have known him for several years and personally saw how he babied the car, I knew I could not allow the deal to be lost. Taking into account all that I had previously learned in my last EVO fiasco, I adopted the mantra to "do things right the first time" but in this case, my second. So now that I was back in the saddle with my second EVO, the researching began. I was deployed to Afghanistan at this time and every spare second I had went towards EVO research. Based on my driving style and desire for an overall fun street car, I wanted an engine that could deliver torque pretty rapidly and a turbo that was capable to achieve 450whp on pump/91 and 550whp on pump/100. I am still undecided whether or not I am going to run E85 however, I am sure at this point of the build that I will run 100-octane as my daily choice of fuel as I have numerous pumps that are within close proximity to where I operate the car most. For the engine, I selected the MAP 2.4LR stage 1. For the turbo, I selected the MAP EF4. Since I was in Afghanistan, I needed a one-stop shop for the purchase of my parts and I selected MAPerformance to take care of my needs. Adam and Chris have been superb in all of my part endeavors and many questions via PM on evoM. this project began in September 2011. I would like to personally thank Adam and Chris at MAPerformance, Carlos at TCC, and Archie at Performance, Specialties, and Innovations in Tucson, Arizona as you guys are the ones that have made all of this possible so far. Without further adieu, I present to you Megatron. All hail Megatron!
Here is the current parts list:
SHORTBLOCK: MAP STAGE 1 2.4LR ENGINE, ENGLISH RACING SPEC COMETIC HEAD GASKET, MAP 8740 HEAD STUD KIT, FP -4AN IN-LINE OIL FILTER, K&N OIL FILTER, AMSOIL Z-ROD MOTOR OIL
HEAD: PRO PORT RACE HEAD, GSC STAGE 3 SPRINGS/RETAINERS, UNORTHODOX RACING SILVER CAM GEARS, TOXIC FAB CAM ANGLE SENSOR PROTECTOR, INGALLS ENGINE TORQUE DAMPER, GSC S2 CAMS, KIGGLY HLA, ZAKLEE CAM GEAR COVER
TURBO AND EXHAUST: FP RED TURBO, MAP O2 ELIMINATOR DOWNPIPE W/DUMP PIPE, MAP TEST PIPE, PSI LOWER INTERCOOLER PIPE, EVIL ENGINEERING TUBULAR EXHAUST MANIFOLD
INTAKE AND COOLING: PSI INTAKE W/AEM AIR FILTER, ETS STAINLESS STEEL UPPER RADIATOR PIPE, CUSCO RADIATOR SHROUD, PSI UPPER INTERCOOLER PIPE, WEAPON-R OIL CATCH CAN, TIAL SPORT Q VTA BLOW OFF VALVE, ETS 3.5 INTERCOOLER, 818 BILLET RADIATOR CAP, MAP REV2 INTAKE MANIFOLD, PSI COOLANT RESERVOIR TANK, MIL-SPEC 65MM THROTTLE BODY
IGNITION: NGK BPR7ES COPPER SPARK PLUGS, JMFAB MINI BATTERY KIT, WINGZ COIL-ON-PLUG IGNITION
SUSPENSION AND BRAKES: CUSCO FRONT/REAR STRUT TOWER BRACE, CUSCO ZERO 2R COILOVERS, CUSCO FRONT PILLOW BALL MOUNTS, ROTA P45 (17 X 9) WHEELS, 235-40 SS 595 TIRES, GIRODISC VANE SLOTTED FRONT/REAR ROTORS
DRIVETRAIN: TWM PERFORMANCE BIG TYPE R SHIFT KNOB, AMS UPPER/LOWER STAINLESS STEEL CLUTCH LINE, COMPETITION HD 2100 STAGE 2 CLUTCH, SPEED ELEMENT ENGINE ROLLER STOPPER, AMS UNDERHOOD METAL SHIFTER BASE BUSHINGS, AGENCY POWER PASSENGER SIDE/LOWER MOTOR MOUNTS, MAP CLUTCH FORK STOP, TORQUE SOLUTION 5-SPEED PASSENGER SIDE TRANSMISSION MOUNT, TORQUE SOLUTION SHIFTER BASE/CABLE BUSHINGS
FUEL: WALBRO 255LPH FUEL PUMP, FIC BLUEMAX 1450CC INJECTORS
ENGINE MANAGEMENT: GRIM SPEED 3-PORT EBC, GREDDY TURBO TIMER, TEPHRA V7, TSCOMP TUNED
INTERIOR: PIONEER HEAD UNIT, TRUST WHITE FACED DASH GAUGES, 35% WINDOW TINT, CLIFFORD 2-WAY CAR ALARM, REXSPEED CARBON FIBER BRAKE HANDLE AND CARBON FIBER STEERING WHEEL COVER, TYRANT CARBON FIBER ARMREST COVER, PROSPORT BOOST GAUGE, AEM WIDEBAND, LOTEK A-PILLAR GAUGE POD, TOUGE FLOOR MATS
EXTERIOR: BAYSON-R M3 TRUNK LIP SPOILER, EVO DAVE VII TAILLIGHTS, REXPEED EXHAUST BUMPER COVER AND SIDE SPATS, APR GT MIRRORS, VORTEX GENERATOR, PERRIN ANTENNAE, GLOSS BLACK VINYL ROOF OVERLAY, LAMIN-X HEADLIGHT TINT, RAYS LUG NUTS, BENEN POLISHED FRONT TOW HOOK, MYNES HOOD DAMPERS
Here are a few pictures of the MAP 2.4LR engine.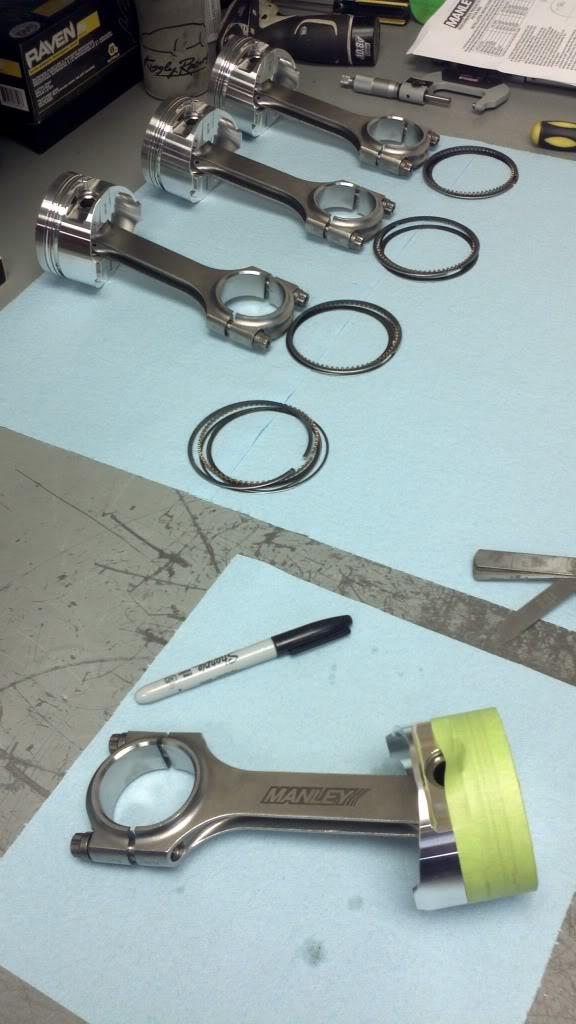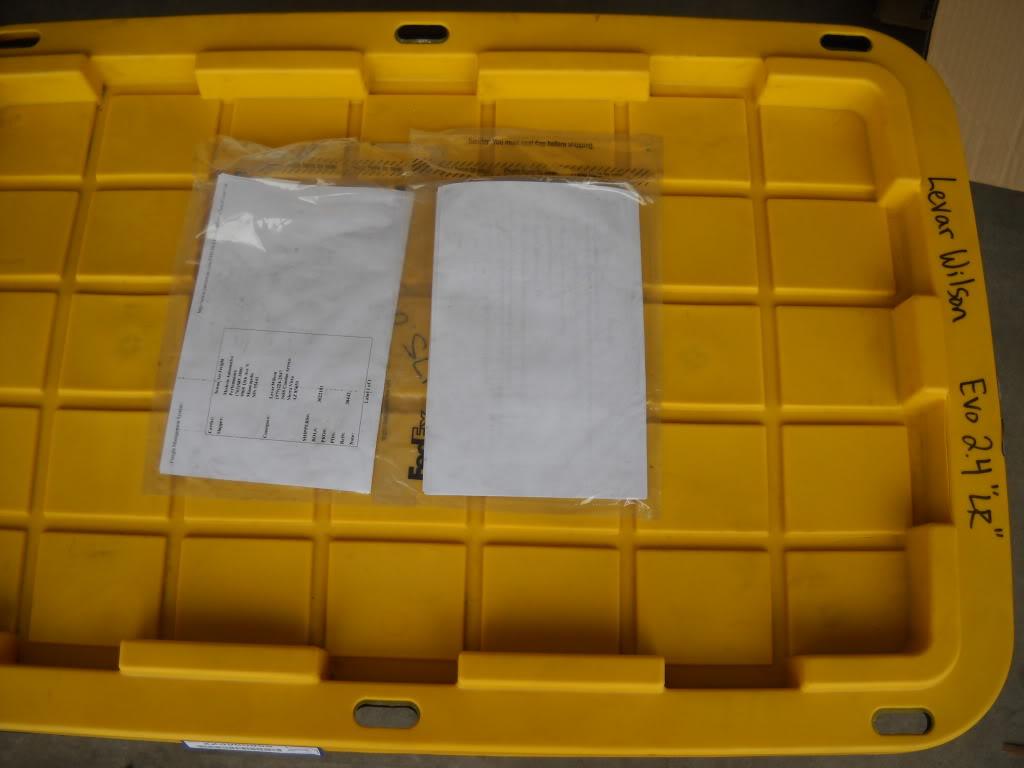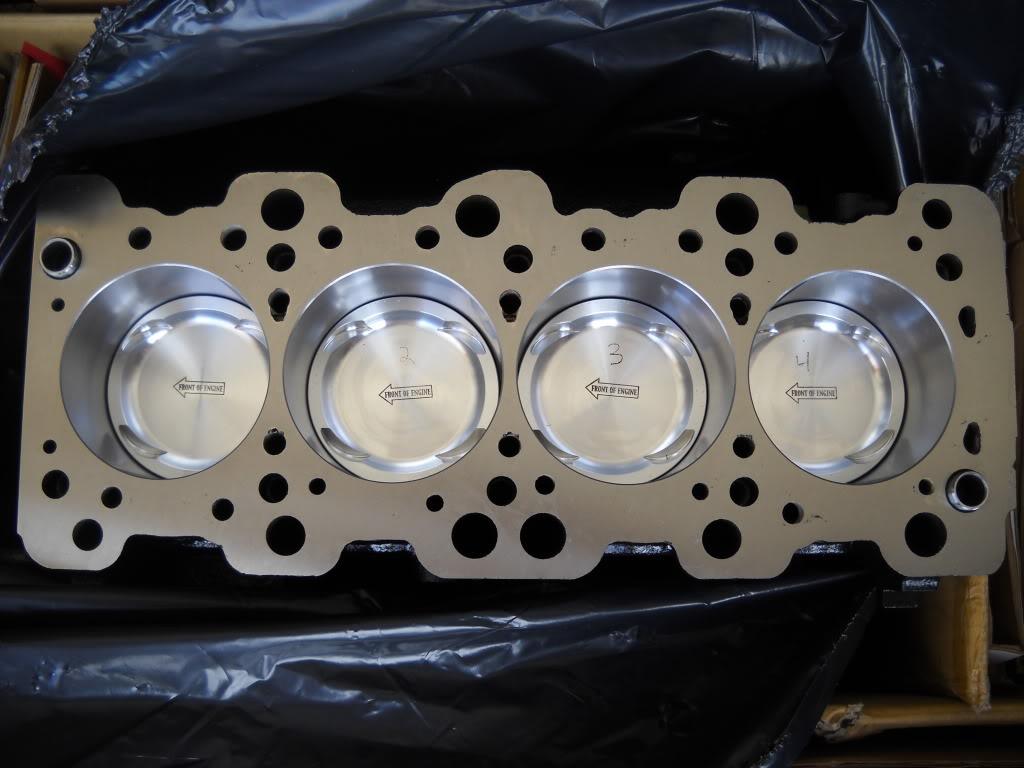 Here are a few pictures of the Pro Port race head. The head is equipped with GSC stage 3 springs and retainers, Ferrea +1mm intake and exhaust valves, as well as porting throughout.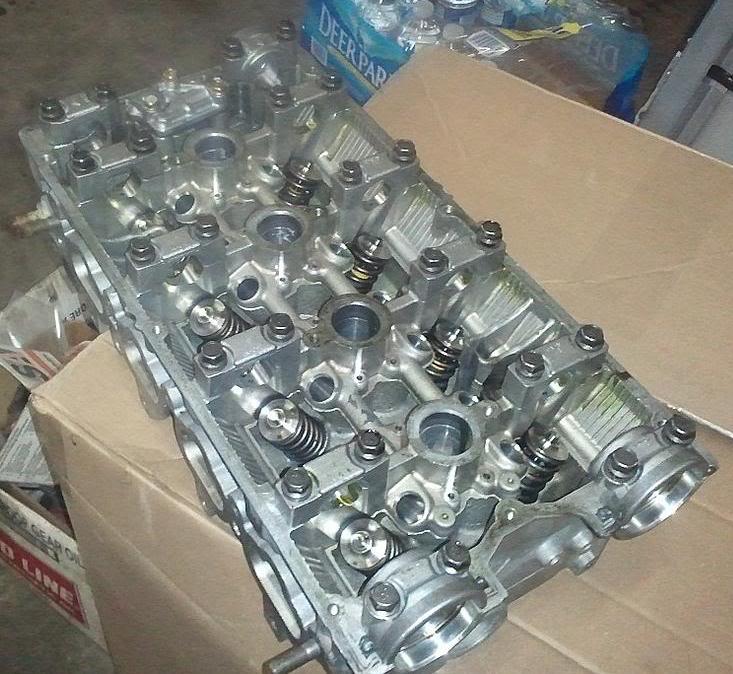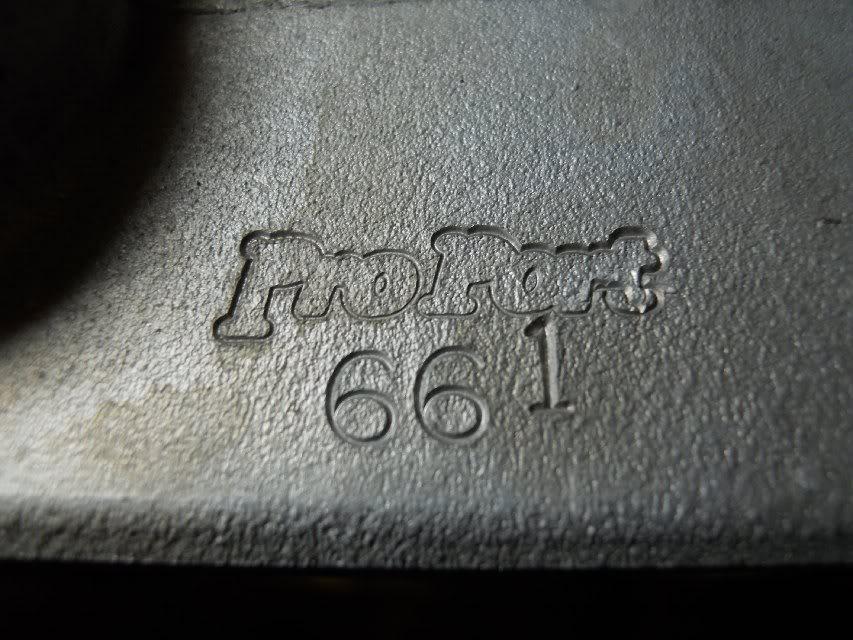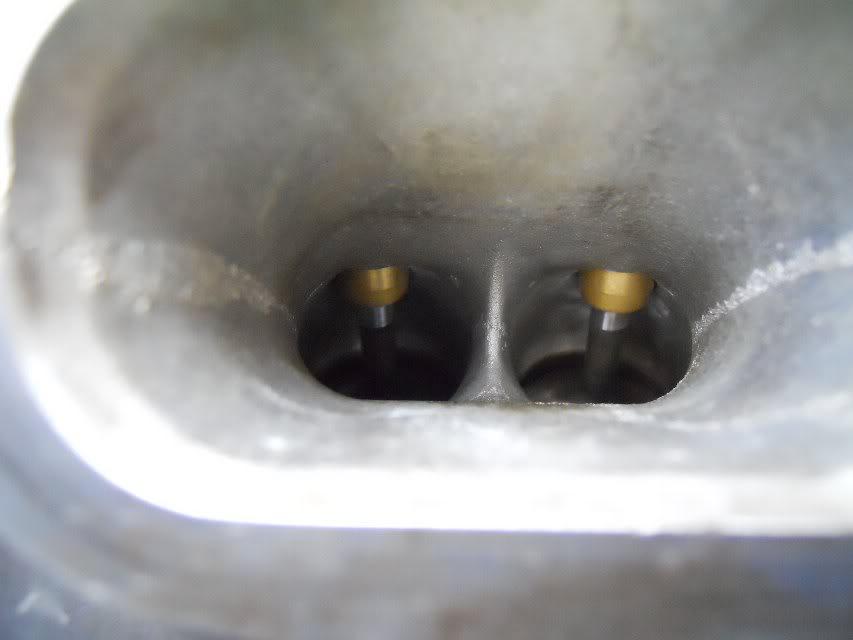 Here are a few before and after pictures of the Evil Engineering tubular exhaust manifold that was done by Carlos at TCC.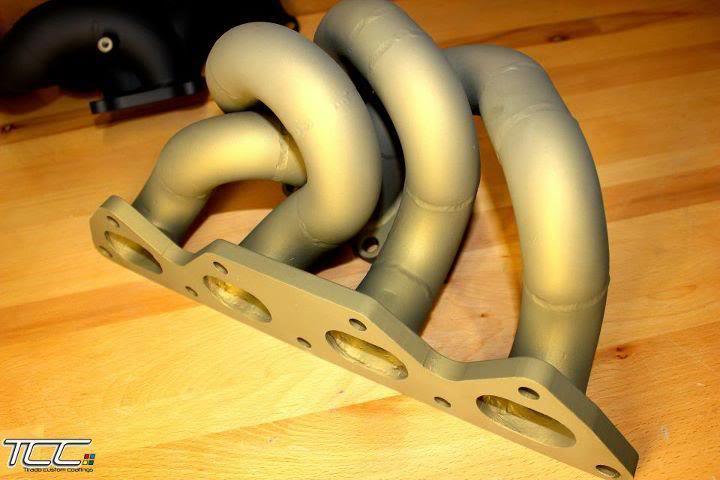 Here are a few pictures of the rest of the build.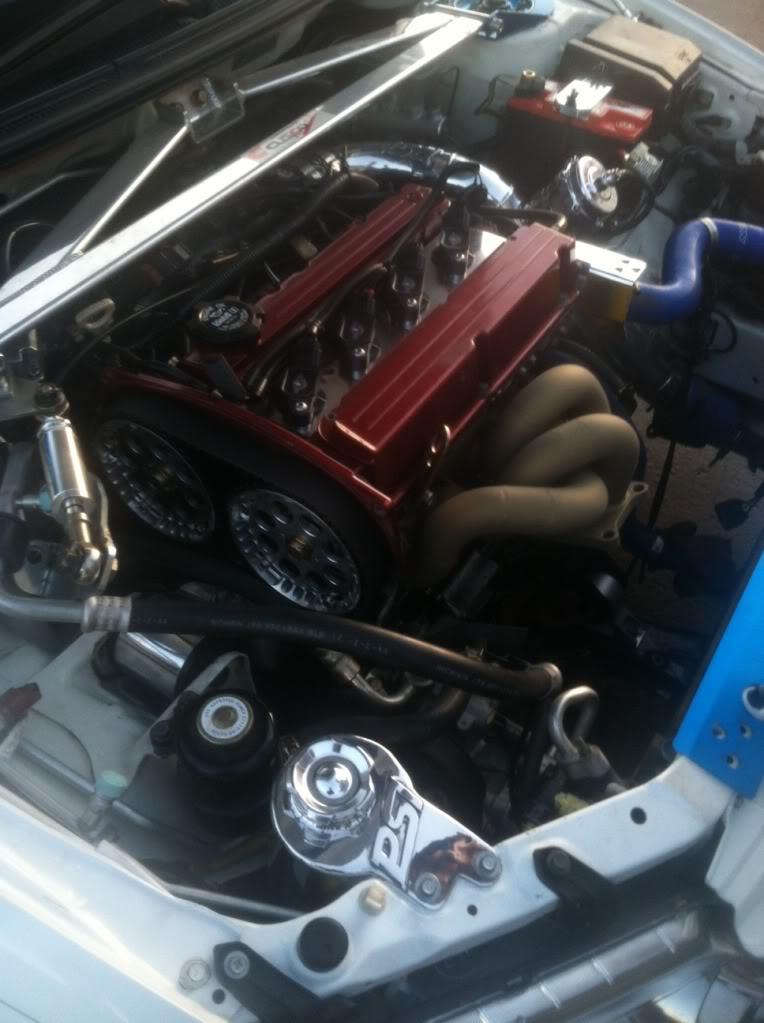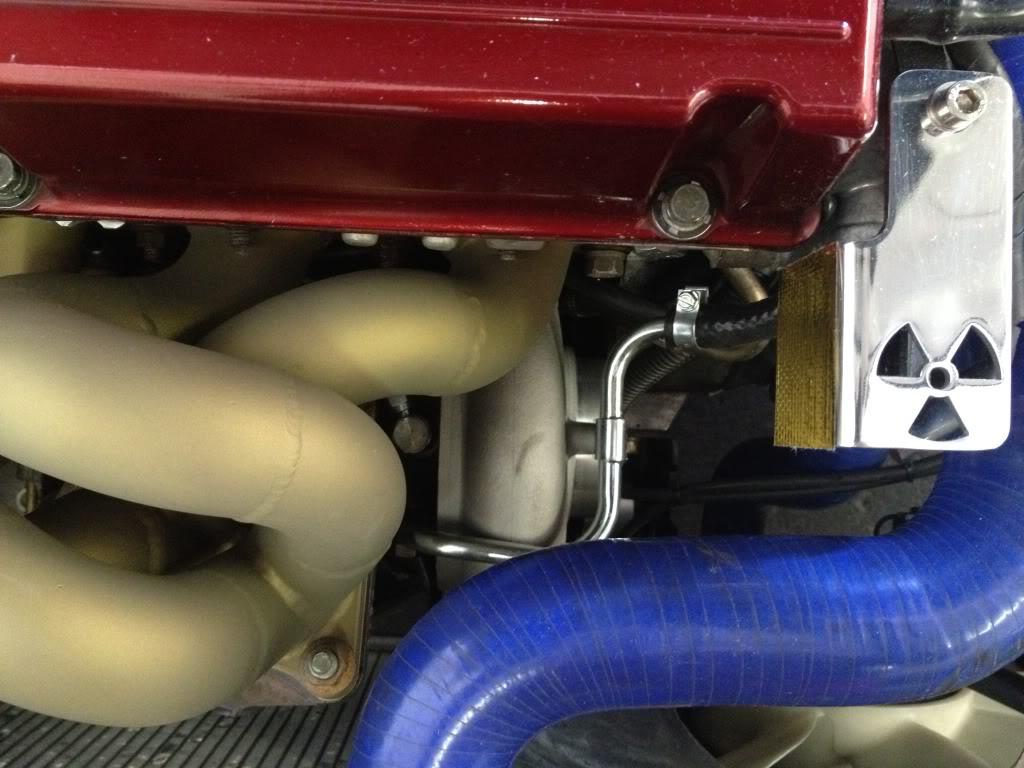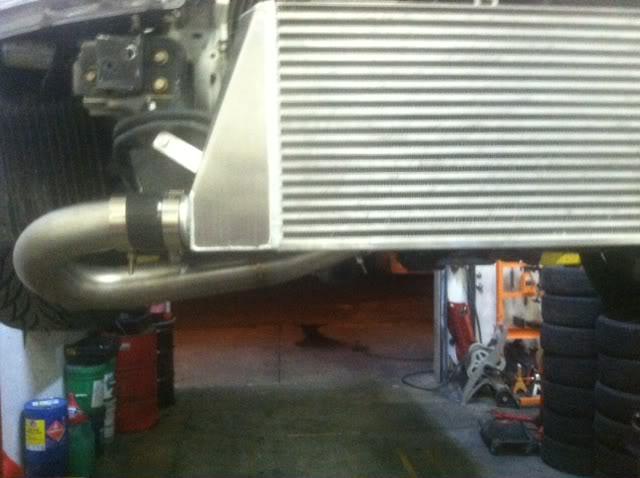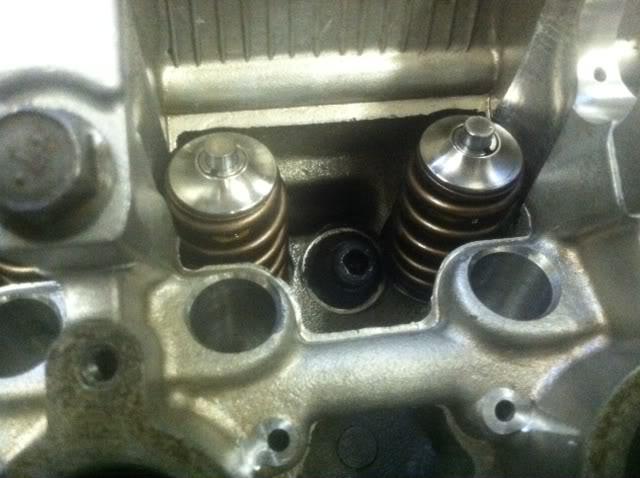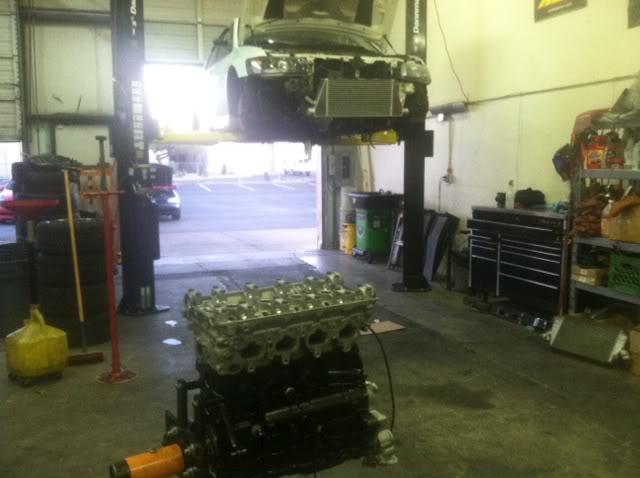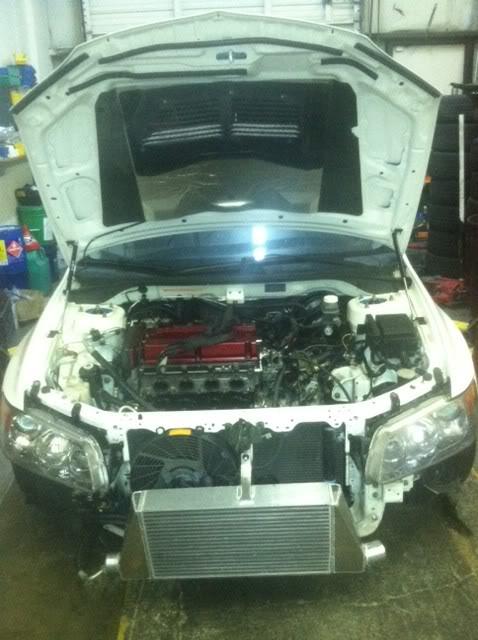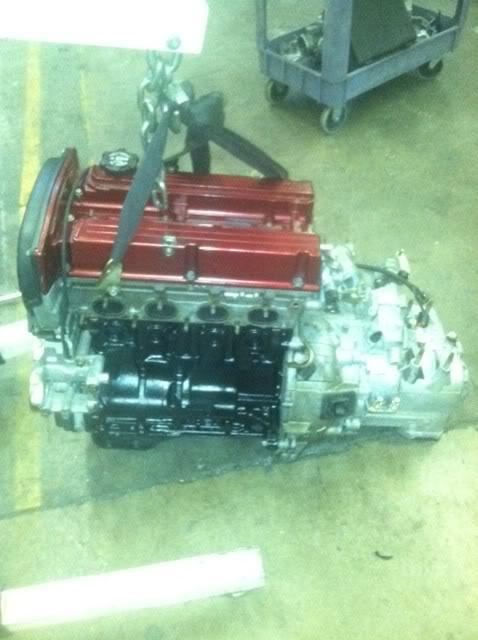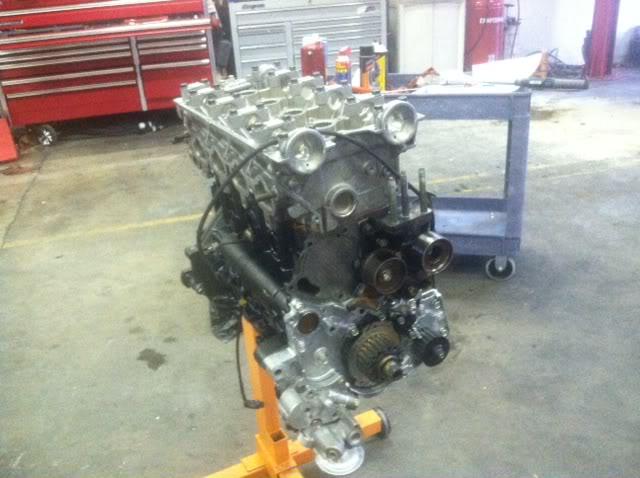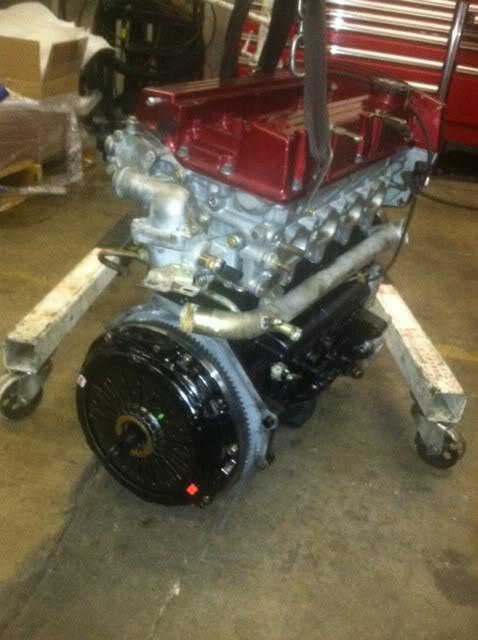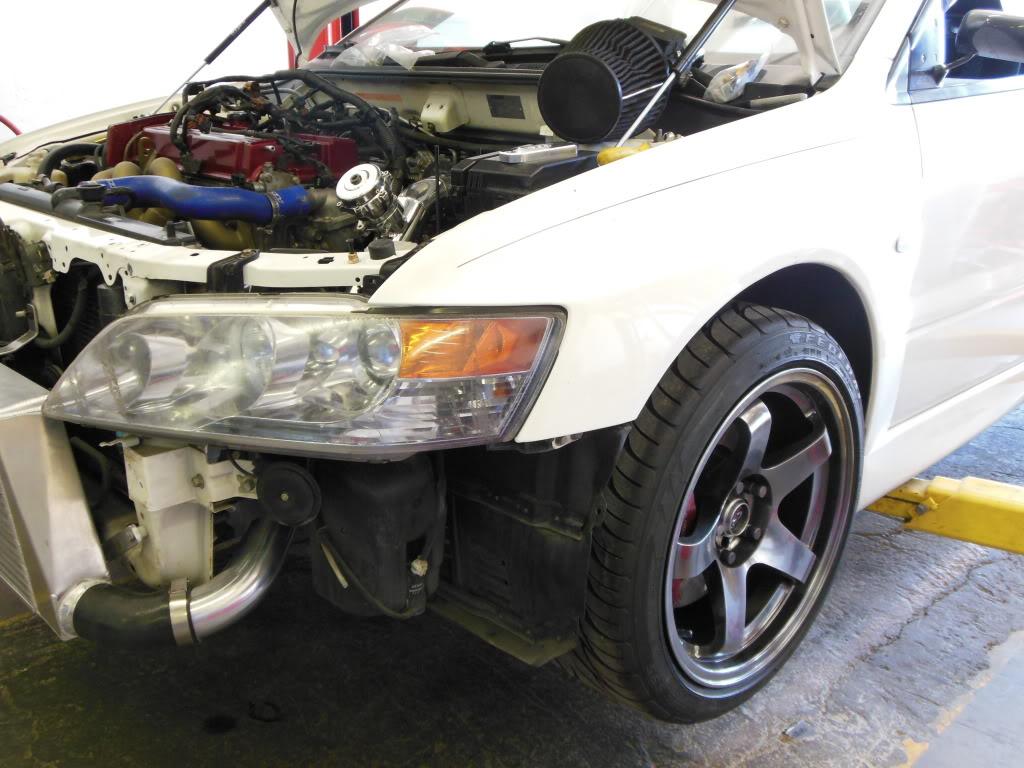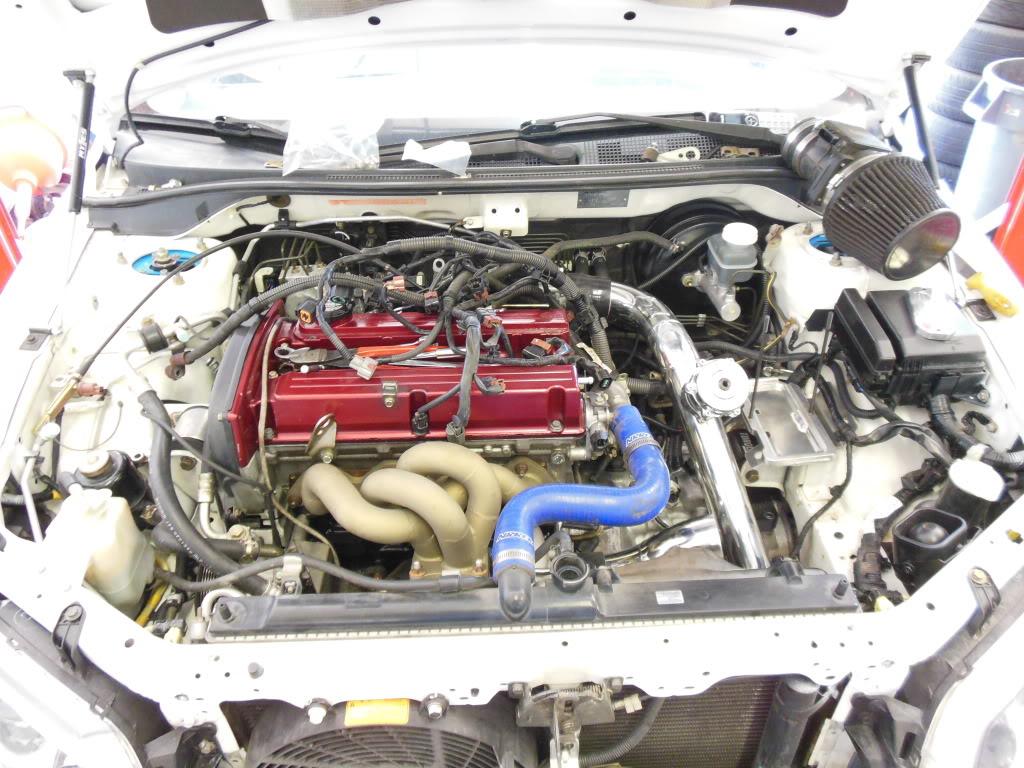 Lastly, here are a few current exterior pictures of Megatron.